Moshiri slams breakaway Super League as Everton urge rebel 6 to backtrack
Tuesday, 20 April, 2021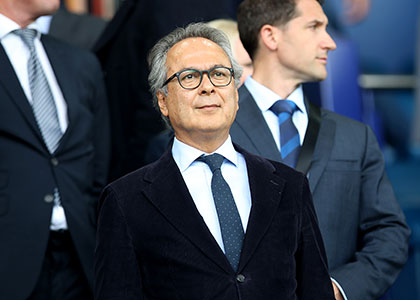 Everton owner, Farhad Moshiri, has branded the decision by 12 European clubs, six of them from the Premier League, to form a practically closed-shop Super League as "preposterous arrogance" and called for disciplinary measures to be taken against them.
Meanwhile, in a statement from the Everton Board of Directors and an email to supporters from CEO Denise Barrett-Baxendale, the club outlined its commitment to the football pyramid and principles of open competition and sporting merit.
The 14 Premier League clubs excluded from the Super League have also unanimously rejected the plan and said, in a statement, that they are considering all options to prevent it.
The messages from Everton, the first public reaction of its kind since the announcement of a new 12-team league of permanent members, with a desire to expand to 15, that includes Liverpool, Manchester United, Arsenal, Chelsea, Manchester City and Tottenham was made on Sunday night, come as reports suggest that at least two of the English six are wavering in their commitment to the controversial new venture.
Following a tweet to that effect in the early hours of the morning by Oliver Holt of the Daily Mail, The Guardian claim that "a well-placed executive at another club approached to join the breakaway league" says that Chelsea and Manchester City, the last two clubs to commit to the Super League on Saturday, are already having second thoughts following the fierce backlash to the plan, particularly in England.
The same report, however, cites another source as casting doubt on whether any of the clubs who have signed up to the league that essentially breaks with the Uefa Champions and Europa Leagues will actually reconsider while The Telegraph say that according to their source, legally the clubs now can't reverse course without being sued for billions of pounds due to the "binding agreements" they signed.
The opposition to the Super League continued today, with Fifa president, Gianni Infantino finally breaking his silence by saying that, "there is no doubt whatsoever of Fifa's disapproval of this," but while he warned that, "concretely, ... you cannot be half in or half out of [European football]," he stopped short of threatening action against the rebel clubs.
Manchester City manager Pep Guardiola decried the Super League, saying: "It is not a sport when success is already guaranteed. It is not a sport when it doesn't matter if you lose.
"And it is not fair when one team fights and fights to arrive at the top and cannot qualify because success is already guaranteed for just a few clubs."
UK Prime Minister, Boris Johnson, meanwhile, offered "unwavering support" to the football authorities in their fight against the Super League and, in a statement from 10 Downing Street, said that it, "was clear that no action is off the table and the government is exploring every possibility, including legislative options, to ensure these proposals are stopped."
Moshiri, who sold his stake in Arsenal before his business partner Alisher Usmanov did the same after failing to gain entry to the North London club's board under their owner, Stan Kroenke, was speaking to TalkSport today where he voiced his disgust at the betrayal of the Premier League.
"Every facet of this is against the very idea of British football," he said. "Football clubs are community assets, they belong to fans and their communities. This just takes much of their romance away. It just makes it a money game — it's not football any more.
"This is six clubs attacking the very heart of the Premier League, and I think they should be disciplined."
The statement from Goodison Park, meanwhile, urged their rival clubs to withdraw the proposals for the breakaway league that "[disenfranchises] supporters across the game — including their own — by putting the very structure that underpins the game we love under threat.
"The backlash is understandable and deserved — and has to be listened to. This preposterous arrogance is not wanted anywhere in football outside of the clubs that have drafted this plan.
"On behalf of everyone associated with Everton, we respectfully ask that the proposals are immediately withdrawn and that the private meetings and subversive practises that have brought our beautiful game to possibly its lowest ever position in terms of trust end now.
"Finally we would ask the owners, chairmen, and Board members of the six clubs to remember the privileged position they hold — not only as custodians of their clubs but also custodians of the game. The responsibility they carry should be taken seriously.
"We urge them all to consider what they wish their legacy to be."
The "rump" of 14 Premier League clubs convened today in a meeting led by the League's chairman Richard Masters and issued their statement afterwards that said: "The 14 clubs at the meeting unanimously and vigorously rejected the plans for the competition. The Premier League is considering all actions available to prevent it from progressing, as well as holding those Shareholders involved to account under its rules.
"The League will continue to work with key stakeholders including fan groups, Government, UEFA, The FA, EFL, PFA and LMA to protect the best interests of the game and call on those clubs involved in the proposed competition to cease their involvement immediately."
In a separate memo sent to the 14 clubs, Masters reportedly wrote:
"This venture cannot be launched without English clubs and we call upon any club contemplating associating themselves or joining this venture to walk away immediately before irreparable damage is done."
🇬🇧 "Every facet of this is against the idea of British football."

😡 "This is six clubs attacking the PL & should be punished."

🙏 "Football's about competition, every club can outperform the other."

Farhad Moshiri says the PL must deduct points from teams signed up to the ESL pic.twitter.com/uuPVuvCNrQ

— talkSPORT (@talkSPORT) April 20, 2021
---
Reader Comments (142)
Note: the following content is not moderated or vetted by the site owners at the time of submission. Comments are the responsibility of the poster. Disclaimer
Ray Robinson
1
Posted 20/04/2021 at 15:03:29
Well played Moshiri! It looks like, despite his critics, Kenwright came up with a fit and proper custodian.
Andrew Ellams
2
Posted 20/04/2021 at 15:06:08
For somebody like Moshiri this is a marketing dream. Never has the People's Club tag been so important.
Andy Walker
3
Posted 20/04/2021 at 15:10:34
What's the betting the new league doesn't go ahead and in the U.K. the 6 clubs come back into the fold having gained considerable concessions from the EPL over the distribution of TV rights/money and voting powers. Job done.
Alex Gray
4
Posted 20/04/2021 at 15:24:58
Thought the statement from the PL was really weak. No mention of any punishment to these so called clubs just basically said we don't like it please reconsider. Same old tosh from them.
Neil Lawson
5
Posted 20/04/2021 at 15:25:16
EFC have set the benchmark with their outstanding and superbly crafted response. We may not be the best on the field but we are in the Champions League of clubs off it.

Hugh Jenkins
6
Posted 20/04/2021 at 15:27:35
Andy (3). They may well come back into the fold. I don't think, given the public outcry and backlash, that they will be doing so from a position of strength.
This was a naked grasp for power,- akin to a military coup and it looks likely to fail. In most cases that only ever leads to one outcome for the leaders of the coup.
I don't se this being any different.
The interesting thing though, as has been pointed out elsewhere, is that they are unlikely to have taken such a bold step without guarantees in place from their supposed backer (JP Morgan bank) and that, if they do now renege on that deal, they could be sued for billions each.
So, it may be that, instead of gaining untold riches, in some cases this could lead to ultimate bankruptcy.
Spurs, for example, had a huge government loan to tide them over Covid 19 because of the cost of their new stadium.
What happens if, as part of the backlash, promised by the government, that loan is immediately called in?
Spurs could be the first major financial casualty of this debacle.
Brent Stephens
7
Posted 20/04/2021 at 15:35:12
Andy "What's the betting the new league doesn't go ahead and in the U.K. the 6 clubs come back into the fold having gained considerable concessions from the EPL over the distribution of TV rights/money and voting powers. Job done."
Andy, I wonder if that depends on the basis on which they came back into the EPL. If it was because of the threat of sanctions (from various quarters, in various forms), then wouldn't backing down from the super league proposal leave them in a weaker bargaining position?
Ian Burns
8
Posted 20/04/2021 at 15:36:10
Neil - 5 - great post
Neil Lawson
9
Posted 20/04/2021 at 15:36:25
And if you are correct Hugh, and I hope that you are, then, oh dear what a shame !!
Mike Gaynes
10
Posted 20/04/2021 at 15:43:54
Neil #5, agreed. Our owner has set just the right tone with his statement -- strong and assertive, yet appropriately phrased. No namecalling or insults.
Danny O'Neill
11
Posted 20/04/2021 at 15:44:15
Best to steer clear of the Kenwright debate as firstly I have never got overly emotive about it, so I'm not best qualified, and secondly it would create divisiveness at a time of overwhelming unity.
Let's keep the focus on the man in the title of this report. Moshiri seems a humble man. He is learning the ropes at Everton and many can point to mistakes. I wouldn't say mistakes, he's probably put too much faith in the wrong people. But as an astute businessman, he has a vision for Everton Football Club. And, he genuinely appears bought into Everton Football Club, our supporters and our heritage. There is a right way to do things and we are showing that class now. You could argue leading the way for the 14.
It may have frustrated us over the years as we have watched these clubs do things another way. Well they are now exposed for what they are.
There are 3 possible scenarios here as I see it:
1. They break away and become a global franchise. Self-licking and indulging themselves whilst the rest pick up the pieces and get on with it.
2. They force through change in the Champions League format closer to what they want but give a little in terms of compromise. It may even get renamed the Super League. I don't have issue with that as I've always had issue with the name Champions League.
3. They come crawling back, but as Andy says, they get improved status on TV rights associated with them and more voting powers.
Either way, they have absolutely destroyed their relationship with the other clubs, national associations and even with their own fan bases. Certainly in the short to medium term.
Jack Convery
12
Posted 20/04/2021 at 15:45:06
Wonderful, wonderful statement from our Owner, Mr Moshiri. Makes me so proud to be an Evertonian today. Every word carefully crafted to fire an exocet into the midst of these greedy arrogant bastards.
If scientists could remove the gene that causes the Greed complex, I'm all for it. Greed is ruining everything in life at present. Its about time it was dealt with in schools as to how it undermines everything we hold dear.
Ian Burns
13
Posted 20/04/2021 at 15:49:14
I think we are beginning to reach an extremely interest point in this debacle. Do they or don't they? Can they afford not to pursue the ESL given their backing from JPM and the potential cost of backing out? Can they afford not to retain membership of the Premier League, if only for the sake of their own supporters, who have come out in unity with the rest of the football community?
Their only solution as I see it, is some form of back-tracking with the remaining 14 of the Premier League, allowing them to remain because when the likes of Pep and dare I say it Klopp, come out against this ill-advised enterprise, you begin to wonder if this is all going to have a rather messy end.
One final point I would like to make, is if such as RS, MU, MC and the rest do proceed with the ESL, what are they going to say to their supporters who are obviously, in the main, so set against it?
Danny O'Neill
14
Posted 20/04/2021 at 15:56:35
Build a new base Ian or build on the global television one they have now. They're successful business people so not stupid. The fact they've gone this far tells me they have no care for the traditional fan base that will demonstrate outside Anfield and Old Trafford.
Hugh Jenkins
15
Posted 20/04/2021 at 16:01:56
Ian(13). The problem, as has been pointed out is - do you mean to their homegrown supporters, or to the millions of armchair supporters they are are seeking to gratify, in Asia and the USA?
If the former, there is nothing they can say that will change things now - it is too late - they have shown their true ambition.
Ian Burns
16
Posted 20/04/2021 at 16:05:06
Sorry to post again folks but just read the statement from UEFA which contained this extremely pointed paragraph:
"The conspirator clubs have obviously failed to see that their status today was not achieved in isolation, but rather was part of a dynamic European system where big, medium and small clubs have all contributed to the successes and losses of everyone. It is an affront to European values and sporting merit for them to assume they are entitled to "separate" and lay claim to the legacy that everyone built"
Mark Ryan
17
Posted 20/04/2021 at 16:05:21
I've not posted on here for several years even though I read the posts each and every day. Why not ? because personally I've had little to say but today I'd like to add my name to those of you that have given credit to the club for coming out so soon and condemning this breakaway ESL idea. I for one would be saddened to see the demise of the Merseyside Derby. Not playing Liverpool year in and year out seems like the end to me. '
However if they and the others dig their heels in and are forced to depart the Premier League because of their greed, I'd get over it. I don't blame the teams or their fans one jot. They didn't know it was coming. It is as though the war draft has come and they are expected to go. Well done to my Club for being on the front foot and behaving professionally. A class act... NSNO
Danny O'Neill
18
Posted 20/04/2021 at 16:07:24
Don't apologise Ian, I've been at this for 2 days now from my sickbed!!
I'm likely to get lynched for this and will definitely go to mass and confession. But, given our cousins do like a good protest and, in honesty, they're pretty good at them, I think I'd encourage Evertonians to march with them on this one.
There, said it. Off to do my Hail Marys.
Ian Burns
19
Posted 20/04/2021 at 16:08:36
Hugh - 15 - I was thinking of the home-grown supporters - surely the heartbeat of any club plus supporters such as we have with regards to Mike Gaynes, Jamie Crowley who have every right to be called "home grown". It is that type of supporter I am referring to. Surely they count?
Micky Norman
20
Posted 20/04/2021 at 16:09:59
If they come back to the fold and ditch the
€$£ as it is being called they should all be relegated to Div 2 and start on -10 points. What a shot in the arm that could give to the lower leagues for a good few years as the six of them scramble for promotion through the leagues giving every lower league team 6 guaranteed sell outs each season.
Colin Glassar
21
Posted 20/04/2021 at 16:13:23
I've said it before, and I'll say it again, this is a golden opportunity to reform (I prefer revolutionise) the game of football from top to bottom.
The game has become rotten to the core and corrupt as hell. Time to clean house and rid us of this vermin.
They didn't do It after they got rid of Blatter and Platini. If they miss this opportunity then we may as well give up and watch croquet.
Hats off to Moshiri and EFC.
David Pearl
22
Posted 20/04/2021 at 16:13:34
So any top 10 finish would mean us getting a Champions League spot? Let them go.
In fact, l'm pretty sure the American owners would love to take their franchises and move them to play in the MLS on weekends and the European Super League midweek.
Its coming
Ray Robinson
23
Posted 20/04/2021 at 16:14:04
If this does go ahead, which is highly doubtful, how many players are going to want to sign up to join? I'm not talking about the one's already contracted to the "Big Six" who might find it difficult to extricate themselves, I mean the ones playing for the "lesser" clubs? Would, for example, DCL sign for United in such circumstances? The Super League might just become full of mercenaries, not necessarily the cream. It could actually become inferior to the Premier League and so entirely self-defeating!
Bill Watson
24
Posted 20/04/2021 at 16:14:52
If any of these six back out they should still have a points deduction for breaking the Premier League rules. It'll set down a marker for the future and will cost them much more, in terms of league placement money, than a fine.
I see they are calling their local fans 'legacy fans'.
Andy Walker
25
Posted 20/04/2021 at 16:17:22
Hi Brent. I think it's a game of poker, who can hold their nerve the longest will come out on top. I don't think the traitorous 6 will be too worried about PR if they get what they want in terms of more money and power. We shall see...
Danny O'Neill
26
Posted 20/04/2021 at 16:18:39
David @22. That makes me think of the Manchester City and New York City FC link. A team in each continent only rather than being called something different, they just adopt the same name and represent the franchise?
Andrew Ellams
27
Posted 20/04/2021 at 16:18:51
Ray, the players will fall into two categories. Those that want to be millionaires with medals and international caps or those that want to be millionaires with even more millions.
Plenty will fall into the second category.
Ray Robinson
28
Posted 20/04/2021 at 16:19:32
Mickey #20. Only relegated to Div 2? You're a generous man!
Tony Abrahams
29
Posted 20/04/2021 at 16:20:22
I couldn't March with them Danny, but it doesn't mean I wouldn't salute them!
A brilliantly worded statement from Moshiri, which was absolutely first class, and right on the "money." "Money" which should never be allowed to take over from the proper values and integrity that should always exist in football!
Kevin Molloy
30
Posted 20/04/2021 at 16:22:16
I think the key point is that they have committed to the contracts. So this IS going ahead. I really hope the PL don't cave and let them stay. But if they don't no doubt huge financial incentives will be offered to Rick Parry to let them join his gang. And then we are the ones locked out of the football pyramid. It's a really tricky one, and we may have to swallow our fury ultimately and put up with the gobshites, as unpalatable as that feels at the moment.
The reds I've seen on rawk are all 'yes it's bad, but lets not pretend the current situation is ideal'. they seem to think this is where it ends. They don't realise the danger they are in. Cos these horrible bastards will now want to go on endless tours with games all over the world. Will the Liverpool Redsocks still be based in Anfield in 20 years time? don't bet on it.
Ray Robinson
31
Posted 20/04/2021 at 16:22:27
Andrew, #27. I know what you mean but either way, if there are two camps, the entire cream will not gravitate to the Super League will it?
Thomas Richards
32
Posted 20/04/2021 at 16:23:02
I'd march with the lodge before i'd march with them Danny
Bill Hawker
33
Posted 20/04/2021 at 16:23:35
I am always proud to be an Evertonian regardless. That said, I'm especially proud to be associated with a club that stands up for what is right. I'm thankful Everton "chose me." I do feel badly for a lot of the supporters of these clubs who do not want to see a Super League happen. I hope they'll have the final say in the matter.
Andrew Ellams
34
Posted 20/04/2021 at 16:25:41
No Ray, it won't. In fact I'd be surprised if many of the younger players like Declan Rice, DCL and their equivalents around Europe moved to any of those clubs in the near future now.
Those like Foden and Mount need to have a conversation with their agents.
Brian Wilkinson
35
Posted 20/04/2021 at 16:25:51
Spot on Colin, also I am so proud of how our club has come out, and instead of a penknife, we have opened up with both barrels, blasting and all out attack, without any possible return fire, we had a bit of going underground on another post, so a bit of Elton rifles thrown in here, with a parting shot for those six, the bitterest Pill, what you give is what you get, If I never ever see you again.
No suprises that you cannot find one piece of the Everton statement, anywhere on the bbc website, as I speak, why am I not suprised.
Well done Everton Football club, and especially Moshiri, for speaking up, not just for Evertonians, but every single football fan
Mike Gaynes
36
Posted 20/04/2021 at 16:28:15
Ray #23, I've been making the point from the outset that a FIFA ban on international competition for Super League players could gut the league of talent. Anybody playing for one of these clubs is wealthy already. Will they sacrifice their chance to play in a World Cup -- and betray their national team and their country -- for a few more millions?
For most of 'em, no way. No way. They'll refuse to play SL games, or put in transfer demands.
Andrew Ellams
37
Posted 20/04/2021 at 16:30:41
Mike, never underestimate the power that agents have over these players. I would be surprised to see many of those approaching or over 30 looking to move on.
The World Cup is no longer the priority for a lot of top players and coaches plying their trade in Europe.
Chris Williams
38
Posted 20/04/2021 at 16:36:09
I'm reading that the ESL have taken out injunctions against any action against the participating clubs or their players.
It's just the start
Martin Mason
39
Posted 20/04/2021 at 16:39:18
I have had my moment on my Road to Damascus. I have often commented that fans are ever more irrelevant. This ESL mess has reminded me that football as we know it is nothing without fans. Without fans the clubs are just franchise businesses but wit fans they are living things representing an area and a culture. The owners are temporary custodians while Fans are the clubs history. ESL is Franchise football and that isn't football at all. ESL will fail because it has no support from fans and players who are what football is about. I'm proud of the position that our club is taking and it is on the winning side. Either ESL is dead or the dirty dozen are dead
Dale Self
40
Posted 20/04/2021 at 16:39:56
Here is where it will always get more interesting. As the ESL (gotta get rid of the Euro there) accrues billions the players will have all sorts of leverage to get their share, alter refereeing standards and on and on. At a minimum, if it were to survive it would turn into a sterile over 30s showcase while the real football would continue and get by just fine.
And by the way it's Red Sox.
Dave Lynch
41
Posted 20/04/2021 at 16:45:15
No way on God's Green earth is this happening now.
The outcry has been unanimous from fans and clubs.
All that remains is for the FA to whip the 6 like disobedient pups.
(That was an analogy, please do no whip puppies or any animal for that matter)
Let's see if they and UEFA have got the balls for it.

Andy Walker
42
Posted 20/04/2021 at 16:47:06
Hi Ray. IF the super league goes ahead, it's success will be determined by fans.
Here in the U.K. I think most of us like to be associated with our clubs and we wear our support with pride. Yes, our team may get hammered one week and we have to go down the pub to face our mates who support other teams, but we still will stand by our team. Our loyalty and pride in the teams we support is born out of different things for different folk. It could be heritage, or values or family loyalty, whatever it is, its always positive attributes, which I think most fans like to be associated with.
Switch it on its head and do U.K. fans of the traitorous 6 want to viewed as a supporter with no such self perceived reflected positive values? I think most fans won't and this is why I think the Super League would fail, at least in the U.K.
Just think how easy it will be to take the genuine moral high ground with any fans against any from those 6 clubs.
Andrew Ellams
43
Posted 20/04/2021 at 16:48:07
Dave, I think UEFA will dish out some sort of punishment (ban from European football for a year or two) but I'm not so sure on the FA & PL.
Although that European ban may be suspended depending on the ESL actually getting off the ground.
Brian Wilkinson
44
Posted 20/04/2021 at 16:50:13
Dave@41, if they do a uturn and scrap it, do you honestly believe those clubs will be punished by docking points, Euro ban etc, not a chance, get a slap on the wrist, and a fine at most.
Kevin Prytherch
45
Posted 20/04/2021 at 16:50:17
It's a difficult situation because those 6 days all going out could have disastrous consequences for us. They have to be punished but not to the point where there is massive resentment and the chance for them to be victims (think Germany after the First World War).
I say, 10 point penalty to all 6 clubs involved now with a further 15 point penalty applicable to any club who doesn't pull out by 1st May.
Then a 25 point penalty for every subsequent season they are involved until the thing actually starts, then they get booted out.
That would mean that next season they would need around 95 points to win the league, and at least 60-65 points just to avoid relegation. We'd definitely see new teams in the champions league.
As for this season, 25 points would put Arsenal in grave danger of going down.
Hugh Jenkins
46
Posted 20/04/2021 at 16:58:27
Ian (19). I'm with you 100% - I just think, from what I have read in the press etc. that the money men at these clubs consider the local fans to be "legacy fans" (those are the words used by them) - i.e. something they inherited when they bought the club, but not necessarily where they see the future profitability of their "investment" arising. In other words, to them, the fans that attend matches are no more important that the ones that have never been to the ground, never intend to go to the ground and have no ambition to do so, but are happy to watch them on TV from 10,000 miles away, wearing full kit and proclaiming to be fans of that club "till they die".
Mike Gaynes
47
Posted 20/04/2021 at 17:02:17
Andrew #37, I'm gonna challenge you to support that statement with some quotes from actual players. Personally, I can't name a top player who has publicly expressed a lost interest in taking the World Cup pitch for his country. Every player craves the chance to lift that trophy. Can you name even one who wouldn't?
Mike Gaynes
48
Posted 20/04/2021 at 17:03:35
I don't know if anybody has yet seen or posted this quote from Shankly's grandson, Chris Carline:
"I'm appalled and embarrassed. When you talk about Liverpool Football Club and its history and its roots, you could reference seven, eight or nine of grandad's quotes which are all appropriate to the current situation – socialism, greed and the Holy Trinity – but I also think about one of the less well known comments. It's from his book, when he spoke about wanting to bring the football club closer to the fans and the fans closer to the football club. And he achieved that. It's not an understatement to say he would be spinning in his grave at the current situation because it couldn't be further removed from his ethos. Given the chance I'd happily see the statue removed."
Charles Brewer
49
Posted 20/04/2021 at 17:08:05
It rather appears that the pendulum has begun to swing back towards "the 14", the EPL and UEFA. This could be interesting.
Since the only countries' clubs that are involved are England, Spain and Italy, there is no particular reason for the French, Germans, Greeks, Portuguese, and even the Scots to offer anything much in the way of reward. UEFA can impose some very interesting restrictions. Indeed, there is every reason to penalise the Dunghill Dozen - not so much that they actually withdraw, but sufficiently that they are seriously hurt for a significant time.
Likewise with the EPL and the 14. There is every reason to tell the would-be leavers that their TV rewards will be significantly reduced.
I would hope to see very severe punishments levied on the 6 (and the Italian and Spanish teams in their leagues), which would have the entirely beneficial effect of evening up the competitions.
What appears to be becoming clear is that the 12 have far less actual clout than they think. There is certainly going to be no interest in a continuous set of matches between the 12 of them. If they are relegated to second or third tier in their own countries, there will be a terrible financial reckoning, and if the external revenues (TV, sponsorship) are restructured, then the kind of financial domination we have seen will notbe possible. (Well, City may be OK, but the rest don't have the liquid assets required, most are technically bankrupt).
Danny O'Neill
50
Posted 20/04/2021 at 17:08:08
But their thinking and reliance isn't on that type of fan Andy. It isn't on what I would call a fan.
They are more concerned with the fan that will subscribe and pay to consume the product. They want consumers of their product, not necessarily supporters.
I want to be mindful here that we don't alienate our many and very loyal overseas supporters, many of whom provide great insight and contribution on here. As an exile in London, I don't get to Goodison regular these days and when I do, it costs me the best part of £250 as a round trip. But even then, I go as a supporter, not a consumer. My point here is we have many non-local supporters who are as genuine and passionate as any of us.
I have to admit, although I wasn't thinking this at the time, I wonder if Covid has accelerated this. I've been saying for different reasons since football welcomingly came back to our screens in the summer, that they top clubs have proven then can actually survive without match day fans. I don't like that, but they have proven it, even if in the short term. TV revenue and sponsorship is where it's at for them.
Andrew Ellams
51
Posted 20/04/2021 at 17:16:02
Mike, the decline in international football has been obvious for years.
The number of players picking up injuries just before international breaks who are back and fit for their clubs a few days later, the lack of top level managers going into international management and the significant drop in quality and passion in international football.
Champions League is the number one priority now, ESL will take over from it for some but not for others.
Brent Stephens
52
Posted 20/04/2021 at 17:16:34
Chris #38 and the injunction granted in Spain, I believe.
Martin #39 respect on your Damascus statement.
Tony Hill
53
Posted 20/04/2021 at 17:27:05
Danny @50, true I think. Who is to say if there will ever be full stadiums again, or at least in the short/medium term? This, like so much else, is not about the immediate experience.
Mike Gaynes
54
Posted 20/04/2021 at 17:27:11
Andrew, maybe, maybe not... but the World Cup isn't a mere international break. I've seen no dropoff in commitment to WC qualifiers. And nobody with a chance to play in the WC will sacrifice that for the SL and a bigger paycheck. Nobody.
Andrew Ellams
55
Posted 20/04/2021 at 17:31:11
Mike, that statement says nobody will play in the ESL if they are banned from playing international football, that's absolute nonsense.
Some won't but those 12 teams will field squads packed to the rafters with international footballers if that league gets under way, ban or not.
Andy Walker
56
Posted 20/04/2021 at 17:33:27
I take your point Danny, which is why caveated with 'at least in the U.K.'. Maybe that's more hope on my part, but I'd like to think U.K. fans are mainly in the 'fans' rather than 'consumer' bracket. It may be an age thing with me though (as I'm in my mid 50s), maybe the younger U.K. football supporting generation don't or won't, value the heritage, tradition and that good winning times will get countered by bad losing times sometimes as well.
Rob Halligan
57
Posted 20/04/2021 at 17:35:15
Andrew # 51. Players only pick up these ".mysterious injuries" prior to international friendlies. Any competitive internationals then they all want to take part.
Jamie Crowley
58
Posted 20/04/2021 at 17:39:45
Way to go Mosh! Well said and well played.
There has to be severe sanctions against any team that signed up to leave the EPL.
Severe.
They need to understand they don't exist without the collective / League. They need to reassess and understand they are part of a League and as such should do work to improve the league.
Because without the League they will be castrated and exiled into some obscure wasteland of footy that is irrelevant.
Punish the crap out of these Clubs. Mutiny must be squashed.
Jamie Crowley
59
Posted 20/04/2021 at 17:45:01
Regarding the players being banned from International competition, I think this is a great thing for UEFA and FIFA to implement.
I promise you, not a single player from Mexico, the USA, or anywhere in South America will play in the ESL if that rule were implemented.
OK, maybe a handful, but the VAST majority of players would never play. This is something the British, due to their huge Club loyalties, can't comprehend.
The rest of us, and the players too I'd argue, live to see our country's compete. It means the world to the vast majority of players to represent their country, and frankly most fans around the globe.
Patriotism - that one thing that the English don't quite fully grasp how massive it is for the rest of us. And the English are right, it's damn silly in it's way. But it's not logical, and it emotionally gobbles you up.
No player on this side of the water would miss representing his country to play in the World Cup. They'd find another Club where they weren't excluded from the competition. North, Central, or South American - it won't happen.
Danny O'Neill
60
Posted 20/04/2021 at 17:47:23
No, you made a valid point Andy, I just didn't want to tarnish genuine supporters.
I guess its the environment they grown up in. The modern younger fan can obviously be influenced by Sky and; let's be honest, the Premier League has contributed to this momentum.
My son has been educated right. Not just in the values of being an Evertonian, but being a football supporter.
Mike Gaynes
61
Posted 20/04/2021 at 17:55:43
We'll see, Andrew. But the biggest names? No way. Which of these already-wealthy stars of current SL clubs, mainstays of their national teams, will blow off their countries for the World Cup?
Messi
Cristiano
de Bruyne
Kane
Sterling
Rashford
Ederson
Alisson
Gundogan
Fernandes
Lukaku
Hazard
Benzema
Ramos
Pique
Greizmann
Stones
Maguire
Pogba
Mount
Werner
Donnarumma
I'll tell you. None of them. Not one. None of the five Yanks at SL clubs. None of the Brazilians, Colombians, Argentines or Mexicans.
Of course, all this is predicated on FIFA banning the SL players, and let's face it, any theory that depends on FIFA or UEFA doing the right and proper thing is on swampy ground. (It's amazing that the SL has managed to make these two amoral organizations look moral by comparison.) But if it happens, the SL will be gutted.
Barry Rathbone
62
Posted 20/04/2021 at 17:56:31
Nut- job Perez, a prime mover of the circus, is reported to have claimed
" 40% of people between 16 and 24 were no longer interested and that interest was declining. "If we don't do something, it won't last long,".
Anecdotally I think he's right I've been saying for years footy is dying before our very eyes as it morphs into a humungous unentertaining piece of crap. His solution is nonsense but something needs doing.
The problem is space.
Pitches are the same size but players are bigger, faster and more athletic effectively this has killed one of the most exciting components of the game - dribbling.
Reduce teams to 10 men and create space for skill to return entertainment and excitement will follow.
The immediate solution for our domestic league and the cesspit 6 is to ban them as soon as humanly possible they need excising as a cancer
Andy Walker
63
Posted 20/04/2021 at 17:59:54
Good on ya Danny!
Mike Gaynes
64
Posted 20/04/2021 at 18:01:04
Jamie #59, yup. Want to see just how fast Christian Pulisic, Juan Cuadrado and Sergino Dest really are? Watch how fast they transfer out of their clubs if FIFA comes in with a ban. They'll leave only burning rubber behind.
I think it's true not only of the Americas but most of the world that players would bite off a leg rather than miss a World Cup with their countries.
John Raftery
65
Posted 20/04/2021 at 18:02:36
Unsurprisingly Mr Moshiri has realised that appeasement of these monstrous club owners has brought the game to this wretched point, that the time for sweet reasonableness has gone and that this latest act of aggression must now be met with a robust response. His statement today leads the way for other clubs to join the fight.
Not only have the twelve vastly overestimated their power they have underestimated the interest the UK and other Western European governments will take in this matter. This is not the 1980s when a Thatcher style regime was all too keen to wash its hands of football as well as many other industries. The climate has changed significantly in recent years, not least owing to the impact of the pandemic.
We now have an interventionist government very willing to operate according to the preferences of voter focus groups. Intervention to block the Super League plan will be a vote winner. Failure to do so would be a vote loser.
Brent Stephens
66
Posted 20/04/2021 at 18:04:29
Mike "players would bite off a leg rather than miss a World Cup with their countries".
Not so fast after that! Which goalkeeper said he'd give his right arm to play for his country - or something like that?
Andrew Ellams
67
Posted 20/04/2021 at 18:05:18
Mike, so who are they going to sign for? If you're waiting for a World Cup with all of those players, if the ban is put in place, you're going to be really disappointed.
Gerry Morrison
68
Posted 20/04/2021 at 18:05:31
I think we should extend the hand of friendship to our lovable neighbours across the park. REPENT. Come and join us; leave the dark side, support the People's Club and save your soul before it is too late.
Ian Burns
69
Posted 20/04/2021 at 18:05:44
Barry - 62 - I love the idea of reducing the teams to 10 men to create more space and to bring back a little more creativity. It would also reduce the wage bill by circa 10%.
Carlo could move between 4-5-0 and 4-4-1.
Not as daft an idea as it sounds Barry!
Dale Self
70
Posted 20/04/2021 at 18:06:53
Wouldn't have 'em Gerry.
Paul Hewitt
71
Posted 20/04/2021 at 18:08:33
I'm probably in the minority here, but I hope it goes ahead. The breakaway clubs are signing there own death warrant. Fans will get bored after a few years of playing glorified friendlies.Then watch the so called big 6 come begging to to let back in the premier League. I would have a very short answer. And the second works OFF.
Danny O'Neill
72
Posted 20/04/2021 at 18:11:24
Well said Jamie @59. I wouldn't say us Brits are not patriots, but certainly when it comes to football, we have lost that. I think it is particularly unique to football in our country when you compare the national passion around Rugby Union.
Now I've never been a big international follower or England supporter, but I'm a product of this unique nation in that I'm British not English. I don't have a British team to follow!!
But you're right, due to our approach to the International game (generalising again), a lot of Brits / English won't see that as punishment for our players in comparison to those of other countries where playing for their country is still the pinnacle. That is a very powerful threat that UEFA and FIFA have at their disposal.
Interesting language on the injunctions. UEFA / FIFA / national leagues "must not" punish the clubs until the plans are finalised.
Get out of jail / gaol with the last part of that sentence.
John Raftery
73
Posted 20/04/2021 at 18:23:16
Paul (71) As others have commented, these clubs want their cake and they want to eat it. They want to stay in the Premier League while also playing in their own league. They cannot afford to give up the riches they are already receiving from domestic football.
Thomas Richards
74
Posted 20/04/2021 at 18:23:40
Mike G.
"I'll tell you. None of them. Not one."
How could you know that?
Rob Young
75
Posted 20/04/2021 at 18:29:15
Paul #71
I'm with you.
James Flynn
76
Posted 20/04/2021 at 18:30:24
Mike (47) - "Personally, I can't name a top player who has publicly expressed a lost interest in taking the World Cup pitch for his country. Every player craves the chance to lift that trophy."
Agreed. Can't imagine any of our American boys OK with being banned as long as the money's good.

Robert Williams
77
Posted 20/04/2021 at 18:42:43
Lots of Mention of the FA, FIFA Prem even Boris BUT anyone heard a peep from the EU yet. I wonder what Merkle and that little French fellow make of all this? Any chance we hear the famous 'Non" ??
Brent Stephens
78
Posted 20/04/2021 at 18:44:06
Robert, I thought Macron had already spoken out against this?
Thomas Richards
79
Posted 20/04/2021 at 18:44:53
Robert,
I think they have said it already.
Clubs from both countries have rejected the idea
Colin Glassar
80
Posted 20/04/2021 at 18:50:44
Chelsea out!!!!
Brent Stephens
81
Posted 20/04/2021 at 18:50:48
Chelsea pulling out of super league say Sky
Brent Stephens
82
Posted 20/04/2021 at 18:51:40
It's got to be dead in the water, now. Man City next?
Kunal Desai
83
Posted 20/04/2021 at 18:52:10
Chelsea making preparations to withdraw from ESL. So it begins...common sense is finally prevailing.
Rob Halligan
84
Posted 20/04/2021 at 18:52:12
Colin / Brent. This thing will be dead in the water by the end of the week.
Colin Glassar
85
Posted 20/04/2021 at 18:52:22
The sand castle is crumbling!
Dale Self
86
Posted 20/04/2021 at 18:53:34
Clown show. I guess they tell whoever owns their bonds they did what they could.
Brent Stephens
87
Posted 20/04/2021 at 18:53:34
This is delicious. How do you schadenfreude?!
Fuck off rs
Danny O'Neill
88
Posted 20/04/2021 at 18:54:27
Chelsea withdrawing?
Brent Stephens
89
Posted 20/04/2021 at 18:54:34
*spell
Brent Stephens
90
Posted 20/04/2021 at 18:55:25
Chelsea preparing documents to formally withdraw, say Sky.
Ian Burns
91
Posted 20/04/2021 at 18:55:26
Chelsea definitely pulling out!!
Neil Copeland
92
Posted 20/04/2021 at 18:55:49
Well I tell you what, for someone who has often been accused of not knowing much about football or how to run a football club, Mr Moshiri seems pretty well informed to me.
Very proud to be a blue and to have such a fantastic owner.
UTFT
Dale Self
93
Posted 20/04/2021 at 18:56:06
Oh and this, who is up for a JP Morgan logo on the front of their kits? Not all at once now!
Paul Hewitt
94
Posted 20/04/2021 at 18:56:15
The club's who started this need to be punished, even if it doesn't go ahead.
Darren Hind
95
Posted 20/04/2021 at 18:56:30
I think some countries value the world cup more than others. I think every country values its national team more than England.
If the price is right it will be a question of "Come on down"
BTW; we did'nt march with the lodge, but we sneaked on the train with them to go to southport for the piss up...Half of Scottie was there.
No point in letting insignificant differences get in the way of a good shindig
Brent Stephens
96
Posted 20/04/2021 at 18:56:58
Kunal Desai
97
Posted 20/04/2021 at 18:57:51
Will probably be Spurs and Man City pulling out tomorrow and Arsenal on Friday. By Sunday it will be ESL? What ESL?
Darren Hind
98
Posted 20/04/2021 at 18:58:41
Hope the shite are forced to make a humiliating climb down...Like when they wanted to furlough their staff at the start of the pandemic
Brent Stephens
99
Posted 20/04/2021 at 18:58:46
This will end with the rs just playing with themselves. Wankers!
Brian Williams
100
Posted 20/04/2021 at 18:59:31
Wouldn't it be great if they all dropped out except for the shite. 🤣🤣🤣
Chris Williams
101
Posted 20/04/2021 at 18:59:33
With each club that pulls out, it strengthens the PL hand. Hopefully this proves to be true, and City follow suit. Christ knows why they're involved in any case.
Some concrete action still needs to be taken against the recalcitrant clubs, the less of them the better. But be under no illusion, the likes of Liverpool, United, Arsenal will be back again. And again.
Thomas Richards
102
Posted 20/04/2021 at 19:00:59
I have to confess to taking the same day out Darren.
Dont tell me nan
Brent Stephens
103
Posted 20/04/2021 at 19:01:55
Chris "With each club that pulls out, it strengthens the PL hand".
Exactly, Chris. As earlier, having to withdraw from this leaves them seriously weakened in their bargaining power.
Danny O'Neill
104
Posted 20/04/2021 at 19:01:58
My mother once threatened to march with the lodge and my Grandfather grounded her. He was on the Protestant side of the family.
Well done Everton for firing the first counter shots today and formally setting the tone of the universal response from English football.
Danny O'Neill
105
Posted 20/04/2021 at 19:05:03
Brent, please!!!
Mike Doyle
106
Posted 20/04/2021 at 19:06:42
Darren 98] don't forget the walk out protest over proposed ticket prices that caused the RS owners to drop those plans. Credit to the Koppites who stood up (literally) to be counted.
Howard Sykes
107
Posted 20/04/2021 at 19:07:41
It would appear that Chelsea are planning to pull out of the ESL,
Chris Williams
108
Posted 20/04/2021 at 19:08:06
Brent,
This withdrawal talk isn't related to the previous comment about playing with themselves I hope?
Danny O'Neill
109
Posted 20/04/2021 at 19:09:03
City going now too.
Kunal Desai
110
Posted 20/04/2021 at 19:09:13
Billionaire owners, not a clue when it comes to common sense.
Take your franchise model and stick it where the sun don't shine. This isn't NFL or baseball.
Danny O'Neill
111
Posted 20/04/2021 at 19:10:35
We have a Billionaire owner, but one who understands our values. We took a lead and a stand today.
Despite my roots, I'm no raving socialist, but power to the people's game today.
I still think there's a lot of negotiating to be had but this is feeling like a victory for the fans.
Brent Stephens
112
Posted 20/04/2021 at 19:10:45
Chris, the rs train was hardly out of Lime Street heading for the super league. Now getting off at Edge Hill.
Brent Stephens
113
Posted 20/04/2021 at 19:12:15
According to SunSport's Martin Lipton, City have told organisers they no longer want to be part of the £4.6billion scheme.
Rob Halligan
114
Posted 20/04/2021 at 19:13:02
Something I'm not Au Fait with is this ECA, European Club Association. What exactly is it, and will it affect man Utd in any way seeing as they withdrew from it on Sunday?
Thomas Richards
115
Posted 20/04/2021 at 19:17:59
Forthcoming statement from the owners.
"Having listened to our fans, who are the lifeblood of this club, and in memory of great managers who formed the history of the club we have decided to not join this league.
We look forward to bringing the 12th man the succes they deserve."
Guess the club
Danny O'Neill
116
Posted 20/04/2021 at 19:18:19
And Atletico apparently. The dominoes are falling it seems.
Neil Copeland
117
Posted 20/04/2021 at 19:18:59
Now that the Prem has the upper hand they should issue a date by which the remaining 5 need to pull out. Failure to do so should result in expulsion.
Points deductions need to be issued as a minimum regardless. I would start by deducting 10 points from Chelsea. Then tell the others that punishment will be increased, effective tomorrow, at the rate of 10 points per day until the deadline date is reached. Give them until Friday to decide.
Andy Crooks
118
Posted 20/04/2021 at 19:19:01
If this is falling apart let us please not forgive and forget, otherwise this will surface again but not quite so bare faced. Deal with it once and for all now and impose sanctions on the owners of the Judas six.
Ron Sear
119
Posted 20/04/2021 at 19:19:48
It looks like Chelsea and Man City are baling out, Let's hope that Liverpool are the very last left in so they can take the full heat of the disgust.
Kim Vivian
120
Posted 20/04/2021 at 19:20:04
So - the dominos are toppling.
It's going to be interesting to see how the genuine fans of these clubs position themselves now having been embarrassed by these forever tarnished clubs that they support.
One thing I do feel quite strongly about is that Government should not be getting involved in this. It is for football to sort out.
Dale Self
121
Posted 20/04/2021 at 19:21:02
They have brought the game into disrepute with their actions. Do something that their bondholders will hear or we'll be doing this again sometime soon.
Perez is clearly the most desperate here.
Colin Glassar
122
Posted 20/04/2021 at 19:21:51
I knew this wouldn't take off. The greed blinded them. I hope JPMorgan, and the prem, now take them all to the cleaners for breach of contract. Let's ruin the bastards!!!
Robert Tressell
123
Posted 20/04/2021 at 19:21:57
Chelsea and City are the clubs with least to gain except access to a prestige tournament. The other Uk clubs have no benefactors. Like Real Madrid and Barca, the Milan clubs and Juve, they're faced with rebuilding teams without the financial muscle of PSG (not invited?) and City and Chelsea. Bayern also presumably said no because of their 51% (is that right?) fan shareholding. These big traditional clubs can become irrelevant for a generation if they can't rebuild effectively (sound familiar).
Thomas Richards
124
Posted 20/04/2021 at 19:24:18
The owners of Liverpool are gone. History.
Problem now is who they sell to.

Colin Glassar
125
Posted 20/04/2021 at 19:24:19
Barca and athletico Madrid out as well!!! The coup has failed.
Colin Glassar
126
Posted 20/04/2021 at 19:25:22
Thomas, revenge for the Boston Tea Party? 😂😂😂
James Marshall
127
Posted 20/04/2021 at 19:25:45
My understanding is that Chelsea and City were the last 2 clubs to sign up to this circus. Neither needs the money, they only signed up so as not to be left behind if it went ahead - hence why they're now bailing.
Fingers crossed the rest of them follow-suit and that twat Perez from Real Madrid winds his horrible greedy neck in. I never thought I would be able to dislike Madrid more than I already do, but...
Dale Self
128
Posted 20/04/2021 at 19:27:49
Time to put in some low-ball bids for their players just to wind em up.
Chris Williams
129
Posted 20/04/2021 at 19:28:06
Being reported that all 12 clubs meeting tonight to discuss disbanding ESL.
Ha ha ha ha.
Mike Doyle
130
Posted 20/04/2021 at 19:30:14
Hope the 'Super 6' are not simply allowed to walk away without some sort of serious penalty.
Mike Gaynes
131
Posted 20/04/2021 at 19:30:18
Maybe Real Madrid and Juventus can play each other every Wednesday.
Looks like they're gonna be the last ones standing.
Especially after Lewis and Levy get off the phone with Boris.
Brian Harrison
132
Posted 20/04/2021 at 19:30:56
First I see that the words Chelsea have used is they are drawing up paperwork to allow them to withdraw from the ESL. On the face of it thats good news, but the wording says allow them to leave, now I would imagine that these clubs signed a legal document guaranteeing to join this league.
So I would imagine that JP Morgan have binding contracts that will cost Chelsea and City an absolute fortune to get out of.
Also I hope that the Premier league impose a points deduction on all the clubs whether they leave now or later. Because this is not the end of this and unless a points deduction is imposed these same clubs will be meeting again to alter the rules in future. A fine just wont cut it I am afraid.
David Pearl
133
Posted 20/04/2021 at 19:34:35
They will get off scott free and we know it.
Colin Glassar
134
Posted 20/04/2021 at 19:34:56
That's what I've been saying Brian. These teams need breaking, financially, up. We need to ruin them to have a level playing field.
Danny O'Neill
135
Posted 20/04/2021 at 19:36:58
I think the key here is they signed up to a proposal.
Like the injunction earlier "once plans are finalised".
At the moment all they have signed up to is a proposal as I understand.
Neil Copeland
136
Posted 20/04/2021 at 19:40:09
Colin, maybe the contract they have with JPMorgan will go some way in achieving that together with a points deduction big enough to prevent most from qualifying for Europe next season. Having said that, UEFA may simply ban them for a period of time,
Not holding my breath though.
Thomas Richards
137
Posted 20/04/2021 at 19:43:08
Current debt of the 12 clubs
Athletico £840 million
Barca £1. 030 billion
Real £651 milliion
Arsenal £405 million
Chelsea £224 million
liverpool £386 milliion
Man City £202 million
Man Utd £771 million
Spurs £1.177 billion
Inter £757 million
Juve £752 million
Milan £247 million.
Good luck clearing that boys 😁
Jim Lloyd
138
Posted 20/04/2021 at 20:04:08
I'm proud of all the 14 clubs who stuck together and refused to accept the slimy deal offered to them.
There's a number of clubs who must be having a real hard time, yet they stood together.
Well done and thanks to them all.
Most of all, Our owner has come out as being head and and shoulders above the slimy six.
Well done and well said, Farhad Moshiri
Brent Stephens
139
Posted 20/04/2021 at 20:04:30
Ed Woodward has stepped down!
Ray Robinson
140
Posted 20/04/2021 at 20:27:27
Colin #134. Be careful what you wish for. A truly level playing field might lead to Moshiri having to rein in his financial suport for us!
Where do the Liverpool owners go now to salvage their leveraged asset? Their share price will plummet.
I really hope that UEFA do not go ahead with their proposed discretionary places in the revamped Champions League. That would be an equally absurd notion and one worth fighting against as it has nothing to do with merit. That's an argument for another day, I suppose.
Seb Niemand
141
Posted 20/04/2021 at 21:38:01
I think our owner has been pretty unequivocal in letting us know where he, and the club as a club stands. Well said, Sir!
Barry Rathbone
142
Posted 21/04/2021 at 10:47:15
Mosh should really have added "and owners of the cesspit 6 should be shot" - you have to start high in negotiations
---
Add Your Comments
In order to post a comment, you need to be logged in as a registered user of the site.
Or Sign up as a ToffeeWeb Member — it's free, takes just a few minutes and will allow you to post your comments on articles and Talking Points submissions across the site.