Everton vs Aston Villa
Saturday, 1 May, 2021
Match Preview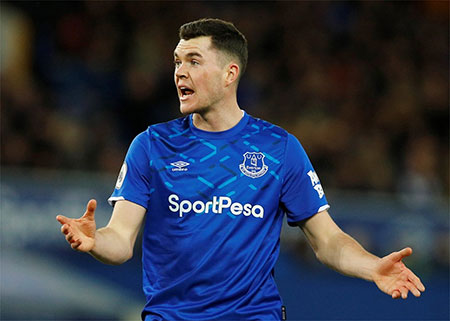 Michael Keane is fit again but will he walk straight back into the starting XI?
Everton are back at Goodison Park this evening looking for a first home win since the start of March in order to press their claims for European qualification.
The Blues kept pace with the top six with their slender victory at Arsenal last Friday, yet another away win in this unusual season, but they will need to rectify their miserable form on their own turf if they are to make it into Europe for next season.
Unless Fulham do Carlo Ancelotti's men a favour in the 5:30 pm kick-off, Everton could find themselves 11 points off the Champions League spots and, realistically, out of contention for the top four by the time they kick off but a place in the Europa Conference League at least is very much still in their hands.
Standing in their way tonight are Aston Villa who looked at one stage this season to be strong contenders for the top six under Dean Smith's stewardship but they have fallen away in Jack Grealish's absence in recent weeks.
The England international has been struggling with injury and the Midlanders haven't had the same cutting edge without him and since beating Leeds on 27th February, they have just one win in eight Premier League games.
With Ollie Watkins leading the line and Anwar El Ghazi chipping in with goals, they remain a dangerous side, however, and they will have done their homework on how to cause Everton problems based on a succession of matches at Goodison where the Toffees have been overrun by a more intense opposition midfield.
Rediscovering that tempo that, in truth, has really only surfaced in the two home fixtures against Tottenham in recent weeks, will fall on Ancelotti's shoulders as he prepares for this one with a practically fit squad. Unfortunately, one of the two absentees, Abdoulaye Doucouré, is arguably his most important in terms of providing the legs and stamina in the middle of the park.
Still, Allan is back fit and has settled back into his groove since returning from a hamstring injury — even if he has, understandably, looked a touch short of match sharpness. And in Tom Davies, the manager has a player who can provide a decent foil for the Brazilian, although the young Englishman was overlooked at the Emirates until late on, with André Gomes preferred in the starting XI.
Gomes would count himself fortunate if selected to start again after a disappointing hour or so against the Gunners and his replacement in that match, Fabian Delph, wasn't much better. Ancelotti can exhibit a frustrating deference to experienced players, though, and it wouldn't be a surprise if Delph got the nod to start against Villa.
At the back, there will be a decision to make given that Michael Keane is fit again after missing out last time with a slight hamstring problem. He was involved in both of Spurs' goals in that 2-2 draw at Goodison a fortnight ago and, as such, might not walk back into the side. Yerry Mina, who was only deemed fit enough to begin the last match on the bench, is the more likely option to partner the in-form Ben Godfrey if Ancelotti sticks with the four-man back line.
There has been much talk in the Everton camp about needing to approach the last quarter of the campaign as a series of cup finals but thus far they have failed to raise their game to the required levels.
With games running out but so much still to play for, hopefully this will be the moment where the players break out their best form, get into Villa from the first whistle, establish some early dominance, and then finish them off to set the tone for the five fixtures that will remain.
Kick-off: 8 pm, Saturday 1 May 2021 on BT Sport 1
Referee: Simon Hooper
VAR: Graham Scott
Last Time: Everton 1 - 1 Aston Villa
Predicted Line-up: Pickford, Coleman, Mina, Godfrey, Digne, Allan, Delph, Sigurdsson, Rodriguez, Richarlison, Calvert-Lewin
---
Reader Comments (74)
Note: the following content is not moderated or vetted by the site owners at the time of submission. Comments are the responsibility of the poster. Disclaimer
Bill Gienapp
1
Posted 01/05/2021 at 06:19:15
Delph potentially starting? I think I might swoon!
Paul Birmingham
2
Posted 01/05/2021 at 07:04:28
It's now or never today Everton, as must earn a home win, which has become a rare event this season at Goodison Park.
For me Delphi's a bad bad influence on the squad, fit or unfit and his body language at Arsenal for me summed him up, as a person and player, he thinks he's above it all and doesn't give a crap about Everton.
Tom Davies must start and hopefully Isaac Price can get a place on the bench, as he and the other youngsters in contention for the first team do care and put a shift in.
Delph if he starts could prove me wrong and I'll eat double slices of humble pie and give credit if due.
But some how I doubt it.
No excuses and I fear Villas attack and hopefully Tom playing alongside Allan can help stop the feeds into the Villa attack.
For me start as last week but Tom Davies starts in place of Gomes.
Kunal Desai
3
Posted 01/05/2021 at 07:11:46
Davies in place of Delph.
Six big games, all cup finals. Finish off the season the way they began it.

Kim Vivian
4
Posted 01/05/2021 at 07:13:49
Can't see Delph starting in front of Tom D unless it is a shop window strategy. He was abysmal last week during his short cameo. Other than that Lyndon's eleven look a pretty likely shout to me.
We should, and I believe we will, be winning this game. Clean sheet and 2 goals from somewhere. 2-0
Eddie Dunn
5
Posted 01/05/2021 at 07:33:33
On the subject of Delph, it is a wonder how he seemingly has such a high opinion of himself. His appearance record is very low. Forgetting a couple of appearances for Leeds in 2006-7, he has struggled to amass games. He has on;y played 240 times in 12-13 years. An average of only 20 games per season and in the last three seasons he has only played in 33 league fixtures.
Still I wouldn't be surprised if carlo plays him against one of his old clubs - it usually brings the best out of a player.
It is impossible to know what kind of performance to expect tonight. Can we actually brush a team aside and win comfortably?
For once it would be nice to see a two goal cushion and a canter to victory instead of the usual nail-bitten finale.
Jason Li
6
Posted 01/05/2021 at 08:07:15
Apart from Doucoure, all our top players are in pretty good form and fit, so I reckon a very good chance of winning at home this time.
Neil Lawson
7
Posted 01/05/2021 at 08:13:10
I fear that you may be correct about Delph. That decision, I suspect, would absolutely mystify most of us and be truly ridiculous at this stage of the season.
Mike Gaynes
9
Posted 01/05/2021 at 08:17:48
Of course Delph must start. We need goals. And he hasn't scored since 2017.
By the law of averages he should be due for a brace at least.
Jonathan Tasker
10
Posted 01/05/2021 at 08:18:45
the 5.30pm kick-off, Everton could find themselves 11 points off the Champions League spots and, realistically, out of contention for the top"
The above doesn't make sense. Everton are six points behind Chelsea so how could they then be 11 points behind after the Chelsea match ? Am I missing something?
Tony Everan
11
Posted 01/05/2021 at 08:21:55
Lyndon, A strange season indeed. I look at the fixture and think, "Oh shit !, we're at home "
The word intensity applies again. All teams who come to Goodison ; rich, poor, good or bad know they can get something, at least a draw, if they bring all the intensity they can muster to the game.
Our midfield has buckled when teams have outdone us for energy and intensity, our supposed classier players have been nullified by it time after time at Goodison. I mean can anyone honestly say that we have been unlucky at home ?
So tonight the key will be matching the intensity that Aston Villa will undoubtedly try to impose. Our success in that will be down to either how the team is set up or wether we can reproduce the rejuvenated last home performance against Tottenham.

Pickford
Coleman Holgate Godfrey Digne
Davies Allan Gomes
James DCL Richarlison
That looks a strong team, always concerned about Gomes but I think he has shown some incremental improvement , and much prefer him to Delph.

Brian Murray
12
Posted 01/05/2021 at 08:23:09
Delph reminds me of that other bargain Darren Gibson. So glad we have over ten out of contract this window. I hope Gomes is on that list and even Siggy. Shame for him but the lack of pace and one game in four is not the level we are going. Davies at a push I'd keep especially if we get in the Europa. As for the incomings well the usual suspects we keep hearing will be a start plus Brands to unearth like his PSv stint.
David Pearl
13
Posted 01/05/2021 at 08:41:07
I would be very suprised if Siggy doesn't start alongside James, they have started to click. Surely a 451... fingers crossed as l hate the diamond midfield
Jerome Shields
14
Posted 01/05/2021 at 08:43:48
Everton will be in defensive mode again and dependent on James to provide a pass to unlock Villas defence. Hopefully Richarlison and Calvert Lewin will have learnt the value of percentage football and play as they are coached.
If Sigurdsson can get the right delivery on the edge of the area he might get lucky with one of his shots. The overall objective will be to grind out a result and hopefully nick a goal. What I would give for a upgrade in Everton's set piece play to something like before Xmas.
Everton are going to need the right motivation or spirit as Ancelotti calls it. If they come out and give one of those inept performances they are capable off, I may break the TV throwing something at it.
IMO Delph is the linkman to nowhere. Davies rather than Delph please.
Derek Knox
15
Posted 01/05/2021 at 08:48:42
Mike G @ 9, Re : Delph " By the law of averages he should be due for a brace at least."
Why is he having problems with his dental alignment/arrangement?
Not the most inspiring team as per Lyndon's projected eleven, but as Kunal and Kim have said, surely Tom Davies has shown enough to merit a place, as the best of a 'limited choice' pool of available players.
Missing Jack Grealish, has clearly affected Villa's potency of late, and he is clearly missed by them, but by the same token, they are not to be seen, or treated as an easy 3 points. Our Home Form inexplicably has been very poor, with virtually the same personnel who have performed a lot better away, the game before. I know there are no crowds, which thankfully has highlighted how important the fans actually are. Still doesn't explain why we should be verging on crap/really disappointing against teams we should be beating though.
COYB
Jerome Shields
16
Posted 01/05/2021 at 09:00:58
Delph :Goals!What?
Danny O'Neill
17
Posted 01/05/2021 at 09:01:57
Missing Grealish, but they have Watkins.
The Villa supporting wife is continuously reminding me of my sceptical raised eyebrow when they splashed £33m on an unproven player in the summer.
I should know better. I constantly bang the drum about proven Premier League experience not being important.
I anticipate a end to end game with plenty of goals.
Thomas Richards
18
Posted 01/05/2021 at 09:06:13
Its a long, long list of players we have who are not good enough to achieve top four football.
Near enough in double fugures.
Tony Hill
19
Posted 01/05/2021 at 09:15:34
We have a reasonable chance of getting top 4. It's up to us to have the confidence. Let's, at least, see tonight that we are aware of what is at stake.
Ajay Gopal
20
Posted 01/05/2021 at 09:18:18
Another shit timing for viewers in India! This must be the 10th successive Everton game starting at 8:00 pm (12:30 am past midnight here). I will have to do my usual viewing of the replay on Sunday morning and making sure I don't log into TW or any of the sports websites! Annoying!
Coming to the game, if Carlo starts Delph for this one, I will truly lose it and gladly join the COB! The back 5 was solid against Arsenal, so why tinker with it? I like Tony's team, but Carlo will fancy Siggy over Gomes for sure.
4-2-3-1
Pickford
Coleman Holgate Godfrey Digne
Allan Davies
James Siggy Richarlison
Calvert-Lewin
SUBs: Olsen, Mina, Keane, Nkounkou, Gomes, Delph, Bernard, Iwobi, King
Bill Griffiths
21
Posted 01/05/2021 at 09:18:58
Is the game on Sky or BT?
Danny O'Neill
22
Posted 01/05/2021 at 09:21:06
BT Bill. So we have to turn off McManaman and watch without commentary.
Danny O'Neill
23
Posted 01/05/2021 at 09:24:15
I don't like predicting teams or second guessing Carlo Ajay, but like that team. I'd probably just swap out Holgate and put Mina in alongside Godfrey if he's fit.
Martin Nicholls
24
Posted 01/05/2021 at 09:26:16
Ajay - shit timing for us in UK as well! One of these days, we might have the novel experience of a 3pm Saturday afternoon kick off!
Mike Doyle
25
Posted 01/05/2021 at 09:30:29
Danny & Bill. Better still find another stream (e.g. Hesgoal) as they are bound to have Jim Beglin as co-commentator. Jim of course hates us with a passion and never gives us credit for anything- which makes his commentary even more enjoyable (in an odd way).
Danny O'Neill
26
Posted 01/05/2021 at 09:37:03
I've just commented on being in the Main Stand the day Harry Catterick died Mike.
I was also for some reason there for the Littlewood's (League) Cup match when Gary Stevens snapped him in half, effectively ending his career.
Awful tackle, awful injury. I guess that and the fact we were all chanting "die you barsteward die" as he was carried off left him with a bitter taste. He most certainly has no affection for Everton!
Bill Griffiths
27
Posted 01/05/2021 at 09:41:12
Thanks guys. Might have a go at streaming it.
Martin Mason
28
Posted 01/05/2021 at 10:22:25
Isn't modern football a bitch? There are just no games now where you can expect to win and be really surprised if you don't. Villa are a good side and can beat anybody on the day; no Grealish is a massive plus for us though. We have a good chance of winning today. It'll be a diamond dog day in midfield and I'm not sure why but I feel that we play it badly. It's the only way though that we can fit Siggy in and get the best from him. Another good wide midfielder though and a silky smooth 4-3-3 next year
Alan J Thompson
29
Posted 01/05/2021 at 10:28:05
If Delph raises his game because he is playing against one of his former sides then I shudder at the thought of Barkley starting for them.
Danny Broderick
30
Posted 01/05/2021 at 10:33:17
Regardless of the result, we need a performance. We were really poor against an Arsenal team which was there for the taking without Tierney, Aubamayang and Lacazette. I know we are missing Doucoure, who is a big player for us. But we have Digne, Allan, Rodriguez, Richarlison and DCL. We are pretty much at full strength and Grealish is missing for them. We should be too strong for them if we have a right good go at them.
Robert Tressell
31
Posted 01/05/2021 at 11:00:07
Despite our spending and their few years out of the top flight, these are two quite evenly matched squads. The loss of Grealish probably swings things in our favour. Should still be tight though.
Derek Taylor
32
Posted 01/05/2021 at 11:11:33
All this talk of Cup Finals, I doubt if there will anybody in Carlo's bizarre team selections who remembers such an experience !
David Hayes
33
Posted 01/05/2021 at 11:21:41
Hate the whipping boy mindset, but in Delphs case, pass me the lash, cat,o nine tails, miss whip lash a coach load of lion tamers, and a ropes end. After which he would still stop for 5 mins and then pass the ball backwards.
Tom Harvey
34
Posted 01/05/2021 at 11:42:57
I just can't find the enthusiasm for the Europa, it will drain all the energy out of a squad with no great depth.
I'll watch tonight and pretend there's no Europa qualification possible.
Raymond Fox
35
Posted 01/05/2021 at 11:45:40
We don't score enough goals to be confident of beating anyone- period.
1-0, 1-1, 0-1 take your pick, or maybe we go wild and score 2 goals, hope so.
Martin Berry
36
Posted 01/05/2021 at 12:03:02
Win or forget Europe bar a pre season tour. I expect us to win as we have to.
On paper we are better than them and surely our dismal home form must change.
They have a solid centre at the back so DCL is going to have to be very cute, maybe something from Siggy or James may do the trick.
Danny O'Neill
37
Posted 01/05/2021 at 12:13:31
I'm all for Europe Tom.
We won't be playing next season with the same squad. Especially if we qualify for Europe.
Matthew Williams
38
Posted 01/05/2021 at 12:32:59
It's all about getting the three points today Blues,win ugly is fine by me...but WIN.
European footy is all that matters now.
Robert Tressell
39
Posted 01/05/2021 at 12:36:40
We're only very marginally better than them, player for player, Martin.
David Cooper
40
Posted 01/05/2021 at 12:35:12
Talking of Aston Villa, how much longer must we wait before we know the date of the long postponed away match at Villa?
There are just over 25 days before the last game of the season, against Man City. I find it unbelievable that a date has not been set. What do both clubs feel about this and should they be doing something about it? I think the Premier League officials must be held accountable for this inexplicable lack of information. Or is this yet another unacceptable example of how Sky Sports and BT Sport control the Premier League? I can't believe that they will ask both teams to play in the week leading up to the last match. How is that fair? So come on, Premier League – pull your friggin' finger out and set a date!!!
Danny O'Neill
41
Posted 01/05/2021 at 12:41:58
Thursday 13 May, David.
Tom Harvey
42
Posted 01/05/2021 at 13:18:16
Danny & Mathew (#37 & #38),
The owner has a stadium to build at £500M, we're in the middle of a global recession, I wouldn't at all be surprised if we only see one or two new faces in the summer and another tough season.
I've been wrong before, Moshiri might splash the cash, but I believe the Europa League will be a burden we don't need.

Darren Hind
43
Posted 01/05/2021 at 13:25:07
It's a bit late in the day to start worrying about the style, or lack of it.
You just got to hope the ends justifies the means.
Villa not a one man team, but they can be a very decent team with Grealish. I don't think they can without him.
We may not be troubling the edge of our seats, but we win this one all day long
Kieran Kinsella
44
Posted 01/05/2021 at 13:34:44
5-4, to us because it has nil written all over it but sometimes football still surprises. No need to build a Delph statue as he is a statue but another chance for the Brazilian Peter Reid to shine.
Brian Williams
45
Posted 01/05/2021 at 13:38:19
Beat Villa today and pull our fingers out for the remaining games until the last game of the season.
Man City on the beach having won the treble.
We need to WIN to beat the rs to the last CL place.
We're two nil down with ten minutes to go when DCL and Tom Davies score within a minute of each other. Two all in the ninetieth minute.
Five minutes of added time.
With four and a half minutes gone Richi darts into the City box and goes down after the slightest of touches by, guess who, John Stones.
No penalty given by the ref but the Everton players, for once, surround him demanding VAR intervention.
Penalty is somehow given much to everyone's surprise.
Sigurdsson's been subbed, nobody seems keen to take the penalty but up steps Pickford who smashes it home.
Final whistle goes and then the myth that Pickford ruined the shite's season becomes reality.
Not a fucking lot to ask is it?
😶
Danny O'Neill
46
Posted 01/05/2021 at 13:45:01
I don't confess to know, but would assume (hope?) that stadium funding is factored in separate Tom, although obviously it will be related to how we perform as a club. Recession? The economy will bounce back quickly, as US growth figures demonstrated this week.
European football very much part of the "project" (hate that term by the way). Nice interview with Carlo on the YouTube channel this week where he refers to the stadium. Other notable comments from him where relating to Inzahgi. When we talk about DCL not being great outside the box, listen to what Ancelotti says about Inzahgi. That aside, Crosby beach gets the nod over Venice's Lido and there is now a restaurant in Parma I need to check out!!
Kieran Kinsella
47
Posted 01/05/2021 at 13:54:02
Brian 45
Very Shakespearean love it
Brian Williams
48
Posted 01/05/2021 at 13:56:19
Kieran. Well I did go to school with him!
Frank McGregor
49
Posted 01/05/2021 at 14:12:37
Would like to see Everton just once playing the ball faster upfield rather than the continuous passing in the 18-yard area with the final pass going backwards to Pickford who kicks it upfield to the opposition.
Nicholas Ryan
50
Posted 01/05/2021 at 14:29:59
Isn't Delph a type of pottery, made in Belgium and Holland, which is famous for cracking very easily?!
Mike Connolly
51
Posted 01/05/2021 at 14:31:37
I love that, Brian. The way this season has gone, anything is possible...
John Raftery
52
Posted 01/05/2021 at 14:39:35
If we can't build a squad to cope with playing in the Europa League, I find it hard to imagine we could build one to qualify for the Champions League.
John Kavanagh
53
Posted 01/05/2021 at 15:03:00
I couldn't give a toss about the Europa League or whatever, the most important thing is to finish above Liverpool and give all the young Blues some bragging rights for once.
Finishing above that lot will also almost definitely keep them out of Europe unless Uefa come up with yet another dirty fix. I can't help but feel we've thrown away a magnificent opportunity to overturn the status quo this season.
If Delph starts, I'm switching off and won't watch until he goes off injured, hopefully about 7 minutes in.
Here's hoping we are all shocked by a return to the form and performances of early in the season.
COYB. 4-1.
Neil Lawson
54
Posted 01/05/2021 at 15:07:53
At least Iwobi will be happy that Delph is "fit" and ready to play. Replacement whipping boy.
I have just read some comments from Ancellotti blaming Iwobi's shiteness (my word, not Carlo's) on the performance of the rest of the team. Hmmmm...
Gone is the day, it seems, when a good player always turned in a performance whatever the circumstances. Ben Godfrey is an apt example but perhaps he is the only consistent shining light and needs to be moved on lest he bucks the team ethic: "If one shite, all shite."
Darren Hind
55
Posted 01/05/2021 at 15:10:55
Got 13/2 this morning for double on RS Franny Norton in the 3.00 and the boys tonight. One down one to go.
Martin Mason
56
Posted 01/05/2021 at 15:12:19
Robert@39 Absolutely, they are a good side and I fancy it'll be a great game today.
David Hallwood
57
Posted 01/05/2021 at 15:25:27
3 at the back for me. Godfrey, Mina, Holgate. Coleman and Digne wingback. Davies, Allan & James in mid and the usual 2 up front or even put King on for Richy. 2-0 COYB
David Pearl
58
Posted 01/05/2021 at 15:49:46
King must believe he made a huge mistake choosing us over Fulham and West Ham.
Jay Wood
[BRZ]
59
Posted 01/05/2021 at 16:03:02
Just read Carlo's comments from today's match day program.
Nail on head on the stupidity of the ESL:
'This match is a perfect example of why competition is the lifeblood of football. We are eighth but the possibility for Europe is there and the intention is to fight until the last day.

'Without this incentive, the game wouldn't be so important and, in that situation, it is tough to have the same intensity and concentration.

'In the Premier League, every opponent is difficult, all the teams have different qualities and the ambition to win matches.

'If there is no chance to achieve something more than survival, the motivation would be low and the competitive element would suffer.

'This is why the 12 clubs wanting a European Super League made a bad mistake.

'It is unacceptable to have a competition with no sporting merit and this idea could only happen when there is no consultation with the managers and players and supporters.'
He goes on to say:
'At Everton, you can feel the emotion and love of the supporters, how they are really close to the team and the Club.

'Everton is a club with class, I think, and the Owner and Chairman and Board listen to the voice of the fans.'
He gets it.
Frank Fearns
60
Posted 01/05/2021 at 16:07:21
Frank 49. From one Frank to another spot on couldn't agree more. Drives me bonkers playing like that. A few weeks ago Digne had a free kick in opposition half -- what did he do passed it back to our keeper!!! Say no more.
Pat Kelly
61
Posted 01/05/2021 at 16:33:43
Not only do we have to avoid the Europa Cup but also the new Europa Conference League. I think on recent form we're capable of avoiding both.
Simon Dalzell
62
Posted 01/05/2021 at 16:39:27
Nicholas (50). No. That is incorrect. You are getting confused with Delft. Though thin and light, it is very strong, and does not crack easily. It is blue and white which seems the only similarity.
Nicolas Piñon
63
Posted 01/05/2021 at 16:47:48
If Gomes siggurdsson and James start the game I don't see it happening
Hope Carlo doesn't repeat that mistake by all means. We have good availability of players so hope he gets it right.
COYB!
Bobby Mallon
64
Posted 01/05/2021 at 17:18:42
My team
Pickford
Coleman
Holgate
Godfrey
Digne
Allan
Davies
Gomes
James
DCL
Richy
Mike Gaynes
65
Posted 01/05/2021 at 17:32:07
Brian #45, loved your story. Didn't know that kind of mushroom grew in your area, but I'm glad you're enjoying them so much.
And speaking of hallucinogens, here's the Sun a couple of hours ago:
https://www.thesun.co.uk/sport/football/14808898/philippe-coutinho-everton-barcelona-transfer-liverpool/
Any thoughts on how real this is?
Any thoughts on whether we should want it to be real?
Jay Harris
66
Posted 01/05/2021 at 17:59:22
Mike
Time has moved on and he has deteriorated from his best so it's a no from me.
Would much sooner break the bank for a Grealish, Pulisic, Maddison type player who can create and score goals.
Brian Williams
67
Posted 01/05/2021 at 18:10:21
Mike #65.
I resent the inference to my use of hallucinogens.
When I posted that, I had just enjoyed a lovely cup of Earl Grey and a couple of Brownies my son had sent me from an excellent coffee shop he's found while he's working in Amsterdam.
They're delicious but I can't fathom why eating them makes me feel so bloody hungry!
Thomas Richards
68
Posted 01/05/2021 at 18:13:54
Not sure on Coutinho Mike.
Very good player for them but seems to have drifted away a little.

Nicolas Piñon
69
Posted 01/05/2021 at 18:18:57
I'd go for Zaha with the money coming in for Moise Kean, if he's sold, plus some cash.
Not sure the Carlo type of player anyway. But we need a serious winger in our squad. Too many playmakers already.
Raphinha of Leeds would be great as well.
CARLO IL MAGNIFICO!!
Tony Everan
70
Posted 01/05/2021 at 18:30:14
Mike, I can only see it if it is to rebalance some outgoings. It's possible James will move on because of the constant kicking he gets every week or at the request of his family. Gomes, Delph or even Sigurdsson maybe off.
Coutinho hasn't justified his mega-fee and the pressure there may have damaged his confidence and game a bit. But there's no doubt he's a hugely talented player. What interests me is that Mr Ancelotti is a player whisperer. He could get a player such as Coutinho in and get him playing well and also enjoying his football. If he could do that, and you can't rule it out , it could be a fantastic signing for the club.
I agree with Jay @ 66 in his last sentence. This type of attacking midfielder is a bigger priority to move the club forward.
Christy Ring
71
Posted 01/05/2021 at 18:30:31
I agree with Bobby@64, I'd have Gomes and Davies with Allan in midfield, I honestly think Delph offers nothing.
John Skelly
72
Posted 01/05/2021 at 18:32:22
Not really concerned about how we play tonight as long as we win, call me boring but I prefer pragmatist.
Bobby Mallon
73
Posted 01/05/2021 at 18:49:54
Nicholas 69 Raphinha is a great shout
Anthony A Hughes
74
Posted 01/05/2021 at 18:58:29
I'm going for a 0-0 home win
Dale Self
75
Posted 01/05/2021 at 19:02:42
My concern about Coutinhole' is that he is not in form and bringing him into the Prem at his age just makes that gamble more difficult to pay off. We need that level of quality in midfield but his type needs to be part of a trio that I don't see our squad offering. Thinking of him as a 10 type
Yes on Raphinha. UTFT!!!
---
Add Your Comments
In order to post a comment, you need to be logged in as a registered user of the site.
Or Sign up as a ToffeeWeb Member — it's free, takes just a few minutes and will allow you to post your comments on articles and Talking Points submissions across the site.