'I'm not a magician!' – Ancelotti says character and quality needs to improve
Tuesday, 18 May, 2021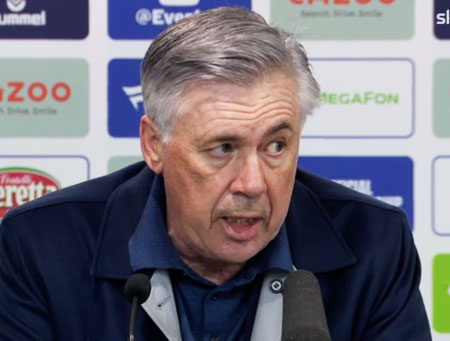 Carlo Ancelotti has reiterated the need to improve Everton's squad this summer but stresses much more character will be demanded of his existing players if the club is to progress next season.
Speaking in his pre-match press conference ahead of tomorrow's final home game of the season against Wolves, one which the Blues have to win to have any hope of sneaking into Europe, the Italian quipped that he isn't a miracle-worker and that his team's form at Goodison Park has him mystified.
He was asked why he has yet to fix a record at home that is on track to equal the club's worst in its history:
"Because I'm not a magician. I'm only a trainer. If we [had] kept the [away] form at home, we could win the title."
Ancelotti has been open about the need to once again strengthen the side in key areas during the summer transfer window but says there will be no wholesale changes, rather he and Marcel Brands will seek to make targeted additions.
"The quality of the team has to improve next season," Ancelotti said.
"It's true that we didn't play so well in this period... It's true I won a lot of trophies but I don't know how many I won for the quality instead of the spirit, sacrifice, concentration, personality. So it's not only a matter of quality.
"We don't need to do a revolution. We have to follow our plan. It was a good plan this season when we signed good players. We have to do the same following the same plan. Absolutely no revolution."
One area of the squad that clearly needs new options is in wide areas where the Blues are being linked with the likes of Moussa Diaby and Leon Bailey at Bayer Leverkusen.
"It's one of the positions we are looking for. Yes, it's true," the manager confirmed.
---
Reader Comments (93)
Note: the following content is not moderated or vetted by the site owners at the time of submission. Comments are the responsibility of the poster. Disclaimer
Jack Convery
1
Posted 18/05/2021 at 19:43:55
Try this Carlo - "Issy Bizzy Lets Get Busy" - works for Sooty and his Magic Wand.
Jim Bennings
2
Posted 18/05/2021 at 19:52:19
Little bit disappointed to hear the manager talk like this.
We've seen Everton sides over the years with far less ability than this one fight tooth and nail and at least try to win games even though it lacked quality.
I'm looking at the internationals in our squad and then I look at the manager who has won so many things and I just can't help but wonder why are we in a position where we can't commit men to score goals, can't pass and move, can't shoot?
That's partly down to training methods in my opinion as much as the actual personnel.
As I say these aren't Sunday league players, they are multimillionaire Premier League footballers that the manager has at his disposal.
In many ways the 11 away wins have been great but next season they could be games we lose by the odd goal if we don't start learning how to attack.
Michael Barrett
3
Posted 18/05/2021 at 19:53:01
He his doing what jose Mourinho does when he has lost the players, he blames everyone but himself, he needs to go and take that shower of excuses for footballers with him.
Dale Self
4
Posted 18/05/2021 at 19:57:19
Not fucking bothered at all by this. It does seem odd that when the manager's opinions echo the live forum player profiles then it's some kind of performance or shirking of his duties. Listen man, Carlo didn't come here to fuck up his stellar reputation. Get your cheap digs in now and be prepared to take a few when the ship starts to turn.
Dan Nulty
6
Posted 18/05/2021 at 20:04:18
Yeah, to be fair he has seen his fair share of shit performances before digging the players out and unlike Jose doesn't name them specifically.
He is right, we have some quality but appear to lack the desire when at home especially when teams come to defend. They'll soon know about it tomorrow against Wolves if they serve up the same shit.
Another good window and I think we will push right on. Especially if Spurs lose Kane. Missed opportunity this season, definitely.
Tony Abrahams
7
Posted 18/05/2021 at 20:09:16
I don't see that he's absolving himself from blame, but I hope he can lose a few more of these players though.
We have tried to play more open at Goodison, and that is when we have come unstuck, and that's why he's talking about more quality, because he knows that we have nowhere near enough.
He could have made us better at Goodison though, but who can disagree and say that we already have enough players with spirit, or with personality, and who concentrate for 90 minutes and sacrifice themselves for the team?

Steve Guy
8
Posted 18/05/2021 at 20:09:59
I only occasionally visit this site now as I find the knee jerk negativity repetitive and usually lacking any constructive view just how it's all crap so let's get another manager in……again. Madness. Ancellotti is calling out players we all know to be substandard and who he has covered for all season. They have had opportunity after opportunity to step up in the last 18 months and before that too but they never do. We have a great manager who will be given time and rightly so.
Bobby Mallon
9
Posted 18/05/2021 at 20:16:58
Micheal @3 more bollocks
Kieran Kinsella
10
Posted 18/05/2021 at 20:17:02
Steve/Dale/Dan
I have to agree. The fact is hat Carlo's taken it on the chin for 18 months and kept his counsel private but at some point you look like an idiot if you keep extolling the virtues of players who can't or won't perform. As Dan Nulty points out, if he was Mourinho he'd be publicly hanging Holgate out to dry for one. I think he's a) being honest and b)hoping he might light a fire under one or two who could at least do better.
Tony Twist
11
Posted 18/05/2021 at 20:24:20
No-one said it would be easy Carlo. 12 million quid a year doesn't get you much nowadays. He has been quite a let down, Everton, please learn, all that glitters is not gold. I am shocked how poor things have been when I thought he didn't really get involved in the training side of things but how wrong am I, straight from the horse's mouth, he's a trainer! Everton is as it has been for many years (and still is under Mr Ancelotti's reign) a group of individuals not a team.
Danny O'Neill
12
Posted 18/05/2021 at 20:32:01
You can look at this in 2 ways. Personally I think his frustration is coming out. He's given them, the players, opportunity to prove themselves.
Frustration with those who have let him and us down and a statement to the owner.
He is not absolved from blame whatsoever. Just like any leader, he carries the can. But he is also calling out what many of us have been doing and seeing with a lot of these players over the past few years.
Brent Stephens
13
Posted 18/05/2021 at 20:33:15
Michael #3 "He his doing what jose Mourinho does when he has lost the players, he blames everyone but himself, he needs to go and take that shower of excuses for footballers with him."
Isn't that a bit of a contradiction? You say he's blaming the players but then say they are excuses for footballers.
Barry Rathbone
14
Posted 18/05/2021 at 20:37:35
"We don't need to do a revolution. We have to follow our plan. It was a good plan this season when we signed good players. We have to do the same following the same plan. Absolutely no revolution."
Perhaps the most unaware statement any Everton manager has ever said, utterly delusional.
Phil Smith
15
Posted 18/05/2021 at 20:39:46
That first post had me in stitches! He's not a magician or motivator, for that matter. Think Big Dunc needs to do all the match day talking from now on and let Carlo work on how he wants the side set up and tactics at the training ground.
Tony Everan
16
Posted 18/05/2021 at 20:42:37
He's basically saying he can't make a silk purse out of a pig's muddy scrotum.
It's a message to the owner, and a defence of his reputation, saying this is the best that can be done with the players at my disposal (unless you deploy witchcraft).
.. If you don't back me with four or five quality players this summer, nothing will change.
Dale Self
17
Posted 18/05/2021 at 20:49:28
Perhaps not.
Thomas Richards
18
Posted 18/05/2021 at 20:50:43
Hes made a statement today.
"We played 21 games where we planned to be strong defensively, play on the counter attack and use set pieces. We won 14 of those games.
In 15 games we tried to play differently. We won 2 of them games"
Ray Robinson
19
Posted 18/05/2021 at 20:51:46
I agree with Danny #12 and Tony #16. Whilst Ancelotti is by no means totally absolved of any blame, can you blame him for simply telling the truth?
Simon Dalzell
20
Posted 18/05/2021 at 20:56:35
(8) Unfair. I don't see much ' knee jerk'. Just fair reaction on the whole to abject shite. The manager has been poor. ' Great manager', far from it so far.
Jim Bennings
21
Posted 18/05/2021 at 21:04:05
Of the good players we supposedly signed last summer.
Allan is ok breaking the play up but at the end of the day is a none scoring none creative midfield player.
James, don't get me wrong I think he's top class player but he's becoming a liability.
Doucoure is not the player he was when we brought him here, at Spurs on the opening day he was immense box to box, we have stagnated him.
Godfrey has maintained his form and is super fit.
Nkounkou one for the future but clearly not rated for now.
King well I don't know why we brought him here, just a pointless waste.
So Carlo needs to actually bring in better than last summer in my opinion, because even last summer's window wasn't quite good enough at the end of the day.

Soren Moyer
22
Posted 18/05/2021 at 21:04:44
Meanwhile in the real world, Bielsa's team just leap-frogged us and are sitting at 8th.
Tony Abrahams
23
Posted 18/05/2021 at 21:06:22
Has he actually come out and said this Thomas?
Doucoure was playing very well Jim, his work rate was really missed when he got injured, and he's just played his first game in over ten weeks, so are you sure it wasn't his injury that has stagnated him?
Brent Stephens
24
Posted 18/05/2021 at 21:07:54
It's on the efc website Tony
Tony Abrahams
25
Posted 18/05/2021 at 21:16:02
Which means that things are not as bad as they seem then Brent, and he might not even be utterly delusional!
Brent Stephens
26
Posted 18/05/2021 at 21:19:03
Yes, Tony!
Tony Abrahams
27
Posted 18/05/2021 at 21:24:00
It's the real world that bothers me the most though Brent, because I cannot believe that Everton aren't even the best of the rest anymore.
One-nil Chelsea, just stay like this, get the points but don't fuck Leicester's goal difference up too much🤞
Brent Stephens
28
Posted 18/05/2021 at 21:29:59
Tony, in the quantum world we're both great and crap at the same time!
Tony Abrahams
29
Posted 18/05/2021 at 21:36:18
I had to google what it meant Brent, and it said, some physicists argue that we haven't worked hard enough, and I'm sure that's something every single poster on this thread might even agree on, although I wouldn't bet on it though!
Brent Stephens
30
Posted 18/05/2021 at 21:42:34
Yes, Tony! That's them! Einstein was the greatest afternoon ever - after Bill.
Carlo locked his players in a closed dressing room and didn't know if they were dead or alive.
Thomas Richards
31
Posted 18/05/2021 at 21:45:28
The problem was when he tried to open up Tony as you well know.
Is he too long in the tooth to be swayed by media pressure?
Winston Williamson
32
Posted 18/05/2021 at 21:49:00
"quality instead of the spirit, sacrifice, concentration, personality. So it's not only a matter of quality."
Is he not saying what the vast majority of fans have said every time we bottle an opportunity for progression?
This team lack commitment, pride, spirit, and fight. I've said it countless times, not only this season, but for the last six seasons!
There's no fear factor at this club. There's no high standards expected, consistently.
Sounds to me like Carlo is laying it out for everyone now. You've had your chance. Times up. Buck up or off you pop. Doesn't matter if you're shite. I expect a certain standard and if you're not going to give it, you have no future here.
At least, I certainly hope that's what he's saying!
Tony Abrahams
33
Posted 18/05/2021 at 21:56:03
The problem wasn't when we tried to open up Thomas, it was trying to open up in the first place imo.
He knows you can't go on in football, playing this style of football in your home games, but I honestly wonder if he's been getting more pressure from Richarlison?
I ask because I think playing narrow, and with two up front, has left us unbalanced, wide open, and so easy to play against, so this has been the hardest things to work out for me, because it's a move that just hasn't made any sense.
Phillip Warrington
34
Posted 18/05/2021 at 21:59:14
I think he is to blame, all the players he has brought in and other players Everton have bought have been good players before they came to Everton and some of them decent internationals but as soon as they put on a Everton shirt they seem to loose all desire to give that extra that wins games, they don't go into winning 50/50 balls with any desire.

It's like they go through the motions without any desire, its like james always fit to play for Colombia but always borderline to be fit to play for Everton, I really do think prevous manager got one thing right this squad is in serious need of a sports cycology to motivate these players
Thomas Richards
35
Posted 18/05/2021 at 22:11:11
Sorry mate, I'm not with you there on the first lines.
Looks like the same thing
Tony Abrahams
36
Posted 18/05/2021 at 22:23:49
It probably is the same thing Thomas, because I just meant, that I wish he had planned to play defensive in every game.
He knows that's not acceptable long term though, so he's tried different things at Goodison, but playing Richarlison alongside DCL, has rarely made us a more productive attacking team, especially when playing with a narrow midfield, and has been a terrible tactical move, imo mate.
Brent Stephens
37
Posted 18/05/2021 at 22:27:14
That makes sense, Tony. I know there was no crowd, but in a sense Carlo was maybe playing to try to please the "home crowd" expectations - of a more attacking style of play. And look where it got us.
Tony Abrahams
38
Posted 18/05/2021 at 22:38:38
But he's hopefully given us a better defensive base, which might stand us in good stead in the long term Brent, which is obviously what I'm hoping for anyway!
Dale Self
39
Posted 18/05/2021 at 22:39:23
Carlo is not done with the messaging. In so many words, any unhappy players are instructed to leave. It seems the old man is willing to fight for his reputation and we will benefit from that.
Barry Hesketh
40
Posted 18/05/2021 at 22:48:16
I think the article in the Mail by Dominic King puts a bit more meat on Carlo's thoughts about his players. He clearly is stating indirectly that he is the manager today and will be the manager for some time. In his remarks relating specifically to Moise Kean, but probably pertains to any of his squad, he said
I don't want players here who are unhappy and if there are players who are not happy to stay here, they can ask to leave.

'There is no problem at all. I want players who are happy and want to stay at Everton and feel part of this project. There is no player I can force to stay here.'
Brent Stephens
41
Posted 18/05/2021 at 22:51:56
Tony "But he's hopefully given us a better defensive base,"
Yes, our defensive record this season is that we average 1.2 goals conceded per game in the league this season (2 or fewer per game, apart from 3 games). Not bad! But we've only scored 1.3 goals on average.
Is our offensive / scoring side weak because in fact we've had to maintain a more defensive approach? And have we had to do that because the back 4 has it's weaknesses if we play with a more open game?
So we do need to strengthen up front, but also in defence?
John Hall
42
Posted 18/05/2021 at 23:07:17
Carlo is obviously not a shouter but seems more a passive type of individual which is certainly a strange trait from somebody who hails from his homeland.
The seemingly "Laissez Faire" attitude that he shows is typical of someone who allows people to act or behave in any which way that they choose without interfering or trying to regulate their behavioral standards.
Basically means that he just goes with the flow and this is typical of the regime that has been in place at the club for many many years. Mediocrity is installed as the accepted standard with rank amateurs running the show for far too long.
Previously have worked in Asia for a ruthless results orientated Chinese family being specifically employed to bail out an ailing and under performing business which they had acquired at a knock down price. (much as a certain Bill did at Everton). The departmental directors and senior management team in this company if I compare to our senior players were highly paid individuals content to sit back and accept being bottom of the league in a lucrative niche business environment with only six major competitors in the world.
The senior team running the place saw little need to put in very much effort as there were no come backs for being lazy and half committed as long as they picked up their big bucks every month. Have we seen this somewhere before ?
Solution was to take the time to examine each individual senior executive, much as Carlo has done with the senior players for the past eighteen months and then to bear down heavily on those who were not committed to do the hard yards. Autocratic management was not my normal style but big kicks in areas associated with rectums soon put a lot of spring into certain peoples steps. Some fell along the journey but a small core became a very successful team and accepted that attitude, performance and a desire to succeed were important factors in keeping a sinking ship afloat.
Prima Donna footballers are a protected species in today's world and it is very hard to motivate or change attitudes but time now for Carlo to stand up and man up, show some balls and kick some ass or somebody will be kicking his ass when the folks who pay his wages get back into the factory.
Brent Stephens
43
Posted 18/05/2021 at 23:11:46
John #42 "Carlo is obviously not a shouter but seems more a passive type of individual".
John, is that perhaps because the problems on the pitch aren't that players aren't following pre-match instructions but that they are making errors which no amount of shouting can change - timing tackles, winning tackles, controlling the ball, timely passing, accurate passing. Seems to me that so much of our failure in games is down to players' lack of abilities such as these.
John Raftery
44
Posted 18/05/2021 at 23:18:23
We don't have the right blend of players to control games with possession. We actually look more comfortable allowing the opposition to have possession. Managers are not magicians. Some of them prove to be fools when too often they ask players to do things beyond their capabilities. Ancelotti is not a fool.
Gerry Killen
45
Posted 18/05/2021 at 00:00:25
Today will probably be the last time we will see our beloved Seamus Coleman playing in an Everton shirt, which he has graced from the first day he came here. What a magnificent role model – not only to football but life in general, and I hope he will be given a role at our club in the future.
Can I ask all Blues fans to try and put aside that latest disaster on Sunday and get behind every player in the Blue shirt and Carlo, he's nobody's fool and knows exactly who's good enough and who isn't, so let's enjoy the game. Cheers COYB
Don Alexander
46
Posted 19/05/2021 at 00:24:28
Every team coming to Goodison knows that scoring first leaves us bereft of a response. Opponents don't even need to keep possession because they all know we're inept with the ball at Goodison.
Against Sheff U I watched on the hour mark, one-nil down as we'd been for fifty minutes, our four man defence pass the ball across the pitch to each other in our own half, and back again at such a slow pace that Sheff U's sole forward was able to feign closing down all four of them without breaking sweat.
Desire, effort, pace, skill and professionalism is absent. The players don't wanna know.
This is where we are now Mr Moshiri, under your leadership. Any plans to markedly improve things this summer, for once?
Bill Watson
48
Posted 19/05/2021 at 01:44:04
Jim #21
I think we can certainly question the way Carlo sets up the side and his reluctance to drop certain players. All the pundits and Richarlison, himself, say he's better down the centre but I disagree. He's far more effective cutting in from the left. Playing down the centre doesn't work and he has absolutely no awareness of where DCL is.
I disagree with your opinion about his signings. I think they're a definite upgrade on what we had.
Allen is a defensive midfielder and is excellent at breaking up attacks and protecting the back line.
James is our most creative player as we saw in the first half, on Sunday
Doucoure is the engine but was, understandably a little off the pace as he hasn't played for a couple of months.
What needs addressing is an overall lack of pace and a winger who can get down the line and actually centre the ball. It would also help if our players could string more than two passes together.
It'll certainly be an interesting summer but it'll probably be next summer before the rest of the dross are out of contract.
Thomas Richards
49
Posted 19/05/2021 at 07:27:41
Tony, 36
Agree 100% mate.
For me he plays wide left orvatva push wide right.
One thing he is not is a centre forward in the English game
Andrew Ellams
50
Posted 19/05/2021 at 07:34:21
We'd better hope he gets the signing he wants this summer hadn't we because that sounds like a man who will be stepping into retirement if he has to work with too many of the current shower again next season.
Tony Abrahams
51
Posted 19/05/2021 at 07:55:47
If I was Everton's manager the first thing I'd do is buy two defenders Brent.
I prefer Richarlison on the wing Thomas, because although he falls over way to much for my liking, I do think the lad is physically strong in this position, whereas that rarely looks the case when he plays up front.
It's the lack of link play that him and DCL have failed to develop that is more concerning, because they say good players can usually play with anyone, and yet both of these players have looked better when playing as a lone striker, although Carlo's narrow midfield, is possibly also contributing massively to this major problem.
The first signs of Ancellotti's other face have now been aired in public, and agreeing with John R, I think he's been waiting for this moment for quite a while, because there is no was this manager is foolish.
Thomas Richards
52
Posted 19/05/2021 at 08:12:37
If I was Everton's manager the first thing I'd do is buy two defenders Brent.
Me too.
A solid, fast back four gives the platform to the midfield and forwards.
Imo we have not got the players in the current squad to form a decent centre half partnership. This needs sorting out asap.
A right back to replace one of my all time favourites and then we can think about the wide right position, a back up striker and a ball carrying central midfielder.
Tony,
Sad news. Your owld mate The Duke has passed away.
Mal van Schaick
53
Posted 19/05/2021 at 08:26:25
Actions speak louder than words and Ancelotti is dithering on the fact that he needs to cull eighty percent of the current squad, and that doesn't include those like Besic etc who are out of contract.
If he is not a 'magician', Ancelotti should have a meeting with Moshiri, and Brands and discuss the inadequacies of the current squad, and what it will take for yet another rebuild. Then, Ancelotti will have his own squad and no excuses for any magic acts to transform the team.
Trevor Peers
54
Posted 19/05/2021 at 08:34:27
It sounds like Carlo is preparing himself for the exit door, blaming the players in public is always the first sign of an impending departure. Mourinho made similar noises before he left.
Kevin Prytherch
55
Posted 19/05/2021 at 09:06:15
I'm not a magician.
I don't want you to be a magican.
I want you to play to the teams strengths and not set us up to play dour negative football that has a slim chance of succeeding against 50% of the teams in the league.
I want you to stop picking players on reputation and shoehorning them into a position that doesn't work.
I want you to stop harming the overall team by adjusting a formation to suit one or 2 individuals.
I want you to have a chat with Brands and start next season with a squad of players you might actually use.
You don't need to be a magican, you need to apply some common sense.
Jerome Shields
56
Posted 19/05/2021 at 09:08:31
Reports are coming out Ancelotti has spoken to the whole squad and told them that anyone that is not happy or prepared to commit to the team should ask to leave the Club.
Obviously there is a core of players who Ancelotti believes are not committed to following his instructions. They must have support from within the Club to be so brazen that the Manager has to go out of his way to have a meeting to address the whole squad in such a issue.
it shows that the Manager thinks that against Sheffield United that there where players who where not putting the effort into what he required technically or tactically them to do.
If the game against Sheffield United is assessed on what was technically and tactically wrong. It follows, on these reports, that the technically and tactical display was dictated by a core of the players, rather than the Manager.
This points to a orchestrated attempt on the pitch to prevent European Qualification, by a core of the players.
In my experience when a Manager has to hold such a meeting, there is a element of lack of support from other Management i. e Backroom and Club Management. This is reflected in the dominant, Staff or Players attitude.
Would they down tools against Wolves?

Ancelotti has made it clear he is staying.
Joe Corgan
57
Posted 19/05/2021 at 09:11:47
I'm a bit on the fence over this.
No-one is expecting you to work miracles Carlo! But your immediate predecessor, Big Dunc, managed to get more grit, determination and effort out of a slightly worse group of players! Where are those things at the moment?
We're not expecting to start playing like Barcelona under Pep, or winning every match but we do want to see our team at least put a shift in. Duncan somehow managed to get Marco Silva's clueless wonders working hard for each other and leaving nothing on the table for the few games he was in charge!
I'm not advocating replacing Carlo with Big Dunc but to suggest that it's an issue of the current players not being capable enough shows a bit of a lack of understanding of the multiple issues the team currently has.
Carlo calls himself a trainer. Well, our bunch of ratbags don't look particularly well trained at the moment.
Richard Duff
58
Posted 19/05/2021 at 09:45:11
You can't train/coach/motivate physical speed across the ground. Who do we have with actual pace? Godfrey and.
Richy and DCL are reasonable but not rapid, Nobody else.
Carlo must change some tactics, we're the only team in the division who employ zonal marking in all areas of the pitch at all times!
But, the squad needs speed, pace, velocity, athleticism!
Paul A Smith
59
Posted 19/05/2021 at 09:59:21
Joe, 3 games Duncan Ferguson psyched the team up for. The longer that went on the tougher it would have got.
Lets see some perspective in the the thread.
Brian Harrison
60
Posted 19/05/2021 at 10:11:25
When any club struggles to get results then the manager usually gets the sack, and that will always be the case. So I am sure that if results don't improve next year it will be difficult for Moshiri to keep Carlo in place.
But I think there are many fundamental floors in the make up of Everton football club, for it solely to be the fault of the manager. Moshiri decided he wanted to go down the DOF route which has obviously worked at some clubs, but I think he should have defined the role of the DOF. Because its been quite apparent that since we appointed Walsh and now Brands we have 2 people buying players the manager and the DOF. So where is the clarity in that, I think its very clear that Brands bought King and Ancelotti seems not to rate him. Many posters have suggested that Brands was the driving force in signing Doucoure and Godfrey and Carlo signed James and Allan and Olsen, all decent signings. But as the saying goes one singer one song as their seems to be 2 people driving this ship and not always in the same direction.
But the fault for me goes much deeper than the manager and DOF roles, our coaches who are mostly ex players seem to be falling short of whats needed. Obviously its either Ancelotti or Brands who have decided that there are to many players in our U23 set up who are to old and clearly wont make the first team. So there has been a big shift to lower the age of the U23 squad and we have also seen some of the youngsters join the first team squad for training. Then you have to question their ability to spot a talent seeing as Haarland the most sought after striker in World football spent time here before leaving, also the young Sheffield Utd striker who scored against us was also here at the club but again let go.
There has also been suggestions that the chairman signed Rooney to come back which just adds to the problem. Now whether Moshiri is strong enough to define the lines of what role the DOF should be in the signing of players then this problem of a dysfunctional team will carry on. There is absolutely no point in hiring a manager like Ancelotti if he isn't allowed to pick and choose what players to buy for the first team, and maybe the role of the DOF would be to be on the look out for young players who in a year or two could be competing for a first team place. Just look at the situation we have in who replaces Seamus no youngster at the club is ready to step into his shoes. Surely when 2 or 3 of our ex managers decided Kenny wasn't the answer why didn't we scour the country for quick attacking full backs then.
Andrew Keatley
62
Posted 19/05/2021 at 11:05:27
Be interesting to see the reaction from the players tonight - not only to the poor performance and result against Sheffield United, but to the recent public and (alleged) private words of Ancelotti about desire and commitment. The player I will be looking at most closely is Richarlison, who I think has been a shadow of his former self, especially in the last ten or so games. Lack of alternatives has meant that he has always started for us when fit, but his current form and attitude are as poor as they have been since he joined us. As things stand, offloading Richarlison and Kean this summer would probably give Carlo and Brands the best chance of an increased transfer budget. Last season I regularly thought Richarlison was comfortably our best player, but now I'm looking for a reaction or the temptation to sell becomes very real.
Steve Carse
63
Posted 19/05/2021 at 11:34:42
Jerome (56), why would players not want to play in Europe? Would they rather play at Accrington or Barrow in the League Cup come September?
Seemingly I'm in a minority, but when I watch Everton I don't see a side that don't care any, nor do I see a lack of effort. What I see is a (albeit limited) side uncoached in the basics, performing within a non-existent system from an attacking perspective, and without the partnerships needed to provide flowing link up play. We also still witness a side whose press is operated on an individual rather that a group basis - no wonder that opposing defences and midfield seem to make easy progress up the pitch whilst also invariably picking up any loose or second balls.
One of the takes from what Carlo seems to be saying is that the unmotivated will not be getting a look in. Odd then that the only player not to be getting a look in of late - Tom Davies - has been one of the few that can always be relied on to put in a shift.
Robert Tressell
64
Posted 19/05/2021 at 11:35:27
Richarlison is an excellent player who has run his socks off for us in pretty much every game. However, he was very much Silva's man and plays as though he's now disillusioned at Everton. If we had options he'd be on the bench to recharge his batteries. I wonder if he's now looking at Moise Kean's career since leaving Everton and wondering why he bothers. After some early season promise we're yet again going nowhere and the quality of players around him is very average. Output has been sub standard this season but you can't fault the effort. Maybe his time here is up.
Dave Abrahams
65
Posted 19/05/2021 at 11:52:43
Robert (64), I think Richarlison has always played the way he has done this season, except with a few more goals, he has little vision in passing the ball, his movement and finding space is poor, he's not a team player, and as for working his socks off how come he loses the ball so easily, time after time, I see little fight in him on these many occasions, just running into blind alleys and putting the opposition on the attack, he has no burst of speed which will take him past his marker on the outside, he is vastly overrated in my eyes, if he is to be the player he thinks he is, then he's got bags of room for improvement, starting with a goal or two tonight would help!!
Brent Stephens
66
Posted 19/05/2021 at 12:08:01
Joe #57 "Big Dunc, managed to get more grit, determination and effort out of a slightly worse group of players!"
Joe, I think we see this time and time again with a new manager (and we've seen it with Carlo) where players become motivated more than usual for a few games. But so often that motivation fades. That initial self-motivation can deceive us into thinking it can and will be maintained. Some parallel with what's called the Hawthorne effect.
Jerome Shields
67
Posted 19/05/2021 at 12:13:35
Steve#63
I am at a loss to explain it also. But the Sheffield United game was the ticket to Europe and by the way they played, one can draw the conclusion that a core of the players did not want that ticket. The way that they do that is not to be technically or tactically committed to the Managers instructions.
Why to they not want into Europe?
Happy to play in England base competitions.
See Europe as a threat to there current position. (That goes for backroom staff as well. )
Getting into Europe gives Ancelotti more power and influence, by enabling him to bring in new players and influence the structure s and workings at Finch Farm.
The fact that Ancelotti is experienced and sucessful European Competitions Manager gives him more power over a bunch of European nobodies at Everton, allowing him to call the shots.
Ancelotti is reacting to resistance. He made in clear that it clear he wants qualify for European. The performances we have seen are the on the surface resistance to that objective amongst enough players and their coaches to influence the way Everton play.
Robert Tressell
68
Posted 19/05/2021 at 12:23:31
I guess we'll beg to differ, Dave. I see a player who could really kick on in a high tempo outfit like Athletico Madrid. Unfortunately we're a long way from testing out this theory at Everton because high tempo we are not.
Derek Taylor
69
Posted 19/05/2021 at 12:25:54
A grand confession that his approach/methods are not working well enough to see us into the top six or seven. Others in his job have managed this as a matter of course so he must be on borrowed time.
That is unless the BM project relies merely on staying in the Prem and no more. Wouldn't be surprised !
Dave Abrahams
70
Posted 19/05/2021 at 12:48:33
Robert (68), Yes, fair enough Robert, we'll beg to differ, but there is a big difference in how we see him.
Des Farren
71
Posted 19/05/2021 at 14:13:25
@69. Nor would I, Derek. We don't know what Carlo's brief is over the course of his contract but I suspect it to be more long term than short. That would suggest he won't be departing any time soon unless we have a serious flirt with relegation which, again, would appear unlikely.
Pat Kelly
72
Posted 19/05/2021 at 14:21:50
In his own words he's mystified. In other words he doesn't know what to do. But there won't be wholesale changes, he says. We'll follow the same plan which has failed miserably on numerous occasions. And get some more old washed up buddies in to improve the quality. Sounds promising.
Barry Hesketh
73
Posted 19/05/2021 at 14:31:57
If Carlo decides to retire and work on his prowess as a Magician here's some advice for him.
Be original in your tricks and performance style. Once you've mastered the basic tricks and have gained your footing as a magician, then it's time to be your own kind of magician.[5] You can't just rely on the tricks of others if you really want to succeed. Of course, you should have some (at least 6 or 8) old and famous magic tricks in your act, such as the cup and balls magic trick.

No one wants to see an unoriginal magic act being performed over and over.
Perhaps some of the above advice could be used in his current occupation?

Ray Robinson
74
Posted 19/05/2021 at 14:33:44
I think the anti-Europe conspiracy theory on the part of the players mooted by some on here is quite frankly laughable and based totally on unsubstantiated supposition. What I do see are a bunch of players deficient in pace and energy. Not even necessarily always their fault - they're just not built that way. Imbalanced squad, willing enough, skilful players with no pace, creativity and no Duracell batteries.
Thomas Richards
75
Posted 19/05/2021 at 14:54:32
Barry H.
As a manager just starting his career and yet to win his first trophy Mr Ancelotti will be very grateful for your advice on how to set a team up
Brendan McLaughlin
76
Posted 19/05/2021 at 15:00:47
Barry#73
The "cup and balls magic"...heard plently of the latter but still we wait on the former.
Joe McMahon
77
Posted 19/05/2021 at 15:01:07
I see one of Carlos ex players Frank Lampard is being inducted to the PL Hall of fame. A real pisser no Everton players are gonna be there. The PL era unfortunately for us is just a slow demise in the clubs history.
Where did it all go wrong.
Will Mabon
78
Posted 19/05/2021 at 15:23:01
Joe, I know. Where's Duncan in the list?
Neil Cremin
79
Posted 19/05/2021 at 15:31:33
Just logged in after some time away as I find it all so depressing.
We can talk all we like about solutions but the answer is as obvious as the nose on our face.
Nil Satis Nisi. Optimum is no longer the benchmark for our club. Over the years and I will be controversial here (since David Moyes has left) have we demanded that standard of our players. While he was boss, we didn't have the clout to buy world class players but given their technical limitations nothing but their best efforts was acceptable.
We have slowly allowed a complacency of effort creep into the club. I would rather have the likes of Davis, Coleman. and formers like Cahill, Jags, even Naismith who gave all than some of the more so called technically gifted squad on who we squandered so much money.
We need hungry, driven players to light a fire on most of the present prima donnas. As long as our recruitment policy is based on fringe players from the Premier, Italian and Spanish leagues we will never return to embrace our club motto. NSNO
Alan J Thompson
80
Posted 19/05/2021 at 16:03:09
So he tells it as he sees it which is not something you're used to and after bleating about listening to Bill with his microphone and script in hand telling us this will never happen again we don't seem able to handle it. What did you want, an ill prepared gunfighter?
Joe Corgan
81
Posted 19/05/2021 at 16:56:48
Paul 59 and Brent 66 - I can't disagree with anything you say. Of course there's a honeymoon period with a new manager. My point was that this set of players have already proven there is more in them than what they've shown this season.
When we're being outfought, outplayed and beaten by a team who've been relegated it should be clear that it's not a simple case of needing better players.
Ian Edwards
82
Posted 19/05/2021 at 17:08:24
" I'm not a Magician". He's not an Everton Manager either.
Graham Mockford
84
Posted 19/05/2021 at 17:52:44
If we are getting rid of players based on attitude. Holgate, Richarlison and Rodriguez top my list. All have levels of ability that would suggest they should be good PL players but have failed to step up on a regular basis.
James Flynn
85
Posted 19/05/2021 at 18:38:07
Justin Doone
86
Posted 19/05/2021 at 21:50:59
Without doing a player-by-player analysis, what I have always believed is that a good team, more often than not, beats a team of good individuals.
Likewise, and certainly in the Premier league era, a team's midfield – "the engine room, the lungs, the link" – is so important.
It has to have a bit of everything, functioning well together. This has been our weakness for decades. There's been a few seasons of potential but key players have been sold, injured or lose form with no suitable replacement.
That is still the case. We need a midfielder that's not one-dimensional. James is creative but no pace, strength or energy. He's our 'best' player. Play to his strengths or don't play him.
Doucouré has energy but is a terrible passer and clumsy in the tackle.
Allan's got energy to get around and is a decent passer but lacks pace, strength and creativity.
All 3 are better than what we had but we need midfielders that have 3 or 4 strengths, not just 1 or 2.
A central midfielder with passing, energy, tackling and pace. A winger with pace, creativity, energy and passing.
I'm sure they have already been identified, now go get them before the Euros.

Steve Carter
87
Posted 19/05/2021 at 23:10:43
Neil [79]: spot on. Another example: Carsley. Even Hibbo, bless him, one-dimensional as he may have been, always put in a shift.
Jay Harris
88
Posted 20/05/2021 at 00:59:22
Justin,
You forgot one characteristic we are sadly lacking and that's goalscoring.
I quite like the look of Perreira at West Brom who has goals and assists to his name playing in a poor team. He is also skillful.
Neil Cremin
89
Posted 20/05/2021 at 07:47:42
Another unpopular statement about a very maligned player on TW. James McCarthy, who stuck his foot in to prevent a goal and got his leg broken. Watching last night, I noticed a few players not prepared to do that. He gave his all, including playing when he was injured.
We need battlers, not prima donnas. We really need one playmaker to pull strings.
Neil Cremin
90
Posted 20/05/2021 at 07:56:25
Totally agree, Justin. We have been missing what I call a Rottweiler in the middle of the park who can win the ball, pass quickly and drive the team forward. NSNO.
Jay, I still believe that our problem upfront is more a supply issue rather than an ability to score.
Currently our forwards are living off scraps due to pedestrian build-up which gives every defender time to organise while our forwards are doing decoy runs to try on open up space. Faster build-ups with put defenders on the back foot.
Karl Meighan
91
Posted 20/05/2021 at 11:57:23
The team lacks pace which every decent team has; players can have all the ability in the world – if they don't have an extra yard in today's football, it is easy for defences to crowd them out.
Hopefully we start looking at young hungry quick players: Demarai Gray would be a starting point.
With 2 quick widemen and more games from James, we could improve our league position imo. Wholesale changes rarely work, regardless of who is in charge.
Tom Bowers
92
Posted 20/05/2021 at 12:14:19
Pace is the key, both going forward and on defense. We have quick players but generally many other teams have quicker players who close you down where it matters.
The Everton back line move the ball way too slow and then, when not working the ball out quickly, are forced into mistakes or hitting a hopeful long ball which Richarlison and Calvert-Lewin far too often cannot control and turn.
It hasn't changed all season and, for long periods in yesterday's first-half, it was evident. Wolves must be kicking themselves they got nothing from the game.
Anthony Hawkins
93
Posted 20/05/2021 at 17:10:16
The team lacks pace and that's abundantly clear. What is also abundantly clear is that, if Everton lose on Sunday, we could actually finish the league in 10th place. Arsenal and Leeds would need to win games that are very winnable for them and Everton face Man City –a very losable game, albeit an away game.
Ancelotti isn't wrong about having needed to be a magician to make the sizeable changes but would have hoped some of the players mentality would have changed as a result of his appointment and training. I still think he needs another transfer window to provide what he can do with the team but there are so many passengers in the team, it's unreal.
Neil Lawson
94
Posted 20/05/2021 at 22:33:27
Just watched Ellis Simms 2 goals v Tranmere.
Problems solved !!
Seriously, do take a look. Very exciting prospect. If you are good enough then you are old enough (and free !! )
Brian Williams
95
Posted 20/05/2021 at 22:54:46
Versus Oxford.
Justin Doone
96
Posted 21/05/2021 at 10:56:50
Pace is great but it's just one strength. We had Walcott, Bolasie and Niasse who all have pace and a fair bit of energy.
I always maintain that a more attack-minded team, coach, manager could have gotten more out of Bolasie and Walcott but they were pretty useless when it came to passing, crossing, shooting and general 'team play'.
How I'd love a Kanchelskis. A fairly simple player, no fancy tricks or overplay to make himself look good, he just did everything well. Direct, fast, strong, delivered passes, crosses and goals.
He was a great outlet for the midfielders and defenders to put early balls into space behind the opposition. James needs a player like that so he doesn't have to slow play down and get caught in possession.
Simms should stay at Blackpool (may soon be a Championship team) or a similar league 1 team. He needs to learn playing real competitive football. He's probably learnt more in 5 months than the previous 18 playing against kids.
Paul Burns
97
Posted 21/05/2021 at 11:46:03
There is not enough pressure on players to perform to a required standard at Everton. Instead, the welfare of players seems more important than the performance of the team and the club.
Players are on massive salaries with no pressure to win trophies and it leads to the rotten performances and torpor seen particularly in home games. Too often, the club is like a country club with players doing no more than fulfilling their contracts. We've become too loyal to past-it players.
The only thing that separates "big" clubs from others is the expectations upon the players to win. If this is lacking, and at Everton it is, all you get is the tedious position we are stuck in, maintaining the status quo.
The owners and board, who don't understand football properly, are content with this situation. They'll issue the occasional soundbite when things are really stinking but it's all forgotten at the next half-decent result, and, sadly, too many of the fans fall for this rubbish.
We need to be ruthless if we are ever to escape from this coma – and I don't see that the club even realises this – never mind acting on it.
---
Add Your Comments
In order to post a comment, you need to be logged in as a registered user of the site.
Or Sign up as a ToffeeWeb Member — it's free, takes just a few minutes and will allow you to post your comments on articles and Talking Points submissions across the site.