Column
This Just isn't Football
The spirit of the game is being eroded by meddling and incompetence amid poor implementation of supposed "technological advancements"
Lyndon Lloyd

02/03/2022
53

comments | Jump to last
Another weekend, yet more VAR controversy in the Premier League and, of course, in the Carabao Cup Final. A Wembley showpiece event and an important League match involving the potential title winners where the main discussion after the fact is not on the quality of the football but on baffling, hair's-breadth decisions made using arbitrary lines on a computer screen, the increasingly maddening interpretation of handball, and the ludicrously high bar for what constitutes "clear and obvious" or sufficient doubt to make what should be simple decisions. That would be if the spirit of the game is the guiding principle.
Sadly, it's not and hasn't been for a long time but even the rationale for introducing Video Assistant Referees to top-level football in the first place hasn't been met. Rather than eliminate the protracted debates and examination of controversial incidents on telestrators by pundits in the Sky and BT Sport studios, the forensic analysis and millimetre-by-millimetre measurements has moved to Stockley Park. There, unaccountable — and seemingly unsack-able — referees with enough doubt over their competence already amassed from their errors on the pitch, make decisions on important matches that directly affect a multi-billion pound industry — decisions that aren't communicated effectively to the spectators.
Everyone wants the correct decisions to be made during football matches — it's why supposedly impartial arbiters in the form of referees and their assistants were introduced to the game in the first place. Somewhere along the line, as the Premier League grew in importance and the quality of television pictures and slow-motion improved, we lost faith in those officials, with technology seen as the eventual solution. We've also taken the responsibility for the final decision out of the hands of the man in the middle, another critical failing of VAR.
As a means of determining whether a goal has actually been scored or not, goal-line camera technology that can detect whether or not the ball has crossed the line has clearly been an unqualified success. That's because it's simple and not open to any subjective interpretation.
Article continues below video content
Unfortunately, because of video frame-rates and which precise moment a ball is deemed to have left an attacker's foot, the Hawkeye technology as it is currently used for offside is not as black or white. Everything else, from handball to the severity of a tackle is purely subjective and it always will be. That's not to say, however, that it can't be more fairly applied as opposed to them being viewed increasingly, as it appears officials are now doing, through a tech-like prism where the VAR is measuring sleeves and the like.
* * * * * * * * * * * * * * * * * * * * * *
There's "handball!" when a partisan crowd suspects an infringement and might not be sure but calls it anyway, as fans do. Then there's "HANDBALL!" where the entire crowd in that area of the ground and the players alike all scream in unison at what is clearly and unequivocally a contravention of the rules.
Paul Tierney, the on-pitch referee for Everton's home game against Manchester City on Saturday, may not have had full sight of the incident when Rodri handled the ball in his own box but the Video Assistant Referee, if he were fulfilling his duty with any competence, should have had a quick decision to make.
Instead — we'll set aside accusations of bias from a referee from Greater Manchester whose brother is rumoured to be a Man City season-ticket holder but PGMOL (Professional Game Match Officials) really don't help themselves in this regard — it appears as though Chris Kavanagh deliberated over two stills of the ball making contact with Rodri's arm: one (on the left in the below image) where there is "an element of doubt" because the player is leaning into the ball and one (on the right) where there clearly isn't.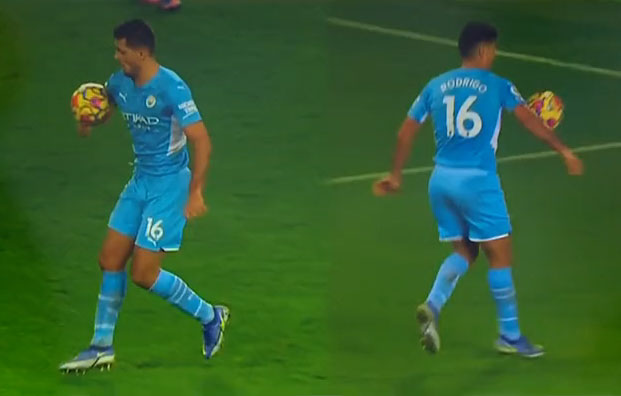 Kavanagh shouldn't have needed to — the right-hand image shouldn't leave anyone in any doubt — but if he had used the video replay instead, he would clearly see that Rodri moved his arm forward, in an unnatural way away from his body and made contact with his arm in order to gain an unfair advantage with an illegal part of the body. In the spirit of the game, Kavanagh and Tierney should have ensured that everything that could have been done to make the correct decision was done but, instead, it looks like little more than a cursory look was taken.
The rules around handball have changed so much and so frequently in the very recent past that no one really knows what the rules are anymore but the change to include the shoulder above the delineation of a short-sleeved jersey as being legal was for accidental contact, particularly at set-pieces. Had Rodri dipped his body in attempt to control the ball with his shoulder, then it's a more muddy incident but he very clearly uses his arm slightly above the elbow.
It was a stonewall penalty and enough to prompt a formal complaint from Everton which resulted in a personal apology from PGMOL head, Mike Riley. However, like the admission by the Premier League of the error made around the penalty given against the Blues at Brighton in October 2019, it means very little. Everton won't get the chance to earn a priceless point. There is no real recourse other than to hope that things get better and the fact that Kavanagh hasn't even been given a cursory one-week suspension shows that there are no real repercussions here.
* * * * * * * * * * * * * * * * * * * * * *
The offside law was only ever introduced to prevent teams from sticking a goalhanger in the opponent's penalty area. It was never intended to be so black and white that a person zooming in on a screen has to place lines on the edge of an attacker's stud or arbitrarily decide where his armpit is in relation to the heel of a defender's boot. Judging someone to be offside practically by his toenail is as far from the spirit of the game as you can get.
And yet that's where we are with football's search for 100% accuracy when it comes to offside. It's just not football and it's robbing the game of its spontaneity and penalising attacking players for the very fact that their positive desire to score a goal — you know, the very essence of the sport — means they will be leaning forward past the body of a defender whose posture is necessarily the opposite.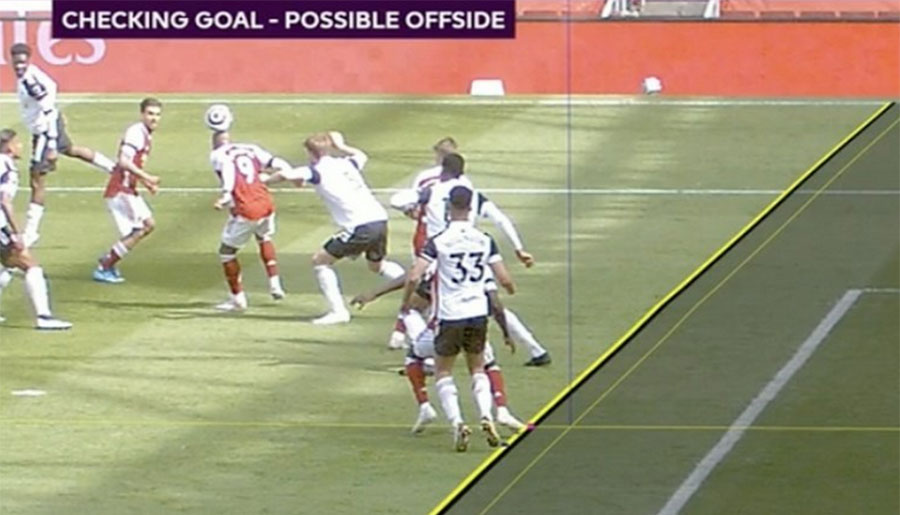 This goal for Arsenal vs Fulham was ruled out even though the attacker's body is well behind the last defender and only his out-stretched toe is beyond the planted foot of the defender. A thicker line and greater margin for error wouldn't have robbed the striker of a goal.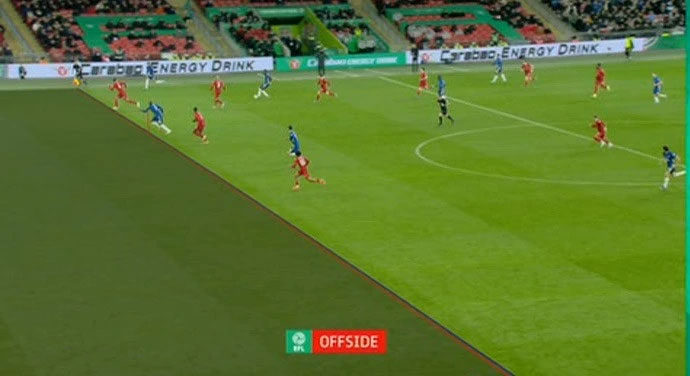 Against Liverpool in the Carabao Cup Final, Lukaku is deemed offside because the measurement is taken from where a short sleeve would end on his jersey, an arbitrary and somewhat ludicrous delineation given that he is clearly level by any sane assessment.
The law was changed so that an attacking player who was level with the last defender was deemed offside precisely to give the benefit of the doubt to the striker (again, in the spirit of the game), allow for more goals and, therefore, a more exciting spectacle. That has now been lost with the obsession with technology. It has been promised that the new semi-automated VAR tech for offside will improve things but it's hard to see how, given that it will be calibrated to the same minute margins as we currently have.
Indeed, those margins are calibrated using a specifiic frame in the video sequence but as the passing player's foot goes through the motion of playing the ball, there are several frames that could be chosen as the origin of the pass and which one is selected affects the placement of the line for the receiving player.
The configuration of the Hawkeye cameras means that the "daylight" concept for offside, where there is a clear separation of the torsos between opposition players, apparently won't work but there is clearly scope for restricting decisions to the players' feet and expanding the margin of error to two thick lines — much thicker than the ones currently in use.
If there is any overlap between those two lines, it is onside. That way, the rule stays within the original parameters of offside — ie, to prevent teams from gaining an unfair advantage by placing a player well beyond the last defender, especially if, as Romelu Lukaku was against Liverpool in Sunday's League Cup Final, the forward is 35 yards from goal!
Under those conditions, Richarlison isn't robbed of a goal against Arsenal at Goodison earlier this season from an instance where he is level with the defender under any fair interpretation of the original rules, Everton have a goal and the League has a more exciting contest for what was a national and international domestic audience.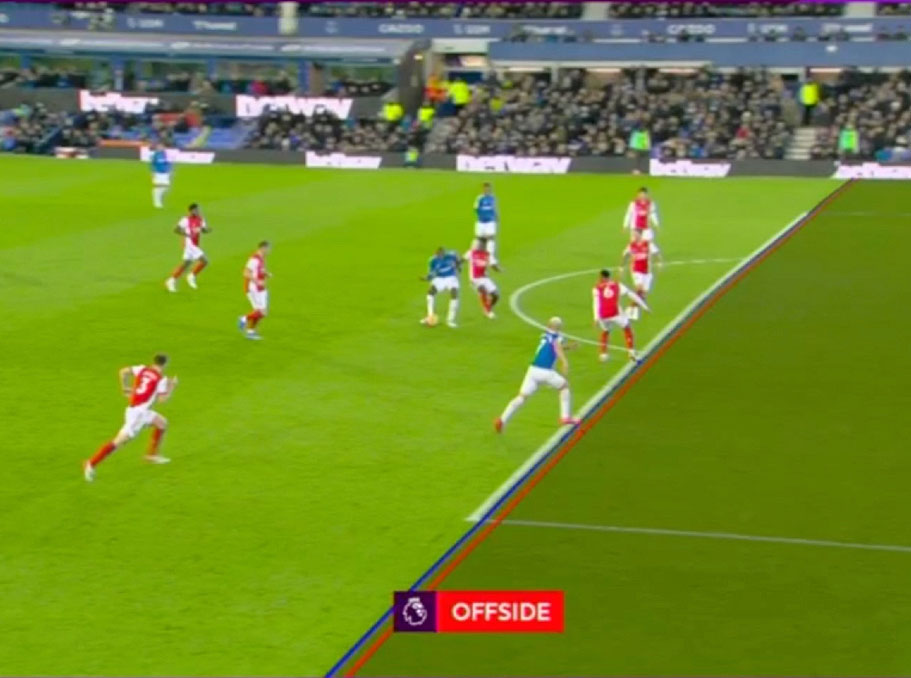 Richarlison is level and onside within the parameters of the spirit of both the game and the original intent of the offside law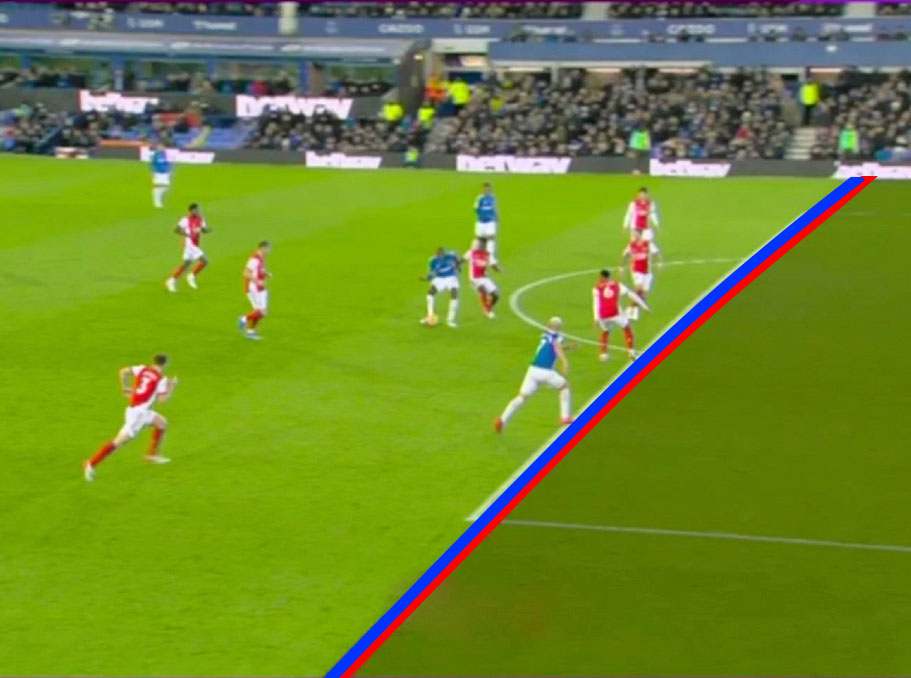 Widening the lines to increase the margin for error would be both technically feasible and would grant the attacker much more leeway in these ridiculously tight situations. Here, the lines overlap so Richarlison would have been deemed to be onside.
In an era when the elation of a goal for your team — particularly a meaningful one scored very late on, arguably one of the most thrilling moments in football — is being significantly tempered by the fear that a hairline offside decision or subjective and debatable handball decision could rob you of it, it's hard not to feel as though the game's decision-makers have let their obsession with technology and the quest for accuracy go too far, particularly where accuracy can never be guaranteed.
It's worse in England, of course. On the Continent, VAR appears to have been implemented much more successfully, offering proof that with a bit more common sense and appreciation for the spirit of the beautiful game, the tech doesn't have to be a problem.
There will always be contentious moments and decisions that are obviously wrong; that's unavoidable when human beings are involved. The key, of course, is to reduce those to a minimum while also establishing rules and guidelines where fans feel like it's the sport that has been placed at the forefront rather than technology. We've got a long way to go.

Follow @EFCLyndon
Share article:
Reader Comments (53)
Note: the following content is not moderated or vetted by the site owners at the time of submission. Comments are the responsibility of the poster. Disclaimer
Andy Mead
1
Posted 02/03/2022 at 07:30:52
One rule I would love to see introduced is if a player is injured and needs medical attention on the pitch, the second he is removed
or gets up from the pitch and the game resumes, he must sit out the next five minutes before getting back on the pitch.
We saw this weekend with Stones and their keeper, players faking injury to waste time and stop momentum, only for the second they leave the pitch waving madly to the ref to come back on. Everybody including the ref knows they are play acting.
If they were made to wait and be a man short, this would stop this embarrassing rubbish. Also, refs can add on exactly the right amount of wasted time back on. Not a token 30 seconds after a player has wasted 2 minutes rolling around in fake agony.
Christopher Nicholls
2
Posted 02/03/2022 at 07:37:55
Well said! The current implementation of offside is laughable, bordering on ludicrous. That's all that really needs to be said.
The ruling of the handball against Manchester City was simply criminal.
Another alternative that should be easily available to the usually insatiable data hawks of modern football, should be the tracking of how many decisions, reviews and overturns are made in favor or specific teams by specific referees.
It would be reasonable to suggest that appropriate use of data insights in an annual review of referee performance might be a good step to ensuring a more balanced, if not equitable, application of laws.
As I mentioned on Saturday. The officiating of the game vs Man City is a case study in how to shade a game in favor of a team by a referee.
This is a kind of insidious corruption and bias that needs to be rooted out of what has become a sordidly corrupt league.
Christopher Nicholls
3
Posted 02/03/2022 at 07:40:12
Andy, that is a change that should be made to ensure the welfare of the players. They should be subject to a 5-minute medical assessment before being allowed back on to the field.
Lyndon Lloyd
4
Posted 02/03/2022 at 07:51:56
Christopher, Dale Johnson of ESPN tracks VAR overturns and decisions and how they've affected each team
here
, but not by referee. That would require an extra layer of granularity but it would be interesting.
That link has us at a deficit of 2 points but was compiled before the City game and doesn't include the Oriel Romeu incident at Southampton, presumably because we lost by two clear goals.
Stan Schofield
5
Posted 02/03/2022 at 08:10:00
This just hasn't been football for some time, well before VAR. The cheating and bias, and apparent corruption have gradually decreased my interest in football beyond just Everton games.
VAR is a tool supposed to help. Like any tool, it can help or do the opposite. Too often it does the latter, and in our case is being used to continue a process of consistent bias against us, which have cost us dearly in points and made the struggle to succeed an unfair one.
Succeeding is hard enough without biased and corrupt match officials making it even harder.
Derek Thomas
6
Posted 02/03/2022 at 08:31:41
Everybody knows it's broken... except all the usual suspects, the beneficiaries, those who administer it, and those who pay them.
Therefore, no change on the horizon, except maybe a dot on an 'eye' or a cross on the odd 'tee'.
Tony Abrahams
7
Posted 02/03/2022 at 08:35:39
Any one of us could sit with FIFA, UEFA, or FA officials and lawmakers and make the game much more straightforward, and a better spectacle, by giving them some straightforward views imo.
I went to bed last night when Boro v Spurs went to extra time, and put on Netflix instead, which is something I would have thought was unthinkable not so long ago.
It was probably the best game I'd watched for a long time, but I'm going the match on Thursday, and I just can't saturate myself with the beautiful game anymore, especially because of the way VAR, and many unscrupulous officials have taken the game.
Danny O'Neill
8
Posted 02/03/2022 at 08:57:44
Still annoyed about the kick-off time and playing FA Cup matches in the evening, but I'm being selfish. Tottenham fans having to travel to Middleborough last night, Boreham Wood to Liverpool on Thursday for an 8:15pm kick off. The biggest game of their lives would have been much more of an occasion played at 3pm on a Saturday.
I won't go on too much about VAR. I am a supporter of it's correct implementation.
The problem remains the ridiculous rules and the incompetent interpretation of them by officials.
The technology is actually supposed to help them make the right decision.
All we have done is transfer the problem. In my line of work we talk about accepting risk, tolerating risk or transferring risk. With VAR, we have transferred the problem.
The problem being the rules and the incompetent officials who make judgement on them.
Keep it simple. For me, I liked the "daylight" offside rule. That's clear and obvious to coin a modern phrase. Handball, if the arm is out it's handball. Unless it's been smashed at a player from close range. But the technology can clear that up.
Still angry.
Joe McMahon
9
Posted 02/03/2022 at 09:09:16
I realised that when an injury time winning penalty was awarded in front of The Kop against Leicester (when I thought Mane was going to be booked for diving) that one team more than any other would benefit from the farcical (open to interpretation and application) VAR.
If we need any evidence, it's the fact they won another trophy on Sunday, as pointed out in this very good article.
Richard Lyons
10
Posted 02/03/2022 at 09:20:17
Great article, thanks, Lyndon.
What would be the consequences of the offside rule being abolished altogether?
Teams would have to modify their defensive tactics to deal with goal-hangers, controversy would be eliminated, and there'd be no more need to explain an arcane rule to those who pretend to be interested in the game...
I'd like to hear your opinions: what would be the negatives?

Rob Halligan
11
Posted 02/03/2022 at 09:26:43
When VAR was first introduced, I thought – and I bet many others did – that it was the end of the so-called Big 6 clubs getting dodgy decisions in their favour. No way can some of the dodgy penalties or dodgy offside goals be awarded, or not awarded, depending at what end of the pitch it is, now that VAR is in place. What can't speak can't lie, it's there in black and white.
Well, how wrong can you get? The so-called Big 6 clubs (well maybe not Spurs because I don't consider them one of the so-called Big 6 clubs) are still getting dodgy decisions in their favour. Quite simply, VAR is neither use nor bloody ornament in this country.
For anyone who watches football in other countries who use VAR, is there as much favourtism towards their so-called top clubs as there is here? The whole VAR system in this country stinks!!
Jonathan Tasker
12
Posted 02/03/2022 at 09:28:10
Lyndon. Terrific article.
At the outset of VAR, my suspicion was that it was only brought in to facilitate results in favour of the big teams. A kind of safety net when all else fails.
Incidents like the clear failure to award Everton a penalty only serve to back up my view.
To give you a specific. How enjoyable it was to watch Middlesbrough last night and knowing that VAR couldn't intervene.

Danny O'Neill
13
Posted 02/03/2022 at 09:31:41
I think you answer your own question Richard; it does away with the 6 year old goal hanger. Now, that would leave space elsewhere on the pitch if the forward "goal hanged", but offside makes sense, just implement it sensibly.
As someone has previously said, if your finger is offside, why is that offside? You can't score with your hand, let alone your finger. The daylight rule gave advantage to the attacker, but we didn't seem to stick with that for too long unfortunately.
I don't mind the offside rule, just make it sensible and realistic.
It's similar to the pass-back rule. I didn't mind that being implemented as it stopped the endless passing back to the keeper to have him pick it up and stop play. At least now, if it goes back to the keeper, he has to play football.
Although our keeper mainly plays like a Rugby Union player punting for territorial advantage and giving the opposition a line-out (throw-in)!!!
Geoff Trenner
14
Posted 02/03/2022 at 09:43:12
The law was changed so that an attacking player that was level with the last defender was deemed offside precisely to give the benefit of the doubt to the striker

Kim Vivian
15
Posted 02/03/2022 at 09:45:45
The point in the article about precise timing of frame freezing is extremely salient. There is a fraction of time between a) the foot or head striking the ball and b) the ball leaving the foot or head. Does one deem the pass to be made at a or b? Very difficult to determine but it would make a significant difference with the offside illustrations above.
Similarly the handball incident illustrates the same point. It is clear looking at the position of the player's left hand and right foot the two images are not at the same moment. The right-hand image (to me) shows the moment the ball strikes the arm – nailed on penalty all day. In the left-hand image I would say that the ball is travelling across the player's body at an angle and, if one was to freeze frame one frame earlier, the ball would possibly be in line with the Puma badge, making it look like the chest.
Rodri was definitely leaning into the ball to try and "chest" it to safety but got the timing wrong so the instinct then is to move his arm to the ball. If these two images were used by the VAR monkey to make his decision, then that is plainly wrong. It shouldn't be hard in this case to pinpoint the moment the ball changed direction.
Anyway, the world and his cousin now knows it should have been a penalty but the point I make again is the precise freeze-frame moment.
I concur also with Andy @1 about having an obligatory recovery and assessment period following an "injury" requiring on field treatment, and have said so before on these pages. My only difference would be the obligatory off-field time which I had mooted at 2, maybe 3 minutes. I guess in the case of a goalkeeper, that would not work but a definitive amount of wasted time should be added to the clock.
The suggestion of wider lines for offside has condiderable merit as it would to all intents and purposes show daylight between attacker and defender thus confirming the offside (or not). The whole business is a shambles right now and we are stuck with it, but surely it is not beyond the wit of someone competent to address the obvious issues.
Geoff Trenner...?????
Mal van Schaick
16
Posted 02/03/2022 at 09:58:55
A good thought-provoking article, that raises many questions and opinions.
Tinkering officials have throughout many years attempted to bring fairness into the game, only to bring more controversy.
Back in the day, slow-motion replays raised and answered questions regarding incidents, appealing to fans and pundits alike. Yet, today, with a high level of sophisticated technology, controversy still haunts the game.
I thought the idea of the technology was to rule out human error but, given recent events, obviously not. Which leaves a distasteful thought of corruption amongst some officials. An issue that the authorities need to address. So, the match officials who monitor a game, may themselves be subjected to being monitored. What a carry on!
Kim Vivian
17
Posted 02/03/2022 at 10:00:37
...and I meant to say - the arm should never be used to assess an offside position.
Brian Murray
18
Posted 02/03/2022 at 10:33:23
It's not rocket science. Offside should be daylight between attacker and defender with attacker getting the benefit of the doubt, like it used to be. Obvious exceptions – checking for club badge.
Chris Locke
19
Posted 02/03/2022 at 10:45:30
The time lost in the game whilst players are receiving treatment is very easy to resolve and requires no more effort than someone starting and stopping a clock.
I'm not a huge rugby fan but I'm pretty sure they use this system for when a player requires treatment or the game is going to be delayed for more than a few seconds. Instead, football has somehow managed to create a system that can punish the team whose player has been fouled.
We often end up with a situation where the fouled player is treated on the pitch and made ready to continue. Instead, said player is then made to leave the pitch to be waved on by the referee which often wastes even more time.
The time lost or wasted during a game is very rarely made up with injury time at the end of either half.
The same applies to substitutions where all managers know that the making of a substitution will take time out of the game.
In this day and age where sport events can be won and lost by 0.001 seconds, it baffles me that elite football still hasn't managed to use a simple solution to fix the problem.
A prime example of how bad it can be was evident during our 3-0 loss to Aston Villa. The last 15 minutes involved about 3 minutes of actual football and the rest was stoppages and time-wasting, all which the ref allowed to happen. Then, when the board went up, it was deemed only a few minutes of injury time was required because of the scoreline.

Tony Abrahams
21
Posted 02/03/2022 at 11:18:37
It's just come into my memory that Klopp unbelievably said that he only has a problem with one ref, earlier this season. That ref happened to be Paul Tierney, who's just been added to a very long list of ones that give Everton problems most weeks!
Paul Hewitt
22
Posted 02/03/2022 at 11:27:44
I blame Sky. It was perfectly fine untill that grubby little buisness got hold of it. Now it's a corrupt money-making business and not a sport.
James Newcombe
23
Posted 02/03/2022 at 12:09:37
I've always thought offside should be based on the position of the boots, especially if it's a rule that's going to be dissected over video. It would take a fair bit of ambiguity out of decisions.
#1 Andy, you are right about that. Five minutes sounds a bit harsh if someone has genuinely been clattered; but play acting has been ruining this sport for many years now, at home and abroad.
Mark Taylor
24
Posted 02/03/2022 at 12:12:29
I think VAR for offside is relatively uncontroversial. That is not to say the variables used could not be tweaked to improve it – for example, I like the idea of thicker lines and an overlap as the basis- but the point is, it can be measured.
It doesn't even matter if it is very rarely not accurate (not that we would ever be able to know for sure). VAR becomes the truth, as in tennis. It's the same there, can we really be sure if a strand of fluff on the ball hasn't just caught the outer edge of the line? No, but it doesn't matter, the players accept that what VAR shows in close up is 'the reality'.
It is more controversial when linear measurement is not possible, specifically fouls and handballs. This introduces more subjectivity.
I can understand why the ref on Saturday did not give a penalty. One might argue did the ball actually touch below the elbow or was it really an 'unnatural' movement and too far from the ball? But I am pretty sure it was a penalty and certainly I don't think VAR would have overturned it.
I suspect part of the problem is that the original intention of VAR was to correct obvious and glaring errors but I said at the time it was simply unavoidable in it being involved in ever finer margin calls. That means it has improved refereeing decisions, even if some of these subjective fine margin decisions might make us think otherwise.
Someone referred to a site that monitors 'lost points' from incorrect VAR calls. I think that might be useful in making sure there is accountability and ensuring that no teams are seen as gaining (or losing) over a season.
Transparency might help, as might following rugby and broadcasting the discussion between the ref and VAR, so we can see how they work as a team.
Roger Helm
25
Posted 02/03/2022 at 12:15:29
The quality of the referees goes down all the time, perhaps related to the thousands who are lost to the game because of all the abuse they get at the lower levels. This could be dealt with inside a month by FIFA if they chose to, but they don't.
We import the best players in the world, why can't we import the best foreign referees?
Regarding VAR, the "clear and obvious error" criterion seems to have been forgotten, I don't know why.
Also forgotten, or perhaps never considered, is observer error. There is always a degree of inaccuracy with freeze-frames and computer-generated lines on the pitch, but referees seem to believe their screens are accurate to the millimetre and the micro-second, which of course they aren't.
Hugh Jenkins
26
Posted 02/03/2022 at 12:40:29
It has long been a mantra of mine that "injury time" is an unnecessary complication to the game and that it should be abolished, or, at the very least, its use and true length should be determined by an independant time keeper and not by the referee.
I firmly believe that, as in Rugby League, the independant time keeper will blow his or her hooter, at half-time and full-time, so that any time added on is precise and the refereee does not have any opportunity to extend play, by favour or otherwise, to give an advantage to one side over another.
To my mind, that would be a major step forward and easy to implement.
Jack Convery
27
Posted 02/03/2022 at 12:42:35
Wonderful article, Lyndon. A pity it can't appear in The Guardian so more people can read it.
Raymond Fox
28
Posted 02/03/2022 at 12:54:42
Referees can make mistakes in real time, but some of the conclusions VAR officials come to when they can study the incident for minutes is beyond me.
Heads need to roll.
John McFarlane Snr
29
Posted 02/03/2022 at 12:54:58
Hi Lyndon,
I believe that you will be aware of my dislike of the VAR system. There have been many changes to the offside law in recent times, but not changes to improve the situation, in my opinion.
There was a time when a player standing in a position 40 yards away from the action would be deemed to be offside and interfering with play; I would prefer that to the current state of affairs.
I am on record as saying, "Football is a game played by humans, officiated by humans, and watched by humans" – the introduction of VAR has, on occasion, taken away the ecstasy of goal.
I know that I may be taking things to the extreme when I say that a defender and an attacker can be standing absolutely level, but the attacker wearing Size 10 boots, as opposed to the defender's Size 8 boots, is ruled off-side.
The only improvements that I can see are the goal-line technology, which is instant, and the 'shaving cream' that prevents encroachments at free-kicks, which appears to be a psychological issue.
I would prefer my disappointments to be caused by the referee on the pitch, and not by someone 200 miles away. I know that there will be some who regard me as a dinosaur, but having witnessed the football of yesteryear, I plead guilty.
Colin Malone
30
Posted 02/03/2022 at 13:10:01
Paul Tierney. Good Manchester lad.
Mark Andrews
31
Posted 02/03/2022 at 13:17:17
Whilst this is bad, it pales into insignificance to the problems Moshiri and Usmanov have brought to the club. Their involvement could sink us.
Billy Roberts
32
Posted 02/03/2022 at 13:50:54
Great article, Lyndon.
Also, spot-on, Christopher @2, yes let's use all the data available to analyse refs' and VAR officials' decisions against certain teams.
If all these things even themselves out and there is no conscious or unconscious bias involved, they (the refs) should have nothing to fear with the results of the data.
The fact we still have officials from Merseyside and Manchester officiating on matches of this importance is ridiculous. Again, let's dig deeper and see if there is potential favouritism. There has been lots of talk about corruption and, although it seems over the top and almost paranoid, I wouldn't quickly discount it. In a world of spread betting on many platforms, why is it so unlikely?
In an industry with so much to gain and lose? Why is it so unlikely that bribes aren't being made? This has happened in Italian top-flight football, Cricket and undoubtedly Boxing as well as Baseball (many years ago, admittedly).
Then there is the question of what I would call corruption by fear – this definitely exists and was admitted recently by an ex-referee (Halsey?) where referees are either intimidated or in awe of certain teams; again, this is a disgrace.
I think it was Reds fan Clattenburg who referred to Gérrard as Stevie or worse Stevie G in an article I read. That speaks volumes to me.
Also, Kim @15 makes great points, especially the manipulation and almost con trick of the different photos; however, I will say, as long as that VAR official had that 1 photo of it striking his arm, it didn't matter about the journey of the ball before or after.
This is the most unpalatable aspect of this most recent farce... he is blind or he is on the take – there is no in-between on this occasion – and obviously that means he should be suspended with an opportunity to explain himself.
John Raftery
33
Posted 02/03/2022 at 13:51:19
VAR is crap; not my words but those of the football correspondent of The Times some time ago. It has ruined the game and has not improved this season.
I am not altogether convinced it is any better in other countries or in European competitions. Given a choice in the matter I would scrap it right now. There are however too many vested interests in retaining it, not least in the extra match fees for the two officials sitting in front of a screen.
One of the many issues is the way pitch officials have allowed themselves to be cowed by the technology. Most seem frightened to make a decision, seemingly reliant on a VAR intervention to bale them out.
Assistant referees might as well not be there, especially in relation to offside. It can only be a matter of time before a player incurs a serious injury after the continuation of play despite an obvious offside infringement.
If the system must be retained, stricter limitations should be placed on its usage, in the main matters of fact such as whether or not a ball was out of play in the build-up to the scoring of a goal. Matters of judgement should be limited to specific areas, such as foul play inside or outside the penalty area or causing injury to an opponent.
Finally, the job of monitoring incidents on a screen in the confines of a studio and communicating with the pitch officials should be a specialist role. The skills are very different to those required on a pitch.
It would also help if the VAR person was linked to the same referee throughout the season so that they can operate as a partnership. The constant switching around between roles cannot be helpful in building understanding between officials.
Kris Boner
34
Posted 02/03/2022 at 14:25:58
You want to instantly improve not only the response to VAR but also the transparency of the decision making? Let us hear the discussions between the Ref and the VAR team.
You can hear all of this in Cricket and Rugby, so there is absolutely no reason it shouldn't be in football.
Graham Reed
35
Posted 02/03/2022 at 16:11:57
It's not the fault of VAR or the referees or the players or the fans or the managers – it's the rules that are the problem.
The three major areas of contention are fouls, handballs and offsides. You can't do much about the first two – there always has been and always will be subjective opinions about what is a foul and what is a handball and I have nothing to add here about that difficulty. You cannot have football when any sort of tackle is allowed or any sort of handball is allowed.
However, you can have football without offside. I say get rid of the law entirely. It would eliminate maybe 40% of the controversy at a stroke and we could all concentrate on figuring out what is a foul and what is a handball.
Yes, it would change the game... maybe for the better, maybe for the worse. If there are goal-hangers, the coaches and players would have to figure out how to deal with them. With no offside, it seems to me likely there would be more goals and more space on the pitch for players to play in but I could be wrong. Let's find out!
Terence Leong
36
Posted 02/03/2022 at 16:22:13
I guess, "the elephant in the room" is,
why
, even with the technology, are the most basic errors still being committed?
There have been a lot of arguments of people focusing on applying the "letter of the law", instead of the "spirit of the law", or that in focusing on the details, people have missed the "forest for the trees".
While all these are plausible, it still does not beg the question how experienced referees have become significantly more incompetent, when the technology is applied.
The very case in point here is, why didn't VAR ask the ref to take another look? And why the ref decided not to just hop over to the screen, or request a look, even when VAR didn't recommend it?
I can't help but feel that the referees want VAR to fail, so that the referees retain control over all their decisions. The fact that England is slower than many countries in implementing VAR shows that the referees feel that they know better.
So, perhaps, what better way than to sabotage the implementation, so that they can, through popular consensus (exasperation from the fans and the pundits etc), reduce their use of VAR?
Because, other than that, I cannot fathom why the referees' association would be so 'blind' to these clear and obvious cases.
Steavey Buckley
37
Posted 02/03/2022 at 16:38:08
Offside decisions when the decisions were made by linesmen were not very good. I used to watch 'Match of the Day' before VAR, and every week there were always errors in offside decisions given by linesmen. It was not possible for linesmen, in tight decisions, in pre-VAR days to know exactly when an attacking player was onside or offside.
It was the same with penalties or when no penalties were given. Penalties were given when there were no fouls or penalties not given when there were clearly fouls in the penalty areas.
But, in the days of VAR, there is no excuse why the penalty was not given against Man City.
Craig Harrison
38
Posted 02/03/2022 at 18:18:58
For a start, why don't we have 3 people sitting in separate rooms review each VAR decision? Each "votes" on the decision independent of anyone else.
Anyone have any idea if we could sue the Premier League or PGMOL officials if we are relegated by a point? Similar to what Boro are doing with Derby.
John McFarlane Snr
39
Posted 02/03/2022 at 18:42:19
Hi Graham [35],
Some time ago when I listened to the Alan Jackson 'Football, Football, Show' on Radio Merseyside, I suggested that the off-side law be scrapped, and countered the claim that dispensing the off-side law would lead to goal hangers, by saying it would be up to teams to combat the situation by bringing defenders back to mark them.
This I believe would result in the expansion of the pitch, enabling the more gifted players to be more effective. To make it plainer, if there were goal hangers, it would be up to the defending team to ensure that they were marked.
John Boon
40
Posted 02/03/2022 at 20:05:57
There is a very obvious division of opinion on how '"Offside" can be interprated. I like John McF (39) position that a player wearing size 13 boots is at a disadvantage playing against a player with size 3 tiny boots actually close to a foot. I have given the players involved different sizes than John did but only to help realise how idiotic the present rules are
Great article, Lyndon. I am one of those who would like offside dispensed with entirely. I don't care if there are more breakaways. Goals make a game and I am sure there would be more. There would be far less arguments and teams would have to adjust their style of play. Opening up the pitch would be great for football.
Of course none of this would change the "Disgraceful Decision" in the Man City game other than to realise that those two incompetent, inane, foolish, refereeing idiots also decide offside. There really are far too many poor Refs in British football. Far too many!!!
Tony Abrahams
41
Posted 02/03/2022 at 20:40:07
My first thought was that having no offside would take the game back years.
My second thought was: Why don't they give it a trial run by creating a cup competition to see how it goes!
Clive Rogers
42
Posted 02/03/2022 at 20:40:40
When they changed the rule several years ago such that if a player was level, he was not offside, it was widely accepted as a good change as it led to more goals.
With VAR, there is now no such thing as 'level' so there are more goals being ruled out due to a toe or an arm being forward. The Lukaku "goal" on Sunday was such an example. The level rule should be reintroduced, concentrated on the players' torsos.
Phil (Kelsall) Roberts
43
Posted 02/03/2022 at 20:53:50
Years ago I used to spend Saturday afternoons hitting people with pieces of wood. It was fun. Every now and again I would actually hit the hockey ball.
It was a very technical game but in the higher echelons it often came down to being able to knock the ball against a defenders foot inside the penalty area. That was a foul and resulted in a corner taken from halfway between the goal and the edge of the pitch. The attackers stood on the edge of the penalty area - 16 yards out and the defenders on the line until the corner was hit. Cue many a bruise if you did not have shin guards, facemasks, and often a box. With rolling substitutions, England had one player who only came on for the penalty corners as he could hit the ball harder than most.
It got boring. So they abolished the offside rule. I had stopped playing by then but I think it maybe took a couple of years before tactics were adjusted.
Laurie Hartley
44
Posted 02/03/2022 at 21:02:27
Let us not overlook the fact that Rodri is as guilty as sin and intended to "deceive" the referee when, immediately after he turned round, he raised his arm, and wagged his finger at the referee indicating "I didn't handle it". He didn't know at that stage that the referee couldn't see what was going on.
Ruben, his co-defender, however, threw his right arm up in disgust as soon as it happened.
The other question I have got for Tierney is "If you couldn't see what happened because another player was blocking your view, why didn't you take it upon yourself to go over to the screen and have a look?"
The pair of them ought to be ashamed of themselves.
Paul Birmingham
45
Posted 02/03/2022 at 21:22:14
For me scrap Stockley Park, and make the descions using the pitch side monitor and use trained ex professional footballers, or ex officials as the monitoring Team.
Who knows if the links to Stockley Park, some times glitch or lock up? Then the monitor really is winging it.
Nothing with the EPL, and rotten to the core piss poor standards in referees and their translation of the rules of the game, seems to be honest to consider changes, and leaves the supporters real time experience now almost a remnant of the past.
Surely common sense must prevail, and new ways of using the replay technology reviews, in preseason trials and to cap once and for all in the FAC, that, until all clubs háve this capability, then it's not used.
Surely there's enough money in the FA, to support the rest of the league and raise the standards of the English game.
Too much time and money, but really the FA, couldn't be arsed, considering such an idea.
The madness and controversy looks like it's here to stay.
One day perhaps, it will change for the better.
Rob Halligan
46
Posted 02/03/2022 at 21:57:34
Lots of posts about scrapping the offside rule, which would in turn lead to goal hangers. It will never happen, but to reduce the number of said goal hangers, have a maximum of say two players who would be allowed to stand wherever they liked. Anymore than two then the third player would be considered to be offside, hence an indirect free-kick for the defending team.
Jerome Shields
47
Posted 02/03/2022 at 22:42:36
What happened on Saturday was plain ridiculous. It was a blatant attempt to influence the game by an official and he got away with it. How many other times has an official got away with similar? It will continue again if there is no accountability.
Brian Wilkinson
48
Posted 02/03/2022 at 23:09:37
In regards to time wasting, did anyone else notice John Stones off the pitch, but then put his foot into play to be treated for an injury, one of the Everton players tried to pull his foot over the touchline, but Stones was having none of it and left his foot in play.
I agree with the players faining injury, once they leave the field, there should be a minimum minute, before they can return.
John Boon
49
Posted 02/03/2022 at 23:43:28
Rob Halligan (46).
I appreciate and understand your opposition to getting rid of offside. Unfortunately, I think your idea would make things even more complicated.
As one poster suggested, I don't see why there couldn't be practice games played without offside, with spectators in attendance. This way, there could be at least some way of trying to see just how things might work to improve the game.
Quite honestly there are so many different points that indicate that football fans are all in a state of uncertainty. Retaining the offside rule may still turn out the best, but surely the governing bodies have to give other ideas a chance.
After all they were quite capable of deciding that two completely incompetent imbeciles robbed Everton of at least one point. Unfortunately, that decision did not change anything.
Pete Jeffries
50
Posted 03/03/2022 at 10:41:07
Great article Lyndon
In effect we have a machine and a stranger deciding the outcome of a match.
Win it or lose, it's just not right. It's not a video game after all.
We learned to accept human error from refs over the years but this downright unacceptable and scrapping it is the answer.
Give the game back to the three match officials on the pitch.
Si Cooper
51
Posted 03/03/2022 at 23:18:55
I've never witnessed a professional game without the offside rule so I don't have a clue as to whether getting rid of it would be a good thing or a shambolic lottery with poor players appearing to be creative just by being able to punt a ball into space for a bone idle finisher to benefit from. I don't find the rule unfathomable and, as the article says, you can tweak the existing system quite easily to give a bit of benefit of the doubt to the attacker.
The Rodri handball has simply exposed an official who apparently has no 'feel' for what a player has to do to use his shoulder on the ball rather than his bicep when the ball is at shoulder height. You lean towards the ball and cock your shoulder forward to use the shoulder; you raise your arm so that it is horizontal and sweep the elbow towards the ball when you are playing it with your arm (and the t-shirt zone shouldn't be a factor).
Will Mabon
52
Posted 03/03/2022 at 23:50:58
There was no need to ever change the handball rule. It's like deliberate engineering to create controversy or opportunity for interpretation and whatever. Everything, everywhere also seems to have to be subjected to
change
, pointless meddling for the sake of it, so maybe that's it.
The original rule said hand or any part of the arm. The deltoid/lateral shoulder is part of the upper arm; it moves with it. If the ball and hand/arm came in contact, it was a simple matter of whether a deliberate move was made or whether the ball struck the hand/arm: "Ball to hand".
No crap about whether advantage gained by movement, whether involved in a goal or not, as tonight, types/degrees of handball? tee-shirt zone etc. Just a decision on whether the player moved his arm into the path of the ball or not. Move = attempt to gain advantage, not moved = no attempt.
No using of shoulder. Shoulder = handball. Chest = not handball.
Rick Tarleton
53
Posted 04/03/2022 at 11:15:19
I keep saying this and it seems obvious to me, that VAR is run by referees to protect referees' decisions. It's not so much bias for clubs, though probably the so-called Sky 6 do seem to get preferential treatment, but that may be just my bias, as that referees are reluctant to show the inefficiency of their colleagues and more importantly, to show up the mistake of someone who may be "varring" them next week.
So fifty-fifty decisions are never challenged forty-sixty rarely and thirty-seventy only occasionally. It has to be a downright clanger for the decision to be overturned and then, as last week against City, it doesn't always happen.
Referees are the last people who should be running this as they have too subjective an interest to provide real objectivity.
Simon Dalzell
54
Posted 07/03/2022 at 19:18:23
Good stuff Lyndon.. Things were supposed to improve, thicker lines etc. Nothing has changed. The pictures you have provided show how ludicrous the situation is.
---
Add Your Comments
In order to post a comment, you need to be logged in as a registered user of the site.
Or Sign up as a ToffeeWeb Member — it's free, takes just a few minutes and will allow you to post your comments on articles and Talking Points submissions across the site.
---
---
© ToffeeWeb