Report
Blues not too troubled in poor game solidly won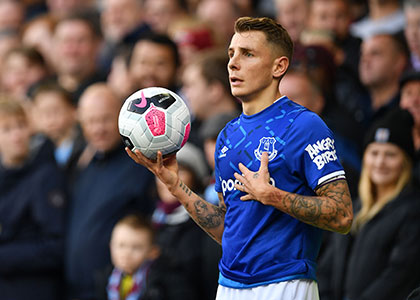 Lucas Digne plays despite coming off with an ankle knock during the cup defeat to QPR last Tuesday
Everton 2 - 0 Norwich City
Everton's developing injury crisis at least had some good news ahead of today's Premier League game against Norwich City, with Lucas Digne back in training along with goalkeeper Jordan Pickford.

Lucas Digne has been training over the past few days after the Frenchman was withdrawn from the Carabao Cup tie at Queens Park Rangers on Tuesday with an ankle complaint but he is deemed fit enough to play at left-back.

Digne is joined by Jordan Pickford who has also been able to train this week after missing the last two games with a shoulder injury. However, Coleman, Gomes, Gbamin, Richarlison and Dominic Calvert-Lewin are all out injured and do not make this game.

Salomon Rondon, who had a shockingly poor game at Loftus Road, is named once again in the starting line-up, preferred to younger players who have come through the Academy in Simms and Dobbin — none of whom were in the U23s squad for their defeat to Manchester United last night.

Demarai Gray, Andros Townsend, and Alex Iwobi all start, with Anthony Gordon and Tom Davies returned to the bench. Jonjoe Kenny did not impress in the cup defeat with Ben Godfrey deputizing today for Coleman. Kieran Dowell was on the bench for Norwich.

It was a lovely autumn day for football, 3 pm on a Saturday at a packed Goodison Park, with Norwich, looking more like flamingoes than canneries, getting things underway. It was pretty cagey stuff for the first few minutes until Digne dug out a decent cross but Rondon was whistled for a foul but at least it was all being played in the visitors' half.

Everton got an early corner but Townsend could not beat the first defender. A great ball from Keane out to Townsend won another corner that was well whipped in. Townsend then swung in a great cross but Rondon's run at it was well blocked as the tempo of the game flagged quite a bit, with nothing of note going on.

Everton were perhaps trying to over-elaborate their little triangles, especially down the left, and going nowhere in a hurry. There was a lame sort-of shot on goal from Iwobi... no, it was more like a backpass. Townsend was able to cleverly steal a ball from the very lively Williams but when it came back to him, Townsend's shot was pretty lame too. 20 minutes of 'pragmatic' boredom so far...

Some momentary excitement when Gray whipped in a teasing cross... so much so that no-one could profit from it. Half-way through a pretty poor meaningless boring first half. Kabak went on a good run but forgot to shoot at Pickford's goal.

Article continues below video content

Allan seemed to be fouled by Kabak in the area but David Coote wasn't interested. Lee Mason looked at the VAR... time after time after time... and Coote eventually decided that yes, it was a penalty for Everton. Andros Townsend stepped up while Krull tried to put him off, and scored sweetly.

Iwobi just about fed Gray and his shot was put behind but the corner was really poor again. Digne set up a half-chance for Rondon but he turned like the proverbial cruise liner... which is not at all, and any chance was gone. The drab and uninspiring football carried on toward the break with Everton relaxing and Norwich thinking they could level the score, Normann's shot requiring a save from Pickford.

Everton resumed with no real sign that the pace of the game would be elevated very much above a Salomon Rondon trot. But Rondon did steal the ball and set up Iwobi for a shot from distance that would dribble feebly well wide of Krull's goal.

Townsend, with a nice turn, looked to fire it a little closer but still off target. Iwobi did really well to get the ball out to Godfrey who returned it with interest and Iwobi was just utterly pathetic, he made no attempt to challenge and (god forbid) score.

At the other end, Pukkki looked like he might beat mina but then Normann lashed a shot goalwards that Pickford had to push over. But nothing from the corner.

Norwich realized that they could up the tempo and push Everton back, Digne getting booked and really, how on earth did Gibson not score for Norwich from the excellent delivery off the free-kick?

Everton continued to live a little dangerously, Rondon rather unfairly called for a strange challenge on Normann, setting up a tasty free-kick to test Pickford. But Normann skied it over the wall and the bar.

Kabak clipped Gray but escaped a second yellow. A well-delivered free-kick from Digne almost brought the second goal that the increasingly nervous fans were keen on seeing.

Williams went on another great run, out-pacing Godfrey who needed help from Mina. A decent corner from Norwich but they did not attack it. Norwich were looking more and more adventurous without creating a real chance. But it would only take one...

Norwich made changes and continued to take the game to Everton, winning a corner that was worked around until Gray went marauding to relieve the pressure, until Doucouré lost the ball. But Everton then won a corner and looked to be at least facing the right way.

Tzoilis put an excellent cross in again and still no takers on either side as it went right through Pickford's 6-yard area, as his shoulder played up on him again, needing treatment. Norwich had a free-kick for handball by Digne but contrived to totally waste it as Gordon replaced Townsend.

Everton suddenly decided they were in a game, Allan stealing the ball in midfield, feeding Gray for a nice jinking run, and he set up Abdoulaye Doucouré for the coup de grace, an excellent finish through Krull.

So, Everton comfortable, 10 minutes left... time of Simms or Dobbin to replace Rondon? No; Davies to replace Gray. Gordon tried to dribble away from Williams and came close to winning the entertaining footrace until the Man Utd loanee fouled the Everton man.

Davies again saw the whites of the goalposts but chose to evade them as only he can. Godfrey got in for a third from close range but Krull denied him. Lewis Dobbin then came on for a couple of minutes, replacing Alex Iwobi, for his senior debut.

Scorers: Townsend (pen:29'), Doucouré (77')

Everton: Pickford, Godfrey, Keane, Mina, Digne [Y:56'], Allan, Doucoure, Townsend (76' Gordon [Y:90+2']), Gray (83' Davies), Iwobi (89' Dobbin), Rondon.
Subs not Used: Begovic, Lonergan, Kenny, Holgate, Branthwaite, Simms.

Norwich City: Krul; Aarons, Kabak [Y:54'] (69' Rashica), Hanley, Gibson, Williams [Y:84'] (86' Giannoulis); Lees-Melou [Y:80'], Normann (69' Tzolis), McLean; Sargent, Pukki.
Subs not Used: Gunn, Rupp, Gilmour, Dowell, Idah, Omabamidele.


Referee: David Coote
VAR: Lee Mason


Share article:
---
Reader Comments (243)
Note: the following content is not moderated or vetted by the site owners at the time of submission. Comments are the responsibility of the poster. Disclaimer
Kevin Molloy
1
Posted 25/09/2021 at 14:07:10
Norwich will look at our subs bench and rightly fear us.
Bill Griffiths
2
Posted 25/09/2021 at 14:09:57
Possibly the strongest line up at this moment in time though I'd have preferred Gordon than Iwobi.
Will be interesting to see how Aaron's performs for Norwich
Dave Williams
3
Posted 25/09/2021 at 14:17:36
Have been on the road with 56 others since 5.45 and still half an hour away.
Surely we must win after all this!
If anyone is planning on travelling up the M5/M6- don't!!!
Probably our best team at the moment- hoping to see one of the young strikers get some meaningful time.
Dave Williams
4
Posted 25/09/2021 at 14:17:36
Have been on the road with 56 others since 5.45 and still half an hour away.
Surely we must win after all this!
If anyone is planning on travelling up the M5/M6- don't!!!
Probably our best team at the moment- hoping to see one of the young strikers get some meaningful time.
Mike Dolan
5
Posted 25/09/2021 at 14:18:52
Good to see Dobbin on the bench today. This kid has all the tools.
Dave Abrahams
6
Posted 25/09/2021 at 14:27:16
Midfield still light!!
Jamie Evans
7
Posted 25/09/2021 at 14:36:22
Thought the same Kevin when I saw our bench. Looks very limited
Jay Harris
8
Posted 25/09/2021 at 14:36:45
Agree with Bill #2
Gordon should have his chance instead of Iwobi and personally I would have given Sims or Dobbin a run out instead of Rondon.
But we need the 3 points so let's hope the lads are up for it.
Faisal Bhayat
9
Posted 25/09/2021 at 14:40:11
Afternoon fellow evertonians! Posting for the first time. As Dave pointed out midfield very light. Lacking creativity in the middle. Hopefully Gray and Townsend are up for it today. Otherwise going to be a long 90mins. COYB
Andy Wilkinson
10
Posted 25/09/2021 at 14:41:47
Shout if and when anyone has a decent link to the game

Faisal Bhayat
11
Posted 25/09/2021 at 14:44:48
http://www.hesgoal.com/news/87688/Everton_vs_Norwich_City.html
Fran Mitchell
12
Posted 25/09/2021 at 14:44:59
People moan about our academy not producing. But just look at our bench.

Oh dear. 2 pensioner goalkeepers and a bunch of kids.
At least we're playing the team that comes to the premier League to lose games. oh Jesus.
Tony Everan
13
Posted 25/09/2021 at 14:46:52
Bill, Jay, I'm thinking the same Gordon for Iwobi who has been mostly ineffective and Simms for Rondon who is obvious to all, unfit.
Dave. The midfield is indeed light, Iwobi has more lives than a bag of cats, probably because of his fee. Hopefully he can justify his selection today and in this game he can come to the fore.
Peter Jansson
14
Posted 25/09/2021 at 14:49:04
Is Gbamin injured? Does he really want to play football?
Raymond Fox
15
Posted 25/09/2021 at 14:50:55
Team doesnt fill me with confidence, I don't see much creativity in there.
Hope I'm wrong but I fear its going to be a struggle.
Jim Bennings
16
Posted 25/09/2021 at 14:52:23
Got to win this because no doubt United will bounce back and bounce us next Saturday, things turn sour too quickly at Everton so today is a crucial three points.
Alan J Thompson
17
Posted 25/09/2021 at 14:52:58
Didn't Branthwiate play for U-23s yesterday?
Andy Wilkinson
18
Posted 25/09/2021 at 14:58:39
# 14 - Peter surely Gbamin is desperate to play? I think he has another minor thigh problem, but if he doesn't get fit soon no-one will give him another contract - and this will be the end of his career. I think when you get a bad injury, getting all your body back into sync is difficult as you constantly over compensate. However, this must be his last season surely to prove himself
Danny Baily
19
Posted 25/09/2021 at 15:01:16
Godfrey at right back again? Hasn't the lad suffered enough?
Allan Board
20
Posted 25/09/2021 at 15:01:33
We will be alright today. On a more positive note, well done villa and lovely to see Freddie Mercury miss his pen! If they bought David Luiz perhaps they could reform Queen before each game! Don't like Solskjear as a coach, he's a big head, and I reckon
he's on his way out soon.
Come on Blues!!!!!
Andy Wilkinson
21
Posted 25/09/2021 at 15:02:52
#17 - yes Alan he did play for the U23s. Hopefully Gaffa just wants to give him more game time to get his fitness up etc Though as potential cover for Digne who was touch and go to play today, seems a little risky as Godfrey is required as cover for Coleman so can't cover for Digne.
Barry Lightfoot
22
Posted 25/09/2021 at 15:07:19
Gbamin has a quadricep injury and no return date mentioned. I doubt even Steptoe & Son could get any money for him.
Alex Gray
23
Posted 25/09/2021 at 15:25:22
Encouraging start bar Rondon who makes Tosun look like Usain Bolt.
Rob Birks
24
Posted 25/09/2021 at 15:35:34
here's a question. can Rondon jump higher than 25.4mm????
Dan Parker
25
Posted 25/09/2021 at 15:46:51
Jogging around again, almost cost us there. Lazy play creeping in
Simon Dalzell
26
Posted 25/09/2021 at 15:47:04
Rondon is the worst ever (so far).
George Cumiskey
27
Posted 25/09/2021 at 15:48:39
Dire performance, Iwobi gets worse with every game
Jay Wood
[BRZ]
28
Posted 25/09/2021 at 15:53:16
In control of the game without dominating it.
Some nice football in passages. Not really being challenged by Norwich at all. I can't figure out the visitors' tactics. Barely passing the ball forward from their back line.
Nailed on penalty, eventually given.
Given the injury list, take a win any way it comes.
Doucoure playing very well. Nice to see.
Mike Corcoran
29
Posted 25/09/2021 at 15:53:38
Talking of lookalikes when we play West Ham it'll look like Bobby Axelrod and Chuck Rhodes from Billions in the technical areas.
Alex Gray
30
Posted 25/09/2021 at 15:54:01
Think it's been okay. Conservative but some good build-up play but playing with ten men. I hate the "throw the kid on" argument but Simms or Dobbin will at least run around.
Alan J Thompson
31
Posted 25/09/2021 at 16:00:31
It appears we still don't have anyone playing up front and I'd say we are still lacking that spark from midfield but even if it was there then there was still nobody of any effect in front of them. Norwich seem most of the time to be giving midfield away when we are in possession.
As for the penalty, it may well have been within today's rules but I'd have been disappointed to see it given at the other end as there seemed little intent and the ball had gone out of playing range.
We really do need somebody more effective as striker, anybody know if either of the kids on the bench are possessed of lightening pace but, as both were supposed to be injured, I doubt they will do much better although it could be a case of doing any worse.
Phil Smith
32
Posted 25/09/2021 at 16:22:20
Rondon has done absolutely nothing today – hasn't held the ball up well, hasn't won anything in the air and no shots. Useless.
Jay Wood
[BRZ]
33
Posted 25/09/2021 at 17:04:05
Two goals scored. None conceded. Three points bagged. With a depleted team.
I'll take it.
Dan Johnson
34
Posted 25/09/2021 at 17:04:28
A very poor performance, but 3 points, we really have a threadbare squad, and still carrying Iwobi, who did absolutely nothing all day, just as well Norwich are so bad. At least we do have a few players to come in.
Jerome Shields
35
Posted 25/09/2021 at 17:09:48
Just glad Everton won. Keeps Everton contending and gives Rafa more time to get over the inevitable back to reality after a good start to the season.
Ian and his daughter got a win on their visit to Goodison. . . Brought Everton the luck needed.
Andy Mead
36
Posted 25/09/2021 at 17:10:11
A wins a win and I'm grateful for that. Two poor sides really.
Iwobi is not a good footballer. Of all the money wasted over the last 5 years, he is top of the pile. Somebody, somewhere at Arsenal is pissing himself at the amount of money we gave them for him.
We got lazy at 1-0 and let them back in around the 65 to 75 minutes mark but they weren't good enough to capitalize on it. Doucouré is everywhere. How fit is that boy? Allan was assured in central midfield but the cupboard is bare after them. Digne and Godfrey need to up their games also.
Raymond Fox
37
Posted 25/09/2021 at 17:16:54
Good win Everton, level on top of the league for the moment.
The game was always going to be a struggle with important players missing.
Hate to see what it will be like on here when we start losing!
George Cumiskey
38
Posted 25/09/2021 at 17:18:51
Rondon gave the worst performance in an Everton shirt I've seen in a long time, yet he was on for the whole game, I won't say he played the whole game because he didn't play at all !
Bill Gienapp
39
Posted 25/09/2021 at 17:22:04
Less-than-scintillating stuff, but a (mostly) untroubled, workmanlike victory. We needed three points, we got three points. I'm satisfied.
Norwich were utterly punchless, but did manage to fizz a few dangerous crosses in. A more clinical side might have punished us.
God bless Rondon, but that dude is an absolute statue. Maybe he'll become more handy when he's match fit, but I'd drop him below Tosun in the pecking order as soon as he's fit.
Iwobi does some nice enough stuff on the ball, but he's utterly unincisive (is that even a word?) around the box, particularly in comparison to the likes of Gray and Townsend. Gray's assist was nicely executed and he continues to look our most dangerous player.
It hasn't always been pretty, but I think most people would have taken four wins, a loss and a draw from our first six at the start of the campaign. I also have a feeling that road win against Brighton is going to look a lot more impressive by season's end.
Ed Prytherch
40
Posted 25/09/2021 at 17:25:16
Agree that Rondon was terrible and I expect that he would have been subbed earlier if the game were in the balance. Rafa is trying to get him fit.
Bill Gall
41
Posted 25/09/2021 at 17:28:11
Not a very good game to watch but, with the threadbare squad we have, it shows how much we miss Calvert-Lewin, Richarlison and Coleman. It is not so much their goal scoring and assists, it is they keep the defenders back with their speed. Coleman may have lost some of his pace but his crossing and goal threat are still there.
As I said, not a very good game to watch and I doubt if I will watch it over again. But 3 points playing poorly is better than no points playing great.
Congratulations to Benitez for taking this job on, as today it's shown how difficult it is trying to make a silk purse from a pig's ear, or so my wife says.
Dave Williams
42
Posted 25/09/2021 at 17:28:13
Well I really enjoyed it and thought Allan, Doucoure, Townsend were very good, Gray is our best signing for many years and Mina was superb.
Digne much better too!
George Cumiskey
43
Posted 25/09/2021 at 17:28:59
Ed the game was in the balance for a long time !
Sam Hoare
44
Posted 25/09/2021 at 17:33:57
3 points in the premiership in a game we mostly controlled and with some key players out or just returned from injury. I'll take that every day of the week and twice on Sundays!
Rondon will get better/sharper (low bar) and Godfrey is clearly not back to his best yet. But 13 points from 6 is a pretty good start to the season, better than I expected.
Jamie Evans
45
Posted 25/09/2021 at 17:58:37
I think Godfrey's worst position across the back four is right-back. Doucouré good again; I like seeing him get forward. Got a bit of Viera about him, obviously not as good.
Daniel A Johnson
46
Posted 25/09/2021 at 18:02:30
13 points, level with Man City, and a horrendous injury list. I think Benitez is doing a solid job.
A hard-earned win – I will happily take that any day of the week.
Barry Rathbone
47
Posted 25/09/2021 at 18:08:34
Just relieved to win.
This squad really is no better than those of previous decades but they seem capable of effort and don't collapse at the first sign of trouble as per Carlo and other incompetents.
Not that it impacts on us being filed as "mid table drones" vulnerable to annihilation by any "up for it" monied crew.
But, picking up points hither and thither dampens the "Benitez war" which, unfettered, could lead to another populist managerial change and maybe Moshiri decamping.
Andrew Kelly
48
Posted 25/09/2021 at 18:15:12
I can't believe some of the Rondon hate on here. God only knows what the comments would've been like if we had not won the game. Yes, that's right, we won!
We won with a patched-up team and Rondon, who hasn't played for 4 months, got a much-needed 90-minute run out. Take the positives, boys and girls!
Eddie Dunn
49
Posted 25/09/2021 at 18:17:26
A point on the ref... the Turkish lad who had already been booked clearly had his hands on Gray as he fouled him. Surely a second yellow?
Secondly, Digne (already in the book) jumps and handles the ball – why no second yellow? His hands were nowhere near his face.
Other than that, the score I predicted. A poor game, low quality but an excellent result. We would all surely have taken this total at this point in time.
Boy, do we need Richarlison and especially Calvert-Lewin back in the team. Also, fingers crossed that Pickford hasn't inflamed that shoulder, as the sight of Begovic at Old Trafford is not something I want to see.
Graham Mockford
50
Posted 25/09/2021 at 18:28:22
Some positives,
First time we have won our opening three home games since 1989.
Gray and Townsend continue to impress and look absolute steals.
Doucouré, now he's liberated, looking a proper box-to-box midfielder.
Sure the squad is paper thin and we have much bigger tests to come.
As for Rondon, for fuck's sake, give him a chance. He's had a handful of games, he may turn out to be a dud but the reaction in these parts is frankly pathetic.
Dave Abrahams
51
Posted 25/09/2021 at 18:33:36
Andrew (48),
Thanks for a bit of common sense concerning Rondon. If Calvert-Lewin and Richarlison were fit, the lad would be coming on for 20 minutes or so. He's playing and starting because there is nobody else to do the job at the moment.
A few would start with Simms who hasn't played for over four months after an injury at the end of last season, or Dobbin a 17-year-old with plenty of potential but nowhere near ready to start a game in the Premier League.
Rondon, apparently, didn't have a good game, but we won, admittedly against a poor team in poor form... then some start worrying about the game next week. Just enjoy today's win.
Tom Bowers
52
Posted 25/09/2021 at 18:35:49
We have to face the fact that we are a long ways short of top class. We may be paying out some top wages to some of these guys but they are not showing their worth.
Somehow, they just don't get to the intensity level to see off some of these teams at an early stage and the defence always gives me the jitters when the opposition has the ball.
Norwich are piss poor and will go back down, which doesn't say much for Everton – even with key forwards missing.
Townsend and Gray have really shone given that they came for virtually nothing and Doucouré is also doing well.
Alan is good with the ball but is a little hasty in his tackling which shows up his lack of good speed trying to chase a player.
Iwobi just isn't at the races and Gbamin may as well be put down. A pity about Rodriguez who promised so much but delivered very little.
The penalty was a sure thing but sometimes those incidents are not given and it wouldn't have been in pre-VAR days.
Needless to say, next week will be a real test –especially as Man Utd will be still smarting after today but Aston Villa are an improving team despite letting Grealish go.
Chris Corn
53
Posted 25/09/2021 at 18:36:42
Rondon needs minutes so he kept him on. Big deal. Sat in the ground and it was like Statler and Waldorf. Everything is shit until we scored then the same things are "unlucky" and get applauded.
It appears that Everton are not allowed to let opponents have any shots, any possession or create chances.
That was a solid home win against the type of opponents we lost to last season at home despite the "Hollywood" manager who proved he couldn't coach average players. Luckily for him he has gone back to La Liga with the poorest Barcelona side in living memory with another blame deflecting fraud at the helm.
Benitez has started solidly. His bargain-basement signings have brought energy, pace and a goal threat. Not to mention effort. I actually enjoyed our performances on the whole because I know what we are but we seem to have a little bit of the integrity we lost creeping back in. Evidenced by Allan's 30-yard sprint to win the ball back in his own half.
Gray was blowing when he came off because he'd left it all out there.
I'm just taking it one game at a time and enjoying the league form as long as it lasts.
It is a results business. However, there are some who live in a Utopia where we should be playing flowing football and blowing away all comers. I honestly do not know where that comes from based on the last 30-odd years!
Jack Convery
54
Posted 25/09/2021 at 18:38:17
Level with the fancied front runners. Centre-forward nowhere near fit. Keep it going, Blues.
On a side note – how did Aarons look for Norwich at right back?
Peter Neilson
55
Posted 25/09/2021 at 18:41:39
Doucouré getting forward more as planned and Allan breaking down moves effectively. Rondon; poor but maybe excused for lack of match fitness. Iwobi; no excuses, just looks again like a terrible signing after a few limmers of hope in the first few games.
On to Man Utd, a completely different proposition, just enjoy 3 points today.
Ian Bennett
56
Posted 25/09/2021 at 18:41:42
Not a classic, but Rafa is beating the sides that we should be putting away.
Solid enough performance – Gray, Townsend & Doucoure stepping up us a real positive.
Tony Everan
57
Posted 25/09/2021 at 18:46:48
We got the job done and won the 3 points, that's the main thing. All the lads today deserve credit for bringing the bacon home.
We are missing three important players in Calvert-Lewin Richarlison and Coleman so, to my mind, any win at the moment is a good one.
It was ugly, disjointed, scrappy for the most part but the second goal was good, simple football executed perfectly. Loved it.
Against better teams, we will need more bite and intensity in midfield. With the current options available, Davies deployed there with Allan and Doucouré.
I would like to see Gbamin as part of that midfield three to see what he can do, that midfield role is wide open for him to fill his boots, but will that ever happen?
As for the centre-forward, Rondon must be given some breathing space to get fit, Benitez is getting matches into him to get him closer. He said on Friday that he did not expect to be selecting him yet.
Of course we are missing Calvert-Lewin and Richarlison. When both are back, we will be a hell of a lot stronger.
Kieran Kinsella
58
Posted 25/09/2021 at 18:50:01
Dave @51,
Yeah, I assume Dobbin came on when he did because Rafa thinks he's not ready yet but wanted to give the lad a reward for his hard work and show him what he can be part of if he keeps working hard. A simple bit of good old-fashioned man-management.
Ajay Gopal
59
Posted 25/09/2021 at 19:11:03
One of the most boring Everton wins in my life, but I will take it. Clearly, Pickford, Digne, Godfrey and Rondon were not fully fit, we were missing 3 of our starters. But our back 4 had one of the easiest games they will ever get.
Norwich were so poor, it was unbelievable. I thought Gordon and Dobbin did well when they came on, which was a positive for me. Oh, and the clean sheet.
On to the next game against an under-pressure manager – if only we had more players fit, I feel we could stick it to Man Utd.
Andrew Kelly
60
Posted 25/09/2021 at 19:15:12
Correct, Dave @51, I just think some people can't wait to get on here and type type type with smoke coming off the keyboard to vent vent vent come win or lose.
I said before the game I'd take a win and I didn't care how we got it. We got it and I am one happy chappy. Onto the next with Mr Benitez doing a very good job with a god awful squad.
James Flynn
61
Posted 25/09/2021 at 19:19:43
3 points and a clean sheet. Let's get players back and go get Man Utd.
Mike Gaynes
62
Posted 25/09/2021 at 19:20:02
Don't understand all the criticism aimed at Iwobi today. I thought he did a solid job. Won every 50-50, which he hasn't done previously... worked back well defensively, which he sometimes doesn't... and passed the ball forward every time, even though many of them didn't come off. Okay, he's no star, probably not a starter in a fully healthy club, but he wasn't bad today at all.
As for the Rondon teasing, lighten up, people. If you can't have a laugh once in a while, what's the point?
Terry Farrell
64
Posted 25/09/2021 at 19:29:42
Not a classic but a win is a win. Mina, Doucouré, Gray, Digne, Townsend all played well. Godfrey who I like has lost the plot and needs to realise he is in the team when we have the ball to make a difference not continually play safe.
I'm sorry but I cannot say one positive thing about Rondon. Simply too slow and past it. Dobbin looked bright enough and lively.
Brent Stephens
65
Posted 25/09/2021 at 19:32:51
Terry, I don't know but if Godfrey has had Covid, then he might be suffering the after-effects, impacting on his game.
Chris Corn
66
Posted 25/09/2021 at 19:35:46
Tom Bowers, you basically just summed my post up about the mindset of some supporters. Deluded thinking we should just blow teams away and be done at half-time. On what are you basing this?
If I put my mind to it, I reckon I would struggle to count on two hands the Premier League games where we have dominated opponents and won games at a canter in the Premier League era. Even when we have been in and around the Top 6.
Chad Schofield
67
Posted 25/09/2021 at 19:40:35
Allan had a cracking game - not just because of winning the penalty, but tracking players and breaking up play - he was great. Godfrey and Digne has shakey starts but we're better in the second half. Mina really strong. Doucouré, better throughout and a well taken goal. Townsend and Grey good again.
I don't really get the moody posts. I'd far rather we won in that way, than dominated but lost.
It's a shame Simms is just coming back from injury. Rondon, although clearly unfit, still makes defenders think or know their in a game. His lack of trying to bust a gut to get into a goal scoring position is frustrating though.
Anyway, 3 points with a pragmatic performance where we largely sat in second gear.
Neil Copeland
68
Posted 25/09/2021 at 19:41:52
Terry, hope you are well. Decent summary I would say although in respect of Godfrey I think Brent makes a good point; it may take a few games to get him "right".
Jeff Armstrong
69
Posted 25/09/2021 at 19:46:29
Pretty tedious game tbh, As everyone says Gray, Townsend, Mina, Doucouré all decent; regulation 3 points in a game we would have drawn or lost last season.
Good to get points on the board. Benitez is doing a decent job so far with an average squad.
Rondon looked like a half-fit Brett Angell.
Ian Riley
70
Posted 25/09/2021 at 19:47:10
Well we won! 3 points! Clean sheet!!
We played Norwich, a Premier League team! We have injuries! Am I missing something?
It will never please everyone but we responded well from Wednesday. Let's enjoy the Saturday evening. We are trying to rebuild, clear the squad, and get our finances in order!
Wait for it – poor Bill Kenwright will be blamed for the win today!
Neil Copeland
71
Posted 25/09/2021 at 19:48:32
Chad, it was Allan's break-up of play that led to our second goal too.
Mike Corcoran
72
Posted 25/09/2021 at 19:48:43
I think Rondon might have had less than 10 touches of the ball!
Barry Hesketh
73
Posted 25/09/2021 at 19:59:10
If a player is fouled in the area it matters not where the ball is, it doesn't have to be within a certain distance of the fouled player, it doesn't have to be under the control of the fouled player, it just has to be a foul to result in a penalty.
I'm sorry but if Everton FC cannot have a better number nine available for first-team duties, than Rondon, even accounting for injuries, there is something majorly wrong. I can't imagine any other major club having Rondon in their starting line-up, if he isn't fit he shouldn't be leading the line for the team, if he is fit - no words!
He smiles a lot, he fouls a lot and that's about it. Everton made far harder work of getting the points today than they should have done, for large parts it took on the guise of an end-of-season or pre-season game. Happy with the points, happy with one or two decent performances but overall disappointed there wasn't a bit more oomph from our team.
A far more difficult task awaits next week where a wounded United will test our mettle to the limit, but who knows we might nick something.
Michael Boardman
74
Posted 25/09/2021 at 19:59:56
Well done Blues, and another three points. Makes me wonder around the managerial merry-go-round (must be over 1.1m to ride alone), that Koeman, Ancelotti and Martinez are in, and around, Barcelona and Real Madrid, despite clearly "failing" at Everton. Marco for Bayern and Moysiah for Man Utd?
Joe McMahon
75
Posted 25/09/2021 at 20:00:48
Considering the injuries to major players, I think the manager is doing a good job. Until we get to end of season and we can finally get rid of the end of contract high earners I'm not sure what else we can do. Better quality and more shrewed signings I'm sure will come. 3 points and a clean sheet. I'll take that!
Roger Helm
76
Posted 25/09/2021 at 20:03:00
No real cutting edge having lost our only two senior strikers, but what good signings Doucouré and Allan were, they dominated midfield apart from a spell in the second half.
We still need a lot of recruitment to get a squad able to cope with a whole season though. We will have a better idea where we are when we face the top teams.
Billy Roberts
77
Posted 25/09/2021 at 20:04:29
I haven't had time to read any of the above posts but I sincerely hope everyone has a great time at The Bramley Moore tonight!!
I can't make it tonight, but I will try my best to make the next, Derek Knox!! Well done, mate.
Remember, you are all top Evertonians!!! As if I need to remind you!!
Danny O'Neill
78
Posted 25/09/2021 at 20:20:25
On the train home and tired. I'll comment more tomorrow. Not convincing and until we got the second, I was expecting an equaliser.
But, we kept a clean sheet and got the 3 points. We done the job.
Great to meet up in person with some of the gang at The Bramley Moore. Massive thanks to Tony for helping with the tickets. I owe you big time and will repay the favour.
Kudos to myself, Derek and Andy as well as the countless other Evertonians around us for enduring a real-life Live Forum bloke just behind us for most of the match!!
Now to meet those Kopites on their reverse trip when I get to Euston.
Paul Hewitt
79
Posted 25/09/2021 at 20:35:05
4 wins from 6 league games. 5th in the table, 2 main strikers out injured. And only £1.7 million spent in the summer. What the hell is to moan about? COYB
Barry Hesketh
80
Posted 25/09/2021 at 20:38:11
Not moaning Paul @79, merely constructive criticism I would say. Of course, it's a good start to the season, cup exit notwithstanding, given the injuries, however, we haven't exactly set the world alight with our footballing abilities, hopefully, that might alter as the team's confidence grows.

Rob Hooton
81
Posted 25/09/2021 at 20:43:49
I thought it wouldn't be pretty but I am still pleased with the win, especially considering how lightweight we are up top.
A solid start to the season, now for some really tough games, at least this team are showing fight and determination.
Doucouré has an amazing engine, he seems to be enjoying the license to get forward. He also has physicality and is an important asset.
Robert Tressell
82
Posted 25/09/2021 at 20:46:46
Rondon is presumably being given all this game time precisely because he is unfit. He is better than this. It may take a couple more weeks – for Simms and Dobbin too given they're coming back from injury.
3 more points. They all count.

Colin Glassar
83
Posted 25/09/2021 at 20:48:23
No-one is complaining about the results, Paul, just the quality of the football. It was just very poor and disjointed and today, for long periods, embarrassing.
I'll take a win all day if I'm honest... but the footy could be better.
Bill Gienapp
84
Posted 25/09/2021 at 20:55:07
I assume if we'd lost there'd be three times as many comments by now. Not that there's all that much to say about this particular match, but I can see why folks get irritated by the moaners only making an appearance when things go badly.
Paul Swan
85
Posted 25/09/2021 at 21:02:11
One of those games you just had to get through. We never looked fully comfortable but, at the same time, never uncomfortable either. Too many misplaced passes at times, and agricultural clearances, but to be expected.
Norwich did not allow us to get in behind them much which stifled the likes of Gray but other players stepped up to get the job done. Doucouré and Allan made the difference.
Peter Mills
86
Posted 25/09/2021 at 21:17:40
We are going to have to take more of these performances this season. It wasn't pretty, but it was much better than what we saw on the telly from Goodison last season.
Doucouré was excellent, Townsend is showing leadership. Mina, not my favourite, had a good game. Pickford provided presence.
The best moment of the match for me was the cross Gray played into the 6-yard box around 20 minutes. It needed attacking, and Iwobi and Rondon failed to do so. It was right in front of me, as was the Digne "handball" in the 2nd half – to me, it clearly hit his body, to my pal next to me, it was handball. Not easy for a referee.
It was a pleasure to meet the guys at The Bramley Moore, very best wishes to Dave Abrahams who was unable to make it.
Joe O'Brien
87
Posted 25/09/2021 at 21:23:11
Bill @84,
That's why I don't come on here that often. There's a lot of negative posters... even when there are clear positives to comment on. Always more comments when we lose... it's kinda sad to see.
Anyways, nice to get back to winning ways with two very big players missing. Dourcouré has been massive for us this season. Mina was class again. First-choice centre-back for me.
Nice to be up and about the top of the Premier League. UTFT
Mike Keating
89
Posted 25/09/2021 at 21:33:43
What is the problem with taxis after the game?
I walked all the way to Great Homer Street without seeing one and ended up getting a 53 bus!
Eventually arrived at the Fly in the Loaf in time to celebrate a great comeback by plucky little Brentford.
😎
Brian Wilkinson
90
Posted 25/09/2021 at 21:43:02
Mike@89, there are buses parked all along the side of the Park end, opposite the souvenir Shop, that go into Liverpool,
If you have a train ticket, the bus is free by showing your train ticket. There was about 12 buses lined up, waiting to transport fans back into the town centre. Much easier than trying to get a taxi.
I was going to go The Bramley Moore pub after the game but, like you say, trying to get a taxi is a nightmare, so I jumped the bus into town instead.
Bill Watson
91
Posted 25/09/2021 at 22:05:40
Apparently there's a shortage of taxi drivers, not helped by Brexit.
Not a classic, today, but the 3 points will do very nicely, thank you.
Good to meet up with some of the guys in The Bramley Moore pub.
Jay Wood
[BRZ]
92
Posted 25/09/2021 at 22:08:34
Good post-match interview with Rafa on the club's FB page.
Rafa's Post-match Norwich Comments
May need to scroll down to view the video post 'We are creating a good team spirit.'
Interesting comments on Ben Godfrey, where he could play him determined by the opposition, the conversations he has with him and confirming what some have expressed, that he is still recovering from his bout of Covid and is operating at around 70%, with room to improve.
Danny O'Neill
93
Posted 25/09/2021 at 23:19:33
Late night of a long day and I just watched the final rounds of the Joshua fight in my usual Marylebone pub before I catch the train home.
Did I see Benitez come out to tentatively applaud the supporters today? And did the support have a mixed but generally good response back?
He likes us. I think we could like him. In a weird kind of way!!
James MacGlashan
94
Posted 25/09/2021 at 23:37:39
Does anyone else want to get rid of the siren? The wonderful feeling that just Z-Cars gives you is the moment the players come out of the tunnel. The fans knowing at exactly what point the players come out of the tunnel. I hope you know what I mean.
Bill Watson
95
Posted 25/09/2021 at 00:10:31
James #94
I think the siren is great. Mind you, I've never been a lover of the Z-Cars tune!
Brian Wilkinson
96
Posted 26/09/2021 at 00:43:21
I think the siren adds to the
Z-Cars
theme myself, just needs turning up full blast to rattle round the stadium along with
Z-Cars
.
We will never change Z-Cars, but I would not mind a one-off derby special of the siren, then Bad Moon Rising blasting out at our neighbours.
Andrew Brookfield
97
Posted 26/09/2021 at 01:10:48
I bloody hate the
Z-Cars
tune. It sounds like an amateur's '60s song production – as does every other Everton anthem we play.
Personally, I think we have the crowd to sing and we don't need the club blasting out tracks at half-time or after Z-Cars to make us sing. I think it stinks of small club caught in a time warp, but that might just be me.
Great we got three points today, but the performance was particularly worrying. Our lack of possession is fine against good teams, but to not be controlling the game against QPR or Norwich suggests either a lack of faith or lack of talent in the players we have out there.
Our first goal was lucky; had that luck gone the other way and Norwich had scored first, I'm not convinced we'd have come back to win. I don't blame Benitez, but I'm worried we're an extremely poor team.
Andrew Keatley
98
Posted 26/09/2021 at 02:08:20
Not a game to live long in the memory but an important 3 points, another clean sheet, and further positive signs that Doucouré and Allan are developing into a decent partnership.
Brian Wilkinson
99
Posted 26/09/2021 at 02:13:39
Andrew B, we have been a poor squad for a good few seasons now, have a good starting 11 when all fit, but very little backup, when those injuries kick in.
However some are at least making a better fist of it now, especially with the new additions doing well.
You take a top-class goalkeeper, a right-back, and both attackers out of any team and they will struggle. To put in perspective, our neighbours without Allison, Robertson, Salah and Mane would struggle, and they have a deeper squad to bring in players to cover, same with Man City or Chelsea. We do not even have the luxury of those clubs, where we could at least bring in decent cover.
So yes, we may have been lucky today, we may have been a little sloppy here and there, but apart from Rondon, who looked shot after 50 mins, and Godfrey playing on his unfavourable right side, I thought the team put a shift in today; quite a lot of play and go moves, some came off some did not. Once we get the two attackers back, we will look a more balanced team.
We all know there are still a few not good enough, who we need to shift on, but with hardly spending last summer, for once, we have not gone out and paid over-inflated prices for players and we're doing it the right way.
It is the same old "give it time" etc, but I actually think we have finally found the right manager, who will shift on the slackers. We just need a bit of luck on the injury front, because our starting 11 is a very decent team.
On a final note, Doucouré was outstanding today. What might have been missed by some fans, was his sheer joy of saluting the Main Stand, then turning to the Park Stand, before finally facing the Bullens Road Stand, arms aloft to rouse the fans and a smile wider than the Mersey, that guy loves Everton Football Club.
Steve Brown
100
Posted 26/09/2021 at 03:41:49
Mike G @ 62, right! If we didn't laugh we'd have to cry. Rondon's game reel for that match should come with a laughter track.
Kieran Kinsella
101
Posted 26/09/2021 at 04:18:21
Brian 99
I think Doucoure is finally being allowed to play the way he did at Watford until Pearson came along. Carlo used him as a destroyer but he's got goals in him and Rafa is letting him off the leash.
Likewise I think Townsend suffered at Palace because in a poor team Roy went ultra defensive. He kept his place cause he puts in a shift but he didn't have the freedom to attack. Consequently his stats for goals and assists suffered. Rafa is letting him off the leash too — especially with Calvert-Lewin and Richarlison out and we are seeing the benefit.
Darren Hind
102
Posted 26/09/2021 at 06:18:44
I don't agree we were dire. Workmanlike and difficult to watch at times, yes, but I don't think we were dire.
Norwich were dire. They are nailed on certainties to go back down again this season and I think they came along at exactly the right time us. We needed a confidence-boosting three points before we take on the Mancs. Job done.
I have given up hope of seeing an Everton team play good football when Mina and Keane play. Their phobia of leaving any part of the pitch between themselves and Pickford kills us as a unit. The whole team suffers.
I Watched Allan very closely yesterday and if Tom Davies had missed as many tackles or was left sitting on his arse as often as he was yesterday, he would have been murdered on this thread... of that I have no doubt.
I'm giving Allan a pass though. He has proved he can play, but he, or whoever else is asked to play in that role, will suffer more than most by presence of the Mina - Keane partnership.
With Rondon blowing out of his arse trying to get back and the lighthouse family reluctant to come out and play, we were often playing with 40 yards between last to first. We were (once again) asking him to cover more ground than his legs are capable of covering. He doesnt help himself at times but, in this set up, he is chasing balls he has no earthly hope of getting to.
Rondon offered nothing, but again, a plea of mitigating circumstances could be made for him. He is certainly not one of nature's natural athletes and is going to take some time to come to the boil... Tough decision for the manager next time out. Does he persevere? Or does he give one of the lads a chance to go out and make a name for himself?
Three points which I think we will all happily accept, but we have to be sharper and more compact next time out.
Tony Abrahams
103
Posted 26/09/2021 at 08:27:16
Very early days, a performance best described in Darren's opening sentence, but it does seem to me that we have got an honest bunch of players, although it's obvious some lack a bit of savvy or craft.
A team that lack craft need to play quick imo, but it's hard when the centre-forward is nowhere near fit, and our very deep defensive line makes the middle of the pitch way too big, but hard work is so important, and I don't think the players can be faulted for this right now.
Danny O'Neill
104
Posted 26/09/2021 at 08:54:00
My late arrival home and the fact it is Sunday means nothing to the dogs. So they've been out and I can now sit down and reflect.
I'd agree with Darren, we were not dire. In line with my initial thoughts, we were not convincing. But not dire.
First half, I thought we occasionally played some decent link-up play, but there was just no end-product. I guess with Calvert-Lewin and Richarlison, we'd have had more options for the midfield to aim for. But only 2 players out and that's pretty much our first 11. Okay, you could add Coleman, but we're not getting every game out of him.
I don't think I felt threatened, but I did have the feeling of inevitability in the 2nd half when Norwich had a spell. In reflection, they played some tidy stuff and had a lot of possession without really achieving anything. They are not a good side; reminded a bit of a later Martinez Everton with lesser players. Playing to the coaches philosophy regardless, but not really achieving much.
I thought Pickford brought a bit of reassurance back to the team. It shows how much his game has matured.
Mina was a contender for Man of the Match. But that itself is worrying given who we were playing. But keep up that level of performance and put him alongside Godfrey. That's my preferred 2 with what we've got. Although you then have a young pairing; I always like a bit of experience in there.
Most regulars here know I've been harping on about a new experienced centre-back for ages. Our oldest and most experienced is Michael Keane. I'll move on. On Godfrey, he looks out of sorts. I don't know if it's a bit of second season syndrome creeping in or he is still working his way back from illness, but hopefully it's temporary.
I thought Allan had a really good game. He broke things up, won the ball back and tidied things up. Involved in both goals just as at Brighton. It was his harrying that led to the 2nd goal when we needed it. Although Demarai Gray played a key part too. Good midfield pressing and recycling of the ball all around.
For those who like effort and commitment, you couldn't fault Allan. My concern was noticing, on more than one occasion, him leaning with his hands on his knees, hanging out his arse. A player I'd loved to have had at 26 because he won't have the legs for a full season.
Doucouré: what an engine. His energy and drive is what we've missed for too long and he's now adding goals. Great classic across-the-goal finish. A highlight in a rather tepid affair. And in Demarai Gray, we have a young exciting player with potential to grow. And one who plays football with a smile on his face.
I'm in the "give Rondon a chance" club. Yes, he looked static and many around me were questioning what he actually does. I could understand that on yesterday's and the QPR performances. But let's remember what he was brought in for. Cover. No way did the manager or the player expect him to be playing 90 minutes this early in the season.
Final mention has to go to the bloke I mentioned sat behind me. I'm used to those who seemingly spend their money to pick up on every fault at the first chance and constantly criticise the team for 90+ minutes. That is their entitlement or choice. I thought about it once or twice but refrained, as did the other sensible supporters around me. One snapped when he made a pretty homophobic remark about Tom Davies. Whoever you are, unnecessary, irrelevant to his footballing ability and just plain out of order. As were most of his rants throughout the match, to be honest.
Anyway, the important thing is we got the 3 points and we're closer to European qualification!
Robert Tressell
105
Posted 26/09/2021 at 08:56:43
Totally agree Tony. The presence of Richarlison and Calvert-Lewin as hard-working goal threats masks some fundamental deficiencies within the team. However, we won't solve those deficiencies without a further overhaul of the squad.
Otherwise, yesterday may end up most significant for the debut of Dobbin. Very pleased for him.
Neil Copeland
106
Posted 26/09/2021 at 10:26:32
In respect of Ben Godfrey, he was rescued a few times by teammates covering him. The others obviously realise he is not 100% yet and were giving him a lot of encouragement as opposed to a bollocking when he got it wrong. Good to see team ethic like that.
Interesting that, after 6 games, we have the same points total and goal difference as last season. Also good to see us win a league game without Richarlison, not sure that would have happened last season.
Not really enough time on the pitch to assess young Dobbin. Although he was a bit off the pace initially, he didn't seem fazed and soon got up to speed. It would be good to see him given longer, at least 30 minutes, next time out.
Derek Knox, really sorry I couldn't make it to The Bramley Moore, work commitments meant I had to choose between Goodison Park and the get-together. Obviously too close to call but Goodison Park just edged it. Hope it went well and look forward to the next one.
David Hallwood
107
Posted 26/09/2021 at 11:00:13
Firstly, about the taxi shortage, this is due to the pandemic because taxi driver incomes went to virtually zero there was a mass exodus from the trade. Nationally, the taxi industry is 30-35% from pre-covid levels and more like 50% in London.
Two quick points. Firstly, I couldn't understand why Rafa played Iwobi wide left, if he's anything (and we can have a discussion if he is anything) he is by his own admission a No 10, whereas Gray is better out wide.
Secondly, some posters have mentioned our paper-thin squad, when in fact, apart from no cover for the full-backs (which is crazy), the squad is okay. The problem seems to be that Finch Farm was built on an old Indian burial site which has cursed us. In the years I've been following Everton, I can't recall a season where every player was injured (like last season), and not just for a couple of games, sometimes for months on end, and this season is shaping as 2020-21 Part II.
We've got 6/7 centre-midfielders, two of them haven't played 5 games between them in 2 seasons, one of them was done by Son and hasn't been the same since, Tom Davies splits opinion; oh and a certain former Swansea player, who isn't training with the kids but is apparently playing with them.
In addition, there are very few clubs that could cope with 2 frontline strikers out and the 3rd striker 30% fit. Even Chelsea would struggle with no Lukaku & Havertz and a 30% fit Timo Werner.
Taken all of this into consideration, I'm surprised anyone is moaning! But this is ToffeeWeb after all. There's been calls to play Dobbin & Simms but I can envisage what would happen. The calls to play them would be deafening, and the first mishit pass or missed sitter, it would be, "Kid's shite" "Championship quality" "worst player I've seen in a blue shirt" We have been here before.
So we'll just have to tough it out, stop slagging off a player who is patently not match fit, and take the points when we can until the curse is lifted.
Darren Hind
108
Posted 26/09/2021 at 11:26:33
I suppose the sight of Allan being sat on his arse with 2-3 rash challenges will go unnoticed by those who insisted he was better than he is. He must have slid 5 yards after buying that little see-you-later shuffle from Normann at the edge of our box. If one of our young players did that, he would have been hammered and rightly so. But once again, Allan gets away with it without a murmur – "He`s Brazilian ya know?"
The claim that he had a hand in our second goal while Gray played his part "too" gave me a good laugh too. Allan was in the clear and couldn't get away from his man. He was tackled and lost possession. Gray picked up the pieces, took the ball on, then put Doucouré in to score a great goal. Gray didn't just play a key part "too". He was the sole creator of the chance.
Danny O'Neill
109
Posted 26/09/2021 at 11:30:27
Andrew Brookfield @97. I understand the sentiment as we were not convincing, but a bit harsh.
So far this season, we've gone in 1 - 0 down at half-time against Southampton and conceded a relatively late goal against Burnley. To come back in both to win 3 - 1. And although we lost on penalties, came back twice against QPR.
Fasten your seatbelt, Andrew, as we're going to see a lot more of this. We only show quality in fleeting glimpses (eg, the 6-minute spurt against Burnley). But mostly this team and this season will be about working hard and grinding out results.
Not my preference, but that's where we are.
Brian Williams
110
Posted 26/09/2021 at 12:00:05
But once again. Allan gets away with it without a murmur – "He's Brazilian ya know?"
Daren, he doesn't get away without; you highlighted it in your post at 102 and again in post 106.
Sean Kelly
111
Posted 26/09/2021 at 12:12:32
David Hallwood, your comments regarding the player that can't be named and his activities are inappropriate for this forum. There's a Police investigation going on. Leave it to them and grow up.
Danny O'Neill
112
Posted 26/09/2021 at 12:43:21
Players do good things, players make mistakes. To flip the argument, it's a bit like saying Tom Davies gets away with it from some because he's local and came from the academy. He doesn't and is often overly harshly criticised in my opinion. But it doesn't mean he shouldn't be praised when he does well or criticised when he doesn't. But that's down to opinion and views on the game. Not nationality.
Allan played well yesterday in my opinion. I gave it a watch back and it is still his initial pressing that changes the situation. Gray is involved, assists in winning back possession in the first phase and then picks up the ball from the second phase before feeding Doucouré.
Neither are solely responsible. Allan starts it with good proactive, front foot pressing, But it is excellent "hunt in packs" midfield play from both players. All 3 if you include Doucouré.
We all see it different and we all have different views on players, but we're debating a positive here.
Julian Exshaw
113
Posted 26/09/2021 at 12:46:47
We can't complain about 13 points won from a possible 18.
This wasn't vintage by any stretch but, if winning ugly is the way for now, so be it.
My only surprise with regard to Rafa is why he left Rondon on so long. Give Simms and/or Dobbin 20 minutes to harass and chase! On to the theatre of moaners next week.
Andrew Keatley
114
Posted 26/09/2021 at 12:51:27
Darren (107),
Some of us are capable of seeing the good and bad in a player's performance – whether we have a particular fondness or distaste for said player. It can get very tedious when others habitually only seem capable of seeing the positives or negatives, depending on their long-standing position on said player.
The idea that you (of all people on here) are trying to argue for a more balanced critique of player performance flies in the face of your longstanding preference for academy graduates over anyone that Ancelotti signed – seemingly based solely on that classification. Very good of you to give Allan a "pass" though.
I think the term is "entrenched".
Dave Ganley
115
Posted 26/09/2021 at 13:00:18
I think people are being harsh saying we were dire. We really weren't. We were comfortable throughout and, while it wasn't a humdinger, we were never going to lose that game. We are doing what we should be doing, winning these type of games.
Personally, I'm quite happy leaving the ground in a relaxed mood, not full of stress and anxiety due to Everton making hard work of playing against a team we should, and now are, beating.
We also have to take into account injuries. Any team would struggle without their two main strikers and captain.
Personally, I thought Doucoure and Allan were superb in the midfield, especially as they were against superior numbers. If either of those two get injured, we will miss them badly. Ben Godfrey looks like he is still struggling for fitness. He seems lethargic compared to his normal self. Hopefully that will come sooner rather than later.
I was also surprised that Iwobi was out on the wing. When I saw the team sheet, I assumed he was in the No 10 role and Gray out on the flank but was surprised that Gray played as another striker, albeit slightly behind Rondon.
Special mention for Townsend; I thought he put his heart and soul into the game yet again. I admit I had doubts about his signing but so far, I'm more than happy to eat humble pie. Long may it continue.
The only drawback from yesterday is the defence. Every time there is a cross into the box, it seems to send panic into the players. We really need to work on that.
Overall though, a comfortable afternoon and it was nice to walk out with a feeling of job done.
Darren Hind
116
Posted 26/09/2021 at 13:20:10
I too thought it was rater benevolent of me to give Allan a pass. I've just watched the game again and there wasnt many excuses for his stray passes.
As for him having a good game ?. I`d hate to see him having a bad one . . He was getting such a schooling from Normann until the Norwegian did his hammy.
I've never once expressed a preference for academy players. Thats an exceptionally stupid statement. I want them to succeed. thats for sure, because it saves our club millions.But I want the best players, but I want them all to be treated the same way. I have repeatedly called for patience when academy boys have had to step in for "million dollar" superstars. Thats because I recognise the stupidity of abusing them... Some hope fo it happening tough.
The superstar can make a complete cheshire cat of himself (see Allan yesterday), but woe betide the academy boy who plays a stray pass... The idea that Davies gets away with it because he is local is some sort of sick joke.
BTW I posted on another thread praising Allan for his good work. winning the penalty...That because I call it as I see it. I don't do favourites. I do winners. If any player does well I will praise him. Balance !
Brian. Yes I did mention it because if I didnt, we would have been 113 posts in and nobody would have mentioned it. Why is that ? it was easily the most embarrassing challenges I've seen for years can you imagine if that was Holgate or JJK ? They're still bleating about a foul Davis committed on the half way line against Newcasle two seasons ago.
Entrenched ? Too fucken right they're entrenched
John McFarlane Snr
117
Posted 26/09/2021 at 13:24:28
Hi, to all who attended last night's Bramley Moore gathering, it was a pleasure to meet up with the regulars and some newcomers. It wasn't possible to spend time chatting to everyone, but if I missed out on the chance to bore the pants off you, remember there's always next time. Special mention should be made of the toast to, 'Absent Friends' and in particular to Christine's uncle Tommy.
Hi to Dave Abrahams, you've let me down, Dave. I was hoping that you and I could boast a 100% attendance at the get-togethers, I hope that you will be well enough to make it for the next one. The only way I can describe the Bramley Moore is to refer to it as a country pub on the Dock Road, the perfect place to discuss current affairs, and an ideal place for reminiscing. You were missed, Dave, so get yourself better in time for the next episode. John.
Colin Malone
118
Posted 26/09/2021 at 13:25:17
Rondon was shite. Anyone who's played football would agree, Ali Dia, George Weah's cousin could've done a better job than Rondon, that's how bad he was and is.
Anyone who doesn't know the story about Dia, YouTube or Google it.
Stan Schofield
119
Posted 26/09/2021 at 13:32:33
Darren @108: So far as I'm aware, the only one who goes on about Allan being a Brazilian is you! I can't recall any of those saying he's effective particularly mentioning it.
That said, I agree with you on the broader point of needing to be careful about criticising the younger players, because it must be difficult for a young player to have much impact in games where the team overall and the more senior players aren't performing well.
I also agree with you about Davies. The only ones on this site who mention him being a local boy are those who criticise him! I can't recall anyone defending him doing so on the basis that he's local. The local thing is a complete invention by some of those who wish to criticise him.
I thought the game was generally controlled by us, and the win was comfortable. There's no point in busting a gut in a game if it's unnecessary, especially when there are injuries and there's added impetus for no more injuries.
Danny O'Neill
120
Posted 26/09/2021 at 13:35:12
I think your penalty shout is on the other thread, Darren, and we both said the same thing in response to someone calling us out as lucky to get it.
I agree with you, Darren, we shouldn't (and I don't) have a preference for where a player comes from – be that from Liverpool, another part of the UK, abroad or the academy. We just want good players playing with desire and commitment to back up their ability.
And although we'll all have favourites (natural) as well as those who grate us (natural), we should praise all and criticise all based on performance. But that will always come down to how we see it. And most often, we all see the same game differently. That's football, right?
I think collectively most of us saw the overall game similarly yesterday. We're just talking about interpretation of an individual player's performance.
Danny O'Neill
121
Posted 26/09/2021 at 13:45:15
John Senior,
It was an absolute pleasure to meet in person with you and the rest of the crew.
I didn't expect the kind gesture from Derek Knox but wore it home. Not realising I hadn't cut the label off! The only songs on the platform at Euston were Everton ones. Brilliant!
Derek, let me know how that collection is going.
Dave Ganley
122
Posted 26/09/2021 at 13:58:42
I haven't had the benefit of seeing any highlights yet so my opinion of Allan was just first-hand yesterday which can make it slightly skewed. As such, he obviously did make misplaced passes, as did Doucouré but, again in my opinion, as a duo they make our midfield infinitely better than without them.
They break up opposition play very well;, if they lose the ball, they seek to retrieve it straight away and succeed a lot of the time. I think we are so much better with both in the team.
Ian Bennett
123
Posted 26/09/2021 at 14:02:51
Farke complained that Digne should have been sent off for a yellow card. Overlooking that Kabak should have walked for 2nd yellow much earlier.
I think the ref let two blatant yellows go on the Norwich side in cynical attempts to prevent counter-attacks on Gray and Doucouré.
Brian Wilkinson
124
Posted 26/09/2021 at 14:15:15
I like a lot of your posts, Darren; some I agree with... others I may have a different viewpoint.
After reading your comment on Allan, I sat back and thought, how can someone have a different outcome, on a performance on the same player?
Then I saw Danny's post, which seemed to have a similar viewpoint as the performance I saw.
I cannot disagree that there was the odd stray pass but, from what I saw, he broke up so many attacks, winning tackle after tackle, he was everywhere, although he's not got the legs of Doucouré, he still managed to get in the danger area, to draw the penalty.
Quite a few had a decent game; Mina certainly did. However, with Godfrey, I will stick by my other posts of Godfrey not suited to playing on the right-hand side. I have yet to see him play a good game, out on the right.
Overall, I thought Allan and Doucouré had decent games yesterday.
That is what makes this site so good, how opinions can be split, people see things different, no right or wrong, but interesting how differing viewpoints are seen and made.

Andrew Keatley
125
Posted 26/09/2021 at 14:16:31
Darren (116) - So my comment makes me "stupid", while your posts on here apparently reveal "balance" and the fact that you "don't do favourites"?
Sorry, but I won't be drinking the Hind Kool-Aid; your prolific posting history lays bare where your personal bias consistently lies, and whatever balance you may like to claim you provide is thoroughly undone by that history.
But do let me know where to catch you in pantomime this Christmas as it would be fun to see you doing your thing live.
Chris Corn
126
Posted 26/09/2021 at 14:22:20
Andrew Brookfield @97. With regards to
Z-Cars
, I sincerely hope it is just you.
Dave Abrahams
127
Posted 26/09/2021 at 14:42:26
John (117),
Yes, sorry about that, but I missed yesterday's and the Burnley game so that tells you that I wasn't well enough to go. Glad you could make it and meet up with some lovely people, you've had your own set-backs regarding your health in the last 12 months so I say well done on getting there yesterday, especially after seeing another home victory to brighten your day.
I hope to see you at the next meeting along with all the other ToffeeWebbers who come to meet up.
Graham Mockford
128
Posted 26/09/2021 at 14:50:42
Andrew #125
It's fairly simple. Having defended his boy Davies to the hilt for what seems ever, despite the fact to most impartial watchers that he will never be a top-quality Premier League midfield player and probably will end up at a Championship club, he frames his comments about Allan in some desperate attempt to keep his position going.
Most Evertonians can see Allan provides something to the team that is required. He may lack some technical ability but he does the ugly stuff and puts in the hard yards. We haven't got another player in the squad currently who can do that nearly so effectively.
Kieran Kinsella
129
Posted 26/09/2021 at 14:51:23
Z-Cars is evocative of tradition like the bubbles at West Ham. It's not a musical masterpiece but it's become part of the club so I vote that it continues.
John McFarlane Snr
130
Posted 26/09/2021 at 14:54:50
Hi Colin [118],
I haven't seen anything special from Rondon, but I don't think your colourful description of him is warranted.
I remember when Everton signed Roy Vernon in February 1960, he made his debut against Wolves who had just returned from a defeat in the European Cup to Barcelona. My first impression of Vernon in the 2-0 defeat was, "Why have we bought this scraggy underweight forward"?
He went on to score 6 goals in the next 4 games. I'm not suggesting that Rondon should be compared to Vernon; what I am pointing out is the fact that players deserve a reasonable amount of time before they can be written off as failures, certainly longer than the short time Rondon's been with the club.
Darren Hind
131
Posted 26/09/2021 at 15:00:56
That's okay, Brian, it's all about opinion.
If it means anything to you, I agree that Allan did break up lots of Norwich's play. I just think he sold himself very badly on a couple of occasions and his passing was generally poor. I think there is a tendency to big up and exaggerate his performances on this site by people who thought and said we had signed the "Brazilian Peter Reid". It's a kind of face-saving exercise.
He did win the penalty and I'm not sure we would have gone on to win it if he hadn't. So, although I didn't see any creativity in his play, he played a very big part in the result...
Hope that's a good compromise.
John McFarlane Snr
132
Posted 26/09/2021 at 15:10:03
Hi Dave, [127]
I was being sincere when I said that you were missed, and I fully understand that it must have been something serious to prevent you from attending. I felt isolated being [as some describe], an 'Old Fart'. As I wrote in my last post, get well soon, because there's safety in numbers.
Dave Abrahams
133
Posted 26/09/2021 at 15:23:33
John (132),
Yes no problem. See you at future meetings, glad you enjoyed the venue.
Brian Williams
134
Posted 26/09/2021 at 15:37:50
Darren #131.
I don't think we have anyone in our squad who couldn't improve on more than one aspect of their game. Some need to improve on all aspects!
We both know only too well by reading and posting on here that no two people see the games or performances the same. As you say, it's all about opinion mate. I mean, I'm sure there are posters who think Iwobi is a superstar. 😳

Dale Self
135
Posted 26/09/2021 at 15:38:28
Z-Cars
and the siren?
And would a little Mott the Hoople be a problem?
Darren Hind
136
Posted 26/09/2021 at 15:39:57
Mockers I knew you would appear.
I never said Tom Davies would make a top player, but make no apologies for defending him or any other academy player against bile from people like you. Not today. not ever.
You showed your true colours when gloating when one of your own academy players missed a penalty the other night on the Live Forum. No disappointment, just glee.
I would love to hear why calling Allan for repeatedly sliding in like a primary school boy constitutes "framing him"... Did you not watch the game? He got no help from me. It was all his own work.
Take a look at how far he slides past Normann, count the yards. I have never seen anything like it from a professional footballer. You say nothing.
You make me laugh.

Peter Mills
137
Posted 26/09/2021 at 15:43:58
Dave #127,
I don't think you would have enjoyed The Bramley Moore, the roar that went up from the group (your son included) when Brentford's goals went in was dreadfully unsporting!
Will Mabon
138
Posted 26/09/2021 at 15:44:56
"
I bloody hate the Z-Cars tune... I think it stinks of small club caught in a time warp, but that might just be me.
"
"Time warp". Let's throw it all out then – the honours, trophies, all the history. After all, anything post-millenium is of course "Old school... analogue..."
Dave Ganley
139
Posted 26/09/2021 at 15:46:29
Kieran #129,
I totally agree. I cant imagine going the game and not hearing Z-Cars. makes the hairs on the back of my neck stand up. Always has and always will.
Kieran Kinsella
140
Posted 26/09/2021 at 15:51:26
Brian Williams
I'm sure there are probably a few closeted Per Krøldrup fans on here too. Takes all sorts...
Dave Abrahams
141
Posted 26/09/2021 at 16:02:44
Peter (137),
I think I might have raised my glass to the Brentford goals along with your good self, especially the third one!!
Peter, thanks for your earlier post.
Danny O'Neill
142
Posted 26/09/2021 at 16:03:27
The Brazilian Peter Reid was a comparison of style. No face saving. I'm pretty sure Reid missed the odd tackle and played the odd stray pass,
And sadly hounded by the Goodison crowd towards the end.
Jerome Shields
143
Posted 26/09/2021 at 16:04:35
Gaining points against the lower half of the table sides will count at the end of the season. Long may it continue.
Chris Corn
144
Posted 26/09/2021 at 16:12:48
Will@138.. 👏 👏👏
Brian Williams
145
Posted 26/09/2021 at 16:14:11
Kieran. Haha, maybe a step too far!
Paul Hughes
146
Posted 26/09/2021 at 16:14:33
I know he's not match fit, but Rondon looked like a Venezuelan Brett Angell. He was that bad.
Godfrey looks like he's still got a load of virus in his system, at times he looked like he was running through treacle.
Iwobi – all I can say in his favour is that at least he keeps himself fit.
But, a win is a win, clean sheet too. And Doucouré, Gray and Townsend were excellent.
Marc Hints
147
Posted 26/09/2021 at 16:30:03
Dale #135,
There are from where I live, Hereford.
Graham Mockford
148
Posted 26/09/2021 at 16:39:46
Darren
"I never said Tom Davies would make a top player"
Do me a favour, the internet keeps receipts. First two I found, I'm sure there is a veritable treasure trove.
Sep 17:
"Rhino did a superb job of polishing this diamond and his bullish insistence that the kid was good enough to play has proven spot on."
Feb 21:
"I said earlier that I always knew Tom Davies would prove the poor judges wrong, but he has started to exceed the expectations of even his biggest supporters. He may not be content to be just an ordinary swan. Looks to me as if he is hell-bent on becoming a very fine one indeed."
Tom Davies was an academy player, he's now a fully signed-on professional who won't make the grade. He got the same reaction as any player who took a piss-poor penalty which saw us knocked out of a cup competition.
As for Allan I'm pretty sure most are happier when he plays.
Derek Knox
149
Posted 26/09/2021 at 16:53:33
Marc @147, so you are a 'young dude' too? :-)
Could never figure out if 'My Coo Ca Choo' was about a Scottish bovine animal that still had most of its teeth, or one of those sixties lyrics that didn't mean a lot at all! 🐮🤔🤦‍♂️
Peter Warren
150
Posted 26/09/2021 at 17:16:30
Darren, would you drop Allan from our line-up?
If so, who would you replace him with?
Colin Malone
152
Posted 26/09/2021 at 17:30:13
John # 130.
Hi John. I agree by giving players a chance but Rondon has been around the houses, unlike Vernon. Rondon's anticipation when the ball comes into the box is zero, never won one ball in the air – that's not all about how fit you are.
I hope you prove me wrong, John.
John McFarlane Snr
153
Posted 26/09/2021 at 17:45:18
HI Colin [152] the only person who could prove you wrong, if that's the outcome, would be Rondon himself.
Graham Mockford
154
Posted 26/09/2021 at 17:45:31
Dazzler
Truly staggering record. He's made 50 starts in the last 3 seasons, he's clearly not considered first choice and the inevitable fact is he will be playing somewhere else ie in the Championship or for some team fighting relegation in the not too distant future.
I was never a particularly vocal critic as he had to develop. It's as clear as the nose on your face he's not done that. But thanks for the education, thanks for the Blur but let me give you a little Shakespeare.
"The lady doth protest too much, methinks."
Kieran Kinsella
155
Posted 26/09/2021 at 17:55:27
Darren,
Since you brought up appearances, can you honestly name a worse player who's played the same or more games than Davies? He's crept ahead of Anichebe now who at least had some match-winning performances.
Darren Hind
156
Posted 26/09/2021 at 17:57:03
Peter.
I would start Allan, I think he can do a very similar job to the one Mark Noble has been doing at West Ham for years. That doesn't make him immune to criticism.
Brent Stephens
157
Posted 26/09/2021 at 17:57:07
Tom's a decent fill-in at the moment, if not nailed on first choice. I don't think he'll be moving on quite yet. We have a weak squad with some injuries to cover.
Bill Watson
158
Posted 26/09/2021 at 17:58:36
I couldn't care less whether a player comes from Toxteth or Timbuktu and I thought Allan had an excellent game.
Good meeting everyone again, at The Bramley Moore pub after the game. It must have been their busiest night for years! I did ask the land-lady to consider getting some decent beers in before our next meeting. They have lots of fizzy pop type imitation lagers but no real ale. I had to settle for John Smith's.
There was some sort of rave happening in a warehouse, just behind the pub, and I did think of making a night of it but then remembered my bus/train pass is only valid up until midnight!!
Just a word of warning for anyone commenting on the player we don't name. No charges have yet been brought and, if none are, anyone making allegations/insinuations on here, or anywhere else, could be leaving themselves wide open to defamation litigation.
Brian Williams
159
Posted 26/09/2021 at 18:05:15
Bill #158.
Has there been anyone on here casting aspersions with regard to Sigurdsson?
Haven't noticed any myself.
Peter Warren
160
Posted 26/09/2021 at 18:06:13
Agreed, Darren, none of them immune. Nothing wrong too about praising players whom generally you may think don't do very well, I thought Mina in particular was fantastic yesterday.
Brian Williams
161
Posted 26/09/2021 at 18:26:06
Peter #160.
On the subject of Mina, I think he's one of those players who's a touch loopy.
When the teams came out for the second half, he fist-bumped Daniel Farke, which made me laugh at the time.
You're right though, he had a good game.
Andy Crooks
162
Posted 26/09/2021 at 18:29:22
I hope to write an account of The Bramley Moore get-together and to talk more about just what actually being at a game means to those who don't get much. Thanks to Michael and Lyndon. I doubt either of you know just what you have achieved with this site.
Anyway, the match. There is, for me, a monumental difference between being at the match and watching on TV. I am so pleased to be there that critical facilities go out the window. (I thought the ref had a blinder!)
I cannot see how Norwich will win a game, they are truly awful. I thought we were fine. Mina, for me, was Man of the Match. If we have any semblance of quality, it is him. I thought Iwobi was good, (sorry, Derek, and anyone else at The Bramley Moore). He offers what little guile we have. Townsend and Gray are diamonds.
Rondon? I said to the lads after the game that he reminds me of one of the heavyweights who came out of retirement after James Douglas beat Mike Tyson. Right down to the elasticated shorts. I know he is not match-fit, but you don't get match-fit by ambling round like he does. Tom came on and was a burst of energy; our striker was just, well cumbersome.
Finally, Danny made a good point about the guy behind us. It was just utterly lamentable. I have heard supporters give players stick, but this was special. Relentless abuse of every player. He was called out about his homophobia but his use of the word "retard" was just bad. I rarely get to games so I don't know what passes as okay. However, his pals and those around him seemed to regard him as a "character".
Anyway, we won and it was brilliant!
Chris Corn
163
Posted 26/09/2021 at 18:32:16
Love all these "I've got to be right, so I'll flog it to death" arguments.
It is all about opinions. A lad behind me advocated Godfrey being subbed at HT because "he's been shite."
What team changes a full back when you are winning and been under no pressure whatsoever from their front line, God only knows. However, he has his views, I have mine.
Personally, I think Mina is our most effective centre-half at this time.
Peter Neilson
164
Posted 26/09/2021 at 18:37:35
Brian (161),
Fabio Silva has called Mina the most annoying player in the league to play against.
"He's Colombian, so I think it's part of his culture to try to get into your head; play mind games; say things to provoke you."
Hopefully he's getting ready to wind up Ronaldo and Co.
Dan Nulty
165
Posted 26/09/2021 at 19:02:24
Darren H has a fair point: Tom is a premier league player, just not a very good one.
What I don't understand is how Darren seems to judge a player is good or not because of the amount of appearances. Andy O'Brien has 280 appearances in the Premier League and he was shite. He played so many times because there was no-one else available to play at Newcastle and Bolton. I'd argue that is why Tom has played so many games for us over the last 3 seasons.
Like so many Everton academy prospects, they seem to burst into the first team, look great for 12 months, then suddenly become bog average.
The reality is the only 2 teams linked with Tom in the last few seasons have been Southampton and Newcastle. That tells you how he is viewed in the Premier League. If he isn't good enough for Top 6 sides, then he shouldn't be good enough for our aspirations.
I hope he rediscovers his early promise; I've not seen any evidence of it. Too inconsistent unfortunately so far.
Hopefully Rafa can put some confidence in him. Worked wonders with the likes of Townsend and Gray.
Bill Gall
166
Posted 26/09/2021 at 19:20:01
I may be wrong but it appears to some supporters that, because a player comes through our academy, they have to be top class and better than players we bring in on a transfer costing millions. The Rooney and Barkley type players, who soon move on, are an exception, and any young player who comes up through the youth system plays in the first team on merit.
Most of the criticism comes when they have a bad game, but it is difficult for a player to come on from the bench and be an instant success.
We do not seem to have many youngsters coming up through the ranks as some of the top teams do, but I blame this on the change of managers who want to play in a different style and the teams below the first team are playing in the style of whoever coaches them.
This could change if we keep Benitez, as he wants all teams from the youngest to the first team to play in the same style and commitment so it becomes easier for a player to move up to the next level.
With Davies, I seem to remember him against one of the poorer defending teams, I believe it was Man City, showing what his capabilities are.
Tony Abrahams
167
Posted 26/09/2021 at 19:25:56
Only Calvert-Lewin, has really been allowed to develop, and I think the likes of Davies, and Jonjoe Kenny have both suffered with all the upheaval at Everton over the last few years. Both need to leave Everton if they're going to develop as footballers, imo.
The rumours were that Benitez wanted to swap Davies for Longstaff, so not a good start for Tom, who has been kicked from pillar to post (everyone playing him a bit differently in a mostly struggling team) by four different managers, and then a fifth comes in and tries to get rid of him before he'd kicked a ball?
I personally think we are going to need Davies over the coming months, so I hope he can find some confidence, which he does seem to be lacking right now.
Robert Tressell
168
Posted 26/09/2021 at 19:27:11
Bill, that makes a lot of sense to me. Man Utd had the class of 92 but a lot of success came through contributions from the likes of O'Shea, Brown, Fletcher, Welbeck and Cleverley. There's nothing wrong with that.
Players like Davies care and have some good games too. Probably never quite first choice but better local youth than a Delph or Martina to provide depth in the squad.
Brian Wilkinson
169
Posted 26/09/2021 at 19:32:38
Paul@146, that is spooky, because I made a comment to my brother yesterday, saying Rondon looked like a poor mans Brett Angell.
I never saw him win one header or tackle yesterday, fairly.
His face was priceless everytime we made a sub, he had a look of please let it be number 33 on the board,
By the time he gets match fit, Calvert-Lewin will be back.
Nicholas Ryan
170
Posted 26/09/2021 at 20:04:26
When the smoke clears and the noise dies down, we will look at a Premier League table [Sunday evening] which shows us as level with Man Utd and Man City and ahead of Arsenal and Spurs. At any stage in any season, that's likely to be a pretty good place to be.
Don Alexander
171
Posted 26/09/2021 at 20:57:46
Decent enough performance given the circumstances as far as I'm concerned. Yes, it wasn't all one-way and rarely lovely to behold but, given the paucity created for Benitez by those allegedly in charge of the club, I suspect we'll have to get used to such performances.
Andy Crooks
172
Posted 26/09/2021 at 21:06:21
Nicholas Ryan, spot on.
Peter Warren
173
Posted 26/09/2021 at 21:57:39
I actually don't think Tom Davies would look out of place in our first look 11. Often he's playing when people are injured or rested.
Paul Birmingham
174
Posted 26/09/2021 at 22:01:48
Great result and an Everton win, is a result.
Rewind 12 months and two years and 32 years, well done Everton FC.
Grit and results, and QPR, aside, well done Rafa and you show you care.
Early days, and apologies for missing BMD, as I have been working away, the last couple of weeks, and the Family comes first.
Like supporting Everton, make the best of every day, and the appetite to get back, to consistency continues, but I'm seeing a vein, early days with Rafa and the coaches, - better elan, spirit, and emotion, than the last couple of Everton managers.
But all matters Everton, proud of the start and at least there's a level of spirit and team desire, which under the last manager was almost expelled from the squad.
Back to the next game.
Some days, down there in the past, great days, and some hammerings, but Rafa, will have a plan, and seeing at what Villa done, Everton, can do the same.
Ellis Simms in the squad?
If he's fit, it's his day to make?
Derek Knox
176
Posted 26/09/2021 at 01:58:18
Without beating an old and tired drum, I would like to reiterate, that when I first heard that Rafa, was destined to be our Manager, I did protest, but not vehemently, I must admit. I will give the guy his deserved praise, albeit early in the season.
If he can continue in making mostly duds into semi-effective players, and achieving results along the way he is good for me!
Tony Waring
179
Posted 27/09/2021 at 09:32:05
Looks like we have an excellent penalty taker. Talking of which, I read that Fernandes has scored his last 23 penalties for Man Utd except for the last one. He's only been there 10 minutes surely so where are all the penalties coming from? I'm pretty sure we have not had anything like 23 penalties in the same period!
Clive Rogers
180
Posted 27/09/2021 at 09:57:25
Tony, the commentator said 22 out of last 23, but still same number awarded as you say.
Danny O'Neill
181
Posted 27/09/2021 at 10:03:54
Bill, they have Moretti. That'll do for me and gives the place a cosmopolitan / continental feel, although it didn't strike me as a place to ask for a Sauvignon Blanc had I opted to switch to Vino!! Good company and hope to meet you next time Dave Abrahams. Andy, be kind on the write up!!
Bill @166. I've said that repeatedly about Klopp's Liverpool. It's a system throughout the club and consistent coaching of the style and requirements. It makes it easier for young players to step up as they understand it.
To Tony's point about Davies and Kenny. As young players, they've not had stability and consistency. I think Davies has developed well and benefited from having players like Allan around him. I'd like to keep him as part of the squad. More than ever, it's a squad game now. But if what we're reading is true, maybe he's not in this manager's plans and if so, it's better for him to move on. I'm sure he'd be gutted, but he has to think of his career.
Kevin Prytherch
183
Posted 27/09/2021 at 10:13:05
These arguments always make for fascinating reading…
As far as I can see, Darren said that Allan did some things well but also made a few errors that, if they were made by Davies, would be met with unjustly heavy criticism. He also said that anyone would struggle in that position when we defend as deep as we do with Mina and Keane in the team.
All very true.
Lester Yip
185
Posted 27/09/2021 at 12:29:11
When Allan was injured last season, Davies stepped in and provided adequate cover. He's shown what he can do. At the moment he's not playing as much but he'll be utilized as the squad is thin.
Will Gbamin play again? If not, would you rather be Delph or Davies play?
Let's back him to get back to his form as we do not have money to bring another midfielder in.
Graham Mockford
186
Posted 27/09/2021 at 12:36:18
Lester
I agree he provides cover at the moment and fair dos for him wanting to stay when he was offered a route out in the summer. I do suspect that, after his 'staggering' appearance record, he's yet to show he's got the quality that is required. As he enters the final year of his contract next season, I would not be surprised to see him move on in the summer.
Steve Brown
187
Posted 27/09/2021 at 13:03:25
Think Bill Gall and Tony A summarise this absolutely right.
Five permanent managers since 2016 has impacted the planned development path of our young players, as well as leading to an unbalanced and overpaid squad. Hate to say it, but I am impressed by how seamlessly young players at Liverpool slot into the first team line-up. That is down to stability and a defined style of play that all their teams follow.
Tom Davies has been a successful Academy graduate by any assessment. He has averaged 25 league appearances over the last 5 years and every manager has picked him. He might not a future England midfielder, but frankly I don't care about that in the slightest. His versatility and acumen has probably cost him, as he can adapt to multiple roles. But he would be the midfielder I would retain for that reason.
There is no doubt that the Academy players, as Darren says, have been judged more harshly on occasion than the senior pros we have suffered over the last 5 years. Williams, Miralles, Schneiderlin, Funes Mori, Delph and the Nameless One - to name but a few - have stole a living from Everton but received less stick.
David Hayes
189
Posted 27/09/2021 at 16:46:54
Once and for all. It's Everton FC who negotiate and agree to every player's wages and contracts. Individual players don't decide what they get paid – the club agrees to pay them a contracted amount. No single mention ever of what Calvert-Lewin's or Richarlison's or the vast majority of the squad's wages are, but players who are unpopular or the current whipping boy are "stealing a living", "massively overpaid".
Long term crocks who rarely play are the club's bad risk gambles in most cases not paying off. You can see why, when having invested heavily in a player and bound by contracts and no resale value, what are the club's supposed to do? Run down the contract is the only option.
All clubs in elite leagues are constrained to operate like this; Everton is not the only one. The real thieves and stealers of money have been the four previous managers... and again, the Club agreed to their contacts.
Jason Li
190
Posted 27/09/2021 at 17:22:29
Doucouré covering, then driving up field and coming up with good end product. Dare I say it, he's the closest thing we've had to a cleaner version of Slippy G?
Grant Rorrison
191
Posted 27/09/2021 at 17:50:01
Steve @187.
Probably the fact that he's done fuck-all in the last 4½ years despite, as you point out, averaging a decent number of games for the club. Some of the other players that came in at least did something, somewhere else, giving them a higher value in the average person's eyes. Tom Davies has only got his Everton career – which has been shit, to say the least.
Bobby Mallon
192
Posted 27/09/2021 at 18:04:09
Mirallas and the unspoken one have not stolen a living.
Brian Wilkinson
193
Posted 27/09/2021 at 18:23:28
Spotted Tosun having a selfie taken with a young fan around 2:30 on Saturday. I continued walking, both making eye contact, and probably a look on my face to say "Greedy bastard". No words spoken, but I think he knew what I was thinking.
David Pearl
194
Posted 27/09/2021 at 18:36:26
Paying off failed managers costing millions. Then players such as Sandro, Bolasie, Besic, Walcott who all went for free... l'm sure there's more. Plus paying half their wages as they played for other clubs. That's whats killed us. Now we have Delph and Gbamin who due to injury are a complete waste of money. To list Sigurdsson and Mirallas, who have scored a fair few goals and made assists, is very unfair.
Changing managers and DoFs from one style to another and not having players to build around. If the shape and style was there, younger players could come in on a sound base. Perhaps now though, having trimmed down the squad, we will have the space to at least give these players a go and in a specific role.
I don't like Benitez but he is much more suited to the role than our last manager. We will finish higher than last season but be more aware of what we are. The test will come when he gets money to spend and if they can improve us. I'd like to know what he thinks he can achieve with a small club such as ours.
Tony Abrahams
195
Posted 27/09/2021 at 18:55:11
Hopefully he's thinking he's going to turn us into a big club once again, David!
Derek Taylor
196
Posted 27/09/2021 at 18:57:37
I know Benitez was desperate to get somebody in to deputise for Calvert-Lewin (what does Brands do for a living?) but Rondon... I ask you!
In any skills contest between he and Niasse, Angell and Bernie Wright, he'd finish fifth. He is being gifted a living by his old mate!
Shameful!
Tony Abrahams
197
Posted 27/09/2021 at 20:03:18
He's not helped his mate in return though Derek, because I'm sure Rondon would have known there was a chance he was going to Everton, a few weeks before the transfer window ended, and should have definitely been preparing himself to come into the club a lot fitter.
Derek Taylor
198
Posted 27/09/2021 at 20:22:04
How right you are, Tony. Far too many modern players think the game – and the world – owes them a living. Unfortunately, Moshiri's football ignorance attracts their greed to Everton and thus we see a fortune wasted on 'no-marks'.
I had thought Raffa was too wise to prolong the nonsense that our club has become but I was obviously giving him too much credit!
Dave Abrahams
199
Posted 27/09/2021 at 20:29:42
Derek (198),
Why don't you put that credit in Benitez's bank for a few weeks and see how Rafa and Rondon turn out. Benitez, I still think, is the best manager we could have appointed in the summer out of those who were available and wanted to manage the club.
You must admit, surely Derek, that the Everton job is a very difficult one, the way the club have been run and the squad that has been left for any manager to turn around.
John Keating
200
Posted 27/09/2021 at 20:30:58
I notice Townsend goes over to the Goodison Road stand near the Park End after scoring, not sure why.
A cousin said he watched the Norwich game on hesgoal and thought he saw Townsend going over to acknowledge Joel Ward, the Palace player, there with a youngster?
I have my doubts but anyone have any idea?
Mike Gaynes
201
Posted 27/09/2021 at 20:42:57
Tony #197, fitness and game fitness are two different things. Rondon could very well have been doing sprints on his own all summer, but when you're 32 and it's been six months since you played in a game or had a professional training with a club, it's gonna take a while to be ready. Not happening in three weeks.
I criticize the signing, not the player.
Soren Moyer
202
Posted 27/09/2021 at 20:46:15
Yeah! Hopefully he'll be in a good shape when he turns 35!
Dale Self
203
Posted 27/09/2021 at 20:54:09
Not getting into the Rondon thing but Mike, you were gold on the horse puns in the live forum. Tried to keep up and choked out something and then botched the rewrite. That's how intimidating you were, if I was a horse they would have shot me.
Tony Abrahams
204
Posted 27/09/2021 at 20:59:25
I agree about fitness and match fitness being different things, Mike, but Salomon hasn't looked either and I'd say an experienced 32-year-old footballer usually knows his way around the block just a little bit considering it's his profession.
I was getting told off a man, who used to watch Newcastle on a regular basis, that it took Rondon 3 months to get up to speed when he played for the Geordies. If this is the case, I think it's a desperate signing. I understood what Michael Ball said about him keeping two central defenders back but the man is clearly off the pace in arguably the fastest league in the world.
Kieran Kinsella
205
Posted 27/09/2021 at 21:01:41
Tom Davies gets off easy because he is an academy player and "free" though he earns more than any of us on here. We know his goals and assists are virtually non existant so lets focus on other metrics compared to players who were much more roundly criticized.
Shooting accuracy:
Osman 32%
Barkley 29%
Rodwell 28%
Besic 27%
Schneiderlin 23%
Davies 22%
Tackles won:
Rodwell 78%
Besic 76%
Schneiderlin 75%
Osman 72%
Barkley 71%
Davies 61%
Cross accuracy:
Schneiderlin 25%
Barkley 24%
Davies 23%
Besic 22%
Osman 19%
Rodwell 13%
He comes out competitive in ONE category but even that's deceptive. Osman did 471 crosses in 352 games. Tom has 48 in 132 Games. So Osman was getting more than a cross per game, Tom gets one in every three. Leon had a good cross in about a third of his games, Tom has a good cross in about 8% of his games. So the one area his stats look OK, his numbers in that category are beyond negligible.
For now, we can't afford any better so we keep him as a squad player out of desperation. But the fact remains, he is a poor player based on every metric (not to mention he is the slowest player based on stats now that James has gone) so people need to stop drawing attention to him and bigging him up. Let him quietly pick up his paycheck for as long as desperation allows but don't pretend he is better than anyone else we've had in the last 10 years as he simply isn't.
Ken Kneale
206
Posted 27/09/2021 at 21:01:55
Dave 199,
I think that is a very wise comment all round on the situation – look at Spurs if we want to see other potential 'available' managers. It is early days and anything could happen but, on current performance, Rafa Benitez has gotten most of what anyone could out of the tools he has to work with.
The next few player acquisitions, whenever they arrive, should give us a broader view of his direction and also who is most influential between him and the Director of Football – I have more faith in the manager after seeing Brands's performance at the club.
Tony Abrahams
207
Posted 27/09/2021 at 21:07:13
I cringed when I heard David Unsworth call Marcel Brands "a true Evertonian" in the summer, Ken, although it's obvious we don't know everything that goes on behind the scenes!
Ken Kneale
208
Posted 27/09/2021 at 21:17:43
Tony, I agree – a very unbecoming comment by Unsworth. Sadly I suspect we know enough about what goes on behind the scenes to understand the mechanics of why it was uttered – such nepotism has made the club what it is today.
Tony Abrahams
209
Posted 27/09/2021 at 21:28:34
It's the one real reason why I was quite happy to accept "Belligerent Benitez", Ken, but it's already been pointed out that he's brought his very unfit mate into the fold, meaning that sometimes football is no different to a building site, until they get paid at the end of the week, obviously!
Mike Gaynes
210
Posted 27/09/2021 at 21:28:45
Dale #203,
I'm deeply grateful for the compliment... which shows you how desperate I am for compliments.
Tony #204,
I must disagree with the term "off the pace". It implies that he had any pace to begin with.
Tony Abrahams
211
Posted 27/09/2021 at 21:34:29
Allan hasn't got any pace, Mike, but he didn't look off the pace on Saturday. Just like match fitness and fitness, another two different things!! (I'm just in one of those half-serious moods, so take no notice of me!)
Danny O'Neill
212
Posted 27/09/2021 at 21:39:29
I too know nothing about what goes on behind the scenes, but in my opinion and from my observations, I'll make a case for the defence of Brands.
He's not been allowed to be a Director of Football in the sense I interpret the role and I acknowledge there will be different interpretations.
From the onset he had interference in what is supposed to be his job based on the direction he receives. Owner, Chairman, the merry-go-round of Managers; they've all given mixed direction and interfered in the transfer policy (if we can call it that). And with the last and current managers, he's working with "alpha" managers who want it their way with their players. He isn't fully empowered in the sense I understand the DoF position. If you implement it, you go full-on, don't half-bake it.
To counter my defence, I can only assume he:
a. Genuinely likes being at Everton
b. Enjoys his new-found board status
c. Likes the money
d. All of the above
Because, if I was him and from a purely professional basis, I'd have walked by now.
Evertonian though? That is a cringeworthy comment. I think arse-kissing is another term for it!!!
Ken Kneale
213
Posted 27/09/2021 at 21:43:57
Tony - perhaps Rondon is good for nipping out to get the pasties mid-morning and getting the first round in after work on a Friday?
Tony Abrahams
214
Posted 27/09/2021 at 21:46:33
When Brands uttered the words that money can make you lazy, I thought we might be on to a good thing. Then in his second season, he showed his inexperience with regards the competitive nature of the Premier League in England, compared to what he was used to in his native country, and really fucked the job on Marco Silva, imo, and that was before he signed Iwobi, right at the death.
Tony Abrahams
215
Posted 27/09/2021 at 21:48:53
He might be a proper hard case, Ken, and once Benitez starts upsetting a few at Finch Farm, he might come in very handy for our new manager, who only uses nepotism for the right reasons!
Derek Knox
216
Posted 27/09/2021 at 21:54:40
Dale @ 203, with regards to the horse puns on the Live Forum, I wasn't a party to it this time, as I was at the match in Gwladys Street and temporarily part of the resident choir.
Mike G, often foals around on the Live Forum, but I won't nag him about it!
Ken Kneale
217
Posted 27/09/2021 at 22:00:47
Tony,
Maybe given the complex nepotism structures built up at Finch Farm over the last 30 years, the manager needs a loyalty card in and around the place – who could blame him?
Danny O'Neill
218
Posted 27/09/2021 at 22:12:46
Watford ticket booked and snapped up early!
John McFarlane Snr
219
Posted 27/09/2021 at 22:18:20
Hi Derek, [216] I bet there was a feeling of relief, I have often thought "I hope his putts are better than his puns" but then I suppose I may be one of the a miserable 'Old Farts' often referred to on this site.
Ray Smith
220
Posted 28/09/2021 at 09:01:16
Danny 212
Spot on. Why is he still here?
Steve Walsh and Koeman started the free-spending era. Marcel Brands has had his hands tied, with the merry-go-round of managers wanting their own players brought in:
Marco Silva, least said the better, with the exception of Richarlison. Big Sam made a couple of signings, Walcott in particular, allowed to leave on a free!!! Carlo brought his entourage with him, and looking in from the outside, bypassed Brands by phoning players personally, what does that say about the role of DoF?
£500m in the Moshiri era, and we have stagnated, and now FFP has tied our hands even further. What part did Brands and others play in negotiating James wages?
So back to my original point. Why is Brands still here? His perceived reputation should have clubs queuing up to take him on!

Robert Tressell
221
Posted 28/09/2021 at 09:30:32
I agree with all of that Danny, especially the observation that he should have walked if he's not been allowed to do his job.
However, there's not a lot of clarity about what his job actually is.
We (I include myself in this) often see him as a kind of glorified super-scout but I don't think this is really accurate at all.
It's probably more accurate to see him as:
- someone who negotiates the deals / secures the signings the manager wants
- someone tasked with restructuring the scouting network and academy
In this respect he has made progress and could even have done an excellent job. Could take years to assess one way or another - especially for the mere fans like us on the outside looking in.
What role he has in actually selecting the transfer targets and determining transfer strategy I've no idea.
It seems like he is one of the influential voices but doesn't have the final say. Maybe it would be better if he did.
Nicholas Ryan
222
Posted 28/09/2021 at 10:21:40
Hi everyone; I know I'm probably being really dumb and missing the obvious... but can anyone tell me, who is "the unspoken one".?!
Brent Stephens
223
Posted 28/09/2021 at 10:26:46
Robert #221 - like you, I don't know and can only guess at what Brands' actual role is. If it's as your guess, then some criticisms of "his" signings might be a bit wide of the mark. If the decisions are actually being made by somebody else, then Brands could in fact be to some extent a restraining voice rather than a guilty party.
Robert Tressell
224
Posted 28/09/2021 at 10:36:49
Brent, Indeed. Without Brands, who knows, we might be trying to offload a fat Isco and a broken Coutinho from the books as well as Rodriguez. I expect the truth is that he's generally a good influence (although I can't prove that) but like most involved with the club he's made his fair share of mistakes too.
Derek Thomas
225
Posted 28/09/2021 at 10:48:00
Why is Brands still here? Because playing Smithers to Moshiri's Mr Burns pays extremely well?...allegedly.
Brent Stephens
226
Posted 28/09/2021 at 11:01:10
Nicholas #222 "can anyone tell me, who is "the unspoken one".?!"
We can't say, Nicholas - otherwise he'd no longer be the unspoken one!
Brian Harrison
227
Posted 28/09/2021 at 11:15:39
I think practically the first thing Moshiri did when taking overall control of the club was to appoint a DOF in the shape of Steve Walsh, this was the first time we had employed a DOF. Now you would have thought after the disaster that ensued with both Walsh and Koeman buying players without any joined up thinking, Moshiri might have had second thoughts about employing a 2nd DOF. But no he replaced Walsh with Brands and seems to me without any clear idea of how he wanted the role of DOF to operate. Then for some unknown reason he then promotes Brands to being a director of the club and I still cant get my head round why he did that.
So Moshiri seems committed to the role of having a DOF without having a clear idea of what he wanted from his DOF, again it just highlights how little he understands the football world. So is it any wonder fans are questioning the role of Marcel Brands as nobody seems to know what his role is and sadly that includes the owner. I think if I had spent the best part of £450 million and watched the club go backwards I would be questioning my decision making. But I think for both Moshiri and Usmanov as long as we stay in the Premier league to protect their investment which with a new stadium and probably new hotel they will make their investment back and some when they sell the club.
So yes we can ask what does the DOF do, but the real question is what are Moshiri/Usmanov doing to help this club challenge for honours, because so far to me this is just another project to their extensive portfolio. Were if they were to get some success then that would be a bonus, but we should have known when Moshiri complained after a year in charge that he only expected the ownership of Everton to take up about 5% of his time, that should have set alarm bells off.
Danny O'Neill
228
Posted 28/09/2021 at 11:20:43
Nicholas @222. Don't start me. It isn't and it shouldn't matter. Not for me. It goes back to our national obsession with height and power. This made me have a quick look:
Seamus Coleman: 5ft 10
Leighton Baines: 5ft 7
Lucas Digne: 5ft 10
Thierry (very) Small: 5ft 9
Even across the park:
Robertson: 5ft 10
Alexander-Arnold: 5ft 9
There was a match years ago against Portsmouth when they targeted our small fullbacks with diagonals with success, but providing we play on the front foot and use them accordingly, I don't care how big or small they are!
It's like midfielders. Probably the best English midfielder of his generation in my opinion, was the not particularly speedy, 5ft 6 Paul Scholes.
Calma Danny as they say in Italy.
Brian Harrison
229
Posted 28/09/2021 at 11:22:52
Nicholas 222
As Brent says we still cant mention his name but just to give you a small clue, the player who cant be mentioned hasn't kicked a ball for us this season, while being virtually an ever present last year and he isn't injured. He also captained the club on a number of occasions last season.
Matthew Williams
230
Posted 28/09/2021 at 11:37:34
Looking at the positives: another home win in front of the faithful, another three points bagged, a clean sheet, new signing settling in nicely and we were without some key players.
Negatives: we still start way too slowly and we lack real drive and belief at times. We now travel to Man Utd next Saturday for the first live game with the world watching, then again if Villa can go there and win!...
David Midgley
231
Posted 28/09/2021 at 11:52:04
Danny. 228.
Bobby Collins, 5' 0"

Alan Ball 5' 0"
Lionel Messi 4' 11"
Diamonds are always smaller than bricks.
Steve Brown
232
Posted 28/09/2021 at 11:59:46
Grant @ 191, bit harsh! But your post proves my point. Having watched the dire performances of Schneiderlin, Delph, Gomes, Delph and the Nameless One (senior pros!) since we signed them, it is baffling that you save your greatest criticism for Davies,
Tom Bowers
233
Posted 28/09/2021 at 12:06:50
It is early days and we are basically in the same boat as last season. A good start and up near the top.
Performances, however, are not great but that may change when all are fully fit again as I think Rafa is more into his job than Ancelotti ever was.
The signing of Gray and Townsend was a master stroke although Rondon still has to step up.
Big, big test coming up, however.
Tony Abrahams
234
Posted 28/09/2021 at 12:29:00
He must have been poor, that Sigurdson, because nobody wants to mention his name and it already feels like he's been gone from Everton, for years.
Jerome Shields
235
Posted 28/09/2021 at 13:02:43
Had a friend crying to me, saying how lucky we were to get Benitez. He is a Tottenham fan. I am glad that we did not get who they got.
I have been pleased by pleased with Benitez ability to get the work and effort out of the players. He has also kept going in spite of the errors of Mina and Digne and has developed a good core of four players as the spine of the team. This has been founded on his hands-on approach, with loyal team lieutenants at Finch Farm and keeping going with some below-par players who needed game time.
He has managed to produce a good performance after the dreaded international break and got a rebound result after a defeat.
What has been exposed is the inadequacies of certain players to fit into his plan for Everton. Iowbi does fit in, though his left foot is a problem. Davies is not on the page and Rodriguez never was.
I do think that he does still have a fight on his hands. Brands is part of the comfy culture of Everton joining Usworth and other ex-players. This is an unproductive core that is difficult for Benitez to circumnavigate, as he has done with training, by his hands-on approach.
Rondom will improve. . . He has better positional sense, always attacking the near post, more than Calvert-Lewin, match-fitness still being needed.
Chris Williams
236
Posted 28/09/2021 at 13:05:12
On the Board, we have a Financial Director, a Commerce and Marketing Director. In a Football Club, is there any reason why there shouldn't be a Football Director?
Or maybe we leave it to Bill?
Billy Roberts
237
Posted 28/09/2021 at 13:08:03
Nicholas @222,
Don't take too much offence please: have you been out of the country for a few months? Or up into space? :)
Brian Wilkinson
238
Posted 28/09/2021 at 13:08:39
Nicholas @222, that's why mums go to Iceland... *cough* *cough*.
Changing the subject quickly, I see we are trying to bring in Luka Jovic on loan, in January. Now we are talking, that guy certainly knows where the net is, with either foot, or head.
Might be hard pushed if Rondon gets out of his "dragging a tree strapped behind him while running in treacle" mode.
Dave Abrahams
239
Posted 28/09/2021 at 13:23:02
Chris (236),
If you are referring to a DOF, it depends on who it is.
Walsh really was a football scout for Leicester and brought some good players there but that's all he was: a scout.
Brands was a different choice, he had a say in how the Dutch club he was with were run and he looked after all aspects of the club, including transfers. I thought he was a good choice when he came... but he now seems to have found a nice comfy spot at the club without doing anything in particular to change anything different to the way we were.
His latest "signing" is a foreign Academy coach from Fleetwood!! Not sure how he is helping Benitez to change the culture at Everton and Finch Farm that has prevailed there for too long.
David Pearl
240
Posted 28/09/2021 at 13:25:20
Brian @227,
You are right of course and a lot of us have been saying the same for a few years now. I guess our current state was inevitable.
How do you spend millions on players, plus wages... plus wage contributions when they have a different shirt on? 3 years of that for Sando. No buyer.
We can't blame Brands for the purchase of Sandro. Or for Bolasie (when all along it was the younger Zaha we should have gone for). Many head-scratching decisions.
We are not even back to square one yet. There's still Tosun. Also of course the unfortunate Sigurdsson situation. Looking at our squad, there is Pickford, Gray, Holgate, Calvert-Lewin and Richarlison that will sell for more than we got them for. Signings like Lescott, Stones and Lukaku seem a distant memory... or notion, to actually make money on player sales?
As we go forward, who will or can we sell? And can we have any bit of confidence we can use any money we bring in to buy the right players? I don't mind part-time fillers like Townsend (as good a character as he has been) but younger players that can be given the time and opportunity to make the next step themselves yet make the contribution we need.
That brings me back to Brands. What kind of relationship does he have with agents?
The game seems very corrupt to me and l'm waiting to see when the wheels will fall off or if they will. Is it his relationship with agents that prevented a fee for so many of the players that have recently left us? We must be millions up from last season with all the players to have left. No real fees to talk about but saved wages add up alarmingly. Off the top of my head, it's around £400-£500 thousand a week saved. That plus whatever for Bernard means we are £10-£15M better off by the time January comes along.
Sounds good. But how much better should it be? Why did it take so long to get those players off our books when they obviously had no future here?

Too many questions... l could go on and on. Which l did. (But it could be worse.)
Barry Rathbone
241
Posted 28/09/2021 at 13:30:52
Nicholas @222
The unnamed player is Sigurdsson – presently under investigation by the authorities regarding an allegation.
Chris Williams
242
Posted 28/09/2021 at 13:41:20
Dave,
I agree with everything you say about Walsh, one half of the first decision that Moshiri got disastrously wrong, along with Koeman, that we're still paying for.
Just maybe, Dave, Rafa is helping Brands with changing the culture, whereas he's been a lone voice up to now.
We don't know of course, but I keep coming back to the several months it took for Brands to sign his contract, after it was announced as a done deal in February. There must have been some debate about the nature and parameters of what the job should be, and what he required.
But I ask again, as it comes up time and again, in a Football Club, what is wrong with having a Football Director on the Board? As a principle rather than being about personalities.
Graham Mockford
243
Posted 28/09/2021 at 13:42:45
David @231,
Lionel Messi: 4ft-11in.
Alan Ball: 5ft-0in.
Get out of town, not even close.
Andrew Keatley
244
Posted 28/09/2021 at 13:46:07
David (231) - Not entirely sure when you're taking those measurements from; was it when each of those players was playing in Under-14s football?
Messi is 5'-7", and Alan Ball was 5'-6".
I think Bobby Collins was about 5'-3" or 5'-4".
All diminutive players, no argument, but why embellish their heights for extra effect?
Brian Wilkinson
245
Posted 28/09/2021 at 13:50:12
Graham, Bernard must have been 4ft-5in then going off Davids height, for the other two players.
Dave Abrahams
246
Posted 28/09/2021 at 14:00:52
Chris (242), re your last paragraph, absolutely nothing wrong with having a football director on the Board, in fact it could be an advantage if he knows his football and tries to influence for the better the direction the club is moving in.
Dale Self
248
Posted 28/09/2021 at 17:14:50
I'm wondering now if Brands' job is structured this mysterious way as a foil for Bill's meddling. And Roger, just don't act like us at the petrol pump. We are trying to get it together really.
Roger Helm
249
Posted 28/09/2021 at 18:26:23
Dale, I think a lot of posts have disappeared, so your comments might not be understood.
Dale Self
250
Posted 28/09/2021 at 18:37:49
That is a condition I've grown accustomed to Roger. Just part of being that Retarded American (English) Football Friend of the forum.
Brian Williams
251
Posted 29/09/2021 at 14:34:06
On a different note, for which I make no apology. Would those that pledged to donate to Derek Knox's collection for Cancer Research and haven't yet done, do so please?
Derek's put a lot of effort into the collection and also the ToffeeWeb get togethers.
So if you pledged to support the charity please do it, and if you didn't then do it anyway.

Sukhdev Sohal
252
Posted 01/10/2021 at 18:17:56
Darren Hind, you're saying Allan gets away with things because he's Brazillian? Why didn't that logic apply to Bernard then? You see the problem with the premise of your statement?
Danny O'Neill
253
Posted 01/10/2021 at 18:59:35
How are we doing with that collection?
Let's get it to a grand and I will gladly top it up.
---
Add Your Comments
In order to post a comment, you need to be logged in as a registered user of the site.
Or Sign up as a ToffeeWeb Member — it's free, takes just a few minutes and will allow you to post your comments on articles and Talking Points submissions across the site.
---
© ToffeeWeb