Report
Everton accept a draw in a game they should have won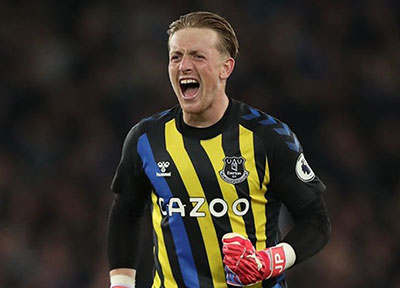 Jordan Pickford plays despite being troubled by a shoulder complaint of late
Manchester United 1 - 1 Everton
Everton travel to Old Trafford to face Manchester United with three key players still sidelined.

Richarlison, Calvert-Lewin and Coleman are injured or unfit, while Delph, Iwobi and Gomes are also out of contention. Gordon starts with Charlie Whitaker making his first Premier League visit to the subs bench.

For Man Utd, Shaw and Wan-Bissaka are both back but Ronaldo and Sancho are rested after their midweek exertions in the Champions League.

Everton kicked off in all-blue and hoofed the ball long for a Man Utd goal kick. They eventually won the ball back but could not keep it long enough under the high press. The home side continued to dominate and pin Everton back, despite long clearances to nowhere.

Wan-Bissaka eventually created a chance for the Red Devils at the far post but Martial jumped all wrong and had to head well wide. Godfrey did well to block Shaw's cross for a corner but Greenwood's low cross was thankfully not turned in.

When Everton did have the ball, they found it difficult to get forward until Digne played a perfect ball through to Rondon in space with a brilliant opportunity but the lumbering giant took an age to command the ball and the shot was blocked behind.

Rondon was fouled by Wan-Bissake, setting up a free-kick that Digne curled in very well but it was hooked clear by Martial. Gray almost laid on a chance but put it behind Rondon. Shaw gave Digne another set-piece, this one Keane perhaps should have scored with a glancing header that went wide.

After that brief respite, Man Utd won a corner, but Everton broke in a good counter that fizzled out with Gordon's poor attempted cross. Doucouré was playing very deep and seemed reluctant to move the team forward. Cavani had a free header that drew a tremendous save by Pickford.

Another Man Utd corner was laboriously half-cleared. Finally, Doucouré did break up the right with Townsend but a nice ball in to Rondon was fired at a defender. At the other end, Fgreenwood put a oft shot in on Pickford

Article continues below video content

McTominay whipped out Gordon then Digne was fouled and McTominay tried to make him get up, leading to major handbags and finally with no sanction of McTominay, of course from Michael Oliver. At least it showed that Everton were getting under their skin and they were'There followed an excellent Everton move and a brilliant Gordon cross that deserved to be converted but wasn't by Townsend after Rondon, who had the better chance, missed it completely.

Gray did well to got some space and time to shoot but it was a low shot that proved easy meat for De Gea to save. Gordon was fouled and Oliver finally showed Greenwood the yellow card.

Another great move down the right and crossed in to Doucoure who met it brilliantly first time but a defender had anticipated his strike and blocked it. Man Utd attacked again but the Everton defence had grown into the game and repelled them.

Everton won another free-kick in midfield, Gray curling it in perfectly for Mina but he got underneath it rather than putting in a more firmly directed header. Everton were momentarily more open at the back and Godfrey needed to execute a very well-timed tackle to avert the danger.

But it suddenly all fell apart as the ball came through to Martial in far too much space, Godfrey leaving acres of space for him, then getting far too close to Mina, as Martial lashed home his shot deflected over Pickford from wide left, a poor poor goal for Everton to give up.

Martial teed up another shot but this was a soft one for Pickford. A pity given the wealth of chances Everton had squandered to give up such an annoying goal.

The home side restarted after the break, Allan tried to release Gray from deep in defence but his pass was wayward. Gordon broke way but missed his chance to pass forward, and Everton backed up, Godfrey conceding the corner. Greenwood's shot was again easy for Pickford.

Gordon played a nice hopeful ball expertly down the line for Rondon to amble after... what a complete waste of space. When the ball came to Rondon in a break out from defence, he just gave it away.

Townsedn played a lovely ball in for Rondon, who ran away from it while the defender ran toward it. Astounding. Crucially, Ronaldo and Sanacho then came on. WOuld the gapping hole at right-back be further exploited?

SOme brilliant passing down the left (Gordon) set up Gray for a great run in but he just lost steam and couldn't pull the trigger. A Man Utd corner went right everyone, Keane had to stop Greenwood. Allan was then fouled by Fernandes.

A sweeping Man Utd attack was somehow foiled. Doucoure then tried to battle his way through on his own but the half-chances of the first period were not being repeated.

Another Man Utd corner but Everton broke at pace, Gray tenmaciously retaining the ball before finding Doucouré who fed the perfect ball in and Andros Townsend finished beautifully. "Wonderful goal for Everton, outstanding!" — Martin Keown.

The game now had a new feeling about it — not the one written in the script, Everton showing some fine spirit and determination. Fred was pulled for Pogba, meanwhile. Then the match-winning move by Benitez was to pull the effervescent Gordon for the mundane journeyman in Tom Davies.

Man Utd were trying harder and harder to get back in front as the tension in the game stepped up a few notches. Davies produced a fine forward pass for Gray who this time was very well marked. At the other end, Sancho fed Ronaldo near post but his shot flew across Pickford's goal.

Doucouré was booked for a foul on Fernandes, then Greenwood tried but failed to play in Ronaldo. Gray tried to fight for a ball at the other end, it had an end-to-end feel as to who would get the winner. Fernandes fired a low cross that evaded everyone, and then more stern Everton defence was needed.

Everton tried to create more attacks but Davies's touch was off. At the other end, Pogba curled one over the angle after Sancho easily beat Godfrey. Pogba then had a free header from a corner that went wide.

Davies did well to intercept and Doucouré won a corner, and from it, Davies in space fed Mina who scored but looked offside and it was deemed to be so.

Into the final minutes of the game and Man Utd attacked trying to set up Ronaldo but Everton defended resolutely. Could they build another break? On came Lewis Dobbin, far too late for a short cameo, and replacing Gray rather than the lumpen Rondon.

A late free-kick for a foul on Snacho but Ronaldo had strayed offside. Everton kept trying to push forward but without much effect and that was it. A game they should have won on chances created, Everton have to accept a draw.

Kick-off: 12:30 BST, Saturday 2 October 2021

Manchester United: De Gea, Wan Bissaka, Varane, Lindelof, Shaw, McTominay, Fred (68' Pogba), Greenwood [Y:35'], Fernandes, Martial (57' Sancho), Cavani (56' Ronaldo).
Subs: Bailly, Lingard,Henderson, Alex Telles, Matic, van de Beek.

Everton:Pickford, Godfrey, Keane, Mina, Digne, Doucoure [Y:76'], Allan, Townsend, Gray (90+3' Dobbin), Gordon (72' Davies), Rondon.
Subs: Begovic, Lonergan, Kenny, Holgate, Gbamin, Branthwaite, Whitaker, .


Referee: Michael Oliver
VAR: Stuart Atwell

Share article:
---
Reader Comments (438)
Note: the following content is not moderated or vetted by the site owners at the time of submission. Comments are the responsibility of the poster. Disclaimer
Kev Jones
1
Posted 02/10/2021 at 11:38:42
Great to see Gordon starting and the two youngsters on the bench.
Jeff Armstrong
2
Posted 02/10/2021 at 11:40:09
No Simms, is he injured again?
Jay Wood
[BRZ]
3
Posted 02/10/2021 at 11:47:45
Who's this new Irish lad Kelly on the bench?
I'm assuming a typo for Kenny.
No CR7, Pogba or Sancho in the starting line-up for United. A pairing of Fred and Tominay will make it a hard graft for our midfield.
Good time to get your first PL goal, Anthony Gordon.
Phill Thompson
4
Posted 02/10/2021 at 11:49:20
'Sake Michael, I spent ages wondering who " Kelly" was. Nice to see Whitaker on the bench. Dobbin May have more natural talent but Charlie Whitaker has really earned a place with his versatility.
Tony Everan
5
Posted 02/10/2021 at 11:49:23
What's the formation, 4231 ?
Pickford
Godfrey Keane Mina Digne
Doucoure Allan
Gray Townsend Gordon
Rondon
Danny O'Neill
6
Posted 02/10/2021 at 11:52:36
I said earlier Tony, on paper it looks 4-2-3-1 but I think it's more of an adaptation of 4-5-1.
Allan in front of the defencece so effectively a 4-1-4-1.
Tom Bowers
7
Posted 02/10/2021 at 11:55:23
Hard to see us getting a goal with this line-up but a draw would be a great result.
Mike Allen
8
Posted 02/10/2021 at 11:56:29
Looks like United don't rate us with their line up
Ben King
9
Posted 02/10/2021 at 11:59:16
What's happened to Simms now?
What's going on at Finch Farm???
Gary Mortimer
10
Posted 02/10/2021 at 12:00:19
From BBC website
James Mountford
Reporter, BBC Radio Merseyside Sport
"Everton undoubtedly face their toughest outing of the season so far at Old Trafford and the progress Rafa Benitez has made will be put to the test.

Three points over Southampton, Brighton, Burnley and Norwich are all worthy, but in truth these are the games Everton supporters will want to win as a minimum."

Win as a minimum? What is he on about? If we win perhaps we should get 6 points instead of 3?
With the injuries that we have, I'll take a draw any day of the week. With a fully fit squad? I'd hope to do a Villa on them.

Alan J Thompson
11
Posted 02/10/2021 at 12:01:05
I think I'd have preferred a fitter Dobbin, or even a lamppost, to Rondon but is that only one "striker" on the bench showing our intentions?
Tony Everan
12
Posted 02/10/2021 at 12:01:27
Danny, those attack minded three Gray,Townsend and Gordon will have to have their closing down and tenacious heads on today, as well as being ready to spring an attack. Them and all the lads will have to put in a full shift to bring home something from the game, I think we can do it.
Phil, Yes, great to see Dobbin and Whitaker on the bench, fully deserved. The other young lads of a similar age will be looking on with pride and a bit of envy. It's good for them to see that the pathway is there if they are good enough and put the effort in.
Ciarán McGlone
13
Posted 02/10/2021 at 12:05:08
Even the most optimistic ToffeeWebbers must be facing a bit of realism at this prospect.
They havent been firing on all cylinders but in my opinion they've the best squad in the league.. and our talent is missing and in its place we have (sigh) Rondon..
Ciarán McGlone
14
Posted 02/10/2021 at 12:06:38
(Ps I'm looking forward to the brickbats when we win 3-0 and Rondon scores a hat trick)
Alan J Thompson
15
Posted 02/10/2021 at 12:08:25
Ciaran(#14); I hope you are right but how long can you hold your breath for?
Jim Bennings
16
Posted 02/10/2021 at 12:20:52
Looking at our bench you really wouldn't think we have spend over £300 million in the last five years would you?
Criminal.
David Hallwood
17
Posted 02/10/2021 at 12:26:32
Right now I would take a 0-0 bore draw or even better a dominate United with 30 attempts on goal and we get 1 which goes in!
Tony Everan
18
Posted 02/10/2021 at 12:29:10
Jim 16
Also, Our front four midfield/attacking players in today's team cost a combined £1.7 m.
Hopefully we are in a new era of spending more wisely.
Phil Bickerstaff
19
Posted 02/10/2021 at 12:55:50
Why is shaw playing, he has pulled out of the England squad injured
Alan Moss
20
Posted 02/10/2021 at 13:16:19
Predictable. We can't defend. Benitez can do one
Pete Hughes
21
Posted 02/10/2021 at 13:18:50
Benitez can 'do one' behave yourself man
Ciarán McGlone
22
Posted 02/10/2021 at 13:19:33
Ominous first ten minutes.. couldnt get a touch and when we did inevitably gave the ball away.
Woke up and decent display after that. Two decent chances for Rondon which he fluffed. I honestly don't see any talent there whatsoever.. never did.
Godfrey badly out of position for the goal.
Still in this. Gordon playing well.
Danny Baily
23
Posted 02/10/2021 at 13:20:59
Alan 20, we're doing well by the sound of it. Undone by a good goal.
Michael Lynch
24
Posted 02/10/2021 at 13:21:32
After the initial wave of possession by Utd, we've been by far the better team. Really impressed at how we've won second balls and piled forward. Shame about the goal but this is a free hit for us with the injuries we have.
Utd have an incredible squad but will win nothing under Ole.
Kevin Dyer
25
Posted 02/10/2021 at 13:23:29
Excellent performance, nothing to moan about. Caught out a bit and the deflection beats JP. If Rondon's chances fall to Gray we are up by 2. Gordon excellent.
Disappointing, but we can get something out of this.
Jay Wood
[BRZ]
26
Posted 02/10/2021 at 13:29:35
Harsh half time score for me.
After weathering a difficult opening 10 minutes I honestly thought we were the better team for the bulk of that half.
Disciplined. Kept shape well. Broke in numbers on the counter. Nobody playing badly.
I liked the McTominay handbags and how the Blues stood up to them in the mini-brawl. Shows good team spirit.
Ironic that the goal came from the left flank as they had more joy attacking down the right. Not for the first time in a Blue shirt, a question mark for me against Ben Godfrey in tucking in too much and giving Martial too much room to attack the ball. Even then it was probably a deflection that helped take it beyond Jordan.
Doucoure gets better and better. Gray is a lovely footballer to watch. The ease and grace he runs with the ball at pace, taking him clear of defenders, is a delight to behold.
Anthony Gordon growing into the game. Rondon's done well in his hold up and lay off play.
More challenging now to come from behind, but personally I'm far from disheartened by what I've seen given the circumstances.
Alan J Thompson
27
Posted 02/10/2021 at 13:32:43
Neither side showing that much other than effort and if United had players willing to take their man on then they would look a lot better. For us, Gray isn't getting any space to use his pace and it is all for nought without somebody up front. Their goal came about owing to us having no right back, or in position right back.
I feel that Gordon seems to have the legs of their full back and if he is told to take him on and get the ball into the box it might also create more space elsewhere but, again, we have to have someone to target with crosses.
Jay Wood
[BRZ]
28
Posted 02/10/2021 at 13:48:38
United blink first and put on two players only good enough for the bench.
CR7 and Sancho.
Different worlds, eh?
Kieran Kinsella
29
Posted 02/10/2021 at 13:55:50
Townsend free, Sancho 75 million. So far we got the better deal by far
Kevin Dyer
30
Posted 02/10/2021 at 13:57:31
Beauty of a counterattack!
Jay Wood
[BRZ]
31
Posted 02/10/2021 at 13:59:37
WHAT. A. GOAL!!!
SUPERB! OUTSTANDING!
From their corner, from back to front.
Our goal of the season and we've scored some beauts already.
Kieran Kinsella
32
Posted 02/10/2021 at 14:16:49
How did the linesman not see that? It was awkward for Everton celebrating knowing it was offside
Simon Dalzell
33
Posted 02/10/2021 at 14:25:17
Great point. Should have been three. Oh Tom, just put it in.
Ciarán McGlone
34
Posted 02/10/2021 at 14:25:45
Great display and well deserved draw. Pity Tom didnt have the confidence to pull the trigger himself.
Michael Kenrick
35
Posted 02/10/2021 at 14:26:28
Maddening, We really should have won that.
But instead, we'll have all the bleaters coming on saying "You can't expect to beat Manchester United."
Well you know what? Fuck off!
Michael Lynch
36
Posted 02/10/2021 at 14:27:25
Classic headline there Michael! Maybe "could" have won?
Anyway superb performance. Arise Sir Rafa of Goodison. He's the manager we've been waiting for!
Alex Gray
37
Posted 02/10/2021 at 14:27:28
Can't understand why Davies didn't shoot when he had acres of space. Still fantastic result and good counter-attacking performance. First time in a long time I thought Gordon was excellent. Doucouré has been Brands's best buy, in my opinion.
Kieran Kinsella
38
Posted 02/10/2021 at 14:28:06
It wasn't even a backs to the wall grind – we actually played pretty well, had some great attacks. Davies made a few nice calm through balls but should've shot. Gray, Townsend and Doucouré great in attack.
Jay Wood
[BRZ]
39
Posted 02/10/2021 at 14:28:54
He's doing all right is Rafa the Gafa, isn't he?
We could - and perhaps even should - have won that.
That's a goal if the ball that falls to Tom Davies in that position is with Townsend or Gray. Shoot and score and the question of offside for Yerry doesn't enter into the equation.
Against a lot of adversity, a lot of good stuff is happening this season.
Paul Birmingham
40
Posted 02/10/2021 at 14:31:17
Superb, and that for me was Everton's best performance in years. True grit, effort and well-earned result, which some better first half finishing, Everton could have won.
All players gave their all, and what a great goal and some superb counter-attacking play.
Great character, promise and hope and do that at this place in any year is no mean feat. Everton won the right to play and won most of their individual duels.
Like some days of old, and well done the whole squad and the Evertonians at the match.
A great point and tbh, disappointed, Everton didn't win.
Let's get the players fit over the break and ready for a 6-pointer with West Ham.
Bjoern Haall
42
Posted 02/10/2021 at 14:31:47
Performance of the match: Andros's celebration.
Andrew Keatley
43
Posted 02/10/2021 at 14:33:32
Very spirited performance and draw. Really enjoyed watching our players defend with purpose, energy and commitment, and break with pace and belief.
Considering that Godfrey is still slightly struggling and Rondon is yet to reach real match fitness, we did incredibly well to match United, and probably just about had the better chances. Gordon had his best game yet for the first team, and worked really hard defensively – which was vital.
More credit to Rafa – he said he wanted to find ways to win every single game and, but for a slightly over-eager run from Yerry Mina, he would have done today.
Ben King
44
Posted 02/10/2021 at 14:33:45
Harsh headline.
Thought we were brilliant and with an effective striker could have won it (rather than 'should').
Well done the boys, Rafa and the fans.
Anthony Jones
45
Posted 02/10/2021 at 14:33:57
[NOT BRZ]
You have to admire the piss take celebration.
I have been inspired.
Steve Brown
46
Posted 02/10/2021 at 14:34:33
Top performance that. Tactics spot on, given plenty of people (me included) advocated putting an extra man in midfield.
Doucouré, Allan, Gray and Townsend all brilliant and the centre-halves were rock solid. Calvert-Lewin and Richarlison play and we win that.
If that is what Benitez can do with a weakened team, then we are in good hands.
Fran Mitchell
47
Posted 02/10/2021 at 14:34:53
Excellent performance. If we have Calvert-Lewin, I'm sure we could have won it.
This was a great performance, and one I wasn't sure we were capable of. After the opener, I was worried we'd crumble. But an excellent performance followed. Doucoure for me was the best player on the pitch, totally dominant.
Townsend on his way to have his best ever season, and Gray is just fantastic. There is more to come from this side.
Huge well done to Gordon who lay down a marker and has shown he can be a top Premier League player.
Godfrey looked much improved. And the whole back 4 was solid.
Benitez is doing a very good job with very limited resources. Just look at the respective benches. Well done.

Ernie Baywood
48
Posted 02/10/2021 at 14:35:30
Such a basic game isn't it? Work hard, back each other up, win your battles, attack with intent.
Oh Tom, why didn't you just walk up and hit it?
Robert Tressell
49
Posted 02/10/2021 at 14:35:52
Impressive performance. I worried they might sweep us aside with much superior players. However, Benitez did a job on an inferior manager. He's got us playing like a proper team, managing to cause problems even when severely under strength. He might just be a very good fit for the squad and finances.
Ernie Baywood
50
Posted 02/10/2021 at 14:35:54
Such a basic game isn't it? Work hard, back each other up, win your battles, attack with intent.
Oh Tom, why didn't you just walk up and hit it?
Mike Doyle
51
Posted 02/10/2021 at 14:36:35
Paul Birmingham # 40] Has saved me posting. A great performance. Special mention for workaholics Doucouré and Townsend.
Dale Self
52
Posted 02/10/2021 at 14:37:12
Bold title but I'm with that. For all the missed opportunities there was much discovered about our squad today and Rafa will cobble together some Toffee magic.
Brian Williams
53
Posted 02/10/2021 at 14:38:54
I just wish I could remember who the numpty was who bet me that Townsend would only score five goals or less this season. That was when he'd already scored three.
Darren Hind
54
Posted 02/10/2021 at 14:39:00
Tom Davies should have shot, a fit confident player would have, but he did lay the ball on for a completely open goal.
Quite why Big Yerry (who could see everything and was completely unmarked) strayed offside is beyond me.
We had other big chances too. Good luck picking a MotM out of that. I thought we had at least six candidates.
One that got away.
Jay Wood
[BRZ]
55
Posted 02/10/2021 at 14:39:10
And there's me thinking MK's headline is very droll and witty.
Can't please all the people, all the time, eh Michael?
Alan J Thompson
56
Posted 02/10/2021 at 14:41:41
An entertaining and energetic game of football and perhaps we should have won it in the end but I couldn't understand why Rondon wasn't substituted earlier as he contributed little.
Tom Davies should have sewn it up but I tend to think that at some stage, probably after that famed City goal, he has been told that rather than try the move that marks the best that he should consider what would happen if it went wrong but today just a matter of inches of which even Mina should have been aware.
Still, a point away to a side you would expect to be somewhere near the top is quite acceptable.
Still don't understand Rondon being on the park as long as he was.
Jerome Shields
57
Posted 02/10/2021 at 14:42:44
Great result and great goal. Should have won, but it's a positive outcome to another test.
Simon Dalzell
58
Posted 02/10/2021 at 14:42:54
Andros Townsend is a joy to listen too. The most humble eloquent bloke.
Lee Courtliff
59
Posted 02/10/2021 at 14:43:09
Proud of them, given our injuries and limited squad. If only Tom had the confidence to shoot!!!
Ray Robinson
60
Posted 02/10/2021 at 14:43:28
Just seen Andros Townsend being interviewed on BT. What a professional and such a decent, humble bloke!
If only Davies had shot instead of passing.
Doucouré and Gray absolutely outstanding again today!
Craig Walker
61
Posted 02/10/2021 at 14:43:36
We need to start giving Benitez some credit. I rate him as a manager and wanted him when we got Silva.
I thought we'd get slaughtered today. That was a game that I actually enjoyed and I thought we were the better team. I couldn't fault any player. Rondon wasn't the most mobile but he did a job.
Wish Tom Davies would have shot but I knew Mina was offside. Great point, nevertheless.
Well done, Everton!
Bill Fairfield
62
Posted 02/10/2021 at 14:43:38
The games not about individuals, it's about teamwork and that was a great example of it right there. Great performance.
Martin Clark
63
Posted 02/10/2021 at 14:48:15
I'm loving Doucourè, he's looking fantastic, just up for it and always seems to be in the action. Gray did amazing work for the goal and in the end was disappointing not to win, (shoot Tom!).
I'm not enjoying watching Rondón. He looked tired from start to finish and totally off the pace. Will be a huge lift getting Calvert-Lewin back. Would prefer to see Dobbin get a chance.
Phil Smith
64
Posted 02/10/2021 at 14:48:49
How Sancho and Lingard are getting into the England team over Gray and Townsend is beyond me. Great performance and with Calvert-Lewin we 'would' have won that that, but today we 'could've', not 'should've'.
Don Alexander
65
Posted 02/10/2021 at 14:49:01
Great performance, just hope Benitez slips "soy mago" into his presser!
Martin Mason
66
Posted 02/10/2021 at 14:49:23
Great performance, for once the team were much more positive than the fans.
Mark Taylor
67
Posted 02/10/2021 at 14:49:39
I can't afford BT as well as Sky so didn't see this but would have loved to. We used to go to the top teams and defend timidly rather than try to win. All I want is to at least try, which it seems we did. I guess it might also indicate that post Champions League match is always a good time to face one of these; on the other hand, we were well below full strength.
I was opposed to Benitez being appointed, not because he isn't a good manager – he is and always has been – but I feared fan reaction when we hit a bad run of results. Given our easy start, I feared that might have been terminal had it happened right at the start. Instead, Benitez has some well-deserved credit in the bank to draw on.
Whatever else, and regardless of his past history, he is way, way better as a manager than some we have had to endure in the last 5 or so years. Granted that is a low bar...
Alex Gray
68
Posted 02/10/2021 at 14:50:23
100% agree Craig. We look solid and even with a depleted squad are enjoyable to watch. Rafa hasn't put a foot wrong so far for me.
John Dingle
69
Posted 02/10/2021 at 14:52:44
Tom was on a similar position on the pitch today as when he scored against City in the 4-0. It is hard to accept but he has unfortunately gone backwards since January 2017. Can Rafa the Gaffer rewind the clock 4-years?
Michael Lynch
70
Posted 02/10/2021 at 14:54:05
Anyone else can't wait for the West Ham game now? Hopefully Calvert-Lewin back, but it should be a cracker anyway.
Dale Self
71
Posted 02/10/2021 at 14:56:31
Just came back to say Townsend is a football man. An Everton Fotball Man and I'm proud that he's with us. Ratchild needs therapy, the frustrated artist has given way to a petulant pouty boy.
Barry Hesketh
72
Posted 02/10/2021 at 14:57:34
I was one of the many that shrugged my shoulders at the arrival of Andros Townsend, but I'm very pleased to have been proved wrong about him. He reminds me of Graham Stuart, not the way he plays but the enthusiasm he has for the game and the work rate he provides. If that enthusiasm and work rate can be instilled into the rest of the squad, we may have a more rewarding season than we might have hoped for after our previous visit to Old Trafford in August.
Martin Mason
73
Posted 02/10/2021 at 14:58:48
We may be in the position now that we find our strongest team because of rather than despite injuries. Gordon was very good today.
Barry Rathbone
74
Posted 02/10/2021 at 15:00:29
What a surprise.
Checked in at one nil down and sidled off immediately, knowing we would lose by 2 or 3 because that's what the Everton theme is.
Mr Benitez appears to be doing something rather extraordinary here. Well done all concerned.
Michael Williams
75
Posted 02/10/2021 at 15:00:41
Ray 60 and Simon 58 - Agreed on Townsend. Just showed a clip of his interview on NBC. Humble man and really buys into Benitez's coaching style. Says Benitez gets the best out of him.
Christy Ring
76
Posted 02/10/2021 at 15:01:00
Superb performance today and missing our two front men, who should be back with Seamus after the International break, fit and fresh. Tom should have shot himself, but I thought he played well when he came off the bench.
Phil Rodgers
77
Posted 02/10/2021 at 15:03:41
Tremendous performance, especially considering the players out. All the team worked their bollocks off. Doucouré in was best player on the pitch by far.
Sam Hoare
78
Posted 02/10/2021 at 15:03:56
Many kicked up a stink when we signed Townsend yet him and Gray are looking like our best (or at least most cost effective) signings since Coleman!
Great performance today and shame not to win it. I was a bit miffed with Davies but the offside was marginal and scoring from his angle is not easy, especially for a player unused to such positions. If anything the blame could be for Mina who should have stayed on.
But credit to Rafa and the team. A tenacity, resilience and work ethic we've not seen since Moyes. And not a drab watch either which is what I had prophesied.
A great start to the season and with Calvert-Lewin, Richarlsion, Coleman etc returning hopefully after the break it's an excellent platform from which to do something exciting this season.
Alan J Thompson
79
Posted 02/10/2021 at 15:04:23
Who cares about the after-match interview, it's about what they do on the pitch.
Nicolas Piñon
80
Posted 02/10/2021 at 15:05:58
Townsend goal and goal celebration of the month. Absolutely hillarious. Thanks Rafa Benítez for this.
So, still think we need to face a 'Big 4' side to jugde the team, eh...?
Nice weekend, Blues!
Simon Dalzell
81
Posted 02/10/2021 at 15:08:44
Christy (@76),
'Tom should have shot himself.'
That's extreme.
Eddie Dunn
82
Posted 02/10/2021 at 15:09:38
So many outstanding contributions, Gordon, and Townsend and of course, Gray.
Tom came on and played very sensibly, low confidence explains his pass but he really should have noticed Mina straying ahead of him.
When they made their changes, I think they actually became less threatening. Ole, got it wrong trying to keep his Galacticos happy.
I could see Calvert-Lewin back in our team (for Rondon) but I wouldn't put Richarlison back in ahead of Townsend, Gray or Gordon on that showing!
Tony Heron
83
Posted 02/10/2021 at 15:11:07
Totally agree – Tom Davies should have shot, but Mina is looking along the line and could easily have stayed onside. Never seems to amaze me how so called professionals fail to use common sense in these situations.
Phil Gardner
84
Posted 02/10/2021 at 15:12:56
Two points dropped and what the fuck was Tom Davies actually thinking there? Christ on a bike.
Barry Hesketh
85
Posted 02/10/2021 at 15:13:58
Alan @79,
I agree that what players do out on the pitch is paramount, but it's also good to get a glimpse into how a player speaks and thinks – which I think some other TWs might also like to see, one man's meat is another man's poison and all of that.

Michael Williams
86
Posted 02/10/2021 at 15:14:48
I am amazed they are doing this well without Calvert-Lewin, Richarlison and Coleman. If you had asked me at the beginning of the season how they would fare for a stretch of games without those three, I would have said the team would be miserable to watch and the results would match.
Bogdan Kotarlic
87
Posted 02/10/2021 at 15:14:03
A good, valuable point and a very fine performance by Everton.

We played well, deserved to earn a draw but we could have won in the end. Nevertheless, a good start to the season continues and I am really satisfied with Benitez.

Before the season started, I wasn`t very convinced by the Spaniard but, as the time passes, he shows that he is still an excellent manager.

Also, Gray and Townsend play very good, I thought that they were going to be substitutes who could contribute a little bit to the team but they prove to be excellent footballers.

We continue to play some fine football and to earn points, I hope we continue this way.
Frank Crewe
88
Posted 02/10/2021 at 15:15:53
"Everton accept a draw in a game they should have won"
Man Utd at home without three of our best players, but we should have won? Some people are never satisfied.
Could have won if Davies had shot instead of passing. That long since he scored I doubt he would shoot if his life depended on it. Just lacked the confidence to and probably figured if he missed he would get slagged off for not passing. Damned if he did and damned if he didn't.
John Keating
89
Posted 02/10/2021 at 15:16:28
Considering our injury situation an excellent result and well deserved.
Really it's 2 points dropped.
Had our late chance fell to an attack minded player no way that ball would have been passed
Regardless where Mina was he should never have been passed too
Tom will have nightmares about not shooting!
Jim Lloyd
90
Posted 02/10/2021 at 15:17:35
Could only listen to it on Radio Everton and what came over loud clear was how the supporters sang and chanted all the way through the match. They were brilliant and much more supportive than the Mancs who cheered when their goal went in and not much else and loads leaving before the end of the match!
Not many times have we been to Old Trafford and come away with Michael writing the above headline. To scrap it out with one of the Slimy Six at their own ground and come away a point; and feeling disappointed!!! That's a long, long time ago. Brilliant effort from all the players who played today. Great management for instilling a Never Say Die attitude and a team ethic.
For such a depleted squad, Rafa Beitez is getting so much out of what he has to play with, he's making us a team not many will relish playing.
Michael Williams
91
Posted 02/10/2021 at 15:18:13
Alan 79 has put us on notice. No discussion of interviews. If a player or coach has something interesting or perhaps even enlightening to say - please keep it to yourself.
Jamie Crowley
92
Posted 02/10/2021 at 15:20:14
That was a stupendous point!
We've wanted a team with heart for so long. This team played and gave it their all until their last breath.
So happy with this performance and "result". A point at Old Trafford while injury riddled is great.
Last word - Tom Davies played the correct ball. He's not known for his shooting power or prowess. The pass was the correct decision, a hair's breath offside. Tom shoots, he doesn't score. The assumption and thinking that he would have netted is off the mark.
Raymond Fox
93
Posted 02/10/2021 at 15:21:20
Great performance from a patched up side, Rafa has them fired up as players were in Martinez's first season.
All through the team it was 100% effort, you cant ask for more.
I thought Doucoure, Townsend, Grey, Allan were outstanding, with all the other players all good and at it.
I confess I thought we would get beaten today.
Mike Gaynes
94
Posted 02/10/2021 at 15:23:04
Just crawled out of bed, saw the score (okay, cool) and decided to watch the game... on the Forum.
Scroll, scroll, scroll. Now I know everything that happened, even know what parts to jump to when I turn on the TV.
And I already have my first laugh of the day... at the obligatory negative headline on this article.
Now to stick the eyes open and find the coffeepot and the remote. COYB.
Kieran Kinsella
95
Posted 02/10/2021 at 15:25:35
Barry Hesketh
I think Townsend is a coaches dream as he follows orders. At Palace Roy set up ultra defensively and relied on a bit of magic from Zaha. He wanted Townsend to put in a defensive shift which he did and consequently his stats suffered. Rafa is telling him to attack and he's doing just that. And yeah Graham Stuart is a good comparison. Both good, both have the odd bit of magic but hard work and positivity drive them.
Kieran Kinsella
96
Posted 02/10/2021 at 15:28:27
Simon 81
Hahaha that made me chuckle
Terry Farrell
97
Posted 02/10/2021 at 15:33:08
Love our away fans love Rafa love the way we are organised now and don't stand any crap. If we'd have paid 40m for Gray I'd still be made up he is quality. Great performance and one of the best counter attacking goals I've seen. Darren H I think you might need to reassess your opinion of Mina brilliant again and the opposition hate playing against him. Ben much better today
Dan Johnson
98
Posted 02/10/2021 at 15:33:44
A good solid performance from the blues, if that chance falls for anyone other than Tom Davies, we win it, but happy not to lose, just a pity we didn't have Rafa years ago, instead of some of the poor managers we have had. Well done Rafa and the blues.
Martin Mason
99
Posted 02/10/2021 at 15:33:49
Demar I see him Demar I love him. (from official site)
Graham Mockford
100
Posted 02/10/2021 at 15:37:25
The outstanding players were the four who have been excellent all season. Andros, Duke, Allan and Demari. 9/10 displays from them all.
But credit has to go to the back 5, all stood up defensively to a man. The tube who was blaming Pickford for the goal on the forum must be new to football.
Mina should never have got himself into an offside position but Tom should have made that decision moot by taking the shot on himself. He did look like a midfielder who's scored 1 goal in his last 101 PL games.
But overall great performance, decent result and hopefully our front 2 are back next time out.
Derek Turner
101
Posted 02/10/2021 at 15:38:21
What a joy to see Andros delighting my long suffering son with his celebration.
After me moaning about how we would fold following the first goal.
Wanted to burn my own house down when we signed the Spaniard and he signed the Palace reject.
Shows what I know.
UTFT!
Bill Gall
102
Posted 02/10/2021 at 15:40:08
What a change in attitude this manager has started to instill in his players, no more we are going to struggle, and play a more defensive game, it is now just do your job, don't slacken off and support each other.
Players are now keeping their positions not chasing lost balls and starting to win the 50/50 tackles. There are still a number of mistakes but they are starting to get less and that is down to coaching, and the players getting more confident in the style and tactics from the manager.
One of my previous comments was that with are injuries it would be a backs to the wall struggle but I believed we had the team to get 1 point but 3 would be nice. Some players may have made a mistake but overall as a team effort this was first class, and kudos should be given to Benitez and his staff.
George Cumiskey
103
Posted 02/10/2021 at 15:43:14
I thought Keane and Mina were immense today as well, just can't understand why he kept Rondon on couldn't hold the ball up kept coming back at us could of cost us
Anthony Jones
104
Posted 02/10/2021 at 15:43:41
Jamie: have you ever played football?
The correct ball was clearly to shoot.
How can you argue that the correct ball was to pass to a player who was substantially offside?
Mental.
George Cumiskey
105
Posted 02/10/2021 at 15:45:10
Antony Jones spot on
Dave Abrahams
106
Posted 02/10/2021 at 15:45:58
Terrific performance and result, couldn't have asked for more than was shown today, Benitez had the team well set up defensively and the team created enough chances to have secured the three points, we, the team, deserve the highest praise playing the way we did we quite a few players missing from the squad. Gordon played very well going forward and helping out at the back, he was knackered when he went off, experience will improve his game, Doucoure stood out for me but it was a great team performance with the two transfer 'paupers ' great again in creating and scoring a well worked equaliser along with Doucoure.
I can't remember being so happy about a performance and result that we didn't win, it will keep me happy for quite a while.
Kim Vivian
107
Posted 02/10/2021 at 15:47:21
Anthony - get ready for incoming.....
Pat Kelly
108
Posted 02/10/2021 at 15:47:23
Now we have a manager
Barry Rathbone
109
Posted 02/10/2021 at 15:47:57
Anthony 104
You're wrong; it was a perfect angle for the keeper, nice and narrow he could easily block the shot; the only issue was Mina straying offside. Tom did exactly the right thing.
And yes, I played football at a very high level.
Jamie Crowley
110
Posted 02/10/2021 at 15:51:20
Anthony -
He wasn't clearly offside. That's crazy. He was barely offside and I don't blame Tom for playing that ball at all. He doesn't have a good shot, and Mina was through for a tap in. Mina, not being an attacker, didn't know to hold his run.
But Anthony you do make a good point! I didn't touch a soccer ball until I was 40 years old! So, no, I've never really played the game other than for my seven a side team: Grand Ol Team. 😜
If it was any other player I'd say shoot. Technically it is the correct option to shoot in that position. No argument. I just think, as it was Davies, and knowing his shooting limitations and seeing Mina through with a much better position at the net with their keeper out of position to make a save, it was the correct ball for Tom Davies to play.
There you have it.
Cheers.
Ian Linn
111
Posted 02/10/2021 at 15:51:32
Whatever decision Tom makes, the masses will declare it the wrong one if the outcome isn't a goal.
If he shoots and De Gea saves, all we would hear would be "Mina was in acres of space, why didn't he pass".
Good performance today, unlucky not to grab all 3 points. I'm liking the look of Everton this season.
Dave Lynch
112
Posted 02/10/2021 at 15:53:40
Davies should have shot.
Shooting is kicking the ball "hard". He kicks the ball for a living... Fuck this "He's not used to shooting" etc.
That's my simplified take on it. Great result and a great performance.
Jamie Crowley
113
Posted 02/10/2021 at 15:54:37
By the way -
If Tom does shoot, and it does NOT go in (HIGHLY likely), can you just imagine the shit that would be slung at Davies???
"What the fuck is he doing, Mina was wide open!"
Pah-leez!!!!!
Jamie Crowley
114
Posted 02/10/2021 at 16:00:16
And another thing!!!
The only shot to be had was back post. The ball was on Tom's right foot. That's a tough shot and he doesn't have time to put it on his left and curl it to the back, left post.
I played hockey - the concept is exactly the same!!! You can't move a puck to your backhand (read weaker foot) to take the shot you should. And you have a man wide open, square to the net for a tap in.
It's is 100% the right play, with everything I've pointed out, to pass that ball.
Graham Mockford
115
Posted 02/10/2021 at 16:01:27
Jamie
I don't agree with you but you hit the nail squarely on the head. Tom took the option because he didn't have the confidence to do what you would expect any decent player to do. Take it out of his feet and put it past the keeper, he was after all in three yards of space.
Quite clearly he took the wrong option because he passed to an offside teammate. Now if Mina is in an onside position it's a different conversation.
And as for the right foot far post theory did you not see Andros's goal?
David Pearl
116
Posted 02/10/2021 at 16:02:23
Hello Jamie
Tom had to shoot and should know the offside rule by now. Lack of confidece in his own ability right there. He knows it too so he should learn from that.
Excellent team performance. The 2 pairings at the back and in the middle along with the pace of Gray, if we keep them fit we will give anyone a game. Godfrey looks much fitter too.
Perhaps a good time for an international break because if we had DCL up top we'd have won.
Anthony Jones
117
Posted 02/10/2021 at 16:04:25
Is this a wind up? Are they serious? Haha!
Oh yes, Barry, I think I remember you.
You were the backup keeper for Marine Reserves?
Chris Leyland
118
Posted 02/10/2021 at 16:05:21
Mina was offside when Tom played it. I could see it from my sofa and Tom must surely have seen it as he's looking and can see Mina is ahead of him and he's passing it forward? Maybe Mina could have held his run but he didn't and when Davies released it is it clear that he's off.
Even if you argue that he shouldn't have shot as for some strange reason you believe that a Premeir League footballer with over 150 professional games under his belt doesn't have the ability to be able to hit the target when clean through on goal,, surely you can see that he at least should have taken it forward another yard or two to get ahead of Mina before passing it as he had all the time in the world?
I actually thought he did alright when he came on by the way and prove to be a useful member of the squad under Rafa this season but we can still criticise players for making poor decisions and Tom made a poor one today.
Kieran Kinsella
119
Posted 02/10/2021 at 16:06:19
Ian and Jamie have one thing right, Tom would be hammered with any outcome other than a goal. That moment apart though he calmly played a few clever through balls prior which is something I haven't seen him do since he burst onto the scene years ago.
Ajay Gopal
120
Posted 02/10/2021 at 16:07:33
It is funny - ManU bring on Ronaldo, Sancho and Pogba as substitutes and we bring on Tom Davies and Lewis Donbin and many here still think we 'should' have won. Really?? Yes, we had 1 good chance to take the lead, but Tom made the wrong decision. You could see he was distraught at the end and apologised to Rafa, but Rafa put his arm around his shoulders and said something with a laugh. Nice to see!
A special word for Gordon. I though he was nervous at the beginning and his demeanour does not suggest someone with a lot of determination on his face. But when he did get the ball, he caused a lot of problems down their right side and mostly kept Wan-Bissaka quiet. He also put in a great tackle on Fernandes I think towards the end. All in all, very pleasing performance by Anthony. Hopefully he gets a few more opportunities this season.
Before the match, I said that I hoped we wouldn't embarrass ourselves. Well, we certainly didn't. In fact, made me very, very proud. What can Rafa do when he has his best XI plus some squad strengthening in the winter window?
Graham Mockford
121
Posted 02/10/2021 at 16:07:45
Barry
Mina was at fault for straying offside but that doesn't alter the fact that the pass was played to an offside player. How can that possibly be the right decision even if you can understand why he made it?
Mike Price
122
Posted 02/10/2021 at 16:08:14
Finally, we've got a proper manager.
George Cumiskey
123
Posted 02/10/2021 at 16:08:56
Mina was clearly offside – every man and his dog could see it, for godsake stop making excuses for Davies it was the wrong option. Even Ferdinand said Davies won't sleep tonight after that decision.
Trevor Cotterell
124
Posted 02/10/2021 at 16:11:31
Great game – showing what we could do with a fully fit squad! Great, well-worked goal and Gray was (again) the key to it.
Now for 'the one that got away'... It's getting frustrating reading - there's those for whom Tom Davies can do no good! If he scored six, some would want to sell him.
Look, he's not a striker. There was a player who couldn't miss, who really should have stayed onside. He slid the ball across to him – imagine if he'd shot and missed (and he was being closed down by their keeper, let's remember).
How come no-one is crediting him for just getting into that position in the first place – where it wasn't really his place to be? There seems to be far more criticism of Tom than of Mina, who's the one who actually screwed it up. Give the guy a break!
Darren Hind
125
Posted 02/10/2021 at 16:13:36
I think anybody who has played the game at any level would know Big Yerry made a proper schoolboy error in racing ahead of the ball. He could see right across the line and there are simply no excuses. That said; Tom was in such a great position. He should have ignored the call and taken ownership.
I won't be losing any sleep crying over spilt milk. Big Yerry had a really good game and Tom let nobody down when he has to come on in very difficult circumstances.
There is no earthly way we would have had both a defensive midfielder and a centre-half deep into opposition territory looking for a late winner, last season.
Frustrating not to win. but pleasing to see us trying to win difficult games... It's been a while.
Graham Mockford
126
Posted 02/10/2021 at 16:14:33
David Pearl
127
Posted 02/10/2021 at 16:15:50
As Ajay said above, a mention for Anthony Gordon. He can hold his head high and look to build off that performance. Beat his man, crossed early, some nice touches and he worked hard to recover the ball. Well pleased for him.
Robert Williams
128
Posted 02/10/2021 at 16:17:07
Davies should have chipped the keeper - or is that asking too much?
Eddie Dunn
129
Posted 02/10/2021 at 16:17:11
Jamie- I think you are wrong there, these days with replays etc, if Tom had shot and it was not a goal, we would still have seen that Mina was in an offside position and Tom would only be criticised for not having the accuracy or power.
I think his penalty (saved) versus QPR has undoubtedly reduced his confidence in front of goal.
He has to make the keeper make a save. That is the difference in the two teams, a top quality midfielder will either score or work the keeper.
Mina is clearly daft as a brush – he surely knew he was offside, yet still did that silly dance!
If Tom had scored, his confidence would now be sky-high and he would be busting a gut to do it all again. Small margins...
Ed Prytherch
130
Posted 02/10/2021 at 16:17:36
Tom may have taken the shot if he had not missed the penalty against QPR. I agree with Jamie that the pass to Mina was the percentage play.
Kieran Kinsella
131
Posted 02/10/2021 at 16:19:33
Tom could've easily done a rabona if he wanted it on his stronger foot.
Rob Hooton
132
Posted 02/10/2021 at 16:21:30
Thoroughly enjoyed that, great performance from every player on the pitch (even rusty Rondon did better than his previous outings) and any one of half a dozen could have been awarded motm.
Great spirit in the team, I was worried coming into the match but we really should have won it!
Martin Mason
133
Posted 02/10/2021 at 16:21:54
What do you guys know. The correct move for Tom was to dribble it round De Gea and walk it into the net or to have got down on his knees and headed it in. And I know because I've played the game at the very highest level against International opposition. 5000m up on the Pamir Highway in Tajikistan with some Russian and Tajik lads.
Jack Ledwidge
134
Posted 02/10/2021 at 16:25:12
The difference now is we have a manager/coach that knows what he's about. The attention to detail is there for all to see. The team is extremely well versed from the kick-off and they all seem to know their roles to the nth degree. On paper before this game our odds were high to win or draw. That's the bookies perspective looking at both line-ups.
Rafa has become a massive difference. No pandering to anyone. The respect from the players is there for all to see. I made this point before when Seamus spoke highly of Graham Potter after a draw at Brighton. He said they were well-coached. I took it as a subliminal reference to Ancelotti's coaching.
When the players see the work Rafa is doing on the training pitch, it gives them that bit of extra impetus.
Onwards and upwards.
Kieran Kinsella
135
Posted 02/10/2021 at 16:25:17
Chris Leyland
136
Posted 02/10/2021 at 16:25:48
To be fair Darren, we were 2-0 down at half time and 3-2 down last year in the same fixture and came back to nick a draw but Rafa had very limited tools at his disposal today and is wringing every ounce out of what he has.
What I prefer about him over the last fella are 4 things:
1. He seems to actually care.
2. He actually coaches and changes things during a game.
3. He is getting the most out of what he has available.
4. He is actually winning the games we should be winning.
Brian Williams
137
Posted 02/10/2021 at 16:26:03
I can't believe after a performance like that today, missing key players against a squad full of better players than we have, that the thread has been reduced almost to a Mina v Davies being at fault.
We nearly won but didn't because one or more humans, in the heat of a single moment, didn't perform perfectly after 88 minutes of hard graft and emotion.
If you want to pick over something in fine detail watch Gray's run for our goal. So many chances for that run not to be successful, so many things the lad had to do right to make the goal possible.
Michael Lynch
138
Posted 02/10/2021 at 16:28:50
Well I've played the game at the lowest level, and if I was Tom Davies I would have nutmegged Molly Smith from the year below and chipped Bazza, the cross-eyed goalie from the infants class.
Geoff Williams
139
Posted 02/10/2021 at 16:31:37
The onus was on Mina to stay onside. From the angle and the positioning of the goalkeeper the chances of Davies scoring were slim but the square pass was the obvious and correct option, Mina let him down by getting ahead of the ball.
Jay Harris
140
Posted 02/10/2021 at 16:32:27
Let's not make this about Tom. Let's celebrate an excellent team performance from a depleted team carrying 2 unfit players who went to Old TrAfford and went toe to toe with a billion dollar team and can come away with their heads held high.
You can see the confidence building and the supporters finally having faith.
We will have setbacks but I for one am loving the transformation in application.

Martin Mason
141
Posted 02/10/2021 at 16:32:59
Robert@128 Either a chip or a slice or maybe a sliced chip?

Kieran Kinsella
142
Posted 02/10/2021 at 16:33:36
Brian 137
Gray took a huge risk playing in Duke he should have just gone for the 40 yard shot on goal.
He reminded me a bit of Maradona v England in how he kept his feet despite contact with their defenders and cleared three of them with the ball at his feet. If that was Mason Mount Southgate would be lauding him for weeks and probably build a golden statue of him at Lancaster Gate
Steve Brown
143
Posted 02/10/2021 at 16:34:42
A few reflections on the discussion above.
1) We had 13 shots, with 6 on target so lack of a clinical approach was the principle reason we did not win.
2) De Gea stayed on his line, so I don't see how Davies could have tried to chip him.
3) Mina ran offside as Davies played the pass, he simply had to look across the line and time his run. But he is a centre back and he was excellent in defence, so can't blame him too much.
4) Davies could have shot, but I don't think he would have scored.
5) If either DCL or Richy had played today we would have won the game given the excellence of the performance.
Mike Gaynes
144
Posted 02/10/2021 at 16:35:23
A few observations after watching the game on replay:
This is the first time I've ever been excited about Anthony Gordon. This was a strong, mature performance in a high-pressure situation.
Keane's mistake was really, really ugly... credit to Pickford for a fine save, but that really was a miss by one of the world's best finishers. Cavani will see that in his sleep. (Keane was flawless otherwise.)
One of this club's biggest problems over the past few seasons has been lack of leadership. Well, anybody watching Allan, Mina and Doucoure today should feel a whole lot better. They have emerged as leaders of this team. I credit Rafa for that, and for empowering Duke and Mina with more confidence. It shows.
If they continue playing this way, Townsend and Gray aren't the steals of the season. They're the steals of the last 20 years. Credit to them. And to Rafa for claiming them off the rock pile.
Rondon is slow, yes, and his holdup play has been subpar... but his work rate is there and he's winning every header. I still expect him to be a non-contributor, but he's trying every minute. And he's not to blame for us not getting a better striker in the transfer window.
And finally, I don't blame either Davies or Mina as harshly as some here. Yes, Davies should have shot and Mina shouldn't have strayed offside. But Davies' first instinct in that situation is to pass, and it was a good touch pass. And a defender who finds himself in that position once or twice a season, as Mina did, is not going to be looking down the line of defenders. He's gonna be watching the ball and being excited about scoring. I love the late-game attacking commitment from both, looking for a winner, even if they didn't get it right.
Onwards.
Derek Knox
145
Posted 02/10/2021 at 16:39:23
Totally pleased with that performance and felt we did enough to come away with all 3 points. Reservations were harboured about whether we could survive a mauling, but luckily that was not the case. Quite the opposite, and fears I had about Rafa are well and truly put to bed, and I feel sort of guilty for doubting him.
Steve Brown
146
Posted 02/10/2021 at 16:39:41
Brian @ 137, was it you who replied to me that Townsend was signed to replace James's goals and assists? I rejected that but I'll happily have eat my humble pie now. He has been excellent.
Brian Williams
147
Posted 02/10/2021 at 16:43:12
Steve. I can't remember if I said Townsend was specifically bought "to replace James's goals and assists" but I certainly said that I felt he would.
He was three and three at the time.
Think he's five and three now!

Michael Williams
148
Posted 02/10/2021 at 16:47:33
I'm in the camp that Tom Should have taken the shot - Mina clearly ahead of Tom. Tom was clean on goal and had plenty of angle. Any hard shot on target not straight at the goalie goes in. It was a nicely-weighted pass FWIW.
Rob Dolby
149
Posted 02/10/2021 at 16:48:38
I was worried for us looking at our starting line up. Most of their bench would walk into our team.
The gulf in money spent on their squad is stupid. United are 750m in debt yet we are the ones restricted by Ffp! How does that work.
A good tactical game to watch. As expected their main threat was Fernandez. A bit of quality and a bit of a deflection gives them an undeserved lead. Half chances are converted at a higher rate by quality players and our half chances fell to Rondon.
Gray looks more like a £75m player than Sancho. Buying him was a masterstroke. Loved Townsend's celebration. The traveling blues must have enjoyed that.
A good all round team performance. Rondon is still a concern but hopefully DCL and Richy are back for the next game. Doucoure my motm for his energy and drive at both ends. He looks a different player than last year's sideways and backwards.
A poor decision by Davies, A confident player shoots but Davies picked the pass looking across the line. He would know instantly that Mina was offside. A quality player hits the target.
Michael Williams
150
Posted 02/10/2021 at 16:53:23
Rafa's recruitment philosophy from the Guardian Sept 24: "We have to bring the balance between top-class players and the players that want to be here. They want to be here in the winter, when it is snowing and when it is cold, not just during the summer. Players who really have the passion and desire to fight for us. But they also need the quality to make a difference. It has to be players who will perform. Not just bringing in names."
Bill Gall
151
Posted 02/10/2021 at 16:59:54
Cant understand the argument the chance was a clinical opportunity and this was T.Davies not Sergio Aguero. Whats the saying never criticize a man until you have walked a mile in his shoes.
Dave Williams
152
Posted 02/10/2021 at 17:00:55
Toms decision betrayed a lack of confidence- I wonder why that is??? He gets too much criticism and if some fans had half a brain they would give the lad some encouragement as that might actually help him become a better player and benefit us!
Great performance, could Gray be our solution to the number 10 role? Well done Rafa- what a manager!!
Alan McGuffog
153
Posted 02/10/2021 at 17:01:10
And then you can call him all the names under the sun cos you've got his boots and he's a mile away.
Martin Mason
154
Posted 02/10/2021 at 17:01:18
Is De Gea a very good goal keeper with a very high probability of saving an angled shot by Davies or is Tom the type of player that you'd expect to beat de Gea from that angle? Tom is probably, at best, toward the bottom in our list of players you'd trust to score from a shot like that. I'd go for De Gea to save the shot every time in which case Tom's decision to cross was correct. The fault then was Mina's but no criticism of him from me. Mina was never clearly offside to Tom as he made the pass. The decision was correct but far from clear. #The in play decision was goal.
Kevin Dyer
155
Posted 02/10/2021 at 17:04:01
Outstanding performance, every one of them played well (OK, maybe not Rondon, but he did put a shift in).
Given what United could field, their depth options and our injuries I was just hopping for a competitive effort, even a losing one. Was hoping not to get blown away which would have dissipated a lot of good feeling.
Now, I feel really encouraged going forward, the team was set up perfectly and could have won the game. Don't want to hammer Rondon, who's doing his best and trying to play himself not only into shape but also sharpness (he's now in shape, but still lacking the latter quality) but swap DCL or Richy for him today and we win this. Had one great and two good chances, but both efforts blocked as he's taking an age to get the shot off.
Gordon - fantastic from the lad, now looking a premier league player. Noticeably stronger. As Ajay above mentions, after Digne loses a 50-50 Gordon hares back 30 yards to put in a great tackle. Played his heart out. I would personally use him on the left ahead of Iwobi, when needed.
Doucoure, Gray and Andros must be three contenders for player of the year, allowing that we're only 7 games in! All three were amazing today. Though Allan and Duke bossed that midfield.
Best effort so far from Godfrey at right back. Still caught out a couple times but looked quicker and stronger, so optimistic he'll be back to normal after the international break. I think Benitez sees him as a right back as much as a centre half.
Two international breaks in and the team is very much reflecting the manager's persona and long may that last.
Graham Mockford
156
Posted 02/10/2021 at 17:05:27
A bit of a low bar I know but Rondon had his best game. He's clearly not match fit which if you lack pace in the first instance is not a great recipe.
Still may end up being a dud signing but he at least occupied the two centre halves on occasions.
John Pickles
157
Posted 02/10/2021 at 17:05:48
Who needs Hibbo, if Tom shoots, we riot!
Mark Ryan
158
Posted 02/10/2021 at 17:06:55
Ancellotti would have blamed a loss of key players and we'd have lost that before entering the pitch. Well done to all the players, Mina and Davies included. Well done to our coaching staff in particular Rafa Benitez. He's got me believing that we are moving forwards finally. Thanks
Brent Stephens
159
Posted 02/10/2021 at 17:07:30
I don't blame Tom passing; the keeper was advancing on him; and no way as someone suggested did he have time to check if Mina was offside.
DCL was in the box just behind me and was rocking when that second went in.
And re the heading - Man Utd accept a draw is more like it.
Mike Gaynes
160
Posted 02/10/2021 at 17:09:45
Rob #149, strongly disagree. Mina may have been "clearly ahead" of Tom, but he was not clearly ahead of the ball, which is the determining factor on the offside call. I just watched the replay again. Mina's right foot extends about 18 inches ahead of the ball. If the pass is hit a fraction of a second earlier, before he fully extends his next stride, he's onside and we win the game. That's how thin the margin was.
To my mind, not a "poor decision" by either player. Just bad luck for both guys... neither of whom has been in that position in longer than they, or any of us, can remember.
Brent #159, you're certainly hanging out with some good mates at the game!!!
Mike Price
161
Posted 02/10/2021 at 17:10:13
Thank Real Madrid for taking CA off our hands…unbelievable piece of good fortune, that's finally put us on the right track.
And finally, well done to Moshiri for holding his nerve and appointing Rafa.
Neil Cremin
162
Posted 02/10/2021 at 17:20:59
"Benitez was to pull the effervescent Gordon for the mundane journeyman in Tom Davies." Did Tom not come through the Academy
What is it with Michael Kendrick that he feels that he must insult every Everton player. I wouldn't mind if he wrote well and it was a good read but the piece is full of mistakes. No wonder TW is full of vile or is that the purpose of the article to encourage it.
Can we please have a better quality post match review. NSNO
Eddie Dunn
163
Posted 02/10/2021 at 17:23:02
On te Davies -Mina conundrum. Those of you who haven't stood in a penalty area for a while...the goal is fucking massive and Tom had loads to aim at. A pro- footballer who practices every day should pop it in, no problem.
On BT Jenas defended Tom saying the mindset of a midfielder is to put decent weighted passes here and there...however when pressed both Jenas and Ferdinand said Davies should have shot.
I know draw is a good result but if he had scored, imagine how we would feel, and how the other teams and media would be forced to look at us differently.
Andrew Keatley
164
Posted 02/10/2021 at 17:23:54
Mike (144) - The reason Keane made a mistake in terms of the Cavani header is that McTominay moves unmarked into the space in front of him, so Keane's in two minds as to whether to move forward to McTominay or stay with Cavani - and the quality of the cross from Fred leaves Keane in no-man's land. If Fred plays McTominay in then he's in five yards of space, left of the penalty spot and one-on-one with Pickford, so Keane has sniffed that danger when somebody else (I think a combination of Allan, Gray and Gordon all decide not to mark him) has not tracked their own man. So I don't think Keane really needs his pants pulled down there.
As for Davies, it's his first touch that pushes him a touch wider than he would want to be to shoot - and makes the pass seem a better option. If his first touch takes him directly towards goal, rather than slightly off to the right, then I think Davies shoots. It's very small margins though - the touch, the decision to pass, the offside - and not coming away with the winner from such a brilliant position (however luckily after Godfrey's initially poor touch) feels like a huge missed opportunity. But an away point at OT is good, and the manner of the performance was excellent.
Christy Ring
165
Posted 02/10/2021 at 17:25:21
Watched the Townsend interview, and he said Tom made the correct decision to pass the ball to Mina. Also did you see Fernandes after the game refusing to shake hands and Mina pushes him away, twat.
Martin Mason
166
Posted 02/10/2021 at 17:27:10
A few things surprised me today McTominay was poor and United fans hate him; Mason Greenwood was pretty non-existent and yet I really rated him and where was Rashford? United are in a spot of bother yet they would be crazy to sack Ole now. I believe that we wasted vast amounts of time and money sacking Bobby Brown shoes.
Graham Mockford
167
Posted 02/10/2021 at 17:29:16
Andrew 164
Good spot, it was Mina who had gone missing at that pointing leaving Keane to cover two players.
However generally both of them had decent games.
Rob Dolby
168
Posted 02/10/2021 at 17:30:43
Mike 160.
Each to their own. Frustrating that we had wasted such a great chance to win the game. No more so than both players in question.
For all those having a go at last season's manager. There is no arguing that he delivered our best away season since our 87 championship winning team. No mean achievement.
I just hope Benitez gets backed in the transfer market otherwise we will be in the same position in 18 months time.

James Flynn
169
Posted 02/10/2021 at 17:31:26
Of course Townsend said that. What else would you expect? A senior player sticking up for his teammate.
Now, I was one yelling, "shoooooot!" at my TV screen, but a cross was an option. Tom took it. Mina was 6 inches offside and "Oh well". We had other chances to score, not just that one.
Hope we have everyone healthy when ManU comes to Goodison. Run their midfield into the ground.
David Pearl
170
Posted 02/10/2021 at 17:32:04
Eddie, exactly. How is it even being debated on here? The best time to shoot is as early as possible. (See our first goal). Will l hold it against him? No l won't. Every last one of them put in the effort we all want and expect and if we can keep that going we will finish closer this season. One happy blue.
Hugh Jenkins
171
Posted 02/10/2021 at 17:33:14
Eddie (163). Sadly, I don't think the media and other teams will look on us any differently until we have established a reputation for getting results similar to, and better than today's, on a consistent basis, over a period of time.
We need to be recognised as part of the elite, once more, for that to happen and for it to be a shock for us to finish outside the top 4 rather than it being a shock for us to be contenders.
Hopefully, after several false starts under Moshri, by default, Rafa Benitez is the man to take us there and he has, this season, already started by laying a good foundation, with a very depleted squad.
Long may it contunue.

Phil (Kelsall) Roberts
172
Posted 02/10/2021 at 17:43:15
I can see it now - I am in space, I have the goal to shoot at but if I miss, the report in ToffeeWeb will be Useless Davies missed when it would have been easier to score and shows he is nothing more than a mundane journeyman. I'll pass it to a colleague who can just roll it into the empty net like Arsenal used to do when Wenger was a magician.
Stuff - he was offside. Ah well, at least when I read ToffeeWeb tonight I wont be slated for missing an open goal. I may have scored but I can't take the risk of missing and getting more abuse from our fans
Jerome Shields
173
Posted 02/10/2021 at 17:43:52
That's Townsend's second candidate for Goal of the Season.

Brent Stephens
174
Posted 02/10/2021 at 17:44:02
Mike #160
I must stress that while Calvert-Lewin "was in the box behind me", that doesn't mean to say I was in the same box as him!! Or even any box! I was right next to the Man Utd fans. Oh, the delight when we scored!
Michael Williams
175
Posted 02/10/2021 at 17:44:37
Neil 162 Agree with you regarding "the effervescent Gordon." Gordon was tired. I saw it and even the NBC announcers said he was done right before Davies got up to go in. Rafa made the correct decision. Gordon did have his first good EPL game and hopefully he keeps improving.
Jim Lloyd
176
Posted 02/10/2021 at 17:47:03
Good point Michael (152) and thanks for quoting the piece from the Guardian about Rafa's philosophy regarding transfers. Excellent; and he's clear about what his priorities are when bringing in a player. We'll only get a player in during the January window if he will fit the fotofit above. and if we've got any dosh of course.
About Rondon, I think that after the transformation that has taken place with our squad, with every player not only showing a willingness to pull his tripes out for the 90 minutes. Gray and Townsend, for roughly 1and half million, playing so well that they are scaring the pants off opposing teams players now and will do for the rest of the season Doucouré and Allan really forming a top partnership. The whole team fights for each other and all this is due to Rafa Benitez in less than 3 months.
Now Rondon was brought in by Rafa and I will not question his decision, based on a few games. Rondon is a fighter and will pull his tripes out for the team, as much as anyone else. I don't know how long it's been, before he come to us, that he played a premiership game or even trained regularly. I don't think he was expecting to be in the first team for months, or maybe as a sub now and then. Well, he's been chucked in with our two top strikers out, Ellis Simms and Dobbin have hardly any experience of first-team action and Simms is still just coming back from a fairly long injury.
So Rondon is slow but I don't think he's a player who will hide and the only way he can get anything like match fit, is to play.
I don't see our manager bringing him in if he didn't think Rondon could help the squad but at the moment he's doing the job as our centre-forward in a new team, he's not match-fit and his reactions need speeding up.
Well, we're playing teams like Man Utd and he tried his best, so that'll do for me, and much more importantly, the manager until we have a better alternative. He's part of our squad, so that's it. He pulls a blue shirt on and does his best. Maybe not as top quality as we'd lke but he'll do his best and that's fine by me.

Kieran Kinsella
177
Posted 02/10/2021 at 17:47:08
Brent
DCL being at the game is kinda weird. Shouldn't he be posting on Instagram from his jet and answering fan questions with "oh did we have a game today?"
Kim Vivian
178
Posted 02/10/2021 at 17:47:36
I said on the forum that it is a shame that Mina's goal did not fall for Rondon because he would have been sufficiently far behind the play to be onside when Tom passed, and we would have won.
Brian Williams
179
Posted 02/10/2021 at 17:49:47
Jerome#173.
What ARE you on about?
Jim Lloyd
180
Posted 02/10/2021 at 17:50:17
Good one Kieran!
George Cumiskey
181
Posted 02/10/2021 at 17:51:10
It's an even more remarkable performance as we played more or less with ten men as Rondon contributed absolutely nothing !
Jerome Shields
182
Posted 02/10/2021 at 17:52:47
Christy#165
It did occur to me before the game that Mina would breathe down Fernandes's neck at every opportunity. When I seen Fernandes not shake Mina's hand, I knew he had both on and off the ball.
Andrew#164
Good analysis.
Martin Mason
183
Posted 02/10/2021 at 17:53:46
The responsibility to be onside when the cross came across was 100% Mina's. when Tom passed Mina was onside. Tom's pass was superb as it left De Gea for dead and a good striker would have varied his run and stayed onside, the defender was never going to get it. In reality blame is a ridiculous game to play. A defender and a midfielder nearly scored a wonderful goal, they are to be praised not blamed.
John Boon
184
Posted 02/10/2021 at 17:54:01
No need to add any more. Just to support all the positive comments that Everton rightly deserved. This depleted team is managed so much better than anything we had last season. Despite all the controversy of Benitez's appointment he appears to be making very positive strides in providing supporters with good football. The effort is self evident.
Martin Mason
186
Posted 02/10/2021 at 17:56:42
So glad that Gray is justifying his transfer fee. Must be some pressure.
Brent Stephens
187
Posted 02/10/2021 at 17:59:27
John #185 "No need to add any more."
You just did, John!
Martin Mason
188
Posted 02/10/2021 at 18:00:10
Brian@179 I believe that he mean second "Goal of the Season", rather than second goal of the season.
Jay Wood
[BRZ]
189
Posted 02/10/2021 at 18:02:43
Those saying Tom would be slaughtered either way are correct, if he shot and it was saved or he missed, rather than passing to Mina as he did.
That said, it is a perfectly legitmately observation to make that he had both the time and space and A LOT of the goal to shoot at. We have players, some of them on the pitch today, who in the same situation would have only one thing on their mind in that situation: to score. Passing to Mina as Tom did would not have been considered.
Equally, those saying that Mina should have held his run or that Tom should have noted Yerry had moved offside are off with the fairies, enjoying the benefit of endless slow-mo replays.
In real time, in the intensity of a PL game, you don't have the time to compute that such is the fast pace of the game.
So personally, I won't be 'blaming' either Tom or Yerry. We should have scored from that situation and thus won the game.
We didn't. Small margins, and all that. But I'm more uplifted by the performance in adversity, rather than downcast that we didn't get all three points. Rafa, the players, collectively and individually, are all doing very well.
Encouraging.
Graham Mockford
190
Posted 02/10/2021 at 18:04:23
Brent
I was in the Camelot box c 2003. The Moyes game where we played really well but they scored three late goals to beat us 3-0
Every time they scored, those close enough in the Stretford End would turn around to watch the replay on the tv we had in our box.
When the third went in I stood up and switched the tv off. Cue about 500 Mancs singing 'You Scouse bastard'. Very proud moment./p>
Brian Williams
191
Posted 02/10/2021 at 18:05:58
Martin#188.
Ah, now it makes sense.
Thanks mate.
Phil (Kelsall) Roberts
192
Posted 02/10/2021 at 18:10:20
Jamie - you didn't play hockey. You played Ice Hockey.
Hockey is played on grass, where you can only use on side of the stick and can't kick the ball. The skill level in Ice Hockey is just being able to stay upright, that's all.
😛
😁😁

Peter Neilson
193
Posted 02/10/2021 at 18:11:10
Good performance, any of half a dozen could have been MOTM. McTominay acted like a prick when they scored. General chat from United fans wandering back after the game was Ole is out of his depth and no tactical nous. Well done to the team and Benitez, 3 points wouldn't have been underserved.
Brent Stephens
194
Posted 02/10/2021 at 18:11:12
Graham #190 "When the third went in I stood up and switched the tv off. Cue about 500 Mancs singing 'You Scouse bastard'".
They were right, of course, Graham!

Martin Mason
195
Posted 02/10/2021 at 18:12:02
Correct in most aspects Jay@189 apart from para 3. It is only by watching the replays that sensible comments and opinions can be raised otherwise they are unsubstantiated opinion... Para 3 adds no value to the discussion so why waste your breath writing it?
It is for you only to show that such opinions were wrong rather than classing those who hold them as "off with the fairies". That para was a genuine example of what off with the fairies really is. You have no qualification or justification to level accusations like that.
Mike Gaynes
196
Posted 02/10/2021 at 18:13:09
Andrew #164, both good points. It was kind of a no-win situation for Keane. And he did have a superb game otherwise.
Eddie #163... "Those of you who haven't stood in a penalty area for a while"...that would describe Davies, who hasn't cracked a good shot on goal in probably a year and hasn't scored in nearly two. I think expecting him to be a calm and confident striker in such a situation is a bit unrealistic. And when he has a wide-open Mina to his left, I don't think there's any chance he'll choose differently.
Barry Rathbone
197
Posted 02/10/2021 at 18:13:38
Martin Mason 183
That's a good point the ball Tom played was excellent - perfect weight splitting the goalie and centre half leaving them in no mans land just a pity big yerry strayed offside
Graham Mockford
198
Posted 02/10/2021 at 18:14:32
Brent 194
Badge of honour mate
Martin Mason
199
Posted 02/10/2021 at 18:15:20
Brian @191, It got me too mate.
Jim Lloyd
200
Posted 02/10/2021 at 18:18:28
Good post, Jay.
Martin Mason
201
Posted 02/10/2021 at 18:18:56
Thank you, Barry.
George Cumiskey
202
Posted 02/10/2021 at 18:20:22
There's no such thing as positive or negative comments, you just comment on what you have seen on the pitch – it's factual to you, whether others agree or disagree.
Martin Mason
203
Posted 02/10/2021 at 18:25:49
George @202,
No, it isn't factual, it's your opinion – not fact. Why do people struggle so much with this distinction between quantifiable fact and personal opinion? Perhaps it is the major weakness in human psychology? People really believe that their often grossly biased opinion is fact. I completely disagree too, comments can be negative or positive.
Roger Helm
204
Posted 02/10/2021 at 18:25:50
I agree Tom's pass was perfect, he didn't know Yerry was offside.
I think it was a fantastic performance and a great result considering the wealth of talent United have available, and our injury problems.
Especially encouraging is our refusal to accept a losing score line.
John Raftery
205
Posted 02/10/2021 at 18:31:25
I disagree with the negative comments in the report about the 'lumpen Rondon'. He did an effective job today as the target man, kept the United centre backs occupied, allowing Gray, Gordon, Townsend and Doucouré to break forward into space.
At QPR the team lost its shape after he was withdrawn. Today the team kept its shape, becoming stronger the longer the game progressed. Rondon played his part in helping to make that happen.
I am very happy we have 14 points from the opening seven games in spite of the injury problems. The team looks very well drilled.
Mark Smith
206
Posted 02/10/2021 at 18:31:37
I hardly ever post but I have to say after a great draw at Old Trafford witnessed by my emotional daughter the comment by the always downbeat Kenrick suggests he should get another job. Michael you are already known in my house as the Captain of the Dignitas 5 Aside Team. Boy you are depressing.
John McFarlane Snr
207
Posted 02/10/2021 at 18:34:37
Hi all, I'm with Jay Wood [BRZ] when he suggests that the intensity of the Premier League plays a part in forcing players to make instinctive choices.
I suppose like most fans, my initial reaction to the disallowed goal was one of disappointment but, on reflection, I decided that it was such a fine margin and the human element had to be considered.
I also thought that every player gave his all for the cause, and if the score had remained 1-0 to Manchester United, I would have been just as proud of the effort that the players put into the game.
Jim Lloyd
208
Posted 02/10/2021 at 18:38:07
Well, Martin, I hate to disagree with you, but in my humble opinion, Jay is saying that in the heat of the game; with Tom not being a natural goal scorer and Yerri not being a natural forward, neither should be criticised for not being goal hangers.

Jim Lloyd
209
Posted 02/10/2021 at 18:40:32
Well said, John.
Martin Mason
210
Posted 02/10/2021 at 18:42:04
Jim @208,
I with you wholeheartedly and I agreed with the post only para 3. Please read it and give your views on whether opinions of intelligent fans are classified as "Off with the fairies?"
I'd apologise personally.
Graham Mockford
211
Posted 02/10/2021 at 18:49:20
I'm amazed at the misunderstanding of the offside rule. When the pass was played, Mina was offside, he shouldn't have been but he was. Tom has a view of that so to call it a perfect pass is just errant nonsense.
A top quality midfielder gets it out of his feet, takes a yard or two forward a bit like Andros did.
Peter Dodds
212
Posted 02/10/2021 at 18:51:04
What a great game, thoroughly enjoyed that. Everyone's working so hard for each other, it's great to see. The best moment of the game for me, apart from the goal, was Townsend helping out Godfrey down the right. As the ball was put out he first clapped Godfrey, then patted the opposition player, then geed everyone up, all with a big smile on his face - it was brilliant! The guy is so positive he brings a smile to my face.
Pleased for Anthony Gordon, some good runs and passes, especially a slide-rule pass down the wing to Gray I think it was. He did give the ball away cheaply a few times, but working out when to pass and when to hold on to it is all part of his development.
Gray for Saka in the England team, anyone?
Jim Lloyd
213
Posted 02/10/2021 at 18:52:28
Martin, you mean, I think the "off with the fairies" bit. I think (only a guess of course) that emotions play a part of instant reactions and also after seeing the move a number of times on telly. But that would only tell whether Yerri was offside after that abysmal telly ref system came into play.
To say that either was at fault is I think, the point that Jay is driving at. In his opinion, the ones who are off with the fairies, are those who believe either should or could have acted differently. Not something to apologise for, in my opinion.
Tony Everan
214
Posted 02/10/2021 at 18:54:20
Still buzzing about our performance, to me it was about the organisation unwillingness to yield to Man Utd. Not once did I see any player look like they had an inferiority complex, they looked confident.
There is a visible shift in the mindset going on, down to the hard work and organisational skills of Benitez and his staff. Best of all this leaves me with an impression that we are going to find some consistency over the season, our good performances are going to be repeatable.
With regards Tom, he's a midfielder, the immediate instinct is to pass, a striker like Aguero would burst the net. It was a good pass too, just a bit unlucky that Yerry was a bit too far advanced, shit happens.
Rob Dolby
215
Posted 02/10/2021 at 18:54:47
Martin 183.
If Mina was onside when Tom passed the ball, it would have been a goal.
Fact is quality wins games and, in that situation, we lacked it.
Eddie Dunn
216
Posted 02/10/2021 at 18:55:20
Martin @183,
"... when Tom passed, Mina was onside. Tom's pass was superb as it left De Gea for dead and a good striker would have varied his run and stayed onside."
Perhaps you have replayed the move on your telly or computer. If so, then fair enough. However, as I looked at it on BT at the time, Tom seemed to dither and thus Mina strode into the offside position, which I think Tom should have noticed. Perhaps the reason he didn't notice was that he had taken a touch and was now seeing the goalie in his way?
By the way, I am one of Tom's backers on here (not quite as big as Darren but I usually have Tom's back). I shall take a look at MotD in the morning (as by 10:30 tonight, I shall be pissed).
A cracking result, and listening to 606, it is depressing hearing how it is all about Man Utd, and hardly a mention for the tremendous contribution of our whole team and staff. COYBs!
Graham Mockford
217
Posted 02/10/2021 at 19:00:01
Martin 183
If Mina was onside when Tom passed, it would have been a goal. Jeez, you actually put that to print.
Martin Mason
218
Posted 02/10/2021 at 19:19:18
Sorry, Mina should have been onside when Tom crossed. His fault entirely in the circumstances. Surely there is no discussion on this?
Bobby Mallon
220
Posted 02/10/2021 at 19:23:28
I know there are a lot on here who think Tom Davies made the correct decision, but he didn't.
Martin Mason, you have written @183 when Tom made the pass, Mina was onside. For fuck's sake, why was it not given, then?
I'll tell you why: because it was offside.
Tom made the wrong decision; he should have shot and would have scored. If that chance had fallen to Doucouré, it's a goal.
Now I'm not saying Tom played badly as I did not watch the game... but, in that moment, he made the wrong choice. Simple.
Graham Mockford
221
Posted 02/10/2021 at 19:27:51
Martin,
Yes, Mina should have stayed onside. But Tom can see who he's passing too, and he's offside. Therefore it's the wrong decision.
So yes, there is a discussion. It's a simple one, both players are at fault. Mina shouldn't be running offside, Tom shouldn't be passing to him. It's not rocket science.
Colin Glassar
222
Posted 02/10/2021 at 19:27:59
I didn't see the match so I don't know what you're all on about but it sounded like a cracker and the question has to be asked; is Rafa the real deal?
Tony Everan
223
Posted 02/10/2021 at 19:30:24
Off topic. Have a read of this, you'll enjoy it. Top quality from our Speedo Mick, what a decent and compassionate response.
https://www.bbc.co.uk/news/uk-england-cornwall-58775928
Jim Lloyd
224
Posted 02/10/2021 at 19:30:49
Martin, why are you so keen to find, as you put it, fault. As far as I see Everton, they are playing with a determination not to be beat, a joy in playing for the club and each other and look like we could expect at the very least, a fighting performance from every player. To be concentrating on finding fault with either player, or anyone else in our team, rather than concentrating on what the team are achieving is, to me, nit picking.
The supporters were magnificent today and concentrated on lifting the team, they were excellent. The team played great, every one of them. We had a moral victory, if not an actual one. It was the Mancs who were leaving the stadium in their thousands before the end of the game. That will have transferred itself to their players.
As far as Yerri is concerned, his fault was enthusiasm for getting us a goal and strayed offside a bit. I'd rather that more often, as he'll then get it right more.
Good day for us Blues!
Dicky Bell
225
Posted 02/10/2021 at 19:35:04
First time on here and enjoying every fan's opinion.
We were very positive on the counter-attacks today. Doucouré is a different beast, Gray a steal, and Townsend – who I've always rated – proving he's the player that showed so much potential but needed that manager to get the finished article out of him.
The Tom Davies 'pass or shoot' debate is a no-brainer for me. One-on-one, you don't pass... a more confident player like Gray or Townsend would have finished it.
David Pearl
226
Posted 02/10/2021 at 19:36:20
Colin, l'd rather not even think about that question and just support the team.
Anyway, as entertaining as this thread is... Jane Seymour is on Live and Let Die. So...
Julian Exshaw
227
Posted 02/10/2021 at 19:36:58
This was one of the most spirited performances I have seen from an Everton side for a long time, especially given the weakened squad. Occasional errors notwithstanding, this was excellent.
A lot of praise will rightly be given to Gray and Townsend but I reckon Michael Keane deserves some too. He looked very secure today. This is impressive stuff from Benitez and his players. Long may it continue.
Jim Lloyd
228
Posted 02/10/2021 at 19:41:07
Colin, I think Rafa is. But I suppose only at the season's end will we find out. I don't mean will we be in the top six or not. I mean by the style and manner of our football. We could have won today and on another day, maybe at Villa for example, we won't; but I think he is instilling in every player to give their all for the team, every match we play.
For too long, we've paid many millions of pounds for players who, quite often, look as though they can't be arsed, or look interested sometimes but not others. I think he'll do his best to sell, give away, send out on loan, anyone with that attitude and replace them with honest players who'll pull their tripes out.
I just have liked to see him here instead of Koeman; but we are where we are. I think it's a good start and personally, I'd like to see him here as long as he wants.
Don Alexander
229
Posted 02/10/2021 at 19:44:31
I watched and enjoyed the match but on the question of the "lost winning goal" I have to say I was totally gobsmacked when Davies did what he did. I'll be surprised if he gets another such golden chance to score this season.
Blaming Mina is in my opinion a very strange take on what we saw.
Despite his professional comments in his press conference I expect Benitez to be livid at squandering two points in such a soft-arse way, and I expect de Gea and Ollie to be delighted that there was no attempt at a shot.
Robert Tressell
230
Posted 02/10/2021 at 19:45:08
Very bad luck not to get the winner. I think most non-Blues supporters (with less emotional investment in the outcome) would think that's a cute pass from Davies. Very Man City. Give someone a tap in instead of just blasting it.
The flip side, as I heard Lineker say in the Euros, is if you get a chance to score, you shoot. It either goes right or wrong. If you pass, then both the pass and the shot can go wrong.
But the point is, in either scenario, it can go wrong. Davies would have needed to hit a hell of a shot to score. More likely is a miss. As it happens, he got his pass right. So I don't think he got it wrong, I think he got it right. Just unfortunate that Yerry couldn't check his run.
Man City miss plenty of those too. They just keep going and score plenty too.
Paul Birmingham
231
Posted 02/10/2021 at 19:47:01
Great result and performance from the whole squad.
The improvement in the belief, attitude and commitment and team play, is improving each game.
Great performance, proud Blue Nose, and the ale is being sunk in copious amounts tonight, all enjoy this weekend.
"Whats Our Name?"
Graham Mockford
232
Posted 02/10/2021 at 19:49:28
Michael Keane is an interesting one. He gets a bit of stick on here, he obviously has his limitations but he's in his fifth season for us and he's literally been picked for every game he's been fit for.
He's a no-nonsense centre-half in the old school mould, he lacks some pace on the turn but facing goal, he's a proper defender. He'd always be the first centre-half on my list out of what we currently have.
Jim Jennings
233
Posted 02/10/2021 at 20:02:15
Don #229,
Do you think that, with better coaching at Finch Farm, Tom Davies would have taken the shot on himself?
Stan Schofield
235
Posted 02/10/2021 at 20:14:18
To me, that was a very good performance by the whole team, gelling as a unit. Difficult to find fault with anyone. Disappointed we didn't come away with three points, but that speaks volumes for the way we played. So far, Benitez certainly seems to have us well organised, in a way that has minimised the impact of injuries. So far so good, and long may it continue.
Eddie Dunn
236
Posted 02/10/2021 at 20:16:56
Robert @230,
In my opinion, it's not a difficult shot to take on. I said above that goals are very big, Townsend's shot on the run was much more difficult.
Tom decided in the blink of an eye to pass to a guy who was ahead of him and his pass, a clear mistake. I think Tom bottled it. He is low on confidence. Townsend is high as a kite and full of it now.
I hope Andros talks to Tom and gives him a bit of a boost. Davies is capable of guiding that ball past De Gea, of that there is no doubt.
We have seen Rafa give Doucouré the chance to express himself – and what a player he looks... let's hope that Tom can also get his mojo back, and next time, he pops it in the onion bag.
if this had happened at the end of a 4-0 thumping, we wouldn't be talking about it. It is relevant because we could have beaten them at OT and gone top of the pile.
Neil Copeland
237
Posted 02/10/2021 at 20:18:05
Rafa Benitez, Rafa Benitez.
He can stay for as long as he wants, as far as I am concerned. The belief and fight that we have craved for so long is returning in spades. Rafa is putting down the foundation for something special, just need to sort out our finances now.
Tony Abrahams
238
Posted 02/10/2021 at 20:24:30
Interesting question that, Jim. If Mina stays onside, then everyone will be saying how clever Tom Davies was. Mina strayed offside, leaving many people questioning wether Tom Davies should have had a little bit more composure and a little bit more vision.
I personally think Davies did everything right until he executed the pass but, by then, I was thinking he should have changed the angle. But I'd put it down to confidence rather than coaching, although this new manager is giving me confidence, because his mantra is that it's all about the team.
Graham Mockford
239
Posted 02/10/2021 at 20:26:12
Let's face it, a starting line-up of an 11 picked from the following 12 gives anyone a game:
Pickford Coleman Gordon Mina Keane Digne Townsend Doucouré Allan Gray Richarlison Calvert-Lewin
The problem is going to be the strength of the squad.
Jamie Crowley
240
Posted 02/10/2021 at 20:32:31
Phil @ 192 - Good, very good. Staying upright isn't the issue in "ice" hockey. Stick handling around dudes twice your size while keeping the puck on your stick, without losing teeth, is challenging enough.
A word for Rafa - my first since being unconsollably upset when he was hired. I have to give the guy credit.
When he came here, he said (paraphrase) that he knew the city, and knew what the Everton fans wanted. I tread cautiously here, but from the outside looking in I'd say he's delivered on that sentiment.
This is a team. They've worked their nuts off this season. They've played for one another with intent, hustle, and purpose. We have an identity. We have pace out wide that we've used to great effect on the counter.
This is a team full of effort, and a team I really can get behind. There's very, very little not to like, even factoring in player shortcomings.
Rafa's done a really good job, and today on the road at Old Trafford, when I thought for sure the easy start to the season would come crashing down and we'd be exposed, our players redoubled their efforts, were set up tactically well, and gave it their all.
From the outside looking in, that's an "Everton" team. I love it, and long may it continue. In some way I'm really proud of this squad.
And Rafa is to be credited for that, so well done you Overweight Adopted Scouser Dinner Server fella!
Don Alexander
241
Posted 02/10/2021 at 20:40:44
Jim (#233),
I expect you're asking me a naughty leading question but, yes, I'm bemused that some professional players in any position, including 'keepers, seem unable to take a meaningful shot.
I realise the awesome ability of the likes of Lorimer can't be coached but shooting hard and accurately is definitely coachable so, yes, I do ponder just what they do at Finch Farm that leaves no time for the basics to be mastered.
Hell, the lad missed a crucial penalty that sealed our fate at QPR so I'd have expected he himself to have had the gumption to practice and practice ever since, but apparently not given his decision today.
Benitez has stressed that he wants goals from as many players as possible and this season I've enjoyed players at last making an effort from outside the area, even if they miss. I just think Davies needs to find some belief in himself, still.
Mike Gaynes
242
Posted 02/10/2021 at 20:44:03
Mark #206, to do small justice to Michael K (very small justice), this isn't a "job" -- this site is half his, and he derives no income from it. And he does ably represent the 5% or so of relentlessly downbeat TW members.
That said, enjoy the contrast of Lyndon's headline -- Depleted Everton match United and earn hugely deserved draw.
Amen, brother.
Brent Stephens
243
Posted 02/10/2021 at 20:44:10
There was also a very generous round of applause before the game today, in memory of Roger Hunt, from both sets of fans. Class.
Dave Abrahams
244
Posted 02/10/2021 at 20:46:27
John (205),
Well said about Rondon, the two Man Utd centre-backs were wary of him throughout the game and hardly ventured forward. It's very obvious at the moment that Rondon is nowhere 100% fit but is forced to play most of the game because there is no-one else fit at the moment.
I'm sure he will play a good part in the near future, doing what he was bought for, coming on to relieve Richarlison and Calvert-Lewin after 60-70 minutes or so as a substitute or playing for the 90 minutes when he is fitter or when the other two are injured or in need of a rest.
I understand the frustration over him but I think he will change fans' minds, like some are changing over Benitez.
Jim Lloyd
245
Posted 02/10/2021 at 20:48:35
You're spot on Graham. As long as they're all fit, we can give any team a game. Let's see what the January transfers bring but I think that whatever happens this year, we won't be rushing into buying anyone in January. Benitez will concentrate on reinforcing the squad.
I think it will be planned much better this time and we'll be building for the future, not just to see if we can scrape into the top six this season.
Tony Abrahams
246
Posted 02/10/2021 at 20:48:38
One thing Benitez has definitely proved, Jamie, is that he has 100% belief in himself, and that is hopefully going to rub off on his squad.
He's also always been very professional when it comes to looking after his squad, and it was interesting to listen to Benitez, who seems very aware of the rigorous nature of the game in this country, and will hopefully use his squad of players accordingly, if and when he can, already talking today about not overloading his players.
Gary Smith
248
Posted 02/10/2021 at 21:09:04
60 Grand minus 60 Grand, Andros Townsend!!!!
What a character (alongside the great man who owns the song) he's proving to be. Determined to show the idiots (me at the time!) who wrote him off as a palace reject just how stupid we were. Keep it up son, another Kevin Campbell legend in the making if you do. 🙏
Pete Jeffries
249
Posted 02/10/2021 at 21:09:15
At the match in the Stretford End they thought the game was deservedly up – no big screen VAR replays there – Tom chickened out to be honest
Terrible anti Scouse chanting but to be fair paradoxically great respectable applause in memory of Roger Hunt.
As for the team, a top-rate performance against a much over-rated Man Utd
Godfrey did play well, some solid tackles despite going AWOL for their goal, Martial's customary one versus us – the crossfield ball should have been cut out first.
Townsend, Gray and Keane were my aces today.
Agree with others the handbags incident showed we are together a team defending the bad tackle on young Gordon.
Overall teamwork and fight bodes well for the future but minus Rondo of course, totally out of his depth.
A typical Benitez game plan and coming from behind in the bias cauldron of OldTrafford to boot showed great character.
Brian Williams
250
Posted 02/10/2021 at 21:19:28
Jerome #247.
Got it mate. 👍
Martin @188 explained too.
Tony Abrahams
251
Posted 02/10/2021 at 21:38:59
We all have different opinions Pete J, and being at the game usually gives a different perspective than watching on the telly.
I honestly thought that Doucouré gave as good a midfield performance as I've witnessed from any Everton midfielder in years. Very strong, very powerful, and he had a great desire to be involved.
I'm glad Michael Keane is getting praise, because being a critic, I definitely think Everton played higher up the pitch at times today, (definitely more so than at Villa) and if we can start doing this on a regular basis, I think the whole team will improve.
Anthony Dove
252
Posted 02/10/2021 at 22:01:08
What the hell was Mina doing up there to get the pass (which shouldn't have been)? Unbelievable and totally brilliant.
Andy Crooks
253
Posted 02/10/2021 at 22:10:11
Martin Mason, you're playing a blinder in this thread. By the way, hoped you would turn up at The Bramley Moore last Saturday (you did say you might). Every time the door opened, I thought, let it be Martin, Darren and Don (like Marvin Gaye, I suppose).
Mike @161, best post on the thread.
Rob Halligan
254
Posted 02/10/2021 at 22:11:19
Haven't seen the offside goal yet, but can someone please tell me it was Tom Davies offside and not Yerry Mina, because if it was Mina offside then he deserves to be shot for getting himself offside.
I don't care what position you play, but every player knows if you're behind the ball from a pass, then you're onside. If Mina had a rush of blood and got caught offside…
Overall though, more than made up with a draw. Can't fault any player, and if Calvert-Lewin and Richarlison were playing, then I firmly believe we would have won that game.
Robert Tressell
255
Posted 02/10/2021 at 22:11:33
Eddie, fair enough. Tom could definitely have set himself up better for the shot as I'm sure Fernandes would have. Sigurdsson too if the chance had fallen to him – because they both work and strike the ball so well.
But the workhorses like McTominay, Fred, Doucouré or Allan? They might well have had a swing and missed. Or they might have made a hash of the pass.
I'm sure Davies will look at it tonight and question why he didn't take the shot on. But I think Benitez will just tell him to keep taking up intelligent positions around the opposition box and keep playing intelligent passes. Like I say, a very Man City sort of pass (and some come off, some don't).
Infuriating not to win when we came so close.
Jim Lloyd
256
Posted 02/10/2021 at 22:23:56
I've just seen a couple of highlights from Everton tv and what a team goal finished off by Townsend. Brilliant, fast skilful and determined. Gtreat stuff lads and Gray nearly had another with some electric running with the ball and shot on the run.
Benitez was asked about the pass by Tom. He wasn't too bothered, at least publicly. I think that Rafa will have a positive word with tom, jut as Robert has said.
If we're going away from Old Trafford, disappointed, the what a difference form Moysie's "glad to escape with our lives" quote. I've just got BBC back on the telly (rain's caused havoc) and I'll be looking forward to seeing us not last on...hopefully!
John McFarlane Snr
257
Posted 02/10/2021 at 22:24:47
Hi Dave [244],
It appears that, despite a heroic performance, there are some who still look for scapegoats. As you have pointed out, Rondon played his part by occupying the Man Utd defence.
The Townsend goal was a thing of beauty but, if Man Utd had scored an exact copy, the finger pointers would have been out in force. It's obviously alright to score such a goal, but a criminal offence to concede one.
I have on occasion, been ridiculed for saying that players are not machines that can be programmed, an opinion that I will always hold. In closing, I will repeat myself by saying it was a heroic performance by the whole team.
Jim Lloyd
258
Posted 02/10/2021 at 22:27:35
Totally agree John. Rondon was as much pulling his tripes out as the rest of the lads. That's the minimum Rafa expects and you right, the lads aren't machines.
Michael Kenrick
259
Posted 02/10/2021 at 22:28:58
Mike Gaynes,
Don't give us much hope today.
The likelihood is that we'll lose.
The real worry is that today shows that the good start to the season was another false start.
If we get anything out of this game it'll be a minor miracle in my view.
Will battle for 1/2 an hour then concede due to defensive lack of concentration, heads will go down and more goals will follow cue Ronaldo media wank fest. 4-0.
I'm expecting a walloping today.
If we get anything from Old Trafford it will be a minor footballing miracle.
We've played no one up and to this point, and reality is about to bitch-smack us in the face. I fear we will get absolutely tonked.
Lambs to the slaughter, I think.
I just don't think we have anything near enough to beat them.
Not sure of your definition but that's what "downbeat" looks like to me. I can't stomach it.
John Raftery
260
Posted 02/10/2021 at 22:30:11
Rob (254),
I have watched it on the BT Sport replay. I am afraid it was Mina who was offside. Tom was well on but Mina was just ahead of the ball when the pass was made. At the game, I must admit I was surprised the assistant hadn't raised his flag but, in fairness to him, it was closer than it looked from our angle in the stand.
David Pearl
261
Posted 02/10/2021 at 22:34:24
Great reading TW after a performance like this and of course us all wanting more and wondering why we didn't get it.
I had to watch from my couch and when our second goal went in l just sat there silently knowing it was off. Unlike the first goal that had me screaming and running in circles around the couch.
Very glad to have Pickford back in goal. Proud of Keane and how he has bounced back from a shaky start to the season. He and Mina have both benefited from playing together, seems like he's injury-free now for a few games, and they are buzzing off each other. Mina is loving it, growing in confidence.
Godfrey and Digne both grew into the game and spirit of the team. Allan and Doucouré are just a revelation, what a partnership this season. I can see Allan playing through the pain sometimes late on and, though we may have to keep an eye on him, we do have Tom Davies... all heart and, with a bit more confidence and experience, an excellent squad player that could possibly offer more as he matures.
Gray, another that shines. How have we needed that speed and tenacity! He had no right to win those challenges but did so and made the first goal, putting Doucouré in, whose quick feet slid a perfect pass into Townsend.
Andros Townsend. He couldn't even get in the Palace team at times last season but just look at his smile, his professionalism, the cool head at the right times. Someone mentioned a parallel to Kevin Campbell and his influence and l'd go along with that. Hats off to him.
Gordon also surprised me, roled up his sleeves but did what he was asked to do going forward and in defence. It was nice and refreshing to see a winger beat his man for speed down the wing and put in a first-time cross without cutting back (drives me crazy).
Rondon had his best game. No matter how much you want to pick on him, me included, he didn't give up. He kept going. Should do better with a couple more opportunities but, as the game went on and when l expected him to really tire, he plugged on, put himself about, caused a right nuisance of himself and actually started to win some headers. There is more to come from Rondon; before this game, l thought he looked spent... not just unfit. All the signings are makings a difference. Having the right attitude innit.
And now a word for Rafa. Optimistic.
Jim Lloyd
262
Posted 02/10/2021 at 22:36:28
ps: I wrote more about Rondon in 176 and in agreement with several other Blues. He worked hard as he could. Let's see what he can do after a few months of getting used to how we play and getting fitter.
Mark Smith
263
Posted 02/10/2021 at 22:37:41
Mike (242),
Good point, but do you think it is beyond the point of reality that Michael could be a bit less pessimistic?
My advice to the 95% is don't get in a lift with this character or we may not see you again!
Onwards and COYB.
Paul Jones
264
Posted 02/10/2021 at 22:42:43
Rob @254
If Calvert Lewin and Richarlison were playing against that same team then we would have won fairly comfortably I think.
But one big advantage of playing without them today was that Solskjaer heavily underestimated our threat and rotated his squad to a fairly disrespectful extent I think. He got his comeuppance in spades.
I watched the game on an NBC stream and I have to say that the commentary was sickeningly sycophantic (Jim Beglin aside, who is the type of bellend you can imagine cheering on anyone who limes up against us). Fanboy level. "CR7" was mentioned a couple of times. How did this ridiculous pseudonym for Ronaldo creep into mainstream? It's the kind of idolatrous adulation that embodies all that's wrong with the Premier league and makes it increasingly difficult to watch for me.
Martin Mason
265
Posted 02/10/2021 at 22:45:35
Andy @253,
Believe me I wanted to come but it's a 500-mile trip for me and I do it on a bike to avoid the jams up and down. At 70, it gets harder to do.
Eddie Dunn
266
Posted 02/10/2021 at 22:46:23
Robert 255... I think Allan and Doucouré would have scored.
John McFarlane @257,
"Hi Dave [244] it appears that despite an heroic performance there are some who still look for scapegoats".
It was a heroic performance but it could have been so much more. And that is why some of us are looking at Davies and Mina in that moment. I am sure, in a parallel Man Utd thread, fans are discussing how Cavani put his header too close to Pickford, and how Ronaldo put his late effort wide, not to mention the line-up and subs. These are the little details that decide games, and make us type our opinions.
It is not to take anything away from the achievement of the team. I am sure Benitez will give great scrutiny to all of our shortcomings on Monday and I expect that professionals like Tom D and Yerry M, will take the advice and move on.
There is nothing wrong with trying to analyse just what could be improved; indeed, Townsend stated after the game that you pop one in the top corner and Raf asks why you didn't pop it in the bottom one, etc, etc. I think old Rafa would be one of us moaning minnies, if he was simply a supporter.

David Pearl
267
Posted 02/10/2021 at 23:03:28
Mark @263
I actually don't mind Michael's posts and sometimes his titles are inspired. I admit that l used to pull my face a bit but he shoots from the hip and his reports are always straight after the emotion of a game. It's more than 5% believe me. Lyndon has a more measured approach but seems to give himself time to digest things.
Andy Crooks, sorry we didn't get longer to chat but l enjoyed meeting you briefly, we crammed a lot into the walk up to Goodison and hope to meet again soon.
Martin, keep on trucking (or biking). I'm too clumsy for a bike.
Don Alexander
268
Posted 02/10/2021 at 23:11:08
Just watched MotD with Beeb subtitles on. Their commentator stated just before we conceded that "Everton are looking strong". This was diminished on screen to "Everton are looking disciplined."
Hmm. Beeb bias against us again? Who'd a-thought it!
And for once I fully agreed with the "expert pundit" Ian Wright (and Danny Murphy) when he/they said of Davies that he "passed the buck" instead of shooting to try to win the game.
Lev Vellene
269
Posted 02/10/2021 at 23:14:43
I don't know if Tom just needs to grow a pair, or not. But he really should be told by his manager to just have a go at it, when he's got a clear-cut chance!
Jerome Shields
270
Posted 02/10/2021 at 23:17:43
Seen MotD. Davies just lacked confidence, wanted to be too sure. But it was obvious Man Utd had just used a "Get out of jail free" card to get a draw.
The key for me was that Lyndon's core of Doucouré, Allan, Gray and Townsend stood up to scrutiny when tested against a Top 6 side. Though Man Utd are clearly exposed as individuals rather than a team. Putting an inexperienced, so-called up-and-coming manager in charge of a team challenging for a Top 6 place is plagued with inconsistency.
Jim Lloyd
271
Posted 02/10/2021 at 23:18:14
I think with Tom, it's all about confidence... or lack of it. I think he worries too much about criticism from us. I think Rafa will encourage Tom to shoot more and don't be too bothered if he doesn't score, that will come.
Jerome Shields
272
Posted 02/10/2021 at 23:23:57
Townsend really is a good finisher.
I know there is a lot of criticism of Rondon and some is justified by his fitness level, but he does have a neatness about him, laying off the ball, positioning, and does get striking opportunities.
Whilst a fit Calvert-Lewin is good, he isn't the neatest in his play nor looks to be a shooting finisher, more a one-touch attacker with an okay positional sense.
Ron Sear
273
Posted 02/10/2021 at 23:25:32
Personally, I think Tom actually has the makings of a really good Everton player; all that is required is Rafa to put an absolute and total ban on players ever looking at ToffeeWeb – it does them no favours at all.
If you are reading some of the comments now, Tom, turn your phone off, listen to your manager, he knows what he is talking about.
Rob Halligan
274
Posted 02/10/2021 at 23:26:47
What's that saying, "Dammed if you do, dammed if you don't", or something like that? If Tom Davies shoots and De Gea saves it, everyone would no doubt be screaming "Why didn't he square it???"
I think he did exactly the right thing by passing to Mina, who made the big mistake of being slightly too far forward and being caught offside. Having just seen the "goal" on MotD, I nearly threw my can of San Miguel through the telly in frustration, as Mina should not have been caught in an offside position.
Aaaaagggggghhhhhh!!!
David Pearl
275
Posted 02/10/2021 at 23:30:30
Ian Wright nailed it. Tom didn't want to take responsibility himself. Shame he didn't have the confidence to shoot and go for the glory.
However, let's be fair. He can learn from that. Next time perhaps he does and grasps the limelight. We all want him to do well, and dress better. I think even us fans are learning. As in how to accept that our manager isn't doing a bad job.
Rob, maybe you had too many San Miguels to see straight. Look at that one-on-one situation. I would not have passed the ball in a million years. Mina was actually onside the first instant that Davies got the ball but his touch took him a step wide. That touch meant the only option was to shoot.
Jerome Shields
276
Posted 02/10/2021 at 23:36:46
Ron #273,
I think you will find that ToffeeWeb is already out of bounds for Everton players.
I thought Fernandes in his MotD interview was trying to blame his team-mate for his poor performance, when in reality he was sat upon by Mina. He does not like playing against Everton now, and will have nightmares.
Paul Hewitt
277
Posted 02/10/2021 at 23:38:47
Davies bottled it. Simple.
Ernie Baywood
278
Posted 02/10/2021 at 23:42:02
I'll jump into the Rondon debate...
I haven't seen anything to suggest he's a good player. But he is at least a forward.
Rondon never left his position and that was vital. We had someone to contest balls forward and he gave them a hard time physically, even if he was never going to chase people down. That gave us shape throughout the game.
The comparison is Godfrey who has done plenty to suggest he's a good player. He worked hard all game. But he's not a right back and it showed on the goal and a few other moments where he got drawn infield towards his natural position.
Rob Halligan
279
Posted 02/10/2021 at 23:46:49
David, fine margins. Mina could have kept himself onside but, in a split second, I can understand taking that one step too many forward. Was it only his foot that was offside?
I doubt very much that Tom Davies thought his touch meant Mina would be offside, and I still maintain he made the right decision to square the pass.
Jerome Shields
280
Posted 02/10/2021 at 23:48:30
Ernie#278
Godfrey was lost for that goal as you say, not keeping shape. Rondon did give Everton shape, the Man Utd centre-halves did not get forward or push up as much as they would like.
Good point, Ernie.
Bob Parrington
281
Posted 02/10/2021 at 23:57:11
Unselfish, split second decision by Tom. Yerry should have known to stay back a tad. Still good to have the Tom & (J)Yerry show.
Great team performance, including Rafa.
Matthew Pritchard
282
Posted 02/10/2021 at 00:00:35
First time ever posting and with all due respect to the " he did the right thing by passing" angle a few are taking no matter how many times I watch it I just don't get it. For me it doesnt look hard for Davies to see Mina is offside and as he takes the first touch which is a decent one theres plenty of room either side of De Gea to stick it in the back of the net. Nothing personal against the lad but come on ffs surely hes got to shoot
Rob Halligan
283
Posted 03/10/2021 at 00:07:23
And there you have it…………..# 277!
David Pearl
284
Posted 02/10/2021 at 00:11:44
Rob, would you have passed that? I guess actually its a bit unfair just to fixate about that chance. After all we had a few others. I was shouting at the screen at Rondon... as in Jelavic would have gotten on the score sheet with his one touch finishes.
Ernie, great point about Rondon and though it could be construed as condescending its actually pretty accurate. We needed him as a presence so to keep our shape. He became more important as the game wore on, even when l thought it was time for him to be replaced.
That damn Benitez keeps proving me wrong.
Rob Halligan
285
Posted 03/10/2021 at 00:18:42
David, I would have given anything just to be in that position to decide whether to pass or not. But if I was, I honestly don't know. Being a goalkeeper I never actually found myself in such a position, but I still think Tom made the right decision to square the ball.
Phil Wood
286
Posted 03/10/2021 at 00:27:37
Brilliant team display against the odds and some people still want to crucify individuals after that performance. Incredible. It takes 11 to pull off a performance like that. Stop demeaning your own players.
We haven't got Lionel Messi but what we have shown is that we have got players who, with the right leadership, can scrap, battle and match the best of them.
Get off their backs and support them. Absolutely chuffed with the lads today. Every one of them.
COYB
Pete Clarke
287
Posted 03/10/2021 at 00:31:57
That was a truly top class performance by our team and manager. I could not believe how well we played and especially how hard the whole team worked so hats off to everyone.
Special mentions to Gray for his unbelievable tenacity to keep that ball and get it through to Doucouré who himself had burst forward and then found that killer pass to Townsend who finished for me what is a goal of the season candidate.
Too many on here are doing what the TV pundits do with the help of their screens and playback technologies and that is analyzing every single part of the game. Let's get back to reality and try to enjoy the game.
For what it's worth, only the top finishers would beat DeGae from that angle.
COYB
Neil Cremin
288
Posted 03/10/2021 at 00:35:14
Mike #259
Your own report was not exactly uplifting. Must have taken Rennies to settle your stomach.😀
Barry Hesketh
289
Posted 03/10/2021 at 00:35:31
It was good to get a point today, but as at Elland Road, I feel the opportunity to take all three was spurned by the team, obviously a different type of performance today than at Leeds, but if that ball falls to a forward-thinking player, such as Gray, Doucoure or Townsend, rather than Tom, the first thought would be to shoot and probably result in a 'goal'. The team and squad do seem more together this season and given the lack of numbers that will prove important for the rest of this year.
I think that Man U are vastly overrated and although Old Trafford is never an easy venue to visit, Villa and West Ham have both won there this season. I also think United and their manager vastly underrated Everton and Fernandes simply disrespected us too, with his we should beat them comments.
I Look forward to United's next visit to Goodison where I hope they pay us as little respect as they did today, and we give them a hiding.
Albert Perkins
290
Posted 03/10/2021 at 00:38:13
Loved the way Andros left de Gea like one of Lewis's with the perfect strike. Then he had the confidence and audacity to celebrate a la CR7. He is really enjoying himself at Everton.
Didn't like the commentators like Ferdinand, AND Ole saying Gray and Doucoure should have been fouled in the lead up to the equalizer. Surely it's time to make a big issue about tactical fouling. I think it's like kicking the ball away stopping players taking a quick free kick or pulling a shirt. It should be a yellow.
Teams like Man City think it's their right to stop counter attacking with a tactical foul and refs seem to agree with them.
Gray is proving some player, not just with his speed and goalscoring but his all round game. Confident and mature. Still can't believe we got him, never mind the give away price.
The equalizer was made from three outstanding bits of skill. Gray took a ball he was never meant get, kept possession and flicked the ball to Doucoure who had the belief in Gray to hold up the ball and receive a pass. Doucoure then wriggled out of a couple of tackles and fed Andros who finished like er..Ronaldo?
Danny O'Neill
291
Posted 02/10/2021 at 00:42:25
Davies should have shot. Mina shouldn't have strayed offside. Fine margins and decision making. That's football.
The dogs gave me the score draw. Listen to the dogs!
Fine performance. Me, the son and my brother, may only have been 3 deep (3 and a half when bolstered by Mrs Danny for the second half), but we dominated the pub in terms of atmosphere. We almost rioted when we equalised!
The shape and organisation was superb. Mr Benitez had his tactics spot on. The concentration was near perfect throughout. Slight lapse on the right hand side for their goal in leaving too much space, but otherwise excellent.
Our goal was fantastic. Subtle clearance from Allan. Outstanding work from Gray to keep possession and find the immense Doucoure and a great finish by Townsend to cap off a classic counter attack from a defensive situation.
The handbags. I was shouting at the time (much to the amusement of the London Mancs) to get in their faces and not be "nice little Everton". Well done boys. Don't take it and give it back. Stand up for yourselves. Great to see.
Doucoure is becoming our best player. Gray is exciting to watch, and, if he was a Mr Brands signing, well done to our Director of Football for what could prove to be an absolute steal. And Townsend. Very underwhelming signing at the time, but it just shows you. Well done to young Gordon as well. If you consider we add Richarlison and Calvert-Lewin back in the mix, this could be an exciting Everton team to watch.
I slept most of the afternoon and evening, hence being awake now. Great performance and it speaks volumes that the only disappointment we have is we didn't snatch all 3 points at Old Trafford.
The only real disappointment I have is that there is no Everton match next weekend.
Anyway, out with the dogs in just under 6 hours. But with a huge smile on my face.
Mike Gaynes
292
Posted 03/10/2021 at 01:25:45
Michael #259...
I DIDN'T WRITE THOSE THINGS.
And I do not appreciate your implication that I did.
Mike Gaynes
293
Posted 03/10/2021 at 01:29:28
Rob #279,
Yes, it was only his foot. His head was behind the ball, so he probably thought he was onside. He certainly didn't look across at the assistant referee after he scored... just wheeled away to celebrate.
Si Cooper
294
Posted 03/10/2021 at 01:37:43
Really good performance from manager and players, so much so I am now happy to refer to him as Rafa!
Best performance from young Anthony, looking like he will properly deliver on his promise. Ben Godfrey back to his best except a couple of lapses and the rest of the defence was solid. All get good marks with Townsend, Doucoure and Gray the pick, imho.
Long way to go but team looks miles more switched on and resilient. Isn't it great to see some outstanding goals again?
Jamie Crowley
295
Posted 03/10/2021 at 01:38:47
Yo Michael @ 259 -
I wrote that "bitch slapping" one!
I own it.
I thought we'd get absolutely tonked.
James C Crowley IV
Incorrect Predictor of Failure
Derek Thomas
296
Posted 03/10/2021 at 01:45:08
We all knew Davies should've shot... deep down
he
knows it too. It's all in the mind, lack of confidence was the key, even the struggling Rondon would've shot and most likely scored.
The Younger Davies, the Davies of, "What the fuck, I'll just run at them and score" versus Man City. There is a good-ish player in there, the player that threaded a ball through for Niasse versus Bournemouth. He and the coaches must work together to get past it – and hope he gets another shot to redeem himself.
Digne and Gordon were a bit iffy early on but grew into it. Overall nobody had a bad game, everybody kept at it.
I said on the Live Forum that Man Utd had a team of stars but we had the star team. We know we had, ever so briefly, 3 points in our grasp. And they know they got out of jail.
Moshiri, even if it was more by good luck than good judgement (who cares) and against my express wishes and advice, seems, up to now, to have picked a good 'un.
And more to the point, the team have responded to whatever it is he is doing.
But the headlines will be all about Ole's problems and how poor Man Utd are...'Kem!

Ernie Baywood
297
Posted 03/10/2021 at 02:03:33
I agree Derek. He had more time than either Martial or Townsend (underrated first touch and finish, by the way).
Good aggressive touch towards goal and then hit the target. It's better than 50/50 if he's positive.
But then can you blame him? He used to be the guy who went forward with every touch. Successive managers tried to make him more 'rounded' – ie, condition him to not lose the ball or make his old instinctive choices. Now he's hardly getting any game time. Anyone expecting him to just produce a moment of attacking confidence is probably being a bit unfair.
Mike Gaynes
298
Posted 03/10/2021 at 02:15:48
"Anyone expecting him to just produce a moment of attacking confidence is probably being a bit unfair."
Spot on, Ernie.
I'll never forget how Tom scored in the first minute of my first game at Goodison. April 2017.
Since that glorious day he has appeared in 147 games for the club and scored three goals.
So should anybody really be expecting assured finishing in that situation?
James Flynn
299
Posted 03/10/2021 at 02:31:25
"Depleted Everton match United and
earn hugely deserved draw
"
"Everton accept a draw in a game they should have won"
Can't we all just get along?
Kieran Kinsella
300
Posted 03/10/2021 at 03:40:25
Si Cooper,
I agree. Gordon looks like he's got a bit about him after those anonymous brief appearances. Not that it sets the bar high but he looks better than Iwobi.
Bill Watson
301
Posted 03/10/2021 at 03:58:30
Jim #256
MotD was just showing a re-run of our goal when there was a deluge and the picture froze for 5 minutes. Before and after was perfect. I've recorded the Sunday morning repeat!
I was in line with the linesman and, live, Mina looked level but as we now know he was marginally offside.
A great all-round effort but a special mention to Gordon who, at last, seems to be realising the potential all the coaches said he has. Also good to see Digne finally getting his act together.
Dourcouré was immense and my MotM.
Dan Murphy
302
Posted 03/10/2021 at 04:18:23
No mention of Michael Keane? Must have had a good game. Only gets mentioned on here when he stuffs up. In fact he was immense. As were Mina and Digne.
I think the aggression and solidarity the players showed around the Digne - McTominay thing worked in our favour.
Allan also immense as well as the rest of the players.
Enjoyed jumping around the lounge room with me kids in the suburbs of Melbourne to that one.
Paul Ward
303
Posted 03/10/2021 at 04:44:15
Great performance by all.
When you get players like Gray and Townsend who give everything, it becomes infectious to the rest of the squad.
Kieran Kinsella
304
Posted 03/10/2021 at 04:55:53
Paul Ward,
It's night and day from Ashley Williams hiding his face under his shirt. Morgan and Kevin bunking off training or Sigurdsson hiding from the ball with his hands on his hips.
The other thing is pace. Not since the MLS Cup when Mirallas was buzzing have we had anyone who can run quickly with the ball.
Remember the slow-as-fuck passing under Roberto Martinez? Which got worse with Gomes? Amazing what you can do with a bit of speed and a modicum of courage.
Steve Brown
305
Posted 03/10/2021 at 05:28:34
Reality is De Gea makes the decision for Tom by staying in his 6-yard box.
Paul Ward
306
Posted 03/10/2021 at 05:35:35
Spot on, Kiaran.
I am just a bit reluctant to acknowledge Rafa as the messiah yet.
Derek Knox
307
Posted 03/10/2021 at 07:15:51
Paul @306,
I was too, but each week his seeming ability to perambulate on a liquid surface is looming large. Now where's that Humble, or Crow Pie? It may even taste better than anticipated. :-)
Allan Board
308
Posted 03/10/2021 at 08:05:56
Good solid team performance at the home of the 'entitled'. Not surprised they show disrespect to other teams who go there – they have the right muppet in charge and several arseholes in their squad.
We scored a proper goal, theirs was deflected or Pickford throws his cap on it.
Glad Freddie Mercury Fernandes is pissed – and Tweedle Dum Ole shows his class again as the complete prick he is. Close the door behind you, Tweedle, on the way out before Christmas, my little friend – you are way out of your depth, and you know it. They should be top with that squad – that's where Benitez would have them.
Brilliant Blue Boys... bit of pride coming back to Everton.
Danny O'Neill
309
Posted 03/10/2021 at 08:05:56
Derek Thomas @296;
Good call on Rondon. He showed his rustiness in the first half, taking an unnecessary extra touch as opposed to hitting it first time.
Dan Murphy @302.
Good shout out for the centre-backs. I thought Mina was excellent again. Big save from Pickford in the first half when, unfortunately, Michael Keane let one float over his head and lost his player. But Keane played well too. The entire team did. To repeat, we are pleased yet slightly begrudging we didn't take all 3 away from Manchester United. Not a bad place to be in.
Watching back, notice how Townsend doesn't even look up. He receives the ball and knows where that's going; he doesn't need to look and hits it first time. Take note, Rondon & Tom.
Early days, but nice position to be in as we head in the international break.
The Demarai Gray song is catchy!!
Laurie Hartley
310
Posted 03/10/2021 at 08:25:03
Personally I would have looked across at Yerry but slotted it inside the near post.
I thought Rondon made a decent contribution holding the ball up and keeping their centre-halves occupied. He will get better as he gets fitter.
Anthony Gordon really got my attention – he has a terrific turn of pace. He will get better as he grows in confidence.
Apart from the goal, perhaps the thing I enjoyed most about that performance was the attitude of all the players when McTominay and his pals tried to stand over us. I like that a lot.
Jim Lloyd
311
Posted 03/10/2021 at 08:30:31
Derek (296) and Ernie (297) I agree with both of your comments, regarding Tom. And Ernie, I was thinking the same regarding the coaching he's been getting.
Something has taken the spark he had, and damned near snuffed it out! He sometimes even seems to hit a pass (or underhit it) in a timid way and it doesn't reach his intended team-mate. It might be that Tom is naturally a lad whose confidence is crushed by criticism from us, or more likely, the way some of the managers have attempted to make him more "responsible"... or a bit of both.
Well, the one man who can do the best job in getting him his confidence and flair back is Rafa Benitez. I've moaned about him at the match, and multiply it by thousands and he might well take that on board.
I think that, for years (maybe many years), we have been frustrated to feck at our own players because the club has been in the doldrums, with little, soon snuffed-out, spells when we think we're getting somewhere, only to be shoved back down to mediocrity, or even worse.
I think it's so important now, that our players and our manager have started on a road to build a better squad and every player will play his part or he will go.
So the way I see it, when I'm up in the Upper Bullens, frustrated as feck and shouting at Keane for faffing about in our box, or for the aimless (to me) passing back sideways, anyway but forward, I'm going to bite my tongue... and if I can't find it in me to shout support, then I'll shut me gob!
I think we are finally heading in a direction led by someone who will get the best out of our players. I've suddenly realised that the clue is in the name... 'supporter'.
ps: Bill, I got the telly fixed then missed us except for the "experts" discussion. What a great goal by us and almost a great second. I was made up to see how many players we had in and around the box for the second goal ruled offside. (It was but it was still a great attack and Ben started it... excellent!)
Fran Mitchell
312
Posted 03/10/2021 at 08:55:53
Davies should have shot, of course. He will think the same, Benitez will say the same when they do their review.
But he didn't and it isn't worth going on and on about.
Tom Davies had about 0.25 seconds to think about what he was going to do. He had space, but how aware he was of the space we can't be sure in that moment, in that pressure...so his instinct took over.
Davies hasn't played much football this season. And when he plays, it is predominantly in the middle of the pitch. Such goalscoring opportunities are a rarity. So Tom's instinct, unfortunately, was to pass.
A goal could have done him so much good, maybe help him reach new heights. Hopefully Benitez can help him do that anyway.
But that shouldn't be the main discussion point from yesterday. Yesterday was a very positive day for Everton. Again coming from behind, again proving ourselves dynamic and good to watch. In Allan and Doucouré we have a wonderful and balanced midfield that is in form. In Gray and Townsend we have pace and directness that has lacked for years.
But the biggest positive from yesterday was Antony Gordon. What an accomplished performance. He started a little but frantic and looked a bit tired and daunted, but he grew into the game and as his confidence grew, he was more and more influential.

He's struggled to make an impact in his previous outings and questions were being raised as to whether he was just going to join the other academy graduates in lower league football. But yesterday he showed he could really become a fixture for this team, and in doing so save ourselves a good £20 million.
Christine Foster
313
Posted 03/10/2021 at 08:59:37
All things considered, that was an excellent performance by a team that frankly few of us gave much hope to after the last drubbing in the preseason game. But, as much as I am uncomfortable with saying it, Benitez has fashioned the squad into a motivated unit, and a good one too.
The appointment with our new manager just didn't sit comfortably with me, still doesn't, but I suppose it's a work in progress and I have to say well done to him.
Funny enough, I think it will get better, or is that hope just rearing its ugly head again? No matter, our manager deserves the plaudits.. that's been a few years since I could say that... a good result all round.
Bobby Mallon
315
Posted 03/10/2021 at 09:40:38
Kieran @304.
If it wasn't for Sigurdsson's goals, we may have been in a couple of relegation fights the last couple of years. I do get a bit sick of hearing how he hid. Whatever he's done, he's been our best midfielder up to this season with his goals. As the others have been shite.
Sean Kelly
316
Posted 03/10/2021 at 09:58:28
Spot-on, Christine. Your feelings regarding Benitez are felt by many Evertonians.
I was going to post yesterday and praise Benitez but couldn't bring myself to do it. On reflection, we have had "the greatest manager ever", Roberto Koeman and Carlo Ancelotti. We wanted these guys to "understand and buy into Everton"; Benitez won't. He just wants to win.
He's the selfish sod we needed for many years and doesn't care about reputations or history. He is demanding 100% from everyone and getting it. The players know that, with a fully fit squad, they have to earn their place on the team. Yesterday was proof of that.
We weren't perfect but we stuck to his game plan and nobody shirked responsibility. That's the difference in my opinion but I wish I could get that reluctance to fully accept Benitez out of my system. It's been too many years of dreams and hopes dashed by January. Hopefully, with his obsession with winning and demanding more, this season might be the start of something good. Fingers crossed.
Danny O'Neill
317
Posted 03/10/2021 at 10:18:13
The manager deserves credit so far.
He came in to do a job. He's doing it well.
Smile on my face as I look forward to the Sunday football and get a Schalke win to wrap the weekend up.
Martin Nicholls
318
Posted 03/10/2021 at 10:43:03
Late back yesterday so I haven't yet read all posts – I'll therefore make this as short and sweet as possible.
First off, to the Evertonian (???) who gleefully posted on Friday "we'll lose 3-0". Well, we didn't, and you don't have the chance to follow up the sole purpose of your post by saying "I told you so" – what other reason would anyone have for posting anything so blunt on an Everton website?
As to the Davies debate, if Mina was as clearly offside as some claim, why did linesman and ref have to rely on VAR – seems it wasn't "clearly offside" to them. From my position in ground, I didn't see a "clear offside" and my mate actually remarked "Thank God Davies didn't shoot!" I do agree with those who feel a Premier League player should be able to score from that position but the reality is that many can't – indeed, would our much-vaunted striker Calvert-Lewin (who I'm a big fan of) have done so? I've seen him miss more than the odd one from that position. In a nutshell therefore, I don't blame Tom Davies for passing.
Apart from Rondon (who I'm a big critic of, but even so, thought he grew into the game a bit), every player did well. In particular, I was very impressed with Anthony Gordon who showed a lot more than I've seen from him in the past – my take on him is similar to that of Mike Gaynes and I now see a player in him.
Finally and slightly off topic, I was fortunate enough to spend some time with Norman Whiteside in Hotel Football after the game. What a nice, intelligent and witty man he is – if any of you guys ever get the opportunity to meet him, I'd urge you not to miss it.

Lester Yip
319
Posted 03/10/2021 at 10:43:17
Really like the fighting spirit that Rafa has instilled. We came back from behind more this season. Such game would have lost in the past.
So far the Crystal Palace and Leicester City cast offs have been proven very shrewd buy. Perhaps Rafa can also work magic on that Longstaff dude even I know very little about him.
Brent Stephens
320
Posted 03/10/2021 at 10:58:08
One point about Anthony Gordon. As others have said, he seemed to have started slowly yesterday. But in those first few minutes he took several heavy tackles, and came through them. Well done, lad. At last he's showing what he so often did for the U23s.
And I noticed after one narrow escape in our defence that Allan had some harsh words to say to Anthony, for his lack of marking. Several minutes later, Allan was visibly and strongly applauding Anthony for his defending. That's great leadership from Allan. I know one or two don't rate him but count in his leadership qualities and never-say-die approach, and we have a very good player there.
Michael Kenrick
321
Posted 03/10/2021 at 10:59:32
Something I hadn't spotted:
Everton Academy player Charlie Whitaker was on the bench, his first exposure to this level of professional football. But he was shown a red card for a set-to at the end of the U23s game against Man Utd last weekend. So shouldn't he have been suspended?
Since he played for the U21s at Carlisle Utd on Tuesday, I guess the answer is No and they are back to only applying suspensions in the respective individual competition – not across all competitions.
In that case, if he was suspended for the U23s trip to West Ham on Saturday afternoon, would that have been a factor in having him (and not Simms, for example) on the bench at Old Trafford?

Kevin Dyer
322
Posted 03/10/2021 at 11:00:49
Paul #264 yeah the CR7 thing is really childish, like he's a brand, rather than a footballer.
I don't know whether you use Twitter but I've gotten into the habit of just blocking anyone that says anything like "Penaldo", "Pessi", "GOAT" etc as I know these folks have nothing intelligent to offer. And I've only been using it a few weeks!
The BT coverage was bad enough. Everyone seemed stunned that a 36-year-old footballer was considered for a rest, considering he'd played 95 minutes less than 3 days earlier. How dare Solskjaer! How would the great man react? What about the fans, who expected to see the legend line up? I feel that questions may be asked in Parliament...
Brent Stephens
323
Posted 03/10/2021 at 11:22:50
Michael #321 - nice spot about Whitaker. A chance to give him a taste of the atmosphere, when he couldn't have played for the U23s (it seems).
Darren Hind
324
Posted 03/10/2021 at 11:29:11
Tony A and Rob Hal are spot on for me.
Davies had the chance to shoot, but the camera angle shows he didn't have an open goal by any means. De Gea filled an awful lot of it. I've seen countless world-class strikers miss this sort of opportunity. So has every other poster on this site. Let's not make it out to be an unmissable no-brainer.
The suggestion that he could see Mina was offside is absurd. Mina came from behind him. He would only have entered his peripheral vision when he looked up. The freeze-frame clearly shows only Mina's foot was offside when the ball was played. When Tom shaped to play the pass, he was not offside at all. Mina went from being onside to being offside in a microsecond. There is no fucking earthly way Tom Davies could have seen he was offside.
If the big fella did suffer a little from premature ejaculation, he can forgiven too. We have all seen world class strikers do it. He's a centre-half, for fuck's sake.
I watched our centre-backs with great interest yesterday and, for me, Mina had his best game in a blue shirt. He spent nearly the entire match trying to usher a reluctant Keane to shuffle up 4-5 yards and barely put a foot wrong all game. He was the main reason we restricted the Mancs to a few half chances.
I have long since maintained that TW gives a pretty accurate picture of Evertonia. If a player is getting hounded on here, you can bet your life it is happening at the match. Players are not deaf dumb and blind. When that goal was disallowed yesterday, the live forum lit up like a Christmas tree. Post after post pointing the finger at Davies.
For the life of me, I can't understand why people who sit in wait for an error (real or otherwise) don't understand why the youngster they have been hammering shouldn't suddenly turn all Gerd Muller when an opportunity arises – especially after all that relentless encouragement to build this confidence.
Dave Williams
325
Posted 03/10/2021 at 11:30:05
I just don't get the reluctance of some to accept Rafa. His comments from years ago were purely because of sour grapes after we took an undeserved point from them. His recent interviews show me that he cares about the club and he is clearly working his socks off on improving the players as individuals and as part of a team.
Step back and take a proper look at the team and bench he had available yesterday. There were only seven players who started who would have been likely starters in any other Premier League team at the start of the season and there was no-one of note on the bench. We were playing at Old Trafford against a star-studded team with a ridiculous amount of talent on their bench and backed by some 70,000 supporters, including the TV commentators! To come away disappointed with a point is one hell of an achievement – does anyone think Carlo would have matched that?
This guy is our best signing for many years – and for the record, I hate RS with a passion.
Danny O'Neill
326
Posted 03/10/2021 at 11:35:53
Been saying that about Allan since he got here Brent. He brings presence and leadership to the team even though he doesn't wear the armband.
Townsend as well now. So we're not solely reliant on Coleman. Hence the dance off yesterday. No more nicey nicey Everton.
I watched Allan after he made to block for the corner which led to our counter attack and goal (which he made the initial clearance from). As soon as he made that tackle he was straight up shouting and pointing at his own players.
Proper narky shit. Long may it continue and I don't care whether he's Brazilian or from Birkenhead. The likes of Davies and Gordon will learn from him.
I meant to comment on Darren's earlier comment about calling out a man-of-the-match. If pressed, I'd probably go for Doucoure, but I agree with Darren, difficult to pick one out as it was a good all round team performance.
Bobby Mallon
327
Posted 03/10/2021 at 11:41:41
Dave @325,
Didn't Carlo get a 3-3 draw last season after being 3-1 down at half-time? I think that result is as good as yesterday.
Danny O'Neill
328
Posted 03/10/2021 at 11:47:09
Yes Darren, there's no blame. To repeat myself, Tom could have shot, Mina could have held his run for a micro-second.
Fine margins.
Personally I dislike the offside rule. Whatever happened to the "daylight" rule that was supposed to give the advantage to the attacking player? We seem to have got back to it being feasible for a player's left boot to be offside.
Shame as I was almost on the table and Mina's celebration was very Colombian!!! He cut some fine shapes.
Julian Exshaw
329
Posted 03/10/2021 at 11:49:30
Did my ears deceive me or did OGS say on MotD that Man Utd 'dominated' the game? The arrogance of that club knows no bounds. They seem to believe they are entitled to everything and when their former players, like Rio Ferdinand, trot out the same rubbish 'this is Man Utd' blah blah, get on my shredded nerves!
Andy Crooks
330
Posted 03/10/2021 at 12:02:30
Darren, had he put his laces through it and forced a great save or put it into the back row, we would be having a different debate. Mina was free, why did he not square it?
In a split second, he made a decision. He is paid to make decisions. I think he got that one right. He had a 70% chance. He passed to a team mate who had a 100% chance.
Much as I like Ian Wright, he is wrong.

Tom Bowers
331
Posted 03/10/2021 at 12:08:12
Allan is not the World's best but his grit and determination has made him a must in this team, especially since he's fully fit after that horrible injury.
Having said that, Everton's midfield, when not in possession, is still a little shaky and leaves a lot for the back line to contend with – which they did admirably except on that one occasion.
Godfrey, Keane and Mina were just terrific.
The signing of Gray and Townsend is the coup of the century as Everton have real prowess down the flanks which gave fits to Man Utd's two expensive full-backs in the second half.
The least said about the Tom Davies incident the better. We all know what he should have done.
Anyone else hate that snot-nosed Fernandes? Why was he not booked for the tackle on Allan, which was no different than the tackle on him by Doucouré, which he made a meal of?
David Hallwood
332
Posted 03/10/2021 at 12:09:55
The Americans have a great phrase; 'Monday morning quarterback' and boy they're out in force on this thread. "It was obvious Mina was offside" "Davies should've known Mina was off" and variations on the theme. However, it wasn't obvious to the linesman, and he was in line with the play, and paid to make the calls. We got VARed; sometimes it goes for ya, sometimes it don't; C'est la vie as they say at PSG.
Mina strayed off, frustrating but it happens, it's doubly frustrating that it cost us a rare win at Old Trafford but, by the end of the season, we will have seen hundreds or, depending on how much football you watch, thousands of players straying off. In addition, we'll see hundreds of situations where the player is closing in on goal, pass or shoot? If it goes in (with or without the aid of VAR), he made the right decision; if it doesn't, he bottled it, he was being greedy depending on his choice; who'd be a footballer. (Well, me for starters, but I'd be slower than Rondon.)
I'd prefer to concentrate on the positives of the performance with the only negative being how slow out of the blocks we are, and my glass-full-to-overflowing opinion that, with a fully fit squad playing 4-4-1-1 all bringing their 'A' game on the field, we could give any team a game. Man Utd are some way off the clinical athleticism of Man City, Liverppool or Chelsea, but they will be there or thereabouts in May.
As a benchmark, to go with a weakened team to Old Trafford and be disappointed not to come away with all 3 points is setting the bar pretty high, and long may it continue.
Sukhdev Sohal
333
Posted 03/10/2021 at 12:11:39
That was a brilliant performance. Rafa went surprisingly attacking with a 4-4-2, I expected a 4-3-3 or 5-2-3. We created better chances and scored a great goal on the counter. I just think if Coleman was playing, Martial wouldn't have scored that goal.
As for the Davies chance, any Premier League player should score from that position with no-one close to him. The goals are massive. He probably thought he was making the right decision, passing it, but it didn't quite work out.
Danny O'Neill
334
Posted 03/10/2021 at 12:31:42
Guilty of over-analysing this now, Andy (your honour), with the benefit of hindsight that neither Tom or Mina or any player for that matter has in the split-second moment.
If Tom watches the video back, it's his look-up that fractionally kills it, regardless of whether he shoots or passes. Had he just put it across without looking or thinking, it's probably a goal.
Having watched it 3 times, it's actually more offside than I initially thought.
But, that is splitting hairs, being overly harsh. over analysing and being a total armchair warrior. No criticism from me but I'd have gone for the shot. Says the centre-back not renowned for his goalscoring record!!!
As myself and many have said, great team performance from every single player. Deserved point and no-one aside from Solskjaer and Ferdinand would have complained had we taken the 3. Why does West Ham seem so long away?
Graham Mockford
335
Posted 03/10/2021 at 12:36:54
I think it's fair to say it was a difficult shot but that comes about from the poor first touch that takes the ball away from goal and therefore allows De Gea to make the angle.
Compare that to the Townsend goal where he uses a light touch with his left foot to move it forward rather than sideways and therefore creating a much more straightforward finish.
It's a game of fine margins which is why the top quality finishers do it more often than most.
Even his greatest supporter(s) wouldn't claim finishing is Tom's greatest asset. I personally think the discussion reflects not a desire to make a scapegoat of the player – he certainly doesn't deserve it – but more a feeling that it was one that got away.
Mike Connolly
336
Posted 03/10/2021 at 12:39:11
That one moment has summed up Davies's career. No bottle, average player. He should have shot. He didn't because he knows shooting is not his strong point, even from 12 yards out. He had two options and decided to take the one you have more of a chance of being offside.
He had the opportunity to move but rejected it. I think Tom realises if he goes to another Premier League team, they will quickly learn he is not up to it. And before he knows it, he'll be playing for Tranmere or Morecambe.
Paul Tran
337
Posted 03/10/2021 at 12:41:13
Davies did what most players would; he passed to someone in a better position, who scored and mistimed his run by a fraction. And if I'm honest, I wouldn't have backed Tom to score from there.
I posted on here in the summer that Benitez might just be the counter-intuitive choice. He knows what we want, without all the gushing nonsense, doesn't give a stuff what people think and knows how to organise a team.
I remember some Blues being similarly sniffy when we got Sheedy from across the park. I hope the Benitez refuseniks will similarly eat their words.
Too early to tell, but promising nonetheless.
John McFarlane Snr
338
Posted 03/10/2021 at 12:46:47
Hi Andy [330] I agree with you regarding the disallowed goal, football unlike chess, is full of instinctive decisions, it's not as if Mina was yards offside when it was in fact, the 'Proverbial Big Toe'.
John Kavanagh
339
Posted 03/10/2021 at 12:55:09
Darren @324. Agree the amount of abuse Davies gets is unreal. No wonder his confidence is at an all time low. And to cap it all, within 5 minutes of the kick off Gordon was getting the treatment on the Live Forum as well for being greedy and lightweight. I recall DCL was also a 'championship player' incapable of scoring.
It then comes as no surprise that so few of our youngsters make it to the first team. If Goodison is rated as one of the most hostile environments by visiting players, imagine what it must feel like getting that same dog's abuse from your own supporters. It is difficult enough even making it to the first team squad without getting the treatment from the very people you expected to give you encouragement.
I bet that if Dobbin had made just one misplaced pass in his brief cameo the 'Championship player' posts would have then started - and some would then continue forevermore to get on his back.
I cannot fathom out why so many of our supporters are so quick to condemn our own academy players, while generous allowances are given for others we wasted millions of pounds in transfer fees and wages on.
For the record, I don't think Gordon is greedy so much as at times trying a little too hard to make an impression in the limited time he's been allowed. If his two shots that struck the woodwork in the league cup had gone in, then his progress would have been far quicker. For a young player the margins between career success and failure are so very narrow. I think Gordon is a player with great ability who is not afraid to take on a shot, unlike one £30 million acquisition who cannot even summon up the bottle to take a penalty in a shootout.
I defended DCL when he was getting stick and I back Gordon to become a very good EPL player, hopefully for us. He just needs more time on the pitch and a proper chance to prove himself, preferably with our supporters backing rather than backstabbing.
Well done to everyone involved in a great team performance yesterday. More of the same please!

Jason Wilkinson
340
Posted 03/10/2021 at 12:57:52
The start Ancelotti and Benitez have made to their respective 1st seasons is remarkably similar. However, Ancelotti had a fully fit squad. Everton beat lesser prem teams, got a draw with liverpool and lost away (outplayed) by Saints. Benitez's team have a draw with Utd. A thumping at Villa and routine wins against some of the prem lesser lights. The unquestionable difference is this season we look like we have a more sustainable model or way of playing. If we can continue getting the level of performance from the group we will do very well this season. Benitez is not afraid to introduce youth into his side. This surely has to be how we can progress as a club. We have tried for too long to buy our way into the top 6 top 4.
The loss at QPR was a blow. I'm sure most of us expected a decent run in that comp. The result at Leeds was a little disappointing. They look like a side struggling to repeat their 1st season back in the prem. The way we folded at Villa was a wake up call for Benitez. Something of a throwback to last season. I will never warm to Benitez. I do however recognize and respect the fact he is a winner and will try his best for our club.
Barry Rathbone
341
Posted 03/10/2021 at 13:01:45
When Davies receives the pass his first touch opens up his body to shoot but hearing the call from the unquestionably better placed and ONSIDE Mina takes out DeGea with a slide rule pass - masterful football.
The floundering utd centre half had lost his footing trying to impede Mina who now free of the jostling had powerful momentum which I reckon causes him to slightly overrun Tom.
No blame on Everton boys.
Kudos to Mina for getting up there and Tom for picking out the deft pass and the whole crew for being in that position at the end of the game. Well done blue boys
David Midgley
342
Posted 03/10/2021 at 13:02:00

Rafa.
A professional football manager.
Starting to get Everton's professional football
players playing in a professional way.

At last.


Andrew Keatley
343
Posted 03/10/2021 at 13:04:53
Danny (291) - I think it is well documented that the signings of both Demarai Gray and Andros Townsend were driven by Rafa Benitez and his relationships with both players prior to him becoming Everton manager; Townsend was briefly managed by Rafa at Newcastle, and Gray and Benitez were in contact as Benitez had always made it clear to Gray that he was a young player who he thought had huge potential. If Brands is due any credit it is for either signing it is that he got them signed and through the door early this summer.
As for the Davies/Mina debate, have to say I agree with Darren Hind when it comes to the notion that Davies would have been able to see that Mina had strayed offside; he probably sensed it was going to be tight, but the fact he played the pass must have meant that he believed Mina was still onside. And as for Mina straying offside, well I think a player makes a run according to when they think their team-mate will pass - and sadly Davies delayed his cute pass for that fraction of a second that puts Mina offside. Not really anyone's fault - it's just the incalculable small margins of football that sometimes go your way and sometimes do not.
Hopefully Anthony Gordon has woken up today with a big smile on his face, and the belief that he can have a decent career as a Premier League footballer. After a difficult first 20 minutes he knuckled down, worked hard, and showed ambition to take his man on and keep up his defensive duties. The endeavour was what pleased me most; hopefully the seemingly improved work-rate and attitude that the squad has under Rafa has rubbed off on Gordon - and if so then I believe his footballing qualities have much more chance of coming to the fore as he is, in my opinion, a very naturally talented footballer.
Barry Hesketh
344
Posted 03/10/2021 at 13:10:18
I would claim that the views that are expressed on the Live Forum do not, on the whole, reflect the views expressed within the confines of Goodison Park - to suggest the Live Forum is a true reflection of many of the match-going fans to my mind is ludicrous, besides which how can you give a considered opinion if you're simultaneously trying to type and watch the game?
If some of the comments made on the Live Forum for each and every game, were made at Goodison on such a regular basis, the people who sat around them would quickly advise them to sit down lad and shut up! but perhaps by use of more colourful language.
Bill Gall
345
Posted 03/10/2021 at 13:20:01
The best thing to come out of yesterday is all the pundits and Man Utd worshipers, are actually really praising Everton by spending all their time saying how poor Man Utd were.
I watched the game over again last night and was really pleased with Everton as a team who limited Utd to just a couple of clear chances.
Everton defended well and their passing from the defence through the midfield to the forwards was good to watch with very few hoof balls.
These people just complaining about how poor Utd were, and who should have played and who should not have played, should really take their blinders off and offer their compliments to a manager who's tactics and players were more than a match for Utd and should have had 3 pts.
Danny O'Neill
346
Posted 03/10/2021 at 13:22:34
As a lot of us know, it's not a new phenomenon John K @324. Tony Hibbert and Leon Osman were the scapegoats of the Moyes years. Seems our academy products are easy targets. I personally prefer to judge what I see regardless of where they come from. Good and bad whilst always remembering it's down to opinion and view, which we all see different. Game by game, season by season and what potential we see.
Right now, I'd want Gordon to be greedy as he's learning. He will learn to make the right decisions. But to learn, he has to make mistakes. That's football, that's life.
Denis Richardson
347
Posted 03/10/2021 at 13:23:17
What a start to the season and so satisfying to see a side put out at Old Trafford to have a go and not sit just back.
The signings of Gray and Townsend for basically nothing have been fantastic and goes a little way to making up for the tens of millions wasted on dross the last 4-5 years. Special mention for Gordon as well - seems to be stepping up well when needed.
I wanted Benitez a couple of years earlier and thought we'd missed the chance when he went first to the barcodes and then China. It's still early days but we seem to have a team set up to fight and put a shift in, and just as important with pace on both wings. Great result with our two best players not even available.
Early days still and just taking it one game at a time but I definitely feel we finally have a manager that suits where the club and the team currently are.
Going out of the EL may be a blessing given lack of squad depth. Can focus on getting people fit and just the league until end of the year. Maybe then give the FA cup a good crack.
Happy Sunday to all blues.
(Come on City!!)
Brent Stephens
348
Posted 03/10/2021 at 13:40:16
Bill #345 "the pundits and Man Utd worshipers, are actually really praising Everton by spending all their time saying how poor Man Utd were."
Agree, Bill. For all United's possession, they didn't have the intelligence or ability to break us down.
Danny O'Neill
349
Posted 03/10/2021 at 13:50:28
A very good Newcastle supporting friend keeps asking me for their manager back Denis!
Off out to watch this afternoon's football. I will be surrounded by grown men with cockney accents and Steven Gerrard shirts.
Koningsblauen (Royal Blues - Schalke) winning. Here's hoping for a good footballing end to the weekend.
Rob Jones
350
Posted 03/10/2021 at 13:51:06
@ Mike (336) - your attitude pretty much embodies why Everton's fans are seen by so many as toxic.
There's a difference between constructive criticism and being a bastard, and your comments are redolent of the latter.
Graham Mockford
351
Posted 03/10/2021 at 13:55:03
Rob 350
My irony meter just broke
Paul Swan
352
Posted 03/10/2021 at 14:03:58
It's all about small margins. If the ball is released faster or Mina times it slightly better then we're all happy. De Gea is expecting the shot and let's face it that spawny bastard gets so much luck against us I would have backed him to block it. Davies for me makes the right decision and cuts the keeper out of the equation but by the smallest of margins it's ruled out. The encouraging thing for me was the number of players we had piling forward even at that stage of the game including Tom. Under previous managers he would have been nowhere near that position.
Rob Jones
353
Posted 03/10/2021 at 14:04:20
Graham, what's the point in calling ourselves supporters if we're going to endlessly shit on the team and our players?
A lot of us were less than happy with the goal being disallowed. Criticise Davies' choice, criticise his hesitation. Fine. A hesitation which, I might add, is understandable given that he's had any freedom trained out of him by a succession of managers.
But calling him a coward, who's hiding at Everton from his "real level", at Tranmere or Morcambe, is going too far.
Graham Mockford
354
Posted 03/10/2021 at 14:10:22
Rob
I think there is a big difference between supporting a team in the ground and posting on an forum. If any player seriously starts scanning the internet for comments about themselves I would suggest they have bigger problems to deal with.
I don't agree with Mikes opinion about Tom, I think it's way over the top but to complain about toxicity and then call someone a bastard seems a bit rich.
David Hallwood
355
Posted 03/10/2021 at 14:10:30
Last word on the Davies 'shuddashotgate'. I've just watched MotD again and Gray has a shot on goal when he would've been better squaring it to Rondon who was unmarked on the far post; a reverse of the Davies situation.
But I haven't seen a single "greedy Gray" comment, and rightly so.
Brent Stephens
356
Posted 03/10/2021 at 14:11:31
Mick #336 " He should have shot. He didn't because he knows shooting is not his strong point, even from 12 yards out."
Make your mind up, Mick! "he knows shooting isn't his strong point". OK but also "he should have shot".
You don't rate his shooting ability but want him to shoot.
Rob Jones
357
Posted 03/10/2021 at 14:14:37
Graham, I said that he's being one, not that he is one.
I'm sure that top level players don't read forums. But what's written on forums like this do inform the attitudes of some fans who go to matches. We ARE toxic towards our own players, we have been for years.
Perhaps I could have worded what I said better, but I still don't think that slating our players is either productive or helpful.
Colette Black
358
Posted 03/10/2021 at 14:21:21
Last season we came back from behind (quite emphatically) to draw at Old Trafford when we probably didn't deserve to. This time we came back to draw when we probably should have won. To me, this shows improvement, even if not spectacular.
As for the offside goal, Davies panicked when he received the ball and therein lies the problem. He lost control of the ball and tried to make amends. Had he not panicked and controlled the ball he would have had the luxury of shooting. As it was, he made the best choice by laying it across to Mina. Mina cannot be blamed for being offside because Davies took too long to pick him out.

Graham Mockford
359
Posted 03/10/2021 at 14:25:18
Rob
Again it's an Internet forum, people have opinions they voice them. Some are measured, some insightful and some are downright stupid. But it's how it works and has no bearing at all on how players perform. But it probably works better if you don't get personal, as I've discovered.
Match day is a different matter and will undoubtedly affect some players more than others. I haven't been to a game this season but last time I did, I didn't see Tom Davies get more stick for mistakes than other players. But crowds by their nature will voice their opinions if a player is not coming up with the goods.Personally I don't because I think it is counter productive.
Bill Gall
360
Posted 03/10/2021 at 14:59:25
If you are going to criticize one player for not passing to another player, why don't you criticize another for allowing their winger to be unmarked when he scored their goal?
They may be professional footballers but they are still human beings and make mistakes, and I doubt if there are any of us, including myself, that does not make a mistake, in a tension-filled environment.
Christy Ring
361
Posted 03/10/2021 at 15:00:25
Mike #336,
In my opinion, your comments about Davies are totally over the top. I thought he played well after coming off the bench. Regarding the chance to shoot, his first touch gave him a tighter angle, and he passed to Mina in a better position, who he thought was onside.
The criticism of Ole not starting Ronaldo, didn't he bring all his big guns on when they were leading 1-0, so the plaudits should go to the outstanding performance of the injury-hit Blues.
Darren Hind
362
Posted 03/10/2021 at 15:08:07
John @339,
Excellent post. I couldn't agree more. I could scarcely believe the stick young Gordon was getting. It was clear he was nervous, but he settled down and had a really good game.
Tom has been getting called a Championship player for a very long time, but here he was again yesterday, playing on the biggest Premier League stage... for yet another manager. Seven managers!
People can argue till they're blue in the face about what Tom did, but the guy spread wide, stayed onside himself, and his pass left a team-mate with an open goal. If Mina was able to just stay onside, we score a goal that would have been seen as City-esque and we'd have come off the pitch top of the league!
Rob Halligan
363
Posted 03/10/2021 at 15:09:43
Apologies if this has already been said (can't be bothered checking back), but Bruno Fernandes says that Man Utd should have done better to stop our goal, such as fouling Gray and stopping play.
Yet him, his team and manager are always the first to moan and complain if another team do this to any Man Utd player. Hypocrite!!
David Connor
364
Posted 03/10/2021 at 15:17:25
Very good point from Old Trafford. I would have taken that before the start, like many others. The bench does show our lack of depth which is a concerning point.
The next 2 windows will be very interesting under Rafa the gaffer. At least he has come out and said he wants players who want to play for the club. Only about 8 dead-heads and piss-takers to get rid of then. Easier than done...
Kieran Kinsella
365
Posted 03/10/2021 at 15:18:08
Christy
I thought Tom played pretty well yesterday but I think Mike is looking at the big picture, worse stats than our other midfielders, virtually no goals or assists in 150 games. If he was playing for Tranmere would we snap him us as a hidden gem? I doubt it.
Rob Jones
366
Posted 03/10/2021 at 17:30:23
But he's not playing for Tranmere, we developed him, and there's a good player in there, who never shirts, never hides. He's a useful squad member, and it's hardly his fault that he's had all the spontaneity coached out of him by Rafa's predecessors.
Bobby Mallon
367
Posted 03/10/2021 at 17:34:33
Mick @336, that's bollox.
Tom Davies is a good Premier League player who just made a wrong decision IMHO. To say he's not up to it is rubbish. Besides, apart from the Top 6, he would get in any team's squad.
Sam Hoare
368
Posted 03/10/2021 at 17:40:39
Tom Davies may be no superstar but he is a home grown, true blue who is one of the lowest paid members of the squad. He always gives his all and as far as I know is a good professional. Not sure I ever expect (or expected) him to become a vital first team starter but I'm very happy to have him in and around the fringes and I don't think he'd let us down if given a run due to injury. Perfect squad player.
Kieran Kinsella
369
Posted 03/10/2021 at 17:42:23
Rob
The question is whether he's any good. The fact he's already here doesn't mean he's good any more than Stuart Barlow was good. He is here cause no one else has signed him and because of poor recruitment we have few options. If he was somewhere else based on his passing, tackling, speed, assists and finishing we would not go out and buy him. Also regardless of why he is how he is, if as you say he's had spontaneity coached out of him the end result is that he is not that good. It's not to belittle or bully him it's just the reality.
Roger Helm
370
Posted 03/10/2021 at 18:00:20
Everybody is obsessed with Tom's decision to pass (in my view correct, or at least reasonable) rather than shoot - and what treatment would he have had on here if the goalie had saved it? Give the guy a break, he is no Messi (which is not his fault) but he always puts in a shift.
Not enough praise for Rafa, in my opinion, for what he has done with a very thin squad. If Moyes pulled us out of the mire, could Rafa be the one, after four false starts, be the one to get us to another level?
Scott Robinson
371
Posted 03/10/2021 at 18:05:56
@Roger 370: I agree. It was not an open goal - he was an angle. The better option was Mina, who unfortunately was offside. Maybe the delivery could've been more precise or Mina's run could've been better. Benefits of hindsight!
Andrew Keatley
372
Posted 03/10/2021 at 18:31:02
David (355) - The Gray run and shot (of which there were at least a couple so not entirely sure which you're referring to), and the Davies/Mina pass were entirely different situations, so that's probably why (until your post) nobody has drawn any comparison. Davies had so much time - maybe too much - to make his mind up, while Demarai Gray was flat out on every occasion (that I can remember anyway) and under pressure throughout. If Demarai Gray had found himself in the position that Davies found himself in then I'd be confident that we'd have found ourselves 1-2 up with five minutes left.
Bill (360) - But surely people can criticise what they like, and not everything has has to be perfectly considered and balanced out (if that is even possible anyway). If we were all on here trying to attribute equal constructive criticism for every player in every game then every post would be 500+ words and ultimately pretty boring.
Rob (363) - That's the game though. If it was the other way round, and another team is breaking three-on-three on us on the halfway line then I would be happy if one of our players takes the ball-carrier out and swallows a booking for it. You can feel aggrieved when it happens to you, and still cheer when your team does it to the opposition - that's a given, no?
Dave Williams
373
Posted 03/10/2021 at 18:58:59
Bobby,
I don't! Last season was in an empty stadium with, on paper, a much stronger squad and against a weaker Man Utd team.
Rob Halligan
375
Posted 03/10/2021 at 19:22:27
Andrew #372. Of course, take one for the team and all that. I still think it's wrong though for professional players to come out and say something like that, particularly when Demarai Gray was not in any position whatsoever to score, so why take him out?
John McFarlane Snr
376
Posted 03/10/2021 at 19:37:03
Hi Bill [360] you and I think alike, the only difference is in the wording, you say, "They are still human beings" I wrote in a post some time ago, "Players are not machines that can be programmed" and it was met with ridicule, but that hasn't caused me to change my opinion. I believe that a large per-cent of goals conceded or goal chances missed can be traced to a mistake, and that's what makes the game what it is. Playing well is not good enough for some fans, they are looking for perfection, an impossibility.
Ian Jones
377
Posted 03/10/2021 at 19:45:50
Several years ago, perhaps when he was 16/17 years old, Tom Davies was picked out to train with the England team.
I think alot of people in the football world with far more footballing credentials than us mere mortals recognise that Tom has something.
In my opinion it will be a sad day if Tom Davies leaves.
Graham Mockford
378
Posted 03/10/2021 at 20:02:08
Ian

Siri tell me what wishful thinking means
Stephen Brown
379
Posted 03/10/2021 at 20:04:34
I got carried away this time last year so won't fall for that again. However a couple of thoughts:
Doucoure is currently the best midfielder in the premier league. Viera esq !
Mina is a top quality centre back!
Gray and Townsend, if they continue like this are biggest bargains possibly in history !
Team spirit seems superb and the manager is going a great job!
Told you I'm not getting carried away !
Kieran Kinsella
380
Posted 03/10/2021 at 20:07:05
Ian
Connolly and Dowell won the U20 World Cup. It's about developing and improving not about how good you were at 16. Look at John-Paul Kissock.
Tony Abrahams
381
Posted 03/10/2021 at 20:16:35
You said a very interesting thing about football when I spoke to you last week, John Mc, when you talked about it being about instinct.
I personally think coaching has taken so much of this "most natural" of movements out of the game. And that's why Everton's first goal yesterday, was so good imo, because it was a goal made by three players who all just used an attacking instinct, similar to our two goals against Burnley the other week.
I also think Davies's first instinct will have been to not fuck it up (I think football really is a confidence game, for 99% of footballers) whereas Townsend's instinct was to get it out of his feet, and score, befitting of the confidence he's currently playing with.
Mike Corcoran
382
Posted 03/10/2021 at 20:17:40
Got to agree with Roger @370 - I think at the split-second Tom decided to pass that he considered was Mina onside. By the time boot met ball Mina was off.
Ian Jones
383
Posted 03/10/2021 at 20:18:21
Kieran, agreed, as did Lookman and Kenny. It's also probably about opportunity and having the right attitude. I suppose time will tell.
Tony Abrahams
384
Posted 03/10/2021 at 20:20:26
Kieran, it's also about how you are allowed to develop imo, and Stephen, I might be going overboard, but that display by Doucouré yesterday was as good as I've seen from an Everton midfielder, for as long as I can honestly remember.
Graham Mockford
385
Posted 03/10/2021 at 20:21:40
I'm sorry but Davies is not a top-quality midfielder. He's an option as back-up for us currently but he's not developed from the highly promising teenager he was. John Ebbrell anyone?
Graham Mockford
386
Posted 03/10/2021 at 20:26:37
Tony
I agree. The last time I saw such a dominant performance but in a different style was Fellaini, also against Man Utd, when he absolutely terrorised them.
Stephen Brown
387
Posted 03/10/2021 at 20:29:33
I agree Tony. Doucouré was everywhere, skilful, energetic and dominant. A complete performance. To think he's not even capped but was the best player on the pitch!
Long may it continue! Also seems like he enjoys playing for us!
Jason Li
388
Posted 03/10/2021 at 21:16:48
Doucoure is just fantastic. In fact, most of the signings in the last 2 summer windows have been great, and equal to half the first team. So Brands has must be credited when he's got it right on this, if he had Doucoure and Godfrey on his list, or has agreed to bringing the players in.
Glad to see Gordon is a serious squad player now. Given time, like Demarai Gray has had time to mature, I'm sure Gordon has every chance of being a very good player for the club.
Gray, the runs he made was reminiscent of Ronaldo at Old Trafford in his prime. Not sure if he's pinned to a 5 year contract, but time to get a new one drawn up.
Christine Foster
389
Posted 03/10/2021 at 22:35:06
Tony, 381, instinct is coached out of players no doubt about it, less so attacking players but certainly the rest. Players "know" where other players should be, good ones can make it look like superb vision, but attacking instinct is driven out of players by coaches who want a system, who fit and can do a job. Defence and midfield especially. Many talented players never "make the grade" because they don't fit the system. How many great little players fall short of expectations I wonder.
I think Tom Davies has been over coached over the years, not knowing his arse from his elbow at times. I think Benitez might still get the best from from him.
Michael Williams
390
Posted 03/10/2021 at 23:09:39
Bill #345 - You would like the headline in the Guardian - "United potential not realised as Everton do more with less"
subheader - "Where Rafael Benítez has built a team greater than the sum of its parts, Ole Gunnar Solskjær lacks a coherent plan
There is a lot of good about Everton's performance in this one.
Tom Bowers
391
Posted 03/10/2021 at 23:13:04
There were certainly a lot of good points about yesterday's performance against one of the top four richest clubs in the Prem despite going behind.
For the most part the defence was solid and the breaking from defence by Gray and Townsend was so good to see especially when we were missing two top offensive players.
Conceding a goal right on halftime is usually the kiss of death especially at Old Trafford but ''Rafa's '' team is a bit different from the teams we have had under Koeman, Silva and Martinez not mention Moyes.
Moyes brings his guys to Goodison next and I do hope DCL is fit as Rondon does look lost at times. Anthony Thomas had a fine game and is progressing well showing lots of confidence and that is something that Rafa must take some credit for as one can see the belief in other players too.
Soren Moyer
392
Posted 03/10/2021 at 23:43:31
Well done Rafa and the team. If only Mina and Davies had done better here!!!!!
Sean Kelly
393
Posted 03/10/2021 at 23:46:36
Well done Townsend bbc sept goal of the month 😊😊
James Flynn
394
Posted 03/10/2021 at 23:56:27
Michael (390) - "Ole Gunnar Solskjær lacks a coherent plan"
Best we keep it low-key on Ole's deficiencies. Antonio Conte is sitting out there available. We don't want a Lampard-Tuchel situation repeated for Manchester United.
Have to add that after the ManCity-RS game over here in the States on NBC, there was a discussion about Ole and is ManU legit as far as title contention. Within that discussion, the 2 Robbies did mention that while Ole kept out Christiano, etc due to the CL game before, Everton were missing key players and, at one point, had 2 18-year old's on the pitch. So the, "Missing key players" argument didn't wash. The difference, to them and what we know, was that Everton had a professional manager and ManU just had Ole.
Jamal Paktongko
395
Posted 04/10/2021 at 01:49:58
Ancellotti who?
Goodbye moody and timid football.
Hello discipline and determined football
James can enjoy watching the World Cup in Qatar
Jamal Paktongko
396
Posted 04/10/2021 at 01:55:01
The difference was Gordon
Iwobi may have been carrying an injury in the last 3 games and should have been rested.
We were playing with ten men v Villa, QPR and Norwich.
Then there's Rondon not up to match fitness so we were playing with 9 men actually.
Thats why we lost Villa and QPR.
Gordon came in and we were back to ten men and looked how we turned Manure into manure.
Imagine if Rondon is fit and running the channels like he always do.
We would have torn Manure apart
Don Alexander
397
Posted 04/10/2021 at 02:21:07
Whilst I respect to some extent those who cherish "one of our own" on making the first team I also think it can easily become lumpen thinking in trying to reach the top.
For instance "one of our own" in 1970 included Tommy Wright, Labby, Colin Harvey, Jimmy Husband, Alan Whittle, Joe Royle and John Hurst - champions in their respective positions all. In the mid 80's we enjoyed Gary Stevens, Ratters, Mountfield and Kevin Richardson coming through as proven champions too.
Contrast that with this century.
As others have said, Tom Davies is no sprog. He's a seasoned professional by now and deserves to be judged as such. Raving on about him being "one of us" is no match when put against seasoned pro's regularly doing the business on the pitch, Saturday being a case in point.
Raving on about one of our own is symptomatic of the comfortable malaise that engulfs USMFF courtesy of Kenwright.
Some of us have raved on, and still do, about Barkley, Hibbert and Osman but unfortunately none of them were top-notch players in anybody's estimation, even when they were at their peak.
Successful clubs are not so accommodating of "squad-player" mediocrity spending years and years with them in the fantastical belief that one day, years into their careers, they may just prove to be first-class trophy-winning players. It just doesn't happen.
If Benitez can be arsed for a year or two in enduring the make-do-and-mend bollocks delivered to him by our inept owner/board I just hope he can instil real insight, to whoever soon (please) ends up at Finch Farm, players and coaches, as to what "professionalism" really means if you're remotely serious about winning a trophy as a founder member of the Premier League.
Soren Moyer
398
Posted 04/10/2021 at 03:00:13
Don, my thoughts exactly. Half decent, "one of our own" players cannot/ will not win tropies for you!
Phil Smith
399
Posted 04/10/2021 at 03:28:34
I too am warming to Benitez. He had to eat humble pie to move here and he's doing things his way, which shows he has the cohones to be a top manager for us. The players are enjoying playing for him also. My only criticism being that he let Kean go - replacing him for unfit Rondon - and didn't sign or left or right back or play Kenny there. He played well in Germany (well, at he beginning anyway). He should of had a run in the side. I expect a few more signings in January though. Hopefully we'll work with what we to until then.
Ernie Baywood
400
Posted 04/10/2021 at 03:59:24
I thought it was one of our own who set the tone early on Saturday. And I still think 'setting the tone' is underrated. Good football basics that get clouded by things like supercomputers and analysis of strategies.
Gordon's chasing, tracking back, tackling and pressure was important. He played like he loves the shirt.
I said to my kids in the first half, that I can handle losing to a better team if we're giving it a real go. And we did give it a real go.
Kieran Kinsella
401
Posted 04/10/2021 at 04:25:27
Tony Abrahams
Mate you know more about it than me but IOn the "coaching it out of them" I'd broadly agree but suggest City, Chelsea, RS and United have more progressive coaches who don't do that hence Fiden, Mount, Jones, TTA, Rashford, Greenwood etc.
My thought is the last good under 23 team we had eg Dowell etc were all graduates from Sheedys Under 16 and Sheedy was vocal in saying he tried to produce good players who could have a career versus just thinking of Everton. Williams from that group was interviewed in the RM era and said Unsie was judging him versus McCarthy on pass completion rate. Tom said similar about getting back into the team under Fat Sam. My thought? Rinosaur is of the old RAF Graham Taylor stats era and not fit for purpose versus the folks at City, Chelsea, Rs etc
Darren Hind
402
Posted 04/10/2021 at 06:15:34
I think people putting up this "one of our own" or he is "not top class" argument are demonstrating they do not understand this debate.
You can win trophies while accommodating academy players who are not quite top class, but do a very steady job. That has been proven since football began, but you cannot win trophies by spending 500m quid on players that simple don't come up to scratch.
There is an absurdity in continually battering away at youngsters whilst happy clapping managers and "superstars" who fail us season on season Talk about easy targets. Tom Davies should be way, way down the list of players being Hammered, If he was the only one playing badly, then fair do's, but he gets singled out for defeats and draws when he comes on with minutes to go, even after others have stunk the place out for 90 mnutes. It's fucking ridiculous.
I don't agree he has had his ability coached out of him. He was never the player who burst onto the scene against Man City, but he is indisputably a premier league player. The official records prove it.
What I do know is at 23 he has played for seven managers and every one of them have tried him in a different role. What player thrives under those circumstances ? It is however a measure of the way he is seen by these managers that they even ask him to do it. Those saying he is simply embarrass themselves by arguing against fact.
In a team that has been packed with one dimensional players for the past five years. I have witnessed superstar after superstar sat on the bench while Tom has been asked to go and do a job they couldnt be trusted to do.
Gift horse, Mouth
Alan J Thompson
403
Posted 04/10/2021 at 07:01:23
I don't recall and have no access to a replay but as my final word on that "goal", was it seen by anyone on the pitch as off side or was it a VAR decision. There didn't seem to be any appeals from any defender and the Linesman most certainly didn't give it so may not have thought so but so many these days wait until they are told by VAR in case they disallow a "good" goal or just the chance of. I do remember quite some seconds after it going in that a line was drawn on the TV showing Mina to be a couple of toes more forward than he should have been but I don't think that was the VAR edition.
The point being that if nobody else on the pitch thought it was offside then why do we think Davies should have? The size of his pay packet? Whether he should have shot, chipped the keeper, taken it up and nutmegged him or just played a cannon off the far post and bar is another question but we do seem to be overly harsh.
Christine Foster
404
Posted 04/10/2021 at 07:46:32
Darren, by your own assessment, Tom has been managed by 7 different managers, all wanting, and instructing him to play a certain way or role. By over coached I meant just that, which manager does Tom hang his hat on? Which role does Tom think he is best at?
Until he can make a role his own, be comfortable in what he has to do and has a manager who trusts him and vice versa, any player would struggle to beat of detractors. I agree with you he is a valuable premiership player who will hopefully in the current manager, have someone who matches his excellent attributes within the squad. Because frankly I think he has suffered as a result of so many changes.
Danny O'Neill
405
Posted 04/10/2021 at 07:57:11
I'd pick up on Darren's second paragraph and its a point that's been made before. I'd extend it beyond academy players to just players. You can win trophies with "normal" players,i.e. not superstars. Have a look at Phil Neville's personal trophy count.
A great team will, more often than not, rarely have 11 superstars on the pitch. It's about the blend and the squad. Over the past 18 months Tom has really developed and, given his age, can still get better if he get's a bit of consistency and stability.
Peter Neilson
406
Posted 04/10/2021 at 08:15:49
Came away from the match pretty upbeat after a good team performance. Davies came on with 18 minutes to go and immediately fitted into a disciplined midfield. His pass was the right decision, United players thought it was legitimate that's how close it was. Maybe United fans are tearing into Pogba who came on just before him and was anonymous.
Tony Abrahams
407
Posted 04/10/2021 at 08:17:03
I'm not sure I know more Kieran, but I do look at the players who come through at Chelsea now, and they all seem to be very, very natural when they have the ball at their feet.
What Sheedy said makes sense, because I've read on these pages that more kids playing in the league, have come through the Everton academy system more than any other club, so maybe our club coach kids a little bit differently, and the coaching maybe concentrates a little bit less on the technical side of the game?
Tony Abrahams
408
Posted 04/10/2021 at 08:31:55
Very good post@404 by Christine imo, and putting myself in Tom's shoes, imagine going back for pre-season and hearing the manager wants to swap you for a player who is probably on a similar level at Newcastle?
I'd say footballers don't need to be loved, but tell me a person in any walk of life, who doesn't perform better when they feel good.
Going back to Townsend, someone every young player with aspirations of being a professional footballer, should be getting made to watch (honest opinion) right now, and would he have scored that goal last season? I suppose only Andros himself could tell us this!
It makes me laugh when people say hard work should be a given, because it's what sorts the real winners out, from the players who can only do it sporadically imo, and it's why I'd rip coaching up for children, because with all that information going round their brains, then most of them forget that the best way to improve is by working hard and enjoying it imo.
Ajay Gopal
409
Posted 04/10/2021 at 08:39:57
Tom Davies has actually had a few good shots on goal. I remember 1 derby game last season when his shot on goal was saved by an excellent block by Gomez, I think. Also, in the Norwich game, he had a shot on goal deflected inches wide by their defender. The resulting corner was the one where Tim Krul made a point blank save from Godfrey's shot on goal. I think Benitez can work his magic on Tom and get him to improve like he has Doucoure and Townsend and some others. I believe Tom is worth persisting with and will get better under Rafa's tutelage. He is a very intelligent footballer - and he could possibly become our long term partner to Doucoure after Allan's career starts tapering off.
The other good thing about the Norwich result and the ManU performance is that Dominic and Richarlison will be sitting there looking at those performances, and thinking that they need to up their game and become more consistent goal scorers than they are now. If Townsend, Gray and Doucoure can consistently be scoring and creating assists, then that is what these 2 strikers should be doing more often for the club. I think this enforced break for DCL, Richarlison, and Iwobi even, may help bring out the best in them.
Laurie Hartley
410
Posted 04/10/2021 at 08:54:46
I actually watched the replay from when Tom came on and focused on his performance.
Putting the shooting debate to one side I don't think he put a foot wrong. Had a couple of spats with CR7 and hit two cracking first time passes into the path of Gray.
He seemed to say something to the manager as they were coming off the pitch. Benitez put his arm round him and laughed it off. Maybe this Manager can help Tom play to his full potential.
Christopher Timmins
411
Posted 04/10/2021 at 09:04:19
Seven games into the season and what can be said at this early stage is that performances are of a far higher standard than last year. Hopefully, better performances produce better results and a higher points tally at the end of the season.
Gray and Townsend have been fantastic so far and if they can keep their current levels of performance and with some of the injured players coming back after the International break there is no reason why we can't be in a very good place in the period leading up to Christmas.
At this point in time, only seven games in, the manager is proving to be an absolute success!

Graham Mockford
412
Posted 04/10/2021 at 09:04:56
In the end once a player has made the first team squad it doesn't really matter whether he was purchased for big money or came through the academy, it's how they perform that matters. Although of course the accountants prefer more of the latter.
Strength of squad is even more important than when we won the league with two top class back up players, Richardson and Harper. No nonsense players who could be relied upon to come in and do a job when required.
Currently our two central midfield players pick themselves and Tom Davies and Gomes are the best replacements we have should they be required. Delph is a write off and Gbabim probably won't ever get fit enough to show us if he's any good. The question is although they are the best currently available could we do better, I think we could.
Hammering Tom is unfair based on one incident on Saturday, he should have scored himself, Mina should have stayed onside. Shit happens. But based on what I have seen under 7 managers he's never going to be more than a bit part player for us.
Graham Mockford
413
Posted 04/10/2021 at 09:19:17
Don 402
Agree with most of your sentiment. Got to disagree about Osman though ( think I've been here sometime before!)
He holds the record for outfield PL performances, joint 10th all time appearances in a blue shirt ever, even played well enough to get into England squads. Scored goals, created goals and amazingly managed to do so when getting stick on Internet forums!
Was he a great player? No. Was he a good quality PL player? You bet.
Danny O'Neill
414
Posted 04/10/2021 at 09:32:08
I like that last paragraph Tony. Work hard and enjoy. Yes, you can do ball work with them and skill / ability work (which the kids will always enjoy), but I've seen way too much overly tactical "coaching" at the younger age groups.
I'll always remember going along to watch my son's team when they transitioned to 11-a-side. Now I never used to interfere, but I'll never forget one of the first training sessions. Always sticks in the mind and had me shaking my head. Not only were the kids too small for the pitch and the keeper too small for the goals, but they spent almost an entire hour and a half stood like statues as the coaches tried to talk them through formations, set ups and even playing an offside trap. Aside from the 15 minute kick around they got a the end, you could see the boredom and lack of interest!!
As a young lad in Germany, we would work in small groups and rotate around mini-sessions. I didn't know it at the time (too young), but they were getting us used to pressing, possession, ball work and yes, working us hard. But always enjoyment and some fun stuff at the end.
The tactics can come later.
To your point Graham. What if he'd have been surrounded by better players (Osman)? In a better team? From his perspective, I'd quite have liked to have seen Osman go abroad.
Mike Connolly
415
Posted 04/10/2021 at 09:35:49
It would not do for us all to have the same opinion on this site it would probably be boring. I would not think less of anyone who has a different opinion to me. but I stick by my opinion of Tom Davies Some fans would agree with me and many will not. what frustrates more, I'm looking at the table and thinking we should be joint top.
James Fletcher
416
Posted 04/10/2021 at 09:36:12
Personally I think Tom made the right decision at the weekend, his pass gave the keeper no chance and it's not his responsibility to check that Mina isn't marginally offside. If Mina stays onside then it's a brilliant decision as it guarantees a goal.
Graham Mockford
417
Posted 04/10/2021 at 09:48:56
Danny
He was surrounded by Arteta, Carsley, Fellaini. Pienaar and Timmy. I'd take anyone of them in a heartbeat.
Danny O'Neill
418
Posted 04/10/2021 at 10:52:31
That's a fair and decent call Graham, so I'll take that one.
I was a big fan of Leon Osman and used to love watching him. Very technical player in my opinion. He created, assisted and scored. Still remember him leaping like the ultimate Alaskan Salmon in that City match in front of the Park End when we came back from behind to win 2 - 1. I think one of Lescott's first games back at Goodison and there is the 5ft 8" Leon out jumping the Manchester City centre backs on the edge of the box.
I guess I meant had he somehow have been put in a winning team, but granted, you could say that about most Premier League players I suppose.
Looking back, the Moyes era was the second coming of the nearly team.
Andrew Ellams
419
Posted 04/10/2021 at 11:33:26
Leon Osman was a very gifted technical player who was much maligned because of the Moyes obsession of playing him out wide in the early part of his career.
His close control ability and quick feet had him as a number 10 all day long
Tony Abrahams
420
Posted 04/10/2021 at 12:25:22
Only a picture Soren@392, but it encapsulates so much imo, and it took me back to my training days, and one of the few real instructions that was constantly uttered, which was "score a five a side goal". (Can you believe the kids call a tap-in a sweaty goal!)
Mina gets ahead of the ball, meaning Davies had to either shoot or run forward to change the angle keeping Mina onside, and if he could see him out of the corner of his eye, he shouldn't have been taking any chances imo.
We played that much 5-aside with the goals even smaller than ice-hockey goals, that it was usually the only way you could score, which meant it didn't even have to be drummed into us!
I've just gone back to that picture and look at Andres Townsend, he definitely thinks we are just about to win the game
Ian Jones
421
Posted 04/10/2021 at 13:04:25
Alan @ 403. With the benefit of a replay there were about 4 Man Utd players who appealed for offside at the time..
Matthew Williams
422
Posted 04/10/2021 at 13:34:36
Still buzzing after Saturdays draw,the lads dug in and battled the mancs whilst also playing with real flair too.
Much praise to Mr Benitez and the lads,with a bit of luck we'd have come away from O.T with all three points.
Just so pleased with the start we've made and honestly believe that we are only four players away from REAL greatness again...what do other Blues think?.
Onwards Blues...just keep it up eh!.
Peter Gorman
423
Posted 04/10/2021 at 13:45:36
Danny, Graham - I'll go further and say Osman was made for international football as he showed in his few appearances. Calm and intelligent on the ball, he had so much more time than in the Premier League.
A highlight reel can be misleading, as we've come to bitterly realise, but little Leon Osman's is up there with the best.
John McFarlane Snr
424
Posted 04/10/2021 at 14:18:40
Hi Tony [420],
I really enjoyed the conversation we had in The Bramley Moore, and may I add that I respect your views given that you have experienced an insight into professional football.
My reaction to the disallowed goal was like that of many on this thread, 'Tom Davies should have taken a shot on goal.' Then, on reflection, I thought I have seen goals scored in a Sunday League game that would grace Wembley, and I have seen mistakes at Wembley that would embarrass a player at Sunday League level.
I have often stated on this site that I have never missed a goal-scoring chance, nor mistimed a tackle. I find it quite easy to criticise from the seat in the stand or the comfort of an easy chair. I can't remember when I reached that way of thinking, but I do know that I enjoy my football more as a result.
Soren Moyer
425
Posted 04/10/2021 at 14:18:58
You're right, Tony @420. Townsend is already celebrating, as seen on the picture, lol.
Brian Williams
426
Posted 04/10/2021 at 14:30:13
Talking of Townsend, should we now be referring to him as AT14? :-)
Tony Abrahams
427
Posted 04/10/2021 at 14:35:02
I've missed penalties and even easier chances than that, John Mc. I've mistimed tackles, failed to clear my lines or win the header, gave the ball away resulting in my team losing a goal, and also tried to play the offside with similar results. But one thing I've never done on a football pitch is blame an individual for costing us the game because my opinion was, and always will be, that we win, lose or draw together.
Don Alexander
428
Posted 04/10/2021 at 14:36:04
Peter (#423),
Osman made only two appearances for England. One was a 4-2 defeat to Sweden in a friendly where he played the entire game (Zlatan scored all four). The other was a competitive match against, ahem, San Marino.
John McFarlane Snr
429
Posted 04/10/2021 at 14:38:59
Hi Tony [427] at the risk of being accused of vanity, ''You're a man after my own heart''.
Tony Abrahams
430
Posted 04/10/2021 at 14:43:14
I used to enjoy watching Arteta and Pienaar, but I'd say Osman had a better first touch than both of them, and would have been a top, top player if he had just been blessed with more pace.
It's why I constantly say that I'd love to see him coaching the kids at Finch Farm. He never made the grade because he was fast or physical, and probably would have come last in both categories, which meant he had to rely purely on his football brain, imo.
Tony Abrahams
431
Posted 04/10/2021 at 14:51:25
Unless that individual was a referee John Mc, because I've been known to blame quite a few of those fella's over the years, questioning both their integrity and their fitness, even realising whilst I was doing it, that I was only making a rod for my own back.
The main thing is I've been happy watching Everton so far this season though, because we seem to have a lot more method, and every single player is working hard for his team.👏
Graham Mockford
432
Posted 04/10/2021 at 14:59:07
Don,
I guess it depends on your definition of 'top notch'. He never established himself as an international player but played well enough to get caps. He had his limitations, pace being the main one but it didn't stop him contributing consistently over many years.
I would argue that if you are in the Top 10 number of appearances of all those that have pulled on the shirt in nearly 150 years you were probably doing quite a bit right.
Brian Wilkinson
433
Posted 04/10/2021 at 15:17:54
I have not said anything until now about the offside goal, I do remember looking and not celebrating, when the goal went in, pretty certain it was offside when he played the ball forward to Mina.
Mina has taken a lot of stick, I am going to jump to Mina,s defence, When Davies received the ball he miscontrolled it before recovering and then playing the pass, by this time Mina was already on his way, had the pass been played without the miscontrol, Mina was onside.
I think the miscontrol panicked Davies, which made his mind up to pass it to Mina, let us not forget, the penalty miss is still there in his mind, then you have over 70,000 and in that split second of miscontrolling the ball, he has to make an instant decision, he chooses to play the ball without checking if Mina was in front of the ball.
Had Davies taken it on and the goalie saved it, Davies would have been slated, it all comes down to very fine margins, and the extra second or so controlling the ball cost Mina being offside.
Nicholas Ryan
434
Posted 04/10/2021 at 16:54:16
Brian [433] Sounds about right.
Nicholas Ryan
435
Posted 04/10/2021 at 17:19:05
Danny [414]. On the subject of young players being overcoached, I remember a cricket seminar when Sir Viv Richards was asked what advice he would give to a young batter. He thought for a moment and said, in his finest West Indian drawl "See it, man. Hit it, man."
Likewise, a friend of mine attended a Q&A session with the golfing great Arnold Palmer. Palmer was asked for his advice to young golfers; he said: "Thrash it, find it, Thrash it again'!
Brendan McLaughlin
436
Posted 04/10/2021 at 17:39:58
On the offside... just seen it reported that the assistant referee concerned is to receive a "dressing down" because he tried to justify his decision not to raise his flag with some of the Man Utd players. So it seems that the guy whose job is to call these decisions was convinced Mina was onside.
Of course, Tom shoulda known better.
Don Alexander
437
Posted 04/10/2021 at 17:50:28
Graham, Ozzie can't be blamed for being born when he was but he's made the most of a lengthy career courtesy of being played for twelve years by a club that never looked like winning a trophy, just like the five years preceding and following his career with us.
Just one competitive match speaks volumes to me, against San Marino, right at the end of the lengthy Everton career you cite.
Opinions eh?
Roger Helm
438
Posted 04/10/2021 at 17:56:46
Nicholas 435, I heard Cloughie only ever said to his centre-halves "Head the ball, kick the ball". Also, I heard George Graham tied his centre-halves together with a length of string in training, to ensure they never got too far apart.
True or not, those two managers knew a thing or two about defending!
Barry Hesketh
439
Posted 04/10/2021 at 18:07:33
I read that too, Brendan. I think it was Keith Hackett who made the observation about the linesman. I thought the Assistant Referees were instructed to put up their flags as soon as they saw an offside but obviously that isn't the case as they all seem to wait until the ball arrives at the attacker's feet or in his proximity.
Going back to Saturday's incident, was it really a clear and obvious error by the assistant not to give offside?

Billy Roberts
440
Posted 04/10/2021 at 18:16:51
Brian @426,
Isn't that B+Ms version of WD40?
This has been some epic debate on the Mina / Davies goal but I think that.... nah, I think it's already been said about 40 times!!
Martin Mason
441
Posted 04/10/2021 at 18:55:35
Very close decision on the offside settled correctly by VAR after the goal was given on the field. Sorry but it was Mina's responsibility to stay on side in that situation.
Sorry, I said 100% but that is incorrect?
Justin Doone
442
Posted 04/10/2021 at 22:45:57
In a less is more mentality, we got less than what we deserved on Saturday.
I never really liked or agreed with the saying, so, call me greedy but I want more. Hopefully by way of silverware at the end of the season.
As for the game, it wasn't a classic. But what we now have is what we have needed for many years, pace and an attacking threat.
Not since Mirralis have we looked like we had a genuine and constant threat in games. Good, pacey wingers that appear to be working hard for the team and carry a goal threat. Long may it continue.
I'm not getting carried away with many hurdles to come, but Rafa takes credit for building on Carlos defensive and well organised foundations.
Pass forward, move forward. Defenders defend more, create less. Midfielders move more and link play. Forwards create and attack more. Easy.

Brian Wilkinson
443
Posted 05/10/2021 at 02:10:08
Seems we have said all that needs to be said, so for a slight change of conversation, has anyone been watching the old Big Match revisited on ITV4 and if so, has anyone yet to see a game that has had Everton on, seen them feature Everton winning?
Had the Carlisle game on, one against Boro, one against Man City, and even though we had a decent run around the 78-79, we never seem to feature as a main game, or as a rampant Everton, winning a game.
Brian Murray
444
Posted 05/10/2021 at 02:29:36
Brian.
I remember it all too vividly and painfully, from the Carlisle double defeats to being 2-up vs Sheffield Utd and collapsing.
What sticks out like a sore thumb is the quality of teams around us compared to us. We had Steve Seargeant, Telfer, Buckley and Dai the Drop in goal. The likes of Derby had McFarlane, Hinton and Gemmil. Same with Man City who had Bell, Lee Summerbee and so on, so it's no surprise we didn't make it over the line.
I always remember a last-minute winner (Latchford) vs QPR and never seeing the Street End go as crazy as that. As a kid, I really thought it was our year. It all shaped you into the Blue you are today really. Wouldn't change it for the world. Masochist or what, eh?
Derek Thomas
445
Posted 05/10/2021 at 09:05:32
Tony @ 427; spot on.
You win as a team... and everybody in the team always seems to have no problem with that – even if they only got on in the 89th minute... and, therefore, you lose as a team.
For every shot that flies – or trickles – past the keeper, there were, supposedly,10 men in front of him to help prevent it.
I know, great in theory – but true.
---
Add Your Comments
In order to post a comment, you need to be logged in as a registered user of the site.
Or Sign up as a ToffeeWeb Member — it's free, takes just a few minutes and will allow you to post your comments on articles and Talking Points submissions across the site.
---
© ToffeeWeb