Report
A Sorry Tale of Two Substitutes?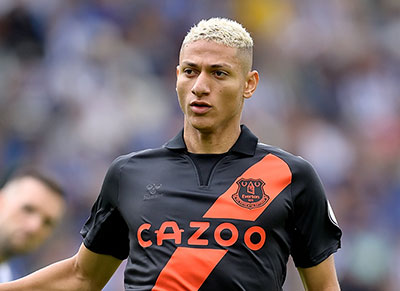 Richarlison comes off the bench to score what should have been the winning goal...
Or a tale of rank incompetence all over the field? Everton gifting Josh King (of all people) a ridiculous hat-trick that materialized immediately after Rafael Benitez had the barefaced audacity to bring on the utterly useless Iwobi, with Everton winning 2-1. You just could not make it up!
Rafa Benitez once again picked Salomon Rondon, despite his shocking ineptitude last week against West Ham Utd, with Richarlison fit again but incredibly not 'risked' in the starting line-up. At least Iwobi had been dropped to the bench, leaving the painful prospect that he will be called upon as a substitute.
No other young surprises on the bench… which is not a surprise as Benitez is clearly averse to trialling other youngsters at this level; he would rather waste another subs spot for a second reserve goalkeeper, with only eight players named on the bench.
Anthony Gordon was full of running from the off and a fine run and pass was picked up by Gray who swung in a great cross for Tom Davies who had sprinted the length of the field to power it over the line from close range. Great start!
It was ragged stuff after that, as Watford tried to redress the balance, and Everton's play was panicked and scrappy but Davies again was strong, this time in defence. But a great sequence of passes, with Gordon pivotal, got Townsend in a firing position but Foster palmed his shot away.
From a Watford free-kick by the corner flag given up by Digne, Josh King scored at the far post but it was initially flagged offside until VAR confirmed that it has been played on by Godfrey.
Another foul by Digne got him a yellow card and Godfrey had to defend the incoming set-piece. Everton tried to break but were not handling the high press very well. Townsend whipped in a great cross that flew over Rondon's head and out behind.
Gordon went on a run but failed to release Townsend open on the wing. Townsend whipped in another good cross but Rondon could only watch it fly past him. Lots of backwards play drew ire from the crowd and forced a put forward to Rondon that was wasted.
Godfrey headed clear but Sissoko took a fierce swipe at it, firing wide as Watford looked altogether sharper and more intent than Everton, who were trying a mixture of approaches Rondon tried a shot that dribbled out for a corner, Davies just failing to connect with it at the far post.
Article continues below video content
At the other end, Watford were pretty sharp again going forward, a shot deflected wide by Keane and the corner, fortunately volleyed wide by Sarr. Davies looked a bit like James Rodriguez with a pinpoint ball out to Digne who volleyed his cross back in for Rondon but it wasn't accurate enough.
Townsend made a great turn but then overran his cross. Gordon was linking well but refused to take command and it was left for Allan to lash a poor shot well off target that somehow won a corner.
Gordon was fouled as he entered the area but Graham Scott thought he went down a little too easily for a penalty, not awarded. The crowd got even more irritated, as Davies was fouled with no free-kick.
There was another very ragged attack, with Rondon then Davies missing the ball and Watford breaking at speed but Sarr wellying it high and wide. Troost-Ekong challenged Coleman as he tried to take a quick free-kick in the Everton area; Hernandez and Davies squaring up, one Watford player booked.
Another scrappy Everton attack saw the ball almost fall to Gordon but he was denied the time to shoot. That was followed by another wayward shot gifted to Watford at the other end.
The half finished with more horribly scrappy play, an exhibition of formless erratic error-strewn stuff that passed for a pretty poor game of football. Perhaps some would call it 'competitive'...?
No changes as Allan kicked off the second half and a hoof up to Rondon flew out of play. After a spell of neat but purposeless passing, Everton gave up possessions and Watford quickly switched to attack. It really was a rubbish game, but Benitez seemed happy enough. Rondon crossed for Gray but a long way away from him.
Davies was challenged, leading to a nice free-kick chance that came to nothing. A slightly better sequence, again featuring Gordon, almost created something. Gordon went on another run but felt he was clipped. Allan also diving for a penalty, and earning only a yellow card.
The quality of the game had not improved... in fact, it was worse, if that was possible, and you had to wonder if it was something that Richralison improve? Possibly not. Watford produced their best move with King's c;ose-range shot miraculously stopped by Pickford to deny him.
But cometh the hour, cometh Richarlison, with plenty of boos for the impressive Antony Gordon getting yanked instead of the donkey-like Rondon. A free-kick wide right was headed well over by Davies, taking his eye off the ball.
The attack seemed dead when suddenly a wonderful ball returned in by Keane and headed in superbly by Richarlison. At the other end, Pickford had to field a strong shot from Kucka. Richarlison's collapse drew a yellow for Dennis. Then Richarlison's stretching lunge caught Dennis equally slightly and resulted in a yellow card for the Everton man.
Richarlison was falling whenever touched, and Graham Scott was buying it, Keane heading Digne's free-kick just wide. It was still a very difficult watch, such scrappy sloppy stuff. But Everton were ahead with 15 minutes to go. What could go wrong?
How about Alex Iwobi on to replace Demarai Gray? That inspired a sloppy moment from Davies and a corner to Watford, headed home with consummate ease by Kucka. Unbelievable.
Waytford then swe[pt upfield from the restart, King left all alone to wallop it past Pickford one-on-one. I didn't want to see Iwobi but this was just ridiculous. Two goals in 88 seconds.
Could there be any more sloppy nonsense from Everton? Yes, Dennis, so close to scoring but for a fantastic finger-tip save by Pickford and almost a classic repeat by Kucka from the corner, this time over the bar.
Richarlison did well to cross but above Iwobi, and a very poor strike from Digne following in. Then another unbelievable piece of defining allowed Josh King to get his hat-trick. What a completely ridiculous game!
But there was still another ridiculously stupid goal for the Blues to give up through some quite astounding Keystone cops defending. The whole game defies any understanding... But all the lame should be on Benitez fro daring to bring on Iwobi!!! He comes on and Everton give up FOUR goals... Utter madness.
Scorers: Davies (3'), Richarlison (63'); King (13', 80', 86'), Kucka (78'), Dennis (90+1')
Everton:Pickford, Coleman (c), Godfrey, Keane, Digne [Y:17'], Allan [Y:54'], Davies, Townsend, Gray (77' Iwobi), Gordon (60' Richarlison [Y:72']), Rondon [Y:17'].
Subs: Begovic, Lonergan, Kenny, Holgate, Gbamin, Dobbin.
Watford: Foster, Ngakia (76' Nkoulou), Troost-Ekong [Y:44'], Cathcart, Masina, Sissoko, Tufan (64' Pedro), Kucka, Hernandez, Sarr (64' Dennis [Y:70']), King [Y:79'].
Subs: Bachmann, Louza, Cleverley, Sema, Gosling, Fletcher.
Referee: Graham Scott
VAR: Martin Atkinson
Share article:
---
Reader Comments (392)
Note: the following content is not moderated or vetted by the site owners at the time of submission. Comments are the responsibility of the poster. Disclaimer
David Pearl
1
Posted 23/10/2021 at 14:02:28
And there you go. Davies in for Douc and Rondon keeps his place. Gordon replaces Iwobi. All good. Coyb
Jay Wood
[BRZ]
2
Posted 23/10/2021 at 14:09:42
Given the circumstances, that's as good as we can hope for.
Perfectly understandable that Richy is on the bench rather than starting. Rondon selected by default with all the injuries and raw alternatives we have on the bench.
It would be really nice if Anthony Gordon stepped up and made a strong case for himself today. Time and tides, 'n all that.
Ernie Baywood
3
Posted 23/10/2021 at 14:30:18
I hope we go back to the direct route and get players up in support of the attack. Win the second ball type stuff. You don't counter attack with Rondon - he just becomes a missing player. But leave him at the point of the attack and get players around him and he can be effective.
My prediction: 40% possession and a 2-0 win.
Kieran Kinsella
4
Posted 23/10/2021 at 14:32:43
Maybe today is the day that Gordon makes his mark
Raymond Fox
5
Posted 23/10/2021 at 14:38:20
Why am I not confident!
Justin Doone
6
Posted 23/10/2021 at 14:38:52
I'll be looking to see how King performs. How we could do with him upfront.
Ciarán McGlone
7
Posted 23/10/2021 at 14:40:32
Dobbin must be bloody awful.
Denis Hignett
8
Posted 23/10/2021 at 14:42:28
Can't see where the goals are coming from.
I hope I am wrong!

Alan J Thompson
9
Posted 23/10/2021 at 14:42:55
Why drop Iwobi and keep Rondon? If one of them didn't reach the criteria last week for being selected this week then the other certainly didn't.
Justin Doone
10
Posted 23/10/2021 at 14:43:19
I thought Gordon played well against Man U after a slow start for the first 10 minute.
He's not afraid to attack, go past a player and put a cross in. Just needs to stay concentrated, work hard, make forward runs.
Kieran Kinsella
11
Posted 23/10/2021 at 14:47:28
Justin
He did play well at Utd but now he needs a goal or a few assists to kick on
Ajay Gopal
12
Posted 23/10/2021 at 14:53:50
An opportunity for both Davies and Gordon to impress Benitez. The crowd needs to be patient, but really up to the players to step up.
Mike Dolan
13
Posted 23/10/2021 at 14:59:50
Justin #10 you nailed it Rondon is doing a decent job in the last couple of games. His job is to 'occupy' the opposing defenders him scoring would be a bonus given that he has been thrown in there not fully fit.
We shouldn't blame him for Everton losing their top 2 options for the number nine spot. He 's giving it the old college try and I admire any player who gives 100% without moaning, even if they are not the most talented and in their waning years. 3-0 today even though we lost last week and the sky is falling ln the blue world of Evertonia.
Ernie Baywood
14
Posted 23/10/2021 at 15:27:05
Back to passing it around defence again. Allan another defender again.
I thought we'd found some identity... no idea what we are supposed to be here.
Bobby Mallon
15
Posted 23/10/2021 at 15:37:04
Mike 13, Rondon is absolutely rubbish. RUBBISH
Alex Gray
16
Posted 23/10/2021 at 15:37:54
Look nervy from set pieces but overall I don't think we've been too bad. Gordon has really impressed and considering our midfield options have carved out a few chances.
Richi could be the difference.
Ernie Baywood
17
Posted 23/10/2021 at 15:52:37
I hope we see a completely different Everton in the second half. If we play like this we are going to concede from a defensive error. It's suicide.
Some decent performances in that half. But not playing to the strength of any player in blue.
Phil Smith
18
Posted 23/10/2021 at 15:55:05
Watford kicking us off the park 'ere. Rondon doing absolutely nuttin' again. Sling your hook, la. Richie on at the half.
Phil Sammon
19
Posted 23/10/2021 at 15:58:11
Ernie Baywood
Hi Ernie
You're in Melbourne aren't you? Did you know we have a supporters club over here? Now we're actually allowed out again I'm sure we'll be meeting up in the City for some games. Get in touch if you want to come along mate. The more Blues the better.
Kieran Kinsella
20
Posted 23/10/2021 at 15:59:42
Gordon has been our best player but we need to get Gray involved. The midfield just getting bossed around, the defense look like a Monty Python crew. Townsend has done alright.
Alan J Thompson
21
Posted 23/10/2021 at 16:01:08
No slow start this week thanks to great work from Gordon and Davies but I wondered at that time and for the rest of the half where Rondon was, get him off and we might get something from someone but they certainly couldn't be anymore anonymous, Davies and Gordon looked more like our centre forward.
As for their goal, just amateur defending and while I don't solely blame him for the goal, Godfrey doesn't impress me as a central defender, yes he's got pace but also has poor positional play and then we resorted to the fiddling around at the back which might just be the lack of imagination in midfield.
And while this is another display of poor refereeing was the 4 minutes extra time due solely to the time taken up by VAR?
Hopefully, Richarlison starts the second half up front.
Jay Wood
[BRZ]
22
Posted 23/10/2021 at 16:03:45
Scrappy game with not much football played by either side.
We should have been lifted by such an early goal, but really didn't set the tempo. Anthony Gordon did more in that single play than Iwobi achieved all game last week.
It was Gordon's run and pass which opened up the play allowing Davies to score from Gray's pass.
But a soft goal to concede the equaliser due to a tad of laziness. King was offside, in front of the players in the box, but Gray out wide being the one who played King on. His first goal in 30. Of course, it had to be us.
Davies looking good in a more forward role from midfield. Attacking the box well, as per his goal. Pickford's early distribution was excellent, then it went to cack.
We can win this if we take better advantage from some of the plays out wide. Nearly but not quite in a number of situations with Gordon, Gray, Townsend, Coleman and Digne in good positions. But equally we need to be wary. Watford have been lifted by their goal and will fancy themselves to get something from the game also.
Could an eventual 2nd half introduction of Richarlison prove decisive?
Sean O'Hanlon
23
Posted 23/10/2021 at 16:40:55
Another needless corner, same as last week, another needless goal. Absolute shite!
Kevin Prytherch
24
Posted 23/10/2021 at 16:42:17
Last season, using Carlo's 2 lines when defending set-pieces, we had the best record in the league. This season, we abandon it and become vulnerable again.
Do coaches or managers not look at what works or are they blindingly stubborn in insisting their methods work best?
Ernie Baywood
26
Posted 23/10/2021 at 16:47:30
Absolute shambles. Wrong tactics, wrong performance. And then there's Godfrey as an individual. What's happened to him?
Alex Gray
27
Posted 23/10/2021 at 16:49:01
Josh King hat-trick. Couldn't make it up. Worst defensive performance I've seen in years.
We had the option of Josh King as back-up and I'm certain Rondon has had one shot on target in 5 games?
Joe McMahon
28
Posted 23/10/2021 at 16:50:13
No Words, defending at corners???
Finch Farm - what do they do, learn, practice?
Liverpool knocked 5 past them last week, away. Laughing stock of Merseyside yet again.
Kieran Kinsella
29
Posted 23/10/2021 at 16:51:37
Kevin,
The set pieces are awful at both ends of the pitch which as you say falls on Rafa. If you don't have the quality, work on the simple things, eg, corners. Worked for England in 2018. Maybe Rafa thinks that's something "small clubs" do.
Justin Doone
30
Posted 23/10/2021 at 16:53:45
Josh King not good enough for Everton... or was he actually in fact too good for us?
Balls.
Never a fan of zonal marking. It needs a mix of zonal and man to man. But we got done on the counter... isn't that our tactic?
Kieran Kinsella
31
Posted 23/10/2021 at 16:53:50
Reminds me of that Atalanta game with some of the same suspects. Complete lack of communication and effort defensively. Inept and weak midfielders. Bad organization.
Gordon can hold his head up – at least we were doing okay with him on the field.
Mike Gaynes
32
Posted 23/10/2021 at 16:54:33
In 35 years, this is the worst I've ever seen.
Michael Lynch
33
Posted 23/10/2021 at 16:55:20
My deepest sympathies to local fans. The RS hit five past Watford, Watford hit five past us. Utterly humiliating. Work will be a nightmare on Monday.
A real low point.
Gary Smith
34
Posted 23/10/2021 at 16:55:55
It's easy to knee jerk, but this is beyond acceptable. Rafa needs to be sacked
tonight!
Signing Gray does not excuse signing Rondon, Begovic and Lonergan.
Zonal marking that would embarrass Marco Silva. Sat back after going in the lead. Took off our two best players and finished with Iwobi and Rondon on the pitch. An utter joke.
We are in a relegation fight. Make no mistake. We are shocking.
Jim Bennings
35
Posted 23/10/2021 at 16:55:57
2016-2021
The years that absolutely broke Everton Football Club.
Yet some fans still blame Martinez.
Farhad old boy, here's what 5 years of big spending has reaped you mate.
Absolute fuckin dog food players
Christy Ring
36
Posted 23/10/2021 at 16:56:39
Abysmal and Rafa's substitutions didn't make sense, take off your two quickest players and leave on Rondon?
Jim Bennings
37
Posted 23/10/2021 at 16:58:54
Sacked for who Gary?
Four games of chest pumping under Big Dunc then after that the same bollox players revert to type?
Even Ancelotti couldn't sort out this mess mate and that fella had seen it and done it all.
Ancelotti seen this coming in May and that's why he fuckin walked lad!
Jerome Shields
38
Posted 23/10/2021 at 16:59:49
Dumfounded. Lost my connection and came back to this. Must say I had Everton on a par with Everton and no higher, but they have a mediocre striker that Watford had not got.
Steve Brown
39
Posted 23/10/2021 at 17:04:49
Those last 15 minutes were humiliating.
Phil Smith
40
Posted 23/10/2021 at 17:05:23
Soon as Gordon came off and Rondon stayed on, I knew we were in trouble. We're playing with 10 men with him in our side. It's ridiculous!!!
Godfrey was awful and how many balls did he and Tom Davies miss leading to them scoring? At least 3, if not all of them.
Alan J Thompson
41
Posted 23/10/2021 at 17:07:39
Well that was embarrassing but not half as much as it could have been and this Manager's bubble has well and truly burst.
The substitutions were wrong, yeah, Richarlison had to come on but what percentage is Rondon paying out to get a game and a whole game. Neither Gordon nor Gray should have been the players off unless Gray had an injury and Richarlison showed Rondon what he seems incapable of.
Absolute garbage and I'm sorry but I'm not having that it isn't the manager's fault because of injuries. Why did Richarlison start on the bench after Rondon's rubbish over the last few weeks. We have to find that midfield magician as we don't seem to have that much inventiveness as Townsend and Gray need feeding and the central defence needs sorting, Godfrey is not the answer, as fast as he is he was poor today, not that all the blame is down to him.
Embarrassing!
Mick Roberts
42
Posted 23/10/2021 at 17:10:02
This was down to Rafa. Two useless subs and the constant desire to sit back and defend even against Watford. Just fuck off!
Si Cooper
43
Posted 23/10/2021 at 17:11:03
Lack of depth in squad exposed but the honeymoon period for Rafa is now over.
Some questions I'd love to know the answers for.
Has Gbamin got anything to offer? If he is not capable of at least being an imposing lump in the middle of the pitch I don't understand why he is even in the squad. If he breaks down again then surely it's finally time for the insurance pay out?
What exactly happened with Josh King last season and who pulled the plug on extending his contract at the end of it? Was he already gone by the time Ancelotti did his flit?
Jay Wood
[BRZ]
44
Posted 23/10/2021 at 17:11:10
WOW! Just wow.
Leading 2-1 with 12 minutes to go and you lose 5-2?!
That was comically bad. A total capitulation. As Mike Gaynes says, the final 15 minutes of the game is right up there with some of the worst results and performances I've seen by the Blues.
It was a scrappy game throughout with no-one really in control. Until that mad, bad final 12 minutes.
We scored a lovely goal to re-take the lead. But their second was a carbon copy of the WHU goal last week. We can clean out lower hit near post crosses, but a high hanging ball attacked by a late runner is causing us problems. They nearly scored from a similar play from another corner shortly afterwards.
But to concede the third from your own KO within 80 seconds of the restart? And then the 4th. And the 5th! Against a team shanked 5-0 just last week. Shameful.
And King with a hat-trick, his first goals in 30 games, is really rubbing it in.
It was a total road wreck. The defence in particular all over the shop.
WOW! Just wow.
Michael Lynch
45
Posted 23/10/2021 at 17:11:13
I don't think the subs made much difference to be fair – it was the defence and defensive midfield that fell apart. Sadly, Davies was awful and Allan had a bit of a mare too in the last 20. Keane and Godfrey... Keystone Cops on parade, and Digne a shadow of his former self.
Colin Glassar
46
Posted 23/10/2021 at 17:11:14
These are the same players (a lot of them) who've downed tools under koeman through to Rafa. Nothing will change while we have the same amateurs running the club.
Benitez has an impossible task while kenshite, Brands, Dame Edna, Ferguson and unsie are running the show behind the scenes. Mediocrity from the top down is killing us.
There appears to be no solution until BMD is completed and Moshiri sells us to Canada or Russia. We are a sinking ship.
Andrew Keatley
47
Posted 23/10/2021 at 17:13:02
Well I expected us to miss Docuouré, but not to that extent.
We've been here before too many times over the last five years (and beyond) - so it'll be interesting to see what Rafa will make of it. The look in his eyes after Watford scored their third made me think that he is going to be laying out some harsh truths over the next few days and weeks. The notion of sacking him for the shortcomings of a group of players who have shown on multiple occasions that they are prone to capitulate in this manner is laughable. Zonal marking failures and substitutions might bring some heat on him, but the performances of the players are all there to see - and individual errors were many and constant.
We have a tough run of fixtures coming Spurs, City and Liverpool in the next 5 games; the response from Rafa and the players is going to be interesting to see - and improvements will be vital.
Michael Lynch
48
Posted 23/10/2021 at 17:13:11
Oh, and fair play to King, he was brilliant – he took his goals superbly. And we've got Rondon.
You couldn't make it up really.
Fran Mitchell
49
Posted 23/10/2021 at 17:14:30
Shocking.
Taking off our best 2 players. Bringing on Iwobi when our openness in the middle was clear (Doucoure is going to be sorely missed). Leaving Rondon on for the 90 minutes. Persistence with the Keane/Godfrey partnership.
Rafa, you really messed it up today and the good feeling at the club is now quickly evaporating.
The players also need to take blame – too weak in the tackle, too sloppy on the ball, too slow all round.
Sam Fitzsimmons
50
Posted 23/10/2021 at 17:16:02
It will be interesting to hear the post match interview from Benitez, because there is absolutely no hiding place for him, no hard luck excuses, no bad refereeing decisions. As our American cousins would say – that was a clusterfuck.
I'm normally fairly optimistic but it is hard to see how Everton can rescue the season with this squad... to be more specific, with the defenders and midfield out there today.
Jerome Shields
51
Posted 23/10/2021 at 17:17:18
Two comments I made on the live forum prior to the score at 2-1
King looks in better shape and is a lot fitter than when he was at Everton.
King is sweeping the floor with Keane.
Didn't know how fateful these comments would be at that time. But for me it highlights the level of work put in at Finch Farm, especially over the International break.
What does a poor result after the International break and a failed rebound in the next game tell us ?Benitez is not making progress at changing things at Finch Farm.
Keane in the last two game s has been absolutely awful at his job, playing too deep, non existant defending on the turn, poor distributing the ball , giving away possession and lightweight as a marker. Godfrey has spent most of his time covering his ass.
What a mess.
Peter Dodds
52
Posted 23/10/2021 at 17:17:26
I was only listening on 5 Live but they thought keeping Rondon on was working - giving the Watford defence more to think about with both him and Richarlison. And as soon as they got a corner, I knew what was coming – "We can't defend set-pieces" I said. Letting four goals go in like that suggests the leadership on the pitch was totally lacking.
Jim Harrison
53
Posted 23/10/2021 at 17:18:39
Can't be having that. Utter shit show.
And can it really be the manager's fault? We have had in the past 11 odd years the current managers of Belgium, Barcelona and Real.
I never want to see Rondon, Iwobi or Davies in the shirt again. If Gbamin cant get fit he needs to sod off along with Gomes and Delph.
Fran Mitchell
54
Posted 23/10/2021 at 17:18:59
Godfrey is half the player of last season. Digne is way off too. Coleman is okay, but offers little attacking. Davies was okay, then was awful in the last 15 minutes and far too weak. Rondon is awful. Iwobi offers nothing.
Gordon and Gray can hold their heads up high. The rest can fuck off.
Colin Glassar
55
Posted 23/10/2021 at 17:20:05
I thought Tom Davies was having a good second half and then Iwobi happens. Tom lost all sense of composure once the Newham wonder came on – as did everyone else.
I'm not blaming Iwobi but he epitomises Everton over the last 10 years. We will NOT be relegated but this season, with these players, it will be another struggle.
Howard Sykes
56
Posted 23/10/2021 at 17:20:38
A repeat of last season. Good start to the season and then the wheels fall off. At this point, I'd be happy to see them get to 10th place. It could be a lot worse. When was it we were last in the old Division 2?

Pat Kelly
57
Posted 23/10/2021 at 17:21:35
Rondon shouldn't have been allowed put on a jersey after last week - Rafa's stubborn and unwilling to admit his mistake in signing him.
Richarlison should have started.
When Iwobi is brought on to save the day, you know it's the white flag.
Collectively the squad is infected with a loser mentality born of disastrous management over many years. Anyone with any talent needs to move on before they're destroyed by the apathy. Richarlison and Calvert-Lewin will get out if they have any sense or ambition.

Jim Bennings
58
Posted 23/10/2021 at 17:22:39
We can make a new managerial appointment every other week, we could appoint Pep, Klopp, Nuno, Fat Sam, Koeman, you name it.
But nothing will change until we sign and breed winning players with a burning desire to win.
Kieran Kinsella
59
Posted 23/10/2021 at 17:23:57
I thought Gray went off as he'd picked up a few knocks but Gordon was our best player. Davies tries but trying isn't enough. His air ball led to their match turning goal. To Si Coopers point, if Gbamin is too poor for this team then cancel his contract.
The defense were a disgrace and didn't even attempt to stop the last two goals. Watford were able to walk them in.
But obviously the team is complete crap so Rafa needs to at least sort out the basics: defending, corners etc.
This is like 93-94 – bright start then complete collapse. Hopefully Hans Segers is up against us come May...
Ernie Baywood
60
Posted 23/10/2021 at 17:24:22
It's not just about Benitez. But it will be about Benitez. This is why you don't hire an ex red - when things get bad, they'll get toxic. Just watch.
As for the game, it was a mess when we were winning, never mind when we fell apart. In the last few games we've abandoned what we were doing well previously.
The direct football disappeared - so the likes of Gray and Townsend aren't getting the ball early. Allan and Davies being expected to play with the ball at their feet - which neither are good at. So much going through Godfrey and Keane who we simply shouldn't want near the ball.
Defensively it was a disgrace. Godfrey may well not get near the 11 under Benitez again - he was that bad throughout.
What a mess. At least we can feel safe knowing that the club will stick together - oh hang on, we made a managerial appointment that pretty much guaranteed that won't happen.
Peter Dodds
61
Posted 23/10/2021 at 17:25:18
Just a thought on Digne - has his form gone backwards because he's only doing half the job he was previously? His attacking strengths have been neutered by being asked to stay back more, and he was never the best pure defender.
Kieran Kinsella
62
Posted 23/10/2021 at 17:26:55
Godfrey may still be unfit – in which case, don't play him. Use Holgate or Branthwaite.
Joe McMahon
63
Posted 23/10/2021 at 17:27:09
Many of us will face Reds on Monday or Tuesday, whatever day of the week. Decades of this Fhumiliation can only stretch so many years, Tales of Ball, Dixie, Latchford, Reid is laughable.
What the hell do they practice, learn and train at Finch Farm. We can't sack Rafa as he hasn't been part of the several years of demise, but surely it is time for the old boys network of Dunc, Unsworth et al to go as they are part of this downward spiral over the last few years. It's not working, something has to change and quick!
Jay Harris
64
Posted 23/10/2021 at 17:27:34
The turning point for me was taking Gordon off. He was doing well backing up Digne. When he went off, Godfrey has to come across to help Digne, leaving a gap in the middle and, with Tom too far upfield, the gaps between Everton players were huge and easy to pick through. Tranmere would have beaten us today.
Bad day at the office for Rafa. Rondon staying on for 90 minutes was a disgraceful decision but to take one of our best players on the day off and have Iwobi and Rondon on the pitch together is like playing with 9 men and that's how we saw the game out.
Dale Self
65
Posted 23/10/2021 at 17:27:47
Iwobi does destabilize our form but we had little composure before his sub. No one in the middle behind the striker is a bad setup for this squad. Surrendering the midfield against a weaker side was foolish.
I would offer an apology but I will get just as pissed off at negativity next week so instead I will offer congratulations to those who got it right.
Allan Board
66
Posted 23/10/2021 at 17:28:09
In absolute shock by this result.
My sympathies are with you local supporters – you deserve fucking medals for your loyalty and stoic defence of this club over many, many years. The completely disrespectful attitude shown to you by everyone at this alleged football club is an absolute fucking disgrace and an abhorrent abuse and disgusting slur against amazing fans, a proud area, and a once regarded and respected institution.
Take the club from them, they neither deserve your support nor – more importantly – your loyalty.

Kunal Desai
67
Posted 23/10/2021 at 17:28:13
Josh King sticking two massive fingers up at Moshiri, Kenwright and Brands.
Just what goes through the board's tea party. I haven't a scooby.
I just wish Moshiri would take the reigns here once and for all and clearout the idiots on the board, including Brands and Unsworth.
Nothing changes until there is a wholesale clearout.
Soren Moyer
68
Posted 23/10/2021 at 17:29:30
The bottom of the lowest point has been reached!
Derek Taylor
69
Posted 23/10/2021 at 17:31:45
Which Everton manager had the shortest stay? Whoever it was, Benitez will steal his record ere long!
Tony Twist
70
Posted 23/10/2021 at 17:32:09
You have to admit it, it's something Everton does best, humiliate the supporters. It is the only thing Everton does well.
This club is just happy with getting by, the procurement has been ill-planned over 3 years and not even the youth is up to scratch. Absolute joke of a club.
Last week, players saying we must do better, manager saying every department needs to improve 5-10 percent, well his performance needs to do the same.
Take a long hard look at yourself in the mirror tonight, Rafa. You seem to be a bit of a gambler... Start of the season, the luck was going for you; now, your decisions are very questionable.
Everton were an absolute disgrace and laughing stock today. No excuses.
Michael Lynch
71
Posted 23/10/2021 at 17:32:16
Soren, watching that shit show today, I think the lowest point has yet to come, probably over the next couple of months and culminating with the derby. I was at Goodison when the RS beat us 5-0 and I can't see any reason why they won't repeat that this season. Can anyone else?
Robert Tressell
72
Posted 23/10/2021 at 17:32:30
How is this possible? How is it possible to go from 2-1 up with 10 mins to go and lose 2-5? That is like an Under-10s game.
I'm past blaming individuals. This is just part of the deeply engrained shitness at Everton Football Club.
Colin Glassar
73
Posted 23/10/2021 at 17:34:13
Allan was our best player. Tom tried but he's simply not good enough at this level. Keane, Godfrey (shouldn't be playing due to long Covid), Seamus, Digne all surrendered in 12 minutes of madness (echoes of the Aston Villa game).
Gray, Townsend, Gordon and Richarlison all tried their best but, with a donkey trotting around up front, we had little attacking threat. Pickford wasn't at fault for any of their goals.
As for our super sub, enough has been said.
Jim Bennings
74
Posted 23/10/2021 at 17:37:14
I'll say it again.
2016 was the end of Everton FC.
The identity left the club.
The money has been the ruination of the football club, spent on unnecessarily lavish failed signings, woeful Director of Football appointments (Brands by far the worst) and insane managerial payoffs.
The club has gone, it's becoming completely blinded by this shiny new stadium, but the way things are going we will be lucky to still be in the fuckin division by then.
Steve Brown
75
Posted 23/10/2021 at 17:38:23
Everton boss Rafa Benitez: "I think it is difficult to explain when you are winning 2-1 and concede four goals in a few minutes. We need to understand how to manage the game, especially managing when you are winning.
"We conceded four goals in a few minutes and normally you cannot do this in the Premier League.
"When you score the second goal that is when you have to be better compact and organised but we made mistake after mistake. Difficult to explain.
"We have to be better, especially when you are in control of the game."
How does bringing Iwobi on make us more compact?

Kieran Kinsella
76
Posted 23/10/2021 at 17:39:20
Kenwright and Brands need to go. They're shameless failures hiding behind a succession of managers.
Greg Anderson
77
Posted 23/10/2021 at 17:39:50
This defeat has less to do with the manager than just comically shambolical defending. Keane and Godfrey completely failed to take charge of the proceedings, played scared, and were indecisive throughout the 90 minutes. They just inspire no confidence as a pairing. Seamus and Digne let way too many balls get by them and Allan and Davies offered little cover, sometimes making matters worse with their attempted interventions. Without Mina there to impose some order on things, we are just too easily rattled at the back and too quickly descend into chaos.
It is a shame, because we looked pretty good going forward, even with a center forward who offered very little. But the forward players were completely let down by the hapless defenders. It is mind-boggling how a player with Keane's size, skills, and experience still lacks the confidence to just boss the defence and snuff out threats from a bottom-of-the-table team like Watford.
Jerome Shields
78
Posted 23/10/2021 at 17:41:01
It's wasn't zonal marking that was the defensive problem. King just wiped the floor with Keane and Godfrey had a nightmare covering Keane's sorry ass from the kick off. The two flip on goals of this last two games where by unmarked players. Keane was more interested in playing deep than marking his man, being three yards away in both cases on the edge of the six yard box.
David Pearl
80
Posted 23/10/2021 at 17:43:33
Kieran 31
That Atalanta game. I was there. Humiliation. Same as today.
Easy game though hey Benitez.
I'm sorry to repeat myself but to camp out on the edge of our own box waiting for counter attacking opportunities. That's his master plan?
And NO Michael Keane is not to blame. We have to, at some point, be able to put our foot on the ball. oh whatever
Colin Glassar
81
Posted 23/10/2021 at 17:46:34
Moshiri's biggest mistake (apart from buying the club) was leaving Kenwright, Brands and Ferguson in charge of managing the football side. All three appear to be rank amateurs and buffoons.
The rot started with Koeman and Walsh and has continued under the three stooges ever since. Take control, Moshiri, or watch your money sink into the BMD mud.
Gary Smith
82
Posted 23/10/2021 at 17:46:40
Jim@37 "sacked for who?"
I'd appoint the hotdog girl from the Gwladys Street before this football dinosaur. I'd rather thump my chest to big Duncan going down than happy clap this gobshite.
Dale Self
83
Posted 23/10/2021 at 17:46:53
What does actually scare me is that Rafa put out a statement before the game declaring the club needs to improve across the board. This is the response from the players. If the board also numbs out Rafa could be hard to deal with in a meltdown. He didn't come here to take an axe to his reputation. Get your shinpads on.
John Boon
84
Posted 23/10/2021 at 17:46:56
Over the next week, there should not be any arguments among ToffeeWebbers about who should play where, when and how, plus all the usual disagreements.
Surely one voice: "We were awful!"
Kieran Kinsella
85
Posted 23/10/2021 at 17:53:26
John 84
"We were awful"
I'm going to have to do a Koeman here — the Everton were awful
Mick O'Malley
86
Posted 23/10/2021 at 17:53:59
I think this match just confirms that Yerry Mina is by far our best defender, a really bad defensive display not helped by a piss poor midfield and some baffling substitutions, Rafa do your self a favour and fuck Rondon off or the remaining goodwill will run out sharpish
Rob Dolby
88
Posted 23/10/2021 at 17:56:34
A collective shambles from the manager down.
The same players under Ancelotti could defend set pieces, under Benitez we are back to looking vulnerable at every set piece.
All 4 defenders had poor games. Coleman having a go at the paddock at 1-1 wasn't good from the club captain.
King had a point to prove and was motm by a mile. Pity he was overweight and unfit when we got him last year. Rondon needs to be sent back to China. He is offering nothing.
Gordon was unlucky getting the hook I thought it was his best game for us.
Starting with another 4 man midfield against a team of 5 surrenders possession and control of the game.
The manager needs to rethink his defending and formation otherwise we are in deep trouble with this group of players.
Colin Glassar
89
Posted 23/10/2021 at 17:57:37
Without Mina, Doucouré and Calvert-Lewin, we are seriously lacking height, muscle and fight.
Who, in their right mind, will want to join us in January?
Jim Bennings
90
Posted 23/10/2021 at 17:59:30
Gary
The problems at Everton don't go away mate because of all this
"Give the job to Dunc, he gets Everton"
Gets what exactly?
What have we won in 26 fuckin years?
We keep all these failed old boys at the club not realising that the modern game is about movement and precision play, yet we are stuck in the past with the "big number 9".
It's no wonder the club can't move forward because there are too many dinosaurs at the club already with out of date ideas.
Why are we keeping Unsworth at the club when not a single youth player breaks into the first team?
Blame the managers yes but all of them must be of a similar opinion, if there was a Wayne Rooney at youth level then he'd be on that pitch NOW.
The club is stuck in the dark ages and since Moshiri took over its sinking further and further due to terrible decision making.
Ralph Basnett
91
Posted 23/10/2021 at 17:59:59
Rafa, with the limited players you have, you should have played a 5-3-2, no Rondon or Iwobi if you want to keep your job.
Stubborn wins fuck-all!!!!
We are currently the laughing stock of the league, Newcastle have applied to get the game against us re-arranged to get their first win.
Alex Gray
92
Posted 23/10/2021 at 18:05:28
Poor subs. Gordon should've stayed on the pitch but I swear to god, if Rafa is sacked before Brands, then I give up. There is one man who's to blame for this squad and it's that utter fraud.
Signs awful players on big wages and can't sell effectively either. The state of our squad is embarrassing and the better players get dragged down by the dross.
We can blame injuries and that is a factor but under Moyes, we signed characters. Brands has signed bottle job after bottle job and we can keep saying the managers are awful but nothing and I mean nothing can justify that self-destruction today.
We have spent half a billion under Moshiri and our squad depth is worse than under Walter Smith. How does that happen? We are literally the blueprint of how not to run a club.
Apologies for the knee-jerk post but what attracted me to this club as a kid when my old man took me the match was our identity. We weren't a good team in the 90s but we stood for something. We battled and were hard to play against and, even when we lost, you knew it was due to poor quality but not lack of trying.
The attitude of this team is pathetic. The likes of Rondon, Iwobi, Digne, Keane just to name a few literally look scared to death when we're under pressure. It's the same mistakes that can't be coached – it's just who they are as people.
Sorry again for this post but that was just the pits.
Dave Williams
93
Posted 23/10/2021 at 18:08:45
I feel like Wilder must have felt against Fury! What a disgraceful performance and my Saturday night out ruined.
Surely the sub should have been Holgate to stiffen the defence rather than Iwobi, and Rondon was the man to be withdrawn? However, it wasn't the subs that cost us – it was atrocious defending and a lack of guts and grit to do their job properly.
Rafa will rightly get some stick for this but he is now finding out what the previous managers did and that is there is a lack of physical and mental fortitude in this squad and it will get him sacked if he fails to address it. I know he doesn't have many options at the moment but Rondon and Iwobi shouldn't be near the team. And if Gbamin can't get time today, he must be finished.
Branthwaite must be worth a try with Mina, with Ben replacing Digne who has been poor for a year now.
Completely embarrassing – five at home... to Watford!!! I can't recall a worse result at home for an awful long time. Thanks a lot, Everton – I just wish I didn't care so much. Perhaps the guys who played today can teach me how not to care? It seems to come easy to them!!
Jack Convery
94
Posted 23/10/2021 at 18:10:30
Spineless!
No Calvert-Lewin, No Doucouré and No Mina.
Stephen Brown
95
Posted 23/10/2021 at 18:10:34
Ruined my holiday!!
I don't know where to start really! We would need to spend £300M+ to be as good as West Ham or Spurs!! Not sure there's any point?! I'm resigned to this pointless team.
My son just asked me who would I keep?? Mina? Richarlison? Gray? Doucouré and Calvert-Lewin might be about it?
Hopeless from top to bottom.
John Skelly
96
Posted 23/10/2021 at 18:13:17
Does Rafa have a brown envelope agreement with Rondon's agent or does he genuinely believe that he has talent?
I for one can't see the talent.
Gary Smith
97
Posted 23/10/2021 at 18:14:16
Jim, I agree with almost everything you say, but I'd STILL rather have Duncan Ferguson in charge of the team than this fat imbecile… If that's the medicine needed for now, then keep your spoon of sugar.
Zonal marking again. Iwobi and Rondon over Gray and Gordon. Rondon 7 matches that'd embarrass the Stracq and Niasse… The man is a dinosaur and is going to fill us with 30-year-old has-beens (Sanchez latest link).
Brands, Unsworth, and every other person at the club should be ripped out too… I'm not arguing with it. Root and branch reform. If Duncan gets ripped out too, so be it… but at least put him in for the next game until we find a new manager.
Chris Leyland
98
Posted 23/10/2021 at 18:14:54
That result is just a reflection of this club from top to bottom. Run by amateurs and players who don't give a toss for the badge. It will never change as it is ingrained into our DNA. We are losers.
Even in the '80s, when we were winning stuff, we still regularly lost finals we should have won and also managed to lose the double in 1986 to our bitterest rivals. It's who Everton is and always will be.
The only two players who come out of it blame-free today are Gordon and Gray. Maybe Pickford a bit as he wasn't actually at fault for any of the goals but his distribution was woeful.
The number of unforced errors from the likes of Keane, Godfrey and Davies was shameful, constantly putting us under pressure by giving away the ball or conceding set-pieces. It was exactly like watching a kids football game at times as it was so amateurish.
Rafa also needs to take a long hard look at himself too – persisting with Rondon together with his substitutions. Why he took Gordon off is beyond me.
Pete Clarke
99
Posted 23/10/2021 at 18:15:15
Total embarrassing shambles and what should be a watershed moment for this club.
Let's start at the top: What new owner leaves the old useless loser in charge and then appoints the worst possible manager in Allardyce, only to follow this up with the most devisive manager in our history???
I thought it would take a 1-0 home defeat to Norwich or somebody to wake this club up. A 5-2 home defeat to Watford is beyond embarrassing and heads must roll.
Rafa is a so-called top manager, yet he plays a geriatric Rondon in the hope that he may register a shot on goal in a game now and then. He plays Iwobi when it's clear as daylight that he is totally useless as a footballer. He has everybody back for corners at home. What the Fuck?
So where do we go from here??
How about a good clear out starting with Kenwright, Ferguson, Unsworth, Iwobi, Rondon, Keane, Digne, Allan... and maybe while he's going through this list, Moshiri can ask himself a big question: Do I even know what football is about?

Amateur FC.
Barry Rathbone
101
Posted 23/10/2021 at 18:15:23
Why are people shocked?
It shocks me more the delusional bravado of those proclaiming "we SHOULD beat the likes of these" prior to games. "The likes of these"??? As though Premier League history shows us as a proven top club. The arrogance is off the scale.
Even with overrated players like Calvert-Lewin, Allan and Richarlison in our "first eleven", we are mediocre makeweights of the English game; without them, we are relegation material.
We win a few, lose a few, toddling along season after season with hope waning by November and extinguished by January. Fans need to refrain from the "likes of these" hubris – I'm sure it upsets the footballing gods.
Philip Bunting
102
Posted 23/10/2021 at 18:18:06
Seriously, I'm struggling to understand that. Today, from top to bottom, those players should be ashamed of themselves. But I bet they're not.
It's been like this now for a few years: no leaders, no battlers, no fight, no passion. The above is the very essence of our DNA.
Either shape up as a footballer giving a fuck... or fuck off. What hurts most is my 11-year-old has had enough of this... total bollox.
Derek Cowell
103
Posted 23/10/2021 at 18:22:35
I have followed the blues since 1966 and today was one of the worst, if not the worst, league defeat I can remember. Yes we have previously lost 0-5, 2-6, 2-6, 0-7,1-6 and 0-5 (you all know the ones) but they were against top sides. This was just utter humiliation!!
On Football Focus today, they highlighted that Watford had never won at Goodison in 15 attempts. I also knew that Josh King hadn't scored for 30 games. Enough said! When a ream or player needs a win or a goal eh!! Time and time again. You couldn't make it up!
David Currie
104
Posted 23/10/2021 at 18:22:55
We were lucky it wasn't more as Pickford made 2 fine saves. Awful defending, thought Gordon and Gray should have stayed on for longer.
How does Rondon get another full game? He is the worst striker in the League: 8 games no goals. This manager should be taking him off as he makes zero contribution.
Ian Bennett
105
Posted 23/10/2021 at 18:22:59
When you see Michael Keane, Rondon, Iwobi, Davies, an aged Coleman and badly out of form Digne, I expect nothing else.
Too many players in that squad that have got so many managers the sack. And you can add on Brands, Gomes, Delph, Tosun, Sigurdsson and the any other fraud at the club that contribute nothing.
The squad needs culling, play the kids, it can't be any worse.
Paul Tran
106
Posted 23/10/2021 at 18:25:54
We were poor, but Richarlison bailed us out. We lost concentration, discipline and folded like a cheap deck chair. Gray went off because he'd taken a knock. He clearly took Gordon off to go two upfront - I'd have kept him on.
That lack of concentration cost us. The type of marking doesn't make a difference without concentration. We've generally defended well this season - they went missing for the last 12 minutes today.
We missed Muna, but we miss him a lot, because he's rarely consistently fit.
Bad day at the office, or the shape of things to come?
Gavin Johnson
107
Posted 23/10/2021 at 18:26:14
Rondon is a cart horse and we should have kept Josh King!
Poor, poor game management by Benitez. Rondon should have been taken off instead Anthony Gordon but teachers pet had to stay on.
As for Iwobi substitution, the less said the better!
This team is a spineless bunch of cowards. We have injuries to our better players but there's no way we should be getting thrashed at home by a relegation outfit like Watford.
Colin Glassar
108
Posted 23/10/2021 at 18:28:15
Can't disagree with any of the above comments when it comes to a total lack of leadership on and off the pitch. I wonder what is said in the changing room at full time? A full throated rollicking or, "anyone want a game of Snap"?
Kieran Kinsella
109
Posted 23/10/2021 at 18:28:36
Positives: they are increasing ticket prices so fans will have the pleasure of paying more to watch this. We will also be able to give more lucrative contracts to Under-23 graduating charity cases.
Be nice to see us slip some extra cash to Everton legends with new 5-year deals for the likes of Delph. NSNO
Brian Murray
110
Posted 23/10/2021 at 18:31:58
Iwobi hugging and smiling to the opposition at the end. Imagine Henderson and Milner etc doing that. Sums this club up but apparently we are the benchmark how to do things. Another unbelievable statement from Lloyd-Webber's mate.
Tommy Coleman
111
Posted 23/10/2021 at 18:33:28
Our players looked like they didn't give a shit there. The worst defending I've ever seen from Everton. Shite Zonal marking, getting in eachother's way and diving in like they were in an Under-5s team.
Rafa should be very very worried.
Eugene Ruane
112
Posted 23/10/2021 at 18:36:39
I noticed something today I haven't seen or heard since 1995.
An Everton player clobbers an opposition player and immediately there are angry cries of "OFF!! OFF!! OFF!!" from... er..the Everton supporters!
In 1995 it was away to QPR - Brett Angell (natch) - today it was Rondon (the only man I've ever seen who could play smoking a pipe, wearing a dressing gown and carpet slippers).
I think that's all the comment I need to make really (although in Brett's defence, I should point out we did actually win the QPR game 2-3).
Actually, while I'm here I will make one more comment.
If, in our Under-23s, Under-18s etc, we don't have one player who could offer more up front than Rondon, we are goosed beyond all levels of goosedness ever recorded on a goosed-o-meter.
Michael Lynch
113
Posted 23/10/2021 at 18:38:00
Rafa says Gordon doesn't have the legs to play 90 minutes and Gray had a cold. Fine but why keep on Rondon who doesn't seem to have the legs to play 10 minutes in a five a side for the Dog and Duck?
I still think Rafa is the man for us, in much the way Moyes was – to steady the ship and gradually improve the players we have. But we're going to have days like this until we get rid of the deadwood and start bringing in some decent footballers who have the will to win.
And above all, a leader. What I wouldn't give for a Tim Cahill or a Peter Reid right now.
Mick O'Malley
114
Posted 23/10/2021 at 18:39:05
Barry at 101,
I agree with you about over-rating our players, and the players you named also. Look at Leicester City's 3 strikers and compare them to ours. Once Calvert-Lewin is out, we've got nothing.
Rondon is embarrassingly bad and is a sign of the mess we've got ourselves in to. I feel a bit sorry for Marco Silva now cos his first season wasn't too bad considering the shit we've had since...
Neil Thomas
115
Posted 23/10/2021 at 18:42:50
Most concerning thing for me is Benitez saying he doesn't know what happened today. Well, if that's the case, then we're in big trouble, because the least you expect from a display like that is to learn from it.
Mark Ryan
116
Posted 23/10/2021 at 18:42:55
I watched the training session the team had during the week. They finished with last man standing, whoever misses scoring past a substitute goalie has to sit the next round out, you know the drill. You know, like we used to do at school. Gordon won that, Iwobi didn't hit the target, Richarlison fluffed his lines too. It was a session taken by Dunc.
Is this seriously how they train, week-in & week-out? Absolute bollocks. It was like watching kids fuck about. Duncan with his whistle round his neck. It was like watching Brian Glover in Kes, "I'll be Bobby Charlton..."
Did nobody else watch it online? Mesmerising bollocks from start to finish. Everyone fist bumping as they came out to train. I'm just bewildered.
2-1 up and we bring Iwobi on... Why? I mean, What The Fuck???
Vincent Borg Carbott
117
Posted 23/10/2021 at 18:43:08
What utter crap. We are the worst team in the Premier League.
Why do our rejects flourish at other clubs? Something – if not everything – is seriously wrong at our club.
Bill Gall
118
Posted 23/10/2021 at 18:44:06
I don't see how Iwobi is getting the blame by coming on. Sloppy defending was responsible for at least 4 out of 5 of the goals.
I have stated before that I was one of the ones who did not want Rafa – not because of his association with the Reds but because of his reputation of negative defensive football. I was beginning to believe he was slowly starting to change but, with the injuries, he was finding it difficult.
The blame today is squarely on the manager's shoulders, and today his tactics and all players failed miserably, and singling out one player who came on as substitute is poor. We all are aware of the problem: it is at #9 and it is up to the manager to make decisions.
This performance today, taking who the opposition were, is one of the blackest days at Goodison Park for years, and I thought we had lost the "taking a knife to a gunfight" attitude years ago...
I just hope the manager takes the gloves off and lets this shambles of a team know what they have just done to the club and their supporters, who are the ones that have to live with it for years.
Rob Halligan
119
Posted 23/10/2021 at 18:44:41
Well I don't care what anyone thinks, and you may think it's a knee-jerk reaction, but I didn't want him in the summer, and I don't want him now..............
BENITEZ OUT!!
Neil Thomas
120
Posted 23/10/2021 at 18:45:58
And I'm pretty sure, no matter what their age or experience, that we must have better players in the U23s than Iwobi and Rondon.
Peter Neilson
121
Posted 23/10/2021 at 18:46:51
Yes, I heard the "Off, Off" from a few in the main stand, not many left by then. Playing a goose up front would be more effective than Rondon... Total lack of leadership displayed in the shambolic collapse.
Shocking performance capped by the appearance of Iwobi who pretty much encapsulates all that has gone wrong in the Moshiri age.
Colin Glassar
122
Posted 23/10/2021 at 18:48:01
I've often been accused of being a "happy-clapper" on here and I'm not going to break the mould right now. Sacking Benitez will not achieve anything. The same players will just put in the same minimum effort under a new manager.
But be warned, Rafa doesn't have a great record in the transfer market. Just ask our neighbours across the park. For every Xavi Alonso, Daniel Agger or Raheem Sterling there were 10 David N'gogs or Alberto Alquilani's.
Robert Tressell
123
Posted 23/10/2021 at 18:48:07
Mick @ 114. Silva built a decent side. He might well still be our manager had Gbamin stayed fit to replace Gueye. If we'd have got Zouma and Zaha that summer window, we might have really gone places.
But instead, here we are with last season's fat unfit unused striker getting a hat-trick against us.
Clive Rogers
124
Posted 23/10/2021 at 18:50:37
I get the impression the whole club is in free fall. That squad are heading for a relegation fight without strengthening in January.
The club is so badly run from the top that it is frightening. What has happened with FFP is an example of that.
Kenwright was bad enough, now it looks as though he has fitted us up with an owner who hasn't a clue how to run a football club. I really fear for us.
David Currie
125
Posted 23/10/2021 at 18:51:41
Michael 113,
This manager will not survive if he keeps playing Rondon for the full 90 minutes every game. Simply amazed with all his experience that he decided we needed a big lump as a back-up striker. Rondon is way out of his depth.

Kim Vivian
126
Posted 23/10/2021 at 18:53:33
David Pearl - 80. I commented on the LF but I guess you had already left and I don't blame you but just saying again - apols for swearing at you (twice) today. Heat of the moment 'n' all that.
Jay Harris
127
Posted 23/10/2021 at 18:54:14
Rafa will fall on his sword if he keeps playing Rondon.
Neil Thomas
128
Posted 23/10/2021 at 18:54:55
We're saying it's not Benitez's fault... but he picks the team, formation, tactics, and does the team talk.
Well, I've just watched Brighton get battered by a brilliant Man City team in the first half, and now watching a brave and proud comeback display, after a half-time team talk from their manager. What a difference!
They probably won't win, but at least they'll go in proud, and their fans happy with the response.
Paul Jones
129
Posted 23/10/2021 at 19:08:03
I noticed in Joshua King's post-match interview, he had a lot of resentment towards Everton and seemed to say it inspired his performance today. Rondon is a similar signing, not fit enough to play who may need to find his fitness and form elsewhere. The worrying thing was that the strength of our manager is meant to be his organisational skills yet today he was second best to the "Tinkerman".
Godfrey and Keane just don't seem to gel as a partnership, the former seems to have some post-Covid "hangover" as seems to have reactions and a turn of speed as slow as Keane.
In the team, there seems to be no leadership on the pitch. As individuals, they cannot seem to defend with no solidity or defensive organisation. Going forward, we seem to rely upon individuals rather than a cohesive team performance.
I hope some decent targets have been identified for the next transfer window, although I suspect not. We just have to hope they are better at identifying bricklayers than players – otherwise, the future looks very grim.
Kevin Murray
130
Posted 23/10/2021 at 19:10:29
I am not some kind of blind Benitez supporter but sacking him is not the answer. We can not continue to change manager and coaching staff every 18 months. It doesn't work.
The common theme through all the shite of the last 5 years particularly is the players. The squad is full of spineless, gutless clowns. The club need to look at who has bought these players, who has decided to keep some, who decided to let some go.
Granted, Benitez clearly wanted Rondon so he must take full blame for that. However, the rest of the shite is not his doing.
If Benitez is in, then he's in. The club should have an internal investigation into signings made and, if Brands is to blame, then he must be fired for complete incompetence.
The youth set-up must also be looked at immediately and they need to figure out why they are not producing anywhere near enough players who are good enough for the first team.
When they have looked at these things, they need to either sack or back the current manager, coaches, director of football. They need to put a statement out apologising for the state of the squad and that they know the current group of players is not good enough. The manager (Benitez or A N Other) will be given 3 seasons regardless of performances. Subject to the danger of relegation from the Premier League.
Most of these players must be sold on and new ones brought in over the next three seasons. No changing managers; it doesn't work. Admit we are not good enough and communicate this to the supporters. Tell us straight what we can all see with our own eyes. Then we have to do our bit and accept ups and downs but at least there is a plan.
The players are not good enough and that is that. Changing the majority of these players is the only way this will get better.
George Cumiskey
131
Posted 23/10/2021 at 19:11:22
David Currie, spot on, but is Rafa man enough to stand up and admit he is wrong or is he too arrogant?
Only time will tell...
Anthony A Hughes
132
Posted 23/10/2021 at 19:16:18
Watching a spirited attempt at a fightback from Brighton against the magic of City. Playing a different game these two teams – nothing like the shite and non-effort served up by our players and our dinosaur negative manager.
Derek Moore
133
Posted 23/10/2021 at 19:16:50
Shout out to the fella who likened Everton's efforts in training to the under remembered classic film Kes. That gave me a laugh, a much-needed one.
I only watch highlights of us these days. Even so, after that, and only lowlights, but I feel traumatized – Christ knows what it was like to actually watch that unfold in person.
This squad resembles one-ply shit ticket for both quality and depth. With even just a few significant injuries, this team will sink like a stone to the Championship. There was a reason we were putting all those goalkeepers on the bench in the pre-season after all.
Evertonians just have to pray that the important players get fit and stay fit or it's kobiyashi moru.
Oh and one or two more of these turds in the near future and Benitez's position really rapidly becomes untenable... one of the many reasons why none of our previous chairmen saw fit to appoint a failed former RS gaffer.
The club is at a crossroads right now, and those fans who are concerned are in my view wholly justfied in feeling that way. These guys running the club get virtually nothing correct. Things are very very grim heading into the winter.
Andrew Bentley
134
Posted 23/10/2021 at 19:17:41
Still stunned by that comment from Rafa that Gordon hasn't got 90 minutes in his legs. He's one of the youngest in the team and should be able to play all the time. Rondon hasn't got 1 min in his legs so why stick with him?!?
We all know that Rafa is stubborn but I found those comments frustrating. How must Anthony feel being told he can't play 90 minutes?
Unfair to make that comment in his post-match interview and not just admit his mistake. At least say it was done to make a tactical switch, not sure why he's called Gordon out like that.
Roger Helm
135
Posted 23/10/2021 at 19:17:53
Well done Watford. They, like most teams, were bigger, faster and stronger than us and they played simple, effective football. They certainly wanted it more, they won nearly all the 50-50s and aerial battles.
We have had some beatings over the years but I can't remember a more humiliating loss in my fifty years of watching Everton. Can anyone? In fact, I left before the end; when Iwobi came on, I knew the game was gone.
Half a billion spent, and we have the worst squad I can remember. Richarlison, Calvert-Lewin, Doucouré, Pickford and Mina (when fit) would get into another Premier League team, but the others?
Digne, Coleman, Holgate and Godfrey are shadows of their former selves, Davies and Allan are too slow and too small for the Premier League, Gray and Townsend seem to hide when the going is tough, Keane is too slow and error-prone, and Rondon is League One at best.
Although Rafa also had a 'mare today, taking off our best midfielders, when we were getting over-run in midfield, and leaving Rondon and Townsend on the field, and even considering Iwobi, but it is no good replacing the manager.
Nothing will really improve until Moshiri grows a pair and gets rid of Kenwright and his rotten gang of old-boy hangers-on, and brings in a professional group of coaches and backroom staff.
Paul Hewitt
136
Posted 23/10/2021 at 19:18:04
Ignore comment 119😁
Brian Murray
137
Posted 23/10/2021 at 19:19:38
Kim post 126. Not just a bad hair day, eh!
I'm a broken man (and record) but we are inept and rotten to the core – never mind on the pitch.
I asked the question on the Live Forum about the selection of Rondon: When does it stop being stubbornness or professional pride and starts being just bad judgement of a player – and not even to drag him off at half-time???
I know he has signed him at least 3 times and a manager lives and dies by his signings... (and subs...) but c'mon. It's almost as if he has a death wish or really is an agent for them sheisters over the park.
Robert Williams
138
Posted 23/10/2021 at 19:20:47
How did Townsend get on today – is he a keep?
Ed Prytherch
139
Posted 23/10/2021 at 19:23:23
Rafa seemed to be totally preoccupied with positions on the field and totally unaware of the performance of the players in those positions.
Sure, square pegs in round holes does not work well but it is better than having lazy, slow, incompetent players on the pitch and quick, industrious players on the bench.
Brian Murray
140
Posted 23/10/2021 at 19:25:36
Paul post 136. Are you sure haha. Don't go all politician on us no backtracking young man 😳😂
Derek Knox
141
Posted 23/10/2021 at 19:26:53
Paul H @ 136, think the Honeymoon period has come to an end and Rafa has hit the skids good style. No more Mr Nice Guy ! :-)
Bill Fairfield
142
Posted 23/10/2021 at 19:27:01
Why was Gordon taken off and Rondon left on…???
Baffling.
Kieran Kinsella
143
Posted 23/10/2021 at 19:29:35
Osman after the game said "Young lad Davies played well".
100 plus games to his name, we lost 2-5 but we baby him along.
He played well for 3 minutes. This is the problem with this small-minded old boys club.
Rob Halligan
144
Posted 23/10/2021 at 19:30:37
Paul Hewitt, so you think that was acceptable and Benitez was not to blame? Stick to egg-chasing, as it's about all you know.
Richard Nelson
145
Posted 23/10/2021 at 19:31:42
They say a country gets the Government it deserves...
Does a Football Club get the ownership & management it deserves? Certainly feels like it!!!
David Currie
146
Posted 23/10/2021 at 19:33:27
George,
So far, he is too arrogant by keeping him on.
The bad news is he will probably start next game.
Kieran Kinsella
147
Posted 23/10/2021 at 19:36:36
Rob Halligan,
I know you didn't want and don't like Rafa — few do. But, regardless of him, isn't this a lot like last season? A manager some like, some don't, presiding over a crap squad put together by seemingly bomb-proof idiots, Kenwright, Brands, Unsie etc.
I don't think we can really judge a manager until those people are held accountable and driven out of the club. Yes, I agree, Rafa screwed up today, but his screw-ups weren't reflective of the scoreline. That was indicative of years of ineptitude higher up.
David Connor
148
Posted 23/10/2021 at 19:37:36
An absolute shambles of a club from top to bottom. Buy shit players at over-inflated prices you get shit football. We need to rip everything up and start again by offloading at least 11 players from that squad at all costs or we will go down sooner rather than later.
Rondon, Kenny, Holgate, Davies, Keane, Digne, Delph, Gomes, Gbamin, Tosun and Iwobi all need to go. I didn't mention Sigurdsson for obvious reasons. What a piss poor squad we have.
Don't hold your breath. Most of these tossers will be with us for a long time. Clueless, gutless fuckers. Sign for Everton and you are on easy street. God help us when Calvert-Lewin and Richarlison move on next season – as they surely will.
Paul Hewitt
149
Posted 23/10/2021 at 19:37:39
It's not acceptable, Rob, far from it.
But we keep changing managers, and we are still crap.
Rob Halligan
150
Posted 23/10/2021 at 19:46:26
Kieran, the next run of fixtures are daunting. Lose them and the white sheets will be out in full force around The Wirral and the DIY stores will be doing a roaring trade in white paint. Believe me, this will start getting really toxic for Benitez.
Get rid now and send him to Newcastle and get Fonseca in before the skunks get him.
Tom Harvey
151
Posted 23/10/2021 at 19:48:23
Alex Grey @92
"Poor subs. Gordon should've stayed on the pitch but I swear to god, if Rafa is sacked before Brands, then I give up. There is one man who's to blame for this squad and it's that utter fraud."
I have no proof but I strongly suspect Moshiri is doing half of Brand's job; Iwobi and Walcott were his 'babies' due to the Arsenal connection?
Brands again was probably told to look the other way when James, Allan and Doucouré were brought in to pacify Ancelotti.
If he (Brands) is guilty of anything, it's the point where he said to himself "Fuck it, they're paying too much to care; I'll take the money and watch it all fall apart around me..."
There's too many cooks stirring the pot in our club.
Sam Fitzsimmons
152
Posted 23/10/2021 at 19:49:59
Roger #135,
Like you, I share the frustration of all on TW on the performance of the team, and the manner of the defeat. But how can you say "Gray and Townsend seem to hide when the going is tough" and in the next para say "Rafa also had a 'mare today, taking off our best midfielders,..."
Was Gray one of our best midfielders or hiding?
Mike Powell
153
Posted 23/10/2021 at 19:54:13
I am lost for words.
There isn't a word to describe that performance, this team is a disgrace to our club. If this carries on, the crowd will get more toxic towards the waiter, he has to take some blame for this.
Why oh why did he leave Rondon on? I just don't understand.
Well, that's another weekend ruined, and it's gonna be a long week in work with all them red shite...
Off to get pissed.
Paul Hewitt
154
Posted 23/10/2021 at 19:55:47
One thing about egg-chasing players, Rob. They will give 100 % every game, guaranteed. And they don't get paid anywhere near our cowardly players.
Bill Gienapp
155
Posted 23/10/2021 at 20:00:57
To quote Simon Cowell - "What... the bloody hell... was that?"
Rennie Smith
156
Posted 23/10/2021 at 20:02:22
I don't usually post on here after a match, usually let it settle for a bit, but Christ, what was that shite today?
He's shooting himself in the foot by saying Gordon hasn't got 90 minutes in his legs when he's sticking with that milk float up front. I had a quick look at Rondon's stats, it didn't take long. Apparently in 6 appearances he's had 8 shots (no, I can't remember them either) of which 1 has been on target.
And then he's going on about mentally seeing out a game when leading. Okay then, why not bring on Gbamin for Gray and shore up the midfield rather than that 2-legged stool, Iwobi?
He's just Steve Bruce in a better suit.
Eddie Dunn
157
Posted 23/10/2021 at 20:02:37
Rafa fucked up, picking his donkey again. He explained on Radio 5 Live that Gordon hasn't got 90 mins in his legs... well, that's because he actualy runs... unlike Rondon.
Iwobi gave us nothing, the over-worked midfield duo were already buggered. Davies tried hard as did Allan but they are a slow pairing and with the brain dead Godfrey displaying to all and sundry that it was purely his pace and lungs that served him so well last season and without that, he is lacking in everything else.
Keane got worse and worse. Digne has been in for form defensively for over a year and only his crosses up the other end keep him in the side. Coleman is panicking whenever on the ball, as he now lacks pace.
Hardly surprising that we imploded but it was Rafa who set them up to defend zonally.
It will be very difficult for this group to come back from this. The confidence will be gone. Mina's return will help but the absence of Calvert-Lewin and Doucouré is a huge miss.
Rob Halligan
158
Posted 23/10/2021 at 20:02:45
No doubt it will be Game of the Day on Sky Sports. 😡😡😡😡
Sean Kelly
159
Posted 23/10/2021 at 20:03:25
Just seen this result. Busy with grandkids all day.
For fuck's sake, we are just an embarrassment. At the very least, the wheel nuts are loose and we are just waiting on the collapse and collision.
No-one is to blame in the club, apparently. It's all our (supporters') fault. We celebrate mediocrity and have done for the last 30+ years.
Raymond Fox
160
Posted 23/10/2021 at 20:03:38
Being realistic, can anyone see an end to all this shite? We win a game or two to keep us interested... then, sure enough, we become a bloody joke again.
We have a few injuries and it's obvious that our squad is not good enough. Yes, managers make mistakes but there has not been one that has had enough player quality to compete with the best sides in our league.
Cue Richarlison, Calvert-Lewin, Digne wanting to leave – could you blame them?
Tommy Carter
161
Posted 23/10/2021 at 20:03:41
The title of this thread somewhat gives away the inferred narrative. M
This was not a game where the substitutions cost us. This is a thinly veiled attempt to extoll the virtues of Anthony Gordon whilst lambasting Iwobi. Iwobi, as much as I think he is complete garbage, was not a fault more than any other for the loss of this game.
Tony Gordon played okay. He actually bottled a header in the first half which was a certainty for a goal. He later missed another golden opportunity. These weren't even half-chances, the header especially was extremely poor. Despite these massive shortcomings at vital moments, he was bright and showed some good touches and positivity.
Gray got injured, about 30 seconds before he came off. That's why he did come off, I think.
However, the real issue was that we were generally outplayed by quite a poor Watford side for much of this game. And therein lies the real problem. Not only that, but defensively we were bullied mercilessly by very average players. I should know, I saw Josh King in an Everton shirt last season. He obviously knew from his own personal experiences that he had the beating of Michael Keane.
Keane and Godfrey were absolutely abysmal today. There's obviously a problem with Godfrey, he's not fit, or mentally he's not there. As he's playing well below his level.
Keane is just not good enough. He's incredibly fragile and I'm afraid the ruthlessness of Premier League football is beyond him. Like, miles beyond him.
Digne is a 9/10 every 10 games. A 7/10 every 8 and the rest of the time he's a 3/10 or less. There's no consistency with him. Since he's been at the club he's got worse and worse. He's obviously a player (like most) who plays better when surrounded by good players. But he's not. He's surrounded by crap players and it makes him look crap.
Atrocious. As for the man in the dugout… very rare we get beaten at home by Watford.

Paul Hewitt
162
Posted 23/10/2021 at 20:06:33
Just 2 games ago, Rafa was doing great.
Now people want him out. Unbelievable!
Paul Birmingham
163
Posted 23/10/2021 at 20:06:43
Disgraceful and amateur game management. Rafa must take stock of his players available and himself.
Iwobi has no stomach for a battle, and is not to blame, but dilutes significantly the effectiveness of the team and, with Rondon, it's like playing with 9 players.
Watford would never play as bad as they did last week. They wanted to win it more and Everton were overran in the second half.
It could have been worse, Pickford saved a couple more but the meltdown in 11 minutes as far as I can remember must be a record for Everton, conceding 4 goals.
The smelling salts need to come out and a plan to get the mental belief and pride back in this squad, starting tomorrow.
Time for a new captain and leadership on the park. This capitulation, like Villa, was self-inflicted as Everton played like Watford last week, and lost the desire and will.
Surely at Wolves, Richarlison will start upfront and Anthony Gordon will start, as well. He was the best player today, and didn't deserve to be subbed.
Rafa hopefully will take stock of these back-to-back home defeats, and be honest enough to admit his tactical mistakes in at least the substitutions in these games.
Next game at Wolves and hopefully some pride for the shirt and respect for the club and supporters is shown.
The worry today is the players looked like they had given up the ghost, but football is a funny old game, but character, fight and purpose are traits that not many of this Everton squad possess.
So it can only get better? Let's hope so.
David Israel
164
Posted 23/10/2021 at 20:10:00
After that infamous Atalanta game a few years ago, I thought I'd seen it all, but it was not to be. What a complete shambles, what a horrendous final 20 minutes!
I'll abstain from commenting on Rondon, other than he is probably deeply affected by the severe crisis in his home country. At least that is a charitable explanation for his total uselessness. I'd play Keane at centre-forward. He does score the odd goal.
Well done, Anthony Gordon! Every cloud etc, etc.
Bring up whoever it is next week...
Barry Rathbone
165
Posted 23/10/2021 at 20:11:19
The reason Rondon gets picked and remains on the pitch is because he's a big strong lad, not easily intimidated, experienced at this level... and might just lash one in.
The other factor is we haven't got anyone else.
Mike Gwyer
166
Posted 23/10/2021 at 20:13:25
Rafa, please take a fucking bow, absolutely excellent game management.
You let Rondon, who is unfit, fucking shite, and a total embarrassment to this great football club, play the full 90 minutes, yet replace Gordon because you know he can't last a full game??
You really are one stubborn fuck because anyone watching that game will tell you that you were wrong... absolutely anyone.
Marc Hints
167
Posted 23/10/2021 at 20:16:42
Declan Rice, Mason Mount, Phil Foden etc – developed as players and now playing for England.
Tom Davies – not developed at all. Please stop, Everton.

Sean Kelly
168
Posted 23/10/2021 at 20:31:47
I take my hat off to James Rodriguez. He saw the shit show that we are and knew he alone couldn't change it. Who amongst us would have done differently? Soak up the wages and wait for another payday.
Stephen Brown
169
Posted 23/10/2021 at 20:32:01
Why have Dobbin in the squad?? If he's not a better option than Rondon, then what's the point?!
Who would take Iwobi, Holgate, Kenny, Keane, Gomes, Davies off our hands? And would we get any money at all?
We need to spend £300M to almost standstill! Seems completely pointless!
Really depressing…
Andy Crooks
170
Posted 23/10/2021 at 20:32:32
I just hope that Rafa and the rest of the lads maybe, just maybe, might reflect this evening on what they did today. They served up one of the worst performances in the history of our club. Years from now, many years from now, this result will be remembered with horror.
Unfortunately, modern players and coaches are immune to shame, certainly this lot are. I think I need a break from this utter shambles of a club.
Rob Halligan
171
Posted 23/10/2021 at 20:33:04
Yep, Game of the Day on Sky Sports!!
Neil Thomas
173
Posted 23/10/2021 at 20:37:01
Some are saying on here that Rondon is our only option, but we have a young hungry lad on the bench. Maybe he doesn't have the experience or strength yet, but I would take lack of experience with passion and work rate, over experience and unfit, lazy and effortless any day.
For those saying he's not ready yet, then why the hell is he even on the bench? At the moment, the way Rondon is playing, do we really have anything to lose playing Dobbin? Even if he just farted on an opposition player, it would still be more than what I've seen from Rondon.
Joe McMahon
174
Posted 23/10/2021 at 20:39:16
Marc 167, bang on. We possibly lose potential with some players, as something is missing at Finch Farm. The mangers get sacked at Everton, but not one of Kenwright's Blue Crew.
No wonder Unsworth wants to stay for life, there are no goals or targets to meet. Professional football clubs should not be run this way, it's not the '60s anymore.
Mike Doyle
175
Posted 23/10/2021 at 20:39:23
Rob # 171,
I guess you were unfortunate enough to witness this latest embarrassment live. I stopped watching after the 5th went in. Any cushions thrown from the Main Stand?
Bill Gall
176
Posted 23/10/2021 at 20:39:29
I still have not calmed down.
It was not the goals against that upset me but the attitude of the players who just seemed to accept what was going on. I have said it once and I will say it again: It was the manager's fault, not in the substitutes, but in the players he brought off.
We all love a trier but a professional footballer should have more in his skill set than just being a trier. Rondon was given some leeway when he had to start for Calvert-Lewin but there has not been any improvement in his play from Day 1.
You can't blame the player as he is just trying his best, and unfortunately his best is not good enough for the Premier League.
As I say, it is the manager's fault. I am not interested in who bought them or what position they play in, but there is a standard of play you must keep when pulling on the blue shirt. When continuous poor performances in the blue shirt fall short, it is the manager's fault to continue playing them, and it seems a blind man watching a blacked-out TV screen can see what our manager can not.
We may have a not so very good squad, but surely we have enough professionals that can keep a lead with 10 or more minutes to go that must have been practiced in training.
Do not be complaining after the game "It should not have happened" because it did. You have just been shown by an experienced manager how to win a game, who has only been with the club for a few weeks and seems to know more about his players than you do about your squad.

Dave Abrahams
177
Posted 23/10/2021 at 20:41:08
Only saw the highlights, thankfully. That defence in the last 15 minutes were pitiful, pathetic and putrid to a man, except Pickford, nobody talking, shouting or screaming their heads off at the absolute shambolic attempt at anything remotely defensive. Just getting on with preparing for the next mistake.
Not a sign of anyone taking charge because there isn't anyone capable, on the books, of doing a captain's job. Utterly shameful performance, if the rest of it was like the 5 minutes I watched.
Young man next door, who is physically handicapped, never misses an Everton game, home and away. He kicked off around half-six, effing and blinding every one of Everton's players. I can hear him through the walls.
Wait 'til he opens his second case of lager, he will really take off. Everton is his whole life, he hasn't had a lot to live for the last few years... It would be funny if Everton FC weren't so bleedin' tragic!!
Colin Glassar
178
Posted 23/10/2021 at 20:43:24
A few people have mentioned the Atalanta debacle but what about Bucharest, Benfica, Arsenal, rs kids etc…. Everton have embarrassed themselves before. They will embarrass (us) themselves again before long. Embarrassment is now our middle name.
Anthony A Hughes
179
Posted 23/10/2021 at 20:44:12
That made me laugh, Neil, I've images in my head of Rondon farting in slow motion now. He doesn't break wind he merely breaks a mild breeze...
Gary Mortimer
180
Posted 23/10/2021 at 20:44:14
Barry.
"The reason Rondon gets picked and remains on the pitch is because he's a big strong lad, not easily intimidated, experienced at this level"
Having watched every game that Rondon has played for us, I would like to see some proof that he's a big strong lad and not easily intimidated, as so far I have yet to see him win a single physical challenge. I think that Big Dunc could easily do a better job. Rondon just does not offer anything at all to the team... Nothing!
"The other factor is we haven't got anyone else."
Well we let Kean go back to Juve and appear to have a chap called Dobbin on the bench. Either of those just cannot do a worse job than Rondon.
It's been said before, but the statue of WR Dean offers more.
Marc Hints
181
Posted 23/10/2021 at 20:53:23
Joe #174,
Totally, mate, the issue is Kenwright will give Tom Davies another contract too as he will say he is one of us.
It seems everything is rotten from top board level to David Unsworth.
We have to stop the sentimental rubbish, giving ex-players coaching roles too. David Unsworth must have a job-for-life contract.
John Boswell
182
Posted 23/10/2021 at 20:55:41
There were some flashes of incisive fast attacking play that got me excited but, for the greater part, this group looked mentally tired. The number of players unavailable because of injury or suspension leaves our coach with few options and no possibility of rotation to keep players fresh. This is the reality of where our beloved club is and it will take time to put right.
I believe in young players getting a chance to shine but to put them on the pitch with today's group would, I believe, put their development back a long way. Watford players showed me a greater desire, we were poor. COYB.
Brent Stephens
183
Posted 23/10/2021 at 20:56:21
I rarely go with the analysis that says one factor explains a bad loss, a bad run, a bad season. And that's my take here.
We have a squad that is thin on quality. An already-thin squad that has a significant number of injuries to "key" players (blame for a weak squad? discuss in no more than 1,000 words). Players who can play very well - some often, some occasionally, but not all the time, not collectively. Players who at their best, collectively, can give any team a run for their money; but when several have a poor game, the overall impact is significant.
A centre forward playing week-in & week-out, who has not a single redeeming quality: cannot trap a ball; cannot keep possession of a ball; cannot head a ball; has no pace; cannot head a ball (I know, I've already said that - that's how bad it is for a centre forward); cannot pass; cannot shoot.
I'm very, very loath to look to U23 players to fill gaps but Dobbin's pace (I've seen a lot of him) already puts him one quality ahead of Rondon – imagine that pace closing down defenses and keepers.
Carlo must be crap? Benitez now must be crap? No, they are not the common factors. But Rafa, I'm afraid, is culpable in continuing with Rondon.
Peter Neilson
184
Posted 23/10/2021 at 21:04:07
As others have said, what's the use of Dobbin being on the bench? If he can't get a game when Rondon is so completely inept, when will he?
If he's good enough, he's old enough, just play him. It's impossible that he has less to offer than Rondon.
Barry Rathbone
185
Posted 23/10/2021 at 21:05:41
Gary Mortimer @180,
Putting aside how good or bad Moise Kean actually was (monstrously overrated, IMO), he couldn't get out fast enough.
Dobbin is completely untried, confirming the notion "we have no-one else".
Andy Crooks
186
Posted 23/10/2021 at 21:06:35
Meant to add, the Everton Rondon is the worst striker I have ever seen who earns a living playing football. Sorry, not just striker, the worst player.
Brian Wilkinson
187
Posted 23/10/2021 at 21:09:00
Shite.
Bill Gienapp
188
Posted 23/10/2021 at 21:20:33
I'll often avoid ToffeeWeb after a loss, but this is one instance where I feel the need to wallow in the anger and negativity of my fellow Evertonians. It's almost purifying in a way.
Tony Abrahams
189
Posted 23/10/2021 at 21:21:50
I think I was more depressed last week whilst watching against West Ham, and thinking, how have we wasted so much money to get to where we currently are, and then we lost Doucoure's engine, the one player whose energy was helping us get away with not being anywhere near compact enough, especially for this level, during the week.
I've just snapped my scratched record in half though, and as much as I think Benitez is on a hiding to nothing, his quote about Gordon, not having 90 minutes in him, and Gray needing to give his legs a rest, holds no value at all when his centre-forward is being allowed to just labour through the entire "90 minutes" without being replaced.
Kieran Kinsella
190
Posted 23/10/2021 at 21:22:41
Danny O'Neill is probably relieved that his cold prevented him from traveling to this pile of crap.
And Colin, thanks for the memories: Bucharest etc... the misery is endless. I even found myself reminiscing about the Walter Smith era today.
Brent Stephens
191
Posted 23/10/2021 at 21:31:49
Barry #101:
"It shocks me more the delusional bravado of those proclaiming "we should beat the likes of these" prior to games. "The likes of these"??? As though Prem history shows us as a proven top club. The arrogance is off the scale."
Yes, Barry, I think it's arrogant thinking on our part; stuck in the past.
But I would say, on Dobbin, that the fact that he hasn't been tried doesn't mean to say "we have no-one else". We can't conclude that until we've tried him?? I'm really grasping at fecking straws, Barry, in suggesting Dobbin gets a run, I know. But I've seen the guy's pace – Rondon has not a single redeeming quality – not one.
Sorry, Barry, but I'm so fecking annoyed and clutching at straws.
Tony Twist
192
Posted 23/10/2021 at 21:33:47
I think the massive problem with this club is that we don't have people who are football-wise. The majority of our players are clueless, the coaching staff are clueless, and the owner is clueless.
The one who should have a clue is Brands but he is my biggest disappointment. The rumour was that he didn't want Benitez – maybe that was because he would highlight his incompetence?
Brands was the person in the strongest position when coming in as Moshiri bent over backwards to get him. Brands could of insisted on having full control of player purchasing, may be he did but we are in a terrible state.
Brands could have insisted on no Benitez. Brands should know, yes Benitez has been there and bought the tee shirt but as with all these ancient managers, they won't change their ways.
Liverpool supporters will tell you Benitez is a staunch believer of zonal marking so after West Ham last week we should have been shit hot defending this game but Benitez won't change his ways even if it doesn't suit the players.
We would have a hope if the people at the club had the football knowledge of the supporters, as it is I can see the future success of this club being avoiding relegation and nothing else.
Simon Dalzell
193
Posted 23/10/2021 at 21:34:14
Just when you think rock bottom has already been hit. This was truly shameful.
They didn't have to do much to score the five goals. This is a new level of incompetence and cowardliness. What a mess we are.
Benitez has to shoulder a fair share of the blame today, his decisions were atrocious.
Sukhdev Sohal
194
Posted 23/10/2021 at 21:35:23
We were atrocious all game.
I said start Gbamin before the game because I knew Davies would get bullied by Sissoko and Kucka, which he did. He was going so far forwards and not winning the ball, therefore making the pitch wide open for them.
Where's his common sense? Once we got 2-1 up, Rafa should've brought on Gbamin or Holgate for midfield to kill the game. He instead brings on Iwobi and we concede 4. Iwobi doesn't benefit us in any way at all.
John Raftery
195
Posted 23/10/2021 at 21:37:50
This was comparable to Everton 1 Norwich 5 in September 1993. That was a game in which we also took a 1-0 lead. It was 1-1 at half-time before we fell apart in the second half with Efan Ekoko scoring four goals. Indirectly the result led to the appointment later in the season of one Mike Walker, arguably the worst manager we have ever had.
It was predictable we would run into problems this season once injuries ruled out more than one or two of our first choice players. Today's game may serve a useful purpose in the longer term in demonstrating to the manager and the board just how poor we can be when the lack of depth and quality in the squad is fully exposed.
In the meantime it is for the players and manager to regroup and get back to the basics of solid defensive play from front to back.
Where does Rafa go from here? He has few options as he faces a difficult few weeks with a very limited squad significantly weakened by injury.
Faced with a similar situation last season, Carlo settled pragmatically for defensive depth and a counterattacking approach. Some fans were unhappy about that but, in the circumstances, we now find ourselves it seems to me to be the only viable option.
Finding fault with individual players seems pointless after today's collective capitulation. Equally another change of manager would make no sense at all.
I agree with those who suggest Carlo saw this coming. Failing at Real Madrid seemed preferable to failing in Merseyside.
Anthony Lamb
196
Posted 23/10/2021 at 21:43:29
I have only just seen limited highlights of the game as I could not believe the score line when I saw it having last seen the score at 2-1.
Having supported the club since being at Oldham as a 9-year-old when we secured promotion in the mid fifties I have seen the great, the mediocre, the poor and the utterly abysmal pull on the blue shirt. However, I have never witnessed such an outrageously poor footballer as Rondon; a man seemingly bereft of pace, technical ability to comfortably manipulate a football, aerial prowess, astute movement, sheer lack of physical fitness etc.
And yet if criticism/ridicule is to be directed anywhere it surely cannot rest exclusively on him? After all, if you are no better than a pub team Sunday League footballer, who amongst us would not put on the boots and accept obscene thousands of pounds for lumbering around the pitch for an hour and a half if some irresponsible organisation was gullible enough to actually pay me to do so?
I fear that in these last two home games Mr Benetez may very well have sealed his fate with the majority of the support base. After seeming to placate, in the earlier games of the season, those who held his previous stewardship of LFC against him, his bringing a player such as Rondon to the club is nothing short of an insult to supporters' intelligence and knowledge of what constitutes a professional football player.
As such, the manager who seemingly knows this player of old should be the focus of the criticism; Rondon is simply who he is and does not select himself. If there are in fact any truly competent players left at the club what on earth must they think, and what must be the impact on their own confidence in the team's capacity to perform with players such as this in the team? What the untried young players must think is beyond me.
Of course recent injuries and the sorry recruitment over recent years play their part and those responsible for the latter, together with the sorry excuses for coaches at all levels should be removed.
However, although Rondon and Iwobi's continued regular presence in the team are by no means the only relevant personnel in this matter of incompetence, I feel they are simply the immediate focus, easy target and catalyst for much pent up frustration, when people's genuine anger at being so insulted should be directed at those responsible for overseeing such an appalling state of affairs.
To expect people to pay good money to watch such outrageous incompetence is beyond contempt. The club at present is a disgrace.

Brent Stephens
197
Posted 23/10/2021 at 21:44:56
Neil #173,
"...Dobbin? Even if he just farted on an opposition player, it would still be more than what I've seen from Rondon."
Thank you, Neil, in the darkest of darkest hours I can let out a guffaw at that!
Rafa – Finch Farm, Monday – farting lessons!
Sean Kelly
198
Posted 23/10/2021 at 21:48:07
We are a club set up to self-destruct. Every layer of this club is clueless and living in the past.
Unfortunately me visiting Goodson is now in the passed tense. As for Bramley-Moore Dock, that will be an albatross. I'm done. Life's too short to be kept in misery.
I don't have the stamina for this anymore after 50 years. I will spend my time enjoying my grandkids. One of them made his Under-9s debut today. What a joy.
Chris Jenkins
199
Posted 23/10/2021 at 21:49:20
A succession of poor managerial appointments after the sacking of the hopeless Martinez is the primary reason for the current shambles. I exclude Benitez from this group as he inherited what was very much a poisoned chalice.
No doubt I will be pilloried for arguing that, after the dismissal of each of his successors, David Moyes should have been offered the job. He certainly would not have squandered hundreds of millions on cohorts of second and third rate players. He would also have ensured that his teams never capitulated in the same manner as today and as on the all too often similar occasions witnessed in the last seven years.
If Benitez does call it a day or is shown the door, then Moyes, arguably, should be his replacement although he would be unlikely to take the job if a Director of Football was foisted on him.
Relegation may well be come an issue sooner rather than later if there is not a root-and-branch change to the present totally unacceptable structural situation within the club.
Soren Moyer
200
Posted 23/10/2021 at 21:49:44
This club needs to be re-built from the ground up – like our new stadium!
Our owner is naive and gutless. A proper owner would have shown the door to the likes of Kenwright, Brands, Unsworth, Ferguson and the likes by now!
Terry Ankers
201
Posted 23/10/2021 at 21:52:04
Why do we have to have two keepers on the bench if Tosun is fit? And he must be he is training with the rest of the team and has been for a few weeks surely he must play he is way better than Rondon.
Gbamin must be given a chance. Davies can not pass forward. If players don't want to put in a full shift, play some of the young lads.
I feel like we are going backwards and some of the players are not that bothered.
Joe McMahon
202
Posted 23/10/2021 at 21:53:13
John,
I was also at that Norwich game. I seem to be a bad omen as I remember taking my new girlfriend when QPR grabbed 5.
I was also unfortunate enough to sit through some of the hammerings we got with Moyes, by big hitters such as Blackburn and West Brom. Always bloody Everton.
We won't win the league again, I'm wondering if we will actually win anything again.
Brian Wilkinson
203
Posted 23/10/2021 at 21:53:23
Brent and Neil,
Forget Dobbin farting on a player, Calvert-Lewin on crutches has to be a better option than Rondon.
Never ever will I call Rod Belfit again, Rondon has surpassed even Bernie Wright.
Sean Kelly
204
Posted 23/10/2021 at 22:01:00
We celebrate mediocrity.
Newcastle rise up against it and get new owners regardless of their background.
Us? We get the Forest Gump of the Billionaire Club.
Stephen Vincent
205
Posted 23/10/2021 at 22:01:32
Chris #199,
I remember several capitulations by Moyes teams Arsenal 7-0 away 6-1 home and debacle in Bucharest.
I could go on…
Clive Rogers
206
Posted 23/10/2021 at 22:03:19
Kenwright found a good owner for Kenwright but not for the club.
Brent Stephens
207
Posted 23/10/2021 at 22:03:31
When people say "Why Rondon?", it's always a rhetorical question – ie, it's a statement to the effect that "he's crap".
But I ask the question "Why Rondon?" as a very serious question. Does anybody have any tentative explanation as to why Rafa does keep faith with him starting and playing for a full 90 minutes?
That is a serious question.
Paul Swan
208
Posted 23/10/2021 at 22:03:34
This has been coming. The crowd can sense it.
The past few home games have been relatively quiet but we all knew that losing just one or two players would allow the same old shithouses to come back – just as they have done for the last 5 managers.
Every now and then we get some new blood in who have a better work ethic and attitude than the cowards at the club but sooner or later they get dragged down to the same level of shite. The attitude, the coaching staff, the upper management is fundamentally flawed at this club.
The players who aren't in the first team just fuck around like 12-year-olds – watch them, pissing about laughing and joking. Not one of them is good enough and not one of them has any determination to get their heads down and fight for a shirt.
How shit must Gbamin be not to be able to get on that pitch today?
Jamie Crowley
209
Posted 23/10/2021 at 22:10:37
Richarlison is barely fit. Calvert-Lewin is out. Doucouré is out. We're not that good when we have some injuries. That's the cold, hard truth.
Nobody with half a brain expected us to be at the top of the table. We're going to be mid-table. Stay up until the stadium is finished, and then shift gears. That's the reality, exposed today for all to see.
When you spunk half a billion to try to catapult up into the upper echelons and it doesn't come off, this is your reality.
Just back the squad and move about your merry way. It'll be this way for a few years.
Jamie Crowley
210
Posted 23/10/2021 at 22:16:01
BTW - why in the hell do you think they brought in Rafa??
Safe pair of hands to see us through until the new stadium at Bramley-Moore Dock is finished.
All this bitching is just noise. This is where we are at. Stick with them – what else are you going to do?
Jeff Armstrong
211
Posted 23/10/2021 at 22:17:37
Paul 208,
I think you might be right.
Unfortunately today, I saw Gray and Townsend become Everton players.
John Keating
212
Posted 23/10/2021 at 22:18:53
Well, whether you were at the ground or watching on the TV or computer, whether you were getting a panoramic view or a TV close up, whether you went home and away for forty years or whatever and are never wrong or usually wrong.
The never-wrong 'experts' observing Keane et al defending 5 yards too deep or too far out will have a field day trying to analyse that shite. Mina and Keane are our best pairing; no, it's Godfrey and Holgate – doesn't really matter, the lot playing today were a disgrace to the shirt and club.
That exhibition must rank amongst the most abysmal embarrassing inept failures of which there have been a few. A couple were not as rank but were still crap as it's all relative. Defence, midfield, up front, nobody gets a plus after that.
So looking forward to the coming week's analysis…
Jamie Crowley
213
Posted 23/10/2021 at 22:25:05
Brent @ 207 -
Who else do you put at the 9?
Richarlison shouldn't start. He's not fit. Then the question with Calvert-Lewin out – Who?
Who do you put up top? If not Rondon, who? Are there any real options for Rafa?
This is our reality. When we suffer injuries, we're just weak. There's not a lot of options.
Ian Riley
214
Posted 23/10/2021 at 22:26:02
I was hoovering the leaves when the score came in at 2-1, dancing round the garden with the leaf sucker. By 2-5 I nearly sucked my head in! Rafa will be blamed but these are professional footballers – not Under-10s.
The team lacks serious leaders. No-one shouting at players to calm down and protect each other. Davies will get stick but the choices we have with injuries means he gets the call.
Rafa has a massive job here... probably more than he expected. Today was the wake-up call to the board.
It's on the pitch we need to concentrate on! The new stadium brings sweat nothing without a competitive squad. Nearly £400 million spent and this! It's going to be a struggle for the next two seasons at least or longer.
Rafa just keep us in the Premier League. That's all nothing else. Do more and we will knight you!! Anyone else expecting more. Please seek medical help!
My excitement that we may do anything usually goes by September but it lasted till the end of October this season. That's a positive, I think? Thanks Everton!! Night all!
Brent Stephens
215
Posted 23/10/2021 at 22:26:58
Just watching the first goal we conceded. Looks like three of our players go for the same cross! (And does Tom lose his man on the far post from their corner?)
Zonal marking not up to it on that occasion?
Brent Stephens
216
Posted 23/10/2021 at 22:31:43
Jamie #213,
"Who else do you put at the 9?"
Jamie, I'm not sure but... anybody but Rondon, who is having zero contribution to games. Change the formation if necessary, to allow you to bring in somebody else. But with Dobbin, no need even to change the formation.
I know, he's an untested U23 player. But he has several qualities that Rondon does not have. And I can't name one quality that Rondon does have.
Jamie Crowley
217
Posted 23/10/2021 at 22:34:43
Brent, and here's my point: I don't blame Rafa for playing Rondon.
Now, if he doesn't try to change it next game, shame on him!
I think today illustrates your point. It's time to mix it up and try something different. But, prior to today, I don't see how you blame Rafa for marching him up top.
John Kavanagh
218
Posted 23/10/2021 at 22:38:10
With each passing season over the last 4 years, we have set new lows. Just when you think it can't get any worse, our 'team' demonstrates that it can.
Today was just a prelude to the horrors that are to come. Can you imagine what the likes of Man City and Chelsea are going to do to this shambolic outfit? And - God help us - the RS awaits. Klopp will just put his kids out again as he will be content with a three goal margin and will want to keep his best players fit for tougher challenges.
The ultimate humiliation of relegation awaits. If the Barcodes want Rafa that badly, then – based on the last two matches – they can have him. On condition that they also take Rondon and Iwobi and play them. At least then we won't finish bottom.
If my abiding memory of last week was Iwobi's air shot from a few yards out, then today it was a beaming Iwobi hugging opponents at the final whistle. Job done, eh, Alex?
Alan Moss
219
Posted 23/10/2021 at 22:38:10
Paul #162...
Most of us didn't want Benitez in. Appalling game management. I can't wait to see the back of him.
Brent Stephens
220
Posted 23/10/2021 at 22:42:22
Jamie, OK, mate, we both see a need for something else other than Rondon. It's just that I'd have tried it maybe, maybe, a game or so before now. Fine margins, though.
Barry Rathbone
221
Posted 23/10/2021 at 22:55:18
A call for Moyes amidst puzzlement about why the shackles of mediocrity are so difficult to shake – marvellous!!!
We might be total non-entities these days but at least some fans are still cracking gags.
David Hayes
222
Posted 23/10/2021 at 22:57:09
The biggest humiliation I can remember in 50 years of supporting this club. Forget about injuries – every club has them.
This puffed up con-man brought Rondon here totally unfit and finished. Insists on playing Iwobi who is a heartless liability. Smiles smugly and patronisingly while pouncing around fat bellied in shorts making noise on the trading field.
The biggest fraud so far – and that's an achievement with Fat Sam, Koeman and the rest as benchmarks.
Chris Leyland
223
Posted 23/10/2021 at 23:00:25
David Hayes,
Today was humiliating but, if you've supported us for 50 years and you didn't find the derby 0-5 or the FA Cup defeat 2 years ago to their kids more humiliating than this, then you mustn't live locally.
Ray Griffin
224
Posted 23/10/2021 at 23:01:55
A lot can and has been said about the dismal defensive performance today but one thing has been obvious for the last few seasons... Michael Keane is not a good defender, never has been and never will be.
He would be at home in a mid to lower Championship team but nowhere near Premier League level.
Phil Rouse
225
Posted 23/10/2021 at 23:02:17
I am sick of reading the comments saying "Keep us up until the new stadium is finished"...
What the fuck is a new stadium going to do? Suddenly make us into a Top 4 club? Oh dear me!!!!
John Boon
226
Posted 23/10/2021 at 23:02:24
Sean Kelly 204 and 190,
It is really difficult being an Evertonian after a game we have just witnessed. I feel exactly the same as you do, but with a combination of stupididty and loyalty, I will always remain an Everton fan. I remember losing 6-0 to Sheffield Wednesday and being relegated in 1951-52 season. I survived two season's of dross before we were promoted in the third season, but I am still an Everton supporter.
You mentioned Newcastle and their new owners. They may become successful with all the money. However, they could also waste it, just like we did. In fact, they may be in the Championship before they start their climb. Mind you we might even be with them.

On another note, I have blamed everyone connected with Everton for the plight we are in. The one I exclude is Moshiri. I just don't think he has made the right decisions in the signing of players and managers. I think he has listened to genuine fools, but he has put his money in when nobody else would.
I have also watched and coached my own kids and six grandchildren as well. As much as I do enjoy it, I smile, clap and say "Well Done", there is still nothing like an Everton win. I just hope it is at Wolves. Sean, I bet you at least check to see the score.
Andy Kay
227
Posted 23/10/2021 at 23:16:00
Godfrey (like Big Dunc years ago ) became a legend last season, before he became a player. He was still part of that awful defence that shipped goals to the likes of Fulham, Burnley and Newcastle etc under Ancelotti, but was never criticised as fans pointed the fingers at the usual suspects of Keane, Mina and Holgate.
The lad can't defend in the air and his positioning is shocking. But to most, he's "boss, that Godfrey, la!" Is he? He's a fuckin' imposter from what I've seen so far, if you ask me.
The same with Digne, he's been awful for 12 months now and his defensive side of the game is appalling. But hey, he can put in a good cross once every 10 games. Can't beat the 1st man on taking corners, but he's a world class full back. Absolute bollocks.
Fans need to realise, while blaming Iwobi and Rondon and Davies for every defeat, that their other "heroes" elsewhere on the park are putting in regular shithouse performances without scrutiny. Everyone of those players stunk the place out today. All of them, not just the regular whipping boys. But fans will always turn on the same names while letting the imposters fly under the radar.
When we actually had success in the 80s, it was the players themselves who pointed the finger at each other and everyone had to stand up. No one, absolutely no one got away with a shite performance whether you were an Andy Gray or a Terry Curran.
Today's current crop haven't got a leader amongst them. Is Allan really "the next Peter Reid"? Not on todays abysmal showing.
The club is rotten to the core after decades of mismanagement but its time to point fingers at the imposters getting away with deserved criticism just because they're a so-called star name.
Andrew Bentley
228
Posted 23/10/2021 at 23:18:28
So the wheels have come off the last 2 games and we are going to be missing 2 of our best players for at least a good few weeks yet. Has anyone seen the run of fixtures we've got between now and Xmas?
We could struggle to get 2 wins out of our next 10 games; we will be lucky to be sitting on 20 points after 19 games.
As the situation worsens, then the atmosphere will only get worse too and more toxic towards Benetiz and the team. All-in-all, the potential to spiral badly. For the fans who talk about us being mid-table and/or higher and hanging on until the new stadium at Bramley-Moore Dock is built, wake up and smell the coffee – we could be in a relegation dogfight in the next month and does anyone think that our current team has the stomach for the fight?!?
Already trying to bank on their being 3 crapper teams than us.
Robert Tressell
229
Posted 23/10/2021 at 23:31:15
Phil # 225,
The new stadium doesn't change a great deal, especially in the short term. The Top 4 is largely sewn up through spending power – and we're miles off. It will help, however, with the general perception of the club – to one with a future rather than one living in the past.
As for this season, we're still very much on track for our rightful 8th or 9th place over the course of a season.
And whilst Benitez has a lot to answer for today, the reason we're stuck in mid-table and consistently suffer these humiliations, season-in & season-out, is the lack of good players.
Compared with the more successful clubs, our players are really not that good.
Tony Williams
230
Posted 23/10/2021 at 23:35:05
We have had a succession of so-called wonderful managers and all we have had from all of them is garbage. It makes me think: Are they all out of their depth or is there something else going on that we don't know about?
They all can't be that bad surely.
Jeff Armstrong
231
Posted 23/10/2021 at 23:39:50
Andy Kaye @227, great post.
I will add Coleman.. finished. Digne, been shite for 12 months. Pickford, a couple of decent saves but also caused panic on a couple of occasions and kicked the ball out of play 6 times.
Davies, absolute crap, epitomised with his shitting out of a tackle at about the 78-minutes mark, just when Watford thought, these don't fancy this,
Gray and Townsend today got sucked into EFC mediocrity.
Allan is woeful, both in his creativity ( non existent, but he thinks he has it) and his diving into tackles that don't need diving into.
Rondon.. worst centre-forward since Jo.
Benitez, stubborn bastard, thinks he knows better. Brought Rondon to the club and continues to both pick him, and keep him on the pitch when 38,000 football fans can see he is useless; Begovic up front for the second half would've been more productive.
As some have already said today will be talked about for years to come, just like those Carlisle defeats in 75, the Sheffield United cup game at Goodison around that time, the Keeley derby, Shrewsbury, Tranmere, the RS kids defeat, Ekokuo, etc etc etc.
It hurts tonight, but not as much as when I wake up tomorrow.
Phillip Warrington
232
Posted 23/10/2021 at 23:40:16
Like Rafa for what he has done but, for the life of me, I can't understand why he continually plays Rondon who, clearly to everyone, is a liability – he offers nothing.
Dobbin must be sitting on the bench thinking no point being at this club who would rather play an older guy who is clearly out of his league. I mean, he has had what, five games straight, and he hasn't come close to scoring.
Keane panics when put under pressure and has this uncanny trait of hitting his own players when trying to clear balls under pressure.
Ask Rafa why he had to change a formation that was working (except for Rondon) – all he had to do was replace him with Richarlison.
But I really believe this club has been cursed ever since Moshiri took over. It just doesn't seem to matter who the manager is or who we buy, we always start off well and then go to shit.
John Kavanagh
233
Posted 23/10/2021 at 23:43:51
Andrew B @228.
I'm struggling to think of 3 worse teams on the basis of the last two matches. Norwich, the Barcodes (until January at least) and possibly Burnley, Leeds and Southampton; but they are all capable of turning things round whereas it appears we will continue on our downward spiral.
If we can dodge the relegation bullet this season, then we will at least start next season with a few less wasters on our books – unless we are daft enough get in more players like Rondon and Iwobi. Regrettably, all the evidence shows that, yes, we are daft enough – and then some.
Sean Kelly
234
Posted 24/10/2021 at 00:17:01
Is the witch from St Mary's doing a nixer at Goodison?
Ian Hollingworth
235
Posted 24/10/2021 at 00:33:51
Wow... it's beyond comment.
We are cursed.
They say you couldn't make it up but, with Everton, we can all write the script.
Bill Watson
236
Posted 24/10/2021 at 01:03:10
Maybe the beginning of this debacle was Benitez classing Watford as one of the 'easy' teams in his press conference, thus winding Watford up and putting it into the heads of our motley crew that it'd be a stroll.
We failed to establish any sort of control in midfield, failed to pick up most second balls, and lost out in nearly all the 50/50s.
Digne had a nightmare and Godfrey confirmed what most of us already knew; he's hopeless in the air. After 12 years, Coleman still cannot put in a decent cross.
But the buck stops with the manager, both for his team selection and his woeful substitutions. I can't recall Rondon having a single shot or header on target in any of his games. So, why is he being selected? But not only that, why isn't he being subbed off when he's clearly struggling to make any sort of meaningful impact?
When I saw Iwobi about to come on, I knew it was all over. He and Rondon shouldn't be anywhere near the first team, even with all the injuries we have.
In his treatment of Gordon and his reluctance to bring on Dobbin clearly indicates Benitez doesn't rate our young players but the time is fast approaching when he'll be forced to throw one or two in.
Phil Lewis
237
Posted 24/10/2021 at 01:46:05
Benitez's total refusal to admit that Rondon was a misguided recruitment from China by replacing him, is a typical example of stubborn arrogant Spanish machismo at its worst. The more the crowd insist certain players should be dropped, the more it seems he will persist with them, to the bitter end. It is the nature of the man.
Today's debacle and the poor performance against West Ham has highlighted deficiencies throughout the team. Josh King was superb today. Beni Baningime is setting Scotland alight for Hearts with performances that have seen them top the table. Both considered not worthy of a place in this squad of imposters masquerading as EFC players. Oh to have had Beni or Josh in Royal Blue today.
Who were the experts that got shut of them? How do they arrive at these errors of judgement? Who is accountable? No one, it seems.
If there is no money, if the injuries and lack of form continues, then youth must be given its chance. I am old enough to remember an unknown 16 year old Joe Royal being given his debut at the expense of Goodison idol Alex Young.
What chance have young players ever got of making a name for themselves, if the manager seemingly flatly refuses them the opportunity? It must be especially disheartening for our youngsters when senior players are regularly performing like donkeys.
Young Branthwaite should be chanced again in the heart of defence and Dobbin up front. We may assume by his non appearance that Gbamin will not be tried any time soon. With Doucouré out, it would seem the other options are Gomes (again) or perhaps Holgate pushed into midfield. I recall he had some success when called upon to fill the role in Big Dunc's short reign.
Derek Thomas
238
Posted 24/10/2021 at 02:01:26
I stayed up until 2 am to watch that shite... it and I don't feel any better after only a below-average night's kip.
"It's your own fault, nobody made you stay up that late, you should know better" (the 'at your age', left unspoken), said herself.
All true, I should know better. But so should Benitez and, to an extent, the players... and Moshiri too, but forget him. He's a lost cause, but also part of the cause.
Blame: Is Benitez 100% to blame? How does the Blame Pie Chart look?
For me, it's pretty well spread: players, manager, interfering owner... Some might say "Look at the chicken-and-egg aspect, which came first?" Well, then I'd rank it thus:
Interfering owner, who made poor appointments, which led to...
Poor players; but the players weren't that poor when we were winning 2-1, which leads us to...
The manager; he fucked up last week twice, once by selecting Iwobi, once by not hooking him off at half-time. And he fucked up again this week by bringing him on.
He did the worst thing possible – he changed our dynamic, our ethos... what little we had... we were, somewhat, in the driving seat, then he unbalanced us – he brought on I-fucking-wobi.
Disclaimer: I have been arguing for King since before the emergence of Calvert-Lewin... and who would blame him if he left us? Seriously though, The Barcodes? Possible relegation?... Fuck it, I'll take a chance?
Lukaku left; I wanted him last season. Then we got King and he was last season's Rondon, he looked shite-er than shite, albeit under used.
Is there something in the water at Finch Farm?
Anyway, blame: All the above – and a few more – must share. Benitez isn't 100% to blame.
But it is 100% his job to fix it. If it wasn't for his no doubt huge undisclosed (to me at least) wages, I'd even feel a bit sorry for him... nah. But I do feel sorry for us though.
I also miss the cushions, it wasn't a proper debacle until the cushions rained down, but this will do until one comes along... Did I mention laughing stock? No? Never mind, but it's getting that way.
Pete Clarke
239
Posted 24/10/2021 at 02:49:43
Moshiri owns the fuckin club and may deliver us a new stadium. However his total ineptitude at owning a football club has been highlighted by the worse managerial and other leadership roles any of us could imagine.
If he does not make some very big decisions regarding the Kenwright role, Brands and the coaching staff, then we will be playing championship football soon.
Benitez was always going to divide us as supporters and it was never going to take much for most of us to turn in him.
The Man Utd game gave me hope that we could alter our play to suit and I enjoyed that game but what I have seen the past two games is pure negligence.
Playing Rondon is incredibly stubborn. His legs have gone and he offers zero to the rest of the team. I actually think that even if Rondon had got injured the Benitez may well have put Iwobi up from rather than give Dobbin a go.
It was hard enough being with a couple of fellow blues last night watching that shit unfold on TV as we had different views on why it happened and how to fix it but I can only imagine the torment of being at the game then in the pubs trying to come to terms with the mess we find ourselves in.
My view is that Moshiri needs to be put under pressure by the supporters to sort the mess out with proper business decisions. He has thrown way too much money around in hope and it's constantly backfired. We can't go on like this and there has to be big changes in getting the club organized in a professional way with the focus on winning trophies.
Right now, we are nothing but Sunderland, Leeds, Newcastle and Norwich – all rolled into one.

Kieran Kinsella
240
Posted 24/10/2021 at 02:52:55
Watching this new Halloween from lM, it's fucking scary. All that stands between Michael Myers and this town is the Everton defense...
Andy Mead
241
Posted 24/10/2021 at 03:29:54
When you ship 5 goals at home to Watford, you are relegation fodder. They got done 5-0 last week and then do that to us.
The blame lies firmly on Moshiri. Spent £500M and what has Benitez got to work with? A championship team at best. Utterly embarrasing last 3 goals that a Sunday pub side would be unhappy to ship.
In saying that, Benitez isn't blameless here. Gordon was playing well and should have stayed on. Rondon isn't unfit, he's just no good. Godfrey isn't at the races at all.
I thought Silva was back in charge of our set piece defending as it's terrible. We never controlled the game at all.
Davies did okay but again isn't good enough. It's going to be a long and possibly disastrous season at this rate
Kieran Kinsella
242
Posted 24/10/2021 at 03:41:01
Andy
Can't wait for the derby. We will hear Seamus give a rallying call in The Echo. Snodders will say "Form goes out the window". We will even get the "like a new signing" experience with Gomes returning.
Then they'll go out and do what they did versus Man City last season, only with the RS fired up, it'll be 10-0. Icing on the cake will be RS fans showering Benitez in scarfs, Houllier style.
Graham Lloyd
243
Posted 24/10/2021 at 04:20:55
I've taken a few hours to reflect after watching the replay this morning. There are two things that alarm me the most. (There are several other alarms still ringing but I'll ignore them for now!)
1) Last season, for the first season in ages, we looked fairly solid at defending set-peices. According to data on whoscored.com, we conceded 7 from set pieces all season. This season, we have conceded 5 from 9 assuming their data is correct.
So why on earth would you change something that was working quite well with the same players? Surely there were other priorities to work on?
2) I always feel quite sad when fans start boo-ing their own team, manager, chairman and turning the environment toxic. I get the frustration at the shoddy performance and the defensive calamity at the end. But I just can't see how turning on the club is helping the situation in any way.
Vote with your feet, go punch a bag and use that energy elsewhere or write a strongly worded letter to the club! Let's face it, we've got a small, bang average squad. Turning on the club at this time will not change that fact.
Steve Brown
244
Posted 24/10/2021 at 04:34:33
When we hired Benitez, I posted on here that the first 12 games would be crucial as a poor start would cause things to turn toxic very quickly. Most managers start with goodwill from supporters, however his past track record and comments mean he doesn't have that in the bank.
After 11 games, things are perilously close to turning toxic given the humiliation yesterday. When managers stubbornly continue to make decisions that supporters can evidently see are poorly-judged, such as the selection of the woeful Rondon, then they lower credibility very quickly. As Martinez and Silva found, once lost it is never regained.
Overall, Benitez has done better than I expected and still has some credit in the bank. I didn't want him and I don't like him, but we have out-performed where I thought we would be, given this is a transition season ahead of a major reset of the squad (and hopefully the club).
Look at the squad status compared to last season:
Gone or unavailable: James, Nameless One, King, Olsen
Not fully fit: Richarlison, Gbamin
Injures: Doucouré, Mina, Calvert-Lewin, Gomes, Delph, Tosun
Loaned out: Kean, Nkonkou (go figure) and Virginia.
In: Townsend, Gray, Rondon, Begovic and Lonergan.
The one thing that cheered me up this week was reading that Benitez was doing a major review of all footballing departments in the club. That should be extended to a fundamental review of all non-footballing departments as well. Time to clean house if we are to change.
If nothing else, Benitez may as well remain to get that review done properly. After seeing his face yesterday, I don't think he will be taking an incremental approach to that process!
Kieran Kinsella
245
Posted 24/10/2021 at 04:44:07
King is the second Watford player to get a Premier League hat-trick. The first? Deulofeu.
When King left he was very respectful about the club and the fans but he was not complimentary about Carlo. I know today apparently he was mouthing off but, in fairness, he was never given a chance here, so good for him for showing us what he can do.
Thinking back to last season and our dire 0-1 losses to the likes of Sheff Utd, you can understand his frustration.
Darren Hind
246
Posted 24/10/2021 at 05:21:38
Misses header after header. Repeatedly goes to ground, including the now customary long distance slide on the edge of his own penalty area, inviting the see-you-later shuffle.
Misplaces passes all afternoon. Danced around repeatedly. Always appearing where the ball has just been. And offering nothing (and I do mean nothing) going forward.
Some heavy crticism above, much of it fair, but why, oh why is this guy allowed to have Weston after Weston and escape the criticism his play so richly deserves?
He's Brazilian, you know...
John Zapa
247
Posted 24/10/2021 at 06:11:33
I didn't see a single criticism of Gray. I thought he set the club on the path to losing with his laziness. He played King onside for their 1st goal, totally unnecessary, and the game could have been won otherwise.
Danny O'Neill
248
Posted 24/10/2021 at 07:09:24
I couldn't attend so gave my ticket to my brother. Sorry Alan.
I can't comment a lot as I didn't see it and haven't watched any highlights yet, which wouldn't give me the full picture, but that result against that team is just highly embarrassing. I don't need to see it.
My son, who was there, was fuming. "Disjointed and all over the place" were his main points.
Apparently Coleman having a spat with the fans in the Bullens at the end?
Not good signs.
Christine Foster
249
Posted 24/10/2021 at 07:16:11
If I was the manager, I would grab a clean sheet of paper and start a complete rebuild. Make the call on the players we have and want to keep. But tell them all they will be sold or not played if they are not up for it. Review those coming through worth keeping.
After this is done, you have a nucleus and then the identification of what is required and what we can afford.
To Moshiri, I hope you are good at creative accounting. You may tell Benitez to buy solid replacements but there is no substitute for class. Or money.
Derek Moore
250
Posted 24/10/2021 at 07:29:29
Plainly, Brands has not done his job or anywhere near it.
I'm not an insider so I'm certainly not able to tell you how responsible the man himself is for this failure. Perhaps other senior people are interfering in his duties. Perhaps he offers the very best advice to the board and they decide to go in the absolute opposite direction regardless.
I'm wholly unsure as to why he has not done his job, but feel at this point that's pretty much immaterial. He hasn't done his job or anywhere near it – we patently have one of the thinnest squads in the entire league. He has failed, totally, and he ought to go. He ought to be, indeed, long gone.

I suspect Benitez's "root and branch" review of the entire football side of operations will conclude the same thing, and shortly after, the dapper Dutchman will be out the plane with his golden parachute.
When this happens, most Evertonians will shrug, say "it's not my money" or repeat some nonsense about how the club can "learn" from a disastrous appointment and move forward.
The next guy won't be as bad!
For some, the penny will never drop. When you have incompetents appointing incompetents, you get this. This coming winter will make or break this club.

John Kavanagh
251
Posted 24/10/2021 at 07:36:32
Just woken up to check if Watford was just a nightmare. Alas, no.
What's beyond belief is that we know that next week Rondon will again be given the opportunity to make us a complete laughing stock and Iwobi will either start or be brought on to ensure the opposition get the points.
Rondon is the new virus fresh out of China. Will kill any football club stone dead within weeks.
What I didn't realise was that Rafa is a big Star Wars fan – repeatedly picking his footballing Jedi warrior, Obi Wank Iwobi, and bringing in Jabba the Hutt to play centre-forward.
Peter Dodds
252
Posted 24/10/2021 at 08:14:02
Some people are saying "Well, who can you play at 9? Richarlison isn't fit."
Or "You can't play Gbamin – he hasn't played for two years."
Well, the playing of Rondon for 90 minutes every match in a real-time experiment to get him from zero to match-fit illustrates perfectly that you can play returning players when not totally ready if needs must.
And don't get me started on "young" Dobbin, who is only starting out on his career and therefore "must" be protected, and is seemingly made of some material that will break on contact with any big bad defender over the age of 21.
He's been kicking a ball since he was in nappies! I never want to hear these excuses from people again.
Danny O'Neill
253
Posted 24/10/2021 at 08:15:31
Trying to look forward and in an attempt to put this behind me, I thought I'd use my local post code to try for tickets against Brentford for 28th November. They're my closest London club and it would be home end, but I'll wear a cunning disguise.
Or so I thought. Sold out already. Interesting they still have tickets for the 2 fixtures prior to that, Leicester & Norwich.
Are we still considered big fish? Or can they smell blood?
Jim Jennings
254
Posted 24/10/2021 at 08:16:34
People can go on about Rondon all they want but, while we continue to give 6 footers a free run at headers from corners, we are going to concede. It happened yesterday and history nearly repeated itself minutes later.
Tom Davies is nowhere near as bad as some make out but the airshot and sliding over the ball for the second and fifth goals were schoolboy stuff. He also lost Josh King for their first goal.
Michael Keane's positioning got a lot of debate on last week's match thread. He looked a good 10-15 yards behind everyone else on Watford's third goal then charged out to the man in possession, giving him an easy decision to play King into the acres of space where he had left him.
He also bought a dummy that King wasn't even selling on the fourth goal. His decision making is very erratic and he doesn't have the pace to recover when caught out of position.
(nb: for the pedantic of this parish, I don't literally mean acres nor have I measured 10-15 yards but that's how it appeared in real time.)
In 6 months time, we'll be talking about Townsend for what he has been doing all his career. Frustratingly inconsistent, capable of moments of brilliance far outweighed by the more regular mediocrity and wastefulness.
Allan and Davies are too lightweight as a combination. Pushed off the ball, not even challenging in the air and being strolled past.
Covid or no Covid, Godfrey is not the answer at centre half. He might look the part but he rarely plays it. He's currently our fourth best option there. When posters are lamenting the loss of Mina, you know things are bad.
Lucas Digne's signature move is to look back when the ball has sailed over his head, with an "Oh shit!" expression as he sprints in vain to catch a winger who has just stolen a 10-yard head start.
Benitez has a big month ahead of him. If he keeps making the same mistakes he has been making (and in some cases getting away with), then Goodison will become unforgiving.
Gary Smith
255
Posted 24/10/2021 at 08:22:16
After a nights sleep, I'm feeling a little calmer now.
The appropriate and proportional reaction is to sack Rafa, Brands, Unsworth, and Kenwright with *immediate* effect.
Rafa is going to continue his zonal marking, and he's going to continue to flood the squad with aging 30+ players. He'll continue with Rondon and Iwobi over Dobbin and Gordon. He is simply the wrong manager for this club.
Brands, Kenwright and Unsworth have left us with an U23 side that resembles an U20 team and is missing vital components such as left backs (one left back in entire setup..wtf). The entire recruitment process has been a disaster…..
Player wise, we made the mistake of not capitalising on Digne value in the summer. We had a chance to ship him out and tell Niels and Small they were competing for the Number 3. Instead, we give him a long, fat contract and ship out the two promising youngsters. If this isn't everything that's wrong with our approach, I don't know what is.
Start fixing it now. Get a manager in immediately who's going to blood the likes of Branthwaite, Onyango, Dobbin, Simms, Tyrer, etc – not another offering precious wages to over the hill players like Rondon, Begovic, and Lonergan, and ongoing places to perennial under-achievers like Keane and Iwobi.
Personally, I still think it's time for Duncan to sink or swim, but not sure what's happened to stop it last time. Lampard, Hasenhüttl, Scott Parker, Eddie Howe and even someone like Tim Cahill (Arteta doing ok!) offer more progressive options than the Fat Spanish Waiter.
Unfortunately, however, I think Moshiri will carry on with the poor decisions and do none of this… and, for that reason, maybe it's time to ask if he should stay?
He's got a big heart, I'm grateful for the dice rolling he's done, and the new stadium at Bramley-Moore Dock is a miracle he's created… but it'll be an unserviceable debt if we end up in the Championship, and that's the trajectory we're currently on.
Steve Brown
256
Posted 24/10/2021 at 08:23:17
Peter, I agree.
Richarlison contributed more in his 30 minutes on the pitch than Rondon has in seven games – match fit or not.
Jerome Shields
257
Posted 24/10/2021 at 08:33:31
King at Watford: 12 st, Fit, Pace, Awareness, First time passing.
King at Everton: 14 st, Unfit, Slow, Lacking awareness, Poor passing.
The difference is program application and training off the pitch. If the players are being trained to this latter standard and injuries are caused by poor preparation, one would also question the ability to access incoming players and recovery programs. There isn't even an acceptable standard there for coaching to take place.
This also explains and translates into the poor performance of other Everton players over the past two games.
Everton needs change from top to bottom or 'Across the board' as Benitez said before the match. He has realised over the International break that there are barriers to progress at Finch Farm structurally supported by internal management.
The management of the club off the pitch is mediocre and has been for years. One other factor is that Everton have recruited a number of mediocre players, who bring down the standards of other players. They are at Everton because assessment standards are poor – a reflection of poor standards at the club.
Jim Wilson
258
Posted 24/10/2021 at 08:42:09
Jerome – the main reason King did nothing at Everton was that he was never given games!
Terry McLavey
259
Posted 24/10/2021 at 08:42:17
Wow... first on MotD!
I wonder why?
Lineker must have run to the studio!!
Danny O'Neill
260
Posted 24/10/2021 at 08:46:57
A bit early to start talking of manager changes and throwing a load of kids at the problem, in my opinion, Gary. It's October. A key factor over the past 5 years or so has been managerial instability.
And if Arteta is doing well, then we're technically on par in terms of league position at this stage. Just because they beat Villa and we lost to Watford doesn't make a season. They've been plagued by inconsistency too. See where we are at Christmas. That gives you a better idea of where you are in my experience. And my own scratched record; the season ends in May.
Back to yesterday. Again, having not attended or watched, I am going off comments on here and reports. Not sure the calling out of individual players is what the problem seemed to be yesterday, but I'll come back to that. Collectively, a poor team performance by the sounds of it. And included in that is the manager. We can single players out for individual mistakes and blame in a certain situation. But overall, a dreadful team performance.
So back to individuals. We surely can't persist with Rondon. Even in the absence of Calvert-Lewin. Iwobi still looks confused and lacking confidence. He may train well, but can't replicate it on the big stage.
And then poor substitutions by the manager. Just as we get ourselves in front, he changes it, when maybe we could have gained some momentum, with the key change already being made in Richarlison.
Like I say, this week, my observations are based on what you lot are telling me and reading reports, as well as talking to my son.
Brian Murray
261
Posted 24/10/2021 at 08:51:58
Jerome.
I don't believe for one minute a manager with his experience and know-how – four times, yes, four times he has picked a forward that is going to put his job and reputation in shreds... Unless he's had enough maybe personally and wants out because of abuse or danger to his family.
Remember the burglary with the last manager? Although he was next to useless anyway.
Plus where is the attention to detail he is renowned for at least? Set-piece conceding should be a thing of the past with Martinez and so on.
Brian Murray
262
Posted 24/10/2021 at 08:55:06
Correction. Has Rondon started seven games? Whatever it is, it's costing him his job and it's about to turn really bad for him. Nothing to do with injuries – if he is terrified of giving Onyango or Dobbin a chance, then keep digging your own grave, mate.
Eddie Dunn
263
Posted 24/10/2021 at 09:05:37
Gary,
The reason Rafa is here is that he will gather enough points for a safe, mid-table finish. Blooding all those youngsters would mean relegation. However, surely Dobbin instead of the sweaty statue could never be any worse.
Benitez made some mistakes in his timings and of course the zonal marking was poor, but watching the highlights this morning displayed exactly what went wrong.
The midfield got caught high up the park, the defenders were out of position, Keane kept playing them onside, people dived in, and the ball simply was not cleared.
Chaos ensued as we chased an equaliser. If we had simply lost 2-3, we wouldn't be quite so outraged.
The players let us down. Only Pickford, Gordon and Richarlison can consider themselves blame-free.
It is very similar to last season at home to so-called lesser teams. We thought we could blow Watford away and we were not tough enough in the battles, diving, falling over, sliding in. Watford out-wrestled us and then out-played us.
We know that Godfrey & Keane doesn't work. We also know that Davies & Allan is too slow. Digne is living on past endeavours and Seamus is struggling.
And Rondon did nothing again.
Sam Hoare
264
Posted 24/10/2021 at 09:10:49
No way is Benitez getting sacked now. Though I wouldn't bet against it in the New Year if we keep playing like that.
There was a litany of problems yesterday, obviously, but the one that has plagued us all season is set-piece vulnerability – a strength of ours last season. I believe we are in the bottom 2 in the league for chances given up at set-pieces and Watford's first two goals came that way recently.
We seem to be employing a mainly zonal system, unlike the hybrid Davide Ancelotti utilised last year. It's really hurting us and could be the hill Benitez dies on (like Marco Silva) unless he fixes it or finds someone who can.
Jerome Shields
265
Posted 24/10/2021 at 09:12:13
Rafa Benitez, Friday 21 October 2021:
"I have a lot of confidence in my staff but if we have to do something then we will do it, " he said. "One thing I want to be very clear is that I am trying to improve every single department. The fans, the club, the owners who have spent a lot of money, they are desperate to be competitive.
"I said in one press conference that 8th [place] means nothing to me and I really mean that. I don't want to stay here and try to survive. I want to be sure I can improve anything with my experience, my view and my staff. "
Benítez's demand includes recruitment. "The main thing will be the players, " he said. "I am not stupid. It depends on the players what we do on the pitch. I want to be sure every player understands what it means to play for this club and go on the pitch in front of the fans and give everything. They are doing that and I think the fans appreciate the effort of the players. But it has to be the same in each department.
"When you see the money spent, the club has to be in a much better position. You have to compete against all the teams and it is not straight away that you start winning games and doing everything right. I will be the first to make mistakes, but I have experience and I want to win. How can we win? By improving 5%-10% in each department. "
Obviously things have come to head over the International break and the Finch Farm downed tools has kicked in as a reaction. This is reflected in the two performances after the International break. The fact that Benitez has gone public, like Ancelotti, shows how high tensions are at Finch Farm and with the internal management of the club.
Mike Doyle
266
Posted 24/10/2021 at 09:15:54
I see that Coleman's 'Captains Notes' were used in yesterday's programme as the apology for the West Ham game.
I'm guessing this week's distraction strategy will bring either another one of Darren's reports on 'major progress at Bramley-Moore Dock' or a new initiative from EitC or an email from the club signed of with 'NSNO. Denise'.
Perhaps one of ToffeeWeb's ITK posters could advise what was said in the dressing room yesterday?
Colin Glassar
267
Posted 24/10/2021 at 09:16:19
I watched the horror show live... then watched the extended highlights, even more horrific, and to end the nightmare, I watched MotD and it hit bang slap in the face – we are a shit side full of shit players!
Digne, Godfrey, Coleman, Keane, Davies and Rondon were absolutely pathetic yesterday. The highlights especially showed just how bad Keane and Davies are. Physically weak and slow. Mentally deficient, both of them.
Benitez needs to take his fair share of blame as Gordon should've stayed on, Rondon replaced by Richarlison and Gbamin on for a flagging Tom Davies. Surely Gbamin could've given us 15 mins at least?
My views on Iwobi are well known but surely that has to be his last appearance in an Everton shirt. The man celebrated at the end with Josh King ffs! Get him and Rondon out ASAP. Neither of them look like they can be arsed playing for Everton.
Robert Tressell
268
Posted 24/10/2021 at 09:20:35
Unfortunately, we get humiliated like this at least annually. It's not Benitez.
There is something wrong at the club. Lack of courage, lack of belief, the weirdly long time since we won anything. It's almost as though the players get infected with the pointlessness of it all.
The relentless and direct and awkward style Benitez has created is a good fit for us – and a way out of this misery if everyone buys in. Unfortunately, it's not been a good fit for stop-gap players making up the numbers. We should stick with it and we should stick with him while he builds the playing staff in that style.
Scott Robinson
269
Posted 24/10/2021 at 09:32:11
I (like most) am struggling to pinpoint the exact cause of this debacle. The owner, the manager, the players, the fitness coaches... Probably a combination of all of these.
But where is the genuine leader in this team? We are desperately missing a cult leader in the dressing room who cares.
Nick Page
270
Posted 24/10/2021 at 09:32:27
You could change managers every week, get Pep in, spend another £100m… it doesn't matter because the deep malaise around Everton is catching. Why? Because losing doesn't matter and that's obvious.
Why is it that every player that comes to us seems to slip into the same habits? There are very few who actually get better and they're usually sold on with that money reinvested poorly. For all the bleating about Benitez et al, it's the management of the club from the top down that's the problem.
The best way to affect this would probably be relegation and then the rats would start to flee and the decks could be cleared. But without some sort of continued fan action, the drift will just continue and Kenwright the great actor has played an absolute blinder over the years. It's his club, not yours, and he's done all this… not you.
"Moshiri should have hired so and so and done this when he came in" is what I hear a lot but this wasn't part of the agreement. The agreement was that he bought the shares (as an investor) but Bill kept control of the trainset because Farhad is a tax exile in Monaco.
But Bill lives in London and knows nothing about football, finances, marketing etc and Professor Barrett-Baxendale (arf) was brought in to run the charity side (2010). Elstone was better qualified than her but being a Kenwright acolyte has it's obvious advantages.
It's a complete mess and probably worse for the £500M spent, which is utterly incredible but also highlights the complete lack of strategy, vision and relevant management. Can you imagine Liverpool Football Club being run like this? Or their fans putting up with it? How sad.
Tony Abrahams
271
Posted 24/10/2021 at 09:43:14
Who would want the Everton job? I love my club, and think managing Everton should be one hell of an attractive proposition, but the most divisive appointment in the club's history has just been given an absolute pittance to spend after arriving. I personally think the Everton job is the biggest poison chalice in England right now.
We accept a lot of shite, us Evertonians, but maybe it's time we started demanding answers from Moshiri and his Chairman, because with FFP "allegedly" crippling Everton, the silence towards a fanbase that could go toxic, or something just as bad if it's apathy that sets in, makes me feel that our owner could be in for a big shock soon. I honestly feel that persisting with Iwobi and Rondon will soon take around 20% off our matchday crowd.
Clive Rogers
272
Posted 24/10/2021 at 09:46:43
The next nine games are a nightmare and I can't see a single point for us.
Gary Smith
273
Posted 24/10/2021 at 09:55:40
Danny @260,
The difference between Arteta and Rafa is that the former is building a youthful team that plays attractive football. We may be level now, but we will not be at the end of the season.
Eddie @264,
Alan Hansen predicted kids equalled doom once too, but imho it'll be Rondon, Keane, Iwobi and (sorry to say) 33-year-old Coleman who'll lead us there faster. Short-term mediocrity is not better than a gamble on long-term success.
Dave Abrahams
274
Posted 24/10/2021 at 10:07:06
I sincerely hope that Mr Moshiri and Mr Usmanov back Mr Benitez, if not openly, then behind the scene, and let everyone else at the club know that Benitez is running the playing side of the club and let him get on with the job.
If Benitez is allowed to get on with the job without hindrance from the board, the better it will be for us fans in the long run. If he is allowed to go, then this disfunctional club will carry on in the same old way and eventually join the band of once proud members of the top leagues. They will become "an also-ran" going up and down the lower leagues. That's how bad we are now and how close to ceasing to be of any significance.
Colin Glassar
275
Posted 24/10/2021 at 10:10:12
Tony 271,
Kenwright and Brands are in charge of running the club. Moshiri with his hands-off, laissez-faire, hiding in Monte Carlo approach, is responsible overall for this shit show.
We can't get rid of Moshiri for the foreseeable future (until the new stadium at Bramley-Moore Dock is built) but surely he can get rid of these two useless, moronic fuckwits? That is unless there's a secret clause in his takeover of the club, à la Ribbentrop-Molotov pact?
Right now, Moshiri (or his boss) is the only one who can save us from further ignominy. Kenwright has continually out-manoeuvred, out-thought and out-witted him by placing his cronies from board level to the Under-12s. Kenwright is the real owner of Everton FC. He's more dangerous now than ever as he is a very rich man (thanks to Moshiri) and no longer feels the need to kowtow to anyone for financial support.
Act now, Moshiri, or risk losing everything!!
Kim Vivian
276
Posted 24/10/2021 at 10:24:59
I think the problems we have are deep-seated but, for me, the one glaring obvious is that we do not have a true leader on the pitch or in the dressing room.
I do honestly believe that Benitez can be a decent boss for Everton but he needs help on the pitch. When and who was the last time we had a real fire-and-brimstone Captain – someone with respect who could chivvy up players on the pitch, kick or console as required, and let rip in the dressing room after a capitulation like yesterday?
Where's our John Terry, Jordan Henderson, Steven Gerrard, Kevin Ratcliffe, Roy Keane, Tony Adams etc etc? To answer my own question, the closest has probably been Phil Neville.
As for yesterday, I assume it was Seamus but I can't say for sure who was our captain – I saw no evidence of a leader on the pitch. Our entire squad seem to be made up of characters with the mental fortitude of a kitten.
With one exception and I can't stand the bloke... The only squad member we have with the balls to call out the players when needed is probably sick-note Fabian Delph and he has not done enough to earn the necessary respect or game time(*).
He epitomises our entire plight in some ways because the whole set-up is a bit of a sicknote right now.
(* Addendum – I could possibly suggest Pickford but he plays in the wrong position.)
Geoff Williams
277
Posted 24/10/2021 at 10:29:18
It is becoming increasingly difficult to support Benitez. He has continued to select Rondon when absolutely everyone else can see that Rondon simply isn't up to the job.
We all accepted that his fitness may be suspect but, 2 months later, there has been no noticeable improvement in his speed, stamina etc. The man's first touch is poor, his ability in the air pathetic and so on. Benitez has to accept that whatever skills Rondon had are long gone. Putting it quite simply: Rondon is awful and a liability.
His faith in Iwobi is misplaced. If not in the starting Xl, he is Benitez's default substitute. Again, we have a player who just doesn't have it.
Godfrey, who was a star last season, clearly hasn't recovered fully from Covid and needs to be managed better.
I had hoped that Benitez could bring some structure, organisation and confidence to the team but I can only see us struggle under him.
Paul Birmingham
278
Posted 24/10/2021 at 10:32:57
Dave @274, definitely more now than ever, the club needs to have a development plan for the playing side.
Let's wait and see if any of the players come out with usual rhetoric after such a poor performance. Hopefully this trait has been nipped in the bud.
Difficult week in work but I'm immune to the RS now, it's in the DNA.
I feel sorry for the younger generations of Evertonians. Train hard all week (allegedly) to play like a pub team, and arguably "throw the game away" in 13 minutes of chaos and capitulation on the pitch.
The Keystone Cops, back to front, was on show yesterday.
It's going to be a tough couple of months and Christmas at Everton. Let's see the character of the manager and this squad to face up to the challenges ahead.
Do they have the stomach? Rafa does but some of the players don't.
January sales, who knows.
Jerome Shields
279
Posted 24/10/2021 at 10:38:23
In my above post, a telling remark by Benitez is:
"I don't want to stay here and try to survive. I want to be sure I can improve anything with my experience, my view and my staff. "
This has all the appearance of a marker: "If I am not supported and change takes place, I will be leaving. " He has effectively launched an attack on players available, Finch Farm, and the internal management of the club, and made an ultimatum.
Geoff #277,
Who do you suggest as manager to replace Benitez, and do you think they would want the job?
Paul Swan
280
Posted 24/10/2021 at 10:42:08
Eddie #263,
I don't see how you can give Pickford a free ride yesterday. He was a bag of nerves all day long, shanking the ball into the crowd every time he touched it. He has zero command of his area, zero organisation and, given the lack of an outfield leader, he has to at least take decisions in his own box on set-pieces, rather than standing fixed on his line.
Kim Vivian
281
Posted 24/10/2021 at 10:49:57
Scott @269,
I just saw your post after posting my own. Seem to be saying much the same thing but with fewer words. I agree.
Rob Halligan
282
Posted 24/10/2021 at 11:05:07
Paul #280.
I respect your opinion about Pickford, but two things for me: if Pickford booting the ball into play 60 or 70 yards away from his goal (not deliberately, by the way) is a criticism, then it's something I can put up with, as it means the opposition can't score. Okay, he's giving up possession but at least there's a chance of winning the ball back.
Also, you mention about him being rooted to his goal line. Well, let's face it, if you or indeed I were playing behind Keane, I would also stay rooted to my line. For some reason, there seems to be fewer and fewer fouls given on goalkeepers who come and try to collect a ball and appear to be fouled, and also, because we defend so deep, Pickford has little chance of charging through a cluster of bodies to try and claim a ball. He could well end up clattering an opponent and giving a penalty away.
As I say, it's all about opinions, but until we start defending with a higher line, then Pickford is going to remain nearer to his goal line than the edge of the penalty area. When I played in goal, I made it my business to "patrol" the edge of my penalty area, acting as a "sweeper" for any balls over the top of the defence. Pickford never does this because we defend too deep.
Justin Doone
283
Posted 24/10/2021 at 11:09:16
I've read most but not all comments.
I'm not surprised by the usual players being blamed as not good enough etc. Heard it many times before. But that is what we have and it's not going to change anytime soon.
And I didn't agree with the manager's subs either, but I rarely do of any manager.
We win as a team and lose as a team. I don't think it would be fair to blame any single individual after that collapse. Too many tired looking players out of position and no leadership.
James Head
284
Posted 24/10/2021 at 11:15:26
As bad as the players were yesterday, special mention for Godfrey, Keane, Rondon, the dreadful Digne, the useless Allan, and our very own Tom Davies, the blame lies squarely at the feet of, soon to be Enemy Number One, Rafa "small club" Benitez.
In a dreadful game in which we constantly conceded possession (nothing new there), the relief when Richarlison put us in front was palpable. Benitez compounded last week's mistake of omitting Gordon for the phoney that is multi-millionaire football impressionist, Iwobi, by removing Gordon, who was one of the few prepared to take the ball forward.
I agree with everything that has been said about Rondon, he is a non-entity on a par with Iwobi and I can only assume Rafa gets a kickback from his agent.
The next 10 games must be faced without Doucouré which leaves us with the horrendous prospect of Allan and Davies attempting to control the centre of the park for us, unless we dredge the barrel and pull out Delph, Gbamin or Gomes, god help us!
We need Mina back next to Keane ASAP; poor old Seamus has been finished at this level for several years and Digne is a poor defender, he can't tackle and constantly concedes needless free-kicks, he's also weak and his crossing is frankly fucking gash.
Let's try Richarlison up top with Gray in the Number 10 role, Gordon down one flank and Townsend down the other.
I agree with others who have said that the whole club needs to be restructured from top to bottom, starting at Finch Farm with a total clear-out of all the hangers-on.
I have put 50 years of my life into following Everton, they're in my blood, but we are now irrelevant in English football and, unless we have radical change within the running of the club, then I can only see us going the same way as some of the other once-famous clubs who have dropped away, never to return.
Rob Halligan
285
Posted 24/10/2021 at 11:23:36
Sorry Paul # 280. I've misunderstood your post as being an opinion on Pickford, when in fact it's what you, me and everyone can see as "an observation".
Of course, we can all see what Pickford is doing, but I stand by what I posted earlier.
Derek Knox
286
Posted 24/10/2021 at 11:31:23
Colin @ 275,
If I had a coconut, I would give it to you. In fact, I would give you the whole lorry load. Bravo and spot on with your post. Us old arses know where the real problem lies, and I just hope upon hope that the coffee is well and truly smelled before it is too late. Or has it been too late, for too long now?
I wasn't up for Rafa coming in the first place, but I thought "Hello, maybe he can work some magic?" I was wrong; alas, it is looking increasingly possible, I was right.
Why he is sticking with Rondon beggars belief, even more than why he brought him to us, in favour of letting Josh King go on a free! What is it with all these 'Frees' we mistakenly (often) buy a player for £XM, usually against the fans' preference, and bingo – the fans are proved right! Then, instead of trying to recoup some money, they go buckshee!
Tottenham at Home next? Have they got a player who has never scored or one who allegedly can't hit a cow's arse with a certain musical stringed instrument? Welcome to Goodison, the goal and defence is gaping and ready for you!
Clive Rogers
287
Posted 24/10/2021 at 11:37:17
Colin, #275,
It has been reported that Keith Harris, the finance guy, stated that it was written into the takeover deal that Kenwright could remain Chairman as long as he wanted. Kenwright got a good owner for Kenwright, not for the club.
James Head
288
Posted 24/10/2021 at 11:38:24
Totally agree with you, Paul #280, Pickford is a basketcase and a less-than-average keeper, it can't be easy to play in front of him as a central defender.
Derek Knox
289
Posted 24/10/2021 at 11:39:50
Clive, did Orville get a say in the matter?
Rob Dolby
290
Posted 24/10/2021 at 11:43:49
Counter-attacking at home to Watford. Surrendering the midfield with a 4-4-2 is becoming the norm. Set-piece defending that Martinez would be proud of. It's the same group of defenders that performed so well at set-pieces last season! Coaching is to blame rather than the players.
At 1-0, we had a couple of good chances to increase the lead. Gordon with a headed chance that shows that he can't head the ball being the best.
At 1-1, we had chances where the ball just wouldn't fall right. Again, Gordon involved, which is a good sign for the lad. That push in the back is a penalty at Old Trafford or Stmford Bridge.
2nd half was a close-run thing with chances either end. Coleman having a go at the Paddock isn't great from the club captain then Richarlison with a header from a great ball from Keane put us ahead.
This is the turning point in the game. We persist with the same formation, like-for-like sub. Ranieri gambled and put 2 attack-minded players on. The gamble paid off.
For 77 minutes, the game was pretty even; two average sides slugging it out. Our entire defence looked shaky from the start but you have to give credit to Watford. All of their players contested every ball; even if they haven't got the quality, they have the endeavour and aggression.
The last 15-minutes of comedy defending is unacceptable. We will probably play at least 3 of those defenders all season as we don't have sufficient cover.
If King would have shown half of that aggression last season, he might have earnt a contract. He was MotM by a mile. I would give our MotM to Gordon. His best game for us.
Peter Mills
291
Posted 24/10/2021 at 11:44:20
Reflecting on yesterday's fiasco, I decided to re-read John Daley's wonderful "3 Bedsheets outside Everton, Moshiri" piece from 6 July 2021.
It's available under "Articles". Its prescience is frightening.
Danny O'Neill
292
Posted 24/10/2021 at 11:45:40
I'll go with Rob, who has played as a keeper, James. If we get our defence higher, the keeper can effectively become a sweeper. It's what a lot of the good teams do.
So I'll flip that last point around. It can't be easy being a keeper playing behind that defence.
Jordan receives much-deserved criticism, but he has also been much improved since around last January, in my opinion.
Lester Yip
293
Posted 24/10/2021 at 11:50:48
Godfrey is about his physicality and athleticism, a bit like Calvert-Lewin. Good age. Still a lot to work on his decision-making and positioning.
Digne is very disappointing. What worries me is that there's no cover for left-back at all. Even when his form is bad, there's no other option.
Keane is the only one who can make a long accurate pass. He assisted again. For consistent performance, the first choice pairing would be Mina and Keane for now.
Is Dobbin a better choice? I haven't seen him play. But it sounds like he's the answer to the current striker crisis.
Graham Mockford
294
Posted 24/10/2021 at 11:51:27
As usual after a really disappointing couple of results, the hysterical reactions abound, especially given yesterday we played without the spine of our team, our best central defender, our best midfield player, and our only capable centre-forward.
In the same way that we weren't Champions League contenders after seven games, we aren't relegation candidates after two. Pickford, Digne, Allan and Keane can all still play a role; Godfrey is still suffering from a serious bout of Covid.
But we still have players around the first team squad who just will not be good enough for us. Most of us can see who they are. Rondon (I'm not one for hyperbole but he has produced some of the worst performances in a blue shirt I've ever seen), Iwobi, Delph, Gomes, Tosun, and yes Holgate and Davies.
The squad needs rebuilding, the manager needs to be backed, the recruitment needs to be smarter... or guess what: it's just more of the same.
Lynn Maher
295
Posted 24/10/2021 at 11:58:32
Graham @243. I too have had time to reflect on yesterday's capitulation. I was there.
Yes, it isn't nice to hear the boos at Goodison Park, but sometimes they are deserved, and yesterday, in my opinion, was one of those days.
I won't be voting with my feet as I am a season ticket holder and they already have my money.
I am also not going to punch a bag, as I would definitely come off worse at my age. I may however try your third suggestion.
Sometimes, I feel the whole club need to see how the fans feel, and there was no hiding from that yesterday. Except perhaps, from Mr Congeniality... Iwobi.
Christy Ring
296
Posted 24/10/2021 at 12:00:11
Could Gbamin be any worse than Iwobi, and Dobbin any worse than Rondon? Personally, I'd leave Iwobi beside Delph for the rest of the season, and watching him hugging and laughing with King at the end summed him up.
Ken Kneale
297
Posted 24/10/2021 at 12:02:23
The problems at Everton are like 'weather' and 'climate'.
Rafa Benitez got caught out by the weather yesterday – it rained and he went out in shorts and a T-shirt.
The systemic problems at the club level reflect the climate over the last 30 years. Colin @275 is absolutely correct to call it out as it is. I applaud Rafa Benitez for indicating he wants 10% more from everybody – that is political speak for saying it is a joke behind the scenes. The atmosphere at Finch Farm must indeed be toxic with the Rafa crew and the Kenwright crew and Moshiri must act now in the best interest of Everton Football Club.
We have spiralled downwards for the whole of the Kenwright era but the acceleration since he gained Moshiri's shield (and money) is staggeringly fast. Unless Moshiri takes action, he is not going to see anything other than Championship football at his new ground – all the while, Kenwright and his appointees are getting fat and living high off the hog and hiding behind Moshiri.
The story of Everton post-1990 is a tragedy – the worst of which is yet to happen – all under the watchful eye of Kenwright. I hope if Goodison Park does get toxic in the coming weeks, the ire is towards the Directors Box.
It was mentioned on another thread about season ticket prices that people may start looking at how they spend their hard-earned money. Our support has stood up really well over the last 30 years but the days of dwindling fan numbers must be coming at some point with this current set-up.
Graham Mockford
298
Posted 24/10/2021 at 12:11:10
Lynn,
They definitely deserved booing off; too many players didn't turn up. I don't consider that a hysterical reaction but calling for the manager to be sacked or claiming our keeper is a problem, who was the only reason it wasn't seven yesterday, is in my view.
Ted Donnelly
299
Posted 24/10/2021 at 12:11:31
I never liked the idea of a Kopite becoming our manager; however, the Everton job must be the most poisoned chalice in world football. It seems that disappointment is forever ingrained within our DNA, no matter who is in charge.

Brian Harrison
300
Posted 24/10/2021 at 12:23:36
I read the reports of the fans in the Main Stand having a go at Marcel Brands and Farhad Moshiri at the end of the game, so they will be very aware that they aren't having a free ride.
It's now more than 5 years since Moshiri took control of the club, and we have replaced managers practically every 18 months to 2 years – each have walked away with a king's ransom. I think if you add up all the settlements paid to our now ex-managers, they probably exceed what our most expensive signing cost.
During those 5 years, Moshiri and his friend Alisher Usmanov have invested over £450 million on players, yet this club has gone backwards under his control. Our Academy produces very little and you have to ask: Just what role has Moshiri asked Brands to do?
I always believe that managers should have the final say on players as, at the end of the day, it's them who get sacked and not the Director of Football. We were told that Brands works closely with managers on potential recruits, so who is actually buying the players?
And if as I suspect, it's both the manager and the Director of Football, is it any wonder we have such a dysfunctional set-up. This same set up was here when Walsh was the Director of Football to Koeman and that was an unmitigated disaster.
Now, with money needed to fund the new stadium at Bramley-Moore Dock, then I suspect we will be shopping in the loans and basement departments when the transfer windows in January and the summer come around.
There is so much wrong at Everton and unfortunately we have a man in charge who has contributed to this debacle and – even more worrying – he doesn't seem to know how to get us out of this mess.
Martin Nicholls
301
Posted 24/10/2021 at 12:24:29
When we won games against Southampton and Burnley earlier this season, the Carlo haters were out in force on these pages telling us how "We would have lost that game last season". I'd be interested to hear the opinions of those same people about yesterday's game? Mine is "We most certainly wouldn't have lost that game last season".
Darren is rightly critical of yesterday's showing by Allan – for balance, I'd add that Tom Davies, despite his dream start, was equally bad.
Our attacking coach, Duncan Ferguson, took all the plaudits for Calvert-Lewin's improvement last season. So what input has he had into the inept performances of the lumbering Rondon? At the very least, he should be in Benitez's ear about them and about his repeated selection and retention on the field.
I could be wrong but I suspect that job preservation might be his first priority. I for one haven't forgotten his angry response to our fans at Stoke for their temerity in criticising his then boss, Fat Sam.
Brian #300 – makes me wish we'd kept that squad (which included Stones, Lukaku, Barkley and Deulofeu) and spent the money on the new stadium at Bramley-Moore Dock, the construction of which it would have gone a long way to covering!
Gary Mortimer
302
Posted 24/10/2021 at 12:26:04
Colin #267.
Agree with all that. I also forced myself to watch the lowlights to see where it all went wrong.
Davies not marking King for the first goal.
Davies air shot leading to corner and then Digne & Davies not covering behind Godfrey, leaving a free header for the 2nd goal from the corner
Digne ducking out of a header and Davies not challenging for the 3rd – although why was Keane so deep?
Allan, Godfery & Digne in each other's way for the 4th.
Davies air shot trying to block the cross for the 5th.
Digne and Keane were dreadful all match. I have never known such a passive and weak defender as Keane – defensively, he was all over the shop. What has happened to Digne? No pace, his deadballs are dreadful and above all, no will to win.
I was hoping that Davies would really take his opportunity with Doucouré out for a while but, even with the confidence of an early goal, it is clear that he does not have the strength, pace or speed of thought to make it at the top level.
As for Rondon… I have never known such an ineffective forward play for Everton. If you watch every cross that is played into the box, he is seen running in the wrong direction. He's not even trying to get onto the end of any of the crosses. With him in the team, we are playing with 10 men. He is not an outlet as he never wins any physical battles with defenders, he's not quick. He's had 8 weeks to get fit, so that cannot be used as an excuse. If he's not fit now, then he will never be.
Pickford, Gordon, Richarlison and Gray are the only players who weren't awful.
Rafa's decision to leave his favourite on and replace Gordon for Richarlison set the tone. By going 2 up front, he exposed the centre of midfield. Bringing Iwobi on for Gray put us down to 9 men.
There are no leaders on the pitch and the leader off the pitch appears to be playing the "I know more than you" game. Well, he's wrong – Rondon and Iwobi are not good enough for Everton. He cannot keep wasting 2 shirts by playing them both.
Rafa's honeymoon period is over.

Danny O'Neill
303
Posted 24/10/2021 at 12:26:44
I mentioned earlier here or on the other thread Brian, that my son told me Coleman was having a bit of a fracas with a section of the Bullens Road at the end.
Good points, Martin. To repeat myself on 3 points, when it's that bad, it's a collectively poor team performance probably with several or more bad performances contributing.
There are too many people in positions who are too comfortable. And we can't keep blaming managers.
A soul-searching few days, a wake-up call, a reality check, a kick up the arse and dust down ready for Wolves.
And that's just me. I hope the players feel the same.
Colin Malone
304
Posted 24/10/2021 at 12:32:05
If Rondon was a horse, he'd be in a tin can now.
Maybe Rafa getting mixed up, thinking he is playing a false Number 9. He is a false Number 9.

Gary Smith
305
Posted 24/10/2021 at 12:34:30
Rafa was a mistake. Wanting him out isn't a "hysterical reaction", it's self-preservation.
He's impressively turned us back 3 years (in less than 3 months) on our ability to defend set-pieces, and signed five players with an average age of 32.
He's playing a system that sees us concede possession to teams like West Ham, Norwich, Southampton and Watford.
He's persisting with a system that worked in the early days of the season when teams were not fully up to speed, even though other teams have sussed it themselves (1 win in 5 now?).
He's sticking with players in poor form, and substituting those who are showing us the most promise.
Sure, he's been very unlucky with injuries, and inheriting a very poor and disjointed squad, but there is enough there to adapt and certainly enough to beat the likes of Watford at home.
All the ranting in the world isn't going to help. He isn't getting sacked, not until Moshiri sees the threat of relegation looming at Christmas time… and god help who we end up with then. (Is Sam still free?)
I want to see him change the system in the next games. Accept our midfield isn't good enough for a "2" in the middle and – until we get Calvert-Lewin back – play a 4-3-3, with a defensive midfielder sat shielding, and goal threats in the front 3. I'd also like to see Digne dropped until he gets his head back on. All being fit:
Pickford
Holgate Mina Keane Godfrey
Gomes Gbamin Allan
Gray Richarlison Gordon
Move Richarlison to the left if Gordon tires and bring a young lad on up top.
Graham Mockford
306
Posted 24/10/2021 at 12:40:43
Gary
Nope – by any definition, looking to sack a manager after 9 games and 14 points is a hysterical reaction, especially given he inherited the squad and has had pretty awful injury luck.
Of course that's not to say he'll make a fist of it and won't end up getting sacked. But he's got to be given the opportunity.
Also, dropping Townsend is beyond laughable.
Raymond Fox
307
Posted 24/10/2021 at 12:54:01
Managers are not our problem, we have tried enough haven't we? We will never seriously challenge for anything till we radically improve our player quality.
I agree with others who have said that it's behind the scenes where we fall down, recruitement over the years has been poor.
To be fair, at the moment, we are well and truly peeing into the wind, what with injuries and lacking good enough back-up, not to mention our arrested midfielder – what the hell is happening with that case?
As we are we are a middle-of-the-table team at best.
Danny O'Neill
308
Posted 24/10/2021 at 12:55:26
For the first part of your post, Gary, I could have deleted 'Gary' & inserted 'another poster', then deleted Benitez and inserted Ancelotti. It would resemble some opinions 12 - 18 months ago.
I'd agree on the 4-3-3 based on injuries and availability. I thought we'd do it against West Ham to be honest.
Sacking a manager after a bad defeat and 2 losses and an embarrassment in October? Not the answer at all.
Dale Self
309
Posted 24/10/2021 at 13:06:56
On a personal note, apologies to those I referred to as haters on the forum. That was over the top and I know the frustrated barbs reflect your justified disappointment with the club. You've earned the right to express that and I should let it stand
Back to business; I agree with Colin that this is our Moshiri moment: you could not appoint Rafa and not calculate that this might happen. Kim also has it right that, with the loss of form, we have eroded any field leadership.
Carlo didn't help build that up but we knew it was a weakness and we just went on without shoring that up in any way. Penalty fiascos should have been a sign and some symbolism after James's exit would have helped
We're here now so please get real and avoid the histrionics. We need to pull together and ride out this ugly episode.
Advance apology for future forum transgressions. It's football and it's Everton, what can I do?

Derek Taylor
310
Posted 24/10/2021 at 13:08:28
The irony of all this is that, whilst Kenwright got stick for denying Moyes money for signings, we generally did better than we have since money was no object. Sacking managers has cost a king's ransom and getting rid of the 'star signings' almost an impossibility – even though the DoF's role seems to focus on selling players rather than having much say in signing them!
Somebody wrote yesterday that the club is no more than a 'clusterfuck' and whilst I know not what that means, it sounds about right on this sad Sunday morning !
Gary Smith
311
Posted 24/10/2021 at 13:10:49
Graham, I like Townsend, but he's not the best fit for the 4-3-3 I think we need. The "laughable" thing is thinking we adapt a system to accommodate one player. Fat Ron tried that stupidity.
Graham Mockford
312
Posted 24/10/2021 at 13:18:46
Gary,
No the laughable thing is not playing the player who has scored the most goals, had the second most assists and created the most chances this season. Other than those minor details, it sounds a reasonable approach.
Danny O'Neill
313
Posted 24/10/2021 at 13:21:52
I don't do the live forum, Dale, but I think everyone gets a frustration pass on a result like that.
It kind of reminds me of the sometimes sympathy I have with managers who are interviewed (presumably contractual with the TV firms) in the immediate aftermath of a fixture when emotions are still running high.
I know it's done for viewing impact and entertainment, but sometimes, just give them time to settle their thoughts.
Brian Wilkinson
314
Posted 24/10/2021 at 13:26:08
Colin @304, not sure about horse but donkey certainly springs to mind.
Gary Smith
315
Posted 24/10/2021 at 13:27:09
Graham – he's been a starter and stalwart in a run of one win in 6… but suuuuree, let's just happy clap and sacrifice a system change that might deal with current issue so Andros can get good stats! Sounds reasonable.
Graham Mockford
316
Posted 24/10/2021 at 13:34:27
You see, Gary, that's where the debate gets puerile. I'm a happy clapper for stating that dropping one of best players this season is not a very reasonable suggestion.
And remind me why he can't play in a 4-3-3? He works hard, he's still got pace, he can beat a man, he can cross a ball of either foot and he can score goals.
Gary Smith
317
Posted 24/10/2021 at 13:44:09
Okay, Graham, as you've now added puerile as your latest negative adjective to an alternative opinion, I'll compromise.
Do we put him in the middle 3 where he bummed out for Palace or sacrifice Anthony for him? Guessing by your comments, you'd prefer to see him in for Gordon? Guess there's some short-term safety argument in that. Rafa-esque I guess.
Dale Self
318
Posted 24/10/2021 at 13:47:30
Thanks, Danny. I probably deserved a card. Went in studs up when walking them to the line would have worked.
This is only my second season so I need to settle into the game a bit.
Graham Mockford
319
Posted 24/10/2021 at 13:53:15
Gary
It's not hard: he gets in ahead of Gordon. Of course he does. I'm not against Gordon by the way, he'll get chances this season, I suspect, and hopefully will develop into a decent player.
But you play the players who most consistently produce and, for the start of his Everton career, he has. Pretty straight-forward.
John Boon
320
Posted 24/10/2021 at 13:58:10
Come in for a well earned rest, Agent Benitez. Your assignment is not yet completed but you have been doing a fine job.

The Red Army.

Len Hawkins
321
Posted 24/10/2021 at 14:00:26
To make matters worse "if that is possible", I have just read that due to all the fuss about the Newcastle takeover the Premier League are going to tighten up on the running of clubs which in effect scuppers Usmanov from coming in and sending the dross to the salt mines.
I am disgusted with the club, especially Brands, who seems to be able to spot dross with unerring accuracy. But if Usmanov is pulling the strings from the background, it's about time he gave Moshiri instruction about getting rid of the deadweight Kenwright et al who are holding the club back.
Kenwright could become a big part of the new stadium at Bramley-Moore Dock if they dump him in the concrete foundations.
Gary Smith
322
Posted 24/10/2021 at 14:07:13
Graham, my final point is this: how can Gordon consistently produce when he's not consistently played?
It's my final point, because attacking Townsend was zero part of my actual point originally. That was that I think there are numerous reasons why Rafa will be a disaster for this club, and one of those will be not adapting the system to those available and in form.
Only time will tell whether I'm right or wrong, but for me all the signs are bad so far… with Grey and Andros being the only cause for optimism. 2 out of 5 signings.
Peace out, enjoy your Sunday.
Brian Murray
323
Posted 24/10/2021 at 14:10:05
John. His continued picking of Rondon suggests he is an agent of them. Sounds outrageous but why else would he keep weakening his own position? We was all warned about this and even Spit the dog Carragher said he will get some popcorn and see it all unravel against us.
Strange how an experienced manager like him well renowned for attention to detail Is making us a joke again.
Paul Tran
324
Posted 24/10/2021 at 14:13:35
Name me an underperforming business that gets taken over, the senior management stays the same and starts performing well? Name me a CEO/Owner who buys an underperforming business, recruits at great expense, then undermines their work, while turning the business around?
No, me neither. That's what's happened.
When Moshiri took over, I thought he was going to give the club a huge kick up the behind. I suspect that's why he recruited Koeman, the superstar to shake things up. Right idea, wrong man. Imagine Ancelotti at that point.
Since then, I think Moshiri has gone native. No shake up, just pottering along wasting money on poor management and players. I can't work him out at all. Is he happy with this? Is it all a big gamble to build the new stadium at Bramley-Moore Dock and sell at a huge profit? Who knows
Nothing will change until the management style of the club changes. I'm in the Highands, so I don't hear any whispers, but I see 'senior' players expensively signed and regress, different styles of manager hired/fired, a DOF seemingly doing half a job and being undermined, young players not coming through, players being signed and not played.
Screams out that there's a cosy culture of acceptance through the club. Money buys players and managers, it doesn't buy the right mindset and culture.
As in life, it's all about what you do next.
If I was Moshiri, I'd bring in a ruthless person as CEO, someone who knows how to scale a multi-million pound business. Someone with the authority to make tough decisions and demand results throughout the club. That person would bin Kenwright and start changing the culture. There is something that needs badly changing all over the club.
Football-wise, I'd put Benitez in charge of everything on the pitch. I'd make it clear he's in charge until at least we get to the new stadium at Bramley-Moore Dock. If we have a DOF, let's define his role. If we have one, make it someone who knows the difference between a talented footballer and an effective Premier League player.
All managers get things wrong, all make mistakes with transfers. The successful ones have, or are allowed to create, a support structure around them that works. I don't think any Everton manager has had that since Moyes. It shows.
That's what I'd do next. It needs time and has to be done now, otherwise we'll have these conversations every year.
Allan Board
325
Posted 24/10/2021 at 14:15:21
If we want real change at Everton, then vote with your feet and boycott the next 6 games, home or away. I don't see the point in getting annoyed with it because it won't change unless us as fans boycott the fuckers. This is just a gradual slide into relegation, guys.
They will build the stadium, sell off the real estate for huge profit, and drop EFC like a hot turd. Blue Bill will get his cut of course, as will all the other parasites. The fans, as usual, will be left to regenerate the club.
Let's stop them first by a blanket boycott. They will act on it because the Premier League won't allow a team to play without fans for very long. Cue possible expulsion from the league, the Sky money stops, and the 20-year party ends. They will have to act on the fans' wishes because they will need us again.
It's not "Fuck Everton", it's "Fuck the current regime".
Brian Wilkinson
326
Posted 24/10/2021 at 14:15:35
Now the dust has settled and I've slept on it – well, apart from the occasional waking up in hot sweats and screaming out... then, for that split second, convincing myself it was just a nightmare – I can now reflect away from the match itself.
Fair to say no-one was happy with that performance. Rondon, Iwobi, Gordon, subs and defence have all been covered. So, for us poor few that stayed til the bitter end, to vent our anger out on the players and manager, for those that missed it, the chorus of boos were deafening on the final whistle. I'm not one to boo but that shower warranted it yesterday.
Anyway, leaving the ground for my bus back to town, you could hear different people as you passed them, all saying the same that you thought at the match. Why take Gordon off? How the hell does Rondon play 90 minutess every week? Iwobi...
Well, the less said the better, but I swear as I heard Iwobi's and Rondon's names mentioned over and over, I could see a lynching party, coming over the brow of Stanley Park, pitch forks and pieces of wood with rags on, ready to light up the darkening clouds hanging over Goodison.
Just like that, I was on my bus and now heading to town at a steady 5 miles an hour, taken away from the lynching mob, but now a deadly silence on the bus to town. Shellshock, tiredness or whatever the cause, people just staring, and thinking about what they had just witnessed, in a crazy last 12 minutes.
Finally get into town and meet Bill in The Crown. Poor Bill, he had a train journey to Bangor to contend with, changing at Chester. Anyway, we had a good catch up and a few to drown our sorrows. We had one for Danny and Derek and thought, jammy buggers, missing that one. All-in-all, though and being serious, you were both missed, along with Jim. However we did have a guy who invited himself to our chat, Evertonian from Manchester, decent bloke as well.
Before I go any further, apologies for not mentioning Neil C last week, when we met up at the statue. Belting bloke who could not make the pub, with driving, but took the time to have a chat to us all. I will certainly make sure I make the next ToffeeWeb meet up and see some more faces I can put to names.
Anyway, back to The Crown. Time now for Bill's train home, we say our goodbyes. My train is 15 minutes after Bill's, so I have another quick one. Now I am joined at the table by a woman closely followed by her husband, turn out to be a nice couple. She lives in the City but is an Arsenal fan, goes a few games a season as well. Fair play, I have a good old chat to them both, then head out for my train home.
I would normally finish there but need to add this last chapter. Stood up on the train, one mouthy piece of shit on the train asking the guy next to him his team, he picked a Man Utd fan and another Southampton fan. This is where every Evertonian will say some Reds are alright, some are full of shite; yes, this one was the talking bollocks shite.
The Man Utd fan was going the game on Sunday, the lad asked "Are you going to win?" to which the Man Utd fan said it could go either way. Nah, not for the Red shite "We will smash you 3 or 4 nil, Salah, best player in the world, wait for it, Ronaldo could learn a thing or two from Salah."
Anyway after more and more, I snapped, told him he was talking shite and people like him that makes other fans despise their fans, to which half the train that must have been listening in, rang out a cheer and good for you – must have been fellow Evertonians.
Anyway that was about as much as I can recall from the day out. We all get frustrated with our club, but we always come back. How can you turn your back on Everton Football Club? Everyone has to have a rant, but nearly everyone after getting it off their chest, then sit down and think about the next game. If I read someone having a right go, I think: "Get it off your chest, lad, clear your soul, no-one is judging you, say what needs to be said, do not worry what others think, say what you think."
Anyway, until our next game, or next discussions, I hope most posters are feeling a little better today. Take care, fellow Blues, up the Toffees.
Marc Hints
327
Posted 24/10/2021 at 14:21:28
Sacking Rafa is not the answer, the performance yesterday is nothing new and happened with every manager we have had the last 4/5 years.
The answer is still simple, we still have players who are either not good enough or do not want to wear the shirt of Everton.
Once again like yesterday when our best players are out injured we don't have the players to fill in.
As I have said on a previous post Tom Davies has not developed at all, look at Phil Foden, Declan Rice improved every season and now England Internationals.
Then you have bad recruitment, not sure who is at fault, is it Kenwright, Brands, who has the final say!
Bad recruitment as in the following:
Alex Iwobi - not improving as a player, no fight, no consistency
Fabian Delph - always injured, doesn't seem to get what playing for Everton means and doesn't care
Michael Keane - To slow, lacks confidence, no leadership
Lucas Digne - defensively to slow and lack of awareness
Soloman Rondon - should never had been given a two year contract, the laugh he did when he lost the ball was enough to suggest he is just having a last payday
Jordan Pickford - after about the third time he kicked the ball out of play, he laughs and sticks his tongue out. Say no more.
This is just scratching the surface of where it is all wrong but I'm sure sometime this week I will see happy smiling training videos.
We need a manager who must see all this and make the tough decisions needed and unfortunately it's going to take a lot of time.
Graham Mockford
328
Posted 24/10/2021 at 14:22:19
Gary
Rafa might work, he might not, but my point which you responded to was that it's way too early to be making that call.
As for Townsend, you picked a team from available players, I pointed out that Townsend is a glaring omission. I might have as easily said that, if you are picking the right players for a formation, four centre-halves is not a recipe for success.
Finally I think we agree Gordon is a decent prospect and that he's certainly not embarrassed himself in the opportunities that he's already been given.
Peace out to you also.
Derek Moore
329
Posted 24/10/2021 at 14:25:29
I agree entirely with you, Paul Tran. It's obvious we don't have an environment, a culture or an organizational structure suitable for high performance in the 21st Century.
This is incredibly frustrating, not just because of the eye watering sums that have been needlessly wasted, and the opportunities we've allowed to slip through our fingers. It's even more compounded for me by what this club used to be – we used to have a culture of improvement, success and accountability.
That legacy of success, winning, and the need to put trophies in the cabinet was in some ways our birth right as Evertonians, and it has all been frittered away by fools and spivs. It's mind-blowing.
The club needs a process. A method that takes events on and off the field and learns lessons from them, across the board. Accountability, the highest of standards, and an unwavering commitment to constant improvement. It's not difficult, especially for organizations as well resourced as a Premier League club.
Instead, I just see a mentally absent owner being bled of his money by some pretty shady football characters (Allardyce, cough) and more of the same.



Derek Cowell
330
Posted 24/10/2021 at 14:28:15
Only Wolves next up. I imagine Traore, Jiminez and their in-form Korean centre-forward must be rubbing their hands together in anticipation at running at our deep-lying statuesque defence and midfield.
Nick Page
331
Posted 24/10/2021 at 14:33:37
Paul Tran - absolutely spot on. The fish rots from the head.
Bob Skelton
332
Posted 24/10/2021 at 14:36:12
After a fruitless day at Goodison, again, I have calmed down somewhat. I have to say that I have seen some poor teams and poor players pull on a blue shirt but this lot takes some beating.
I have a seat on the left hand side of Gwladys Street and could see all the space down that side, look at the first goal. Did Pickford see it? No. He continuously kicked the ball out of play on the right, has he's only got one eye. His famous distribution, along with his supposed 6 foot height, is a myth as far as I am concerned. He's a good shot stopper but never comes for a cross. With our piss-poor centre-halves we will always need a commanding keeper, which we haven't got.
I can now see why a lot of our previous managers picked so many defensive midfielders in front of the crap we have. Allan and Davies are not the solution, and I come from West Derby!
My solution is not to keep sacking managers but to sack the recruitment people who have picked costly has-beens. I would think about forgetting the Academy, our ratio of people coming through to the first team is abysmal as our managers are reluctant to play them.
Rant over, back to watching Moyes managing a competitive team...
Anthony Dove
333
Posted 24/10/2021 at 14:38:34
I have witnessed the players being booed off countless times over the years but yesterday it had a vitriol I've not heard before. Maybe that's just the world we live in now, coupled with the Benitez factor.
The main problem yesterday was you really can't play Gordon, Gray and Townsend in the same team. It also explains why, when Richarlison came on, it was not to replace Rondon. Gordon obviously should have stayed on and Dobbin introduced for Rondon.
We basically played the whole game with only Davies and Allan in midfield, neither of whom were born in the land of giants. To then bring on the hapless Iwobi effectively means we are then down to 10 men. Davies is getting stick for his miskick which led to a goal but just let's look at the pass he got from Iwobi.
We all know the problems with the squad but yesterday and probably last week were down to poor selection and substitutions by the manager.
.

Danny O'Neill
334
Posted 24/10/2021 at 14:50:26
Thanks for the thought and virtual drink, Brian. Next time, it's on me.
I'm still apologising to my brother for giving him my ticket.
My son is on his way back from Liverpool as we speak. I think his rage has evolved into anger.
Jerome Shields
335
Posted 24/10/2021 at 14:51:46
The defence in the last 15 minutes was walk through. Lack of fitness and basic coaching ignored being the culprits. I don't think the subs made that much of a difference. During the whole game, there were signs of a team that had not put the work in on the training ground.
Ray Smith
336
Posted 24/10/2021 at 15:06:13
I don't like Man Utd. I'm not a Ronaldo fan, but accept he still has passion. His blast at half-time in the week when they were 2-0 down, may be considered disrespectful to the manager; however, he is a leader and dishes out verbal bollockings to all and sundry, regardless.
My point is, where is our Ronaldo? Because we don't appear to have one.
Perhaps Dunc should have an opportunity to put a rocket up their backsides at half-time and beast them during training, and if they don't respond, get rid. Easier said than done, because they are comfortable on their fat contracts.
The same goes for Brands, he's comfortable, never openly rocks the boat, wastes millions on duds with long contracts and high wages. Get rid. What's the difference between Brands and Walsh? Nothing; between them, they've blown £500m and we are no further forward since Moshiri arrived.
All the time we have Rondon starting, we may as well accept that we may as well be playing with 10 men. King showed us what we let go yesterday, and to his credit, he didn't rub it in, but stated he was never given a chance.
Would Rafa have played him? We will never know.
Mark Ryan
337
Posted 24/10/2021 at 15:06:56
Can anyone answer this question: Who brought Josh King into the Club? Who let him go?
Was that Brands? It cannot have been Ancelotti, so who brought him in? Who then let him go?
If it was Brands, then what did he think sitting there yesterday, looking on from the stands? Did he think "I brought him to the club and then let him go"?
Forget hindsight being a lovely thing and forget Rondon (ie, why did we have to bring him in?) – Who let King go? Who bought him in?
That is a key question; who is sourcing the players? Answer that and we may have an answer as to why we are so fucked up at the moment.
Derek Valentine
338
Posted 24/10/2021 at 15:10:26
A while ago, someone posted on ToffeeWeb that Everton Football Club is an unremitting barrel of monkey spunk. I laughed out loud when I read it as it was the funniest critique of our club I had ever read (can't recall who posted it but I doff my cap to you).
I am not laughing anymore because that monkey is still pleasuring himself, the barrel is overflowing and trickling all the way down to Bramley-Moore Dock.
Jerome Shields
339
Posted 24/10/2021 at 15:14:24
We have all seen these type of performances, season-in & season-out, under numerous managers. The problem is not the manager but the players and the poor management off the pitch.
The manager can do so much but, when he is up against a deep structural malaise at the club, he will encounter resistance, even organised resistance, against what he is trying to do. This is manifest in the team as lack of work and effort.
Benitez, in the coming games, like Ancelotti, will have to resort to a more defensive structure to try and counter this lack of work and effort.
If you want Everton to improve, back the manager to show you know what these cheats are at. Otherwise, expect the management merry-go-round and a continuation of these type of performances, year-in & year-out, as have been the case for years.
Kieran Kinsella
341
Posted 24/10/2021 at 15:16:14
Colin,
Kenshite (I must type that a lot as it popped us an auto fill on my phone after tyoing Ke) is in 7th Heaven now. Money in the bank, Rafa the perfect patsy to hide behind.
He's lauded by his prodigal sons like Dunc and Unsie at Finch Farm, he's able to leak negative stories to the press blaming Moshirei for everything.
He's able to meddle in transfers with him as the hero if it works out, Brands the patsy if it doesn't. His dreams have come true.
Clive Rogers
342
Posted 24/10/2021 at 15:23:32
Mark, #337,
It's not that King is a superstar; they were his first goals since 2019.
It's us that are absolutely hopeless.
Clive Rogers
343
Posted 24/10/2021 at 15:31:15
After the embarrassment of Walsh and his signings, it seemed like Brands would be the answer to our prayers, coming from Ajax with an impressive CV. If anything, he has been even worse.
Delph, Iwobi and Gbamin have been unmitigated disasters, even worse than Sandro. Iwobi has a 5-year contract so we have four seasons to go. Godfrey was the shining light last season but his form this season has been awful.
Rob Halligan
344
Posted 24/10/2021 at 15:38:34
Clive,
Iwobi's contract runs until June 2024, so in effect 2½ years remaining, and not 4, but still 2½ years too long.
Brent Stephens
345
Posted 24/10/2021 at 15:43:04
Rob, time slows down the closer you get to the black hole that is Iwobi - information goes in but nothing ever comes out. So maybe 4 years is about right!
Paul Tran
346
Posted 24/10/2021 at 15:55:11
Just to be even-handed, you could argue that for 78 minutes, yesterday was a typically mixed performance, good crosses being met by nobody, little cohesion in midfield, no penetration upfront, we snatch the 'winner'. The difference yesterday was that after that we let in four instead of managing the game.
You could argue that with Mina, Doucoure, Calvert-Lewin and Richarlison for 90 minutes, we'd see a difference. That might be true, but I'll stand by all my comments above, that nothing will change till the management of the business changes.
Mike Doyle
347
Posted 24/10/2021 at 16:03:55
Paul #324,
Post of the day (in my view).
Mark Ryan
348
Posted 24/10/2021 at 16:08:24
I completely agree, Clive, but who brought him in and then, having not given him any game time to prove himself (and knowing we were going to be fucked under FFP rules) thought, "Nah, fuck it, we'll just bin him off"?
Whoever brought him in did not agree with Ancellotti and this is kind of my point. Whoever brought King in initially must have done so against the manager's wishes because it was clear that Ancellotti didn't play him because he didn't fancy him. He just reverted to playing Richarlison up front and never gave King a chance.
Going back to my question at 337, does anyone know the answer?
Ray Smith
349
Posted 24/10/2021 at 16:08:27
I'd like too see Usmanov take Kenwright and Brands into a locked room for 10-15 minutes and see who comes out unscathed? It wouldn't be pretty.
But as Paul @346 points out nothing will change until the hierarchy are sorted out.
Rafa's hands are tied with FFP. How did we arrive in this position? Kenwright, Walsh, Brands, simple.
With the exception of Rondon, we need to support Rafa, because no-one else would take the job. We've sacked enough managers of late, and that is not the answer.
Players aside, nothing changes upstairs!!!
Gary Smith
350
Posted 24/10/2021 at 16:25:30
"We have to stick (with the utter shite football served up by a dinosaur manager) because……..no-one else would take the job".
What a load of utter shite. Not just our board who are the problem, parts of the fan base are too. #RafaOut #BrandsOut #BillOut #UnsworthOut
Graham Mockford
351
Posted 24/10/2021 at 16:30:56
Gary,
You don't seem to have peaced out. Just a hint, also you don't seemed to have grasped the concept of hashtags. They don't work on here 😂😂😂
#imgoingoutout
John Keating
352
Posted 24/10/2021 at 16:46:10
The whole team, individually and collectively, were shite yesterday but the same old posters blame the same players.
Players or managers, regardless it's the same hate, week-in & week-out.
Kieran Kinsella
353
Posted 24/10/2021 at 16:54:47
Hate to add gloom but The Athletic had an article on Gray at Leverkusen. The gist was he's a shy introvert, started well but went into his shell when the team started to struggle.
So far, he's holding up... so fingers crossed.
Peter Neilson
354
Posted 24/10/2021 at 17:00:09
Mark (337) exactly my thoughts today. And it is fundamental in understanding who is responsible.
Ancelotti obviously didn't rate King and wouldn't play him; presumably Brands brought him in. Even this shows alarming disconnect between the two. Then presumably Benitez brought in Rondon, what say did Brands have?
Ancelotti left at the start of June, Benitez joined at end of June, King signed for Watford start of July and we signed Rondon end of August. Was Brands just waiting for the new manager to name his preferred backup striker rather than commit himself? Was the deal with Benitez including Rondon as the only bargain bin option he'd play?
Must admit I've been shocked at how terrible he is. His last season at Newcastle was pretty good and I thought we could give him a chance as a backup but the time in China had not been kind to him. I don't follow Chinese football but surely Benitez of all people knew this?
Clive Rogers
355
Posted 24/10/2021 at 17:11:49
The rules of FFP are quite clear in that spend – in terms of transfer fees and wages – must be maintained in a set proportion to income. It's not rocket science and Moshiri is an accountant, for God's sake, and must have been aware the club was exceeding the limits.
It is rank bad management that we have ended up in this appalling situation. I fear for the future with these clowns in charge.
Conor McCourt
356
Posted 24/10/2021 at 17:16:10
Danny @260,
You seem to dismiss Gary's excellent point about where we are going and that we need a plan in place if we are to create a vision and a team we can all be proud of. His point about the left backs was also an excellent one.
The problem we have is that we have an ownership and a fan base who have been sold on this redundant short-termism which has been prevalent since the day Moshiri came to the club. The only metric has been the table an,d when we bring these overage and substandard footballers to our club and finish with our usual mediocrity, we are left back to square one with a new cupboard of deadwood bleeding the club dry.
You have spoken about Arteta. The guy took over a poor Arsenal squad and won the FA Cup immediately. After his honeymoon he was left with the same prima donnas Wenger and Emery had assembled and struggled badly. Since Christmas he dismissed the old guard, went with youth and their form was excellent. They have bought in a lot of young players this summer again yet are currently only on the same points than us (though they have played three of the top teams).
However, your redundant view of looking only at the table now neglects the overall picture and how the clubs are going in opposite directions. They are building something sustainable and putting in place a squad which will carry them for the next decade. Arteta since he was appointed has been trying to marry their short term aims with a squad that will take them into the future and, in trusting in youth, he accepts that they will make mistakes along the way.
Think back to the 0-0 draw before Ancelotti and Arteta took charge. Many on here were saying Arsenal's squad that day were the worst they had seen in their lifetime. Look at their progression and how it is taking shape. Then look at us. We are in the same sorry state as we were then if not worse.
They bought six players in: two 21-year -olds, two 22-year-olds and two 23-yearolds. They could have went down the tried and tested route but did so under Emery and got burnt. There is great excitement down at The Emirates because they have a project they can believe in. We don't.

Soren Moyer
357
Posted 24/10/2021 at 17:17:59
I struggle to see how a new stadium can magically turn us to a winning team!
Andy Crooks
358
Posted 24/10/2021 at 19:00:24
Jerome, we may all have seen these type of performances. However, this one was special. This was beyond bad, this one was extra special.
None of the sad specimens, including the coach, who represent us, will feel as bad as we do. They just don't get the notion of shame.
If my favourite player, Seamus Coleman, has the brass fucking neck to come up with any mealy mouthed platitudes this week, I swear to God I will vomit with disrespect.
A pack of shameless cunts is what they are.
Marc Hints
359
Posted 24/10/2021 at 19:11:36
Do you know what really has happened to our club?
Not one player or anyone from the club has apologised to the fans who turned up yesterday.
Ken Kneale
360
Posted 24/10/2021 at 19:14:15
Andy – with you there.
I have posted on another thread my respect for Seamus, but this is a time for deeds, not words we have all heard before.
Derek Taylor
361
Posted 24/10/2021 at 19:26:42
A summary of this thread is that the manager is inadequate, the players are inadequate, the coaching staff is inadequate, the owner is inadequate and the chairman and his Board are beyond even that description. And the tread is fecking right!
Albeit that they would all be gone, but we are stuck with the wankers and, just as we have done for years, we shall have to put up with them and just hope for better times.
Amen (nothing will ever change!)
Dave Williams
362
Posted 24/10/2021 at 19:28:11
Pat #358,
We could do worse than sign him on a free and play him in place of Rondon!
David Pearl
363
Posted 24/10/2021 at 19:34:59
Kim Vivian
Sorry l missed your message amd saw it late. I was just talking tongue-in-cheek. Please feel free to call me what you will. It's that live forum, it does that to us all.
Derek Knox
364
Posted 24/10/2021 at 19:40:00
Rafa believes in Safe Sex and Football – he always puts on a Rondon! :-)
Brian Wilkinson
365
Posted 24/10/2021 at 19:53:49
Every person I have met on here at the games and plenty more I hope to meet at the next meet up, we all love our football club, we are all loyal. What grates me? The bastards know that we would never turn our backs on them; not one has come out and apologised for the shitfeast yesterday.
They just continue to take us for a ride, no amount of humiliation or awful performances bothers those in power.
I really feel for our supporters, I feel the pain you all felt after yesterday. I also feel for Moshiri, he has put the money in, but those at board level are taking the piss, still pulling the strings, still having a say of our 20+ years of stagnation, at our club.
Each year gets worse, if the kids in the cup derby knocking us out was not bad enough, yesterday drew an even bigger embarrassment, yet not one at the club has took it to say sorry to the fans.
I swear to god, if I get an email off Denise tomorrow, about the stadium, or I see Bills fat fucking grin pop up anywhere, it could just be the straw that breaks the camel's back. Apologies to fellow posters, but I needed to let that out.
Brian Wilkinson
366
Posted 24/10/2021 at 20:14:35
ps: The Bill I am referring too is our luvy, any names that are mentioned are purely coincidental for any other Bills. :-)
Gary Smith
367
Posted 24/10/2021 at 20:15:31
Conor @ 356… what a brilliant post! Thank you for saying what I've been trying to say and doing it a lot more eloquently.
After the Mancs match today, all you can see from the pundits is how Ole is lacking the blueprint and methodology that Klopp has spent years instilling in his players. They don't have a real identity and, even with some of the best players in the world, if you don't have that identity you lose.
Pep and Man City have an identity (which Arteta is trying to replicate). Liverpool have a lung-busting pressing mentality. Tuchel has given Chelsea an identity. This is why these clubs are doing so well. Dortmond, RB Leipzig, Lille, etc have identities.
Unfortunately, our current identity matches your unbelievably astute paragraph:
"The problem we have is that we have an ownership and a fanbase who have been sold on this redundant short-termism which has been prevalent since the day Moshiri came to the club".
This is our problem in a nutshell! This is our identity… "punch above our weight, aim for the Europa League maybe as a bonus". It hasn't changed since Moyes. The only thing that did was how much we'd pay in fees, and the lack of diligence made on characters given the extra dough that could now be wasted.
We came close to changing it with Martinez only (and maybe Silva). He wanted to play football, and he wanted a young team of possible stars backed by warrior generals like Barry and McCarthy. He wanted us to play the same way as Pep and Arteta want their teams to.
Unfortunately, though, he was too stubborn and neglectful of defending set-pieces too… just like Rafa. Rafa's style is defensive. It is to cede possession and rely on "pros" to KITAP1 to win. It's why he was run out of every club other than Newcastle. In fairness, he's tried to add counter-attacking to us as he knows where poor football leads here.
He's not the identity I want. I want Moshiri to state he wants to win the league in our first year in the new stadium at Bramley-Moore Dock, and intends to recruit the best young players in the world to make that happen, even if it takes 3 years and requires selling the established (like Digne) to do it. Send a message out to the next Stones, Lukaku, Deulofeu that they'll get their shot here!
I thought this is what Brands should have been. Whatever has stopped it needs to be removed; if it's him, then so be it.
I don't believe that identity is Rafa's identity. He's too long in the tooth. If Moshiri folds and gives him more power, we're back to the "redundant short-termism" you highlight as the problem. Loads of treading water, and a regular 5-2 head dunk.
Ray Smith
368
Posted 24/10/2021 at 20:16:51
When is Moshiri going to make a statement or comment???
Brian Williams
369
Posted 24/10/2021 at 20:26:52
Ray, interested to know what it is you expect him to say?
Barry Hesketh
370
Posted 24/10/2021 at 20:27:18
Compare and contrast the analysis of the sportswriters for the Liverpool Echo and the Manchester Evening News. Two proud clubs, both facing difficult times, but with differing objectives and funding:
There was a time when the Echo would be as demanding of people working for Everton FC as the fans are... but, like so many involved with Everton FC, there is too cosy a relationship between the local sports journalists and the club.
Roger Helm
371
Posted 24/10/2021 at 20:35:05
There won't be any statement because the board and back room staff seem quite happy with mediocrity. We win some, we lose some, so what. So long as we don't get relegated, they'll be happy.
I think the manager has pride enough to care but do the players? Not enough to win many 50-50s and arial battles yesterday. We need some steel and leadership in the team but I can't think we have had much since Timmy and his crew left.
Kieran Kinsella
372
Posted 24/10/2021 at 20:51:32
Barry
The Echo is a joke. They have 18-year-old kids writing clickbait like "Five things we spotted about DCL haircut."
Prenno is alright but barely writes anything and he is too cosy with Bill. Meanwhile, his former colleague Greg O'Keeffe writes a succession of articles for The Athletic that always put Kenwright in a good light and always quote "a source close to Bill," who is no doubt Bill himself.
Last week, "the source close to Bill," was taking credit for not just signing but even scouting Godfrey, as opposed to the previous thought that it was Brands. I wonder if Bill, I mean "the source close to Bill" will post a retraction after yesterday?
Derek Knox
373
Posted 24/10/2021 at 22:37:58
Kieran, the only thing that should be close to Bill is a suicide bomber, "Hold my hand, Bill, you know it makes sense!"
Ian Riley
374
Posted 24/10/2021 at 22:50:17
Better days are ahead! Believe me!
Kieran Kinsella
375
Posted 24/10/2021 at 22:53:34
Derek,
His ego would deflect the blast.
Derek Knox
376
Posted 24/10/2021 at 23:23:12
Kieran, or it could inspire a new Theatre Production: "Shitty, Shitty, Bang, Bang"! :-)
Ian, so if it all goes pear-shaped, we know who to blame!
Kieran Kinsella
377
Posted 24/10/2021 at 23:37:34
Derek lol
Ben Howard
378
Posted 25/10/2021 at 00:25:11
Jay (64), for me, you summed up everything that went wrong today in 2 paragraphs.
Danny O'Neill
379
Posted 25/10/2021 at 09:14:27
Well, I wanted to leave this one and make the weekend go away as we look towards Wolves, but I feel I owe a couple of responses.
Brian Wilkinson; we will never turn our backs. We can't. I wouldn't even know how to! Better out than in or you'll turn into a dormant volcano with built up pressure inside. And when they blow, it's spectacular. See you at the next one!
I'll respond to Gary on Conor's comment. I wasn't being dismissive at all, Gary. I was simply not agreeing with the point of changing manager or throwing the kids (our kids) in as being the solution right now.
@Conor, I'll pick that come back apart, but no problems with your views or your support of Gary's well articulated opinion, even though I don't agree with some of it – and no criticism of it by the way.
I couldn't agree more that a vision & plan is needed. I've mentioned this before (not here), but there are 2 strands. There is a tactical here & now. Do something short term to get us on the footballing map. We've thrown a ridiculous amount of money at that, tried several managers and flopped spectacularly. I don't think staying on the managerial merry-go-round is the solution.
Then there's the strategic vision. We kind of do have that. From what I've been reading, Brands is restructuring the Academy. Bringing the U18s and U23s closer together. Getting the coaches to rotate between the 2, so hopefully installing a system from top to bottom that makes the transition between levels smoother and easier for the young players. I'd still say we seem to have either an issue with initial feeding of the academy (scouting) or the coaching, but that's a view from afar.
You use Arsenal as an example. They are still benefiting from the system that Wenger spent many years constructing. That sort of project and overhaul takes time. I'm not convinced our academy is as well functioning in supporting the senior team. Right now.
So, the here and now has been a quick win opportunity missed. But I would say we do have a longer-term plan and vision. To Paul Tran's point though, in order to execute and deliver successfully on a strategic vision and plan, you need the right people surrounding the owner, and that is not me looking at the manager and players.
Please, Mr Moshiri, take ownership and put your own people in place. The type of people you've surrounded yourself with to make you the Billionaire you are.
In terms of identify, what better identify to build than retaining our heritage but now presenting ourselves to the world from a magnificent stadium on the Mersey with the Royal Blue Liver Birds watching over from the distance? Our club, our city.
Not sure why you picked up on my view of looking at the table now as being "redundant". It was a snap shot comparison. We had a good start but have stuttered. Arsenal had a dreadful start and have improved. We're on a par.
I also did actually say what I always say every season since I can remember. Let's see where the table is at Christmas as that gives you a better feel for where you are. I think it might be others looking at the table now. And the season ends in May. Another of my oft coined phrases.
Punching above our weight & Europa League qualification being our identify? Who said that? I would never use punching above our weight as that's "plucky little Everton" speak. But I would say European qualification should be our realistic target. For now. As an 80s teenager who witnessed Everton win 2 titles and our only European trophy, my expectations are much higher. I won't call them out as I'll get laughed out of town. Or sanctioned.
Back to my tactical versus strategic targets. That's realistic for now. Even Chelsea and Man City took the stepping stone approach to finishing in the European qualification places (not Champions League). It was part of that journey before they reached the promised land.
No dismissiveness on my part meant. Just disagreement. That's allowed, right, when you don't agree?
Ray Smith
380
Posted 25/10/2021 at 09:42:49
Brian @370,
The silence from on high is deafening.
Moshiri is and has been made to look a mug by the likes of Kenwright and his band of chums.
A statement from Moshiri doesn't have to be in the form of words, but actions.
Give Rafa his head to recruit his own team, not those he inherited!
Brands is a Kenwright puppet, who allows himself to be manipulated by the merry go round of managers bringing in 'their' players, which I don't have a problem with by the way, but isn't that supposed to be Brands's job.
Until Kenwright steps down, nothing will change. Somehow, and I don't know how, Kenwright has hoodwinked Moshiri by manipulating him into agreeing his continued role in the hierarchy of this once-great club.
We are better than our current mid-table status but, to improve our status, Moshiri needs to wield the axe in the boardroom.
A cleansing at Finch Farm should follow a cleansing in the boardroom.
Rant over. COYB
Brian Wilkinson
381
Posted 25/10/2021 at 13:34:05
Spot on Ray.
Just a little extra to add to our game, the media are at it again, stirring it up saying Everton fans turning on Rafa the last couple of games.
I will agree the boos were justified with Gordon going off, however at the end of the match, and the West Ham one as well, for me my frustration was with the players performances, more than Rafa.
What is happening now is Groundhog Day, new Manager comes in, old players graft for a few games, then get found out how shite they are and go back into their shells again.
Managers come and go quickly at our club, while the players responsible remain, along with those at the top, and those enjoying their happy retirement at Finch Farm.
Until Moshiri grows a pair and starts wielding the axe, it will continue, well into the new stadium at Bramley-Moore Dock.
These same players who have cleared out numerous managers will do the same with Rafa if we do not give him time to rebuild and get some of the shite out of the club.
Rafa himself needs to also take a strong stance, and stop picking Rondon and Iwobi, put Richarlison or one of the kids in attack, and play Gordon in the Richarlison role, on the left.
David Smith
382
Posted 25/10/2021 at 15:28:55
It really is the perfect storm and it has me very worried.
Poorly spent money; manager & player revolving door; a resulting financial squeeze on a thin squad; injuries; focus on a new stadium
On the evidence, I'll take Kenwright, Elstone & Moyes ahead of Moshiri, Barrett-Baxendale, Brands and [place any manager's name here].
Tom Harvey
383
Posted 25/10/2021 at 15:34:38
Dave @382,
I'm no fan of Moyes after the way he connived with Man Utd at the end, but I have to sadly agree with you on those two trios.
Bill Hawker
384
Posted 25/10/2021 at 15:39:08
With Rondon, it's 10 v 11. We can't win matches consistently always playing down a man. Also...
We're closer to relegation within the next five years than we are breaking into the Top 4 or Top 6. I'm not saying we'll be relegated, just that if you had to place the odds of one or the other happening, it would have to be the former.
Kieran Kinsella
385
Posted 25/10/2021 at 15:53:29
David Smith,
You're in that Kenwright fog, thinking it's a simple choice between two options: him versus the Mosh crew. How about neither? How about the Man City owners that BK pushed off? Or how about the fact that your comparison is false anyway as the reality is we've had the BK/Elstone show followed by the BK/Brands/Mosh show.
Kenwright, by his own declaration, is involved in transfers, even scouting (Godfrey), plus there's no way in hell that Moshiri or Brands sought out Jeffers and Baxter as coaches. I doubt they even knew who they were.
Also, we have Keith Southern, Tom Kearney and Scott Phelan as coaches. All of whom came through the same Everton youth set-up at the same time, all failed to make the grade and ended up in the Conference.
Now there's nothing to say you have to be a good player to be a good coach, but they all retired and then with no prior coaching experience got jobs as coaches at Everton. So poor players, with no coaching resume but we expect them to bring expertise to our kids?
There's also the Under-16s, they lost a final on Saturday. Their coach according to the official website: Phil Jevons. Another in the mold of the aforementioned only he doesn't even work at Everton any more. He is at Sunderland, but the website team have such disdain for the academy that no one has even noticed that he left the club.
Paul Burns
386
Posted 25/10/2021 at 16:16:40
Sorry to be the one who says "I told you so" but practicaly everything I've said about the carry-on at Everton FC since the day Kenwright slimed in the door have been confirmed.

The only way back from his poison is to resort to the true ethos of the club that has been dragged through the filth for 25 years as it's custodians ripped off true fans and managed to fool many others. Our once rabid support has become cowed and subservient, Goodison becoming more like the opera than an intimidating sports stadium.

"Nothing but the best is good enough".

How was that leitmotif allowed to be discarded and ridiculed? The fans have become sterile, unheard victims in this train wreck, frozen out of sham board meetings or brainwashed by the "We're not kopites" nonsense.

It's time to get back to our true values as a club and to hell with what any outside commentators say, hold to account anyone involved in the running of the club at every level and properly question the motives of anyone who says otherwise because something had better change.

If anything sums up the debacle Everton have become it's that James Rodriguez was forced out after a year while Tom Davies is on his sixth manager or something.

Jesus wept!
Dave Abrahams
387
Posted 25/10/2021 at 16:47:37
Kieran (385),
Kenwright scouted Godfrey? Love to see some evidence of that!!
Mick O'Malley
388
Posted 25/10/2021 at 17:10:11
Conor @ 356,
I couldn't agree more, excellent post.
I'd have stuck with Marco Silva myself, at least he had us trying to play on the front foot and we seen some really good performances in his first season. He had his best player sold on him and replaced by a guy who can't get fit. We never signed Zouma, who was excellent yesterday.
If only he had abandoned the zonal marking, he might still be here... and now Benitez is playing zonal marking with the same brain-dead players.
Saturday was one of the most embarrassing, gutless, mistake-ridden matches I've watched in 40-plus years watching Everton.
Conor McCourt
389
Posted 25/10/2021 at 18:01:38
Danny,
I respectfully disagree with most of that, especially the line that Arsenal are still benefiting from Wenger's youth system, as it didn't help Wenger at the end of his reign, or Emery. The difference between our approach (as well as Emery's) and Arteta's is that he is brave enough to put them in ahead of seasoned internationals and keep them there.
Take Emile Smith-Rowe and compare him with Anthony Gordon. Arteta put him in last Christmas when they were struggling and has continued to give him his head even when his form has been up and down.
Anthony made his breakthrough one year previous during an injury crisis under Ancelotti, performed well but was swiftly out of the team. Benitez has now continued that trend and underperforming players have been preferred during the latest injury crisis, despite him doing well when getting his chance.
Had John Stones emerged under Koeman, Allardyce, Silva, Ancelotti or Benitez, I doubt he would have had much of a look-in because he would have 'always had a mistake in him' and we can't afford that if we want to meet "our target" of Europa League.
The redundant short-termism remark wasn't a pop at you specifically (my phrasing isn't meant as inflammatory to individuals), it is a general way of thinking that has permeated throughout Moshiri's reign, IMO, and each year the new manager seems solely responsible for delivering "our target".
This sole focus on a 'table watching' approach as the only barometer was never more apparent among the fan base as last season when one poster gave a weekly update until November, telling us where we were and how many points off the top, so all was therefore rosy in the Goodison garden, that is until as usual the shit hits the fan.
Even during the season where we matched "our target" under Koeman, we were still as far back to square one than ever before the following year. Benitez ain't talking about development or evolution, his remit as he sees it is to find that 5 to 10% extra.
In terms of Arsenal, I will predict that the experts on TV will continue to herald Arteta as 'the next Arsene Wenger' when Arsenal's form is good and 'he's worse than Emery' when they are bad (his youthful team will continue to fluctuate), but in 2-3 seasons they will be the team that breaks the top four stranglehold and only then will the 'table watchers' have wakened up to the process and journey that will have put them there.
Darren Hind
390
Posted 25/10/2021 at 18:17:49
Excellent post, Conor @356.
At least you didn't sit on the fence, like Andy @358.
Jay Harris
391
Posted 25/10/2021 at 19:12:25
Dave,
Apparently Kenwright himself claimed that but we also know he met Elvis and rode his bike to every home game – and that claim was made when Godfrey was doing well. I doubt he would say it this season.
Phil Lewis
392
Posted 25/10/2021 at 20:46:19
Could someone tell me if Jarrad Branthwaite is fit? Or is he out on loan? I cannot fathom why he wasn't even on the bench against Watford, yet two goalkeepers were.
We clearly cannot find the correct central defensive pairing and are susceptible to losing numerous set-piece goals. But this talented young player, very capable both in the air and with the ball at his feet, isn't even considered as substitute?
We are architects of our own downfall by continually selecting out-of-form players and making hollow excuses for them. Digne and Godfrey have been playing well below their own standards for some time. Similarly Allan has to be accountable for substandard performances. These three players should not be above being dropped.
We are all aware of the main culprits, their identities have been well documented on here. But no player should be above the chop where it is warranted.
Craig Walker
393
Posted 25/10/2021 at 21:07:33
Paul Tran @394. Absolutely spot on! Nothing to add to that.
Danny O'Neill
394
Posted 25/10/2021 at 21:23:23
Seems the one (and only slight) disagreement we have, Conor, is on Arsenal and Arteta.
League table watching, like I say, I take little notice until Christmas and even then it can still be too early. We should know that more than most. Kendall in 1983 and many of the Moyes years.
Okay, on Arteta, I just hope he get's the 2 or 3 years you call and the Arsenal board don't buckle when he goes through the rollercoaster ride I think he will.
Man Utd, to be fair, stuck by Solskjaer under similar circumstances you mention. When winning, the son of Ferguson; when losing, the next Ron Atkinson. I fear for Ole though, yesterday and recent performances was a pill too bitter to swallow.
Smith-Rowe looks a good player. He done well Friday against Villa, a match I watched with the Villa-supporting wife. Scrappy encounter between two evenly matched teams. If Villa hadn't got their tactics so badly wrong and handed it to Arsenal by half-time, that had a draw written all over it. But it's all about taking your chances.
Brian Wilkinson
398
Posted 26/10/2021 at 13:23:26
Jay @391, stop it, we all know you told a porky there. It is common knowledge he never rode his bike to the game; he sat on his uncle Cyril's crossbar, before entering the Boys Pen. :-)
Colin Glassar
399
Posted 26/10/2021 at 13:35:32
Brian, that uncle wouldn't have been Cyril Smith would it?
Brian Wilkinson
400
Posted 26/10/2021 at 14:21:32
Cracker that, Colin, never thought about it til you put that thought in my head. :-)
Tony Everan
401
Posted 26/10/2021 at 17:20:22
It's reported that Doucoure has a stress fracture, could have been worse. Possibly out for six or seven weeks.
---
Add Your Comments
In order to post a comment, you need to be logged in as a registered user of the site.
Or Sign up as a ToffeeWeb Member — it's free, takes just a few minutes and will allow you to post your comments on articles and Talking Points submissions across the site.
---
© ToffeeWeb