Report
Spicy ending sees Everton hold on for a point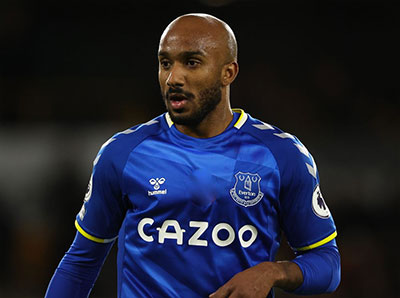 Fabian Delph's second-half performance against Wolves earned him a start in midfield alongside Allan
Everton 0 - 0 Spurs
A strange game in which neither team really tried all that hard to score came to life near the end when Everton were awarded but then denied a penalty by VAR, Spurs hit the post, and Holgate was sent off for clearing the ball, then striking a Spurs player with his follow-through.
The spine of the side is still out: Dominic Calvert-Lewin, Yerry Mina and Abdoulaye Doucouré are all missing.
But the dreadfully limited Tom Davies, the dreadfully crocked Jean-Philippe Gbamin, and the dreadfully ineffective Alex Iwobi are only named on the bench, along with the dreadfully unfit Rondon.
Lucas Digne returns at left-back. Digne missed the trip to Wolves with a muscle complaint.
Richarlison starts again as the lone striker despite limited success against Wolves. Anthony Gordon starts after the teenager was dropped in favour of Alex Iwobi.
Jarrad Baranthwaite returns to the bench where thankfully there is only one goalkeeper named!
Tottenham Hotspur arrive with a new manager in Antonio Conte and an ominously good record against Everton at Goodison Park in recent years (except for that 5-4 FA Cup game).
The Spurs kicked the game off. Delph hopefully showed the fire in his belly with an early foul on Kane. Gordon delivered a tasty early cross but no-one on the inside and Coleman gave the ball away and Spurs surged forward at pace with Allan visibly hanging back from attacking the ball.
Everton tried building slow but is was broken down, however, the ball fell for Godfrey who had the first shot of the game, not testing Lloris at all. But at least Everton were getting possession of the ball.
Gray won an early free-kick that eventually fund Keane at the far post but he could not do anything meaningful with it. Godfrey sort of kicked Son on the ground but it wasn't as vindictive as it sounds.
Little in the way of any pattern from the first 10 minutes but Everton had had more of the play, with Spurs yet to mount an attack. Regulon was shown an early yellow card for his foul on Townsend.
Gray and Allan tried to play through the middle but Richarlison was hemmed in by a crowd of Spurs defenders. Everton had more play around the Spurs area, another good cross, this from Digne, again with no receivers.
And Spurs broke fast with Moura, Keane to the rescue. Spurs tried again and it was a little worrying to watch them penetrate but again Keane cleared.
A free-kick won by Richarlison was driven over everyone by Townsend. Spurs came a little closer, Royal heading a cross over when he could have tested Pickford.
Much better pressing, especially by Coleman produced a turnover; Allan was then in cleanly to deny Moura. But Godfrey spoilt it with an over-hit crossfield ball. Royal crashed into Digne.
Delph showed some decent bite on Moura and got the ball, but was booked nevertheless, for a sideways tackle. Another ball, this one from Keane was again overhit for Gray. Delp ran into a block by Højbjerg and was unhappy.
Allan did play in a cross for Richarlison but there was very little he could do with it. Townsend tried to find the Brazilian with a ball in to his feet but it just wasn't happening for him.
A decent forward move starring Godron, looked as though it would produce a shot on goal but it didn't; however, an Everton corner came from it... but not much more.
Damarai Gray danced into the SPurs area but was denied a penalty when he went spralling. Richarlison caught Romero but no card. Delph broke up the play well but Gray's cross only forced Gordon very wide before the move broke down.
Richarlison went down after trying to tackle Royal from behind, but recovered after treatment, to help out in defence, thwarting Royal again. Spurs seemed strangely lethargic with the ball, where they saving themselves for a second-half onslaught?
Kane got a great cross over to the far post but Reguilon could not keep the half-volley down and the half ended goalless, which was about right for a strangely low-key affair.
The activities resumed with no changes. Gray crossed deep, a difficult one for Gordon to volley over the Gwaldys Street goal.
Spurs showed a little more invention, a dangerous cross snapped up by Pickford, before Godfrey blocked a fierce shot away for a Spurs corner that was cleared.
But Spurs were getting more men forward, while Benitz planned to bring on Davies in place of Delph, who had played well. Ben Davies sliced a distant shot wide of the Everton goal.
Gordon played a lovely pass out to Gray but his touch let him down and he lost the ball and any advantage.
A ball forward saw Goron bundled over, but the ball went loose for Lloris and Richarlison to challenge, initially a penalty, but a long VAR interrogation led to Kavanagh reversing his decision, Lloris patting the ball obliquely just before he brings down Richarlison.
The crowd were very unhappy and finally found their voice, getting behind every challenge. A Dier corner was me t with a great cheer but was disappointingly over-hit. Richarlison wanted handball, then another penalty, but only got a yellow card, along with Romero for his feint head-butt.
A thrilling attack saw Gray swing and miss at Gordon's cross, then Davies follow through with a dreadful mis-hit that bobbled into Lloris's hands.
The game at least was a lot more competitive now, but the ball was not running well for Everton, their attacks lacking any cohesion. But at least the crowd were now engaged.
A half-chance fell to Gordon who tried his acrobatic first-time strike but it was blocked. A ball over the top looked to fall nicely for Richarlison but he could not manufacture anything from it.
The game became more stretched into the final stages, with Spurs looking like they might make a more purposeful attack in between the largely incoherent forward moves by Everton.
Digne created a great move, his cross touched by Gray just wide of the far post. Holgate then replaced Allan. All he seemed to do was give away the ball in midfield, Le Celso taking the tried one forward and smashing a goal-worthy strike against the post with Pickford beaten.
Holgate gave the ball away again and Le Celso delivered a goal-worthy strike that smacked off Pickford's post.
Holgate cleared a ball but followed through on Højbjerg and after a slo-mo VAR review, Kavanagh changed his mind and showed Holgate a red card.
Gbamin on, Spurs free-kick and then corner defended away, then a corner at the other end, won by Davies, but defended away by Romero. The game had become increasingly intense, Davies throwing himself to defend the ball at the very end before Kavanagh finally blew the whistle.
Everton: Pickford, Coleman, Keane, Godfrey, Digne, Allan (82' Holgate [Y-R:90']), Delph [Y:26'] (60' Davies), Towsend, Gordon, Gray (90+3' Gbamin), Richarlison
Subs not Used: Begovic, Kenny, Iwobi, Tosun, Branthwaite, Rondon.
Tottenham Hotspur: Lloris, Romero, Dier, Davies, Royal, Reguilon [Y:12'] (71' Doherty), Skipp [Y9-+5'], Højbjerg, Moura (71' Le Celso), Son (84' Ndombele [Y:87']), Kane.
Subs not Used: Gollini, Alli, Bergwijn, Tanganga, Winks, Sanchez.
Referee: Chris Kavanagh
VAR: Jarred Gillett
Attendance: 39,059
---
Reader Comments (332)
Note: the following content is not moderated or vetted by the site owners at the time of submission. Comments are the responsibility of the poster. Disclaimer
Kevin Prytherch
1
Posted 07/11/2021 at 13:07:24
I fear a drubbing with this lineup.
Godfrey isn't 100%, Keane and Godfrey will be too far apart, midfield will be overrun.
The only saving grace will be Gordon and Townsend playing as wide midfielders instead of wingers, we might be able to survive with a compact 4 in midfield.
Benitez may be living on borrowed time after this one.
I hope I'm proved wrong.
Jeff Armstrong
2
Posted 07/11/2021 at 13:19:07
No youngsters on the bench, Rafa as bad as Ancelotti, they surely offer more than the dross he has on there.
Alan J Thompson
3
Posted 07/11/2021 at 13:21:44
Same game plan again, then, must think their new manager hasn't seen it.
Frank Sheppard
4
Posted 07/11/2021 at 13:22:27
Difficult to feel much optimism, but still COYB.
Tony Everan
5
Posted 07/11/2021 at 13:24:22
Kevin, I share your concerns. On the plus side, Iwobi, Rondon and Gbamin are not starting. The players replacing them have more fight in them. Without the first choice spine of the team, we are going to need every ounce of this fighting spirit to get the win. Also, and no still half-pissed Sunday League mistakes.
Don't forget, Tottenham have their weaknesses too, as well as being inconsistent. We need to get into their face right from the off.
COYBlues!
Ernie Baywood
6
Posted 07/11/2021 at 13:48:11
I still don't quite understand it.
Centre-backs are useless on the ball. So are we asking them to pump it forward quickly? Who to? We don't have a centre-forward.
I'm going to assume therefore we will try to play out through our back 6. Only one of whom (Digne) is up to that job.
Not sure how the front 4 will see the ball. Or how they get it in a position to isolate and run at defenders given that's exactly what every one of them wants to do.
Let's hope they at least find some fight.
Ciarán McGlone
7
Posted 07/11/2021 at 13:51:43
I think Allan needs to be benched. Not looking forward to this at all.
Michael Kenrick
8
Posted 07/11/2021 at 13:58:27
Love Rafa's black&white stripped tie... I just luv it.
[What the Fuck was he thinking???]
Jerome Shields
9
Posted 07/11/2021 at 14:07:54
Michael, he is 'putting it up them' as Corporal Jones would say.
Christy Ring
10
Posted 07/11/2021 at 14:09:03
In all fairness, his hands are tied with our injuries, but I would have a 3-man midfield with Davies. And you can't just throw the young lads in, Simms is only just back from injury.
I do think it's an uphill task today, but we have to get in their faces from the off.
Ciarán McGlone
11
Posted 07/11/2021 at 14:50:10
Given the recent standards we've set.. that was a decent half of football.
Not much attacking threat but at least stringing a few passes together. Anybody's game this.
Kieran Kinsella
12
Posted 07/11/2021 at 14:50:54
Gray always whips the balls across the box and no-one is there. Perhaps some communication would help?
Alan J Thompson
13
Posted 07/11/2021 at 14:55:36
A fair amount of energy from both sides but only really that one chance created in the last minute to Spurs. They started more like we have been and we showed more urgency than in recent games but it was difficult to see what invention either team had in midfield, we seemed to play a lot of long ball.
Delph had a very good first half but I couldn't see what the midfield was set up to do, Delph in front of the back four, Allan seemingly at a loss as to where he is supposed to be other than on the front middle left of the back four and Gordon wide right as more of a wing position.
It does look like we need somebody to push forward to give Richarlison some help up front as at the moment we seem to be hoping Gray or Townsend can cut in and hit one.
Jerome Shields
14
Posted 07/11/2021 at 14:55:43
Everton at least better motivated, though still some defensive weaknesses evident, especially tracking runners. Delph was Everton's player of the first half.
Dave Abrahams
15
Posted 07/11/2021 at 14:58:53
Christy (10),
Nice sensible post; we are hanging on until the injured are fit and January can't come quick enough... beggars can't be choosers!!
Kieran Kinsella
16
Posted 07/11/2021 at 15:01:16
Alan,
It looks to me like two teams who've had a kick up the arse but lack confidence.
Kevin Dyer
17
Posted 07/11/2021 at 15:04:37
Much improved first 45. The 4-1-4-1 is shielding the defence who look a lot more composed, much more like early season. Delph is easily MotM so far, outstanding reading of the game, good control. Allan playing better and Townsend doing a solid job centrally. Gray looking the most likely to get a goal.
Concerns: Richarlison isolated, quit playing high balls to him; Gordon struggling to get involved. Ref allowing some physical contact and Anthony has been knocked off the ball a few times. Some shaky passes from Coleman.
Kieran Kinsella
18
Posted 07/11/2021 at 15:23:45
We were playing on and could've scored but for the ref. Now we've lost that chance.
Ernie Baywood
19
Posted 07/11/2021 at 15:24:25
He stopped play with us in attack and Lloris out of goal.
Then he calls that a clear and obvious error? I saw the video replay angle he saw... and you couldn't pick who made contact with the ball.
Bobby Mallon
20
Posted 07/11/2021 at 15:44:20
Christy @10,
If a player is fit after injury and he trains with the first team then he's fit. Tosun is just back from injury; he gets to sit on the bench. Simms is fit so he should be on the bench in front of Tosun and Rondon.
Ernie Baywood
21
Posted 07/11/2021 at 15:47:17
Jeez, Holgate's had 3 involvements so far. A pointless free-kick against and caught in possession with no clue twice.
Might be the last time we try that sub.
Ernie Baywood
22
Posted 07/11/2021 at 15:49:19
Fourth involvement. Easy tackle turns into a free kick and red card because of the ridiculous follow through.
Ciarán McGlone
23
Posted 07/11/2021 at 15:56:56
Much better from the players and Benitez.
Stops the rot.
Holgate is an imbecile.
Jerome Shields
24
Posted 07/11/2021 at 15:58:35
Better from Everton. Holgate costed Everton the initiative at a critical stage with a third mistake after he came on. Still lacking in attack, but better from midfield and defense.
Alex Gray
25
Posted 07/11/2021 at 15:59:02
Ref had an utter shocker!
Everton much better today though. No quality but lots of effort.
Danny Baily
26
Posted 07/11/2021 at 16:01:28
Holgate eh? All that money we've spent and he still gets a game.
Not the worst result, important thing was to at least look solid while we have players out. 40 mins of football starting from the last 10 of the Watford match aside we've looked solid enough.
Steve Brown
27
Posted 07/11/2021 at 16:02:03
Thought VAR was not meant to overturn on-field decisions unless there was a clear and obvious error?
Sean O'Hanlon
28
Posted 07/11/2021 at 16:02:08
Turning point in our season. Gaining that all-important point from a possible 12 in last 4 games. Relegation form!
Steve Brown
29
Posted 07/11/2021 at 16:03:31
Really thought Holgate was going to be the next John Stones. He's turned into the next Funes Mori.
Jim Bennings
30
Posted 07/11/2021 at 16:03:43
Game lacking in quality, two poor sides.
Spurs being the away team will be happier, it's yet another home game which has passed us by without winning.
We still only have one way of playing, work it out wide and cross it and are crying out for a current day Mikel Arteta type player in the middle.
Stopped the rot, I guess that's about all you can say, but no doubt we'll be bounced again at Man City in 2 weeks so the Brentford game will be back to the drawing board and getting close to the stage of being a 6-pointer given the fixtures.

Jay Wood
[BRZ]
31
Posted 07/11/2021 at 16:05:08
Holgate MotM?
Alan J Thompson
32
Posted 07/11/2021 at 16:06:23
Sorry, while the first substitution might have worked as we became the dominant team, I can't fathom taking probably the best player of the game off after 10 minutes of the second half.
And as for Holgate for Allan, what was that all about? Holgate was very poor and it was his mistake which nearly gave the game away when they hit the post.
As for the penalty, definitely was! That keeper got nothing on the ball and, while it might not have been enough to bring Richarlison down, under today's rules there was contact. I doubt it would even have been referred if it had been any team in red. After a good first half, that referee turned very poor in the second half, and not just because of the penalty.
Still think there is work to be done but at least we got more men forward in the second half, and stopped a run.
Tony Twist
33
Posted 07/11/2021 at 16:10:00
I think the rot has well and truly set in. Had to win that one but Everton have such low standards that they are satisfied with that result. We are most definitely on the road to nowhere.
Dan Johnson
34
Posted 07/11/2021 at 16:10:19
At least the team showed effort and fight, lacking quality in the final third, but denied a penalty. I thought Richarlison got the first touch, and then got wiped out. Generally a poor referee, but at least we stopped the run of defeats. Well done, Blues.
Alex Gray
35
Posted 07/11/2021 at 16:13:40
I can accept the red card even though I was wondering when trying to hoof a clearance how he's magically meant to stop a follow-through?
It was a penalty for me and, even if it wasn't, we had the ball and it was an open net. Heard Bobby Zamora say it's not a penalty because Richarlison got up quickly... which says it all really.
On the plus side, no Holgate for three games!
Jim Bennings
36
Posted 07/11/2021 at 16:14:28
We need better players going forward, that's the only way you turn these draws into wins.
Richarlison wasn't really fit, but to be honest he's not a striker and never will be, he's a wide left player cutting inside.
Feels like it's gonna be the 2003-04 season all over again, struggle to just over 40 points and hope there will be three teams that are worse.
Ernie Baywood
37
Posted 07/11/2021 at 16:14:49
The penalty call is just wrong. Maybe Lloris brushed the ball, maybe Richarlison toed it clear of the keeper. But the opinions shouldn't matter... The ref stopped play because he was certain. He then overturned it on inconclusive video. They are facts and he made the wrong decision to overturn it.
Holgate was bang to rights. He knew what he did. He'd been horrendous to that point anyway and could have cost us the game giving away that free kick for absolute no reason. Moron.
At least we got a bit of fight out of the rest.
Chris Leyland
38
Posted 07/11/2021 at 16:15:48
So, if you get a touch and then take the man out it's not a foul but if you win the ball and catch the man on the follow through then it's a red?
Colin Battison
39
Posted 07/11/2021 at 16:16:04
Everton 0 VAR 2.
What more is there to say?
Ernie Baywood
40
Posted 07/11/2021 at 16:17:16
Alex #35, I'm sorry mate but that's 100% deliberate by Holgate.
You don't strike a ball and then lift your feet. He knew what he was doing. Anyone who's played knew what he was doing. I suspect when you watch it again you'll see what he did.
Pat Kelly
41
Posted 07/11/2021 at 16:19:08
Rafa only needed not to lose that one. He just about managed it against a bang-average Spurs. But that's the reality of where we're at.
George Cumiskey
42
Posted 07/11/2021 at 16:20:13
An absolutely terrible decision to bring on Holgate. If Rafa keeps making these decisions I can't see him lasting the season.
Mike Gaynes
43
Posted 07/11/2021 at 16:21:00
Steve #29, I object.
That's a horrible, terrible thing to say about Funes Mori.
Steve Brown
44
Posted 07/11/2021 at 16:21:04
You are right Pat. 5 defeats in a row gets you sacked and we play Man City away next game.
Don Alexander
45
Posted 07/11/2021 at 16:21:23
Chris (#38), or a minimum yellow if you play for us, witness Delph's and Allan's perfectly fair tackles.
The game's gone to the dogs.
James Head
46
Posted 07/11/2021 at 16:22:58
Outside of the top 3, the rest of the Premier League is pretty much dogshite, West Ham, Arsenal and Man Utd all chasing the 4th spot and then the rest of the teams, us included, scruffily fighting between themselves not to get pulled into a relegation scrap.
There used to be excitement and joy in going to watch Everton; nowadays, it's just stress, frustration and anger.
ps: Can we leg Holgate ASAP, he's a smug prick and a liability.
Colin Battison
47
Posted 07/11/2021 at 16:24:39
Like a few have already mentioned, how can the penalty be overturned when there is no clear and obvious error to be seen? Richarlison gets there first so how that's overturned is beyond me.
At least we showed some much-needed fighting spirit and effort which has been lacking for the last few games.
Dave Evans
48
Posted 07/11/2021 at 16:25:37
Tony Twist,
It wasn't the brief great Kendall team of the 80s, so I'll lower my standards and say I thought the players put great effort in.
We have lost the whole spine of our team. I think we will be treading water for a few games yet.
Mike Gaynes
49
Posted 07/11/2021 at 16:25:40
Ernie #37,
The replay video looked conclusive to me. Matter of fact, it looked conclusive to me even in real time on TV that Lloris got the ball.
Where the ref screwed up massively was calling it in the first place instead of playing on and seeing how Richarlison's chance turned out -- he could have gone back to VAR at the next stoppage. That was a blunder that will likely cost the ref a one-week suspension. Bet he isn't on the schedule next weekend.
Raymond Fox
50
Posted 07/11/2021 at 16:26:27
A decent performance and a point, which pre-match I didn't expect us to get.
It's going to be a struggle all season with this squad.
Neil Thomas
51
Posted 07/11/2021 at 16:27:08
Definitely a red, the lad's a liability, but definitely a penalty, took Richarlison clean out.
More fight today, but clear lack of quality.
Mike Gaynes
52
Posted 07/11/2021 at 16:27:19
But Ernie #40, you are absolutely spot on about Holgate's foul. The good news is we will likely never see that shitbucket again. Rafa is not a forgiving manager.
Sam Fitzsimmons
53
Posted 07/11/2021 at 16:28:03
What we needed was a win but a point will do! A good team performance with a bit of grit and steel. Such a shame we haven't seen more of the Delph that played today.
Godfrey and Digne seem to be getting back up to speed, although it's a very, long way back for Holgate, he has been dodgy all season but today he reached a new low.
Michael Kenrick
54
Posted 07/11/2021 at 16:29:18
So in one incident, the defending goalkeeper's momentum after clearing the ball brings down our attacker in the penalty area. A penalty all day long but Refs conspire to deny it because the ball is 'cleared' by a touch of the glove before the follow-through brings the foul on the attacker, which is then overruled by VAR.
In another incident, the defender strikes through the ball to clear it but his momentum on the follow-through brings a foul on the attacker, which is deemed a yellow card, but then overruled by VAR and converted to a red?
Where is there any consistency in the interpretation of the rules... whatever they are in this instance? Without VAR, we have a penalty and Holgate stays on. Football is definitely fucked.
Simon Dalzell
55
Posted 07/11/2021 at 16:32:10
Not a bad point and reasonable performance considering our limitations.
The Calamity did his best to lose us the game in the very short time he was on. What a complete moron. Deservedly sent off for a totally unnecessary 'assault'. A complete liability.
Andrew Keatley
56
Posted 07/11/2021 at 16:33:21
Alex (35),
The real giveaway is the fact that Holgate's left foot joined his right foot to make it a two-legged follow through (and a two-footed landing into Højbjerg). Shithouse cowardly tackle that deserved the red card it got.
Ciarán McGlone
57
Posted 07/11/2021 at 16:35:14
You'd be better comparing the penalty to the Delph yellow card, Michael.
Holgate was as deliberate as they come.
Mike Gaynes
58
Posted 07/11/2021 at 16:36:43
Michael #54,
"his momentum on the follow-through"
??? Are you kidding?
I realize you see the world thru blue-tinted glasses but that was clearly, obviously deliberate. Why do you think Holgate didn't complain? Why do you think nobody on Everton complained? Seamus walked all the way back from the TV monitor with the ref and never said a word, just shook his head. He knew. Everybody knew.
VAR did its job on both occasions.
Jim Bennings
59
Posted 07/11/2021 at 16:40:28
It's a blessing Holgate getting sent off, three-game ban and hopefully not seen again!
Kieran Kinsella
60
Posted 07/11/2021 at 16:40:47
He also turns his foot as he makes contact so it's a flat foot right into his shin. Dirty – deserved a red.
Dave Evans
61
Posted 07/11/2021 at 16:44:45
Holgate has always been a hard, quick and elegant player in his own head. The reality on the pitch is always different.
The last chance saloon or Championship or lower beckons.
Mike Gaynes
62
Posted 07/11/2021 at 16:44:56
Simon #55, "The Calamity"... perfect. I've felt that way about the guy for the past two years but never found the right way to describe him. You found it. Top corner, sir.
Steve Brown
63
Posted 07/11/2021 at 16:46:08
Penalties should only be referred by VAR for the referee to review if there was a clear and obvious error. That fact the Kavanagh then had to look at repeats of the challenge for 2-3 minutes demonstrates it wasn't a clear and obvious error and shouldn't have been referred by VAR. Those are the rules.
Matt Traynor
64
Posted 07/11/2021 at 16:47:09
Mike #58 there's a counter argument that VAR didn't do its job on both occasions.
VAR is there to prevent a "clear and obvious error" being made by the referee. No issue over the red card, but once the penalty is given, the fact it took so long - 7 replays from multiple angles before they were able to come up with a decision - makes a mockery of its raison d'etre.
They've just done exactly what they say they want to avoid - re-refereeing the games.
Jeff Armstrong
65
Posted 07/11/2021 at 16:50:35
MK is correct, especially the penalty. So what, Lloris may have touched the ball, but he still brings down Richarlison, losing our advantage in the area as he may have scored.
Fouls are given everywhere else regardless of the perpetrator touching the ball – if he brings the man down, it's a foul all day long.
Kieran Kinsella
66
Posted 07/11/2021 at 16:51:48
Frustratingly our front players did well individually but they have no understanding as a group. No-one judges each other's runs, no-one expects crosses when they arrive.
Rafa needs to spend some time getting Gordon and the front three on the same page
Colin Glassar
67
Posted 07/11/2021 at 16:54:14
Poor quality game but at least we showed some spirit and vim. If we continue to play like this, the wins will come, eventually.
Derek Taylor
68
Posted 07/11/2021 at 16:55:37
Some very fair assessments above. But only Evertonians dislike most of their own players so much that they relish their sending off and subsequent ban.
Good job Blue Bill is there to balance the scales – he'll already be lining up a coaching role for young Mason!
Jerome Shields
69
Posted 07/11/2021 at 16:55:49
I did think that Delph's yellow never should have been given. Delph got contact of the ball.
I have my doubts that the Spurs goalkeeper got contact with the ball, penalty should have been given.
Jeff Armstrong
70
Posted 07/11/2021 at 17:02:33
Lloris doesn't even touch the ball, even the slightest touch is moot, he gets the man anyway… foul.
Subs were odd, Delph looked like he had more in the tank, Holgate for Allan was ridiculous. I sit above the dugout and Allan was outraged, so he had more to give too, not his biggest fan but Holgate... for fuck's sake!
Darren Hind
71
Posted 07/11/2021 at 17:02:47
Keane, Mina and Godfrey are all liabilities who have all cost us at least a couple of goals each this season. They're poor defenders.
Holgate should be a shoo-in, but I had a good hard look at him today as he walked off, and I've come to the conclusion he doesn't care enough. It wasn't just the challenge. He was caught twice before being surprised when the ball came to him... Not expecting the ball is the biggest crime in football. He got away with it (not for the first time this season) but, as cameos go, that was up there with Kevin Mirallas and Glenn Keeley.
I found the game a strangely entertaining one. Two nervous teams gave the impression anything could happen.
Really angry that the referee blew for a penalty with their goalie scrambling back. I think he should have waited to see how it panned out.
I've seen worse games.
Steve Brown
72
Posted 07/11/2021 at 17:03:45
We were 10th after matchday 11 last season. Remarkably consistent in our averageness.
Jerome Shields
73
Posted 07/11/2021 at 17:03:45
Gbamin was a better sub than Holgate.
Mark Ryan
74
Posted 07/11/2021 at 17:07:09
I'm glad not to see Iwobi or Rondon and glad that we might have seen the last of Mason ("I've no real interest being here") Holgate.
I thought the majority got stuck in today and at least tried for the shirt. I expected a drubbing and pleasantly surprised.

Bobby Mallon
75
Posted 07/11/2021 at 17:07:41
Micheal @54 and if you are watching the West Ham game, Cresswell did exactly the same tackle as Holgate. It went to VAR and not even booked. VAR is shite.
Mike Gaynes
76
Posted 07/11/2021 at 17:08:22
Jeff, yes, he most certainly did get his fingers on the ball, and yes, according to the rules of the game, that matters. You can keep on saying the same thing all day long, but under the rules, Lloris's play was legal and he did not foul Richarlison. And that's just the way it is.
Steve Shave
77
Posted 07/11/2021 at 17:09:41
I'm really happy with that performance under the circumstances, injuries etc.
I agree with many, a gritty performance and the boys seemed up for it, we were the better team. I can't really fault too many aside from Holgate, Davies patchy maybe (not having a pop, Daz).
I was really pleased with Delph's performance again (swoon) and the timing of this might be really important for us. If the green shoots from Digne's and Godfrey's performances can be built upon with some returning stars, then maybe all is not lost this season.
Blue specs on today, COYB!
Michael Lynch
78
Posted 07/11/2021 at 17:10:06
Can we appeal Holgate's three-match ban and ask for it to be doubled?
Steve Brown
79
Posted 07/11/2021 at 17:11:00
Mike, there was no clear and obvious error in the original decision - otherwise the referee would have seen instantly that he had made an error. Not the case at all.
Therefore, it should not have been referred to the referee by VAR. Those are the rules of the game.
Mike Gaynes
80
Posted 07/11/2021 at 17:14:10
Matt #64, I'd say VAR did exactly that. The time it took to overturn the pen is on the ref... just as it was on the ref that he erroneously called the pen and stopped our scoring chance, and that he originally gave Holgate a yellow. The ref got it wrong both times. VAR got it right. That's the intent.
Mike Gaynes
81
Posted 07/11/2021 at 17:20:43
Darren #71, what you saw in Holgate today is what I've seen in him for two years.
After all your nonstop cheerleading for the guy, congratulations on finally understanding what he is.
Jeff Armstrong
82
Posted 07/11/2021 at 17:24:45
Mike 81, you and thousands of others mate.
Bill Gall
83
Posted 07/11/2021 at 17:28:10
Even as it is said that the keeper touched the ball in bringing Richarlison down wasn't he stopping a clear and obvious error to prevent a goal.
Darren Hind
84
Posted 07/11/2021 at 17:29:26
MIke G
As others have said on here before, You have always swing with the prevailing wind. When Holgate was earning plaudits (and a five year contract). You were denying you had slagged him off and claiming had always rated him.
I wont be defending Holgates attitude since he was given that lengthy contract and massive pay bump. Nor do I understand it, But at least I have the courage of my convictions
Tony Everan
85
Posted 07/11/2021 at 17:29:34
There was more fight and more controlled aggression today (until Holgate came on that is). I thought we were good value for the draw and that pen is 100% given at Old Trafford or Anfield. Maybe Richarlison jumping up and playing on influences the ref ? Anyway, I thought the ref gave a few poor decisions against us today. Delph's booking looked a very good tackle.
We can take some heart that the players who started were more committed, braver and put themselves on the line today. Nothing less will do if we are to pick up points whilst some important players are out.
Chris Leyland
86
Posted 07/11/2021 at 17:30:18
Funny how some people on here see Mina as a liability:
Before the Wolves game, ourwin percentage with him in the team over past 2 seasons is 57%, but just 24% without him. Our points per game with Mina is 1.9, but dropped to 0.9 without him.
Goals conceded per game went up with Mina out too, rising from 1.1 with him to 1.7 without.
Now I know that stats can be considered 'fan-boyish' by some, but the states do clearly show that's he's not that much a liability in reality.

Soren Moyer
87
Posted 07/11/2021 at 17:30:45
Holgate is a disgrace and liability. Unfortunately we have plenty of those atm!
Paul Birmingham
88
Posted 07/11/2021 at 17:31:47
A good point all considered.
My lad just showed me a clip from Instagram of the penalty, and for me Lloris clearly misses the ball and obstructs Richarlisons foot.
Delph looks like he's found his Mojo, from when was at Villa.
It's going to be a grinding season, and reminds me of games when we had George Telfor upfront, the forlorn striker.
Delph got the ball and it wasn't a booking. Holgate was reckless, the squad is paper thin and he does that.
Makes Rafas selection easier the next three games.
But a point stops the rot, and hopefully Duke will back for City.
Barry Hesketh
89
Posted 07/11/2021 at 17:32:03
The referee got it spot on in the first place for the penalty, I don't care if the keeper got a finger-tip on the ball, the end result was he prevented Richarlison from having an opportunity to score. I haven't seen a replay of Holgate's red-card moment, so can't comment. My observation is that Mr. John Moss has a personal vendetta against Everton and the club should put in a complaint that he's never allowed near an Everton match in any capacity.

Dave Abrahams
90
Posted 07/11/2021 at 17:36:25
Mike (58), " why do you think that no Everton player complained" referring to Holgate's dismissal, Michael Keane was waving away the referee's dismissal for giving Holgate a yellow card in the first place.
Jeff Armstrong
91
Posted 07/11/2021 at 17:36:52
Was Moss on VAR ? That explains a lot about today, that guy hates us more than Atkinson.
His dream job today on VAR, a load of tv monitors, a tub of celebrations and no running required, oh,and he gets to fuck Everton over.
Christy Ring
92
Posted 07/11/2021 at 17:37:04
What's the difference between Cresswell's follow through and Holgate's, he didn't even get a yellow after VAR? Regarding the penalty, apart from Lloris taking Richarlison out after he got a touch, he got back up and had the ball with no keeper guarding the net, so we got no penalty and no advantage as he blundered by blowing early, double whammy.
We couldn't fault the effort today, can't understand the criticism of replacing Delph and Allan, both ran out of steam and and would Rafa not have been criticised for not bringing on Holgate ahead of Gbamin after his Wolves performance, he can't win?
Robert Tressell
93
Posted 07/11/2021 at 17:38:35
Steve # 77. I'd add Gordon to the plus side too. Very good education for him today. Like the last 2 games we could (should?) have won but we've picked up a point and clean sheet against a dangerous team.
Peter Dodds
94
Posted 07/11/2021 at 17:38:57
Kieran @66, I second your point about the front three. Listening on 5Live, there were regular bouts of "crossed into the box by Gray/Gordon/AN Other but nobody able to get on the end of that". With other teams you see several strikers surge towards the six yard box when the wide man is about to cross it in. With us it sounds like Richy and others are simply too far back.
Jeff Armstrong
95
Posted 07/11/2021 at 17:40:08
Christy, I thought that both Delph and Allan had another 15 minutes in them, we were playing okay and I thought it was a risk to change it.
Colin Glassar
96
Posted 07/11/2021 at 17:44:03
I still don't understand the Delp and Allan substitutions. Neither looked tired and Allan was pissed off.
At least Iwobi and Rondon weren't brought on.
Kevin Dyer
97
Posted 07/11/2021 at 17:44:28
Ready stable performance. The switch to a 4-1-4-1 worked a treat as it shielded that wobbly defence. With Delph in front intercepting and making strategic challenges and Allan and Townsend pressing it was remarkable how calm they looked. Best game by Godfrey all season, Digne too. Godfrey has some of his pace back, good sign. Coleman the only defender that worried me. All heart and endeavour but they went at our right side 2nd half and he was caught out of position several times. Should be no.1 priority in the January window.
Townsend did well as a central mid, though we do lose his crossing somewhat. Puts a shift in though. Allan looks so much better playing further forward, noticeable drop-off when he replaced Delph as the deep midfielder. As for Holgate, Good Lord he was awful and the red card was beyond idiotic and well deserved. Davies did well coming on; he can play in a 3 and be pretty solid, but not as a 2. We have no defensive mid except Delph.
Gray had a good game, a big rebound from last week, where he looked hesitant. Richy gave it a good go in the 2nd half but was isolated due the formation and him not being a lone striker. Gordon could not get on the ball for almost an hour and when he did the ref was allowing a lot of physicality and the lad struggled, losing the ball a few times. He did battle on and improved. Also was responsible defensively but playing deeper than normal, seemed to inhibit him a bit.
Spurs were surprisingly defensive and very ordinary. Kane had (another) stinker. Figured Conte would turn them around fast but this team is lot worse than the one he inherited at Chelsea so not expecting much until he can get some players in.
All in all a good point, stops the rot, quietens the press who are hoping we hound Benitez out of Goodison Park. Players showed all the belief, energy and commitment you could want for 90m, though the quality was a lacking. Now, we need to make this a recurring theme, not throw it all away next time things are tough. Great support from the crowd too, got right behind the team and cheering every bit of attacking play, challenges, pressing, battling etc.

Re: the big decisions, the red card was bang on, ridiculous aggression by Holgate. The pen, Lloris does touch the ball so the ref makes the wrong decision to blow and halt the follow-up play, then not sure it is a clear/obvious error on replay. I had to watch it with the contact area enhanced to see the touch.
Matt Byrne
98
Posted 07/11/2021 at 17:46:29
I was very pleased with how we competed all over the pitch after the last two performances. Delph was excellent. Let's hope he can stay fit. Him as the single holding midfielder with Allan and Townsend either aside and ahead gave us good shape and balance.
Did Pickford have a save to make? Much more solid and better structured in front of him. Both full-backs probably told to sit as neither got forward.
We will need to find a way of supporting Richarlison more. Miles better though. Please let's get behind this manager and give him time and resources to build a team.
Tony Abrahams
99
Posted 07/11/2021 at 17:47:37
The ref was awful, and although I agree with Mike G, because I also thought Lloris touched the ball, he booked Delph for making a lot more contact with the ball than the Spurs keeper did, with what looked to be a great recovery tackle in the first half today, as Jerome says.
I think the secret is to have someone follow these refs, to see if they remain consistent in their decisions, or if they change depending on the team, although that probably sounds a little bit paranoid?
Back to the game, very scrappy, but full of fight. So much more compact than we have been for a long time, which made it easier for both Allan and Delph to cover the ground, meaning we played a lot more like a team and that for me was the most pleasing thing.
Kieran Kinsella
100
Posted 07/11/2021 at 17:48:28
Gordon has surely cemented his pecking order place above Iwobi now? He still needs to improve a lot but he's better than training day.
Peter Neilson
101
Posted 07/11/2021 at 17:52:16
Allan looked angry at being subbed, made even worse that it was for Holgate who managed half-a-dozen shocking touches before his red. He's gone backwards in his career to a shocking extent.
Strange substitution. Better team performance overall but the bar was very low. Delph starting to look like the player we wanted.
Desperately missing Dominic up front. Spurs look very ordinary, Conte will have to be a magician to get them in the Top 4 which presumably is why he's been brought in.
I agree with the comments re. VAR, especially re. the penalty, it's not being used to change clear and obvious errors. Needs fixing for consistency.
Ian Edwards
102
Posted 07/11/2021 at 17:55:09
Today was a bad day at the office for Benitez.
His sub decisions were horrific. When that pen was overturned, the crowd were baying and Spurs were penned in and rocking. A coach with testicles would have put an attacker on. Instead, he brought on defensive players. The initiative was lost.
Ian Edwards
103
Posted 07/11/2021 at 17:56:57
And I think it was a penalty. I don't agree Lloris got the ball and, if he did, he went through Richarlison to get it.
Don Alexander
104
Posted 07/11/2021 at 17:57:26
Mike (#76),
You cite as legal the assertion that Lloris getting a hand on the ball before sending Richarlison to the deck was perfectly legal.
What would your opinion have been had Lloris got a touch with his foot before sending Richarlison to the deck?
We had free-kicks awarded against us and had two players booked for perfectly fair tackles (IMHO) that resulted from that very scenario.
That's why, with others imbued in football for many decades, I just get so frustrated with referees who know the potential cost of everything but the value of nowt when it comes to the essence of the game.
Danny O'Neill
105
Posted 07/11/2021 at 17:57:54
I thought that was a decent performance. Nothing special but okay and worth the point. An entertaining, evenly matched game of football in my opinion.
I'll need to look at the penalty again. It looked clear to me and I was in line with it.
Second time in a week that I saw Delph do a decent job. It helped Allan too. I thought Gray looked bright and was an outlet.
The negatives. Holgate. This morning
I agreed with trying him out in that role. 15 minutes today tells me no. And it wasn't just the red (which looked a clear one). He nearly cost us a few times in the short time he was on the pitch.
And then the Ref. Sorry, I'm not a sour grapes type of Evertonian or football watcher. But he had a shocker and didn't give us much.
MotM. Its not often these days that the home support at a lot of grounds get on top. But a combination of the performance, the effort from the players and poor officiating got the crowds heckles up. Well played Goodison. You could see the players responding to it.
Huge thanks to Ade.
Wish me luck as I travel back with this lot talking all things Conte and changing 18 players (I kid you not). Going to be a long one this.
Martin Mason
106
Posted 07/11/2021 at 17:57:58
I didn't see the game but love the positive comments.
Ian Bennett
107
Posted 07/11/2021 at 17:58:56
What did we learn?
Holgate is no midfielder. So calls to try him midfield stop now.
Delph is a talented player 2½ years into his deal. Hopefully we get something from him in the remainder of his deal.
Benitez got it right. I thought we'd get overrun in a 4-4-2, but the 4-3-2-1 seemed to work well. Not much up top, but a welcome point.
Steve Shave
108
Posted 07/11/2021 at 17:59:19
To those commenting on Kane's performance (I agree, he stank the gaff out all afternoon), I wonder if that tight-fisted Chairman of theirs will rue the day he turned down £100M+ for him in the summer?
I loved how much abuse we gave that shithouse Son all afternoon... wonderful. I wish I had been there.
On the screen, it seemed like Goodison was a bear pit today. We kept their danger boys quiet all afternoon.
Colin Glassar
109
Posted 07/11/2021 at 17:59:30
Kieran, hopefully we'll never see him in a Blue shirt ever again!
Kieran Kinsella
110
Posted 07/11/2021 at 18:03:11
Ray Jacques
111
Posted 07/11/2021 at 18:11:06
Can that please be the last act of Holgate as an Everton 'player'... please? Get rid in January.
Rob Halligan
112
Posted 07/11/2021 at 18:11:41
Well what a great hat trick by Kane, and I thought Son took his two goals superbly! Also the Antonio Conte affect kicked in straight away for Spurs.
In other words, yes I know I'm talking bollocks, pretty much like a lot were on here during the week, claiming Spurs were going to steam roll us and beat us easily. We never gave them a sniff, well hardly, apart from the chance right on half time when, I think it was Regulion, who blazed high and wide at the far post when it was much easier to score, and the shot that hit the post. A point was the least we deserved, and have yet to see the penalty incident replay, which by the way looked a stonewall penalty to me. Can only assume Delph and Allan were withdrawn due to fatigue, as both played excellenty I thought. The back four looked pretty much solid throughout, giving Kane absolutely sweet FA. Now there is a player who looks like he wants to be somewhere else, as he appeared to be totally disinterested.
Every one of ours put a good shift in, unlike Harry, and in the end I'm disappointed we couldn't take all three points, but one is better than the none most on here were predicting during the week, and in the build up to the game.
Just one more thing. For those of you who play the fantasy football, they have a group of "Experts" who also talk a bag of shite. Reminds me of some on ToffeeWeb.
Terry Farrell
113
Posted 07/11/2021 at 18:24:57
It's a penalty all day long and all 3 ex-pros in the studio, including an ex-Spurs player says so! Salah or Mane get that 100%.
Better performance and spirit. Delph did well but obvs cant last the 90 hence the change
Robert Tressell
114
Posted 07/11/2021 at 18:31:06
Kieran #100. Absolutely. I want to see more of Gordon. The Holgate suspension could offer Branthwaite a good opportunity now too.
Brian Hennessy
115
Posted 07/11/2021 at 18:39:30
I can just imagine the comments had Benitez left Delph on for the full 90 and he picked up an injury, or Alan (who was clearly running out of steam), got caught out tracking back when tiring.
I think our manager did a good job today. A clean sheet after what has gone on the last few games is a real positive.
With the squad we have and the injuries we have picked up, it will be an achievement to finish in the top half of the table this season.
Dave Lynch
116
Posted 07/11/2021 at 18:40:27
Ian@102.
We haven't got a fucking striker to put on.
Tony Abrahams
117
Posted 07/11/2021 at 18:48:10
Come on, Dave, Rondon has been on fire and it's only a matter of time before he starts scoring!
Will Mabon
118
Posted 07/11/2021 at 18:49:18
Tony - once he's at "Full fitness".
Tony Abrahams
119
Posted 07/11/2021 at 18:54:50
I do think he will get better, Will, so hopefully he's going to stay at Finch Farm during the international break, and get himself fit enough to bully Van Dijk for 60 minutes, on what should be a very emotional night for all those sycophants in the media, who have never got over the big shithouse's last game at Goodison.
Brent Stephens
120
Posted 07/11/2021 at 18:54:58
An entertaining game, full of incident and talking points. I wanted 3 points but a draw with our weakened first team was no bad result.
Delph! Again! Impressive. Going off was probably the right decision – limited game time to date, so stamina probably an issue.
At the other extreme – Mason Holgate... oh dear, oh dear. I know he has his admirers but he's not continued in his development, it seems.
Well done, Gordon – good to see him play the full game. Gradually, slowly, he's developing into a good un?
Dave Abrahams
121
Posted 07/11/2021 at 18:55:47
Tony (117),
I think he would have got on the end of some them crosses today, the best is yet to come from our South American striker. In fact, if he had been playing and the goalie brought him down, we would have got that penalty, it would have taken him ages to get up – soft lad Richarlison jumped up too quick!!!
Will Mabon
122
Posted 07/11/2021 at 18:58:57
Tony, never mind football matters, anyone giving VD a hard time would get no complaint from me. :-)
Tony Abrahams
123
Posted 07/11/2021 at 18:59:35
I do wonder what decision the ref would have made regarding the penalty, if Richarlison hadn't picked the ball up after the penalty was given, Dave, and had chipped the ball into the goal instead?
Barry Hesketh
124
Posted 07/11/2021 at 19:03:35
Dave @121,
But Richarlison did get the penalty, no matter how quickly he jumped up after the contact. It was only Mr Moss that thought it should be overturned and, in turn, the referee inexplicably agreed with Moss.
Tony, once the whistle blew, play stopped... so, even if Richarlison had put the ball in the net, it wouldn't have counted.
Dave Abrahams
125
Posted 07/11/2021 at 19:06:45
Barry (124), fair enough... but my tongue was firmly in my cheek with that comment!!!
Tony Abrahams
126
Posted 07/11/2021 at 19:20:11
I know the rules, Barry, I was just wondering that, if Richarlison had chipped the ball into the empty net, it might have put a bit more pressure on an absolutely awful ref, who I'm sure sent Ancelotti off after his same fat mate in the VAR studio chalked a very controversial goal off Everton with a very debatable offside decision against Man Utd.
Jerome Shields
127
Posted 07/11/2021 at 19:29:41
I think that Benitez strengthened his position today and that was a good outcome. If he can grind out results in the coming matches, Everton could be on the front foot in the early part of next year.
What I have learnt is that Everton have a midtable squad and will have to work hard. Players have a short lifecycle in the Premier League. Spurs and Man Utd are in a similar situation. It takes a club to continually turn over players; the days of stalwarts are gone, on and off the pitch.
On the Live Forum someone suggests short-term contracts for older players. The last thing you need is older players on long contracts blocking player turnover. An entire club can be held to ransom, as Everton has been, with the blessing of the club management.
Steve Carse
128
Posted 07/11/2021 at 19:31:27
Mike (76),
You do know that the laws have changed and getting to the ball first is no longer relevant? That said, can you tell me where you get your specs from. Even Clark Kent would have struggled to see the end of Loris's glove touching the ball.
And on the same point, how good was the ref's eyesight too -- making his judgement stood several yards away from a 1960s size TV.
Don (104), spot on (excuse the pun).
Barry Hesketh
129
Posted 07/11/2021 at 19:38:56
Tony @126,
I wouldn't ever accuse you of not knowing the rules of the game; however, whatever Richarlison did with the ball wouldn't have made any difference to how the referee viewed the VAR screen.
I am still perplexed how Spurs ended up with a free-kick, following the incident. Perhaps he gave it because Richarlison did handle the ball? In which case, Richarlison should have smashed it into the empty goal. :)
Kieran Kinsella
130
Posted 07/11/2021 at 19:39:04
Steve Carse,
It seemed to me the ref was convinced by the video but it also seems pointless having him do a VAR review as every time the ref runs to the screen who blindly follows whatever VAR say.
So if they want someone miles away to ref it, just say so, and don't waste our time with the charade of the pitchside monitor review.
Kieran Kinsella
131
Posted 07/11/2021 at 19:46:21
Barry,
The ref should've done a drop ball but he bottled that too probably because Richarlison would have tried to win the ball, collided with Lloris then he'd have to make another call only to have VAR overrule him again.
Dave Abrahams
132
Posted 07/11/2021 at 19:48:01
Steve (128), on another Everton website they show the penalty incident on a big screen and Loris seems to miss the ball completely but knocks Richarlison's ankle, looks like a clear penalty.
Tony Abrahams
133
Posted 07/11/2021 at 19:48:47
I think if he had put the ball into the net, it might have put more pressure on the ref, Barry, but it doesn't really matter now ... it's gone, I suppose, mate.
I was delighted with us playing 15 yards further up the pitch today, and hopefully this is a sign of what's to come?
I've been very critical of Michael Keane's starting position for a very long time, but not today, and this enabled Godfrey to play what I consider to be his more natural game, because he was on the front foot very early, winning two challenges inside the Tottenham half inside the first 15 minutes, and it's a long time since I can remember an Everton central defender doing this!
David Pearl
134
Posted 07/11/2021 at 19:50:20
I thought we were okay.
Gordon, he was okay. Nothing better than that. It did annoy me he kept coming deep for the ball then not running with it.
Townsend kept slidding to the right so he could try his left-footed cross into, ermm, well, there was never anyone in the box. Our wingers were too deep. Richarlison wandering all over the place. Allan deep too. How can we possibly score a goal if we have no players in the box?
Rafa played safe with his subs. Delph was MotM by a mile. Stay fit, Fabian!!
Davies came on right on the 60-minute mark so that was planned all along. Even if Delph looked fresh. The next sub, however... what the hell??? So Holgate goes on before Gbamin?!? Strange, to the least
What speaks volumes though is that we didn't try to win the game at home against a poor Spurs team. We went for the draw and Rafa deemed a point better than going for it. After all, we have Rondon, Tosun and lwobi ready to turn the game. Ahem...
Poor Richarlison once more ran his little cotton socks off with nobody getting close to him.
Godfrey and Keane also did okay. Although Kane looks to have really hit a brick wall.
I'm guessing it will be same again vs Man City. But starting the next period from the bottom half of the table isn't a good feeling.
Kieran Kinsella
135
Posted 07/11/2021 at 19:56:16
David Pearl,
Did you see Gbamin v Wolves or indeed prior to his injury? He's complete crap. I'd have brought Begovic in before him.
So, among the options, Holgate seemed like the least shit. Obviously he decided to lower the bar but, at the time, it seemed a reasonable move.
Also, I didn't get the impression Rafa was settling for the point. It seemed to me that Everton were looking for a winner while Spurs were happy at 0-0.
But yeah, I agree on Gordon and Co, as I stated earlier. They need to practice as a unit so everyone understands each other's roles, runs, movements.
Darren Hind
136
Posted 07/11/2021 at 19:57:41
Holgate gave away a free-kick and got sent off for a silly challenge. He did not give away a goal like we have seen Mina, Keane and Godfrey do so often this season.
We had five put past us in our last home game by an inferior team. Mason didn't play...
The 5-year contract given to him by Carlo was ridiculously long and maybe it created too much of a comfort zone for him. Who knows?
But by repeatedly playing him out of position after giving him the contract, Carlo destroyed the form which prompted him to offer him it in the first place.
I fancy Holgate will get his head together, come back and silence his critics. Carlo won't.
Graham Mockford
137
Posted 07/11/2021 at 20:03:07
Haven't seen the Holgate challenge but that can always happen if a defender mistimes a tackle. It's his overall performances in the last 18 months that deserve the opprobrium.
Dazzler, having been a cheerleader, is coming around at least.
As for Mina, it keeps needing saying. He's by far our best centre-half, not just because the stats overwhelmingly say so but he can also make Keane look a better defender.
Be interested to watch the game and see how Delph did. Two games do not a summer make but if by some chance we can start getting a tune out of him, it could be a real bonus. Let's face it, he has a bit of pedigree, played himself into the England team, used by Pep for a couple of seasons, undoubtedly got a bit of chip in him. We just haven't seen it in a blue shirt so far.
David Pearl
138
Posted 07/11/2021 at 20:06:51
Kieran,
Actually l missed Gbamin and our first half last week. I was getting a Thai massage.
I guess my point is that he should not have started any game but be brought on as a sub to get his match fitness back.
Actually, if Rafa wanted to win the game, l'd've thought he should've subbed on a player to play closer to Richarlison. I thought the 4-1-4-1 worked well to begin with but it became aparent that Spurs were not much of a threat. Next game, l think Allan and Delph could work well in a 2 so we can actually work on getting some bodies in the box. We do miss Mina, Doucouré and Calvert-Lewin... they can't return quick enough.
Darren, Holgate needs to get his head right but that's a lot easier when the team around you have the confidence to play on the front foot.
Tony Abrahams
139
Posted 07/11/2021 at 20:37:13
It's not about someone making it look like you're a better defender, Graham, it's about actually having the belief to go and play on the front foot, and genuinely becoming a better defender that matters imo, mate.
Keane hates to push up the pitch because he's scared of the ball in behind, but he pushed higher up today, and this helped "his team" give a much more compact and better defensive display than since the last international break.
He got caught in no-man's land early in the second half by Lucas Moura, but otherwise I thought his defending today was the best I've seen for ages, and this had nothing to do with Yerry Mina!
Rob Dolby
140
Posted 07/11/2021 at 20:40:22
I really enjoyed the endeavour out of the team today. If we had played with this much effort, we would have beaten Watford and Wolves.
We started well and pressed them all over the park. When we defended deep, we defended as a team. It makes a massive difference not carrying the likes of Rondon or Iwobi.
A 5-man midfield helped the defence but isolated Richarlison. We didn't get enough quality balls into the box.
I thought the ref was doing okay until VAR kicked in and killed the game. He was close to losing it a couple of times afterwards.
My main gripe, Reguilon was walking a tightrope and clattered Gordon which would have given him a 2nd yellow and changed the game. Instead, we have possession in the box, a penalty is given then cancelled, they somehow get the ball back and Reguilon gets subbed off as he should have been sent off! Baffling.
Holgate had a nightmare 5 mins. He literally did nothing right. He has to challenge for the ball but the follow-through is a red in this day and age. Funny Cresswell did similar for West Ham but nothing even discussed by VAR.
Holgate has obviously impressed Benitez which doesn't say much for Gbamin.
David Thomas
141
Posted 07/11/2021 at 20:40:34
Darren Hind must have been in his element between the 82nd and 92nd minute today.
Holgate and Davies in central midfield – it must have been magic to see for Dazza.
Darren Hind
142
Posted 07/11/2021 at 20:40:41
Not coming around to your way of thinking, Mockers. That won't be happening, but thanks for coming on to tell me what I think – again. Especially as you never even saw the incident.
His attitude may be poor at the moment, but he is still the best footballer we have in our defence. He has been played in several positions by several managers because he has that ability. Could you imagine Keane or Mina being asked to do that.... by anybody?
I think the contract and wage rise went to his head, but I still have hope of him turning into a good footballing defender and, whilst that may not be everyone's cup of tea, it's mine.
Dave Thomas.
Was you in your element when we got twatted by Watford? ... And how much blame did you put on Holgate for that game?
You have always knocked Holgate, Davies and Calvert-Lewin and wanted them out of the team... Did you enjoy it?
John Raftery
143
Posted 07/11/2021 at 20:52:12
Michael (54) I agree with your last sentence. It is well and truly. A generation ago we would have laughed at the decision to send Holgate off. VAR is a curse.
Our best players today were the three who played in midfield, Allan, Delph and Townsend. Allan was my Man of the Match for his 80+ minutes of unstinting effort, shrewd use of the ball, and important interventions when Spurs threatened. It was interesting to read that he had jointly won the most tackles (26) in the Premier League. The fact he has had to make so many in a midfield which has too often been overrun perhaps suggests we have needed an extra body in that area.
Godfrey was much improved on his recent showings, helping to give the defence a more secure look. Overall, this was a decent team effort with every player giving 100%.
A worry is the loss of players through suspension in the weeks ahead. I think Richarlison is now on four yellows – that despite missing a chunk of games through injury.
Jeff Armstrong
144
Posted 07/11/2021 at 20:53:24
It was only the width of the post that saved Holgate from giving a goal away today, his pathetic attempt at controlling a pass from Digne was easily picked up by Skipp who released Lo Celso and his shot rebounded off a post back into play.
My ire was aimed at Digne however, who should have known better than to pass to Holgate!
Tony Abrahams
145
Posted 07/11/2021 at 20:55:36
I feel for Tom Davies, because it feels like a good percentage of our crowd don't like or rate the kid. They groan when he hits one out of play, like he did today, but he knows his position.
A similar poor ball from Digne to Holgate saw us lose possession, and Spurs hit the post, and Davies was imo, involved in the Everton move of the match, being positive and linking brilliantly with Digne, but Gray just never got enough on his side foot shot.
It was just like Davies never had a few minutes before, after his fantastic first touch had helped set him up, he let himself down because his shot lacked a bit of power and direction.
Mike Corcoran
146
Posted 07/11/2021 at 20:58:23
Why didn't some sly fucker disconnect the juice to the monitor?
No monitor and it's a penalty!!!
Peter Mills
147
Posted 07/11/2021 at 21:01:57
It was a good game, very fast and competitive, with hard tackles. Old style, in some ways. Anthony Gordon must have been hit 5 times.
Therefore, in the context of the match, I thought Holgate's sending off was harsh. It was right in front of me, it looked like his strong tackling foot bounced off the ball into the Spurs player's leg. I haven't been able to watch it again in detail, maybe I'm wrong, judging from the comments above.
Both teams were lacking up front, which made goal chances scarce. But it was still good to watch, and there was a decent atmosphere in the 2nd half.
Disappointed not to sneak a winner but, given that we had 3 wingers and no centre-forward, I was not surprised that we failed.
I fancied Spurs to grab one, they didn't due to some good defending by us, and a bit of bad fortune for them when they hit the post.
Much improved display, more organisation and determination.
Delighted to have a couple of hours back at Marine's refurbished lounge watching Liverpool lose.
Graham Mockford
148
Posted 07/11/2021 at 21:08:26
Dazzler,
I'd rather have the best defender, not the best footballer, in our defence. Holgate looked a right prospect but has been dismal for an extended period of time. Appreciate you love a homegrown player but your attempt to pin his mediocrity on the previous manager is laughable.
Mina is the best centre-half we have; most people on here know it, the numbers say it – the biggest problem is he's undoubtedly injury-prone. Of course he's a bit, er… South American but he's strong, quick enough, a leader, and has... what's the word…. cojones?
David Thomas
149
Posted 07/11/2021 at 21:14:29
It's not a case of mocking them; it's simply that I don't think they are good enough.
Calvert-Lewin has improved a lot in the last couple of years but, if we sold him in the summer, I wouldn't be gutted.
Davies and Holgate, in my opinion, are nowhere near good enough.
Tony Abrahams
150
Posted 07/11/2021 at 21:22:10
It's an opinion shared by many, David, but how many players have we got that are genuinely good enough for what we would like to see?
Benitez has got a very hard job, especially at the moment with three of his better players missing.
But it was pleasing to see honest endeavour today, and even more pleasing that we played as a team, even though we lacked a bit of craft.
Graham Mockford
151
Posted 07/11/2021 at 21:47:06
Tony,
I think that's true. The whole homegrown debate is a bit of a distraction. You're either good enough or you're not. The problem we have is we don't have enough in the first category.
I'd say Pickford, Coleman, Digne, Godfrey, Mina, Allan, Doucouré, Townsend, Gray, Richarlison, Calvert-Lewin.
I'd exclude the young players like Gordon, Brannthwaite etc we'll see.
I keep changing my mind on Keane. Delph would definitely have been in the Get TRid category before the previous two games but maybe if he can put a spell together.
Other than that, not good enough.
Bill Griffiths
152
Posted 07/11/2021 at 22:00:00
Well said, Rob #112.
Bill Griffiths
153
Posted 07/11/2021 at 22:09:23
Tony (#150), good question. There was definitely commitment and effort today, where was this the last couple of games?
Much as I want Tom and Mason to come good, I am coming to the conclusion that this is never going to happen... though I would love to be proved wrong.
There's got to come a time for harsh decisions to be made.

Bill Gienapp
154
Posted 07/11/2021 at 22:26:11
I thought Spurs were deeply unimpressive. I know Conte's only been there 5 minutes, but I would have expected a lot more fire from them in his first Premier League match.
I felt people were quick to turn on Holgate last season, but he's done little since then to prove them wrong. The worst part, as others have pointed out, is that he plays with an arrogance that feels deeply unwarranted.
John Boon
155
Posted 07/11/2021 at 22:50:39
Darren (71, 84 142... and probably even more ventures into vindictive insanity to come) is back to revelling in his own inability to ever be wrong about anything ever. Still able to go one step further by announcing that Mason (one of your offspring perhaps?) as the "best footballer we have in defence".
Mike G (81) makes more sense in one line than you ever could in any one of your pathetic Trump-like boastful "I am the only truth" posts. You needed to let him know once more that you alone have the insight on Holgate.
You are such a fish (the sucker) who always take the bait. You just have to respond to help us lesser Evertonians know that once more you have proved that you really do know everything about everything.Your humility over powers me.
John Kavanagh
156
Posted 07/11/2021 at 22:53:35
Kudos to Harry Kane. That's the best Rondon impression I've seen. At times, I couldn't tell him apart from the real thing.
We finally played well as a team today and a lot of hard work was put in to thwart the best endeavours of the cheat Moss to hand Spurs 3 points and get the Conte era off to the best possible start.
A lot of fawning media write-ups got trashed because of our efforts today. So well done to all (Holgate apart).
Bill Watson
157
Posted 07/11/2021 at 23:06:35
In the second half against Wolves, and for an hour today, we saw in Delph the player we thought we were getting. Far and away the MotM and he knits the defence and midfield together. Let's hope he can stay fit.
I was concerned at the lack of strikers (I don't count Rondon) on the bench. It's quite clear Benitez doesn't trust young players but, if you don't give them some minutes, you'll never know what they can, or cannot, do.
Frank Wolfe
158
Posted 07/11/2021 at 23:14:44
Regarding the 2 controversial VAR decisions.
For the penalty, I think you could argue it either way but what seems to be overlooked is that Gordon was taken out right on the edge of the box as part of that move. Clear foul (probably a yellow) and no advantage gained.
Regarding Holgate's red card. I've looked at the replay 4 times. To my mind, it's no way a red – marginal yellow. Holgate was first to the ball by a margin – basically Højbjerg didn't contest the ball. Holgate didn't come in with studs up, in fact he cleared the ball with his instep. He then slipped, falling back, and his momentum meant that he connected with his foot going upwards. That looked bad but it was completely accidental and not intentional.
Brian Wilkinson
159
Posted 07/11/2021 at 23:18:05
Will give Rafa his due, he learned from the previous home game, left Iwobi and Rondon off, started with Gordon.
Unlike our previous manager, who insisted on the same players and same subs every week.
Some say Rafa is stubborn, but after today, I think we are in good hands. Get our injured players back and give him some money to spend, will take time, but there is nobody out there better at the moment, to do the job of rebuilding.
Lester Yip
160
Posted 07/11/2021 at 23:22:06
Good intensity level. Combative mindset. Can see the change to man-marking to defending set-pieces which is good news. Importantly, a clean sheet. Yes, we didn't win but stopping leaking goals is a good start.
Delph played well as pivot today. Receive and distribute. Read well and intercept. I think he's not 100% match-fit so Rafa took him off.
Holgate is a great disappointment. He lost possession in the key centre-midfield area and we are immediately under counter-attack. Luckily the shot hit the post. And his clearance follow-through was completely unnecessary.
Those on-field players who got a penalty got chalked off would get hot-headed I understand. Holgate from the bench should bring back some calmness to the game and control the tempo better. But he's not.
Unlike Mina, who walked the line to unease the opponent with great effect without getting himself into big trouble. That's smart. Holgate today showed the opposite. Not sure if he'll get another chance.
Kevin Prytherch
161
Posted 07/11/2021 at 23:47:50
Penalty was definitely a penalty; if not, then it shouldn't get pulled back.
Red card was not a red card. He's won the ball at full speed and couldn't stop. I wonder how many on here would be calling for a red card if it wasn't everyone's favourite whipping boy making the challenge?
How is it different from the Balbuena red card that got overturned?? Only difference is that West Ham are every pundit's favourites at the moment.
Jay Harris
162
Posted 08/11/2021 at 00:07:55
I believe if we change the VAR rule to "If you would give it to Liverpool or Man U " then its a pen or not a red card as the case may be.
I have watched replay after replay of the penalty on a big screen and don't see how anyone could overturn the penalty.
Lloris blatantly took Richarlison out.
As for Holgate, I don't think you can argue with the red as, although he won the ball cleanly, he did look to follow through on Højbjerg.
What I don't have much time for is the primadonnas who go rolling all over the pitch to buy a free-kick or a card for the opposing team.
Derek Thomas
163
Posted 08/11/2021 at 00:22:56
Kevin, Jay @ 161&2; spot on.
I've only seen a 20 min highlights package, so I have to ask... with blue-tinted specs removed... did we do enough to shade it if the penalty is given? Or was a draw a fair, if very debatable result?
Re Holgate's tackle; when the ball broke, I thought, somebody has to win that, then Holgate did, next thought – cracking tackle that – real one.
Games gone fuckin' soft.
Nicholas Ryan
164
Posted 08/11/2021 at 01:10:24
Who's this new guy Delph in midfield? If he carries on playing like that, Man City will buy him... Oh, ahh...
Bob Parrington
165
Posted 08/11/2021 at 04:40:08
Just watched this game on Optus Sport and so pissed-off. One with the lousy officials and the other with our own manager.
Lousy refereeing speaks for itself. But, why Rafa should take off our 2 best players in the game and substitute with Davis and ffs Holgate, I'll never understand. Game there for the taking and our manager wimped out.
I've supported him up to now but he needs heaps of brownie points to bring me back to supporting him.
Best on ground for me was shared between Delph and Allan. Holgate did almost zero after being brought on and Tom Davies did a little.
Before the game, I would have accepted a draw but, in hindsight, we should have won this — but it needed a positive attitude from our manager! Seems we have no chance of that!
Yes, I am ANGRY.
Alan J Thompson
166
Posted 08/11/2021 at 04:46:44
I believe we will win the League, FA Cup, be reinstalled into the League Cup semi finals, awarded the Charity/Community Shield due to our work as EitC and there will be an inquiry into the poor standard and obvious bias of English refereeing both on and off the field.
Mind you, it may take as long as it allowed Blatter and Platini.
Jerome Shields
167
Posted 08/11/2021 at 05:03:28
Holgate's tackle was the classic follow-through tackle, only a lot higher than professional.
Jerome Shields
168
Posted 08/11/2021 at 05:12:39
Brian #159,
The problem is, will he be provided with replacement bricks or even the money to get them. Everton is a top-heavy club.
Jerome Shields
169
Posted 08/11/2021 at 05:34:33
There were a lot of excellent balls across the edge of the 6-yard box, with no Everton player within a yard of them. All tap-ins for a centre-forward who is positionally aware.
Darren Hind
170
Posted 08/11/2021 at 06:37:04
David Thomas,
I will always always defend the players who started playing for Everton in their teens against what I consider cheap-shot, easy-target hammerings from people who seemingly can't wait for them to put a foot wrong.
Those who say I'm a cheerleader for them are bang on the money and I won't be stopping any time soon. Although I do smile when I am pulled into criticism from their critics when they have a bad game... As if I'm personally responsible.
We know you don't think Calvert-Lewin. Holgate, or Davies are good enough. You have been saying it for years The only time I see you post is when you are attacking one of them – although I see you are now changing your mind on Calvert-Lewin... Absence making the heart grow a little fonder???
I must have seen 50 posts from you down the years telling everyone that these three are not good enough, but why stop there? Are you suggesting the others are? Are you suggesting we have any players in our team who are good enough for say... Top 6?
It's a genuine question. Why do you so incessantly criticise the players who cost nothing or next to nothing without mentioning the free-loading failures who have cost the club hundreds of millions ?
Holgate played around 10 minutes yesterday. He made zero impact on the scoreline. He was asked to step into midfield for the first time since Old Trafford over a year ago. The midfield, as the title of the thread suggests, was already very spicy. Nobody is suggesting he adapted to the pace, but one of the first things he did was receive a twat ball from Digne 60 yards from our goal. The last thing he did was to make a challenge which was greeted with a huge roar of approval by the fans.
I suspect those in the crowd who cheered this tackle were of an older generation (see Derek 163). This would have been considered a great tackle 10-15 years ago.
Holgate didn't play 10-15 years ago. His "crime" was that he knows this sort of aggression was outlawed long before he became a pro.
I won't condone what he did yesterday, but I would much rather he did that than chicken out and turn his back on the shot, or get involved in girlie wrestling as the ball went inches past him. Big Yerry has been guilty of both this season... and on both occasions the ball ended up in our net.
Danny O'Neill
171
Posted 08/11/2021 at 06:46:32
Okay, Holgate had a poor game.
As mentioned above, once again he was played out of position, so I'm not going to be too harsh on him other than he didn't play well yesterday and could have cost us a hard-fought and decent point.
But that makes me think there lies the problem. I'm all for versatility and I know managers and coaches love it in players. But what is his position? He doesn't look the most natural centre-back. He's done okay at full-back. Maybe there is a sweeper in there?
I don't know the answer, by the way. As do several managers. Right now, he seems to be going down the path of being a decent squad player. For where Everton are now.
As with Tom Davies and Jonjoe Kenny before him, I hope I'm wrong.
Bob Parrington
172
Posted 08/11/2021 at 07:07:14
Darren, good genuine posting by you. I had some challenges with several tackles and refereeing decisions and commentators bias on this game. The challenge is that I see no consistency.
Let's take the tackle by Delph that led to his yellow card. Comments were like "He did get the ball but he went through whoever it was to get it" and so it is a yellow card. Then we look at Loris taking out Richarlison in the penalty area. Comment was "Yes, Richarlison did get the ball but Loris did get a touch" (even though he went through Richarlison – not mentioned).
Holgate got the ball but, unfortunately, his (already stretched-out) leg, in the follow-through, caught the player high. It was not an over-the-ball issue and IMO did not deserve a red card.
Bias is not only with some commentators but also referees and those of the kind in VAR positions. Moss is a pillock of the highest order and should not be allowed to be solely the VAR decision-maker.
I'm angry with the officials of this game but I am also angry with Rafa, whom I have supported so far. The two best players for us for the entire game – both substituted and replaced by players of much less ability. What the fuck!
I coached amateurs teams over 25 years with a much more positive attitude than this. Rafa was playing for a draw (at home) and we could well have won this game. We were the better side.
John Keating
173
Posted 08/11/2021 at 07:54:25
Bob
Regarding Delph, you could definitely see him flagging in the second half and as he hasn't played a full game for a while, and more important, he was on a yellow; I think Benitez was probably right to take him off.
Unfortunately these days players, and some refs, seem desperate to get players sent off. It would only have needed one tired mistimed tackle from Delph and the Spurs player would have been rolling in "agony," while the ref would have been getting the cards out.
Regarding Allan, I didn't know until we were having a pint after the match that he'd been toiling all week with the flu, so that may have had a bearing on his substitution.
Laurie Hartley
174
Posted 08/11/2021 at 07:59:44
Bob #172,
I couldn't for the life of me understand why he took Delph and Allan off. They were both playing really well. I have always been a fan of Allan but Delph has really surprised me these last two games.
For a player who has hardly had any game time for two seasons, he looked right at home in that game. If he keeps playing like that, he and Allan with Doucouré back will give us a very competitive midfield.
A word on Richarlison. I love that lad – he plays his heart out for us. He gets pounced on by two players as soon as he gets the ball, regardless of the opposition, and gets lumps kicked out of him every game but he just keeps coming back for more. I think he just loves playing football.
Tony Abrahams
175
Posted 08/11/2021 at 08:01:27
Would you have just kept it the way it was, Bob, or would you have made different changes?
I thought the first sub was going to see Gordon be replaced by Davies, pushing Townsend out wide, and could understand Delph going off because he hasn't played much football. If he can continue to play like he's been for the last two games, though, he has suddenly become a very important player, and because of his appalling injury record, maybe the manager was protecting him?
Allan played much better further forward, and it was reported he's had the flu this week, and again with such a depleted squad, maybe the manager was looking at the bigger picture, with regards the next few weeks?
I never watch a game twice, but Davies did help Digne create a very good chance for Gray. Although Holgate was poor, I'm not sure the introduction of either Iwobi or Rondon would have lifted the crowd, and think it would be easier to criticise the manager if he had players on the bench who could come on and really change things.
Sean Roe
176
Posted 08/11/2021 at 08:17:05
Start the season well, think they've made the big time after five games, drop the effort levels, lose embarrassingly for a few games, rocket up the arse, play well for one half of a game or more rarely a whole game, think they've made the big time, drop the effort levels, rinse and repeat.
It would be nice to think that we are at the start of a new dawn but I fear we are just in the middle of the ''play well for half a game or more rarely a whole game'' part of the cycle.
I hope I'm wrong.
Derek Knox
177
Posted 08/11/2021 at 08:17:51
Laurie,
I totally agree about Delph. I think most fans appreciate his influence on the game when fit, it's just that he never seems fit. I don't remember him having so much time on the sidelines at Man City. Maybe age is catching up on him... who knows? But it is a presence like that, that has been sorely missed, especially with the recent loss of Doucouré.
I was at yesterday's game, and for me that referee ruined the match, by not getting simple decisions right from the start, and although I am a trifle biased, those oversights seem to favour Spurs and led them to think they could get away with X-rated tackles, and they maximised that leniency to the hilt.
Although not a classic by any stretch of the imagination, I do feel that we should have rightly won that game. Still, a point is better than none.
More disruption to follow with another International Break, the third in a season that only started in August; it is becoming ridiculous, and any momentum we may have achieved or built up is destroyed.
Christine Foster
178
Posted 08/11/2021 at 08:49:44
I actually enjoyed the game at 3 am this morning. Apart from the free shot that hit the post, Pickford had nothing to do today.
Delph for me was a revelation, no more crab football and powder-puff challenges, he will actually prove his value if he continues in the same way. Whatever the manager has said to him appears to be working.
Sadly Davies looked weak by comparison although he had a neat one-two with Digne that almost went to a goal, Gray really should have buried that one.
The penalty? It's all been said. If we were playing in red, they wouldn't have even bothered with VAR, but Moss deserves a full-on barracking if and when he ever refs another Everton match. It was biased and disgraceful. Lloris cleared Richarlison out, whether he touched the ball is irrelevant, it was still in play and an Everton player still had the ball.
The decision was made and it was the correct one. Moss & Co engineered a version of events that not only dismissed the awarded penalty but penalised the player after he was brought down. It was a foul with or without the keeper touching the ball.
Apart from that, Davies can't shoot, Godfrey can't pass and Holgate has already left the building. Not sure where his head is but it's not where it should be.
A sending off? the problem was the Spurs player didn't challenge for the clearance, chickened out. Holgate didn't but, as a result, instead of a 50-50 tackle, he ended up full-on into... space... eventually catching the Spurs player with a follow-through that wouldn't normally have happened.
But Holgate was not at the races today and was (once more, as I have said often in the past) guilty of ball-watching and, as Darren said, it's the worst thing a player can do at a high level. I think Benitez may well be thinking of selling or a makeweight deal in January; I know I would.
So, all-in-all, short of quality, better commitment, deserved a point at least – if not three. Let's hope for the return of a few more before our next home game against the other lot!
David Thomas
179
Posted 08/11/2021 at 09:13:15
Darren,
I get the impression with you that, if Holgate scored a hat trick of own goals in ten consecutive derbies, you would come on and explain to us why it's not his fault and everyone else has got it wrong.
You see a footballer in him who is going to be a top player and I see a liability.
I hope you're the one who ends up being right but, if his career so far at Everton is anything to go by, I think we will both be disappointed.
Brian Harrison
180
Posted 08/11/2021 at 09:42:31
I think yesterday we saw two teams low on confidence and the game was pretty poor, apart from them hitting the post late on and creating a chance at the far post, and us being denied a penalty.
We started well using a high press and a much better start than we have made in our recent home games, but we created very little; there was just a half-chance in the 2nd half after some neat passing between Davies and Digne set up a chance for Gray.
Our midfield looked better with Delph in there and he surprisingly has made a real impact since getting back in the side. I realize that maybe Benitez was being a little over-cautious taking Delph off as he was our best player and didn't give the impression he was flagging, but then to take Allan off and replace him with a centre-back made no sense at all. Allan didn't look happy with the decision, so I think we can rule out he had picked up a knock.
All our players gave 100% which is always good to see but there is no doubt we are missing Calvert-Lewin, Doucouré and Mina. The sooner we get these three back the sooner we will hopefully start creating more opportunities than we are at present.
So often yesterday, when we got in and around Spurs box, there was only Richarlison inside the box. We really do have to work on getting more players in their box.
I'm pleased we stopped the run of defeats but we will need to play a lot better if we are to get anything from our up-coming games.
Derek Taylor
181
Posted 08/11/2021 at 10:09:14
David @ 179;
Mason is just this season's 'Man we love to hate'!
Of the 'last generation', Osman, Hibbert and Howard felt the ire of our loyal supporters and, with Rondon not getting field time on Saturday, choice for 'the treatment' had to be between Holgate and Davies.
Having said that, I have to admit the former did little to avoid the inevitable!
Graham Lloyd
182
Posted 08/11/2021 at 10:10:16
This may be a small observation from afar. But I watched the replay this morinng over here in Oz and I have to say the best part of the game was the connection between players and crowd. The players put a shift in and the crowd responded.
There were a couple of early challenges that set the tone. I think, whilst we all acknowledge it wasn't pretty, we can all accept that, if the effort is there, the support will follow. Long may it continue!
Three key things for me:
1) How is it not a penalty even if the keeper touches it? He still clears Richarlison out and it would be a free-kick anywhere else on the park. The VAR that I saw (sorry Mike G if you saw different) was completely inconclusive and even the 3 pundits of Wright, McManaman and Sherwood were not sure and said it should have stood once given. How could the ref reverse a decision if nothing concrete is available to prove otherwise? Infuriating!
2) Fabian Delph – who would have though we would be calling him out as MotM for us in the last two games? Take a bow, lad, but we will be needing more of the same till the end of the season.
3) The Holgate red I have to agree with though it could have been avoided if he tried to pull out of the follow-through. I don't think we can afford to lose any players right now from this squad so talk of imminent sale is daft IMO.
Let's hope Branthwaite can step up if required. Keane and Godfrey also worth a mention given their recent failures in defence. I thought they were both great today.
In summary, give us that effort and I think most of us will forgive the quality.
UTFT!!
Tony Everan
183
Posted 08/11/2021 at 10:17:34
Delph was the best player on the pitch yesterday. Good news for Everton whilst we have injuries. Is it a coincidence he can sign a pre-contract with a new club in 8 weeks time, or am I a cynical old curmudgeon? I suppose the answer is: Who cares as long as he helps us whilst he is here? Keep it up, Fabian!
Holgate's interpretation of controlled aggression and being braver needs a bit of a recalibration. He went in full-blooded to win the ball and his momentum carried him into Højbjerg. It looked very aggressive but, after clearing the ball, he was off balance and falling back. In that split second, having his boot up could be construed as a defence mechanism as it looked like Højbjerg was coming into the challenge with equal commitment.
I think it was a sending off though, I'm just saying there was some mitigation for his action. He's done this follow-through before, he just needs to control himself a bit better.
I am in the camp (or small tent?) that has not written Holgate off. He is still a young player for the centre-back position. He needs some more experience and somehow a run of games.
I like his commitment, bravery and full-blooded challenges, he cares but needs direction and advice. Being used in various positions will have been unsettling and not really conducive to giving him confidence or being able to naturally grow in his centre-back role.
The Billy Big Bollocks chewing is probably because he is now trying to assuage nerves when he steps out. He's trying to keep himself together to perform well.
It's a little late in the day but I think a year's loan with a club like Norwich or the like could bring him on. Playing in his favoured centre-back position and gaining some maturity and essential competitive game time over a whole season. It could really help iron out his flaws.
I am not saying there isn't plenty of work for him to do, as there's a lot of improvement needed. What I am saying is that he should be given more time, consideration and, above all, help from the club to improve.
Ray Robinson
184
Posted 08/11/2021 at 10:40:14
Delph did indeed have a very good game but let it not camouflage the fact that he is too slow for a team that aspires to compete at a high level. Provided he stays fit, he'll do for now... but let's not think he is suddenly the answer to our ongoing midfield problems.
Darren Hind
185
Posted 08/11/2021 at 10:42:18
David,
Holgate did not score any own goals. He did not have a bad game. He didn't play 80 minutes of it. He had a bad 10 minutes. He failed to adapt and get into what had become a frenetic pace. Happens all the time with substitutions.
At no time have I tried to deny or excuse his performance. I actually put it down as one of the worst ever cameos. So I don't accept your daft claim that I would make excuses if he scored own-goals in consecutive derbies.
For years, I have seen you hammer away at youngsters either still in their teens or barely out of them. That is your right; if you don't rate them, you don't rate them. But you never attack any of the expensive failures.
I didn't address you. You addressed me and like others who have addressed me about Holgate's performance, you have told me what I think.
You sought me out, but now you have found me you want to evade the question about how you rate the expensive failures and why you only ever hammer those who came through our ranks.
You say you want to be wrong, yet you will ignore the whole game to come on here and relish the fact that he had a bit of a Weston. You clearly want to be right... I don't think you will be.
I have seen enough in Mason Holgate to believe he will prove you every bit as wrong as Calvert-Lewin did.
For some reason you wanted to drag Tom Davies into this (can't think why). He may have been a bit hit and miss, but he was in the thick of all the good things we did going forward.
Allan played in advance of Davies for most of this game. Yet I don't remember him being at the heart of anything which threatened The Spurs defence. But of course he's Brazilian and he cost £30 million.
Martin Nicholls
186
Posted 08/11/2021 at 10:54:02
Derek #277,
Sadly, Delph sat on sidelines almost as much for City (57 appearances in 4 years) as he has done for us (25 games since 2019). Indeed, his entire career has followed a similar pattern with just 243 games in 13 years.
I too was hugely impressed with Delph yesterday and in 2nd half on Monday, but any hopes of a sustained run in our team are, I fear, forlorn.
ps: On the penalty incident yesterday, that in my view was as clear as they come, a stonewall penalty. How anyone such as Mike Gaynes, can argue so strongly that it wasn't, is just beyond me. Then again, it is a game of opinions and we're all entitled to our own.
David Thomas
187
Posted 08/11/2021 at 10:56:02
I think the majority of our signings have been poor and not value for money, Darren, but what's that got to do with whether Holgate and others are good enough?
Danny O'Neill
188
Posted 08/11/2021 at 11:05:45
The manager had to make changes yesterday. He's got a season to think about, not just 90 minutes.
Whether he wanted to take our 2 best players off or whether he needed to are two different things. What it did expose is the lack of back-up resources he has available. Not like we needed reminding of that. Many have been saying it for years but, regardless of manager and views on the various incumbents we've had, the squad is thin in terms of quality once you scratch the surface.
With Calvert-Lewin, Doucouré, Mina and (yes, I'll say his name) Sigurdsson on the pitch yesterday, we win that.
The manager had to bring players off with the next few games in mind. The problem was, he didn't have a lot to bring on that would change or impact the game.
For someone who thinks he understands football as best as you can, someone else is going to have to explain to me. This whole "he got the ball first" thing seems like a made-up Sky pundit thing to me.
If you catch a player, even if unintentional and without malice, it's a late challenge and therefore a foul? Holgate got the ball but took the man late with the follow-through. A foul. The Tottenham keeper got a glove to the ball but took the man. A foul. A foul in the box which is a penalty.
It's like this pundit trend of saying "He wasn't going to get it anyway". Okay, does that give licence to karate kick a player in the head and shrug it off because he wasn't going to get it?
A foul is a a foul. That was a penalty.
No bitterness here. but that was a dreadful refereeing performance. And the Tottenham fans agreed.
Julian Exshaw
189
Posted 08/11/2021 at 11:08:56
Many people have rightly commented that there was much more effort yesterday. However, isn't that something we should take for granted? Should we have to suffer dross until there's sufficient outcry for players to finally pull their socks up?
What we saw yesterday is hopefully the start of a breakthrough. I hope we never see a repeat of those Watford and Wolves (first half) performances again. What we all want to see for starters is evidence that they (the players) care. We saw that they do yesterday.
Darren Hind
190
Posted 08/11/2021 at 11:24:45
It's got nothing to do with it, David... Only I wasn't sure if you were aware of the expensive failures. You never mention them even though they represent the overwhelming majority of our first-team squad.
Seems bizarre to always focus on the people who cost the least and play the least games
Each to their own, but I won't be arsed calling you out every time an expensive signing has a poor game. Me fingers couldn't hack it.
Tony Abrahams
191
Posted 08/11/2021 at 11:29:46
Good point, Julian, but my own personal view is that effort alone is never enough, especially if certain players are looking out for themselves rather than working for the team.
We played like a team yesterday, got closer to each other, which helped us win a lot of second tackles. The more we play like this, the more confidence the players will begin to have in each other, even if we do lack quality in several areas right now.
Eddie Dunn
192
Posted 08/11/2021 at 11:32:16
In retrospect, Holgate should be cut some slack. He was playing out of position and thrown into a frenetic last 10 minutes where our shape was changed and either team could have nicked it.
Holgate has suffered, like Godfrey, from deputising for our full-backs and taking part in the merry-go-round of centre-back partnerships.
A year ago, I still thought he could be better than Stones. He needs to concentrate but, Mina apart, you could say the same about all of our defenders.
He is still young and he will learn. He will still improve. We do need to support our players though and we are going to need this lad before long.
Many on here have asked for narky personalities, and chewing gum, like Townsend does, is a personal choice. For me, it was good to see cocky Delph, and Andros arguing with the ref. About time we pressured these guys, it certainly works. You get sweet fuck-all by meekly accepting all the decisions.
It was a much-improved performance from the team and, if Delph continues to put in shifts like that, he will have been the canny signing that we all hoped for.
Phil (Kelsall) Roberts
193
Posted 08/11/2021 at 11:38:25
I just ask the question.
Delph was bought as Gareth Barry Mk II or Phil Neville Mk III. A guy no longer good enough for Man City or Man Utd but a good solid experienced player, better than most in the squad when fit.
Sadly his injury record has meant he has not brought to the club what was expected, especially in the light of his salary. But, given Monday night's second half and the first 60 minutes yesterday, are we coming to the opinion that, if he stays fit, he is an asset until the end of his contract in June? And the only reason we all want shut of him is to save the wages when he is injured – not because he is useless?
Danny O'Neill
194
Posted 08/11/2021 at 11:39:22
I haven't watched any highlights, Tony, but to your point about playing as a team.
Following Man City's win at Old Trafford on Saturday, the MotD crew rightfully highlighted their work rate and how they hunted in packs.
We done that yesterday. There was one particular moment in the second half, just under the Main Stand and near the dugouts, where we surrounded a Tottenham player with no less than 4 of ours.
We just lacked the end product yesterday. As did Tottenham.
David Thomas
195
Posted 08/11/2021 at 12:15:29
Why would you call me out, Darren? I think most of them are a waste of space so, if you told me they had been crap, I would most likely agree with you.
The reason you get called out so much is because you back certain players continually even though the overwhelming majority can see they are not good enough.
Simon Dalzell
196
Posted 08/11/2021 at 13:25:29
Colin (47),
My understanding is that the clear and obvious rule only applies when someone other than the ref is changing the decision. Not when the referee is having another look at his own one.
Christy Ring
197
Posted 08/11/2021 at 13:31:55
Delph played very well yesterday, his best game in 2½ years, which wouldn't be hard considering the amount of times he started. If he stays fit and plays like that until the end of the season, I'll be delighted.
But let's not get carried away; his contract is up this summer, his injury record before and after we signed him was abysmal – a total waste of £8M + £90k a week. Definitely not worth a new contract.
Simon Dalzell
198
Posted 08/11/2021 at 13:37:25
Graham (137),
It wasn't a 'mistimed tackle'. It was an assault.
Darren Hind
199
Posted 08/11/2021 at 13:57:40
David
Why would I call you out ?? I told you. I wouldnt be arsed. I didn`t need to call you out about Calvert - Lewin. You've already had your incessant claims that he is "championship at best" silenced.
I didnt have to call you out about your claims that Davies isn't a premier league player either. He has been chosen to play in the premier league by half a dozen managers. I didnt prove you wrong. He did.
And I didnt need call you out about Holgate not being premier league player when Ancelotti and brands offered him a five year contract either. by offerinfg him this contract They were making it so..
You diving in shouting the odds, relishing a bad 10 minutes by him doesnt change the course of his career. I can see how much you want to be right about him but its too late. You never can be. Hes already been there and done it.
It wasnt just all the managers who selected these three players who proved you wrong. it was the players themselves 379 appearances in the EPL Ask yourself ? Why would I be arsed calling you out about that ?
The fact that you only ever hound the players who have played here since their teens would suggest you think they should be superstars. What you don't seem to understand is that these players are assets. if we sold them on todays Market they would fetch around 100m. Yet if it was up to you. they'd have all been shown the door years ago for nothing..... I`ve never bothered calling you out about that either
Rob Halligan
200
Posted 08/11/2021 at 14:02:19
Danny,
I've been thinking long and hard about the penalty decision whilst out walking the dog (blimey, I'm sounding like you 😁😁).
Anyway, I've seen still pictures which clearly show Lloris has his outstretched arm between the ball and Richarlison's leg. Okay, so maybe Lloris did get a fingertip to the ball, while Richarlison is still on his feet and, with the possibility of leaping over Lloris and his outstretched arm and knocking the ball into the net.
But, in his next movement, he brings down Richarlison with his outstretched arm. Play was still "Live" at this point, so it's definitely a foul and therefore a penalty.
Also, I can't fathom why the referee gave the ball back to Spurs? Richarlison didn't commit any foul so, if anything, the referee should have awarded us a free kick for the challenge on Anthony Gordon in the lead up to the penalty incident.
I thought VAR was meant to look for any such incidents when reviewing a penalty, such as any offside or fouls committed? The referee and that bastard Jon Moss gave us nothing all match, while Spurs seemed to get away with murder.
Anyway, stopped the rot of consecutive defeats, which many on here predicted would continue prior to the match. Hopefully we can get back to near a full-strength team after the next international break, although it could be a few weeks more before Calvert-Lewin returns.
Kieran Kinsella
201
Posted 08/11/2021 at 14:02:45
Phil
Yes he is an asset if fit. Different kind of player but reminds me a bit of Norman Whiteside with the injuries. Rafa said he's working with the new fitness coach. Hopefully he stays fit until June but thereafter I'd say thanks very much and send him on his way.
Steve Carse
202
Posted 08/11/2021 at 14:11:58
Not much more than a year ago, one Virgil van Dyke was wiped out by a reckless challenge by our goalkeeper. Afterwards, I can't remember reading any calls on TW for Pickford to be vanquished. Quite the reverse. Pickford was knighted for putting a player out for the season.
The treatment being dished out to Holgate seems somewhat perverse, and certainly unjustified, when looked at in this light.
Derek Wadeson
203
Posted 08/11/2021 at 14:18:18
I like many sat around me in the Lower Bullens yesterday, thought the ref had blown his whistle for diving and not a penalty. It was only when it was shown on the big screen we knew the truth.
Jay Wood
[BRZ]
204
Posted 08/11/2021 at 14:21:39
Mason Holgate. There are - and have been - a number of curious misrepresentations of the player in this and other threads down the years.
The notion that Carlo Ancelotti 'ruined him' is a ridiculous one. More than any other manager at Everton it was Carlo that made him a fixture and first pick in Mason's preferred centre back position. It was Carlos, as Darren likes to remind posters, who tied Mason down to an improved contract when Pep Guardiola and City came sniffing (allegedly). Very early in his tenure, Carlos said he was 'surprised' at the qualities of Mason.
Before Carlos' arrival at the club, the only other manager who regularly played Mason was Sam Allardyce who played the then 21-year-old in 9 of the manager's first 11 games.
Yes, it was due to an injury crisis when Allardyce was forced to field four much maligned players as his defence: Kenny, Holgate, Williams and Martina. Ironically, it proved to be the most parsimonious defence in an extremely turbulent season.
Marco Silva never fancied Mason. He played him in 5 games at the start of the 2018-19 season until mid-September and never picked him again that season, sending him out on loan to WBA. There, he was played exclusively at right back, 19 games.
The notion or implication that Mason is playing out of position there and thus 'being ruined' is a questionable one when his career stats show he has played 97 games at centre back, 73 at right back and another 10 games at left back or as a nominal midfielder. Not a lot in it, is there?
Mason Holgate lost his starting berth under Carlos due to self-inflicted injuries. In the Italian's first season, 30 minutes into the game away to Spurs he made one of his reckless challenges, got himself booked and had to be subbed out injured. He didn't play any of the remaining five games as a result.
He was warmly lauded by many fans and seen as a future captain. That season the fans voted him the club's young player of the season. The players voted him their player of the season. He was being spoken of as having England potential.
In pre-season of the following year, he first had a nightmare game away to Blackpool where we found ourselves 3-0 down after 10 minutes, then early in the game versus Preston in trying to recover a ball he had clumsily lost, he injured himself again. You can read in detail here a match day program article from the player himself the consequences of those injuries:
Mason missed the opening 7 games of last season as a result, but Carlos tried to reinstall him at centre back as quickly as possible and played him from the start v United in a 3-1 home loss. Mason looked well off the pace. Even so, Mason played all but 3 of the remaining 30 games that season. In total, 15 at right back, 12 at centre back. Plenty of games in his preferred position, then.
Injuries, form and circumstances dictated where Mason played last season. And by his own admission, he didn't play to the standards he expects of himself, never mind the manager or others. Read his own self-assessment from September this year:
Holgate: I didn't play to my own expected standards
As for profiling a player based on his vigorous chewing of gum, what psycho-babble. There are perfectly rational football reasons why he isn't getting selected in front of other players at the moment that have nothing to do with his mastication habits.
Play as dominantly in the air and on the ground as he did away to Brighton this season, and he is an asset. Play as he did yesterday, or away to Wolves (the full 90 minutes in his preferred position) when he was also culpable for the last goal we conceded (not being alert enough to the threat caused by Godfrey's dreadful back pass) and nearly conceding a penalty for again not being switched on to the position of the opposing player, and he is a liability.
Michael Kenrick
205
Posted 08/11/2021 at 14:28:26
Rob,
Lot's of comments on the penalty. If as described by you, which I agree with, then my understanding is that the glove of Lloris on the ball, immediately before he trips Richarlison, is the mitigating factor which makes Kavanagh change his mind and rescind the penalty call. Something you can only see in slo-mo freeze-frame and not in real time.
Perhaps Mike Gaynes can explain why, in this instance, Lloris's subsequent follow-through and assault on Richarlison is deemed to be of no consequence, as it is Lloris's contact on the ball that decides the whole incident?
Yet Holgate's more decisive and indisputable contact on the ball for a clearance gets no such pass. His follow-through becomes the entire focus, with no mitigation accepted, and a red card awarded, presumably for what? Dangerous play?
Again, Mike Gaynes says this was the correct decision, despite the fact that in real time, it was perhaps worthy of a yellow card, which is what the referee initially awarded.
Holgate's follow-through is penalized despite his contact on the ball. Lloris's follow-through is mitigated by his contact on the ball. What exactly do the rules of the game say on this... if anything, Mr Gaynes? Or is it all just down to the capricious judgement of ref and VAR?
Andrew Hight
206
Posted 08/11/2021 at 14:32:08
Holgate went from bang average to a rolls royce future Everton captain back to bang average in typical ToffeeWeb fashion. Truth is he was and always will be sub standard.
Tony Abrahams
207
Posted 08/11/2021 at 14:41:20
Had to google what capricious meant, and think that is how it's always been with regards to refereeing, Michael.
I think if Holgate is lower, he would have got away with a yellow, and I also think that somewhere in the next few weeks, a penalty will get given by VAR, for an identical incident to the one that was overturned yesterday?
Jay Harris
208
Posted 08/11/2021 at 14:58:08
Just to add my twopence worth to the Holgate debate.
His form seemed to fall off a cliff after he was injured last year.
Whether it has had a psychological effect in that he may be wary of tackles coming in or not I don't know and his cocky attitude doesnt help either but at his best he is a good player however current form is not up to the required standard.
Jay Wood
[BRZ]
209
Posted 08/11/2021 at 15:04:31
On the penalty and the red card which some have linked, I think it's a false comparison.
I believe the foul for which Delph was harshly yellow carded for is a closer proximity to what happened between Lloris and Richarlison.
To my eye, it is much, MUCH clearer that Delph gets a touch on the ball but gets booked because he follows through on the player.
A foul I grudgingly accept, but not worthy of a yellow card.
So using that as the base of all decisions in similar situations, why is the hand of Lloris - or rather, the merest brush of a finger tip (allegedly) - not treated the same?
No matter how many times I've watched it back, I cannot definitively see any significant touch by Lloris that justifies overturning the penalty decision. I do see Richarlison in control of the ball and the keeper's momentum taking him out.
Akin to Delph's foul as I said, but with nowhere near the clear ball contact Fabian managed.
The Holgate incident I can't argue with. Yes, good aggression in initially clearing out his own loose control. But isn't there something called 'duty of care' these days in which players have an obligation to not be reckless and overly aggressive in both their initial challenge and follow through?
Mason failed in the latter for me and it did merit a red.
I'm also curious to know how Ben Davies twice completely wiped out an Everton player getting nowhere near the ball each time, despite his 'I got the ball' finger pointing, never got carded.
Barry Hesketh
210
Posted 08/11/2021 at 15:08:28
Saw too good too bad on MOTD 2 last night and it included this disgruntled Evertonian shouting abuse at the referee, unfortunately for him, he thought that it was Stuart Attwell in the middle and not the useless Kavanagh. It is funny though.
John Boon
211
Posted 08/11/2021 at 15:17:12
The minute you become a professional footballer, put on a "Team shirt", in this situation play in Everton's first team, you are fed to the wolves. You have to become inured to catcalls and abuse, both live and in the written world. You may have to get used to only being the favourite of your Mum or Dad.
It does not matter whether you were born in Goodison Park itself, Borneo or Moscow you are up for abuse. Fans who once cheered you can turn on a dime, and in the despair of the moment, call you every foul mouthed epithet ever to be printed on paper. If you have an outstanding game you will also receive praise and adoration, rarely seen since the Great JC ascended into heaven. This is all because you are a professional footballer.
For all the abuse and adoration directed toward your young naive brain you will be very amply repaid to the tune of 100 times the average wage of those who are NOT footballers. If you can handle all this venom and actually play really well you may even be sold to a very wealthy team, where you maybe paid ten times more again.
At your new team you have new fans, perhaps many more, and unfortunately they may also direct their illogical hatred toward you. Unless you play well !!! And even if you do "play well" there will be some who still hate you. Among the 50,000 plus supporters of that team there will be those who regret that you were ever born. AND once more you will have to accept that you are a professional footballer, subject to the fickleness of irrational supporters.
OneTeam has a fan supporters club called Toffee Web. They are the normal everyday supporters. In MOST cases they change their minds as often as the weather. Sometimes they will adore you and one week later you will be considered as the spawn of the Devil. I know I am one of them. I do NOT care where you come from. I do not care what religion or colour you are. Just play well and I will like you. Until you play badly and then...
But I am just as fickle and weak minded as most of the fans. I change my mind far too often. I will like you for as long as you play well for my Team. I have been around far longer than you have and I have the right to be wrong. Most of my fellow TW"S also just get it wrong now and again. We are human.Please remember that we would much prefer to have you as our hero but you just HAVE to play well or we may get irrational.
This may cause us to "POST" and become even more irrational. Fortunately there are also those who are always right and they will always let you know how wrong other posters were. They just have to.Why? Once again because they are always right, and can read the minds of fellow posters. The only thing we have in common is that we are ALL Evertonians and support the same team.
Martin Nicholls
212
Posted 08/11/2021 at 15:18:00
Bad tackle in an Everton v Spuds game? A few crocodile tears from Holgate and protestations of "he's not that kind of player" from the manager should be enough to have red card rescinded.
Oh, sorry – offender doesn't play for one of the media favourites.
Brent Stephens
213
Posted 08/11/2021 at 15:34:36
I was going to weigh in on the contentious decisions about the red card and the non-penalty. But at the moment I'm still trying to get some angels to get back dancing on the pin-head.
For what it's worth, I thought the Holgate tackle was reckless, dangerous, ending up off his feet on the follow-through; so not in control.
The "penalty" more difficult to judge as to whether Lloris gets his hand to the ball before making contact with Richarlison. I think Mike Gaynes suggested that the rules see the hand following through on a leg as different from a leg following through on another leg – a leg can break a leg if a reckless tackle; a hand can't break a leg in the situation we're looking at; seems to be the argument. I must admit, I don't know how the rules discriminate in the two cases.
Kieran Kinsella
214
Posted 08/11/2021 at 15:34:39
Michael Kenrick,
I just checked the Football Associations rules (wasn't sure if there were any regional variations). But it doesn't mention anything in there about "if you got the ball first," it just refers to making contact being a foul. But given that somehow he awarded a free-kick to Lloris, I can only assume he wrongly thought there was no contact (although as Richarlison didn't dive, he stumbled and got back up) the free-kick couldn't have been for diving.
The only other option seems to be that he thought Richarlison was the transgressor and was reckless? Which again, seems pretty ludicrous.
Or, I suppose since the rules don't mention "if you got the ball first," as a "Get out of jail free" card, Jon Moss is taking the view that he can just pretend he intreprets no mention of "ball before man" as being assumed that "ball before man is okay."
Darren Hind
215
Posted 08/11/2021 at 15:36:16
On the non-penalty: one movement, two incidents.
You would have to be blind not to have seen Lloris change the direction of the ball. That movement alone would not be a penalty. But he clearly takes Richarlison down after the ball has gone. If he doesn't do that, Richarlison stays on his feet and rolls the ball into an empty net as Lloris scampers back... penalty all day long for me.
The referee created all the controversy by whistling and pointing to the spot with instant certainty. If he had given himself a second, we would have seen how it played out.
Good Play from Everton. Excellent goalkeeping from Lloris. Shite refereeing by Mr Kavanagh.
Eddie Dunn
216
Posted 08/11/2021 at 15:41:08
On the "penalty", could it be that Moss suggested to Kavanagh that Richarlison made the most of a light brush of glove on his foot and tried to con the ref? This would be the only reason for the free-kick to Spurs?
If we had access to the VAR conversation (like in Rugby Union) we would all know which official thought what and the reasons for the decision. The current situation allows far too much ambiguity. Listening to the West Ham - Liverpool game on the radio, I froze at each of the Irons goals, half-expecting the VAR to find a reason to negate it.
All fans of clubs outside of the Sky 6 fear that the pressures on officials to favour them make us all fear that we will not get the benefit of the doubt.
The Premier League want the so-called big teams to do well, ensuring the TV audience. It might not be classed clearly as corruption but the media scrutiny following a big decision that goes against Klopp or Pep makes the officials think twice before making the call.
Brent Stephens
217
Posted 08/11/2021 at 15:42:08
So it's the second incident that counts.
Bill Gall
218
Posted 08/11/2021 at 15:56:49
We all have our own opinions on the major talking points in the game but unfortunately our opinions don't count. Good or bad games, I like to watch the game again as, during the actual game, I get too emotional and let my feelings get the better of me.
Reading reports and listening to pundits, the only thing that came from that was what a job Conte has got, how good Tottenham were, and even though they never had a shot on goal, they should have won.
So I watched the game again and my thoughts: Everton, still suffering from critical injuries, played with a lot more effort and commitment, with a couple of individuals standing out in defense and midfield, but overall it was a good team performance and an improvement from previous games.
There is still a long way to go for improvements and, with the difficult fixtures coming up, we will need the same effort but have to work out to make more goalscoring opportunities.
We need Doucouré and Calvert-Lewin back and hope in the January window we can transfer out a number of players and bring in some quality replacements.
Tom Bowers
219
Posted 08/11/2021 at 16:07:45
Sadly, the officiating – even with VAR – is still pretty poor.
Yesterday's idiot was so quick in giving the penalty and then had doubt sewn in because the wonderful VAR technology wouldn't give a decision. Why then do we have VAR??? I saw it several times and yes, it was close, but in attempting to get a touch, Loris took the man as well.
Many times an outfielder winning the ball by the merest of touches takes a man out and is usually penalised because the intent was to win it at all cost regardless which was in Loris's mind.
We all know that this would have been given 99 times out of a hundred. and reminds me of Springett taking out Alex Young in the FA Cup Final when the butcher of Wolverhampton screwed us.
When you need a slice of luck to turn the tide, you get screwed by an idiot on the field and one in the VAR studio.
Michael Nisbet
220
Posted 08/11/2021 at 16:15:44
For me it was probably a penalty. I think Lloris has taken plenty of the man as well as a possible brush of the ball. Makes it a penalty in my opinion. Besides that though, the referee gave it, and VAR should only be checking to see if the ref has made an obvious error.
Even if you grudgingly accept it wasn't a penalty, it's not obvious I don't think. It takes a lot of looking and for that reason, the penalty should have stood.
It's all besides the point though, and the point is that if we had a bit more inventiveness up front, we could have hammered Spurs. They were there for the taking.
My last thought, is how pathetic Richarlison was for going down holding his face when he went head to head with Romero. Absolutely pathetic. If I was in charge of the team, I'd fine him a month's wages and inform him never to repeat that.
Stu Darlington
221
Posted 08/11/2021 at 16:46:28
Bill @218,
Fully agree with your summary. Everton have never had a fair crack of the whip from the media and I don't expect it to change now.
Paul Tran
222
Posted 08/11/2021 at 17:10:24
It wasn't a penalty. Lloris got the ball first.
The real issue was that Richarlison got up, turned with the ball, facing a largely unguarded net. He only stopped when the ref blew and pointed to the spot.
After the VAR shenanagins, Spurs got the ball.
If he hadn't blown for a penalty, we had a scoring opportunity. He blew, VAR changed his mind and we had no advantage.
This will happen again. They need to look into such cases.
Barry Hesketh
223
Posted 08/11/2021 at 17:18:24
Paul @ 222
I can't agree with your view that it wasn't a penalty just because the keeper got something on the ball, as I think the foul came about following that touch – but there'll always be different interpretations and therefore disagreement.
In an explainer released by the Premier League over VAR penalty decisions in 2019, the regulations state why Spurs were handed the ball back by Kavanagh in the aftermath of the incident.
The article reads: "If a penalty decision is overturned with no infringement by the attacking team, play will restart with an uncontested drop ball for the defending team."
Paul Tran
225
Posted 08/11/2021 at 17:24:41
Cheers Barry. Them's the rules. And they're bollocks.
You're right that there'll be plenty of views on this. I think the fact he touched the ball first tipped the decision in his favour. Next time this happens to a 'big' club, let's see what they do.
Tom Bowers
226
Posted 08/11/2021 at 17:35:47
Richarlison is a big girl's blouse at times but clutching the face seems to be the expected norm, especially from foreign players when losing possession – even when the face isn't touched.
No matter what, it is pathetic to see.
Brian Wilkinson
227
Posted 08/11/2021 at 17:38:23
I know the ref blew quick, but Richarlison picked the ball up just as quick, to take the penalty, in hindsight, had he played on and put the ball in the back of the net, what would have happened then.
My guess is the ref would have said the Spurs players acted to the whistle and stopped playing, so even then, the goal would have been ruled out.
The ref had a clear view, yes he got a glove to the ball, but fouled Richarlison after that, var should not have got involved, due to no obvious error.
You can bet your last penny, same will happen, when the next round of fixtures beguin, and I guarentee on of the big boys will get a penalty, with no var jumping in.
Ben Attwood
228
Posted 08/11/2021 at 17:48:46
Much better performance. Having 3 in midfield definitely helped.
So sick of poor refereeing decisions. The Premier League needs premier referees. Too many inconsistencies. If Holgate was a red, then so should Tarkowski have been vs Burnley.
Wasn't it Kavanagh that ruled out the late winner vs Man Utd a couple of years ago? We have since seen the same situation allowed.
Imagine a penalty in front of the Kop being overturned like that... it would never happen.
Mick O'Malley
229
Posted 08/11/2021 at 18:00:54
Tom @226
That was totally and utterly embarrassing what Richarlison done, holding his face and going down. I hate this type of cheating behaviour, especially from our own players.
Kieran Kinsella
230
Posted 08/11/2021 at 18:14:38
Anywhere else on the field, Lloris would have been red-carded.
Martin Mason
231
Posted 08/11/2021 at 18:15:48
As the rules of the game are subject to interpretation, then consistent responses are impossible. All that can be achieved is that bad decisions are minimised and in general that is true. The concept that some refs have it in for us is laughable. That we've suffered from bad decisions of course, like every club.

Jay Wood
[BRZ]
232
Posted 08/11/2021 at 18:17:46
I am genuinely interested which camera view those claiming that Lloris clearly got the ball ahead of Richarlison they are basing that on.
The best view seems to be the one from behind the goal, slightly to the side. Richy is wearing shock pink boots. Lloris sky blue gloves. At the nano-second of possible contact by Lloris it appears to me Richy's shock pink boots are between the ball and Lloris' sky blue gloves.
If Lloris makes any contact on the ball it appears to me he can only do so by first making contact with Richy's boot. The slight deviation of the ball is consistent with the likelihood that Richy touched the ball first, or that Lloris catching Richy's foot similarly changed the ball's direction.
Based on the images, to my eye there are no grounds for the VAR referee to get involved at all, or enough evidence for the infield referee to change his decision.
Of interest on the subject of VAR, the Brazilian federation announced this weekend at the behest of the clubs that after the international break, Brazil's Serie A will now permit live audio transmission of VAR decisions so the teams and the public can hear the refs justify their decisions.
As far as I am aware, no other major football league in the world has sanctioned this. Sports like cricket and rugby greatly benefit from this. I will be watching and listening with interest how this plays out in Brazil.
Hopefully, such transparency will become the norm that many have called for.
Jeff Armstrong
233
Posted 08/11/2021 at 18:19:47
Did anyone else notice Conte making a point of seeking out and shaking Kavanagh's hand just before the second half got underway? Kavanagh was like a lapdog... gamesmanship from the Italian?
Seemed to work anyway.
Eddie Dunn
234
Posted 08/11/2021 at 18:20:11
The refs see the usual suspects trying to cheat when they watch the telly. It does the players no good diving and feigning injury, clutching faces etc. Even Mane and Salah ain't getting so many given.
Richarlison is reaping what he has sowed. He goes over too easily, as does Gray. Refs therefore take it with a pinch of salt.
Also, imagine if Pickford had done what Lloris did. We would have been outraged if a penalty had been given and we would have thought the striker went over too easily.

Bill Watson
235
Posted 08/11/2021 at 18:20:51
Paul #222,
If it was no penalty because the goalie got a touch before fouling Richarlison, can you explain the logic which explains why Holgate was red-carded when he played the ball before coming into contact with the player?
Peter Neilson
236
Posted 08/11/2021 at 18:26:37
The general reporting of VAR "overruling" the ref sums up how messed up this is. The ref is still meant to be the authority but they are hiding behind VAR. Lloris got a hand to it and only then took him down. Penalty any time and unlikely to see another like this not given.
Also makes a mockery of "clear and obvious". Re. Richarlison clutching his face, I've got no time for it, but let's also criticise the Spurs players who dropped like flies.
John Raftery
237
Posted 08/11/2021 at 18:35:41
Jeff (233),
Yes, I noticed that. It wasn't a cursory handshake either. At the time, I thought "Aye, aye!" It struck me as an example of Conté trying to use every trick in the book of small margins.
The fact it was on the halfway line in full public view made it seem more sinister than it probably was. But Conté knew it would do him and his team no harm.
John Keating
238
Posted 08/11/2021 at 18:42:11
Jay 232,
I must agree with you. Obviously at the game, it just happens so quick it's difficult to see but I have watched it a few times now and came to the same conclusion after first seeing it in slow motion.
To me, Richarlison's boot is between the ball and Loris's hand. Lloris's contact with Richarlison's boot moves the ball in the direction it takes and also brings him down.
Bill Gall
239
Posted 08/11/2021 at 18:42:32
Paul #222
I just replayed the penalty incident and as soon as Lloris and Richarlison came together the referee blew for a penalty so the play was dead. After the keeper touched Richarlison, he fell and rolled back up to get to the ball but the Ref had already blown for the penalty.
John Keating
240
Posted 08/11/2021 at 18:46:46
Look at all the discussion both in the media and on fan sites, including non-Everton. It was! It wasn't! etc etc etc.
So, based on everything, how can this be classed as a clear and obvious error???
VAR should not have got involved.
Jay Harris
241
Posted 08/11/2021 at 18:57:23
Some Evertonians amaze me, trying to justify a crazy VAR decision that could not identify that Lloris got to the ball first and is purely speculative.
If that was Man Utd or Liverpool, do we think for one minute VAR would have overturned it? Hell no.
Klopp is even moaning that a perfectly good goal was a foul on his keeper while omitting to mention Salah's dive to get a free-kick that they equalised from.
Allan Board
242
Posted 08/11/2021 at 18:59:50
I have never agreed with hurling obscenities at officials, and always taught any players I coached not to do it. Quite the opposite, in fact, a bit of a charm offensive toward them.
However, the officials in the Premier League are incompetent or cheats. So which is it?

Danny O'Neill
243
Posted 08/11/2021 at 19:22:56
I'd throw another couple of terms in there Allan Board @242. They are egotistic and like the limelight bestowed upon them. As well as being star struck when then are officiating certain teams.
I have no issue with VAR. I think it can help get decisions right. Football's problem has been the half-arsed implementation of it.
I like the idea of the officials talking through how and why they've come to a conclusion. Just like in Rugby Union. That Welsh Rugby referee (don't know his name). No-one – players, commentators, supporters – ever questions his decisions.
Because he explains them with clarity and authority. With a clear understanding of the rules of the game.
Oh wait?!!
John McFarlane Snr
244
Posted 08/11/2021 at 19:24:24
Hi all,
It's not my intention to get embroiled in any argument, but I judge players not on their wages or transfer fees but on their ability and commitment. For a number of weeks, players have been accused of lacking effort, and now that they have displayed that they are criticised for lack of talent.
For what it's worth, I saw a game that featured two comparable sides battling for supremacy, not the best game I've ever seen but certainly one that had its moments. I think that was evident by the reaction of the crowd who, in the main, were right behind the team.
I realise that effort without skill is not ideal but neither is skill without effort. The aim of the club should be to create a combination of both those attributes. I find that finding scapegoats is not the best way to inspire confidence, but that may be because I grew up in an era when the only critics of Everton were Liverpool supporters, and we were quick to defend our heroes.
Hi Derek [177], I have not logged on to ToffeeWeb for a little while, and apologies if I have missed your update of the Cancer Research appeal. I was wondering how much had been raised since our get-together in The Bramley Moore on 25 September in support of such a worthy cause?
Brian Harrison
245
Posted 08/11/2021 at 19:28:54
Seems like VAR isn't the solution that the authorities led us to believe it would be. We were told it will only intervene in clear and obvious calls. But now it's not even the ref who makes the call – it's the man in the booth at Stockley Park.
I hate the way that football fans are treated so contemptuously by the authorities. In Rugby, the fans can hear exactly what is being said by the on-field ref and the video ref, same in cricket... but in football, it's a case of "Don't let them hear what we are saying."
Why? What have they got to hide? Only their total incompetence – which is the real reason they don't want the fans to hear the conversation. So nobody is ever aware as to how the ref and the video ref have arrived at their decision.
The Premier League has the worst refs in all of Europe, they know the rules but most don't understand the game. Jon Moss, who was the Video Assistant Ref, is the most incompetent ref alongside his mate Mason.
I would suggest that VAR only rule on offside and every other decision is left to the on-field ref. We now have goal-line technology that is never questioned and, by and large, most offsides using VAR aren't questioned because it's very evident all other decisions are subject to interpretation, so leave those decisions to the on-field ref. I think most fans could live with that rather than the nonsense we have now.
David Thomas
246
Posted 08/11/2021 at 19:38:24
Darren 199,
I'm not suggesting they should be superstars, however much I would like them to be.
However, I think Everton need a lot better than what they can offer.
These are not youngsters anymore; Holgate I think is 25.
As you pointed out earlier, whether there are other players performing poorly as well who cost more money is irrelevant to the debate on whether the likes of Holgate etc are good enough.
You seem very happy with them; however, others (including myself) certainly aren't.
Ted Donnelly
247
Posted 08/11/2021 at 19:39:00
Holgate banned for 3 games... every cloud, eh!!
Tony Abrahams
248
Posted 08/11/2021 at 19:46:02
I think that what is going to happen in Brazil will begin to give a lot of Premier League referees sleepless nights. I for one will now be in favour of VAR, once we begin to hear them explain to us all how they can be so inconsistent... but that's because I've always been paranoid of certain refs, who I think have an agenda!
Paul Burns
249
Posted 08/11/2021 at 19:53:19
The fact that even a single person is content with that garbage shows just how much the mediocrity sickness has spread to our support.
Kieran Kinsella
250
Posted 08/11/2021 at 19:58:41
Tony 248,
I should imagine the justifications will be pretty simple, eg, "I know it wasn't a foul but it was Salah so we have to give it." or "You need to reverse that, it was an Everton player."
Jay Wood
[BRZ]
251
Posted 08/11/2021 at 20:04:42
Brazil is actually quite innovative on some things.
The ref's 'shaving foam' to mark out 10 yards at a free-kick?
I had grown long accustomed to seeing it used in Brazil years before the rest of the world got to see it when FIFA introduced it at the Brazilian World Cup in 2014, after which it was universally used across the globe.
Here's hoping the live audio play of VAR decisions in Brazil's Serie A goes the same way.
I'm also expecting to learn some new choice expletives given the way Brazilian teams crowd the referee on VAR decisions!
Derek Knox
252
Posted 08/11/2021 at 21:01:47
Jay @ 251,
"Brazil is actually quite innovative on some things. The ref's 'shaving foam' to mark out 10 yards at a free-kick?"
That could go some way to explaining why there is never any in my local shop! :-)
Bobby Mallon
253
Posted 08/11/2021 at 21:02:16
Jay wood @209 you wrote
The Holgate incident I can't argue with. Yes, good aggression in initially clearing out his own loose control. But isn't there something called 'duty of care' these days in which players have an obligation to not be reckless and overly aggressive in both their initial challenge and follow through?
Mason failed in the latter for me and it did merit a red. Jay it's all about the VAR official and their opinion. If every tackle like Holgate's were a straight red then there's no argument. But they are not. Cresswell did exactly the same tackle, it went to VAR who deemed it not even a yellow.
Jay Wood
[BRZ]
254
Posted 08/11/2021 at 21:11:38
So Derek, if I ever get to a TW gathering, you'll be the one with the Rasputin beard complete with nestling birds feeding on the remnants of whatever you've eaten that week..?
Tony Abrahams
255
Posted 08/11/2021 at 21:12:27
You could look at it another way Paul B, especially if you look at our three previous games.
David Pearl
256
Posted 08/11/2021 at 21:22:32
Derek, maybe there's shaving foam left over after having a 'Brazilian' is out of fashion now?
Derek Knox
257
Posted 08/11/2021 at 22:30:14
Jay @ 254, not quite at the moment, however I did manage to stock up at the Supermarket, before all the Ref's got in there.
Grigori Yefimovich Rasputin, what a fascinating character, who I remember reading about, many moons ago, he was a larger than life character who came from a poor Siberian family, and inveigled his way into the Royal Court of the Romanovs. Not to be confused with the Usmanovs, although the latter looks like he has attended more than a few lavish banquets (aka Jabba The Hut) in his time. Rasputin was also reportedly in possession of a rather large manhood, which gained favour with many 'Ladies of the Palace'.
Unfortunately my similarity to Rasputin ended there ! :-)
Danny O'Neill
258
Posted 08/11/2021 at 23:02:35
Paul Burns, more a case of recognition of the effort put in compared to recent games.
I wouldn't call it acceptance of mediocrity. I saw it as acknowledging what we have right now and on top of that, what is available, and then seeing the players committed and working as a team.
Goodison recognised it and responded to it.
Danny O'Neill
259
Posted 08/11/2021 at 23:20:22
You've made me want to watch a re-run of the Last Czars on Netflix now Derek!!
Sorry I didn't make it to The Bramley Moore. It was a fleeting visit for me this weekend. I popped into The Crown for one before hitting the train.
Catch you and the others before Christmas.
Darren Hind
260
Posted 09/11/2021 at 05:56:17
David,
There is an ocean of difference between defending youngster from their teens (that's when you started hammering them) and thinking they are better than what they are.
I see the same players as everyone else, but I will never stand by while people like you single them out every time they make the slightest error, whilst never, ever criticising the free-loading under-performers.
Youngsters can improve but they generally need support from those around them, Expensive senior pros are less likely to improve especially when they get a free ride by people who seem hell bent on focusing on and hounding certain players from the day they pull on a blue jersey..
It's always been the darker side to this club. People like you seem hell bent on perpetuating this culture.
David Thomas
262
Posted 09/11/2021 at 06:33:43
Darren,
"I see the same players as everyone else."
So you agree that these players are not good enough for us but you defend them continuously because they made their first team debuts when they were in their teens?
Paul Swan
263
Posted 09/11/2021 at 07:35:18
Where I sit in the ground, there were groans all around when Holgate was getting ready to come on. I'm sure once the applause for the departing Allan had died down, there were also some audible jeers around the ground for him coming on.
Fast-forward 10 minutes of him running around with the positional sense of a dog on a beach and then the inevitable brain fart. Unfortunately, this is the norm with this player – hence the crowd reaction. It's not getting coached out of him and there is no arl arse playing alongside him who he can learn from. It may be best for all concerned if he was moved on.
I really feel sorry that it seems to have come to this because we need to develop our own young players rather than be reliant on the game's mercenaries but our coaching and support systems are letting us and the players down.
John Keating
264
Posted 09/11/2021 at 08:13:14
Paul, your last paragraph is spot-on.
Danny O'Neill
265
Posted 09/11/2021 at 09:36:15
Paul, John,
If we take the players out of the equation, that sentiment is going down the route of questioning and (rightfully) scrutinising, what output Finch Farm is producing and to what standard.
It's right that we shouldn't always "batter" young players. I saw that way too often with Leon Osman and Tony Hibbert. For some reason, our local products are the easy targets; the sacrificial lambs of many people's frustration. Been guilty of it myself in the past (hands up).
Criticise? Yes, when appropriate. Praise? Yes, when appropriate. But bigger picture, they are only a product of the coaching & development they receive on top of their natural ability that has been identified at an early age.
I'm not naive enough to think that every promising 17-year-old will end up being an Everton regular or earn us the £100m that Aston Villa have just cashed in for Grealish.
But we just don't seem to be producing as we should be. No finger pointing here, but given, as some say, this is an area we can save money, it surely has to get looked at and revamped? Or maybe it's going on behind the scenes and we just won't see it for a couple of seasons?
Different debate and I appreciate this is a match report thread. It just seemed relevant to Paul Swan's comment.
Darren Hind
266
Posted 09/11/2021 at 09:37:03
David,
Many of us saw something in Calvert-Lewin that you simply didn't recognise. The same with Holgate. The club gave him a 5-year deal because they saw something that you didn't recognise. Tom Davies too.
I don't care that you lack the judgement to see potential – even if it's only for potential squad players. Nor do care that you condone really poor expensive signings by your silence. I don't care what sort of logic you think you can use to justify your relentless attacks on players who will easily pass 500 Premier League appearances between them. Despite you hounding them through their apprenticeships.
You called me out and I have responded. I'm done with this exchange because I don't see any logic or sense to your argument or your relentless nit-picking.
BTW: My criticism of Holgate's performance on Saturday was as strong as anybody's on this thread (see #71). That kinda renders your claim that I only defend these players about as lame as your judgement.

Laurie Hartley
267
Posted 09/11/2021 at 10:11:25
I have two questions about the penalty controversy:-
If Loris gets his fingers to it, then thinks, I didn't get enough on it, and decides to bring him down as well...
Q1 – Is it a penalty?
Q2 – If it, is it also a red card (last defender)?
Tony Abrahams
268
Posted 09/11/2021 at 10:13:07
Paul, John, Danny, I've been trying to put my finger on what I think is wrong when I look at the players coming through at Everton, and then I listened to Roy Keane, talking about Wan-Bissaka, and his description really resonated with me.
He hasn't really got a feel for the ball, is what Keane said, and that's how I feel when I look at the players who have come through at Everton.
Decent players, but so methodical, although not methodical in the German sense or style, if that makes any sense?
Brent Stephens
269
Posted 09/11/2021 at 10:21:01
Tony, yes. Maybe "mechanical" describes it??
John Keating
270
Posted 09/11/2021 at 10:31:07
Tony,
I agreed with Paul's last paragraph in regards the coaching and support system letting the players down. Kids seem to be taken from school at a ridiculous age, in many cases not allowed to play for school or local teams, having to commit full-time to a Club
Some kids are binned day one as not being big or strong enough. Rejection must affect some terribly. They seem to be coached to death. They're like bloody robots
It's brilliant to see the youngsters come through but far too few are. For us, the set-up and/or system is not working, maybe someone needs to have a good look at it?
Tony Abrahams
271
Posted 09/11/2021 at 10:51:16
I've become very, very anti-academy, John, and for a lot of the reasons that you document, mate.
It's just a business. I'm sure that a lot of clubs would love to change the system but they can't because they are scared of losing the best players, players who might go on to become top footballers. That's how I personally view it now, anyway.
Tony Abrahams
272
Posted 09/11/2021 at 10:56:41
It's not just Everton, Brent, I see it in a lot of youth football. John described it as kids being coached to death. I sometimes view it, just being more about the coach?
I watch kids who are full-time footballers, and they don't really have a feel for the ball, which tells me that something is very, very, very wrong with the system.

Brent Stephens
273
Posted 09/11/2021 at 11:16:50
That's sad, Tony. The kids themselves must be under so much pressure. Kids, after all.
On a different point but a piece in today's paper about refs in an U10s league going on strike because of the abuse received from parents and coaches on the sidelines, all on the increase. And these refs are themselves only aged 14-15 in many cases.
Danny O'Neill
274
Posted 09/11/2021 at 11:42:27
I understand that, Tony, and without wanting to go off on one of my usual rants, it is about the system being wrong.
We still have too many coaches in the system who focus on pace, power and winning. In that sense, yes, all about the coach, not the players' development when you're talking young footballers.
Personally, I used to prefer training sessions. It was only in the youth set up of a Conference South team (at the time), but I was left to coach the boys on my own, away from results obsessed managers and crazed parents who turned up on matchdays! Ironically, I used to get the better results when left to it.
Germany. Now you know I could write a paper on that (!!!), but yes, in general, they develop footballers in all positions who are much more comfortable on the ball than us. It starts at the bottom of the pyramid from a very young age. Coached with a football, not kick and run. Train and play on clay pitches, so keeping the ball, passing the ball and pressing to win it back but staying on your feet comes natural.
You sum it up better than me, but I always said (and through experience), they are technically better than English players, but can match us physically too. They're what we would like to be.
I have a great story from a Dutch coach that I listened to on my FA Level 2 course years ago about teaching 5-year-olds how to look after a football. I'll bore everyone with that some other time, but fascinating. I've used the session myself a few times with the younger age groups. I do miss the training pitch.
You're right, it's not just Everton. Are we getting better? Some would say so, based on the recent crop of England players and tournament performances.
I only pay a passing interest these days, but on most parks, especially this time of year, I don't see a lot of change in coaching techniques or facilities. So I suspect this will be another one-off decent bunch of players that came through at the same time through fortune rather than the output of a plan or sustainable vision, as you see with the likes of France and Germany.
Apologies. I did end up going off on one!
Danny O'Neill
275
Posted 09/11/2021 at 11:48:33
Brent,
Another trigger! Sorry mate, but I suffered that for many years.
One game, all hell let loose when the Ref made a decision in our favour. The parents streamed onto the pitch and got right in the face of the 17-year-old female referee. She had to abandon the fixture.
We had to go to a hearing at Surrey FA. The "punishment"? We had to replay the fixture on neutral ground. They won the replay.
Darren Hind
276
Posted 09/11/2021 at 11:51:41
A youngster can never be coached too much.
The problem we have in this country is the quality of coaching. Top European coaches prepare their boys to play in leagues where possession is king. Our coaches are preparing youngsters to play in crash, bang, wallop leagues.
Who's fault is that? . . Well, it's ours. The British supporter. We demand high-octane football. We always have. Action is king.
Yeah, we want to see players do things with a ball we couldn't do ourselves. But want to see them get on with it and get the ball in the box.
We're not dissimilar to Yanks. Serving up the sort of sophisticated cat-and-mouse game you often see in Spain or Italy would empty our grounds. It would be like asking 50,000 yanks to sit through a game of cricket. We want blood and guts.
It's one of the reasons our international team come home early from every international tournament. We traded action for skill over half a century ago. It's also why we see people like Pep systematically take our coaches to school.
Our coaches are not thick. They know they are not preparing our youngsters for world domination. They know they are preparing them to play in either a crash, bang, wallop Premier League... or a crash, bang, wallop Football League.
Your average English fan will complain about the quality of coaching, but he wouldn't have the league any other way.
Barry Hesketh
277
Posted 09/11/2021 at 12:18:17
I agree, Darren, that most UK fans want to see an all-action, full-blooded game of football Blood and Thunder, or indeed Thud and Blunder.
However, Pep, Wenger et al have proved that players who can control, pass and run with the ball usually play for teams that will win the prizes. There are few teams who win things that don't possess players who have an innate ability to do all of those things and sometimes more.
Sometimes when you watch Premier League football, you do wonder if some of the players know what a football is for. Their heads seem so full of systems, tactics, etc but, without the skill to use the ball properly, what's the point?

Tony Abrahams
278
Posted 09/11/2021 at 12:23:11
I personally think you have described why Everton have got a great record of getting players who do well in the lower divisions, Darren, because they are not getting taught (coached) to love the ball, and are seemingly getting prepared for what you describe.
Danny O'Neill
279
Posted 09/11/2021 at 12:26:52
That's why I'd look more to the German and Dutch systems, Darren. More recently, since the 90s, the French as well. Maybe now the Danish too.
They get the balance right, in my opinion, between the technical side and the physicality that, as you say, English supporters like.
Those systems seem to get the balance right. Well, from what I'd like to see anyway.
Mike Hayes
280
Posted 09/11/2021 at 12:32:22
Laurie Hartley #267,
This is Everton we are talking about – where the ref, if he could, would give a penalty against us for even daring to win the toss. 😳
Paul Tran
281
Posted 09/11/2021 at 12:52:37
Blood and guts? How about some competence? I want to see comfort on the ball, skill, the ability to think independently, a bit of courage and bravery.
The best Everton teams earned the right to play, then they knew how to play.
If the coaching aren't looking for that, what the heck are they doing?
Tony Abrahams
282
Posted 09/11/2021 at 13:20:33
It's crazy, Brent, the kids are not getting taught any respect in a lot of cases, and this alone is a very sad indictment of modern life.
A ref not long ago was telling the coach about one of the kids being overly physical, and because it happened to be my then 7-year-old son, who hasn't got a great understanding of the game, I said to the ref, "You tell him, ref, explain what you mean to him."
He went very defensive, until I said that I thought it would be much better, and make a lot more sense, if it was coming from the ref, and then he said, "We honestly get that much stick that my first instinct is to go defensive" – and he genuinely seem shocked because he'd been spoken to in a civilized manner.
Geoff Lambert
283
Posted 09/11/2021 at 13:23:29
Six points from the next eight games is looking about right. Bottom 5 by Christmas, Is there any hope???
Brent Stephens
284
Posted 09/11/2021 at 13:24:20
Tony #282,
That's a great story. Did that have any more impact on your lad?
Tony Abrahams
285
Posted 09/11/2021 at 13:27:13
I only tell him two things, Brent. Work hard, get involved, and only then will you really enjoy it. 👍
Brent Stephens
286
Posted 09/11/2021 at 13:29:38
Tony, I never, ever left anything on the pitch, winning or losing. I always wanted to walk off knowing I couldn't have given any more. The satisfaction from that outweighed disappointment at losing.
Tony Abrahams
287
Posted 09/11/2021 at 13:37:09
My lad is a lost cause now he's turned eight, Brent! He's not that bothered about going the match, but he went the Norwich game, and during a dull quiet moment (any one of 88 minutes!) he just jumped up out of his seat and shouted "Snap his fuckin' ankles!" when an Everton player never went and put a tackle in.
He honestly never got this from me, and when I quizzed him on why he shouted what he did? He said, "Did you see our player just watching their player? you can't do that, you're supposed to get stuck in and tackle in football" – which is something I never learned until I was 14!
Kieran Kinsella
288
Posted 09/11/2021 at 13:42:58
I remember a few years back when our academy looked to be producing good players and Joe Williams was highly rated. He was interviewed in the Echo and said Unsworth was always on him about his pass completion rate and showed him stats for James McCarthy having 90 percent pass completion.
With respect to McCarthy, how many of his passes were incisive and how many were 5 yards sideways or backwards? Is that what we want?
Graham Mockford
289
Posted 09/11/2021 at 13:53:52
The view that British coaches are not producing quality footballers compared to other countries might have held some merit 15 years ago. However, it is an outdated view.
The current crop of 18- to 25-year-olds: Foden, Grealish, Sako, Bellingham, Rashford, James, Arnold, Rice, Kalvin Philips, Mount, Calvert-Lewin are already established internationals in a team that has got to the business end of the last two major tournaments.
Throw in up-and-coming talents like Smith-Rowe, Barnes, Greenwood, Lamptey, Tomori, Gallagher and Guhei and the claim that there is some deep-seated coaching problem in England is well …… nonsense.
Brian Harrison
290
Posted 09/11/2021 at 14:10:08
I think in the coaching debate as to what do British coaches achieve against other coaches, and the type of football that respective coaches bring to the table, is very interesting.
We have at present an England coach who has done very well and doesn't play in a typical British style in his last 2 tournaments. With a bit of luck, he might have won a World Cup and a European Nations Cup.
The quality of players a coach has at his disposal is usually the main criteria as to whether a coach is successful or not, and not necessarily where they were born.
Certainly the British game has been more physical, although some South American sides have been even more physical than some British sides, but by and large, it's always been considered to Europeans to be more technical. More and more young British coaches are moving more to a European style; you only have to look at Graham Potter at Brighton.
Yes, the managers who have recently won the Premier League have been foreign: Pellegrini, Mourhino, Ranieri, Conte, Guardiola and Klopp and of course Tuchel has just won the Champions League with Chelsea. But, given the clubs that these coaches manage and the budgets they have to spend, is it any wonder they have been successful?
We for some reason don't have any young British managers going abroad to learn their trade and the Premier League is now predominantly full of foreign managers. I can't think of another country were their own national coaches play so little part in coaching their elite clubs.
Could you ever imagine an Italian league or a Spanish league or a German league were the majority of their coaches were foreigners?
I don't know how we are ever going to change this system, as most of the foreign managers bring their own entourage which doesn't include British coaches. So how are we ever going to produce decent British coaches when nearly all the Premier League are coached and managed by foreigners?

Brian Harrison
291
Posted 09/11/2021 at 14:19:15
Graham,
Practically all the players you mention are coached by foreign coaches, not British coaches. Maybe that's why the national team has benefitted from having foreign coaches.
I want to see more British coaches managing our top clubs but, at most clubs, there is no chance of progression to the top job.
Tony Abrahams
292
Posted 09/11/2021 at 14:19:55
I think there are problems, Graham, because the players you mention are in the minority and only come from certain clubs, but I'm particularly going on about Everton, because I don't see many who come through that have a real feel for the ball.
I think the young players who have spent time at Chelsea look like they have a natural feel for the ball. I think Mason Greenwood is also definitely in that bracket, alongside Arnold, and I also think that England would produce a lot more talent if they concentrated more on skill and technique, and did away with these elite academies.
I might be wrong, and my next sentence might sound outlandish, but since I've started taking my young son to football, the level of ability I've seen in some 7-year-olds is truly staggering. I'd say that, if these kids stayed on a spectrum that could continue to keep training them at their current level, that many would be Premier League footballers by the time they turned 18, such is the level I have seen shown in a few of these kids.
The scariest thing is that I probably only watch around 10 or 15% of this young age bracket, meaning there are probably loads of even better kids that I haven't seen.
Graham Mockford
293
Posted 09/11/2021 at 14:23:37
Brian @290,
I think it's a fair point about the representation of coaching staff containing many foreign coaches.
I perhaps should have said British teams as opposed to coaches. As you say, many of are managers are non British who bring staff with them. However, I was surprised how many English coaches appear in the coaching staff of the top English teams. In fact only Man City, where Pep has an entirely Spanish team, don't have English representation.
The reason for this is the same as the reason so many foreign players play in the Premier League. The money can't be equalled so it attracts the best from around the world. It's a much more competitive place to get the top jobs.
Kieran Kinsella
294
Posted 09/11/2021 at 14:35:52
Tony,
With regard to producing players for the lower leagues, and my earlier post on Joe Williams. These two articles show that you're exactly correct.
First the Williams interview while in the Under-23s:
"Players like Barry, McCarthy, Gibson, Besic, everyone, they've all got high 80s and 90% for pass completion rates," he said. So Unsy has been telling me that he wants me to get 90s every single week, he even told me once that he wanted me to get 100! I've never really come close to 100 but he expects high standards. I feel like I am doing everything I can," he added. "I'm working hard and hopefully I'll get my chance.
Fast forward to the present, and Williams is playing in the third tier. This is from Bristol Post a few weeks ago:
"Now finally we're seeing what Williams is really about. Williams has the highest pass completion rate in the league from the squad in 2021-22 so far."
So he learned his lessons from Unsie, focussed on that stat, and now he is in the third tier versus being touted as a possible first-team player when he was 17 or 18.
Tony Abrahams
295
Posted 09/11/2021 at 14:55:08
I think it's easy to criticise, Kieran, and like Graham says in the post above, England is a very competitive workplace with regards to playing in the top league. But passing, for passing's sake, is so, so common nowadays and a lot of coaches seem to love it.
Myself, I prefer to watch midfielders who do a little bit more, like I thought the Spurs Number 22 (I think) did at times on Sunday. Sometimes I think it's all the different opinions that make football such a fascinating game.
Mark Taylor
296
Posted 09/11/2021 at 15:06:35
On the 'Everton youth' question, I was among those wondering if Calvert-Lewin was going to end up Championship level. However, of the 5 (6 if you include Tom in a broader sense) bright young things who started in the U19 World Cup win, I had Lookman most likely to make it, with Calvert-Lewin in second. Even back then, he had pace to burn and a physical presence that suggested he might make the grade with some application and I'm glad and not all that astonished that he did.
Although one should never say never, thinking about Salah and De Bruyne deemed not good enough for the Premier League before they showed they were, my hunch is the other 4 (Dowell, Connolly, Kenny and Davies) will ultimately not make the grade if they haven't done so by now. These are no longer promising youngsters.
Nor do I think Holgate will, albeit I think he has more raw talent than any of the above. But this should not be surprising, nor should we forget Championship level still makes you a very good footballer, a success in relative terms. The margin is not that big. To fall just short is no disgrace.
On the penalty, I watched it several times and I'm in the camp that says I cannot see clear hard certain evidence that Lloris touched the ball before taking Richarlison out. There wasn't enough to overturn the decision. That cuts both ways, had he given no penalty, the evidence was not enough to give one.
I'm surprised they didn't seem to check the possible foul on Gordon immediately before. On my replays that looked like a foul and might have been an escape route from the nonsensical situation of the game re-starting in Lloris's hands.
I never thought I'd see the day when ToffeeWeb would be lauding Delph's performance as our best player, Man of the Match... nor am I sure if that is actually a good thing.
Darren Hind
297
Posted 09/11/2021 at 16:26:37
Mockers
You always give me a laugh.
I love that you dive in and "prove" the problem isn't with English coaches by giving a list of players coached by foriegners.
Incidentally, the claim was made about the British culture and the demand for action over guile. Not the coaches.
Your claim that not producing top players 15 years ago may hold merit doesn't stack up either.
Players like Neville. Scholes, Beckham, Campbell, Owen, Lampard. Ledley King (the best of them), Cole, Gerrard, Rooney, Ferdinand and Terry. would knock spots of the players you mention.
As individuals, they were out of the very top drawer... but, when they brought the crash-bag-wallop football they played every week to the international stage, they were often made to look like English Bulls getting the runaround by European and Latin American Matadors.
Kieran Kinsella
298
Posted 09/11/2021 at 16:41:21
Darren @297,
That doesn't make any sense. The likes of Foden and Grealish are infinitely better than the likes of Gerrard, Beckham and Lampard on a technical level.
Beckham could cross the ball very well. That was it. Gerrard and Lampard would run up and down, tackle, and could both strike the ball well. They could not dribble their way through a maze of defenders, they didn't have the ability to make deft touches to open up opportunities or have the vision to see those runs.
Playing together at international level under foreign coaches, they should have held their own at least but they failed miserably. I remember one time the AC Milan players public ridiculing the Man Utd midfielders for their inability to just retain possession.
The current crop, under an English manager, have the requisite skills to play "proper football," and their results show it. Also, Neville is in your list? Neville is exactly like Jonjoe Kenny. Committed, heart of gold... but short and limited. 20 years ago, a guy like that could prosper; nowadays, the lack of skill is all too apparent – hence Kenny has not prospered.
ps: The one player from that era who was of the highest technical calibre was Joe Cole.
Graham Mockford
299
Posted 09/11/2021 at 16:46:39
Dazzler,
If you read, I did correct my statement to say British teams as opposed to coaches... but, hey ho, as you point out, it's about British culture.
The English players you listed were indeed fine players but only serve to highlight the change that is happening with this generation of young players. The majority of them, other than Scholes and Cole (who is not in the same postcode as the rest), were physical specimens whose athleticism and strength were their major attributes.
The young players I listed are primarily technical players with a premium based on ball retention and a flexibility to adapt. Sure, we could pick out individuals; Rooney was a sublimely gifted instinctive footballer but it was his explosive power that made him stand out. That list of players also have got further in two international tournaments than Sven's golden generation, who kept getting found out in the latter stages, as you point out.
My point being that the view of English football as "crash bang wallop" is changing and it's changing because of the way youngsters are being coached and the style of football they are being asked to play – whoever is coaching them.
Danny O'Neill
300
Posted 09/11/2021 at 17:41:48
I do like these debates. Some really good views and opinions exchanged by all.
We produce good players. We produce good coaches. That is not in doubt and the talent is out there. It is how both are mentored and coached that has become the problem and from the bottom up. We could achieve a lot more for a nation with a population of this size. Of the major European nations, only Germany, France and Italy have bigger populations.
But we have fallen behind in terms of technical ability on both counts and that is why we get found out when it matters. It's why our successful "English" teams are littered with foreign players and led by foreign coaches. You want intensity? Watch a Guardiola team. Watch a Klopp team. Watch Conte on the sidelines. That's got nothing to do with being English. That is what I'd call an outdated view; that we own intensity and hard work. We don't. But we've lost ground technically so, as well as getting out-fought, we get out-played.
There's the argument that we don't give our players the chance. The counter is that the foreign coaches who come in have a look. And then have a look elsewhere because the players aren't good enough for what they know is required to win. Chicken-and-egg debate I guess.
I don't think it's an outdated view, Graham. Maybe you'll get proven right but, from what I see, we've got another so-called Golden Generation on our hands. By chance more than by strategy or planning.
Time will tell and I genuinely hope I'm wrong and you're right. But what I see on the mud-ridden parks that are an excuse for a pitch that kids can't play football on, I remain doubtful.
Brian, good point on going abroad to learn. We don't do enough of it. As players and as coaches. We've always been insular in that respect, which is why our game hasn't moved on. Until the influx of foreign players.
But that doesn't help grass roots. And there is our problem. Until we fix that, we won't produce quality players on a consistent basis to support the pyramid. Consistently, not one-offs, which in turn will produce quality coaches. Overhaul the system from the bottom up. That's the fix.
On De Bruyne and Salah, it's not that they weren't good enough for the Premier League. They were and are. They just weren't fancied by the manager of their club at the time. And it's not like they went to the footballing abyss. Bundesliga and Serie A respectively.
Apologies again. This subject gets me emotive. And I don't like the "self-proclaimed best league in the world" thing that comes with the Premier League. And claiming it's an English League. I'd be interested to see the percentage of English players making up the squads.
To the point. Our system is good at producing lower league players. Fix it. Overhaul it.
I'll get my coat and order my taxi. Who started me on this?
Will Mabon
301
Posted 09/11/2021 at 17:58:53
The name "Williams". On the BBC Sport website today, we are subject to the ignominy of scrutiny of our team's problems by none other than – Ashley Williams. It's come to this...
Graham Mockford
302
Posted 09/11/2021 at 18:02:56
Danny
I think for sure the Championship and below is still mainly the traditional style of what would be described as English football.
There is no doubt that has changed in the Premier League in the last 10 years or so. The influence is based on top foreign coaches playing a more possession style of football, led by Man City, Chelsea and Liverpool.
Because of that, the type of young player we are now producing in the top teams is fundamentally different to previous generations. Can you imagine anyone with the suspect defensive skills of Alexander-Arnold making it anywhere near a Top 4 team 15 years ago?
The likes of Neville and Pearce before him where fundamentally great defenders first; he is a creative player first and a defender second. But that's what his coach values.
Who knows how successful they will be internationally but it's hard to argue they are not coming through in greater numbers than for a long time.
Tony Everan
303
Posted 09/11/2021 at 18:34:04
Will @301,
Ashley Williams on Everton: "They don't have a plan, their squad is just not good enough". Said the man who brought nothing at all, but limp, half-arsed mediocrity. Tell us something we don't know!
You couldn't make this shit up.
Peter Neilson
304
Posted 09/11/2021 at 18:41:27
Will Mabon
305
Posted 09/11/2021 at 18:47:58
Tony E - crazy, eh? I couldn't think of anyone less qualified. I still think the Beeb do it on purpose.
Kieran Kinsella
306
Posted 09/11/2021 at 18:50:53
Tony & Will,
It's the first in a series of articles by Everton players critiquing the squad. Next week, Andy van der Meyde covers the topic of skiving, then Per Krøldrup will address our heading at set-pieces.
Tony Abrahams
307
Posted 09/11/2021 at 19:00:05
It's easy to say what Williams has said because he's just repeating what everyone else has been saying since Ancellotti decided to leave.
I'm hoping that lessons have been learned, and we can eventually come out the other side of FFP, with a plan, and it's not just about trying to remain unscathed until the new ground is built, which is what many are thinking right now.
Danny O'Neill
308
Posted 09/11/2021 at 19:10:58
Interesting and encouraging statistic, Peter. I'd be interested to see that squeezed down to the Top 3 or so-called Top 6. This is how you can play with data, I guess.
Surprised at Germany, but they have a lot of Polish, Turkish and Balkan lads who grow up in the German system then opt to play for their parents' or grandparents' nation. Our very own Tosun is an example. Born and grew up in Germany, came through at Eintracht Frankfurt.
Graham, definitely right on the evolution of the full-back. I actually prefer the modern one to be honest. And in fairness, right now, yes, England has a bunch of players more technically capable than we've had in a long time. I just question how planned it was and how sustainable that pipeline is. Time will tell; I'm no prophet. England just has a habit of short periods of being good followed by long periods of being not good. The international Everton.
On a separate note, and I might as well put it here while I'm on the thread. I got put on the naughty step by Wolves today. Letter in the post telling me there were alledged reports of an away supporter in my seat on Monday night. It was me by the way.
Really, has it come to the point where supporters can't sit alongside each other? I wouldn't mind, but I was hardly violent. I just cheered when we scored and had a conversation with the two blokes behind me for most of the second half.
They've threatened to cancel my £38 annual membership that I paid so I could get the £44 ticket and warned me of future conduct and selling on tickets to away fans.
It's already in the recycling bin.
Bill Gall
309
Posted 09/11/2021 at 19:13:12
When we are talking about youth coaches, we are not talking about individual players being coached, but a team being coached that produces the odd outstanding individuals.
When you look at say Everton Under-23s, there were 11 players playing, with 9 or 10 on the bench, and I have never seen that many players jump from Under-23 standard to Premier League standard.
When talking about the Rooney, Grealish type of individuals, they are natural players who are coached on how to play in their most effective positions in a team. All Premier League teams, plus some of the lower leagues, produce one or two above-average players over time, and the teams that produce more are the more successful ones, who young players want to go to.
They say that Europen and other countries rely more on the technical side of the game than the English, and that is why some of them with big money transfers don't make the grade in the Premier League... but, with the heavy influx of Foreign players introduced, the Premier League is changing. and a number of clubs are trying to bring in younger players from abroad to adapt to the English style of play while keeping their technical abilities.
It does not matter what your nationality is, you can't expect to coach a player to become as good as a Messi. Ronaldo, Shearer, Best, or any number of other top class players.
Coaches can teach positional sense, but the basic fundamentals should already be developed at an early age.
Darren Hind
310
Posted 09/11/2021 at 19:17:07
So let me get this straight Mockers.
You want to take Ashley Cole and Scholes out of the equation because they blow your argument to bits? Okay, but your argument still looks a bit threadbare.
I talk about a group of players who regularly won Premier League titles and Champions League medals and you put up a list of "Established" English players – most of whom can't even get a start for the new "technical" England; half of them can't even get a start for their clubs.
They were very lucky after being played off the park by the jocks. Even luckier against Denmark... and got found out big time by the Italians.
Technically gifted? The must have shown that bit when I wasn't looking
Jay Harris
311
Posted 09/11/2021 at 19:24:06
Danny,
One of the other factors is that conditions and lifestyles have changed.
When I was a kid in the '50s and '60s, all we wanted to do was go out and play footy all day on concrete and waste grounds full of glass and bricks.
Then, if you were good enough and spotted at about 15 or 16, you were snapped up by Southport, Chester or Tranmere and even those pitches weren't great.
I remember playing on QPR's artificial surface and there were seams coming apart and if the ball landed in front of you, sand would pop up from the torn seams. South Liverpool's pitch became a bog at times if it rained, so your skill set requirement was different.
Then came the Premier League with loads of money, vastly improved pitches, and academies starting to sprout up.
As we increasingly came out of lower class into middle class (not my definition, btw) all the old schoolboy pitches were sold off for housing or fell into disrepair but multi-pitch 5-a-side venues started to be developed alongside fitness centres and the old kick-and-rush, at which only the fit and physical reigned supreme, became a pass-and-move game with more technique and less long balls for speedy wingers to run onto.
Added to that, the football authorities were wanting a less physical game and started to discourage things like slide tackles which some players had developed as art form.
So I think these changes also influenced the development of more technical English players.
Jeff Armstrong
312
Posted 09/11/2021 at 19:27:04
Exactly, Tony @307,
Ashley Williams tells us nothing we don't already know and presumably gets paid for spouting the obvious, he probably had a quick scan of ToffeeWeb last night just to fulfil his interview request.
Graham Mockford
313
Posted 09/11/2021 at 19:36:10
Dazzler
Firstly a misunderstanding, I thought you meant Joe Cole!!!
But no matter, Cole is a great example. A superb full back of his time, probably the best I've seen. But he was of his time. A great defender but not someone who gave that many attacking options. In fact Baines his contemporary was a much better attacking option just not in the same league defensively.
But that's not what full backs are now valued for. I suspect Pep would take Leighton over Cole in the current footballing world.
We can um and arr over how good this England side will end up being but the record already says it's done better than it's predecessors for 50 years.
We are currently producing a lot of excellent technical players who stand right up against any other countries talent.
And that's what we were originally talking about. The current footballing culture is not valuing crash bang wallop but technical ability, ball retention and adaptability.
Btw Scholes is an absolute stand out. A player so good his lack of athleticism and strength didn't stop him being world class. But of course football 15 years ago valued Gerrard and Lampard more. If all three were Spanish I know who'd have been first choice.
Barry Hesketh
314
Posted 09/11/2021 at 19:38:38
Ashley Williams is just a Welsh Danny Murphy, it's Everton's fault that they purchased the life-long LFC fan and showed him up to be a Championship player at best.
Most disappointing thing is, I thought he was a good signing for Everton at the time, and was the type of player that we needed – how wrong could I have been?
The BBC must run an academy for LFC-connected players in which they are told to produce at least one anti-Everton rant a season.

Danny O'Neill
315
Posted 09/11/2021 at 19:47:22
I meant to mention Scholes earlier.
Best English player of his generation in his position, in my opinion.
Couldn't tackle mind!
Still fuming about the Wolves letter.
Joe McMahon
316
Posted 09/11/2021 at 20:16:41
Darren,
My late Dad (only died last month) was Man City born and bred. His tales of Malcolm Allison referring to Matt Busby as "Matt Baby" were just fab. If we were talking about "English awesome", he always spoke about Colin Bell and sometimes Mike Summerbee as well as Denis Law (yes, I know he's not English, but Law was good).
Growing up, even though an Everton Fan as a kid, I always rated Bryan Robson and Cyrille Regis, and I'm still wondering how Andy King never even got one full England cap?
Mike Doyle
317
Posted 09/11/2021 at 20:33:47
Danny @315,
With regard to Scholes, Alan Shearer (for one) would agree with you.
Graham Mockford
318
Posted 09/11/2021 at 20:40:24
Joe 316
Andy King was a really good player and was unlucky never to get a call-up. He had a real eye for goal, scoring a goal on average every four games across a long career.
My first-ever away match was at QPR in 1977. We won 5-1; Latchford got four but Andy was MotM by a country mile.
A proper blue legend:
Tony Abrahams
319
Posted 09/11/2021 at 20:51:38
Leighton Baines over Ashley Cole, is a big, big shout, Graham.
I also think Cole is the finest English fullback I've ever seen.
Football has definitely changed in this country, I'm watching Morecambe v Carlisle tonight (Everton Under-21's group) and at least 75% of the play has been along the floor, although I've only got one eye on the telly.
Don Alexander
320
Posted 09/11/2021 at 20:56:55
Like Tony A, I have doubts about the ethos and practice of coaching during the entire Premier League.
There's reference above to the so-called (by coaches) holy grail of "pass completion" stats. It took me back to the one and only (mercifully for football's sake) David Batty. He was a one-man "tackling machine" who somehow played for England over 40 times.
His left-back at the time was Tony Dorigo, a good player, who said he was once given a suicidal pass by Batty right in the middle of their own area, surrounded by opposing players. Dorigo managed to welly it out of play and screamed at Batty, "What the hell are you playing at?" to which the ungifted one allegedly said, "Pass completion, Tony, pass completion!"
More recently Luke Garbutt, at Everton between the ages of 16 and 27 whilst being coached at Finch Farm for his 5 first team Premier League appearances, spouted about how proud he was that David Unsworth had been praising his pass completion stats (just over 90% from memory). Great!
He left on a free to Blackpool after being loaned by us for 140 games elsewhere. There's been so many more like him too.
Is it too much to ask that coaches tell players that instant control, running into good positions to receive the ball, hard and preferably low, accurate shooting, and an ability to occupy space where the opposition least want you to be, are the other basics to be mastered, as well as accurate passing?
As well as being 100% aerobically fit.
Graham Mockford
321
Posted 09/11/2021 at 20:57:18
Tony,
Not what I'm saying, mate. Cole was by far the better full-back and Leighton was one of our best players in the last 20 years.
I was just hypothetically pointing out in a Pep City team he would probably be preferred in the current environment.
Dale Self
322
Posted 09/11/2021 at 21:19:15
I'm not English but strongly agree – Andy King should have received a few caps.
And on the pass completion stat, that is really better suited for a team measurement unless you're tracking a player's percentage with his own performances over time.
David Currie
323
Posted 09/11/2021 at 21:37:01
Joe 316,
Andy King was my favourite player growing up and I was at Goodison that day in 1978 when he got the winner against that lot.
Yes, very unlucky not to play for England, and was never the same player after an awful challenge at Roker Park where he got a bad knee injury in 1983 I think.
David Pearl
324
Posted 09/11/2021 at 21:40:13
Graham @318,
I enjoyed that video, thanks.
I used to love that team. I was 7 and l still remember all the players. Andy King holds some memories for me. He hung out of a window at Bellefield for a good half hour during some kids club l was in, entertaining the crowd.
Funnily enough, the first team l could recite would be the 1966 FA Cup Final team. The reason is, when l was 5 or 6, l would lay down on the floor with headphones on all night, nearly every night, listening to my dad's records. They included The Beatles, Buddy Holly, The Hollies, Elvis, The Everleys... and the 1966 FA Cup Final, complete with jumps and scratches. It had the semi-final against Man Utd on the B-side.
I can't remember a lot from those early games. In fact, the first goal l can actually remember seeing was Latchford's penalty against Chelsea. Then it's all a blur till Sharpy against Spurs in '83.
In between, l just got to see mainly night games from the corner of the Upper Bullens. Oh and not forgetting Mike Lyons's testimonial game, sat in the Gwladys Street stand wondering why George Wood was playing to the crowd by playing with his balls.
Although l do also remember seeing my favourite player of all time, Sheedy, make his home debut, and we wouldn't clap him on because we got him from over the park.
I don't know if my memory is so bad because they are 40 years ago or because of all the whisky.
Joe McMahon
325
Posted 09/11/2021 at 21:41:33
Thanks Graham and David. I remember being allowed to stop up late to watch MotD when King scored vs that lot. Wouldn't it be nice to win a derby again with a packed Goodison with an absolute screamer!

Tony Abrahams
326
Posted 09/11/2021 at 22:02:49
I was thinking it was a conversation for the pub when I posted, Graham, because I knew exactly what you said, and also understood your reasoning. Baines was a good player, and very good going forward, but Ashley Cole was another level, and I think this modern game might have even suited him even more.
I think the name of the game is still speed, and being able to play with intensity. I believe that's why a very talented Manchester Utd squad are getting left behind by these other three teams, because they can't match the others in those key aspects.
David Pearl
327
Posted 09/11/2021 at 22:06:27
Well, Joe, Digne is well overdue. Townsend might have used his up for the season.
Tom Bowers
328
Posted 09/11/2021 at 23:02:23
Wow! Man City and Liverpool over the next few weeks, and a tough trip to Brentford in-between. Can't we just postpone these games until January?
Christy Ring
329
Posted 09/11/2021 at 23:03:28
Danny #315,
Scholes was so skilful, and definitely couldn't tackle, whatever about England, but at Man Utd he didn't need to tackle with Keane beside him.
Bob Parrington
330
Posted 10/11/2021 at 14:13:00
John Keating #173,
I've been AWOL on this thread, sorry. Thanx for the note re Allan. Okay, Delph had put in a good shift but I felt he would still be better than a rested Davies for the rest of the game.
John Boon
331
Posted 10/11/2021 at 17:40:43
I have just read the negative comments about Everton by Ashley Williams. It was to be expected and should be ignored. I don't mind ex Everton players giving their honest opinion...
But someone like Williams only shows just how bad we have been in signing over-the-hill players. He was lucky enough to have been paid a very large amount of money for doing absolutely nothing for Everton.
Andrew Ellams
332
Posted 10/11/2021 at 17:47:39
It's easy to criticise Ashley Williams but he is the one who's sat in the dressing room and been on the training ground and listened to what the clowns running this show have had to say.
If there is a plan beyond Moshiri making a fortune out of selling up after the stadium has been built, I'd love to know what it is.
Ray Robinson
333
Posted 10/11/2021 at 18:04:27
Ashley Williams may well have been part of the problem, ie, under-performing, over-rated, over-priced player but that in no way invalidates his opinion, which I think is, broadly speaking, correct.
John Boon
334
Posted 10/11/2021 at 18:44:04
I agree that Ashley Willians may have been somewhat accurate in his statements. I just don't think he is the one that I have to listen to. He is likely to be bitter because he wasn't ever popular with the fans or the management.
I would welcome the opinions of someone like Jagielka and hope that he would have enough substance to be listened to. Ashley Wiliams could not give a toss about Everton and, from the way he played, never did, so why should his opinion matter?
---
Add Your Comments
In order to post a comment, you need to be logged in as a registered user of the site.
Or Sign up as a ToffeeWeb Member — it's free, takes just a few minutes and will allow you to post your comments on articles and Talking Points submissions across the site.
---
© ToffeeWeb