Report
Blues' efforts humbled by Reds' quality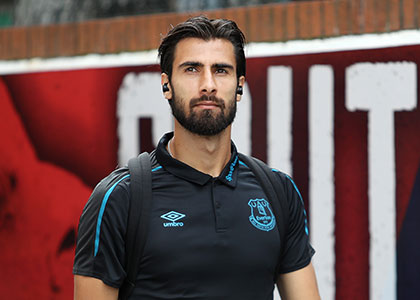 André Gomes is back training with the first team and took a spot on the bench
A cold and windy night in Goodison Park but Everton go into the Goodison derby needing to turn up the heat a little on their local rivals... but they failed on the night pretty poorly to match their predatory goalscorers.
With a lot more than usual riding on this one, Everton fans had been looking for a reaction after the dismal showing at Brentford. Both the players and Rafa Benitez came in for a roasting at the end of that disaster, but the mood of the crowd was supportive, at least at the start, but it seemed to be all over after 20 minutes.
That means starting without Iwobi, whose contributions have been next to nothing... although Iwobi scored the last Everton goal — exactly a month ago — the only goal Everton scored in the entire month of November!
Rafa Benitez is still without Calvert-Lewin, Mina, and Davies while Gomes is not fit enough yet, but Richarlison is back since missing the Brentford debacle with a one-match suspension after accumulating 5 yellow cards in 8 games. Holgate serves out his 3-match suspension.
But, much to the annoyance of many Evertonians, Rondon starts, with Delph, Iwobi and Gordon on the bench, where Simms and Onyango are not included (they're playing tonite in Southport for David Unsworth's Under-23s).
The game got underway beneath the Goodison lights with Liverpool kicking off. Mne got through but Coleman covering and Pickford advancing couldn't decide and gave up a stupid corner that Matip headed wide.
A dreadful giveaway by Townsend let Jota in to cross and Salah incredibly tried to score with his foot instead of heading in. Everton in absolute rags from the start. They tried to shape an attack but it was farcical, ending in a handball.
They attacked again, though, Gray crossing deep with numbers in the Liverpool area but it could not be controlled by Townsend. Liverpool went up the other end and won another corner, cleared. But Liverpool reformed and Salah had a snapshot that Pickford saved low to his right.
Everton tried to break forward but it was easily intercepted and just a few passes later, the last one was into the net by Henderson. Not even 10 minutes gone.
Article continues below video content
Richarlison as fouled but nothing came of Townsend's set-piece but they worked it back and claimed a free-kick that was not given. Everton attacked again, Gray crossing in and Richarlison launching himself at a very low percentage chance, missing it completely.
Shootng practice for Liverpool, TAA forcing a great save but the short corner was pushed away, back to Alisson. His clearance was picked up by Townsend who was clearly tripped by Roberston but Townsend was shockingly booked for simulation. Unbelievable referee bias.
Richaerlison got in a good cross that forced Everton's first corner with Gray lurking but it was cleared away and Liverpool were back up the other end again in no time. But Everton won the ball back and mounted something approaching a decent attack but Keane lost the ball, Liverpoool broke, Salah scored and it was 2-0 already with not 20 minutes gone. It could not have been a worse start by Rafa's Blues.
Another Liverpool corner and Keane headed just wide, avoiding an own goal. Another Liverpool corner headed behind by Rondon. Yet another corner, put behind by a red shirt.
Coleman was next to gift the ball to Liverpool in midfield, but the Blues recovered and Richarlison played in Gray who should have shot but tried to be too clever and any chance was gone. More shooting practice for the Reds, Pickford saving from Mane as another ball appeared on the pitch.
Gray got forward but his cross was clear, then Townsend was fouled but Gray's ball in was easily defended by the Reds. Allan was next to be fouled, Gray again hitting it deep and Liverpool repelling it easily. Coleman was having an absolute mare against the Liverpool players. Allan tackled Jota, winning the ball, but Jota went down in a heap feeling his trailing leg, earning a yellow card for Allan, who was absolutely livid.
Liverpool were content to pass the ball into the net but Richarlison produced a breath ball to Gray who suddenly got through and played it under Alisson and it bobbled into the Liverpool net
Everton had some better possession until the ball was launched out of play. Gray got through again and was tripped by Fabhimo but Tireney again said it was a dive and booked the Everton man.

Liverpool mounted a dangerous attack and Mane's header had to be well cleared by Godfrey. But they then won a corner in the dying minutes of the half that was hoofed away before Salah was offside.

Rondon started a decent move with Digne crossing in and it fell deep to Doucoure but his shot was easily blocked just before the whistle blew on a very lively half, with Everton finally showing a bit of life but ominously getting 4 yellow cards after being blown away in the first 20 minutes.

Everton resumed after the break and Rondon pressurized Robertson, and Rondon stumbled forward, the ball crossed to Doucoure who headed into Alisson's hands.

Liverpool attacked at pace but Everton got back in numbers and Godfrey threw himself to block Mane's shot. Everton's defence were tested again after the ball had gone out of play but not flagged, but they held firm.

Gray whipped in an excellent cross that was headed behind for a corner. The crowd went mad when Jota was given a soft free-kick in a dangerous central position. Van Dijk eventually kicked it into the wall before it was put wide.

Gray git forward but couldn't get past Matip. A ball over the top was taken well by Richarlison but then wildly wellied over the Gwladys Street Stand. Rondon tried to walk off grimacing but then tried to run off a hamstring problem before Gordon finally replaced him.

Coleman gave away a corner really poorly when he should have cleared, headed behind by Keane, as he did with the next header. Pickford had to punch the next one away.

Gordon was fouled by Robertson, looked the same as the other two but now the Liverpool player was shown the yellow card. Townsend fired it off the top of the wall. Townsend's corner could not beat the first man and it broke back to Coleman who totally fucked up and Salah said thank you as he ran off to finish. Absolutely hopeless from the Everton captain there.

Henderson crossed in dangerously and Godfrey almost took out Pickford to hook it behind. Delp replaced Townsend... damage limitation now as the spark for the Blues seems to have faded. Richarlison couldn't get around Van Dijk to get the ball across to Gordon in space.

Then Jota made it look ridiculously easy. spinning Allan, around and lashed the ball into the roof of the net for an unstoppable 4th goal, finally ending any remaining Blues hopes of turning this around.

Van Dijk fouled Gordon and was booked. Tosun replaced Gray. Everton played it around a bit but could not get close as the minutes ticked down to another horrible defaet for Everton under Rafa Benitez, the biggest home derby defeat for 39 years.

Kick-off: 8:15pm, Wednesday 1 December 2021 on Ammazon Prime in the UK

Everton: Pickford, Coleman, Godfrey, Keane, Digne [Y:40'], Doucoure, Allan [Y:31'], Townsend [Y:16'] (73' Delph), Richarlison, Gray [Y:44'] (85' Tosun), Rondon (59' Gordon).
Subs not Used: Begovic, Kenny, Iwobi, Gbamin, Branthwaite, Dobbin.

Liverpool: Alisson, Alexander-Arnold, Matip, Van Dijk [Y:80'], Robertson [Y:63'], Henderson (83' Oxlade-Chamberlain), Fabinho, Thiago [Y:40'] (75' Milner), Salah, Jota (88' Minamino), Mane.
Subs: Konate, Tsimikas, Origi, Kelleher, Williams, Morton.

Referee: Paul Tierney
VAR: Michael Oliver
Share article:
---
Reader Comments (223)
Note: the following content is not moderated or vetted by the site owners at the time of submission. Comments are the responsibility of the poster. Disclaimer
Neil Thomas
1
Posted 01/12/2021 at 19:17:23
Rondon starting again, don't we ever learn?
Jerome Shields
2
Posted 01/12/2021 at 19:21:22
Actually I prefer this side with Richarlison and Gray.
Ciarán McGlone
3
Posted 01/12/2021 at 19:23:05
Benitez is a deluded stubborn moron.
Rondon was slightly better at the weekend – but that only raised his input to the level of useless from his previous level of absolute garbage.
I hope we give them a game but it's inevitable we lose. The manner of the defeat will be telling and will be the manager's calling card.
Lose with respect.
Dave Williams
4
Posted 01/12/2021 at 19:25:33
Gomes is not on the bench!
Interesting selection with Rafa clearly hoping that Rondon will distract their defenders and Richarlisonand Gray can sneak in. Richarlison will be a huge help to whichever full-back he supports but can Andros make his presence felt in central midfield?
It's actually not bad on paper with only Calvert-Lewin missing from a lot of fans' first-choice team. Can we turn up and give it a good try – that's the big question.
Jay Wood
[BRZ]
5
Posted 01/12/2021 at 19:27:27
Decent looking XI that for me.
I also thought Rondon had his best game for Everton at Brentford, although I acknowledge Richarlison and Dom would have been attacking Gray's delivery better than Rondon and Gordon did.
So doesn't having Rondon in the team alongside Richarlison, flanked by Gray and Townsend, show a degree of boldness, rather than having an isolated striker and packing the midfield to merely contain and defend..?
Jay Harris
6
Posted 01/12/2021 at 19:28:24
Very disappointed to see Rondon. We need pace to hit them on the break. Rondon takes half-an-hour to get from the half-way line.
Larry O'Hara
7
Posted 01/12/2021 at 19:28:25
If it were not for playing Rondon and/or Iwobi I might reluctantly sympathise with Benitez. But playing Rondon means it's time for the taxi.
Frank Sheppard
8
Posted 01/12/2021 at 19:29:10
Scary times about to start...
Neil Lawson
9
Posted 01/12/2021 at 19:34:14
As a lifelong Blue (66 now), I desperately hope they can win, but if they do, I hope it is deserved and not flukey and might just mark the beginning of better times.
If they lose, I hope it's not close or they are unlucky. I hope they are well beaten and the fraud who is our manager (in name only) can disappear ignominiously.
It is truly awful to have that mindset but, if he stays, we are going down with a whimper.
Joe McMahon
11
Posted 01/12/2021 at 19:41:40
Oh no - Rondon. Keane and Digne will struggle against the red tide accelerating towards them. Wouldn't it be great to see an Everton Team play this way!
Si Cooper
12
Posted 01/12/2021 at 19:42:09
How windy is it? A bit of blustery stuff may make it difficult to deliver/ judge hoicked balls, helping Rondon unsettle their centrebacks whilst disrupting their balls in from wide.
A near gale from one end to the other however could give us at least one, maybe 2 (I've known the wind direction do a 180 depending on tides) halves of having to try to play it out along the ground against their press.
Let's hope it's one of those nights when all the luck is with us.
Robert Tressell
13
Posted 01/12/2021 at 19:47:47
Rondon needs to redeem himself by absolutely battering their centre-halves. He's big enough. Now's the time to show it.
Andrew Keatley
14
Posted 01/12/2021 at 19:47:57
Hopefully we show the right balance of composure and competitive spirit. If we can keep eleven players on the field, then I can see us getting a result. Please God.
Phil Smith
15
Posted 01/12/2021 at 19:48:08
Rondon again? Oh dear. No scousers starting then?
*slaps own face
Tony Everan
16
Posted 01/12/2021 at 19:49:19
Rondon has been doing boxing training to get sharper, so if he doesn't score he may knock Van Dijk out instead for a bit of entertainment.
George Cumiskey
17
Posted 01/12/2021 at 19:51:13
Rafa is signing his own death warrant by keep playing Rondon!
Oliver Molloy
18
Posted 01/12/2021 at 19:57:19
Strangely optimistic!
Christy Ring
19
Posted 01/12/2021 at 20:04:43
Klopp still bitter and had to mention last season's game dickhead.
Danny Baily
20
Posted 01/12/2021 at 20:11:47
Players look less up for it than we are.
Andy Crooks
21
Posted 01/12/2021 at 20:15:48
At least Rondon must be fit. He starts with nothing to lose, Redemption awaits, go for it you big lump, be a hero.
Ernie Baywood
22
Posted 01/12/2021 at 20:26:16
Same approach, going the same way.
Alex Gray
23
Posted 01/12/2021 at 20:37:23
Fans leaving already. Don't blame them one bit. Rafa to blame for this one starting two up top.
Simon Dalzell
24
Posted 01/12/2021 at 20:50:47
Totally disillusioned. Allan yellow card a disgrace. Commentators so biased, especially arsehole McCoist. "Not sure he catches him, but the referee quite right ". What!?
Jerome Shields
25
Posted 01/12/2021 at 20:51:26
Live forum unbelieveably negative.
Kieran Kinsella
26
Posted 01/12/2021 at 21:02:59
Kenwright is like the modern day Pol Pot. All the millions of lives he has destroyed. Why do they keep showing him?
Ernie Baywood
27
Posted 01/12/2021 at 21:06:52
Sometimes I feel like a dinosaur on here with my get it up em stuff.
Other times I feel like a genius. How in the hell are you going to compete with this side without going hell for leather against them? And for about 10 minutes we did it and it was a different game.
FFS the game isn't that complicated. If a team is much better than you (and they are) you've got to be absolutely horrible.
Jerome Shields
28
Posted 01/12/2021 at 21:08:13
Rondon has been good throughout the first half. Run give space for goal.
Jay Wood
[BRZ]
29
Posted 01/12/2021 at 21:17:10
Well, what was looking as though it was going to be an evening of deep humiliation, we clawed our way back into that game by half time.
They could have been two up after 3 minutes. Two top finishes by them in 20 minutes. Good goal by us via Allan-Richy-Gray. Four bookings for us in that half and only one really merited. Digne taking out Henderson.
Townsend and Gray harshly booked for simulation. Allan won as clean a tackle as you can see for his booking. There was nothing malicious or intentional in his following leg catching Jota. Shouldn't have even been a free kick, never mind a booking.
Great chance on the stroke of half-time for Doucoure, who but for that has been invisible.
Townsend a little off again, but Rondon (yes, Rondon), Richy and Gray are playing well. Smart move by Rafa to go with four up front. High risk, given how they play, but rich rewards if it comes off as it did for our goal.
Not done yet this game by any means.
Simon Dalzell
30
Posted 01/12/2021 at 21:52:14
Pickford should have saved the third, it was a pathetic effort, and he made the second goal easy. I would definitely sell him and build with the money. I've stopped watching.
Kieran Kinsella
31
Posted 01/12/2021 at 21:58:17
Jay,
"Well, what was looking as though it was going to be an evening of deep humiliation, we clawed our way back into that game."
That didn't age well.
Ciarán McGlone
32
Posted 01/12/2021 at 21:59:23
Liverpool fans singing Benitez songs after 80 minutes sums this whole sorry shitshow of an appointment up.
Joe McMahon
33
Posted 01/12/2021 at 22:00:21
Like the Bob Paisley derby all those years ago, and many years of Moyes ones. Decades of Humilation.
We are in deep trouble, as I don't think this squad could get promotion back to the Premier League in the Championship. Richarlison and Calvert-Lewin will be gone.
Alex Gray
34
Posted 01/12/2021 at 22:00:45
Pickford is the least of our worries and that says something. No wins in eight and we can't defend or score.
Mark Andrews
35
Posted 01/12/2021 at 22:01:56
An expensively assembled collection of 6 managers' players, the only link they have is the shirt they masquerade in.
Decades of mismanagement. What a disgrace.
Danny Baily
36
Posted 01/12/2021 at 22:04:31
We got 10-15 minutes of a contest.
Simon Dalzell
37
Posted 01/12/2021 at 22:05:09
Alex, You're spot on, but I would take the money for him right now.
Mick Roberts
38
Posted 01/12/2021 at 22:06:58
What now, Brands, you fucking wanker, and fuck off, Moshri. You need to listen to the fans? Appoint Benitez... Yes, you really listened. Just fuck off.
Andy Crooks
39
Posted 01/12/2021 at 22:08:58
I expect this will be the end of an insane experiment. Benitez out. Who will replace him? Anyone.
Ben King
40
Posted 01/12/2021 at 22:11:41
Crap, crap, crap.
Hate this team. Hate the manager and hate the top brass that are totally inept. Absolute bunch of clowns.
You've totally broken me and made me embarrassed to get my kid to support Everton.
Awful.
Mark Andrews
41
Posted 01/12/2021 at 22:11:55
As painful as I thought it would be.
Rafa out? What's the point? The problem is the management and Brands.
We're a basket case in deep relegation form.
Neil Lawson
42
Posted 01/12/2021 at 22:11:59
Everton biggest home derby defeat for 39 years. One shot on target? Team selection? Tactics?
Relegation is absolutely guaranteed with FSW in charge. He has to go and go now. He should never have come.
Tom Harvey
44
Posted 01/12/2021 at 22:12:41
I'm surprised we had 11 men at the end and no injuries after that.
Frank Sheppard
45
Posted 01/12/2021 at 22:13:35
1-4 as good as we could have hoped for. Awful, awful, awful.
Tony Everan
46
Posted 01/12/2021 at 22:14:50
Commentators wetting themselves to get Benitez sacked.
Liverpool miles ahead of us in class and yet we were still in the match and battling for it against the odds until Coleman's terrible error killed the match, ripped the heart out of the crowd and the players.
How can the manager be blamed for that?
Kunal Desai
47
Posted 01/12/2021 at 22:15:45
You only have to look at the Directors Box to see what a dream team it is – a fat old grumpy looking twat, a blonde knacked old women like shes been round the block and James Bond impersonator. What a mess
Worst derby defeat in 39 years.
Thank you, Moshiri and Co. Absolutely marvellous stuff.
Time fo drive these folks out.
Dale Self
48
Posted 01/12/2021 at 22:16:29
There were moments where it looked as though the fight was getting to the RS but inevitably a player's lack of composure caused something that that killed momentum.
Not going down Rafa's not leaving. And I think this team may have enough to find some chemistry up front while we look for some obviously needed replacements elsewhere.
Jerome Shields
49
Posted 01/12/2021 at 22:17:56
Dale #48,
Totally agree, but I think Rafa will be staying.
Tom Harvey
50
Posted 01/12/2021 at 22:18:41
Tony,
There was nothing wrong with what Benitez did tonight, the players just aren't up to it.
Big players like Richarlison & Digne anonymous tonight.
Andrew Keatley
51
Posted 01/12/2021 at 22:20:14
When you play against a stronger opponent then you have to gain ground where you can - outwork them, outrun them, outthink them, outmanoeuvre them. We didn't do any of that. Instead we played with fear, and you never get anything when that happens.
Alan Moss
52
Posted 01/12/2021 at 22:21:08
Tony #46...we're a worse team than last season and less capable of competing with the better teams. That's mainly down to the coaching, tactics and decisions or Mr Benitez.
Andy Crooks
53
Posted 01/12/2021 at 22:21:21
Tony, a point is reached when, game after game, the same thing is said. When do you think the manager can be blamed? After another five defeats?
Blame the board and the players, they deserve it. However, the board and players aren't going anywhere. Something must be done to avoid the chance of relegation and Benitez out is it. There is no other option.
Danny Baily
54
Posted 01/12/2021 at 22:21:30
I don't think it's unreasonable to call for Rafa to leave. This is our worst run of form since the last time we were relegation fodder. We can't buy a goal. Crucially, morale seems low. It's all turned since the 80th minute against Watford. We can't go on losing.
Tom Harvey
55
Posted 01/12/2021 at 22:23:45
Dave Williams
56
Posted 01/12/2021 at 22:24:09
Difficult to know what to say really. We could have been thrashed by the half-hour mark but we dug in and came back at them with a fine goal from Gray. The old cliche of "the next goal will be key" was always going to apply and, once they got it, we were pretty much done.
I thought Rondon did a decent job, Gray looked dangerous and Pickford saved a few albeit he could be questioned on their third and fourth goals. Coleman and Allan were very poor in that regard. Doucouré doesn't yet look match fit to me. Gordon looked okay.
They were first to the ball and seemed physically stronger. Our full-backs were poor and needed better cover than the rest of the team gave them.
We were clearly beaten by a much better team but at least we didn't throw in the towel and, for a while, we had a real game on our hands.
Rafa will no doubt cop for a load of stick but most teams would have been stuffed by them tonight. The Arsenal game will be more of a guide as to whether Rafa can turn this around.
Tony Hill
57
Posted 01/12/2021 at 22:25:30
Tony @46 and Dale @48, absolutely right. Liverpool are a superb side and didn't need our help, but we provided them with it nonetheless.
The Shite will beat most other sides by similar margins.
We are miles away from them, and bad defensive sloppiness apart, I did not think we disgraced ourselves.
Stick with Benitez.
Derek Moore
58
Posted 01/12/2021 at 22:26:42
Turns out the live forum wasn't negative, just realistic about our prospects for today. Of all the things wrong with Everton, both right now and historically, it feels to me that the ToffeeWeb live forum shouldn't even really be in the conversation.
All the positivity in the world isn't going to change this situation. We're beyond that, or at least we ought to be. Eight games, two points – that's nearly a quarter of the league season!
Why would Moshiri not be seeking to sell? We're a shambles.
Tom Harvey
59
Posted 01/12/2021 at 22:26:48
Dave,
Agreed. Arsenal and Palace are the real test of our resolve and courage.
Ben Attwood
60
Posted 01/12/2021 at 22:27:12
Get shut now. Terrible appointment. Total embarrassment.
Fans walking out after 20 minutes should be all that the board need to know; they have to act now.
Justin Doone
61
Posted 01/12/2021 at 22:27:16
As before the game, losing to them is gutting but not unexpected.
For those blaming Rafa I understand the disappointment, the red connection and poor effort, but we all know the players are just not good enough.
We need to play a high tempo, with real guts and effort but it's about doing the right thing at the right time.
We lack cohesion, generally a basic requirement and we have for several seasons. Along with a lack of effort is what I think frustrates most fans.
But players keep making mistakes, choosing the wrong options, looking rushed and panicked, fail to take chances again, and again, and again.
We are a mid-table team. Another manager isn't going to change that. For now, showing support and encouragement is what we need to do. A lot of fans downed tools and that's really disappointing to see.
Small club mentality... we all need to show a massive improvement, quickly.
Jerome Shields
62
Posted 01/12/2021 at 22:27:28
Except for the first goal, the other three were Everton player errors. Out of position and poor ball control. Everton link play in midfield was poor, resulting in most counter-attacking opportunities for the opposition.
Rondon going off lost Everton their shape and Coleman's error just lost any momentum and finished the game for Everton.
Danny Baily
63
Posted 01/12/2021 at 22:27:46
Tom, not sure. But this 'Agent Rafa' saga is writing itself while he remains in post.
Alan Moss
64
Posted 01/12/2021 at 22:28:38
Tom #55
There's a very well paid DoF who should be answering that question.
Joe McMahon
65
Posted 01/12/2021 at 22:28:57
I'm with Dale. Liverpool are the highest scorers in the league, they must average 4 a game. As awfull as this squad is, we were (kind of) still in it until Coleman's faffing about. The massive clearout that is needed (and won't happen), does not include the manager.
Ciarán McGlone
66
Posted 01/12/2021 at 22:28:57
Starting with a 4-4-2 was daft and bringing on Delph for Townsend also made little sense.
Rondon did very little despite what the contrarians will have you believe.
However it was the most effort we've seen in a while... why we have failed to put in that effort against some of the shit teams who have beaten us recently is really the question.
Benitez is a beaten docket and in the end the entire situation was humiliating.
Tom Harvey
67
Posted 01/12/2021 at 22:31:28
Danny,
You could have had Conte, Teuchel and Pep on our bench tonight picking and motivating the team and the same result would have happened.
Game after game.
Kieran Kinsella
68
Posted 01/12/2021 at 22:32:18
There doesn't seem to be even a ray of hope. Sure, we can sack the manager again but we still have the same mentally fragile, error- and injury-prone millionaires that we can't give away, FFP rules, and zero talent in the academy. It's going to take a generation to fix agent Bill's mess and that's if we don't go bankrupt in the mean time.
The worst part is I'm not feeling emotional or angry – I just feel like someone who's loved one has been in a vegetative state for 30 years and everyone is looking at me like "Just pull the plug."
Phillip Warrington
69
Posted 01/12/2021 at 22:32:40
This could have been a lot more – they missed at least another 5 that were 50/50. That would be the only thing you could take from this game and that is Everton at the moment. It's pretty sad when the only thing you can say about Everton is we got beat again but it could have been by more...
Everyone forgets at the start of the season, with a new manager, the team lifts, like every other team does. But now that period is over and the real form shows.
I am a Blue and always will be a blue but, after 56 years, watching Everton has become depressing.
Andy Crooks
70
Posted 01/12/2021 at 22:33:20
Tom, who'd replace him is absolutely not an issue. Does he need to be replaced is all that needs be asked.
In my view, he is done, beaten, battered, bewildered and past it. Make the big decision now. We stink of relegation, fear and timidity. Sadly the players cannot be replaced. He can.
Peter Gorman
71
Posted 01/12/2021 at 22:33:25
Ben @40 - my kid will never hear about Everton, you can bet on that.
Christy Ring
72
Posted 01/12/2021 at 22:33:38
No wins in 8, Brands should be sacked and a total clear-out at board and management level. How Brands can stand over having no cover for both full-backs and Coleman 33?
No faith in Rafa, his tactics and ideas are past tense. We need a young manager... I said it at the time, Arteta should have been our target. Let Lampard start from scratch.

Graham Mockford
73
Posted 01/12/2021 at 22:33:45
He must go, you can't defend this stuff.
Tom Harvey
74
Posted 01/12/2021 at 22:33:51
Alan @ 64
Totally agree, but I suspect we have three DoFs in our club: Kenwright, Moshiri and Brands... Brands being the Junior one.
Ian Edwards
75
Posted 01/12/2021 at 22:33:58
I really don't know what the answer is.
The players aren't good enough. Will the return of Calvert-Lewin make a difference? Will a different Manager change anything?
Seems clear to me that these players don't suit a sit back and counter style. In your face pressing is needed. Unless there are changes, then relegation is a certainty.
Alan Moss
76
Posted 01/12/2021 at 22:36:02
Justin #61,
You're right, this is definitely the fans' fault.
Dave Williams
77
Posted 01/12/2021 at 22:36:46
Ciaran,
Rondon was there to put himself about and ruffle them up and I thought he did that. He should never be in our team but, within his limitations, he had a better impact than Richarlison for example. He put in the effort and I thought competed well – far better than in his previous games.
The boo-boys will no doubt be pleased that he will miss the Arsenal game by the look of his injury.
David Connor
78
Posted 01/12/2021 at 22:37:31
Get ready for more stadium updates tomorrow, folks. No good having a brand new stadium if we end up being relegated.
We need a whole new team and no getting away from it. We are by far the worst team in the Premier League at this moment in time.
The club is a fucking embarrassment from top to bottom. Jesus Christ himself couldn't perform a miracle with this team and he performed a few. We are an absolute joke of a club.
Pat Kelly
79
Posted 01/12/2021 at 22:39:26
How bad is it when you can't believe sacking a manager with this run of crap is not the answer?
Tony Hill
80
Posted 01/12/2021 at 22:41:44
I have to say, I understand why fans left after their second. Pure pain, no doubt, and it registered the depth of their anger and frustration. They are full Blues and entitled to make a protest.
God knows we have all sat patiently through decades of tripe.
Simon Dalzell
81
Posted 01/12/2021 at 22:43:39
The players are clearly not good enough, but I would sack Benitez now. Don't ask me who is replacing him, it's not my job.
He is outdated and no better (probably worse) than the other bums we have had lately.
Sell Pickford in January. Richarlison in the summer along with others.
Iain Latchford
82
Posted 01/12/2021 at 22:44:58
Tom (50) How anyone can describe Digne as a "big player" is beyond me. He's absolutely hopeless and has been for at least 18 months.
Andy Crooks
83
Posted 01/12/2021 at 22:45:09
Tom @ 67.
That is pure conjecture at best and utter nonsense in my view. His team selection and tactics have been shown to be lamentable and that is not conjecture. We have been utterly shit and I challenge anyone to offer an argument that Benitez is the best our money can buy.
Who cares how many coaches we sack. All we want is a sign that we are making progress. We are looking more utterly shit by the game. Please let him be gone.
Will Mabon
84
Posted 01/12/2021 at 22:45:35
Have to disagree with the title - we were humbled by our own lack of quality. The RS barely had to try.
Tom Harvey
85
Posted 01/12/2021 at 22:45:48
Ian Edwards @ 75
Calvert-Lewin is a good poacher, with high work rate and athleticism, but he ain't no Aguero.
Tommy Coleman
86
Posted 01/12/2021 at 22:47:07
Mistake after mistake after mistake. They had such better reactions and tempo. Different class in tactics, fitness and coaching levels. Rafa, got it wrong again.
Rafa – has-been.
Carlo – has-been.
Big Sam, Silva, Koeman – Never-beens.
Out of 10:
Pickford – poor positioning for 2 goals. 4/10
Coleman – finished at this level. 3/10
Digne – can't cross anymore. 4/10
Keane –- slow as usual. 5/10
Godfrey – 1 good tackle. 5/10
Allan – slow but battled. 5/10
Doucouré – non-existent, bad tactics from the manager about his positioning 4/10
Townsend – did nowt, 4/10
Gray – the only player showing quality. 7/10
Richarlison – again, bad tactics from manager, 6/10
Rondon – my word. Did 1 good touch in the 2nd half which earned him his 1/10.
Rafa – Baffling again. Playing Rondon, 4-4-2, etc so obvious how the game would go. Out by Crimbo at this rate. 1/10.
Tom Bowers
87
Posted 01/12/2021 at 22:47:26
Like the Man City game, this was not unexpected.
Liverpool, like Man City and Chelsea, are on another planet moneywise and they have been wise spending it. With the kind of wages they pay, they can attract the best and have a deep bench of top-class players so that, when they have players missing, they are not missed at all – unlike the likes of Everton.
We mustn't be too disappointed given that Rafa has had little or nothing going for him but one begs the question: How bad is Tosun if Rondon gets the start and still achieves nothing that a goalscorer is expected to do?
Another miserable footie Christmas in the forecast.
Tom Harvey
88
Posted 01/12/2021 at 22:47:31
Andy Crooks,
You think Brands has done a good job?
Dave Williams
89
Posted 01/12/2021 at 22:47:56
I agree, Tony, it hurts so much to witness that shower bouncing around and it brings back (for me) 56years of hurt since my first loss to them – 0-5 at their place.
We all have different ways of dealing with it and I very nearly switched the tv off after the second and third goals but forced myself to stick with it.
I well recall having to go to school two days after a derby defeat and then later, going in to face them at work. It is embarrassing, humiliating and I won't be wearing my Everton shirts or rain jacket for a few weeks now.
Our chairman feels this but does our owner?
Kenny Smith
90
Posted 01/12/2021 at 22:48:58
We're in the shit. We were before today's game. It's crap when you're looking at Newcastle v Norwich after 14 games and hoping for a draw.
Is sacking the manager the answer? Probably. We need a bounce from somewhere just to limp over the 40-point line.
There's no doubt he should've played Simms at some point at Brentford. His decision-making is crap and his blind loyalty towards Rondon is laughable.
This was never going to work with him. Not just cos he's a red but because he's a defensive dinosaur. I for one hope he's out of a job tomorrow.
Andy Crooks
91
Posted 01/12/2021 at 22:51:21
Justin @ 61 – "the fans downed tools", is one for the ToffeeWeb archive.
"THE FANS DOWNED TOOLS" ... Wow!
Shame on you, Blues at the game – you cost us the points.

Shaun Lyon
92
Posted 01/12/2021 at 22:52:07
Judging by some of the comments, I may upset one or two here, but for what ii's worth, my view is that actually, individual errors aside, if we'd played like that over the last 7-8 games, we'd have won a few.
The sad fact is, they are at a different level to most teams, not just us, right now. The ref was shocking. Apart from his decisions, he managed to get in the way of play twice, gave them every slight thing and us nothing.
Two bits of piss-poor individual play led to their 3rd and 4th goals – if it had ended 2-1, I wonder how upset we'd have been? If we play like that and get Calvert-Lewin back, we will be fine.
Pete Clarke
93
Posted 01/12/2021 at 22:54:30
The biggest disappointment is seeing that fat ugly loser's face sat in the Directors Box but also knowing that the one who owns the club thought it was right to leave him on the board.
This is also the same owner who appointed Allardyce and Benitez and then gives Brands, who spunked all the money on shit players, a place on the board as well. The quicker this idiot sells up, the better.
My feelings go to Seamus tonight. He knows his football days are done and he wishes he was playing Gaelic Footy at home but he is the only player who really cares about the club. It's not his fault the club begged him to stay and threw stupid money at him to do so.
What a shambles of a club.
Jerome Shields
94
Posted 01/12/2021 at 22:55:41
Pickford committed himself on both the Salah and Jota goals, instead of keep standing up as he should have done.
Andy Crooks
95
Posted 01/12/2021 at 22:56:20
Tom, @ 88, no I don't. What is your point?
Do you think sacking Brands will set us on a winning run?
We need a short-term fix and there is only one option that offers it.
Tom Harvey
96
Posted 01/12/2021 at 22:56:33
Shaun Lyon @ 92
A derby will always get the adrenalin going, but at the end of the season it's your average game against Palace, Leeds etc that determines your position.
This lot are just lacking and that's all there is to it.

Dale Self
97
Posted 01/12/2021 at 22:59:30
Hey uh, what's the over/under on this 700? 800? I need to call my bookie
Colin Glassar
98
Posted 01/12/2021 at 23:01:29
The shambles that is now EFC was perfectly represented by the three stooges sitting in the directors box. Such an embarrassment to see the gormless twats squirming, and smirking, during the game.
Tony Hill
99
Posted 01/12/2021 at 23:01:42
Dave @89, I remember that horror in 1965. I've just checked out our team and it was as strong as I thought it was.
Dave Lynch
100
Posted 01/12/2021 at 23:03:34
Some pathetic knee jerk reactions here.
Have any of you forgotten the Silva, Koeman, Ancelotti and Aladyce reins?
Raffa cannot make a silk purse out of that gang of pigs ears, very few of them have a football brain cell between them.
Liverpool on the other hand have been well schooled for years under Klopp, who, lets not forget was nearly hounded out by a section of there fans shortly after he took the job.
Sack him and we take the drop for certain.
Anthony Murphy
101
Posted 01/12/2021 at 23:04:03
My fear is we won't see a fully fit DCL until after the Xmas period and in to the new year...Richarlison also looks like that non stop footy for a couple of years has finally caught up.
Andy Crooks
102
Posted 01/12/2021 at 23:06:08
Shaun and Tom, you're both right. A derby does get the adrenalin and I' ve done tonight what I have avoided for ages and that is posting in outrage and disappointment and sheer frustration.I admire your stoicism, and I mean that. Another day tomorrow, tainted though, by sympathy from reds I will meet.
Shaun Lyon
103
Posted 01/12/2021 at 23:06:42
Tom @ 96, I don't disagree with your point.
This lot ARE lacking, but what I'm saying is that if they put in that much effort week in, week out, then we WILL win a few games.
Get DCL back, a settled side and let's see. I know we're still shite, but equally, we won't be going down, however much certain parties in the media would like it.
Simon Dalzell
104
Posted 01/12/2021 at 23:08:06
No Dave ( 100 ) we're not stupid. Forget the other losers. Benitez is arguably the worst of the lot. A has been.
Justin Doone
105
Posted 01/12/2021 at 23:08:25
Ha ha.. I'm certainly not blaming the fans, nor any individual.
Collectively the whole club is under-performing.
Everyone including the fan's can help by workings hard, making the rights decisions, being positive and supporting each other.
The media will rightly point out our players are not good enough. I don't wan't them highlighting our fans not being the great fans we are. It helps fuel negativity.
Be disappointed, then move on.
As for Rafa. If there's a better manager available great. Lets get them ASAP because very few wanted him.
But I'm not sure there is and we need to think carefully about just moving him on. We need to give someone 3 years to build a team.
6 months, 18 months, it's just not long enough to make real progress.
But our recruitment needs to be much better. 2 top quality, first team players each transfer window is needed. Brands and Rafa could do worse than raiding City and Chelsea for fringe players.
Tony Hill
106
Posted 01/12/2021 at 23:09:20
Anthony @101, you're right about Richarlison. He's been out of sorts for us, though, for a long time. He and Digne have plummeted from their best. Add that fact to our injuries and you have a significant part of the problem.
Will Mabon
107
Posted 01/12/2021 at 23:11:52
Andy, I think sacking Brands would barely be noticed - since I can't see one scrap of anything good on the pitch that could be attributed to him, nor anything that couldn't have been done without him.
If this last two months have been him "Directing" football, God help us. Get him gone and save the salary.
Gary Smith
108
Posted 01/12/2021 at 23:12:26
Happy clapping Rafa fans like that John Cleese knight from the Holy Grail….,come back lad, we'll bite yer arm off.
Utterly devoid of ambition, looking desperately for the small log of defensive, disorganised, mid table mediocrity.
Mick O'Malley
109
Posted 01/12/2021 at 23:12:55
That was painful, we've took another heavy defeat at home and worse off all to that lot and we are looking a beaten side as soon as we concede, this is one of the worst Everton sides I've seen, Benitez was bad appointment he can't get a tune out of these every single player is regressing and looking confused, this fella has got to go he is sending us one way, Benitez out!
David Pearl
110
Posted 01/12/2021 at 23:15:04
Effort was there but really it was lost already when he decided not to start with Delph in midfield. Fantastic save by Pickford in opening minutes. I thought Rondon played well, ran and jumped and got himself about. All hope was lost with the misscontrol by Coleman.
We can't keep changing managers but he can't have much longer. No rhyme or reason to his subs. Number 1 on his agenda was moving on our most creative midfielder.
Main factor of course tonight was the opposition. A top team, passed to each other and have some killer finishers that all trust each other, work for each other. Sitting there listening to them lot singing our managers name. The decisions made in the last few years.
Hard to be a blue.
Sam Hoare
111
Posted 01/12/2021 at 23:16:20
Not read the other posts but my anger feels directed more at the last 4 years or so than what I saw tonight.
Tonight was grim but I saw a lack of quality rather than a lack of effort and that falls squarely at the boards feet. The running of this club has been woeful in recent years and what we are seeing is the inevitable chickens coming home to roost.
Football has evolved in the last decade and Moshiri and Kenwright need to step back and hand over the running of the football side of things to someone else. Brands may or may not be useless but it's pretty clear that he has not been the one running the show on the football side of things.
Andy Crooks
112
Posted 01/12/2021 at 23:16:44
Dave, Watford, Brentford, and a thumping at home in a derby does not bring knee jerk reactions. It is more a slow,sad recognition that we have the wrong man. I do vividly recall the reigns of those you mention. Unfortunately it brings little comfort in that I don't think, well, thank God that shit is over, at least we have Rafa.
No one expects silk purses from sow's ears either.
What we have, it seems to me, is sow's arses from sow's ears. That doesn't seem right.
Ernie Baywood
113
Posted 01/12/2021 at 23:19:47
During the game I found myself not angry at Benitez, or a referee or that lot, or the players... just angry. It's incredible what this club has become. I always though that there'd be a time where things would improve. I didn't even care that it might not be in my lifetime. But it suddenly dawned on me that we're so far from this level - at some point we're going down, staying down, and will be a footnote in history as a club that used to be successful but fell away when the game modernised.
As for the game. They had a go. They're light years behind the opposition, but they had a go. The 3rd obviously killed us - and I'd put equal blame on Gray and Coleman for it. It was a horrible pass that was bouncing up at him under pressure, but he should have got whatever he could on it even if it meant just moving it ten yards forward.
There was some good and some bad. I don't see the point in blaming anyone on the pitch, and especially not the guy with the gloves on who kept the score down.
Just angry and sad. We waited years for our big opportunity; investment on the pitch, stadium, changes to the management... and we blew it royally. We blew it to the extent that it's likely to get worse now than it's been in my lifetime. Criminal.
I said earlier in the season that I saw us (and our style of play) as a team that would really struggle against good teams, but would be pretty handy against the lesser lights. With confidence where it's at now, we'll struggle against anyone. The only short term option is to sack the manager and hope we can get some life into these players. It's not his fault, but it doesn't mean he shouldn't go. More money pissed into the wind. The appointment was a disaster before he even signed on.
Paul Birmingham
114
Posted 01/12/2021 at 23:22:25
Take some Kama, and more.
If Everton had a professional leadership team, at board and director level, then tonight, the team may have had an earthly chance.
Hopefully, the lack of professionalism, at all levels of requirement that makes a professional football club, is now agreed, and the rot in the EFC, will be fixed!
Seriously, now the first team, needs an over haul, but on the basis of no money, a new captain, to start the transition.
Time catches up, and Seamus tonight, gifted the match, as a give away..
All considered, unforced errors done Everton, tonight.
There's no legitimate, avenue of expression tonight, of my anger, frustration, and more, but I'm Everton, 100%, life is life, as is Everton, for ever.
Fekk the RS, Everton is real, but tonight, has laid by self mistakes, in modern times, a bad prematch, for the Arsenal.

This is the must win, and get into the mind of "The Best Little Spaniard, we Know"!
Follow, follow Everton!
Tony Hill
115
Posted 01/12/2021 at 23:26:21
There is footage doing the rounds of fans having a real go at the directors box, especially Brands.
Paul Kossoff
116
Posted 01/12/2021 at 23:27:03
BBC at it again showing an allegiance to the red shite. At half ten, on teletext, not one, not two, but three headlines to tell all that they thrashed Everton, All repeating the same sentences, one on the sports headlines page, two on the football page. Funnily enough not one mention of any of the other premier league games played the same night!
Absolute gob shites, just like the team they support.
Ciarán McGlone
117
Posted 01/12/2021 at 23:29:50
Who the hell reads teletext.
David Pearl
118
Posted 01/12/2021 at 23:31:09
Ciaràn, Everton fans looking for a holiday
Ray Jacques
119
Posted 01/12/2021 at 23:31:37
Sack Benitez by all means, but would you trust the hapless fuckers who supposedly run the club to make a decent appointment because I would not and therein lies the problem with Everton Football Club. It's run by idiots.Doesnt matter who the manager is, the whole place is flawed and inefficient. Finally the old joke about a cowboy outfit for Xmas has come to pass.
Frank Lampard,ha ha, Chelsea don't miss him.
Ciarán McGlone
120
Posted 01/12/2021 at 23:32:49
In the mire of anger, that truly raised a smile.
Absolutely raging at teletext.. brilliant.
Will Mabon
121
Posted 01/12/2021 at 23:37:14
Ciarán, that's exactly the way I feel about social media.
Soren Moyer
122
Posted 01/12/2021 at 23:40:07
At least some of us could tell them exactly how we fans are feeling about those shysters. https://twitter.com/i/status/1466182156414296076
Stephen Vincent
123
Posted 01/12/2021 at 23:40:46
Dave 110, Dead right mate, very hard to be a Blue. But there wasn't exactly a feeling of confidence in the Oak beforehand.
Can't agree about Rondon, can't think of a single header or lay off in the entire time he was on the pitch. But when he came off the obvious sub was Tosun not a third wide man (4th if you count Richy who was woeful through the middle).
Can't remember the Old Lady being that quiet for a Derby as it was in the 2nd half seems like we have all had the stuffing kicked out of us.
Stephen Vincent
124
Posted 01/12/2021 at 23:40:46
Dave 110, Dead right mate, very hard to be a Blue. But there wasn't exactly a feeling of confidence in the Oak beforehand.
Can't agree about Rondon, can't think of a single header or lay off in the entire time he was on the pitch. But when he came off the obvious sub was Tosun not a third wide man (4th if you count Richy who was woeful through the middle).
Can't remember the Old Lady being that quiet for a Derby as it was in the 2nd half seems like we have all had the stuffing kicked out of us.
Paul Birmingham
125
Posted 01/12/2021 at 23:40:46
For me, this game, confirmed there's no leadership, plan B and X, for Everton.
Where's the minimum standard, for professionalism, at Everton?

Played right in to the RS best easy win options, and spewed the game, from a position of recovery.
Looks inevitable some serious issues, to discuss.
For the rest of this week, at work, but it's the Hope, that kills you.
Kieran Kinsella
126
Posted 01/12/2021 at 23:41:41
Andy Crooks
I don't think Rafa was to blame tonight. I do think he was at fault in other games. But if we sack him whose gonna choose his replacement? The DOF whose priority has been a new RB for five years? Same fellow who signed Iwobi? Kenwright whose botched everything he touches for 30 years? Or Mosh who seems to be swayed by every voice he hears? They need to get rid of all of the board. Bring in competent professionals. If they decide Rafa needs to go then so be it but sacking him now just allows the real culprits to buy themselves more time which we can Ill afford
Ray Jacques
127
Posted 01/12/2021 at 23:42:48
Paul, I no longer have any hope.
Clive Rogers
128
Posted 01/12/2021 at 23:45:45
Kenwright found an owner who is good for Bill Kenwright but not for EFC.
Barry Hesketh
129
Posted 01/12/2021 at 23:46:11
The fans downed tools - what a ridiculous remark, it was the fans who helped to keep the blues in the game for so long, despite the atrocious start in the first 20 minutes, in which the England keeper managed to prevent the score from reaching 5-0 before his team got going. There is a massive gap in class between the two sides, but somehow Everton managed to stay in the game until the bad pass from Gray and the terrible decision by Coleman which led to the third and crucial match deciding goal.
Do me a favour which knowledgeable set of fans would not be gutted by that third goal, both in its timing and the way it came about. Honestly expecting fans to turn poor players into good ones is as ridiculous as thinking that Seamus could win young player of the year.
Nothing wrong with the commitment of players or fans tonight, but the truth is that the team is woefully short on skill and application, the fans did what they always do, got behind the team until it was obvious that there was little chance of taking anything from the game. Relegation despite tonight's result looks less of a possibility than it did following Sunday's defeat, but the players will have to show the same commitment but with a little more craft to create chances and someone who can take any chances that come along.
The team need a win as soon as possible, but it's anyone's guess which game will provide that welcome 3 points, but if it doesn't happen, please don't blame the fans.

Derek Knox
130
Posted 01/12/2021 at 23:46:51
Just got back from the match, on a freezing cold night, there was no warmth served up on the pitch by anyone in Blue, maybe that's a bit cruel but very true from what I saw. I was surprised that there were no visible Kenwright Out Banners, or if there wee I didn't see them.
Although I overheard many saying, amidst a barrage of Anglo Saxon expletives, enough is enough, and the Board has to be answerable and do the decent thing. You would need a JCB to get Kenwright out, as he has been given the keys to the Castle and is totally abusing the privilege.
The Gulf in class sadly was in evidence tonight and I doubt whether the RS have spent as much as we have in the process, or if they have, at least they have spent wisely, and that clearly shone through.
Paul Birmingham
131
Posted 01/12/2021 at 23:46:55
Tonight, the Everton's team, when under pressure, imploded at times as a football team, all amateur level make mistakes.
Must win v Arsenal.,else, Goodison will get very toxic, very quick.
Andrew Hight
132
Posted 01/12/2021 at 23:47:19
Finally they have done it. 44 years of mainly disappointment I can lay this Evertonian beast to rest. I am done, no more. It is over and I can walk away. God bless and rest in peace Everton, our time is up
Tony Abrahams
133
Posted 01/12/2021 at 23:48:16
Liverpool could have been four up in the first 15 minutes, but Everton kept plugging away, despite the gulf in class between the two sets of players.
I thought we were really in the game, through hard work and effort, until Coleman got caught in two minds, and that mistake took the wind out of our sails, both on and off the pitch.
I think we now have a back four with only Godfrey, who is really good enough defensively, and even he is still very naive, but at least he shows the necessary aggression that's required.
I also want to give Benitez time, even if some people say he's yesterday's man, because when I listen to him speaking about Everton, he makes a lot of sense to me, and I honestly think it's in other areas of the club, were people should be losing their jobs, and personally think Everton are struggling right now, because we have some players currently on the pitch who are just plainly not good enough, unfortunately.
David Pearl
134
Posted 01/12/2021 at 23:52:49
Stephen, 124
Rondon won a few headers and flick ons but that was the hardest l've seen him run... and it caught up with him.
Agree 100% the change should have been Tosun. Gordon came on and went left, then right. No idea why stretching our shape could be anything but a bad idea. I think we all knew the result before it kicked off. Confidence is low. Richarlison looked dejected.
I thought also the tactics were all wrong. We played way too high a defensive line, especially if our forwards didn't press high either. Such a big hole in our midfield.
Next game l will have a few more whiskys. On a side note there were 3 rows of young lids in front of me, all smoking away. Thought it was poor of our fans throwing all the bottles. Feel sorry for Seamus too. We need bodies in January, so l hope the master plan of releasing so many players in the summer means we can see that plan take some shape.
Paul Birmingham
135
Posted 01/12/2021 at 23:54:37
Derek, spot on, and fair.
The running of Everton, in my view is rotten to the core.
I'll stand and believe in Everton, till I die, but after tonight, the start of the new beginning, must be soon.

"Whats Our Name?"
Danny O'Neill
136
Posted 01/12/2021 at 23:59:28
Having been travelling for the best part of the last 36 hours, I missed today, so I can't comment on the performance, just take the various views here at face value.
Chelsea, Liverpool and City aside, everyone else is beatable and there to take points off if we can find some desire and belief from somewhere.
I'll be honest, I just wanted this one out of the way so I can try to look forward. It has to come to an end one way or another. Hopefully that is through results rather than more managerial upheaval whilst the decision makers remain untouched. I think we all see the common denominator. The board room.
In addition to needing better players. Scratched record, but Ancelotti, Benitez, whoever. We need better players. My sound bite from last season.
Angry son. Depressed brother. Indifferent me. I expected this as much as the inevitability of the City result.
Happy clappers. That has a familiar ring about it. Must have been borrowed from a previous poster about another manager.
Wound licking time for a few days then look forward to turning it around at the next one.
Tony Abrahams
137
Posted 01/12/2021 at 00:01:16
I'd have took a 6-0 defeat tonight if it meant that Moshiri started looking at himself and realising how much of a mistake he's made, in keeping Kenwright, as chairman of Everton football club. I just hope the 1-4 defeat, is still enough for the man, to consider how foolish he's been.
Danny, a younger Evertonian, asked me before the game was I nervous, and my reply was that Liverpool can't hurt me anymore than they've already done in my lifetime. That's still the case after tonight, which doesn't mean there are not a lot of very fuckin angry Evertonians out there after that result, and if changes are not made somewhere within the club very soon, I expect that anger to grow a lot worse, very fast.
Ray Smith
138
Posted 01/12/2021 at 00:01:43
Bring in Usmanov to sort out the boardroom.
Pay Kenwright and Brands off, leaches!
Milking us left right and centre.
Why is Brands on the board?
Rafa deserves more time, injuries are over and above the norm, however, if I was a fringe player I'd be up for it.
If and god forbid if, give DF the job now until the end of the season.
Maybe line Frank Lampard up to take over if we are still in the premier league!!!
Kenwright and Brands have too go, no and, ifs or buts.
Usmanov would sort it. He may be thinking twice if it wasn't for Bradley Moore Dock?
John Keating
139
Posted 01/12/2021 at 00:05:04
This freefall has been coming since Martinez' second season
Anyone who thinks this lot are too good to go down just needs to look at the table and the way we are playing. We are in a deep rut
If Kenwright and Brands had any decency they would both walk tomorrow
They haven't so they should both be sacked
Trying to drag ourselves away from the bottom should be the only aim this season
Someone has to come in and turn this Club upside down starting with the jobs for the boys brigade
Alex Gray
140
Posted 01/12/2021 at 00:08:09
We competed for fifteen or so minutes in total but lets have it right. We learnt nothing we didn't already know.
Coleman has been a great servant but comparing him to Alexander Arnold it's sad to watch the decline despite his hard graft. Keane needs to be replaced by a leader. Doucoure looked unfit. Allan is atrocious on the ball and honestly believe he's been one of the worst players this season. Gray was our most effective player. Townsend grafts but he's a squad player.
More importantly I don't see any plan. There's no identity. Individual players pressed like headless chickens compared to Liverpool who had a field day.
I honestly feel hopeless. I don't see recruitment changing and when Rafa eventually gets fired the poor bloke who comes in will inherit this shambles and we have no money to change it. Even if we did I don't trust us to get it right.
We should've gotten Moyes, sacked brands and left Moyes in charge of transfers. He bought players who grafted for this club and whilst we might not have been top four, we'd have a team atleast.
Dave Abrahams
141
Posted 01/12/2021 at 00:16:56
We were second best from the start, the gulf between the two teams was really massive, some supporters in The Upper Bullens gave up as early as the second goal, then we got a goal back and urged by the crowd we upset Liverpool's control of the game for the rest of the half and for a good ten minutes at the start of the second half. Then Rondon had to go off,he got a good reception from the crowd as he walked off and Gordon came on.
The third goal which was self inflicted took the fight completely out of Everton and the players, everyone of them, showed then that they knew the game was over with their slumped shoulders and dejected faces clear to most.
Liverpool's fourth goal was the signal for many fans to make their way home and the rest of us most probably felt like going with them but endured the last few minutes glad that Liverpool never added to their score.
Those twenty minutes showed there is some fight in a few players but still no leader on the field tonight and doubt if there is one in the squad, to shake the rest of them up, but that's what we are desperate for at the moment along with three or four players in January.
Kieran Kinsella
142
Posted 02/12/2021 at 00:17:48
Barry
Never ceases to amaze me the old chestnut about the fans. It was the fans who stopped Ross from showing his talent … I guess no one realized Villa Chelsea and England would have fans too. When the fans are quiet the players aren't motivated, when the fans are noisy the players get nervous. Well last year there were no fans and the team was as shit as ever
Rob Dolby
143
Posted 01/12/2021 at 00:18:08
We are being made to look like mugs by the people running the club.
Are we the only club that is run like this.
Life long Blue Bill making Boris look like a brain surgeon.
A prestigious dof imposter buying Iwobi
A billionaire who is getting his fingers severely burned by people that are charlatans. Taking as much money as they can and mugging him off.
The managerial appointment is the icing on the cake. It's a pure piss take
The result tonight was expected. The premier League is very much like the Scottish or Spanish league. The top teams are forming their own mini league and are far superior to the rest.
Mistakes happen and decide games. We had a few glaring mistakes that killed any momentum we had. I thought Pickford had a typical game for him. Great saves followed by poor decisions, not coming our to clear for their 2nd.
Coleman's mistake took away any chance we had and he knew it.
I have got to the point now where I just want the manager gone. Yes he is an ex red shite but we can't accept the manner of these defeats.
We need some pride back. I just have no trust whatsoever in the club hierarchy making a right decision.
I would have Ferguson, Rooney or Potter at the club in a heartbeat.
At what point does the manager get sacked. We where only 1 player short of our best team tonight.
Paul Birmingham
144
Posted 02/12/2021 at 00:20:24
Alex, good cases, for salvation and belief.
This is EFC.
Paul Birmingham
145
Posted 02/12/2021 at 00:27:29
Danny that's the spirit needed, and well needed to see out this very tough season for Everton FC.
Derek Thomas
146
Posted 01/12/2021 at 00:28:57
I have no words, no point anyway, all the key reasons for our demise have had a mention and the 7 out of 10 most concur with are obvious to all.
Heads must roll, but short term Vs Arsenal how will that help...and that's were help is required, we need 3pts badly.
Arsenal aren't that shit hot now and have a tendency to sometimes not travel well.
But it would take a Big Dunc / Chelsea type effort to do them over...not holding my breath.
Peter Mills
147
Posted 01/12/2021 at 00:30:46
I remember long ago, a manager, when asked the question "What makes a good manager?", replying "good players".
Not one of our players tonight would get near Liverpool's team. Maybe Pickford as a sub goalie? We have (at best) average players everywhere, and some are dreadful. It's easy to point to Rondon, I know, but bloody hell - he was vastly improved tonight, he was merely poor.
I don't think there was any lack of effort tonight, nor against Brentford, there was simply a dearth of ability. So that puts us right up against it. We might hope for a manager to augment his resources, and organise those he has, but our guy has brought in mediocrity, and his own performance has been non-evident - just what has he done tactically or selection-wise to improve anything?
It was painful being at Goodison for all the obvious reasons, but most importantly it was grim because ultimately it was another hapless, heavy defeat and we appear to be heading up shit creek without an appliance to steer us out of it.
Nick Page
148
Posted 02/12/2021 at 00:30:51
You want change, Blues? It's called a Revolution. It won't be pretty but it will make the future look better. Kenwright and the cronyism has to go.
Kevin Prytherch
149
Posted 02/12/2021 at 00:35:17
How are we still blaming Kenwright?
We're in the mess because of piss poor recruitment - Brands, and because of piss poor dinosaur managers - Moshiri.
Every derby I've ever been alive for I've always thought we had a chance if we play to our best. This is the first one that I thought was inevitable before a ball had been kicked.
Benitez played the fans against the board at Chelsea and Newcastle - it will be the same here. Poor appointment.
Nick Page
150
Posted 02/12/2021 at 00:36:59
Kevin, I'm sorry mate but you're an idiot
Ed Prytherch
151
Posted 02/12/2021 at 00:42:43
Kev,
Some believe that Kenwright will not let Brands do his job and that he just needs to butt out as we say over here.
Brent Stephens
152
Posted 02/12/2021 at 00:44:14
I learned nothing new tonight. A squad that's poor and lacking depth. A manager who has made some mistakes. But I don't know of anybody who could replace Benitez - who is available, suitable, better than Benitez and willing to sign.
My only hope is some astute signings in January; and some further development of potential in the U23s - viz Dobbin, Simms, Warrington. Avoiding relegation is the season's target now.
Nick #148, tell me what time your revolution starts. In fact, what will it look like. If I'm late start without me. Can we have a good breakfast before we start?

Kieran Kinsella
153
Posted 02/12/2021 at 00:46:43
Twitter footage of Kenshite laughing at fan complaints as he left just as he laughed at the third goal. Brands at least pretended to listen to the complaints
Steve Brown
154
Posted 02/12/2021 at 00:49:26
Think Benitez will survive until the January transfer window because we are so defeated as a club. We cannot even summon up the energy or imagination any more to conceive that we could do better.
Lucky old, useless Rafa.
Don Alexander
155
Posted 02/12/2021 at 00:51:16
If presenting the truth to this owner/boardroom has any credibility at all to them the club motto now reads "Nothing but the inadequate are good enough" to most canny observers.
It's taken five years and half a £billion admittedly, but Moshiri and Kenwright in their skewed minds no doubt feel they've "earned" the right to change the motto.
Nick Page
156
Posted 02/12/2021 at 00:51:24
Saw that Kieran. Despicable. The big fat luvvie was all hugs
James Head
157
Posted 02/12/2021 at 00:59:22
"Nero fiddles as Rome burns"
A chairman who laughs as the club crumbles around him and treats the supporters with such utter contempt needs to be shown no mercy, he's got to go along with the puppet DBB and the mute Brands.
I really think "small club" Benitez should go to but as others have said who the fuck could get a tune out of these faulty instruments that are the first team squad, I just cant see how we avoid relegation this season.

Nicholas Ryan
158
Posted 02/12/2021 at 01:21:21
Liverpool's third and decisive goal, came from an Everton corner! That just about says it all, really.
David Pearl
159
Posted 02/12/2021 at 01:24:34
Kenwright was not laughing at all, you've made that bs up. I was there. He hugged someone. So what. Did he know her? Do yous? They had a conversation first. Nobodys happy.
I saw the same game Dave Abrahams did. Only from the opposite side of the pitch.
It's time now for Benitez to set us up to win, no matter what, we need points. His substitutions are all over the place. We beat them lot last season then fell off a cliff. Maybe this time around it can do the opposite.
Nick Page
160
Posted 02/12/2021 at 01:35:43
A lot of Kenwright agents appearing tonight. Are they paid to post disinformation? Or are they family members? The constant gaslighting of the decent supporters for the past twenty five years is really wearing thin. Tick tock
Ernie Baywood
161
Posted 02/12/2021 at 01:55:48
I'm not exactly a Kenwright supporter (if such a thing actually exists), but if we isolate ourselves to the last few years, he did bring in the guy who was prepared to invest in Everton. Who knows what he's done since then? Whether it's nothing or not, it's time for him to go. He's past any kind of use.
From Moshiri's side he did what we always wanted. Got a shovel in the ground and invested a lot of money on the pitch.
These were the things we needed. We absolutely needed them.
What we didn't need was to be so amateurish in our transfer dealings. We spent on everyone we could, in any position, for any playing style. Everton's transfer spend over the last few years is the great missed opportunity.
Moshiri needed a football man in there. He got one in Brands. How the hell is that man still drawing a salary?
Moshiri is accountable for everything, but he's also the only one who has a driver to actually put things right to protect his investment. If I'm Moshiri I'm ripping this club apart. Every hanger on can go. Invest wages in those positions before you start thinking about investing any more on the pitch. Because his current charges will just waste it.
Mike Gaynes
162
Posted 02/12/2021 at 02:54:52
"Worst" Allan is leading the Prem in tackles, and the club is second in tackles overall. That's about effort.
"Awful" Keane is top five in the league in interceptions, blocks, clearances and headed clearances. That's about effort.
Eleven guys who couldn't come close to making the other team's bench kept it a respectable game for a while. That's about effort.
Nobody can convince me these players aren't trying their best. Or that Benitez isn't coaching them up to the best of his ability.
What's wrong with the club is simple.
Not enough talent.
And the blame for that doesn't fall on the pitch. Or the touchline.

Tom Harvey
163
Posted 02/12/2021 at 03:24:51
The recruitment done by this club is so appalling, I find words hard to find.
Brands is either collecting a fortune each paycheque to let someone else do his job… or he's just plain useless at it.
Tom Harvey
164
Posted 02/12/2021 at 03:32:16
Crystal Palace is a huge game; lose to them and the Benitez Out brigade will go into overdrive.
I didn't want him at the beginning but, other than issues with some of his substitutions, he's not doing much wrong.
Alan J Thompson
165
Posted 02/12/2021 at 03:41:10
Health and age means 4 am kick-offs are mainly in the past for me but I woke to watch the replay without knowing the score only to be met with the message, "We have nothing to show you at the moment."
I wondered if this was an omen, a weather report, or a comment on the match as, only last week, Optus announced they had signed up to show the Premier League for the next 6 years… Or was it a sign of things to come.
So I rang them and their answer was that they no longer had the rights and it appears no English football is broadcast in Australia. Same for you, Bob Parrington, Laurie Hartley, Phil Sammon?
However, if the Board is to be replaced, and it should be, then the manager has to go as well. If those supporting him say that nobody could do anything with these, players then why the hell is he here? It is fairly obvious that Benitez has little if any idea how to improve them at least to avoid relegation which is starting to look like a foregone conclusion.
Who would replace him? Does it matter? As long as he has what this one doesn't – some ideas!
Mick O'Malley
166
Posted 02/12/2021 at 04:28:15
The Benitez Out brigade will go into overdrive!!!!
Oh my god – we've just been mocked by RS at our ground chanting this gobshite's name! Every player is getting worse anyone could do a better job. He is a loser, a fucking Kopite in charge of our club, and he is sending us south.
Yesterday's man, unbelievable… Benitez Out Now!!
Mike, tackles mean fuck-all if you give the ball away constantly; Allan is abysmal.
Laurie Hartley
167
Posted 02/12/2021 at 05:07:30
All I can feel at the moment is an overwhelming sense of despondency at the situation our club finds itself in.
Seeing Klopp dance around and fist punching when the 4th went in was just too much for me to take – I switched the iPad off.
Many pertinent points made on this thread but these two stick out for me:-
Dave Abrahams # 141 - "Those 20 minutes showed there is some fight in a few players but still no leader on the field tonight and I doubt if there is one in the squad to shake the rest of them up, but that's what we are desperate for at the moment along with three or four players in January."
Ernie Baywood # 161 - "Everton's transfer spend over the last few years is the great missed opportunity."
When was the last time we had a proper Captain? I know Seamus loves the club but he is not the leader on the pitch that Dave is on about. A man who will lead and the rest willingly follow? I say you have to go back at least 8 years to Phil Neville.
We have been through managers so quickly, none of them have had the chance to bring in their own man, and the way things are looking at the moment, Benitez may not get that chance. To be honest, I had doubts but have supported him since he was appointed. Those doubts have resurfaced… Perhaps it is just a case of him being the wrong fit.
The upside, as Dave said, is that we have got a few players with fight in them – but we need a few more. They don't have to be world-beaters either. Just willing to part with a bit of blood and snot because, make no bones about it, that is what it is going to take for us to win the fight we are now facing.
Ernie – there in a nutshell is the reason why Kenwright, Barrett-Baxendale, and Brands should be sacked – they were in charge of that debacle. I wouldn't hesitate if it was my money they had wasted.
Moshiri has nothing to lose and everything to gain with that one move. It would send shivers down the corridors of the Liver Building and Finch Farm. Moshiri needs to replace them with a business change manager and a couple of real football men who know what we are about.
For 60 years I have followed this team. We are well and truly in the trenches this time, fellas.
Alan #165 – Optus Sport subscription $15 per month via iTunes. You can watch it on an iPad or, if you have a smart TV, it will have the Optus Sport App also.
Phil Sammon
168
Posted 02/12/2021 at 05:19:31
Alan 165
Hi Alan. I have the Optus App on my TV and on my phone. I think somebody at Optus is having you on, mate. They definitely still broadcast every Premier League game. 7:15am kick off this morning though so I was at work, thank god.
Gary Smith
169
Posted 02/12/2021 at 06:46:55
Mike Gaynes, what a crock of shit.
If I am an arsonist who puts out the most fires, would you award me a fireman of the month award?
Shit system and shite training (same fast-paced passing game) that means we constantly give the ball away and invite teams onto us. The effort is there, the system is not. FSW is the biggest problem. Brands not finding pace at right-back the second biggest. Both should go.
Ernie Baywood
170
Posted 02/12/2021 at 07:12:41
Alan, are you talking about Foxtel through Optus?
Optus Sport's app has every game live. $15 or free if you have an Optus mobile.
If you need any help setting up, reach out. I'm sure we'll find a way to connect.
Actually, might be better not to at the moment! But I'll leave it with you.
Peter Neilson
171
Posted 02/12/2021 at 07:14:17
Not enough talent in the squad. Painful to watch such a poor team representing Everton.
I can't see much changing in January other than maybe a couple of loan deals. So whoever is in charge then will have to try and get a tune from this ramshackle squad.
The changes needed off the pitch in the boardroom, while still necessary, won't change the immediate short-term crisis. Pretty bleak really.
Ernie Baywood
172
Posted 02/12/2021 at 07:16:39
Gary #169,
I'm not sure Benitez is either of the people in your analogy.
He's no arsonist (that issue rests above him), and he's not putting out many fires from my viewpoint.
Actually, maybe he's the flames. A symptom of the real issue, not the cause or the solution.
Blame or not, I'd get rid. Terrible appointment. Who thought that was a good idea?
Ian Bennett
174
Posted 02/12/2021 at 07:20:12
Got back in the game at 2-1. Coleman just has to foul him on the half-way line, and take the yellow card.
Pickford can't be beaten that easily for the 4th at his near post either from that angle.
A big mess at the moment, they look shell-shocked pretty much all game. A lot cannot handle the pressure nor are they good enough – Allan, Rondon, Keane, Coleman, Digne et al.
Garbage… and it's been coming for years.
Tony Everan
175
Posted 02/12/2021 at 07:34:09
Mike Gaynes @162
Thank you for that. Also add that he has nothing to spend, the only money he spent was on Demarai Gray, £1.7M. The others were intended squad players that were signed free.
Who spent the £492M in the last 5 years that has not improved the first team better than what it was? Walsh and Brands are 100 times more culpable for this current predicament. Along with total disinterested and aloof charlatans like Ronald Koeman.
Only about 25% actively wanted Benitez and I on balance wasn't one of them. But to make him a focus point for the blame and vitriol when he has spent nothing, he is trying to juggle other people's mistakes, he is trying to win games when players are making fundamental schoolboy errors.
All this compounded by our crucial goalscorer having been injured for 3 months and our best centre-back having missed far too many games due to being over-used by Colombia, along with our best midfielder, Doucouré, being out for 2 months...
Benitez is not an innocent party as he can be criticised too, but a sense of fair proportioning of blame has to be considered.
Benitez has come in though and is trying his best to take on the status quo at the club. He has brought in improvements to the training, medical and recovery team. He is trying to implement a framework of improvements behind the first team; these improvements, given time, will filter into us being a more organised and professional outfit. Consistency (remember that?) will be born out of it.
Given time, they will be the important first steps away from being run like Arkwright's General Stores under Bill Kenwright's sub-amateur, too many years, tenure. Why is this bastion of mediocrity still here?
As Mike said and Danny O'Neill and others often say: "Not Enough Talent."
Change the manager and the same players will still be there, the same DoF, the same CEO, the same hangers-on. The old system of cronyism and mediocrity will have won. Rather there will be even more dysfunction and disarray in the club, perhaps to a catastrophic degree.
We all want the best for the club, and there are very loud voices from very angry and disappointed fans. I feel the pain too in my blood, flesh and bones, literally.
Whatever the outcome, I just pray it is best for the club long-term. Short-term cathartic actions may feel good for a few weeks, but then what?
Gary Smith
176
Posted 02/12/2021 at 07:36:44
Ernie @172 - my "arsonist" post isn't about Benitez, it's in response to Mike Gaynes "but Allan and Keane have done the most tackles" commentary…
My point being, when you give the ball away as much as we do, it's only natural you make lots of tackles, and it is no indicator of good performance and effort. Lies, damn lies, and statistics, etc.
Agree with your post though, to have Kopites singing our manager's name whilst battering us in the derby was sickening. Just imagine he takes us down and it stops the stadium. What a colossal risk the board have taken. They have risked whatever pride we had left.
Mick O'Malley
177
Posted 02/12/2021 at 07:47:53
Gary above, agreed, and for you unfortunate Blues who have to work with any odious Kopites today, stay strong and ignore them cos, if the Echo comments pages are anything to go by, they are in smug mode; depressing.
Sam Hoare
178
Posted 02/12/2021 at 07:52:04
Mike @162, good post. Last night was not about lack of effort. It was the manifestation of one club that has been very well run for a decade. And one that has not.
The only hope is for change at board level, either in personnel or approach. Ideally both.
Brian Murray
179
Posted 02/12/2021 at 07:52:26
Mick. Any kopites want to even look my way today in work will think Tony Bellow just got a start here. They think their players are 50 inches high. Never been a game. Bastards... I hate 'em. Good job I'm a peaceful chap. 😳🙏
Colin Glassar
180
Posted 02/12/2021 at 07:56:29
Nothing will change after last night. The board will still be in place today. Benitez will still be manager. The players will still be playing on their PlayStations, listening to their music and choosing their wardrobe. They live in a bubble and a few boos will soon be forgotten.
Mike Gaynes
181
Posted 02/12/2021 at 07:57:18
Gary Smith #169, apparently your reading is obstructed by either your thumb in your mouth, your head up your alimentary canal, or the teary-eyed sniveling you endlessly post here.
I wrote of the players' effort and cited statistical evidence to support it. That's it.
Their lack of overall effectiveness is self-evident... although your repetitive, insight-bereft recitation of the self-evident as if it were some stunning revelation makes you a serious contender for the title of Chief Nattering Nabob of Negativity.
Ciarán McGlone
182
Posted 02/12/2021 at 08:12:20
"Nobody can convince me these players aren't trying their best. Or that Benitez isn't coaching them up to the best of his ability."
I assume you missed the last 7 games.
Gary Smith
183
Posted 02/12/2021 at 08:33:00
Mike, you're clearly not a fan of having your stupidity directly exposed, and no amount of magniloquence or personal attacks on me make your comment any less pathetic.
You read my commentary against the FSW as being negative, whilst people with more than half a brain cell will realise it is actual positive ambition to want to do and achieve more.
The club is in its worst run for 22 years. Rafa isn't the cause of the all the issues, just the latest contributory factor, and a major one. Try opening your mind to ambition instead of clinging to desperate statistics and then attacking those who pull your pants down on them.
Eddie Dunn
184
Posted 02/12/2021 at 08:55:56
The responsibility for the waste of money is with those in the boardroom. Rafa has been dealt a crap hand with the injuries and FFP regs but he has consistently got his tactics wrong and his stubborness has definitely been a contributing factor in our recent slump.
Behind the scenes, he may well be reorganising things for the better but, as relegation becomes a real possibility, is he capable of inspiring and orchestrating this squad to pull out of this nosedive? From what I've seen, I would say No.
It was a particularly unexciting appointment and the dumbness of hiring a guy with his history just illustrates how little the owner knows about our club. We all knew this could happen.
As Mike Gaynes points out, we need better quality but, in the Premier League, there are other teams (Brentford, for exampe) with less quality but they either seem to be set up better or have more belief in their tactics.
Last night was crying out for a three-man midfield with Delph helping out Allan and Doucouré. A damage-limitation strategy that may or may not have worked. To go 4-4-2 was madness, asking for trouble and, let's be honest, the first 20 minutes coild have seen us four or five down. All on the manager.
The team grafted and there are glimmers of hope with Gray and Richarlison. I simply don't trust Rafa to suddenly get his strategy right and instill confidence in this bunch of average Joes. If we delay, we will be in even more of a crisis. I just don't see him getting us out of the mire.
Arsenal on Monday is a big game. With the fixture list looking worrying, this is a must-win game.
Andy Crooks
185
Posted 02/12/2021 at 09:48:48
The problem lies off the field and that requires a fix that, if it ever happens, will take time. We need an urgent fix and there is only one.
Tony Abrahams
186
Posted 02/12/2021 at 10:02:04
The Athletic are reporting that some players want out because of the negative football, which is a bit like Brands saying, "Is it just the players?"
Benitez isn't playing anything less negative than Ancelotti, but he's definitely working these players harder, and good luck with the ones trying to find new clubs, and also good riddance.
We all have different opinions: mine is I'd only really want to keep Godfrey, Doucouré, Gray, Townsend, (for his attitude) and Calvert-Lewin, and maybe Mina, if he could stay fit.
If the club hasn't got any money for the first team, Pickford and Richarlison, would be our best sellable assets, and maybe Lucas Digne, who currently looks lost.
I think we urgently need a good central defender to play alongside Godfrey; I thought he showed a lot of desire last night. And we need another energetic midfield player to play alongside Doucouré, and we need Calvert-Lewin back as soon as possible, because right now, the spine from back to front, is simply nowhere near good enough.
Brent Stephens
187
Posted 02/12/2021 at 10:07:18
Mike #181
Re your post at #162...
"That's about effort. Nobody can convince me these players aren't trying their best.
What's wrong with the club is simple. Not enough talent."
Mike, for what it's worth, I understood your point exactly. A comment on effort (as a response to posts saying "no effort") not a comment on effectiveness. Maybe you could have made that distinction – ah, you did!!
Ernie Baywood
189
Posted 02/12/2021 at 10:34:02
Sorry Mike, I took your point to be about Benitez. Who I'm obviously not a fan of.
I take your point about recovery. I'll add young Godfrey to that list. Makes some great blocks – usually because he's been caught stranded on the hal-fway line. He makes some odd decisions. It's sad that I'm just happy to see someone have a go.
Mick O'Malley
190
Posted 02/12/2021 at 10:44:37
Brian,
Luckily I work with two Blues and a Warrington Rugby League fan so I'm okay but town is full of LFC day trippers with full kit on. As you said, probably never been to a game in their lives.
Steve Brown
191
Posted 02/12/2021 at 10:56:48
Tom @ 164, let me help you.
2 points from a possible 24, the worst run in 22 years, selecting Rondon and Iwobi, playing 4-4-2 against Liverpool, demented substitutions. It's now a question of what has he done right.
He might have been relevant once, but now he is simply an Iberian Mike Bassett.
Kevin Prytherch
192
Posted 02/12/2021 at 11:14:10
Nick Page @150.
Can you identify what Kenwright has done in the last 5 years that has had a greater detrimental effect on the team's current plight than the hiring of substandard managers and the substandard recruitment on astronomical wages?
If not, kindly redact your "idiot" statement please.
Please note, I think Kenwright should be replaced as chairman and an actual businessman appointed for the long-term commercial success of the club, but I fail to see how he is the main man responsible for the last 5 years of decline.
John Kavanagh
193
Posted 02/12/2021 at 11:28:55
Not nice to see Blues tearing into each other on TW today. This is what decades of mis-management under Kenwright has achieved, including the help given by his chosen investor. We have been run like the Italian restaurant 'helped out' by the mafia in Goodfellas. All that's lacking now is the final application of some firelighters.
Everyone needs to get behind the team on Monday, regardless of how useless they and individual players are or the manager's often bizarre selections and substitutions. In times of crisis, we need to pull together. Accounts can hopefully be settled once survival has been achieved.
What's really needed then is a full (and open) forensic investigation into who was actually responsible for what over the Moshiri era, especially in scouting, recruitment and contracts. Not learning from your mistakes is the best way of ensuring they are repeated.
Tony Abrahams
194
Posted 02/12/2021 at 12:02:07
Some sketch that was, John K, although I'm changing some of the characters but "Benitez is a bad manager, what do you want me to do – shoot him!"
Kenwright owning Everton was definitely like putting a silk-suit on a pig, especially with Moshiri asking "What do I know about the football business?" which was definitely music to the ears of "Our Saviour".

Tom Harvey
195
Posted 02/12/2021 at 12:14:17
Tony Everan @ 175
Calmly and well said.
The phrase "Shooting the messenger" comes to mind when I see some of the venom unjustly directed at Benitez.
Derek Knox
196
Posted 02/12/2021 at 12:30:38
Brent @152, "My only hope is some astute signings in January; and some further development of potential in the U23s – viz Dobbin, Simms, Warrington. Avoiding relegation is the season's target now."
I think most of us feel the same, mate, and I don't think the blame should lie solely with Benitez either, but his intransigence when it comes to even giving the youngsters a cameo role when all else seems futile and a repeat of the game before and the game before that etc. does raise questions.
Maybe last night was not the night to blood these youngsters though, after we were embarrassingly being mauled in our own Lion's Den, with their senior counterparts seemingly unable to offer anything by way of resistance, or even show a great deal of commitment or effort.
Something has to happen and soon, starting with a complete Colonic Irrigation of the Boardroom. Also, have Dyno-Rod on standby in case there is any signs of survival from the guilty few.
Tom Harvey
197
Posted 02/12/2021 at 12:44:31
Derek,
"Something has to happen and soon, starting with a complete Colonic Irrigation of the Boardroom. Also, have Dyno-Rod on standby in case there is any signs of survival from the guilty few."
Love it, awesome!

Brent Stephens
198
Posted 02/12/2021 at 13:11:35
Derek, I've always been wary of blooding young lads after they have a few good games for the U23s. Different levels and challenges; the danger of damaging confidence in the event of a poor result and poor individual performance within that.
But lately I've suggested that, given Rondon's appalling showings (though he did things last night I've not seen him do for us before!) maybe we could see at least more than a few minutes at the end of a game for the likes of Dobbin – not starting a game, but more than 2 or 3 minutes at the end.
Dobbin is really fast and might, just might, put a slow, tiring defence on the back foot. And I think he'd have more of a chance of getting on some of the low crosses into the box that Rondon struggles to get to (a pace thing again).
Having said that, while Dobbin had a cracking pre-season for the U23s, with goals left, right and centre, his more recent U23 performances have been mixed.
Andy Crooks
199
Posted 02/12/2021 at 13:34:14
Brent, love the Rondon comment. What did he actually do? Breaking into a trot would be a huge improvement and a sign of better days ahead. When he breaks sweat, it will be like a new signing.
Brent Stephens
200
Posted 02/12/2021 at 13:38:04
Andy "When [Rondon] breaks sweat..."
Horses sweat; men perspire; women glow.
I detected a bit of a glow from Rondon last night.
Jay Wood
[BRZ]
201
Posted 02/12/2021 at 13:39:12
Brent, as someone who attends a lot of Academy games, you are better positioned than many who simply call to give 'yoof' a chance without having watched them play.
As you know, a few of us do try to watch as many of the Academy games available to view as possible. Of those that do, I haven't seen anyone nominating any youngster as a standout who should be given his first-team chance. There is no Rooney, or even Barkley-level, type of player banging down the door.
Take your example of Lewis Dobbin. Just last week in the U-23s game v Brighton, he had a dominant first half. Had their entire defence on toast. But then, was totally anonymous for the second half.
I agree, they need to be gradually exposed to the first team with meaningful minutes, not a token 2-3 minutes in the dying embers of a game to run down the clock. The problem with that currently is we have not been in a 'comfort zone' for two months in which the manager (and most of them are risk averse) could play a youngster for 15-20 minutes.
It's a real dilemma all round. We really don't have any standout candidates worthy of their chance in the first team and so poor are our current results and performances, it could be considered reckless to believe blooding them would be the elixir to our current ills.
Rob Dolby
202
Posted 02/12/2021 at 14:22:21
Tony 186. Got to disagree with you about Ancelotti and Benitez playing the same style.
We where a lot more compact under Ancelotti and well drilled from set pieces.
Benitez plays a 4 man midfield regardless of the opposition which more or less concedes the battle in the middle of the park in every game.
Ancelotti had more options with guile than Benitez has. Rodriguez, Sigurdsson and Bernard have been replaced with Gray.
Benitez isn't stupid. Listen out in January for very similar comments from his Newcastle days. Blaming the board for lack of investment etc.
Last year we got a draw and beat the shite at their place. Last night was as big a gulf in class during a Derby game that I can remember. It could have been 3 before they scored the first.
Last year Ancelotti took stick on here even when we where in the top 6. Why isn't Benitez taking the same shit?
I don't get it.
Worst home Derby defeat in 40 years!
And it's not the managers fault!
We are only short of DCL. Surely people are running out of excuses for him.
At what point does the manager come under scrutiny?
Listening to that shower last night loving every moment is soul destroying.
We need to restore some pride though I don't have any faith in anyone at the club to make the right decision.
We are back to knives at gun fights. Gross mismanagement of the highest order from top to bottom.
Alan J Thompson
203
Posted 02/12/2021 at 14:24:33
Laurie(#167), Phil(#168) & Ernie(#170); Many thanks, Gentlemen, but I've been on to Optus all day and when they do condescend to answer rather than play muzak for 30 minutes before hanging up transfer me to somebody who doesn't answer. I do get the football through my mobile but it still shows, "Sorry, we have nothing to show you." Still, two days to try and sort it out but even the local Optus shopping outlet has closed down and I can't believe that they are all Evertonians.
John Boon
204
Posted 02/12/2021 at 14:35:11
Desperation, anger and blame, blame blame directed in every direction. All understandable but sometimes we need to be calm when the ship is in rough seas and doesn't even have any sense of direction.
I know some Evertonians dislike it when older posters hark back to the past and say just how long they have been "Suffering". Today age is relevant as I remember as a 13 year old when we lost 6-0 to Sheff W and were relegated in 1951- 52. We were "crap" with a capital "C" but we came back and I am still a supporter today. Some brief notes to my fellow Blues because I do understand your frustrations.I also read "ALL" posts.
Danny O'neil (136)...as ALWAYS, a shining light amidst the gloom
Sean Lyon (92) a sensible response. Honest but realistic.
Tony Adams (186) accep[table suggestions as he usually has. Long time supporter who knows ther game and even in tough times stays on board.
John Kavanagh (186) Disappointed, annoyed but still logical and ready for the visit of Arsenal. Still "BLUE"
BUT we still have:
Nick Page (150) your ANGER is understandable but why call a fellow Evertonian an "Idiot" because he has the nerve to disagree with you. Do you have to win in the "ANGER " game. We are all just as unhappy as you are.
Finally Andrew Hight (132) You are one of the very few who is no longer an Evertonian. Understand your ire but who will you now support. Sunderland, Derby, Grimsby are all possible. But why not "The RS". After all they have had nearly sixty years years of luck and support from many who have never stepped a foot in Liverpool and never will. Or why not try to get New Brighton back in league football.You could be the New owner. I will personally back your venture.
Bill Hawker
205
Posted 02/12/2021 at 14:52:02
It all starts and ends at the top. Moshiri, Kenwright, Brands, Benitez, the Players.
The fish rots from the head down. Last night wasn't unexpected by anyone who supports Everton. Everyone knew a beat down was coming. What's concerning is that in years past, when we were in a rut, we knew we had the quality to dig ourselves out.
Where's the quality now? First eleven? Perhaps but when several are injured, then we are seriously lacking. For me, our only hope is getting everyone healthy, and getting at least one or two QUALITY players in January, and kicking on from there.
In our current state, we WILL lose to Newcastle (don't forget, they did the double over us last season), Burnley, and other relegation battlers.
Kieran Kinsella
206
Posted 02/12/2021 at 14:56:24
John Boon
I think ToffeeWeb has settled into three groups now: optimists, pessimists, and nihilists.
The optimists have two sub groups. The older, wiser "We've lived through worse," and the younger optimists who are actually the angriest of all because they cling to false hope that "there's a good player in there somewhere," "play the youngsters," "Give Big Dunc the job," and they're angry the club won't take what they perceive to be the last magic roll of the dice.
The Pessimists who think the season is already over, or virtually done and relegation is inevitable and probably bankruptcy.
Then we have the nihilists who are like those family members who show up at the gangsters funeral out of loyalty but with a "he brought it on himself" kind of attitude. Nothing we can do can make any difference. What's the point of it all?
I am hovering between group 1,A (the old timers -- albeit it vicariously) and the nihilists.
Lynn Maher
207
Posted 02/12/2021 at 14:58:41
Well they do say timing is everything. My husband has just received this email from work.
GRIEF AWARENESS WEEK
People can experience a wide range of emotions after a loss. There's no right or wrong way to feel. It can be an unpredictable time and people can feel anger, numbness, denial and exhaustion.
Welcome to Everton!
Bobby Mallon
208
Posted 02/12/2021 at 16:01:09
Rafa Benitez does not deserve more time. His record is completely shocking. This man will get us relegated. If we didn't have money in the summer for signings then how are we getting money in January.
James Marshall
209
Posted 02/12/2021 at 16:06:09
Benitez inherited a squad bought at various jumble sales for huge amounts of money - half of them bargain bucket wastes of space. We lost an unnamed 31yr old midfielder through unfortunate circumstances, then lost Doucoure, DCL, Mina and Richarlison for weeks/months respectively and everyone blames the manager?
His hands are tied - the mess is with the players in my view, and on a larger scale, the board for buying a pile of rubbish and spending half a billion quid on them in the process.
Changing managers every year is killing us even more. We have to stick with Benitez.
Bobby Mallon
210
Posted 02/12/2021 at 16:27:47
Jay wood 201. No they don't need to be gradually exposed they need to be given starts because those playing are not doing it. Rashford was not gradually introduced he was played because they had injuries and he took to it like the proverbial duck. Do you think they sit there on the bench knowing they will only get 2/3 mins of a game thinking WOW I'm on the bench. No they are thinking that Rondon is shite and I'm having to sit here freezing my arse off, when I could be at home watching it. Just play them ffs.
Brent Stephens
211
Posted 02/12/2021 at 16:41:09
Bobby #210 "No they don't need to be gradually exposed they need to be given starts because those playing are not doing it."
Bobby, I can understand the point your making, and the Rashford example is a good one. I feel the urge myself at times! But then I think, if we played one or two of the U23s from the START of a game and they have a bad game, then we face the dilemma of how many games we persist with them before, possibly, deciding it was a bad idea...
To play them for only a game or two before ditching the idea would open up the criticism that they hadn't been given enough games to adapt and to step up their game. Conversely, persisting for many a game while losing (if we did) would do their confidence no good, would have the crowd on their backs (also confidence-sapping - look at Anthony Gordon's body language at the reception the players got at the end of the Brentford game); and might be hindering us from getting back into winning ways.
Mick O'Malley
212
Posted 02/12/2021 at 16:42:37
Bobby Mallon agreed, they should be getting 20 minutes or so or even longer, no chance with Mr safety first in charge
Rob Halligan
213
Posted 02/12/2021 at 16:49:16
So in a game (against Brentford), we are 1-0 down, have three forwards on the bench, but the useless manager does not throw one of them on to try and save the game. In another game (against the RS), we are 4-1 down, but only have two forwards on the bench, and with only about five minutes to go the useless manager decides to throw one on. To do what, exactly?
BENITEZ OUT!
Dale Self
214
Posted 02/12/2021 at 16:53:55
Hmm, less than 250 and I took the over. My only hope to cover that is if Dazza lights it up at this point.
Ok, I'll go read some of this...
Wow, that is some good action for less than 250. I like Mike's side of that no surprise. It gets to some other criticisms that were directed at Godfrey as well. We don't have the players for the covering midfielders and CBs to be solely focused on positioning for their man. They have to be looking for Digne or Coleman to get beat That can rack up some ugly replays that are rather unflattering and can stick in people's minds. Although I am still wondering about Allan's form on attempting to block Henderson at the D but I digress.
Also, we have to consider that we don't have enough to switch it up when someone is the focus of film day prep for the opposition. If we had more then when teams move to limit Townsend's movement we can deploy a countertactic to take advantage. Our play is too simple because we don't have enough options and it tends to get shut down easily.
I'd say that calling someone's well reasoned point a crock of shit is a risky proposition that requires some homework or specific knowledge.
Gary, you holding any cards here???
Danny O'Neill
215
Posted 02/12/2021 at 17:35:20
John Boon: Words of wisdom in my opinion. Let is be as they say and let everyone vent in their own way I guess.
How you can go from being an Evertonian to not being one is beyond me, even in the darkest times. And this is yet to be one of them for me.
An alien thought I cannot comprehend or entertain. It can't leave you. It's not possible.
Kieran - I like your categorisations!
Lynn, I trump your husband's email with the one I woke up to very early this morning, still suffering from Jet Lag and football depression. As I squinted at the phone, a reminder from Everton that the 35% discount offer at the online store was still on!!
Their timing, as always, was as good as a similar email I received from them 24 hours after Brentford.
Monday and then Palace on the horizon as well as a Leicester team not firing on all cylinders. Points are there if we want them. Wake up and go and get them Everton.
Tony Abrahams
217
Posted 02/12/2021 at 18:06:36
Rob@202, I never compared the overall styles of play between the two managers, I just said that I didn't think that Benitez, was playing a system that was in anyway more negative than the system used by Ancelotti, after reading a headline about players being unhappy with our negative style of play.
Dave Abrahams
218
Posted 02/12/2021 at 18:17:10
John (204), John we were relegated in 1950 51 not 1951-52.
Simon Dalzell
219
Posted 02/12/2021 at 18:27:36
Benitez out, Potter in. Sell Pickford ASAP. Simples.
Peter Neilson
220
Posted 02/12/2021 at 19:07:11
Surely there's no cash to spend in January unless Moshiri decides to ignore FFP and gambles on the penalty being worth it? Maybe a couple of loan signings maximum. We're stuck with this crew of misfits for at least the rest of the season. Couldn't see any manager with any career/ambition ahead of him wanting this poisoned chalice. Even if there was what would be the chances of Moshiri and his band of jesters making the right choice?
John Boon
221
Posted 02/12/2021 at 19:26:21
Dave (218) I stand corrected. No excuses. Even as I typed in the year I thought to myself "No, it was 1950-51".It wasn't Alzeimers I was just too lazy to make sure and I was wrong. Regarding all things Everton I have often been wrong, but to be absolutely right I must say, "At the present time we are not a very good team."
My wife so often tells me there are far bigger things to worry about. She is probably right but in my mind, right now, I can't think of ANYTHING.
Andy Crooks
222
Posted 02/12/2021 at 22:57:07
James@209, you say we "have to stick with Benitez". Why? What makes you say that? Is it because of the fine job he has done? Well, that makes no sense, his performance has been poor. If you disagree, then put up an argument that he has done well.
If you think that we can't keep changing managers, why? Have we reached a point where, no how utterly inept our coach is, we have arrived at a point where we have used up our options. That is, and I'm sure you will agree, nonsense.
Finally, do you think we cannot replace him because he, and only he can get the. best out of this squad?
We are shit from the board down. What can be done about that to get us twenty points! Nothing.
The players are not good enough. What can we do? Nothing.
The coach is a past it dinosaur whose set up, team selection and substitutions defy belief. Who no one sane could argue that his way is the only way. Well, there's something that can be dealt with immediately.
Christine Foster
223
Posted 03/12/2021 at 00:28:26
Just a little aside note, did anyone see the pre match interview with klopp on Prime? It was disgraceful. It left me with a complete distaste for the man and his ability as a coach, he whined about an over aggressive Everton, losing two players to bad fouling in the last game, repeated it again, and dismissed the club in general. No class. Pure arsehole. The RS won't win the league and I look forward to the return match.
Christine Foster
224
Posted 03/12/2021 at 00:28:27
Just a little aside note, did anyone see the pre match interview with klopp on Prime? It was disgraceful. It left me with a complete distaste for the man and his ability as a coach, he whined about an over aggressive Everton, losing two players to bad fouling in the last game, repeated it again, and dismissed the club in general. No class. Pure arsehole. The RS won't win the league and I look forward to the return match.
Dale Self
225
Posted 03/12/2021 at 00:38:38
Yes, Christine. It was a disgusting display of arrogance and anger. Which was a nice contrast to his rather concerned look while the game stayed at 1-2 as his Coach Bro routine was failing to inspire the RS.
James Marshall
226
Posted 03/12/2021 at 10:22:07
Andy@222
Yeah, there's no magic wand to fix any of this but my point was merely that chopping & changing managers isn't going to fix anything. My point has been proven over the last 5 managers!
I'm not sticking up for Benitez, and perhaps my post has been misinterpreted somewhat, but the point stands - we've had a ton of injuries to a squad that was already a mish-mash of players from previous managers and Benitez was given fuck all in the way of money or support from the club so he's working with his hands tied.
What do you want, another Allardyce reshuffle? What could another manager possibly do with this mess of a squad, and all our injuries to key players? I don't see anyone on here with a sensible answer or solution so why change? Who do we change to? Pick me a manager that is going to overhaul and fix all our problems. Who wants the job? Who's available? Steve Bruce? Allardyce?
Surely you see what I'm getting at here. The past proves the point. Changing managers every season or 18 months does nothing but screw up the squad and leaves us going backwards over & over again.
Moshiri has consistently made the wrong choices but Benitiez is not the reason we're 15th or whatever we are now.
Simon Dalzell
227
Posted 04/12/2021 at 16:13:33
I'm done with Benitez. The decision to play two in the midfield against one of the best midfields in Europe was unforgivable. Lost before a ball was kicked.
Get Potter in ASAP.
Dave Abrahams
228
Posted 04/12/2021 at 16:28:41
John (221),
The main reason I pointed out the year we went down was, if it was 1951-52, some fans might have pointed out that this season 2021-22 was exactly 70 years since we last went down, but of course we won't go down anyway!!
---
Add Your Comments
In order to post a comment, you need to be logged in as a registered user of the site.
Or Sign up as a ToffeeWeb Member — it's free, takes just a few minutes and will allow you to post your comments on articles and Talking Points submissions across the site.
---
© ToffeeWeb