Report
Everton youngsters hang tight for an excellent point at The Bridge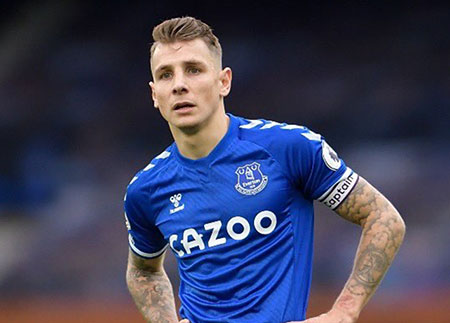 Lucas Digne is missing for the third game in a row
Tonight Everton take on a title-chasing but Covid impacted Chelsea side while yet more injury problems could spell another difficult night for Rafa Benitez.
Dominic Calvert-Lewin is still not fit to play, well into his 4th month of absence from the side, and Richarlison is ruled out with a calf injury that perhaps should have been better protected in the defeat at Crystal Palace.
Andros Townsend is also missing with a metatarsal fracture while a decision on Seamus Coleman will be left to the last minute to see if he can play despite bone bruising and swelling in his foot. Allan may play some part but Yerry Mina is out with a calf problem,
Everton will be without Lucas Digne for a third successive match but this time Benitez is citing illness as the reason for the Frenchman's absence.
Ellis Simms makes his Premier League debut and there is a first top-flight start this season for Jarrad Branthwaite, as Rafa Benitez makes five changes from the side that started at Crystal Palace.
Anthony Gordon and Alex Iwobi come into the team and Jonjoe Kenny begins his first league game since 1 November 2020 as Benitez names only seven players on the bench, two of them goalkeepers.
No Romelu Lukaku for Chelsea; Ross Barkley is on their bench.
Everton kicked off and did their best to keep Chelsea at bay in the early exchanges. Gomes was struggling though, losing the ball frequently and Reece James got around the back for what looked like a guilt-edged chance that he fired wide.
The next attack was very similar but Mount screwed his shot across the face of the Everton goal. Gordon was fouled, Branthwaite not really convincing in trying to get his delivery to the far post.
Article continues below video content
Another cunning Chelsea move saw Ziyech get in behind easily past Holgate and Pulisc's clever flick was well held by Pickford. Holgate then gifted a stupid headed pass to Ziyech and his shot was parried wide by Pickford.
Gomes gave up a dangerous free-kick for James to fire goalwards and Pickford stopped it from going in the top corner. Gomes and DOucoure tried but failed to hold the ball up high and Chelsea built another attack, Pulisc fouled this time by Keane. Alonso could only hit the wall but James then fired just over the bar.
Holgate was predictably the first booking. Doucoure gifted Chelsea a midfield mis-pass and Ziyech fired over the Everton goal again. Another incisive Chelsea move but this time Holgate could clear away the danger.
Everton tried to keep their shape a little better and stalled the Chelsea advance for a while until Alonso got forward to cross for Mount, Pickford saving their 15th attempt of the game on the half-hour. Branthwaite was doing some good defensive work. Ziyech again got forward but shot wide.
Simms headed away an Alonso corner but Mount almost got into the 6-yard box with only Pickford to beat but Pickford saved brilliantly with his right foot. Iwobi was fouled but not given, then Gomes was called for a very similar foul.
Pressing by Kenny almost worked but Everton were seeing very little of the ball and when they did, could not hold onto it. Gordon did well to draw a foul from Chelsea and thwart another attack.
Godfrey did a good flanking run but Gordon's shot from distance was very weak, bouncing in front of Mendy. Doucouré went on a mazy run but he tends to hold the ball too long rather than making the pass and this time was fouled by Loftus-Cheek, who was booked. Gordon's set-piece came to nothing. And to their immense credit, the bare-bones Everton team went in 0-0 at half-time.
Iwoi did remarkably well to defend the ball and damage Ziyech as he was challenged, before getting the ball up the wing to Kenny, who could not hold it. The pattern of the game continued as in the first half, with another shot (deflected) saved by Pickford, the corner headed over the angle.
Everton finally got a decent break through Gordon but Iwobi made the wrong decision and Kenny lashed his shot off target. Everton continued to thwart the Chelsea attack, Gordon breaking again and getting badly fouled by Jorginho.
Branthwaite tackled Jorginho and got the ball plus the man, giving Chelsea another free-kick that Rudiger could not turn in at the far post, as Simms was switched out for Dobbin. Barkley came on for Loftus-Cheek.
Godfrey went on a crazy run with the ball out of defence but got a nose-bleed and the promising move came to nothing. At the other end, Keane had to block Mount at close range. Everton tried to attack again but it was a huge mistake because they were then wide one as Doucouré messed up, failing to play in Gordon. It was then all too easy for Mount to finish at the near post.
Gordon had another run and was clipped by James for a free-kick, which was then turned in by Jarrad Brnthwaite at the afar post, a superb delivery by Gordon.
Gordom then advanced again and got in a low cross that was defended behind by Chelsea. The corner from Gordon fooled Mendy but Dobbin went down and was deemed by Michael Oliver to have thrown himself to the ground: yellow card.
It was a bit more even game, but Chelsea almost scored from a corner, Pickford making a fantastic save. With time ticking away, though Chelsea ramped up the pressure, trying to force a defensive mistake, which Gordon could have done, giving away a silly free-kick, but it was wasted by Chelsea.
Branthwaite showed excellent determination to stick with mount and tackle, albeit for a corner. Dobbin almost created two chances but just didn't quite have the guile needed.
Some fine work by Gbamin and Doucoure won an advanced free-kick, Gordon then coming off for Onyango as the game went into 5 minutes of added time, still 1-1.
Everton reverted to full defensive mode as Chelsea tried again to create some real danger but the young Everton side stuck it out with excellent resolve to take a point off the European Champions.
Kick-off: 7:45pm, Thursday 16 December 2021 on BT Sport 2
Chelsea: Mendy; Azpilicueta (79' Chalobah), Thiago Silva, Rudiger; James, Jorginho [Y:58'], Loftus-Cheek [Y:45'] (65' Barkley), Alonso (65' Saul) ; Mount, Ziyech, Pulisic.
Subs: Arrizabalaga, Christensen, Kante, Bettinelli, Sarr.
Everton: Pickford, Kenny, Godfrey, Holgate [Y:22'], Keane, Branthwaite, Iwobi, Gomes [Y:63'] (71' Gbamin), Doucoure, Gordon (90+1' Onyango), Simms (62' Dobbin [Y:77']).
Subs: Begovic, Lonergan, Coleman, Allan.
Referee: Michael Oliver
VAR: Darren England>
Share article:
---
Reader Comments (348)
Note: the following content is not moderated or vetted by the site owners at the time of submission. Comments are the responsibility of the poster. Disclaimer
Danny O'Neill
1
Posted 16/12/2021 at 18:53:02
Well. Let's see what these 2 youngster are made of then. Good luck boys.
Iain Latchford
2
Posted 16/12/2021 at 18:54:56
Godspeed.
Danny O'Neill
3
Posted 16/12/2021 at 18:55:13
Well. Let's see what these 2 youngsters are made of then. Good luck boys.
Leicester postponed I see.
Dave Williams
4
Posted 16/12/2021 at 18:58:34
Hopefully Gray is just nursing a slight knock?
Great opportunity for Kenny, Branthwaite and Simms and Dobbin likely to get time on the pitch later on.
At least this team is fresh and the youngsters may add energy and fight.
God help us!
Christy Ring
5
Posted 16/12/2021 at 18:59:22
We have no ball winner in midfield, is Delph injured again, and he doesn't trust Gbamin. No Gray, Coleman and Allan on bench, with no game Sunday they should have started, but surprise, surprise Iwobi starts. Lukaku must be one of the three with covid.

Jay Wood
[BRZ]
6
Posted 16/12/2021 at 19:02:45
That looks like a team picked on 'if you're fit enough, bring yer boots.'
Three centre backs with wing backs morphing into a back five (probably for most of the game).
Kenny right back. Keane and Branthwaite two of the centre backs. Pays yer money and takes yer choice on who plays the 3rd centre back or left back between Holgate and Godfrey. Unless either gets nudged into midfield.
No Gray (or Rondon) to add to the missing Richy and Townsend, not even on the bench of 7 which includes two keepers, the probably injured Coleman and Allan, the still-to-be-delivered potential of Gbamin and two more kids in Onyango and Dobbin.
Good luck with all that, Everton.
Dale Self
7
Posted 16/12/2021 at 19:04:52
Playing this many together at once may give us some energy in the press. If this group survives the first 20 minutes then one good opportunity whether by Chelsea mistake or an unexpectedly adept move from our midfield could give them the belief to test the royalty.
Back five so no real expectation of stopping them in midfield. Counter attack and run back to the box most likely.
Andy Finigan
8
Posted 16/12/2021 at 19:05:03
I really hope that we stop making the silly mistakes at the back and stop giving needless corners and free kicks near our box. If we are to concede let them only score through sheer class. I am looking forward to see our young lads play especially the center back. Score on the night one, one.
Brent Stephens
9
Posted 16/12/2021 at 19:05:32
Let's hope no more games before January, so we can sign players January and push on from there.
Keith Meakin
10
Posted 16/12/2021 at 19:07:34
Let's get this game out of the way then hopefully the short break might see some injured players returning. We need to give Burnley and Newcastle a good Whallaping.
Brian Wilkinson
11
Posted 16/12/2021 at 19:08:33
It is what everyone has been calling for a chance for Simms and Branthwaite.
On the other hand could be a wise move, if our game goes ahead on Sunday.
Karl Jones
12
Posted 16/12/2021 at 19:10:14
That Everton team is hilarious. How has it come to this?
Ciarán McGlone
13
Posted 16/12/2021 at 19:10:53
Watching to see if Benitez continues to pick a fight with the fans. Really don't care whether we win or not. It's all fairly numbing.
Richard Nelson
14
Posted 16/12/2021 at 19:11:26
..anyone... even the "Tea Lady"...but Iwobi..!

Barry Hesketh
15
Posted 16/12/2021 at 19:11:50
Brian @ 11
Everton's encounter with Leicester City has been postponed, was it canceled before or after the team sheets were handed in I wonder?
Everton's next match is Boxing Day against Burnley?
I have it on good authority that Iwobi is double jobbing a 'footballer' on match days and the rest of the week Acting-Tea Dispenser
Alex Gray
16
Posted 16/12/2021 at 19:12:34
God I thought it couldn't get any worse. 3 of that team would start normally. Hope the youngsters are ready for a fight!
John Graham
17
Posted 16/12/2021 at 19:13:41
Wow
Down to the bare bones.
Just got my boots out and cleaned them up just in case I get a call.
Going to be a long ninety minutes.
But as George Michael said 'YOU GOTTA HAVE FAITH'
COYB
Brent Stephens
18
Posted 16/12/2021 at 19:14:08
Barry, conspiracy? I wouldn't be surprised!
Neil Lawson
19
Posted 16/12/2021 at 19:16:09
Intriguing. What has happened to the uninjured players we expected to figure ? Is this Benitez trying to be a smartarse and, effectively giving up the game, or is there a serious intention? Would be wonderful if all the youngsters played out of their skins and forced themselves into contention for future games. However, why do I think that FSW may be throwing them under the bus to prove a point ?
Tony Everan
20
Posted 16/12/2021 at 19:17:13
Big Dunc and Unsie on the subs bench?
Jay Wood
[BRZ]
21
Posted 16/12/2021 at 19:17:31
Good news that the Leicester game is off. We need some breathing space to get more bodies fit.
I would hope the fringe players picked are absolutely buzzing.
Youthful zest can carry you a long way, but we will be up against seriously good opposition.
Dave Lynch
22
Posted 16/12/2021 at 19:17:51
Ffs... some posters have been baying for him to play some of the kids.
He does and still gets slated. It is, what it is.

Kevin Prytherch
23
Posted 16/12/2021 at 19:18:33
No-lose for Benitez tonight.
If we do well, then it was him who gave Simms a debut and brought Branthwaite in.
If we get battered – we'll he's been telling us that the youngsters weren't good enough and now he's proved it.
Barry Hesketh
24
Posted 16/12/2021 at 19:19:08
Neil @19
If It's not a selection borne out of necessity, or even if he was holding back a few players for the now-canceled game on Sunday, the make-up of the team is bizarre, to say the least. With the Leicester City game not taking place there is a chance that Doucoure if he picks up a yellow will miss Burnley away too.
Ray Robinson
25
Posted 16/12/2021 at 19:22:45
Well people have been asking for Branthwaite and Simms to start. Maybe not in an away game at Chelsea but let's see what they're made of. Unless this turns out to be an embarrassing drubbing, then it's a free hit. It's doubtful we'd have got anything from this match even with a full squad available, so barring a disastrous negative impact on our goal difference, nothing lost 🤞.
Bill Gienapp
26
Posted 16/12/2021 at 19:23:27
Well, why not? Odds were we were going down in flames in this match no matter what, so we might as well get our money's worth.
Kind of sad that Gbamin can't even crack the pu pu platter lineup.
Justin Doone
27
Posted 16/12/2021 at 19:25:00
I'm really looking forwards to watching this.
It may not be the game to judge a players career on but I will be judging attitude.
Simms may be in at the deep end but he has to relish the opportunity and work as hard as he possibly can every minute he's on the pitch.
Also keen to see how Braithwaite handles a very pacey direct team.
Kennys set pieces could be the key.
Merry blooming Christmas, enjoy.
Will Mabon
28
Posted 16/12/2021 at 19:25:33
Sorry, Guys - I was due to be starting in left midfield but twisted my ankle getting off the coach.
Keith Meakin
29
Posted 16/12/2021 at 19:26:53
I feel sorry for Doucouré tonight, carrying Gomes for a full 90 minutes and trying to not pick up his fifth booking. Good luck with that one then.
Benn Chambers
30
Posted 16/12/2021 at 19:27:17
This is gonna be a cricket score. I'm talking 9-0 Leicester v Southampton type of score. Could be a record premier league defeat.
Delph out again. What a pathetic piece of shit he is.
We can name 7 subs and Chelsea ravaged with Covid and this game still goes ahead. Absolute joke.
Fran Mitchell
31
Posted 16/12/2021 at 19:32:11
The players are being thrown in like lambs to slaughter. Absolutely awful management.
Simms, Branthwaite, and Kenny haven't had any minutes. And now they're put in from the start away to the European Champions. Maybe they step up, but more likely we get slaughtered and the confidence of these lads takes a battering.
It's likely that we get hammered, like properly hammered. 7, 8, 9-0 is not beyond the realms of possibility. Once Chelsea get one, the floodgates will open.
It's likely that the Premier League will be postponed after today's games. Covid is just rampaging and I expect at least a couple of weeks 'firebreaker'.
Will Rafa survive this 'break'? Hopefully not.
Colin Malone
32
Posted 16/12/2021 at 19:34:15
Just seen on BT sport, a banner saying, "Benitez get out of our club".
Will Mabon
33
Posted 16/12/2021 at 19:36:08
The Rondon absence is odd (if he isn't injured) as some kind of fallback. Any problem with the new guy, he must be replaced with... a new guy.
The rest of it - well, fingers crossed. There may be a line of five camped on the edge of the box
Colin Malone
34
Posted 16/12/2021 at 19:38:17
Mind you, there where only about 20 at the most in the away end.
Dave Williams
35
Posted 16/12/2021 at 19:40:52
It's hardly Rafas fault. Unprecedented injuries to a small squad light on quality. I suspect one or two might have played against lesser opposition but as others have said this is a free hit. You never know we might find one or two rise to the challenge.
I am expecting a very heavy defeat but without that number of players it will be a good performance if we keep them below 4.
Karl Jones
36
Posted 16/12/2021 at 19:41:32
The odds against Everton even scoring tonight must be incredible. This is going to be embarrassing. I feel so sorry for those Everton supporters having to put up with all this Benitez BS...The guys destroying our club bit by bit. Agent Rafa is right.
Dave Abrahams
37
Posted 16/12/2021 at 19:43:55
That's a very young team with two of the oldest players being part of the ongoing problem of having too many players not good enough.
Phil Smith
38
Posted 16/12/2021 at 19:47:33
Now this is the most interesting team we've put out in a while. Interested to see how the lads will do in a 'free hit' game. No pressure, just go out and enjoy it and play for the shirt. Would have loved to see Simms face when he was told he's starting!
Barry Hesketh
39
Posted 16/12/2021 at 19:51:20
It's only a free-hit if the score is kept down to respectable, if it's a true hammering that will impact the young players badly and won't be good for the goal difference. If Benitez didn't have much choice for the selection, due to injuries, Covid, etc then fair enough, any other reason and it's not on.

Dave Abrahams
40
Posted 16/12/2021 at 19:57:56
With the Leicester game postboned on Sunday Benitez is giving some of the senior players more time to be fitter by missing this game and better prepared for the Newcastle and Burnley games, if they get played.
Ciarán McGlone
41
Posted 16/12/2021 at 20:33:22
Towel thrown in.
A formation in which players are set up to fail.
A timeless Everton classic.
Jerome Shields
43
Posted 16/12/2021 at 20:36:10
Good first half from Everton.
Colin Malone
44
Posted 16/12/2021 at 20:38:05
Iwobi? This can't be a lack of confidence. He's got no fucking bottle. Get stuck in, ye cunt.
Jay Wood
[BRZ]
45
Posted 16/12/2021 at 20:39:08
Given the selection and circumstances, that's a very decent half by Everton.
Nobody shirking their responsibilities. Far more energy than the passivity we saw at Palace. Even got bodies forward in numbers a couple of times.
Have we ridden our luck? Absolutely. Chelsea carved out some great chances. But we are not being overrun, for all Chelsea's possession.
The three poorest Everton players for me are senior players. Holgate, Gomes and Doucoure.
The odds remain heavily against us, but they are not getting in behind us down the flanks. The danger is from the sharp one-twos through the centre.
Happy with what I've seen so far. It's given the away support something to cheer about.
Dave Abrahams
46
Posted 16/12/2021 at 20:46:01
Who is captain tonight? A good scoreline with plenty of endeavour defending our goal. Keep it up... who knows?
Ciarán McGlone
47
Posted 16/12/2021 at 20:55:23
We should probably take off Simms and put another keeper on.
Ernie Baywood
48
Posted 16/12/2021 at 20:57:09
Hard to really judge the performance. We're not particularly contributing.
But at the end of the day we are right in the relegation mix on current form. So, if there's any chance of scraping something out of this, then performance won't matter.
Colin Malone
49
Posted 16/12/2021 at 21:10:00
Get Iwobi off, the shithouse. Put Coleman on.
Tony Hill
50
Posted 16/12/2021 at 21:41:33
Excellent result and performance, in the circumstances. Pickford, Keane and Gordon were great and Branthwaite remains a tremendous prospect.
Any chance of a good word about the manager? Probably not.
Jay Wood
[BRZ]
51
Posted 16/12/2021 at 21:42:18
Excellent performance and result.
How anybody can knock that given the selection and all the circumstances, then I genuinely feel sorry for them.
A bit more composure at times and we could even have won it.
Chuffed.
Jerome Shields
52
Posted 16/12/2021 at 21:42:21
Great Everton display. First class goal.
Keith Meakin
53
Posted 16/12/2021 at 21:42:56
Wow, credit to Benitez and the boys. I really thought we would get spanked tonight.
Tony Twist
54
Posted 16/12/2021 at 21:43:32
Bravo. Well done all concerned. That is more like it, no rolling over.
Simon Dalzell
55
Posted 16/12/2021 at 21:45:23
Feels like the best point ever. Godfrey just didn't mark for the goal, though otherwise he was good. Iwobi tried, but he's crap. Some big performances fom just about all.
John Graham
56
Posted 16/12/2021 at 21:45:55
Great result. Great team effort.
Low on possession, low on chances, low on shots but fantastic effort from everyone.
Missing 6 or 7 players who would be in from the start.
Well done, team.
COYB
Anthony Jones
58
Posted 16/12/2021 at 21:45:56
Benitez deserves a season at least.
That was easily up there with our most committed performances given the side we were reduced to.
Jerome Shields
59
Posted 16/12/2021 at 21:45:58
Relegation fodder, my ass.
Alex Gray
60
Posted 16/12/2021 at 21:46:13
Tell you what: not much quality but our youngsters just embarrassed some of the senior players with heart, desire and effort. First time I've felt pride watching us in a long long time.
I thought Branthwaite was an absolute rock and it was Gordon's best game for us. Well done, all around.
Anthony Jones
61
Posted 16/12/2021 at 21:46:56
Benitez did well.
Gbamin is terrible.
Peter Neilson
63
Posted 16/12/2021 at 21:48:32
Pickford... £30m? Having a laugh. Great performance.
Godfrey, Gordon, Keane, Branthwaite likewise. You'll win nothing with kids! But you might get a draw against the odds with energy, discipline and 'never say die' attitude.
John Reynolds
65
Posted 16/12/2021 at 21:49:47
So Rafa plays a few youngsters (because he has no other choice) and we see an immediate payback in energy, workrate and attitude.
On tonight's display, you'd wonder why Branthwaite has been in exile for so long. We can also conclude Godfrey has shaken off the effects of long Covid. Great performances from Gordon and Pickford too.
On the downside, Gomes pretty ineffectual and Iwobi pretty awful. How does he miss playing Doucouré in for the one-on-one?
An excellent point and result, much better than the shellacking I and many were expecting. Everton that.
Brendan McLaughlin
66
Posted 16/12/2021 at 21:49:48
Well done the young guns... let's kick on from here!
Brent Stephens
67
Posted 16/12/2021 at 21:50:27
How much is THAT point worth!
Mark Ryan
68
Posted 16/12/2021 at 21:50:31
Who signed Gbamin? Brands? Er, why?
Will Mabon
69
Posted 16/12/2021 at 21:51:53
All those younger players on at the same time also make us quite a tall team.
A proper committed performance, seen nothing like that across the full game for weeks/months – including the Arsenal win.
Bill Gienapp
70
Posted 16/12/2021 at 21:52:04
Nice cricket score.
Michael Lynch
71
Posted 16/12/2021 at 21:52:37
Fantastic point, even considering it was a fairly lacklustre Chelsea. Can't ask for more than that really, and hats off to Anthony Gordon for his best performance so far.
Jeff Armstrong
72
Posted 16/12/2021 at 21:53:18
We've just found 3 players, didn't need to wait until January, they where here all the time!
Brent Stephens
73
Posted 16/12/2021 at 21:53:42
We were set up superbly and stuck to the plan.
David Pearl
74
Posted 16/12/2021 at 21:54:28
We had 12 players out. I'm slagging nobody. Great effort. Dobbin great energy when he came on. UTFT
Dale Self
75
Posted 16/12/2021 at 21:54:29
That could have shored up an important bit of support for Rafa. Just finding those eleven who he can trust and who trust themselves is an elusive thing in a downturn. Carlo had the same experience when James went out early last season.
This could be a one-off but I sense that playing the youth together will install some trust and reliability that the veterans will have to adjust to. I just hope he can find enough variations in the run of play so that they continue to grow as footballers.
Brian Williams
76
Posted 16/12/2021 at 21:54:34
Towel thrown in.
A formation in which players are set up to fail.
A timeless Everton classic.
Or maybe you're wrong?
Danny O'Neill
77
Posted 16/12/2021 at 21:55:04
I will reflect, digest and speak tomorrow.
I said we were getting a point.
Just saying.
Tony Hill
79
Posted 16/12/2021 at 21:55:19
A word for young Simms and Dobbin, to play against Chelsea and to come through so solidly was fantastic. Kenny too looked in good nick.
I thought Gbamin looked ok actually, quite sharp on a couple of occasions.
Very, very heartening.
Tom Harvey
80
Posted 16/12/2021 at 21:55:43
Good tactics and a well-motivated team that had intensity until the end.
Is there anything to complain about tonight's performance?
Graham Mockford
81
Posted 16/12/2021 at 21:55:56
Better, so much better. A really spirited performance.
But please let's put the Pickford nonsense to bed. The best keeper we've had since Big Nev. Could easily have been 4-1 without him.
Matthew Williams
83
Posted 16/12/2021 at 21:56:32
So proud of our new "Pups of War" – every player worked their bollocks off against Europe's best!
Take a bow, Blues. Superb!
Brent Stephens
84
Posted 16/12/2021 at 21:57:01
Danny, I felt guilty selling you that ticket! Now I feel cheated!
God that was great.
Will Mabon
85
Posted 16/12/2021 at 21:57:59
Tony, true - all the new ones actually. No-one overawed.
Pat Kelly
86
Posted 16/12/2021 at 21:58:09
The most important lesson learned tonight was by Benitez. Let's hope he doesn't forget. Youth and hunger. Not age and apathy.
Mike Hughes
87
Posted 16/12/2021 at 21:59:00
Bloody typical.
We're on an unbeaten streak of 1.
Then Covid strikes again.
(Great result!)
Tony Everan
89
Posted 16/12/2021 at 21:59:13
Great gutsy performance, a lot of passion and fight and also a bit of quality too. Pickford was outstanding. Branthwaite 19, a quality player already and only going get better. So glad we have got him.
Gordon took responsibility tonight, fought and showed quality. Loved it when he tangled with Jorginho and held his ground and pushed the dirty bastard away. Confident stuff !
We all know there are weaknesses, but tonight the whole team and manager deserve credit for pulling that performance out of he bag. Well done to the lot of them.
Now we need that passion and desire every game, and right from the kick off.
This point seems like a marker, a turning point. The very start of a wider resurgence of Everton FC.
Peter Neilson
90
Posted 16/12/2021 at 21:59:38
Sincerely hope that makes Benitez confident he can play the kids and suddenly our squad doesn't look so depressing. They stood up tonight and proved themselves.
Robert Tressell
91
Posted 16/12/2021 at 21:59:50
Very brave line up and an outstanding result. Well done Benitez. Well done players with good attitudes. Hopefully Branthwaite stays in the side now and becomes the centre-back we've needed for a while.
Brent Stephens
92
Posted 16/12/2021 at 22:00:26
Yes "Towel thrown in.
A formation in which players are set up to fail.
A timeless Everton classic."
Well, well.
Barry Hesketh
95
Posted 16/12/2021 at 22:01:01
Just watched the video on the Echo website of the Evertonians saluting their team following the draw and most of the players throwing their shirts into the crowd of away fans. Not for one moment am I suggesting that we will follow a similar path to our neighbours but when they drew with West Brom at their place a good few seasons ago, many believed it was the turning point for their manager and his team.
To get a point at Stamford Bridge with the team we sent out is a fantastic reward for the traveling fans and for the young lads in tonight's team. The kids have set the standard as far as commitment to the cause goes, and now it's up to the senior professionals to follow their lead and ensure the half-hearted, shameless performances of recent times are consigned to the past.
For Darren and others who placed a bet on the Blues to win tonight, it is just a pity that the kids couldn't snatch all three points, but perhaps on occasions like tonight money isn't everything.
I feared the worst when I saw the line-up prior to kick-off but, as many already know, football can be a crazy old game.
Benn Chambers
96
Posted 16/12/2021 at 22:01:03
Fucking excellent point.
Rafa has no excuse now not to involve these kids. They'll shame half of the spineless shitbags that are meant to be senior pros.
Dobbin has it; whatever it is... he has it. Play the kid more, even from the bench, often!
It was a superb point but Mason Holgate should never ever make a squad before Branthwaite ever again. He's an embarrassment. Get rid and play Branthwaite while Mina is out.
Michael Keane was superb. Credit where it's due. So was Pickford.
Time to move Gomes, Kenny, Holgate on now though, as soon as we can, get rid.
Well done, Blues. Proud there.
Tom Harvey
97
Posted 16/12/2021 at 22:01:16
On tonight's performance, do we need Digne that badly?
Let's make some profit off him while we can, we certainly don't need his bad attitude.
Colin Glassar
98
Posted 16/12/2021 at 22:01:19
Our only way out of the mess we find ourselves in is fight, courage and hard work. Today we had that, it needs to continue.
Ian Riley
100
Posted 16/12/2021 at 22:01:38
Well done!!
Workrate, passion, desire was 100%!!!
Go forward!!!!
Craig Walker
101
Posted 16/12/2021 at 22:02:30
I know it's not popular but Benitez deserves some credit tonight. I don't like seeing banners aimed at our own manager. He's made mistakes but which of our managers haven't?
I've seen far better Everton teams roll over at Stamford Bridge. Didn't we get hammered there just before lockdown?
Some good performances, particularly Pickford, Godfrey and Gordon. Rode our luck at times but a massive point. Hopefully with Sunday off, we can start to get some senior players back and use these youngsters more.
Jerome Shields
102
Posted 16/12/2021 at 22:02:33
It is interesting in that it throws up competition for places, Even Kenny did okay. Gbamin survived and got some game time. Actually it was the younger players who looked more professional. Not only did Everton defend okay, they were a threat. Everton could have won this game.
It turns the tables on a lot of players, because the team looked more professional, though there were the usual foibles.
Graham Mockford
103
Posted 16/12/2021 at 22:02:41
He gets some stick on here and he's never a natural captain but Keane showed his qualities tonight. Strong and brave. Take a bow, feller!
Tom Harvey
104
Posted 16/12/2021 at 22:04:00
The FSW Out! brigade will not be enjoying this result.
Neil Copeland
105
Posted 16/12/2021 at 22:04:08
Wow, didn't see that coming. Great performance from team and credit to Rafa. So refreshing to see Simms, Branthwaite and Dobbin taking their opportunity so well.
Jordan Pickford was immense, Aaron who?
Christy Ring
106
Posted 16/12/2021 at 22:04:26
Brilliant result, injuries and covid forced his hand, but the young lads were superb, (keep them in the team now), as was the team minus Iwobi. I thought Gbamin did okay. Huge point.
Pat Kelly
107
Posted 16/12/2021 at 22:04:57
So who will we spend the Digne money on?
Darren Hind
108
Posted 16/12/2021 at 22:05:06
Us Evertonians don't want much... Just a team we can be proud of. We can all feel proud of our boys tonight.
Usually save the Red Breast for victories, but fuck it. This feels like one.
Mal van Schaick
109
Posted 16/12/2021 at 22:06:02
Well done to those involved in getting this result tonight, in particular the younger inexperienced players. Some credit has to go to Benitez, with what he has to work with.
As others have said, some senior players who aren't putting in the effort need to be shown the door, if not in January, in the summer. Then we can rebuild under Benitez with his own players.
Jerome Shields
110
Posted 16/12/2021 at 22:06:22
Peter #90,
That team could have beaten Chelsea.
Brent Stephens
111
Posted 16/12/2021 at 22:06:25
What made Keane's performance so good was that he didn't have other experienced players all around him to protect him. Great leadership.
Graham Mockford
112
Posted 16/12/2021 at 22:06:25
Dazzler — never a truer word!
Stuart Sharp
113
Posted 16/12/2021 at 22:07:16
I'm still not convinced I didn't just dream all that. How is that result possible? The young lads putting the old boys to shame with their desire. Branthwaite looks so calm – even when he scored!
Andy Finigan
114
Posted 16/12/2021 at 22:07:18
Everton, Everton,
Everton all the way,
Oh what fun it is to see
Everton Win away.
Well, I will take the draw all day long. Going to bed with a smile on my face. Most of all, my pride is with our traveling support, you are the best supporters.
Colin Glassar
115
Posted 16/12/2021 at 22:07:30
It will be added to the Arteta money, Pat.
Andy Crooks
116
Posted 16/12/2021 at 22:09:23
Our team can make any of us look foolish and did so tonight. Post #30 is a ToffeeWeb collector's piece. I have posted many embarrassing gems over the years but never such a beauty before the game.
Why write stuff like that? If you're right, it doesn't look smart... and if you're wrong it looks well.. exactly how it looks hanging there now.
A fine effort from the team.

Joe McMahon
117
Posted 16/12/2021 at 22:10:45
Just Grand! Hopefully the manager can now see that there are players in the squad who can be used.
Really pleased for Simms, he had a successful loan at Blackpool, recovered from his injury and will make a good Premier League player (by the looks of it).
I just wish Rafa turned to some of the younger players earlier, but many managers are stubborn like that.
Ciarán McGlone
118
Posted 16/12/2021 at 22:10:59
Brian @76.
I'm short, bollocks.
We played 5 at the back. Had 20% possession, played for a draw and Pickford was man of the match.
The fact that we scraped a draw conceals the shitehouse tactics employed.
Fair play to the kids, they did well... but when you're jumping up and down at us parking the bus... that's simply an indictment of how low this club has fallen.
Bill Griffiths
119
Posted 16/12/2021 at 22:11:31
I didn't see the game and I can't believe we got a result when I was expecting a tonking.
Looking at the Live Forum, it's obvious Dobbin came on at some stage and received some praise for his performance.
As a matter of interest, how did Simm's do?
Dave Abrahams
120
Posted 16/12/2021 at 22:12:56
Proud is the way most of us should be feeling tonight; effort, determination, energy and loads of bottle there tonight giving us an unexpected point.
And the possibility of adding two young gems to the squad in Branthwaite and Dobbin, who became Everton's first defender with his challenges from the striker's position. Well done, lads.
Tony Hill
122
Posted 16/12/2021 at 22:12:58
Craig @101, Benitez has buckets of courage. As others have said, that's all we want to see for now: an Everton team trying their guts out.
Tom Harvey
123
Posted 16/12/2021 at 22:13:20
Simms was okay, but marked out of the game.
Brent Stephens
124
Posted 16/12/2021 at 22:14:21
"When you're jumping up and down at us parking the bus... that's simply an indictment of how low this club has fallen."
No, it's a comment on how ravaged by injury we were, which dictated selection and therefore tactics.
Paul Birmingham
125
Posted 16/12/2021 at 22:14:37
True Grit, pride in the shirt, proper fighting spirit! Immense solid performance and made up Everton turned up with their kids bulking this squad tonight.
I had a hunch that we could have won tonight, but made up with the draw – the attitude was immense.
Good on those who made the trek to get to Chelsea tonight, this is one of them special Everton nights.
Branthwaite and Pickford were immense, some good left peg, and confidence in Branthwaite, and no-one was over-awed.
The fight is eternal, this is a massive season but this hopefully can be a starting point to start this season's recovery plan. Enjoy this night, a very special night for Everton FC.
Let's hope Rafa has got the canning machine to can that spirit shown tonight, and take it henceforth, to every match.
"What's Our Name?"
Stuart Sharp
126
Posted 16/12/2021 at 22:14:39
Pickford was MotM by a mile for me. But lots of great performances. Holgate still terrifies me, but now's the time to focus on the positives.
Against all odds, we got a point by working bloody hard. A bit more quality on the counter and we might have nicked it. Astonishing.
Peter Mills
127
Posted 16/12/2021 at 22:14:41
Excellent result, some great performances from the younger players in particular, made up especially for everyone who travelled tonight.
Jay Harris
131
Posted 16/12/2021 at 22:15:18
Unbeaten by Spurs, Chelsea and Arsenal.
Great and unexpected performance tonight.
Special mention to Gordon, Branthwaite and Kenny who were immense. Gbamin wasn't too shabby either.
Darren Hind
134
Posted 16/12/2021 at 22:17:22
Oh come on, Ciaran.
We did park the bus, but we didn't just park the bus.
I thought there were a couple of bounty hunter moments in the second half – we went in search of paradise.
The only thing we got wrong tonight was our decision-making.
I'm fucking made up to be honest.
Tom Harvey
135
Posted 16/12/2021 at 22:17:47
Ciarán McGlone @ 118
Tonight was not the night for a gungho have-a-go punch up, they'd have undone us.
Benitez's tactics were good tonight.
Bobby Mallon
136
Posted 16/12/2021 at 22:20:38
Anthony @58 enjoy that result. But credit to Benitez. He was forced to play the young lads.
Anthony Murphy
137
Posted 16/12/2021 at 22:20:59
Need to tie young Dobbin down with a decent contract...
Dale Self
138
Posted 16/12/2021 at 22:21:21
Ciaran, that's weak. When you make a pregame statement like that and it goes directly the other way, just admit it. We all have those days trying to predict what happens in football.
John Keating
139
Posted 16/12/2021 at 22:21:34
Great well-deserved point and surprising considering the first 11 and subs.
Some first-class performances from the young lads who were thrown in at the deep end against a brilliant team.
I thought Kenny was excellent and a special mention to Keane who held it all together.
Roger Helm
140
Posted 16/12/2021 at 22:22:12
Well done the lads, especially the youngsters, a good result at a historically very difficult ground for us.
A good team always has a chance against a team of good players, the team had great spirit. Some of our earlier posters must feel a little sheepish.
Ciarán McGlone
141
Posted 16/12/2021 at 22:24:16
It was half-time, Dale.
Keep up.
Martin Reppion
142
Posted 16/12/2021 at 22:24:24
Management is about using the resources you have to the best of their ability.
That is why managers with a so-called 'philosophy' (like Martinez) can only work with a certain type of player. Asking round pegs to fit into square holes and play against type is doomed to fail.
Recognising that all we had fit were centre backs, kids and a couple of solid professionals, the manager tonight, earned his money. He set the side up to battle. And battle they did. A little more class up front and we could have snatched all 3 points.
Instead of bemoaning where we are in the table, perhaps people should ask where would the Top 6 sides be with 8 first-choice players missing and our lack of strength in depth? If they still tried to play tippy-tappy football, they would be lower than we are.
Dale Self
143
Posted 16/12/2021 at 22:24:52
I'll just say this: we would have won that if Mabon hadn't downed tools.
Johan Elmgren
144
Posted 16/12/2021 at 22:25:13
Credit where it's due, Rafa Benitez got the tactics right tonight... but then again, he always sets us up like that. However, this time there was some grit and determination in the group, something that has been lacking most previous games. He needs to continue to get the players fired up and focused like that, or he will fail...
So glad for the youngsters, and they sure showed that they can play at this level. Why he hasn't used them more is a question that's relevant now... Maybe he saw now that they actually can make the grade, and will use them more in coming games...
I still want him out, he needs to show more than this, show that this isn't a one-off, like the Arsenal game. We need grit and determination every game. And to start on the front-foot against teams we should beat... That's the least you can demand.
Dale Self
145
Posted 16/12/2021 at 22:25:41
Ciaran, that's even worse. Don't lose the plot.
Andy Riley
146
Posted 16/12/2021 at 22:26:44
Dale #138 - I got my prediction right tonight. Had £1 on Branthwaite to score anytime at 40-1! I thought they were good odds for what I expected to be a late consolation in a 5-1 defeat!
Rob Halligan
147
Posted 16/12/2021 at 22:27:36
Makes a 4-hour coach journey home well worthwhile! Fucking superb performance by everyone.
Steven Astley
148
Posted 16/12/2021 at 22:28:39
Martin, well, that was a load of tripe wasn't it?
I'd rather "bemoan' where we are in the table as performances haven't been good enough. Simple as that.
Fantastic performance this evening. Everyone did well. If only Pickford could have closed his angles quicker against Mount and we might have snatched victory. Couldn't fault him though. Onwards and upwards.
Dale Self
149
Posted 16/12/2021 at 22:28:43
As they say in the less sophisticated areas of Yankeeland, "Fuck n A!!". Get some decent beer in ya, well done!
Michael Williams
150
Posted 16/12/2021 at 22:29:59
"When you're jumping up and down at us parking the bus... that's simply an indictment of how low this club has fallen."
When an inferior team is missing seven starters, playing at Chelsea, and starting several youngsters – that is when you park the bus.
Yes, the club has fallen because the people who own and run the club are clueless... but we can definitely take pride today in how this team was managed and played.
Mark Andrews
151
Posted 16/12/2021 at 22:30:14
I thought we were in for a proper mauling, even before I saw the line-up, then I feared the very worst.
Astonishing rearguard performance. They battled with some not unexpected exceptions and the young lads did themselves proud.
Pickford was excellent.

Tony Hill
152
Posted 16/12/2021 at 22:30:51
What was so pleasing about Branthwaite was his confidence in moving out of defence. He came to grief once but it was lovely to see. He seems to have the proper temperament.
Mind you, that was what I said about Holgate... so easy does it. Let's hope they both make it.
Bill Fairfield
153
Posted 16/12/2021 at 22:31:34
Much better in terms of effort and commitment, some very good performances.
Well done to the whole team.
Niall McIlhone
154
Posted 16/12/2021 at 22:33:15
Starting with Pickford… is he now at his peak? Focussed, assured, and a brilliant shot-stopper.
Keane looks like he is much more comfortable with a natural left-footer alongside him; could this be the combination we have been looking for?
Ben Godfrey, getting back to the player we saw pre-Covid, but aggressive and determined, and a player the fans respond to.
The manager has been forced into a selection he would not have made, save for the injury crisis and other issues, but credit to him for the work done on the training ground. There was clearly a plan, and the players tried their very best.
Onwards and upwards. Beat Burnley and we are back in business.
Barry Rathbone
155
Posted 16/12/2021 at 22:37:38
Perspective please.
We will get results like this then fall unexpectedly. No point going overboard either way with a squad this weak.
Stop the Benitez vendetta; let him develop his own team with the understanding he can't do it in 5 mins. Give the fella a fair go.
Keith Meakin
156
Posted 16/12/2021 at 22:40:35
Bring on the Tigers (Hull City) – we're comin' for ya.
Kieran Kinsella
158
Posted 16/12/2021 at 22:42:01
If we can make some canny moves in January, offload Delph, Gbamin and anyone who doesn't want to be here, then we may have a good second half of the season.
Danny Baily
159
Posted 16/12/2021 at 22:43:08
Niall, Pickford is the same erratic player he was on Sunday.
Ciarán McGlone
160
Posted 16/12/2021 at 22:46:24
Darren @134.
Can't disagree with any of that... couple of decent moments in the second half – but I refuse to accept this as some sort of masterclass from Benitez. His default position is that our players are not capable. He's wrong.
The good performances (mostly from the kids and Pickford) was in spite of him.
Enjoy your Red Breast.
Mike Keating
161
Posted 16/12/2021 at 22:48:57
Simms seemed out of his depth but Dobbin made the most of his opportunity, as did Branthwaite. Doucouré messed up for their goal, Gbamin anonymous, Keane excellent and Pickford MotM.
Anyone who thinks we should bring back Barkley needs a brain transplant.
UTFT
Niall McIlhone
162
Posted 16/12/2021 at 22:51:20
He made at least three stellar saves tonight, Danny, and with a more organised defence in front of him, he will get better.
I admit, I do need a reminder to bring me back down to realism at times, but this result, coupled with Gray's late winner against Arsenal, gives me a bit of hope.
Benitez needs time to get this sorted; hopefully, we will see comings and goings in January and a re-balance of the squad.
John Boon
163
Posted 16/12/2021 at 22:54:48
Great effort by the whole team, with all the young players responding to the call.
Tough day for our "Gloom and Doom" supporters
Ben (30) With forecasts like yours you should stick to the Weather with your predictions.
Ciaron Mc Moan (118). We had EIGHT regulars missing and you are not satisfied because we were not bombing up the field and having the large %tage of possession. I am not a huge fan of Benitez but he managed today's game perfectly.If you had been in charge Ben (30) may have been right in his 9-0 forecast.
Joe McMahon
164
Posted 16/12/2021 at 22:55:41
Ciarán, absolutely correct. But one thing that has to be noted (for once) they worked on set pieces on the training ground (according to our pleased as punch goalscorer). At least there was a plan. Now let's hope the manager carries this on.
Managers can be stubborn, I remember we were all screaming for Moyes to play Coleman after his loan at Blackpool. History shows the fans were right.
Andrew Keatley
165
Posted 16/12/2021 at 22:57:23
Football is a funny old game. We could have been three down inside 12 minutes, with Pickford keeping us in the game almost single-handedly for large parts of the first half.
But then the players grew more and more into the game, we showed more and more intent and belief, and by the end, Chelsea were blunted by a well-organised and spirited Everton side.
Benitez and his staff deserve credit for giving the players the framework to get the result, but the players got us across the line.
I thought Anthony Gordon made a significant step up tonight. He was up for it, used the ball well, worked tirelessly to stay narrow defensively, and gave an incredibly strong and mature display.
Branthwaite is ready to start games regularly – and probably has been for a while. Hopefully the opportunity to do so has arrived now.
Simms did okay, but Dobbin was much more impressive, even if it was just for the intensity and pace he brought to the last 30 minutes in terms of his closing down.
I don't suddenly believe that we have an academy full of world-beaters but it seems like Onyango, Dobbin, Simms, Branthwaite, and a few others might be able to contribute more over the course of the next season and a half - and if that allows us to cut loose the majority of fringe players who have continually underachieved for this club, well that's a very positive development on and off the pitch.
Rick Barnes
166
Posted 16/12/2021 at 22:59:26
A few weeks ago, after an atrocious lack of effort against Brentford, the Everton away fans (not unfairly, I think) showed the players just what they thought of the performance with fire, brimstone and vitriol.
Some players embarrassingly skulked off the pitch, others made a token gesture of clapping the fans in a meaningless formality before walking away.
One man stood, faced the crowd – and took the abuse on the chin. Anthony Gordon.
He was by far nowhere near the worst on the pitch, but he acknowledged the fans had a right to be fuming.
Every time I see him play, whilst he might not be the best player out there, I've never questioned his effort, his willingness to still run after a lost cause, still put in a tackle when 4 goals down with a minute to play.
So, after tonight's effort, where I feel he put in one hell of a shift, setting up the goal (and if his teammates had looked up and passed to him, potentially scored himself...) – what I heard at the end of the game brought a lump to my throat.
When all the players approached the away fans, hearing them single him out with a heartfelt roar of "Oooohhhhh, Ant-on-ee Goooorrr-dooon!!!" really got to me.
Evertonians (especially die-hard, match-going ones) are a passionate lot, and will not hold back when effort, desire and fortitude are lacking. They despise apathy.
But by the same token, when they see a young player stand up to be counted, leave nothing but sweat on the ground when they come off – they'll sing your name to the heavens. Our Everton Giants are less the silky smooth artisans – it's the grafters that we take to our hearts.
Terry Farrell
168
Posted 16/12/2021 at 23:03:54
Love it, Neal C.
That was back-to-the-wall stuff. Pickford, Keane and Doucouré were brilliant and everyone else put a shift in.
Love Godfrey and his commitment but he has got to stop ball-watching and losing his man for a goal, it's a bad habit.
Anthony, harsh comments re Gbamin; I thought he did well. He ran down a blind alley and lost the ball once but otherwise he did well.
Kenny and Braithwaite gave everything and have to stay in for a few games at least and see what happens.
Final comment to the Blues away fans – especially when they sung We Never Shone So Brightly... xx
Paul Birmingham
169
Posted 16/12/2021 at 23:04:12
It's a great night and great early Chrimbo present. I sincerely hope that this night is remembered for the fantastic spirit and well-earned result.
Hopefully this is a starting point from a salient all in, on par with previous chess games with fate from the past: 1993-94,1997-98, and 1979-80 in modern times.
I'm hoping that the building of a new temple, the new stadium at Bramley-Moore Dock, can be the start of a new Golden Age, and Everton, for ever.
No, it won't, but seriously, Evertonians all stick together, there's no more poignant, football knowledgeable, and stronger supporters in football.
In some ways, I'm pissed off that Brenda's dupe with the Covid card has meant the game is postponed. Maybe it is better, it puts time and digestion, perspective to this week's events at Everton FC.
All stay safe and stay well, this new Covid variant looks like it's spreading with ease across the world.
The Best of The Season's Greetings to All Evertonians, and TWrs!
Tony Abrahams
170
Posted 16/12/2021 at 23:06:10
I thought Gordon had his bravest game in a blue shirt; performances like this should give him the confidence to push on higher.
The performance of Kenny shows that Benitez has been getting it wrong playing Coleman every week.
Branthwaite is big, fast and strong; although he will make mistakes, he should definitely be in the team because all our defenders make loads of mistakes!
Michael Keane got better and better; this is why he frustrates me, because I sometimes think he worries more about his limitations instead of concentrating on just being big and strong, and attacking the ball. This is what he did brilliantly in the last quarter of tonight's game.
Rob Dolby
171
Posted 16/12/2021 at 23:06:15
I expected the worst but loved it more as the game went on.
So many good performances. Pickford my MotM followed closely by Gordon who played like a senior pro tonight. Good set-piece delivery and lots of desire and effort.
Keane was great at the back, winning headers and defending like his life depended on it. If only he could play a higher line! Not sure if anyone noticed Keane matching Pulisic for pace in the first half!
Branthwaite looked composed and passed the ball calmly... maybe a young Ken McNaught. Gambled well on the back post and enjoyed his goal. He has to start alongside Keane.
Godfrey getting his fitness back is a major plus. Kenny should get a run whilst Seamus is out.
Negatives for me are that Gomes and Iwobi look worse game on game. Iwobi missing the most straight-forward pass to Doucouré was dreadful.
Just shows what young legs with some desire to compete does for a team. Red bull model by accident. Chalk and cheese compared to the Palace debacle.
The performance was like watching an Ancelotti team from last year. Sit tight and hit teams on the break only we lacked that bit of quality tonight.
Got to hope that gives us some motivation to kick on.
Utft.
Oliver Molloy
172
Posted 16/12/2021 at 23:07:37
Good point, Gordon I feel is really starting to find his feet in the Premier League, he seems to be gaining more energy the more he plays.
Fran @ 31 – you got that very wrong on all counts!
Dave Abrahams
173
Posted 16/12/2021 at 23:07:54
Paul (169), your last line: And the same to you, hope you have a very good festive season.
Kieran Kinsella
174
Posted 16/12/2021 at 23:09:18
Rick Barnes
That's a great and very accurate post, mate. Gordon doesn't shy from responsibility and you can see it hurts him when we lose.
Pete Jeffries
175
Posted 16/12/2021 at 23:12:59
Well done the kids for showing Benitez what they're made of.
Hope he got the message that the hanger on seniors like Gomes are finished at this club and likewise Iwobi a waste of time – always down to 10 men with him strolling around with his hands like in his pockets.
Gordon – a local kid with commitment and attitude. Man of the Match for me, followed closely by Branthwaite, literally head and shoulders above the other candidates, plus Godfrey and Pickford, the other stars tonight.
Repeat, Benitez wake up and learn from your previous mistakes!
Rob Dolby
176
Posted 16/12/2021 at 23:17:56
Rick 166. Good post, totally agree.
Steve Oshaugh
177
Posted 16/12/2021 at 23:18:20
Gomes a hanger-on! You have to be having a laugh, mate.
He put in a shift again tonight and is one of the few who can put their foot on it and play some footy. Unnecessary comment after a good point.
Stephen Beattie
178
Posted 16/12/2021 at 23:19:49
Begovic bowing down to Gordon as he came off = excellent.
Also from the bench, Coleman transfixed and passionate as ever = future manager.
For now though, I'm happy with Benitez. Well done all.
Rob Dolby
179
Posted 16/12/2021 at 23:23:33
Steve 177. Gomes on loan was a Rolls-Royce but isn't the same player that we signed and have watched over the last couple of years.
He doesn't affect the game at either end of the pitch. If we moved Rodriguez on due to wages, Gomes has to be next to the exit door.
Terry Farrell
180
Posted 16/12/2021 at 23:25:07
Steve,
Gomes "a hanger-on" is harsh but, if your version of putting in a shift is giving the opposition chance after chance on the edge of our box due to being wrong side of his man and niggling late challenges, then I agree with you. If not, then don't know what you are seeing. Without possession of the ball, he is a liability.
Dale Self
181
Posted 16/12/2021 at 23:31:24
Thanks for that, Stephen at 178, I was wondering about how the players were responding with one another.
And also thanks for that take on Gordon, Rick at 166. He does seem the quiet, 'get it done' type guy but occasionally shows some fire that makes him rather interesting. He may not have the skill-set that some others have but he does seem to have the fire to find a way in the Premier League.
All we need is for some of these youngsters to come into form and we have the kind of pressure you need on starters. It certainly looks like the plans and training were sinking in just fine for the youngsters. This was a big opportunity on one hand and a huge risk at the same time. These lads showed they are up for it and will wear the badge with pride.
Paul Birmingham
182
Posted 16/12/2021 at 23:37:19
Tony, deffo mate, and the Best to You and Your Family.
We all will, and perhaps next year, all considered we (TWrs) can do the Old Man's Mile, and a sponsored TW crawl of Dale Street and surrounds, and walk the walks, whilst, there's a few Golden Oldie pubs left, and The Bramley Mooreis the Half-Way House, cringe, but a very and well run pub by the Valley.
But tonight was the best surprise this season, and on par and merit, arguably, the best away result in recent times for the Everton first team.
Now to put a feather in the cap. Does anyone know if Demarai Gray is injured, soused by Rafa, or genuinely injured? I'm cynical, and I'm thinking,
All views are welcome. But all stay safe, take care and enjoy.
Proud to be Blue, fuck the RS. Arguably we have helped them in the Premier League campaign, but tonight has shown what the bare minimum for any football team can achieve.
For me, did the coaches change the water, routine, hotel etc? Keep the same going because, harness this spirit and goodness, there's deffo something that could hopefully be a Phoenix for Everton FC.
Fuck Old Nick, Mr Ed, and The RS, they don't count at all.
Magic Moments!
David Hallwood
183
Posted 16/12/2021 at 23:37:20
What a weird little game we spend our time obsessing over...
Joseph Walsh
184
Posted 16/12/2021 at 23:37:50
Not managed to read all the thread yet – about half way in so apologies if any repetition.
Dale @7 – you called it spot on! What a pleasant and unexpected score!!
Whilst thoroughly enjoying tonight's result having looked at the team sheet, it does hammer home the total mismanagement of our transfer funds. We simply signed too much dross with zero sell-on value so couldn't recoup decent fees for the vast majority. Maxed out on FFP credit makes future signings further challenging and it's shocking how threadbare we have become after a net spend of £300M.
However, back to tonight and full credit to the team – the youngsters showed up some of the usual first team for sheer effort and desire and I hope they are not dropped now but given a chance.
Their energy, drive and determination should make some of the senior players do a lot of self-reflection!
Final point – hypothetical: Would we have sooner faced a depleted Leicester now with that team tonight or wait until some of our players returned and faced a full-strength Leicester?
Ben King
185
Posted 16/12/2021 at 23:46:03
Proud of my team.
It's the first time I've felt like that for a very long time.
Our boys fought for that result.
Derek Thomas
186
Posted 16/12/2021 at 23:46:56
Steve O @ 177; Sorry mate, opinions and all that, but Gomes - making or for a big guy, receiving, is at total liability when it comes to tackling...today he was borderline peripheral.
Iwobi – Least said soonest mended... which is more than he will ever be.
We could have saved Rondon's no doubt excessive wages by playing Simms from Day One.
Dobbin did well too.
Pickford was probably MotM, but I'm giving it to Gordon to mark the day he grew up as a footballer.
The key question is: Will Benitez learn from this and adapt it into his game plan – or will he revert?
I fear the latter.
Kieran Byrne
187
Posted 16/12/2021 at 00:00:41
Hats off from me to Keane tonight as I usually don't rate him but, in this formation, he's good.
Great to see Everton young blood coming through as it quickens us up. A great game from Gordon and Doucoouré who was stellar except for one mistake which unfortunately resulted in their goal.
Pickford showed why he's England's #1.
Might Benitez start trusting our youth more? I hope so, what a performance from Branthwaite!
Justin Doone
188
Posted 16/12/2021 at 00:03:58
Not all things are equal and this draw seems huge.
Really pleased for all the youngsters. I said before the game, I was looking forward to seeing how the youngsters perform and, more importantly, their attitude. It was superb.
Funny how the kids can understand and carry out the manager's tactics and game plan better than several senior players.
Gordon was my MotM. Positionaly, patiently, tactically disciplined and great effort running the wing all game. Defended well, a threat going forward and some great deliveries into the box.
Soren Moyer
189
Posted 16/12/2021 at 00:12:58
Imagine this team with that Ukrainian lad as left back and Laptey in the right with one or two decent, lively and skillful midfielders! That would be some team!!

Brian Wilkinson
190
Posted 17/12/2021 at 00:42:05
That's all we have been asking for, give the youngsters a go! It was forced upon us tonight but, by Christ, Dobbin looks pretty damn good.
All-in-all, it is fair to say we were certainly not expecting Dobbin, Simms and Branthwaite to get a lot of game time. Last night, I expected Rondon and Iwobi and the likes to start, so expecting a spanking.
Big shout to Danny O'Neill and Darren, who both called an unexpected result. Sorry, guys, I will say three Hail Marys in the morning for not as much assurance or confidence.
However, that was not on reflection on the youngsters actually getting a game; mine was based on before I knew the team, expecting some of the senior lazy sods playing out of position.
What a shame the game on Sunday has been called off, but I hope this does not impact the youngsters getting further game time, Goodison really would have rocked Sunday getting behind them.
When Raffa took Gordon off months ago and the fans let him know, he said Gordon at the moment did not have 90 mins in him. Since then, our Manager has stuck by him and now he's getting regular game time. I hope this happens with Branthwaite, Simms and Dobbin in the future. Dobbin for me looks the better out of the two of them.
Belting result and – like we have all been saying for months – the youngsters will always put a shift in.
Drew O'Neall
191
Posted 16/12/2021 at 00:52:03
Chelsea could have been 3-0 up by half-time had it not been for absolute profligacy in front of goal (I'd love to see the xG) and some smart work by England's Number One.
Pickford turned in a Man of the Match performance which included great shot-stopping, sensible game management (time-wasting) and on the whole very good distribution with the exception of one rash Hollywood pass. I still think we should sell him if Spurs will give us £40M because he's generally too daft but tonight he earned us the point.
Anthony Gordon will take the plaudits and he's adding excellent delivery and sensible decision-making to brave and direct running as well as an increasing understanding of the dark arts required to, shall we say, play to referees' instincts – something which a few more of our players could learn (they could learn from Jorginho who is a master!).
Being negative or constructive for one moment, in an otherwise gushing love letter to The Blues, I have to point out that we absolutely cannot play Kenny at right back with Mason Holgate inside him. Kenny wanders a yard or two behind the offside line during the build up of every opposition attack while he ball watched and Holgate, who should be able to see what's going on, says nothing. He just bowls around with his chest out and I'm afraid he doesn't win enough of his duels to make up for his physical and mental shortcomings. I don't know if Kenny can be coached on his positional sense and spatial awareness but I suspect it's time to get rid of both of them.
I have to say that Michael Keane did not put a foot wrong tonight. He often does look like a class act when we defend our own half and he was imperious. His passing, as well, was absolutely sumptuous at times. Amongst those young defenders, he looked every inch the England exemplar.
Ben Godfrey had a game which suggested he's getting back to full fitness after a horrible time with Covid. He was an excellent outlet on the left and put his head in where it hurts to try and force the issue and free Gordon, on a number of occasions.
Muscular performances like the ones put in by these two were what turned the tide against an accomplished but lightweight Champions League side tonight.
And, despite 'Fat Spanish Waiter' audibly chanted around the away section by those fans who want to show everyone how Evertonian they are, Benitez got his tactics right with extremely limited resources at his disposal: If Moyes took a knife to a gunfight, Benitez had a souvenir pair of toenail clippers with the file folded round.
He defended our half and made the pitch small, got us to half-time in the game and made some changes to add potency to the counter-attack, and he used his whole squad. He asked Ellis Simms to run himself into the ground and, when he could do no more, Dobbins took over to very good effect. I'm not someone who's on Rondon's case because I don't think he's fit but, if you are going to play that way, surely the mobility of Dobbins is a better option than Rondon can provide.
Anyway, my 10-year-old lad came with me tonight and it's the first time he's seen us come away with anything from a game he's been to in person, and actually he's seen us get a couple of hidings. I've struggled to get him hooked despite buying all the gear and watching as much as I can get him to but tonight on the way home he said 'That was brilliant!' I askedd 'Which part?' expecting him to say the 'Five Guys' burger or the late night before school tomorrow but he said 'When Everton scored!' So I go to bed a happy and optimistic Blue dad.
Mark Taylor
192
Posted 17/12/2021 at 01:03:41
I said a few days ago on here that all is not lost for this match because sport throws up some strange results, sometimes at the unlikeliest times, and this was it. On paper, we should have got hammered. But luck and Pickford in Grade A shot-stopping form, plus a slightly nervy opposition whose supporters had probably understandably banked the win, saw us home to a point.
But let's also be realistic. We were largely outplayed and could have lost 2- or 3-nil on another day. The sow's ear has not suddenly become a silk purse. But there are some rays of light.
Our youngsters turn out to be less crap than assumed, Branthwaite and Gordon especially, but even the strikers look more promising than Rondon. They won't wilt completely so maybe we need to risk playing them a bit more. And at least we didn't look like nailed-on relegation fodder, as we have been.
Frank Wolfe
193
Posted 17/12/2021 at 01:05:52
Fantastic and much-needed result. Really made up for the young lads, all of whom played well. However, I still think that we need to manage their game time.
Playing away against Chelsea today was in some ways a "free hit". Expectations were low, no pressure from the fans, and sitting back to counter-attack suits our team. The real issue is when expectations are raised and we have to take the game to other teams. We don't seem to have the personnel or confidence to do that.
I'm glad that the Leicester game is postponed if it gives us a chance to get Calvert-Lewin, Richarlison and Gray back. The next 3 games against bottom-of-the-table teams (Burnley, Newcastle & Brighton) are going to be key games for us.
Danny O'Neill
194
Posted 17/12/2021 at 01:07:17
Perfect Drew. Now the poor lad is hooked!!
Brian, I went a step further. I predicted a result, us getting through the season and a cup final.
Get on Booking.com for hotels.
Jerome Shields
195
Posted 17/12/2021 at 01:15:16
I would query that Everton were understrength, since the tactical and technical ability on display was higher than the normal offering. With the addition of Gray, there is potential for a real attacking threat.
I bet a good few injured players will be working hard on their recovery now. Even Seamus looked concerned at the end of the game. These so-called senior players could sit on the bench waiting for the opportunity to come on to have a impact. Even the familiar foibles were on show but, bar Doucouré's poor control, did not cost Everton, but still were noticeable characteristics of senior players.
The significance of this game is that it increases competition for places and players are not guaranteed that they will be selected. There is also the looming transfer window and incoming players who have been already selected to fill positions. The other factor is the power shifts to the manager and the possible break-up of the influence of Finch Farm on the dressing room.
The possibilities will not be lost on Benitez, who has the backing of Moshiri. Any resistance could now be seen as a barrier to progress for those involved. Even with such a team as we have seen tonight, the results may be slow in coming with some hiccups, but they would be no worse than the poor performances of Everton that we are all familiar with.

Kieran Kinsella
196
Posted 17/12/2021 at 01:35:40
Drew
Be sensible. Sell Pickford for being daft? He had a poor spell about 3 years ago... since when he's saved us time and again.
We expect absolute perfection from goalies sometimes, which is unrealistic. He is easily one of our best and the best goalies around.
Kieran Kinsella
197
Posted 17/12/2021 at 02:15:31
Echo reporting we are signing that Ukrainian lad and the Dinamo Kiev boss said so. £20 million apparently spread over five years.
I've never seen him play but I recall a little fellow from Ukraine named Andrei who wasn't too bad.
John Raftery
198
Posted 17/12/2021 at 02:18:53
Travelling down to the game, I thought 4-5-1 would be the formation for this game. As it happened, 5-4-1 was better.
Sometimes, a performance is worth more than the result. It was of course nice to take a point but tonight's performance from one of the youngest teams we have fielded in many seasons gave us hope of a better second half of the season.
Branthwaite was immense. When he played at Huddersfield in August, I thought he played like a diffident novice. Four months is a long time in the career of a 19-year-old.
Tonight, he showed why we have extended his contract and that he has not been wasting his time at Finch Farm.
Anthony Gordon was excellent. He is improving week by week and another benefiting from having a defined role in the team. Hopefully his first assist of the season will soon be followed by his first goal.
Ellis Simms had the unenviable task of playing against Rüdiger. There are few tougher opponents in world football but the lad stuck to his task.
His replacement, Lewis Dobbin, ran himself daft in the half-hour he was on. It was a great moment when he won the free-kick near the end with none of his colleagues anywhere near him to receive a pass.
A major asset we had tonight was pace around the team. That helped us get players into the right positions to defend as well as mount quick counter-attacks. It was great to see the team so well organised with every player applying himself to his role in a superb team effort.
Alan J Thompson
199
Posted 17/12/2021 at 02:41:58
Owing to the usual crap Optus service, it took 3 hours to watch the game for the first time on replay.
Everton started off brightly showing energy for the opening 10 minutes before totally retiring into the usual 20 minutes sojourn in our own half, which seem to last almost the entire half.
I didn't understand playing Gordon wide left when he looks so much better on the right... while it doesn't really matter where we play Iwobi. For a long time, it looked like a practice match against the dustbins with Chelsea's 80% possession and it appeared Simms lost interest patrolling the halfway line.
Having said that, Doucouré could have had a couple of goals himself but seemed to prefer trying something clever rather than having a shot and it seemed from inside their penalty area.
However, we did see, especially from Branthwaite, the benefit of giving some of the youngsters a game, albeit in a team format and display that probably baffled Simms and Dobbin who barely had a chance to show their goal scoring prowess.
I did wonder though about some of the substitutions, I mean, how did Iwobi stay on for the full game???
Still, it is good to come away with an unexpected point when it looked like the first goal would open the floodgates.
Our MotM, for me, between Branthwaite and Gordon.
Mike Gaynes
200
Posted 17/12/2021 at 03:02:09
It's almost five hours past the final whistle, and I am in physical pain requiring at least four ibuprofen -- to treat the ache in my face from smiling.
I'm so proud of these kids I could just bust. So much composure, so much effort, so much courage. Wow. Wow. I enjoyed every minute of that game, and that Everton team.
I also have a bellyache from laughing at the Live Forum. I swear the negative comments about Iwobi and Gomes actually outnumbered the compliments for the other nine guys on the pitch playing their hearts out. (And Iwobi wasn't exactly horrible IMO.)
Doucoure got scattered compliments for his magnificent effort -- until his mistake cost us the goal, which was followed by maybe 30 straight negative comments. (I note the syndrome has carried over to this thread, with Anthony Jones #61 having exactly one comment to make on one player: "Gbamin is terrible." Oy vey.)
Rick Barnes #166, that post was even better than Gordon's performance. Superbly said, sir. Post more often.
Andrew #165, you know I'd usually rather be broiled alive than agree with you, but that's a great post too.
Drew #191 and Tony #170, I was going to compliment the overlooked Michael Keane, but you said it better than I could. Particularly in the last 15 minutes, when the pitch was full of rookies and things got frantic, he made every play and kept things calm.
Fran #31, you are one of my very favorite posters on TW, but I cannot resist asking you whether you prefer your five-course crow dinner roasted or deep-fried. (Please take that in the intended spirit.)
And finally, a question for the general crowd... does anybody here still predict that Benitez will be sacked?
Mike Gaynes
201
Posted 17/12/2021 at 03:07:27
Kieran #197,
I mentioned on another thread that I've seen him once, against Bayern in the snow last month. Tremendous pace. And obviously his signing would mean au revoir to Digne.
Rob Halligan
202
Posted 17/12/2021 at 03:14:11
Mike, it's now over five hours since the final whistle, and I walked in our front door about 20 minutes ago. I don't know how or why anyone can be on such a high after only drawing a game, but I am... and, as you say, the kids done magnificently. I'm already on me second can at 3:10 in the morning, watching the game again.
I, like everybody else, expected a pasting down at Chelsea last night. We all went in hope rather than expectation, a game to play and get out of the way and move on.
I don't know who it was who said on one of the pre-match threads, but they said why are we bothering? Well that result and more so the performance was the reason why we bother.
Okay, we probably didn't have much possession but, as I said the other day, why not play some of the kids because at least they would leave everything out on the pitch after 90 minutes. Also yet again, a magnificent turn-out by blues fans, four days after another game in London.
An enjoyable coach trip back home, and I will soon be on can number three!!
Freddy Maldonado
203
Posted 17/12/2021 at 03:24:41
So proud of those kids. Rafa has choices now. Born from desperation. I will take that all day considering the situation we're in.
Big props to Doucouré for helping Dobbin and Onyango settle in. You could see him being a bit bossy and directing traffic towards the end of the match. Gordon did well and was all over the place.
Can we not loan out Brathwaite ever again? Cause he was doing fine before being sent down to the Championship last season. That guy was running with Godfrey all night didn't it seem?
Happy with the result. We could have won it though... just saying.
Bill Watson
204
Posted 17/12/2021 at 03:31:07
Rob #202.
Brilliant result and I, like many, was anticipating a cricket score!
Got home at 2:50 am and just unwinding with a cuppa.
Dobbin looks a real prospect and needs to be secured asap.

John Raftery
205
Posted 17/12/2021 at 03:31:11
Mike (200) In answer to your question, a definite N! Even if we had lost heavily last night I don't believe there was the remotest possibility he would have been sacked.
In many ways, a game at one of the top teams is ideal for blooding young players. Colin Harvey at the San Siro in 1963 and Kevin Ratcliffe at Old Trafford in 1980 are just two examples of players being thrust into the big time on the biggest stage. They don't feel the pressure of having to win the game. Nobody expected a positive result last night and without that pressure the players responded with courage and endeavour.
The fact we managed to win a point with only 20% of possession would suggest that, in the short term at least, our team, is better suited to playing a counterattacking game from deep positions, especially away from home. That was the path trodden by Ancelotti last season in delivering eleven away wins. Benitez might follow suit until he can build a stronger, more agile and creative midfield unit.
Barry Jones
206
Posted 17/12/2021 at 04:23:33
Anthony Gordon was outstanding and I hope this boosts his confidence going forward. Branthwaite and Pickford were also stellar. I can honestly say that I really enjoyed this game, which is far from my expectations.
Steve Barnes
207
Posted 17/12/2021 at 05:19:32
Mike 200….I agree, Rafa is going nowhere anytime soon.
Calvert-Lewin and Digne however… hope I'm wrong, but I'd be very pleasantly surprised to see either again in an Everton shirt.
Jeff Armstrong
208
Posted 17/12/2021 at 05:53:30
Barry 206, Gordon was outstanding, but what does Benitez do when we get a free kick in a position from where he delivered a great cross for our goal?
Take him off!
Even though he was our best play, infuriating.
Mike Gaynes
209
Posted 17/12/2021 at 06:05:11
John #205, as always I envy your historical perspectives.
Rob #202, as always I envy your nights out with the traveling Blues.
Hope you're both sleeping late on a Friday morning as I head for bed on Thursday night.
Still smiling.
Kunal Desai
210
Posted 17/12/2021 at 06:14:56
It's just a shame injuries were to force his hand in giving the likes of Simms, Dobbin and Branthwaite a go.
Mike Gaynes
211
Posted 17/12/2021 at 06:16:23
Steve #207, if we sign Mykolenko -- as widely rumored today and reported above by Kieran -- you will certainly be right about Digne.
But I would be absolutely astonished if Dom departs now. There is no scenario I can imagine in which that would happen. He has a contract through 2025, and there's no way anybody, even Arsenal, will come in with the required £50-60 million in January for a guy who's been sidelined 4 months.
Summer, maybe. Now? Can't see it.
Mick O'Malley
212
Posted 17/12/2021 at 06:27:26
I know his hand was forced but I'm buzzing Benitez trusted the younger players, they gave us energy and left everything on the pitch. See, all you have to do is play them.
Branthwaite has never ever let us down so leave him in, continue using the youngsters and build for the future. Idon't want to see any more plodding players who don't give a shit.
Well played, Blues, and a begrudging well done to Benitez,
Tony Hill
213
Posted 17/12/2021 at 06:38:23
The youngsters played very well indeed but to suggest that this was the solution all along, will continue to be so, and that bumbling Benitez stumbled on it/was forced into it is fanciful.
These lads will have every chance and responded especially well in particular circumstances but they are still learning and they will make plenty of bad mistakes against the likes of Burnley and Newcastle and so on as they develop. That's as it should be.
Benitez is managing a club full of egos and senior pros and he has had to keep a balance. Good things are starting to emerge, slowly. That's how Benitez operates.

Bobby Mallon
214
Posted 17/12/2021 at 07:09:09
I'm made up. The kids did so well. Simms was immense up front on his own. Branthwaite, great first game... but Pickford outstanding.
I'm so glad he played the kids, great performance by all. For me, a special mention to Jonjoe Kenny, he is a good right-back. Someone said above no need to buy in January, I don't agree: a couple of loans are needed.
Derek Thomas
215
Posted 17/12/2021 at 07:15:22
Tony @ 213; "The youngsters played very well indeed but to suggest that this was the solution all along, will continue to be so, and that bumbling Benitez stumbled on it/was forced into it is fanciful."
Probably 80% true. But for whatever reason now he has and knows they can offer something - though in Simms case, on today's showing, in his first game, he played as well as Rondon did in his 10th(?) - and for cheaper wages no doubt, hopefully he will learn to get the head thinking quicker.
Anyway, maybe he won't be so loath to put them in...just not all at once, that lightening won't, I fear, strike twice.
Slide them in one at a time and for more minutes than before
As Gordon showed, if its in there, you are better off 'learning by doing'.
He is showing steady Improvement and can be pleased with his contribution...probably a joint MotM with Pickford.
Hopefully Benitez has enough savvy and common sense not to cut his nose off to spite his face, because it wasn't actually his Idea, more his only option.
But, like another somewhat abhorred in Merseyside ( by both sides) figure, hopefully 'The Waiter Is for turning.'
Bobby Mallon
216
Posted 17/12/2021 at 07:16:02
Tony Hill @213.
Have to disagree. He did stumble into that performance. There is no way he would have played Kenny, Simms, Dobbin, and Branthwaite if Rondon, Coleman, Mina and Richarlison had been fit and they are the players that got us into this mess.
We got that deserved point because of the enthusiasm of the youngsters and their readiness
Adrian Evans
217
Posted 17/12/2021 at 07:37:14
Rafa's hand was forced. Let's hope he learns, understands young players we contract can be trusted. They will put in performances way better than ploding old pros on fat contracts.
Rafa, was forced to do it. I hear he is rethinking sending Branthwaite out on loan, who wouldn't? Play the lad, why not? Don't wrap him in cotton wool. Give him game time, a run, why go pay £20million? He's worth that now.
Simms 👍, Dobbin 👍. Calvert-Lewin, Rondon we are sorted up top. Midfield: Ramsey, get Barkley back on loan. Get two specialist full-backs in, invest there.
Use the next half to blood the young players, get them up to speed. Spend wisely, Rafa. Mid-table or Top 8 will do.
Lessons learnt, Rafa, go with it, get results you'll get the fans behind you.
Not all, but enough. Bring a trophy, European Football... everyone, well 1% never... but hey-ho. Brilliant, the team.
David Bromwell
218
Posted 17/12/2021 at 07:46:34
I wasn't looking forward to the game, and the first half was difficult at times, but it was great to see the all round effort and we got better as the game went on. There was three stand out performances from Pickford, Keane and Godfrey, and great contributions from the young players
Young Branthwaite looks like he should be a first team regular and that left foot brings much needed balance to the centre of our defence. Anthony Gordon had his best game to date and it's good to see his all round game improve. I was also very impressed with the 30 minutes from young Dobbin, he looked confident, skilled and inventive and I hope we see more of him in the weeks to come.
Last nights point was very welcome but perhaps more importantly we seem to have some young players who if played will add quality and commitment to the team. I really hope that the Manager takes note and gives these players some game time and just maybe we may be able to rescue the season.
Adam Carey
219
Posted 17/12/2021 at 07:49:59
My two best mates are Chelsea and Arsenal fans. They spend a lot of time bantering about how much each have spent to be where they are. My Chelsea mate is slightly crestfallen at the moment, "We are shit", because they aren't beating everyone and are third in the league. "2 Billion for 3rd" was the last group-chat message last night from the Arsenal mate, (apparently they are in transition).
My point being that although we are in a poor position, have wasted £500M to not really improve the team, and snatched a 1-1 draw with 20% possession, we don't have the means to compete with a team like Chelsea. They really have had 20 years with endless funds for half of that time before FFP stepped in.
I can accept ceding possession against City, Utd, Chelsea or Liverpool. Going toe to toe would result in a mauling. However we need last night's level of effort against the bottom half teams and to dominate games. Not just counter attack against all. Last night Branthwaite arrived and Gordon came of age. I don't mind Doucoure's error as he was one of the few trying to carry the ball forward and make things happen. Dobbin needs more game time, if only for more horse puns on the live forum, and I'd like to see Simms not play against Silva and Rudiger. Over to you Rafa...
Tony Hill
220
Posted 17/12/2021 at 08:00:42
I agree Bobby@ 216, he wouldn't have chosen so many youngsters. My point, not made as clearly as it should have been, is that Benitez hasn't stumbled into/been forced into a straightforward solution which he should have seen all along and which will now continue to be the solution.
Anyway, it's great to reflect on a fine performance and we have a break now which is well-timed.
Mick O'Malley
221
Posted 17/12/2021 at 08:05:49
Rick@166 Excellent post and I couldn't agree more with those sentiments , Bobby @216 spot on
Jerome Shields
222
Posted 17/12/2021 at 08:09:41
What occurred to me was how much more comfortable Gordons was playing with his younger mates, whos movement, runs and competence was higher than we have been getting from so called senior players.
The problem with many of the senior players is they are one dimensional and can fall sort on that. As soon as they step on the pitch we know where they are going to be weak.
Quite frankly we all have become too accepting of breakdowns in play by repeated incompetence shown by senior players. They are often exposed by competent players from lower table Clubs. What we got against Chelsea was lower table player competence with potiential in a bigger percentage than normal from Everton players. How often have we all before this watched good competent players play Everton highly paid professionals off the park?
Holgate, Gomes, Doucoure (to a lesser extent) came up with the familar fobles, poor concentration, fouling in wrong area and losing possession. Iowbi was slightly better with the usual limits. Actually Kenny was competent with no errors, as was Keane. Godfrey got over intial lapses. Picford was deservedly motm.
Sims was better holding up and laying of the ball than Calvert Lewin and looked more positionally aware. I bet he can shoot if he gets a chance. Dobbin looked tactically and technically competent on both left and right and postionally aware. Braithwate is far better than Holgate and Mina would be under more pressure to stay fit with such competition.
Generally fringe type players looked better in a team with a higher percentage of competent players. i. e players who do the basics right as a matter of course on a consistent bases.
Eddie Dunn
223
Posted 17/12/2021 at 08:16:51
I was as surprised at our line up as anyone. By halftime I thought we had rode our luck, and expected Gomes to get booked and Holgate to get a second yellow as the resistance crumbled.
Instead we saw real energy and fearless counter-attacking and Dobbin looked an exciting prospect.
Of course Branthwaite was superb but Keane stood out for me.
Nice to see JJK do so well which really shows how slow Seamus is.
Doucoure had a splendid game marshalling the middle of the park and snuffing out many embryonic Chelsea moves.
The negatives.
Iwobi did put in a real shift. Unfortunately he fluffed his lines when in with simple footballing decisions. The lad just hasn't got a football brain. Gomes was as poor as at Palace. He is a limited player, just too slow with a tendency to give away stupid free kicks.
I think Rafa will now consider Branthwaite and Dobbin for future roles.
Tremendous away support as usual. Great to hear the fellers that went have such a happy journey home.

Kevin Prytherch
224
Posted 17/12/2021 at 08:23:04
One of the few games I've not been able to see… plenty on here about Branthwaite, Simms and Dobbin. How did the other fringe players; Gbamin and Kenny, play?
Ian Bennett
225
Posted 17/12/2021 at 08:23:26
Gordon and Branthwaite have seen their cases for starts as very much strengthened. Dobbin looked bright, hopefully that new contract is sorted out quickly.
Derek Knox
226
Posted 17/12/2021 at 08:27:54
How many of us on here have urged Benitez (not that he reads TW) to play the youngsters? Although some opposed that, saying it was too early in their careers etc, etc.
What a difference. Okay it wasn't too pretty at times, and a few misses from Chelsea, but it was very effective against a megamoney side! Hope even if injuries start clearing up, that he doesn't deviate too far away from last nights hurriedly put together blueprint. I was impressed with all the youngsters and hope that Dobbin does sign that new Contract.
I thought Holgate was a bit rash at times last night but fairly effective, and the most expensive player Iwobi, was the Weakest Link, no real surprises there. If we can carry on with that attitude, we should end up in a respectable position, come the end of the season. I think we all appreciate that defeats will happen, but attitudes like that shown last night coupled with 100% effort it certainly beats a 'whimper' any day.
Can we (or rather Benitez and the squad) keep it going though?
Sean Roe
227
Posted 17/12/2021 at 08:35:23
Passion and effort by the bucket load. Whether that carries forward into the match against little ol' Burnley (if it goes ahead), or we revert to type, who knows?
Consistency in terms of effort is the main blight of this team, not quality. Last night showed that effort alone is enough to earn points.
John Keating
228
Posted 17/12/2021 at 08:39:17
Never a big Pickford fan, and he still has his moments, however, bringing Olsen into the team last season was a bit of a masterstroke.
"Dropping" him for some games for not really football or form issues certainly focused Pickford. Well done to him… and the others last night.
Shane Corcoran
229
Posted 17/12/2021 at 08:40:08
Who was the homophobic chanting aimed at?
Andrew Merrick
230
Posted 17/12/2021 at 08:50:16
That was an amazing watch, real backs-to-the-wall, first half, living on the edge
Chelsea are undoubtedly a cut above, but we stayed in until half-time with resolve and a measure of good fortune.
The young guys came good and gave credence to the hopes of many posters on here, they do indeed have a big part to play.
Branthwaite was "buzzing" and Gordon has grown in stature, Dobbin and Simms have arrived at last...
"Reasons to be cheerful, 1, 2, 3" as Ian Dury once said...
Ray Roche
231
Posted 17/12/2021 at 09:10:00
Shane, it was the age old 'Chelsea Rent Boys' chant that could be heard. It's now regarded as homophobic.
Danny O'Neill
232
Posted 17/12/2021 at 09:15:17
Okay, I'm surprisingly going to start a little bit downbeat amidst the justified satisfaction with last night.
I was concerned in the first half. We were organised, we done what the manager obviously instructed the team to do. But I have to say, I was jealous of Chelsea. Their passing and movement and ability to play football between the lines is to be admired and, for a football purist, great to watch. I wish we had players as comfortable on the ball as they have.
But right now we don't have. So, what we got last night was a team of players working incredibly hard for each other. For the shirt, the fans and yes, for their manager. And, despite the odds, it paid off with a very well earned point.
First half, we seemed on the ropes, sat very deep and to a degree, rode our luck. But luck is part of football. Second half, we made more of a game of it. Yes, still very deep and organised at times, but it became a bit more end to end as the team sensed some belief they could go and get something.
Enough has been said, so I'll get to the players. We got the reaction demanded. I. personally don't believe anyone had a bad game. I think a few are being harsh on Gomes. He's never going to be an enforcer, but I saw him sticking a foot in when needed. And surrounded by the right players who protect, he can play and create. Iwobi put a lot of effort in. Holgate was a bit wobbly early on but settled into the game. We have to remember, for long periods, we were behind the ball and under pressure from one of the best teams in Europe right now, passing and probing with malicious intent. It takes a lot of concentration to withstand that and we mostly didn't switch off from the task. When we did or they inevitably broke the lines, the Everton Gods and Jordan Pickford were there. Those Rosary Beads worked.
Extremely pleased for Jonjoe Kenny. Gave his all and it was great seeing him leading the way to the fans at the end; the first there and first to offer his shirt. And when all of the players did come over, what a reception. From one to the other. I don't think the players wanted to leave the pitch or the fans the ground. Imagine if we'd have snatched a winner. We'd still be there!
Michael Keane often gets it from me, but he was faultless last night. And what a debut for young Branthwaite. Jordan Pickford is really showing his maturity now and was a very close second for man of the match.
For me, that accolade goes to Godfrey. Cracking performance from the youngster. To the point that in the 2nd half I believe Chelsea got so concerned they started targeting and crowding him. Now there is as good an endorsement you need. And forget the final touch, that delivery from the free kick made the goal. Regardless of how good you are, delivery like that is difficult to defend and it was just asking for the net to bulge.
But the final mention has to go to those in the Shed End. With the events of recent weeks and months and the reactions at the past 2 away games, you could have expected the atmosphere to potentially go toxic early. Not a bit of it, even when we went a goal down relatively late on. As many of us called for, leave that until after the match, not during it when the team need us. Amazing stuff from our amazing travelling support. In the 2nd half in particular, the team and fans were one, fuelling each other with sheer passion and adrenalin. Approximately 3,000 men and women of the match in my opinion.
Hard work, desire, commitment, concentration and sheer determination not to be beaten. Well done Everton. Well done Evertonians.
I'll say it again as I don't often get the chance on the back of my foolish romantic, optimistic ramblings, but I told you we'd get a point!!!
Brent Stephens
233
Posted 17/12/2021 at 09:41:58
So, so pleased about the collective performance (well done Rafa on the set-up) and individual performances (well done everybody).
The lad I really like is Dobbin; he had a stunning set of pre-season friendlies, packed with hat-tricks. I've argued for months that if he has only one thing better than Rondon, then that's his pace (ok, and ball control; ok, and physicality despite his size), and he should have been getting the last 15 minutes or so in some matches (not starting; don't ruin him).
There are other U21 lads starting to show potential. As one of our songs goes "Get down to the Pure Stadium, Southport...oooohhhhh!!!". OK, it doesn't quite scan but some of these young lads are worth watching (Warrington, Price, Welsh, Campbell...).
I'd caution against throwing all last night's young lads in again unless necessary. Things can go breasts up so easily in a game, especially / even against weaker opposition. And then some fan fickleness can potentially destroy the confidence of young lads. Having said that, Anthony Gordon was visibly devastated at negative and abusive fan reaction at the end of a game the other week; last night he showed the skill and grit we'd come used to seeing from him in the U23s. Take a bow, young man. Young man still.
One I would retain, though, is Branthwaite.
Rob Halligan
234
Posted 17/12/2021 at 09:48:07
Danny, like you, I was also extremely pleased for JJK, a local lad born probably as near to Goodison as you can get (along with Dave and Tony Abrahams). I don't know if I have mentioned this before, but I'll say it again anyway. A friend of mine, and a contributor to TW, lived on a private housing estate, and a, now, first team squad player, lived nearby, and the two of them would chat regularly. This player said that JJK was the hardest trainer on the training pitch, itching to get a chance. Definitely deserves a run of games now judging on last nights performance, and I'm sure Seamus would not mind one bit.
The laziest trainer on the training pitch? Well, we'll leave it there!!
Ajay Gopal
235
Posted 17/12/2021 at 09:48:14
I opened my phone with trembling hands this morning, fully expecting a tonking! I was shocked - pleasantly - to see the actual scoreline. Nothing short of miraculous given the team that Benitez was forced to put out. Had I known that Gray, Delph and Rondon would be unavailable from my predicted starting XI, I would have changed from my wildly optimistic 1-0 win prediction to a 5-0 loss! It was a real pleasure reading through the thread and so happy for the youngsters in the team - Branthwaite, Gordon, Kenny, Simms, Dobbin, Onyango. Kudos to Gary Smith for getting his predicted starting XI almost right. And maybe, all those slating our Academy are feeling a bit sheepish today. Credit to Rafa for having a proper game plan and getting his players to stick to that plan. A brilliant performance by the team and hopefully, this is the beginning of a long overdue renaissance for Everton Football Club. I am not going to let myself get carried away - one game at a time! Later this evening, I am going to pour myself a whisky (funnily enough called Gordon) and enjoy the replay and analyse and reanalyse every single play by every single Everton player. And then come back and tell you who was sh*te!
Anthony Hawkins
236
Posted 17/12/2021 at 10:14:35
I'm not sure if the weakened Chelsea team played into our favour or the energy and desire of our youngsters provided the drive and determination our team has been sorely lacking. May be both. The Youngsters need time in the team and for that zeal to pass onto the senior players.
Great if unexpected result.
Steve Brown
237
Posted 17/12/2021 at 10:17:10
Chuffed to bits with the commitment last night.
Godfrey, Branthwaite, Gordon, Davies, Holgate, Kenny, Dobbins, DCL, Simms - they may not all come through to be first team mainstays. In fact, we can be pretty sure of that.
But, when we have talked of a footballing strategy and philosophy for the club, there is one right there if we care to commit to it. Plenty of my non-Blues mate think Gordon in particular could be a TOP player.
Justin Doone
238
Posted 17/12/2021 at 10:20:17
I think most agree from the games Brainthwaite has played for Everton he looks a good player and potentialy top class.
Only game time will allow him to fulfil his potential. Hopefully that's with us rather than a loan away. Some players are better suited to developing around better players and for me he's a better defender than Holgate.
Gordon appears to have worked hard on his strength and stamina. He reminds me a little of Mcmanaman. He's good enough for 1st team duty.
Simms has the physicality, Dobbin the athleticism. Neither look Premier league ready strikers, but both produced a tactical performance the manager will be happy with.
Despite some plaudits, it's clear the midfield lacks pace, skill, brains and general ability. I'm interested to see where Rafa looks to strengthen the first team.
For me, Pickford, 1 of Keane or Mina, Digne, Gomes, Iwobi can all be sold to raise funds.
Steve Brown
239
Posted 17/12/2021 at 10:21:41
I also agree with Bobby Mallon,
Benitez did stumble into that performance. He was forced into that selection and was probably prioritising the Leicester game before it was cancelled.
Brian Harrison
240
Posted 17/12/2021 at 10:23:27
Well that was an unexpected result and while it was a backs to the wall performance, they all put a shift in. I think Pickford was our best player closely followed by Gordon and Keane, and Branthwaite did very well especially getting his foot to the equaliser.
Again Iwobi just fails to impress, problem is he is on top money that no other club will pay him so he is here till his contract ends. Gomes lost every physical battle last night, a real shame when we first signed him I thought he looked a quality player. seems that horrific injury he suffered has had a big impact on his game. I also thought Doucoure was way off the pace on the one occasion he got forward he made a complete hash of it and Chelsea went down the other end and scored.
I thought Kenny and Holgate did OK as did Godfrey, although why Godfrey didn't get closer to James when he scored I don't know.
But that was a big point last night, especially with our home game against Leicester called off, if they had been beaten last night and the next game away to a club below us in Burnley on Boxing day wouldnt have been the best preparation. I also thought Dobbin looked very lively when he came on and he made the Chelsea defenders look uncomfortable for the first time.
Danny O'Neill
241
Posted 17/12/2021 at 10:23:33
Very sensible last paragraph Brent. After last night's impact, it is very easy to get carried away, but we've seen it all before. Let's use Chelsea as an example. Despite the temptation, we have to manage these kids accordingly and bring them in more permanently when they're ready. Branthwaite looked ahead of his years, but let's not forget he's a centre back and has a lot of developing as well as inevitable mistakes in him as he learns. Let's be patient and not turn on him like we did Stones. From the little I've seen, he will come good. But on my theory of centre backs not peaking until 28, he's got 11 years of developing to do.
What they have done however, is take the opportunity. They can and will be used regardless of who is in the squad now. They've staked their claim and can't be ignored. I just wouldn't expect them to play 90 minutes of every game.
Rob, really made up for Jonjoe, having watched him for both Everton and Schalke (and they loved him there). The lad's desire is second to none. I hope he gets a chance now, because I for one wasn't sure, but I've always wanted him to prove me wrong. Call it a soft spot.
As Ray said, the homophobic chanting was the age old Chelsea Rent Boys stuff. It was countered by the equally demeaning and stereotyping "we pay your benefits", sung mainly by modern Chelsea casuals who are a far cry from the Battersea Boys of the 70s and 80s. Caused a few scuffles and handbags at 9 paces outside the ground as the Everton wave sang it's way down the Fulham Road. There's always that pub on the left as you walk down where they congregate and the "banter" starts as you walk past.
Dave Williams
242
Posted 17/12/2021 at 10:25:42
Well I didn't expect that! The youngsters showed that perhaps they can cope in the premiership against seasoned international players who are part of the European champions squad! Hopefully Rafa will take note and maybe the Academy coaching at FF is not quite as bad as some try to make out without having any real insight into what goes on?
A word for Gordon. He came of age in this game and looks to be finding his feet at this level. It is foolish though to dismiss him as all about effort and no skill. I well remember the young Colin Harvey who was a hard working midfielder who could work hard all over the pitch, tackle and pass short. In 1967 once Ball and Kendall were in place Colin suddenly developed into the most skilful wing half I have ever seen to the extent that he was actually more skilful than the great Alan Ball. Gordon has plenty of skill and this will develop and be seen as he becomes more and more comfortable at this level.
Hopefully Rafa will use the youngsters now albeit he will have to be careful not to over expose them. I'd love to see Jonjo establish himself too- as someone posted above he would be better with Keane alongside him rather than Holgate who continues to frustrate.
Well done everyone- fantastic performance and result!
Pete Cross
243
Posted 17/12/2021 at 10:25:52
Rob 234
I think Neal Robinson was the closest born to Goodison At Spellow lane
Kevin Prytherch
244
Posted 17/12/2021 at 10:26:14
Shows how fickle us fans are. There's been various people already starting the the "Gordon will never be good enough" over the last few games. Wonder how many matches it will be before it starts again?
Jerome Shields
245
Posted 17/12/2021 at 10:28:47
Steve#239
The big difference was the players wanted to play football for the Manager and put the work in during ththe week to do so.
Danny O'Neill
246
Posted 17/12/2021 at 10:29:25
Dobbin was lively Brian. He gives us another dimension as he seems to prefer the ball at his feet to get at defenders. A modern number 10 in the making? I'll leave that to those who've seen him through the youth levels though.
Shocking and blatant dive though!!!!! Cut that out young man.
I know what you mean about Godfrey for their goal, but in his defence, it was great change of pace by the Chelsea player to buy the yard and space. Sometimes, it's not the pace itself, it's the sudden change of pace that beats a defender.
Brent Stephens
247
Posted 17/12/2021 at 10:35:24
Pete #243 "I think Neal Robinson was the closest born to Goodison At Spellow lane".
Sir Ken Robinson's younger brother, I think. Sir Ken died not long ago. His Ted Talks were brilliant. A man who contracted polio as a kid.
Dave Abrahams
248
Posted 17/12/2021 at 11:19:32
I was more than happy with Everton's performance last night although one section of the team wasn't very good. I kept thinking throughout the game what a player with a bit of pace and loads of grit and determination not to mention skill and nous would improve this team enormously.
That player, another youngster, would be Billy Gilmour, now on loan at Norwich from Chelsea. We have no chance of getting him but we definitely need someone in central midfield to go along and help Doucouré. I hope we get one in January.
I also hope that Dobbin gets a lot more game time, from the bench, to share the substitute role from now on with Rondon who will prove to be an asset during the rest of the season, once it gets started again.
Tony Everan
249
Posted 17/12/2021 at 11:32:53
Dave,
I fully agree with that about the midfielder, whether we can get exactly the right player in January may be tough. Maybe we will get someone in on loan for the role until June.
Possible Benitez is looking at a young Spanish midfielder for the job? Gonzalo Villar was rumored, also lately Idrissu Baba the Ghanian. I think the manager is definitely on to it.
Ron Sear
250
Posted 17/12/2021 at 11:49:14
For those who like to remain miserable on here about Everton's performances, how about they start a subscription for a statue of Branthwaite's toe if we avoid the relegation they seem to crave? It could take pride of place in the new stadium and act as a penance for their pessimism.
Brian Murray
251
Posted 17/12/2021 at 12:06:42
Side issue, I know, but Klopp is not in favour of the cancellation of games. Just like when they were going for the Premier League – no matter how many people were losing loved ones. Now they have a bit of momentum and Chelsea's injuries etc. They don't fool me, sly bastards
Danny O'Neill
252
Posted 17/12/2021 at 12:07:53
One thing I forgot to mention is absolute kudos to the young travelling Blues last night.
Forget relatively old (50) relics like me who stood there analysing the football.
It really struck me that a large proportion of the support were young people in their teens and twenties.
A generation who have never tasted success but were there in their hoards. They generated the atmosphere and they had taken over Stamford Bridge by the end.
Respect. They've kept the faith we passed on. So can I.
Danny O'Neill
253
Posted 17/12/2021 at 12:10:10
Always a hidden agenda with that lot, Brian, no matter how nicely they dress it up.
Mick Conalty
254
Posted 17/12/2021 at 12:27:27
Let's scrap this season and begin again next season. 😁😃😁

Christopher Timmins
255
Posted 17/12/2021 at 13:06:31
Last night's result was great for morale and totally unexpected. When in the Alamo, you have to stick together! We rode our luck and keep going and got our reward. To go one down and come back to take a point was particularly pleasing.
The manager may not have the fans on his side but he has not lost the dressing room at this point in time.
We have a run of fixtures over the coming weeks which will determine whether or not we are in a relegation fight, starting on Boxing Day when we play at Burnley. We have to dig in and show the same spirit as last night if we are going to extract ourselves from this position.
Andrew Keatley
256
Posted 17/12/2021 at 13:08:12
Jerome (222),
I saw it slightly differently. I felt as though Anthony Gordon looked around at the starting eleven last night and realised that he was no longer a junior player.
The greater responsibility that he had, and the notion that his performance might have to carry more weight than usual, could have intimidated him – especially away against Chelsea. But instead, it seemed to make him stronger, fitter, faster, and bigger.
He has a lot of natural footballing ability, and hopefully that will come to the fore over time, but it was his attitude and work-rate last night that really impressed me. Huge huge step forward.
If he keeps his head down and continues this trajectory then he can be a big big player at this club for the next stretch of time. Same goes for Jarrad Branthwaite too. These are two young players that can and should be starting games regularly.
Pete Clarke
257
Posted 17/12/2021 at 13:14:56
Bit too late for me to watch it from here Down Under but I caught the last few minutes and was happily shocked into waking up quickly.
I couldn't believe my eyes how many youngsters were on the pitch and we came away with a point from what I thought was going to be a massacre.
I did watch the game again today though and have to be honest in saying Chelsea had 6 really good chances in the first 12 minutes. They also had quite a few more chances after that too so we definitely had a fair bit of luck going in scoreless at half-time.
Luck is a big part of the game though and we got it in a game with lots of youngsters in the team. They will come out of that game full of pride and honour and hopefully looking forward to their next game.
That would have been a great moment for them all going over to the fans at the end and credit to Pickford for throwing his shirt and gloves into the crowd.
So Rafa was finally forced into giving the kids their chance and it paid off for all. I said he had to get a point from Chelsea or Leicester to save his job and he's already got that.
We are not going to be expansive going forward so we need to stick to our game plan and get points on the board and the confidence will grow and allow them to be better with the ball. Doucouré has got the legs to take him all the way to goal and should just go for it because his passing is generally poor. Hopefully he improves this side of his game.
Gordon is definitely growing in confidence and actually has a nice turn of pace when he goes for the byline. Looking forward to seeing him next season with a bit more beef on him and greater experience.
I'm actually looking forward to seeing all of these youngsters again because I'm sick of seasoned pros not giving their all.
COYB
Julian Exshaw
258
Posted 17/12/2021 at 13:24:11
Last night felt like a breath of fresh air; there was pace, effort and no little skill. Pickford and Gordon were particularly good. There has been a lot of criticism of Gomes but I don't think he is ever played to his strengths. He's a creator, not a defender. He fits much better in a solid midfield of 3.
As others have said, the travelling fans were immense, great credit to them.
If Benitez can get this tune out of his players, I'm happy to back him but please, no more Crystal Palace or Brentford types of performance! In Benítez, I don't trust totally yet… but I'm open to being convinced otherwise.
Jay Wood
[BRZ]
259
Posted 17/12/2021 at 13:34:09
Nice post-match interview with Anthony Gordon.
Mentions how the team stuck together in adversity with so many out.
The great away support.
How 'relentless' in his coaching to improve him every day Rafa Benitez is.
On going toe-to-toe with Chelsea players wanting to mix it with him:
'I'm a scouser. We don't back down for anyone.'
I've commented a number of times this season how he is growing as a Premier League player. He took another giant stride last night.
Great delivery on the free-kick for the goal.
We still haven't seen the best of him as a goal-scoring forward as he displayed for the academy sides, but he is playing in a different position and filling a different role for the first team. He will score goals. Just needs to be a little less anxious and hasty in his finishing.
He has good ball retention when running at pace. Again last night, how many times did he draw fouls because of this? He also has a good short burst of pace. One-on-one close to the opposition penalty area and he is good at getting beyond his marker to the touchline, with good delivery.
Great delivery on the free-kick for the goal.
Growing nicely, is young Anthony.
Bobby Mallon
260
Posted 17/12/2021 at 13:36:15
Ajay 235: forward to 53:02 mins and look at how Iwobi's decision making is so poor. He had the chance to play in and didn't. That's why he won't ever be a top player.
Jay Wood
[BRZ]
261
Posted 17/12/2021 at 13:46:01
And another interview, this time with Jarrad Branthwaite.
His smile will only be removed by radical surgery!
Again, mentioned the togetherness of the team, all giving '110%'.
Working on the free kick in training the previous day and telling Anthony Gordon 'keep putting it in there and I'll get on the end of it.'
The delight in signing his contract extension with Everton, recognizing how far he has come in two years.
In his contract signing interview last week, he is another one who praised the manager for working with him one-on-one, looking to improve him. Getting him to improve his right foot work and positioning.
The performance last night showed it and the players comments confirm it. There is no disunity among the players. No 'losing of the dressing room' for Benitez.
Dale Rose
262
Posted 17/12/2021 at 14:03:19
Really enjoyed that game. They played with heart and pride. Technically they were very good and were well drilled. Gordon was the stand out for me. Pickford though deserving of MotM. That was a good Chelsea side, a lot of quality.
Darren Hind
263
Posted 17/12/2021 at 14:03:28
Must have been a rewarding night for those responsible for producing players from the academy.
Long may it continue.
For some reason, I can't open the link Jay put up there, but I absolutely loved young Gordon's "We back down to no one" line.
Barry Hesketh
264
Posted 17/12/2021 at 14:06:39
Jay @261
I'd agree with your "no losing the dressing room' point if the senior players had put as much work into the previous x number of matches as the youngsters did last night.
I fear one or two of the experienced players, perhaps more, haven't or won't buy into Benitez's style and they have wrongly and unjustifiably performed poorly and below their capabilities, because they don't agree with Benitez.
Given time there is only one winner in that conflict of opinion and that is the manager, ultimately there is no excuse for any player not to give his level best for the club. Fortunately the kids by their efforts last night have shown the way for all of Everton's players to perform in the future.
Will the others follow their lead or will they fall back into their habitual half-hearted performances. We'll soon see which way it plays out in the next month or so.
Andrew Clare
265
Posted 17/12/2021 at 14:10:19
I really hope that Benitez will play the youngsters as often as possible. Harry Catterick did it in the late sixties and it worked perfectly. I think we have some excellent young players and we need to nurture them and keep them in the first team squad.
Anthony Gordon is looking better every game and Branthwaite is going to be an exceptional player, as are Simms and Dobbin.
We don't want tired journeymen or free-loading mercenaries as they don't play with the same fire as the younger players.
A strong message was sent last night – let's hope it sinks in.
Jay Wood
[BRZ]
266
Posted 17/12/2021 at 14:10:22
Darren, both interviews are on the official club site.
Talking of the academy production line, anyone else pick up on the line that in scoring last night Jarrad Branthwaite became Everton's 19th teenager to score in the Premier League era?
A number bettered only by Arsenal with 20.
Impressive.
Stan Schofield
267
Posted 17/12/2021 at 14:17:58
Andrew @265:
When Catterick played the youngsters, they all came into a well-functioning team, a well-oiled machine that enabled the best to be brought out of those youngsters.
However, when the team is struggling or dysfunctional, it's generally a different matter, and you have to be careful with the youngsters that you don't styme their development or ruin their confidence through stuggling to perform. Last night was great, but not normal.
Barry Jones
268
Posted 17/12/2021 at 14:36:02
Andrew #256, I saw it the same way as you. Gordon realised that he was a "senior" player in that line up and responded accordingly. Well played young man!
Trevor Cotterell
269
Posted 17/12/2021 at 14:37:57
I watched it all on Sky live last night. It's interesting how viewpoints from the stands can be slightly different to what a more overhead view gives you!
Firstly, wow, what a performance. As pretty much everyone has said, they deserve every bit of credit. Now, I'm wondering... I've never been in the dressing room of a professional football team before kick off - probably very few (any?) here have. But could it be that the youngsters actually listened to what they were being told, and executed the plan properly. I imagine them sitting, leaning forward, listening. And I wonder if some of the more seasoned guys sit there more nonchalantly with a 'yeah yeah' attitude and sort of do as they're told and sort of don't? That looked to me like a masterclass from the manager of having the right tactics for the circumstances and ditto the players for doing it. But I'm just wondering!
Fully agree about Gordon in particular - my MOTM, not so much because of the play but the attitude, the willing everyone else on. Pickford was superb too but he was doing what he's supposed to do. Gordon was doing that bit above. Branthwaite was very good as others have said and looks like a player for the future.
Simms and Dobbin? Not sure - of the two Dobbin looked to be harrying more and one wonders if he'd had a real chance what could have happened. I was really looking forward to seeing Simms - but whilst he trotted about a lot, he rarely seemed to get stuck in. A bit caught in the headlights, more so than Dobbin. I suspect the experience will do him good and that may be one of those things that showed up more on TV than from the stands? Don't know.
Iwobi. Can't question his running and actually he did harry them quite a lot. But nothing ever really got anywhere and his instinct just keeps seeming to be wrong. Sad but unless he gets it right, and quickly, I can't see why he keeps staying in the team.
The others did what the ought to do. Keane played like we know he can do, but too frequently doesn't, Godfrey seems to be back at last. Holgate? Just don't know - blows hot and cold and we can't afford that. Doucouré tried but didn't seem to be quite on form to me.
Essentially we do have some players! Now they need to be brought on and with others coming back perhaps there's more reason to be cheerful than we thought. But we need to stick with them and the manager (who still hasn't had much chance to influence the way forward). He's going to be staying, so we need to back him.
One other question - has anyone seen/heard much of Nkounkou recently? Last I saw he was doing fairly well in his loan spell. He'll be back next year too...
And finally, whilst things seem bad, let's remember whilst we're 8 points from relegation, we're also only 8 points from 6th
Have a great Christmas!
Kieran Kinsella
270
Posted 17/12/2021 at 14:40:00
Upon reflection, my mood has darkened. Remember when Tom and Ademola broke through versus Man City? Or Cadamarteri? Then what?
Darren Hind
271
Posted 17/12/2021 at 14:51:15
Yes, got them, Jay.
I'd missed them.
Good spots.
Dennis Stevens
272
Posted 17/12/2021 at 14:57:00
I feared the worst when I saw the team for last night's match. Where were all the usual suspects? By my reckoning, any of the following, if they were fit & available, might have been expected to have been in that team ahead of some who were selected: Coleman, Mina, Digne, Allan, Delph, Davies, Sigurdsson, Townsend, Gray, Richarlison, Rondon, Tosun, Calvert-Lewin. That's 13 outfield players! No wonder we had to field so many teenagers & had almost no subs bench!
We have, of course, seen the team raise their game against "better" teams in the past only for poor performances to return against "lesser" teams. Let's hope the usual pattern isn't repeated this time.
I also hope we'll see a lot of these young players develop into first team regulars rather than make a handful of promising appearances before disappearing into U23s/loans, never to return to the first team, before departing for good without having fulfilled their potential for Everton.
Ken Kneale
273
Posted 17/12/2021 at 15:10:55
Kieran - I suspect like much at the club over the last 30 years they simply did not have the quality around them and the unrelenting approach that only the best satisfies to continue to develop - they then plateaued and ultimately fell back from that initial level in all the cases you mention. Would they have developed as players and people under a better regime - it is speculative but life experience tells me the odds would have been better for them
Ken Kneale
274
Posted 17/12/2021 at 15:10:55
Kieran - I suspect like much at the club over the last 30 years they simply did not have the quality around them and the unrelenting approach that only the best satisfied to continue to develop - they then plateaued and ultimately fell back from that initial level in all the cases you mention. Would they have developed as players and people under a better regime - it is speculative but life experience tells me the odds would have been better for them
Bill Gall
275
Posted 17/12/2021 at 15:18:35
There are 2 things I took from this match and that is, the under 23 class is not as poor as some supporters make out and the display from some of the younger players shows that we will have a much improved squad in the future.
The game itself was eyes half open half shut as Chelsea zipped the ball around, making a couple of openings but thankfully they missed, but credit to the Everton players who played to their tactics and never backed down.
There were some better performances from different players who get higher marks, as sometimes they are more involved than others, but as a team display including the manager I think they deserve an 8.
I hope that some of the players who were not playing last night were watching, and seen that their place in the team is no longer an automatic choice.
There is still a lot of improvements to be made and here is hoping that this is a start to improve our results in the future. After 60 yrs of watching I take nothing for granted and 1 result is only a start, and its the end of the season's total's that count.
David Graves
276
Posted 17/12/2021 at 15:43:04
It was indeed a good night for those who have been "stealing a living" at Finch Farm.
If only Tom Davies had been fit to replace the Portuguese wheelie bin. We might have actually taken all 3 points.
:)
Stephen Vincent
277
Posted 17/12/2021 at 15:59:39
Got back a couple of hours ago. Don't think I have much to add to what's been said already.
I thought Anthony Gordon was absolutely magnificent. To put it into context, Chelsea fans who I went out with after the game said that it was the quietest that Reece James has been this season. I think that is what defending from the front is all about. The late substitution baffled me.
Iwobi just gets in the way.
One thing that puzzled me was this over weight, Iberian looking bloke who seemed as though he might be involved in catering, wandered down to the away fans at the end. I've seen him a few times recently scuttling down the tunnel. He seemed to think that some of the applause was for him. Got some bad news for you fella!
I see as well that we have added to our Irish contingent, a left back Mick O' Lenko any one know anything about him?
Shame about the Leicester game was looking forward to Christmas cheer with some excellent fellow Blues. Have to be New Year cheer at the Newcastle game. See you in the Oak lads.
Danny O'Neill
278
Posted 17/12/2021 at 16:11:45
I was hopeful for Leicester and planning on Brighton
Newcastle will have to be an overnight and hotel.
I'm on Aviva trains and Booking.com
John Kavanagh
279
Posted 17/12/2021 at 16:13:50
Well, well - youth wins over 'experience'. I am not convinced that Benitez turned things round last night. The changes forced upon him did. Yes, the kids will make mistakes and will lose matches, but what I saw last night was the commitment and fight so lacking in many senior players.
If only Benitez had taken the risk of using Simms and Dobbin in other matches like Brentford and Palace rather than persisting with Rondon, then we just might be a few points better off now. As it is, I fear Benitez will revert to his previous favoured selections.
Based on the Youth Cup and recent performances we have some very capable youngsters coming through who play as a unit and really work for each other. I am just fearful that they will end up being crowded out of first team opportunities by importing yet more 'experienced' journeymen who simply go through the motions week in, week out on huge wages.
PS Given that other players were reported sick and unavailable last night, there is more than a slight possibility that Digne too was ill and not faking it, so I feel that Benitez was being unfair in implying that he was not really sick? Since Digne is clearly going to be on his way in January anyway, then the Mourinho like policy of publicly picking on individual players is neither desirable nor effective in building team morale.
Anyway, more of the same on Boxing Day and please don't bin the kids.

Rob Halligan
280
Posted 17/12/2021 at 16:17:11
Stephen, I also noticed Benitez come strolling down the pitch, and I was half expecting him to do a celebration similar to what Klopp did with his team after their glorious home draw with West Brom a few years back. Thank god he never……
https://www.youtube.com/watch?v=LnaOKRV79sQ
Dale Self
281
Posted 17/12/2021 at 17:05:37
First off, good on the away fans for sticking it out. Second, an apology to anyone who took the position of playing several of the youngsters together and was offended by what I wrote. That was the difference and without getting into whether Rafa was forced into it or not it is brilliant and achieves several things at once. A quick aside, I've seen mutiny, sickout, etc. offered as explaining the absences of the Brands acquisitions. Whether the whole Digne drama was part of the decision to move to the youngsters so as to make it clear Rafa can get a good group on the field and execute a sensible plan is intriguing. He quite clearly made the point that the problem lies with the disillusioned value players who've been rotated through too many coaches if that was intended.
So before things blow up, no I'm not saying definitely that he planned it out this way. We can all be quite sure that he would rather have had the regulars available and that he would have selected a lot of the old guard to get things started. On the other hand, once things deteriorated it is entirely within reason that he saw some not giving their all and felt it was a symptom of the disease within Everton's squad. Knowing then that he could not rely on them he would need an explanation for the horrendous displays on the pitch and would need to survive the inevitable criticism directed at him. I'll stop there but you see where I'm going with that.
We may have a manager who challenged those who've at a minimum lagged at their post, made clear who is ultimately responsible and showed a clear path forward using what we've got. By reaching into the U23s and getting a result at the Bridge and having found Gray and Townsend (bad form for now but good price there) he effectively qualified himself to look for some bargains with Mosh's dosh.
Danny O'Neill
282
Posted 17/12/2021 at 17:14:56
He thought about it at Brighton as well Rob. Came half way over the pitch but then left the players to it.
Martin Mason
283
Posted 17/12/2021 at 17:18:47
Sometimes events contrive to improve the team significantly despite the efforts of the manager. I believe that last night was a classic example of that.
John Keating
284
Posted 17/12/2021 at 17:20:34
I read Tom comes from West Derby.
Anyone know where young Gordon's from?
Barry Hesketh
285
Posted 17/12/2021 at 17:30:06
Dale @281
We'll probably never know the whole truth as to why so many youngsters took to the field at Stamford Bridge, but the fact that they did, served a purpose for both the youngsters involved and the manager himself.
It will be very difficult for the manager to continue using his tried and 'trusted' players in the future, if the work rate of those players isn't there and if their obeyance of the manager's instructions isn't strictly adhered to. It puts pressure on every member of the squad and indeed the manager.
The only caveat I would propose on last night's display is that it's relatively easy to play a 'they shalt not pass' game, but the difficult part is retaining the ball and then using it to create chances. Last night's opponents aren't really the type of team that we can assess the full abilities of the youngsters, especially the forward players.
I had a passing thought today, given that there are a fair few Evertonians who can't or won't accept Benitez as the first team manager, would he be willing to become the actual Director of Football and allow another person to become the Everton manager at some point in the future, or is that something that would still be resisted by a substantial proportion of Evertonians?
Mike Gaynes
286
Posted 17/12/2021 at 17:34:28
Danny #232, Brent #233, Rob #234, great summary amongst the three of you. My view of the quality of JJK's performance might not have been quite as sunny as yours, but his effort level was off the charts as always, and I think he'll be playing a lot for the next few weeks.
Andrew #256, agreed. Again. It's starting to scare me. Something must be wrong.
Brian #240, I don't think the injury has had a long-term effect on Gomes. This is the same player I saw for a couple of years before he came to us (I'm a big Barca watcher) and in his first year at Everton, and this is simply who he is. He has actually improved in one big way -- he no longer gives away stupid fouls in our defensive end. He cost us lots of goals on foolish free kicks before he was cured of the habit, I suspect by Carlo. But ultimately, Gomes is the same guy who was involved in only 7 goals in 78 games for what was then the best attacking side in the world, and he was never going to produce anything more for us, injury or no injury.
Julian #258, I wouldn't call a player who averages one assist per season a "creator".
Trevor #269, good post. In answer to your question, I've been loosely following Nkounkou at Standard Liege. He's played in all 12 of their league games since joining, starting 10. Liege is having a poor season by their "standard" (pun intended), going two months without a victory before beating Eupen on November 20. Here's a review of that performance, reposted on Prince Rupert's Tower:
Nkounkou put in a brilliant shift on the pitch, contributing in attack as well as in defence. The former Marseille man made three clearances, three tackles, one interception and was not dribbled past even once in 90 minutes. The 21 year old made two key passes, created one big chance, had a solitary shot on target and darted three crosses. After the win against Eupen, Nkounkou spoke about returning to Everton and how his adaptation process at Standard Liege has fared.
"I take everything I can take. I am learning a lot to return to my club [Everton] stronger. It was not easy to change leagues, there was a period of adaptation which is now over. It has been a while since I put in a performance like the one on Saturday night. Physically, I am well and I hope to continue in this way."

Nicholas Ryan
287
Posted 17/12/2021 at 17:36:26
Full of bravado, pride and Christmas Cheer, after our defence of The Alamo, I sat down in front of the TV with the Test match on, thinking, Come on England, make me proud, just like the Blues ... Oh, dear, Oh, dear, Oh, dear!!
Brian Wilkinson
288
Posted 17/12/2021 at 17:37:02
From what the youngsters have been saying, Raffa has been great towards them, bringing them up to speed each and every day. Last night was forced upon them, but they all stood up and played well.
Gordon took his chance earlier in the season and we were shocked when he got subbed in one of his first games, the manager at the time said Gordon has not got 90 minutes in him, but he has brought him up to speed and is now getting longer and more game time.
The ones who got a game last night will have pleased the manager and I have no doubt these will be eased into games more often now.
Whatever you think of the manager, he is certainly not afraid to drop a big name player, already he has a left-back all but signed and sealed when the transfer window opens.
Just glad the anti-Rafa within some supporters and the boardroom did not get their wish with a knee-jerk reaction, poor bugger can only go with the hand he was dealt with previous managers' players. Injuries have certainly not helped, but you can bet your last penny, he will have Tosun on a plane to Turkey in January, with a few more heading out; if not January, then certainly in the summer for the others.
Ed Fitzgerald
289
Posted 17/12/2021 at 17:40:26
It was a great battling performance in the second half last night. The younger players energy and enthusiasm secured that point.
Let's not kid ourselves Benitez's hand was forced and we got lucky, Chelsea haven't been great of late, they scraped past Leeds at the weekend at home with a 94th-minute winner and drew their previous home game before that with Burnley.
As pleased as I am, I can not rid myself of the memory of our abject performances at Palace and Wolves (those are foremost in my mind although there are other performances that are equally as rank).
Well done, all the Blue boys and girls who made the trek down to London for the second time in 5 days – our support as always was brilliant.
Dale Self
290
Posted 17/12/2021 at 17:47:03
Good take, Barry. I would offer that last night we discovered that Gordon can get on the ball and advance it well while looking for the right pass. Several times, he carried the ball well and distributed before pressure limited his options.
Also, he just plain dribbled his way out of danger and definitely qualified himself as the best diver, ahem, at drawing fouls when the dribble has run out of space. That with what I saw of Dobbin gives some hope for being able to run a possession system.
That sounds ambitious, I know, but go back and look at Dobbin's runs and when he came back to help get the ball out of our final third.
Doucouré is clearly crucial to getting the ball out of our half but he needs space to make turns, his frame and speed make for a competent ball carrier. If we can use Gordon and Dobbin to create space for Doucouré, there is enough skill on the ball to get forward.
The decision-making once getting into their half needs a tremendous amount of work but it seems to me we have some pieces that could work together. And they create enough of a dynamic that it won't be easy to shut down without giving something else up and there we just need some competence in picking out the right pass.
Dale Self
291
Posted 17/12/2021 at 17:52:38
Your Retarded American English Football Friend (i felt guilty putting England in parentheses) has decided to go full rabble rouser and claim that Rafa set this whole thing up.
That's right, Rafa planned it. He is a genius and is just getting started!
U23TFT!!!!!
Rob Halligan
292
Posted 17/12/2021 at 18:08:24
John #284.
Not sure for definite what part of Liverpool Anthony Gordon is from, but I live very near to Calderstones Park in Allerton, and I've seen Anthony in there a few times walking his dog with his girlfriend, so I'm guessing he's from somewhere local to me.
Stephen Vincent
293
Posted 17/12/2021 at 18:09:52
John #284, he went to Alsop High School on Queens Drive. So maybe a little closer than Tom.
Duncan McDine
294
Posted 17/12/2021 at 18:10:58
Dale, I regret recommending my favourite whiskies to you… you're clearly off your feckin head - and it's probably still before lunchtime over there!!
John Keating
295
Posted 17/12/2021 at 18:12:39
Thanks, Rob and Stephen.
Mike Gaynes
296
Posted 17/12/2021 at 18:16:50
Dale, I do believe you've lost your self-awareness.
Graham Mockford
297
Posted 17/12/2021 at 18:29:37
I thought Anthony Gordon had his best game in an Everton shirt, his energy levels were fantastic.
I do have one concern though. I don't see him get enough crosses in. I think, if he is going to be a top-level wide player, that's a part of his game he will need to improve.
Christy Ring
298
Posted 17/12/2021 at 18:34:25
I said it myself earlier, Rafa's hand was forced and he had to play the U23s, but they came through in flying colours. He has to include Braithwaite in the team going forward, and Dobbin and Simms deserve to be ahead of Rondon and Tosun until Calvert-Lewin is back.
I watched the game again today, and sadly Iwobi was the worst player on view. I thought Gbamin looked better.
Christine Foster
299
Posted 17/12/2021 at 18:38:08
In times of crisis, you need those who will step in and step up. We got them in spades against Chelsea.
Surprisingly or necessity? Probably a mixture of both as it's so rare for any Premier League club to gamble playing several or more youngsters at once. But whatever the reality, for all of them, academy one week, European champions the next. It's what the young players dream about and each and every one of them gave a good account.
A special mention goes to Anthony Gordon, now forevermore shall be christened and referred to as "Flash" Gordon – saviour of the universe, I have doubted his ability to step up, but I was mistaken and in this case it really made me smile and lifted my spirits immensely.
I think such a performance bought Benitez time although the decision to play them may have been force on him or not, he made the call and credit to him for that.
For now, it did my heart more good than any beta-blockers can!
So here's to you, Flash Gordon, saviour of our universe!
Phil Lewis
300
Posted 17/12/2021 at 18:38:13
Why are we being linked with a left-back? Godfrey is performing well. Digne is available and Nkounkou – who looked an excellent prospect – is still an Everton player?
Rob Halligan
301
Posted 17/12/2021 at 18:44:57
So we've all had a good glance at what Simms and Dobbin can do, so why on earth didn't Benitez throw one, or even both of them, on at Brentford when we were 1-0 down, and Rondon was playing like the donkey that he is???
Who knows, we could have snatched draw from that game. 😠😠😠
Dale Self
302
Posted 17/12/2021 at 18:45:34
Mike, I appreciate the concern older Everton brother but I think I'm going to put my shinpads on and defend this one.
Flash, AAAAh AAAAAh!
Dale Self
303
Posted 17/12/2021 at 18:49:12
Dunc, if I may call you that, you've always been one of my favorite reads but those e's in whisky man. And just to be clear, it's not the Lagavulin talkin'.
So c'mon then, whatcha got for the other side of that proposition mate?
Brent Stephens
304
Posted 17/12/2021 at 18:53:26
Dale, you're a man with a mop?! AAAAh AAAAAh!
Dale Self
305
Posted 17/12/2021 at 18:57:57
Outrageous Brent, I've done a lot of research here and you've come and besmirched my Renaissance Report (look for on yourtube, twatter and fuckbook).
Robert Tressell
306
Posted 17/12/2021 at 19:06:14
Basically it's reinforced my view that Branthwaite should be starting (and we'll have to tolerate mistakes when they inevitably come), Dobbin needs 15 to 20 mins of games and Gordon is a really good player.
As I reflect, the other things are:
- Kenny: though not a star he didn't deserve to be so frozen out till now. Feel for him. Shown tremendous good attitude.
- Simms: still think he's best developed out on loan. Though did well last night, and it will have boosted his confidence, I still think he'd develop better where he can bang in some goals.
Final point, Pickford's late save from Thiago Silva was absolutely outstanding. He's a very talented keeper.
Ray Robinson
307
Posted 17/12/2021 at 19:10:54
Only my obsessive passion for the Blues inspired me to watch the match last night. Expecting a 5-0 drubbing, I was ecstatic when Branthwaite equalised and very proud of the team's performance.
However, being realistic, I can't see that team and set-up winning a Premier League game against any opponent, to be honest.
It's one thing to defend valiantly and gain a creditable draw in a one-off game but a totally different matter to take the game to lesser opposition. Some great performances from many players, apart from Iwobi and Gomes, who tried hard but were generally ineffective (again) but I doubt whether we could have beaten Leicester on Sunday with that line-up.
The way forward is a mix of existing players, new signings and blooding youngsters. Still, I can enjoy Christmas now. Special mention to the brilliant travelling Blues!
Mick O'Malley
308
Posted 17/12/2021 at 19:25:15
Let's not forget who Simms and Dobbin were up against last night: a multi-trophy-winning Brazilian in Silva and a multi-trophy-winning German international in Rudiger who have dozens of caps each, played in World Cups and Champions League finals.
I though they both performed admirably and a shout-out for Anthony Gordon for his first assist with that fabulous cross and, as someone above pointed out, he gave flavour of the month, Reece James, plenty to think about.
Brendan McLaughlin
309
Posted 17/12/2021 at 19:25:19
Dale #305
No better man to write a "Re nay sense" report
Joe Francis
310
Posted 17/12/2021 at 19:37:51
Does anyone know where our players disappeared to yesterday? Are Gray, Delph, and Rondon out with Covid?
Rob Halligan
311
Posted 17/12/2021 at 19:43:57
Mick # 308. You kind of back up my point of what I'm saying at # 301.
I know the situation last night was probably forced upon Benitez (I've still no idea why Rondon wasn't involved, was he injured?) and he had to play Simms and later on Dobbin but, as you say, they were up against world class defenders in Thiago Silva and Rudiger.
Just imagine if we were playing Brentford in a week or two, rather than 3 weeks ago, and Calvert-Lewin and Richarlison both missing with only Rondon up front. I couldn't, even now, name the two Brentford centre-backs, yet surely either Simms or Dobbin could have, hopefully, produced something against Brentford, rather than leaving Rondon on?
Would Benitez have still made the same decision and not put any of the three forwards that were on the bench at Brentford on if Brentford was in the next week or two?
Still, as they say, hindsight is a great word?
Dale Self
312
Posted 17/12/2021 at 19:45:42
Just trying to bring the club into modernity Brendan. Rafa will have left 'You Never Walk Alone' for the Left Banke 'Don't Walk Away Re Nay'.
Flash! AAAAAh AAAAAAh!
Will Mabon
313
Posted 17/12/2021 at 19:54:21
Joe, apparent minor injury for Gray (probably meaning not recovered from the previous match injury), the other two, don't know.
Dave Abrahams
314
Posted 17/12/2021 at 19:59:26
Did anyone notice those two chipped passes by Jonjoe Kenny when we were under pressure last night, both delivered calmly to Everton players in space able to carry on the moves forward.
Johnjoe came in last night after hardly playing any football at all this season and did well and played his part in a very good performance, I hope he is kept in the team for the next game.
Brian Wilkinson
315
Posted 17/12/2021 at 20:05:26
So now we have Flash Gordpn, Da Do Ron Rondon, and Iwobi: a leaky bum bum bum, Davies: On the Road Again, Richarlison: "It started with a hiss... and Calvert-Lewin: Handbags and the Gladrags.
Anyone got any more to add?
Graham Mockford
316
Posted 17/12/2021 at 20:07:02
Pickford has matured into a top-class keeper. I remember publicly questioning him after the Tielemans goal last January. Since then he has literally not put a foot wrong.
His decision-making has improved, he's taken the brain farts out of his game, and his shot-stopping which has never been in doubt ranks with any keeper in the world.
His performance last night was outstanding. His detractors on here are surely having to reassess their opinions.
Jerome Shields
317
Posted 17/12/2021 at 20:10:41
Andrew #256,
That could be the case, but it helps a lot when you have players who return your competence by receiving the ball and making good use of it following a football plan. Too many players prior to this game have been incompetent in this area.
Dave #314,
Jonjoe Kenny was very good and Rafa appreciated the effort he put in after the game. He should have probably been playing before this, but he was better to have come in this game for the reasons I gave above. Hopefully he will get the chance to establish himself. He certainly has put the work in and deserves to. Coleman looked really concerned after the game.
Brent Stephens
318
Posted 17/12/2021 at 20:18:04
Brian #315 that classic from Dusty Springfield – The Lucas lLove (it's all in the pronunciation).
Christine Foster
320
Posted 17/12/2021 at 20:19:38
Continuing with my Flash theme, Benitez has to be Ming the Merciless...
Ancelotti, 6 months in a leaky boat.
Dale Self
321
Posted 17/12/2021 at 20:21:21
Could someone else check their ctrl+F function and see if mine is not working? I've searched this thread and the only sighting of Gary Smith has been a reference by Ajay. That surely can't be true. These are grave times you know.
Brent Stephens
322
Posted 17/12/2021 at 20:22:03
And, Brian - Ben, the two of us need look no more.
Paul Smith
323
Posted 17/12/2021 at 20:24:14
I was there last night and something struck me.
A sense of belief in the crowd.
Even when one down those around me groaned then immediately screamed 'Everton' again, never felt anything like it, a total mindset change from the last few games.
Every player playing their heart out, but a special mention to Gordon who looked a real player last night.
Thought Simms got stuck in but ineffective and Dobbin looked much better.
Holgate again a liability but tried hard and Gomes doing his mistimed tackle thing to a tee.
Pickford fantastic and loved by the away fans – deservedly so. We have a lot of problems at Everton but Pickford isn't one of them.
So much energy and commitment and, with that crowd, it never felt like we would lose last night. A new feeling and a welcome one.
Ross Barkley got dogs abuse as he warmed up chants of "greedy bastard" bellowed out from the Shed End.
A tad harsh I thought considering he's won a few trophies as well. Anyway ancient history now.
"Oh, marching down the Goodison road all the windows open wide….".
John Keating
324
Posted 17/12/2021 at 20:28:12
Dave,
I really wish Jonjoe Kenny could hold down a permanent spot in the squad and finally replace Coleman as starter. I have a lot of time for Kenny, never gives less than 100%, always available when called upon, and during the Allardyce reign put in some really good performances.
I always thought he was worth a place above Sidibé when he came in.
Most supporters would sooner see a wholehearted committed player than an expensive poseur and in Kenny we have a local one. I'd be made up if he could get a bit of a run and persuade Benitez that, rather than buy a replacement for Coleman, he has one already here.
Duncan McDine
325
Posted 17/12/2021 at 20:52:07
Dale, I can't spell at the best of times, but I think I'm right in saying that 'whiskies' is the plural for 'whisky'. Anyway, here's a few more to look for seeing as 'tis the season etc. I'm currently sipping a Glen Grant 10-year old single malt which isn't bad, but not great. Aberlour A'bunadh is feckin awesome and a new fave – cask strength (about 57%) and full of flavour but isn't cheap. If you'd rather go for a smooth one, Cardhu gold reserve (as smooth as Lionel Ritchie) is a decent price. A cracking Welsh single malt 'Penderyn' is also well worth a look. But to top the lot, Lagavulin 16-year and also their Distillers Edition, along with Benromach 10- and 15-year single malts.
But back to the footy – still pumped after that 'roll your sleeves up' style performance. Paul Smith – I'm so chuffed that you got to be there… what a difference from the shite we saw on Sunday! 'Twas good to see you as always though mate. UTFT
Brian Wilkinson
326
Posted 17/12/2021 at 20:56:39
Couple of good ones there Brent, Ming the Merciless good one Christine.
Allan, is it me you're looking for, sorry bad one that, but I reckon you could get Doucoure to the tune of a swinging safari.
Brent Stephens
327
Posted 17/12/2021 at 21:00:28
Duncan - Penderyn for my son every Xmas. And I like Old Pulteney - a salty little whisky.
Don Alexander
329
Posted 17/12/2021 at 21:12:30
Ardbeg for me Duncan. Briny, hints of leather, great depth and follow through. A bit like licking the inside of Barry Bennell's jockstrap, a friend told me.
Dale Self
330
Posted 17/12/2021 at 21:13:13
Yeah Duncan, I was over the line on that. Always appreciate your tips on the good stuff. You've likely saved me a couple hundred.
Bottoms Up!!
Good Gawd Don, I think that was the line of the thread.
Duncan McDine
331
Posted 17/12/2021 at 21:19:55
Don - spot on with the Ardbeg shout. Very similar to Lagavulin. Another beaut from Islay.
Brent - thanks for the Old Pulteney tip… I've always wanted to try it out. Is it similar to Talisker?
Dale - all taken in good humour mate… I'll let you know if I find any others to recommend. Come to think of it, it's been a while, but I remember Jura being very nice and should be easy to get your hands on.
Paul Smith
332
Posted 17/12/2021 at 21:22:40
Ah Duncan, thank you very much Sir. Wish you were there mate.
Btw, I wasn't aware about your penchant for whiskey.
I've a mate in South East Asia who is a whisky importer - they love it out there apparently. A long story for our next match.
Speak soon.
Dave Lynch
333
Posted 17/12/2021 at 21:24:20
Old Puttenham is a wonderful drop.
This may sound daft but you can definitely taste the coast in it.
Brent Stephens
334
Posted 17/12/2021 at 21:27:22
Duncan, Talisker is more peaty.
Duncan McDine
335
Posted 17/12/2021 at 21:33:29
Knowing that you're teetotal Paul - I didn't think it'd be an interesting conversation for you, but your mate sounds like a man worth knowing! Thanks for the tips fellas - my Christmas list has lengthened this evening.
Dave Lynch
336
Posted 17/12/2021 at 21:33:52
Pulteney... bloody spell check
Brent Stephens
337
Posted 17/12/2021 at 21:38:07
Dave, and I'd just put Old Puttenham on my xmas list! Ah well.
Stan Schofield
338
Posted 17/12/2021 at 21:52:21
A decent peaty one, not a single malt like 10-year old Laphroaig but a decent blend, is Black Grouse, from the producer of Famous Grouse.
Back to the footy. Jordan Pickford is a legend.
Dave Lynch
339
Posted 17/12/2021 at 22:07:13
Well I've just quaffed a bottle of Blue Label.
Gonna treat myself to a bottle of Singleton tomorrow.
Dale Self
340
Posted 17/12/2021 at 22:08:16
You are a gentleman and a scouse scholar Duncan.
Graham Mockford
341
Posted 17/12/2021 at 22:09:52
In other whisky news, I have in my possession a 25-year-old Balvenie.
What you can only describe as a right touch.
Colin Glassar
342
Posted 17/12/2021 at 22:13:32
Duncan, I've just started a bottle of Benromach. I'm not impressed so far. I think I'll stick to the, tried and trusted, Glenlivet.
Stan Schofield
343
Posted 17/12/2021 at 22:21:44
Kilchoman Sanaig, from Islay, is a good one. It's somewhere between light and peaty.
Another thing, I went to the Ardbeg distillery on Islay, and in the cafe I had haggis, neeps and tatties with Ardbeg sauce, with a dram of Ardbeg. Great combo!
Paul Birmingham
344
Posted 17/12/2021 at 22:43:48
Auchentoshan, is my favourite, and Islay and a few others.
After last night it been a good excuse for a few drams, and they'll be a few more hopefully if Everton can turn the corner and put in the same effort with consistency, as last night at Chelsea.
Paul Tran
345
Posted 17/12/2021 at 22:46:39
Laphroaig 10 year Sherry Cask
Glendronach 18 year
That's yer stuff
Dave Lynch
346
Posted 17/12/2021 at 22:47:34
One of my least favourites that, Paul. Found it very difficult to drink and enjoy.
The Balvenie on the other hand goes down much too easily.
Brendan McLaughlin
347
Posted 17/12/2021 at 23:16:38
Brian #315
Pick Ford...it's hard to be humble
When he's perfect in every way
He just can't wait 'til tomorrow
Cos his arms grow longer each day
(Need a drummer & a keyboard player)
John Boon
348
Posted 18/12/2021 at 00:59:50
Hate to interupt the "Wine without Dining" talk. It cannot be taken too seriously when Everton actually put up a great fight as they did against Chelsea. I could drink anything from Ribena to aerated water when we win. It will all taste like nectar from the Gods.Six pints of Guinness is far more sensible to celebrate. Well at least to start with.
On reflection it was encouraging to see so many young players do their own valuable part. They "ALL" did well but for sheer tenacity and speed Dobbin outshone Simms. However I do realize that this was just one game and they both showed potential. In the short time that I saw him I want to see Dobbin given more chances to prove himself.
Bill Watson
349
Posted 18/12/2021 at 02:11:30
Although I was at the Chelsea game I thought I'd replay the whole of the game on the Everton official page.
I can get all the various shorter 'highlights' videos and the women's ones but try as I might I just cannot get the whole Chelsea one to play.
It keeps telling me to log in but I am logged in. Am I missing something or are others having the same issue?

Mick O'Malley
350
Posted 18/12/2021 at 07:58:39
Rob@311 I know I was spitting feathers when he never brought another forward on against Brentford, I'm sure both the young lads would have been up to the task, let's hope they have opened his eyes and he uses them more often
Jay Wood
[BRZ]
351
Posted 18/12/2021 at 11:44:42
Bill, if you haven't resolved viewing the game due to log-in problems, this happens to me sometimes, usually following a Windows 10 update or a browser update on Google Chrome, both of which happened in the last couple of days.
This usually logs you out from sites you maintain open access to. The club site in particular seems a bit cranky at these times, because like you I log-in correctly but am still denied access.
A simple page refresh, or closing the tab completely and re-opening it in a new tab, then completing the log-in anew, usually does the trick for me.
I needed to do exactly that yesterday to view the full game again.
Hope that helps.
Jay Wood
[BRZ]
352
Posted 18/12/2021 at 12:39:35
Personally, in the seven games played since the Wolves game - Spurs, City, Brentford, Liverpool, Arsenal, Palace and Chelsea - I don't agree with the sentiment expressed by some that the players were half-arsed and didn't put in the effort.
In my eyes, that claim only applies to the dreadfully submissive display at Palace last Sunday. In other games I didn't see any shirkers. I saw limited players lacking the guile to get more from the games, but I didn't see anyone 'hiding'.
And on Thursday v Chelsea I didn't see any evidence at all of disunity or players not performing for the manager. The outpouring of joy from the players when Branthwaite equalised reinforced that.
The notion that Benitez deliberately selected a youthful side expecting us to get beat to 'make a point about playing youth' seems a foolish one to me.
It was evident on the night and confirmed by players' post-match comments that the team worked hard on the system and set plays at Finch Farm. Throughout the game you could constantly hear Benitez coaching the team from the sideline.
It was notable at times just how far up and the pitch both Kenny and Godfrey played at times, deep in Chelsea territory, whilst the three centre backs maintained a defensive line. How savvy and responsible Gordon was in such moments if the ball got turned over from Godfrey to drop back and cover his space.
When Doucoure lost the ball in the build up to their goal, you could see Benitez throw up an arm in anger. He repeated the gesture when Mount did score. That's not the reaction of a man expecting to lose.
Of those drafted into the team Kenny had an excellent game, both defensively and with the ball (as Dave Abrahams has highlighted). He should be allowed more game time rather than fit in a makeshift full back when Coleman can't play.
Holgate had some wobbly moments, but he had some good ones too. Branthwaite was outstanding and on that performance has nudged ahead of Holgate in the centre back pecking order.
To claim as someone did that Simms hold up play was superior to DCL's is out-and-out nonsense. Dominic is one of the very best target men and hold up players in the league. Simms did 'OK', but nothing startling.
For those asking why Simms hasn't been selected until now, you simply cannot keep abreast of Everton news. Before his 60 minutes v Chelsea on Thursday he has played one single game. One half of a game, in fact. The first 45 minutes of an U-23 game v Brighton. He simply hasn't been fit enough to play.
But what a marvellous experience for the lad. Playing away to the current European champions and you look over your shoulder and see yourself marked by Thiago Silva and Rudiger. A level of footballer he would never have faced in his life before.
Lewis Dobbin looked bright when he came on. Yes, there was a lot of enthusiastic youthful ball chasing without getting near Chelsea's possession passing, but there were real nuggets of quality in his play also.
Twice he picked up a cleared ball mid-way in his own half and turned to run hard at the Chelsea defence. Once he was fouled. The other time he brought other players into the game to keep the move going.
He burnt off the defender to whip a good ball in across the 6-yard box. He wriggled and squiggled inside the penalty area but took one touch too many before getting a shot off in another situation. A very good 30 minutes and clearly an option from the bench against a tiring defence.
But in the same U-23 game v Brighton mentioned above in which Simms played, in the first half Dobbin had the entire Brighton defence on toast, but was then totally anonymous in the 2nd half. That's what you get with young players, so patience is needed there.
As for the rest, Pickford, Keane and Godfrey had fine games. However, on the goal Godfrey - not for the first time - has to be more aware of Mount's position. He looks to be getting back to his energetic and athletic best. But to me he needs work on his spatial awareness of the opposition players around him.
Gomes far too peripheral and he simply hasn't the most basic tackling technique, has he? Doucoure, the Curate's egg. Good in parts. His running deep into opposition territory is impressive. His inability to lift his head and pick out a simple pass for his side to keep possession and the momentum of the move is less so. One such failing led to Chelsea's goal.
Gordon had a great night out. Iwobi energetic, but just...lacking. I thought Gbamin did all right in the 20 minutes he was on. Onyango simply not enough time to assess him.
Oh! And Rafa Benitez did all right with what he had.
Bill Watson
353
Posted 18/12/2021 at 13:30:52
Thanks Jay. I'll try a Windows update.
I agree with your game analysis. Iwobi's attribute is just that; energy. It gives the casual observer the impression he's having a good game but, on closer inspection, he can run 20 yards to close a player down and then totally fail to make a challenge for the ball.

Danny O'Neill
354
Posted 18/12/2021 at 14:10:27
Good analysis that, Jay. I'd agree on Godfrey being slightly at fault for spatial awareness and anticipation but, in his defence, I maintain Mount just done him with a change of pace that bought him a yard.
Against teams like that, it's difficult to maintain the concentration levels for the entire match, so I don't want to be overly critical.
Andrew Keatley
355
Posted 18/12/2021 at 14:13:25
Jay (@352),
I mentioned it on Lyndon's thread, but I'm going to repeat it here: I think criticism of Doucouré for the breakdown of the move that preceded the Chelsea goal is unfair.
Doucouré breaks forward with purpose, leaving Jorginho trailing in his wake, and Everton have a 4 v 3. Gordon goes left with Azpilicueta, Iwobi is out right with Rudiger, and Doucouré carries the ball towards Thiago Silva.
Dobbin is free, and can make any number of runs to cause Chelsea a problem. But he doesn't do anything – just jogs forward in a straight line. Doucouré is waiting for Dobbin to make a run and it just doesn't happen.
Dobbin is at least 5 yards behind where he should be and, when Thiago squeezes the space, he blocks the eventual pass that Doucouré feels he must finally make.
I watched the entire game again last night and Doucouré was very very good. The way he breaks forward from midfield gives us something that we have missed for many years.
If Iwobi had played Doucouré in when his off-the-ball run had put him in on goal, or if Dobbin had made a meaningful run as outlined above, or if the break he made at the end of the first half hadn't ended in Loftus-Cheek fouling him to avoid a 3 v 3 break, then Doucouré might have made the key contributions in an even better performance and result.
I also noticed that Doucouré made a series of good turnovers in the game, but then made clean passes to Gomes (at least twice) or Iwobi (at least once) who then immediately gave possession back to Chelsea.
All in all Doucouré had a very very good game, and he nearly had an extraordinarily good one.

Jay Wood
[BRZ]
356
Posted 18/12/2021 at 14:49:38
Andrew, I had seen your observations and I don't agree with them.
Michael Keane makes two key interventions before the ball falls to Doucoure at the start of his run. A block in the penalty area, then he steps in to cleanly intercept a pass and lays the ball off to Doucoure, effectively giving him 10 yards free space from the attentions of Jorginho.
Doucoure's run midway into Chelsea's half is impressive, but the only Everton player in front of him is Anthony Gordon. Anthony's movement is smart, immediately recognizing the possibilities.
Starting from his own half, he sprints HARD to the left of Azpilicueta. Our man has the run on him. The positions of Gordon, Thiago Silva and Doucoure himself are just BEGGING for Doucoure to slip a through ball in between and behind Azpilicueta and Silva for Gordon to attack.
The Frenchmen had the time and space to do that. Instead, he turned inside away from Gordon towards both Silva and the retreating Jorginho. A higher risk move with lower reward (Rudiger was also back there in front of both Dobbin and Iwobi) and sure enough, Silva stepped forward to cut out the attempted slipped ball to Dobbin. Chelsea's goal resulted from that breakdown.
Gordon can be seen throwing his arms up in exasperation. In another wide angle shot you can see Benitez throw an arm up and swivel around in anger. He repeats this when Mount scores.
If people are going to point the finger at Iwobi for not playing the ball through to Doucoure in a previous move, it is legitimate IMO to do likewise in the above described situation.
There was a goal scoring opportunity on for Anthony Gordon in that scenario. Doucoure was in a position to provide it and took the wrong option. Worst, it led to Chelsea scoring.
Geoff Trenner
357
Posted 18/12/2021 at 14:59:53
Cask strength Aberlour for me, with a touch of iced water to excite the flavours
Andrew Keatley
358
Posted 18/12/2021 at 15:29:24
Jay (356) - An early pass to Anthony Gordon is an option, but it puts Gordon one-on-one with Azpilicueta. But if Dobbin makes an early run and draws a man - either Thiago or Rudiger - then it has the potential to leave us 2 v 1 on the edge of the Chelsea box. That's the better option.
As for the other move, when the opportunity for Iwobi to pass to Doucouré is not taken, Doucouré would have been clean in on goal with no covering defender - so the comparison is not quite equivalent.
Bobby Mallon
359
Posted 18/12/2021 at 15:35:13
Jay wood 356 I agree
Jay Wood
[BRZ]
360
Posted 18/12/2021 at 15:42:14
You are misreading what I've said, Andrew.
The play is NOT the early pass to Anthony Gordon asking him to face up to and beat Azpilicueta.
The pass in between and behind Azpilicueta and Silva for Gordon to run onto leaving him one-on-one with Mendy is most definitely on.
Gordon's hard sprinting would carry him clear of two slow-turning defenders. You can see Azpilicueta take an anxious glance towards Gordon in this build-up, aware of the danger.
It is arguably a better opening than the missed Iwobi-Doucoure one.
Dale Self
361
Posted 18/12/2021 at 15:48:18
Rather than weogh in on that I just want to say good back and forth. I saw that but not with the clarity of both takes. The timing and angle of camera makes it difficult to tell Doucoures intent
Several other times Gordon was creating space with runs and was overlooked. With his willingness to find the next pass with head up.i hope Rafa sees that and adjusts the play out of our half.
Flash! AAAAh AAAAh!
Andrew Keatley
362
Posted 18/12/2021 at 15:59:36
Jay, I understand what you meant - and when I say the early ball I do mean the ball in behind Azpilicueta for Gordon to run on to. Get it right then it puts Gordon in on goal, but Azpilicueta - who is a fantastic defender - is very aware of the danger and tracks the run, so it's not as appealing as a one man overload.
Gordon makes a terrific first run, and then when the ball does not come he heads wide and draws Azpilicueta with him. He can do no more.
Iwobi stays wide. Rudiger is aware of him, but knows he cannot just mark him as that would leave Dobbin and Doucouré in a 2 v 1 on Thiago Silva.
My point is that it is for Dobbin to add something to the picture rather than meander forward. Anyone who plays or coaches the game to a decent level will have done these sort of overload drills over and over. What Doucouré, Gordon and Iwobi do are in keeping with some sort of design. What Dobbin does is not. He kills the momentum. That's my main point really. Doucouré was not as much at fault as I thought Dobbin was.
Jay Wood
[BRZ]
363
Posted 18/12/2021 at 16:28:58
You have a lot of moving parts in your scenario Andrew.
Mine doesn't.
'Azpilicueta is a fantastic defender', you say.
And Thiago Silva and Rudiger aren't and would have struggled to deal with the 18-year-old novice Lewis Dobbin..?
And a two-on-one (plus the goalkeeper) is better than a one-on-one with just the goalkeeper is 'better', how exactly?
Doucoure ends up in a situation where 3 defenders diminish his options.
He spurned the one option which potentially took out all 3 of those - Silva, Jorginho and Rudiger - as well as exposing the one defender that was best placed to repel the play I suggest, Azpilicueta.
Lewis Dobbin is only 'at fault' because Doucoure chose the longer, more difficult path to goal.
For me, the greater 'fault' remains with Doucoure for not playing the more penetrative pass to put Gordon in behind the defence, one-on-one with the keeper, which was most definitely on.
Andrew Keatley
364
Posted 18/12/2021 at 17:07:57
Jay - Football is about moving parts. My problem is that Dobbin was not a moving part when if he had been then it would have given us an overload - culminating (hopefully) in an easier pass to put one of our players in on goal in a better position than Gordon initially was.
It can be hard to choose the right option and execute it successfully. Making a helpful run off the ball that helps to develop the play for the team, that's not always easy either. But not making any sort of run when you have a 4 v 3 on? That's much harder for me to overlook.
Interesting to hear your take on it, and I appreciate that you think the initial pass to Gordon was the right option. I've heard your reasoning, you've heard mine - and we both are happy with our takes.
Alan J Thompson
365
Posted 19/12/2021 at 06:19:18
Just on the refereeing, is it me or did Chelsea play on for a minute or two when one of their players was down but as soon as Everton got the ball the Ref stopped play so treatment could be administered and then restarted the game by giving (I refuse to call it a drop ball) the ball to Chelsea. How does that work or is it based on League position?
Rob Halligan
366
Posted 19/12/2021 at 09:02:25
Alan,
I guess it's based on who you are, as well as league position. The RS first goal v Newcastle, for example. I've not seen it, but it's been on the BBC website, whereby a Newcastle defender was down with a head injury, whilst the RS were in the process of scoring their first goal.
The referee? … Mike "My two sons are season ticket holders at Anfield" Dean.
Danny O'Neill
367
Posted 19/12/2021 at 09:18:46
Taking my Everton glasses off for a moment, Alan, and putting my footballing observer ones on, Oliver was star-struck by Chelsea for a lot of the evening. Genuinely, the amount of decisions that went their way was frustrating.
When singled out by Chelsea as a threat, Gordon started winning us free-kicks in dangerous positions, but there could easily have been more. Had we been Chelsea of course.
That's not a bitter or biased opinion by the way, just how I saw it.
Tony Abrahams
368
Posted 19/12/2021 at 18:55:46
You have just described how Michael Oliver referees most games involving the top four teams, IMO, Danny.
---
Add Your Comments
In order to post a comment, you need to be logged in as a registered user of the site.
Or Sign up as a ToffeeWeb Member — it's free, takes just a few minutes and will allow you to post your comments on articles and Talking Points submissions across the site.
---
© ToffeeWeb