Report
Blues make very hard work of the FA Cup 3rd Round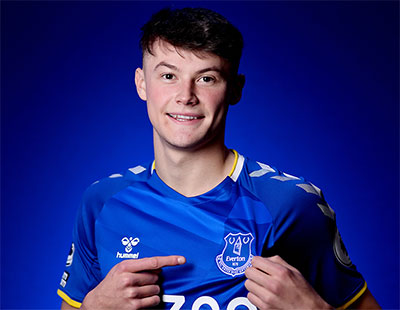 Nathan Patterson is on the bench while Vitaliy Mykolenko starts
It's the 3rd Round of the FA Cup and Everton are on the other side of the Pennines, up against Hull City at the MKM Stadium.
News signing Vitality Mykolenko starts with Nathan Patterson on the bench. Ben Godfrey and Seamus Coleman start along with Jonjoe Kenny, so who plays left and right back? In goal, Asmir Begovic starts with Jordan Pickford on the bench.
Lucas Digne will not play any part after Benitez said he no longer wants to play for Everton since the pair fell out over the latter's role in the side.
Dominic Calvert-Lewin is rested after he complained of tightness in his quadricep following his first appearance in 4 months in the defeat to Brighton. The striker ended up playing the full 90 minutes as the Toffees chased the game, a lengthy outing that was not in the manager's plans for the returning player. Rondon starts in his place.
Richarlison, Delph, Mina, Davies, and Branthwaite are all out injured
Everton kicked off and for once avoided the hoof upfield. but gave away a free-kick and it was neatly headed by Tyler Smith straight past Begovic in the Everton goal. Utterly pathetic start!
Begovic was tested again when Hull attacked with searing pace down the right, palming the ball over this time. From the Hull corner, Smith headed just wide. At the other end, Gray tried to overlap and won Everton a corner. Gray's delivery was absolutely shocking. /p>
Hull kept playing testing balls down their right wing that had Everton scampering back in petrified fear, a looped cross forcing Begovic to push it behind over the bar as he was unfairly challenged.
Godfrey advanced well but Gray completely messed up. Hull had the Everton players chasing shadows at times, with the Blues unable to dictate anything, Eaves got down the left and shot straight at Begovic, who blocked it behind.
Again Hull attacked and toyed with Everton's attempts at defence, ___ conjuring space for a shot over the Everton goal. But some real magic from Gray at the other end, played off Gordon, and then he slotted the return ball home with absolute class. What a contrast!
Gordon got loose down the right, took the ball in close but fired his shot off the outside of the post; should have scored really. Gray then fired in from the left, too far out really, bout forced a corner that he then hoofed way too hard beyond everyone.
Article continues below video content
Rondon may have got a touch as the ball came to him and he fell over. A ball in from Mykolenko, Greaves blatantly handballed but no penalty given without VAR. Gordon played a lovely ball to Keane whose shot was saved by Baxter. Another corner but not a great delivery again, ut Gordon headed down for Rondon to hopelessly fire well off target.
Everton had at least evened up the key stats after a terrible start, and Kenny then crossed off an intelligent pass from Gordon for Gomes to hurl himself forward and heading into the ground and into the roof of the net off Baxter.
But the home side were not giving in, and in a tremendous passage of play, they somehow failed to score as the Everton defence were all over the place. At the other end, Rondon passed to Gordon who's shot was absolutely skied when he should at least have got it on target.
Gray had a great run but failed to feed Mykolenko, who was overlapping perfectly, and the pass to him was really poor in the end. At the other end, another corner given up and thankfully headed behind by Hull.
Rondon was given time and space to advance but he was easily stopped by McLoughlin. Docherty fouled Gordon, Kenny curling in a decent ball that eventually won a corner. Gray finally got the delivery right but the ball ricocheted behind. The next corner was also good but cleared.
Hull won another corner that was cleared, Gray on another good run. Rondon was getting touches in the middle but the ball never went anywhere beneficial. Mykolenko fouled Greaves after he beat Gomes, and the free-kick was punched out by Begovic to end the first half of a pretty classic FA Cup tie.
Everton did a better job of controlling the play as the second half developed; it was a lot less frenetic. But Gomes got befuddled into giving up a free-kick that was swung in by Hull dangerously to the far post.
Gray did well to run forward and cross in for Rondon, who was in a good place but his statuesque turn was just far too slow and any chance was gone. Gomes and Gray tried to run the ball all the way to goal, winning a corner that Baxter punched a long way out.
Gray got forward again and fed Gordon but the angle was too narrow and he could only shoot at Baxter. Gray tried to get in again but his shot was blocked behind. The corner from Gordon fell to Mykolenko but he lazily blazed over. Townsend came on for Gordon.
Everton looked to be in control until three defenders ran forward at once and failed to collect a ball which got through to substitute Longman who curled a brilliant shot into the top corner to tie the game again.
Hull gained a new surge of confidence and lewis -Potter wasted a chance to further test Begovic. Gray troies to do the same shot at the other end but it curled inches wide. Doucouré replaced Kenny.
Everton were cut open again as if they'd lost concentration but fortunately the Hull move broke down. A real opportunity developed for Everton at the other end, Gray's shot handballed but again not given, and no VAR.
A free-kick wide right by Townsend won a corner. Townsend whipped it in almost at the near post but they could not profit from the following corners Hill almost broke to counter with 10 minutes left.
Gomes tried to release Rondon but the pass was telegraphed for McLoughlin to intercept and set up another dangerous counter. Doucoure and Gray set up a good move meant to feed the lumbering Rondon but Gray had strayed offside.
At the other end, a fierce shot from Lewis-Potter smacked off the outside of the post, another scare for the fretting Blue horde.
Everton allowed another Hull attack to develop but it went behind for a goalkick, Doucoure headed over after a good run by Townsend down the right. Gbamin then replaced Gomes, with 2 minutes left.
Hull again attacked with pace and invention but the layback was not good enough. Rondon big moment to break free and run at goal but he just trundled through treacle into a battle with Honeyman and flopped forlornly once in the Hull area, trying to win a penalty, but Kevin Friend wasn't having any of it.
Into the final minute and two more chances for Hull, Begovic grasping the ball desperately at the end. And so to extra time, with Everton looking flat and out of ideas… the last thing Everton needed after leading for much of the tie and not getting two clear penalties that would have been awarded by VAR.
And Hull showed more desire from the kick-off, Everton forced to defend struggling to clear the ball. But they broke and countered, only for Gray to shamefully get himself offside in with the Hull defence outnumbered. Gray had another chance to run through a crowd but he couldn't pull off the required strike.
Nothing seemed to be happening but Townsend pulled out a bit of magic, firing a fine shot that just beats Baxter to give Everton the lead again.
Could Everton now take control and play out the next 20 minutes without any stupid mistakes? Allan does his bit, giving away a tired free-kick that fortunately comes to nothing.
Townsend crossed toward Rondon but it was glanced away from the Venezuelan by a defender as Everton got to half-time in extra time, Rondon forcing a corner that was woefully overhit.
Dobbin was having a blast, skipping onto the Hull area to win another corner. But Townsend cross only pushed Godfrey too wide and then Godfrey was given a yellow card for timewasting with 5 minutes to go.

After a bit of a wobble, Everton finally produced some forward play, Townsend earning a free-kick, with Rondon going off, and Cenk Tosun coming on ads Gbamin saw chance for glory and blazed the ball skyward.

Mykolenko was adjudged to have fouled Hinds for a dangerous free-kick but it was turned into a counter with DObbin on a storming run. But incredibly Honeyman was able to catch him and scoop the ball off his toe. Doucouré then did a Rondon impression blundering into the Hull area.

Everton tried to play out the final seconds, Tosun shooting and winning surely the final corner.

Scorers: Smith (1'), Longman (71'); Gray (21'), Gomes (31'), Townsend (99').

Hull City: Baxter, Greaves, Smallwood (63' Huddlestone) , Docherty (63' Moncur), Eaves, Honeyman, Lewis-Potter, McLoughlin, Williams (63' Longman), T Smith (110' Hinds), Bernard.
Subs: Ingram, Cannon, M Smith, Fleming, Mills.

Everton: Begovic, Kenny (74' Doucoure), Coleman, Keane, Godfrey [Y:115'], Mykolenko [Y:45+2'], Allan, Gomes (88' Gbamin), Gordon (66' Townsend), Gray (106' Dobbin) , Rondon (118' Tosun).
Subs: Pickford, Patterson, Holgate, Onyango.

Attendance: 16,282
Share article:
---
Reader Comments (394)
Note: the following content is not moderated or vetted by the site owners at the time of submission. Comments are the responsibility of the poster. Disclaimer
Michael Kenrick
1
Posted 08/01/2022 at 16:35:46
Is that FOUR full-backs? Oh this will be good!
John Cartwright
2
Posted 08/01/2022 at 16:38:39
Begovic ? Rondon ?? No Simms on the bench ? 5 defenders ? We start off to defend against the mighty Hull City, what a crap team selection
Karl Jones
3
Posted 08/01/2022 at 16:39:16
Dreadful...Benitez really knows how to make a rod for his own back.
Chris Williams
4
Posted 08/01/2022 at 16:39:19
3 at the back and wingbacks again?
Derek Moore
5
Posted 08/01/2022 at 16:42:17
Just got up to watch us, thinking very strongly about going back to bed.
What the actual fuck.
Christine Foster
6
Posted 08/01/2022 at 16:44:09
Persistence is futile. This should be interesting. Let's hope my headache is just because of a lack of sleep..
Matthew Williams
7
Posted 08/01/2022 at 16:44:27
That to me just screams for Hull to attack us throughout...sigh!
Matthew Williams
8
Posted 08/01/2022 at 16:44:34
That to me just screams for Hull to attack us throughout...sigh!
Brian Wilkinson
9
Posted 08/01/2022 at 16:45:11
Poor line up that asking for trouble.
Paul Birmingham
10
Posted 08/01/2022 at 16:45:35
Anthony Gordon, hopefully will do the business today and win this match for Everton.
Benn Chambers
11
Posted 08/01/2022 at 16:46:48
I don't even know where to start with that team. Doucoure benched? 5 at the back again, against a championship side, after Brighton buzzing off us. Coleman and Kenny on the same pitch. I'd imagine Mykolenko will go left centre back in a 3 as he can play CB but that still leaves 2 shit right backs on the pitch and one playing left back. I'm cringing. This idiot doesn't learn. He's a stubborn prick and the sooner he's gone the better. He exits this cup and our season is officially over and we concentrate on survival. I'm counting the days till this kopite clown is ran out of town.
I fucking despair that he's our manager and we're in this state.
Brian Williams
12
Posted 08/01/2022 at 16:47:01
If that team can't beat Hull then they want fucking, poor team selection or not!
Michael Lynch
13
Posted 08/01/2022 at 16:47:01
Psychiatrist for Mr Benitez
Barry Ferguson
14
Posted 08/01/2022 at 16:49:31
Contemplated logging in this morning and apologising for the outright abuse I gave Rafa fans yesterday whilst I was hammered after a funeral.
Seeing that line up, they can go and feck-off. Anyone still supporting this negative, stubborn tit deserves all the abuse they get. He is wrecking this club from inside of out.
Brendan Fox
15
Posted 08/01/2022 at 16:49:41
What a bizarre and uninspiring team selected by RB.
5 at the back and 3 of those being full backs against Hull FFS
Colin Metcalfe
16
Posted 08/01/2022 at 16:50:11
The line up is so negative lose this one then surely Benitez will be finally sacked ?
Craig Harrison
17
Posted 08/01/2022 at 16:51:17
Does that mean a back three of coleman keane and godfrey
Barry Ferguson
18
Posted 08/01/2022 at 16:52:13
Colin, If I knew that was a guaranteed outcome for the first time in my life I'd be hoping we'd lose. That is not said lightly.
Joe McMahon
19
Posted 08/01/2022 at 16:52:24
Oh dear, 2 right backs. One shit the other 3 years past it, and a dreadful shit keeper and a forward as mobile as Stonehenge.
This is why they call us Neverton. Still we have our tales of the 60s and 80s.

Christy Ring
20
Posted 08/01/2022 at 16:53:56
I hope he's not playing Kenny in a back five, it doesn't work, Peter Reid said today he couldn't believe his defensive setup against Brighton at Goodison.
Jay Harris
21
Posted 08/01/2022 at 16:54:13
I'm gobsmacked literally
I can't find any rationale for that team selection.
This brings KiTAP1 to another level.
Is he just looking for the sack.
Mike Dolan
22
Posted 08/01/2022 at 16:54:49
If we win will anybody be happy?
Jack Convery
23
Posted 08/01/2022 at 16:54:54
Given that awful line up, he obviously wants to get the sack and the compo that goes with it. No other explanation unless he really is totally bonkers. As someone once said - " YOU CANNOT BE SERIOUS ! ".
Looks like BKs newest production will be the Wayne and Duncan - The True Blue Blood Brothers Show - god help EFC - once a great club but now an absolute laughing stock.
Will Mabon
24
Posted 08/01/2022 at 16:55:54
Wot, no Digne on the bench?
Craig Harrison
25
Posted 08/01/2022 at 16:56:29
Hopefully he brings pickford on if we make it to penaltys
Christine Foster
26
Posted 08/01/2022 at 16:57:47
That team selection looks like one of Baldricks cunning plans. Looks like half the defence will be playing out of position and the other half wondering who the can pass the ball to. This is handing all the initiative to Hull. 90 minutes of defending.. such an odd selection one has to question the sanity of it.
Will Mabon
27
Posted 08/01/2022 at 16:58:00
Craig, to take one?
Tony Hill
28
Posted 08/01/2022 at 16:58:20
I hope he'll play Kenny in front of Coleman (or vice versa) as he should have done last week. Mykolenko obviously at left-back.
I think we'll win. I also think we'll win the FA Cup.
Come back to me at full time.
Danny Broderick
29
Posted 08/01/2022 at 16:58:28
That looks suspiciously like the same formation we played against Brighton. I call it 5-4-1. Others call it 5-2-3. Against Hull. FFS!
Craig Harrison
30
Posted 08/01/2022 at 17:00:36
Will. To maybe save one. Isn't begovic like 1 for 20 in penalty saves for us
Matthew Williams
31
Posted 08/01/2022 at 17:01:17
Let's not forget Blues, what fucking genius brought our current Gaffer to our once great club...the real problem lies there, methinks.
Lose this and will Moshiri pull the plug on r.s Rafa or will the misery continue?.
Peter Neilson
32
Posted 08/01/2022 at 17:02:20
Mike, devils advocate question I guess but yes I think most (almost all?) of us will be happy. We'll still be here long after Benitez is gone. He's here regardless of the result and we need to win despite Benitez. Moshiri has given him the keys. He's going nowhere.
Steven Kendrew
33
Posted 08/01/2022 at 17:03:54
The only upside is that Holgate is not playing. Anyway, lose this and TFW may very soon be history.
Will Mabon
34
Posted 08/01/2022 at 17:04:14
Being positive and considering the opposition, it's may be more about whether they're let off the leash and given the freedom. Gomes might actually be a good fit for this game if the shape is right.
Brian Williams
35
Posted 08/01/2022 at 17:04:27
Mike#22.
Yeh. I'll be happy as I always want us to win.
Losing's fucking rubbish!
Christy Ring
36
Posted 08/01/2022 at 17:04:28
We keep mentioning his poor team selections, poor tactics and poor substitutions, and now he starts 5 at the back again, it doesn't work, total arrogance, I know it's a cup game, but is he trying to get us relegated.
Andy Walker
37
Posted 08/01/2022 at 17:05:11
Think he's playing a back 4 with Mykolenko left midfield. At least I hope so.
Derek Moore
38
Posted 08/01/2022 at 17:05:17
We've come in from 4/5 to 7/10 since the starting lineups were announced, at least with the bookies I bet with here in NZ.
Maybe Hull picked 11 right backs? 😂
Dan Johnson
39
Posted 08/01/2022 at 17:08:28
Two midfield players again, Rafa is setting himself up again, if this goes pear shaped he is in trouble, let's hope we can get the win. COYB
Pete Jeffries
40
Posted 08/01/2022 at 17:10:16
We must go for it pellmell !
Tell Digne not to leave just yet
Phil Smith
41
Posted 08/01/2022 at 17:13:22
Not great looking line-up but at least one of the new lads gets a start. I bet the other will come on at some point as well. Any links for this one, lads?
Benn Chambers
42
Posted 08/01/2022 at 17:13:25
Tony,
Win the FA cup? 🤣🤣
I'll have 10kg's of what you're smoking.
Will Mabon
43
Posted 08/01/2022 at 17:16:22
Phil, it's on BBC1 if you can get to a brainwash box.
Barry Ferguson
44
Posted 08/01/2022 at 17:18:07
Andy Walker - first formation guess that I think would be even worse than what he's actually planning, which I reckon is more likely Coleman in a back 3.
Dave Abrahams
45
Posted 08/01/2022 at 17:18:32
Someone out of the eleven chosen must be going into centre midfield to help out Allan and Gomes, they'll get wrecked on their own, still sticking up for you Rafa, but you're making it harder and harder.
Mike Dolan
46
Posted 08/01/2022 at 17:24:00
Tony Hill I agree with you. Trophy this year.
Craig Harrison
47
Posted 08/01/2022 at 17:25:34
Ashley williams on bbc1 this should be fun
Fran Mitchell
48
Posted 08/01/2022 at 17:26:15
Stubborn. That's the word.
Dobbin has a perfect chance to step up and take a chance, but he goes again with Dobbin.
A lineup that looks like he has no confidence in his players, and do the players have any confidence in him? I really doubt it.
Woeful lineup devoid of inspiration and ambition.
Should still be enough to win. Should.
But QPR knocked us out of the League cup so...
And DCL injured again?
Paul Swan
49
Posted 08/01/2022 at 17:26:52
Ashley Williams giving his opinion about what has gone wrong at Everton! You couldn't make it up
Dave Williams
50
Posted 08/01/2022 at 17:27:00
The mind really does boggle with this selection. He has effectively gone for the same as last week with a couple of different players. Last week was dreadful so what has he seen to make him think this week will be better?
I have tried to be positive about Rafa from day one but this selection is truly bizarre. Does he really see a centre midfield of Allan and Gomes being effective?
God help us!!
Tony Hill
51
Posted 08/01/2022 at 17:27:04
Benn @42, it's beautiful stuff. Meet you in May and I'll see what I can do.
We are playing Hull, you know, everyone.
Ciarán McGlone
52
Posted 08/01/2022 at 17:28:30
Christ. He's outdone himself this time.
Whatever the result, win, lose or draw that is an absolute shambles of a team to put out.
Craig Harrison
53
Posted 08/01/2022 at 17:30:42
Did linekar kind if say williams signing was a waste of money
Jay Wood
[BRZ]
54
Posted 08/01/2022 at 17:31:10
Intrigued to see how we line up.
Ernie Baywood
55
Posted 08/01/2022 at 17:34:13
Feels a bit San Marino, Graham Taylor, early goal.
Jay Wood
[BRZ]
56
Posted 08/01/2022 at 17:34:54
Sorry. Terribly disloyal of me, but I just burst out laughing.
Mike Hughes
57
Posted 08/01/2022 at 17:37:29
Everton live on national TV.
1-0 after 45s.
And I didn't even have time to hide behind the couch.
Michael Lynch
58
Posted 08/01/2022 at 17:40:11
Mykolenko doing a Per Koldrup here. Did anyone check whether he could jump or defend before we signed him?
Ashley Roberts
59
Posted 08/01/2022 at 17:40:51
Out of all of the possible permutations for todays game I hazard a guess that nobody would have come up with todays starting 11. I have to say the set up and the players employed just beggars belief. Again just showing his stubbornness. Win, draw or lose I have lost patience with this Spanish clown. The sooner he is gone the better.
Ciarán McGlone
60
Posted 08/01/2022 at 17:43:04
I'd take a defeat if it got rid of this gabshite.
However I think he's here come what may. What an absolute shambles we've become.
Mike Hughes
61
Posted 08/01/2022 at 17:50:53
We have the ability to make Hull look like Man City!
Everton - charity of the year / decade.
Come on FFS.
Shameful.

Edit.
1-1
I never doubted for one minute.
Don't mess with the big boys!
😁
Phil Smith
62
Posted 08/01/2022 at 18:03:44
As clear as a handball as you'll ever see. Defo a pen!
Second assist this week for Kenny.
Fran Mitchell
63
Posted 08/01/2022 at 18:22:01
Really poor for the first 15-20 minutes. Slightly better afterwards.
Gordon with 2 goals and 2 assists in 3 games now finding his production, and he should have scored.
Grey our clear best player.
The rest have been shite. Kenny got an assist, but has otherwise been awful. Same for Gomes. Rondon is the opposite of an outlet - he's the centre forward where attacks go to die.
Tony Hill
64
Posted 08/01/2022 at 18:22:13
Two fine goals of the type we all want to see.
Jay Wood
[BRZ]
65
Posted 08/01/2022 at 18:27:09
Disturbingly bad for 20 minutes, then a moment of real class between Gray and Gordon for the equaliser.
The way Gray controls a high dropping ball. His movement and pass into Anthony. Gordon's 'stillness' but good positional awareness. His touch and perfectly weighted pass back into Gray. Nice cool finish. Totally changed the momentum of the game.
Two good crosses by Kenny in the same attack with the second begging someone to put it in the net. Just surprising it was Gomes who did so.
Still some disturbing moments and very easy for Hull to play through us at times, but Anthony could have had two goals. Shooting near post when the odds favoured shooting across the keeper. Taking too long and getting his body shape all wrong when running clear on goal. If VAR was available, we probably would have had a pen, too.
Far from comfortable, but we should see this through.
Ernie Baywood
66
Posted 08/01/2022 at 18:28:03
Referee enjoying not having to go to VAR.
We obviously have the odd moment of quality, but playing against a team struggling in the division below you'd expect that as a minimum.
Defensively dreadful.
First impression of Mykolenko is that we've signed a full back who can't take a legal throw in. That throws up a few flags for me. But let's give the rest of his hand some time to be judged.
Let's be thankful for Demarai.
Dave Abrahams
67
Posted 08/01/2022 at 18:28:04
Both defences very poor, especially Everton's, I think we need to score another couple of goals to win this game, I was literally shaking every time Hull attacked we are that open with two in midfield again and Gomes, good goal, doesn't know how to tackle.
Terrible having to watch the poor way we defend, silly setup again but but there is no organisation in this defence, nobody taking charge.I hope we score a quick couple of second half goals to relax my shattered nerves.
Andy Crooks
68
Posted 08/01/2022 at 18:30:13
Gordon, Gray and Gomez playing well. Confidence growing. Might that early goal be the lowest point? The dark before dawn?
We are Everton, nothing will be as expected.
Nicolas Piñon
69
Posted 08/01/2022 at 18:30:54
Great goal by Gray and As well nice one from gomes. Serious playing from the ucranian, at léast I don't deslike him hey. Weve a good bench so should be a favourable thing as well. COYB!
Andrew Hight
70
Posted 08/01/2022 at 18:32:09
Keane is a dreadful defender. Team has a v weak spine. Gordon playing well and Gray also.
Jerome Shields
71
Posted 08/01/2022 at 18:32:55
Evertons defence looks very very poor. The new guy looks ok, but more new defenders needed urge urgently.
Tony Hill
72
Posted 08/01/2022 at 18:33:19
Build and build and build.
Lovely to see Kenny developing confidence under Benitez, who has been very complimentary about him. Dave Abrahams may yet be right about him.
Joe McMahon
73
Posted 08/01/2022 at 18:34:47
Keane is awfull. Kenny not Brill, Coleman 62 next week. Not looking forward to Leicester in a few days. Christ this club needs shaking from the foundations upwards.
Mike Gaynes
74
Posted 08/01/2022 at 18:39:27
Don't know if anyone was aware of it, but Gomes' goal was historic. The first headed goal of his career. 300 games, all levels, first ever with his head.
Jerome Shields
75
Posted 08/01/2022 at 18:42:56
Think Kenny is ok, playing more forward than defence.
Phil Smith
76
Posted 08/01/2022 at 18:47:02
Gones keeps getting caught on the vall. He slows things down too much. Think he'd do really well in Italty but not the game for him, despite his goal. Rondon putting his usual less tgan useless performance in. Need a 3rd here.
Ernie Baywood
77
Posted 08/01/2022 at 18:54:36
How is Rondon still on?
It's exactly the type of game where you give a youngster a go. And Rondon has been terrible.
Someone make sense of it for me.
Simon Dalzell
78
Posted 08/01/2022 at 18:56:12
Rondon is abysmal. How on earth is he still on. They made changes and scored. We could have sealed it if Benitez had a clue.
Phil Smith
79
Posted 08/01/2022 at 19:07:22
From what I've seen as our new left back is not impressed at all. Half hearted attempts to clear. Pretty much as bad as Digne of late. 2 clear penalties denied now for handball.
Colin Malone
80
Posted 08/01/2022 at 19:13:03
Why hasn't he took the lizard off ?
Ernie Baywood
81
Posted 08/01/2022 at 19:17:47
Gbamin on. I give up.
Ciarán McGlone
82
Posted 08/01/2022 at 19:19:27
Im treating Everton as a Chris Morris comedy from now on.
Complete and utter wind up.
Ernie Baywood
83
Posted 08/01/2022 at 19:21:00
I'm imagining Benitez saying "linesman, you've just cost me my job".
Alex Gray
84
Posted 08/01/2022 at 19:22:46
Kevin Friend is dross. Not as dross as us though.
Colin Malone
85
Posted 08/01/2022 at 19:23:34
If we had VAR we would be through

Gavin Johnson
86
Posted 08/01/2022 at 19:28:14
What is Rafa doing?! The game is crying out for Rondon the cart horse to be replaced by the lively Dobbin. Dobbin would have been away from the Hull player on Rondon's break.
The referee is absolutely abysmal!
Michael Lynch
87
Posted 08/01/2022 at 19:29:36
Mykolenko fitting in well so far
Danny Baily
92
Posted 08/01/2022 at 20:06:39
Two wins now since September. We're being spoiled by Rafa and the boys.
Jay Wood
[BRZ]
93
Posted 08/01/2022 at 20:07:50
Goodness, that was a painful watch.
But we're through. That's what matters.
Michael Kenrick
94
Posted 08/01/2022 at 20:11:48
What on earth can you glean from that? For long periods, Everton were their usual dreadful selves and made the whole thing extremely difficult for themselves and utterly draining for us. But I suppose that's the recipe for a quintessential FA Cup tie.
Clive Rogers
95
Posted 08/01/2022 at 20:13:16
Not impressed with Mykolenko, very average.
Paul Jones
96
Posted 08/01/2022 at 20:13:58
For this miserably misfiring squad, getting to the 4th round represents a cup run.
I can't see us progressing any further.
Fran Mitchell
97
Posted 08/01/2022 at 20:14:31
That was awful. Just awful. Never has an Everton win felt so deflating.
The problems are endless. Terrible, terrible situation we find ourselves.
We have some good players, but depend totally on their moments of magic rather than having any team structure.
Our set up on set plays is pathetic and whoever is responsible for our coaching on set plays needs sacking immediately.
And Rondon... he's become the whipping boy, the player to focus our frustration. He's not the only problem, not at all but the fact it took 110 for Dobbin to come on, and that Rondon played 115 minutes, in a cup game is indicative of the direction we'll take under this manager. Rondon is awful. He's slow, and he barely uses his size/strength. Awful player. And has become the Benitez representative on the pitch.
Some players looked pissed off at the end, Grey, Allan among them they do not look happy.
This club has no chance of winning the FA CUP
Dave Lynch
98
Posted 08/01/2022 at 20:15:27
Ji agree totally Michael.
There is no way we will get away with playing that badly against a good side.
Hand on heart I was willing to give Benitez a good run at it but I'm wavering now...seriously wavering.

Brian Williams
99
Posted 08/01/2022 at 20:15:55
Well what I make of it Michael is that we're really poor in midfield, passive and lacking aggression and a desire to go forward.
Whereas Hull (yes Hull) were as good and at times better than us in midfield. It's been our Achilles heel for fucking ages and we still haven't got a grip on it.
Barry Hesketh
100
Posted 08/01/2022 at 20:16:07
I mentioned this morning that we could be in for a roller-coaster of a game and so it proved. The concerning thing is that Hull made so many chances early doors and didn't have to do too much to do so.
Once Everton settled it looked as if it would be a relative easy passage to the next round, however, due to instruction or because they decided to sit back early in the second-half, they allowed Hull to gradually get back into the game. Even at three-two there was always a nagging doubt that Hull might pull something out of the fire. The referee was appalling, one hard not to give handball penalty and another possible handball penalty, but he was never ever going to give anything of importance to the Blues.
Into the fourth round, but I hope that in the next cup match that Everton don't try and stroll through a game. Gray was very good, Gordon was fine until he ran out of steam, but I think that Allan probably kept his manager in a job tonight.
Terry Farrell
101
Posted 08/01/2022 at 20:16:28
Got out of jail there!!!!!! Rondon sorry buy he is terrible in any situation you'd like to discuss.
Peter Warren
102
Posted 08/01/2022 at 20:16:41
Clive, he was rubbish today but have to wait and see. I remember both Jags and Lescotts' debuts - they were terrible. Fingers crossed.
Joe McMahon
104
Posted 08/01/2022 at 20:20:09
That was hard work want it. Feel I was a bit harsh on Kenny earlier, he did ok. Bloody hell though Benitez is baffling with subs. Hope Gray will be ok for Tuesday.
Fran Mitchell
105
Posted 08/01/2022 at 20:21:49
In terms of the Mykolenko.
He looked very off the pace. But it is is debut in a poor performing team. The midfield being so overrun is causing issues all over the pitch.
So let's not write him off. Let's go be him support.
Don't forget that after 5 games last season, people were writing off Godfrey. He looked way out of his depth and was a weak link (we were scoring freely at the start of last season, but conceding far too many). Godfrey was being slaughtered as a flop. Then just a few months later he was our best player.
Same with Baines. Long ago. When he came in, he was a bit part player and didn't look like a world beater, with Lescott first choice left back. Slowly Baines adapted and became one of our best players in a generation.
Jagielka was also woeful at the start of his career with us. And he turned out alright.
So let's give him a chance. He's young.
Tony Twist
106
Posted 08/01/2022 at 20:23:45
New boy Mykolenko was ok, he has only just arrived for Christ sake. Just pathetic otherwise. Wasting time all of the second half of extra time but that sums us up, we could have won that easily but once ahead they just go for the easy option and that's being lazy. We are just going nowhere at the moment. A win is a win I suppose but they were just embarassing themselves.
Mike Hughes
107
Posted 08/01/2022 at 20:25:35
Townsend post-match:
"One thing this team has is character."
Really?
And Benitez had just said the same thing.
Well, we are going to need it given our situation.
So, if we have character, maybe there is just not much competence / talent on and off the pitch despite £0.5billion down the toilet.
Shearer saying what we have known for a very long time. There's a lot wrong at the club and Benitez is just one symptom of it.
Anyway, a win is a win.
Come on you Shrews!!!
(And well done Cambridge.)
Jerome Shields
108
Posted 08/01/2022 at 20:25:36
Got through, not much else. The weaknesses down the spine of the team from front to back are obvious.
Ed Prytherch
109
Posted 08/01/2022 at 20:27:19
Who had the worst game: Benitez, Rondon or Friend?
Good that the tv cameras picked up the "BENITEZ GET OUT OF OUR CLUB" banner.
Kieran Kinsella
110
Posted 08/01/2022 at 20:27:40
I'll be the Tony Marsh then. All this talk of "remember Kevin Brocks pack pass" and "Jags had a poor debut" as some sort of optimistic outlook. We played poorly and beat terrible teams under every manager since Royle and it never led to a repeat of 1984. We've had terrible debuts from Kroldrup, Besic etc and they went on being terrible. WTF not start Patterson? We think it's easier to drop him in against Leicester? Why persist with a failed five at the back system featuring Kenny and Coleman who've seemingly been replaced? Why let Dobbin play barely a few minutes if he's so good we want to keep him? Why take risks with Begovic? Pickfords played once in three weeks so hardly needs a rest. What a pile of shit
Jim Bennings
111
Posted 08/01/2022 at 20:31:55
Ed
F#ck off why is it good that our fans have been made to look knobheads on telly?
The problem is and always has been with the board, once Benitez leaves this same crop of player will still be here, the old boys will still be on the board to chat about old times while the shit in front of them continues to stink and smoulder.
Bill Gienapp
112
Posted 08/01/2022 at 20:32:02
I was pretty indifferent to the outcome. Obviously I never want us to lose but, let's be honest – we ain't winning the FA Cup this year.
And if we'd lost, well, I doubt it would have gotten Benitez the sack, but maybe... just maybe... it would have forced him to confront hard truths about his tactical approach (eh… probably wishful thinking though).
Darren Hind
113
Posted 08/01/2022 at 20:32:46
I feared the worst today if I'm honest, But we got the job done and live to fight another day.
Lots to be concerned about, but I would have settled for this result this morning.
Give us a kind draw in the next round. Let the new signings bed in.
Stay in the competition. That's the name of the game. The arl fuckers on here will remember being humbled in Dublin before going on to what many feel was our finest hour.
Philip Bunting
114
Posted 08/01/2022 at 20:40:01
Oh so poor, messages from non-Blues who could not believe what they were watching says it all.
Few observations... Jonjoe Kenny should be nowhere near the first team, he's just not got it.
Gbamin... what does he do? So slow and ponderous.
Rondon… at least he tried but clearly not good enough.
Keane... plays us into trouble too often... same with Coleman. I have doubts with Allan also. Why do we start like we are doing a warm-up?
Positives: Gray, Gordon, Begovic, Godfrey bringing ball out to make things happen plus at least we have Mina, Richarlison, Calvert-Lewin, Branthwaite, Pickford and Patterson to come in.
Negatives: team shape, setup, defending, pressing etc... what are we doing at Finch Farm? We need a new captain but I don't see too many that would deserve it in that squad.
Tommy Carter
115
Posted 08/01/2022 at 20:41:00
@106
Tony.
I have to step in with a counter view. Yes, he is new to English football and for that, I will forgive him not adapting to the intensity of the game. Maybe misplacing and mistiming passes. I will forgive him being physically outmuscled.
However. I find it hard to forgive a player who bottles a cross and ducks out of the way, allowing the opposition to score. The ball was there for him to win and he decided in a split second, that he didn't want it.
Brian Hennessy
116
Posted 08/01/2022 at 20:44:26
That save from Begovic was absolutely outstanding.
A bit worried about Mykolenko as he looked to be lacking pace, having said that he did no worse than Digne has been for two years and it was just his first game.
Hats off to Allan. He didn't fade in extra time and put in a real shift. Townsend's goal was typical of him, he has been a great signing. In Gray and Gordon we have two excellent wingers. If we could get someone, anyone to take Gbamin off our hands in this window it will be a miracle, he offers nothing.
Rondon is just a hopeless case and makes me wonder how some players ever get a professional contract as a footballer.
Same goes for some managers. We won today in spite of Benitez. Five defenders and one forward against a team near the bottom of the Championship. The man hasn't got a clue.
We have a good enough squad to not get involved in a relegation fight this season. But pair our squad with this manager and we are no better than any of the teams in the Bottom 6.
Tony Hill
117
Posted 08/01/2022 at 20:47:25
Bad business. We won.
Terry Farrell
118
Posted 08/01/2022 at 20:47:27
Correct, Darren, the FA Cup has been won by many teams whose fans have said "Let's be honest, we won't win it!
Massive banana skin avoided but we should have been 4-1 up at half-time. Simms should have come on for Rondon in the second half.
I want the manager to succeed but, if he plays 5 across the back and Rondon up front one more time, then I think he is a lost cause.
Joe McMahon
119
Posted 08/01/2022 at 20:49:14
Kieran, I agree and the Brock back pass was also 37 years ago. I just don't understand the obsession to looking decades in the past.
Even though i'm not happy with Benitez as manager, I thought the banner was embarrassing. We have been a nothing club for years, the problems aren't all down to the manager. Moshiri and Kenwright are the bigger problem.
Bill Griffiths
120
Posted 08/01/2022 at 20:52:23
I can't believe the cretins on here slagging Mykolenko off.
For god's sake, he was thrown into a dysfunctional team and people seem to think he should perform like Messi. Give the lad a chance.
I didn't want Benitez and, until just recently, thought he deserved the benefit of the doubt and a chance to turn things round.
However I am now of the the the opinion he's got to go. To continually play Rondon instead of Simms or Dobbin is a disgrace.
Mike Gaynes
121
Posted 08/01/2022 at 20:53:21
Tommy #115, someday, maybe, you'll post something I agree with.
Today ain't the day.
He didn't bottle anything. He just missed it.
Bobby Mallon
122
Posted 08/01/2022 at 20:53:34
Tommy Carter, he didn't duck. Watch it again, he tried to flick it out towards the edge of box... it just went over his head.
Brian Hennessy
123
Posted 08/01/2022 at 20:54:04
Regarding the banner, I say fair play to the Everton fans who brought it to the game and held it up for the cameras to see. I was prepared to give Benitez a chance but he has proved over the last 2 months that he hasn't got a clue.
My only hope is that he gets rid of a few of the wasters at this club before he goes and then, when he gets his next job, makes Rondon his first signing.
Bill Gienapp
124
Posted 08/01/2022 at 20:54:55
Terry (118),
If we do go on to win the FA Cup this season, please do bookmark my previous post and throw it in my face. I will happily eat crow until I burst, Monty Python-style.
Re: Gbamin, I feel for him. It's understandable he's a shell of his former self – he hasn't played for two years. So it's the old Catch-22: he can't play because his form isn't good enough, but he can't regain his form unless he plays.
If an offer isn't forthcoming, I think we really need to try and line up a loan move for him so he can at least get regular minutes over the second half of the season. It's the only way he might be salvageable at this point.
Dave Abrahams
125
Posted 08/01/2022 at 20:54:57
I hope they wrap Gray up in cotton wool until Tuesday night. There wasn't anybody up front doing anything to get excited about. As for the defence, the least said the better.
Godfrey held them together and Jonjoe did well providing an assist and had a decent game but they just look so vulnerable with nearly every attack.
Not telling anyone what they don't know but Leicester will be another difficult game, as was tonight's, but Leicester are a different different kettle of fish to Hull and much faster.
Oliver Molloy
126
Posted 08/01/2022 at 20:56:56
We should have had three penalties and had enough chances to score a few more.
For fuck's sake, we are through to the next round and this match was always going to be tough.
Our new left-back getting slagged off after one game – fucking wise up.
I'm 50 / 50 with Benitez, no-one can argue – the club and the playing staff were a fucking mess before he came in. He's trying to change things, it's going to take time and he will make mistakes along the way.
Imagine being a Barcodes fan!

Barry Hesketh
127
Posted 08/01/2022 at 20:57:24
Agree, Bill, he was probably at fault for the first goal, but 45 seconds into a game and barely a few days with the club, in a reorganised defence, it's very unfair to judge him.
Anyway I think he is Hibbert's long lost Ukranian cousin; I wonder if we'll see him with a fishing rod soon?
Rondon did win a few headers later in the game when the central defenders were knackered, but I felt sorry for him today; he tries very hard but isn't fit or good enough for this level of football. I sometimes wonder what he's done to Benitez to keep getting picked.

Neil Copeland
128
Posted 08/01/2022 at 20:58:37
Terry #118, I hope you are well. Agreed mate, I have backed Rafa thus far but why does he insist with such ridiculous formations, talk about make hard work of it …..
There again, his tactics got us through so he must be a genius!!
Pat Kelly
129
Posted 08/01/2022 at 21:06:07
Start Dobbin instead of Rondon against Leicester or I give up on Rafa. But he's so bloody-minded, I doubt he'll do it.
Steve Shave
130
Posted 08/01/2022 at 21:06:54
Relieved to be through; however, that first 15 minutes was the worst yet. We were truly awful.
Positives to take were that Gordon and Gray look class and seem to like playing together, switching it up, cutting in. We have Mina, Calvert-Lewin and Richarlison to return. England's No 1 in goal, and we may just yet (if we can shift some out) buy a midfielder.
Personally, I feel disgusted at some on here shaming Mykolenko on his first game on foreign soil in a team who are utterly shite. Give him time… oh wait, yes, I forgot: we are the mighty Everton and should be turning in world-class performances every week. Jesus wept.
We had two stonewall penalties turned down; apart from that crazy opening, we could have run away with it, tactics and substitutions baffling at times.
I too don't understand why Dobbin doesn't get more minutes, we need to woo him right now, give him game time. I like the look of him and he offers already more than Rondon.
I was disappointed not to see Patterson today. We got through, fingers crossed for the draw.
Barry Hesketh
131
Posted 08/01/2022 at 21:08:22
Pat @129,
I'm hoping Dominic is back for Tuesday, in which case Rondon, should at best be on the bench. But I agree, even if Dominic isn't ready, no way should Rondon start the game.
Brendan Fox
132
Posted 08/01/2022 at 21:09:43
Benitez is fucking clueless.
First off, did he not learn anything about the formation that was so disastrous against Brighton? Five defenders picked against Hull who are 19th in the Championship reeks of cowardice. Then, to add insult to injury, the team go a goal down inside 45 seconds to another fucking set-piece.
Hull could have been two- or even three-up before the Blues got going in the game after 20 minutes, all brought about by a negative team selection and formation selected by the useless cunt Benitez.
Were it not for Gray & Gordon, that game would have been out of sight for Hull.
What the prick Benitez sees in Rondon is baffling to all Evertonians; he's got no pace and offers zero goal threat but still he persists playing him. Why would you not give a go to the likes of Dobbin or Simms to go and prove themselves with pace and hunger in an FA Cup game to try and build some confidence and momentum? I mean even Tosun looked more likely to score than Rondon and he was only on the pitch for 3 minutes.
Townsend's goal in Extra Time has bought him some time but Goodison on Tuesday will be a different prospect against a Leicester team starting to score goals. Benitez loses that game against Leicester at his peril.
Keith Meakin
133
Posted 08/01/2022 at 21:12:39
Absolutely dismayed with Rafa's team. I've supported him since day one but that was really turd. Begovic kept us in the game, that was embarrassing early in the match.
Jamie Evans
134
Posted 08/01/2022 at 21:12:52
We need a beast of a centre-back who wins his headers. I've never seen a defence so poor in the air.
Andrew Keatley
135
Posted 08/01/2022 at 21:14:15
Brilliant winning goal from Andros Townsend, who produced another moment of high quality to get us into the 4th Round draw. Begovic made a couple of excellent saves, and Gomes grew into the game after a tough first 20 minutes.
I didn't think it was the horror-show that other posters have outlined above. We got bullied at times – and watching Eaves pin Godfrey time and time again, keeping him at an arm's length while Godfrey just let him lay the ball off unchallenged was hugely frustrating.
Keane and Coleman were vastly improved, and Allan was industrious if messy. Mykolenko got a tough baptism and hopefully it will serve him well. Rondon toiled without posing much threat, and Gordon and Gray fluctuated between being magnificent and profligate.
Could have been a lot worse; if and when we're able to bring Calvert-Lewin and Richarlison back, then hopefully Benitez will have no option but to try and play a more attacking line-up as Gray, Gordon and Townsend deserve to be starting games right now.
Paul Swan
136
Posted 08/01/2022 at 21:15:45
Sick and tired of listening to Shearer and that knobhead Lineker going on about the money wasted and how it's not Benitez's fault. Correct: it's not all his fault… but these same media knobheads were the ones criticising the supporters for calling out all of their high profile management failures like Koeman, Fat Sam etc – who were absolutely complicit in the ongoing car crash that is Everton.
Everyone could see that the formation tonight was wrong, it was wrong in the last game at Brighton, it was completely wrong in the derby. We are not set up correctly, we cannot defend set-pieces and we constantly loose out in personal battles all over the pitch.
Benitez got lucky tonight.
Kieran Kinsella
137
Posted 08/01/2022 at 21:17:53
Iwobi not in the squad. Did he say he doesn't want to play either? Good luck getting rid of him. What would Peter Reid say?
Barry Rathbone
138
Posted 08/01/2022 at 21:21:42
Extraordinary how fans seem angry about a win.
Tony Abrahams
139
Posted 08/01/2022 at 21:21:55
Looks like Leicester will try and get Tuesday's game called off again, because they have only got around 9 fit senior players according to the latest reports.
Jon Harding
140
Posted 08/01/2022 at 21:25:58
Iwobi in Cameroon with Nigeria!
Oliver Molloy
141
Posted 08/01/2022 at 21:26:04
He's away Kieran - keep up !
Kevin Dyer
142
Posted 08/01/2022 at 21:27:52
#111 Jim, agreed the banner was beyond stupid + made the club look bad on national TV. Difficult to imagine, but just say the team played great + ran out 5-0, do they still get the banner out?
The team is stinking it up but definitely haven't downed tools on the manager. If Benitez is going to be fired, it'll be down to not winning games + won't have anything to do with fan reaction, so why not just support the team, bin the stupid banners + let events take their course?
Barry Hesketh
143
Posted 08/01/2022 at 21:28:34
Tony @139
I think 9 men might be enough to give our team a stern test at the moment :)
Colin Malone
144
Posted 08/01/2022 at 21:30:35
Allan MOM.
Kenny has been coached to do a 1960s 70s fullback job, but sadly for JonJo that's not the game any more. JonJoe and the lizard should off went off earlier than they did.
Mykolenko,? those who have a negative opinion obviously haven't played football.
COYBB.

Martin Mason
145
Posted 08/01/2022 at 21:31:45
We have the basis of a team far better than what we are playing and I put it down to the players not being able to play in the formation they are asked? I thought that Gbamin played some decent stuff when he came on?
Alex Gray
146
Posted 08/01/2022 at 21:36:09
Good moments of quality but absolute dross the rest of the match. Happy to be in the pot but not many positives to take from that.
Fran Mitchell
147
Posted 08/01/2022 at 21:37:58
If we eventually move to a 3 man midfield, there are rays of hope.
Gordon and Grey both look exciting. I wonder how Gordon could fare in centre mid (as a no10) when Richy returns.
But even if not, in Richy, Gordon, Grey and DCL (and Dobbin if given opportunities) we have attacking players that can intertwine, that has pace, and can score goals. And in Townsend we have a decent offering off the bench of someone who can score goals and cross when we need a more direct approach.
We really need to sort out the midfield and defence. The backline is panic striken, leading to constant mistakes and failure to clear lines.
The midfield is woefully open and out of sync, failing to hold the ball and control the pace of the game (even against a team 19th in the Championship).
These issues are down, mainly, to set up and coaching.

Simon Dalzell
148
Posted 08/01/2022 at 21:40:06
It's not 'Extraordinary that fans seem angry about a win " It is of course the wretched manner. Benitez's stubbornness/ ignorance, playing 5 at the back against a team 19th in a lower league when it backfired previously against Brighton at home etc.. The reluctance to change things during the game is staggering. Team selections, substitutions ( lack of ) perplexing. He's even worse than the other bums we've had for managers recently. No wonder the banner came out.
Eddie Dunn
149
Posted 08/01/2022 at 21:41:34
Kieran -Iwobi is with Nigeria in AFCON.
Tommy -the lad jumped for the ball but mistimed it and it went past him- he didn't duck. He looks a decent buy to me.
Rafa is his own worst enemy with weird line-ups and zonal set plays.
Hope the Leicester game is called off as Gray looks crocked and our midfield look knackered.
As for the BBC.
What terrible punditry, and commentary.
Boring, tedious oafs the lot of them. Jermane Jenas takes himself so seriously and Shearer is a cretin can't wait for Newcastle to waste £500,000,000 and still end up in the Championship.
Stephen Tyler
150
Posted 08/01/2022 at 21:41:46
FFS! Leave the new lad alone.
His first ever game,a potential banana skin FA cup tie away from home and some of you are giving him grief already. Unbelievable!
Tony Abrahams
151
Posted 08/01/2022 at 21:44:27
We are absolutely desperate for a central defender, who is both committed, commanding can organize, and can get us playing further forward and on the front foot.
They highlighted Everton's half-hearted high-press, but they didn't highlight why we have got such a half-hearted, high-press.
Stu Darlington
152
Posted 08/01/2022 at 21:45:52
Plus ca change, plus c'est la meme chose !
Martin Mason
153
Posted 08/01/2022 at 21:48:42
Barry@138 I think you have to take positivity from a win in a game where only results matter. We still have players out injured and the club is in turmoil. I won't be negative on a win.
Barry Rathbone
154
Posted 08/01/2022 at 21:50:41
Simon Dalzell 148
Utter bullshit it's because his name is Benitez and he used to manager the shite hawks across the park.
We won try and enjoy it.
Paul Hewitt
155
Posted 08/01/2022 at 21:53:36
By the looks of it Tuesday will be called off. Leiscter saying they haven't enough players.
John Keating
156
Posted 08/01/2022 at 21:57:03
I watched a so called injury/covid decimated Leicester side shred Watford before watching our game
If both teams play the same midweek we may well see our biggest ever home defeat
What Benitez says at his press conferences and interviews bears no resemblance to what he puts out on the pitch
Benitez's tactics and team selection is shite but individually and collectively the players need a good look at themselves.
Simple passing and control so poor, winning 50/50 balls seems beyond some.
Concentration and commitment is minimal
Seems we've been here before, well under every manager since Moyes
Dave Abrahams
157
Posted 08/01/2022 at 21:57:16
Mykolenko didn't have a good game for plenty of valid reasons,first game in a foreign land, has to get used to the faster pace in England, playing in a panic stricken defence, give him time, does anyone remember Richard Goughs debut in a pre season friendly at Goodison, it was much worse than this lads, but what a season Gough had after that game, in fact a player like Gough is exactly what we need now, not for just his calm demeanour but the way he organised the defence.
I was knackered after that match covering every cock up from my armchair.
Pete Jeffries
158
Posted 08/01/2022 at 21:58:49
For large parts of the games, we play scared and with no confidence
The players don't seem to have faith in the managers tactics or how its supposed to gel together
Not helped by his baffling stubbornness to keep Rondon on the pitch which is where he loses the bulk, if not all of the fans.
Plus the defence cant head a ball away and are hopeless from set pieces. Without a dominant header player or two like Mina who is a lost cause, Keane Holgate and Godfrey cant do that job. Where is Branthwaite by the way ?
Thanks to Grey and Gordon then Townsend we got through tonight. Allan never gave up either.
The crowd won the match v Arsenal and will be vital again on Tuesday to lift confidence but please minus Rondon, cant afford 10 men v Leicester
Des Farren
159
Posted 08/01/2022 at 21:58:54
Barry @ 138. My very feeling! Do we want the team to win or Rafa to lose? The LF would indicate the latter.
Barry Hesketh
160
Posted 08/01/2022 at 22:01:16
This comment caught my eye in response to the Guardian match report.
Wouldn't be surprised if Jonathan Pearce appeared on a future edition of The Masked Singer as Tiger Man sometime soon. Impartiality wasn't part of it listening to his commentary, he must have been inconsolable after extra time, as Jermaine Jenas played Florence Nightingale to help him get through the heartache of an Everton win. Everton should have been awarded two stone cold pens as referee Friend was anything but to the startled visitors. Hull City certainly had their moments and contributed to an exceptional ding dong cup tie. The BBC camera's didn't need to show the embarrassing banner held aloft in the away end, but they should have zoomed in on the imbeciles throwing bottles towards the Everton players, one week its going to be something heavier than plastic I'm afraid. All in all Everton do what Everton do, make you sweat, chew your nails and break your new years resolution of no words being shouted out at regular intervals consisting of four letters
I muted the sound on the BBC and it sounds as if I was right to do so.

Tony Hill
161
Posted 08/01/2022 at 22:03:36
Best fans in the land. Are we really?
Mike Price
162
Posted 08/01/2022 at 22:04:38
Mykolenko was a bit of a worry. Last week, I read he was 6'2", very fast and powerful! He couldn't get close to his man, kept showing them the line and when they cut inside they left him for dead. I just kept imagining Salah running at him and wincing. His heading was like a kid who was always last pick at school and as someone else mentioned he couldn't do proper throw ins! I know he just got here but I hope we've not signed another Tosun and that proper due diligence took place.
Obviously it's early and hopefully he'll come good but not a great first impression.
Kevin Dyer
163
Posted 08/01/2022 at 22:04:55
Btw Leicester are actually worse at defending set-pieces than us. Let that sink in.
John Cartwright
164
Posted 08/01/2022 at 22:09:09
Why did Benitez persist with Rondon ? Why was Gordon substituted ? What did Gbamin do to play, and Tosun wants to play out his contract rather than play for us yet still brought on, baffling managerial decisions. Awful awful decisions
Tommy Carter
165
Posted 08/01/2022 at 22:10:18
@ 157.
Strange comparison to make there but I enjoy any reference made to Richard Gough.
In the list of the best centre halves we have had in the last 40 years alongside Lescott, Jagielka and Ratcliffe.

Barry Hesketh
166
Posted 08/01/2022 at 22:10:47
Tony @161
I suppose it depends on how you define 'best', let's be honest there is an element of bad fans at all clubs, but what Everton fans do better than most is to travel up and down the country, through thick and mostly thin times.
If they ain't happy with what they are seeing they are surely entitled to express that in whatever legal way they choose. I do hope I'm around long enough to see how some of the more succesful sides fans behave when they go through six years of awful football and terrible results, not to mention 26 plus trophyless years, whilst seeing their best players sold on a regular basis.
Paul Hughes
167
Posted 08/01/2022 at 22:12:42
Give Mykolenko a break. First game, playing in a disfunctional defence. He did OK. Gomes had his best game for 2 years. Allan improved as the game went on, and was like the Duracell bunny at the end.
Gray and Gordon were excellent, but, with a bit more composure we could have been 3 goals clear.
Begovic - no chance with either goal and made an absolute worldie of a save at the end.
Not pretty, but we're in the hat.
Andy Crooks
168
Posted 08/01/2022 at 22:13:27
There were some positives. A few players had good games. There was no lack of effort just a serious lack of confidence and a very strange set up.
Also, I can't recall us winning one fifty fifty ball which I suspect has some relevance but I'm not entirely sure what.
Best for me was the performance of Gbamin who I thought looked good when he came on and whose confidence will have been boosted.
I think the worst is over. Still some shit ahead but Begovic might just have been the man who turns it round. Two nil down in ten minutes could have finished us.
Don Alexander
169
Posted 08/01/2022 at 22:14:01
Ever since Bobby Brown Shoes caused dressing room unrest and a real decline in our football to the extent that Seamus, Lukaku and Bainsey told the media after a much needed three wins late in the season that they had been achieved by "reverting to the old Everton way" I've yet to see any of the next managers ever get close to what I call the old Everton way. To me it means the opposite of what all of them have produced.
We need to stop being so frail in challenging and/or retaining possession (as we were tonight for about twenty awful minutes from kick-off and routinely for the rest of the match too), to stop conceding set-piece goals that'd be unacceptable at amateur level, to get all of our players to shoot hard and accurately in the manner that Demarai and Andros do, and to get fucking angry with ourselves on the pitch when we see teams like Hull City, 19th and well in the relegation mire in the Championship by the way, swan through us as though they're Barcelona.
I don't usually take a lot of notice of Shearer but he was spot on in alluding to the stupendous mess Benitez has been hired to just start to even try to cure, a stupendous mess overseen and yet uncorrected by those still in the boardroom and Finch Farm.
It'll be a long haul.
Anthony Jones
170
Posted 08/01/2022 at 22:14:14
Kenny looked better than Mykolenko.
Concerning.
Tom Harvey
171
Posted 08/01/2022 at 22:14:25
Clive Rogers @ 95
Give him a chance Clive, it's only his first game, we won't see his best until he's comfortable with his his new world.
Paul Swan
172
Posted 08/01/2022 at 22:18:16
An incredible amount of bias has crept into football punditry these days and game get chosen for TV which should never feature. Saw the ITV game earlier today featuring the imbeciles at Millwall. The lovable Millwall fans were bigged up yet again for yet another live game featuring them but ITV spent most of the game apologising for the foul language picked up on the pitch side mics. What a surprise or is it just that someone choosing the live games has some form of vested interest in Millwall FC? We also saw and heard the sickening booing when the Crystal Palace players took the knee whilst the lovable Millwall players chose a 'different' show of solidarity. Why give these cretins airtime? There needs to be a serious appraisal of televised football in this country to stop this obvious bias
Paul Hewitt
173
Posted 08/01/2022 at 22:19:59
How the fuck can people have a go at Mykolenko?. It's the lads first game, get off his fucking back.
Alan McGuffog
174
Posted 08/01/2022 at 22:23:08
Paul...he must never ever play in the blue shirt again. A total disgrace to the club. The worst full back since the days of Tiger McLoughlin and Peter Scott. And another thing, how dare, how very dare, he not be 6' 2""
Tony Everan
175
Posted 08/01/2022 at 22:25:21
Dave 157, I thought that Branthwaite gave us some of that when he played the full match v Chelsea in December. He's 19 though and it's too big an ask for the kid to be a consistent Premier League CB just yet. We definitely need a CB who has some pace, can perform every week and get the defence organised.
It's a big shame that Yerry is out again as I thought he was making good progress before Columbia disgracefully overused him. Benitez will have to look for immediate improvements in that position, probably by selling Holgate and the lesser-spotted Mina to fund it.
In the meantime may well be scouring the loan market to bring someone in to stabilise our defence, or even a permanent if we get offers in for Holgate. I'd definitely keep Mina until the summer if he gets fit, he's quality and may well be needed.
Tommy Carter
176
Posted 08/01/2022 at 22:26:35
@170
I disagree. I thought tonight though was a wonderful demonstration of the fine margins in football.
For large parts and key moments, Andre Gomes and Demarai Gray were simply doing things that were on another level to Hull. And so you would expect.
Jonjoe Kenny was probably operating at his maximum level and was still found wanting. Keane likewise unfortunately.
Begovic showed the difference in class between he and his opposite number and it was this that gave Everton the passage. Well done Asmir.
Gordon and Simms looked better than this level for me. Which is a good sign.
Still. And back tom my original point. The margins in football are so very fine.
Mike Oates
177
Posted 08/01/2022 at 22:27:10
The biggest surprise tonight fir me was how well Gbamin played when he came on. He had pace, control, strength, everything we bought him for. Now give him a chance in a 3 man midfield and we might start to play some football. Gomes not far behind
Tony Hill
178
Posted 08/01/2022 at 22:41:44
Barry @166, I'm talking about the reaction to a Cup win, and the toxicity that lies behind that reaction. Barry Rathbone @154 is absolutely right.
I've done a great deal of moaning on here and I agree that much of the rage and frustration have been fully justified. But I think we are starting to fester and to poison ourselves.
It was a chaotic night tonight but I think there are signs, the first two goals being examples, that we are developing as we surely all wish to do. I don't want to draw optimistic conclusions from narrow instances but nor should we reflexively turn to misery because Benitez doesn't come wrapped in Blue myths and self-pitying, sentimental bullshit.
Michael Williams
179
Posted 08/01/2022 at 22:44:11
Please be patient and support the youngsters. Many TWers say the organization is shite and/or the manager is shite. Well let's you and I be the best fans. Young players, especially those new to a team who are making a giant step up in leagues need our patience, encouragement and support. Let's give that to them.
Here's what I'll say about what I saw from Mykolenko's performance today.
Nothing.
It's his first game in a new country, new league, new teammates, new coaches, new language and I believe this was a formation he rarely plays. Oh, he's been here less than a week.
I remember a large contingent here wanted to turn John Stones into a midfielder - what udder idiocy! Instead he turned into England's best CB by 1000 miles. His only real negative is that he can't stay healthy.
I remember so may people who thought DCL was not good enough. Now everyone is hoping he comes back fit enough to help recue our season.
Let us do our part to welcome the players to the club help these new young guys succeed. If they do come good or great, we will get so much more enjoyment out of that than writing posts about how crappy they are.

Kevin Dyer
180
Posted 08/01/2022 at 22:48:21
Gbamin was pretty decent tbh. Have to take into account the opposition, but he looked OK in a 3 man midfield.
#161 Mike - not sure why you thought Mykolenko was 6'2, simple check on him, plus a watch on YouTube showed he is about 5'11. Hard to believe people are actually making serious assessments on him after 1 game. Let's hope Patterson doesn't have a shaky debut, or some might be writing his careers off too.
Tommy Carter
181
Posted 08/01/2022 at 22:54:37
@180 Kevin
Not seen many 'assessments' of the player
Just a few calling his error out for the goal. Which is a thing. And did happen
Ernie Baywood
182
Posted 08/01/2022 at 22:54:44
Paul #173. No-one is having a go at him. He's not here. I'm sure he was supported at the game.
But as our first look at the guy we've brought in to be the club's only left back, I think it's reasonable to offer some first impressions.
Mine were that his short throw ins were foul throws, his heading was unnatural (50p stuff when he connected) and that he didn't appear particularly strong or quick.
Maybe that's not fairly representative of his ability but it's all I've got to go on. How many games before we're allowed to comment on someone's ability?
Barry Hesketh
183
Posted 08/01/2022 at 22:56:10
Tony @178,
Faird Do's I misunderstood what you were getting at originally, it's fine to criticise aspects of play and the performances of players, but an FA Cup tie is not the basis to form any judgement on the merits of a team, it has and always has been a lottery, we got some breaks tonight, and some bad decisions, but unlike what happened at Millwall, we emerged victorious which is all that matters in cup football. No Evertonians should be upset that their team won a game, but in the bread and butter of the Premier League, we need a big improvement on what was on display for large parts of tonight's game.
How can Leicester City ask for a postponement on Tuesday, given they have 'allowed' four of their players to participate in the African Nations Cup? I know they have other injuries too, but surely they can't expect the Premier League to postpone the game again?

Tony Abrahams
184
Posted 08/01/2022 at 22:56:58
The first thing I look for in a player being introduced into an alien environment, is how they react once they realize how completely different the game is.
Mykolenko started slowly in a slow-starting team, and it was obvious Hull were trying to exploit him with those long diagonal balls.
His heading wasn't great, but his positioning definitely improved the longer the game went on, with the most pleasing thing being that he stuck to the task.
My own view is that I think you can normally tell a lot about a player's character when you see them sticking to the task, whilst getting a shock to the system, so for that, I'm personally giving our new boy a bit of credit.
Robert Tressell
185
Posted 08/01/2022 at 22:57:24
Like so many cup ties we've been involved in over the years. Pinned back by a team willing to have a go, playing to its strengths. Credit Hull for doing so.
A few things stood out for me:
1. Kenny is an okay back-up right-back. Okay, he's not amazing but look at the crap that keeps getting games. Why has he been so marginalised?
2. Begovic isn't bad at all. Two very good saves – one of them absolutely outstanding. Seriously brilliant save.
3. Godfrey is quite a weird sort of centre-half but certainly has qualities. He sometimes looks like a very limited winger who's been told to play in defence, doesn't know the position but is willing to get stuck in. Needs some coaching. Keane and Godfrey are not a good partnership. Adding Coleman as an auxiliary centre-half didn't do any good for anyone. Hopefully Branthwaite will be first choice soon.
4. The 5-man defence didn't work well and never seems to when we use it. It just robs us of a midfielder who could help us get a grip on the game (or would if we had better midfielders).
5. The 5-2-2-1 formation didn't help Mykolenko. Godfrey and Gray occupied the area he was trying to operate in. He settled down better in 4-3-3 because he had a clearer role. It'll take a while. He's a 22-year-old who's only just turned up from the Ukraine after all. Shame he didn't score from what was a decent chance.
6. Once more, Allan and Gomes showed bits of quality but don't look like a partnership. As others have said, Gbamin actually had some nice moments when he came on. We really could do with more quality and drive in midfield. I still can't believe that will be Gbamin… but who knows? I hope Benitez addresses our midfield now the full-back positions have been done.
7. Gray and Townsend might not be Robben and Ribery but they've really dug us out this season.
8. Gordon is ace. Obviously still developing but he's a Mason Mount type. Always on the move, always a threat, always wants the ball. Brilliant.
9. Dobbin really does deserve more time on the pitch. He's got a spark. I can see why (vomit) Rondon starts because he's a focal point, can defend set-pieces etc. But he's a lousy forward. Eaves was much better. Tosun looked brighter in his 2 minutes. Presumably Simms is off on loan or he would have played.
10. Benitez looked an emotional wreck by the end of that match – just exhausted. But we won. We've lost a lot of matches like that but came back with 3 good goals and 2½ decent penalty shouts. On that, we are far too accepting of bad decisions. I want to see a gang of indignant players expressing outrage – piling pressure on the referee. They make it so easy for the referee to make calls against us. Pisses me off. Been like that for as long as I can remember.
Peter Gorman
186
Posted 08/01/2022 at 22:57:52
So I gather it was Mykolenko's first game, was it? So therefore we must ignore what we saw and not comment on it?
For the record, people are entitled to criticise his weak performance tonight, fully understanding that he was clearly not up to speed, settling into a new country, missing his mum's cooking etc.
But we have been here before with many a signing. I personally am not reading too much into such a poor showing, but truth entitles me to call it that.
Overall, we look like a pretty decent Championship side but not one that'll be in contention for promotion just yet.
Gordon and Gray were the highlights, no surprise – they at least have the attitude to do something, even if it barely came off most of the time. I have been thinking for a while that Gordon probably has the most pathetic shot in the squad. Scuffed daisy-cutters almost every time. But he can carry the ball and has decent skill, no denying it.
I had also completely forgotten Tosun was an option; how Rondon stays on ahead of him for so long is utterly baffling. A few spots of hold-up play from the big man is just not good enough at Premier League level. He is totally pointless.
A win that was excruciating to witness and being in the 4th Round is not the consolation it should be, when the players are so clearly not worth watching.

Joe McMahon
187
Posted 08/01/2022 at 22:58:07
Micheal and Tony, 178 and 179. Very good posts. I too have been guilty of writing younger players off. And yes, they need encouragement and support.
Anyone trying to judge Mykolenko after being in a new country just a few days needs to refresh their thinking.
There are some good players at this club, it's not all bad. I'm not entirely pleased with the manager's tactics, but I wasn't pleased often with Ancelotti, Moyes etc. As we know "That's Football".
The biggest frustration for me is the duo of Moshiri and Kenwright, not the players or the manager.
John Raftery
188
Posted 08/01/2022 at 22:59:12
Why didn't Michael Keane do what he has done all season from kick off, simply hoof the ball into the opposition half? At least that approach guarantees you don't concede a goal after less than 50 seconds.
Otherwise, I agree with all the positive features mentioned by others. Any win after a poor run is to be welcomed.
Paul Hewitt
189
Posted 08/01/2022 at 22:59:57
Peter @186. It was his first game in a new league. So NO he shouldn't be criticized.
Peter Gorman
190
Posted 08/01/2022 at 23:05:10
So, I've checked all the Mykolenko comments above and not seen anyone 'slagging him off' – quite the opposite, almost universally giving him slack. So I guess the point is, anyone who is 'disgusted' enough to call other fans 'cretins' for 'slagging off' the boy when in truth nobody has, is a bit of a cretin themselves.
Paul Hewitt @189 – good point about it being his first game; I stand corrected, I thought he was brilliant, best I've seen.
Si Cooper
191
Posted 08/01/2022 at 23:05:42
Tommy (176), fine margins is right.
Mykolenko gets his noggin on their free-kick instead of mistiming it and perhaps we are not chasing supercharged shadows for 20 minutes?
Most obvious penalty for handball not given I've seen for a long time actually gets awarded and converted and maybe all the fight in them is gone before half-time?
We weren't good (reeling for much it) but it was almost an almost 'experimental' line-up so you don't need to draw conclusions about brand new players.
I'm still in the camp of those who feel we pretty much need this manager to come good for the club not to crumble. That doesn't mean I support the individual, just that I hope he does know something most of us don't and can improve us substantially, as I don't see him being ejected any time soon.

Paul Birmingham
192
Posted 08/01/2022 at 23:08:43
A win's a win. Everton win, but the fucking naysayers don't help the cause, willing for a defeat due to the manager's past form and more. Enjoy the day and then savour the hard-earned victory.
Not my first choice for sure, as manager, but Everton is in a bad state and that's being polite, but to see Everton win.
What's the end game, eternal chaos?
Next time, yes, and what is will be, but what's the negativity of winning when your team wins the match?
It's not like it used to be, as is the world, but matters EFC, but let's see who Everton draw in the next round.
The D R P for Everton is long term, so let's stick together through thick and thin.
The world media was willing Hull, bar Evertonians across the world, to win.
Yep, not very often these days, but Everton won!
John McFarlane Snr
193
Posted 08/01/2022 at 23:10:49
Hi Tommy [176],
I haven't read all the posts but it appears to me that the majority are scathing in their assessment of Everton's performance.
I agree with your opinion of the fine margins that occur in matches, most notably FA Cup games. I have long held the belief that the football fan wants his or her team to play well and win, but will settle for a below-par performance providing the win is attained (although the loss of a game is sometimes acceptable), particularly if the effort has been shown by the players.
At this moment in time, I think that the Newcastle United fans and those of the other defeated teams would love to be in the 4th Round of the FA Cup, irrespective of how their teams have performed.
Paul Birmingham
194
Posted 08/01/2022 at 23:13:51
Spot on, John.
A win's a win, at any level of football.
Great to be in the 4th Round draw.
Paul Jones
195
Posted 08/01/2022 at 23:19:30
Nice sentiment, Paul Birmingham... But we can't sail hand-in-hand to disaster with a fixed smile on our face and one eye to the future.
If you're watching someone choking the life out of something you love, you don't just stand there and tell everyone else to wait for the outcome. You jump in, you hassle, you fight, you hit out.
We can't sit back and assume we're too good to go down. Nobody is.
Tony Heron
196
Posted 08/01/2022 at 23:20:05
Re the criticism of Mykolenko. 
A long time ago I know, but I remember Howard Kendall's debut... 'awful' doesn't even cover it!
Give the lad a chance.
Paul Hewitt
197
Posted 08/01/2022 at 23:28:02
Peter @190. Check the Live Forum. The stick the lad was getting was out of order.
Don Alexander
198
Posted 08/01/2022 at 23:31:17
Precisely so, Tony, but Howie (at much the same age as Mykolenko is) had had to come to terms with a bewilderingly transformational 50-minute drive from home to Everton after all.
Nicholas Ryan
199
Posted 08/01/2022 at 23:32:03
In the FA Cup, only the result counts.... which is just as well, really!!
Ernie Baywood
200
Posted 08/01/2022 at 23:33:47
Paul #197 - I haven't felt the need to go on the Live Forum in a couple of years. Not worth it.
Brent Stephens
201
Posted 08/01/2022 at 23:35:39
Strange day. Easy win! Everybody checked for covid pass but nobody frisked. Guy in front of me in the queue – a flare dropped out of the bottom of his kecks (not flares!). Nobody seemed bothered.
Paul Birmingham
202
Posted 08/01/2022 at 23:37:00
Paul, but the team won, that's all I'm saying. Disaster is perception and actual fact. No denying Everton don't have any association with football success for decades.
The gravity of the general situation regardings Everton is there daily – but a win's a win. The club, as I've said for perpetuity, is in decline.
I'm all for success, but putting the poker in when there's success on the day is not the way to progress.
Yes, we know the form, but build a starting point to progress.
Kicking the shit out of a team, low on belief, and all matters relevant, to success in football, is not the way forward and, yes, the rhetoric of decades of failure does play, but not today.
The record states today Everton won, away vs Hull City in the 3rd Round of the FA Cup.
But I have a common ground in that I can't stand more than any one else who followsus, the decline of Everton FC. But, let's celebrate the day.
Yes, Leicester is the next game, but on merit and attainment, this debate goes back decades.
Paul, perhaps, savour that over decades, tonight is a very good night, all things considered, for Evertonians.
"What's Our Name?"
Rob Halligan
204
Posted 08/01/2022 at 23:47:19
Brent, not everyone was asked for proof of Covid. Me and mey mates weren't asked for it. Maybe the fact we walked in about 15 minutes before kick-off and they were fed up by then of asking.
Andrew Keatley
205
Posted 08/01/2022 at 23:50:36
John (188),
From the kick-off the ball was passed to Keane, then to Godfrey, then to Mykolenko. It seemed a deliberate tactic to give Mykolenko an early touch.
Tommy (176),
I have rewatched the game (because I am a glutton for punishment) and I would say that Michael Keane had a very good game. I know he's not very popular with a lot of posters on this website, probably because he is not lightning quick like Godfrey, but out of our 5 defenders today, he was our best performer.

Peter Gorman
206
Posted 08/01/2022 at 23:52:00
Paul @197 - just seen the Live Forum and I think maybe two posts questioned if he was going to be a waste of money, a couple more thought Digne is better. The 'stick' the lad got was limited to his dodgy haircut, scally face and dubious height of 6'-2'' (allegedly). All that would have applied even during a great debut.
The weirdest stuff I saw on the Live Forum was some guy named Paul Hewitt making comments like; "Stick with Rafa. It WILL work!"
Brent Stephens
207
Posted 08/01/2022 at 23:58:40
Rob, I must have picked the wrong queue!
Or you look so innocent!
Paul Birmingham
208
Posted 08/01/2022 at 00:05:13
"All Together Now?"
For Everton!
Kieran Kinsella
209
Posted 09/01/2022 at 00:12:58
Rob,
Define "first teamers". Seems like Brenda acts like anyone under 23 is from the Under-16s. He uses the same core group and, when they aren't all fit, he whinges. Must be a legacy and sense of entitlement from his Liverpool years.
Brian Wilkinson
210
Posted 09/01/2022 at 00:15:27
When Kendall was on the ropes and "Kendall Out" leaflets were doing the rounds, he took his team to an away cup tie; we won the tie at Stoke, and Gray scored a goal.
Could Gray scoring again, and our current manager on the ropes, be an omen? Stranger things have happened.
Kevin Prytherch
211
Posted 09/01/2022 at 00:41:58
Seen a couple of posts about the banners. They have every right to display these after yet another baffling display by this stubborn waste of space posing as a manager.
He played 5 at the back against Hull?
Coleman at centre-back?
Yet again only 2 in midfield?
Rondon?
We fans have every right to protest; Benitez is in real danger of taking us down and only Gray and Gordon looked like creating anything. True to form though, the first sub removes Gordon, as per usual. Dobbin should be signing with any club that might give him a chance this month, he'll get nowhere with this guy.
People praising Keane. Yes, he played well, but we also defended 10 yards too deep again, and this is the issue whenever Keane plays. Once again, this opened the midfield too much and a better team would have taken advantage.
Don't criticise the banners. Praise them, we need more.
Brian Wilkinson
212
Posted 09/01/2022 at 01:03:46
Begovic pulled off a worldie save to win the tie,; Gray was Man of the Match for me; Townsend scored a great goal... I wonder who brought these three players in?
I wonder who has given Gordon regular game time?
If only he could go four at the back, and an extra body in midfield, he could be onto something. If only he lost his stubbornness and went 4-4-2… and had a bit more faith in one of the young strikers.
Mike Gaynes
213
Posted 09/01/2022 at 01:16:10
NBC reported during the game that Gbamin has been told he can leave the club. From the brief glimpse we saw today, I think that would be a mistake. It is not yet time to give up on that guy.
Rob #204, I saw you on TV!
I'll join the chorus on Mykolenko. Ridiculous to get on his ass in his first game in a bizarre side. Yeah, he had a rough game except for one great cross, but then again so did Kenny, and I don't see a line of people here ripping him.

Ian Riley
214
Posted 09/01/2022 at 01:33:14
Let's not forget – we won!
Let's not forget our youngsters played well!
Let's not forget we have to improve!
Finally, do not forget players, management, owner and every fan wants success for our club!
Banners and booing have no place during a match! Players need to feel that support and encouragement. This is a crucial part of the season and Rafa is going nowhere yet.
Stay positive. Better days are ahead!!
Jonathan Oppenheimer
215
Posted 09/01/2022 at 01:34:45
As one of the guys dismayed by Mykolenko's performance – and I said some rash things in the Live Forum – to be clear: the sentiment was not meant to criticize him — and there's no question he can and will get much better.
It was just me in panic mode, thinking we don't have much money to spend and he was a huge signing. As others have stated, I was imagining Premier League players blowing by him for the rest of the season, as Hull players were turning him around several times today.
The word we were getting was that he'd turned up in big games previously with his defending but it wasn't on offer today. And this isn't a signing we can afford to get wrong, so I reacted in the moment as I was scared about what it would mean if he doesn't work out.
I apologize that it came across as turning on a player so early. I'm always one to give guys a chance, and boy do I hope he's a star for years to come.
But today was the day I fully turned on Rafa, whom I kept wanting to give more time. To leave Rondon on for more than 60 minutes, or even to start him over Dobbin, in this game was the last straw for me.
Mike Gaynes
216
Posted 09/01/2022 at 01:55:38
Jonathan #217, re Mykolenko, fair enough, mate. No worries. We'll see how he develops.
Kieran Kinsella
217
Posted 09/01/2022 at 01:57:15
Si Cooper and Robert Tressell – sensible posts as ever.
I was surprised we dropped Mykolenko in as opposed to Patterson, who's more accustomed to the hurly burly of a cup game. Coming in mid-season is tough. It took Andrei Kanchelskis about a year to get up to speed so I agree, it's too early to write Mykolenko off. But that doesn't mean Rafa didn't fuck up with his formation and tactics.
Not sure Gordon is Mason Mount material but he's far better than our other options. And Gray is a bright spark for sure. If we get Calvert-Lewin and Richarlison both playing, he will get a ton of assists.
Steve Brown
218
Posted 09/01/2022 at 02:34:08
Benitez picked his usual horrible, muddled gameplan and line-up, but at least we won. There is a lot wrong with Everton, but I've always thought that winning a trophy would make a massive difference.
Gordon, Gray and Gomes were bright, Townsend made a difference when he came on. I think we need to show Mykolenko patience; however, without doubt the sale of Digne in January will further weaken the squad. It will be a good test of the manager's stubborn ego – never better demonstrated than at that car crash press conference – to see if he waits till the summer and starts picking Lucas. I doubt it though.
As for the 5-2-2-1 formation, Leicester will love it if we play that on Tuesday. It will be another gnarly ride, but it's now up to Benitez to show flexibility or he will be gone.
His decision.
Steve Brown
219
Posted 09/01/2022 at 02:43:01
Ian @ 216, I think you are completely out of order criticising the away supporters for the banners and the boos.
These lads follow the team around the country through thick and thin. They have the right to demonstrate if they want, given the garbage they have had to watch this season. They are tops in my book.
I back their judgement all day long.
Kieran Kinsella
220
Posted 09/01/2022 at 02:56:38
Steve Brown,
I agree. These lads spend days traveling and spend a fortune. They are entitled to their point of view.
Derek Moore
221
Posted 09/01/2022 at 03:13:18
They could have been over the hills and far far away after 10 minutes. I couldn't believe what I was seeing. Why do we start games so dreadfully?
But, regardless of how we played – not great – and regardless of the officiating – which was 'Hand of God' level dreadful – we're through.
I watched with a neutral friend here in New Zealand and, as he noted at full time: "That was a proper FA Cup tie!"
Wondering who we'll get out of the hat?
Ed Prytherch
223
Posted 09/01/2022 at 03:32:14
Jim #111,
Of course the board are the root of the problem but hiring Agent Benitez is their biggest screw-up and is the one that most urgently needs correcting.
Mick O'Malley
224
Posted 09/01/2022 at 03:37:35
I'll have to admit I was impressed with Begovic tonight – he pulled off two cracking saves, especially the one with the strong left hand.
I thought Gordon and Gray were impressive and Mykolenko was okay but he'll get better as he settles in. Jonjoe Kenny played his part.
I wish we could take a lead first – I'm fed up falling a goal behind and having to fight back – but we're through and that's all that counts.
Alan J Thompson
225
Posted 09/01/2022 at 06:00:33
I haven't seen the game so I won't comment on individual performances but I don't have a problem with giving one of the new signings a taste of English football in a game that we should win – even if hard work was made of it.
I, too, am amazed at Benitez's line-up but wonder if it isn't because he has doubts about both Holgate and Godfrey in central defence? Both seem to have positional difficulties and neither seem overly proficient in the air.
Whatever it is, I'd prefer either in place Rondon and I wonder when somebody might ask if he has been successful in persuading our young talent to stay with us – or does he not admit failure in anything, even the bleedin' obvious?
Brian Cleveland
226
Posted 09/01/2022 at 08:14:46
Mike (215),
That was reported in the Echo a few days ago, but was denied by Benitez in his presser, if I remember rightly.
I thought he looked quite decent when he came on, although I was scratching my head wondering why he was chosen at that point.
Robert Toohey
227
Posted 09/01/2022 at 08:26:14
First time on – I've followed ToffeeWeb for some sometime now and feel I have to say how disgusted by some of the comments you so called fans make. I have been going to watch the Blues since 1967 and see the good, bad and ugly side of watching my team but never has it been were I dread going to the match due to negative fans who can't wait to start with the moaning.
Never have I seen a player – bang-average or otherwise – get booed entering the pitch wearing our shirt and now all this crap online… do you all think this will turn things around?
If you'er so fed up, stay offline, stay away from the ground – because your negativity is making us a laughing stock that the kopites are wallowing in.
The banners tonight at Hull, "Rafa Out", really put us in a good light to the nation watching The People's Club – a laughing stock more like.
Enough is enough – it's time for us fans to help turn the tide. The Arsenal game is proof of what impact we have so let's stop now.
If Tuesday's game goes ahead with fellow Blues who want to back our team and they do that, don't stay away. I have been at Goodison Park with a half-empty stadium before but at least the support was 100% behind the team. Thanks for the time guys. Rant over, Sleep well... We won!
Danny O'Neill
228
Posted 09/01/2022 at 08:27:15
Gray and Gordon were our brightest players.
The lineup concerned me. On substitutions, taking Gordon off baffled me. Leaving Rondon on baffled me. But then introducing Townsend ultimately won the game for us so the manager will claim that as they do.
I thought Gomes looked decent as did Gbamin in places.
When I watch Allan (and I know I'm a fan), I really wish he had more support around him in the middle or behind him. And I wish we have had him, or a player like him, earlier in his carrier. I couldn't make out whether it was him or Kenny at fault for their second. Probably a combination of both. But as soon as we lost possession in the middle, I sensed what was coming. Great goal though; no keeper is stopping those.
VAR; how can you have a system in place that isn't in place? We should have had 2 penalties yet it couldn't be reviewed. Separate complaint about the standard of officials on and off the pitch and use of VAR, but have it across the board or don't have it. No consistency for teams all playing in the same competition and therefore surely should be subject to the same rules?
The media put us on the 5:30pm slot as they sniffed blood. They got a scratch that we put a plaster on and fixed. It's FA Cup 3rd Round weekend. Out of jail, in the hat and closer to Wembley.
Kevin O'Regan
229
Posted 09/01/2022 at 08:30:21
Interesting to see the very differing views on Gbamin's brief performance. Let's judge him on yesterday's game and not on his Toffees career to date.
I also saw a few touches which were different and more creative than what we normally see in midfield. There is a player in there who badly needs game time but then needs to take that chance when it comes.
And yes, give the new lad at left-back a few games before hanging him. But boy do we need a goal-getter.
Barry Ferguson
230
Posted 09/01/2022 at 08:37:35
Robert, it's the happy clapping muppets like you that have us as a laughing stock. It's the fat kopite's persistence in playing a player who is shite that has led to boos. His insistence on playing 5 at the back at home to Brighton. His insistence on playing a past-it right-back as a left-wingback at 33.
Instead of arrogantly thinking you own the right to say who can be called a fan or not, why don't you just fucking stay at home. I'm going to be there, and I'll be singing Fat Spanish Waiter ever time the chance comes up.
Worst run since 1999, and you think the Arsenal result somehow excuses it just because two of their players missed sitters? For fuck's sake.
Mal van Schaick
231
Posted 09/01/2022 at 08:43:02
At least we are in the hat for the next round.
Letting in early goals, is setting us back from the very start. We have to stop that happening. No wonder Benitez looks fractious on the touch line. Any hard work that is done on the training ground, undone within minutes by letting goals in.
This was a banana skin game, and I'm glad we fought back and made it through. We know about squad deficiencies, but Benitez has signed players and addressed some issues.
Let's hope things settle down, we get some league points on the board and get further up the table.
Anthony Jones
232
Posted 09/01/2022 at 08:45:00
It is totally acceptable to offer opinions on £20M international players whilst we are struggling with FFP and we are losing a decent left-back due to a row with the manager.
Just because someone is critical on an open forum doesn't mean they wouldn't support him at a live game.
Grow up.
Ajay Gopal
233
Posted 09/01/2022 at 09:14:59
I tuned into the game just after kick-off and couldn't believe that we were 1-0 down already. And the first 20 minutes was probably the worst that I have seen Everton play. My observations and opinions below:
1. Rondon should never start another game for Everton ever. He seems like a very likeable guy and he tried hard, but is just very useless as a centre-forward.
2. I can't remember the last time that I enjoyed watching an Everton match – totally relaxed and proud of what I was seeing. Does anyone? This was Hull, 19th in the Championship and, according to the commentators, also missing some of their key players to injuries and Covid, and in that initial period, they played through us like they were Man City.
3. I can understand why Benitez gave Begovic a game – he needs to be sharp in case Pickford picks up an injury. I thought he did very well, although nowhere near Pickford's level in terms of distribution.
4. Our defence is scary, Ancelotti had us well organised but things have fallen apart this season. I am going to be a bit controversial here – I don't think Godfrey is a good centre-back, and I don't think he will ever become one. And Keane is good when he has a dominant partner next to him, like Mina, but Mina is never present and that has affected Keane's play. Godfrey and Holgate may be good in a back 3 under a big, nasty centre-back like Rudiger but, by themselves, they look very fragile. I am very excited by Branthwaite, but he has also had several injury and Covid setbacks. I hope he can nail down a spot at Everton, because he is going to be very very good.
5. I can't believe how much Gordon has progressed in the past few weeks. He always looks to be on the ball and make things happen. Really excited about him – someone compared him to Mason Mount, he may not be too far away from that level. Hope he continues to progress and becomes a key player for us in the years to come.
6. Gray is also an excellent attacking player to have on the team. I can't wait to see our best front 4 of Calvert-Lewin, Richarlison, Gray and Gordon, with Townsend and Dobbin as back-ups.
7. I agree with those saying that Gbamin looked pretty decent when he came on. But we've got to remember he came on when Hull had tired players on the pitch. Playing a high-intensity Premier League game is going to be very different. No-one would be happier than me if he makes it here and realises his full potential at Everton, but it would be a fairytale if it were to happen for him – very, very unlikely.
8. This was a game I thought Gomes was a bit braver with his tackling and putting his body on the line. The first time in a long time. Hopefully he has turned a psychological corner.
Summary – I am still worried about our survival in the Premier League, but hopefully things get better from here onwards. No rational reason to think so – just blind optimism and hope.
(And apologies for the rambling post.)
Mike Gwyer
234
Posted 09/01/2022 at 09:18:08
Robert Toohey
Just for you and if your going Tuesday prepare yourself to hear a lot of it:
Fat Spanish Waiter, your just a Fat Spanish Waiter.
Sacked in the morning, your getting sacked in the morning.
Fuckoff Benitez, Benitez Fuckoff
John Keating
235
Posted 09/01/2022 at 09:29:05
Robert @227
Supporting Everton since whenever doesn't make you a better supporter than someone younger. Every supporter is entitled and has the right to show their displeasure in whatever way they see fit, as long as it's legal and non-violent.
We've been booing, throwing cushions, making placards and banners for years, it's not something new. If you're disgusted at those supporters who need to vent that's your right but you have no right to tell them to stay away from games.
Believe me, they are all as big as supporters as you are.
Martin Mason
236
Posted 09/01/2022 at 09:29:42
The key thing now is to keep Gomes in the side. Given a run, I believe that he is our best midfielder. With Richarlison and Calvert-Lewin back and Mina in the back 4 we are going to be a very different side.
What to do about this insistence on playing a back 3 though? Have we got midfielders good enough to play 4-3-3.
The dangerous thing is that Benitez is going to have useful choices soon. That may well confuse him.
David Bromwell
237
Posted 09/01/2022 at 09:30:39
What a game, one or two obvious plus points but some serious issues remain. The manager is showing signs of being under pressure, and that is not good for the team. However, his bizarre team formations and slow substitutions are were many of his problems start.
It's clear that we have problems in the centre of defence, where to me Ben Godfrey is all at sea. Obviously he is a wonderful young player with a great attitude, but at the moment I don't think he can play as a central defender. It is also clear that a two man midfield just doesn't work as we surrender possession to the opposition. Finally playing Rondom as a lone centre forward clearly doesn't work, and is not fair to him.
Sort these problems out Mr Benitez and your problems will ease and we will see a better team.
Mick O'Malley
238
Posted 09/01/2022 at 09:38:27
Ajay @233,
I think the last time I really enjoyed a game where we were impressive was the 4-0 win against Man Utd in Silva's first season and the 0-1 away win, last season's first game at Spurs. They are rare as rocking-horse shit lately, that's for sure. Anyway, I'm buzzing we're through and let's hope the draw is kind to us with a nice cushy home draw.
Michael Kenrick
239
Posted 09/01/2022 at 09:44:39
It is funny how people like Robert react to the protests of other fans. But I suppose in the modern parlance, it's all about personal boundaries.
We each draw a line when it comes to supporting; things we think are acceptable and things we think are not. We don't cross that line ourselves, and so we deplore anyone else who does.
For me, I deplore fans throwing anything, lighting flares, running on the pitch (unless streaking!), and fans fighting. Beyond that, pretty much anything goes. Booing players (especially Rondon!), unfurling banners, singing nasty songs about the manager... it's all fair game.
Johan Elmgren
240
Posted 09/01/2022 at 09:48:53
Okay, so the quality of our defenders might not be world-class, but the problem, imho, is that our midfield gets overrun very easily, which puts our defence under pressure. This worked last season under Ancelotti, when we were pretty compact and won games. Remember we were Top 6 during long spells of last season.
Under Benitez, both the midfield and the defence looks completely lost, it's like they don't know what to do. Yesterday, even Hull were set up in a better way than us. I'd take their manager over ours any day of the week. They did the fundamentals right which was why it became such a hard game to win. Technically we were superior and, in the end, that was what made the difference.
This is a team that could perform so much better if we had a manager that could set a team up in a better way. Some say give him time... We have given him time and by now we should see signs of a playing strategy, a gameplan, but I see nothing remotely convincing me that Benitez is the right man for the job. Simply put, he's past it, a dinosaur-manager and I fear for Premier League survival with him here...
I'm glad we won yesterday, but we will meet much better teams in the Premier League and we can't keep loosing... we need change. We need someone who is up to speed with the modern game – not someone who was successful 15 years ago...
Benitez Out Now!
Stan Schofield
241
Posted 09/01/2022 at 09:56:04
John @235:
Robert @227 has every right to say what he thinks and to advise others on how they behave. And you have every right to either take it on board or not. And Robert did not say he was a better supporter.
Continuous positive support is always, imo, the best approach. It's more likely to bring out the best in the team. It's one thing expressing frustration on a discussion forum like this, but another thing entirely when you're at the match.
Jonathan Tasker
242
Posted 09/01/2022 at 09:59:39
My pre-match prediction was we'd win the FA Cup by beating Brighton in the Final. Gordon would score the winner.
I'm pleased Brighton eventually got the better of West Brom, also after extra time.
Mike Hughes
243
Posted 09/01/2022 at 10:06:23
A win is a win.
Let's hope we get Shrewsbury at home in the 4th Round.

Sam Hoare
244
Posted 09/01/2022 at 10:06:30
Ajay @233,
I think sadly it's becoming less and less controversial to say that Godfrey is not looking like a top class centre-back prospect.
We were all relieved to see some pace in the back line last season and a player who loves a crunching tackle but there are some basic issues with his positioning and aerial ability that worry me greatly (as they had worried some Norwich fans I read when we bought him). Perhaps some of these issues can be coached away but I have heavy doubts.
Michael Keane was good last night. He misses Mina (or any regular/commanding partner) but he was/is our best distributor from the back. I don't see him as the long term option but out of him Holgate and Godfrey he's been our best centre-back option this season (low bar).
I hope Mina can return and Branthwaite proves as good as he looks but once again it would seem we have spent heavily in an area of the team without solving the problem.
Central defense and especially central midfield remain an issue. The spine of the team.
Danny O'Neill
245
Posted 09/01/2022 at 10:13:44
Emotional and romanticist Danny was surrounded by his more cynical and scarred younger brother and son yesterday. As my brother stated, until we scored that 3rd, no-one in the pub knew we were Everton fans. Guilty as charged; Danny the elder blew our cover.
Just on the supporter theme, kudos as always to the travelling masses. It put to shame the attendance of the home supporters. An entire top tier empty. Also seeing the likes of Burnley and Coventry empty. Regardless of what we think of the manager, the board, the state of the club, our support knows loyalty that only dogs know.
I wish our club felt the same. Some of the players do, but the club needs to feel it.
Steve Brown
246
Posted 09/01/2022 at 10:14:01
Stan @ 241.
Robert wrote 'I have to say how disgusted by some of the comments you so called fans make.'
'So-called fans' is a value judgement that infers that they are lesser fans than him.
As I wrote earlier, fans who attend the match have every right to express their views whether it is positive or hostile. It is democracy and, frankly, I don't blame our fantastic away fans for expressing their dissatisfaction at the utter dross they have to witness over the last three months.
Danny Baily
247
Posted 09/01/2022 at 10:16:34
Out of context, I don't really have a problem with how we played yesterday. Away to a lower League club in the 3rd Round is a banana skin, and I'm glad we found a way to progress. I'm also delighted the FA Cup has finally caught up with the times and scrapped replays, I hope this is a permanent change.
However, in the context of a single league win since September, it's hard not to come to the conclusion that we struggled to beat Championship relegation fodder.
The league form is way, way beyond anything even remotely acceptable. That's from any team's perspective, in any league, under any circumstances. And with each defeat in a match where we might have expected to pick up 3 points, relegation becomes more likely. Rafa is taking us down, and I'm confident that a caretaker or replacement could see us picking up points right away.
Big match against Leicester if it goes ahead. If we fail to win, we really should act and get rid of Rafa while there's still time.
Jonathan Tasker
248
Posted 09/01/2022 at 10:22:17
Danny O'Neill,
You probably don't know this but there's been a large scale boycott of Hull City by their fans in protest against the current owner.
That will end when the new owner takes over. That would explain large gaps in the crowd.
Robert Tressell
249
Posted 09/01/2022 at 10:27:55
Sam / Ajay, Godfrey is starting to look like a very good utility player rather than a CB. He has a great attitude but seems very raw still (and he's quite young but not that young).
I'm struggling to compare him to another CB.
But it might be he just needs a more suitable partner, a bit more maturity and some coaching to help him better understand the position. Also needs to head the ball better.
Hopefully Branthwaite is the suitable partner but as a duo it could take them a few years to gel.
Julian Exshaw
250
Posted 09/01/2022 at 10:31:29
Just a quick word about Gbamin. The lad had been told he was no longer wanted by the club yet came on, did an okay job, and still had reason to smile and celebrate Townsend's goal.
Send him out on loan, keep an eye on his form and fitness but leave it until the summer to make a fair decision on him. The guy deserves a chance to show what he can do when fully fit.
Johan Elmgren
251
Posted 09/01/2022 at 10:35:04
Danny 247,
Yes, I agree with that all the way.
In a cup game, the way we play is second to the result. Mostly, cup games get gritty... but it's not a good sign when a bottom second-tier side looks more organised than we do, with all the quality we have in the squad.
They played as a team; we played as 11 individuals. That's my main gripe with the style of the current manager, he can't get the most out of this squad, he hasn't made us play as a team.
And since we have been on a downward spiral since October, it's getting really worrying... I don't see any signs of him turning it around.
Danny O'Neill
252
Posted 09/01/2022 at 10:42:20
I didn't know that, Jonathan.
I guess it shows that protests need to be carefully thought out if they are to be impactful, otherwise they are token. I see Hull are still in relegation trouble. Are they the same owners that tried to change the name??
A bit like the Newton Heath green and yellow scarf campaign against the owners of Manchester United some 15 years ago.
The Glazer family still own Manchester United.
I will go and brush my teeth and take mouth wash, but the only ones who seem to have been effective are you know who.
Kunal Desai
253
Posted 09/01/2022 at 10:44:05
That result is merely a cobbled up little sticky plaster which will fall apart soon.
Justin Doone
254
Posted 09/01/2022 at 10:55:21
I called it.. tough game but we get through. FA cup, it's what it's all about.
Terrible start but that helped make it an exciting game. I remain concerned at how easy it is to play through us.
Our player's positioning with and without the ball is a mystery and remains a concern. With the ball to many players push up onto opponents rather than finding space. There is a real lack of movement. Something highlighted by the fact Gordon is often our best player because of his movement.
Without the ball we interchange between a 1 man press or back peddle into position. A position that doesn't appear to be tight and close enough to man mark, but rather occupy a space in between their players regardless of what the opponents do.
Keane and Gomes sum our team and performances up. Both arguably our best centre back, central midfielder. They are both capable of many good things including dustribution.
But as the spine of the team, their weaknesses are too great and highlighted in every game. Slow acceleration, turn in slow-motion, lack of urgency in clearing danger, weak and get bullied of the ball, to easily ran past, poor decision making, too quick to run out of position, to slow in seeing danger or be able to get back.
Generally not upto the standard of a top 6 Premier league team and yet we rely on them to improve us.
Both seem nice chaps and do have good qualities but these are crucial positions and that remains a serious concern.
Branthwaite and Godfrey are both promising, improving and solid. A few seasons away but there is definite potential their. Midfield remains more of a concern.
Trevor Cotterell
255
Posted 09/01/2022 at 10:56:55
FFS. We won. Get over it!
I do agree that everyone has rights to an opinion. Some of them are clearly very strongly felt and passionate. But... just imagine if all that passion could be directed towards supporting the team, the club and yes, the manager... through thick and thin!
I'll admit I was always open to Benitez. It can't be easy having the players (and styles) of five predecessors to start with, and being told you have close to zero budget to change it, but, by the way, we want to win everything. It's gonna take a while to straighten the mess out. But I'll also admit the team structure does sometimes baffle me. Okay, more than sometimes.
Yesterday's team selection – probably not the strongest on paper. But am I the only one to spot there was only 3 days til the next match? If we'd fielded everyone we'd like to have seen, and played 2 hours, just how weary a team would we have had against Leicester? So actually holding some back, taking off our two best players (Gray and Gordon) does, I'm afraid, make sense.
Playing Begovic makes sense too – as someone said way back, should Pickford get injured, then his having a bit of game time is good for the bigger picture. Actually that's something a lot of TW people seem to miss – the bigger picture, tough though that can be in the moment.
I wasn't overwhelmed by Mykolenko, but he's only been here 5 minutes. It'll take a few games. Gbamin looked better than last time – perhaps there's still hope. I thought Keane looked better than many here have said, but yes, always seems more confident with someone like Mina beside him.
Rondon? Far from convinced – I'd much rather see Dobbin start (unless he's being held back for Tuesday?). Townsend deserves a mention too – we've been missing him. So does Gomes – not back to where he was (yet) but each time he's looking a bit more confident. And Allan is always far more steady than many – not perfect but few are.
It wasn't the best performance, but there were moments that were glorious (the goals! – not just because we scored but the way we took them).
I'm hopeful... when Calvert-Lewin and Richarlison are back (and Mina), the two new lads have had time to blend in, perhaps one or two more, we'll get through this season. Okay, we'll end up mid-table, but then we clear out the remaining dross and then, finally, get things going. It's just not happening overnight.
ps Can we have AfCoN every week?
Dave Williams
256
Posted 09/01/2022 at 11:00:22
Andy @168, I agree.
Too many people writing off Gbamin who I thought looked composed, neat and decent. You are also spot-on about how we lost so many 50/50 challenges with what looked like very weak attempts to win the ball.
Criticism of the new boy is very silly. He is very young, just arrived in a new country, doesn't speak much English, and was played in a strange formation with players who are out of form, totally disorganised, and were embarrassing in their last performance.
All that on the back of probably three training sessions! Anyone who has played football at a competitive level knows how strange it is to be chucked into a team with 10 other guys who you don't know, playing a style of play that you aren't familiar with; you don't know their strengths and weaknesses and, to cap it all, you go a goal down inside a minute! How people can slag the lad off after that is beyond belief.
Bright spots were Gray, Townsend, Allan, Gomes and Gordon with a great performance by Begovic – two absolutely world class saves, the second one as good as any we will ever see.
Rafa has to give Dobbin a chance or he will leave and he surely deserves some game time more than Rondon. Rafa bewilders me – strange team selection, strange substitutes, zero organisation throughout the team. I think he will get rid of the crap but he might take us down in the process.
He is one bad Premier League defeat away from deep trouble I think as fans who have been willing to give him time (as I have) do not have much patience left. The question then is will Moshiri act or be as stubborn as Rafa, and who on earth would come in?
It is difficult to see Rafa changing things and it looks like Richarliison and Calvert-Lewin may take a while yet to be fully fit which obviously won't help him.
I'm a very worried fan!!
Hugh Jenkins
257
Posted 09/01/2022 at 11:02:57
Ajay (233) - Nothing at all "rambling" about your post. In fact, it very succinctly sums up the position as you, I, and I suspect many others see it.
Tony Abrahams
258
Posted 09/01/2022 at 11:13:08
Andrew@205, I've just spoken to a man who also thought Keane, had a good game yesterday, and when I said that I believe a good strong central defender, would really help to transform this team, (along with a clever energetic midfield player) he said that he knows someone who knows the Hull centre-forward. (Eaves, I think?)
Apparently this lad had said Keane was one of the easiest centre-half's he'd played against for years, because he didn't try and rattle him, and just let him play.
We all see a different game, and my own personal opinion of Michael Keane, is that he's sometimes that worried about the ball getting knocked in behind, that he rarely plays on the front foot. He never tries to dominate his opponent, although I'm sure he could do given his size and strength, which makes me think he's more worried about protecting his weaknesses, than going and playing to his strengths?
Brian Harrison
259
Posted 09/01/2022 at 11:14:15
Again our supporters took up their full allocation and at last a commentator, Jonathon Pierce, actually mentioned that fact. I admire their dedication given how poorly our results have been, and for anybody to have the gaul to criticsize these fans is way out of order.
Although I wasn't enamoured by him as a player, how nice to hear Ashley Williams give an honest assessment of Benitez, how rare that a pundit comes out and says what the majority of fans are saying.
The one thing I will give Benitez credit for is his signing of Demarai Gray. On his day, he looks a class act, and ably assisted by Anthony Gordon. But despite that you can't have a manager who is not wanted by the majority of the fans.
It won't change – even if results improve, and let's face it, to make sure we are not fighting relegation for the rest of the season, results will have to improve.
Yes, the main thing in cup ties is to get through and performance in cup ties comes second to the win. But we have seen poor performance followed by poor performance, and frequent changes in set-up from week to week and none so far have been successful.
Danny O'Neill
260
Posted 09/01/2022 at 11:16:02
Tony, you've triggered me as I was trying to refrain from commenting on Keane given my history and opinion on him.
Second game in two games I've wondered if he knows our players wear blue shirts.
That said, at one point and considering my historical comments on him and our centre backs, I did shout out that he was our highest player up the pitch!!
I never have been and never will be convinced with him I'm afraid.
Derek Knox
261
Posted 09/01/2022 at 11:16:08
Let's face it, FA Cup games are usually one-offs against mostly unknown opposition, so therefore will always throw up surprises, for the Lower placed teams it is their chance of glory, and possibly a chance to get on a lucrative run which could save the Club, and their careers from extinction in some cases.
Premier League clubs are spoilt in many ways with the average player picking up more in a week (whether they play, or not) than most fans, or players from the bottom echelons do in a year, so there is an avenue of complacency with many there.
Hull weren't exactly in that category but scoring in the first minute got their tails up and the whiff of an early Cup upset filled their nostrils. Having weathered the early storm, were if not for Begovic we could easily have been two down; we seemed to steady the ship and started to resemble a decent side, having got to 2-1.
Why is it when we have a one-, or a two-goal lead regardless of who the opposition are, we seem to take our foot off the gas and invite them to come back at us ? We lived very dangerously at times yesterday, but the team selection didn't help either, why does he persist with the hapless Rondon, who continues to play walking football, week in week out? Or should I have said weak in, weak out ?
I also think it unfair to criticise to the extent that has been upon Mykolenko, who has only trained with his new team-mates in a new system (whatever that was) in a different country too, please give the lad a chance!
What a breath of fresh air Townsend was, and later Dobbin, who without the former, I could easily have envisaged a penalty shoot-out on the horizon, which is a Lottery at the best of times. Anyway things did pan out, and we are I the Bucket for the next round!
Shrewsbury Town, Anyone?
Brent Stephens
262
Posted 09/01/2022 at 11:17:15
Robert #249,
"Godfrey is starting to look like a very good utility player rather than a centre-back. I'm struggling to compare him to another centre-back."
Robert, in some senses, it's maybe a reminder of Sandy Brown. Totally different playing styles – Sandy always looked clumsy, a clogger – but played in every position, I think including keeper. As big a utility player as we've had.
Brent Stephens
263
Posted 09/01/2022 at 11:34:10
Brian #212 - a very measured and honest post. Seeing both the positives and the issues. We too easily become polarised and entrenched in our views.
Alan McGuffog
264
Posted 09/01/2022 at 11:37:04
Brent...
I know what you mean about Sandy. But he may have appeared that way in comparison to the artists he played alongside.
God, how I wish we had a couple of Sandy Brown's in our squad now.
Paul Smith
265
Posted 09/01/2022 at 11:37:38
Good win yesterday. Made hard work of it but welcome none the less. A strange first 11 and formation, but not a shock anymore.
The banner was another in a long list of banners which in recent weeks has been aimed at the whole club and not just Benitez. It was the board's turn a few weeks ago and Kenwright..
What better way to promote a message than on prime time TV?
The banner worked a treat with the BBC lapping it up and giving it airtime. As a vehicle to carry a message, a real success and absolutely no embarrassment on my behalf just a nod to concerned and totally posted off fan base sick of being treated like tools.
As for venting displeasure, it's our right to, within the law.
How can you clap and cheer shite? To do so is to collude with the hierarchy in whitewashing the real problems at our club. The official site already reads like a Communist Party C19 update – nothing to see here; everyone is happy as Larry. Click here for a link that doesn't work.
What is a problem, and was on show last night, was fans throwing missiles at players. It's a real issue especially with standing coming back.
Could see more searches and less items sold in the concourse. Madness.

Rob Baker
266
Posted 09/01/2022 at 11:37:59
I shall offer my opinion based on the 90 minutes I watched as family time denied me the extra time.
Mykolenko had an okay debut. He didn't impress me but I think he will come good as he's an international player for good reason. I doubt he even speaks English.
Rondon should never be in that team. He's an absolute carthorse without the strength of a carthorse. Every ball to him is a waste of possession.
Gray and Gordon were really exciting to watch and if they had better composure in front of goal, they will score many more. I like Townsend too. He offers something offensively.
Gomes is the worst tackler I have seen for a while and for a tall guy, he gets bullied loads.
Keane worries me more and more. He's all arms and lacks physicality.
Coleman needs to retire. Kenny is also not good enough as this level.
And only Benitez knows why he persists in these ridiculous formations with round pegs in square holes.
I also don't agree with blaming coaching. If, as a professional player, you don't know the basics of the game, then you shouldn't be playing. Tactics are a different matter and that lies on the management team.
John Boon
267
Posted 09/01/2022 at 11:38:55
In many ways I may have been too quick to join the many honest fans who are less than satisfied with Benitez. It took another poster to make me realise that, in Gray and Towsend, he has made two very commendable signings along with a respectable Goalie. Hopefully the latest two fullbacks will prove their worth.
Unfortunately Benitez is stubborn and rarely likes to confess to having made a mistake. I think that is the reason for persisting with Rondon. He still lives in the hope that Rondon will emerge from his cast iron shell and show all Evertonians just what he can do.
He already has – "Nothing!"
Danny O'Neill
268
Posted 09/01/2022 at 11:42:47
Exactly, Derek. It's FA Cup 3rd round and you'll always have this. Teams struggling in their own leagues knowing this is their Hollywood moment in front of the cameras.
The main tactic in these situations for everyone outside the Top 3 is to ride the storm and get the result.
Leicester next. Maybe.
Shaun Laycock
269
Posted 09/01/2022 at 11:45:19
Wherever possible, this should be the team (4-3-3):
Pickford
Coleman
Keane
Mina
Mykolenko
Allan
Gomes
Doucouré
Richarlison
Calvert-Lewin
Gray
Subs as needed in proper positions.

Frank Crewe
270
Posted 09/01/2022 at 11:46:36
Made hard work of it? Not as hard as Newcastle and Burnley.
Derek Knox
271
Posted 09/01/2022 at 11:48:40
Brent @ 264, good shout on Sandy Broon (well I am a Scot) talking of utility players, despite being ex RS, I thought Alan Harper was an unstinting soldier, who was never fancy but very rarely did he ever let us down either!
Brent Stephens
272
Posted 09/01/2022 at 11:48:56
Alan #264 "[Sandy Brown] may have appeared that way in comparison to the artists he played alongside."
Fair point, Alan.
"God how I wish we had a couple of Sandy Brown's in our squad now".
And maybe a few more quality signings to make the likes of Godfrey look very journeyman-like indeed! Imagine that.
Bill Watson
273
Posted 09/01/2022 at 11:49:26
Okay, we finally scrambled through but no thanks to the manager. The team selection was woeful and to persist in the formation which was a shambles vs Brighton was negligence of the highest order.
Time and again, our slow two in central midfield were completely overrun and this by a side who are 19th in the Championship. How long will he persist with this stupidity?
As usual, his substitutions were questionable and made far too late. The useless Rondon should have been hooked at half-time and Dobbin introduced far earlier.
We conceded first for the umpteenth time and with this system we will continue to do so. With our previous clutch of managers, I have questioned the attitude of the players but the overriding problem now is an intransigent manager who will not admit his mistakes.
There comes a point when you almost hope we lose and take the short term pain for long term gain. The hapless 3-0 cup defeat v Middlesboro was a case in point. I was at that game and, although it was horrendous, it saw the back of Walter Smith.
Chris Corn
274
Posted 09/01/2022 at 11:51:32
Interesting to see the opinions on here. The new lad getting a bit of developmental feedback. Might be because he replaced Digne and its a stick to beat Benitez with? Did he not make a goaline clearance? I didn't see it but his stats claim so.
Personally I felt we had poor spells and good spells in that game and it was not as bad as claimed by many. The three goals were quality. We had control from about 20 mins til they equalised, again through our inability to retain possession. When we actually played some possession football, you could see the difference in ability.
It was an FA Cup tie and they had every right to compete and not roll over. I've seen worse performances over the years with better teams in similar situations. We continually broke on their back line with Gray and Gordon causing them problems and often being in positions to get shots or crosses in. In fact, both were wasteful at times.
Both Kean and Godfrey broke on occasions to push us forward and we looked dangerous. We could and should have scored a few more. We had two obvious penalties turned down.
Interestingly, I felt Dobbin fluffed his lines on two occasions. Once when he failed to control it when in on goal and it went backwards (Rondon would be in the stocks for that) and when he broke and allowed Honeyman to chase him down. However, he's a kid and learning and did some good things. I think it's crucial we tie him down.
Poor at the back from set pieces. Needs sorting asap. . Again a problem that has been inherent for a long time, as is our ability to retain possession that continues to haunt us.
All in all we needed a win and we go it. I don't really go in for Benitez bashing as I'm just seeing what I've seen for a long time. Bang average players who we have overpaid for not being very good at passing or defending.
The manager and players are just paid employees who will go where the rewards are. Benitez will Just always get it more because of who he is.
I'll just take it game by game as a couple of wins on the spin make all the difference, as Potter can testify to after he couldn't win for a long spell.We just cannot be doing with continual sackings.
The truth is the passion is in the stands and on these forums. It has been for a long long time.
Brent Stephens
275
Posted 09/01/2022 at 11:52:21
Derek #271 – and yes to your comment about Alan Harper. Good man.
Is he still on Merseyside? There's a guy I've seen a few times at U23 games at Southport that looks very like him (allowing for ageing – his appearance, not my eyes). I'm too shy to ask him! And he's always sat next to another guy who's face I seem to recognise but can't quite place.

Rob Dolby
276
Posted 09/01/2022 at 12:00:22
I am probably in the minority but I actually think Keane is a decent Premier League centre back and the best we have by some distance.
His passing is as good as I have seen with an Everton centre back. He is good in the air and brave.
On the downside, his body language and appearance aren't aggressive enough for a defender. He doesn't look like it hurts when the opposition score. His reading of the game is average. He looks timid at times but that can be levelled at most modern Premier League players.
As for playing a higher line. I do think Benitez is trying to do it. But you have to all do it not just 2 or 3. Otherwise it opens up massive holes on the pitch, like we have been seeing week after week.
How many of our defenders are suited to playing a high line?
Godfrey, Coleman for an hour at a stretch. Possibly Branthwaite? That leaves Keane, Mina, Holgate, Mykolenko, Digne, Kenny that aren't due to a lack of pace.
If I am the manager, in order to play a higher line, I want more pace across the back line before I try it; otherwise, at Premier League level, we will get a pasting every game. Imo.
Nick Page
277
Posted 09/01/2022 at 12:01:26
I said it during the game but I'd happily take players like that Honeyman for them over the likes of Gomes who he ran rings around. Always prepared to show for the ball, a quality we completely lack. Decent squad player.
I thought that Lewis-Potter was decent as well. Players with a good attitude and commitment is what we need. Not the overpriced mercenaries on a last payday.
Darren Hind
278
Posted 09/01/2022 at 12:10:53
I'm alright with that performance last night. Yes, we rode our luck, but the so called Minnows have been giving top flight players a hard time since the FA Cup was introduced.
If that performance was anything to go by, Hull are most definitely in a false position and I see them rising up the table as soon as they can establish stability under their new owner.
I was particularly impressed by the local lad Lewis-Potter. He looks to have the full set and I also thought Their forward Eaves gave an abject lesson on how to protect the ball with strength and good body positioning. (How much better than Rondon is he?) And what a piece of skill that second equalizer was. That ball started at least a yard outside the post but he put a lovely bend on it to bring it back.
I don't normally talk about opposition, but people are treating this win as some sort of right. Footy doesnt work like that.
I understand why people are frustrated with the performance. Yes, it could have been a lot better, but this Hull side had one or two very decent individuals within its ranks... I would suggest that it could also have been a lot worse.
Derek Knox
279
Posted 09/01/2022 at 12:17:11
Brent @ 275,
It very well could be Alan Harper. I used to live in Aigburth near to Mersey Road, and I worked at Fiddler's Ferry Power Station, so when on early shift.
I would often see both Alan Harper and Bill Liddell who used the same Newsagent as myself. I think Alan lived on Barkhill Road and Bill in Kilgraston Gardens, just off Barkhill. Both were absolute gentlemen and had no edge to them at all. Top Men !
Forgot to add, that Aigburth Station was very close by, so it would be easy for Alan to jump the Train (he probably has a Travel Pass now) and straight through to Southport!
Justin Doone
280
Posted 09/01/2022 at 12:19:41
Early days on the debut lad but I noticed a simple weakness in his defending when a player comes inside him. Hopefully some simple instructive coaching will help but it was a weakness quickly picked on by the Hull players.
As for Gbamin, I'm sorry but we are not a rehabilitation centre for half decent players. I can see potential but he's not a kid. Sell ASAP before he's injured. A loan away will only result in his injured return several weeks later.
Brent Stephens
281
Posted 09/01/2022 at 12:20:37
Thanks, Derek. I think Harper was at one time a scout for the other lot? Not sure if he's still on their books.
Chris Corn
282
Posted 09/01/2022 at 12:21:14
Well said, Darren @278. People lament the demise of the FA Cup. To the neutral that would have been a great game to watch. There were some classic results yesterday. Barnsley v Barrow 5-4 being one.
Clearly that doesn't suit the narrative today. We have more often than not struggled in these games for decades. Moyes had some shocking cup defeats to lower opposition.
Even on the rare occasions we've got deep into a competition, we have hauled the white flag up, à la last season.
Danny O'Neill
283
Posted 09/01/2022 at 12:30:32
Rob, my main issue with Keane has always been his awareness and concentration, not his ability as a footballer or as a defender in the air. It's the ball over the top that gets him. I get lack of pace, but if he concentrated and read the game better, he could compensate for that. Sadly, at 28 going on 29, I don't see him correcting that now.
Hull played their hearts out last night, as you would expect on the stage they'd been given.
That was no Shrewsbury, Tranmere, Wigan or whatever else I could recollect over the years. We rode the inevitable storm these type of cup matches throw up and won. And with an absolute screamer of a goal to seal it. My brother thought the keeper could have done better (he is in the school of all goals can be prevented). Intentional or not, I thought Townsend put a wicked swerve on the ball that, combined with the pace of the shot, gave the keeper no chance.
4th Round. Wembley. Europe.
Andrew Keatley
284
Posted 09/01/2022 at 12:33:41
Tony (258),
If Eaves said that then so be it, but I noticed that Keane pinched the ball off his shoelaces a couple of times, and won a few headers, while he pinned Godfrey 3 times in a ten minute period second half – and Godfrey just allowed Eaves to hold him at an arm's length and lay the ball off.
Keane is never going to be an in-yer-face, snarly type – but he's a good defender that actually won clean ball on numerous occasions, with one interception and carry forward culminating in a one-two that put him in on goal.
I think Keane is much maligned and I think it's primarily based on him not being the quickest and sometimes being caught between stepping forward while worried about the space in behind him; playing in a three allows him to step forward with greater security (with more cover behind) and against Hull he made good decisions and numerous interceptions/tackles.
Danny (260),
We all see the game differently. I watched the game again and I can only remember Keane giving away the ball 4 or 5 times; 3 (or 4) of them were adventurous diagonal passes, and one was a flick to Townsend where both players were to blame.
He made a couple of poor passes against Brighton, but generally he is a good passer of the ball, and much more progressive than any of our other centre-backs.
Rob (266),
Coleman had a strong game. He is nowhere near retirement. Why do fans want to retire players early? Strange form of support.
Darren (278) - Excellent post.
Danny O'Neill
285
Posted 09/01/2022 at 12:38:27
That's a fair comment on Keane's passing ability, Andrew. Yesterday, he did seem to be going for the ambitious diagonals – as he and the defence did against Brighton.
In the fairness of his defence, that could be down to instruction and tactics coming from the manager.
But in my experience, players will often go with instinct. I'm past criticising Keane; he is what he is. As someone said above, a decent defender.
I don't want decent. That's another word for average.
Brian Williams
286
Posted 09/01/2022 at 12:41:28
Danny #283.
What I just could NOT understand about defending that freekick last night was why Keane and Godfrey chose to position themselves at the far post marking (and I use the term loosely) two of the smaller Hull attackers. Surely your big defenders take up the centre positions so that should the ball go near post they can quickly move towards it.
Should the ball go towards the far post they should use their size to cut it out. Surely professional footballers know to do this, despite what instructions they may have been given in training.
On Townsend's goal. As the shot is on it's way the keeper takes a small step to his right which moved him away from the ball and also wrong footed him slightly. I think it was that step, taken before the swerve, that put it just out of reach of a possible save. But a very good and welcome goal all the same.
I just wish I could remember who it was at the start of the season, defending James, stated categorically, and bet me, that Townsend would score five or less, when I argued that he would replace James's assists and goals.
Jim Lloyd
287
Posted 09/01/2022 at 12:44:33
Darren, You're spot on.
There were some good players for Hull and they played good football. Lewis-Potter was really impressive (let's buy him!). I wouldn't watch it all through, as I don't think my heart would have stood it! But I've watched it all now and they are a good side.
I could see them getting a goal from their first corner, we've had apoor defence for years and Keane is the main problem. He's whole hearted and has some strengths put the weaknesses are killers for us.
Danny's right, he's not going top get any better, and there must be better around.
I agree with Justin about Mykolenko. When their players cut inside, he tried to tackle one with his left leg. And he's spot on about Gbamin as well.
Brian, spot on about Townsend! A much more effective player all round, than Rodriguez. I loved his skill and vision but just played when he felt like it.
ps: I thought Begovic did well.
Ian Pilkington
288
Posted 09/01/2022 at 12:45:58
The 76-year-old theatrical impresario masquerading as our Chairman appeared to be absent yesterday, although his unfortunate lapdog Sharpy was seen on tv, presumably sitting in the Director's Box.
Wherever he was, he would be laughing at the "Anti Rafa" banner, directing the heat away from him yet again.
Danny O'Neill
289
Posted 09/01/2022 at 12:46:51
Like keepers on set-pieces, Brian. Stay central so you can cover the danger area.
I think the pace of the shot would have beaten most keepers let alone the swerve.
Who cares? We're in the 4th round!!!
Anthony Dove
290
Posted 09/01/2022 at 12:50:21
Because of the toxicity caused by the appointment of Benitez, the football is almost a side show.
If you had asked Evertonians a few years ago which two managers they would never entertain at the Club the overwhelming majority would have said Allardyce and Benitez. Thanks to the wisdom of Moshiri and Kenwright, we got both.
Until Benitez goes, the revolution will always be bubbling away and that is no way for the Club to go forward.
Brian Williams
291
Posted 09/01/2022 at 12:51:53
True mate. Home tie against a very lowly placed club, please!
Oh,, and a formation of anything other than 5-2-3.
Eddie Dunn
292
Posted 09/01/2022 at 12:56:05
Reflecting on what Darren and Nick said above about some of Hull's players. It shows that there are plenty of little nuggets out there in the Championship and beyond.
It seems that it has been trendy to go scouting exotic sounding fellers from far afield but these lads looked not only hungry (as you'd expect) but talented and fit.
Just when the awful commentator J. Pierce has decided that they were all knackered, they put together a few more pulsating attacks. The ferocity of their tackles exposed some of our own player's lack of power.
We won that game despite ourselves really but I would like our manager to take note of the folly of a back five and two in midfield. If he persists, he is asking for the sack.

Ian Riley
293
Posted 09/01/2022 at 13:09:40
Steve #219,
Its my opinion that booing young lads and new signings is a pointless exercise. Our fans are the most loyal in the league and have shown that over decades of watching very average football.
Our young players and new signings need our support. New signings are coming to a different area to live, out of their normality and away from family and friends. Let's give them a chance to settle in. Booing reduces confidence and hinders performance especially when young and inexperienced.
Whatever happens with the manager is not my concern. Rafa is giving the youngsters a chance but results must improve and he knows that. Rafa looked very stressed and relieved after yesterday's match. We won and aspects of our game were excellent and poor.
Hopefully we can move forward now. The team needs our support more than ever. Please remember, Steve, it's my opinion about booing at your team during a match. Boo, don't boo, I just don't see what it achieves for the players.
Mike Corcoran
294
Posted 09/01/2022 at 13:09:56
Teams crying out for a midfield destroyer to protect the defence and give Allan and Doucouré licence to roam.
Godfrey is not cutting at centre-back but has all the attributes, speed, aggression, to take this role. Surely worth a go?
Jonathan Tasker
295
Posted 09/01/2022 at 13:12:20
Seeing as I'm in predicting mode, I'm thinking Middlesbrough away in next round.
Danny O'Neill
296
Posted 09/01/2022 at 13:13:31
Combination of both, Eddie. Or should I say 3 things.
Looking to leagues like the Championship or Scottish league.
One or 2 academy players coming through.
Look further afield to foreign markets and picked up hidden gems.
Buy experience.
Okay that's 4.
We don't have to look too far to see who has done that to good effect.
I saw posters moan at us buying a Championship player in Patterson.
We can't expect to have it all ways. We won't build a successful team on hungry Hull players.
It's about the ingredients. Before my time, but we combined the youth of Harvey with the much sought after Kendall (lower league purchase) and World Cup Winner Ball to create one of our greatest midfields.
Youth, potential and experience, wherever part of the planet they come from.
Sean Roe
297
Posted 09/01/2022 at 13:21:14
A team that is struggling to stay in the Pemier League narrowly beats a team that is struggling to stay in the Championship. In truth there was very little in it with a goalkeeping mistake being rather fortuitous for Everton.
I didn't see anything in the team that I wasn't already aware of.Other than Gray and Gordon we have very little else going for us. I reserve judgement on the new lad.

Stu Darlington
298
Posted 09/01/2022 at 13:21:55
A typical shakey start,but we won! Scored 3 goals, had at least two penalties turned down which looked nailed on to me, hit the post and missed at least 3 good chances.
We could have scored 6 or 7 today with a bit more quality and consistency in the final third! We desperately need a striker.
A defence that can't defend set pieces is also a matter for concern and ours was all over the place at times today But let's take the win and move on.
Ray Smith
299
Posted 09/01/2022 at 13:28:49
Regrettably Beneitez will not be leaving.
Until Kenwright leaves by hook or crook, nothing is going to happen in respect of progress.
What influence does Usmanov actually have?
He is a ruthless businessman who doesn't suffer fools easily. Why hasn't he been appointed to the board. He would make life so unbearable for Kenwright that he would leave, thick skin or not.
Usmanov has sunk untold millions into Everton (no doubt the new stadium at Bramley-Moore Dock has a significant part to do with his investments), but he remains in the background.
Maybe he's a smiling assassin, running silent, running deep, and then bang!
I can but hope!!!
George Cumiskey
300
Posted 09/01/2022 at 13:33:42
Stu, we could of scored 6 or 7? So could've Hull!
Andrew Keatley
301
Posted 09/01/2022 at 13:35:23
Mike (294),
From what I have seen Godfrey is someone who plays in straight lines; once the space opens up in front of him he can carry a ball fast and direct, but only in a straight line. I cannot remember ever seeing him go on a mazy dribble.
Watching him burst forward reminds me of playing football on a computer game; if you've got a player with pace just get them clear and run them in a straight direction towards goal. There's not much ingenuity there beyond head down and go for the space.
On top of that, Godfrey is not at his best when under pressure in tight spaces, and he tends to prefer the easy pass to anything more demanding.
He also never seems to really want the ball. I cannot see him succeeding as a midfielder without working extremely hard on his all-round game – and I severely doubt that will happen.
Tony Abrahams
302
Posted 09/01/2022 at 13:38:33
I was surprised when I was told that about Keane, Andrew, because I saw their centre forward holding Godfrey off with ease a few times.
Keane should relish playing in a three because being our biggest and strongest physically, he should be happy just going to pick up the opposition's big centre-orward imo.
Either way, if Benitez doesn't make us harder to beat he's not going to last much longer, so that's got to be the manager's biggest aim otherwise he's definitely going to lose his job.
I've just had a text from my oldest son which says that Everton won 3 out of their last 13 games last season and Calvert-Lewin played with Richarlison in 11 of those games. It also says Everton have won just 2 of their last 13 games, and Richarlison hasn't played with Calvert-Lewin in one of them.
The problem runs much deeper than the manager it says, but it's his team now, and he's failing to make us harder to play against, and this is the golden rule of any sport imo.
Kevin Prytherch
303
Posted 09/01/2022 at 13:38:55
I know a few posters on here love stats, and, although I thought Michael Keane didn't do a lot wrong other than playing ridiculously deep again, I couldn't see what others were crediting him a lot for. This is taken from an article about the game….
"Keane failed to make a single tackle during the 120 minutes that he was on the pitch, a shambolic statement really when you consider the fact that the Englishman is a defender.
Furthermore, the 28-year-old lost possession 19 times and didn't manage to block a single shot whilst also managing three interceptions."
John Graham
304
Posted 09/01/2022 at 13:40:56
Good win in a difficult tie against Championship opposition.
Terrible start but, once settled we controlled most of the game and had two stone-wall penalties denied.
Without our two main strikers, the performance was missing a cutting edge but the team showed us that they are fighting for the shirt and the manager.
COYB
Alexander Murphy
305
Posted 09/01/2022 at 13:41:35
Until Kenwright leaves by hook or crook, nothing is going to happen in respect of progress.
Spot-on. Look how far back Bullshit Billy has been on our board.
Lack of success has become bewildering failure, yet still he clings on.
George Cumiskey
306
Posted 09/01/2022 at 13:43:01
I wonder if the new director had a word with Rafa about his terrible team selection and even worse substitutions?
Jay Harris
307
Posted 09/01/2022 at 13:45:54
Kevin,
I've never rated Keane. He has zero concentration and turns like the Titanic. He is also responsible for the back 4 dropping so deep.
We need a dominating leader at centre-back and that is not Michael Keane.
Dave Lynch
308
Posted 09/01/2022 at 13:46:10
I was watching a documentary on Elvis last night and the control Colonel Tom Parker had over him reminded me of Billy Bullshit.

Chris Corn
309
Posted 09/01/2022 at 13:47:45
Ray Smith, 299.
My understanding is, if Usmanov is appointed to the board, he would be unable to sponsor the club in the way he has been.
Until FFP is amended and owners can spend what they choose regardless of losses against turnover, that will continue to be the case. However, I am no expert in this and stand to be corrected.
This is why Premier League clubs are trying to prevent Newcastle's owners obtaining inflated "sponsorship" to circumvent FFP.
Tony Hill
310
Posted 09/01/2022 at 13:49:15
Derek @279, I second your comments about Alan Harper. I was on a table with him at a wedding once and he was very modest and courteous; a fine servant of our club.
Tony @302, yes, that has to be sorted pronto or he's toast. I recall the early RS under Klopp conceding almost every time they faced a set piece, so it can be done.
Barry Hesketh
311
Posted 09/01/2022 at 13:49:33
I'm not sure who said it, but one of the commentators or pundits said last night that Gray and Gordon were the difference because they had Premier League quality or words to that affect.
It was probably uttered by Shearer or Murphy, but the fact either one could say that about an Everton side is a terrible indictment of our current situation.

Chris Corn
312
Posted 09/01/2022 at 13:52:20
George @306.
Probably not, mate, same way as no-one seemed to do with the last 5 managers until they were sacked or left.
Alan McGuffog
313
Posted 09/01/2022 at 13:57:27
I'm sure I'll be corrected if (as I probably am) wrong. I recall Harper scoring a derby goal in (83-84?). Equaliser, past Grobelaar, into the Gwladys Street end.
I always considered that was the turning point in our fortunes. We had a storming end to the season. I think.
Yes, I'll have another Bushmills! 😊
Brian Murray
314
Posted 09/01/2022 at 14:02:34
Alan. Yes it salvaged a draw (Sharp missed a penalty as well) just beforehand so stopped us winning the League/Milk Cup Final. Another robbery to add to the six or seven vs them since the '70s. I'll rattle them off if you want, although I'm not bitter. 💙😂
Barry Hesketh
315
Posted 09/01/2022 at 14:02:55
Alan @313,
I think it was a few weeks prior to the Milk Cup Final at Wembley, Harper's goal did create a feel good factor going into the final, but I think the belief in the side had already began to grow prior to that derby match, but it was an important moment along the way.
Tony Abrahams
316
Posted 09/01/2022 at 14:08:07
Have one for Peter Reid, harrying Kevin Brock into a hasty back pass, Alan, have another for Adrian Heath having the awareness and then the balance to go round the keeper on a rock hard pitch. Then have another on Heath for scoring in the last minute against Southampton at Highbury, and then raise a toast to Sharp & Gray!
They were all key moments, during that memorable season, with the biggest possibly coming on FA Cup final day against Watford. I'm sure I read somewhere, that is when Paul Bracewell, decided he was going to play for Everton! And what a vital player he became!
Dave Abrahams
317
Posted 09/01/2022 at 14:10:13
I think in that game we established that we were at least their equal and were more than capable of beating them. We could go into those Derby games with confidence of winning, both fans and the team, and the next season we proved it.
Billy Roberts
318
Posted 09/01/2022 at 14:13:57
Brian @286
I'm pretty sure it was Tommy Carter. If I'm wrong, he can come on to deny it he's not usually shy with his opinions.
I do remember him having a similar bet that his favourite player Jonjoe Kenny would only get a handful of games for Schalke I'm sure he played the whole season.
I don't remember him coming on to say he got that wrong. Mike Gaynes will be able to confirm wether he "paid up" as I'm sure it was him he had the bet with.
Paul Tran
319
Posted 09/01/2022 at 14:16:32
I enjoyed watching us win a proper old-fashioned cup tie last night.
Mykolenko had a sound debut after a shaky start, Begovic made two excellent & important saves, Gray was superb & ran himself ragged, Gordon gave his now-customary fine performance.
Whatever's happening with the defence at Finch Farm isn't working. A disorganised mess and lack of concentration. We badly need an authoritative centre back to lead the line on the pitch and some clear, competent defensive coaching between games.
I'd give three in midfield a go as well. We're constantly getting outnumbered and overrun there, whoever we play.
I thought the 27 years campaign was about the governance and mismanagement of the club? From what I could see on the telly, it was all "Benitez Out" banners. Once again, the fans seem to be playing into the hands of the real culprits.
Anyway, we're in the hat. I'm hoping for Shrewsbury at home.
Mike Hayes
320
Posted 09/01/2022 at 14:18:59
Paul Tran - who said it was the 27 for 27? That could have been anybody there unless they advertised the fact?
Brian Williams
321
Posted 09/01/2022 at 14:29:28
Billy #318.
Thanks, I think you could be right, the name rings a bell.
Jay Wood
[BRZ]
322
Posted 09/01/2022 at 14:34:08
Tony @ 258. This:
'[I spoke to a man] who said that he knows someone who knows the Hull centre-forward. Apparently this lad had said Keane was one of the easiest centre-half's he'd played against for years, because he didn't try and rattle him, and just let him play.'
Sorry Tony, but I'm calling 'blag' on that one.
'Blag' by Eaves himself (and it's a big presumption that he did utter those words), or 'blag' by the man you know who said he knows someone who said he knows Eaves, who he said Eaves said what you said he said. Someone in that chain is blagging, because Eaves barely played in the same post code as Keane all game.
Beggar for punishment, I always like to watch the full game back again. And I don't even like the horror movie genre.
For the entire game Eaves rarely played within 15-20 yards of Michael Keane. For the majority of the game Eaves played on Coleman, who handled him comfortably.
Keane and Eaves had five close contacts that I saw. Four aerial duels. Our Michael won them all. Then Michael sped past Eaves in carrying the ball out from defence and Eaves slid in late on Keane, giving us a free kick.
Conclusion: either Eaves didn't make the claim he did, but if he did it was...'blag'.
Christopher Timmins
323
Posted 09/01/2022 at 14:37:30
The problems of the last 3 months were there for all to see and there is no need to mention them yet again.
The 3 goals were out of context with the overall performance, all were top class.
There is much comment about the marking at set-pieces but the bottom line is that we need someone at the back who can head the ball. Come back Derek Mountfield.
Let's hope we bring a commanding midfielder before the window ends.
If we get Mina, Richarlison and Calvert-Lewin back in the near future, we will be fine, even the kid who scored against Chelsea would be a help.
Ray Smith
324
Posted 09/01/2022 at 14:41:31
Chris 309
Thanks for that.
Hopefully he's still able to have an influence over Moshiri.
Chris Corn
325
Posted 09/01/2022 at 15:04:37
Ray 324, you might think like the answer to that question mate. Story goes Benitez was appointed on the say so of Usmanov.
Kenwright was told to wind his neck in when he objected.
He may not be appointed but he has a strong influence in what goes on. It's not even a secret anymore. Still, it's what many craved for so long.
Chris Leyland
326
Posted 09/01/2022 at 15:09:59
I'd echo what some others have said. We won, we are through to the next round and that's all that counts. It's the FA Cup and it throws up upsets year after year. We've been on the end of many of them over the years. Even when we won the cup in 1984, it took us 3 goes to get past Gillingham.
We had two stonewall penalties not given yesterday and we'd have been comfortably out of sight if they'd been given.
However, I don't get this 5 at the back Benitez is going with. It hasn't brought defensive solidity, has it, with 5 goals conceded in the last 2 games, and we are getting over-run in midfield too often.
We surely need to do go to a back 4 and a midfield 3 with then 3 of Richarlison, Calvert-Lewin, Gray, Gordon and Townsend. Problem is, have we actually got 3 central midfielders at the moment we can rely on?
Derek Knox
327
Posted 09/01/2022 at 15:10:35
Mike @ 294,
Not a bad shout there, it's worth a try... but would he? (Benitez)
Martin Reppion
328
Posted 09/01/2022 at 15:40:30
I sat in the Main Stand with my son and a 'neutral' policeman friend.
First comment: What an awful set of fans Hull have, throwing bottles of water at opponents (not plastic cups as I believe the BBC commentator described them). Singing ludicrous songs to taunt the blue fans, thus demonstrating a total lack of football knowledge. And generally being more interested in jeering us than supporting their own team.
As for the football, it was very worrying just how easily Hull beat Mykolenko every time they attacked down his flank. That coupled with the usual lack of control at the back has to be addressed.
Going forward, we looked far better than of late. The 'neutral' hit the nail on the head when he commented that Everton just lacked a Number 10. Far too often we had the beating of the Hull defence but for a killer ball to the willing runners, usually Gordon and Gray.Rondon could have been replaced by a cardboard cut-out of Graeme Sharp and we would have noticed no discernible difference. Except maybe that the cut-out would have better ball control.

Finally, we have to revert to 4-3-3. 5-2-3 is leaving us so short in the middle that teams will always win the ball back and cause us to remain under pressure. That is the Number 10 man again. Allan, Doucouré and Gomes may be the best we have short term. But not just two of them, please.
Scott Robinson
329
Posted 09/01/2022 at 15:42:41
Is the glass half-empty, or half-full? Yes, heavy work was made of Hull.
Yes, we conceded two goals, but twice we came from behind or when the scores were level to win.
We have seen this consistently this season (not that conceding the first goal is to be commended), but in the reign of the previous management, a 1-0 deficit at half-time or later was the death knell for Everton. There was no way back.
There is hope.

Ray Smith
330
Posted 09/01/2022 at 15:52:46
Chris 325
Thanks for the update.
Watch this space then 👍👍👍
Tony Abrahams
331
Posted 09/01/2022 at 16:04:45
It doesn't matter either way, Jay, but that's a very good point you make about how often our biggest central defender went and tried to pick their big centre-forward up.
I used to watch Holgate trying to muscle big centre-forwards and think, why? Why are you trying to outmuscle someone bigger and stronger than you, lad (use your brain) and why is your big mate letting you, considering how much bigger and stronger he is than you???
Dan Johnson
332
Posted 09/01/2022 at 16:08:42
How is it that we can all see that two in midfield will kill us, we can't press, as we sit too deep defensively, yet one of the best coaches in the world can't see it???
If we play this way against Leicester, James Maddison will have a field day.
Andy Crooks
333
Posted 09/01/2022 at 16:11:33
I saw some positives straight after the game and posted them. Also, it's good to read how everyone else saw it.
The formation was very strange and I don't see anyone disputing that. We looked shot of confidence but it grew. We didn't win a single 50/50 ball which is a worry.
Begovic, Gordon, Gray and Allan were good and, in my view, no-one had a stinker. Best of all, there was effort and togetherness.
Rondon? I have been scathing of him but I won't criticise him again. He looked fitter than I have seen him and he gave his all. Now 'his all' right now, is a mile short of what is required but he doesn't pick himself.
Finally, Gbamin. I thought when he came on he was the best player on the pitch. He looked comfortable and composed. Why "get rid"? Why ridicule him for being desperately unlucky? Our club supported him and he should have a chance to repay that support.
Barry Rathbone
334
Posted 09/01/2022 at 16:18:36
Dan Johnson 332,
"How is it that we can all see that two in midfield will kill us,"
It didn't... we won.
Dave Abrahams
335
Posted 09/01/2022 at 16:41:01
Chris (326),
That's very pertinent question in your last line: "Have we got three central midfielders we can rely on?"
I don't think we have, although some fans thought Gomes had a good game yesterday, not for me. He puts the opposition on the attack more often with losing possession too easily, no conviction in his half-hearted tackles, and very slow in his movements.
Mind you, he scored a good goal, his second for us in 3 years and I think you can count his assists on one hand.
Then we have Delph, who is not bad when he turns out and you know the answer to that, and Tom Davies who's still trying to prove he can be a good player after 4 years...
So it's plain that Benitez inherited a big problem in that area along with the full-back positions and the centre-back ones. He hasn't hardly been able to play his two main men up front since the very beginning of the season.
Adding to the many injuries the team has had, his hands have been tied although it doesn't excuse the mistakes he has made. I still think he will turn it round in the long run, hard though it is to see at the moment for even some of his fans, including me.
A lot of the players don't make it easy for him with some of their sterile performances, including not being able to do the basics, like passing, showing for the ball, and helping their teammates out. Some of the play yesterday was a complete shambles, like getting in each other's way, two or three players going for the same ball and still losing out to one of the opposition, schoolboy errors.
Mr Benitez has made a few mistakes but he has a bleedin' awful lot to put up with as well.
Peter Neilson
336
Posted 09/01/2022 at 16:42:41
Completely agree about Gbamin let's see what he can offer in the second half of the season. His recent court case confirmed he's on around £25k a week so not a huge drain financially (in footy terms!). Maybe Benitez has other ideas though.
Brian Williams
337
Posted 09/01/2022 at 16:43:43
Boreham Wood at Goodison please! 🤞
Errrr just watched their highlights, make it Kidderminster.
Soren Moyer
338
Posted 08/01/2022 at 16:54:58
I don't think we should critisize Mykolenko (just yet lol) because he hasn't kicked a football for weeks as Ukrainian league been on winter break since early December.
Mike Gaynes
341
Posted 09/01/2022 at 17:06:54
Darren #278, Kevin #303, good posts with different perspectives than most.
Brian #286, I thought Keane, Godfrey, Mykolenko and Benitez should all be sharing blame for that embarrassing moment.
Chris #326 and Dave #335, when people complain about the two in midfield, I've stopped asking who the third should be because my eyeballs roll so high when I hear "Gomes" that they're in danger of falling out. Gomes is a contributor off the bench, but not in the starting 11.
Steavey Buckley
343
Posted 09/01/2022 at 17:13:31
Blues can't put a team out on to the pitch that can play together as a team. It's so disjointed. There's good play here and there and bad play somewhere else. This team needs a nurse. Nurse! Nurse! You can't find a nurse when you want one.
Dave Abrahams
344
Posted 09/01/2022 at 17:18:58
Mike (347), I forgot to mention The Icelander, who hasn't got a name, but you made a good point in another post when you said his contribution has been missed this season. Spot on there, Mike.
I think he would have scored three or four and maybe the penalty versus Brighton plus the same amount of assists, he wasn't my favourite player but he could have slotted into that No 10 spot.
Andrew Keatley
345
Posted 09/01/2022 at 17:23:09
Kevin (303),
Those stats are just wrong. Off the top of my head I can remember Keane making at least one clean tackle on Eaves.
I Googled the text you provided and the source is, frankly, one of those laughable blogs that is essentially wall-to-wall clickbait.
Mike Gaynes
347
Posted 09/01/2022 at 17:28:22
He would, Dave. And the other factor was his reliability. He played more minutes than any other Blue last season, and would undoubtedly have been the third midfielder in most games. He wasn't my favorite either, but replacing his reliable presence has been a major problem.
Shaun Laycock
348
Posted 09/01/2022 at 17:30:31
Who ever plays in midfield it needs to be a three. Def mid, box to box and a continuity player. The nearest trio we have is Alan, Gomes & Doucoure.
Darren Hind
349
Posted 09/01/2022 at 17:34:41
Here`s one for anybody who is interested.
VAR? It seems kinda strange without it now, but is the game better or worse for it?
Peter Neilson
350
Posted 09/01/2022 at 17:41:11
It's all about the role and neither Gylfi nor James have been replaced. Not just the goals and assists from both but the setup of the team. The perceived limitations of both have been covered many times but creativity in the middle of the pitch is essential. Anything else is a compromise.
Barry Hesketh
351
Posted 09/01/2022 at 18:00:37
Darren @ 350
I would say that VAR is a nuisance for those who attend the matches, at least yesterday, despite the fact that we were twice done by the officials for the non penalty awards, everybody mainly got on with the game, same with the goals, no deliberations to check for phanthom offisdes or fouls etc.
In fact there should be no VAR in the FA cup full stop, if one stadium can't use it then no stadium can use it.
VAR has also made the officials less vigilant and prone to rely on the man in the box to correct their failures, which can't be good for the officials or the game.
Perhaps VAR should only be used in European club competitions and International competitions until such time as the officials learn how it should be operated, in its current form it's a big pain in the backside for everybody.
Bobby Mallon
352
Posted 09/01/2022 at 18:16:32
Daren I agree with Barry on VAR, I also see that Digne is in advanced talks with Villa
Mike Gaynes
353
Posted 09/01/2022 at 18:27:32
Peter #351, agreed.
Michael Williams
354
Posted 09/01/2022 at 18:35:11
Peter 186 - Here's why I won't say anything negative about Mykolenko in regards to his first game as a Blue.
"It's his first game in a new country, new league, new teammates, new coaches, new language and I believe this was a formation he rarely plays. Oh, he's been here less than a week."
Feel free to keep up the Toffee tradition and encourage his success and development and welcome him to his new club by calling him out for his "weak performance" and "poor showing" despite more than enough mitigating factors.
Brian Murray
355
Posted 09/01/2022 at 18:43:03
Var seems to work everywhere else without the weekly uproar here with the top four getting the benefit of the doubt putting it mildly. The offside drama can be avoided with a simple there has to be daylight between the players involved. Plus no obvious kopite bias in the van 200 miles away would help.
Tony Heron
356
Posted 09/01/2022 at 18:43:04
Just watching Notts Forest v Arsenal. There's a lot I don't like about modern football and particularly the modern player. I mean what is this about outfield players wearing gloves?
Mike Gaynes
357
Posted 09/01/2022 at 18:47:37
Tony #357, because if they wore mittens their grip would slip on throw-ins. ;-)
Tony Abrahams
358
Posted 09/01/2022 at 19:11:22
I don't like VAR, Darren, but this might change if the refs had to explain why they have given/not given the decision, instead of it being clouded in secrecy. This definitely helps these refs to continue being very inconsistent imo, and it doesn't help with my schizophrenic nature either.
That ref was smack bang in line with Gray's shot yesterday, that hit their centre half on the arm, stopping a goal bound shot, and I'd argue that if that would have happened at the other end, he'd have given a penalty kick right away?
I honestly think that if independent people monitored him closely, then I'd be prepared to bet a right few quid, that he'll give a penalty to another team soon, under very similar circumstances? This is my gripe.
Ray Robinson
359
Posted 09/01/2022 at 19:18:55
How can the FA Cup have VAR on some grounds and not on others? Surely the rules of the competition should be the same for each match?
Chris Corn
360
Posted 09/01/2022 at 19:22:28
Leicester game officially postponed.
Ray Smith
361
Posted 09/01/2022 at 19:24:24
If you criticise Mykolenko after on game, Your not a true Evertonian!!!
Minik Hansen
362
Posted 09/01/2022 at 19:30:56
Look at what happened to Arsenal against Nottingham Forest. Could've been worse against Hull. We've progressed, COYB.
Bill Gall
363
Posted 09/01/2022 at 19:33:44
Nice to see the premier league enforcing the Covid 19 rules, cancelling the Everton v Leicester game after allowing the Chelsea v Everton game to go on.
Mark Ryan
364
Posted 09/01/2022 at 19:52:02
Ray @ 362 spot on. People on his back from day one. They should try supporting the lad first and foremost. Petty, armchair critics. Give the lad a chance. Are you just sat there rubbing your hands together waiting for the new right back to fail too ? Does this give you more ammo ? More fuel under the Benitez bonfire ? Give the lad a chance.
Jim Burns
365
Posted 09/01/2022 at 19:59:46
On the issue of potential signings from lower divisions - just watched Forest dump the Arse out of the cup - what a player that young Spence is call his agent now!
Martin Mason
366
Posted 09/01/2022 at 20:01:07
I'm in that very important time post match when logic is restored, emotion stabilised and brain back in gear (first). An away win in the FA Cup where every game can be a banana skin against what proved to be a very good Hull side who had done their homework well and who had some very good individuals in positions where they could hurt us. We're missing our two best forwards both of whom, Richie especially, support our pressing game and defence well. Our best centre back is missing and we are bedding into a system which the players don't play well. So? An exceptional win with a lot of positives to take forward. Mykolenko was exceptional in his first game for the club.
Martin Mason
367
Posted 09/01/2022 at 20:09:19
Barry@334 to be fair he did change the formation after half time to a more conventional 4-5-1 when Kenny was subbed. The change from 2 in midfield was possibly the reason we won?
Matthew Williams
368
Posted 09/01/2022 at 20:11:21
I thought the new L.B did ok,nothing spectacular but steady enough.Gray,Flash and Townsend have to start every game for us from now on in and I'd give Rondon a miss and Tosun a run out instead...play a 4-2-3-1 formation.
Philip Bunting
369
Posted 09/01/2022 at 20:36:31
Jim 366 I we could take that forest side and dress them in blue and add DCL, Richarlison, Gray and Pickford we would be exceptional. Forest where fantastic, pacy, skilled and well drilled.
Danny O'Neill
370
Posted 09/01/2022 at 20:50:13
Having been scarred by poor decisions of officials over the years, I'm a fan of VAR as there is no hiding from the truth if implemented correctly.
There lies the problem. Implementation and ultimately, the standard of officials. It's still the same officials reviewing the screen.
Make them more accountable like in Rugby Union. Have them talk through their decision making process and they will have to think about it more as well as understand the rules.
100%? No system will ever be, but at least it gets it right more times than wrong. And yes, how can you have a competition where we have it implemented in some matches but not others?
Nottingham Forest and Hull because they played out of their skin in showcase matches? In that case we should have bought Hereford in 1974. It's the FA Cup. Arteta out!
Jay Wood
[BRZ]
371
Posted 09/01/2022 at 20:54:37
I don't agree that we played with a five-man backline yesterday. Whilst at times JJK tucked in to make a back five yesterday, even whilst he was on the pitch, the shape was more or less a back four all game.
JonJoe played largely well forward of Seamus augmenting the midfield more than the defence down the right flank. He had a very solid game.
And for all those saying Seamus is finished, he had a fine game yesterday.
Derek Moore
372
Posted 09/01/2022 at 21:00:01
Oh please no Danny, VAR in rugby union is absolutely farcical and has ruined the sport for me. Within rugby of course, you can endlessly recycle the ball, and that is(was?) a legitimate tactic to wear an opposition down and create openings. Now of course, a cheap hit in back play and the players get five minutes to rehydrate, reorganize and wind back into their lungs whilst the video men painfully do their work. The video system has become a tactic in itself - something to be gamed if it suits, and that was obviously never the intent upon it's introduction. (Unintended consequences and all that!)
Any game that relies on the clock always running, like football or rugby, will inevitably struggle to implement a seamless tech based review system. Video review suits games like tennis and cricket almost perfectly and it is adequate for purpose in sports like basketball and American football where time outs and clock stoppages are built within the rules. I'd like to just go back to what has served football perfectly adequately since professional games were first played and organized - referees on the pitch making the decisions, and that being the end of it.
Peter Neilson
373
Posted 09/01/2022 at 21:03:30
And another assist from JJK. Double that of Iwobi, Rondon and Digne combined.
Danny O'Neill
374
Posted 09/01/2022 at 21:05:24
I didn't see a back 5 against Brighton either Jay, other than on paper.
I think the manager was trying to implement a fluid system based on whether we were in possession or defence. Not quite NFL offence / defence, but fluid.
The problem is, when you have natural full backs on the pitch in that setup, regardless of instructions, they will default and make it look like a back 5. He doesn't have the players to do what he's wanting to do. Or he's just over-complicating matters.
I agree, I don't think Coleman had a bad game yesterday. I also agree on your point on Kenny; it's why he ended up being involved in the mix up with Allan for the loss of possession in midfield that led to Hull's 2nd goal.
Brentford next and onto the 5th round.
Danny O'Neill
375
Posted 09/01/2022 at 21:10:34
But the alternative Derek is to continue with those Derby memories of inadequate officials giving decisions because they are star struck and can't be held accountable or be expected to explain themselves?
Once they blow the whistle, the clock has stopped anyway, so lets have a look and make a decision on what we see.
If we don't, the pundits will make a living out of doing so after the match saying what a poor decision it was.
Derek Moore
376
Posted 09/01/2022 at 21:16:04
Except VAR hasn't really addressed those issues Danny. Referees continue to be influenced - perhaps unconsciously, perhaps not - by the crowd, the players and the stature of the clubs themselves.
And, as you originally pointed out, VAR is not universally available across the football pyramid anyway. This too is problematic, at least to me as a question of simple fairness.
I'd like to see a system like Hong Kong Horse Racing has where questionable decisions can be examined by a panel of stewards. Poor decisions could lead to better training or guidance for officials, a series of bad decisions and you start moving poorer performing officials to lower tiers of the pyramid. More transparency within the existing system - rather than fundamentally changing the rules of the game. That's my preference.
Danny O'Neill
377
Posted 09/01/2022 at 21:26:34
That's the crux of the problem Derek. The standard of officials as ultimately, they still make the decisions whether that is on the pitch or at Stockley Park.
You hit the nail; transparency, which leads to my point about accountability. Which is what I like about Rugby Union. They have to openly explain why they are making the decision and why.
Tony Abrahams
378
Posted 09/01/2022 at 21:37:25
You've obviously been trying to work this out with your Kiwi mates Derek, after getting frustrated with the way VAR is spoiling that great sport?
I only watch Rugby Union occasionally, so wouldn't have been aware of what you describe, and like Danny, I've always been impressed with the transparency, but now you've explained the downside, it does make me think that sometimes certain sports were better left alone?
Remember the excitement of the golden goal, until it was implemented and had the total opposite effect of what it set out to do? This was replaced with the silver goal I think, but fear continued to ruin the concept, before it was eventually binned.
VAR is great in theory, but the refereeing standards are nowhere near good enough just yet, and not only on the pitch but especially at Stockley Park is my opinion.

Derek Moore
379
Posted 09/01/2022 at 21:45:21
It's unintended consequences as always Tony, and your golden goal example is a great example of that.
For me it's pretty simple, if we want better officiating we need a process to get a better standard of officiating.
And yes, you rumbled me on the rugby connection. Obviously we've got a fairly handy national rugby team here, and it's a standard tactic by All Black opponents to break momentum and concentration with the "professional" stoppage. It drives the locals absolutely batty, especially as the South Africans are seemingly the masters of it.
The stakes are so universally high in elite sport that any rules is going to be examined and used for an advantage if it's possible.
It had been years since I watched darts, but was shocked to see that Gerywn Price fella screaming in peoples faces on a routine mid leg 120 or similar. If a game like darts is starting to have these sorts of issues (pushing the absolute limits of the rules), then the scale of the challenge in sports like football or ruby becomes obvious.

Peter Gorman
380
Posted 09/01/2022 at 21:50:29
RE: Mykolenko - Evertonians are supposed to be knowledgable fans but it appears there are some of us who can barely understand the language.
"Feel free to keep up the Toffee tradition and encourage his success and development and welcome him to his new club by calling him out for his "weak performance" and "poor showing" despite more than enough mitigating factors."

He was poor last night and it was a weak performance and pretty much everybody has agreed not to read too much into that. Explicitly saying so. Also, we are discussing Mykolenko on a forum I doubt he reads, between us friends, this doesn't equate to 'welcoming' him to the club, whatever you mean by that.
"People on his back from day one. They should try supporting the lad first and foremost. Petty, armchair critics. Give the lad a chance. Are you just sat there rubbing your hands together waiting for the new right back to fail too ? "
Again - we are discussing this on the forum and stating a pretty mild analysis of his below-average performance. We are giving the lad a chance, nobody is 'on his back' and I can't believe I need to state this but it should be fecking obvious that we'd all rather he played a blinder in his next game. Same goes for Patterson. Same goes for bloody Rondon!
But, just so I can be sure I understand what the TW intellectuals have arbitrarily decided, what if he doesn't?
Is it acceptable to discuss his performance on his second performance? what figure have you bright sparks agreed upon?
Some of you come across about as quick as Salomon Rondon.
Alan McGuffog
381
Posted 09/01/2022 at 21:56:35
That lad Spence at Forest looks a find. Mind you he was lucky to get away with a yellow for that tackle
Brian Wilkinson
382
Posted 09/01/2022 at 22:23:28
Rugby league is the same Danny, they have a big screen, if a ref is unsure, he will hand it to upstairs to be checked, the ref will say for example I have a try or no try, check the grounding and possible infringement.
They will then play it back in slow motion from different angles, for fans to see in the stadium, freezing the play at the actual grounding for a try.
If they cannot find an obvious reason one or the other, it goes on the refs original call, at the moment the big screen at Rugby league is only used for the live broadcast games.
The problem with var is they do not play a slow motion play back, all you get is a freeze frame and lines drawn, yet one frame back, that player could be onside when the ball is actually played.
The ref gets a replay of it, but all the fans in the stadium get, is the freeze frame.
At no point in rugby league, will the ref get a call in his ear after a try, it is up to the ref whether he gives a try, or asks upstairs to check it, var needs fixing because refs are making more and more mistakes with var being a conviniance to bail the refs out.
Waste of time having linesmen, refs rarely go over to them to check, they bypass them and look for var to intervene.
Tony Abrahams
383
Posted 09/01/2022 at 22:25:25
They love their Rugby those Kiwi's and from what I can remember, nearly all of them are as straight as an arrow when it comes to sportsmanship Derek, so I can imagine them fuming, knowing that this VAR is killing the most skilful team in the world.
Watching the All Blacks play Rugby, was like watching The Brazilians play football when I was a child! So much skill, and great knowledge, because they were born into places where people want to win with a bit of class!
Danny O'Neill
384
Posted 09/01/2022 at 22:38:12
Don't start me on linesmen or so called assistant officials as they are referred to now Brian.
How often do we now see them now go to point their flag one way only to give the Ref the eye and go with the way his sly hand points? Yes men rather than making decisions. About as effective as those assistants they experimented that used to stand near the goal in European matches and achieved little.
The problem isn't VAR or technology. It's the standard of officials because ultimately, they still have to make the decision.But used correctly, the technology will get more rights than wrongs.
Kevin Dyer
385
Posted 09/01/2022 at 23:02:09
#274 Chris, spot-on assessment, I agree with all of that, measured and on-point.
Annika Herbert
386
Posted 10/01/2022 at 06:39:33
We are in serious trouble if people are now thinking the midfielder with no name would make any difference!
Martin Reppion
387
Posted 10/01/2022 at 09:56:37
Ray #361.
Calling people 'Not a true Evertonian' for mentioning something that needs addressing about a new player is highly offensive.
Mykolenko showed some great moments. Both going forward and that one great block. But he was regularly skinned by the right wing back (in the first half) when he showed him inside. This led to his booking and consistently put us under pressure. I was in the main stand so had a very good view of him, particularly in that first half.
I do not doubt that with improved fitness and a little coaching he will prove to be a great signing. At times, his link up with Gray was reminiscent of Pienaar and Baines.
Having been at the game I wrote as I saw it. I was not calling for his head after one game. I do, however, have the right to an opinion on what I saw. I will be back on here after the next game I am able to see and fully expect to be praising him to the rafters when he keeps the opposition winger quiet for the whole game.
As for my comments on Rondon. I stand by every word. We overpaid for him. But a lot of the blame goes to the previous manager for leaving us in a position of having no back up striker. Last year he had the opportunity to see what Joshua King could have done for us, but gave him no game time. He's looking pretty good at Watford so I'm told.

Michael Lynch
388
Posted 10/01/2022 at 10:44:51
I wasn't at the match, but it's interesting to read the views of Martin @387, who was. From my viewpoint on the sofa, I saw exactly the same thing from Mykolenko - a few bits of decent simple link-up play, but whenever he was attacked he was beaten easily on the inside and gave away the odd silly foul because of it. And he clearly completely missed his header for their first goal. Perhaps the blame lies with Rafa who put the new left-back straight into the side when he probably needed more time on the training pitch. To criticise a new signing's performance isn't a crime, and doesn't mean you don't want (and expect) him to improve. It's simply reporting what you see.
Danny O'Neill
389
Posted 10/01/2022 at 11:10:32
I'd agree Michael and it is funny how we all see things different. I saw quite a bit of no-nonsense defending from him. Not afraid to get rid when necessary.
Too early to judge, as it will be with Patterson, but we also come here to comment on the game and what we see in individual matches.
Let's not forget, we've brought in two young full backs. Defenders mature later, so for those who like youth over experience (I prefer a blend of both), we're going to have to be patient with them.
Dave Abrahams
390
Posted 10/01/2022 at 11:20:06
Danny (384), Danny spot on about most linesmen, Rondon was asking the linesman in the Hull game why didn't he flag for the foul when he was brought down, the linesman was looking right at the incident but did nothing, he could have flagged and helped the useless referee, who in this part of the play was facing the backs of Rondon and his marker, why are they there if they don't do what I imagine they are there for.
In one game yesterday the linesman did his job and the female referee took his word and sent the player off for foul play, it could have been a game from Saturday, not sure.
Brian Murray
391
Posted 10/01/2022 at 11:25:56
Danny O'Neil ( unrelated topic ) you may be be interested in pic of Gordon lee manager of month ( I'm at the front aged 14) he was t total so had his gallon of whiskey made into miniatures. 1978. Il send it to you or any blues Brianjackson0962@icloud.com thanks Andy for digging it out for me
John Boon
392
Posted 10/01/2022 at 12:54:52
I think most Evertonians who watch any game live are in a state of anxiety from the start. That being so I think that our perspectives on a game are not quite as accurate as we might suppose.My reasoning is relatively simple. I watched the Hull game late on Sunday having already read many reports which were generally negative about how we played. Knowing we had won I was able to actually relax, make my own assessment about the team and individual performances.Some of my own personal opinions are just that and fellow supporters may disagree.
(1) I don't think we were nearly as bad as generally reported
(2) We made our usual "GOAL" donations to the opposition
(3) We were definitely the better team, fully deserved the win and should have won by more
(4) Gray gives us a new dimension. A great buy
(5) Townsend has now scored enough goals like the one he got against Hull to prove just what he can do. His enthusiasm for playing for Everton is an example for all players
(6)Gomes had a really good game and still has the potential to create chances for other players.
(7). Other than inexcusable mistakes nobody had a stinker.
(8) Dobbin just has to play far more.He showed serious potential in the few minutes he was on the field. The next observation needs special mention.
(9) After reading about so many negative responses to "Mykolenko" I was prepared for a dreadful display. NOT SO. He did make a number of mistakes. He was not close enough to opponents on a few occasions. However I tried to focus on what he did well. For someone who was playing his first game in a different team and country I think he showed that we may have bought a very capable player. Certainly does not deserve the derisive comments made by some posters. Give the kid a break.!!! "We all need to be a little more patient."
I agree we were only playing a Championship team, But this is the FA cup. Ask Burnley, Newcastle and Arsenal fans what they think.
Once more try to watch the game again and try to enjoy the positives along with the very obvious mistakes that HAVE to be addressed.
Ray Smith
393
Posted 10/01/2022 at 13:31:47
Martin @387,
Chill out, mate.
If you find my comment 'highly offensive', then so be it.
It was his first game, he will learn quickly and come good, IMO.
John Keating
394
Posted 10/01/2022 at 14:48:34
VAR
For clear and obvious errors
Surely that means one quick look taking maybe 2-3 seconds max
Surely not 3-4 minutes looking at various angles 59 times?
Mind you in my opinion I would bin it entirely
Conor McCourt
395
Posted 10/01/2022 at 20:05:27
I thought the game highlighted our midfield dilemma more than any game I had seen. Some thought we were woeful, some thought Allan was terrific, some thought Gomes was class while Gbamin has got mixed reviews. I think on this occasion all posters differentials have a grain of truth except the latter.
For me this match showed why Benitez will not be our manager come the end of January. In the past I have been critical of Silva and Ancelotti, when they hadn't had Gueye or Doucoure, for continually playing a collection of slugs, but in fairness the solution often involved playing someone like Holgate or Godfrey in an unfamiliar role which both understandably may have been reticent to do.
Benitez has more options with both Doucoure and Gbamin as viable options to bring athleticism yet he unbelievably went with a two man pairing of Allan and Gomes which I felt would be problematic, and so it proved despite the level of opposition.
In the first half it summed up why Allan should never be deployed in a holding role. At times he pressed so high and got played around that he looked like he was a number ten leaving us totally exposed. I felt so sorry for Gomes as he was virtually having to be our architect and protector alone. Gomes with his lack of mobility struggles to do both in a two yet last night early on he was having to do it in a one man midfield.
In the second half things were different with Allan coming out like a man possessed and we began to dominate the midfield with Gomes orchestrating and Allan winning everything, we looked like a class above.
Hull then brought on fresh legs with Huddlesone imperious and Gomes clearly flagging about fifteen minutes before his substitution probably due to his first half exertions and lack of game time. I was now feeling sorry for Allan who was in a role reversal from the first half.
For me Doucoure was disappointing when he came on and conversely I felt it was Gbamins unpopular introduction which swung the game back in our favour. I thought the energy, strength, athleticism and surprisingly touch had a big impact in deciding the outcome of the match and helped us wrestle back control of the midfield area.
Against such class of opposition to be opened up so much shows how bad the midfield set up really is yet I agree with those who argue Gomes was as good as any Everton player for sixty or so minutes while Allan for seventy five (including extra time). However this won't be the case against more intelligent and better quality players who will destroy us in those pockets if the system and personnel aren't changed.
Now is the time in my opinion to see if Gbamin is suited to playing the holding role in a three with Doucoure and either Gomes or Allan starting with the other replacing as of what's required. No doubt however Benitez will drop Gomes, bring back Doucoure and it will be just like the Brighton scenario and many more before. The irony is that any time Benitez has gone to a three even when using the totally unsuitable Brazilian as the shield we have improved appreciably mainly due to the fact that for so many of our midfielders it plays to their strengths and masks their deficiencies (Gomes,Doucoure and Allan when Delph played as the holder).
No doubt Benitez will be as intransigent as ever.
Peter Mills
396
Posted 10/01/2022 at 21:58:47
Did I just hear Shearer correctly? Hull were dumped out of the FA Cup because VAR wasn't available?
Peter Carpenter
397
Posted 10/01/2022 at 22:05:38
I thought he meant we were dumped out because we didn't get 2 penalties. Poor man, head scrambled by Cambridge.
Neil Copeland
398
Posted 10/01/2022 at 22:08:52
Shearer is right though, how can VAR be used for some ties and not for others? If it cannot be used at all games in the same competition then it should not be used at all. A complete farce that makes those running the game look very silly.
Rob Halligan
399
Posted 10/01/2022 at 22:12:23
I can never understand why a club this season can have VAR, and not next season, and a club does not have VAR this season, but will next.
I can only think that there are not officials to cover all the games in the Premier League and the Championship, unless there is not enough room in their little room at Stockley Park.
Tony Abrahams
400
Posted 10/01/2022 at 22:33:30
The officials are making it up as they go along, and I hope Mark Halsey is right, and some of these very corrupt officials end up in court, for some of their cheating.
Derek Moore
401
Posted 10/01/2022 at 22:48:34
That's why I want to see poor refereeing performances grilled by stewards, and their findings released to the public, Tony. Transparency, accountability, and a pathway to better officiating outcomes.
Ray Robinson
402
Posted 10/01/2022 at 22:49:32
A Milwall player scores a goal with his hand and we're out of the FA Cup because they didn't have VAR at Milwall. Had the game been at Goodison, there would have been VAR and the goal wouldn't have stood. And they wonder why, for some, the FA Cup is losing its appeal.
So Shearer is right about the VAR inconsistency but to suggest that Hull got dumped out of the Cup because they didn't have VAR, suggests that he's headed the ball too much.
Andy Riley
403
Posted 10/01/2022 at 22:50:41
The problem with VAR is the confusion around "clear and obvious" error ruling. It can be simplified by simply saying that VAR is the final decision maker.
Was it offside or was it a penalty?
Was it actually a corner that led to the goal?
Let the video make the ultimate decision based on the video evidence rather than allow the get outs to favour the Super Six?
Peter Carpenter
404
Posted 10/01/2022 at 23:00:43
It's de-skilling and undermining referees. The walk to the screen must be embarrassing. It means only one thing, 'You got it wrong, you dickhead.'
Peter Carpenter
405
Posted 10/01/2022 at 23:04:21
It needs to be in the control of the referee. He could ask for a check if he is unsure, otherwise carry on.
---
Add Your Comments
In order to post a comment, you need to be logged in as a registered user of the site.
Or Sign up as a ToffeeWeb Member — it's free, takes just a few minutes and will allow you to post your comments on articles and Talking Points submissions across the site.
---
© ToffeeWeb