Benitez: Digne wants to leave
Friday, 7 January, 2022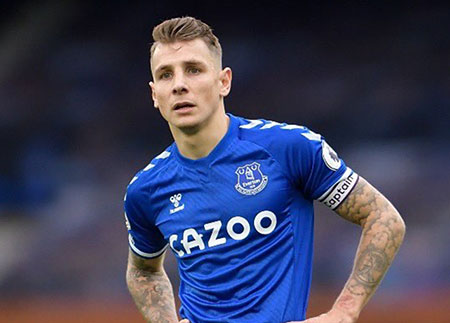 Rafael Benitez says that Lucas Digne has set his heart on leaving Everton as the pair's relationship appears to be irreparable.
Digne is reported to have had a training-ground exchange of words with the Spaniard over tactical disagreements and he hasn't featured for the Blues in a month now.
Benitez has frozen Digne out of the team and only returned him to the matchday squad as an unused substitute in the recent defeat to Brighton, a result that extended an already dreadful run of results to a paltry one win in 12.
Digne has been the subject of mounting transfer speculation linking him with a move to Chelsea, Newcastle, Inter Milan or Napoli and Benitez told the press today that the player has given every indication he wants to leave:
"I think he was very clear. I went to ask a question to every fan or former player. What would Peter Reid say to a player who doesn't want to be there?
"That's it; it's simple. I had a couple of conversations with him, he told me what he thought. So, what do you expect the manager to do when a player is thinking about leaving?
"Do we want to try and grow and improve?" he explained. "Or just to manage the egos and then leave the team behind, depending on the egos?"
---
Reader Comments (289)
Note: the following content is not moderated or vetted by the site owners at the time of submission. Comments are the responsibility of the poster. Disclaimer
Dave Williams
1
Posted 07/01/2022 at 16:01:24
My word… from the text of the entire press conference, it seems they have had one hell of a falling out. Rafa making it pretty clear that Digne doesn't want to be here and has been putting himself before the needs of the team.
I can't argue with that but just hope we will have enough players left if those in the same boat follow Digne! With this approach, Rafa will rid us of the wasters but will he keep us in the Premier League and give us a team worth watching?
Justin Doone
2
Posted 07/01/2022 at 16:05:41
I understand Rafa's comments but it's a bit one-sided. Does he want to leave because of the manager, the coaches, lack of playing time, lack of ambition shown by the club?
Is he still prepared to train and play giving 100% until resolved? If not, fine him. If he is, play him.
I'm presuming the player will hand in an official transfer request to ensure it is official and any transfer is concluded in the right way.
Unlike Trippier, I can't believe a very good international left-back in his prime would accept a lesser club, ie, Newcastle, unless European football is guaranteed.
Which should help ensure we receive a premium, as he is not cup-tied!
Christine Foster
3
Posted 07/01/2022 at 16:13:44
Blame put squarely on the player's ego. Yet another player who dared question the tactics and paid the price. If a player cannot question tactics,, is he them blamed for having an ego?
To ridicule a player publicly, to put a manager's ego ahead of the team's need, and not play a player, is tantamount to constructive dismissal. To play the ego card and 'ask the fans' is disgraceful, trying to shame a player.
Benitez's job is to manage. That includes man-management, ego or not, it's something once he is questioned results in this. Dreadful, says more about the manager than the player.
Iakovos Iasonidis
4
Posted 07/01/2022 at 16:14:51
His price just fell £10M.
Bill Gall
5
Posted 07/01/2022 at 16:16:56
No problem: player disagrees with the manager, manager tells him he is not going to change, player says "I don't want to play in that system," manager says "Okay, we will find you a new club."
Not the first player to strongly disagree with a manager; if the manager backs down, other players will believe he is weak and individual performances will drop.
You can have disagreements between manager and individual players that should be solved between them; if not, one of them has to go. Problem is, sometimes it is the wrong person that takes the fall.
Paul Niklas
6
Posted 07/01/2022 at 16:22:02
Everton are now a bottom-half club in every way. I would suggest the club get together and call off the construction of the new stadium at Bramley-Moore Dock as it's going to add no value to this team or club in the future. We are being overtaken by clubs like Newcastle Utd and Aston Villa, on top of the 7 teams I would class as historical competition.
I was a fan of Benitez but probably got that wrong; it's so difficult to work out as he inherited a very poor team and squad.
To see Coutino heading to Villa and now one of the best central midfielders in the Premier League in Bissouma linked when we have Doucouré who is everthing Bissouma isn't, it's embarrassing.
The task at Goodison is immense and the cost of a clear-out is beyond the current finances, that's if anyone wants any of them.
Sky are lauding Newcastle and Villa, they never have done that with us because we are a nothing club going nowhere and no amount of money, as proven, makes a difference here and no so-called world class managers make a difference also.
The answer is beyond us all and undoubtedly beyond the current board, which became more incestuous this week added to the Duncan Unsworth list of What The Fucks.
We are a mess in every way and someone eventually has to realise that history, has-beens and "The People's Club" mean fuck-all to anyone other than those that seem to think 3 years in the 80s puts us at the top of the tree with the big clubs.
"Rest in Peace, Everton FC"
Kieran Kinsella
7
Posted 07/01/2022 at 16:29:38
Digne boasted about his stats last season, immediately after the final-day loss to Man City. I thought that crass and it makes me inclined to believe he broached the subject with Benitez.
However, this section of the interview makes no sense:
Just to play devil's advocate then, why was Lucas Digne named on the bench against Brighton?
Benitez: Because as a manager you have a responsibility to try and do what the best is for the club. Sometimes you play for that.
Best for the club? How did it serve the club to have him on the bench with a fading right-back struggling in that role? Moreover, with him on the bench, what circumstance would have seen him used if not as a sub when clearly Coleman floundered?
Presumably, even if Coleman got injured or sent off, he would have shifted Godfrey to left-back since he has been chosen him over Digne of late. So why was he there? I suspect because Rafa figured Coleman would struggle and wanted him there in case that happened.
But when it came to it, after fans cheered Digne warming up after 30 minutes, Rafa took that as an affront and decided to stubbornly double down on his original decision. This in my view makes him a prideful idiot.
Beyond that, managing is about getting the best out of your players. It's not about just being an absolute monarch. Plenty of players, most players have egos. But do you figure out a way to communicate and inspire them or do you just write them off? I know what I would do.
Christine Foster
8
Posted 07/01/2022 at 16:30:31
Who is next?
This is Benitez, he has a track record at all the clubs he has been at.
Divisive management does not get the best from a team.
Christopher Timmins
9
Posted 07/01/2022 at 16:30:32
Let's hope that the transfer of the player happens in the correct manner. It's a World Cup year and it's important that the player moves to a club which will give him significant game time this side of the competition.
I wish the guy well and I hope that things work out for him going forward. Maybe he needs a change of scenery; certainly his performances in 2021 were not up to levels achieved when he first arrived.
Tony Abrahams
10
Posted 07/01/2022 at 16:31:00
Any other manager would usually get lauded for this, simply because a scouser's attitude usually is to tell someone who doesn't want to be here, to just fuck off.
Digne, who is a player I like, has been poor for quite a while now, and this is possibly because his heart hasn't quite been in it since Ancelotti left?
Stan Schofield
11
Posted 07/01/2022 at 16:31:46
Not impressed with Benitez one iota.
Ed Prytherch
12
Posted 07/01/2022 at 16:34:54
We have only heard Benitez's side of the story. Look at his replies to other questions, he hardly ever gives a straight answer. This looks like a replay of the Distin - Martinez drama.
Brian Harrison
13
Posted 07/01/2022 at 16:35:41
Benitez, for some unknown reason, asked the fans what would Peter Reid do if a player didn't want to play for the team. Thankfully, Peter isn't under contract like Digne and, since the outburst by Benitez, Peter has tweeted "I wouldn't have had him on the bench!" Touchez, Peter!
Let's not forget that Benitez, in the press conference the day before the Chelsea game, was asked if Digne was in the squad; Benitez said Yes… but today he said he was sick so we had to leave him out. Obviously, Digne is not happy with those comments, tweeted a picture of him and his son at the Albert Dock, showing he wasn't sick.
So Benitez was willing to put him on the bench at worst against Chelsea but changed his mind from the press conference and said Digne was sick, which he wasn't, and Benitez didn't say he had refused to play for the club.
So let's assume Benitez is telling the truth, which is like believing what Boris Johnson says is true, and Digne has since the Chelsea game refused to play for the club; then why include him in the squad?
Also, in the press conference, he said he wasn't interested in stats from a team who finished 10th last season. Well, maybe he needs to look at the stats for this season, which show he is the worst manager we have had since Mike Walker.
How long will Moshiri keep him on? Surely he is getting perilously close to the sack. What happens if we lose lose again to Leicester on Tuesday. I know we play Hull tomorrow… surely he can't lose that one as well?
Kieran Kinsella
14
Posted 07/01/2022 at 16:38:58
Brian Harrison,
Actually, Rafa claimed Digne was going to start versus Chelsea:
"Lucas Digne is a good player, he was an important player for us and yesterday we did a training session and he was in the 11 starters,"
So was he really due to play? Even though he "doesn't want to be here"? Or was this bullshit from Rafa who acted like he would have played but refused to, so he could justify his further exclusion?
And yeah, Brian, good points on stats. Digne was the top assist provider last season. Now, we are worse than last season. Maybe that's why Digne raised the stats.
Tony Abrahams
15
Posted 07/01/2022 at 16:39:47
I'm just hoping that Benitez can stay long enough, because we could also do with someone really divisive in the boardroom!
I personally think Kenwright already senses this, which might mean this is another thing that Rafa Benitez has got to contend with, because, even as things currently stand, he's only the second most divisive man at our club, a club that has needed shaking up for years.
Tom Harvey
16
Posted 07/01/2022 at 16:39:56
For those thinking our bargaining position is weak for Digne, he's desperate to play in the World Cup and won't get anywhere near the French squad if he doesn't play first of all and also play well when he does.
He'll go to Newcastle if he has to (with an escape clause if they go down). Don't worry – we'll get a decent payoff for him.
Tom Harvey
17
Posted 07/01/2022 at 16:42:52
No player should dictate to a manager how the team should play and whether or not he wants to play a certain way or even play at all.
I'm totally behind Benitez on this.
Christine Foster
18
Posted 07/01/2022 at 16:44:41
Tony,
I agree with you; normally, if a player doesn't want to play, then it's best you depart. But if a manager engineers it, if he has form for putting his own ego ahead of the teams needs, who is to blame?
We do not know who said what, but fall out with or question this manager and it means you are finished.
He has form. I remember reading somewhere that he once sent Ronaldo a USB stick with videos of how he should improve. Ronaldo sent it back and said he would send him back a USB stick with all his goals on. Ruthless or stupid?
Mal van Schaick
19
Posted 07/01/2022 at 16:45:01
No great loss. Recent poor form and mistakes. Take the money, get rid of him and a few more and rebuild……again.
Mike Gaynes
20
Posted 07/01/2022 at 16:46:51
Tony #10, it's not just since Ancelotti left. Digne was well off his best for most of last season under Carlo as well. He has not be able to duplicate his form of his first 2 years with us.
Lots of folks here will want to blame one or the other, but I don't think there's any point in looking for verbal clues to who's at fault for this. What we have is two professionals, a manager and a player, both performing poorly, who can't get along with each other.
Christopher #9 is right. Get the transfer done properly and promptly. Wish Lucas the best to recover his form with his new club. And move on with our new young left-back.
Kieran Kinsella
21
Posted 07/01/2022 at 16:47:01
Christine
Exactly. Rafa said just a week before this all started that he wanted to sell a good player at the right time. Then suddenly, Digne is a fifth columnist. Totally engineered.
Rob Halligan
22
Posted 07/01/2022 at 16:49:58
Lucas Digne still has 3½ years left on his contract. We paid £18M for him, and in my opinion, his value has certainly increased. I read somewhere that Everton want £30M for him. Anything less and I think he will still be here next month.
For fuck's sake, if Liverpool can sell some of their second-string players for well over £20M, then surely we have every right in asking for at least £30M for a full French international.
Larry O'Hara
23
Posted 07/01/2022 at 16:52:24
Much as I am dubious about Benitez, we need to hear Digne's version before coming to a conclusion.
That said, it seems wrong to talk about Digne publicly like this. Would Alex Ferguson have? I think not.
Anthony Murphy
24
Posted 07/01/2022 at 16:53:37
Mina next? Don't think Rafa is done yet.
Mike Gaynes
25
Posted 07/01/2022 at 16:54:16
Tough day for this old movie buff. My lifelong idol Sidney Poitier has passed.
Tom Harvey
26
Posted 07/01/2022 at 16:54:52
Rob 22,
Yes, we should get good money for him.
Robert Tressell
27
Posted 07/01/2022 at 16:55:03
Looking foward to seeing Mykolenko more than anything. The Digne departure, once resolved, should allow us to reinvest in the midfield, though, which is good.
Maitland-Niles has now gone to Roma so it won't be him. Nor Coutinho (which is probably a good thing). Maybe Van de Beek on loan with option to buy.

Brian Harrison
28
Posted 07/01/2022 at 16:56:26
Tony,
Benitez is employed as our first-team coach, which is his sole responsibility, and just like he did in China and at Newcastle, he is failing miserably.
He has hired his assistant manager who was with him at Newcastle, as well as the fitness coach who was with him at Newcastle as well as the sports scientist who was with him at Newcastle. Also, he has signed Rondon who was with him at Newcastle and in China, and Townsend who was also with him at Newcastle, and if rumours are right put in a bid for Longstaff who is at Newcastle.
Given all the appointments from Newcastle, is it any wonder we are where we are in the league? Also, I haven't seen any improvement in our fitness since these 3 coaches have been here.
I know you are hoping he will oust Kenwright; as I have said loads of times, I don't give a toss if Kenwright stays or goes, but it's not the job of a manager who can't do his own job to worry about what a 2% shareholder does or doesn't do.
As far as I know, Kenwright didn't sign Begovic or Rondon – that was down to the Caldy clown.
Tony Abrahams
29
Posted 07/01/2022 at 16:57:48
I heard that Digne, also turned up for training the very next day, after pulling out of the Chelsea game the night before, because he said he wasn't well enough to play.
If he did say he was sick, and then took his kid to the Albert Dock, then he's obviously took the piss, and should never play for Everton again, but if Benitez has been telling lies, then I'd understand Digne never wanting to play for the man again.
Once you cross the manager, it only usually ends up one way, and especially if you have no special affinity to that club, which means there is absolutely nothing left to stay for.
Danny O'Neill
31
Posted 07/01/2022 at 16:59:49
It's been on the cards for weeks and we've just signed the Ukrainian for somewhere between £15 - £20M as well as a new full-back.
He's putting his stamp on the squad so I'd expect more of the furniture to go and his own people to come in.
I agree with Tony. Put the disruptive bull in China shop in the boardroom for a few hours and let him rip that up too.
Christine Foster
32
Posted 07/01/2022 at 17:01:47
Larry, I totally agree.
In doing this publicly, whose interest does it serve? Not the player, who is tarnished by it; not the club, who could see his transfer value fall? No-one will trust a manager who will put himself above the team.
If this was a one-off, my initial reaction would be you back the manager, but it's nothing like a one-off – the list of players in his wake at various clubs is significant. Morale in his team must be dreadful.
Kim Vivian
33
Posted 07/01/2022 at 17:06:26
What Tom says at 17. Fully agree. But not with Benitez making up stories to fit his narrative.
The only mitigation re both of them actually, mindful he was already on his bike, was the injury risk if he played.
Rob Halligan
34
Posted 07/01/2022 at 17:06:29
Tony #29,
"If he did say he was sick, and then took his kid to the Albert Dock, then he's obviously took the piss, and should never play for Everton again".
How many times have fans told their employer they were sick, and then seen on TV at a match. What's good for the goose is good for the gander!! 😁😁😁
Peter Neilson
35
Posted 07/01/2022 at 17:07:37
Anthony, there have been rumours for months now that both Mina and Allan are wanted, in particular by Italian clubs. I just hope that we get a decent price and that, if it happens now or in the summer, it's done professionally.
Good luck to Digne, wherever he ends up. A couple of good seasons then, for whatever reason, downhill. All the more appreciation for Leighton Baines and his longevity and consistency.
Allan Board
36
Posted 07/01/2022 at 17:08:50
Sell him for a proper amount and move on. Yes, results are chronic at present, but doesn't this all sort of ring true concerning our squad?
They have thrown 5 or 6 managers under the bus already. Perhaps this manager is not going to put up with it?
He is walking a tightrope now though, is Benitez. The proof as always will be in the pudding, so we shall see.
For me, not a particular loss… not a good enough defender.
Rennie Smith
37
Posted 07/01/2022 at 17:10:07
I can't believe people are saying "I hope he stays and sets to work on the boardroom". Which part of this season are you impressed with to want him to stay?
I don't believe a word that comes out of his gob. I'm not saying Digne is an angel, but I've never heard him whinging to the press.
Maybe we'll hear what he has to say about all this after he's gone, but I doubt it. Yet another quality player forced out by a massive, stubborn ego, and I'm not talking about the French one.
Tony Abrahams
39
Posted 07/01/2022 at 17:10:59
Of course it's not the job of the manager, Brian, but maybe his straightness might be a bit worrying for the actor.
I personally think Benitez was fucked before he got here, and think the last two words of your post, Brian, speak for a lot of Evertonians, who didn't or don't want to give the manager a chance.
If Benitez stays, I will bet you that Everton finish higher in the table than we did last season with Ancelotti, Brian H – even if I'm glad to hear him saying he's not interested in coming 10th.
Christy Ring
40
Posted 07/01/2022 at 17:13:01
If Digne wants to leave, why put him on the bench?
I also believe that Benitez was totally wrong to say it at a press conference, he should have kept it behind closed doors, especially because clubs will now offer less money because of the massive fall out.
He could say it if and when he's sold. If Digne has a different version, it could be very messy.
Stan Schofield
41
Posted 07/01/2022 at 17:14:56
Everton has become a basketcase of a club, with an apparently incompetent set of people on the board, and this season, to make matters worse, an apparently incompetent manager.
It is very difficult to take Everton at all seriously at the moment; if more of our best players are treated in the way of Rodriguez and Digne, then there's little hope for us.
It's all a far cry from the Everton I grew up with.
Ajay Gopal
42
Posted 07/01/2022 at 17:15:57
I am staggered to comprehend how Digne's situation has come to this. He was quite popular with the fans, but his form from the beginning of the season has been very poor.
My biggest worry is that by throwing Digne under the bus, has Benitez damaged the club by devaluing the price we could get? I know the answer, but I hope there is a club out there that buys him for decent money.
Jay Harris
43
Posted 07/01/2022 at 17:17:04
Long before Benitez arrived, we have sensed something was not right behind the scenes. Benitez might not be handling it the best but he sure is bringing it to the surface.
This club had needed a cleanout for years with players who are unwilling or unable to play, just happy to see out their contracts.
When we see the likes of Calvert-Lewin, Davies, Gordon and Coleman pulling their guts out for the club, it shows the difference. I would also add Richarlison to that category.
Then there are players who are just not good enough consistently, like Michael Keane, Iwobi and Gomes and, until this last 12 months, Gbamin.
Now I don't like Benitez and I didn't want him here but we have to stop changing managers and we need someone with crocodile hide and the balls to say this is the way we are doing it and you can get on board or jump ship. That applies to the board also, where I believe he is the sort of character not to put up with bullshit from Kenwright or Moshiri.
He wasn't the best choice of manager but he isn't the worst so lets see where we go with a squad of players that want to play for the club and the manager.
Tony Abrahams
44
Posted 07/01/2022 at 17:20:02
Rennie, that was me who said that because I remember when Everton used to exist to win, and this is something that Benitez has done quite a bit of during his career. (He was shite at Newcastle, shite in China, I've heard!)
Moshiri said that he didn't expect Everton to win against certain teams, and Kenwright turned us into plucky little Everton, which explains why I'm not happy with the boardroom, mate.
Benitez has been poor since we started getting injuries, but Lucas Digne has also been poor defensively for a long time now and, for a club who need to sell to buy, I think it's better the Frenchman leaves, rather than Richarlison or Calvert-Lewin – I could just imagine the screams if it was one of them!
Dale Self
45
Posted 07/01/2022 at 17:20:13
I get the criticism of Rafa for being divisive but seriously, we need to clear the roster of anyone not committed to a rebuild. We have limited resources and Digne has limited time, so we just need to do a deal at this point.
We all knew some would need to go so I don't get why some are not relieved that it is Digne and not one of the strikers for what's behind Door #3.
That last game was atrocious and the locker room is probably what one would expect of players who've demonstrated they don't cut and now have been somewhat publicly told the same.
These are the ugly things a manager like Rafa can save some time on. This is the Premier League, nobody feels sorry for you as a club.
John Pickles
46
Posted 07/01/2022 at 17:21:55
Digne has been one of our few really good players over the last few years; if he goes, I will miss him. Benitez though is the boss, he is the one who says what's what and the players should act on his instructions. He is entitled to remove players who don't toe the line, just as he will be replaced if results don't improve.
As for him being divisive, I remember poor Liverpool teams taking us to the cleaners ever time we played them, purely because Benitez got them up for the match in a way that Moyes (who I have great respect for) never could.
Nicolas Piñon
47
Posted 07/01/2022 at 17:21:58
Digne was never a reliable defender for us. Thats true. Great technique, left foot, and the best free-kick goal I've seen live in my life (at Lincoln City in a Carabao Cup game) but not reliable defending really.
I always saw him as someone who thought he is better than the ones around him. Giving out useless and unnecessary free-kicks once and again, always making gestures that the referee was wrong (and not him).
For carrying the armband he many times carried, I think he didn't represent the sort of example I like for my team. Very gifted technically, for me, is not enough if the básics are wrong. Probably the lack of a real leadership on the pitch in the squad gave credit to that sort of attitude, or maybe he wasn't the kind of player we originally needed?
But anyway, I believe Everton actually need the sort of Godfrey attitude player-wise. Maybe it wasn't Digne's fault, but I can understand Benitez if he dropped him.
Básically, Someone has to take the hard decisions. I think Digne would suit best a Man City or Top 4 team anyway. But not sure he'll make a starting place there as well.
Andrew Ellams
48
Posted 07/01/2022 at 17:23:23
In the meantime, the press are reporting that up to 17 players are wanting out at Man Utd.
Every club has somebody. The Salah vs Klopp stories have been around for a while now, just not many clubs could afford his fee and salary right now.
Darren Hind
49
Posted 07/01/2022 at 17:24:29
I wonder if Digne will respond with his side of the story?
Christine Foster
50
Posted 07/01/2022 at 17:25:37
Funny that Iwobi, Keane, Davies, Holgate, Rondon, Gomes [add your own player here] are still even at the club, but maybe they are the new level we should get used to? No world class internationals – just also-rans.
If you were Richarlison or Calvert-Lewin, what would you be thinking? Hang in there or get out?
Tony Abrahams
51
Posted 07/01/2022 at 17:27:38
Rob @34, the answer is really very simple, mate. It's because we love Everton Football Club, and if someone doesn't want to play for them, then it's obviously because "they don't"!
John Boon
52
Posted 07/01/2022 at 17:30:12
Evertonians are incurably inquisitive.They want to know exactly what happened between Benitez and Digne so they can decide which side to take. It is intriguing… but there is no solution and it really does not matter what the average fan actually thinks.
I think that Digne has generally played well for Everton and deserves praise for his time in an Everton shirt. It is now so obvious that, for everybody's mental health, he should leave because there is no other solution.
We must make sure that we receive the appropriate fee. Every player leaves at some time and Digne should no longer be part of any further discussions
If he is still with us when we play Hull and if he is fit, then he probably should play. I just look forward to welcoming our two new full-backs.
Rob Halligan
53
Posted 07/01/2022 at 17:34:04
Tony, yeah, I understand it's totally under different circumstances. I wasn't knocking you or your post, maybe I should have worded it better.
But I'm sure you get the gist of what I meant!!
Christine Foster
54
Posted 07/01/2022 at 17:43:57
Tony, I agree if a player doesn't want to play for a club then he shouldn't be there, he should be gone. However if a player loves the club but not the manager it's not the same. It's why managers, and Benitez for that matter, is moved on. Player power and all that.
Truth always lies unspoken somewhere in the middle, but it's the team and fans who generally suffer.
If Benitez had a clean sheet of paper and was asked to put a squad on it, who amongst what we have would he keep?
I will tell you, he said a week ago that apart from Calvert-Lewin and Richarlison and Pickford, he would listen to offers for anyone. That clearly sends a message to the squad that everyone of them is on borrowed time.
But he hasn't got a clean sheet of paper, he has well-thumbed yellow sticky notes with names on that he moves around on a whiteboard in an effort to make it look like a team. Clear the dross first, not the quality.
Mick O'Malley
55
Posted 07/01/2022 at 17:44:36
An absolutely embarrassing press conference.
Please, please, please get this odious egotistical kopite loser out of our club.
Derek Knox
56
Posted 07/01/2022 at 17:49:27
I am ambivalent over this. Any player who doesn't want to be with us, for whatever reason, needs to go!
Now, if it was because of a rift with Benitez, which seems likely, although we as fans never really get to know the proper story, or at least till months or years later, then despite Benitez being a divisive Marmite-like character, he is nevertheless the manager! No player is bigger than the team, or the manager! (Look at Ronaldo and Pogba at Man Utd and the trouble that's caused!)
Without sounding like the "Fox and The Sour Grapes," let's face it, Digne has not been the same player we first had, for quite a while now, and that was well before Benitez arrived, so we can't wholly point the finger at Rafa.
I am not pro-Benitez by any stretch of the imagination, but maybe he is doing what has been needed at Everton for far too long now. "Pull your weight, and work as a team member, or there's the door!"
David Bromwell
57
Posted 07/01/2022 at 17:51:40
I think Digne has been one of the few players in recent years who has consistently played well. Okay, he may have made the odd mistake but he has always given his best as far as I am concerned. We shall miss him and I wish him well for his new club.
I cannot imagine how we have arrived at this situation and can think of many more players who should be leaving before Digne. He may be one of the few players who we can sell easily to raise money for transfers but it's all looks like a gamble to me.
If it comes off, well done, the Manager. But this is only a small piece of a big jigsaw and Rafa will be a lucky man if it all works.
Mike Oates
58
Posted 07/01/2022 at 17:53:55
Digne has been poor defensively for the last two years. He's been beaten for pace, lost his man countless times and failed to cover Keane's back when required. Yes he's class going forward, though the assists etc have dropped off as well.
Benitez likes wide wingers to attack and full backs to defend first and foremost. If you have an energetic full back who can do both ( hopefully both Patterson & Mykolenko both can) then that will suit Benitez.
Clearly Digne disagreed with Benitez over this and crash bang wallop, it's all gone pear shape. I do recall that Digne pulled out of Chelsea squad with due to an illness, which Benitez questioned on the night. It wasn't Benitez's call but Digne. I suspect the argument and the self diagnosed illness crossed Benitez line of no return. The use of Digne on the bench vs Brighton was foolish and Benitez knows that now "
Mistakes have been made by all, including me" he said earlier this week.
We've all said a real clear out is required and we'll see far more yet, Mina, Holgate, Delph, Gomes, Gbamin, Coleman, Kenny, Nkounkou, Keane, and maybe Iwobi. There's no doubt he's targeting to do it and asap, over 2 years and perhaps this will annoy Kenwright, Baxendale rosy view of Everton's style of management. I think the Sharp move is a clear sign that the above pair want eyes at Finch Farm and a buffer. But Benitez will blast past them all and go direct to Moshiri, and after the past 5 disastrous years Moshiri will grant Benitez all the power he wants. Interesting times ahead - a real Rocky Road ahead, but probably the only way it will be solved.
Christine Foster
59
Posted 07/01/2022 at 17:55:53
Right the sun's shining, it's nearly 7am, time to get up and do something constructive instead of getting into a funk about Benitez. Life goes on. Waking up at 5am and listening to our manager complaining about a players ego is kettle calling pot...
Ah well..
Dale Self
60
Posted 07/01/2022 at 17:57:21
So we'll put you down as pro-Marmite then Derek ?
Danny O'Neill
61
Posted 07/01/2022 at 17:58:15
And come the end of weekend Christine, we'll know who we've got the next round of the FA Cup.
Matt Byrne
62
Posted 07/01/2022 at 18:00:29
Benitez put Digne on the bench last week as a show of power and even humiliation. He had no intention of using him, he just wanted to show who was boss.
In the meantime, the team is weakened with an ageing Coleman ludicrously playing on the left. I've given the former kopite boss a fair crack of the whip and before the injuries, I thought we looked okay. However the results have been atrocious.
Digne has been one of our better players since his arrival and an attacking threat though recent form hasn't been the best. Can't blame him for wanting to leave having been forced out by the divisive Benitez.
Tony Abrahams
63
Posted 07/01/2022 at 18:03:38
It made me smile Rob, and not many Evertonians can make me do that at the minute!
Many Evertonians, absolutely hated Benitez, and suddenly he became our fuckn manager. I get it, I remember saying to my red mate, who suggested Benitez for Everton a few years ago, that I wouldn't go inside Goodison, if that c**t ever got the job, and I also told him we could never in a million years, accept such a horrible man!
I don't know what changed me, maybe it's because we have been going nowhere, except round in circles for absolute donkeys years, existing just to be in the EPL, and not being a threat to anybody.
I think this must be the reason, because the only thing that ever changes at Everton is the manager, and there comes a time when it's obvious that we have got much bigger problems than just constantly changing the manager?
I could write all night about this subject. When I was a child, Everton never won anything for 14 seasons, and that was considered an eternity for a very, very proud fan base, but some of this current regime have pissed all over this, which makes me ask the question, "what the fuck happened to our pride"?
John B, wisdom comes with age!
Lennart Hylen
64
Posted 07/01/2022 at 18:06:39
I have supported Everton FC since season 1971/72. Now I am fed up with this club. Bringing in the current manager has not impressed me.
Digne has been an outstanding player for us when a lot of other players (bought for big money) have let us down. It it looks highly likely now that Digne is sold.
I AM SORRY BUT MY SUPPORT, AFTER MORE THAN 50 YEARS, END HERE AND NOW.
PLEASE DELETE MY USER ACCOUNT
John Daley
65
Posted 07/01/2022 at 18:11:46
"Any other manager would usually get lauded for this?"
For what? Playing to the gallery? Making out like he's of the same mindset as supporters a week after suggesting they were a bunch of unreasonable meffs for being miffed at him bringing a wheelie bin on against Brighton? Once again spouting the 'truth and nothing but the truth' a mere a day after actually claiming, with a straight-face, that "If you analyse my teams, they are aggressive, they go on the front foot and press, and try to regain the ball high up the pitch, create chances and score goals"?
Would they fuck as like.
If the player is such a malcontent whose bad attitude Benitez cannot abide, then why was he named on the bench for the previous match? Why has there never been the slightest hint that the player is unprofessional, or that his heart isn't in it, from anyone who has ever worked with the player in the past? If he's so desperate to do one and is some sort of disruptive, malignant influence, then why has he kept his mouth shut (other than to offer words of support to the club and his team mates on social media), got his head down and simply got on with it since being dropped and his manager started aiming poorly veiled public digs in his direction?
More likely, the bloke with a win percentage with the blues that makes Mike Walker look like he was the fucking biz has seen his arse over the fact that the player he'd pinpointed as being expendable, and one he's been positioning for a prompt exit, pissed all over his chips by firing chi-latte out his nostrils when asked if he wanted to cadge a lift to Newcastle.
I mean, what is this shite about?
"I want to ask a question to every fan or former player. What would Peter Reid say…?"
Lauded? If Kenwright came out with those exact same words it would cause people to cringe so forcefully they would look the fucking spit of Wile E. Coyote trying to walk a few steps forward after being struck in the cock by forked lightening.
"I want to ask a question to every fan or former player. What would Peter Reid say…?"

"I want to ask a question to every fan or former player. What would Peter Reid say…?"
Well, seeing as you asked, Peter Reid said the following shortly after on Twitter:
"If Digne didn't want to play for Everton and wanted a move, he would not have made the bench. COYB"
Brian Williams
66
Posted 07/01/2022 at 18:12:13
Lennart, you can do that yourself on your account page. Don't make a song and dance about it. ;-)
Lennart Hylen
67
Posted 07/01/2022 at 18:16:32
Done within a minute.
Mick O'Malley
68
Posted 07/01/2022 at 18:17:01
John Daley, as usual spot on, great post UTFT, Benitez out !
Darren Hind
69
Posted 07/01/2022 at 18:18:13
You'll be back Lennart...That big fuck off balloon from the prisoner will hunt you down and haul your ass back here.
If leaving Everton was an option, most of us would have been long gone
Christine Foster
70
Posted 07/01/2022 at 18:20:32
Darren, Benitez is No 1
Darren Hind
71
Posted 07/01/2022 at 18:22:00
Nice one Christine :)
Stan Schofield
72
Posted 07/01/2022 at 18:22:11
John@65: Absolutely spot on.
Christine Foster
73
Posted 07/01/2022 at 18:24:49
Meanwhile Ming the Merciless is still after global domination at Goodison.
Christine Foster
74
Posted 07/01/2022 at 18:27:14
Rather a good likeness I thought, remind you of anyone?
https://www.google.com/search?q=ming+the+Merciless&oq=ming+the+Merciless&aqs=chrome..69i57.9401j0j7&client=tablet-android-samsung-nf-rev1&sourceid=chrome-mobile&ie=UTF-8#imgrc=lk2ZUFot64y_vM
Tony Abrahams
75
Posted 07/01/2022 at 18:31:22
Do you think that if Digne really wanted to play for Benitez, or more importantly Everton, that Coleman would have been playing left wingback last week John D?

He's now saying he only wants to pick players who want to play for Everton, and that Digne has said he doesn't want to play for Everton, and under normal circumstances, he wouldn't even have to explain, but this is Everton, and Evertonians hate this manager.
Kieran Kinsella
76
Posted 07/01/2022 at 18:32:02
What would Peter Reid say about Lennart asking his account to be deleted? I suspect the same thing Brian Williams said. Will this be the new barometer for 2022? Instead of "what would Jesus do?" "what would peter Reid do?"
Christine Foster
77
Posted 07/01/2022 at 18:32:50
So do some players Tony
Barry Rathbone
78
Posted 07/01/2022 at 18:33:36
Well, I was wrong about this it appears Digne WAS left out for upsetting the manager apologies to whoever I disagreed with on the matter.
Smashing player but you can only have one winner in a manager/player disagreement but I suspect he will do well at a better team.
Tony Abrahams
79
Posted 07/01/2022 at 18:34:54
I expect so Christine, but I honestly hate going the match to watch some of these players who are patently not good enough for Everton FC.
Keith Meakin
80
Posted 07/01/2022 at 18:37:28
Rafa bringing in two energetic and youthful defenders is brilliant, let's hope he bloods them at Hull tomorrow. I'm not going to comment on Digne he's the past let's get behind the team and show these new signings what great fans we are. Oh by the way 3 nil tomorrow COYB.
Stan Schofield
81
Posted 07/01/2022 at 18:38:39
Tony@75: I don't hate this manager, and I've been parient with him, but I now have to say that he appears out if his depth as Everton manager. He is the worst, most divisive manager I've seen since I started watching Everton in 1962. I'm appalled at his lack of professionalism.
Tony Abrahams
82
Posted 07/01/2022 at 18:43:57
Maybe Benitez is appalled by the lack of professionalism at Everton, Stan?
A man who has won the two biggest trophies in European football, is out of his depth at Everton, genuinely explains why the whole club, needs changing from top to bottom imo Stan.
Christine Foster
83
Posted 07/01/2022 at 18:45:41
Tony, I agree, but frankly there are far more players ahead of Digne on the list of players not good enough. If your senior players or quality players cannot advise or question tactics or will be publicly ridiculed for doing so, and told they should leave, then that's bad by the manager.
Digne has not aired his side to the media, he has been belittled by the manager in public and, in doing so, made the club look poor. It should have been done with common sense to let him go and maximize his transfer value, not to make an egotistical point.
Anthony Murphy
84
Posted 07/01/2022 at 18:45:51
Losing Digne and bringing in Mykolenko still leaves us with only one proper left back. I appreciate we have Nkounkou out on loan, but there's quite a bit of pressure on the new lad to hit the ground running so we'll need to show patience, even if he struggles at first in a struggling side.
Bill Gienapp
85
Posted 07/01/2022 at 18:46:04
Regardless of what happened behind the scenes, Benitez trying to turn the fans against Digne is a cheesy move. These "boss man" shenanigans might fly when you're winning, but not when you're in the midst of an historically inept run.
Stan Schofield
86
Posted 07/01/2022 at 18:46:04
Tony, yes it does need changing, including getting shut of this appalling manager.
Anthony Dove
87
Posted 07/01/2022 at 18:47:24
I hate Benitez but have never forgiven Digne for giving away those amateurish free-kicks against Millwall in the Cup a few years ago.
Paul Hewitt
88
Posted 07/01/2022 at 18:48:15
I thought we all wanted a manager that would stand up too these players?
Tony Hill
89
Posted 07/01/2022 at 18:51:08
Tony @82, I entirely agree. We've been calling out the players for lack of effort and interest for years. When the manager confronts it, we cringe.

Derek Taylor
90
Posted 07/01/2022 at 18:56:47
The whole club is rotten to the core and I've shown my disgust of it many times before. Today I resolved to 'switch it off' until the Benitez name is no longer on the letterheads. So hope to see you all soon!
Mark Ryan
91
Posted 07/01/2022 at 18:58:58
This smacks of Benitez saying to me as a supporter " I'm not having people question my manliness, my authority" He is saying "it's my way or the highway". I'd rather he put his arm around Digne and say to him " let's work together to win matches!" We need both players, both he and our new signing but alas we are cash strapped. Just keep your gob shut and if someone wants him, let them sign him. They all know he's available. No need to try impress me with your authority or his lack of Blue Blood. We are not thick. We can see when someone wants away
Brian Williams
92
Posted 07/01/2022 at 18:59:13
All this disharmony and Tw'ers chagrin is so destructive and negative.
Come on let's have a couple of verses of "Ebony and Ivory."
It'll cheer us all up, c'mon!
1, 2, 3, 4................Ebonyyyyyyyyyy.
Soren Moyer
93
Posted 07/01/2022 at 19:01:23
Get rid. Not a Benitez fan but Digne has been really poor for the past 2 seasons.
Jim Lloyd
94
Posted 07/01/2022 at 19:02:16
I think the manager had Digne there in case of an injury to Seamus. If it's true, that digne went down the Albert Dock after saying he was sick then, I'd expect any manager to give him a bollocking and drop him. If then Digne comes out and says he wants to find another club, then fuck him.
I think he's been poor this season can't speak to much about last season as I have Pov TV so saw what was on EFC TV but the season before, he was poor. I think there's a case here of him thinking he's a lot better than he is.
It seems reasonable to be (with all due deference to Peter Reid) to have him on the bench just in case. Seeing as the club is paying him over a hundred grand a week, sitting on his arse for ninety odd minutes is a hell of a task, the poor man.
I think that Benitez is doing a job that needs doing. He wants players who want to play for our club. and play for him. We've got Iwobi, Gomez, Mina, Digne, Keane, Holgate, Gbamin, and, well, we can't do anything regards a certain Icelandic player but there's a lot of money, being paid out each week. That's for players who aren't good enough, have hardly played more than 10 games in 3 years, are doing well if they play half the games a season and one who well...one more 100 grand a week man who we maty never see again.
On top of that, it's been like the Magic Merrygo Round with managers buying players for exhorbitant prices and wages, who've proved to be incapable of melding into a team that can take us anywhere but mid table at best.
I think our manager is a good manager, certainly the best available when Ancellotti dunnarunna, who I think just decided to bugger off as the job was too hard for him.
As for Rodrigues, he was on £200,000 a week and pissed off to Columbia after being "injured" for half a season. The rest of the team thought a lot of him, I'm sure.
I think Benitez, well I guess it's thereason there's a lot of hatred towards him, because he was the manager of liverpool and said we were a small club, well we are! We used to be a great club. The Geordies would have had him back, we I think have got to get over the hated phrase he made when pissed off with a draw. I remember the Liverpool writer for the Echo saying in his column about us "they'll probably make a DVD of it" after we drew at Anfield.
We get rid of him and that's what a section want, then I think we're in serious danger of going down.
Wekeep him, were in serious danger of becoming a good team again.
Tony Abrahams
95
Posted 07/01/2022 at 19:02:18
If Benitez is telling lies, then surely Lucas Digne will be on social media tonight, saying he doesn't want to leave Everton?
It's always the manager's fault at Everton, Stan, it's always the manager who is just not good enough unfortunately.
Christine, if Benitez could sell ten of this squad then I'm sure he would. I agree with you, that he's got a belligerent egotistical side, but he's been getting stick about Digne for a while now, just like he took loads of stick over Rodriguez.
This basketcase of a football club needs changing in more ways than one, and once Digne goes, then he will have been replaced by "two players" and Everton will still have reduced their wage bill.
Christy Ring
96
Posted 07/01/2022 at 19:04:35
I still believe Benitez shouldn't have used the whole press conference to say Digne wanted out and in his words, didn't want to play for the club. He should have been more professional and kept it behind closed doors. You certainly don't put him on the bench if it's true. I have never heard Digne say a bad word about Everton since he joined all positive, and after the fall out with Benitez, didn't he tweet don't believe everything you read? He fell out with Alonso so he could get rid of him, a huge blunder at the time.
Dale Self
97
Posted 07/01/2022 at 19:06:06
Your civility is brutal Brian.
Barry Jones
98
Posted 07/01/2022 at 19:07:23
I feel that this is appalling management by Benitez. As Christine noted, this has been engineered. We have spent a considerable amount of money on a left back that could and should have been used for more pressing priorities in the squad. I accept that Digne has not hit the heights in recent months, but good players don't just become bad ones without reason.
Benitez says that Digne does not want to play for Everton. It would be more accurate to say that Digne does not want to play for Benitez. As for Benitez accusing the player of catering to his ego, this is ripe. It was Benitez ego that played a formation with two right backs, leaving Digne on the bench.
He has engineered this whole exit and now goes publicly with a rationale that puts all the blame on the player. Disgraceful.
Chris Williams
100
Posted 07/01/2022 at 19:11:03
Tony,
The common thing in this nonsense so far is that Digne has kept silent, maybe out of dignity, maybe because he's been advised to. Sometimes these things come out anyway, somehow.
As far as we know, this player has been a model professional, has been part of the management group,under several managers and captained the team from time to time. Maybe other players there respect him and are thinking WTF and who's next?
Derek Knox
101
Posted 07/01/2022 at 19:13:37
Brian W @ 66, " Lennart, you can do that yourself on your account page. Don't make a song and dance about it. ;-) "
Would that be the Hylen Fling by any chance ? :-)
Jim Lloyd
102
Posted 07/01/2022 at 19:15:24
I think it was a mistake to talk about any player in public, unless it's praise. But in this instance, I can understand him doing so. He knows there's a section of supporters who hates his guts, and I think he's feeling the pressure of it. So he comes out and says to Evertonians. "What would you do, Digne wants to leave"
I think he hoped that it would show that he's selling him, because he wants to go, not just getting rid.
We don't know what went on, but personality clashes, wanting to win medals, whatever reason, he wants to go. Personally, I want to see a better full back than him (and younger) playing for us. So, Yes, Mr Benitez, I'd sell him for all I could get.
Eddie Dunn
103
Posted 07/01/2022 at 19:20:25
Digne's been gash for 18 months.
Conor McCourt
104
Posted 07/01/2022 at 19:24:30
I don't understand why some posters are so reticent to dismiss a player because the last two charlatans have badly mismanaged the squad at their disposal.
Who on earth thinks that Lucas Digne is the best defender we have ever had at this club? Likewise who thinks that the two full backs across the park are any better as out and out defenders?
I thought I had seen it all when Clowncelotti played Digne as a third centre half. Now we have this gobshite in charge asking our best assist machine to stand behind a left midfielder who constantly nullifies his attacking threat and play to his main deficiencies. To rub salt in the wounds the fucker deploys the perfect system for one of our few elite players shortly after his polarisation and unbelievably entrusts an out and out defender in the shape of Godfrey to fulfill that brief once Digne has been humiliated.
Yet some of our fans argue "well he has been shit for two seasons", no shit Sherlock, I wonder why!
On this thread we have the usual pie in the sky ToffeeWeb rhetoric "once we get rid of Delph,Davies,Gomes and Gbamin we will reach the promise land". I hate to burst the ToffeeWeb bubble but none of these players had much of a look in this season yet our midfield has been embarrassed week on week with Fucking Brighton the latest to swagger all over us. Oh the likes of Schneiderlin and he should not be mentioned must be pissing themselves as they were previously the 'it's all your fault brigade'.
Incidentally I hate to bring realism to the party but in the two seasons where Gomes had a strong involvement (Silva first season and last season) our midfield was at times decent. During the year of his horrific injury and this season the midfield has been a complete shambles.
Just to touch back on Digne. The idiot in charge has for the last month or so denegrated the player both personally and professionally. Can Digne's biggest critics honestly say that this guy has ever showed anything but desire when he pulls on the blue jersey?
This is Benitez flexing his muscles in the power struggle with the player. Personally I think Digne has acted with great integrity in keeping his counsel despite this dreadful bombardment from this parasite. If Benitez was digging out players who aren't putting in a shift fair do's but this is a player who had the temerity to question the all knowing wally on his ridiculous tactics, not a guy who has downed tools.
Pat Kelly
105
Posted 07/01/2022 at 19:43:45
Benitez was brought in to rebuild the team. It will be largely unrecognisable by the time he's finished. I'll be glad to see a new team. Let's face it we're all sick of what we've been watching for years. Benitez will show no sentimentality. He's not being paid to babysit.
Colin Malone
106
Posted 07/01/2022 at 19:44:54
Nicolas # 47.
I agree. Lucas main asset was going forward, defending no so great. I think we all agree our defending over the last couple of seasons has been piss poor. Lucas being guilty of giving stupid free kicks outside the box. In the Benitez system its defend first and anything else is a bonus. I wish you well in the future Lucas Digne.
Barry Ferguson
107
Posted 07/01/2022 at 19:49:57
With no misogynistic tendencies meant; Benitez is the biggest bitch I've ever seen. Like the bitter aunt who slags everyone off at the family parties who the young tolerate and the old just smirk at. Utter Gobshite.
Dave Abrahams
108
Posted 07/01/2022 at 19:50:42
Robert (27) I hope we get a really good midfield player before this transfer window closes, I hope Mr. Benitez has better players than Sean Longstaff in mind.
Sydney Pointer great actor, one of his best, for me, was The Defiant Ones with Tony Curtis as the runaway convicts and Theodore Bikel chasing them as the detective.
Alun Jones
109
Posted 07/01/2022 at 19:59:01
I'm sure there are 2 sides to every story, I would guess Benitez already had this Ukrainian lad lined up before this storm broke. To me it sounds too contrived to be Digne simply deciding he wants to leave. Sounds like some manipulation from our manager………….
Alan McGuffog
110
Posted 07/01/2022 at 20:00:42
Dave...was Sydney Pointer related at all to Ray Pointer of Burnley and England ?
Sorry bud..couldn't resist, obviously predictive text.
Rob Halligan
111
Posted 07/01/2022 at 20:04:21
"What would Peter Reid have said"? Probably have called you a useless gobshite of a manager.
Well, he did ask!!
Paul Hewitt
112
Posted 07/01/2022 at 20:09:33
" what would Peter Reid have said"? Get rid of the useless time wasters, and start building a youthful team.
Tony Abrahams
113
Posted 07/01/2022 at 20:15:34
Reid would have said I used to be a Liverpudlian, when I was growing up, but I "always" wanted to play for Everton!
Dave Abrahams
114
Posted 07/01/2022 at 20:16:40
Alan (10) it's that bleedin' word checker that Michael employs!! No it wasn't it was me, Sydney Poitier is the correct spelling,thanks for pointing it out to me.
Mark Andrews
115
Posted 07/01/2022 at 20:17:22
I get the feeling Benitez is enjoying trolling us.
He's incredibley stubborn, which is concerning, considering his tactical nouse seems well out of date.
Darren Hind
116
Posted 07/01/2022 at 20:25:04
What would peter Reid have said ?
At least fucking kick someone
Stan Schofield
117
Posted 07/01/2022 at 20:27:24
Benitez will no doubt be sacked fairly soon, so much of this debate is academic, except that the damage will be done by then.
Jim Lloyd
118
Posted 07/01/2022 at 20:29:05
This man has won two european trophies and helped Chelsea win the league, kept Liverpool in and around the top four, as well as managing to a european cup triumph.
while we, Great club that we are have won one cup final and fuck all else since Howard was our manager. To call this man useless, seems a touch illogical.
He'll have a hard job getting rid of the players that are nowhere near the class we need to get our club on ther up. He has to stop the rot first and all these fellers like Conti, Ancelotti, and the resdt, want to walk in to a club with lots of top players and lots of money. At the moment we've got a colection of lead weights, some good players, some good Young players, but not enough yet to make a good team. I want to se what he can do in the next couple of windows. I don't see him producing miracles, just a good team in a year or two.
Tommy Carter
119
Posted 07/01/2022 at 20:33:29
There is a lot more to this than meets the eye.
According to proven behaviour, Out of Benitez and Digne, only one has every shown any kind of contempt or disdain towards out football club and that was Benitez.
Benitez has had 6 months in the job and has performed badly and whatever excuses are made, that is the reality of the situation.
The reality of the situation is that he took a club that last Christmas was 4th in the table and 6 points off top spot, to Christmas 2021: 15th position and 31 points off the top.
This is just the reality of the situation.
Besides the reality, and more personally, he denied me the opportunity to watch James Rodriguez play at Goodison Park for Everton. And I am regretful about that.
Onto Digne more closely. I have never sat at Goodison Park and thought to myself 'this guy is not giving 100%'. Ever.
Yes he has lost form. But he's also had some very good spells of form for everton. And I have to say that I was glad that he came in to replace the best left back in the history of out football club.
However, I am also a pragmatist and I understand that he is a player who generates interest and has good resale value. Unlike players such as Iwobi, Cenk Tosun and others who will generate no interest and have virtually no resale value.
I however do not agree that without going into specifics, which Benitez hasn't, that Digne has been called out for having a lack of integrity to suit the wider agenda.
Digne and supposed behaviours and comments - if Digne has questioned the methods of Benitez, this may be in fact reflective of Digne actually caring about the effect Benitez is having on the football club and his own career.
Digne has played for champions league winning managers besides Benitez as well as a World Cup winning manager. Digne above anybody at Everton football club has recent experience of being part of groups of the most successful players and coaches in the modern game. Is he wrong to question the methods of a failing manager if that is what he is doing?
Benitez has already successfully restructured the hierarchy of the club in a way that enables less people to question his failings and equip him with more control.
Getting senior and influential players the bullet is another way of achieving this furthermore.
Benitez is old news. Besides an outstanding champions league victory in 2005, what has this man achieved in the last 16 years. He capitalised on an ultra defensive, counter attacking style of play that was innovative between 2003-2009 - hence Greece winning Euro 2004, Porto and Liverpool the Champions League, Benitez and Mourinho being more successful using this system then, than they have been since.
The game has moved on and evolved massively since then and this spoof is doing everything he can to convince the world that he's still a top football manager. Which he most certainly isn't.
Mike Gwyer
120
Posted 07/01/2022 at 20:35:16
Jim Lloyd #102
"He knows there's a section of supporters who hates his guts".
Out of interest what do you mean by section of supporters? Do you mean a small section like the away end, or maybe a bit larger like the main stand or, in reality, like 3 quarters of the fan base.
The depths of shite that our manager sinks too show no limits, so belittling one of his players to suit his own agenda is really just par for the course.
For me, I wish he would just fuck right off.
Dale Self
121
Posted 07/01/2022 at 20:38:23
The manager says this player stated a willingness to leave over committing to the club. I'm not seeing a quote from Digne or any evidence to the contrary. It is extremely doubtful that Rafa just threw out one of his only truly productive players on the ball without some reason.
This club was desperate for some performances and Digne did not provide anything to convince that his heart is in it. If you're an international and the instructions of the match are defend first that shouldn't be a challenge. If he thought he had the ability to influence the style of play then that was a miscalculation in hindsight.
Dale Self
122
Posted 07/01/2022 at 20:40:51
Hey Tommy (and Conor and a lot of others),
"The reality of the situation is that he took a club that last Christmas was 4th in the table and 6 points off top spot"
that is referring to Carlo's team correct.
Glad to have you on record for that.
Jim Lloyd
123
Posted 07/01/2022 at 20:52:19
Mike, what I mean is what I mean and say. I don't expect other Eveertonians to agree with me, just like I don't agree with you. So, just state your views and let other Evertonians state theirs.
From what I can see (although I haven't done a head count of the 40,000), there's plenty on here who have a different view than you.
Andrew Bentley
125
Posted 07/01/2022 at 20:54:02
Jim Lloyd.
What if he gets us relegated? Happy to sit and wait to see what he does in the next few windows still?!?
Barry Ferguson
127
Posted 07/01/2022 at 20:55:45
Mark Andrews: "Benitez is trolling us."
There can be no other explanation for just what this fat gobshite is doing to us.
Barry Ferguson
128
Posted 07/01/2022 at 20:57:00
Jim, denial is not just a river in Africa, little man.
Jim Lloyd
130
Posted 07/01/2022 at 20:58:17
I think there are a lot of Evertonians who are concerned about our situation. It will be even worse in my view if we change manager yet again.
Stu Darlington
131
Posted 07/01/2022 at 20:58:26
As I have said on another thread, I won't shed any tears about Digne leaving. He put in some great crosses and free-kicks but not nearly regularly enough; he lacked pace and his defending was dire at times.
That said, to speak about the player like that on a public forum was deplorable management. Differences should be aired between the two behind closed doors.
The truth is nobody knows the full story and we have only heard one side. Just count all the "ifs" and "maybes" in the above posts to get an idea of fans' uncertainty.
One thing I am certain of, however, is that Mina and Richarlison will be gone in the summer and possibly Calvert-Lewin and Pickford.
I believe we are a club that needs to sell our best players at a premium and then invest the money in young, enthusiastic players with pace in order for the club to progress.
Therein lies the challenge!
Matthew Parry
132
Posted 07/01/2022 at 21:01:08
Tommy @119.
We were denied the opportunity to see James play because he was one of our highest earners and had no desire to stay here once Ancelotti left. He had already made it clear he would not have signed for us if it weren't for Carlo.
The shocking performances in transfer windows by our previous managers left Benitez not only without a bean to spend, but also trying to offload from the wage bill to appease FFP. We could not risk our financial situation with all the work that's already gone into the ground. No way.
It's so easy to blame Rafa for anything that goes wrong because of his history and the type of man he is. But not since Moyes have we had an actual club manager, someone who has fully taken control of the business this football club does.
It's certainly ballsy, because by eliminating people like Brands, overhauling the board and the backroom staff, he gives himself nobody else to blame but himself. He's setting the club up based on how he thinks a football club should be ran, and let's be honest we've been run amateurishly for years.
Change is hard and you can suffer in the short term, but we could all be lauding the guy in a few years if this pays off. As much as it's dire to watch now, I'm willing to give the bloke a chance given the work he appears to be putting in to setting the club up better.
Don Alexander
133
Posted 07/01/2022 at 21:03:02
We don't know the dynamics of the changing room do we? We don't know the influence Digne has in it do we? We do know Benitez has next to no budget to improve us though, and this is not his fault. We do know that he therefore has to get good fees for dispensable players other properly run top clubs might want if he has a ghost of a chance of righting the wrongs of others.
I suspect Benitez sees FF as well full of dead-wood staff he had nothing to do with appointing either. Maybe he's in effect turning the heat up on the boardroom too. He must have personal clout with Moshiri after all and having watched others mis-spend his "hundreds of millions", mostly all sanctioned by that same boardroom, I suspect that Benitez sees a clear-out of the boardroom as very beneficial to him and our club too.
I think he's right on that.
To me when we signed Digne it surprised me to see that in eight years as an adult pro he'd only played around 150 first team games for four top-flight clubs yet had never suffered lengthy injuries. Hmm. He's hardly ever been first-choice for France and hardly ever plays in their significant games. Hmm again. Add that to his increased vulnerability as a defender and diminished productiveness with the ball and it seems to me to be good if by moving him on we can recover the cost, as I understand we have to because of FFP, of the two bigger, faster youngsters we've just signed.
We'll soon see.
Tony Abrahams
134
Posted 07/01/2022 at 21:09:23
The team that was 4th and 6 points off the top last Christmas eventually finished 10th and 27 points off the top, which shows that this squad was already going backwards, maybe?
Or maybe I'm wrong and it's Benitez who has done all the damage to Everton FC, my oh my oh my.
Matt Byrne
135
Posted 07/01/2022 at 21:11:51
For the Benitez to even try to compare himself to Peter Reid in terms of being passionate and wanting the best is just awful. Reidy a true Blue hero. Benitez a horrible kopite.
Dale Self
136
Posted 07/01/2022 at 21:13:20
He didn't. He asked Everton fans what would Peter Reid say.
Tommy Carter
137
Posted 07/01/2022 at 21:23:59
Sorry Matthew @ 132. I have to disagree.
The structure of Owners - Brands - Ancelotti, although doomed, was lightyears ahead of anything we have had at this football club.
Put that structure in at Newcastle tomorrow and it would bring success.
However, it was a disaster for us, because for Everton Football Club it was unsustainable.
We did not need that structure as we cannot sustain it. But we do require a modern structure, albeit one that works for us.
The Benitez one man autocratic show is a sharp step back to the 1990s.
Conor McCourt
138
Posted 07/01/2022 at 21:25:53
Dale @122-when you are assessing the record make sure you understand that Ancelotti had us splitting two Championship squads in Leeds and Aston Villa while unable to see the arse end of David Moyes end West Ham side side despite having 70 million to spend and a much superior squad at his disposal.
Benitez has been a disaster yet had Dominic been fit all season we would most likely have been in a similar position where the revered one had us before his hiatus to the Spanish sunset. Because this guy is clueless doesn't excuse the previous incumbent.

Dale Self
139
Posted 07/01/2022 at 21:27:36
Conor, please reconcile your character assassinations of Carlo with the statistical fact that Tommy let mistakenly slip out.
Jim Lloyd
140
Posted 07/01/2022 at 21:27:51
It might be that Richie and Mina will be off, who knows, but I think that Rafa, will be werighing up, if not already, what we would likely get for the pair; and who he has a chance of bringing in. Is Kean due to move to PSG permanently in the Summer? Maybe Holgat going too,. if so, then we might have sufficient funds to bring in players at Centre Half, a midfielder, maybe two. A lot of clubs will be sgtrapped for cash sdo selling our players is a bit of a struggle by the look of it. Mind you, the same will work for a lot of other clubs as well, so swop deals might be the majority.
Stan Schofield
141
Posted 07/01/2022 at 21:29:49
The reality is that once a manager starts criticising players in public, in Benitez' case Rodriguez and Digne, although the players' days at the club are usually numbered, so are the manager's. This will end in tears for Benitez, although he'll be millions of £ richer for it. And it won't do Everton any good, beyond getting rid of Benitez.
Martin Mason
142
Posted 07/01/2022 at 21:30:45
It isn't a Digne problem, it is a Benitez problem and Digne has refused to kow tow to the imbecile to keep his job. If the choice was mine that imbecile who coaches our team would be the first to go. Digne was one of our best ever buys, a wonderful attacking left back that the idiot wants to only defend.
Derek Knox
143
Posted 07/01/2022 at 21:33:07
Tony A, you almost stole my thunder there, people come on here and give statistics, which suits their narrative, and mid-season stats are worth diddly squat. It's where you end up at at the end of the season that determines whether, you are a Winner, Loser, or an Also ran !
Some humourus definitions of Statistics : many may be recognisable traits on TW. :-)
99% of Statistics only tell 49% of the Story.
I only believe in Statistics that I have doctored myself !
Statistics is The Art of Lying by Means of Figures !
43.7% of Statistics are made up on the spot !
Facts are Stubborn, but Statistics are more pliable !
Statistics are Human Beings with the tears Wiped Away !
Barry Ferguson
144
Posted 07/01/2022 at 21:34:57
Martin Mason…..amen
Dale Self
146
Posted 07/01/2022 at 21:45:54
Derek, the way I understand it is, figures don't lie but liars will always figure.
Matthew Parry
147
Posted 07/01/2022 at 21:48:54
Tommy @137.
How many 'modern' setups can you name that have actually worked? The only thing that makes most teams successful these days is obscene amounts of money.
The structure you say that was lightyears ahead of anything we've had finished 10th and almost 30 points off top, having been 4th and 6 points behind at Christmas. Our inflated position at Christmas could've been down to the pandemic, likewise our decline in the new year could've been too. But there was a noticeable drop in our performances, probably once Ancelotti realised he wouldn't be here beyond the end of the season. So why so much slander towards Benitez because one player has come to the same conclusion?
HE didn't force James out, the financial situation meant he had no option. Likewise, he's solving one problem and preventing another occurring by buying the two full backs before Digne departs.
Brands made just as many shocking signings as he did good ones, and Ancelotti was obviously ready to jump ship as soon as the right opportunity arose. A structure is only working if they show a clear forward direction and forward-thinking. Last year's structure did not do the second one.
The signings were all over the place and showed no cohesion or obvious plan. We spent most of our money on players approaching 30, paid them big wages (mainly James) and put ourselves in the position where last summer's transfer window was essentially a write-off. It was all about the here and now, with no consideration for the situation we'd be in beyond that.
Benitez made some excellent signings with what he had to work with - it's so much easier to avoid poor signings when you have money to spend. Money gets the best players at the end of the day. But for years we have still managed to spend hundreds of millions on deadwood. That's not a business plan I'd want to get behind and Benitez is making moves to change that. He needs a bit of credit for that.
David Currie
148
Posted 07/01/2022 at 21:52:30
Jim 130, You mean if we change managers we will get 0 wins in 12 instead of 1 win in 12?
Tony Abrahams
149
Posted 07/01/2022 at 21:58:33
I think what you're saying is usually what happens Stan, and I'm also sure I'm not the only person hearing rumours, that Moshiri, is starting to feel the pressure with appointing, and now backing Benitez, but I'm not sure though, because I think the board needed Rodriguez off the wage bill, and maybe the only way they could back the manager with new players, is if he got rid of someone to pay for these new signings?
Getting rid of Rodriguez and Digne, and adding all the new players, possibly hasn't even increased Everton's wage bill, and that's exactly what the owner has needed whilst FFP allegedly hangs over our club?
Conor McCourt
150
Posted 07/01/2022 at 22:01:53
Dale @139- I was waiting on a horse for a massive payout called Chacun Pour Soi at Sandown last month. At the fifth fence he had jumped them silly and had dominated the field. Do you think the bookies will pay me out if I explain to them that despite him finishing midfield that the early part of the race what really counts?
Matthew @147- apparently it was Brands who had wanted and scouted Grey long before Benitez came to the club. Townsend was good for the first two months and has been useless since while Rondon do you need me to finish? Personally I feel had Gordon been in from the start instead of Townsend we would be in a much healthier position. Glorifying Benitez' acquisitions is another red herring.
Barry Jones
151
Posted 07/01/2022 at 22:06:26
What would Peter Reid say:
" I am better than Sean Longstaff even now. Don't sign him!"
Ray Mia
152
Posted 07/01/2022 at 22:08:59
Oh, go on then... having read the 151 posts above this... I can't just can't resist folks...
Firstly - I find it funny that there are some familiar names I agree with, and a whole load of "you's" that I categorically, holistically, psychologically and ideologically completely disagree with from belly laughing out load hysteria at the nonsense spouted - to meditate out the rage at the clinically preposterous bias on display...
So, in true TW form...
We are crap.
We have been crap for a long, long time (gosh do you remember when we used to finish 5th all the time... oh... sigh... how our aspirations have been flushed away).
We are so crap, that we can't even spend £500m or whatever it actually is...
We have crap sponsors.
Crap kit manufacturers.
Crap managers (including Ancelotti who was brand-sexy but total crap at home - bet his home record was worse than Walkers...)
Crap.
Crap.
Crapola with extra Crap.
Our midfielders were rolled over at home - by Brighton.
Brighton. Hove. Albion...
We have crap central defenders, and crap left and right backs.
We have one decent striker.
Our managers over the last 5YRS have been beyond crap.
Like some form of Kryptonite crap that is a form of power-crap.
Our tactics are crap.
Our statistics are crap.
Our approach to game management is crap
The online merch store is crap
The close season streaming ticket thing is crap.
Our owner is spending money on crap and surrounded himself with crap advisors and a crap mentality.
I was talking to the agent of Yannick Bolasie (ultimately a disappointingly crap signing) and they were telling me how totally crap Marcel Brands was...
Remember how crap we were with Allardyce?
Sam Crap Allardyce
And don't get me started about Sammy Bloody Crap Lee (come on people... SAMMY LEE????)
Right... got that off my chest.
Digne?
£100K a week
Really crap against Liverpool at home...
Crap defender recently
Crap going forward recently
Sell him.
Sell most of them.
Gbamin... so sorry you got injured, but I was watching in the stands - you were absolutely crap against Wolves, out of position for both goals - off the pace... can't judge the 1min v Spurs and the 20 invisible min v Chelsea...
£25m folks...
£25 crap million pounds...
Clear out the less than mediocre dead wood...
I'm not unhappy with Benitez.
Some, most of you are... breath it out folks.
Moshiri isn't listening.
He does not give a crap about what any of you think, including me... he hired Allardyce... who hired SAMMY LEE
Moshiri does what Moshiri wants.
Wax on... Wax off...
One thing to hold onto though.
There are 3 clubs more crap than us I think...
It will be next season we need to be worried about.
Let Benitez clear out the crap...
And lets see how crap we are next season...
I mean, we can't get any more crap can we?
Barry Jones
153
Posted 07/01/2022 at 22:15:37
Ray, that was a crap post :)
Ray Mia
154
Posted 07/01/2022 at 22:15:39
Oh - and does anyone think our white/spurs away kit with the weird tyre marks down the middle is totally and completely crap?

Ray Mia
155
Posted 07/01/2022 at 22:17:32
@Barry 153 - trying to break the use of crap in a post record...
Barry Jones
156
Posted 07/01/2022 at 22:19:45
Ray, you did it. And it's difficult to argue with all the crap identified.
Tommy Carter
157
Posted 07/01/2022 at 22:20:28
@ 147
Brands' remit which many people seem to misunderstand, is once talent is identified, is to get the deal completed.
Completing on a transfer is the most difficult part of any transfer.
Brands was reliant upon a vast scouting network and the preferences of the managers he worked for to identify talent.
No matter whether they turned out to be a success or not; To complete deals for Ancelotti, James Rodriguez, Doucoure (at a competitive price), Moise Kean, Digne, Mina, Gomes and Allan (to an extent) shows that he was very effective at his job.
I would say having someone able to attract players with big reputations and from bigger clubs than ours is lightyears ahead of anything we've had for a long time.
When Moyes had the opportunity to spend bigger than usual, he didn't always invest well. When he got a blank chequebook at Utd, he couldn't get anybody through the door and ended up signing Fellaini.
What we don't know is the influence that others such as Kenwright have over the ability of Brands to do his job.
People like Ebbrell, Unsworth, Ferguson, Jeffers etc. Staff with virtually no credentials outside of Everton football club, on the staff. Doesn't seem to me like a Brands endorsement.
Ian Riley
158
Posted 07/01/2022 at 22:21:13
A new manager in any business has expectations. Perhaps digne has not met his managers expectations. Going forward digne is one of the best but reality is defending comes first.
Also digne is worth a considerable sum. The club needs to balance the books. Rafa is building for the future by his signings and he's setting standards. Time will tell but it's a start. Sadly we will have to go backwards to go forward. Rafa sees change is needed and we all do really. Foundations are being built but we don't have hundreds of millions to do it overnight.
Please remember this club has won nothing for decades. Something is wrong and rafa sees that.
Andrew Gaule
159
Posted 07/01/2022 at 22:21:17
Maybe we could add the proceeds of the Digne sale to the Arteta money
Dale Self
160
Posted 07/01/2022 at 22:22:47
Conor, nice rehash but I think that Carlo had this squad at that position at the halfway point of the season does significant damage to your assessment of his coaching skills. While true it is the finish that matters your criticism does not give credit to his ability to get results from a bunch of misfits. Are you positing that Carlo's inadequacy was being shielded by this squad overperforming?
Jerome Shields
161
Posted 07/01/2022 at 22:37:57
Digne has been poor for two seasons. He has lost his International place. He is not prepared to put the work in at Everton to get his place back, and is looking out.
The problem is that intial transfer rumours regarding Inter Milan and Chelsea were never going to fly. He is hitting reality with rumours of Newcastle. Even that will hit the buffers.
So we are into the second half of the transfer window and he is forcing a move. To where? He now has competition increasing for his place. Is he going to end up as deadwood, for a second go in the Summer of someone wanting him.
When are Everton going to get players who are prepared to knuckle down and fight for their place?
Peter Mills
162
Posted 07/01/2022 at 22:45:39
Sr Benitez seems to enjoy stirring unrest off the pitch.
I would like to see him bringing about wins on it.
Tommy Carter
163
Posted 07/01/2022 at 22:54:23
@ Peter
Hit the nail on the head Peter. Well done.
He can do whatever he wishes as long as he's winning games. But he's not. He's won 6 in 20.
I've seen absolutely nothing from him since he became our manager that illustrates any indication that he will be a success here. Nothing whatsoever
Geoff Cadman
164
Posted 07/01/2022 at 22:56:54
One of the first rules of management is don't publicly humiliate a member of your workforce, it only breeds resentment amongst their workmates. If there's a problem sort it in private!
Soren Moyer
165
Posted 07/01/2022 at 22:59:43
Are we the only team in the division wothout sleeve sponsor!?
Mark Rankin
166
Posted 07/01/2022 at 23:08:04
What is Benitez playing at? Yes, I'm sure Digne wants to leave, 28, French left back, wants Champions league football and is looking for a last shot. We aren't going to make top 4, don't suit his style of play and really it's best for all concerned if he gets sold for a good fee. Rafa going melon at a presser just makes home look weak and gives his detractors ammunition.
Alan Moss
167
Posted 07/01/2022 at 23:09:35
Tommy #119. Great points we'll made!
Benitez out.
Brian Wilkinson
168
Posted 07/01/2022 at 23:23:38
Ray@152, was it you that stock piled on the toilet rolls on first lock down, with all that crap it did made me wonder.
Tom Bowers
169
Posted 07/01/2022 at 23:24:29
Whilst we don't know what really transpired if it was due to a disagreement regarding tactics then one can sympathize to a degree.
However, Rafa is the boss and you have to follow his rules and strategy.
You keep your mouth shut or move out.
We all probably agree that Rafa has done nothing to solidify Everton's defending even after the Watford debacle. Things are no better to be honest despite the games at Chelski and Manure.
If a poor team like Hull get goals tomorrow then I will be calling for Rafa's head on a platter.
David Midgley
170
Posted 07/01/2022 at 23:43:19
Darren #69,
Calm down he's a man not a number. He won't know where Portmeirion is.
Barry #128.
It went over their heads. They're in denial or
deandies.
Jim Lloyd
171
Posted 07/01/2022 at 23:46:28
Jerome, (161) A good point I think we've got a few players already in who will knuckle down and fight for their place. i'll wait and see but both Mykolenko and Patterson look ready to get stuck in.
The problem we have with our defence...is our defence! especially when Mina is missing. Keane and Holgate together are a disaster. and Digne played his part in a poor defence. Whether Godfrey and young Branthwaite would get a go in there, well I'd like to see it.
I also hope that Doucouré doesn't try and control the ball like it's a greasy balloon!
David Midgley
172
Posted 07/01/2022 at 23:53:21
For all that has been written about our previous DOF
and managers why has it taken so long to get a right back ?
Rafa shouldn't have said anything about Digne. I wonder
if he's now sorry he opened his mouth about it ?

It's an internal matter. It brings discredit to EFC and
makes him look like Capt. Queeg.
A still tongue makes a wise head.
Dale Self
173
Posted 08/01/2022 at 00:04:51
Yeah well, that wouldn't have been much of a presser then because Digne was the only thing he was asked about.
Peter Carpenter
174
Posted 07/01/2022 at 00:07:04
It's in his interests to have an internal enemy to blame. If he can get us to believe that Digne was a divisive influence who wanted out, so much the better for him. Lots of politicians do it - usually horrible ones. As has been said already Digne didn't give the impression of being anything other than a good professional, good enough to be captain for other managers. His problem will be that the other players, but not the new ones, won't like it. He might have to replace a few more 'bad influences'. It's looking more and more like kill or cure and no u-turns.
He'd make a good president, of one of the Stans, maybe. Or North Korea.
Dale Self
175
Posted 08/01/2022 at 00:14:36
yes Rafa is obviously looking for a political solution here. Who could question that with a straight face?
Albert Perkins
176
Posted 08/01/2022 at 00:39:37
A lot of us complain that people in the club don't give us enough facts about the internal goings-on. Too secretive, not transparent etc. Then when someone bares his soul and tells it like he thinks it is, lots of us get upset that it's too personal, insulting, demeaning.
I think a lot of us would be far more insulting, brash and foul mouthed were we in the same situation. If I were a top class footballer I would say what the fuck I liked and have a great time doing it. In fact I have to admit doing just that in all my professional iterations, but never had the great audience I deserved.
Lately I'm becoming a bit detached from the footie to protect myself from emotional harm and waiting to see what pans out.
Michael Williams
177
Posted 08/01/2022 at 00:46:16
I'm not going to weigh in on the pro or against Benitez argument as I have stated my position on other threads.
I do want to say that I am tired of people using the the "FSW" abbreviation or words. It's just wrong.
Rob Dolby
178
Posted 08/01/2022 at 01:06:56
I get the old school attitude of 'if he doesn't want to play for us just get rid' but we are living in an era where the player holds the cards.
Most modern managers have to box clever with big name players as values can rise and fall on the strength of a couple of mistimed comments at a press conference!
Benitez has twisted things to make it look like Digne doesn't want to play for the blues but most probably he doesn't want to play for Benitez. Digne only signed a contract extension last year.
Regardless, his days are numbered with us. His value has plummeted due to the obvious public spat, Ffp and we have already spunked out £20m on a replacement.
I am all for shaking things up at the club from top to bottom but not with this guy. Give me a choice between the frying pan (bk) and the fire (RF) give me the frying pan every day.
James Stewart
179
Posted 08/01/2022 at 01:18:04
The sooner he is gone the better. Benitez, not Digne.
Phillip Warrington
180
Posted 08/01/2022 at 01:57:18
Are we really sure this guy isn't a double manager and is really getting paid more to take us down and sell our best players, by our other half? Now I see this on BBC website: "Everton have been offered Inter Milan's former Arsenal and Manchester United striker Alexis Sanchez, 33, on a free transfer. (Sun)".
I still can't get my head around what could easily be – as Newcastle will strengthen and already teams around us are bringing in players – if we don't get this transfer period right: Everton relegated with former Liverpool manager in charge.
Brian Murray
181
Posted 08/01/2022 at 03:51:38
Michael post 117. How about pck instead! Portly catering kopite. Only abbreviation we should be worried about is f a cup
Ray Smith
182
Posted 08/01/2022 at 04:47:34
Pat 105
I've read your post several times, and am looking to disagree with you, however, I can't.
What you say, will bring on the pains for quite a few TW's, but in reality we have won nothing since the FA Cup in 1995, which says it all.
Bobby Mallon
183
Posted 08/01/2022 at 05:37:04
Everton's demise under Ancelloti was because his daughter, was held at knife point in his house by two fucking cretins. On the 4th March we where 5 after beating saints 1.0. I guess a lot of people on here don't realise just how much that incident would have impacted on his mental health. I would have left also his family fled he was on his own. If that incident had not happened I believe he would still be here and we would have finished last season top 6/7. IMO.
Bob Parrington
184
Posted 08/01/2022 at 06:31:21
Bobby Mallon, I'm glad you mentioned this. Something I've felt for quite some time. Many people don't see the human emotion side of this kind of situation. My wife and I had 2 home invasions within 7 days, going back several years. Fortunately neither of us was home at the time. This was bad enough to take but what happened for the Ancelotti family was a zillion times worse. Honestly, I believe that, if this threatening invasion had not occurred, Carlo would still be with us.
Moving on to Rafa, I am going against the grain with many on here. I'm glad to see him hard nosing the players, who think they are bigger than the club. Many of us have been saying for years that there is something wrong at the root of the club psychee. Well, here is a manager with the balls to root this out so that a real Everton team can be built for the future. No more mamsee pamsee bullshit. Does this need a manager with an EGO? Probably.
After being an Evertonian since 1953, I have been as peed off as most on here with the performances during the past 2 decades. If it has to happen to fix this that we go down to championship and then fight and come up then so be it. I hope we can avert the drop, of course.
Only the best will do! We need a side that is prepared to fight for the cause! I welcome the two new signings and hope a couple more will arrive during this window.
Support also means giving the manage a chance to manage!
Darryl Ritchie
185
Posted 08/01/2022 at 06:33:32
We will never really know what went on between Digne and Rafa. Other players may know, but they aren't going to say anything. The main combatants sure as hell won't.
Speculate all you want, but at the end of the day, Lucas is out the door, and we lose an international left back…the " how " is meaningless.
Will the same thing happen with other players? I doubt it.
Suck it up and move on.
Eric Myles
186
Posted 08/01/2022 at 06:52:37
Justim #2, if Rafa is forcing Digne out, then the player may well dig his heels in and refuse to put in a transfer request so that he picks up a loyalty bonus.
But it could well depend on what teams are interested in him, the terms offered, and whether he has a chance of getting into the World Cup squad while playing for said team.
Tony Everan
187
Posted 08/01/2022 at 07:52:49
It's simple is it? Digne wants to play Champions League football, challenge for trophies and be selected for the World Cup. His agent has told him he has the opportunity, right now, to do all that with Chelsea or Inter. Digne has green-lighted his agent to make it happen.
Benitez wants to get the fans onside by saying "It's not my fault he's going." Hence the over-the-top rhetoric.
Really, the situation needs to be managed better and less overtly, so we get the best price for him, improve the squad with he money, and move on.
From now on, Benitez's and the team's focus would be better served by just saying "No comment; we'll let you know if anything happens."
Paul Smith
188
Posted 08/01/2022 at 08:39:51
Albert Perkins (great name btw). Exactly right mate. Someone speaks out and we're all offended. We seek as Everton fans constant negative reinforcement. No one can win or even start to win. We contrive to set ourselves up for failure or anyone else that might seek to break the endless loops of self-defeating behaviour that keep us as victims of our own contradictory expectations.
If Digne wants to speak, he can. If Benitez is using a player who doesn't want to be here to try and exert his influence or control over the team, fans, board, club etc, then why not? It's about time someone did. That he is a disruptor to this regime and not a Yes-man is a good thing.
He will be judged in the end on results irrespective of the politics and they patently haven't been good enough.
Mick O'Malley
189
Posted 08/01/2022 at 08:40:05
Bobby @183 agreed, that must have been a frightening experience for Ancelloti and his family, I can't blame him for wanting to bail after that.
Ray @152, the biggest pile of crap at this club is Benitez.
Mike Price
191
Posted 08/01/2022 at 08:57:01
We overpay for transfers and massively overpay on wages. We turn assets into liabilities that we can't give away and we're stuck with a busted flush. Digne's value is not as high as people expect because of his salary and the uplift he'll be looking for, to leave.
Tosun must be one of the worst cases ever but Delph, Gomes, Iwobi, Sigurdsson, Besic, Gbamin, Bolasie, Mina, Allan etc are all examples of people who walked away as mega millionaires, for free, or who will see out their contracts contributing nothing, or who we'll get low fees for because of stupid wages.
Just shockingly bad recruitment, accounting and management.
Sam Hoare
192
Posted 08/01/2022 at 09:03:06
Going into this season Digne had signed a new contract and most fans and neutrals would probably have had him as one of maybe 3 players of ours who could compete for a place in a top 4 team.
Now the narrative has changed to 'he's crap and wants to leave'; sounds reminiscent of Lukaku, Stones etc. Benitez in particular is a master of media spin and manipulating such situations. Hope Mykolenko is good as we are going from having one of the best left backs in the league (who had our most assists last season) to a lad yet to play outside of Ukraine or Godfrey out of position.
Mick O'Malley
193
Posted 08/01/2022 at 09:18:47
I still can't believe we have fans that are happy with Benitez, happy that we have a failing kopite in charge, we are getting buzzed off by RS fans with the Agent Rafa mantra going strong, look what he is doing to the fan base, that press interview yesterday was absolutely embarrassing, we are going nowhere with the Caldy clown, but he won the CL 15 years ago so he must be brilliant, Emery won the Europa league 3 seasons in a row but when he was struggling at Arsenal they chased him, past success means nothing today. I'd sooner have a young up and coming manager playing the modern way and it doesn't matter about what they've won cos the vast majority of managers never win a trophy, it doesn't make them bad managers
Stan Schofield
194
Posted 08/01/2022 at 09:25:50
No player is bigger than Everton. Digne has been totally loyal to Everton, the consummate professional.
No manager is bigger than Everton. Benitez' behaviour is that of a toxic manager, damaging to Everton. He is unprofessional.
It is clear who needs the push, and it is not Digne.
Tony Abrahams
195
Posted 08/01/2022 at 09:31:26
I think that's the state of play at Everton now Mike@191, and I'm pretty certain that this will have been one of the first things that Benitez will have stressed to our owners.
I look at Coleman, he's knows he's past his best, but he must look around the changing room, thinking, "I remember when we used to have players that really cared" but as Marcel Brands famously said, "money makes you lazy" and the players that you mention Mike, are all earning fortunes, with their only real desire being, that they aren't moving, until their massive contract at Everton, finally ends.
Brian Murray
196
Posted 08/01/2022 at 09:39:56
Instead of kicking out the kopite. Kick out the playwright. There's the real problem.
Stan Schofield
197
Posted 08/01/2022 at 09:49:43
Tony@195: That's correct, but the big irony given that this thread is about Digne, is that Digne is not one of those mis-signings, quite the contrary, but he's being treated unprofessionally, and some on here are accepting it.
You clearly believe that Benitez will 'sort out' Everton's midtable mediocrity, but there's no evidence for it whatsoever. We need Everton to be more professional, but we won't get that by having a divisive manager mishandling a player who's shown consummate professionalism.
On the basis of evidence, your belief is simply a turning of reality on its head.
Peter Neilson
198
Posted 08/01/2022 at 09:54:05
Benitez's public criticism of Digne is doing nothing for the players valuation. Clubs now see a player we are desperate to sell. Unsurprising as Benitez's behaviour is only a reflection of his own self absorption and damn the consequences. Maybe he should concentrate on the "improvements" he's making. At the moment they are less than obvious and have the ring of jam tomorrow.
Mick O'Malley
199
Posted 08/01/2022 at 10:08:46
If Benitez put the same energy into sorting the defence and tactics out that he does into defending himself and his record then we might start seeing some improvement, that was an embarrassing press conference yesterday, why was he more interested in Peter Reid and what he has said than explaining exactly why a man who has not long ago committed his future to the club wants to leave? Digne has suffered a loss of form no doubt but there was no need for the character assassination from Benitez about a player who has been a good professional and kept his side of the story to himself, Benitez is petty and childish and is not suited to our club, we are better as a club when we all come together but that will be impossible with a manager who the majority of fans want gone ASAP,
Scott Robinson
200
Posted 08/01/2022 at 10:18:01
People on this platform have been crying out for a clean-out of the playing staff for years and here is one.
Lucas Digne has been part of the collective failure of EFC over the last 3 or so years. He is talented, but have many have mentioned, been poor since he came back from his ankle injury (which seemed remarkably quick at the time).
I believe LD realised he went too far with Benitez when he came out in the media playing things down.
I think Benitez told it how it was. Whether calling in Peter Reid is a good thing is debatable.
I am sorry that LD is leaving, but it is probably for the best.
Darren Hind
201
Posted 08/01/2022 at 10:19:51
Bobby
I never saw reports that said Ancelotti's daughter was held at Knife point. All the reports I read said the scumbags left like bats out of hell when she disturbed them. Its a disgusting and damaging crime, but if she just saw men in black balaclavas's fleeing the scene of the crime...Its nowhere near as traumatic as being held at knifepoint.
Unpalatable as it may be, There have been many, many reported cases of this nature for professional sportsmen. If the free fall we suffered under Carlo was a direct result of the trauma he suffered. then it would have been a incredibly delayed reaction. You boast we moved into fifth in March...The burglary happened in February.
We all suffer trauma, tragedy and even bereavement. Rafa too, but These things are rarely taken into consideration when the barometers to measure success come out.
If you are going to compare the two managers You have to accept that Carlo had a massive advantage over Rafa. Really massive.
We spent 70m bringing in players like Godfrey, Doucoure, Allan on his watch, that figure would easily double if you take their wages + James Rodrguez's into consideration. Rafa, thus far has only be able to field 1.7m worth of transfers and the wage bill has actually been reduced.
If we managed to finish 10/11th this season. All logic would suggest that evil Rafa would have done miles a better job than Carlofantastico...Some thought.
Anyway; I'm not sure it matters. The decision to employ these either of these two men would have been disastrous. The decision to employ both is unforgiveable
On another note. I lost a mate last year who would insist we would be winning the FA cup on third round day every season. I cant help smiling when I see Danny showing the same unshakable belief that this is our year.
Terry's not here any more. It would be joyous to see Danny land the gamble on his behalf
Ciarán McGlone
202
Posted 08/01/2022 at 10:38:16
Putting ego before the team..? how ironic given that Benitez appears to be the one who has now done this with more than one player.
Manufacture drama and publically castigate those players who he develops a beef with. Only one of the two people involved in this has remain dignified, the other has repeatedly personalised this in the media.
What a shit manager.
Ciarán McGlone
203
Posted 08/01/2022 at 10:44:53
Oh.. and the use of Peter Reid is just a shoddy con-man tactic that no doubt plenty of our gullible fans will fall for.
Pathetic.
Clive Rogers
204
Posted 08/01/2022 at 10:49:11
Benitez has handled the Digne situation very badly and with much less dignity than Digne himself. Bringing Peter Reid into it was just ridiculous and embarrassing. A player for us 35 years ago.
Tony Abrahams
205
Posted 08/01/2022 at 11:06:22
Benitez was wrong using Peter Reid as an example, imo, but only because he's never actually managed him.
I personally got his drift, and think if he was genuinely trying to be divisive, he could have used another player from Huyton, who he has managed, but that's just me showing my dark sense of humour, honest!
Frank Wolfe
206
Posted 08/01/2022 at 11:15:03
I reckon the jury is still out on Rafa.
Theory One is that he was the wrong appointment and has lost the dressing room and the plot.
Theory Two is that he has inherited a squad and with FFP has no budget. So, he is trying to offload expensive players to bring in young hard-working alternatives.
Personally, I think we have to give him till the end of the season at least.
Brian Harrison
207
Posted 08/01/2022 at 11:22:46
This is what Digne tweeted after the Arsenal game:
"Don't believe everything you read, only one thing matters, the club. What a fight, what a win against Arsenal guys! I was sad not to play, I was looking forward to be playing for Everton as always. The manager chose not to select me, that's football."
Does that sound like a man who doesn't want to play for the club anymore?
For those asking why if it's not true, hasn't Digne come out publicly and said so? I would imagine his agent has advised him to say nothing as, if he did, it would only result in a massive fine from the club.
Also, do you really believe that only Digne in the first team squad was the only one to protest to Benitez that his tactics weren't working?
Also, when Benitez said he was sick and couldn't play against Chelsea, Digne posted a picture of him and his son at the Albert Dock, just to prove he wasn't sick, and he turned up for training the following day.
Tony Abrahams
208
Posted 08/01/2022 at 11:39:25
Listen, everyone – the manager is wrong, and I don't want to leave, but my agent has advised me not to say anything just in case I get fined for publicly stating that I don't want to leave Everton, such is the way the club is currently being ran!
Alan Moss
209
Posted 08/01/2022 at 11:42:57
Tony, he probably does want to leave now but only because of Mr Benitez.
Never an issue with him prior to Benitez, always the model professional. Whereas, this isn't the first time Mr Benitez has behaved in such a way.
Danny O'Neill
210
Posted 08/01/2022 at 12:05:38
Player wants to leave, manager doesn't want player and has already signed a replacement. No requirement to go public, which in fairness, the player hasn't.
Darren, sorry to hear about your mate, so I hope my bet comes in and we're celebrating come May. The one I placed last month by the way.
I lost my best mate back in 2002 under tragic circumstances. He used to be the more sensible counter to my Romanist ramblings about Everton. Now I have to rely on my son and youngest brother. It's sometimes difficult to figure out who is the supposed older and wiser versus the 20 somethings. Apart from appearance obviously!!
Tony Abrahams
211
Posted 08/01/2022 at 12:07:12
Yes, I'd agree with that, Alan, because I've always liked Lucas Digne. I have had to listen to my brother mostly, but also a few others who sit by me, being critical of Digne's performances all season though, with most of them complaining that he's gone off the boil because he's had no real competition.
It might not be because of a lack of competition, it might be because of the manager's tactics, or from him sensing that this manager doesn't seem to rate him so highly, because there was never any rumours about him complaining under Ancelotti, whose teams actually did a lot better, playing with a very rigid back four.
I'd guess that Benitez has thought Digne was one of his few sellable assets, (out of this squad of players) and the player has probably known this, and decided to confront the manager, because he's known the writing was on the wall, and things have escalated from there?
I keep going on about the wage bill for a reason though, because it's absolutely crippling us, and it's going to be impossible for the club to move forward until we begin to live "within our means".
Danny O'Neill
212
Posted 08/01/2022 at 12:11:52
I'd agree with the tactics affecting him, Tony, but I also think this season, in particular, he's missed having Calvert-Lewin to aim for… just as Dominic missed Digne when he was out last season.
Not an obvious partnership as the left-sided Baines - Pienaar one a few years back, but both their games seemed to benefit when they were on the same pitch and in form.
You're not in the current French squad and a routine starter having played for PSG and Barcelona because you're rubbish. It's a form thing. It's a reflection of Everton's form and performances over the past 18 months.
Mike Kehoe
213
Posted 08/01/2022 at 12:14:54
I would be interested to know what what Peter Reid's thoughts are on appointing Benitez as Everton manager.
Alan Moss
214
Posted 08/01/2022 at 12:15:24
Darren @201, I'm not sure that logic rings true. I agree that Ancelotti had more investment in the squad, however most of those players remain at the club so Mr Benitez will have benefitted from that same investment with the added bonus that the players should have adjusted to the team and the league. I think it's a little easier to make a direct comparison between the 2 managers. If Mr Benitez finishes 10th with this squad, he won't have done significantly better than Ancelotti at all.
In fact, given that Mr Benitez has followed Ancelotti to several clubs that comparison can be taken further...and it doesn't look good for Mr Benitez because at most of those clubs he had a worse win percentage than Ancelotti. He doesn't seem to be bucking that trend with us does he.
But I totally agree; this hardly matters. Neither should have been at our club (especially Mr Benitez).
Think I'll watch the Derby County game today if I can. Get some insight into Rooney's progress as a manager.
Bill Fairfield
215
Posted 08/01/2022 at 12:40:27
Digne is yesterday's man as far as I'am concerned. The only thing that matters is the team and the improvement of it. Big change is required at our club and I don't think for one minute it will come without a lot of upset. So i'am with Reidy,he wouldn't have been on the bench.
Tom Harvey
216
Posted 08/01/2022 at 12:44:17
If Dunc was now temp manager or full manager and he come out and said: "This kid doesn't want to play for us, he's made that clear", everyone would be howling: "Get rid now!".
Benitez is doing the right thing by the club and us the fans on this issue; we've been screaming for so long for a manager to put a rocket up the team's collective arses and this could be it.
I'm struggling with the keep Digne it's all Benitez's fault that he doesn't want to play opinions on here. I really didn't want Benitez when he came, but his behaviour on this issue is one of the reasons why I would want to keep him.
Stan Schofield
217
Posted 08/01/2022 at 12:49:49
Tony@205: Apparently, Benitez has never had to TRY to be divisive, it seems to come naturally to him. Everton needs more professionalism and unity of purpose, all pulling in the right direction, not divisiveness and getting on the wrong side of players, particularly one of our best and most professional players.
One lad earlier in this thread said he's not watching Everton again until Benitez leaves, and another replied that there's no need to make a song and dance about it, if you choose not to watch then simply don't watch. I agree with this reply, and would never myself actively walk away from Everton. That said, the kind of behaviour shown by Benitez has, I've found, made me less interested in football and lately in Everton, in a passive way. Not even thinking to watch the Brighton game, for example. A good manager inspires interest even when our results are poor, but this guy, for me and based purely on his management of Everton so far, is such that I seem to be becoming disinterested. That's never really happened before, and is not good.
Peter Neilson
218
Posted 08/01/2022 at 13:15:14
I'd like to think if Ferguson was in that position he wouldn't have been so egotistical as to go public. Any player can be sold, it's Benitez's Machiavellian character that's the issue. Not just here, it's the way he's operated at every club. I don't believe a word the guy says.
Matt Traynor
219
Posted 08/01/2022 at 13:35:12
Benitez falls out with player. Scapegoats him.
Just pick a date and any club he's been at.
Moshiri, your turn is coming. Read his playbook. If you'd done your due diligence this would've been apparent.
I'm happy enough. Any excuse to not answer the phone to red noses.
Julian Exshaw
220
Posted 08/01/2022 at 13:35:41
There's no question that Benitez is creating divisions within the club and its supporters. The whole business with Digne stinks and is shining an ugly light on our club. Benitez may well be in the right in this case, we don't know but there are two sides to every story. Assuming Digne has his mates within the squad who support his case, this will further cause a rift between the players and the manager with the carry on effect coming on the pitch.
I am sick of the ugly press we are getting, this absurd and equally annoying 'Agent Benitez' crap on social media. Moshiri needs to get back from Monaco and sort this out because it's becoming a farce on and off the pitch.
Darren Hind
221
Posted 08/01/2022 at 13:40:22
Fair enough Alan
But I think you may be wasting time watching Rooney or anyone else for that matter. I think Moshiri has gone all in With Rafa. If he goes over the cliff, he takes the club the History and every Evertonian with him. How the fuck did we get here ?
Danny his death was a mercy. It was one of them where relief was felt all round. He would have joined you in this bet for sure.
Another mate of mine (also gone) would have made you and Terry look like Raging pessimist. I think I have told the story on here before, I've told it somewhere... He saw hope in everything and I do mean everything. He didnt believe in a lost cause. He was often ridiculed, but he was like a tree standing by the waterside.
The night when a Dennis Bergkamp inspired Arsenal shredded a hungover Everton team - A few days after we had qualified for the CL play off. He turned around after the 5th or 6th went in and spotted me a couple of rows back. To everyone's amusement (because they thought he was joking) He said to me "Tell you what mate, if we don't get one back in the next few minutes, we may as well right this one off"
John Davies
222
Posted 08/01/2022 at 13:51:06
Petty, immature, unprofessional, bitter, intransigent, naïve, divisive, egotistical. All traits that Benitez would have us believe are those of Lucas Digne.
That TV "show" by him was a total disaster and an embarrassment to the football club. Each and every one of those traits, by the way, sum up the man himself. A dinosaur. I long for the day of his footballing extinction.
Will Mabon
223
Posted 08/01/2022 at 13:57:28
We suffered the Dutch clown; grumpy, smug, arrogant, divisive - and this is before addressing the actual football, in which he proved to be overrated, clueless and incapable of fostering improvement or showing any flexibility and lasting tactical competence. The track record and history was there to be seen, as easily by the club as by anyone with an internet connection.
Now we have our Iberian version, who can essentially be described mostly as above, safe for the benefit previously of a couple of better squads than we have. He's even selected a player for the same public games as were given Barkley. I wonder will DCL or Richy receive the Lukaku personal development-type support to move away.
His signings so far seem to display a little more thinking in the main (ahem... Rondon) but the "Sell better players to invest" route is oxymoronic except for in particularly dire, short term circumstances.
I wonder who will be next in our series of cosmopolitan clowns of incompetence. If anyone can remind/inform me of a similar rocket-up-the-arse style manager from recent decades that sold the quality players and genuinely improved a club, I'd be interested to consider that.
Dale Self
224
Posted 08/01/2022 at 14:02:27
Brentflord. Benrahma sold and they progressed. Frank is not a rocket type, at least i havent heard , so there is a counter example
Will Mabon
225
Posted 08/01/2022 at 14:14:42
I suspect you know more detail than me re. Brentford, Dale. I guess I mean top level (accepting that Brentford are now). Their manager is not like Benitez so it's not a counter as such. Agitators with a big shoe are yesterday at the top level, so far as I can recall.
Tony Abrahams
226
Posted 08/01/2022 at 14:24:05
it's happened to me a few times that Stan, over the years mate. Walter Smith, was the first to really disappoint me, then I was fed up with the dream team of Moyes & Kenwright pissing in each other's pockets, trying to keep plucky little Everton punching above their weight, and was delighted that Sir Alex, came forward!
Then it was Koeman, who made me realise that I could no longer justify travelling all over the country to watch nothing football, when I had two young twins on the floor.
I just wish the same anger that has been shown towards Benitez, could have been shown towards Bill Kenwright, and I'm quite often astounded that this has never been the case,
Dale Self
227
Posted 08/01/2022 at 14:25:44
Fair enough Will. I would say that Benitez is chopping some rarher petrified wood here and cannot get business done without some selling. Whether Benitez manufactured a brouhaha from a docile Digne or whether Digne made himself available by making demands of newly appointed manager NONE of us know.
Will Mabon
228
Posted 08/01/2022 at 14:30:34
True, we never know for sure - and that's the way it should be most of the time. There are plenty of soaps (and social media) for petty drama games. This is professional football - I think.
Alan J Thompson
229
Posted 08/01/2022 at 14:45:09
As in the case with Niasse we've only heard from one side but I find this public criticism of the player while having the ability to fine him if he replies to be just as repugnant and despite his longevity in such positions says little for Benitez man management skills. Has he achieved anything here that could not have been done behind closed doors or is there an ulterior motive?
Stan Schofield
230
Posted 08/01/2022 at 15:08:30
Tony@226: These pages are choc full of hard criticism of Kenwright, and have been for a long time. In our desire for the running of Everton to be more professional, manager recruitment needs to be high on the agenda. The boardroom appears unprofessional, and so does the current manager.
Tony Abrahams
231
Posted 08/01/2022 at 15:13:44
The saddest thing about that funny little tale Darren, is that it's getting harder to make memories with Everton.
I was already back on the ale somewhere outside Highbury by that time, but I can still remember Moyes sitting there in a cardigan drinking champagne, declaring we were the best team on Merseyside, after Arsenal had just beat Liverpool on the previous sunday, and we all know what happened next.
That was nearly 17 years ago, and I was saying Everton needed more professionalism way back then Stan.
Paul Birmingham
232
Posted 08/01/2022 at 15:43:28
As the current manager of Everton, I'm still backing Benitez.
But I still think he wears his a Red bills, when it suits, and in his press conference yesterday, I think he was trying to be pro Everton, but he could have been more genuine. Reidy would be pissing himself laughing yesterday.
If any player wants out then, yes get rid, but for me the last Derby match result and performance, and possibly other games, this season such as Villa away, may have been part of the rational, along with players claim, to want out,
In view of creating a new era for Everton, unless the board changes their culture then, for any manager it will be tough at Everton, but tough love and cruel to be kind, is part of life.
Let Rafa do what he must, but I reckon he will be given, to at least the end of this season.
Mandated as priority to cut the playing staff, reduce wages, and cut overall first team opex, and buy players at break even, and saving on capex.
Success on the pitch would be a bonus, as is the prevailing FFP and business performance of a EFC.
Nothing is simple at Everton, and knowing what the board is thinking, is more often than not spouted out, by Mr White. Why?
So let's see in a couple of months time how the course the club is running.
Looking forward to the game, let's see wants it most, and what set up and players are starting.
Hers to a good night, for Evertonians.
Darren Hind
233
Posted 08/01/2022 at 15:49:28
You just made my toes curl Tony by reminding me of Moyes spouting off too soon wearing his Philip Green Cardy.
You are right. The last few mundane seasons sort of run into each other and great memories are a little harder to come by.
Please let tonight be the start of something very special
Denis Richardson
234
Posted 08/01/2022 at 15:50:24
Lotta he said / she said but ultimately none of us know the full facts and what was said. However it provides a bit of entertainment and discussion.
I'll always be on the side of the manager in cases like this as ultimately it's the manager that should decide on the system and the players that play in it. If we're being honest Digne hasn't been great for a while so this is actually a positive for the club and is forces us to get rid whilst his value is still relatively high. Hopefully we can milk the barcodes for a really high fee given their desperation.
I'm just pleased we've signed two young hungry fullbacks and looking forward to seeing them pull on the shirt. RB should have been a priority 3 years ago but better late than never I guess.
Au revoir Lucas and thanks for the first year or two of service. Last 18 months not so much…
Joe McMahon
235
Posted 08/01/2022 at 15:51:00
I'm not sure Longstaff is going anywhere he's now cup tied. I've been thinking for a while, did we yet again miss an opportunity not going for Patrick Viera?
Jerome Shields
236
Posted 08/01/2022 at 22:30:48
Jim#171
You are so right about Everton's defence.
Michael Kenrick
237
Posted 09/01/2022 at 11:53:43
The Mail claiming that Lucas Digne was asking for wages of £200k pw from Newcastle, and that they are no longer interested. That would have been quite a hike on what we're paying him. But we're obviously so generous, leading to raised expectations of the player's self-worth.
Andrew Ellams
238
Posted 09/01/2022 at 17:59:28
SSN stating Villa are close to landing Digne
Rob Halligan
239
Posted 09/01/2022 at 18:04:05
Seeing as it's villa, and in particular, Gerrard, then add an additional £10M onto the fee.
Andrew Bentley
240
Posted 09/01/2022 at 18:04:37
Just seen that Andrew @238. Expect him to do well there if he does sign for them. Just shows how low our stock is that Villa is seen as a better option. Hoping that this flushes out some other bids for him to start a bidding war and drive the price up
Tony Abrahams
241
Posted 09/01/2022 at 18:06:17
With wages not expected to be an issue, Andrew, which makes it look like bollocks from the mail, or a player pushing his luck thinking that the club who allegedly wanted him, might have been very desperate maybe, Michael?
I was talking to a few Villa fans not so long ago and the way they were talking, it sounded like they had very, very rich owners, so maybe they can grab hold of the coat-tails of the so called elite?
Andrew Bentley
242
Posted 09/01/2022 at 18:06:25
We probably could have done that Rob @239 if Rafa hadn't essentially driven down the price with his press conference the other day!
Rob Halligan
243
Posted 09/01/2022 at 18:11:09
Andrew # 240. I don't think villa is a better option at all for him. It doesn't matter where he went, he simply didn't want to be with us because of Benitez. I'm sure he would have been more than happy to remain at Everton.
Benitez out!!
Rob Halligan
244
Posted 09/01/2022 at 18:13:33
Very true, Andrew. Seeing as Gerrard basically "laughed" at our offer for Patterson, then I really think we should add on a few extra million though.
Tony Abrahams
245
Posted 09/01/2022 at 18:17:56
We are making a profit, but for a player of his caliber and pedigree, then between £20/25 million, doesn't sound as good as it could have been.
It will probably take Benitez net spend to around £5/6 million, and with Mina still absent, and rumours that he could be going to Milan, then maybe we could get a midfield player in return?
I think Longstaffe will most probably come, so if Mina does go, hopefully we get in another central defender. I'm only speculating but if this happens that'll be three big earners off the books, and six new players, which might even give us a minus net spend, and also reduce the wage Bill?
Jim Lloyd
246
Posted 09/01/2022 at 18:18:23
Bob Parrington (184) Well said!
Mike Gaynes
247
Posted 09/01/2022 at 18:23:12
Haven't seen any recent updates on the Brennan Johnson rumor, but I like what I'm seeing of him against the Arse right now.
Jim Lloyd
248
Posted 09/01/2022 at 18:28:05
Too right Rob! Horrible, arrogant git!
Robert Tressell
249
Posted 09/01/2022 at 18:43:59
Central midfield and central defence certainly need some attention, Tony.
It's a long time since we've had good partnerships in these positions (and indeed anywhere around the pitch).
I'm not really sure I like any of our central midfield players.
Kunal Desai
250
Posted 09/01/2022 at 18:48:20
Good move for the player, Villa a club on the up vying for that 7th spot with a few others clubs so potentially a chance to play in the Europa League.
Tony Abrahams
251
Posted 09/01/2022 at 18:58:12
Interesting Robert. I think Docoure, has got great drive and energy, I think Allan has got a decent brain (some people will disagree) and is also prepared to work very hard, but because most teams play with three in there, and because our defenders never squeeze the space, I honestly think those two are on a hiding to nothing and definitely (honestly!) need more help.
I'd even argue that if we could get everyone fit, get a commanding central defender and change our formation to accommodate another midfielder, then we could become a good team, but that's only when I'm in a positive mood!
Marc Hints
252
Posted 09/01/2022 at 19:04:03
Lots of rumours now saying Anwar El Ghazi is being discussed as part of the Digne deal to Aston Villa
Joe McMahon
253
Posted 09/01/2022 at 19:13:13
Marc, not a bad player at all, i'm suprised Villa would let him go. I thought we needed the fully money for Digne though?
I know I keep sayong it, but we just should have given Lookman a proper chance.
Paul Hewitt
254
Posted 09/01/2022 at 19:21:23
Leiscter game off
Tommy Carter
255
Posted 09/01/2022 at 19:22:21
@ joe
253.
I disagree. And we've ended up with Demarai Gray. Who is a far superior player, is only a year or so older and has played a lot more football than Lookman.
@252
El-Ghazi is a very good player and a midfielder with an eye for a goal too. If we get him and a decent amount of cash I'd be reasonably happy with that.
Marc Hints
256
Posted 09/01/2022 at 20:06:49
Joe #253 the main story is from Fabrizio and he does state Everton do prefer cash
Derek Moore
257
Posted 09/01/2022 at 20:36:20
Media reports of Digne to Villa for between twenty and twenty five million.
Now that rinforcements are here, would like to see this saga come to a mutually satisfactory conclusion. Obviously not mug ourself just to get him out the door - we need the readies! - but when a suitable offer arrives Bill should throw him in the back of the Escort and drive him there himself.
Ernie Baywood
258
Posted 09/01/2022 at 20:49:22
I'd wrongly assumed that this was all about Digne wanting to move to a team playing in Europe.
It now looks like it's genuinely just a failing out between player and manager.
You can criticise Digne's form but he remains one of the better players at the club.
Benitez' job is to get the best out of players - instead it seems he gets the worst out of them and also manages to piss them off to the point that they want out.
Danny O'Neill
259
Posted 09/01/2022 at 20:54:53
Now this will be awkward.
Digne moving to the Wife's preferred club and them having their now manager.
Good player and good move by Villa if true, although I also rate their current left back, Target. Building depth or he's on his way? I'd say the latter as I can't see either wanting to be squad players.
Barry Hesketh
260
Posted 09/01/2022 at 20:57:44
The next game at Goodison Park as it stands is against Aston Villa, Danny! If Digne plays it will be interesting to see the reaction of the fans.
Christine Foster
261
Posted 09/01/2022 at 21:14:00
We don't know exactly what the spat between Lucas Digne and Benitez was about but its clear that what Digne was being asked to do / how to play, he had issues with.
When one manager buys a player he does so because of fit and what the players attributes are. Digne main attributes are attacking assists, its probably one of the main reasons he was bought. He is a defender so he has to be able to defend.. no brainer there.
New manager comes along and says, I just want you to defend, do not get forward. So possibly his main attributes as a player have gone. He is not happy with that and points it out to the manager his stats for assists (probably) Benitez is not interested in his stats, just wants him to defend.
Digne tell Benitez its a mistake, Benitez says if you don't want to do this, you must not want to play for the team.
Digne says, I just think its a mistake, I am good going forward!
The player is now unhappy, the manager has a problem, he has to drop him otherwise its a smack to his control / authority. So he paints it thus, he doesn't want to play for the team, he is only interested in himself.
Its not Digne manipulating a move, its Benitez getting rid and ensuring any fallout does not land at his door. Digne expressed his opinion. Benitez saw it as an opportunity.

Danny O'Neill
262
Posted 09/01/2022 at 21:22:25
I think you're right Christine. Obviously just off one game, but the new left back (albeit settling in) was much more defensive minded. A lot more of "row Z" mentality.
Digne is a good player, but as we know, players and managers don't always suit each other.
Barry, I'm still negotiating a family day out at Goodison for that one. A treat as I like to call it.
Mike Gwyer
263
Posted 09/01/2022 at 21:26:30
Digne is right Benetiz is shite.

Robert Tressell
264
Posted 09/01/2022 at 21:28:02
Tony # 251 - totally agree we need a midfield trio.
The best we can currently muster is Allan (hunts the ball well) Doucoure (has a good engine) and Gomes (graceful).
Unfortunately that trio doesn't dominate possession, doesn't score / assist much and doesn't even protect the defence well.
I'd have one of Allan and Doucoure in a starting line up but we need someone with more goal contributions and a proper holding midfielder.
I've liked the look of Van de Beek and Berge for those roles previously. They'd offer a nice blend alongside Doucoure's energy. Lots of other options.
If we get the midfield right it will take the pressure of the centre-backs too.
Danny O'Neill
265
Posted 09/01/2022 at 21:34:34
Allan struggles because he doesn't have the right players around him Robert. He's got a good forward pass on him and he's a leader on the pitch.
Ideally and with the players we have now, it would be Allan and Doucoure with a sweeper type player sat in behind them.
And that central defender I've been banging on about for ages.
Derek Moore
266
Posted 09/01/2022 at 21:40:42
I don't think Allan is athletic enough to dominate in the middle of the park in this league. And as Robert Tressell noted he doesn't create enough chances or score often enough to really be the difference maker we need.
I'm not Darren H, as I don't think he's "shite". But that lack of athleticism and creation and he'll always just be a sound player on a midtable team at best.

Hopefully Benitez has his eyes on a more dynamic and younger replacement in the summer.
Robert Tressell
267
Posted 09/01/2022 at 21:48:22
I think you may get your wish in summer, Danny. Hopefully I'll get mine too - because that would mean we have a much better spine than is currently the case. 3 key signings (with the sale proceeds from Mina, Digne, Richarlison and Kean) could make a lot of difference.
Priority now is to get the new full backs settled in, give Branthwaite more games and get Dobbin tied down to a new contract. Wouldn't say no to one more arrival in Jan though.
Gerry Western
268
Posted 09/01/2022 at 21:50:13
Mike 263 Speaking of shite it would seem he might not be alone. Trevor Sinclair appears to have come to the same conclusion about Digne
Link
Philip Bunting
269
Posted 09/01/2022 at 22:06:38
Personally think selling Digne now is good buisness considering his age. Pity we didn't take this stance years ago. Not fussed he going, been average for years. If Villa buy him for upwards of 20m, they have an aging fullback, on big wages and probably a 3 year contract with virtually no resale value. get him sold
Tony Abrahams
270
Posted 09/01/2022 at 22:08:21
It looks to me like Everton has been a club with little cliques, since David Moyes left. I could start talking all double Dutch (something I can often excell at) and say that maybe a divisive manager might be able to rid us of this curse, but I'm not sure that's possible, whilst many people think Benitez is the curse!
It looks like it could be a good move for Digne, and I can just imagine his first proper conversation with Gerard. I'm sure they will both be agreeing that Benitez is fuckn hard work, and Gerard will be delighted knowing Benitez, didn't fancy his new left back, because I think good footballers always do better, when they've got a real point to prove, and is why this could really backfire on Benitez.
Everton's new left back has got to bed in quickly for his manager now, because it looks like Luca Digne, isn't going far!
Barry Hesketh
271
Posted 09/01/2022 at 22:20:41
I heard Jermaine Beckford talking prior to the West Ham v Leeds cup-tie and he said that the likes of Jagielka, Distin, Neville et al all stomped on small issues that beset every team, if they couldn't handle it between them, Moyes then got involved, I suppose that's what Moyes meant when he said that that team of his could manage themselves.
Since the removal of Martinez and the managerial revolving door that has been seen at Goodison since then, it would be very strange if there hasn't been a number of cliques and counter cliques formed in that period. I note that once Digne secured his contract extenstion last February, it wasn't long before the poor run of form began as the players seemed to lose interest - not for the first time - purely a coincedence, probably, but as we can see from Old Trafford, it takes some doing to begin repairing team bonds, particularly with ordinary players having world-class egos.
I think that so long as Benitez ekes out enough points in the coming weeks, he will be here at the start of next season, and who knows he may even be Everton's manager in our final season at Goodison? That's a strange thing to type, but it's very likely to happen.
Tony Abrahams
272
Posted 09/01/2022 at 22:37:48
I think I'm prepared to give him time for the reasons I've documented many times on ToffeeWeb, Barry, but I hadn't thought that he could be the manager, who leads the last ever Everton team out at Goodson.
I don't like being horrible, but if this is going to be the case, then the little fat, belligerent, divisive, horrible little Spanish basket, better try and help sort out this basket-case of a football club, although after securing the investment, I reckon Bill Kenwright will probably be expecting this honour.
Joe Digney
273
Posted 09/01/2022 at 22:57:24
Looks like he's off to villa for 25 million, villa playing him 160k a week, talk of elghazi part of the deal.. can't see us taking him as he's bang average and won't improve us at all.
Ernie Baywood
274
Posted 10/01/2022 at 01:59:56
I'm happy enough to sell a 29 year old for decent money before his value drops. I don't think that's what the plan was though. I think it boiled down to a spat. Which is just pathetic.
And we haven't maximised Digne's fee through this. It's a fire sale.
None of this is good for the club.
Barry Ferguson
275
Posted 10/01/2022 at 08:09:05
Monumentally mismanaged.
Digne, sitting on a long fat contract, could quite easily now dig in his heels and say "I'm going *only* to a club that I want to" and then his agent can encourage those clubs to lowball us…..he can easily sit tight until summer (and beyond), have a few months chilling, and all it'll do is lower the price even further.
Like it, or loath it, the players have ALL the power today…..and the way Benitez has handled this is just like his football; it's from 2005 or before.
Whilst many of his fans will happy clap this 'stern' show, there is only one loser here and it's going to be us. Best case is a pretty much break even price against Mykolenko and strengthening our rivals (are Villa a rival still now, or is it more Newcastle, Norwich and Watford we should worry about?). Worst case is he sits in and pulls our pants down. Who could blame him after the public shaming FSW just gave him?
This won't be the last. Benitez spats go all the way back through nearly every role he's had. Anyone who thinks it's good for moral or will force the other millionaires in line is mistaking a premier football club for an army camp. Good heart, positively deluded.
Danny O'Neill
276
Posted 10/01/2022 at 08:15:58
Different slant on this.
Interesting that given Gerrard already has what some would call a more traditional defensive left back, he is seemingly opting for what some Evertonians bemoan in Digne. One that is good going forward.
Attack is the best form of defence as they say.
Christine Foster
277
Posted 10/01/2022 at 08:27:59
I know I am going to cop some flack for this but anyway its worth pointing out, when all the stuff on James was going on, the character assassinations from the manager, the club and the painting of a money grabbing, lazy, past it player that no one wanted in the media, at the centre of it all was Benitez. Determined and arrogant to get rid, it was personal. Now its Digne who joins a long list of players for one reason or another that the manager has taken a dislike to, or tried to humble or ridicule. James was a fading great, but when he did turn it on it was a joy to watch. Since he has gone we have NO creativity in centre midfield, no No 10. Now we are chasing Sean Longstaff great comparison that.
I have major misgivings about Benitez, whilst the club needed a shake up, the team needed replacements, there is a way of doing things that Benitez hasn't got in his locker. You can make a case for any player to be cut loose with half truths, without a full story. But Digne is a current full international from world cup winners France and we say he isn't good enough? While we pursue relegation threatened cast offs, play ageing players out of position, use tactics beyond the capability of our players..
Moshiri has made his gamble and backed Benitez.
Whats the plan?

Shane Corcoran
278
Posted 10/01/2022 at 08:37:30
Christine, regardless of what Benitez really thought of James or how he was portrayed in the media, I don't recall Benitez in any way suggesting he was any of the things you're implying he suggested.
I remember a slight sense of frustration at how little he said.
So not flack, but disagreement on this one.
Jerome Shields
279
Posted 10/01/2022 at 08:55:41
Looks like Digne is leaving at all costs.
Christine Foster
280
Posted 10/01/2022 at 09:14:27
Shane, I think its fair to say Benitez had previous with James, within a few weeks of being appointed in July, he had told James he was not wanted, citing poor fitness levels, (pre season) the same comments he used before at Real Madrid to tell him why he was not playing. There was only ever going to be one winner and it was never James. The club backed the new manager.
One would have to say that it stretches incredulity that this would not have been one of the initial conversations with Moshiri and he would have discussed this at the start of his appointment.
Now the master of manipulation, Ming the Merciless, has dictated that Digne doesn't want to play for the club. A player who has never bad mouthed or critisized the club, manager or other players. Ever. Ming has said he puts himself before the team. I know who I believe and the reputation for removing those he sees as too big for their boots or with an ego? Goes on. Who is next Richarlison or DCL? What excuse will that be? Will we see them portrayed as lazy, huge ego.. whatever?
Barry Ferguson
281
Posted 10/01/2022 at 09:52:24
Christine hitting the nail on the head. Who's next, and where does his campaign end? Team of journeymen robots too frightened or brain dead to express opinions and play with any level of freedom at all.
He's an Autocrat 90's leader in a millennials led dressing room and game. Dinosaur, or even 'Ming' doesn't quite go far enough.
Dave Abrahams
282
Posted 10/01/2022 at 10:24:06
I think The Colombian didn't want to be here once Ancelotti had left the club, and he did what he wanted while Ancelotti was here, deciding whether or not he was fit himself, no other clubs were interested in him because he wasn't worth the money they would have to him in wages and the risks of him being injury free, that's why he finished up in Dubai and not doing much there by the lack of sound of it.
With Digne and Mr. Benitez nobody knows what went on between them or what was said except Digne and Benitez, Benitez has said that Digne didn't want to play for us and now says he wants to join another club, Digne stays quiet about this, some say he is being dignified with his silence, maybe.
After the Crystal Pal. game a few on here had a go at Benitez for substituting Richarlison during the second half of that game, Charlie took the hump at being taken off going into one of his seven year aged tantrums coming off the field and carried on his childish brattish behaviour for the rest of the game in the dug out.
On the Monday after the game we became aware that Benitez wanted Charlie not to play in in the second half of that game and Richarlison confirmed this bu saying that Benitez had helped him by brining him off and possibly saved him from aggravating the injury.
Some of the time Benitez can't do something right without being accused of doing wrong, some time he can be accused of making mistakes because he definitely has made a few but the main reason he is disliked, hated even, by a lot of fans is because he once managed the team most of us can't stand and he made a statement at that time having a go Everton and their manager for the way we played.
I'd be wasting my time by asking some fans to give this man a break.
Christine Foster
283
Posted 10/01/2022 at 10:34:07
Dave, respect your view but (there is always a but!) I really couldn't care less if he managed the other lot or not. To me when he arrived I thought he could do a job, but since his arrival with his dreadful tactics, man management and whole persona, it just rubs me up the wrong way.
I believe he masters in half truths. But more than anything its his lack of tactical flexibility and stubborness in not playing to our limited strengths and sheer bloody minded attitude in playing certain players, has left me doubting this man will turn it around.
Dave Abrahams
284
Posted 10/01/2022 at 11:55:32
Christine (282), well Christine I always respect your views, in fact look forward to them, I don't doubt the fact that Rafa managed the other lot bothered you at all.
The fact that Rafa is easy to dislike because of the man he is and the way he operates is also indisputable, would you agree that he started off well, and I know we had some easy fixtures, but then injuries and suspensions disrupted the way we were playing, he had inherited a poor central midfield combination, with only two, Allan and Doucoure he could rely on to stay fit even and they have had their injury problems, add to this Tom Davies and Davies hasn't proved he can do a consistent job, centre halves? Not one of them a dominant character who can organise the defence, two main strikers who have hardly played together, all these problems and a threadbare squad Mr. Benitez had inherited to begin with, Christine I doubt if anyone manager could change all this in six months but I'll admit we should have had more than nineteen points in the bag and that is down to him AND the many silly stupid mistakes by the players, more by the players in my opinion.
Anyway Christine all I'm asking, of you, is that little bit of that Christian charity you were brought up with in Scotty Road, was it St. Anthony's or St. Sylvestors or maybe even St. Theresa's in Norris Green, towards Rafa or has you would refer to as HIM with a Scotty sneer!!
Christine Foster
285
Posted 10/01/2022 at 12:34:17
Haven't succumbed to sneering Dave, I agree he inherited a right basket case of previous managers, and as you well point out, the failings of much of the squad are a constant reminder of why he is there. But Dave ( another but..) the need to reconstruct and rebuild has to be done either one of two ways, short sharp and painful, or step by step. But in either case you cannot stop the train while new tracks are being laid. You have to make best use of the strengths of what you have and he isn't doing that. He runs the risk of sinking the ship because of his own intransigence.
He is a hard man to like, if he pulls it off he will deserve every bit of praise, but equally its starting to go pear shaped and I think we could so easily get sucked into a bad place. This was Moshiri's gamble, but it feels like there is no plan to stop the rot..
Actually Dave, it was All Souls in Collingwood street! With Father O'Reilly I think, a mad Evertonian. Whoa betide the congregation when Everton lost...
George Cumiskey
286
Posted 10/01/2022 at 12:56:28
I'm firmly in the Christine camp on the Benitez situation.
Derek Wadeson
287
Posted 10/01/2022 at 13:16:30
I'm firmly in the Dave Abrahams camp on the Benitez situation
Dave Abrahams
288
Posted 10/01/2022 at 13:26:30
Christine (285),
How can anyone reconstruct and rebuild? Short, sharp and painful.
First of all, how can you get rid of players who will not move because of the ludicrous wages they are on? They will stay to the bitter end of their contracts – bitter for Everton FC, not the players – and Benitez didn't hand out those contracts.
Yes, he is making mistakes while fighting a power struggle within the club. I realise as much as yourself the situation we are in, a relegation battle without a doubt. Christine, the ship was already full of water and sinking before he got here. He's trying to keep it steady and afloat but not to many fans' liking, I'm waiting to see how the rest of the transfer window finishes before I give up on Mr. Benitez.
Forget the sneering look, I know you wouldn't do that. I was going to mention All Souls, the school that had a street for a playground, is that right? Also, the school that my Nan, her sister and brothers went to, going back a century or two.
John Raftery
289
Posted 10/01/2022 at 13:27:01
Dave has my vote as well. Every manager makes mistakes, even Guardiola and Klopp. Building a successful team takes time and usually involves testing different playing formations, changing personnel and learning game by game. Falling out with individual players is often part of that.
Sam Hoare
290
Posted 10/01/2022 at 13:49:19
I didn't want Benitez. I still don't want Benitez. But, once it becomes clear that he is here to stay, then acrimony against him just becomes damaging for the team.
It seems very clear that Moshiri is backing him and I don't think that will end until we are a point or two away from the relegation zone (which for the first time in a long time to my mind feel plausible).
I've never known such discord in the fanbase in my (relatively short) time as a Toffee and it certainly has an impact on the players. Of course people are entitled to their feelings, whatever they might be, but it seems apparent now that the board and chairman are not going to take fan unrest greatly into consideration. In which case, it feels like it may be doing more damage than good currently?
I expect this season we will limp along to 10th-16th. If it is nearer 10th and we have begun to look like a team then perhaps there will be arguments to be made by those who want Benitez to stay. Otherwise, this summer will be the time to make a change and Benitez will have had a chance to show his capability and perhaps root out some of the less committed members of the squad.
Tim Kells
291
Posted 10/01/2022 at 14:01:25
Whether you are with him or against him, what I really can't understand is why we continue to be so poor defensively at free-kicks?
Surely he must know and see that yes most are individual mistakes but this has to be sorted out via tactics and practice on the training ground.
Barry Hesketh
292
Posted 10/01/2022 at 14:08:27
I really don't have a 'camp', I only want what is best for Everton Football Club, I can see both sides of the argument. In order to weed out the 'bad uns' if there are any, we need a ruthless manager with a thick skin, who can reshape the squad; that man would appear to be Benitez.
The evidence we have isn't at all overwhelming or conclusive, that he is indeed putting things right by forcing his personality upon the squad and that they are responding positvely or otherwise to his methods, although I appreciate that 6 months is not a very long time to alter some players' mindsets.
On the other hand, those who want rid of the Spaniard ASAP have valid reasons for their views: poor football, strange formations, terrible defensive and midfield shape that looks porous no matter who Everton are playing or what league they come from.
Benitez can't help his personality, but he does seem to enjoy rubbing up everybody the wrong way in order to get his own way, which some would argue is not the ideal quality for someone trying to build a team that will put itself on the line for the manager.
If things for whatever reason continue on the same trajectory as the last few months, how long should the manager get to put things right? I think it's a huge gamble to leave it too long but also understand those who want to give him the remainder of the season. I believe it would probably be better to stick with Benitez in the short-term, but only if the points total climbs significantly in the next half-dozen matches.
Dave Abrahams
293
Posted 10/01/2022 at 14:10:54
Tim (@292),
Yes, this is a stand-out point and, even though Brighton and Hull scored from poorly defended free-kicks, they still prepared to defend them the same way, with the back post left wide open in both games. Hull nearly scored near the end of the game with the Hull player left completely unmarked and only a terrific save by our 'keeper kept us in the lead.
Bill Gall
294
Posted 10/01/2022 at 14:32:36
The thing about Benitez is either you like him, or hate him, or are just willing to put up with him. He will not change. He has always been known for his defensive first attitude, and build up from the defense.
At the start of the season, when he had all the players to choose from, we started fairly well until the injuries to certain players started to derail the team. This was the point where good managers are able to adapt with the use of other players in the club. This is when Benitez failed, in his recruitment, and using players out of position who were not able to adapt.
All managers would like to have a team of players that they brought in, good managers are able to get the best out of the players they have, using them tactically and in formations they can adapt too. Benitez is using formations that are unsuitable for the players he has and seems to be causing unrest.
As supporters, we can only hope that with player movement in the transfer window, plus the return of the more influential players off the injured list back to full fitness, that things will improve. Then we can see if Benitez can become a decent manager.
Gerry Western
295
Posted 10/01/2022 at 21:33:41
Dave 282, some might not want to hear it but sometimes you just have to tell it how you see it. Doubtless it will be unpalatable for some. Your reference to Benitez not being able to do right for doing wrong sums it up perfectly.
Christine Foster
296
Posted 10/01/2022 at 22:11:06
Dave, the standard of the Premier League means you get no quarter from other teams. You manage with what you have until you can afford to change it or make best use of what you have. Liking or disliking players is a luxury you don't have.
Increasingly, Benitez's tactics and game management have cost us dearly. Players don't know if they are coming or going. Egos are not allowed unless you are the manager! I couldn't give a stuff that his glory days are painted in red; right now this team needs inspiration and confidence.
They cannot defend so we sell the best defender, they cannot create so they sell the most creative midfielder we have had in years. I know we are a basket case of a club due to the disgraceful management by the board, the managers and the remains of 5 managers squads.
All of us agree that the squad needs a clear out and in the meantime they have to play to their strengths, the team has to be set up to compensate for deficiences. But focus on what individuals are good at.
I don't see any of that in set up, in team selection or choice of certain players over others.ersonally, one new centre-back alongside young Branthwaite, a No 10, and a strategy of several game plans other than trying to hit on the break.
I don't see any of that.
Dave Abrahams
297
Posted 11/01/2022 at 12:07:05
Christine, I don't know what the argument was between Benitez and Digne but I certainly don't think he is selling out best defender because Digne has been very poor for the last eighteen months in my opinion.
Rodriguez has been discussed since he came here and since he has gone some adored him some good take him or leave him, those debates were going on well before Rafa got here when it seemed obvious to some fans, me included, that the Colombian chased the money as well as the good life, only Everton wanted him, through Ancelott, when he came, no other club wanted him when he left to go to Dubai, where the only news of him playing there was for being sent off for fighting with one of his own players.
Benitez has got things wrong, can't be denied, inherited a weak squad, poor central midfield, and centre backs who he can't rely on, injuries to key players, let's see what we are like when the transfer window shuts, if it's no better than now I'll have to review my opinions, until then I'm sticking with the man who has few friends in the stands and none in the boardroom.
---
Add Your Comments
In order to post a comment, you need to be logged in as a registered user of the site.
Or Sign up as a ToffeeWeb Member — it's free, takes just a few minutes and will allow you to post your comments on articles and Talking Points submissions across the site.