Report
Goals galore to open the Lampard Epoch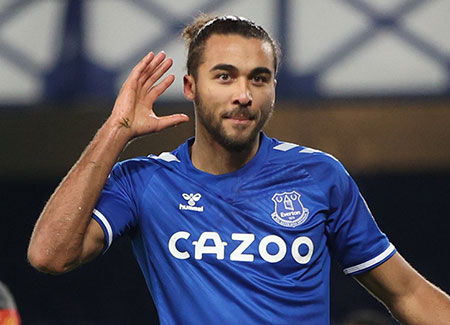 Dominic Calvert-Lewin is missing again after picking up what has been described as a small knock to his knee
EVERTON 4 - 1 BRENTFORD
Frank Lampard takes charge of his first match since being appointed as the new Everton manager, an FA Cup Fourth Round tie against Premier League opposition in the form of Brentford.
He is without both of his two deadline-day signings as well as the last acquisition under Benitez as Dele Alli, Donny van de Beek and Anwar El Ghazi are all cup-tied and Dominic Calvert-Lewin will also be absent after he sustained a minor knee injury. He joins Abdoulaye Doucouré, Tom Davies and Fabian Delph on the injury absentee list.
Mykolenko gets another start, with Gray, Gordon and Richarlison up front.
A nice introduction for the new manager, Frank Lampard getting a warm welcome before Everton kicked off, doing their best to play on the front foot from the start and push Brentford back.
Anthony Gordon did well to pick out Richarlison with a pinpoint ball pinged in but the big Brazilian felt a breath on his back and went down in sniper-esque fashion.
That play eventually led to the first corner of the game, for Brentford, who decided to impeded Pickford at their own expense. But the Blues got pressed trying to play out from the back, and didn't get very far.
Good work from Godfrey picked out Richarlison and this time he tried a bit harder to stay on his feet, turn and shoot... but wide.
Godfrey needed treatment, then hobbled off, Mina coming on after just 13 minutes, which deflated any flow in the game, it was stop-start and scrappy.
A horrible backpass from Coleman almost embarrassed Pickford under pressure. Everton tried to build were now not even getting into the Brentford area.
Article continues below video content
Gomes gave away one of his own special free-kick gifts that was fortunately not capitalized on, although he was booked for grasping a player's arm. Gordon made space inside and fired a decent attempt a few inches over the bar.
After 25 minutes, Everton finally showed a bit of attacking intent through Gray but his cross in was poor. After a rather dull spell, Gomes took a tasty shot from distance that forced a save.
From the corner, Mina powered home, a simple and straight-forward goal from Grayfine delivery.
That seemed to inspire some more lively forward play, Richarlison firing rather a lot wide when he should have done a lot better. Gordon's wild backpass almost caused havoc.
A more positive move through the middle saw a looping ball not falling properly for Richarlison, who could not get over it and shot wildly high.
Everton were slowly but surely building better forward movements, but one broke down and allowed Brentford to attack, with a decent shot on target from Canos that Pickford parried over for a corner.
Another corner was given up when Everton tried to play out. They cleared the next and Richarlison tried to break but was stopped illegally by Roerslev, who saw yellow.
Gray had a run and shot but it lacked control and composure, and he failed to slide in Richarlion on his left. With 3 minutes of added time, Everton conceded another corner, this one put straight out on a strong gust of wind! Not much of a cup-tie really... but Everton ahead.
Brentford resumed but the football from both sides was just messy. Nothing seemed too be happening until a lovely goal made in Brazli: a ball over the top from Allan was won by Richarlison ahead of the advancing keeper and directly adroitly into the empty net.
Toney collapsed very easily in front of Mina challenge but no penalty. However, Everton were opened up again and somehow Brentford failed to score when a great pull-back was missed completely by Roerslev.
Brentford had started to play, however, and Toney got in behind, was deemed to be fouled by Pickford although Toney kicked the ball behind, away from Pickford and the goal. Still given as a penalty, for some reason, even with VAR, scored by Toney.
Jensen came off worst in a collision with Demarai Gray but Everton kwpt on playing and won a corner, delivered to straight to Raya, and worked upfield to win a corner when Pickford shovelled it behind.
From the second phase Toney almost scored again off a hopeful lob. At the other end, Gordon superbly stole the ball and set up Gray whose goalbound shot was deflected over. On the corner, Holgate was there to nod in at the far post off a nice header the wrong way from Roerslev. And Goodison finally burst into song!
Gordon played a nice ball through to Mykolenko who crossed towards Richarlison but he could not get clear of the defender. A slew of subs disrupted the game.
Brentford got forward to win a corner that was cleared back to Raya. Everton tried to playout the last 15 minutes but Brentford had other ideas and continued to create nervy moments in the Everton backline.
Tosun and Iwobi were given short run-outs a few minutes before the end as Everton continued to play the game out. But Townsend had other ideas, lashing home a great shot after a nice flick on from Iwobi to make it 4 in added time.
A fine victory for Frank Lampard's first match in charge.
Scorers: Mina (31'), Richarlison (48'), Holgate (62'), Townsend (90+1'); Toney (pen:54')
Everton: Pickford, Coleman, Keane, Holgate, Godfrey (13' Mina), Mykolenko (73' Kenny), Allan, Gomes [Y:23'], Gray (88' Iwobi), Gordon [Y:67'] (73' Townsend), Richarlison (88' Tosun).
Subs not Used: Begovic, Branthwaite, Patterson, Gbamin.
Brentford: Raya, Henry (84' Stevens), Norgaard, Canos (73' Ghoddos), Jenson, Toney, Jansson (C), Ajer, Janelt (62' Baptiste), Sorensen, Rasmussen [Y:41'] (72' Dasilva).
Subs not Used: Llorente, Lössl, Onyeka, Oyegoke, Young-Coombes.
Share article:
---
Reader Comments (251)
Note: the following content is not moderated or vetted by the site owners at the time of submission. Comments are the responsibility of the poster. Disclaimer
Anthony Flack
1
Posted 05/02/2022 at 13:48:46
I can't believe we will start with 3 full-backs - 2 untried and 1 so out of form that it beggers belief he gets considered.
Jay Wood
[BRZ]
2
Posted 05/02/2022 at 14:07:47
Dave Abrahams, you need to sack your informant!
Three centre backs and two wing backs, or a flat back four with Godfrey deployed to reinforce midfield to make a 4-3-3?
No Academy kids on the bench, other than Branthwaite, who is more fringe 1st team.
Tony Everan
3
Posted 05/02/2022 at 14:09:26
What's the formation? 3-4-3 / 5-4-1 ?
Pickford
Holgate Keane Godfrey
Coleman Allan Gomes Mykolenko
Gray Richarlison Gordon
Brian Hennessy
4
Posted 05/02/2022 at 14:10:03
Not sure what to make of that team. Three right backs in the squad?
Jamie Crowley
5
Posted 05/02/2022 at 14:11:42
Americans -
Any idea where to watch the game? Can't find online? ESPN+??
Ciarán McGlone
6
Posted 05/02/2022 at 14:14:01
Not a great start by Lampard. We all know the problems with a back 5 and Allan and Gomes in a two man central pairing.
Hopefully the new manager bounce gets us there but that's not a great starting selection.
Kim Vivian
7
Posted 05/02/2022 at 14:14:23
No berth I see for our Venezuelan goal machine.
Fran Mitchell
8
Posted 05/02/2022 at 14:15:18
3-4-3, when attempted by previous managers, generally quickly turns into 5-4-1.
Maybe Holgate or Godfrey deployed in midfield to make it 4-3-3.
A shame that neither Dobbin, nor Onyango make the squad. 2 right backs on the bench, and Coleman starting, also a bit of a surprise.
1st game, so guess Coleman playing, as is captain, is to be expected, but his form is woeful.
Anyway...On to a new era, COYB!
Nicolas Piñon
9
Posted 05/02/2022 at 14:15:39
Pickford
Coleman Keane Godfrey Mykolenko
Gomes Holgate Allan
Gordon Richarlison Gray
I feel they could stand that way
COYB!
Sack your informant, Dave... hahaha!

Lee Courtliff
10
Posted 05/02/2022 at 14:16:03
Underwhelming.
Derek Powell
11
Posted 05/02/2022 at 14:16:26
Best of luck, Frank, but a strange line-up for me.
But hopefully proven wrong...
Colin Glassar
12
Posted 05/02/2022 at 14:17:36
Iwobi shouldn't even be on the bench. Poor start, Frank.
Winston Williamson
13
Posted 05/02/2022 at 14:18:47
Not a bad selection, all things considered. Would of preferred no Keane, but that just due to a personal dislike of the type of central defender he is (not the person).
I think it could be quite attack-minded, but will depend a lot on how the players perform. If history shows us anything, these players are prone to shitting themselves frequently.
Eddie Dunn
14
Posted 05/02/2022 at 14:19:03
Perhaps Coleman in midfield.
John Keating
15
Posted 05/02/2022 at 14:19:42
3-4-3:
Pickford
Holgate Keane Godfrey
Coleman and Mykolenko wingbacks.
3 up top
Would have liked to see Patterson in place of Coleman.

Joe McMahon
16
Posted 05/02/2022 at 14:19:49
I suppose like the last 2 managers, Frank is not helped by the constant injuries that have plagued the club for years.
Jay Wood
[BRZ]
17
Posted 05/02/2022 at 14:20:06
Given who is available to play, particularly in midfield and forward, I really don't think Frank has many, if any, alternatives he could select.
The formation and how and where players are deployed could be telling.
George Cumiskey
18
Posted 05/02/2022 at 14:20:14
Did he let Big Dunc pick the team??
James Gardner
19
Posted 05/02/2022 at 14:21:34
Frank's given the squad a clean slate, I hope the fans can too and get behind them. Let's leave all the negativity behind like the FSW! COYB's
David Hallwood
20
Posted 05/02/2022 at 14:21:41
Looks like 3-5-2 for me

Ajay Gopal
21
Posted 05/02/2022 at 14:26:10
Nicolas (9), that was the formation I was thinking. Not a lot of firepower on the bench. Disappointing not to see Dobbin at least on the bench.
If Benitez had selected that XI, he would have got belters from the fans. But we got to hope that Lampard and his assistants have done their homework and really want to win this game. COYB!
Ciarán McGlone
22
Posted 05/02/2022 at 14:27:04
We've had a great start in the Rugby so it better be worthwhile switching the Everton game on at half time.
Sensible approach would be Holgate in the middle. Let's see.
Free hit for Lampard anyway.
Tony Everan
23
Posted 05/02/2022 at 14:27:45
I think it will be Godfrey deployed as the defensive central midfielder in a 4-3-3, maybe this will give us the most balanced team.
We need aggression in the centre of midfield, winning the ball and keeping it simple. Maybe Frank has seen enough to be confident that he can do a job there, or taken advice from Duncan about the possibility.
Tim Greeley
24
Posted 05/02/2022 at 14:28:48
Whatever Google link I clicked on first has 4-2-3-1 with Mykolenko playing right wing! Probs not gonna happen… and where is the Forum?!
Not gonna be on in the States, will need to follow on there (yikes)
Bill Gall
25
Posted 05/02/2022 at 14:31:34
FA Cup loosing its glamour in North America – I can't find any coverage in Canada... must be because Man Utd lost.
Ciarán McGlone
26
Posted 05/02/2022 at 14:32:14
Think the game is on the Irish channel Premier Sports 2 for anybody who can get that...
Jamie Crowley
27
Posted 05/02/2022 at 14:32:54
Tim,
I got the exact same thing. Richarlison up top, then Gray, Gordon, and Mykolenko the three attackers behind Richarlison.
I'd actually love to see that.
George Cumiskey
28
Posted 05/02/2022 at 14:33:59
Iwobi and Tosun on the bench but no El Ghazi ???
Christy Ring
29
Posted 05/02/2022 at 14:33:59
Disappointed Dobbin not on the bench, especially as Tosun had no interest in going out on loan, just wants a payoff or sitting on his contract until the summer.
Disappointed with the Coleman bashing; he doesn't deserve it.
Rob Hooton
30
Posted 05/02/2022 at 14:35:26
Great day of football so far, come on Kidderminster and Plymouth!
I can understand why Frank has picked that team given the dearth of options available, let's hope he gets a tune out of them and gets the fans singing.
Luke Welch
31
Posted 05/02/2022 at 14:36:08
Any working links?
Jamie Crowley
32
Posted 05/02/2022 at 14:36:39
Tim! My Burnley-loving wife just found where we can watch the game.
It IS on ESPN+. The stream starts at 9:50 a.m. Sign up for Disney+ and you'll get Disney, ESPN, Hulu, and whomever else the fucking Mouse has bought out.
Americans can watch live via streaming on ESPN+.
Clive Rogers
33
Posted 05/02/2022 at 14:36:57
That is a poor team and is what you get when you pick from a poor squad. Not expecting much. Welcome to Everton, Frank.
Mick Davies
34
Posted 05/02/2022 at 14:45:05
George @ 28,
I think El Ghazi is cup-tied.
Neil Lawson
35
Posted 05/02/2022 at 14:46:25
Holgate will play in front of defence as he did 2 years ago. Did well then. Surprised by team but limited options. Let's not moan or criticise. Let's just get behind the team.
Dennis Stevens
36
Posted 05/02/2022 at 14:48:45
Cup tied, George?

Adam Carey
37
Posted 05/02/2022 at 14:50:04
Not sure what else was to be expected here? Frank wants to start with a win so is playing seasoned professionals instead of flooding the team with kids.
Onyango hasn't really shown much in the games I have seen him appear. Tosun, for all his faults and attitude, has scored goals at this level where Dobbin hasn't yet.
As for midfield, can Godfrey or Holgate play more defensive midfield? It's not like we have many more until the cup-tied trio can play. Coleman was always gonna get the nod to lead the team out at the start, being club captain. With Patterson and Kenny on the bench, he may not finish the game.
Once we can play a stronger midfield I would expect to see some youngsters blooded. However, Brentford are going to be up for this and Newcastle will be battling for points with Wood and Shelvey dishing out the dark arts.
Joe McMahon
38
Posted 05/02/2022 at 14:51:22
George, he's cup-tied.
Derek Powell
39
Posted 05/02/2022 at 14:51:26
http://www.hesgoal.com/news/94915/Everton_vs_Brentford.html

Tom Bowers
41
Posted 05/02/2022 at 14:58:01
Another Rafa line-up? We have no strength in midfield.
We are begging The Bees to attack our vulnerable back four.
Fran Mitchell
43
Posted 05/02/2022 at 15:09:10
So it looks like 3-5-2 with Gordon in a No 10 position. Interesting too see how he does there. Could give an insight into future too, with Alli as No 10 and Van de Beek where Gomes is today.
Ashley Roberts
44
Posted 05/02/2022 at 15:28:56
Godfrey injured. We just can't get a break at the moment. I don't know what the Blues have done to displease the gods. Just unbelievable!!
Ciarán McGlone
45
Posted 05/02/2022 at 15:51:03
Immediately obvious that Lampard has them moving the ball forward quicker. Some great one-touch stuff which negates the previous problems we've had with a 5-man back line.
No dwelling or endless passing across the back.
Gomes pulling the strings in the middle having a great game. Who needs pace when you've got footballing nous?
Still a bit to do though.
Jerome Shields
46
Posted 05/02/2022 at 15:53:02
Everton playing like a Lampard team: good football.
Ernie Baywood
47
Posted 05/02/2022 at 15:56:26
Hard to see what André Gomes really is at the moment. Good on the ball but sees things that aren't there, doesn't see things that are there.
Brentford's best chance came from him falling asleep after watching them play a few simple passes. I'd rather see if Gbamin has anything to offer.
Gordon and Gray the sparks with Richarlison giving it everything ahead of them.
Everything else a bit underwhelming. Our new boy, Mykolenko, still looks very uncomfortable. Issues with heading, crossing and throw-ins still persist. I'm not sure that I'm watching a realistic proposition at full-back.
Frank's playing style pretty evident. We're going to try to play some football. Tough on a windy day with limited personnel.
Jay Wood
[BRZ]
48
Posted 05/02/2022 at 15:57:44
A world of difference in how the team is playing today compared to the Aston Villa game, with pretty much the same players.
Only in the last 5 minutes of the half did Brentford get close to our penalty area. Before that, they barely entered our half.
Much more football being played on the ground and through the lines. Not always working, but the ambition to play that way is clearly there which hasn't been the case for months.
Very novel to see Everton take the lead in a game and score in the first half. Worrying to see Godfrey pull up and go off as he did. Nice to see Mykolenko having a decent game.
With what Frank can bring in on Tuesday, he has got something to work with for the rest of the season.
Ernie Baywood
49
Posted 05/02/2022 at 15:58:48
Ciaran, we clearly see a different Gomes!
Alan J Thompson
50
Posted 05/02/2022 at 15:59:39
It seemed a more energetic start but, owing to technical difficulties, I missed the first 2 minutes and as I was trying to work out who was playing where Godfrey had to be subbed.
I was surprised at Gomes having a shot as, apart from a couple of threaded passes that didn't come off, he seemed to pass everything else backwards.
Everton seemed to have several promising breaks which seemed to break down at the last pass or players wanting to have a go themselves but I wasn't sure if that wasn't because they lost other players and then the goal from a corner that everyone bar Mina seemed to just want it to go straight across the goal area.
At the other end, there was a fair bit of fannying around, Coleman's back-pass almost gifting a goal and Keane I think being run back rather than holding the line.
Just hope Frank gets them to look for each other more often and gets Gomes passing forward.
Nicolas Piñon
51
Posted 05/02/2022 at 16:00:56
So far an acceptable performance. Not much from Brentford fortunately.
Does someone know if the cup-tied trio can play at some stage of the competition, should we go through?
I would like to see Patterson at some stage today.
COYB!
Ciarán McGlone
52
Posted 05/02/2022 at 16:01:42
Indeed Ernie.
Haven't seen him do much wrong yet. A lot of the forward play is going through him and he's moving the ball quickly. Even won a decent tackle with them in a dangerous attack.
Jerome Shields
53
Posted 05/02/2022 at 16:02:25
Hesgoal showing a even % attack between the wings and centre for Everton. Brentford being forced to predominantly wing play. Everton's final-third play has improved and it is noticeable that Everton are attempting at passing and movement. This has been lacking for yonks before today,
Andy Finigan
54
Posted 05/02/2022 at 16:02:28
I second that. Well said, Jay.
Clive Rogers
55
Posted 05/02/2022 at 16:30:54
Nicholas, 51, no they can't. Once a player is cup-tied, that's it.
Ciarán McGlone
56
Posted 05/02/2022 at 16:56:09
The 4 goals aside, a fairly flat second half in which we put the game to bed. Allan the pick in that half, excellent assist.
Nobody had a bad game. Enjoy the win, lads. It's been a while.
We are not going down and these are not shite players.
Tony Twist
57
Posted 05/02/2022 at 16:58:33
Fun time Frankie! Well done blues. Same again at Newcastle please.
Danny O'Neill
58
Posted 05/02/2022 at 16:59:30
Goodison bouncing. Evertonians chanting the manager's name.
We're on our way to Wembley and like a team that's going to win the FA Cup, we shall not be moved.
Derek Moore
59
Posted 05/02/2022 at 17:00:09
What a difference a day makes.
Derek Moore
60
Posted 05/02/2022 at 17:00:09
What a difference a day makes.
Michael Lynch
61
Posted 05/02/2022 at 17:00:27
Front foot football, and four goals. Can't ask for more than that. Brentford were woeful at times but what a start for Lampard.
You do wonder how much damage Rafa did to this squad's confidence. He basically told them they were too shit to play possession football. Frank obviously told them different, and each player looked 25% better than they have for the past few months.
Anthony Gordon is going to be hard to drop, he really suits a pressing game.
Robert Tressell
62
Posted 05/02/2022 at 17:01:09
Good
Ken Kneale
63
Posted 05/02/2022 at 17:03:27
A very pleasing start – much improved on the eye and clearly taking note of what has taken place at Finch Farm in the limited time the manager and his coaching team have had.
Not getting carried away but this week has rejuvened the fans as well as the team – long may it continue.
Phil Smith
64
Posted 05/02/2022 at 17:03:38
One of Holgate's (if not his) best games for us today. Won everything and a rare goal to boot. Positive signs and smart substitutions. Things looking up.
Re Gomes. Think he also played well but still gives the ball away when he try's to force something. Think he'll be the one Donny replaces.
Allan was immense today. Not sure where Dele Alli is gonna fit in. He might replace Van de Beek, who I think will start.
Pat Kelly
65
Posted 05/02/2022 at 17:04:16
That's two days Derek
Jerome Shields
66
Posted 05/02/2022 at 17:06:03
Lampard is a good footballing manager. Style of play suits players and they were able to get to grips with it. Really did not have a clue what previous managers wanted.
Better pressing, fluid midfield, better defending and way better final-third play.
At last, an Everton side trying to play good football.
Alan J Thompson
67
Posted 05/02/2022 at 17:08:51
A magnificent ball from Allan for Richarlison's goal but I thought the penalty was a bit doubtful and even seeing the replay I wasn't sure Pickford actually touched him never mind stopping him from reaching the ball and again, this time Mykolenko, hanging behind the rest of the line.
Our third seemed almost a copy of the first, nobody seeming too interested in getting to it and just when you think it is all over we get a fourth.
I was surprised at five subs, is this the maximum for FA Cup?
Fran Mitchell
68
Posted 05/02/2022 at 17:08:57
Almost perfect start. Some dodgy moments at the back still, but all-in-all, we controlled the game and the scoreline reflects that. The players looked confident, and without the weight they appeared to be carrying on their shoulders.
Not get carried away, Brentford were poor and a 'new manager bounce' is always expected. But very encouraging.
Gordon, Gomes, and Richarlison were all excellent. The movement and interchanging of Gordon and Gray just behind Richarlison very nice to see. Gomes was aggressive and incisive. Richarlison looked confident and determined.
5-2-2-1 is how I'd describe the formation; interesting to see if this continues. I guess this is because we don't have the personnel to play 4-3-3. with the midfield being a weak point, Frank chose to fill in the central defence and it worked well.
Gordon must be buzzing, and Lampard probably looks at him and thinks of his young self, or Mason Mount when he was at Chelsea.
Great start and I'm excited for Tuesday.
Brian Hennessy
71
Posted 05/02/2022 at 17:13:27
First time this season we played with plenty of bodies in the middle of the pitch. Alan and Gomes had lots of help from Gordon and Gray. The starting positions of the full-backs looked much further forward then under Rafa.
Only negative was I thought it was a perfect game to bring on Patterson for Coleman in the second half. Looks like we will be without Godfrey for an extended period which leaves us exposed at left-back if anything happens to Mykolenko.
All round, a much better performance.
Geoff Trenner
72
Posted 05/02/2022 at 17:13:55
Which meaning of epoch is intended here?
Joe Cavanagh
73
Posted 05/02/2022 at 17:17:25
Alan @50.
I thought Gomes was central to a lot of what we did today, he held the centre together and did more than anyone else (with Allan just behind) to link defence and attack. He occasionally was guilty of his usual trick of getting lost on the wrong side (like when he get booked), but in general he did a good job of getting, keeping and recycling possession. I suspect Lampard will be very pleased with his contribution. He even managed a couple of goal attempts – something of a novelty!
More generally, there was much to be pleased about, albeit Brentford were pretty poor opposition. But given the resources at our disposal, we looked a lot better than we have for ages. More composed, more in control, less easily brushed off the ball or panicked into giving up possession. It's gotta be good.
Jim Harrison
74
Posted 05/02/2022 at 17:17:28
Gomes looked good to me. He made some sloppy passes but was at the heart of play today. Gordon excellent, Richarlison ran his socks off. Decent show all round.
Big kudos to Yerry though. Toney was trying to get at him and Yerry loves it! Toney really got to me though! And I reckon he would be a good signing on that basis.
A right narky little bastard who just kept going and turning up all over the place. Him and Calvert-Lewin as striker choices would do me...
George Cumiskey
75
Posted 05/02/2022 at 17:21:45
For me, Allan, Gomes, Gordon and Holgate were the pick of the bunch with Mina not far behind, but Pickford and Keane still make me very nervous.
Dave Evans
76
Posted 05/02/2022 at 17:25:03
Pleased for Iwobi and his skillful assist.
Gomes Man of the Match. His decision-making is so much better.
Jack Convery
77
Posted 05/02/2022 at 17:25:06
Today we beat Brentford well – which is nice. A good weekend at last!!
Gerry Morrison
78
Posted 05/02/2022 at 17:25:51
I thought Gomes had his best game in a while. I haven't written him off yet.
The young left back still looks a bit hesitant at times, but he was a bit more comfortable in his game today. I haven't written him off either.
Will Mabon
79
Posted 05/02/2022 at 17:27:07
Geoff, it could be either, in effect. One in full so far. The start of the other meaning, length to be discovered.
Peter Jones
80
Posted 05/02/2022 at 17:27:27
We all needed that. The beer tastes better this evening.
Bill Gienapp
81
Posted 05/02/2022 at 17:30:33
Very solid performance. Aside from that brief period where we seemed to lose the plot defensively after going up 2-0 and let them back into the match, not much to complain about.
Brentford were weak opposition, but guess what? They were weak opposition the last time we played them and we lost 1-0.
While I've never thought a demonstrative manager was a necessity, seeing Lampard's passion on the sidelines was refreshing. Carlo, for better or for worse, was always a cool customer, while Benitez had all the presence of a damp dishtowel.
Olalekan Taofik
82
Posted 05/02/2022 at 17:31:14
Good days are back again for the Toffees. We had a wonderful game today and the goals kept coming. Kudos to the team and my countryman, Alex Iwobi, had a good touch to make the 4th goal.
Against Newcastle on Tuesday should not be an expection, the Premier League is what really matters to me. You can't win an FA Cup and be relegated the same season – that should never happen.
COYB, relish this victory and top it up on Tuesday night.

Sam Fitzsimmons
83
Posted 05/02/2022 at 17:34:41
Four goals scored and none conceded from corners – that's progress!
During training, Lampard must've also got them to remove the lead from their boots because they all seemed a lot more mobile, particularly Gomes.

Andy Crooks
84
Posted 05/02/2022 at 17:34:45
How absolutely, magnificently, wonderful to be looking forward to MotD. I can't remember the last time.
We have had utter shit thrown at us by the lamentable custodians of our club, Benitez being possibly the worst decision every made in the history of the Premier League. (Shit... I forgot Martinez. My God, we might have had that charlatan back.)
Anyway, onward and upward. Good to be a Blue tonight. New dawn.
Jeff Armstrong
85
Posted 05/02/2022 at 17:35:32
Just back.
Definitely an improvement on previous performances, we moved the ball a lot quicker, more pressing, players making runs giving others options.
I was surprised he took Mykolenko off as I thought he was solid and gave us balance, maybe saved for Tuesday with no other left-back options, he needs the minutes though.
Good solid start and let's keep it going in what's arguably a more important game on Tuesday. But everyone loves a cup run, 2 games from Wembley!
Credit to Gomes and Holgate cause, like many others on here, I've been on their case for months.
Nicolas Piñon
86
Posted 05/02/2022 at 17:39:51
Very satisffied.
Tuesday will be far too diferent from today. Newcastle didn't play today and that will count. Play El Ghazi, Van de Beek, Townsend and Richarlison and save Gordon, Alli and Gray for the second half. That should be enough. If they are all hungry, which looks likely.
COYB!
John Raftery
87
Posted 05/02/2022 at 17:45:41
Shame we didn't collect three points from that. Brentford were poor but we have lost against poor teams too often in the last 12 months. I liked the way Lampard kept waving our back three up to the halfway line. That made the pitch smaller for the midfield allowing Gomes to have one of his best games.
The front three all played well, working hard and showing pace, skill and enterprise on the ball. Having Mina in the team for set-pieces gives us something extra. Two goals from corners is a rare thing for us.
The defensive play is still a concern. If we can tighten up at the back, we should have enough goals to stay out of the relegation pack.
Dale Self
88
Posted 05/02/2022 at 17:48:02
Up the Frank! Everton is a viable magical machine again. How the hell did I let football do that to me?
UTFT!!!!!
Kim Vivian
89
Posted 05/02/2022 at 17:52:20
Just want to say – I love Olalekan's colourful and subliminally optimistic prose. Always bring a smile to my face for some reason.
Great afternoon today. Saturday evening (metaphorically) hasn't felt like this in ages – and a real good team spirit shown as well.
Ed Prytherch
90
Posted 05/02/2022 at 17:53:57
Interesting that Tosun came on for the last few minutes and his industry led to the fourth goal. Is there still a player in him? He is better cover for Calvert-Lewin than Rondon.
If we could sell Rondon at the end of the season, then Tosun might be worth retaining on a reduced salary, short-term contract. He seems to like living in England.

Colin Glassar
91
Posted 05/02/2022 at 17:56:43
I thought we were a lot better than in previous games but our defence was shaky at times and the midfield was sometimes overrun.
With our new players coming in for Tuesday, we should be okay for the rest of the season. Well done, Frank.
Raymond Fox
92
Posted 05/02/2022 at 17:58:10
I got the team selection badly wrong when I said yesterday that Lampard would probably leave out our best players and save them for Tuesday's game. He's braver man than me obviously.
Any news on Godfrey.
Barry Rathbone
93
Posted 05/02/2022 at 18:01:00
Never sure about these new manager games with players apparently transformed... the Roy Keane question of why such players don't play at that level all the time sticks out like a sore thumb.
Cheating the fans, manager and club was his conclusion – something that will be tested when Frank has to ruffle a few feathers.
Take today with a pinch of salt, Frank, this crew have previous.
Mike Hayes
94
Posted 05/02/2022 at 18:07:25
From the posts at the start the shop must be out of humble pie 🤔💙
Jeff Armstrong
95
Posted 05/02/2022 at 18:09:52
Hindsight is wonderful, at least the early posters contributed their opinion knowing/hoping they could be wrong.🤔💙
Steve Shave
96
Posted 05/02/2022 at 18:11:55
Happy with the overall performance – some of the hyper-critical fans above expecting miracles and no player is allowed to do anything but be perfect.
To those I would say Gomes ran the game, there is still a player in there and personally I hope we retain him on a smaller and much cheaper contract. I have been one of the few who still rate him on here. I would look to move on Davies in the summer. Allan had a good game too and the pair worked well together in the middle.
I would have loved to have seen a bit of Patterson, Mykolenko did okay and would have taken some positives from those minutes. Love Mina, fantastic header and he was involved in the 3rd as well. Pickford was a bit flappy today but I think the windy conditions didn't help.
I am one happy blue tonight, if we beat Newcastle on Tuesday I will be on Cloud Nine. They've upped their game so it will be tough. COYB.
Christy Ring
97
Posted 05/02/2022 at 18:19:26
What a difference when you have a manager who has his team playing confident positive offensive football.
I thought Gomes was immense today, having players attacking and defending as a unit, and playing from the front foot, a joy to watch.
Frank, like Dunc, plays with his heart on his sleeve, a joy to see a manager fist pumping and smiling on the line,instead of a glum expression on his face.
Pat Kelly
98
Posted 05/02/2022 at 18:33:11
We'd have gone into that game a nervous wreck under Rafa. Lampard and his backroom team have done wonders in a week. Great to see pacy attacking football again. And the players enjoyed themselves. Long may it continue.
Ajay Gopal
99
Posted 05/02/2022 at 18:34:35
Great result.
Gomes had a great game and played the full 90 minutes which is so rare. And that in spite of picking up a yellow in the 1st half an hour of the game. Well done to him, but obviously the upcoming Premier League games will be a different kettle of fish.
Holgate looked very comfortable and he had an excellent game. Again, with the same caveat as above.
Pickford did not look right today, always seemed to be complaining to his team mates.
Richarlison and Gordon had excellent games.
Gray is a selfish player. He does not get his head up and see if any of his teammates are in a better position. If he can develop that part of his game, he can be as deadly as Mane or some of the other top players.
Strange that Kenny played as left-wingback when he came on. I wish Patterson was given a run out.
Mykolenko was quite decent – you can see that his confidence is improving.
Good to be in the competition, but now the Newcastle game is going to be crucial. Lampard will be faced with some interesting team selection challenges. I don't think he will start with Donny van de Beek or Dele Alli. My guess is: the same back 3 that finished, Kenny in for Coleman, Allan and Gomes in the middle and the same front 3. He may sub Gomes for Van de Beek and Alli for Gordon. Maybe El Ghazi or Townsend late in the game, depends on the game situation.
Gary Jones
100
Posted 05/02/2022 at 18:35:07
Think that us fans have a real duty: wipe the slate clean for a bit, and give every player their chance to start afresh.
If Rafa had played that team; we'd have been beaten by 2 and been lucky to have 45% possession. Under Super "enjoy the ball" Frank Lampard, they all looked different players. Even Tosun did his bit off the bench.
The warm up was different, the atmosphere was different, the players were different. Gomes and Allan aren't giving up the placed easily, and who the hell does he drop for the new lads.
Here's my promise… 10 games. Not a moan, not a whine, nothing but full support. Play Kenny at Left back, bring Iwobi on, Bring Tosun on. I don't care. Frank and his team of coaches have my full support. Come on, you fucking Blues!!
Jerome Shields
101
Posted 05/02/2022 at 18:36:15
Ed #90,
I think we got Rondon for nothing.
Tony Everan
102
Posted 05/02/2022 at 18:36:29
Enjoyed the game, Frank has got us onto the front foot. The lads looked up for it and as focused as I have seen them for a long time.
The moment of the match for me was just after half-time, the ball played into Allan a great instant turn and a chip over the last defender into the path of an excellent timed run from Richarlison. A great finish to do justice to that pass.
Gomes played well, apart from the assist Allan was a bit errant with his passing; hopefully he will address that for Newcastle. Gray, Gordon and Richarlison were always looking to test the Brentford defence. I thought all played well.
Mina had an efficient game after coming on as sub, a great unstoppable header for the goal. Holgate is quietly rebuilding his form; hopefully that continues. He will be important now Godfrey is out. Mykolenko had a better game, he seems to be settling in a bit.
The confidence is priceless going into the Newcastle game, we are in a good position to build on this performance. With Calvert-Lewin to come back, Van de Beek and Alli wanting to perform, Newcastle will be worrying about us. Should be a great game, I'm looking forward to it.
Mike Gaynes
103
Posted 05/02/2022 at 18:37:58
This feels... so... GOOD mmmmmmmmm.
Oliver Molloy
104
Posted 05/02/2022 at 18:38:47
Good win – 3 points against the Barcodes are much more important for me!
Ian Edwards
105
Posted 05/02/2022 at 18:39:44
What a performance. Chalk and cheese from what Benitez was serving up. Allan and Gomes were imperious. The whole team were excellent.
This is a manager we can support, get behind and trust. The future is suddenly brighter.
Brian Wilkinson
106
Posted 05/02/2022 at 18:48:26
Everton always look so much better when we have Mina in defence; from him coming on, we went on the front foot and less of the playing it across the back.
I have said many times, Tosun has never been given an extended run, seems to get bit-part games then not used again for a few weeks, I just wish Tosun would have got those run of games, instead of an unfit Rondon.
Overall, a very satisfying performance.
Colin Glassar
107
Posted 05/02/2022 at 19:02:24
Anyone else notice that Duncan looked like he was sitting on the naughty step? I don't think he'll be around for long.
Brian Hennessy
108
Posted 05/02/2022 at 19:08:33
Colin I think you could be right, he was very quiet. Will be interesting to see how much if any involvement he has once Lampard gets to know all the players himself.
Jeff Armstrong
109
Posted 05/02/2022 at 19:13:40
Yeah because Duncan was so vocal and tubthumping when he was assistant previously.
Barry Rathbone
110
Posted 05/02/2022 at 19:13:59
Iwobi nice touch for the 4th - well in lad
Craig Walker
111
Posted 05/02/2022 at 19:20:36
Good to be able to enjoy a weekend when we've played, for a change. We've had good starts under managers before but I'm hoping Lampard has enough respect in the game to actually coach these players and get them playing for the short. Encouraging start.
Tony Abrahams
112
Posted 05/02/2022 at 19:20:53
Simple little straight-forward passes, with little movements to the sides, opening up little spaces, especially when the ball was moved quicker, and suddenly, we looked like we had players who can play football.
Only one game, but it was so much better, and although we will get caught out from time to time, especially with the ball over the top, we will hopefully also become a much better and much more fluent football team. Holgate set the benchmark for me, because he looked so much better for most of the game, simply because his concentration levels, suddenly improved massively.
I criticize Michael Keane on a regular basis, but he started the move of the match, with one of those simple straight forward passes, showing the difference in a footballer, when he can stay composed!
The difference in the way Everton tried to play football today was massive, it even felt like we might have suddenly found a little bit of identity, maybe? But Barry R, is correct, a sensible voice of reason, although it was nice to finally be entertained by an Everton team once again.
Mark Ryan
113
Posted 05/02/2022 at 19:24:37
Such a shame to see Godfrey go off today. I am made up for Frank.
Neil Copeland
114
Posted 05/02/2022 at 19:26:41
Something that tickled me today was hearing the Brentford fans chanting "your support is fucking shit". Rife coming from a team that barely filled half of its ticket allocation and denied a couple of thousand Evertonians an opportunity. Got what they deserved.
Graham Mockford
115
Posted 05/02/2022 at 19:30:46
I only saw a bit of the game. Was Holgate not chewing gum? I hope so, it seems pretty petty but if the manager is laying the law down I'm happy with that.
Rob Hooton
116
Posted 05/02/2022 at 19:41:29
Great to see us actually deserve to win and score a load of goals. A brilliant start and let's hope Lampard can keep this lot motivated and improving.
The only time Brentford looked dangerous was from our sloppy passing backwards! I thought Gomes was guilty of this a fair bit in the first half but he did have a pretty good game.
Gray and Gordon have bags of potential and it's great when they occasionally link up.
Lots to be happy about. Let's build some momentum and beat the Barcodes!
Tony Hill
117
Posted 05/02/2022 at 19:43:15
What was different today, apart from playing a higher line (more often than not), was our ball retention over passages of play, notably the 4th goal. I agree with Tony @114, just a joy to see an Everton side playing as Everton sides should. I accept this was massively different from what has gone before but I also agree with Barry Rathbone @94.
I thought Lampard was note perfect, he is a proper fit for us.
Many good performances, but when he plays well Gomes is a delight to see. That late turn was superb. If only Lampard can keep this player's mind and self-esteem focused. Ditto Holgate.
A fabulous day.
Nicholas Ryan
118
Posted 05/02/2022 at 19:48:03
Any manager who can manage to make Cenk Tosun look quality, will do for me!
Daniel A Johnson
119
Posted 05/02/2022 at 19:49:57
My initial thoughts after today is what a great communicator Lampard is. After watching his post match interview he's obviously very intelligent but he's also eloquent and oozes confidence and that's got to rub off on the players.
Sure you can argue he's very media savvy and has obviously had lots of media training but every time he opens his mouth I can't help but be impressed.
A great start but a welcome confidence boots before we play the mags.
The storm clouds have gone and blue skies ahead.
Tony Hill
120
Posted 05/02/2022 at 19:55:22
Tosun is an astute player. I agree with Ed @90 and Brian @108. It is not impossible, either, that we will see Iwobi coming through.
Kenny looked sharp in his cameo.
Everyone starts again.
Grant Rorrison
121
Posted 05/02/2022 at 20:09:07
Day of shocks. Scotland beat England and Everton get a win. Shame it wasn't a league game as nice as a cup run would be.
Joe Corgan
122
Posted 05/02/2022 at 20:14:37
I thought today's performance was okay. A little improved on what we've seen recently but nothing mega. That's only to be expected so no complaints here. I also thought the scoreline flattered us a bit. Brentford looked dangerous for the first 20 minutes of the second half and it could easily have been 2-2 with the momentum heading in their favour.
These are not negatives. That's just how things are at the moment. It'll take a while to really start to turn things around and we'll undoubtedly be stronger with Calvert- Lewin, Doucoure, Van de Beek and Dele available.
With all that said, there is just something about Frank Lampard that gives me hope. His record at Derby and Chelsea is nothing to write home about but there's something in the air right now. We've had so many false dawns over the years it feels dangerous to get excited but I'm feeling something I never felt when Koeman, Silva, Ancelotti and Benitez were appointed.
Have our board somehow fluked their way into finding the structure and person we've needed for so long? Time will tell.
Andy Crooks
123
Posted 05/02/2022 at 20:17:41
So many good things today. However, we are not safe yet and Sam Allardyce is still available. Hands up those who think he was treated badly? Hands up those who talked about bringing him back? Hands up those who think that his appointment,along with that of Benitez, suggests that all the money in the world does not stop you from being an utter knob?
Well done to every Blue who protested outside the ground. This result, this manager, this hope,is, in my opinion, down to you.
Just so pleased we have Frank here. Best times coming…
Martin Mason
125
Posted 05/02/2022 at 20:18:23
A wonderful first for Everton. A real selection headache for Tuesday even when we have players out.
Thanks for today, boys, for how it's lifted us fans to how it must have lifted the players and the club in general
Tony Hill
126
Posted 05/02/2022 at 20:46:36
Andy @125, this is one game. Allardyce and Benitez are the two managers who received precisely zero support from the fans from day one. And the players stopped playing for them both.
What a foolish, gloating post. Why do you have to turn a day of pleasure into a snide dig?
Hands up.
Ian Riley
127
Posted 05/02/2022 at 20:47:39
Today was a confidence-booster. In reality our two cup finals are next week. It was an improvement on previous games. More energy and purpose but time will tell.
Andy #125,
Sam did an excellent job but snobbery over style of football and personality why he was shown the door by the fans. A further problem, Andy has been expectation over realism; this has probably prevented stability and moving forward. Hopefully Frank and his team bring their drive and enthusiasm to the players. The real hard work starts now!!
Barry Jones
128
Posted 05/02/2022 at 20:47:55
Ernie #47,
You see a different Gomes to all the posters on here, including me.
Additionally, every one of the media reporters that I have read today also noted that Gomes controlled the game. Even Jamie Carragher has noted that he is a class act. I wonder who is wrong?
Gomes has always had this in his locker. He just needs the right coach and set up to succeed.
Dennis Stevens
129
Posted 05/02/2022 at 20:55:13
Hard to understand why Allardyce gets a mention here today, or any day tbh. He was very, very well paid for performing no better than Unsworth had, despite having much more favourable circumstances than our far-less-experienced caretaker had to deal with.
One of many poor decisions by Moshiri, hopefully he has finally picked a winner in Lampard, but we'll see once the Premier League matches get going again.
Dave Abrahams
130
Posted 05/02/2022 at 20:56:12
Made up with the result, something to be happy about after a miserable three months, more aggressive and a bit more of players helping each other out, a few more shots at goal, the wind didn't help but we looked better than for quite a while.
That back four messing around passing to each other only to create chances for the opposition, they think they are better than they are although Holgate upped his game and did well, not even counting his goal. Gomes played a lot better than usual and still has that lazy casualness about him at times; can he play two good games on the run?
Nice to see all the happy faces walking home. Not used to this, I'd love it to become a habit!!
Jay (in Brazil), I think I only got two names wrong, nobody's perfect you know!!
Tony Hill
131
Posted 05/02/2022 at 20:59:51
Dennis @131, maybe it's because we finished 8th with Cuco Martina at left back. I agree, Allardyce should have no part in the debate now. It's his haters who keep bringing him up though.
Paul Smith
132
Posted 05/02/2022 at 21:00:42
Feeling good tonight and even gave Holgate the benefit of the doubt when the team was picked.
Townsends goal and the move were pure quality and Damarai Gray is some player – thanks Benitez or Marcel,
Like someone said above everyone has a clean slate so I will do my best to limit my frustration with certain players and support Frank and the team. I watched him being interviewed as Chelsea manager and was struck by his confidence and belief in himself and the team. Mind you he got the bullet a few weeks later so sometimes that's not enough. Let's hope he get it right this time.

Andy Crooks
133
Posted 05/02/2022 at 21:01:15
Tony Hill, it was not my intention to be foolish and gloating. I have been foolish on here a million times. Gloating, well, never my intention.
It is a day of pleasure, Tony, so hands up. I'll take that back. Looking forward to MotD more than ever.
Tony Hill
134
Posted 05/02/2022 at 21:05:21
Good and thanks, Andy @135, and I agree entirely. I'm top 3 (at least) in the foolishness stakes on here. We're all Blues. Let's unite for God's sake. That was what was so wonderful today at Goodison.
Brian Hennessy
135
Posted 05/02/2022 at 21:08:58
Can anyone who was at the game today tell me what the atmosphere was like?
I watched the game on Premier Sports 2 and it sounded like they had their microphones near the Brentford fans. Also sounded like their commentators were in a studio rather than at the game.
Barry Hesketh
136
Posted 05/02/2022 at 21:11:18
An enjoyable day and given what's been served up to us in recent months, a more than decent performance from most of the players.
There were a few contenders for Player of the Match, but I would give it to Gordon for his raw enthusiasm alone. Gomes, Allan, Richarlison all did their bit too in a relatively comfortable afternoon, apart from the 10 minutes or so following the Brentford penalty.
There are stiffer tests ahead, but we are into the next round and that's all that matters for today. The team was far more disciplined in the way they went about the game than has been the case in many games this season, and there weren't huge holes for Brentford to exploit, whilst despite Everton's compactness, the number of chances created and taken was most enjoyable.
St James' Park on Tuesday will be no place for the faint-hearted, but if Everton can maintain their discipline and use the ball well, who knows – we may just come back with all of the points, but at this juncture I will settle for Everton bringing a point home, to maintain the current gap twixt us and the Magpies.
Does Frank have that required 'X-factor' that Everton needs, I believe that he does, but we'll find out for sure in the next few months.

Ed Prytherch
137
Posted 05/02/2022 at 21:12:17
Jerome 103, we can still sell Rondon even if we got him for free. We did that with James.
Neil Copeland
138
Posted 05/02/2022 at 21:14:06
Brian, a good atmosphere immediately before and at kick off, then quietish until we scored when it improved.
The atmosphere after our second goal was very good.
Will Mabon
139
Posted 05/02/2022 at 21:15:01
Brian, I wasn't there but the crowd was quite slow to get going, didn't seem to rise 'til after the
second
goal but luckily didn't flop after they pulled one back!
Still lament the old "Cauldron" times. We may hear some of it again though...
Joe McMahon
140
Posted 05/02/2022 at 21:16:17
A happy Saturday! It's looking professional on the coaching side, but I do feel a bit for Dunc as he looks lost. Not sure what his role is? That said Frank wanted him to stay.
Bigger test on Tuesday, Barcodes will be fired up but I'm looking forward to seeing Alli in a blue shirt!
David Pearl
141
Posted 05/02/2022 at 21:16:53
Brian,
It was quiet at times first half but it was an enjoyable game to watch. The moans and groans left along with the big dark cloud we had for 6 months and so expectation was in the air. The away end was about ⅓ full from what it should have been so the mics were probably down their side if they were all you heard.
Second half and that Goodison roar was back from all sides of the pitch and in full voice. One of the best atmospheres in quite some time (Arsenal game aside). Big smiles and hugs all around. Loads stayed behind to clap off Frankie and the lads.
Now to Tuesday...
Tony Hill
142
Posted 05/02/2022 at 21:17:30
It was great, Brian @137, after a bit of a wobbly start and with one or two periods of near silence.
Lampard was insightful in his post-match comments about how the crowd reacted to the players and the atmosphere gradually but emphatically grew in intensity.
I think it dawned on the fans that we were witnessing a serious new departure. After the game, everyone was full of happiness and I, for one, found it quite moving.
Jeff Armstrong
143
Posted 05/02/2022 at 21:18:26
Brian 137,
It was quite loud at the start, quiet within 15, loud once we scored the first, lots of applause at half-time. Then loud 3 minutes after the break (goal) and for the remainder of the game, apart from a 15-minute spell when Brentford got their goal.
Overall, a good atmosphere with plenty of "We Shall Not Be Moved" chants, "Super Frankie Lampard", and "We're on the march with Frankie's Army".
Brian Williams
144
Posted 05/02/2022 at 21:19:09
Mr Crooks #135.
When are we gonna have the pleasure of your company at the game and the pish-up, mate?
Will Mabon
145
Posted 05/02/2022 at 21:20:40
Joe, he was conversing with the manager and getting animated in Carlo's time. Benitez obviously had him neutered on the bench.
Now he's been shifted back to row two. Twenty years from now, he'll be in Row Z with a gag on.
Brian Hennessy
146
Posted 05/02/2022 at 21:20:43
Many thanks all... It seems to becoming common now for some TV companies to dum-down the sound of the crowd so we can hear their commentators more.
Of all the fancy additions in recent years, such as, player cam, Ultra HD etc, the one thing I would love to have is a button to mute the commentators and just have the crowd noise.
Jay Harris
147
Posted 05/02/2022 at 21:30:45
Great day at the office for Frank and his team.
Gomes showed his strengths and weaknesses in one game but overall his vision and passing was first class.
Richarlison never let Brentford's defense rest for a minute and Antony Gordon showed why he is so loved.
I thought Pickford was very shaky but the wind may have had something to do with that... Let's hope he doesn't let the Geordies rattle him on Tuesday.
Defence still needs a lot of work but overall – what a difference in 5 days!
Jeff Armstrong
148
Posted 05/02/2022 at 21:36:45
Agreed about Pickford,very animated , their forwards got to him several times, he was almost back to his turrets persona at times, I was screaming bottom right for Toney's pen cos that's what he did in the league game.
Jordan needs to calm down...again.
Rob Halligan
149
Posted 05/02/2022 at 21:37:27
Brian #137.
Brentford opted to take the full allocation of tickets permitted for an FA Cup tie, ie 15% of the capacity, so around 6,000 tickets were allocated to Brentford, though I heard they only took 4,500.
Anyway, Brentford returned some tickets, which went on sale for Everton fans in the Upper Bullens, but these tickets were for the section normally reserved for away fans anyway. The Lower Bullens and the Paddock areas normally reserved for away fans were totally empty, meaning the Brentford fans were directly underneath the tv gantrys, hence the reason why they probably sounded louder on the TV.
I doubt very much they had more than what the away section holds anyway, around 2,700, so why they asked for the full allocation permitted baffles me. I guess all the empty seats in the Lower Bullens and Paddock they will have had to pay for.
Anyway, overall, the atmosphere was pretty decent considering some of the performances we've had to put up with recently.
Bill Gall
150
Posted 05/02/2022 at 21:37:58
What impressed me today was realizing that, as well as the midfield played today, is we have 3 other midfielders we can bring in and expect another competent performance or better in the squad.
Lampard appears to have brought more enthusiasm and effort with the players seeming to enjoy playing in the style of play that he is working on bringing in.
It is early days yet as all teams play differently, but the threat of relegation has been lifted slightly; time will tell in the league games.
Today was a good performance and seemed to show the players the standard that they will have to keep up, and that will help if they have competition for their positions.
Shame that it such a short period until the next game; as poor as Newcastle have been, they are like Everton where the crowd can lift them.
Here's hoping we can get a decent cup draw for the next round.
Keep up the good work and maybe we can not only have a good weekend but can enjoy the rest of the week after Tuesday.
Will Mabon
151
Posted 05/02/2022 at 21:41:30
Brian, I remember that was available during the empty stadium phase last year, commentary option. It would be good as a permanent fixture.
No commentary on Hesgoal today, great when it happens.
Terry Farrell
152
Posted 05/02/2022 at 21:58:20
Frank is God!
Mark Ryan
153
Posted 05/02/2022 at 22:09:38
I would love to get West Ham at home in the next round and truly batter them. They were crap today. I would love to see Moyes's fizzog well and truly tripping him.
Paul Hewitt
154
Posted 05/02/2022 at 22:14:36
After 6 years, Moshiri may have actually found a decent manager.
Mark Ryan
155
Posted 05/02/2022 at 22:20:37
If Benitez hadn't been quite so fucking bad, we'd still have him in charge. I'm glad he was particularly tragic. I can't see him working again – other than in the Tapas circuit.
Jay Wood
[BRZ]
156
Posted 05/02/2022 at 22:33:34
I thought the performance from the team and individuals was a considerable step-up from the Villa game, never mind the last 4 months under Benitez.
Last time out we barely had a sequence of more than 3-4 consecutive passes. The default tactic was to pass it back to Pickford to launch it forward. No calmness or boldness to play through the lines or attack down the flanks. The ball was not our friend and nobody 'enjoyed' possession of it. None of our big players stepped up.
Today was the inverse. Even short ball play-outs from the keeper returned. Retention of the ball was purposeful, not endless sideways passing along the backline until coughing up possession.
The balance of the formation was good. Three centre-backs split across the width of the park, with the two wingbacks well forward supporting both the midfield and attack, but falling back to defend as necessary. Brentford barely entered our half in the first 45 minutes as a result.
Time and again, both Allan and Gomes collected the ball from defence and looked to move the ball forward with purpose. The movement of players off the ball helped. It didn't always work, but quite clearly the intent was there to 'enjoy the ball'.
We were also much better from dead-ball plays at both ends of the pitch. When defending, it appeared to me that we consciously lined up across the line of the 6-yard box, vacating that area rather than back up and crowd Pickford's space. The 6-yard box became Pickford's to defend.
Our own delivery and positioning was so improved that – astonishingly – the Mina and Holgate goals are the first we've scored from corners this season, apparently.
Post-match Andros Townsend said that Paul Clement in particular has been working the team on such plays this week. A good sign that in just a few days that area seems vastly improved.
Goals and wins breed confidence. The manager. The team. The players. The fans. We all needed this today. A great pick-me-up before taking on the barcodes on Tuesday.
If we are to have a cup run, today's squad is going to have to be the one that achieves it. The league team can – and will be – improved by the players we brought in during the window.
Apparently the 4-1 win is the best ever by a new Everton manager in his first game. So well done, Frank Lampard and his coaching team.
Kevin Prytherch
157
Posted 05/02/2022 at 22:41:42
It's already been said, but a lot of credit for Holgate and Gomes.
Holgate has been slated this season for underperforming last season; he's been our most consistent defender and I hope he builds on this for the rest of the season.
Gomes did the simple things brilliantly today. He plays simple 10- to 15-yard passes that are either to feet, or weighted perfectly for the player running forward.
I thought Frank got it right with the position of the wingbacks today. Under benitez, they were defenders. Today, they supported the midfield so we weren't overrun in a true 3-4-3. When Gomes has that support around him, then he's a good player, as is Allan. When they're alienated as a midfield 2, they're poor.
Gordon is looking more and more like an absolute star. The amount of work he does puts everyone else to shame. We have some massive selection headaches when Calvert-Lewin is back and the cup-tied players are back.

Andrew Ellams
158
Posted 05/02/2022 at 22:43:21
One thing I learnt today is Calvert-Lewin is not the man to lead our line and Richarlison is. We are far more dynamic and less predictable with the 3 that started today; add Alli and Van de Beek floating into the box and we'll be far more dangerous.
Jeff Armstrong
159
Posted 05/02/2022 at 22:46:31
Paul #156, you said Benitez was a decent manager, that Moshiri had got it right after 5 years, ... which is it?
Kevin #158, Holgate has been slated this season as well because he's been dogshit, not just last season. Today, he had his best game since... well, I don't recall him having a better game than today, and I watch a lot of games.
Andrew James
160
Posted 05/02/2022 at 22:57:31
I want to get excited about Frank and today because of the energy they showed.
The Newcastle game will show whether we are on to something or if this was a flash in the pan.
I reckon the former but this set of players have done this before under Benitez, Duncan and Ancelotti.
If we press an Eddie Howe team like we did today, they will be in for a torrid match.
Kunal Desai
161
Posted 05/02/2022 at 23:28:43
Good start, a manager playing positive football, something that's been missing for quite sometime. Pressing from the off where players seem to be enjoying working for one another.
Been a long time coming where it's nice to see a manager being animated on the touchline and celebrating goals (aside from Dunc).
Jeff Armstrong
162
Posted 05/02/2022 at 23:35:28
Today was great, but I've come to the conclusion that staying in the top tier is more important than winning the cup (sorry TA just mo).
In the past, winning the cup was fantastic, because generally we were safe mid-table. At the moment, if we win our next two games, then I believe safety is probably obtainable, then it's all out for the cup, so let's hope for another home tie.
This is Frank Lampard's team, serial cup winner, COYB.
Jamie Crowley
163
Posted 05/02/2022 at 23:37:07
My God it was actually enjoyable to watch the football Everton and Frank served up today. Brilliant.
Anyone notice how much more we played the ball through the middle of the pitch? Numerous passes through the middle instead of out wide. I think it's part of Frank's style of play, and we looked much better.
I think we're turning a corner. Based upon today's display, there is absolutely no reason whatsoever this group should come close to relegation, or even be in a relegation scrap.
Roll on Tuesday.

Paul Birmingham
164
Posted 05/02/2022 at 23:37:38
Great day and hopefully, history will confirm, a start of a new Era at EFC.
Seriously, all considered it's a good start and there was more effort and grit shown by some fringe players, and the squad today, than for a long time.
Made up, and to do the business on Tyneside, next Tuesday.
Good spirit and belief today by Everton, do the same and smash the Barcodes. UTFT!
"What's Our Name?"
Brian Hennessy
165
Posted 05/02/2022 at 23:44:03
Jay #157,
Spot on regarding Townsend's post-match comments, I thought Andros gave a good insight into some of the changes Lampard and Paul Clement have made.
A few of the things Townsend said for those who haven't seen them:
"We started on the front foot, the boys pressed well and worked really hard. Nine times out of 10, when you run your socks off and work hard, you get your reward. Today we got that.
"The manager has given us that belief.
"He's obviously looked at the stats and possession-wise this season we've not been good enough.
"We've been in the 30s and 40s, which, for a club the size of Everton, is nowhere near good enough.
"So, first and foremost, in training we've been working on keeping the ball, enjoying the ball.
"I thought it'd take a lot longer than a week but you saw out there today we were more comfortable on the ball and it felt like we had a lot more possession out there on the pitch.
"Clem [Paul Clement] has come in and taken charge of the set-pieces. We've worked this week on it and had a meeting this morning, so we tried to leave no stone unturned.
"We played with two wing-backs but, as a matter of fact, they were more like wingers.
"He wants to play up the pitch – exactly what the fans want, so, hopefully it's going to be a good match with the manager and the great fans we have here."
Jamie Crowley
166
Posted 05/02/2022 at 00:01:30
Brian @166 and Jay, too...
I wasn't big at all on signing Townsend, but he really has never downed tools, he's a team player, and he's a leader. He doesn't sulk, and he certainly gives his all and sees "bigger picture" situations and issues.
Teams need that kind of man in their squad.
Great post-match comments from him.
Jeff Armstrong
167
Posted 05/02/2022 at 00:02:33
I thought Townsend was unlucky not to start today given the formation, and Coleman in his spot, but he came on, and scored (which he was always going to do before Coleman, given the chance).
It's not rocket science, Frank.
John Malone
168
Posted 06/02/2022 at 00:10:26
Jeff 168, are you pissed mate?
Coleman was playing right-wingback, Townsend is a left-footed right-winger – how is that his position?
Would you have wanted Townsend defending?
Gordon was the right-sided forward!
Kevin Prytherch
169
Posted 06/02/2022 at 00:43:41
Jeff 160
Name the games this season that Holgate has been more dogshit than the other defenders. There won't be more than a couple.
Holgate, this season, has been slated because of a pre-conception based on his apparent arrogance last season. He's been far more consistent this season than either Keane or Godfrey, and, by way of not being injured half the time, than Mina too.
Sam Hoare
170
Posted 06/02/2022 at 01:01:06
I've been probably Gomes's biggest detractor on here; but there's no doubt that, when we have a good chunk of the ball, he can be a useful distributor, as he showed at Valencia and Benfica.
Can he work as well when we have less of the ball? I'm not sure,... Certainly his defensive work leaves something to be desired but good coaching can go a long way.
A great start to the Lampard era. Bigger and more meaningful tests to come.
David Currie
171
Posted 06/02/2022 at 02:48:10
Kevin @170,
Great post regarding Holgate and delighted for him scoring today and having a good game. Great to see us scoring 2 goals from corners and also nice to see the players enjoying playing football today.
Frank has a way of playing that the players will enjoy which is refreshing after the last manager. Moshiri and the board have made the right appointment.
Ed Prytherch
172
Posted 06/02/2022 at 03:23:18
Jamie: exhibit #1 Keane - Allan - Richarlison - GOAL
Frank is some coach to get Michael Keane seeing a pass like that.
Jamie Crowley
173
Posted 06/02/2022 at 04:14:23
Ed - Keane has done it before! Remember that pass to Calvert-Lewin?
But yes, Frank seems to have them thinking anew.
Jamie Crowley
174
Posted 06/02/2022 at 04:22:39
By the way, can you feel it?
This whole thing, this is set up like some beautiful harmonic convergence.
Frank, in his post-game presser, is just full of it!
Once Everton touches you…
There's some weird juju going on, and it's all good. Frank is being touched by Everton. He feels it.
Ajay Gopal
175
Posted 06/02/2022 at 04:23:00
Good observation about the TV mikes being mostly towards the Brentford supporter's end. That explains the booing that I heard when our team was being announced. At that time, I thought to myself "That is weird".
I am already looking forward to the Newcastle game with a mixture of anxiety and anticipation. They just added 2 giants to their team – Chris Wood and Lewis Dunk – and Dunk has already scored against us a few weeks ago.
Lampard should go with the same set of players more or less. Mina for Godfrey, of course, and I think he will play Kenny for Coleman. A bit worried that Allan and Gomes played the full 90 minutes, hope they recover in time for the Tuesday night clash.
Lampard has a selection dilemma if Calvert-Lewin is fit. It seems a bit unfair to drop Gordon after his recent displays. I am hoping that Lampard can turn him into our Mason Mount or maybe better. But I think he and Gray will be rotated with DCL and Alli long term. And perhaps Van de Beek will rotate with Gomes. It will be fascinating to see how the rest of the season pans out.
Mike Gaynes
176
Posted 06/02/2022 at 04:31:14
Jamie, Boston hockey fans are not allowed to say "harmonic convergence". Way too woo-woo. Johnny Bucyk, Cam Neely and Terry O'Reilly would knock you out for that.
Jamie Crowley
177
Posted 06/02/2022 at 05:10:37
Mike -
This is so true what you say.
But, sometimes in life there are these "religious experiences".
Frank is understanding this enigma of, "Once Everton touches you".
A man, whom I believe, is England's most talented managerial prospects for generations, is ours.
And he's understanding what it means to be Everton Blue.
And that, without question, is a beautiful harmonic convergence.
So tell Terry O'Reilly, Johnny Bucyk, Cam, and fuck it throw in Milan Lucic, I'd like to throw down with them over whether or not I can use the term "harmonic convergence" or not. I can. Because it is. So let's get ready to rumble, ya cunts.

Mike Corcoran
178
Posted 06/02/2022 at 07:06:20
The first thing to impress me with Frank was the immediate appointment of very impressive coaching staff. This man knows how to delegate. What a contrast from the previous incumbents?
Danny O'Neill
179
Posted 06/02/2022 at 07:12:56
Andy Crooks, you keep drinking from that fountain of positivity all the way to Wembley mate!
Much better, although the benchmark wasn't high. There's me being negative cop for once!!
The midfield looked way more comfortable. It allowed Gomes to do what he does best and pull strings.
I still think the defence looked ropey. Lack of concentration from Keane for the penalty – got caught flat and became unaware of where the striker was. Although should Holgate have picked up? Communication? And what I assume was another breakdown in communication between Mina and Pickford that nearly cost us.
But let's not dwell on that, we'll just have to score 3 or 4 goals every week to compensate!
Anthony Gordon impressed me yet again. What I noted today was how good he is with both feet. That explains how and why he gets used on both sides.
Mina's goal was majestic – reminded me of how he impressed in the World Cup for Colombia before we signed him. And we seemed to be more willing to shoot early from range – a trait our new manager was an expert at. I wonder if he's worked on that. Even Gomes was at it!!!
Richarlison's goal was class; that pass from Allan was pinpoint and a nice simple early pass from Keane in the build-up. First time pass on the volley into the net. Made in Brazil. And Keane can be Brazilian for a day as he was part of that trio.
Amazing the difference a week can make. We were quicker, more willing to run into space. We played as a pack, we wanted the ball and were more comfortable on it. I've used the word early a bit in this post. That's key. We've done things early; front foot.
A mention for Iwobi. Yes, Iwobi. I repeat, Iwobi. What a cute and intelligent touch to set up Townsend for the 4th. Simple but effective.
Perfect start for the manager. Without getting carried away, it brought a feel-good factor that's not been around for months. And that is important. He has instantly bonded with the fans and he has our backing. Compare that to not being able to call the previous one by his first name or look at the dugout.
Roll on Tuesday. Yes, we're actually looking forward to Everton playing. Well, I always am, but you know what I mean.
It will be interesting to see what Frank does with the selection and the cup-tied players. It would seem harsh; however, he's been part of one of the most consistently successful European clubs in recent times to know a thing or two about rotation.
My final mention is probably one not many (if any) would pick up on. Great to see Jonjoe Kenny get on the pitch. And the joy of his celebration with Holgate after his goal. Befitting of any Everton supporter on this website.
Derek Knox
180
Posted 06/02/2022 at 08:26:41
They say "a week is a long time in politics" – well, the same can be said of Everton, in comparison with this time last week. We not only have a new and very promising, yet somewhat inexperienced, manager, we have signed some excellent players too. Who would have thought?
I went to the game but never saw it, so was a bit gutted to be honest. I had been lucky enough to have been promised a Complimentary Ticket, well two actually, from someone connected at Everton.
When we went to the VIP Ticket Office to collect them – now hear this for pedantry – they would not hand them over because the name on the envelope was not collecting in person!!
I was doubly gutted as it had taken me a car and a train journey and a Soccerbus to get there. What really ground my gears is that the envelope remained there and another two empty seats went untaken.
We even heard Z-Cars, as we trudged away dejected making our way back to Lime Street. The irony being that I could have watched the game at home, through IPTV, but chose to go to get the atmosphere and to welcome and witness the new manager and new players too.
However, the result and performance as witnessed via Match of the Day not only bore out what I had missed, but augurs well for the rest of the campaign.
You could see players playing with renewed confidence, and enjoyment. I know it's only one game but I feel we are on the start of a new and long-awaited journey. Just a pity I missed it!
David Bromwell
181
Posted 06/02/2022 at 08:48:52
What a lovely day. Frank used five substitutes and they all managed to contribute to the team's success. Great after-match comments from Townsend – what a mature and great team player he is.
The squad is clearly still unbalanced but the manager has selection options for Tuesday and all the players looked full of running and willing to contribute.
Very early days but what a difference!
Rob Dolby
182
Posted 06/02/2022 at 08:49:39
Derek, I messed up thinking I was in the auto cup scheme. My season tickets didn't work. I had to queue at the park end ticket office and bought a ticket for £15 quid for the main stand at 3:15.
I think it all depends on who serves you at the ticket office and if they actually want to help. I am sure you asked about any available tickets to buy?
Rob Dolby
183
Posted 06/02/2022 at 09:04:49
There was a new manager bounce yesterday. Same players, same formation, same glaring holes between midfield, same keystone kops routine at the back.
The difference was attitude. Players like Gomes and Holdgate had a focus even the likes of Tosun did well for his brief stint. Mykolenko looked more assured.
Roll on Tuesday, be interesting to see what formation he picks.
Robert Tressell
184
Posted 06/02/2022 at 09:16:09
The players actually enjoyed playing their football yesterday. They were not let off the leash as such in an attacking sense because it wasn't totally gung ho. Instead, they were trusted with the ball.
That obviously made a big difference.
Very glad to see Holgate, Gomes, Iwobi etc getting praise where praise is due. If we continue to praise these players for the rest of the season then Lampard will be doing a very good job.
Very glad indeed to see Gordon turning into such a gem of a footballer.
Obviously we have to carry that confidence with the ball into our league games now.
On that, I've always been a bit sceptical about Lampard. But I wonder if the appointment of experienced Clement is him acknowledging his own weaknesses and doing something about it.
Lampard can clearly motivate - so hopefully he's found a guy in Clement who can help us with set pieces, defensive shape etc etc along with the more progressive attacking / possession.
One game at a time. And hopefully DCL will be back fit soon.
Allen Rodgers
185
Posted 06/02/2022 at 09:22:02
Derek @181, there were 2,000 empty seats in the Bullens and loads of STH'S un-necessarily displaced because of Brentford over-estimating their support. The gate was only about 37,500.
As Rob says you could have been advised to buy tickets in the ground if the staff had been more helpful.
Derek Knox
186
Posted 06/02/2022 at 09:25:32
Rob, to be honest I was led to believe that it was virtually a Sell-Out, so never even thought that there may have been Tickets available to purchase. I would retrospectively have bought two, had I known. Even if it meant missing a portion of the game, but still, even at 70 plus, you learn for the future, which I hope doesn't repeat, to myself, or anyone else for that matter.
Like you rightly say, some of these people are Jobsworth to the nth Degree. Why would someone turn up at the VIP Ticket Office and quote the name on the Envelope etc if it wasn't genuine ? Obviously not revealing who it was as it could get peoples' minds working overtime and in a nefarious way.
Anyway the result and performance via MotD proved to be good. We thought we were hard done by, which we were, but it pales into insignificance, when you learn shortly after, that the poor young boy who had been trapped in that well in Morocco for four days had lost his fight to stay alive. So, so sad !
Colin Glassar
187
Posted 06/02/2022 at 09:29:22
I'm really looking forward to the transfer window this summer. Hopefully, with Frank's Chelsea connections to Marina and Roman, we can raid the Chelsea academy and get some of their next generation talents.
Conor McCourt
188
Posted 06/02/2022 at 09:35:49
Really delighted for all Blues this morning after what can be only described as the perfect start for Lampard and the boys.
I had hoped that Frank would go with the 3-4-3 and in the main it prevented Gomes and Allan from covering too much ground and leaving too many spaces. Andre's performance was one of the best midfield displays from a blue in a few years, though no doubt helped by the tirelessness of Grey in particular.
A big shout out to Allan who I was worried for under Frank along with Doucoure. Although he wasn't great on their goal and charged into no mans land on a couple of occasions (one forcing Gomes yellow), in the main I feel it was one of his most disciplined displays for us.
His pass for the second goal was nonchalant and sublime and in the first half he played one little ten yard forward ball into the front man which reminded me of those simple yet brilliant passes Roy Keane was a master at.
The slight concern going forward if he persists with that system is that I still don't think Coleman and Mykolenko are perfect for implementing it. He probably wishes he had Nkonkou at his disposal and was surprised at Kenny's omission. I would also worry about the midfield two against a more dynamic opponent as there were moments early on where we looked vulnerable.
Moreover I hope Frank will be a manager who won't just leave it as is based on this performance. I feel with Donny and Dele available and Coleman and Mykolenko looking better suited as full backs, 4-3-3 or a diamond 4-4-2 may be better equipped for the squad he has available for our league campaign.
I am sure one poster will have taken note of Towsends comments post match "we played with two wing backs, but as a matter of fact they were more like wingers", clearly outlining what Lampard requires from those roles.
After two years of being starved of enjoyment to see our players play with such intensity, freedom, happiness, bravery and even arrogance was a joy to behold. I know it's only one game but It feels great this morning being a blue as our pride, our ethos and our hope seems well and truly alive and kicking.

Jerome Shields
189
Posted 06/02/2022 at 09:44:08
On MOTD they highlighted Everton player's multiple movement of the ball ln attacking positions as the most important step forward. Drawing defenders out of position and providing positive options for passing players.
It was also noticeable that there was more engaging and confronting of opposition players all over the pitch, with Everton player's operating in packs to recover possession. Pass completion rate was high. Everton's attack was evenly spread between the wings and centre. Also breaking up and spoiling opposition play in midfield , with Everton player's looking to be first to the breaking ball was noticeable. Pickford was a bit excitable though. Hopefully he will calm down.
Definitely better coaching evident and the technical ability theshold has been lifted

IMO this change is the result of a traditional English football team, being asked to play traditional English Football. It was simply something that the players could understand and within their ability to implement. The Brentford Manager had the look of someone that was up against it after the first 5 minutes of the game. Whats more Lampard has additional players to alter tactics and play, if a opposition team is set up to particularly counter Everton system of play. Gomes won't get the time and space next game that he got against Brentford, and will be susceptible to pressure, but with the new midfield signings there are options to turn the tables on them tactically.
Rob Dolby
190
Posted 06/02/2022 at 09:52:50
Derek - Off topic I know but the ticket office didn't have anyone on the phones yesterday! Ticket office opening hours mon-fri. Surely they have missed hundreds of walk up opportunities yesterday.
1 person in the park end ticket office and 25 people queuing at 245 for a ticket isn't good enough.
Kunal Desai
191
Posted 06/02/2022 at 10:07:09
Colin #188. Definately. I'm hoping he can persuade a few of those prospects, notibly the likes of Connor Gallagher and Trevor Chalobah.
Brian Harrison
192
Posted 06/02/2022 at 10:15:49
Firstly I hope all the supporters who have to rely on a streaming service to see the game got an inkling of what the atmosphere was like in Goodison yesterday. Even walking up City road you could sense an excitement that hasn't been there for a long time. Paul Clements pre match warm up with the players was completely different to what we have seen before, they played high intensity 1 touch 5 a side. Then instead of the strikers just knocking the ball up to Duncan who would lay it off for them to strike, Clement had them making 2 passes before playing a 1 - 2 with the striker and Clement playing the role of defender, really impressive.
Then the games starts and you could see from the first minute the players were on the front foot, and although they opened up Brentford on a few occasions the final pass or shot let them down. But once Yerry put us ahead from the corner it was like something clicked and they started to dominate play. Not every pass hit its mark but the intensity to win the ball back was there for all to see. I said on Friday that I hoped fans wouldn't expect to much as Lampard and his coaches had only had a few training sessions to get their ideas across. Well if this is what they can achieve in a week I am really excited to see what can be achieved in the next few weeks and months.
There were good performances from virtually every player but there were some very special performances from Allan and Gomes in midfield and all 3 front players were excellent. Richarlison worked tirelessly up front and Anthony Gordon just gets better and better with every game, and Gray has that star quality and gets people off their seats. No not everything worked and yes we did make mistakes that thankfully went unpunished, so Evertonians are realistic to that, but the fans as well as the players kept up their intensity from beginning to end. At last we have got our club back, with Manager, coaches, players and fans singing from the same hymn sheet. For the first time in a long time we saw our side play with intensity and passion and look to go forward whenever possible and long may it continue.
Steve Shave
193
Posted 06/02/2022 at 10:16:32
Kunal - great call on Gallagher, I can't see us getting him for less than £35M and I doubt they will sell anyway, I think he will replace Kovacic next season in the Chelsea team. I think we are much more likely to get Gilmour.
Derek Knox
194
Posted 06/02/2022 at 10:23:48
Kunal, Connor Gallagher would be brilliant, but I feel his two loans spells at WBA and currently at Crystal Palace will have been well noted by Chelsea, and I suspect he will do a Mason Mount and be assimilated into the Chelsea squad. Not so sure about Chalobah though, he hasn't, like Gallagher proved, it is not just a Purple Patch.
I think we would have a better shout on Billy Gilmour and or Ruben Loftus-Cheek !
Colin @188, it's amazing, though early days, the effect Frank is having on the more unpopular players, Iwobi looked okay-ish after coming on as Sub, and did play a part in the fourth goal. I can see you buying the only Iwobi shirt in the Club Shop before the season is over ! :-)
Kim Vivian
195
Posted 06/02/2022 at 10:34:16
What strikes me about Lampard is that we now have a manager - the first since Kendal I believe, and to some extent Joe Royle, who has actually
achieved
, and achieved within the lifetimes and recent memories of our players, and in the "modern era" so they will empathise more easily. They will not conciously, or subconciously, feel as though they are being taught to suck eggs and if rumours of a new strict discipinary regime are true, all the right noises are being made to me.
It sounds a bit weird but taking on our squad as it is (essentially a potentially decent set of players but so challenged to perform) there is so much he and indeed Cole (Baines and Cahill included) can impart. At Chelsea he had a good squad of relatively successful players so his brief was almost to simply maintain momentum whilst improving where he could which he did with the involvement of young players.
Lampard is a young, highly intelligent and motivated manager with much yet to learn and experience. There will be slip ups and drama along the way but I do think we might be on the start of a real awakening of our great club.
Still buzzing after yesterday - long may it continue.
Colin Glassar
196
Posted 06/02/2022 at 10:36:43
Derek, let's be honest, Iwobi tried to step on the ball and fluffed it. He didn't mean to do that and in a year of Sundays he'd never be able to repeat it. It was a complete fluke!
As for the Chelsea youngsters, I hope Frank has already invited Marina out for a cozy Chinese to discuss transfers in the summer. If they don't want to sell us the kids can we get Thiago Silva, Azpilicueta and Marcos Alonso. Those OAP's still have a lot of life in them.
Matthew Williams
197
Posted 06/02/2022 at 10:40:40
A great shout above on two excellent young players that Frank could bring in maybe in the summer...but for me the player we really need is Harrison from Leeds,a quality player,with real drive...he would thrive in our new look Midfield imho.
Any major funds in the summer we spend should go on him!
Jerome Shields
198
Posted 06/02/2022 at 10:44:16
It was just good offensive style play by Everton.I always though there was capacity in the Club to play this way, but really began to have serious doubts regarding this after performances prior to this game.To go down the Big Sam way like Ancelotti and probably Benitez had he stayed would have been unbearable.Benitez in the end was in two minds resulting in.paralysis.
Everton will not be relegated.
Craig Walker
199
Posted 06/02/2022 at 10:50:32
Kim. I think Koeman and Ancelotti achieved a fair bit as players, not in the modern era, I agree but you'd think our players would have looked up to them a bit.
Don't get me wrong, I'm over the moon with yesterday and I think Lampard is a good fit but let's all keep our feet on the ground. Even Benitez was talking sense and we were coming from behind to win games during his first couple of months. We're only ever a few defeats away from a crisis at Everton. I'm hopeful he'll blood some youngsters and we'll actually try and play football and attack but we still have a fair few players who aren't good enough and we're defensively suspect. There's a lot of work to do but it's encouraging.
Steve Shave
200
Posted 06/02/2022 at 10:54:15
Someone above mentioned feeling sorry for Big Dunc, I agree he did look a little lost on the backbench yesterday. I suspect he is a proud man and wonder if he feels the club is just taking pity on him. There doesn't seem to be a place for him now, especially with Cole arriving and the club's hiring of Leighton. Does he stick around and forge a "job for life" at the club he loves or maybe a change in role such as taking over from Unsy as head of U23's? The other option is to dip his toe in the managers water and become a lower league manager, I could see how that presents as a risk to him. There will be some on here who don't care but I can see he is likely to be in a strange place right now, unsure of what next.
Daniel A Johnson
201
Posted 06/02/2022 at 11:00:37
Although its nice to experience some highs after all the crushing lows lately we all now need to calm down.
Even Agent Rafa got off to a promising start "Evertons best ever home start" even he had a few decent results. Lets not forget Benítez had 13 pts after 6 games and soem on here were also singing his praises....I should Know because I was one of them.
Kim Vivian
202
Posted 06/02/2022 at 11:08:57
Craig - Fair comment but I think the point I was trying to make was that they are young enough and recent enough for our guys to actually have watched them. I considered paying homage to Koeman and Ancelotti due to their own respective success as players, and I agree the players would with out doubt know "who they were" and what they had achieved - particularly Ancelotti as a manager - but decided to leave it out.
I do think it was no coincidence that Howard achieved what he did with players who likely had watched him in the flesh, and I am praying we get the same bounce with Lampard. Only time will tell. And I know, of course, it wasn't all plain sailing for Howard at the start.
One could argue of course that Rooney might have the same credentials but I would consider Lampard to be on a different level mentally.
Brian Harrison
203
Posted 06/02/2022 at 11:13:09
I saw a picture taken at the game of Peter Reid and Joe Royle sitting next to each other, I think its been a while since Joe has been inside Goodison. I am sure they will have liked what they saw especially how when we lost the ball we had 2 or 3 players surrounding the opposition player to win the ball back. Not quite Joes Dogs of War but pretty close. I am sure Peter would have enjoyed the midfield displays of both Allan and Gomes. I am sure both approve of Lampards appointment and I am pretty sure had the same misgivings as we all did about appointing Benitez.
I hope Moshiri listens to what Evertonians want from a manager and not be listening to agents. Had he got his way I have no doubt we would have had Pereira in charge and I doubt if we would have had the same result or style of play. So Farhad stay in Monaco and just keep signing the checks when Frank asks you too. Dont communicate with fans via your mate at Talksport who I believe suggested that Everton fans are toxic. We arent toxic but we want a manager who will demand 100% from the players and will play attacking football were possible, not much to ask for.
Brian Hennessy
204
Posted 06/02/2022 at 11:39:41
Some serious selection headaches for Tuesday. Does he go with the same team again? Hard to drop any of the players that started yesterday but will the likes of Coleman, Alan and Gomes be able to put in the same level of performance with just three days rest? Will be very interesting to see what Frank goes with.
There will be ups and downs over the rest of the season but the early signs are good, very good. The biggest positive for me is the backroom team that Frank has assembled which shows he is not too big headed to take advice, something too many of our recent past managers were unable to do.
Pat Kelly
205
Posted 06/02/2022 at 11:47:35
Home to Bournemouth next
Derek Knox
206
Posted 06/02/2022 at 11:47:37
Off topic, but we are drawn at home against either Bournemouth or Boreham Wood, in the next round of the F A Cup !
John Keating
207
Posted 06/02/2022 at 11:49:30
Brian
You're right about changing the team with our 2 latest signings available
I would day that I think Branthwaite should come in for the injured Godfrey
If DCL is available they could drop Myco back put Richie out there and DCL up front
I really would like to see Patterson in for Coleman
Ajay Gopal
208
Posted 06/02/2022 at 11:52:08
Good draw for us! Real chance of getting into the quarter finals.
Michael Coffey
209
Posted 06/02/2022 at 11:57:30
Apparently Frank has an A level in Latin. We might finally have a manager who knows what "Nil Satis Nisi Optimum" means.
Jay Wood
[BRZ]
210
Posted 06/02/2022 at 11:58:23
I'm already looking forward to Tuesday and the game at Newcastle.
The game itself and the result will be a massive uplift for the victor. Hugely deflating for the loser. A draw, 'as you were'.
I'm curious to see Frank's selection. It would be very easy to go with the same XI again. Nobody played badly. They all embraced and adapted to the way the manager wants the team to play.
But Lampard is well accustomed to seeing tweaks and changes on a game-by-game basis, so it wouldn't surprise me if players who played well on Saturday get replaced by Donny and Dele on Tuesday.
I like what he said about not getting on players' backs if they miss a tackle or a pass goes astray, as long as they attempting to keep to the game plan.
TWers have expressed it's a new slate for all, but in this thread alone you have posters calling out players for imagined failings.
Pickford displayed 'Tourette Syndrome' frenzy of the past, according to some. When? He dealt with a poor back pass from Coleman and rightly let him know it. He was clearly pushed in the chest on a Brentford corner and rightly complained. He rightly berated his defence for letting in Toney for the penalty. He rightly (for me) protested his innocence to the referee. Toney milked that. No penalty for me. Pickford was calm, competent and efficient in everything else he did.
Keane losing Toney for the penalty? Michael is clearly marking another forward in front of him. Toney is Holgate's man. Toney runs across and in front of Holgate (to the left and BEHIND and out of view of Michael Keane) and Holgate gets nowhere near Toney. Besides that, the penalty call doesn't happen if Mykolenko is on the same wavelength as he fellow defenders, rather than two yards back playing Toney onside.
Keane has only now discovered the ability to play the sweet short ball through to Allan that led to our second goal, taking out three Brentford players in doing so? He has been playing passes like that for his entire Everton career. He did it a number of times again yesterday, not just on that play.
Did both Gomes and Allan get caught on the ball and hit stray passes? Yes. But they were also hugely instrumental and influential in our good stuff. Gomes' stinging shot pushed over for a corner which led to Mina's opening goal. Allan's sublime pass to Richy for our second. Gomes' pass to Tosun in the build-up to our final goal.
Did Anthony Gordon win the ball well in midfield in the first half, but then make a poor back pass that put us under pressure? Yes. But I like that Lampard talked him up and rightly credited him for chasing down the Brentford defender to win a corner for his side, from which we scored the third goal.
The manager and his staff in less than a week has liberated the team from the Benitez straight jacket and expressed HIS confidence in their ability to play a more aggressive, rather than passive game. In one single game that confidence has passed to the players.
A few TWers would do well to embrace the same.
Jay Wood
[BRZ]
211
Posted 06/02/2022 at 12:04:20
Brian @ 204.
I enjoyed those images of Peter Reid and Joe Royle sat together.
Peter, with his rugged looks and grey fedora hat, looked like the 'capo dei capi' - the Mafia boss of all bosses!
A bit like how he played his footy!
Matthew Williams
212
Posted 06/02/2022 at 12:04:28
I'm made up with the 5th round draw too...can we dream yet?.
Craig Walker
213
Posted 06/02/2022 at 12:14:35
Kim. Yes, good point.
I wasn't against Rooney being appointed but sometimes he isn't the best role model off the field.
Neil Copeland
214
Posted 06/02/2022 at 12:19:08
Derek, I wonder whether your plight yesterday was largely to do with the bottle throwing bellends against Villa resulting in a harder line being taken. Sorry I wasn't of any help to you.
I find hard to understand that the club were seemingly not selling any of empty Upper Bullens seats yesterday.
The other thing that grates with me is Brentford's failure to use their full allocation, for a small club to not make the most of the opportunity is shameful. Its the FA Cup for fucks sake, non league clubs show better support.
Dave Abrahams
215
Posted 06/02/2022 at 13:12:28
Great to see Townsend getting quite a bit of praise on here, I think two words sums up Andros, thorough professional, looks after himself, a complete team player, whether starting or coming on as a sub. never moans just gets on with it and competes every minute he is on the field, assists and scores and never cost a transfer fee unlike Gray who cost a massive £ 1.7M thanks to Mr. Benitez.
Nicholas Ryan
216
Posted 06/02/2022 at 13:16:42
Dave [216] You're right; it takes something to make Gray look expensive at £1.7m, but Andros just about does it!
Rob Birks
217
Posted 06/02/2022 at 13:19:27
Off the subject but watching Jota v Cardiff.
He's certainly learned some new dark forces since joining the Shite!
Pushing, tripping and diving all in front a scared referee who ignores it all.
Tony Hill
218
Posted 06/02/2022 at 13:21:12
Dave @216, another mark of Townsend's character is that he took the time to thank Benitez "for everything" after the manager was sacked.
Neil Copeland
219
Posted 06/02/2022 at 13:24:16
Tony, an all round good egg!
Steve Brown
220
Posted 06/02/2022 at 13:24:54
Dave, Demarai Gray was scouted by Brands actually. Mr Benitez endorsed his signing, then tried to claim it was all his idea.
To be fair, Mr Benitez did recommend journeyman Townsend who has done well. As for Rondon…
Steve Brown
221
Posted 06/02/2022 at 13:27:25
Jay @ 212, I thought he looked more like Ian McKellan!
Tony Hill
222
Posted 06/02/2022 at 13:36:34
Steve @221, not according to Demarai Gray who said that Benitez's history was part of the reason he joined. They exchanged text messages when he was still at Leverkusen.

Gray would hardly be "scouted" anyway.
Robert Tressell
223
Posted 06/02/2022 at 13:51:38
We have some chance of getting Gilmour on loan, maybe with an option to buy, but Connor Gallagher will now be viewed as an important player for the Chelsea first-team squad. He won't be sold. As ever though the players are always out there.
But that is getting ahead of ourselves. In terms of the current players, I'm very pleased that the underwhelming Townsend is such an effective player and also a great personality for the club.
Maybe one or two other underwhelming players already at the club will respond to the new regime.
Not wanting to end on a low note, but it's still very early days. Ancelotti and Benitez both delivered very good form initially. Lampard has arrested the slide and cheered everyone – but he needs to keep that going, something more experienced men have been unable (or almost weirdly unwilling) to do.
Henrik Lyngsie
224
Posted 06/02/2022 at 14:04:54
I think we all love watching Demarai Gray running with the ball. It is so beautiful when he is running past the defenders. And we all think £1.7 million – what a steal.
But sometimes he seems to miss obvious passing opportunities. He had one yesterday where he lost his head instead of passing to Richarlison. I have seen this before this season. I therefore checked his stats (not that I am a big stats person) and Gray is having 11 assists in 158 Premier League matches. That is 1 in 15 matches. Not a lot for his position. Townsend provides many more assists and even Iwobi has far better stats.
When we have Dominic Calvert-Lewin, Donny van de Beek, Delle Ali and Abdoulaye Doucouré back, there will be a lot of competition for the places. The way Gordon plays, he must be preferred to Gray. He just looks so good and will become very effective.
So maybe Gray will be the big loser after this transfer window? This would be a shame since he really looks like enjoying his time.
Annika Herbert
225
Posted 06/02/2022 at 14:10:00
Ajay @ 175, the Barcodes haven't signed Dunk from Brighton, they signed Burns the left-back, come centre back.
He is the guy that scored against us a few weeks ago too. But you are right, they have added some height to their back 4.
Phil Smith
226
Posted 06/02/2022 at 14:21:37
Grey and Richarlison are both greedy and I'm sure this is something Frank will work on.
Bournemouth at home next round. Can't complain about that.
Robert Tressell
227
Posted 06/02/2022 at 14:26:39
Gray may not pass or assist like he should but he is a constant threat, carries the ball up the pitch, forces the opposition back, and probably forces corners and set-pieces fairly regularly.
Alongside players like Van de Beek and Alli, his assist stats may start to improve.
Really good player.
Tony Hill
228
Posted 06/02/2022 at 14:59:36
Gray's two corners for goals 1 and 3 yesterday were excellent. His touch is generally very good and he has goals in him. He's been a top acquisition for a bargain price.
Dave Abrahams
229
Posted 06/02/2022 at 15:15:44
Henric (24) what do you want for £1.7M, Ronaldo!! By the way, if you want to complain about somebody who misses obvious passing opportunities, have a good look at the man who played with him yesterday, Richarlison.
If Gray is sold in the summer – although I can't see any reason why we would sell him – then we will get more than ten times the money that we paid for him.
Finally, why can't Gray and Gordon play together? They did more than alright, as far as I could see.
Mike Gaynes
230
Posted 06/02/2022 at 15:22:52
DK #180, dammit, I'm so sorry that happened to you. The ticket clerk was an ass not to give them to you.
Henrik #224, I'd wager my house payment that Gray will remain a starter under Lampard, selfish or not. He is simply doing too many things that nobody else in the club can do.
Colin #196, no, it wasn't a fluke and he didn't try to step on the ball. The one quality Iwobi does have is a great first touch. and he showed it with the layoff to Townsend. But don't worry, you won't be seeing much of him from here on.
Colin Malone
231
Posted 06/02/2022 at 15:50:46
The only blot on the day was the club not registering many season ticket cards for this game, in which supporters had to queue up for a ticket 10 minutes before the game, down the other end of the ground. Get it right for the next Round.
Will Mabon
232
Posted 06/02/2022 at 15:55:29
Derek @ 180/186;
What a deflating story. It's not so much jobsworths as individuals anymore, it's the whole OTT bureaucratic "Safety" culture. Did no-one in the office try a call to anyone etc? How did they explain your telepathy re the name on the envelope?
Next time, tell Denise to write your name on there too, and maybe a little love heart to make certain. ;-)
John McFarlane Snr
233
Posted 06/02/2022 at 15:58:52
Hi all, especially those who considered Brentford a poor outfit.
I'm on record saying that there are two types of games where the results are more important than the performances and they are cup ties and derby games.
I don't consider yesterday's game anything other than a spectacle to be enjoyed. The saying: "You can only beat the team you face" springs to mind.
Colin Glassar
234
Posted 06/02/2022 at 16:11:55
Mike #230,
Okay, it might not have been a fluke but to say he "has a first great touch" is stretching it further than Ron Jeremy's schlong.
Dale Self
235
Posted 06/02/2022 at 16:29:23
Just checked in for some humor and you came through as always.
On the Gray discussion though, while I've seen him dribble past some runs he could use for a link up this looks mostly to be down to vision than selfishness. Gray and Gordon are the only two that can create space on tbe dribble. Gray is the only one who can make the defender commit and then freeze them with a move. He simply hasn't developed that sixth sense of where the teammates are and what combination will unlock the defense. He played through the middle yesterday and while he has the skills he does not yet have the vision and will tend to try to dribble out of pressure coverage. It sounds like the experiment worked give it some tkme for the chemistry to develop.
Jerome Shields
236
Posted 06/02/2022 at 16:30:37
Steve #200,
Duncan is just trying to put one foot in front of the other at the moment. He has no choice.
Tony Abrahams
237
Posted 06/02/2022 at 17:01:50
One thing that astounded me yesterday was that the club had obviously sold the same seat twice and the steward was actually saying that it's club policy for paper tickets to take preference over a season ticket card?
He was saying that having a ticket is more proof than having a card, so luckily there was a couple of empty seats about because sometimes these things can end up getting quite nasty.
Henrik Lyngsie
238
Posted 06/02/2022 at 17:03:07
Dave 229.
It is obviously a good deal £1.7 million and he has been terrific so far. Actually I was a bit surprised by the incoming transfers being that offensive.
I am just saying that suddenly we have a lot of competition in the offensive department with the incoming of Dele Alli and Donny van de Beek, the return of Calvert-Lewin, while Anthony Gordon looks like a star in the making.
I would consider Calvert-Lewin and Richarlison as given starters. I also think that Dele Alli is here to start like Donny van de Beek. I could not see Gordon be left out either so certainly Gray would not be a given starter.
By the way I did not call Gray selfish. He just doesn't see things or having that split vision. Hence his relative poor stats.
Richarlison you might call selfish but that is the characteristics of a real goal-getter. Sometimes it is so frustrating but he scores a lot of goals in general.
Mike, I hope your house is not too expensive!
Will Mabon
239
Posted 06/02/2022 at 17:10:17
Tony (237), that's crazy. I don't remember these kind of screw-ups (in more than just football) during what are often patronizingly implied to be quaint old times, before digitization.
Dave Abrahams
240
Posted 06/02/2022 at 17:13:52
Henrik (238), Fair enough Henrik, fans just see different players in a different way, for instance I never see Richarlison as selfish but very poor in how he operates, constantly, he shoots when there are teammates in a better position to score and does the opposite, many times, passes when he should be having a go at goal. At the end of the game I think we were all of the same mind, happy that we won and played a lot better than we had been doing.
Tony Abrahams
241
Posted 06/02/2022 at 17:15:16
It just means that I'm also going to request a paper ticket for cup games from now on, Will, because there's no way in the world I'd give my seat up when I'd paid for it, no matter what the club policy is supposed to be.
Mike Gaynes
242
Posted 06/02/2022 at 17:21:55
Henrik and Dave, fair point on the word 'selfish' being harsh for both Richarlison and Gray, and that the problem is likely more about head-down decision-making than selfishness.
The ability to consistently make the right decision in the free flow of the game is one of the most underrated in football. De Bruyne just awes me that way.
You know who else always made the right decision in the heat of the moment? Frank Lampard.
Peter Mills
243
Posted 06/02/2022 at 18:50:30
I was unable to go to the match due to a long-standing family commitment, and was pretty gutted to miss it. So it's been good to read the comments last night and today on what was clearly an uplifting afternoon.
Nobody is getting carried away with this one result, but what does come across from what everyone has written is a palpable sense of relief. Relief that at last we have a manager who will say things as they are, has a sense of humour, allows players to express themselves, won't accept anything less than 100% effort, and enjoys a good, raucous crowd.
We've waited long enough for such a person.
Tony Hill
244
Posted 06/02/2022 at 18:59:51
Yes, I think so, Peter @243. You're right about the sense of humour and he has the humility of people who are self-possessed.
He also has solid people around him, notably Clement.
Jason Li
245
Posted 06/02/2022 at 19:24:42
An absolutely a joy to watch - now that's entertainment.
Glad Gomes had the players around him to shine. He can dictate games when he's got a pass on. The problem under the previous manager is he never had people at angles waiting for a short pass, one-twos or through balls. Just him and Allan like an island in the middle of the pitch earlier in the season.
Same for Iwobi who comes insides and likes the full-back to take the full-back with them. Looks a different player when he plays in team going for short passes. He just needs to sort out running 30 yards in a straight line with the ball next.
Corners not hitting the first man – so lovely to see.
I think the players will now smell a chance in the cup. Why not when you see the likes of Man Utd crash out.
One thing I think may not be a surprise if Doucoure doesn't suit this dancing feet and quick one-twos style of football. It's not galloping counter attack anymore. It's more about finding pockets of space and sharp accurate incisive passing. We'll find out in the summer transfer window.
Derek Knox
246
Posted 06/02/2022 at 19:28:49
Mike G @ 230, & Will @ 232, thanks for commiserations, but from what I can gather it is all to do with the FA, because a lot of questions reared their heads some time ago as to the Allocation and Distribution of Tickets, so they may have clamped down.
Although in mitigation, there was nothing nefarious whatsoever in the Ticket Allocation that I never received. I believe it is getting looked into tomorrow at Everton, club level at least!
Also never realised, as mentioned before, that I could have got in, via Tickets being sold late, due to Brentford's over-estimated take up! No-one said at Goodison in any capacity at all!
Goes to show after nearly 60 years of supporting Everton and having a Season Ticket for many of them, it doesn't matter a toss to them who you are, and they don't care either!
Will Mabon
247
Posted 06/02/2022 at 19:57:36
The more details you give, Derek, the worse it looks. As I alluded earlier, when we have the means now to control this kind of thing more accurately than before (and it's simple in computer terms, even when an envelope is involved), mistakes and cock-ups as experienced by you and Tony should be all but eliminated.
Of course the factor of another body (the FA) adds another permutation for potential mistakes but it's just not good enough. For you to walk away like that while seats go begging – terrible. Endless talk of "Communication" whilst in reality it's anything but.
Oh well, maybe their look into it will help.
Mike Corcoran
248
Posted 06/02/2022 at 19:59:19
Peter Reid doing an impersonation of Leonard Cohen yesterday.
I wonder if he was humming "I remember you well at the Chelsea Hotel, you were talking so brave and so sweet"?
Jerome Shields
249
Posted 06/02/2022 at 20:02:25
Hopefully the archaic idea of the Everton team playing without having the ball has been laid to rest. It may work with other teams but, at Everton, nobody could make sense of it.
Mike Gaynes
250
Posted 06/02/2022 at 20:13:28
Mike #248, I thought he and Joe looked like a couple of retired Mob hit men, but I like your version better.
Personally, I think Reidy would have been growling "Everybody Knows." Appropriate to the occasion.
Stephen Tyler
251
Posted 06/02/2022 at 20:37:20
Boreham Wood next!
Mick Conalty
252
Posted 06/02/2022 at 20:39:10
Beware, Everton! I just watched Boreham Wood. They are an Alehouse team. They are all built like Brick Shithouses and will kick anything that moves.
John Boon
253
Posted 06/02/2022 at 20:48:11
It is amazing what a win can do to all Evertonians. That means management, players and fans Positivity in almost all the posts on Toffee Web in response to a very good display.
Lampard has just got to be a major factor. He must have got through to the whole team because we actually played as a team. In so many games in the last few months, it has seemed like a bunch of disgruntled individuals.
He will have some difficult choices to make for the Newcastle game, but that is great. Competition usually breeds success.
Steve Griffiths
254
Posted 06/02/2022 at 22:12:20
All the best teams have competition for places. The three latest signings have increased competition in the forward and midfield areas. I for one think that is great and think our new manager will sort out selection & a formation that will utilise these improved choices to the max.
Bring on Newcastle & Leeds; 4 or 6 points would be great & improve the mood around the club even further. COYB & UTFT
John Kavanagh
255
Posted 06/02/2022 at 22:52:01
Mick @252 - Rondon should be safe then.
Danny O'Neill
256
Posted 07/02/2022 at 06:28:12
Mick @252.
Remember Telford?
---
Add Your Comments
In order to post a comment, you need to be logged in as a registered user of the site.
Or Sign up as a ToffeeWeb Member — it's free, takes just a few minutes and will allow you to post your comments on articles and Talking Points submissions across the site.
---
© ToffeeWeb