Report
Shocking lack of quality painfully exposed by Saints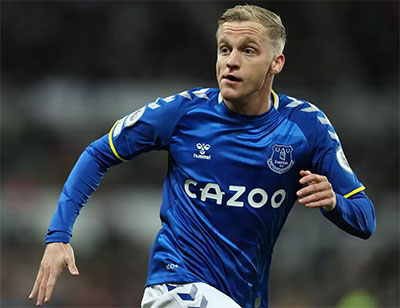 Lots of eyes will be on Donny van de Beek as he is set for another chance to show he can become the midfield powerhouse Everton have lacked for so long

Everton started well against Southampton but the lack of quality from both sides in a poor first half was rectified by the home side in the second while the visitors went from bad to worse, giving up soft goals in a very painful defeat.

Demarai Gray is absent as he recovers from the hip problem he suffered during the first half of the defeat at Newcastle. He joins Davies, Delph, Doucouré, Godfrey and Mina on the injury list.

Lampard goes with an unchanged line-up from the Leeds game, which means Dele Alli starting on the bench again, Alex Iwobi keeping his place in the side, Seamus Coleman continuing at right-back following his scoring exploits last time out, and Jpnjoe Kenny looking to reprise his efforts at left-back.

Vitalii Mykolenko is now clear of Covid-19 restrictions and is on the bench, along with Nathan Patterson.

The home side kicked off in bright sunshine and showed plenty of pressing effort when Everton were in possession. But they used it well to get up the field with Coleman setting up Richarlison but he seemed half asleep and totally failed to connect.

Gordon tried his luck from the other side but collapsed by tackling himself. From a corner, Romeu clearly handles the ball but VAR decides not, despite a long look. Perhaps his was in natural position, down by his side, and he did try to pull it away.

A poor block by Holgate set up a Saints attack that Pickford did well to foil. At the other end, Iwobi crossed in well but Richarlison was not there. However, he won a dangerous free-kick on the edge of the Saints area that was cleared.

Iwobi then tried to feed Van de Beek centrally but it didn't come off. Everton, however, were controlling much of the play and needed to underline it with an early goal.

More good play around the Saints area was not bringing the required reward in terms of real chances. A great ball in to Richarlison's feet again took him by surprise, then Van de Beek's shot was blocked.

The game settled somewhat until Allan caught Walker-Peters with a raised foot: yellow card. He then cheaply fouled Armstrong to set up a dangerous free-kick for Ward-Prose. He tried a shot in off the post but Pickford got a fine hand to it with a good dive.

Gordon, with Van de Beek making a great run, passes straight to Romeu! It typified a lack of care and sloppiness that perhaps could more generously be put down to the cut and thrust of the Premier League.

Another bright move involved Van de Beek feeding Gordon but his cross from close in was blocked. Fortunately, Southampton were not making much of their chances either, delivering corners and shots generously into Pickford's arms.

Everton had to defend, but when Romeu went in heavily on Richarlison, there was no card shown. Gordon had to give up another corner with Livramento running through the gaps to bundle Ward-Prowse's delivery into the body of Pickford. Everton were now living dangerously.

Everton got down the left wing and Richarlison did well to fire in a low cross but too close to Forster. Broja got past Kenny but Keane blocked his shot behind. From the corner, recycled, Bednarek headed over.

Walker-Peters flashed a shot inches wide after Coleman gifted the ball back to him. Another decent build-up by Everton saw Calvert-Lewin more involved after he had been booked for leaving his foot in, but no chance came from it.

Iwobi did some great work to feed Allan but he just gave it away weakly. Richarlison dribbled through 4 players only to do the same. The quality was simply poor at best. Iwobi had a chance to set up a break but over-hit his forward pass shockingly.

A somewhat frustrating and disappointing first half ended even-steven... which was probably fair in the circumstances, neither side able to show any real quality.

Lampard called time on Allan's faltering contribution, replacing him with Gomes at the restart. Iwobi fed Calvert-Lewin whose shot was blocked behind and the poor short corner was later curled in for Calvert-Lewin to head home but he was ruled offside after colliding with the post.

Everton worked hard to fashion a cross but this time Calvert Lewin was behind the defender who picked it off.

Richarlison was released wide right and it looked for all the world like a perfect cross that Calvert-Lewin just ambled in after and watched it fly in front of him. Southampton went up the other end and scored after Gomes lost the ball, Armstrong lashing the ball inside Pickford's left post.

The terrible Everton quality was demonstrated in triplicate when Richarlison released IWobi, his cross was awful, deflected by a defender to Van de Beek, who miskicked his shot to Gomes, and his attempt was way off target.

The Saints were now full of it, Adams poking a shot straight at Pickford off a brilliant ball in from Ward-Prowse, while Everton struggled for any fluidity. Why had Frank not made more changes immediately after the goal?

Gomes was slow to a ball that Romeu got to and won a free-kick. The Saints set up a strong attack, Armstrong shooting just over Pickford's crossbar. Finally, Lampard decides on a change while the Saints shaped another embarrassing attack.

Another fantastic set-piece delivery from Ward-Prose somehow did not score as two Saints players put each other off on the Everton goalline with Pickford a spectator. A chance developed for Gordon to cross but Foster gathered it easily.

While at the other end, a bouncing ball caused panic as Pickford had to come out and punch off Bednarek's head. Then a ridiculous foul by Gomes, jumping into the back of a Saints player. Paul Clement had to give Gomes extra instructions from the touchline as Townsend replaced Iwobi.

A shot from Walker-Peters was so nearly deflected past Pickford but he was very alert to save it. And Saints continued to threaten while finally with barely 15 minutes left, Dele Alli replaced Gordon.

But it seemed too little, too late as Everton continued to be swarmed by Saints, Pickford having to save again from Walker-Peters.

A great out-ball from Dele forced a care corner for Everton but it was a poor delivery from Townsend and ended up as a goal-kick. Another Saints attack so nearly saw them score.

Shane Long, Everton's perennial nemesis just on as a sub, was there at the far post to finish from a soft cross, no attempt to block by Kenny.

Everton had gone from bad to worse in a dreadful second half, with not a single attempt on target created in the entire game.

Kick-off: 3:00 pm GMT, Saturday 19 February 2022

Southampton: Forster, Walker-Peters, Bednarek, Salisu, Livramento, S Armstrong (90+3' Djenepo), Ward-Prowse, Romeu, Elyounoussi, Broja (83' Long), Adams, (90+1' A Armstrong).
Subs not Used: Stephens, Caballero, Smallbone, Diallo, Walcott, Valery.

Everton: Pickford, Coleman (c), Keane, Holgate, Kenny, Iwobi (66' Townsend), Allan [Y:15'] (46' Gomes), van de Beek, Gordon (75' Dele Alli), Richarlison, Calvert-Lewin [Y:39'].
Subs not Used: Begovic, Patterson,Mykolenko, Branthwaite, Rondon, El Ghazi.

Referee: Andy Madley
VAR: Andre Marriner

Attendance: 31,312

Share article:
---
Reader Comments (351)
Note: the following content is not moderated or vetted by the site owners at the time of submission. Comments are the responsibility of the poster. Disclaimer
Christy Ring
2
Posted 19/02/2022 at 14:20:26
After the great performance last week, had to be the same line-up.
A tough game today, but quietly confident of a good result today.
Kevin Prytherch
3
Posted 19/02/2022 at 14:21:07
As much as Kenny and Iwobi might have played well enough to keep their place, I worry slightly that this is the second time we've kept the same team "because it worked in the last match".
Hopefully I'm proved completely wrong and we batter them.
Stan Schofield
4
Posted 19/02/2022 at 14:27:29
Kevin, but last time, in the Newcastle match, we had two injuries that upset the plan.
Will Mabon
5
Posted 19/02/2022 at 14:28:55
Kevin - the dilemma.
Times to stick, times to twist. Question is, when?
Turning up with the same spirit is the main thing today.
Jay Harris
6
Posted 19/02/2022 at 14:39:44
What a pleasant change to go into a game with hope and optimism instead of dread.
Ciarán McGlone
7
Posted 19/02/2022 at 14:47:42
Expected line up. Despite the repeated invective on these pages, all of our players are not shite. They need to be used properly in a sensible and effective formation with suitable tactics.
I'm looking forward to this. Will be tougher than Leeds but fairly optimistic.
Rob Hooton
8
Posted 19/02/2022 at 14:58:11
Can't blame the manager for giving the same team another run out - as Will said, turning up with the same spirit and attitude is the most important thing. Players should then be dropped if they don't.
Tough game, head says a hard fought draw would be good but heart is fluttering for a 3-1 win.
Tony Everan
9
Posted 19/02/2022 at 14:58:44
It's a fair decision, team that started last week deserved to start. It's a tough game, but way more optimistic today. The bench has looked it's strongest for a while too.
Ciarán McGlone
10
Posted 19/02/2022 at 15:48:25
4-4-2 with Calvert-Lewindropping just isn't working. None of the intensity we seen last week. Lazy yellow cards and sloppy passing in midfield. Allan has been abysmal and he's a potential red.
Surprised that's it's still level. Something needs to change.
Jay Wood
[BRZ]
11
Posted 19/02/2022 at 15:52:03
Started the first 10 minutes where we left off v Leeds.
Worked a good position for Richy to score early doors, but a poor first touch let him down.
Didn't see enough of the penalty call to know if it was a pen. His arm was definitely not in a 'natural position', so I can only assume it didn't hit it.
We've progressively retreated in both midfield in defence giving Southampton too much room to play in. That needs addressing.
Still working good positions, but the final ball letting us down.
A little tweaking and a win is still on the cards here.
Kevin Prytherch
12
Posted 19/02/2022 at 15:52:16
I would bring Alli on for Iwobi, put Richarlison on the left and Gordon on the right. Get that extra body in midfield to take control as we're being bypassed there a lot. Iwobi hasn't done a lot wrong, but he's not done a lot in general.
Alex Gray
13
Posted 19/02/2022 at 15:54:21
Allan getting the early booking was stupid. It's not been too bad but I have to echo that DCL has been pretty poor.
Gordon our biggest threat again and at the moment I feel another midfielder in the middle would benefit us. We're still in the game coyb
Simon Dalzell
14
Posted 19/02/2022 at 15:56:39
Allen needs to be off. DCL looks very sluggish. Poor challenge for yellow.
Alan J Thompson
15
Posted 19/02/2022 at 15:57:02
It was a bright enough start after that funeral dirge of a band and we should have scored after 2 minutes and indeed we had a bright opening 15 minutes and then went off the boil particularly Gordon who seemed to believe his own publicity and was way too casual. Also, we seemed to play Calvert-Lewin wide right, Richarlison in the middle and Gordon wide left when if anything DC-L should be central, Gordon right and Richi left and who knows where Iwobi was supposed to be.
Again, something needs to be done to define better the difference between ball to hand and hand to ball other than was your arm by your side. And how that ref could book Allan and give nothing against Romeu I'll never know.
Certainly need to work out who up front should be where in the 2nd half if we intend getting back into this game.
Michael Kenrick
16
Posted 19/02/2022 at 16:00:36
Alan, you're right, the only time I remember seeing Calvert-Lewin with the ball was way deep on the right. It seems he's never in the area ready to pounce on yer proverbial loose ball and knock it in. Whatever happened to that player? Did he depart with Carlo Ancelotti?

I know I'm hard on him at the best of times but for me he's done absolutely nothing since he's come back (apart from an absolutely shocking penalty miss).
Kieran Kinsella
17
Posted 19/02/2022 at 16:00:51
Confidence is shaky so it doesn't take much going wrong for the "here we go again" kind of mentality to creep into the players. If we nick an ugly point it wouldn't be a bad thing but hopefully we can crank it up second half.
Fran Mitchell
18
Posted 19/02/2022 at 16:01:01
Southampton are a good and well organised team. Not nearly as open as Leeds, so the final ball requires much more quality. So far, our final ball has all too often gone straight to a Soton player.
The midfield is occasionally over-run, but there isn't much we can do about that atm.
DCLs movement is a little off, but beyond that he's had little to play with. Gordon also has struggled to impose himself.
Gomes as a subsititute could put more bodies in the middle, but what Gomes would show up? Maybe Alli for one of Gordon or Iwobi.
Another possibilty could be Patterson on the right and a bit more pace coming down the right - although not likely as he's yet to play
But not too bad. Soton are a good team and this was never gonna be easy. A win is still on the cards.
Tony Hill
19
Posted 19/02/2022 at 16:02:03
We are being overrun in midfield again, against a good side. We need to settle ourselves and not rush around when we have possession. This happened when we played Newcastle.
Richarlison always scores against Southampton.
Simon Dalzell
20
Posted 19/02/2022 at 16:12:07
Second thoughts, bring Allen back on for Gomes. could Pickford save it ?
Ernie Baywood
21
Posted 19/02/2022 at 16:13:33
Great impact by Gomes. Asks for and receives the ball in a pointless position, without awareness of what's around him, with a poor first touch and a lack of any kind of decision making.
He's not an option.
Ciarán McGlone
22
Posted 19/02/2022 at 16:13:47
That's fuckin pathetic from Gomes.
Simon Dalzell
23
Posted 19/02/2022 at 16:15:53
Nobody looked interested in defending that goal.
Ernie Baywood
24
Posted 19/02/2022 at 16:29:46
Honestly I'd sub Gomes back off.
Peter Neilson
25
Posted 19/02/2022 at 16:33:46
Gomes offers nothing but he never has. Can't create, tackle, hold up, link up or score and has the mobility of a wardrobe. Consistently bad at everything. As poor a signing as we've made in the past 6 years yet still in the first team squad. Awful player.
Michael Lynch
26
Posted 19/02/2022 at 16:45:29
New manager bounce over before it really began. We all got carried away after the Leeds game, but it looks like that was a one-off. We are absolutely awful, and I'm not sure that Lampard can save us.
Boreham Wood will be licking their lips.
Simon Dalzell
27
Posted 19/02/2022 at 16:46:36
Absolute disgrace.
Alex Gray
28
Posted 19/02/2022 at 16:49:16
Gomes was so so poor. Played with ten men with him on. Honestly if Rondon put in the performance Calvert Lewin did today we'd be up in arms. Lazy and inept today. He needs dropping until he decides he wants to actually try.
Ernie Baywood
29
Posted 19/02/2022 at 16:51:22
We lack quality in every single area of the pitch.
Our defence are happy to blindly hack it away. They lack the quality to retain the ball.
If by some good fortune the ball lands with our midfield or attack we just have too many weak links. Eventually we're going to rely on a forward pass from an Iwobi, or Allan, or Gomes or a defender again.
The only possible improvement I can see is to get Richarlison out to the wing again. He's always been better in that position. Putting him up front changes him from being a 50 million pound winger into the sort of busy striker we could grab from the lower leagues for loose change.
Pete Hughes
30
Posted 19/02/2022 at 16:51:37
This team has got relegation written all over it!
Michael Kenrick
31
Posted 19/02/2022 at 16:54:53
Well... that was terrible.
What the fuck have they been doing all week?
Paul Birmingham
32
Posted 19/02/2022 at 16:55:24
Fateful day and the promising start to the game, and any initiative and belief gone. For me suicide passess from our CBs to each other and then Keane played Gomes into a bad position to receive, but he's never ever been up to speed and always waits for the pass to arrive and has no positional awareness.
But the manner of the 2nd half has been very disappointing.
No complaints and Soton, wanted it more and played like they believed they could win the whole match.
Tough games now and today results have gone against Everton, but they will learn tough lessons from today.
Hopefully this will render any further reasons for Gomes to be in the squad and will hasten his sales in the summer, but that will be an achievement as I don't see many takers.
Game on to stay up and no feeling sorry, this is the reality and so for City next Saturday tea time.
Kevin Prytherch
33
Posted 19/02/2022 at 16:56:15
As much praise as Lampard deserves for the two wins, he's made mistakes with the two defeats. He must be the 5th successive manager working on the mantra that "it worked last game, so it must work again".
A 2 man midfield away from home was a mistake. We didn't have the crowd behind us, also Goodison is a small pitch.
Was Allan injured? If not, regardless of how he was playing he should have stayed on. Gomes can definitely not play as a 2 man midfield.
Stop picking teams based on the last match please. Look to the opposition and pick a tram to beat them, not a team that "deserves to stay unchanged".
Sean Roe
34
Posted 19/02/2022 at 16:57:14
I would like to say that at least Watford are worse than us but they smashed us as well. WE ARE THE WORST TEAM IN THE LEAGUE!!!!
Fran Mitchell
35
Posted 19/02/2022 at 16:58:12
Truly dreadful 2nd half. Gomes was very poor and as well as being at fault (among others) for the 1st goal. he totally allowed for Soton to take control of the midfield by either just fouling, giving the ball away, or being bypassed.
He really should not play a role in the 1st team after so many chances. Maybe Onyango, despite being just 18, will offer more.
But the issues werer deeper today. No-one was capable of keeping the ball, of passing to a team mate, of making penetrating runs. After the good start, morale seemed to drop and all confidence seemed for fall off a cliff.
No shots on target, and cant really remember any actual shots. A very poor performance.
Soton are much better. Better coached, and showing what can happen when players know the job theyre supposed to do and do it. No superstar players. No-one would call for us to sign Romeu, Adams, Armstrong, Bednarek and others. But they are decent players, made better because of the team. 3 years and Hassenhutl is showing his worth, despite quite a few sticky patches. The opposite of Everton atm.
If it wasn't for Pickford, that could have been embarrasing.
Another reality check for this team.
Should have had a penalty in the first half though,
Michael Lynch
36
Posted 19/02/2022 at 16:58:37
This last week looks like a sick joke after that. All the positivity and hope totally drained again. Was there a decent performance on that pitch? Kenny perhaps? DCL is awful at the moment, not worth his place in the team, and our midfield looked shocking today. I can see why VDB couldn't get a game at Man Utd, his passing was so negative and he offered nothing at all.
Surely Lampard now understands why Iwobi is a joke among the fans? How many times have we heard about how well he trains? He put in a shift against Leeds, but he was still a yard short of most tackles and it was only that he wasn't fucking awful that day that fooled anyone into thinking he was any use.
Fucking Everton. What a shit day. Even Norwich losing is a double edged sword because it meant yet another win for that lot.
Bill Gienapp
37
Posted 19/02/2022 at 16:58:53
I don't get this team. I really don't. That's twice now we've gone into a road match with a ton of momentum and positivity, and both times we just pissed it away.
I don't understand why we're so fragile psychologically. We started incredibly bright, but once momentum shifted even slightly, we completely lost the plot. That second half display truly was gutless - and that's not a word I throw around on here.
Saints are a solid enough team, and if we lose to them on the road, so be it. But there's nothing positive to take from that performance, nothing to build on. It's back to square one yet again.
Tony Hill
38
Posted 19/02/2022 at 16:59:28
I'm afraid we are in serious trouble still. Have a look at our coming fixtures.
That was an utter disgrace. This isn't about managers (despite the received wisdom on that point) : it is about players who consistently cannot do the basics when they are up against a bit of quality. No touch, no strength, no courage. Same as it ever was.
One of the worst performances I can remember, and just at the time when we should have been full of confidence.
Travelling fans betrayed once more.
Danny Baily
39
Posted 19/02/2022 at 17:00:12
Wasn't expecting anything today. We've got no business picking up points on the road, especially not against in fork sides.
No doubt we'll have to wait for that crunch week in March when we play Watford, Wolves and Newcastle to pick up our next points. That will be a massive week.
Michael Williams
40
Posted 19/02/2022 at 17:00:42
That was awful.
Alan J Thompson
41
Posted 19/02/2022 at 17:02:21
Well a lot of that has to go down to poor management. I was surprised that you would take off your most defensive midfielder at half time because he has a booking but even more so when he is replaced by Gomes. Now, don't get me wrong, when he came to us I thought we had a Rolls-Royce player in the Netzer mould (for those old enough) who had good control, good vision, knew where everyone was on the park and could find them but all that went with that dirty Son injury and now he hasn't the pace or control. Is it any wonder the defence start fannying around again behind Gomes and Iwobi that led to the first goal.
Without Pickford that could have been 4 or 5 but Lampard has his work cut out and now we'll find out if his bollockings are as effective as his compliments as bollockings there must be.
Gavin Johnson
42
Posted 19/02/2022 at 17:04:45
I only saw the last 20 mins due to a family birthday party, but what little I saw was enough. I noticed that Iwobi wasn't on the pitch so I take it he went back to his default setting of being shit...who else saw that coming?!
After last weekend I thought we'd have enough to get out of trouble but after todays result and the other clubs picking up points we're right back in it.
Jay Wood
[BRZ]
43
Posted 19/02/2022 at 17:05:16
Lordy, that was poor. A complete non-show in the 2nd half. Two extremely soft goals given up unchallenged, largely created by our own poor play and positioning.
An off-day for many players who played so well last week.
As for Andre Gomes...awful. Just awful.
Steve Brown
44
Posted 19/02/2022 at 17:05:43
4-4-2 didn't work today, as Ward-Prowse and Romeu were dominant. What we would give for a decent box to box midfielder! We just allowed incessant pressure on the defence as a result of our lack of pressing and controlled possession.
Allan was poor today, but Gomes was terrible and we lost all control once he came on. He lost possession for the first goal and was that bad that even the Ref couldn't be bothered booking him for his endless fouling. Honestly, Lampard should have subbed him off.
Not a single shot in 90 minutes.
Tony Abrahams
45
Posted 19/02/2022 at 17:08:31
I think the headline says it all really, and we are going to have to get as many points as we possibly can at Goodison Pk, because we look so very, very fragile away from home.
Southampton are not a bad team, the little left back got stronger the longer the game went on, but I've just read that they had thirty shots today, which is absolutely disgusting from Everton's point of view.
Fran Mitchell
46
Posted 19/02/2022 at 17:08:32
before the International break we have a tough run
Home games:
City and Wolves
Away games:
Spurs and Watford
That will take us into April where we have a daunting run of
West Ham (away) Man Utd (home) Palace (home) Shite (away) Chelsea (home) Leicester (away) Brentford (home) Arsenal (away)
We have maybe 1 'home banker', at Brentford. Other than that all home games are at decent teams, with only Palace in the bottom half.
Of our away games, considering our woeful away form, only Watford do we look likely to get anything even that is never a given.
Worrying times indeed.
Kieran Kinsella
47
Posted 19/02/2022 at 17:09:09
Alan
I didn't see the game but saw the live forum and for what those opinions are worth, most were slagging off Allan all first half. Obviously we know Gomes is complete garbage but Frank being new has seen one good performance from him versus Brentford and one poor. So he is still learning about him as is the case with other jokers like Holgate, Keane and Iwobi. As for DCL, as Michael Kenrick pointed out the only time he did well was under Darren's mate Carlo Ancelotti. Prior to Carlo he just ran around channels pointlessly, post Carlo he just sort of stands about halfway in the opposition half and basically doesn't contribute. He needs Frank to give him specific directions on where to go as obviously Carlo did as left to his own devices he is a plum
Anthony Jones
48
Posted 19/02/2022 at 17:12:00
Lampard was absolutely right to stick with that team and setup.
It didn't work because our players aren't as good as they think they are and because Southampton are a decent side.
Please be patient with the new management. We will stay up but there will be some days like today along the way.
Frank Sheppard
49
Posted 19/02/2022 at 17:12:13
Let's be honest, the type of no-character, no-backbone, no-hope woeful away performance we were expecting and are used to.
Mike Oates
50
Posted 19/02/2022 at 17:12:27
We have been poor for nearly 2 seasons now, with ball retention, sloppy passing and lack of centre midfield quality. Frank has restored, passion, aggression, but he cant do much with a squad who can't pass the ball to each other, even over 5 yds. The number of times today we gave the ball away in the midfield area or upfront and had committed so many men forward - and the outcome inevitably a chance to Southampton as they piled forward.
It's basic football we are rubbish at, receive, pass, move. I lost count the number of times Allan and Gordon give the ball away, and then Alli, when he came on. You just can't do it as this level. I suspect its why Ancelotti went defensive in his last 6-9 months, and to some extent Benitez as well, they realised we are just not good enough against the decent teams (top 10).
Even Van de Beek got caught up in this malaise, his poor pass caused the 2nd goal, why he went back when he had a player available ahead of him I don't know.
Calvert-Lewin and Richarlison looked completely fed up being fed absolute dross. Frank, you rightly have, as you say, a difficult task to keep us up.
Tony Hill
51
Posted 19/02/2022 at 17:12:44
They should have been 2 or 3 up at half-time so let's not pretend it was about Gomes coming on. It was degrees of awfulness between him and Allan. But there were many other flops of course.
What is wrong with this club? At root, it's about softness. Lampard should batter them after that.
I shall be very surprised indeed if we pick up a single point from our next 3 games.
Michael Williams
52
Posted 19/02/2022 at 17:13:52
Our "new manager bounce" looks like what we call in America a "dead cat bounce." I don't blame Frank as I would not blame any new manager who just came in as this squad is unbalanced, lacks overall character, quality and graft and on and on and on.
Ian Bennett
53
Posted 19/02/2022 at 17:16:21
Everton in feeble away showing, what a surprise... Easy to put a show on at home, but away shows the lack of character this team has.
A tough 2 weeks coming.
Christine Foster
54
Posted 19/02/2022 at 17:17:20
Sigh, we couldn't string two passes together never mind a shot on goal. It wasn't as if Southampton were any good, they were poor but had the advantage of players who knew what that round thing was and the objective of the game!
Gomes? Words fail me, but in truth, the defence were crap, midfield non-existent to a man, and Calvert-Lewin looked totally disinterested. We were second to everything, including our own passes, we were unable to even pass 5 yards.
Not sure what tactics were planned but someone should have told the players.
Peter Neilson
55
Posted 19/02/2022 at 17:17:28
Yet again, another shocking away performance today. Lampard will have to be a messiah rather than a manager to get a consistent tune out of this bunch. Good luck to him. At the very least, every home game is now vital.
Ray Jacques
56
Posted 19/02/2022 at 17:18:25
Looking at the fixtures and watching that today, I only see relegation. If we fall into the Bottom 3 that lot won't have the fight to get out of it.
We have to go to Watford and Burnley and I don't see any points from them. Just hope Brentford continue to fall as I don't see at least two of the teams below us not catching and passing us. Worrying times.
David Midgley
57
Posted 19/02/2022 at 17:21:12
Gomes, Iwobi and Coleman are finished. Keane was poor.
Second goal had three Everton players the wrong side of the scorer.
Anything close to Gomes, he just kicked it: ball, Everton player, Ref, corner flag. It was written all over his face and he knew.
Substitutes far too late. Dele will never get back into the swing of things sitting on the bench.
Frank's game plan wasn't helped by the players. Get up and go again.
Robert Tressell
58
Posted 19/02/2022 at 17:22:01
It's a learning experience for Lampard. Home games we're good. We can play a reasonably open game and just 2 orthodox midfielders.
Away games, no. We just can't play the same way. We need people with character and physicality. We also need 3 in midfield to clog things up.
We've seen Allan's limitations as a holding midfielder. He is just not that player. He's defensive in the sense that he hunts the ball and tackles, but he's not defensive in his position. He doesn't hold his position and shield the defence.
We've seen Van de Beek's limitations in a two-man midfield also. It's just not him.
Gomes is generally hopeless whatever system, because he's not very good.
We should be better with Doucoure or even Davies in there but again neither is a proper holding midfielder. If we had that player, Allan, Van de Beek and Alli too would be free to play their natural game and it would take the pressure off the centre-halves.
Phillip Warrington
59
Posted 19/02/2022 at 17:23:43
We weren't at the races today but shit – Gomes is too slow for the Premier League and I can see now why Spurs were keen to get rid of Dele Alli.
Raymond Fox
60
Posted 19/02/2022 at 17:24:28
A defeat is not a big suprise – they were favs to win, disappointing just the same.
We will stay up because we have the advantage of the odd game and points in hand over the teams around us. They're making us sweat, though… but I think we will be okay.
Brentford can't buy a win now, Crystal Palace are dropping down, even Villa have gone in a slump.
Clive Rogers
61
Posted 19/02/2022 at 17:27:56
An absolutely shocking performance. Not one effort on goal.
Calvert-Lewin must be playing to get away. Allan can't pass and is fouling all the time through lack of pace. Iwobi, Gordon, Gomes and Townsend all did nothing.
We needed a point as the other results have gone against us.
Finn Taylor
62
Posted 19/02/2022 at 17:28:16
If we had lost and played well, different context: it would be have been bearable...
As it was... we were utter dross. We can't do the basics – pass to each other, anticipate movement... we are a total soft touch and it's taking us into the Championship.
Mike Price
63
Posted 19/02/2022 at 17:29:47
Nice to see our transfer business, when we were in free fall in January, come to fruition! Tens of millions spent on Mykolenko, Patterson, Alli and El Ghazi – all just sitting watching us get relegated whilst adding millions to their bank accounts. Shambolic from top to bottom.
Lampard needs to do a Sam Allardyce, especially away from home, or we will go down.
Steve Brown
64
Posted 19/02/2022 at 17:30:18
Think the fans had better start warming up their vocal chords, as they will be needed in the coming weeks.
Tony Hill
65
Posted 19/02/2022 at 17:30:24
It is imperative that the crowd maintains the intensity we managed against Leeds. I think it may be our only hope. I've suggested before that if we go down, we may never come back again.
Horribly disappointing today but, after we've vented our anger, let's get fully behind them and the manager game after game after game. I think we're in a battle for our future and we really do have to play our part by staying united and pushing the team over the line. Fuck everybody else, this is about us.
It could still be a good season for us, incredibly.
Dave Evans
66
Posted 19/02/2022 at 17:31:11
Iwobi was not the problem. Before he was hauled Gordon gave the ball away and looked laboured tracking back. Only Holgate and Richy had decent games.
Bill Whity
67
Posted 19/02/2022 at 17:32:59
Don't usually post; I like to read other peoples comments. However, I have felt we would be relegated until the start of the New Year.
I hope I'm wrong but, if it happens, what is the situation of season tickets?
Finn Taylor
68
Posted 19/02/2022 at 17:33:10
Calvert-Lewin is no better than Warren Aspinall. Sadly, a couple of goals and he becomes heir apparent.
Celebrating the likes of Calvert-Lewin as a top proven striker tells you all you need to know about how far we have fallen and how desperate we have become for something to cling to.
Tom Harvey
69
Posted 19/02/2022 at 17:33:29
Dele Alli might or might not come good for us, but at this time he was a bad buy; we need another Allan to give us some bite and protection in midfield.
The club bought Alli for the future, but we needed to buy for survival; this could sink us!
It's recruitment – even at this late stage; we're still making bad buys. Dele Alli has some serious head problems; why take a chance on him in the middle of a relegation battle???
Steve Brown
70
Posted 19/02/2022 at 17:34:00
Robert @ 58,
I agree that Allan is not a defensive midfielder and Davies actually handled that position better last season.
But, he is the only fit player who can remotely play the role in the current squad. If Doucouré returns in the next 1-2 weeks, like you I would play a midfield 3 of Allan, Doucouré and Van de Beek.
Barry Rathbone
71
Posted 19/02/2022 at 17:34:21
Be honest, is anyone really surprised?
Any team coming at us in any way shape or form will brush us aside. The only hope is we get "Moyes results" whereby clubs thinking about beaches in Cancun near season's end allow a few unexpected points to be snaffled.
We are really, really shit though and I'm still resigned to this being the year of the drop.
Alan McMillan
72
Posted 19/02/2022 at 17:37:09
We are so meek. Little lambs sauntering around, afraid of their own shadow. Don't ever get in the ref's face, or the opposition's, or have a go at each other for not trying, for fear of upsetting somebody.
Gomes looked close to tears coming on, so uninterested it beggared belief. Does he have the same condition as TAFKAP (the Andy formerly known as Prince) in that he can't sweat? Calvert-Lewin won't get his arsenal move playing like that. About as useful as tits on a bull.
Donny van de Beek either showing why United got rid or else he is catching the disease that has gripped this once great club. Allan unlucky with his booking but his short-range passing is unbelievably poor. Richarlison not a centre forward; stop playing him there. Seamus was okay today, Pickford MotM.
Shane fucking Long scores against us. We are a charity for players who are having a crisis of confidence or who haven't scored in an age.
Why have we become such a pathetic, pitiful, infuriating, laughing stock?
Dave Abrahams
73
Posted 19/02/2022 at 17:38:27
Never saw the game, read the Live Forum off and on until half time, taking the tone from the live forum, I picked up a book I'm half-way through and read that until 5:00 pm then hoping for the best but expecting the worse I found the result.
Reading through Michael's report was like going back to many reports this dreadful season and reading about the usual suspects doing what they do time after time and unfortunately there is no-one to replace them with who are any better, that's when they are fit.
So sad and pitiful to see the state we are in and watching us on the edge of a large hole and not being able to get away from it. I'm sick here just reading about these players, honestly feel sicker thinking about the fans who travelled and had to watch it, including my grandson who got in and my great grandson who got stuck in London and watched it on TV, I think!!
What have we all done to deserve this?
Derek Knox
74
Posted 19/02/2022 at 17:39:21
Like I said on the Live Forum, a Farmer or a Gardner would be made up with Gomes. A lifetime supply of shite!
Hopefully another learning curve for Frank, but a dangerous one, as time and games are running out quickly.
I don't think anyone realistically expected miracles after Frank's arrival, but come on… a bit more effort than that which was shown today. All departments fell below par today!
Feel sorry for all those fans who put a lot more effort in to going to the furthest away ground than the players offered, to be served up with that.
Barry Hesketh
75
Posted 19/02/2022 at 17:40:45
Everton's away form this season has been truly lamentable; how the heck did they manage to win 11 league games on the road last season, whilst only losing 4 out of the 19 ? Yet, this season they don't have enough about them to even sneak a draw in so many games.
We now have a run of games which are not the type of games you would choose in our present form: City at home, even with a loud and proud crowd, will likely see a defeat then on the road to Spurs, who aren't great but will probably beat this Everton side.
Watford and Burnley winning today has really put us back into the mire, and the quicker Lampard realises that his team/squad can't be relied upon to give back to back performances the better.
It's going to be a bumpy ride, just when we thought this team may have turned a corner, they manage to ensure it's a cul-de-sac with the only way out of it largely depending on other teams failing more often than we do.
Mick O'Malley
76
Posted 19/02/2022 at 17:43:40
Finn @68,
I couldn't agree more with you about Calvert-Lewin, he is bang average.
I love the Warren Aspinall shout.
Phil Smith
77
Posted 19/02/2022 at 17:44:10
Awful awful awful.
Calvert-Lewin - awful.
Gomes - awful.
Van de Beek - awful.
Only Pickford and Richarlison need not hang their heads in shame. The rest…
Ben Pullen
78
Posted 19/02/2022 at 17:45:27
Listened to the game live on Evertonfc, my usual routine when the game's not live and I can't get to the game. So I've not yet watched the match.
For sure, our players are paid a shitload to play footy, and, in an ideal world, we should be able to play like we did against Leeds every game. Yet the players are human beings, not robots.
I know first hand how difficult it is to build and maintain self-confidence through difficult times, with my own battles with clinical depression. If your mental state is poor and your confidence is really low, you have to really dig deep to prevent the shit hitting the fan!
And it's a lot worse if your team around you is having a mare too or you're in a difficult environment and not had enough sleep! Mental Health is under-appreciated I think sometimes with our fan forums.
Our fan base needs to create that positive amazing atmosphere that made Goodison rock last weekend, both at the games and on social media too. For sure, a lot of players had shit games today, yet I have faith Super Frankie Lampard will turn these away results around in the long run.
We weren't winning at home until 3 weeks ago. With the epic crowd at Goodison, we've created the atmosphere to spur our team on. As loud as the Blues fans were at times today, it's not the same when you're not on your own turf.
The recent home performances will help the Blues moving forward. Together with Frank's great coaching set-up and philosophies and style of play, we will get there. I have faith. There's a lot to work on, yet I have faith.
Besides not making any excuses yet:
1. Saints only lost one game at St Mary's all season; even Man City couldn't beat them.
2. We last won away at Brighton back in August; 2 points from 30 possible now.
3. Ralph's been in charge for 3 years, has a fairly settled group of players who pressed us off the pitch for a second season in a row and can control games.
4. Frank's only been in charge 3 weeks; Rome wasn't built in a day.
5. Graham Stuart said at the end on Evertonfc that Southampton looked fitter than us today and nobody from our team really stood out.
Everton had to change travel plans yesterday to travel the length of the country to play this game. The weather was fricking awful too for the flight down. Maybe the Blues were genuinely tired because they didn't get the same amount of rest as Saints did playing at home. Rest and recovery is crucial in elite sport for mental and physical performance.
Jamie Crowley
79
Posted 19/02/2022 at 17:49:00
How do you go from looking Top 4 the first 10 minutes, to absolute smelly dogshit for the rest of the game?
That was awful.
Pete Clarke
80
Posted 19/02/2022 at 17:50:04
I assume that the new manager and coaches did not actually take training this past week because that was more Everton than Everton have ever been.
What's so fucking difficult about passing the ball to a team mate? Are they colour blind or what? Even Van de Beek was awful and that's a Dutch international player, for fuck's sake!
I was so full of optimism going into that game that I had us winning it easy. Back to reality for me and the rest of us Blues but, to make it worse, we then see that Burnley and Watford win.
There's a full team to get rid of there and Frank now knows it.
Russell Smith
81
Posted 19/02/2022 at 17:50:29
Very poor today. Why did we revert to just hoofing it forward all the time?
Last week, we played through the lines much of the time and, when we did go long, we were picking up all the knock-downs.
We seemed to be playing on the back foot today and not attacking the ball. As many have said, we had too many players off the pace today, including Gordon. Let's hope Demarai gray is fit next week.
Dave Evans
82
Posted 19/02/2022 at 17:53:10
One thing is clear from the last two weekends. No-one should ever again blame the fans for the clusterfucks that happen on the pitch.
As @38 says: 'Travelling fans betrayed again'.

Barry Hesketh
83
Posted 19/02/2022 at 17:53:28
Ben @78,
I'm sorry, mate, but the players are paid huge amounts to play football. Many of us ordinary souls have just as much, if not more psychological pressure to bear as our Everton heroes.
The players don't have to worry about the price of food, gas etc. They don't have to concern themselves whether they will lose their jobs at the drop of a hat, or any of the other things that ordinary people have to deal with on a daily basis.
All they have to do is to play hard to try and win games, they don't have to win every game they just have to compete and, if the only way they can find to compete is to rely on us mortals to be nice about them and rally round them, then I'm afraid they are in the wrong profession.

Mike Gaynes
84
Posted 19/02/2022 at 17:53:33
When one takes credit, one must also take blame. Lampard has properly been applauded for his work thus far, but today's miserable result is his responsibility.
Subbing on Gomes at half-time, when this was still a competitive battle, was an entirely predictable disaster at a moment where we needed control and composure in midfield.
I expected Alli or perhaps Townsend for Allan. I was shocked to see Gomes. I was not shocked at all by what he did in the next 10 minutes.
That blunder is 100% on Lampard.
Kieran Kinsella
85
Posted 19/02/2022 at 17:53:37
Barry
The only surviving thing to me is fans on here repeatedly getting mugged off when players have a good game as say "there's a player in there" etc.
Colin Glassar
86
Posted 19/02/2022 at 17:54:58
Phil Smith, and the unused subs as well.
Let's to honest with ourselves please. Next game is Man City and we are going to get a beating. A hiding to none. So let's play the kids with Gomes and Iwobi and let's plan for the games that will come after.
It's time to be brutally realistic. We will lose a few more games between now and May but we should pick up a few wins to survive. We are missing Gordon and Doucoure big time. Without them, we are toothless in midfield, which must be our priority in the summer.
Mike Gaynes
87
Posted 19/02/2022 at 17:56:27
Phil #77, sorry, Richarlison was just as awful as everybody else. His effort, as always, was relentless... but every time the ball hit his foot, he lost it. He didn't have one good pass, dribble or keep the entire day.
Kieran Byrne
88
Posted 19/02/2022 at 17:56:29
We should/could have been up at least by 1 in the first 15 minutes, then we seemed to lose either confidence or focus.
The passing of the final ball after decent build-up play was shite. When it comes to making plays under pressure, the precision and skill isn't there.
We gift-wrap goals which is the sign of a team that lacks belief in itself and isn't mentally up for the challenge; too many of these mental midgets turn off.
George Cumiskey
89
Posted 19/02/2022 at 17:57:03
Mike Gaynes, spot on, mate.
He took a slow player off and brought an even slower player on.
Colin Malone
90
Posted 19/02/2022 at 17:58:26
Let's hope that's the last we will see Jonjoe Kenny and Iwobi starting for Everton. 4-4-2 away from home ain't working.
Jeff Armstrong
91
Posted 19/02/2022 at 17:59:41
The only defence for Lampard subbing on Gomes is that he must be great in training, which apparently goes a long way with team selection currently, Frank is learning the hard way with Gomes, he is shit in matches.
Also there was no way on this earth Iwobi was going to have 2 decent games on the bounce.
I knew that; now I hope our manager knows that.
Gerry Quinn
92
Posted 19/02/2022 at 18:00:48
And, of course, Shane Long last scored a year ago!!!!

Darren Hind
93
Posted 19/02/2022 at 18:01:47
I can not believe people are still apologising for Carlo Fantastico. This decline started under him. It can be traced back to him. He cost the club £100M and snuck out the back door.
Calvert-Lewin is coming back from a really debilitating injury. He will do what he has always done and confound his critics.
We are in a struggle we didn't need to be in. Holywood appointments will be the death of this club. I wonder what will it take for the penny to drop?
Barry Hesketh
94
Posted 19/02/2022 at 18:02:37
Gerry @92,
We could all be millionaires if we always backed someone to break a bad run against Everton, couldn't we? I wonder if insiders are making a packet from these 'freakish' occurrences?

Colin Glassar
95
Posted 19/02/2022 at 18:04:10
Colin M,
Jonjoe Kenny wasn't the worst Everton player by far. Iwobi, Gomes, Allan and Calvert-Lewin deserve that dubious accolade. All of them were awful.
Paul Tran
96
Posted 19/02/2022 at 18:04:20
It's a mid-table team, so it's going to be bafflingly inconsistent and several players have only and will only play one good game in five.
Three home wins, please, three worse teams, please, followed by a summer rebuild.
George Cumiskey
97
Posted 19/02/2022 at 18:04:38
A big problem for me is we don't seem to have players who can kill a ball dead. It seems to bounce off them and then they're chasing it and, more often than not, fouling to try and get it back.
John Keating
98
Posted 19/02/2022 at 18:05:38
That was shambolic and on par with so many games, both in this and past seasons.
I can understand Lampard starting with last week's team and have no issue whatsoever. Lampard and his staff have watched them train all week and were comfortable with the starting 11 and, for the first few minutes, his decision was justified
Then the brick wall. Poor passing, in fact... piss poor passing, poor decision-making on and off the ball, no leadership, losing 50/50s... bloody awful!
We have had numerous managers, we've even brought in new players over the past few seasons, and yet we still talk about the same shit issues!!! It's unbelievable
Every home game now will have to be treated like a cup final with support similar to the Leeds game. How have we come to this?
Jeff Armstrong
99
Posted 19/02/2022 at 18:06:49
Barry @94, every club in our position says the same.
I know a Newcastle supporter who says if anyone is on a barren run coming up against them, they are guaranteed to score.
Frank Crewe
100
Posted 19/02/2022 at 18:08:25
Defeated Brentford picked the same side against Newcastle got hammered. Picked a different side against Leeds and won. Picked the same side against Southampton and got beat.
Moral: you don't just pick an unchanged side because they won their previous match. Lampard has to pick sides to get a result against the side we are playing today and not the side we beat last week. If that means benching players or changing formation, then so be it.
Allan has to stop picking up bookings. Once again, he was looking for a second yellow, so on came Gomes and we fell apart.
Brian Murray
101
Posted 19/02/2022 at 18:09:02
If Calvert-Lewin goes to Man Utd or Spurs or whoever, will his first touch go 5 yards away from him or is he just giving us that pleasure?
Just curious...
David Pearl
102
Posted 19/02/2022 at 18:09:25
I think we need to calm down a bit. Early days for Lampard. He needs to find a way of playing away from home so we can have some control of the ball.
Things that can help us, however, include getting Calvert-Lewin fit, and l would even play Rondon or Dele Alli ahead of him if he isn't.
I would also like to see Patterson and Mykolenko now. We need natural players in those full-back roles that can get forward, overlap and play crosses in the box. Let's not starve our strikers. If they don't play, then we just can't play the 4-3-3 that fans are calling for.
Jeff Armstrong
103
Posted 19/02/2022 at 18:10:16
John @98,
It's called the Everton malaise. Every player we sign starts off okay, then falls into it. Townsend is the most current victim.
Van de Beek is heading that way on today's performance.
Anthony Murphy
104
Posted 19/02/2022 at 18:10:53
Very concerning display. What it shows is that we won't be turning any corners so staying up is going to be all on the fans at Goodison Park.
A lot to ask and I do worry that creating that bear pit we need each home game can't be taken for granted.
Barry Rathbone
105
Posted 19/02/2022 at 18:11:09
Dave Abrahams 73
"What have we all done to deserve this."
I've always maintained a lot of fans endorsed an unwritten pact with Moyes and Kenwright, ie, that ambition could be set aside for safety.
The problem is, once a club stops trying to progress, the possibility of others catching and overtaking increases... and it has happened.
In that respect, we are getting what we deserve.

Colin Glassar
106
Posted 19/02/2022 at 18:15:11
Spot on, David P. Let's get past the Man City game and plan ahead.
Peter Neilson
107
Posted 19/02/2022 at 18:15:54
Ben (78) that's a very thoughtful post and here's hoping that our home games save us. All the best.
Allan Board
108
Posted 19/02/2022 at 18:16:41
Just seen Frank's post-match comments. He is not happy one bit. Mentioned he can be nice, but stated there is nothing nice to be said to the players after that.
Their manager said it was a tight game.
Frank's been in charge 3 weeks, let him get on with it. Gomes won't be at Everton next season.
New coaches won't listen to other people's opinions of current player's – they like to find out themselves.
Tom Harvey
109
Posted 19/02/2022 at 18:16:55
Mike Gaynes @ 84
Lampard is a confident young chap and why shouldn't he be! This game and the way it was lost, though, should force him to take a long hard look at his players and their weaknesses again. He can then play the rest of our fixtures planning for what they are actually capable of rather than what he believes they're capable of.
Going into this game, all the signs were that Southampton were capable of this emphatic win based on playing style and form. That result against a knackered Leeds after their battle with Villa should not have impressed Lampard too much, but I wonder did it?
Either way, if he doesn't realise we have relegation battle looming, then we're in trouble.
Kieran Kinsella
110
Posted 19/02/2022 at 18:21:18
Allan,
Did he actually say that about Gomes?
Jeff Armstrong
111
Posted 19/02/2022 at 18:21:57
Even a decent atmosphere against Man City will not be enough, Ferguson's game against Villa proved that.
The crowd went quiet after 10 minutes; nothing was coming off for the players. Villa were controlling things.
Same will happen against Man City; they pass you into submission.
Tony Hill
112
Posted 19/02/2022 at 18:23:00
Paul @96, sadly, we're not a mid-table team: that would be very nice. We're a relegation-threatened outfit.
Graham Stuart's view of comparative fitness against Southampton, mentioned above, is telling. How many times has that been said? How many times have we been reassured that a new fitness regime has been put in place?
It's all of a piece: softness under pressure. I have every confidence that Lampard and his team will solve it. Listening to that fella, Edwards, he doesn't seem the sort to settle for the shite our boys served up today.
Shades of 1995 this.
Kieran Kinsella
113
Posted 19/02/2022 at 18:24:45
Mike Gaynes,
I don't disagree with you but, in truth, there are multiple players in this team who are occasionally good but mostly crap. We can blame the manager for sending on such a player but Holgate, Keane, Iwobi, Kenny, Coleman, Gbamin, Tosun, Rondon, etc are all liabilities. The odds are one or more of them will fuck up and allow us to say "He shouldn't have played him" but we don't have 11 good and reliable players to pick
Tom Bowers
114
Posted 19/02/2022 at 18:27:49
Not surprised in the least given what we have seen so many times this season. Lampard has quite a task on his hands to get the quality needed against most teams in the league.
Southampton beat Spurs and then outplayed Man Utd, so why would we expect Everton to get anything?
When the injured players return (if ever this season) will things change? Not too sure about that. Luckily Brentford and Norwich lost and Barcodes dropped two points so for now we still control our own destiny. Can we just hand Man City the 3 points next week and move on?
Such bad performances by highly paid professionals for most of the season is not acceptable at this club. They have no idea how to tighten up as a unit; if Lampard wants to play like this, then he will need much better players.
Ajay Gopal
115
Posted 19/02/2022 at 18:29:11
From the BBC:
"Everton's haul of 22 points from their first 23 games represents their worst tally at this stage of a top-flight campaign since 1950-51, when they also had 22 and were relegated."
Makes the blood curdle.
Stuart Sharp
116
Posted 19/02/2022 at 18:30:14
I was pleased to see us start on the front foot again and thought we should've been ahead inside 10 mins. After that, poor passing (esp. Allan) and poor touch (especially Richarlsion and Calvert-Lewin) handed them the initiative.
But, for me, the game turned from bad to far worse when Gomes inexplicably came on. I know we're short of defensive midfield options, but the outcome was so predictable.
I'd also give Dele Alli more than 20 mins. I know he didn't look great, and gave the ball away in the lead-up to the 2nd goal, but his forward passes offer something none of our other players are capable of.
Jeff Armstrong
117
Posted 19/02/2022 at 18:33:56
116, Dele Alli always gives the ball away, that's why he's now with us, and not at Real Madrid or PSG after his form 3 years ago.
The trick is to get him scoring.
Tony Abrahams
118
Posted 19/02/2022 at 18:34:59
I think it's got to be 4-5-1 especially away from home. I wouldn't be surprised to see Everton get something against Man City next week, if they play with a system that I think might just suit us.
We looked very lethargic and quickly faded after a bright start. It was horrible trying to watch us pass the ball, and how much space Southampton were getting in the middle of the park. That is why I think putting three players in our own midfield is such a necessity from now on.

Oliver Molloy
119
Posted 19/02/2022 at 18:35:33
I haven't seen the whole game, but just from the goal highlights I have watched it looks to me both their goals were a result of poor defending and goalkeeping.
Certainly for the second goal Pickford should be cleaning it out and Coleman didn't even fucking jump.
It is concerning that Lampard and his coaches obviously don't fancy Mykolenko playing at left-back!
Tony Everan
121
Posted 19/02/2022 at 18:36:57
No engine room today – suffered in the first half, then when Gomes came on at half-time, we just imploded and became a nothing team.
We have to be 4-3-3 or 4-5-1.
We need a midfield three: Allan Doucouré Van de Beek. Richarlison, Calvert-Lewin, and Gray or Gordon as a front three.
We needed a fast tenacious ball-winning defensive central midfielder in January, very disappointing we didn't get at least one in. That has cost us.
Just hoping Doucouré gets back to full fitness because that set-up and the Goodison crowd will see us improve.
Christy Ring
122
Posted 19/02/2022 at 18:37:00
Very poor performance, and other results didn't do us any favours. Plus Man City next Saturday, worrying times.
I'll probably get slated, but we were totally out-battled in midfield. Bringing on Gomes for Allan left us toothless in a two-man midfield.
The only other defensive midfielder we have is Gbamin; I don't know what he's like in training but got game time with the U23s... can he be any worse than Gomes, and is he worth a place in the squad?
Tom Harvey
123
Posted 19/02/2022 at 18:37:13
Ajay Gopal @ 115
Back then (1951) there was only 2 points for a win available, so today's position is worse.
That old team would have had more wins and draws to get that 22 points.
Jeff Armstrong
124
Posted 19/02/2022 at 18:39:33
Oliver 119,
I thought the same about Coleman, he didn't get off the ground. Mykolenko will start against Man City. I'd switch Kenny to right-back too.
Peter Neilson
125
Posted 19/02/2022 at 18:42:08
I had a pre-match meal in the Captains Table lounge at Goodison a good few years ago. Graham Stuart was on our table and even at 45 or so at the time he moved faster to the buffet carvery than Gomes could manage now.
Bill Gall
126
Posted 19/02/2022 at 18:43:55
The thing that troubled me was I watch some of the training videos where players are shooting and scoring from various angles, and then can play in a game with not one shot on target.
Southampton played well but it was Everton that made them look better. Lampard has a huge task on his hand as it is okay looking good when you are winning, but good managers show their worth when they are losing.
If he wants to become a successful manager, now is the time to start earning his pay.

Bill Gall
127
Posted 19/02/2022 at 18:43:55
The thing that troubled me was I watch some of the training videos where players are shooting and scoring from various angles, and than can play in a game with not 1 shot on target.
Southhamton played well but it was Everton that made them look better. Lampard has a huge task on his hand as it is ok looking good when you are winning, but good managers show their worth when they are loosing.
If he wants to become a successful manager now is the time to start earning his pay.

Kieran Kinsella
128
Posted 19/02/2022 at 18:52:23
Christy Ring
I admire your optimism but the old "so and so can't be worse" has invariably turned out to be untrue. We need our three or four good players, Frank's nous and the home crowd to drag the other 20 shit players in the squad over the line. There are no hidden gems hiding in the wings just varying degrees of crap players
Robert Tressell
129
Posted 19/02/2022 at 18:52:30
Tony # 121. Totally right those were the players we needed. Those players will be available in summer. Maybe we tried but failed in Jan. It's a difficult market.
Christy, unfortunately Gbamin looks totally finished as a player. The player we bought was exactly what we need now - dominant, athletic, captain material, and able to hold a position in front of the defence. Very bad luck.
Sean Kelly
130
Posted 19/02/2022 at 18:54:22
WTF are they doing in training? Slapping each other on their backs. This club is heading in one direction and it ain't up. These spineless headless morons tease us with a good performance now and again but in the interim they are just shite individually and collectively.
Colin Malone
131
Posted 19/02/2022 at 18:58:14
Colin #95.
I agree, the formation didn't help us, but did we have the players to go to a 4-5-1? No.
We have been watching Everton far too long to know Kenny and Iwobi are not good enough by far to play in the Premier League. Unfortunately, I will have to put Gomes in there as well.
Because of the bad weather, Everton supporters' only option to get to the game was a train to London then a taxi to the ground, which cost them £300. How is that for passion?

David Hallwood
132
Posted 19/02/2022 at 18:58:58
We're all guilty over overreacting to a defeat, but Gomes' 2nd half performance is the worst I've seen from any player in an Everton shirt.
He didn't look like a player, he looked like someone who'd won a competition to play 45 minutes with a team. Lampard, who was one of the best midfielders this country has produced, must be shellshocked how bad his performance was.
Onto the game: for me, the game changed with that stupid senseless booking for Allan. It was a braindead tackle he didn't have to make, but that only highlights the lack of leadership in the squad, he had to tread carefully, so why didn't the rest of the team go the extra half a yard to make up for it?
Worrying times.
Oliver Molloy
133
Posted 19/02/2022 at 18:59:31
Well, Jeff,
I don't if Mykolenko will start, but moving forward no matter the nice things Lampard is saying about the likes of Kenny, he isn't good enough.
Coleman, Keane, Mina, Holgate are in the same boat for me – all need replacing.

Hugh Jenkins
134
Posted 19/02/2022 at 19:00:55
Oliver (119),
I'm not sure that it's a case of not fancying Mykolenko, perhaps more a case of feeling obliged to start the same team that did so well last week.
Then, of course, he had to take Allan off at half-time and used up a sub there, so perhaps didn't need to risk another one by swapping out Kenny for Mykolenko when Kenny was playing okay and wasn't injured.
I think we will see quite a few changes for the team that starts against Man City, given some of today's performances.
Mark Ryan
135
Posted 19/02/2022 at 19:04:42
Oliver @119,
If Seamus had been infront of the Gwladys Street, he would have jumped. He and Gomes are not up to it, week-in and week-out.
I know I'll continue to be berated for saying this but, if we keep playing them, we'll keep losing. We're playing with 8 players, week-in & week out. We're just not good enough because we start with 8 players every week.
Start Mykolenko, Start Kenny or Patterson. Man City will tear Seamus a new arsehole.
Brian Murray
136
Posted 19/02/2022 at 19:08:54
Whatever happened to forward fluid thinking, as in plan for the opposition? Be prepared for a red or yellow card, an iffy ref, a woeful sub. These last two aways show what we have known since time began – that games change in an instant.
If, by any remote chance, Lampard is or wasn't up to speed about gobshites like Gomes, surely it's up to Dunc to for once open his mouth and warn or tell him who can be relied on, not just at home.
George McKane
137
Posted 19/02/2022 at 19:11:28
Last week's win was great and it was good to celebrate and enjoy some Blue time – but the 3 points may have just covered up some still very poor players.
I heard some people say "magnificent" last week about a very average performer and performance. There are still 5 or 6 players I don't want to see next season because they are dreadful... 1 or 2 for other reasons.
Last week – 7 days ago... seems like years ago.
Oliver Molloy
138
Posted 19/02/2022 at 19:14:23
You may be right, Hugh, but it seems strange you have a fit left-back (if that's the case) and don't play him – like I mean, if he was doing the business in training, he would be there.
Regards the Man City game, I will be mighty surprised if we get anything from the game other than a footballing lesson!
Jeff Armstrong
139
Posted 19/02/2022 at 19:17:07
Brian136, Dunc picked Gomes against Villa.
Barry Hesketh
140
Posted 19/02/2022 at 19:18:12
Tom @123
That statistic that Ajay refers to is 'weighted' for 3 points for a win, so in the first 23 league games of the 1950-51 season, Everton won 6 and drew 4, losing the others thereby giving that team a total of 22 points from 23 matches using 3 points for a win; using 2 points for win, they would have had 16 points.

Mike Price
141
Posted 19/02/2022 at 19:20:53
The season from hell…they win the quadruple, we get humiliated by Boreham Wood and then relegated with one of their iconic figures helping to take us down.
Jim Bennings
142
Posted 19/02/2022 at 19:20:56
Listen, all we can hope for is that Frank Lampard can keep this pile of turd up this season then completely reassess the rotten situation this summer.
I don't know how we go about it but we need to find a way to remove at least 8 of these players from the club this summertime.
Top of the list has to be be nondescript players that offer zero like Andre Gomes who for the best part of his Everton career has been average to poor.
A whole bunch of other mediocre players need to follow.
When you are watching Everton and you realise how far you have fallen behind the likes of Southampton and West Ham, teams that we annually used to finish above even in a bad season, then you understand the magnitude of Lampard's job.
Jeff Armstrong
143
Posted 19/02/2022 at 19:21:33
But Barry @140, there were 19 games left to play, as opposed to 17...
Barry Hesketh
144
Posted 19/02/2022 at 19:23:52
Jeff @143,
Yes you are correct, but perhaps that gives the teams around us less chances to overtake us? Not sure to be honest because we have to put the points on the board ourselves.

Jack Convery
145
Posted 19/02/2022 at 19:24:15
Away from home, we have to go 4-5-1 until we get enough points. Grind grind grind. Right now, I would not trust 4-4-2 or 4-3-3 given the players we have in the squad. We would lose to both Watford and Burnley playing those systems. So for me it has to be...
Pickford,
Coleman, Keane, Holgate, Mylenko (Holgate and Keane only due to injuries elsewhere).
Gray or Townsend, Allan, Van de Beek, Alli, Gordon or Richarlison
Calvert-Lewin or Richarlison.
Doucoure and Godfrey or Mina come in when fit.
Subs to trust: Branthwaite, Kenny, El Ghazi and Begovic, then the kids, including Patterson and Dobbin.
Forget Gomes, Gbamin, Delph, Iwobi, Tosun and Rondon. They cannot be relied on at all.
Oliver Molloy
146
Posted 19/02/2022 at 19:24:49
Hope Calvert-Lewin is watching Harry Kane tonight!
Sean Roe
147
Posted 19/02/2022 at 19:25:40
Lampard has certainly got some balls taking on this job.
Relegation with this shower of shite and I would imagine it will be curtains for his managerial career.
Allan Board
148
Posted 19/02/2022 at 19:26:03
Kieran @110.
No he didn't say that. Just my opinion, bud.
We could all do well to remember that Van de Beek and Alli are cup-tied, so Frank has to keep certain midfielders involved in the league games else they will fuck him over in the FA Cup.
It's a mess, we know these players are weak in most departments (me being polite) but the iron fist of Benitez wasn't exactly successful.
Frank will keep us up, no problem, and probably get us to the cup semi – just don't expect it to be plain sailing!
He will deal with these work shy buggers in the summer – as long as our owners back him in outgoings and incoming which is at best hopeful.

Jack Convery
149
Posted 19/02/2022 at 19:27:52
To cap it off, Man City fuck up v Spurs!
Jim Bennings
150
Posted 19/02/2022 at 19:28:35
Oliver
No disrespect but Calvert-Lewin can watch Harry Kane all he likes, he'll never ever be in that league, unfortunately.
Derek Taylor
151
Posted 19/02/2022 at 19:29:05
I hear both the full-backs signed recently are far from Premier League standard and that Jonjoe Kenny shows up better than both in training.
Like others signed by Brands, they were written off before they'd played a single game and that fact was the main reason for the DoF's sudden departure!
Paul Birmingham
152
Posted 19/02/2022 at 19:34:48
Today's been a stinker, Man City will be out to prove a point now they handed Liverpool some hope.
Everton must bounce back and recover, but the next few games are ominous on current form.
That Creek, which sadly we know too well, has caught Everton again.
Hopefully the 12 h man at Goodison can drive the squad to perform a miracle, next Saturday.
Jeff Armstrong
153
Posted 19/02/2022 at 19:43:02
Paul 152, no chance. The 12th man will be nowhere near enough against Man City, we wouldn't get a draw next week with 13 of our current players on the pitch and the crowd baying them on.
Alex Gray
154
Posted 19/02/2022 at 19:44:09
The most frustrating part is that, when they actually try, they're a decent team. They shouldn't need Goodison to make runs and be aggressive but, every time I see us play away, we look like scared children.
Gomes can do one, as can Keane. I can empathise with confidence players but, if they can't cope, then they're in the wrong profession. Thousands of us throw our money at these players and you can literally see Keane and Gomes brick themselves, week-in & week-out.
If the players had put in the same graft that they did against Leeds, we would've won today. But they didn't. Calvert-Lewin was the main culprit too. I've backed him since he was a youngster and, even when he wasn't scoring years ago, he worked hard.
Richarlison, for all his sulking, runs his socks off every game and this shower need to be held accountable.
If we couldn't do any better, I'd accept it. But we can.
Brian Murray
155
Posted 19/02/2022 at 19:46:47
Awarding players with a guaranteed starting place because they done their job the week before is from a by-gone age, as I hope Frank now realises. Pick the team to suit the opponent. All sounds obvious and I am just a fan, no coaching badges.
At least Lampard is not a Martinez or Benitez, saying 'phenomenal' or blaming someone else. He's honest and please lord is learning fast with his more than decent back-up team.
Paul Birmingham
156
Posted 19/02/2022 at 19:47:30
Jeff, yep you're spot on, but it's the Goodison crowd that can be relied on; alas, the squad cannot be relied on.
The cowardly and gutless disposition of the squad today, in not turning up for the second half, is a massive concern.
God only knows who will start next week, but Everton need fighters. There aren't many in this squad.
Joe McMahon
157
Posted 19/02/2022 at 19:48:42
Hasn't been a good day really, has it?
I hope this puts to bed the Calvert-Lewin vs Harry Kane argument. I see it as (and no, I'm not a manager) Calvert-Lewin being a 6-yard box poacher (only), as Carlo kind of played him. He isn't the all round striker we all want.
If the Gunners are gonna offer £60M, it has to be taken. This coaching team could do a lot with £60M.
Jimmy Hogan
158
Posted 19/02/2022 at 19:51:31
We can't pass to save our lives. What do they do all week at Finch Farm?
Colin Glassar
159
Posted 19/02/2022 at 19:54:04
Jimmy, they play 11 against 0 so they always look brilliant even if they just manage a goal, or two, per game.
Gary Jones
160
Posted 19/02/2022 at 19:55:27
We are top-heavy and middle-light. As we have always been. No good accommodating 4 forwards, with no supply line. Pack the middle and the flanks, Frank, and go 3-5-2. If it means we lose flair for now, so what…
Until the rest are fit:
Pickford
Holgate Keane Branthwaite
Patterson Doucoure Van de Beek Allan Mykolenko
Richarlison Calvert-Lewin
If Calvert-Lewin doesn't remember who he was in the next 2 games, bench him for Gray, Gordon, Alli or Dobbin. Soft centre must be solved.
Jeff Armstrong
161
Posted 19/02/2022 at 19:56:53
Jimmy 158, watch the training video: they jump over obstacles, left, then right, then score goals against inaminate orange statuesque metal "defenders".
Raymond Fox
162
Posted 19/02/2022 at 19:57:15
Good old ToffeeWeb – we lose when the home side is fav and it's "slash your wrist" time again. All the players are shite, Iwobi gets called out again when he was nowhere near our worst player.
Look at the table: there's 5 teams that would gladly swop places with us at the moment. You can still get 6/1 that we are relegated if you fancy we will.
Yeah, I agree, we are a very moderate side, but we have enough to stay up thanks to our early season wins.
Oliver Molloy
163
Posted 19/02/2022 at 19:58:41
Regards Patterson, I know it's early days and I really hope he proves to be a good signing but it is strange for me.
The thing I don't get is when it was obvious he was available, we were the only club in for him apparently.
And given what Gerrard said about him as Rangers manager, then why the fuck did he not encourage Aston Villa to sign him?
John Raftery
164
Posted 19/02/2022 at 20:05:34
Apart from the opening 10 minutes, this performance was a repeat of what we have witnessed in most games over the last 5 months. By the end, we looked a well beaten team with the defence run ragged, the midfield bereft, and the forwards pusillanimous. Only Pickford could be remotely happy with his performance.
I regarded this as the first genuine test of the new regime's impact. It was found sadly wanting. The mantra of not changing a winning team is garbage. Introducing Gomes into a game in which we could not dominate possession, in which we already lacked the pace and energy to win the midfield battle was inviting trouble. In truth, we were lucky to escape with only a 2-goal defeat.
Our league position is an accurate reflection of the squad's quality, or lack of it. Away from home, against teams who mostly aspire to little more than mid-table safety, we have been consistently outplayed. We have changed the conductors many times but it is, I am afraid, largely the same old orchestra hitting the wrong notes in the wrong order.
It is evident that our path to survival this season will have to be achieved in the home games when the 12th man will be vital. The 12th man will need to find a level of consistency plainly beyond too many of our present squad.
Jeff Armstrong
165
Posted 19/02/2022 at 20:07:54
Alex 154, good point about Calvert-Lewin.
What endeared him to most of us back then was his effort and hard work. We're not seeing that currently. It looks like he thinks he's made it, England international, £60 million price tag, great contract... feet up?
Martin Mason
166
Posted 19/02/2022 at 20:09:00
No need for the wailing and gnashing of teeth. Today, we were beaten by a better team. We are a very poor team without home advantage.
We're the manager's graveyard. Lampard has an impossible task unless he's given a 5- to 10-year horizon.
Tony Hill
167
Posted 19/02/2022 at 20:09:39
Raymond @162, have a look at our next 3 fixtures. I think we are the most gutless team in the Premier League. This is going to be close.
Brian @155, stop looking at the managers and look at our players. We have to support them as I've said above on this thread or we're fucked, but they have been a more or less self-serving shambles for as long as I can remember.
Take the money and fuck the fans. I include all of them in that without exception. Coleman and Baines and a few others have put in the years and I regard them as good servants (on the face of it), but they've been part of it even so.
If I were earning what they're earning, I would be truly embarrassed. No sign, ever, that they are.
Colin Glassar
168
Posted 19/02/2022 at 20:13:33
John 164, after 15 mins, on the Live Forum, I said I could see the confidence draining out of them. This must be the most mentally weak team in any of the major European leagues.
Sack the board, change the manager, these players just aren't good enough.
Gary Jones
169
Posted 19/02/2022 at 20:13:33
We signed five players to save us from relegation.
Four of them started on the bench.
End of February... Why are the board not being targeted still?
Robert Tressell
170
Posted 19/02/2022 at 20:19:26
Calvert-Lewin has a track record of working hard. If he's not doing it, it's probably because he's working himself back to fitness.
As others have said, he's not in Harry Kane's league as a footballer but he's still a very good player.
Tony Hill
171
Posted 19/02/2022 at 20:20:28
Yes, Gary @169, we remain Kenwright Unathletic but he pulled his usual trick when he came under pressure and deflected the fire elsewhere. It's what he does and we fell for it again.
George Cumiskey
172
Posted 19/02/2022 at 20:22:19
Raymond Fox – then what's your opinion of the squad and their ability to get us out of trouble?
Bobby Mallon
173
Posted 19/02/2022 at 20:30:13
Kim Vivian. I told you so. We are useless on the road and a total non-entity. I don't know why but I told you it would happen.
Oliver Molloy
174
Posted 19/02/2022 at 20:31:36
John Rafferty,
As I said earlier in this thread, I have only seen the highlights but some posters seem to think that, if it wasn't for Pickford making some good saves, we might have been beaten by a few more. However, that's what a goal keeper is supposed to do, right – make saves.
It's no good producing good saves then making stupid mistakes. He definitely should have done better with the second goal, along with Coleman, I think he is afraid of coming for balls because of his height – he should have come for that.
Pickford gets too wound up! If Spurs want him, I would be happy to see him move – he always has a mistake in him. I also think he should have known what was coming with their first.

Barry Hesketh
175
Posted 19/02/2022 at 20:34:46
There are just six matches left in which we may expect or rather hope that Everton take the points necessary to remain in the Premier League:
Burnley (A), Newcastle (H), Watford (A), Palace (H), Leicester (H), and Brentford (H)
Of course we may not lose all of the other games we play but facing the likes of Spurs, Liverpool, Arsenal and even Leicester on their own turf isn't likely to garner too much by way of points on current form, neither are the visits of Man City, Wolves, Man Utd and Chelsea to our home likely to provide too many points either. West Ham, depending on which mood they are in, could be a place for Everton to do well, but not if the Hammers are flying.
We are in a bind, there's little doubt about it, but the team has to roll up its sleeves and dig out as many points as is possible. If they keep turning in performances such as today's, we are in big trouble. I think some people are mistaken to believe that ToffeeWeb posters are over-reacting to both sides of the coin, when mostly they are merely reacting to what they have just seen – and what we've just seen will take us down, just like performances like last weeks will see us safe.
Ian Riley
176
Posted 19/02/2022 at 20:35:21
Cracking odds 6/1 us to be relegated. Really! Plan after Manchester City match? Plan for what? The great escape? Probably some think Champions League is still a possibility. Simply the most gutless performance!!! Shows how poor Leeds were last week.
It's over as we don't have the players to fight to stay up and a manager with no experience in a relegation scrap. This has been coming for years. Most stagnated club in the Premier League. Sadly, the board have taken our status in this league for granted. It's come back to bite us on the arse.
I don't see us putting 2 to 3 positive results together. Other teams have woken up! We are strolling to relegation. Too big a club, if you know your history, does not keep you here!!! No body gives it to you. You're in a hole, Everton!!! Unless you give everything, it still may not be enough... but please go down fighting!!!
Soren Moyer
177
Posted 19/02/2022 at 20:37:45
For those who are relying on Goodison Park to save us this season. How are we going to get at least 15 points from the following remaining home fixtures!!?
Manchester City
Leicester
Wolverhampton
Newcastle
Manchester United
Crystal Palace
Chelsea
Brentford
Don Alexander
178
Posted 19/02/2022 at 20:43:37
When the likes Dave Abrahams (#73) can ask, "What have we all done to deserve this?" I really do think it's reasonable to put aside player and manager quality issues and just concentrate our minds on the constant presence of those at the top who are responsible, ultimately, for signing all these people.
The likes of Leeds fans don't hesitate to slag off Ridsdale for ruining them despite their Champions League semi-final; Liverpool fans took action against Gillette and Hicks, causing them to bugger off pronto after a mere three seasons of worsening results and no hint of a trophy, and yet we in effect choose to tolerate for nigh on 30 years no trophies, little good football, gross financial mismanagement and bullshit from and through the boardroom.
The inept culture infesting Finch Farm has not been bad luck. 'Inept' being very kind; people have centred it there decades ago and continue to do so.

Marc Hints
179
Posted 19/02/2022 at 20:47:03
One fan on Twitter and very right:
After that Everton performance I don't wanna see any pics of 'the lads' training at Finch Farm... updates on 'Bramley-Moore Dock'... emails with 'special offers' on kits etc... abysmal performance that... feel so sorry for fans making the journey in this weather... weekend ruined again!

Barry Rathbone
180
Posted 19/02/2022 at 20:48:59
Soren @177,
The other point is teams will be prepared after the Leeds game; "Quiet the crowd for 20 mins" will be the mantra meaning we will need points beyond Goodison – it's that simple.
Unfortunately, I don't think the players are good enough; we've been found out.
Pat Kelly
181
Posted 19/02/2022 at 20:50:33
If Calvert-Lewin put as much effort into his game as he does into dressing up we might have some chance. But that's probably expecting too much.
Ed Prytherch
182
Posted 19/02/2022 at 20:56:53
Romeu was brilliant for the Saints today. He is a great example of what our team lacks.
I don't blame Lampard for pulling Allan at half-time as he looked odds-on to get a second yellow and then we go down to 10 and lose him for the next match. The sad part is that we don't have another fit defensive midfielder.
John Raftery
183
Posted 19/02/2022 at 21:04:54
Oliver (174),
I don't disagree with your criticism of Pickford. He has always been weak on crosses and suspect of temperament.
My point was that he was the only one who could be 'remotely happy' with his performance. He did make some saves which kept the scoreline down but I would not be hanging out the bunting for him.
Gary Jones
184
Posted 19/02/2022 at 21:05:06
Don't get me wrong, I think it's the board that need our wrath. Someone picked 4 other signings, none of whom were apparently good enough for the 5th-from-bottom club today. I also think there's enough signs in Brentford and Leeds not to knee-jerk yet, but am I the first on ToffeeWeb to question Frank?
- Kenny did marvellous against Leeds (and I named him myself in who should start), but he's just not a left-back!
- Same 4-4-2 that's failed us for over the last year.
- Van de Beek and Gomes as a midfield two, should have been as obvious as "smoking kills".
- Rondon, Iwobi, Kenny, Tosun and Gomes getting games ahead of Dobbin, Branthwaite and Onyango.
- Signing both Donny van de Beek and Dele Alli (and not a defensive central midfielder).
Again, don't get me wrong, this is a year away from a #LampardOut call, and both the board and the players need blame long before Lampard does… but there are already warming signals. Not good.
John Boon
185
Posted 19/02/2022 at 21:06:30
I was a tender 12-year-old in 1951, when we were last relegated. On the final day of the season, we lost 6-0 to Sheffield Wednesday, who were still relegated with us.
This season has been as bad, if not worse than then, and the repercussions are far worse. We just cannot afford to be out of the Premier League.
Gone are the days when promoted teams actually won Division 1 the season after promotion. Even then, I tried to stay positive when speaking to my Everton buddies by saying that we would get to see different teams. I certainly don't feel like that today. I just dread being in the same league as Milton Keynes or Wycombe.
Come On You Boys. Have some respect for your dedicated supporters and get us out of this mess. Playing like you did against Southampton will never do the job.

Soren Moyer
186
Posted 19/02/2022 at 21:10:08
Agree with you, Barry. We are in deep deep trouble and some Evertonians still think we'll be alright by magically beating well-performing, well-organized and title-contender teams at home!
Brian Denton
187
Posted 19/02/2022 at 21:10:43
Soren (177), I think 12 would probably be enough.
We won't lose every away game, and I think 35 points will be enough to stay up this season.
Feel free to laugh at me come May!
Dave Williams
188
Posted 19/02/2022 at 21:17:19
Frank had to play an unchanged team. The Newcastle defeat was put down partly to the two injuries in the first half and a great performance by Saint-Maximin but there are no such excuses today. Frank should now be getting an idea of who flatters to deceive in training and who can be relied on to compete in a proper game.
The gifting of goals is criminal and the inability to pass is inexcusable. We really are in deep trouble with defeats likely in the next two games and Frank and his team are now under extreme pressure to sort this out and at least field a team that will try and will do the basics of passing the ball to the right team.
Time for the manager to show what he can do.
Paul Birmingham
189
Posted 19/02/2022 at 21:18:22
Soren, good point.
It's getting to a "Death or Glory" fight for survival time. Potentially I see 4 games that can be won, and possibly 5, but the mentality of the players and lack of belief as shown today, renders all the big 'if'!
But the Goodison Park crowd will always be up for the battle. Mentality is the issue and hopefully Frank and leaning on Dunc and the rest of his staff, can get some fighting spirit in this squad.
I see some tense months ahead, and never more does the squad need to search their souls, to find the bottle and guts for the remaining games.
Every one is a Cup Final and potentially another nail in the heart of all Evertonians. All unite and fight the good fight. Evertonians will, but the squad needs to up their game.
The results this poxy season, don't lie. Adapt, improvise, fight, and overcome – this is the time for real guts and character at Everton Football Club.
Andrew Keatley
190
Posted 19/02/2022 at 21:23:27
Fans of this football club are so desperate for any minor period of success that a couple of decent performances always seems to convince a significant portion of the fan-base that the much-sought corner has been turned. Yet no club delivers more false dawns than Everton FC, so when will caution reign?
As far as I can tell – and surely we all know this by now – we've got a group of players who struggle to consistently play at the top end of their abilities. We have a group of players that capitulate too readily, that lose their individual battles too easily, and that do not seem to believe that they can turn the tide once it sets upon them.
Nobody played well today, and I'm sure everyone will highlight whatever they thought constituted peak atrocious. For me, it's André Gomes. Again. And watching Kyle Walker-Peters drive past a static and square-on Gomes – not once, but twice – was just more maddening than I can accurately convey in words.
It's just absolutely basic Defending 101, and it makes me think that Gomes is either: a) uncoachable; b) extraordinarily stubborn and stupid; c) someone who has no interest or self-belief when it comes to winning the ball; or d) someone who has given up caring about his team.
For me, it's one (or a combination) of those 4 options, and I hope, when the coaching staff and his team-mates watch the footage of it together, they give him a proper dressing down because it's just not good enough.
Paul Hewitt
191
Posted 19/02/2022 at 21:26:48
Looks like most on here have given up and accepted relegation. Well, I haven't. We won't go down.
Why do I think that? I simply have too.
There are 3 worse teams than us in this league probably... more. Keep the faith.
Neil Copeland
192
Posted 19/02/2022 at 21:35:05
Paul 191, well said mate. We need to get behind the team and manager, leave the post mortems to season end. UTFT!
Sam Hoare
193
Posted 19/02/2022 at 21:39:29
Alli may or may not prove a good long-term signing for Everton but, in the short-term, I struggle to see the logic.
We really need(ed) a mobile Number 6 to make us harder to play through. Instead, we opted for the seemingly glamorous option once again (see Bolasie, Sigurdsson, Gomes, Rooney, Rodriguez etc) who is yet to really impact on our 3 league games since his arrival. Not a slight on Alli, who may yet prove spectacular... but was he what we needed?
Gonna be a tight run thing, I fear, this season.
Paul Birmingham
194
Posted 19/02/2022 at 21:39:50
Andrew I agree. I met Gomes before a match in his first season and he was a decent and friendly player.
That 1st half game in the first half at our old ground – Pickford's clanger. The Wolves goal aside, Kean's header v Wolves away last season, and Damarai's goal v Arsenal this season.
I struggle to see what the minimum he brings to any squad, even from the bench. He's playing like he's got the old 2-stone diving boots on.
Barca, are no mugs. But I also see as the injury woes, which are annual at Everton, also warrant all fit players to be available for playing.
But dereliction of duty consistently each season, surely warrants that he will never be reliable.
'Reliable' in football is not the same as skill, and vision, but Gomes and he's not alone in context with this squad, will never be reliable for Everton.
Frank and his Staff, have a massive battle of hearts and minds with this squad to overcome, if this squad has any decent chance of over coming the remaining fixtures and getting 7 wins.
Barry Hesketh
195
Posted 19/02/2022 at 21:41:36
Paul @191
I don't believe that many have 'given up'. What I saw last week against Leeds filled me with hope that we had more than enough to stay up; what I saw today and at Newcastle filled me with dread that we won't get enough wins to keep us up.
If a team is averaging below a point per game this far into the season, they are in trouble and we like the others around us are in really big trouble. I've never seen an Everton side that offers so little going forward away from the confines of Goodison Park add that to attrocious defending and I'd like to know what makes you think we will be safe by virtue of three worse teams if our current form continues?
Of course we could hit an unexpected run of form, but that's the issue – it would be unexpected.

Jeff Armstrong
196
Posted 19/02/2022 at 21:46:31
Donny van de Beek seems to be getting away with it tonight, so I will just chip in: he was awful today.
Mark Ryan
197
Posted 19/02/2022 at 21:50:25
Play the home players at Goodison and allow the rest to play when we are away, ie, play Patterson away, play Mykolenko when we are away, play Dobbin when we are away.
There are some in our squad who only turn up when they are playing at home. They know who they are.
Jeff Armstrong
198
Posted 19/02/2022 at 21:52:41
Great point Mark197
Lampard needs to start assessing game by game. Iwobi and Gomes will never play 2 decent games on the bounce; Kenny has a great heart but needs to play on the right; Mykolenko is the only natural left-footer in the squad, play him.
Neil Copeland
199
Posted 19/02/2022 at 21:53:56
Mark #197, normally, I would say that is a ridiculous view but actually, in our current predicament, I would say that's a good shout.
Robert Tressell
200
Posted 19/02/2022 at 21:59:48
Jeff @196, in fairness to Donny van de Beek, he was asked to do a job he's not good at. Not therefore surprising that he didn't play well. It's the same reason he's not impressed at Man Utd.
Sam @193, I've just had a browse of the defensive / holding midfielders who moved in January. Guimaraes (way too expensive) and Zakaria (can't compete with the draw of Juve) would have been good but nothing else of note so far as I can see. Maybe Ricci (good but very young and inexperienced) moving to Torino on loan.
It is possible, I suppose, that the right players just weren't available. As things stand though, it was a (yet another) weird selection of players to have brought in.
Personally, I would play Holgate as a holding midfielder away from home and play Branthwaite in his place at centre-half. That gives Allan the freedom to hunt for the ball, and Van de Beek the freedom to get forward – knowing there is some cover. Temporary measure until we can get a specialist for this position in summer.
Brian Murray
201
Posted 19/02/2022 at 22:00:08
Tony post 167. We know it's ultimately down to the players and no doubt if lampard had his way iwobi kean holgate Coleman and a few more wouldn't get near a selection but he can't do anything except try and get a tune out of them until the simmer. Scary times.
Mike Hughes
202
Posted 19/02/2022 at 22:04:24
I think Gomes would be better suited to doing adverts for Cinch rather than playing in an Everton team. A non-entity.
This is definitely the bleak midwinter. The results were terrible for us today. Our upcoming fixtures look ominous with our form and white flag mentality.
I just hope we survive. Screw everything else – including the Cup and whatever the RS win. Time is running out and we are heading over a big fucking cliff, Thelma and Louise style.
Then again, "just surviving" is all we've done for 26 years.
Maybe Gomes is a perfect fit for us!
Sean Kelly
203
Posted 19/02/2022 at 22:04:50
Pat Kelly, spot on, lad, but watch out: the Calvert-Lewin love-in brigade will be upset with you. Isn't that right, Mike and Dale?
In defence of Calvert-Lewin, he wasn't the only one that was shite again today.
Jeff Armstrong
204
Posted 19/02/2022 at 22:04:58
Sorry, Robert @200, but you are being pedantic.
Donny van de Beek would not have had a better game if he was 5 yards further forward, or 7 yards to his right or left. He was shite all over the field today, even when he found himself in your preferred position.
Football is not as scientific as some seem to think.
Mike Keating
205
Posted 19/02/2022 at 22:10:07
Barry @83,
"The players don't have to worry about the price of food, gas etc. They don't have to concern themselves whether they will lose their jobs at the drop of a hat, or any of the other things that ordinary people have to deal with on a daily basis."
I couldn't agree more – just seen a video clip of Mbappe being served a £1,500 gold-leafed steak in London. What a prick!
Derek Knox
206
Posted 19/02/2022 at 22:12:58
Pat Kelly, if you said that to him personally, he'd probably hit you with his handbag! :-)
Jay Harris
207
Posted 19/02/2022 at 22:14:32
The strange thing is, it wasn't just the usual suspects today. The whole team fell apart after the first 15 minutes... even Gordon, Coleman and Allan, who can normally be relied on to put a shift in.
Frank seems to be suggesting it's the fear factor creeping in away from home. Personally, I think that is too simplistic but pathetic if true.
Kieran Kinsella
208
Posted 19/02/2022 at 22:17:06
Aspinall - Calvert-Lewin comparisons are ridiculous and out of line.
Aspinall was a real man and played in a title-winning team,
Robert Tressell
209
Posted 19/02/2022 at 22:17:21
Jeff @204,
Do you think Donny van de Beek might have played better with someone like Fabinho mopping up behind him? I certainly do.
Brian Murray
210
Posted 19/02/2022 at 22:18:47
Oh and can we now dispel this Gomes myth that he's still recovering, 2 years on from a broken leg? I never want to see him even on the bench. None of this "He's good to bring on to keep the ball" cack.
Time to find out if Onyango can step up. Same with Dobbin if Calvert-Lewin, Richarlson or Van de Beek flatter to deceive again. Here's hoping Gray and Doucouré limp us over the line somehow.
Pat Kelly
211
Posted 19/02/2022 at 22:20:27
Derek #206, apparently Calvert-Lewin will miss the next few games after pulling a G-string.
Fran Mitchell
212
Posted 19/02/2022 at 22:20:35
In terms of defensive midfield, we clearly need someone (or 2). But it needn't be some exotic name, nor some wunderkid prospect.
Our best defensive midfielders in recent memory:
Gana Gueye – unheralded at relegated Aston Villa, true worth only valued by all after his sale.
Garath Barry – much derided upon arrival, a past-it has-been who never was that much... how little we knew. A Rolls-Royce in midfield for 18 months before his age really caught up on him.
James McCarthy – the only one who could be seen as 'big money'. Solid player, simple game of hard work and hard running and energy. From relegated Wigan. Was a key player before terrible injuries.
Lee Carsley – unheralded midfielder with career of relegation and lower league football but became a key element of Moyes' early years.
Mark Pembridge – unheralded budget signing from Portugal after unspectacular years with lowly Derby County and Sheffield Wednesday but hard working and hard running made him a key player for a struggling club.
When we've spent big – Dacourt, Nyarko (in the Smith years), Schneiderlin, Gbamin, Gomes, Allan and Co it's generally not worked out.
Look at Southampton today. Oriel Romeu was arguably the best player on the pitch. He was everywhere, but there is nothing spectacular about him. He cost £5 million, signed to replace our favourite Frenchman, Schneiderlin, who then signed for £23 million 2 years later.
That's what we need in midfield. We need a hard-working, hard-running player who plays a simple game.
Michael Lynch
213
Posted 19/02/2022 at 22:20:59
Poor old Frankie Lampard must be sitting in his £10m mansion tonight wondering if he's blown his career with this move to Everton. He seems out of his depth, like a Rolls-Royce trying to plough a field full of cow dung. He's a man in the wrong place.
I'm sure he could produce a brilliant side given the best players and a patient owner, but I'm not convinced he has a clue how to coach a dreadful ragtag squad like this away from relegation.
Barry Rathbone
214
Posted 19/02/2022 at 22:23:01
Donny van de Beek is just a very ordinary player. He reminds me of Schneiderlin rather than Klaassen with safe passing and tidiness being his only tools. It takes time for some to catch on but, once sussed, they'll kick his head in.
Paul Hewitt
215
Posted 19/02/2022 at 22:23:07
Mike @205,
Players nowadays get rewarded before they actually achieve anything. Young players in the early '80s, when I started watching football, had to clean the changing rooms after matches, and clean the players' boots.
I hate this new Premier League crap today. It's totally ruined football for me. Yes, I still support Everton but my interest in the game is definitely diminishing.
Tony Hill
216
Posted 19/02/2022 at 22:24:02
What gives me hope is that I believe Lampard and every member of his team is fuming after that debacle. The stakes for them could not be higher and I don't think this is going to be finessed away.
We have to dig in and I expect us to escape – just. Then I think this manager is going to re-build us into a side of which we can be proud. Everything I've seen of Lampard shows a man for whom defeat is agonising.
We absolutely must stick together despite the dickheads we've got playing for us. Buckle up.
ps: We're going to win the FA Cup.
Jeff Armstrong
217
Posted 19/02/2022 at 22:24:37
Robert, 209, there you go again. No... Fabinho doesn't play for us, Donny van de Beek knows this.
I just ask simple things: pass to a blue shirt, chase back when not in possession, put a decent tackle in when given the chance, inspire your team mates with a no-nonsense aggressive midfield performance,
Van de Beek did none of that today, Fabinho in the team or not.
Ian Riley
218
Posted 19/02/2022 at 22:25:30
Paul #191,
I don't think any fan would give up. I have a terrible habit of looking at statistical data and performance and sadly it will take a big effort.
Sorry, I don't believe our get-out clause is that there are 3 worse teams. Sadly, the marathon of the season is coming to the last 5 miles and we are at the back.
I think realism has to be faced: 2 months ago, I wouldn't have entertained relegation but my gut is telling me it's very real. For me, this would be the great escape. Why? It's the end of February and no momentum going forward with positive results.
It's better to face the possibility of relagation now as the shock come May won't be as sad if is does happen. We need to be difficult to play against. It's a wait-and-see moment.
Barry Hesketh
219
Posted 19/02/2022 at 22:27:02
Michael @213,
I don't believe that any manager of any experience could train this rag tag bunch of players, because the players attitude is so wrong at times it defies belief.
Regardless of what happens in the next 15 matches, I do believe that Lampard will prove to be a good appointment for Everton long-term, but I am as worried as the next person about the short-term. Lampard isn't the issue at this juncture; it's his players.
Mark Ryan
220
Posted 19/02/2022 at 22:28:20
We beat Man City, we hand the chance to Liverpool to be on level terms... you couldn't make it up!
Paul Birmingham
221
Posted 19/02/2022 at 22:29:30
The mentality and belief of this squad, and lack of ownership and leadership on the park, makes Everton easy to beat.
Everton made Southampton look good today, but they're a decent team, not a great team, but they work hard and keep a steady tempo through the game.
Everton made it far too easy but, like a broken record, it's the predictable lazy passes, poor verbal communications, lack of game management, in almost every game, which is making this season so difficult.
Frank, this could be your football life but I know you'll deliver. This is your toughest match yet, for this season at least.
But I do believe, via the unique Goodison Park atmosphere, that Everton can prevail this season.
Tough times.
Jeff Armstrong
222
Posted 19/02/2022 at 22:30:28
Michael 213, so who would you have appointed?
Colin Glassar
223
Posted 19/02/2022 at 22:30:36
Mark, they win the title and we get relegated. Is it written in the stars? It is according to them.
Barry Hesketh
224
Posted 19/02/2022 at 22:33:21
Mark @220
I'll take beating Man City next Saturday, thank-you very much; the title race is not about Everton. Everton staying up is paramount, regardless of where the title ends up.
Best-case scenario is that we beat all of the Top 3 in the coming months, that would mean so much to us and would have a neutral effect on the outcome of the title race. Nurse! Nurse! More meds please!

Paul Hewitt
225
Posted 19/02/2022 at 22:35:33
Mark #220.
Why worry what Liverpool do?
It really puzzles me why fans worry about that lot. I couldn't care less if they win everything going. I have 2 RS brothers and, believe me, we are totally insignificant to them.
Eoin Cullen
226
Posted 19/02/2022 at 22:36:21
I listened to the match on Everton radio and every time I heard the name 'Gomes', it was followed by the words "gives the ball away". Does he know who he is playing for?
Rob Dolby
227
Posted 19/02/2022 at 22:40:29
Good first 10 mins followed by the rubbish we have seen all season.
Why did Gordon dive when in a great position after about 5 minutes? Richarlison's first touch after about 2 minutes, and then the VAR penalty decision, does anyone know what handball looks like now?
I do believe that Lampard needs to be more pragmatic away from home. Southampton matched us with a 4-4-2 but their 4 in the middle are all hard-working centre-midfielders. Today, Iwobi and Gordon didn't help out Van de Beek or Allan.
Alli also looks miles off the pace of the game. We need to play 4-5-1 away from home.
I wasn't surprised to see Allan go off for Gomes; I also wasn't surprised to see Gomes have a negative impact on the game.
The first time in the game when Holdgate plays a pass to gomes and the ball is in the net.
As good as what Pickford was, I think he could have done better with both goals.
Southampton where better but, more alarmingly Lampard should have tried something to change things.
It's getting tight down at the bottom now. Newcastle will pull clear. Burnley, Brentford, Norwich, us, Leeds maybe Palace will get pulled into this as well.
My MotM: Pickford.
Mark Ryan
228
Posted 19/02/2022 at 22:42:22
Paul @ 225,
I didn't say I was worried and I agree with Barry @ 224, I'll take an Everton win all day every day.
I was just stating a fact of what the League Table looks like. I take an interest in the whole of the Premier League table. It's why I support Everton. It's not a contest without the rest of the teams and we become redundant.
Joe McMahon
229
Posted 19/02/2022 at 22:44:33
I agree with what Tony says @216. The manager of Everton is hurting. I just hope the players are. Frank Lampard is one of the few good things about this football club.
Mike Doyle
230
Posted 19/02/2022 at 22:45:02
I suppose it was inevitable that 67-year-old Shane Long would out-jump our defence for the second goal.
No dispute over the result though. But for Pickford, we'd have been 2-0 down by half time.
Lester Yip
231
Posted 19/02/2022 at 22:45:15
Fran, exactly. On paper, our players are better but you can see Southhapton players are well-drilled and fit. Their free-kick specialist is a real specialist, unlike those we have. Ward-Prowse'sdelivery is consistently accurate.
We need Doucoure back.
How many players are out of contract after this season? Can't wait to see a big clear out and restart.
Mike Keating
232
Posted 19/02/2022 at 22:47:20
Colin, have you become the Oracle of Doom?
Barry, you're nuts!
Jeff Armstrong
233
Posted 19/02/2022 at 22:48:51
Unfortunately Doucouré being back is not the answe; he's been back before, and wasn't the answer.
Barry Hesketh
234
Posted 19/02/2022 at 22:51:59
Mike @232,
I'm not you know and I have a sanity certificate to prove it, mind you even I'm doubting its authenticity.
Joe McMahon
235
Posted 19/02/2022 at 22:54:28
Colin, you know I agree with so much you say, but try to cheer up man. As we all know, being shit is what Everton do!
I'm just hoping in 18 months time, the underperforming crass inept players will have left, and the team performs like a well-drilled outfit. I honestly believe we have the manager (at last) to deliver this.
David Currie
236
Posted 19/02/2022 at 23:01:16
Away from home, I would like to see us play 4-5-1 and really concentrate on not conceding and being hard to beat.
The last 3 away games, we have been easily beaten.
I feared the worst at half-time seeing Gomes coming on. That was a poor decision from Frank.
Mike Keating
237
Posted 19/02/2022 at 23:01:22
Barry @ 234,
Your name's not on the certificate.
I suggest you send it to the Liver Building, to be completed by Mr Moshiri's secretary.
Barry Hesketh
238
Posted 19/02/2022 at 23:04:08
Mike @237,
I'm pretty sure that's where mine was sent from.
Mike Keating
239
Posted 19/02/2022 at 23:06:25
Must be another 38,000 in the post.
Don Alexander
240
Posted 19/02/2022 at 23:20:40
Just watching MotD and am pondering what value another club added to their squad by way of just signing Luis Diaz for a very similar amount we spunked in acquiring the little sought-after Alex Iwobi?
Still, he's only here for the entirety of Lampard's contract isn't he, on mega-bucks, so nowt to worry about, I suppose.
Yeah, right.
Chris Leyland
241
Posted 19/02/2022 at 23:22:55
I think we will win 3/4 more games at home but they away fixtures to Watford and Burnley could be telling for us. Our away form has reverted to what it was like before the Covid lockdown for years and those 2 games are pivotal to our season. We need to avoid defeat in them at all costs.
The added issue will be that both are likely to be squeezed in Thursday games at some point. Burnley is already waiting to be rescheduled and, assuming we best Boreham Wood, the Watford game will also be rescheduled.
Colin Glassar
242
Posted 19/02/2022 at 23:28:49
Joe @235,
I just want to survive this season so Lampard can bring in his own players. I sincerely hope Doucoure and, perhaps Donny van de Beek are the only two current central midfield players we keep.
Peter Jansson
243
Posted 19/02/2022 at 23:42:50
I don't really know what to say about this usless performance. From what I see there must be something wrong behind the scenes. What do these players to in training? Do we have anyone working with the mental health of the players?
This performance was an absolute disgrace. It looked like our players did not want to play fotball today. Football is a team game, meaning you have to do things together, pass, move, press etc.
Why the hell on earth can we not press the opposing team together? There is always a mismatch when we press, and it seems half-hearted. You do not win games in the Premier League unless you give 100%. Today looked like maybe 60%. That wont do it in League Two.
Passing. How come we cannot make easy passes? We had a problem getting over the half-way line. What is that all about?
I mean seriously. It cannot only be the manager's fault. There must be something else that does not work behind the scenes in our club. This is just not professional at all.
I expect 100% from every player every game, nothing else. Not 95%, it should be 100%, every single game. I don't want to waste my time watching players not trying to do their best.
I don't want to hear its Kenwright's fault. There is no use looking back. What do we do from here with the players and staff we have. What is the problem of this inability to perform more than 1 or 2 games out of 10? Do we need mental help? What is it? Should Richarlison try to look a little more happy than he does? I don't know what it is.
Brian Murray
244
Posted 19/02/2022 at 23:44:31
Paul @225. Not sure if you are from here or how old you are but trust me, them shower do care and have been waiting for this since the Wimbledon and Coventry near-misses in the '90s. They had a blue coffin ready in 1997 with "RIP Everton" written on it. Does that sound like they couldn't care less?
Plus in '77 on the steps of St George's Hall, after their first European Cup win, Hughes led the chant "Liverpool are magic, Everton are tragic".
Sorry about the history lesson but maybe you live away and don't get the venom coming our way.
Brian Murray
246
Posted 19/02/2022 at 23:53:50
Cole and Lampard came back separately from these gobshites from Southampton. Don't tell me they had enough of them already!
Jeff Armstrong
247
Posted 19/02/2022 at 23:59:05
Brian 246, probably having Sunday in London with their families, back to work Monday.
Soren Moyer
248
Posted 19/02/2022 at 00:03:36
I'm sorry but I think we have made another mistake by bringing Dele Alli to Everton on a mega-million salary. He is just not good enough. If he was, do you think Spurs would let him go that easily!?
What is it with Everton and buying the so-called Top 6 rejects? Do we ever learn?
Gavin Johnson
249
Posted 19/02/2022 at 00:07:17
With Coleman being ever present and Patterson not even getting a single minute, it does make you wonder if he's anywhere near Premier League ready?!
In which case, he was the wrong player to bring in, in the middle of a relegation battle. If we do stay up, I expect that we'll be buying 2 new full-backs in the summer.
Sean Kelly
250
Posted 19/02/2022 at 00:08:31
What Frank has now found out is that his playing staff can not be trusted. Our previous managers, going back to Moyes, all found this at our club. Roller-coaster players with power.
Jeff Armstrong
251
Posted 20/02/2022 at 00:11:35
Gavin, is Coleman currently any more "Premier League ready" than Internationally capped Patterson?
Steavey Buckley
252
Posted 19/02/2022 at 00:12:51
One of the most puzzling aspects of Everton's recent transfer dealings is the arrival of Dele Alli. The cost of Dele Alli's transfer could be as high as £40 million plus his salary, but there is no sign of him starting in the first 11.
Today, at Southampton, Everton were crying out for another midfielder instead of Allan after half-time; Gomes was preferred instead. Upfront, where Everton fared worse, without a shot on target, what position could Dele Alli really have had? Can he play alongside a striker or just behind the striker?
Whatever position Lampard envisages Dele Alli playing in, he will have start playing soon to justify his transfer fee and salary and help get Everton out of the relegation threat.
Gerry Killen
253
Posted 20/02/2022 at 00:13:41
I don't think it's been mentioned here but I wonder if the flight down there had a bad effect on the players?
Up till the early hours, the forecast was storms and severe wind gusts and seeing some footage of planes trying to land was hair-raising, could well be the players were air-sick even at the thought of flying?
Any comments from anyone that made the trip down there? Personally, I am just thankful the team got home safely. COYB
Soren Moyer
254
Posted 20/02/2022 at 00:19:38
Gerry, wouldn't the same storm affect Burnley's trip to Brighton too!? And the Barcodes game at West Ham for that matter?
Brian Murray
255
Posted 20/02/2022 at 00:23:03
A gust of wind or a Gomes tackle – take your pick.
Derek Knox
256
Posted 20/02/2022 at 00:35:24
Brian M,
Given the choice, I'd have the gust of wind any day, much more reliable! :-)
Mike Price
257
Posted 20/02/2022 at 00:35:48
Last week, people on here were screaming to give Jonjoe Kenny a new contract based on an average performance.
Gomes being selected is a huge worry… how can Lampard not see what we all see?
And Calvert-Lewin thinks he's way better than he is. Iwobi was average at best last week, he did what any average player would do, but because it was marginally better than his usual Sunday League standard, everyone gets excited. How has this great football clubs standards fallen so low!
Our January transfer dealings are looking like the final death knell. I wouldn't be surprised if we finished rock bottom of the Premier League because everyone below us have better players, look better organised, look fitter, and have more character and fight.
Our sole and only chance of escaping this nightmare is Goodison and the home support.

Larry O'Hara
258
Posted 20/02/2022 at 00:43:14
Steavey Buckley @252 and Mike Price @257 – you both need to get a grip.
I just watched Frank's post-match interview and it was brutally honest. I like this guy and, more importantly, I trust him. He's learning and will integrate and use Alli when the time is right.
He knows the problems and will sort them out if anyone can. You are probably right about Calvert-Lewin being over-rated but he's not fit yet.
One thing is for sure: if the team tunes into the defeatism on this website, we are doomed. But don't think we are.
Steve Griffiths
259
Posted 20/02/2022 at 00:47:05
Mark (220),
Who cares what they do. We need as many points as we can possibly get and I don't care what the outcome is of any Everton victory, other than it benefits and improves Everton's position.
Steavey Buckley
260
Posted 20/02/2022 at 00:59:40
Larry, 'when the time is right'?
The time to use Dele Alli is now if he is that good for Everton to commit spending £40 million pounds on. I have my reservations about Dele Alli because he does not fill any position at the beginning of any games. He comes on later as a sub in no real position.
Basically, Everton need another midfielder in place of Allan. Or another striker because I don't know where Dominic Calvert-Lewin's next goal is coming from.
Brian Murray
261
Posted 20/02/2022 at 01:08:51
Jonjoe Kenny – new contract; Holgate – turned a corner... ditto Keane.
As Blues, we are all desperate for any green shoots. For our sins, we love the club and can't (well, I can't) switch it off and not let them ruin the weekend or week.
Health and family are far more important I'm told but if the unthinkable happens someone remind me of that.
The last two managers made the quote "I'm not a magician." Didn't rate either of them for different reasons. Somehow, Frank has to learn fast... as in 'Now'!
Gavin Johnson
262
Posted 20/02/2022 at 01:25:38
Jeff #251.
I'd be giving Patterson a go, but it does make you wonder if we've been rinsed by Rangers. The lad's barely played in the Scottish league and impressed in a handful of internationals.
I think the omission says more about Patterson's current level than Coleman's form, which has been 'inconsistent', to put it kindly.
Kieran Kinsella
263
Posted 20/02/2022 at 01:49:56
Brian,
Frank said today he doesn't have a magic wand….
John Boon
264
Posted 20/02/2022 at 02:58:11
I have just watched Lampard's post match interview. I have no doubt that he is sincere about his ambitions for Everton. I did not find him two-faced and he is now aware of just what a problem he has.
The problem is that he may not know how to solve it any more than all those who have preceded him. He is just as confused as I am – and I am really confused.
Help is needed from above.
Kim Vivian
265
Posted 20/02/2022 at 06:40:45
And now we, in trepidation, and the rest of the league in anticipation, wait to witness Man City's response (on TV) next weekend.
Derek Knox
266
Posted 20/02/2022 at 08:25:12
Kieran & Brian M,
He may have said he didn't have a magic wand, or say 'Abracadabra' but he most definitely didn't say 'Izzy wizzy, let's get busy'! :-)
Kim Vivian
267
Posted 20/02/2022 at 08:35:22
Someone said that they expected the whole coaching team would be fuming over that performance.
I know, that when Gomes was getting his tête-à-tête with Clement during Southampton's 60/70-minute rest and recovery break, he (Clement) did not look happy at all.
Pete Day
268
Posted 20/02/2022 at 09:46:02
So business as usual with MotD, didn't show Allan's booking. I was at the game so didn't have a good view... was it?
They didn't even show Calvert-Lewin's disallowed goal; I thought at the time he fouled the keeper, but think it was offside?
Not making excuses, they were poor, all of them! Think we're gonna be Jekyll and Hyde for the rest of the season and we will be relying on other results around us.
Peter Mills
269
Posted 20/02/2022 at 10:25:59
"May you live in interesting times", the so-called Chinese Curse.
The new stadium (which I believe to be essential to the future of the Club) may not proceed any further if we are relegated. The project may also be at risk from sanctions against Russia.
Many of our players lack the requisite level of skill to perform consistently in the Premier League. Many also lack the heart. We desperately needed to bring in experience and commitment at centre back and defensive midfield in January, but didn't. We are where we are, stuck with those limited resources.
It promises to be a wild 3 months. The new coaching team, and that 12th man, have much work to do.
Derek Knox
270
Posted 20/02/2022 at 10:38:40
Peter, totally agree, but do most of them care? I hate to keep going on about it but the money these clowns are on is immoral, and what do they give (generally) in return? Any other industry or place of work, you would be sacked for incompetence, failure to perform duties efficiently etc.
Everyone can have an off-day, that's human, but some of these lucky jokers have an off-year or two and walk home as millionaires. It's just not right at all.
Look at yesterday: all of or fans (thousands) travelled down to Southampton in atrocious conditions, putting more effort into that, to be treated to a lacklustre performance by many of our so-called superstars.
Glad to hear Charles is on the upward curve. I will never forget the surprise phone call I got from him after being hospitalised myself for almost a week, wishing me a speedy recovery and then passing me on to Graeme Stuart, who I talked with for a good quarter-of-an-hour. Top Man!
Must be a Mills Family trait, take care, mate.
Barry Hesketh
271
Posted 20/02/2022 at 10:46:00
Peter @269,
I think you're correct that relegation would at best delay the building of the new stadium; at worst, it could be cancelled altogether.
As for sanctions against Russian Oligarchs, there could be a case to argue that Everton are already being punished with some of the bad VAR calls they've had this season...
Seriously, it wouldn't surprise me if the current owners already have a get-out clause and may sell the club on to other less controversial owners, whichever league Everton are playing in next season.
The only people who truly care about Everton on the pitch, are those fans who make up that 12th man. the constant element that this team, seemingly, relies upon so much.
Eddie Dunn
272
Posted 20/02/2022 at 11:40:31
I missed the game due to being without power for 48 hours but managed to get 5 Live on my radio.
I mentioned after the Leeds game that I wondered if this squad could put back-to-back performances together as they had let a succession of coaches down. Here is the answer. This group confound expectation, they are fickle and lack character.
They pulled out a performance against Leeds because the crowd were up for it. They all know they will be swept aside by the Mancs next week.
Lampard could have talked to anyone in Goodsion Park and they could have told him that Iwobi and Gomes were incapable of consistency. Our super-slow Brazillian needs pace around him and, despite his heart and brain, he is simply off the pace, chugging behind quicker men.
Gomes is worse as he has no heart, he pulls and pushes, gives away free kicks, collecting yellows for his sticker album.
This midfield is so dreafull but Lampard criticised the defence for hoofing it over the top to the forwards!
Lampard is slowly becoming aware of just how frustrating it's been for the rest of us for ages.
David Peate
273
Posted 20/02/2022 at 11:50:36
So far under Lampard, Everton have been hot, then cold, then hot and then cold. Obviously this means that against Man City Everton will be hot, dosn't it?
Christy Ring
274
Posted 20/02/2022 at 11:59:00
You have to admire Lampard's honesty, says it as it, no bullshit. I think he's the right man for the job.
We're really lacking a defensive midfielder, but he had only one day to bring in players.
Regarding Alli, he's a No 10, didn't cost us £40M. At the moment, he's free. Next season, he will cost us £10M; if he's a complete success, it will then cost us £40M.
Ian Edwards
275
Posted 20/02/2022 at 12:03:48
The away problems are due to tactics. We are defending too deep which means the midfield is too deep and this means most of the game is played in our half and the forwards are isolated.
Unless Lampard moves the team further up the pitch in away games, we are in deep deep shit. The teams below us are winning away. If we don't, then we will go down.
Derek Knox
276
Posted 20/02/2022 at 12:09:37
David @ 273, according to that formula, yes!
That is until we get on the pitch and Z-Cars has stopped. 😜💙
Len Hawkins
277
Posted 20/02/2022 at 12:47:00
Well, after two away defeats in the Premier League, it is patently obvious that this team has neither the skill or the bottle to take the game to the home team, in fact they give the game to the home team.
So my thought is, give the young pretenders a game away from home and only play the gutless at home where the crowd can lift them. There might be a few surprises and answers to some of the myriad of problems.
All we got yesterday was a masterclass in "playing with zero ability" and "is passing a vital attribute in football" this £multimillion bunch of misfits are a disgrace and an embarrassment to the name Everton.
I honestly and heavy-heartedly cannot believe that this lot can get us out of the relegation zone, in fact they showed all the attributes to guarantee relegation. The stupid thing about this club is, if we are relegated, a club managed by a man fired by Everton will probably replace us.
I know he will be well paid and compensated if he fails, but I feel sorry for Frank Lampard having to make a sow's ear out of the silk-purse-priced pretenders at his disposal.
Terry Farrell
279
Posted 20/02/2022 at 13:12:57
It's my opinion that, regardless of the formation, we need 10 players who are quick or rapid. Once Gomes or Rondon are involved, you're a man down and even Norwich will keep the ball for long periods.
Allan isn't the quickest and also gets exposed but he is more positionally aware than Gomes so less so.
Man City, Liverpool and Chelsea do not have immobile players. Sometimes you can mask it for a while in a game but over 90 minutes you get found out and are under the cosh.
That's when Gomes really annoys me by turning a nothing situation into something goal-threatening with yet another stupid foul when he is wrong side of his man. You need to do the whole job if you want to be in a Top 6 team – not just be good with the ball.
Steve Shave
280
Posted 20/02/2022 at 14:21:36
I've calmed down enough after yesterday to brave ToffeeWeb and read some of the comments. Yesterday was a mixed day for me, I got to see the Blues live for the first time ever with our own fans (previously always had to sit on my hands and not get too excited).
A huge thank you to Duncan McDine for arranging for me to take someone's spare ticket, a thoroughly nice fella to boot and I got to meet some other ToffeeWeb regulars too, including Paul Smith who I watched the game with. I enjoyed chatting to you, Paul, even if we spent most of the game despairing at what unfolded in front of us! I left in a hurry, reeling from what I had just witnessed.
Now to the match. I thought we were excellent for the first 15 minutes. We harried, closed down and showed commitment. I really thought we were going to win this game. I should know better by now and realise that we don't have to go a goal down for the players to shit themselves and retreat into their shells.
It appears that all it takes is for the opposition to repel us for a bit and for things to not go our way. Frank is right, it is mental weakness. We receded gradually from the 20th minute and got progressively worse as a consequence. No leaders on the pitch.
I thought we had a genuine shout for a penalty when Gordon was felled in the box; I would have liked to have seen a replay on that. I may well have seen it with blue specs on but I anyway felt the ref gave us nothing yesterday and the booking for Allan was inconsistent with other decisions he made.
We looked so so poor in the middle of the park, time and time again they were by-passed by a decent Saints team who we should not be fearing on paper.
For me, it's 4-5-1 till the end of the season, at least for away games. Richarlison, Gray and Gordon can alternate on the flanks and we must pack that midfield. Allan, Van de Beek and Doucouré should be able to provide enough guile in there to keep some possession.
We would need to play with a high (ish) line and make sure the wingers give a lot of attacking support to Calvert-Lewin (who was poor yesterday, needs time). Maybe in the summer we can buy Gilmour and loan Gallagher and play a bit more like how Frank wants us to.
Holgate was pretty woeful yesterday. Paul and I counted at least 6 times he had a simple clearing header completely unchallenged and he nodded it tamely to an opposing player, putting us unnecessarily in danger each time.
There was no movement, especially in the 2nd half, and the ball nothing more than a hot potato; this lot couldn't keep a secret let alone a football.
I enjoyed the atmosphere and meeting some fellow Blues; the performance, however, was very troubling. I have rejected the relegation fears until now; suddenly, with Man City on the horizon and the way the results went yesterday, it's looking a real threat.
I will finish by saying that yesterday highlighted to me the commitment required and shown by our faithful away support, week-in & week-out; I am full of admiration, keep it up, Blues!
Bill Watson
281
Posted 20/02/2022 at 14:26:36
Another long coach trip and another totally inept and unacceptable performance.
Again, we were overrun in midfield – if we can really call it a midfield. When we do get the ball, we rarely find a blue shirt and are constantly on the back foot. There are no leaders on the pitch and we must be, in fact we are, one of the easiest sides to play against in the Premier League.
Pickford is being criticised for constantly playing the ball long but what alternative does he have? The players in front of him just cannot retain the ball and move it up the pitch. They either lose it or the ball ends up being played back to him to punt upfield.
Like many others, I was amazed when Gomes was the sub for Allan. He was so inept, I fully expected him to be dragged off himself but at least Lampard now knows what we've all known for a long time. Gomes is unable to retain the ball and gives up countless silly fouls in dangerous areas. He should never be on the team sheet again.
Likewise Iwobi, who reverted to type... but those two aren't alone. We have too many players who just accept defeat. The only player who has a go at others is the much-maligned Pickford. I just wish we had others of his type further up the pitch instead of the bunch of losers we're saddled with.
If we survive, and even if we don't, we need a mass clearout both on the pitch and of the hierarchy who are ultimately responsible for the shambles of a club we are.
Steve Shave
282
Posted 20/02/2022 at 14:35:19
I agree, Bill. By the 60th minute, it seemed like hitting long balls to Calvert-Lewin was the only trick up our sleeve... embarrassing. It wasn't just Pickford, the centre-backs did it time and time again.
Now when things aren't going your way, it can create something out of nothing, but Calvert-Lewin was isolated and just unable to hold it up yesterday and find anyone else. When fit and sharp, he can usually do that very well.
He will go to Arsenal in the summer, I fear.
Colin Glassar
283
Posted 20/02/2022 at 14:57:51
What exactly is Pickford supposed to do? He knows his defenders can't bring the ball out on the deck. He knows his midfield players are too slow and useless with the ball and none of them want it anyway, so his only option is to go long to Calvert-Lewin, who seems to have forgotten how to jump or challenge for the ball.
I know Jordan isn't everyone's cup of tea but how many times has he come out quickly with the ball, looking for a quick pass, only to stop when he realises there's no movement in front of him?
Brian Murray
284
Posted 20/02/2022 at 14:58:54
Benitez's stubbornness to somehow prove a point, insisting on Rondon instead of at least finding out if Dobbin can step up, cost him his job amongst other useless decisions.
Be careful, Frank – you don't do the same, persevering with gobshites like Gomes. No matter how tidy he looks between the cones through the week, he should never ever be near the bench again.
Brian Wilkinson
285
Posted 20/02/2022 at 15:24:46
3 defining Days in March are absolutely massive for the future of our football club, 17th: Newcastle at home, 19th: Watford away.
We have got to try and get maximum points in those two games, that will either give us daylight, or right amongst the shit.
All games are important but, make no mistake, that week is going to be the one that either saves us, or draws us closer to the unthinkable. Once, if we get there, I see no team of fighters, to drag us out of it.
Look at Leeds, 2-0 down, now 2-2, could you see this set of players at 2-0 down, fighting to get back to 2-2? No matter how the Leeds game ends, they at least fought back.
We meanwhile just go into our shell and heads drop.
Barry Hesketh
286
Posted 20/02/2022 at 15:31:28
Brian @ 285,
If we are visiting Vicarage Road on 19 March, we'll have suffered one of our worst ever cup results, because that weekend is the date for the Sixth Round of the FA Cup.

Brian Murray
287
Posted 20/02/2022 at 15:35:23
Barry. The depths we sink we haven't gone there yet.
I thought them kopite kids defeat was the pits but we keep on outdoing even that.
Oliver Molloy
288
Posted 20/02/2022 at 15:50:17
@ 220,
That's not going to happen.
Steve Shave
289
Posted 20/02/2022 at 15:50:25
Colin @283,
I wasn't saying it was just Pickford, the long balls started with him and that mantle was carried by the entire defence thereafter. It just showed a lack of ideas and belief.
Andy Crooks
290
Posted 20/02/2022 at 16:28:55
I would love to know how the lads spent their Saturday night. I guess it was chilling with expensive wine and enjoying the rewards of their endeavours.
Not one of them, I suspect, will have felt an iota of shame. Not one of them have it in them to feel guilty about the Blues who gave their all to travel and support them. They are shameless. A second-rate collection of spineless specimens who could relegate our club and fuck off.
There is not a man among them.
Paul Smith
291
Posted 20/02/2022 at 16:32:01
Steve Shave, lovely to meet you yesterday. I wish it had been under winning circumstances but this is the Everton life after all. I blame Duncan for putting you through it. ;)
If the weather and traffic wasn't bad enough, we had to witness a disappointing performance, especially second half. I had real high hopes going there; a feeling that this was different with Frank in charge but it was the same old: poor pass placement, being bullied off the ball, the wrong formations, poor replacements, and not one shot on target. The away fans were subdued and in shock. The Saints fans gave it to us with the final chant of "Going Down" as the final whistle went.
My mate, who's a Saints fan and was there, texted that our first sub won it for them. I think he's right.
Brian Wilkinson
292
Posted 20/02/2022 at 16:37:59
Barry @286,
That's true, let's get past Borham Wood so that at least gives us breathing space, instead of facing Watford a couple of days after Newcastle.
Craig Walker
293
Posted 20/02/2022 at 16:43:40
When did Gomes last play well away from home?
When did we last follow up a good win at home with the same level of performance away from home? Yesterday was very similar to Palace away and Newcastle away.
When we play like we did against Leeds, we need to keep our feet on the ground for the next game because we still have an awful lot of players who simply don't show up too often or make basic errors in key stages of games.
Very worrying when you look at the number of so-called winnable games that are left.
Rob Halligan
294
Posted 20/02/2022 at 16:50:42
Brian, even if we weren't still in the cup, that Watford game would still have been moved, probably back to the Sunday.
Brian Wilkinson
295
Posted 20/02/2022 at 16:51:03
The stars are once again aligning for the shower across the park.
Even if it was a nothing game, I would still want Everton to beat Man City, now we simply have to try and somehow put in a performance, to try and pick points up. Easier said than done, but we just cannot sit back and let Man City run through our midfield, we need to press them high and keep them as far away from our goal as possible. Same tempo and hard press we did against Leeds.
We should have Gray back and Doucouré not far from returning in the next few weeks.
Thankfully, there are still quite a few games left, just not sure why we have not given Onyango a go from the bench for a longer spell, instead of keep going with Gomes.
Our home games are a must to pick up as many points as we can. I just cannot see us winning, or even drawing too many away from Goodison.
Colin Glassar
296
Posted 20/02/2022 at 16:56:42
Steve, it wasn't the intro I was going to write so it probably came across wrong.
My point is Pickford is regularly criticised for his long ball but, when you look at the stiffs in front of him, it's probably his only reasonable outlet most times.
Craig Walker
297
Posted 20/02/2022 at 16:58:50
Andrew Keatley @190 - agree with every word.
Christopher Timmins
298
Posted 20/02/2022 at 17:05:07
Our problems did not start when the previous manager came through the door and they did not end when he left. Saturday was like so many others during the season to date.
We just have moderate players. We don't have 3 players to fill 3 midfield slots at the moment. Allan is slow, Gomes is slower... so, until Doucouré returns, we have a problem in that sector.
15 games to go and the ones against Newcastle, Brentford, Watford and Burnley will be crucial. Worryingly, Newcastle and Burnley are playing better than us recently so we may need to finish ahead of Brentford to survive.
Raymond Fox
299
Posted 20/02/2022 at 17:13:19
Man City getting beat won't help us when we play them, they will be extra keen to win the match. Quality-wise it's the same old problem, unless our homegrown players come good, the only players we can sign are ones that the top clubs don't want.
That's a very big handicap which means at best we are playing to finish mid-table each season. We only need a few injuries or signings to be poor and we are right in trouble.
We will stay up okay, I'm confident of that, because there's enough clubs struggling maybe a little more than us.
Dave Whitwell
300
Posted 20/02/2022 at 18:29:42
Sitting here on a Sunday morning trying to assess the position we are really in, I really felt we needed something yesterday, we have to capitalise on some momentum from these home wins and unfortunately we just keep falling down.

So I've been supporting Everton for 38 years, seen the glory and witnessed the nail biting relegation scraps. In a relegation scrap you look for characters so I'm giving my views based on the squad we have and in particular who we have available.

My view on our fixtures:

Man City (H) Loss
Spurs (A) Loss
Wolves (H) Not confident but has to be a Win
Newcastle (H) again has to be a win
Watford (A) Draw
West Ham (A) Loss
Man Utd (H) Draw
Palace (H) Win
Liverpool (A) Loss
Chelsea (H) Loss
Leicester (A) Loss
Brentford (H) Win
Arsenal (A) Loss

That's 14 points putting us on 36 is that enough😬😬 no doubt about it realistically we're going to have to find a way of getting points away from home.

The Chelsea and Man Utd games I'm thinking we will get something out of one of those only given they are at home.


Neil Copeland
301
Posted 20/02/2022 at 18:46:27
Dave #300, we also have 2 games waiting to be re-arranged; Burnley away and Leicester home. So, maybe 4 or even 6 points from those games?
Anthony Murphy
302
Posted 20/02/2022 at 19:14:05
We can't presume home victories will see us over the line - we won't have that Leeds atmosphere each home game and we can turn to shit quite quickly if we go a goal down.
I think we may need to pick up a win away from home somewhere – ideally not at Arsenal last game of the season
Peter Jansson
303
Posted 20/02/2022 at 19:17:22
I don't think a so called "clear-out" of players will solve anything. It won't clear anything.
What we need is someone to teach the players a "winning mentality". It seem like this is missing somewhere. We need a mental trainer. Not only for the players but for backroom staff.
We need to learn to think right and work hard. I don't know which one is missing. Maybe both? It can't bé a coincidence that all other teams seem to run more and faster than us.
Maybe we need a clear-out of our club mentality? A clear-out of players won't change anything.
Shane Corcoran
304
Posted 20/02/2022 at 19:41:31
Steve #280, the incident involving Gordon was 100% not a penalty.
As pleased as I am to see his improvement, I've noticed repeatedly his efforts, and very poor ones at that, to con the ref into giving us free-kicks and penalties.
Yesterday, he had a good chance to create a goal chance but instead tried to put his leg out to invite the tackle and then jumped on the ground when it didn't come. Embarrassing.
He needs to be told quickly to use the ball as we're not getting too many of these chances.
Barry Hesketh
305
Posted 20/02/2022 at 19:57:35
Peter @303,
Which backroom staff would that be? Benitez's guys have all gone as far as I know and Lampard has replaced them with his own people. The likes of Baines, Ferguson, Unsworth et al will likely have little to do with the first-team squad, save reiterating what Lampard and his staff want to be done.
As for the players themselves, they've had Silva, Allardyce, Benitez, Ancelotti et al and they haven't learned anything about a winning mentality; I don't believe it can be taught anyhow.
What I see in this squad is a lot of wannabe top players without the internal desire and work ethic to make them achieve it for themselves. I also see quite a few of them believing they are doing Everton FC a favour merely by being at the club.
From that perspective, only a clear-out – which will take time, money and correct replacements being hired – will have a positive impact on the playing side for Everton FC. We could be talking 3 to 5 years to arrest the slide and begin anew.
Tony Abrahams
306
Posted 20/02/2022 at 20:03:13
Peter @303,
Maybe you're correct but, if you replace half a dozen players and bring in some players with character, then I personally think it changes very quickly.
The biggest thing any sportsman needs to really improve is consistency, and I think this is where we are at right now.
How can certain players improve, when they are playing with others who are clearly not brave enough, and also not quite good enough?
Sometimes it looks like we are awful; then, at other times, it looks like we have got a few good players, who just need a few more better players, to help the squad really improve.
Yesterday was shocking but, the game before, we were good, and I think this was because the players who we know are not good enough, all had really good games against Leeds?
Calvert-Lewin hasn't got properly going since his injury, but on a good day, with Richarlison and Gray both playing either side of him, I'd expect them to be able to give most teams problems, especially with Dele Alli spearheading a three-man midfield?
Lampard has just got to learn fast, and hopefully the energetic Doucouré coming back into our midfield, will also give us a boost, just as long as we don't continue playing with just two players in this very important area of the pitch!
Peter Jansson
307
Posted 20/02/2022 at 20:45:30
#305 Barry. I will try to explain how I think (not easy but I try. I actually I believe you can teach winning mentality. Motivation is a very important factor here.
The bottom line is what you want to be. We need players that want to become the best or top notch football players. I think in everyday life, also when you are a football player, it is easy to get lost. So guidance is good.
If you realize you have to work very hard to become the best, you will work hard.
If you don't work hard, either you do not want to be the best or you are just not smart enough to realize you have to work hard to get good.
If you do not believe you can get good, you have to tell people they can get good. Because most people can get very good.
My point is that I am sure that ALL our players in our squad can get better. We have to help them to get better.
So several things to work with here.
1. You can motivate people to want to become the best or a top level player. If you do not want to become a good player you will never be.
2. You can learn players that in order to become the best you have to work hard.
3. You can teach players how to think. For young people it feels like a lifetime between 20 - 30. But for real it is not a lifetime. Time moves very fast. If you want to be a good player you have a limited time, so you cannot waste any time here.
4. You can teach players how to train.
And so on.
If the leaders in our club not constantly are working with all these points it is pretty easy to fall through. My feeling is that something is lacking somewhere. Since I am not working in the club I do not know where.
All I know is that we should be able to squeeze better football out of our squad. There are talent, but somthing is lacking. Maybe motivation, or mental strength. But this can be worked with.
Peter Jansson
308
Posted 20/02/2022 at 20:58:52
#305 Barry, Continuing.
Football is a lot of psychology. To make a team work well is not easy.
Maybe the most demoralizing thing is to watch team players not do 100%. I that is the case the sickness spreads around quickly. Why shoud you work your ass of when it does not get the desired effect when all other players do not care?
To me, when I play football, there is no more irritating thing than teammates not trying to do 100%.
Last game, we looked lost. It looked half hearted when we were pressing. That does not work. All players did not do 100%. We did not press in good jointly fashion etc. This is up the manager to fix. And this should be pretty easy to fix.
1. You train the team how to press.
2. You motivate them to want to do it.
3. You teach them to believe they can do it
This is really only motivation and psychological factors and training behind this problem. Nothing else as I see it. We could do this to Leeds we can do it to Southampton.
Neil Copeland
309
Posted 20/02/2022 at 21:08:17
Peter, you make some very good points but what if a number of players decided that the work they put in against Leeds was too much for them? So they didn't put in the same effort yesterday. The risk being that no manner of training whether it be psychological or otherwise will address the root problem. If this is the case then Barry is right and we need a clear out.
I sincerely hope that you are correct, Frank and his coaches get us functioning better and we can re-assess in the summer.
Brian Wilkinson
310
Posted 20/02/2022 at 21:16:48
Peter@307' I have had a good look of your certain aspects for a player to improve.
We saw it with Martinez, too nice, apart from the Baines one, he never hung out the players and even now never has a bad word about our club, then you had Koeman, totally different, never blaming himself, always the players fault, Silva, Sam, Ancolotti, Benitez, none of those could get these players getting a steady run of wins, last half of season under Carlo we struggled to get a run going.
Now we have had Lampard in, putting his arms around every single player, teaching them the basics of high pressing, simple passing and winning the ball back.
We saw against Brentford in the cup, then Leeds at home they can do it, but it's like all the good work is undone, as soon as we go a goal down, all thought process goes out of the window, the passing, the winning the ball back, the confidence, the lot vanishes, players hide, let their heads drop, get rid of the ball, as soon as it lands anywhere near them.
I've said it before 6 previous managers have tried, every single time after the new Manager syndrome, some players go back into the could not give a half toss mode, they lack confidence, these players need a head shrink coming in, they have the ability, but for whatever reason a bit of psychological awareness needs putting in some of the players heads.
Mike Gaynes
311
Posted 20/02/2022 at 21:32:33
Tony #306 and Peter #303, agreed.
Changing the mentality of this club isn't about clearing people out (unless you've got an out-and-out malcontent poisoning the waters, which we don't). It's about who you bring in. Character is contagious. Drive is contagious. Confidence is contagious.
It's too easy to say "clear out the deadwood" as if it's a cure-all solution for something.
But Peter #307, the problem isn't "the leaders in our club not constantly are working with all these points" -- the problem is there ARE no leaders. There's nobody to take charge on the pitch, nobody to light the fire. We haven't had a true captain's captain in years. Pip was the last.
Barry Hesketh
312
Posted 20/02/2022 at 21:37:03
The one thing that gives me some hope is that Lampard is fully aware of his teams frailties, whether he can help the players to overcome those frailties is another matter.
"In both home games [Brentford and Leeds] we've been testing the keeper all over the place," Lampard replied when asked about his side's struggles in front of goal.

"What is that? Do we need our 40,000 fans, that incredible support at home? It is great when we are at home but when we go away we have to find another way.

"That isn't an overnight change. Southampton have been together for four years [under manager Ralph Hasenhuttl] and had their own difficult periods. It takes time from a coaching point of view.

"But in terms of results, we haven't got that much time, so we have to find ways. There is a long way to go, we have games on our side and we must stay in the Premier League.

"But there in no point in me and the players looking at the bigger picture, rather than addressing what is right in front of us."
Lampard said: "I am here for a reason because we are down in a position we don't want to be in. In the two games at Goodison I have seen some really good things, in the two games away, not so much.

"We started the second half brightly. An individual mistake demands a reaction, not just a playing reaction but a mentality reaction and I didn't feel that from them [the players] today.

"I know they are good lads and want to react but sometimes when you have been in a hard run away from home it is easy to seep back into. The players need to understand that second half is not good enough.

"It is not good enough to lose second balls consistently, it is not good enough to try and miss out [midfield] and play to the strikers.

"It has to be an option but it can't be the way we play. We will have days like this. It is important to learn the lessons.

"I had to speak to them because I have been very positive and as staff we have had an uplift. But today we drifted back into being a team I don't want us to be so the players need to hear it. You learn more from a defeat than a win."
Neil Copeland
313
Posted 20/02/2022 at 21:38:54
Mike #311, I think that is one of reasons we are better when Mina plays. If he could stay fit (which I know he can't) then he would make a decent captain.
I thought the same of Ben Godfrey early last season although I am not as sure now. You are right, we need someone to lead us on the pitch.
Brian Murray
314
Posted 20/02/2022 at 21:48:45
Mike Gaynes. About true leaders. Not trying to put the squeeze on you but who's pip !
Neil Copeland
315
Posted 20/02/2022 at 21:50:12
Brian, Phil Neville
Peter Mills
316
Posted 20/02/2022 at 22:06:05
Derek#270. Thanks for that. The curve will be long and slow.
Charlie has always been someone who will do a good turn for anyone, and Graham is a genuinely nice guy. They will be glad the call was well-received. Best wishes to you.
Peter Jansson
317
Posted 20/02/2022 at 22:12:04
#309 Neil "what if a number of players decided that the work they put in against Leeds was too much for them?"
Hahaha. Well they won the game. If thats not good for you, maybe you should do something else than sports. Hahaha.
The one and only thing playing football is about is winning.
If any of our players are so stupid they thought that the work rate against Leeds was too much for them they are seriosly retarded. I don't think we have players that are that stupid... but who knows hahahah :-))
Neil Copeland
318
Posted 20/02/2022 at 22:13:26
Peter #317, so what happened against Southampton then?
Kieran Kinsella
319
Posted 20/02/2022 at 22:17:11
I was talking to a NASA astronaut recently and asked what it's like at take off: the noise, the flames, the g-force etc. He said in the moment you don't even notice it as you have to be 100 percent focused on your task and it's only afterwards you think Wow. This is what I'm talking about with Everton. It shouldn't make a damn bit of difference if you're home or away. You should be entirely focused on your job and if you're not you're a weak minded numpty.
Neil Copeland
320
Posted 20/02/2022 at 22:20:37
Kieran#319, either that or a few just couldn't be bothered.
Peter Jansson
321
Posted 20/02/2022 at 22:20:37
#318 Collective meltdown. Things are not done in jointly fashion. It looks like we have not trained and drilled pressing of the game hard enough. We were not doing things correctly.
Southampton could play the ball around too easy. There was a whole all the time somewhere in the pressing. We did not run fast enough. The team did not follow Richarlison fast enough. If they were tired, did not know what to do, I don't know.
Then when things do not work, it is very easy to get demoralized.
I don't know but it looks like we are not well trained enough.
It is not easy. Klopp and Liverpool did not get this done in a day. What strikes me is how we are so behind almost every other team on this.
But what is sure. We need to practise pressing of the game a lot, because it has to get better if we want to compete at a high level in 2022.
Neil Copeland
322
Posted 20/02/2022 at 22:31:58
Maybe it is as simple as confidence. At home the players feed off the support and are spurred on whereas away they are intimidated too easily so when it goes wrong they cave in.
Mike Price
323
Posted 20/02/2022 at 22:39:24
FFS, you can't get people to teach a winning mentality, just fucking sign players with a winning mentality, or a fighting one as a bare minimum.
I don't think I've ever watched the Wizard of Oz but common knowledge suggests we've got the cowardly lion as Iwobi and the Tinman as Gomes.
JJK is lower league standard so Lampard just has to stop them getting anywhere near our squad or we are royally screwed.
Danny Baily
324
Posted 20/02/2022 at 23:41:20
I'm puzzled by people being puzzled by our home form Vs our away form. We've played rubbish teams at home under Lampard. We've played better sides away.
Bill Watson
325
Posted 21/02/2022 at 00:52:11
Peter #269
I agree being relegated may cause a short term problem with the ground but I believe it would have to go ahead to add value to the club as a sellable asset to enable Moshiri to get his money back.
Any sanctions against Russia wouldn't affect Usmanov as he's Uzbekistani and Moshiri is Anglo Iranian.

Mike Gaynes
326
Posted 21/02/2022 at 01:03:01
Mike #323, it's not like we haven't tried to sign such players. Davy Klaassen is a leader, proved it at Ajax and Bremen, but he just didn't have the playing quality. Mina appears capable of emerging as a leader, as Neil mentioned, but he can't stay on the pitch.
And you should watch the Wizard of Oz once, because those two characters prove their courage and heart at the end of the movie.
Kieran Kinsella
327
Posted 21/02/2022 at 05:06:00
Neil 320
Effort or psychology it's easily resolved. Electric shock therapy, sensory deprivation, exposure therapy to desensitize. Drop Keane and Holgate into a Vat of tarantulas for 48 hours with no food or water and these pricks would soon toughen up.
Alan J Thompson
328
Posted 21/02/2022 at 05:36:38
There are several players who could or should be replaced by better, or even returning injured, but at the moment that is what we have, which is the bleedin' obvious.
While I like a lot of what Frank has to say I really do have to ask if it is good enough to replace a player solely because he has a yellow card against him? Allan was not playing that well, particularly his passing but wouldn't a word about jockeying rather than jumping in on the tackle have been sufficient for the next 15 minutes or so to see if he had taken the advice onboard.
Then, if it was felt he needed replacing it should have been, as near as possible, like for like, which Gomes isn't, and shouldn't need a full season to see and know.
I'd have also thought that perhaps whatever Iwobi was asked to do should have been rethought as I couldn't work out if he was supposed to be anything other than a slightly more advanced full-back.
And as has been said, he should have had an early word with Gordon about the silly diving.
And as I said at halftime, the front three needed sorting as all seemed out of position, or should I say, of usual position.
As Frank has intimated, it would be nice to say it's early days but we don't have that luxury, unless you can foresee how many points are needed to avoid relegation and where we might get them.

Ernie Baywood
329
Posted 21/02/2022 at 08:31:14
I shouldn't dwell on the past, but we have had two ex players talking in the press about how they enjoyed being at Everton but were forced out by Benitez.
And here we are. No left-back. No creativity.
It honestly just beggars belief. I hope that strategic review considers the obvious. I'll never understand anyone who thought it was a good idea.
Derek Knox
330
Posted 21/02/2022 at 08:47:49
Ernie, there may be some substance in what you are saying, and we are all well aware the club's miss-management and Board have just been a shambles. However ,with reference to Lucas Digne, I do think it was fairly 'good business' to get that amount for him at his age, and he isn't exactly pulling up trees or lighting fires at Aston Villa.
It's almost ironic that his replacement, Mykolenko, hasn't really flourished yet, and has lately been hampered with Covid-related issues. However, the Benitez factor has gone now, so perhaps if Frank can get his inherited squad of The Good, The Bad and The Ugly to start getting results away as well as at home, we should at least see survival and write this season off.
Like Del Boy used to say in 'Only Fools and Horses' – "This time next year, Ernie!"
Ray Roche
331
Posted 21/02/2022 at 08:58:54
Alan @328
I watched Allan closely after the ludicrous decision to book him after one, not dangerous, tackle after less than 15 minutes. He was too scared to put in a tackle, allowing players to waltz past him because he and everyone else knew that the referee would have issued a second yellow. It completely negated our midfield.
There's no way he'd have finished the game with soft bollocks holding the whistle. The mistake was putting Gomes on, but Lampard has yet to try many of the squad in matchday situations so it's understandable that the likes of Gomes will be given a chance.
Derek Knox
332
Posted 21/02/2022 at 09:09:58
Ray, the only chance I would give Gomes is at Southport Beach – to see if he is anywhere near up to the standard of the other donkeys. Eeyore!
Tony Abrahams
333
Posted 21/02/2022 at 09:27:32
If that strategic review considers the obvious, Ernie, then the man who's given us some good times, and also got very rich, by helping to turn an English institution into "plucky little Everton" must be about to desert us!
Brian Murray
334
Posted 21/02/2022 at 09:43:58
Alright Tony. Any ideas if this review covers the last 20 years or more and does it have any sway to at least corner or embarrass the real elephant in the Main Stand?
Not sure how it works but it's our only hope of a new beginning. Although, if the trapdoor stays open, his position surely becomes untenable. Though no-one wants that.
Tony Abrahams
335
Posted 21/02/2022 at 09:57:54
Don't get me started on the minx, Brian, please!
I went the ticket office the other day, and that despicable picture of our chairman, that sits above where they take "the dough", on the timeline that froze, had already been given a makeover, and Mr Good Times, was smugly looking down on us all, once again.
Brian Murray
336
Posted 21/02/2022 at 10:11:19
Amazed there's still some (on the Live Forum anyway) who can't or won't see the real reason we are today as a club and team just ambling along... (I wish).
I suspect it's the younger or maybe out-of-town Blues who are just interested in a Saturday afternoon good day, which I suppose is fair enough. Ironic we now have a real professional set-up with Frank. A club within a club, if you like.
Lester Yip
337
Posted 21/02/2022 at 10:21:42
I don't think Calvert-Lewin had a bad game. If you focus on the heading contest, he won most of it – just no-one's around to pick those up effectively.
He is now focused on getting into the box for goal scoring opportunities. But where are those crosses? Over-hit, too low got intercepted, etc... you name it.
Has Calvert-Lewin missed a sitter? No, because there's no service in the first place. We've sold the only one that can pass, James.
Richarlison and Gray, if they have the ball, they tend to shoot themselves. So Calvert-Lewin can hope for a spill for a tap in. That's all he can do.
If I were him, I'd be thinking what it would be like if playing for Arsenal, who have players that can work the ball into the box.
Please tell me Mykolenko and Patterson know how to cross.
Bill Watson
340
Posted 21/02/2022 at 10:21:52
Alan #328,
Allan had already made another iffy challenge after his yellow card and he would have been off after the next. A red would have left us a man short and Allan with a three-game suspension. It was absolutely correct to substitute him, in fact, I'd have done it sooner but, as Ray said, Lampard's mistake was using Gomes.
Tony #333,
What if the one leading the review is the same one as 'the man who's given us some good times'?
Nick Page
341
Posted 21/02/2022 at 10:27:41
Yes, Brian. The reason things "go against us" in games like Saturday is due to the way the club has been run into the ground by Kenwright and all other hangers-on.
We have a poor attitude – this is because Kenwright has turned Everton into a make-weight, and this attitude permeates through the playing staff.
Look at all the players that have come in and gone backwards on big money. If you don't want to win, it just becomes another job. Frank will catch on soon enough.
As to the referees and the Premier League, again because we're so nice and never say anything or complain… because of Kenwright… we quite easily get refereed out of matches.
Booking Allan so early, two of theirs never got booked and then a stonewall penalty not given. Compare that to the attitude of them over the park. I'm not saying we should be like them, ever (with their "win at all costs" mentality and fuck everyone else) but they make enough noise and get away with all sorts.
Kenwright is the single worst thing that ever happened to EFC.
Brian Murray
342
Posted 21/02/2022 at 10:36:09
Nick.
Trying to get through this week with my ostrich tactic otherwise take away my belt n shoelaces so try and swerve talk of that white Nelly in the room / stand.
As for refs, it somehow does seem personal, the vital calls go against us, especially away, or maybe because we are not one of the fashionable Sky darlings?
It's true that Frank and the bench need to scream any wrong-doing from the bench, like that speccy prick does over the park. We are obviously too nice on the pitch, and Seamus, god bless him, says sod-all. Same with Jagielka before him.
John Boswell
343
Posted 21/02/2022 at 13:11:15
I am still struggling to understand how the refferee justified waving "play on" after Gomes was bundled to the ground by a Southampton player, who did not touch the ball at any time. The ball runs loose and is collected by a Southampton player and a goal follows.
Gomes didn't have a great 45 minutes but to accuse him of failing to keep the ball is wrong, in my view. A poor referee did not help our weak-willed players. COYB.
Stan Schofield
344
Posted 21/02/2022 at 14:07:43
John, absolutely, the refereeing was a disgrace, and we should also have had a clear penalty. Like the Newcastle game, where our two bad injuries arguably were a result of very bad officiating.
Yes, we do have mental fragility away from home, but the truth is that it's not helped by the uphill struggle of appalling refereeing. To us an old phrase, in the last two away games we were, in a very real sense, robbed.
For some time it's seemed that Everton is an easy victim of bad refereeing. Trying to play against 11 opponents and a biased referee, repeatedly, is likely to be knocking the stuffing out of our players. We need to do something about that, to not give in, to have a 'fuck you' attitude.
Hopefully that's something that Lampard, with his background of being very competitive, and the evidence of events like his telling Klopp exactly where to go, will remedy in a way that previous managers haven't been able to.
Stan Schofield
345
Posted 21/02/2022 at 17:16:02
In the headline, rather than 'lack of quality', it's arguably 'lack of mental toughness in the face of adversity during away games', but that's more of a mouthful.
Dale Rose
346
Posted 21/02/2022 at 17:34:00
Southampton are a bang average side. However, they did the basics well. We didn't do the basics well and we were beaten.
Football is a simple game, just pass to your teammate, challenge for fifty-fifty balls. Two things we aren't doing enough of.
I'm glad Lampard is here. He knows what's what. I just hope he can save us. Somebody on MotD said a disturbing thing to the effect that Everton won't win anything with those players.
Liam Heffernan
347
Posted 21/02/2022 at 18:02:33
After looking at our run-in, I'm afraid I don't see us getting more than 10 or 11 points, unless we can get some kind of run together.
The only bright light I see is that Leeds and Brentford have worse run-ins than us and I think Norwich will go down. Fingers, legs, and eyes crossed.
Barry Hesketh
348
Posted 21/02/2022 at 18:14:04
Dale @ 346,
I agree with what you say, and we don't need the talking heads to tell us what we already know. However, it would be very satsifying if we could make them eat humble pie by lifting the FA Cup in May.

Dale Rose
349
Posted 21/02/2022 at 18:52:16
Barry 348. Wouldn't that be something
Brian Murray
350
Posted 21/02/2022 at 19:09:14
Can we stay up with another 10 points? That's all I see us getting. I know the saying "it's a funny old game" but it's not that hysterical. These so-called average teams will smell blood (and panic) even at home.
Lots of sweeping statements, eg, the crowd will carry us... Don't trust this team – just hope the rest of the bottom five are saying the same.
Frank Thomas
351
Posted 22/02/2022 at 00:39:23
One reason why all the players seemed tired at this game may have been their travel arrangements. They normally fly the day before and have a chance to recover. I have checked and Spurs took the coach up to Manchester. We were due to fly down on the Friday, so did we fly to Southampton on Saturday, can anybody confirm this?
Premier League football is simple and the answer is in the association's name the 'FA' Meaning Fitness and Accuracy are the two main characteristics players need to have.
Last week, Kenny said extra training (increased fitness) had made him a better player.
Did anybody watch the West Ham vs Newcastle game. In the warm-up, they were practicing shooting from outside the box and nearly half missed the goal. So it was no surprise that both teams missed a variety of 'easy' shots during the game, not even on target. However, thanks to Moyes's desire to get the team fit they sit in 5th place.
Lukaku improved his game with us when he stopped lashing at the goal and started placing his shots. He goes to Man Utd and, after a time, he starts lashing his shots again.
Against Brentford we placed our shots and scored a lot of goals. Against Newcastle and Southampton, we reverted back to lashing at the goal instead of placing our shots.
Take Trippier for example, he scored two goals helping Newcastle earn 6 points. Did he dribble towards goal or play a brilliant one-two? No, he merely accurately placed his free-kicks – when was the last time we scored by a free-kick?
So Lampard should be making the whole team practice accuracy every day for at least an hour. Not the useless crap of aiming for the 'goal'. They should be aiming for the inside of the post and continue until they get 20 or 30 consecutive shots on target. The point being it should be the same target, left or right post.
Not many players dribble the ball past several players, not even the players in the team across the park do that. Instead, they simply pass and the receiving player knocks the ball into the goal – not lashes it into goal.
The accuracy of not just our players but the majority players in the Premier League is simply appalling.
Yes, the players can make themselves look good 81% accuracy pass rate. Over what distance and what was their accuracy rate of shooting on target or passes over 20 yards?
Look at Richarlison great player but his accuracy on goal has decreased amazingly since his first season. Even Calvert-Lewin's heading accuracy has been very poor or has he had a neck injury that cause him to miss the actual goal when heading?
The injuries we are getting are mainly down to 'over playing' the best players i.e. Doucouré, Godfrey and Allan who all give 100% every game. They should all be rotated playing 70 minutes in one game and 50 minutes in the next game only occasionally playing 90 minutes in every game certainly not playing in three consecutive games.
All of the above-mentioned players have being working extra hard to cover the poor performances from the likes of Rondon, Iwobi and Gomes. Once a player no longer has to 'perform' to get a first-team slot they become lazy and it demoralises the players challenging for that position.
Shake it up Frank, rest Calvert-Lewin or Richy for the first 60 mins and give the likes of Dobbins and Simms a chance to gain Premier League experience. Ditto – when is Onyango going to get some time? He certainly cannot be worse than Gomes.
Andrew Keatley
352
Posted 23/02/2022 at 03:17:26
Frank (351) - Sorry to be blunt but your post is full of unsubstantiated claims, guesswork, assumptions, and back-to-front logic.
We're all frustrated by the shortcomings of our first-team squad, but the idea that you or anyone else is going to magically hit upon the solution somehow – whether it's as basic as telling players not to "lash it", or rationing minutes, or playing youngsters so as not to dishearten them – is oversimplifying a very complex problem that has seen a series of highly-rated managers leave this club with their tales between their legs (and huge cash pay-offs).
Hopefully Lampard can do much better, but I expect that progress will be slow, and at times, painful. Strap in because there are no easy fixes, not at Everton Football Club.
Frank Thomas
353
Posted 23/02/2022 at 13:00:49
Andrew, I am very careful about what I say on here because people here check facts and assumptions and so they should in football, professional and everyday life.
You mentioned 'back to front logic' could you please elaborate on that?
Accuracy. I remember Beckham saying that, as a boy, he used to practice for hours shooting at a tree and not just a large goalmouth. He credited that practice for improving his football.
How many games have you seen at the ground or on TV where you were puzzled as to how our players missed? One of the most spectacular misses was Bolasie's miss a few feet away from an open goal when he lashed at the ball in a pre-season friendly.
Link
Check out these goals from Rodriguez, Calvert-Lewin and Richarlison. https://www.youtube.com/watch?v=_PMjRtxwInk The only lash at goal was from Richarlison and that only ended in a goal due to a massive deflection. Every other shot and headers, especially Rodriguez's goals, were all a foot or two (bar one) inside the post.
Fitness. Moyes joined West Ham in 2017 and, at the end of the of the 2019-20 season, he stated his team were not fit and he got them to train harder. In 2020-21, they finished 6th. At the start of the current season, some of the players have been saying they feel better and fitter with their training.
As for the manager's performances the only 'coach' we have had in the last 6 years has been Ancelotti. He encouraged Calvert-Lewin to stay up in the box where his aerial prowess would present a lot of danger to other teams and he pounced on the loose balls in the box.
Andrew, you just stated one of the main problems: huge payoffs for managers; failure is rewarded at Everton. I did say in another post that, when Rogers was sacked across the park, he was on about £4M pa and had 3 years left on his contract. He was offered a cash deal of £6M in one lump sum. or he could continue his contract for the remaining 3 years, prohibiting him managing another team while he remained on salary. He stayed for a year and a half but realised he could make more money actually managing a team so he left.
Maybe we have the same clause but I have never seen or read anywhere about it. As far as I know, our managers have all honourably been paid in full. Why?
Andrew I have not suggested tactics, players, team formations, psychological support or coaching of skill sets. What I have said is that our players need to be a lot fitter and much more accurate and that will solve a lot of our problems.
What I have suggested is that, if Cantona and the youngsters (Beckham et al) did extra practice and their team improved dramatically, why can't our players be ordered to do it?
Paul Cherrington
354
Posted 23/02/2022 at 16:46:36
The game against Southampton confirmed a few things Lampard must take note of moving ahead:
● Andre Gomes must never play for us again. He plays, we normally lose – it is as simple as that! Yes, he will have the odd good game against teams even worse than us (Brentford for example) but he just seems to drag everyone down around him most of the time and make costly mistakes.
He might look good in training but crumbles under pressure from opposition players, is too slow, too weak and gives away possession in dangerous areas. Literally anyone else is a better pick than him... I don't care how low numbers in midfield are.
● We must learn how to play against a team that presses us high. At the minute, teams have worked out that they will dominate us and win with a high press.
● You cannot deny that Pickford was at fault for both goals. He should never have been beaten at his near post for the first and should have cleaned out that cross for the second. Coming and then changing his mind was a bad error. Is it time to give the more experienced Begovic games to steady the ship? Do we sell Pickford over the summer while his stock is still high and invest in a more reliable top-class keeper?
● Don't play the same team in 2 games running. He's tried it twice now and failed both times. I actually would normally prefer managers to do this but our players just cannot seem to handle it.
After the Leeds game, we should have been all set to have a real go at Southampton. Not saying it was an easy task or we would have won – but the performance that was put in was embarrassing. Lampard has got to work out how to get them playing well every game somehow.
John Boon
355
Posted 24/02/2022 at 01:15:10
Andrew ( 352) you are so right in your assessment of Frank (351) and (353).
Frank, you are obviously a dedicated Evertonian who has every right to your point of view. Fortunately Football is a simple game and most successful teams, along with all the appropriate skills, play it very simply. Your recipes for success are confusing and overstated.
Enough to say that any team trying to comprehend what you suggest would end up dizzy on the Changing Room floor in your pre-game warm-up. They would be as conflicted, bewildered and confused as Everton often seem to be when playing this season.
Continue to watch your favourite team but please don't try to get a job on the Everton coaching staff. The present players already look bored enough and confused!
Stan Schofield
356
Posted 24/02/2022 at 15:19:08
John@355: Nobody on ToffeeWeb should get a job on the Everton coaching staff, because we're only supporters and amateurs. If the Everton coaching staff took on non-professionals, EFC would be truly buggered. Football might be a simple game, but at the elite level it's not simple enough for amateurs to be involved. But us amateurs can offer our opinions on ToffeeWeb.
John Boon
357
Posted 24/02/2022 at 18:02:57
Stan (356),
You are correct in everything you state. I certainly expect Everton to only hire proven, well respected and experienced coaches. Unfortunately, from the perspective of results over the last 5 years, we have been severely lacking in successful coaches. It has to be the main reason for lack of progress.
I agree that ToffeeWebbers have every right to give their opinions and fellow TW's should always feel free to disagree. I am speaking 'tongue-in-cheek' when I suggest that any Everton supporter should even consider applying for a coaching position. I just think that some posters over-elaborate in regards to the advice they give in how to bring glory back to our beloved team.
In regards to the word 'simple', it is really a case of semantics. I certainly did not ever mean to imply that coaching at a professional level is a simple task. In fact, I feel that it is extremely complex and complicated. However, there are simple ways of getting to the point and some coaches need to be more simplistic in trying to implement new systems.
I also think that some posters are inclined to overstate their opinions to the point of boredom. In fact, I may have just proved my own point by jabbering on in my own defence. Or perhaps it is just the 'scouser' in me. Let's face it, most scousers often have far too much to say. Even loyal Evertonians.
---
Add Your Comments
In order to post a comment, you need to be logged in as a registered user of the site.
Or Sign up as a ToffeeWeb Member — it's free, takes just a few minutes and will allow you to post your comments on articles and Talking Points submissions across the site.
---
© ToffeeWeb