Report
When you're down at the bottom, you just don't get the breaks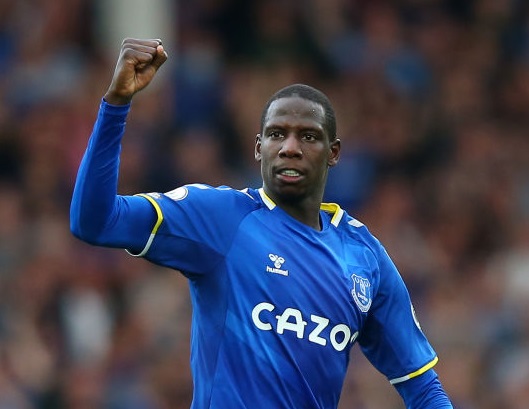 Abdoulaye Doucouré is fit and starts in a 3-man midfield

Frank Lampard's inconsistent side take on Premier League leaders Manchester City in the evening televised game at Goodison Park.

After the games last night and this afternoon, Everton's position in the table has further deteriorated, with Newcastle going above them as they secured another win, this time at struggling Brentford. Burnley and Watford both drew away from home.

Richarlison and Gordon start with Dele Alli and Demarai Gray on the bench. No Dominic Calvert-Lewin.

Central midfield is bolstered by Abdoulaye Doucouré, with the Frenchman thrown straight back into the starting XI after recovering from an injury problem that has kept him sidelined for the last 5 weeks.

Alex Iwobi and Jonjoe Kenny are also retained despite poor performances last weekend, with Vitaliy Mykolenko and Nathan Patterson on the bench.

Both teams entered the field showing unanimous support for Ukraine under Russian aggression, with "He ain't heavy, he's my brother" playing in place of the Premier League anthem.

Manchester City kicked off and looked to deny possession to a Toffees side that did not offer much of a high press. Gordon was in too hard on Foden to give up a dangerous free-kick that De Bryune curled in but the City attackers committed a foul,

Everton were sloppy with possession on the rare moments early on when they had it, Sterling almost setting up a City strike on goal before Gordon was fouled, then Richarlison. From that free-kick, Coleman won a corner. Gordon's corner was cleared but Van de Beek put a great cross back in that Stones beat Richarlison to.

At the other end, Holgate did well to stifle Gundogan but Van de Beek then gave it away needlessly. City wanted the Everton press to find spaces but it wasn't happening as Stones gave up a throw-in. But a good spell from Everton got them to finally close down and put in challenges in the final third, although with no end product.

Article continues below video content

Gordon made a superb run down the left and cross that Ederson almost spilt. City tried to force Everton to break shape but they were holding well in defence, if failing to make much use of a ball that was rarely theirs in possession.

Foden did well to eat Kenny and win a corner that City played short. But Doucouré's challenge on Laorte was considered to be too robust. Another dangerous free-kick was swung in by Foden and a deflection caught Diaz by surprise.

After more great play from Gordon, Doucouré and Iwobi tried to play through a packed Dee and failed, Richarlison losing possession to allow another City attack. But Richarlison was then fouled by Laporte. Gordon's delivery wasn't quite deep enough and it all broke down, needing a fine tackle by Kenny to stop a City break.

A smart throw by Pickford was perfect for Van de Beek to play forward into Gordon's path but he overhit it way too hard and a great opportunity to build again, just evaporated. A deep crossfield ball to Gordon was then also overhit.

More great work by Gordon won the ball back but Doucour and Iwobi wasted the chance. Allan went down inside the area, too easily said the referee, causing Van de Beek to get frustrated and get himself booked.

De Bryune saw a sight of goal but his ground shot was saved by Pickford. Allan did brilliantly to win the ball and play in Jonjoe Kenny who had to shoot with his left foot and could only hit the side netting.

Foden danced into the packed Everton defence and won a corner that Laporte headed over. Richarlison did the same thing at the other end before he was then gifted an incredible chance that he lashed straight at Ederson.

Everton looked to break but Iwobi had gone way too early. Richarlison then did well to draw a foul that allowed Everton to build an attack. Iwobi tried a smart ball to pay in Gordon but Stones stretched to intercept. City broke at pace but Van de Beek worked tremendously hard to win the ball back and then broke down another City surge.

Gordon went on another great run down the left but with absolutely no support! The ball was easily recovered by City and another attack built but Silva's shot at Pickford was weak. Better forward play edged closer to the City area, Richarlison getting a really soft call in a very dangerous spot but the refereed instead forcing Everton back 5 yards.

Gordon went for the top corner with his free-kick but it was always going over. However, it underlined the excellent fist Everton had made of the half, going toe-to-toe with City pretty much all over the field.

The second half started in similar fashion, Coleman playing an excellent ball to Doucouré, but he couldn't hold it up. This allowed City to push forward until they were caught offside.

Allan did well to win back the ball in midfield but Richarlison broke to early to receive it and was flagged offside after he shot at Ederson. Iwobi beat Cancealo down the right and won a corner. Gordon played it short and it lled to a City break that Van de Beek was again back to cover superbly.

Doucoure and Richarlison tried to break down the left but Iwobi lost possession. Everton were really competing well in midfield and preventing City from getting much penetration into the Everton area. But City were pushing them harder in what was a pretty competitive game.

City worked hard to finally create a chance for Foden that Pickford saved well. Allan hassled the linesman and won himself a stupid yellow card after fouling Bernado Silva. The wicked free-kick in by Foden was repelled by Richarlison.

Much more of the play was now around Everton's area but Richarlison did well to thwart Stones, while Gray and Towbnsed warmed up off the Everton bench. But each City attack was looking more and more ominous, Everton penned in their own half.

A clearance to Stones was returned with interest, Pickford pushing it over the bar. 65 minutes gone and Lampard was again late with his subs as Everton had been flagging a little under the pressure for 10-15 minutes. But Everton were defending effectively without getting far into City's half. They really needed something more before Pickford had to pull off a tremendous double save, the first a low shot from De Bryune, the second a vicious follow-up from Bernardo Silva.

De Bryune danced around the Everton defence and chipped a cross in for Foden to head onto the roof of the Everton net as City got closer and closer. Van de Beek went down, forcing Lampard to bring on Dele Alli.

But the pattern of the game remained unchanged, City pushing Everton back into their own half, looking more and more seriously for the breakthrough. But Everton finally fashioned a break, Doucoure to Gordon who Stones forces behind.

It was becoming increasingly desperate as Gray came on for Gordon. Rodri's shot was blocked, De Bryune was stalled. Everton stemmed the one-way traffic for a brief respite with 10 minutes left.

A wicked ball in was cleared by Keane before a horrible cross was deflected behind the off-balance Keane and Foden nipped in to score.

Richarlison got behind the City defence and was blocked up by Ederson. As it fell and bounced, it seems to strike Ridri's arm in the City area, leading to a long VAR review that concluded it was NOT handball. But it sure looked like it was. Everton robbed yet again.

Gray came on and, after some silliness with Foden and Coleman, he won a corner but Everton could do nothing with it. With 5 added minutes, Everton tried to force some sort of a reply. Stones spent most of it getting his dislocated finger fixed. Then Dele Alli's only contribution since coming on was to tumble into Ederson, seemingly breaking his back.

But it was all too little too late after they had allowed City to dominate the second half and win the game with one jammy goal.

Kick-off: 17:30 GMT, Saturday 26 February 2022

Everton: Pickford, Coleman (c), Holgate, Keane, Kenny, Allan [Y:57'], Doucoure, Van de Beek [Y:27'] (71' Dele Alli), Gordon (77' Gray), Iwobi (88' El Ghazi), Richarlison.
Subs not Used: Begovic, Patterson, Townsend, Mykolenko, Branthwaite, Rondon.

Manchester City Ederson [Y:87'], Joao Cancelo, Dias, Stones, Laporte, De Bruyne, Rodri, Gundogan (77' Mahrez), Bernardo Silva, Foden [Y:89'], Sterling (77' Gabriel Jesus).
Subs not Used: Walker, Ake, Grealish, Zinchenko, Fernandinho, Carson, Slicker.

Referee: Paul Tierney
VAR: Chris Kavanagh

Attendance: 39,032

Share article:
---
Reader Comments (273)
Note: the following content is not moderated or vetted by the site owners at the time of submission. Comments are the responsibility of the poster. Disclaimer
Jerome Shields
1
Posted 26/02/2022 at 16:40:43
No Calvert-Lewin. Doucoure getting a tough return.
I expect some improvement on last week.
Dave Abrahams
2
Posted 26/02/2022 at 16:44:15
Has Calvert-Lewin broken down again or is he being saved for future games?
Ray Roche
3
Posted 26/02/2022 at 16:46:43
Injured Dave, abductor problem.
Nicolas Piñon
4
Posted 26/02/2022 at 16:48:04
Seems Frank read my message last night and wanted to prize me by picking almost the same team as me, hahaha.
Tough one but probably the best line-up we got.
COYB!!
Bill Gall
5
Posted 26/02/2022 at 16:48:12
Hope the other Man team play as bad as Utd, but I doubt it. Watford are playing well defensibly but Utd are poor.
Danny Baily
6
Posted 26/02/2022 at 16:52:33
Well, other results could have gone better!
Brian Wilkinson
7
Posted 26/02/2022 at 17:05:22
I think results wise Newcastle win keeps Brentford close by, having played 4 games more.
I reckon Norwich and Watford will go down, I have not been looking at the other teams below us, Leeds or Brentford are the ones to keep an eye on.
Need to try and grind a result out today, even a point, easier said than done, but possible.
Tony Twist
8
Posted 26/02/2022 at 17:13:42
Other results aren't relevant now, we are right in the mire, unless we get our shit together, we won't stay up. Try and win every game, especially at home, coz if we try and manage things we will fail. Probably the most talented, incompetent Everton team in recent history. Best of luck, Blues, we need it.
Jay Wood
[BRZ]
9
Posted 26/02/2022 at 17:21:44
It is self-evident to me that Newcastle has turned a corner and are duly climbing the table. Quite simply, if we finish above them, we won't be relegated.
I always prefer points on the table rather than games in hand, but the likes of Brentford and Leeds are currently in freefall and remain in striking distance of one single win.
If that could come today, that would be a huge fillup.
Eager to see how a trio of Allan, Doucouré and Van de Beek work together.
Alan J Thompson
10
Posted 26/02/2022 at 17:24:41
I was rather hoping Calvert-Lewin would pester the life out of Stones but otherwise it should be shoot on sight should the chance arise.
Tony Twist
11
Posted 26/02/2022 at 17:26:53
Clean sheet and a goal from Richarlison would be wonderful. Let's be having you, Fun Time Frankie! UTFT!
Ciarán McGlone
12
Posted 26/02/2022 at 17:30:42
Good to see 3 midfielders. On the basis of our cycle of one shit game, one good game, I expect to win this 2-1.

Mike Gaynes
13
Posted 26/02/2022 at 17:30:47
Lovely show from the fans at Goodison. "He Ain't Heavy, He's My Brother" and Ukrainian flags everywhere, including the Everton players' shoulders. Tears evident from Mykolenko and Zinchenko.
Jay Wood
[BRZ]
14
Posted 26/02/2022 at 17:33:46
Well that entry by both teams, their and the crowd's display of solidarity with Ukraine and the images of the two Ukrainian players has got me leaking tears.
What a mad world.
Let's forget that and have a good game to enjoy.
Ernie Baywood
15
Posted 26/02/2022 at 18:23:46
I'm impressed by that half. Often we go into these games with a defend and hope mentality. This feels a bit more - unashamedly sitting off them and then choosing our moments to press. And when we get the ball it's about using it well instead of just pumping it back to them.
No mean feat to get this team to seemingly buy into that plan.
With City's quality you'd still make them favourites, but the fact that we have a plan gives us a chance.
Keep thinking the approach feels a bit Mourinho-ish? Early on at Chelsea he used to love finding a way in the big games.
Ciarán McGlone
16
Posted 26/02/2022 at 18:24:06
Thoroughly enjoyable.
More of the same please.
Jay Wood
[BRZ]
17
Posted 26/02/2022 at 18:25:35
Excellent half of football Everton.
No KITAP1. No fear. No inferiority complex. We have been the better team.
City turning back time and again. Only 1-2 they have found dangerous positions between the lines. Foden's brilliant take down to get beyond Kenny the only time they've really got in behind us. Corners well defended.
Holgate looking solid with good distribution. Allan having a stormer. Doucoure looks good in this set up. Richy mostly holding up the ball well. Give Gordon the room and the right ball and he will burn off his full-back.
Given the opposition and who they have on the pitch, never mind who they can call on from the bench, we've kept them very quiet.
Can we go again for another 45 minutes?
Delighted with the performance. Hopeful of the result.
Alan J Thompson
18
Posted 26/02/2022 at 18:27:04
So far so good. A few things need tightening up but again I can't work out if Iwobi is supposed to be a defensive winger or an advanced full-back. I don't blame the player but what exactly has he been told to do? And Jonjoe Kenny does not look out of place in this company.
And would somebody ask this inconsistent Ref why he has given a yellow card albeit he seems better than those we usually get.
Simon Dalzell
19
Posted 26/02/2022 at 18:45:59
Brainless Allan.
Kieran Kinsella
20
Posted 26/02/2022 at 19:10:22
Keane and Holgate as ever.
Simon Dalzell
21
Posted 26/02/2022 at 19:10:49
Keane again. Pathetic,
Ciarán McGlone
22
Posted 26/02/2022 at 19:11:45
Keane just does that too often.
Needs replaced.
Kieran Kinsella
23
Posted 26/02/2022 at 19:15:33
Graeme Le Saux says that's all but match fixing from VAR.
Tommy Davis
24
Posted 26/02/2022 at 19:22:42
After a few minutes of VAR and talking in the refs earpiece, it was decided that it was offside minutes before the pen... What the Fuck???
Kieran Kinsella
25
Posted 26/02/2022 at 19:24:57
Player ratings: Keane and Holgate 0. Everyone else 6. Everton expect the best not gallant defeat after throwing so many easier games. Dark dark days.
Frank did what he could ditching Gbamin and dropping Gomes but still too many weaklings in this squad.
Alan Johnson
26
Posted 26/02/2022 at 19:28:08
So unlucky. COYB
Ernie Baywood
27
Posted 26/02/2022 at 19:28:56
No Tommy. The offside was after the handball.
They could only have decided it was on the sleeve line. It's a shocking decision. That's a handball under every possible variation of the rule that there has ever been. Ever.
Simon Dalzell
28
Posted 26/02/2022 at 19:29:37
Played well. Clear pen. Makes you sick.
Danny Baily
29
Posted 26/02/2022 at 19:29:47
Headline sums it up. We needed some luck and didn't get it.
On to Spurs away. You never know!
Jay Wood
[BRZ]
31
Posted 26/02/2022 at 19:30:22
Cruel. Deserved something from that game.
City clearly the better team in the 2nd half. Won it with a fortunate goal, not from craft.
Disappointing result, but an encouraging performance going forward.
Play to the level of the 3 home games under Lampard and we will be fine.
Brian Murray
32
Posted 26/02/2022 at 19:31:22
Probably has already been said but needs saying again: Barnsley, Fulham etc have a Holgate and Keane in the middle. See it, say it, sort it, Frank.
Ernie Baywood
34
Posted 26/02/2022 at 19:33:05
I wonder whether it doesn't get overturned, but would have been upheld if Tierney had given it?
And he should have given it. About 38 thousand people saw it. How didn't he?
Simon Harrison
35
Posted 26/02/2022 at 19:34:19
Kieran [23] That was as blatant as you want. A definite handball, as nearly all commentators said, and yet them with the technology say "Non!"
To paraphrase what they say, "Where there's brass, there's muck; and the more brass, the more muck!" Says it all about the Premier League and VAR.
Jerome Shields
36
Posted 26/02/2022 at 19:36:43
Everton played well. I thought Frank should have brought players like Dele Alli and Gray earlier in the second half to keep Man City pushing their defensive line up in support of midfield. Keane is error-prone. Should definitively have had a penalty for an obvious handball.
An offside given before the penalty. Man City could not believe their luck. Took the goalkeeper forever to find the spot for the freekick. Ref wasn't giving the offside, VAR decided he had to. Something wrong there.
Phillip Warrington
37
Posted 26/02/2022 at 19:38:24
Keane should be dropped that was 100% his fault for the goal, I don't understand he is a liability that costs us games.
If an Everton player did the same thing, it would be a penalty, it's just another way the league makes sure the strongest teams stay up the top.
Alan J Thompson
38
Posted 26/02/2022 at 19:40:50
It really is hard to lose to a shite goal and blatant cheating by the Ref and VAR.
Everton must now complain long and loud to all and sundry about this rather than their usual fear of doing or saying anything to rock a corrupt and inefficient system. It has to stop NOW!
Kris Boner
39
Posted 26/02/2022 at 19:44:27
I'm just going to cut this off now. The offside was given for a pass Kenny received after the handball and would not have influenced the decision.
Jamie Crowley
40
Posted 26/02/2022 at 19:45:42
Richarlison was offside on his run prior to the handball.
Today was cruel. We played well.
Jerome Shields
41
Posted 26/02/2022 at 19:46:58
Kris #39,
Info picked from another site. Still a blatant penality though.
Ernie Baywood
42
Posted 26/02/2022 at 19:48:01
Jerome. VAR didn't give the decision as 'offside'. They gave it as "no penalty".
The offside was in the ensuing play, which is why the game was stopped and Ederson was sent over to our left wing to take the free kick after the review.
We watched VAR. They didn't check offside, they checked where it hit the arm.
Don't let them off the hook. It would be rewriting what they just did to us.
Kris Boner
43
Posted 26/02/2022 at 19:49:32
@Jerome.
Premier league has tried to clarify the position being about the handball with no reference to offside.
Premier League clarify that the VAR team didn't think there was conclusive evidence that the ball hit Rodri more in the red area of the arm than the green. Nothing to do with offside pic.twitter.com/h6QhS6SEaW

— Simon Bajkowski (@spbajko) February 26, 2022
Jerome Shields
44
Posted 26/02/2022 at 19:50:19
Ernie #42,
I know you are right. Wrong info from another site.
Kris Boner
45
Posted 26/02/2022 at 19:50:49
It is also being reported on BBC that the VAR crew said it was inconclusive how much of the ball hit his arm and how much hit his sleeve.
Jamie Crowley
46
Posted 26/02/2022 at 19:51:10
Ernie -
I'm not picking a fight and thought we got fucked, but that's not what they are reporting over here.
They went back to Richarlison's run just prior to the handball, and judged him offside. Ergo, the play, is null after that as it was seconds later and well within the build-up period.
That's the report. I don't like it, but that's what they're saying and it does make some degree of sense.
From my view, Richarlison – if he was offside??? – was barely offside and it didn't warrant the play coming back. In fact, the left-back for City I thought played him onside.
Jamie Crowley
47
Posted 26/02/2022 at 19:52:57
I do think Everton should continue arguing the VAR decision and not give an inch on the argument.
We lay down too often and I think we should bitch to the high heavens and make our case continually.
Ernie Baywood
48
Posted 26/02/2022 at 19:54:22
Kris, this is why VAR doesn't work.
It seems that they didn't judge whether it was handball or not. They judged whether the ref had made a clear and obvious error.
If he gives the penalty, they would have confirmed it. Because he didn't, they stuck with him.
And yet you have a ref who must have seen it as everyone else did. And presumably let it go to VAR – he indicated as much on the pitch as we surrounded him before the game had even stopped.
Again, I suspect we're going to be narrowly on the wrong side of a dividing line in history. They'll review what happened there and conclude that it should have been a penalty and make adjustments.
Alan J Thompson
49
Posted 26/02/2022 at 19:55:45
Jamie (#46); If one of their players is the last to touch the ball then he has played everyone onside.
Paul Hewitt
50
Posted 26/02/2022 at 19:56:47
Richarlison was NOT offside.
Ernie Baywood
51
Posted 26/02/2022 at 19:56:47
Jamie, it's what Pep claimed in his interview but there's zero evidence for it.
We watch what VAR watch. They didn't review the run from Richarlison.
Jim Lloyd
52
Posted 26/02/2022 at 19:56:54
That referee was a disgrace! Hope we give him minus 5 for a mark!
City I think put the pressure on us after the hour or so... but no disgrace: we fought well, played well. If we play like that against the teams round about us, then we should be able to get the points we need to get out of trouble.
I thought Allan and Van de Beek and Doucouré were excellent and Pickford was superb. All the team played with spirit and for long periods, stopped City in their tracks.
What really pisses me off totally is the arrogant bastards we have for referees. This feller took the biscuit for sheer pomposity, poor decisions and plain corruption, or incompetence... maybe both!
Tony Everan
53
Posted 26/02/2022 at 19:56:58
That's not a bad decision, let's not confuse that with outright corruption.
It is that man's profession, his specialist job to get those decisions right. This one was an easy decision, no debate in the studio or from anyone that it was clearly handball.
Investigation needed.
Charles Brewer
54
Posted 26/02/2022 at 19:57:18
Well, I think that Richarlison was probably offside at some point in the first half, or maybe in last week's match, so that's more than enough to disallow a blatant penalty.
Si Cooper
55
Posted 26/02/2022 at 19:58:46
Now the game's over, we are realistically on the same points after it as was expected before it.
On the penalty, if his arm isn't out, he cannot control the ball like he does so should be given. If an attacker did that just before putting the ball in the net, you'd expect it to be chalked off.
The manager now has to channel that feeling of injustice and add the real positives demonstrated in the overall performance. If he can, and injuries don't derail us, then consistent application should get us enough points to survive.
Jerome Shields
56
Posted 26/02/2022 at 19:59:20
Jamie #46,
The ref was more confused than Keane. He wasn't going to give the penalty, then under protest went to VAR, who came up with an offside. Then the Ref gave the offside freekick from the wrong place. It was a definite penalty and VAR and the Ref went to lengths to not give it.
Completely fed up. I need a drink.
Jamie Crowley
57
Posted 26/02/2022 at 20:00:43
Paul Hewitt – I agree with you. I don't think Richarlison was offside. I commented on the Live Forum that maybe his penis was offside. It was that close and in no way warranted calling the play / handball back in my opinion.
Ernie – I'm telling you what NBC said the reasoning was for the VAR decision, and they said that explanation came from the Premier League. To be clear, I think we got fucked.
Andy Finigan
58
Posted 26/02/2022 at 20:01:33
Richard Keys just said everyone knew it was handball. What does that say to the decision-maker? This is happening far too often. There is no point having VAR if the clowns viewing keep a bias towards clubs.
Colin Glassar
59
Posted 26/02/2022 at 20:02:40
I only watched the 2nd half but we look a lot better with Van de Beek, Doucoure and Allan in midfield. We will get out of this mess if we maintain this attitude.
Si Cooper
60
Posted 26/02/2022 at 20:03:29
Alan (49),
I don't think it works that way if you are offside when the ball is played. Personally, from what they showed on Sky after looking at the penalty shout, I thought he was onside.
Kris Boner
61
Posted 26/02/2022 at 20:03:43
Jerome, I'm saying this from a place of certainty. The ref stopped play after the handball for an offside when the ball was played to Kenny on the touch line. This is why he was telling the 'keeper where to take the ball. The offside the ref was calling was unrelated to the penalty.
Whether Richarlison was offside in the build-up to the handball was not investigated as we on TV see what angles they used to make a decision. At no point do they use an offside to make the decision.
Will Mabon
62
Posted 26/02/2022 at 20:05:23
Title says it all. Except for the fact that you do get the corruption.
Ian Edwards
63
Posted 26/02/2022 at 20:07:20
Video Ref Kavanagh from Manchester.
Will Mabon
64
Posted 26/02/2022 at 20:08:58
Kris, they've formally stated that the reason was, the ball hitting too high up on the arm, in their "T-shirt" area/Green Zone - no mention of offside.
Of course, the ball can be seen to hit noticeably lower than where they say the line is, but that's corruption for you.
Jerome Shields
65
Posted 26/02/2022 at 20:11:34
Kris #61,
We were robbed.
Ernie Baywood
66
Posted 26/02/2022 at 20:11:41
Really impressive first half. We set out with a plan and every player acted as part of a cohesive unit. Possession means nothing – we looked in control and City were frustrated. A couple of half-chances plus a great opportunity for Kenny, who put in the best performance I've seen of him.
Second half, you could see them tiring and we were dropping deeper and deeper and starting to get happy to just clear the ball at every chance. As opposed to the first half when we were brave in getting on the ball when we could.
I was calling for subs – I think the delay in changes was the one bit Frank got wrong but I could also understand his nervousness in changing players who were being very accountable defensively, for players who might not have the same level of accountability.
Goal is a monumental fook up. Yes, he's wrong-footed by the deflection but surely you adapt better than that terrible effort?
Disappointing end but positives at least.
And then there was VAR which has contrived to make a decision no-one agrees with. There aren't many opportunities in a game to get it so wrong that everyone knows it. That's an impressive level of cock up.
Christopher Nicholls
67
Posted 26/02/2022 at 20:12:25
It was a blatant penalty and the VAR review took so long because they were looking for a reason to not give it. Refereeing in the Premier League is corrupt; there are decisions every week that clearly demonstrate which teams are always given 'the rub of the green'.
Today's match is a training video for how a referee can influence the outcome of a well-contested game by shading decisions on fouls, contact and whether to show a yellow card or not.
Disgusted by the shameless manipulation of the Premier League, heartened by a decent show from the players and positive coaching.
Julian Exshaw
68
Posted 26/02/2022 at 20:12:30
That was a confidence restoring performance for me. If, and as always it's a big if, we play with that intensity and commitment, we should definitely be safe.
I felt sorry for Keane because up to then he'd been strong in defence. I thought Richarlison was excellent, he held the ball up and covered acres.
After such a performance, albeit a defeat, you have to shake your head and wonder how we could have been so bad earlier in the season with practically the same set of players. It goes to show you the influence of good coachers, not necessarily from a tactical point of view, but more the ability to motivate and inspire.
Will Mabon
69
Posted 26/02/2022 at 20:12:49
Graphic shown here:
Will Mabon
70
Posted 26/02/2022 at 20:14:56
Christopher, correct.
Not looking for what happened - looking to find what you want to have happened.
Pat Kelly
71
Posted 26/02/2022 at 20:16:23
We defended well until we didn't. We set out to take a point and created very little. Against City and the big club bias, you get nothing if you can't score.
Two shots on target says it all. Should have started with Gray and Dele Alli. We need to start with 11 and leave Iwobi out. Lampard will take us down if he doesn't put attacking players first.
Leeds may save us as they look spent.
Christopher Nicholls
72
Posted 26/02/2022 at 20:16:36
I could not understand how any review could possibly take so long. We've had Richarlison goals chalked off for his forelock being offside in less time.
Will Mabon
73
Posted 26/02/2022 at 20:16:48
Ernie - no cock-up; corruption.
Si Cooper
74
Posted 26/02/2022 at 20:17:52
Last comment from me on the handball. I'd say it clearly hits both the sleeve and the bare arm. That makes it handball doesn't it? If the VAR guy thought it was inconclusive, he should have passed the decision making back to the referee (who clearly didn't have a good enough view in real time) unless Tierney has stated he thought it wasn't handball.
The point of VAR is to help the on-pitch referee. He should be telling them he couldn't see enough to make any decision, not guessing and challenging them to find a clear and obvious reason to overturn his decision. This is the reason why the conversation between the officials should be broadcast, as it is in other sports.
Jerome Shields
75
Posted 26/02/2022 at 20:21:27
Premier League confirm it was not a handball, thought it was a handball. Enough said.
Pat #21
Dele Alli and Gray should have been on earlier in the second half. Surrendering the midfield like that to Man City was asking for trouble. Tottenham didn't and made them pay for their high defensive line.
Everton had the players but Frank delayed putting them on. Everyone knew what was going to happen at the beginning of the second half.
Kevin Prytherch
76
Posted 26/02/2022 at 20:23:53
Aside from the corruption, if we play like that for the rest of the season, then we'll be fine.
3 in midfield gives us a far better balance. Allan is twice the player in a midfield 3, Van de Beek has got an engine to rival Doucouré.
How have we dismissed Kenny for so long? Even Keane and Holgate did well for all the game except the goal. Unfortunately, Keane must be in double figures this season for mistakes leading to goals. Some of the comments of Holgate getting 0/10 are based on bias and not the actual game.
We invited pressure in the second half and the wingers didn't offer as much of an outlet as the first half. Overall though, apart from Pickford's double save, there wasn't that much from City.
Despite the loss, I'm confident we won't go down.
Jack Convery
77
Posted 26/02/2022 at 20:25:49
Just seen the non-handball. Corruption. No other explanation. You would have to have totally defective eyesight not to see that as handball. The Premier League must take action against Kavanagh – the VAR ref – and tell the League that EFC will never agree to him referring / VARing one of their games again. He should be suspended and sent to referee a Sunday League game in Liverpool next weekend – he wouldn't dare. Gobshite.
We gave our all today; we can't ask anymore than that.
Anthony Lamb
78
Posted 26/02/2022 at 20:26:47
Against one of the very best club teams in world football, Everton do wonderfully well to hold them to a draw for some 80 minutes and are then deprived of their reward by the most fortuitous double deflection landing the ball at the feet of Foden to tap in – and what do some people do? They blame Michael Keane!
Supporters at the game and more especially those watching from the comfort of their armchair now follow the usual hyper critical so-called "analysis" of the professional TV pundits who are plundering a luxurious living from the TV companies.
We hone in on certain players, replay every moment that suits our cause, highlighting what he should or should be not done etc – in this case, Michael Keane, conveniently abandoning all rational appreciation of the fact that the game is played by human beings. They are not robots.
As such, in a highly physical ball game played at some speed, they are susceptible to the vagaries of a ball striking a body part, ricocheting somewhere you would not want it to go, and, lo and behold, falling to an opponent who taps it in.
Michael Keane was instrumental in keeping immensely talented footballers at arm's length for almost the entire game, but to criticise him and highlight his being off-balance for a split second as "his mistake" causing the goal is beyond credibility.
Of course we are all entitled to express opinions about what we see at a football match but at least let it be a rational criticism and not let disappointment etc cloud that judgment to such an extent that players can at times be victimised or in some cases vilified.
Phil Smith
79
Posted 26/02/2022 at 20:27:45
Robbed there but I've been seeing a lot of bias towards City in recent months. Today was another example.
We were the better team in the first half. They turned up the pressure in the second and you're only as strong as your weakest link.
Still, we showed a lot of fight. We just need that same commitment away. Encouraged by that performance, although we really need to start creating more. Hopefully having Gray back will help.
Leeds and Brentford are rapidly being sucked into the bottom 3. No need to panic yet…
Tony Twist
80
Posted 26/02/2022 at 20:29:53
If Richarlison was onside (he looks offside to me but if he is on), then it should have been a penalty. Having said that, when has Everton been lucky? Christ, when luck was shared out, the RS took it all! So we can't rely on luck.
Good spirit shown but that doesn't stop you getting relegated. We need points and not sob stories. One surprising thing from the match was the response for the possible penalty with about three Everton players surrounding the referee, we need much more of that.
Unlucky blues but every game now has to be that intensity, even then I don't think it will be enough.
David Bromwell
81
Posted 26/02/2022 at 20:32:20
Just listened and watched Frank's interview on Sky. He is a class act, and I am proud that he is our Manager.
Today, his and our team did us all proud and we clearly should have had a penalty. But there is much to admire, and surely things can only get better.
Not happy but much much better than I expected. Will buy my season ticket for next season next week and I look forward to more committed displays like today.
Will Mabon
82
Posted 26/02/2022 at 20:33:28
Tony, I still think it will be enough – but we have to sustain it. We have to play to today's level again, against Spurs. It's in us – bringing it out is the task now.
Alan Moss
83
Posted 26/02/2022 at 20:39:37
Tony, offside wasn't even a consideration in the decision so why are we talking about it?
VAR reviewed a handball decision and incredibly didn't give it. We all know that if we were a goal up and City had the same claim, it would have been awarded.
Can we please stop debating the offside though because it wasn't a factor.
Christopher Nicholls
84
Posted 26/02/2022 at 20:43:57
Well said, Anthony @78. There isn't a single player on the pitch that deserves vilification today. It is hard to grasp, even in person, how fast the ball travels in the Premier League.
No complaints about any player today. We can definitely debate when Gray and Dele should have been introduced as we were getting penned in, but I don't think it was the most impactful event that lead to the outcome of the game.
If it was me, then I may have introduced Gray for Iwobi earlier and moved Gordon to the right. But that's just my opinion for the spirit of debate and I doubt I could have managed a better game than Frank today! :)
Tony Everan
85
Posted 26/02/2022 at 20:47:20
Anthony Lamb @ 78, Brilliant post.
Bill Gall
87
Posted 26/02/2022 at 20:47:45
I believe that the heading of this article describes perfectly today's game.
We had one player off balance trying to clear a ball awkwardly that went to a City player to score, and then we have someone who was not even at the ground make a dubious decision that denied Everton an opportunity for a point.
Hats off to Lampard and his coaches for the preparation of this game against one of Europe's top teams, that usually and all the hangers on, want them to do, and that is score for fun.
Congratulations to all the players for their desire and effort to show that they are a team who will work for each other. Let's take this to another level when we play away from home.
Even though some results never went our way, this display if kept up, should ease our relegation worries.
Ashley Walton
88
Posted 26/02/2022 at 20:51:55
David @81: totally agree.
I feel very proud to have Frank associated with our club. His words were pure class considering he must have been raging.
Bobby Mallon
89
Posted 26/02/2022 at 20:54:50
Dave Abrahams
90
Posted 26/02/2022 at 20:55:43
On the way home, I thought of the heading that Michael has used. We played a good game, the only way we could have played really to try and get at least one point.
The two players I thought were in the running for MotM were involved with the tight margins that change results: Richarlison worked his plums off tirelessly throughout the game but missed a good chance in the first half.
Then Michael Keane, not my favourite player, was having a very good game, even adding some aggression to his game before the ball seemed to spin away from him and he was unbalanced and City scored the goal we denied them for most of the second half.
Tiredness made us retreat backwards giving ground to City who got two lucky breaks with the goal and the very obvious penalty not being awarded, not our day.
Other teams are getting the points to escape the drop, some are still losing to give us hope but, unless we start getting some points, and decisions, it is getting more worrying with every week, especially if luck continues to look the other way where we are concerned.
Christopher Nicholls
91
Posted 26/02/2022 at 20:56:13
Fashioning a midfield 3 from Allan, Van de Beek, Dele and Doucoure with a front 3 from Calvert-Lewin, Richarlison, Gary and Gordon should be the foundation for the rest of the season, injuries permitting.
With 4 gifted players competing for 3 starting places in both attack and midfield, there should be healthy competition with the ability to make adjustments during the game.
Play to the strengths of that midfield and attack and we will not end up being sucked down. Pull together and the team has the ability to do more than enough to stay up.
Paul Swan
92
Posted 26/02/2022 at 20:57:08
This game is finished if decisions like that are allowed. The only explanation I can come up with is corruption.
The City goalkeeper gets booked for kicking the ball away time-wasting, then he immediately does exactly the same thing following the card and nothing happens. This excuse of a referee needs investigating.

Oliver Molloy
93
Posted 26/02/2022 at 21:00:46
Fourteen matches to play and the scrap is on. Lampard simply has to find a way to win games and fast.
I didn't think we would get anything today, but how the fuck that stonewall handball wasn't given is just sickening, so disappointing.
Here's what I think: Spurs will beat us and the next three after that will determine if are good enough to stay up. Wolves and Newcastle at our place are absolute must-win games, Watford away, we must not get beaten. If that doesn't happen I fear the worst.
Just hearing the Leeds genius has left his post!

Colin Malone
94
Posted 26/02/2022 at 21:01:39
Proud of the boys today. Doucouré and Allan were very good.
Richarlison, brilliant centre-forward play, he will always have more than 7 touches in a game, love him.
Townsend should have started or come on for Iwobi, who tries without success. He'll never be a winger while he has got a hole in his arse.
Bill Gall
95
Posted 26/02/2022 at 21:10:28
It seems childish complaining but really I don't care what people think, today Allan was booked for arguing with a linesman.
I can't remember anyone else being booked for just a few words to a linesman, as most players argue with the referee and linesmen every game without being booked, unless it is consistent.
Was it worse than what I thought?
Andy Kay
96
Posted 26/02/2022 at 21:12:02
Honestly, when is our club going to finally stand up to these decisions and come out against them. Seriously, if we put together a video montage of all the "close" decisions that went against us since the Niasse "dive" against Palace, and took it to the FA with a lawyer, we might actually start getting a few decisions.
From the Keane "penalty" at Brighton, Gylfi sat down "offside" against Man Utd, the 2 penalties not given vs Spurs (this season, and Dele's handball a couple of seasons ago) and City's today, the list goes on and on.
All of the above Checked by VAR and all going against us, despite evidence and discussion to the contrary. We need to start rocking the boat, otherwise it'll be relegation if we're not careful.
Sick of the nicey nicey People's Club bollocks. Time to go all "Alex Ferguson" on the refs and FA until we start to get things going our way!
Brian Williams
97
Posted 26/02/2022 at 21:17:25
Not gonna get into deeply detailed discussions. I just needed to say we were fucking robbed by a system that is so obviously open to cheating and underhandedness.
That a penalty wasn't awarded is an absolute travesty of justice. Fucking stinks!
Brian Williams
98
Posted 26/02/2022 at 21:19:39
Not gonna get into deeply detailed discussions. Just needed to say we were robbed by a system that is so obviously open to cheating and underhandedness.

That a penalty wasn't awarded is an absolute travesty of justice.
Fucking stinks!
Andy Finigan
99
Posted 26/02/2022 at 21:22:02
Bill 95 and only minutes later Richarlison gets kneed in his back and the Man City player doesn't get a card. Total bias. How else can one describe it?
Nicholas Ryan
100
Posted 26/02/2022 at 21:23:34
In the post-match analysis, Micah Richards, who's City through and through, said: 'I've got to be honest, that's handball, that's a penalty'. End of debate.
Andy Walker
101
Posted 26/02/2022 at 21:24:38
Absolutely scandalous decision by VAR, makes me seriously wonder about corruption in our game.
We deserved something out of that game.
Don Alexander
102
Posted 26/02/2022 at 21:27:16
A professional and enthusiastic performance! WTF? I'm again just wondering what's been getting, ahem, coached at Finch Farm this past eight years or so.
Speaks volumes that within weeks a young determined manager with his own choice of coaches can visibly transpose such qualities and fitness into a squad. Let's hope it continues.
There's been referee bias to Sky-babe teams ever since they bought in, but today's VAR decision was seriously worse than erroneous.
And I thought our Michael had a good game notwithstanding his momentary imbalance that presented the very nimble and skilful Foden with his chance. It's what I call bad luck, not bad play.
Dave Williams
103
Posted 26/02/2022 at 21:27:31
We played really well; we took 15 minutes or so to settle into the game but after that, we pretty much matched them and deserved a point.
Midfield looked far better with Donny and Doucoure doing well and Allan had a tremendous game. Iwobi also played very well and what a great double save from Pickford!
I know Keane and Holgate are error-prone but I'd put their goal to bad luck with the deflection wrong-footing Keane – no-one's fault.
It was a shame Dele couldn't get into the game as we need to see if he still has something to offer or not.
Huge shame we didn't get a point but, if Frank can get us to play like this both home and away, we should stay up – is that a big "if"?
Rick Tarleton
104
Posted 26/02/2022 at 21:30:09
Andy (96),
What does "stand up to these decisions" actually mean?
Once the onfield ref and the VAR team have made their decision, that is unfortunately it. We can't change it even when, as today it was manifestly wrong.
Today, we nearly got a draw, perhaps that would have been unfair on City who bossed the game, but Keane's stuck in treacle moment and the VAR fiasco made me feel we were unlucky.
We showed spirit and fight, we need to show this spirit and fight away from Goodison against lesser opposition and grind out some draws on opposition territory.
The result wasn't fair to our effort, but was probably a fair reflection of the game's balance.
Tony Abrahams
105
Posted 26/02/2022 at 21:53:47
I never went today, but watching it on the telly, I was very impressed with Michael Keane's positional sense, (first time, I've ever thought that👏) and also very impressed with the way Everton passed the ball under pressure at times in the first half.
I thought we tired because we had tried to compete with City. I also think we have now got a manager, who his going to try his very best to change the players' mindsets.
Lampard definitely fills me with a lot of confidence, and I think our players will definitely benefit from him, given time. This is how I felt about Michael Keane today, despite his mistake, and just hope the players take a lot of confidence out of today's game.
Paul Swan
106
Posted 26/02/2022 at 21:56:06
Referee and VAR official both from Manchester. This needs looking at.
Dermot O'Brien
107
Posted 26/02/2022 at 21:56:11
We played well. Could have been ahead in first half. I hate shit like "City's class came through in the end" and all that bollix. We matched them and a draw would have been fair. Just need that commitment every game.
Michael Keane was very unlucky, wrong-footed by the bounce. Still some here can't wait to have a go. He did well overall.
Some VAR officials are either incompetent or corrupt. Either way, it needs to be sorted out. We need to highlight this, not too obviously though.
Be nice to hear Lampard or any manager or pundit say occasionally "No I don't think the VAR official cheated or is useless, I think they just made a mistake."
He's not saying it but he is saying it.

Mark Ryan
108
Posted 26/02/2022 at 21:58:02
If that handball had been committed by Michael Keane or Mason Holgate and it wasn't given, Sky would have gone berserk, would have said it was a title turning decision, Peps cranium would have exploded like an over-boiled egg and it would be all over the press tomorrow.
Nowt will get said, it will get buried underneath "Abramovich this, Abramovich that." Cheating fucking VAR disgraceful decision. I'm seething.
Tony Abrahams
109
Posted 26/02/2022 at 22:05:15
Listening to Frank Lampard, I think his interview was very, very FRANK!
Anyone who doesn't think there is corruption amongst these so called professional referees must at least be disturbed by their standard of officiating?
This is how I understood Lampard's take on today, and he didn't hold back on naming who he thought was responsible for making such a horrible decision either.
Danny Baily
110
Posted 26/02/2022 at 22:24:07
If you haven't already come to terms with the likelihood of relegation, I'd suggest doing so. It'll be tough too, because we've got a squad who won't hang around to pick up the pieces and a new stadium we'll no longer be able to afford.
We need a bit of luck. A suprise result in the last two would have been a big step toward safety. There's still hope, but with each week it's fading.
Gary Jones
111
Posted 26/02/2022 at 22:29:53
Fuck off, Danny, no surrender. Leeds, Norwich, Brentford, Watford are all worse than us. Support your team, for fuck's sake!
At least today we showed fight and a desire to play. Corrupt refs aside, that was a point today against one of top 3 teams in the world.
Robert Tressell
112
Posted 26/02/2022 at 22:35:38
Tony, # 105. Lampard and the players got a lot right today. I know you're not a fan of Keane but he did play well. He looks very clumsy for the goal but deceived by the flight of the ball.
Otherwise, it's a loss, obviously, but not not like Leeds shipping tonnes of goals or Brentford who have hopefully run out of steam. Nature of defeat means the players won't be on a down going into the next match.
Peter Mills
113
Posted 26/02/2022 at 22:37:02
We were excellent in the first half, but in such games you really need to score the half chances that fell to Richarlison and Kenny.
It was inevitable that we would tire, City pass their opponents to exhaustion. Tired bodies make crucial mistakes, unfortunately for Michael Keane who played well.
I don't like to harp on about referees, but the performance by Tierney had me suspicious long before the non-penalty. City got every 50:50 decision, and the decisions to award yellow cards were totally inconsistent. His display spoke more of corruption than incompetence.

Andy Kay
114
Posted 26/02/2022 at 22:39:21
Rick (104), exactly what a said in my post. Don't simply accept the decision on the day, follow it up with the FA, ask the questions why, cause a stink over the constant VAR decisions going against us and don't let them think we'll continue to accept these things lying down. Become a nuisance.
Obviously it'll not overturn the event but it might prevent another one happening so easily. You never know, we might actually get a penalty...

Danny Baily
115
Posted 26/02/2022 at 22:43:59
Gary 111, there's a lot of pressure on the 3 or 4 'winnable' games we have left. We could do with a suprise 3 points at Spurs to ease the pressure.
Alex Carew
116
Posted 26/02/2022 at 22:53:30
As Andy Kay says, we need to put a video of all these occasions we're VAR has not been used properly and deliver it to the Premier League.
We did it years ago under Moyes over the supposed diving of Andy Johnson and it actually did appear to make a change. It costs us nothing so it's worth doing it, what's the worst that can happen? Get our media team to put a video of all controversial decisions since VAR was introduced.
Tony Abrahams
117
Posted 26/02/2022 at 22:54:42
He was very clumsy for the goal, Robert, and if he was deceived by the flight of the ball, I'd argue that the more he plays on his toes, the less this type of thing will happen to him?
I just hope this mistake doesn't knock Michael Keane's confidence, because although Man City played without a centre-forward, I thought his starting position was as good as I've ever seen it, and this will always be the most important position on the football pitch imo!
Paul Hughes
118
Posted 26/02/2022 at 23:01:14
I was at the game, and TBH, from where I was sat, I couldn't tell if it was handball or not, but the reaction from the Street End and the players was a giveaway.
Just seen it on Match of the Day. The pundits can't believe a penalty wasn't given, and neither can I. It stinks.
Mike Price
119
Posted 26/02/2022 at 23:03:09
If that decision was given at Anfield, Klopp would be front and centre and it would be all over the media for the next week, not just an afterthought that's forgotten by Sunday morning.
Derek Knox
120
Posted 26/02/2022 at 23:12:43
Just got back from the game, haven't read the previous comments yet, but basically I am gutted.
We matched them virtually the whole game. I thought the Ref, who seemed to be okay to start off, letting the game flow, got worse and worse and some of the decisions all in City's favour, were at best poor!
The penalty claim, which was witnessed by thousands and even VAR felt something was amiss. The ref never even went to the screen, but gave an offside... What?
Gary Jones
121
Posted 26/02/2022 at 23:19:14
Danny @ 115 - the likes of you claiming Leeds wasn't winnable……but, there's only maybe two teams in the league who aren't, and we nearly beat one of them today.
We are in a fight, but let's do exactly that. They play like they did today and we'll win more than we lose.
David Pearl
122
Posted 26/02/2022 at 23:20:59
Yes Derek, from 'behind our two pillars' it was hard to see but MotD just confirmed the offside was given after the penalty incident, which was as blatant a penalty as you could see (or not, as in our case).
Good atmosphere today and the midfield l thought excellent along with Pickford, Richarlison and Gordon. We all know our weaknesses. Looking forward now to seeing Patterson and Mykolenko on Thursday.
Bill Fairfield
123
Posted 26/02/2022 at 23:23:05
Without doubt the biggest corruption in the Premier League is the officials and VAR. The whole world can see it's a penalty except for the idiots running the game.
Everton Football Club were the biggest voice when it come to corruption that was the breakaway European Super League, and by god they're paying the price. The people in charge of this game have to be suspended.
Colin Glassar
124
Posted 26/02/2022 at 23:23:14
When will Branthwaite replace Michael 'mistake(s) a game' Keane?
Mike Hughes
125
Posted 26/02/2022 at 23:25:12
Gutted after today.
The earlier results were bad enough. Then the VAR decision after a much better display from us than expected.
What are these officials looking at? Any of the top 3-4 would have been given a penalty.
It's just happened in the boxing as well with Catterall seemingly getting robbed of the decision v Taylor.
I am beginning to hate weekends.
Paul Birmingham
126
Posted 26/02/2022 at 23:29:33
Peter, agreed, today's official should not have got the game as he was very clearly against Everton.
This result in my view is a positive in view of the way Everton battled and didn't lie down and die for City.
City and Pep, know they were lucky.
If the first half chances were taken, I reckon today, bearing Everton kept the same approach for 96 minutes, Everton would have won.
The lasting for me is the City goal. I've spent many hours as many do on TW, but the goal today, told a story.
Same old, and so next season, Everton must start with at least one new good centre-back, from within the club, or bought, to support Mina or Branthwaite.
10 tonne weights and 60-second response players can't be carried for eternity for any team in football, at any level.
Paul Birmingham
127
Posted 26/02/2022 at 23:31:57
Well, said, Colin.
Jeff Armstrong
128
Posted 26/02/2022 at 23:32:04
I was at the game, Tierney is an obvious melt, always has been, but just watched MotD and he was definitely unsighted for the penalty.
Over to Kavanagh, another shitty arse who is swayed by the "stars" on the pitch. He is an A1 coward for not giving that penalty, he's got Pep on his mind. He's thinking,
"I live in Manchester, what should I do?"
The sweat is flowing off his forehead, "Err... I'll go with Paul on the pitch, his call, not mine."
Kavanagh and Tierney should be banished to a Sunday league for the rest of their careers after those performances tonight.
Derek Knox
129
Posted 26/02/2022 at 23:33:37
Colin @124,
In all fairness, Keane was okay today, as were most of them, even Iwobi.
Holgate always gets me biting the guy in front's seat back, he is so casual, he is a bit of a liability. I wouldn't mind if he had anything to back it up, but not for me I'm afraid.
Colin Glassar
130
Posted 26/02/2022 at 23:51:00
Derek, I only caught the 2nd half and we did look organised and up for it. Even Iwobi showed signs of life, even if he remains a talentless waste of space. And Keane was steady until his customary brain fart. That's his problem, he has too many!
If we continue to play like that we'll be okay imo.
Peter Carpenter
131
Posted 26/02/2022 at 23:55:46
It was a penalty – even from the far end of the Top Balcony. Never mind Kavanagh, who clearly has problems of his own if he can't see it with the help of endless replays, Tierney has no excuse for not giving it in real time.
In fact, City took the piss out of him all afternoon, just as soon as they realised he would book Everton players simply for tackling hard. In added time, they were just laughing at him as they rolled around wasting time.
One of them wasn't even on the pitch while he got treatment and Tierney stopped the game. He even booked Alli while Ederson faked injury in the last minute.
And don't be fooled by Guardiola, the master of cheating, although his one-time apprentice, Arteta, is rapidly catching up.
Mike Price
132
Posted 27/02/2022 at 00:24:25
After the game deciding decision by Anthony Taylor, not to send Shelvey off against Newcastle, he was 4th official at Goodison a few days later. Can you imagine that situation with Klopp and him at Anfield!?
He'd be banned from going anywhere near them for months and then would be terrified of giving anything against them for the foreseeable. Why are we so fucking compliant and nice? We continually get shafted with barely a whimper.
Brian Wilkinson
133
Posted 27/02/2022 at 00:34:38
Not sure where Match of the Day are getting offside from, could be because Pep said it after the game, Lampard approached the ref to ask and the ref said no to offside.
Then when the decision comes through it says "no penalty", no mention of "no penalty, offside".
Only one who mentioned offside was Pep after the game.
Well and truly shafted yet again.
Have a feeling Boreham Wood will be on the receiving end of this.
Shaun Lyon
134
Posted 27/02/2022 at 00:50:20
A mate who happens to be a household-name commentator messaged me after the game:
'Just made a mad dash from Goodison. All I can say is that I was lost for words... which is not a good place for a commentator to be. So sorry for Everton, who were terrific. Best Goodison atmosphere for ages... and they deserved bettter.'
Well, indeed. People at his level recognising that there's something not right here. It's an outrage.
Pete Clarke
135
Posted 27/02/2022 at 00:56:54
There's absolutely nothing to debate as to whether it was a penalty or not. The ball did not just hit his arm because the defender actually raised his arm to the ball, so it was not accidental.
Everton should pursue this matter and make some noises about it because that was corruption at its worst. Too many L's appearing on our form table and we need a positive putting in there. Spurs are a good team and Kane is fantastic but we just need to get something from that game.
Can't fault them yesterday though, as they played their hearts out.
Mike Gaynes
136
Posted 27/02/2022 at 01:23:50
Folks, Richarlison was clearly offside on the pass, so the subsequent handball was nullified. And that's what the ref was told by the VAR official. NBC reported it immediately after the game, and showed the key replay, which we hadn't seen during the game coverage. Had the ref pointed at the spot -- and the incompetent clown definitely should have -- it would have been overturned on the VAR review.
The NBC game commentators, who had been outraged at the no-call and were mystified by the delay, got the word right after the final whistle, as both benches did. The commentators were sheepish and apologetic. And the reporter interviewing Pep after the game still hadn't been told it was offside. He found out from Pep and was shocked.
The communication after the play was as poor as the ref's work on the day, but the fact is that Richarlison was a half-step offside and VAR got it right.
Shaun Lyon
137
Posted 27/02/2022 at 01:45:12
Mike @136,
I wasn't at the game today but watched it in a post-rugby shit pub with no sound on the commentary etc. What I don't understand about this 'offside' scenario is that there were no TV replays of the alleged lead-up to the incident. Zero.
I find this rather odd. In fact, I'd go further and say I've never seen anything like this where – if, as you say, the player was offside – it wasn't then shown on a TV replay so that everyone was clear about the rationale of the decision.
Here in the UK on our er... longstanding flagship programme, Match of the Day, there was absolutely no mention of anything about offside. If it was – as you suggest – such a clear and obvious thing, I'm a bit surprised Lampard would come out punching in the way he did.
Kieran Kinsella
138
Posted 27/02/2022 at 01:47:56
Mike,
Be that as it may be, the Premier League official statement said it wasn't given as missing the handball wasn't a "clear and obvious" error.
Nothing about the offside – that was their official explanation. So why does that contradict what the ref was allegedly told?
Soren Moyer
139
Posted 27/02/2022 at 01:53:07
Everton 0 - 1 Corruption! Also we urgently need 2 teams worse than us! How many games Holgate-Keane combo has cost us this season!?
ps: According to BBC MotD the penalty claim was overturned due to insufficient proof. No mention of offside.
Will Mabon
140
Posted 27/02/2022 at 01:57:50
Mike,
No offside shown or given in the play up to or right after the handball. VAR statement with explanation after the game that the penalty was not given due to the incident being judged as not being handball, including why it was considered so. No mention of offside.
I wonder how the VAR official could relay the offside point to the ref, then straight after the game, "forget" the offside element and state that the decision was due to consideration of the technicalities of the handball???
As to the benches being told – Lampard was interviewed after the game and made no mention of offside.
I can't find any VAR shots/stills of an offside. I'd like to see some, with the lines officially imposed by the VAR team, if you have a link? All replays I've watched do not show Richarlison being "clearly" offside.
Ernie Baywood
141
Posted 27/02/2022 at 03:01:06
Mike, NBC have it wrong.
1) The Richarlison offside was not looked at by VAR (and from what I've seen, he wasn't anyway).
2) The decision was shown as "Decision No Penalty. No handball by Rodrigo". If the decision was offside, it would have said that.
3) Play was halted when an Everton player was offside in the ensuing action after the handball. Play was restarted in that position and the ref was gesturing Ederson over to that side of the pitch.
4) The referee confirmed that it was purely a decision on the handball.
5) The Premier League have since confirmed that the decision was based on the handball call and not an offside.
Why does it bother me that people are peddling this? Because it rewrites history. There was something between incompetence, corruption and a complete process failure tonight and we copped it. Don't let them off the hook.
Steve Brown
142
Posted 27/02/2022 at 03:17:53
The official reason that the penalty was not given was that there was no clear evidence to overturn it, not because Richarlison was offside.
As Ernie says, potential offside for Richarlison was not even considered by VAR. I also don't think that Richarlison was offside.
Look, if Everton turn up with that attitude and effort all season, we will have no problem. Problem is, we don't know which team will turn up away from home.
Kieran Kinsella
143
Posted 27/02/2022 at 03:19:02
Ernie,
NBC had a shot that did look like Richarlison was offside but where they erred is they assumed this was the reason for no penalty and presented it as fact when the Premier League have since confirmed it was based purely on match-fixing and not offside-related.
Ed Prytherch
144
Posted 27/02/2022 at 03:34:56
The ball that Michael Keane missed was not moving quickly. He had adequate time to clear it but he stood still and let it come slowly to him and Foden nipped in front of him.
That is eight goals that we have conceded this season that were directly a result of his errors. The sooner we get Ben Godfrey back the better.
The VAR decision appears to me to be corrupt.
Kieran Kinsella
145
Posted 27/02/2022 at 04:45:17
Ed
Have to agree. Holgate mindlessly let it deflect off him, Keane reacted like a geriatric. Doesn't matter what they did right, the Chuckle Brothers cost us the game
Derek Knox
146
Posted 27/02/2022 at 05:43:36
Kieran, 'to me, to you, to me, to you, is right' but there was a touch of Stan and Ollie in there too. Although it it was the fans saying "Another Fine Mess"!
Not the best centre-back pairing by any stretch of the imagination, but I am struggling to think who else we could have had with the injury situation as it is.
Mina brings that touch of class and assuredness, but he is more injured than available, Godfrey should be back soon, Branthwaite can stake a decent claim but needs experience, but will Frankie Goes to Hollywood drop both Stan and Ollie Chuckles?
Kieran Kinsella
147
Posted 27/02/2022 at 05:52:18
Derek
Honestly mate, I'd put Tosun and Rondon back there. At least when they screw up we can say "they're not centre-backs" whereas, with the Chuckle Brothers, we say "they're centre-backs but we have to accept they'll give away one or more goals per game".
Steavey Buckley
148
Posted 27/02/2022 at 06:01:25
Too many VAR decisions favour the more bigger and wealthy clubs because VAR officials and referees don't want to receive their wrath from them when VAR decisions go against them.

Steve Brown
150
Posted 27/02/2022 at 06:16:48
Steve, without any doubt, that penalty would have been given at the other end if we had been 1-0 up.
Alan J Thompson
151
Posted 27/02/2022 at 06:42:12
How can it not be a handball if it has partially hit his sleeve (which must mean it has also partially hit his arm) or has that rule been changed to everyone must now wear short sleeved shirts or not have an arm under the sleeve?
And I thought the rule had been changed or reinterpreted so that you are only offside if you actually touch the ball or interfere with play – and haven't we all been there to be over-ruled on the argument that being offside is interfering?
If nothing else, all the Officials concerned should now be demoted to either the lowest levels of League football, non-League, or just dismissed for, at best, incompetence. But whatever, there needs to be a wholesale inquiry into the appalling standard of refereeing in England.
Perhaps a start maybe four linesmen or assistant persons who are consulted before VAR and, if true, are from somewhere not geographically close to either team's base.
Ray Roche
152
Posted 27/02/2022 at 07:03:27
I saw an article a couple of weeks ago which gave a league table of how it would look if VAR had been used correctly. We were six points better off. ie, we had been denied 6 points by incompetent or corrupt VAR decisions. After yesterday, it is 7 points.
Does it even itself out over a season? Behave yourself.
Derek Knox
153
Posted 27/02/2022 at 07:05:35
Alan J, I agree with everything you say apart from the Ref-geographical location aspect, if I have interpreted that right, we have many supporters from well outside the Liverpool Area. I have a few mates who hail from afar, and even abroad, and yet have supported Everton since birth virtually.
I, myself am originally from Dundee, although I have lived down here for donkey's ages, but have supported Everton since the days of my boyhood hero, Alex Young. Having said that, I am not a referee or ever have been, but something needs to be done across the board about the poor (corrupt) standard of refereeing.
Furthermore, it seems to be worse in the Premier League, where they have the 'dubious benefit of VAR' too. Where surely decisions are more important with so much at stake for the lower clubs who could get relegated via improper decisions, wrongly sending them through the trapdoor.
Let's hope we are not one of them!
Alan J Thompson
154
Posted 27/02/2022 at 07:14:53
Derek (#153);
I thought all officials were asked if they had a preference, association, or supported any team – which then basically ruled them out of those teams' games. Hence questioning why Mike Deane gets games for a team where his sons(?) are season ticket holders.
Geography would just be a double indemnity given honesty seems an almost rare commodity in these affluent days.
Danny Baily
155
Posted 27/02/2022 at 07:18:45
Gary 121,
I had Leeds down as a must-win. Looking at the remaining fixtures, we might expect to beat Watford, Palace and Brentford (we could potentially add Newcastle to that list but they are flying at the moment).
I've been wearing the sandwich board since those missed opportunities at home to Brighton and away at Norwich. There just aren't enough opportunities left for my liking.
My point was that there's far too much pressure on the aforementioned matches. We really need to pick up a few unexpected points, and it's worrying that that's not happening.
We're all squabbling about VAR when the comet is hurtling toward us.
Alan J Thompson
156
Posted 27/02/2022 at 07:28:10
Danny (#155);
You're not suggesting that we overlook what may be a case of incompetence or corruption and taking appropriate steps on the basis of league position, are you? Improvement on the pitch and scoreboard must get priority but not necessarily to the exclusion of other factors which might affect both of those.
Danny Baily
157
Posted 27/02/2022 at 07:37:27
Alan, I'm gutted the decision didn't go our way. We can add to that the Shelvey red card that never was, and was seemingly a turning point in the barcodes season.
I suppose what I'm saying is we're running out of time for our own bit of luck which turns things around. We need one of those decisions to go our way (it's happened, look at the Goodison derby last season).
It's not happening now though. That's what's disappointing.
Eddie Dunn
158
Posted 27/02/2022 at 07:48:26
Now the dust has settled, I think all the lads did us proud. It was predictable that they would score, as our midfield had lost Van de Beek and fatigue was setting in.
The penalty not being given was typical of the refs favouring the bigger club. Whether they are totally corrupt, or afraid of the big name coaches, or under pressure from the Premier League to keep the status quo. Whichever it is, it is wrong. The VAR system encourages such thoughts.
In the rugby, the ref goes "upstairs" and we all watch on the big screen and hear the conversation. If this was the case in football, we would all know exactly who is deciding what. Clarity and accountability is what we need.
I was disgusted with City's players time-wasting – so much for all of the fawning over this wonderful team.
The extra man in midfield made a difference and I hope Frank continues with it against Spurs.
As for Keane, he had played okay until his clumsiness. However, his same clumsiness cost us an own-goal a few weeks ago – the lad is poorly coordinated for an elite athlete.
Still, I feel more confident after watching us and believe that we will dig our way out of this hole.
Derek Knox
159
Posted 27/02/2022 at 07:55:11
I have watched their goal over and over, and in defence of Michael Keane who seems to be getting a lot of the blame, it was fucking Holgate who put him in that position by his tippy tapping the ball in his his own final third, and playing it virtually behind Keane that led to the goal!
I don't know who Holgate thinks he is but he has an arrogance in defence that verges on suicidal defending, you can get away with that very rarely in the Premier League, and certainly not against the better sides.
Holgate – Room 101 awaits!
Ernie Baywood
160
Posted 27/02/2022 at 08:07:41
VAR is fundamentally flawed. Everton players immediately surrounded Tierney while play continued and he was indicating that it would be checked.
That's the problem. The ref doesn't have to make a decision like they used to. He can just let VAR come in. And VAR won't overrule (in theory) unless there's something clear and obvious.
Did Tierney claim to VAR that he thought it could have been sleeve? And VAR agreed that wasn't worth overruling as being a clear and obvious error?
So they've all got an 'out' that gets them off from making a decision.
In the meantime, we get a game that is less fair, less accurate, and more disrupted.
In theory, it could work, but it introduces too many problems. We'd be better off without it. I suspect Tierney gives that penalty without VAR.
Danny O'Neill
161
Posted 26/02/2022 at 08:14:19
In the bigger scheme of things, I saw enough to believe we have enough with the games we have coming up. This one was always potentially a write-off but they showed what they can do and deserved a point against the best footballing team in Europe.
Don't look at the table now, let's see where it is end of March.
I thought Allan was great, especially first half. Gordon continues to develop. Jonjoe Kenny had another good performance and I particularly liked Van de Beek's contribution. Despite the result, much to be positive; carry that into the Tottenham game.
Frustrating that it was a defensive cock-up straight from the school of 10-year-old defending. Planted like a tree, so no mobility or ability to adjust and just put a foot on it. I've been told off in the past for picking on the player, but he is costing us goals.
Anyway, I'll take the positives. Play with that ability and belief and we will be okay.
Once again, it's not VAR that is the problem. It is starstruck and incompetent officials who favour the Top 4. That is what needs to be addressed.
Frustrated but positive. No need to panic just yet, they have shown what they can do. Just do it consistently and we will pick up points.
Michael Lynch
162
Posted 27/02/2022 at 08:27:40
Yesterday, the ref didn't make a mistake – he simply didn't do his job. If he'd given a penalty instead of pretending he hadn't seen what everyone else in the ground saw, there's no way in the world VAR would have overruled it.
The ref is to blame, not VAR. He's a coward and should be sacked.
David Bromwell
163
Posted 27/02/2022 at 08:30:52
Re the City goal.
In my view Holgate and Keane were both unfortunate and in part contributed to the goal, but we know that they are not a top class pairing. But in this game they had previously performed well and were unlucky to concede in this manner.
The Manager was right: mistakes happen and we should move on. However, I also feel that maybe Pickford could have dived and smothered the ball at Foden's feet. At the very least, we would have been given a free-kick. Just a thought.
Danny O'Neill
164
Posted 27/02/2022 at 08:31:28
VAR done it's job in the Brentford v Newcastle match, Ernie. Implemented correctly (it has been), it should make the officials' job easier.
How they didn't give that goes back to the incompetence of the people monitoring.
Scratched record. Make them accountable and have them explain their thought process live so all can hear. Have them explain themselves like in Rugby. That will focus the mind.
And just in general, improve the standard, which should include less recruiting of "groupies" akin to those who used to faint at the Beatles and scream at Take That.
Jim Lloyd
165
Posted 27/02/2022 at 08:45:13
Eddie (158) Well said! That's what we were talking about coming out the match.
If they're going to have VAR, don't be effing about whether the attacker was half a bloody inch offside, look if it was a goal or not and look if it's a penalty or not. And show it on the big screen in slow motion, like they do in Rugby League. There's no place to hide then, for either the Referee or the VAR man.
If they can do it on the telly, let's all see it at the match. That Referee was incompetent, or corrupt, or both.
VAR gives the referee and the man in the VAR room, a place to hide, or be corrupt, which is what I think happened yesterday... corruption.
As for the team, There are a couple of players in defence, who are letting us down with silly mistakes or clumsiness... or both. I'm sure Franky boy has them taped but he won't say owt, and that's fair enough. He'll want them replaced in the summer... assuming that current events don't leave us skint!
Play like this away from home, or against teams at home that we should beat, then that'll do. This season's remaining games, if we play like we did last night, should see us safe... hopefully!
Tony Hill
166
Posted 27/02/2022 at 08:49:37
The worry is our lack of goal threat. The absence of a reliable finisher over the run-in (unless Calvert-Lewin somehow recovers his fitness and form) does concern me.
Allan Board
167
Posted 27/02/2022 at 09:04:20
The game is corrupt. Most of the refs are cheats in favour of the moneyed elite. It won't change,
Everton will get nothing because of their stance on the Super League last year. Newcastle will and have had numerous corrupt decisions go in their favour already, the brown envelopes are in full effect. Well said Frank and well done Ashley.
Hope City win nothing. Pep needs to go to Specsavers.
Leeds and Brentford will finish below us and also Burnley, Watford and Norwich are gone already.
However, football is secondary to Putin's atrocities in Ukraine – got a feeling that bastard is going to end up in a bad way.
George Stuart
168
Posted 27/02/2022 at 09:09:57
I'm in a bad mood. Ukraine; and our town is about to flood.
So, just watched Liverpool get a dodgy handball penalty, hard cross, moving his hand away from the ball, Liverpool, penalty.
Dodgy dive outside the box, into the box, Liverpool? Penalty. Offside goal. Goal after fouling the keeper.
Two decent goals. But when you're committed to attack early on, you leave lots of space.
This space is for Everton not RS, so, penalties? Denied two nailed-on penalties in two consecutive games in critical timings.
Just saying.
Marc Hints
169
Posted 27/02/2022 at 09:10:04
This is why I still watch football but not in love with it as I used to be. That is corruption in football at its best.
Petition needed If someone can do it, to remove Chris Kavanagh from his job and investigate into his decision-making. Disgrace to football. Changes needed, Premier League need to get head of Referees to talk to fans and explain decisions, it cannot carry on that they are just protected.
Ashley Cole had every right to ask the referee and was told to go away then booked.
Best league in the world but unfortunately worst officials in the world.
Ray Robinson
170
Posted 27/02/2022 at 09:16:40
There comes a point where simple incompetence can no longer be a plausible explanation. I could see that was a penalty 100 yards away in the Park End, whereas a VAR official with views from multiple camera angles could not.
Corruption – plain and simple.
George Stuart
171
Posted 27/02/2022 at 09:21:29
Also, sometimes we get it right. Australian sports news program "Offsiders" (like that), reported on the banner and support for the two Ukrainian players (some raps for City too) at the beginning of the game.
Didn't mention the game or result, but it is after all just soccer.
In-depth analysis of Abramovich though... What's Chelsea worth? Pluck it out.
10 x Ogliarchs = Putin's singular $200 Billion wealth (reputedly). Money talks.
Mike Price
172
Posted 27/02/2022 at 09:26:55
Burnley look like getting out of trouble, they have two home games before we play Spurs and if they get a point, we're in the bottom 3.
Christy Ring
173
Posted 27/02/2022 at 09:56:00
I was fuming after the VAR decision yesterday, decided to wait until today to comment.
We were absolutely robbed, why wasn't Tierney told to go look at the monitor? He didn't because it was a total cop-out. Guardiola talking crap about it being offside, which VAR admitting it wasn't.
We didn't deserve to lose, the midfield were outstanding as was Richarlison. I couldn't fault any of the players, they gave everything. The goal was so unfortunate, a flick off Holgate's boot, which left Keane flat-footed. How some comments can criticise and blame both players is totally wrong; both players played well, and don't deserve the criticism.
If we play like this for the rest of the season, we should definitely be safe, especially if Calvert-Lewin is back and Richarlison returns to his best position on the left.
Lampard will probably get fined and suspended for telling the truth, and the FA will back the two corrupt officials. Why oh why don't they follow how professional the Rugby Union are, where the ref and the fourth official discuss and show any controversial incident, and everyone in the stadium can see and hear everything, and the decisions are always 100% correct.
Tricia Wood
174
Posted 27/02/2022 at 10:12:49
Time to keep this level up from now on and we should be okay. Keane whichever way you dress it is not a top defender wether he had a good game or not. Didn't sort his feet out at Norwich. Same with Holgate. We are stuck with them till May unless Branthwaite is given a go.
Tony Abrahams
175
Posted 27/02/2022 at 10:22:02
Watching on tv, my initial thoughts were that Richarlison must have been offside, especially when the ref restarted the game by giving a free-kick for offside.
Guardiola alluded to this, then Lampard said in his interview, that he asked the ref was Richarlison offside, and the ref said No.
VAR didn't get it right, Mike G, but it never will under its present guise, imo. Definitely not whilst we have got so many mediocre officials who are that poor and inconsistent that the feeling of an ulterior motive often comes into my mind when watching football.
The ref who never gave the penalty from the comfort of his studio will give a penalty for a very similar incident whilst officiating out on the pitch before the season ends in 11 weeks. This is something I'm certain of, and when he does, watch the Liverpudlian media pounce.
Danny O'Neill
176
Posted 27/02/2022 at 10:34:28
That summary itself smacks of incompetence and indecision, Tony.
It wasn't offside but a free-kick was given? Why? Surely with the game having been stopped, it's a drop ball. It was a penalty for all to see but wasn't given. Just total incompetence all around.
The boys showed spirit yesterday and deserved something out of that. New White Hart Lane next Monday and I'll be in the crowd. Carry that spirit forward, Blues, and you'll get something. Then we build momentum in March.
It's sad to say, but such is the way of how the officials work, they owe us one, so we'll probably get a soft decision through instruction. It's not how it should be, but often how it works.
Just be consistent and make the right calls, especially now they have the technology. Don't fear it; embrace it.
Laurie Hartley
177
Posted 27/02/2022 at 10:38:50
The scoreline is so very disappointing given the effort the players put into this match, irrespective of the fact that everybody in the world of football except Tierney and the VAR officials thought that was a penalty.
Regardless, as Danny @155 says, we have to start picking up some unexpected points sooner rather than later. I saw enough in this game to convince me that is not the forlorn hope that it appeared to be not so long ago.
Our team was full of fight today against one of the world's best club teams. Allan for my money was the best player on the pitch –- he played like a man possessed, ably assisted by Van de Beek and Doucouré. That midfield, if we can keep it fit, will lead us out of trouble. I also thought Dele Alli played well when he came on.
Also a special mention for Richarlison – he played his heart out.
It was also heartening to see Ashley Cole having a go at the officials at the end of the game.
I think what happened on the managerial scene in the past 12 months knocked the stuffing out of our players but I think this team has rediscovered the will to fight.
Tony Abrahams
178
Posted 27/02/2022 at 10:55:50
Evertonians are now seeing a team that is fighting, and this has changed the whole atmosphere at Goodison Park, Laurie.
Other crowds get more credit, (they have always been so desperate for credit!) but once Evertonians get behind their team, everything changes.
Now we have just got to beat Boreham Wood, and hopefully get a decent quarter-final draw, whilst our confidence hopefully begins to grow.
Geoff Trenner
179
Posted 27/02/2022 at 11:02:42
Has anyone heard anything about why DCL didn't play?
I just watched the game, having been working yesterday. I thought the midfield looked good, with Doucoure back Allen seemed much more comfortable. Kenny had another good game and Gordon was excellent until he tired and faded.
Little threat up front so the ball just kept coming back.
No comment on the 'penalty' as I think it has all been said!
Phil Wood
180
Posted 27/02/2022 at 11:24:42
The lads played their socks off yesterday. Every single one of them.
To blame Holgate and Keane is just not on for yesterday's defeat. City had us under the cosh for much of the 2nd half. It was always going to be that there would be one bobbling ball and/or a player off-balance that would create a tap-in for one of the most lethal players in the Premier League.
I cannot get on their backs for that goal yesterday. They were giving everything against the best.
Those saying Mina would have made the difference should look back at his last game when he gave nearly every pass to the other team.
We know we need a better back line but yesterday was one hell of an effort against a team looking to bounce back from an unexpected defeat.
COYB.
Colin Malone
181
Posted 27/02/2022 at 11:46:24
If you fuck up at your work place, in which the company loses a million pound, you're sacked.
This prick in Stockley Park will cost Everton millions of pounds in Premier League position. Worst-case scenario, he could cost us our right to be in the Premier League.
What happens to this prick?
Tony Abrahams
182
Posted 27/02/2022 at 11:48:22
I've just watched the highlights again, curtesy of Barry Rathbone on another thread, Danny, and for the ref to restart the game by giving City a free kick for offside is absolutely disgraceful considering an Everton player had picked the ball up from Rodri's clearance just before play was stopped.
The more you think about it (I know some people don't even need to think about it), then it's clear that Kavanagh has cheated Everton, because if he took that long to make his "decision", then why didn't he just send his mate to the monitor?????
I don't think anyone could have done much better than Holgate and Keane yesterday, except in that crucial awful moment, and agree that it's sometimes better to just concentrate on the positives.
Rob Halligan
183
Posted 27/02/2022 at 11:49:08
Colin, he will be demoted to the Championship for one week, and that will be that!
Jeff Armstrong
184
Posted 27/02/2022 at 11:50:51
I think some are becoming complacent by thinking, if we play like yesterday for the remainder of the season, we will be alright.
We played like that at Old Trafford... then what happened?
We played like that against Arsenal... then what happened?
We played like that against Leeds...
The reason we are in this mess is because these players are so inconsistent.
Danny O'Neill
185
Posted 27/02/2022 at 12:10:01
Good lord and the dear Jesus Christ. Excuse my blasphemy.
Just popped into my local high street (Uxbridge) and genuinely forgot that righteous self appreciating bunch were in town. The perils of living at the end of the M40 with 2 train stations having direct 20-minute access to Wembley.
Going to have to put up with them later and no doubt get myself into a few debates. Wish me luck as I'm a singleton.
The weekend that keeps giving.
Let's paint Uxbridge Royal Blue in April.
Paul Hewitt
186
Posted 27/02/2022 at 12:28:57
Colin #181. If we go down (I don't think we will), it won't be because that cheating prick didn't give us a penalty. A season is 38 games.
Tom Bowers
187
Posted 27/02/2022 at 12:29:58
The VAR was supposed to take the decision away from the referee but half the time it goes back to the pitch where they got it wrong to begin with.
This is pure stupidity in my opinion. This has to stop.
Some people say that the teams over a season will get some benefits and have some against them but some get more than most. It shouldn't go back to the referee when someone else is paid to arbitrate.
Matthew Williams
188
Posted 27/02/2022 at 12:31:47
Yes we were robbed yesterday but we certainly don't help ourselves, do we?
Take the set-up, for instance, the number of defensive players totalled eight... fucking eight! No wonder their goalie had fuck-all to do.
Why not go into the game with a balanced side... five defensive players and five attacking players? Why not attack teams instead of inviting them on? This shite has been going on at our club since Bobby Bullshit!... we need to be braver and play our best players from the off and attack teams with a balanced side.
So for me it's Allan or Doucoure... not both! We need offensive players too in our midfield to start. I'd rather ship goals and have a go, than lose 1-0 without laying a glove on our opponents!
And the endless back passes to Pickford still frustrate the fuck out of me!
So be braver, Blues, a balanced team that at least gives it a fucking go would be a really welcoming change... it may be the making of us!
Fran Mitchell
189
Posted 27/02/2022 at 12:37:38
Matthew, you're having a laugh, right?
We should have attacked City more, you say? And got a spanking? The blueprint to play against City is there to be seen, and we played it brilliantly.
Also, Allan or Doucoure? Ermm... have you seen our midfield when it was just Allan? Yesterday was the first time we have had a coherent midfield, and Allan was brilliant, and that is because Allan needs another runner with him; together they make a good midfield. Alone, they leave too much space and are easily dominated.
You'd have rather been 'braver' and lost 6-0? Really? You'd rather we played like Leeds?
Tony Abrahams
190
Posted 27/02/2022 at 12:39:57
We were playing Man City, and not Norwich City though, Matthew!
Danny O'Neill
191
Posted 27/02/2022 at 12:47:26
The midfield done well yesterday.
Who are these offensive midfielders you are thinking of, Matthew?
With the players we currently have, I thought that was our best 3 and we should have got a point.
Tottenham next Monday. I will be in the crowd and full of optimism based on yesterday and, what I'm seeing Lampard and his backroom staff trying to install into the squad in terms of mentality.
Matthew Williams
192
Posted 27/02/2022 at 12:47:59
Correction...
Seven defensive players plus Iwobi (hopeless), we seem obsessed with playing only defensive players in our midfield and I am fucking sick and tired of it... one only from now on, please!
Jeez, no wonder we're in the shit... we never learn... whoever our opponents are (even City), attack them – still the best form of defense in footy.

Danny O'Neill
193
Posted 27/02/2022 at 12:52:44
Within reason, Matthew.
Attack the best form of defence? Yes. But an easy statement to make.
Against a team like Man City, you risk being massively exposed. It's a balance and we almost got it right yesterday.
Personally, I don't think Iwobi was too bad yesterday. All down to opinion, but did you judge him on yesterday or just your pre-judged opinion? Genuine question.
Derek Knox
194
Posted 27/02/2022 at 12:58:04
Marc Hints @ 169,
"Best league in the world but unfortunately worst officials in the world."
Spot on there mate !
Brent Stephens
195
Posted 27/02/2022 at 13:05:45
Wow, Bielsa gone!

Paul Swan
196
Posted 27/02/2022 at 13:07:10
I would guarantee that, if Richarlison had managed to get the ball past their goalkeeper just before the handball, then VAR would have ruled it out for any reason they would have searched for. Either way, those corrupt officials decided we were getting nothing all evening yesterday.
Brent Stephens
197
Posted 27/02/2022 at 13:07:56
Matthew #188,
"So for me, it's Allan or Doucouré... not both!"
For me, it's precisely because we had both, alongside Van de Beek, that we played so well in midfield (for a change). That middle three was superb yesterday. Suicide to go "brave" against a team like Man City.
Tony Hill
198
Posted 27/02/2022 at 13:14:58
The first half yesterday was the best I have seen us play for ages, considering the opposition.
If we stay up, Lampard and his team are going to deliver for us. As others have said, Cole's reaction was everything we've been lacking in terms of attacking the smug establishment view of Everton's rightful place. That fella's made a big difference already.
A wounding outcome to the game but massively encouraging overall. I'm going to whisper this but, even if we did go down, I have changed my view of our longer term fate and I would now expect us to bounce right back with Lampard and still to be a force afterwards. But we're going to stay up.
That first half was proper, proper Everton. Two or three astute additions and we'll be well on our way.
Ajay Gopal
199
Posted 27/02/2022 at 13:20:34
I saw something that gives me heart – the whole club was united! The fans, the coaching staff, the players – they played like they were one. Even on the field, the players were covering for one another.
It was typified by an incident in the 1st half. The ball broke kindly to (I think) Sterling on their left wing and the break seemed on but Kenny came all the way over from our left wing and kicked the ball out from Sterling's feet.
Another incident – Iwobi pressed from our right wing near the edge of their box, chased and harried their player right until the left side near the half-way line – then, when Man City switched flanks, ran all the way back to our right side to help out Coleman near our box. He must have covered 150 yards in that lung bursting run.
If they can keep up that intensity for the rest of the season, we should be okay.
Brian Murray
200
Posted 27/02/2022 at 13:30:20
Tony @198,
You were doing well then until you said "whisper it quietly"... don't friggin whisper it at all!!! It would be the end of us. Play and apply ourselves like that it won't be even an issue. Coyb
Brian Murray
201
Posted 27/02/2022 at 13:31:33
Let's hope Leeds get an idiot like Martinez.
Tony Abrahams
202
Posted 27/02/2022 at 13:40:37
Did you say that the club finally looks like it's becoming united, Ajay? That's music to my ears, hearing that, mate!
Marc Hints
203
Posted 27/02/2022 at 13:42:53
Thanks Derek #194
Soren Moyer
204
Posted 27/02/2022 at 13:50:34
The VAR decision is a scandal! Not a mistake or inconclusive evidence for a penalty!!!!!
Mike Hughes
205
Posted 27/02/2022 at 14:18:56
Bielsa sacked.
I hope they don't get a new-manager bounce.

Jay Wood
[BRZ]
206
Posted 27/02/2022 at 14:20:29
It's good to read not too many despondent posts after a defeat such as yesterday.
Yes, the form table, depending on how far you look back, still makes dreadful reading.
1 win and 3 points in 4 PL games under Frank.
1 win and 3 points in the last 7 PL games.
2 wins, 2 draws, 13 defeats and just 8 points from 51 in the last 17 PL games.
Relegation form, indisputably.
BUT! There is clear evidence to me under Frank, as was the case yesterday, that there is greater energy and purpose in the team than was the case under Benitez.
There was no fear. No inferiority complex by Everton facing City yesterday.
Their winning goal came from luck, not craft.
We were denied a stonewall penalty.
We won't be playing teams the quality of City every week. We gave the best pressing and possession team possibly on the planet a game yesterday.
The new coaching setup has quickly instilled a more aggressive and purposeful playing style, as well as lifting shattered confidence.
The post-match reactions and comments of first Ashley Cole and then the manager himself clearly signal a winning mentality of two men fighting their team's corner with passion.
Sensible comments by Lampard yesterday, about not being too wrapped up in the league position in the next 2-3 weeks. He is aware that results may contrive to see us fall into the bottom three.
But equally he knows the way the team is starting to perform, together with the 14 remaining fixtures, we have more than enough to climb the table.
I for one agree with him.
Robert Tressell
208
Posted 27/02/2022 at 14:38:05
Fortunately Leeds are being found out as, bar a few, a collection of average Championship players who Bielsa got to massively overperform for a couple of years.
They're in serious trouble whoever they get in.
Rob Halligan
209
Posted 27/02/2022 at 14:43:09
Former RB Leipzig coach, Jesse Marsch, is thought to be the favourite to take over at Leeds.
Tom Bowers
210
Posted 27/02/2022 at 14:48:52
Forget the other results, when you lose 3-0 to Everton, you are bad.
Seriously though, managers have a tough time as soon as the results go belly-up, no matter how many good things you did before.
Everton's defence hasn't been much better than Leeds's but they are in a bigger freefall than us and have really struggled with the loss of Bamford and having to play Ayling in the centre-back role.
Sean Roe
211
Posted 27/02/2022 at 14:59:30
I'm not going to laud the players for doing the bare minimum that their job description and salary requires, putting in some effort. However, they were unlucky with the goal and robbed of a clear penalty.
Spurs away next in the league, which ''Everton'' will turn up?
Christy Ring
212
Posted 27/02/2022 at 15:01:16
Matthew #188,
Allan and Doucouré are completely different players. Allan breaks up play, Doucouré is box-to-box. Our midfield three yesterday against City were the best combination I've seen this season.
Allan for me was Man of the Match, how many times did he dispossess De Bruyne, and in their half?
Apart from the shambolic penalty decision, the amount of cynical fouls that City players got away with, and always do, including two from behind on Richarlison, and not a notion of a card from Tierney, was abysmal.
Stan Schofield
213
Posted 27/02/2022 at 15:01:42
Tom@210: I think a bit of readjusting of history there. Just prior to the Leeds game many on here were fearful that Leeds' energy and pressing would tear us apart. I recall saying we could readily beat them, and a fair few on here thinking that was optimistic.
Well, we beat them soundly because we were a cohesive team. But now, some on here are saying that we beat them only because they're shite!! Maybe they've become shitter partly through the hammering we gave them, which could have damaged their confidence.
Similarly for Brentford, who we trounced because we were an efficient unit.
We lost to City through bad luck and very bad officiating. Very bad officiating in the Barcodes and Saints games as well, and it bloody well hinders us.
Three home games under Lampard, all very good performances, possibly the return of Fortress Goodison and the start of a different approach to our game. 7 goals, 2 conceded.
No doubt Liverpool keep beating teams with their high pressing only because those teams are shite? No, they do it because they've become an efficient unit. Just like we might well be starting to be.
Danny Baily
214
Posted 27/02/2022 at 15:07:00
I was hoping Leeds would let Bielsa finish the job. There's always a risk of a new-manager bounce, no matter how bad a side is.
Bill Gall
215
Posted 27/02/2022 at 15:08:28
First, a thank you to Bill Kenwright as that tribute to Ukraine and players was reminiscent of his theatrical background.
The game hopefully has started to show the correct direction for the future by the manager and his coaches. Without going over previous comments, I just agree with what has been said about the players and the penalty fiasco.
The best comment I thought came from Jim Beglin, who never seems to be on Everton's side. The talk about the arm and where the sleeve ends, he said, "How can you judge it if a player has a long sleeve shirt on?" End of argument.
For quite a while, this is the first time Everton have lost and my weekend was not ruined. It's amazing what commitment and effort can do.
Christopher Timmins
216
Posted 27/02/2022 at 15:11:36
It's no secret that I am not a fan of Keane, Iwobi or Allan; however, I thought they did quite well in the 4-5-1 set up and it was only in the last 20 minutes when tiredness set in that errors occurred, leading to their goal.
4-5-1 / 4-3-3 is the way to go with either Richarlison or Calvert-Lewin up top.
If we can repeat the performance levels of yesterday until the end of the season, we will be fine and we might just win the FA Cup.
Lampard is making a positive difference!
Soren Moyer
217
Posted 27/02/2022 at 15:20:39
A very good article on yesterday's VAR shambles by Matt Townsend here:
Clive Rogers
218
Posted 27/02/2022 at 15:47:52
Iwobi has been slightly better but there is still no end product. He never gets a cross or any sort of final ball in.
Joe McMahon
219
Posted 27/02/2022 at 16:11:48
VARs Fave teams. Liverpool Champions League Final v Spurs, 40 seconds into the match, an armpit ball is given as a penalty. The bias and favouritism will never be eradicated from the game.
Tony Williams
220
Posted 27/02/2022 at 16:44:33
We have got the worst referees in Europe.
Soren Moyer
221
Posted 27/02/2022 at 17:18:57
Leeds are shite indeed! Their latest few results, judge for yourself:
Leeds United 0 - 1 Newcastle United
Aston Villa 3 - 3 Leeds United
Everton 3 - 0 Leeds United
Leeds United 2 - 4 Manchester United
Liverpool 6 - 0 Leeds United
Leeds United 0 - 4 Tottenham Hotspur
Gary Jones
222
Posted 27/02/2022 at 17:42:12
Think the observant title of the article is exactly why we need to rotate for FA cup.
Assuming they're all fit:
Begovic
Patterson Holgate Branthwaite Mykolenko
Alli Onyango Gomes
El Ghazi Dobbin Gray
Dennis Stevens
223
Posted 27/02/2022 at 17:50:02
Gary #222, are not most of our January signings cup tied? I think, perhaps, all apart from the two new full backs?
Ajay Gopal
224
Posted 27/02/2022 at 17:58:38
Indeed, Denis. Dele Alli, Van de Beek and El Ghazi are all cup tied.
So, I will go with Gary's team except for Townsend and Rondon instead of Alli and El Ghazi.
Begovic
Patterson Holgate Branthwaite Mykolenko
Townsend Gomes Onyango
Dobbin Rondon Gray
Gary Jones
225
Posted 27/02/2022 at 18:21:00
Ahh nuts, thanks for the correction, Dennis, hangover clearly not gone. Guess that unless there's another U23 is ready, we'll be risking a first-choice midfielder at least. Maybe Rondon up top, and Dobbin on the right…
Gary Jones
226
Posted 27/02/2022 at 18:21:56
Good call with Townsend in the middle 3, Ajay!
Neil Copeland
227
Posted 27/02/2022 at 18:32:14
I would expect the Cup game to be very physical and Boreham Wood will give it everything.
Ajays team should have enough though with a few of those players pressing for a starting place on a regular basis. Mykolenko may not be up for it given the situation at home.
Brian Wilkinson
228
Posted 27/02/2022 at 20:03:26
I keep reading about only for a mistake, I just do not get how that can be classed as a mistake, Keane steadied himself to cut out the cross, it took an awful deflection that wrong footed the player.
I know Keane and Holgate have had a good bashing and in some games rightly so, but yesterday was not one of those games, absolutely no way can you blame Keane for that freakish deflection, it is on a par with Pickford diving full stretch to make a save, only for a deflection to take it another direction.
Overall every single player did their job, like I said weeks ago, I hope we manage to sign Van de Beek, covers every blade of grass, can tackle, pick a pass out, chase back and makes our midfield so much better.
We are heading in the right direction, cartwheel practice taking place as I speak.
Neil Copeland
229
Posted 27/02/2022 at 20:13:11
Brian #228, that's how I viewed it too, very harsh to criticise but each to their own.
Brian Wilkinson
230
Posted 27/02/2022 at 20:19:42
It reminded me of the Darrocott 2nd replay incident, where a deflection wrong footed Darrocott and the ball went past him for Little to score the winner at Old Trafford in 1977.
Derek Knox
231
Posted 27/02/2022 at 20:20:00
Neil @ 227,
"I would expect the Cup game to be very physical and Boreham Wood will give it everything."
Even the Kitchen Sink, but being in the Plumbing Game, I hope you will be there to sort any problems out! :-)
Will Mabon
232
Posted 27/02/2022 at 20:22:28
Our three-man midfield was excellent yesterday. Watch the Guardiola interview (the BBC one I think) to hear his thoughts on Allan, who was fantastic in his disruption of City's flow.
I don't blame Holgate or Keane for the goal. Keane however is naturally slow footed and was unable to adjust to what happened. Other players might have done.
I'm still going with bias/corruption for the VAR decision. There is a shot from behind the ref's point of view, from a sort of left midfield perspective. He leans to try to look past a player but he cannot see the contact at all let alone judge where it hit on the arm.
The same of course cannot be said for Kavanagh. Disgraceful.
Stan @ 213 - good post.
Neil Copeland
233
Posted 27/02/2022 at 20:30:22
Derek #231, I will be there, not sure if my so called plumbing skills will be of any use though. We will just have to hope the blues tap into their superior skill levels to prevent a watershed moment and floods of tears 😬
Anthony Dove
234
Posted 27/02/2022 at 20:48:20
To blame Keane for the goal is plain nonsense.
Tony Abrahams
235
Posted 27/02/2022 at 20:49:28
I honestly thought Keane played as well as I've ever seen him perform in an Everton shirt yesterday, and would be very happy to see him perform like that every week.
Whilst genuinely taking nothing away from his performance, it was a catastrophic mistake imo, and ended up giving Foden, one of the easiest goals he will score this season.
It's gone, there is nothing to dwell on but the positives, especially because our defence gave us a very good platform yesterday.
Derek Knox
236
Posted 27/02/2022 at 21:17:55
Neil, you're on the Ball Cock ! :-)
Neil Copeland
237
Posted 27/02/2022 at 21:19:46
Derek, it's all a gas!
Brian Wilkinson
238
Posted 27/02/2022 at 21:55:13
Neil and Derek, you need to grow moustaches for next meet up so we can call you Mario and Luigi.
Sure a meet up is in the pipeline.
Neil Copeland
239
Posted 27/02/2022 at 22:23:59
Brian, a meet up would be great. Let's go with the flow.
Jack Convery
240
Posted 27/02/2022 at 23:19:27
For Boreham Wood:
Begovic
Patterson, Keane, Branthwaite, Kenny (or Mykolenko, if he feels up to it).
Townsend, Gomes, Onyango, Gray
Rondon, Dobbin.
Bill Watson
241
Posted 28/02/2022 at 01:47:07
At last we had a three man midfield and what difference it made. The way the side was set up is exactly as it should be for most away games.
For the Boreham Wood game we should start with our strongest side possible and, hopefully, if we establish a comfortable lead we can make up to (I think) five substitutions. On too many occasions we've struggled against, so called, lesser sides and ended up chasing the game.
Just on the Video Assistant Referee, Kavanagh: I believe he comes from... Greater Manchester!!
John Boon
242
Posted 28/02/2022 at 04:43:25
I think it is pointless singling any players out for criticism. We played very capably as a team. There were mistakes made, but the biggest one on the day was made by the referee.
However, as diasppointed as I am when I even think about the game, I get more annoyed when I think back to the start of the season, when we made a far bigger mistake than any against Man City.
Why on earth did we appoint Benitez? He is responsible for the situation we are in today.
Danny O'Neill
243
Posted 28/02/2022 at 05:54:43
Whatever the formation, with the players we have right now, it has to be a 3-an midfield.
I called 4-3-3 with Van de Beek, Doucouré and Allan, and on Saturday it pretty much worked. If it hadn't have been for a dreadful mistake and shocking official decision, we'd have got a deserved point.
I did think - although it was a howler, I should also point out that Michael Keane did have a good game. Credit where due.
Derek Knox
244
Posted 28/02/2022 at 06:39:34
Jack @ 240, Gomes ? It's Boreham Wood we are playing not 100 Acre Wood, or Nutwood ! These have taken scalps already and must be taken seriously, no point in starting with the equivalent of ten men !
Andrew Ellams
245
Posted 28/02/2022 at 08:00:04
It was a good team performance on Saturday but, apart from a penalty that wasn't given, I didn't see where the goals were coming from. Don't score goals, don't stay up.
Mark Ryan
246
Posted 28/02/2022 at 08:03:31
Jack @ 240, put that team out, we're out of the Cup
Danny O'Neill
247
Posted 28/02/2022 at 08:31:21
It was Manchester City, in fairness and context, Andrew. They've only conceded 17 goals all season and have a goal difference of plus 47.
Jack @240, I reiterate Mark Ryan's comment. Get the game won then bring in fringe players. Don't risk chasing the game against a dogged team that are up for the night of their footballing lives.
Rob Halligan
248
Posted 28/02/2022 at 08:48:14
I don't blame Keane for the goal. It's worse than what it looks from his point of view. The deflection totally wrong footed him, and with his weight all on his left side there was not a cat in hells chance of him being able to recover.
We see it all the time with a deflected shot that goes in. The keeper moves one way, the direction in which the ball is travelling, until suddenly a deflection sends it the other way. The keeper has all his weight on the side the ball is travelling until the deflection completely throws him.
Even with the Man City goal, Pickford looked like he was starting to move to his left as the ball was travelling across the goal, so even the deflection threw him a little as he hurriedly tried to adjust his feet and move back to his right.
Matthew Williams
249
Posted 28/02/2022 at 08:54:24
Any Blues team that has a Midfield three of Allan, Doucoure and VDB just means to the opposition..."Everton are happy with a point here",not good enough for me...no goal threat whatsoever.
Try a three of Alli, Doucoure and Townsend instead, Gray and Gordon supporting Richarlison up top... balanced!
Be the fuck braver... as them penalty loving fuckers lift their ninth League Cup... jeez, whereas we show nothing but contempt for that competition... you couldn't make it up!.
Christopher Timmins
250
Posted 28/02/2022 at 09:04:35
Surely you have to tweak the formation to take account of the opponent? When playing Manchester City, a midfield 3 of Allan, Doucoure and Van de Beek gives us a better opportunity to get something from the game. If you go toe to toe with them with their level of quality, then you might find yourself out of the game after 30 minutes.
Doucoure and Van de Beek certainly give us more movement in the midfield sector and I could see us playing with Alli as the third midfielder, particularly in situations where we go with either Calvert-Lewin or Richarlison but not both.
Alli is due a goal and no better place than White Hart Lane for him to get up and running!
Matthew Williams
251
Posted 28/02/2022 at 09:59:16
Any team that has two or, God forbid, three defensive players in midfield will end up with nowt... which is what we got on Saturday. Way too negative... and don't box-to-box midfielders score the odd goal now and again?
My team for Thursday... 4-4-2:
Pickford
Patterson
Keane
Branthwaite
Mykolenko
Gray
Doucouré
Gordon
Townsend
Calvert-Lewin
Richarlison
Should see us through, methinks.
Denis Hignett
252
Posted 28/02/2022 at 10:06:49
Now the dust has settled, give credit to the players. Everyone gave 100%. That's all you can ask. Keep that attitude and we will be fine.
I think though, that Allan needs to go on an anger management course. You can't go on getting booked every game.

John Raftery
253
Posted 28/02/2022 at 11:27:55
Matthew (254 and earlier). I think you are wrong.
We have needed three in midfield all season to make us less of an easy touch. We have been far too open.
Finally we have three suitable players capable of making the team solid in and out of possession. Moreover, they are not purely defensive midfielders. I would keep all three of them in the team for the rest of the season, providing they can stay fit.
Danny O'Neill
254
Posted 28/02/2022 at 11:32:09
For 2 years or so, John Raftery, I would argue. We've had a gap there for a while. We need the 3 or a sweeper.
Andrew Ellams
255
Posted 28/02/2022 at 12:00:37
Danny @ 247, it was City on Saturday but 5 out of our last 6 league games have brought the grand total of 1 own goal.
Danny O'Neill
256
Posted 28/02/2022 at 12:24:29
Come on, Andrew. A goal is a goal and we can adjust stats to fit any point of view.
Another way of looking at it is that we've scored 7 in the last 7.
We have goals in us, even without our main striker being fully fit.
It's the concentration and mistakes at the back that are costing us.
Bill Gall
257
Posted 28/02/2022 at 14:13:20
Mathew,
As you say, the midfield is too defensive so hopefully Lampard will lay into the 3 of them for spending time tackling City players and providing passes to Everton players in the City half.
I believe a manager picks a team – and I emphasise 'team' – to suit the opponents. Saturday, we were playing one of, if not the best team in Europe who have been scoring 2, 3 or 4 goals a game and the team Lampard put out proved it was the correct one to get a result from your opponents.
The next game, you may see a different opponent, so there may be a different team selection. The one thing I noticed and,like many others, I complained that our midfield in other games had no control and were usually struggling. Saturday was the strongest we have seen for a long time.
Bill Watson
258
Posted 28/02/2022 at 17:53:01
Matthew #251 etc,
How can a midfield three of Doucoure, Van de Beek and Allan be regarded as defensive? Allan had a great game because he had legs around him which released him to go forward. In a two, he's half the player but with the immobile and error-prone Gomes, as has been proved time and again, it's an absolute disaster.
On Thursday, we need to start with our strongest side.
Ray Roche
259
Posted 28/02/2022 at 17:59:25
I agree Bill, none of this 'play the kids' or fringe player nonsense. Put the game to bed then make your changes. Show Boreham some respect by playing a strong side.
Christy Ring
260
Posted 28/02/2022 at 19:15:07
Matthew #249/251,
You say we had three defensive midfielders against City, our best midfield display this season. If we had played your choice, Doucoure, Alli and Townsend, that wouldn't be brave, we'd have been unbalanced and swamped, and we weren't playing an average team, we were playing the best: Man City.
I see you picked Calvert-Lewin for Thursday night, Lampard said last Friday, he's out for 7/10 days.
I'd mix it up, play our new full-backs, Branthwaite, Onyango, Dobbin and Rondon, but Allan, Richarlison and Doucoure should be rested, no disrespect to Boreham Wood, but we don't need to play our strongest side, especially when we're playing Spurs 4 days later.
Jay Harris
261
Posted 28/02/2022 at 19:44:48
Christy,
I agree with you in principle but you can't just throw a bunch of kids in against a very good Boreham Wood side.
I would however give Patterson, Branthwaite and Mykolenko a run-out.
Midfield is difficult cos we don't have the numbers or the quality but, with Allan and Van de Beek both nursing knocks, I would play Doucouré for 45 minutes to get an edge in the game with Onyango and Gomes (surely he can show up in this game). Front 3 should include Dobbin and Tom Cannon should get some minutes.
Danny O'Neill
262
Posted 28/02/2022 at 19:50:00
Start strong, get the game won then bring on the kids. That's where we always go wrong in the cup competitions.
Ron Marr
263
Posted 28/02/2022 at 19:57:55
Leeds hire a new manager one day after firing Bielsa. Dithering Moshiri takes 15 days to hire Frank after the Benitez firing and wastes almost all of the transfer window.
Brent Stephens
264
Posted 28/02/2022 at 20:06:18
Ron "Leeds hire a new manager one day after firing Bielsa. Dithering Moshiri takes 15 days to hire Frank after the Benitez firing."
Or maybe Leeds have made a panicked decision whereas we acted with due diligence? I'd rather us make the right managerial decision (which I think we have) than a poor managerial decision followed by potentially poor recruitment decisions during the end stage of the mid-season transfer window.
Ron Marr
265
Posted 28/02/2022 at 20:17:29
Brent, I'm mostly frustrated with hiring Benitez and then waiting far too long to fire him. They should have been planning weeks earlier to replace Benitez and had a replacement ready to go after firing him.
Robert Tressell
266
Posted 28/02/2022 at 20:17:44
I'd play:
Begovic
Patterson
Kenny
Holgate
Branthwaite
Doucouré
Gomes
Iwobi
Townsend
Dobbin
Rondon
Onyango, Welch, Price and Whitaker on the bench maybe. Unlikely to see Cannon even on the bench.
ps: I assume Mykolenko won't feature much because of the situation in Ukraine. Kenny, credit to him, is doing a good job anyway.
Brent Stephens
267
Posted 28/02/2022 at 20:24:50
Ron #265,
Yes, I agree. It does seem that getting rid of Brands said that Moshiri was all behind Benitez. Only to suddenly change his mind. By which time – well he had no time.
Bill Gall
268
Posted 28/02/2022 at 20:27:13
Vann de Beek is cup-tied so I can't see Lampard not using Allan, Doucouré maybe for 45 minutes depending on the score.
Even though we are fighting relegation, this is a real chance of reaching the next round, so we should not waste it by putting too many of the young kids in. It's the FA Cup that is known for surprises – we don't want Everton to be one...
Everton players will have enough time before the next game to recover.
Rob Halligan
269
Posted 28/02/2022 at 20:33:25
Danny # 262.
Lampard as a player won four FA Cups, so it's a competition he clearly likes. I'm sure he would love to win it this season although obviously avoiding relegation will be his first objective.
I also think he will start with a pretty decent team, get the game won after an hour, then make the permitted five substitutions. Five regular starters for five kids or squad players after an hour sounds good to me.
Brian Wilkinson
270
Posted 28/02/2022 at 21:13:27
Strong team out, put the game to bed as early as possible, then to lift the crowd and give the player a rousing reception, bring Mykolenko on.
Neil Copeland
271
Posted 28/02/2022 at 21:39:44
Brian #270,
Sounds good to me and would earn a lot of kudos with the support, neutrals and most importantly, Mykolenko.
Peter Mills
272
Posted 01/03/2022 at 08:52:54
As Brian, who sits behind me, said on Saturday as he left – "I think there might be a shock on Thursday. I think we might win".
Robert Tressell
273
Posted 01/03/2022 at 12:39:54
Having posted my preferred team #266 above I've just read an Echo article about the game which reminded me that Tosun still exists.
Forgot all about him.
I bet Frank, like the rest of us, is looking forward to a time when he doesn't have to weigh up who is better out of Rondon and Tosun.
Matthew Williams
274
Posted 01/03/2022 at 13:05:15
27 years without a trophy... says it all really. I am watching a lot of footy from around the world at the moment and am watching teams with plans, a flow and direction, playing it simple... on the floor, simple pass and move – and it's great to watch.
We seem to be playing a different sport at times, old habits die hard at our club, an endless array of back passes, giving the ball away cheaply, poor set plays and delivery in general, no pot shots from range, an obsession with playing two holding midfielders... or more... fucking madness!
I just can't see any new decernable style to our play, whoever the Gaffer is, there's never a fast start or any surprises or joy to our game.
We also treat the League Cup with contempt every fucking season as our loveable neighbours pick up their ninth... sigh.
We'll beat Boreham Wood on Thursday, but it won't be pretty but then just lose with ease at Spurs next Monday... nowt will ever change here unless we go braver and take a fair few risks in our style of play 'cos as it stands currently folks...we are just boring, safe and soulless!
Tony Abrahams
275
Posted 01/03/2022 at 20:05:37
That's an apology with two fingers, and hopefully something that doesn't backfire, when you see how much referees are actually getting away with right now.
Michael Lynch
276
Posted 01/03/2022 at 20:05:46
Peterborough holding Man City with some ease. Kind of puts our performance on Saturday into perspective. Same when we beat Leeds, only to see them get pounded by every other team with no problem at all.
Anyway, more important that Leicester beat Burnley tonight. Though, I have to say that there's no way I can see City winning the Premier League title at the moment, they look toothless.
Joe McMahon
277
Posted 01/03/2022 at 20:14:35
Mathew @274,
I share your frustrations. We share a city with a team that wins endless silverware versus our 27 years (and that was after a few years without nothing). But apathy surrounds the club; Kenwright still fawns over the '60s and tales of Ball, Royle and Kendall. Forget major trophies, that lot have won the league cup 9 times, we have never won it once.
The 27 years (including the Kenwright era) have seen us lose ambition and status and retain a terrible dated image that is not helped with Unsworth and Ferguson just hanging around for years.
But I do feel the appointment of Frank Lampard (and his coaching team) in the long run will be the best appointment we have made in the Premier League era, and that only happened after a fan protest (so no apathy or acceptance there).
Brian Wilkinson
278
Posted 01/03/2022 at 22:32:22
Leicester and Boro result great tonight, however without counting chickens and a win on Thursday, nailed on after the controversy we will draw City at Goodison in the quarter finals, like I say, if we get past Boreham Wood.
---
Add Your Comments
In order to post a comment, you need to be logged in as a registered user of the site.
Or Sign up as a ToffeeWeb Member — it's free, takes just a few minutes and will allow you to post your comments on articles and Talking Points submissions across the site.
---
© ToffeeWeb