Report
Rondon goals carry Blues past stolid non-leaguers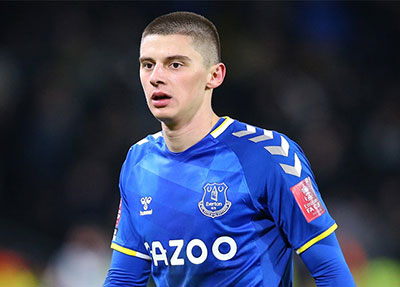 Vitalii Mykolenko will start his first game since featuring in the Fourth Round win over Brentford
Two goals from Salomon Rondon saw Everton ultimately get past Boreham Wood into the FA Cup 6th Round at Goodison Park but it was hard work.
The non-league club will make the journey north from Hertfordshire for the biggest game of their history to-date, a sell-out under the lights on Merseyside… but for Everton it will be a case of focusing on the job at hand and getting through to the last eight with the minimum of fuss.
Vitalii Mykolenko is in the starting XI. Mykolenko hasn't started a match for the Toffees since the tie against Brentford in the last round due to a bout of Covid-19 and the form of Jonjoe Kenny who has excelled in two of the three games where he has been asked to deputise at left-back, and has been made captain for the night by Frank Lampard.
Nathan Patterson, Jarrad Branthwaite, Andros Townsend Fand Jonjoe Kenny also feature in the starting line-up with Jason Pickford, Damari Gray, Andre Gomes and Dominic Calvert-Lewin rested.
From the Under-23s, Reece Welch, Ryan Astley, Lewis Dobbin and Isaac Price are all on the bench (Tyler Onyango is out injured with a hernia problem).
The visitors kicked off in their dapper black kit, purchased for them by Everton to avoid a colour clash. and pushed up into the Everton half crossing over the Everton goal.
Townsend put an early cross into the hands of Ashby-Hammond but Boreham Wood were soon back in Everton's half and pushing their luck.
In Everton's first real attack, Mykolenko was set up for a shot by Doucouré but it was a routine save for the keeper. Doucouré tried himself from a narrow angle and drove it behind.
Gordon was fouled just outside the dee, and put it into the wall himself after a Townsend fake. Rondon got forward and forced a good save before he was flagged offside.
Patterson forced the first corner, Gordon playing it short to Townsend and then picking it up in order to play in Branthwaite whose shot was off-target.
Article continues below video content
After getting close to the Boreham Wood goal a few times in the first 15 minutes, the Blues started to struggle a little, with the National Leaguers sitting deep and making Everton work to create anything.
Allan was fouled for another Everton free-kick. This one Townsend put in too low and it was headed clear by the second defender.
Things had pretty much stalled by the half-hour with Everton making very hard work of it, and being forced to recycle a number of times until Townsend overhit his cross.
Finally a better move down the middle, driven by Gordon, but again the cross from Townsend was off. Patterson tried but he couldn't dig out a decent cross under pressure on the goalline.
After a long spell of frustrated probing, Gordon put in a teasing shot, forcing Ashby-Hammond to parry and it could have gone anywhere but a Boreham Wood defender cleared it away calmly.
A mistake by Branthwaite in the middle was not capitalized on and Everton resumed the methodical (or just plain slow) building into forward areas, Kenny overhitting his cross and Gordon getting dispossessed a little too easily.
Play then stopped for a medical emergency in the Lower Bullens. When it restarted in Everton's half, Boreham Wood almost fashioned a chance but played it too softly into Begovic's hands.
When Everton attacked again, it was the same old story now, with another rubbish cross from Townsend wasted. A more spirited attacking move followed but again the cross was shockingly poor, with just 2 minutes added for the medical emergency.
Everton's increasingly slow and sloppy play had really come nowhere near scoring and late corner from Gordon was lacking quality, easily cleared. A pretty awful half to be brutally honest, Everton have been rubbish.
At least Frank Lampard had a sense of what could happen here… but he switched Richarlsion in for Patterson rather than the dreadful Townsend after the break.
In a much more fluid move, Mykolenko cut in and crossed hard and low between the keeper and Rondon. But Richarsions's first touches were disappointing. However, Kenny fired in a great cross that Rondon should have buried but he headed over.
Gordon spun beautifully and rocketed down the left but then overran the ball. The ref decided to waste time by having a long talk to the Boreham Wood goalkeeper, about time-wasting or not putting the ball down in the right place?
THat saw some dreadful playing out from the back by Everton, Branthwaite string to Marsh who tried his luck.
More really slow and sloppy recycling saw a decent ball finally put in very well from the right by Kenny and a very clever touch by Rondon saw the ball turned in superbly at the near post.
Mykolenko put in a good ball off a corner that Keane headed lamely wide as Mykolenko went down after a knock he had gotten, and he went off, Coleman on in his place.
Allan tried to play onRicharlison with a ball over the top but it was always going away from goal. Townsend, Richarlison and Rondon tried to play some intricate stuff through the middle but they were stalled.
Everton now pressed with much more intent but found it hard to create a clear shot amidst a packed Boreham Wood defence that finally cleared the ball but they could not shape ab attack.
Gordon almost got to a one-two with Richarlison that would have been good to see.The one-way traffic pattern resumed but it was more down a host of cul-de-sacs rather than a highway to the Boreham Wood goal, Gordon resorting to a lashed shot over the goal.
Next attempt, Gordon fired in another good one, that hit a defender then Richarlison and bobbled over the line. But VAR said it hit his arm and ruled it out.
Gordon tried again to do it all himself, cutting back nicely but the keeper was able to get down and save his low shot.
Richarlison seemed to really strike an absolute zinger what would have gone in off the post but Ashby-Hammond got across brilliantly to parry it away.
From the recycled corner, Allan blazed well over. Marsh then intimidated Keane driving him into the Everton area and it needed Kenny to come across and clear.
Another chance for Gordon but he got well under his shot. Everton tried to build again but were stalled… again. A better rove looked to have set up Richarlison but his first touch was too strong and a defender intercepted.
From the corner, Rondon powered a header in that the keeper saved but he was well over the line and the ref signalled Everton's second goal to finally secure the win.
Dobbin replaced Gordon, as Rondon thought he might get a Patrick when he tried to lob Ashby-Hammond, but he was offside anyway.
The Blue shirts were lining up to take potshots in the last few minutes but Boreham Wood did a good job by not going any further behind. Price and Welch came on for their senior debuts before the final minutes.
Everton: Begovic, Patterson (46' Richarlison), Keane (89' Welch), Branthwaite, Mykolenko (59' Coleman), Kenny, Doucoure, Allan (89' Price), Townsend, Gordon (86' Dobbin), Rondon.
Subs not Used: Lonergan, Holgate, Iwobi, Astley.
Boreham Wood: Evans [Y:57'], Stephens, Stevens, Mendy Mendy, K Smith (74' C Smith), Ricketts (69' Comley), Rees, Raymond, Boden (89' Ranger), Marsh (90' Clifton).
Subs not Used: Ashmore, Fyfield.
Attendance: 38,836
Share article:
---
Reader Comments (145)
Note: the following content is not moderated or vetted by the site owners at the time of submission. Comments are the responsibility of the poster. Disclaimer
Neil Lawson
1
Posted 03/03/2022 at 19:22:28
Mmmmm. This could be interesting. the comments that is !
Bill Gienapp
2
Posted 03/03/2022 at 19:25:40
Hopefully the starting XI can take care of business swiftly, because other than Richarlison, there aren't really any "In case of emergency - break glass" players on the bench (I would have stashed Gray on there too, just in case).
Is Gomes injured? This seems like the perfect game for him. I just worry about overworking Allan... given our torrid run of injuries, it's kind of miraculous that he's remained relatively unscathed this season.
Dave Abrahams
3
Posted 03/03/2022 at 19:25:47
Neil (1), when in doubt say nout!!
Michael Lynch
4
Posted 03/03/2022 at 19:28:17
Who plays where in that line up?
Michael Kenrick
5
Posted 03/03/2022 at 19:31:04
Mykolenko the captain???
Sorry, but that's just fucken ridiculous. When you want to see ultimate professionalism from this club, they bugger it up with luvvie shite like this that has Kenwright's ugly fat fingers all over it. Makes me sick.
Eddie Dunn
6
Posted 03/03/2022 at 19:33:21
Surely Michael, it is only an "honourary " title tonight, just a gesture.
Kieran Kinsella
7
Posted 03/03/2022 at 19:33:28
Chuckle Brothers not playing so no own goals today
Michael Lynch
8
Posted 03/03/2022 at 19:36:48
To be fair to Mykolenko, there are no captains in that line-up. And, Michael, it's not just Kenwright, it's football in general. Ignore the corruption, the greed, the dodgy ownership, just make sure you're wearing a pair of rainbow laces.
Jay Wood
[BRZ]
9
Posted 03/03/2022 at 19:37:34
There is more than enough in that side to get the job done, but I expect it to be very physical.
This is Boreham Wood's Champions League Cup Final. The biggest game in their history.
They have a mean defence. Just 17 goals conceded in 27 league games. Not ONE single goal conceded in five FA Cup ties this season.
Nice to see a good mix of young academy players on the bench.
Just get the job done with no injuries, Everton.
Lyndon Lloyd
10
Posted 03/03/2022 at 19:38:05
Wind your neck in, Michael (5), jaysus. We're playing Boreham Wood and it's a nice gesture for the poor kid after Manchester City did the same for Zinchenko on Tuesday.
Kieran Kinsella
11
Posted 03/03/2022 at 19:42:25
Jay
"Not ONE single goal conceded in five FA Cup ties this season."
That would be an impressive stat for a Premier League, much less non-leaguers. I am going to predict a tough sort of frustrating 2-0 win with one goal early on from Branthwaite heading in a corner and a screamer from Townsend in the last 20 minutes.
Simon Dalzell
12
Posted 03/03/2022 at 19:42:41
WOW... MR. Kenrick. You should be embarrassed.
Ernie Baywood
13
Posted 03/03/2022 at 19:46:09
This whole football club is a nice gesture.
Personally I think making Mykolenko Captain diminishes the prestige that goes with that role. And it seems patronising to Mykolenko too.
What next? If someone has a bereavement should we make them Captain? Or if they've had a fall out with the missus?
How about choosing a captain based on their standing and leadership skills?
Maybe we should start giving game time to the underprivileged in our community.
Fof fuck's sack, it's a football match. Screw nice gestures – they can happen off the pitch.
Kieran Kinsella
14
Posted 03/03/2022 at 19:49:02
Ernie
We've already had plenty of charity selections. Tom Davies alone has a 100 plus. Lighten up. It's not like he is Captaining a military force. It's what should amount to a novelty game against modest opponents at a time of great angst.
Tony Everan
15
Posted 03/03/2022 at 19:49:43
It's just a gesture and a statement of support, the senior lads will all be the real captains tonight. Of all on the pitch, I think Branthwaite could make a future one.
Looking forward to see how the full-backs get on, Patterson and Mykolenko will make a difference attacking tonight, I backing them for an assist or two.
Ernie Baywood
16
Posted 03/03/2022 at 19:50:53
Kieran, it's an FA Cup 5th round match.
It feels patronising enough to describe it as Boreham Wood's cup final, never mind a 'novelty game'.
Will Mabon
17
Posted 03/03/2022 at 19:52:05
"
It's what should amount to a novelty game against modest opponents at a time of great angst.
"
"Should" is a very loaded word there, Keiran, with this club in the cup! Brave statement, Man.
Kieran Kinsella
18
Posted 03/03/2022 at 19:54:05
Will
Not that brave, that was the edited version as originally I was writing "What does amount to a novelty game" then I thought better of it.
Larry O'Hara
19
Posted 03/03/2022 at 19:58:01
I have no problem at all with Mykolenko being Captain tonight: if Man City can do it so can we….
Will Mabon
20
Posted 03/03/2022 at 19:58:16
Keiran, you won't be saying that before we play Palace :)
Jeff Armstrong
21
Posted 03/03/2022 at 20:00:19
Robert #28, Boreham Wood next, mate.
Will Mabon
22
Posted 03/03/2022 at 20:00:39
Ernie - "It's all random, it equals out over time, it's just the way you perceive it" etc.
Heard them all, but it so often seems that way doesn't it? At least they're away from us for the next round.
Mike Gaynes
23
Posted 03/03/2022 at 20:03:23
What a classy comment, Michael #5. Proud of that one?
Danny Baily
24
Posted 03/03/2022 at 20:06:57
Allan and Doucoure starting is asking for an injury to a key player ahead of Spurs.
Don Alexander
25
Posted 03/03/2022 at 20:07:17
I'm no admirer of Kenwright but I trust he's had zero to do with the team or captaincy, and never will do again.
I expect Frank, working daily with the lad, sees it as a win-win for everyone.
Bill Gienapp
26
Posted 03/03/2022 at 20:11:11
Surprised at the push-back against Mykolenko being given the band. If not him, it would likely go to Michael Keane, so yeah - I'm not going to be losing sleep over that.
Ciarán McGlone
27
Posted 03/03/2022 at 21:00:22
Christ. What a borefest.
3 Centre halves against Boreham who? Although Kenny is playing in such a way we look like we've two right backs on.
Only plus is Patterson looking very capable.
Michael Lynch
28
Posted 03/03/2022 at 21:04:03
Pathetic half from us. Why did Lampard think our squaddies could get past a defence that shut out Bournemouth? This is going to be another embarrassment.
Andrew Keatley
29
Posted 03/03/2022 at 21:06:49
Three at the back could be the right system to stretch Boreham Wood, but only if Patterson and Mykolenko get much much further forward - they need to be like hares up and down that line, and both look extremely tentative to me.
Neil Lawson
30
Posted 03/03/2022 at 21:08:43
Truly dreadful. Townsend awful. Doucouré prominent but just how many times is his first move to turn backwards?
It is all so slow. No risk. Has to change at half time and not 60 minutes. Richarlison and Gray for Kenny and Townsend and change the shape.
Denis Hignett
31
Posted 03/03/2022 at 21:09:39
Townsend off, Richy on please.
Derek Cowell
32
Posted 03/03/2022 at 21:11:21
Can no-one cross a ball, for fuck's sake! The final balls in have been woeful. We just don't look like scoring at all. I hope they don't nick one. 2 shots on target!
People who thought it would be 4-0 at half-time were dreaming. This is Everton!
Jay Wood
[BRZ]
33
Posted 03/03/2022 at 21:12:16
Started well, playing through the lines quickly with good movement.
But Boreham Wood to their credit look very disciplined. Holding their defensive shape very well. Not allowing our forward players to hold up the ball for others to play around them. Choking our passing lines.
We grew more one-paced as the half went on. Other than astute passes from Allan and 1-2 nice plays from Patterson down the right flank, we haven't really breached their backline.
Needs more energy. Sharper movement, with and without the ball, trying to pull them out of position for runners to take advantage of.
As long as it's 0-0, it just takes one moment for Boreham Wood to make things very nervous and difficult for us.
We're in a game here.
Kieran Kinsella
34
Posted 03/03/2022 at 21:14:35
Other than Coventry City in 1987 versus Sutton Utd, and Newcastle v Hereford (I think) have any other top-flight teams lost to a non-league club in the cup?
Michael Lynch
35
Posted 03/03/2022 at 21:14:48
Patterson needs to be getting down the outside. Their left-back shows him inside every time but it's up to our lad to get past him. He's looked decent for us but he could change the game if he can get a decent cross in.
Michael Kenrick
36
Posted 03/03/2022 at 21:18:16
Well said, Ernie @ 13. Spot on.
I said it's about being professional and that's exactly what we have not been in a really poor first half. I retract my luvvie accusation as apparently it's not even an original thought of our own crew but a copy-cat gesture.
Des Farren
37
Posted 03/03/2022 at 21:19:44
We will see Lampard's response over next 45 minutes.
Hopefully it is positive.
Oliver Molloy
38
Posted 03/03/2022 at 21:22:17
Same old story, just not good enough from the team in the first half – don't give a fuck how organised they are!
Gwladys Street need to suck the ball in – let's hope Richarlison makes a difference!
Don Alexander
39
Posted 03/03/2022 at 22:10:12
Full-time. Laboured and worrying as far as I'm concerned. The basics of football still seem to an unknown foreign language to so many of our players.
Ciarán McGlone
40
Posted 03/03/2022 at 22:12:12
Better second half when the daft 5 man defence was ditched.
Gordon MotM. At last, a youngster who actually keeps improving.
Fair play to Rondon for the goals. Still wouldn't put him anywhere near a pitch in a serious game though.
Next.
Andy Finigan
41
Posted 03/03/2022 at 22:14:18
Abserlutly over the moon. Very professional performance. Final ball needs to improve but overall it was as good as I have seen against lower opposition. Palace will be tough but under Frank we can progress to Wembley.
Kieran Kinsella
42
Posted 03/03/2022 at 22:18:03
As I said earlier 2-0
Tony Twist
43
Posted 03/03/2022 at 22:19:04
Christ, what a grim match, I suppose making sure that we don't get our hopes up. Got no chance against Palace playing like that. Soo many wrong choices in the final third. A win is a win but hardly convincing and hardly confidence building.
Colin Glassar
44
Posted 03/03/2022 at 22:21:47
The aim was to win and, we won! Poor first half, second half better but we got through it.
Andrew Merrick
45
Posted 03/03/2022 at 22:22:06
Safe passage, no injuries, off the palace then!
Julie Naybour
46
Posted 03/03/2022 at 22:26:03
Surprised at you Michael Kenrick. Classy gesture slated!!! Shame
Will Mabon
47
Posted 03/03/2022 at 22:27:31
Result at least. We seem to be a team that takes forever to warm up and get going in games, usually half the game - almost a lack of enthusiasm somehow. Most strange. The formation didn't help but still.
Bill Watson
48
Posted 03/03/2022 at 22:27:53
Kieren #34
Weymouth put the RS out in 1959
Shaun Lyon
49
Posted 03/03/2022 at 22:32:32
As has been said, main thing is we got through. Jesus that was a hard watch though. First half, the desperate lack of quality, the ineptitude of every single final ball... Gordon, Kenny, Townsend... Jesus, though Patterson did well on his debut. Thank god for Richarlison's introduction.
Barry Hesketh
51
Posted 03/03/2022 at 22:33:34
The name of the game is to get through to the next round, nothing else matters in the FA Cup. We'll need more at Palace that's for sure, but whichever team we'd come up against in the next round, it would be the same.
Anthony Gordon, I notice has a lot of plaudits tonight, but I think he has to be more aware of his team-mates at certain moments and not try and create everything for himself. He's a good player, but would be better served to occasionally look for the pass rather than the difficult finishes, Richarlison is of the same mind and he too could be more of a team player at times. At least Gordon has the time to address those small issues and mix it up a little now and again.
I must admit this knowing who you are playing in the next round stuff, is annoying, it isn't necessary, else they may as well draw the whole competition from the third round onwards, so a club knows it's possible route to Wembley.
Dave Williams
52
Posted 03/03/2022 at 22:34:42
Looked a dodgy selection but did the job without ever looking in trouble. Both young full-backs did well and Jonjoe was excellent. Rondon was sharp – it's wonderful how much better he is now he is fit for purpose. Gordon is developing into a top player and Dobbin looks very exciting. Branthwaite was solid.
No thrills but it will do nicely.
Derek Thomas
56
Posted 03/03/2022 at 22:41:51
2-0; Job done - Palace away.
We
Are
Jekyll and Hyde at the moment, just to prove it we put in a poor home performance not a poor away one.
I hope (Ha) for a decent away result and performance at Spurs, who are similarly erratic.

Steavey Buckley
57
Posted 03/03/2022 at 22:43:34
One of those meaningless matches that could have been used to introduce younger players from the Everton Under-23s who have also played Premier League sides this season.
Bill Watson
58
Posted 03/03/2022 at 22:45:43
Appalling first half: around 80%. possession and we hardly worked the goalkeeper!
Second half was better and we got there in the end. For me, Allan was the pick of the bunch and Kenny had a decent game.
Barry Hesketh
59
Posted 03/03/2022 at 22:46:41
Steavey @57,
A full house didn't believe it was a meaningless match... how can any 5th Round tie in the FA Cup be meaningless to a club that's won nothing for 27 years?
We've tried playing really under-strength teams in the past, admitedly against better sides than Boreham Wood, and come unstuck.
Matthew Pritchard
60
Posted 03/03/2022 at 22:48:53
Coventry won the cup in 87
Tony Abrahams
61
Posted 03/03/2022 at 22:49:36
Tonight showed me why Benitez got the sack. Don't get me wrong because I'm glad he's gone now, but that's what I took out of tonight's game. Tonight just showed how much we struggle to create, when we play without our better players.
Kieran Kinsella
62
Posted 03/03/2022 at 22:51:30
Matthew
Sorry, 1988 – knocked out as holders.
Thomas Hughes
63
Posted 03/03/2022 at 22:59:06
Another FA Cup non-league giant killing was Altrincham winning at then top flight Birmingham City in 1985-86 season.
We were shit tonight; perform like that at Palace and it will be our Wembley dreams over.
Midfield is awful and, with players cup-tied, it will be largely a similar line-up at Palace. I can't see us getting past them, especially with no option of a replay these days.
Colin Malone
64
Posted 03/03/2022 at 23:01:57
Playing Patterson on the wing was odd, even though he done well. Lampard's team set-ups so far don't have wing backs. To put Patterson there was odd. He looks a better option than Kenny.
Branthwaite is coming along nicely.
COYBB.
John Boon
65
Posted 03/03/2022 at 23:02:17
Des Farron @37.
Regarding Lampard's upcoming interview, "Hopefully it's positive" – I am sure he will be positive and I am sure you are, Des.
I just cannot believe how many totally negative posters come on this site. Agreed it certainly wasn't a great display. We won, and that is all we wanted. Young players were given a chance to show what they could or couldn't produce.
But, if you have ever played against a team who are nowhere near the same skill level, you are often surprised. The whole emphasis is on the defending.
We only needed to win; we left it late but we did win. We outshot them 26 to 1 and their one shot was not on the net. It was "anxiety" time for far too long, but anyone who follows Everton should be ready for "almost anything".
We have to get behing the team and not focus on something as unimportant as having our one Ukrainian as captain for one game. Michael, do you actually know there is a vicious, catastrophic invalid war in Ukraine? The young lad needs all the support he can get and we were not playing Man City. It was just a "gesture" and a worthwhile one. It is quite unlikely he will ever be captain again.
Jay Harris
66
Posted 03/03/2022 at 23:02:56
Boreham Wood are set up like a non-league Burnley and don't concede many goals... in fact, they hadn't conceded any in the FA Cup until today.
I thought we could have performed better in the first half but the second half was one-way traffic.
Jim Robinson
68
Posted 03/03/2022 at 23:14:17
I'm a little in the dark about the Richarlison no goal. Does anyone know if the referee initially awarded the goal? I thought I saw him pointing to the centre circle at first.
I suppose we have yet another case of it didn't really matter what decision the ref made because VAR got it wrong again.
On the last replay shown in Oz it clearly hit his face then dropped on to either his chest or stomach. That's three games in a row.
Who knows what the outcome might have been at Southampton had we got a penalty and goal at that point in the game?
Bill Gienapp
69
Posted 03/03/2022 at 23:16:20
First half we were dominant, but it all grew increasingly static once we failed to break them down in the first 10 minutes.
The hand-wringing at halftime – while understandable – was also a bit dramatic. Boreham Wood have no attacking threat whatsoever. They only ever had one path to victory, and that was to keep it scoreless, hope the pressure started to get to us, and then nick one on the counter (that, or get it to penalties). Once we broke the deadlock, it was basically over.
Was curious to see Patterson in action, and while his final delivery was erratic, he looked lively – nice pace, got into some good positions. Both of Rondon's goals were pretty soft, but hey - they count! Put the ball on target and stuff happens.
Peter Neilson
70
Posted 03/03/2022 at 23:19:01
They were very disciplined defensively, as expected from a team joint top with Man City in goals conceded in top 5 divisions. We lacked the midfield creativity to unlock 11 men behind the ball.
Far too slow in the first half but things improved with Richarlison on. I thought Jonjoe Kenny made some excellent passes tonight, had next to nothing to do defensively. Still in it which is what counts.
Dave Abrahams
71
Posted 03/03/2022 at 23:19:20
Barry (51), I thought Anthony Gordon had a poor game tonight, in fact, if the goal that was disallowed had counted, I think he would have been substituted a lot sooner.
Why did Everton bunch up so much when the ball got to the penalty area, getting in each other's way? I know Boreham Wood defended very well but none of the players found space – just stood around instead of moving around.
The new chant getting sung down the stairs of The Upper Bullens stand was "Super Ron, Super Ron, Super Ronnie Rondon " wasn't sang in a sarcastic way either... erm, I think!!
Mike Keating
72
Posted 03/03/2022 at 23:20:32
Kieran @ 34 – didn't Leatherhead knock out Leicester?
Also, we got taken to a replay at Old Trafford by Altrincham after a shitty 1-1 at Goodison.
Si Cooper
73
Posted 03/03/2022 at 23:25:12
Jim (68), the ref gave it but VAR overturned it as a clear and obvious error. To be fair, it did look like it hit his arm after his head and the rule is now that, even if it's accidental, if it happens in the act of scoring a goal then it chalks off the goal.
Dave Lynch
74
Posted 03/03/2022 at 23:26:37
They parked the bus, we moved it 2nd half.
Job done and onto the next round.
I thought Rondon was superb; in the first half, he was making runs behind the defence but we didn't have the quality to find him. Hopefully he'll score more as those 2 goals were a monkey off his back.
Barry Hesketh
75
Posted 03/03/2022 at 23:27:53
Jim @68,
I think it was handball by Richarlison when he 'scored' and he tried to hide the fact by holding his face; however, was it a clear and obvious error by the referee? I think not. Thankfully it didn't matter in the end.

Mike Keating
76
Posted 03/03/2022 at 23:28:54
Dave @ 71 - the two drunks stumbling out of the Parkend did a better job with a tuneful Phil Spector rendition of
"He's my mate and he's overweight
Da Do Rondon, Da Do Ron Ron"
Peter Mills
77
Posted 03/03/2022 at 23:30:17
It wasn't the greatest exhibition of football, against a limited but well-organised team.
However, getting scrappy wins is good, Rondon scored a couple, lots of players got game time, and we are through to the FA Cup quarter-final.
A satisfactory evening.
John Malone
78
Posted 03/03/2022 at 23:31:44
Happy with Branthwaite's performance, he definitely looks a good prospect.
Patterson looked good on the ball and showed glimpses of potential to be a good player.
Mykoloenko done okay but, considering he is a fully established international, he looks nowhere near good enough for the Premier League; he looks unsure when defending and looks uncomfortable heading the ball!
Townsend is finished and Gordon has to improve on his final decision-making and end product – too many times wasting a shot or cross or running into traffic.
Anyway we're in the next round... onwards and upwards! Up the Toffees!
Mike Price
79
Posted 03/03/2022 at 23:37:18
Patterson looks a player, miles ahead of Kenny and Coleman IMHO.
Tony Hill
80
Posted 03/03/2022 at 23:40:31
Their fans were a horrible bunch of graceless Tory gobshites by the way. The magic of the cup.
Quarter-final, that's okay.
Chris Leyland
81
Posted 03/03/2022 at 23:42:11
It wasn't a meaningless gesture to make Mykelekno captain. I've just spoken to him as he was in the petrol station in Formby and I asked how he was and he said that he was honoured to have been captain and it meant a lot to him along with the support from the club and crowd for Ukraine. He also said that he should be fine with the injury and it was only a precaution to go off.
David Pearl
82
Posted 03/03/2022 at 23:49:45
I am home and knackered. Plus l pulled my groin by having to constantly move my legs to keep warm. Constantly irritated by the knob sat behind me, he never stopped "having Rondon on is like playing with 10 men" and eventually he shut up then started on Keane.
I thought the problem was it was too slow to get the ball wide and then too slow to get a cross in. The only way they would have scored would be from a mistake and early doors that looked a possibility. I thought Gordon injected some pace and directness but his shooting really needs to improve before he can take his game to the next level.
Rondon neat, tidy and strong... as he has been for a while now that he's fit. Dont know why we started with that formation. Shame for Patterson having to come off but it was the right decision.
Come on you Blues, we're going to Wembley twice.
Ernie Baywood
83
Posted 03/03/2022 at 23:57:12
A win. Getting through is all that matters. Once you're through.
For all the comments that we were a bit lifeless in the first half, I'm surprised more aren't drawing the conclusion some of us drew before the game. We didn't take the game seriously.
We got away with it. We were good enough. But is there ever an excuse for not taking a game seriously? I'll guarantee if we'd lost there would be people drawing the same link. That link exists whether we win or lose.
I'm so sick of being the 'nice', 'classy' club. Not off the pitch, but on it. Culture is important – ours is 'nice'. How do we transition to 'winners'?
Then I get to my personal feelings on a club propped up by Russian oligarch money going to great lengths to put on public virtue displays. Personally I find it sickening. I'm not too high and mighty about where we get our money from but to go through this 'sportwashing' exercise feels like bad taste.
Mike Price
84
Posted 04/03/2022 at 00:19:14
Dominic Calvert-Lewin is ridiculously overrated… sell asap.
He would not have scored Rondon's goals tonight and if he had, it would have added millions to his sale price because he's English. Get rid for a profit and we're on the right side of a transfer for once.
Tony Hill
85
Posted 04/03/2022 at 00:21:25
That was a clever finish by Rondon for the first, you know. And a good header for the second. He's got another couple of years in him and will be useful if fit.
Rob Halligan
86
Posted 04/03/2022 at 00:22:03
I could have played in goal for Everton tonight, and Boreham Wood still wouldn't have scored!
Rob Dolby
87
Posted 03/03/2022 at 00:25:18
Funny old game. I was disappointed that the opposition didn't even attempt to bloody our nose. Their manager will certainly have regrets with the way he set the game up.
Kenny was very good again, showing his versatility and putting in some decent crosses. He hasn't let Lampard down; I can see him getting offered an extension come summer.
Lots of average performances but the main thing is we are through.
Don Alexander
88
Posted 04/03/2022 at 00:26:49
Dave (#82) I never realised that trying to do summat about cold pearls could give you a groin strain, but my missus tells me she knows how you feel when it came to me.
Get well soon mate!
Tony Hill
89
Posted 04/03/2022 at 00:27:21
Patterson is raw but has something very promising about him. I agree that Kenny is developing himself properly at long last, a way yet to go but that cross for Rondon's missed header was a beaut.
You can already see some things taking shape under Lampard. Ugly, messy at times but that's how it goes when you're building.
Jay Wood
[BRZ]
90
Posted 04/03/2022 at 00:55:29
On praise for Jonjoe Kenny. He is bringing to the team exactly what he always has done: positive energy, solid tackling, crisp incisive passing, and good crossing into the penalty area.
He shouldn't have been so under utilised as he has been under a string of managers.
Yes, he can hit stray passes and be caught on the wrong side of an attacker but he is demonstrating he is a Premier League player, contrary to some opinions about him.
I thought Frank made a tactical error when Mykolenko had to go off and Coleman came on. Time and again in the second half, Kenny was getting in great position down the right flank and delivering some killer balls. The header Rondon should have scored from and his first goal came from Kenny crosses.
With Gordon doing likewise on the left flank, it would have been better to slot Seamus in as left-back and keep Kenny on the right to continue the double threat down both flanks.
As it was, following the switch with Gordon in front of him, Kenny's threat was negated and Coleman wasn't as menancing as Kenny had been.
Brent Stephens
91
Posted 04/03/2022 at 00:59:54
Only a few minutes on the pitch but Isaac Price was cool, calm and collected as he is for the U23s. Always making himself available. Always laying off a good pass. Could he just make it with us?!
Martin Reppion
92
Posted 04/03/2022 at 01:39:39
Very little criticism of Michael Keane on here tonight, I am pleased to see. Without having access to the stats, it seemed he had more touches than any other player tonight. The lack of movement ahead of him didn't stop him always being available and often venturing around the field trying to find openings.
To cite Anthony Gordon as MotM is more of a 'best of a bad bunch' call. Yes, he did a lot of running in the second half. But in the first he was static and his final ball was all too often wasteful.
Sitting front row in the Upper Gwladys, I had a great view of the disallowed goal. I hadn't even left my seat to celebrate as I'd seen the handball as it happened and assumed it would be chalked off. The irony after Saturday, though, is pretty clear.
On the whole, it was a cup game. All that matters is being in the next round.
Don Alexander
93
Posted 04/03/2022 at 01:46:23
Non-League giant-killers of top-flight clubs = Ronnie Radford and Ricky George for Hereford United vs Newcastle United in 1972, end of.
Sweaters as goal-posts, half a lemon at half-time, mud bath pitches, arf-arf.
https://youtu.be/fOoXsZBwSUg
Kieran Kinsella
94
Posted 04/03/2022 at 02:13:50
Bill and Co,
The Worcester game was before my time but it made me smile even if it was Div 2 days. Hereford was also before my time. I just recall Sutton Utd I think it was third round live on TV as Steve Ogrizovic and Co played Sutton. It was quite the upset though topped by that seasons final when Wimbledon beat the RS. Ahhh, made myself smile twice without thinking of Everton
Kieran Kinsella
95
Posted 04/03/2022 at 02:16:32
Martin,
So pleased that Keane showed his stuff tonight … against non league opponents. You know he's a highly paid England international right? Hardly the time to make a case for him.
Andy Wright
96
Posted 04/03/2022 at 02:24:26
It worries me how much responsibility Keane has on bringing the ball out. We have better players who should be taking control of the ball.
Jim Robinson
97
Posted 04/03/2022 at 04:03:07
Si @73 and Barry @75, thanks guys. I thought I saw him give it so VAR called it a clear and obvious error. Dunno about that but I must admit the peepers ain't what they used to be. I'd still prefer it if it was referred back to the on-field guy to take a second look.
While the game didn't rise to any great heights, I thought there were plenty of positives to be taken from it. Patterson looked good, Branthwaite could be a monster with a bit more experience, Allan showed there's life in the old dog yet, and all three youngsters that came on didn't look out of place.
Onward and upward – and let's get this away form sorted before Palace.
Sean Roe
98
Posted 04/03/2022 at 05:21:13
An away draw next, nice while it lasted.
Jay Harris
99
Posted 04/03/2022 at 05:21:29
Michael Keane is fine bringing the ball out; it's when the opposition have the ball, I usually panic... but Boreham Wood showed no ambition so our defence had a night off.
Terry Farrell
100
Posted 04/03/2022 at 06:01:34
Winning the match with no injuries for Monday was the main objective. Disagree with the Rondon positive comments on here. He was playing against two slow back-up centre-halves in the National League – Premier League centre-halves are much quicker stronger and more capable, so no – he is absolutely not fit for purpose, Dave W.
I thought Gordon worked hard tonight but made many wrong decisions with his final ball or a wayward shot. Frank needs to work hard with him on the training ground in that respect.
Mike, I remember the Altrincham game at Goodison when John Connolly broke his leg from a bad tackle.
Danny O'Neill
101
Posted 04/03/2022 at 06:17:32
We all see things different. That's football. Forget the opposition, let's comment on what we (I) watched.
A professional performance. Respecting the opposition and going about our business against a team playing on the stage of their footballing life. We were patient and bided our time. Job done.
Kenny again continues to impress. Genuinely made up for him. I liked the energy of Mykolenko. Patterson showed enough to demonstrate his potential. We suddenly have youth and potential in the full back / wing back positions.
Allan looked like the complete Number 6. Dictated play and once again, was the captain albeit without the armband. Pointing, shouting, instructing and playing some good football. Likewise, although not obvious, I thought Townsend was a big influence on the team.
I thought by his own recent standards, Anthony Gordon was a bit off sorts. Trying one trick too many or trying too hard? Harsh and it is inevitable with young players, but it seemed like he was trying too hard at times.
Doucouré is still finding his feet. A few times Allan played him in between the lines but he checked and came back. He'll get there in time for Wembley.
Close call with Allan and I'm happy to be ridiculed, but forget the goals. I called it before ITV; Man of the Match was the player I have called a lamppost this season. Rondon gave a traditional centre-forward performance. Credit where due.
I said to my brother after the first goal, he took that chance first time and so quickly (instinctively) that no keeper was saving it – even though the critics will argue keepers shouldn't be beaten at the near post. They need to understand the realty of how quickly it happens in real time. Well done, Rondon.
One game from Wembley. I don't care if I have a ticket or not. See you at Selhurst Park.
Dale Rose
102
Posted 04/03/2022 at 08:20:13
I thought that Patterson played well for the time he was on. Kenny was also very good. Difficult scrappy game, but we won.
Sam Hoare
103
Posted 04/03/2022 at 08:53:28
It was ultimately effective but fairly uninspiring. Not easy to break down a low block but really our final ball, decision making and shooting in the final third was pretty average at best.
Against a team like Burnley for example you might only get in behind once or twice and that cross or final ball needs to be better. Can't say any individual especially impressed me though Allan was mostly very tidy.
What odds on us winning the FA Cup but getting relegated?
Joe McMahon
104
Posted 04/03/2022 at 09:01:18
So slow, backwards and sideways passes, awful. Shooting disgraceful, it was embarrassing on national TV.
Kenny was okay and Allan, but Richarlison coming on made the difference. I just don't understand, as they are encouraged to pass forward in training.
Gary Jones
105
Posted 04/03/2022 at 09:23:59
Joe @104 - I can appreciate the criticism, as some balls and passes where utterly shocking, and backwards and sideways certainly a default choice.
However, we cramped their team up chasing our shadows by 60 minutes. We did to them what City do to most…..made them chase the ball until they no longer could. We had 80% possession, 23 shots to 1 (10 on target) and other than 2-3 sitters missed could have won by 5.
Wanted "gung-ho" up and at 'em football is admiral, but was the wrong plan for last night. Other than the 3 full backs starting 11, Frank got the rest spot on.
Michael Lynch
106
Posted 04/03/2022 at 09:55:08
Another good post-match interview from Lampard on the OS. Patterson did "ok" but Frank clearly expected more from him, and Mykolenko "has talent" but the coaching staff need to work on him.
Impressively honest and plain-speaking, but I particularly like the confidence he has in his own role and his coaching team's role – he has a clear vision of what he wants to achieve and has that great mix of compassion and hard-headedness.
He's showing all the attributes of a top-class manager and I just hope he stays here long enough to take us where he wants us to be.
Derek Knox
107
Posted 04/03/2022 at 10:02:28
I had to question my own sanity at 00:45 am which is when I eventually got home after the match. I say 'match' in the loosest of terms. I had set off at 16:00 by car to Liverpool where I had arranged to leave it at Stephen Vincent's and get the bus to Liverpool then the Soccerbus to the ground.
Normally I would have got the train from Chester, but with the late kick-off, and fearing the possibility of extra time, that would have been a disaster in terms of getting home by train. As it turned out, we didn't need extra time, but made very hard work of seeing them off.
We got soaked going to the ground, and coming back, which didn't help after witnessing a very poor performance all round. Apart from the initial pre-start vocal support for Ukraine, and the ubiquitous Anti-Racism observation, I have never known Goodison Park to be so quiet for 90 minutes, apart from the many groans, which I added to myself throughout.
Boreham Wood fans were in full vocal support for the duration, although their football did little to merit it at times. Still like many have said, this was their Cup Final, and fair play to them, to travel all the way from Hertfordshire and back for a midweek fixture is admirable in terms of support. I believe several actually stayed over in Hotels.
While there is scant noteworthy comments to add to our performance, at least the result was positive, and we have escaped any of the stronger sides and a couple of banana skins with the draw. Play like that against Palace and we won't be going a lot further, but surely we couldn't be so poor again, or could we?
Danny O'Neill
108
Posted 04/03/2022 at 10:05:38
Joe, it's easy to say pass forwards. Allan always looks for the forward pass. But there are two things in that equation.
There has to be an option. A runner. Otherwise it is an aimless punt forward for the sake of it straight out of the Graham Taylor school of percentage football. Most modern footballers are taught to retain possession of the ball, so if it's not on in front, they will turn sideways and backwards to keep the ball and look after it.
Second, but linked, regardless of standard or standing in the pyramid, when a team sets up as a brick wall or "park the bus" it is difficult to break down.
Fortunately the team stuck to their job last night and didn't let the frustration that was starting to come down from the terraces get to them. Job done. Palace away and Wembley next month.
Joe McMahon
109
Posted 04/03/2022 at 10:22:39
Gary and Danny, points taken on board. My frustration is mainly the well paid lump that is Micheal Keane. I cringe when I see him in an Everton shirt, we need Godfrey back asap.
James Fletcher
110
Posted 04/03/2022 at 10:24:03
While we did make a few shocking passes at times last night (I'm looking at you, Branthwaite), it's important to note that we won, we never looked like conceding at all, and we could happily have bagged another 3/4 goals if we'd finished better.
Brian Harrison
111
Posted 04/03/2022 at 10:27:24
The most important part was getting through and not conceding and on that score we ticked the boxes. I listened to Frank's comments driving home from the game and clearly wasn't impressed with our slow pedantic build-up which showed him how this team can quickly revert to type.
I thought Allan was clearly head and shoulders above anyone else on the pitch, probably had more touches than any other player. While Anthony Gordon is improving week by week, he really does need to work on his finishing – no use getting into the positions he does if you don't finish.
I thought Branthwaite looked comfortable last night but we have to take into account the opposition. Kenny again had another good game and is just as comfortable at left-back as he is at right-back.
While Townsend is a hard-working player and will always give 100% when he plays on the right, he invariably always wants to turn back on to his stronger left foot before delivering a ball into the box.
I thought Rondon had his best game since joining the club, and as I said earlier, you have to take into account the level of the opposition, but his first touch was as good as I have seen in a very long time from an Everton centre-forward.
I wonder should we draw any conclusions from Gomes and more importantly Gray not even being in the squad? In Gray's case, I hope he hasn't had a setback from his hip injury.
Finally, I sit in the Upper Bullens so I couldn't see what happened with their fans in the Lower Bullens. Someone said they were fighting amongst themselves; if that's correct, then they let themselves down and, more importantly, their team who fought tenaciously throughout the whole game.
Dave Williams
112
Posted 04/03/2022 at 10:40:21
Terry #100,
Do you not think Rondon is now useful as back-up to our regular strikers? Did you not see the hat-trick he got for Venezuela the other week?
He is not what he was, he will never be first choice, but I see signs of a decent "journeyman" centre-forward who now looks sharp enough to pick up a few goals and occupy defenders.
He was truly awful in his early days with us but, at last, he looks fit and a lot sharper. Credit where it's due.
That said, Dobbin is going to have to be given games next season – he looks electric!
Charles Brewer
113
Posted 04/03/2022 at 10:40:22
I wonder if the tactics weren't "Don't use too much energy in the first half, we should get a couple and it will be fine" but, when this didn't work, Frank decided to beef up the play in the middle, withdrawing Patterson, putting Richarlison in there and speeding things up.
I took the Patterson sub as far more of "I need to change formation and tactics" than any kind of reflection on the player.
Rondon looked much better, all the "not match fit" stuff appears to have been right. He's still not all the way there and, indeed, may not be capable of any more than tonight, but he was also in position to have scored 5 tonight, and the first duty of a striker is to get into positions where he can score, which has been severely lacking in Calvert-Lewin's play since his return.
Allan keeps showing us why the main bent ref tactic (after denying bare-faced penalties, of course) is to book him early. His energy, competitiveness and example are outstanding at the moment. I expect he'll get a red against Spurs for a foul throw or being caught offside in his own half after 2 minutes in the forthcoming match.
Begovic was perfectly comfortable and positioned himself well when there were defensive slips.
Keane I regard as being one of those players going through a patch of bad luck where everything slightly off normal goes horribly wrong, where otherwise no-one would even notice. Holgate's small deflection of what would otherwise have been an easy well-judged clearance for Keane on Saturday was absolutely typical.
I also think that Keane and Gomes are suffering from poor play by their colleagues. Keane last night was faced by a completely static midfield so that there literally was nowhere to make a good pass to, and Gomes is regularly fed underhit balls while surrounded by several opposition players. Last night, there was far too much passing in grossly overcrowded areas of the field where an intelligent (Rodriguez-style, anyone?) longer pass would have left half the opposition team out of the game.
I think last night goes down as "adequate". But actually I rather like a 2-0 win over much lower division opposition. It's a clear win but not a humiliation, and the opposition can live the rest of their lives saying they came away from the best stadium in Britain with a respectable result.
Danny O'Neill
114
Posted 04/03/2022 at 10:44:44
Joe @109, I left it to my brother last night, who has been a Keane advocator.
A comment from him in the first half: "Michael Keane is being very Michael Keane. He's going to do something".
He makes me nervous. Sorry.
Trevor Cotterell
115
Posted 04/03/2022 at 10:54:55
Danny #101 and #108. Absolutely. I'm with you on all of that. Saves me wearing my typing finger out. :)
Paul Cherrington
116
Posted 04/03/2022 at 11:34:36
Watched it on TV and thought we played ok and dominated the game, without being especially fantastic. Still could have had a couple more easily though (disallowed goal, Rondon's missed header) and we always looked like winning. job well done in the end against a tough team to break down.
Pleased that Rondon scored and hopefully that will put him on a good run of form now. Thought Branthwaite looked our best defender too - especially coming to head balls and generally being proactive. would leave him in there now with Keane - no Holgate and a clean sheet might be telling. Also thought we looked a lot calmer with Begovic between the sticks.
I agree Gordon was lively but thought he was a bit greedy at times. always wanted to go past 2 or 3 and get a shot in when he could have sometimes passed or crossed. Doucouré also looked good but has a habit of dwelling on the ball and then getting tackled. needs to move it when a pass is on or he is getting shut down.
VAR decisions for the disallowed goal was a shambles in my opinion. Classic ball to hand situation where Richarlison had no chance of getting his hand out of the way. Goal should have stood. Stockley Park obviously trying to give Boreham Wood a way back into it!
Thought the ITV coverage after the game was shocking too. No interview with Lampard and none with our players. Only interested in Boreham Wood?! we did win after all, so why focus on the losing team so much instead?!
Brian Harrison
117
Posted 04/03/2022 at 11:39:17
I cant think of to many Premier League clubs who would have sold out their entire capacity playing at home to Boreham Wood a game that was live on TV.
The crowd wasn't as boisterous as it has been in previous home games since Frank arrived, but that was completely understandable, many thought that we should have well enough to win the game without us having to resort to us lifting the team.
I would just say on the Michael Keane debate, well if you look at all the managers we have had since he came to the club they have all made him the first choice CB. Koeman, Silva, Ferguson, Ancelotti and Lampard, are they all wrong.
Jason Pullen
118
Posted 04/03/2022 at 11:49:37
Jay 90, agree. I've been impressed with JJK. Looks a player who just needed a run of games.
Danny O'Neill
119
Posted 04/03/2022 at 11:54:10
I think Keane is as good as we've got Brian.
That's why I agree with your statement that several managers aren't wrong.
But good enough for where we arr as opposed to where we want to be? That's why I've been boring everyone about the need for a commanding centre back for ages. Not a priority by a lot of people's views.
Keane is decent. Nothing else. At 28 going on 29 he is hardly commanding or captain material. He is what he is and as good as what we have. With him in the team, we sit deep. I don't like that.
But I'm always nervous watching him.
Andrew Keatley
120
Posted 04/03/2022 at 12:45:32
A swift and effective tactical change at half-time showed me that Lampard is not one for sentiment. For wingbacks to be effective against a team constantly defending their 18 yard box then they have to be full of surprise; Patterson and Mykolenko were both high and wide and while they stretched the pitch they didn't ever pop up in surprising positions that caused the Boreham Wood defenders to be uncertain where they were. In short, they were both less effective than they were designed to be. Lampard saw this, and Kenny and Mykolenko were both much more effective as full-backs in the second half.
Not sure what can be taken from the game, beyond progress to the next round, a couple of debuts, a brace for Rondon, and no new fitness worries. Banana skin avoided, even if it was uninspiring.
Brian Harrison
121
Posted 04/03/2022 at 13:01:14
Danny 119,
Always fully respect your views which are always fair and well thought out.
I was just thinking about other centre-backs in the Premier League, and there aren't many who I would hang my hat on to come here and do a good job.
Keane has his limitations, no doubt about that, but he does (more often than not) find a Blue shirt when passing out from the back, and is also comfortable in carrying the ball out of defence. Doesn't turn very quickly, but can't think of too many centre-backs of his height that do turn quickly.
I don't think he is vocal enough from what I see and communication in his position is vital. I think that's why he likes to play alongside Mina, who is very vocal, and this helps Keane enormously. Also, sometimes his positional play isn't the greatest and that for me is the reason he gets into areas which create problems for him.
But of the alternatives, Holgate has even worse positional sense than Keane and is nowhere near as good aerially. Godfrey, I have very real doubts about Godfrey. His main asset is his pace but aerially he is by far the worst and for me his positional sense is the worst of all our defenders.
I am sure with Ashley Cole he can massively improve Godfrey's positional sense, but doubt he can make much improvement in his lack of aerial ability. I think possibly Branthwaite may be a better alternative when he is a bit more experienced.
Brian Murray
122
Posted 04/03/2022 at 13:04:31
The movement of Kane and Son will show the real Keane, unfortunately. We really need to stop their supply line. Or outscore them somehow, which is not our forte, but they are by no means safe at the back either.
I really think Branthwaite needs a run, in my opinion – he's our best defender. Can't include Mina. All ifs and buts I know plus once again we need a team to do us a favour (Chelsea) to stop us going in the Bottom 3. Not just to stop them Nordic twats' obsession with us and their snide remarks but this team's mentality.
Dave Abrahams
123
Posted 04/03/2022 at 13:24:12
Brian (111),
I too thought that Rondon had a very good game even allowing for him scoring the winning goals, especially as you say his first touch and control of the ball was very good.
Boreham Wood are a low placed team but well versed in the art of defending but Rondon kept them occupied throughout the game and was up to the physical side of the game and retained the ball in those battles and kept the line moving with his passing ability, sometimes ahead of his teammates with his subtle little flicks and they surprised us supporters as well.
Hopefully, as Lampard said in so many words, he can be an important squad member in the remaining league games and possibly be a vital player in the cup games. He was voted MotM on another Everton website by the way.
John McFarlane Snr
124
Posted 04/03/2022 at 13:51:09
I have learned throughout my time of watching football that there are two sets of fixtures, namely derby games and FA Cup matches, where the performance is secondary to the result.
It's true that Everton made heavy weather of the game last night, but this is where I differ from some who described the performance as rubbish. My definition of rubbish in relation to football, is what we used to call 'kick and rush'.
I was disappointed with the first half performance but we were far faster after the break, and I would like to pose the question, what is preferable – stylish defeat or slipshod victory?
David Graves
125
Posted 04/03/2022 at 14:20:24
Seems a little harsh to be critical of Keane when he did nothing wrong last night but, playing against a fifth-tier team, when he was afforded so much time and space, he was very ordinary.
Technically he is okay but I felt last night exposed his speed of play, drive and determination.
Brian – I think that there is list of centre halves that I would take from other Premier League clubs and expect them to be an upgrade!
David Graves
126
Posted 04/03/2022 at 14:28:34
Hi John,
At this stage of the season a few slipshod victories would do me!
Last night wasn't the most impressive of victories but we have to take into account how the visitors set up.
Without the more creative players like Gray, Van de Beek and (hopefully) Alli, we will struggle to break down teams – but thankfully we won't play against many other teams like last night's opposition.

Mark Ryan
134
Posted 04/03/2022 at 15:16:30
Got to my home in Cumbria at 01:00 after watching the boys struggle to deal with a resolute but poor footballing side.
Great atmosphere from their travelling support who berated us all night. Loved the stick they were giving us. Some people in the crowd actually rising to the bait. This banter and rivalry is essential to the game, loved it.
Thought Patterson looked a prospect. Gordon tried and failed but we won and right now, that's all that matter.
Mark Ryan
135
Posted 04/03/2022 at 15:29:45
It's great to have these young prospects such as Anthony Gordon, Nathan Patterson and Lewis Dobbin. I hope Frank can work some magic into the boots of Tom Davies too. The Ukranian tributes and Imagine were well thought out last night, class from the club once again. 👏
Terry Farrell
136
Posted 04/03/2022 at 16:20:34
Dave,
Re Rondon, I hope you're right and I'm wrong regarding Rondon because then Everton benefit... but I don't think so. I don't think he is anywhere near what we need, even as back-up.
Some nice touches, he worked hard and got his reward, and I'm pleased for him, but his ship has sailed, as happens to all pros at some point.
Winston Williamson
137
Posted 04/03/2022 at 16:24:39
This is the worst selection of centre-backs we've had for years.
Keane has coughed up numerous goals this season. He's awful, too nice and extremely slow.
Mina is always injured.
Holgate thinks he's a superstar, but isn't.
Branthwaite is still learning.
Godfrey is quick but I'm not so sure he's actually a centre-back. Be interested to see him have a run of games in the old Gana position.
Jagielka and Distin; Gough and Weir; Watson and Ratcliffe; this is the standard we need. Currently woefully short.
Great defending last night from Boreham Wood. They gave everything.
We got there in the end, after a tactical tweak and bringing on a bit of next-level genuine quality in Richarlison
Dave Abrahams
138
Posted 04/03/2022 at 16:33:41
Terry (136), fair enough.
I just think he can come on in the league games if needed and add his weight to the attack, possibly score a vital goal here and there and help us up the table.
In the cup games hopefully he will be possibly needed more.
His ship may well have sailed, Terry, but at least you are wanting him to do well so that will do for me.
Terry Farrell
139
Posted 04/03/2022 at 16:54:11
Good man, Dave.
Mike Gaynes
140
Posted 04/03/2022 at 17:08:38
Brian #121, agree with every word of that post.
But don't give up on Godfrey's heading just yet. Despite his lack of height, he has natural physical talent, and things like body positioning, timing and aggression to the ball can be taught. Phil Jagielka was the same 6'-0" and less physically imposing, but he almost never lost an aerial duel because he was fully committed to attacking the ball, always got good body positioning against bigger opponents (including some clever hip or shoulder contact to keep 'em off balance), and developed the timing to head the ball at the very top of his jump.
Lucas Digne and Tim Cahill, both 5'-10", likewise beat bigger guys in the air almost every time. Godfrey can learn how to do it if he spends the time in training.
Jon Harding
142
Posted 04/03/2022 at 17:58:59
I was one of the 38,836. Just back from the game – okay, I stayed over to enjoy the delights of our fine city.
I thought we were shocking in the first half – bad, Frank! So much possession down the right and none of Kenny, Patterson or Townsend (really putting the 'free' in free transfer) managed even a half-decent cross.
Keane created Borham Wood's best chances when receiving short goal kicks deep in his penalty area. And what a range of sideways passing – never missed his man. Anything forward, however – straight out of play. Against a non-league team.
But we changed it up at half-time (super, Frank) and battered them with a 4-4-2 and Richarlison finally providing some football with impetus.
So I can tell my kids I was there when Rondon scored two. And should have had a least a hat-trick. How did he miss that header early in the second half? Because he's unfit, slow, heavy and unathletic, that's why.
And IMHO, this team is going nowhere while Michael Keane holds down a regular starting spot for us.
UTFT
Matthew Williams
143
Posted 04/03/2022 at 19:19:27
A very forgettable game, but we got through the tie, which was the main thing. Our play is still so one-dimensional, it's untrue... and starting with two holding midfielders infuriates me still.
I can but hope we've got a better performance in us when we travel down to Selhurst Park for the quarter final, as a repeat of last night's performance will not see us progress any further in the FA Cup this season.
Andrew Keatley
144
Posted 04/03/2022 at 20:14:31
Mike (140) - I'd like to share your hope about Godfrey, but heading is one of the most psychologically demanding aspects of the game – and if a 24-year-old centre back doesn't consistently display the ability to successfully judge and direct a header when unopposed, then I can't see much to base that hope on.
When it comes to competing in the air, Godfrey shows a very noticeable lack of self-belief, as opposed to (the much-maligned on these pages) Michael Keane who is genuinely a decent header of the ball.
To me, Godfrey often looks like he is going through the motions when going up against an opponent for a header, so hopefully at the very least he might develop the dark art of making it difficult for the opponent to get a clean header.
Jon (142) - Townsend put in a couple of half-decent crosses that if anyone ever attacked the far post (which we fail to do so often at corners as well) then they would have had free headers.
Also, your assessment of Michael Keane is, for me at least, way off the mark – he passed well (mishitting one long pass badly in the first half), while Branthwaite was the player whose pass was picked off, giving Boreham Wood their best chance to attack.
Tony Hill
147
Posted 04/03/2022 at 23:00:35
That young man, Reece Welch, looks the part to me. A proper unit and with the style to accompany it.
A very short cameo but I am enthused.
That's the future if we lose the bad money: build the good ones from the age of 7.
Dale Self
148
Posted 04/03/2022 at 23:47:13
Good eye, Tony.
Tony Abrahams
149
Posted 05/03/2022 at 09:58:15
The boy looks like he can play, Tony, but the question is, how brave is Welch, going to be? Which I think is vital for a central defender.
I like Brent's mate, Isaac Price. Although he's only slight, I think speed is strength on a football pitch, and Price has also got a very good engine.
I haven't watched him enough to really know, but he keeps it simple, gets about the pitch, and moves the ball on quicker than most, and probably has a style that will be suited to playing at a higher level and with better players.
Danny O'Neill
150
Posted 05/03/2022 at 10:14:39
I also think in the modern game, Tony, how comfortable are they on and with the ball? And that includes defenders.
Price is an interesting one that I know Brent will be able to comment on with more authority than I, but he does seem to have the engine and ability even though we shouldn't judge too early. I keep saying, but I'd like to see Warrington close to the first team squad next season.
Interesting and again, not want to get ahead of his development, but internationally, Issac can choose between England, Northern Ireland and Germany.
I wonder if a loan out to Germany would be on the cards given that German clubs have recently shown interest in taking young English players under that framework?
Tony Hill
151
Posted 05/03/2022 at 10:56:49
Tony @149, noted.
I certainly haven't seen enough of these lads and people like Brent will know much better. Good to be talking about it though.
Brent Stephens
152
Posted 05/03/2022 at 12:03:50
Tony H, Tony A, Danny – I guess different players can make the step up from U23s level based on different abilities.
Isaac Price seems to have reasonable pace and skill on the ball, but qualities like that in the U23s might not be good enough when stepping up to the first team (and he has a slight frame). Other qualities that Isaac has don't require you to physically outperform opponents – awareness, perception, the ability to execute an incisive pass.
Having said that, he also seems to have a great deal of stamina. I have to laugh at Unsie – the name "Isaac" is often loudly shouted from the sidelines ("Isaac, come on, get forward", "Isaac, come on, get back"). Poor lad.
"Isaac! come on! Save us a few bob!"
Danny O'Neill
153
Posted 05/03/2022 at 12:30:23
I like what you describe, Brent.
Awareness and decision-making. That can often trump physicality because the player has seen the pass and shifted the ball before the brute of a defender comes in with his size 10s.
I'm obviously not going to make comparisons, but George Best and Johann Cruyff had to live with it. Being talented and blessed with footballing ability whilst luddites tried to kick lumps out of them.
True footballers trump that with their ability. The clue is in the name. Football, not tackle-ball. I hope young Issac and Lewis Warrington can do that.
Brent Stephens
154
Posted 05/03/2022 at 12:36:35
Danny, I've not kept up with how Lewis Warrington is doing at Tranmere Rovers. Doing okay?
Jay Wood
[BRZ]
155
Posted 05/03/2022 at 12:58:59
On the sub appearances of Welch, Price and Dobbin, they had so little time on the pitch that I don't believe any one can make any sort of judgement call on them at all.
That's a pity. Frank said post-match the intention was to give them 20 minutes, rather than 2-3 minutes at the end of the game. Given we only scored our second in the 84th minute, I understand that. The manager's duty was to secure a win before giving the youngsters playing time.
From watching the academy teams as much as possible, Reece Welch looks a modern-day centre-back, comfortable with the ball at his feet. As to be expected for an 18-year-old, he can be positionally suspect at times, but at others shows good anticipation and defensive movement. He should have a career in football. At what level is hard to call.
Isaac Price – looking less slight this season than last – is all that Brent describes him. Another 18-year-old, great engine, decent pace and skill on the ball. Reads the game well with the ability to execute an incisive pass. He will have a career in football, but still to early to call at what level.
Lewis Dobbin, just turned 19 in January, has thankfully been tied down to a new contract. He can be scintalatingly good. He can also be a tad anonymous, even at U-23 level.
Hopefully Lewis will develop in the same way as Anthony Gordon (just turned 21 a week ago) and prove to be Premier League quality.
Anthony was the same age as these boys when Carlo first gave him a chance in the first team. He flickered brightly on occasion, but was also anonymous on others and looked unprepared for the physical side of the Premier League.
I don't know who the manager was at Preston NE during his loan spell, but the way he has performed for Everton this season he would have ripped it up in the Championship.
Anthony most definitely handles the physical aspect better now and he is showing a great ability to burst past players close to goal and wonderful incisive interchanges around the opposition penalty area.
If just one of the three lads that came on versus Boreham Wood make it at Everton, that represents a good return, IMO.
Robert Tressell
156
Posted 05/03/2022 at 13:18:06
Jay, the u23s seems to help develop work rate, discipline, spirit etc but is very bad at helping players like Price and Dobbin learn how to play football properly.
There's talent there, but no passing triangles, no structured movement of the ball up the pitch, and no real movement off the ball.
This is, I think, why we don't see dominant performances from Price and why Dobbin is sometimes anonymous.
So pleased that Gordon has come on so much. Such a likeable player.
Mike Corcoran
157
Posted 05/03/2022 at 13:27:44
Tranmere are loving Lewis Warrington. Brent!
Jay Wood
[BRZ]
158
Posted 05/03/2022 at 13:33:15
Not sure about that claim, Robert. I think it's a bit extreme to say the academy is 'bad' at teaching their charges how to 'play football properly'.
I have seen plenty of evidence of what you believe is lacking in many a game. Is it Machester Cityesque in retaining possession for 30-40 passes before creating a chance on goal? No, it isn't. But then, very few teams – junior or senior – are.
What the U-23s do do well IMO is their use of modern day wing backs supporting the midfield and the forwards. The ball is moved purposely forward, albeit more directly, than you seem to be calling for. Stanley Mills's performances this season are crucial in this game play and also merit him being around the periphery of the first team. Another 18-year-old.
It's a good bunch of young players that previously were held back for the U-18s, rather than play regularly for the U-23s. A parting legacy from Brands, I fancy.
Tony Abrahams
159
Posted 06/03/2022 at 12:10:39
Awareness and decision making Danny, is something I wish most of our first team had, and were also better at implementing, mate!
Geoff Williams
160
Posted 07/03/2022 at 12:54:53
Rondon took his goals well but to say he had a really good game is stretching things a bit. To me, he looks a lower division striker. He lacks pace and, considering his build, he lacks physicality. He must be a dream to play against.
I thought Gordon and Townsend were disappointing. Gordon always looked dangerous but failed to put better placed teammates into scoring positions. Townsend simply can't cross a ball with his right foot and tried cutting in onto his left foot and was easily dealt with.
I know that this will be hard for some to accept but, for me, Kenny is looking the most accomplished of the fullbacks, whether he is playing on the left or right. He is certainly benefiting from a run of games.
---
Add Your Comments
In order to post a comment, you need to be logged in as a registered user of the site.
Or Sign up as a ToffeeWeb Member — it's free, takes just a few minutes and will allow you to post your comments on articles and Talking Points submissions across the site.
---
© ToffeeWeb