Report
Nothing ventured, nothing gained, so much squandered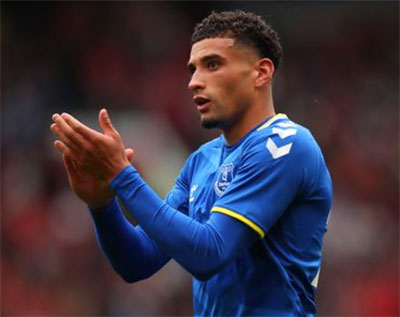 Ben Godfrey starts after missing 6 games with a hamstring injury
Everton return to Goodison Park for a must-win game that they lost through abject negativity epitomized by Doucouré's incessant backward play.
Ben Godfrey and Demarai Gray are back in the side after recovering from injury. Abdoulaye Doucouré and Donny van de Beek continue in midfield, with Allan on the bench along with Keane, who has been suffering from illness for some weeks.
Dominic Calvert-Lewin is dropped from the squad after a really poor display against Spurs, but it's because he is ill. No young players involved, not even Jarrad Branthwaite, who has acquitted himself with calm confidence.
Seamus Coleman retains his place as captain despite the mounting years robbing him of vital pace that is so essential in the modern Premier League.
Yerry Mina and Tom Davies are now the only senior players sidelined through injury.
It was a beautiful spring day on Merseyside as the teams took to the field and Donny van de Beek kicked off after a nice tribute to Gordon Lee, who died last week.
Richarlison had an early shot towards goal but off-target. Gray tried to make something happen down the right but it came to nothing.
Connor Coady upended Richarlison to give away a free-kick that won the first corner for Everton, Gray so close to connecting with Richarlison at the near post. But it led to a Wolves free-kick which needed defending.
A brilliant ball forward from Mykolenko to Richarlison should have seen him score but he wanted an extra touch rather than shooting first time and Sa ut it behind for a corner that was defended clear.
Everton looked to have played out the back but Coleman's pass back to Gordon was poor. Van de Beek then put his knee in the back of Hwang, who needed treatment before he finally went off for Podence... or not!
That at least got the crowd a bit more involved, amid a poor throw-in call and Hwang dropping for a third and final time.
Article continues below video content
Everton had possession but did not feel comfortable playing forward, passing it back to Pickford not once but twice! Really poor. Everton continued with this nonsense until Demarai Gray was fouled, but could still not play it forward until brilliant work by Gordon set Coleman free and he played it into Gray who should have smashed it the first time but didn't.
From the corner, Godfrey fired wide. Gordon put in a great cross, but just too far in front of Richarlison and easy meat for Sa to collect.
Godfrey did well to steal from Podence but there was just no forward movement until Godfrey played what seemed to be a great pass to Coleman but he was flagged offside. Another good forward ball but Richarlison wrongly flagged offside as the Wolves high line won again.
Gray final came forward with the ball only for Mykolenko to take it back into the Everton half and ultimately Pickford. Gordon played a nice through ball but equidistant from Coleman and DOucoure, running through to Sa.
Wolves put together an almost attack through Podence, their first of the game, that Everton defended. But Wolves were seeing more of the ball, Mutinhp shooting off-balance at Pickford.
Neves clipped Gordon as he played forward, and Gray with the free-kick ended up with Holgate winning a corner. Gray swung this one in to the danger area but Coady headed it clear.
Kenny did wells as the pace finally improved but Richarlison could do nothing with the cross and Wolves looked to counter, but Kenny was fouled.
But Everton were almost caught out down their left, Wolves winning their first corner. Podence went down after Pickford smacked him on the cheek, leading to an inquest. The corner was eventually cleared but Wolves came back, Jiminez allowed to get off a wicked shot that Pickford saved near post.
Wolves were looking increasingly brighter, Podence feeding Jiminez for an acrobatic shot that went over. Everton attacked in response but not fast enough as the Wolves defence reformed rapidly.
Gray did well to find Coleman playing wing-back but he was not tricky enough to make anything of it. However, Coady gave away a cheap corner. Could Everton do anything better here? It hit Holgate on the head and was cleared, allowing Wolves to break, Mykolenko doing a good job on Podence.
Added time was played out and Everton had not really done much to challenge the Wolves defence, playing far too slowly and negatively in a game where it was vital that they score.
Mykolenko was drawn into a very poor foul after the restart. It was messed up by Wolves but Kenny stupidly kicked the ball into non-man's land rather than initiating a quick counter.
Kenny then did the same thing on the other side of the Everton area another soft foul given up cheaply, Richarlison heading away but on the recycle, Coady headed home with ease.
And so the momentum was now completely going thee way of the away side and Everton with yet another soul-destroying task to dig their way out of this one.
Doucouré was called for another soft foul and another dangerous free-kick, Jiminez firing wide with Everton not defending it well.
Gordon did well and crossed in low to Richarlison but he could not fashion a shot. Wolves countered and fired just wide.
Gordon produced another wonderful cross and Richarlison's header clipped the outside to the post but the Brazilian was a few inches offside. Dele Alli replaced Mykolenko just before the hour mark.
Gordon tried to launch one for Richarlison to run on to but Sa was all over it, and Wolves almost countered, Pickford stopping a low cross.
More energy and desire was needed from Everton going forward but the thought process was just too slow. If anything, Wolves were benefitting and seeing more space opening up.
Wolves won a corner that came to nothing. Gordon ran forward again down the right wing but the other players were slow to get forward into decent positions in the area.
Richarlison got forward again, wide left, but could not make the pass to Alli waiting in the middle. Richarlison went on another good run through the middle but after a long pause, the offside flag went up yet again.
Doucouré, again and again, passed back rather than forward. But Gray went forward and fed Richarloison who finally shot first time, into the side netting as Townsend replaced Gray.
Kenny decide to at least shoot but it was frankly hopeless as Everton and the crowd became more and more desperate with time ticking away. Kenny made a silly lunge on Jiminez, second yellow and off. Everton down to 10 men for the last 10 minutes, as if it could get any worse.
Neves had a free shot that Pickford saved. Dele Alli got forward for another long ball but his first touch was poor and he was offside.
Godfrey was booked for a foul on sub Trincao. Dele Alli rather riskily fouled Sa as he went to slowly pick up a ball but Michael Oliver was generous.
Doucouré again played it backwards and then gave it way in midfield, possibly the worst game ever from him? Wolves galloped forward, Trincao firing just over the angle as the game went into added time with Everton looking incapable of beating the Wolves high-line offside trap.
Coleman drew a late free-kick that Townsend failed to curl into the far corner and that was pretty much it. Another maddening home defeat.
Kick-off: 2:00 pm GMT, Sunday 13 March 2022
Everton: Pickford, Holgate [Y:70'], Godfrey [Y:84'], Coleman, Mykolenko (59' Dele Alli), Kenny [Y:75'; YR:79'], Doucoure, Van de Beek, Gray (73' Townsend), Gordon, Richarlison.
Subs: Begovic, Keane, Allan, Iwobi, Gomes, Rondon, El Ghazi.
Wolverhampton Wanderers: Sa, Marcal, Neves, Jiménez (88' Silva) , Coady [Y:63'], Jonny, Kilman, Hwang (15' Podence), Saïss, Moutinho, Dendoncker (83' Trincao).
Subs: Ruddy, Aït-Nouri, Boly,Chiquinho, Toti, Cundle.
Referee: Michael Oliver
VAR: Lee Mason
Share article:
---
Reader Comments (484)
Note: the following content is not moderated or vetted by the site owners at the time of submission. Comments are the responsibility of the poster. Disclaimer
Si Pulford
1
Posted 13/03/2022 at 13:07:03
Jesus, what's he thinking with that line-up? No natural defensive midfielder. Two right-backs and god knows what formation.
Tony Everan
2
Posted 13/03/2022 at 13:08:08
Can someone please explain the team set up here, I'm struggling with it?
Jeff Armstrong
3
Posted 13/03/2022 at 13:10:44
Calvert-Lewin not even on the bench? Odd.
Bill Gall
4
Posted 13/03/2022 at 13:12:08
Strange no Calvert-Lewin even on the bench... is Lampard trying to send a message?
Graham Fylde
5
Posted 13/03/2022 at 13:12:34
Calvert-Lewin — injured??
Ben King
6
Posted 13/03/2022 at 13:12:53
What an odd formation: is Mykolenko playing left wing???
Or is he left-back and Kenny right back and Seamus on right wing?
OR is it 3 at the back and wing backs?? (In which case why aren't we playing 3 in midfield instead
Honestly, this is baffling...
And is Calvert-Lewin injured again???!!! (Not even on the bench!!!) What the heck is going on??
Chris Williams
7
Posted 13/03/2022 at 13:14:49
3-4-3?
But flexible maybe?
Ciarán McGlone
8
Posted 13/03/2022 at 13:15:02
That's a shocking line-up.
But hopefully I'll be eating my words at 4 pm.
George Cumiskey
9
Posted 13/03/2022 at 13:15:04
Seamus still getting selected... and a five-man defence?
Brian Hennessy
10
Posted 13/03/2022 at 13:15:58
Looks to me like Coleman, Godfrey and Holgate as centre-backs with Kenny and Mykolenko as wingbacks.
That would still leave us short on numbers in centre midfield if it's just Doucouré and Van de Beek in there.
Robert Tressell
11
Posted 13/03/2022 at 13:18:16
I suspect this is 5-2-2-1.
Godfrey, Holgate and Coleman as the three centre-backs. Kenny and Mykolenko as wingbacks.
It can probably morph into a 4-4-1-1 with Kenny ending up on the right wing.
Either way, it's very odd.
Personally, I'd have kept Keane in (he was broadly fine in home victory against Leeds) and Allan (one of those players who generally make us play better).
But there you go.
New manager – same situation as ever – a new line up and formation for almost every match.
Dave Abrahams
12
Posted 13/03/2022 at 13:18:39
Looks like a complete jigsaw puzzle of a team. I hope Frank has put it together and it works as a team.
Alan J Thompson
13
Posted 13/03/2022 at 13:19:54
Looks like a 3-4-3 with Gray and Gordon dropping into a 4-5-1, or have I just made this up which does, of course, not disqualify it.
It will be interesting to find out why a couple have been dropped or has the side been picked solely on the basis of pace?
Tony Everan
14
Posted 13/03/2022 at 13:20:51
Pickford
Coleman, Holgate, Godfrey
Kenny, Gordon, Doucouré, Van de Beek, Mykolenko
Gray, Richarlison
3-5-2????
Neil Lawson
15
Posted 13/03/2022 at 13:21:25
It is what it is. Why moan now? Just get 100% behind the 11 on the pitch and voice your opinions later.
Robert Tressell
16
Posted 13/03/2022 at 13:21:32
For what it's worth, Google news feed has us as 4-4-1-1 with Kenny left-back and Mykolenko left-wing.
Hopefully this is all less confusing for the players.
Ed Prytherch
17
Posted 13/03/2022 at 13:25:44
No Branthwaite. Either knocks in practice or a virus at Finch Farm?
Jay Harris
18
Posted 13/03/2022 at 13:25:46
I think Frank has just picked 11 battlers and excluded some bottlers.
Expect a lot of graft with not much craft.
Disappointed Allan is out as he is a real leader on the pitch.
Let's hope our 12th man has a good game and get the result they want. The performance is secondary right now.
Phil Smith
19
Posted 13/03/2022 at 13:29:06
Thank god Calvert-Lewin isn't in the side. He's been awful since coming back. Head or body isn't right.
Ditto Keane. Still playing Coleman though. 2 out of 3 weak links isn't bad. He's all heart but has lost his head (and legs).
They'll exploit us down our right. Any other coach that's done their homework on us can see Coleman is our weakest defender.
Rob Hooton
20
Posted 13/03/2022 at 13:35:32
Looks like a crazy selection and don't understand it, fingers crossed it works.
Allan Board
21
Posted 13/03/2022 at 13:41:02
Dcl is injured and can't run- front five OK,but confused.com on the rest!
Good luck Blues!!
Jerome Shields
22
Posted 13/03/2022 at 13:42:07
Looks pretty experimental defence. More defenders on the pitch than forwards. Hope they don't get in each others way.
Lyndon should open a book on what the formation will be. He would make a fortune.
Kieran Kinsella
23
Posted 13/03/2022 at 13:42:42
Pleased to see DCL and Keane out. Unfortunately I guess we still have to let these others play. Glad Gordon and Gray are starting
Ciarán McGlone
24
Posted 13/03/2022 at 13:43:25
Neil.. your appear to have missed your stop and stumbled into a discussion website.
Mark Evans
25
Posted 13/03/2022 at 13:43:36
Strange formation, 5 at the back & again only 2 in midfield. Didn't work against Borehamwood so I can't see it working against Wolves. Still, Frank knows best. Hopefully we're smiling come 4pm.
Christy Ring
26
Posted 13/03/2022 at 13:43:49
Unusual shape and midfield looks abut lightweight without Allan, defensive lineup, here's hoping.
Christy Ring
27
Posted 13/03/2022 at 13:43:50
Unusual shape and midfield looks abut lightweight without Allan, defensive lineup, here's hoping.
Danny Baily
28
Posted 13/03/2022 at 13:45:28
As much as I didn't want to see Mykolenko start at LB, the boy is probably one of the better crossers of the ball we have on the left so interested to see how he gets on in a more advanced role. Decent lineup.
Jim Harrison
29
Posted 13/03/2022 at 13:48:35
DCL interesting. If he was 80% I would have him on the bench ahead of Rondon. Perhaps he really just needs a proper rest.
Funny line up.
Chris Williams
30
Posted 13/03/2022 at 13:59:42
DCL poorly apparently.
Kieran Kinsella
31
Posted 13/03/2022 at 14:14:37
FFS this idiot time wasting
Simon Harrison
32
Posted 13/03/2022 at 14:23:06
Can anybody definitively say what formation we're playing?
Is DCL injured or poorly, or mentally shot?
I think Allan is being saved for the Barcodes and their more physical (read violent) midfield. JJ Shelvey better beware methinks...
Simon Harrison
33
Posted 13/03/2022 at 14:26:15
Leeds beating Norwich 1-0 = OK
Soton losing to Watford 0-1 = Bad
All others 0-0 so far.

Michael Lynch
34
Posted 13/03/2022 at 14:53:11
Wolves doing what Wolves do. They love a 1-0. We've been tentative but probably not as shit as we can be. Good to have Godfrey back but we look a team in need of a season changing moment
Ciarán McGlone
35
Posted 13/03/2022 at 14:53:32
5-man defence resulting in endless passing about the back.
Get Coleman off for Christ's sake.
Michael Kenrick
36
Posted 13/03/2022 at 14:54:14
Two opportunities where you have to shoot first time – Richarlison then Gray. They didn't... and nothing to show for it.
Wolves getting into it much more toward the break.
Wake the fuck up, Everton!!!
Andy Mead
37
Posted 13/03/2022 at 14:55:10
Need to be more positive. Effort there but a bit hit and hope.
Ernie Baywood
38
Posted 13/03/2022 at 14:57:43
A funny half. Love Godfrey's aggression but as one of a 3 he should be bringing the ball out of defence when we free him up. Basically we've ended up with a back 5 that pretty much stays at home with Coleman and Mykolenko either unwilling or unable to offer much on the flanks.
Gordon and Richarlison being aggressive and bright. DvDB and Gray struggling to get into the game. Doucoure does a job that a decent rebound net could do.
For all the good aggression and effort we're really not showing anything special. But with well over half the team staying in defence that's probably not too surprising.
Jerome Shields
39
Posted 13/03/2022 at 15:02:14
Defensive mode first half. Did have chances. First 15 minutes second half crucial.
Alan J Thompson
40
Posted 13/03/2022 at 15:02:58
A much ado about very little first half and while you can see why Wolves, despite scoring 4 in their last game, have only scored 28 goals in 28 games we didn't do much better. Nothing down the left and down the right got as far as crossing the ball but nobody there to support Richarlison, the midfield have to get forward, particularly into the box, more often.
At the back, while not a lot to do, Holgate has kept more central but plays some horrible almost hospital balls out of defence with the only outlet a return pass while Godfrey seems to wander too far left.
Gray is not looking too effective and it might be worth subbing him for somebody to play alongside Richarlison.
Kieran Byrne
41
Posted 13/03/2022 at 15:05:00
We look a lot quicker at the back, Richarlison should have scored early on & if Gray would have gotten a better pass from Coleman he'd have a better shot on goal...
We're playing better, just need some confidence around their box, get some chances. It'd be nice to get some kind of result as Wolves are a good side.

Simon Dalzell
42
Posted 13/03/2022 at 15:13:08
Stupid foul Kenny. Poorly defending again. Too easy to get cross in. I'm watching Ukraine news, and bits of football, I'm so fed up with it.
Pete Hughes
43
Posted 13/03/2022 at 15:14:58
1-0 Wolves...
The trap door slightly more ajar!
Ernie Baywood
44
Posted 13/03/2022 at 15:16:23
That felt pretty predictable.
At 1-0, with our level of creativity and goal threat, it already feels out of reach.
Andy Mead
45
Posted 13/03/2022 at 15:29:45
Won't score if we stay on all night.
Ernie Baywood
46
Posted 13/03/2022 at 15:32:02
How are we supposed to win a second ball when our midfield is 40 yards away in defence?
What kind of midfielder doesn't want to have any kind of influence on the game? Our central midfield should be busting a gut to turn this around.
Surely we have someone who will have a go in that position instead of this intolerable waste of space Doucouré? Watch him for 5 minutes and find a way to disagree. He's a joke of a footballer.
Ernie Baywood
47
Posted 13/03/2022 at 15:42:34
Call Jonjoe what you want but at least he had a fucking go in this game.
The majority of this team absolutely deserve to be relegated. And I think they will be. No bravery, no desperation, no pride. They should be ashamed but they won't be.
Simon Dalzell
48
Posted 13/03/2022 at 15:47:40
We're fucking clueless. At least Norwich scored.
Shite.... So have Leeds again! Now that's a blow.
Joe McMahon
49
Posted 13/03/2022 at 15:53:44
I really didn't think these spineless, well paid tossers would lose today. In a season when that lot will win (how many trophies) we go down.
Special thanks to the board and the ownership for these "Good Times" Bill talks of. All this after Gordon Lee passes away.
The only thing positive (yeah I know), more Saturday kick-offs and not having to play you know who and getting thrashed.
Woodison for years on end it is then.
George Cumiskey
50
Posted 13/03/2022 at 15:57:12
Deffo going down. Can't tackle, can't pass, and can't kill a ball – the three basics, and Doucouré the worst player on the pitch by a country mile.
Phil Rodgers
51
Posted 13/03/2022 at 15:58:00
We're done.
Phil Smith
52
Posted 13/03/2022 at 15:58:02
That performance from Doucouré was just shocking. Professional footballers who can't control the ball with a first touch…
Kenny's red was soft, to say the least.
Fran Mitchell
53
Posted 13/03/2022 at 15:58:07
We deserve to go down, absolutely.
No fight. No personality. No passion. No idea.
Paul Smith
54
Posted 13/03/2022 at 15:59:33
They gave up. We're absolutely getting relegated.
Danny Baily
55
Posted 13/03/2022 at 15:59:49
I've told anyone who will listen. Come to terms with our being relegated, because it's happening.
Ernie Baywood
56
Posted 13/03/2022 at 16:05:16
Only out of the Bottom 3 on goal difference. But with 3 games in hand that might not stay the case. I honestly can't see where our next goal is coming from, never mind our next point.
That was truly pathetic from a team that looks every bit like they will be relegated. Where was the desire to turn it around? You'd expect some kind of response but they just went through the motions. Even if they don't care about us, you'd think they'd have a bit of professional pride or maybe think about whether relegation might affect their future income?
I'd honestly pick a team of youngsters against Newcastle. Throw them in with Gordon and at least have a go.
Michael Lynch
57
Posted 13/03/2022 at 16:06:24
Yeah, we're done for. Doesn't matter how many games in hand you have if you can't win a game.
Championship level squad at best.
Sadly Gray looked off the pace, Doucoure looked ready for retirement, Dele looked like he really, really didn't give a fuck.
I'm not sure how Lampard picks a team for Thursday out of this bunch. Do we accept our fate and blood some youngsters? Do we keep hoping that we can pinch enough points to stay up?
Tony Hill
58
Posted 13/03/2022 at 16:06:31
I couldn't go today but caught it on a stream. Our biggest problem is lack of goal threat and I don't know why we didn't use Rondon either from the start or later. He is a lumpy nuisance.
We are still out of the Bottom 3 and I think we will beat Newcastle. We must not give in to a narrative of despair which the media wants to foist on us. We need some luck as well.
There's no point frothing at the mouth. Dig in and never, ever give up.
Andy Mead
59
Posted 13/03/2022 at 16:06:39
We are as good as down. We won't win another game all season. Clueless, gutless. Can't pass. How many times did two players go for the same ball and leave it to each other?
Lampard standing on the touchline in silence. As shocked as we are. Easiest game for Wolves all season.
Goodison a bear pit? Not with these pussies playing. After this, if I was Patterson and I don't get a game Thursday, I'd be asking to leave.
In the years to come, we'll be a case study on how to royally fuck-up a once-great club.
Justin Harris
60
Posted 13/03/2022 at 16:06:41
What a gutless, shambolic and overpaid bunch of individuals we are. I know I shouldn't have expected anymore after the last 5 months but that was as dire as any football I have ever seen.
Where was the pressing and passion we had against Leeds? 5 at the back? Backwards passing galore... and as for that midfield!
We literally gave them the freedom of Merseyside out there today and it's just as well I couldn't attend as I could well have had a Nyarko moment with Doucouré who was the worst of a digusting bunch!
Sean Roe
61
Posted 13/03/2022 at 16:07:00
Absolutely nothing going forwards at all. It was either a long punt upfield by Pickford or aimless runs down the wings by Gray and Gordon and then pass backwards. Complete and utter shite.
Eddie Dunn
63
Posted 13/03/2022 at 16:08:12
The team look disjointed, no cohesion, and we were outclassed by a team with players who were technically better than ours and had confidence in what they were doing.
Frank is not the coach to dig us out of this situation. He has them trying to play our from the back with Doucouré going backwards all the time. We can't create and we can't finish.
Utter dross.
Rob Hooton
64
Posted 13/03/2022 at 16:10:25
We look doomed, I really can't see us staying up.
6 years of transfer disasters and mismanagement – how can you spend half a billion quid on players that have no pace, can't defend, can't pass and can't shoot? I see no light at the end of the tunnel this season.
Depressed. Thoroughly.
Barry Rathbone
65
Posted 13/03/2022 at 16:10:46
We're down with this lot and deservedly so. Far better to bin all but Townsend, Gray, Richarlison, Gordon and Pickford and play the kids. At least then we find out who is worth keeping for the Championship.
We might yet be surprised by what youthful enthusiasm gives us.
Pat Kelly
66
Posted 13/03/2022 at 16:13:39
We've been in denial for years. Today reality dawned. The hope that Lampard might be able to organise the team to get us out of this mess is over. Thursday will put another nail in the coffin.
Ian Edwards
67
Posted 13/03/2022 at 16:14:30
We need 2 up front. Richarlison on his own is not the answer. We don't create enough because, when we have possession, there are too few options up front.
Frank Sheppard
68
Posted 13/03/2022 at 16:16:00
I thought we might have enough to scrape to 17th. Looks like 18th now, and the end of our club as we know it.
Lee Courtliff
69
Posted 13/03/2022 at 16:17:11
I actually thought we played quite well for the first 30 minutes, then Wolves came into it a bit.
But the second half was just Men against Boys even before the Red.
I really, really can't see us winning a game at this rate. My only hope is that he plays Patterson on Thursday and the "under the lights" atmosphere will see us through.
We can do this!! Don't give up!!
Phil (Kelsall) Roberts
70
Posted 13/03/2022 at 16:18:49
Accepted it – we are going down. Takes the pressure off now for the next two months.
It was nice (I was born 6 months after last promotion) while it lasted.
Alan J Thompson
71
Posted 13/03/2022 at 16:19:00
Owing to Optus awful service I missed at least 10 minutes late in the 2nd half. For their goal, I thought Gordon and Mykolenko should have gotten tighter on the man who crossed it but to watch Holgate just stand there in front of Coady and watch it go over his head without any effort to stop it, the sooner he goes the better. Indeed, did Holgate or Godfrey win a header all game?
As for Dele Alli, he's either not fit or not interested as he looked half-hearted and I'd send him back at the end of the season as I have my doubts he's worth £10M never mind £40M.
My MotM for us was Richarlison but we must find somebody who can support him up front, a midfield that wants to support whoever is up front and has some idea of creating something other than give it to Gordon and hope he can.
Frank really must come up with something better.
Ken Kneale
72
Posted 13/03/2022 at 16:20:43
Michael @36 – this team will not wake up.
As the TW headline said last week, this is a sleepwalk to disaster for the club. Anyone who thinks otherwise must be watching a different team to me.
Mark Andrews
73
Posted 13/03/2022 at 16:22:48
We will be relegated.
This is the worst Everton team I've ever seen. That was a panicked, petrified performance of a group of players too frightened to play. Godfrey and Gordon had a go but the rest of them were shameful.
Slow, negative football, with players so frightened to make an error they pass backwards.
Second to every ball, quick to give the ball away.
The years of mismanagement will see us in the Championship.
Tony Twist
74
Posted 13/03/2022 at 16:23:39
Not really surprising. Such a defensive mish mash of players which screams to me of more nutcases in charge of the asylum. Frankie has to let go of the thought that the players like Coleman and Holgate are going to suddenly come good.
Keane has had the brunt of the blame but he looks like a player forced to play with players he doesn't trust himself and it has finally become too much for him. Christ... Holgate, Kenny, a past-sell-by-date Coleman, it would drive you nutty!
As regards the training staff, God knows what they do day after day. Moshiri has got it totally wrong and ignored Everton's strength which is their character, the 'spend wisely' approach, the People's Club ideology was ditched and prima donna footballer purchases became common.
Unfortunately prima donnas couldn't give a toss of the history of the club and will always be alright, whichever team they have to play for. As I have said previously, Frank needs to play the youngsters left and right backs and Branthwaite in the centre of defence, not for now but for life after this disaster of a season.
Gio Mero
75
Posted 13/03/2022 at 16:23:45
The team is what it is with the poor recruitment, the injuries and that joke of a decision to sell Digne.
One thing we could have done to get us out (just) of this mess: appoint the right manager.
Benitez: Wrong. Have another go then... Lampard? He is giving this team absolutely nothing.
Bottom line: this board is taking us to the Championship.
Christy Ring
76
Posted 13/03/2022 at 16:23:58
Confidence at an all-time low, no winning mentality, no leaders on the pitch... Doucouré was shocking, but we were totally overrun with a two-man midfield.
He has to change it for Thursday night, we desperately need a win, and to be honest, we look the poorest in the Premier League.
Steve Brown
77
Posted 13/03/2022 at 16:24:57
Think Lampard set up for a point today and it didn't work. For once, the defence did well and Holgate in particular had a good game.
Doucoure was atrocious, playing every pass backwards. Playing Van de Beek alongside him meant he could not get forward at all.
Why he brought on Alli, I have no idea. He is finished as a player and we were in a battle. Made no sense at all.
Benn Chambers
78
Posted 13/03/2022 at 16:24:58
That's it. Done and dusted. I left with 20 mins to go. I should've turned back and went home when I seen the starting 11.
Five at the back at home? Kenny Holgate and Coleman all on the pitch again? Fuck off, Frank. You're as bad as the ones before you and your tactics are shambolic, but I sympathise a little because you can't make a silk purse out of a cesspit.
Only Gordon and Richarlison can look themselves in the mirror. Every last one of those spineless scummy cunts can fuck off. They're all League One players and once our relegation is confirmed, I hope they're happy having that on their CVs: Everton Football Club relegated. That's some achievement, that. What has this club become?
Relegation is probably what we need. Rid the club of these utter scum players and that prick of an owner and that big deluded blagging bellend, Blue Bill. I can't stand any of them. They knock me sick.
Every last one needs fucking chasing. Forget the new stadium at Bramley-Moore Dock. Leg this entire squad and this fucking rancid board.
Total rebuild needed. New owners. A new board. New players.
It's gonna be a long road back coz you'd be lucky to get £50M for this squad combined... and the money we owe out is gonna be fucking biblical.
Disgusting twats.
John Raftery
79
Posted 13/03/2022 at 16:25:08
With relegation looking ever more likely, it is difficult to see how or when the next points might be earned. The team lacks cohesion and character. The manager looks confused and bereft of solutions.
The niggling concerns on Lampard's appointment about how well he would handle a relegation battle are now writ large. Onwards and downwards, it would appear.
Neil Lawson
80
Posted 13/03/2022 at 16:25:24
Speaks volumes when Rondon is suggested as one solution. There appear to be no solutions.
A magic wand is required to get Mina fit, to revitalise Calvert-Lewin, to promote a young battling midfielder to step up and shine.
Alternatively, to pay the Devil to get Reid, Sheedy, Steven and Latchford returned back in time with Labone and Ratcliffe marshaling from the rear.
On the positive side, Plymouth doing well so maybe able to watch them at Home Park next season before the points deduction kicks in and I can watch them at St James Park (Exeter, that is) the year after.
Pete Clarke
81
Posted 13/03/2022 at 16:25:46
Do we just play movies at Finch Farm or what? How can these so-called pro footballers not know how to control and pass a ball???? Doucouré is a headless chicken and Van de Beek is now the invisible man. There's your two main players who were crap.
We are as good as down now and only some miracle can save a team as bad as this.
I would hope that should the inevitable happen and we go down that Kenwright is finally held to account for this mess and he is stood down, retired or whatever because, if he clings on further, that will be worse than the relegation itself.
Derek Moore
82
Posted 13/03/2022 at 16:26:25
The videos online of disgusted blues singing "You're Not Fit To Wear The Shirt" at full time should tell you everything.
Not even the Goodison faithful can drag this shower to a result right now.
Thursday is the final appeal before sentence is passed I fear.

Jerome Shields
83
Posted 13/03/2022 at 16:28:52
Missed my Swim.
Defensive mode first half. First 15 minutes second half crucial. Lost focus in first minutes.
Everton are so ill-prepared for relegation. I now know that other teams have contingency plans and Everton hasn't a clue. Everton have a strategic review for what exactly?
Wolves came with a simple plan and executed it.
Colin Malone
84
Posted 13/03/2022 at 16:29:07
Missed Allan big big time.
Looking at the dugout, it seemed Paul Clement was giving the orders. If that's the case, we are going down.
His track record is abysmal.
Ian Edwards
85
Posted 13/03/2022 at 16:29:36
5 at the back and 1 up front will never succeed.
Ed Prytherch
86
Posted 13/03/2022 at 16:31:17
Not much upside to this display. Holgate and Godfrey were decent in the middle of defence. Donny van de Beek was solid, but the three full-backs between them do not make one good one. To think that we let Digne go...
Maybe Doucouré can be useful against a team that sits deep and gives him space to run into but he is hopeless against a press. We missed Allan today.
I hope that Frank is able to dispense with this 2-man midfield for the rest of the season.
Dave Williams
87
Posted 13/03/2022 at 16:31:20
Well said, Tony Hill. We must not give this up – even if some of the players are. At the moment, we still have enough games left but Frank keeps playing the same players who are giving him nothing. Either they can't be bothered or they have given up but, either way, he must surely now turn to a couple of young players to inject energy, pace and fight which might just rub off on the rest.
Branthwaite should come in (was he injured or unwell today?) and, in view of the fact that we can't score at the moment, I'd play young Dobbin from the start. If fit, then Onyango or Price couldn't do any worse than today's midfielders.
Questions for Frank:
● Why persist in playing people out of position?
● Why persist in playing out from the back when we keep giving the ball away?
● Why didn't you use Rondon and go route one?
● Why didn't you use your third sub?
● Why are you allowing guys to stroll around as if they don't care?
The crowd were very disappointing today. I understand how demoralising it is when we are so poor (described by Darren Griffiths and Snodin as "pitiful") but, if we are to get out of this mess, it will be because the crowd inspires us to win some points.
We cannot be quiet again against Newcastle. We have to rise above the dross on display and try to inspire these apathetic players. Not easy I know!
Jerome Shields
88
Posted 13/03/2022 at 16:32:46
Ian #85
Especially when the team concede from a cross in the first minutes of the second half at home.
Kieran Kinsella
89
Posted 13/03/2022 at 16:37:44
Ian
I don't think the formation makes any difference with these players. They are just useless and weak so will continue to lose.
John Boon
90
Posted 13/03/2022 at 16:38:05
I have much the same perspective as Tony Hill (#58).
I say this mainly because I just have to have some hope or there is no point in following the team that I have been supporting from before their last relegation in 1951. There are many similarities.
We were on a dreadful run in to the end of the 1951 season, although it wasn't as bad as now.
We have no intensity and the only players free from blame were Gordon and Richarlison. I now know why Man Utd did not sign Van de Beek. He and Alli have no effect on the game.
Unfortunately, we also lack the talent... which is ridiculous when you consider just how much we have spent. For our next game, we need players who have energy and are prepared to run until they drop. We have to give some youngsters a chance! I find it amazing that we spent our last pennies on Mykolenko and the secret agent Patterson. For one last try COYB
Lampard has to be given more time but he also must realise that, if he does not do something magical, then he will go down as "the manager who saw Everton relegated". Along with wasting money on players, we have also been abjectly poor at picking managers.
Tony Hill
91
Posted 13/03/2022 at 16:39:07
We're writing our own obituary. I stand by the view that if we survive this season, we will do well. I know it's excruciating, but if we give up as fans then we are maximising the chances that we will be relegated.
I have toyed with the idea that we will be better off in the long term if we go down, but we won't be.
Hold your nerve and make a load of noise. It's all we can do. I remain optimistic that we will emerge intact, and enhanced, from this season.
Danny Broderick
92
Posted 13/03/2022 at 16:40:21
There wasn't much in the game, I thought. The big difference was when they attacked they looked like a team used to playing with each other. We looked like a team of strangers. Their midfielders were pulling strings, ours were just passing backwards.
Benitez has screwed us royally by selling Digne and replacing him with Mykolenko.
I can only hope there are 3 teams worse than us…
Sean Roe
93
Posted 13/03/2022 at 16:41:22
Not that it made any difference to the outcome but am I the only one to think the sending off was extremely harsh?
Christy Ring
94
Posted 13/03/2022 at 16:43:25
Bring in a few of the youngsters Thursday night, Onyango and Dobbin. The setup today with 5 at the back at home had 'negativity' written all over it.
What I can't believe is, there was no reaction whatsoever to the 5-0 hammering last Monday, we're in free fall.
Steve Brown
95
Posted 13/03/2022 at 16:44:15
The difference was Ruben Neves in the second half.
Dave Williams
96
Posted 13/03/2022 at 16:45:49
Christy #94 – agreed, and that's another question for Frank:
● Why no reaction whatsoever to the humiliation at Spurs?
Ian Edwards
97
Posted 13/03/2022 at 16:47:30
We will not win home games against decent opposition with 1 up front.
John Raftery
98
Posted 13/03/2022 at 16:48:58
Sean (93), It was harsh but inevitable. Sometimes players get away with one foul after a yellow card but only if they are playing for a top team.
Ian Riley
99
Posted 13/03/2022 at 16:49:25
8 matches left!
Call big Sam now!!!!
Last throw of the dice!!!!
Relying on other teams to stay in the bottom 3 won't do!!!!
Ian Bennett
100
Posted 13/03/2022 at 16:53:37
Too many passengers in this side to carry - Van de Beek, Calvert-Lewin, Dele Alli, Coleman.
Why are we playing players with no future at this club – Kenny, Rondon, Iwobi?
Spent £30M selling a decent left-back, for too young lads who are not ready.
No fight whatsoever. Going down undoubtedly.
Danny Baily
101
Posted 13/03/2022 at 16:55:32
There's still time for a few surprising results. The remaining games will be easier than the road back. But the squad needs a boost and there are no more levers left to pull (we've axed the DoF and Manager).
The cycle of mediocrity is nearly over.
Sean Roe
102
Posted 13/03/2022 at 16:55:48
John @98
I didn't know it was a 2nd yellow. I guess that's what happens when you watch it on a dodgy stream that keeps freezing and you miss chunks of the game.
Thanks.
Denis Richardson
103
Posted 13/03/2022 at 16:58:38
I'm still hopeful we'll stay up, despite the result and Watford winning (that was a surprise!). Expected Leeds to beat Norwich at home and end their bad run. However, I certainly was not expecting to lose to today. At least get a point but lose such an important game at home?
Bad day all round but it's not over. Barcodes at home now takes on an even bigger dimension. Tbh, if the players can't big themselves up for that one then we deserve to go down. We also have Palace and Brentford at home, both of which will have almost nothing to play for by then, so you'd hope we can win these. The crowd need to believe though - however hard that may be.
I still don't get what so many fans see/saw in Lampard as a manager. He's here now and we're in the shit but I just don't get what the fuss was about. He seems clueless and plays players out of position and doesn't seem to read the opposition well. Subs were also very odd today. Chasing the game he leaves our only other striker on the bench and brings on Alli, who's been nothing but awful since he's arrived. Pure desperation signing - ala Tosun, Niasi etc.
Many good players made very average/bad managers. 5 losses in 6 and the manner of some of those defeats suggest Lampards struggling to get through to the players with whatever he's trying to do. The players needs to take some responsibility too but the first few weeks of Lampards 'reign' leave much to be desired. I'm very far from convinced he's the answer to any managerial question, never mind ours.
If we lose on Thursday then I think we're down, draw and we have a mountain to climb, win and I think we'll stay up. Burnleys next game is City at home and Watfords is 'them' away - can't see either of these getting anything from those games. We simply MUST get something from the game on Thursday.
All to play for.
Praying we stay up and somehow Moshiri is linked to Putin as well (via Usmanov) and Everton is sold in the summer with Moshiri, Kenwright and the whole board chucked out, as well as Lampard and his team, and we can start afresh after 25 odd years of mediocre crap.
Mick Roberts
104
Posted 13/03/2022 at 17:00:04
One up front at home says it all.
Lampard needs to earn his money.
Negative tactics cue negative results, re Benitez.
Jim Bennings
105
Posted 13/03/2022 at 17:00:12
I don't know if it's been said already but I've just read that we have now lost 15 of our last 19 matches in the Premier League.
I'm sorry but you can't stay up doing that, you just can't.
Gary Jones
106
Posted 13/03/2022 at 17:02:55
I'm just utterly numb now. I don't even feel angry or sad really, I just feel resigned and depressed.
We were absolutely awful. EVERYWHERE. From Lampard ridiculous selections of Kenny and Coleman in a back 5, and the pair of Doucoure and VDB in the middle, to Pickfords waiting for the other team to get back before kicking, to the forwards constantly being offside, to lumping it to Richie against 3 big CBs…..and most of all to the lack of urgency and fight.
With Chelsea, West Ham, Arsenal, Leicester, United and Liverpool still to come I think we are now GONE. That's not negativity, that's just realism. We are simply not good enough in ANY 3rd of the pitch.
Lampard is not THE problem, but he looks like the latest in a very long list of mistakes we've made. His lineups in the last two games have been horrific, and the way he's treated Patterson/Myko/Branthwaite/Onyango/Dobbin means any glimmer of youthful hope is gone too.
Pick a formation and stick to it. Play with an actual midfield 3 (at least!). Go back to a flat back 4. Involve the kids over people with ZERO future here…..and for the love of god stop passing it round the back and start getting it forward quickly down the flanks.
Team for Newcastle for me:
Begovic
Patterson Godfrey Branthwaite Mykolenko
Gomes Allan Iwobi
Gordon Richie Gray
Yeah, I know, they're shit too.
Danny O'Neill
107
Posted 13/03/2022 at 17:04:13
I'll do an assessment once I gather my thoughts on what I just witnessed.
On my way home. Great to meet with Pete and some of the gang in the Saddle and the fabulous George in the Dark House.
Thank you to Tony for the favour. Much appreciated.
Not talking to Everton right now. Give me a couple of hours.
Peter Dodds
108
Posted 13/03/2022 at 17:04:21
I didn't see the game but the comments so far confirm what we've been saying for several games recently.
Doucoure has become the new Schneiderlin, passing backwards all the time and generally misplacing passes when going forward.
A two-man midfield not only gets overrun but also neuters both Doucoure's box-to-box style and Van de Beek's ability as a No 10.
Playing wingbacks doesn't work as both Mykolenko and Coleman drop back into a back five too easily and get in the way of Gordon and Gray when attacking.
Richarlison continues to miss half-chances that a better striker would finish.
Still, it'll all be alright when the injured players come back, eh?
Christy Ring
109
Posted 13/03/2022 at 17:06:58
I believe bringing in Benitez has come back to haunt us, selling Digne and bringing in three mediocre players, when he should have been long gone, shows what's running the club, sadly.
Jerome Shields
110
Posted 13/03/2022 at 17:07:26
Frank got the tactics wrong again. Those were the tactics he should have played against Spurs away from home. It should've been open attacking football at home, with the Goodison crowd behind.
Wolves came to defend first half and counter second half. They needed to be broken down first half and showed signs they could have been had Everton been more clinical.
Even bring Dele Alli on was a mistake. I actually thought his warming-up prior to the second half was as a decoy. What a gift to Wolves that was for their half-time preparation. Rondon would have held the ball up or generated a loose ball. This just played into Wolves' hands.
But whatever tactics, losing focus in the first minutes of the second half would always have been a disaster.
Kunal Desai
111
Posted 13/03/2022 at 17:09:00
Going down and not coming back up for quite a while.
Ian Edwards
112
Posted 13/03/2022 at 17:09:28
Gary 106. That would be a suicide team. The defence inexperienced. The midfield of Gomes and Iwobi awful.
I would go 4-4-2:
Pickford
Coleman Holgate Godfrey Mykolenko
Gordon Doucoure Allan Gray
Richarlison Rondon
Brian Denton
113
Posted 13/03/2022 at 17:10:44
Just got back. I feel depressed, and can't see how that team will have 3 wins and a couple of draws in it. We are praying for a miracle. Maybe Rondon will be the reincarnation of Kevin Campbell.
Or something.
Colin Malone
114
Posted 13/03/2022 at 17:11:20
Donny van de Beek should have been off in the first half. He hid.
Frank fucked up big time.
Brian Murray
115
Posted 13/03/2022 at 17:13:12
I've been saying since Benitez's regime that Dobbin, who scored twice in midweek, one a confident individual goal, has to at least be on the bench.
Time to be brave instead of idiot usual suspects Rondon etc., Same with Branthwaite starting instead of Holgate. All very risky but Benitez was terrified to chance it on youth, but we see the alternative.
Paul Smith
117
Posted 13/03/2022 at 17:15:42
Arghhhhhhh. Two man midfield again. What is wrong with these managers. We can't do it. Our defenders can't transition to wingers (Coleman) was so bad and Mykolenko should have come off at half-time. Allan should never be dropped.
We gave up. They won every tackle. We are fucked. Lampard totally clueless.

Tony Hill
118
Posted 13/03/2022 at 17:16:19
Ah, I see we have in fact given up, and we're blaming Benitez.
Jesus wept.
Benn Chambers
119
Posted 13/03/2022 at 17:17:39
Ian, 112
Mykolenko? Did you see the game today? That lad is the worst one-v-one defender I've seen. He's a sand bag. Offers nothing going forward to defending. That's just not him though, grafted. All the defenders are a disgrace. To a man they're a disgrace.
Anyway… Criminal not having Branthwaite and Patterson in the team today. Borderline misconduct not having them in the squad.
Godfrey needs to be left back coz he's actually okay there and anyone is better than Mykolenko. Branthwaite needs to be centre-back with someone, for his height. Kenny is absolutely shite, Coleman has played 4 years too long and will now be remembered for being part of the team that sent us down, rather than how good he once was. He's a joke as well.
Frank is as much to blame for the tactics and formation. How many times have we said that in the last 6 years?
I completely despair now and, as painful as it will be, relegating will see us finally rid us of these scum players and this joke of an owner and board. Bill Kenwright should be escorted out of the ground once the final whistle of this season is blown.
Ray Jacques
120
Posted 13/03/2022 at 17:18:38
I am resigned to relegation. Both Burnley and Watford to play away from home. I expect us to finish 19th.
There has been no improvement with the new manager, just same old. The ownership is my biggest concern. I think Moshiri is a prick and I see him doing a Randy Lerner and putting it up for sale with no investment.
Players on big money, cost of a new ground, disinterested owner, reduced TV money, less sponsorship value as we are a Championship team. Scary.
Ian Riley
121
Posted 13/03/2022 at 17:19:05
How I long for the Moyes years!!!!
Newcastle game as big at it gets!
Ian Edwards
122
Posted 13/03/2022 at 17:21:42
5 at the back and 1 up front. We deserve to be relegated.
Michael Lynch
123
Posted 13/03/2022 at 17:23:23
Lampard has got it wrong twice on the run now - and I'm starting to think he's a bit clueless.
Doucouré and Van de Beek as a midfield two was awful. Dele is a busted flush who clearly gives zero fucks whether we stay up or go down, so shouldn't even be on the bench.. Gray wasn't fit, so he should probably have started with Iwobi, and he should surely have brought on Rondon at the end for a two up front?
We have a terrible squad, so keep it simple – a midfield three at home, a low block away from home and hope Gordon or Richarlison can sneak a goal.
Doesn't really matter now though. We're doomed.
John Keating
124
Posted 13/03/2022 at 17:25:02
Don't think I have ever not had a drink after a game. There's a first for everything, I suppose and the certainty of relegation for me is another one.
To win a football game, you need a mix of skill, self-belief, leadership, bottle and determination. That team has absolutely none of the above.
We can moan about the manager, tactics, team selection whatever, but this lot have been through God knows how many managers, various tactics and formations and failed every single one.
The inability to win second balls, make easy passes and run through brick walls for your team should all be a given. One or two players doing it at this level is doomed to failure.
For me this was the must win game, the game that would give us a bit of belief and a slim chance to stay up. We blew it big time.
Anyone doubting that we will not avoid the drop just have a look at our remaining games. Gutted and numb at the same time.
Brian Murray
125
Posted 13/03/2022 at 17:27:19
Two questions:
If it's true that the players (or some of them) have thrown in the towel... has that ever happened with 36 points to play for in the Premier League?
Plus, with Brazil's and England's Number 9s plus England's goalie... has that ever happened to a team going down?
Surely they have to find some form and belief.
Andrew Keatley
126
Posted 13/03/2022 at 17:30:36
There are so many issues to address. Many of them are about mentality. Every Everton player consistently looks like they do not believe in their team-mates. It's all over the pitch.
The defenders are slow and basic in possession and do not want to commit themselves – either to step out of defence with the ball, or to try and win the ball from the opposition. The midfield do not trust the defence, so they do not get forward effectively. The forwards do not believe that the midfielders or defenders will join them up the pitch, so they feel – and are – outnumbered, which makes them snatch at the ball and try and force their way to goal like a blunt object. It's all so ugly.
One major problem we have is that our defenders love to mark space. It probably feels like a good thing, to regularly back off and stay in a shape, but it just meant that Wolves always had men over in midfield. The amount of times that Neves or Jimenez or Podence (or any Wolves player it happened so often and all over the pitch) just managed to be the unmarked out-ball that essentially renders our attackers and midfielders obsolete.
It's the product of poor in-game management. Better just to retreat into a shape at the edge of your box than to believe that you can half-mark and half-press and then present the opposition with good ball on the halfway line with the midfield stretched and the defenders facing the freely advancing opposition.
And on top of that, all day today whenever a Wolves player had the ball, the marking Everton player would happily let them have it. And on the odd occasion that an Everton player tried to win the ball, too often the Wolves player would either beat them with a bit cunning of (rope-a-dope stuff), or pass their way out of trouble – and the cycle would continue with the new Wolves player in possession.
Another problem is that our midfielders and attackers play too much in isolation. Watching Jimenez and Podence interplay together, with one touch – flicks, chest passes, everything – just made apparent how Everton are essentially head down and run with it.
Richarlison, Gray and Gordon – they all feel like they have so much to do on their own as our midfield and defence are just so unlikely to ever get ahead of the ball or do anything that might pose the Wolves defence a problem. It's game after game, manager after manager.
Wolves were very good, but we made it so easy for them. Ruben Neves is a lovely footballer, but he's not known for his dribbling – but we made him look like Maradona at times today. He's a clever enough player, and a talented enough player, to know what is on and what isn't; on an average week he knows not to dribble as his lack of obvious pace makes it a dangerous option. Not today. He dribbled around Everton players at will because he knew he could.
So much to do for Lampard. Being a goal down, then also a man down, in the last 10 minutes is hard, but I didn't see any real urgency, or belief, or courage in those last 10 minutes.
Time to be brave. If we cannot win games by being tentative and unimaginative then perhaps we should plump for the alternative.

Barry Hesketh
127
Posted 13/03/2022 at 17:31:46
Everybody involved in today's shambolic performance should be ashamed of themselves, whether that be the owners the board, the management team or the playing staff. All are culpable in some way for where we sit today.
But only the players can help the club to climb away from the abyss that awaits us, and they don't seem too bothered about their own performances individually or collectively.
Wolves aren't world beaters but Everton made them look as if they might be. I have seen many a poor Everton team over the last half-century, but none so bereft of heart or desire to at least try and do the right things. Half-hearted tackling, half-hearted running, poor passing, poor movement, the list is endless. The shape was wrong but then again what was the shape supposed to be?
I'm afraid not only is the writing on the wall, it's lit over the city in 10-foot neon lettering. There will be no escape, great or otherwise, there will be no stirring run of form, just a long line of listless displays which will result in the inevitble fall from grace.
Thanks a lot, Mr Moshiri, Mr Kenwright, Mr Lampard and company – you've all managed to do what we all thought wasn't possible but now looks a certainty rather than a possibility. If it happens, we will be in the footballing wilderness for at least a generation, thanks again to all those I mentioned above.
Clive Rogers
128
Posted 13/03/2022 at 17:32:23
We have been fitted up with a crap owner who hasn't got a clue how to run a football club. Thanks, Kenwright.
Mal van Schaick
129
Posted 13/03/2022 at 17:32:48
Frank said in his interview that it was a tight game and we were the better team in the first half. He was asked about creating goals, and just said we have to stick together? Whatever that means in creativity?
The truth is that Wolves were better than us, and their play was more joined up and creative.
Can't fault the effort from the players again, but for me it's a few days at the training ground, before the Newcastle game, joining the midfield with the forwards. We have to create goal scoring chances and win that game, simple as!
Allan Board
130
Posted 13/03/2022 at 17:36:18
Not at all surprised. Wolves are a decent organised side who have a plan!!
The Everton Enigma continues and will result in relegation – unless Burnley and Watford lose all of their remaining games because Everton aren't winning anything soon.
The issue with that is Everton have to play both Burnley and Watford away. Lose both of those and it is game over for Everton.
Frank, I like you, bud, but stop complicating your line-ups, because these players are the shittest you will have ever come across, fucking brainless and don't do anything related to being smart.
Please just play the young lads in a simple 4-5-1 and scrap for draws. The youth will give you energy, pace, hunger and stamina to last games. It's your only chance because you are wasting your time trying to bring out the 'confidence' in our first team. They haven't the balls for it, mate.
Versus Newcastle:
Pickford, Patterson, Godfrey, Branthwaite, Mykolenko, Gordon, Allan, Van de Beek, Townshend, Gray, Dobbin.
Fuck the others, they've more than fucked their chance up.
Paul Smith
131
Posted 13/03/2022 at 17:36:51
Great post, Benn @119.
Mykolenko is terrified of his own shadow but worse than that was that team selection.
The biggest miss is Mina and Delph. Yes, Delph! he's fuckin better than those 2 beauts in midfield today.
Gary Jones
132
Posted 13/03/2022 at 17:36:56
Ian @ 111,
Using the word "suicidal selection" and then suggesting Coleman and Holgate once again is an oxymoron of biblical proportions.
Paul Birmingham
133
Posted 13/03/2022 at 17:37:20
The good initial 20 minutes were decent... then the game turned, and Everton were outclassed.
My hunch was seeing the team line-up, that harsh lessons of playing a 2-man midfield previously this season have been forgotten.
I blame Frank in some ways for today, by playing a line-up that never stood a hope against this Wolves or any other team.
But the players bar Gordon, and Richarlison, need to look at themselves tonight and smell the reality.
The squad for Thursday doesn't give much option but I'd play Rondon upfront with Richarlison and who replaces Jonjoe Kenny will be interesting, and bring Allan back to kick some crap out of their midfield.
Tony Hill, I'm 100%, with your view on staying up, let's all stick together for the survival battle.
Today was massive, but Thursday is now vital, and I hope that the players can get their shots off early, as today, taking additional touches cost Richarlison, and Gray, those chances.
Let's beat the Skunks, and put them in their place, and have a decent night for a change.
Anthony Murphy
134
Posted 13/03/2022 at 17:39:40
Mad to say but I don't think formation or team selection matters – the first team squad hasn't the fight nor mental strength needed, and for me have collectively given up. I don't think Lampard knows what to do or how to change it.
Alan J Thompson
135
Posted 13/03/2022 at 17:40:47
How can anyone think Holgate had a good game!?! Probably all those who think Kenny didn't, I know which out of the two I'd keep and there's still some who are carried away with Godfrey's pace but he just isn't a central defender.
I'm not sure where we will start next season but if it isn't in the Premier League then we can kiss goodbye to Gordon, Richarlison, Pickford, Mina, Calvert-Lewin, any players on loan and FFP or P&S penalties.
Oh, and I wouldn't want to be a subbie promised work on the new stadium at Bramley-Moore Dock.
The bright side? We get to see more games per season in the Championship.
Brian Murray
136
Posted 13/03/2022 at 17:46:59
Only good old 'Good Times' Bill could take years and years to find an owner that would let him stay on (Man City's walked away etc). An owner who then wants to entrust him with running the club save for a couple of interventions picking a manager (and Iwobi, allegedly). Then lets him pick a CEO plus mates in the boardroom and beyond.
A perfect storm we are seeing the results of. So please no-one come on and say he's a crap owner. Naive, yes, but as I say, when we all seen that interview with him and Bill's arms draped all over him, we just knew he wasn't his own man, despite being a billionaire and amazingly an accountant at that.
Benn Chambers
137
Posted 13/03/2022 at 17:47:03
Mal #129
Can't fault the effort? I reckon you're on a wind up. Who made an effort. Apart from Gordon, Richarlison and Godfrey, who actually made an effort?
I didn't see anyone making an effort. Firm of spineless shitbags who want rid of the ball like it's a grenade. Backwards passes or across the back four. Anywhere as long as they don't have it or have to accept responsibility and earn their wages.
They're a fuckin disgrace and, if they showed effort, we wouldn't be going down.
Paul #131
Spot on. Delph is as weak as piss and just wants his wage without having to play but at least he accepts the ball and passes forward. Doucouré is a fuckin crab. A shithouse.
Dave Abrahams
138
Posted 13/03/2022 at 17:49:23
That performance and those players, so very sad, I wish I was five again so I could cry.
If I was to go on and describe those players performances this would have been a very long post.
Like most on here I will be back on Thursday night hoping for something positive, anything to be honest like attacking with a few players instead of one who can't stay onside.
Peter Neilson
139
Posted 13/03/2022 at 17:49:35
We started with five at the back regardless of Lampard's intentions. Unfortunately Mykolenko looks like yet another poor signing, he was terrible. Doucouré was shocking as well but he's always got that kind of performance in him.
No glimmers of hope from that game, especially not seeing the required spirit, grit and fight to get out of a relegation battle. I would be amazed if we stayed up. Six years of terrible recruitment and dreadful mismanagement have led us here. Shameful stuff.
Justin Doone
140
Posted 13/03/2022 at 17:49:42
The carpenter has his tape measure out and has already ordered enough wood for a whole village sized casket!
If you can't win, don't lose. Sometimes, that means you have to back down to stay alive and live another day.
Frank is just another rookie who thinks he can simply turn up and blast his way out of trouble.
Reading some comments on here tells me that, like the owner, a lot of fans don't actually know much about the reality of football and top-level sport in general.
The past mistakes have been and gone. We need to find a way to win or at least not loose.
Robert Tressell
141
Posted 13/03/2022 at 17:50:09
The players are low on confidence. It can't help not knowing your role in the team from one game to the next. The formation and personnel seems to change every game.
The injuries and weird recruitment have not helped Benitez or Lampard this season (and both have at least some part to play in the weird recruitment).
Both have been guilty of chopping and changing repeatedly, too.
At the moment, Lampard is doing a bad job albeit having been dealt a poor hand.
We now need some luck along with a better set up in games.
Mark Taylor
142
Posted 13/03/2022 at 17:51:40
Even the bookies are getting nervous. Before this match we were 7-2 to go down, now it's 2-1.
Leeds and especially Burnley are shorter odds and I assume that is because we have games in hand. But given we have by my reckoning averaged 0.4 points per game since the first week of October, those games in hand might just result in worsening our goal difference for no other gain.
I said when Benitez was appointed that I could foresee a bad run of results leading him to be fired in short order with the resultant risk of getting into a death spiral. That is what we appear to be in and, even if Frank can see his way out of it, I can't see a team of 11 players who can.
Howard Sykes
143
Posted 13/03/2022 at 17:54:08
We are going down, deeper and down, and we are not coming back any time soon. RIP Everton FC.
Pat Kelly
144
Posted 13/03/2022 at 17:55:08
It's not all doom and gloom. There are positives :
We didn't buy Van de Beek.
We can stop playing Dele Alli and we won't be out £20m. But as Lampard has bigged him up so much he'll continue to play him. It's not his £20m after all.
Coleman will retire eventually. Unless Bill gives him another extension.
Calvert-Lewin will be off to the Ladies team. They have nicer clothes.
We won't have to leave Goodison for Bramley No-More Dock.
Moshiri will flog the Club for two and sixpence.
Lampard will get his selection right eventually.
Okay, that last one was pushing it.
John Kavanagh
145
Posted 13/03/2022 at 17:56:16
We are done. Even the crowd eventually gave up today, with virtually nothing to get excited about. I'd have shot Doucouré for cowardice after that 'display'.
Since this pea-hearted crew (owner, board and squad) of frauds, ne'er-do-wells, wasters and has-beens have now all but achieved the RS dream of Everton's oblivion, we should at least go down fighting with a small vestige of pride.
Give some of the other youngsters like Gordon a chance to put themselves in the shop window for our Derby County type closing down sale in May.
ps: Does anyone know what this mysterious illness is that has recently affected Gray, Keane, Calvert-Lewin and others? Is it can't-be-arsed-itis?
Danny Baily
146
Posted 13/03/2022 at 17:56:57
Those of us who had our relegation wall chart out since the defeat at home to Brighton will have had a point down for today, so not too bad.
Sadly, we'll have had three points down for the visit of Newcastle, because they were hopeless back then. How times have changed. 3 points on Thursday would be massive but we've probably left it too late.
Bill Gall
147
Posted 13/03/2022 at 17:58:02
This was once again where the midfield was run over. Doucouré had a bad game and Van de Beek will only look good with better players running off the ball.
A team of individuals were beaten by a better team that has been rebuilding for 5 years and are fighting for a Top 6 place. The defense surprisingly played well today and really Pickford didn't have many difficult saves to make.
We are well and truly in a relegation fight with the worrying thing that we don't seem to have players in the squad that you can honestly say will make a difference to change it.
It is no use complaining the manager should have played this player and that player, the problem lies with either the owner or the chairman who chopped and changed managers and never allowed a team build. This is the time to stop, accept the manager we have and start a rebuilding again.
We may get relegated and I think the probabilities are more for going down than staying up, but the rot has to stop now. Next game will be said it is a must win, but the time now is for every game to be a must win.
I would like to see more youngsters given a chance in midweek but I think Lampard will use his more experienced players. One thing he may not be able to rely on soon, unless there is a massive improvement, is the Goodison crowd, who are starting to get restless after doing their part when watching.
As I said, today's game was a perfect example of a team that has rebuilt a team and squad over the years, and a team that chops and changes managers and players.
Jack Convery
148
Posted 13/03/2022 at 17:58:34
Just seen Franks interview on the BBC. He looks shot to me – bereft in fact. He has realised that, no matter how you rearrange the deck chairs, the outcome remains the same.
Time to give some of the youth a chance. Let's see if they sink or swim. The innocence of youthful exuberance is the last chance we have now. Play Patterson, Mykolenko, Branthwaite and Dobbin and let's see what happens.
I know Goodison will be 100% behind them from the start. I feel the Goodison roar is no longer going to get the tried and failed to wake up and smell the coffee.
For Newcastle I'd play:
Pickford.
Patterson, Holgate, Branthwaite and Godfrey.
Gordon, Allan, Doucouré and Richarlson (capt).
Rondon and Dobbin.
No matter what happens versus the Barcodes, do not bring on Dele Alli or Gomes.
Brian Wilkinson
149
Posted 13/03/2022 at 18:00:11
Taking away the obvious teams of internationals, I would say Wolves have been the best organised team I have seen play this season, rarely lose a ball, know where their team mates are going to be, win the ball back well, and always capable of stringing defence into attack, without route one football.
Yes, we made it easy for them, but I've seen Wolves a few times this season and, make no mistake, they're a tough team to play against.
That is how we should be performing, with the players we have, instead after going a goal down, we try and play it over the top for Richarlison to run onto. Other teams know this and take a step forward to, time and again, leave Richarlison in an offside position.
There are too many players with zero confidence in our team, have been for a number of years, yet the managers are the ones that end up leaving, and the players remain.
It is going to take a lot of luck elsewhere, and something special from ourselves, to get out of this mess.
Even the Wimbledon great escape, we had fighters in the team that gave us a chance, can you see this group of players coming back from 2-nil down?
All those teams around us have scrappers who will fight for every single point. It is not looking good, we can and must find a way of grinding a win out, only now can I see Big Sam's reasoning for ugly football that actually got us points.
This is no time for School of Science football – play ugly, win ugly, but most of all, get some points in the bag.
Matt Taylor
150
Posted 13/03/2022 at 18:03:10
Just not enough players, time and again, winning their personal battles. Not closing down, not being first to the hall, not looking to play the ball forward - especially the midfield.
We will be relegated if they can't step up. This is beyond the coaches and the backroom. Will to win right across the park is the only way we'll scrape the points together.
Colin Glassar
151
Posted 13/03/2022 at 18:05:22
After a lifetime of supporting Everton, I can now see the writing on the wall. This time, I can't see us us avoiding the drop.
The other teams around us have experienced managers. Players who will dig deep and fight till the end. We have neither. Our players are like phantoms. Our manager appears clueless. And our owner is set to run for the hills as soon as he can find a mug to buy us, or invest.
Shame on Moshiri and Kenwright. Shame on our gutless and spineless players. Shame on our so-called "directors of football". Shame on all of them for bringing this once great club to its knees. A pox on all of them.
Moshiri and Kenwright need locking up for their destruction of our club. They need to leave asap before we end up like Sunderland.
Michael Boardman
152
Posted 13/03/2022 at 18:05:35
We will pay the £20m for Alli, and then some – he keeps getting brought on. Calvert-Lewin is probably not up for the fight, but you can't say that, as we want to cash in (probably). Hardly any of them are, but most are not saleable.
And don't give me the shit about Mina and Delph, they don't give a monkey's – Mina doesn't miss a trip to Colombia, and Delph the treatment room / nightclub.
If that today was a bunch of players who are "up for it" in training, that says everything about this club – talking a good, politically correct, management speak set of sound bites, just to please the brass – anybody who goes against it (possibly Digne), you're off (oh and Brands, not that I thought he had anything coming but what happened).

Dale Rose
153
Posted 13/03/2022 at 18:05:57
I'm going to change my name to Baxter Basics. The difference between them and us was, they could pass the ball, we couldn't. They could control the ball we couldn't. They moved well and we didn't. We made them look good.
Michael Boardman
154
Posted 13/03/2022 at 18:07:42
Imagine the venomous reaction next season if we go down and Bill's still holding onto being the Big I Am?
Sam Hoare
155
Posted 13/03/2022 at 18:09:21
Everton have not changed with the times. We may have appointed a DOF but big decisions in manager and player recruitment have been made by a theatre impresario and an Iranian accountant.
This type of approach may have worked in the 90s but most good football clubs now have proper football brains running the show. There are a whole bunch of well run clubs now in the Premier League and we are not one of them.
Everton have refused to adapt and are now paying the inevitable price.
Not that I was a big fan of his but I wonder how things might have gone under Vitor Pereira? I expect we'd have conceded less goals... though with our defenders, you never know.
Mark Taylor
156
Posted 13/03/2022 at 18:17:02
Since we are now staring relegation in the face, it is sobering to consider what will be needed to avoid it. Forget the mythical 40 points (which we would never reach), 35 points is around the average and that would keep you up for the vast majority of Premier League years. Actually so poor are the teams around us that it might well be lower this year, 32-33 points.
That looks achievable on paper, 10-11 points from 12 games. The problem comes when you look at our form since early October. Take that as a trend, which given it represent 19 games or half a season, I think we have to, and we limp to 27 points and that will be us relegated.
The problem is we can no longer look at any game as a banker. We are adept at losing to anyone and everyone, no problem. I think we are reliant on others crashing even worse than us.
Ron Marr
157
Posted 13/03/2022 at 18:18:41
Haven't scored in 4 league games. More creativity is needed. Where is it going to come from?

Rob Dolby
158
Posted 13/03/2022 at 18:20:53
I get Lampard tried to match their formation but going a goal behind should have at least seen some sort of reaction but there wasn't one.
Kenny, Gordon and Richarlison look like they want to impact a game of footy. The rest don't look arsed. They look confused by what the manager wants them to do.
5 at the back means both full-backs have to provide quality. There is no quality from Mykolenko or Coleman. The 3 centre-backs have to be able to pass the ball forward; again, we didn't have anyone in the team that fits the description.
Lampard has to start paying 4-5-1; otherwise, we are doomed. It's basic stuff, work hard, win 2nd balls, win the midfield. I am fed up of watching us surrender midfield and losing.
At some point, this bunch of gobshites have to look like they want to win. Walking into the Park End, past the Lamborghinis and Ferraris, I wonder how many of the players are bothered by that performance today?

Roger Helm
159
Posted 13/03/2022 at 18:21:28
That was just as bad as I can remember any Everton team play. Richarlison and Gordon did their best but it seems like the team as a whole are resigned to their fate.
What else can you expect with the way the club is run? In the last few months alone, we have sold one of our best players in order to sign two fullbacks not good enough to be first pick, the slowest midfielder in England or Holland, and a has-been who looks lost on a football field.
Personally, I have resigned myself to relegation. I can't see skill motivation or spirit in this bunch of players.
George Carroll
160
Posted 13/03/2022 at 18:22:15
Like all Evertonians, I am worried sick that we will go down but, despite the worry, I still believe that we will survive.
The temptation is to lose belief in the players. Reading the comments today, if I was a player, I think I would phone in sick rather than face the abuse some fans are going to give them.
Come on, Blues, let's get behind them, show we love the team and drive them on to victory.
Ken Kneale
161
Posted 13/03/2022 at 18:26:57
Colin – absolutely.
We are now paying a heavy price for the personal virtue signalling Kenwright and what his meddlesome three decades at the club has wrought.
I cannot, much as I intensely dislike this current group of players, disassociate our present position with Kenwright's horrific running of the club.
Dave Lynch
162
Posted 13/03/2022 at 18:28:36
In the recent past, teams that have gone down are:
Aston Villa
Newcastle Utd
Leeds Utd
Crystal Palace
West Ham Utd
West Brom
Wolves and a host of others. You're never too big or have too rich a history to go down.
There are others like Nottingham Forest, Derby County and Birmingham City who, due to poor ownership and mismanagement, have never recovered.
God help us if we take the drop.
Ian Edwards
163
Posted 13/03/2022 at 18:32:38
Even if we beat Newcastle Utd, I can't see us getting enough points in other games. I only see potential wins at home to Brentford and Palace.
No goals in the last league 4 games. We need 2 up front or we are doomed.
Dave Lynch
164
Posted 13/03/2022 at 18:36:36
The one fixture coming up that terrifies me is the derby.
Imagine it... a spanking (which I'm sorry to say is inevitable) and our fate being all but sealed by that lot.
Ian Edwards
165
Posted 13/03/2022 at 18:36:45
Apart from the Leeds game, we have scored 4 league goals in 2022.
Matthew Williams
166
Posted 13/03/2022 at 18:36:46
My team for Thursday... 4-3-2-1:
Begovic
Patterson
Godfrey
Branthwaite
Mykolenko
Alli
Allan
Townsend
Gray
Gordon
Rondon
Any other formation or players, then we're fucked... just give it a fucking go, even if it ends up like an Ice Hockey scoreline... I don't fucking care... just fucking win it, you shithouses!
Ian Riley
167
Posted 13/03/2022 at 18:42:52
I have had that numbness feeling over the past few months that relegation is going to happen. Again, Mr Kenwright will be blamed but we all pleaded for the billionaire owner.
The owner changed the managers when we called for it as results were poor. Our expectations over reality has meant managers with poor tools got poor results. When we got Carlo to come, I thought it was a joke but he realised midtable was all he could achieve and left.
Recruitment by our Directors of Football has been dire. Our recruitment of players have been from bottom half league clubs in poor form or from less superior leagues around the world. None of our players have won anything of any note at previous clubs. Winners breed winners and have leadership qualities. Sadly, we have neither.
I do hope the board has a plan for relegation. It's real but not reality, yet. The Championship season needs a squad to cope with 60 matches plus. The manager must have Championship experience and be part of the recruitment of players. We will need more quality and fight in the squad. Financially we must sell players with real value.
Relegation is hard for any club but we must avoid sliding into League One. After today, I see nothing other than relegation as other teams are busting a gut to get positive results. Strange how fans thought our home matches would save us. We are playing teams with form and we have none. It doesn't add up. However, we are not dead!! We still have a chance and hope!!!
Matthew Williams
168
Posted 13/03/2022 at 18:44:16
I would have both Kilman and Podence at Goodison in a heartbeat too.
Real quality that just gets better, game after game.
Graham Mockford
169
Posted 13/03/2022 at 18:44:22
Looking ever more likely we backed the wrong horse in this fight.
He might have a great playing record but he did nowt at Derby, got sacked with a Champions League winning team at Chelsea.
Time to start planning for the Championship...
Andy Crooks
170
Posted 13/03/2022 at 18:44:26
Dreadful team selection and set up from a fairweather, totally uninspiring coach. Shameful performance from 8 of the starting 11.
However, we can survive. We need our coach and players to find the backbone shown against Man City. Let this be our lowest point.
Thursday is the day for the cowards to find some heart. A bit of luck, a shred of belief and onwards and upwards. We will survive.
Julian Exshaw
171
Posted 13/03/2022 at 18:46:22
Ouch, that hurt. It was as limp a performance at Goodison as I have seen for many a year. Just zero creativity. Richarlison, and to an extent Gordon and Pickford apart, they just couldn't get it going. Very worried.
Tony Abrahams
172
Posted 13/03/2022 at 18:46:57
The time for inquests must come later, even if it's very painful now. I'm disappointed with Lampard, but he doesn't really know these players, and they have already got much more experienced managers than him the sack.
I think a team that lacks creativity needs a focus point. I think a team that lacks creativity has got to stay compact but, yet again, I was despairing at a back five playing way too deep (the longer the game went on) which just made it ever so easy for Wolves to out-pass our two-man midfield.
Very frustrating. Van de Beek didn't hit a purposeful pass all game, although I suppose he did get back and put some great blocks in.
I was fuming early on watching today's game because the most cynical foul of the whole afternoon was definitely the one that sent Richarlison, sprawling off the pitch towards the advertising boards, and I knew that Oliver would book players for much less, the longer the game went on.
I thought we were already beaten by the time Jonjoe got sent off, but these little snide, despicable moments, show how much these referees lack genuine consistency, and are constantly making decisions that are turning me off the game of football nearly as much as Everton are right now.
Kieran Byrne
173
Posted 13/03/2022 at 18:48:01
Lampard has gotten the formation wrong, especially in the last 2 games. Wolves owned the midfield, that Neves is some player, he controlled the game. This is what we're missing but we'd rather spunk money on shite.
I really thought that we'd be able to score a hatful if goals with Calvert-Lewin, Gray, Richarlison, Gordon & others but something in the way we play, either a lack of confidence or just bad final balls, are killing us.
Absolutely massive game on Thursday. Hopefully Allan is back; drop fucking Coleman already and play Patterson. We need more speed throughout the team; hopefully Gray came through his hour okay.
Kim Vivian
174
Posted 13/03/2022 at 18:50:13
I might needto watch iy back but I don't remember Pickford having to make a save in the whole game. He had no chance with the goal which was down to defending and the Wolves goalie seemed far busier of the two.
So on reflection, sure, we we pretty toothless but the defense somehow seemed to keep them at arms length. We have managed just 7 goals in the league in 2022 (3 coming against Leeds) in 9 matches. Taking the Leeds tally out, that's 4 goals in about 500 minutes of Premier League football, including injury time.
Stating the obvious I know, but if we don't sort that out... well – we're done. I maintain that the defense, despite their limitations and need for improvement, are not the problem.
Paul Setter
175
Posted 13/03/2022 at 18:51:13
When Everton go down – not if... when, this club will be in so much trouble financially it will take years to recover. Spent so much on average players all commanding a huge salary each week.
Most of the squad will be sold but, being in the Championship, Everton certainly won't call the shots on the price.
The Championship is a ridiculous league to get out off and, judging by the lack of enthusiasm by the players now, I've seen nothing to suggest they will have the keenness to do well in that league either.
Certainly not too big to go down – Forest are proof of that.

Frank Kearns
176
Posted 13/03/2022 at 18:52:38
What do I care? I'm taking the piss feigning injuries, on a contract that protects me against relegation, and looking forward to easy days in The Championship. Why should I want to pull my tripes out?
Who gives a shit about history, supporters and TV Pundits? Just pay me the money, I'm untouchable.
Robert Tressell
177
Posted 13/03/2022 at 18:53:57
Sam Allardyce would play something along these lines:
Pickford
Holgate (RB)
Godfrey (LB)
Keane
Branthwaite
Allan
Doucoure
Van de Beek
Richarlison
Gray
Calvert-Lewin (if fit, Rondon if not – or possibly Richarlison up front and Townsend wide).
He would have us sit very deep and aim to score from set pieces or counter attacks.
Everyone has a clear role. We have decent physicality and can match up most other teams who play 3 in the middle.
It is boring and frustrating but such is life.
This is also why I thought Dyche was a good bet for us because I think he would have done similar and knows how to organise a defence and limited players.
Lampard is more glamorous (who isn't?) But he's also much less experienced.
Still take heart from the fact that 4 other teams are also pretty awful. We can stay up.
Steavey Buckley
178
Posted 13/03/2022 at 18:55:57
It is disappointing having a manager with an IQ over 150, who was a sublime attacking midfielder with West Ham and Chelsea with 179 premier league goals to his credit, who picks Everton teams that can't find the back of net for the past 4 games. Even worse, they don't look like scoring in the next 4 games.
So what has gone wrong with Frank Lampard? Is he waving the white flag already and is planning his life without Everton or with Everton in the Championship?
Ray Robinson
179
Posted 13/03/2022 at 18:59:05
Why wasn't Allan playing? He is one-paced but at least tries to go forward. Doucouré, Kenny (first half), Mykolenko (out of his depth) only passed sideways or backwards. We played 5 at the back but the wingbacks never went forwards.
The atmosphere as a result was subdued.
Peter Mills
180
Posted 13/03/2022 at 18:59:12
Given that we are not in the bottom 3, we have 12 games to play and have games in hand over those around us, there is no way I am accepting we are going down.
Most of the players are showing a lack of character, so we supporters have to hold our nerve.

Kunal Desai
181
Posted 13/03/2022 at 18:59:49
Ian #167,
I do hope the board has a plan for relegation'
They haven't had one in 30 years – what makes you think it will change in the Championship?
It won't matter, they probably won't be around in the Championship, there won't be any money in it for them to carry on. Hangers and sharks the lot of them.
Matthew Williams
182
Posted 13/03/2022 at 19:03:03
What sickened me most from today's shambles was hearing the home roar and ovation for our "Heroes" as they came on to the pitch?... sounded like we'd just played midweek and spanked a top team away from home in a Euro competition!.
Why not stoney fucking silence just for once eh Blues... maybe were culpable too by still loving these gobshites? Also add in the fact that the majority of my fellow Blues wanted Lampard as well (not me), maybe we're all to blame in some small way for this utter nightmare too!
John Reynolds
183
Posted 13/03/2022 at 19:03:34
When we were down to the 3-man managerial shortlist, I really hoped Lampard wouldn't get the job because I thought he was tactically naive.
The selections and formations he's played in the past couple of games have proved it's much much worse than that. Which still doesn't excuse the half-arsed performances of most of the players.
I don't see any way out of this. Barring a miracle, we're going down.
Clive Rogers
184
Posted 13/03/2022 at 19:04:57
Kim, 174, defense not the problem? We have let 47 goals in, nearly 2 per game and have only kept 2 blank sheets since the beginning of November. Every part of the pitch is a problem at present.
Kim Vivian
185
Posted 13/03/2022 at 19:05:14
I agree with Ray. I know he's not everyone's favourite but we could've done with Allan out there today. Doucouré seems to have much better games when Allan is alongside him as well.
Simon Harrison
186
Posted 13/03/2022 at 19:06:44
Jeezuz on the cross!
There are many Navy Blue tinted hypocrites on this site; and have been since the Brentford FA Cup game!
Frank was never going to be the Messiah; and I have openly been sceptical about him. Even more so after today's selection, tactics (?), and substitutions. But, read on...
Before anyone has a go, I'm not reaching for a tin hat, or a flak vest, because whatever happened to:
We must get behind the players!
We must give the manager time!
Whatever happens, whatever the results, we must stay positive and cheer the lads on!
Keep believing till we're down!
Make Goodison a bear-pit!
Well, I can understand the negativity on this thread, but getting down about it plays into the probability of us going down.
I hate to put words into George McKane's mouth, but we need many, many positive vibes to be sent out for every game between now and the end of the season!
By the Gods, we held Chelsea at The Bridge, when we played kids, and they weren't reeling from sanctions and an owner who has been disenfranchised! Why can't we nick three points off them at home?
If we want to stop the neighbours from winning the League, we have to send messages and thoughts (vibes) of positivism, and try and turn them over. Imagine saving our Premier League status by beating the RS across the park!
Please remain positive, forget trends, points totals, and until we can no longer stay in the Premier League (which won't be this season!) back the team to the hilt.
From a very, very positive Evertonian! COYB UTFT
Now the dreams: >Get the owner and the chairperson, to offer a £2M bonus per player to stay up.
Get a team of sports shrinks in to get inside the players heads and fix those demons in there.
Get Frank to forget about playing three at the back, play compact and play positively. Offer a team bonus for goals scored!
Get the players fitter, even at this stage of the season, and run the legs off the opposition...
The truth is, we have to survive in the Premier League, or we face a financial implosion, and a major problem even surviving in the Championship.
Please, do not accept relegation, fight it with every shred of will, with tooth, nail and claw, with every effort of sinew!
Never bend the knee to failure or despondency, shout, fight and rail against even the strongest of challenges, and you will overcome!
Fight like a Lion, or lay down like a lamb to the slaughter.
Whoever the manager selects, and how he selects them, get behind the players, as they are the only ones who can keep us up with our unrelenting hope and support!
Damian Wilde
187
Posted 13/03/2022 at 19:10:51
71. Richarlison MotM? Wow. He was lazy and a waste of space. Doucouré was all over the place. Kenny doesn't get anywhere near the first team for years and is now suddenly playing every week, staggering!!! The defence is woeful. The keeper's distribution, awful.
Today, it looked like we had no midfield. We had no shape, no pattern. Why is it when we attack, there is only one player in the box? I saw Forest playing Spurs recently. Every attack, six in the box. They won. We have no fluidity. The players were clueless, no confidence; just passed it back all the time.
The club is a shambles (stadium aside). I can't see where the points are coming from.
These players take home huge sums of money, they make me angry. They should give back their wages.
I loyally go every game, but I've nearly had enough. We've been crap for 6 years. Spend loads and get worse! For fuck's sake...
Sean Roe
188
Posted 13/03/2022 at 19:10:55
My team vs Newcastle:
Begovic
Godfrey
Gordon Gray
Richarlison
Danny Baily
189
Posted 13/03/2022 at 19:11:07
Dobbin, Davies, Branthwaite, Patterson, Onyango, Gordon, Simms, Townsend, Holgate, Coleman. These are the players who will hang around if we get relegated, which looks likely.
What worries me is how we get the rest off the books. How we are managed off the field will be pivotal in stopping the rot. The Championship isn't the floor...
All of this would make a great Netflix documentary for the neutral.
The fightback begins in August! Or Thursday if we pull off a miracle.
Alex Gray
190
Posted 13/03/2022 at 19:11:33
If we get relegated we're screwed. Our finances our already bleak and our wage bill would destroy us.
As for the complaints about the manager, what else can he do? When we were defensive, we were shite, and on the front foot, we're just as bad with a midfield that was outrun by Ruben Neves and the pensioner Moutinho. He had one day of the transfer window to sign two players and the players signed before him are dire.
I understand that Mykolenko will no doubt be distracted currently but I've not seen a positive performance from him yet and he's such a downgrade on Digne.
Digne was one of our top creators even though his form was in the gutter. Mykolenko doesn't create or defend currently. I don't blame him; I once again blame whoever signed two full-backs who arent ready to benefit the team.
Michael Connelly
191
Posted 13/03/2022 at 19:12:18
I'm sure Harry had a word in Frank's ear about Allan, judging by his comments after the Spurs game, but we missed him today.
No disgrace losing 1-0 to Wolves as they are a good side with quality players, unlike us. Today was not the day that sent us down.
At this stage, I am presuming we are getting relegated. 15 losses in 19 games, and no real sign of that improving.
Tony Abrahams
192
Posted 13/03/2022 at 19:13:42
A lot of sense in that post, Robert T. Some would play Gordon instead of Gray or Richarlison, but I'd actually try him in front of Allan and Doucoure (honestly!) because I think he has a lot more creativity than Van de Beek.
Anthony is still tiring in games, but I personally think he was the only Everton player, who would have fitted in playing for Wolves today (possibly Gray?) because he's got genuine quality on the ball.
If Dele Alli, still isn't doing enough to start a game for us six weeks after signing, there must be something really wrong with his attitude, because he's one of the very few players who can play a forward pass. I'd say playing forward is something we are failing very badly at right now.
Brent Stephens
193
Posted 13/03/2022 at 19:16:00
Matthew #182
"What sickened me most from today's shambles was hearing the home roar and ovation for our "Heroes" as they came on to the pitch?... Why not stoney fucking silence just for once, eh, Blues."
Never. Never. Once the players come out onto the pitch, it should be no less than 100% support. Vent your spleen after. But never, ever when they come on to the pitch or during a game.
John Raftery
194
Posted 13/03/2022 at 19:20:09
Frank needs to get a grip, and quickly. For now, he needs to forget about playing complicated attractive football with all manner of wayward formations.
The team needs to adopt a more attritional approach. That means keeping it tight in midfield, getting the ball forward early and crossing it into the penalty area quickly. Let's give the opposition something to think about and our own very limited players a few things less to think about!
Yours sincerely,
Sam Allardyce
Bill Fairfield
195
Posted 13/03/2022 at 19:22:17
This squad are unable to be coached to Premier League standard by anyone. Lampard just isn't getting through to this useless gang of serial losers.
No hope of staying up with players who just couldn't care less.
Ernie Baywood
196
Posted 13/03/2022 at 19:22:43
I suspect we've seen the last of Mykolenko. There's a story to come out there – on par with Kroldrup, Niasse, maybe even Ali Dia. It was evident on first viewing that he's not at this level – have you ever seen a professional full back who can't take a legal throw in? He also panics on the ball, can't cross, his heading is hilarious and one-on-one he looks terrified.
As for the rest, well feel free to chop and change but we're getting a similar bunch of low quality, low effort, low pride types.
Personally I'd play Keane. He's still the best we have at centre-back. Then push some youth into the team.
Pick a striker but play Richarlison from wide and deeper. He's always been better from deeper. And we can't create anything right now. He's fighting to get involved in games – so get him more involved.
The sad thing is that Tom Davies should be a sure selection right now. Drives forward and gives everything.
John Keating
197
Posted 13/03/2022 at 19:23:09
Peter,
Games in hand mean absolutely nothing when a team is in a rut and showing not one iota of getting out of it. Points on the board mean everything with teams who have a bit of fight and managers who have been there and done it.
Supporters have no control at the end of the day. Regardless of what supporters do ultimately it's the wasters on the pitch that get the results. Holding our nerve won't get us points.
I admire your optimism but have a look at our remaining games
Jay Harris
198
Posted 13/03/2022 at 19:23:10
The current fayre is similar to Silva's tenure who also overestimated the players. Carlo very quickly sussed out where the problem was and announced he was not a magician. Upon finding out we had no money for recruits due to FFP, he quickly jumped ship.
By the time Frank learns the limitations of these players to adapt tactics or put a shift in, it will be too late.
John Boon
199
Posted 13/03/2022 at 19:24:45
As much as I disliked what I witnessed today, basically a lack of effort and commitment. I do not include Pickford, Gordon or Richarlison. However for all those who have basically given up, you are doing everything that the players did today. Quit.
We are more Evertonian than any of the players on the field today. We can never give up. It is very hard to see our great club going down Hill. But,"Once a Blue, always a Blue".
Joe McMahon
200
Posted 13/03/2022 at 19:28:28
Grim, ain't it, Wolves have 24 points more than Everton. Like many, I cannot see us avoiding the drop, even Watford have goals in them.
Not sure what the future holds. The Everton Family with Sharp, Unsworth and Dunc, are they gonna piss off now? And please Bill too.
I assume The People's Club crap on the stands at Woodison will be taken down.
I feel we have paid the price for not landing a proven goalscoring striker, and should have moved the earth for Vardy instead of blasting £90 million on Pickford, Sigurdsson and Keane, oh and Rooney's £160k-a-week wages.
It's all too late now and huh – well, you can see why Cazoo wanted to dump Everton... wish we bloody could.
James Newcombe
201
Posted 13/03/2022 at 19:30:38
Why set up so defensive? We're not creating anything with that shape. I'd rather go down swinging!
Brian Murray
202
Posted 13/03/2022 at 19:35:43
Just heard Holgate say it is what it is and it was better than the Spurs game. Arrogant twat.
Chris Leyland
203
Posted 13/03/2022 at 19:38:28
I've had a couple of hours to calm down after getting back from that shit shown. There was nothing, absolutely nothing from that performance today that makes me believe that we will pick up the necessary points to survive.
The whole set-up is disjointed. The midfield today was non-existent. Where is the drive from Doucoure? His instinct now, once he's actually managed to get the ball under control, is to turn back on himself and lay it off to one of the central defenders who in turn will play it square of back to Pickford to hoof up in the forlorn hope that Richarlison might win a header against a bloke 6 inches taller than him.
We had 3 full-backs playing today, none of whom are good enough. I actually feel sport for Coleman as he's clearly past it and shouldn't be picked every week. Kenny simply isn't good enough and Mykolenko doesn't look up to the Premier League.
The needless free-kicks we give away outside our box and the full-backs inability to stop a cross cost is game after game and did so again today.
Why Allan wasn't playing in centre mid today is beyond me. He isn't a world-beater but he puts a shift in and at least tries to go forward.
I'll be there again Thursday putting myself through hell but I doubt that the players have the guile or guts to get us out of this mess
and Lampard lacks the experience or know-how for a relegation fight.
Steve Carse
204
Posted 13/03/2022 at 19:47:06
In what was a poor-quality field to select a manager from both in the summer and then in January, Lampard was my choice in both instances. But I have to confess that, in the last few weeks, his team formations and tactics have been a worrying disappointment. The attendant poor team performances would suggest that a significant portion of the blame has to go down to the manager as well as the players.
Interestingly, in an interview I read several weeks back Lampard stated that one area where he could fault himself in his previous management jobs was in not sticking with his personal judgements on tactics and players; rather he would often default to compromise with the views of his assistant managers and coaches. It seems to me that he has not changed in this regard, since the way his sides are playing appear to reflect a mish-mash of styles and thinking.
It's not working, Frank. So clear your head, determine what's going to be your approach to this last third of the season, drill your players to play in line with your decision – and keep your fingers crossed.
Danny Baily
205
Posted 13/03/2022 at 19:54:29
Ernie 196, great point. We can justifiably sideline Mykolenko from matchday squads from now on.
Ernie Baywood
206
Posted 13/03/2022 at 19:56:15
Bookies have Leeds as more favourited for the drop ahead of us. Have they seen our fixtures relative to each other?
I'm convinced it's madness. Games in hand don't matter – there's no chance we get 4 points from our three games in hand and then do better than them in the rest.
Do we even have the squad for the three extra games? Plus a cup game.
So for me it's all about Watford. They have four massive home games that will decide things.
I honestly think we're down. I can't see us going to Watford and winning. It will be a bear pit and we just can't rise for it.
Alan McGuffog
207
Posted 13/03/2022 at 20:05:41
Is it too late to get big Sam back? Because Lampard can't get a tune out of this shower of shite.
Mike Gwyer
208
Posted 13/03/2022 at 20:10:11
I think it's pointless banging on about Lampard.
These players have fucked off 5, actually it could even be 6 managers. These players are not good enough or proud enough to play football for this club. Instead, they are prepared to sit back and watch the manager take all the blame. They go out and play their crab football and pass the buck to some other fucker. Fucking shithouses.
Ian Edwards
209
Posted 13/03/2022 at 20:12:19
Chris @203.
Doucoure goes backwards or sideways because there is no option in space ahead of him. We play one up front; if he's marked, we are stuffed.
Dale Self
210
Posted 13/03/2022 at 20:13:08
Ernie196 and Danny 205,
check the Live Forum – everyone was shocked and disappointed when they thought Frank took Mykokolenko off at half-time. Other matters aren't affecting your opinions are they?
Phil Smith
211
Posted 13/03/2022 at 20:16:16
Central midfield is still the problem. Allan was badly missed today. Was he injured or did Frank feel he needed a break after the Spurs game?
Doucouré is not a defensive midfielder. He's better bombing on. His confidence looks shot and has looked off it the last few games. We have no playmaker in the middle. Even Brentford have Christian Eriksen, for fuck's sake.
Donny van de Beek is starting to show me why he couldn't get a game for Man Utd. Offered nothing today.
Put Iwobi or El Ghazi there. Can't do any worse than Alli and Van de Beek at the moment. At least Dele tried to get forward but he does look like a shadow of his former self.
Loose against Newcastle and we're fucked. Next games following that are West Ham, Man Utd, Liverpool, Chelsea and then Leicester away, before Brentford at home and The Gooners away. We will probably lose all of them except Brentford at home.
There are the 4 other games to get squeezed in there too and the FA Cup. Loose against Newcastle and we're down though. Simple.
Mark Ryan
212
Posted 13/03/2022 at 20:19:24
Mykolenko looks useless. Holgate still shite. Missed Allan. Doucouré needs to learn which direction the opposition goal is and pass towards it.
We need to play a front man and not lead the line with Richarlison. Gray is back to being where he was when he was at Leicester, shite. I'm told he has off field issues.
Townshend is back to where he was when he was at Palace, shite. We looked appalling. We looked nervous.
Why post this shite. No idea. Made me feel slightly less angry. Not Lampard's fault. Our squad is full of crap, ageing players.
Tony Mace
213
Posted 13/03/2022 at 20:21:21
Sideways, sideways, back, back, Pickford lump it aimlessly forward.
Sideways, sideways, back, back, Pickford lump it aimlessly forward.
Repeat, repeat, repeat.
Unless you are Doucoure who cuts out the sideways bit.
Moronic, pathetic shit.
Nil Satis Nisi Championship.
Matthew Williams
214
Posted 13/03/2022 at 20:22:39
Brent #193,
You're 💯% correct in what you say, but please remember my words on the final day of the season if or when the unthinkable happens, okay?
Chris Leyland
215
Posted 13/03/2022 at 20:23:59
Ian 208,
True to an extent but Doucouré looks shot of confidence to me. He didn't show for the ball on so many occasions which meant that Holgate just hoofed it.
At least Allan shows for it from the defenders and turns and tries to go forward. It's a mystery to me why he didn't play today.
Stuart Sharp
216
Posted 13/03/2022 at 20:33:24
Ian #208,
Not sure I agree... I thought it was the worst performance I've seen from Doucouré. He just didn't look like he had a clue what he was doing.
Okay, there were few options with some little movement, but he was hopeless. The game passed him by, and Van de Beek wasn't much better.
We didn't defend particularly badly... the game was lost in midfield. Neves was excellent. Our midfield was absent.
Ian Edwards
217
Posted 13/03/2022 at 20:36:13
Chris @215, Stuart @216.
We aren't creating chances. One up front is killing us. Especially at home.
Will Mabon
218
Posted 13/03/2022 at 20:40:58
It's not so long ago that the one up front thing was the accepted default tactic of poor, lower in the table teams. Oh, wait...
Peter Mills
219
Posted 13/03/2022 at 20:42:08
John #197,
You always post sensibly and yes, of course, we are in a position we do not want to be.
But we have a better points-per-game ratio than our immediate rivals, and there is approximately 30% of the season left.
Those rivals will also face tough games. We have to keep the support going. It is less optimism on my part, more a call to arms.
We have seen before that an unexpected catalyst can bring unexpected results. The manager has to grasp that concept.
For example, despite his generally awful career with us so far, I felt Rondon's physical presence would have helped us in the last 30 minutes today, it would have given Wolves something to worry about.
Now is no time to surrender.
Gary Lomas
220
Posted 13/03/2022 at 20:42:29
This spineless bunch will get us relegated no doubt. I don't know who to blame anymore... previous managers, current manager, players, the board... or all of them?
I've never felt so low in my 54 years supporting the Blues.
Brent Stephens
221
Posted 13/03/2022 at 20:43:02
Lost count of the number of times the ball was passed out of defence to Doucouré who had his back to three men closing in on him. Brain-dead tactics.
Alec Gaston
222
Posted 13/03/2022 at 20:47:06
Reserve the boos for the end of the season – we are the only difference now between up or down.
Tony Everan
223
Posted 13/03/2022 at 20:49:24
Robert 177. Big Sam or no big Sam, that team you have selected would get points. The team selected for today I couldn't come to terms with from the first glimpse of it. To be honest, I am not too surprised at the outcome.
I am more concerned than you are as we don't look like scoring many (any) goals and that means you don't win matches.
The exchange markets still think we'll stay up with Norwich, Watford and Burnley favourites to descend . Us and Leeds are just over 2/1.
Ian Riley
224
Posted 13/03/2022 at 20:50:04
No!! It's not too late to ask big Sam to come in and support Frank. When we sacked Rafa, we done it to halt the slide.
What do we do? Appoint a young inexperienced manager with zero experience of a relegation battle! Unbelievable!!!
Stuart Sharp
225
Posted 13/03/2022 at 20:51:44
Well, I certainly agree that we aren't creating chances. The second half was just awful. But I think that's at least as much to do with the lack of confidence and quality in midfield as it is playing 1 up front. No movement, horrendous passing, too scared to show for the ball.
Also, I'd pick Allan every week. Yes, he's inconsistent and not as good as we'd hoped... but we don't have a replacement. Nobody else can do that job.
Bobby Thomas
226
Posted 13/03/2022 at 20:54:09
I don't think Frank knows how to get a tune out of them.
Neil Copeland
227
Posted 13/03/2022 at 20:56:30
Alec #222, spot on.
I thought the support was quiet today and that had an impact, particularly in the second half. It's difficult I know but if we can't raise our game as supporters, then we have no chance.
The atmosphere in the stadium against Brentford in the cup, Leeds and Man City was streets ahead of today and look at the difference in performance.
If we truly care about Everton and want to keep them in the Premier League, we need to show it at every game. Save the inquest for the summer when we have time to rebuild (again).
Geoff Williams
228
Posted 13/03/2022 at 20:58:12
I thought he might be the right man for the job but it is becoming plain to see Lampard doesn't have the necessary skills to turn things around.
Daniel A Johnson
230
Posted 13/03/2022 at 21:01:26
I've been a supporter for 47 years and I can't ever ever remember feeling so bleak and worried for the plight of our club on and off the field. It feels like the beginning of the end.
Ken Kneale
231
Posted 13/03/2022 at 21:05:57
Peter – I am with you totally in sentiment – any inquest should be at season's end, and our home support is vital but our points-per-game total is completely skewed by the early season games – take this away and we are less well off than immediate rivals.
Since the start of the season, we have weakened the squad with players going, brought in a full-back (possibly two) who looks that position's equivalent of Bernie Wright or Brett Angell, and our centre-forward has returned to his pre-Ancelotti playing style – that is when he is on the pitch.
Kieran posed the question earlier in the week to ask if this was worse than 1998 – sadly I am taking the view it is if only on the basis we had what we had then.
Currently we have far more players, many on extravagant salaries for the level of performance but none seem capable of being selected by the manager to get anything resembling a cohesive footballing unit.
Danny Baily
232
Posted 13/03/2022 at 21:10:24
If there are any levers left to pul,l then we should at least consider them. Nothing should be off the table.
These are desperate times. We're looking at years in the wilderness and will kick ourselves if we don't try everything we can now to save the club.
Danny Broderick
233
Posted 13/03/2022 at 21:11:27
We've simply got to shore the team up. It has to be 4-5-1 – we are not good enough in defence to play 3-4-3. I don't know why some people are saying we played 1 up front today. It was clearly 3-4-3…
My team for Newcastle would be:
Pickford
Coleman Holgate Keane Godfrey
Gordon Allan Doucouré Alli Gray
Richarlison
Some of our team are way out of form. The only way they will ever get some form back is to go back to basics and play them in positions they are comfortable playing. An expansive 3-4-3 formation is not going to get the best out of Keane, Coleman etc.
We are now desperate. The players are bickering on the pitch. The fans have had enough of the players. It's gone toxic again. We desperately need the likes of Mina, Allan and Calvert-Lewin back fit and on form. We need a goal. We need something to hang onto. This is every bit as bad as '94 and '98…
Matt Byrne
234
Posted 13/03/2022 at 21:12:23
Well said, Alec and Neil.
We were awful today. The players looked like they were running in treacle. No tempo or energy with the players' heads always down, with the exception of Gordon who never stopped trying.
The crowd was very quiet and flat throughout which was a major concern. We know many of these players are millionaire frauds who don't give a damn about Everton. However we need to raise the roof once more not for them but for the future of Everton Football club. 9 times champions of England, 13 times FA Cup finalists and more top seasons and matches than any other club.
We face the abyss and a future akin to what happened to Sunderland and Sheffield Wednesday. Each man, woman and child must rally for the club in each home game and hope it gets enough of a response from the shameless players to keep our heads above water. COYB.
Mike Doyle
235
Posted 13/03/2022 at 21:13:21
Robert #177,
From the poor options available, your team would seem a decent option for Thursday.
We need at least one of Keane or Branthwaite to try and counter Burn – their giant centre-half. He scored against us for Brighton and is a big threat.
I fear for us if Saint-Maximin is available for The Barcodes. We can't put Coleman up against him again.
Will Mabon
236
Posted 13/03/2022 at 21:15:21
Daniel, I agree.
Even back in the '90s when we were potentially hours away from relegation I never really felt it would happen. Maybe I was more positive or naive or hopeful then.
This feels different. During today's game, my outlook changed. I hope I'm wrong, and will still look forward to Thursday.
Then there's the other stuff.
Barry Hesketh
237
Posted 13/03/2022 at 21:21:22
I think people criticising the support today are missing quite a few salient points: the terrible stuff happening in Ukraine, the even higher bills people face in the coming months and years, the financial plight of 'our' club following the removal of its main sponsors and sailing close to the wind with profit and sustainablity issues, the realisation just before kick-off about the line-up, missing important if not actual world-beaters... Also, 2 pm on a Sunday is hardly the best of times to attend a game for a variety of reasons.
Many of the fans in the ground today had witnessed the debacle at White Hart Lane in the flesh or on TV and therefore it was imperitave that the players – you know, those guys who are ultimately responsible for the actual results – put in a good shift today, to give the crowd a boost. They failed to do that and rightly got a negative response at the final whistle.
Many of the fans who attended Monday night's debacle will have purchased tickets for the cup-tie at Crystal Palace, prior to today's game and will continue to attend future away games, what more do people require from the 'faithful'?
Dave Williams
238
Posted 13/03/2022 at 21:25:10
Barry,
I think we all understand why the crowd was quiet and they are justifiably so. The point is that, whilst some players appear to have given up, the fans cannot do so.
If we create a real Goodson atmosphere, it can only help our plight. We cannot afford to be subdued – there's time at the end of the season for that!
Alan McGuffog
239
Posted 13/03/2022 at 21:26:38
Peter... you're quite right correct. Now is not the time to surrender. We did that months ago.
I dislike this squad with an intensity I wouldn't have thought possible in my 60 years supporting this club.
I would be happy to see every man Jack of them cast into the wilderness.
Ian Edwards
240
Posted 13/03/2022 at 21:27:07
Danny @233,
It played out like 1 up front.
Micheal Lynch
241
Posted 13/03/2022 at 21:27:20
I remember watching the analysis on Sky Sports of Lampard's last game in charge of Chelsea. Can't remember the opposition but the pundits were pointing out how the Chelsea players were not tracking runners. Basically saying that Frank was making them accountable.
How our board thought he was the right man for a relegation scrap is beyond me. Ferguson, whatever people may think, would make them work.
Danny O'Neill
242
Posted 13/03/2022 at 21:27:55
Almost home after a very long day. Still too upset to comment with any kind of logic, but we basically had no midfield so an average, but well organised Wolves team controlled the game with little effort.
Only 3 players looked like they gave a shit; Richarlison, Gordon and Pickford. Okay Kenny, but he lost it.
Forget the scoreline, that was worse than Tottenham last Monday.
Neil Copeland
244
Posted 13/03/2022 at 21:28:24
Barry #237,
If we all sit quietly and wait for the players to raise their game before we raise ours, we will be relegated. We are in dire straits and need to do whatever we can to put some fire into the players.

Tony Abrahams
245
Posted 13/03/2022 at 21:31:16
I don't think anyone is criticizing the supporters, just voicing their thoughts, that these very weak-minded players are not going to take anything good out of being booed off the pitch once again.
It's hard to see anything that we can identify with, whilst watching this Everton team. But it's our club, most of us will still be here when they've long gone, and this is the only good reason I can give for getting behind these inept millionaires.
Will Mabon
246
Posted 13/03/2022 at 21:32:17
Neil, I'd also suggest anyone in the lower stands hop over the barriers onto the pitch and join in.
Neil Copeland
247
Posted 13/03/2022 at 21:35:49
Will #246, I'm surprised it's not already happened. We would probably win!
Dave Abrahams
248
Posted 13/03/2022 at 21:40:42
Neil (244),
I understand your sentiments along with a few more genuine, long-suffering Evertonians but we're not stupid – we can't cheer hopelessness and that was what we were today.
It runs deep and hurts to watch, like looking at a very good friend in pain and you can't do anything to help them but can't leave them.
So we'll come back on Thursday hoping they've improved.
Paul Hewitt
249
Posted 13/03/2022 at 21:40:47
These players actually don't give a shit, they have given up, relegation has been accepted. Cowardly spineless good-for-nothing waste of space, the lot of them. The only good point of relegation is most will be sold.
Neil Copeland
250
Posted 13/03/2022 at 21:43:23
Dave #248,
I understand that as much as most... but I want to try and make sure we do whatever we can to stay up.
Martin Mason
251
Posted 13/03/2022 at 21:46:04
Relegation would be very dangerous but it's almost certainly the only way that we'll ever solve the structural and serious problems at the club.
First, it will allow us to clear the dross out at playing staff, coaching staff and management. We can play at a level where expectations and pressure will not stop us introducing young talent and give us a base from which to grow organically and with a much smaller squad and coaching and management staff.
It may teach them to understand Quality – a concept which nobody at the club seems to understand. Our quality in manager and player selection and in how the club is run has been laughable.
Pat Kelly
252
Posted 13/03/2022 at 21:49:31
I despise Ancelotti for doing a runner but he knew how to organise a team. He wouldn't have brought us down. But Lampard will. He doesn't have the tactical nous to set up a team to get a result or make adjustments to counter the opposition.
Whatever chance a managerial change might have given us, like Howe at Newcastle, has been wasted. Lampard won't last a season in the Championship.
Barry Hesketh
253
Posted 13/03/2022 at 21:50:26
I'm an advocate of supporting the blue shirts as much as the next person, but we are human too, we care, possibly too much.
The players got the support against Man City, but were never really going to win the game. They could, with a touch of luck, have gained a draw at best.
Against an equally weak-minded Leeds and an off colour Brentford, the crowd supported the players' efforts and they played both games on the front foot. Today was a complete contrast to those games on and off the park.
40k screaming Evertonians won't prevent poor passing, lack of guts or increase the shots-on-goals ratio. Only the manager and his staff can call on the players' personal pride to put some fire in their bellies. If the fans see that, they will react positively; if the players lay down and play safety football, the fans will react negatively to that.
The average age of many attending the matches at Goodison is probably circa 50 plus, which means that most of them have witnessed many things from Everton, but never a group of players who relied soley upon the crowd to dictate how they go about their business.
There are plenty of opportunities for this group of players to get us out of this mess. Wins against Newcastle, Burnley, Watford and Brentford and that will possibly be enough to assure safety. But given the form and results of the last 20 or so games, that seems unlikely. Even a point from every match between now and the end of the season might prove enough, but again the last few months would seem to indicate that won't happen either.
It's never over until the final whistle of the final game but I can't see any sort of useful run happening with this group, with or without the fanatical support of the fans.

Danny O'Neill
254
Posted 13/03/2022 at 21:52:50
From where I was sat today, the supporters definitely done their part. In terms of encouragement, passion and, when necessary, urging them to get a grip of the game.
Sorry to single players out, but that was the worst I've seen Doucouré play for Everton
Alec Gaston
255
Posted 13/03/2022 at 22:11:00
I understand the frustration, but if you want insight into the effect of fans, read Neville Southall's tweet. Fans can and will be the difference and I think he is a credible source and someone who would know – COYB
Tony Abrahams
256
Posted 13/03/2022 at 22:12:35
And loads of Chinese whispers regarding Calvert-Lewin...
Mike Price
257
Posted 13/03/2022 at 22:13:09
I would honestly be happy to hear Lampard had resigned and Sam Allardyce had come in until the end of the season. He offered himself for 6 months in January but, because of our hostile reaction to him, there was no way Moshiri would sanction that after the Benitez debacle.
I've thought we were the worst squad I've ever seen, even when we won a few games early, we've a lot of very overrated players. I didn't think we'd get relegated though, until the Watford game.
It looks like the Lampard gamble is one gamble too far. Hopefully the new owners will pick us up for an absolute steal and eventually get us out of the Championship, build the stadium (doubtful) and slowly rebuild the sleeping giant.
Brent Stephens
258
Posted 13/03/2022 at 22:15:34
Tony #256,
"And loads of Chinese whispers regarding Calvert-Lewin".
Tony, spill! xiexie ni.
Neil Copeland
259
Posted 13/03/2022 at 22:15:35
Tony #256, spill the beans, what whispers?
Brent, beat me to it!
Ray Smith
260
Posted 13/03/2022 at 22:18:11
9 points from the last 20 games!
2 wins, 3 draws, 15 defeats, that is relegation form pure and simple.
Newcastle will not be easy, and today's performance has relegation written all over it.
I'd be willing to lose to Palace in the cup, and knuckle down to survival.
I'll never stop being an Evertonian, but this has to be the worst situation we have been in since I attended my first match in 1964!!!
When we last stayed up on goal difference, they had fight in them! I'm not sure the current crop have the same commitment.
God forbid we go down... some will leave, and the hangers on will stay, as their contracts do not contain a relegation clause in respect of their salaries! Well done, Kenwright et al, another own-goal.
It is (just) still in our own hands, but why are we relying on other teams to get us out of the mire with 12 games to go???
Mike Price
261
Posted 13/03/2022 at 22:29:02
Whoever scouted and sanctioned the Mykolenko signing, even if he was free and not another £15 million millstone, should be sacked immediately.
Brands had left so, even if he recommended him, someone else allowed it to happen. We could have got Dan Burns and some old stager like Cahill to come in and immediately transform the group for less than his cost and he is shockingly bad I'm afraid; he was before the recent atrocities in Ukraine too.
The other players aren't stupid, Gordon must be looking at him – he's probably on triple his wages – and must be massively disillusioned.
The last few years will be a case study of overwhelming incompetence and what could go wrong, did go wrong.
Robert Williams
262
Posted 13/03/2022 at 22:30:36
Go back 3 years, before the Covid outbreak, and I said it then, when I didn't renew my Season Ticket. The writing was on the wall that this club was heading for the Championship. Ah well!!
Brendan McLaughlin
263
Posted 13/03/2022 at 22:40:35
And breathe... we are going down.
Leeds are 4 points ahead of us and, despite our games in hand, I expect them to pull further away as the season concludes.
We're in a dogfight with Watford for the final relegation spot and if you look at the remaining games for both teams, Watford have a much more benign run-in.
Bill Gall
264
Posted 13/03/2022 at 22:45:19
The most depressing realization from today's performance is you cant honestly see any improvements from the squad we have. We may have to go to a 5-4-1 with who we have, just to try to squeeze a point.
And those supporters who have criticized Allan, I hope they noticed that without him we had no-one protecting the midfield that Wolves exploited.
I am not sure what goes on at Finch Farm but Wolves players had no problem passing to their players who always seemed to find space, and Everton players quite a number of times seemed to pass to players that were marked.
I always prefer reading remarks from supporters who were present at the game because they have a better overall view than myself watching on TV, and when their views are the same as mine, I realize the trouble we are in.
Andrew Hight
265
Posted 13/03/2022 at 23:04:08
Wolves Number 8 ran the show. Our dreadful midfield could not get near him.
I watched from the Gwladys Street end and he just got moving and looking to get in space whereas ours just stood like statues, absolute different class. You could say the same about their Numbers 9 & 10.
Doucoure had one of the worst midfield performances I have seen in a blue shirt, Van de Beek wasn't far behind. Full-back non-existent as is the norm these days.
I can't see how we avoid relegation, I think we only had 1 shot on target.
Pete Clarke
266
Posted 13/03/2022 at 23:08:54
Clinging on for hope but it's beat Newcastle or bust.
I think we are paying the price for not demanding the resignation of Bill Kenwright many years ago. He has single-handedly destroyed this club with his wish to remain in some sort of control.
Back to the football side of things, but I see no game-changers in that team whatsoever. In fact, as much as I think Wolves play lovely joined-up footy; if that had been a more ruthless opposition today, we would have been belted for 5 again.
Amazing to think that Wolves lost their manager along with some top players and look at them now!
We don't play as a team and we play with fear. We are scared of the ball and Wolves weathered the early pressure to suss us out and take control very easily.
Newcastle will do the same unless we show some control in the midfield. Once you lose that area, then you're fucked... so Frank has one last try at this before we accept our fate.

Paul Birmingham
267
Posted 13/03/2022 at 23:15:28
Peter @219, 100% spot on.
The club is in a very bad, mess, on and off the park, in terms of supporters, but this first team squad is arguably the most spineless and gutless in Everton's history.
Every Evertonian must stand up and fight and make the difference. The storm clouds, and the naysayers and vultures are always there, but the next game counts.
This week, Frank and his coaches must get a result. I hope that there's more punch and purpose on Thursday. I hope that at last Everton can get the win on Thursday, and get that Dunkirk spirit for the battles ahead.
Beat the Skunks, Watford, Burnley, Palace, Man Utd, West Ham, and Leicester, but I see these as the best chances of winning in the remaining games.
The worry is the total loss of confidence in front of goal, and total frustration at the way certain players are permanently injured – the crap house Delph, in my view, the biggest waste of space amongst a massive list of such ilk in modern times at Everton.
Then the enigma, or is it that Calvert-Lewin has already jumped ship?
Close to the bone, but if the club can't be honest about a player's injury then, that can.
I pity Frank, but with his coaching team they must get a recovery plan, and he must instill every player in the squad, to be a leader on the pitch for the remaining games.
Please keep Gomes and Delph out the frame – both are cowards and have taken the proverbial with the club.
Then that goes into another massive issue on recruitment, and the corner shop mentality of Everton FC in the transfer market.
Sick to the back teeth but immune to the RS goading, the Everton first team must try and get them tea bags they had for the Man City game 2 weeks ago.
They've lost their desire and appetite to look after the ball and, in my view, are taking the craphouse way out in trying to show they care, by making reckless tackles, and pointless passes on the park.
I'm upbeat for the Skunks, and I hope Frank gets the team right on Thursday to get the victory Everton need to hang on to the ropes of survival.
Danny Baily
268
Posted 13/03/2022 at 23:21:01
Pete 266, we were widely regarded as a well run club with Bill in charge. We can't lay the blame for this mess at his door.
Paul Birmingham
269
Posted 13/03/2022 at 23:23:08
Above! I meant to say that can't be good.
Kieran Kinsella
270
Posted 13/03/2022 at 23:35:41
The players want to be relegated and have already decided upon it. Richarlison, Calvert-Lewin, Doucouré, Gomes – the big time Charlies who think they're better than they are – know a fire sale will see them go for less if we are in the Football League.
Keane, Holgate, Davies etc know they are on their last professional contracts so want an easy life out of the spotlight. Van de Beek doesn't want to risk injury so he doesn't care.
The only players still playing are Gordon, Gray, Coleman, Kenny and Pickford.
Brendan McLaughlin
271
Posted 13/03/2022 at 23:45:28
Bollocks, Kieran #270,
It'll hurt.
John Raftery
272
Posted 13/03/2022 at 23:57:25
Kieran (270),
I would not include Richarlison in any list of players failing to give their best effort. He can be criticised for failing to score but not for want of trying.
Davies and Holgate are only in their mid-twenties. They are not on their last professional contracts.
Kieran Kinsella
273
Posted 13/03/2022 at 00:00:32
John,
I realize their age but cannot imagine anyone paying them again to play professional football.
Nicholas Ryan
274
Posted 13/03/2022 at 00:01:35
To those who have given up, and think we are already relegated, I commend the lines of poet Dylan Thomas, to his dying Father:
"Do not go gentle into that good night... but Rage and Rage and Rage, against the dying of the light."
Larry O'Hara
275
Posted 14/03/2022 at 00:11:16
I agree with Nicholas (274), we should not give up till it's over. And while I think he should be more defensive minded away, I like Lampard and what he is trying to do.
Hang on by the skin of our teeth... then a summer clear out. But please keep Richarlison: as for Calvert-Lewin, if he wants to sod off to Arsenal, let him: for £75M that Frank can use.
Don Alexander
276
Posted 13/03/2022 at 00:14:16
I watch all the other crap teams in relegation shit, having spent nowhere near what we have in the past 6 years and also having had nowhere near the number of managers we've had courtesy of the Gruesome Twosome who own and operate, respectively, our club, but I can't see one of them being so athletically inferior to our lot. We're rank on pace, body-mass, energy and psychology, period.
It's been the case for years. We signed Bolasie because he hugely tore us a new one in consecutive seasons but the fact is he didn't rip a new one for any other opponent over that time. The reason for that is we were even then rank in terms of pace, body-mass, energy and psychology.
Hundreds of £millions, six'ish managers, and ever decreasing success in the Premier League later, some people might at last start to ask, as I always have, if the those constantly in the heart of the club, off the pitch, throughout such a dismal time deserve to be there still.
Anyone saying "yes" presumably "gets" Everton in the same way as our bogus chairman, and his ex-player acolytes, have always baselessly claimed, whilst our fate gets ever grimmer.
Sad, and bizarre.
Kieran Kinsella
277
Posted 14/03/2022 at 00:14:43
Nicholas and Larry,
You realize fans can't "give up" as we are merely spectators and have zero control over the players who've actually given up due to mental frailty, match fixing etc.
Larry O'Hara
278
Posted 14/03/2022 at 00:23:47
Kieran,
Yes, you are right about minimal influence: I am referring to our mindset approaching the games. I don't think all the players have given up either.
Soren Moyer
279
Posted 14/03/2022 at 00:27:28
I can't believe that a few on another thread are wondering why Jonjoe Kenny hasn't been offered a contract extension!!!?
Pete Clarke
280
Posted 14/03/2022 at 00:29:52
Everton in the Community is well run, which is a lovely gesture but Everton on the pitch is as poorly run as you could imagine.
It's going to take a long time for Frank Lampard (if he sticks around) to put this club back on a level playing field because, right now, all we have is a mishmash of bang-average players who seem to be beyond coaching.
The players are not only average but they are scared, gutless and of little intelligence to know how to change things themselves.
I don't believe in miracles but, if we survive the drop this season, I'll change my mind.
Derek Thomas
281
Posted 14/03/2022 at 00:35:44
I hope there isn't anybody who is still labouring under the misapprehension that we are in a false position and it will all come right... maybe with a bit of squeaky bum time thrown in? ​It probably won't!
The table doesn't often lie, though it can sometimes mislead – ​but not in this case. Because it if did lie and was in error, 19 times out of 20, at home, we would... probably after some huffing and puffing, see Wolves off.
One half decent cross, an opposition player willing to attack the ball (Vs defenders who aren't) we're a goal down.
Now Wolves are a decent technical side, but after the goal we made them look like Peps Barca of yore or Man City in full flow.
Newcastle is probably the last chance we have of keeping it all in our own hands...if it isn't already too late. After that,we're depending on other results, some luck, or a fluke.
We're holding out for an unlikely Hero of Trebilcock / Barry Horne / Farrelly-esque proportions. That's 3 in 56 years... not very many.
Kieran Kinsella
282
Posted 14/03/2022 at 00:39:56
Pete
There was a comedian called Darren Hinds who not long ago claimed City wanted Holgate and Calvert-Lewin, Holgate and Tom were worth £150 million. Same prankster said Carlo was cowardly and if we went all out attack we'd be great.
Also worth noting the much maligned John Oster and Co hit the 40 point mark. Meanwhile, these jokers are on track to hit less than 30.
Mike Price
283
Posted 14/03/2022 at 00:40:41
Don #276,
Bang on comments; we are absolute suckers, the most pathetically run club in decades, only made worse by the fact Liverpool are run fantastically efficiently.I've been screaming for years to get some power, pace and character into this squad.
We are in the perfect storm of shocking recruitment, management, world events, injuries, VAR and refereeing bias, playing teams at the 'wrong time' and a squad that doesn't seem to connect or like each other.
Steve Brown
284
Posted 14/03/2022 at 00:56:48
Ian @ 99, we have 12 games left not 8.

Pete Clarke
285
Posted 14/03/2022 at 01:01:51
If this current bunch of tossers played the tossers from '94, then I think the current bunch of tossers would get slaughtered. That's how bad we are.
Kieran Kinsella
286
Posted 14/03/2022 at 01:09:43
Pete Clarke
Supposedly skirt boy is good in the air but Rideout was called the bullet for a reason. Dave Watson would laugh if he saw Michael Keane and Barry Horne would take a big old dump on Gomes's hair.
Ian Hollingworth
287
Posted 14/03/2022 at 01:09:45
I am defo not the 'throw the towel in' type of guy but are we kidding ourselves? We are in a terrible run of form and with abysmal statistics – it really is not looking good for us right now.
For me, it's unthinkable but the time for thinking "It can't be us" is over. It's a reality and I don't have a lot of confidence in this set of players to do anything about it.
Very very concerned right now but we have to keep the faith and do all we can to help by getting behind the team.
Hopefully we survive and, if we do, then I think the fans need to make it clear that things have to change as this nonsense cannot continue.
Bill Gall
288
Posted 14/03/2022 at 01:36:21
Derek #281
Our game against Newcastle turned back into their favour as the player that Lampard said was unplayable on his day, Saint-Maximin, returned from injury and came on as a substitute today.
Jack Convery
289
Posted 14/03/2022 at 02:02:42
If we are relegated, which appears more and more likely, with every performance and result, then expect no favours in the Championship. That is one dog fight of a league to get out of, just ask Leeds.
If we go down, we go down in a financial mess so its a double whammy. Players will leave and those who come in will have to be offered low salaries, possibly even lower than the average wage in the Championship.
I would expect EFC to struggle in the Championship and would not be surprised if we were in the lower half of the Championship come Christmas time. The atmosphere in the ground will be absolutely toxic if Kenwright stays around.
Moshiri will sell up and the stadium will be no more. I think it rather fitting that sand is used as a filter in some instances, We own the biggest sand pit, ever constructed and it would not surprise me to find that it has filtered lots of cash in its time.
Everything stinks at EFC and has for a long time. Ridiculous transfer fees for players who no-one else was interested in – Sigurdsson, Iwobi, Bolasie, Patterson and Mykolenko – to name just a few.
Ridiculous wages paid to players, who were reserves in some cases at their former clubs – Walcott, Mina, James, Digne to name 4. Players bought or brought in on loan, who are never or infrequently picked.
Expensive contracts agreed with Managers. Directors/ CEO appointed with no football knowledge. God knows who in charge of transfers and negotiating them.
Walsh being appointed DOF when he had never been one. Players remaining at the club when they should have been moved on – Kenny, The incompetence goes on and on. Or is it incompetence? I sometimes wonder.
Why the hell do you buy 2 full backs in January and don't play them. Benitez clearly didn't want them. El Ghazi what was that about. His loan also prevented us from completing another loan.
Lampard brought in on the last day of the transfer window. Lots of time to arrange transfers - not! Digne sold and then manager who didn't want him sacked a couple of days later. Ridiculous.
In our last 12 games of last season we picked up 12 points. We have 22 points from 26 games this season. We have picked up 34 points in our last 38 Premier League matches. Its taken us 4 managers to achieve that total, if you include Duncan Ferguson.
As Holgate says, "We are where we are" – what he failed to say, "It's because we are not a good side." In fact, we are not even average. Below average more like. Just like the club itself. I despair.
Ernie Baywood
290
Posted 14/03/2022 at 02:11:35
Dale #210. Did you just accuse me of criticising Mykolenko because I'm pro-Russia?
No. I criticise Mykolenko because he's dreadful.
Don Alexander
291
Posted 14/03/2022 at 02:17:53
I think we're favourite for relegation given the current bottom five teams. That annihilates my hope.
Moving on, if this season we miraculously survive, who among us is even slightly confident of avoiding relegation next season?
Given the brainless chaos emanating from the decisions of our owner and eternal-chairman for six successive years and the FFP strictures imposed on us as a result for two or three years to come (and that was the case even before Putin invaded Ukraine – and it's got way worse for us as a result of that), does anyone have the slightest optimism that, in the next two seasons, if we avoid relegation this time, we'll be in any way better able to avoid lowly scrambles to survive in our league?
I don't, and to be the only one of the five big clubs who initiated the Premier League ever to be relegated will to me be the epitaph that condemns Kenwright as a cancer so many of us decided to endure (and some even applaud!) whilst he killed us, year by year, in plain sight.
Don Alexander
294
Posted 14/03/2022 at 02:31:25
On Mykolenko, give the young man a break folks.
Every male friend/relative he has under the age of 60 has been required to possess a lethal weapon to kill largely conscripted Russian numpties whilst Ukrainian cities and towns are being destroyed all around them, and just a small percentage of women and children if they're, ahem, "lucky", achieve "safety" and virtual destitution in foreign countries with no bread-winner.
More than anyone else in the club, he deserves 100% support.
Kieran Kinsella
295
Posted 14/03/2022 at 02:46:54
Jack Convery,
Bottom half? If/when we go down, I expect it will be short-lived as we will soon plummet to the third tier. Everyone harks back to the 80s, Championship etc... well, next season, we will be in the Championship and playing QPR, Forest, Coventry – all the old 80s favourites – so no doubt Bill will say he's given us what we wanted – before faking his own death again if we dare to criticize.
Kieran Kinsella
296
Posted 14/03/2022 at 02:55:14
Don
Certainly Mykolenko doesn't deserve to be harassed now with everything going on at home. Bearing in mind he's barely an adult, suddenly gets a great break only for his world to fall apart.
But, prior to the invasion, it was obvious he wasn't Premier League material. I'm baffled as to who sanctioned signing him and Patterson with no DOF and evidently neither were rated by Rafa.
I'm not going to berate the guy, bigger issues right now, but what the fuck goes on at Everton? Kenwright Out!
Ernie Baywood
297
Posted 14/03/2022 at 04:23:06
I don't think anyone is having a go at Mykolenko personally?
It's purely about his footballing ability and he's not good enough.
I feel sorry for the guy that he ever got involved with this club.
Ian Jones
298
Posted 14/03/2022 at 06:51:49
It's difficult to pick on Mykolenko. He's a young player, who unfortunately, has chosen to play at Everton when everything is falling in around him, personally and professionally.
I would give him plenty of games before writing him off. It's not the modern way. But it should be.
On the mismanagement of the club, we are rapidly heading down the Aston Villa route. They took a few years doing their best to get relegated. They got there in the end. Then a number of years in the Championship.
This sadly could be our time. I will be amazed if we get out of it.
Allan Board
299
Posted 14/03/2022 at 06:55:31
Just on Ancelotti – yes, a brilliant organiser of a team... take a look at Madrid now.
He left because in 6 months, he knew this squad was shite, told the board that mid-table would be as good as it gets, and they need to spend to get into the Top 6.
Our board then pulled the rug from under him and I wonder who sanctioned that?(the teary-eyed twat).
I'm not having this laid at Ancelotti's door. The fact is, if they had backed him, we would be in the Top 4 now.
Ian Riley
300
Posted 14/03/2022 at 07:04:46
Thanks Steve #284, yes 12 games left. Felt optimistic for 30 seconds then looked at the fixtures!
Danny Baily
301
Posted 14/03/2022 at 07:07:25
Pete 285, I'd happily pay 45 quid to sit behind a post at Goodison and watch that clash of the titans.
Duncan McDine
302
Posted 14/03/2022 at 07:08:28
Allan 299, I don't want to sound pedantic, but you should look up the meaning of the word 'fact'.
I agree with most of what you wrote and definitely think Ancelotti would have improved us if given funds, but Top 4 is dreamland.
And the fact is – he chose to jump ship and head for Madrid. Can't really blame him either.
Steve Croston
303
Posted 14/03/2022 at 07:21:05
I think one of the biggest challenges being faced at the moment is for the TW team to come up with new and punchy headlines to describe how bad we were in the previous game.

Derek Knox
304
Posted 14/03/2022 at 07:32:16
Again questioning my sanity versus loyalty, another wasted trip as shared by thousands of others, the players couldn't have had any more vocal encouragement when they emerged from the Tunnel. How did they repay that ?
As a fellow poster (Brian M, I think) has previously mentioned, Holgate's response just about sums up how much most of them care. Not all I may add, the forwards did try against a stubborn and well drilled Wolves defence. The midfield, if you could call it that, and the defence again (Trade Description being questioned) were extremely poor and unimaginative.
As poor as we were first half, Wolves were not much better really, and I felt a faint glimmer that a point was there, or miraculously a last minute goal could nab all three. That didn't last long did it ? The early second half goal from the visitors, failed to initiate any sort of reaction that you would rightfully expect, only Richie and Gordon really tried.
While their team-mates seemed to have settled for another embarrassing home defeat, with some sort of misguided belief that games in hand, and games yet to be played will see them safe. I have news for them, " Play like that and you will win none of them !"
Steve Barnes
305
Posted 14/03/2022 at 07:37:06
Ian (298) - completely agree.
I just hope we come back as strong and as well run as Villa.
When we come back up, we need to target a once mighty club that is doomed for relegation and pick off one or two of their best players…would be good if that was LFC, but might be pushing my luck with that one…..
Danny O'Neill
306
Posted 14/03/2022 at 07:44:19
I toyed with writing up an account of the day out yesterday. Even by my standards following Everton, it was an epic, but I don't have much else to offer.
There seems little point dissecting that one any more than it already has been. Poor tactics and formation by the manager. Poor performance from a confused looking bunch of players. There were 3 who came out of that with any sort of credibility. I've called them out already, but they can't do it on their own.
The moment the team was announced, I had nervous concerns. I really couldn't fathom out a logical formation and I like to think of myself as understanding the game to a degree.
We had no midfield and that allowed an average Wolves team to control it. I didn't like their time-wasting, feigning of injury tactics, but in hindsight, they rattled both our team and those of us in the stadium early on with it and helped build frustration and nervousness. Do I approve? Of course not. But it helped them control the game and, dare I say, to a degree, the officials.
Anyway, no excuses. It made me feel worse than at Tottenham last week, and that's saying something. Brentford was bad, Norwich a low point, but that is up there.
Yet again, we all get a pass to vent and frustrate. How many times have I said that this season? But to listen to some, we're down already and worse still, we'll be in the 3rd tier of English football in 2 years time.
Well, last Monday happened. Yesterday happened. But we are not yet in the Bottom 3, so we are not down. We are still in control of our own destiny with an FA Cup Quarter Final to look forward to.
I can say that all day long. The players need to believe it.
Anyway, given the evolving situation at Chelsea, there may be a get out for the 17th placed team.
Ever the optimist.
Eddie Dunn
307
Posted 14/03/2022 at 07:55:31
I hate the term "It is what it is" and "We are where we are" is a very similar popular phrase which either shows a fatalistic acceptance of "life's journey" (another phrase I detest) or, I suspect in Holgate's case, a reluctance or inability to analyse the predicament.
Do our players absolve themselves of blame? In the canteen at Finch Farm, do they put it all down to the coaches, the officials, or the fans? With a few obvious exceptions, the majority of this side give up as soon as they fall behind.
I can't recall an Everton team who have so little reponse to adversity. How did we end up with so many players weak in mind and body?
And what are Tony Abraham's Chinese whispers regarding Calvert-Lewin?
It is shocking that we had virtually no 'new manager' bounce. Rather than point the finger at a raw recruit like poor Mykolenko (who I think will prove to be a favourite), I would ask just what or who could motivate this particular bunch of clowns? Have they no pride?
Only Pickford, Mykolenko, Richarlison, Gordon and to a lesser extent Van de Beek put in a shift. Doucoure is not cut out to play the defensive cover – his contribution was clumsy and displayed a lack of basic skill.
Lampard is obviously getting his tactics wrong – we need a quick fix, not a cultural reboot. Our only hope is to get Calvert-Lewin on the park, and put an extra body in midfield.
Only conceding one goal should have given us the oportunity to get at least a point. So often, there was nobody making a run or showing for the ball. Even Pickford was calling for more movement.
Newcastle will come on Thursday in good form, safe (under a manager regularly labelled as not good enough for us on ToffeeWeb) and, if we fail to beat them, I think we will go down.

Paul Smith
308
Posted 14/03/2022 at 07:57:32
The first time I watched Mykolenko, the TV camera panned in on his face and he looked absolutely terrified marking an opposition player on a corner.
I challenged my cynicism and put it down to concentration. I was wrong. Apart from that one good ball yesterday, he looks lost.
Craig Walker
309
Posted 14/03/2022 at 08:06:12
I've got pretty good at knowing the outcome of Everton matches by watching the first 15 mins. Yesterday, the crowd just seemed so subdued and the players looked disinterested. Very similar to games in an empty Goodison last season.
I've not felt as low about Everton FC in my 47 years of being a Blue. There are very few players at our club for which I have admiration or respect. The owner has been an unmitigated disaster.
A series of managers that start promisingly but are hampered by working with some of the worst ever players we've had: poor technically, poor attitude.
The only rays of hope at Bramley-Moore Dock are looking like they could sink our club. The one thing I have is the pride of being an Evertonian. Even that has lost its shine these last few weeks as I'm from Wigan, have lived in Leamington Spa for 25 years and am informed I'm not a true fan.
47 years of living and breathing Everton FC. An 11-year-old who has seen us win once against our local rivals on TV in an empty stadium. He gets the mick taken weekly by glory-hunting fans of the so-called Big 6. Weekend after weekend of being grumpy because of another abysmal performance. Lying awake thinking over possible outcomes.
Putting it into perspective, our house isn't being bombed. We aren't having to flee our homes and run for our lives. It's football. We seem to care more about it than the many multi-millionaires who are employed by the club we love.
Sad times.
Iain Latchford
310
Posted 14/03/2022 at 08:07:02
I never thought I'd say this, but I think we need to play Rondon.
Thursday deeply worries me. Newcastle are now well drilled, with all the players knowing their jobs (the complete opposite of us). It took a 90th-minute goal for Chelsea to beat them yesterday.
Quite simply, we have to beat Newcastle, Palace and Brentford at home, then hope to get a win at Burnley or Watford. Two games against Leicester might yield a point or so. I don't think anyone trusts these players to do that.
Mark Ryan
311
Posted 14/03/2022 at 08:16:46
We need to get behind the team. They are not very good. They need support.
I still think Frank and his team are decent, hard-working professionals but the truth is the players are simply too inconsistent because they are not that good. We cannot continue to blame Frank Lampard. He and his backroom staff are trying to get a tune out of this shower.
The real blame for where we are lies with Benitez for how he set the team up and selling Digne and with Ancelotti for abandoning us in the first place when FFP hit us (coward) and for the players downing tools at places like Norwich away.
I still believe with our support on matchdays that we can survive this. I truly believe that booing the team at this stage will have a serious detrimental effect on the team and staff as a whole. We need to get behind them and re-shape in the summer, removing the deadwood, Holgate and replacing Coleman.
Alan McGuffog
312
Posted 14/03/2022 at 08:22:38
Relegation is nailed-on, as far as I can see. I would be accepting of it, with reluctance, if I thought it would be a chance to clean out the Augean Stables. By that, I mean saying farewell to the people who have run the club into the ground.
By having a long hard look at our Academy... ie, is it worth keeping?
By finally getting the wasters off our payroll. However, when we are in the Championship, I can still see the same old same old.
I remember Man Utd being relegated in 1974. I was working in Manchester at the time and my Manc mates loved 74-75. They took the old Second Division by storm. They cleared out a lot of dead ood and installed pride in the club. They came straight back up and the seeds were sown for greatness.
Like I said, if we would do that, I could shrug off our present demise. But I doubt we will. There is a sickness in L4. Would that I knew what it is.
Tony Abrahams
313
Posted 14/03/2022 at 08:27:11
I thought that was very evident yesterday, Iain. With no midfielders getting up in support and Richarlison only really looking to run in behind, then this was another part of the tactical failure yesterday.
When Gordon or Gray get it in half-decent positions out wide, how many players were looking to get into the Wolves box? Some people are telling me that Anthony Gordon has no end product, but maybe this is because the system is not helping us be creative right now.
Joe McMahon
314
Posted 14/03/2022 at 08:35:26
Also I agree, and I so hope you are right, Newcastle and Villa are now in better places with good managers and owners.
However the flip side is the new stadium at Bramley-Moore Dock – is it still on? We could also be a Sheffield Wednesday or a Nottingham Forest, and Woodison really is a dated relic.
The first thing I'd definitely like is to P45 Unsworth, Dunc and Sharp, along with many of the squad. We have about 5 players worth keeping but Richarlison will be off. A Brazilian forward does not belong in the Championship (Division 2).
Iain Latchford
315
Posted 14/03/2022 at 09:07:56
Just looked and Watford have us, Leeds, Brentford and Burnley all to play at home. I'm constantly juggling scenarios around in my head, so not sure if that's good or bad (probably bad).
Ultimately I suppose it doesn't matter as we don't seem to be able to win any games.
Danny O'Neill
316
Posted 14/03/2022 at 09:08:33
Very good point, Tony. I was debating with a couple of people around me in the lower Gwladys Street screaming to get the ball forward. I simply pointed out "To who? What options?".
On a couple of occasions, Gordon played some nice balls in, but we had one runner – Richarlison. That's easy for a defence when there are no supporting midfielders making forward runs and providing options.
Most of the time yesterday, our players looked, saw nothing on, checked, and kept the ball. It's all well and good saying "Get it forward" – but, if nothing is on and there are no runners, then it's giving possession back to the opposition for free.
Gary Jones
317
Posted 14/03/2022 at 09:13:37
Rondon got 10 or 11 games in a row and just isn't an answer to anything. Not sure there are any answers in this group, tbh….but for me, it's either;
a) Go back to the players who know each other (Gomes, Iwobi et al)
b) Give the likes of Dobbin, Branthwaite and Welch a real go.
In either event, I'd pack the middle with 5 grafters. Maybe go with a solid "Carlo-like" back 4 with height for set-pieces at both ends:
Pickford
Holgate Keane Branthwaite Godfrey
Gordon Allan Doucouré Iwobi Gray
Richarlison.
Tony Everan
318
Posted 14/03/2022 at 09:14:08
It's taken a year but we are back at square one with regards tactics. Ancelotti worked it out, we don't have the personnel to boss games in the midfield, also we don't have the defenders who are comfortable on the ball. Ancelotti didn't take long to reach this conclusion and set us up to get points by dire KITAP1 football. This wasn't through choice – it was through necessity.
So we are back to square one again, and the sooner that Frank recognises that we have to play like this until the end of May, the better. It's our only hope now and I can't see us getting the necessary points any other way.
Even this only works if the players, all 11 of them (10 and a weak link is no good), are up for the fight.
We should never give up; this is a proud football club with almost 70 years unbroken top flight football. Despite the huge disappointments, it's time for the management, players and fans to unite, roll up their sleeves and fight relentlessly, every game now is a cup final.
Dave Abrahams
319
Posted 14/03/2022 at 09:33:26
Tony (313),
Your last paragraph describes why I for one never even got excited, after Wolves scored. There were two Everton forwards trying to score against six Wolves defenders. Richarlison didn't have the brains to stay onside and lots of us knew he was offside well before the linesman put his belated flag up. Richarlison does this every game; Alli joined in yesterday.
It's not being defeatist accepting what's in front of us, it's being pragmatic and seeing what's there: a very poor squad. This is a game of football, not a war; we can cheer as much as we want – and those at the game do – but we can't fight for them as well. If we could, lots of us would do it better and tougher.
Touch gloves and come out fighting on Thursday night, now wouldn't that be a novelty!!
Matt Henderson
320
Posted 14/03/2022 at 09:34:26
I'd go with Gary's #317 team (with Mina to replace Branthwaite when fit) but I would have Rondon up front and Richarlison instead of Gray on the left.
We need to get Richarlison involved in the game more and, although Rondon has been fairly ordinary (he has improved a bit); regardless, his presence will hopefully allow Richarlison to influence the game more from further up the pitch.
Godfrey's best games have been at left-back and Keane will be better if the midfield is better set up to mitigate his weaknesses. Neither Coleman or Kenny give much of an attacking threat so we won't lose much there but will gain defensively from this setup.
Mike Price
321
Posted 14/03/2022 at 09:52:25
Gary #317,
Actually looks a decent team that. Says something that not a single one of our five January acquisitions are in it!
Personally, I'd stick Dele in for Iwobi to give us a bit more goal threat.
Tony Everan
322
Posted 14/03/2022 at 09:58:14
Tony, what are these Chinese whispers?
Have Chongqing Liangjiang Athletic made an offer he and we can't refuse?
Paul Hewitt
323
Posted 14/03/2022 at 10:00:29
As bad as the '94 and '98 teams were, I don't remember ever thinking they had accepted relegation and stopped trying.
Unfortunately, yesterday's team looked like they have accepted relegation.
Ernie Baywood
324
Posted 14/03/2022 at 10:09:05
I recall '98 feeling a bit forlorn, but the '94 team had some graft.
This side is on another level. If you're not going to be brave and rally at home to Wolves... when?
I really can't see anything but Watford easily coming past us. I really can't.
Dave Williams
325
Posted 14/03/2022 at 10:13:11
Tony #318, exactly.
It is currently in our own hands, there are half-a-dozen games that we should win on paper and, Spurs and Liverpool apart, we haven't done too badly against the bigger teams this season.
The tactic of KITAP1 is the way to go with a team of willing workers. We don't have many of them, which is half the problem, but the team above looks the best bet with young Dobbin on the bench if needed.
Never give up!!
Christopher Timmins
326
Posted 14/03/2022 at 10:17:50
Monday night's result impacted on yesterday's performance and I thought that we played with fear, pure fear, yesterday. Afraid to make a mistake and so we took the easy option, pass it back or sideways or lump it up the field.
We lost to a team who, like Spurs, will finish in the Top 8 this season unless they collapse on the run-in. There is a major gap between 8th and 9th spot at the moment. The defeat was not unexpected.
Given the respective run-ins of the teams at the bottom, it's going to be a very nervous couple of weeks. We still have Burnley, Watford and Brentford to play and we may need to beat all three of them to keep ourselves in the Division.
We are still outside the Bottom 3, we can still survive, however, we need everyone to stick together. We play a team who sit in the bottom half of the table on Thursday, we can get something from the game, I would take a point if offered it now in order to stop the run of losses, we just have to stop the losses.
Phil Lewis
327
Posted 14/03/2022 at 10:29:18
Doucouré has flattered to deceive. He was exposed ruthlessly against Wolves for the vastly overrated player he is. Ambling around like a big aimless giraffe. Ball watching, unaware of both opposition and teammates around him. His awareness was none existent. Clueless, pathetic.
Donny van de Beek fared little better. No drive or commitment. Easy to see why Man Utd have shipped him out.
The signing of Dele Alli baffles me. He offers nothing. Similarly, Spurs must be laughing up their sleeve to have off-loaded such dross. The latter two players are Lampard's men. Hopeless acquisitions.
I feel our only hope now in order to fend off relegation is a return to team selections which grind out results in the remaining games. Sad to say, 'Allardyce tactics' would seem to be our only recourse. The players and formations he used to secure safety are still at Lampard's disposal. I would suggest that he immediately deploys them, before it is too late.
Laurie Hartley
328
Posted 14/03/2022 at 10:49:51
The last home game we played against City, Allan played a blinder keeping De Bruyne quiet. In my pre match post I said as a parting comment "don't let Neves get anywhere near our box with the ball at his feet". This isn't an "I told you so" moment - this me saying Frank Lampard you are not getting out of this one scot free! Have you lost your marbles man? If I could figure out Neves had to be stopped why couldn't you?
Moutinho is good but it is Neves who makes a very good Wolves team tick and we gave him the run of the park yesterday. If I was one of the players we have with a heart (Richy, Gordon, Godfrey), I would be wondering "what is going on here".
Ian # 310 - bravo for having the guts to say on here we need to play Rondon up front. He is an old war horse who has got somewhere near premier league fitness and scored 5 goals in his last two games in which he started. Three for his country and two for us.
I have no doubt in my mind that if he and Allan had started yesterday we would have had a different outcome. Why - because they are the type of experienced characters you need in a fight for survival (and DCL isn't).
He better play him on Thursday night because he will be willing to take the kicking that the likes of Coady has been dishing out to Richy (and give a bit back). Play Richy to his left and Gordon to his right and see the difference.
Christy Ring
329
Posted 14/03/2022 at 11:27:10
We're lacking confidence, the teams around us scoring goals and winning, we're not even creating chances. Five at the back with wingbacks offering nothing going forward is definitely not working. We need three in the middle as in the City game, Doucoure cannot play in a two man midfield, as for Deli Alli he looked, like he didn't care less yesterday. Frank has to take the blame for his system in the last two games, Thursday night is massive, the players need to show passion and up the ante.
Pickford
Holgate Keane Braithwaite Godfrey
Allen DVB Doucoure
Gordon DCL Richarlison
Subs Onyango, Dobbin +7
Mark Ryan
330
Posted 14/03/2022 at 11:28:06
Laurie @ 328 I agree. Richy should not be the front man it ought to Rondon. Watched him at the Boreham Wood game and he looked sharp. No pin sharp but alert and willing to run
Brian Wilkinson
331
Posted 14/03/2022 at 11:53:49
Mark, 4 weeks ago I would have called you nuts for even suggesting Rondon, but I have to agree, he has looked a bit more mobile and fitter, the last couple of games he has played.
At the moment it is so easy for defenders against Richarlison, add Rondon next to him and suddenly the defence can no longer double up on Richarlison, push up to put Richarlison offside.
It is no good having wide players, if they have nothing to aim for in the box, so yes I would go along with putting Rondon in, alongside Richarlison, not a long term solution, but certainly worth trying for now.
Colin Malone
332
Posted 14/03/2022 at 12:24:21
Who is pulling the strings? Lampard or Clement?
Allan is the first name on the team sheet for me, for Thursday. He is a leader on the pitch.
Ive listened to Ally McCoist and Kris Boyd raving over Patterson, still he cannot get a game ahead of JonJo Kenny????? WTF is going on?
Bobby Mallon
333
Posted 14/03/2022 at 12:29:19
Mark Ryan 311. What a load of shite you write about Ancelloti and people blaming him for this mess we are in are delusional. He gave us our best away record in premiership history 11 victories on our away days. Yes we finished 10th with a whimper, but for that was down to 2 fucking gobshites who held his daughter @ knife point robbing his house. We where sitting 2nd in February when it happened. He left because his family and their safety was more important. Don't lay this shit feast at his door it's squarely on the players shoulders
James Marshall
334
Posted 14/03/2022 at 12:40:13
Bobby@333
That was the Covid season - every team in the Premier league had a brilliant away record so it's wasn't entirely just because Carlo was in charge - that stat is somewhat skewed by the empty grounds that year. As I recall we were also dreadful at home that season.
That said, I agree with your point that this shit show is nothing to do with Ancelotti. People bemoaning us having one of the best managers in the modern era are certainly wide of the mark.
Still, now we have Lampard who was one of the best footballers of his era.
And now he's a manager. I have little else to add on that subject.
Robert Yates
335
Posted 14/03/2022 at 12:44:36
I was supporting Everton the last time that they were relegated and I don't want to see it again. I know the team are struggling and it's not good to watch but we all need to be positive, because if we have all settled for relegation what message are we passing on to the players. So come on ToffeeWebers be positive and pass our positivity to the players.
Alec Gaston
336
Posted 14/03/2022 at 12:45:47
In my head I keep coming back to two things.
1- Things I have no influence over
• Who is the manager
•Team tactics and selection
• Recruitment of players
2- Things I can influence
• Atmosphere in the ground
I worked with a Leicester supporter and asked him how they managed to stay up the year before they won the league - he said it was simple "the crowd". If Leeds stay up their fans will have a big part to play. I think the current team are spineless and stealing a living but until the end of the season, I will put my effort into something I can possibly influence - I don't want us to get relegated
Steve Brown
337
Posted 14/03/2022 at 12:54:19
We are where we are, so no point catastrophising. What we do next is important.
We have changed line-up and tactics repeatedly the last few weeks (partly caused by injuries and illness), but it hasn't helped us. Frankly (pardon the pun), formations and tactics have not always made sense. We played a high line away to Spurs but a back five at home to Wolves, we are constantly outnumbered in midfield yet we only play one forward. Equally, I know we have a lot of wide players - Gray, Gordon, Richarlison, Townsend, Iwobi. I don't think the answer is try to fit them all in.
Lots of practical reflections on here, so apologies if I repeat what others have said. My reflections are:
1) Lampard has one task for the rest of the season, namely to select a formation and line-up for the 5-6 games we can win
2) Our back four should should be stable - Kenny, Holgate, Godfrey, Mykolenko until Mina is fit
2) Play midfield 3 for every game until the end of the season
3) Play a more mixed game-plan
4) Keep a front two for remainder of games
5) Target the 6-7 games we have a chance of winning
6) Alli, should not feature again this season in the first team, except in the FA Cup
7) Pick Lewis Dobbin on the bench.
Brian Wilkinson
338
Posted 14/03/2022 at 13:07:31
Colin@332, I hear where you are coming from, in regards to Patterson and Kenny, Kenny has been playing at left back, now with Kenny suspended,it could be an opportunity to give Patterson a chance at right back, and put Godfrey as left back, however I think he will stick with Coleman, or put Either Holgate or Godfrey right back for Thursday.
We keep hearing they look good in training so get selected, yet time and again when on the pitch they do not do it, however someone who might not look as good training, might actually be alright, when they take to the field, doing the simple basic things, picking a pass out, putting a tackle in, if that makes sense.
Michael Lynch
339
Posted 14/03/2022 at 13:13:24
One of the many problems we're going to face as we lose game after game, is keeping our better players focused on Everton rather than on the efforts of their agents to place them somewhere next season. DCL, Richie, probably Pickford, will be gone next season but they need to keep their full concentration over the next few months. Unfortunately, the likes of Holgate, Keane, Dele, Mykolenko, Townsend, Iwobi, and all our no-hoper U23s will be going nowhere, not when they've got cosy contracts at PL wages.
Jesus, next season is going to be a riot of fun and laughter. Championship with Holgate and Keane still in central defence, Kenny one side, Mykolenko the other, Allan and Dele in midfield, Ellis SImms up front.
Phil Lewis
340
Posted 14/03/2022 at 13:15:37
Robert 335#&Alec 336#
Two excellent thought provoking posts.
I'm very concerned by the reaction of our fans to defeat. Nobody wants to lose, let alone face the prospect of relegation. It is how we conduct ourselves when faced with the unthinkable which bothers me. I've only ever watched Everton in the top flight my earliest recollections being the League Champions of 1963 so relegation has never entered calculation apart from the life saving Wimbledon game.
Whatever disappointment we endured in the past, a brave face and wholehearted support was always shown by our fans. Although this is very much still the case, I have witnessed a very different toxic attitude displayed by many so called supporters, with sheer vitriolic bitterness aimed at the players. This does nobody any good and certainly does not aid our desperate cause one iota.
So I would urge every fan to set aside their venom and channel it into wholehearted support for whichever team is selected in our remaining games. There will be plenty of time for inquests come the summer.
Mark Ryan
341
Posted 14/03/2022 at 13:17:01
Robert @ 335, Alec @ 336 and Phil @ 340 all spot on. Booing will get us relegated. Not the time to boo. Not the time. We need to support them more than ever, instill some confidence. You see it with kids level football, parents booing and screaming at their kids. It does no good. They are bereft of confidence and need our support. Booing will sink us
Dave Abrahams
342
Posted 14/03/2022 at 13:17:29
Steve (337), some decent reflections there Steve but I'd have another reflection on Mykolenko, not writing him off but doesn't look ready at the moment, maybe due to his personal circumstances. Alli is cup tied so that's not going to apply.
Alec Gaston
343
Posted 14/03/2022 at 13:22:30
Brian #338 totally agree. Training is important but ability to do what you do in training plus being able to do it under pressure on the pitch without fear is a must. Recent games have shown the best trainers are not executing the game plan or are too scared. On a happier note only three more sleeps/sleepless nights until the next game!!!
Derek Taylor
344
Posted 14/03/2022 at 13:32:57
With relegation a near certainty- that's unless bankruptsy strikes first - we could well see a return of Big Sam or bring in other promotion experts like Warnock or Pulis. I guess this season's crap team can be polished into contention because no bugger will sign most of them on Mosh money !_
Derek Taylor
345
Posted 14/03/2022 at 13:33:07
With relegation a near certainty- that's unless bankruptsy strikes first - we could well see a return of Big Sam or bring in other promotion experts like Warnock or Pulis. I guess this season's crap team can be polished into contention because no bugger will sign most of them on Mosh money !_
Colin Malone
346
Posted 14/03/2022 at 13:35:58
You cannot judge a right full back by playing him on the wing.
Gary Jones
347
Posted 14/03/2022 at 13:42:39
Happy clapping is why we are where we are….fans have every right to boo a team that's passing back and in no hurry at 1-0 down whilst staring relegation in the face.
Trying to shift blame to fans is fucking pathetic.
Barry Hesketh
348
Posted 14/03/2022 at 13:44:41
We move on to Thursday and I can almost guarantee there will be a greater desire from the crowd and a noisier atmosphere at least for the opening period of the game. Of the two home games, as fans, we would have targeted the Newcastle game over the Wolves match, well at least that was prior to the Barcodes revival.
Under the lights on Thursday, with the results going against us at the weekend, will help to create that siege mentality so many seem to think will help the team to play better, I hope they're right.
Of the remaining matches at Goodison, United are always good for the Goodison crowd to react in a positive manner regardless of form or the league positions occupied by either club. Brentford if we are still in the battle to avoid the drop will take care of the atmosphere by virtue of it being thus far the last scheduled home game of the season.
Palace and Leicester are those strange teams, such as Villa and Wolves who generally fail to get the Goodison crowd up and at them. Chelsea are possibly too good for us at the moment to generate a great atmosphere.
It's fine that many think that the Goodison crowd should be up for every single game, but it's not so simple, it can't just be turned on and off like a light-switch, it has to be built from a number of variables that cannot be quantified.
I'm hoping beyond hope that by the time we play our final home game that we are safe and that we have a second trip to Wembley to look forward to, but that's with my heart ruling my head.
Colin Metcalfe
349
Posted 14/03/2022 at 13:53:49
After a long flight yesterday across the pond I turned on my phone to read that we had lost yes I am disappointed but the negativity on here is too much, so many posters are convinced we are going down with 12 games to go.
Guys for those who have played football at a decent level I am sure you will agree with me when you have a difficult season as a group you become closer and get that bunker mentality, I may be in the minority but I believe we can get through this the players, management and fans will come together to get us out the danger and looking at the fixtures yes it will be close but that quarter final against Palace could be when our season starts to turn and more importantly the players start to believe that they are not as bad as the current form suggests because in football confidence can take you a long way and thats a key ingredient we are missing at the moment.
Sam Hoare
350
Posted 14/03/2022 at 14:03:19
We've been absolutely crying out for a dominant midfielder and a centre back who can pass. We spent £25-30m on two (overpriced) full backs who don't look ready for the PL. We also bought in Alli for potentially 10-30m as another attacking central mid even though that would be DVB's best spot.
It's just been a mess of bad decision making for the last 4-5 years and the result is an unbalanced squad full of overpaid mercenaries who don't massively care and will be hard to shift if/when we are relegated. Many factors involved but ultimately this lies at the feet of Moshiri and Kenwright.
There's still plenty of matches left and we often seem to do best with back against the wall so I would not be surprised at all to see us pick up the odd unexpected point. Most bookies still have 4 teams as more likely to get relegated than us so it is very far from a foregone conclusion but neither the players nor the coaches look like they have any answers currently and the lack of opportunities created after going behind yesterday was alarming.
Graham Mockford
351
Posted 14/03/2022 at 14:15:39
Dave 342
I'd agree with Mykolenko. Nothing says more about the shitshow of our player recruitment in that we have effectively exchanged him for a proven PL player in Digne.
Beggars belief really
Christy Ring
352
Posted 14/03/2022 at 14:18:29
Colin#332 The only reason McCoust and Boyd are praising Patterson is because of the Rangers connection, considering he only played six times with them this season
Paul Cherrington
353
Posted 14/03/2022 at 14:21:56
Very disappointed after this result - this was a must win game I think. Mind you our current troubles are no surprise when:
a) the players are not good enough and/or not bothered enough. I'm not sure some of them realise we are in a relegation battle sometimes!
b) whoever our manager is seems intent on playing a system which leaves us overrun in midfield and continues to pick the same players who fail/make mistakes week in, week out.
c) the times we do finally get a manager who can work with what he has to find a way to win (however ugly), he gets hounded out (Allardyce) or leaves (Ancelotti). Big mistake to get rid of Allardyce - no way we would be where we are now with him in charge still. a lot of fans got it wrong there and we are now paying the price.
That is all a toxic combination and explains why we are where we are. The trouble is that no new players will be on the way for now to sort that side of things out.
the manager could do his bit to turn our fortunes around but seems to have an aversion to playing a 5 man midfield, with 3 in the middle to make us hard to play against. If he is content to just shuffle the pack of the same old players who have been rubbish all season, it will get no better either. Moving Seamus from RB to right of a back three or Kenny to RWB from LB for example solves nothing.
It is time to be brave - truly brave. Bring in some young players with energy, passion, desire and fight. I'm not even talking totally green players here either - Dobbin, Sims, Branthwaite, Welch, Price, Onyango could all be given another go for example. Why not really shake it up as well and play some other young lads from the U23's? Can't do any worse can they?
One last point - Richarlison is not a striker as others have correctly noted. I know he thinks he is and he wants to play there but our manager has got to be tough enough to tell him no. he works best out wide, where he can use his pace to stretch teams and set goals up.

Joe McMahon
354
Posted 14/03/2022 at 14:25:08
Correct Christy, he wasn't first choice for Rangers, it diabolical. I remember us not making a move for VVD, ad apparently Funes Mori was the better option! I just have no words for how this club has been run for the past 30+ years.
500 million spent and not one proven goalscoring striker at the club. Richie isn't out and out striker and Domonic Skirt Boy can only do it from 6 yards.
Tony Abrahams
355
Posted 14/03/2022 at 14:34:17
Rumours that Lampard chased DCL home on Friday, were doing the rounds yesterday. I heard it from a few different people and after asking my son, he said he'd heard something similar, hence the Chinese whispers.
My mind has turned back to 2004 this morning, when I remembered being in Benidorm on a stag-do, and watching Arsenal destroy Everton, during the first match of the season, and then reading Kevin Campbell saying, we would take 4th from bottom now, even though we had only played one game.
Moyes then switched to 4-5-1, we won at Palace 3-1 (let's fuckn hope so next week) and never really looked back after this. I'm aware we had a few characters in that squad, especially because we signed Cahill, after our first game, but for Campbell to say that, he must have felt we were very bad?
Benitez went with a back five because he didn't trust the centre backs, now Lampard is doing the same. It wouldn't be so bad if they would push up, meaning we could play a higher line, and close the space in midfield (we did for the first 30 minutes yesterday) but because this is not happening, once a-fucking gain, we are just making the pitch way to big for the opposition, and it's crucifying us.
"How come Wolves looked like City yesterday, but when City played at Goodison a couple of weeks ago, we gave them a much harder game?"
Im sure it's because our formation was much better, (4-5-1) because it made us so much more compact, and therefore harder to play against, which was the complete opposite of the last hour of yesterday's performance, when we let Wolves, take the piss unchallenged.
Mike Doyle
356
Posted 14/03/2022 at 14:34:50
Sam # 350 ] I was checking a few of the bookies yesterday and that does indeed seem to be the position - which is surprising given our recent form.
Although I suspect FL won't do it, with the personnel at his disposal, he should be thinking of setting up 4-5-1 and trying to nick a goal on the counter attack. We rarely look like scoring from open play anyway and in 2 of our last 4 games haven't managed to get a shot on target.
We are not picking up points home or away, so this may be our best chance of collecting a few. This formation could accommodate a midfield 3 of Allan- Duke - DVB - with pace either side of them
We also need one or both of Keane and Branthwaite in the side as we don't pose any sort of corner/set piece threat without their height. If this doesn't happen on Thursday, the best bet of the day will be Big Chis Wood or even-Bigger Dan Burn to score against us.
Steve Brown
357
Posted 14/03/2022 at 14:42:20
Dave @ 342, I would shift Godfrey to the left if Mina was back. But Keane's confidence is shot and I don't like one-footed right backs playing in that position.
Didn't realise Alli is cup-tied. In that case don't play him at all.
Phil Lewis
358
Posted 14/03/2022 at 14:50:30
Gary #347
It's not 'Happy Clapping' as you put it. It's manning up. It's supporting your team when the chips are down no matter what. There's nothing remotely pathetic about that. Quite the opposite. It's what being a true Evertonian should be all about.
Alec Gaston
359
Posted 14/03/2022 at 14:52:41
Phil #358 couldn't agree more - booing will get us relegated
Tony Abrahams
360
Posted 14/03/2022 at 14:52:52
For a new player Dele Alli, just doesn't look remotely interested, even though it's obvious he can play.
He's not going to "ghost in" whilst Richarlison is centre-forward imo, because he's not the type of forward (Richarlison) who gets hold of the ball introducing second phases.
He's not going to "ghost-in" (Alli) anywhere at the minute, because he just doesn't look bothered enough to make a difference.
Brian Wilkinson
361
Posted 14/03/2022 at 14:54:22
If anyone comes down with the squirts before Thursday and has a spare ticket going, can you give me a shout please.
Cheers.
Rob Halligan
362
Posted 14/03/2022 at 14:56:11
Tony # 355. I have something to back up what you say about DCL. There's a member of the backroom staff that I know, albeit not all that well, but a mate that I go the home games with knows him very well. Anyway, about 11.45 yesterday, we were in a local pub when this member of staff called my mate. I know it was him because I was looking at some photos on my mates phone when it rang, and I saw the name. My mate was told that DCL was "available" for the game, but he couldn't get any further information. We naturally assumed that he wouldn't be starting but would be on the bench. We were surprised to learn that he wasn't even named on the bench when the team was announced. Lampard has since revealed that DCL was missing due to illness, which totally contradicts what we found out earlier. Surely the member of the backroom staff would have told my mate about DCL being ill if he really was, but to only say "He's Available" does make you wonder there is more to it?
Gary Jones
363
Posted 14/03/2022 at 14:57:09
Phil @ 358 - the arrogance it takes to think you get to decide who is a fan and who is a man is mind boggling. You happy clap your "no matter what" support all you want, I'll let them know that passing round the back and zero urgency is wrong thanks. I'll still be there next year and my kids will still be wearing the tops and clothes. That's my NO MATTER what support. Don't see how vitual hugging unfit millionaire athletes somehow makes you 'better'.
Mark Ryan
364
Posted 14/03/2022 at 15:04:22
Gary @347, imagine you're standing in the Gwladys Street on your own on Thursday, nobody around you and you boo as the team come out, just on your own and see how you feel. Now try clapping on your own as they run onto the pitch and see how that feels. Which one is better for you, which one is better for the team ? Which one is better for the likes of Keane whose nerves are shredded, booing or clapping ? You call it happy clapping which you call pathetic. Your supporting the wrong sport if you think clapping is pathetic. Get behind the team. They don't go out there to lose. If you don't understand that and think it's pathetic, good luck on Thursday night with your booing. I hope you enjoy yourself
Kieran Kinsella
365
Posted 14/03/2022 at 15:14:07
Tony
It wouldn't surprise me. He has had more than enough time to get fit and has failed to do so seemingly intent on just poncing about in games and making no effort whatsoever. I would use Rondon for the rest of the season. We need to use players who might actually care about staying up, not people who are trying to avoid injury before leaving this summer. So in that respect, Townsend Gordon Gray Rondon Kenny Coleman Pickford Godfrey need to play because even if they're not the greatest they at least try. DCL, Holgate, should never wear the shirt again, neither should Keane because he is just terrible.
Brent Stephens
366
Posted 14/03/2022 at 15:28:11
Mark #364 I agree. The best way for ME to feel better is to get behind the team so that they DO better. If booing has a negative effect on players' motivation, then why would you want to undermine their motivation during a game?! It's not as if you'd want them to lose, is it?
Happy booing, my arse.
Ray Roche
367
Posted 14/03/2022 at 15:30:28
Gary, I said to my mate next to me on Sunday that the atmosphere was one of 'nervous anticipation' and I believe this was transmitted to the players. The atmosphere was nothing like that which carried us along against Leeds and helped the valiant effort versus City. I then watched Leeds on MOTD and they backed their team in the same way that we did AGAINST Leeds. They weren't happy clappers, they were fantastic fans who became the 12th man. A Newcastle fan site refers to Goodison's atmosphere as toxic. They've already got a head start. You boo if you want. And watch us lose.
Barry Hesketh
368
Posted 14/03/2022 at 16:12:40
How many of those people left in the crowd following Townsend's free-kick soared over the bar actually booed? I was out of my seat making for the exits before the game had re-started following that attempt by Townsend and many others did likewise.
As for the nervous energy affecting the players what a crock of manure, the players started okay, Wolves were fresh from a course of amateur dramatics which they demonstrated for the first 30 odd minutes and suddenly and inexplicably the Everton players began to lose their grip on the game, they struggled through to half-time and had nearly a whole half to rescue a point when they fell behind., but produced a well below par performance in the second half which resulted in Wolves walking round the Everton side as if they weren't there. Obviously Wolves bouyed by the goal gained confidence and saw that there was very little resistance offered by their opponents and if they have had a more comfortable time defending a single goal away from home, I'd like to know where that occured.
Blame the fans all you want but yesterday wasn't down to a lack of atmosphere or lack of support it had everything to do with a shower of rubbish players who failed to grasp the nettle when it was there to be grasped.

Iain Latchford
369
Posted 14/03/2022 at 16:23:15
It seems to be a perfect storm in all the wrong ways. With that in mind I've just spent £68 on tickets for the Man Utd game. Need my head testing.
Barry Hesketh
370
Posted 14/03/2022 at 16:25:43
iain @369
What about those of us who have already renewed our season tickets are we beyond professional help?

Iain Latchford
371
Posted 14/03/2022 at 16:29:32
Well you know what definition of insanity is Barry
Iain Latchford
372
Posted 14/03/2022 at 16:29:36
Well you know what definition of insanity is Barry
Brian Harrison
373
Posted 14/03/2022 at 16:31:27
Tony 360
I totally agree that Richarlison isn't a player who will hold up the ball and create a 2nd phase, I know it wont be popular but now that Rondon is match fit and will hold the ball up to create a 2nd phase. I would be tempted to play Gray on the left and Gordon on the right and Richarlison playing just off Rondon. I would have Allan and Doucoure holding in midfield and for them to pick the right time to join the attack. I would tell our fullbacks to stay deep, so there is always cover. Our present front 3 all want to take on players even when a simple pass could open the opponents defence, but this is something that Rondon can do.
I am sure if Rob Halligan is correct and Lampard and DCL have had a falling out then it makes even more sense to play Rondon on Thursday especially playing against a former club. Also if not this change then what, to turn things around.
Kieran Kinsella
374
Posted 14/03/2022 at 16:33:37
Ray Roche
It's a bit like the chicken and the egg isn't it? The "nervous anticipation" of fans could be based on the nervous looking faces or nonchalant expressions from chewing gum and co as they walk onto the pitch. When was the last time you saw anyone other than say Pickford try to rile the fans up before the game? I bet if Holgate or Keane came out and and ran down to the Gwladys street end fists clenched they'd get a good reaction. But they don't they saunter out sheepishly and they try to make sure they avoid eye contact with whoever does the kick off so they don't have to take responsibility for the ball. Beyond that they've been cheered, jeered and played in front of empty stands over the last 18 months and it hasn't made a damn bit of difference.
Danny O'Neill
376
Posted 14/03/2022 at 17:09:09
I never boo and I never leave early out of principle. I never used to and don't do so now, I appreciate every minute of every game having spent so many years not being able to attend regularly.
Each to their own. Everyone is entitled to their own reaction.
Games last 90 plus minutes. We were only 1 - 0 down yesterday. Seasons last until May. We need to turn this ship around quickly, and are staring at the unthinkable. But we still have control of the Tiller.
Allen Rodgers
377
Posted 14/03/2022 at 17:18:54
Barry @370 look on the bright side. We'll get 4 more home games next season for the same price !
Gary Jones
378
Posted 14/03/2022 at 17:20:22
Thanks for your permission to boo Ray, it's very kind. I've watched us lose 15 out of last 19 and I'm suuuuureeee your right that it's us fans entirely at fault.
Perhaps have a read of Franks notes. It's up to the team to get the fans up. It's circular not one way. To think Leeds get any better support than we do is bollocks. The other week I saw beer and ale being thrown by them in frustration too.
Barry Hesketh
379
Posted 14/03/2022 at 17:39:27
Danny @
It is admirable of you to I appreciate every minute of every game having spent so many years not being able to attend regularly., but different folks have different stuff to concern themselves with, I don't think missing half a minute of added time as not being appreciative of the opportunity to watch a game. Some people who left a bit early may have had to catch transport connections to get home, perhaps in some cases to start a shift at where they work. Not aimed at you in particular Danny, but no crowd of people should be labelled as the same, a collection of individuals with differing values and priorities, who happen to support a particular club.


Bill Gall
380
Posted 14/03/2022 at 17:55:25
Well it is always good to read the various comments on the game and there is no one that was not disappointed on the display on Sunday. There were over 40min left after Wolves scored and to me that was the most disappointing period of the game.
We are definitely in a fight to stay in the league and the people we have to rely on is 100% on the players. The manager can set up formations and tactics but it is the players that have to carry them out. We have to have at least 14 players from the club regardless of their age, or if they have played in the first team who will roll their sleeves up and fight for the shirt and their club. We cant have players letting their heads drop when they go behind.
We do have a difficult set of fixtures but we have no games against any team that has not been beaten previously, and have proven we can go head to head with the best team in Europe. The manager has a difficult job in as much as he would like to be out there playing, he has to rely on other people to do it. His major priority is to put out a team that will play out his tactics with 90min of concentrated effort. Can he achieve that, we don't know yet, but time will tell.
There is quality there, but quality without desire and fight will achieve nothing.
Derek Knox
381
Posted 14/03/2022 at 18:17:53
Ray @ 367, having been at the game as well, the only booing I was aware of was against that Wolves player that kept going down, and their Goalkeeper wasting time, then later on that little nark Podence. I think a lot was aimed initially at that Ref too, and some of his bizarre decisions.
Being the Devil's Advocate the players are very well paid to perform, and many like Danny and others have taken best part of the day to get there and back. To witness a lacklustre ' can't be arsed' attitude from some players, (not all) is hardly going to go down well and increase the frustration amongst the home crowd.
Not being an advocate of booing either, but if they (players) put 100% effort in, and genuinely try to do their best, the crowd are knowledgeable enough to recognise that, and voice their support, as opposed to derision and disdain.
Terry Farrell
382
Posted 14/03/2022 at 18:20:21
Gary negativity breeds negativity not just to the players on the pitch but to the fans around you. Glass half full is best or save it until after the final whistle. You are obviously a true blue come on
Rob Halligan
383
Posted 14/03/2022 at 18:20:28
I cannot really believe that anyone thinks that some Everton players have given up on surviving in the premier league. It's not in a players mindset to think about relegation. As a player in any division, it must be the most demoralising thing to experience. Even players relegated with teams from league two down to the National league must feel totally dejected, so I cannot imagine what any player relegated from the premier league must feel. Despite what many think, players, for any club, have pride in playing professional football, and there won't be one player who wants to experience relegation. Does anyone remember the day Leeds were relegated back in 2004, and the pictures of Alan Smith crying his eyes out? Relegation must hurt like hell, though never having experienced it, I wouldn't know, and it's something I don't want to experience either.
So, with twelve games still to go, it's totally in our own hands to get out of this mess, and the fans can play a major role in this. Any fans who have given up, and have already consigned us to relegation, then see you all next season, you are most definitely not welcome at Goodison for the remaining games this season
Neil Copeland
384
Posted 14/03/2022 at 18:29:37
Terry # 382, agreed.
Rob #383, spot on. We have just under a third of the season to go. Nothing has been decided and our fate is very much in our own hands. There are at least 3 teams who would swap places with us. Nothing has been decided and anything can still happen. As supporters all we can do is give it our best and hope the team respind.
Come on, we can do this! UTFT!
Ian Bennett
385
Posted 14/03/2022 at 18:29:54
Confidence is shot, and for me we aren't working hard enough.
We don't create anything, we don't put it in to stop the cross. We don't have anyone that makes a forward run.
Gary Jones
386
Posted 14/03/2022 at 18:33:48
Terry, positivity breads complacency, and that's exactly why we are now almost odds on to go down. The pass around the back, take the time with goal kicks, stuff has to be stamped out quickly. We are not good enough to sustain the press, and not mobile enough to give any outlets. When the players do it - especially at 1-0 down - I'm going to make my negative opinion clear and loud.
Eddie Dunn
387
Posted 14/03/2022 at 18:37:21
We need to disregard the status of opponents, we need to go out a beat the better sides. We should have won at Old Trafford- the lads are capable. We just need a little bit of luck - the first goal would help.
I'm not resigned to relegation, so let's get stuck into the Geordies, who had very favourable reffing decisions at their place and let's get back on track.
Chris Leyland
388
Posted 14/03/2022 at 18:43:44
This blaming the fans who boo for the team's absymal performances is gaslighting of the highest order.
The fans wouldn't boo if the players actually looked remotely like they cared and out in the effort but, after Wolves went 1 up we didn't look remotely like scoring and we just meekly surrendered. It was the lack of effort and desire to get anything out of the game that caused the fans reaction. They weren't booed against City because they actually tried.
If the players don't like it then it's down to them to give the fans something to get up for
Colin Malone
389
Posted 14/03/2022 at 18:44:26
Christy # 352.
Patterson has got to be better than Jonjoe Kenny, who puts the fear of god in you when he receives the ball.
Derek Moore
390
Posted 14/03/2022 at 18:46:12
Even by ToffeeWeb standards, the ongoing quarrel on this thread is asinine beyond belief.
Some supporters stay until the end, some don't. Some players care deeply about potentially getting relegated and I'm sure some players couldn't give a fig one way or the other. Some fans cheer no matter what, some boo because they feel the football was shite. Some people vote Labour, some vote Tory and some don't bother to vote at all.
It's almost as if no two people are alike, and our values and behaviours reflect that range of diversity. Isn't it?
Does anyone else want to come on and define who is and isn't an Evertonian and who is or isn't welcome at the match? After all we've had every other fool on the internet put their opinion in on here. There's no need to be shy; once a debate enters the gutter it's impossible to drag it down any further anyway.
If this thread was a horse, you'd shoot it. Asinine.
Tony Everan
391
Posted 14/03/2022 at 18:53:25
Rob, Terry, Neil, Hear hear, We step up and fight, fans united . The only chance we get out of this is to get behind the manager and players.
Other clubs will be hoping for discontent and division, because that is self defeating. Throughout these next two months the club and the fans must show no weakness. Roar the team on to a victory on Thursday then build on it.
Everton is a proud working class club that won't lie down for anyone. These are desperate times but we fight through it together. Never back down, never give in, fight fight fight and come out the other side of this dark tunnel stronger.
Call on the true spirit of Everton FC to put wind in the sails of our players, power in their legs and confidence in their heads.
Come on our beloved BLUES, you can do it !
Matt Henderson
392
Posted 14/03/2022 at 18:57:52
We were atrocious for months before Frank came in so this isn't on him. I also think the players individually are ok and if they were in a team better suited to them they'd look a lot better. Our problem is that the team that has been assembled does not work as a collective, is imbalanced and lacks depth. Those wanting to point blame need to start at the Board/owner level as they are the ones who've 'created' this team.
Anyone thinking we will come up in a hurry if we do go down needs to re-evaluate. We have an owner with no clue and a Board consisting of an ageing pensioner with no idea how to run a modern football club, a CEO who's prior experience was running a charity and who we were told months ago was only staying on whilst she looked for another job and an ex player with no recent experience in such a role that I'm aware of though maybe the jury is still out on him. Can you imagine them re-organising the entire Club for existence in the Championship, they are going to have to sack a load of back office roles to trim the cost base considerably and rebuild a team from scratch. They've already demonstrated over the last 6 years they will fail miserably at this!
Unless they expand the Board (a 3 person Board is ridiculous!) and add real expertise to it, get a new CEO in who can run a football Club properly and side line the Chairman completely, then we are royally screwed and if we stay up this year we are only prolonging the inevitable.
Tony Everan
393
Posted 14/03/2022 at 19:04:34
Lewis Warrington watch:
Played a full game on Saturday for a Tranmere. They were winning 2-1 m then conceded in the 91st minute. Then scored the winner in the 96th minute. Our lad bagged an assist.
" With 15 minutes of normal time remaining, substitute Elliott Nevitt put the home side back in front. He broke the offside trap after being played through by Lewis Warrington and the striker slotted cooly beneath Bishop"
Ray Jacques
394
Posted 14/03/2022 at 19:05:53
Anyone know if DCL is in court at Chester tomorrow?
Ian Riley
395
Posted 14/03/2022 at 19:06:15
Ian#385 thank you!!!!
Our work rate over many seasons has been poor. This season we have got what we deserve as our work ethic has been poor. Top teams work hard to get top results. Yes more ability but they win the battle as well.
Perhaps our players think it's beyond them? If we don't match the opposition or beat them with effort/desire then forget it! We are gone and deserve to be relegated!!
As much as many looked at Sam allardyce as a no no and couldn't wait to see the back of him. He demanded his players put in a shift first. Every player has self and professional pride. No place to hide now!! How much do they want to stay up?
Chris Leyland
396
Posted 14/03/2022 at 19:08:43
Ray, 394 - yes he is. Someone sent me the screenshot that's doing The rounds of the court list for Chester Magistrates court for tomorrow. I checked the official records and he's there tomorrow at 9.45am.
Dale Self
397
Posted 14/03/2022 at 19:11:04
Thanks for the invite Derek but I think I will walk around that hole for now.
Will Mabon
398
Posted 14/03/2022 at 19:13:16
Chris,
maybe some fans could attend the court, cheer from the public gallery to help his performance. Just don't leave early.
Neil Copeland
399
Posted 14/03/2022 at 19:14:45
Tony #391, "we will fight, fight, fight, with all our might for the boys in the royal blue jersey"
Bring it on!
Danny O'Neill
400
Posted 14/03/2022 at 19:17:55
I wouldn't condemn any supporter of Everton or football for how they wish to express their support or their frustration Barry at the match or on internet forums.
And yes, there are many reasons people leave early or stay to the end. I was just saying my own view on when I have the privilege of being able to attend Everton matches.
Chris Leyland
401
Posted 14/03/2022 at 19:20:12
Will, good one.
I hope he hasn't got Keane and Holgate on his defence team.
If it's drink driving then it might be our best chance of getting some points.
Phil Sammon
402
Posted 14/03/2022 at 19:20:55
Why is DCL going to court?
Dale Self
403
Posted 14/03/2022 at 19:21:52
Pssst, Chris 396, sorry to ask mate but I gotta know, what's he wearing?
Neil Copeland
404
Posted 14/03/2022 at 19:25:01
Will #398 😁
Chris # 401, I'm hoping for a min of 2 bald tyres, 4 and we would be pretty much safe
Kieran Kinsella
405
Posted 14/03/2022 at 19:26:01
Rob 383,
David Ginola in 2013 when asked if Newcastle's players would care if they're relegated:
"You have to have the right sort of players for that task and I'm not sure that the (French) players are concerned about it. The players are thinking, 'well if the club is relegated then we will leave in the summer'."
Alan Smith who you mention was Leeds through and through. That would be like Anthony Gordon crying if we are relegated -- which I am sure he would -- but as Ginola says I am sure most of the rest would already be halfway out the door and not that bothered.
Neil Copeland
406
Posted 14/03/2022 at 19:29:32
Kieran#405, just as well we sold Digne then…
Kieran Kinsella
407
Posted 14/03/2022 at 19:32:02
Neil
Ha! I thought the same
Neil Copeland
408
Posted 14/03/2022 at 19:34:48
At least we know the logic behind that deal now mate!
Kieran Kinsella
409
Posted 14/03/2022 at 19:41:46
Neil
I guess Rafa learnt from his time at Newcastle
Danny O'Neill
410
Posted 14/03/2022 at 19:41:50
Saw earlier that a person with the same name as our striker is in court (Chester Magistrates) tomorrow.
The season that keeps giving.
Explains a lot I guess if it's the same person.
Tony Everan
411
Posted 14/03/2022 at 19:47:00
According to a Twitter source he was caught speeding whilst getting a gobble off Tom Davies.
Also a photo fit image of the accused has been released.
https://mobile.twitter.com/hashtag/calvert-lewin
Neil Copeland
412
Posted 14/03/2022 at 19:47:06
Kieran #409, 😁
Kieran Kinsella
413
Posted 14/03/2022 at 19:49:37
Phil
He's been stealing a living
Mike Hayes
414
Posted 14/03/2022 at 19:55:31
With regard to relegation and players leaving because of it - how does that work? Is it written into their (over paid) contracts- put up for sale - ask for transfers or what? As we have given them stupid contracts on silly money what happens?
Paul Birmingham
415
Posted 14/03/2022 at 20:02:14
With you Tony Everan,#391, all Evertonians, from now on in to the end of this season, to stand and fight as theres a long way to go and plenty more twists, in this season Aston.
Franks got his biggest game as a manager this Thursday, he must get a result against the Skunks.

Stephen Brown
416
Posted 14/03/2022 at 20:16:06
We are terrible and cannot see where next point is coming from but it is in our hands!
We must settle on a formation and a settled side. No more 3 at the back, no more 5 at the back etc etc
4-2-3-1 for the rest of the season. The players know how to play it and we have to stick to it.
Starting with Newcastle
Pickford
Patterson Keane Branthwaite Godfrey
Allan Doucoure
Gordon Dele Richarlison
DCL
I'm as downbeat as anyone but surely that team can win 3 games and draw 2 out of the next 12 !! I think that'll be enough ?!
This is torture!!

Will Mabon
417
Posted 14/03/2022 at 20:20:02
Chris/Neil,
seems info on potential charges is sparse, speculation only for now, or 'til tomorrow.
Tony,
of course that Twatter speculation is fake - isn't it? Or maybe that's why the skirts...
Soren Moyer
418
Posted 14/03/2022 at 20:27:46
We don't even have a decent free kick/ corner taker anymore. Sigurdsson, James and Digne are all gone! So is our chances of scoring from free-kicks.
Will Mabon
419
Posted 14/03/2022 at 20:35:54
Soren, yes - another big missing aspect.
Christy Ring
420
Posted 14/03/2022 at 20:50:29
Guys I hope Calvert-Lewin is in the squad for Thursday night, especially at Goodison, we badly need his physical presence, fit and focused on the biggest game of the season. I'm not sure of all the speculation but, in my opinion, some of the comments are way over the top.
Soren Moyer
421
Posted 14/03/2022 at 20:56:40
@Paul, 415. "A" result won't do us any good. Only A win can help us.
Ray Roche
422
Posted 14/03/2022 at 21:02:30
Gary@378
If you think that booing the team will improve things, as I said, go on, knock yourself out. You don't need my permission Gary. And I merely pointed out that Leeds fans helped their team beat Norwich, a point also underlined by MotD pundits.
Furthermore, I also saw plastic bottles being thrown at Goodison by Leeds fans in much the same way as some of our fans threw bottles versus Villa. All clubs have a share of dickheads.
If we hadn't been cheated out of (possibly) a goal from a penalty versus Man City, I firmly believe that the confidence would have been boosted and performances improved. But if officials don't want a particular scenario then it won't happen.
Paul Birmingham
423
Posted 14/03/2022 at 21:03:29
Soren, in context the only result is a win v the Skunks.
The hinges on the relegation trap door are loosening, and failure is not an option for Everton, this Thursday night.
Ernie Baywood
424
Posted 14/03/2022 at 21:10:05
Those saying DCL is in the wrong for being unfit haven't had a quad injury before. It's a horrible and frustrating injury. I can well believe that we don't see him properly back until next season.
But, right now, if he can run, jump and put in some effort then he's in. If only because it puts Richarlison in a position where he can actually have an impact instead of chasing round back fours in some type of fitness drill.
I'd absolutely drop Doucoure. You shouldn't need a crowd to motivate you to put in some effort. He was a disgrace and I don't want to see him in blue again.
I'd kill to have Tom Davies in our midfield now. Not because he's great, but because he'd give everything. Surely we can find a midfielder at the club with that attitude? It's what we'll need.
The message has to be to be brave. Play 20 yards higher up the pitch. Win the second ball is a cliche for a reason - and we can't win a second ball when our midfield plays 30 yards behind where the ball drops.
We have some quality in Richarlison, Gordon and Gray. So it's pretty simple for me - at a minimum we have to match teams for workrate and then hope our quality can make the difference. We're not giving them that chance at the moment. We're hoping they can do it on their own without matching for workrate.
Dave Williams
425
Posted 14/03/2022 at 21:56:19
This is getting very scary.
A big part of my life has been this club for 60 years now. Watching them play, listening to radio commentary, buying every book I can find about the club and by former players, buying replica shirts, the thrill of meeting ex-players and always the hope that one day we will return to our glory days that I was able to witness first hand in the sixties and eighties.
Now I am reading about the very real prospect of relegation, points deductions for transgressing FFP, financial ruin and possible bankruptcy if Moshiri bails on us, a firesale of our best players, the disaster that will be the new stadium at Bramley-Moore Dock if we are unable to continue with it not to mention a likely capitulation and embarrassment at Anfield in a couple of weeks time.
What will weekends become if our team is no more? It really is a shocking situation and at the moment the manager appears to be at a loss and the players lack direction, togetherness and guts.
We do have almost a third of the season still to go so plenty of games left but games are of no use unless we get ourselves together and have a right good go at every team we play. We can still save ourselves but Frank has to show proper leadership, he has to cut out the interviews in which he is just trying to cover his own backside and do the job he is paid for and win some games.
This club is on the brink unless we start winning and a statement from Moshiri confirming he will remain on board no matter what would be some comfort.
Never before have we needed the Goodison crowd more this week.
Pete Clarke
426
Posted 14/03/2022 at 22:44:09
Matt #392. Best post so far regarding the mess we are in.
This is not on Frank Lampard whether we like him or his tactics. He was brought in for the future, for the rebuild of the team and the club because we have been an abject mess for a long time due to the idiots who own and run the club. They are the ones who should be getting boos every game.
The current crop of players we have are clearly not good enough and are also shot of confidence. The recruitment has been appalling and this has left the current manager with little time to piece together a team who can play football.
Lampard has tried with the likes of Gomes, Iwobi, Van de Beek and now Alli but it's just a mess because they let you down constantly with little backup when it's not working. Injuries have not helped of course but that is an old excuse and we have to get on with it.
As frustrating as it is to see the likes of Doucouré fail to control a simple ball and then constantly pass backwards, we really need to keep our nerve as supporters and just urge them on because the booing is demoralizing and yet uplifting for any opposition.
My guess is we will have Rondon or Calvert-Lewin playing Thursday as a last throw of the dice with tactics. If we fail, then we are heading down but it's been a long time coming and at least it's not Rafa taking us there.

Michael Connelly
427
Posted 14/03/2022 at 22:50:55
Need to play Godfrey at left-back for the rest of the season, with Keane and Holgate in the middle and Kenny at right-back after his suspension. Doucoure, Allan and Van de Beek, as a middle 3. Gray and Gordon out wide, and Richarlison up front. Mykelenko and Coleman are nowhere near the required level for this mess.
I lay this mess squarely at the foot of Moshiri for allowing Benitez to take control of transfers and ignoring his DoF. The selling of Digne a week before sacking Benitez just highlights the haphazard nature of his tenure. Letting James go has also backfired. Still can't believe Digne has gone; absolute suicide.
The price of a new stadium could well be our top-flight status. Hope it's worth it.
Kieran Kinsella
428
Posted 15/03/2022 at 00:42:22
I support booing and jeering.
30 years ago, I went to a West End production of Camelot starring Richard Harris. However, he skived off so a no-name understudy stood in.
As soon as he came on stage, people started booing and jeering simply because he was not the star they'd come to see. This continued throughout the show. The actor did not panic and fluff his lines or walk into the set, he did his job as a professional and slowly fewer and fewer people booed his every word. At the end, one or two even clapped his curtain call.
Now there was nothing this man could do to be Richard Harris so booing him was unjust. Nonetheless, he did his job like a man.
Can you imagine Holgate or Keane having that stoicism? No. Why? Cause we give them medals for "competing" even though they really don't.
They should earn the cheers like Richard Harris. The default should be silence; for 90% of our players, we should boo because that is what they deserve. If they improve, then – like the actor – they may earn one or two claps at the end.
But that's just my view. I don't expect the rest of you to agree with a little tough love even though being soft has got us here.
Pete Clarke
429
Posted 15/03/2022 at 01:19:15
Our supporters pay good money to watch the team play but what they want more than most is for the team to score goals and win regardless of the way they play. Entertainment is a bonus but it is a results-based sport.
Currently we are not scoring goals, not winning games and we are certainly not entertaining. What is amazing is just how many turn up in the hope of seeing something to enlighten them and brighten up the day but It's just not happening because of the malaise that the club has been in for what seems like an eternity. No wonder despondency creeps into the crowd and they vent their frustrations.
At least Leeds were given entertainment on a regular basis. They are even paying tribute to their sacked manager now such was his will to entertain and give the supporters something.
I have high hopes for Frank Lampard to build this club back up but he has walked into an absolute mess of a club with players who have lost all sense of duty and courage to do their jobs properly and look broken by years of constant mismanagement and poor coaching. I just hope the air of despondency around the club does not break him too.

Kieran Kinsella
430
Posted 15/03/2022 at 01:45:17
Pete,
Good point on Leeds. Forrest Gump like Luke Ayling always has a smile on his face and attacks. Our miserable weak-minded scum don't even try.
Ed Prytherch
431
Posted 15/03/2022 at 02:14:43
Our left-back problem is an example of how badly our club has been run. A few years ago Baines was heading toward retirement and we bought Digne – a good move.
We then sold Robinson to Wigan for £2M and brought in Nkounkou who has disappeared on loan, so still no backup for Digne.Then we sell Digne and sign Mykolenko for £15M.
Robinson will be a first-choice left-back in the Premier League next year with Fulham. Does anyone believe that Mykolenko is that much better than Robinson? IMO, he is not in the same class as Robinson.
Jay Harris
432
Posted 15/03/2022 at 04:32:13
Ed,
The only person more disappointed than me when we sold Robinson was Mike G.
The lad is better than any left-back since Baines and the club was daft to let him go.
Mykolenko understandably looks very unsure of himself and has different people on his flank every game, so can't even develop a partnership.
Ernie Baywood
433
Posted 15/03/2022 at 05:33:49
All our projections of teams aren't going to matter.
What matters is that Lampard needs to be able to look them in the eye and find out if they are up for the battle.
There's a hero to be made in this team. No-one ever thought Horne or Farrelly would be etched in our memories.
I just hope that Frank is up to it. He's a winner. Cole is a winner. They may not have flirted with relegation but they know what it takes to play under pressure.
We've got players who can thrive in the next few weeks. Others will absolutely not stand up to the pressure. Frank's job is finding out who is what before it's too late.
I think we saw Godfrey, Gordon and Richarlison up for it. I'll add Kenny, even if he let it get the better of him. I don't doubt Pickford's stomach.
So that's 4 in for Thursday. 7 more needed. If we can find 11 with a bit of fight, then we might just be able to scrape a few points.
Brian Murray
434
Posted 15/03/2022 at 06:52:12
Any other club with a bit of steel would now sack the idiot who put the other scores on the screen showing a total lack of judgment to the mood and psychology of the day. No chance of that at L4 – it's probably someone's mate who can't be touched.
Tony Abrahams
435
Posted 15/03/2022 at 07:35:52
I like that team/formation Stephen B, and maybe it's time to get Deli Ali involved, even if his body language doesn't look great.
Players only love you when they're playing, would be my reason for playing him, and if we find out this just isn't true, we could maybe put Anthony Gordon in this position, or let him Richarlison and Gray, interchange?
I enjoyed watching Godfrey playing on the front foot on Sunday, but the longer the game went on, the deeper we became, and not once do you ever see Pickford telling his defenders to get out.
It's something I go on about on a regular basis, but it's because I believe even average players, become good players when they have got time and space, and the Wolves midfielders had the freedom of Goodison Pk, for 60 minutes on Sunday afternoon.
Ernie Baywood
436
Posted 15/03/2022 at 07:40:55
Rob #437, if they don't have at least doubts now then they're not optimists, they're deluded.
I don't consider myself pessimistic and I think we'll go.
I'm just hoping they show us something on Thursday. We could draw that game and stay up. But we need to see that they've got something in them that might dig the club out of this mess. I haven't seen anything like that yet.
We've had four shots in four games. There's the starting point.
Christopher Timmins
437
Posted 15/03/2022 at 07:42:18
We need our players to be brave over the final 12 games and play without fear. It sounds simple but, when you have played 19 and 2 wins and 2 draws, it's not that easy.
I always think that young players play with less fear than the older ones and that's why I would advocate giving the likes of Patterson a go at this stage. The older ones just look shot at present.
David Bromwell
438
Posted 15/03/2022 at 08:25:52
Like many, I started to select my team last Saturday for the game on Sunday. I think I got as far as the midfield when I gave up agitated and frustrated, and felt it better just to go along and give Frank's selected team my full support.
Sadly, not for the first time this season, I felt our selected team had little chance of success and so it transpired. Frank and his experienced backroom staff must shoulder some of the blame for the team's lack of application.
Glaringly obvious to me were: a non-functioning left-back, confusion at right-back with two suspect players playing side-by-side. Once again, a two-man midfield completely overrun by numbers and more skilled opposition. And finally three forwards who played with lots of effort but were so far apart as to be completely ineffective. I don't remember troubling their goalkeeper once.
Too often this season, it seems to me that we are beaten before the game begins. We have had no consistent and recognised way of playing and, as matches develop, the players lose confidence. It's the manager and his staff's responsibility to set the team up, support them and stand by them no matter what.
The previous Manager was quick to criticise his players and Frank seems to be doing something similar. It's not good enough, we are in a desperate situation, we need our leaders to stand proud lead from the front and assume full responsibility.
Derek Taylor
439
Posted 15/03/2022 at 08:55:13
But, David, these players are pure crap and a long succession of managers have failed to inspire them.
Only the bore that is Allardyce has managed a decent finish and that was based on pragmatic defence. But just think of the shite signed on his shift!
Mark Ryan
440
Posted 15/03/2022 at 09:01:59
If dropping down into the Championship would mean Kenwright stood down, who would vote for that? The alternative is Kenwright staying for the next 10 years and us staying up by 1 point? I'd be interested in that vote.
Jeff Spiers
441
Posted 15/03/2022 at 09:07:45
What are the chances if supporters and players have a casual heart-to-heart, say at Finch Farm, and let us show how important EFC means to us. No holds barred because this mess needs sorting now!
Dave Abrahams
442
Posted 15/03/2022 at 09:13:36
Kieran (428), can you recall the understudy's name?
Brent Stephens
443
Posted 15/03/2022 at 09:18:29
Mark 441 - the result of the poll is already in - zero votes for your proposition.
Mark Ryan
444
Posted 15/03/2022 at 09:27:56
You seem very positive Brent @ 444. I hate our current regime. Thought I'd ask but you may well be correct
Brent Stephens
445
Posted 15/03/2022 at 09:40:19
Mark, many share the feelings about Mr Kenwright, but wanting us to go down just to be rid of him would be cutting off our nose to spite our own face.
Derek Taylor
446
Posted 15/03/2022 at 09:55:25
I think Our Uncle Bill will die with his Everton boots on aged 99 – even if we are in the National League North.
As far as the voting is concerned, how can we hope to stay in the Premier League with him and 'that idiot' involved?
Kim Vivian
447
Posted 15/03/2022 at 10:19:00
Kieran @428.
I do not like to have insulting digs at people on public forums, Facebook and the like, and generally enjoy your sometimes witty and mostly informed and objective posts.
But that is the the biggest, most annoying piece of shite I have read in some time, start to finsh.
Brian Harrison
448
Posted 15/03/2022 at 10:26:36
I have no idea if we will survive the drop or not, but what I am absolutely certain about is the culture at this club needs to drastically change if we hope to be successful in the future.
Since Moshiri arrived, the belief was "Now we have an owner who has the financial clout to help us compete with the very best" but it's had the complete opposite effect.
Since Moyes left, apart from 1 season under Martinez, we have struggled and have had a revolving door for managers. How can you possibly build anything when the managers since Moshiri came in have an average of 18 months before being sacked?
Apart from Chelsea, who change their manager about the same as we do, but they seem to thrive on it, but by-and-large the successful clubs give their managers time to build a club.
Had Moshiri been in charge of Man Utd when they signed Ferguson as manager, he wouldnt have allowed him to go 6 years trophyless but look how that patience paid off. Same at Arsenal with Wenger; these type of managers need time to build a club.
So, even if the unthinkable happens and we get relegated, for me, they have to stick with Lampard and give him the time he needs to build this club back were it belongs, and no more knee-jerk decisions. Seems Cahill was very impressed with Lampard, as was Sharp, so if he was the right person to appoint, then let him get on with the job.
This club needs massively rebuilding from top to bottom; our recruitment has been disastrous, we can all name players who have been paid a fortune which no other club in the Premier League would pay such average players.
That's why Bolasie, Besic, Delph, Tosun and countless others stay to the last minute of their contracts knowing full well the money we pay them won't be on offer anywhere else.
Peter Mills
449
Posted 15/03/2022 at 10:46:15
#428 and #447. Late in his life, Richard Harris took up residence at The Savoy. He became ill there, his wild lifestyle having taken its toll, to the extent that his family immediately called for an ambulance when they saw him.
He was being carried through the foyer on a stretcher when he managed to sit up and shout to the guests "It was the food. Don't touch the food".
We could do with a bit of that spirit.
Dave Abrahams
450
Posted 15/03/2022 at 10:59:52
Derek (446),
Kenwright might live until he is 99 but a couple more defeats and one of his life-threatening illnesses will be announced; they usually are when Everton are in the doldrums.
Michael Lynch
451
Posted 15/03/2022 at 11:10:28
Lampard is indeed a very impressive presence, but his performance so far has been less than impressive. Sure, the atmosphere improved for a few weeks, but the results have been the same as they were under Rafa - dreadful. And Lampard has had more senior players available to him most of the time.
In the long term, even if we survive this season, what could Lampard do to turn things around next season, barring a complete clear-out and re-build - which can't happen because we don't have the money, and won't have the money for years to come? His preferred style of play would require Chelsea or Man City style players, not the shite that we have now or could afford to bring in next season.
If we don't go down in May, it's a stay-of-execution not a pardon.
Brian Wilkinson
452
Posted 15/03/2022 at 12:22:33
Going to give a "glass half-full" couple of versions on what could and has happened, and are our neighbours really on a pact with the dark side.
Over the years, it certainly feels that way, the amount of times we have been robbed by dodgy decisions: Main Road, Wembley League Cup Final '84, Collina and many more, even in our most glorious reign in the eighties cut short, 2 title winning teams halted by two world wars.
So now fast forward, our neighbours looking to nab 4 trophies, we put in a letter for an apology from the refs officials and since then, the devil has well and truely been dancing at our expense.
Money tree running out, owner looking for a way out, the threat of going down looking scary, what else could possibly go wrong? Oh yes, the new stadium at Bramley-Moore Dock being scrapped. Worst-case scenario, our neighbours decide to take up residence there, will not happen, but that is as bad as it could possibly get.
So let's try a "glass half-full": we go on a winning run of games, we somehow against all the odds turn up at Anfield and get either a win or draw, putting us safe, and the same time, screwing our neighbours out of title points.
It will not gloss over our woeful season, but a couple of wins, getting safe, and points at Anfield will certainly make it feel better.
All is not lost yet, Blues, although I hear Bill is debating whether to use Panic or Heaven Knows I'm Miserable Now, for Thursday's song, after hearing Stephen Patrick Morrissey starting to take an interest in Everton's woes – could be a single out soon by him.
Brian Wilkinson
453
Posted 15/03/2022 at 12:37:17
Anyone having a bet at Cheltenham today, look no further than a mugs bet for us, running in the 4:10 race there is one running called Heaven Help Us... :-)
Or for the "glass half-full": same race, Burning Victory.
Kieran Kinsella
454
Posted 15/03/2022 at 14:31:15
Dave,
I don't remember his name. He probably quit acting after that and became a coach at Finch Farm.
Tony Abrahams
455
Posted 15/03/2022 at 15:06:52
Despite the good times Brent, I think watching Everton has mostly been very boring for a very long time now, and although I'm only speaking for myself, I genuinely haven't travelled away to watch Everton very often since Koeman became our manager, simply because I haven't been able to justify it to myself.
If we got relegated, I'm certain I wouldn't miss a game, although it's obviously a worry because of the present squad, because I don't think we would come back up without drastic changes.
If it was the championship for just one season, and the end of the Kenwright & Moshiri, I'd take it right now. Maybe this might make a better poll, although I'm certain loads will be shaking their heads, and telling me to fuck off, If they read this!
Christy Ring
456
Posted 15/03/2022 at 15:44:01
Tony #455,
Be careful what you wish for. Look at Sunderland and Sheffield Wednesday after they went down.
I just hope we survive and Frank can start afresh in the summer. Massive wages for Tosun, Delph and Sigurdsson will be gone for starters, and they can be replaced by players who might help us on the pitch.

Lee Courtliff
457
Posted 15/03/2022 at 16:13:18
Our rearranged game against Burnley is on Wednesday 6 April at 7:30 pm.
Allen Rodgers
458
Posted 15/03/2022 at 16:22:46
Lee, Burnley away Weds night and Man U home Saturday lunchtime. Only two days recovery time.
Nick Page
459
Posted 15/03/2022 at 16:33:46
Some shite written on here. Can't believe the penny still hasn't dropped for some. Bill brought Moshiri in; Moshiri did not buy the club and didn't make any radical changes unlike our friends down the other end of the East Lancs who cleared the place out too to bottom. Moshiri is/was an INVESTOR. Granted he's likely brought in some players he liked, which is ultimately a waste of money/profligate but it's not the reason for where we are. When he was brought in the club was already rotten to the core for fucks sake. His money only hastened the demise because the structure of the club, and it's philosophy was destroyed by the greedy fat limelight seeking pig that sits in the Chairman's seat. That's what he's achieved. Apart from one cup final. Good time(s) though. So don't hark back to the Moyes years. They were shite too, and most of you complained then as well regarding the knife to a gunfight culture. The only thing he did was give us a bit of an identity and that really only happened in adversity as when we had a fully fit team we were mostly shite. So, as some of us keep pointing out to the cloth eared, ignorant twats on here, it's been like this for ages and this is the culmination of that I.e his mismanagement. It was only ever going to end this way once he had some money for his train set because he has no financial nous and sees only what he wants to see. Go and ask him if you don't believe me.
David Cooper
460
Posted 15/03/2022 at 16:41:18
So now 5 games in April! Add in April 20 home v Leicester. By my calculations that leaves Watford away and Palace at home to be slotted in for May. Between April 3 and May 22 we have 11 matches to play. So that is a midweek game every week!
Rob Halligan
461
Posted 15/03/2022 at 16:44:19
Tony # 455………Fuck Off!! 👍👍
Don Alexander
462
Posted 15/03/2022 at 16:45:33
Nick (#459), don't sit on the fence mate!
Brent Stephens
463
Posted 15/03/2022 at 16:45:54
Nick #459 you seem to be saying Moshiri is only an "investor" and doesn't own the club. Do I read that correctly?
Is a 94% stake just an investment or ownership?
"Ignorant twats"? Really?
Brent Stephens
464
Posted 15/03/2022 at 16:48:03
Tony #455 I couldn't possibly tell you that on TW! I'd get banned!
Dave Abrahams
465
Posted 15/03/2022 at 16:49:18
Kieran (454), he'd be in good company then, there's loads of good actors at Finch Farm and an absolutely crap one in the boardroom.
Mark Ryan
466
Posted 15/03/2022 at 16:51:48
Tony @ 455, I'm almost there pal, I'm almost there
Nick Page
467
Posted 15/03/2022 at 17:01:53
Brent having 94% means nothing unless you do something with it so do feel free to tell me EXACTLY what Farhad Moshiri has done regards improving the structure of the football club since he got here? All these radical changes he made post Kenwrights exit…..oh wait, Kenwright is still Chairman. Looool.
Supporting Kenwright is supporting relegation and failure and is based on sheer bloody-minded ignorance or complete and utter stupidity. Which granted for a few is a distinct possibility.
Brent Stephens
468
Posted 15/03/2022 at 17:08:43
Nick so you now recognise Moshiri owns the club. Wasn't difficult was it! OK maybe not that easy for you.
Nick Page
469
Posted 15/03/2022 at 17:22:14
Brent, stop trying to be clever; you're not.
Will Mabon
470
Posted 15/03/2022 at 17:35:15
A season like this on the back of recent times, gives more than enough reason to require huge changes irrespective.
Something is deeply wrong in the culture and very fabric. It has been for a long time. I'm not sure it's understood or even acknowledged within club management to be addressed at this stage.
There is no world in which relegation is any sort of answer IMO.
The few that do return relatively quickly (and then re-establish without yo-yoing) are generally not burdened as financially as we would be. In fact such bigger clubs often fare worse.
In a cold, balance-sheet, digitized world and our increasingly fading memories of prize-winning success, a record of approaching 70 unbroken years in the top flight stands in lieu, in pride, almost as its own trophy (as well as number of total seasons).
If this ends, it will likely never be seen again at Everton.
Relegation? Please, never.
Nick White
471
Posted 15/03/2022 at 17:49:28
Agree Will. There is much wrong behind the scenes but all we match going fans can do on Thursday (and the remainder of the season) is to get behind the team and make a really hostile environment for the opposition.
At the same time, we need the team to get stuck in from the first moment and keep going. If the team do their part, the fans will be right behind the team (and vice versa).
The only thing that matters now is that we stay up. Relegation will be a disaster for us.
Will Mabon
472
Posted 15/03/2022 at 17:56:23
Nick, yes. I just hope the coaching staff can somehow find a way to elicit some commitment, some fire. Without it, the rest simply won't work.
Kieran Kinsella
473
Posted 15/03/2022 at 18:10:53
In Finland, they do it based on income with no cap so there was a millionaire who was fined around €50,000 a couple of years ago. The average weekly wage in England is £588 so this fine is effectively two weeks wage for Joe Public. For Calvert-Lewin, it's what about an hour's wage...
Peter Hopkins
474
Posted 15/03/2022 at 18:24:13
If we manage to stay up, and at this moment that is a huge if, a complete overhaul is needed, start from scratch.
Sell Pickford while he still has value, must £20-30 million at least. Mina, Keane, Holgate, Coleman out. Allan, Gomes, Gbamin, Iwobi,Townsend out, and if needs must, sell Richarlison and Calvert-Lewin. Delph, Sigurdsson and Tuson off the wages. Completely overhaul the squad.
The likes of Branthwaitwe, Godfrey, Patterson, Mykolenko, Gordon and possibly one or two other youngsters. We may struggle for a while but I'd rather struggle with a fresh batch than watch that shower of shite again.
Will Mabon
475
Posted 15/03/2022 at 18:42:15
Peter, I've said this before – this squad (allowing that there have been players lost, but equally some gained) have had several periods of playing to a fairly high level in the table, though not able to sustain.
For overwhelmingly the majority of the time, teams with poor quality squads do not do this. They stay low and their whole focus is avoiding the drop.
In a general overall sense, this squad and team even now, are better than this. What the hell it is that's causing this incredible malaise through the whole fabric of the place, I have no idea.
We may be left with no choice but I hope to God we don't have to have a fire sale of the better players. All else being equal, that can only make us even worse.
Tony Abrahams
476
Posted 15/03/2022 at 19:00:16
Wednesday night, Saturday lunchtime, there's a fucking conspiracy going on, especially when reading certain games of ours could still be moved to help the teams who are still in the Champions league?
And that's before they tell us who's fucking refereeing the games!
Ian Bennett
477
Posted 15/03/2022 at 19:25:15
Pete Hopkins – that's how I feel about our squad. Branthwaite, Gordon, and then I am struggling.
£500M on this, it's heart-breaking.

Nick Page
478
Posted 15/03/2022 at 19:36:25
Tony,
Apart from the abhorrent mismanagement of Everton FC by Kenwright & Co (it's a club), I've sworn for years that the Premier League and Football Association want only one team from the city in the Premier League.
Even when they've been absolute garbage, Liverpool have had more penalties and scored more injury-time goals than any other club. But they call it Fergie time, the wankers. And we get nothing from refs, week-in & week-out. It's bizarre.
But I also attribute most of that to the weak mentality of the club and it's complete and utterly rank Chairman who has let us become a patsy, a make-weight and basically a laughing stock in the eyes of our so called competitors. He has stripped us of any pride and any fight.
You don't see the likes of Big Nev – arguably our greatest ever player but an outspoken inconvenience – at Goodison because they tell the truth. The truth is that we are shite and stuffed full of shithouses like Holgate who would be sacked on the spot if it was any other profession.
Until we rid ourselves of the parasites feeding off Everton, if ever, it will never change. I honestly think this club is doomed…. unless it starts to fight for its existence – and that won't happen with this Board.
Glad I was there in '85 vs QPR – I won't fucking see that again. It's a disgrace.
Stu Darlington
479
Posted 15/03/2022 at 19:56:11
Squeaky bum time fast approaching! Couple more losses and it's disaster looming.
I've seen the posts above accusing the usual suspects but for me it all comes down to the players on the pitch. We simply can't win football matches, and if you don't win matches you get relegated, simple really.
Our senior players are not delivering, Calvert-Lewin, Richarlison, Gray, Gordon running around like headless chickens with no end-product, midfield lacking pace and creativity, and I can't begin to describe the defence! At the start of the season I thought they were just crap, but now I realise they are not that good!
If we do manage to survive this season, it won't solve anything; we'll have no money to strengthen the squad and could be hit by FFP sanctions. So we could just be postponing the inevitable.
I can't think of a magic solution except to go to Plan Z, ie, make a serious commitment to bringing in young players plus scouting promising young talent from Continental Division 2 clubs and taking a gamble.
Another complication is that we are likely to lose some of our established players who will be difficult to replace as who with any talent or ambition would relish coming to this basketcase of a football club?

Brian Murray
480
Posted 15/03/2022 at 20:00:20
Tony 455 Wholeheartedly agree but why should we pay the ultimate price to get rid. I'm not acting all luvvy but a part of me would die if it happens. Kids in this city are already probably asking themselves and their dads why always us.
Tony Abrahams
481
Posted 15/03/2022 at 20:03:21
Spoken from the heart, Nick, and I agree with quite a lot of what you've just posted there, mate.
I always believe that I'll see Everton win again though. I've got no other option really, mate. Koeman stopped me travelling, and nobody has convinced me to start again, but I'll never stop going to watch Everton.
Even if I've just had more enjoyment watching my 8-year-old daughter dancing to Matilda in the kitchen. The lyrics "sometimes you've gotta be a little bit naughty" gave me something to smile and identify with… which is more than I can say for most of our present squad, unfortunately.
Tony Abrahams
482
Posted 15/03/2022 at 20:19:50
I'm being selfish Brian, not thinking of others, but if it was "for only one season", I'd genuinely take it now, mate.
My kids have seen one FA Cup Final, and have watched Everton for 40 fucking years between them, and that horrible bastard, who's made a fortune delivering nothing, actually had the temerity to say he's given us some "good times".
After the heartbreak and the disappointment, I'd argue that if we were to come straight back up, most Evertonians would enjoy a season, for the first time in a very long time. Looking back, I think we've all forgotten that football is supposed to be about enjoyment.
The reason that I don't really want to go down is obvious, because like everyone else, I don't believe we would come right back up. So I'm being careful in what I'm wishing for, Man Utd to knock Liverpool out of the Champions League on the Wednesday, and Everton to knock the bastards out of the FA Cup the following Saturday – even though I already know it's going to be on the Sunday, because the league will give Liverpool the extra day to recover!
Tom Harvey
483
Posted 15/03/2022 at 20:28:17
Stu Darlington @ 479
Buying talented yougsters with good future value (Plan Z) isn't possible, Moshiri is also our DoF (alongside whoever he gets in to front what he's buying in the shadows), Iwobi being his best buy so far.
Neil Copeland
484
Posted 15/03/2022 at 20:37:46
Tony #482, good post that and one that I can really identify with. I refuse to give up until at least it's mathematically all done. But, I agree that there is potentially a positive flip side – unlikely to happen though.
A bit random but I had a strange thought (I am not religious but still god fearing in lots of ways); according to the Bible, God is hard on those closest to him..., perhaps we are his team? Well, we did have the "Jesus Christ is an Evertonian" chant in the 70s. Mind you, the resurrection is a long time coming...
Anyway, the optimist in me thinks that maybe, just maybe, this season can still turn out a good one with us surviving and winning the FA Cup.
Without hope, there is only fear and all that.
Alex Parr
485
Posted 15/03/2022 at 20:41:44
For me, against the Skunks:
GK: Pickford
RB: Patterson (we need some attacking presence and he's more positive even just in mindset than Seamus)
CB: Keane
CB: Branthwaite (need a strong big unit or Dan Burn will dominate us on set-pieces)
LB: Godfrey (3-man-mid takes the edge of him getting forward as much)
CM: Allan (I think this mard-arse could be vital in our impending relegation fight, starts every game for me)
CM: Doucouré (plays better in a 3 and to be fair, the recent performances have been shite but an exception rather than the rule)
CM: Dele Alli (out of other options)
LFW: Richarlison (puts in the graft and cutting in from the left is where I think he is best, he just needs to be up and down all fucking match)
CF: Rondon (time for Salomon to come good. I think he has gotten so much shit on here and elsewhere that it's ridiculous. He works hard and he is a proven striker. Look at Mitrovic for fuck's sake, play to his strengths and he will perform now he is fitter. Which leads me onto...)
RFW: Gordon (when he changed to the right against Wolves he whipped in two amazing crosses, I think Richarlison hit the post off one. If he can put them in to Rondon and an arriving Richarlison, with hopefully support from Doucoure and the more advanced midfielder, probably Dele if we played my tactics, we will hit the net.)
I love Gordon's effort but he has been getting greedy and wasting chances lately, spooning shots into the crowd. Play him on the right with a brief to fucking cross cross cross like he did on the weekend, we will cause them problems, even with that big Grok Dan Burn in their side).
Subs: fuck me, I'm hoping they won't be needed
Begovic
Mykolenko
Welch
John
Onyango
Van de Beek
Gray
Dobbin
Fuck it... El Ghazi... he's got to do something, surely?
Ken Kneale
486
Posted 15/03/2022 at 20:44:55
Nick,
I am with you on most of that - I have to keep clinging to the hope we will rise again but your comments on Kenwright, the damage he has wrought to the club infrastructure, standing in the football world, and mentality within the club are common ground for me.
I suffer dad-guilt that my son is perhaps because of age, even more fervent than me but at 24 years has yet to see a trophy.
On balance I want us to stay in the Premier League but I concede to those that think the benefit if that is the right phrase of relegation would force Kenwright out. My own view is that, even with his hide of leather, he has to go at the end of this season, come what may. The fans' inquest has not really started yet but, once things are decided points-wise, it surely will and after this shambles, be much harder-edged than previous.
Dennis Stevens
487
Posted 15/03/2022 at 20:46:22
Ah yes, I still use the snap of that Jesus Christ Was An Evertonian graffiti as the background image on my pc, Neil.
Sadly, before the resurrection we have to suffer the crucifixion. Then, Mott the Hoople can Roll Away The Stone!
Tony Everan
488
Posted 15/03/2022 at 21:09:50
I'd go with 4-3-3 and nail a formation and best side down. A side with the minimum weakness, but that still has a goal threat. I think this side is one that would steer us to safety, just:
Pickford
Holgate Keane Branthwaite Godfrey
Doucoure Van de Beek Allan
Gordon Calvert-Lewin Richarlison
We need a midfield three. We need some aggression and uncompromising recovery and tenacity at full back.
Patterson has been deemed not ready at this crucial moment. Mykolenko needs time. Okay it's another back four gamble but name one that isn't. Gray misses out to Gordon, but is ready to step in after an hour for either wide forward.
Neil Copeland
489
Posted 15/03/2022 at 21:14:52
Tony, that would be my team also.
Dele would be another decent option from the bench.
We could really do with Mina back though, he makes such a difference.
Christy Ring
490
Posted 16/03/2022 at 13:47:17
Tony #488,
agree with your selection, I posted the same team earlier.
Neil #489,
Dele Alli came on against Wolves, embarrassing... didn't give a shit.
Neil Copeland
491
Posted 16/03/2022 at 18:10:15
Christy #490,
I don't think he's match fit yet but has the potential to turn a game, as does El Ghazi.
---
Add Your Comments
In order to post a comment, you need to be logged in as a registered user of the site.
Or Sign up as a ToffeeWeb Member — it's free, takes just a few minutes and will allow you to post your comments on articles and Talking Points submissions across the site.
---
© ToffeeWeb