Report
Everton fail to take key chances after frustrating Liverpool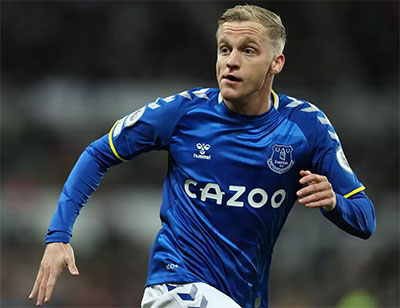 Like André Gomes, Donny van de Beek has a slight groin problem while Dominic Calvert-Lewin remains sidelined with further issues with his thigh
Liverpool 2 - 0 Everton
Everton took on Liverpool at Anfield looking to repeat the fine victory they secured under Carlo Ancelotti on their last visit, only for the scoreline to be reversed after holding out for more than an hour.

The circumstances for the derby game could not be more daunting, with Burnley dumping the Blues into the Bottom 3 after beating Wolves earlier this afternoon. And Liverpool riding high in the Premier Leagues, desperate to keep the pressure on and steal the title off Manchester City.

Three players who weren't in the line-up are Donny van de Beek, André Gomes and Dominic Calvert-Lewin — all have been sidelined by knocks picked up in training. Yerry Mina was rested and not involved after his exertions against Leicester.

Salomon Rondon is only on the bench with Lampard keeping faith in Richarlison and his faltering role as lone striker. Delph and Price are among the subs.

Demarai Gray, Anthony Gordon, Alex Iwobi and Abdoulaye Doucouré were the creative players who would be looking to get forward with Allan sitting in front of the 4-man backline.

And as if it wasn't bad enough, Ben Godfrey picked up an injury in the warm-up and was replaced by Michael Keane.

Everton were on the back foot pretty much from the kick-off but did a good job of closing down their red opponents, Gordon winning a free-kick on Salah as he advanced into the Everton area.

Gordon got the ball off Liverpool and dribbled forward, earning a free-kick but Gray totally wasted it, driving it into the wall.

Mykolenko did well to stop Salah, Richarlison going down after a light slap in the face from Fabhinho. Everton were doing a decent job of containing Liverpool.

Article continues below video content

Mykolenko again did well to stall Salah who could not believe he was guilty of the foul. But Everton were using the ball poorly when they did manage to get any possession. But they did count an attack with Gray's shot blocked by Matip.

Gordon ran at the Liverpool defence but went down under a push in the back from Arnold as he neared the Liverpool box — no foul, much to Blue madness! The ref then gave a similar offence in the Everton half but Keane's hoof forward was a total waste.

Liverpool's first venture into the Everton area came in the 19th minute but the cross in was taken by Pickford. Richarlison worked hard at the other end but Gordon way overhit the cross.

Mane got space and fired Liverpool's first shot, curling over the bar. At the other end, Richarlison won the first corner, delivered well by Gordon but headed away by Mane.

Gordon seemed to throw himself down in the box after being tripped and was immediately shown yellow for the dive. No VAR check for the penalty? Of course not.

Jota threw a punch at Coleman who was holding him, and his reaction looked worthy of a red card but again no VAR. Liverpool swung in the free-kick which won a corner, the first real pressure on the Everton goal but ended with offside.

Liverpool won another corner off Alan and it needed clearing by Keane. In the next phase a snapshot by Jota flew wide of Pickford's goal.

Everton continued to frustrate the Reds and stop them from playing their fast slick passing game, Richarlison breaking and releasing Doucoure but his mishit shot across goal was hopelessly poor.

Everton were having to defend more deeply, Salah still trying to get inside from deep on the wing. A fine spell of Everton battling for every ball ensued after Richarlison was dispossessed. Liverpool looked to work the ball into the Everton area but it just wasn't going their way. More tremendous defending saw another Liverpool corner, cleared by Richarlison.

Richarlison went down again, off the ball, after making the clearance, that must have hurt his head. Liverpool attacked again but Salah could only fire high and wide of Everton's goal.

Richarlison tried to tackle and went down in a heap, clutching his ankle, Liverpool playing on, Doucouré going in hard on Fabinho and seeing yellow, with the Red swine all going mad, herding at him. Mane pocked Holgate in the face and got booked as well after an exhibition of handbags Calvert-Lewin would be proud of.

The half-time whistle finally went on an increasingly fractious half that had gone almost perfectly for Everton, except for them failing to score after that poor effort from Doucouré.

Hostilites resumed with Liverpool continuing to probe Everton's defence, eventually conceding a corner that was cleared followed by a wayward shot and another protected Pickford free-kick. Another attack saw the ball chipped in to Pickford's arms.

Everton pushed forward only to have to retreat at pace on the red counter. Iwobi had a chance to run after a ball down the left but did nothing with the ball. Gordon repeated the feat almost exactly, and Liverpool attacked again, almost getting through this time, Mykolenko clearing to touch.

Gordon then had a great gallop forward and Matip clearly pushed him over in the area but of course, no penalty, with Lampard going mad. . Liverpool surged back upfield and Everton had to cover desperately as the pace and tempo of the game finally started to swing Liverpool's way.

Gordon got free on super ball from Iwobi but an awful, awful shot on goal. Absolutely pathetic from Gordon with the goal at his mercy.

Gordon got free on the counter, and Arnold zoomed across to take him out, but only a yellow for him. From the free-kick, Iwobi headed across goal and out of play.

Liverpool again came very close, a shot deflected behind off Coleman. But Everton defended the corner well again, and Klopp decided it was time for some changes, including that man Origi.

A crazy sequence of play saw Pickford come out and punch, then get stranded on the ground and Liverpool shots blocked before they fired over. In the aftermath, Allan was booked.

Everton got forward, Gordon playing to Iwobi and Gray going for the top corner but inches wide. Alli replaced Allan. Liverpool were now pretty much in full control, Lampard deciding to give Rondon a go in place of Demarai Gray.

Everton got a dangerous free-kick that Mykolenko delivered in and Allison punched it into an Everton player but the ball would go in the Liverpool goal.

Everton got forward again and Dele fired in a dangerous cross that Iwobi could not quite reach and Robertson just got ahead of him to clear what looked like a certain goal.

A dreadfully lazy Holgate clearance spun behind him and almost in the goal, as Everton's chance looked to have gone, as Liverpool attacked again.

Salah got free and Tiago looked to score but Coleman's deflection was very well saved by Pickford. But from the corner, that man Origi headed in from close range off Diaz's mishit to destroy Everton's valiant resistance.

Dele Alli got a yellow card for a high boot as the final minutes ticked away. Richarlison finally got a yellow card for a petulant kick at Hendersen while he was on the ground. Very surprising it wasn't a red.

And so the game ended with Everton rueing those key missed chances by Doucouré, Gordon and Gray that could have won this match.

Kick-off: 4:30 pm, Sunday, 24 April 2022 on Sky TV in the UK

Liverpool: Alisson, Alexander-Arnold [Y:65'], Matip, Van Dijk, Robertson, Thiago, Fabinho, Keita (60' Origi), Salah, Mane [Y:45'] (60' Diaz), Jota (82' Henderson).
Subs not Used: Konate, Milner, Gomez, Jones, Tsimikas, Kelleher.

Everton: Pickford, Coleman (c), Holgate, Godfrey [Injured] Keane, Mykolenko, Allan [Y:68'] (73' Dele [Y:89']), Doucoure [Y:45'], Gordon [Y:25'], Iwobi, Gray (77' Rondon), Richarlison [Y:90'].
Subs not Used: Begovic, Kenny, Delph, Branthwaite, El Ghazi, Price.


Referee:Stuart Attwell
VAR: Darren England

Share article:
---
Reader Comments (369)
Note: the following content is not moderated or vetted by the site owners at the time of submission. Comments are the responsibility of the poster. Disclaimer
Gary Jones
1
Posted 24/04/2022 at 15:37:23
When you look at that back line and bench, you can understand why we are about to get relegated. Grim.
Pete Hughes
2
Posted 24/04/2022 at 15:40:10
Coleman/Holgate,
A dream game for the rs
Christine Foster
3
Posted 24/04/2022 at 15:44:33
Let's hope they don't get any corners I think it's a case of lobbing a ball over the top and hoping we catch them napping. I really don't like our back four.. it was never going to be pretty but I hope he is happy to change things quickly. I would have preferred Rondon to Gray.. even Deli.. ah well..
Alan J Thompson
4
Posted 24/04/2022 at 15:45:49
I'm sorry but I just don't understand that line-up and we can't afford to let any game go without trying to get something from it, but honestly, Holgate? So what was the reasoning behind previous games line-ups?
David Bromwell
5
Posted 24/04/2022 at 15:45:54
40,000 Supporters would not have picked that starting eleven. I really like Frank but I am beginning to wonder. Maybe he is a miracle worker, guess he will have to be, then what do I know ?
David Bromwell
6
Posted 24/04/2022 at 15:45:56
40,000 Supporters would not have picked that starting eleven. I really like Frank but I am beginning to wonder. Maybe he is a miracle worker, guess he will have to be, then what do I know ?
David Bromwell
7
Posted 24/04/2022 at 15:45:57
40,000 Supporters would not have picked that starting eleven. I really like Frank but I am beginning to wonder. Maybe he is a miracle worker, guess he will have to be, then what do I know ?
David Bromwell
8
Posted 24/04/2022 at 15:46:19
40,000 Supporters would not have picked that starting eleven. I really like Frank but I am beginning to wonder. Maybe he is a miracle worker, guess he will have to be, then what do I know ?
Joe McMahon
9
Posted 24/04/2022 at 15:48:41
Holgate, No Rondon, Richie as a striker? We were fucked before Frank came, but nothing is gonna change is it. I suppose we will just have to enjoy these"Good Times"
Michael Lynch
10
Posted 24/04/2022 at 15:48:49
Saving Mina for the Championship in August.
Christy Ring
11
Posted 24/04/2022 at 15:50:16
Pete#2 If you think Coleman is our weakest link, you've been watching a different team than me. I think we'll be destroyed in midfield today, hope I'm wrong.
Christy Ring
12
Posted 24/04/2022 at 15:50:19
Pete#2 If you think Coleman is our weakest link, you've been watching a different team than me. I think we'll be destroyed in midfield today, hope I'm wrong.
Clive Rogers
13
Posted 24/04/2022 at 15:50:48
That is such a poor team. Expecting a cricket score.
Will Mabon
14
Posted 24/04/2022 at 15:54:23
I guess Lampard feels Holgate's slightly better mobility will allow us to play a few inches higher up than with Keane. Branthwaite obviously still considered too inexperienced to start. I hope Gray rediscovers some form and commitment. We're also really going to miss Mina.
Bill Fairfield
15
Posted 24/04/2022 at 15:55:57
Doesn't matter what team was picked, none would be good enough.
George Cumiskey
16
Posted 24/04/2022 at 15:56:31
Just watched Wolves stroll around against Burnley disgraceful performance not interested, but I think that definitely sends us down
Colin Malone
17
Posted 24/04/2022 at 15:57:33
Where has all the threads gone?????
Colin Malone
18
Posted 24/04/2022 at 15:57:44
Where has all the threads gone?????
Gary Jones
19
Posted 24/04/2022 at 15:58:32
Sorry, but Lampard needs to go after this game. That is a horrendous lineup with zero imagination. Same old failures getting game time, and whatever's going on in training that's injuring players is criminal. Fcuking pissed off.
Neil Lawson
20
Posted 24/04/2022 at 15:59:33
Isn't the reality of this selection the recognition that we will lose, so protect some of the squad for the next game ?
Please prove me wrong.
Kieran Kinsella
21
Posted 24/04/2022 at 16:03:33
George Cumiskey
We can hardly complain about other teams disgraceful performances as we are where we are due to our own
Kieran Kinsella
22
Posted 24/04/2022 at 16:03:46
George Cumiskey
We can hardly complain about other teams disgraceful performances as we are where we are due to our own
Ed Prytherch
23
Posted 24/04/2022 at 16:05:31
It is the team that I expected with the exception of Gray instead of Rondon. We seem to be set up to try to catch them on the break. Let's hope that it works.
Christy Ring
24
Posted 24/04/2022 at 16:06:27
Let's be honest, Southampton and Wolves were never going to do us a favour, they've nothing to play for and thinking of their holidays. I hope it's damage limitations today, Klopp picking his strongest lineup shows he's not too worried about Villareal. Our 3 games against Watford, Palace and Brentford will decide our season in my opinion.
Alan J Thompson
25
Posted 24/04/2022 at 16:09:26
Neither central defender has any sense of positioning so what would be the point of picking, if they are, the two fastest (on foot only) players for those positions?
Brian Denton
26
Posted 24/04/2022 at 16:10:13
Our goal diff is much better than Leeds atm. It's important that we don't get an absolute mullering.
Dave Williams
27
Posted 24/04/2022 at 16:14:40
I agree with Neil- we're not going to get anything here so save Mina and Delph for the games to come.
I too am very worried by the back four and can only see us losing by at least four goals but ultimately this game doesn't really matter- it's the rest of them which are mostly winnable. Need to see us turn up and at least fight like hell and kick them.
Dave Williams
28
Posted 24/04/2022 at 16:14:40
I agree with Neil- we're not going to get anything here so save Mina and Delph for the games to come.
I too am very worried by the back four and can only see us losing by at least four goals but ultimately this game doesn't really matter- it's the rest of them which are mostly winnable. Need to see us turn up and at least fight like hell and kick them.
Danny Baily
29
Posted 24/04/2022 at 16:14:45
Urgh. What a miserable day this promises to be. All rests on the longest of longshots. COYB!
Wonder who will take Keane's place on the bench?
Dave Williams
30
Posted 24/04/2022 at 16:15:00
I agree with Neil- we're not going to get anything here so save Mina and Delph for the games to come.
I too am very worried by the back four and can only see us losing by at least four goals but ultimately this game doesn't really matter- it's the rest of them which are mostly winnable. Need to see us turn up and at least fight like hell and kick them.
Si Cooper
31
Posted 24/04/2022 at 16:15:11
He has to go for mobility against them to try to stop us simply being overrun, so I can see some reason for the selection.
Problem is the amount of lapses in concentration, missed chances, simple mistakes, poor marking and desperate tackling we have seen from these players. Really could be a totally embarrassing disaster but I'd rather we tried to compete than just try to hold out and probably still get thumped.
It's just got worse with our quickest defender not lasting beyond the warm-up!
I'd love to have a scintilla of optimism but with Burnley's improvement and our stagnation it does look like the bell is tolling for us. The last derby we'll see for who knows how long?
Phillip Warrington
32
Posted 24/04/2022 at 16:16:12
So Mina thinks a derby game isn't worth turning up for, but will play against a weaker team or for Colombia? That's why we will be relegated, well done, Frank.
Gary Jones
33
Posted 24/04/2022 at 16:18:13
"Savings players for other games"
So wtf is Richie and Gordon starting??
It's nothing of the sort. It's a naive manager caught in the headlights in an absolute tailspin.
The recruitment in January, of players and manager, has doomed us. #SackTheFuckingBoard #GetOutOfOurClub
Ciarán McGlone
34
Posted 24/04/2022 at 16:18:37
14/1...
Paul Smith
35
Posted 24/04/2022 at 16:20:58
How can people say this doesn't matter when we have just dropped into the relegation zone ? Ffs it matters to those 2500 Everton fans stuck in that shit hole hoping for a miracle and it matters to me. I really do not want to be visiting Championship grounds next season. Btw when is the official Site gonna start being congruent about our plight. It's a disgrace.
Gary Jones
36
Posted 24/04/2022 at 16:22:59
Brian - Leeds are FOUR pints ahead of us, and likely to go seven ahead after they beat an "on holiday" Palace tomorrow. With Chelsea, Leicester and Arsenal to go in the run in we aren't catching them. Burnley two wins away from safety too. We are gone.
Kieran Kinsella
37
Posted 24/04/2022 at 16:23:40
A grand old team alright that's about what they'd sell for cumulatively. Chuckle brothers both starting? May give this one a miss
Phillip Warrington
38
Posted 24/04/2022 at 16:24:20
Ben Godfrey was injured during the warm-up. This club is a fucking joke – isn't that 3 players injured during training and a fucken warm-up.
Andy Crooks
39
Posted 24/04/2022 at 16:26:01
surprising line up.
Brian Denton
40
Posted 24/04/2022 at 16:26:30
Gary - I'm clutching at straws, mate. Their run in is harder than ours, and obviously we've got to catch them before gd comes into play. But I've given up on us finishing ahead of Burnley, so it's the only hope.
Gary Jones
41
Posted 24/04/2022 at 16:30:24
Sorry Brian, don't mean to kill hope. Just in very, very shit mood now.
Kevin Turner
42
Posted 24/04/2022 at 17:03:12
Gary #19 needs to have a word with himself. Change manager again? Behave lad.
Kieran Kinsella
43
Posted 24/04/2022 at 17:22:51
First half was hilarious. Brilliant trolling of Klopp and co. Taste of their own ditty medicine
Colin Malone
44
Posted 24/04/2022 at 17:25:51
What the Fuck is Gordon diving for???
Ernie Baywood
45
Posted 24/04/2022 at 17:26:53
For all the "skullduggery" it still doesn't feel like we've got a decision. Mane has been worthy of a couple of yellow cards, Jota could have had one. They've been allowed to react and get away with it. Gordon deserved the yellow but was fouled by Arnold earlier.
Don't care about possession. We've had the better chances.
No issue with whatever we do to get ourselves out of this mess. I have no limits any more.
Beglin on commentary is a delight right now.
Alan J Thompson
46
Posted 24/04/2022 at 17:28:22
If there's anything more biased than this refereeing then it has to be Beglin's so called commentary. Since when has it been within the rules to put your hands on an opposition player and they do it at every occasion. Having said that, Gordon should have been told 6 games ago to cut out just falling over at any touch as it has in this game cost him a couple of valid free kicks as nobody believes him anymore never mind this biased sod.
Doucoure should have done better when through into their penalty area but maybe it was the shock of getting there which goes with not only getting injured at training but now in the warm up. Are we going soft!?!
The tactics have worked so far but he also needs to have a word with Gray as he isn't putting in 100% and if he doesn't get his finger out then he should be subbed early in the 2nd half. And I don't get Doucoure's booking as he did not much more than what the Ref considered OK on Richarlison.
My biggest fear is this Ref doing us for no good reason!
Kieran Kinsella
47
Posted 24/04/2022 at 17:28:38
Ernie,
Beglin is flipping his lid. I'm loving it!
Neil Tyrrell
48
Posted 24/04/2022 at 17:28:47
Would have bitten your hand off if you offered me 0-0 at half-time before kickoff. We're pissing them off too which is great fun. COYB
Si Cooper
49
Posted 24/04/2022 at 17:28:53
Reasonable first half apart from some absolutely stupid behaviour.
Anthony Gordon probably did himself out of getting the benefit of the doubt in two good attacking situations by crumpling to the floor at the slightest touch in all his previous challenges, and Richarlison drained the sympathy reserves by trying to milk it at every opportunity before he probably did tweak his knee.
Hope the yellow cards don't come back to haunt us.
Simon Dalzell
50
Posted 24/04/2022 at 17:31:47
Carragher absolute shithouse. Ive seen the picture of Richarlison ankle bent right over...Dispicable Carragher screaming get up. So proffessional.
Si Cooper
53
Posted 24/04/2022 at 17:49:57
Never mind us getting relegated, Atwell has to be demoted. Just not up to it.
Christy Ring
54
Posted 24/04/2022 at 18:04:15
Absolutely shocking refereeing, Mane already on a yellow gouges Holgate, Gordon definite penalty, and having to listen to the biased Tyler commentating and Souness denying everything in the studio, unreal.

Will Mabon
55
Posted 24/04/2022 at 18:26:06
I think the corrupt refusal of penalties warrants a mention in the title of this report.
Will Mabon
56
Posted 24/04/2022 at 18:27:13
Si, it's not about competence, it's about corruption, or bias. Right there to be seen today.
Danny Baily
57
Posted 24/04/2022 at 18:27:41
Could have been worse. Not sure how I feel about the likelihood of that being the last derby for a few years. Never been fun to watch and we've hardly ever been on the right side of the result.
Dele to have more of a role in the remaining games. Why not? Also, good to see Mykolenko looking so solid, I and many others had written him off. If they stay, Iwobi, Gordon and Gray will be immense in the Championship.
Joe McMahon
58
Posted 24/04/2022 at 18:28:11
We have to win all our home games and at Watford. Gonna be a big ask. Post Dyche, Burnley now playing a higher up the pitch and they do have goal scorers. As for Leeds, since Bielsa was sacked they have taken 13 points from the last 6 games.
Paul Smith
59
Posted 24/04/2022 at 18:28:39
No point blaming the officials – how many shots on target did we have?
Lee Courtliff
60
Posted 24/04/2022 at 18:30:10
There was some bollocks in that performance. Gordon did well in the second half after pissing me off in the first with his stupid dive then kicking the ball away twice!! Just asking for a red.
We're not dead and buried yet.
Tony Hill
61
Posted 24/04/2022 at 18:30:37
We did okay but, as ever, they got the rub of the green and the benefit of awful refereeing.
I think we're going to struggle now but we just have to keep on with it and hope. It's still in our hands.
Si Cooper
62
Posted 24/04/2022 at 18:31:23
Wasn't a disaster and getting anything from this game was always going to be nothing short of a minor miracle. I think Lampard's selection was vindicated.
We had some fairly good attacking situations and should have had the penalty at 0-0 (another VAR failure).
Just have to keep that application going and hope some decisions go our way to even things up. Having to chase Burnley / Leeds is not ideal but there is still all to play for.
Hope Frank goes for the officials in his interview. We deserve another apology from Riley at the least.
Neil Tyrrell
63
Posted 24/04/2022 at 18:32:38
Shitbag ref not giving that pen for the shove, always seems 11 v 12 against them. Overall wasn't the pasting that I feared but still gutted.
Will Mabon
64
Posted 24/04/2022 at 18:33:18
Paul, not blaming the officials for the lack of shots, blaming them for the biased decisions. Two separate things.
Ernie Baywood
65
Posted 24/04/2022 at 18:36:25
Can't argue too much with the performance. Prior to the goal we'd had the better of the chances and I believe we should have had a penalty. Did it even get checked?
All a bit sickening for all sorts of reasons.
Alan J Thompson
66
Posted 24/04/2022 at 18:37:20
I thought that Gordon didn't get a penalty because partly that Ref wouldn't have given us anything and mostly everyone thinks he keeps diving. But having said that then Alex-Arnold should have been sent off, not just booked, when he brought Gordon down as without that he might well have been through on goal. And Origi dived the same as Gordon but no booking, why?
As for the first goal, Gray let his man (the scorer) run past him and didn't go with him and Coleman didn't challenge for the header. And the second nobody picked up Henderson. Something has to be done about the awful standard and bias of refereeing and surely it has to start with whoever runs it, and was there any VAR at this game? They get involved in the slightest at other grounds but, unless the coverage didn't allow, it didn't seem in use here.
We tried hard for the draw but got nothing and for me, again no MotM, but Mykolenko played Salah out of the game and I give him as our best.
Si Cooper
67
Posted 24/04/2022 at 18:38:13
Will, I can't see into their minds or their hearts. The fact that it is the usual suspects is concerning.
Attwell has been demoted before but I can't remember the exact circumstances so I can't definitely say it is bias / favouritism. Having the referees miked has to be on the table if their integrity is to be preserved / rescued.
Ajay Gopal
68
Posted 24/04/2022 at 18:38:27
It wasn't nice to see players from both sides trying to con the referee- just that our players are novices at it, whereas the RS have perfected it to a fine art. Even at 1-0, I was not feeling hopeless, I thought 1 chance and a lucky break would have got us the equaliser and Dele nearly did it for us near the end when he cut to the byline and put in a great cross which Iwobi did not react fast enough. I won't get too down on the result because there were some encouraging signs, but Burnley's sudden uptick in form is very worrying. 6 games remaining- every game a cup game. Any chance we can have our buddy Bobby Martinez to manage for the next 6 games?
John Keating
69
Posted 24/04/2022 at 18:39:25
A bit more composure on our breakaways and we could have had that game

Coleman played well but just moving away from Robertson gave him that first and why he wasn't in position for the second God knows. Surely he should have stayed at right back as Diaz was free

A win against Chelsea is imperative. Psychologically dropping into the bottom 3 at this late stage is a nightmare

Definite push in the back by Matip on Gordon and why Gordon went down in the first half when he'd created space for a shot is a mystery


David Hallwood
73
Posted 24/04/2022 at 18:40:30
I don't think it's shitbag refereeing, I think it's corrupt. Obviously if we would've scored a 25 yarder, they can't chalk that off but any 50/50 goes against, he'll give you free kicks, but only in areas that don't matter.
A small example was Gordon's corner he sprinted out to make sure it was in inside the D, and Trent put it outside all game. That was a deliberate ploy to unsettle, very subtle, but effective.
Si Cooper
74
Posted 24/04/2022 at 18:42:14
Souness talking absolute tripe as I type. We had to approach that game a certain way and it was only the failure to award a stonewall penalty and their opening goal that set them up for the win.
Tony Everan
75
Posted 24/04/2022 at 18:42:32
Appalling referee and VAR decisions yet again. Mane should have had a second yellow and been off. AnthoGordon clearly pushed when in full flow. Clear and obvious. Not even a review! I've seen Salah and Mane get ten of those penalties over the years.
That was the hardest game left and we did ok. Need a goalscorer. Need Calvert-Lewin back and on form or we are going to struggle …..good chances must be converted.
The next six we can get points from, we have to stick together and fight, win our home games and go for it away. Never give up.
Si Cooper
76
Posted 24/04/2022 at 18:46:01
Sorry Ajay but that is a nonsense comment about Iwobi. The guy put a hell of a shift in today and that was brilliant defending from their left back.
Bill Fairfield
77
Posted 24/04/2022 at 18:46:32
A valiant effort. But another game of ifs, buts and maybes. Just too many of them this season.
A miracle is required now. Could be 5 points off safety come Saturday night.
Andy Crooks
78
Posted 24/04/2022 at 18:49:07
The players did what I hoped they would do. The officials did what I feared they would do.
A believe a big football scandal will happen soon. Some officials are very matey with the staff of some clubs. Some are not up to the job, some are corrupt.
Also, I find it impossible to believe that football is devoid of performance-enhancing drugs. It will come out.
Back to us. We are not done yet but I fear that 45 minutes of bad coaching against Burnley has made us favourites to go down. We saw a huge effort today; we need a different type of performance from now on. Perhaps that is something that Frank can coach.
Our position is hard to credit. The combination of every ineptitude possible.
Will Mabon
79
Posted 24/04/2022 at 18:50:29
"
A small example was Gordon's corner he sprinted out to make sure it was in inside the D, and Trent put it outside all game. That was a deliberate ploy to unsettle, very subtle, but effective.
"
Fully agree, David, said it in the live forum - and why is there nothing in place to question this sort of stuff later, and get an answer? There's no accountability, just an (invisible) internal system supposedly maintaining "Quality".
Tony Twist
80
Posted 24/04/2022 at 18:51:53
Game over in more ways than one. We can't keep up with Burnley and, on this pathetic form, won't catch Leeds. Silver lining: no derbies, most likely, for a while.
Paul Kelly
81
Posted 24/04/2022 at 18:51:57
Firstly, we are shite. Relegation looms.
About the refereeing decisions. It can't just be incompetence, can it?
The Gordon 'penalty' down the other end is a pen all day long, doesn't matter which one of their PED enhanced players goes down- penalty!!!! No questions asked. So where was are VAR review? tell you why, because they would of had to give it.
Even had my brother red shite moaning about our diving!!!! Told him if Salah had gone down like Gordon did under that challenge the pundits would of said 'he had a right to go down', 'stone wall pen' etc etc .
Corrupt as fuck.
But were shite and Frank Lampard is useless. Sorry but his in-game decisions are woeful. He's woeful, full stop, as are the team. Us fans deserve better but that won't be any time soon.
When we were 0-2 down against Wimbledon on THAT day, I had more hope of surviving relegation than I do now.

Peter Carpenter
82
Posted 24/04/2022 at 18:52:36
I am convinced that dropping into the Bottom 3 before the last game saved us in 1994. Suddenly, we were fighting to get out – not anxiously hoping not to fall in. It could change the mindset.
Obviously, being 5 points behind before we play Chelsea could upset that but there are still winnable games and Burnley are still a crap team. Never give up.
Julian Exshaw
83
Posted 24/04/2022 at 18:52:54
A torturous watch and (thanks to Sky) also a torturous listen.
Gordon has to stay on his feet, he was great today but needs to sort this out. Why the shove on him for the penalty wasn't checked by VAR, I'll never know.

This effort is needed now till the end of this awful season. Once again though, frustration and sadness abound. I hope one day our day will come again. I have had enough of days like today.
Kieran Kinsella
84
Posted 24/04/2022 at 18:53:53
If you'd said last August we'd be in the Bottom 3, chasing a win at Anfield, and our best attackers would be Iwobi and Gordon, people would have laughed... but here we are.
Frank has instilled some character as seen with late goals vs Newcastle and Leicester and in the performance today. That's something Rafa and Carlo in the second half of last season failed to achieve. But he hasn't been able to raise the quality. The passing, movement and finishing.
Our goal threat seems to come from individuals running at goal and hoping to win a penalty. That's a concern. We don't win enough corners to rely on set-piece goals. But at least there is finally some heart and the team and that offers hope.
Danny O'Neill
85
Posted 24/04/2022 at 18:54:39
Too gutted to comment right now. Wounded.
I got approached by a group asking where I was from because of my vocalness.
Speak tomorrow when I've calmed down.
Danny Baily
86
Posted 24/04/2022 at 18:56:26
Positives to take, but all too late unfortunately. That 6-pointer at Burnley has relegated us in all likelihood.
But it's not over just yet. And Everton will still be here, regardless. Just not on MotD.
Will Mabon
87
Posted 24/04/2022 at 19:01:10
Si, I know we can't see into minds for absolute confirmation (and never can) but sometimes, a judgement has to be made on the evidence.
As with the Gordon corner thing mentioned above. That was very poignant, a statement of the attitude that would be prevailing later. I no longer believe these are random actions or errors in the ebb and flow.
Why could Attwell not be asked to explain that? He didn't do it to Liverpool. If we could ask, then he would have to explain. They are essentially untouchable for most of the time, and it shouldn't be that way.
Joe McMahon
88
Posted 24/04/2022 at 19:01:58
Peter @82, I'd take their squad over ours anyday, a fraction of the wage bill, better defenders, keeper and they have goalscorers. Dyche's tactics were holding them back, he never used the midfield. It was hoof and hope, I see a fair bit of them as my wife's from that area.
We (Everton) are in deep trouble, as Leeds are winning games since Bielsa gone also.
Michael Lynch
89
Posted 24/04/2022 at 19:04:10
Kudos to those who watched today, I couldn't face it. I'm just glad it's over to be honest, because there's no fun in playing those twats and their horrible refereeing pals.
We may well be going down, but I'll be at Goodison next season watching and cheering us on. Doesn't matter if we're playing Chelsea or Preston, it's all football and we are Everton.
UTFT
Si Cooper
90
Posted 24/04/2022 at 19:04:35
All the pundits say it was a stonewall pen but Attwell had him down as a diver. No one mentioned the VAR which should be automatic and should have overruled the on-field official.
Who was the VAR official today? They have to be told to come forward and explain their non-action today.
Kunal Desai
91
Posted 24/04/2022 at 19:06:32
Positives. The goal difference hasn't taken a massive hit and we have that game in hand on Burnley and Leeds. Last 3 games we appeared to have tightened up at the back.
Just need to grind out a couple or dirty wins.
But once the season is over the focus has to shift to the removal of the board and mass demonstrations to get Kenwright and Co out.
It's long overdue and 'kopite' behaviour is very much needed.
Will Mabon
92
Posted 24/04/2022 at 19:07:11
Si, I agree there. Let's hope the club questions this, as with the City incident.
Derek Knox
93
Posted 24/04/2022 at 19:09:16
Headline spot on, Michael K!
Why couldn't we get a bit more luck and a tad better control in front of goal? It was interesting to hear the Sky Commentary go from we'll batter these, to they are putting on a good show. Still, against bent referees what can we realistically hope for?
I know it's a big ask, but if we can perform like that today, even though we got beaten on this occasion, against all the remaining teams, we should do okay. I couldn't fault any of our players today, even though it wouldn't have been my choice for a few, maybe the penny has eventually dropped, albeit far too late, but they now know we are in a battle for survival!
Phil Williams
94
Posted 24/04/2022 at 19:10:23
It's Leeds who we are more likely to catch. Their next 4 games are Palace away, City home, Spurs away then Chelsea home. I think we need 9 points.
Andy Crooks
95
Posted 24/04/2022 at 19:12:08
Will @87, unfortunately what you say and what I said @78 will see us look like bitter Blues. That simply isn't the case. I accept that we are in shit for reasons of our own making.
However, something is rancid in football. Liverpool are much better than us, they do not need help to beat us, but they got it.
Ian Edwards
97
Posted 24/04/2022 at 19:12:33
We are just not good enough to try and defend for 90 mins. We should have had a penalty. We have to start winning back-to-back matches.
Pete Clarke
98
Posted 24/04/2022 at 19:12:57
Pissed and pissed-off after watching that. We can say we had a go, should've had a penalty and the ref was shite or whatever but the truth is we are a shambles of a club and fully deserve what's coming.
I said it the other day but expecting good things from players like Iwobi, Rondon, Allan etc is just plain silly. We are total shite and that's that. We had done the hard work but typically the lapses in concentration or downright professional incompetence just let us down in the second half.
Years upon years and years of incomprehensible leadership at the helm of the club has come to fruition. I'm too far away but if somebody can strangle Bill Kenwright for me, I will compensate them with a free ticket to Australia with full board for two weeks.
😡😡😡
Dave Williams
99
Posted 24/04/2022 at 19:14:07
It's in our hands still and the players are showing signs of some fight.
Iwobi, Richarlison and Gordon work their hearts out and Mykolenko really looks the part now. Alli showed signs of life too and may be worth a start in place of Gray.
Frank needs a good week of getting inside the psyche of his squad. Chelsea can be beaten and the other games are winnable up to the last against Arsenal.
We must not give up – there is still time!
Ian Edwards
100
Posted 24/04/2022 at 19:14:12
Will 92 no point questioning. We've been punished moaning. Look at today and the Allan red card.
Brian Wilkinson
101
Posted 24/04/2022 at 19:15:00
I was expecting us to give them a game, I also feared the officials having a hand in the game.
A bit better finishing and taking our chances and we could have got something, effort was there, Lady Luck was not.
I thought I had seen everything a few years back, when Van Dijk shanked his shot, only for the ball spin in the air, do a loop de loop back towards our goal, and Origi score from it. Today their player mishits a bicycle kick and it falls straight to Origi again, why oh why do we never get that bounce in their goalmouth?
Much as I like Gordon, he needs to cut out his going down, that dive in the first half cost us a penalty in the second half.
Oh well... we now need to find a way of picking results up. I think Burnley have had their purple patch and will start dropping points again, it is up to us to get the points in the bag.
It is still in our own hands, with the game in hand.
Si Cooper
102
Posted 24/04/2022 at 19:17:24
How is Sourness allowed to spout his nonsense unchallenged? Yes we played to prevent them opening us up, as everybody does need to against them, but to insinuate we had no ambition to break at every opportunity and our chances were limited to just Anthony Gordon on the charge on a couple of occasions is simply laughable!
John Keating
103
Posted 24/04/2022 at 19:24:03
Si,
You have to remember Souness was a dirty cheating bastard when he played and, as a commentator, he's a prick.
Peter Mills
104
Posted 24/04/2022 at 19:25:46
We know that the officials will favour the "big" teams, and the pundits will then side with them so there is no controversy, so it is very foolish to go down as easily as Gordon and Richarlison did today. All it got us was a wound up crowd, a yellow card, put us down to 10 men when one of them was rolling around, and an excuse for the referee not to give a possible penalty. Utterly stupid, and something any manager should have stamped out.
We performed competently, defensively, the way we should have when it was imperative not to lose the game at Burnley. But it is scary how our defence can go to pieces instantly the opposition changes shape, and there was the customary confusion with Coleman moving to cover Holgate, leaving the man at the back post - twice. We've seen it before.
We are in very serious trouble, but not doomed. If we can garner 8-9 points we should be ok. But "if" is such a big word.
Kieran Kinsella
105
Posted 24/04/2022 at 19:26:33
Si
They used to have insightful if somewhat dull pundits like Trevor Brooking and Jimmy Hill but since Sky came along it's more about entertainment than expertise. Look at Neville and Keane, dismal failures as managers but getting endless air time slagging off Ole, Ralf, Louis etc. it's all about loud mouths stirring up controversy to generate tabloid headlines about pundit spats. Luckily in America we have the Jimmy Hillesque Robbie Mustoe and Robbie Earle. Much better than some years back when it was Warren Barton and Steve Nicol — two more illiterate loud mouths
Tony Abrahams
106
Posted 24/04/2022 at 19:28:47
We battled, we frustrated, we got at them without having enough belief or real quality, but how that isn't a penalty, needs to be properly explained by Stuart Atwell, because I'm sure he'll award a penalty for a similar incident before the season ends, and decisions like this absolutely stink.
Gordon was silly/snide in the first half, because diving should have no place in football, but to hear people sitting in the sky studio, suggest his first half dive was possibly why he never got a stonewall penalty, is very difficult to comprehend.
Why have VAR? Two absolutely disgraceful decisions now, against the best two teams in the country, not even looked at by VAR, is genuinely scandalous, and has possibly cost Everton at least a point today.
They say you need a bit of luck, but how is this even possible when it's obvious the ref either shit himself, or even cheated? Atwell like every single referee, will just sit back, let everyone argue, never have to open his mouth to explain his awful decision, and get another top game next week.
Ken Kneale
107
Posted 24/04/2022 at 19:29:27
Well, the Kenwright legacy continues to give. Not content with selling the family silver and reducing the standing of Everton to an all-time low, we are now faced with committing an act that was beyond the club for the past 71 years and undertake something only achieved by an Everton side on four occasions since 1878.
Whilst far from over and taking the view we must fight to the death, tonight feels very ominous - I do hope these players and coach have sufficient resolve to now see every game as one where points can and must be acheived.
Steve Brown
108
Posted 24/04/2022 at 19:30:09
Not going to lie - I am more worried today than I have been all season.
But I thought we played okay today. We are 2 points behind and have 18 points to go after.
Si Cooper
109
Posted 24/04/2022 at 19:31:23
Brian, the lad denies it was a dive. I guess it depends how you define a dive. For me, I don't think there always have to be a solid contact and I think the defenders outstretched leg means Gordon has nowhere to put his right foot. The question is does he have to fight to stay on his feet.
I think he went down too theatrically and that gave the ref the option to book him (Gordon says there was contact) but I think the 'damage' was done when he went over far too easily in some early defensive challenges, which funnily enough he got free kicks for. That did give the ref the option of 'assuming' he was looking for something more than he deserved when attacking. He should have realised the ref's mindset when he didn't get the decision when Alexander Arnold clearly fouled him and adjusted his 'setting' to fighting to stay on his feet.
Doesn't change the fact the Matip challenge clearly knocked him off his feet and VAR should have overruled.
Tony Hill
110
Posted 24/04/2022 at 19:32:14
Peter @104, very true in your first paragraph. But Attwell/VAR are still a disgrace.
Will Mabon
111
Posted 24/04/2022 at 19:32:53
Andy & Ian;
I think we all agree. We have our own football problems but are vulnerable (along with many other teams) to a force that shouldn't be.
It would go a long way if there could be the equivalent to a manager post-match interview/statement by the officials. Or even posted questions in the following days. So easy to do today. If they are competent and genuine, there is nothing to hide, and no excuse. It's a maintained tool of potential and actual influence IMO.
Today's result has gone fully with probability but a penalty could have had who-knows-what effect. This needs addressing, it's gone too far.
Si Cooper
112
Posted 24/04/2022 at 19:35:07
Tony, as far as I am aware VAR is always checking these things automatically. So it must have been checked by the VAR official. Why he (she?) isn't being criticised is what I cannot understand.
Dave Abrahams
113
Posted 24/04/2022 at 19:38:17
Everton getting some stick, from outsiders and Liverpudlians for the way we were set up to play today but I think that is the only way we could have played, defensively and hoping for some breakaways.
We certainly frustrated them and caused Klopp to change his game plan and we got caught out with a lack of concentration for their two goals, we had our own chances but failed to take them especially if Doucoure had looked up when Richarlison put him through, instead of shooting he would have seen Iwobi running in on his own for a free shot on goal.
I'm not complaining too much but there is no leader on the field and the number of times we panicked around our own penalty area with players slicing at ball instead of controlling it and putting their foot on the ball and calming things down, even allowing for that Liverpool had all the ball but did precious with it for over an hour and Pickford wasn't troubled until they scored.
I thought Mylolenko was the pick of the defence again, think he will turn out be a good signing with Gordon also looking good when he sorts himself out with his diving. We are still there with six games to go.
Peter Dodds
114
Posted 24/04/2022 at 19:39:24
Forget the cries of "corruption", it's all irrelevant. I'm proud of our boys today, I thought they were immense in executing the tactics they had to adopt to beat the RS. For the first half Liverpool offered no threat at all. And it's really unfair to blame anyone for the very slight lapses that led to the goals, just two or three over an intense ninety minutes.
Mykolenko again was excellent, in the first half he had Salah in his pocket. Gordon really threatened but like others I do wish he'd cut out the diving. It was a penalty though.
The solidity and effort showed should stand us in good stead in the six remaining games but I'm just scared it may be too late. How horrific would it be if we got nine points from three wins to end up on 38, only to lose out by a single point or goal difference? If only Frank had thought to play in this pragmatic way earlier.
Craig Walker
115
Posted 24/04/2022 at 19:43:41
Just read the Guardian write-up and the comments below it. Apparently we're a Poundland Atletico and a shithouse and spiteful club.
I won't miss derbies if the worst happens. I hate that lot and all they stand for. The coverage on Sky today was disgraceful.
Thought we did well today: at least we showed some fight. Same old failings and luck though.
Colin Metcalfe
116
Posted 24/04/2022 at 19:43:42
I'll take 2-0, it wasn't embarrassing and we kept the score low because it may come down to goal difference.
Every game now is a cup final, we never had a chance today such is the gulf in class between the two teams.
We have to remain positive as it's still in our hands and I don't think Burnley can keep it going they are still a poor poor team and Leeds have a brutal run in so their still in the thick of it.
I though Gordon was superb today but I wish he would stay on his feet he's better than that, he will be be a cracking player when he learns how to pick the right pass.
Ian Bennett
117
Posted 24/04/2022 at 19:45:47
Sport is manufactured. Last season the F1 was manufactured rather by finishing by the rules.
The Premier league, the refs and TV demand that the Liverpool vs City race continues. You won't see a decision go against Liverpool for the rest of the season. No ref is going to be strong enough to stand up and make a decision that will cost them. The stink will be too much.
Gary Jones
118
Posted 24/04/2022 at 19:47:58
We've just had a cup game. Backs to the wall, against far superior footballers. We played the cup game well, and YES we got had off by the decision on pen, but they'd have just scored 2 anyway, even if it were given.
Both goals again came from Coleman coming in to cover Holgate. Blame which every of laurel and hardy you want, but it's that same pair again.
Bright points were that we at least showed some heart, and Gordon and Myko did very well. That's about it.
Next two games will decide if we have hope. 4 points needed……any thing less and it's time for the riot. Moshiri, Kenwright need to go. Stadium is irrelevant if we go down.
Will Mabon
119
Posted 24/04/2022 at 19:48:09
Si, the ref carries the can, prima facie. The term VAR implies a dehumanized and displaced concept. No quick or easy access to the human input that is actually behind it, to fans or viewers. Except in other sports of course. It needs changing or this will continue.

Will Mabon
120
Posted 24/04/2022 at 19:49:22
Si, the ref carries the can, prima facie. The term VAR implies a dehumanized and displaced concept. No quick or easy access to the human input that is actually behind it, to fans or viewers. Except in other sports of course. It needs changing or this will continue.

Craig James
121
Posted 24/04/2022 at 19:50:52
Before the game started many of us including me thought the end result was not even in doubt but the saying goals change games or even decisions is what I want to focus on.
Mane should have been sent off as per fa rules for violent conduct, not once but twice - fact.
Gordon was pushed in the back in the penalty area, anywhere else on the pitch and that is a foul all day long - another fact
Both to my knowledge were not subject to a var review so you have to ask the question, why not?
Conspiracy theory or not ever since we criticised mike Riley and Co nothing has gone our way, corruption. no massive corruption but what will be done?. nothing as like today liverpool and citie are part of the super 6.
If and a big IF, we can play like we have recently we may, just may escape but relegation is getting ever so close to being a reality and the only ones to blame are the players, blue bill and moshiri that said the authorities also need to have along hard look at themselves.
I just hope Leeds lose tomorrow and Burnley their next game then we get something from Chelsea.
Here's to hoping 🙏
Paul Hewitt
122
Posted 24/04/2022 at 19:51:23
I won't miss the corrupt Premier League one bit, if the worst happens.
Paul Smith
123
Posted 24/04/2022 at 19:51:39
Gordon is a diver - fact. He's done it on more than one occasion and Kev Campbell called him out for it. Thing is, he doesn't need to - he's quality. No wonder we don't get a pen when he's just flopped on the floor earlier in the game. We're not victimised……we're shite. Simple! It's our own fault. Are Liverpool victims of bias due to our non pen award against City ? Are they fuck. Shit decisions are part of football - always have been.
The club is rotten and we've been arguing the rights and wrongs of protesting while Rome burnt. No to the Blue Union, no to 27 whatever it was called, no to fly pasts, no to asking Bill wtf is happening to our club. We get what we deserve - away days to Stoke in January and fuck all coverage on TV or even a dodgy stream. I for one will be gutted.
Paul Kelly
124
Posted 24/04/2022 at 19:51:58
Basically if it wasn't a pen, I'll assume the ref thought it was a dive and he should of been booked as he had done for the actual dive (earlier on) so should of been sent off.
So: he didn't think he dived as he didn't book him: so- got to be a pen then as there must of been contact? You'd think so, but no, as ever, but the ref doesn't have to answer these decisions? To us anyway. Why? WTF.
They keep it all in house so people can't ask questions. Nothing of note ever happens unless it's first time rules being used against one of our players for nothing. E.g. niasse v palace. Or when it should be used but isn't, e.g. today, handball v man city.
They are Sly underhand charlatans who will protect their profits/product no matter what the cost.
What should of happened to the break away clubs, nothing. Should of all been relegated. But no.
We're on a hiding to nothing. And there is fuck all we can do about it.
Christy Ring
125
Posted 24/04/2022 at 19:52:45
Totally pissed off listening to Campbell on Sky, mister nice guy, Souness was slating us and he just sat there smiling, Mr. nice guy. We needed Reid in the studio, someone with a bit of blue in his veins. Why didn't he highlight the penalty decision, the ref and how Mane stayed on the pitch. Not an ounce of passion.
I thought our attitude and game plan was spot on by Lampard today, and if we have the same attitude and have Calvert-Lewin back, there's every chance of staying up. Let's be honest, the refs, the VARs, have done us no favours.
So much for Riley's apology, he's stabbed us in the back, and certain pundits would love to see us relegated.
Ian Edwards
126
Posted 24/04/2022 at 19:53:48
VAR today was an idiot called Darren England.
Joe McMahon
127
Posted 24/04/2022 at 19:55:05
Guys's had enough for one day, I'll leave you with this:
"One very famous football club said to me two or three days ago 'whenever we have a problem we say 'what would the Everton board do because they always get it right"
Will Mabon
128
Posted 24/04/2022 at 19:57:16
Ian, I'll read his match officiating report/summary in the week then. Oh, wait...
Will Mabon
129
Posted 24/04/2022 at 19:58:55
Joe... please, no more of that, I can't take it.
Bill Gall
130
Posted 24/04/2022 at 20:01:07
According to an Ex referee VAR does not ask the ref to look at yellow card mistakes unless he has made an error. In the Mane incident he only gave 1 yellow as he never seen the 2nd offense. He did agree if the ref had seen the 2nd offense it would have been a second yellow. Allans card for a yellow at first was by VAR the reef made an error and told him to look at again, and that is when you get the slow motion various angles that persuaded the ref to change it to red. The Gordon penalty, from M.Owen didn't think it was a penalty but has seen similar given, and that seems the general opinion some agreed and those that didn't have seen them given. Throw in who it was against and you can see why it was not given, don't tell me there is no bias.
Colin Malone
131
Posted 24/04/2022 at 20:02:40
Sad day. Any shit team can park the bus. We did.
We had a couple of breakaways. Never had a clue.
Substuitions??
Paul Clement is a dud / shite.
George McKane
132
Posted 24/04/2022 at 20:04:17
Some say "Don't panic" – I totally disagree. Pain is as important as passivity; anger can be as important as love.
We should have panicked in December, but we didn't, so now to move on... first, the blame game:
Number 1: Kenwright and his decision to make himself and Everton likeable. The appointment of Denise whatever-her-name-is was the beginning of the end – a publicity do-gooder ploy to impress... who?
Second: Moshiri – a total unmitigated 1000% disaster... a fool – worse, a belief that money answers problems. It leads to laziness and poor management - look how many companies are going bust.
Third: complacency – forget PC... Somebody should have run through Goodson screaming "Wake up, you fucking bunch of fucking idiots!"
We need a clear-out – physically and mentally – we stink of complacency and failure totally 1Billion % illustrated today. Failures everywhere and whenever a decision had to be made.
Holgate – woeful and forever will be. Iwobi – worked hard but zero in decision-making or anything decisive.
Gordon – stand up and be a fucking man and stop diving and moaning to cover up your inadequacy.
Doucouré – open your fucking eyes, man!
Keane – go soon, our total lack of any strength and decision-making has led to this.
I am on holiday in Salerno. I walked for hours asking in bars if the game was on? Found one, sat and converted Salerno fans into being Blues – make some fucking effort to match mine, Everton. You have allowed this to happen. You Bastards.

Robert Tressell
133
Posted 24/04/2022 at 20:07:07
Show me anyone in the top scorers list who isn't a diver. It's part of the game now whether we like it or not. Gordon is blameless in this. He had a good game, carried threat and the non-commital "I've seen them given" is code for "It would have been a penalty if it was Salah".
It is so random what goes to the VAR and what does not. It's robbed us again.
Anyway, the attitude was good, the tactics were good and it was a mature performance. If we play like that for the rest of the season, we'll stay up.
It wasn't 'must-win' today.

Christy Ring
134
Posted 24/04/2022 at 20:11:53
Just seen Klopp's interview for Match of the Day, Gordon's second penalty appeal, he said he was lucky not to get a 2nd yellow! Unbelievable, such a pompous prick. Why are they so afraid to question him.
Shane Corcoran
135
Posted 24/04/2022 at 20:11:54
Paul Smith, excellent post.
Brian Wilkinson
136
Posted 24/04/2022 at 20:14:47
I want to know where these "We've had some good times" are? Maybe Bill has when he fleeced Moshiri, but I certainly haven't had the good times, not since 1995 anyway, and that was before Bill's watch.
Bobby Mallon
137
Posted 24/04/2022 at 20:15:43
We had 13% possession, for fuck's sake.
Si Cooper
138
Posted 24/04/2022 at 20:16:31
'Shit decisions are part of football - always have been.'
That is exactly the reason the VAR was introduced, to get rid of the obviously terrible decisions. Some are always going to be marginal but the one in the second half was clear and obvious.
Can someone confirm whether the VAR checks things automatically without needing to be invited to do so or not? My understanding is that he does and then lets the ref know if he's missed anything or cocked up.
It works very well in other sports and they will even pick up on serious things the ref didn't have a chance of spotting. You will even hear refs asking them to check on something as the game carries on.
The obvious reluctance to broadcast the conversations the officials have is just bizarre if there is nothing to hide.
Those who continue to criticise Iwobi's performance also have me bewildered. Whether he has done enough with his recent performances to make up for previous poor performances is up for debate but surely he must be ranked as one of our better players and perhaps someone who can really make a difference in the last 6 games?
Danny O'Neill
139
Posted 24/04/2022 at 20:19:02
Still gutted. With my son and brother homeward bound. I'll talk in the morning.
We can still do this, Everton.
Ian Edwards
140
Posted 24/04/2022 at 20:20:44
If we go down, then many people will be to blame. Let us not forget the rot set in under Ancelotti last season after Christmas when he threw the towel in, particularly at home. He did nothing and we were basically used as management experience for his son Davide.
Ed Prytherch
141
Posted 24/04/2022 at 20:21:03
Graeme Le Saux was commenting on NBC. He pointed out how Atwell ran to Doucoure to brandish the yellow card, in his opinion it was "too emotional" I think that it showed Atwell's bias.
Graeme also said that the push on Gordon was a foul and should have been a penalty. But Gordon and Richarlison did us no favours with their dramatics, they are too good to be resorting to that stuff.
I loved the way that Pickford was winding up the shite with his lack of urgency. It almost worked.
It is hard to criticise the team performance except that Gray is not much help when we are playing defensively.

Si Cooper
142
Posted 24/04/2022 at 20:21:22
Bobby, do you honestly think possession stats matter that much? Did you watch the game?
I don't think a 1-0 lead for us after 60 minutes would have been any sort of injustice.
Christy Ring
143
Posted 24/04/2022 at 20:22:56
Paul Smith #123,
Personally, I don't think it's an excellent post, do you see the redshite fans calling out Salah for endless diving? No, there was contact for the first incident, not a yellow. Why criticise our player?
Paul Smith
144
Posted 24/04/2022 at 20:25:03
Cos he cost us a penalty decision, Christy. The boy who cried wolf.
Paul Kelly
145
Posted 24/04/2022 at 20:25:03
Paul Smith " We're not victimised… we're shite."
I agree with the second half of that sentence but the first?
We are the victims of bad refereeing decisions. Many teams are too. But the top get away with it time and time again. Today – stonewall penalty. Man City – stonewall penalty after VAR review and still didn't get it.
I've seen Salah and others throw themselves to the deck like an action hero running from an explosion but get away with it,week after week.
Do you think Kuyt's two-footed waist high lunge on Neville wasn't worthy of a red? Not even a talking too. Incompetence or corrupt?
Same game (I think) changed a yellow to red because crease-head said so? Incompetence or corrupt? Lescott fouled by "Mr Ed", no penalty.
I could go on but the fact that nothing ever happens, meaningless apologises and demoting the ref one division does fuck all for us but admits they were wrong. And that's where it ends.
We are victims of bad decisions, but we are poor too; together, it's a recipe for disaster.

Si Cooper
146
Posted 24/04/2022 at 20:25:25
Ian (140), do you really believe the rot hadn't set in a long time before then? And there hasn't been time enough since to at least cure some of it?
Trying to lay our current situation on just one manager is pathetic.
George McKane
147
Posted 24/04/2022 at 20:27:16
Si,
Seriously I do not wish at this stage to argue with individuals, we all have our heroes and villains. For me, Holgate is among the worst defenders I have ever witnessed... and Iwobi – workrate, yes, tremendous; effectiveness, poor.
If others matched his workrate, yes, it would be good – but we are covering up for a poorly run club, dreadful, and totally dreadful decision-making all over the pitch... and indeed off it.
God Bless You, Si, and all of us fellow sufferers.
Oliver Molloy
148
Posted 24/04/2022 at 20:28:20
Expected to lose, and we did, but I'm still so fucked off.
We have had chance after chance after chance to be out of danger and have fucked it up every time with poor game management, terrible finishing, and awful defending.
This team is really poor. but it's been this way for years. No matter which league we are in when the season finishes, everything has to change at the club from the board and the football side. I would say Moshiri also although, unless he gives the club away, he's going to have a fucking tough job selling us.
Burnley beating sides that we couldn't tells you everything. I can not get that Burnley game a few weeks back out of my head. Win that and they would have fallen apart – that was the result that gave them hope, we gave it to them.
I'm so fucking angry.
Jerome Shields
149
Posted 24/04/2022 at 20:28:24
Whilst chances were missed and a definite penalty not allowed, it was a failure to adjust tactics early in the second half that undone Everton.
The first-half tactics were okay and Everton were well organised and did have chances. Both Doucoure and Gray were passengers, leaving it to others to pick up the slack.
Klopp was going to have to adjust in the second half if his team were to be in contention in the League.
What he did do was reduce the midfielders from three to two and bring on a forward and an attacking supporting player. He took the chance of losing control in midfield, because it was only going to take two to do so.
Lampard failed to respond and continued with the ineffective Gray and Doucouré, with tried players that had had to pick up the resulting slack in the first half.
The result was Liverpool did not have to push up into midfield, they were able to apply pressure with two additional attacking players.
By the time that Lampard decided to use substitutions, the damage had been done. Even taking Allan off rather than Doucouré was the wrong substitution, resulting in the second goal. In both goals, Liverpool had a man over on the far post, and no wonder.
Paul Smith
150
Posted 24/04/2022 at 20:29:28
Teams who have more of the ball and are proactive will always get more decisions in their favour. We had fucking 14% possession today and less passes throughout the whole team then Thiago had himself but it's the refs fault. Do me a favour…
Christy Ring
151
Posted 24/04/2022 at 20:32:15
Against Newcastle, Allan got a red card for a cynical tackle, how was Arnold's any different?
Si Cooper
152
Posted 24/04/2022 at 20:33:00
Paul Smith (144), do you know how much our 'professional' referees get paid?
It doesn't even equate to a 'boy who cried wolf' situation because the refs can see things for themselves and now supposedly have the VAR to sort out their mistakes.
It is more a case of 'the emperor's new clothes' with people not calling out the obvious.
Shane Corcoran
153
Posted 24/04/2022 at 20:33:02
Christy, Gordon this season has been a revelation but he, along with Richy are costing us with their antics.
He looks for the foul every time instead of going for the goal or assist. He kicked the ball away twice today on a yellow. Both incidents today could have been penalties but he won't get them because of his prior performance.
I don't think Salah dives that much actually but I don't care what he does as he's not an Everton player.
Mal van Schaick
154
Posted 24/04/2022 at 20:36:56
FA investigation into Attwell, irrespective of the result. He may as well have worn a red shirt.
We cannot give up with games to go, and results for Burnley and Leeds will be scrutinised as well as ours.
Lampard will have the players ready for the Chelsea game, let's get the win and see what happens to Burnley and Leeds.
Matthew Williams
155
Posted 24/04/2022 at 20:37:02
I think it's high time we brought back Tosun into the mix, pair him up front with Rondon as we need goals!!!
Si Cooper
156
Posted 24/04/2022 at 20:37:27
Shane (153), prior performance shouldn't matter. Why not?
See my response to Paul Smith's similarly antiquated stance for details.
Andy Peers
157
Posted 24/04/2022 at 20:38:46
Relegation was on the cards since the Norwich defeat. My fear is we do not have the right personnel in the boardroom and won't make it back up. The fools in the boardroom are convincing themselves that we will not be relegated. Thanks, Bill Kenwright!
Christy Ring
158
Posted 24/04/2022 at 20:40:32
I don't give a shit about the 14% possession, listening to Souness too much, we had the best chance in the first half, and don't blame the ref??
Mane red all day long, and definite penalty at 0-0 Look at the bigger picture.
Paul Birmingham
159
Posted 24/04/2022 at 20:43:17
There's no point in taking any RS bait today, tonight this week.
Fekk them to eternity, and let's focus on the massive battle that Everton now face for survival in this league.
The RS were rattled today as was it seems the media and the Sky cronies, as Everton played a game plan which stifled them.
VAR was turned off today, surprise, surprise. Atwell and Stockley Park, again didn't see the incidents that counted.
Perhaps Gordon getting booked for diving didn't help the cause but when is a push in the box, not a penalty?
Angry, and wiser, as the years have made us all. Now to stick together for the massive battles left to survive and stay in this league. It is doable but Everton need results to go for us too.
As much as I don't like Palace I hope they stick one on Leeds tomorrow. Leeds have some tough games too.
But it's Everton, all the way, and hopefully today will give the team the courage and guts to believe and win their fight for survival in this league.
Martin Mason
160
Posted 24/04/2022 at 20:43:39
I believe that relegation is now inevitable. Did today's performance give us hope? Not in any way, a vastly superior Liverpool team eventually broke a Park the Bus Everton team down. We don't have any excuses to keep us up now.
My sincere sympathies to the wonderful Blues who have supported the club through this period of decline and I can only share their hopes that we can bounce back quickly. Can we do that while we're in the Premier League though?

Paul Kelly
161
Posted 24/04/2022 at 20:45:07
Point being made – Gordon doesn't do himself any favours by going down easy, but that shouldn't affect a blatant decision that was a penalty.
Plenty of players dive, but they are applauded by pundits saying shit like "he had a right to go down", good enough for their team or the Sky 6 but when one of our player does it, he's singled out?
Don't get me started on Saurez. Did you ever see him get a yellow for diving?
Corrupt as fuck.
Let me state, I don't think we would've won regardless of the decisions against us. Just pointing out the continous incompetence by officials against us.
Tony Abrahams
162
Posted 24/04/2022 at 20:46:17
He won't get them because of his prior performance might be one way to justify it Shane, but surely the ref should have looked at that second one? And maybe he didn't because there could have only been one possible outcome if he did?
It's gone, we never got the decision, but what was VAR actually brought into football for, and when are referees going to be asked to explain their decisions, which change from week to week?
I would have a bet with anyone that this ref will give a penalty for a similar incident before the season is out, and whoever it was in the VAR studio, will also tell the ref to go and have a look in his monitor, if the same situation arises in the coming weeks.
I know I'm repeating myself, but it's something I've gone on about for a long time now. Football seems to need controversy, now it's such a big part of television, but if any club wants to give me £600 per week plus expenses, I'd bet my life I could prove something is not quite right, with regards officials, and it is vastly underestimated how much a bent referee can change the course of a game.
Tony McNulty
164
Posted 24/04/2022 at 20:53:43
For the rest of the season, if we play with the belief and tenacity we showed today, we will survive.
Bit unlucky today against a vastly superior side. Did any of us really expect a result before the game?
Richarlison as the main striker does not work in this team, as we all know. Onwards and upwards.
Terry Farrell
165
Posted 24/04/2022 at 20:55:03
First off, any Liverpool fan who backed the Suarez antics and blatant cheating week after week have no argument.
Second, Google Jamie O'Hara Sky Live – he says stonewall penalty. Why didn't VAR check it?
Stinks.
Colin Malone
166
Posted 24/04/2022 at 20:55:36
Paul Clement is a dud... shite. My Granny could coach an Ancelotti super star team, ie, Real Madrid, Chelsea, Bayern.
When he tried as a manager, Derby County, Swansea, Reading, Circle Brugge [recently sacked]…
I've seen him on the touchline at Goodison many times this season, doing what he did at Derby, Swansea and Reading... Not good enough for our club.
COYBB
ps: I'm here, as well as 40,000-plus, to motivate the players in the dressing room. Clement is a dud.
Paul Birmingham
167
Posted 24/04/2022 at 20:58:22
Tony, spot on, and in my view, football by the VAR and poor officials has become a corrupt game.
The so-called Top 6 sides get the big decisions, and teams at the bottom, get sweet fuck-all.
It's not an excuse for Everton being in the Bottom 3, but fine margins, like today, like the penalty v Man City etc, across the season, with no vestige of parity for every game, means some clubs will be impacted extremely well, they get the decisions, and like today, Everton, get sweet fuck-all.
The dog fight for Everton's survival is on, and it won't be pretty, but Everton can do it, with some huge chunks of luck.
Dave Lynch
168
Posted 24/04/2022 at 20:58:40
Let's be real here.
And I fucking hate the other lot with every ounce of my being... they battered us, 15% possession is not competing, it's akin to the fucking Alamo.
We are where we are not because of this game but the past 30-odd piles of shite we have had to endure.
The ref bottled it, of that I have no doubt, and I'm still convinced the FA have an agenda to protect the "brand". Football is totally corrupted by TV money and the need for PPV punters. I don't like American footy but have a liking for the draft system which evens the field a bit imo.
I was reminiscing earlier and remembered the teary one after I think the Wimbledon game stating, "I will never let this club get into this position again whilst I am here" or words to the effect.
I hate him as much as I hate that lot across the park.
Brian Wilkinson
169
Posted 24/04/2022 at 21:02:23
If anyone does not think our game is corrupt and favours the big teams, moving on from the City none handball, I will leave you with the following from today.
A stone wall penalty not given, a second yellow card not given to Mane, but the two incidents that really pissed me off was firstly the corner count was 13-1 in their favour, only once did the ref sprint over to the corner flag, to make sure Gordon was taking it from the correct position.
The second being again a sprint to Doucoure to book him, he could not wait to book him.
That my friends is what we are up against, not just ourselves, but every other teams that come up against the shite and City, not one ref will give a decision against the two, for the remainder of the season.
Like I said, what a shame the Euro super league never went through, after that fiasco, they are now even getting every single decision go their way.
If the unthinkable happens, we will have to accept it, but like I also said after we got an apology for the City none handball, I said we would not get any decision after that, and they will be out to get us.
Kieran Byrne
170
Posted 24/04/2022 at 21:02:31
We had them rattled, even the twat of an announcer on DAZN, Jim Belgin was crying with stats like the ball was only in play for 28 minutes of the first half and that some of Everton's defence was bordering on criminal.
But once again, we let ourselves down with not even getting shots on goal to force the keeper into making saves, we choose the wrong option 9/10 times. Then, as it always does, it bites us in the ass. Coleman not watching his man and Keane ball-watching again and game over.
We've seen the same story over and over again, this squad never learns, good again for an hour and then stupid mistakes kill us.
I still have a stupid feeling though that somehow we're going to pull this off and stay up. Blind faith, I guess, but we do play well in patches, it's just the little things that are killing us by a thousand cuts.
Agghhhh... can't wait for this season to be over and we somehow stay up, fucking hate that lot & now they're revelling in it. One day, the shoe will be on the other foot, won't it? It's got to even out sooner or later, for fuck's sake.
Bill Gall
171
Posted 24/04/2022 at 21:02:45
Brian #136,
First, I don't support Bill Kenwright and believe that Moshiri should not have kept him on as Chairman. But I can't see how he fleeced him.
Moshiri became owner by becoming the major shareholder, and I doubt if there was much difference in what he paid for them. He bought the shares from Robert Earl and Jon Woods that gave him more shares than Kenwright had; he also bought shares from Abercrombie and the bulk of Lord Granchester, as well as all but 5% of Kenwright's shares.
Yes Kenwright made money off his shares, so did a number of other people, but I can't see a billionaire with all the lawyers he has being fleeced.
Ian Edwards
172
Posted 24/04/2022 at 21:07:04
Officials are frightened to give big decisions against Liverpool and Man City and affect their title bids.
Hopefully we'll get a decision before the season ends.
Andy Crooks
173
Posted 24/04/2022 at 21:07:20
We played the way we had to today and it nearly worked. However, if we play like this for the rest of the season, we will be relegated. Today was the last chance to park the bus, it is too late for that.
Lampard must go for it now, he must do what he believes. The time for scrapping for points was weeks ago. Do or die, Frank.
Paul Kelly
174
Posted 24/04/2022 at 21:08:06
Most posts seem to be directed at decisions. Yyes, we lost, we're not happy, we fought but weren't good enough at the end of the day, started well, stifled their game, but didn't make changes when needed and ultimately lost.
Back to the decisions.
I think we may've lost even if the decisions went our way – because we are not that good – but who's to know? That penalty kick goes in, Arnold gets sent off, different game – isn't it.
Refereeing decisions affect games, regardless of how much possession you have, when you have the ball and get fouled, regardless of if you're known to be a diver, the decision should be the correct one.
They have slow-mo video replays at Stockley Park which would've confirmed the penalty, did they? No? Why? Corruption.
Will they answer for it? Yes, in a non-discreet press release stating that Atwell is refereeing in the Championship for 2 weeks until he finishes his detention, writes 40 lines a day 'I must not be "biased" on A4 paper, turns it in to their chief, and gets a rise for his troubles plus a signed Salah training top.
Brian Wilkinson
175
Posted 24/04/2022 at 21:08:32
So you think there is very little difference from what Bill paid for his shares, that's assuming Bill even used his own money to buy the shares and what Moshiri paid Bill when Bill sold them?
You can rest assured, Bill made a huge profit on them.
Paul Birmingham
176
Posted 24/04/2022 at 21:10:57
Great spirit Tony@164, and is what's needed.
This will be the Vigil of Vigils, in football terms, but Evertonians can make it happen.
Chelsea, Palace, Brentford, Watford must be won, and Leicester, Everton can take a point and break the away day mould for getting beat.
There's a daunting reality tonight but, if the players can show the passion and commitment of Anthony Gordon, then Everton have a decent chance.
The maths state Everton have a chance and I believe Everton can do it, and both Burnley and perhaps Leeds have the toughest run-in of fixtures.
🙏🏼⚽️🍀
Tony Abrahams
177
Posted 24/04/2022 at 21:12:44
Ed @141, an ex-professional footballer, like Le Saux, who has played in a lot of big games, will notice these little refereeing giveaways right away. A professional eye so to speak, but why shouldn't the ref get away with it, if Everton only had 15% possession, or because Gordon had already been booked for diving?
No wonder VAR has been allowed to make it up as it goes along. I honestly think it's that inconsistent that it's actually been allowed to create an illusion.
Brian Wilkinson
178
Posted 24/04/2022 at 21:14:14
Bill paid £9 million for his shares when he bought them, when he sold half his shares back to Moshiri, he got £22.75 Million and that was only for selling half his shares.
God knows how much he got when he sold further shares last season.
Will Mabon
179
Posted 24/04/2022 at 21:16:56
I read the comment section at the bottom of the BBC Sport website match report. After I don't know how long of being "Nice" Everton and many people's (reputed) second team,
boy
are we hated. The vitriol - and not from RS.
Not that I actually give a toss what others think, but we are certainly getting it from all quarters. Most strange what is happening to our club.
Chris Leyland
180
Posted 24/04/2022 at 21:17:43
We've played the two best teams in Europe recently and been undone by poor/corrupt officiating both times. It's disgusting. But… our problems don't stem from those games, they go much deeper. The rot was set years ago but this year was set with the ridiculous appointment of Benitez and then sticking with him far too long when it was clear it wasn't working and that the atmosphere was poisonous before then signing Lampard as manager right at transfer deadline day.
Contrast with Newcastle, who looked dead and buried but they brought Howe in well before Christmas and he then had the time to assess the squad and get what he needed- they now sit 9th in the table. The problems didn't start with Benitez but he took a side that finished 10th and made them considerably worse. He managed to bin off the most creative player in the squad and then fall out with the international full back and leave us with no recognised left back.
If we go down, we are financially fecked. Our existence relies on tv revenue - circa £100m a season but with parachute payments of £42million to relegated clubs and a wage bill in excess of £185m, it's not hard to see that we are going to be in serious trouble. With no relegation release clauses in player contracts (allegedly) the likes of Mina and Gomes will only be gone if someone else is willing to pay them £120 grand a week, otherwise they can sit it out for a year or two and move on at the end of their contracts or expect a pay off to move before then. We are in serious danger of administration and a possible points deduction and at the very least a fire sale of anyone who commands a fee.
Tony Mace
181
Posted 24/04/2022 at 21:20:16
Another one of those "good times" today eh Bill?
Paul Smith
182
Posted 24/04/2022 at 21:21:48
That's cheered me up Chris. Yippidy-doo-dah!
Robert Tressell
183
Posted 24/04/2022 at 21:26:40
Tony @ 162. That's the issue with VAR. They don't review the Gordon push because they might have to give a penalty.
As much as we need to sort the playing side out - we need to alter our public perception. In Premier League terms we are boring also rans who are supposed to lose. So we're absolutely not going to get the decisions because that would lead to the wrong result.
Please don't give me that nonsense about Gordon crying wolf. How many times do Salah, Mane, Firminho, Jota, Sterling, Jesus, Fernandes etc go down in the box?
Anyway like I say, a mature performance, deserved a point and if we carry on playing like that we'll stay up.
Will Mabon
184
Posted 24/04/2022 at 21:30:55
Whenever I am reminded of Benitez' "Input" as you have there, Chris, it always gives me an
I wonder
vibe.
Crazy perhaps, but if you wrote a fictional account of how to deliberately undermine a struggling team, there would be many parallels. Just how can experienced, professional and so-called top class managers do such an appalling job and create such disharmony?
Paul Birmingham
185
Posted 24/04/2022 at 21:31:55
For the good of the game, the EPL, must get VAR pitch side and make descisions in real time, pitch side, hence forth.
Unless they do, then, the game is and will stay in a flux of disreput and permanent flows of bull shit from the EPL and referees association, and Sky and MoTD.
Football is now not a simple game, the mass media, it's contracts, but by default benefitting all the EPL clubs, and loads of average and crap ex professional players are bleaching the game to its lingering death.
I'd like to know how many referees have ever played football at any level?
But thats, not the issue.
VAR, must be challenged by every club, to get some consistency, and clear governance.
Today the way the descisions went, TAA, Mane and Matip, should have gone..
In football the first goals, and lucky breaks count. The referee, was a shit house and if he hasn't the spine to stand up and be a referee to uphold the rules of football, then what's the point?
All focus on matters Everton and the fight for survival.
UTFT!
Bobby Mallon
186
Posted 24/04/2022 at 21:33:33
To all those who wanted ( in their opinion ) Ancelloti out. I hope your all happy now
Paul Smith
187
Posted 24/04/2022 at 21:34:20
Hey Robert we might want to get a shot on target or we definitely won't stay up but yeah cracking performance. Oh, and a corner might help.
Tony Abrahams
188
Posted 24/04/2022 at 21:35:37
No wonder I've been hearing Moshiri has now put a relegation clause, into the sale of Everton, Chris. When you listen to Benitez say he was promised money, but that fizzled out when he couldn't get rid of any of these players, then it's probable that Moshiri will only be able to sell Everton, if he's prepared to lose an incredible amount of money, but as you say, even this won't be enough to keep FFP from the door? Not whilst we are stuck with some of these vastly overpaid awful footballers anyway.
I'm glad Mykolenko proved me wrong, he defended with his head and his heart today, but how many times did Allen actually kick the ball today?
Andy Crooks
189
Posted 24/04/2022 at 21:38:35
Bobby @186 what a wonderfully self righteous post, first smile for many hours. Of course we're all happy. What's not to be happy about?
Brendan McLaughlin
190
Posted 24/04/2022 at 21:39:57
Bobby#186
I'll see your Ancelloti and raise you Moyes...but what's the point? Both left because they wanted to.
Paul Birmingham
191
Posted 24/04/2022 at 21:40:00
Is Duke now suspended after his booking today?
Tony Everan
192
Posted 24/04/2022 at 21:42:26
With regards the VAR decision Anthony says Matip stood on his foot. He went down and was in pain. This was as well as the shove to throw him off balance. You can see this clearly on the head on angle Anthony has posted on his Twitter link.
What on earth was Darren England doing in the VAR control room. It's his sole job to look at these game changing moments. How on earth, with all the technology, did he not see this ??
At the very least this should have been checked. Another absolute howler that has changed a game.
Also Frank is dead right. If the exact same incident happens at 0-0 and Salah goes down attacking in the Kop penalty area. It is 100% certain that it would be reviewed and 100% certain a penalty would be given. That is not up for debate it is a fact.
Brent Stephens
193
Posted 24/04/2022 at 21:44:35
Almost didn't go today, so scared of a pasting. Glad I did go, despite the loss. That's no embarrassment today and I think continues some sort of momentum in terms of application. I'm worried but would be worried ten times more if we weren't showing up. The fans were behind the lads today.
Can't predict who we'll get points off nor how other teams will do. Just have to be patient and wait. It's hard.
Ian Riley
194
Posted 24/04/2022 at 21:46:17
The Burnley result done me! Liverpool are a side with a top manager for many years and top players. We tried and we can do no more than that. Relying on officials for decisions, forget it!
Manager after manager has led to this. Player recruitment well all is there to see. Our defence has got slammed this season because we have no midfield or premiership standard strikers. Carlo stabilised the ship a little but the squad needed big reinforcement.
We still must believe 🙏. I have asked my father to sprinkle some magic blue dust from behind the blue gates in heaven! My goodness it's come to this. I will take anything now and we need it!
Please stay positive.
Paul Birmingham
195
Posted 24/04/2022 at 21:46:49
Tony, yep agreed it's cast iron, and with out dispute.
The game is now hear say, in terms of rules, and. Compliance.
Everton, should and must make a formal complaint.
Today's another clear case of professional contempt by the EFL and Referees Association..
It's an evil killing the game, and causes many direct and indirect issues on and off the park.
Rob Dolby
196
Posted 24/04/2022 at 21:47:49
I think the penny is dropping now with Lampard. We need to play like this in our remaining games.
Sit back and counter attack.
The Gordon diving is standard for a top 4 player unfortunately we aren't a top 4 team. One minute he is slammed on national telly for diving then when he dives after the Trent tackle 'he has done well' according to the same pundits. The game has gone!
Derek Moore
197
Posted 24/04/2022 at 21:49:00
I saw the Burnley result.
I saw ours.
I thought I was alright.
And then I saw Richarlisons social media post, and realized I'm not. Brought me to the brink of tears.
You need to hit rock bottom before you can bounce back up. Dear god in heaven, please let today have been the bottom for our club. Let the rise begin from here and now.
Mal van Schaick
198
Posted 24/04/2022 at 21:49:54
Agree with Tony #164. We have played well today and we're robbed by a red shirted referee.
Keep that tempo up in our remaining games and we will remain in this league.
Mark Ryan
199
Posted 24/04/2022 at 21:50:12
Can't believe there is a discussion about Ancellotti. He abandoned EFC when the going got tough. He's a bell-end. Ran out when he knew the money had dried up. Can we stop talking about him. Thought the boys did really well today all things considered. We have hope, the boys are still fighting. Keep at it and we'll be fine. Gordon needs to stop falling down like Richy. He might then get some decisions go his was. Onwards and upwards UTFT's
Pat Kelly
200
Posted 24/04/2022 at 21:51:25
The jig is up. Our billionaire owner has proven to be a disaster for the Club. Yes he spent a small fortune but he's been done by his total lack of football knowledge and his failure to appoint a professional board and management team. Meanwhile he lives in Monaco, far away from the reality of his broken trainset.
With the result that agents, dud players and useless managers have all taken him for a ride on grossly inflated transfer fees and salaries. Some of the players continue to do so thanks to ridiculous contracts. But it's also at the Club and fans cost. Relegation means an uncertain future. Uncertainty about BMD and long term survival. It will only get worse if Moshiri remains.
Andy Crooks
201
Posted 24/04/2022 at 21:51:33
Will @179, that is so true. We have gifted struggling teams points all season. we are generally meek, don't question officials, have a laugh in the tunnel before kick off, walk off, good naturedly accepting defeat, have a chairman loved by all who don't know him. And they hate us for it.
That will stop if we are relegated, it will be mockery, then pity, then indifference.
Next season, when we have survived, we should give them reason to hate us.
Michael Lynch
202
Posted 24/04/2022 at 21:51:56
Gordon could have been beheaded with a karate kick by a RS defender, and it wouldn't have even gone to VAR. The stats speak for themselves:
Liverpool haven't had a penalty awarded against them in any of their last 46 league matches, the longest active run for any Premier League side:
46 - Liverpool
24 - Manchester City
19 - Everton
18 - Newcastle
14 - Aston Villa

Robert Tressell
203
Posted 24/04/2022 at 21:53:49
Paul # 187 we will stay up if we continue to play with that degree of fight and maturity - because we should have had a point away, and we don't play another team remotely as good as the RS for the rest of the season.
Disgraceful refereeing has done us again.
Robert Tressell
204
Posted 24/04/2022 at 21:53:49
Paul # 187 we will stay up if we continue to play with that degree of fight and maturity - because we should have had a point away, and we don't play another team remotely as good as the RS for the rest of the season.
Disgraceful refereeing has done us again.
Tony Abrahams
205
Posted 24/04/2022 at 21:54:38
I'm happy when I learn Andy. I've taken a hell of a lot more out of my good times, but learned a hell of a lot more about myself and life, from my bad times. I didn't expect anymore out of today, I actually won £50 from a very cocky, loud-mouthed, aggressive Liverpudlian, because I won't ever give in on Everton, and although relegation will hurt, it genuinely won't hurt me more than that 1995 flag that was on the kop today.
My football club used to exist to win, until way to many, were taken in by a curse, and if his legacy is relegation, I just hope he disappears, and then after the torture, the re-birth of my Everton, can begin. I obviously hope his legacy isn't relegation, singing "please Kenwright can you be removed".
Si Cooper
206
Posted 24/04/2022 at 21:56:03
Jerome (149), I have to say I thought Doucoure was decent today. I also stand by my previous comment that Iwobi has really stepped up recently and is doing at least his share of mucking in and then trying to be part of an attacking threat.
I also don't think Lampard had any real opportunity to change the tactics / try to match Klopps substitutions. I agree with whichever pundit said if you had tried to go toe to toe with Liverpool with our players it just would have been a massacre. Simple problem is the 'top' teams have an embarrassment of riches on the bench / in their squads. The 5 permitted subs from next season just strengthens their hand.
Our only option was to keep things compact and hope to convert what were always likely to be limited opportunities to break.
I'd agree Demarai Gray was our least involved player today but he was in the team to be one of those who could be an option on the break. It is a real shame he wasn't ever released as I think if he had got in behind then he generally has enough pace and composure to have really tested the goalie. I couldn't really tell if it was his fault or just one of those games when the ball just didn't go his way
Paul Birmingham
207
Posted 24/04/2022 at 21:58:53
Michael, that's an unholy stat, and I bet they win that honour, as well over the last 40 years.
Robert Tressell
208
Posted 24/04/2022 at 22:00:03
As a PS to this, I'd like to complain (again) about the ToffeeWeb match report headlines.
Why is today's headline not:
"Blues robbed again by refereeing controversy"
Or
"Resolute Blues robbed of deserved away point"
There is no magnanimity or balance amongst those at the top of the table. Especially amongst the RS fan base.
Today was another outrage so let's say it how it is really is. If we can't see the injustice then you can be damn sure the referees won't.

Nigel Peters
209
Posted 24/04/2022 at 22:00:57
Having been at both games this week I can't fault the work ethic or the desire however the reality is that we have insufficient quality in front of goal and I'm afraid it is that that will condem us to the Championship next season. I was proud of the players today but apart from some dodgy non VAR decisions we never looked like taking advantage of numerous promising positions. I didn't think the red noses were anything special today (god they are boring) defensively they looked porous however their array of attacking options either on the the pitch or bench were the chief difference between the 2 sides. We will match all the sides we still have to play this season however we will concede more than we score and that as they say is that.
Neil Copeland
210
Posted 24/04/2022 at 22:02:44
Brent #193, I didn't go today but your post captures the way I feel too. Gutted but also proud and hopeful still that we can turn it around.
Paul #195, it's purely about greed and that leads to the bias shown and corruption comes to the surface more and more. A part of me wishes that the Super League had gone ahead in the hope that we were left with a more even playing field where we and others may actually win something from time to time.
The premier league has become a closed club which is becoming more exclusive each season. The wage restrictions that are being introduced will only make it worse if, as reported, they use a percentage based system as opposed to a defined maximum figure.
It seems to me that plenty can be done to improve on field decisions but that is not on their agenda.
Anthony Jones
211
Posted 24/04/2022 at 22:04:14
The way the game has gone, it's all about winning by any means. Mourinho made a career from bending rules, complaining constantly, encouraging his players to cheat.
Some of this will have rubbed off on Lampard for sure, but we need more nasty players, more divers, more Atletico types.
It might put some fans off but it is what you need to be serial winners in this game, unfortunately.
Justin Doone
212
Posted 24/04/2022 at 22:05:06
No points but we may get another apology.
Get the lawyers ready, we have been let down time and time again by referees and VAR panels.
It's not good enough and we should take them to court weather we stay up or not.
I expected us to be in the bottom 3 before the end of April and I'm sad to see that is the case. However, its all about how we react.
Our loss to Burnley may prove to be the difference.
Tony Abrahams
213
Posted 24/04/2022 at 22:08:46
Without any fans inside the stadium last season, I heard Liverpool conceded six penalties? (Haven't checked) but I've never known Liverpool to concede that many penalties in a season before.
Paul Smith
214
Posted 24/04/2022 at 22:09:08
I have to admit decisions have gone against us this season but I don't buy the corruption theory. Has anyone watched the RS this season ? Just getting into their box is an achievement. How many touches did we have in their box today ? It was a derby remember. Do you think officials wouldn't be inclined to give a pen against them
at Old Trafford with 70,000 Mancs screaming at the fella in the middle. Yes there's bias due to most pundits being ex RS. Maybe It's their success we're jealous of no wonder they call us bitters. We need to take responsibility - we're not good enough, from top to bottom and haven't been for 30 years. Otherwise it would be ex-Everton players in the commentary box. Then again when Ossie commentates you'd be hard pushed to know he ever played for Everton. Soft as shite as usual, accepting mediocrity.
Matthew Williams
215
Posted 24/04/2022 at 22:09:35
We need to start recruiting young British talent in future,I've already emailed the club about two young Welsh lads...Lee Jenkins plays for Aberystwyth Town,is having a great season for them,just loves defending,a tall C.B with good distribution too & Josh Williams,Captain & main man for Wales under 18 side who have just won the Centenary Shield for the first time since '81!... this lad will be a star,his touch, technique, awareness is spot on,he also works his bollocks off closing down and making tackles but this lad knows where the goal is too, reminds me of a young Rooney and also Billy Kenny too.
So less South American men of glass or falling over merchants and just start looking a lot closer to home please.
Will Mabon
216
Posted 24/04/2022 at 22:11:25
Andy @ 201;
Yep - no more Mr. Nice Guy.
In the comments I mentioned, there was a hatred that we had the audacity to try to keep the "Gods of Football" at bay... among many other things.
It's a wild ride ahead that awaits us. We leave at dawn.
Neil Copeland
217
Posted 24/04/2022 at 22:14:16
Something that I really don't understand is that Liverpool and City don't actually need bias on decisions. They are both very good sides that will be competing for everything on offer anyway.
So why piss off other teams when it isn't necessary? Even if we had been awarded the penalty today and Mane sent off there is no guarantee we would have got anything from the game (although our chances would have improved a lot I know).
Tony Abrahams
218
Posted 24/04/2022 at 22:16:05
Some good points Paul, but I remember once Alex Ferguson had left United, Clattenberg gave Liverpool three penalties in the same game at Old Trafford.
We are definitely not good enough though, and Nigel's post @209, probably sums up the situation, as good as anyone else has on this thread.
But whilst there is hope, the only thing we can do is get behind them, and maybe we might even be able to sway a couple of refs? Goodnight everyone!
Paul Birmingham
219
Posted 24/04/2022 at 22:16:48
Massive weeks ahead, but all Evertonians, unite and fight for the good cause.
Let's focus on Chelsea, our next game, and use all our massive spirit to beat Chelsea.
This can be a turning point game in this season, for Everton, and can be done.
Paul Birmingham
220
Posted 24/04/2022 at 22:16:50
Massive weeks ahead, but all Evertonians, unite and fight for the good cause.
Let's focus on Chelsea, our next game, and use all our massive spirit to beat Chelsea.
This can be a turning point game in this season, for Everton, and can be done.
Will Mabon
221
Posted 24/04/2022 at 22:20:37
Neil,
the answer is, because they can.
Ed Prytherch
222
Posted 24/04/2022 at 22:22:52
If we go down it will not be because we lost today or biased refs, It will be because we lost so many games to weak teams.
Brian Denton
223
Posted 24/04/2022 at 22:27:43
It bears repeating - it is still in our hands. There are more points available to us than to Leeds and Burnley.
Paul Smith
224
Posted 24/04/2022 at 22:28:03
Goodnight Tony A. Needed to vent a bit tonight and might need to a bit more as this season reaches its perilous finale. Take care tonight blues.
Jerome Shields
225
Posted 24/04/2022 at 22:29:53
Si#206
I did see the game and thought Doucoure ineffective and losing possession. I agree with you regarding Iowbi and his performance. Gray I also felt was ineffective, this could possibly be due to not being released as you say. But Everton tactics where effective in the first half.
But at the beginning of the first half players were obviously tired and Change was needed. Tactical Liverpool needed engaged in their own half, but because of no tactical intervention it was them that changed and engaged Everton more in their half. This was a direct result of the Liverpool substitutions.
It was obvious that Liverpool would come out after halftime with this aim. Lampard needed to counter this and the obvious substitutions to do this were Alli in midfield and Rondon to improve Everton's engagement. Gray and Doucoure where the obvious positions that needed changed to do this. Frank did nothing, but tried to continue as in the first half, with tired players and against p a change in Liverpool tactics.
I accept Everton should have got a penalty and missed good chances to score.
Neil Copeland
226
Posted 24/04/2022 at 22:36:05
Paul #220 and Brian#223, spot on. Dust ourselves down and go again.
Goodnight all
Ian Edwards
227
Posted 24/04/2022 at 22:38:57
When Gordon was fouled the nearest player to the incident and to the Ref was Iwobi. And he never even appealled. I'd fine him.
Paul Kelly
228
Posted 24/04/2022 at 22:39:02
Paul- I know you don't buy into corruption but if a ref favours one side over an other, obviously and blatantly then that's corrupt.
Yes, we are bad. I won't accept mediocrity, from players or officials alike. But after today, why shouldn't people complain about the ref? Possibly cost us a result. That's what people are aggravated about. Doubt many think we don't deserve to be where we are but the decision s don't help and their obviously nd blatantly wrong.
No "spit in the face of a little girl" pundit who is happy to take Murdoch's millions( unlike Colin Murray who quit talk sport because of Murdoch involvement ie owning the sun) is going to sway me.
The red shite fans are happy to ban the sun for THAT. But watch sky in droves owned by the same people. Hypocrisy of the highest order. Off topic but they wind me up.
Paul Birmingham
229
Posted 24/04/2022 at 22:39:43
Ed, yes we agree, on that point, and I agree, the prevailing issues are poor consistency with Everton performances, the league positions, don't lie, and like wise with officials in many Everton matches, i.e, Brentford, City, Spurs, today the RS.
My contempt for the RS, is total and I'll leave the rest, to let today's wretched day close.
Fekk the RS, to eternity, UTFT!
Ernie Baywood
230
Posted 24/04/2022 at 22:44:28
No-one will ever explain how the Rodri handball wasn't given, the Allan challenge was upgraded to a red, and the Gordon penalty wasn't given.
Because the system is completely broken. There's no consistency in how they apply the video reviews.
But I can accept that a system is flawed. It just is what it is. Incompetence is everywhere.
But how are we on the wrong side of all these inconsistencies? That points to something else. Bias or corruption. It's one of them.
Allan Board
231
Posted 24/04/2022 at 22:46:43
Need to win 4 from 6 to stay up now-because of Burnley winning again. Must win all 3 at home and target Leicester and Watford away. The Arsenal game will be irrelevant as it will be decided before that game.
Had enough chances to win today and Atwell is a f7cking cheat -again,and didn't take them.
Not sure how a team wins 4 from 6 when it can only win 8 out of 32 but here's hoping.! Its gonna be fast and furious over the next couple of weeks!
Mark McDonald
232
Posted 24/04/2022 at 22:51:19
Well done Frank and team, thats the setup and tactics to keep us in the Premier League. Thats the blueprint for the next 6 games.
2nd half Gordon pen was reminicent of Lovren pushing DCL in the back and Rooney scored in 1- 1 in 2017 under Lardarse. But this shite ref was never gonna give it especially at 0-0.
COYB.
Jerome Shields
233
Posted 24/04/2022 at 22:52:31
Si#206
Watched MOTD and can see where you are coming from, but tactical change and not reacting cost Everton the game.
Mark McDonald
234
Posted 24/04/2022 at 22:55:43
Well done Frank and team, thats the setup and tactics to keep us in the Premier League. Thats the blueprint for the next 6 games.
2nd half Gordon pen was reminicent of Lovren pushing DCL in the back and Rooney scored in 1- 1 in 2017 under Lardarse. But this shite ref was never gonna give it especially at 0-0.
COYB.
Derek Thomas
235
Posted 24/04/2022 at 23:00:37
Can't fault the effort, but the rest...jeez the rest is lacking.
Job done* agent Moshiri
*nods to Kenwright and VAR.
Chris Leyland
236
Posted 24/04/2022 at 23:23:47
Brian 223, to be fair, there are more points available to us than Burnley but not Leeds - we are currently 4 points adrift of them having played the same number of games.
Soren Moyer
237
Posted 24/04/2022 at 23:48:56
Brian Denton
238
Posted 24/04/2022 at 23:58:05
Chris (236) apols, you are quite correct. I'm living in a fantasy world, having them losing tomorrow night and Saturday before it's actually happened.
Paul Birmingham
239
Posted 24/04/2022 at 23:58:33
All, Evertonians, let's keep our powder dry, and nurture all our efforts for the remaining games.
This is the Battle - of the remaining games, Everton, must win, to stay in this League.
Fekk the RS!
UTFT!
"Whats Our Name?"
Paul Birmingham
240
Posted 25/04/2022 at 00:48:48
Soren, good call out, and it sums up the reality of the EPL, and quality of officials.
I resign myself now that the game has become a media circus.
Fekk the RS, and UTFT!
Jerome Shields
241
Posted 25/04/2022 at 06:42:06
Myko played well throughout the game and looked like a Premier League footballer.
Terry McLavey
242
Posted 25/04/2022 at 06:52:08
I've said this before, I'd be all for a super league so that the golden boys can fuck off and play each other to death and take your corrupt refs with you.
By the way Atwell if your going to be bias try not to make it so obvious? Checking the ball position for one of our corners, when has that ever been done?
Also Liverpool haven't conceded a penalty for 14 months, the new Old Trafford!
Jerome Shields
243
Posted 25/04/2022 at 07:00:57
Kieran#170
Agree regarding Coleman and Keane. Coleman was sucked in out of position and Keane was ball watching.
Jerome Shields
244
Posted 25/04/2022 at 07:00:57
Kieran#170
Agree regarding Coleman and Keane. Coleman was sucked in out of position and Keane was ball watching.
Gary Jones
245
Posted 25/04/2022 at 07:14:32
Martin (42) - can appreciate the "can't keep changing them" argument, but I'm seeing ZERO other evidence for why we'd want to stay with Lampard after he takes us down? Personally I WOULD bin him now and pray we get same 'new guy bounce' Burnley and Leeds have had. If we stick, we're gone.
He's done NOTHING for the kids…..he kept playing Kenny and Coleman ahead of Patterson, has Branthwaite behind Holgate and Keane, has sent Dobbin back to U23s, and brought no one else through other than bench tokens.
He wasted his signing……granted I think his was only one of the 4, but Dele Alli was the LAST player we needed at that time. It was a vanity gamble, when we needed cm graft or goals.
The Chelsea connection is gone……no Roman = no youth loan favours.
If we do keep him next year, expect to see the Coleman's, Holgates, Rondon's, Gomes in ahead of the kids. Expect ongoing zonal marking. Expect a mid table championship finish.
To finish and avoid the inevitable "who then", I'd go with Rooney IF we go down. I think he WOULD bring the kids through and he'd get us the Identity back we're missing. I'd also consider Biesla or Nuno too. Both have promotions on CV and may have hunger to get us back up.

Brian Murray
246
Posted 25/04/2022 at 07:49:44
I can count at least 7 big decisions in Derby's gone against us over the years in derbys ( graham poll clattenberg Clive Thomas the most obvious blatant ones ). So nothing new over bias to them or the influence they have. As and the chairman stocking up for us over this latest line of incidents that's a joke. He didn't even say a word over the alleged niaase dive and suspension at palace if he did then all this may have been avoided and the premier league would of know not to see us a soft touch .
Ian Hollingworth
247
Posted 25/04/2022 at 07:56:09
Carraghers commentary on Sky was more like having a microphone on the R/S bench
How was it not a pen?
Where was VAR?
How did Mane stay on the pitch?
Did Jota throw a punch?
Of course we are fucking bitter
The biggest question of all is how the fuck has the greatest ever Evertonian allowed this to happen on his watch?

Tony Abrahams
248
Posted 25/04/2022 at 08:10:30
This would be me interviewing Atwell after the game. Stuart why did you book Gordon in the first half? Atwell, come on everyone in the ground could see he went over far to easily and tried to con me.
Is that why you never gave him a penalty in the second half Stuart, when it was clear that Matip, has stood on Gordon's ankle whilst also giving him a nudge? No I didn't see it like that and Darren English, also told me I'd got it right.
Do you think you might have made a different decision if Gordon hadn't tried to cheat you in the first half? No because I wasn't advised by my colleague in the studio.
After looking at the incident yourself, do you think Darren English made the right call? Yes or no won't change the decision Stuart, but don't forget you're now going to be getting interviewed after every game you officiate now, because you and your colleagues simply lack consistency. It's not easy refereeing you know, maybe it's time for me to retire.
Ian Bennett
249
Posted 25/04/2022 at 08:12:39
No one can surely be surprised by yesterday's referee performance. The VAR is not there for fair play, it's there to ensure the big teams get the decisions when they need them.
The VAR will never find decisions that will impact the Premier League title run/in. Just like the F1 climax last season, they won't want the 'spectacle' to be impacted by what everyone understands to be the rules.
It isn't a level contest, and perhaps has never been. With camera repeats and more analysis, it just becomes more obvious that it is bent. Commentary teams aren't impartial journalists. They carry on the shameful bias that their teams receive every week.
Football is now about having a 30-man squad of world class players. The top sides can from next season keep then all happy by involving them in a 20-man squad on the day – with 5 subs. The playing budgets will all be set to rise again, now the breakaway Euro Super League clubs are getting even more money out of the Champions League. More advertising, more Cup wins etc. The gap in the Premier League will be a chasm.
The top will probably have 3, 4, 5, 10 times the playing budget. Supported by elite analysts medical staff, conditioning etc. The gap will get wider.
The RS poisonous fans were full of slagging off our park the bus and time wasting on the social media sites. Revelling in our our downfall.
Well all I can say is, football will continue like this. Guerilla football tactics, a knife to a gunfight.

Jerome Shields
250
Posted 25/04/2022 at 08:19:35
Gary #245,
The problem in defence is that both Keane and Holgate are stoppers, prone to errors. Both Liverpool goals were the result of Keane taking up stopper positions rather than anticipating play and challenging.
In the first goal, Coleman got sucked out of position trying to cover the player Keane should have been challenging. In the second, Keane took up a stopper position and challenged no-one. He was nowhere as a result in preventing that attack that resulted in the goal.
This preference is more a lack of coaching confidence than zonal marking.
George McKane
251
Posted 25/04/2022 at 08:27:27
The Club allowed this to happen – action should have been taken after Brentford.
Jerome Shields
252
Posted 25/04/2022 at 08:31:30
Holgate was nowhere as well in defending the second goal.
Gary Jones
253
Posted 25/04/2022 at 08:36:44
Jerome - whether that is coaching/confidence or the system is really irrelevant, both goals came from balls into the right side of defence, as have many (including Burnley's first against us).
In my opinion, we fail to pick up men, because we don't mark men, we mark spaces. In yours it's apparently people not being told where to go or not being confident or good enough.
Frank's job has been to provide solutions, and so far the only solution I can see is him sticking to those he thinks are best in training. The same players that have badly failed us on match days for 12 months plus.
Dan Nulty
254
Posted 25/04/2022 at 08:40:21
Can't see us escaping this. I just hope we can somehow manage to regroup in the Championship and not just collapse as a club.
Danny O'Neill
255
Posted 25/04/2022 at 08:40:38
I purposely haven't read many of the posts yet, but I will. I wanted to say it as I recall from centre stage at the Canadian bar near Covent Garden in London for those who know it. So excuse me if this isn't as accurate as when I'm at the match or in the comfort of my own living room.
Me, my son and my youngest brother. 3 lone Evertonians in a bar that had more than a few international red sympathisers; including one who felt the need to come and ask us why we were shouting for Everton at one point. The fucking elitism and entitlement. How dare you not cheer on the Devil's children!!! Not that incident but I was getting emotional. To the point that when I went to get one of my rounds in, my brother advised me to try and not have a fight on the way to the bar!!! Those who know me know that's not my nature, so it amused me. I must have been pumped on royal blue adrenalin.
To the match. Overall, I saw enough to suggest we can do this. Yes, we could do with a few results going our way, starting with tonight, but it is still in our hands. I thought the players gave a good account against one of the best teams in Europe, let alone England. I feel sick saying that but you can't live in denial from a footballing perspective. The first half in particular we matched them, but you could see Klopp wasn't happy. I'm guessing his half time talk was for them to up the tempo. And they did. They stepped up a gear and in parallel, we tired. A perfect storm for them. Or if a darling of English football, like Grealish when he played for Villa?
I thought Mykolenko had a good game again and marshalled Salah well for the majority of the game. Gordon continues to get better and they were worried about him as a lot of teams are starting to be. Are there legs in the City rumours? He strikes me as a player Pep would like. But he needs to cut out going down to easy. That said, playing for City, would he get more decisions?
I know he's being targeted, but it's a trait that rightly or wrongly is gaining him a reputation. Cry wolf springs to mind. It is costing decisions - wrongly, but it is. Absolute penalty in my opinion. No question, but this has been going on against them since the 70s. The Milk Cup final, the Hutchinson "goal", spit the dog wrestling Lescott to the ground. I could go on; that's just off the top of my head. This is not sour grapes or bitterness, you just can't make it up. I am probably letting my paranoia get the better of me and I am by no means making excuses for the poor running of the club. But the way this season has gone with decisions against us, are the authorities punishing us for our taking the lead against the greedy bastards who wanted to break away last summer?
Anyway. Our soft belly at centre back cost us for the goals in my opinion. An average cross that could/should have been dealt with for the first and Michael Keane might as well have been stood next to me in Covent Garden as he watched from behind the ball and seemingly admired Origi take an unchallenged header for the second. I hope Pickford gave him a rocket. Not that it matters. He won't change and if the rumours are true, I hope West Ham take him even if we stay up.
This is it now, starting Sunday. Frank sees off his old club. A long round trip with the train situation but see you there blues. Then Watford away. Brentford, Palace (different proposition at Goodison), Leicester away. There are 9 points to be had there.
Anyway, it's done. It's out of the way until next season. I hope the Eagles soar tonight and we can get on with the rest of the season. We played as well as could be expected. We didn't get decisions but we didn't get the annihilation some predicted. We're not at their level right now, but as us Evertonians always say, if we see effort, there is no shame in defeat. I thought the players showed character.
I'm hurting, so apologies for my incoherent ramblings. But I'm also looking forward to the next game and getting this season out of the way.
Rob Dolby
256
Posted 25/04/2022 at 08:43:36
Jerome,
It isn't always someone's fault when a team scores. I don't care much for Holgate but Diaz with a scuffed volley landed on Origi's head! That guy's last league goal at Anfield was 3 years ago and was against us!
Liverpool had 80% possession. They put another striker on and for most of the match 22 players where within 30 yards of our goal. Both goals came from crosses within our box!
They have the best goal difference, we have probably the 3rd worst. We where always going to concede.
Dale Rose
257
Posted 25/04/2022 at 08:57:47
I don't think we will get the drop. There has been a lot of improvement lately. All of our current woes are due to the lack of a striker.
Derek Knox
258
Posted 25/04/2022 at 09:01:27
Danny @ 255, I share your optimism, that although results may not have gone as we would have wished, we are playing with more zeal, and as for yesterday, shocking and biased refereeing, (did we expect anything other than that ?) I still believe if they carry on the rest of the limited campaign with that intensity and attitude, we will narrowly escape.
I just hope the players continue to believe, and don't start thinking that even if they play well, they will fall foul of similar refereeing buffoonery and bias. I wouldn't have played either Keane or Holgate yesterday, but what else do we have? I'm surprised that Reece Welch has not been given more bench time, and Mina not so injury prone. Still, will never give up hope !
George McKane
259
Posted 25/04/2022 at 09:04:34
For me, this disaster and the management's reaction to it all did not somehow come upon us yesterday – it started pre-season with Benitez's appointment and carried on – unchallenged or unchanged – from Game 1 with Keane's unpressured mistake vs Southampton.
Such mistakes have carried on without challenge or change virtually nonstop and now it has all caught up with us. We accept drivel – backpassing, cowardice – it has all become part of The Everton Game.
"School of Science"??? – more like Nursery School. We are naivees in a professional environment; we don't know how to take care of ourselves in The Big School.
Kim Vivian
260
Posted 25/04/2022 at 09:07:23
Paul Kelly 223-
"I know you don't buy into corruption but if a ref favours one side over an other, obviously and blatantly then that's corrupt."
Corruption:- "dishonest or fraudulent conduct by those in power, typically involving bribery."
If you (and many others) are saying that premier league referees are on the take as defined by corruption then I honestly believe there would be serious investigation by the authorities. I am tired of reading corrupt/corruption allegations being levelled at refs, the league itself, media etc. Favouritism, for sure, and intimidation by crowds, managers, players, stadia (yes - stadia and we have one of the most intimidating) but saying all these people are corrupt is weakening the posters' arguments in my opinion.
I genuinely believe our officials are not on the take but that they are simply weak individuals for the most part - afraid of a call against a top club.That is not being corrupt, that is being weak. It seems to be a malaise currently among British officials (I ask how many were there at the last world cup - answer, nil, because our officials were not deemed up to the job). Where are the Howard Webbs, Jack Taylors, Graham Polls these days?
Anyway - moving on to the game. I sat through the whole thing not expecting much but hoping for the best and was more than pleasantly surprised we were still 0-0 at half time. I wasn't too optimistic about the second half though.
The penalty shout was frustrating and the only defence that Atwell could present would be that he considered it a fair 50/50 challenge for the ball, incorrectly, and it should have been looked at by VAR. I do not understand the vagaries of VAR although clearly, Gordon doesn't help himself with his diving. Subliminally, I wasn't that bothered that we didn't get the penalty at that stage of the game because I did feel that the RS easily had two goals in them and it potentially might just have wakened them up. At a later stage in the game I would have been different, as with the City shout which was more blatant and probably did cost us, I don't think it cost us a point yesterday - the RS did score two subsequently of course.
What I would really like to see is crisp finishing - Doucourie and Gordon both scuffing very good chances with just the GK to beat - and better decision making around the opposition box. Richie, Gray, Gordon, Iwobi all seem intent on running themselves up blind alleys rather than finding an earlier pass. It's becoming so predictable when we get the occasional breakaway that I don't even swear at the tv anymore, just sigh and utter ffs under my breath.
So, our destiny is no longer simply in our hands now we are in the whirlpool. Teams above us will leave the door ajar, however, so we just need a slice or two of luck, resilience as shown yesterday, bag some points and we may be ok.
I really can't countenance relegation.
James Hughes
261
Posted 25/04/2022 at 09:07:48
Danny, I have unfortunately experienced similar myself and the plank didn't know that Everton was in Merseyside, sorry can't type the L word right now. I hope you gave him an earful.
My missus who normally goes shopping when the game is on could not believe the RS bias. From Souness inane ramblings to Carragher's commentary who more than once used 'we' when talking about the RS, it's just wrong and Sky should be ashamed.
The game itself was a reflection of that. Mane should have seen red for gouging and the penalty would have only been given if Matip had broken Gordon's leg, and that would be after the VAR check.
I still have faith we will survive but we need a big shake-up this summer. Boys Pen Bill and Little Miss Dynamite need to be turfed out on their ear.
Derek Knox
262
Posted 25/04/2022 at 09:15:09
George @ 259, Hear, Hear !
Kevin Campbell hit on it in the Studio, when he referred to the badly needed restructuring from the top down at Everton. How long is it since he has left the playing staff?
Peter Carpenter
263
Posted 25/04/2022 at 09:17:41
Southampton, Wolves and now Palace to join them with a feeble display against Leeds tonight? The escape routes are narrowing.
Maybe the fighting performance yesterday will kick-start something but we could be 5 points adrift by our next kick off. It seems like all the cards are against us.
Surely we have to take a gamble with Dele Alli from the start from now on? We need goals and someone to create them. It's not over but it feels close.
Iain Latchford
264
Posted 25/04/2022 at 09:23:30
It was always "34/34 points will be enough". Now that isn't the case. Three wins will take us to 38 points, but that still might not do it.
We really need Palace to beat Leeds tonight. Leeds then have Man City on Saturday.
Losing to Burnley, who have now taken 10 points from 5 games, really did the damage.
Brent Stephens
265
Posted 25/04/2022 at 09:28:44
Still sick after yesterday. Thought that, given vast difference in quality of the 2 teams, we held out well for much longer than I expected. A cooler Keane (re the goal), a cooler Gordon / Doucoure on some chanes, and we might have held out to the end. All we could have realistically hoped for. Take that fight from that game and the previous games of late and we have a chance.
I know that penalties against "them" at the other place are as rare as hens teeth. And that Gordon is rapidly getting a reputation for diving. Put the two together and it's not only unlikely that we get those penalty shouts but also likley that a card is shown.
Anthony, please stop taking a step to the side at the last moment, moving your body into and in front of the opponents body. I know other players get away with it. We / you normally don't, Stop it. Nothing to do with it being unfair. All about the odds against a decision in our favour and odds on a card against us.
Rob Halligan
266
Posted 25/04/2022 at 09:30:13
George # 251. That is probably the shortest post I've ever seen you post, but it is 100% accurate. Why on earth Benitez wasn't given the push after Brentford god knows, yet it was allowed to drag on for a seven weeks before he was pushed.
Danny, you say " But the way this season has gone with decisions against us, are the authorities punishing us for our taking the lead against the greedy bastards who wanted to break away last summer"?
Surely if this was the case, wouldn't the authorities be backing us for not wanting the greedy so called big six clubs to leave the premier league, not the other way round? The premier league is one of the most watched leagues in the world, and the authorities would surely not want to lose their most prized assets?
Anyway, as for yesterday, again, as some say, expected a mauling, but we were right in it up until the second goal. Well, when I say right in it, we weren't getting the expected mauling and still had a chance of sneaking a goal. Anthony Gordon had them worried down the left, none more so than Trent Arnold, who threw in one disgusting challenge on AG to scythe him down. Funny how that wasn't shown, or even mentioned on MOTD last night. Yet again, could have been reviewed as a dangerous challenge and a possible red card, but I doubt very much this happened, the same as with Mane, raising his hand to Allan's face and pushing him. I thought you weren't allowed to raise your hand towards someone? Also that second penalty shout looked a definite penalty to me. Mind you Attwell, (what a piss poor referee he is) had probably already had his briefing from Mr Ed before the game not to give us anything.
At the moment, I am feeling pretty sick in the stomach, and that's nothing to do with the ale yesterday. I still firmly believe we will get out of this shit mess we've got into.
John Boswell
267
Posted 25/04/2022 at 09:34:18
Nigel #209 sums our situation perfectly as I see it.
The team is working hard, as they always should, we create chances but we are not scoring enough goals. Stating the obvious, yes, but we need to be winning at least 50% of our remaining games and our current win rate is half of that.
What to do? Play Richarlison wide left, Gordon wide right and Rondon or Calvert-Lewin in the middle. Should we try the pace of Dobbin in the final 15 minds if looking for that vital win? I would take that chance.
We will be rid of several non-contributing players this summer and hopefully some others will be moved on, future recruitment will be decisive in our rise from the ashes of this season. COYB.
Danny O'Neill
268
Posted 25/04/2022 at 09:34:30
George, Derek,
We've all been calling it for years. Top to bottom restructuring of the club. I love tradition. I love history. I love the Goodison Supper Bar. But when I go to Goodison, as much as I adore the place with a passion, it's the Goodison I went to as a kid. I still have chips, peas and onion gravy from the same Chinese lady that served me when I was 15 years old.
Look at the clubs we were on a par with or even ahead of when I joined the Army in 1988 and gave up my season ticket. The Big 5 as was then:
Arsenal, Tottenham: Sparkling new stadiums. Both have appeared in Champions League finals. Arsenal overtook us in title count.
Liverpool, Manchester United: Didn't relocate but have improved their stadia to the point you can't recognise them from the old. United overtook us in title count and created a dynasty that dominated English and European football for the best part of 2 decades.
Let's go beyond that:
Aston Villa: Yes, ups and downs (literally) but a stadium to be proud of.
Newcastle: Yes, ups and downs (literally) but a stadium to be proud of.
Manchester City: 3rd tier of English football at one point but say no more.
Chelsea: Watch footage of Dogleish winning the title at Stamford Bridge in 1986. The younger generation wouldn't recognise that awful excuse for a stadium from the one on the same site today.
Wolves, Brentford (yes, Brentford). West Ham. I could go on.
We stood still. Standing still is akin to walking backwards because others will walk around you and go past you. If we make it through this season and even if we don't, someone needs to get the smelling salts out in that cosy board room that lingers in the corridors of Goodison.
Danny O'Neill
269
Posted 25/04/2022 at 09:40:45
Rob, I'm still raw too. I forgot about the Mane incident.
Now in my book, that's a red. But I think they are immune or have a waiver?
Brian Harrison
270
Posted 25/04/2022 at 09:42:37
Just a pity we didn't see this same desire to fight for every ball against Norwich home away and to Watford at home leading 2-1 with 12 minutes left and lost 2-5 or having taken the lead against Burnley collapsed yet again. But we can't change the past and we now need to win games and that has to start against Chelsea, no easy task but games are running out.
I have to say when Leeds sacked Bielsa and replaced him with someone who had never managed in the Premier league I thought that would lead to their collapse but quite the opposite has happened, and likewise when I heard Burnley had sacked Dyche I thought that was good news for us; how wrong could I have been.
I have said for a while this squad lacks goals and somehow Lampard is going to have to try and change that. When he came in and beat Brentford 4-1 in the cup and followed that by beating Leeds 3-0, I thought at last we have a manager who has us playing on the front foot, but sadly since those 2 games we have struggled for goals.
I think playing Richarlison up top is a waste of his talent and he is too easily marked in that position, he has always looked a far more potent threat playing out wide or just alongside the main striker.
Gordon is getting better with every game and I agree with Danny, he shouldn't always be looking for penalties when he has the chance to score, but there is no doubting this lad is going to be a player.
And to complete the front 3 we have the enigma that is Demarai Gray, at the start of the season he looked a rarely special talent but for whatever reason since Benitez left he looks a shadow of that player.
As I say, we lack goals and I think we need to start with Rondon up top and have Richarlison and Gordon on the flanks, and I would play Alli in Iwobi's position. Dont get me wrong Iwobi has worked his socks off since Lampard has come to the club but I think we would get more goals from Alli than from Iwobi in the remaining games.
Obviously it would be any 2 from Allan, Delph and Doucoure in midfield. The back 4 has to be Coleman (as there is no alternative), Mina, either Keane or Holgate and Mykolenko. I think a word of praise for Mykolenko in his first couple of starts I wasn't sure about him but he is getting better and better with each game. I am sure Ashley Cole has been a big help to the lad.
Rob Halligan
271
Posted 25/04/2022 at 09:48:28
Danny, # 268 good post mate. All the top clubs have moved on in one way or another, ie, new stadium or re-development. Even clubs such as Derby, Sunderland Middlesbrough, and whoever else, have built new stadiums, but unfortunately have fallen away.
It's a chance, in my opinion anyway, we have to take with the new stadium at Bramley-Moore Dock. We simply cannot let that fall by the wayside. If we don't complete the building of the new stadium then we will simply be standing still forever.
Moshiri has to see this through before selling up. I read in the red Echo last week that the club have lined up an, as yet, un-named lender to the tune of £300M to complete the building of the new stadium at Bramley-Moore Dock... Has anybody else heard or read this?
Phil Lewis
272
Posted 25/04/2022 at 09:49:35
People blaming Benitez for our predicament are talking nonsense. The rot had set in long before his arrival. The list of overspending under achieving previous managers is endless.
Benitez's Liverpool history was of no consequence. Personally I didn't want him, but to be fair, he had no money to spend whatsoever and was given an impossible task.
If going down is what it takes to finally rid us of Kenwright & Co then so be it. Other clubs with just as an illustrious history as Everton have suffered the same fate and eventually came back stronger.
Nobody has a divine right to Premier League status. The insidious terminal illness which has run through our club for decades needs to be eradicated once and for all. Of course relegation would be a catastrophe, but it is not the end of the world. It could turn out to be a blessing in disguise and actually hail a new beginning.
In football terms, we battled hard yesterday, but fluffed chances. In the remaining games, Rondon must play. He's all we've got right now. It would be foolish and grossly unfair to throw a youngster into this caustic cauldron at present.
We need Rondon's physical presence up front, if only to create scoring openings for others. We must attack teams. Employ the same game plan as yesterday and we will get the same result: defeat. No matter who we are playing against.
I am actually more sickened by our current tactics than our present predicament. Our situation is the culmination of many years of decline. A dying man has time to come to terms with death, but a brave man goes down fighting, attacking his illness with everything at his disposal.
Survival is still mathematically possible. Until such time as it isn't, we fight to the death. Everton have looked like relegation contenders for much of this season, so why should anyone be surprised that we find ourselves in the bottom 3 now?
We are where we are because, in all honesty, that's where we deserve to be. Possession counts for nothing if you can't score goals. Goals win games. It's as simple as that.
Paul Kelly
273
Posted 25/04/2022 at 09:51:31
Kim- never said the refs were on the take, I did say they were corrupt, which bribery may be one meaning but I just meant they acted immoral. Call it bias or whatever but I think we're all on the same page.
Ian Bennet- Good post, but so depressing too.
The morning after the night before and I feel sick to my pit. Can't believe were in this position.
Joe McMahon
274
Posted 25/04/2022 at 09:55:42
Phil@272, very good post Sir!
Paul Kelly
275
Posted 25/04/2022 at 10:00:22
Phil, harsh but true,
"We are where we are because in all honesty, that's where we deserve to be."
Hard to accept but true.

Danny O'Neill
276
Posted 25/04/2022 at 10:05:00
Agree Rob. There is an immediate and obvious tactical need on the pitch, but the strategic vision (BMD) is arguably more important. It has to happen. That is the future of Everton. Not next week or next season. See you at Chelsea home. If not, give me a shout if you are at Watford away as I will be.
Brian, I liked Mykolenko from the start. I saw and see a lot of potential. And let's not forget, he's only 22. For a defender, very young, so will only get better. I'd like your and others' views, but more of a Hibbert style defensive full back? It will be interesting to see if Cole can coach the more modern attacking full back aspect of the game into him over time. But right now, just keep doing what he's doing.
I know he's injured, but I'm interested to see what Patterson has to offer. Again, a young player and very young defender.
Brian Harrison
277
Posted 25/04/2022 at 10:05:31
Rob and Danny
You are both right this club just hasnt kept pace with its competitors over the last 30 years, Once the Moores money was no longer the controlling factor the club went into decline as far as winning leagues went. Money and good recruitment are the key to success and as we know to our cost just having money without the right people in place to spend it wisely is just as bad as having no money. But in our case we managed to compete in the top half of the league when we had no money, but since Moshiri threw his millions at the club a top 10 seems hard to achieve.
I find it very sad that the Brentford game could be the last top flight game ever to be played at Goodison, so we may end up saying goodbye to the Old Lady while playing in the Championship how demeaning would that be. I have been going to Goodison for 67 years and next year may be the first year I will watch us play in the 2nd tier of English football.
So Frank and the players you have 6 games to make sure this doesnt happen and I will be cheering you on from my seat in the Upper Bullens to help in whatever way to make the prospect of Championship football disappear.
Rennie Smith
278
Posted 25/04/2022 at 10:13:48
Phil@272, you're right that we can't blame Benitez for everything but he's been a big part of the problem this season. Those early decent results were just papering over the cracks, remember we went behind first in most of the wins because of his negative tactics. Frank played it spot-on yesterday tactically, but it takes a monumental effort to keep that up for 90 minutes against quality players and let's be honest, even though it pains to say it they and City are a million miles ahead of everyone else.
I detest the day he walked into our club, and yes there were bigger problems behind the scene but his pig-headed attitude towards certain players was destructive from the start, it was always going to fail.
I still believe we can stay up, the Watford, Brentford and Palace games are key, and even Leicester in relation to their Europe involvement. It maybe misguided but I'll never give up.
Danny O'Neill
279
Posted 25/04/2022 at 10:19:34
Let's pray it doesn't happen Brian.
I prefer the Upper Bullens these days as opposed to my youth when I was a middle of the Gwladys Street kid.
I've got an obstructed view seat in the Main Stand for Sunday, but I take what I can get!
I know I'm an over-optimist, but regardless of what happens, I think the foundations are literally being laid. The stadium. Lampard and the DoF and his own coaching staff. I wouldn't be surprised to see Ferguson leave in the summer.
Next step; board room restructuring - you all know what I mean.
Graeme Beresford
280
Posted 25/04/2022 at 10:27:33
To me, we did great yesterday! We played exactly how we should of played against one of if not the best team in the world. What I watched was a tactical masterclass. It was quite simply brilliant.
In those types of matches usually a team scrapes it 1-0. Wolves have 65% possession against Burnley but Burnley nicked it 1-0. You're always reliant on certain things going your way. This could of course be anything from a counter attack, to one chance. Unfortunately we couldn't make them count, Doucoure chance in first half for example and also Gordon's dragged shot in the second.
However, you're also reliant on an element of fairness. Now, Liverpool fans have had a right moan about our diving and time wasting etc. I've had no many messages about this, however to me I think we made massive errors in this department. Of course we are going to waste time, every away side does this in every game, it's a horrible tactic but we have to start getting with the times anyway. But, I'm convinced if our players reacted to some of the incidents the way Henderson reacted to Richy then VAR would of had to look at them.
Coleman gets elbowed in the face by Jota, right in front of the ref. Coleman needs to throw himself to the ground there and hold his face, James style against West Brom last season, resulted in a red card for their defender. Allan when he is pushed by Mane and same with Holgate, again it's a horrible tactic but both players are pushed in the face and not one goes to ground. If you're rolling around holding your face then VAR has to look at these things.
Even Gordon for his second penalty shout. To me Anthony does everything right, slings, gets in front of the defender and draws a foul, the poor thing here is that he gets up, sits and stares at the ref and the ref gives nothing. If Gordon starts rolling around their in the box VAR would of had to look at that and we probably would of got the penalty. In my opinion we were far to nice yesterday and naive thinking of we don't behave like the other teams in the league we will be fine.
Sky have kept the narrative, they want another Aguerooooooo moment at the end of the season which they can play for years and years, but surly something has got to be said by Everton now to the FA. If anything, just to get some decisions in our run in. This season so far, from what I can remember;
Brentford away, Rondon shirt ragged over his head. Brentford having already been given a penalty themselves, we don't get one, is Rondon too nice?! Should he be going to ground so the VAR have to view it? Doesn't matter to me but it's clear penalty - NOT GIVEN
Southampton away, handball from a Romeu, moves his outstretched hand towards the ball, it's a clear penalty - NOT GIVEN
Man City at home, infamous, everyone knows about it, - NOT GIVEN
Liverpool away, Gordon sprints free, going through on goal, gets pushed in the back, - NOT GIVEN
Now also add these to the decisions we have had against us for cards.
Shelvey, Newcastle away, chopping Gordon down 2 footed, a tackle. NO RED CARD.
Allan, tackles ASM, stops their counter, ref books him, VAR looks at it, becomes a red. Did Trent not do the same thing to Gordon last night, the fact he should of been booked for the earlier push which unbelievably was given the other way.
We also have Cresswell booting Richy on the floor. I'm probably missing loads but I simply won't listen to anyone that doesn't agree that there is some sort of vendetta against us, is it the Russian thing? Have the FA and the ref's decided they would rather Everton go than Leeds or Burnley etc? I'm convinced something isn't right.
Wouldn't surprise me in years time if a hidden camera footage came out with all the ref's on saying what they are going to give and not give to certain teams. We had three players sent off against West Ham, Newcastle and Wolves… it seems other players don't even get booked for some of the challenges they make against us. All seems to far gone for it not to be a problem.
Ray Jacques
281
Posted 25/04/2022 at 10:29:27
The abysmal refereeing decisions against Liverpool and Man City (i almost see them as corrupt) wont be the reason we are relegated as we have only ourselves to blame for the other 36 games of shite. However, they leave a bitter taste in the mouth.
The referee should either give a penalty for the second challenge on Gordon or send the lad off for a second yellow for simulation. It's one or the other. Instead, he does nothing.
When I look at the RS penalty they got when Jota ran into the Palace goalkeeper and Salah 'fell over' the Villa player recently, it just adds to the feeling that football is not an honest game and the officials are swayed, influenced, mindful, or aware of the impact that the top clubs can have on their careers.
Even with the VAR, it remains flawed and incompetent.
Rob Dolby
282
Posted 25/04/2022 at 10:38:42
Phil 272 I disagree.
Appointing Benitez was the worst decision I have ever known in my time of supporting the blues. Talk about shooting yourself in the foot.
Let me paint this picture for you and see if you agree with this hypothetical situation:
Klopp moves to real Madrid.
Liverpool appoint David Moyes
Salah gets suspended for the year for a serious criminal offence.
Liverpool sell Mane as he doesn't fit into Moyes's style of play. They replace him with Rondon.
You tell me that wouldn't impact any team? That's what has happened to us.
From top down, we are a shambles. They have feathered their own nests and forgotten about the football side of things. "We have had some good times" – for fuck's sake, what type of shit is that from the Chairman?
Rob Halligan
283
Posted 25/04/2022 at 11:19:35
Graeme # 280.
Don't forget the Spurs penalty we were "awarded" then overturned by the VAR. Lloris may well have got a fingertip to the ball, but the ball was still in play and he then brought Richarlison down as he went for the loose ball. Penalty all day long.
When you consider the Arsenal penalty on Saturday, they had a goal rightly ruled out for offside but, in the build-up, there was a foul, which the VAR deemed to be a penalty. So all phases of play were looked at in that penalty decision, yet in our case, the VAR only looked at Lloris touching the ball, and never considered the next phase of play, the bringing down of Richarlison.
Barry Hesketh
284
Posted 25/04/2022 at 11:37:38
For the first time this season, I've looked at the fixtures remaining for those teams at the bottom end of the league and it doesn't look good for Everton.
Burnley have to play Villa twice, visit Watford on Saturday and have to go to Spurs, their last fixutre is at home to Newcastle.
Watford face Burnley on Saturday, and have home games against Everton and Leicester, with a trip to Palace and their last game is against Chelsea at Stamford Bridge.
Leeds have away trips to Palace, Arsenal and Brenford and entertain Man City, Chelsea and Brighton at Elland Road.
I was hoping that the equivalent of less than a point a match over the 38 fixtures would be enough to save Everton, but it looks as if the 'magic' 40 or at least 38 points may be required to even stand a chance of staying up.
Everton might have to win at least 3 of their remaining fixtures and with the issues surrounding goalscoring that would seem a massive ask, it's not over yet, but I honestly think this is the season from hell and our fate has somehow been written in the stars, prove me wrong Everton.

Dave Williams
285
Posted 25/04/2022 at 12:00:56
Personally, I am sick and tired of reading views from opponents or former footballers about diving, parking the bus, time-wasting, our "supporters destroying Anfield" (reprehensible but a couple of windows were smashed), what a pair of cheats we have in Richarlison and Gordon etc. The sniping and bickering after games, especially this one, are so childish the adults involved should be ashamed. Klopp is of course one of the worst culprits.
There was a huge gulf in the abilities of the two teams yesterday and we did what any team would try to do in order to stay in the game. We now have to move on quickly and forget about the offended "experts".
How anyone can pay attention to the likes of Carragher, Souness and Beglin when they are employed as "experts" watching a derby is beyond belief! Surely even the most brain-dead individual can understand that they are biased and will not give a level-headed view of the game or incidents from it.
Surely the TV companies would be better to use "experts" with no connection to either club in every game they televise – then at least we would get unbiased opinions.
The good thing to come out of yesterday, apart from the continued improvement of Gordon and the clear signs that we have acquired a very good young left-back, is that we lost narrowly and can cite a number of examples to our players about how we could have grabbed a point.
Confidence has to be fragile and it shouldn't have been knocked by this result. Frank now has a week to work on his approach to the Chelsea game whereas they have Man Utd on Thursday night after a tough game yesterday against West Ham. They have a huge squad but may just feel a tad weary come Sunday.
As for what team does Frank go for, Mina looks a certain starter if fit. Mykolenko, Richarlison and Gordon will also start but, after that, it gets interesting. We need some wins – we cannot go to Arsenal needing a positive result if we can help it, especially if they need one to qualify for the Champions League.
Rondon may be worth a start and Dobbin on the bench to come on for the last 20-25 minutes if we need a goal. Alli looked engaged and lively yesterday and, if he trains well, he might just be worth a start.
If Calvert-Lewin is not fit or match-sharp, then we need a spark from somewhere and Dele Alli might just respond on the back of a couple of promising cameos this last week.
Centre-back alongside Yerry is a problem if Ben is not fit. Keane and Holgate are way too unreliable and Branthwaite played well at Stamford Bridge.
Frank has options in midfield but must not be too defensive. Chelsea are way better than us and will dominate possession but we must be able to attack and score goals. Can Delph or Allan cope in central midfield with a more attacking partner or do they need to pair up?
It's absolutely disgraceful that we are in this position and there has to be an enormous inquest, regardless of where we end up. For now, our fate is in our own hands and the staff and players have to get ready for the most important six games of their lives.
As for the fans, we can be that extra man against Chelsea which has made the difference before against them. Take a deep breath – let's get stuck in!!!
Bob Parrington
286
Posted 25/04/2022 at 12:03:20
Barry. You're spot on here. It will take a miracle for us to stay up now. Burnley have stepped up and we haven't. It's not over till the fat lady sings but we need a massive change and pieces of luck if we are to survive this.
Maybe we need to go down and reorganise, who knows? Blue since 1953 but I still have hope!
Danny O'Neill
287
Posted 25/04/2022 at 12:18:19
I don't think it will take a miracle Bob, just a few results and we have the ability to get them given who we are playing.
In fairness, we have just beaten the high flying Newcastle and fought back for a point against Leicester.
We lost yesterday against a team that demolished Manchester United (who we recently beat) and tend to wash away most teams they play.
We were not subject to the humiliation many doom mongers predicted and have enough about us to see this out.
Graeme Beresford
288
Posted 25/04/2022 at 12:31:51
Rob #283
I forgot about that. Just watched the highlights back on YouTube, Gordon is fouled by the last man before the ball reaches Richy, I'm still convinced the on field decision was correct, richys foot goes on the inside of the ball and knocks it round Lloris, it is a clear and obvious error? Certainly not. However if no penalty is given VAR should of looked at the foul on Gordon on the edge of the box, however no pen was given and Spurs where given the ball, when the ball was still in play and their goalkeeper was in no man's land.
Oh, another is James Tarkoski's horror tackle on Richy at Goodison, not even a booking. Richy was out injured for weeks.
It's all too often. Especially this season. There's a vendetta and there has been since around November.
Mike Keating
289
Posted 25/04/2022 at 12:44:45
Phil McNulty sums it up on the Beeb website;

"This epic tale of football mismanagement from owner Farhad Moshiri and a somewhat self-congratulatory board of directors who have got so much wrong could now be heading towards the nightmare conclusion.

It takes some doing to arrive at Everton, as Moshiri did in February 2016, to set course for the stars, then spend £500m on making the team markedly inferior while heading shamefully in the other direction towards the Championship.

And yet this is exactly what Moshiri and Everton's board have presided over.

If they were to go down, it would represent one of the game's most colossal, expensive failures and the list of culprits would have to start with Moshiri and those in the boardroom."
Dave Williams
290
Posted 25/04/2022 at 13:00:22
Mike- and that's why the press and the pundits want us to go down- it will give them all lots to write/ talk about!

Brian Murray
291
Posted 25/04/2022 at 13:18:31
Why is all this even now deflected to the owner? He mostly was absent so left his club in the hands of the chairman. Moshiri is not a football man.
Okay, he got involved daftly once or twice trying to pick a manager but the continual common denominator in all this is the good times Buffoon. No-one else.
Peter Carpenter
292
Posted 25/04/2022 at 13:35:19
Danny and Bob, having spent the last three months finding positives I'm lurching towards the miracle now. I think we might win two more and that won't be enough. With the weak mentality we have had all season the 5 point gap Burnley could open up before we play again could be a killer. I am sad to say we are just so toothless and incapable. Maybe a gamble will jolt us out of it, playing Dele Alli from the start for instance, but I can't shake off the feeling that the game is up.
Peter Mills
293
Posted 25/04/2022 at 13:39:13
I was at Goodison at 10:00 am this morning to renew my season ticket. I couldn't do so as "the system is down".
Mike Keating
294
Posted 25/04/2022 at 13:42:02
Yes, Dave, and there are rich pickings to be had in this tale of utter incompetence.
Brian, I think the McNulty piece spreads the blame quite fairly between the board and the owner.
If the story of our demise has to get told, I hope someone gets to the bottom of 20 years of mismanagement and tells the truth.
Jerome Shields
295
Posted 25/04/2022 at 13:51:04
Rob #256,
If you allow the opposition a man over and don't respond to the opposition weakening themselves in midfield, your already suspect defenders are going to be under more pressure and conceded.
Danny O'Neill
296
Posted 25/04/2022 at 13:59:08
Brian, I had that debate with my brother yesterday. In-between showing a solid, albeit thin blue line in the red infested London bar we were in, we were at massive disagreement on that subject. Although, like any Liverpool family as soon as someone tried to step in we closed ranks and were unified.
He firmly places the blame at Moshiri. But he is a Moyes generation kid (he's actually 32 now). I reiterated that the rot set in just after we last won the league title. We stood still, appointed Dr David Marsh and bought Ian Wilson from Leicester to "improve" the champions. It's been 30 years of neglect, not 6 years of irresponsible people spending the generous owner's money irresponsibly.
I can kind of see the mentality of "I'd take 7th and mediocracy now" given where we are.
Not me. Call me out for being a fool, but that's not my Everton and not what I was educated and brought up on. Sorry for not lowering my standards.
Looking forward to Sunday and I'll be looking out for your brother!!
Bill Gall
297
Posted 25/04/2022 at 14:40:05
First/ I never watched the game yesterdays I don't watch Liverpool in the premier and only sometimes in cup competitions if they are playing another strong team. I was thinking of watching, but after the Burnley result I was miserable and went out.
You cant be relegated after 1 game it takes 38 and until then I believe we will stay up. The one thing that makes me more confident, is reading these reports it seemed that the Everton players showed one thing that they haven't shown for a while, and that is fight and determination.
As I say it takes 38 games, so to get into this position it started with the hiring of a new manager pre season not after 32 games
Graeme Beresford
298
Posted 25/04/2022 at 14:55:51
My wife is a LIverpool season ticket holder. It's just erupted in ours and she said;
It was never a penalty and it wasn't given as Gordon dived in the first half.
Mane was booked for his face push and nothing more was needed
Jota never elbowed Coleman
And finally
She said Richarlison should of been sent off for his kick out
Safe to say I am now sat in a Costa pondering ending our marriage.
Chris Corn
299
Posted 25/04/2022 at 15:35:41
Danny 296...you are indeed a kindred spirit. I have always pinpointed the Wilson transfer as the turning point when Sheedy was having knee troubles and unsettled. Coupled with the refusal to pay our international players a wage to retain them.
I know from someone close that Gary Stevens had his wages trebled to join Rangers. Trevor Steven was offered a £25 a week raise and followed him the next year.
Derek Mountfield never earned more than £400 per week as the club knew he just wanted to play for Everton. To put that into perspective, my uncle earned similar at the time working offshore.
Although I know times have changed immeasurably, now we are the polar opposite, paying fortunes for average to poor players.
Even when we were at the top, we were run poorly and reliant on the benevolence of the Moores legacy and gate money
This has been a slow decline caused by lack of foresight, stratgey and true ambition from 1987.
We are traditionally a parochial club and remain so, despite all the decadence of recent years. We truly now are a laughing stock, which I never used to believe.
Finn Taylor
300
Posted 25/04/2022 at 15:58:56
Ian Wilson being a significant point in our changing fortunes...? perhaps. I always had him as a decent squad player, which like Alan Harper and Neil Pointin, seemed good value.
For me, a couple of things that were significant - Rush signing for Juve in 86 but not going over till 87? Why did they keep hold of him another season? Oh and he came back in 88, when they were stronger than ever. Why did we never try and tempt Lineker back? (ok, I know there is an argument we didn't play as well with Lineker in the team...)
Mark Walters all set to Join Everton but then... well, who knows exactly who he signed for. Kendall in for Dean Saunders. We all know where he ended up as well.
Selling a prime Beardsley to Newcastle. Made no sense to me. Did we need him off the books to refresh the squad? That was 93, and we all know what followed season 93/94...
Brian Wilkinson
301
Posted 25/04/2022 at 16:09:20
Not only was Gordon fouled, but the player stood on his foot as well, all accidental and to a point, yes could accept standing on his foot could well be accidental.
So why when Michael Keane jumped for a ball, earlier this season and landed on a players foot, a penalty was given.
You cannot give a penalty for one, yet dismiss the other as accidental, where is the consistency there, Keanes was less obvious, because when you jump for a ball, you cannot second guess where your foot is going to land.
Regardless of the one not given yesterday, the blatant handball by Rodri, the one Keane gave away is farcical, compared to the other two not given.
Derek Moore
302
Posted 25/04/2022 at 16:13:08
Graeme (#298), go buy your wife some flowers, say sorry and both promise each other you won't talk about football to each other again.
The fact is, the derby is history now. It's in the books. It doesn't make a damned bit of difference whether you're right or she's right. The result isn't going to be overturned. The game is not going to be replayed. It's done with.
You married her because - I presume - you loved her. You knew she was a kopite beforehand - I assume - and therefore should have priced that into the equation.
Our kid, my mam and all her side are kopites and they've been giving me loads all season (not me mam mind, she's boss), and especially in the last forty eight hours. So what? They're no more responsible for Liverpool success than I am for Everton failure. When they go too far I gently remind them of this fact.
Everton is part of all of us but by no means does it define us. Be the bigger person here and say sorry. Everyone has flaws mate and if your soul mate and life partners largest one is being RS then in the big scheme of things you're not doing all that badly.
Everton routinely ruin our weekends. Doesn't mean we should allow them to ruin the rest of the week for us as well. Say sorry and move on. Happy wife happy life as they say. Kia ora mate.
Christy Ring
303
Posted 25/04/2022 at 16:29:16
Still fuming over yesterday's decisions. Alan Stubbs said today he muted the sound because he couldn't listen to the biased commentary of Souness, and Carragher, and he shouting at Richarlison to get up and stop diving, where you could see he rolled his ankle, and the redshite continued playing. I'd also put Tyler in that category as well. What sickens me is Klopp saying Gordon should have had a 2nd yellow on BBC and of course no one questions him, what a horrible person, they suit each other. How Dermot Gallagher didn't see, apart from the push in the back, Matip standing on Gordon's foot, unbelievable. I know nothing is going to change, but the amount of decisions including VAR that have gone against us this season is more than just unlucky, and apart from some shocking poor results, it has cost us points, and contributed to where we are in the bottom three.
Paul Smith
304
Posted 25/04/2022 at 16:29:31
"You knew she was a kopite beforehand - I assume - and therefore should have priced that into the equation."
Made me smile that Derek on a very dark day.
Thanks.
Derek Knox
305
Posted 25/04/2022 at 16:30:08
Derek " Graeme (#298), go buy your wife some flowers, say sorry and both promise each other you won't talk about football to each other again."
Make sure they are not red ones though ! :-)
Michael Lynch
306
Posted 25/04/2022 at 16:37:14
Graeme, fuck the flowers and apologies - divorce her. If she's bad now, imagine what she's going to be like next season.
Better to make a clean break to save yourself more pain in the future.
Brian Wilkinson
307
Posted 25/04/2022 at 16:53:16
Derek, get a tv in the bedroom, and never watch the game in the same room again.
After the match come on ToffeeWeb and get it off your chest, pointless trying to have a debate with a Red shite after the game.
Kevin Prytherch
308
Posted 25/04/2022 at 16:56:06
Has anyone seen, just to fuel the conspiracy, that there have been 12 yellow cards given for diving all season, and 6 have been given to Everton players. No other club has got more than one and only Arsenal from the so called big 6 have received one.
We are the club that's big enough to make a statement to others, but not big enough to upset them at the top.
Tony Abrahams
309
Posted 25/04/2022 at 17:03:22
Graeme@280, I think I'd give you the job starting on £750 per week, to help root-out why these referees, are so inconsistent with their decisions, often depending on the team, nearly every other week, mate!
Let them speak. We have ref watch, everyone in the media giving their opinion, but "only silence" from the man, who everyone is arguing, disagreeing or defending. Why can't referees explain their decisions? It's the only way to find consistency, and stop the debate about wether they are incompetent, or if there is even a sinister motive behind the scenes.
Brian Murray
310
Posted 25/04/2022 at 17:04:03
Finn post 300. Mark Walters and Paul Elliot were guests at a charity night in a boozer in Bellshill, Glasgow, where I lived for a while due to the wife being a jock.
I asked him personally why he didn't choose Everton over Rangers. He said the treatment Barnes got from us was the main reason. Just repeating what he said. Racism was rife at the time as you all know.
As for Ian Wilson, jeez... the only good thing he done was go on a mazy run at Anfield and sent in a lovely cross for Wayne Clarke to head the winner. Clean goal, clean header but it was disallowed, replays showed there was no push. Nothing new, eh!
Matt Henderson
311
Posted 25/04/2022 at 17:17:18
Frank has to try and find away to get more chances created and then find someone who can put them in the net. We have lost so much creativity from last season and we have no regular scorers, creators or even half decent crossers/set piece takers in the team. He absolutely has to play Richie on the left to get him more involved and give Gray a rest as he has offered nothing. And although Iwobi is showing more effort he hardly ever scores and can't cross to save himself. For that reason he hay have to replace him with Deli as we are only going one way under the current approach. I hope DCL can come back and knock a few in. I hope he tries something in attack.
Brian Wilkinson
312
Posted 25/04/2022 at 17:20:36
SInce the premier league started, here are the stats, up to February 2022 of penalties awarded, with an interesting pattern for the elite.
170 - Liverpool
169 - Man Utd
157 - Chelsea
156 - Arsenal
137 - Man City
This does not include any given after Feb 2022
Christy Ring
313
Posted 25/04/2022 at 17:27:30
I remember when Harvey brought in Ian Wilson, some thought he was to replace Sheedy. Kevin just using his right foot, was still more effective. I thought he was absolutely crap, the start of our demise
Brian Wilkinson
314
Posted 25/04/2022 at 17:30:41
Everton have been awarded a total of 136 penalties, since the premier league started.
Matthew Williams
315
Posted 25/04/2022 at 17:30:54
Time to go back to basics and start with a 4-4-2 formation, play a balanced team of five defensive players and five offensive players...bring back to Tosun and partner him with Rondon up top...as were struggling badly with that priceless commodity... GOALS!
Soren Moyer
316
Posted 25/04/2022 at 17:34:29
When you concede 5 goals at home to Watford!, lose at bottom club Norwich and surrender a 2-1 lead at Burnley and allow them to score 2 goals in the final few minutes and lose a winning game, then you know you're shite!
And why are sky an their ref pundit emphasizing solely on the shove by Matip!!!!!? THEY SHOULD BE LOOKING AT STAMPING ON HIS RIGHT FOOT FFS!
Brian Harrison
317
Posted 25/04/2022 at 17:34:36
There are many people to blame for the demise we are in but the buck stops with the leader and in our case that's Farhad Moshiri. Yes, you can quite rightly point the finger at Kenwright about many things but you can absolutely guarantee that he didn't hire Benitez, and it wasn't as if Moshiri and Usmanov weren't warned how toxic that appointment would be, but they ploughed on anyway.
Moshiri listens to agents like Joorabchin, a fellow Iranian, another only interested in his clients, not EFC. Why do you think El Ghazi is here on loan? Got it in one – because Moshiri listened to Joorabchin.
Moshiri and Usmanov took over the club but, as he has often stated, Moshiri expected it to take up no more than 5% of his time. Apart from Ancelotti, his and Usmanov's appointments have been woeful. They brought in Koeman, absolutely no track record as a manager, and allow him to spend money as if it was going out of fashion.
Then, to add insult to injury, they appoint Allardyce on another short-term contract. Silva hadn't had any experience of managing in a top league although, if rumours are right, he wasn't allowed to bring in the players he wanted.
So, for those who think Moshiri isn't to blame for all this are living in Cuckoo land. Now his boss is no longer allowed to have any influence, then the sooner he finds another buyer, the better. And we will need another chairman as this one is long past his sell-by date.
Kieran Kinsella
318
Posted 25/04/2022 at 17:38:33
Danny/Christy
I knew we were finished as a club the day Ian Wilson arrived. Single-handedly destroyed every ounce of confidence in that dressing room. Pushed out Sheedy, exposed VDH shortcomings and left Sharp isolated. I don't know how he sleeps at night. If we go down he can't escape a measure of blame
Graeme Beresford
319
Posted 25/04/2022 at 17:44:10
Tony @ 309
My ultimate point is that the VAR was brought in to help referees. Basically, the refs needed help because, quite simply put, they are mostly 'bottlers' and can't officiate a game fairly.
My biggest gripe is what happens when the ref and the VAR get it wrong? This has happened to us several times this season and all we get is a… we're sorry.
It will happen again over the next few days. Mike Riley will call Frank and say "You know what, Frank, the ref didn't give it, I think the VAR should've looked at it longer and advised the ref to go and look at the screen, so we apologise about that."
It's of little or no significance because I'm convinced it's all a big ploy for us to go down. It's happened all season. There's too many incidents for it not to be a common denominator. The common denominator is, quite simply, the officials.
How can LIverpool be awarded a penalty in the 89th minute against Watford because a man has been held at the back post…. I will tell you why. It's because Watford where in danger of getting a late equaliser which would've finished the game at 1-1, handing the title to Man City.
It was given because it was a foul though, but where is ours against Brentford? Rondon's shirt is lifted over his head, because Rondon doesn't throw himself to the ground we don't get given it.
Then yesterday,we're being called divers and cheats because we are throwing ourselves to ground. There's no in-between because the officiating has made it this way. If you want a penalty, you have to throw yourself to the floor, if you stay up and try to do the honest thing, you don't get it and the VAR didn't check it.
All we want is a fair crack at the whip. And I'm telling you now, we will get a penalty against Chelsea now. Because the FA will feel they have to level it out.
I imagine it will be Gordon again, he will run, one of their defenders will leave a foot in, he will go down and the ref will have no hesitation, as the officials know we have been wronged and also we are at home so 36,000 people will scream for it…. Just wait.

Christopher Timmins
320
Posted 25/04/2022 at 17:48:54
Brian #317
Who brought Moshiri to our club?
Kenwright!
Tony Abrahams
321
Posted 25/04/2022 at 17:52:07
Kenwright was past his sell-by date the minute he took over, simply because of what Danny says about standing still or, in his case, clinging on, helping turn an English institution into plucky little Everton.
We won't be plucky if we go into the Championship, we will become the team that everyone wants to beat again. Although I don't see no reason why we can't stay up, even if it seems the whole of the football world is against us right now.
Brian Denton
322
Posted 25/04/2022 at 18:13:31
Kieran, I think Ian Wilson was probably the slowest player I have ever seen - made Tommy Jackson seem like a greased cheetah.
Having said that, a bit harsh to blame him for events 34 years later!
Brian Murray
323
Posted 25/04/2022 at 18:17:41
I'm sure some of you had or have the VHS build-up to the 1984 FA Cup Final on BBC Grandstand. A youthful-looking Kenwright with Susan George in tow, saying how much he loves the club. Who'd've thought his total misguided ineptitude years later would (maybe) bring the curtain down on us like one of his iffy plays.
Bill Gall
324
Posted 25/04/2022 at 18:29:31
I think that the VAR, although good in some instances, overall causes more problems. I don't now how many games I have seen where a player is fouled and the referee carries on with an advantage and the commentators say the VAR will take a look at that, yet in the Mane incident the ref stood back, seen the push on Allan and booked him.
The VAR must have seen this incident from the beginning yet never advised the ref to take a look at the second incident where he poked a player in the eye. A comment another pundit said, you don't like to see it, but if the Everton players just dropped to the floor and rolled around clutching their faces they would have got him 2 yellows and a red.
Talking about favoritism to the Sky 6, how did Fernandes only get a yellow for the tackle on the Arsenal player that was worse than the one Holgate got a straight red fo? These refs are getting away with it because they have incompetent people backing them.
Kunal Desai
325
Posted 25/04/2022 at 18:38:05
Kenwright brought in a new owner only on his terms. He's hoodwinked many evertonians over the decades with the garbage he spouts and some still believe he's a true blue.
Michael Connelly
326
Posted 25/04/2022 at 18:38:16
Moshiri's mis management is a major reason why we are here, but not the only one. Bobby Brown Shoes started the ball rolling down the hill by turning a team that was comfortably finishing top half+ into a bunch of also rans, primarily by neglecting the defensive aspect of the game, and not keeping the players fit enough.
Koeman did well first season (7th, 61pts) mainly because we still had Lukaku. As soon as Romelu left, the wheels started coming off as our main source of goals had left and his replacement's wife didn't fancy Merseyside. That screwed that season up and was compounded by the hiring of Allardyce, although in fairness he had us 8th (48pts) at the end.
Obviously, Allardyce was not fashionable enough to continue, so Silva and Brands were brought in. Had a decent first season, again finishing a respectable 8th (54 pts). Then Gueye and Zouma left in the close season, which messed the next season up, so Silva goes, and in comes Carlo with us down near the bottom of the table.
Carlo comes in and stabilises us to a 12th place finish (49pts). Improves on that the following season for 10th place and 59 points.
Lo and behold, the first good opportunity he gets and he's on his way. And via Benitez, we are where we are now.
The overriding theme here is that we have been, and are, a stepping stone club, and as soon as the best performing players/managers get flattering glances from the elite, then they are off before too long, constantly destabilising the club.
This is in addition to the fact that, with the likely only exception of Ancelotti, the club has not been able to attract the very best.
With us not being able to attract or keep the best, then our position is always precarious, and finally, this season, the chickens are coming home to roost.
The stadium development is our best way of joining the elite, and if Moshiri presides over our first relegation in 70 years, at least he is also delivering our best path to the promised land in the long term.
Neil Copeland
327
Posted 25/04/2022 at 18:42:32
Tony #321, we need to use the obvious dislike of Everton to our advantage where we can. The level of commitment shown yesterday has to be the minimum for each remaining game. As long as the fantastic support gets behind the team, which it will, we will be ok. My biggest doubt is our ability to turn chances into goals but surely that will change?
As for the officials, pundits, premier league and all the other bias, corrupt, cheating twats - fuck them! We are Everton, the greatest club in the world.
UTFT
Danny O'Neill
328
Posted 25/04/2022 at 18:55:40
Never works for me Derek @302. No amount of flowers in the world will get me off the hook because I can't give up Everton or stop talking about them. I usually have to bank on coming home with my tail between my legs and time being a healer.
I never wanted to use Ian Wilson as a scape goat. Just an example of how we set out on a policy of downgrading. A bit like downsizing if you think of of moving house.
The fanfare rolling out of Neil McDonald, Tony Cottee, Stuart McAll and Pat Nevin. It looked good, but were they really adequate replacements for Stevens, Sharp, Reid and Steven? The signing of Duncan Ferguson; an idol for a generation who had nothing else to pin their hopes on. Getting Tim Cahill on second dibs after Crystal Palace pulled out of the deal. We've been downscaling for decades. Even when it got better and optimistic, we were shopping in the bargain basement and hoping for the best.
Whether you like it or not, none of those players were of the standard I briefly was accustomed to or grew up learning about. And we were hardly fighting with the best to secure their services. Okay, Cottee was a coup at the time as he chose between us and Arsenal. But Tony Cottee, English football legend? Not really.
We can still turn this ship around. I sometimes think this club don't deserve me. But then I know they do. And regardless, they are stuck with me. I don't want anything else.
Tony Abrahams
329
Posted 25/04/2022 at 19:06:13
You can't do anything if the teams that are safe, suddenly take their foot off the pedal, when playing against our nearest rivals. I just hope that we win enough games ourselves because football, like life itself, should always be about how you are doing yourself, imo Neil, mate.
Jerome Shields
330
Posted 25/04/2022 at 19:10:08
There are still games to play. The performance was better than against Leicester, though tactically not as good in the second half.
At least there is no breaks and it should be apparent now to players that they need to put in a shift. Game time being better than Finch Farm time.
Losing the Liverpool game away from home was always a possibility. So the focus now will be on winnable games and the possibility of survival.
Steve Byles
331
Posted 25/04/2022 at 19:22:11
We'll probably go down. We can't score and that makes our task beyond reasonable hope. I'm sure we'll come straight up as most established Premier League clubs do. It might even be fun for one season.
My wish is that Newcastle can bully the treacherous 6 with their new wealth.
Neil Copeland
332
Posted 25/04/2022 at 19:39:39
Tony, yes agree mate. Whatever happens, like most on here, Everton will have my unconditional love and support.
It would be nice to have it rewarded from time to time though.
Brian Wilkinson
333
Posted 25/04/2022 at 19:41:32
We cannot complain about other teams not doing us any favours, lost count the amount of games over the seasons when Everton have approached later games wearing flip-flops.
All conquering league winners, rolled over and beaten by Coventry 4-1, which was enough to save Coventry, and send Norwich down instead.
How must Norwich have felt after that result?
Neil Copeland
334
Posted 25/04/2022 at 19:43:34
https://www.facebook.com/680949875349365/posts/4897977890313188/?d=n
Tony, The link is Nev saying pretty much the same as you - great minds eh?
Si Cooper
335
Posted 25/04/2022 at 19:44:37
What most annoys me about the Matip collision not getting the penalty award is that anyone who has ever played the game can tell Anthony Gordon is knocked over by the contact simply from the way he falls, and that is all that should matter.
Accidental? Contact on upper arm or lower leg? Doesn't matter. All that does matter is that he is obviously sent sprawling by Matip's interference.
The only pundit I heard say it wasn't a penalty was Jenas on MotD and he didn't explain why. He said something like it was "'just a no" – whatever that means! Minimum from anyone else was it's a foul anywhere else on the pitch.
You could say the ref couldn't be sure there was any contact, in which case he should ask for the VAR to check it for him (the VAR always checks penalty incidents anyway without needing a request from the ref); otherwise, he's deciding there was no contact which means he has to book him again and send him off. He surely can't just assume that Gordon tripped himself up, can he!?
Maybe that's what Klopp was inferring; if it's not a penalty, it's got to be considered diving. In that sense, Klopp is calling out the ref as a bottler too.
The VAR had all the views he needed. Once they'd confirmed Gordon didn't simply do a 'Devon Loch', then it should have been a simple overruling of the onfield decision.

Nick White
336
Posted 25/04/2022 at 19:47:12
Steve, I'm not sure we will come straight back up, more concerned we'd do a Sunderland and go down again!
Michael, agree, on the football side, the slide started with Martinez in that the team mentality of being solid and together just disappeared. Ill-discipline crept in to the squad and ultimately they downed tools.
They've done that a few times since then also. We've not been the same since, other than the Lukaku-inspired 2nd half of the season (mostly at home) in Koeman's 1st season.
Danny Baily
337
Posted 25/04/2022 at 19:49:41
I think we've got a great shout at coming back up within the first few seasons. We just need to be in the market for a top Championship striker. Hopefully our new DoF is on top of this as we speak.
Neil Copeland
338
Posted 25/04/2022 at 19:52:46
Si, I think Jenas is part of a very small club of 3. Everyone else seems to think it was a penalty. I was working with a couple of reds today and expecting the usual crap but they were pretty fair and admitted they were lucky with that decision and the Mane incident.
You are spot on with your analysis of Klopp's comments.
Graeme Beresford
339
Posted 25/04/2022 at 20:30:31
What has made me laugh today is Sky Sports have reported that Mane was very lucky as the VAR cannot intervene for yellow card decisions. So either of two things have happened with the whole incident:
1) The VAR looked at Mane's push as 'red card sending off offence'. It was deemed not a red and therefore a yellow was branded.
Or, and in my opinion, the more likely:
2) The VAR looked at it as a yellow card offence and advised the ref to treat it as such.
The 2nd seems more likely to me; however, if this is the case, then this is against the rules.
By this logic, the second incident should also have been looked at and again another yellow card awarded, resulting in a red.
What is going on with the VAR? Who has access to what they are talking about? The commentators as far as I know. Not once yesterday did they say 'They are checking for a red card offence here', so what actually happened?
The second incident was missed. And again. That's another huge decision gone against us in this game and this season.
Michael Connelly
340
Posted 25/04/2022 at 20:33:37
Have replayed the incident about a hundred times and I think Gordon is clever in going down at the point of contact, but my view is: him hitting the deck is as much him dropping to the floor, as it is Matip pushing him in the back.
Certainly not comparable to the City incident, where that error was galling. But hopefully that incident ensures City winning the title.
Tony Abrahams
341
Posted 25/04/2022 at 20:44:13
Is there more detail Graeme, because Allen was given a yellow card before it was changed to red, the other week?
Pete Clarke
342
Posted 25/04/2022 at 20:45:15
As soon as I saw Anthony Gordon hit the ground for that foul I knew it would be overlooked because of his earlier antics. VAR have shit out on that for sure but I really hope Frank Lampard has a word with Gordon too because throwing yourself to ground in anticipation of being touched is disgraceful. He's a good player and will ruin his own career by continuing to do it. I know if he was wearing a colour other than our blue that I would hate him for the antics. Time to become a man.
As for the game all it showed to me were our inadequacies all over the pitch. We battled and we generally stuck to the game plan but we are now accustomed to these players letting us down. Where was the defense for their goals ? What do we really expect when Iwobi is running towards goal ? Do we have the worst central midfielders in the division when it comes to possession, goals and distribution ?
Lampard has been left a crap squad that he's trying to make something of but hoping that Rondon, Tosun or even DCL are going to save us is highly unlikely. Richarlison and Gray are not hitting the net and there's no goals in midfield so where's the goals coming from?
We've been hit hard by injuries for sure but what's coming back to haunt us is the whole way Moshiri and Kenwright have handled the club in its entirety for years. Player recruitment has been appalling in quality and amounts of losses made. Manager after manager with massive losses made. The one they got right was Ancelotti but rather than be lured by Madrid ( he'll get fired again ) I think he saw how poorly the club was being run by the stupid owner and chairman and just wanted out.
Whether we go down or not it is imperative that a new board is appointed. If this does not happen the Moshiri needs to move sell up. I'm sure there are intelligent people with money out there who can see the value of taking over one of the biggest clubs in England. ( in my blue tinted eyes )
So we have six games left in which we need at least 4 wins from and still hope other results go our way.
Stevie G is likely to roll over for Burnley knowing how it affects us. Burnley have turned the corner anyway. It may be that Leeds crumbling will be our only way out but watching them play tells me otherwise.
I don't believe in miracles but I'm blindly hoping for one now.

Graeme Beresford
343
Posted 25/04/2022 at 20:47:59
Tony, this is sort of what I'm saying. Allan was booked by the onfield ref. However was advised by VAR to have a look as it's potentially a red card. Ref went to monitor, looked, gave him a red.
Now as far as I'm aware none of that happened yesterday. Unless the ref saw Mane during the first push to the face, but if he never then someone advised him to book Mane. If this is the case then that is VAR becoming involved in yellow cards, which according to the rules, is wrong.
Mark Ryan
344
Posted 25/04/2022 at 21:07:35
I thought Pickford handled the game well and played well. Many on here debating whether he should play. Some stating he should not be considered at all. I hope your concerns were put to bed. Support the lad. He's by far our best keeper.
Tony Abrahams
345
Posted 25/04/2022 at 21:12:02
I keep saying VAR has created an illusion Graeme, and unless things change, football as a spectator sport will eventually go backwards imo.
Graeme Beresford
346
Posted 25/04/2022 at 21:15:51
@tony 431
I've just decided to watch this back. There is no way the ref saw the Allan incident. It's too far away from him with too many bodies in the way.
The Holgate incident he reacts to. I can only presume this is the incident Mane got booked for, not the Allan incident. If that's the case then VAR has failed because the Allan incident should of been looked at as a potential red card offence. But it wasn't.
I can only presume Allan's was missed and VAR didn't deem it a red card offence and therefore they can't intervene to say 'he's just done that to another player aswell which you've missed' because it's not allowed with just a simple booking offence.
My other question would be then, what was linesman and 4th official doing? Did the see it? Why was nothing done?
Interesting.
Tony Abrahams
347
Posted 25/04/2022 at 21:43:20
I saw little fat Jonathan, gathering Moss, whilst talking and smiling with Klopp, Graeme, and I also think the still picture of the Gordon incident, shows that the referee had put himself into a very good position, and it looked like he could see everything.
Rules are rules, but I thought it was all handbags, and I personally wouldn't have sent Mane off, but Atwell was definitely consistent, (poor) because I still hadn't got over how Arnold had got away with shoving Gordon, in the first half in a very, very similar incident to the penalty.
I think Gordon surprised them with his pace, so Lampard must be at fault for not telling the kid to slow down! Anyone who's ever played football, knows that once you reach top speed, any little shove is going to send you sprawling, but unless it's done with the shoulder, it's a fucking foul.
Graeme Beresford
348
Posted 25/04/2022 at 21:51:32
Yes, watching it back then is really incredible that TAA can push Gordon in the back when he's almost in the box and nothing is awarded. It's like he was punished yesterday for being faster than the LIverpool back line.
TAA completely wiped him out in the second half aswell.
The reality is… I don't even really want red cards in games. It usually spurs the other team on… however I defo want blatant penalties. That, was a blatant penalty.
Laurie Hartley
349
Posted 25/04/2022 at 23:38:53
We are on our own. It's up to the players and us now.
Somehow or other we have to win three more points than Burnley in the remaining games. They have 15 points to play for, we have 18.

Ed Prytherch
350
Posted 25/04/2022 at 01:06:15
Moshiri takes advice from Joorabchian because he doesn't trust Kenwright who he appears to be stuck with. I think that Kenwright has a legal agreement with Moshiri to remain chairman for as long as he likes.
Kenwright is the root of our problems.
Kim Vivian
351
Posted 26/04/2022 at 07:11:48
I'm getting really wound up now. Come on you fucking Blues - we've got 18 points to play for - let's just get out there and have them - all 18. No less an objective will do. Our hardest match is over now and we were pretty close to getting something out of that game.
Just do it!
Danny Baily
352
Posted 26/04/2022 at 07:26:25
Kim, it's more than likely over now. We needed to hold Burnley to at least a draw.
Danny O'Neill
353
Posted 26/04/2022 at 07:33:23
It's not over. The season hasn't finished.
If it's over, then we stop now?
It wasn't over at half time on the last day of the season in 1994.
It's not over.
Phil Lewis
354
Posted 26/04/2022 at 07:37:29
Mathew #315,
Couldn't agree more regarding 4-4-2 and playing Tosun and Rondon up front. I've been saying as much since they've both been available.
I'm well aware that neither have shown much for us, but in recent times Tosun has been offered little or no first team opportunities.
Before people start screaming "Madness!" Remember what Einstein's definition of madness was. 'Repeating the same process and expecting a different result' (or words to that effect). And that is what Lampard has done with his attacking options since his arrival. If he continues to do so he will get the same result, no goals.
If nothing else, both Tosun and Rondon have credible goal scoring records elsewhere. Playing them together up front in our remaining games, could prove to be the last roll of the dice for Lampard to save our skins. If anyone can tell me where else the goals are going to come from I'll gladly listen.
Desperate times need desperate measures.
Kim Vivian
355
Posted 26/04/2022 at 07:49:11
No way it's over. It's 18 potential points from being over. If we can just gain points unexpectedly rather than lose them for a change...
I still believe that point salvaged against Leicester may be the lifeline. If it is, I'd pay Alli's wages myself if my pension would run to it!
Danny Baily
356
Posted 26/04/2022 at 08:01:46
It's not mathematically a done deal yet. However, I think we'll pick up 5 points in the remaining fixtures, which most likely won't be enough.
Those points dropped at home against Wolves and Leicester (not to mention the 6 pointer at Burnley) have all but relegated us.
Ian Bennett
357
Posted 26/04/2022 at 08:02:59
We need another game plan. We need a minimum of 11 points, as I think Burnley and Leeds get to 40 points.
So not far off 4 wins from 6 games. It's obvious, but we've got to be able to be tight in defence and have a goal threat. The defence has looked better, but our ability to put the ball in the net is a problem throughout the team. Richarlison scores the odd goal, but we get practically nothing elsewhere.
For the record, I think Tosun is shite. But I do think we've a better chance sticking him, Gordon and Richarlison up top – than a misfiring Gray. My only doubt is that he's not going to want to get injured ahead of his next payday.
Probably the same with Alli. He's not impressed, but has a lot more ability than Allan. We are getting down to reckless gambles nearly.

Iain Latchford
358
Posted 26/04/2022 at 08:12:25
Goals are certainly the issue. Not having a firing Calvert-Lewin, combined with losing James and "you know who", has probably taken 30 goals out of the team compared to last season. We'd be comfortably safe, and maybe even in the top half by now.
We need three wins and a draw. Palace worry me. That is one of our must-win games. They are a big, powerful side, who have already put 7 past us this season over two games. I'm hoping they are on the beach by the time we play them. They certainly weren't against Leeds last night. Just a shame they couldn't get the goal.
Leicester will have played Roma away on the Thursday night before we play them on the Sunday. We have a full week to prepare. That can only be a good thing for us.
Kim Vivian
359
Posted 26/04/2022 at 08:20:03
Just to add - I think we should be using Alli more. He put Richarlison in on goal for the equaliser at Leicester and nearly put Iwobi in vs Liverpool, bar good defensive work from Robertson or whoever it was, and laying on that cross from which Rondon volleyed to nearly score one of our goals of the season.
I do believe he is one of the more creative players we have, and we should utilise him.
Laurie Hartley
360
Posted 26/04/2022 at 08:43:15
It's quite obvious to me that Rondon and Alli can play as a two. The problem is I don't think Frank likes Rondon.
Also I don't think you can play Gray and Richarlison in the same team because they are both at their best wide left. Therefore Gray is on the bench Gordon wide right.
Godfrey is injured so it has to be Mina and Keane.
Sorry, Frank lad, it has to be 4-4-11 from now on.
Pickford
Coleman, Keane, Mina, Mykolenko
Gordon, Allan, Doucoure, Richarlison
Alli,
Rondon
If he starts Calvert-Lewin up front against Chelsea, I will throw a wobbler.

Mike Doyle
361
Posted 26/04/2022 at 08:43:58
Kim 359] I think you are right. Unless I've missed something Demari Grey has been largely anonymous in recent games, with most of our counter attacks relying on the pace of Anthony Gordon. May be worth giving Alli a start - or at least more minutes than in recent games.
I'd also bring Rondon in - at very least that would allow Richie to go wider - where he is more effective.
If we are going to stand a chance of winning any of these games we need goals - and the recent starting line ups are not going to produce them.
Peter Carpenter
362
Posted 26/04/2022 at 09:21:54
Agreed, Mike. It's time to be bold now. Take a gamble on Alli and Rondon. They must be fit and raring to go. We have to go out and grab it. Nobody will help us now.
Gary Jones
363
Posted 26/04/2022 at 09:34:18
Unfortunately I think we have to play Chelsea and Leicester in a "tight way"., trying to hit them on the counter like we did against the shite. We've *got to be* looking for 1-0 wins in these games, so I'd go with 4-5-1.
Assuming everyone fit, that's;
Pickford
Coleman Mina Keane Mykolenko
Gordon Doucoure Iwobi Allan Richarlison
Calvert-Lewin
(Godfrey for Keane if fit)
If we come out the next two games any more than 3 points away from safety, then we must take the brakes off and go all-out attack in an attempt to win the final 4 games in a row (okay, maybe not the last one but if we need to win, then so be it!).
For me that'd be:
Pickford
Coleman Mina Keane Mykolenko
Gordon Dele Van de Beek Richarlison
Calvert-Lewin Rondon

Shane Corcoran
364
Posted 26/04/2022 at 09:51:04
From looking at three clubs' fixtures on MNF last night, I did a quick prediction on our and Leeds' likely results. I ended up with us being level with them after the last day.
I think Burnley's form and fixtures are likely to see them ease clear.
Lee Robinson
365
Posted 26/04/2022 at 09:57:28
Ian @357. I agree I think we need 40 points also. I said a few weeks ago Burnley will get 5 wins from their run in and people laughed saying they've only won 4 all season. They've already won 2 of those 5 I'd picked out.
Laurie @ 360. Agree with that formation I would also go with Rondon and Dele and Richarlson and Gordon out wide. We do need to try something knew, most of our attacks break down with a sloppy pass or running into blind alleys. Dele has shown in the last few games he needs to start for me.
Jerome Shields
366
Posted 26/04/2022 at 09:59:19
The problem with VAR is it was the prevent goals being given due to foul play being missed. So it's emphasis in on preventing goals.
Where the stakes are high challenging for Top four positions the bias is in favour of the challenging team. The stakes at the lower end of the table are not a priority in comparison.
A team loses out on a top four challenge will be news and pressure next season. A lower finishing team will be less so. If relegated not at all.
Ultimately a team cannot beat the Referee or his Assistants on and off the pitch.
One of the joys of the relegation dogfight.
Burnley's threat to Everton is not only on the pitch, but their a Public Relations offensive which has the Media on their side, which may influence crucial decisions and provide them with 12th man help beyond their match going fans support.
Joe McMahon
367
Posted 26/04/2022 at 09:59:49
I'd rather see Tosun, Dobbin or Rondon upfront over Calvert-Lewin. We need someone who can strike a ball/shoot.
What a state of affairs this is, so much money spent and yet no proven goalscoring striker at the club. Or goal difference has been pitiful for several seasons and this is never addressed.
Iain Latchford
368
Posted 26/04/2022 at 10:02:54
It would suit us for Norwich to beat Villa at the weekend. That would keep them in the mix, and needing take points from their games against Burnley. It's at Villa so probably unlikely. You never know though. Smith will have something to prove after getting sacked earlier in the season.
Rob Halligan
369
Posted 26/04/2022 at 10:05:11
Gary # 363.
I've been saying the same as you for about the last two or three games. We need to be going 4-5-1 for every game until the end of the season. Grab a 1-0 lead then defend like there's no tomorrow.
Bore the arse off everyone if that's what it takes, but it now getting to the stage where we will have to start taking some chances as we need to start winning, and PDQ.
If Calvert-Lewin is still injured, or not got his attitude right, then it has to be Rondon up front, and staying there, no coming back to defend corners.
Richarlison and either Anthony Gordon or Demarai Gray are going to have to play in a midfield five, but run their bollocks off between defending and attacking. They've got to be up and down that pitch and come off at the end literally crawling on their knees.
Despite all the doom and gloom, this is still in our own hands, and we will get out of it.
Danny O'Neill
370
Posted 26/04/2022 at 10:13:33
I'm with your last paragraph Rob. This time next year we will be planning for Europe.
Brian Harrison
371
Posted 26/04/2022 at 10:34:48
I think that its getting to the point were only wins will move us out of trouble, and having lost 18 on the bounce away is a disgraceful record. Had we just picked up 5 or 6 points away in that time, which still would have been awful, it would at least have seen us in a better position.
I think the feeling a few weeks back was it will be okay can't see Burnley or Leeds winning to many games well both did what we couldn't this weekend Burnley beat Wolves at home and Leeds got something out of their away game at Palace.
But I think the reality of our position has finally kicked in with everybody and they now know the time for excuses is over. Yes, we have had an appalling injury record and yes some of the officiating in our games has been disgraceful, but let's not forget we were awarded 2 penalties against Burnley and still lost. Now if one of the other clubs in trouble had been awarded we would have said how come we never get those, well we did and messed it up.
But that's all gone we now have 6 games to save our season and we now need to be brave both in selection and attitude. We have tried playing Richarlison up top and it isn't working for him or us he is too tightly marked in that position and he is not a hold-up player so it doesn't help us getting more players forward into attack when they know Richarlison may lose possession trying to take people on.
So please Frank start Rondon against Chelsea, play Richarlison and Gordon on the flanks and play Alli just off Rondon. Both these players had a big part in our equaliser against Leicester.
Alli was bought not loaned to help us stay up, and now Frank it is time to back your judgement irrespective what he is doing on the training ground. I know Iwobi has ran his socks off since Frank arrived but Alli has a goal threat and I don't believe that Iwobi does.
Obviously Mina comes back and has to play every game as the stats show our win ratio with him in the side is so important. Probably Keane will play alongside Mina as he looks a better player alongside Mina, than he does without him in the side. then Coleman and Mykolenko at full-back.
Now he can play 2 holding midfield players and he has a choice of 2 from 4 he has Allan, Doucoure, Delph or if he feels he needs to be really ambitious Van de Beek.
Although he may start Van de Beek on the bench and maybe bring him on later depending on how the game is going.
Graeme Beresford
372
Posted 26/04/2022 at 11:32:11
This is what it has resorted to… people saying play Tosun, a guy who has played about 20 games in four years, scored about 8 goals, has reportedly already signed with Besiktas to return in the summer, talk about 'being on holiday'. The only people I think we should be playing up front are Rondon, Richy and maybe Dobbin, Tosun shouldn't be getting anywhere near the first team in my opinion.
Like Liverpool, Chelsea will come at us. They are fast, attacking, and with players like Mount and Havertz, will potentially have a killer blow. I hope Lampard is studying the Brentford game from the other week. They were to every second ball, pressing, doubling up, and more importantly they had shots on target.
I would go 4-4-2 in this game. Allan to sit as he did in the derby, Doucoure to be the legs, but we have to utilise the wingers who should be Gray on the left and Gordon on the right, they are the runners, get them to the byline crossing balls away from their tall keeper. Look for Rondon and Richy up front, flick on's, etc. I think this is a must win, it's a shame it's against Chelsea but let's have it right, it prob doesn't matter who we are playing. If we turn up we can beat anyone.
Tony Abrahams
373
Posted 26/04/2022 at 17:12:15
Ed@350, I'm hearing the Yanks are coming and one of the people involved in brokering the deal absolutely detests the way Everton have been allowed to be ran, under Bill Kenwright🤞
Dale Self
374
Posted 26/04/2022 at 17:21:22
Careful what you wish for Tony but hard to imagine that it wouldn't improve the situation.
Jerome Shields
375
Posted 26/04/2022 at 17:29:24
Phil#272
Your post is the most accurate of what actually has happened at Everton. ' The things that happen to people are very like the people they happen too. '
Raymond Fox
376
Posted 26/04/2022 at 17:58:12
Draws are no good to us now, we have to pick attacking teams,
If we lose one or two games so be it, we need to win at least three of the remaining six.
In the form we are in thats going to be a tall order but we can live in hope.
We also need Burnley and Leeds to have poor results of course.
Theres always strange results in the final games of the season, so you never know!
---
Add Your Comments
In order to post a comment, you need to be logged in as a registered user of the site.
Or Sign up as a ToffeeWeb Member — it's free, takes just a few minutes and will allow you to post your comments on articles and Talking Points submissions across the site.
---
© ToffeeWeb