Report
Brilliant Pickford saves ensure a mammoth Everton win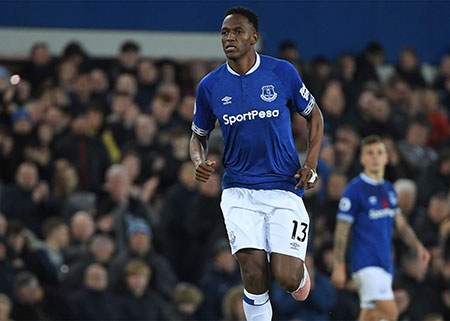 Yerry Mina and Dominic Calvert-Lewin return to the squad but Donny van de Beek, André Gomes and Ben Godfrey remain out
Everton 1 - 0 Chelsea
With games left getting fewer and the precipitous gap above the Bottom 3 getting wider, Everton produced a massive victory at Goodison Park against Frank Lampard's old club, Chelsea, thanks to some brilliant saves from Jordan Pickford.

Yerry Mina was back in Everton's squad after being rested for the Merseyside derby and he was joined by Dominic Calvert-Lewin who had been training again this week. Mina started but Calvert-Lewin only made the bench after disappointing recent displays prior to his absence from last weekend's loss.

Donny van de Beek and André Gomes were both battling groin strains and Ben Godfrey was ruled out for "a few weeks" with the thigh issue he sustained in the warm-up at Anfield. But Tom Davies was fit enough to return after a long absence with knee ligament damage.

Everton kicked off amidst a tremendous atmosphere and Gordon immediately won a dangerous free-kick. But Gordon completely wasted it, launching the ball high over the Chelsea goal. Another long ball was just too long for Richarlison as Everton tried to play on the front foot but Gordon slipped and lost it. Another long ball up to the lone Richarlison only allowed Chelsea a chance to calm things down after a full-throttle Everton start.

But Everton were keen to get forward and Richarlison was caught by James, Chelsea giving up another free-kick that Gordon whipped in well but Rudiger headed it away. Chelsea worked hard to slow things down and hold possession. They worked it for the first shot of the game after Havertz was fouled but the ref played advantage and Mount shot just over Pickford's bar.

Gray did well to pressure Azpilicueta for a throw-in, and Holgate stepped up for the long throw, headed away but they recycled and Yerry Mina felt an arm on his shoulder and collapsed pathetically. No penalty. Richarlison tried to break but quickly had three Chelsea defenders converging on him.

The pattern of slow Chelsea possession started to dominate, really challenging Everton to get the ball and do something with it. But when they did, a panicked clearance saw the ball back with the yellow shirts of Chelsea, who then won a free-kick wide right which James kindly delivered to Pickford.

Everton broke fast and got the ball up to Gray but he was offside. Coleman did not like the way Rudiger took him out and pushed Rudiger when he was down. Gordon's free-kick was again cleared. Gordon then tried to advance but lost the ball as the game became as bit scrappy, Chelsea then winning their first corner, cleared by Gray.

Chelsea were taking increasingly effective control of the game, but Everton looked to break, with Gray fouled and the ball to Iwobi not good enough. Chelsea attacked and caused havoc in the Everton defence which just about held out as the ball pinged around the Everton area. Havertz and Mina had a little wrestling match that concerned Mr Friend.

Article continues below video content

Mykolenko got wide and made space for the cross but it was very easy for Mendy to pluck out of the air. Delph avoided a booking for a poor tackle from behind. Everton did well to stall a Chelsea attack and, as Gordon tried to break, he felt he was fouled and went down like a sack of potatoes.

Everton were doing a good pressing job, Mina and Mount clashing then Coleman really going at Azpilicueta, both getting booked. A feisty spell followed as Richarlison tried to force the action wide right. But Chelsea recovered and got things going their way again, immune to Everton's itching for a fight.

Another potential flashpoint with Richarlison and Havertz earned Everton a free-kick and Richarlison did well to work his way in from the left but then he totally wasted his cross, behind. Chelsea then attacked through Loftus-Cheek and Everton had to defend, with a superb block by Coleman.

Everton got a couple more long throws into the Chelsea area but they were cleared as half-time approached. Gordon was desperate to create something, but couldn't. Delph made a late tackle in added time and he saw yellow.

The second half had hardly begun when,n from nothing Richarlison pounced on some hesitation by Azpilicueta, blocking his clearance and Gray was up with him, perfectly placed to play the ball to Richarlison who stroked it past Mendy into the corner of the net for a goal that sent Goodison absolutely wild.

With Chelsea a little shell-shocked, Everton pressure created another brilliant chance, this one for Mykolenko via Doucouré, an open goal that the young Ukranian totally messed up, firing wide. Chelsea then pressed and forced a corner that was cleared. But Chelsea kept pressing forward, Iwobi having to concede another corner that Rudiger headed wide.

Chelsea were really stepping up to respond. But the Everton defence was chasing down everything in an effort to thwart them. They did that well enough themselves with an overhit cross that sailed over Pickford's goal.

Richarlison was fouled again, wide right. Gordon over-hit the free-kick horribly, just when more pressure on the Chelsea goal was needed. Mykolenko escaped a card for fouling Loftus-Cheek. Alonso set up Mount for an astounding shot that hit both posts and came out to Azpilicueta who lashed it goalwards, only to see Pickford scramble remarkably across his goalline to save it brilliantly. From the corner, Rudiger had the goal at his mercy but Pickford was across brilliantly again to stop a certain goal with his face, Mykolenlko getting hurt in the chaos.

Another Chelsea corner and Everton produced a string of fabulous last-ditch blocks to stop Chelsea shots reaching Pickford's goal. Eveton broke and Richarlison got to the 6-yard area, crossing for Gray who was falling as he had been fouled, but no penalty, of course.

At the other end, Rudiger lashed a distant shot just over the bar. Chelsea kept probing forward, Werner heading wide. Still no Everton subs, of course, while Chelsea made two more. Wake up, Frank!!!

Chelasea piled on more pressure, Iwobi giving up a free-kick wide left that was cleared as Allan replaced Delph, Everton's first sub, on 71 minutes.

Richarlison tried to finish avhigh bouncing ball and hit a defender with his foot that then needed extended treatment, with time ticking away. Havertz and Mina had another tussle, free-kick awarded to Mina.

Some tremendous battling defensive work from Everton was needed to keep Chelsea out but Iwobi fouled Alonso, who delivered a superb ball put behind the Everton defence but thankfully not converted. The corner taken by Mount and cleared.

A great ball in from Alonso was punched away by Pickford. Then Loftus-Cheek created loads of space and lashed a shot that Pickford had to stretch high to parry away from goal. Rondon then came on for Richarlison.

Into the last 10 minutes and the pressure from Chelsea was unrelenting. Mina and Havertz were at it again, Havertz shoving Mina over after he threatened the Chelsea man with a head-butt feint.

Godron, who had been quiet since half-time, tried to break down the left and was dumped into touch: no foul. But Everton did work a great chance, Gray curling a shot that should have been goal-bound just over the bar.

Gordon got forward again, worked his way in well down the channel, but Rondon tried to backheel his low cross to Iwobi that was missed. Chelsea went up the other end, won a corner and forced more excellent defending from Everton with the end well in sight.

Gordon took the ball a long way to the Chelsea box but chose to shoot poorly at Mendy rather than cross. Chelsea came back at them again but the packed Everton box stood firm, as an incredible 7 minutes was added on the board. Time for Dele Alli to come on.

Another incredible penetrating attack by Chelsea, another brilliant save from Pickford low to his right off a shot from Kovacic. And the ball came back in for him to grasp out of the air, to tremendous applause from the Goodison crowd. Dele replaced Gray.

Chelsea kept doing what they usually do so well, recycling again and again, piling more and more pressure on Everton. A Chelsea free-kick was driven in but the offside flag went up, much to the pleasure of the Everton fans as Holgate saw yellow for time-wasting.

Dele cleared well for Rondon to chase and hold and squirm and almost get a shot on goal before Dele Alli came to help him. And finally, with 8 minutes of added time played, the whistle went and Everton had won a very precious 3 vital points in this maddening relegation battle.

Kick-off: 2 pm, Sunday 1 May 2022 on Sky Sports


Everton: Pickford, Coleman [Y:38'], Holgate, Mina, Mykolenko, Delph [Y:45+2'] (71' Allan), Doucouré, Iwobi, Gray (90+4' Dele Alli), Gordon, Richarlison (80' Rondon).
Subs: Begovic, Kenny, Keane, Calvert-Lewin, Davies, Branthwaite .

Chelsea: Mendy, James, Rudiger [Y:18'], Silva, Alonso [Y:75'], Azpilicueta [Y:38'] (68' Pulisic), Jorginho (46' Kovacic), Loftus-Cheek, Mount [Y:37'], Havertz [Y:84'], Werner (69' Ziyech).
Subs: Arrizabalaga, Sarr, Chalobah, Ñíguez, Kenedy, Lukaku

Referee: Kevin Friend
VAR: John Brooks

Share article:
---
Reader Comments (243)
Note: the following content is not moderated or vetted by the site owners at the time of submission. Comments are the responsibility of the poster. Disclaimer
Oliver Molloy
1
Posted 01/05/2022 at 13:01:20
Just watched the reception and atmosphere outside Goodison for the team arriving - that has lifted me, so its bound to lift these players...
COYB
Neil Lawson
2
Posted 01/05/2022 at 13:10:33
Struggling to see where the goals come from but everything crossed for a committed and battling performance, and the bit of luck we need. Strong Chelsea team but relieved that Lukaku is not starting.
Who knows what will happen? Hopeful but fearful.
Ciarán McGlone
3
Posted 01/05/2022 at 13:12:39
I'm losing patience with Frank. A blind imbecile could tell that Richalison's impact on game is substantially less when he's deployed as a number 9. You only have to look at last week's game to see how the dynamic changed when he was allowed to play in from the wing.
Why do our managers never seem to learn.
George Cumiskey
4
Posted 01/05/2022 at 13:19:01
Gray starting again after two stinkers?
Alan J Thompson
5
Posted 01/05/2022 at 13:22:41
I don't agree that Holgate is better than Branthwaite but what happened to the Manager that we were told wasn't afraid to play youngsters. He seems to stick by players regardless and I wouldn't have Holgate anywhere near while, as has been said, Richarlison is better WITH a big man in the middle, at centre forward. And Tom Davies a week back from a long term injury on the bench!
Ernie Baywood
6
Posted 01/05/2022 at 13:25:35
I'm hoping Frank is seeing something I don't. Richarlison up front just negates Richarlison, who is our most dangerous player.
I'm guessing it's not up and at them. It's the same as last week... sit back and break. Richarlison the first defender.
I'm just not sure that makes best use of what should be an amazing atmosphere if we actually have a go at them.
Ernie Baywood
7
Posted 01/05/2022 at 13:26:29
I'm hoping Frank is seeing something I don't. Richarlison up front just negates Richarlison, who is our most dangerous player.
I'm guessing it's not up and at them. It's the same as last week... sit back and break. Richarlison the first defender.
I'm just not sure that makes best use of what should be an amazing atmosphere if we actually have a go at them.
Michael Kenrick
8
Posted 01/05/2022 at 13:28:39
Got to agree, Ciarán. Frank is hardly taking this lot by the balls and getting them to perform. There's been no real improvement in terms of Key Performance Indicators, or points as we call them. And the style of play is nothing short of atrocious.
His use of subs is just abysmal. "Too little, too late" was made for him as his personal mantra. Why go to five subs out of nine? And as for the youngsters... forget it.
Each game, I keep hoping to see some evidence that he is making an impact on this bunch of crap, but it ain't happened. Maybe today, eh?
Kristian Boyce
9
Posted 01/05/2022 at 13:32:57
I thought Davies wasn't included in the 25 man PL squad due to his injury?
Danny Baily
10
Posted 01/05/2022 at 13:38:30
Perhaps he has a game plan where we change things up part way. Rondon or DCL to come on, with Richy moving out wide. I hope there's a bigger role for Dele as well.
Ernie Baywood
11
Posted 01/05/2022 at 13:39:08
He got bumped up the order when Gbamin went.
Neil Lawson
12
Posted 01/05/2022 at 13:40:06
I have to agree. A true striker instead of Gray with Richarlison wider. However, DCL not fit and a waste of space leaving only Rondon as the option. Hence, it's hard to be overly critical of the choices made. Not any great options.
Ernie Baywood
13
Posted 01/05/2022 at 13:44:23
Michael, I think he has had an impact. There's been bad results, but he's got a reaction.
A team that never looked like it could be bothered, now at least looks bothered. He's got the likes of Alex Iwobi covering ground and playing for the shirt. That's been the case pretty much since Lampard came in.
If we'd had that attitude all season we wouldn't have contended for anything given our limitations, but we'd have been relatively safe.
Jerome Shields
14
Posted 01/05/2022 at 13:48:20
Michael#8
Unfortunately I have to agree totally with your post. This team selection seems to Frank's attempt at a defensive formation. Keane must have been a nervous wreck in training or caused someone to be.
Raymond Fox
15
Posted 01/05/2022 at 13:52:10
As I said before if we can get 3 wins we might stay up.
You never know one or both Leeds and Burnley may blank their remaining games.
Leeds especially have very difficult games.
Alex Gray
16
Posted 01/05/2022 at 13:52:56
I can hardly blame Frank to be honest. I've seen a lot of fight from the team most matches but these lot have gotten six managers fired. If we go down its because of poor leadership at the top and recruitment. Big result needed today the fans look up for it. Coyb.
Anthony Jones
17
Posted 01/05/2022 at 13:53:56
He ditched 3 at the back, at least for a while, and he is playing with more legs in midfield by deploying Iwobi there.
Centre forward is a problem position for us.
Cannot complain about the starting lineup other than the selection of Holgate.
Ciarán McGlone
18
Posted 01/05/2022 at 14:00:08
Lampard picks the team. He has chose to not to pick our young strikers. That's on him.
To say there are no better options than playing Richarlison out of position, is nonsense.
Andy Crooks
19
Posted 01/05/2022 at 14:01:28
Can only hope that Frank knows more than us. That Richarlison in the centre is not stubborn ineptitude. That Holgate is not a liability. I hope I am eating humble pie but that is a strange team.
Christy Ring
20
Posted 01/05/2022 at 14:01:58
Ernie#13 I totally agree that he has made an impact, if we had to get rid of Benitez earlier, we wouldn't be in this position.
Kevin Molloy
21
Posted 01/05/2022 at 14:02:50
My thought yesterday was that we might not win, but that Chelsea needed to feel they were in a horrible fight. But we've not got a centre forward playing, so their centre backs will have the deck chairs out already.
Disappointed, he needs to fire the fucking crowd up, not pray for a miracle goal and run around like headless chickens for the other 94 minutes.
Ernie Baywood
22
Posted 01/05/2022 at 14:16:58
After 15 minutes it looks pretty clear that we do need a striker with Richarlison on the left.
But I've been saying that all season.
Jerome Shields
23
Posted 01/05/2022 at 14:53:02
Defensive formation first half. Few attempts on goal. Down to how Frank manages tactical changes and Subs in the second half. Hopefully better than last week. Tuchel will be adjusting tactics, will Frank be up to it???????
Alan J Thompson
24
Posted 01/05/2022 at 14:55:30
So far so good as far as the scoreline goes but it is an annoying game.
Having found Iwobi to be twice the player playing more centrally we have him playing full back. Similarly, we play long balls to Richarlison and even if he wins the header there is no support. And has Gordon ever taken a decent free kick? Holgate got forward and rushed in but instead of contesting the header he just stopped and watched, the one consistent part of his game! Then we get a free kick just inside our half and with every player bar Mina and Pickford in Chelsea's half Coleman is trying to pass to Mina who fortunately waves him forward.
And another referee who appears to tell Havertz he has one last chance and then he fouls Mina and deliberately handles the ball when he fell over and, nothing!
A most annoying game!
Michael Kenrick
25
Posted 01/05/2022 at 15:02:01
We're probably doing our best, which is very worrying. Hardly anything by way of a goal threat, as predicted by many. Holding and hastling Chelsea, a bit like the last game...
Let's hope Frank is anticipating a change of strategy from that Tuchel fella – like what he didn't do last week.
Ciarán McGlone
26
Posted 01/05/2022 at 15:02:29
The failings are all too predictable.
Fair bit of effort being shown, but that's unlikely to be enough.
Earn your money Frank.
Ciarán McGlone
27
Posted 01/05/2022 at 15:58:34
Thank Christ.
Ernie Baywood
28
Posted 01/05/2022 at 16:00:52
How good is Jordan Pickford?
That save today was a bit special.
Maybe, just maybe.
Tony Everan
30
Posted 01/05/2022 at 16:02:52
Incredible effort from the whole team. Outrageous performance by Jordan Pickford, superhuman stuff.
Dave A, Don't lose that blessed piece of coal!
Neil Tyrrell
31
Posted 01/05/2022 at 16:05:23
Aged 10 years watching that. Brilliant, crucial win. Fantastic from Pickford!
Raymond Fox
32
Posted 01/05/2022 at 16:06:28
Leeds are shorter odds to go down now, which I think is correct after that result.
Alan J Thompson
33
Posted 01/05/2022 at 16:07:57
As the headline says, that's why he's the best in the Premier League and has to be MotM.
Mina seemed to be limping as he came out for the second half but he does makes us look a lot better at the back and he certainly gets up the oppositions nose and at long last it was Chelsea not us caught fiddling at the back but somebody was there to give Richi a hand. Having said that I couldn't have cursed Mykolenko any more than I did for missing hid chance.
Was there anything wrong with Delph as he wouldn't have been my choice to be subbed and it took Rondon only 2 minutes to show that he's a carthorse and how much work Richarlison puts in. And the other sub, I probably would have been looking for someone who puts in more work than Delle Ali. And how did they manage 7 minutes extra/injury whatever they call it time?
Not dead yet!
Joe McMahon
34
Posted 01/05/2022 at 16:08:14
Wow, big credit to Jordan Pickford, Richarlison and yes, our manager Frank, just wow.
I need a lie down (with Sophie Ellis Bextor would be a bonus).
Dermot O'Brien
35
Posted 01/05/2022 at 16:10:58
Wore me 80s NEC shirt, drank from my Everton captain mug for the first time in a long time. Don't think I'll wash either for a few weeks.
Great result. Great fans. Brilliant fans. Well done to all.
Jeff Spiers
36
Posted 01/05/2022 at 16:16:09
Joe @34,
Sorry mate. She's with me!
Ernie Baywood
37
Posted 01/05/2022 at 16:16:16
Alan, was Delph on a yellow? I actually didn't think he had much of a game either.
Gordon was gone for the last 20+ minutes. I was surprised he stayed on.
I might be alone in thinking Rondon did a good job!
Oliver Molloy
38
Posted 01/05/2022 at 16:16:18
I prayed for any luck going, and we got some today.
One down, on to next game - same drive and determination all the way to the end is required.
We need to take our chances, had we done so today it would have been a lot more comfortable.
3 HUGE points - MASSIVE support from Goodison fans.
.
COYB!!
Graham Mockford
39
Posted 01/05/2022 at 16:18:50
Always funny to read the pre match comments after such a result.
A tremendous effort, every player worked their nuts off especially Richarlison.
Pickford proving his doubters wrong again but he has been excellent now for a couple of years.
And please God let Mina stay fit. He's our best defender, the numbers overwhelmingly show that but more importantly he has some bollocks and other players play better around him.
Frank Sheppard
40
Posted 01/05/2022 at 16:19:12
Big 3 points, big performance. No player let us down today, and Pickford was really world class.
Steve Brown
41
Posted 01/05/2022 at 16:25:21
Graham, the half-time narrative on the live form was that Frank was naive, didn't have a game plan and Richarlison can never play as the main striker.
That was the only way we could beat Chelsea and it worked a treat.
Jamie Crowley
42
Posted 01/05/2022 at 16:25:49
FUCK YES! (this succinctly sums it up)
James Flynn
43
Posted 01/05/2022 at 16:25:57
That was exciting.
Denis Richardson
44
Posted 01/05/2022 at 16:26:14
Big big performance and a massive result. Just shows what this team can do when everyone is up for it. Pickford with some big saves but let's not forget the Myko and Gray chances, we were good for the win.
Still in the bottom 3 but that'll be a massive confidence boost. Lads now have a weeks rest before Leicester, who are more focused on Europe with a mid week game on Thursday. Just hope Richie will be 100% by then.
Why oh why can't we have played like this throughout the season, we'd easily be top half and challenging for the European spots.
Phil Hoyle
45
Posted 01/05/2022 at 16:27:20
So proud of the effort today! We can still get out of this!!!
Kunal Desai
46
Posted 01/05/2022 at 16:28:18
Super Pickford. Yerry Mina also had an immense game. When's he is fit, he's brilliant.
We had chances to see Chelsea off by more as well. Better composure by Mykolenko and Gray and it would have been more comfortable.
Now on to two away games. Simply have to take points there. Do not throw the good work done today lads. Keep going.
Christine Foster
47
Posted 01/05/2022 at 16:33:11
What do you mean – l have to go through that 5 more times? I can't, I just can't!
Feeling so proud of every fan in Goodison today, they sucked that ball in..a big one for Richarlison too, not once did he go to ground except when he really was upended.
Even Rondon held it up well..
Well done blues, well done!
Neil Lawson
48
Posted 01/05/2022 at 16:34:59
Post 2. I asked for commitment, a battling performance and a bit of luck. Thank you x 3. I am a wreck. Such a brave performance and any criticism is simply not appropriate. So many standout performances including Holgate and Coleman who so many of you continue to slate week in week out. We have to trust in our manager and get 100% behind whoever plays. The support at Goodison appeared to be awesome. A way to go, but Leeds and Burnley will not be happy. Oh dear, what a shame. Great performance. Great atmosphere. Fantastic support. A Sunday to remember. Extra bottle of white has gone in the fridge.
Lee Courtliff
49
Posted 01/05/2022 at 16:35:32
Well done lads. Those SEVEN minutes of added time literally forced me to smoke in my living room!!
We can do this.
Anthony A Hughes
50
Posted 01/05/2022 at 16:38:49
Brilliant performance from players and manager.
For those calling for Rondon to start give your heads a wobble. His lack of mobility is beyond belief.
Neil Lawson
51
Posted 01/05/2022 at 16:40:02
On a separate note, BBC Sports website ranks the players. Not sure of the criteria, but Richarlison top and Jordan 2nd. No arguments there. However, Rondon 3rd and Deli Alli 4th. Mmmmm.
Jerome Shields
52
Posted 01/05/2022 at 16:41:12
So glad of that result. But Frank did leave the subs late.
But with 7 minutes added time he may have got it right
Kieran Kinsella
53
Posted 01/05/2022 at 16:43:23
As with the Man Utd game, I got the time wrong and tuned in halfway through. I'm going to do the same for our remaining games as it's a lucky streak I don't want to break.
Andy Crooks
54
Posted 01/05/2022 at 16:44:40
Just brilliant, nerves shredded, sweet torture. Does any other club do it like Everton. Well done to Frank and the team. Well done to every magnificent Blue in Goodison Park.
Terry Farrell
55
Posted 01/05/2022 at 16:46:43
Love every blue. Nerves shredded seamus a warrior and still has the nouse and pace mina a constant thorn picko sensational we know he's on the edge of the spectrum but he's hard as nails and his reflexes are electric I luv him. 7 minutes nearly died!
Johan Elmgren
57
Posted 01/05/2022 at 16:49:00
Credit to all the lads on the pitch today, what a great and important result. Everyone worked their socks off, so proud of the lot of them! And credit to everyone at Goodison as well, creating a magical atmosphere!
This game must surely boost their confidence, just when we need it the most! Everything looks much brighter now! More of the same the remaining five games please! All of them definately winnable!
Charles Brewer
58
Posted 01/05/2022 at 16:55:30
I am exhausted after watching that. We should have won 3-0, but fortunately Richarlison stayed cool enough to get the one that mattered.
I don't think I have ever seen goalkeeping as good as Pickford's today. My benchmark is usually Gordon Banks vs Pele in 1966, which was outstanding, but today's double save easily outclassed Banks'.
Pete Clarke
59
Posted 01/05/2022 at 16:57:32
Mina gets on my nerves so imagine how the opposition feel ? Top class pain in the arse he is.
Pickford was brilliant today as were the rest of the team for holding their positions and battling. We should have had two more but I'll take that win any day.
Quick reminder of why Frank does not play Rondon from the off. He's got no legs to do what Richarlison does and is obviously struggling with the squad he has.
We can catch Southampton now 😁
Phil Smith
60
Posted 01/05/2022 at 16:58:09
If Ryan Reynolds lost 9 years for his Wrexham team coming back from 5-2 down to win, I wonder how many years I lost after that!
Win next weekend and we're back out of the bottom, I hope.
Mick O'Malley
61
Posted 01/05/2022 at 16:58:51
The atmosphere inside the ground was incredible, it was a really good battling performance where everyone played their part but I thought Yerry Mina was brilliant as was Pickford, thought they all put a shift in, what a team mate big Yerry is encouraging and cajoling his teammates, he has been missed big time UTFT!
Andrew Keatley
62
Posted 01/05/2022 at 17:01:12
To all the fans on this website who threw in the towel at some point this season and accepted that we were getting relegated… have some of that!
We don't have a divine right to stay up and there is a lot more work to be done, and nobody would argue that performance levels this season have been anything other than horridly below par - but if the players and staff had shown the same pathetic woe-is-me attitude as our worst moaners and hand-wringers then we wouldn't still have survival in our own hands.
Credit to the club, and massive credit to the fans in and around the ground who summoned something equal to a palpable sense of pride and belief that was clearly very catching. Proud of you lot, who more than did your bit.
Pickford shut a few people up today too. Even his tactical kicking into touch was a good choice today; the crowd had more chance of keeping the ball away from Chelsea than any of our forward players come the last 15 minutes. Savvy.

Charles Brewer
63
Posted 01/05/2022 at 17:05:47
Apparently Richarlison threw a flare back into the crown and is now being investigated by the RedShite Support Group otherwise known as the FA.
I imagine a 3 match ban is on the way.
The useless ex-ref Hackett has tweeted that it was 'Violent conduct' and Richarlison should have got a red card. Apparently this is the same as Gobber Carragher throwing a coin at the Arsenal supporters.
Corruption in football? Surely not.
Martin Mason
65
Posted 01/05/2022 at 17:13:31
Andrew@62 Not meaning to be a bit negative as I love your positivity but two things. First we aren't safe yet and second I'm not sure that people ever threw the towel in. I formed the opinion that we'd definitely go down but it wasn't throwing the towel in. I thing the negativity has declined a lot, we seem to have pulled together a bit since relegation became a possibility.
Correct about Pickford too, he is amazingly good, absolutely world class.
George Cumiskey
66
Posted 01/05/2022 at 17:19:11
I thought the whole defence was immense today Mykolenko turning into a class act and Holgate had a great game as well, what can you say about Seamus rolled back the years today 👍
Kim Vivian
67
Posted 01/05/2022 at 17:21:53
I think the crowd and Richarlison would unanimously disagree with the fa and each concur that it was camaraderie.
Although I was a bit raised eyebrows myself when he did it.
Steve Brown
68
Posted 01/05/2022 at 17:22:30
Andrew @ 62, there have been some right surrender merchants on here all week.
Even at half time, the story was:
1) Frank was being naive
2) He didn't have a gameplan
3) It was a mistake to move Iwobi to wing-back
4) Delph was playing poorly and would be sent off
5) Richarlison can never play as main striker.
Frank had a smart game-plan, negated their wing-backs by matching their shape, played smart counter-attacking football and Richarlison scored.
In our last 4 games we have matched Man Utd, Leicester, Liverpool and Chelsea. Let's have some faith from hereon in.
UTFT!!
Nick White
69
Posted 01/05/2022 at 17:33:30
Just back from the game. Absolutely fantastic! Shades of Big Nev from Pickford! Stunning performance and result! COYB!
Tony Hill
70
Posted 01/05/2022 at 17:33:38
Fabulous result and a brave performance.
I thought that was Richarlison's best performance for a very long time. I'm delighted for Pickford whose performance will have caused much dismay to the Red Shite and their media lickspittles.
Holgate is starting to look interesting again; someone seems to have had a word with him about calmness and concentration. Doucoure also looking to be on the mend.
A great day for us all to enjoy.
Neil Copeland
71
Posted 01/05/2022 at 17:42:19
Wow, exhausted after that, just got in. Coke and ice ready for the rum,
Jordan Pickford should receive a knighthood, he was absolutely world class and even had time wasting off to a fine art,
If we can get some points away we will be fine,
Southampton will be getting nervous with 3 games to play against Brentford away, RS home and Leicester away - they may not get any more points.
Anyway, what matters is that we remain in control. How many thought we would take 7 points from the last 4 games?
Tony Hill
72
Posted 01/05/2022 at 17:47:28
Careful, intelligent and manly comments from Lampard after the game, once again. He's right for us.
Martin Mason
73
Posted 01/05/2022 at 17:48:26
Steveb@68,
They were opinions that's all, awful though they can be. No surrender merchants. Today is for rejoicing and joining not scoring points off those we don't necessarily agree with.
Has Frank Lampard made tactical mistakes? Absolutely… but he knows more about the game than I do.
I also think that we have a great player in Iwobi who seems to play really well wide or centrally. Having Mina back is great too, he wound the Chelsea forwards up to fever pitch without losing it himself.
Really glad though that Lukaku didn't come on…
Michael Williams
74
Posted 01/05/2022 at 17:51:31
Pickford, Mina and Richarlison were immense.
I do not think we would be facing relegation if Mina stayed healthy.
Ed Prytherch
75
Posted 01/05/2022 at 17:52:51
Mason Holgate plays better when he is alongside people he can trust. Michael Keane should stay on the bench. We had similar problems when Cuco Martina played. Nobody trusted him and they were always on the edge.
Gary Jones
77
Posted 01/05/2022 at 17:53:44
Not been a fan of Frank to date, but last two games the tactics have been spot on! Playing Iwobi as right-wingback today was very brave… and it worked.
The long ball / fast counter against the shite is the only way to play them. He did. Fair play to him. More please.
Charles Brewer
78
Posted 01/05/2022 at 17:56:41
Yes, the Richarlison flare is now front page news at the Telegraph, The Sun, the Mail, the Mirror (who say that the Redshite have complained - what a surprise?) and I've no doubt it will be "the major incident" at the match.
Funny how some clubs (well, to be fair, just one, it's not Man United, Man City, Chelsea, Spurs, Arsenal, Newcastle, Palace, Brentford or Everton) can get away with murdering some Italians and nearly 100 of their own supporters, attacking away team coaches in recent seasons and trying to wreck the Premier League for their own financial benefit, and have no punishment whatsoever.
Brent Stephens
79
Posted 01/05/2022 at 17:57:22
I know Gordon looked out of sorts today and not involved in much of the game but I suspect Frank gave him a job to do, which was to neutralise any attacking forays by Rudiger - he was never far from him, getting himself between Rudiger and any advanced Chelsea position. If so, well done, Frank.
Annika Herbert
80
Posted 01/05/2022 at 18:03:21
And to think some on here were clamouring for Begovic to replace Pickford! Good job Lampard didn't feel that way.
Trevor Cotterell
81
Posted 01/05/2022 at 18:03:29
Steve [68] - I'm with you. Sometimes what looks like the eleven best individuals isn't necessarily the right 11 that make a team in a specific circumstance. We were unlikely to outplay Chelsea (we were unlikely to outplay Liverpool, Man City and a few other teams too). That doesn't mean you can't adapt, slow their progress and try to take the few chances we'll get. We were screwed twice in two very big games recently, without which who knows what might have happened.
A thought about Mykolenko's "miss" - watching on TV, and watching the playback, unless he'd managed to thread it through the eye of a needle, I suspect it would have been saved. Let's remember he's not a striker, he did well to be there and at least get a shot away. Some don't. Give the guy credit!
Brent Stephens
84
Posted 01/05/2022 at 18:05:37
Andrew #62,
"To all the fans on this website who threw in the towel at some point this season and accepted that we were getting relegated… have some of that!"
Andrew, I read all the Live Forum posts on the way back from the game. Fuck me, but some (who shall remain nameless, Ian) moan before the game and right through the game. And so often get proved wrong with their dire predictions.
As you say, Andrew, "Have some of that!"
Bill Gall
85
Posted 01/05/2022 at 18:13:14
Well, just after the Pickford saves, my nerves were shattered and, walking around the house, the wife asked, "What's wrong with you?"
When I explained to her about the game, she said "You'd better sit down before you have a heart attack, you look terrible."
After surviving open-heart surgery before that didn't go to well, and I spent 7 hours on the operating table, I decided to go for a walk.
Came back and there was still 5 minutes of added time to go and what surprised me was my wife, who has never showed any interest at all in football, was standing watching the game.
I have watched the game fully since it finished, and I think that Lampard may have got it right, looking at the difference in the quality in the squads.
The players need commending for once, playing with intensity and commitment. We still need someone for free-kicks and scoring.
Gordon, although I don't believe he should be criticized, if he wishes to become a top class professional, he has to start scoring goals from his position.
From this game, I hope that the players and staff realize, that this is the best, and maybe the only time they can save their season, and continue with this intensity in future games.
Danny O'Neill
86
Posted 01/05/2022 at 18:17:23
I really don't know where to start. I'm actually drained.
My day started at 3:30 am and I am now on my way home back to London. I didn't meet up with those I wanted to, but we got the points. That's all I care about.
To the lady who asked me at half-time if I think we'll stay up, I hope she went home and told her Kopite husband that we probably will.
They put me through so many emotions today, but from the start, as I walked down Goodison Road, I could sense it. The players felt it too.
Still raw, but well done, Mykolenko, well done Mina for marshalling and shouting at the defence to get out.
Man of the Match goes to Jordan Pickford. I was in the Main Stand directly in line and still don't know how that didn't go in.
Second man of the match shout: Goodison Park and the Evertonians. Unbelievable.

Jack Convery
87
Posted 01/05/2022 at 18:21:17
Listened on the radio. Was in bits at the end. Well done Blues and Well done Evertonians. COYBs.
Pickford performed a miracle!! St Jordan of Goodison!!!
Tony McNulty
88
Posted 01/05/2022 at 18:34:45
Not safe yet but feeling a lot better tonight.
And thanks to everyone on the Live Forum for sharing all the ups and downs.
A shame some of you always seem a few minutes behind.
Neil Copeland
89
Posted 01/05/2022 at 18:36:41
What a fantastic atmosphere, Goodison at its raucous best. I will so miss the Old Lady and just hope BMD can match it.
We have the best supporters in the world, this team is very blessed.
Dave A, do not lose that piece of coal!
Julian Exshaw
90
Posted 01/05/2022 at 18:50:07
Had to watch a recording of the match, forced myself not to fast forward the ridiculous 8 minutes of extra time.
All the players were immense. How Iwobi has turned his career at Everton around! Pickford's save was one of the best I've ever seen. Richarlison just never gave up.
It was a dream day, my cup runneth over. Nil Satis indeed it was.
Brian Wilkinson
91
Posted 01/05/2022 at 18:53:16
There's not a lot I can say different to what has already been said, great team effort, great support and a few players rightly getting the plaudits.
I would like to add one who went under the radar today, he had had his critics and I have at times called him out for mistakes…
I thought Holgate did everything right today, put in two great blocking tackles, was always in the right place.
You cannot fault any of the players' efforts today, but I thought Holgate deserved a mention, as did the rest of the defence.
Roger Helm
92
Posted 01/05/2022 at 18:54:34
Brilliant fighting display. Hats off to Richarlison and especially Jordan, who saved the 3 points for us. And some people prefer Begovic?!
The crowd were great again, Goodison Park at its raucous best. No wonder other teams don't like coming here. But who were the idiots throwing flares? Will the club face any sanctions?
Roger Helm
93
Posted 01/05/2022 at 18:54:54
Brilliant fighting display. Hats off to Richie and especially Jordan, who saved the three points for us. And some people prefer Begovic?!
The crowd were great again,GP and it's raucous best. No wonder other teams don't like coming here. But who were the idiots throwing flares? Will the club face any sanctions?
Charles Brewer
94
Posted 01/05/2022 at 18:57:57
Bill, all I can say is your cardiologists must have been hopeless. To allow someone who has had serious heart surgery to continue to support Everton is tantamount to professional misconduct.
I hope you will sue them for negligence and I am confident you will get a very good settlement.
Mark Ryan
95
Posted 01/05/2022 at 19:05:20
Such a hard watch today. Thought we were fantastic and on the front foot, pressing high.
Hard to read some of the Live Forum comments as the first half was underway. So many negative comments about several players and Frank too. I get that people are very nervous but just get behind the team, for fuck's sake.
Stop slagging Frank, stop slagging Iwobi, stop slagging Gray and Gordon. They are all trying their very best. The players, to a man, sweated and ran their bollocks off today.
The team needs our full support. Get behind the team.
Neil Copeland
97
Posted 01/05/2022 at 19:05:38
Brian #91, good shout regarding Holgate. He is so much better with Mina alongside him. He is a bit of a nark which I like and controls it so much better when Mina is there. Holgate was very good today I agree.
Graham Mockford
98
Posted 01/05/2022 at 19:06:16
Brent 84
I am Ian Edwards
No I am Ian Edwards
No I am Ian Edwards
And so on
Graham Mockford
99
Posted 01/05/2022 at 19:11:03
Neil 97
Nail on the head mate. Mina is our best defender but he also makes other defenders better because he has leadership qualities.
The stat is eye-opening. Since he came to Everton, goals conceded when he plays: 0.9; goals when he doesn't: 1.8.
We just need him to stay fit.

Brent Stephens
100
Posted 01/05/2022 at 19:14:02
Graham, I couldn't possibly comment, comment, comment.
Nick White
103
Posted 01/05/2022 at 19:19:46
Brent, like you I was at the game. I thought 1st half we got stuck in and played very well without much a goal threat. After your post earlier I looked through the comments on the live forum and it felt like some people were watching a different game. Just shows, as good as the TV coverage can be, it's no substitute for actually going. Fantastic performance and everyone I spoke to around agreed.
Ian Edwards
104
Posted 01/05/2022 at 19:20:34
I call it as I see it at the time. I don't use hindsight to score points.
I'm fully aware I seem to be living rent free in some posters heads.
Brent Stephens
105
Posted 01/05/2022 at 19:27:21
Nick, yes, a great performance against a top side full of talent. Looked to play containing game, as a unit, looking to take chances on the break. Well done, Frank.
Neil Copeland
106
Posted 01/05/2022 at 19:28:01
Graham, yep
On the way home I was talking with two lots of Chelsea supporters who were a bit fed up but decent lads. They were very complimentary of Jordan Pickford and Richarlison. They agreed that Jordan is head and shoulders England's best keeper. All were bemoaning the fact that we bullied them on and off the pitch and thought the better team won.
Interestingly, they were worried when Dele came on, convinced that he would score. Seems that we are not the only fans who get a bit paranoid about particular players or scenarios.
On to my second rum and coke of the evening.
UTFT
Kim Vivian
107
Posted 01/05/2022 at 19:29:31
Referencing the flare incident I hope the club take the initiative and reprimand Richarlison and possibly issue a fine (which he may or may not ever pay) which will hopefully pre-empt the FA although I can see them fining the club for the flare being thrown in the first place.
I've finally returned to normal pulse and heart rate after that 100 minutes of football and feel considerably more hopeful about our prospects although it's still a steep hill to climb. Lose that today and the slope would have felt precipitous.
7 days to prepare myself for the next one but a bit disappointed that we have no more matches currently scheduled to be televised in the UK.
Neil Copeland
108
Posted 01/05/2022 at 19:30:12
Ian #104, I almost spilt my drink laughing at that 😄
Raymond Fox
109
Posted 01/05/2022 at 19:31:09
I think another two wins will be enough to keep us up, we should be able to do that.
That possible 1 point that we didn't get against Man City would have been very handy too, I hope it doesn't cost us.
There will probably be a few twists and turns to come yet but we now have a great chance to extend our amazing run in the top division, albeit winning bugger-all in recent times.
Ian Edwards
110
Posted 01/05/2022 at 19:39:58
Neil 104. 😂 Graham Mocks me and I seem to make Brent Cross. 😂
We got the result. Onward and upward. UTFT.
Brent Stephens
111
Posted 01/05/2022 at 19:42:28
Ian, very good, mate! I chuckled at that. I say, I chuckled at that.
Tony Hill
112
Posted 01/05/2022 at 19:44:26
Our defensive movement and rhythm, swaying across the pitch in response to Chelsea's threats, were notably better today. Perhaps the fruits of coaching, although it's taken a while.
I agree with those who are impressed by Mykolenko's development. I suspect we will see the same with Patterson when he's fit. Sound business.
Robert Tressell
113
Posted 01/05/2022 at 19:44:32
Ian, don't stop being you. It gives us something to talk about.
Anyway, Lampard and the players are delivering. We can beat anyone at Goodison and this sort of spirit will pick up points away for any team that has lost interest in mid table.
It'd be nice to get a 2 goal cushion one of these days though because I dread to think what my pulse rate was by the end of that match. I'll take 1-nil though.
Duncan Lennard
115
Posted 01/05/2022 at 19:45:06
Thought we kept the ball much better today. On the pitch, not so much.
Neil Copeland
116
Posted 01/05/2022 at 19:48:01
Duncan #115, classic 😄
It's good to see everyone on good form tonight, amazing what a good result will do
Danny O'Neill
117
Posted 01/05/2022 at 19:49:37
Manchester Airport. Shithole.
I don't care – 3 points closer and those arseholes I travelled with this morning can disappear. I don't use bad language often but twats they were.
Great performance, Everton. Great performance, Evertonians. What an atmosphere. From outside the ground and then throughout the match. No better crowd.
Proud as hell. Pleased beyond belief. Still emotional, but not home yet.
I live you. I love you more than life itself. I really do.
Peter Mills
118
Posted 01/05/2022 at 19:59:34
That was a tremendous performance. We had difficult spells in the game, but we were up against very good opponents.
Richarlison worked himself into a condition where he had to be substituted. Such an effort.
Seamus, Mina, Holgate and Mykolenko were excellent.
Since I suggested, a few weeks ago, that Frank should consider resting Pickford in favour of the calmer Begovic, England's No.1 has performed admirably. Today he was Southall-esque, I can pay no higher compliment. So I am calling once again for him to be dropped, it seems to spur him on.
What an atmosphere, I was quite agitated during the (correct) 97 minutes, and quite emotional at the end.
In the interests of balance, I thought we got nearly all of the 50:50 decisions today. Nice to see.
This is not over. But it is in our hands. After an afternoon going through the wringer, what a joy to stand by the church and see my grandson, beaming, crowd-surfing around the Gwladys Street corner on his Dad's shoulders.
James Hughes
119
Posted 01/05/2022 at 20:02:52
A much-needed win and we played with fight and stood up to the Chavs. I for one am 'over the moon' but always seems strange that when we lose there is three times as many posts as when we win.
UTFT
Alan McGuffog
120
Posted 01/05/2022 at 20:09:20
Neil,
I relinquished my ticket a while back. But the Black Lion in Nantwich was like VE night. A good few blues including the landlord. 😁😁😁
Duncan McDine
121
Posted 01/05/2022 at 20:12:57
My heart rate seems to have returned to normal, but this isn't good for my health. Elated with the win and it feels like we have a glimmer of hope. Leeds fans will be worried.
Peter Carpenter
122
Posted 01/05/2022 at 20:12:57
Spot on Duncan. But the crowd need to work on time-wasting a bit over the next two weeks. Flinging it around like a beach ball (Gwladys and Lower Bullens) leads to at least a minute being added on.
Learn from the lady on front Row of the Family Enclosure late in the game, pick up ball, hold it, look at it as if wondering what it is, then place ball on barrier keeping hands on it, forcing Chelsea player, who thought she was going to throw it, to come all the way down to collect it. Much more subtle and not likely to lead to any time added on.
Neil Copeland
123
Posted 01/05/2022 at 20:13:10
Alan, I hope you are well. I need to get to the Black Lion mate. Good to see you had a great day.
Mike Gaynes
124
Posted 01/05/2022 at 20:23:59
Bill #85, great story. Loved it.
Regarding Gordon, be patient. He's 21. Look at how much better he is now than just a year ago. Check in a year from now and see where he is. Goalscoring nous is the last thing to come to a maturing young attacker.
Roger #92, I truly don't believe there are five keepers on earth who make that save on Azpilicueta. The athleticism to get back across the goal was simply astonishing.
Kieran Byrne
125
Posted 01/05/2022 at 20:32:26
Great result!!! Now to keep it going, think that with Mina and that twat Delph in our lineup, it makes us stronger in the spine, with Richarlison and Pickford (what awesome timely saves).
Also, I think that, while the team as a whole put in a shift and played well, I'll give Iowbi a shout-out, I thought his hustle and defensive duties were first-rate. Since Lampard has come in, his game has picked up.
C'mon, boys, another 3-4 wins get on a late-season roll and start with new dreams for next season!
The Goodison crowd was great, even that redshite Belgin was full of praise for the bear pit, the crowd gave the players another 10% easy.
Now Leicester next, c'mon, Frank and crew, come up with the tactical nous that will get us a result next week. Well done this week, we need at least a point next week.

Derek Taylor
126
Posted 01/05/2022 at 20:39:47
Don't be surprised if the FA don't fine Everton £50k and ban Richarlison until the end of the season. Thus relegation happens and we become a problem to the EFL rather than the FA's Premier League.
See you all at the Wigan game next season!
Paul Smith
127
Posted 01/05/2022 at 20:44:31
Cheer up, Derek, we beat Chelsea today.
John Keating
128
Posted 01/05/2022 at 20:52:59
Dickhead after the match moaning and groaning about the negative football, lack of possession and on and on and on. I had to say "Sod the performance, the only thing is the 3 points, however we got them." In our position, what do some want??
Mina should not train during the week and be wrapped in cotton wool. We are so much more solid with him playing, love the way he wound the Chelsea players up.
As last week, I thought we should have had a penalty. At the time, I was convinced Gray was pushed going for the ball across the face of the goal. Hopefully I'll see it on telly tonight to confirm.
Forget Chelsea now. Only thing that matters is 3 points at Leicester.
Dave Abrahams
129
Posted 01/05/2022 at 20:57:04
That game took a lot out of the players, who stuck to their guns and got us a vital 3 points. But they were helped, again, by a wonderful and vibrant crowd who just carried on from before the game in Goodison Road throughout the match.
It took more out of the crowd than the players and we don't get or expect a win bonus. Seeing some of the ashen faces of the fans as they passed me on the corner of Gwladys Street and Bullens Road showed me how much we put into supporting the club and how we just love the club so much.
Absolutely brilliant today with the players not far behind us. No criticisms on a day like this when hope was reborn and we celebrated like no fans can.
Someone said today before the game how we joyously celebrate victories like today and what will we be like when we finally win a cup or two?
Regarding that piece of coal, had it tucked in my pocket. It worked today, anyone going to Leicester next week want to take it with them?

Chris Corn
130
Posted 01/05/2022 at 21:10:04
Might have been mentioned earlier but I thought Gray deserves a lot of credit. His form lately hasn't been great but he kept at it today and again made a crucial block in the box and played a big part in the goal. Things are not coming off for him offensively but you can see his heart and soul were in it today.
However, everyone else who was involved today, both on and off the pitch, should hold their heads high. It has to be followed on though. On to two teams away not in the best of form and that is where we usually fall down... COYB
Bernie Quinn
131
Posted 01/05/2022 at 21:10:59
Tremendous game – wonderful crowd So proud of being an Evertonian.
Bit late with this comment but I was so exhausted, I drank a triple Irish Whiskey at full-time and collapsed for a couple of hours.
Just read some of the early comments and was disappointed at the negative comments against Frank Lampard. I reckon he will be our best manager since Howard Kendall Mk 1.
Keep screaming Christine – I'm sure I heard you!!!
John Raftery
132
Posted 01/05/2022 at 21:13:47
Fantastic defensive performances from Mina and Holgate and superb keeping from Pickford helped ensure we kept hold of a vital 3 points to maintain the pressure on Burnley and Leeds.
In any normal season taking 4 points from both Manchester United and Chelsea would normally be indicative of a successful campaign. It is our consistent failure against the weaker teams which has undermined our season.
The lesson yet again is that this team achieves more success when it has only a small amount of possession. Therein lies a warning about our upcoming 'easier on paper' games.
Teams which sit back have all too frequently embarrassed us this season. It is imperative Frank finds a way of picking up points in the next two away games. The starting point must be a plan to keep clean sheets.
Ian Riley
134
Posted 01/05/2022 at 21:22:29
Brent #84 – have some of what?
Sorry but I have been realistic based on form and the Premier League table. Today we performed and without Pickford, it may have been 1-3. Today, we worked harder and kept the ball. Perhaps the penny has dropped?
Why have I been making suggestions about us in the Championship? Even believing we were gone because we can't string 2 or 3 positive results together? We have had more lows than highs this season but today hopefully is a nail removed from the coffin.
Those who have come to a conclusion we will be relegated do it with just cause. It lowers the shock and disappointment if it should happen.
Today gives us a chance. Hopefully we can take it but much work to do. Enjoy the evening all.
Chris Hockenhull
135
Posted 01/05/2022 at 21:25:00
Last night, I found my late buddy's cat's (Petal) Everton collar. I used to have it after she went around the neck of my guitar. We did loads of gigs together. Yesterday, I put it around the neck of my Martin and this morning went through our old rituals!!!!
Joe (34) I'm not proud but sleeping tonight with Bob Dylan. Fantastic effort all round. That arrival stuff should happen every game. It's intimidating and atmospheric. COYB. Tangled Up In Blue!!!!!
Tony Abrahams
136
Posted 01/05/2022 at 21:26:06
Give it to one of your grandsons Dave. The biggest thing about today is that we are still in the bottom three, and anyone who knows me from writing on these pages, will know that this is just another one of my positive posts!
We needed that so badly, and I knew the fans would take us close after seeing my son with half a dozen pyros on Friday night and waking up to fireworks all over my WhatsApp page.
Everton means so much to its supporters, and days like today will show the players how lucky they are to be playing for such a special club, and as for Richarlison…? well that picture of him with one of those pyro's in his hand, is genuinely the most iconic Everton picture I've seen, since Dave Watson picked up the FA Cup.
Let's just get safe and regroup, and pray that Moshiri wasn't at the ground today, because how would anyone want to sell Everton, after seeing Goodison at its awe-inspiring beautiful best? But our Everton definitely needs a reset🤞
Brent Stephens
137
Posted 01/05/2022 at 21:31:18
Ian #134 - not you, Ian! Somebody else.
Brent Stephens
138
Posted 01/05/2022 at 21:31:19
Ian #134 - not you, Ian! Somebody else.
Tony Hill
139
Posted 01/05/2022 at 21:50:27
I think everyone's realistic. We have some momentum, the RS game aside, but not much. We are very capable of flopping again, or we might do the necessary for survival.
Today, we looked more unified and tougher, but we are still short of goals.
Exhausting. It's a time for blind faith.
Andrew Fairfoull
140
Posted 01/05/2022 at 21:56:58
Watched the game on Sky today. A Dogs of War Everton performance, not pretty and, although Chelsea had the majority of the ball, Everton got the result which is what counts.
Pickford for me was Man of the Match and yet again Richarlison the outstanding striker. I hope we can hang on to him next season.
Looking forward to our next game at Leicester who are on the receiving end of yet another defeat, here's hoping.
Paul Birmingham
141
Posted 01/05/2022 at 22:02:22
Taken, the knock, but what a great day for Everton FC.
That's as close to mythology as any football supporter and historian, may come to see, but it's real, and made today by Diehard Evertonians, who eat, sleep, and live for the Club.
Special thanks to the majestic support and effort by Evertonians this weekend.
It's early days, Everton ain't out of Shit Creek, by far, but have a great chance of escaping.
Today was passion and I personally believed Everton would prevail and win this day.
From the Gods in the Top Balcony Sky, to the Evertonians, world wide, give thanks for today, as Everton, still have a great chance to stay in this League.
A Chelsea fan said after the game, if we play like this every game we will be safe.
It's a big ask, but today some thing clicked..
Amazing performance, and fekk the nay sayers, it's not over till the maths says, it's over, and hopefully, Everton will be safe.
Yes Everton, needs help, but today, Everton helped them selves and kept control of their destiny in this League.
Massive month ahead, Palace, and Brentford, will be tougher games than today's match.
But show the same spirit, the guaranteed 12th, Man, and some luck, Everton can and will stay up.
Pickford in my view and not since a Derby years ago, at GP, with Big Nev, and Nigel Martin, at our Old Ground, had his finest and possibly defining Everton game.
Big Nev, Tomaszevski, Gordon Banks, and Jim Montgomery, but today those saves were majestic, inspired and on par, in context of the gravity and impact on Everton.
Also Everton could easily have put in another 3 or 4 goals, with some more luck.

Still in the crap house, but closer to the clear Blue Water, and out of the U bend, and a long way to go.
To Leicester and Victory, or at least a draw.
"Whats Our Name?"
UTFT!
Ed Prytherch
142
Posted 01/05/2022 at 22:05:15
I am no longer disappointed that we sold Lucas Digne as Mykolenko is already a better defender. He stops most crosses and does not give up free kicks in dangerous positions.
Leicester have patchy form and a big European game in midweek. They should be ripe for picking next Sunday. We could be out of the bottom three with a game in hand this time next week. COYB
Paul Birmingham
143
Posted 01/05/2022 at 22:19:32
Well in Tony, Ed, and Andrew!
Keep the faith, and believe. Everton must now build momentum, and I hope today they will believe that their spirit is as good as the so called top six.
Last week, Everton got, sfa in terms of key decisions, today we we got some luck and just hone the chances made to chances, converted ratio, will hopefully see Everton over the line.
If they can repeat today at Leicester then, that would be huge in context of the Everton, recovery plan.
Well done Everton staff, and Evertonians.
Something very special today, close to Bayern semi final night, at Goodison, and the FAC, 2-2, come back v Ipswich, all those years ago in March 1985..
Where's time gone?
"Whats Our Name?"
UTFT!
Paul Birmingham
144
Posted 01/05/2022 at 22:19:32
Well in Tony, Ed, and Andrew!
Keep the faith, and believe. Everton must now build momentum, and I hope today they will believe that their spirit is as good as the so called top six.
Last week, Everton got, sfa in terms of key decisions, today we we got some luck and just hone the chances made to chances, converted ratio, will hopefully see Everton over the line.
If they can repeat today at Leicester then, that would be huge in context of the Everton, recovery plan.
Well done Everton staff, and Evertonians.
Something very special today, close to Bayern semi final night, at Goodison, and the FAC, 2-2, come back v Ipswich, all those years ago in March 1985..
Where's time gone?
"Whats Our Name?"
UTFT!
Peter Warren
145
Posted 01/05/2022 at 22:19:35
Wonderful effort and performance. Should have been 2-0 up after 5 mins of second half. Pickford was unbelievable.
I usually don't like shouting at match but needs must presently and my voice is absolutely killing me and well worth it. I've never seen a crowd so made up and stay behind after a win since 94.
Rob Halligan
146
Posted 01/05/2022 at 22:23:01
I'm only going to say one thing. For anyone who was in attendance outside the ground for the welcoming of the team coaches upon their arrival to the stadium, give yourselves a massive pat on the back, a round of applause, or whatever. It was absolutely spine chilling being there as the team coaches came down city road. We were stood by the holy trinity statue, and as soon as the team coaches turned onto the far end of city road, the volume just increased massively, flares going off and the singing was just out of this world. No other clubs fans could generate the scenes we provided as the team coaches made their way to the players entrance. I'm 100% convinced we will survive this hell hole of a season with the most fantastic fans on this planet right behind the team we all love and support.
Neil Copeland
147
Posted 01/05/2022 at 22:24:38
Paul, stay positive mate, we can do this. As I keep saying, every game is winnable. The team and support were fantastic today
Reset, go again, bring it on!
UTFT
Paul Birmingham
148
Posted 01/05/2022 at 22:32:39
Spot on Rob.
Frank Lampard knows the score, the new DoF, knows the score, the board should now know the score, hopefully today is the start of the recovery and keep Everton safe in, the EPL.
The next game, and Leicester.
"Whats Our Name?"
UTFT!
Danny O'Neill
149
Posted 01/05/2022 at 22:41:22
I messaged my son and brother Rob. I
The atmosphere outside the ground was special and we took it inside. Nearly home but I don't think I will sleep tonight.
Paul Birmingham
150
Posted 01/05/2022 at 22:57:33
Great effort Danny, and get home safe and sound.
The walk in the morning, with the Dogs, will be a good one and hopefully for all Evertonians, in this tight quest for survival in the EPL, Everton, are closer to the goal.

"Whats Our Name?"

UTFT!
Bryan Houghton
151
Posted 01/05/2022 at 23:01:43
I don't know whether this has been mentioned earlier in the thread, but a number of newspapers, and inc MOTD 2 are now reporting that the FA are investigating Richies lobbing the flare back into the crowd after he scored - and, of course they are also saying he will face a 3 match ban if found guilty.
WTF !!
Cant quite put into words how I would feel if thats' what they do, but If ever there were questions of bias against Everton, banning him now, for that would go a long way to confirming it.
Hardip Singh
152
Posted 01/05/2022 at 23:02:35
Leeds have had 2 freak wins this season against Wolves + West Ham, otherwise they only beat Burnley, Norwich + Watford this season, if we finish below them it would be a disaster especially as we have taken points off some top teams this season. BTW Southampton need a point against Brentford away next game, if they lose they in big trouble as well, then they got Liverpool H next game…. Otherwise it could go to last game of the season for them. 40 points may not be enough at this rate. As Lampard said long way to go. Gotta ramp up the pressure with a point at least against Leicester.
Jerome Shields
153
Posted 01/05/2022 at 23:06:03
What Lampard and his team have done was to take the template from the first half of the Liverpool game, worked on it during the week and applied it in the Chelsea game. They managed to up tempo enough at the beginning of the first half to effectively press Chelsea creating the scoring opportunity. Mina made a difference in defence in the second half, keeping it enough together to contain Chelsea, along with Pickford's exceptional save.
Hopefully this can be applied away from home.
Andrew Grey
154
Posted 01/05/2022 at 23:06:46
Fantastic atmosphere today and a great effort from the team.
If we could fight relegation every week with the same effort from the supporters and team we would win the league! 🤣
Just looking at the table, Southampton have 3 very loseable games left, 8 more points would see us above them.
Paul Birmingham
155
Posted 01/05/2022 at 23:08:23
Today, in context on par with 1985, very close.
Pre match, in view of the modern fire works, it's different, and in fairness those days to now, in technology, you can't compare, as you'd expect but, the humanity side.
Evertonians, who live and breath every day for EFC, it's the same.
Evertonians, are the Best, to support, the Best Football Club, in the world.
Time, makes no difference, Evertonians, are the Best!
"Whats Our Name?"
UTFT!
Shane Corcoran
156
Posted 01/05/2022 at 23:15:06
Bryan, would you not be curious as to what Richarlison thought he was at throwing the flare because that's exactly what I thought.
Madness from him.
I imagine if no punishment is given, the Leeds and Burnley fans will think it's a conspiracy to keep Everton in the league.
Brian Denton
157
Posted 01/05/2022 at 23:23:18
It now seems to be established that it was a flare. Looked more like a blue smoke bomb to me. But there you go.
Paul Birmingham
158
Posted 01/05/2022 at 23:24:03
Hardip, 100%, agreed m8.
Leicester away, all considered, is winnable, let's hope so.
"Whats Our Name?"
UTFT!
Ian Pilkington
159
Posted 01/05/2022 at 23:24:43
A fantastic all round effort today topped by one of the finest goalkeeping performances I have ever seen.
I saw the Richarlison flare throwing incident clearly from my seat. I would be astonished if any more is heard of it. Even Kevin Friend, who clearly observed it at close quarters, took no action.
I would imagine that someone will keep it as a souvenir of one the most memorable games I can ever remember.
We now have serious momentum after months of gloom.
Kieran Kinsella
160
Posted 01/05/2022 at 23:27:00
If they throw the book at Rich hr will just throw it back
Paul Birmingham
161
Posted 01/05/2022 at 23:46:01
All Together Now!
It's now, or never, as Elvis said, in 1960.
Everton, can and will stay up..
"Whats Our Name?"
UTFT!
Paul Birmingham
162
Posted 01/05/2022 at 23:46:41
All Together Now!
It's now, or never, as Elvis said, in 1960.
Everton, can and will stay up..
"Whats Our Name?"
UTFT!
Pete Clarke
163
Posted 01/05/2022 at 23:50:22
Some very close margins in that game between winning and losing. It was a battling display defensively but the energy of Richarlison and Gordon kept Chelsea on their toes. Could have been 3 - 1 to us or 4 - 3 to them but thankfully Pickford was at his very best.
We are not going to outplay many teams but we can fight our way through this with the right tactics and support and let's give Frank some credit because he is trying to get something out of this massively disjointed and injury plagued squad.
Things are really tight down at the bottom but it's a lot better for us blues than it was yesterday morning apart from the heart rate of course.
COYB

Paul Birmingham
164
Posted 01/05/2022 at 23:58:33
Well presented, Peter, agreed.
"Whats Our Name.?"
UTFT!
Derek Thomas
165
Posted 01/05/2022 at 00:23:24
Here we are sat 2pts adrift in the bottom 3 with big grins on our faces - It just shows you that everything is relative...it's been a long time coming mind.
Re Lampards suitability or lack of; I don't see the FSW getting that sort of tune / performance out of them - ever.
Mina; Played the petulant Havertz like he was Yehudi Menuhin on a Stradivarius...how he lasted 87mins until he got a yellow is a mystery only Kevin no friend of ours can answer, just like how did Chelsea still have 11 men on at the end.
I may have missed it but there was not one shot of the gurning gob of that teary fraud our Wonderful Leader Chairman Bill, was he there.
I don't believe I'm writing this but Rondon looked OK, in fact a very viable option at 60mins.
Pickford just pipped the very unlucky Richarlson for MotM.
Chelsea aren't a bad side, Tuchel seems to be having the same up and down performances Lampard got sacked for...it's a funny old game.
Anyway, in recent games the standard has been set. Both Manager and Team should know what works by now - keep it it up, it's only 5 games so no daft rotations for the sake of it.
Lester Yip
166
Posted 02/05/2022 at 00:53:02
Great game! Hope we'll be injury-free for a good while! Mina and Delph need to be involved in the remaining games. When we sit back and defend, we look quite well organised. We need to keep calm and patience for the right moment to pounce. We should be able to pick up some draws and a couple of wins.
Phil Lewis
167
Posted 02/05/2022 at 00:57:28
A magnificent spectacle today and a thoroughly deserved victory. I had tears of joy running down my face at the final whistle. Every single player gave us back our pride to be Evertonians. The fans were amazing. Full marks to everyone.
I'm compelled to come on here after witnessing the heroics of Jordan Pickford, as I've been calling for his head on so many occasions. But today's performance from him was world class and I'm happy to say, has forced me to eat my words. Long may it continue.
Si Cooper
168
Posted 02/05/2022 at 00:59:49
So it is all back 'in our hands' after another gutsy all-in display. Just hope we don't get a big adrenaline dip next week with the players back to thinking we are somehow 'destined' to beat the likes of Leicester and Watford. We need the momentum and to really pile the pressure on Burnley and Leeds. I haven't studied exactly who plays who, but there look to be a couple of clubs on 40 points who could potentially be overhauled and so I suspect Leeds and Burnley will still have something to play for when there are only 2 games left for everyone to play.
I'm still hoping someone can really find a bit of goal scoring form so that not every game is a 90 minute toe to toe scrap.
I agree with Brian, that wasn't what I'd think of as a flare, it was some kind of smoke bomb. The fact that Richy was easily able to handle it shows how 'dangerous' it actually was (a real flare would presumably be so hot you'd notice when you gripped it). Okay, there must be some level of risk from such a 'device', but if he gets punished for simply trying to clear something from the pitch then it really will be farcical.
Don Alexander
169
Posted 02/05/2022 at 01:13:58
Me and many another old git still remember Banksie's save of the century in the 1970 world cup -
https://youtu.be/ngE9RCAdWaE.
In the clip Banks is depicted railing at the ref, like Jordan does, and then somehow getting from his near post to his far post to fabulously save Pele's header, watching the cross all the way of course.
In contrast to Banks, who could employ logical anticipation to achieve greatness, Jordan today had no time at all to weigh up where the ball might be going after it struck both posts leaving him prostrate at his far post while the ball in a second spun a few metres beyond his then near post, straight to a Chelsea player. Just how the hell he got from there to beyond that near post to save a goal-bound effort, in that same second at most, defies belief.
It's only 2022, but have we already seen the save of this century?
(And I think Jordan would've saved Jairzinho's winner too!)
Brian Wilkinson
170
Posted 02/05/2022 at 01:14:18
What I like about Mykolenko, he doesn't dive in, he assesses the danger and knows where to be, turning out to be an absolute cracking signing, all this with problems in his own Country as well, imagine what he is going to be like without that added pressure.
If Patterson turns out to be the right back we need and fills his potential, what a pairing that will be.
Ernie Baywood
171
Posted 02/05/2022 at 01:16:57
The Blue Room reckon he threw it into a void but it bounced off the wall into the disabled section! Not sure if they were being serious or not.
It would be the most Everton thing possible for us to lose Richarlison for something so insignificant for this next 3 games.
Anyway, I'd been saying that we needed to beat Chelsea just to have a chance, so in amongst the enjoyment of some of the great moments... I'm still mindful that we are 18th and we've only given ourselves a chance.
I firmly believe that it could have been all but over right now if things had turned out differently. It's a terrifying and sobering thought. But for the grace of Pickford's fingertips and scone go we.
Phil Gardner
172
Posted 02/05/2022 at 01:52:06
I'm not sure if this has been said on here before but for me, here's the thing. I don't know wether it's Lampard who's got them doing it (and it has spread to the fans) but we are, at long last, fuckin horrible. Play acting and time wasting, all piling in when there's a ruck. We've watched other clubs stitching us up through the years and we've always been too nice. Well fuck that now. We're still in deep shit but I think Lampard, who was a top-pro, is teaching these dickheads the dark arts. Christ, even the fans are buying into it…setting fireworks off at the other teams hotel and welcoming the bus with blue flares. WHEN HAVE YOU EVER SEEN THAT BEFORE BY US?
I'm an old fart and it used to go against the grain, but shite on it, it's time to get vile, wicked and 'professional'. We're coming to the party ten years late but let's do it….better than anyone. It's high time.
Jamie Crowley
173
Posted 02/05/2022 at 02:32:32
If you have a little time, I'm posting the YouTube video of the NBC post-match coverage.
It's all we got over here, but you really should watch. It's twelve and half minutes of bliss, and I feel so bad Toffees have to watch such blatant red shite slanted coverage over there, this is how they covered our fantastic and heroic win.
Christine Foster
174
Posted 02/05/2022 at 05:56:34
Jamie, I had to juggle the VPN to watch it but my, it was well worth the messing around! What a totally different take on the biased UK coverage, brilliant! The crowd scenes were something else, my skin was tingling with pride watching that, a few tears too.. THATS why I love Everton. Nothing in the world is like those moments.
Compare that to the BBC MOTD coverage, no mention or coverage of the fabulous crowd, focus on Richarlison throwing a flare "into the crowd" No such think, that corner where he threw it has no fans, it wasn't thrown back into a crowded area.
Dreadful coverage.
Thanks Jamie.. still smiling here..
Danny O'Neill
175
Posted 02/05/2022 at 06:57:51
Still coming down off that.
Dave, if your Grandson can't, I'll take that piece of coal to Leicester if I can get a ticket.
Bernie, I didn't respond but I meant to tell you we'd bring the points home!
Genuinely, that is one of the best atmosphere's I've seen at Goodison. It started outside and forget the Chelsea players, it eventually intimidated their arrogant fans who resorted to the old classics of "sign on" and "we pay your benefits".
We just focussed on supporting the team, drowned them out and eventually shut them up.
It's an occupational hazard of mine but I ended up engaging with a few Chelsea fans on the way up. I got them a taxi and dropped them off at the Abbey. And then I ended up travelling back with a few. They were massively impressed with our support.
2 taxis to and from Lime Street. 2 Kopite drivers.
Christine Foster
176
Posted 02/05/2022 at 07:07:04
Bernie 131# There was an almighty "Yes!" screamed out at around 2am followed by a little irish jig at 3am.. so hyped up I didn't want to go to bed. I watched Spark and streamed Sky UK.. but in the end I was just so happy and looking at the crowd I was transported back a few decades as the roar and the pride brought tears to my eyes.
Sam Hoare
177
Posted 02/05/2022 at 07:37:59
I was feeling pretty down yesterday morning, though not yet resigned, and was unable to watch as the wife had invited a bunch of her best mates round for lunch.
When Richie scored I made my excuses and watched the second half. A great display of determination and tenacity and of course a wonder save from Pickford, who I have questioned consistently on here. Amazing photos and videos from before the match as well. Looks like an amazing day to be there and congratulations to all the blues who contributed to that atmosphere.
Those 3 points give us a real fighting chance of avoiding relegation though so often in recent years it has been winning the games we 'should' win that has been problematic and I still worry that most people assume we will beat Brentford and Palace at home. Wrap Yerry Mina in cotton wool (what a difference he makes!!) and let's hope Richie is given a fine and nothing more. If we can get something at Leicester that would really maintain the momentum and if we could get a win then my heart might actually slow down a few beats for the first time in weeks. COYB.
But it's not a morning for worry. A great result, an encouraging performance and our fate stays in our own hands.
Christopher Timmins
178
Posted 02/05/2022 at 07:46:54
Yesterday was a day to remember for all who support our club We had some heroic performances, Pickford and Charlie being the obvious ones but there were others and nobody let the side down.
We played a lot better yesterday than we did in the United game and the manager did not go with both Delph and Allan, the lessons of the Leicester game at home were well learnt. He also went with Holgate over Keane which was a big call but it paid off as Holgate had one of his better games.
We have 5 games to go and 3 of the 5 will be ones where we will have to show different qualities to those shown yesterday. We will have to play on the front foot against Watford, Palace and Brentford. We want 9 points from those 3 games!
Danny, I hope you were looked after at half time yesterday and I trust that the dogs were full of it this morning.
Our survival is in our own hands and we can ask for more than that after how things stood going into yesterday's game.
Eddie Dunn
179
Posted 02/05/2022 at 08:07:55
Phil -yes it is great seeing all of our lads sticking up for each other, moaning at the ref and using the dark arts.
It seems that the penny has dropped with our fans.
Clubs like ours who have had many decades of top flight security(with a couple of near misses!) are watched by fans who have become used to having that status.
Many is the time when Goodison watches and waits for enough action to get excited about. Away fans have often serenaded us with "shall we sing a song for you "? It has been the same an other famous old grounds where the fans sit and wait to be entertained before they will stir.
Other, less illustrious clubs have fans just delighted to have a big match on, or to be in the PL. Palace are a prime example.
Now we are threatened with real relegation we are waking up and really getting behing the team before the game.
The players have woken-up too, without this crowd they could have sleepwalked their way to oblivion.
Could this be the moment we became the 12th man in every match?
I was proud of each and every one of our fans yesterday. I also think it made the powers-that-be realise just what a spectacle a bouncing Goodison can provide.
Robert Tressell
180
Posted 02/05/2022 at 08:21:29
Good point John Raferty #132.
Against Chelsea and Man Utd and the unlucky loss to the RS we were effective by ceding possession and being compact.
Where the opposition tries this trick with us we find it very hard to break down because we lack the quality of Sigurdsson, Rodriguez and even Bernard from previous years.
If DCL remains unfit / out of sorts that is probably best achieved by playing Rondon for about 60 mins and Richarlison on the left wing. Many fans were calling for that in the live forum yesterday.
Then either of Gray or Alli could replace him once he's out of gas for the last half hour.
We are defending much, much better now though and that gives us a better chance at least.
Bernie Quinn
181
Posted 02/05/2022 at 08:29:20
I had my doze and then woke up still on cloud 9. I know we are still in the danger zone but if the team continue in this form, we WILL end up 15th - 16th - or 17th, I'm sure of it. I hit the Tullamor Dew again this afternoon so still a little Brahms and Liszt and though I've tried Christine, I'm damned (oops I swore!) if I can get Jamie's You Tube video. My screen says it isn't available in NZ. But I did see a short clip on NZ News tv - very pro Everton which kept the smile on my face. Keep screaming Love - I enjoy hearing your voice! Thanks Danny for your comments, I was thrilled for you as well as myself, knowing we had the 3 points. Listen both of you - keep your comments flowing - your my medicine - Thanks. Don't mind me - I'm still drinking
Neil Copeland
182
Posted 02/05/2022 at 08:37:35
Jamie #173, enjoyed that link, thanks. They summed up the emotion very well, it was fantastic yesterday.
Danny O'Neill
183
Posted 02/05/2022 at 08:44:20
I think you're right Eddie.
There is realism but then there is expectation.
We are 9 times English League champions. Only 3 clubs can trump that. I have expectation.
I don't blame them, but there is a lost generation who don't believe who we are and where we should be. When the Chelsea fans sang Champions of Europe it made me half sick and half sad. Because that's where our club can be and should be.
I will contradict myself. Yesterday, I sat there as a 50 year old, surrounded by older people and young kids. It was unbelievable seeing the passion across the ages. This club doesn't know how lucky it is to have us. All of us.
When we win something, the city and the media are not going to know what's hit it. Yesterday demonstrated that. If they think Newcastle fans are passionate, bottle Goodison Road and Goodison Park yesterday. And that was just a match from a team staring down the relegation trap door. Imagine when we win our 10th league title.
No choreography, no pre-planned staging. No choir. Just sheer overwhelming passion. No one can compare or compete with us.
Sorry for the rant. I'm still very emotional.
Derek Knox
184
Posted 02/05/2022 at 08:52:00
What a game to miss, I was beginning to think I was a jinx, so decided to give it a miss, and watch it on IPTV, God I wish I had been there now, to soak in that atmosphere. I thought the Sky coverage was disgusting. They covered the Celtic V Rangers Match directly before, then instead of turning over, delayed it, then a load of the same repeated boring adverts.
No pre-match warmup, interviews, Z-Cars or anything. I would have loved to have seen the Coach Arrival and the Blue Flare welcome. Jamie C, couldn't get the link to work, but will try later on my Tablet (Android) with VPN ! As Rob Halligan was saying about the Player's Coach welcome on Goodison Road, it had grown men wiping a tear away with pride at the immense support that few Clubs or supporters could match.
Dave A, I have heard of taking 'Coals to Newcastle', but it seemed to work, so long may it successfully continue ! What beggars belief with me is that if they can produce an effort like that while sitting on Death Row. (almost) A reprieve and pardon can't be far away. Where has that been hiding for the previous part of the Season ?
Ian Hollingworth
185
Posted 02/05/2022 at 08:57:05
What a day, unbelievable atmosphere, massive effort from the players also.
UTFT
Jim Lloyd
186
Posted 02/05/2022 at 09:09:11
Derek, I did the same! same reason. Just sat in the parlour and shut the windows, then stuck some music on. I put the "live comments" on after half an hour. Christ, there's some miserable sods on there and some even reckoned the supporters weren't vocal enough! Do they ever go the match!!!
Anyway, I'm off to the car bootie...
Andrew Clare
187
Posted 02/05/2022 at 09:18:35
A fantastic performance by the team and by the fans. I have always believed that we have the most incredibly passionate fans. I wish I was at Goodison yesterday.
In the upcoming games we must apply the same focus. Playing teams that dominate possession like Chelsea is a lot different to playing Watford, Brentford or Crystal Palace so we must be careful in the way we approach the upcoming matches.
I just hope we are safe by the time we play Arsenal. More than 40 points may be required for survival.
Eddie Dunn
188
Posted 02/05/2022 at 09:21:20
Danny -that's it. On TV you could feel it, it was real emotion, real passion –none of the scarf hoisting, stage-managed pomp and sentiment of our neighbours. It was raw fight, guts and love.
Mark Ryan
189
Posted 02/05/2022 at 09:26:02
As soon as Pickford saved it yesterday I shouted to the wife, "Fuck me, that's eclipsed Banks's in the World Cup!" and having watched it back many times since from different angles, I haven't changed my mind.
I saw Gordon's save live and that one yesterday too and Jordan's is better. More to do and still unbalanced. The perfect performance yesterday from Pickford, Class.
Andrew Ellams
190
Posted 02/05/2022 at 09:26:08
Great to see Everton and Burnley fans going absolutely nuts over the weekend when their teams scored. Not like other clubs where the first reaction is to reach for the mobile phones and take a picture.
Lynn Maher
191
Posted 02/05/2022 at 09:34:12
Jamie@173. Thank you for that brilliant link. Same as Christine, I had to alter VPN. Best coverage ever. Although I outright refuse to subscribe to Sky, the BBC (Biased Broadcasting Company) still gets its snipes in.
I'm still drained and hoarse from being at Goodison Park yesterday, but oh so happy!
Martin Mason
193
Posted 02/05/2022 at 09:40:49
Christine @176,
I hope for the sake of fans like yourself and many, many others on here that we manage to stay up. We have far too many negative fans but I'm sure that their hearts are in the right place in spite of this.

Richard Nelson
194
Posted 02/05/2022 at 09:47:42
Don @ 169
So many comparisons to Gordon Banks save from Pele in the 1970 World Cup.. getting from one post to the other in a split second...Jordan Pickford was on the ground from the 1st shot, got up and flung himself across the goal, his body was actually behind the line keeping out the 2nd..truly phenomenal...!
Shane Corcoran
195
Posted 02/05/2022 at 09:49:58
I've just read that Carragher got a red card for throwing a coin back into the crowd.
Not exactly the same thing of course but I just can't see some punishment coming Richarlison's way.
Brian Harrison
196
Posted 02/05/2022 at 10:05:28
I have seen Goodison when we won the league in 1962 and the many FA Cup runs and the iconic Bayern game in the Cup Winners Cup, but I think the atmosphere before the game and the atmosphere inside the ground surpassed all previous encounters at Goodison. Probably the Wimbledon game on the last day of the season was close for raw emotion.
I think the good thing to come out of this season is that the fans now know the impact they can have on games, we have always managed to create a good atmosphere when playing any of the top sides but have in other games sat back waiting for something to happen to fir us up. I have heard all the commentators and pundits over the years teling me how great the Liverpool fans are or even some saying how good the Newcastle fans are. Well believe me on Sunday we showed none of them can compare to Evertonians. So whatever happens this season Evertonians be proud of your magnificent support for our team, we are a fan base that deserves to be in the Premier League, Evertonians are awesome !!!!!!!!
Brian Harrison
198
Posted 02/05/2022 at 10:06:05
I have seen Goodison when we won the Football League in 1962-63 and the many FA Cup runs and the iconic Bayern game in the Cup-Winners Cup, but I think the atmosphere before the game and the atmosphere inside the ground surpassed all previous encounters at Goodison. Probably the Wimbledon game on the last day of the season was close for raw emotion.
I think the good thing to come out of this season is that the fans now know the impact they can have on games. We have always managed to create a good atmosphere when playing any of the top sides but have in other games sat back waiting for something to happen to fire us up.
I have heard all the commentators and pundits over the years telling me how great the Liverpool fans are or even some saying how good the Newcastle fans are. Well, believe me, on Sunday, we showed none of them can compare to Evertonians.
So, whatever happens this season, Evertonians be proud of your magnificent support for our team, we are a fan base that deserves to be in the Premier League, Evertonians are awesome!!!!!!
Bill Gienapp
199
Posted 02/05/2022 at 10:13:01
Obviously a massive, massive win. I had us penciled in for a point best case scenario, so getting all three opens up a lot more possibilities in terms of how the final five might play out. Up to now, we've consistently failed to build any momentum off the back of a galvanizing win, so very curious to see how we react at Leicester next weekend - we still haven't taken a single point on the road in 2022, so we're seriously overdue for a good performance.
Scoring goals remains a concern. In 13 league matches under Lampard, we've only scored more than once on two occasions - and one of those was bagging a pair of penalties against Burnley. But... just gotta keep grinding. It's also worth noting that we've only conceded three goals in seven home matches since Lampard took over, and it's pretty rotten luck that that's somehow conspired into a pair of 1-0 defeats.
Kevin Molloy
200
Posted 02/05/2022 at 10:16:00
just watched again some footage of Frank Lampard during and after the game. He looked like a survivor from the First World War. that poor bugger has been through the mixer these last couple of months. This job was a total hospital pass. Regardless of how well he does as a manager, if he manages to keep this club up this year he'll not need to buy his own pint on his rare trips up north in ten years time.
Col Hinchliff
201
Posted 02/05/2022 at 10:16:44
What an absolutely fantastic, incredible day. From the atmosphere on Goodison Road (I was lucky enough to be right at the front near St. Luke's as the coaches came through. And boy, do police horses have big feet!) to the passion of that crowd. Best I can remember since Coventry & Wimbledon!
Hope we can replicate it for the last two home games. Thanks to everyone who made it such an amazing day. And the team, of course - fighting spirit we've lacked for a long time.
I'll miss the last two games as we're on holiday 🙄 Best wishes to our neighbours in the Main Stand behind the press box (and stanchion D), see you all next season, keep the shouting going!
Dave Abrahams
202
Posted 02/05/2022 at 10:18:57
Read Dominic King, a Rednose writing in the Daily Mail yesterday about the Everton fans welcoming the Everton coach to Goodison Park and then the passion inside the ground throughout the game. Not many grounds can create that atmosphere, he says.
I think only Goodison can myself, but he gives plenty of praise to us Bluenoses, just speaking the truth but not bad from one of the other side.
Christy Ring
203
Posted 02/05/2022 at 10:46:35
Still buzzing, what a performance from 1 to 11, and Allan and Rondon. The fans showed Sky and BBC how passionate they are, and right up there as the best fans in the league.
You can single out Pickford, Richarlison, Mina and Coleman, but I thought the workrate from Gray in defense was outstanding. I think the players are now united and playing for the jersey.
Well done, Frank, to beat Chelsea is a massive boost to our confidence. NSNO
Jeff Armstrong
204
Posted 02/05/2022 at 10:52:34
Dave 204, there's a fantastic photo in one of the Mail match reports today.
The ball has just slipped past Mandy and the main stand in the background shows about 3 or 4 quick re-action blues with their arms aloft, the Directors Box is half-empty but I think I can make out Denise Barrett-Baxendale's natural blonde locks. To the far right, I think Peter Reid is just visible, Big Joe was in front of him on the coverage but I don't think he's in his seat yet.
Along with the fantastic Richarlison flare pictures, it's a great live sporting image, a split second before the whole crowd explodes.
Raymond Fox
205
Posted 02/05/2022 at 11:30:28
Fantastic result at a vital time.
Like Bill @85 I too had a heart bypass recently (a quadruple, I'd never heard of one before!) I cant bear to watch live at this time, but checking the score every few minutes is almost as bad.
We do seem to play better against the top sides and that's my fear now, we have Watford, Crystal Palace and Brentford which on paper look our best opportunities for wins but it's not worked out that way for a season or two now.
I think we have to go for the jugular when we play those sides because we need two more wins minimum, I do think we will succeed to stay up but it's going to be a nail-biter.
It's a lot to do with small margins, the lucky bounce or rebound of the ball, the scuffed chances by the opposition – in other words, good fortune favouring us for a change.
Dave Williams
206
Posted 02/05/2022 at 12:07:07
What an incredible day! It was unbearably tense watching from Devon so what it was like in the ground I can only imagine from my previous visit for Coventry in 1998. My wife has never had an interest in football but even she has got involved now and is as tense as me. I can't wait for my trip to the Brentford game but we do need to pick up some away points before that.
I won't duplicate everything that has been so well expressed already on this thread but having advocated Begovic at times recently how wrong has Pickford shown me and several others to be. Those saves were unbelievable and it is criminal that the media and TV people have not made more of them.
A word however for Frank. Great tactics yesterday, he is motivating his players like nothing I have seen before and they are working as a team now. Quite what he has done to Alex Iwobi, I daren't guess, but he is playing out of his skin with pace, energy, desire and no little skill.
The other huge turnaround is Mykolenko. A young lad coming to a foreign country leaving behind the ravages in Ukraine, fear that he may never see some or all of his family and friends again, and he has settled down to be a superior defender to Digne and is starting to get forward now too. I imagine Cole and Baines will be schooling him and we have a fine young player on our hands.
Marvellous effort by the supporters at the ground yesterday and it's just a shame that the Sky people switched so quickly to the Arsenal game, not really giving the credit we deserved. Still plenty to do not least keeping Mina and Delph fit – their value as leaders cannot be, underrated.
Robert Tressell
207
Posted 02/05/2022 at 12:11:30
Kevin # 202. Lampard has aged these past few months. I'm also pleased to say he's matured. I think initially he was under the impression he would get an underperforming side to play their way out of trouble. He has now thankfully realised this group of players must grind it out.
Obviously Pickford, Richarlison and probably Gordon get the plaudits but there's a few unsung heroes in all of this especially Iwobi, Mykolenko, Doucoure and Gray. They are working extremely hard.
Gray has lost his shooting boots but his defensive contribution was excellent yesterday.
This learning experience could really be the making of Lampard as a manager.
Danny O'Neill
208
Posted 02/05/2022 at 12:31:14
Sorry, I'm still going on. Pickford won that for us and Richarlison showed total desire and commitment. Mykolenko continues to progress. He's 22, so we should never have judged him too early. We could have a player on our hands. I thought Gray was good – worked really hard on the press.
A word for Delph; a player I once said I would be glad if I never saw in an Everton shirt again. He covered that midfield gap well yesterday and marked the space as much as his ageing and injured legs would let him. Allan was better when he came on and once again showed his leadership qualities as we closed the game out. There was one tackle right in front of my seat late on that roused the players and crowd.
I've been an advocate of Anthony Gordon this season, but personally, I thought he had an off-day yesterday. Tried to be a bit too clever on occasions and gave the ball away more than usual. But that's harsh. He's also a handful and once again, the opposition were concerned about him.
Ian Hollingworth
209
Posted 02/05/2022 at 12:35:57
We are truly blessed having the Everton passion in our lives, I pity those that don't feel it as they are truly missing out.
Going the game with the same mates I started going with 40 years ago is as awesome today as it was back then. The only thing that has changed is our adult kids come with us now.
What an incredible day, atmosphere amazing, great result and the party continued into the night.
To cap it all off I got to shake Kevin Sheedy's hand in the Wilmslow after the game, don't think I am going to wash my hands ever again, lol.
Dennis Stevens
210
Posted 02/05/2022 at 12:43:25
Too right, Ian! I always say I feel sorry for people who aren't Evertonians. Not being Evertonians, they can't understand the sentiment, of course!
Danny Baily
211
Posted 02/05/2022 at 13:23:16
Danny 211, agreed on Mykolenko. I'd written him off but he looks a solid player already. Lesson learned!
Brian Hennessy
212
Posted 02/05/2022 at 13:59:23
I may be way off the mark but I can see shades of Kevin De Bruyne in Anthony Gordon. The way he goes past players, some of his touches, he has something very special.
He has a long way to go, not least with his end product but when you look at how De Bruyne was performing at the same age as Anthony, our lad is not fairing too bad. With a few more years under his belt, Gordon will become more composed in front of goal and I expect the goals will follow.
Dave Abrahams
213
Posted 02/05/2022 at 14:19:58
Danny (211), I don't think you were harsh on Anthony Gordon yesterday I thought he had a poor game from start to finish, naive of Lampard to keep him on after sixty five minutes or so, Chelsea's player were going past him like he wasn't there, he wasted at least three free kicks, gave two stupid fouls away and lost possession on numerous occasions.
This is Anthony's first full season in the squad and he has done very well, isobviously going to be a very good player, hopefully for us. Gordon has played nearly every minute since Lampard came and hasn't had any real rest through the depleted squad being further disrupted with more injuries and suspensions.
I think he has been over used because of this and physically is paying the price at the moment, if DCL can get some sort of fitness going Lampard will be able to give Anthony the rest I think he needs, putting Richarlison on the wing and using Gordon in spells, either starting a game and coming off after an hour or so or coming on for the last thirty minutes and getting some respite which will see him through for the next five game.
Not forgetting that A thorny has also had some games for the England U23's since January as well.
Jamie Crowley
214
Posted 02/05/2022 at 15:03:22
Christine, Lynn and Neil -
TY for watching that link! Mike Gaynes and I (and possibly other Americans) have lauded the coverage over here. it's just fantastic, and that biased shit you have to endure over there is disappointing.
I have to apologize - I had no idea you needed a VPN to watch a Youtube highlight clip??? That's really weird. But I do appreciate your feedback after you altered your VPN, and am happy you got a chance to see unbiased coverage that does the game and sport proud.
Amazing scenes from Goodison, caught on TV honestly as best as you could ask for. It was absolutely amazing to watch. Can't hold a stick to in-person, but really has to be the next-best-thing with NBC in control of the viewing experience.
Paul Cherrington
215
Posted 02/05/2022 at 15:08:33
What a performance and what a win from the team against Chelsea. Of course, the fans inside the ground also played a huge role and put in an immense performance too!
Pickford was inspired and that save after a Chelsea player had hit the post was world class. Richarlison was immense too and so pleased he was clinical when he got his chance. All the players did their bit though tbf and showed they might just have what it takes to pull us to safety yet. Just got to keep believing and hoping we can do it!
If we can just start to score a few more goals, I think we would climb the table no problems. We seem to be playing better now and creating chances - just need to be more clinical. No doubt that Mina and Delph seem to have steadied the ship for us recently and given the spine of the side an upgrade.
I do fancy us to stay up now, I really do. But I think it will be Leeds not Burnley we overtake. Burnley have hit amazing form and could be tough to catch but Leeds look in freefall.
Might be down to the last game of the season though (again!). But I fancy us to get what we need from Arsenal - let's not forget Arteta is an old Toffee and prob wouldn't want to send us down.
Also, you would not be surprised to hear rumours of an agreement being made secretly that tied in with any DCL move to Arsenal in the summer. No evidence/proof of this and is only me thinking out loud but it might be a case of 'make it easy for us to win and we'll make sure DCL comes to you for a decent price'. Stranger things have happened in football. I know this kind of thing would obv be corrupt and not ok but just speculating/being hypothetical. you never know what goes on in the world half the time
Paul Cherrington
216
Posted 02/05/2022 at 15:12:30
I forgot to say – we should definitely hang onto Frank Lampard whatever happens and let him bring some stability to the club for a few years.
I know we haven't climbed the table as much as we would have liked under him but I think he is a decent manager. The team look better under him now he is settled in and performances are better in general. We even win games now too!
Joe McMahon
217
Posted 02/05/2022 at 16:09:14
Kevin@200, I think Frank and the lovely Cristine now have a second Gaff in the North.
I like Frank a lot, yes he's relatively new to management, but he has played under some of the biggest names in management and was one hell of a player
I'm sure we all agree, 177 premier league goals for a midfielder is outrageous. He wears his heart on his sleeve, and he's not just here for the money.
Brian Harrison
218
Posted 02/05/2022 at 16:45:16
I am quite sure if Yerry Mina had been available for the majority of games this season, we wouldn't be in the trouble we are in. Whoever plays alongside him looks a better player – whether that be Holgate, Keane or Godfrey – he is a leader in every sense of the word.
I also think Frank has realised this team aren't capable of playing out from the back. I don't know if he has spoken to his former boss but we don't have our centre-backs either side of the 6-yard box for goal kicks.
The work rate of every player was unbelievable, but what worries me the most is our lack of goals, and this has been an ongoing problem for quite a while. We haven't replaced Lukaku despite all the money spent. The only money spent on centre-forwards was on Tosun and Rondon on a free. Other than that, we relied far to much on Calvert-Lewin.
As always, Richarlison ran himself into the ground but he needs to feed off a striker rather than being the main target man. I thought Anthony Gordon's head went a little yesterday but, given he is a local boy, that is understandable, and I thought he looked a bit leggy for the last 15 minutes.
But yesterday's result has put us very much back with a chance, but we have to start picking up points away from home as even 2 home wins in our final games may not be enough. A few weeks back, it looked as if 37 points might be enough; now that doesn't look all that safe.
Finally, I said a few times Moshiri needs to come out and say, no matter what happens, Frank and his coaches will be in charge next season.
Jamie Crowley
219
Posted 02/05/2022 at 16:58:35
Brian @ 218 -
Finally said a few times Moshiri needs to come out and say no matter what happens Frank and his coaches will be in charge next season.
I couldn't agree more! But I have a hunch management is waiting to see if Frank keeps us up. If we go down, I think they cut bait for another cheaper manager.
Then again, this is the management team that hired fucking Rafa!!! So what would we expect?!
Andy Peers
220
Posted 02/05/2022 at 17:02:52
Paul, 215.
Arteta needs top 4. He will be putting that priority. There is a chance your scenario may happen, if it is already guaranteed, but if not his sentiment for Everton will be out the window.
Mike Gwyer
221
Posted 02/05/2022 at 17:05:23
A day that will stay with me forever. A top, top game coupled with an ambience that can only be created by supporters who will not let their club get relegated. Goodison Park was ready to create an atmosphere for winners and when the Everton players entered the pitch, you knew what was coming. Epic performances from each and everyone of them.
The pubs were chocker but we ended up in the Taxi, equally full but there were spaces out in the courtyard. You could feel the unison and belief building up within the fan base and inside the ground you had no choice but to be part of single voice that was willing Everton to win the game.
Both teams were at it from the start, Chelsea wanted the points but the 40,000 in the Goodison weren't going to let that happen. It was a surreal 90 minutes and for me, nothing was going to get passed Pickford, I kid you not he would have saved 10 penalties taken at the same time. He was unbeatable.
I am now hoarse coz everything has a price, but we did what we had to do and we got the blue boys over the line by sheer will and support. As I said, a truly memorable day for Everton, Goodison Park and all Evertonians.
Mark Ryan
222
Posted 02/05/2022 at 17:25:29
Have you seen the sublime piece of skill from Anthony Gordon in the second half when the ball is thrown to him from the Bullens Road touchhline. He doesn't play the ball but simply let's the ball land and allows it to go beyond him. Class.
I thought Mina was immense. Keep him and Richarlison fit and we'll be okay. Jordan was World Class. Well played the Goodison crowd, awesome.
If you haven't seen it there is a nice little film clip on YouTube done by a lad who visits games. Not an Everton fan. He captured the emotion really well in his 10 minute film clip. Worth a watch to soak up the blue atmosphere before the match outside and the tension inside during. Nice one, whoever you are.
Paul Hughes
223
Posted 02/05/2022 at 17:39:23
I was at the game yesterday and only now just collecting my thoughts.
I thought Iwobi was immense. Marcos Alonso – one of their main attacking threats – didn't get a cross in all afternoon because Iwobi was all over him like a rash.
I agree with all the comments about Mina. I wonder if Havertz is still in his back pocket?
Some comments above about the stress of watching the game. My Fitbit said that my heart rate reached 146 bpm around 3:30. Scary!
I've just watched the game back on Sky. Andy Hinchcliffe… legend as a "Dog of War" and for his corners… but, jeez, what a bellend as a pundit.
UTFT.
Bill Gall
224
Posted 02/05/2022 at 18:07:46
How do you react to that, I have supported Everton since 1954 from the boys pen to a season ticket holder. The 75-76 season, I never missed a home or away game, then in June that year I emigrated to Canada.
Since then i have been back 9/10 times usually in September or October to watch games good and bad.
That yesterday was a totally different example of what this club is all about. Win or lose, there is nobody who watched that game before and after who cannot be proud of the support this club gets, not when they are winning but how they get behind their club – and I emphasize – their club when it is needed.
I wrote another article before on this page I think it was #85, but had to write again and congratulate the team performance but, most of all, the supporters, before and after the game.
Danny O'Neill
225
Posted 02/05/2022 at 18:28:37
I've just watched back and I will reiterate that Jordan Pickford was Man of the Match. But how important was Mina for us? Immense.
Paul Washington
226
Posted 02/05/2022 at 18:40:20
Like another couple of posters on here, I too have heart problems after a heart attack 2 years ago. I've only been to a handful of games this season and decided to go yesterday and not get 'involved'.
Well easier said than done, my sensible head saying stay calm, and my beleaguered heart screaming the blues on. It's times like this when you realise what the club means to you, in my case for 60 years.
Let's hope for we can dodge this and have a major reset in summer. Don't aim for 8 or 9 points – just win the next game, and so on. UTFT.
Mark Ryan
227
Posted 02/05/2022 at 18:48:53
Agree about Hinchcliffe btw, what a welt !!
Tony Abrahams
228
Posted 02/05/2022 at 18:58:26
On another note, Martin Atkinson has now come out saying Alan Stubbs was the worst player he ever came across.
I've always felt that Atkinson has always had it in for Everton, and maybe this is one of the reasons why?
Mark Ryan
229
Posted 02/05/2022 at 19:20:30
The YouTube Footage is called WILD FOOT VLOG Everton vs Chelsea. Belief and Passion Match day Vlog.13mins 40. Worth a look. Not done by an Everton fan, an impartial view
Kieran Kinsella
230
Posted 02/05/2022 at 19:21:08
Hinchcliffe is like the British AVDM. I don't know if he is bitter we flogged him off to Sheff Wed or something but listening to him you'd have no idea we carried him along to win the only trophy of his career. He was just lucky Dunc was tall enough and brave enough to stick his head in the way of his toe punt corners. Other than that he was a mullet wearing Jimmy Hill clone
Jamie Crowley
231
Posted 02/05/2022 at 19:25:26
Another random thought as I'm just flying high on a Monday working my balls off, needed a break for 2 minutes and was thinking of the game and thought, ya, I'll post that, nice break for me.
I think yesterday the fans took the Club back into their possession.
The Club was highjacked coming into the season when the owners appointed Rafa the Red in charge. It was the castration of the fanbase, and I will remain canonically convinced it's the reason we are flirting with relegation. Literally nothing can change my mind.
Yesterday, we exorcised the Rafa demons. The fans just said, "Fuck you very little, this is our club. You've had your little play with it and basically ignored us, and now we're taking it back. So sit the fuck down, pay attention, and see what Blue means."
Ownership just didn't understand it. And that was ever so evident when they hired the Slightly Hefty Spanish Waiter (you can't say 'fat' any longer don't ya know!).
This Club's history matters. It's ethos matters. That was taken from us, and the fans at Goodison yesterday reclaimed it.
Stay up and put this sad season and lesson behind us.
The fan's lesson is simple - speak up when management is about to be definably anti-Blue. Shouldn't happen again, but ya never know.
Management's lesson?
Don't ever, ever not care about the will of Blues. And don't ever, ever disregard our pride and ethos and hire anyone connected with that club ever again. Shame on you, you severely fucked up and have brought this Club to the very brink of death. Learn from it, and don't ever even think of repeating this near unforgivable mistake ever again.
Oh, and you're welcome - the real fans in Liverpool just saved your ass from financial disaster. If you don't believe that, you can re-watch the replay of yesterday's game. And if that doesn't convince you, please go roll up in a dark corner somewhere and go away.
Demons were exorcized. The Club is back in the fans' hands. Yesterday was a seminal moment.
Oliver Molloy
232
Posted 02/05/2022 at 19:56:27
For me, the penny has dropped with Lampard. This current team are not good enough to play his style of game, so it was very obvious a change was needed.
This more simplified "dogs of war" approach suits everyone better, particular our defence.
Yesterday we gained a huge and very important 3 points. We hope it lifts the the mood in the squad and gives them belief to go again and again all the way to the end of the season, because this is what is required.
We nick a goal and we start the shenanigans has to be the plan - we are STILL fighting for our premier league future and there can be no relaxing.
Unlike some, who think we will waltz past Watford, Palace and Brentford, I just don't believe we will have any easy games, they are all going to be tough and we need Leeds and Burnley to drop points, and of course they will be wishing the same with us.
It's going to be a rollercoaster till the end.
Pete Gunby
233
Posted 02/05/2022 at 21:29:10
The NBC coverage that Jamie linked is brilliant. For years I have tried to explain Everton to my American mates but that clip does the job. That may win us more support over here – who wouldn't want to be part of that.
Graham Mockford
234
Posted 02/05/2022 at 21:31:53
Pickford is the best keeper in the Premier League… and I'll die on that hill.

Bernie Quinn
236
Posted 02/05/2022 at 22:11:04
Jamie C @ 231 - That was very well put and I fully agree with you. And it only took you 2 minutes to write it? Wow !!!
Jon Harding
237
Posted 02/05/2022 at 22:16:47
Great post, Jamie C.
Remarkable given you've never been to Goodison.
Time to put that right when we're still in the top division next season?
Peter Mills
238
Posted 02/05/2022 at 22:32:09
As far as I know, Mr Crowley #231 has never attended a single Everton game in England.
Yet his take on the situation (although quite a few of us did speak up when Benitez was being appointed), is spot on.
Rob Halligan
239
Posted 02/05/2022 at 22:36:10
Jamie # 173. The link you put up doesn't work in this country, but I've found it elsewhere, for anybody else who wants to see it…
https://www.youtube.com/watch?v=ADW87jtVra8
Bernie Quinn
240
Posted 02/05/2022 at 23:20:38
Jamie and Catherine, Like Rob I fiddled around and finally found the video. It's now nearly 36 hours after the game and bugger me (sorry, swearing again!!) but the tears poured out of me. I guess I am just an old softee – or else a mad keen Blue.
Jamie Crowley
241
Posted 02/05/2022 at 23:38:31
Rob -
That link isn't what I was linking to! Sorry man. That link is to a podcast - The Two Robbies - with two of the analysts on NBC, but not the link I linked to.
Mine is the post game NBC coverage as it happened. They had like 5 minutes of just panning the crowd singing their hearts out, and they said very, very little at all, and let the viewers soak it all in.
When they went back to studio, Rebecca Lowe was simply in awe of the Everton fans. Robbie Earl (love that man as a commentator he's superb) waxed lyrical about the fans. SUCH a far cry from what I see described as the English coverage!
I can't find a non-NBC link that everyone can see without a VPN. I really, really wish everyone could see it because it's honestly remarkable.
Bernie - if you found a link that works in Blighty, please share. I'd not bleat on about it if I didn't think native fans would enjoy it so, so much. It's really special.
Rob Halligan - thank you for trying with that link, and it's still a great watch! And thank you for being there, along with many other posters. It is, like it or not, a global game. And there's a few of us out here who've been grabbed and Everton won't let go. When you go to the game, your voice and participation represent those of us who just can't be there. That's no small thing. You and 39,999 or so other Blues carry the ability to lift the team for millions of people globally. And right now, the team and those of us far-flung need you. So to you and every other season ticket holder, and fan in attendance yesterday:
Well fucking done. Hold your head high. And I mean that. You made a MASSIVE difference when it was sorely needed. It made supporters all over earth - even us red-headed adoptees - so damn proud. THAT is what being a TRUE fan looks like!

Pete Clarke
242
Posted 02/05/2022 at 23:42:00
Frank Lampard is working with what he has got and the better results and performances are coming because of the leaders in the team are back. We were cruising at Burnley before panic and mistakes crept in.
Mina is a pain in the arse but has the presence needed and the same can be said about Delph who helps keep the shape of the team. Iwobi worked his bollocks off without ever being a threat going forward but there's definitely more organization and fight there buoyed by the fantastic support of course.
I have a feeling that Lampard knows he can't get too much out of Rondon and it would be like starting with 10 men so he chooses Richie up front to keep the defenders busy. Rondon may work against Watford from the off but not a solid defense like Chelsea have.
It's horses for courses right now so let's continue the fight on at Leicester for another 3 points.
Can't believe at 58 I've got a picture of Richarlison with a flare on my phone screen!
COYB
Bernie Quinn
243
Posted 02/05/2022 at 00:07:13
To be honest, Jamie, not sure if it is the same video as yours. But I called up YouTube – Everton v Chelsea 1/5/22 and turned up a stack of videos: the scene of the coach arrival, game highlights, Frank and Seamus being interviewed after the game etc. Well worth watching,
Paul Birmingham
244
Posted 03/05/2022 at 00:31:11
JC, @231, well presented and fitting summary of the situation.
And if Everton do the business and stay up this season, the 1 May 2022 Chelsea game will become the equivalent of a Holy Day at Everton FC, and the team will be immortal.
But let's face the facts, and get the right result at Leicester.
"Whats Our Name?"
UTFT!
Paul Birmingham
245
Posted 03/05/2022 at 00:41:20
OM @232, same 100%.
A new week and Evertonians, can smile and be very fekkn proud, of EFC!
"Whats Our Name?"
UTFT!"
Mike Gaynes
246
Posted 03/05/2022 at 00:59:05
Jamie #241, well said.
Danny #225, amen. I posted on Paul Traill's thread that, in my opinion, of all the players we have lost to injury and circumstance this season, we have missed Mina the most.
Jay Harris
247
Posted 03/05/2022 at 02:07:09
Jamie #231, great post man.
I've been a blue for 65 years and, apart from the last 15 (in Florida), spent all the time I had going to Goodison Park and most of the away games but your analogy is all the more remarkable considering you've never been to Liverpool, let alone Goodison Park.
We must put that right some time in the near future before we move to the new stadium at Bramley-Moore Dock. Will the wife and kids let you slip away for a long-distance lads' weekend?
Kieran Kinsella
248
Posted 03/05/2022 at 02:40:10
Jamie & Mike,
The Sky bias has come to America. Just watched the Peacock "extended highlights" of Everton v Chelsea. 14-minute show began with Rebecca Lowe saying "before we show the highlights here is a quick recap of the other news." There followed all the goals from Spurs v Leicester, the goals plus near misses from Arsenal v West Ham followed by a tedious interview with Arteta.
The highlights of Everton v Chelsea in the 14-minute show entitled "Everton v Chelsea extended highlights" began at 11:30 minutes into the show and ended at 13:00 minutes before a change of subject and Robbie Earles thoughts on David Moyes and West Ham. What the Fuck!!
Derek Knox
249
Posted 03/05/2022 at 07:30:54
Jamie C, my man, thanks, I eventually managed to watch your link, after juggling around with a VPN, it is almost shameful of our UK coverage that Sky (greedy bastards) didn't show anything like 1% of that!
I don't subscribe to them directly, but have access to a paid IPTV Service, just on this occasion they used Sky as their source regretfully. Like I said in my post they virtually went from the Celtic V Rangers game with no urgency whatsoever, then padded that delay out with repeated adverts.
Those bastards charge subscribers extra on top of the normal package (not cheap) for Sports, and still cram so many boring repeated ads in between. Not satisfied with pulling money in from Subscribers they have to get more from adverts!
Mick O'Malley
250
Posted 03/05/2022 at 08:19:28
Jamie @231 – absolutely brilliant.
I know you were dead against hiring the gobshite kopite from the off, as was I, I hated every second of him being here. Let's get our place in the Premier League secured then we can rebuild with Frank in charge and forget that we ever hired the bumbling kopite. UTFT!
Mike Gaynes
251
Posted 03/05/2022 at 09:49:30
Kieran #248, I'm seeing something different... Everton/Chelsea starting at 10:45 on the update and ending around 14:00.
As far as I'm concerned NBC paid its way yesterday after the final whistle with nearly six unbroken minutes of live coverage of the roaring, singing celebration inside Goodison. I've never seen them do that before.
Brian Harrison
252
Posted 03/05/2022 at 10:30:19
Seems the fans in America got to see the crowd reaction at the end, whereas I believe Sky went to coverage of the Arsenal game. As I said in another post, the atmosphere inside Goodison on Sunday was right up there with the very best atmospheres I have ever experienced, and that includes winning leagues.
What should really concern the fanbase is that yet another no show from our owner. You would think that, when a business you own was in a critical position, you would be right at the heart of trying to sort it out. But his absence said everything. This was a man who has imposed on our fanbase not 1 but 2 managers who most of us found an anathema. The fans were telling him when rumours first emerged of the possibility of Benitez being hired, but he still went ahead.
I am sure some inside Goodison would have pointed out how toxic this appointment was and his record as a manager over the previous 10 years was woeful. As the months went on and the results got worse and worse, Moshiri still refused to realize this would all end in tears.
Benitez has always caused trouble at every club he had been with so there was no surprise when he fell out with Brands and Digne, but there were posters on here who suggested that, if all this upheaval meant he would get rid of Kenwright, then it might be worth it... Really?
Just to be clear, I want both Moshiri to sell the club asap and for Kenwright to step aside. I don't believe this club can move forward with either ever involved in our club. If this means that the work on the new stadium at Bramley-Moore Dock is put on hold while he finds a buyer, that's fine, because getting him out of the club is more important than a new stadium right now.
I know he isn't the only absentee owner of a football club, but I am not interested about other clubs – only Everton – and I want the owner of my club to be here with us not meeting with agents who persuade this idiot to take on El Ghazi when the club is in a financial mess.
Derek Knox
253
Posted 03/05/2022 at 11:43:11
Mike G, in Jamie's link, there was a minute or two at the end, back in the Studio with Robbie Earle and Tim Howard, and Tim was nearly in tears at what he had witnessed and of course was full of praise or Jordan Pickford. Robbie Earle seemed to be shocked (in a good way) at what he had witnessed.
The celebrations were like we had won the Premier League Title, not just beaten Chelsea, we have to treat, and play, all the remaining fixtures with the same passion and intensity !
Tom Bowers
254
Posted 03/05/2022 at 12:43:54
It was an important win like any win right now and the team showed a lot of fight against a superior outfit that paid dividends and that doesn't always happen.
We could say that they lost a few games they should have gotten something from but silly mistakes cost them dearly.
Pickford of course was tremendous and now we all want to see them push on to save this situation no matter what Soton, Burnley and Leeds do.
Gordon is improving and showing a lot of confidence and the move to have Iwobi play a lot deeper adds more solidity to the back line.
Delph is a decent player still but lacks timing with his tackling.
Richarlison is back to his best thank God.
Tony Abrahams
255
Posted 03/05/2022 at 14:31:39
Brian H, I was one of the ones who would have said yes, really. Who sacked Brands, was that Benitez, or Moshiri or Kenwright?
Who told us that Braxendale was actively looking for another job, was that Benitez, Moshiri or Kenwright?
Usmanov appointed Benitez, he told Kenwright to be quiet during one zoom call, and was probably already fed up with our chairman, who has been nothing but a jinx on Everton football club over many, many years, imo, and I can't wait for the day he leaves, and takes his good times with him for obvious reasons.
Matthew Williams
256
Posted 03/05/2022 at 17:39:25
We can certainly battle it out against quality teams at home with the faithful behind us in full force, the key now is doing it on the road.
We must now WIN at Leicester,to try and put the pressure on both Burnley and Leeds!
COYB
Billy Bradshaw
257
Posted 03/05/2022 at 18:19:21
Brian 252,
I think any hold-up on the stadium build will be a massive setback for us going forward.
---
Add Your Comments
In order to post a comment, you need to be logged in as a registered user of the site.
Or Sign up as a ToffeeWeb Member — it's free, takes just a few minutes and will allow you to post your comments on articles and Talking Points submissions across the site.
---
© ToffeeWeb