No repeat heroics from Mina as Colombia exit on penalties
Tuesday, 6 July, 2021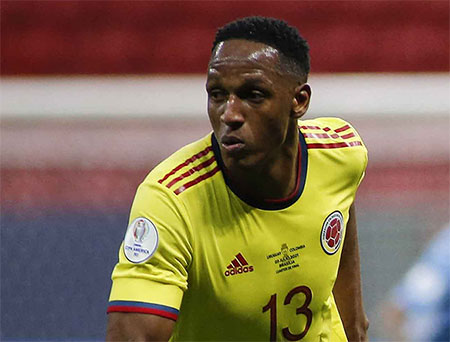 Yerry Mina was foiled from the penalty spot by Emiliano Martinez as Colombia were beaten by Argentina in a shootout that decided the second of the semi-finals of the Copa America, one of the games of the tournament.
The Everton defender had scored an emphatic spot-kick against Uruguay in the quarter-finals three days ago but he went the same way again this time and Martinez was equal to it.
That gave Argentina the edge on penalties when Leandro Paredes netted to make it 2-1 and when Martinez dived to save Edwin Cardona's crucial kick at 3-2, the Albicilesti booked their place in the final, which will pit Neymar of Brazil against Lionel Messi.
The match itself was a rip-roaring, end-to-end affair, particularly in a mad-cap second half that saw the fouls and yellow cards mount up while the woodwork was rattled three times and Argentina somehow failed to score with the goalkeeper AWOL.
Argentina led at half-time thanks to Lautaro Martínez's seventh-minute opener that was created by Messi's footwork that enabled him to shrug off Mina and lay up his team-mate for a simple finish.
Mina hit the crossbar with a thumping header and Cardona saw a deflected effort bounce off the base of the post but Colombia caught their opponents cold with a deep free-kick that sent Luis Diaz away and he held off his marker to toe a shot past Martinez and inside the far post.
Martinez somehow fired into Davidson Sanchez on the line after Angel Di Maria had rounded David Ospina who was yards outside his box and Messi later hammered an effort off the post as neither team proved able to find a winner in 90 minutes so it went to penalties.
---
Reader Comments (23)
Note: the following content is not moderated or vetted by the site owners at the time of submission. Comments are the responsibility of the poster. Disclaimer
Mike Gaynes
1
Posted 07/07/2021 at 02:49:18
And it's Messi 1, Mina 0 at HT.
Our big guy actually did a nice job of stopping Messi's run for goal, but he couldn't stop him from passing off to Martinez for the score.
Ed Prytherch
2
Posted 07/07/2021 at 03:00:00
At half-time, this was more entertaining than any of the Euro games. 20 fouls, tackles flying in, end-to-end to stuff.
Yerry Mina is playing well. Passing out nicely from the back plus he rattled the crossbar with a header from a corner and he also rattled Messi. Let's hope that Colombia can equalize and make for an exciting finish.
Jamie Crowley
3
Posted 07/07/2021 at 03:59:37
If anyone was blessed enough to watch this Columbia - Argentina game?
Well played.
Sick, sick, sick game. Absolutely brilliant and just full octane, fuck it, go for it, soccer.
Brilliant.
Mike Gaynes
4
Posted 07/07/2021 at 04:05:56
Yerry stopped on his penalty.
Same technique and direction as the quarterfinals, and the keeper obviously had him scouted.
Jamie Crowley
5
Posted 07/07/2021 at 04:05:58
Our man just missed his penalty kick! 😬
Jamie Crowley
6
Posted 07/07/2021 at 04:11:21
Seriously, this site is full of people who adore football.
Do yourself a big, big favor and find a replay of Columbia v Argentina and watch it.
Brilliant, brilliant football. Soul-refreshing stuff.
The beautiful game on display
Mike Gaynes
7
Posted 07/07/2021 at 04:11:42
Colombia missed three out of four, so Yerry won't stand out.
Happy for my man Messi. Chance to win a national team trophy.
Jamie's right, this game was more fun than a frog in a glass of milk (to quote Bob Weir).
Ed Prytherch
8
Posted 07/07/2021 at 04:17:54
What a game! But the commentators kept calling him 'Jerry' Mina. Where do they find these clowns?
Pity that Yerry missed his penalty kick, he had played well. I was most impressed by Juan Cuadrado. I would take him as our new right-wingback.
Lyndon Lloyd
9
Posted 07/07/2021 at 05:32:46
Ed, that is how your pronounce it in Colombia/Spanish, apparently. I know, we've been living a lie. If you watch the Colombia commentary on YouTube of the World Cup semi-final against England you can hear them pronounce it with a soft "J" sound... that's after they've yelled "Goooooooooool" for 2 minutes straight!
But what a brilliantly manic game that was tonight. I hope the final is as good. Let's just say the application of the rules of the game is very different in South America than it is in the Premier League!
Mike Gaynes
10
Posted 07/07/2021 at 06:19:30
Ed, if there was a Serie A Best 11 last season, Cuadrado would probably have been on it. He was Juventus' best creator for most of the season. 11 assists from the wing back position.
But he's 33.
Peter Gorman
11
Posted 07/07/2021 at 08:17:19
Lyndon, I think 'Yerry' would be more common than 'Jerry' even in Colombia.
In the Paisa region of Medellin (or 'Medejin') they pronounce the double-l and y sounds as a soft j. They do the same in Argentina. But the rest of Colombia doesn't to my knowledge.
Yerry is from Guachene in the east of the country, so I've no idea how Mrs Mina would have called him in for his tea.
Brian Williams
12
Posted 07/07/2021 at 08:48:22
That little twat, Messi, goading Mina after he missed his penalty.
Gone right off him now, little shit!
Rob Halligan
13
Posted 07/07/2021 at 09:45:07
Just watched the Yerry Mina penalty miss on SSN with the dialect between Mina and Martinez. Real mind games. Went like this……
Martinez… "I can see you are nervous, eh." "You are smiling but you are nervous, you are nervous" "Hey look, the ball is a little bit ahead, the ball is ahead"
Mina……."No it's not, it's at the white mark"
Martinez……(As Mina starts his run up). "Yeah, play dumb, I know you". "Look, I will save it. "Look how I own you brother".
Mina strokes the ball to Martinez's left and he saves it.
All mind games, but isn't it ungentlemanly conduct, especially as Martinez is even talking to Mina as he strokes his penalty. All good fun anyway.
Dave Williams
14
Posted 07/07/2021 at 10:23:02
I hope we don't sign Messi after that display of bad sportsmanship!
Mark Ryan
15
Posted 07/07/2021 at 11:36:45
It's not against the rules for the goalie to talk to the player taking the pen but why did "Jerry" get involved in the chat? Block out the chat and let your feet do the talking.
Shite penner from a nervous and somewhat naive Mina who should have the experience. I get he was nervous but don't rise to a gobshite of a goalie.
Mind you, I expect Argentina think he's great.
I can't see Jordan Pickford doing that against the Danes, can you?
"Why aye man, the balls not on the spot, you've nee chance of beat'n us" or something like that… ha ha!
Paul Jones
16
Posted 07/07/2021 at 12:54:44
Everton, players and penalty shoot-outs don't seem to go. After winning our first ever one seemed a long time before we won an important one.
When we beat Man Utd in the Cup semi-final was like winning the trophy. Shame when we scored early in the FA Cup Final, Moyes reverted to his usual predictable tactics.
Dennis Stevens
17
Posted 07/07/2021 at 13:00:45
Sledging would add an edge to the penalties for sure!
Rob Halligan
18
Posted 07/07/2021 at 13:06:24
Dennis, sledging happens all the time in cricket, especially between the slip fielders and the batsmen, but only in-between balls. Once the bowler starts his run up to bowl, the sledging stops.
I know it's not against the rules but, once Mina started his run to take his kick, sportsmanship should take over and the goalie says nothing. As I say, it's not against the rules and obviously it worked!!
Soren Moyer
19
Posted 07/07/2021 at 13:13:36
I never miss a game when Messi involved. Not even friendlies! What a monster of a player! Strong as an ox too!! Excellent game of footy that!
Matthew Williams
20
Posted 07/07/2021 at 14:38:17
No doubt the final will go to pens too!.
Mike Gaynes
21
Posted 08/07/2021 at 02:45:18
Mike Gaynes
22
Posted 10/07/2021 at 03:18:48
So big Yerry at least goes home with a 3rd place medal as Colombia pulls off a dramatic 3-2 win over Peru in a game that was played with astonishing intensity for a consolation game. Yerry went off in the 53rd minute for Davinson Sanchez.
John Raftery
23
Posted 10/07/2021 at 22:46:24
Mike (22) Do you know if it was a tactical substitution? I hope he wasn't injured.
---
Add Your Comments
In order to post a comment, you need to be logged in as a registered user of the site.
Or Sign up as a ToffeeWeb Member — it's free, takes just a few minutes and will allow you to post your comments on articles and Talking Points submissions across the site.