Richarlison and Brazil forced to cede spotlight on Messi's night
Sunday, 11 July, 2021
Copa America Final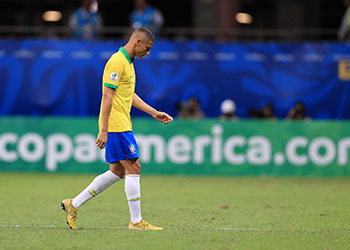 Lionel Messi won his first ever major international trophy as Argentina made history by denying Brazil a sixth successive Copa America title as hosts of the tournament.
A brilliantly composed finish by Angel di Maria settled a predictably tempestuous clash between the two South American heavy-weights at the Maracana Stadium in Rio, where the Albicelesti succeeded in hustling the Seleçao out of their stride.
After a poor first half from Brazil's perspective in which Messi had the better of the much-vaunted meeting between him and Neymar, Richarlison had the ball in the net but the goal was ruled out for offside on the Everton man.
Emiliano Martinez then beat away a fierce shot from Richarlison a few minutes later who was enjoying more space and opportunity playing wider on the right than he had straight down the middle in the first minutes.
Martinez made pulled off a brilliant reflex save to deny Gabigol and Messi made a pig's ear of a gilt-edged chance to write his name across the final more emphatically when the ball lost his footing as he tried to beat Edersen from close range in the dying minutes of the regulation 90.
Article continues below video content
Edersen foiled De Paul with a vital hand in stoppage time at one end while at the other, a frustrated Brazil couldn't fashion one more chance to save it and force extra-time.
---
Reader Comments (22)
Note: the following content is not moderated or vetted by the site owners at the time of submission. Comments are the responsibility of the poster. Disclaimer
Ajay Gopal
1
Posted 11/07/2021 at 06:27:46
This was a very physical game, much more so than a typical PL game. Some of the tackles were brutal - epitomised by the closeup shot of the bloods soaked socks of one of the Argentinian defenders. Richarlison looked lively, but faded in and out of the game, but you can never fault his work rate. Neymar was the standout player of the game IMO and everything that Brazil did seemed to pass through him. They need another playmaker - someone like Coutinho to add more creativity.
Arsenal must be kicking themselves for gifting Villa a world class goalkeeper for next to nothing. Martinez has carried on from an excellent season with Aston Villa and he must be one of top goalkeepers in the world right now.
If DCL gets to play tonight, we would have had 2 Everton forwards playing in 2 international finals on the same day! Good luck to England and Pickford and DCL - it promises to be a fascinating game.
Derek Knox
2
Posted 11/07/2021 at 06:33:19
Ajay, good post there mate, I'm afraid the only way we will see DCL, is if Harry Kane gets injured, or has a complete stinker unfortunately.
Don Wright
3
Posted 11/07/2021 at 07:22:10
Ajay/Derek DCL has to make the bench before we can think of him getting on and the way Southgate works I don't hold out much hope this will be a very defensive bench tonight nick a goal and spend the rest of the game defending hopefully I am wrong and don't forget we had a blue in 66
Phillip Warrington
4
Posted 11/07/2021 at 07:41:13
This will be either the making of or the demise of Dominic Calvert-Lewin because, if he doesn't get on, then hopefully that will inspire him to go the extra yards so next time he doesn't miss out and become an even better player or sulk.
I know people are talking about transfers but we should have Calvert-Lewin, Kean, Richarlison – on current form, not a bad front three. Then chuck in James Rodriguez and all is not lost if the manager can get the team to gel together and play as a team with discipline.
John Hammond
5
Posted 11/07/2021 at 07:49:20
I'll be gutted if we don't see DCL again in this tournament however from a selfish point of view he should return to us relatively fresh ready for preseason once he's had a break (Compared to Richy).
Derek Moore
7
Posted 11/07/2021 at 12:23:08
Richi still has the Olympics to work his way through yet, does he not?
Anyway, commiserations to he and his team mates, but few non Brazilians begrudge Messi a long sought after major international trophy for Argentina. International football is not my thing, but I'm genuinely happy for him to finally win something for Argentina, and against all the odds and in the heart of enemy territory as well.
This tournament triumph would have been extremely cathartic and satisfying, congratulations to he and his team mates again.
Barry Rathbone
8
Posted 11/07/2021 at 13:37:13
Glad Messi has got an international honour as he's probably the last of the Mohicans with his ability to go past defenders with skill and not just pace. Not quite the level of Diego but still a damn good player.
Justin Doone
9
Posted 11/07/2021 at 14:45:22
I can see 2 of Kean, Rich or Dom being sold this summer.
That leaves another gaping hole in the forward positions.
I'm hoping this issue will be resolved ASAP with 2 or 3 quality signings.
Jamie Crowley
10
Posted 11/07/2021 at 14:48:14
Justin -
I think Rich is off. Why would we release him for the Olympics?
It'll be Real to follow Carlo, or another "big" club.
We need to get a small fortune for him.
Justin Doone
11
Posted 11/07/2021 at 14:50:20
I'm unsure if the Olympics is to help keep him or a way of distancing him from the squad.
Money wise, £75M plus for Rich.
Mike Gaynes
12
Posted 11/07/2021 at 14:52:30
As soon as I saw we'd given permission for Richarlison to go to Japan, I posted here my belief that it meant Rafa had already decided to move him along and was using the Olympics as the world's biggest shop window.
Still think so.
Jay Wood
[BRZ]
13
Posted 11/07/2021 at 15:07:57
Some weird logic being applied here re: Richarlison.
Have people slept through the last 18 months and not kept abreast of the dire football finances of the continental clubs most likely looking to sign him for the double-our-money fees mentioned? They're brassic. Penniless. Skint.
That's why none of them have, or will, lay out serious money for any player. All are shopping in the free transfer market, looking to generate monies (not for purchases, but to pay their considerable debts).
Only England's PL clubs could possibly come close to the money we would want for Richy, but who of our rivals would be in the market for his 'skill set'?
And if the idea to let him play at the Olympics is to put him in the shop window, if he plays as he did in the now completed Copa America and for the most part of last season with Everton, clubs will be looking to buy him at a discount, NOT at double-our-money fees.
Danny O'Neill
14
Posted 11/07/2021 at 15:23:20
Put better players around him and we'll get more out of him. Just as with others.
Real Madrid wanted the ESL for a reason. They are in serious debt.
So unless the Spanish Royal Famiy bail them out again, then they will need to sell too. Or maybe offer players in return??
I don't know if that's true about the Royal Family by the way. Just something that used to get floated around years ago. Dodgy as hell if there's anything in it. That would be a club being propped up with the public purse right? Surely one of those urban myths?
Kevin Molloy
15
Posted 11/07/2021 at 15:25:26
Jay,
I agree there doesn't seem to be the market for Richarlison. There is though for his strike partner, and I think a big money bid will be incoming. In view of the fact his relationship with Richarlison seems to have gone in the bin, I suspect it will be Calvert-Lewin who heads off. Kane's move I reckon will spark it off, I reckon both Man Utd and Spurs will be in for him, and from the noises he and Rio have been making, I reckon he's ready to go.
Conor McCourt
16
Posted 11/07/2021 at 15:37:01
Mike@23- I took the opposite viewpoint on that basis. My reading of him being allowed to go was the deal breaker for one more year. Everton will know that he has had a terrible year under Ancelotti so they will be hoping for a good season and a good World Cup so we can cash in at top dollar.
I would imagine the player's priorities were Copa America, Olympics and World Cup and a big move will follow as he wouldn't want to put those at risk.
Suits everyone all round.
Jerome Shields
17
Posted 11/07/2021 at 15:44:22
Richarlison looked Brazil's main threat. He will be disappointed having nailed his colours to international duty.
Robert Tressell
18
Posted 11/07/2021 at 15:47:19
PSG is probably the only viable destination for Richarlison right now. Otherwise as you say, Jay, no-one has anything like enough money to pay the fee.
As for DCL, I don't think he would be a regular at one of the current big (rich) 4 and I can't see him going abroad. Spurs would be a really bad move for him simply because he'd be replacing a better player and club legend in Kane.
Suspect both will stay and do well for another season at least.
Mike Gaynes
20
Posted 11/07/2021 at 16:32:20
Might be, Conor #28. But it seems counterintuitive to me to let him go to the Olympics and then hope for a better season, since the Games may well keep him out of our first couple fixtures, and he'll likely come home tired from a full summer of footy. As for the WC, that's a year and a half away. A lot can happen before then.
Jay #25, there's always money out there. Maybe not at RM or Barca, but I've never believed those rumors anyway. The Romas and Leipzigs of the world have some transfer cash. And as you pointed out, Rich hasn't played consistently well in at least a year, so I assume Everton is realistic about what they could get for him right now, and it isn't 50 million.
Just idle speculation anyway. Nothing behind it, except I can't think of a better explanation for allowing him to go to Japan.
Jay Wood
[BRZ]
21
Posted 11/07/2021 at 16:49:52
Mike, it's not baseless rumour that the European elite doesn't have money for mega gelatico signings.
It's 2 years and counting since Real paid for a player, signing Eden Hazard from Chelsea.
Barcelona nearly similar since buying Griezmann from Athletico. Last summer it was player trading, swapping Arthur with Juve (another seriously cash-strapped club) for Pjanic. To date this summer, Depay, Aguero and Garcia, all frees.
It's a buyer's market, not a selling one for prime assets.
Matthew Williams
22
Posted 11/07/2021 at 19:04:56
A fine winning goal in a dire match overall. Richarlison once again proves what a poor player he really is.
This from a nation that once had Zico up front!
Mike Gaynes
23
Posted 11/07/2021 at 19:11:08
Jay, to be clear, the rumors I referenced not believing were that Barca and RM were interested in Richarlison.
And when I speak of realism in player transactions, I was thinking swaps. As you point out, it's a trader's market too.
My primary point, however, remains that there appears to be no rational reason to allow Richi to go to Japan... unless it's to showcase a player Rafa wants to move on. If he's not trying to attract suitors for the guy, what other explanation is plausible?
I'm open to other interpretations.
Frank Wolfe
24
Posted 12/07/2021 at 06:24:40
Mike (#23) - For most players, playing for your country is a huge honour and means a lot to them. Maybe the club want him to be happy? Short term loss for long term gain?
---
Add Your Comments
In order to post a comment, you need to be logged in as a registered user of the site.
Or Sign up as a ToffeeWeb Member — it's free, takes just a few minutes and will allow you to post your comments on articles and Talking Points submissions across the site.