Brazil go through on penalties after perfect shoot-out
Brazil 4 - 1 Mexico on pens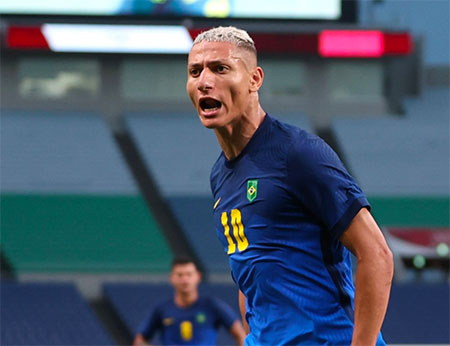 Richarlison and Brazil are into the gold medal match at the Tokyo Olympics after beating Mexico in a penalty shoot-out in the men's semi-final today.
The match itself ended goalless but Brazil won the toss before penalties and elected to go first.
Mexico's failure to score from their first two spot-kicks — the first was saved brilliantly by Santos while the second from Basquez smacked off the outside of the post — put the South Americans in the driving seat and though Rodriquez did finally net one for Mexico Renier scored the fourth for Brazil.
Brazil won the shoot-out 4 - 1 and will play the winners of Spain, who defeated hosts Japan in the other semi-final, after Marco Asension scored the winner in extra time. The final kicks off at 12:30 BST on Saturday, 7 August and will be shown in full on Discovery+ in the UK.
---
Reader Comments (21)
Note: the following content is not moderated or vetted by the site owners at the time of submission. Comments are the responsibility of the poster. Disclaimer
Jay Wood
[BRZ]
1
Posted 03/08/2021 at 10:59:24
Richarlison has to play possibly another 30 minutes on top of the 90 already played as Brazil's semi final with Mexico has ended goal less.
Brazil largely dominated possession up to the penalty area, but like the senior team have lacked that creative player to make the final telling pass.
Midway through the 1st half Richarlison was lined up to take a penalty which VAR rightly overturned with the Brazilian player clearly seeking to buy a cheap decision.
His touch and running has been excellent but with no real chances to speak off until the 81st minute when he put in a superb header that finally beat the keeper, only for it to rebound off the inside of the post to run across the face of the entire goal line without going in.
Richarlison was alive to attempt a shot on goal from the loose ball but it was smothered by the keeper.
For all Brazil's possession, Mexico had the 3 clearest chances to score in the 1st half.
Could go either way this. One-time target Renier has also joined the fray.
Jay Wood
[BRZ]
2
Posted 03/08/2021 at 11:30:18
Brazil 0 Mexico 0.
Penalties.
Jay Wood
[BRZ]
3
Posted 03/08/2021 at 11:45:18
Easy for Brazil. Richarlison was penned in to take their 5th penalty and wasn't even called on.
Mexico failed on their first two penalties, scored the third but Brazil scored all four of their spot kicks.
Japan and Spain next up to decide the final line up.
Michael Kenrick
4
Posted 03/08/2021 at 11:50:15
Richarlison still looking miserable. His personal moment of glory denied him.
Tony Abrahams
5
Posted 03/08/2021 at 12:24:09
You can go outside and have a snowball fight to celebrate now I believe Jay!
Jay Wood
[BRZ]
6
Posted 03/08/2021 at 12:43:42
Wrong end of the country, Tony!
If I ever see snow in my hot sweaty corner of the tropics, the debate for or against climate change is forever closed.
Tony Abrahams
7
Posted 03/08/2021 at 13:14:05
Snowing for the first time in 63 years had me thinking about Everton, and hoping for a year like 1963 Jay! It won't be the league, so it'll have to be the cup. Beggars can't be choosers when it's been so long!
Danny O'Neill
9
Posted 03/08/2021 at 13:34:14
Wembley Tony. We are going to Wembley next year.
James Flynn
10
Posted 03/08/2021 at 13:58:52
Nice win, deserved. Brazil was better team.
Thought Richi should've scored there. He's scored that type header for us under plenty more physical pressure.
Also thought the ref was overly kind to the Mexican players.
Ajay Gopal
11
Posted 03/08/2021 at 15:27:10
Richarlison looks gaunt in the photo, looks to have lost a bit of weight. He would be totally exhausted after the finals, He must have played about 60 games since the beginning of last season. I wonder when we will see him back playing for Everton, my guess would be about mid-September. Good luck to him and Brazil in the finals.
Jay Harris
12
Posted 03/08/2021 at 15:48:33
Tony,
You reminded me of a game away at Blackburn I think (may have been Burnley?) where I got the train as a young kid and got off to a snowbound Game. I think the score was 3-2. But those were the days Blue army on the march no matter what the weather.
Paul Jones
13
Posted 03/08/2021 at 16:28:43
I anticipate will be linked to a move to Man United with us being given the lucrative chance to sign Anthony Martial, Phil Jones or Jesse Lingard.
David Cooper
14
Posted 03/08/2021 at 16:32:13
Hey Michael - why so negative about Richi? He looked happy enough when the 4th Brazil penalty went in.
Shane Corcoran
15
Posted 03/08/2021 at 16:32:17
Paul, you'd turn down Lingard?
Mike Gaynes
16
Posted 03/08/2021 at 16:42:04
Aww poor Mexico. Beaten in the Nations League final by the US. Beaten in the Gold Cup final by the US. And now beaten at the Olympics. It's a humbling summer for our southern neighbors. Heh-heh-heh-heh.
Well done Brazil... and Richi, for gossakes eat something.
And Michael #4, there are times when you are so completely full of it... and this is one. "Miserable"?? Crap. Richi was one of the first players to hug the keeper Santos. There was a shot of him leaping into the air, absolutely exultant. Bear-hugging the other pen takers. He couldn't have looked happier.
Tony Everan
17
Posted 03/08/2021 at 16:47:14
Mike, On the subject of Mexico, what do you think of the RB Jorge Sanchez who we are rumoured to be interested in.
Mike Gaynes
18
Posted 03/08/2021 at 17:18:09
Tony #17, sorry mate, I haven't seen much of him. I rarely watch Liga MX and he's made very few national team appearances. The only Olympics game I've seen him in was last week against South Korea, and he was playing out of position at LB. And he wasn't in their squad against Brazil today. So I have no info for you.
Paul Jones
19
Posted 03/08/2021 at 17:52:44
Shane I would turn down Lingard in a proposed swap deal for Richarlison particularly if we was giving them a large amount of money again for squad player surplus to their requirements / or one of their bad buys in the transfer market allowing them to recoup most of their.
Lingard when Martinez was interested may have turned out to be a good deal but since then has not matched the big expectations hence his loan to West Ham.

Minik Hansen
20
Posted 03/08/2021 at 00:36:01
Ajay #11 2021 appearances so far for Richarlison:
Brazil U23: 5 apps.
Copa America: 7 apps.
World Cup qualification: 2 apps.
Premier League: 23 apps.
FA Cup: 4 apps.
In total: 41 apps from January to this days in August.
-
Is that an average appearances for a Champions League or Europa League player? Though there's no break here for him into the new season really, but surely the club will give him two weeks off tops?
Derek Knox
21
Posted 05/08/2021 at 16:40:51
Minik, I heard due to final restrictions the Club are bending over backwards to give Richarlison either a long weekend in Talacre or New Brighton. At least he has a choice. :-)
Minik Hansen
22
Posted 05/08/2021 at 18:38:52
Derek, Tallacre in Wales could also do! Going all British.
---
Add Your Comments
In order to post a comment, you need to be logged in as a registered user of the site.
Or Sign up as a ToffeeWeb Member — it's free, takes just a few minutes and will allow you to post your comments on articles and Talking Points submissions across the site.