Leeds United vs Everton
Saturday, 21 August, 2021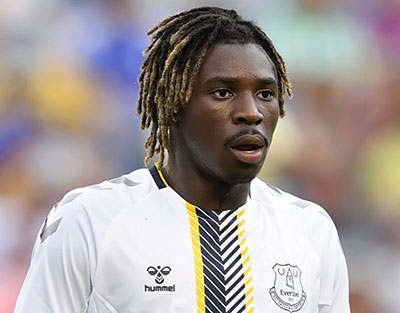 Moise Kean is back in the squad but is unlikely to start if Rafael Benitez's comments during his pre-match press conference are any indication
Everton travel to Elland Road today hoping to build on the stirring comeback win over Southampton they achieved in Rafael Benitez's first match in charge.
The Blues recovered from the concession of a first-half goal against the Saints to win 3-1, thanks in large part to an impressive performance from Richarlison, and they will make the trip to Yorkshire in good heart even if they will be short of a full complement of players.
Everton will again be without James Rodriguez, who is still isolating as a precaution in line with Covid-19 protocols, but look set to have Moise Kean available, that despite continuing speculation over the Italian striker's future. Jean-Philippe Gbamin has trained with the squad this week but was rated as doubtful by his manager in Benitez's pre-match press conference.
Benitez stressed that both Kean (who has restored the Everton-related photos he recently removed from Instagram) and James will be part of his plans until 31st August at least and that the former could be called upon if needed before then. It wasn't a definitive statement on the likelihood that either player will still be at the club beyond the deadline and it's unlikely Kean will start even if he is included in the travelling party.
Article continues below video content
Indeed, it's difficult to see the new boss making many changes to the side that lined up against Southampton, although the uncertain first-half performance from Mason Holgate and Michael Keane — it was the latter's error that gifted the Saints the lead — may prompt him to start Yerry Mina in one of their stead given that the Colombian has had the benefit of another week's training following his return from Copa America duty. Ben Godfrey is believed to still be self-isolating.
Fitness permitting, the rest of the team should be the same and Benitez can draw on Everton's performance at Leeds under his predecessor for inspiration. Back in February, Carlo Ancelotti took his charges to Elland Road and came away with a handsome 2-1 win that went a long way to atoning for what was a poor display in the reverse fixture at Goodison Park the previous November.
Goals from Gylfi Sigurdsson and Dominic Calvert-Lewin put the Toffees into a 2-0 lead in the second game, enough to earn one of those eleven away victories under the Italian despite Raphinha's goal early in the second half. It was a performance of rare hunger and energy from the 2020-21 edition of Everton, one closer in character to last week's opening-day victory and the best moments from the team's two friendlies in Orlando last month. That bodes well.
Leeds, who finished last season strongly and eventually placed above Everton on goal difference, come into this fixture nursing some wounds from a 5-1 drubbing at Old Trafford in their season-opener. Manchester United ruthlessly exposed some of the defensive frailties that Marcelo Bielsa's side exhibited last term and there was precious little attacking penetration of the kind that saw the Lilywhites announce their return to the top flight with a 5-4 defeat at Anfield in the first match of 2020-21.
Bielsa will be without Diego Llorente but is expected to have Kalvin Phillips available now that he is fully integrated back into Leeds's squad following his post-Euro 2020 break.
Benitez will expect a response from Bielsa's men but will look to exploit all of Leeds's weaknesses at the back while impressing on his own defence to be stronger than was the case last week. A win would provide another injection of belief and momentum into the team as it heads into the final 10 days of the transfer window and the upcoming challenges posed by Huddersfield in the EFL Cup and Brighton at the Amex Stadium beyond that.
No live coverage of the game on TV in the UK but the match will be screened live in various markets around the world, including on Peacock in the USA (7 am PDT / 10 am EDT).
Kick-off: 3pm, Saturday 21 August 2021
Referee: Darren England
VAR: Kevin Friend
Last Time: Leeds United 1 - 2 Everton
Predicted Line-up: Pickford, Coleman, Mina, Keane, Digne, Allan, Doucouré, Townsend, Gray, Richarlison, Calvert-Lewin
---
Reader Comments (49)
Note: the following content is not moderated or vetted by the site owners at the time of submission. Comments are the responsibility of the poster. Disclaimer
Kieran Kinsella
1
Posted 21/08/2021 at 05:11:55
Lyndon
I thought you'd forgotten to do the preview!
I hope you're right on Mina over Holgate. Rafa's approach may be exactly what we need. It would be nice to plunge Leeds into crisis with two defeats from two. Be interesting to see if Kean is on the bench instead of Broadhead and more so gets a run-out. I've no specific animosity to Leeds but they aren't us.
Mike Gaynes
2
Posted 21/08/2021 at 05:25:21
KILL DEM MOFOS!
Sorry, gotta be calm.
Definitely Mina for Holgate, and maybe the 4-2-3-1 from last week's second half instead of the 4-4-2 we started with. And Coleman, Digne and Allan had better be at the top of their game given Leeds's varied attacking abilities.
Darren Hind
3
Posted 21/08/2021 at 05:49:11
Whatever you may think of Leeds as a club (everybody used to "Fuckinate Leeds"), their fans are as passionate and as partisan as they come. They'll be desperate to get back in their ground and will make some noise. That's the first thing we'll have to deal with.
The second thing we'll have to deal with will be the Bielsa factor. A total fanatic who will demand and get the full 100% from his players. Everyone who plays Leeds has to deal with the Bielsa factor. There has not been much structure to his Leeds teams, but his players show up all over the place and, if you don't match their efforts, they will run all over you.
As Lyndon has just reminded me, we went for them at Elland Road last time, it was one of our rare performances on the front foot and we proved to be too good for them, despite their lung bursting effort.
We have better players than Leeds. We have better players than everyone who finished outside the top eight last season. Rafa's task is to get out players, not just to believe it, but to know it.
The odds makers believe we have a 2/1 chance of beating Leeds today. I think I'll avail myself of some of that before I turn in this morning.
I'll be on the Live Forum after a few hours kip, I don't mind if the moaners, the negative, or the abusive turn up. I Just hope the Hillman Minxes stay the fuck away.
Bill Gienapp
4
Posted 21/08/2021 at 05:59:15
Kieran (1) - well Broadhead's gone out on loan, so I suspect we won't be seeing him on the bench.
Danny O'Neill
5
Posted 21/08/2021 at 06:35:37
No Godfrey but pleased if Mina starts. I'm indifferent to whether that is alongside Keane or Holgate. I'll probably be a bit different, but with Leeds' style, Holgate might give us better options for pace? Keane will worry me today, but then he always does.
I watched the manager's press conference back last night. Have to say, he is very good at handling the journalists, who inevitably asked dumb questions.
Without reacting and stating "we are Everton & I am Rafa Benitez" his response when asked about him facing Bielsa's Leeds for the first time as if it was a big thing was excellent. Smiled and very calmly reminded them he'd dealt with him often when at Valencia and they were in Italy at the same time, so he knows all about him!
Brian Murray
6
Posted 21/08/2021 at 07:07:39
Such desire and commitment eh. James didn't even know who we play today. Get him to fuck away and get a full back etc. We ain't a humble grateful Bolton Wanderers.
Danny O'Neill
7
Posted 21/08/2021 at 07:14:21
I anticipate a bit of "riding the storm" to start with today and then gradually growing into the match.
We showed last week that we have it in our locker, but I anticipate an initial "batten down the hatches" approach today.
Put your seatbelts on blues, and if you bite your nails, wear gloves until half time!!
Derek Knox
8
Posted 21/08/2021 at 07:21:19
Darren @ 3,
"I'll be on the Live Forum after a few hours kip, I don't mind if the moaners, the negative, or the abusive turn up. I Just hope the Hillman Minxes stay the fuck away." What about the Hillman Imps?
Joking apart, I get where you are coming from. I used to love the Live Forum during the match, but it does seem different these days, and has lost some of its 'atmosphere' now, whether that is down to the Hillman Minxes / Imps or Avengers is a matter for conjecture.
As for the game today, all the so-called experts and pundits have us down for a mauling today, but play the way we did second half against the Sinbads, and we can get something there and keep the Rafa bandwagon rolling. Any win breeds confidence, so let's hope it hasn't evaporated so soon after a week.
Agree too with calls for Mina over Holgate, who I just don't rate at all, and I think the usually dependable but unspectacular Keane made errors last week by playing alongside him, and having little or no connection. Although his dithering that led to their goal was unforgivable and an individual error, but in defence of Keane, no-one in midfield was 'showing for the ball' but he still could have hoofed it somewhere!
COYB
Ajay Gopal
9
Posted 21/08/2021 at 07:31:46
I worry about our right side - Coleman regularly gets skinnned by fast wingers, and Rafinha is certainly one of the good ones. But Rafa has got to make do with what he has available. Unfortunately, Jonjoe Kenny has not kicked on, otherwise he could have saved us a ton of money.
It is absolutely crucial not to concede an early goal. I would sacrifice a winger (Gray to come on late and hit them on a counter) for more solidity in the midfield in the form of Davies providing protection to Coleman.

Pickford
Coleman Mina Keane Digne
Davies Allan Doucouré Townsend
Calvert-Lewin Richarlison
Subs: Begovic, Holgate, Kenny, Nkounkou, Gray, Gbamin (/Delph), Iwobi, Kean
Jay Evans
10
Posted 21/08/2021 at 07:39:46
Don't fancy us today unfortunately - wounded animal and all that. Hope I'm wrong of course but I think they might just have too much legs for us?
A couple of lessons from last week that must be learned; Richarlison central playing off Calvert-Lewin and Gray on the left, not the other way round.
I would also like to see Mina as the left-sided centre-back with Holgate on the right and Keane on the bench.
Full support, Blues! Onward Evertonians 💙
Danny O'Neill
11
Posted 21/08/2021 at 07:57:51
The dogs gave me a nod for 1 - 1.
Took a few cheese cube treats, but that's what they eventually told me.
Ernie Baywood
12
Posted 21/08/2021 at 08:06:30
I'm feeling a bit unsure about this one. Playing fast and direct against Leeds is playing into their hands, and I'm not sure we have the quality to play any other way.
But defensively they are certainly frail. The game itself could be an absolute cracker.
Andrew Ellams
13
Posted 21/08/2021 at 08:15:53
Score first against Leeds and they could experience the hostile Elland Road crowd on their backs for the first time in the PL. I'm not convinced they'll have the same season they had last year.
Mal van Schaick
14
Posted 21/08/2021 at 08:25:39
This will be a good test for Rafa to see how he will handle away games. I'll be surprised if it is an open game, but will settle for a counter attacking 2-0 for us.
Laurie Hartley
15
Posted 21/08/2021 at 08:26:36
Danny # 11 - you''ll be feeding them pigs ears by tonight.
I watched the highlights of Utd v Leeds. Utd ran at and through them, they can't defend high balls, and their keeper doesn't like daisy cutters.
I like Lyndon's team.
Up the blues!!
Derek Knox
16
Posted 21/08/2021 at 08:40:14
Danny @ 11, Cheese Cube treats ? No wonder the dogs are sitting on the fence, with their neutral draw predictions. You should be giving them WIN A LOT! :-)
David Pearl
17
Posted 21/08/2021 at 08:48:34
I grew up knowing about the needle between our clubs... wonder if the fans will be on their best behaviour. Its been a while. A tough game for us if we don't make a strong start.
https://www.google.com/amp/s/amp.theguardian.com/football/from-the-archive-blog/2014/nov/07/everton-leeds-football-goodison-1964-archive
Bill Watson
18
Posted 21/08/2021 at 08:57:21
That made me laugh, Derek!
I think I may be more of a Morris Marina but I'll be there, today.
Horrible club, horrible ground and horrible fans! I think I've only seen us win there twice in 50 odd years and one of those was a cup match.
Mark Tanton
19
Posted 21/08/2021 at 09:01:45
Elland Road used to be such a depressing place to go as an Evertonian, until Wayne Rooney scored that winner.
Danny O'Neill
20
Posted 21/08/2021 at 09:40:57
As I reminded my very good friend & lifelong Leeds fan Bill, we've only won so infrequently there because they've spent a lot of our 50 years outside the top flight, so we haven't been there that often!!
Kevin Prytherch
21
Posted 21/08/2021 at 09:48:03
I would personally prefer Holgate over Keane or Mina. Leeds look to exploit 1 vs 1 scenarios and this is not Keane's or Minas strength.
It's time we start playing our centre backs based on the opposition and not just how well they play in previous games.
Robert Tressell
22
Posted 21/08/2021 at 09:58:43
Play not to lose, try to sneak a win.
Andrew Ellams
23
Posted 21/08/2021 at 10:13:28
Robert are you advocating KITAP1.
Dave Williams
24
Posted 21/08/2021 at 10:19:40
I too would start Tom to help Seamus and bring Gray on later. A tough game and a good test to see if we are willing to stand up to them and give. As good as we get. Our front two will cause them problems but we must stay tight at the back and safety first rather than mess around like last week.
The optimist in me says a narrow win.
Derek Knox
25
Posted 21/08/2021 at 10:23:43
Kevin @ 21, admittedly Holgate is probably the quickest defender we have, and I use the term loosely (defender) where his defence is either a rash tackle or a horrendous mistake which either leads to a free kick, goal or penalty situation.
I liken him to Linford Christie, quick off the mark or out of the blocks, but shite at football. (especially defending) Should be on the bench the park bench ! :-)
Terence Leong
26
Posted 21/08/2021 at 10:34:33
I think it's a toss up between Holgate and Keane, to partner Mina. All three of them are prone to the odd clanger.
It's strange / interesting that over the past two years, prior to Godfrey joining, they all took turns to be the strongest (preferred) centreback ahead of each other.
Holgate's pace will come in handy, as we don't have a pacy enough backline. If you are looking at leadership, I think Mina will definitely add to strength to that.
Though, when you look at last season, Keane is more likely to either make his way up the pitch, for headers or to carry the ball forward.
So, it's really a toss up.
I think the front four is as solid as it gets; if anything, I think Rafa should ask them to interchange their positions (Gray/Townsend/Richarlison). All three of them can play across the line, and their mobility can create gaps. It'll keep the opposition guessing. Iwobi to come on in the 2nd half, if any of these three are not playing well.
Robert Tressell
27
Posted 21/08/2021 at 10:34:57
Andrew, it's back to 2005. We're going to KITAP1 all season on the way to 4th place. Or maybe 8th.
Karl Parsons
28
Posted 21/08/2021 at 10:36:17
Anyone know what US TV station is showing the game so I can access it via my VPN?
Derek Knox
29
Posted 21/08/2021 at 10:42:32
Karl P, try this app it is a very useful tool to have for checking matches, : https://www.liveonsat.com/quickindex.html. I use it all the time and the beauty of it is that if you click on the flag on the Opening page is lists all the Media companies streaming, (in different locations/Countries) the matches! Hope that helps.
Brian Harrison
30
Posted 21/08/2021 at 10:44:33
A tougher game this week against a side who will be playing in front of a full house in the Premier League for the first time since 2004, so I expect their fans will be really up for this game, especially after their mauling at Old Trafford.
We know they play a very high tempo game so I think the first 20 minutes could be crucial, keep them out then try and impose ourselves. We can't afford to play an open game as that will suit them down to the ground.

Karl Parsons
31
Posted 21/08/2021 at 10:47:34
Thanks Derek!
Terry Farrell
32
Posted 21/08/2021 at 10:52:13
Ajay Seamus was excellent last week and only got exposed last season when James was in front of him. Townsend puts a shift in and Seamus can fight his own battles and come out on top. He's still got the fire in his belly.
Andrew Ellams
33
Posted 21/08/2021 at 11:00:10
Robert I'll be ok if we split the difference for 6th
Danny Broderick
34
Posted 21/08/2021 at 11:02:28
Same team as last week for me, set up the way we played in the second half, with Gray on the left and Richarlison more central, closer to DCL.
Aside from the clanger, Keane and Holgate did ok last week. I can only recall Southampton having 2 shots. There's not too much to choose between any of our centre halves currently. Godfrey is obviously the future. The other 3 are competing to partner him in my book.
I'd be happy with the same team as last week, but I suspect Rafa may tinker to strengthen the midfield.
John Hall
35
Posted 21/08/2021 at 11:39:43
Son in Law is a red hot Leeds fanatic and has reminded me today that they finished above us last season. Can't argue with that so hopefully I can spend all day tomorrow taking the piss out of him and his "Lovely Leeds" after we beat them today. Here's hoping, otherwise I shall be too busy to take any calls should we slip up giving him more bullets to fire at me. 2-1 for us would be very nice. Hope Mina replaces one of the two centre backs from last week.
Michael Kenrick
36
Posted 21/08/2021 at 11:45:53
Karl,
I believe it's streaming on Peacock, but only available in the US of A.
John Hall
37
Posted 21/08/2021 at 11:51:55
Karl try "HES Goals". There is always a choice of all the EPL games that are being played whatever the kick off times. I watch many games over the weekends on this channel. Hope it is available in the USA.
Paul Tran
38
Posted 21/08/2021 at 11:54:04
cricfree.org
hesgoals.com
They're my two tried and trusted places for streams. Watch out for the pop-ups and make sure you have good Internet security!
Derek Knox
39
Posted 21/08/2021 at 12:07:25
John @ 35&37, great to see you again on here mate, I will send you an email later regarding the Golf Day later or tomorrow, just had a quick break from tidying/painting and kitchen fitting to read TW preview. Just so busy at the moment having moved house and and all that entails plus remodelling/decoration etc.
Laurie Hartley
40
Posted 21/08/2021 at 12:11:36
Interesting reading about these streaming sites and vpn's. I am in Australia and subscribe to Optus sport via iTunes. It cost me $15AUD per month and for that I can watch every premier league game each week on an iPad if I want to. Bargain!!
Danny O'Neill
41
Posted 21/08/2021 at 12:15:16
Derek, gone one better than that. They like cow's ears, so I have a few lined up as a treat if we win!
If we get second half Everton from last week against Leeds from last season, this could be a proper end-to-end humdinger. Not one for the fainthearted Evertonian or Moyes induced generation!
Here's hoping for a performance. If we get a performance, a result usually follows. Focus on the performance not the result.
And then if we don't get a result, at least we watch our team perform.
Raymond Fox
42
Posted 21/08/2021 at 12:25:28
The impartial view - the betting, make Leeds slight favs and I cant disagree too much.
If we were at home we would be favs, the obvious result is a draw I suppose and I would probably take that, with a win as a bonus.
Its really too close to call.
Danny O'Neill
43
Posted 21/08/2021 at 12:41:14
Go with my dogs Raymond. 1 - 1!!
Heading into London for the afternoon to find somewhere to watch the results come in. I'm all for Camden, but the other half is thinking more London Bridge area. She always did have a bit more class than me!!
Jay Hughes
44
Posted 21/08/2021 at 13:36:13
All this self-isolating excuse is utter bull crap. Surely the players are double vaccinated meaning no need to self-isolate (unless they r positive). I hope Godfrey isn't being lined up by another club.
Derek Knox
45
Posted 21/08/2021 at 13:45:31
Danny @ 41, Cow's ears, could be a good moo-ve to beef up their hearing ! Lets hope there are no mis-steaks ! :-)
Paul Tran
46
Posted 21/08/2021 at 13:45:57
Article in today's Guardian, including quotes from managers, about how many Premier League footballers are choosing not to take the second jab.
Not just Everton players that are self- isolating. The Newcastle keeper apparently lost two stone in a week while in hospital - no second jab.
Ernie Baywood
47
Posted 21/08/2021 at 13:53:51
Laurie #40, but we do have to listen to Beglin each week.
Martin Nicholls
48
Posted 21/08/2021 at 14:04:19
Paul - I read the same on BBC website. Disturbing to read Bruce saying "we've got a lot of players who've not had the jab" - that, despite Karl Darlow being one of their team mates.
The various managers quoted, whilst advocating vaccination, emphasise "it's a personal choice". Why not "it's a moral obligation to other people and to the employer who you expect to pay you when you're isolating after contact with an infected individual"? It's bad enough missing players through injury, without having to deal with these self inflicted and avoidable absences.
As well as avoiding signing injury prone players, I'd also avoid non-vaccinated ones who effectively knowingly put themselves in same position vis-a-vis potential unavailability. That, or insist on a clause stipulating no pay during self inflicted and avoidable absences.
Fran Mitchell
49
Posted 21/08/2021 at 14:05:15
Shocking that players are not double vaccinated. They are on contracts of multi million pounds, but the club can't get them vaccinated? Just get the vaccination bus to show up at training and say 'training only after vaccine'
---
Add Your Comments
In order to post a comment, you need to be logged in as a registered user of the site.
Or Sign up as a ToffeeWeb Member — it's free, takes just a few minutes and will allow you to post your comments on articles and Talking Points submissions across the site.