Brighton & Hove Albion vs Everton
Friday, 27 August, 2021
Match Preview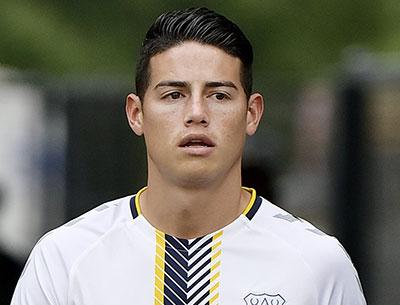 Will James Rodriguez finally feature for the Blues after missing the opening three fixtures or will he be withheld with an eye on Tuesday's transfer deadline?
Everton complete a three-match sequence of away games this weekend when they travel to the south coast to face Brighton & Hove Albion looking to extend their unbeaten start to the campaign.
Tuesday's victory over Huddersfield Town in the Carabao Cup came in the wake of a 2-2 draw at Leeds United and the draw for the third round of the EFL Cup that pitted the Blues against QPR away means that between now and mid-October, Everton will only play two matches at Goodison Park.
That presents a challenge for Rafael Benitez and his men but also opportunities to keep picking up positive points to keep them among the front-runners in the Premier League and advancing in the cup.
This weekend, they come up against a Brighton side who have made a 100% start to 2021-22 under manager Graham Potter, having come from behind to win at Burnley and then beaten newly-promoted Watford 2-0 before seeing off Cardiff City by the same score in the Carabao Cup on Tuesday. As a result, according to odds from Sports Betting Dime, Everton will enter Saturday's game as 21/10 underdogs.
Article continues below video content
The Seagulls struggled last season due to their inability to put the ball in the net but striker Neil Maupay already has a couple of goals to his name and he is expected to return to Brighton's team along with Danny Welbeck after sitting out the trip to South Wales.
With three draws and a gutting defeat in 2018-19, the American Express Community Stadium has not been a happy hunting ground for the Blues since. Brighton gained promotion from the Championship four seasons ago.
Last season under Carlo Ancelotti, the Toffees turned in an insipid display in a goalless draw and Benitez will be hoping to improve on both the performance and the result having got the gears moving in his attacking unit.
And he is expected to welcome Dominic Calvert-Lewin and Richarlison back after both were rested for the cup game while Moise Kean begins his suspension. Calvert-Lewin has been struggling with a toe problem and is likely to play through the discomfort again this weekend.
In midfield, Jean-Philippe Gbamin should be in the squad again after making only his second start for Everton in over two years and completing the 90 minutes on Tuesday. With Abdoulaye Doucouré and Allan expected to return, the Ivorian is unlikely to start but he will have been buoyed by what was a massive step forward for him personally in terms fitness and psyche after so many false starts to life in England.
Alex Iwobi, who hobbled through the last few minutes at Huddersfield with an obvious groin injury, is surely a major doubt and that should open up another chance to impress for Andros Townsend following his goalscoring contribution last time out.
During his presser, Benitez revealed that Fabian Delph missed the cup tie with a shoulder problem and won't be available this weekend.
At the back, Yerry Mina is an obvious candidate to return to the starting XI along with Seamus Coleman, Lucas Digne and Jordan Pickford but most Evertonian eyes will be on Ben Godfrey and whether he will finally play for the first time this season. The young defender came out of isolation from possible Covid-19 exposure on Monday and travelled to Yorkshire on Tuesday but was not included in the matchday squad.
Benitez expressed his satisfaction with Jarrad Branthwaite's and Jonjoe Kenny's contributions on Tuesday but neither are likely to start.
The biggest question, however, will surround James Rodriguez. The Colombian also resumed training with the first team this week after a spell in quarantine himself but, with uncertainty around his future with the club swirling as the transfer deadline approaches, it's not clear if he will feature for Everton on Saturday and Benitez did not give any hints as to whether he would be involved, except to deflect transfer talk around the Colombian.
Brighton may have started the campaign in flying fashion but Benitez will fancy his side to go the south coast and get a decent result based on how well his charges have done so far in his fledgeling tenure.
Kick-off: 3pm, Saturday 28 August 2021
Referee: Jonathan Moss
VAR: Simon Hooper
Last Time: Brighton 0 - 0 Everton
Predicted Line-up: Pickford, Coleman, Mina, Keane, Digne, Allan, Doucouré, Townsend, Gray, Richarlison, Calvert-Lewin
---
Reader Comments (70)
Note: the following content is not moderated or vetted by the site owners at the time of submission. Comments are the responsibility of the poster. Disclaimer
John Boon
1
Posted 27/08/2021 at 07:35:51
I just hope Everton are more awake than I am. It is 2:19 am in Canada (Welland, Ontario) on a very warm clammy night. Just thinking about the next game is always liable to keep me awake as I play around with possible selections and formations. Everton have been able to keep me awake for eons.
Seems idiotic but you have to be slightly off-kilter to support a team that delights on one hand and causes chaos on the other. Fortunately I wouldn't have it any other way. Part of being a Blue.
For Saturday, I hope Godfrey is back to add some strength to the back. Preferably with Mina, but that is merely my point of view.
Glad to see Iwobi showing what he can do and, up to now, we have forwards who have taken us away from the rank dullness of last season. Please keep it up.
I hope Saturday comes quickly. Brighton are a good team from what I have seen so far. However, we are Everton and it is on the cards and in the stars that we will hand them a 3-0 thumping.
Back to bed and no more dreams about Everton. All the Best to Rafa and the team. COYB.
Dave Lynch
2
Posted 27/08/2021 at 08:13:03
I'll take a one-nil scrappy bore-fest.
3 points away... no matter how we get them.

Brian Furey
3
Posted 27/08/2021 at 08:13:10
With the transfer deadline approaching fast, it looks like Kean is returning to Italy but James might have to stay put as nobody wants to take a chance on him.
Most of us don't like lazy players or players not loyal to the club but I think, whilst James is indeed not a great grafter and often goes missing or doesn't like the physical style games, he really can turn a game in a second and score a goal out of nothing. He still has that little bit of magic that you want to see and will excite you. It's a team sport and, in my eyes, there is always room for a player like that. Think Gazza and Ginola with us.
Elsewhere, I think Godfrey for Keane would be a sensible switch as poor Michael has made a very hesitant, slow, nervy start to the season and he will cost us more goals.
A lot more optimism around Iwobi the past week with many of us shocked that he was voted the most skillful player by his teammates, so I heard. Rafa seems to rate him as well and maybe he can coach him to deliver more final passes and crosses like the one for Gray last week.
Gray looks like a great buy already with such amazing pace; I think we will see him create loads of breakaway runs down the wing but, like we saw recently, will he have anyone caught up with him to cross it into?
I hope Calvert-Lewin gets his toe sorted quickly as he's getting on the end of moves but his finishing isn't quite there like other top strikers. He often hits it straight at the keeper, I've noticed.
Anyway, it's an important away win for me if we are to stay in touch with the big boys.
Jay Evans
4
Posted 27/08/2021 at 08:16:18
Feels like a big game, this one, even at such an early stage in the season. If we could pick up 3 points on the south coast, what a great start for the new manager that would be.
We know Brighton will have plenty of the ball so let's be positive on the break and hit our forwards early with crosses, just like we did against Southampton. Make no mistake, these are beatable so let's continue to put a marker down early doors this campaign and be solid from the word Go.
We are overdue a clean sheet but I fear we won't get one with Michael Keane starting. However, if it's Godfrey, Mina or Holgate, then you never know.
Full support as always, Blues – I'm going for a 1-0 win with a surprise goalscorer and match-winner... maybe a midfielder?!
Onward Evertonians! 💙
Ajay Gopal
5
Posted 27/08/2021 at 09:11:18
I did see Iwobi and Kean training, so they should be available for selection. However, Tom Davies, James and Godfrey were missing from the training session - so, I assume that they are not available. With that in mind, I believe that this will be the starting XI and subs:
Pickford
Coleman Mina Keane Digne
Doucouré Allan
Gray Iwobi Richarlison
Calvert-Lewin
Suns: Begovic, Holgate, Kenny, Gomes, Gbamin, Townsend, Kean, Gordon
Tony Everan
6
Posted 27/08/2021 at 09:17:53
Pickford
Coleman Godfrey Mina Digne
Allan Gbamin
Gray Doucouré Richarlison
Calvert-Lewin
Godfrey for some pace in defence, Gbamin if he has recovered sufficiently, if not, Davies. Doucouré more advanced in midfield again. Townsend will be important to replace a tiring Richarlison or Gray.
David McMullen
7
Posted 27/08/2021 at 10:38:55
Everton the underdogs for this game? Who are we playing? European giants Brighton?
I'm more worried about Richarlison if he'll be mentally up for it. Same with Keane for different reasons.
Marc Hints
8
Posted 27/08/2021 at 11:16:47
Well there's a shock: Delph is out... again! I have never known a player pick up the wages he is on and is always injured. I think clubs should put clauses in contracts for players like Delph stealing a living.
Paul Birmingham
9
Posted 27/08/2021 at 11:18:29
If Everton turn up with a positive mindset and can improve their finishing, then Everton should win this game bar any genuine unforced errors, gifting goals.
I'm optimistic and I'm gonna check the odds on Everton winning.

Shane Corcoran
10
Posted 27/08/2021 at 11:21:05
Just picked myself off the floor after hearing the news about Delph. You think you've seen it all.
Craig Walker
11
Posted 27/08/2021 at 11:33:27
I think I'd be more shocked if Delph was fit. One of the worst buys in our history. Get shut to any club daft enough to rate him.
I would still like to see James play a part for us. The early games of last season were some of the best times to be a Blue in recent years. He was central to that. If we do sell him, then we need a similarly creative player.
Jack Convery
12
Posted 27/08/2021 at 12:13:34
Hopefully we will burst the Brighton bubble and come away with 3 points.
3-1 to Everton. Richarlison 2 and Calvert-Lewin.
Mick O'Malley
13
Posted 27/08/2021 at 12:19:15
Delph injured again, as sure as there's shite in a dog, what a disastrous signing he has been.
Expecting a tough game tomorrow but I'm hoping our new found fighting spirit sees us through to a victory and a clean sheet, 0-2 Everton COYBS!,
I hope we aren't interested in Maupay as we've had enough non scoring forwards over the years.
Mark Tanton
14
Posted 27/08/2021 at 12:20:58
Be interesting to see if Maupay plays any part tomorrow.
Christy Ring
15
Posted 27/08/2021 at 12:24:28
Rafa gives very little away regarding what players are on their way back for Saturday.
Hopefully Godfrey is back, but he did say – surprise, surprise –Delph is injured.
Mark Ryan
16
Posted 27/08/2021 at 12:35:48
Give Delph away to any club that will have him and continue to pay half his wages or all of them for that matter. He cannot be good for morale. He's certainly no good to the team.
Seriously, get rid to anyone who will have this joker
Chris Williams
19
Posted 27/08/2021 at 13:16:12
The only bit that Delph hadn't injured so far had been his shoulder.
Barry Hesketh
20
Posted 27/08/2021 at 13:18:32
Allen @
He's obviously forgotten which side of Stanley Park he's on as his former club actually gets two points for a draw, don't they?

Clive Rogers
21
Posted 27/08/2021 at 13:19:17
I can't see James starting at all as Rafa has made it quite clear that he doesn't rate him. He wants fighters and workers first and foremost. Richarlison may not figure if he is on his way. Otherwise, it is fairly predictable depending on fitness.
Alan Johnson
22
Posted 27/08/2021 at 13:26:24
Luis Diaz from Porto gaining momentum.
Steve Ferns, any chance of a profile?
Nick White
23
Posted 27/08/2021 at 13:28:43
It will be a tough game tomorrow as Brighton are flying so far this season and we have a poor record down there. But, I can see us turning them over with a 3-1 win.
Does anyone know if Kean can actually be included in the squad following his red in the cup?
Brian Cleveland
24
Posted 27/08/2021 at 13:44:20
Alan (16),
I am no Steve Ferns but I can say that Díaz was one of the stand-out performers in the recent Copa America and is well thought of here in Colombia. In fact, I heard many state there was no more need of James as Díaz filled that gap.
Not sure I'd go that far, but he certainly got a few bums off seats when he ran at defenders.
Shane Corcoran
26
Posted 27/08/2021 at 13:51:43
He's going to fine Kean for the red card?
Andrew Laird
27
Posted 27/08/2021 at 14:21:05
Looks like Fabian isn't willing to take a pay cut….
What an omnishambles that fella is.
John Crook
28
Posted 27/08/2021 at 14:30:00
These Rafa pressers are very frustrating! Is it his level of English is only at a basic level? Or is this how he has always done his pressers?
Under Ancelotti or Silva and before that, those managers clearly indicated which players were available or unavailable for selection. I can understand him keeping the transfer business confidential on James (as let's face it, if he can't find a move, he is still an Everton player until January at least).
I'm just wondering what the latest is on Ben Godfrey? Surely a guaranteed starter in the first eleven. Haven't heard his name mentioned once. I saw a video on the official site and it looks like he wasn't involved in the training preparation for Brighton.
Andrew Laird
29
Posted 27/08/2021 at 14:33:12
I am actually finding it refreshing that the opposition manager, players and staff also don't know exactly who will be in our team and can then plan accordingly. Ancelotti would give the opposition 4 or 5 days notice in some cases!
Ajay Gopal
30
Posted 27/08/2021 at 14:34:05
John, it could be to keep the health status of the players private, especially when it is Covid related. But, I agree, it is frustrating to not know what is going on.
Barry Hesketh
31
Posted 27/08/2021 at 14:36:56
John @10,
I don't know how Benitez operated previously to joining Everton, but I think that perhaps Covid is a factor in failing to give a full run-down on each and every player that is available or unavailable.
I think that it is good for a manager to keep his cards close to his chest as much as possible, with or without the Covid factor.
Remember when Allardyce's line-ups were posted on various social media sites, well before the kick-off? That was due to a leak from Finch Farm by some rogue element and not a Big Sam tactic though.

John Kavanagh
32
Posted 27/08/2021 at 14:48:42
No doubt Delph's shoulder problem is down to trying to pick up his wages in cash. Pound for pound our worst signing ever.
Christine Foster
33
Posted 27/08/2021 at 14:51:12
John 14#, it could be the fact he was paid in pound coins...
John Kavanagh
34
Posted 27/08/2021 at 14:52:32
Christine, it's a shoulder injury (allegedly). If it had been in £ coins, he would have been crushed flat.
Raymond Fox
35
Posted 27/08/2021 at 15:18:15
It's going to be a difficult game, they are around 5/4 favourites and are playing well. It looks like it could be a draw again, which would be a decent result in my eyes.
Obviously I'd prefer a win but all away games are tough whoever are the opponents. Here's hoping.
Jay Harris
36
Posted 27/08/2021 at 16:16:59
I was reasonably optimistic till I saw who the referee was and learned how good Brighton are from corners.
Brighton usually struggle for goals but not against us so I feel there could be a few goals in this and hopefully 3 points for us; cue a 0-0 draw then.
Bill Gall
37
Posted 27/08/2021 at 16:20:24
After securing a draw at Leeds with the intensity they play, plus the crowd at their first home game for over a year, I think this game will be better suited to Everton and I expect a win. There appears to be more intensity in Everton's players and they are starting to create more opportunities.
We just need to cut out the silly mistakes and keep Calvert-Lewin and Richarlison on the score sheet.
It is early days yet but I have more confidence in the Everton team than last season, to create enough chances to win...
David Peate
38
Posted 27/08/2021 at 18:35:31
I see on BBC that Red Lawro predicts Brighton 1 Everton 0. Has he ever suggested that the Blues will win?
Colin Glassar
39
Posted 27/08/2021 at 18:37:48
When he does we usually lose, David. I can't stand the man.
Danny O'Neill
40
Posted 27/08/2021 at 18:46:05
I usually hate the British seaside. Never done sand or saltwater and don't like ice cream. Much prefer to go abroad!
But tomorrow, I will hit Victoria Station for about 10am and be looking forward to it. Even though I've passed through that station many times, I can never remember if it's a Wetherspoon's or O'Neill's in the middle, but either way, that's my start point!
I guess the squad selection will tell us a lot about the various rumours floating around.
Darren Hind
41
Posted 27/08/2021 at 19:08:05
I'm confused.
After all these matches wondering to what degree we will set out to spoil the game, I'm actually anticipating good fast attacks coming from our boys tomorrow.
There are several reasons for this but, when I analyse why, after years of following almost out of duty, I'm all excited on the eve of a match, I keep coming back to the same reason. Why has my dread of more embarrassment turned to anticipation and expectation? Who's upset my post-match demeanour?
I'm pointing the finger directly at Demarai Gray.
Who told this lad he could swan into our club and start driving at defenders?
Who told him it was acceptable to leave defenders for dead with an electrifying change pace?
Who lead him to believe that it was okay to put in crosses inviting the centre-forward (and a growing number of others) to get on the end of them?
Somebody needs to have a word with this fella. Have you noticed how many of our men have started bursting into the opposition box, expecting a delivery???
Evertonians have been looking for a pacey winger who can go past defenders and produce the final ball for years and years. They're still looking for him on transfer threads now... I know it's early days, but I'm beginning to believe he's already here.
I can't wait for tomorrow.
Brent Stephens
43
Posted 27/08/2021 at 19:46:07
Red Lawro predicts we'll lose. The earth circles the sun. Winter follows autumn.
Rob Halligan
44
Posted 27/08/2021 at 19:49:09
Absolute bellend, Brent.
Graham Mockford
48
Posted 27/08/2021 at 19:57:12
Darren 41
Heaven forfend Everton players driving at defenders
You're welcome
Brent Stephens
49
Posted 27/08/2021 at 19:57:44
Can't make it tomorrow, Rob, so bring us 3 points back. Hope the leg is a wee bit better.
Tony Abrahams
50
Posted 27/08/2021 at 20:05:15
Thanks Graham, one of the best goals I've ever witnessed at Goodison that, and a little clip of a great Evertonian, who is no longer with us, clapping his hands at the front, just put the icing on the cake.
I'm sure Darren is talking about wide men driving forward and crossing the ball, and this is where Big Rom spoiled himself at Wembley in the next round for me, when he drove through but never had the awareness to square the ball across the goal for a tap-in, allowing Rooney to get back and clear a certain goal!
Rob Halligan
51
Posted 27/08/2021 at 20:07:50
Much better, thanks Brent. I got antibiotics from the doctors which are really powerful but work a treat. I was meant to go to the TW golf day today, but couldn't take a chance on driving to Chester as these antibiotics make you feel really drowsy.
I doubt I'd have been able to walk 5 or 6 miles round a golf course either, as the throbbing in my leg was still very painful as of last night. Bit different to sitting on a coach for five hours tomorrow morning.
Hopefully I can make the next TW golf day, horse fly bites permitting!!
Graham Mockford
52
Posted 27/08/2021 at 20:11:05
Tony,
Agree with all that. His best performance and his worst performance in two rounds.
But that Saturday night against Chelsea was one of the highlights of the last 10 years, that says something of course! He still gave us lots of decent memories though.
Mike Gaynes
55
Posted 27/08/2021 at 20:18:41
Graham #48, I hear he scuffed the finish.
Rob #51, glad you're feeling better but sorry you missed the golf. I'm looking forward to DK's report on how the day went!
Tony Abrahams
58
Posted 27/08/2021 at 21:29:34
I think that was the last time we won a proper meaningful game of football at Goodison, Graham, and agree it was probably the standout game of the last 10 years.
This is why I'm hoping the rumours about Eduardo are true, because he always looked like he could become a top centre-forward, and has also been a scorer of some great goals.
Don Alexander
62
Posted 27/08/2021 at 23:19:32
Tomorrow's team and bench should, I suggest, be a real pointer as to how the owner intends to proceed this season and beyond, by way of the next four days.
Danny O'Neill
64
Posted 28/08/2021 at 00:56:56
Graham @48. You really made me think about this.
Have to say, my very favourite goal I saw in person was actually a bit different.
A routine match and win in an unassuming game at the time in winter 1986 at Goodison against Norwich as we marched onto the title.
Sheedy receiving the ball outside the box. Many talk about his patience and calmness on the ball in that Bayern Munich match. In this one, he too showed the same patience as he looked and waited. Then ridiculously lobbed a scooping pass over the defence for the on-running Heath to volley into the goal. Great finish, but it was the brilliance & improvisation of Sheedy that was a joy to behold especially from my position in the middle of the lower Gwladys Street as it happened right in front of me.
Nostalgia kicking in. No place for that tomorrow!
Derek Knox
66
Posted 28/08/2021 at 02:48:26
Obviously hoping for a win as usual, at a ground where historically we have had mixed fortunes, but never any resounding wins, as I recall anyway. I think Lyndon's proposed team will be pretty much the one that starts too. I just hope they put a little extra into this and equal or better the Leeds performance. I still regard that as 2 points lost, from winning positions: twice we let them back into the game again through defensive errors and not being sharp enough.
I often wonder if transfer speculation filters down to the players, of course I am hoping that some may see 'their position under possible threat' and put in a bit more effort. I dare say on paper we have the artillery and guile to get all 3 points, but translating that to grass is not always 'a given'.
Just realised too who the referee is: Jon Moss. That doesn't inspire me with any confidence, and his history at not keeping up with play, and giving dubious decisions, generally never in our favour, doesn't augur too well either.
COYB
Ernie Baywood
68
Posted 28/08/2021 at 05:02:26
Brighton are nothing to worry about. We've got goals in this team (always did, we just didn't bother).
I'll predict a watchable and fairly comfortable 3-1. 3 fast, exciting goals and one absolute calamity at the back.
I have a feeling that our new found approach will take us back to the days of being the best of the rest. That might represent progress in the league. I'm not sure if it will be progress overall.
Eddie Dunn
69
Posted 28/08/2021 at 07:23:32
I think Brighton are a workmanlike side with some talent and some beef at the back.
Given the freedom of the park, they can cause problems but I see us as a superior team and fully expect us to score a couple of goals. Our Achilles heel is, of course, our central defence. Michael Keane must be in the "last chance motel" by now.
Let's hope the sea air keeps him concentrating.
Darren Hind
71
Posted 28/08/2021 at 07:44:12
Mockers
I would have given that goal 10/10 (I have previous) if he had finished with the same grace as Gray did a couple of weeks ago.
The brute force he showed when playing skittles with the Chelsea defenders deserved a finish of the highest order. Still a great goal, of course... but, when he swung his left foot like a golf club and made contact with the inside of his left heel to send it bobbling into the corner, I had to remove a point.
Harsh ? Maybe, but even in his finest moment, old scuffer couldn't help himself.
BTW: You do realise he left 5 years ago, giving you the finger. This is an Everton website. If you want to idolize him till the end of time, you may want to find a few fanboy websites that will be delighted to hear from you... Most people on here would prefer to talk about Everton players.
Stan Schofield
72
Posted 28/08/2021 at 08:19:54
Darren @41:
When we signed Bolasie, I believe he fitted the bill of a pacey winger who could go past defenders and put a good cross in. Plus he had a very good understanding with Lukaku. But then he was buggered with that ACL injury.
When Walcott came here, he was one of our best players in his first season, with pace on the wings. He was nowhere near as good in subsequent seasons. Gray is very good, as you say, and let's hope it stays that way, but it's early days.
Steve Cotton
73
Posted 28/08/2021 at 08:26:46
Just noticed the ref is Jon Moss... game over.
Brian Harrison
74
Posted 28/08/2021 at 10:25:45
Steve
Like you have absolutely no faith in Moss or his mate Mason 2 of the worst refs I have ever seen. Neither keep up with play and both make decisions that nobody agrees with. I think the Euros showed that most refs from other countries are far better than our refs and they also showed how to use VAR correctly in fact in most games it was hardly ever called upon. The reason being that they used VAR for clear and obvious mistakes not hairline offsides, mind with that other useless ref Mike Riley in charge of our refs and how VAR is used nothing surprises me.
For me if you look at 95% of refs they are all self employed people who can take the time off from their jobs to officiate, but guys who are not self employed have very little chance of making it up the ladder to ref at Premier League games. So maybe the FA need to set up academies for young aspiring kids who want to be refs, we do it for players so why not refs, then kids from all backgrounds can apply and who knows we may actually produce good refs again. It was no wonder that not 1 English ref was used in the last World Cup but did it ring any alarm bells absolutely not.
Barry Cain
75
Posted 28/08/2021 at 10:44:41
For all you railway enthusiasts out there,you might be interested to know that there was a service out of Oldham until the 1950s called the Delph Donkey...
Ray Roche
76
Posted 28/08/2021 at 11:19:18
Brian, Martin Atkinson was reported to have earned £200,000 last year. The average Referees salary was £70k with £1,150 per game on top of it. I doubt if they're regarded as part time these days.
Danny O'Neill
77
Posted 28/08/2021 at 11:35:58
Pit stop at Victoria done. On the train and Brighton bound with the lad and a few refreshments.
Brother waiting, although it sounds like his choice of watering hole is the first place he saw when he left the station & one of those typical railway pubs! We can sought that out when we get there!!
Squad choice today might give us a good indication about goings out and I guess we'll still have to keep guessing on the inbound.
Massive thanks to Martin Nicholls & Peter for sorting me out. I owe you big time.
Raymond Fox
78
Posted 28/08/2021 at 11:56:13
Do you think refs read web sites?
Martin Nicholls
79
Posted 28/08/2021 at 12:04:05
Danny - no probs. Enjoy!
Matthew Williams
80
Posted 28/08/2021 at 12:07:11
Best wishes to all the Blues traveling down to Brighton today,let's hope the lads put on a show and bag us three valuable points,our away support is always superb.
COYB
David Midgley
81
Posted 28/08/2021 at 12:14:30
Raymond #78.
Can the read ?
Kim Vivian
82
Posted 28/08/2021 at 12:38:17
How's John Moss going to keep up with Demarai Gray?

Tony Abrahams
83
Posted 28/08/2021 at 12:49:03
Reading what Brian H says makes a lot of sense imo, and with regards Moss, I'd love to crush the fat bastard with a rolling stone, just to see if that analogy is true.
Kev Jones
85
Posted 28/08/2021 at 13:07:26
Danny#77 I recommend the Battle of Trafalgar in Guildford Rd, a couple of minutes up from the station. Lots of friendly Brighton fans and a few blues.
Michael Barrett
86
Posted 28/08/2021 at 13:14:43
Looks like we have had our kecks pulled down over the Moise Keane sale when will we learn

Len Hawkins
87
Posted 28/08/2021 at 13:29:04
Football Pink has a whole new meaning in Brighton.
Danny O'Neill
88
Posted 28/08/2021 at 13:30:00
I'm in the Font Kev Jones. We got into the Railway but only after I ignored the door people who asked if I was Brighton or Everton! Turns out it's a Brighton supporters club type of pub.
But guess what; once in, the locals were fine and we mingled & chatted without issue.
Men in Black shirts, just let supporters mix. Like dogs on a park. If ypu socialise them, they'll have the occasional spat, but 99% of the time, they're fine. It's not 1983
Brian Murray
89
Posted 28/08/2021 at 13:34:32
Ha ha len, chase me
---
Add Your Comments
In order to post a comment, you need to be logged in as a registered user of the site.
Or Sign up as a ToffeeWeb Member — it's free, takes just a few minutes and will allow you to post your comments on articles and Talking Points submissions across the site.