Everton vs Burnley
Saturday, 11 September, 2021
Match Preview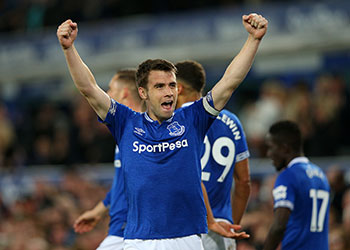 Seamus Coleman is expected to start after shaking off a hamstring complaint
Everton's 2021-22 season resumes under the lights at Goodison Park on Monday night as they entertain Burnley hoping to extend further the good start they have made under Rafael Benitez.
Unbeaten in four matches in all competitions under the Spaniard, the Blues have an opportunity to join the early leaders in the Premier League on 10 points should they be able to pick up another victory in what is only their second home game of the campaign.
It was at this stage of last season, after the first of the disruptive international breaks, that Benitez's predecessor Carlo Ancelotti encountered his first significant bump in the road as what was a 100% start to his tenure evaporated amid four defeats in five matches.
The psychological and physical fallout of the Merseyside derby — Richarlison's suspension, James Rodriguez's injury, and the media furore over Jordan Pickford's collision with Virgil van Dijk — was compounded further by a ban for Lucas Digne and Everton lost their way for a time until they rediscovered some momentum in December.
Article continues below video content
Though he was badly hamstrung in the transfer market over the summer by Financial Fair Play considerations, Benitez appears to have a lot more continuity on his side, especially now that it looks as though Seamus Coleman will be fit to face the Clarets.
The Republic of Ireland and Everton skipper was withheld from his country's third World Cup qualifier of the international break because of a hamstring complaint but scans at Finch Farm came back clear.
It was feared that Coleman might miss the Blues' clash with the Clarets under the Goodison Park lights, thereby handing Benitez a selection headache at right-back. However, what was described as a muscle complaint by Irish medical staff appears to have cleared up in time for him to be included in the squad.
Benitez also revealed during his pre-match press conference that James Rodriguez has been training with the first team but remains some way short of full match fitness.
That would seem to preclude the Colombian starting the game, which was unlikely anyway given his lack of involvement so far this season, and it remains to be seen if James plays any part on Monday evening even though there will be thousands of fans hoping to see a glimpse of him at some stage off the bench.
His manager explained that Rodriguez will need to fit in with the system and ethos of the team now that it is confirmed that he will remain with the club until January at least.
For his part, James says he is ready if called upon with comments that will sound encouraging to Evertonian ears.
"I've been coming in for a couple of days now, I had four days off," he was quoted as saying by AS. "I'm preparing myself in case I have to play, I'm ready to do well if I have to play. I'm getting in good shape physically, I'm fine. I'm calm.
"Everton play on Monday, if they want to take me I'm ready, I'm looking forward to playing if it's my turn.
"I'm very happy because the Everton fans have shown me a lot of affection. if I get to play I'll play well as always."
The clash with Burnley is an intriguing one given how easily Sean Dyche's men won this fixture back in March. It was a game that crystallised once more Everton's struggles playing at home under Ancelotti and the Toffees found themselves 2-0 down before they had even had time to realise they were in a game.
Dyche had primed his charges to come flying out of the proverbial traps and hit Everton hard, knowing that they would find it difficult to work their way back into the contest based on the evidence of the defeats to Fulham, Newcastle and West Ham that had preceded it after the turn of the year.
Ancelotti proved singularly unable to coax a strong performance out of his charges at Goodison — let alone recover from adversity — but Benitez has already overseen one come-from-behind win over Southampton, a potentially significant mental hurdle that has already been cleared.
Preferring to hit teams on the counter or using the space in transition, his team hasn't yet had to break down a stubborn low block of the kind that Burnley usually employ, though, so it will be interesting to see how the sides approach each other in the early going.
New signings Nathan Collins and Maxwel Cornet will undergo late fitness tests but are expected to be involved so Dyche doesn't have any major injury concerns for this one apart from Connor Roberts who is ruled out.
For Everton, Benitez should be able to field his strongest XI, although it remains to be seen what he considers that to be, especially where the centre-halves are concerned. It is anticipated that Ben Godfrey will be fully ready to return after recovering from a suspected Covid-19 infection and Yerry Mina is also fit. Many supporters regard those two as the Blues' best combination in central defence but it's not one that the new manager has been able to deploy as yet.
In midfield, it should be as you were from the win at Brighton with the possible exception of Alex Iwobi coming in for Andros Townsend while Richarlison and Dominic Calvert-Lewin should start together up front despite the latter's struggles with a broken toe before the break. Salomon Rondon will wait in the wings hoping to make his bow following his move back to England from China.
Though Burnley are always a handful and difficult to play against, Everton should have too much for them on paper if they can keep Dwight McNeil quiet on the flank and remain vigilant to the aerial threats posed by Chris Wood and at set-pieces. If the Blues' players can get the ball moving between the lines and get wide players behind the full-backs, there will be scope to create enough chances to get the job done.
A win would set things up nicely for a tricky away assignment at Aston Villa before the team heads out on the road again to face QPR in the Carabao Cup in just over a week's time.
Kick-off: 8pm, Monday 13 September 2021 on Sky Sports
Referee: Andre Marriner
VAR: Kevin Friend
Last Time: Everton 1 - 2 Burnley
Predicted Line-up: Pickford, Coleman, Mina, Keane, Digne, Allan, Doucouré, Iwobi, Gray, Richarlison, Calvert-Lewin
---
Reader Comments (149)
Note: the following content is not moderated or vetted by the site owners at the time of submission. Comments are the responsibility of the poster. Disclaimer
Neil Cremin
1
Posted 11/09/2021 at 07:26:48
Interesting to look back at the comment on the other post now.
Seems that both Seamus and Irish team management made the call to protect Seamus.
Paul Kernot
2
Posted 11/09/2021 at 07:44:23
Either now or at some time soon, we'll need to replace Seamus. I hope he's 100% & doesn't pull up lame during this game by coming back too early.
As for the James comment. Nothing new to report. Get fit enough, prove you deserve a place in the squad & we'll go from there.
Bobby Mallon
3
Posted 11/09/2021 at 08:04:02
James will be a sub on Monday night.
Tony Everan
4
Posted 11/09/2021 at 09:21:26
Excellent news Seamus has recovered well and will play. I think we will definitely need a plan B for right back on Monday though should the injury reoccur in full battle conditions.
Some rumours today about us making an offer for Maitland-Niles in January.
Jerome Shields
5
Posted 11/09/2021 at 09:24:24
The main issue for me is what Everton will turn up after the international break? Hopefully it will be the Everton we seen prior to it.
Mike Kehoe
6
Posted 11/09/2021 at 09:36:21
Do the Financial Fair Play rules impose such restrictions that the likes of Aurier on a free is beyond reach?
Personally, I don't think Jonjoe Kenny is ready and Holgate should only ever be a last resort at right-back.
Ken Kneale
7
Posted 11/09/2021 at 09:36:43
Jerome - I agree that will be a very pertinent point and potentially very instructive on how the season will turn out whatever happens.
If the pre break Everton show up for what will undoubtedly be a tough game against opponents who know how to be difficult, then can we gain a glimmer of hope that the manager is finally getting some workrate out of this squad?
If we flop, then the next game will be equally instructive on how this particular manager deals with the long term malaise that seems to hang around Finch Farm.
I was not totally in favour of Rafa Benitez when it was first mooted but early indications have left me viewing him very favourably and I think he deserves some credit - I remain optimistic not pessimistic at this time and long may that feeling continue.
Mike Keating
8
Posted 11/09/2021 at 09:55:34
The only way James will get match fit is by playing games. Otherwise he sucks massive wages out of the club for hanging around Finch Farm.
Geoff Hind
9
Posted 11/09/2021 at 10:37:58
Great news about Seamus.
The James situation can turn out badly or improve rapidly. He clearly wants to go to the next World Cup and (probably) leave to pick up an attractive contract. The question is: how will he achieve these?
Certainly not by sulking and sitting on the bench. You would hope that his agent plays a part and explains that he needs to play to maintain his "status". Here's hoping.
Dave Williams
10
Posted 11/09/2021 at 10:53:38
I agree, Mike, but the team is working out well so far and cannot surely be disturbed for a guy who has not been fit enough to play for many months now.
He has to show he is fit first then wait for a chance like everyone else. If he doesn't do it on the training pitch, why should he be trusted to do it in the heat of a game when we need every player to be fully engaged?
I hope he has it within himself to force his way in but I doubt that he has. Hopefully I am wrong!!
Mark Andersson
11
Posted 11/09/2021 at 11:06:02
We don't need James or any other player who can't be arsed fighting for a place...
The 80s team had no super stars but a good bunch of players with fight and determination to grind out results when needed and play with flair and confidence...
Rafa is great in pre-match interviews...
Martin Nicholls
12
Posted 11/09/2021 at 12:00:30
Anyone know if Gbamin is available?
Niall McIlhone
13
Posted 11/09/2021 at 12:10:05
The availability of both Coleman and Richalison gives us a big boost for what will be a difficult game, but my main hope is that Ben Godfrey is given time on the pitch and gets the chance to impress. COYB
Steve Griffiths
14
Posted 11/09/2021 at 12:23:17
Martin, Gbamin was pictured training midweek so should be available for a place on the bench.
Terry Farrell
15
Posted 11/09/2021 at 12:55:34
Great news that Seamus is fit. We need him and Townsend to do a number on McNeil. Saw the RS game and they couldn't live with him.
Ajay Gopal
16
Posted 11/09/2021 at 13:03:01
Reading between the lines from Rafa's press conference, he still seems hopeful that James can be shipped out to the Middle East or somewhere else because he mentioned that a few windows are still open. I don't think that RB believes James has it in him to fight his way into the Everton team. It is a real pity that Everton fans can't see him make a positive contribution to the season, but that is down to the player himself. Maybe he can look across at Ronaldo at Man United and get inspiration from a player 5 years older than him but 100x more motivated.
Tony Everan
17
Posted 11/09/2021 at 13:08:42
Martin 12
I watched the training vid on Thursday and Gbamin was there with the rest of the lads. He looked to me to be training and moving well so he should be available.
With Godfrey back and challenging and Iwobi improving the squad feels stronger than last season.
Chris Corn
18
Posted 11/09/2021 at 13:37:46
Tony 17, You would hope Gbamin is moving well considering he had an tooth abcess for the Brighton game.
Colin Malone
19
Posted 11/09/2021 at 13:38:46
Regarding the game. Burnley centre backs will relish the long ball / set pieces. This is a game where James can be a positive. A full house at Goodison, giving James the love that he needs. I would love to see him start.
Danny O'Neill
20
Posted 11/09/2021 at 13:45:25
Agree Colin. With them likely to sit deep, a game that a player like James will have time and space.
Mike Gaynes
21
Posted 11/09/2021 at 15:58:14
I am shocked and devastated by the news of Coleman's fitness.
It means the entire Kenny vs. Iwobi debate was a waste of time.
So many hours lost forever out of so many lives.
Darren Hind
22
Posted 11/09/2021 at 16:17:12
Seamus is 33 in about a month.
The debate about his replacement is only just getting going.
Neil Halliwell
23
Posted 11/09/2021 at 17:41:53
At last ToffeeWebers have only managed one comment so far about RAFA. Incredibly it is positive !!!. Time to continue with the reality check and realise who was available as manager given the position we are in. The bloke is clearly doing his best and the pre match interviews are so musch more better than Carlo who came across as a nice father figure but nothing else. So please lets support the bloke!!
Kevin Molloy
24
Posted 11/09/2021 at 17:57:25
very good Mike.
Eddie Dunn
25
Posted 11/09/2021 at 20:58:10
Mike...brilliant!
Kieran Kinsella
26
Posted 12/09/2021 at 03:45:08
I'd have James on the bench. People want to talk about slackers and all but even AVDM had his moment off the bench setting up Gosling (? the old memory) against the RS. If we are impotent with 15 minutes and need a goal, then "fit" or not I'd sooner roll the dice on James than anyone else.
Steve Brown
27
Posted 12/09/2021 at 04:20:22
Kieran @ 26, since so many fans won't entertain the "slacker" James, we could always send on Andy Lonergan to create a goal if we are behind with 15 minutes to go.
Ajay Gopal
28
Posted 12/09/2021 at 07:33:26
Rafa was unusually candid in the press conference. He answered direct questions about James (many times), Von de Beek, Dwight McNeil, the Right Back situation without deflecting, as he was doing before the break. Actually, quite refreshing to see, he also said that hopefully the club will be in a better position to sign some players during the January transfer window. He mentioned that Everton were looking at some 'big names' at the beginning of the window, but this was contingent on sales of some players. When that did not appear to be happening, all credit to Rafa (and Brands?) for quickly finding players from the bargain basement, who have turned out to be quite shrewd signings. In a way, we seem to have come back full circle to the Moyes-Kenwright days - always short of money to land some genuine talent, and always the question: "What could this manager have achieved if he had more funds at his disposal?"
For the Burnley match, perhaps Rafa will try the 3-4-3 formation if he does not want to risk Coleman:
Pickford
Holgate Keane Godfrey
Townsend Doucoure Allan Digne
Richarlison Calvert-Lewin Gray
SUBS: Begovic, Kenny, Mina, Gomes, Gbamin, Iwobi, Rondon, Gordon
Danny O'Neill
29
Posted 12/09/2021 at 07:36:00
I'd keep the same team that used width and pace against Brighton. Unless there is a still-to-be-decided forced change at right back.
I hope James can feature. His words are positive although, and maybe I'm over-analysing, he refers to Everton as "they".
I'll give him the language / translation benefit of the doubt and accept he's not an Evertonian.
But I'd love to see him live in front of a Goodison crowd.
Derek Knox
30
Posted 12/09/2021 at 08:31:50
Difficult to speculate the team that will start as none of us are privy to the in's and out's at Finch Farm, and how players have performed behind closed doors. Of course many were involved Internationally too, which is another unwanted disruption, to what was building, to be a decent momentum and start to the campaign.
Danny, can't see James not getting either a start or a place on the bench, by all accounts he seems to be focused, at least until January on the job in hand. Besides paying the alleged wages he is on, can't see him NOT being utilised to the max, as he is undoubtedly a potential match winner, but with the new ethos and team play, he may just have a few more running, either with him, or for him.
Tony Everan
31
Posted 12/09/2021 at 08:36:14
With Godfrey, Gbamin fit and Iwobi doing better the manager has options and a good selection headache. I am hoping that Seamus has recovered and also go with the team that faced Brighton.
Burnley are a tough nut to crack but there is more about us than in this fixture last season. The pace and service from wide positions is better, Burnley will be under pressure from it and a good few chances will come for DCL. Burnley will likely concede free kicks trying to stop the supply and dead balls in from Townsend and Digne will be dangerous ones we will score from.
Everton 2 Bayern Lee*0
*as the subtitles called them the other day
Danny O'Neill
32
Posted 12/09/2021 at 09:15:01
He shouldn't start against Bayern Lee Derek, I just hope I get to watch him live at some point. We can't have a player of this quality and not see him play. There would be parallels to winning the league for the first time in 30 years and not being able to celebrate it in front of your self-appreciating fans.
Okay, cheap shot at the cousins!
I'll take that Tony. It will make the 410 mile round trip worth it!
Paul Birmingham
34
Posted 12/09/2021 at 10:12:26
This game game takes me back to by getting ne times of the early 70s albeit on a Saturday.
But Burnley are no mugs and have done well in recent seasons.
I'd go with Lyndons squad and earn a victory as there's no easy fixtures in this leagues.
Typically post international fixtures Everton in recent seasons normally come back poor, but I believe Rafa will get a winning tune tomorrow night.
Christy Ring
35
Posted 12/09/2021 at 10:18:04
Good to see Seamus is fit and hasn't got a hamstring strain, have to praise the Irish coaching staff for their diligence and care. I hope Godfrey starts tomorrow and James on the bench, instead of two goalkeepers.
Kim Vivian
36
Posted 12/09/2021 at 10:24:28
Even if he doesn't play, James should get a fair idea of what it's like to be an Everton player in front of a crowd at Goodison Park just from the bench. If he's on the bench and we have a bit of a cushion - I'm predicting 2-0 (or we need some magic powder to retrieve the game) he should, I think, be given some game time.
Conversely, if we turn in one of our depressing performances and the crowd has turned typically hostile, he might just disappear into his shell never to be seen again!
I do expect to see him in the squad tomorrow, however.
David Pearl
37
Posted 12/09/2021 at 10:42:48
I doubt any changes to the starting line up with the possible exception being Mina in for Holgate. That leaves us with the strongest, most competitive bench we've had perhaps ever.
If we are ahead going into the final 20 mins l'd put Kenny on and protect Coleman. Then Rondon might also get some minutes. Iwobi probably deserves some time too, leaving 5 disappointed players.
Good job we have the QPR game. I just hope he doesn't try the 3 at the back again. The players know their roles, don't be an Ancelotti.
Peter Mills
38
Posted 12/09/2021 at 11:18:17
For those following the new stadium development, there was a controlled explosion on Crosby beach this morning, I understand it was of a shell discovered at the Bramley Moor Dock site.
Brian Harrison
39
Posted 12/09/2021 at 11:18:25
Well normally after an International break we have players coming back from long journeys, but this time only Pickford and Coleman were involved so it was like a mini break for some of the players. Certainly it will have done Richarlison no harm to have a couple of weeks away from competitive football.
Everybody knows what you get from Burnley, 2 big physical guys up front with a lot of high balls tossed into the box or played long in the air for their competitive forwards to chase and upset the defenders. We need to be competitive in the air and I think that's why Benitez will pick Mina and Keane for the aerial battle that Burnley will mount. I think the way to beat Burnley is move the ball quickly before they can get back into their defensive shape. I think Richarlison, Gray and possibly Iwobi will be the key to us winning this game, as they can all carry the ball at speed.
I noticed Burnley and a couple of other teams are putting 2 or 3 men next to the opposition goalkeeper from corners, and given the size of the Burnley lads, Pickford Keane and Mina will have to combat this threat.
But I think we may just get by with a 1 goal margin, but it will be a hard fought game and Burnley will look to impose their physicality all over the park so to win we will have to match that physicality and hopefully let our more skilful players win us the game
Geoff Cadman
40
Posted 12/09/2021 at 11:56:06
Some good points made, Brian. I hope we can start well, get an early lead, and upset Burnley's game plan.
Like many others I hope £90k/250k-a-week James gets on at sometime. No matter what he earns, he has still given better value than many of our recent signings.
Derek Knox
41
Posted 12/09/2021 at 12:52:12
Peter @ 38, that reminded me of the old joke. Two labourers (substitute which Nationality is appropriate, Irish, Polish etc, but not Scottish grr !) are working in the New Brighton Area doing some excavation work.
They find two large shells buried in the ground. One has a brainwave, and is convinced that if they get them back to Liverpool through the Tunnel a reward will be theirs for their discovery.
They carefully load the two devices on to a trailer, and head off towards Liverpool. Halfway through the Tunnel, one says to the other "what happens if one of them things go off ?" The other one calmly replies " No worries, we'll tell them we only found one !"
Where's my coat ?
David Hallwood
42
Posted 12/09/2021 at 12:58:28
I'm unsure if DCL has recovered from his injury, if so I hope he won't be rushed back.
But the James debate goes on(and on). Personally I dislike 4-2-3-1 system; the only article I've post in Tweb was a rant against the system, and I think a flexible 4-4-2, a la Brighton or 4-3-3 gives more options in the final 3rd.
That being said, there is a case that 4-2-3-1 with a fully motivated James in the middle of the 3, with Gray, Townsend or Richie being his legs flanking him and Duke and Allan behind, would be our strongest side.
Apparently, it's Rafa's go to formation, and we could have a bench of Davies, Gbamin, Gomes, delph(when fit..on second thoughts, no Delph). And attacking options of Iwobi, Rondom, and the luxury of resting DCL or Richie( obviously with the obligatory titty lip).
Don't forget how many goals and assists he gave the team last season. Plus he's costing a bleedin' fortune, build the team round him.
Robert Tressell
43
Posted 12/09/2021 at 13:19:32
David # 37. Makes total sense. We're in a good rhythm, why disrupt it?
As for James, you can't build a team around someone who is leaving - be that in January or June - and is often unfit. But you can accommodate him for certain games or for a Plan B in the attacking 3rd. So maybe an option for the last 30 mins but not a starter.
If we need any alteration for Burnley it's a higher defensive line, because Burnley have no pace to run in behind - and condensed space will allow our superior players to keep them on the back foot.
Brian Williams
44
Posted 12/09/2021 at 13:26:56
I don't think James will even be in the squad for tomorrow.
David Pearl
45
Posted 12/09/2021 at 14:05:28
Robert, its true he can offer us a lot but kind of worrying that he isn't fit this many weeks into the season. He had a 4 day holiday instead of training, if not for us then for his next club. It would be good for him to make the bench. See if it sparks anything in him.
Brian, it would be no suprise if he didn't make the squad at all as you say. When all the players are fit, and they seem to be apart from Delph then a few are going to miss out leaving no real room for Branthwaite and Gordon. They should be out on loan and playing.

Steve Shave
46
Posted 12/09/2021 at 14:07:35
I think it would be sensible to have James on the bench and give him 10-15mins to see how he reacts to a packed Goodison - I wouldn't risk bringing him on unless in control of the game. I am looking forward to this one and hope we put in a good performance and get 3 points, this would take us top 4 which is good from a psychological perspective going into harder games soon. I'd like to see us really go at them from the off and hopefully press hard.
Bobby Mallon
47
Posted 12/09/2021 at 14:25:40
Everton ladies are rubbish.
Mike Corcoran
48
Posted 12/09/2021 at 14:58:14
James should be on the bench just to keep him abreast of his current employers schedule.
Brian Murray
49
Posted 12/09/2021 at 15:02:19
Bobby. The ladies manager is Scottish and he obviously has them playing well and getting results until he comes up against the big teams and then it's a case of know your place. Sound like another jock boss !
Steve Shave
50
Posted 12/09/2021 at 15:03:11
In addition to my previous comment, I'm going to keep a close eye on Dwight McNeil, I like him but not sure if he is the answer for us, good winger who works hard but lacks the pace that Rafa seems to be looking for.
Dale Self
51
Posted 12/09/2021 at 16:02:02
I'm with you on McNeil Steve. Before we signed Gray I thought useful if we get a fast thinking 10 or some speedster he could link with. A kind of player I love to watch though.
UTFT!! Suck it Pool.
Jay Evans
52
Posted 12/09/2021 at 16:41:54
A home game under the lights with a full house... how long has it been, ladies and gents?
It goes without saying that we will need to match them physically but I also think a similar formation would help as, player for player, we really are better than these all over the park.
I wonder will Rondon be needed to back up Calvert-Lewin as he will be getting volleyed up and down by their centre-halves, make no mistake.
Maybe a low-scoring draw tomorrow as I fancy them to score from a set-piece unfortunately.
Onward Evertonians. Full support 💙
Jerome Shields
53
Posted 12/09/2021 at 17:17:10
Ken #7,
Hopefully Rafa's hands-on approach will have kept the workrate going. As you say, this game will tell us a lot about Everton under Rafa. I am also optimistic.
Phil Smith
54
Posted 12/09/2021 at 19:04:34
I would not risk Seamus for this one. Need fully fit battlers against Burnley. Kenny, say what you will about him getting forward etc, he can get stuck in. He should start.
Not the right game for a James cameo. Maybe next match. I expect he'll start against QPR though.
Jay Harris
55
Posted 12/09/2021 at 19:12:54
Given Rafa's reputed extensive research into other teams and their weaknesses, I am expecting a good home win but there are no easy games in the Premier League.
I think the team picks itself with the only question mark as to how to fit Godfrey back in.
Personally I don't give a monkey's about James. He won't be here that long anyway so let's build a team for the long term.
Tom Bowers
56
Posted 12/09/2021 at 19:53:19
Every game is tough in the Premier League. Burnley are dour without being great but we just need our boys to be in sync and focused.
So far, so good for Rafa but we all know how things can come undone in a hurry.
The ''billionaire'' teams all got victories this weekend so we need to stay up with them with a positive performance and there shouldn't be any excuses as the whole team is basically fresh.
Dennis Stevens
57
Posted 12/09/2021 at 20:09:08
A simple 5-0 win & we'll be top of the league!
John Cartwright
58
Posted 12/09/2021 at 20:43:00
I think Rodriguez, if fit, should be on the bench. Depending on the situation, for example Everton winning 2 - 0, with 20 minutes to go, he should be given a run out with a view to starting against QPR. The other scenario is we're drawing or loosing; again, bring him on as an impact sub. But, if we're protecting a 1-goal lead, leave him on the bench.
Geoff Lambert
59
Posted 12/09/2021 at 21:22:43
I'm with Dennis on this one... got 5-0 written all over it.
David McMullen
60
Posted 12/09/2021 at 21:27:00
Is right Dennis. First positive. 5-0 all this Burnley will be tough gtfoo here. We're going to give them a beating. Benitez has got this team purring. Who cares about the RS
Andy Crooks
61
Posted 12/09/2021 at 21:46:47
I backed Everton minus a goal at Brighton. Will do so against Burnley. Everton minus a goal would have been unthinkable with the last "coach".
Minik Hansen
62
Posted 12/09/2021 at 21:54:02
I believe Richarlison and DCL staying at Finch Farm during the international break will help tremendously for how the team spirit will be when they continue where they left in the PL.
Kevin Prytherch
63
Posted 12/09/2021 at 21:58:16
I'm in 2 minds about this. Burnley will send balls into the box where they can, so playing Keane and Mina makes sense.
However, if we want to take the game to Burnley and starve them of space before they can get near our box, then we have to play a high line, so Holgate and Godfrey would suit that better.
I'd say go with the latter and take the game to Burnley. We've had our fingers burnt too many times against the likes of Burnley by giving them too much respect and defending too deep.
Jerome Shields
64
Posted 12/09/2021 at 22:35:03
Think Keane will play because of aerial threat. Though I can see where Kevin is coming from. May be James at sone stage to open them up.
Lester Yip
65
Posted 12/09/2021 at 23:32:02
Looks like James will eventually get some minutes so he can show potential suitors he is match fit. It's good for both parties.
Brian Wilkinson
66
Posted 13/09/2021 at 00:13:20
Have to say I am impressed with James of late, he has done his homework and knows we are playing Monday evening at Goodison.
Bill Griffiths
67
Posted 13/09/2021 at 00:23:42
Benitez has said it's unlikely James will play against Burnley and that he his someway behind the others fitness wise
If that is the case I'd be surprised to see him on the bench tomorrow night.
Bill Watson
68
Posted 13/09/2021 at 01:09:32
I was quietly confident about this game until Benitez dropped the bombshell that Delph's shoulder injury was worse than expected.
Paul Kernot
69
Posted 13/09/2021 at 02:15:25
Working up the body Bill. Started with ankle injury. Then calf, knee, thigh strain, hammy. I think there was a broken finger nail in there at some point.
Kieran Kinsella
70
Posted 13/09/2021 at 03:12:47
Andy Crooks
The Burnley game last year was the nadire of the Carlo era. Pissing around in the six yard box with goal kicks … didn't take a genius to think of pressuring the nervous nellies. I'm hoping for a more pragmatic approach tomorrow. I've nothing against Burnley — fellow founders — and I don't think anyone could do better with the resources than Dyche. But we are Everton and not a charity (don't tell DBB) so we need to hammer them
Don Alexander
71
Posted 13/09/2021 at 03:16:23
Don Alexander
72
Posted 13/09/2021 at 03:16:24
and then a headache Paul.
Ajay Gopal
73
Posted 13/09/2021 at 04:10:51
Ha… ha… Bill, thank god he has not suffered the career threatening dental abscess yet.
Sam Hoare
74
Posted 13/09/2021 at 07:54:57
A game in hand, against modest opposition and with the chance to go into the top 4? Traditionally this feels in recent times where we have choked.
Think I'd start with at least one of Keane and Mina if not both. Burnley's threat will primarily be from long balls, set pieces etc and though they are not the quickest both Mina and Keane should be able to cope with the pace offered by Burnley even when playing a high line. Though when fit Mina and Godfrey is probably my first choice pairing. Otherwise I'd probably pick Iwobi over Townsend as he offers a little more creativity in tight spaces and I suspect we may need more than constant crosses into the box against Burnley. Coleman starts if fit, otherwise Kenny. Rodriguez from the bench if we need a goal.
Pickford
Coleman Mina Godfrey Digne
Allan Doucouré
Gray Iwobi Richarlison
Calvert-Lewin
Danny O'Neill
75
Posted 13/09/2021 at 08:23:36
The dogs gave me a nod for the win. The boy is optimistic we'll be top on goal difference. The girl told me to settle for 4th place by the end of tonight.
Get at them and don't get drawn into their game. Keep the ball on the deck, get it wide to try to stretch them and keep the crosses low and drilled.
Simple this football thing right?
Robert Tressell
76
Posted 13/09/2021 at 08:50:52
Hopefully Mina and Godfrey get a decent run in the side together at centre-back, Sam.
They look like our best bet for this season.
I wonder how many times they've played together as a centre-back partnership – as opposed to Godfrey filling in at full-back. I wouldn't be surprised if it's no more than about 5 games.
Tim Kells
77
Posted 13/09/2021 at 09:37:34
These were Michael Keane's comments from the last time we were beaten by them in March:
"The first half especially we weren't good enough, particularly in a 25-minute period, and we got punished for it. Burnley played to their strengths and won a lot more second balls than us in the first half. They appeared a yard sharper and I've not really got an explanation for that.
"You can't really say anything about our work ethic, but they seemed to pick up a lot of second balls and that's disappointing. They had us under pressure and we were made to pay for that."
Let's hope he remembers them and we start well. As ever with us, the first goal will be key. Can we win? Of course we can... Will we? Who knows? We are the definition of inconsistency.
Pat Kelly
78
Posted 13/09/2021 at 09:51:43
Brian #66, progress indeed. But does he know who we're playing?
Geoff Lambert
79
Posted 13/09/2021 at 09:59:27
First game back for my son and me tonight. Can't wait. Evenings under the floodlights at Goodison are fantastic.
Let's give these a good hammering tonight. COYB
Tony Everan
80
Posted 13/09/2021 at 10:19:31
Bill, Paul, It's confirmed that Delph is out for 4 to 6 weeks.
I like the injuries working their way up the body comment. (Hope he's putting plenty of Factor 50 on his baldy bonce.)
Danny O'Neill
81
Posted 13/09/2021 at 10:22:57
Our best centre back pairing, Robert. We didn't get Koulibaly but I suppose that was wishful and unrealistic thinking on my part in hindsight.
Enjoy Geoff. It's great to be back!!
Clive Rogers
82
Posted 13/09/2021 at 10:49:16
Brian, #66, Pat, #80, but didn't he say "they" are playing!!
Raymond Fox
83
Posted 13/09/2021 at 12:31:47
Rafa wont have James in the squad, I'll be very suprised if he does.
We have been playing well without him and its obvious that Benitez wants players that give 100% effort and are fit to play.
We should have too much for Burnley, on paper that is, but we know what to expect from them which is not always easy to deal with.
Nevertheless we are odds on to win, which I think is a fair assessment of our chances.
Kim Vivian
84
Posted 13/09/2021 at 12:56:50
Great news Tony (82). I honestly despair of that bloke.
Off topic, but I see he who shall not be named has not been named in our 25 man squad now the window's closed. No great surprise but that's another name I shan't miss from the match day squads.
Dan Johnson
85
Posted 13/09/2021 at 13:00:01
Rafa has to work with squad he has, due to FFP, one thing we can be sure of, is that every player will have to put a shift in, I'm 100% behind Rafa to find a way to get a result, whichever way we have to play.
COYB
Michael Kenrick
86
Posted 13/09/2021 at 13:02:58
Strange thing is, Kim, they only named a 24-man squad – it would be 25 if he had been included.
And he is still there front and centre of the midfielders listed on the Official Everton Website | First Team. His bio even boasts that "He featured in more games (44) than any other Everton player in 2020-21"!!!
And given all the incredible shit being thrown in the direction of James over his salary, I'm sure we're still paying ********** his full salary under contract – or they would surely have had to announce something?
But we're not supposed to talk about him, or even suspect that he is the suspended one.
Bobby Mallon
87
Posted 13/09/2021 at 13:16:04
Micheal @86 I agree wholeheartedly with all you have written. It's ok for ********* to be paid but people have a go at James.
Stan Schofield
88
Posted 13/09/2021 at 13:21:18
Remember 'Opportunity Knocks' hosted by Hughie Green (for the older ToffeeWebbers)?
If you can't spell Gylfi Sigurdsson, just put ***********, and we'll know who you mean.
Rob Hooton
89
Posted 13/09/2021 at 13:22:42
Hopefully we will keep up the good start made under Benitez.
Our squad suddenly looks stronger with Godfrey, James and Rondon in it, hope we get to see a fully fit and up for it James at Goodison soon.
3-1 to the blues, with Dom getting on the scoresheet again.
Danny O'Neill
90
Posted 13/09/2021 at 13:24:15
Taxi inbound to start the journey from west London.
I've got time for a cheeky one in Wetherspoons near the station then it's London and Liverpool bound.
See you at the Grand Old Lady Blue Boys.
Bobby Mallon
91
Posted 13/09/2021 at 13:31:33
Stan I was one s out.
Kim Vivian
92
Posted 13/09/2021 at 13:39:42
Yes, you're right Michael - 24. I wonder if they're keeping the window open, as it were, (or door) in the event he is fully exonerated.
I am astonished at the 44 stat' thinking surely Pickford played more than him, but on Googling that I see 'he' was the only squad player to feature in every league fixture.
It would nice to know what James' salary actually is. £90k/week officially, £250k a week bandied round.
Bill Watson
93
Posted 13/09/2021 at 13:39:45
I'm sure Delph can't help always being injured but in most other walks of life he'd have been dismissed by now, or had his contract cancelled, on the grounds of 'we cannot sustain this level of absence'.
For some reason this doesn't seem to apply in the football world!

Dave Roberts
94
Posted 13/09/2021 at 13:40:13
Important game this. Could tell us much. It's a game we would have lost in the second half of last season under Carlo the Magnificent.
Tom Bowers
95
Posted 13/09/2021 at 13:41:00
I must admit that I am not impressed with a partnership of Holgate and Keane and although Keane is solid in the air he is sometimes exposed for speed on the turn. Holgate is quick but not a tight marker and suspect with high balls.
However a Mina-Godfrey partnership is much more appealing and we need to get that sorted soon as.
Burnley are a dour team and rely heavily on set pieces especially getting the high balls to Wood who, though not fast is strong along with his partner Barnes who likes to put himself about.
A 1-0 win may be all we can hope for today.
Bill Gall
96
Posted 13/09/2021 at 14:02:08
Sounds like the police can come to a conclusion on a case slower than it takes Delph to get fit.
Not an easy game tonight, Burnley may be a more physical team but seem well organized, 2/1 for Everton.
Derek Knox
97
Posted 13/09/2021 at 14:20:12
Bill G, " Sounds like the police can come to a conclusion on a case slower than it takes Delph to get fit."
Don't tempt providence Bill, that is their next case !
Michael Boardman
98
Posted 13/09/2021 at 14:59:27
I see Garth "the Crooks of the matter" has his team of the week up on BBC. isn't there still a game to play? They just cannot help themselves around the asthma-medicated RS (had a year away have they?). Makes me sick that I pay the license fee
George McKane
99
Posted 13/09/2021 at 15:06:22
Well, here we are again after another long wait for our Home Game, albeit on a Monday evening. I could have a moan about Monday Night Games, but I will try and turn everything into some form of "posso waves". So tonight I will go along The Appian Way - - Scotland Road and onto Smith Street passing Whittle Street and onto Westminster Road - - just like walking through The Foro Romano - - and looking ahead I will see our own Temple of Vesta - - lit up in Blue and White - - GOODISON in white - - light like clouds against a Blue Cobalt Sky - - reminding me of Vincent's Starry Night on The Rhone (I have stood there):
"And I will raise my hand up
Into the night time sky
And count the stars
That's shining in your eye
Just to dig it all an' not to wonder
That's just fine
And I'll be satisfied
Not to read in between the lines
And I will walk and talk
In gardens all wet with rain
And I will never, ever, ever, ever
Grow so old again".
On the way, I will call into The Dark House to meet with friends - - more and more important to me as age and Post Covid catches up with us all - - it will I hope be heaving tonight - - all the old gang sitting in their particular "cooey" - - The Kirkby Boys by the Dartboard - - Sammy's Gang and The Irish boys in the little cubby - - up in the corner The Battle of Britain Gang - - moustaches all correctly manicured, trimmed, pomaded and stood to attention on Parade - - Wizard Prang Hey Chaps - - my group - - Gaffer and Helen and Liam and Kevin and assorted bandits and vagabonds - - Alistair and George The Gin and Tonic Gang in the "parlour" and the Gang in The Conservatoire - - for a moment I will remember Them Old Dark House Boys from Yore:
"With half-damp eyes I stared to the room
Where my friends and I spent many an afternoon
Where we together weathered many a storm
Laughin' and singin' till the early hours of the morn
By the old wooden stove our hats was hung
Our words was told, our songs was sung
Where we longed for nothin' and were satisfied
Jokin' and talkin' about the world outside
With hungry hearts through the heat and cold
We never much thought we could get very old
We thought we could sit forever in fun
And our chances really was a million to one"
Although the Night Games can be a nuisance - - rushing after work - - especially the 8.00pm KO's - - trying to get back to TDH for a pint (I should be so lucky these days) -- but for all that there is something magical - - wondrous - - about walking up from TDH and getting to Spellow Lane/Walton Road and seeing the "Goodison Glow in the nightime air" - - hearing the hum of the crowds - - the smell - - "Just like way back in the days of old Then magnificently we will float Into the mystic" - - and for a moment you can stop at the Traffic Lights - - close your eyes - - lift yourself and it is as if "sound and perfume swirl in the evening air".
It is now Monday afternoon and I am busy with my Yellow House work - - I am lucky to be working from Home - - many will have to try and get to the Game from Work - - for me I can take a few moments as I normally do - - look around my room at the art posters/postcards/photos/drawings on my wall - - Everton photos and Memorabilia on my desk and walls - - sit and listen to some music - -to lift me and inspire me and raise my spirit into the nightime sky - - read some poetry and then get ready for the game in a fully committed cosmic groove - - I will pick up a friend and take him to TDH - - optimism and hope abundant - - indeed rampant:
"When no fair dreams before my "mind's eye" flit,
And the bare heath of life presents no bloom;
Sweet Hope, ethereal balm upon me shed,
And wave thy silver pinions o'er my head!
Whene'er I wander, at the fall of night,
Where woven boughs shut out the moon's bright ray,
Should sad Despondency my musings fright"
Thank you Mr. Keats (A Great Evertonian - - whose Apartment is near The Mc Donald's next to The Trevi Fountain in Rome - - maintaining the Roman Link - - drop in and see him next time you are there - - he loves talking about all things Blue)
And an Ode To Evertonians/Live Forum:
Dare I hope to hope?
Is it safe? Is it right?
Am I hoping for nothing
But a black and empty night?
Hope should make me happy.
I should laugh, sing, and dance
Because I am hoping. Right?
Let's go with the "possos" - - close your eyes for a moment - - see Goodison under a Cobalt Starry Night - - Hear the Sellers and Smell The Smellers - - see Blue Ribbons flowing - - catching on the wind behind all the Blues walking towards Goodison - - floating and swirling in the evening Blue Air - -
"Hark now, hear the sailors cry
Smell the sea and feel the sky
Let your soul and spirit fly
Into the mystic"
I was speaking with Friedrich Schiller this morning - - we had to be quick - -he was getting ready for the Game and it's a long trip for him - - another great Blue - - he said:
"We speak with the lip, and we dream in the soul,
Of some better and fairer day;
And our days, the meanwhile, to that golden goal
Are gliding and sliding away.
Now the world becomes old, now again it is young,
But "The better" 's forever the word on the tongue."
Well said Fried (as I call him) I said - - "Cosmic Georgeous" (as he calls me) he replied.
So now I will get myself ready - - finish my bit of work - - go and pick up Dave and then onwards:
"Soon we'll be away from here
Step on the gas and wipe that tear away
One sweet dream came true today
Came true today
Came true today (yes, it did)"
And finally a blast on my "gobiron" - - a bit of Harmonica for You Blues - -there you go - - just for you - - out of the window - - down to The River - - over The Water - - over Bramley Moor - - along those Blue Remembered Streets - - up to Goodison - -catching the afternoon air and floating on The Astral and coming into your Window - - just for you - - with Blue Cosmic Grooves and "Posso" Waves - - All The Way - - with a Firm Handshake - - from your Friend George"
For my part I know nothing with any certainty, but the sight of the stars makes me dream.
Great things are done by a series of small things brought together.
What would life be if we had no courage to attempt anything?
There is no blue without yellow

Derek Knox
101
Posted 13/09/2021 at 15:25:37
A great read as always George, pre-Home Match, which seems ages since we last had one, pity the players couldn't get a copy of your words, but I think ' Rafa the Gaffa ' has them more motivated than previous incumbents, so maybe (hopefully) they don't need them for motivation.
Should be a great atmosphere, but as you alluded an awkward time, for those who live locally and have work or other commitments. Let alone those faithful individuals, who it is even harder on, and who travel a fair distance just to be there, and cheer our boys on. Enjoy it George, and all Blues, and hope to see you, and many others on the 25th at The Bramley Moore.
Bill Gall
102
Posted 13/09/2021 at 15:29:47
Derek one way or the other it is about time this alleged case was resolved, as Everton are still paying a player a substantial amount to to sit at home, regardless of some supporters opinion of him.
As a father, grandfather and great grandfather these cases sicken me and I prefer to know the truth regardless of who the case is against.
Jay Harris
103
Posted 13/09/2021 at 15:40:54
George, great stuff as always.
Let's hope we have a season of sailing into the mystic.
It's a long while since we've been there.
Stan Schofield
104
Posted 13/09/2021 at 15:45:21
4-0 for top of the table.
Joe McMahon
105
Posted 13/09/2021 at 15:46:02
Michael (98). The team of the week last time there was PL games was published before the Monday night game, I think Demarai Gray was in it. It's not an anti Everton thing on this occasion.
Eddie Dunn
106
Posted 13/09/2021 at 15:54:32
Michael @98- I had the same reaction when I saw Crook's team of the week caption. I think he is a really poor judge of football and a miserable sod to boot.
As for tonight, let's hope we can open them up -it will take a bit of cleverness.
Any win will take us joint top..I'm not greedy, 1-0 will suffice.
George- I can almost smell the ale in the Dark House with your prose, have a great night.
John McFarlane Snr
107
Posted 13/09/2021 at 15:55:12
Hi George [99] it's good to know that you are in great form, and I hope we can share the evening of the 25th together at the Bramley Moore.
Christine Foster
108
Posted 13/09/2021 at 16:00:15
George, fabulous words once again, capturing the thrill of walking up the valley to the beacon that lights up the sky with an erie glow, I know it well, so many times tread. It was hard not to quicken the pace as we grew nearer, as a smile would cross my face and pride fill my heart.
Even now as I lay awake here in NZ, it's nearly 3am, can't sleep, waiting to get up and watch the game in the morning twilight. I think of all those ex pats and scousers proud across the world, across every time zone who sit beside you as you drink it all in.
Now you know how nice it feels...
Tony Abrahams
109
Posted 13/09/2021 at 16:10:19
Double up your bet George, then sit back and enjoy Goodison with a great big smile. Hopefully a smile that's as big as the one your post has just given me!
Brian Wilkinson
110
Posted 13/09/2021 at 16:13:33
Looking forward to finally meeting you John Mcfarlane snr and a few others, on the 25th, it will be a quick hour or so pop in for me, after the Norwich game.
As for tonight's any sort of win is good enough for me, as long as it is a couple of goals to the good, and not hanging on, to a slender lead.
Can honestly see us getting three, but then do everything but put a fourth away, to take us top.
Danny O'Neill
111
Posted 13/09/2021 at 16:13:42
George, the train (later one than I wanted), has not long left Euston and your words have me smiling to myself as I lift the first drink. See you there in Evertonian spirit if not in person.
Matthew Williams
112
Posted 13/09/2021 at 16:39:56
Big game this one,under the lights with a global audience watching,great chance to get up amongst the big hitters too.
Am remaining 💯% positive on this one folks,now we have wingers and some real pace,am going for a 3-1 win.
Dom should thrive in this game as he's boss in the air and will be a handful for their defence whilst helping out ours from Burnley's set plays.
Let's do this one Blue Boys, let's keep our unbeaten run going eh...and bag us all three points tonight and put on a show for the faithful!.
COYB
Andy Crooks
113
Posted 13/09/2021 at 16:48:58
Eddie @ 106, how dare you!!!
Barry Robson
114
Posted 13/09/2021 at 16:50:26
https://richardajkeys.com/index.php/blog/295-give-it-a-rest-rafa.
Keys has put this piece on his Twitter account.
Not sure what to make of anything this fella says about Everton but if you haven't seen it. Thought people would find it interesting?
Phill Thompson
115
Posted 13/09/2021 at 17:06:03
Great words George, but the pedantic soul within me can't help but correct you. Ole Mr Keat's apartment is next to the Spanish Steps in Rome, I think he still shares it with that other romantic blue, Percy Bysshe Shelley. A bit of a lad is Percy, best avoid going head to head in a drinking contest with him. He claims to have written the original " On the banks of the Royal Blue Mersey ", not sure myself but it's a good tale he tells.
Kieran Kinsella
116
Posted 13/09/2021 at 17:06:30
Barry
"A man in the bar told me he was offered Everton for 500m." Sounds like great detective work from Richard Keys there.
Mike Gaynes
117
Posted 13/09/2021 at 17:13:18
If the rest of the squad are as up for this game as George McKane, it will be a storming victory. Top corner stuff that.
Andy #106, I'm sure Eddie didn't mean to insult your son Garth.
Jay Harris
118
Posted 13/09/2021 at 17:18:09
Just Richard Keys trying to get relevant again IMO.
Jonathan Oppenheimer
119
Posted 13/09/2021 at 17:21:15
What a joy to read, George, especially on a grey Monday morning up in Minnesota. Here's to hoping I will one day make that walk up to Goodison with my 5 year-old, who just told me this morning — wearing his full kit off to school, next to his 4 year-old sister wearing her jersey — that he wants to go to England to see a match at Goodison. I can feel the atmosphere in my bones just reading your post and I'm now feeling even better about tonight's match.
John Hall
120
Posted 13/09/2021 at 17:25:14
Wow George, what a read.
I never walked Everton Valley but many times as a kid I walked from Breck Road and then along Oakfield road before cutting down and passing my old school "Anfield Road" opposite the Flat Iron pub.
Never once did I walk the quickest route which was to pass the red shite's shit tip and then cut across Stanley Park to Goodison as I hated them even as a very young boy and avoided everything and anything to do with them.
Sitting here now and waiting for the game tonight. Just opened my first bottle of BUD with three hours to go before kick off. 5 left in the cooler box and my new 65 inch TV is up and running so hoping for another good result against the rough arses from Burnley. COYB.
John Skelly
121
Posted 13/09/2021 at 17:28:43
I will be in Liverpool that day jay Mac snr do you think I would be welcome to attend
Mike Gaynes
122
Posted 13/09/2021 at 17:36:41
Where are you in Minnesota, Jonathan?
Lived there once myself, long ago.
Kevin Turner
123
Posted 13/09/2021 at 17:41:08
So James isn't near full fitness. WFT has he been doing then? why didn't he stay at FF during the international break honing his fitness so he's ready to take his chance should it come? What do all those who said he'll come back "refreshed" say?
Right, that's out of the way and let's concentrate on getting right behind the eleven out on the pitch. With the quicker tempo and faster transition from the back to the forwards we can put Burnley under pressure and wait for them to crack whilst being careful that Woods doesn't get a chance to bully the back four.
COYB!!!
Danny O'Neill
124
Posted 13/09/2021 at 17:41:17
Just left Stafford train station. I appreciate I'm a few in now and getting more emotional & nostalgic as I get closer to home, but it really felt like I was in 1985 for a few minutes. Simon & Garfunkels Homeward Bound is now in my head.
Apologies to any Stafford blues. No offence meant!
Derek Knox
125
Posted 13/09/2021 at 17:42:55
John Skelly, I know your post was addressed to John McF Snr, but as I organised the Get Together I feel adequately disposed to steal John's thunder, there are no 'invites' as such, eligibility is being a Blue, and all will be made welcome, be good to see you there mate !
Tony Abrahams
126
Posted 13/09/2021 at 17:46:37
Barry, Kieran, Jay, I've just read an article on a Newcastle website that says this is the third time Keys has spun it and told this lie. It says the summer keys says Benitez allegedly spent £102 million, he actually spent around £40 million, but sold around £90 million worth of talent, actually making Newcastle a lot of money, before then bringing them back up into the big league.
Tony Everan
127
Posted 13/09/2021 at 17:50:13
Bluetiful stuff George, positive cosmic grooves to you and TDH lads.
Tony Abrahams
128
Posted 13/09/2021 at 17:56:07
I used to love going through Stafford, on the train Danny, when they used to have that famous Everton estate, and our name was written everywhere in big white lettered paint!!
Ajay Gopal
129
Posted 13/09/2021 at 18:07:06
I have a bad feeling about this one. I fully expect to wake up tomorrow morning here to see this headline on TW: "Dwight McNeil screamer consigns Toffees to 1st defeat of season".
Kim Vivian
130
Posted 13/09/2021 at 18:08:37
Ajay, you're taking the wrong meds - check the label, bud.
Brian Wilkinson
131
Posted 13/09/2021 at 18:10:03
Think we will have the first 5 mins about tonight's game, on tv, then around 20 mins of the Liverpool players injury, with no doubt a centre half and goalkeeper brought into it.
Time to put in a classy win, hopefully plenty of goals for Everton, to take them to top spot, and all talk about Everton after the match.
Danny O'Neill
132
Posted 13/09/2021 at 18:10:56
Totally remember that about Stafford Tony and remember that graffiti!!
Over the Runcorn bridge, bypassing my family home of Speke and onto my home city as it comes into sight as I clear Mossley Hill Station and look over Wavertree towards town.
I've been to many places in the world, some I've love, some I'd rather not have been to, but this city is my home and always will be.
Come on Everton.
Ray Said
133
Posted 13/09/2021 at 18:11:00
Delph injured? How can this be? I am shocked, shocked to the core.
John Skelly
134
Posted 13/09/2021 at 18:15:50
Cheers Derek
Neil Wood
135
Posted 13/09/2021 at 18:19:26
Is anyone who is going gunna buy me a pint at the ground !!!
4-0 tonight
Glad to be back
Barry Robson
136
Posted 13/09/2021 at 18:21:08
Dont forget them having to talk about Ronaldo aswell the red shite Brian.
Kim Vivian
137
Posted 13/09/2021 at 18:23:02
Many comments here and there comparing the Liverpool injury and sending off yesterday with the Van Dick vs Pickford incident, and reference to free kicks, red cards, media bias etc, but no comparison with Son on Gomes which was similar but far with more intent than the Leeds foul yesterday.
If that red card is not recinded it will be a big surprise (not!), and it would also send a loud message to stop being such an effing prat if Klopp could be sent to the stands for a one match detention for his reaction.
Rant over.
2-0 Everton tonight, c'mon you Blue lads!!!
Jonathan Oppenheimer
138
Posted 13/09/2021 at 18:25:55
Mike 122: We're in St. Paul, a few blocks from Minnesota United's Allianz Stadium, which is pretty damn nice, probably one of the best in MLS, so we go to about half the matches there — and all Blues are welcome if you ever find yourself in these parts. But as you know, as much as American soccer has come on in leaps and bounds the last 25 years, I always tell people we'll never compete for a World Cup because the passion just isn't there compared to most of the rest of the world. See, for example, a half-full WC qualifier in Nashville vs. the stadium in Honduras. Thus I wake up on Everton game days excited and nervous and every emotion you find here on TW — my kid, too — even though I've never been closer to Goodison than probably a couple days in York on a trip through England some 20 years ago.
Jack Convery
139
Posted 13/09/2021 at 18:34:09
Jonathan Oppenheimer 138 - Is Minnesota Utd the team Heath manages. If yes how are they doing ?
Derek Knox
140
Posted 13/09/2021 at 18:37:36
Neil Wood, can't buy you a pint but you know I would, not going tonight just watching at home with a nice Shiraz. I have predicted almost the same as you but with Burnley getting a consolation, mine is 4-1. Hope to see you Neil after the Norwich game at Bramley Moore, even if only for an hour or so, as I know you have to travel after. Many friends will be there !
Mike Gaynes
141
Posted 13/09/2021 at 18:39:59
Hey Jonathan... delighted you're a Minnesota United fan. A friend's young son plays in their youth program, and they've had dinner with Adrian Heath. I hear he's down to about 5-foot-4. (Note to Jack: they're a mid-table club with terrific fan support.)
I lived in Austin, Minn. back in the late '70s. Starting my sportscasting career there. Covered the Gophers, the Vikings at the old Met Stadium, the North Stars and some serious high school hockey.
John Boon
142
Posted 13/09/2021 at 18:46:06
Memory Lane.
Whenver we play Burnley I feel tired. WHY?
On August 27 1955 I cycled to Burnley to watch us win 1-0. I t was 65 miles each way. We left at 6.am to see the game. Going was not too bad but coming back was HELL. I still remember passing Shweppes on Long Lane at 3.30 am on Sunday. I was 15 and we were able to do so many things without having to tell parents what we were doing. My Mum woke me on Sunday afternoon to ask me where I had been the day before.
Today I will walk 4 yards to watch us BEAT Burnley. PLEASE ??. Today my wife will once again ask why I get so anxious when Everton play.
Kieran Kinsella
143
Posted 13/09/2021 at 18:50:07
Tony 126
Keys (I can't believe he is still on TV ANYWHERE) seems to have vendetta's against lots of people including Rafa and James who he was slagging off early last when we were doing well. I think he lives in a bit of a fantasy world and stirs up controversy so he gets attention. He also seems obsessed with criticizing Everton even though he claims to like them though I suspect that's to suck up to Andy Gray
Jonathan Oppenheimer
144
Posted 13/09/2021 at 18:50:51
Yes, of course, how could I not mention that Heath has been our manager from our first game in MLS. He has his backers, but unfortunately I'd say just as many people want him out as want him in. We're wildly inconsistent, but as Mike said, we have a strong fan base, selling out most games in the new stadium (many MLS games look like they're a quarter full), so despite our awful crook of a billionaire owner (no surprises there in football ownership), it's a fun team to support. In America we support the team, with the issue being that there's no real club to feel ownership over. We do have an academy, but it's poorly run, from everything I can tell — maybe your friend has a different opinion, Mike. But at least that's not Inchy's fault. To compete we have to buy 2nd rate players from South America and Europe, because we sure aren't developing the talent internally.
Never been to Austin, Mike. Any reason to go? How did you become an Everton fan?
Tony Abrahams
145
Posted 13/09/2021 at 18:51:32
You have got about three years to get to Goodison, with your children Jonathan, and you really deserve to get there mate, when you describe your emotions for Everton FC!
I'm just getting ready to go the game now, I've spoken to a few people today who are really excited, listened to Danny, giving us a running commentary on his journey towards Goodison Pk.. But it's only now that I've started to get in the mood, and realise how lucky I am to live so close to the ground, when I think about how many fanatical fans Everton have got all over the world🙏
One day I hope you all get to see Goodison Pk, under the floodlights!
Bill Gall
146
Posted 13/09/2021 at 18:51:45
Kim Watching talksport today on the weekend results, and Don Hutchinson mentioned that this tackle was the same as the Son /Gomez tackle were Gomez's foot was caught in the turf when he was tackled and this caused the damage and not the tackle, and with an appeal Son's red card was rescinded.
Kieran Kinsella
147
Posted 13/09/2021 at 18:51:46
John Boon
Sounds like you're the lucky mascot but I am not sure TV will cut it. On yer bike mate, you might make the injury time
Dave Abrahams
148
Posted 13/09/2021 at 18:53:37
George (99), I always remember those early evening kick offs at the start and end of a season in the late forties and early fifties, along Greatie, up Virgil St, and on to ScottieRoad, jump on one of the many wagons going to Goodison Park, drivers not bothered, full by the time we got to the bottom of the valley and then either along Walton Road or up the Valley and on to Stanley Park then off we got and into The Boys Pen, thrilled to bits just being there, one such Wednesday night I saw the FA cup paraded around the ground, Wolves had won it on the Saturday, what a sight for a young eight year old!!
Another great post George, enjoy your night before and after the game, I'm expecting an Everton victory, hope it's 4-0 for you George.
Duncan McDine
149
Posted 13/09/2021 at 19:01:49
No live forum yet?… where else do sad feckers like me hang out this close to kick off?
Derek Knox
150
Posted 13/09/2021 at 19:09:40
John Boon @142,
Wow that was some feat to cycle all that distance, I know there was a lot less traffic on the road then but still, the innocence of youth. Could you honestly imagine any teenager, unless he was hoping to get into the British Cycling Team, doing that now, and they have much better equipped bikes than back then?
Sturmey Archer 3 speed gears and a leather (sprung) saddle and saddlebag, on the posh models that was. Jeez!
Darren Hind
151
Posted 13/09/2021 at 19:16:23
George @99
I can't get there tonight and was feeling quite miserable about it.
My spirits were lifted when I saw the face on the kid three doors down on the news that he could have my seat. You just lifted them a little higher.
Even by your standards, that was some post, mate.
---
Add Your Comments
In order to post a comment, you need to be logged in as a registered user of the site.
Or Sign up as a ToffeeWeb Member — it's free, takes just a few minutes and will allow you to post your comments on articles and Talking Points submissions across the site.