Everton facing three games without injured quartet
Saturday, 18 September, 2021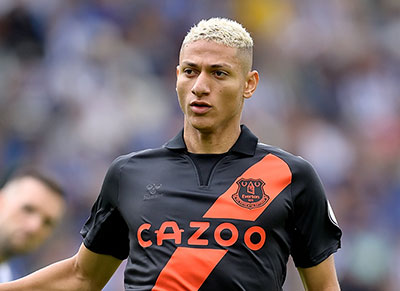 In addition to Dominic Calvert-Lewin, it could be until after the next international break before Richarlison, Seamus Coleman and Jordan Pickford are fit again.
According to the club, the injured Everton quartet are expected to be sidelined for between two to three weeks which means they are almost certain to miss the trip to QPR in midweek and the home game with Norwich City.
The Blues travel to Old Trafford on 2nd October and there appears to be an outside chance of one or some of the players to be ready but it seems as though it's more realistic that they will be given until when the Premier League programme returns in the middle of next month to recover.
Calvert-Lewin has missed the last two games with an injured toe and a thigh problem, Coleman aggravated a hamstring complaint in training this week that he had picked up playing for Ireland and Pickford reportedly injured a shoulder at Finch Farm.
Richarlison, meanwhile, sustained knee damage from the dangerous tackle that James Tarkowski executed on him last Monday, a problem he was unable to shake off during training this week.
There was some word on the condition of Jean-Philippe Gbamin who was last reported to have been left out because of a tooth abcess three weeks ago but appears to have been stymied this time by discomfort in his quadricep.
Finally, according to Rafael, Benitez James Rodriguez was left out of the squad to face Aston Villa today after the Colombian expressed 'concern' over a muscle issue.
---
Reader Comments (23)
Note: the following content is not moderated or vetted by the site owners at the time of submission. Comments are the responsibility of the poster. Disclaimer
Barry Hesketh
1
Posted 18/09/2021 at 21:08:16
Does James forfeit any of his wages when he declares himself unfit to represent the club? He has played this card a number of times in his brief Everton career, I think if he doesn't appear in the squad in the next few matches, due to his self-assessment of being injured, Everton FC should bite the bullet, pay his outstanding wages for the remainder of his contract and send him home to Colombia.

Mike Allison
2
Posted 18/09/2021 at 21:14:03
It's fucking ridiculous. We must have the worst medical staff in world football. We can't even fill a bench. Does anyone keep statistics on games missed through injury?
With regards to James, we should bite the bullet and refuse to pay him. It would be very interesting to see what would happen. Presumably it would pit some Uzbek gangsters against some Colombian ones.
Pat Kelly
3
Posted 18/09/2021 at 21:21:34
Barry if James keeps phoning in sick, just leave him out in the cold. Why let him swan off home with his contract paid up?
Barry Hesketh
4
Posted 18/09/2021 at 21:24:34
Pat @3,
Obviously, it isn't an ideal solution, but it would lance the boil so to speak and we wouldn't keep having to wonder will he or won't he play or whether the manager should or shouldn't select him.
Kieran Kinsella
5
Posted 18/09/2021 at 21:42:58
These games will be a big test for Gray and Townsend. They've started brilliantly but can they maintain it?
Mike Corcoran
6
Posted 18/09/2021 at 23:20:07
James heading for the Niasse treatment? I'm sure he could show Dobbin, Whitaker, Welch and Warrington a few tricks while he winds the clock down?
Minik Hansen
7
Posted 18/09/2021 at 23:38:46
Well, at least we've got something to look forward to, getting our starters back.
As for James, I hope when he starts, he will have a good run of games.
Barry Hesketh
9
Posted 19/09/2021 at 00:35:12
Asmir Begovic (HGP)
Dominic Calvert-Lewin (HGP)*out*
Seamus Coleman*out*
Thomas Davies (HGP)
Richarlison De Andrade *out*
Fabian Delph (HGP) *out*
Lucas Digne
Abdoulaye Doucoure
Jean-Philippe Gbamin *??*
Benjamin Matthew Godfrey (HGP)
Demarai Remelle Gray (HGP)
Mason Anthony Holgate (HGP)
Alex Iwobi (HGP)
Michael Vincent Keane (HGP)
Jonjoe Kenny (HGP)
Andrew Michael Lonergan (HGP)
Allan Marques Loureiro
Yerry Fernando Mina Gonzalez
Jordan Lee Pickford (HGP)*Out*
James David Rodriguez Rubio*??*
Jose Salomon Rondon Gimenez
Andre Filipe Tavares Gomes
Cenk Tosun*??*
Andros Darryl Townsend (HGP)
24 – 5 Out injured = 19 – 3 question marks = 16 which includes two keepers and a couple who aren't likely to be fully match fit. The youngsters available to be selected but not on the list don't seem to have the wherewithal to step up to the plate either.
This is not good, is it?
Colin Glassar
10
Posted 19/09/2021 at 07:36:09
Hasn't Gbamin heard of Bonjela? It only costs a few quid.
James Newcombe
11
Posted 19/09/2021 at 10:37:52
Well Colin, he could injure himself squeezing the tube; so maybe we should keep the Bonjela knowledge to ourselves on this occasion.
David Pearl
12
Posted 19/09/2021 at 11:44:13
Kieran, 5
That says a lot. We are relying on those 2 new signings to carry us over the next few weeks.
I think lwobi needs extra shooting practice and we try him through the middle.
With the right investment l thought this season we could really kick on... not to be as we are still paying the price for the Koeman/Walsh years.
Jim Bennings
13
Posted 19/09/2021 at 14:22:57
It's cruel but you have to laugh when it comes to Gbamin and his endless run of injuries, the fella makes Darron Gibson look super fit.
If we ever think we can build a team around players like this, then we are in cloud cuckoo land.
Kevin Molloy
14
Posted 19/09/2021 at 14:55:12
It was Gbamin's quadricep that originally got knackered.
If it's still playing up after 2 years of rehab...
Jack Convery
15
Posted 20/09/2021 at 03:49:51
Who to pick v QPR on Tueday. Do we want a cup run or not ? Do we go strong or play a reserve XI ? Me I'd go strong and get the Villa game out of the system asap.
Begovic or Lonerghan - I would pick Begovic as we need to get him as match sharp as possible.
Something is not right with Godfrey so I'd rest him. This leaves Kenny or Holgate for full back. Whoever gets it is being trialled for the Norwich game and Manure, as we cannot play Godfrey at right back again. Holgate for me.
At centtre backs I'd keep it simple and play Mina and Keane again.
Digne at left back - with a rocket up his arse. Nkounkou / Small where are you ?
Midfield - Doucoure, Gomes and Davies ( Allan looked goosed at Villa ).
Then Towsend, Grey and Iwobi. Grey at CF.
Rondon can come on in the last quarter to help with his match fitness, which is sorely lacking at present. To ask him to start again may lead to an injury forcing him out of the Norwich game. Gbamin can do the same as could any of Kenny, Gordon and Branthwaite - providing we are winning of course !! I would make Townsend Captain and put Grey on penalties.
Ed Prytherch
16
Posted 20/09/2021 at 04:25:27
Regarding the left-back situation, this song was heard at Middlesborough on Saturday, to the tune of "Ring of Fire":
Carlo said that Garbutt's shite
Now he's fucking dynamite
Overlapping on the wing
He can hear the Blackpool sing
Denis Hignett
17
Posted 20/09/2021 at 12:27:35
We could really do with Tosun coming back.

Tom Bowers
18
Posted 20/09/2021 at 12:44:10
After a good start we come down to earth with a bang as the defence comes up short after a decent first half.
Last week against Burnley was the opposite, a poor first half and a three goal blitz to seal the game.
A mini crisis after a good start to the season and injuries not helping either with a real big test coming up at Manure soon.
Never fails does it.
Ian Jones
19
Posted 20/09/2021 at 12:46:45
If we need a new striker as cover, Andy Carroll is still probably available!
Barry Hesketh
20
Posted 20/09/2021 at 12:59:05
Tom @18
The real test comes on Saturday against Norwich City, a depleted squad, the realisation – if not total acceptance by the fans – that the club is in dangerous financial waters, and a manager – although largely tolerated by many – who could provoke the ire of the Goodison faithful if he fails to get enough positive results this side of Christmas, plus a banana skin of a cup-tie tomorrow evening.
Old Trafford and the other Top 6 venues are places where any points accrued will be welcomed but not at all expected, even with a fully fit squad available. It is never easy being an Evertonian, is it?

Howard Sykes
21
Posted 20/09/2021 at 13:42:10
It's like last season great start: some injuries and the wheels fall off the wagon.
Jerome Shields
22
Posted 21/09/2021 at 10:37:56
Medical Services
Transfers squad building.
Youth development
Competence questions?????
Ken Kneale
23
Posted 21/09/2021 at 11:55:24
Jerome
Incompetence questions more like - perhaps it is the misery of being an Everton supporter but it seems my perception (although I have never calculated ) that we seem to have more than our fair share of players who either sign up with injuries undetected or gain injuries from which they take an extraordinary time to recover and often never to the level of play before. Injures are part and parcel as we all know but that is my perception of the situation at Everton
The problem is when that is factored into the other matters you list, it makes a disproportionate loss compared to a well built squad or one where a promising youngster can be summoned to first team duties.
It will be interesting to see how Mr Benitez in the short term and the club in the medium term deal with this - I suspect it will be instructive on how things go longer term for this manager
Michael Lynch
24
Posted 15/10/2021 at 13:47:33
Richarlison and Calvert-Lewin still on the injured list (along with Gomes and Delph), so Rafa's still up against it with our wafer-thin squad. Our former manager will be cock-a-hoop of course, as he has a full squad to choose from.
---
Add Your Comments
In order to post a comment, you need to be logged in as a registered user of the site.
Or Sign up as a ToffeeWeb Member — it's free, takes just a few minutes and will allow you to post your comments on articles and Talking Points submissions across the site.