Everton vs Norwich City
Friday, 24 September, 2021
Match Preview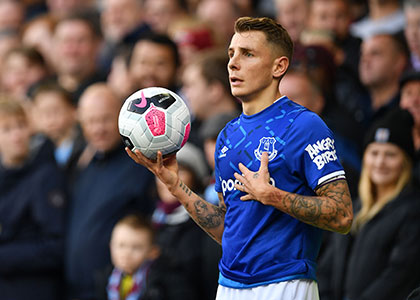 Lucas Digne looks set to play despite coming off with an ankle knock during the cup defeat to QPR last Tuesday
Having suffered the ignominy of a Carabao Cup defeat to Championship side QPR, Everton turn their full attention to their Premier League campaign which resumes on Saturday against Norwich City.
Thankfully, the Blues' potential selection crisis at full-back looks to have been avoided for now after Rafael Benitez indicated that Lucas Digne has been training over the past few days.
The Frenchman was withdrawn from the Carabao Cup tie at Queens Park Rangers on Tuesday with an ankle complaint and was immediately a doubt for this Premier League fixture against Norwich but he looks set to be available for selection.
Seamus Coleman remains sidelined with a hamstring problem but Digne could be joined in the team to face the Canaries by Jordan Pickford who has also been able to train this week after missing the last two games with a shoulder injury.
Article continues below video content
Coleman, along with Richarlison and Dominic Calvert-Lewin, may not be ready to return until after the next international break, however.
"[Richarlison is] not available," Benitez confirmed. "He is getting better but the two strikers are not available so we have to make sure the people around are capable to score goals. We have done with different players.
It's a question of time for [Salomon Rondon]. He has to improve his fitness."
When asked if any of the injured trio will be playing for their countries during the upcoming international break, the manager said: "No chance. They will not be available."
Benitez also confirmed that Jean-Philippe Gbamin remains sidelined because of injury and that André Gomes is also out after starting in the cup tie on Tuesday before coming off in the second half.
The continued absence of that first-choice front pairing leaves Benitez short on options, with Rondon the only senior recognised centre-forward available. On that basis alone, the Venezuelan might get another start even though he does look well short of match fitness but the manager could also opt for Demarai Gray up front, supported by Andros Townsend, Alex Iwobi and, perhaps, Anthony Gordon.
The teenager did enough at QPR to suggest he is deserving of more opportunities in the side, although whether that stretches to starting at the moment remains to be seen.
On the other side of defence from Digne, Jonjoe Kenny's weak showing in the cup defeat means he is unlikely to retain his place at right-back, which leaves Ben Godfrey and Mason Holgate as the likely deputies for Coleman.
As far as Norwich are concerned, there is only one statistic that has haunted the Evertonian psyche since the Toffees went down at Aston Villa last weekend and the Canaries extended their sequence of successive losses in the Premier League to 15 when they were beaten at home by Watford.
It's a run of defeats that stretches back to two seasons ago when the East Anglian club were relegated and Godfrey was still in their team. It's also one that is tailor-made for a team coming to Goodison Park, where torrid runs of form and goal droughts are miraculously ended by the accommodating Blues.
Such generosity pre-dates Benitez, of course, so the hope is that he can keep his charges focused and motivated to get back to winning ways and get the three points that they should do based on the form book and the respective strengths of the squads on paper.
Kick-off: 3pm, Saturday 25 September 2021
Referee: David Coote
VAR: Lee Mason
Last Time: Everton 0 - 2 Norwich City
Predicted Line-up: Pickford, Godfrey, Mina, Keane, Digne, Allan, Doucouré, Townsend, Iwobi, Gray, Rondon
---
Reader Comments (119)
Note: the following content is not moderated or vetted by the site owners at the time of submission. Comments are the responsibility of the poster. Disclaimer
Marc Hints
1
Posted 24/09/2021 at 14:12:03
Wow! Looks like six players out for Norwich:
Gomes, Calvert-Lewin, Richarlison, Gbamin, Coleman and Delph!
Danny O'Neill
2
Posted 24/09/2021 at 14:34:53
But Pickford back Marc.
And really that's just 3½ players.
Gbamin (sadly) we have't had for almost his entire tenure. Gomes (again sadly) just rarely lives up to the talent. And Delph's continued absence in not an absence; it's welcome.
Allen Rodgers
3
Posted 24/09/2021 at 14:52:04
Gbamin is an urban myth.
And I agree with Danny, Delph is no loss. Should also mention the man who cannot be named – and he's no loss either.
Jay Harris
4
Posted 24/09/2021 at 15:02:23
It is right-back and up front where we have the most concerns.
Godfrey is a shadow of the player we saw last season and may still be feeling the effects of Covid so I would put Holgate in there alongside Keane and Mina and Digne.
Anthony Gordon looks more convincing than Iwobi... in fact, my deceased aunt looks better than Iwobi.
Glad to see Gbamin back, never thought I would say that 2 years ago but, since his psychiatric help, he has upped his game.
So I would go 4-4-2 with Gordon and Simms (okay, Rondon if we have to) and a midfield of Doucouré and Allan, Townsend and Gray.
KITAP1.
Let's hope the supporters get behind a very depleted team which is the club board's fault and not that of the manager or the team.
Marc Hints
5
Posted 24/09/2021 at 15:18:26
Danny – yes, you're right; I don't even know why I mentioned Delph!
Mark Ryan
6
Posted 24/09/2021 at 15:23:57
Who?

Stephen Vincent
7
Posted 24/09/2021 at 15:32:43
Jay, I was having trouble pouring some golden syrup on a pancake this morning and Rondon immediately came to mind.
Mike Gaynes
8
Posted 24/09/2021 at 15:37:13
Stephen, I was watching some video this morning of oozing lava at Volcanoes National Park in Hawaii, and Rondon came to mind.
Frank Crewe
9
Posted 24/09/2021 at 15:47:37
1 left back and 1 right back. Totally ridiculous. Should never have loaned out Nkounkou. At least he would have given us a bit more cover.
@Mark. 7 players out. Don't forget Sigurdsson.

Stephen Vincent
10
Posted 24/09/2021 at 15:53:26
Much better analogy Mike. Waiting for someone from Iceland who lives close to a glacier to post.
Dave McDowell
11
Posted 24/09/2021 at 16:10:01
Surely an insurance payoff has to be seriously in discussion for Gbamin. His torn quadricep muscle has been a career ending injury for many basketball players.
It's a tragedy for the guy put I doubt he's seriously going to play top level football again.
Andy Crooks
12
Posted 24/09/2021 at 16:10:20
Digne might be fit to face Norwich, However, my fitness is in doubt. Back injury compounded by just being charged £9.60 for a glass of wine at Belfast international airport. FFS. I was parched, though!
Jim Bennings
13
Posted 24/09/2021 at 16:14:13
Even though he's not the player he was in his first season with us, trying to play without Lucas Digne when you don't have a backup left back would be unthinkable.
As for the rest, what exactly is even the point of JP Gbamin and Fabian Delph?
Can we just try our utmost in January to find these two fellas new clubs because neither are ever gonna contribute jack shit in an Everton shirt, both signed two years ago now and can count on one hand the combined starts they've had.
Mark Murphy
14
Posted 24/09/2021 at 16:18:40
Mike I was watching a Chinese tourism report on visiting England and Rondon came to mind...

Christy Ring
15
Posted 24/09/2021 at 16:21:01
Feel sorry for Gbamin is his latest injury anyway related to his original injury? As for Delph enough said
Andy Crooks
16
Posted 24/09/2021 at 16:31:11
Rondon looks unfit. However, even at full fitness how likely is he to return to whatever he did at Newcastle? And how good was that?
Mike Gaynes
17
Posted 24/09/2021 at 16:34:25
Andy, obviously you're drinking champagne at the airport!!
And you make my exact point about Rondon. He was never that good even when he was good, and that was several years ago. I still doubt he will be much of a contributor.
Tony Everan
18
Posted 24/09/2021 at 16:34:29
It is welcome news about Digne and Pickford.
Who plays right back then, Kenny, Godfrey or Holgate. Or will we see three in the middle and a return of the wing backs.
I'd prefer the flat back four with Holgate at right back. he's no natural but he is the best option for the role as things stand. Not convinced by Godfrey in that position and Kenny just hasn't looked good enough.
Pickford
Holgate Keane Mina Digne
Allan Doucoure Gomesh
Townsend Simms Gray
It's not going to happen, but Rondon is still not match fit after four months with no football. Benitez said today that he didn't expect to be using him so soon. Alluding that he would rather play Richarlison through the middle if DCL is out. Simms could be sharper and be a better alternative, and deserves his chance . It's the right time to give him an opportunity.
Jim Bennings
19
Posted 24/09/2021 at 16:36:37
Christy
I feel sorry for him too but unfortunate as it is, we are not running a charity where we can spend £20 million plus on players plus no doubt quite considerable wages for absolutely no return two years on.
We need to move Gbamin on.
We need to move Delph on.
We need to move Tosun on.
Three player that are draining the club financially and offering nothing.
David Hayes
20
Posted 24/09/2021 at 16:36:59
I was watching a jello set in the kitchen and Rondon came to mind. As RB keeps reiterating he hasn't played for 4 and half months previously, and we didn't expect our strikers to get injured. So the back up plan to what was almost inevitable was?. So now we get to watch a older totally unfit version a player who is shit at there best. Unbelievable.
Tony Everan
21
Posted 24/09/2021 at 16:42:15
Jim 19, The only time they weren't injured is when they signed the contract.
Said in jest because it must be soul destroying to be so unlucky with injuries. I wish all of them a speedy recovery.
Marc Hints
22
Posted 24/09/2021 at 16:44:58
Crikey I had forgotten about him Frank!
Dave Williams
23
Posted 24/09/2021 at 16:52:27
Pickford returning will be very welcome and will steady the defence a bit( never thought I'd be saying that!!).
I'd go three at the back with Townsend and Gordon wide and Allan, Doucouré and Gray in between them. I'd love to see Simms up front with Rondon as it would help Rondon while he is struggling for fitness but can't see Rafa going for it.
We are so short of players- Tom was poor in the week and unless Jp or Gomes are fit we are down to untried youngsters.
Nonetheless I am looking forward to my first trip to the Old Lady in 18 months.
If anyone is around for a beer pre game let me know!
Pete Gunby
24
Posted 24/09/2021 at 16:58:00
I was watching a documentary about Alaska's melting glaciers, nothing came to mind. Then they focused on the cold end and I immediately thought of Rondon
Stephen Vincent
25
Posted 24/09/2021 at 17:04:04
Dave, few of us meeting in the Royal Oak 1.00 onwards. Join us at your peril will be on the tables outside.
Michael Lynch
26
Posted 24/09/2021 at 17:18:45
It seems pretty clear that Rafa is going to play Rondon again, even though he admits he's nowhere near full fitness. What's the point? Surely a fully fit player, any player, would be a better option up front? It's not like Rondon is so good that you'd pick him even when half-fit - in fact, when either DCL or Richarlison are back, Rondon goes straight back onto the bench whether fully fit or not.
So, either play Gray down the middle for his pace, or stick Big Dunc up front as a target man. Rondon can be in charge of the tea trolley at half time.
Jim Bennings
27
Posted 24/09/2021 at 17:20:05
At least Pickford coming back to replace the Hologram in goal is a plus point.
Christy Ring
28
Posted 24/09/2021 at 17:20:11
Jim I agree completely but if it's a recurrence of his original injury isn't it time to call it a day, as for the other names you mentioned there contracts are finished next summer thankfully as well as the unmentionable one
Dave Williams
29
Posted 24/09/2021 at 17:20:52
That's great Steve- thanks mate!
How will I know you- got a mobile number?
Steavey Buckley
30
Posted 24/09/2021 at 17:20:54
"Even though Benitez is without injured forwards Dominic Calvert-Lewin and Richarlison for his team's home fixture with Norwich City, the Spaniard said he had to take a longer-term view on Rodriguez's departure.
He also said he had spoken to majority shareholder C, who indicated money was now available to buy players in January. Benitez previously explained that the club were unable to add to the £1.7m of spending in the summer because they had been "killed" by financial fair play rules."
Ajay Gopal
31
Posted 24/09/2021 at 17:27:57
On the bench: Simms, Davies, Gordon, Godfrey, Kenny
Team:
Pickford
Holgate Keane Mina Digne
Doucoure Allan
Townsend Iwobi Gray
Rondon
Brent Stephens
32
Posted 24/09/2021 at 17:33:48
Dave #23 "If anyone is around for a beer pre game let me know!"
Thanks, Dave - I'll have a pint of bitter, please, mate. Anybody else?
Peter Neilson
33
Posted 24/09/2021 at 17:38:35
Unfortunately Jim (13) there's nowhere to move them onto. Not just on ability, also wages means we're stuck with them. Same applies to much of the squad.
Anyway mark Pukki out of the game and we have a chance!
Brian Wilkinson
34
Posted 24/09/2021 at 17:41:49
One things for sure, if a player comes in for a bit of flak, they have a Knack of popping up with a goal.
Get your money on Rondon to break his duck tomorrow, you just know he is going to do it.
Jack Convery
35
Posted 24/09/2021 at 17:44:53
Not only will the crowd tomorrow be our 12th man, they will also have to be our 13th, 14th and 15th man too. whatever happens stay behind the team and pluck the canaries.
I expect RB to go with Begovic, Holgate. Keane, Mina, Digne, Allan, Doucoure, Townsend, Grey, Rondon and Iwobi. I personally would play myself before Iwobi but there you go.
Kim Vivian
36
Posted 24/09/2021 at 17:59:07
2 in the onion bag for Rondon tomorrow!
Pete Jeffries
37
Posted 24/09/2021 at 18:11:15
Just what is it with modern players and injuries.
Dont recall Cattericks or Kendalls teams having so many first teamers out at any one time like this.
Players often were ever-presents played every match in the season. Despite harder tackling many times broken legs etc..
Is it the speed of todays game or the effect of the insurances or medics ??
Any TW insiders comments to enlighten us all on this subject would be welcome

Jeff Armstrong
38
Posted 24/09/2021 at 18:21:53
Troy Deeney or Soloman Rondón... you decide.
Personally I'd go Deeney, fighter ,vocal, doesn't suffer fools, ok …similar goals record to Rondón, but takes a great pen!
Bill Gall
39
Posted 24/09/2021 at 18:23:36
There was a nature program on tv about sloths and Rondon got overtaken by one.
Enough of the jokes,the serious problem is we don't have fit or better backups for injuries. The irony is only Everton could get 4 of their regular starters injured at the same time.
Geoff Williams
40
Posted 24/09/2021 at 18:28:02
If Rondon and Iwobi are selected then it will be a case of 9 v 11. My belief in Benitez turning things around has already evaporated.
Nicholas Ryan
41
Posted 24/09/2021 at 18:30:40
I thought RONDON was short for RONald mcDONald!
Jay Harris
42
Posted 24/09/2021 at 18:32:23
Pete its the carpet slippers they wear and the game is a bit faster now.
Plus the poor dears probably get a foot massage on their delicate pinkies before every game.

Geoff Cadman
43
Posted 24/09/2021 at 18:33:58
Was Delph the reason Nkounkou was allowed to go out on loan, he has cost us more than James for roughly the same number of games.
Is he who can not be named still being paid during his suspension.
Chris Hockenhull
44
Posted 24/09/2021 at 18:35:12
Pete 37. Look at the injuries we started the 86-87 season with. And it never let up. And look what happened. The 1969:70 side Had players missing too
David Currie
45
Posted 24/09/2021 at 18:37:24
Rondon and Begovic are both awful signings, why after letting Kean go do we get a big unfit lump who has zero mobility??
Kieran Kinsella
47
Posted 24/09/2021 at 18:48:53
David 45
I thought Begovic was a decent signing as number 2, but so far he has disappointed. I would rather have kept Virginia.
Subs bench should be inspiring tomorow. Tom Davies and a handful of teenagers with pulses.
Dave Williams
48
Posted 24/09/2021 at 18:50:13
Brent #32 I would buy a round for the whole pub but my expenditure is restricted by FFP- a fucking frightening partner aka The Wife!!
Phil (Kelsall) Roberts
49
Posted 24/09/2021 at 18:54:11
Is JPG today's Danny Williamson?
Kieran Kinsella
50
Posted 24/09/2021 at 19:08:23
Phil
Danny Willamson was a bargain by comparison. 15 games in 3 years, JPG needs 12 more in the next 8 months to match that astonishing record.
John McFarlane Snr
51
Posted 24/09/2021 at 19:08:56
Hi Pete [37] I believe that it's a case of over training, in my opinion they are treated as athletes and not footballers. How many times have we seen or heard of, players being injured in the pre-match warm up? It was impossible for such injuries to have occurred in the 1950s because there was no such thing as a pre-match warm up, just a kick about before the game got under way.
Hi all, we all have our favourite players and those we don't rate, but I find it distasteful to ridicule players when an "He's not good enough" remark will suffice. It's something that those of us who are planning to attend tomorrows get-together can discuss. It's also my opinion that not only has the game changed but also the attitude of some of the fans, but then I may be completely wrong. My standards were set over 70 years ago and I find it difficult to alter them now.
Jay Harris
52
Posted 24/09/2021 at 19:37:17
Sir John,
Like you I see a major change in the game as it used to be but I think the fact that the current bunch earn more in a week than most of the old great players earned in a lifetime even allowing for inflation has a lot to do with the disenchantment. That and the advent of social media and even sites like our own ToffeeWeb.
Where in the old days you had a debate over a pint or a half time argument without the players ever hearing a thing we now have fans swapping insults (and compliments) via twitter and the like.
John McFarlane Snr
53
Posted 24/09/2021 at 19:48:28
Hi Jay [52] I have to admit that I have heard of Twitter and likewise Facebook, but I'm pleased to say that I have no idea how they operate. We used to defend our team and players when Liverpudlians attacked them, we now have to defend them when Evertonians attack them, a sad state of affairs.
Dale Self
54
Posted 24/09/2021 at 20:03:47
Stay pure John Sr, avoid them both. Some of the angst is just exhaustion from world events taken out on our team when they don't magically pull us out of mild depression. There does seem to be another element that has appeared but I refuse to dignify it with full recognition. And then there is the flat out trolling that has come along in our times. I try not to let those lot drive my emotions about Everton issues but it is hard to be insulated from those with whom you share a community thing. I hope when my voice gets a bit harsh others realize this as well.
Danny O'Neill
55
Posted 24/09/2021 at 20:16:59
Pete @37, I think it's just fortune. The forgotten champions thread makes us remember how decimated by injury the 86-87 squad was.
Tom Harvey
56
Posted 24/09/2021 at 20:36:28
His early season form has been very Iwobi like, other than that goal he scored against against QPR, not really enough to justify his place if there was a decent replacement behind him waiting.
Mal van Schaick
57
Posted 24/09/2021 at 20:56:01
Expecting a 3-0 win tomorrow. As for Digne his form need to improve.
Benitez has said this evening that he has met with Moshiri and he has funds available for January, with the exit of Bernard and James, and identified strengthening areas.
Please address our weak bench problem, by moving at least Delph and Davies on and get two decent midfielders on the books in January.
Stephen Vincent
58
Posted 24/09/2021 at 20:59:47
Dave Williams - 07735842106
Ian Brandes
59
Posted 24/09/2021 at 21:29:51
Is it a bonus that Digne is available? His passing is awful, distribution shocking, and his tackling is as woeful as his set piece free kicks, Cannot believe he is still a regular in the team, but who else is there ?
Dave Williams
60
Posted 24/09/2021 at 22:14:40
Cheers Steve.
Andrew McLawrence
61
Posted 24/09/2021 at 22:25:01
Feels like an early 6 pointer this one
Graeme Beresford
62
Posted 24/09/2021 at 22:43:10
Steve, I've just rang that number and somehow I'm now the owner of a Swedish penis enlarger, I don't even know how they knew!
Jay Harris
63
Posted 24/09/2021 at 22:44:12
Joking aside if Everton football club at home cannot beat a side who have lost their opening 5 games then the whole club needs locking up.
Although we have a number of injuries this is a watershed for RAfa. Win this and the belief goes on. Lose this and we are on the precipice of ending in tears.
Alan McGuffog
64
Posted 24/09/2021 at 22:57:27
Yeah cos it'll be Rafa' s fault that we've been bloody awful for most of the last fifty years.

Ed Prytherch
65
Posted 24/09/2021 at 22:59:34
I seem to recall that Tosun has been training for a couple of weeks. He might be a better option than Rondon at the moment but my preference is Gray in the middle and Gordon on the left.
Mike Keating
66
Posted 24/09/2021 at 23:24:47
Andy @ 12
Drink Guinness
Pete Clarke
67
Posted 24/09/2021 at 23:27:49
After years of splashing huge amounts of money on players plus the acquisition of a highly recommended Marcel Brands we somehow find ourself in survival mode. How on earth has it come to this ?
With the appointment of the highly divisive Rafa Benitez plus a threadbare squad for him to sort out it was obvious that we would at some point find ourselves 1 defeat from a possible meltdown.
This Norwich game is a must win game for confidence because the following games will be a nightmare.
How can a professional footballer be so unfit as Rondon is and worse still why recruit a player in this condition as it smacks of being unprofessional. It hardly gives our young lads any heart to see him trudging around on the pitch.
Bill Watson
68
Posted 24/09/2021 at 23:59:00
As a Civil Service TU rep., I represented many members facing dismissal for sickness absence. The employer would always say 'The department cannot sustain this level of absence'. Proceeding would often begin after just three WEEKS absence.
People, including footballers, don't choose to be sick or injured and, of course, no one should face the sack after being off for just a few weeks. However, it would be very difficult to make a defence for someone who's been off for 2 years and a couple of others who are very rarely seen.
These players have cost £ms in transfer fees and many more £ms in wages. I think the time is near when the club must consider cancelling contracts even if it means the players would have no sell on value.
Although I'm sure Gbamin,Tosun and Delph don't want to be permanently injured they're nevertheless sucking the life blood out of this club. Together with the one we don't mention the four of them must be costing in excess of £1m per month.
The club surely cannot continue to sustain this level of absence.
Paul Kernot
69
Posted 25/09/2021 at 00:15:51
Stehen #10. Will NZ do? Look up our Franz Josef.
Robert Miller
70
Posted 24/09/2021 at 00:16:41
Theres been alot of talk about Benitez' ability to improve players. Who from the current crop do you think he has his eye on for nurturing their game to the next level? It's not obvious, at this stage, whether he really thinks any of our younger talent can be coached to step up.
Paul Kernot
71
Posted 25/09/2021 at 00:31:26
Surely this is the perfect opportunity to give Simms at least the 1st half. I realise Benitez will see this as a must win ahead of the more challenging opponents coming up, but Rondon a 'safe' choice instead? Switch to Gray up front 2nd half if necessary but now has to be the time to give Simms a go.
Bill Watson
72
Posted 25/09/2021 at 00:43:18
Paul # 71
I agree Simms should be used at some point but we don't know just how fit he is, either. He hasn't played a competitive game since being injured practicing penalties for Blackpool!
Mind you, he could hardly be as unfit as Rondon who is on the slow side at the best of times.
Bob Parrington
73
Posted 25/09/2021 at 00:59:00
Clear as daylight that Rondon isn't yet fit enough and so shouldn't be on the pitch. It is not good for him or the rest of the team. Surely we should give one of the "fit" youngsters the chance to perform.
Brian Wilkinson
74
Posted 25/09/2021 at 01:13:57
I think Tosun May be fitter than Rondon, but like I say, Rondon is going to knock a goal in for us against Norwich, fill your boots.
Phil Smith
75
Posted 25/09/2021 at 01:56:50
I know Kenny isn't great but he's a right back and should play in his preferred position. Godfrey has looked awful so far. He should not play there. No more square pegs etc.
Steve Brown
76
Posted 25/09/2021 at 01:57:32
Mark @ 17, I was watching water drip from a tap and Rondon came to mind.
Jack Convery
77
Posted 25/09/2021 at 02:43:24
Hopefully we win tomorrow. It will need all onside to do so - manager, team and fans for 90 plus minutes. COYBs.
Given RBs mention of available money in January.
May I suggest that we bid for Lorenzo Pellegrini - Roma Captain in January or next summer. Central midfielder and the captain - exactly what we need in midfield. Especially as Gomes, Davies, Iwobi, Gbamin and Delph are not up the standard we need to move forward. Try for Jesse Lingard too.
If we can get Koulibaly, I would still go after him even at his age - he would be the organiser and brick wall we've cried out for ages now.. We could still get 4 / 5 years out of him - just look at Silva and what he's done for that CFC defence.
As for a full back I leave that to RB and Brands. After all its about time we bought a decent one to give Coleman a rest. Isn't it ???
Kieran Kinsella
78
Posted 25/09/2021 at 03:19:04
I'm working on a production about East Germany this weekend. Looking at the details I feel they had a better shot of success than our current squad. But :: I still remember sitting in the national theatre next to Salman Rushdie in 1995 secretly listening to radio five on my Walkman as our relegation battlers faced Norwich in the FA Cup. 5-0, same again tomorrow will do me.
Chris Jones [NZ]
80
Posted 25/09/2021 at 04:47:09
Paul@69 where are you based mate? Always good to know another long suffering Toffee in this part of the world.
I agree about Simms but would start with Rondon and bring the lad on later. He's only recovering from a nasty injury himself
Derek Knox
81
Posted 25/09/2021 at 05:43:42
Mike G @ 8, so you think Rondon is ' that hot ' ? Seen little evidence of it myself. Hope that the lad comes good though starting today. :-)
Bill W @ 68, totally agree there should be some sort Cancellation/Termination of Contracts for players if they 'don't do what it says on the tin' I'm sure a few would be 'less sick and more readily available if if their Lottery Umbilical was in danger of severance. See you later mate at BM or before in The Royal Oak. Have Andy Crooks over staying in my place, he's really looking forward to a good day, let's hope that starts with a win.
Kunal Desai
82
Posted 25/09/2021 at 06:41:44
15 premier league losses in a row for Norwich (including previous season before relegation).
Wonder if Everton charity day will be in full swing today to aid that rot.
Jay Evans
83
Posted 25/09/2021 at 06:49:18
Feels like a really important game this one despite it still being relatively early in the season. I think the starting eleven will be pretty close to Lyndon's but I am hoping for a formation that puts someone with legs close to Rondon. God knows he needs all the help he can get.
We just need to get back to winning ways today and personally I don't care how we do it. I'm going for 2 - 1 to the blues.
Onward Evertonians. Full support. 💙
Bill Gienapp
84
Posted 25/09/2021 at 07:31:33
This does feel like an oddly important game. We're not likely to do much at Old Trafford in our depleted state, but if we can at least secure three points here, we'll remain in solid shape heading into the next international break... at which point we can hopefully heal up and have Calvert-Lewin, Richarlison and Coleman back upon return.
Norwich were saddled with a diabolical schedule (seriously - Liverpool, Man City and Leicester City out of the gate?), but they had a good opportunity to right the ship last week and got tonked by Watford, so there's no reason we shouldn't be able to get the job done.
John Keating
85
Posted 25/09/2021 at 07:57:11
Norwich City are bottom of the league, not a single point, minus 12 goal difference...
Puukki might be out? Sounds ominous, doesn't it?
Sam Hoare
86
Posted 25/09/2021 at 08:14:52
The lack of depth at full back is almost criminal. Why on earth did we loan out Nkounkou (who's barely played at Liege anyway) without anyone to deputise for Digne. And for years we've had no cover for Coleman. Godfrey and Holgate are clearly not full backs. It beggars belief and reflects very poorly on Brands today.
Norwich will win their first game soon, we have to make sure it isn't today. Hope that Pickford and Digne can play and that Gray and Townsend have got their shooting boots on.
Pickford
Holgate Godfrey Mina Digne
Doucoure Allan
Townsend Iwobi Gray
Rondon
Mark Andersson
89
Posted 25/09/2021 at 08:42:32
I was reading all the Rondon comments when Rondon came to mind.
I'm with the older fans... support the players in a blue shirt and stop moaning of things you have no control over.
Why can't we mention the Iceman's name? Anyway, Rafa has been dealt a shit hand with injuries. He took the job knowing that he was inheriting a crap squad.
He is here for the long term... mid-table security and his job is safe!
Sean Kelly
90
Posted 25/09/2021 at 08:43:24
I can see a 1-2 today. Desire to win and prove people wrong will win it for Norwich. Face it folks we are Farked
Paul Birmingham
91
Posted 25/09/2021 at 08:43:40
I reckon Everton will nick this one, the chances of Norwich doing an Ekoko day, when they done Everton 5-1 in 1993 is not gonna happen, as Pickford back instils confidence and that was a bad day at the office, so it goes.
Character and will today and to take the chances.
Rafa will be setting up with his best available Team, there's no reason why Everton, can't win, but Norwich will be fighting for their lives.
Onwards and upwards and to bounce back after Villa and QPR.
Ian Hodgson
92
Posted 25/09/2021 at 08:51:45
Was my birthday yesterday, opened birthday card and two tickets for today's game. Leaving Bristol soon with daughter, gutted that we have so many injuries but can't wait to see Goodison rocking again.
Sean Kelly
93
Posted 25/09/2021 at 08:56:24
Our summer highlight here in Ireland was spotting Wally the walrus. He landed here early summer went to Wales and France and back again. There's even a picture of him sunning himself on a boat. He's missing now but I reckon he was laying up front for us on Tuesday. Strange but true.
Danny Baily
94
Posted 25/09/2021 at 09:05:35
You wanted the best? Well they couldn't. make it, so here's what you get!
Even with the injuries I'm still confident we'll win this comfortably. Norwich are a very poor side.
Steve Brown
95
Posted 25/09/2021 at 09:07:33
Sean, Wally the Walrus just turned up in Iceland. Probably visiting someone.
George McKane
96
Posted 25/09/2021 at 09:13:54
I rose before The Sun
Slid into my tassled Slippers
My mind on the later Magic Carpet Ride
Downstairs for Mother Gaia's Morning Feast
Ambrosian Berries and Fruits
Bliss it is to be alive
But today it is very heaven
Feasted I walk up stairs
The window framing A Majestic Vistula
The City before me
Mr.Turner nor Gainsborough could present anything fairer
Morning Grey, with slips of pale white, colourless yet wonderful
The Buildings over The Mersey
Themselves
Still asleep
My excited heart and breath the only sound
I stand still yet excited for the coming day
Sitting now at my desk
Composing freely
Words flowing without edit
My spirit speaking
To each of you
my friends
My thoughts flowing and floating in the morning air
Not restricted by sense or correction
But free
Later to drive my chariot
Like Moses or Ben Hur
Under The River
Dark for a moment
And then
Illumination and brightness
Scotland Road
Framed in Blue and White
Gaia's descendants
Our Matriarchal Mothers
In body or spirit
Waving us on
Annie and Maggie Brady
On Smith Street
Colette and Joan and Margret
Aunties
Defenders of the faith
Makers of us men
My heart waves to Mary Walsh
Never seen for half a century
Or more
Still beautiful I know
Daisy Street calls me
For a moment I hear "Faith of our Fathers"
Filtering through the air
Turning to Whittle Street
The 33 Cosmic Coughers Bus to Cardinal Godfrey
Up The Valley
Fleetingly I see Father Winder
Colette with net curtains around her shoulders
Leading the procession
Mud pies on the back "olla"
Clare Boggan shouts me from Lambeth Road
"Playing out Georgie"
O wondrous power of words
Licensed to take the meaning that we love.
Onwards
Slowly
Taking in every sound and image
Our own Westminster Palace
Does Amiens or Rheims or Chartres
Compare to you in memories
The Dark House
I enter
Faces look to me
Love unspoken
But clear in the eyes that shine
The slight nod
The slow smile
Of life and death
Of colours and lights
And Nectar
Talk and a sharing
In comfort
Of dreams and Golden Visions
Sammy whose mouth emits strong language
Yet his heart is filled and declares openly
His faith and humanity
A True Blue Son
Sammy a True Believer in his Holy Trinity
From a Liverpool Mother
Huddled in groups
Whispers and shouts
Glasses tapped
Blue Ribbons
Only seen by the Blessed
Tie us all together
Filling now
Fathers and mothers and grandparents and grandchildren
All Grand
My daughters join me
I look up and for a moment
I see my mother in one
And my father in the other
Behind them like shadows
Generations.
I recall my first visits to Goodison
Uncle Gerard
Coming home from work
Washing in the tin bath in the yard
Suit, clean shirt and tie and sweets
Holding my hand and walking me
We are made from such
Later
A walk down Lambeth Road
Sandhills
To meet with those
Friends
Names waiting to have faces matched to them
Alongside The Dock Wall
Where our fathers went to sea
Leaving the running of Our Lives
Streets
In Safe hands and hearts
To The Women
New friendships formed
Close to The River that has carried our stories out on tides
And brought new stories back for us to enjoy
Niagara Falls Lamps and Parrots
Tonight
The Air will be
Blue.
I send "posso waves" and cosmic grooves out from my room into The Astral for all to share and will see you this evening in spirit or body - - with a firm handshake - - your friend - - George

Danny O'Neill
97
Posted 25/09/2021 at 09:20:17
We're on our way George. Whether walking from Kirkdale, getting the bus from Speke, a train from afar or even those who may be visiting from abroad. We're all heading to Goodison.
As always, fine words that capture the emotion and make me feel very emotional!
Paul Kernot
98
Posted 25/09/2021 at 09:47:22
Chris #80. I'm in sunny Nelson mate. I coach FC Nelson 3rd. Too old & broken to play myself these days. Ast day of our season today so I just got home. A little worse for wear as we won the league.
Brian Harrison
99
Posted 25/09/2021 at 10:02:56
Well lets hope we start more positively than we have in our previous 2 home games were we have managed to concede first. Despite missing DCL and Richarlison surely we have enough to easily beat Norwich there confidence must be rock bottom having lost the first 5 games.
I know we are famous for letting teams who havent won for a while beat us or players who havent scored for ages score against us, but this is Norwich possibly without Cantwell and Pukki, I mean if we cant beat these comfortably then we are in bigger trouble than I imagined.
For some reason some on T/W some like to give our best player Richarlison stick, well I saw a couple of fans put a picture of him sitting on the train going to watch us at QPR didn't see any of the other injured players doing that.
James Newcombe
100
Posted 25/09/2021 at 10:21:03
Stating the bloody obvious, but we really need to be winning this one. Or it's going to be a long season with this squad.
Andrew Kelly
101
Posted 25/09/2021 at 10:33:41
If this was last season and the boys had to play in an empty ground I'd say put your mortgage on Norwich. Today, with a full rocking Goodison, I'm confident of a win. I think it will be very close, I don't care how you do it, just get the job done, pretty please.
Neil Cremin
102
Posted 25/09/2021 at 10:50:53
George
Absolutely brilliant
Thanks
NSNO
Neil Cremin
103
Posted 25/09/2021 at 11:03:28
Andrew
Last season we had Carlo who was used to managing galacticos this season we have Rafa who plans meticulously and believes in our motto NSNO particularly when managing with limited resources.
One other comment on clamour for including Gordon. I have yet to see that he has the potential to be a PL player. Still way behind Grey and Townsend.
Jay Evans
104
Posted 25/09/2021 at 11:08:03
Jesus Christ George, even by your standards - absolutely wonderful.
For all the toffees going to the holy ground today, let us all please drink it in. I for one will never take going to the match for granted again.
Playin' out blues ? 💙
Kim Vivian
105
Posted 25/09/2021 at 11:12:43
C'mon Blues. This is Norwich
A scrappy 1-0 will do the job but will not leave us feeling too bright. Let's hope for a good dominant display and at least a two goal cushion. I hear Pukki's out which lifts my heart!
I'm not feeling too optimistic tbh, but mitigation before it's needed, we are a skeleton of a squad at the moment. However, that notwithstanding, I'm staying with my "go to" 2-0 again for this one.
Rob Hooton
106
Posted 25/09/2021 at 11:14:15
As our thin squad is so depleted this will be a tough game against a poor side. The comments about us being the gift that keeps on giving to players and teams on bad runs is understandable as it happens so often!
Hope you guy's attending can help to inspire the team to a victory, I'm plumping fir a 2-1 win with our goals coming from set pieces.
Really hope Pickford can start as Begovic is woeful - he has no redeeming qualities as a keeper and looked disinterested at QPR, he certainly has no physicality and was quiet as a mouse.
Any kind of scrappy win will do!
Jerome Shields
107
Posted 25/09/2021 at 11:14:50
Ian#92
Happy Birthday and You and your daughter have a great day at Goodison.
Chris Jones [NZ]
108
Posted 25/09/2021 at 11:22:28
Paul@98 Done a few tournaments up that way with my lad. Cracking spot. I'm in windy Lincoln myself. Congratulations on the season and enjoy the game in the morning
Danny O'Neill
109
Posted 25/09/2021 at 11:24:25
Travelled in from my west London abode surrounded by Chelsea fans on their way to the early kick off. Swapped places with the City fans arriving at Euston as they headed the other way. A few Magpies kicking about early, en-route to Watford and even some Canaries getting on the destination Liverpool train. Fortunately no Kopites as its too early.
Must admit, matchdays in London have always intrigued me as you see all flavours!
Homeward Bound as Simon & Garfunkel put it. See you there blues.
Tony Heron
110
Posted 25/09/2021 at 11:27:16
Oh George! You move me to tears. Beauty in every phrase, love in every word. Enjoy your day.
Alan J Thompson
111
Posted 25/09/2021 at 11:47:10
Playing Rondon who seems at a lesser level of fitness than James seemed to be merely highlights the hypocrisy of this manager. There might not be many to pick from but pick somebody who usually plays this position and is fit as it has to beat playing somebody who isn't fit enough to contribute anything other than regret.
Alan J Thompson
112
Posted 25/09/2021 at 11:49:30
Danny(#109); Getting off at Widnes then?
Derek Taylor
113
Posted 25/09/2021 at 11:57:25
Thank you, George, for keeping the memory of old times fresh. With few moments of triumph in recent times, the magic of Goodison faded from my mind a long time ago and following Everton has become almost drudgery. Particularly the 'monied' years of Moshiri - almost certainly set to end in tears.
Perhaps time for a draw with the mighty Norwich ?
Raymond Fox
114
Posted 25/09/2021 at 12:01:54
With a patched up side, we are no good thing to win this game.
Danny O'Neill
115
Posted 25/09/2021 at 12:22:38
Unfortunately I know Widnes quite well Alan, so only in extremis!
John Kavanagh
116
Posted 25/09/2021 at 12:29:11
This fixture has 'Everton that' written through it like a stick of rock. Winless Norwich can't score except for a couple of Pukki goals and he's out. So his replacement will, no doubt, open his account against us.
Of all the teams Farke could face, we are the fixture most likely to deliver Norwich their first points on a plate. Who can forget the 0-2 'performance' vs Norwich in 2019 that lifted them off the bottom of the table.
Iwobi played that day and injuries mean he is likely to feature today. I'd much prefer Gordon who at least has an eye for a goal and is willing to take a penalty, unlike our fearless footballing Jedi warrior.
Can optimism triumph over experience? I hope so, but much depends on having Allan, Doucoure, Gray and Townsend putting another shift in and our back four paying some attention for 90 minutes (a big ask, I know).
Please Everton, rack up some more points so we can at least face next week's probable Manure massacre with some fortitude.
COYB
Bill Watson
117
Posted 25/09/2021 at 12:33:41
Neil #103
I thought the same about Gordon but he was one of the few bright spots on Tuesday night. He may still prove us all wrong and I'd like to see him have, at least, some minutes v Norwich
Kevin Prytherch
118
Posted 25/09/2021 at 12:37:50
I felt that Godfrey played better at full back than centre back so, if Kenny doesn't start, I would go with Godfrey at right back over Holgate.
I would also play Mina alongside Holgate. We can't keep defending deep and expecting to hit these teams on the break. We need to take the game to Norwich, reduce the space on the pitch and look for Allan and Doucoure to turn over possession high up the pitch. We won't do that with Keane playing.
I would also start with Gordon. He seemed to have a good understanding with Digne down the left. My only concern is that Gordon and Gray don't offer a lot defensively, so Townsend would have to tuck in a bit and potentially lose some attacking impetus on the right.
After Rondon has run himself into the ground, we need to trust some younger players rather than playing without a striker. Surely Norwich is a good team to introduce Simms for the last 30 minutes, regardless of whether we are winning or losing.
The rest of the side picks itself.
Mike Dolan
119
Posted 25/09/2021 at 12:46:17
It would be good to see Simms come on later in the game today. I wouldn't be too surprised to see Gray in the middle with Gordon who looked like 'the penny had dropped v QPR on the left. If he does play Rondon it would be for his hold up play rather than his goal scoring. Just hoping that him and Godfrey are fitter because it's not doing the confidence of either any good to play them in the condition that they were in last week.
Danny O'Neill
120
Posted 25/09/2021 at 13:05:09
Hale Shore in sight. That's when I know I'm home! I'll treat myself to a swift one in the very upmarket Wetherspoons at Lime Street, then on to L4!
Andrew Keatley
121
Posted 25/09/2021 at 13:33:23
George (96) - So vivid, so vibrant. If Goodison can create the same atmosphere that you do then this afternoon is going to be electric. My hat is off to you, sir.
Eddie Dunn
122
Posted 25/09/2021 at 13:35:23
I agree with Phil Smith @75 that JJK should be perservered with as Godfrey is not a full back and is clearly unfit. Jonjo needs game time. With a first choice centre back combo and the out of form Digne, the back line should be fine.
However the two of Alan and Doucoure will leave gaps exposing the defence. Perhaps we should keep Davies in there and play three in midfield. Doucoure can still push on the assist the attacks.
On a similar tack, Rondon has to have more minutes to get up to speed. He isn't going to get match fit sitting on the bench, but Simms should surely get a run out. If we can't blood kids against Norwich then when can they play.
For once it would be nice to see us on the front foot from the start without giving away the first goal.
A 3-0 win today.
(Cantwell missing for personal reasons).
Dave Abrahams
123
Posted 25/09/2021 at 13:46:22
You'll have gone to the Dark House by now George but your words and post will stay here and remind me of those happy days of long ago, always look back on those first trips to Goodison with pleasure, hope we get another victory today and a happy time for you George in the Dark House after the game. 4-0 George ?
---
Add Your Comments
In order to post a comment, you need to be logged in as a registered user of the site.
Or Sign up as a ToffeeWeb Member — it's free, takes just a few minutes and will allow you to post your comments on articles and Talking Points submissions across the site.