Digne rested over hamstring concern
Friday, 8 October, 2021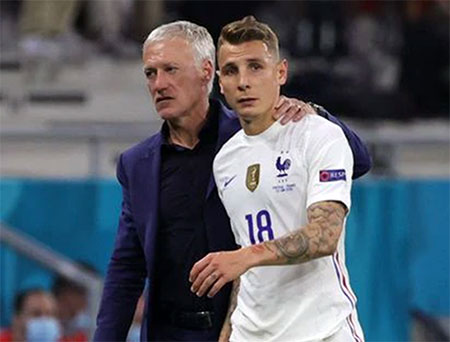 Lucas Digne played no part in France's dramatic last-minute comeback win over Belgium on Thursday night and he will now miss the Nations League Final against Spain on Sunday.
Digne did not warm up for the game and remained on the bench for France's 3-2 Nations League Semi-Final victory over Belgium in Munich. Subsequently he withdrew from the France squad and is returning to Finch Farm for the injury to be assessed by Everton's medical team.
Digne will now miss the World Champions' Nations League Final clash against Spain on Sunday, while his availability for Everton's Premier League game against West Ham Utd next weekend remains in the balance.
---
Reader Comments (30)
Note: the following content is not moderated or vetted by the site owners at the time of submission. Comments are the responsibility of the poster. Disclaimer
Danny O'Neill
1
Posted 08/10/2021 at 10:36:50
I see Digne has withdrawn from the France squad to return to Finch Farm to be assessed by Everton's medical team.
Paul Hewitt
2
Posted 08/10/2021 at 11:31:05
Do we have a reserve left-back?
Jim Bennings
3
Posted 08/10/2021 at 11:38:45
Paul,
No, we don't.
And for that matter, we don't have a standby right-back either given the fact that centre-halves seem preferred to Jonjoe Kenny.
Hopefully Rafa will work a bit of magic in January in at least one of these areas.
Si Pulford
4
Posted 08/10/2021 at 11:51:38
Well Godfrey did really well there last season.
If only he wasn't covering at the equally bereft right back berth…
Danny O'Neill
5
Posted 08/10/2021 at 11:51:52
We do but he's on loan Paul!!
3 at the back or Holgate & Godfrey as full backs it is then.
That said, Seamus should be back after the international break right?
Martin Reppion
6
Posted 08/10/2021 at 12:14:50
If Seamus is back, then Godfrey switches flanks I'd assume.
Though we must be playing a left back in the u23 games. What happened to the old days where an understudy stepped up?
Reportedly we could have DCL and Charlie back.
It would be tough to leave out either of Townsend or Gray so some management may be needed.
442 with Richarlison more central, or a 4231 with a very attacking 3 backed by Duke and Allan?
With Gordon and Iwobi on the bench we'd have options.
For all his moaning and posturing I like Richarlison's work ethic. He covers a lot of ground and is a real team player,
But at least we have a week to worry about all this,
Drew O'Neall
7
Posted 08/10/2021 at 13:00:02
Lucas Digne has bad luck with the timing of his injuries, missed out when he was in line for World Cup action and will now miss the inaugural Nations League Final.
(No need to reply with the standard 'I couldn't give a fuck about international football, all I care about is Everton FC blah blah...')
Danny Broderick
8
Posted 08/10/2021 at 13:57:29
Drew,
I'm not sure he would have played for France in the final. Hernandez has been playing ahead of him at left back. After scoring the winner last night, I wouldn't have seen them dropping him from the final even if Digne was fit..
Hopefully he's not out for too long for us anyway…
Bill Watson
9
Posted 08/10/2021 at 15:38:48
Drew #7
I couldn't give a fuck about international football, all I care about is Everton FC, blah, blah...
Danny O'Neill
10
Posted 08/10/2021 at 15:47:09
Drew, am I allowed to say I can't wait until next weekend?
Andrew Keatley
11
Posted 08/10/2021 at 15:50:16
Danny (8) - Not sure you're right about that; Digne felt discomfort in his hamstring during training before the game, and must have been a doubt to even make the bench.
The fact he didn't warm up before the game suggests he and the physio team realised his injury was sufficiently bad to not take any risks with it, and his place on the bench was in name only.
I think a fully fit Digne would have started over Theo Hernandez – who was only making his second appearance for France.
Mike Gaynes
12
Posted 08/10/2021 at 18:42:27
Danny and Andrew, I think you're both just a bit confused. It was Lucas Hernandez who started at left-back for France, or rather LCB, and has been splitting time there with Digne. In World upC and Euro qualifiers, each has been starting about half the games.
It was Lucas's little brother Theo who scored the winner yesterday in just his second France appearance, but he was playing left-mid.
Bill Gienapp
13
Posted 08/10/2021 at 23:08:10
Let's be honest – Godfrey is basically our reserve everything on defense. We just plug him into whatever hole needs filling. If both full-backs are out, he plays left and Holgate plays right. And I suspect that would be the case, even if Nkounkou weren't out on loan.
Andrew Keatley
14
Posted 08/10/2021 at 23:33:35
Mike (@12),
Yeah, I'm well aware of who the Hernandez brothers are.
Not sure if you watched the game, Mike, but from what I could see, Theo Hernandez and Benjamin Pavard were clearly playing as wing-backs, with three centre-backs (Lucas Hernandez, Varane, and Kounde) – they pulled into a very tight line of five when defending, especially on the edge of their box. I reckon if Digne was fit, he would have played as left wing-back.
Brian Wilkinson
15
Posted 09/10/2021 at 01:09:31
Paul @2,
Yes, he is out on loan in Belgium for the season.
Tony Everan
16
Posted 09/10/2021 at 12:49:07
He is confirmed to have a Grade 1 hamstring tear and will be assessed at Finch Farm. Grade 1 is the least severe type, but could still need 3 weeks to recover. Lucas is like superman though with his recoveries, so hope springs eternal that he can bounce back quick.
Martin Clark
17
Posted 09/10/2021 at 13:07:21
How have we managed to find ourselves in this situation? It was always going to happen.
Hope Thierry Small is kicking himself very hard as he would have been given opportunities.
What happened to Kenny? He seemed to have a great loan in Germany... then, just like Brendan Galloway a fair few seasons back, he had great promise, only to fall off-track.
Tom Bowers
18
Posted 09/10/2021 at 13:24:47
Always happens to Everton players on international duty!!! Seamus was a victim... and now Digne. Nkuonkou was sent on loan when he could be needed right now.
Add the injuries to Calvert-Lewin and Richarlison and not being blessed with replacements. It's too early in the season for this crap.
Christy Ring
19
Posted 09/10/2021 at 19:10:43
Tom #18,
Seamus came back from international duty and played on the Saturday, and was injured in training. As for Digne, it's totally embarrassing that Brands didn't bring in a left-back, especially after Small leaving and Nkounkou being sent out on loan.
David Hayes
20
Posted 09/10/2021 at 19:54:05
There are two ways of looking at this squad and injury situation:
#1. The individuals responsible for player assessment are fully aware of the capabilities of individual players; ie, not ready to perform up to the required level for a consistent period, likely to be not effective at this time, needs to attain higher awareness and reaction output. Therefore, a more highly tuned player overall defensively trained better option for team cohesion. If this applies, then Jonjoe Kenny and Niels Nkounkou haven't got to the required level.
#2. Criminal neglect of squad management, by totally inept, incompetent morons.
I prefer #2.
Gerry Quinn
21
Posted 09/10/2021 at 21:29:53
Loan players can be called back anytime in an emergency, can't they?
Bill Gienapp
22
Posted 09/10/2021 at 22:17:55
Guys, seriously – who is this magical back-up left-back we were supposed to bring in, who's vastly superior to what Godfrey offers as cover, but for whatever reason is totally fine sitting on the bench behind Digne for the majority of the season?
When it comes to cover, you basically have three options: play one of your good players out of position (like Godfrey); put your faith in a younger player, like Nkounkou (which the club clearly wasn't prepared to do, hence the loan); or bring in someone like Cuco Martina, who's a back-up for a reason.
Like it or not, our philosophy is clearly the first option, which is why Kenny never plays, even when Coleman is hurt.
David Hallwood
23
Posted 10/10/2021 at 10:41:17
I'm beginning to think Finch Farm was built over an old Indian burial ground because, in the years I've been following Everton, I've never known such an extensive injury list.
Last season, every single player missed gametime, including at one point, first and second choice keepers. It's continued into this season with two first-choice strikers plus Seamus out, and now the possibility (yet again) that both first-choice full-backs will be out at the same time.
Yes, we have gaps in our squad and not having back-up full-backs is mind-numbingly crazy but there are not many clubs in the world that could cope with an injury list like this.
Fingers crossed 🤞 for Saturday.

Pete Jeffries
24
Posted 10/10/2021 at 18:50:41
I thought that Godfrey played well at left back cover last season galloping down the wing
He and Digne on the left side arent a good fit for me
They don't seem to gel knowing each others role
But Godfrey is our best bet there since Digne is a class player but has been struggling in some games possibly carrying his injury too much
David Pearl
25
Posted 10/10/2021 at 20:09:27
Godfrey to cover left back for Digne is a no brainer but then if Coleman still isn't fit who do we go with for the right back position? Holgate or Kenny?
Digne doesn't seem to be getting into as many crossing situations as l'm used to seeing but maybe that's just me. Of course we are playing without our 2 best strikers so have had to switch our play up a bit.
I'm sure many of us are still scratching our heads wondering how we can still be short of any covering full backs at all, left or right. Do we even count Kenny, a player who is behind 2 centre backs for a starting place?
Anyway, we have handled playing without Richy and DCL better than we would have last season... and no not because of our manager... we got 2 new wide players with pace and experience. I don't know how.
Michael Connelly
26
Posted 11/10/2021 at 18:16:11
David (25), it is because of our manager and his connections that we have 2 new wide players with pace and experience. So, now you know how.
Derek Knox
27
Posted 12/10/2021 at 03:32:20
Doesn't it just piss you off? Not only are International Breaks unwelcome, we are on our second already, and the Season has only just basically started. Then we find out our only left-back could possibly be out for (?) God knows how long –an injury sustained on International duty, training or however. Grrr!
Steve Griffiths
28
Posted 12/10/2021 at 11:40:32
Bill (22), well said and I totally agree.
We are simply not in a position to be able to have two internationals covering every position in the squad and sitting on our bench getting splinters. Therefore players like Godfrey and Holgate, who can fill in and do a reasonable job in a number of positions, are worth their weight in gold.
Nkounkou, in my opinion, is not defensively sound enough to be second-choice left-back at the minute and a season on loan is completely what he needs to progress.
Kenny, is simply not good enough for Everton; harsh, I know, but that's the reality. Not quick enough or athletic enough for the Premier League.
Roger Helm
29
Posted 12/10/2021 at 21:43:55
Players don't like being a Jack of all trades. I can't see Godfrey staying long if he isn't given a regular starting position.
Tom Bowers
30
Posted 12/10/2021 at 22:30:24
Most teams operate a rotation system and those with a plethora of top-class, well-paid players are usually those who have been mostly dominating the Top 6 in the Premier League for many years.
Godfrey is young and I rate him highly as a centre-back but not a full-back.Depending on the opposition, managers will sometimes operate three at the back with the one full-back operating up the field as an extra attacker-midfielder, much like Shaw for Man Utd and England.
Talking of England, does anyone believe Southgate knows what he's doing?
Forget easy wins against nothing teams like Andorra, his team selection is poor. Tammie Abraham is not Premier League standard, let alone international standard, and taking off Grealish on the hour mark instead of woeful Sterling was again indicative of his poor judgement.
---
Add Your Comments
In order to post a comment, you need to be logged in as a registered user of the site.
Or Sign up as a ToffeeWeb Member — it's free, takes just a few minutes and will allow you to post your comments on articles and Talking Points submissions across the site.