Everton vs West Ham United
Friday, 15 October, 2021
Match Preview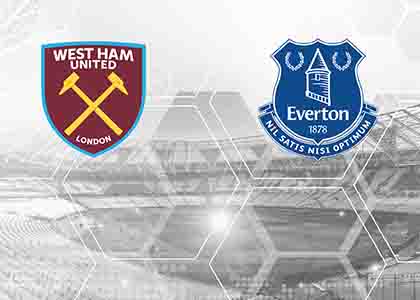 Everton will still be without some key players when their Premier League campaign resumes despite the recuperation time over the latest international break.
It had been hoped that the strike pairing of Richarlison and Dominic Calvert-Lewin would be reunited when the Blues take on West Ham on Sunday but Rafael Benitez indicated in his pre-match press conference that both players will remain sidelined for the time being.
Calvert-Lewin is recovering from a broken toe and a thigh problem while Richarlison was injured by a needlessly forceful tackle by James Tarkowski in the win over Burnley last month.
Andre Gomes and Fabian Delph are still undergoing treatment for their respective injuries and won't be available this weekend either but Seamus Coleman is in line to return and it appears as though Lucas Digne's hamstring issue won't keep him out even though he was forced to leave the France camp prematurely.
Article continues below video content
Coleman has been bothered by a hamstring problem this season but he has been declared fit, as has Alex Iwobi who missed the draw at Old Trafford against Manchester United last time out with a minor complaint.
And Benitez is hopeful that Yerry Mina can play despite returning from international duty with Colombia later than his team-mates due to the scheduling of the CONMEBOL World Cup qualifiers.
"Yerry is coming back, he's been playing a lot of games, a lot of minutes, but now I think he is travelling so hopefully he will be here for starting the game," the manager said.
"Everything is positive in terms of the feedback but we'll have to wait and see how he feels."
In West Ham, Everton will face very tricky opponents as they found out on New Year's Day when David Moyes returned to Goodison Park and plundered a 1-0 win from what was, at the time, a Carlo Ancelotti outfit that was struggling badly at home.
The current Blues side is much more competent on home turf having won all three of their games at the Old Lady so far this season but the absence of their main strike force will make this eminently more difficult than was the case against either Southampton or Burnley.
Benitez's men had enough to see off a Norwich team that looks wholly unprepared for life back in the top flight but, against Moyes's robust and dangerous Hammers, they will need to draw much more from the well if they are to pick up the victory.
West Ham are solid at the back and, with the likes of Tomas Soucek offering goal threat from defensive midfield, Declan Rice now fulfilling his potential alongside him, and Said Benrahma and Jarrod Bowen providing ammunition from the flanks to the prolific Michail Antonio, they can hurt teams going forward. Moyes has only Vladimir Coufal and Ryan Fredericks as injury doubts, while Nikola Vlasic will be eager to impress on his own return to Goodison.
Everton, of course, are similarly obdurate in defence and have plenty of their own threats and with the selection issues hampering Benitez, the Spaniard will be again relying on the goalscoring form of Andros Townsend and Demarai Gray, plus Abdoulaye Doucouré's dynamism to carry him through.
---
Reader Comments (119)
Note: the following content is not moderated or vetted by the site owners at the time of submission. Comments are the responsibility of the poster. Disclaimer
Joe McMahon
1
Posted 15/10/2021 at 17:07:14
For fuck's sake... and the Burnley player/yob didn't even get booked.
Moyes will be up for this. Funny how the media are ignoring this, no mention of it from any of the pundits.
Christy Ring
2
Posted 15/10/2021 at 17:17:41
Disappointed our two front men aren't back. I hope the extra couple of weeks will bring Rondon up to speed.
I wonder will Delph make it back before the end of the season to tempt some club to sign him up?
Jay Harris
3
Posted 15/10/2021 at 17:30:35
They are a strong and fast side and, without our first choice front two, this will be a tough game.
They've won away at Leeds and Man Utd so I hope our midfield stand up in this game.
Let's hope Rondon breaks his duck in this one too.
Dale Self
4
Posted 15/10/2021 at 17:42:04
Just dropped in to say thank fuck the International Break is over. Coufal is crafty but not that fast, Gray should be able to burn him and keep him back. Townsend could come inside and trouble the right side. I think we have enough and, after the test at Old Trafford, they're up for this.
Tom Bowers
5
Posted 15/10/2021 at 18:02:57
Bad news. I was hoping at least Calvert-Lewin would be back.
This will be a tough game as the Hammers are shaping up well this season.
We do need Rondon to make his mark and this game would be a good time to start. Fingers crossed that the other two are fit very soon.
Derek Knox
6
Posted 15/10/2021 at 18:04:47
Jay @ 3,
"Let's hope Rondon breaks his duck in this one too."
I believe he did the other night! Sat on it in the bath... poor duck didn't stand a chance, it was well and truly ducked! :-)
Steve Brown
7
Posted 15/10/2021 at 18:16:51
Think Rondon will play as a false Number 9 again.
Mike Gaynes
8
Posted 15/10/2021 at 18:24:05
Steve #7, Rondon can play as a false 9, false 10 or just a false hope.
Disappointed at this news... I think the absence of our forwards makes this a very, very difficult game to win.
Jerome Shields
9
Posted 15/10/2021 at 18:32:09
Hope Mina is fit to play on the right to cover Seamus. Keane playing that position would a gift for West Ham as past history shows.
I am not that worried about Richarlison and Calvert-Lewin not playing. It would make it too easy for West Ham to set up shop. Rondon will help Everton to keep shape better and might even score.
It will be in defensive midfield that the game will be decided. I don't think that West Ham will have the same space they were afforded in previous encounters and a pacy interchanging Everton midfield going forward will give them problems.
My main apprehension is the fact that it is the first game after the International break but, after the last International break, Everton broke the taboo.
Robert Tressell
10
Posted 15/10/2021 at 18:32:57
Shame, but our new-found good attitude and work rate should still be a handful.
Strange to see Benitez as our manager, pitting his wits against Moyes.
Especially since Benitez has rekindled a lot of of the good things Moyes did, and we've managed to lose in the intervening years.
Expecting a win.
Denis Hignett
11
Posted 15/10/2021 at 18:34:04
The injury to Calvert-Lewin is becoming a worry.

Bill Gienapp
12
Posted 15/10/2021 at 18:37:32
Robert (10) - we've definitely gone through the looking glass.
Darren Hind
13
Posted 15/10/2021 at 18:55:11
We go with what we got.
Phil (Kelsall) Roberts
14
Posted 15/10/2021 at 19:06:11
Christy #2 - what we need is him fit for January for someone to sign him. If we wait until the summer he is out of contract and we will get nothing, unless we offer him a new contract.
Jay Harris
15
Posted 15/10/2021 at 19:11:02
Derek,
LOL mate. I'm still chuckling.
Brian Williams
16
Posted 15/10/2021 at 19:15:32
If anyone other than the Rose and Crown sign Delph, I will show my arse in Marks and Spencer's window.
The bloke gets injured on the way to getting injured.
Alex Gray
17
Posted 15/10/2021 at 19:21:10
This will be a tough game. My only fear is how fit the likes of Coleman, Digne or Iwobi will be. Rondon must be fitter by now.
However with Gray and Townsend we have a threat still. Think this has draw written all over it but fingers crossed we can nick it.
Brian Wilkinson
18
Posted 15/10/2021 at 19:36:48
Fuckin' hell... if this news is not bad enough, it is the reminder that Rondon will be our out-and-out striker.
Surely after the rest, we should at least get a bit more out of the guy.
We've done alright up to now with Gray and Townsend, along with Doucouré, so all to play for Sunday.
Geoff Lambert
19
Posted 15/10/2021 at 20:09:32
I wish you would all get off Rondon's back, he is carrying enough weight as it is.
Trevor Powell
20
Posted 15/10/2021 at 20:16:39
Here's a shock for you all, Loser Pundit Lawrence has put Sunday down as an away win!
Danny O'Neill
21
Posted 15/10/2021 at 20:35:22
It obviously would have been great to have 2 of our best players back. But we've done okay without them and I'm enjoying watching Demarai Gray and Doucoure, which has caught a few teams off guard so far. Let's face it, with Richarlison, teams target him. Without getting carried away and overstating, it's nice to have options and give teams other things to think about.
Good start to the weekend. My German Royal Blues (Konigsblauen), Schalke, got a good win away to Hannover. Looking forward to my 18- to 20-hour round trip and day out Sunday. Whoever takes to the field, I'm just enjoying watching Everton. It's going to be a blue weekend.
Paul Birmingham
22
Posted 15/10/2021 at 20:57:20
This is a tough game but I'm expecting this Everton squad to have the stomach for the battle and the desire, belief and will to beat West Ham. Moyes will want to win too, as will Vlasic.
If Everton do the same level of teamwork, spirit and skill as at Old Trafford, then Everton should win. But it's all about hearts and minds. I'm sure Rafa will want to get one on Moyses and beat West Ham as much as the next team.
So let's hope for a good performance and victory.
Danny, great to see Schalke get a win and, despite hard times of late, they will bounce back. I still have a pendant from a trip to the region in the early 1980s.
I still recall one of the best results by an underdog team when they beat Real Madrid 4-3 in 2014. Huntelaar had one of those games, and was outstanding.
It's like 5 minutes from the days Everton were linked with him. Where do the years go?
Peter Mills
23
Posted 15/10/2021 at 21:34:33
It's a very tricky game, which would have been easier had we been playing away, relying on the counter-attack. Given the injuries to the front two, I suspect this will still largely be the game plan, within the parameters of Goodison shouting for attack.
Rondon has looked poor, I've been critical, but he's been a long way off match-fitness. He showed a few signs in the last game, he's had a fortnight's break, it's time for him to show what he's got.
Derek Knox
24
Posted 15/10/2021 at 22:01:03
Yes, Peter a bit of blow losing both Richarlison and Calvert-Lewin despite the normally unwelcome International Break, but a performance like at Old Trafford, should be enough to swing it in our favour.
Maybe give Anthony Gordon another chance to shine in front of a home crowd. I was impressed with him in the second half at Manure and with Townsend and Gray too, and with Doucoure hopefully picking up where he has left off, we should just edge it.
Like Paul B said, there will be a few on both sides, for different reasons wanting to make a point. Vlasic playing, and the Rafa vs Moyes battle of wits in the dugouts.
COYB
Danny O'Neill
25
Posted 15/10/2021 at 22:08:54

We're winning this. I am not going back on a train to Euston with a load of smug Cockney gobshites. I will be the one smiling as they sleep.
Dale Self
26
Posted 15/10/2021 at 22:12:08
I think one thing to note is the intent and movement to the proper places and when moving the ball through the midfield, even when locating Rondon, the players were collectively expecting the pattern of play. Yes, many times Rondon or another did not quite get there in time or with the timing to advance the play onward but the chance was there and it was attempted rather than viewed from a few feet away with crossed expectations.
Rondon has the qualities that could setup the break that has been so effective for us. I can see him getting on to a few more balls and perhaps getting another chance or two in the box. It wasn't like they were in sync but there was an understanding of what the play was and where to move so there is hope with repeated attempts. UTFT!!!! suck it Ginge.
Tony Byrne
27
Posted 16/10/2021 at 00:14:02
I have had 2:2 in my head all week for this game, could be the most entertaining of the weekend, who knows, so with my gut of 2:2 I'll say 2:1 Everton with Rondon getting his 1st Everton goal. Av it!
Ajay Gopal
28
Posted 16/10/2021 at 07:36:56
Moyes is a crafty bugger – he would have spent the break looking at our videos closely and knows that Demarai Gray and Townsend need to be neutralised.
Their expected starting XI versus ours:
Fabianski
Coufal Ogbonna Zouma Cresswell
Rice Soucek
Bowen Benrahma Fornals
Antonio
Pickford
Coleman Keane Mina(/Godfrey) Digne
Doucoure Allan
Townsend Iwobi Gray
Rondon
I think both teams are evenly matched in all the departments. Probably, West Ham have an advantage up front (Antonio v/s Rondon) but I have more confidence in Pickford than Fabianski. Iwobi, I am hoping, will finally have his break-out game. Mina will be required to match Antonio's strength – if he is unavailable, then I fear that the likes of Keane, Godfrey, Holgate will be easily bullied by him.
Our substitutes bench is worryingly thin – apart from Gordon and Davies, do we really have someone who can come in and make a contribution? I would be happy with a battling performance and would take a spawny win.
Richard Lyons
29
Posted 16/10/2021 at 07:38:15
Moyes's teams tend to bottle it at crucial times... hopefully this will be one of those times.
In terms of tactical skills, give me Benitez ahead of Moyes any day.
Conclusion: we're going to win tomorrow.
Fran Mitchell
30
Posted 16/10/2021 at 08:00:55
Keep Gordon in the team, Iwobi doesn't deserve a place in the starting 11 and Gordon looked promising.
Ajay Gopal
31
Posted 16/10/2021 at 08:01:32
A very nice article on Beni Baningime on the BBC for those interested:
https://www.bbc.com/sport/football/58900311
I wanted him to succeed at Everton, but happy for him. He seems such a humble, decent human being - hopefully he finds much success in football and life.
Sam Hoare
32
Posted 16/10/2021 at 08:17:41
Intriguing game but no way a Moyes team will give us the space that Man Utd did.
West Ham have built a very decent team while we have been mostly wasting money until recently and I think both teams will be battling for 6th or 7th this season but I expect their superior depth to give them the upper hand and it could prove so tomorrow as well.
Interesting to think what a combined team might look like currently. Maybe:
Pickford
Coufal Mina Zouma Digne
Fornals Rice Doucoure
Behnrama Antonio Gray
Danny O'Neill
33
Posted 16/10/2021 at 08:20:09
I'd go with that, Fran. Gordon and Townsend on the flanks of the 3 with Gray in the middle (No 10). The good thing about that is it will be changeable, so not predictable.
We can keep Iwobi as our secret weapon to confuse everyone in the last 20 minutes. And I mean everyone. Me, Everton, West Ham and Iwobi himself as you just never know what is going to happen when he gets the ball!! Moyes won't have a plan for that. Neither will we. Roll the Iwobi dice!
Thanks for the link, Ajay. I'm glad he's content and making a career for himself in the professional game. Hopefully it will be part of his journey back to the Premier League. One step back to make two steps forward as they say. Playing competitive football on a regular basis will benefit him way more than playing behind closed doors on a training pitch at Finch Farm.
He comes across as a very humble person who is grateful for what he has, not resentful for what didn't work out. Great positive mentality and attitude.
Chris Partington
34
Posted 16/10/2021 at 08:46:30
Will be a tough game. However, Benitez has brought a set of values on the pitch as well as off it – one of them being pragmatism. He won't be looking at single matches but runs of games. West Ham, Watford, Wolves, Spurs until the next international break; the target will be 7 points.
Steve Brown
35
Posted 16/10/2021 at 08:50:02
Danny, what do you think about playing Iwobi in place of Rondon?
Danny O'Neill
36
Posted 16/10/2021 at 08:57:54
Now there's a shout, Steve. It would certainly give the West Ham defence something they were not expecting, as I think they will comfortably cope with Rondon.
If we went for that, I think it would be a fluid formation, as is the case most games these days.
A 4-4-2 when in attack with Iwobi and Gray the forward players. Probably revert to a 4-2-3-1 when defending.
Very interesting call. With a quartet of Townsend, Gordon, Gray and Iwobi, there's a lot of pace and unpredictability there. And we'd keep the ball on the deck, which means we wouldn't be feeding the West Ham-centre backs their aerial Sunday lunch.
Rob Hooton
37
Posted 16/10/2021 at 09:10:46
I'm not going to predict anything until you've had a word with the dogs, Danny! Hope you have a great trip, hopefully I'll be able to join you on a pilgrimage from down south at least once this season.
I think this will be tight but entertaining, it wouldn't surprise me to see both Richarlison and Dom start as Benitez is great at playing his cards close to his chest and bluffing the opposition. If they don't, then I saw improvement in Rondon against Man Utd and can see him breaking his duck (again Derek).
Looking forward to it, hope Moyes continues his bad form against Benitez.
Tony Abrahams
38
Posted 16/10/2021 at 09:51:55
Agree with Darren, because football is life itself, so it's no good moping, and sometimes you have just got to go with what you've got, work hard and fight.
If we work hard and fight tomorrow, this will definitely engage the crowd, and we all know Everton very rarely lose when Goodison Park is bouncing, so let's approach this game in a positive manner, singing "We Shall Not Be Moved!"
Derek Knox
39
Posted 16/10/2021 at 09:58:44
Tony A,
"We Shall Not Be Moved!"
You kept that quiet, when did you join the Salvation Army? :-)
Steve Brown
40
Posted 16/10/2021 at 10:17:26
Danny @ 36, their defence has height but have already conceded 10 league goals this season so they are vulnerable.
I think they will cope with Rondon comfortably if we put in crosses, but intricate play through their lines might set them a different challenge.
Gordon has definitely earned the right to keep his place as I thought he grew in confidence at Old Trafford as the game went on.
Brian Harrison
41
Posted 16/10/2021 at 10:44:33
I think this will be a very interesting game, and it could go either way. Despite both Richarlison and Calvert-Lewin missing, this squad is in confident mood.
You can bet that, as with all David Moyes teams, they will be well organised and hard working. They have a real handful up front in Antonio, who is scoring and also heads the lists for assists at West Ham. I think Benrahma is a decent player and if selected Vlasic will have a point to prove. They have strengthened their defence with Zouma, and with Declan Rice in midfield they look a strong side.
With Demarai Gray and Townsend being in good form, they might just give us the edge. I really hope that Anthony Gordon starts, as Iwobi offers very little; he looks like he could be a good player but lacks heart and that is a big minus in any player.
I think if Benitez leaves out Mina because of the games and the travelling he has done in the last week, then that probably means Godfrey partnering Keane. For me, Godfrey's positional sense is poor and his lack of winning aerial battles can be a problem.
Kunal Desai
42
Posted 16/10/2021 at 10:58:58
10 wins for Benitez from 16 meetings with Moyes, albeit most of those wins would have come in Merseyside derbies.
Moyes mentioned they have a few injuries too; let's hope it evens itself out on the pitch and we just shade it.
I think Richarlison out is a blessing in disguise. He's played non-stop football for over the year and is probably in need of a break. Hope he's back in the next week or two, refreshed and ready to start firing again.
Frank Wolfe
43
Posted 16/10/2021 at 11:10:35
Richarlison and Calvert-Lewin will be a big loss for sure. I think some of the comments about Rondon are a bit harsh. He was obviously a last-minute stop-gap measure and was not pre-season fit. Probably not expected to be used so soon in the season. Obviously, he's no Calvert-Lewin but I was impressed how he put in a good shift against Man Utd. Held the ball up well for others.
Pat Kelly
44
Posted 16/10/2021 at 12:11:37
Sad state of affairs when our only "fit" striker is Rondon. And it's not bad luck. It's a reflection of years of mismanagement. We're paper-thin across a number of positions. I still have doubts about the fitness of Coleman and Digne.
But, in fairness to Benitez, he has worked wonders with what he's got. He will need to for a while yet.
In the circumstances, a draw would be a good result tomorrow.
Danny O'Neill
45
Posted 16/10/2021 at 12:19:51
It will be an early call, Rob, but let's see which way the cheese goes if I can distract them from the squirrels for long enough!
Steve, I do like Soucek and he will be a threat, especially from set-pieces. It will be an interesting match watching him and Doucouré.
Michael Williams
46
Posted 16/10/2021 at 12:21:05
This will be a tough game, as others have said, and I am not sure how long we can go without Calvert-Lewin and Richarlison. Even with a smart manager like Rafa, another manager will figure out how to expose a squad with limited attacking options like ours.
Christy Ring
47
Posted 16/10/2021 at 12:39:11
Phil #14,
I'd love to see Delph gone in January, and forget about any transfer fee. He's on over £80k a week; to get someone to take him would be unbelievable. As for offering him a new contract, I'm guessing that you're joking, he's probably the most expensive crock we ever signed?
I hope Rafa keeps Gordon in the team tomorrow ahead of Iwobi. Apart from his attacking threat, did you see him tracking back and putting in tackles against Man Utd? Did Iwobi ever make a tackle?

Darren Hind
48
Posted 16/10/2021 at 12:45:42
I think Rondon gets a raw deal on here.
If you were expecting Tommy Lawton, you deserve to be disappointed. We'd all seen enough of him at other clubs.
Rafa is not expecting him to win the golden boot but, in the absence of our first choice strikers, he needs a presence to occupy the opposition back two in order to free up other players.
He won't beat three men tomorrow with his quick feet and I doubt very much that he will be chippin the keeper. But he is a big unit and every time you see him he will be in the thoughts, the eye line and the company of the West Ham centre-backs. He makes goalies think twice about coming for crosses too.
He'll be somewhere close to peak fitness tomorrow and I think we will start seeing him do what it says on the tin.
Tony Everan
49
Posted 16/10/2021 at 13:37:11
Darren.
I'm hoping he is nearer to full fitness; apparently, him and Godfrey have been having individual sessions to get up a level. So in theory we could see improved performances from both.
Sometimes it's too easy to get on a player's back too soon, Rondon seems willing to put a shift in but it was the fitness that was needed to catch up to his desire to perform. You're right, he won't be a superstar striker but, if he can just get 100% fit and do his job, he will be an important player to fill in and help the team by challenging and occupying defences, creating a bit more space for others to exploit.
Saying all that, I was really looking forward to Calvert-Lewin being back after the break; hopefully he is back strong next week, along with Richarlison.
Brian Williams
50
Posted 16/10/2021 at 14:36:08
Does anyone know (100%) what the rules are for someone using another person's season ticket bearing in mind the extra checks and Covid regs?

Bill Rodgers
51
Posted 16/10/2021 at 14:38:52
I did find it strange when Richarlison carried on playing after returning from his travels. At first, it looked like he had discovered a new found desire to play for EFC. Now it looks like he was making the most of the open shop window at that time.
Paul Smith
52
Posted 16/10/2021 at 14:44:09
Brian 50 - good question. I am using my mate's tomorrow. I went to Brighton and had no problem with another name on the ticket. I'm hoping it will be fine.
Brian Williams
53
Posted 16/10/2021 at 14:48:03
Thanks, Paul. It would make sense that, as long as the person using the ticket has the required proof of vaccination etc etc, that it would be okay.
Bobby Mallon
54
Posted 16/10/2021 at 14:51:48
I picked the last team on here and that team should play Tommorow.
Pickford
Godfrey
Keane
Mina
Digne
Allan
Doucourér
Gordon
Townsend
Rondon
Gray.
If he sticks with his last team then we win this game 2.0
Brian Wilkinson
55
Posted 16/10/2021 at 15:02:55
Brian@50, as far as I am aware,the season ticket is no problem mate in another name.
All they need is proof that the person attending is COVID-19 clear, so if you have the letter or app, I would try and have some photo id if you have anything to match the document with yourself.
Just to include, those that are still heading back to Liverpool after the match and are joining up for a drink in the Crown, next to lime street, can meet up by the holy trinity statue.
As I have not been on previous meet ups, I will look out for Danny in the Schalke top, and look forward to any others, anyone else heading to Lime Street or just town itself feel free to join us for a drink after the match.
Brian Williams
56
Posted 16/10/2021 at 15:28:17
Thanks Brian.
Mike Dolan
57
Posted 16/10/2021 at 16:12:34
Should be a good close game. We should have enough to beat them. Rondon IMHO looked a lot closer to being match-fit against Man Utd. He is key tomorrow for our counter-attacking game, even if he doesn't score.
Iwobi and Gordon will probably share time. These are the games we just have to win – nothing less is good enough. We are better than them; we win this one going away with them crying that they should have had at least a point. COYB.
Mike Dolan
58
Posted 16/10/2021 at 17:44:04
Darren Hind #48, you are spot on.
Brian Wilkinson
59
Posted 16/10/2021 at 19:47:47
Darren @48,
From what I have seen so far of Rondon, he looks more like Charles Lawton's hunchback than Tommy Lawton of Everton, with the same foot-dragging movement of the hunchback.
Got my humble pie ready for when he rattles a couple in tomorrow.
Stan Schofield
60
Posted 16/10/2021 at 19:51:09
Darren @48: Good post. Some players are not high profile performers but create space and time for their team mates, and are generally a nuisance for the opposition. They also contribute to overall team spirit. An old term for them is 'a player's player'. Rondon is one of them.
Denis Richardson
61
Posted 16/10/2021 at 19:53:51
Shame about Richarlison and Calvert-Lewin but I didn't really expect either to take part in this one. Most important thing is to get them 100% fit and not rush them back. It's a long season and we've barely started. Calvert-Lewin should get his toe properly healed and not be taking the pitch on injections.
Fingers crossed. The work ethic can be maintained as I expected West Ham to put in a shift. Home advantage will at least give us an edge and, with Gray and Townsend, we've got a chance up top but it's really difficult to call, depends on what team turns up – for either side.
Hoping for a win but I sense an Antonio goal for some reason. Maybe 2-1 or 2-2. I can't see it being 0-0.
David Hayes
62
Posted 16/10/2021 at 20:05:56
It worries me that so far it's taken till the second half in almost all the games to get going. By then, going behind first and then playing catch up.
This is not sustainable for much longer. I believe we must play in both halves, starting now, to keep the positive results coming. If we continue as a one-half team, our motivation and team ethic will evaporate. The next progressive steps need to happen now. This game will, more than any so far, outline where we are going.
Last season at this time, Carlo was smiling – just waiting for the bubble to burst in total abject certainty. I believe Rafa is working harder this time to move the progression on.
Phil (Kelsall) Roberts
63
Posted 16/10/2021 at 20:58:26
Tony #27
Ours could be the most entertaining of the weekend, who knows?
Well if it is after Villa v Wolves and Leicester v United, it is going to have to go some!!!
Derek Knox
64
Posted 16/10/2021 at 22:49:43
Brian @59, "Got my humble pie ready for when he rattles a couple in tomorrow."
So I take it you'll be on the 'Bells' in the Pub! :-)
Andy Crooks
65
Posted 16/10/2021 at 23:05:40
Darren, good shout about Rondon. He is never going to look like Man of the Match but he does what Rafa wants. I think he will score tomorrow and that goal will take a stone off him.
Paul Birmingham
66
Posted 17/10/2021 at 00:06:33
I've a great photo from the days of Moyes and Rafa on the touchline at our old ground. It was and still is a great photo of the way it was then, 15 years ago, at our old ground.
Today, in context, Everton turn up and win, and win well.
"What's Our Name?"
Brian Wilkinson
67
Posted 17/10/2021 at 00:48:13
Derek, I will stick my neck out and say Tosun has more chance of scoring on Sunday than Da Do Ron Rondon.
Steavey Buckley
68
Posted 17/10/2021 at 03:14:43
Everton, already under pressure with the loss of Calvert-Lewin and Richarlison, will be under further pressure to win the game tomorrow if Mina cannot play. Mina has been playing well at the back and was unlucky not to be on the scoresheet against Man United when judged to be offside. For West Ham, Antonio will take some stopping.
Mark Andersson
69
Posted 17/10/2021 at 04:03:16
I love the way you elite athletes slag off one of our players in Rondon..
Darren is spot on.
Rafa is doing well with this squad... and we could do better with a bit of luck.
Enjoy the game if you're going and get behind the team, keep the negative crap for the pub afterwards..
Steve Brown
70
Posted 17/10/2021 at 04:15:44
Rondon averaged a goal every 4 league games for West Brom and every 3 games for Newcastle, so maybe he is overdue one tomorrow. Perhaps a deflection off his backside.
Kieran Kinsella
71
Posted 17/10/2021 at 05:22:29
Brian,
What the fuck is going on with Tosun? A month ago, The Echo showed him back in training but he's seemingly gone AWOL since. I'll admit I'd forgotten he existed much less played for us before that article but what's going on with the joker? Him, Delph and Gbamin giving Williamson and Bilic a run for their money in terms out output versus input.
Derek Knox
72
Posted 17/10/2021 at 06:53:57
Good point, Kieran, you know I had almost forgotten that he was still with us too. If you were to go back over the years, there have been a few we have signed who have enjoyed a decent contract and salary or wage, yet have rarely played and faded into seeming obscurity.
Mind-boggling when you think about it, and just imagine the waste of resources, not to mention finances, in signing these characters in the first place. This is further exacerbated by the prick who signed them, is given hefty compensation for being a total and utter waste of space and good oxygen too!
Okay, I know players are human and some can incur unfortunate injuries, that is part and parcel of the physicality of the game, assuming they ever played in the first place, but we seem to have a propensity for seeking them out, or am I being too clinical?
Jim Lloyd
73
Posted 17/10/2021 at 07:49:39
Derek. You're being a lot more critical than I wish those that asked them for their signature appeared to have done!
As for the game, I think that, as long as we turn up and pull our tripes out as we have been doing, then that's all I want. A slight mistake, a slip, and it could be the game's won for either side.
I'd love us to win, as I think these players deserve all the things going for them that Everton don't usually get. I certainly think they deserve us to get right behind them from the start, just for the effort they put in.
After watching the highlights of our Man Utd game it surprised and delighted me, the football we were playing, the three (I think!) passes we made, the running involved and the goal, involving Allan, Gray, Doucouré and Townsend was brilliance on the pitch!
That and the football we produced and the number of our players buzzing around Man Utd's box when we had that wonderful attempt on the offside goal (I think I counted eight of our players all around their penalty area) reminded me of some of the great footy we used to see off Howard's team in the mid-eighties. Wonderful!
Keep that going, Blue Boys, and including Rondon in that. He's a Blue and deserves our support, if he's picked, and tries his best; that'll do for me... Well, I'll support them from the Bullens Road Upper Stand.
COYB... I haven't even had me brekkie yet!
Brian Wilkinson, I'll meet up at the Holy Trinity statue and I'll have my yellow and blue Danka top on, if I can get it on! (It seems to have shrunk a hell of a lot around the midriff area) and my Everton Wembley cap on.
Derek Knox
74
Posted 17/10/2021 at 08:04:36
Jim,
I've noticed that, as I get older, these Everton tops seem to shrink in certain areas. I have tried to get a refund from the Club Shop but, after checking their records, they said "You have had this for 23 years, and have just missed the guarantee deadline by minutes!" :-)
Darryl Ritchie
75
Posted 17/10/2021 at 08:06:44
Hopefully Rondon has used the international break to up his fitness to a useful level.
Heaven knows we sure need him.
He's scored regularly in the past, hopefully he hasn't forgotten how.
Jim Lloyd
76
Posted 17/10/2021 at 08:08:08
Hahaha :) excellent Derek! Cheapo merchandise.
Steve Shave
77
Posted 17/10/2021 at 08:10:16
I'm with Darren and Tony regarding their above comments on Rondon. He wasn't fit when he signed, not his fault. Let's judge him when he's back to match sharpness, I bet he didn't expect to be getting the minutes he has.
He's only just turned 32 so I am not expecting him to be finished yet, just needs to get up to speed and, if he does, he can be a real handful. As Dazza mentions, he doesn't have to do anything fancy (he can't) with the system we play – he just needs to occupy some defenders and be a nuisance.
I feel hopeful towards this afternoon which worries me slightly as, over the past years, when a patch of form leads me to optimism, I am usually let down by this team. However, we seem to have a different edge under Rafa, hats off to him as he is doing a great job so far. Really can't wait for Calvert-Lewin and Richarlison to return though.
Kim Vivian
78
Posted 17/10/2021 at 08:21:09
Phil, Christy - assuming he doesn't play again this season, Delph will have cost Everton FC (near as makes no difference) £462,000 per hour of playing time - for very little benefit that I can remember. If there is one name I would like to disassociate from Everton's history, of all others, it is the waster Fabian Delph.
Keiran - I don't have similar stats for Gbamin and Tosun but Delph just seems like a total lead swinger to me.
Danny O'Neill
79
Posted 17/10/2021 at 08:22:11
Early start & due to weekend engineering works, a convoluted route to Euston involving 4 tubes.
And I seem to have joined the Lime Street bound train that is populated with the entire West Ham travelling support.
They appear to have a uniform. Skinny ripped jeans worn above the ankle with no socks and white trainers. What I would call a body warmer, but I believe there's a more modern term for it. And to complete the look, a peaky blinders style flat cap.
Oh and then sound as Cockney East end as you can, even though half of them are probably from Surrey.
Going to be a longer than usual trip this one.
Kim Vivian
80
Posted 17/10/2021 at 08:26:14
Is that just the women, Danny?
Rob Halligan
83
Posted 17/10/2021 at 08:39:03
Danny, I dare you to start singing "You can shove your fucking bubbles up yer arse"!
Tony Everan
84
Posted 17/10/2021 at 08:40:00
A brief but really good interview with Anthony Gordon, you can feel his pride and enthusiasm for the club.
Gordon: "Fans chanting my name was the best day of my life!"
He has stepped it up a notch this season, looks more at home and physically stronger. Fantastic to see him progressing, a lot more to come.
Sam Hoare
86
Posted 17/10/2021 at 08:42:00
A few on here saying we are better than West Ham. I disagree, think I'd likely take more of their starting XI today than ours. But Benitez has us playing effectively.
Should be a close match and a draw possibly the most likely result.
A win would lift us into top 4 with a two point buffer; over the last few years, it seems opportunities to make ground have all too often been followed by choking or weak performances but this team may be fashioned from stronger stuff. Fingers crossed!
Jim Lloyd
87
Posted 17/10/2021 at 08:49:28
For being without our first pick forwards and Seamus, our captain, we're doing pretty well, I think. Moyes has got a decent side together and had time to get them organised. A good move getting Zouma; and his other additions have got them into Top 6 contenders.
I agree, Sam, it's no easy game for us; but then there's no easy games. We have to go out and try to win each and every one that comes along; and that is what Rafa is instilling into our players. It's an attitude we haven't had for years; perhaps decades.
Tony Everan
88
Posted 17/10/2021 at 09:19:45
I've been trying to follow Nkounkou's progress playing for Standard Liege. He played last night and they were cruising, winning 2-0 after 90 minutes. Then unbelievably conceded in the 96th and 99th minute, the game ending 2-2.
Difficult to find any match reports to discover how Niels is playing.
Danny O'Neill
89
Posted 17/10/2021 at 09:24:21
Will have to look that up Tony.
Sam, we're not allowed to lose. It will make my trip back unbearable with this lot.
Tempted Rob, but I'd properly put myself in a Rorke's Drift situation!
My son read something yesterday that suggested Calvert-Lewin's injury could be worse than is being made out, hence the delay. Talk of him being out until Christmas.
I hope it is gossip and unvalidated.
Tony Abrahams
90
Posted 17/10/2021 at 09:27:46
Hard game, we are going to need the crowd today, and the difference of opinion is what makes football such a great sport.
I agree with Brian H, that Godfrey's positional sense isn't the best, and feel it will only improve once Everton try and defend to the kid's strength, which is 15 yards further up the pitch, and this is something that will also make our midfielders' job so much easier.
I could just imagine Peter Reid being on the same pitch as Michael Keane, or Des Walker, having to defend so deep, because his defensive partner won't push up and play a higher line, and my conclusion is that neither of them would have reached their true potential, in a game that is all about opinions of course.
Derek Thomas
91
Posted 17/10/2021 at 09:35:05
It's West Ham & Moyes... who might have got what passes for his mojo back. But it's still West Ham and the leopard can't change his shorts, Moyes.
But, as somebody said, '4th beckons', so we have to file it under 'Potential Banana Skin'.
But in real terms, we snatched a draw from the jaws of victory 2 weeks ago at Old Trafford and a like performance should see us through.
Should...
Hugh Jenkins
92
Posted 17/10/2021 at 09:38:50
Danny (79),
I think the modern term for "bodywarmer" is "gilet". A fairly comprehensive article on its origins can be read here:
Something to pass the time on your journey - LOL.
Have a good day, and here's hoping we get the right result.

Danny O'Neill
93
Posted 17/10/2021 at 09:43:12
Tony Abrahams, we've agreed on that centre-back thing so many times and been calling it out when many didn't view it as a priority. I won't repeat you, just agree with what you say.
Separate note. An actual sensible conversation with some of the West Ham hoardes I am surrounded by. They were discussing fixture planning.
It doesn't affect me as I have to travel regardless of being home or away, but sometimes you wonder what goes through the Premier League planners' minds. This lot travelling before work tomorrow. Our cousins having to get to Watford for a 12:30 kick-off yesterday.
I get that TV dictates, but you would think they could apply common sense when forecasting the fixtures.
Thanks Hugh. A welcome distraction. I've now got a guy boasting proudly about chancing it today as he's been banned from every West Ham game this season. But he's got a cap and mask so he thinks he'll be okay. If you could stereotype a fan base, I'm surrounded by them.
Still 45 minutes to Lime Street. I'm hanging in.
Rob Halligan
94
Posted 17/10/2021 at 09:52:22
Danny,
Whoever does the Premier League fixtures doesn't give a toss about the fans. I don't know if you're aware of this, but we are at home to Brighton on New Year's Day, with a, at the moment, 3 pm kick-off. Brighton to Liverpool is about 275 miles so, assuming this fixture is not put back 24 hours, then I doubt we will see many, if any at all, Brighton fans at Goodison on New Year's Day!
Rob Hooton
95
Posted 17/10/2021 at 10:00:40
If possible, I would start the same team as against Man Utd; if we do, I predict that this time Mina's winner will count in a 3-2 win and Danny's train home won't be as arduous as the journey up!
I'm with Darren and Tony too, Rondon had visibly improved in the last match and is doing a job for the team and will be an important team player for us today. Fingers crossed he gets a goal; if he does, I bet the other players will all be delighted for him as he seems a team player.
Up the blues! Going to get the food shop done and prepare a roast dinner so that I can watch the match in peace with some nice ales.
Danny O'Neill
96
Posted 17/10/2021 at 10:01:35
Well, that should free up the Upper Bullens for me then, Rob!!
You've just reminded me of waiting for a coach to go to Sheffield Wednesday for an early kick-off on New Year's Day. Very dark, very tired, but made the coach! Can't remember the exact year but late 80s. The coach firm ran from an industrial park between Speke & Hunts Cross. Began with A, but I can't remember the exact name.
The Carlsberg 4 packs are kicking in with this lot now and they're getting noisy.
Hopefully they'll be tired and disappointed on the way back.
Eric Myles
97
Posted 17/10/2021 at 10:03:29
Danny (79) I think the modern term for "bodywarmer" is "gilet"
What?
Gilet is a French word that's been in use since the 1700s, not modern at all.
It's basically a cardy (cardigan for those foreigners from outside of Liverpool) or a waistcoat.
Danny O'Neill
98
Posted 17/10/2021 at 10:08:16
Eric, you're in danger of taking over from Michael K in the grammatical/ linguistic correction stakes!!
Please excuse my linguistic deficiencies. I always knew them as body warmers!!
This is a painful journey.
David Pearl
99
Posted 17/10/2021 at 10:09:17
Safe journeys and 3 points to all going to Goodison today. I will be watching either from bed or the couch.
Recognising West Ham probably have a better squad these days but if Allan and Doucouré continue their form we can give anyway a game.
I hope Gordon gets another start on the left and Rondon can break his duck.
Eric Myles
100
Posted 17/10/2021 at 10:27:54
Sorry Danny, I was replying to Hugh's post at #92, your name just appeared at the start of it.
Dave Williams
101
Posted 17/10/2021 at 10:30:01
Just grit your teeth, Danny, and think of the rest of your day. The reason I can't stand watching a match in a pub is the morons who, as you say, affect a yobbo voice and shout "Come on, my son" every two minutes at the TV. It sounds so much worse in an Essex accent.
Whatever you do, Danny, don't let any of them see this thread over your shoulder!
Brian Williams
102
Posted 17/10/2021 at 10:40:55
With regard to their outfits, Danny. I've always said the only males who should wear all-white bright white trainers are those under 7 years of age or professional sportsmen. And the only adult males who should wear hats are those who have to for their job.
Bright white trainers on some fat fucker who also sports a baseball cap with some daft-arse logo on just makes 'em look like complete tits! Other than that, anything goes really. Lol. IMHO, of course.
I was gonna wear my gilet / bodywarmer today but I've jibbed that one now.
What time do you get into Lime Street?
Jay Evans
103
Posted 17/10/2021 at 10:42:25
3 points and we are back in the top 4. Obviously there's not going to be many changes from Old Trafford so let's hope for a similar performance today - quick crosses, fierce tackles, get the crowd involved and we will be fine.
2 -1 to the blues I fancy with Gray getting one for us.
Full support, Blues! Onward Evertonians. 💙
Darren Hind
104
Posted 17/10/2021 at 10:47:48
Tony,
I've been a critic of Big Yerry since he got here. Not only has he made numerous basic errors, but he has often looked as wooden as a tree house, but you have always maintained he would prove himself to be a very good centre-half if he could just get the games under his belt.
Disallowed goal apart, I thought he had his best game in a blue shirt at Old Trafford. Not spectacular – just very, very good. I focused on him and Keane quite a lot and it was great to see an Everton centre-half taking ownership of the back four.
He spent most of the game looking across the back line, chatting and pushing his hands past his hips trying to move the play up 3-4 yards. Keane didn't look, err, keen, but he went with and so did the full-backs. We looked a much more capable team as a result.
Two or three more games like that and I may just have to concede you were right all along... Mind you that would be no hardship. Never had a problem with an Everton player proving me wrong
Jerome Shields
105
Posted 17/10/2021 at 10:48:18
Moyes will bottle this game.
Anthony Murphy
106
Posted 17/10/2021 at 10:48:53
Danny #96 - Amberline
Darren Hind
107
Posted 17/10/2021 at 10:58:17
Bookies cant split us
13/8 for home win
13/8 for an away win
23/10 the draw
They're all heart
Brian Wilkinson
108
Posted 17/10/2021 at 11:05:23
Be a goal fest today over 2 goals looks nailed on over 9 corners in the match, what's odds were nil nil again :-),
Safe journey Danny, setting off myself in a mo, will put the black watch away top on make it easier to spot for those meeting up after game by the trinity statue.
Graham Mockford
109
Posted 17/10/2021 at 11:15:18
Mina statistically improves us when he plays.
Since he joined three seasons ago
Games played 72 Win 43% D 25% L 32%
Games missed 39 Win 35% D 18% L 46%
David Pearl
110
Posted 17/10/2021 at 11:26:42
Who is Kean? Isn't he in ltaly...
I will wait for the teams before any prediction.
Dave Abrahams
111
Posted 17/10/2021 at 11:27:00
Danny (79), those West Ham fans sound like some of the Everton fans I used to meet, then swerve very quickly, going to away games when I was a kid, the further they got from Liverpool the more pronounced their phoney Scouse accents became, why they did it God only knows, be your bleedin' self is all that is needed.
Enjoy your first bevvy in The Crown you should be there by now, put it on my slate, I go under the name Brian Williams in there!!
Brian Williams
112
Posted 17/10/2021 at 11:33:40
😭😭😭😭😭
Hugh Jenkins
113
Posted 17/10/2021 at 12:04:14
Eric (97). Perhaps I could have phrased that better - LOL.
I appreciate that "gilet" is French and actually predates the 1700s.
My point for Danny was that - athough, throughout the 1980s garments of this ilk were known, in the UK, as "bodywarmers", it has since become fashionable in recent years to refer to them as "gilets" rather than "bodywarmers". That is where the "modern" aspect comes in - not in the name itself.
Lester Yip
114
Posted 17/10/2021 at 12:14:52
If we have Richy and DCL I think we'd winning this game. Without them it would be a closed game which most likely won't score from open play. Who manage those set-pieces better will win. And who score first will likely win.
Hopefully we nick one in before them. COYB!
Lester Yip
115
Posted 17/10/2021 at 12:14:53
If we have Richy and DCL I think we'd winning this game. Without them it would be a closed game which most likely won't score from open play. Who manage those set-pieces better will win. And who score first will likely win.
Hopefully we nick one in before them. COYB!
Tom Bowers
116
Posted 17/10/2021 at 12:34:27
We have to live with these injuries like may clubs.
Some clubs get by because they have strength in depth thanks to big bankrollers and so they always have a strong starting eleven.
Everton have to work a lot harder and so every game is tough.
Today is no different.
The problem is on the offensive side of the coin where Rondon who tries hard is lacking what we need. However with hard work and the right attitude Everton are getting by under Rafa so we can have some confidence in getting a result today. C.O.Y.B.
Derek Taylor
117
Posted 17/10/2021 at 12:44:33
Imagine the money boys are budgeting for a 10th place finish. A 1-1 draw today will see us very much on target in what promises to be another bore of a season.
Bill Gall
118
Posted 17/10/2021 at 12:46:52
I think the biggest miss is DCL. We have had to manage without Richarlison before and no doubt he can change a game, with Gray or even Gordon we still have a decent threat. Rondon as a central striker does not have the same threat as DCL or the same type of game but will still keep their central defenders on there toes. with just his size and strength. I believe this game like most games will be decided on who controls the midfield, and we are strong in that area.. 2--1. for Everton. with the home crowd making the difference.
Jamie Crowley
119
Posted 17/10/2021 at 12:54:49
Hopefully we bring our gun to the knife fight.
These are games we must win a home. A win puts us back amongst the leaders. A loss looks to place us mid table. Three points, please.
Raymond Fox
120
Posted 17/10/2021 at 13:00:32
Its a likely draw, 1-1 or 2-2 maybe.
I'm predicting Rondon to score and shut the doubters up!
Its going to be tough but lets hope for the best, with our new signings coming up with goals again.
Allan Board
121
Posted 17/10/2021 at 13:02:50
Good luck Blues! Think all will be well today. Enjoy all!
Jerome Shields
122
Posted 17/10/2021 at 13:17:00
I don't think Calvert-Lewin or Richarlison missing will make any difference. As a matter of fact, it makes it more difficult for Moyes to employ his usual tactics. Moyes has to cope with Everton's mobile and interchanging midfield.
Rondon will have the advantage of a rigid deep backline. I expect him to score this game. He will also engage the backline. Moyes will be in fear of him and this will give other attackers space.
Defensively, Everton will have to deal with space behind Seamus once he is engaged. Hopefully Keane is not in charge of covering it.
In the first 5 minutes, we will know what type of Everton has turned up. After the International break, with hands-on Benitez, Finch Farm is not the International Holiday Camp it use to be.
---
Add Your Comments
In order to post a comment, you need to be logged in as a registered user of the site.
Or Sign up as a ToffeeWeb Member — it's free, takes just a few minutes and will allow you to post your comments on articles and Talking Points submissions across the site.