Everton vs Watford
Friday, 22 October, 2021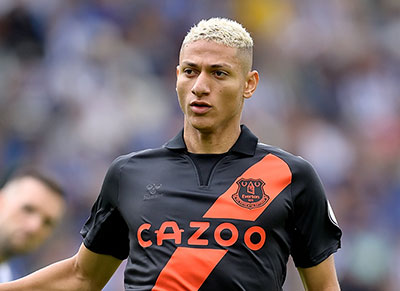 Richarlison is expected to be back in the matchday squad after recovering from a knee injury
Updated Depleted Everton are at home again this weekend as they entertain recently-promoted Watford and bid to get back to winning ways.
The Blues kept themselves in the Premier League's top five with a win over Norwich and a draw at Manchester United prior to the international break but last weekend's defeat to West Ham dropped them to eighth place and brought into sharp relief the injury problems plaguing Rafael Benitez's squad.
While Seamus Coleman was a welcome returnee at right back, Dominic Calvert-Lewin and Richarlison were missing once more and their absence was keenly felt as the Hammers grabbed a 1-0 victory thanks to Angelo Ogbonna's second-half header.
Richarlison returned to full training this week and is expected to be in the matchday squad for Saturday's game, most likely as a lone striker, but Calvert-Lewin faces a few more weeks on the sidelines and Everton were rocked by the news that Abdoulaye Doucouré has suffered a foot fracture and Yerry Mina is ruled out with a hamstring complaint.
Article continues below video content
The Frenchman has been an absolutely vital cog in Benitez's midfield, enjoying his more expansive role under the Spaniard and he will leave a hole in the side that will be difficult to fill.
André Gomes and Fabian Delph, two potential deputies, have been struggling with injuries of their own, as has Jean-Philppe Gbamin who was an unused substitute in the last two matches but it remains to be seen whether his manager feels he is sufficiently match-fit to start.
That leaves Tom Davies as the man who might be charged with sitting in for Doucouré. The 23-year-old hasn't been named in a starting XI since his disappointing outing in the Carabao Cup at QPR last month.
Regardless of who starts in Doucouré's place, it will necessitate a tactical shift to compensate for the loss of the Frenchman's dynamism and legs. While Gbamin has the potential to match Doucouré's all-action profile, he has still only made one Premier League start for Everton since arriving at the club more than two years ago and has not been able to prove he can make it through a 90-minute Premier League contest since recovering from a succession if serious injuries.
At the back, Yerry Mina was expected to be available after sitting out the defeat to West Ham due to his late arrival back from international duty with Colombia but he is being withheld as a precaution after he "felt" his hamstring in training. Out wide, Anthony Gordon could be preferred to Alex Iwobi who gave a poor performance last time out.
Watford come into the weekend sitting in 14th place with seven points from eight games, six more than struggling Norwich and two less than the altogether more impressive Brentford who are currently 10th.
While the Hornets began the season with a rousing victory over Aston Villa at Vicarage Road, their only other win this season has come against Norwich and, perhaps unsurprisingly, given how often they change coaches, they have already sacked their manager.
Xisco Muñoz was summarily dismissed after Watford lost at Leeds in a game that ended 1-0 to the Yorkshire side but which could have been much more on the basis of how poorly the Hornets played. His replacement, Claudio Ranieri, underwent a baptism by fire against Liverpool last weekend in his first game in charge, seeing his new charges torn apart by Liverpool and losing 5-0.
The Italian has called on the Watford players to show him a reaction when they travel to Goodison Park but Benitez will be hoping that even with his injury troubles, Everton will have plenty to overcome an opposition that has, in recent games, looked well short of Premier League quality.
Kick-off: 3pm, Saturday 23 October, 2021
Referee: Graham Scott
VAR: Martin Atkinson
Last Time: Everton 1 - 0 Watford
Predicted Line-up: Pickford, Coleman, Mina Godfrey, Keane, Digne, Allan, Davies, Townsend, Gordon, Gray, Richarlison
---
Reader Comments (142)
Note: the following content is not moderated or vetted by the site owners at the time of submission. Comments are the responsibility of the poster. Disclaimer
Darren Hind
1
Posted 22/10/2021 at 05:54:04
This is a poor Watford side. Even without Doucouré and Calvert-Lewin, we will surely have too much for .
Andrew Brookfield
2
Posted 22/10/2021 at 06:19:38
It pains me to look at that predicted lineup and think we've spent £500M on footballers and this is what we are putting out.
A five-man midfield where only one player cost over £2m
Harry Wallace
3
Posted 22/10/2021 at 06:40:07
Totally agree, Andrew. The club wasted so much money – it's beyond belief. Brands too spent too much on the likes of Iowbi and Tosun.
Bob Parrington
4
Posted 22/10/2021 at 07:13:00
Time to blood some youngsters!!!
Bobby Mallon
5
Posted 22/10/2021 at 07:37:36
The problem was managers buying players, then never playing them in their natural position or selling them after one season.
It was criminal not giving the likes of Vlasic or Klaassen a 10- or 12-game run, but playing Schneiderlin was okay.
We had Wayne Rooney who I think scored 12 goals, why was he got rid of? What an influential player he could have been. We have had good players at this club but they were other managers' players who had different ideas and tactics.
Bobby Mallon
6
Posted 22/10/2021 at 07:40:20
Les Green
7
Posted 22/10/2021 at 08:09:46
Probably worth starting with Gbamin and replacing him with Davies later in the game when he tires.

Derek Knox
8
Posted 22/10/2021 at 08:29:50
Good preview as always, Lyndon, and I am 100% in agreement with Andrew, Harry, Bob and Bobby's sentiments entirely. I can't make this game, but will hopefully manage to see most of it before going to work.
Makes you wonder with our almost threadbare choices of players, it almost beggars belief that players who have not played recently can be injured, and apparently unavailable. What are they made of – glass or marshmallow?
Andrew Ellams
9
Posted 22/10/2021 at 09:07:03
I'd play Gbamin front of the back 4 to push Allan and Davies up to the half way line and a front 3 of Gray, Richarlison (if fit) and Tonwsend but we won't get that.
It will be last week with Davies in for Doucoure and maybe Mina and Richarlison in for Godfrey and Iwobi.
Tony Everan
10
Posted 22/10/2021 at 09:38:04
Doucouré is a big miss but we have the players to do a job against Watford. Firstly, we need more potency up front, Rondon has been largely contained by defences; Richarlison will give us a much needed threat.
Then the Doucouré replacement issue. All options are a gamble: Gbamin has has little competitive football for donkey's years, while Tom Davies still struggles to stamp his authority as a central midfielder when handed an opportunity.
I wonder if Tyler Onyango could leap ahead of both of them given a chance… but he probably needs more matches under his belt after injury. I'd say there was an opening there for him if he can bash Benitez's door down demanding a chance.
How about pushing Seamus into midfield for some tenacity and having Godfrey at right-back, being helped defensively but still having some pace there? A front two of Gray combining with Richarlison.
4-4-2:
Pickford
Godfrey Keane Mina Digne
Coleman Davies Allan Townsend
Gray Richarlison
Prediction: Everton 3 Watford 0

Ray Robinson
11
Posted 22/10/2021 at 09:39:23
Andrew, how can you advocate playing Gbamin in front of the back 4? I've only seen him play once live and a couple of other times on TV. The lad has next to no experience of the Premier League, has never been fit, and nobody is even sure if he's up to scratch!
Brent Stephens
12
Posted 22/10/2021 at 09:48:59
Watford do look to be a weak side this season. And if Richarlison is back, I'd go with Lyndon's suggested line-up and think we should win this, at home.
And as part of that, I think Davies needs some serious game time.
Robert Tressell
13
Posted 22/10/2021 at 09:52:17
It'll be a relief to have Richarlison up front instead of Rondon. I can see him working very well with Gray and Townsend.
Seems likely Davies will step in for Doucouré because no-one else is properly fit.
I'm desperately hoping Gordon will start to impose himself on games too. I see him in the vein of Mason Mount. Worth persevering with.
But we may need someone – even Holgate – to step into midfield if they're kicking lumps out of us.
Dave Williams
14
Posted 22/10/2021 at 09:52:55
Impossible to predict the team as it all depends on who is fit to play. If Gbamin is fit, then he must start as, at some point, we have to see if he can hack it at this level. If he struggles, then Tom Davies will be on the bench.
Gordon deserves a game in place of Iwobi and Richarlison is a given to replace the willing but woefully short of match sharpness Rondon.
I'd love to see Onyango play but I think he will be on the bench and is more likely to get a game in a few weeks time when Doucouré will still be out but Onyango will be much fitter.
Pickford
Coleman Mina Keane Digne
Allan Gbamin
Townsend Gray Gordon
Richarlison
2-0 to us!
Kim Vivian
15
Posted 22/10/2021 at 09:59:31
We should be winning this... Will we be winning this? We'll see.
Ranieri is no mug; he and Watford will not get a better chance against a top-half team than Everton at the moment, although Rafa will do a better job at keeping our heads up.
Home advantage – we should shade it (although Z-Cars will make them feel at home). I can see maybe 2-1 or 1-0.
Danny O'Neill
16
Posted 22/10/2021 at 10:09:34
I think Lydon's line up is probably as good as we've got with what's available. The worrying thing is we only really have Doucouré, Calvert-Lewin and Godfrey who could come into that side and improve it. Maybe Gbamin if we finally manage to find strong enough super glue to hold him together for long enough. Our squad really is the thin blue line.
Paul Hewitt
17
Posted 22/10/2021 at 10:09:46
Got 1-1 written all over it.
Mark Rankin
18
Posted 22/10/2021 at 10:29:07
I might have got it wrong but the look on Rafa's face earlier in the season at a presser when someone mentioned Gbamin gave me the strong impression that he thinks he's crap.
Kevin Prytherch
19
Posted 22/10/2021 at 10:39:50
At the risk of starting something (based on another thread) it's these types of games that I don't want Michael Keane anywhere near.
We should be looking to beat the likes of Watford comfortably, not be sitting back and trying to nick a win. If we want to actually dominate teams, then we can't defend deep, we need to compress space, turn over possession in Watford's half and not let them out.
We can't do this with Keane in the team, we defend too deep and are always vulnerable on the counter due to his lack of pace. Keane would be my first choice defender against teams we look to hit on the counter, but not against teams we should be dominating.
Also, without Doucouré's work rate, I don't know whether we need 3 in midfield to compensate. Might be a game for Gomes to be sat in front of Davies and Allan. He'd have less defensive responsibility, but would still be there for numbers to make sure we don't get overrun.
Alan J Thompson
20
Posted 22/10/2021 at 10:42:46
I'd certainly give Davies the nod over someone who hasn't started for, what, 2 years? The alternative being Townsend to Doucouré's role and Gordon out wide while there can't be any doubt that Richarlison replaces the benched Rondon.
I can only guess at how many keepers and kids there will be on the bench but I'd like to see, at some stage, Dobbin given a run alongside Richarlison – but I doubt this manager will take a defender or midfielder off to try it.
Pat Kelly
21
Posted 22/10/2021 at 10:56:23
How Brands is still in the job is a mystery. How much has the club progressed since his arrival ? The current state of the squad says it all. Now pinning our hopes on Gbamin who is about as dependable as Delph. Still we've got young Tom who, any year now, will fulfill his potential. Unless, of course, he already has. Luckily it's Watford at home tomorrow and with Iwobi and Rondon "rested" we can start with 11.
Andrew Ellams
22
Posted 22/10/2021 at 11:09:45
Ray @ 11, the squad is down to it's bare bones. The time for players who haven't played much to step up is here.
Billy Roberts
23
Posted 22/10/2021 at 11:16:50
As Derek Knox + Pat Kelly have said, how we find ourselves trying to pick someone from Delph, Gomes or Gbamin is beyond words really.
I'm struggling to find the right words to describe Evertons condition.
As others have mentioned, what exactly is wrong with these 3 players ? And then we have the mystery of Tosun.
For all the criticism Tom Davies gets at least the lad stays fit and available.
Martin Reppion
24
Posted 22/10/2021 at 11:35:22
This is a game that is crying out for a bold approach.
We have a solid base, Pickford, good back four and Allan biting legs.
In front of this we have two wide men ripping up trees.
There is a case that whoever fills the remaining 3 places should have the time and space to express themselves.
Richarlison is a no brainer if fit, even if just for the first hour.
Davies or Gbamin will have time to find their feet and whoever of Gordon, iwobi or one of the other 'kids' plays, they should be told to go out and enjoy it.
Use the bench and have faith in the up and coming if any of the starters isn't performing.
If you can't find out about your players against a woeful Watford team when do you try them out?
Not against Manchester Citeh of Chelsea for sure.
Come on Rafa. Go against type and hit this lot hard.
Anthony A Hughes
25
Posted 22/10/2021 at 12:01:01
Down to the bare bones after a handful of matches doesn't bode well for a long hard season. Signings need to made in January as we basically have 11 players and that's it. Mr Brands must be on the clock by now.
John Zapa
26
Posted 22/10/2021 at 12:02:32
This Watford team is one of the worst teams I've ever seen play in the league, even a team of 11 Iwobis can beat them.
Richard Lyons
27
Posted 22/10/2021 at 12:19:03
You watch: he'll pick Iwobi instead of Gordon, and maybe even Rondon, with Richarlison on the bench. Wait and see...
Brian Wilkinson
28
Posted 22/10/2021 at 13:03:10
Richard, you watch Rondon will be blowing out his backside after 60 mins, while Josh King will be everywhere, running into space, I know which of the two, I would prefer starting for us.
Josh King never got the chances Rondon is getting, week in, week out.
Agree very poor Watford team, but we are down to the bare bones as well, Sarr is an interesting player for them, that we will have to keep a tight hold of.
Just hope Richarlison starts, Tom Davies at least now has players like Gray and Townsend he can lay balls off to,should Davies start.
It is when Watford have posession and coming at us that worries me.
Derek Knox
29
Posted 22/10/2021 at 13:03:14
John Zapa @ 26, " even a team of 11 Iwobis can beat them."
I must have told you a million times not to exaggerate. :-)
Chris Hockenhull
30
Posted 22/10/2021 at 13:08:48
Amazing. Absolutely amazing This…and some other sites over the past 2 weeks have startled me greatly as I recall never ever knew how many rated Josh King Odd thing is where we're all his greatest admirers last season wherever he was playing????
Brent Stephens
31
Posted 22/10/2021 at 13:21:26
Brian #28 I agree about Sarr. He has 4 goals in 7 appearances so far this season. But I think our defence should be strong enough; it's the attacking ability that's been our weakness in the last few games - if Richarlison is back, then that will take some pressure of the defence as well.
Barry Hesketh
32
Posted 22/10/2021 at 13:31:01
Came across the following from 5 years ago on Reddit, good to see that Iwobi has worked on his game since then.
Alex Iwobi is one of the most promising talents in world football and we are lucky to have him at Arsenal. He looks to be a player with exceptional touch, skill, and link-up play while also being a homegrown Gooner. But I think his constant selection in big games just exemplifies Arsene's want for attractive football over actually winning games. Iwobi's actual goal and defensive contributions are poor for a player that seems like almost an automatic option on the left wing when Alexis is played as a striker. We have been terrorized on the wings by teams with attacking fullbacks such as City, Everton, and Bayern away (3 games where Iwobi all started on the left wing).. Asking a 20 year old wide playmaker playing in his second full season in a demanding league such as the PL to track back and be an offensive catalyst for over 30 games already this season is just asking too much.

TL;DR Although Iwobi is an amazing attacking talent, he doesnt score or defend his position. Arsene had better options to use in big games but chose to ask too much of a 20 year old.
John Keating
33
Posted 22/10/2021 at 13:32:36
Mina out.
Get's worse every week!
Brent Stephens
34
Posted 22/10/2021 at 13:36:29
John. Where is that from??!
Anthony A Hughes
35
Posted 22/10/2021 at 13:40:05
Thanks for that link Barry. We're now getting to see that assessment in all it's brutal truth now.
Rob Halligan
36
Posted 22/10/2021 at 13:48:08
Mina tweaked a hamstring in training during the week, Brent. Benitez confirmed this during his presser. However, it looks like Richarlison will start tomorrow.
Michael Lynch
37
Posted 22/10/2021 at 14:06:12
Also in the presser, Rafa says Dobbin is training really well but won't get a start unless it's an "easy game". Fair enough, but there are no easy games are there? I guess it means he'll only be getting the odd minutes as a sub, especially if Richarlison is starting and Rondon drops to the bench.
But Rafa did say that the only doubt with Richarlison was his match fitness, so I'd be surprised to see the Brazilian lasting the full 90 tomorrow. Maybe if we're three up, Dobbin gets 20 minutes?
Marc Hints
38
Posted 22/10/2021 at 14:30:13
I see Benitez is talking about Dobbin playing Saturday. Anyone know what has happened to Ellis Simms?
Matthew Williams
39
Posted 22/10/2021 at 14:32:05
Only three points will do in this one,we need to make up some ground after last week's no show,even with a patched up team I expect us to win this one before another international break disrupts the season...sigh.
2-1 Blues.
Kieran Kinsella
40
Posted 22/10/2021 at 14:34:45
I think he might go with wingbacks with Duke out as even against Watford I can't see Allan and Davies covering that whole midfield. I wouldn't be surprised it we had
Pickford
Holgate Godfrey Keane
Coleman Digne
Davies Allan
Townsend Rich Gray
Kieran Kinsella
41
Posted 22/10/2021 at 14:41:46
Mark 18
Yeah I saw Rafa asked about Gbamin and he referred to him as being "a body." Not exactly a ringing endorsement.
Steavey Buckley
42
Posted 22/10/2021 at 14:50:33
Mina out for a while with a hamstring problem and covid issues. He will probably be ready for action next month when he plays for Colombia.
David Pearl
43
Posted 22/10/2021 at 14:57:39
Mina out with hammy, surprise.
We will make mimimal changes l suspect.
Coleman Godfrey Keane Digne
Davies Allan
Townsend Gray Richarlison
Rondon
You know it. Gray and Richy can change around but its consistancy in our managers preferred selection and tactics.
Also could see Gomes or Delph in the second half. Who knows on Gbamin.
David Hayes
44
Posted 22/10/2021 at 15:03:36
I really don't like this situation at all. This is 50/50 time as regards Rafa
If we win then it will ok, next. If we draw or lose Although handicaped by a paper thin neglected squad, not Rafa's fault at all, the disaffection will be aimed squarely at him. This will certainly have a negative effect on the mindset on the pitch and in the stands. Rafa must not dig in again and stand by waiting for the not working plan to work. I think this game will tell if he really and truly understands what it takes to raise the Old Lady to her feet. It seemed to too pensive last time. COYB.

Robert Tressell
45
Posted 22/10/2021 at 15:05:57
Marc # 38. I think it's right that Simms had quite a bad injury just before the play off final for Blackpool. He's been on the bench a bit for us but for experience not because he's ready. Hence Dobbin has had more minutes.
Plan A would have been a return to Blackpool to sharpen up at Championship level before a proper shot at the Prem.
He tends to be a slow starter when he goes up a level but then, takes off. However, each step up gets harder and harder.
Fully fit and with a pre-season behind him, he would probably offer more than Rondon does now. However he's not fully fit and didn't have a pre-season.
I'd absolutely love to see him do well but suspect he's best having a few cameos and then going on loan in Jan to pick up where he left off with Blackpool.
John Kavanagh
46
Posted 22/10/2021 at 15:08:26
Barry @32. Thanks for the post. The assessment confirms everything we have seen with our own eyes since his signing. Whoever was responsible for recommending/scouting Iwobi should never be allowed anywhere near a transfer again. Ever. £30 million beggars belief. Other clubs had done their job, hence there were no other bids for him.
I'd have Iwobi nowhere near the first team and I don't give a damn how well he performs in training. A player who has reached the dizzying heights of bang average a couple of times in 80+ appearances has had more than enough chances. Time to give Gordon the opportunities that Iwobi has spectacularly wasted. I'd have Dobbin ahead of Rondon as well.
In midfield Davies now needs to grab the opportunity offered by Doucoure's injury with both hands and can get some confidence back.
I am very concerned about Raffa's comments on the DCL injury though, where he said 5/6 weeks 'and then we'll see'. DCL's quad injury seems to be following the same path as Gbamin's? DCL is our biggest asset so no expense should be spared on getting the very best specialist advice available.
Andrew Keatley
47
Posted 22/10/2021 at 15:18:12
If Alex Iwobi cannot grasp the nettle in a home game against a Watford team in flux when our options are so limited then you do have to wonder what purpose he serves in our squad beyond being somebody who supposedly trains well; time to give him his desired central playmaker role and let him off the leash with pace and runners ahead of him in Richarlison, Gray and Townsend. Same goes for Tom Davies. These two players need to put down more of a marker to start games or else they are doing little more than making up the numbers when we are depleted.
Pickford, Coleman, Keane, Godfrey, Digne, Allan, Davies, Townsend, Iwobi, Gray, Richarlison.
Ray Robinson
48
Posted 22/10/2021 at 15:23:02
Iwobi should at least play against Wolves. Guess who his two goals for Everton have been against?
Otherwise, noooo!
Barry Hesketh
49
Posted 22/10/2021 at 15:33:59
Is Rafa beginning to show some signs of strain? I would have thought that saying Watford is an 'easy' match is a recipe for the football gods to continue with their vendetta against Everton, particularly in this week of all weeks.
The Blues boss mentioned that he has increased options in that area of the pitch thanks to the return from injury of Richarlison, but believes that Dobbin will be closer to more minutes in "easy" games.
Benitez told his pre-match press conference: "Let me make a joke, it's around two metres closer to the touchline, so he's [Dobbin] very close! "But no I'm really pleased with him. He's training really well, he's doing well.
When asked if he considered that[Wayford] an "easy" match, the manager responded: "Yeah, it's an easy game, he [Dobbin] has more chances for sure."
Sam Hoare
50
Posted 22/10/2021 at 15:35:12
Starting Richarlison is not ideal with him coming back but perhaps Benitez will feel little choice.
Losing Mina, Doucoure and DCL is massive obviously, our 3 best players this season along with Gray and Townsend.
Watford are mediocre but Ranieri should have them playing deep and looking to break. The same style we struggled against with Burnley. Could be a grim game.
Jay Harris
51
Posted 22/10/2021 at 15:50:05
Far from relishing this game a few weeks ago I am now dreading it.
After last weeks disaster against the other shower Ranieri is looking for a response against Everton reserves.
I just hope our best players can swing this one for us.
Best team
;-
An error prone Pickford
An injury ravaged Coleman
An errant Michael Keane
A Covid ridden Godfrey
A not fully fit Digne
The great white hope Andros
Peter Reid in the form of Allan
"Championship" Tom Davies
Alex I wobble
A not match Fit Richy
The effervescent Demari Gray
Other possibilities
The inexperienced Gordon
2 stone handicapped Rondon
A half fit Gomes
A "Cant be arsed" Holgate
A chomping at the bit Dobbins
Fills you with confidence doesnt it.
Sorry to be so glass half full but I am flabbergasted at the state Everton Football club find themselves in.
My only hope is that Rafa can get them through this with 3 points. Now when could we have expected to be saying that in our rich history.

Steve Shave
52
Posted 22/10/2021 at 16:08:36
Jay 51 - those were you cup "half full" views???? Jeez.
Tony Abrahams
53
Posted 22/10/2021 at 16:11:03
I'm backing Keane to score tomorrow Kevin, and that sickening news about Yerry Mina shouldn't really surprise me because the only thing stopping him is that he's always picking up these type of injuries, which is not what I expect from a big central defender, unfortunately.
Derek Taylor
54
Posted 22/10/2021 at 16:13:31
I agree with Lyndon's team but Benitez won't. What's the betting we have to suffer Rondon and Iwobe again ? He's got no time for kids and even Richy will start on the bench !
Jim Bennings
55
Posted 22/10/2021 at 16:16:33
We will really need to dig in tomorrow, Mina is a huge loss because any combo of Holgate/Keane/Godfrey has been a roaring failure.
Mina and Keane is and has been our best pairing.
Time to really dig in tomorrow.
Mike Gaynes
56
Posted 22/10/2021 at 16:33:47
Jay #51, "error prone Pickford"?
He's been great this season.
Brian Harrison
57
Posted 22/10/2021 at 16:36:56
Reading the comments from his press conference, looks like no Mina as he has picked up a hamstring problem and he admits its not ideal to start Richarlison after being out injured. He also said that its going to be at least 5 weeks before DCL may even be included in the squad, never mind starting a game.
He thinks Rondon will be fitter, how long does it take to get a player match fit, in our case months it seems. After last week I thought maybe Gordon may start ahead of Iwobi but I have this nagging doubt that he will start tomorrow.
But in all his games for us I have never come away from a game thinking he looks a decent player, my opinion is he looks like a rabbit in the headlights when he gets the ball. Now you can understand that from a young player who hasnt played much but Iwobi has played lots of games in the Premier league for us and Arsenal. I also think he doesn't like the physical side of the game as he always manages to get to an opponent just after he has cleared the ball so he doesnt have to tackle him.
I am sure Ranieri will be looking for a response from last weeks mauling, and with the changes that we will have to make, then maybe they believe they can get something from this game. I think most of our fans will be looking for us to start more positively than we did against West Ham, because we cant afford to give Watford any breathing space. Get at them from minute 1 and give the fans something to cheer, unlike last week were for the first 20 minutes we hardly had the ball in the West Ham half.
Kieran Kinsella
58
Posted 22/10/2021 at 16:37:18
Barry 49
He doesn't learn does he? you'd have thought he'd be careful about being dismissive after his "small club," comments. Personally, for a team that finished tenth, lost it's two most creative players and is currently experiencing an injury crisis I don't think any game is "easy," as QPR showed.
David Pearl
59
Posted 22/10/2021 at 16:39:00
Jim, l think Godfrey and Keane played well last week and Keane and Holgate also with a clean sheet vs Brighton. I think we have to trust the squad, and as long as the balance is right l'm looking forward to 3 points (esp if we keep an eye on Sarr). You know we will get from Richarlison, so l expecr him to start.
Jay Harris
60
Posted 22/10/2021 at 16:54:27
Mike G,
I think he has been a lot better this season but he still makes me as nervous as hell when the ball comes into the area and his catching leaves a lot to be desired case in point conceding a corner to West Ham last week.
I think I am getting Friday afternoon wobbles because I felt this game was a banker but with all the injuries I am not confident.
David Midgley
61
Posted 22/10/2021 at 17:05:07
Some very interesting comments regarding team selection. This is a very winnable game and I can understand Rafa wanting to consolidate our position hovering at the top end of the table.
What should he do ? Should he stick with some of the tried and not to be trusted players he's used or go with young blood ? Chicken and the egg ! You'll never get match experience unless you play.
Everton have surprised us and in reality given us a bit of false hope with the way he's got them playing. Really I don't suppose many expected us to be where we are.
I've never understood the reasoning behind putting a player on for 10 minutes you don't get time to warm up.
We'll never find out what they can do unless they play. Gordon et al need to play to develop, With the threadbare squad we have and it being two months to the transfer window now might be the time to give it a go.
Stick or bust ?
Deli Alli seams to be having a nightmare at Spurs, I wonder if Rafa could change him about and get him back on track ? Thought ?
Kieran Kinsella
62
Posted 22/10/2021 at 17:22:18
David 61
I wouldn't mess with Dele Alli. He's struggled under four managers now if you include Southgate. He reminds me of Nigel Clough, Nigel Callaghan or Jack Wilshere (sans injuries) in that he was excellent for a while but suddenly just turned crap and never found his way back.
Mark Taylor
63
Posted 22/10/2021 at 17:27:08
I suspect (and hope) it will be Richarlison in for Rondon who has been abysmal.
Doucouré is not replaceable by any single player we currently have. Davies is 'proven' but, to be blunt, proven to be not all that good. However, Gomes is probably not quite ready and we have to wonder if Gbamin ever will be. I've now pretty much given up hope of ever seeing whatever it was we bought, especially after the recent drink-driving prosecution. Rafa describes him as 'a body', so presumably only useful as training fodder. So Davies it will be.
The only other decision is between Iwobi and Gordon. It is surely time for the latter to be given a run but I can't see Rafa making 3 changes. It should still be good enough against one of the division's feeblest teams but probably only just. Sod's law says King scores.
Jay Harris
64
Posted 22/10/2021 at 17:29:59
Kieran,
I agree. He seems to have an attitude problem. Lingard is a much better prospect but also has a suspect attitude. I don't want this kid from Newcastle either.
Pity we didn't hang on to Beningame and build him up gradually.
Brian Wilkinson
65
Posted 22/10/2021 at 17:37:01
Chris @30,
You say absolutely amazing, where were all these mentioning King last season?
Can you honestly say King was given a run of games like Rondon has had, to prove himself?
This is what King had to say, when we decided not to keep him on, have to say I agree with the guy, never had a proper chance.
"Everton fans are not the only ones who hold a feeling of betrayal towards Carlo Ancelotti after he left to rejoin Real Madrid.
King believes he was sold a move to the Toffees under false pretences after the Italian apparently promised the striker he would be starting games.
However, his stint at the club has been a frustrating one for the Norway international, with all 11 of his appearances coming from the bench late on."
Like I say, if I had the choice of having King or Rondon, I would certainly pick King.
Neither would move us on to the next level, but at least King would have bought a bit of pace and makeshift as a stand-in striker, until we get our front two back from injury.
Dave O'Connell
66
Posted 22/10/2021 at 17:40:08
We must have the weakest squad in the League. It's an absolute disgrace the money we have squandered on so called star players now we have no choice to have players like RONDON, DAVIES, IWOBI. Never Premier League players in a million years. Worrying times. I think we desperately need new blood in January and ship some deadwood out as well.
Kevin Prytherch
67
Posted 22/10/2021 at 17:49:48
Kieron 40 - I hope he doesn't go with 3 centre backs. Although in theory it should result in more midfielders, in reality our full backs either end up as part of a back 5, or lost in no mans land neither helping out midfield or defence. I always think we look completely outnumbered in midfield with a 5-2-3 / 3-4-3 type formation.
Kieran Kinsella
68
Posted 22/10/2021 at 18:04:28
Kevin
I agree I'm not mad keen on it with our players but it's Hobson's choice with who we have.
Brian Wilkinson
69
Posted 22/10/2021 at 18:04:58
I will be knocking about the side of the church near the main stand and disabled entrance before the game around 2 stuffing my face from the Chinese chippy :-) if any of the regulars are knocking about for a catch up.
If not I will be heading the Crown side of Lime street, after the game, if any others are heading to town, or catching a train, fancies a couple in there or any other pub close to station.
Dave Abrahams
70
Posted 22/10/2021 at 18:12:14
Kieran (68), as you say we just have to hope Benitez comes up with the players to get us the three points tomorrow, I think every point gained from now to January is priceless, IMO, the squad has been depleted severely this week and the manager has got select patched team no matter how you look at it. If we win tomorrow I'll just count the blessing along with the three points.
Mike Gaynes
71
Posted 22/10/2021 at 18:13:33
Dave #70, agree 100%. Given our upcoming schedule and ravaged ranks, every point will be precious.
Jay #60, Pickford isn't 6'5", and there was no way in the world he was going to catch that ball against a powerful challenger with a running start. I was thoroughly pleased that he tipped it out for a corner instead of punching it blindly back into the field of play, as some here advocated, or tapping it off the crossbar as he did at Anfield. In my book he rates zero blame for the goal.
I am not at all confident about this game either, but on Jordan's form, if we lose it won't be on a keeper blunder. He has made every save this season and has matured in all aspects.
Kev #67, heartily agree. Hopefully Rafa has already seen what 3-in-the-back looks like with this team, and won't want to see it again.
Kieran Kinsella
72
Posted 22/10/2021 at 18:14:30
Dave 70
I agree on the run up until Christmas, and we have some real tough matches in that spell. If it's a 95th minute, ball rebounds off Rondon's backside winner I'll take it.
Roger Helm
73
Posted 22/10/2021 at 18:18:24
The trouble with being my age is that I can remember what we used to be like. In the late 80s we were more or less at Liverpool's level. Now they have the world's best player, have won the EPL and the Champions League, and may do again, and routinely twat lesser sides by three or four goals.
We on the other hand have watched Man City, Chelsea, Leicester and West Ham go past us as a force in the game, and are now wondering if we can beat Watford, hoping we can achieve a mid-table finish.
Other than the stability of the Moyes years, it is a steady downward drift of missed opportunities, wasted hundreds of millions, and appalling appointments and recruitment.
The only constant in these years is the chairman. Although we now have a decent manager and hope of money to spend when we recover from the madness of the last few years, I doubt much will really improve till BK goes.
Jeff Armstrong
74
Posted 22/10/2021 at 18:19:33
Kieron 58, agreed, if he has made comments about an "easy game" he is well out of order, the stock answer is " there are no easy games"
because it is true,
and with his premier league experience he should say that, nothing else.
If you're Watford coming up here,that's your team talk done for you.
David Pearl
75
Posted 22/10/2021 at 18:33:10
Jeff,
Well he did call us a small club so calling Watford an easy game isn't a surprise. Maybe he is dipping his toe in the water and is looking for a future job opportunity.
Kieran Kinsella
76
Posted 22/10/2021 at 18:39:42
David lol
I can see it now "new Watford manager explains easy quip." "I didn't mean they were easy to beat I meant it's an easy game because the rules of football are very simple."
Kevin Prytherch
77
Posted 22/10/2021 at 18:49:34
Actually Kieron 68, thinking about it I potentially wouldn't mind that team, but as sort of a fluid 3-4-3 / 4-3-3 type of formation depending on when we have the ball or not.
If either Godfrey or Holgate pushed forward into that holding midfield role when we don't have the ball / are defending, they would allow Allan and Davies to work on turning possession over. The wing backs would be back in defence in a 4-3-3 formation.
When attacking / in possession, Godfrey or Holgate would drop back into a defensive 3 to allow cover for the full backs to push up.
Ambitious? They are professional footballers so why not?
Allan Board
78
Posted 22/10/2021 at 19:02:55
Watford are awful. Keep the ball on the floor and you will smash them.
They didn't even look interested last week. If Iwobi and Rondon play,then Benitez deserves everything he will get,which is nothing,the same you get from them. Townshend and Grey have done more in 4 months for EFC than Iwobi, Gomes, Delph and Gbamin combined in 3 year's! Proper attitude, that's the difference.
Play Richarlison and Gordon from the start and Holgate in front. Davies isn't good enough to play in front because he can't play quick enough and gets knocked off the ball too easy unfortunately, he is more suited further up the pitch but he isn't starting in front of Grey anytime soon.
This lot should be on their way back down the M6 by 5 o'clock after being hammered, no easy games my arse!
Andrew Keatley
79
Posted 22/10/2021 at 19:07:27
Brian (65) - The reason Rondon has had a run in the team is because of injuries to other players and a lack of alternatives - it was not by design or earned by the player's exploits in training. King did not get starts because we had better options at the time, and King's lack of match fitness was not something that could be addressed by giving him the starts he claims he was promised. King had plenty of time to make an impact in training but seemingly he failed to convince Ancelotti that he was ready. I hoped he would offer us the pace we so clearly lacked, but for a player who was properly rapid in his youth it seemed (from the few minutes he did play for us) like the King who turned up at Finch Farm was out of form, out of fitness and out of gas.
Brian Wilkinson
80
Posted 22/10/2021 at 19:31:20
I agree with what you say Andrew that Rondon has been given a run of games due to limitations, cannot disagree with that, however King got very little minutes on the pitch to try and prove himself, mainly due to the form of Richarlison and Calvert-Lewin, that is where the problem is, had we kept hold of King, instead of Rondon, I personally think he would have done a better job, covering for the front two.
Hindsight is a wonderful thing, we did not know we would lose our two main strikers, but with Kean going out onloan, surely we could have given King a year or so contract, as cover if nothing else, rather than not bothering, then bringing Rondon in, instead.
Out of form out of fitness and out of gas you say for King.
Rondon must look like Dixie Dean in training.
Jeff Armstrong
81
Posted 22/10/2021 at 19:35:31
79, King was sub with Sigurdsson up front on his own!
Also, seeing it's Watford we're talking about, I'd rather have got Deeney before both Rondon and King, at least he has something of the night about him.
Bill Gienapp
82
Posted 22/10/2021 at 19:53:42
Don't have much to add that hasn't already been said.
November and early December are likely going to be a rough ride, what with a much stiffer schedule, with Doucouré and Calvert-Lewin out (Mina too? Let's hope not)... so three points tomorrow would be most welcome.
This will be our most favorable matchup for a while, with Wolves looking semi-resurgent at the moment.
Bill Gall
83
Posted 22/10/2021 at 20:30:46
I thought Onyango may be called up to even be on the bench, but I believe he is with the Under-23 team at Arsenal tonight.
I would like to see a front 3 of Gray, Richarlison and Townsend. The midfield is the weakness. It seems a choice of Allan, Davies with either Holgate or …?
I don't know what the problem is with Gbamin as he has been on the bench for the last couple of games and if it is a lack of match fitness, you don't get match fitness sitting on the bench.
I may be wrong as I have not mentioned our secret weapons, Rondon and Iwobi, but I will not be astonished if the manager does not play a defensive game.
Paul Birmingham
84
Posted 22/10/2021 at 20:33:09
This will be a tough test, as Watford will aim to atone for standing off and playing with no press last week, making the RS look like 1970 Brazil.
It's all about attitude and desire and which team wants this game most.
This is a massive test and bearing the squad depth at Rafas disposal, it's gonna be as tough a period as I can remember.
Mina being injured, it seems is a nap, every four games or close to, and he's injured, which is a shame as just as there's signs of stability, injuries strike, in fairness to Mina, across the whole squad.
So a win by hook or crook tomorrow, will be a good result with the players out.
Derek Knox
85
Posted 22/10/2021 at 20:49:34
Brian @ 80, looks like Dixie Dean in Training?
Plays like Nellie Dean on Matchday!
Marc Hints
86
Posted 22/10/2021 at 21:01:43
Robert #45,
Thanks for the info. The one I don't see though is him training so I assume he is injured again or is just doing gym work.
Ralph Basnett
87
Posted 22/10/2021 at 21:02:26
Watford brief pre match "so lads, no wins, leaking goals and can't score?"
"Don't worry, boss, it's only Everton… generous as fuck they are!!!!!"
David Currie
88
Posted 22/10/2021 at 22:29:45
Please no Rondon! Awful signing and a 2-year contract.
Rob Halligan
89
Posted 22/10/2021 at 22:46:35
Alexis Sanchez is apparently on the Everton radar, and would be available as a freebie come January.
Dale Self
90
Posted 22/10/2021 at 23:00:02
32, against my usual policy but he hasn't been injured much and seems to still have a fire for something to prove. Given our situation I'm possibly okay with that.
Paul Hewitt
91
Posted 22/10/2021 at 23:11:26
Sanchez. Another over-the-hill has-been. No wonder we don't win anything.
Rob Halligan
92
Posted 22/10/2021 at 23:18:02
Everyone, please ignore post # 91.
Danny O'Neill
93
Posted 22/10/2021 at 23:37:10
Rob, if we are to have a 32-year-old striker, I may need to think that one over.
A 32-year-old striker who has been in China for 2 or 3 years and a stint in Russia (remember Niasse). West Brom and one of the worst Newcastle teams since the pre-90s.
Or a 32-year-old who has played for Udinese, Barcelona, Arsenal, Manchester United and Inter?
I know you can't always judge a player on which clubs they've played for. Let's use Richarlison as an example if you're not an Evertonian.
But give me a choice (if we even had one), I know which way the dogs are pointing.
Frank Thomas
94
Posted 22/10/2021 at 00:08:24
I would be amazed if Iwobi started or was even on the bench. Message to Rondon 'last chance to perform' you have 45 minutes.
If Rondon does not score or play an 'energetic determined to win' game (like his very first game for us) then he will be subbed at half-time, Richarlison moves to centre and Gordon comes on.
I think Davies will start ahead of Gbamin for 75 minutes because Gbamin is still an unknown quantity for most of us.
Team: Pickford, Coleman, Godfrey, Keane, Digne, Allan, Davies (75), Richarlison, Gray (83), Townsend, Rondon (45).
Subs: Begovic, Holgate, Gbamin (75), Gordon (45), Dobbin (83).

Gray may be subbed because he needs a rest but we need him to play a lot of this game.
Also, Watford may be putting the barriers up because they want a point so we need fast and cutting play.
Kieran Kinsella
95
Posted 23/10/2021 at 00:55:24
Rob Halligan
Sorry mate I can't agree. I was a big fan of Sanchez four or five years ago but his last year at Arsenal and his time at Utd were dreadful. At Inter he was on the bench half time and is now unwanted. He's on James wages plus some and is 32. Can't see it myself.
David Hamilton
96
Posted 23/10/2021 at 06:18:42
My take on Iwobi. Apparently has excellent ball skills but, as far as I can see, has absolutely no idea what he's going to do with the ball when he gets it and so neither does anyone else. I can't see how such a player can fit in. It's a team sport.
Danny O'Neill
97
Posted 23/10/2021 at 06:55:53
Late call. I've been feeling lousy all week. Sore throat, cough, switching between hot sweats and the shivers. Felt slightly better yesterday and today, and in normal times, I'd have considered soldiering on. Gutted, but it's not the responsible thing to do in the current climate.
Ticket going if anyone fancies going today. I can email the print off ticket this morning.
dannyefc26@gmail.com
I don't want anything for it, so going free.
My son and his mate are representing the O'Neill clan today and making a night of it, so I'll be swapping notes live!
Derek Knox
98
Posted 23/10/2021 at 07:44:02
Danny, hope you start feeling better, and I think you will have no shortage of takers for your ticket, I would have been up for it myself but am working today, hope to see you next home match for the Spurs game.
Tim Kells
99
Posted 23/10/2021 at 07:59:47
Hi all. I don't post very often so bear with me.
Iwobi... I just don't understand it. He looks physically like a footballer but, using last week as an example, with his first pass he gave the ball away and proceeded to do that on numerous occasions, even when he was moved to his favoured central position. He also offered nothing in attack or defence.
However, he started over Gordon (who for me still looks too lightweight). Rafa (who I'm beginning to like more and more – see his comments yesterday about improving every department) then defended him after the game.
Is Rafa under pressure to play him because of his price tag or does he really think there's a player in there? Because I can't see one.
Rob Halligan
100
Posted 23/10/2021 at 08:00:20
Kieran,
I'm not saying we should sign Sanchez, I'm just saying he's on the radar, via the BBC rumour page. Same age as Rondon, so would he be an upgrade on Rondon at the same price... ie, Free!
Jim Lloyd
101
Posted 23/10/2021 at 08:01:47
I think Rafa has very little choice today, but at least (hopefully) he has a fit Richarlison coming back in. So Richie, Demarai and Andros should make a gifted, fast, attacking line-up to give Watford plenty of headaches.
It'd be nice to think that Gbamin was fully fit and raring to go and step into Doucouré's shoes. There again, it'd be nice to win the Pools! As for Rondon, I think he was bought as the cheapest option available who could get us through to January (or maybe even May!) as a squad member, not as a first-choice centre-forward.
I haven't seen much to think he's an automatic starter; but there again, I'm not expecting him to do much other than fill in until we get a better option available. What I am sure of, is booing is going to do our team's confidence the world of good!
It seems fairly obvious to me that, if the manager thought that either Dobbin or Simms were ready to fill in a gap, should either Richarlison or Calvert-Lewin get injured, he'd have picked one to replace either. Seeing that, up to now, he hasn't, then they're not ready.
I think Iwobi has brilliant skill, he just doesn't seem to know what to do with it, so I hope he lets Anthony Gordon start. So today, I'll be made up if we get a really jammy win by Rondo falling over and heading the ball in, or a wonder goal from Andros in the last minute... any way – as long as we get a bit of luck and it turns into the winning goal for us.
Ian Bennett
102
Posted 23/10/2021 at 08:30:10
Not many options, as injuries continue to bite. But I'd keep 4 at the back, and have plenty of threat up front.
If we do get caught on the counter, they do have pace which is the only worry today.
Pickford
Coleman
Digne
Keane
Godfrey
Allan
Davies
Townsend
Richarlison - in a 10
Gray
Rondon - dobbin to come on

Rob Halligan
103
Posted 23/10/2021 at 08:39:25
It seems (hopefully) that Richarlison will be going nowhere soon. When the club gave him permission to go to the Olympics, I looked at it two says, either we were going to sell him to the first bidder before the summer transfer window shut, or he gave assurances that he would repay the faith and remain at the club. Seems it's the latter and he wants to win silverware with us…….
https://www.evertonfc.com/news/2301052/Richarlisons-everton-legend-ambition
David Pearl
105
Posted 23/10/2021 at 09:05:22
Tim @99,
There is a player in there but not mentally. He gave the ball away 3 times in a row and let the ball go through his legs when it would have been easier to score. He then got moved towards the end of the first half more central and he did improve. Just not enough.
I think it's a combination of confidence, grit and desire that he lacks. Surely he is on his last legs now. His career is petering, does he realise this? He's had long enough.
Jack Convery
106
Posted 23/10/2021 at 09:18:56
He will start with the team that started against the Hammers. Hopefully it will take the chances it creates, unlike last week. COYBs.
Rob Halligan
107
Posted 23/10/2021 at 09:21:00
Jack, Doucoure is missing!
Eddie Dunn
108
Posted 23/10/2021 at 09:38:27
I wouldn't be surprised to see Rondon start the game and Richarlison come on with half an hour left. After all, if we fail to break through with Richarlison on from the beginning, do we really think the sight of our aging goal machine is going to worry anyone but the kitman having to wash that very sweaty shirt?
Davies will come in for Doucoure and hopfully we could start at a high tempo and score first.
We could really do with a morale-boosting victory.
David Pearl
109
Posted 23/10/2021 at 09:47:01
Danny, feel better soon. I have the same thing, all week.
Rob Halligan
110
Posted 23/10/2021 at 09:58:23
My team for today would be…….
Pickford, Coleman, Keane, Godfrey, Digne. Allan, Davies, Townsend, Gray, Gordon, Richarlison.
Should be good enough for a convincing 3- or 4-0 victory!
COYB
FTRS!
Brian Williams
112
Posted 23/10/2021 at 10:43:58
Danny #97.
Lot of that going around seemingly and, Sod's Law being what it is, I got the sore throat on Thursday evening and the symptoms you highlight followed and got worse, so I'm an absentee as well.
I've always considered "a cold" to be a slight annoyance but this one has got me feeling really rough (imagines the calls of "fanny" throughout TW).
Duncan McDine
113
Posted 23/10/2021 at 10:48:56
Fanny
Brian Furey
114
Posted 23/10/2021 at 10:52:27
Isn't life supporting any team complicated, especially our beloved Blues?
Had Mina stayed onside or Davies scored himself away to Man Utd, we would now be 4th and feelings could have been very different.
Instead, I come on to read all the doom and gloom despite a few of our best players out injured for the last few games. How quick are we to hit the panic button and even call a half-empty glass, half-full? 😂
Yes, we got off to a great start and Rafa has us playing like a proper team again. There are always gonna be ups and downs but, if we start to doubt so quickly and get on the players' and manager's backs so quickly, we add to that fear factor.
Richarlison coming back is huge and will add even more pace and running ability. Let's stop whinging and get behind the team. We had enough chances to win last week but you have days like that.
Heads and chins up, chests out and three handy points today. We could be 4th by 5pm so let's stop being so fucking negative, folks.
Brian Williams
115
Posted 23/10/2021 at 10:54:55
@113.
Ah thaaaangyouuuuu! 😄
Danny O'Neill
116
Posted 23/10/2021 at 10:55:06
Thanks, Derek, David & Brian. It's not been pleasant.
I'll take the medicine Duncan. Not much of a spell adjustment from my name to get to that!!
My brother took the ticket.
Team-wise, I'm still going with Lyndon's prediction but I'd be interested if Gbamin is available. Maybe bring him on when it's 2 - 0 and the game is won.
Colin Malone
117
Posted 23/10/2021 at 10:56:16
Danny.
Have you had a Covid test?
Anyway. I digress from today's game. With the Under-23 team beaten again and lying second from bottom of their league, and no talent coming through, it's time for Rafa to bring in his own coaches. Every top club are introducing on the ground ball playing youngsters, Who have we brought through in the last 8 years? Gordon... Davies. Get it sorted, Rafa & Brands.
Laurie Hartley
118
Posted 23/10/2021 at 10:58:01
Ian # 110 - I hope you have picked the correct starting 11. I think Gordon will come on for Richy on the 60 minute mark.
Up the Blues!!!
Colin Glassar
119
Posted 23/10/2021 at 11:09:18
I'd go with:
Pickford
Coleman
Holgate
Keane
Digne
Townsend
Allan
Onyango
Gordon
Gray
Rondon
Subs: Begovic, Godfrey, Davies, Dobbin, Richarlison, child #1, child #2.
Godfrey has serious fitness problems. Richarlison shouldn't be risked over 90 minutes. Onyango can't be any worse than Tom Davies so give him a go.
As long as Iwobi is nowhere near the ground we have a chance.
Clive Rogers
120
Posted 23/10/2021 at 11:13:33
I think it has been decided that Gbamin is not going to make it at Premier League level. There is no way he will be involved.
Derek Knox
121
Posted 23/10/2021 at 11:17:07
Colin @ 119, thought Iwobi would have been first name on your team sheet ! :-)
Brent Stephens
122
Posted 23/10/2021 at 11:18:06
Colin, didn't Onyango play 75 / 80 minutes last night? And he's still trying to regain match fitness after injury. I'd go with Davies instead.
Michael Lynch
123
Posted 23/10/2021 at 11:18:42
I know Rafa hasn't got a good reputation for being "misunderstood" with the small club comment, but if you watch the presser, he said Dobbin would get his chance in an easy game, he wasn't really ready yet. The reporter asked if him if this was an easy game, but I'm pretty sure Rafa misunderstood the question thinking the reporter was just asking him to confirm, and his reply was "yes, in an easy game".
What a strange, upside-down world, when I'm defending something Rafa said.
Stephen Vincent
124
Posted 23/10/2021 at 11:32:37
Just can't get excited about this one. Normally I'd be up and about checking time to make sure I haven't missed my off time. But I'm still in my pjs trying to get the thought out of my head, of watching Iwobi wandering aimlessly around and then scuffing the ball to a Watford player and the lumbering Rondon being 2ft short of every cross Gray and Townsend put in the box.
Another deathly quiet GP won't exactly inspire either, fast becoming the Goodison Graveyard, its been so quiet.
Brian Wilkinson
125
Posted 23/10/2021 at 11:48:59
Same here Stephen,we may be pleasantly suprised, both Rondon and Iwobi getting on the scoresheet, and a female streaker choosing Goodison to make a protest.
Bet that got you out of your pjs.
Anyway let's see what happens, a nice win for us and a drink in the Crown after the match.
Anyway up to now Bill is a maybe for the Crown, I will certainly be in after the game, so if you are up for it Steve and Jim, and anyone else, then see you all in the Crown laters, we can scrap the trinity statue, best heading straight for the buses, before the traffic starts up again.
Get well soon Danny.
Danny O'Neill
126
Posted 23/10/2021 at 12:01:02
Thanks Brian. I think I'm sorted for Tottenham, so should be able to catch up then. I'm trying for Wolves away as I can do that one and get back on a late train from Wolverhampton.
Anyway, back to today. Good luck today Blues, whether at Goodison or following from afar.
Stephen Vincent
127
Posted 23/10/2021 at 12:07:46
Brian, visions of an Erica Roe lookalike quickly flashed (see what I did there) across my mind.
Can't make The Crown, got family and friends (some going to GP for the first time) over so will be spending the evening at the Crown Plaza at the old airport. But if god spares me, see you after the Spurs game.
Brian Wilkinson
128
Posted 23/10/2021 at 12:14:21
Nice one Steve,sounds like a better evening than mine, oh well will just have to have a drink with Erica myself then, or is it Lilo Lil :-)
I am going for 3-1 today, just have a feeling we will start slow again, then a couple of quick-fire goals, followed by Watford clawing one back, before a Sheedy response finish to kill the fight-back off.
Bill Griffiths
129
Posted 23/10/2021 at 12:19:12
Michael (#123), when I read the original I didn't take it as him saying it was an easy game.
Brian and any others I will call in the Crown after the game.
I hope Gordon plays instead of Iwobi.
Guess we'll have to put up with Rondon starting, maybe Dobbin will get on for a bit longer later in the game.

Dan Johnson
130
Posted 23/10/2021 at 12:24:29
We need 3 points from this one, yes we have a patched up team, with players who shouldn't be anywhere near our first team, but we need our support to be right behind the players that are selected, a vibrant Goodison will help the team, so let's hope we can hang in there until we get some of our first choice players back, and a few reinforcements in January. COYB.
Stephen Vincent
131
Posted 23/10/2021 at 12:25:26
Don't really understand the anti Gbamin sentiment. The guy was, I think, pretty much a permanent fixture for 2 seasons at Mainz before we signed him. He suffered a serious injury after 2 and a bit games for us. I don't remember him being awful in those games. So get off his back, he may still turn out to be really good we just don't know.
Agree with Danny, (get well mate, Everton needs you), give him 20mins if the game is safe.
Colin, Onyango played 80 mins against Arsenal last night, can't see him being on the bench let alone start.
Stephen Vincent
132
Posted 23/10/2021 at 12:28:41
Brian, or Maggie May!!!!!
Brian Harrison
133
Posted 23/10/2021 at 12:38:49
Just seen a stat that will make everyone a little nervous:
Everton have never lost a home game to Watford in any competition; it reads Won 13 Drew 2.
Brian Wilkinson
134
Posted 23/10/2021 at 13:04:16
Ok Bill see you in the Crown after the match.
Just passing through Huyton now on the train... I think Maggie May just boarded train, Steve! :-)
Jim Lloyd
135
Posted 23/10/2021 at 13:14:04
Stephen, I agree with you about Gbamin. The times I saw him, I thought we had a good player with bags of energy. In fact, a bit like Doucouré energy-wise. I was referring to his terrible run of injuries and whether he'll ever get over them. I certainly hope so.
As for this lurgy that's knocking about, it does seem to be a strong version of a cold. I've had it since I had the flu jab last Friday and, being a hard Kirkdale lad, I've made do with just two Lemsips a day.
Brian,. I'll come down next week all being well; but must get home for me second Lemsip. I hope you and Bill have a pleasant couple of jars this evening, celebrating our win.
Brian Furey (114), Good post and well said.
Jim Lloyd
136
Posted 23/10/2021 at 13:19:06
Brian H, Thanks very much! :)
Mind you, we whacked them (was it 4-1 or 4-0) when we won the league in the 62-63 season. same score will just be perfect!
Mark Ryan
137
Posted 23/10/2021 at 13:24:11
No Iwobi please, thanks in advance
Derek Knox
138
Posted 23/10/2021 at 13:37:01
Brian W @ 134, hope it's not Maggie May, didn't she allegedly wear RED Flannel drawers, well occasionally, but was more used to 'au natural', or Commando, when at work (?) :-)
Brian don't forget to send me Jim and your Mobile Numbers for the Spurs game aperitifs and apres ski libations.
Danny O'Neill
139
Posted 23/10/2021 at 13:38:31
Thanks Steve. See you at the next one.
Win today. Has to be a win.
Robert Tressell
140
Posted 23/10/2021 at 13:44:05
Stephen / Jim. Quite right re Gbamin. When we bought him he was a sought after player, after doing very well in Germany. There was nothing to suggest we'd bought a crock and it's all just really bad luck. A real shame.
David Pearl
141
Posted 23/10/2021 at 13:44:21
Jim make sure you bring proof of your two lemsips
Jim Lloyd
142
Posted 23/10/2021 at 13:52:13
David, you cannot doubt a Kirkdale man's word. It is his bond...think I've forgotten the bloody word!
Simon Dalzell
143
Posted 23/10/2021 at 13:57:53
My usual stream VIPBox doesn't seem to work these days, has anyone got an alternative.
Brian Murray
144
Posted 23/10/2021 at 13:59:32
Can't let this manager off the hook so easily. The West Ham result could easily been avoided with a bit of vision and creativity. Dobbin and Onyango have to be given a run from now on or at least be off the bench soon as. We need to know if they can step up because reverting once again to the likes of Davies Gomes and now Rondon will jut keep us where we are at best. Plus if we can get buyers for tosun siggy and Delph in January then I hope we have a plan and targets. Lined for for them positions. It's not hard although at el four it's total alien so far.
---
Add Your Comments
In order to post a comment, you need to be logged in as a registered user of the site.
Or Sign up as a ToffeeWeb Member — it's free, takes just a few minutes and will allow you to post your comments on articles and Talking Points submissions across the site.