Wolverhampton Wanderers vs Everton
Saturday, 30 October, 2021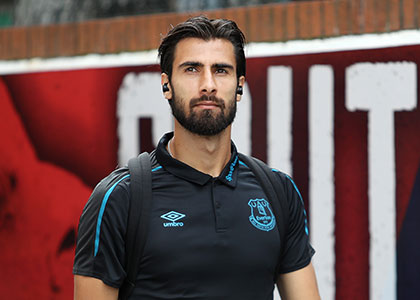 Andre Gomes returned to full training a week ago but it remains to be seen if Rafael Benitez deems him fit enough to start
Rafael Benitez takes his injury-hit Everton side to Molineux on Monday evening as the Blues try to bounce back from the debacle at Goodison Park against Watford last time out.
The team's already infamous collapse in the final quarter-of-an-hour against the Hornets evoked memories of some of the worst results of the modern era and the new manager has his work cut out to ensure that it doesn't spark a nosedive in the Blues' fortunes.
Benitez still has some significant injury issues with which to contend, however, with that all-important spine of his side missing as Dominic Calvert-Lewin, Abdoulaye Doucouré and Yerry Mina remain sidelined.
It was hoped that Mina might be ready to return after missing last weekend's defeat with a hamstring complaint but he was ruled out by Benitez yesterday which means that the Spaniard will need to select between his three available centre-halves.
Article continues below video content
And there could well be a change at the back given how poorly Michael Keane and Ben Godfrey performed against Watford, with Mason Holgate no doubt feeling that he is deserving of a chance to reclaim his spot.
Whoever starts in defence will, of course, be affected by what goes on in front of them and it was central midfield and the general lack of shape in the closing stages that were key issues in last Saturday's game. Allan and Tom Davies played the full 90 minutes but there has been much discussion among supporters over whether the manager needs to deploy a three-man setup in that area of the field.
Much would depend in that instance on whether Jean-Philippe Gbamin, André Gomes or Fabian Delph are fit enough to play or whether Benitez would contemplate, as both Duncan Ferguson and Carlo Ancelotti were moved to do on the odd occasion, playing Holgate as a defensive midfielder.
Gomes returned to full training a week ago but has been out of action for long enough that his manager might pause over throwing him straight back into the starting XI. Delph, meanwhile, hasn't played in months and could be regarded similarly by Benitez, even if he is passed fit. Gbamin, who is yet to start a Premier League match this season, would seem to be the most obvious candidate if a change in the middle is to be made.
Another option, of course, is Tyler Onyango, the rangy young midfielder who has returned from a long injury lay-off of his own and played for the U23s this afternoon. Benitez, however, has already played down the likelihood that he will turn to the teenager in the short term, emphasising that, "I think it is still a little bit early for him but he has the potential, yes, and we want to manage his potential and not send him in too early and then people could say 'he's not as good'. So it is important we give him the chance when he is fully ready. I don't want to send the player in too early if it's not necessary."
The big boost, of course, is that Richarlison has largely recovered from his knee injury and will surely be in the line-up. Whether that is alongside or instead of Salomon Rondon remains to be seen; however, given Benitez's preference for two up front and, perhaps, his desire to give the Venezuelan time to prove himself, it would not be a surprise if Anthony Gordon were the one to make way from the team that started last Saturday.
"Do not forget that he was on loan last year," Benitez said of Gordon on Friday. "I kept him here because I could see the potential. So, I'm really pleased with his attitude and his commitment in every training session and during the game.
"Apart from that, you have to make decisions and, if I [think he is] a good option, that is it. Hopefully he can play 90 minutes in a lot of games [from] now and till the end of the season but my job is to make sure that he will play well. A lot of games, I know just put them on the pitch and just see what happens.
"So, I want to be sure he is improving, he is progressing and he will be a much better player at the end of the season."
Wolves, under Bruno Lage, have been showing signs in recent games of settling under their new boss. They have picked up 10 points from the last 15 available, beating Aston Villa, Newcastle and Southampton since their last defeat which came at home to Brentford on 18 September and they came very close to winning at Leeds last weekend but were pegged back by a very late equaliser.
With Hwang Chee-Chan making a good start to life in the Premier League, Raul Jimenez back, and Adama Traoré a regular fixture down their right flank, the Midlanders have plenty that will worry an Everton defence that was rocked to its core by Watford.
As such, it promises to be a stern examination of the Toffees' players and Benitez's ability to get them focused on getting the basics right again, firming up the back line and winning the midfield battle, all with depleted numbers.
Kick-off: 8pm, Monday 1 November 2021
Referee: Martin Atkinson
VAR: Chris Kavanagh
Last Time: Wolves 0 - 2 Everton
Predicted Line-up: Pickford, Coleman, Keane, Holgate, Digne, Gbamin, Allan, Townsend, Gray, Richarlison, Rondon
---
Reader Comments (212)
Note: the following content is not moderated or vetted by the site owners at the time of submission. Comments are the responsibility of the poster. Disclaimer
Jay Harris
1
Posted 29/10/2021 at 15:14:13
Just watched the press conference. I thought Rafa looked extremely stressed and nervous.
I just hope that's not transmitting to the players. He was questioned about Gordon's substitution and did not give a straight answer except to say it's a team game and Richarlison came on and scored a goal.
When questioned about the zonal marking system, he said he believes in it but the players have to be more aggressive and committed to winning the ball.
He did say they had been analysing and working on the mistakes that were made against the mighty Watford so let's hope we see an improvement on Monday.

Paul Hewitt
2
Posted 29/10/2021 at 15:19:13
Can't see anything but a defeat on Monday unfortunately.
Pete Gunby
3
Posted 29/10/2021 at 15:28:13
Too early for the yearly stretch of abject despair. If we can score 7 against Wolves we should be able to snatch a draw.
Kieran Kinsella
4
Posted 29/10/2021 at 15:36:33
No idea if there is any truth in it but The Athletic the other day were saying Benitez plans to put Onyango into the team as he's impressed him. They made this sound imminent although, given he's just back from injury, I wonder if it's more of a long-term plan?
With the injuries, as I thought he should do last week, I'd go with a 3-5-2 giving the midfield duo some assistance from the wing-backs. I just don't think Tom and Allan have the strength or legs to occupy the middle third of the field without support.
Paul Hewitt
5
Posted 29/10/2021 at 15:44:08
Agree Kieran, the midfield does need help. Allan doesn't have the legs. And Davies doesn't have a brain.
Marc Hints
6
Posted 29/10/2021 at 15:50:13
Davies doesn't have anything, Paul.
Brent Stephens
7
Posted 29/10/2021 at 15:55:25
Kieran, I think far more likely to be a longer-term plan for Onyango. I doubt he's anywhere near match fit given he's had just two (?) starts for the U23s since his injury, not playing the full game in either. But it would be great to see him on the bench before long!
Derek Knox
8
Posted 29/10/2021 at 16:09:49
Rafa's Barber said "Something for the weekend, sir ?" No, not a pack of Rondons! I've had enough of that to last me a lifetime!
Not very optimistic to be honest, but I suppose a lot will depend on who is fit and who starts.
I believe Rondon has said that he is not 'taking the knee any longer' – he is worried by the time he gets up the match will be over! :-)
Barry Hesketh
9
Posted 29/10/2021 at 16:25:03
He's going to start with Rondon again, isn't he, with Richarlison coming off the bench? I'm afraid the longer that Benitez persists with Rondon, whilst the player is producing little to nothing, the shorter Benitez's tenure at Goodison is likely to be. We might get a result at Wolves but it will need a far better performance all over the park, than last time out.
I'm waiting for the next international window to come and go and see where our manager is; if he's still at Goodison, then fine... but I don't suppose many will be that upset if he's in the dugout at St James' Park, come the middle of next month.
Tony Graham
10
Posted 29/10/2021 at 16:41:27
Rafa is going nowhere, he's the best we can have in these worrying times. Who would come in and do any better... who?
Kieran Kinsella
11
Posted 29/10/2021 at 16:43:38
Barry Hesketh
Seems like he won't be going to Newcastle:
But Newcastle are apparently looking at Marc Overmars as DOF and Paulo Fonseca as manager. So essentially a Dutch DOF and a young Portuguese manager who made his name in some of the lesser European leagues. Sound familiar? What could possibly go wrong?
Dale Self
12
Posted 29/10/2021 at 16:53:59
Rafa does look taxed but I believe that to be a combination of film fatigue and an attempt to offer some humility in answering a battery of brutal questions. I honestly don't know what to expect from the team on Monday but perhaps being on the road will help.
Ajay Gopal
13
Posted 29/10/2021 at 17:16:24
Richarlison has to start, supported by Gray and Townsend as a front 3. I don't think we have 3 match fit midfielders at the moment. Allan and Davies and ?? Onyango may be a possibility Gbamin and Delph I don't think are ready. Dear me, how did it get to this mess? Why did we let Beni go? Godfrey needs to be rested - Holgate in his place.
Pickford
Coleman Holgate Keane Digne
Davies Allan Onyango
Townsend Richarlison Gray
Subs: Gordon, Rondon, Iwobi, Dobbin, Godfrey, Kenny, Begovic
David Bromwell
14
Posted 29/10/2021 at 17:17:09
We have to find a way of strengthening the midfield if we are not to see Allen and Davies over run again. With Mina out again it will be a struggle and as I see it our only option is to play Holgate at the back and push Godfrey forward into midfield. Not the best pairing at the back I know but I would really like to see Godfrey given a go further forward where his size and energy might be our best option ???
Barry Hesketh
15
Posted 29/10/2021 at 17:20:04
Kieran @11
I did not advocate the removal of Mr. Benitez, nor do I want Everton FC to remove him, unless the bad results continue for a very extended period of games. I also want him to see the error of his ways, with regards to his continually choosing Rondon over A.N.Other.
But as we all know, money and lots of it does talk and it will be better for Everton FC when Newcastle actually appoints a full-time manager, if only to stop the tittle-tattle. Your links would seem to indicate that Mr. Benitez has no intention of leaving Everton of his own accord.
Jim Bennings
16
Posted 29/10/2021 at 17:35:09
I'm not even certain why the Gordon substitution was greeted with such venom because at that stage you could see the lads race was run.
I think the reason being was that Rondon was being left on the pitch but at the same time, it was 1-1 and the manager wanted to give two strikers a chance to win the game and we scored immediately so in a way it paid off, even if Gordon stayed on we would have still shipped those four goals.
You can't just play players because fans think you should.
If Gordon can't play 90 minutes, and it's on more than one Everton manager this then he clearly can't do the full game yet.
Same with all these so-called wonder youths we are supposed to have.
If there genuinely was a player that was impossible to ignore, for example the next Wayne Rooney or next Ross Barkley at 18 or 19, then I'm more than certain he would be breaking into the first team.
Onyango, Dobbin, Simms are probably nowhere near ready
We have chucked players in from the youth set up over the years and frankly they've looked nothing and their careers dissolve.
Nick Chadwick, Keiran Dowell, Michael Branch, Keiran Agard, Jose Baxter ect ect:
If there's something genuinely game changing hanging around in the youth setup then it doesn't get ignored.
Michael Kenrick
17
Posted 29/10/2021 at 17:35:31
From Patrick Boyland via The Athletic:
"Richarlison not named in latest Brazil squad.
"Hasn't been dropped – he's not considered 100 per cent, and there is a desire to manage his return to full fitness carefully."
I'd like to think that's good news but it probably means he won't be as effective for us if he plays, or he won't start... or both. And that means the Incredible Hulk will start.
No mention of what's up with Simms?
Brian Hennessy
18
Posted 29/10/2021 at 17:56:22
Good news is that Doucouré is recovering well.
Bad news is that Delph is back training.
Mike Gaynes
19
Posted 29/10/2021 at 18:02:22
Ajay...
"Why did we let Beni go?"
Really?
You mean aside from the fact that he hadn't played a minute for us in three years and never showed the slightest indication of being a Premier League player?
Dude's found his level in Scotland. Be happy for him and let it go.
Barry Rathbone
20
Posted 29/10/2021 at 18:39:23
If Benitez uses his loaf, he will bide his time for the Newcastle job. The first man in always gets the boot trying to polish the existing turd; far better being second or third in.
Plus it won't hurt his rep if he eventually gets the boot here – this job is a free shot being such a basket case club with neutrals expecting his demise because of his past. Newcastle fans won't be at all phased if he gets the boot.
Yet, if he survives, his stock rises because he must have done well. This is the perfect place for him to play a waiting game.
Kevin Prytherch
21
Posted 29/10/2021 at 18:46:54
Marc 6 - you epitomise why there is an U23 thread running at the moment. It's no wonder no younger player breaks through with fans like yourself.
Tony Everan
22
Posted 29/10/2021 at 18:48:04
Benitez, in the presser, talks of being more compact. Is it the return of the wingbacks or a 4-3-3?
I can't see Benitez using Onyango from the start, but things will depend on injuries. If Gomes is fit, he will probably be first in line to get the nod. Delph, if he's fit enough and sharp enough in training, may even get a call-up.
What about Gbamin – have the injuries finished him as a top-level player? Has Benitez written him off? He was brought in to compensate for the loss of Gana Gueye yet 2 years later, the midfield still looks like we need Gana in there, breaking up play and wrestling some control back.
Godfrey looks like he needs more time to recover from his Covid-19. It's difficult to leave him out but it may benefit him and the team to give him more time. Holgate comes in to give him another opportunity to prove himself.
Michael, please don't tell us Rondon is starting, I'm trying to enjoy my weekend. If Richarlison is 90% fit, he has to start. I can't see how Benitez is going to get any improvement out of Rondon. There was no excuse for his ineffective performance against Watford. The fitness one has now run its course. There is no logic in expecting a complete turnaround against Wolves.
But, in reality, it's probably true, Benitez will ask Rondon to start, give 100%, and prove himself; he will be working on him, motivating and instilling confidence all week. Then he'll bring Richarlison on for the last 30 mins, to seal the win or rescue something.
4-3-3:
Pickford
Coleman Keane Holgate Digne
Allan Davies Gomes
Townsend Richarlison Gray
Bill Gienapp
23
Posted 29/10/2021 at 18:49:53
If Doucouré really returns after the international break, he'll have only missed three matches, which would be remarkable.
More likely he'll be back in training in some form, but not quite ready to play. Still, it's encouraging when initial fears were that he could be gone until Christmas.
Rennie Smith
24
Posted 29/10/2021 at 18:53:09
I don't buy this Gordon not being able to play 90-minutes – why not? He had gone a bit quiet during the game, but forwards and wingers often play in bursts.
You're right, Jim @16, the reaction was not about him – it was about Rondon not getting the finger. My worry is that Benitez is such a stubborn git that he'd purposely not start with Gordon because people have been asking him to, and obviously carry on playing the bag of cement up front "because he's never let me down before".
Rob Halligan
25
Posted 29/10/2021 at 18:53:22
Kevin # 21. I would have thought your comment would have been more aptly aimed at post # 5.
Mike Gaynes
26
Posted 29/10/2021 at 18:57:26
Interesting comment, Kev #21. In your view, how do fans impact whether U23s make it or not? How is that relevant to Tom, who graduated from the U23s to the senior team five years ago? And how does Marc's opinion of Tom's abilities make him a bad fan?
Just curious.
Tony Heron
27
Posted 29/10/2021 at 19:05:33
Mina still injured?! Funny how he can play 3 games for Colombia but training at Finch Farm is too much of a strain on his hamstring! Never known a centre-back get as many injuries as this guy.
Michael Ball, in his Echo column this week, commented on how the likes of Dave Watson would always want to play even if only 50% fit. The difference is desire.
Jay Harris
28
Posted 29/10/2021 at 19:19:01
Jim,
I usually find myself in agreement with most of your opinions but "Gordon going off didn't change the game"?
IMO, it totally changed the game. Gordon had been doing well backing Digne up and was the architect of most of our forward runs.
Besides the crowd reaction, which obviously had an effect, the change necessitated Godfrey moving across to back Digne up, causing a wide gap between the centre-backs and, with Tom still being so advanced, left Allan with too much space to cover.
Brian Harrison
29
Posted 29/10/2021 at 19:26:24
Benitez is understandably coy about team selection for Monday, and why should he give Wolves a heads-up as to who he will be starting?
I think it will be disappointing if Mina is missing again, he never misses a game for Colombia but seems like he struggles to play 4 or 5 games on the bounce for us.
I see Delph has been training with the first team, although he has been out that long, I just hope Benitez isn't considering starting him against Wolves. Although we are desperately short in midfield, I think to play just two in the centre and two wide men is leaving us exposed in the middle of the park.
I would have loved to see Doucouré, Allan and Gana Gueye in midfield with Richarlison, Calvert-Lewin and Gray up front and Townsend to give any of the front 3 a break when needed.
I hope, when Benitez is allowed to go back into the market, he targets someone like Gueye to play in midfield. Phillips from Leeds would be perfect but there are bigger teams than us looking at him.
Stu Darlington
30
Posted 29/10/2021 at 19:39:10
Whatever permutations I can come up with, midfield and back 4 look very vulnerable to me. Playing Godfrey alongside Keane and pushing Holgate up into midfield may be the best option but, if it doesn't work and we get overrun in midfield, we could be in for a pretty torrid time with the pace Wolves have got.
Just hope I'm wrong.
Kieran Kinsella
31
Posted 29/10/2021 at 19:45:27
Brian Hennessy,
Don't worry... Delph has a couple of days yet to pick up a knock.
Howard Don
32
Posted 29/10/2021 at 19:47:41
Dave Bromwell @ (14).
As I remember it, under similar injury-hit circumstances a few years ago, Holgate played a couple of half-way decent games in midfield. If Mina is out and we're lacking height at the back, Holgate might be the better option to push into midfield.
Kevin Prytherch
33
Posted 29/10/2021 at 20:16:10
Mike 26.
The last 3 or 4 years we, as fans, have expected success. It has made us entitled and of a similar level as that of Man Utd it Liverpool fans (whom I detest). Every misplaced pass has been met with howls of "Championship at best", or words similar.
It's no wonder that the likes of Davies have chosen to play it safe. If, being a 20-year-old looking to make it, you have the option of a risky forward pass that might be met with criticism, or a safe 5-yard sideways pass that will not yield an ounce of criticism, which would you choose?
Our young players have been introduced to a toxic atmosphere and we all need to take a step back and realise this.
Bill Gall
34
Posted 29/10/2021 at 20:21:16
I am still of the belief that games are won or lost in the midfield; unless you control it, you are not helping either your defense or strikers.
The loss of Doucouré is a huge blow as there is no-one else in the squad that is fit to replace him, or with the strength he has to support the attack and the defense, or the tactics the manager can use with him in the team. Calvert-Lewin is another loss but can be overcome better with the use of Richarlison as a striker.
The last game, the anger – and rightly so – was the collapse in the midfield and defense, and the substitution with Richarlison proved correct in the attack, as he scored the go-ahead goal. The problem with removing Gordon weakened the midfield along with the injury to Gray who was substituted.
I think the manager, despite his comments, understands the mistakes he makes and I am hopeful he can rectify them. I don't remember what the score was when Gray was substituted, but I think his loss in midfield made all the difference in the score.
Nicholas Ryan
35
Posted 29/10/2021 at 20:31:14
... still traumatised!
Vijay Nair
36
Posted 29/10/2021 at 22:43:39
Bill(34)...
"I think the manager, despite his comments, understands the mistakes he makes and I am hopeful he can rectify them."
I truly hope you're right...
My two cents for the lineup tonight:
4-2-1-3
Pickford
Coleman Holgate Godfrey Digne
Gbarmin Allan
Gray
Townsend Richarlison Gordon
Subs: Davies, Rondon, Iwobi, Dobbin, Keane, Kenny, Onyango, Begovic, Lonergan (to make up 9 subs)
John Raftery
37
Posted 29/10/2021 at 22:50:58
Stay compact and stop running up the field like headless chickens in the manner which led to Watford's third goal. We should be able to gain a positive result on Monday.
John Kavanagh
38
Posted 29/10/2021 at 22:58:03
So Gordon gets hooked because he's not capable of playing 90 minutes, yet Rondon keeps getting picked despite not being capable of giving five. If Dobbin is fit then he should play - he will at least be capable of providing some pressure on the opposition defence. Rondon's only threat to defenders is the risk of tearing their chuckle muscles laughing at Jabba the Hutt's efforts to even reach the box. Just pray that Richarlison is fit enough to start.
And just when I thought it couldn't get any worse Delph looks like being passed fit - although for what is a bit unclear. It's bad enough being down to 9 men with Rondon and Iwobi on the pitch. Delph would make up the unholy trinity and bring us down to 8.
Miracles do happen in football and boy do we need one on Monday.
Kieran Kinsella
39
Posted 30/10/2021 at 00:53:28
Brent 7
Benitez now saying in The Echo — as we suspected — Onyango won't be in the team near term. He's "not quite ready" also references his injury and says even if he was ready he's opposed to dropping kids into a struggling team. I get the logic but at the same time part of me would like to see a fresh face giving us some cheer lol
Derek Thomas
40
Posted 30/10/2021 at 01:45:32
Barry @9; Nah.I was an 'over my dead body' abiut Rafa, but, Zonal Marking apart...and that could be down to the players, oh and Rondon and then theres the whole Iwobi thing - Even then, still Nah.
There is a fortune on offer at Newcastle for a Coach, Ole is Teetering on the brink and you want us to drop a Coach after 4 months and sift about in the bargain bin of the 3rd place finishers for those vacancies, Nah.
Continuity...even If it is ex rs, FSW, continuity.
Graham@ 10; nail / head; game set and match, etc.
I still think we go back to the 'Wall of Four' and fill in as best we can in front of them. We will 'lose' this game 1-1 or 2-2.
Bobby Mallon
41
Posted 30/10/2021 at 05:38:08
The team:
Pickford
Godfrey
Keane
Mina or Holgate
Digne
Allan
Davies
Gordon
Townsend
Richarlison
Gray
Subs: Coleman, Holgate or Mina, Begovic, Dobbin, Rondon, Delph... erm, we have such a poor squad.
Tony Everan
42
Posted 30/10/2021 at 07:57:57
It's Halloween and the foreboding spectre of Zonal Marking is back to haunt Everton FC.
Benitez was talking about it in the press conference, and defending the system. Suggesting that after a year or two in 2005 at Liverpool the penny dropped and they were defending well.
I'm not sure the players we have now are fully clued up as to what's expected. Also even if they know ( or pretend to know ) the theory, and whether that can translate to immediate and reflex action in real time.
There's some basics for defending set pieces that it's difficult to let go of.
No 1 Marking danger men, blocking their runs, stopping them jumping, divert them from the flight path of the ball, jumping into them when they leap.
Same goes for marking the near post man, all these things must also be done to stop the near post flick on header.
To do all these things the danger men have to be marked, they have to be tracked by lightly , covertly holding their shirt or waist and not letting them escape whilst your watching the corner / free kick come in.
Zonal marking frees these danger men up, gives them the space they need to see the flight of the ball, time and space to make their run. The physics is willingly conceded to the attacker..
If you watch a high jumper they need a run up
to get the elevation they need. From a blocked or standing position they'd only get half the height.
I've got a feeling we are going to be talking about zonal marking all winter. Rafa is an experienced and successful manager, he has already said "trust me " that he knows what he is doing.
So I'll trust him, but he knows full well that trust has to be earned. What happens on the pitch, not because one or two matches but over time, will dictate whether he is trusted or not.
Especially when it comes to zonal marking.
Mike Doyle
43
Posted 30/10/2021 at 09:11:35
Off topic but worth a mention. 50 years ago today I was at Goodison to witness an Alan Ball 25-yarder beat Newcastle 1-0 (game highlights and the goal are available on YouTube).
I was 10 years old - and it was one of the few times I ever saw Bally play live.
Looking at the team sheet brings back a few memories. Tiger McLaughlin was playing- reminding us that we had problems at full back even then!
Allan Board
44
Posted 30/10/2021 at 09:31:37
I accept Traore has zero end product-but should be fun to see him run straight through our midfield and over the top of Keane. Can't afford to lose this game, we will see if there is any desire or guts left in this team now.
Brian Harrison
45
Posted 30/10/2021 at 09:36:15
Tony 42
I think the zonal system is used in different ways by different teams, last year we played a zonal defence and from free kicks we were a lot deeper than most sides. But in the whole of last season we only conceded 6 goals from dead ball situations and we have already conceded that amount in 9 games so far this season. This was the main problem under Silva we conceded a lot of goals from dead ball situations, most clubs now have a specific coach looking at dead ball situations for both attacking and defending.
My pet gripe is why no clubs now put a defender on the far post from corner kicks. The amount of goals scored in the Premier league already this season from near post headers from corners ending up in the far corner of the net, or producing a tap in at the far post is astonishing. Seeing we keep all 11 men in the box for corners would it really disrupt things to have one on the far post. Just watch MOTD and see how many goals could have been prevented with a man on the far post.
Benitez has said its not the system thats wrong its the players not interpreting his way of zonal marking, yet as I say these same defenders didn't have a problem using a zonal set up last year, without it leading to the problems its already caused this season.
Dave Abrahams
46
Posted 30/10/2021 at 09:36:32
I'm all for promoting young players into the team, if they are good enough, there are no players coming through the Acadamy at the moment who are ready to start the game, one or two could play in the latter part of the game especially if we have a good lead ( we can all dream) but I would state very clearly there are no central midfielders being anywhere near ready to play in the first team at the moment or at any time soon.
Danny O'Neill
47
Posted 30/10/2021 at 09:48:39
Shameless request. I don't usually like doing this. But I can travel Monday. If anyone has a ticket that needs a good home, let me know. dannyefc26@gmail.com
I'm good for Tottenham home.
Mike Hughes
48
Posted 30/10/2021 at 10:43:48
For those who need cheering-up a bit - ITV4 are just showing the Liverpool v Arsenal match from the late 80s.
(Always works for me despite everything that's happened at Everton since those days).

Brian Murray
49
Posted 30/10/2021 at 11:14:41
Still a hero of mine, Michael Thomas. It's all up for grabs nowww (Brian Moore) just as the Norwegian folk song was starting on the kop.
Brian Murray
50
Posted 30/10/2021 at 11:20:34
Mike Doyle @43.
No wonder Bally was disillusioned with the signings from then on and vocally spoke about it until his transfer. For some reason (maybe his dodgy ticker bad health), Catterick totally lost his touch as a manager.
Len Hawkins
52
Posted 30/10/2021 at 12:48:16
Brian #50 and Mike #43
The mention of Alan Ball just makes this sewage farm era seem even worse than it already is. These mercenaries would have learned some new phrases from Bally who when in a GOOD team used to dish out bollockings on a regular basis I'm sure this lot would have got a good kicking too.
Mike Doyle
53
Posted 30/10/2021 at 13:02:23
Brian # 50] Good point about the questionable quality of the signings at that time. Howard Kendall didn't play that game. That Henry Newton deputised for him underlines the point.
Derek Knox
54
Posted 30/10/2021 at 13:03:06
Hi Brian, there has been a theme at Everton for many years now, as long as I can remember anyway, about 'decisions taken by the Board and successive Managers, that are supposed to be for the betterment of the Club' in Transfers etc that have left the majority of fans, with a mixture of bewilderment and incredulity at times.
It's a great pity that the Board don't have a sub-committee comprised of knowledgeable fans to be listened to, with regards to many aspects, because invariably they very rarely get things right at all. I suppose they would deem that as undermining their 'questionable expertise' so wouldn't permit such a sensible intrusion. I believe we would have a much better team and the Club would be in a much healthier position if they had adopted that model.
On another note, sorry I didn't get a chance to speak to you at Bramley Moore (Get Together) it's not that there were too many to get round, it was just that time flew, and before I knew it, the gathering had started to disperse and we all headed for our respective transportations home. Hopefully next time Brian, and there will be another probably next year, after we see how we are faring, and the impact, if any, the January transfer Window has had on our play and standing in the Premiership.
Colin Malone
55
Posted 30/10/2021 at 13:28:06
With no talent coming through, it is time for change... it's been far far too long. Rafa or Brands should bring in top, top ball-playing, I will repeat, ball-playing coaches, instead of looking at other clubs' young talent.
Christy Ring
56
Posted 30/10/2021 at 13:42:58
Benitez seemed happy with Gbamin in preseason, but he hasn't been given a chance even off the bench, but plays Iwobi who seems to be like Messi in training, and the invisible man on match day, and now it seems Delph (I think he's a new signing) who played seven minutes against Leeds in August is now back in training again, he couldn't get in ahead of Gbamin??
Brian Murray
57
Posted 30/10/2021 at 14:02:48
Derek Knox. Post 54. Yes look forward to the next get together. As the youngest of six. All blues of course I have probably nothing profound or new to say about our existence as a club. We all or most of us know the stain behind the scenes that won't go away or resign and to this day is employing and doing damage to this club. By the way il bring my brother John. Google ToffeeWeb Everton's first mascot. The title year with Vernon Kay etc. Still brings tears to my eyes although I missed out on the golden vision by a year or two.
Danny O'Neill
58
Posted 30/10/2021 at 14:07:21
Look forward to that Brian. Good to meet you last time and would be great to meet up again along with your brother. That article does make the room dusty! See you next time mate.
Sean O'Hanlon
59
Posted 30/10/2021 at 14:07:28
After the Watford shambles, it's taken me a week to return to ToffeeWeb.
An excellent post-match comment posted by Conor McCourt, nailed Everton's problems. He examined Arsenal's progress since Arteta arrived. We have no vision, no plan, no winning mentality.
I've always believed in using our younger players, and giving them a good run in the team. But what happens? We ship them out on loan – and, in my opinion, that can make some players worse.
Why does Benitez use Rondon? Mates at Newcastle? Oh but the fans know nothing about football! We know enough that bringing on Iwobi, and taking off Gordon, was an absolute disaster.
Zonal marking? I've never known a zone to score a goal.
Two goalies on the bench – I have no idea!
Will we get anything from the eight games against Liverpool, Man City, Chelsea and Arsenal? I doubt it.
As Conor said, we're heading in opposite directions to Arsenal. (BTW, Arsenal winning 0-2 at Leicester. This will be 10 unbeaten for the Gunners.) It certainly puts that myth to bed about losing home games last season as there were no fans.
Conor, please write out your post, and stick it in a letter, and send it to the Everton board, training staff and manager!
Brian Wilkinson
60
Posted 30/10/2021 at 14:23:19
Totally off topic Danny, but I was reading about you having your sausage roll snatched at Anfield, no it was not me btw, which set me off thinking.
Was there two Reds in the Park End for the cup game, and a fellow Red snatched a pie off him, and launched it onto the Goodison pitch, not wanting the fan to contribute to Everton funds, just as Imri Varadi scored, and caught the pie plum in his face.
Was that similar to your later experience, and pure
Luck, or was the pie intended for Varadi :-)
David Midgley
61
Posted 30/10/2021 at 14:57:12
Brian #60.
Everton have been slapstick ever since.
Christy Ring
62
Posted 30/10/2021 at 15:05:15
Sean #59,
Another good win for Arteta today, he's definitely has a vision and plan. Arteta was my choice ahead of Ancelotti and posted a comment at the time but, hand on heart, I believe he would still have chosen Arsenal.
Alan J Thompson
63
Posted 30/10/2021 at 15:11:34
It was reported somewhere here that Benitez won't put young players into a poorly performing team. Given our almost constant injury list, lack of transfer funds, poor performances and the inclusion of the likes of Rondon, just how does he expect to see any improvement or will there be some form of juju on some unsuspecting opposition? I suppose he has brought onboard his own medical team with instruction not to get too friendly to the injured.
At least we now know, from the horse's mouth, that it is the organisation within the club and the players not understanding the manager's idea of zonal marking that is the problem and nothing to do with the manager himself. There appears to be no truth in the rumour that he has been out on the window ledge contemplating team selection for the next game.
Roger Helm
64
Posted 30/10/2021 at 15:25:15
It beggars belief that spending half a billion pounds has left us with not enough proper players to make up a team when some go injured, and not enough to fill a bench. If I was Rafa, I would leave the bench half-empty, if that is not against the rules, to show what he thinks of the squad.
All I can suggest is back to the wall of four, a low block and hope Gray's and Richarlison's pace can conjure something on the counter. For sure, it is the last half-decent chance for a while to get a result.
Sean O'Hanlon
65
Posted 30/10/2021 at 15:30:28
Christy #62,
Dead right. After Arteta left Everton, he saw how not to do it, then he went to Man City and saw how to do it.
Going to Arsenal ahead of Arsenal was a no-brainer.
Dale Self
66
Posted 30/10/2021 at 15:37:18
We might need to resurrect the losing streak FAQs from last year. Lots of questions going unanswered. It could be a crisis.
Jerome Shields
67
Posted 30/10/2021 at 15:38:35
I thought that attacking Everton were okay and Rondon was better than previous games. It was in defence that the problems where which had a knock-on effect on midfield. Coleman was okay and Godfrey covered the area behind him adequately. The main issue was a deep defensive line.
The warning signs were there against West Ham. Keane has a tendency to play too deep, which caused Doucouré and Allan to be defending in the penalty area. Against Watfor, d Allan worked very hard, as did Gray and Gordon, but the defensive line did not push up in support. This allowed Watford's attacking players space to run into without having to worry about offside. This hands the momentum to the attacking players.
Martin Keown on two occasions on MotD identified Keane as being too deep during attacks that resulted in goals. On one of the occasions, Keown described his positioning as 'criminal'. This has a knock-on effect on players around him, which puts them also out of position.
As far as set-pieces are concerned, against West Ham, Everton where below par, both attacking and defending. With zonal marking, it takes players to watch for the attacking players and attack the ball. Everton did neither against Watford.
These players are coached, week-in & week-out, but, if the preparation and training is not at the right level, the focus and application goes. Both West Ham and Watford where better prepared than Everton and now Everton are going into the Wolves game trying to catch up.
Even Benitez has the look, like ourselves, of wondering which Everton will turn up.
Danny O'Neill
68
Posted 30/10/2021 at 15:45:12
Not quite Brian. The sausage roll antagonist just ripped it out of my hand, threw it onto the Anfield Road terracing (when we used to be in the corner with the Kemlyn Road stand), stood on it and twisted his foot several times to make sure I couldn't recover any of it before commencing his lecture!
I have a ticket for Wolves. It cost me a year's membership fee on top of the ticket and I'm in one of the home sections, but I'm good to travel to see us go above Arsenal on goal difference!
Kieran Kinsella
69
Posted 30/10/2021 at 16:00:55
Mike 48 Brian 50
Funnily enough I still have a copy of the Daily Mirror with Michael Thomas on the front cover from the day after that win at Anfield. I guess it shows I was a bitter blue even at 12. Lol
Raymond Fox
70
Posted 30/10/2021 at 16:05:29
We are threadbare in midfield at the moment, the central defense is shakey, the full backs are not playing to their best.
We could find ourselves sliding down the table easily because I don't think there is much to choose quality-wise beween 2/3rds of the teams.
Danny O'Neill
71
Posted 30/10/2021 at 16:14:02
How's that going to happen if we win and go above Arsenal Raymond?
Come on. £80 +, a cunning west Midlands disguise needed and a train ticket still to buy. Give me hope!
Peter Neilson
72
Posted 30/10/2021 at 16:28:01
Danny stick to a Led Zep t-shirt and you'll be fine in the Wolves crowd.
Raymond Fox
73
Posted 30/10/2021 at 16:38:02
I don't see it happening Danny, wish I could.
Gary Smith
74
Posted 30/10/2021 at 17:45:44
Christy@62 - Arteta building a young and vibrant team, playing attractive possession focused football.
Meanwhile we hire another KITAP1 safety first manager. The 3rd (arguably 4th) of Moshiri's 5 manager reign.
Potter and Hassenhuttl also putting on good shows with young, attacking teams.
Whilst I'm sure we're all grateful he has invested so much, our current problems start with an owner who's an accountant first and an entrepreneur second.
Brian Murray
75
Posted 30/10/2021 at 17:46:57
Danny. Good that it hasn't killed you yet ( hope ) I have a feeling that potter will be leading us into Bramley-Moore. Doesn't have to be a wizard we just need his brave attacking play and to know and admit when he gets it wrong ( rondon anyone ) oh and to realise we are a big club.
Brian Wilkinson
76
Posted 30/10/2021 at 18:39:47
Can anyone tell me if big Dunc was playing away with Paul Merson's Mrs, that guy really has a problem with Everton, first with Richarlison's transfer fee, now begging Newcastle to go for Benetiz.
Next time I see you Danny, I will sort a sausage roll out for you, sounds like something my older brother would have done, he hates them even more than me, and that's saying something.
Eddie Dunn
77
Posted 30/10/2021 at 19:06:18
Gary,
Watching that good Brighton performance, I too wondered if Potter might be our future manager. A super display from his team.
Jim Bennings
78
Posted 30/10/2021 at 19:27:28
To be honest I think Potter will be the next Spurs manager.
He wont come to Everton while we have no money to spend and the prospect of having to sell to buy just won't appeal to many upcoming managers.
Nuno wont last at Spurs, they look absolutely abject but rest assured we will allow them to own the Goodison pitch next Sunday and old "H" will score his customary double.
On to the Wolves game, what a huge match in terms of these fuckers in our defence needing to show some mettle and guts.
Conceding 5 at home to lowly Watford, if l was a defender and played in that kind of debacle, I know next game that came along I'd be busting my balls to keep the sheet clean.
We'll find out much about the character of them on Monday night at Molineux for sure, although we probably already know that most of them are well and truly exposed already as seasoned bottlers.
John Kavanagh
79
Posted 30/10/2021 at 20:29:33
Jim @78.
Yep, you're an out-of-form striker and your own fans are getting at you. What Premier League fixture would you want next most of all? Everton, of course, who gifted Mr Kane with two of the most simple tap-ins you could ever see. And now he has our new zonal marking system to look forward to as well. Hat trick for Harry? You bet – just don't expect any decent odds at the bookies.
As for Monday night, if I see Rondon and/or Iwobi selected to start I'll have serious thoughts about even bothering to watch because it would make me feel like I was a rubbernecker slowing down to look at a terrible car crash.
Tony Everan
80
Posted 30/10/2021 at 20:52:00
In the midst of the post Watford apocalypse , we could conceivably still go joint fourth on points with a win on Monday. We will hopefully have Richarlison starting and a three man midfield to give us some more control.
Also the defence, Benitez will have been rogering them with a blunt instrument all week, so they could improve for not wanting a repeat dose.
I am expecting a reaction from the lads to put last week's debacle right.
Wolves 0 Everton 2
Derek Knox
81
Posted 30/10/2021 at 21:04:42
All this talk of Potter for our next manager, I assume we are talking Harry, or do you mean Brian?
To be honest either would do! I am still hopeful Rafa can right things and steady the ship, providing he sends Rondon to the bilges, handcuffed to Iwobi!
Matt Byrne
82
Posted 30/10/2021 at 21:24:11
Thanks for the happy memory of Michael Thomas snatching the title from the other lot in 89. One of my happiest footy memories when Everton were not directly involved albeit Kevin Richardson was! Brian Moore's commentary lives long in the memory:
'Oh and it's Michael Thomas down the middle... it's up for grabs now... Thomas!'
I copied his forward role celebration in our front garden! My red brother's face was ashen! Bliss!
Back to blue matters... important we get something v Wolves to stop the mini rot. Maybe a return to the formidable 4 at the back? That would mean Digne on left and Gray on right...maybe Allan, Davies with Townsend acting as the link between Richarlison and the midfield. Could Townsend stay on the right and Gray play off Richarlison? Please no Rondon or Iwobi. Can't see Gbamin ever playing.
Bobby Mallon
83
Posted 30/10/2021 at 21:51:41
I really don't know why Gbamin is still at the club. He will never play competitive football again. Not his fault – it's the injury he's had. We should have cashed in his insurance and got rid.
Paul Birmingham
84
Posted 30/10/2021 at 22:03:36
Tony, @80. I'm with you, and let's hope for a positive reaction from Everton.
There's been a few turn-up results today, let's hope Everton can get this win, and a confidence boost for Spurs.
Kieran Kinsella
85
Posted 30/10/2021 at 22:07:55
Cenk Tosun is in the pictures from training this week and is actually playing – not just doing a meet and greet. Is he Rafa's secret weapon or is he a cardboard standee to throw off Wolves before we play Rondon?
Laurie Hartley
86
Posted 30/10/2021 at 22:32:59
Worrying times. Michael Keane's strong point is defending high balls. I don't think there will be much need for that against Wolves so he is the one I would drop for this game.
My starting eleven:
Pickford
Coleman, Holgate, Godfrey, Digne
Allan, Gomes, Davies
Townsend, Richarlison, Gray
Not one of them will drop their head if it gets tough going.
John Keating
87
Posted 30/10/2021 at 22:45:11
Last week, Man Utd were a shambles. Give their manager and players their due, they rectified most of their issues and won well today.
Last week, we were a shambles. Let's see if our manager and players rectify our issues...
Bill Gall
88
Posted 30/10/2021 at 23:04:26
Strange season this is turning out to be, win on Monday and we go up to 6th on goal difference, win by four and we could go up to 5th on goal difference, unless I am reading the table wrong.
Roger Helm
89
Posted 30/10/2021 at 23:15:16
If Brighton can overcome 0-2 at Liverpool and Palace can win at Man City, then we can win at Wolves if the players work hard and keep their discipline.
Stephen Vincent
90
Posted 30/10/2021 at 23:31:24
Anyone want to draw a comparison between our aging, international, South American, free centre-forward and Man Utd's aging, international, South American, free centre-forward?
Brian Wilkinson
91
Posted 30/10/2021 at 00:07:24
Kieran,
I would put a half-fit Tosun on, before Rondon. I honestly believe if Raffa sticks by Rondon, he will break Sandro's record for appearances without a goal.
I have given the guy enough time to use fitness as an excuse; I have now come to the conclusion that he is shite.
Derek Thomas
92
Posted 31/10/2021 at 01:46:46
Gbamin, may never play again, Rondon and Iwobi, have not yet begun to play. And if Tosun gets a start, then we might as well shut down the Academy and save a few bob, because it's no use at all.
I'm still backing us to snatch a draw from the jaws of victory.
Nicholas Howard
93
Posted 31/10/2021 at 01:19:15
Roger (89),
The problem is when we were behind at home against watford, our players... especially defensive lines all became 'schoolboy like' defenders. I won't put my money on current backline of Keane (can only defend deep?), Godfrey (can't defend set pieces or win a header?), Digne (he was not Digne since 2020) and Coleman (past it?).
Kieran Kinsella
94
Posted 31/10/2021 at 01:29:23
Brian Wilkinson,
I would too – were it not for the fact that, if he scores, Bill will offer him a new 5-year deal.
But seriously, I'm excited at the thought of a half-fit Tosun playing. How sad is that?
Don Wright
95
Posted 31/10/2021 at 07:14:26
Brian 91, Rondon looks a safe to beat Hibbo's record for appearances without a goal.
Danny O'Neill
96
Posted 31/10/2021 at 08:15:32
This is the thing, John Keating @87. It's October. The modern phenomenon of over-reacting to a poor result has been fuelled by the Sky era. Moyes wouldn't have lasted 5 years, let alone the 11 seasons he presided over.
Wait until post-Christmas and see where you are. Even then it can be too early. Remember December 83.
Gary Smith
97
Posted 31/10/2021 at 08:22:38
Trying to suggest a team is becoming harder and harder. Without big Yerry, and with Godfrey and Digne off the boil so badly, it's becoming a "least worst" choice here. Midfield just as bad.
I guess I'd go 4-3-3 for a fast counter and see if a hard-working Andros can do a job in the middle.
Pickford
Coleman Holgate Keane Digne
Townsend Allan Davies
Gray Richarlison Gordon

Andy McNabb
98
Posted 30/10/2021 at 08:29:02
Christy Wilson #62,
I agree totally. I would have taken Arteta in a heartbeat over Carlo. He has energy and desire, which I never expected and never saw in Carlo. But also I agree in his mind between us and Arsenal there was only one choice.
It would also have been interesting to see someone from the 'Pep' camp try to manage an unfancied team. Is that even an option?
Neil Thomas
99
Posted 31/10/2021 at 08:36:20
John @87,
Big difference is that Man Utd have players like Ronaldo, Cavani, Rashford, Fernandes. We have Rondon, Iwobi, Davies. Now to me, there's a massive difference in quality, to being able to bounce back. Those players were playing well below their best, meaning that there's massive room for improvement. Our players were probably playing to close to their best ability.
John Keating
100
Posted 31/10/2021 at 08:42:33
You know we might be looking at the club totally wrong. We blame the manager, directors for some abysmal underachieving performances...
Could it be that Finch Farm and specifically the players want to be the world's first carbon neutral net zero team?
Based on last weeks performance it could be true
Dave Abrahams
101
Posted 31/10/2021 at 08:54:54
Stephen (90),
Only the massive difference in wages they are on, the Man Utd player has always been class and proved it. Rondon will improve once Calvert-Lewin and Richarlison are fit again and he plays alongside one of them or comes on as a sub, which is what he was mainly signed for. But, having seen him, I can understand the fans' opinion of him... which is "Of course he will get better because he can't get any worse."
Robert Tressell
102
Posted 31/10/2021 at 10:01:41
Zonal marking, injuries and bad luck aside, we'd have 6 points from the last 2 games.
We won't have much possession but we should cause Wolves plenty of problems.
Clive Rogers
103
Posted 31/10/2021 at 10:08:45
"Injury-hit side". Isn't every side injury hit at this stage of the season?
The difference is that we don't have a decent squad. We are a shambles.
Tim Kells
104
Posted 31/10/2021 at 10:11:43
After two of the most abject gutless spineless performances, can anyone give me any reasons to be looking forward to this game?
Ian Bennett
105
Posted 31/10/2021 at 10:18:25
With a squad as shit as ours, of course we are going to miss Calvert-Lewin, Richarlison, Doucouré & Mina.
The rest aren't capable of beating Championship or League One sides, so why are they going to be good enough to win Premier League games?
This isn't a Rafa problem, this is the birds coming home to roost on terrible transfer business and a failing youth system. Instability at manager level will just continue until somebody is trusted to build it out.
Christy Ring
106
Posted 31/10/2021 at 10:23:42
Clive #103,
We're missing Calvert-Lewin since the start of the season, and Richarlison is only back now, and Doucouré has probably been our best player, very few other teams are missing their top players, even with better squads.
Steven Astley
107
Posted 31/10/2021 at 10:34:12
Hoping for a positive start. If we win this, we are back on track.
Phil Bickerstaff
108
Posted 31/10/2021 at 10:34:51
We should've brought Moyes back instead of the fat Spanish LiverShite tosser.
Playing that piece of shite Rondon up front is a disgrace. We will be in the Championship soon.
Fucking rubbish.
Joe McMahon
109
Posted 31/10/2021 at 10:47:22
Ian@105 please add to your small list Gray, Townsend, and possibly Godfrey and that's it and Mina is always injured and Calvert-Lewin still needs to work on shooting (Leeds match). Pickford is too costly (still) at crosses and corners.
£450 million spent to produce a small squad horrendously lacking quality is dereliction of duty from Moshiri, Brands, Denise BB, Kenwright (he brought Moshiri in) and yes Unsworth as the Academy is still failing us. It's pitiful, how can so much money have been spent to make us go backwards?
The new stadium will come 15 years too late (Kings Dock was the missed opportunity) and won't change a thing to such a pathetic outfit.
Kim Vivian
110
Posted 31/10/2021 at 10:47:47
Phil – go back to bed and sleep it off, mate.
You're right about Rondon though – but I would love to be proved wrong.
Frank Sheppard
111
Posted 31/10/2021 at 10:54:19
Let's hope the players that are picked are determined to make up for last weekend's horror show, rather than carrying it with them. Quick, positive response very much needed please.
Terry Farrell
112
Posted 31/10/2021 at 11:20:50
Gary,
I'd go with your team pick. Bit tough on Richarlison to go straight to centre-forward when not match fit but what choice do we have?
Also, I agree that Ben needs to sit a few games out, he has been directly responsible for too many goals in the last 2 matches and needs to get his head and body right. I can't help thinking if Yerry played in the last 2 games, the results could have been different.
Also, I agree with others that, with the centre-midfielders we have out injured, if Gbamin isn't strongly looking to start now, then when will he?
Matthew Williams
113
Posted 31/10/2021 at 11:25:28
After last week's shit show, I'd happily take a point now.
I just want to see a true professional team performance for 90+ minutes. I just couldn't stomach another lackluster game that we simply didn't show up for again, we need to make some ground up fast!
COYB
Clive Rogers
114
Posted 31/10/2021 at 11:44:58
Christy, 106,
Obviously Calvert-Lewin is a big miss, but the point is that we have no decent substitutes for him and Doucouré who missed 9 games last season.
Clive Rogers
115
Posted 31/10/2021 at 11:46:59
If Allan and Davies is our midfield unit, we will be overrun again.
Brian Harrison
116
Posted 31/10/2021 at 12:06:26
I have to say that I am a bit fearful of where we will be at the end of November, with Doucouré and Calvert-Lewin out till then, and a run of tough fixtures won't make life easy. Most of the top sides play 4-3-3 whereas we seem to set up as a 4-2-1-3 which is why we can't dominate possession; even with Doucouré alongside Allan, we are still a man light.
Our neighbours play a simple 4-3-3 and never deviate from that system, they always have 3 very hard-working midfield players who will run and tackle for 90 minutes and when they win possession they play it early to their very quick front 3. This system also allows their fullbacks to bomb forward knowing they will have cover from their midfield players. Yet playing the system we play, if Doucouré bombs forward, which he rightly is being encouraged to do, that leaves Allan to cover the whole midfield.
Wolves are starting to get their act together after appointing a new manager. I just hope Adama Traore doesn't play as he will go past Digne at will if he plays wide right, I don't know what's happened to Digne over the last 12 months but he seems to have lost a couple of yards of pace and players are going past him with ease.
I just hope we can scratch together enough points in the next few weeks to keep us somewhere around 10th or 11th then hopefully kick on when all the injured players are back and firing on all cylinders. I think our best 11 playing every week could see us challenging for 6th place but without our best z1 we could virtually end up anywhere from 11th to 16th.
Kunal Desai
117
Posted 31/10/2021 at 12:11:16
Anyone saying they would have wanted Arteta back – he would have lasted 5 minutes and would have been sacked long ago.
Look at the players he has at Arsenal: Aubamayang, Lacazette, Saka, Smith-Rowe, Gabriel, Tierney – and add to those that he bought in the summer.
These are top players and he has a squad at Arsenal. In fact, he should have been performing better with those players over the last 18 months. The jury is still out on him and many Arsenal fans don't see him to take the club forward.
Our squad would have most likely got Arteta sacked.

Jim Bennings
118
Posted 31/10/2021 at 13:02:00
Kunal
My feelings exactly.
Our fans would have hounded Arteta out as soon as the first bad run came about.
The problem is without fan base now is patience has worn thin because we have gone so long without success and also because we genuinely believed the financial muscle brought in by Moshiri in 2016 was that sledgehammer needed to break the glass ceiling.
I honestly still think there's a good manager there in Marco Silva too, given time and the right guidance.
Silva was let down by that buffoon Brands failing his duties in the summer of 2019.
Would have been a different story if we had got Silva's to main targets that summer, Kurt Zouma and Wilfred Zaha.
Mark Taylor
119
Posted 31/10/2021 at 13:47:35
Richie at CF even if only half fit. That's better than Rondon whose only apparent hope of success will be competing with Brett Angell, Jo, and Alan Biley as our worst ever forward.
I agree about Gbamin, it's time to know if he is physically able to play at this level and if he breaks down again, at least we and he will know the game is up and hopefully there is some insurance money to collect.
I also agree with others, our biggest problem is perhaps the least expected given most of them are fit- our defence. Godfrey has taken huge steps back, Seamus, bless him, is on his last legs and Digne's form has collapsed. Worryingly we have no back up in the full back positions. Seems a bit remiss of our world class management team...
Matt Byrne
120
Posted 31/10/2021 at 14:23:19
Against Bayern, Reidy had a huge gash in his calf. His sock was blood soaked at the end. The doctor and physio wanted him to come off. Reidy took a load of cotton wool, stuffed it in the wound, and said, "That will do!" He proceeded to force his team over the line and into the final.
Fast-forward 36 years and players can play regularly for their international team then suddenly can't be bothered playing for us despite the obscene money they are on. A total lack of desire compared to the days when real men played for the shirt, for their team mates and fans – and played to win.
Terry Farrell
121
Posted 31/10/2021 at 14:39:45
Matt,
With respect, Keane came back quickly after a cracked skull and also played half a season with a damaged foot. I'm from the old days too and love Reidy and his 80s team. Loads of players play with knocks in today's games but, if you can't compete properly, you get left out given the size of the squads now. Admittedly ours is paper-thin atm.
Allan Board
122
Posted 31/10/2021 at 15:02:52
Matt @120. Agreed.
And yet I keep getting told the game is better now there is no tackling and players are protected. Well, it certainly hasn't made the game better at Everton. It's no wonder the game is fast now, you can't slow it down by clattering someone!
Seriously though, if they reintroduced tackles just in Everton matches, then our bunch of slow, thick players might just start passing it quicker if they knew a late one was on its way!
I watched Bally playing for Southampton in 1980 v Spurs on The Big Match the other day, no holds barred in midfield then, Bally was imperious on a shit heap of a pitch, playing one-and two-touch and they couldn't get near him because of his movement. And he would have been 34 or so then. An absolute privilege to watch a real midfield player. And he demanded the best from his team, and dished out bollockings everywhere. Genius.
I never saw him play live for Everton, I was 4 when he left, but, if he played like that for us, then you guys on here are so fortunate to have witnessed that sort of ability.
I haven't seen one as good at Everton since 1977 when I started going to matches. His movement to make passing angles was just insane. Oh for a Bally today.
Danny O'Neill
123
Posted 31/10/2021 at 15:04:40
Depends how you look at it. Brave soldier who patches themselves up for the next few games. Or sensible player who looks after themself and prolongs their career? Interesting discussion.
Danny O'Neill
124
Posted 31/10/2021 at 15:30:00
Allan @110; Kevin Sheedy. This may seem overly demanding given what he gave us, but I wish we had seen him play in a more central role more often. What we call Number 10 these days.
Matt Byrne
125
Posted 31/10/2021 at 17:09:15
Terry. A good example of the other side of the coin. Players who are genuinely injured like Keane in that instance definitely shouldn't play. I was just making the point that some players these days are pampered and have questionable desire.
Matt Byrne
126
Posted 31/10/2021 at 17:21:26
Seem to remember Sheedy playing in the centre quite a few times in 86 87 when Reid was injured after the World Cup in Mexico whilst Bracewell missed the whole season. Snodin only came in well into the season. Sheeds was brilliant. How much would a player cost these days capable of scoring double figures from midfield and setting up just as many?
Frank Thomas
127
Posted 31/10/2021 at 17:23:29
The "unnamed premiership player" who is under suspicion of criminal deeds is known by just about every football fan that I know. What I don't understand is why we have not applied to the league to have his salary discounted from our wages bill which might have allowed us to buy Luis Diaz and could help in January. If he is convicted we will have a cast iron case to reclaim all the monies paid to him during his absence. How much is he on ?
You can bet your last dollar that is what the team across the road would have done by now.
That being said who would you play in midfield tomorrow?
Not Gbamin I recently rewatched his "welcome to Everton" video on YouTube. His short passing was awful, his long field passing was worst than Keane's was when he had that toe injury.
The only thing Gbamin had was his speed and fitness. They must both be nearly gone now.
My team is Pickford, Coleman, Godfrey, Keane, Digne, Allan, Gomes (72),Gray, Townsend, Richarlison ((70) and Rondon(65).
Subs Tosun (65), Gordon(70), Davies(72), Holgate, Dobbin, Delph, Kenny, Iwobi, Begovic.
If we are winning by a good margin he might opt to bring Holgate on in midfield instead of Tosun and play 4-5-1
Ian Bennett
128
Posted 31/10/2021 at 17:38:30
Pickford
Coleman
Keane
Godfrey
Digne
Holgate (sit in front of back 4)
Allan
Townsend
Gray
Richarlison
Gordon
Still worried on defending set pieces tbh.
Dave Abrahams
129
Posted 31/10/2021 at 17:42:16
Matt (125), Keane definitely shouldn't have played when he had that foot injury, he wasn't very good and that's being generous, it was a strange injury which Keane related to a few months after, he said he didn't tell anyone about it, he had a hole in his foot, wore a boot two sizes too big, nobody noticed this and he was on antibiotics which I can believe because they make you very sleepy and Michael was half asleep in some of those games, as I say a very strange injury indeed.
Kim Vivian
130
Posted 31/10/2021 at 18:17:32
Really hope we can get a good result out of this game. We need it.
Sod's law if a team wants to bounce back after a shitty result (Spurs), who would they choose to play next week?
Nigel Munford
132
Posted 31/10/2021 at 19:36:02
If we get a result tomorrow night we go joint fifth, with the squad we have to pick a team from at the moment I'd say we are over achieving if that happens.
Steavey Buckley
133
Posted 31/10/2021 at 19:45:47
I can't see Everton beating any team with having to play the same defence, midfield and Rondon that lost 2-5 to Watford last week. Watford's mighty win against Everton was put into prospective when they were beaten yesterday by Southampton at home 0-1
Roger Helm
134
Posted 31/10/2021 at 19:52:46
Don't think I can improve on Ian's selection at 128.
I think we'll get a draw, then go on a bad run for a few weeks and be below midway, worrying about relegation, then in the New Year with troops returning, and some January reinforcements, do better and end the season in our customary eighth spot.
Phil (Kelsall) Roberts
135
Posted 31/10/2021 at 20:11:18
Matt #120.
He tells the story in his book. It was Hans Pflugler who stood over him and said "you English Pig" after he had caused a huge gash.
Reidy thought he got his revenge and smashed Pflugler who he saw out of the corner of his eye and screamed "Have some of that, you Hitler Bastard!" - only for Soren Lerby to reply "I'm Danish". Reidy had got the wrong guy.
Andy Crooks
136
Posted 31/10/2021 at 20:47:34
Frank, innocent until proved guilty. Our club is doing what is right.
Mark Boullé
137
Posted 31/10/2021 at 21:12:45
Not on topic I know but there isn't much optimism for tomorrow night so...
Boy do I wish we'd signed Rafael Leao when we apparently had the chance. In Italy this evening watching Roma v Milan and he is the star of the show going forward for Milan. Skillful, strong, creative...everything perhaps that we thought Kean would be...
Tom Bowers
138
Posted 31/10/2021 at 22:08:03
A game that we need to bounce back with but most of us are not too optimistic and for good reason.
Last week was a shambles defensively and with the same people likely to start (except for Richarlison), it will be another tough afternoon.
When you have the lead twice and then concede four against a team like Watford, your defensive strategy must take some serious reconsideration..
I hope Rafa has dealt with this in some way as he may just be using up his nine lives.
Some allowance can be made because of the injuries but still you need all hands on deck behind the ball when you have the lead in the second half and Everton seem to very poor at doing that.
It will be very hard to listen to any excuses if they falter against Wolves.
Frank Thomas
139
Posted 31/10/2021 at 22:42:48
Andy (136) sorry you missed the point. I did not advocate not paying him. However, his salary is contributing to our max allowable salary under Financial Fair Play rules. With no return date on the horizon.
The league allows you to sign another player, say a goalie, if all but one of your goalies are injured; maybe we could enquire about a one-off exception in this case?
Another example is to imagine one of our players is being held in another country without a trial or definite charge and cannot return to play – would we ask for an exception then?
Paul Birmingham
140
Posted 31/10/2021 at 22:55:15
Kunal@117, spot on.
I don't think good, very good, or legendary footballers make great managers. Not many players have done that, consistently, it's almost impossible.
Mikel, I think, is still on a steep learning curve, but in the last month, Arsenal are improving.
Tomorrow, an Everton fight back... and that is what counts.
Graeme Beresford
141
Posted 01/11/2021 at 01:08:01
Must win if we are to keep on track with top places. We need everyone to perform and I am confident we can get a one- or two-nil win – however it will all depend on the performance of certain players. Digne, Pickford, Keane, Allan, Richarlison, to me these guys owe the performance of their lives. A must win.
Alan J Thompson
142
Posted 01/11/2021 at 03:38:12
Frank (#139);
I think it comes down to what is in the contract between the parties. I seem to recall reading some years ago that most American sports contracts have a "morality" clause which allows clubs to terminate contracts in such events, even if it doesn't allow for innocent until proven guilty.
Derek Knox
143
Posted 01/11/2021 at 07:50:14
Frank @ 139, I just wish something would happen with this case, which as you rightly alluded to, has dragged on and on, with no idea of who is the winner or loser. I was under the impression that ' he who shall not be named' is not even in the 25 man squad which had to be registered at the start of the season. So if that is the case, no special dispensation would allow an extra-ordinary signing of an additional player.
The whole scenario is a fiasco, and apart from the individual culpability or innocence of the afore(not)mentioned player and seemingly can only happen at our Club, what a shambles ! Where's Don Alexander when you need someone to blame, or partially for all this mess ? Which, by the way, I agree with Don on most issues regarding 'you know who?'.
Raymond Fox
144
Posted 01/11/2021 at 09:21:43
I'm not optimistic I'm sorry to say, with the injuries we are a bog standard middle to bottom team.
I notice Wolves price has shortened probably due to the news of our injuries becoming common knowledge.
I don't think Wolves are anything special but neither are we, I'd take a draw now.
Derek Taylor
145
Posted 01/11/2021 at 09:31:54
Benitez has his quirks, just like any other manager, but we should all appreciate that he is blessed with a squad that simply hasn't enough good players to challenge for more than a 'top half' place.
Because of this he will suffer as we suffer when he is reduced to selecting some of the clowns Walsh, Brands & Co have blessed us with. Moshiri, who put his trust – and money – in them, must feel fate has dealt him a crap hand!
Clive Rogers
146
Posted 01/11/2021 at 10:24:56
It's worrying that the two teams that battered us are getting battered themselves every week, Villa and Watford.
Ray Roche
147
Posted 01/11/2021 at 10:26:56
Mark@119
Biley, Angell and Jo scored at least one goal in their short careers at Everton. Rondon has won a free-kick.
I think.
Might have to check that though.
Danny O'Neill
148
Posted 01/11/2021 at 10:43:21
Never compare games like for like, Clive. I wonder if Liverpool are concerned because Brighton overturned a 2-goal deficit at Anfield and could have won it whereas we beat Brighton comfortably on their own patch.
Every game is different.
Geoff Lambert
149
Posted 01/11/2021 at 11:23:51
Our squad is not strong enough to cope with our injury crisis, If he starts with Rondon and Iwobi tonight I fear another humiliating defeat.
The run of fixtures up to New Year will return a maximum of 7 to 9 points IMO. Bottom 5 by the start of 2022 unless we somehow get the injured players back sooner than expected.

Joe Digney
150
Posted 01/11/2021 at 11:28:57
Looks like Tosun is in with a shout of a start:
Can't be any worse than Rondon? 😂🤦🏻‍♂️
Ray Robinson
151
Posted 01/11/2021 at 11:35:48
Don't know if others know this but Iwobi has scored the princely sum of TWO Premier League goals for us - both against Wolves. That must be the ONLY reason for starting with him tonight.
Derek Taylor
152
Posted 01/11/2021 at 11:47:59
Even Bernie the Bolt managed TWO goals in his 10 Everton appearances but he was 12 years younger than Rondon and could charge about with the best of them.
Wright never gets credit for playing nearly 300 games after his Everton disaster. All in the lower divisions, of course, but he netted over 80 goals in eight years and dozens more in non-league during his thirties!
John Kavanagh
153
Posted 01/11/2021 at 11:50:10
Joe@150. The appalling recruitment of the last few years will really start to bite now as the season goes on. When the likes of Tosun and Delph are seen as coming to the rescue, then you know that things are really, really desperate.
I'm still praying for a result tonight. To cap off the good news, Spurs have sacked Nuno so they are likely to face us with the boost of new manager Conte plus Kane facing his favourite opponents. Just when you thought things can't get much worse.
At least no kids knocked on my door last night wearing scary Kenwright masks. I think there was one wearing a Rondon mask, but he never made it as far as the front door.
Joe Digney
154
Posted 01/11/2021 at 12:03:24
John @ 153 I agree mate, close to 500 mil spent and we resorting to playing players we've consistently tried to ship out.
Danny O'Neill
155
Posted 01/11/2021 at 12:10:06
I find my Rhodesian Ridgebacks make a good counter to Trick or Treaters John K.
Result tonight. We get a result.
Sam Hoare
156
Posted 01/11/2021 at 12:22:58
Grim days when the team selection feels quite depressing. I think without Doucoure we have to play 3 in the middle as the options are all so incredibly 1 paced and immobile. I'd maybe even play Delph if he was fit! Which presumably he isn't. I also think Godfrey needs a rest, he's been woeful of late and to keep picking him is to say that form does not matter.
Pickford
Coleman Holgate Keane Digne
Allan Davies Gomes
Townsend Richarlison Gray
As others have said, a hugely uninspiring team given the money spent. Things will be better when Champions League, Mina and Doucoure are back, 3 of our best players this year and the spine of our team.
Matthew Williams
157
Posted 01/11/2021 at 12:41:13
Some top posts by Matt regarding players fitness and sheer desire from the past.
These days, very few of our lads put a consistent run together without picking up a knock or two which would've been just run off by our greats from the past.
I still remember our fine team from '78 which hardly ever altered from game to game and played more games, lasted longer in cup competitions, and played on shite pitches too.
This great game of ours has gone fucking backwards for me!
Geoff Williams
158
Posted 01/11/2021 at 12:49:48
When I hear Benitez justifying and praising the performances of Rondon, I am astonished. If ever there was a misuse of data, it is here. Apparently only 3 or 4 players covered more distance than Rondon, what a joke.
Those who still believe that Rondon's poor performances are due to lack of fitness need a reality check. I want to know what aspect of his game is up to Premier League standard. Let's just accept that he is well past his sell-by date; he isn't very good.
Tony Everan
159
Posted 01/11/2021 at 12:52:19
Sam, That's the team I would go with too and I have been contemplating it for a few days. I am an eternal optimist so I will be hoping to see Gomes and Davies bang on form, alive, energetic and 'up for it'. This is what we will need from them to win the match after losing Doucoure, can they rise to the occasion?
I can't help thinking though, "Oh for a Foden, Smith-Rowe, Mount to burst through onto the scene and give an adrenaline shot to the midfield and wider team." There's one or two prospects in the U23s, but that's all they are at this stage. I think we probably need to be sourcing such a player who can energise the midfield, maybe even as priority No 1.
What's going on with Gbamin? Doucouré out, even Delph getting mentioned as a possible midfield pick.
It is almost beyond the imagination now that Gbamin starts a match and plays a blinder helping us win. What a lift that would be if it happened.
Colin Malone
160
Posted 01/11/2021 at 13:15:09
Tony #159.
"There's one or two prospects in the U23s"
Heard that one far too many times over the years. Change is needed.

Colin Malone
161
Posted 01/11/2021 at 13:18:59
The structure of a good business ie football clubs, determines your future. We ain't got no structure.
Danny O'Neill
162
Posted 01/11/2021 at 13:22:50
Decent prospects, Colin, but none that are banging down the door of the first-team changing room demanding to be played.
Change indeed. And not just at board level.
Jonathan Tasker
163
Posted 01/11/2021 at 13:39:13
How many goalkeepers on the bench?
2 or 3?
Geoff Lambert
164
Posted 01/11/2021 at 14:16:49
Jonathan,
Start one of them instead of Rondon.
David Midgley
165
Posted 01/11/2021 at 14:21:39
Sam #156.
Yes, Godfrey is out of sorts. He's not playing the way can. He is still suffering from the after effects of Covid and I'm sure I read that he has a slightly enlarged heart. Somebody on here will know. However, if that's the case the club should not be playing him and possibly putting his long term health at risk.
Steavey Buckley
166
Posted 01/11/2021 at 14:23:32
Everton will have to do a lot better against Wolves than they did against Watford to even get a point. And I wish Pickford started to deal with corners and free kicks a lot a better. The free kicks and corners just seem to come to the opposition around the penalty area while Pickford stands rooted to the spot.

David Midgley
167
Posted 01/11/2021 at 14:55:22
Joe & John, #150 & #153.
In all this mess I would love to know what Moshiri thinks of this. Millions down the drain. Has he asked how? Why? And who is responsible?
Surely he must be bothered about losing this amount?
Brian Murray
168
Posted 01/11/2021 at 14:59:46
Steavie @166.
This manager is famed for his attention to detail and fitness of the players he coaches.
Not sure how fit they are compared to others but this zonal or man-marking would be mostly a moot point if Pickford commands his area or at least comes for most crosses. Maybe his lack of height leaves him short on confidence and being a good shot stopper is only doing half the job. De Gea and most modern-day goalies are the same. The Schmeichel or Big Nev type is a thing of the past it seems.
By the way, if he persists again with his favourite upfront, I'm not bothering watching.
Jonathan Tasker
169
Posted 01/11/2021 at 15:03:54
Sorry to bang on about this but I read that the chances of a side having two goalkeepers injured in the same match are around 23,000/1. So every time they have two goalkeepers on the bench I think I the club is extracting the urine out of the fans.
Eddie Dunn
170
Posted 01/11/2021 at 15:18:53
Geoff @148- Some stats really don't tell the true picture. I could trundle about during my six-a-side matches and clock up 4th or 5th distance covered. Unfortunately my slow jog won't get me to the ball ahead of anyone else and most of my running is in the slipstream of younger, faster guys. Yet by stats, I am doing fine!
Rondon is getting fitter, but he has no pace, seems unable to jump and gets in the way of his teammates when he does get into the box. He wouldn't get a game at Norwich.
As for tonight, it will tell us a lot about who Rafa trusts. I wonder if Holgate will get the nod? Then who will he pick as our forward line?
As he is naturally cautious, I imagine Rondon will continue but I will be amazed if someone doesn't get dropped for Holgate to play.
Is Gray fit, after being withdrawn versus Watford?
Mark Ryan
171
Posted 01/11/2021 at 15:23:29
0-2, Richarlison brace, up the Toffees
Pete Gunby
172
Posted 01/11/2021 at 15:25:02
The only reason I can think Rondon gets a game is to send a message to Brands and Moshiri.
John Kavanagh
173
Posted 01/11/2021 at 15:32:14
Brian@168. I don't think I'll bother watching if Rondon and/or Iwobi start. Not worth the mental torment and stroke risk. Blood pressure's still off the scale after Watford.
Michael Kenrick
174
Posted 01/11/2021 at 15:39:33
Pete,
If Rondon, it's two fingers to the Everton faithful.
Benitez has talked him up to the limit, claiming he's giving 100% and it being all about the team rather than individuals (crap managerspeak alert!), while also claiming the crowd are 'understanding' of the constraints – and stating his case very clearly why he won't be 'risking' any of the young players.
It's bullshit because most fans can see and have voiced how fucking useless Rondon is. Yet he keeps selecting him. If he picks Rondon to start again tonight, I shall be most irked.
Mark Ryan
175
Posted 01/11/2021 at 15:44:31
Make that 0-3, Richy brace, Rondon breaks his duck
Stephen Vincent
176
Posted 01/11/2021 at 15:47:18
Jonathan # 169, totally agree it is a scandal. It amazes me that more have not picked up on the fact that against Watford we had 8 on the bench including 2 keepers, so effectively 6 useful players. Absolutely unbelievable.
Kieran Kinsella
177
Posted 01/11/2021 at 15:56:51
Rondon covered a lot of ground. But there's an elderly lady down my street whose fitbit tracks her 10,000 steps daily. Would I include her in the Everton team? No. Because slowly covering ground like a spluttering flymo is not the same as being a useful participant in the right place at the right time.
Kieran Kinsella
178
Posted 01/11/2021 at 15:57:00
Rondon covered a lot of ground. But there's an elderly lady down my street whose fitbit tracks her 10,000 steps daily. Would I include her in the Everton team? No. Because slowly covering ground like a spluttering flymo is not the same as being a useful participant in the right place at the right time.
Derek Knox
179
Posted 01/11/2021 at 16:03:37
Kieran, Fly Mo ?
More like a Snail Mo, that leaves a trail, but not of goals, just disbelief and gritted teeth from the fans.
David Pearl
180
Posted 01/11/2021 at 16:09:24
Rondon will probably play if he plays the same system. Even though last season we stunk in a 433 l hope we play it for the extra body in midfield and a mobile front 3.
Other than that who is on penalties tonight l wonder...
Luke Welch
181
Posted 01/11/2021 at 16:14:05
Really hope Rondon doesn't start, he's not the answer, even to a short-term problem ( has if even had a shot yet)? Give Dobbin ago, what's the worst that can happen? Plus if Gbamin is fit but is not considered a better option than Davis in midfield -then it's surly time to get rid, if that's at all possible.
David Currie
182
Posted 01/11/2021 at 16:16:56
Rondon is useless! This manager has made a big mistake signing him and then giving him full games.
Jay Harris
183
Posted 01/11/2021 at 16:21:59
My team pick
Pickford
Coleman Keane (No Choice) Godfrey (He as to get over Covid effects sometime) Digne
Allan Gbamin (or Gomes or Davies - all risky)
Townshend Gray Gordon
Richy
The main thing is we remain committed and aggressive no matter who plays and we emphasise to Digne and Coleman that we want to minimize free kicks and corners.

Luke Welch
184
Posted 01/11/2021 at 16:30:40
Kean and Ben are also a terrible partnership- Ben has been poor maybe due to covid but Kean is just plain woeful! Is Branthwaite still out?
Luke Welch
185
Posted 01/11/2021 at 16:45:26
my team for today...

https://team-picker.files.bbci.co.uk/everton-starting-xi-3c718e941e9375ed5e19998727607dfa.jpg
Danny O'Neill
186
Posted 01/11/2021 at 17:06:49
I may not be homeward bound. But I'm Wolverhampton bound on the train out of Euston. Come on blue boys.
Jack Convery
187
Posted 01/11/2021 at 17:11:50
Hobsons choice tonight for me. 4 3 3
Pickford, Coleman, Digne, Keane, Godfrey, Davies, Allan, Gordon, Grey, Richy, Townsend. ( Grey as the No 10 ).
Subs Gomes, Kenny, Holgate, iwobi, Begovic, Rondon, Gbamin.
Seeing as Norwich are doomed - offer them Kenny and Holgate plus the dosh in January for Aarons. Also possibly any of Tosun / Delph or both. Tosun on loan.
Jay Harris
188
Posted 01/11/2021 at 17:15:15
Luke,
Thats throwing the baby out with the bathwater IMO but an intriguing lineup nonetheless.
Danny O'Neill
189
Posted 01/11/2021 at 17:16:33
Watched Aaron's yesterday Jack. I wasn't overly impressed to be honest.
Luke Welch
190
Posted 01/11/2021 at 17:24:06
Jay, this is true! But I would much rather see what that team is capable of regarding the future possibilities than to see the same old trite turning out.
Danny O'Neill
191
Posted 01/11/2021 at 17:28:24
I don't care who plays tonight. All I care is that when I get home at 3am, 3 hours before the dogs have me up again, I have a smile on my face.
Jay Harris
192
Posted 01/11/2021 at 17:32:52
Danny,
I thought Aarons was the only stand out Norwich player but I believe we can do better.
Luke, I agree with your sentiment but throwing the kids in when the team is poor is not good for their development. Much better to ease them in to a solid unit but I do believe we will be forced into playing more young players due to FFP which may not be a bad thing.
Dobbin looks a great prospect as does Onyango, Whittaker, Astley and Tom Cannon not to mention Anthony Gordon but it is a big leap in standard from the youth to the Prem.
Jay Harris
193
Posted 01/11/2021 at 17:34:20
Danny,
Keep singing "When youre smiling" on the journey and hopefully on the way home.
Luke Welch
194
Posted 01/11/2021 at 17:37:59
Get that Jay, but some players like Kean, Rondon, and Seamus for one reason or another are not up to standard. I would rather go through the growing pains youngster making mistakes as they gather experience- than see the above players making mistakes because they simply are not good enough.
Danny O'Neill
195
Posted 01/11/2021 at 17:40:33
Right backs, I like Cash but doubt there's much chance of getting him away from Villa Jay. I think we can do better shopping on the continent than paying an inflated price for Aarons.
Dave Abrahams
196
Posted 01/11/2021 at 17:43:45
Strong rumours on another Everton fan site that Digne is out of the game tonight.
Mike Gaynes
197
Posted 01/11/2021 at 17:44:54
Keane will be fine today against a Wolves team with no pace upfront.
Bill Gall
198
Posted 01/11/2021 at 17:50:16
I would like to pick the team for tonight's game but I don't think there is anyone including me will pick the same team as Benitez. Here's hoping whoever he picks they " ALL" play quicker than at a trotting pace.
Danny O'Neill
199
Posted 01/11/2021 at 17:50:43
Just pulled out of Coventry. I think the the last time I was here was around 1990 / 1991 at the old Highfield Road!
If that's true Dave, then 3 at the back? Unless Mina is fit?
Jonathan Tasker
200
Posted 01/11/2021 at 18:06:50
Their South Korean player looked very good
Brent Stephens
201
Posted 01/11/2021 at 18:18:59
Just pulled out of Crewe, Danny. Might see you at station!!
Jay Harris
202
Posted 01/11/2021 at 18:19:47
Dave I hope theyre wrong but I cant find any info on that.
Tom Bowers
203
Posted 01/11/2021 at 18:21:12
Rafa did well getting Gray and Townsend but really dropped the ball with Rondon. Hopefully that won't happen again.
I would have liked the now fit Saint Maximan.
Danny O'Neill
204
Posted 01/11/2021 at 18:21:59
Rolling in to Wolverhampton. Wish me luck, I'm in with the home fans tonight with my cunning disguise ready..
I will try my best not to get ejected but I'm not promising.
Danny O'Neill
205
Posted 01/11/2021 at 18:24:04
Brent. Give me a shout if you fancy a drink. 0796 600 7546
Brent Stephens
206
Posted 01/11/2021 at 18:27:38
ETA Wolves station 1834, Danny.
Jonathan Tasker
207
Posted 01/11/2021 at 18:31:23
Only been to Molineux once. With Cambridge United in fa cup.
Quite unpleasant. Locals were very aggressive
Andrew Ellams
208
Posted 01/11/2021 at 18:36:47
Haven't seen any rumours about Digne but did see one about Rondon but not sure if that's genuine or wishful thinking.
Dave Abrahams
209
Posted 01/11/2021 at 18:48:19
Jay (202), I hope the rumours are wrong too, Digne has had a very poor twelve months so he is due a good game, and a goal,now and again!!
Jim Lloyd
210
Posted 01/11/2021 at 18:48:24
I think the pleasant prospect of "Who we'd like" has gone out the window until at least the Summer.
I don't think Benitez thought "ah that's me chance, I've just found a gem that no one's spotted'; step forward Rondon! My guess is that we are absolutely brassic and cannot spend, for the danger of fouling the FFP rules. My view is that Benitez felt we needed cover until DCL is back. I certainly don't think he chose Rondon out of a glittering cast of stars just begging to play for EFC for 3 square bleedin meals a day and a few bob in me arse pocket as well! Literary license there, but it's "looking behind the couch time" for all our wealth.
Thanks to 5 years of poor decision making and we've only just got shut of that Bopsnian lad who was on our books but never figured for yonks, right down the years to £30 million for a Arsenal reserve.
So, even letting
Nkounkoo go off on loan is more likely to do with strapped for cash, than strategy.
My view is we're on the bones of our arse until the FFP thing is cleared. I think rather than getting on their backs, the players NEED support. It's dead easy to support a team like the devil worshippers, tyhey don't need the support but they get it. Our players need it.
Colin Glassar
211
Posted 01/11/2021 at 18:49:23
I'm going for an Everton win (1-2). We cannot commit the same mistakes as last time.
Pickford
Coleman
Holgate
Keane
Digne
Townsend
Allan
Davies
Gray
Richarlison
Rondon
Holgate in for Godfrey. Davies keeps his place rather than risk another 6 month injury to Gbamin.
Dale Self
212
Posted 01/11/2021 at 18:54:06
Nice Jim. You might want to offer a short version on the Live Forum. It could be a crisis.
Jim Lloyd
213
Posted 01/11/2021 at 19:02:17
Y'know what Dale, if I could work out how to get on a stream thing, I would (might do anyway) I listen to Radio Everton when it's working, so can't comment much on away matches, only general comments now and then.
Jeff Armstrong
214
Posted 01/11/2021 at 19:03:01
Colin, no Iwobi?
---
Add Your Comments
In order to post a comment, you need to be logged in as a registered user of the site.
Or Sign up as a ToffeeWeb Member — it's free, takes just a few minutes and will allow you to post your comments on articles and Talking Points submissions across the site.