Everton vs Tottenham Hotspur
Saturday, 6 November, 2021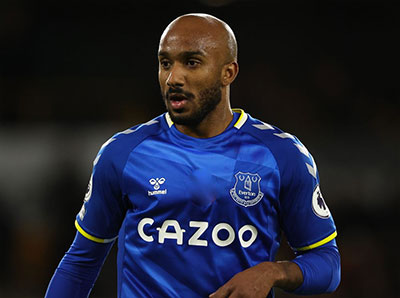 Fabian Delph's second-half performance against Wolves has made him the favourite to start in midfield alongside Allan
Everton host Tottenham this weekend with the pressure mounting on Rafael Benitez and a team struggling to cope with injuries in key areas of the team.
The Blues come into a fixture they haven't won in almost a decade — last season's 1-0 in North London ended an unwanted sequence home and away but an Everton side hasn't beaten Spurs at Goodison Park in the Premier League since Nikica Jelavic was scoring one-touch goals — on a run of three straight defeats and just one win in six.
The club have fallen away from the top four berth they occupied in mid-September and will kick off on Sunday sitting in 11th place as Benitez finds the task of replacing Dominic Calvert-Lewin, Yerry Mina and Abdoulaye Doucouré a particularly vexing one given the crippling lack of depth in his squad.
Mina's towering presence and assured demeanour at the back has been sorely missed, as has the height and running of Calvert-Lewin at the top end of the pitch but the notion that Doucouré almost covers two roles in the middle isn't hyperbole. The Frenchman's absence has been acutely felt in recent games.
Article continues below video content
If Tom Davies proved singularly unable to deputise for him alongside Allan against Watford, Jean-Philippe Gbamin was worse at Wolves on Monday night, the Ivorian lasting just 45 minutes before being hooked in favour of Fabian Delph.
The veteran midfielder was well short of match fitness but brought a competence and confidence to central midfield that had hitherto been lacking and, while it wasn't enough to haul Everton back to parity at Molineux, it was enough to make him the undisputed choice to start against Spurs, fitness permitting.
It remains to be seen if that is enough. Benitez's insistence on only deploying a midfield two in Doucouré's absence has been criticised as naïve in some quarters and there's an argument to be made that against a superior Spurs midfield, an extra body in there to provide cover for a shaky central defence would be wise. On recent evidence, you imagine that would have to be Davies but, again, there is merit in the idea of moving Mason Holgate into defensive midfield now that Lucas Digne is available to return at left-back, even if it's an unlikely move for the manager.
Digne missed the trip to Wolves with a muscle complaint but is in line to return and that will, in all likelihood, see Ben Godfrey drop out of the starting XI. The England U21 international played as an emergency left-back on Monday and again looked ill-suited to the role but he has struggled in general so far this term, a combination of a Covid-19 infection and the general malaise in the team holding back from showing anything close to the form he showed last season under Carlo Ancelotti.
In the attacking areas of the pitch, Richarlison is likely to start again as the lone striker despite that formation reaping few dividends against Wolves so the biggest question will be around Anthony Gordon and whether Benitez will continue to overlook his impressive recent form.
The teenager was one of the stand-out performers at Old Trafford as Everton earned a draw against Manchester United but was dropped in favour of Alex Iwobi in the next game against West Ham. He started against Watford but was substituted after an hour, a decision that was roundly booed by the Goodison crowd, before being dropped once more but then stepping off the bench to almost engineer an equaliser at Wolves. If that recent pattern holds, Gordon will get the nod against Spurs. Iwobi may have scored the goal that gave the Blues hope on Monday but he remains frustratingly inconsistent.
Tottenham, of course, travel with a new manager in charge and the potential bounce that that can provide, especially when that man is renowned motivator Antonio Conte. Spurs tempted the fiery Italian to their club at the second attempt this week after dumping Nuno Espirito Santo less than three months into the season.
Conte has already overseen one win since taking the helm, that a Europa League victory over Vitesse Arnhem and, while he has complained about the fact that he will have just one day to prepare for his side's trip to Goodison, he will surely have some effect on a side that failed to find its footing again after making a strong start to the Premier League campaign under Nuno.
While Everton's poor results have largely been down to injury, Spurs have just been under-performing to a significant degree. Only Bryan Gil and Ryan Sessegnon will be missing for Conte this weekend, meaning that he will have a strong squad from which to choose.
For Everton, the focus must now be on keeping things compact and disciplined at the back, particularly at set-pieces. On the basis of the season so far, Benitez will likely instruct his charges to cede the bulk of possession, a strategy that places a huge emphasis on chance creation and conversion, something that has been missing in recent weeks.
With a coherent defensive posture, there is enough talent in the Everton ranks to get something from this match but a strong start will be key to massage the unease among the home faithful and try to establish an early advantage to defend and build on.
Kick-off: 2pm, Sunday 7 November 2021
Referee: Chris Kavanagh
VAR: Jon Moss
Last Time: Everton 2 - 2 Tottenham Hotspur
Predicted Line-up: Pickford, Coleman, Keane, Holgate, Digne, Allan, Delph, Towsend, Gordon, Gray, Richarlison
---
Reader Comments (88)
Note: the following content is not moderated or vetted by the site owners at the time of submission. Comments are the responsibility of the poster. Disclaimer
Clive Rogers
1
Posted 06/11/2021 at 19:18:18
I think that will be the team but with Godfrey at centre-back instead of Holgate. I'm afraid I just can't see that side getting even one point.
Another home defeat, I feel, and a crisis looming.
David Pearl
2
Posted 06/11/2021 at 19:28:20
I hope that those are the players picked but you never know. Then there's the shape of the midfield. Townsend did well last week in midfield but can he do it from the start?
TICKET for main stand still going at £30 if anyone interested 07368456214
Dave Lynch
5
Posted 06/11/2021 at 19:48:13
Spurs are crap.
2-0 Everton.
Mike Gaynes
8
Posted 06/11/2021 at 19:55:25
Dave #5, love your optimism, but Spurs have twice our talent, and they've been crap only because of lack of passion.
This will be their first league game under a new manager who is one of the greatest motivators on the planet. Outside of Simeone, nobody gets a team revved up better than Conte.
I'll be delighted with a point. And, frankly, surprised.
Jim Bennings
9
Posted 06/11/2021 at 20:06:20
How have we only beaten Spurs FIVE times at Goodison in the last 30 years?
That's an abysmal return, and once again if they dished out trophies for bad records, we'd be swimming up to our earlobes in gold.
Anyway on to tomorrow, unless the three goonies in our defence tomorrow pull their socks up, it's gonna be another f#cked up performance and result.
Whenever Keane and Holgate set foot on the same pitch together it's like a pure act of self destruction.
It's time for this group of players to stand up now and not shaft yet another manager while this group remains at the club stealing a wage.
After Spurs we have Manchester City and Brentford away, then the derbyat Goodison, huge games in the context of the season and probably many futures of our playing and managerial staff.
Tony Abrahams
10
Posted 06/11/2021 at 20:21:15
I've been thinking if Townsend could become part of a three-man midfield because of his work rate, and if what Lyndon has selected is to be the team tomorrow, then I hope this is where Benitez is thinking of playing him. I think we will be swamped if we don't get more energy into the middle of our midfield.
Gary Smith
11
Posted 06/11/2021 at 20:42:44
Mike - "twice our talent" has got to be the most ToffeeWeb of ToffeeWeb comments. Get a grip. We are shite, but Spurs are shite too. Both teams have 2-3 gifted players and whoever of them turn up will likely win it.
Derek Knox
12
Posted 06/11/2021 at 20:44:13
A few of us are going to The Bramley Moore after the match. We went to The Crown after the West Ham game and you couldn't talk or hear anything but Hammers Songs. Anyone fancy joining us will be welcome, getting the People's Bus to Sandhills from outside Goodison.
Hoping for a win, as usual, but it depends which Everton turn up, and which Spurs too!
COYB
Gary Smith
13
Posted 06/11/2021 at 20:49:33
Tony @10,
That's what I'd like to see too. I think he can break forward and get in behind the front 3 for one of those rockets, with Allan and Delph holding the fort and covering wing-backs to bomb forward and give width.
Tony Twist
14
Posted 06/11/2021 at 20:54:21
If Spurs are crap, then what the hell are we! I fear another tanking with this game.
What I find most shocking is the total lack of reaction by the team after the Watford debacle. Benitez needs to up his game, as well as the players, as some of his decision-making has been amateur-ish.
Allan, Gbamin, and Delph in centre-midfield please; none of this two in the centre as we will be overrun – and please, no Iwobi.
Darren Hind
15
Posted 06/11/2021 at 20:55:00
I agree with Lyndon, Tony. I would put Holgate in there.
He's driving me nuts with his "I've arrived" attitude, but someone needs to point out to him that the clock is ticking. If he doesn't hurry up and start having the career we thought he would have, it will be over before he knows it. That person needs to be Rafa.
Allan is only really happy when he is hunting. Push him up 5 yards where he can harass the fuck out of them. Let Holgate be his insurance policy.
We have to make them worry about us and I think Spurs would be very happy to see Townsend brought central... their full-back definitely would.
Bill Gienapp
16
Posted 06/11/2021 at 20:55:16
It is unfortunate that we missed out on the floundering Spurs of Nuno, and instead get them making their Premier League debut under Conte.
Dave Lynch
17
Posted 06/11/2021 at 20:59:54
Trust me... I'm a nurse. Two-nil to the Blues.
Dermot O'Brien
18
Posted 06/11/2021 at 21:12:08
Everton haven't won in 4 and have a striker who last scored I don't know when. I wish we were playing them, then this Everton would let that Everton mop the floor with them and it would be 3 points for the Toffees!
Woohoo, on the Redbreast early...
Laurie Hartley
19
Posted 06/11/2021 at 21:22:40
We have plenty of options up front and, despite the loss of Doucoure, a few in midfield. It is at the back we are struggling.
I think Benitez should play young Branthwaite with Kean as the centre back pairing.
Pickford
Coleman, Keane, Branthwaite, Digne
Townsend, Allan, Delph
Gordon, Richarlison, Gray.
Also, if he is going to push a centre half in as a defensive midfielder for me it would be Godfrey all day long before Holgate.
It has been a dreadful few weeks but here we are yet again with an opportunity to jump into 5th spot on the table. If we run true to past form we will miss it because that is what we have been doing for years now isn't it?
For once, just once Everton, seize the opportunity.
Brian Wilkinson
20
Posted 06/11/2021 at 21:27:45
Hi Derek, I will probably get the train from Kirkdale and head to The Bramley Moore pub from Sandhills. It should be a bit quieter, but The Crown was alright after the Watford game.
Stu Darlington
21
Posted 06/11/2021 at 21:30:26
An attacking 4 of Townsend, Gray, Gordon and Richarlison can cause problems for most teams but we have to get the ball forward to them quickly.
I wouldn't consider Godfrey – the lad's obviously still suffering the after-effects of Covid-19.
COYB – let's get after them!! Especially that little rat, Son!
John Kavanagh
22
Posted 06/11/2021 at 21:35:07
Spurs don't need to play well. They only need to be as bad as we are. The difference will then be the skill with which our centre-backs combine to provide Kane with tap-in assists that even Stevie Wonder would find the net with. They also have our deadly zonal marking system to rely on.
While we have Iwobi and Rondon getting onto the pitch, I cannot see much hope of us getting a point between now and Christmas. I venture to disagree with Lyndon's assessment that Iwobi is inconsistent. For me, he has been a model of consistency – absolutely crap in every match, barring a couple where he was average.
Ernie Baywood
23
Posted 06/11/2021 at 21:45:50
So now it's a concensus that Delph should start? I find that more depressing than our current form.
He shouldn't have a locker, never mind a shirt.
Jay Harris
24
Posted 06/11/2021 at 21:54:12
I was surprised and disappointed to find we have only won one of the last 9 matches against Spurs but I have a feeling we will win this one.
Call me delusional because there is no rationality to it but I just reckon we will get 3 points here.
Kane is not himself this season and their defence is Dier (pardon the pun) so, as long as we dominate the midfield and keep the full-backs pinned back, we should be okay.
Andrew Keatley
25
Posted 06/11/2021 at 22:16:14
Laurie (#19),
I reckon we're noticeably shorter in midfield and up front, as while we supposedly have 3 of our first choice starting back four available to start (with Mina our only missing defender), we are without Doucouré, Gomes, the Icelander, Calvert-Lewin and Tosun further up the pitch.
I know Holgate and Godfrey have struggled of late but to bring in Branthwaite, who has hardly played any senior football in the last 9 months, is a huge risk. Add in the fact that he'd be facing Kane and Son… it's a complete non-starter.
Oh, and I'd plump for Holgate over Godfrey as a defensive midfielder too.
Paul Birmingham
26
Posted 06/11/2021 at 22:24:38
Tomorrow, let's win, else put on a professional performance as well.
Riders of the Storm needed, but a win is a win.
The team that starts and its shape, the game policy, owners etc, is all up to Rafa. He has to get a synch, tune, method and means of his available squad.
Get into Spurs, they're no better than Everton, and take them the cleaners. Easier, said than done. But play for the shirt, and no shirking, and feeling sorry.
The storm season is on song, the Mersey will be blowing a hoolie, again, these next few days.
Unleash hell, Everton, no more feeling sorry, and being nice.
Get into them, and beat them.
"What's Our Name?"
Jerome Shields
27
Posted 06/11/2021 at 22:48:04
I hope the mistakes have been sorted or was that the previous game?
It will be all down to the motivation of the players. Whether enough of them are prepared to put in the necessary shift. Coleman, Holgate, Keane and Digne would all need to up their game on their performances.
I expect Benitez to have a more defensive formation, he won't want the risk of depending on midfield pushing forward with the defensive line miles back. I expect Rondon to lead the attack to keep the Spurs defensive line deep and give space for Gray and Richarlison to attack. I have my doubts about Delph starting.
I agree that Godfrey will be rested and hopefully Gordon will get a well-deserved start.

Danny O'Neill
28
Posted 06/11/2021 at 23:09:41
Mentioned it earlier this week. With what we have in the locker right now, we should go with a 3-man midfield.
I've never been a fan in the past, but I have to agree with considering putting Holgate in as the sweeper in front of the back 4, allowing Allan and possibly Townsend to press?
Gray, Richarlison and Gordon as the front 3. Take Delph out of Lydon's prediction but then we need another centre-back. Is Mina fit?
Sadly, as someone who has been very critical of Delph, he actually brought some leadership, composure and organisation to the middle when he came on Monday night. Mind you, it wasn't going to take much to improve on that first-half performance.
Geoff Lambert
29
Posted 07/11/2021 at 00:10:52
Is Delph injured again?
Dave Williams
30
Posted 07/11/2021 at 00:37:48
This team simply has to be selected primarily on who will fight for the team.
Regardless of how Iwobi may look in training, we must select players who will graft, fight like hell and refuse to be beaten. Burnley showed us the way v Chelsea – why can't we do the same?
The Under-23 team selection tells us that Dobbin and Onyango won't play but maybe Simms will warrant 20 minutes or so if we need him?
Central midfield looks very weak. Part of me says try Gbamin and Davies with Allan ahead of them as Gbamin should be better in a three. That said, if we only have two effective central midfielders, then we will be overrun, so maybe Holgate should start.
I can't see anything here other than a Spurs win by a couple of goals or more but I would try:
Pickford
Coleman Keane Branthwaite Digne
Davies Allan Delph
Gordon Gray Richarlison
If we are losing after an hour, bring on Townsend and Simss.
Paul Jones
31
Posted 07/11/2021 at 00:42:48
Looks ominous for tomorrow: Spurs with new manager Conte and Harry Kane due some goals against a team that cannot defend set-pieces.
Like Danny, I have been very critical of Delph and it is indicative of how bad we have been that he is now regarded to be the good professional that we hope can give us some salvation.
Kieran Kinsella
32
Posted 07/11/2021 at 01:05:59
No matter how shit a team is, there's something to be said for a managerial tactical plan. Think Paul whatshisname of Stevenage versus Dalglish in the FA Cup, for example. Or various David Pleat upsets.
So Rafa, it's over to you.
Kieran Kinsella
33
Posted 07/11/2021 at 04:18:10
I read an interview with James Droznek, an American defector who defected to North Korea. He said that at first he and his colleagues were "weak" until the North Koreans toughened them up by whipping the soles of their feet with birches, hanging them upside down, depriving them of food and sleep.
Is there something here we could learn for Everton? Tie a sack containing live rats around our defenders' heads whilst hanging them upside down? Water-boarding? Sensory deprivation?
What goes on at Finch Farm? These jokers are on easy street.
Jerome Shields
34
Posted 07/11/2021 at 04:52:11
Danny #28,
Last report I seen was that Mina was overseas doing his rehabilitation from his hamstring injury alone.
Alan J Thompson
35
Posted 07/11/2021 at 05:00:32
The team that starts... now, would that be at the kick-off or 10 or 20 minutes later, again?
Allan, Delph, Gbamin or Holgate in midfield sounds all well and good but which of them is supposed to be creative, play box-to-box, or supply the probable three wide players?
Can we afford Gray, Gordon and Townsend all on the pitch together? If Gray plays upfront with Richarlison then midfield has to be Allan, Gordon, Townsend and Davies.
And we should all know who takes responsibility for sorting that out, or not.
Sean Roe
36
Posted 07/11/2021 at 05:44:15
4-1-4-1 for me with the holding midfielder picking up Kane when he drops deep. Play on the counter and try to hit the wings and use the pace of Gray and Townsend:
Pickford
Coleman Holgate Keane Digne
Delph
Townsend Allan Davies Gray
Richarlison
Danny O'Neill
38
Posted 07/11/2021 at 06:46:03
I wouldn't call him creative in the sense most of us think of that term, Alan, but if we can free up Allan a bit, he's one of the few midfielders we have who looks for a forward pass. Davies too.
Providing they have the running options in front of them. With a 3 of Townsend, Richarlison and Gray, they will have.
Don't sit deep. If we sit deep against the likes of Kane and Son, we'll be inviting the inevitable. Kane especially. One of the big differences between him and Calvert-Lewin is that Kane is not shy from taking a pop, and scoring, from range.
Darryl Ritchie
39
Posted 07/11/2021 at 06:51:18
Even with the injuries, we still have plenty of attacking options… that is if we plan to attack. If we sit deep, and try them on the counter, we will get beat.
I'd like to see some sort of attacking spirit. Start the match on the front foot. Give our defence a chance to catch their breath a bit.
The catch in this is the play of the midfield. It is the weak link; if they don't step it up, it won't matter what the front three or the back four do.
Eddie Dunn
40
Posted 07/11/2021 at 07:37:26
Today, Iwobi will score against his old foes and Rondon will confound Goodison with a brace in a 3-1 home win.
The turning point.
Danny O'Neill
41
Posted 07/11/2021 at 07:43:16
Iowbi to continue his run, Eddie. I kind of like that!
I'll be honest, at the time, I didn't even realise it was him who scored on Monday. But then I was being told to shut up and sit down by the home supporters and suspicious-looking stewards!
Nick Page
42
Posted 07/11/2021 at 07:52:15
I love the tongue-in-cheek optimism on here – very funny.
In reality, I think this will be another horrible game with a new manager "bounce" for the opposition exacerbated by our dire injury situation. We really need some luck to get through all this.
Tony Abrahams
44
Posted 07/11/2021 at 08:30:01
I said I'd play Holgate there earlier in the season, Darren, and I don't think it's a bad shout. Mason's problem is, as you say, he's too cocky, he's stopped applying himself, and we all know that, if you have such an attitude whilst playing in the middle of the park, you will get destroyed, so playing Holgate in midfield would be a very bold call.
Modern football is about energy, and just like football 100 years ago, it's also really got to be all about playing as a team.
I just watched Roy Keane describing Man Utd before yesterday's game, and it could have easily been most of us describing Everton, so I think we need to get behind this manager, because he's got a very hard job right now.
Tony Everan
45
Posted 07/11/2021 at 08:32:09
Danny wrote about controlled aggression in a post yesterday that struck a chord. I want to see it from the start. Somehow, Benitez has to get more of it into the players' mentality.
I was thinking how this controlled aggression differs from having blinding intensity. The intensity is a must and a mechanical thing, but the controlled aggression is a mindset issue. There has to be a perception of intent when we are challenging an opposition player, a total belief that we will come away with the ball. It may not always happen but that intent and belief has to be the default mindset.
With Doucouré injured, I think it has to be a midfield 3 to gain some sort of control over the game. Then rely on Gray Richarlison Townsend & Gordon to cause problems their pace.
I am weary without our first choice spine of Calvert-Lewin, Doucouré and Mina. But, with Richarlison back, Gordon improving all the time, a midfield three to add stability. Not needing to play Rondon, Iwobi or Gbamin from the start is a big boost for us too.
If the lads show up with controlled agression and intensity, the crowd can become a twelfth man today and help get us a hard-fought victory. COYBlueboys!
Everton 2 Tottenham 1
Eddie Dunn
46
Posted 07/11/2021 at 08:53:37
Rafa must surely see the impending doom of a trip to Man City, a worrying banana skin of Brentford away, and naturally the derby coming at a time when us and them are on opposite trajectories.
Getting something from this game has become incredibly important. We are at home, and have to pick up points or we will definitely find ourselves in the dogfight and Xmas will be even more of an anti-climax. I really don't want to be fucking miserable over the festive period.
We need to defend from the front. I would throw Holgate into midfield and get Allan further forward, as Tony and Darren suggest. It can't be any worse than Gbamin.
Christ! This group owe us a performance.
Brian Murray
47
Posted 07/11/2021 at 09:01:45
We need to get Dobbin and Onyango in or close to the first team soon as. Like most managers, Benitez doesn't really trust young players, especially while his position is hanging by a thread (give it a month). These lads I'm sure won't act like gobshites at the first sign of a setback, like the usual suspects: Iwobi, Gomes, Keane etc.
Jonathan Tasker
48
Posted 07/11/2021 at 09:09:08
Conte will already have seen enough to conjure a win against the only team that always has two goalkeepers on the bench.
Everton are a disgrace. There's probably enough points on the board to avoid relegation but the club has been run into the ground by Kenwright.
Ian Bennett
49
Posted 07/11/2021 at 09:17:58
If you didn't watch Roy Keane destroy the Man Utd side yesterday after Man City, watch it. He could be saying the same about our lot, who are lesser versions.
No desire, no character, or leadership. Players that are happy to see their manager sacked and laugh n joke with the opposition before, during and after the match.
I think if you look at it on that basis, you have to buy into a manager being with you for the next 5 years. He must be in control, not the players or the board, who are prepared to push the panic button.
The recruitment needs to look at the character of the players, more than the technical skills. If someone had of done that, we wouldn't've bought Iwobi and Co.
Tim Cahill was technically not great. His passing was limited, his pace not great. But he fought like a gladiator in every game. He knew the dark arts, and he was a winner. It might not be glamorous, but we need some rough gems to give this side a backbone through the team.
A tough centre-forward, central midfielder, centre-back and right-back. Players that are going to fight for everything. I don't care about left-footed players that play in the right. I want players who will run and run for 90 minutes, putting their bodies on the line.
Alex Gray
50
Posted 07/11/2021 at 09:19:51
Just had a look at the table and we're somehow three points away from 5th and four away from 17th. This game is massive for us.
They will no doubt be buzzing and on the new manager bounce I just hope Rafa has come up with a game plan or this has Harry Kane returning to form all over it!
By the way lads what's going on with Gomes? I've known about the other injuries but he seems to have missed most of the season do we know what injury he's got?
Gary Smith
51
Posted 07/11/2021 at 09:32:51
Pickford
Coleman Holgate Branthwaite Digne
Allan Townsend Delph
Gordon Richarlison Gray
Have Allan and Delph hold, marshall, and protect the full-backs, who need to get forward one at a time and provide width, as the front 3 get in and around Spurs' weak centre-backs and flood the box.
Let Andros come into the 'hole' and provide a threat from outside the box, and roam a little to the wings to increase balls into the box and make the Spurs full-backs scared to leave room.
Above all, try and WIN from the start. Don't sit back until the game is lost. If we have to lose, lose having a go instead of trying not to lose.
COYBs
Dave Williams
52
Posted 07/11/2021 at 09:36:02
They say Gomes has a calf problem.
James Marshall
53
Posted 07/11/2021 at 09:39:27
There are so many reasons to believe we'll get thumped this afternoon in my view – our form is obviously pitiful as is well documented, and Spurs with Conte are likely to want to impress, aren't they?
Our record against them is patchy at best and, with all our injuries and lack of form, I don't see much other than a loss or a draw at best. Happily I think I'll be out so I won't have to sit through it.
Cheery huh.
Alex Gray
54
Posted 07/11/2021 at 09:39:58
Cheers Dave!
Dave Abrahams
55
Posted 07/11/2021 at 09:43:11
Tony (45), good post Tony, it's easy to be pessimistic talking about Everton these days, I feel it myself, so to see your optimistic outlook on today's game has given me a lift, hope the players go out there today and have a good controlled game of letting Spurs know they are here to fight aggressively but fairly for the entire game.
Three in midfield is essential Tony, as you say, but for those fans asking for Onyango to be part of that trio, please leave him out of it for now, he doesn't even boss the U18 or U23 games, he is nowhere being ready to play in a struggling first-team game, and that is not being pessimistic but 100% being realistic.
Come on, you Blues – up and at those Spurs today... you can get those 3 precious points in the bank.
Dean Johnson
56
Posted 07/11/2021 at 09:47:05
Anyone but Holgate and Godfrey.
Sorry but those two are not Premier League standard players; stop judging by potential as it blinds us from that simple, obvious truth.
Last week's performance was the latest in a long line of poor performances from them both.
We will not win with Holgate; Godfrey needs a little more time but I remain unconvinced.
Mick O'Malley
57
Posted 07/11/2021 at 10:20:28
I'd love to see us come roaring out the blocks, snapping into tackles and try and get the crowd onside early on. There's nothing better than a pumped-up Goodison crowd roaring the players on, but the players must play their part and not turn in any more lethargic displays, COYBS!!!
Kunal Desai
58
Posted 07/11/2021 at 10:21:24
Psychologically today is key. A win and we're back amongst the top 7, provides a platform to build on and be competitive in the up-and-coming half-a-dozen fixtures.
Lose and that period will become even more difficult... optimism wiped away and firmly rooted in the bottom half by Xmas.
Laurie Hartley
59
Posted 07/11/2021 at 10:21:54
Andrew #25,
Different opinions are good - I welcome them because they are becoming a luxury where I live. However, I am sure you will join me when I shout
Up The Blues!!!
;)
Rob Hooton
60
Posted 07/11/2021 at 10:22:11
Dave @52,
I didn't know Gomes was a dairy farmer... explains a bit though!
As several of my best mates are Spurs fans, I'm dreading this. New manager bounce and Kane needing goals makes me cringe. Doucouré is a massive miss still and I can only see our bad run getting worse. Praying I'm wrong and we get a much-needed win today though.
If Rondon and / or Iwobi start today, I will have a proper temper tantrum; they're a real pair of misfits.
Brian Harrison
61
Posted 07/11/2021 at 10:24:08
As quite a few posters have said, this game – in light of our next few games coming up – is massive. We are currently 11th, level on points with Leicester and Southampton, so a win today would give us a bit of breathing space.
I think just having 2 central midfield players leaves us woefully short in midfield, and when Iwobi is one of the wide players, it leaves us even more exposed. I really hope that we play 3 in central midfield, which will allow Allan (in the absence of Doucouré) to push forward a bit knowing he has some protection. Whether the 3 in midfield are Allan, Davies and Delph or Allan and Delph with either Godfrey or Holgate. Seeing that Mina will be missing again, then it will be either Holgate or Godfrey to partner Keane.
I would imagine that Richarlison will be asked to play in the middle of Gray and Townsend as I don't think Benitez will start Gordon but he has the option of bringing him on later in the game.
Let's hope Demarai Gray is back to his best as he has been a little quiet in his last 2 games. Also, with playing with a 3 in midfield, then maybe Gray and Townsend won't have to do as much defensive work.
Rob Hooton
62
Posted 07/11/2021 at 10:26:05
As an aside, our midfield is constantly overrun, which is why we seemingly struggle to string more than a couple of passes together before we cede possession, an extra body in the middle is definitely needed. I see 4-3-3 being discussed but that needs to be 4-5-1 when we don't have possession, turning into a front 3 when we attack.
Come on you Blues, make me cheer please!!
Allan Board
63
Posted 07/11/2021 at 10:27:18
There is a reason this group of players can't sustain a high tempo, "up and at 'em" game. They, as a collective, cannot be arsed.
Stick with this coach and let him clear the tossers out. However, you will be waiting for a couple of years or so until the last one is bombed out, and a little longer to get rid of the crap coaches at Finch Farm.
If he can survive the politics of Kenwright, who will try to stir the shit, then Benitez will do okay.
Hope for a win; these are shite, and a bunch of turncoats. Roy Keane could indeed have been talking about football in general in fact, and he is 100% correct.
Pat Kelly
64
Posted 07/11/2021 at 10:31:52
I think our bench will win this for us today. If we place it strategically across our goal line.
Clive Rogers
65
Posted 07/11/2021 at 10:52:00
It's worrying that after battering us, both Watford and Wolves returned to their normal form the next game and got comfortably beat.
Jerome Shields
66
Posted 07/11/2021 at 11:05:44
One thing I did not like was the arguing on the pitch. It was right of Allan and Coleman to point out problems with the defensive line. It was the attitude of Keane and Holgate being told that is a problem. Keane mouthing back to Allan and Holgates reaction to Allan putting the ball out for a injured player.
Martin Reppion
67
Posted 07/11/2021 at 11:10:29
Hi
Anyone know of a reliable link to see this game live?
thanks
James Stewart
68
Posted 07/11/2021 at 11:15:09
No enthusiasm at all for this game or to watch Everton in general right now. The quality of that predicted line up, for the money we have spent over the last few years, is an embarrassing digrace.
Luke Welch
69
Posted 07/11/2021 at 11:15:24
Would like to see Rafa trying something different today. no Kean, Holgate, Ben, Iwobi, Rondon, don't care who replaces them even if its the youngsters! At least they might give more effort.
Danny O'Neill
70
Posted 07/11/2021 at 11:15:50
Yep Jerome.
A seasoned and experienced professional who has played Champions League standard or an overrated defender and a gobby upstart who hasn't quite made it yet not liking being told.
Which one do you listen to?
The problem with this Everton squad is that to many of them have played without leaders. So they don't like being told or being given a rocket.
Jerome Shields
71
Posted 07/11/2021 at 11:25:22
At this time of year a intial good start is scuppered by team identifying wesknesses and adjusting there tactics and play to take advantage. Though Everton had a good start Keane and Holgate where weak. Both Coleman and Digne where below power and Mina was going to be injured over the International break.
Ancelotti kept having to adjust and so will Benitez. But there is a unlying motivation issue and feeling that what goes on at Finch Farm could be the source.
Benitez has like Ancelotti called out for improvement but alot earlier than Ancelotti. That is where the real battle is.
A win today would put Benitez in a stronger position and maybe there lies the problem.
Paul Swan
72
Posted 07/11/2021 at 11:26:44
Not looking forward to going today and can't see where the next point is coming from but as ever you live in hope. Would love to see our players kick that little shit Son up in the air all day long but I don't think our team of shithouses have it in them
Len Hawkins
73
Posted 07/11/2021 at 11:35:29
What a state of affairs the last few years has had on this clubs supporters the Euphoria of a £Billionaire taking over from the contents of the back of Kenwrights couch.
When you are going into games with no confidence in anything but yet another capitulation then the club is in a really perilous position. I don't think the famous Wimbledon game had people feeling so bereft of enthusiasm or so resigned to yet another abysmal surrender devoid of any effort or skill. I suppose season after season of the SAME problems resulting in the SAME outcomes is akin to the Hostage situation where Hostages actually after a length of time in captivity become more on the side of their captors.
The fact that one cup final win is all to celebrate in over 30 years has similarly made supporters more accepting to the year on year dross with the eternal "it will be ok next season". At 71 years of age I honestly cannot see me being able to celebrate any success before my time comes to shuffle off this mortal coil and the worst part is I accept it, when the Supporters should be outside the ground every opportunity demonstrating and showing the status quo is unacceptable. How can anyone with any sense pay out half a £billion to assemble the worst squad in the history of Everton FC Ltd.
There should be a sign outside every turnstile at GP proclaiming "Abandon all hope ye who enter here" that is how rotten the fabric of the club has fallen to.
Jonathan Tasker
74
Posted 07/11/2021 at 11:43:47
Len
Great post
Best way to get rid of the current regime is to boycott the club and simply stop going.
Admittedly, easier for me.
I won't go until Kenwright leaves
Iakovos Iasonidis
75
Posted 07/11/2021 at 11:47:20
I believe benitez in the long term will do well for us but not with this bunch of players. Apart from 4-5 the rest just aren't good enough.
Ken Kneale
76
Posted 07/11/2021 at 11:49:13
Danny - that is quite correct - I rather hope that this discussion was continued at FF in the week and some markers laid down - sadly I doubt it was. Time will tell, but one thing is certain in my mind - this manager has a difficult job on his hands made more difficult by these prima donnas with hugely inflated opinions of their own footballing ability or contribution to the Everton cause.
I hope Goodison backs Benitez whatever happens - he is simply stating facts when he says all the money could have been better spent - maybe he reads TW?
We need points on the board and some signs of direction to attract the better calibre of player (and character) to progress and for a ruthless cull of the hangers-on - I take your previous point about our DoF not being allowed to be but he must be a gutless, characterless individual to get himself a seat on the management committee and then put Elastoplast over his mouth - he needs to man up.
David Midgley
77
Posted 07/11/2021 at 11:55:17

Keiran #33. Everton have subjected the supporters to that for the las25 years but it hasn't put us off. Shearer, who I'm not a great fan of said on MOTD that all the really good teams never wanted the opposition to have the ball. He showed many examples of City fighting to get the ball back and closing down. If only Everton did that. Spurs won't score if they don't have the ball.
I want Everton to put a shift in. I hope I don't see Rondon on the pitch but AG gets a go for 90 mins.
Imagine Monty calling Rommel and saying " Hey mate, can you take it easy on our lads they haven't got 90 mins. in them " Grrrrrrr!!!!.
Barry Cowling
78
Posted 07/11/2021 at 11:59:59
i think Rafa is unlikely to start gordon, and more likely to have Davis in, but that may depend on Delph being fit enough to play two games in a row, what has it come to when we start including Delph to start a game,,. I noticed we had Tosun and Simms on the bench for the last game,, I really don't see what Rondon offers as surely Tosun would be a better option, at least he knows roughly where the goal is. On the Holgate issue, I think he is better in midfield as we may need his energy, it always frightens me to see him in defence. I'm going for 2-2 as no way we wont concede, just not sure where our goals are coming from
Colin Glassar
79
Posted 07/11/2021 at 12:02:54
After watching motd just now (recorded), it's gut wrenching watching almost every other team play with passion, commitment, skill, personality, velocity, bravery, etc… everything we lack.
I honestly think this is the worst Everton first team squad I've seen since the early 70's. This squad has none of the above mentioned attributions. It's a team of ghostly shadows, spectres if you like. There is no effort, no game plan, no strategy, no tactics. The players seem to do whatever comes into their minds, it's all off-the-cuff, hope for the best stuff.
Our players fear no one, but in the worst possible way. They don't fear our managers, they don't fear our fans, they don't fear the media coverage and they certainly don't fear the owner and his clueless board.
I didn't/don't want Benitez but while this attitude persists from top to bottom at Goodison no manager will ever succeed with this bunch. They don't feel any pressure to leave everything on the pitch and they certainly don't respect the shirt they wear or the legacy they are supposed to honour.
0-4 Spurs win today. The Conte effect.
David Midgley
80
Posted 07/11/2021 at 12:04:02
Alan #63.
If you've paid for your £2M house, paid for your Lambo and Ferrari, got two or three houses and a load of dosh in the bank... why bother?
Tom Bowers
81
Posted 07/11/2021 at 12:13:35
I don't think after the last three games any of us expect a win today.
The injury situation is really hurting and the appetite seems to have gone
from those who are left.
Spurs have a new manager and they have the impetus to want to impress him.
Kane and Son are very dangerous and Moura is playing well.
However the team they beat during the week was crap and I am sure Everton will be tougher for Spurs.
After three poor games who knows what Rafa can do with what he has but certainly the rot has to be stopped now or he may be the next manager to face the axe.
Dave Abrahams
82
Posted 07/11/2021 at 12:22:25
Jonathon (74),
"Best way to get rid of the present regime is to boycott the club and simply stop going."
I think a better way is to go to the games, although I am unable to at the moment, and show your support for the manager who is fighting the present regime, virtually on his own, he needs our backing visually and verbally at the moment with the squad threadbare with injuries, he will get it right eventually if he is allowed to stay and do things his own way.
Show the old regime we are on to them; show Benitez we understand the problems he faces from people who should be backing him and the team but are making it harder for him than is necessary and we are backing him. We've had more than enough of them.
Fran Mitchell
83
Posted 07/11/2021 at 12:22:57
Spurs have been just awful this season in the 3 games I have watched – akin to Everton vs Wolves first half, but for the entire games.
But Conte's arrival will give them a real boost unfortunately.
Add to that our injury crisis and woeful options, this isn't a game I'm looking forward to. But hopefully a hard-fought draw is possible.
Brian Murray
84
Posted 07/11/2021 at 12:23:19
We should get the team of the month award if we win with 9 men. We all know who. Time to be brave and give Onyango and Dobbin a proper go. It may save his job.
Colin Glassar
85
Posted 07/11/2021 at 12:27:00
Rondon and Tosun have just been spotted grazing in Stanley Park. Both looked perky so expect them both to start as part of a 3-man attack with a resurrected Iwobi gliding over the pitch like Bambi on ice.
Dave Williams
86
Posted 07/11/2021 at 12:34:03
I can accept a loss today as they are clearly a much stronger squad but I just want to see us getting stuck into them, kick a few into the air, make them apprehensive when going for a 50:50 and come off at the end looking absolutely knackered.
Unfortunately, I can't see many who will have it in them to do this... which is a terrible indictment of our club. Rafa will sort it if he is given time as he is missing our three best players in defence, midfield and attack – and all three are lads who will fight for the cause.
Brands should feel embarrassed at his role in the accumulation of these largely gutless players.
Geoff Lambert
87
Posted 07/11/2021 at 12:41:16
Can't get to the game today, but it's now getting to the point were I am not too bothered. Been watching my blue boys for over 50 years and I never thought it would come to this.
The run of games coming up is not looking good and, if we don't pick up the pace soon, we are in big trouble. Back to bed for me and keep a eye on ToffeeWeb for match updates.
Danny O'Neill
88
Posted 07/11/2021 at 12:42:12
In The Crown after the match, Brian?
Andrew Keatley
89
Posted 07/11/2021 at 12:51:09
Laurie (59) - Consider yourself joined.
Jim Lloyd
90
Posted 07/11/2021 at 12:51:50
There's a load of issues to cover about where we are, as a team and a club, and a lot of them span back over the last 30 years or more. Bit by bit, season by season, apart from when we won the FA Cup in 1995, we've splashed around in circles and not really got anywhere.
Moyes was probably the nearest when we got to the FA Cup Final in 2009 and got whacked after scoring a dead early goal. Other cup matches spring to mind over the years: finals, semi-finals, European Cups, Uefa Cups, Heysel! Never mind the hundreds of examples in the league. (Maybe a touch of poetic license there, but you know what I mean.)
Someone mentioned the comment by Shearer regarding working harder when you haven't got the ball, than when you have it. I think some of our players get their sleeping bags out! More to the point, I think some players think they can breathe easy once they get rid of the ball to anyone else.
And that has become worse since, after Martinez, we started getting the manager of the season before he's binned and we even managed to accomplish 3 feats of managers of half a season! Put that together with very poor transfers in and and, even now, we have half a squad who aren't up to the level to get us anywhere better than we are now.
Rafa Benitez, according to some, is either a secret bloody agent for the forces of darkness, or inept, or both, so they hate him. And lump the blame on a manager who's had the fantastically long period of 10 games or so, to propel us up to challenge for Europe. Not much to ask when he's been handed a shit squad and the princely sum of £2 and bloody 50p to go and swoop on the best players in Europe, who would be queuing up in droves to come rushing to Goodison Park!
Today (and it has been so for weeks and will be for more) we have certain areas in the team which are weak, or very weak. Is Gbamin ever going to show what we hoped for? Are the centre-halves willing to stop auditioning for the Panto season? And is the real Digne ever going to come back to us?!
With this hotch-potch of a squad and some of the best injured, all I would hope for today is that the players take that quote from that Geordie twerp, and work harder off the ball.
I think we've got some really decent players, but not enough and it's easy for the opposition to mark them out the game.
Funnily enough, I think our very own Scarlet Pimpernel, Delph, will make a beneficial difference to our midfield and I really hope he uses Gordon and Townsend, Gray and Richarlison to attack the Chickens... and I will be booing – but it will be at that little shit, Son!
Danny O'Neill
91
Posted 07/11/2021 at 12:52:57
I'll be annoyed if we lose, Dave, but never accepting a loss.
I know what you mean though. Never walk off a pitch thinking you could have given more.
Come on, Everton.
Jim Lloyd
92
Posted 07/11/2021 at 12:59:44
Dave Abrahams (82) Absolutely right on the mark!
Raymond Fox
93
Posted 07/11/2021 at 13:05:07
I think it's going to be another miserable Saturday, I can't see us getting anything out of this game. Hope springs eternal and all that and I hope I'm pleasantly surprised, but it would be a big surprise.
We are going to plummet down this league if we don't get our best players back quick, its not looking good is it.
Benitez has jumped right back into the frying pan but I think he's the right man for the job; our crap recruitment over the last 5 years has got us into this position.
Teddy Draper
94
Posted 07/11/2021 at 13:45:32
Hi all,
Just to try and cheer up. All the negativity I'm getting reading the current posts. An old friend visited me this morning (he's a Red by the way) and the conversation obviously on matchday turned into a bit of banter.
After listening to his crap about past derbies and our empty trophy cabinet, I said this…
"Bert, irrespective of past results, 0-0, 2-2, 3-1, 0-4 etc etc etc, the facts are, in the cold hard light of day, Kopites are still Gobshites." He was silent for a few minutes with a sickly grin on his face, made his excuses and left. COYB.
---
Add Your Comments
In order to post a comment, you need to be logged in as a registered user of the site.
Or Sign up as a ToffeeWeb Member — it's free, takes just a few minutes and will allow you to post your comments on articles and Talking Points submissions across the site.