Brentford vs Everton
Friday, 26 November, 2021
Match Preview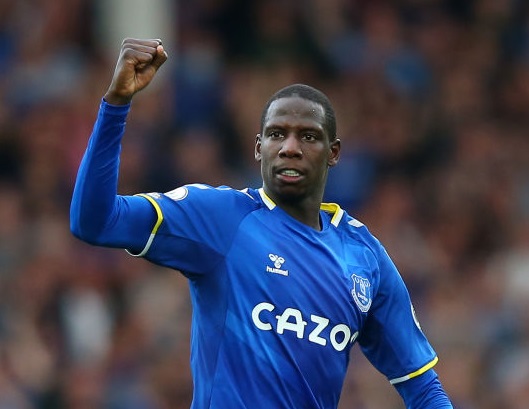 Abdoulaye Doucouré could return from injury to provide a massive boost to Everton's midfield on Sunday
Everton head to the Capital on Sunday for a fixture that has assumed enormous importance given the team's poor run of results that extended to no wins in six games with last weekend's defeat at Manchester City.
The Blues go into the weekend sitting in 11th place, eight points off fourth place and only six above the bottom three with a run of difficult fixtures between now and Christmas that continues away at Brentforf.
There could be a glimmer of good news on the injury front, however. The sight of Abdoulaye Doucouré in training in images released by the club from Finch Farm has offered hope that he could play some part.
The French midfielder has been absent for the last few games with a fractured metatarsal and has been a huge miss in the centre of the Blues' midfield as the team's winless run extended to seven matches with last Sunday's defeat at Manchester City.
Article continues below video content
This weekend's visit to London to face the newly-promoted Bees was looking to be a daunting one given Doucouré's potential absence and amid suggestions that Allan's preparations were being hampered by a knock picked up at the Etihad.
However, it seems as though Doucouré could be fit enough to play a role on Sunday but whether that is from the start or off the bench remains to be seen.
Meanwhile, concerns over the severity of Demarai Gray's injury eased this past week even if Rafael Benitez sounded doubtful that he would be available as soon as Sunday.
The winger had to come off having played just a quarter of an hour against City but the adductor problem he sustained is not as serious as first feared. He has taken part in light training sessions over the past few days but Benitez was not able to say whether he will be able to face Brentford.
Dominic Calvert-Lewin was back in light training as well away from the group and, like Yerry Mina, this weekend will come too soon for him to make a long-awaited return but there is hope that both could be back in the fold soon.
In the meantime, the team has been undercut further by Richarlison's absence. The Brazilian serves a one-match suspension this weekend after picking up his fifth booking of the season at the Etihad Stadium and it leaves the very real possibility that Salomon Rondon will be in the starting line-up again in his absence.
Struggling for fitness and looking well below the level required since arriving from China over the summer, the Venezuelan striker is few Evertonians' choice to lead the line but with Gray doubtful and Benitez having discounted the prospect of Ellis Simms — and, by extension, Lewis Dobbin — starting, the only other alternative is Cenk Tosun.
Tosun hasn't had a look-in since recovering from his latest serious knee injury but you would imagine that there is a strong chance of him seeing some action this weekend given the paucity of available options.
Brentford have injury concerns of their own in that David Martin, Kristoff Ajer, Joshua Dasilva and Julian Jeanvier are ruled out both Mads Sorensen and Mathias Jorgensen will undergo late fitness tests but joint-top scorer Yoane Wissa is back and their other two goal threats, Ivan Toney and Marcus Forss continue to be fit and available.
Thomas Frank's side laid down a marker for how the fearless way in which they were going to approach their first season in the Premier League following their promotion from the Championship when they beat Arsenal convincingly on the opening day and rallied impressively against Liverpool to draw 3-3 in a game that exemplified not only their never-say-die spirit but also their propensity to cause teams problems by going direct.
Both qualities should concern Benitez as he prepares for this one. Everton have proved to be as susceptible to crosses and set-pieces as they have to being carved open on the deck and the prospect of Brentford slinging balls into the box in the manner they did against Jürgen Klopp's reds is not a comforting one.
Yet, if there is a precedent that should comfort Blues fans it's the fact that former bottom club Norwich went to the Brentford Community Stadium before the international break and won 2-1 in what proved to Daniel Farke's last match in charge.
For Everton, the task will once again be to keep things tight at the back, organised defending dead-ball situations and to find some way of threatening Brentford's defence without the likes of Richarlison and Gray in the side. Doucouré's presence will certainly help in that regard if he can start but there will never be a better time for Rondon to finally get off the mark or, perhaps, one of the younger players to become a hero.
With the Merseyside derby looming and then successive games against Arsenal, Crystal Palace and Chelsea to come, another defeat would only deepen the gloom and ratchet up fears that the Toffees' depleted squad could get sucked into a scrap at the wrong end of the table by the time 2022 rolls around.
A win, by contrast, could set them up nicely for the visit of Liverpool by vaulting them back into the top half and injecting some badly-needed optimism while the manager waits on more key players to return from injury.
Kick-off: 2pm Sunday, 28 November 2021
Referee: Darren England
VAR: Jonathon Moss
Last Time: Brentford 1 - 0 Everton (October 1953)
Predicted Line-up: Pickford, Coleman, Keane, Godfrey, Digne, Delph, Doucouré, Townsend, Gordon, Iwobi, Rondon
---
Reader Comments (215)
Note: the following content is not moderated or vetted by the site owners at the time of submission. Comments are the responsibility of the poster. Disclaimer
Mike Hayes
1
Posted 26/11/2021 at 17:41:46
We need some bloody luck as well
Kieran Kinsella
2
Posted 26/11/2021 at 17:46:55
If they're possibly fit for Brentford then hopefully Mina, Doucuoré and Gray will be fit for the derby, along with Richarlison returning.
Tony Everan
3
Posted 26/11/2021 at 18:16:30
Mina, Doucouré and Gray starting would be a massive boost.
Brentford are going to start full on 100mph in this game so the boys will have to be pretty close to 100% fit to deal with the fast and physical game expected.
Kim Vivian
4
Posted 26/11/2021 at 18:25:02
Hallelujah - I'm not going to be able to watch this game so sods law says we will turn up and put on a decent show. Having said that, after the last couple of outings I'm far from confident, but hopefully if we can get Doucouré plus at least one other first teamer back, plus a bit of fight, it could be okay. Brentford will be battling but are over achieving in this league.
Danny O'Neill
5
Posted 26/11/2021 at 18:38:57
Mina, Doucouré, Gray, Calvert-Lewin and the suspended Richarlison.
Then, as I mentioned elsewhere, Rodriguez, Bernard and Sigurdsson.
A seriously depleted team from an already thin squad in comparison to even last season.
Blame the manager(s)? No. Victims of serial mismanagement of the transfer "strategy" that has mis-served them.
Ancelotti had to try and make do with what he had. Benitez trying to fathom out what to do with what he's got.
A good first 11 when all fit and firing. A poor squad in terms of anything resembling depth. Our depth is as shallow as a summer stream.
Colin Glassar
6
Posted 26/11/2021 at 19:09:02
Doucouré is the type of player who needs a few games to get up to speed. We won't see the best of him until we'll after the derby.
Frank Sheppard
7
Posted 26/11/2021 at 19:12:14
We could do with him available. Bottom of the table clash for us at the weekend. Last 5 games for both = 4 losses, 1 draw. Really need a performance and result
Tony Everan
8
Posted 26/11/2021 at 19:13:26
'Abdulla Decorate' – the press conference subtitles call him.
I had to share that one, had me in stitches.
Dave Abrahams
9
Posted 26/11/2021 at 19:33:06
Kim (4), the game is on BT on Sunday.
Kieran Kinsella
10
Posted 26/11/2021 at 19:33:09
Colin,
Based on Doucouré's time at Everton, it takes him a few seasons to get up to speed.
Barry Hesketh
11
Posted 26/11/2021 at 19:35:06
Dave @ 9
I thought Brentford v Everton was on Sky at 2 pm and that BT cover the Saturday Lunchtime game or have I got that totally wrong?

John Raftery
12
Posted 26/11/2021 at 19:39:01
The game is on Sky according to the Everton FC website.
Rob Halligan
13
Posted 26/11/2021 at 19:57:33
Apparently 11th v 14th is a bottom of the table clash!! 😁😁😁
Dave Abrahams
14
Posted 26/11/2021 at 19:57:57
Barry (11) and John (12), my grandson has just informed me that the game is on SKY tv, but I was reading BT adverts on how to get every premier league games and it said you can now watch Brentford v Everton via BT tv.
I think Barry and John are right it will be on SKY, possibly on BT as well? Or am I reading the BT advert wrongly?
Rob Halligan
15
Posted 26/11/2021 at 20:24:54
Dave, the only game on BT Sport is Arsenal v Newcastle at 12.30 tomorrow afternoon. Every other life tv game is on sky sports.
Dave Abrahams
16
Posted 26/11/2021 at 20:30:13
Rob (15), fair enough Rob, I'll accept that.
Tom Bowers
17
Posted 26/11/2021 at 20:38:20
No point rushing him back but what about Calvert-Lewin? Do we not have any young players chomping at the bit to show the overpaid underachievers what 90 minutes of hard graft and energy is all about?
Better show it against Brentford as they have had some decent results. Just ask Klopp. Better to go down fighting rather than with a whimper, like last week.
Kevin Naylor
18
Posted 26/11/2021 at 20:46:21
Brentford 5/4 to win with us at 5/2, that shows how bad we are.
Dale Self
19
Posted 26/11/2021 at 21:14:23
I don't like to break it out too early in a tough season but I am reinstalling my Dave Watson shrine. Using O'Neill's conjecture I deduce Doucouré gets us to a place where some good honest Blues get a 5/2 payout.
David Pearl
20
Posted 26/11/2021 at 22:07:15
Interesting quiz question l just answered. Lego's motto (or slogan) in Danish is "det bedste er ikke for godt." Translates to "only the best is good enough"!
Well it was interesting to me anyway...
Doucoure can't start for me. Down to the bones but let's hope they are all mainly fit for next weekend. I'd take a no-score draw on Sunday.
Tony Hill
21
Posted 26/11/2021 at 22:18:42
I've just recovered from our defeat to Aston Villa at the beginning of May. Takes time.
Benitez is obviously the right man for us and we must not make our usual error of taking the short view. He's entirely unsentimental and doesn't give a fuck about our history or the posturing frauds who run the club. Allardyce was the same but no-one gave him a chance, of course.
Rafa's already told us how it's going to pan out this season and he's right: it's going to be a reverse of last year's shambles where Carlo Iscariot left some time around March/April. We're set for an excellent 2022. We must hold our nerve even if (which I doubt) the next several games are disasters too.
We played some cracking stuff earlier on – that Townsend goal against the Mancs was beautiful and the golden spell against Burnley was a neurological shock. Leeds and Brighton away were deeply encouraging.
Hold your fucking nerve; the Tottenham game was a Goodison joy, you could feel the electricity running through you in the Park End against those Tory twats.
My favourite film quote, or one of them, from the Shawshank Redemption, is: "Geology is the study of pressure and time". I think Benitez is a geologist and we fans had better tie ourselves in. I don't think we're talking millennia, but let's settle ourselves and be hard-minded and patient.
Read Carragher's views on Benitez; we have a hard bastard in charge at last; he's starting the grubby, messy task of righting the ship. There will be pain and suffering, there already is. But he's the prescription.
Someone recently – forgive me, I can't remember who – said that we should back Benitez and save Everton. Very fucking true.
Tony Hill
22
Posted 26/11/2021 at 23:00:25
ps: Hilariously, quite a number of our fans imagine there's a ghost manager waiting to plug us in and lead us to our rightful glory. The Grand Everton Delusion: sack this shithouse and appoint the saviour.
Desperate, simple-minded stuff, born of sentimentality and a ludicrous failure to recognise the truth of the last 50 years.
Tony Everan
23
Posted 26/11/2021 at 23:16:38
Tony 21, excellent post, I feel the same way too. We have got to fasten our seatbelts and lock ourselves in for the long haul. It's going to be a rough ride but the club will come out of it in a lot better shape.
Benitez needs backing and the help of the fans through this period of no summer investment, exacerbated by terrible luck with injuries to core players.
Right now the club needs unity. If we lose, then try to be positive that we will work even harder to put it right.
We need to stop shying away from taking responsibility as a club. Tough times need to be faced down by everybody – players, manager and fans. We need to work through it as a club and as a unified force.
We can't keep running away from the real problems that exist. No manager is going to wave a magic wand and fix Everton overnight. Like him or not, he's been hired explicitly by the owner of the club. He's put in his team and he is in the process of making changes to various departments. All designed to haul the club out of the never-ending and ever-deepening rut of mediocrity.
He will need to strengthen the squad in January and spend some significant money in the summer, he will need to get injured players back,
Most of all, he will need backing by us fans whilst he is putting the effort in to try and get us back to competing at the top of the league.
Paul Birmingham
24
Posted 26/11/2021 at 23:26:47
Tony @22, and 23, very well summed up and spot on.
Like this weather front, Everton will ride these storms, and this for the club has got to be a stake in the ground to start rebuilding the core of the club in every aspect.
Paul Kossoff
25
Posted 26/11/2021 at 23:33:45
Apparently Calvert-Lewin is out for a couple more games, he's broke the strap on his pink handbag.
Barry Hesketh
26
Posted 26/11/2021 at 23:41:57
I love the rallying cries especially to the supporters but at the end of the day; as much as we think as fans that we influence the owner and the board, we actually don't.
However, in the link below it seems as if the board and the owner are as one and they will back Benitez as much as they can and will give him as much time as they can to repair the damage done prior to his arrival.
If Benitez can persuade his players that he is here for the long run and that his word is law, perhaps, many of them will react in a positive way and the fans can get behind the team. The next few months will reveal all.
Tony Hill
27
Posted 26/11/2021 at 23:58:03
Very encouraging, Barry.
We do influence the board, I think, as Liverpool fans showed when they dismissed the chancers, Gillette and Hicks. Protest works if it is tough and confident.
Accepting the writ of Kenwright must stop right now. The same applies to Moshiri et al if they continue to fail. Everton fans are lazy moaners and too compliant.
Anyway, backing this manager against vested interests is absolutely crucial if we want to resurrect ourselves.
Tony Hill
28
Posted 26/11/2021 at 00:05:37
Actually, did the gobshites dismiss Gillette and Hicks? Not sure they did - Satan Athletic were on the brink, weren't they, and then God flinched. Nothing to do with the Greatest Fans In the Universe, come to think of it.
Doesn't mean we can't chase our own dickheads out of town.
Stephen Vincent
29
Posted 27/11/2021 at 00:13:27
Football is essentially an entertainment business. If people aren't being entertained, they will vote with their feet – and that is the only thing that will change a money-man's mind.
I notice that the Arsenal game hasn't sold out yet!!!!
Brian Murray
30
Posted 27/11/2021 at 00:22:03
Music to my ears if the protests are gathering pace about the cowboy(s) behind the scenes.
As for Benitez, I'm well past caring about his kopite past and agree we should back him as a best bet until we enter the new stadium at Bramley-Moore Dock.
Only thing I'd like someone to shed light on is what is this insistence with Rondon and now Tosun??? Is it a personal message or attack on the board... because it can't be a footballing decision surely?
We still don't and may never know if the likes of Onyango, Simms and Dobbin can transform us. Same as the Rodriguez transfer: injury-prone or not, now that was personal. Point being he's putting EFC second if that is the case.
Steve Brown
32
Posted 27/11/2021 at 01:08:28
Tony @ 21 and 22, the same embarrassing approach from Rafa obsessives as we've seen in recent weeks. Lavish praise on him without any basis of evidence, ie, results and/or performances. Then scorn or slag off critical Everton supporters who demand better as 'simple-minded.'
If he is starting the 'grubby, messy job of righting the ship', then he needs to do better. A defence that was the best at defending set-pieces is now 18th, there has been no discernible gameplan or organisation.
In that electric game v Spurs, we had 2 shots on target and our abject performance featured 1 shot on target and 23% possession. His substitutions have often been illogical and his attempts to justify the selection of Rondon are the sort of thing that costs their credibility with fans – once lost, it is rarely regained.
Most Blues are fair-minded and give managers a chance, but recent performances are completely unacceptable from the manager and the team. I still support giving Benitez a chance because he was handed a hospital pass when he took the job, has spent no money and suffered injuries. But reading posts like yours is beginning to make me change my mind. He needs to improve the results, and he'd better do it soon or he will be gone.
Don Alexander
33
Posted 27/11/2021 at 03:16:49
There's two defences on the pitch later today. If you have a dispassionate fiver to bet, who'd you put your money on not to concede the first goal?
I doubt Moshiri or Kenwright would risk it.
Danny O'Neill
35
Posted 27/11/2021 at 06:38:24
Tony(s),
Yes. Very balanced posts.
I for one was very concerned about the appointment, but he is here now and he is the manager. If there is one thing we've learned over the past few years, it is to put a stop to the manager revolving door.
Just my observations and opinion, but as many have said, he has been dealt a shitty hand, even though he knew what he was walking into. Credit to him for that; maybe that makes him more determined to succeed?
It's going to take time to turn this ship around and I appreciate that's not what a lot of us want to hear. His detractors won't like it, but the "magician" reference above gives a degree of credit to Ancelotti's statement towards the end of last season.
Maybe Benitez is now encountering the same sort of resistance from a group of players who simply don't have a winning mentality and aren't good enough collectively, having led an easy life for too long? To the title of the other thread; it could get worse before this is sorted out and it gets better. Strap in and try to enjoy the bumpy ride!! Starting tomorrow.
Just one minor pick-up. Torys? If you've been to White Hart Lane, it's hardly Tory heartland. London itself is a predominantly Labour city. Where I live is surreal. Boris Johnson is the MP for Uxbridge with neighbouring Hayes (a very deprived area) served by no other than Comrade McDonnell. They're basically neighbours!! Diversity my friend!
David Pearl
36
Posted 27/11/2021 at 06:52:15
Good morning, Derek!
We can't let go of lwobi for 2½ more years. Under our manager, we let go of the ball. A lot.
Can't say l'm looking forward to our next few games. Even if we have injuries, it's no excuse for the tactics. They just have no confidence or are under instruction not to leave our own half of the pitch. These are Allardyce tactics.
I still can't understand why, if the plan all along was to only give Allardyce 6 months, then why give him £50M to spend on Walcott and Tosun???
As for Benitez. He's getting paid a lo, to do the second-best job in the world. Shouldn't he be better? The fact even that Ancelotti took a 50% pay cut to leave us, and took over £20M in wages in his short time with us.
And Moshiri is an accountant?
Terry Farrell
37
Posted 27/11/2021 at 07:21:32
I always back a manager and think they need time. A minimum of 2 seasons but these days keyboard warriors want perfection immediately.
My one worry with Rafa is Rondon. Also gutted that Gbamin isn't forcing his way into this midfield in the current injury state. Says it all.
Despite the fact we need points I'd rather save Doucouré and Gray for Wednesday
Kim Vivian
38
Posted 27/11/2021 at 07:38:32
Dave - 9, and subsequent. Thanks. However, I'm encumbered with visitors. Just reading my post back - My "hallelujah" btw was for the return of Douc, not the fact that I can't watch it!
I wish it was on BT because I can record from there. The way I watch Sky (via Now TV) I'll have to wait for MotD2, but will surreptitiously be following via the LF tomorrow... Should be the usual bloodbath!
Tony Everan
39
Posted 27/11/2021 at 07:41:22
Danny, I was in Haringey and Tottenham last year and I have to agree, it's hardly leafy, Tim Henman Wimbledon. The new stadium there looks like an alien mothership has landed in a Lowry painting.
Colin Glassar
40
Posted 27/11/2021 at 07:41:49
We are stuck with Benitez for the foreseeable future so we'd better pray things start to improve or else.
Danny O'Neill
41
Posted 27/11/2021 at 07:48:22
I'd agree with you Terry @37 in saving them for Wednesday.
But, I wonder if the manager would rather gamble because with a stronger team, he has more chance of getting 3 points tomorrow than he does on Wednesday regardless of what team he puts out?
I feel unclean for saying that, but it may be the reality of where we are right now. Targeted games.
And yes, you / we should go out with the mentality of winning every game.
Gary Smith
42
Posted 27/11/2021 at 08:00:53
Indeed!
He may have been chased out of every club he's been at (apart from one he went down with) within 1-2 years. He may play horrendous negative defensive football that cedes possession to lower teams, and doesn't even try to beat the bigger ones. He may detest youth and much prefer the older journeymen boys. He may enforce a set-piece zonal marking routine that took us from one of the best to second worst in 6 months……
But, he's the best we can get (I know, all the other clubs having managers is just a mirage) and, the sooner we get back to mid-table mediocrity of the Moyes years, the comfier I'll feel in my slippers of a night!!
For fuck's sake…
Steve Shave
43
Posted 27/11/2021 at 08:05:11
Gosh, that is a bad line-up; how did it all come to this?!
I will try to stay positive, we have had a terrible run of bad luck with injuries, hopefully 2022 will see us turn things around.
It's not Rafa's fault and we should get off his back and support the team.
A new right-back and a midfielder in January alongside the return of Calvert-Lewin, Mina, Doucouré and Richarlison should see a drastic change in performances.
Brian Murray
44
Posted 27/11/2021 at 08:36:29
Danny.
Only problem is that this waiter's idea of a stronger team is including Rondon and or Tosun – wastes of space – instead of being brave and finding out at least if Dobbin, Onyango, Simms, even Warrington can transform us even in the short term until we get the likes of Gbamin (jeez!) back.
He's either terrified of youth or just a bad judge of a player. Or stubborn and is sending a threat / message to the board that he can't work with these morons. Whatever it is, he's making us yet again a laughing stock with his selections. That's before Iwobi gets a mention.
The online protest and hopefully banners are gathering momentum over Dreamcoat Dick and his cronies behind the scenes. Every cloud eh.
Brian Murray
45
Posted 27/11/2021 at 08:40:38
Danny.
I doubt your dogs will avoid eye contact with you until these two games are at least out the way. It's a mountain. It's ridgeback mountain even.
Sam Hoare
46
Posted 27/11/2021 at 09:11:48
I was pleasantly surprised at how well we started the season. And then unpleasantly surprised at how awful we have been for the last month, even accounting for injuries.
Sunday is a huge match because, if we lose, I fear the following tough run of fixtures may go badly and we may well end up uncomfortably close to the relegation battle. Much will depend on how quickly Mina, Calvert-Lewin and Doucouré can return to full fitness and form.
Injury disasters aside, I still expect us to finish around mid-table; whether that's 7th-10th or 11th-14th will depend on Benitez's ability to get the best out of these players and tighten us up at set-pieces, which has been a problem all season.
Tony Graham
47
Posted 27/11/2021 at 09:17:52
I think stubborn Rafa will live or die on the Rondon issue, He does nothing for us at all.
Rafa has to admit that he has brought in a terrible player, and needs to stop playing him.
I agree totally with the Tonys – we are in a bad situation, need all the luck that's going, but we have to support our team, and surely things will turn...
Ajay Gopal
48
Posted 27/11/2021 at 09:18:55
I doubt that Rafa will drop Allan for Doucouré. He may play a middle 3 of Doucouré, Allan and Delph to avoid overloading Doucouré, and a front 3 of Townsend, Rondon and Gordon.
Unlike some here, I can understand why Benitez would go with Rondon or Tosun over Simms in the starting XI. Rondon was a bad buy, yes... but he is the only available senior centre-forward we have now. Simms or Dobbin can come in late to try and get at tiring defenders. My predicted XI:
Pickford
Coleman Keane Godfrey Digne
Doucouré Allan Delph
Townsend Rondon Gordon
With Iwobi, Simms and Dobbin to replace Doucoure, Rondon and Gordon in the 2nd half.
I would absolutely love it if Gordon and Rondon get their first goals for Everton.
David Bromwell
49
Posted 27/11/2021 at 09:22:21
I really enjoyed Tony's comments, @21.
I agree, we have to find a way of coming together, remember the "Dogs of War." Let's face it, we are in a mess, with a poor team playing for a club which has been mismanaged for years. We have to find some green shoots from somewhere.
We have tried the quick-fix solutions with disastrous consequences and, for the moment, our best and only option is hard work and backs to the wall. A first goal for Rondon, 100% effort, and no further injuries would be a wonderful start.

Robert Tressell
50
Posted 27/11/2021 at 09:27:42
Brian #44,
This was always going to be a crap season. Benitez inherited a 10th / 12th placed squad and got £1.7M to improve it. He's since lost a circa 13-goal contribution player in bizarre circumstances and had a run of injuries to our very few good players.
Okay, Rondon is crap – but he was a free transfer who wasn't really expected to play much. Simms and Onyango are both feeling their way back from injury and the latter is not exactly imposing himself on U23 games right now. It's tragic that we've got such a poor squad but there's no easy fix.
Sam's right, our finish will be anywhere between 7th and 14th and will depend on injuries and what we can buy in January.

Derek Taylor
51
Posted 27/11/2021 at 09:47:42
Many pleas to stick behind Benitez almost regardless of results. A crazy take on a situation which may not see a victory this side of Xmas. Granted it might not all be this manager's fault but he does make some crazy decisions of selection, tactics and substitutions.
Cliff Britton was the first Everton manager I was aware of and Harry Catterick the very best manager. Kendall had bad times during his second and third spells and Joe Royle chucked it in. All the rest (bar Carey) have been dodgy appointments and got the sack. It's just a question of when rather than if !
Gary Smith
52
Posted 27/11/2021 at 09:57:54
Robert,
He may have had a small pot, but instead of using scarce wages looking at exciting young players on loan (like Bobby at least did well), he bought 5 players in with average age of 32. Instead of Kean and James, we now have Rondon and Iwobi back in.
All teams have injuries, but most of them (including Man City, Liverpool and Chelsea) fill in the gaps with youth. The Fat Spanish Waiter would rather just burst their bubbles and keep selecting perennial under-performers (and those with zero future here) instead.
Net result is the worst run since 2005… and that record's likely to go in the next few weeks too.
So, keep happy clapping the negative manager. Ignore the fact even Kendall lost what he had later in his career (Rafa lost it a long time back) and hoping that somehow not changing anything will magically correct itself.
Laurie Hartley
53
Posted 27/11/2021 at 10:17:35
Gary # 52 - "
All teams have injuries, but most of them (including Man City, Liverpool and Chelsea) fill in the gaps with youth
." - football quote of the decade* that.
* Make that the last two decades.
John Keating
54
Posted 27/11/2021 at 10:21:40
I think the goalie and recent defensive 4 pick themselves; as for the other positions, based on recent injuries, suspensions and Benitez's comments, anyone could get a game.
With Liverpool next week, the manager may give Doucouré an extra few days in the hope he may help stop it becoming too embarrassing!
Gary Smith
55
Posted 27/11/2021 at 10:30:16
Laurie - other than showing you can use the italic and bold buttons (well done, son), I'm not sure what your point actually is? Assuming it's a difficulty understanding the context of the word "including"?
Robert Tressell
56
Posted 27/11/2021 at 10:33:32
Gary # 52.
The average age stat is meaningless because it's skewed by two reserve goalies, the older of whom will probably never play. As for Rondon, what other free transfer striker was realistically up for grabs?
I'm not especially thrilled with the look of the side and have long despaired of a short-termist (and generally shit) transfer strategy – and Benitez has certainly made mistakes too, but the reason we have a poor side dates back years.
Dave Williams
57
Posted 27/11/2021 at 10:34:47
Tony #21,
What a cracking post and quite inspiring going back to the good times earlier in the season.
I just hope Rafa gives the young strikers a chance and at some point Gbamin will have to be given a final run out to see if there is anything left in him or not.
We need to win this and, if we go out and fight like hell, we might just grab a goal and do it.
I would go three at the back with Branthwaite included to counter their long-ball game.
Brian Harrison
58
Posted 27/11/2021 at 10:39:13
Since beating Norwich on 25 September, we have drawn 2 and lost 4 Premier League games, so there is real pressure to try and get something from our next few games; otherwise, the spectre of relegation will rear its ugly head.
I think we are in a Catch-22 situation: we know we can't keep changing managers but, if we do start to slip nearer the relegation zone, how long will our long-suffering fans react if this happens?
We all accept that Benitez has had a tough deal with having so little to spend, but he will have known before he signed the contract how FFP would impact the club. What he couldn't know was how unlucky he would be with injuries. I didn't want him but we need him to succeed as the other prospect is too hard to contemplate.
But he has to shoulder some of the blame over our results during the last few weeks; his substitutions have left many scratching their heads, and his stubbornness (which he is famous for) in playing an unfit Rondon didn't do the player any favours. So while a lot has been out of Benítez's control, he hasn't managed the things under his control as well as he could have.
I think, apart from a 15-minute spell against Burnley, we have struggled to impose ourselves on teams – even those lower in the Premier League than ourselves. When he signed, Benitez said he understood the type of football Scousers liked to watch; well, apart from that 15 minutes against Burnley, he certainly hasn't delivered on that front.
A poster earlier mentioned Joe Royle's "Dogs of War" approach; I think Benitez would benefit from using that approach – especially till the injuries to key players clear up. I think most Evertonians will back him if they see our side trying to win games and getting stuck in, but they won't if we sit back and relinquish half the pitch to the opposition.
Danny O'Neill
61
Posted 27/11/2021 at 10:46:40
The 'Happy clapper' phrase resurfaces I see. I don't see any happy clappers, just different views on the manager, who many of us didn't want, myself included. But he's here and I would say the last thing we need is another change.
Man City and Chelsea don't fill the gaps. They have strength in depth, combined with starting to see the benefits of investing in their academies. Young players sent out on loan and managed appropriately; introduced when ready into already very good teams.
The dilemma we have, because of years of transfer mismanagement, is to take potentially good young players straight from the Finch Farm training pitches and throw them into a struggling team against a backdrop of negativity. Not exactly a good place for young players to establish themselves.
Brian, the dogs just look at me with concern and sympathy right now. Funnily enough, the boy takes his Kennel Club name from an African mountain! And he is literally a 3-ft tall, 52-kg mountain!!!
Gary Smith
62
Posted 27/11/2021 at 10:55:10
Robert,
He signed one player under 30, and even he's closer to that than he is 20. The two keepers simply weren't needed, and take up wages we apparently can't afford.
Striker-wise, I'd rather he'd put an arm round Kean personally but, even without that, I'd rather the kids get a chance than spunk another £40k a week on Rondon. The likes of Brereton Diaz from the Championship would be worth the £5M extra to add options.
Denis Hignett
63
Posted 27/11/2021 at 10:56:40
Brentford are a big team. Very good at set-pieces... What could possibly go wrong?
And Jonathon Moss on VAR; our friend!
Gary Smith
64
Posted 27/11/2021 at 11:13:02
Danny, fair play. "Happy clappers" is a poor term, and I'll withdraw it. "Happy to accept perpetual stagnation, negative football and attack fellow fans who dare to want more" fits much better… just takes a bit of typing.
You're right also about Man City and Chelsea youth being better – so why not try to loan them and give them a platform whilst we get our own system together? They could easily afford the "oldies" Rafa prefers to add depth, but they know it's a wise model to give balance to youth. Not only does it save money, it actually tells the next generation they can go there and get a go. A badge we used to have… and desperately need back.
Tony Abrahams
65
Posted 27/11/2021 at 11:31:03
I thought Everton imposed themselves at Brighton, and then we lost DCL, but Everton has a football club, have been "lost for years", which might be an honest starting point, to try and help people to come together, because at the end of the day we all want the same thing, which would be very difficult for even Houdini at the minute, when you look at Lyndon's starting eleven.
Mark Taylor
66
Posted 27/11/2021 at 11:46:41
Optimism hasn't worked for me in the last month or two so I'm trying pessimism. A side that puts out Rondon, Iwobi and Delph is one to trike fear in your own heart, not the opposition's. Granted Delph has been one of our better players recently, but that alone should give you pause for thought.
I wasn't in favour of Benitez but you'd have to say, this isn't really his fault, the Rondon/King debacle excluded. We have the squad depth of a puddle. If Duke isn't fit, what's the option? Gbamin again?
Basically I think this has got defeat written all over it with such a lacklustre team. I'm hoping this means we surprise and get an unlikely victory. Maybe the Bees initial energy and enthusiasm will wane, as it often does for newly promoted teams
Danny O'Neill
67
Posted 27/11/2021 at 11:51:55
That is a mouthful Gary. Maybe stick to Happy Clappers! Not sure where the alleged attacks on fellow fans are though. Maybe I've not read the thread as studious as I should have done.
That potential line up epitomises the mismanagement of the squad. Delph (enough said) and a less than 100%, rushed back Doucoure holding the midfield together?
Iwobi looked even more confused than Iwobi when he came on against City. It was like he'd ended up on a football pitch and didn't understand why or what he had to do.
And Digne seems to be getting skinned a lot down that left side recently. Also, with their height, he should be under strict instruction to shadow and jockey. I don't like to say it, but avoid tackling as much as possible. He's been giving away a lot of free kicks in dangerous positions of late.
As for Rondon. I have no words that haven't already been said.
It makes me sad that I'm talking in this way as we face Brentford. Yes, Brentford. However, it's the closest Premier League ground to me, so let's get optimistic again. 4 points from the next 2 games. Knowing Everton, we'll do it arse about face. Draw tomorrow and miraculously sneak a win midweek is my prediction.
Off to take my medicines.
John Raftery
68
Posted 27/11/2021 at 11:56:54
Brentford have also been on a poor run but will smell blood tomorrow. So should we. We need our players to be up for a battle in all areas of the pitch from start to finish. Even in the matches we have won this season we have usually started slowly. This must not be allowed to happen tomorrow.
Looking forward to the game and seeing the new stadium. But we must win.
John Raftery
69
Posted 27/11/2021 at 11:56:55
Brentford have also been on a poor run but will smell blood tomorrow. So should we. We need our players to be up for a battle in all areas of the pitch from start to finish. Even in the matches we have won this season we have usually started slowly. This must not be allowed to happen tomorrow.
Looking forward to the game and seeing the new stadium. But we must win.
Tony Abrahams
70
Posted 27/11/2021 at 11:57:32
And the medicine will probably keep you in bed Danny, because if that happens the hangover from hell is approaching mate!
Gary Smith
71
Posted 27/11/2021 at 12:00:29
Lol, let's hope you're right Danny, 4 points from next 2 will change the mood a bit over critical Christmas period. No matter how much I want Rafa out, he isn't going before Liverpool unless we got utterly humiliated tomorrow. I'll be cheering and shouting for the win like I always will be. Coyb.
Brian Murray
72
Posted 27/11/2021 at 12:08:45
No doubt Moshiri has a plan b after yet again listening to that buffoon next to him. Steve Bruce anyone. Wouldn't surprise me.
Tony Hill
75
Posted 27/11/2021 at 12:26:03
Danny, it was the "we pay your benefits" crap that made me assume they were Tories. I shouldn't get riled by that after so long but I do.
I understand the Benitez critics. But I think he'll do it for us and we have to be realistic about the club and the mess it's got itself into. The mistake is to think that the solution is to keep sacking managers until someone arrives to make it all better. It hasn't been better for a very long time indeed.
We need to hold fast.
Raymond Fox
76
Posted 27/11/2021 at 12:37:35
Brentford are favs in the betting at 6/5, then the draw at 2/1 then us at 11/8.
We are in a mess at the moment player wise, I'm hoping for something out of the game but I'm fearing the worst.
I think in the long term we are destined to stagger on like we have for the last 20+ years.
Why, because we cant sign the very best players or keep any top players we produce, its as simple as that.
Apologies for repeating myself again, but to keep changing the manager wont solve our problem.
Fran Mitchell
77
Posted 27/11/2021 at 12:39:15
I'm against sacking Rafa for one simple reason: there is nobody to replace him. Our problems we all know run much much deeper than the manager.
I was never supportive of Rafa's appointment. His style for me is out of date and negative. But we play, or attempt to play, a more direct style than in recent years and while defensive, there is an atte,mpt to attack with purpose However, we lost the fulcrum of this attacking play: Calvert-Lewin, then we lost the engine behind the counter-attacks in Doucoure.
These two losses are immense. Doucoure's energy and charges from the middle pushed the team forward, put the opposition on the back foot, and opened up space for Grey and Townsend out wide. It's no surprise that their influence diminished when Doucoure got injured.
DCL was the poacher, the man to target with crosses, who is quick and aggressive and will keep the opposition defence deep (and thus the whole team deeper). Without him, the oppositon have easily stifled our attack. Rondon has no pace, so no worries in the opposition playing a higher line, amd Richy just isn't a centre-forward (much as he'd like to be one) but an inside-forward.
Add to that the loss of our best central defender and with Godfrey being a shadow of his pre-covid self, a lack of squad depth, and the loss of James's goals and assists and Sigurdsson's goals, it is no surprise that we are struggling.
It is not acceptable, but for change to occur, it must first occur at the top.
Brands must be held accountable. Either he's been usurped in his job, or he's inept, but what he was supposed to bring when he arrived: focus on signing young talented players from the continent and lower leagues and rennovating the academy system, is something that has been completely neglected. In the meantime we've seen other clubs do exactly that and progress.
Kenwright is a charlatan, but I do not believe he is the culprit, I don't believe he holds any significant influence or power over the real footballing decisions.
Moshiri, well we don't know. He's invested a great deal, but he interferes more than he should. Koeman, Ancelotti, and now Rafa are signs of a man too easily influenced by fancy CVs and with a rather simplistic approach to team construction.
This is what Brands is supposed to be there for, the man between owner and manager, the man who looks to implementing long-term strategy. The manager will always be about the short-term.
A manager is always 6 games from the sack, is always aware that to survive more than 18 months is a rarity. That is why a manager will always go for a 29/30 year old ahead of a 18/19 year old. Its a game of percentages.
For young players to get a consistent chance, it has to be part of a long-term strategy, it has to be part of a job describtion that managers agree to before accepting a job.
This is where our failure lies. There is a lack of strategy, and each manager has been left to do what he sees fit to prolong his position and the results are ever-increasingly conservative and regressive.
Kevin Naylor
78
Posted 27/11/2021 at 12:54:22
Raymond Fox you'll go skint backing at those odds with your bookmaker try Betfair where its 11/8 Brentford, 5/2 Everton and a fraction under 5/2 a draw.
Danny O'Neill
79
Posted 27/11/2021 at 13:01:45
Understood Tony. Stereotyping on both counts.
It was that chant from the West Ham supporters on the train from Euston to Lime Street that sparked a reaction from me.
Probably ill advised given I was outnumbered about 50 to 1!! But as it turned out, we ended up having a good conversation and got a taxi to the Saddle with them!!
Robert Tressell
80
Posted 27/11/2021 at 13:09:56
Gary, Brereton Diaz would have cost circa £10m this summer just gone. Rondon was free. We just didn't have the money. I guess we could have got King but he'd been so shabbily treated by the previous regime he took the offer from Watford.
And whilst Townsend isn't in the age bracket I'd ideally like our signings to be in, he has in fairness been excellent - and this season would be a lot worse without him.
There's a chance of some decent signings in January precisely because the sale of Rodriguez (after the UK window closed) and loan of Kean (a player many thought was abysmal and clearly wanted out) frees up money.
I'd love things to be different, but we're saddled with a thin, mediocre squad because of what came before Benitez - not because he wasted £1.7m.
Danny O'Neill
81
Posted 27/11/2021 at 13:30:25
Link
Try this and not get emotional or passionate about Everton. Quite possibly the ultimate Evertonian ever. Boyhood fan. 16 year old debutant. Player, coach and manger.
And humble with it. This is Everton. Let's go tomorrow boys. I will if you will!!
Steve Brown
82
Posted 27/11/2021 at 13:33:07
Rondon was an atrocious signing, end of story.

Matthew Williams
83
Posted 27/11/2021 at 13:34:40
Let's look at the evidence here...
We're a patched-up team that's low on confidence, key players out, no style of play, defend first throughout a game, never brave enough over 90 minutes, live on Sky again, playing in the Smoke against a newly promoted team that just go balls out and who have Toney up front for them.
It doesn't bode well for us Blues sadly, not ideal going into a derby too!... sigh.
Martin Reppion
84
Posted 27/11/2021 at 13:49:12
Just seen another incident of a player, in this case, Antonee Robinson, being booked for bringing down a player after first making contact with the ball. As we saw against Spurs, this 'foul' does not seem to apply to goalkeepers.
Tomorrow, we are without Richarlison because he was booked last week just seconds after the referee missed a blatant foul on an Everton attacker from which the ball broke to a defender whom Richarlison then brought down.
My point is that we are getting shafted by referees both on the field and in the VAR booth.
We are also seeing the game ruined by tweaks to its laws which make for confusion. Don't get me started on the current offside law.
The game needs to get back to what it was intended to be: a simple, enjoyable affair which players and spectators alike can understand. We had the farcial handball law under which a defender accidentally handling wasn't a foul but an attacker being struck by the ball on his arm was a foul even if he was lying on the floor not intentionally playing the ball.
Is it that the governing bodies' employ as 'law makers' and they feel they have to be seen to do something?

Mick O'Malley
85
Posted 27/11/2021 at 14:09:48
Gary Smith@ various, absolutely spot on
Steavey Buckley
86
Posted 27/11/2021 at 14:17:47
You have probably seen it all before, Everton are a huge let down to their loyal and dedicated fans. Everton's last win was against Norwich on the 25th September. In football terms a long time ago.
Can Everton beat Brentford tomorrow? But with who? There are no Everton strikers worth mentioning. The defence with Pickford, Coleman, Keane, Godfrey, Digne let in goals.
So tomorrow against Brentford will be another difficult match with Brentford the obvious favourites to win the match.
Dave Abrahams
87
Posted 27/11/2021 at 14:40:48
Danny (81), exceptional talent Colin Harvey, all round player except for scoring as he admits in the article, he must have had very good eyesight as well describing the 1959 fa cup replay with Charlton on aWednesday night, I think there was close to 75,000 fans there and most of us were lucky if we saw half of it, a very very foggy night, lucky it wasn't abandoned.
We won 4-1 after extra time with Dave Hickson scoring a couple, I think. He was sent off in the first game along with Willie Duff the Charlton goalkeeper but those days they were allowed to,play in the replays, maybe suspended later on, not sure.
Danny O'Neill
88
Posted 27/11/2021 at 14:43:45
But we will be there tomorrow Steavey.
John Kavanagh
89
Posted 27/11/2021 at 14:45:55
If we start with both Rondon and Iwobi, then the only issue will be how long the nine men hold out before the inevitable happens. The persistent faith in Rondon will be what seals Rafa's fate as playing this pair will only deliver relegation.
Any DoF who was involved in signing either of those two should be dismissed or, if he was not involved and has any professional pride, resign.
I don't think Doucoure will be risked from the start tomorrow - more likely he will come on for Delph midway second half (assuming the contest isn't effectively over by then).
Simms or Dobbin simply have to be used before use of the bag o' shite Rondon has handed Brentford the three points.
Praying for some stroke of luck tomorrow that will deliver us a result, like Gordon opening his account.
COYB.
Gary Smith
90
Posted 27/11/2021 at 14:55:54
Thanks Mick.
Robert, see Steve's post @21. Moise Kean was abysmal, but still twice the player Rondon's been so far. At least he was an age were he was likely to get better not worse.
We were apparently in for Diaz, so must have had some wriggle room, certainly enough to put the £10m for Brereton on the table. If money was that tight we couldn't, maybe selling Digne (and allowing Nkounkou and Small - latter would likely have stayed in this scenario) to compete for the LB slot. Money for Digne would have paid for new striker and a new right back.
Also need to stop hiding behind the "but Townsend and Grey are good buys" rubbish. Yes, they look like much better value than recent times, but 3 goals and 2 assists each is hardly Messi. Both have been in a side that's took us on worst run since 2005 (and maybe longer soon).
The football he plays is shit. No young kids will come here knowing he's in charge of first team, and if we give him another 2 windows the average age of the first team may well break records too. He is the latest mistake in a long list of them.
Paul Smith
91
Posted 27/11/2021 at 15:17:59
I shall be at this one and always look forward to seeing everyone and usually coming away disappointed with the result but enriched by the experience. Last away was Brighton and we were in full flow with Grey flying and scoring a sublime finish. A win is well possible and hope to have Doucouré back and Rondon getting the winner. ;)
Danny O'Neill
92
Posted 27/11/2021 at 15:34:14
See you there Paul. A repeat of Brighton will be most welcome.
Come on blue boys.
Dave Abrahams
93
Posted 27/11/2021 at 15:37:09
Just a little aside to one of ToffeeWeb's usual contributors Brent Stephens, hope you are okay, not iced you haven't made a mention on this thread or last night's game at Spurs, unusual for you mate, I hope you and yours are well.
Alan J Thompson
94
Posted 27/11/2021 at 15:44:35
I wasn't in favour appointing Benitez as manager and I'm still not enthused other than to say his success is Everton's success. I'm a little surprised though that some seem to infer that Benitez is not only the man to, but is here to sort out the club from Boardroom to U16s.
I don't know what was said at his interview but I would imagine he either asked or was told what the situation is regarding transfers and who held what areas of responsibility and most particularly the DoF's role. I also think that if he is trying to change more things than the first team's performances on the park that he is more likely to further disrupt things. Some may say that might not be a bad thing but I doubt that it is in his remit.
Dave Abrahams
95
Posted 27/11/2021 at 15:58:50
Alan (94), maybe he thinks those in charge of the teams beneath the first team are not good enough, which some of us fans think to be honest, so changing them might result in an improvement all round, maybe he will make a change or two at first team level as well, he's only been here six months give him time to make those adjustments.
Jim Bennings
96
Posted 27/11/2021 at 16:05:17
Huge game, if we lose this we'll get skull fucked on Wednesday and go into the Arsenal game a week on Monday up shits massive creek without so much as a toothpick.
Alan J Thompson
97
Posted 27/11/2021 at 16:13:15
Dave(#95); Could be,Dave, but I'd have thought he would channel such thoughts through the DoF or at any meetings of all involved in coaching at all levels. which I assume there would be. It may seem an overload of manning levels but there has to be some chain of command or if you prefer, management structure.
Billy Roberts
98
Posted 27/11/2021 at 16:25:34
Well articulated, Jim @96!! Totally agree.
I have a feeling we will get more from the next 3 games that we are currently anticipating, though blind optimism reigns supreme.
Jim Lloyd
99
Posted 27/11/2021 at 16:58:30
I think the two men who matter, interviewed Benitez for a long time before, choosing him (against Kenwright's and Tilly Mints wishes, so I understand) That to me is a plus point right away! I think Benitez has vast knowledge of how some of the best clubs in Europe are run. I think it's possible, maybe probable, that they have asked him a lot of questions on his views, not only on the job of first-team coach.
It seems to me that this club is a basket case and the role in the club of Director of Football has not worked up to now. We've spent half a billion pounds or more and have ended up trying to scratch a Premier League team out of a squad that has too many players in that no-one wants to buy. Nor can we send them out on loan unless we pay the wages (or part of them).
We have burst the limit of the FFP and the other manacle by over a £100 Million or more. (I think it's £150 million but can't say for sure.) We've managed to do all that and ended up needing major surgery, not a sticking plaster.
I think Benitez has been tasked to bring this club round and it's a massive massive task. Where he can't decide, is the Boardroom, but can report back to the two men who matter, what he believes is going wrong (and has done so since Kenwright took control).
I find some of the criticisms of Benitez unbelievable, or are some so keen of their version of "Manager of the Month!" that they want to see him go; now!
Rondon was chosen, in my view, because we are financially broke, as far as transfers go, or hasn't that sunk in yet with some? Rondon or Tosun, or the kids? That's it! That's what we've got.
This isn't about opposing those who criticise, but I've read posts that appear to be wishing Benitez gone now. To me, that isn't criticism – it's a wish. The criticisms don't appear to recognise just how much in the mire we are, both financially and player-wise. If you look at many of the players that Benitez signed in his time at Anfield, and look at the players we signed, I think it shows he can pick a player.
The little money we had (and some are talking about why didn't we splash £10 mill or so) seems to me well spent with Gray and Townsend coming in.
The situation we find ourselves in now could have been massively worse if he hadn't brought those two players in. What was it? Less than £2million.
The quicker we get behind the manager and the quicker we get rid of Kenwright and his cronies, then we might start on the road out of the mire.
Christy Ring
100
Posted 27/11/2021 at 17:26:45
Jim #99,
Spot on with your post, Jim.
We have to roll our sleeves up and put in a huge shift tomorrow and get the 3 points to give us a massive boost, especially with the tough fixtures coming up.
I hope Doucouré is fit to start and Simms should be given a chance as he can't be any worse than Rondon, as Tosun can't play as a lone striker.
We need 11 players giving 100% which means Benitez can't start Iwobi.

Bobby Mallon
101
Posted 27/11/2021 at 17:36:57
I'm sick of hearing Rafa was brought in to change things from top to bottom. What a crock. He was brought in because he is a Yes-man.
How he thinks Rondon is a player is anyone's guess. He is here so we don't get relegated but, if he keeps playing Rondon and Iwobi, that is what will happen.
I can't stress enough how bad our Dede has become since he turned up. He needs to dispense with his zonal shite and stop defending so deep. I can't remember the last time I actually looked forward to a game.
Mark Ryan
102
Posted 27/11/2021 at 17:52:39
Spot on, Jim @99.
It was so refreshing to see the ex-Spurs midfielder calling out the quartet of lazy arses at Spurs in their midweek European game. Be nice to see the likes of Osman saying "Get rid of Iwobi, get rid of Delph" but of course he won't. Too many people keeping their counsel.
Let's hope for a gritty game tomorrow and 3 points. Rafa needs time to build. He's basically starting again and it's going to take time.
Would have been nice to have seen Rangnick when they went looking for Koeman instead.
Allan Board
103
Posted 27/11/2021 at 18:01:05
Even if we win tomorrow and on Wednesday, it won't change anything. This squad of players are not good enough to sustain any sort of continuity and never will. They will lose as many as they win and worse.
Unless we as fans break the club's ethos of "We don't need a plan, we've got good Blues running things" then this relic is finished as a competing football team. These maggots need rooting out and dismissing. I want winners running Everton, and I couldn't care less who they are or what past affiliations they've had. The performances on the pitch are the pre-requisite, anything else is secondary.
Everton is a hive for lazy, disloyal, disrespectful, work-shy wasters who thrive because of the ethos generated by cronyism this past 25 years.
I don't give a damn about a new stadium, shiny and new, and a shit team to play in it. Whilst all the time the bullshit ways will continue behind the scenes and the complete disrespect to fans will continue.
If you want real change and a competitive Everton back, take the club from them by boycotting the place for a few weeks. Moshiri and his backers will feel the wrath of the Sky-run Premier League and come running to us for the reasons why a boycott has been deployed – then the fans can demand the removal of the old boys' brigade once and for all.
Everton are in the mire with FFP and need the Sky revenue more than ever, the gravy train would be put in danger of withdrawal and or points deductions which could relegate the club. There is no way in this world Moshiri would let that happen before his investment and capital returns on properties, old and new / to be built, are able to be sold off at massive profit.
He couldn't sell up now because he's put too much in and so that's where you have him over a barrel. If he sold now, he would get rinsed. I don't blame the guy personally, but he has overseen a shit show and taken advice from the old boys' brigade instead of telling them to bugger off.
He's been had a bit by a Master of Cronyism. Not our problem as the supporters, we just want a team to be proud of.
Gary Smith
104
Posted 27/11/2021 at 18:25:33
Jim - your post is typically condescending of the "he's the best we can get" brigade.
You assert "The criticisms don't appear to recognise just how much in the mire we are, both financially and player wise" - which is just utterly blind.
I (and most other anti-Rafa fans) know exactly the mire we are…..it's WHY I think he's the latest in a long line of mistakes. The ONLY way out is the Lille/RB/Dortmund model…….we need to attract youth, and give youth a chance. Sell for more that we buy. The FSW is the antithesis of the kind of manager we need right now.
You claim we are broke, then justify adding Rondons £30-£40k a week to the bill. You claim Townsend and Grey are saviours, yet they've played nearly every minute of the worst run since 2005.
You, and other Rafa fans yearn for stability and are happy to accept Journeymen players and horrendous football to get it. I am not. I want a plan. A vision. I want to gamble…..and if it means we go down because of it, then so be it - we are heading there with your model anyway. Villa, City and others had to suffer it. I want an identity, and a project I can believe in, not players playing to limit how much we get thumped by.
You won't get it, you won't accept it, you'll just cling to the life raft. People stay in loveless marriages for years for the same reason. It's in some of our nature. But don't assume someone is stupid just because they want a control freak, defensive, never really was ex-kopite out of the club.
Jim Lloyd
105
Posted 27/11/2021 at 18:44:40
S Bobby, Gary. Your solution is... what? Right now, what is your solution?? I can't wait to hear.
Mick O'Malley
106
Posted 27/11/2021 at 18:48:25
Gary above, I agree again.
I've just read that we are the only team in the top 4 divisions who are on the longest run without some sort of trophy or promotion or any sort of glory, we just meander along playing shit football, it's so depressing.
I'm 52 so I've seen us win but god almighty, it's 27 years and now we've got to suffer Paelladyce as our manager, when will it end?
I see the RS are warmed up for Wednesday...
Rob Dolby
107
Posted 27/11/2021 at 18:48:29
Gary 104. The manager will be lucky to last another 12 months given the form of Moshiri.
Brands should be targeting another replacement manager now. I totally agree with your post but suspect after 5 years that Moshiri isn't the right owner to implement a sea change at the club.
The new ground should make us more saleable. I just hope we aren't a basket case like Sunderland when it is completed.

Jim Lloyd
108
Posted 27/11/2021 at 18:51:32
So Bobby, Gary. Your solution is... what? Right now, what is your solution? I can't wait to hear.
By the way, I'm not a Rafa fan. I'm an Evertonian,
Rafa is the manager, so I back him. I thought the name gives us a clue... Supporter! I happen to think that Rafa is the best manager we've had by far, since 2015, and before. I think we're lucky that he didn't go to Newcastle.
By the way, I didn't say that Townsend and Gray were our saviours. I said we'd be in the mire even worse if he hadn't brought them in.
So you're an anti-Rafa fan, then. Says a lot.
Bill Gall
109
Posted 27/11/2021 at 19:01:17
First, I never wanted Benitez in, not because of his affiliation with the other lot but because of his reputation for defensive football.
He has been here for 6 months and hit the perfect storm of having a poor squad, plus long-term injuries to the more influential players, and a suspension to another player who could have been more used to cover injuries, than what has been used.
It seems to me that Benitez has to work with a DoF, but I can't see that the DoF can say what his style of play should be. The only relationship I can see between them is, Benitez tells him what position he wants a player for, and Brands searches for who is available, agrees with Benitez, and starts negotiating.
I understand having players not in the squad being coached to playing in the same style as the first team, to be able to step up when injuries and suspensions set in, but until the first team is finishing higher and strengthened, I can see why Benitez is reluctant to use some of the young players that during his short spell at the club, he only sees them in their relevant league games or training sessions, or has to rely on the word of another coach.
It is rare to get a young player in his first game to stand out, unless he is exceptional, and even to play well, he has to have top players around him, and that is where they are failed at Everton.
The major problem at Everton is with the changing of managers, Brands replacing Walsh during this period, decisions being made over his head until we have got to a stage where we have to, as they say, bite the bullet and sort the club out from top to bottom. But start with the first team, stop interference from other people, including the owner, and let the people who were employed, do what they were employed to do.
It is hard becoming organized in an unorganized environment, but I doubt very much if Moshiri became a billionaire by being disorganized and hopefully he can sort the disorganization at the top.

Ian Riley
110
Posted 27/11/2021 at 19:27:53
Please just win the match!!! Forgot what it's like!!
Real trouble if 3 points are not taken!!!!
Jim Lloyd
111
Posted 27/11/2021 at 19:43:12
I agree Bill, about just throwing young players in where you say "even to play well he has to have top players around him. I can rememer (too many) hard times when there massive calls to play the younger players and a few of them got ruined while were fighting our way out of the relegation spots. And see them burnt out before they got established. Hard on them, I think.
Raymond Fox
112
Posted 27/11/2021 at 19:48:42
When we get players as good as the usual Top 6 clubs, then you can start saying it's the manager's fault.
If you can't see where the fault lies by now, I don't think much of your logic.
Dave Abrahams
113
Posted 27/11/2021 at 19:49:26
Alan (97) another maybe coming up from me,it's possible he doesn't agree with having a DOF, and as for speaking with the other coaches at all levels, he is still finding his feet at the club and isn't quite sure who he can trust around the club and is still watching and learning who is part of the clique because there is definitely a clique.
Joe McMahon
115
Posted 27/11/2021 at 20:31:50
Raymond @112, very good point. For example OGS, who was given a lot of time.
David Pearl
116
Posted 27/11/2021 at 20:33:44
What came first, the chicken or the egg?
You glance at the situation one way and see a guy that came in and got BMD off the ground, tried to get his ideal manager and DOF and backed every one of them, till now, to the tune of an outlay of £500m. You could say he did his bit.
You glance at it from another way, and from the fans view, from looking at the table, looking at the squad, calculating all those players we have bought for millions then let go for FREE. We even paid half their wages to get them to run down their contracts for 2 or 3 years because they were so bad that nobody would pay a penny for them.
This is what we are left with. It's clear we need a different strategy.
Fingers crossed we get some players back for Wednesday. I don't care so much for tomorrow, l just don't want to be embarrassed any further or l will have to turn my phone off till the weekend.
Anceloti showed last season how to set up to beat them and l hope we will go into the game with a plan.
Tomorrow, whatever. He can try the kids but pretty sure he won't. Gordon is more or less a waste of space bar a couple touches. Same lwobi. Rondon pfff. So even if he does, l can't see any of the kids making the grade. Perhaps Simms if he improves having come back from injury. Also perhaps Branthwaite.
Once injuries hit last season it took Anceloti a few games to get a plan B before he stopped caring. This time around we've curled up in a ball and played dead. We either need to play 3 at the back and try to get Digne forward into crossing positions. Or, we play a third central mid and try to control the ball. Or a third option of course is that we camp out on the edge of our own box and touch the ball once every 5 or 10 minutes. Rafa out, Bagpuss could do a better job.
Gary Smith
117
Posted 27/11/2021 at 20:43:53
Jim:
"I happen to think that Rafa is the best manager we've had by far, since 2015" is the most comical post I've seen. We are on the worst run since 2005 for fuck's sake! It's likely to best that record soon too.
I've already told you my solution, but you have your mind closed. It's to implement the model of RB Leipzig, Lille, Dortmund and Ajax, focused on getting the best young players. That needs the right manager. Villa (I know, I'll spit), Brighton, Crystal Palace, Arsenal all have the managers that will own the next decade. We have the one who owned 2 decades ago.
It's hard to debate such closed minds, but at least try to listen and understand what's already said.
Gary Smith
118
Posted 27/11/2021 at 20:48:04
Jim - you don't want to play kids in case they fail, so instead we'll play Rondon and Iwobi who have already failed… utterly bizarre.
And yes, I am anti-Rafa. I promised to give him the first 10 games and I did. He achieved what I expected – divided fan base and biggest failure for 16 years.
Dave Abrahams
119
Posted 27/11/2021 at 20:59:17
Gary (117),
Do you honestly think the present managers of Villa, Brighton, Arsenal and Crystal Palace would do any better than Benitez with the present injury-ridden, threadbare squad that Everton have got at the moment? Can you see them improving when the injury list gets better and with some signings and loans in January?
Laurie Hartley
120
Posted 27/11/2021 at 21:01:27
Gary # 55 - my point is that Manchester City or Chelsea don't have to fill in the gaps with youth. They haven't had to for years because their squads are far superior to ours. They play youngsters in the games that suit to bring on their development.
To compare their situation with ours is a very unfair comparison.
Robert Tressell
121
Posted 27/11/2021 at 21:01:37
Gary, we'll have to agree to disagree about Benitez's summer transfer record.
I do certainly agree that when we're likely to have a decent kitty in summer (due to various sales) then it's an opportunity to get a proper strategy in place, largely revolving around youth acquisition and player development. If we'd done that 5 years ago, instead of wasting money on the most expensive average players around, then we'd be in a much healthier place now.
I really didn't like the appointment of Benitez either, by the way, but changed my mind when I realised that the money had run out.
There's no quick fix to our predicament. Even Newcastle are going to find that and they have pretty much unlimited spending power.
Gary Smith
122
Posted 27/11/2021 at 21:09:16
Dave @ 119 - let's face it, kid, they could hardly go any worse.
Gary Smith
123
Posted 27/11/2021 at 21:11:25
Laurie @ 120,
You are absolutely spot on that they don't have to. However, they aren't stupid, and understand that the right business model is a blend of buy and develop. If they didn't play them, they wouldn't attract the next generation.
Gary Smith
124
Posted 27/11/2021 at 21:15:18
Fair play Robert @122, there's nothing wrong in agreeing to disagree. We both agree that youth acquisition and development is the only model that could break the mediocrity, I just disagree that Rafa has any intention of doing so. He's interested only in next 2-3 years, not 5 years from now. Unfortunately so are a lot of managers……
Andrew Keatley
125
Posted 27/11/2021 at 21:27:11
Come on everybody! What is wrong with you all? The blueprint for Premier League success is obvious; all we need to do is sign the best young players in the world and then sell them for bucketloads until we're rich and can afford to compete with Man City and Chelsea and PSG. We could be winning the Champions League by 2030 if we ditch the policy of signing anyone over the age of 25 and take on the gamble of signing youngsters who will become future world-beaters.
I mean, sure, we might struggle to identify or attract the right young players, and so we might end up with a bunch of young players that flatter to deceive and then fail to gain the sell-on value that we need. And sure that might mean we struggle even more to gain ground in the league, and maybe without enough older players we'll struggle to deal with demands of the Premier League and need to go down to the Championship in order to rebuild. But it's worth the risk as the Championship is famously a league where a very young squad often thrives.
I hear what the doubters are saying, but I've thought about this and if Moshiri had listened to me when Koeman was here then our front three tomorrow would be Haaland, Mbappe and Isak. I mean, yes, I am cherrypicking those 3 from the hundreds of players that I heard about online while reading articles with titles like 'The 100 Best Players Under 18 That You Need To Know About', and yes the vast majority of those players have not made any impression at senior level yet and probably never will, and yes I'm talking absolute simplistic nonsense that doesn't really stand up to any scrutiny but I just reckon it'll work because I have decided to wilfully underestimate how hard player recruitment is.
Andy Crooks
126
Posted 27/11/2021 at 21:31:26
We are playing fucking Brentford. The odds are ludicrous. I got 21/10. I have a hefty bet on our team. We are actually fretting over Brentford, BRENTFORD!! We will win. We are in a bad run but it will end tomorrow.
In our history we have never been the underdogs against the like of Brentford. Better manager, better players,better supporters. Forget the fear, we will thump them.
Jim Lloyd
127
Posted 27/11/2021 at 21:32:09
You must be short of laughs Gary! I enjoy a good laugh too, but this is no laughing matter. I think every manager before, those who had more resources than Benitez, were booed off out of the club. I think Benitez is better than them, but not a magician.
The thing is about playing the kids, if that's your strategy, you need to have a set up that will encourage them with good players around them.
The way I see it, Keane, Mina, perhaps Digne are poor defenders, Seamus is reaching the end and we don't really have a midfield two, without Doucouré and Allan, We haven't wingers except Gray and Townsend, maybe young Gordon can make it, lets wait and see,,
I can't see the future but I think Benitez wants to show he can turn this club round. I think the difference between him and Ancelloti, is Ancellotti done a runner because he saw how shite we were and scooted.
I assume you want Benitez out. If so, then what?
Paul Hewitt
128
Posted 27/11/2021 at 21:39:57
Andy @126. Yes we are playing Brentford. Why does that mean we will automatically beat them?
Gary Smith
129
Posted 27/11/2021 at 21:40:11
Andrew and Jim, very typical of the condescending "we need to accept our lot" Rafa fans. No ambition, no goals, no willingness to have a go…..just an acceptance that little old Everton need to go back to accepting mediocrity. With fans like you, who needs enemies.
David Pearl
130
Posted 27/11/2021 at 21:41:20
Andy, 126
While you're at it you should do us in a double to beat Brentford and the redshite. That pays over 23/1.
You can thank me later.
Kieran Kinsella
131
Posted 27/11/2021 at 21:43:55
Gary 129
You're entitled to your point of view but your last sentence was out of order
Kevin Naylor
132
Posted 27/11/2021 at 21:53:37
If as somebody mentioned earlier Rondon is getting paid £40K a week, then that is surely the biggest waste of money in Evertons history and believe me we've paid for some shite over the years.
Paul Hewitt
133
Posted 27/11/2021 at 21:53:43
Last time I looked, we have been little old Everton for 30 years.
Jim Lloyd
134
Posted 27/11/2021 at 21:55:21
Each to their own, but I still haven't seen an alternative that you can offer, right now, this season. Not Summer or the year after, just right now. I don't aim to be codescending and if I am I apologise, but tell me where. As for no ambition, no goals, no willingness to have a go...etc are you talking about supporters or the manager, or Moshiri? you finish with "with fans like you, who needs enemies. I'll be going the match and supporting the team. Booing shows displeasure of what's on offer, I suppose, maybe frustration, but is totally negative and creates a vicious circle. I think the "enemies" do not exist. I think it boils down to, do you support the team when its not much good, some might say dysfunctional, and I wouldn't disagree at times. In my view booing is neither use nor ornament.
Tom Bowers
135
Posted 27/11/2021 at 22:00:11
Just seems to be all bad news on the face of it.
Injuries have crippled the team as a force and the spirit has waned.
How can Rafa halt the slide if at all.
This game and the RS game could be a death knell for Rafa despite the injury excuses.
We weren't expected to get anything from City but Palace did and I suppose we hoped for a miracle but Palace didn't have the injury problems.
Without our attack force we wanted the defence to be strong but quite honestly they have all been shaky since and including that awful Watford game.
Richarlison has not been a force this season thanks to injury but he let the team down last week with his stupid booking.
I think we need a strong defensive performance tomorrow to get anything and it goes without saying next week too against RS.
Tony Hill
136
Posted 27/11/2021 at 22:00:57
Steel first and then the move towards the type of football we all want to see. I agree that the Atletico/Dortmund models, an Everton version, are what we should build towards but we need to get the foundations and frame in. Dirty work.
We'll see better football this season and better results with players coming back. Look at the club and the team honestly, see them for what they are, for what our inept boards and largely uninspiring players have made of it all over decades.
And then don't pretend that it can be fixed by closing your eyes and wishing hard enough.

Jim Lloyd
137
Posted 27/11/2021 at 22:03:40
Good post Andrew Keatley (125)
Danny O'Neill
138
Posted 27/11/2021 at 22:10:40
There is a broader discussion here about the standard coming out of the academy. Are ours good enough? Are they being coached appropriately? And the expectation should be that the odd one or two coming through will genuinely make the grade. That's how it has always been; that's the reality.
Even the current benchmark of City and Chelsea, you're talking ones and twos. Maybe threes. And as much as it pains me to say, Pep put that young lad in the mix last week because it was Everton. He wouldn't have risked him against a Chelsea or Liverpool. He actually looked a decent player by the way.
There will always be those with an agenda with the incumbent manager. Always has been. Remember the "Kendall must go" leaflets?? I wonder if those who bayed for blood in the winter of 83 were cheering and celebrating come May 84, claiming "I knew he'd come good"?
Tomorrow we go to Brentford. I'll have my opinion before and after. But for the 90 + minutes, they're my Everton. My Everton and I will stand there willing them on, whoever has the privilege to wear the royal blue shirt I only got to wear at a trial at Bellefield. I'll be kicking every ball and touching every blade of grass myself. In my own head of course. When I'm in the zone, it matters not who the manager is or who the players are. It's just Everton.
Danny O'Neill
139
Posted 27/11/2021 at 22:14:41
Kieran, it seems the attacks on fellow fans are coming from those who claim that fellow fans are being attacked for having a different opinion.
Even though really, there is commonality of opinion if you read between the lines.
Gary Smith
140
Posted 27/11/2021 at 22:19:25
Kieran,
What's out of order is condescending posts effectively saying that we should just not bother trying and aim for a safety-first approach instead.
Gary Smith
141
Posted 27/11/2021 at 22:20:19
Paul - what's your point then? Just accept it and not try and be more?
Paul Hewitt
142
Posted 27/11/2021 at 22:22:19
Yep, accept what we are, and you might move on.
Conor McCourt
143
Posted 27/11/2021 at 22:23:40
I really don't understand this constant excuse factory for Benitez. All Evertonians know the squad we have and it is his job to get the best out of it. In his previous six jobs, he took most of his clubs to their worst position for many years and we are seeing a similar trajectory here. His job is to manage and to get the best out of the players.
It was Benitez's decision to replace Kean with Rondon. Benitez's task was to find a top striker to fill in for Dominic and his choice is costing us badly.
Benitez brought in Gray who began brightly but he is essentially a replacement for James because Benitez didn't want the player. I'm not convinced the club wanted the player out and this is another costly mistake by Rafa.
Townsend in my opinion has been dramatically overhyped and is mediocre at best.
Why was Nkounkou allowed to leave? Had he been around Digne could have been an option further forward.
The sign of a decent manager is his ability to improve players. Only Doucouré has improved and that is largely because he was misused by the previous incumbent. The likes of Keane, Godfrey, Digne and Richarlison are performing poorly under this regime.
Why are there so many injuries? Is the presumption of bad luck a fair one or is there a problem with Benitez's methods?
Benitez's job is to get the best out of the resources available to him and he is failing. Certain arguments in terms of spending and key absences are valid but this is a time where Benitez needs to set up his team to eke out a few points. The football has been dreadful and, even though we are set up to be defensive, we are actually poorly organised.
There are numerous squads worse than ours, including Brighton's, but these are being better managed with players performing to the top of their levels.
Andy Crooks
144
Posted 27/11/2021 at 22:23:56
Paul @128,
I said in my post why we will beat them. Just imagine you support Liverpool (yes, Paul, too horrible to contemplate, but bear with me), would you remotely, even very remotely, contemplate losing to Brentford! No, you wouldn't. Why should we?
Just to add, Rondon 2021, is possibly the worst player I have ever seen in my life. I, bad back and all, could start, get sent off, and reduce us to the 10 men that would offer more than that fat fucking useless chancer. He is as useless as Martinez and that is the biggest insult I can throw at anyone.

Gary Smith
145
Posted 27/11/2021 at 22:25:50
Right folks, enough's enough. We are all entitled to opinions. Some think it's "all too hard" (Andrew, Jim) and survival is the way to go; some think we need to gamble and try and be something more (Mick, me, others).
Tomorrow, we all want a win. So, until Monday or Thursday, when I hope (but don't believe) I'll be proven wrong, peace out. Coyb.
Gary Smith
146
Posted 27/11/2021 at 22:28:39
Conor @ 143 - well said fella.
Paul Hewitt
147
Posted 27/11/2021 at 22:28:42
Andy@144. Liverpool are one of the best teams in the world. We aint
Tony Hill
148
Posted 27/11/2021 at 22:30:53
Benitez has been our manager for 12 games - that is 12 games. Some of those games have been good, some bad. We have had significant injuries.
How on earth is that enough of a base to decide that he's a busted flush?
We are becoming a very odd set of supporters. Born of frustration, but very odd even so.
Danny O'Neill
149
Posted 27/11/2021 at 22:34:23
Not sure where the survival tag came from. I don't think any Evertonian would "strive" for that.
A reality check on where we are? Maybe. Acceptance – I don't think so.
Back to who is attacking fellow fans for having an opinion that differs from ones own?
Brent Stephens
150
Posted 27/11/2021 at 22:40:29
Conor #143 "Benitez task was to find a top striker to fill in for Dominic and his choice is costing us badly."
Ay, he's had all these years and look what he comes up with.
"The sign of a decent manager is his ability to improve players."
Yes, again. All this time and he's done nothing with this squad.
"There are numerous squads worse than ours, including Brighton's, but these are being better managed with players performing to the top of their levels."
Let's see what it's like at the end of the season.
Don Alexander
151
Posted 27/11/2021 at 22:42:48
To those of us who seem to expect encouraging amounts of transfer cash to be provided by our owners anytime in the next 2 years, never mind two windows, I suggest you read Paul the Esk's threads.
He points out that the incompetence of Moshiri and the boardroom has effectively driven the club into a financial wall regarding net spending money, for ages.
I can't believe anyone at all in football has respect for the way we're run or the few people responsible. I believe we're a laughing stock in that closed world, but it's from within that closed world that we need to find a way to even modest prosperity.
Rafa Benitez will have known this just as he became a fully fledged manager in the late 90s. We were badly failing even then at everything we fans aspire to. Makes you wonder why the top banana responsible at the time for such a demise has been entrusted with the club's tiller ever since Moshiri and whoever else bought so many shares.
Benitez will have known about the money situation but I suspect he's now finding his definition of the word "commitment" is a world away from the owner's, boardroom and large sections of the "we get Everton, obviously, Mr Kenwright" Finch Farm coaching, medical /and scouting staff.
Jim Lloyd
152
Posted 27/11/2021 at 22:44:44
I think it's going to be a hard season, no need for seeing the future there! I think you're right Tony.

Jay Wood
[BRZ]
153
Posted 27/11/2021 at 23:19:17
Gary, this by you to Jim @ 117:
'[Jim's post] is the most comical post I've seen.
Dunno about that. There's some pretty keen competition for that title.
You might want to read back through your own posts first for starters.
Derek Thomas
154
Posted 27/11/2021 at 23:21:59
If your skill levels are best discribed as 'barely adequate', your form, such as it ever was, has fallen off the cliff, you're left with effort etc. Which is why the bookies are quoting generous odds; they do get it wrong, sometimes spectacularly so – but not very often.
Unless Benitez is preaching, effort, hard work, commitment, etc and sets his meagre resources up to reflect that – and the players respond and buy into it – nobody will be fleecing the bookies.
1-2 to us in a tight finish... then double down on it and do Liverpool too.
Danny O'Neill
155
Posted 27/11/2021 at 23:46:33
Brent, I always say the season ends in May. As Evertonians from Kendall through Moyes, we should know that more than most!
You get a decent feel for where you realistically are after the Christmas period, but even then you never really know. The season ends in May.
A season is a marathon, not a sprint as they say. It's a modern trait to judge, sack and declare the season over by October / November, fuelled by the Sky TV hysteria driven agenda.
I'm not looking beyond Brentford tomorrow!!
Paul Birmingham
156
Posted 27/11/2021 at 23:50:57
Tony @148, right down the line and spot on. There's no silver bullet, no easy fix, for Everton; the core of the club has become rotten, in terms of the football and the leadership and management of the club
Benitez, knows that he could be hung high, but there's a long way to go this season.
Inheriting a squad with no strength in depth, and a squad that's almost permanently got 3-4 of the spine missing through injury, means any season is transition.
I agree that the subs and playing zonal is numbing at times, but there's a reality about the real state of affairs at Everton. Let's see if the tide is turned at Brentford.
This season is resonating with darker seasons in the past. Let's hope in 2022, the injury crisis improves and there's some good loan deals in the January window.
Now to beat Brentford.
Ian Riley
157
Posted 27/11/2021 at 23:51:34
The players need to work harder!! Yes, hard work over quality can be difficult but not impossible.
The opposition tomorrow are a Championship side – end of! The quality we have should allow us to win by two goals. If we lose, it's down to us not matching the effort. Really it is as simple as that!!
Not Rafa, not Bill, not the Director of Football… but effort will be the reason!! These players need to put in a shift to win.
I can't have excuses for lack of desire, fight and commitment. Top teams have this and we are compared to the opposition tomorrow. If we fail to win it, will be the players' fault. Players need to be professional and work hard and quality will win!! The odds are based on form and which Everton side turn up. Currently, the odds are correct on form but not on quality.
Safe Journey all!!
Dale Self
158
Posted 28/11/2021 at 00:50:59
Without stating "You are stuck with Rafa, deal with it" – I would like to see some details of the plan for Rafa's exit. Do you have one or are you just a lot less risk averse than me? Gary and Conor, both of you seem done with him so what do you have in mind for the next move?
Please briefly address your transfer market strategies under the FFP constraints. Also set out how much you paid Rafa to agree leaving with 3 years left on contract. And if you could tell us how turning over the manager position will help the fans put some heat on Moshiri for extra super bonus points.
I understand this could take a while but, if you could just get that chat started, it should be some solid gold entertainment…
Bobby Mallon
159
Posted 28/11/2021 at 01:21:59
Jim Lloyd @108.
My solution is Rafa stops with the zonal marking and the picking of Iwobi and Rondon. That's a start. He then gives you a chance – that's my solution. Stop playing boring negative football!
Don Alexander
160
Posted 28/11/2021 at 01:49:16
Dale (#158) you hit the proverbial on the head.
Benitez, like every failed manager in Premier League history, knows he'll receive a(nother) millionaire pay-off if he gets the boot. Only the fans suffer.
So, how highly does he now price his own professional and personal reputation as he enters into conflict with the floozies who appointed him?
Will he endure to impose his vision, welcomely successful to Everton fans of the past 30 fucking years as that might be, or will he soon just "Harrumph" as a result of owner and boardroom ineptitude and ride out to his sunset of an even more fabulous extension for his mansion in Caldy, fabulous houses for his family, mega-gifts all round etc etc et-fucking-cetera?
And all the while, some TW geniuses will still be posting comment on mere "transition" etc etc, et-fucking-cetera, as the club crumbles to zilch under the present owner.
To me, we probably have an owner who might be a wanker but we definitely have too many employees who doff their cap to Kenwright's vision of himself and in that process definitively identify themselves, like him, as leeches.
Fire the self-serving fuckers, Moshiri, and appoint people of talent.
Steve Brown
161
Posted 28/11/2021 at 01:56:09
Brentford v Everton is the game between the sides with the worst results over the last 5 games in the Premier League. Each has 4 loses and 1 draw.
Whatever your opinion of Benitez – mine is that he needs to improve considerably – the next 3 games are critical for him. Lose them and he will face a streak of 6 loses in 7 games. That gets managers sacked.
Conor @ 143, good to hear from you again.
Don Alexander
162
Posted 28/11/2021 at 02:44:28
Steve, if only our problems were the last, or next, five games.
With the greatest respect, genuinely, fans focusing on such small-time margins is music to the ears of the dolt owner and boardroom. It merely focusses attention on the manager – leaving them scot-free, and that's avoiding everything that really matters.
Steve Brown
163
Posted 28/11/2021 at 04:52:42
Fair point, Don, the context of what I was discussing was the decision on the manager's future in the short-term.
I agree the wider governance and running of the club is the fundamental issue – there are other articles focussed on these questions. But this is a results business and Benitez cannot get to the end of the next 3 games with 3 more defeats.
Alan J Thompson
164
Posted 28/11/2021 at 05:34:34
I don't get this,"but who would you replace him with?" Palace, Villa, Newcastle, Norwich, Wolves, Southampton, Spurs, Chelsea, Man Utd seem to say that isn't a major problem.
What is a problem is probably what landed the man we now have: transfer restrictions. Making the job even more difficult is the number of injuries and absences at present and, to me, doing the totally unacceptable that we did at Man City, which was not try to win but to lose by less.
Yes, we do need a complete restructure of management, top to bottom, Boardroom to Bootroom – but I don't see a manager who hasn't yet got his priority right, team performance, sticking his new oar in as being anything more than adding to the disruption.
We need a new desk for the new owner with the encryption, "The Buck Stops Here!" rather than the current, "Be quick, you've got 5%".
Mick O'Malley
165
Posted 28/11/2021 at 06:00:12
Connor @143 – absolutely spot-on!
Mal van Schaick
166
Posted 28/11/2021 at 08:09:58
Injuries aside, Benitez has inherited a bunch of misfits. Okay, he's added three players that are not signature players, but we are where we are.
As with previous failed managers, Benitez has the job of keeping us in the top flight, until next season or the financial situation allows him to build his own team with more money and better quality players.
We have to break the cycle of 'making do' and get back to the drawing board and build a team worthy of the owner's commitment and befitting of a new stadium.
Neil Lawson
167
Posted 28/11/2021 at 08:29:09
Just scrolling through quietly before getting up to make the tea. Conor @143 was my standout post. I agree.
Moreover, what really troubles me is the absence of real fight, grit and organisation on the pitch. A top manager gets the best out of the resources available. Ultimately they may not be sufficient to better the opposition, but at least they give blood trying to be. That is just not happening.
On a separate note, my sons and I bumped into Michael Keane on the beach in Cornwall on 13 November. He told us Yerry would be fit for Man City, possibly Doucouré too. Not quite sure what to make of that!
Lose today and the harbingers of doom will really start to gather. Regrettably, I will be amongst them.
Stephen Brown
168
Posted 28/11/2021 at 09:00:40
I'm absolutely dreading the game today! I'm dreading a game against Brentford!! What have we become?
I check ToffeeWeb about 5 times a day now down from my average 100!
I see a stadium announcement and I cringe! Is it a political tactic?
I see us linked with players and my reaction is we will probably be terrible!
I don't have a hero in the team. Obviously respect Seamus, quite like Dom but nothing like I felt for Dunc, Cahill, Reidy, Sheedy et al.
None of the players' interviews are interesting interviews.
There's no apparent plan at the top while loads of clubs seem to be motoring on!
Sorry to be so negative but it's hard to take! Only a win today can save me now... 😂
Ian Riley
169
Posted 28/11/2021 at 09:23:28
No, we are not "stuck with Rafa!" Results dictate your tenure, not who you are. Whoever might replace Rafa has a considerable job as the squad lacks real quality due to recruitment of players being poor.
Is Rafa our head coach as we have a Director of Football? If so, recruitment is taken out of his hands. If Rafa is sacked, then I don't totally blame him as this is a repeated theme at our club and shows more deeper problems.
This club cannot be relegated!!! The Championship doesn't care about history or fan base. Our squad couldn't and won't cope with the style and number of games to sustain a real challenge.
Brian Murray
170
Posted 28/11/2021 at 09:28:47
Our away fans are the most fierce and loyal you could get and if they turn on the club, manager or chairman, it's the beginning of the end. Ask Big Sam about it.
I hope chants and banners are left until the Arsenal game after we already have gotten 6 points. I'll just check that little green fella is okay at the bottom of the garden as well.
Brian Murray
171
Posted 28/11/2021 at 09:31:17
Oh, and besides the chairman, the manager deserves all he gets if he is not brave or innovative enough not to start his mate Rondon and Iwobi.
Dave Abrahams
173
Posted 28/11/2021 at 10:11:01
Connor 143,
So it was Benitez's choice to get rid of Kean and replace him with Rondon... and it was Benitez's task to find a top striker to fill in for Calvert-Lewin — your words.
Kean didn't want to be here. Everton sent him on loan for the loan fee and to get his wages off the bill. How was Benitez supposed to get a top striker in to fill in for Dominic without using money that has dried up for now?
You are convinced Everton wanted to keep James but it was Benitez who wanted him out? It looked like he wanted to leave Everton and Everton were happy to get his wages off the bill. Only Ancelotti wanted James before he came here, no other club were interested in signing him and there was no stampede to snap him up in the summer before he went to Dubai, where he has continued his route back to Colombia to end his football days there.
Just a couple of points I disagree with in your post; there were more but those will do for now.
Mick O'Malley
175
Posted 28/11/2021 at 10:19:41
Oh well… let's just make do with Benitez then, giving up possession and territory every game. We've played well for 20 minutes against Burnley and that is it.
If we're going to play conceding possession and territory, we will lose more than we win – especially since the ex-Kopite hero has us conceding goals galore with his version of zonal marking.
Laurie Hartley
176
Posted 28/11/2021 at 10:26:52
Mal #/166,
"We have to break the cycle of 'making do' and get back to the drawing board and build a team worthy of the owner's commitment and befitting of a new stadium.". I like that idea.
I watched the full 90 minutes of Newcastle v Brentford. Brentford cannot defend crosses or set- pieces. Richarlison and Gray are out so we haven't got anyone to run at, or through them. Like it or not, there is only one way to go, in my opinion – high balls into the box.
Off to the bomb shelter in the back yard. Up the Blues!!!
Colin Malone
177
Posted 28/11/2021 at 10:36:09
Yes. All the money Koeman wasted on Ashley Williams, Davey Klaassen. Big Sam buying Walcott, Mangala, Cenk Tosun. Marco Silva. Iwobi, etc, etc.
It's your fault, Rafa Benitez.
For fuck's sake, give the man a chance, he hasn't got a pot to piss in. Unbelievable.
Brent Stephens
178
Posted 28/11/2021 at 10:42:42
Oh well, let's just appoint a new manager for another 12 games. Then appoint another manager for another 12 games. Then...
Rob Dolby
179
Posted 28/11/2021 at 10:45:50
Dale 158. What point are you trying to make? Should we just enjoy the shit sandwich being dished out every week?
We can't carry on like this. The chairman and more or less everyone else under him are not fit to run a modern football club. We are slowly getting worse year on year regardless of the money spent.
Benitez will get sacked at some point. Under Moshiri managers are lasting 18 months.
We have fallen out of the top 10 bracket. We are competing with Brighton, Southampton, Watford for players. I believe we should be churning through free transfers until a few of them are proven good enough. Our current lack of strategy has got us into this mess.
A few fans suggesting changing to a more cold numbers and youth based strategy has you putting up the Ffp card.
Being risk averse indicates that you are willing to ride out the current mess whilst hiding behind Ffp.
Ffp has been hanging over us since Josh king landed last January. In that time from Moshiri to the average fan we knew that we didn't have a pot to piss in.
The dof did nothing about it! The new manager brought in 5 more or less free transfers. We know we lack for cover all over the park. The dof has done nothing. The academy is not producing enough talent to meet premiership standards.
There are lots of people at the club taking the piss out of Moshiri. Taking their money and not even trying to make the club better. From Kenwright downwards they aren't arsed about anything other than lining their own pockets.
No innovation, no passion and a massive lack of ambition.
Naturally I am a risk averse person in my everyday life. Though as a football fan I am the direct opposite. You don't win anything at any sport being risk averse.
We have to dare to believe that we can start challenging again otherwise what's the point.
Don Wright
181
Posted 28/11/2021 at 10:50:09
Good morning boys and girls I see a win for us today and that is based on the fact that when we have a chance to go up the table and press for a top four spot we royally fuckit up, but since we are nowhere near the top four or top six for that matter we should win simple, peace out
Jonathan Tasker
182
Posted 28/11/2021 at 10:50:28
When Kenwright leaves you will know that change is in the way.
Until then just expect mediocrity.

Gary Smith
183
Posted 28/11/2021 at 10:57:43
Colin, he signed FIVE players. He replaced James, Bernard and Kean with Rondon, Gray and Townsend. I'm sure you (and the fellow "best we can get" fans) will think that's an improvement, but the worst run since 2005 will tell you otherwise. He's increased our average age, turned us into the 2nd worst set piece defenders in the country, and implemented a system that cedes possession to the likes of Villa, Wolves and Norwich, and cedes the match to the big boys before a ball is kicked.
How much of a chance should we give this failed kopite?
Eddie Dunn
184
Posted 28/11/2021 at 11:00:05
The posts on this thread reflect growing cynicism after watching events at our club go from excitement at the new money being spent on behalf of Moshiri, to abject despair at the wholescale lack of foresight or planning which has wasted most of that considerable sum.
The spending, the managerial appointments and player recruitment reflect a disfunctional club.
I personally have nothing against Rafa (apart from him persisting with Rondon)and hope he can survive the season with our rag-bag squad.
However, even a morale-boosting win at Brentford will only afford a temporary reprieve as the derby looms.
The team have shown that they are capable of playing good football -the draw at Man U and the win at Brighton, coupled with the home wins over Southampton and Burnley are evidence enough.
The key to our plight is Doucoure. When he is fit and well, he dominates the midfield and Allan or Davies can benefit.
We all know that DCL is irreplaceable. Richie can't do that job and Rondon is two years over his own hill.
So a defence that has a zonal problem has to survive with a threadbare midfield in front of it and nobody capable of hold-up play to relieve pressure.
DCL will take a few weeks to get up to speed even when he does return.
Last season Ancelotti realised our shortcomings and managed to galvanise us away from home and the two new recruits are suited to counter-attacking football.
This team should be able to do what they did last season.
Confidence looks low amongst the players.
My worry is that this group with just a few new faces have not been able to build on their great start last term and good start this.
The loss of DCL or Richie and a thin squad are excuses, but it seems to me that other mambers of the team are looking to use this an an excuse for a lack of effort and determination.
I honestly think that half of our team cannot be motivated. They are going through the motions and lack professional pride. They may not like the coach's methods, but of course, we have seen them down tools before.
Mick O'Malley
185
Posted 28/11/2021 at 11:04:35
I honestly can't believe fans are prepared to put up with Benitez, the RS are already buzzing of us on the echo message page's saying he's doing a boss job, imagine if they give us a going over on Wednesday, if he doesn't get a result today and we get humiliated Wednesday (highly likely the way they score and we concede) the taxi should be waiting for him immediately, I will never accept him he is a relic, it's a young managers game now,Benitez has had his time,
Justin Doone
186
Posted 28/11/2021 at 11:06:57
Don't rush any player's back!
We a a small average squad I'd rather wait a few more weeks to have everyone fully fit than start risking further injury problems.
In this cold weather, pulled muscles and tweaks are inevitable so please go cautiously, the busy winter schedule is upon us.
Looking at positives, Rondon could be a big help defensively from set pieces.
Our players especially our defender's should be up for the battle to keep themselves warm.
Although we have not won for several games, I've been encouraged that we have created and had chances even against man c.
Bringing fight, spirit, shooting boots and luck I'm hoping for 3 points.
On the less positive, I'm nervous about Pickford.
Ian Horan
187
Posted 28/11/2021 at 11:12:37
An alternative view, imagine if we hadn't got the points we have before our injuries. The bigotry and prejudice against Benitez reminds me of the Brexit referendum. I don't want this or that la la la la! How about give the man a chance, he can only select what he has available. Yes its ugly to watch, injuries are are unprecedented, he is also he has been stripped of james goal and assists, our number 10s goals and assists 13 goals and assists. Judge our manager on a whole season? Now that would be a novel unheard of idea
Mick O'Malley
188
Posted 28/11/2021 at 11:23:21
It was ugly before the injuries, one 20 minute spell at home to Burnley and a decent performance away at Utd, it's not going to get better with him in charge, he is turning us into Newcastle and blames everyone and everything bar himself, Steve Bruce pissed all over his record at Newcastle finishing 11th and 12th, but the Geordies loved Benitez cos he blamed Ashley, also don't you think we've been patient long enough as a fan base? We're stripped of James because Benitez chased him out the club instead of putting an arm round him
Gary Smith
189
Posted 28/11/2021 at 11:25:07
The only recent time we've had something that resembled the right model was when we had Rom, DelBoy, Ross and Stones together. 4 good young players, with the world at there feet and ambition in their heart.
That is the model we need to get back to. If it involves loaning the best kids from the big teams, then so be it. We need a manager who will play them (number one - of many - reasons I dislike FSW). Other young talent will see we are THE club where they'll get a go, and maybe we can sign instead of loan.
Might even be worth looking at Wolves model, where super agents acting almost like a director of football…..albeit this needs some serious governance controls to work (which I wouldn't trust us as capable of).
Manager wise, given Rangnick's getting snapped up by United, I'd take a leaf out of Arsenal, Crystal Palace, Villa, etc. book and go with young, hungry ex players now managers. Lampard, Parker, Pirlo perhaps. Or maybe people like Fonseca, Schmidt, Amorim could be attracted. I'd even give Duncan a proper go ahead of the has-been FSW.
People will say it's "too risky", but I believe Rafa is as big a risk as any of it. He could do as much damage as Koeman did. We need an identity, and his defensive journeymen one isn't the one we need.
Mick O'Malley
190
Posted 28/11/2021 at 11:28:41
Gary Smith brilliant post above, that's what I want us to do as well, that was the last decent side we had a bit of youth and experience, look at Conor Gallagher at Palace loaned off Chelsea, Southampton picked up a couple of Chelsea as well, if you will play them they will come
Gary Smith
191
Posted 28/11/2021 at 11:35:23
Thanks Mick, you're spot on with your own observations and comments too. He's a control freak dinosaur. He'll alienate modern players, and further divisions between fans and internally too. The fact some cling desperately to him as a life raft have failed to spot their life raft was made 15 years ago and has all kinds of holes.
Dave Abrahams
192
Posted 28/11/2021 at 11:39:16
Gary (122) Let's face it Kid, they couldn't do any worse, I asked you could they do any better, your solution doesn't seem to think they could.
Thanks for calling me Kid, put a spring in my step today, maybe the team will put a bigger spring in my step later on!!
Andrew Ellams
193
Posted 28/11/2021 at 11:41:01
The two teams bottom of the form table live on Sky. The country must be an absolute frenzy.
I don't think Benitez will still be in charge come August but if he doesn't drag the team out of this mess very soon he may not even see season out. As for who will replace him I have no idea but whoever it is will have a massive job keeping this club in the Premier League.

Ian Horan
194
Posted 28/11/2021 at 11:41:23
Any post that refers to Benitez as FSW has mo credibility in my opinion as your prejudices are clear with that reference. Nobody would get anything else out of these players, nobody will have money to spend, no talent will join us at present as any incremental improvement will take a number of seasons. Reality and fractions amongst our fan base will kill this club once and for all. We don't have a pot to piss in. The FFP rules are a rolling average over 3 seasons so it aint getting better for a couple more years. I support EFC not the manager, any individual player. If we end up in the conference North division I will still be a toffee
Danny O'Neill
195
Posted 28/11/2021 at 11:44:46
I get the feeling Gary doesn't like our manager.
Back to the title of the thread. Brentford v Everton.
On my way, making the shortest trip I can make to a Premier League stadium. It beats Watford by 1.5 miles.
I have no idea what to expect, but travel in hope and anticipation as always.
See you there blues. 3 points please.
Gary Smith
196
Posted 28/11/2021 at 11:47:54
Dave (192) - not doing any worse is pretty strong odds that they'd actually do better kid.
Gary Smith
197
Posted 28/11/2021 at 11:50:38
Imagine having your head so far up your own arse you dismiss ALL the actual points made, cling to "best we can get" then somehow think the use of 'FSW' wins you a debate….
Dave Abrahams
198
Posted 28/11/2021 at 11:50:48
Gary (196), could have fooled me.
Rob Hooton
199
Posted 28/11/2021 at 11:50:57
Me and my dad managed to get 2 tickets from a Brentford season ticket holder we know at the last minute so a very short hop on train for us Danny, we are with the home fans so dug my Brentford v Carlisle scarf out from a day out at Wembley with some local mates years ago!
I hope to break my London curse as we always seem to lose when I get to see Everton locally, including Brentford beating us on penalties in the cup last time we played!
I don't have high hopes given our current run but have everything crossed for a win today.
Andrew Keatley
200
Posted 28/11/2021 at 11:54:23
Brentford are now a Premier League team, having previously been one of the best Championship sides over the last 3 or 4 seasons. Our best XI against their best XI would be a tight game that would be decided by who played better and took advantage on the day. Today we are missing more of our key players than Brentford are, and I am anticipating a very tight and nervous game. The notion that we just need to turn up with our better squad of players and take the 3 points off an inferior Brentford is disrespectful and displays a staggering lack of nuance. There are no gimmes in the Premier League - not right now for Everton anyway.
Gary Smith
201
Posted 28/11/2021 at 11:55:15
Danny - there are plenty more at the club who deserve a similar wrath, but I genuinely believe he's the straw that breaks the camels back. I have visions of the new giant Tesco on our filled in BMD in 3 years, with the graffitied sign outside "Agent Rafa, Job complete"…..I pray I'm wrong, the next few weeks will give us a good indication of whether that's so.
Justin Doone
202
Posted 28/11/2021 at 11:57:33
We already have a mix of youth and experience, most sides do.
I've no issue with a manager being controlling. It's better than a player or an owner running the show.
Look at Utd falling apart with a nice but inept manager and too many big name egos.
Different horses for different courses but no one is bigger than the club. Every successful team needs a bit of time and luck.
I and the majority of Everton fans didn't want Rafa. But he's a good experienced manager.
He knows what a big successful club looks like. He knows what a quality player and strong squad can achieve. He knows we are not there but can help guide us in the right direction.
Sad but true. We are a mid-table, inconsistent, small squad that lacks quality all over the pitch.
All managers and clubs have success and failure in transfers but on average Rafas signings, like Carlos, has improved the 1st team.
A few more good signings, (we all know what we need) and some luck will help us improve our consistency and league placings.
Danny O'Neill
203
Posted 28/11/2021 at 11:58:56
Keep your head down Rob. Having forked out for membership to get a home ticket, I received a letter of complaint from Wolves warning me of my future conduct and "reselling" tickets to away supporters!!
Who's that aimed at Gary? I'm not being dismissive and haven't coined the phrase "best we can get", nor do I think that, let alone "cling" to it. Apologies if I'm being defensive.
I'm not sure I've seen that other than in your posts to be honest, but happy to be called out.
Anyway. Its matchday, positive vibes.
Andrew Ellams
204
Posted 28/11/2021 at 12:00:02
I'm interested in where the optimists for the next few games see goals coming from. We could be lucky to score again before Christmas.
Danny O'Neill
205
Posted 28/11/2021 at 12:03:38
Gary, I do understand. Many didn't want Benitez, me included.
It's interesting though Justin. I said at the time, if you split the TW poll 4 categories into 2, it was roughly a Brexit style 50-50 split, probably weighted in favour of no.
Pleased and not bothered (passive)
Disappointed (me) and foaming at the mouth.
If you box it like that, it was fairly even.
Justin Doone
206
Posted 28/11/2021 at 12:06:55
Goals from Townsend, Coleman & Rondon!
Its snowing outside and I'm writing my letter to Santa sat next to an open log fire.
Merry Christmas all, hic-up!
Andy Crooks
207
Posted 28/11/2021 at 12:07:14
Andrew, no idea where the goals are coming from but I am still an optimistic. Surely being an optimist is bred in every blue. Otherwise we would have been driven mad years ago. We will win today.
Rob Hooton
208
Posted 28/11/2021 at 12:08:38
Haha Danny, we are well used to being with the home fans in London due to our amazing away support! Will have to sit in our hands if Everton score and save any madness until after the match back at our local boozer. We will be smiling our arses off snd muttering along with you guys in the away stand conspicuously…
Rob Hooton
209
Posted 28/11/2021 at 12:13:30
As for the other debate going on I also did not want Benitez and he is a long way from being 'Rafa' in my eyes, but I have warmed to him and think he has been dealt an awful set of cards so am prepared to give him time to sort things out.
We all know we have a poor, slow squad in general and that the money we had has been frittered away on duds, it is going to be a long time before we are in a position to compete at the top end unfortunately.
Derek Knox
210
Posted 28/11/2021 at 12:17:27
Justin @ 206, how many mulled wines have you had ?
Three Goals with Rondon being one of the scorers, even if Santa got your letter by electronic means (well it is 2021) doubt whether he could deliver such an early Xmas Gift ! 🎅🤔😜
Dave Abrahams
211
Posted 28/11/2021 at 12:20:42
Andy (207)and Rob (209) yes we all know the score and a lot of us are realistic, we know we will struggle with three or four players out injured and two suspended, but better, far better, to be optimistic about the situation, we can all bellyache about where we are but choose not to.
Danny O'Neill
212
Posted 28/11/2021 at 12:23:59
Derek, you only spiked my curiosity.
Just got 6-1 on Rondon to score anytime.
Well worth a punt.
All £1 of it!!
Gary Smith
213
Posted 28/11/2021 at 12:26:44
Apart from Brexit actually being 52-48 Danny, and politics and football just not mixing, you're probably about right on a fairly even split on the fan base. He was and always will be divisive. Yet another reason he shouldn't be there.
Andrew Ellams
214
Posted 28/11/2021 at 12:30:41
If the fanbase evenly split right now that could take a fair sized swing on way or the other after Wednesday.
Danny O'Neill
215
Posted 28/11/2021 at 12:45:06
Pit stop in on Chiswick High Street before finding somewhere closer to the ground. Team news in 15 minutes or so. More nervous about that than the match!!
Steve Carse
216
Posted 28/11/2021 at 12:45:35
Ian (187): "Judge our manager on a whole season? Now that would be a novel unheard of idea" - but just maybe it's why we've yet to suffer relegation.
I had some faith in our manager initially, if not in terms of offering a more attractive brand of football then certainly in terms of consistency and results. As we hit the current run of results and performances I comforted myself with the belief that his management and tactical approach would at least prevent a relegation battle. After all, at Newcastle in 2015/6 he produced an exceptional run-in, winning 12 pts from his last 6 games (though Everton's final day defeat at Sunderland meant that it was Sunderland who stayed up - at Newcastle's expense). But I fear that he's dealing with a different mentality of player at Everton. There is undoubtedly some talent on the books but spirit, pride and fight (and perhaps add to these an absence of 'connection' with the Club) are not there as the required accompanying qualities. And from the outside it's difficult to detect if Benitez's own personality lends itself to instilling such virtues in the squad.
Steve Brown
217
Posted 28/11/2021 at 12:48:28
Lots of trepidation on here about facing the mighty Brentford - 4 defeats and a 1 draw in the last 5 games. The excuses for Rafa if this goes wrong again are already beginning to be posted before a ball has even been kicked.
Suppose pre-match preparation is essential!
Raymond Fox
218
Posted 28/11/2021 at 12:48:42
We can win today, I'm not saying we will win but it is Brentford we are playing not Man City.
I'd go for broke and go on the offensive, sod being defensive, if we get beat so be it.
I don't know what players are made of nowadays but too many seem to get injured, I'm beginning to think they are overtrained or just soft.
Ian Horan
219
Posted 28/11/2021 at 12:49:54
Specifically for Gary Smith, the issue of winning a debate on the FSW comment is irrelevant as that alone should not be the deciding factor!!! Your responses was not a suprise to be honest. I want more from my club but I am very realistic in the issue of, we can't turn the clock back and claw back our £500 mill spend ( actually a net spend of circa £265 mill). The ability to have a healthy debate is to enter the debate with an open mind and deal with the facts and not the emotion, I will leave it at that. One cavaete I was once told "you can't educate a pig" something along the lines of pig ignorance of facts Happy to wallow in their own self hyperbole.
Derek Knox
220
Posted 28/11/2021 at 12:54:55
Danny @ 212, you have obviously watched the Old Classic " The Man Who Broke the Bank at Monte Carlo "!
Oh wait a minute, we are talking Rondon here ! That should do the trick, slag a player off, and he will do the opposite. Well I hope so.
David Pearl
221
Posted 28/11/2021 at 12:55:08
What monies do Everton receive from being televised? Just noticed we are either on Sky, BT or Amazon Prime for 7 games in a row. I don't know how that worked out.
10 mins to team news. What will the great tactical genius come up with this time? I know he's only on half of what the last guy was on so our expectations shouldn't be that high l guess.
Brentford have been on a bad run too. Coyblues – 3 points!
Derek Knox
222
Posted 28/11/2021 at 12:58:16
David Pearl, I think the Machiavellian Schemers at Sky, who have no love for us whatsoever, love to see us be the televised victims of a mauling.
Unfortunately, they have been right the last few games !
Mick O'Malley
223
Posted 28/11/2021 at 12:58:27
We know what Benitez will do, concede possession and territory and lump it to that useless bastard up front, a total and utter fraud and coward.
Tom Bowers
224
Posted 28/11/2021 at 12:59:25
It's going to be tough yet again with what we have available and would be anyway even with a full squad.
There are no easy games in the Prem. although the moneybags at Chelski, City and RS give them a huge advantage over the rest.
One only has to look at the goal difference of those three compared to the rest and we are still in November !!
Nothing much will change with the chasing 17 teams as they will always be fighting an uphill battle except maybe at Old Trafford.
We can but hope that we can scrape a win today even if it is ugly.
Mike Dolan
225
Posted 28/11/2021 at 13:38:17
Our squad is so thin and the injuries and suspensions so devestatingly effecting our most key players we are going to have to resort to hoping for good luck to beat Brentford today.
It's not the managers fault, it's not even the players fault. We have not enough quality to withstand even a little run of the mill misfortune. With what our manager has to pick from today we would be vulnerable against even championship sides.
Hopefully the lesson we will have learned by our institutionally enforced poverty will in the last transfer window will have a positive effect of introducing some sanity and logic in our future squad building.
What is happening now is the same as what happened last season and the lessons that need to be learned are….. 1. A good team will always be brought to its knees by a lack of strength in the overall squad. 2. Nervousness in any of your central defenders is a total plague and is fatal.
Drop Keane, Rondon and Iwobi and play Branthwaite, Simms and Dobbin.
Hopefully, with luck a win today.
---
Add Your Comments
In order to post a comment, you need to be logged in as a registered user of the site.
Or Sign up as a ToffeeWeb Member — it's free, takes just a few minutes and will allow you to post your comments on articles and Talking Points submissions across the site.