Mykolenko speculation gathers pace
Thursday, 16 December, 2021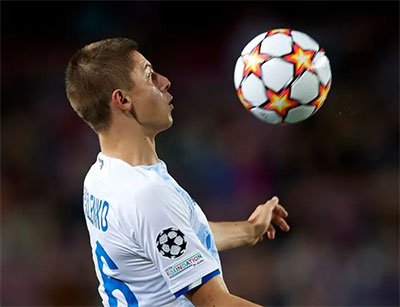 Everton appear to be close to signing full-back Vitalii Mykolenko amid reports that the Ukrainian is on his way to the Blues for €20m.
Following a claim by Telekom Sports that a fee of €20m has been agreed for the Ukrainian, transfer guru Fabrizio Romano has tweeted that the deal is effectively done.
Talk of the 22-year-old joining Everton in the January transfer window first surfaced last week but Telekom quoted Dinamo Kiev manager, Mircea Lucescu, who said: "He is going to Everton. He will be the first big transfer out of Dynamo Kyiv since Andriy Yarmolenko."
The fee is said to be paid in three installments over as many years but no official confirmation of the transfer is expected until 1 January when the transfer window opens.
---
Reader Comments (119)
Note: the following content is not moderated or vetted by the site owners at the time of submission. Comments are the responsibility of the poster. Disclaimer
Gavin Johnson
1
Posted 16/12/2021 at 23:36:58
This one looks like it has legs and, while I knew little of the player, he looks like he has pace and is strong in the tackle. He's got Champions League experience and is an established international at 22.
It looks like an astute bit of business if we bring him in and a right-back like Nathan Patterson with the money we'll get from a 28-year-old Digne who has been average at best this season.
Colin Glassar
2
Posted 17/12/2021 at 06:42:52
This probably means the end of Digne but, when are we going to finally replace Seamus?
Ajay Gopal
3
Posted 17/12/2021 at 07:31:50
Colin, I have seen 3 names linked with Everton for right-back:
Nathan Patterson at Rangers
Calvin Ramsay at Aberdeen
and today, Fabien Centonze at Metz
Hope the scouts and the manager make the right decision. Maybe they are also looking at 1 or 2 loan options, who knows? With Kenny's half-decent performance today, Benitez may be tempted to wait until summer to make a final decision.
Tony Everan
4
Posted 17/12/2021 at 07:35:38
I agree, looks like this one could well happen. Has anyone seen him play, what do you make of him? Sounds like we will be getting two or three players in.
A right-back will be signed too, despite Kenny doing well last night. Benitez may have a completely different player in mind to what Brands was advocating. We'll find out soon enough.
I'd like to see a tenacious, terrier-like, no-nonsense quick midfielder brought in too, on loan if necessary. Allan won't play all the games and we need to be stronger with this type of player. Gbamin could be the answer, but can we depend on him to come good and up the required Premier League speed and intensity every week, never mind staying fit?
Up front, Dobbin did well, Simms put himself about and fulfilled his brief well. It will have given the manager food for thought. I think Benitez will still have one eye on the back-up striker position, possibly another loan if a shrewd deal can be found.
James Flynn
5
Posted 17/12/2021 at 07:46:59
Well, Rafa's stated that, "he is '200%" 'confident that business will be done early in the window."
Maybe this is one.
John Keating
6
Posted 17/12/2021 at 08:10:33
Ajay,
The only issue with Ramsay just now is that he's out injured for a few weeks.
He seems very promising as does Patterson who I think would cost more in any transfer.
Robert Tressell
7
Posted 17/12/2021 at 08:20:02
One thing about Benitez is that he tends to buy a lot of players. There are pros and cons with that longer term. However, in the short term and despite how well the kids did last night, we need a few reinforcements.
If Digne is off then Mykolenko has the right credentials as a replacement. I expect we will definitely get a RB too. We've been linked with about 10 to 15 since Benitez took charge.
Maybe room for another, loan or free or nominal fee.
Mal van Schaick
8
Posted 17/12/2021 at 08:29:08
It would be a start on strengthening the squad, but hello, we need another quality striker.
Can't wait for the clear-out of the dross in the summer.
Brian Murray
9
Posted 17/12/2021 at 08:54:32
Not really Benitez forte being brave and playing the kids. He has never done it or never had to before his efc career.,I along with loads others have been screaming to give them a go and that 8 game shit show could easily of been avoided imo. Somehow need to get buyers or frees for the usual suspects gomes Davies siggy ( if pos ) holgate all in January to free up the ffp and wage bill. Proud to be a blue and Dobbin needs tying down. I won't say he's champing at the bit oh ok one for the road. Time for a nosebag coyb
Fran Mitchell
10
Posted 17/12/2021 at 09:37:35
Seems typical Everton that we'd have one player lined up in a position that none of u would have identified as being a problem a few weeks ago.
One wonders if Nkounkou was in the squad he could well have staken his claim.
Digne has been poor this season (as has pretty much everyone) and clearly there is an issue between him and manager. Is a shame because he's been largely excellent for us. The early part of last season, the James-Digne-DCL/Richy combinations were some of the best football I've seen and showed what Digne offers when combined with an attacking style. Of course our regression over the second half of the season out paid to that.
But ignoring that. It's clear that we are in a sell-to-buy situation, so if selling Digne (and maybe Mina) allows for shrewd investment in more than a couple of positions, then it's a smart move.
Danny O'Neill
11
Posted 17/12/2021 at 09:55:23
Totally stereotyping now and I appreciate there have been flops in the past, but I do like east European players. They generally seem to combine technical ability and flair with that ingredient we like to see here; a bit of aggression and attitude.
That said, I don't know anything about this player specifically.
Shane Corcoran
12
Posted 17/12/2021 at 10:48:51
Done deal it would appear.
Marc Hints
13
Posted 17/12/2021 at 10:52:22
Done according to Fabrizio on twitter.
Marc Hints
14
Posted 17/12/2021 at 10:54:02
Apparently we are looking for a left back, right back and a midfielder in January
Tony Everan
15
Posted 17/12/2021 at 10:57:41
Sounds like he is an attacking fullback, tenacious too. This is a report worth reading from last year on his progress ;
"Ukrainian left back Vitaliy Mykolenko has made terrific progress in the last three years at Dynamo Kiev, and approaching his 21st birthday he also has eight Ukraine national team appearances to his name.
Arguably the only thing stopping him at International level is the fierce competition with compatriot Oleksandr Zinchenko, who at 23 already has over 30 outings to his name and is prominently featuring for Premier League Champions Manchester City.
Mykolenko made his Dynamo debut in August 2017 as an 18-year-old in the Premier Liga and he has now featured in 36 games in the competition.
The Ukrainian though has played 29 games in total for Dynamo Kiev this season alone – 18 of which have come in the league – and his contribution has been crucial with 3 goals and 6 assists to his name.
In Dynamo Kiev's last game – back on the 7th March – they came out 3-1 winners away at FK Oleksandria after Mykolenko contributed both a goal and an assist.
Such an attacking presence is created with Kiev's motive leaning towards playing with attacking wingers off the striker, meaning the full backs therefore have space to create attacks.
Looking at the left back's performance statistics, he averages 7 passes into the final 3rd every game, as well as 5 crosses.
His offensive contribution in fact is the 2nd best in the league right now, as his crossing contribution in terms of Kiev scoring goals is the highest of any.
The modern day full back may be molded with attacking intent, but he has excelled defensively in 2019/20.
Despite being caught out positionally at times, Mykolenko makes up for his hard work up the field as he has a knack of winning the ball back.
The Ukrainian averages 8 ball recoveries per 90 minutes and his interceptions prove vital in denying goal scoring opportunities for opponents."
Shane Corcoran
16
Posted 17/12/2021 at 11:03:07
I wonder if this and Digne being out is one of the contributing factors to Brands leaving.
Danny O'Neill
17
Posted 17/12/2021 at 11:07:07
I guess the question is whether this is cover for this season and Digne goes in the summer, or Digne is off next month?
Sam Mellor
18
Posted 17/12/2021 at 11:15:31
This does sound like what we need, but I do wonder what the point is in signing someone so good at attacking if the reason Digne's annoyed is that he's essentially been told not to attack. Surely if Benitez wants to attack from left-back, Digne's already ideal?
But if he thinks Digne's not good enough defensively, then I'm fully on board; he's always been a bit of a liability.
Tony Abrahams
19
Posted 17/12/2021 at 11:26:49
I heard Benitez thought he could get rid of Iwobi, until he found out how much he was on, Shane, so he probably wasn't that keen on the work Brands, had done when he arrived at our club.
Maybe Benitez has been getting into Moshiri about this type of thing since he came to Everton?
My own opinion is that Brands was relieved of his duties as soon as he questioned if it was just the players, and after allegedly working under a similar regime under Carlo Ancelotti, and still agreeing to a new contract after one spin of Z-Cars, then my own repetitive thoughts are that Moshiri was protecting himself or his Chairman, or probably both of them.
Phil (Kelsall) Roberts
20
Posted 17/12/2021 at 11:44:56
Brian Hennessy
21
Posted 17/12/2021 at 12:13:24
Tony, that makes sense regarding Iwobi and his wages. Maybe Rafa thinks by playing him he might have a better chance of selling him.
My own thoughts would be to have any chance of selling Iwobi, we need to keep him as far away from the pitch as possible and apply to Google to have all his past 'highlights' removed from the internet.
Justin Doone
22
Posted 17/12/2021 at 12:20:25
Rumour has it, despite being a 250% done deal, he's signed for Spurs.
Digne is good. In a technical way he's better than Baines. But he's last decades fullback and lacks the pace and stamina most modern fullbacks have.
But surely Coleman, who has never had the technical skillset, is a more urgent position to upgrade.
I think Nkounkou could do a good job on the left but again I understand he's a bit raw.
If it's to raise funds, I understand. Pickford, Digne, Mina, Gomes, Iwobi and Gbamin can all generate cash to improve the 1st team.
Jim Bennings
23
Posted 17/12/2021 at 12:29:44
Justin,
I don't think technically Lucas Digne is better than Leighton Baines.
Baines's left foot was devastating and the portfolio of top-bin free-kicks he scored for us will probably never be beaten in our lifetime.
Digne, in my opinion, had one good season, his first, in Marco Silva's first season coincidentally.
Ever since then, I think he's been too easy to go past and the good things he did in that first season have been gone a lot longer than since Rafa Benitez's arrival.
Simon Harrison
24
Posted 17/12/2021 at 12:34:53
Marc [13/14]
It would appear as you say, on the BBC!
Fabrizio Romano
@FabrizioRomano
EXCL: Ukraine left back Vitaliy Mykolenko is currently undergoing his medical as new Everton player, here we go! 🔵🇺🇦 #EFC
He's set to join Everton from Dynamo Kiev on a permanent move, final price around €21/23m. Personal terms agreed.
If it is £23m, then Digne has to go to raise funds.
In other news, it would seem that Patterson at Rangers will be approached again for a higher fee than £10m, but on a loan to buy for summer. Plus, the news that EFC 'are interested in Metz's French right-back Fabien Centonze, 25.' Again, via the BBC, plus other sources. (Seems odd as Benitez has just ostracised Digne, but...)
Maitland-Niles has been mentioned again, but I'm unsure what he'll bring to the team, other than an over-riding sense of entitlement? QED Hence why he wants to leave Arsenal.
In other news, we seem to be looking at loaning Guus Til,
Along with Digne leaaving, it would appear that both Milan and Napoli are keen on Mina in the window, Tosun 'could' still go, plus; SportsWitness are saying that Benitez is running short of patience with Holgate... Could be a surprise exit?
Danny O'Neill
25
Posted 17/12/2021 at 12:43:14
New right-back. New left-back. Holgate maybe going? Can I have Koulibali to play alongside Branthwaite?
Much needed freshening of the squad.
Christopher Timmins
26
Posted 17/12/2021 at 12:56:27
If he arrives and the fee is £20 + million then Digne is on the way out, end of story. We still need a right-back who will start most of the games and a box-to-box midfielder.
A total revamp of the squad is needed and we simply cannot afford any more mistakes in the transfer market.
Moving on the deadwood will only happen when their contracts run out.
Sam Hoare
27
Posted 17/12/2021 at 12:58:47
Interesting player. Looks dynamic if not as refined as Digne. Solid defensively and gets a lot of (not always accurate) crosses in. I can see the appeal.
If we sell Digne for £30M and use that to bring in Mykolenko and Patterson (or similar) that might turn out to be decent business. Almost looks like we are doing proper succession planning!
David Pearl
28
Posted 17/12/2021 at 13:04:36
And how much will Digne go for? Left-back is not the first position l'd have said we needed to work on. We need goals, pace, creativity.
Danny O'Neill
29
Posted 17/12/2021 at 13:13:47
David, this will be the manager's influence and putting his own stamp on the team. He seemingly doesn't rate or has fallen out with Digne?
Maybe given the limited room he has to manoeuvre with, and the above, he believes this is more of a priority? And at 22 years old, an investment for the future before someone else snaps him up?
He can't really generate funds from our right-backs. But with Coleman and Kenny, maybe he thinks he can live with that side of the pitch in the short term. Especially with having Godfrey and Holgate who can slot in at full-back.
Simon Harrison
30
Posted 17/12/2021 at 13:15:15
Yep Danny, if Digne goes, for more than the bandied figure of £18M, and more like is £30M price tag (it is January after all, and inflated prices) then I'm sure Mykolenko will arrive. Though, I have read that staggered payments over five years might be applied. Which would help with the P&S problem we have.
I think if we could land Patterson, he'd be a brilliant addition to Coleman and Kenny. Plus, it removes the 'need' to rely on Holgate as 3rd choice cover. Assuming Godfrey stays as left-back second choice?
Failing that, we've looked at the Belgian and Portuguese lads mentioned about 4-6 weeks ago in the press, and now Centonze?
Oh, and we still might try and get Romagnoli from Milan on a loan yet.
I can't believe that Holgate has gone from possible Captain material, and our best defender two seasons ago, to a perceived liability by the manager?
Tosun going, just gets him out of the club, as we'd still end up paying his wages till 30 June. So, should he stay or go?
Hopefully, we can get an additional 2-3 players on loan too. Centre-backs (Keane, Godfrey, Branthwaite, Gibson? plus 1?) if Mina goes, and a quality centre-forward as backup.
How do you see it, Danny?
Simon Harrison
31
Posted 17/12/2021 at 13:20:36
Deal done for Myolenko,
Graeme Beresford
32
Posted 17/12/2021 at 13:29:15
Does anyone think Digne has asked to leave and has been kept out of the team as to not get an injury for a January sale?
Kieran Kinsella
33
Posted 17/12/2021 at 13:33:41
Alan Corken
34
Posted 17/12/2021 at 13:40:37
Digne is mediocre in everything he does: tackling, crossing, stamina. plus he has a really poor attitude. Definitely a weak link.
I know this is contrary to received wisdom on here, but I definitely think that the need to replace him is much more urgent than the need to replace Coleman.
Tom Bowers
35
Posted 17/12/2021 at 13:48:38
We are suffering in certain areas and I suppose another competent defender won't do any harm.
Teams are generally trying to play one or two full-backs as extra midfielders or forwards when they keep three as a back line.
Everton had great reward in the heydays of Bainsey and Seamus but alas Bainsey has gone and Seamus has seen his best days gone.
Digne looked good for a while but has faded for whatever reasons along with others in a lousy season so far.
The results against Arsenal and yesterday show that the squad does have some spirit in fighting back but it would be nice if they could take the initiative themselves more often without getting themselves behind the eight ball.
They came from behind against Man Utd, Arsenal and Chelski (no mean feats) to get points but showed very little against much lesser teams. However, with the constant injuries and absences of the strikers for most games it's hardly surprising.
Like every other fan I was absolutely astonished at the result yesterday and so pleased especially for the ''replacements'' who did really well.
Hopefully this will put them in the right frame of mind for the Christmas games.
David Pearl
36
Posted 17/12/2021 at 13:55:21
Digne needs a partner on that left side and you'll see him at his best. Not when he is isolated and exposed.
I just want us to possess quality up field so we can scare other teams. I just don't look forward to watching these tactics.
If we make a profit and he can improve us, then perhaps. It just makes little sense to spend such an amount.
John Raftery
37
Posted 17/12/2021 at 14:02:27
Digne had an excellent first season in 2018-19, looking well worth the money we paid for him. In the following two seasons he was inconsistent but still delivering good quality crosses in open play. This season he has been average to poor defensively. His pace and ability to kick a ball seem to have deserted him following a couple of injuries.
His free-kicks have been poor for a couple of years but the one he took at Brentford was truly abysmal and looked unprofessional. As he is a player, one of the few in his late twenties, for whom we can still obtain a substantial transfer fee it makes sound business sense to move him on once we have signed a replacement.
Ian Bennett
38
Posted 17/12/2021 at 14:07:58
A big, big gamble for me. And I think it will turn out to be yet another transfer mistake.
Getting rid of an admittedly out-of-form Digne, who has been up there as a top left-back in European football.
In his place, an unproven kid from an area of the world that has seldom done anything in the Premier League. Rebrov, Arshavin, Shevchenko, Pavlenchenko, Bilyaletidinov etc...
To me, it's an unnecessary gamble. There are players closer to home – Robertson and Chilwell were plucked away from far closer to home... A bit like buying Niasse, surely there was better nearer to home.
Shane Corcoran
39
Posted 17/12/2021 at 14:15:35
I don't think so Ian.
Granted we're skint but he's young and would need to be pretty poor to not recoup that fee as he enters his prime.
I don't necessarily think it's a case of not needing a left-back. Players need buying when they're available or they're missed out on. This might just be one of those times.
Marc Hints
40
Posted 17/12/2021 at 14:34:22
The problem with Digne this year has been everything. No pace and been beaten way to easy against other players when defending. His set piece seems to have deserted him. He really has been average this year. I think this new guy is going to be superb. We need the same type of player on the right and a genuine midfielder.
Dave Williams
41
Posted 17/12/2021 at 15:10:29
This lad seems the sort of signing we were looking for from Brands- Young, experienced, versatile, pacey and potential sell on value. Digne has been poor for 18 months now, poor with corners and free kicks, sluggish- good business if we can get enough for him to help buy a right back, though a nasty, quick, tough midfielder with decent skill around the same age as this lad would be more important than a RB.
Craig Walker
42
Posted 17/12/2021 at 15:41:08
We bemoan managers for playing players who are out of form. Genuine question, when did Digne last have a really good game for Everton? I haven't seen all the matches this season but he's looked awful to me, when I have seen him play. I didn't think he was great towards the end of Ancelotti's tenure either. I want to like Lucas Digne and I think he'd be a better player in a better team but for me, he's not good defensively and he hasn't contributed anything going forwards for long before Benitez was our manager. If we get rid of him and can replace plus have some money left over, then that makes sense to me.
Mike Price
43
Posted 17/12/2021 at 15:47:25
Would be thrilled to see the back of Digne. I was gutted he got a new contract and have never rated him, we'll be lucky to get close to our money back. You can't have slow fullbacks anymore and he's slow and lacks physicality. Wingers like Salah must be giddy with excitement seeing him in front of them.
Sam Hoare
44
Posted 17/12/2021 at 16:11:44
Romano reporting this as done. For around £18m, which makes him 25th most expensive LB ever!
The price seems a little over what might be expected (I'd think he's worth around £13-15m given experience) but it sounds like there may have been competition.
It would be a lot to expect him to settle straight away so if Digne is sold then I'd expect some more of Godfrey in the short term.
Hopefully there is a RB lined up too. I'd be happy with Maitland Niles on loan or Patterson; Centonze also looks a very decent player at a good age.
How unusual for us to be making January moves.
Also I cannot subscribe to the idea that Digne is terrible defensively. He's definitely dropped off a bit and he often gets caught upfield when our midfield loses possession (again) but he wins a lot of his tackles and is excellent in the air considering his height. I expect we'll see better teams come in for him than for most of our players and I expect he'll do well wherever he goes.
Kieran Kinsella
45
Posted 17/12/2021 at 16:49:10
Sam
I was thinking the same on the price but maybe it's higher as reportedly we are spreading payments over the course of his contract to stay within FFP. I also agree on the Digne criticism. yes we've had comments here and there over the last 12 months or so saying he hasn't been at the races but he's gone from being one of the most popular players to unwanted deadwood in record time even for ToffeeWeb. I could see Chelsea making a move as their loss in form coincided with Chilwell going out. They've lost their balance and he could fill in as the attacking left back.
Nicholas Ryan
46
Posted 17/12/2021 at 17:05:32
I think I can pinpoint the moment Benitez 'lost it' with Lucas Digne. People have said for a while, that he is slow. Mo Salah's first goal in the Derby happened right in front of me and I had a perfect view.
The ball was put through. Digne had 'half a yard' start on MS and I assumed he would get there first. Salah started 2 strides behind LD but got to the ball with 3 strides to spare.
Now I know Salah is lightning quick, but Digne looked like he was wading through quicksand. Before that match Rafa hadn't mentioned Lucas Digne; immediately after, there was bad blood. I think Benitez saw that 'clip' and realised that LD is just too slow for the Premier League.
I had never bought into the idea that Digne was slow... but I was shocked by what I saw that night. He often makes last-ditch sliding tackles on the opposition winger... could this be because he realises he's never going to outpace them?
Dale Self
47
Posted 17/12/2021 at 17:08:47
He is decent from what I've seen but he did not have a lot of quality around him and it was a tough opponent. Didn't get burned but not a standout. Only one game observed though.
Chris Corn
48
Posted 17/12/2021 at 17:20:40
Sam 44, don't worry he'll be world class again when he leaves and those kid has a couple of poor games. For me he gets ran past far too easy in tight spaces these days. Henderson tore him down the line the other week. Salah giving him a few yards and still comfortably reaching the ball was also an example.There are quite a few others
However, I was never a fan of Coleman and Baines defensively even at their peak but they were both extremely effective going forward. Digne's offensive attributes seem to have deserted him in recent times. He's given us four years and has by and large been good value, however now might be the time to cash in.
Just my humble opinion like.
Soren Moyer
49
Posted 17/12/2021 at 18:14:38
I can confirm he is in the building.
Robert Tressell
50
Posted 17/12/2021 at 18:56:52
Absolutely the right profile of player we should be aiming for – under 23, under £20M and plenty of experience in league and champions league football.
Whether he settles... who knows, but he can pop round to Zinchenko's place for a pint of Kvass if he gets lonely – and our last Ukrainian wasn't half bad.
Him and Patterson or Maitland-Niles would be an upgrade and give the squad a lift.
Andrew Keatley
51
Posted 17/12/2021 at 19:12:43
With Brands no longer in the picture, we'd have to assume that Mykolenko is a Benitez target.
Many fans on here have dismissed Benitez as a manager who prioritises experience over youth – and while that might historically be true, if this signing happens (and if the Patterson & Ramsay interest gathers apace) then maybe it might be time to reassess that classification.
Alan McGuffog
52
Posted 17/12/2021 at 19:29:35
Ukrainian International but will probably be playing for Russia in a few months time... 😶
Gavin Johnson
53
Posted 17/12/2021 at 20:21:47
If we could grab £35M for Digne and bring in this lad, Nathan Patterson and Dennis Zakaria, with the latter on a loan like the Josh King deal as he's out of contract this summer. Now that would be a fantastic window.
If we brought in Zakaria, we could maybe send Gbamin out the other way on a loan to get more football.
Jason Li
54
Posted 17/12/2021 at 20:29:45
I hope this one works out.
But I agree with Benitez and Lucas Digne, it's the right time to move on. He's nearly 29 soon and he's not playing the game he likes it seems he's hinting at in the press. We need to get a decent deal to reinvest that is acceptable.
Interestingly, after the youth team players who came in and did so well against Chelsea and current European Champions, a team that was desperate to win as well, plus at home with full crowd... does that mean this youth crop is the most successful in many a year? Funny how perspective changes (unintentionally) so quickly in terms of Digne and the Everton youth setup. Football is so unpredictable which makes it a fascinating game.
Now I'm wondering if Brands has left a great legacy with Branthwaite, Gordon and more pretty much on the verge of being first-team ready.
Mike Gaynes
55
Posted 17/12/2021 at 21:03:40
Great pickup, Tony #15, thanks.
Danny #17, I would guess the latter.
Sam #27, agreed. And also agreed re your comments on Digne at #44.
Having seen him play only once, I can't really contribute much about his style, but there was one thing that did catch my eye when he played against Bayern in that snowstorm last month -- his speed. Kingsley Coman is one of the fastest players in the world, but this kid stayed with him stride-for-stride on several occasions... although he did get fooled on one cross that allowed Coman to score.
I have been begging this club for years to upgrade our glacial pace on the pitch. Godfrey, Nkounkou, Gray and now this kid... it's finally happening.
One thing more... Mykolenko may be young, but he is experienced... 132 appearances for Dynamo, including a dozen in the Champions League and qualifiers. And his 20 career assists speak well of his delivery abilities.
Ralph Basnett
56
Posted 17/12/2021 at 21:16:54
We would be lucky to get £15M for Digne, the only one showing a bit of interest was Atletico and they don't normally pay big.
Stephen Colby
57
Posted 17/12/2021 at 21:25:23
Jo (Alves), Bilyaletdinov, Niasse and, of course, Aiden McGeady are all players we've bought from Russian teams.
Agents representing Russian players are well known for presenting great showreels but, like BoJo, their promises disappear like mist over the Volga.
Andrew Keatley
58
Posted 17/12/2021 at 21:28:19
Stephen (57) - Mykolenko is from the Ukraine, and plays for Dynamo Kiev, who play in the Ukrainian Premier League. Russia is a red herring…
James Flynn
59
Posted 17/12/2021 at 22:42:57
I'd agree Digne's age is the main thing, not some disagreement with Rafa.
Lucas is 29 next summer, when we sure won't be anticipating a 2022-23 title run. And as a professional footballer, his last crack at a big pay rise.
I'd wager his agent has worked out a deal good for Digne somewhere on the continent. Rafa knows it and intends to keep him in bubble-wrap until he leaves, so injury does screw things up.
We owe Tosun about £1.5 million. Given he's fully fit and his popularity (club and country) in Turkey, it seems he could find a club there to sign him next month on a Schneiderlin / Mirallas "free". They give him the £1.5 mil and we're done with him.
Let's attach a big, long-term positive to Iwobi. He winds up being Everton's last big signing of some other club's dud. And let's kick that off with a big, fat fucking No to Maitland-Niles.
Annika Herbert
60
Posted 18/12/2021 at 06:38:15
Why do people keep suggesting we sell Pickford? England's number one and some of our supporters want to raise cash by selling him? It makes absolutely no sense to me.
Just who would we replace Pickford with? Why create another hole to fill when we already have a top quality keeper in place?
Ajay Gopal
61
Posted 18/12/2021 at 07:37:20
Gavin (53), if what you say happens, it would be a fantastic window. When everyone is fit:
Pickford
Patterson Keane Branthwaite Mykolenko
Doucoure Zakaria Allan
Gray DCL Richarlison
A quality backup striker on loan (Martial, Perisic?) should see us end the season in a decent mid table position and perhaps a run in the FA Cup.
John Keating
62
Posted 18/12/2021 at 08:13:48
The thought is Digne is a more attacking full-back and we need a more defensive-minded one... so let's replace Digne with an attacking full-back. Strange.
I can understand that Digne is saleable but how much will we get for him? If we could sell him and get 2 players, say his replacement and a right-back, then fair enough; however, one for one?
Anyway regarding right back, I'm in the 'Give Kenny a run' camp.
Mick O'Malley
63
Posted 18/12/2021 at 08:58:16
Personally I think Digne has never been the same since his partnership with Bernard was broken up. Especially in their first season, they linked up well and seemed to compliment each other and we got a good amount of assist's out of the 2 of them linking up with each other.
Since that first season with Bernard, Digne has never really had a consistent partner in front of him. That said, there is no denying that his crossing, free-kicks etc have dropped off, and defensively he has been suspect, so maybe this is the time to replace him.
Tony Abrahams
64
Posted 18/12/2021 at 09:08:44
Tosun is playing the game right until the end, saying he wants to stay and fight for his place because this will probably earn him even more money.
And I think that's a very good point what Mick says about Bernard, with regards Luca Digne.

Tommy Carter
65
Posted 18/12/2021 at 09:09:44
The sale of Digne makes sense. He has transfer value and will attract attention from some top sides. He's the kind of player who'll perform much better in a strong team and with better players around him. But for us his form has been poor of late. Which is a shame as there have been spells when he's been outstanding.
We need a strong spine to our team. Having a weak spine, no solidity or threat, but then having attack-minded quality full-backs is no good. I would much rather we went back to basics and got some steady, solid and reliable full-backs in, maybe by looking at solid performers at Championship level. Get a core of dependable players on board and then add quality to that.
As for Mykolenko, I think this is a large fee for a player who'll undoubtedly take time to settle and develop into the English culture and game. So it is not a signing I think we should be making really. Russian and Ukrainian players have historically found it difficult to fully settle in this country and perform.
With the notable exception of Andrei Kanchelskis, perhaps Arshavin for a decent spell, I cannot think of any others who've performed at their peak in the Premier League.
There must be a reason for this. And hopefully it is one that Everton will seek to address should they sign Mykolenko. But I do agree with the sale of Digne as long as the fee is re-invested into the team.
Dave Abrahams
66
Posted 18/12/2021 at 09:57:23
Tommy (65), how about the big centre-back who played for Liverpool for a few years, can't remember his name but he was a good player, played against Everton with Arshavin in a Euro Cup game.
Ian Horan
67
Posted 18/12/2021 at 10:34:19
Digne, allegedly has interest from Chelsea, West Ham, Juventus and Madrid. He is clearly a £30+ million player given he is left-back for the current World Champions.
James Head
68
Posted 18/12/2021 at 10:56:26
Cant believe someone said Digne is a better player "technically" than Baines,
he's not as good as Mike Pejic, plus he cant tackle and is generally weak, if we can "Iwobi" someone into taking him for an inflated price lets bite their hand off and please invest the money in a younger hungrier player.
Robert Tressell
69
Posted 18/12/2021 at 11:11:13
Tommy, you're right, Ukrainian and Russian players do often struggle to settle abroad - not just UK. I often think that's because they are technical but not physical players. Possibly why Niasse, physical but crap, managed to make a career in that league. Mykolenko has good physical attributes so stands a decent chance. Not unlike Zinchenko who is technical and decently physical too. But the club needs to put some thought into how they help him settle too.
Tony Twist
70
Posted 18/12/2021 at 11:30:16
Don't know what it is but, from YouTube only, he reminds me of Gerrard. We need someone like that in midfield also. His passing is quite refreshing, unusual angles but finds the man all the same. Obviously this is only from seeing him on youtube in probably a sub-standard league.
Robert Tressell
71
Posted 18/12/2021 at 12:01:02
Reflecting on your point further, Tommy. I wonder if the club will look to firm up persistent interest in Kvaratskelia, the Georgian winger playing in Russia. That would make for a very interesting left flank if so – lot of pace, tenacity and skill.
We're also linked repeatedly with Azmoun the Iranian playing in St Petersburg who is out of contract in June.
Iakovos Iasonidis
72
Posted 18/12/2021 at 12:21:09
I really don't mind selling Digne but I would like to see a fee above £25M for him – not peanuts.
Ashley Roberts
73
Posted 18/12/2021 at 21:26:24
Let's get this lad signed. Digne has had no competition and so has been able to coast. If he does not want to fight for his place and play for the Blues then let's get shot of him quickly. Hopefully Chelsea with an Injury to Stillwell will cough up a reasonable amount (they already owe us for robbing us when purchasing Barkley). I would also take Maitland-Niles and Martial on loan until the end of the season. I would also like us to relocate at Nunes from Sporting. We need a good attacking young Midfielder to link up play. Well that would be my pick for January but I think this is just a pipe dream along with the fact that Rondon, Iwobi, Tosun and Delph will be moved on.
Bobby Mallon
74
Posted 20/12/2021 at 09:16:55
Stop buying players from the Russian and Ukrainian leagues. They never work out for us really.
Look in the Championship.
Bobby Thomas
75
Posted 20/12/2021 at 10:32:15
Bilyaletdinov apart, which players?
Danny O'Neill
76
Posted 20/12/2021 at 11:43:10
I don't know about that Bobby. Kanchelskis wasn't too bad.
Regardless of where they come from, it comes down to the scouting network and those making the decisions on recruitment.
Harry Wallace
77
Posted 20/12/2021 at 12:17:29
Let's not mix up Russian and Ukrainian, Bobby. Especially at the moment. Kanchelskis was a great Ukrainian btw
Danny O'Neill
78
Posted 20/12/2021 at 12:23:00
Very good diplomacy point, Harry!!!
Kanchelskis; Ukranian by birth but with a Lithuanian father and Ukrainian mother. Born in the then Soviet Union, he represented them at national level then their successor the Commonwealth of Independent Nations (CIS) and then Russia. Interestingly he opted not to represent Ukraine.
Like you say, Harry, best not to go there. It would be like me having to choose between England, Scotland or Northern Ireland!!!
Rob Halligan
79
Posted 20/12/2021 at 16:24:34
Well, according to "our man" Fabrizio Romano, this lad has signed, and we are now just waiting for the club to officially announce it.
https://www.goodisonnews.com/2021/12/20/fabrizio-romano-only-official-everton-announcement-left-for-mykolenko/
Phil (Kelsall) Roberts
80
Posted 20/12/2021 at 17:03:25
https://www.caughtoffside.com/2021/12/18/newcastle-united-set-to-make-31-5m-rated-player-the-first-big-signing-of-the-pif-era/
Every now and again you just hope that one of these rumours (and the price) is true, especially if the rumours about the deal and quality of Mykolenko are correct. Interesting the BBC describe it as "Newcastle will also test Everton's resolve for keeping unhappy French full-back Lucas Digne". Not sure at the moment there is much resolve to be tested.
Rob Halligan
81
Posted 20/12/2021 at 17:17:16
Can't see Lucas Digne going to Newcastle, Phil. Rumours are that Juventus want him in exchange for their Brazilian midfielder Arthur.
Jay Harris
82
Posted 20/12/2021 at 17:59:03
Rob, that possibility got me thinking.
Do we count all of Digne's fee 100% but amaortize Arthurs fee over his contract say 5 years. Perhaps one of our experts can clarify this as it would be a good way of getting arounf FFP and the Pem rules.
Matthew Williams
83
Posted 21/12/2021 at 12:32:20
When will Moshiri ever learn?, another 20 million pissed away on a L.B,just bring back Nkounkou from his loan spell and bring him up to speed and then just concentrate on bringing in a young long term R.B to replace Seamus.
Ray Roche
84
Posted 21/12/2021 at 12:47:56
Matthew, I agree to an extent but this must be a Rafa decision, buying Mykolenko. Not Moshiri.
Where does this leave Nkounkou? Maybe as a left sided midfielder? A RB is more important in my book.
Ian Horan
85
Posted 21/12/2021 at 13:13:36
As Digne doesn't fit in to Benitez team shape I cant see Nkounkou getting a look in either. Nkounkou is a modern day LWB. Strange and also sad times being a toffee!!!
Danny O'Neill
86
Posted 21/12/2021 at 13:24:05
Let's wait and see if it's £20M pissed up the wall Matthew. He hasn't yet kicked a ball for Everton so how do we know that?
Nkounkou was bought as future investment and during the tenure of a manager and DoF who are no longer here. Maybe he is still considered one for the future.
With this likely meaning the departure of Digne, that would leave us with a 22 year old with Champions league experience competing with a place with a 21 year old who many believe has huge potential.
Anti-youth that Benitez

Derek Taylor
87
Posted 21/12/2021 at 13:44:11
Wasn't Niasse a star in the league this guy plays in ? I think Martinez brought him in and it was regularly referred to in 'anti
posts' here. Moshiri will never learn, will he ?
James Flynn
88
Posted 21/12/2021 at 15:03:23
In looking up how Nkounkou is doing in Belgium [He's getting game time], I saw a rumor on this 18-year old Daniel Jebbison, a 6'3" striker belonging to Sheffield United. Supposedly, we're interested.
Jay Harris
89
Posted 21/12/2021 at 15:07:27
James the interest in Jebbison was a while ago. I don't believe we are currently looking at him but I might be wrong.
James Flynn
90
Posted 21/12/2021 at 15:57:06
Thanks Jay. The rumor mentions the upcoming window. That's why I posted. Wouldn't surprise me if it's just a re-hash; silly season and all.

Guy Rogers
91
Posted 21/12/2021 at 23:14:43
Did you see what I did at right-back?
Gray Calvert-Lewin Richarlison
Allan Doucouré Townsend
Godfrey Branthwaite Keane Iwobi
Subs including Gordon and Digne of note.
Mike Gaynes
92
Posted 21/12/2021 at 23:47:34
Derek #87, Niasse and Mykolenko are players of different ages, positions and nationalities, playing for different clubs in different leagues at different times, so I cannot see how they are remotely comparable.
Niasse played in Russia seven years ago. Mykolenko plays in Ukraine.
Whether Niasse was a "star" depends on your definition, I guess. He scored 19 goals in 42 games for Lokomotiv. Not exactly devastating for that league. (Last season's top scorer had 20 in 27.)
Mykolenko has played 132 games for Dynamo, including Champions League. 7 goals, 20 assists.
No comparison possible.
Steve Shave
93
Posted 22/12/2021 at 08:01:06
Joe -93 - I saw that too and hope it's true. Patterson and this Ukrainian lad would likely be good additions. I was also encouraged read we might be in for Brennan Johnson of Notts Forrest, exactly the sort of player we should be in for, young and hungry, fast. Its silly season I know but it keeps me going. I'd be interest in Mr Tressell and Mr Hoare's views on Johnson particularly. I know we get linked to all and sundry each window but I do feel Rafa plans to shift on some players, I wouldn't be surprised to see us try and shift Mina, Holgate or Davies. We probably couldn't give Delph or Tosun away.
Tony Everan
94
Posted 22/12/2021 at 08:07:50
There's talk of the Brazilian midfielder Arthur Melo being offered as part of a Digne deal to Juventus. I am intrigued about this midfielder, he went from Barca to Juve for big money 50-60m ? Any thoughts on him?, I know a few of our posters follow Barca and Brazilian talent closely. He may be up for the move with our Brazilian connection.
It is a big concern that he couldn't nail a place with Barcelona and then the same again with Juve but the player obviously has talent to be tapped.
I follow Forest a big , I agree Brennan Johnson is an interesting one , Forest won't want to lose him as they're on a roll and trying for the playoffs. Johnson only has 18 months left on his contract so financially their hand will be forced . They are trying to tie him down to a new contract but I think that ship has sailed now with a few clubs after him . .
Oliver Molloy
95
Posted 21/12/2021 at 08:18:42
Shane @ 16
Brands was sacked because he questioned the owner, the manager and perhaps other board members with his remarks.
Rumour is that Moshri asked Brands to explain himself by his " is it only the players" comment...wasn't happy with his answer- so was sacked.
Let's face it, Brands failed miserably at Everton, he should never have been given a new contract in my opinion.
Tony Everan
96
Posted 22/12/2021 at 08:19:56
Typo " a bit", I'm not big on them !
Steve Shave
97
Posted 22/12/2021 at 08:22:13
That might be interesting Tony but I can't see it, surely the Digne sale is going to fund at least the replacement AND the RB? Wouldn't it be so great to shift out all the deadwood and start again with young and hungry players (I have no idea if your Brazillian lad would fit into that, personally I'd swerve fringe players from big clubs, there is a reason its not working out for him I'm sure). I have a feeling one of DCL, Richy or Pickford will also be sold to fund recruitment and square up FFP.
Tony Everan
98
Posted 22/12/2021 at 08:32:20
Yes Steve, I am agreement with that transfer direction too. There is a whiff of offloading about this player that sounds the alarm bells. I don't know anything much about the him but I am intrigued as to why he has been struggling to live up to his huge valuation.
Robert Tressell
99
Posted 22/12/2021 at 08:52:44
I've only seen little clips of Brennan Johnson, Tony. He certainly looks good from that limited perspective - and young players performing well in the Championship have tended to do well for us.
As for Artur, he's certainly a good quality player. However, like you I am concerned about this sort of player. He's now 25 and on a downward trajectory from a career point of view. Big club reserves seem to work better where it's a younger player still on relatively low wages who is looking for a chance to get games, having failed to oust a superstar ahead of them. Players like Danilo and Menino, still in Brazil, are the better bet - or Guimaraes at Lyon - because for them Everton is a step up rather than a big step down.
Danny O'Neill
100
Posted 22/12/2021 at 10:22:19
Interesting John. If Gerrard rates him, I wonder if that could see movement in the direction of Villa? And then that would free up Matty Cash?
Gary Willock
101
Posted 22/12/2021 at 10:51:51
It'd certainly be an encouraging window if we could bring in Patterson and Mykolenko for Digne money.
If there's any room to invest after that (personally I'd see Branthwaite replacing big Yerry in the unlikely event we could get decent fee for the latter) then I'd spend it next on "another Doucoure". We suffered very badly (twice) whilst he was out, and I'm convinced we'd benefit just as much from a 'clone'. It'd give us a real pressing 4-3-3 option.
Zakaria may be a pipe dream, someone like Baba more realistic maybe. Worst case, bring the greedy bastard back. We forgave Rooney for kissing Man Uutd badges after scoring against us, so it's possible he could be accepted again. Please note the 'worst case' tag there though.
Icing on the cake would be a couple of loans - Lingard / Ramsey / Countinho until the summer maybe with an option? Or
Pickford
Patterson Godfrey Branthwaite Mykolenko
Zakaria Allan Doucouré
Gray Calvert-Lewin Richarlison
Begovic
Kenny Holgate Keane (gap till Niels is back)
Townsend Gbamin Gomes
Dobbin Simms Gordon
Keep Davies, Onyango and Coleman in the squad too. Don't think we'll have much choice with Tosun, Rondon, Delph and Iwobi but none of them should be getting a go unless there are injuries above them.
We can dream. Just hoping it's not another nightmare. Coyb.

Steve Shave
102
Posted 22/12/2021 at 13:15:32
I like the look of that side, Gary.
Robert Tressell
103
Posted 22/12/2021 at 13:39:45
Two, maybe three in, in January. New full backs and maybe Lingard. That could make a huge difference if they have good personality and physical attributes. Just look at how much difference just two players, Gray and Townsend, made.
In many respects it's helpful that Newcastle are now a lost cause – because we might otherwise be competing with them (and losing) in January and Summer for similar players. Instead we get a season or so head start.
I suspect we'll also keep Calvert-Lewin too because Newcastle was overwhelmingly the likeliest destination for him.
Ajay Gopal
104
Posted 22/12/2021 at 14:21:41
Robert,
I am not writing off Newcastle yet. The Saudis have pockets much deeper than anyone else and they will go all out to sign the necessary players to keep them up.
Rob (@106), the new Arsenal kid who everyone is talking about and who scored in the League Cup yesterday was apparently signed up when he was 11-12 years old!
Kieran Kinsella
105
Posted 22/12/2021 at 15:11:34
Ajay
My thought for Newcastle is that a) even if say Leeds continue to plummet, Burnley now have three games in hand and pedigree in avoiding the drop. b)even if their owners want to spend money, can they attract the players? They've been linked with Digne this week. Would he want to join them in Jan knowing they may be in the championship next year when there's a world cup on the horizon? If they do spend in January, they will likely pay over the odds for mercenaries like Redknapp did when QPR when in a similar position (Samba, Park etc).
Robert Tressell
106
Posted 22/12/2021 at 15:17:58
Ajay, I could see Newcastle getting short term loan deals done for out of favour players like Ramsey or possibly even Digne. But I can't see them tempting any top players on permanent deals because it's so likely they'll be in the Championship next season. Same reason they ended up with Howe as manager.
They might try to spend a fortune on the best average players they can find (a bit like what we did to very little effect) but will players like Dele Alli or van de Beek want to commit them to an almost inevitable season of Championship football?
Danny O'Neill
107
Posted 22/12/2021 at 15:48:46
I get that concern, Kieran.
All I would say is who knows? Robertson across the park came down having been rejected by Celtic for being too small at 15. Classic British coaching assessment. Relegated with Hull, he has since won Champions League and Premier League medals.
Kevin Sheedy couldn't get near Liverpool's first team and Seamus Coleman cost £60k.
John Keating
108
Posted 30/12/2021 at 19:27:45
Hear talks for Patterson are under way with money as usual the stumbling block. £10 million plus add-ons... or up to £10 million with add-ons.
With Tavenier staying for the forseeable future, it seems Patterson wants to come and the money will prevent Rangers selling other players this window.
Rob Halligan
109
Posted 30/12/2021 at 19:58:48
I see Besiktas are interested in taking Tosun on loan in January, according to the Red Echo anyway. The report goes on to say, however, that Besiktas will not pay a loan fee for Tosun.
Knowing the Turks, they will probably not want to pay any of his wages either, but they are willing to sign him permanently next summer once his contract with us expires!!
Jason Li
110
Posted 30/12/2021 at 20:14:08
Buy Patterson and loan Simms for a season to bring down the fee. Surely there's a creative way to reduce the fee.
Jason Li
111
Posted 30/12/2021 at 20:18:47
Introduce Usmanov or Cazoo as a sponsor to Rangers. There must be something that Rangers will find of interest to help get the deal done.
John Keating
112
Posted 30/12/2021 at 22:50:47
Jason
Nice thought about Cazoo, however, that would definitely ensure Patterson won't sign!!!
The SPL have Cinch as the main sponsor and are at loggerheads with Rangers who refuse to show anything regarding Cinch on their strips, in their ground, anywhere
Their Chairman Douglas Park owns a load of car franchises in Scotland, hence the disagreement
Cinch are threatening to pull the plug on their deal and have the backing of the SPL as they have/had great difficulty getting sponsorship
Introducing Cazoo into the equation will certainly tip them over the edge!!
Jason Li
113
Posted 30/12/2021 at 23:51:25
John @ 112
Crikey! I'm obviously oblivious to the situation in the SPL. Throwing a Cazoo intro to ease through a quick deal is the exact opposite of Cinch!
Derek Knox
114
Posted 31/12/2021 at 05:30:37
I may be a bit late joining this thread, but I have taken a bit of a break from TW as there has been very limited Football concerning us to report or comment on.
I have looked at several YouTube Videos of Mykolenko, (I know, they even made Oumar Niasse look like a World Beater) but even allowing for exaggeration, he does look to be decent, and with an eye for goal too. If he is anything like the last Ukrainian we had, ( Andrei Kanchelskis, for the younger ones who won't remember) we will have a player on our hands.
Hope he doesn't have a penchant for Gambling like his fellow Countryman and predecessor though ! :-)
Danny O'Neill
115
Posted 01/01/2022 at 10:03:25
Signed. Welcome to Everton young man.
Paul Birmingham
116
Posted 01/01/2022 at 10:32:49
HNY 2022, to every one, and what a good start to the Year.
The lad knows the club, and knows Everton as he was a ball boy when we played Kiev, that was a trip, but best replayed over a few beers.
I sincerely have positive vibes for this year, and all matters Everton.
21 again, it feels just the same, topping up today!
All have a Ball.
"What's Our Name!"
😀⚽️👍🙏🏼🍻☘️🍺🍺🍺🍀🍀🍀
Alan McGuffog
117
Posted 01/01/2022 at 10:41:51
Danny...as usual leaving it to the very last minute. Everton that. Tcch
Ajay Gopal
118
Posted 01/01/2022 at 11:09:01
Ha.. ha.. Alan, good one. Welcome to Everton Football Club, young man. We all have hopes of any new player joining that he is going to turn things around. Too much to expect, I know, but wishing him all the very best and the beginning of better things for us.
Julian Exshaw
119
Posted 01/01/2022 at 11:16:38
We couldn't have signed anyone faster than that. Good to get in there quickly. However, isn't it t'other full back position that needs more urgent investment?
Welcome anyway to the new lad!
---
Add Your Comments
In order to post a comment, you need to be logged in as a registered user of the site.
Or Sign up as a ToffeeWeb Member — it's free, takes just a few minutes and will allow you to post your comments on articles and Talking Points submissions across the site.