Norwich City vs Everton
Friday, 14 January, 2022
Match Preview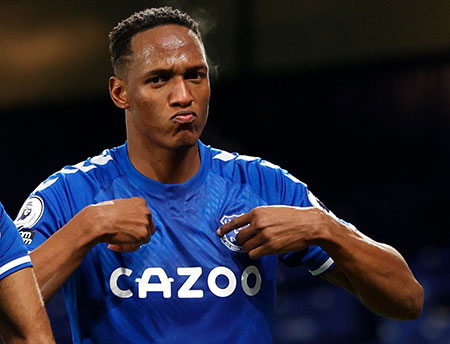 Yerry Mina has started just six games this season as he has battled a series of soft-tissue injuries
Everton travel to Carrow Road this weekend looking to build on the FA Cup win over Hull when they face the Premier League's bottom club Norwich.
The Blues will be seeking what would be only their second win since the last time these two clubs met at Goodison Park back in September, a run of form that means just nine points and five places separate them coming into the weekend.
Rafael Benitez has come under mounting criticism for the slow manner in which his charges have been starting matches this season and he asserted in his pre-match press conference today the need for Everton to be "more proactive" rather than reactive.
In terms of selection options, however, the manager could be in the best position he has been for many weeks, with Dominic Calvert-Lewin, Richarlison and Yerry Mina all participating in training sessions this week.
Article continues below video content
Not all of them could be ready to start, though. Benitez indicated that he will make a decision on all three tomorrow before naming his starting XI. While Calvert-Lewin returned from a long lay-off at the start of the year against Brighton, Richarlison and Mina have been sidelined since the middle of last month and they will be treated "carefully", in the manager's words.
Prior to today, only Tom Davies was expected to be ruled out after he underwent surgery on a hamstring tendon injury that will require 2 months of recuperation time, but Benitez revealed that there could be one positive coronavirus case in the squad.
Having sacked Daniel Farke and hired Dean Smith in mid-November, the Canaries showed signs of life after a miserable start to the campaign by beating Southampton in the new boss's first match in charge, the first game in a three-match unbeaten run. Apart from Milot Rashica's solitary winner at Charlton in the Cup last weekend, they haven't scored a goal since the 30th of November and have lost six straight in the League.
Everton are, of course, usually more than accommodating to teams struggling with those kinds of records and given that Benitez's men have kept only one clean sheet since beating the Canaries 2-0 at Goodison Park, Smith will be hopeful that his team can break their scoreless sequence this weekend.
For Benitez, with three new players in through the door this month — loan acquisition Anwar El Ghazi could make his debut, most likely off the bench if it's to happen — and his injury worries clearing up, the excuses for what has been an awful run of relegation form are running out.
Defeat to Norwich would ratchet up the pressure on the Spaniard's shoulders to unprecedented levels; in short, it's a must-win game that he dare not lose.
Kick-off: 3pm, Saturday 15 January 2022
Referee: Andy Madley
VAR: John Brooks
Last Time: Norwich City 0 - 1 Everton
Predicted Line-up: Pickford, Coleman, Keane, Godfrey, Mykolenko, Allan, Doucouré, Townsend, Gray, Richarlison, Calvert-Lewin
---
Reader Comments (80)
Note: the following content is not moderated or vetted by the site owners at the time of submission. Comments are the responsibility of the poster. Disclaimer
Kris Boner
1
Posted 14/01/2022 at 20:31:00
Proactive? Theres a first time for everything...
Peter Mills
2
Posted 14/01/2022 at 20:36:08
Sr Benitez. We are playing a team that has struggled all season. Do what you are getting paid for, send out a team with a proper shape and plan, organised and motivated, win the match.
Neil Thomas
3
Posted 14/01/2022 at 20:57:25
Peter #2
And not a defensive back 5 against the team at the bottom
Tony Everan
4
Posted 14/01/2022 at 21:02:37
They looked good in training, happy and on their toes. They'll all start, they need to even if they're 90% ready. Benitez looked confident and determined in the presser, he knows it's a huge game. I am expecting a convincing win for us. 4231 .There's three goals tomorrow in this team;
Pickford
Patterson Keane Mina Mykolenko
Allan Doucoure
Gray Gordon Richarlison
DCL
Godfrey or Keane as CB ? I can't make my mind up.
Prediction: Norwich City 1 Everton 3
Gaute Lie
5
Posted 14/01/2022 at 21:02:57
Not sure if I woul like for Mina to play. A good player, yes. But he Will play one or two games and then get on another sickleave, before going away to play games for Colombia only to return with another excuse not to play for Everton for some more time. And whoops, his contract runs out.
So if we can, sell him NOW.
Oh, Calwert Lewin and Richarlison. Welcome back. Youve been missed.
Neil Lawson
6
Posted 14/01/2022 at 21:05:37
If FSW can't organise his team to win this game it is proof positive of his total inability to punch a hole in a wet echo and with only one conclusion.
Danny Baily
7
Posted 14/01/2022 at 21:13:25
I think even Benitez can put out a side to beat Norwich.
Tony Abrahams
8
Posted 14/01/2022 at 21:18:20
If the players are looking happy Tony, I'd be making sure I had a lift home if I was Benitez.
Paul Dewhurst
9
Posted 14/01/2022 at 21:20:48
Can't imagine he will start Patterson over Coleman
Paul Kernot
10
Posted 14/01/2022 at 21:27:41
Even though this game is yet another level of 'must win', we all know that even if we do fail to beat or god forbid, lose to Norwich, the manager's going nowhere.
Jay Evans
11
Posted 14/01/2022 at 21:37:48
5 at the back at home to Brighton and away to Hull so why would this lunatic change his god-awful dull system against the mighty Norwich ?
His stubborn, arrogant 'my way or the highway' attitude will take us down.
Mark my words, this joker isn't arsed.
Brian Murray
12
Posted 14/01/2022 at 22:21:47
This commanding centre half we need may already be here. When Branthwaite is fit he should be part of the spine of the team.
Paul Birmingham
13
Posted 14/01/2022 at 22:39:36
I'm not expecting any change of set up and shape from the Hull match.
But this is a must win game, and Norwich will be up this game and will fancy their chances.
The heat is on and I sense there's a powder keg of frustration simmering amongst Evertonians, across all view points.
Rafa advocates, and non advocates, all Evertonians, but honestly sick to the back teeth of the poor performances and style of football.
The Spanish Inquisition in terms of Everton, looks like it's gathering momentum and Moshiri, is backing his man. But ain't want Everton to succeed, and as they say there's no gain without pain.
Every game is a cup final, but tomorrow it's a game Everton must win, no excuses.
Tom Bowers
14
Posted 14/01/2022 at 22:40:38
I don't care what team he starts against the ''bottom feeders'' they should get three points. Anything less would be yet another disaster and ring in the death knell for Rafa.
I am sure he is still considering starting Rondon even if DCL is fit.
Surely to God he won't start a back five against this lot.
He has brought in another player on the cheap although they have pocketed $25 million from the Digne sale but I suppose that is to somewhat offset the cost of the two new full backs who may not start tomorrow.
If El Ghazi can do some good work like Townsend and Gray then we cannot complain but we need to start winning again.
Danny O'Neill
15
Posted 14/01/2022 at 23:23:19
Brian, I'd like to see Branthwaite alongside Mina. But then we've got Godfrey too.
With the 2 new full backs and a 3 of Richarlison, Gray and Gordon behind Calvert-Lewin plus the options of Townsend and El Ghazi, suddenly it doesn't seem so bad. Gordon in the number 10 role anyone? Or would that constrain his play? It would be him or Richarlison.
We still need to mind the gap between midfield and defence if we go with a 2, but if Mina plays, he should get them higher.
At least it's match day and we can talk about the football rather than the politics.
Mike Dolan
16
Posted 14/01/2022 at 23:58:56
Heartening to see the injury list clearing. We just have to win this one. Let's attack the rest of the season like a team possessed.
Derek Moore
17
Posted 14/01/2022 at 00:11:16
Enormous game.
With the fixture list the way it is, three points would bring much needed much needed momentum and a little breathing space in regards to the league table. And a loss would be...well let's not go there because it's not going to happen anyway. (Is it Benitez???)
Happily for all concerned it looks like we're getting some important players back from injury at the right time. Don't really trust Benitez to pick the right team, and I don't think we have enough quality to let the three players referred to in the headline sit this one out either. So hoping Dom at least will feature from the beginning, with Richi from the bench.
If Mina is fully fit he's a must start for me, but his injury record speaks for itself. There is no point taking any chance on him if anything less than fully fit because it will just end in another long spell on the trainers table.
Norwich had a decent spell at the end of November, but the "new manager bounce" didn't last long. Six league losses on the spin and only one goal in the league in their last eight. They look dead ducks as far as Premier League survival goes; all three points is an absolute must.
Will be watching this one with huge interest and I'll confess, no small amount of trepidation.
Kevin Prytherch
18
Posted 15/01/2022 at 00:14:42
I'd be tempted to go with Richarlison on the left and Gordon on the right. The work rate of those 2 is so good that, when we're defending, we have 2 wide midfielders as part of compact midfield 4. However, when attacking, they're immediately playing as wingers.
With those 2 out wide, I don't know if we need the extra body in midfield. It does however, depend on whether the defence has the confidence to play a bit higher.
Simon Dalzell
19
Posted 15/01/2022 at 00:40:25
Obviously good to see the the injury situation improving, and getting 3 new players on board. I agree with Jay (11). The biggest worry continues to be Benitez. Don't be surprised to see 5 at the back, despite the evidence in recent weeks against teams we should be beating. Our manager said yesterday it's the players not his tactics. Yeah right. Big game. I'm looking forward.
Fran Mitchell
20
Posted 15/01/2022 at 00:41:41
Gordon has been our best player for the last 3/4 games (albeit with little in the way of competition).
Him being dropped to the bench just feels oh so predictable. It would be so absurd, so wrong, that it would be almost uneverton-like to not drop him.
Townsend will probable start. And he'll probable play 5-4-1
I expect:
Pickford
Mylo Godfrey Keane Coleman Patterson
Allan Doucoure Townsend (to be replaced by Gordon or El Ghazi) Grey (to be replaced by Richy)
DCL (to be replaced by Rondon)
I hope:
Pickford
Mylo Godfrey Mina Patterson
Allan Doucoure
Townsend Grey Gordon
DCL
Richy, El Ghazi and Dobbin as options on the bench.
I expect: 2-1 win, scrappy, but this is the worst team in the league, even we couldn't...could we?
I hope: 4-0 win. DCL back in the midst of scoring, Gordon with another, a goal for one of the full backs to get them really up for it.
Jay Harris
22
Posted 15/01/2022 at 03:21:23
Apparently Allan has covid so its Doucoure and Gomes in MF with a back 4 of Patterson Mina Godfrey Myollenko
and Gordon Gray and Richy with DCL up front.
A blue 23 points. Onwards and upwards.
Ajay Gopal
23
Posted 15/01/2022 at 03:54:44
I wouldn't risk Mina because the guy is made of glass. Let him be fully fit and ready for the home game against Villa.
For me, a back 3 of Godfrey, Keane and Branthwaite.
Myko and Patterson as the wing backs
Gomes and Doucoure in central midfield
Gordon, Gray and DCL our front 3
Richarlison to come on for Gordon after about 60 mins
Gbamin for Gomes with about 15 to go
El Ghazi for Gray late in the game
Steve Brown
24
Posted 15/01/2022 at 04:11:33
Danny @ 15, I would go for Gray on the number 10 role. Gordon is maturing his game nicely in a wide role so let's keep him there this season.
Kieran Kinsella
25
Posted 15/01/2022 at 05:07:16
Ajay
Disappointed to see you buying into this back five shit versus Norwich. Thought you were wiser mate
Jonathan Oppenheimer
26
Posted 15/01/2022 at 05:28:15
We can't risk Mina in the starting 11 and we know RB won't play Branthwaite, though he should. It's gotta be 4 in the back, so it's Patterson — time to see what the young lad has got — Keane, Godfrey, and Mykolenko. I think he slots in Delph for Allan to sit in the defensive role, then Doucoure and Gomes in the middle. Has to be Gordon, Gray and DCL up front. Only bring on Richarlison if we're chasing the game, leave Mina on the bench, so at least we get him for the first 40-60 minutes against Villa before he gets injured.
Ajay Gopal
27
Posted 15/01/2022 at 06:34:30
Kieran (25), a back 3 need not necessarily be a more defensive/stodgy line-up. 2 young, fast, athletic CBs in Godfrey and Branthwaite would enable Keane to push up further and distribute the ball to the flanks. And I think this would help our new FBs - Mykolenko and Patterson - integrate faster into the team by reducing their defensive responsibilities as wing backs. This formation would also help in Branthwaite's introduction to the back line. If it is a back 4, I see Benitez using Coleman, (a half fit) Mina, Keane, and Mykolenko, which would be slower and more ponderous than the back 3 + wing backs formation.
Dave Lynch
28
Posted 15/01/2022 at 07:34:37
I don't give a shite what formation he plays, as long as we get 3 points.
Mal van Schaick
29
Posted 15/01/2022 at 07:50:43
The manager and the players know what is expected of them.
With recent signings and the injury backlog clearing, I am expecting a convincing win.
Although Norwich have improved a little under Smith, but we should surely be better than them.
Sean Roe
30
Posted 15/01/2022 at 07:50:55
Pickford
Coleman Mina Branthwaite Mykolenko
Gordon Doucoure Alan
Gray Calvert - Lewin Richarlison
Frank Sheppard
31
Posted 15/01/2022 at 08:01:31
I agree a must win, must take the game to the opposition, not sit back and give a goal a way at the start. I live in Norwich, and have seen several of their last home games. Their confidence is very low, they try and play good football, but are very weak at the back and over reliant on Pukki upfront. They go to games expecting to lose.
Tony Everan
32
Posted 15/01/2022 at 08:27:25
Jay 22, Allan out with Covid. Has this been confirmed ?
In the press conference Benitez looked concerned when a journo was talking about Covid and Benitez saying we needed cover because of it. I felt with his body language there was someone important who has isolated. I hope there's no truth in it as Allan doesn't really have a direct replacement. Against Norwich though this can't go do as an excuse, regardless we should be winning this match.
Martin Mason
33
Posted 15/01/2022 at 08:34:18
Delph was a very good player and could one day play a very key role for us if he ever stops getting injured. Could be a surprise today if our caretaker manager decides to play a football set up.
Steve Shave
34
Posted 15/01/2022 at 08:51:14
Must win game, I am anxious about it, we need 3 points, no exceptions! Rafa will surely be out if we lose along with a poor performance. Plus my whole family are Norwich fans, I don't want the hassle.
I don't subscribe to the Allan bashing that goes on here, I for one feel he is a good player who is all at sea in a system that doesn't work right now, I hope he is available.
Some interesting line-up suggestions above. I for one would go:
Pickford, Coleman, Mina, Godfrey, Mykolenko.
Allan Gomes Doucoure
Gordon DCL Gray
Bring Richy on with 30 mins to go to give him game time, I would also be looking to introduce young Patterson, if we are going to blood him this season then what better game in the PL than against Norwich who are woeful?
If Rafa does play 5 at the back then I really hope its to accommodate Brainthwaite and Godfrey alongside either Mina or Keane - there is legs in that back 3. If we do this then I want to see us really push the wingbacks up the field as Godfrey and Brainthwaite have real pace to cover. I would start Patterson for this over Seamus.
The pressure is really on for Rafa here, it appears objectively that the board are building for the future with him in charge. I do get it (even if not my choice) as he can ruffle feathers, change cultures and be ruthless with the dross and shirkers. Yet I just can't see how we can feasibly give him more time if we lose a couple more in a row. We are in a relegation fight, the stage is set for Big Dunc to take the reins and immortalise himself further in the eyes of blue-tinted Merseyside.
Robert Tressell
35
Posted 15/01/2022 at 08:53:17
Depends a bit on who is genuinely fit. I'm hoping it's not a 5221 because the players don't seem comfortable with it even though as Ajay says it looks a good fit on paper.
Depending on how fit people really are probably:
Pickford
Coleman
Godfrey
Keane
Mina
Allan
Doucoure
Gordon
Townsend
Gray
Richarlison / DCL
That's not a bad side at all despite various weaknesses. 4 attacking players in the side with genuine goal threat and pace. Would hope that's too much for Norwich.
I really like Branthwaite but I can't see him dislodging Keane or Mina if they're both fit.
I'd also be surprised if either of the new FBs start - and did I hear that El Ghazi signed too late for this?
COYB!

Winston Williamson
36
Posted 15/01/2022 at 08:55:18
Pickford
Coleman, Mina, Godfrey, Mykolenko
Gomes, Holgate, Doucoure
Gordon, DCL, Gray
Patterson to replace Coleman if tiring.
If Allan is out, Holgate could do that job I believe.
Can't drop Gordon. He's in form and scored goals in his last Prem game.
Keane, Iwobi and Rondon should be nowhere near the team.
Richarlison to come on for any of the front three if needed.
El Ghazi and Townsend there if needed.
Branthwaite to replace Mina if needed
Bobby Mallon
37
Posted 15/01/2022 at 08:55:25
We cannot and should not play Doucouré and Gomes as a two in midfield. We need 3 in midfield and, if Allan is out with Covid, then Delph has to play alongside them.
We need to win this game more than any this season. If we don't, then I believe we will get relegated.
He also must not play Rondon or even have him on the bench. When are journalists going to ask him some serious questions on why he persists with his none working tactics and why he plays Rondon?
Winston Williamson
38
Posted 15/01/2022 at 08:58:30
Midfield options are very poor. Definitely need options in there
Benn Chambers
39
Posted 15/01/2022 at 09:01:22
Make no mistake, this is a 6 pointer and wether we care to admit it, it's January and we're around the bottom 3 so we're in a relegation scrap.
There is no place for 5 at the back imho. Certainly not against Norwich. He has to go for the jugular. Place 3 in central midfield.
I don't want to rush players back if they're not fully fit and then risk further injury but my god we've missed Richarlison DCL and arguably Mina the most. He brings out the best in Keane. I also think 3 in midfield brings out the best in Doucoure, as does he it would seem.
Today will be an indication of stubborn arse wants to keep his job or he is in indeed agent Rafa.
My fingers are crossed for
Pickford
Mykolenko
Keane
Mina
Patterson
Allan
Gomes
Doucouré
Gray
DCL
Richarlison
4-5-1.
I know that won't be the team but we can hope though. A dogshit coleman will stay in the side, Godfrey will play, which I have no issues with as long as it's next to Mina and instead of Keane. I also feel Gordon will be unlucky if he misses out so would have no issues with him keeping his place and bringing Richarlison on for him with 30 mins to go, just to protect him a little and ease him back in. The score will dictate that though I suppose.
The bench should be strong for the first time in a while and we won't see 3 keepers in the squad. Branthwaite Townsend el ghazi Dobbin Delph should all be there, joined by some of the above that don't make the 11.
I hope Rafa gets his shit together today because we need the points and we are running out of games and patience.
I want us to torture Norwich today. 0-4.
COYB
Tony Everan
40
Posted 15/01/2022 at 09:08:31
To be honest I'm fearing Benitez's team formation/ set up, more than I'm fearing Norwich City.
I'm hoping with the returning players we resume normal service on the formation / tactical side and play to our strengths. We need to let Norwich do the worrying about us in this match, we have better players and a near full squad to choose from.
Eddie Dunn
41
Posted 15/01/2022 at 09:18:01
So many of our games have been so very important. The win at Hull was a case in point and now this game can either catapult us upwards and ease the anxiety, or drag us down into the dogfight in the cesspool of shite below.
I doubt Rafa will risk Richarlison from the start but I fear he might have to rest Gray. The guy has worked his socks off and looks to have had a few knocks.
Five at the back again will have me spitting feathers.
Johan Elmgren
42
Posted 15/01/2022 at 09:18:28
A 5-4-1 is on paper a defensive setup with 5 defenders, but with flexibility in that system it could also be 3-4-3 or 3-4-2-1. It depends on what mental attitude you have installed in the players. You can play with your wingbacks pushing up and pressing high, "crowding out" the opponent forcing errors.
Imo this is what's not working with Rafa. We always start with a negative mindset, to "protect" our own goal, and because of that we end up very deep in our own pitch and let the opponents get to us. This has resulted in early goals, and and upphill battle in most games. The pressing isn't working, we are not "crowding out" the opponent, they can easily play out of the press, and when they've done that, easily play through our midfield and put our defence under pressure.
This is were Rafa's tactical knowledge is limited imo, he doesn't know how to play a modern pressing game, he is to cautious or doesn't dare to do it, in fear of us getting exposed. When you play in this way you need your team to be a cohesive pressing collective unit. Our pressing is sporadic and individual, that's why it's so easy to play out of.
Playing attacking football means taking risks and doing that you can concede, but with an approach to aim to ultimately score more than your opponent to win the game. Rafa isn't ready to take any attacking risks, he's signalling that he doesn't trust the players doing it by his negative setup. I believe they are more than capable to play an attacking, high-pressing football.
Imo it's not in the formation but how you utilise your players within it and which mental attitude you have installed in your players. Against most teams we should play with an attacking mental attitude. There's no excuse to play defensively against the likes of Crystal Palace, Brighton, Norwich or any else for that matter, except maybe Man City or the shite.
However he who dares, wins! So an attacking approach even against those two teams should be preferred. Even if we lose, we will give it a go, and the game will be very enjoyable, instead of the "park the bus"-mentality that usually is displayed. Mostly we loose those games anyway, despite playing that way, so what would be the difference in trying to "get at them"?
Massive game tonight, and I hope the mental setup isn't his usual negative, and that we give it a real go from the off, get momentum and an advantage over them. Anything else than three points should lead to the sacking of Rafa.
Ken Kneale
43
Posted 15/01/2022 at 09:26:13
Peter @2 That should be the minimum for every game and is one area where Snr. Benitez has underwhelmed me - I truly expected more from him in this area. He also really needs a critical friend within his coaching team to make him reflect on some woeful decision making around team set up which again is a sadly reoccurring theme. I suspect today will be instructive on many levels for how things are going to look for the rest of the season and potentially further into the future.
Steve Little
44
Posted 15/01/2022 at 09:43:21
Surely Gordon has to start??
He had a tremendous game last week and seemed to have developed an understanding with Gray. Their interplay was lovely to watch at times.
Christopher Timmins
45
Posted 15/01/2022 at 09:50:59
This is a must win game. If ready to go Mina, DCL and Charlie must start, on current form Gray, Gordon, Pickford and The Duke start, if Allan is out then Gomes starts. Mykolenko is our only left back, that leaves two spots and I would go with Patterson and Godfrey.
Coleman andTownsend to provide fresh legs in the final quarter.
Danny O'Neill
46
Posted 15/01/2022 at 09:52:13
All this talk of numbers and formations.
I don't know if it's been a 5-4-1, 5-2-3, 3-5-2 or whatever.
If we're confused, I dread to think what the players are thinking when they're looking at that whiteboard in the dressing room.
I'm guessing it's a 5-2-3 morphing into a 3-5-2 depending on whether we're on the attack or defending.
Talk about complicating football. My brain hurts.
Paul Hewitt
47
Posted 15/01/2022 at 09:53:46
A 1-1 draw is the best I can see today.
Anthony Flack
48
Posted 15/01/2022 at 09:54:17
Imagine
Pickford
LB Coleman
CB Holgate
CB Keane
RB Godfrey
RM Kenny
CM Doucorie
CM Gbanin
RM Gray
Townsend
Rondon
No one would ever be stupid enough to pick that team or anything that even resembled it, would they
John Graham
49
Posted 15/01/2022 at 09:59:08
With all of the player now coming back from injury we have at last got a few options for the team and on the bench.
Would expect Kenny and probably Gordon to give way to Richarlison and Townsend, and Calvert-Lewin for Rondon with Gordon being on a strong bench.
A win is a must, but some of these player need to start putting a shift in to show they are willing to fight for their place.
COYB
Danny O'Neill
50
Posted 15/01/2022 at 10:00:01
We have to win today so we will win.
I'm going off the amount of times the boy dog spent "on the throne" this morning.
3 goals to Everton. That's what he's telling me.
Pat Kelly
51
Posted 15/01/2022 at 10:01:31
If we can keep it to 1-0 in the first ten minutes we have a chance to pick up a point here.
Alan McGuffog
52
Posted 15/01/2022 at 10:05:19
Danny, if your Ridgeback is owt like my son's we could be in for a repeat of Southampton in the snow, 1971.
Johan Elmgren
53
Posted 15/01/2022 at 10:05:31
Haha, Danny #46, yes, I'm sorry bout the ranting.. got carried away :-)
Raymond Fox
54
Posted 15/01/2022 at 10:07:18
We have a longish history in these type of games and it doesnt read good.
Its a classic Everton scenario, Norwich suddenly find top form and you know the rest.
A win would be great but its not going to be easy.
Tony Everan
55
Posted 15/01/2022 at 10:09:27
Danny 50, I've just taken my dog out and going by your theory it's going to be a knee trembling, strained 1-0 win.

Denis Hignett
56
Posted 15/01/2022 at 10:21:35
A must win game today. All that matters is three points.

Paul Birmingham
57
Posted 15/01/2022 at 10:27:15
Tony, yep lets take a tight squeezed 1-0, victory, as this is a must win game to stay off the relegation spot, and build some momentum, which this team has not made since the start of this season.
Dave Williams
58
Posted 15/01/2022 at 10:31:00
It's impossible to predict what Rafa will select. I would like to see Branthwaite as Rafa said he would have kept his place last week had he been fit. He gives us height, pace and a calmness on the ball, but I can't see Rafa playing him if Mykolenko and Patterson both play.
Without Seamus we don't have any sort of leader so I think he will play. Norwich have some decent footballers and we need three in CM which will be difficult if Allan is out. Gordon must start- it's a shame we don't have a couple more like him- as should Richi if he is fully fit, but I'd start him on the bench just in case he isn't.
Pickford
Coleman Mina Branthwaite Mykolenko
Doucoure Gomes ( or Delph)Townsend
Gordon Gray DCL
Steve Croston
59
Posted 15/01/2022 at 10:54:03
One thing's guaranteed, regardless of the team we put out today, and that is we will make Norwich look like Brazil for at least 45 minutes of the game.
We need to stamp our authority on the midfield from the start or Cantwell et al will have a field day.
Steve Shave
60
Posted 15/01/2022 at 11:00:29
Steve 59 I've been saying the same thing all season, even if we have a better day at the office we seem to let even the shittest teams ping the ball around like Gods for at least 45 mins of every game. It's embarrassing. I want to see the fight and commitment they showed early season under Rafa, it's in there somewhere. COYB.
Steve Shave
61
Posted 15/01/2022 at 11:04:16
Another response to your post Steve, I will be watching Cantwell carefully today. He is available for £15M apparently and in last 6 months of his contract. Mates with Godfrey, I know his dad actually from years back so have followed his career carefully and willed him on from the sofa.
I like him, busy, industrious but lightweight. A few big boys were sniffing 2 seasons ago but hasn't clicked for him this year, I would have baulked at the price tag mentioned then but £13-15M wouldn't be sniffed at by Norwich for a player they will lose for free at the end of the season. He's a 10 more than a winger.
Brian Harrison
62
Posted 15/01/2022 at 11:06:02
The last time Norwich scored in the league was Nov 30th in a 1-1 draw with Newcastle. They have only scored 8 goals in 20 league games and conceded 44 which is just over 2 goals per game. I doubt we will have an easier game all season. With the possibility of Richarlison returning and DCL with another weeks training under his belt what could possibly go wrong?
Laurie Hartley
63
Posted 15/01/2022 at 11:09:51
This game is tailor made for Richy. Start him up front and give him 60 minutes then sub him with DCL. If no Allan then Delph.
Pickford,
Coleman, Mina, Branthwaite, Mykolenko
Doucoure, Delph, Gomes
Gordon, Richarlison, Gray.
Bench: DCL, Townsend, Godfrey, Patterson, Keane, El Ghazi, Rondon
Got to win this one.
Jason Li
64
Posted 15/01/2022 at 11:17:45
I think Cantwell has something, but that boat has sailed. Gray is better and Gordon is now a first team player. Other wingers will be backups or challengers.
Plus if Richarlison leaves then the manager has a lot of dough to spend on a top quality player - although the Lukaku situation tells us it's not always the case.
As long as Norwich don't score more than one goal, in the second half our bench will help us out in the second half.
Not sure why, but Rafa seems to to try to get 2 or 3 goals in the second half to win games it seems. But if this is a way that can win games and trophies, then we'll see as time goes on. Maybe he has stats that says games are won in the second half generally.
Steve Shave
65
Posted 15/01/2022 at 11:29:04
Jason yeah that's Rafa's plan...cough....play like a pub team first half, attack attack attack in the 2nd, it's working a treat!
I am less optimistic than you about what will happen to the Richarlison funds, personally I think we've potentially spent all we can (bar maybe a CM) and the rest will go on balancing the books.
Bill Griffiths
66
Posted 15/01/2022 at 11:47:23
Don't see the point of El Ghazi being involved today as he's going to be ineligible for next week's game.
Jason Li
67
Posted 15/01/2022 at 11:53:28
Agreed Steve, I need to tone it down on the transfer optimism.
That (Trek) oat flap jack sugar rush I just had took me to a crazy place for a moment where we do sensible things with the money.
Anyway, I'll stick my neck out and say Rafa will do his tactic of containment in the first half, and ask the boys to play hard in the second half and win.
Less about formation, and more about when the team expends their energy so far this season. Basically don't go hard at the kick off or first 20 minutes.
If the players aren't in condition to play full throttle up to 100 minutes time on the pitch in total every game, whose fault is this? Or... is it just the players?
Eddie Dunn
68
Posted 15/01/2022 at 12:03:12
I wonder if Dowell will get a run out?
Ian Bennett
69
Posted 15/01/2022 at 12:23:47
Pickford
Patterson
Mykolenko
Mina
Braithwaite
Gomes
Doucoure
Allan
Gray
Richarlison
Calvert-Lewin
That is our best team, but I would expect Rafa to start Coleman, Godfrey, Keane, Gordon, and Townsend ahead.
Tom Bowers
70
Posted 15/01/2022 at 12:26:06
I think most of us by now are learning never to get too optimistic no matter who the opponents are.
We don't have a set-up that has the confidence to take games by the scruff of the neck from the off and invite other teams to come at us.
Last week's opening spell was so typical and we got lucky.
All teams can play a bit, even Norwich and if you allow those teams you will find yourself in a battle every week which Everton does.
Rafa is on thin ice now and doesn't seem to have anything else to offer in order to get out of the doldrums.
Sad to say we may be changing manager's again soon.
Danny Baily
71
Posted 15/01/2022 at 12:33:54
Ian, Patterson in ahead of Coleman? I don't think he's ready to go straight into being first choice. He's only ever played a handful of games up at Rangers, he's one for the future.
John Keating
72
Posted 15/01/2022 at 12:36:35
We have to win this but we are such a nice team we may well start off slow as normal and gift them a couple of goals, probably to players who've never scored before. Start fast and attack!
Pickford
Mina, Keane, Branthwaite
Patterson, Doucoure, Gomes, Townsend
Richarlison, Calvert-Lewin. Gray
Tony Everan
73
Posted 15/01/2022 at 12:52:19
On Football Focus just now they said Norwich have scored only fours goals from open play in their twenty games this season.
I'm praying 🙏 to the football gods that Benitez sets us up to attack this outfit right from the off. No cagey sitting back and waiting to see what they can do , and then reacting to it in the second half.
Craig Walker
74
Posted 15/01/2022 at 13:02:38
Coleman is too old and we need to sign a younger replacement. We bring one in and then he's too inexperienced. I think we need to start giving younger players a chance. Play the likes of Branthwaite, Patterson, Dobbin over the journey men who have consistently let us down. Coleman has been a brilliant servant but he needs using sparingly.
Derek Knox
75
Posted 15/01/2022 at 13:07:45
Danny @ 50, " I'm going off the amount of times the boy dog spent "on the throne" this morning. "
Straight up ! No Shit ? :-)
Having watched Norwich recently they should not be underestimated nor feared, I think we should have too much for them without stupid team selections and mistakes that is.
Ian Bennett
76
Posted 15/01/2022 at 13:08:18
Danny I hate to say it, and he's been one of my favourite players, but Coleman is finished as a starter for me.
It was a terrible injury he had, but he's only been 60-70% of the player he was. His bucaneering Cafu runs a real pleasure, have disappeared.
I'd give Patterson a start as soon as possible. If he's not ready, fair enough, but we will never know if we don't try. He's played international football already, which should be a better level than a poor Norwich.
Same goes for Branthwaite. When ever I've seen him, I've been impressed. Will he make mistakes, probably - but no more than Holgate, Keane and an out of form Godfrey.
Andrew Clare
77
Posted 15/01/2022 at 13:13:11
Norwich are having a terrible season and we are having one of our no chance of winning anything, nothing to cheer for, dire football seasons. Pretty much like a large percentage of the seasons of the previous couple of decades.
I love Everton so I will be hoping that we will play like Brazil (the 1970 version) and win 5-0. When it will probably be a dreadful 1-1 draw.
I hope Rafa turns it around.
Brian Murray
78
Posted 15/01/2022 at 13:26:57
Danny. Let's hope we curl one in like your ridgebacks.
Derek Knox
79
Posted 15/01/2022 at 13:47:25
Brian @ 78, Back of the net, or the Poop Bag ! :-)
Brian Murray
80
Posted 15/01/2022 at 13:53:39
Need three points in the bag degsy not just the doggy one
Brian Wilkinson
81
Posted 15/01/2022 at 14:06:45
For the first time since the first few games at the start of the season, we have finally got our strongest squad available and new additions in.
Does not matter if we play like Brazil in their prime, win 4 nil, I will guarentee someone will find fault with the starting 11, some will still bash the Manager, some will say we should be beating them 4 nil so what, and some will still insist on calling him fsw, even if we go on an unbeaten run and get a Wembley outing to boot.
Have no doubt some will actually be hoping for a shit fest showing, to justify getting rid of the Manager.
Others will get behind the the team, the Manager and rightly so.
Here's hoping for three points today, and a start to winning ways again.
Up the Toffees.
---
Add Your Comments
In order to post a comment, you need to be logged in as a registered user of the site.
Or Sign up as a ToffeeWeb Member — it's free, takes just a few minutes and will allow you to post your comments on articles and Talking Points submissions across the site.