Everton vs Brentford
Thursday, 3 February, 2022
FA Cup preview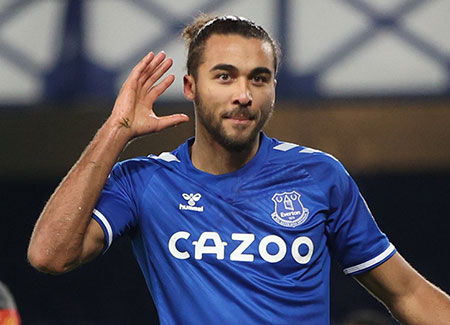 Dominic Calvert-Lewin will be missing again after picking up what has been described as a small knock to his knee
Frank Lampard takes charge of his first match since being appointed as the new Everton manager, an FA Cup Fourth Round tie against Premier League opposition in the form of Brentford.
Just five days after officially being unveiled as Rafael Benitez's successor, the former Derby and Chelsea boss will lead his new team out at Goodison Park which he hopes will herald the start of a productive run of games that not only progresses the club in the competition but pushes the Blues away from the lower reaches of the League table.
He will be without both of his two deadline-day signings as well as the last acquisition under Benitez as Dele Alli, Donny van de Beek and Anwar El Ghazi are all cup-tied and Dominic Calvert-Lewin will also be absent after he sustained a minor knee injury.
The England striker is already a doubt for the crucial Premier League fixture against Newcastle United on Tuesday evening as well. Calvert-Lewin made a long-awaited return last month from a four-month lay-off with a serious thigh injury and has been working his way back to match fitness but was rested for the trip to Hull City in the last round and misses out again this weekend.
Article continues below video content
He will join Abdoulaye Doucouré, Tom Davies and Fabian Delph on the injury absentee list.
"Dominic Calvert-Lewin picked up a small knock in the last game so he won't be available this weekend," Lampard said in his first press conference as the Blues' boss at USM Finch Farm this afternoon.
"We know Doucoure is out and Fabian Delph is out for slightly longer but we hope Dominic will be back out [training] in the next few days."
As well as needing to fashion a line-up from his available players while also keeping an eye on the trip to St James's Park, Lampard's short-term challenge will be to lift a demoralised group of players and instill some confidence into the ranks.
"What I've found in the last three days is they're a very good group in terms of wanting to do well for the football club," Lampard explained. "It's written all over their faces "You should never over-analyse before [you arrive]. I've been really impressed. When you look at the players over the last three days, it's a talented group. Maybe a group that has taken a hit of confidence but I trust them.
"Sometimes when you lose games or are having a bad period of form, it can affect the confidence of players so my first job is to bring a positive attitude and messaging. The past three days, I think we've worked very well but that work has to continue every day."
The feeling — not to mention the hope — is that Lampard will immediately move to address Everton's problems in midfield where Benitez's insistence on playing only two in central midfield saw the Blues frequently overrun in that area of the field.
However, with those three central midfielders out injured, Lampard only has Allan and André Gomes as fit starting regulars so if he is to go 4-3-3 or some version thereof, he will either need to get creative with the deployment of certain players — i.e. bringing Andros Townsend into a more central role — or putting some faith in youngster Tyler Onyango or the largely overlooked Jean-Philippe Gbamin.
Then there is the question of whether or not to blood Nathan Patterson for the first time at right-back and give Vitalii Mykolenko his home debut on the other side or persist with Seamus Coleman and Ben Godfrey in the name of continuity and experience.
Like Everton, Brentford probably have League matters on their minds and they face a trip to Manchester City on Wednesday. The Bees currently sit in 14th in the Premier League, four points above the Toffees but they've lost four on the bounce and are in the kind of form that could see them get sucked into a battle against relegation themselves.
New signing Christian Eriksen likely won't be linking up with his new team-mates until Monday at the earliest so he won't be involved and both Joshua Dasilva, Julian Jeanvier and Tarique Fosu are all ruled out but Thomas Frank should be able to welcome Mathias Jensen and Rico Henry back while Ivan Toney is expected to be involved after he was forced to apologise for a disparaging video that was posted online a few days ago.
If they had to choose one, most Evertonians would naturally take a win at Newcastle and sacrifice the FA Cup but there is no reason why the Blues can't have both. A continued run in the cup could be just the tonic to improve the team's League form and a win over Brentford would be the ideal way for Lampard to start his tenure at Goodison Park.
Kick-off: 3pm, Saturday 5 February, 2022
Last Time: Everton 6 - 1 Brentford (League Division 2, February 1954)
Predicted Line-up: Pickford, Coleman, Mina, Godfrey, Mykolenko, Allan, Gomes, Townsend, Gordon, Gray, Richarlison
---
Reader Comments (291)
Note: the following content is not moderated or vetted by the site owners at the time of submission. Comments are the responsibility of the poster. Disclaimer
Hugh Jenkins
1
Posted 03/02/2022 at 14:54:14
Just when you thought it was safe to go back in the water?
Si Pulford
2
Posted 03/02/2022 at 15:07:01
Jesus. Maybe we should do what Newcastle did and say we've got a covid outbreak?
Pat Kelly
3
Posted 03/02/2022 at 15:09:22
Not to worry. Rondon is on a roll.
Jay Harris
4
Posted 03/02/2022 at 15:12:32
From being a slam dunk, the game against Brentford will now be a real test of our reserves and we all know how that has gone in the past. No Dominic, Doucouré, Dele or Donny highlights the weakness in our squad.
Is it time to risk Patterson and Mykolenko or are we safer with Coleman and Godfrey.
Can Townshend play right-midfield or do we give Gbamin a run-out?
IMO, the front 3 pick themselves, being Gordon, Richarlison and Gray, but the manager may have other ideas.
Dennis Stevens
5
Posted 03/02/2022 at 15:44:16
Will we go 4-4-2 with Rondon & Tosun up front??
Kieran Kinsella
6
Posted 03/02/2022 at 15:45:45
Calvert-Lewin was worse than useless the last two games so, based on form and fitness, he's no loss. But the midfield is giving me sleepless nights ahead of Saturday which means I'm an insomniac as the defense was already giving me sleepless nights.
It would be a shame to go out of the cup and just have a relegation battle to look forward to, so maybe Frank can inspire Gomes and Co to play well?
John Raftery
7
Posted 03/02/2022 at 15:45:55
As with most of our games since the middle of September, we will be playing with a makeshift team. Let's hope the new manager bounce has the required impact. With no league points at stake, perhaps now is the time to give the younger players a start – especially Patterson, Onyango and Dobbin.
Phil Smith
8
Posted 03/02/2022 at 16:01:15
Think he'll go 4-5-1 with:
Begovic
Coleman Keane or Holgate Godfrey Mykolenko
Gordon Townsend Allan Gomes Gray
Richarlison
Conor McCourt
9
Posted 03/02/2022 at 16:10:29
I think, with little energy in midfield, he might revert to the 3-4-3 system he used at Chelsea on occasions:
Holgate Keane Godfrey
Kenny Allan Gomes Townsend
Gordon Richarlison Gray
Unless he has seen enough from the two young full backs in training...
Brian Wilkinson
10
Posted 03/02/2022 at 16:15:44
I can see Dobbin getting a run out.
Dave Abrahams
11
Posted 03/02/2022 at 16:18:24
Whatever squad he has tomorrow he will have for the rest of the cup run, plus Delph and Davies.
The good news is Iwobi looks fit, going by the training session!!
Simon Dalzell
12
Posted 03/02/2022 at 16:19:28
Anyone but Holgate.
Stephen Brown
13
Posted 03/02/2022 at 16:20:17
I'm not going to get ahead of myself but I thought the tone of Lampard in the press conference was spot on.
Measured, sensible, focussed, intelligent. I have optimism again… which is dangerous.
Mark Ryan
14
Posted 03/02/2022 at 16:22:01
Iwobi and Rondon as a front 2, Tosun No 10 lol!!! The ghost of Benitez.
I still don't want Rondon to score, is that wrong?
Jim Bennings
15
Posted 03/02/2022 at 16:22:49
Personally, over the next few months, I'd be getting myself geared up to find potential suitors for Calvert-Lewin.
I can see him being dogged by pesky injuries here and there and his game is all about dynamic athletism, high jumps etc.
If someone offered £60 million in summer as far as I'm concerned we'd be nuts to snub that.
He's never gonna be a truly top class finisher that can get 20 every season, he maybe will get 10-15 most seasons in the league but I think for £60 million and Frank Lampard now at the helm, that can be found as replacement.
Jamie Crowley
16
Posted 03/02/2022 at 16:26:55
I'll bet he won't play Rondon.
Like a lot of money. it's just an awful message to send and a PR nightmare for your first game in charge.
Ajay Gopal
17
Posted 03/02/2022 at 16:27:40
A good time to play Mykolenko and Patterson, I reckon. I expect Lampard will play 4-3-3:
Gray Richarlison Gordon
Allan Gomes Gbamin or Townsend
Mykolenko Keane Mina Patterson
Pickford
Dobbin, Rondon, Iwobi, etc as substitutes.
Mike Connolly
18
Posted 03/02/2022 at 16:47:33
I'd cash in on Calvert-Lewin – he is in danger of turning into Delph.
Brian Williams
19
Posted 03/02/2022 at 16:49:49
@18
That's a ridiculous post mate. Utter rubbish.
Minik Hansen
20
Posted 03/02/2022 at 16:55:07
It will be a real baptism of fire for Lampard without Dele Alli, Doony van de Beek and Dominic Calvert-Lewin. I'm actually looking forward to how he manages this situation. <
I know it'll be his first game, but it'll be an indication of how Frank will have some kind of a Plan B if some key players are out.
Mark Ryan
21
Posted 03/02/2022 at 16:55:19
What a top interview by Lampard, different gravy. Class.
I hope Dom's injury is just a niggle. We have missed him.
Jay Harris
22
Posted 03/02/2022 at 17:06:14
John Crook
23
Posted 03/02/2022 at 17:07:41
I think Godfrey should start at left-back with the intention of only playing left-back for the rest of the season. His best games since being here have all come at left-back. Whilst he doesn't have the crossing and ability to get numerous assists (as say Digne did) he can run up and down the left wing all day long with that pace he has.
For me, Mykolenko looked very rusty in the two games he has played and I think he should be on the bench for now. My team for Brentford, based on Calvert-Lewin being out, would be 4-1-2-3:
Pickford
Godfrey Keane Mina Kenny
Allan
Gomes Townsend
Gordon Richarlison Gray.
Subs: Begovic, Mykolenko, Coleman, Rondon, Iwobi, Dobbin, Gbamin, Patterson and Holgate.
Fran Mitchell
24
Posted 03/02/2022 at 17:08:40
We won't want Richarlison to play the full game, nor Gray as they will be key for the Newcastle game.
Start with Richy central with Gordon and Townsend out wide. Then, on the hour, Gray and Dobbin can come in for Gordon and Richarlison.
Midfield will be a struggle, but I think give Onyango chance from the start with Gomes and Allan.
Iwobi is another (not exactly exciting) option for midfield, which may suit Lampard's implementation of attacking midfielders into the system. Or maybe even Gordon could do something there, with Gray starting up too.
Dennis Stevens
25
Posted 03/02/2022 at 17:23:07
Rondon & Tosun up front, Iwobi as the No 10. A midfield of Allan, Gbamin & Gomes, back four of Kenny, Keane, Holgate & Coleman (at left-back, of course). If he dares to do that & wins with a clean sheet, I'll put a tenner on us for the Cup!
Anthony Flack
26
Posted 03/02/2022 at 17:24:25
Funny how people see the same thing differently. I thought Godfrey was terrible at left-back, can't cross with left foot or tackle down the outside unless sliding in….
I watched the Chelsea game again and his positioning is odd at best.
I remember Jagielka playing there but thought Godfrey was worse!
Raymond Fox
27
Posted 03/02/2022 at 17:24:52
Tuesday is the important gam; if I was picking the team there wouldn't be many first team picks in it.
Difficult for Lampard to have this as his first game, it's hard to know what he will do.
Give the young players and second choice older players a game would be my advice.
Ed Prytherch
28
Posted 03/02/2022 at 17:34:19
What a contrast between Frank and the previous two managers:
Carlo – ultra relaxed, a little humour, don't give too much away.
Benitez – shifty, what is he hiding?
Frank – Open, serious, detailed answers.
From what he said, I don't expect to see any of the young inexperienced players to start.
Frank Crewe
29
Posted 03/02/2022 at 17:46:15
Go 4-3-3 with pace upfront.
Pickford
Patterson, Mina, Godfrey, Mykolenko.
Townsend, Allan, Gomes.
Gray, Dobbin, Richarlison.
Gary Jones
30
Posted 03/02/2022 at 17:59:11
Mike @18,
I've got to admit, I do think him getting battered about as a young lad under Koeman is coming to haunt us. Not sure why Brian at 19 wants to spit froth at you for daring to suggest a cash-in given how this season's gone.
Also, man, we get rid of Rafa and there are still some on here who want to play a right-footed centre-back at left-back, and another even suggesting Townsend at left-wingback, for fuck's sake.
Give the young lads their go on Saturday. Stick with Mykolenko for 5-6 games and give him a chance to settle. Yes, we haven't got luxury of carrying people, but we haven't got the luxury of writing off £18M internationals after 2 games either.
Saturdaay:
Pickford
Patterson Godfrey Branthwaite Mykolenko
Townsend Gbamin Gomes
Gordon Richarlison Gray
Tuesday (permitting)
Pickford
Coleman Mina Godfrey Mykolenko
Van de Beek Allan Alli
Gray Calvert-Lewin Richarlison
Steve Carse
31
Posted 03/02/2022 at 18:11:51
Mykolenko? On the (albeit limited) evidence so far I'd rather Cole plays at left-back.
Lee Courtliff
32
Posted 03/02/2022 at 18:35:13
I have no idea why we wouldn't play our two new full-backs. If we lose, it's a free hit, everyone knows Frank will be praised for 'saving' us from relegation and we're not exactly unaccustomed to being without a trophy come the end of the season.
These young lads need game time, Mykolenko was no worse than many others have been this season and Patterson hasn't been given a chance yet.
I also think we should play Gbamin from the start. In a 3 he could possibly do a job and we need to give him some kind of chance before writing him off completely. It's not his fault he's been wrecked by injury.
I would be quite happy if he played a lot of the young players, either from the start or off the bench. Dobbin, Onyango, etc.
Is Branthwaite fit? If so, start him too. We need to be braver and stop going back to the same tried, tested and failed players and systems.
The atmosphere at Goodison would be electric if we played a pacey, young side filled with a lot of 'homegrown' players or new signings.
3-1 Everton.
Joe McMahon
33
Posted 03/02/2022 at 18:55:38
Yes, Calvert-Lewin is no Aquero or even Vardy however compared to Tosun and Rondon he is streets ahead. I was disappointed Simms went out on loan again.
Unfortunately, it looks like this may mean no Calvert-Lewin against Newcastle, but we need him sharp and he's been hit and miss when fit this season. I'm hoping he opts to stay and develop under the Lampard team.
Derek Wadeson
34
Posted 03/02/2022 at 19:08:46
First press conference I have not swiched off from for a long time.
Andrew Bentley
35
Posted 03/02/2022 at 19:24:19
I nearly messaged on another thread after the pics of the training session with Frank about where was Calvert-Lewin as he was absent. Was wondering if there was an injury or something else.
Clearly now we know the answer
Christopher Timmins
36
Posted 03/02/2022 at 19:40:40
Keane and Allan both playing, he would be foolish to play a high pressing game with those two starting!
Jay Wood
[BRZ]
37
Posted 03/02/2022 at 19:47:59
With the comings and goings in this and since the previous transfer window, Everton had to submit a revised 25-man squad for the rest of the Premier League season.
No surprise that the Iceman has been cut, but the other player sacrificed is a surprise.
Tom Davies.
Everton's Revised 25-man Premier League Squad
Tom is no longer of an age where he gets exemption and doesn't need to be named. Given that the likes of Delph and Tosun are listed (and out of contract in the summer), I'm deducing that Tom's injury and recent surgery has effectively ended his season.
Conor McCourt
38
Posted 03/02/2022 at 19:51:38
Gary @3 - perhaps you may want to understand the system before you become so dismissive as this is an attack minded formation. Townsend will essentially be asked to provide the width as he did under Benitez as the front players play more centrally helping out the midfield.
If you had an issue, I would have thought it would have been Kenny but I played him there because of his delivery. Mykolenko has not been good enough offensively so would be a less attacking threat than Townsend.
Robert Tressell
39
Posted 03/02/2022 at 19:54:32
I wouldn't be hugely surprised to see Godfrey or Holgate in midfield. Or even, gasp, the pair of them. Onyango is a bit too raw from what I've seen in the U23s. Gbamin maybe.
Otherwsise, like most, I'd like to see our new full-backs on display.

Howard Sykes
40
Posted 03/02/2022 at 19:54:48
It's a clusterfuck. Why do we always but always have so many injured players??? And why, when they finally come back, do they always get injured again and again and again???
Christy Ring
41
Posted 03/02/2022 at 20:02:55
Sadly Calvert-Lewin needs game time, hope he's fit for Tuesday night. A bit concerned, if it's only a minor injury; wouldn't you think he'd be fit 2 weeks after the injury?
Team for Saturday:
Pickford
Patterson Godfrey Branthwaite Mykolenko
Gbamin Onyango Gomes
Gordon Richarlison Gray
Tony Heron
42
Posted 03/02/2022 at 20:21:19
Why is it always reported "Delphs out", like it's news. "Delphs in!!", that would be news!
Shaun Laycock
44
Posted 03/02/2022 at 20:37:14
4-3-3:
Pickford
Mykolenko
Godfrey
Mina
Coleman
Allan
Gbamin
Gomes
Townsend
Gray
Richarlison
Tony Abrahams
45
Posted 03/02/2022 at 20:40:41
Calvert-Lewin hasn't looked right since he came back into the fold, so I hope it's nothing debilitating.
Mike Gaynes
46
Posted 03/02/2022 at 21:01:37
I had no idea that Cahill's kid was in our youth program.
Ed Prytherch
47
Posted 03/02/2022 at 21:03:20
Frank said that his first priority is to win games and build confidence and that younger players will be introduced when they show in training that they are ready.
I will be very surprised if Dobbin, Patterson or Mykolenko starts, Maybe Branthwaite has a better chance.
Tom Harvey
48
Posted 03/02/2022 at 21:14:10
I know he needs to find match fitness, but I don't think we'll miss him.
It's a case of seeing what changes in formation and team can inspire others to have a go or "step up to the plate" as the Yanks say.
We need to see some guile and cojones above all.
Gary Jones
49
Posted 03/02/2022 at 21:36:39
Conor @38 - you may want to understand that converting a 30-year-old right-sided midfielder to left-wingback is almost as stupid as playing a right-back there, and only slightly more stupid than playing a right-footed centre-back there.
However, writing off a 22-year-old after 2 games puts every other bit to shame. Hope you understand?
Danny O'Neill
50
Posted 03/02/2022 at 21:42:50
I don't care who the new manager picks, who's playing or what formation he selects.
I just can't wait for Saturday. I've missed Everton. It feels like it's been an age. One step closer to Wembley.
Gary Jones
51
Posted 03/02/2022 at 21:44:32
Tbf though, I do think there's some yardage in a 3-4-3. We might well see it, but for me the personnel for that would be:
Pickford
Godfrey Mina Branthwaite
Patterson Doucouré Van de Beek Mykolenko
Gray Alli (or Gordon)
Richarlison (or Calvert-Lewin)
With Alli and one of Doucouré or Van de Beek getting up and in the box when we attack.
Sean Kelly
52
Posted 03/02/2022 at 21:54:34
Calvert-Lewin must have tripped over his frock.
For fuck's sake, how soft is he?
Neil Copeland
53
Posted 03/02/2022 at 22:00:33
Danny 50, I was thinking exactly the same. Love the FA Cup too, can't wait for Saturday.
Ray Smith
54
Posted 03/02/2022 at 22:01:03
Just when you thought we were on the up, Calvert-Lewin pulls a sicky?
Regardless of whether he plays next Tuesday, what impression does he present to the new boss!!! Get rid of the time wasters.
If Calvert-Lewin is genuinely unfit, fair enough, but I had him in a higher commitment category. I will eat my words if proven wrong.
I'm deeply disappointed in Calvert-Lewin, hope he proves me wrong!!!!
Alan McGuffog
55
Posted 03/02/2022 at 22:04:48
If the Gunners are willing to offer north of £60 million this summer than see ya, Dom. I'm getting rather weary of our "star" players having twinges.
Alan McGuffog
56
Posted 03/02/2022 at 22:07:49
Or, then again, settle on £50 million if they'll take Iwobi back as part of the deal.
Mark Andersson
57
Posted 03/02/2022 at 22:09:09
Tough start for Frankie boy. In the real world, Everton should be too good for Brentford; however, this squad is spineless and the Newcastle game is more important.
May as well go out of the cup now and concentrate on staying up.. It's not like we could win The FA Cup.
Tony Hill
58
Posted 03/02/2022 at 22:09:42
What has been odd about Calvert-Lewin is the awfulness of his timing in the air. Some of his jumps against Villa were comically out of sync.
I have faith that he will be good again. We need his goals.
Andy Crooks
59
Posted 03/02/2022 at 22:10:06
Howard @40.
All clubs get these injuries and all fan sites think they are the unlucky club. Yet... we seem more cursed.
We aren't... but it feels like we are.
Geoff Lambert
60
Posted 03/02/2022 at 22:10:43
Another sick note, for fuck's sake – why do we always get so many sick notes?
Hope we can get him fit for the summer window and someone comes in with a £60 mil bid for him.
Snatch their hand off.
Colin Malone
61
Posted 03/02/2022 at 22:54:08
Calvert-Lewin's only focus is to move to London. A blind man can see that.
Paul Johnson
62
Posted 03/02/2022 at 22:57:28
Colin Malone 100% spot on. Shame we couldn't cash in and scuppered the shite buying Diaz.
Jerome Shields
63
Posted 03/02/2022 at 22:59:31
Hope and wish him a good and speedy recovery. He has always worked hard and progressed a lot under Ancelotti. Injury has robbed him of continuing progress, which Ancelotti said would have been the case had he continued to play with focus.
Hopefully he will get rehabilitation game time in the last quarter of the season. I am sure he will work hard during the Summer and preseason and will progress next season, making up for the setbacks of this season. I still have doubts about Evertons rehabilitation and recovery programs.
I doubt he will be transfer-listed.
Tom Harvey
64
Posted 03/02/2022 at 23:00:29
I have to say, in all genuine honesty, I'm struggling with his extramural activities and little pink handbag.
Just play football, for fuck's sake!
Aren't you earning enough?
Conor McCourt
65
Posted 03/02/2022 at 23:01:53
Gary @49,
Andros Townsend is naturally left-footed and has the qualities to perform that role.
We need to win this game and judging Mykolenko both in the summer and in his two games he doesn't look the most naturally offensive of players to me or indeed one who is ready. After all, like Godfrey, who you have maligned, he is a converted centre-half.
I have written no-one off, hence the caveat in my initial post@9: "... unless he has seen enough from the new full backs in training".
Townsend is no favourite of mine but on Saturday we must ensure we boss the midfield and I hope Frank will use this system to do so.
ps: Has Gary Smith become Gary Jones or is that me being stupid again?

Tom Bowers
66
Posted 03/02/2022 at 23:02:33
Never fails does it. After being out for so long, he gets another injury. Seems to happen to all our sick note players and that's practically the whole team these days.
Just a matter of time before some of the new boys get theirs.
I see Mykolenko already got his before the Villa game.
Almost every game will become a cup-tie now but perhaps an opportunity under a new manager for some players to stake a claim. Let's hope so.
Andy Crooks
67
Posted 03/02/2022 at 23:10:47
Getting angry and making nasty comments about injured players is just plain thick.
Players earn huge amounts of money, they get injured and they still get paid. What other way would you have it?
Some of the comments about Calvert-Lewin are are just pure, bitter, spite.
Ray Robinson
68
Posted 03/02/2022 at 23:10:55
Before this season, Calvert-Lewin had hardly ever been injured, so I don't see where the 'sicknote' tag is coming from. He's hardly in the Delph, Gibson, Rodwell league yet...
Dale Self
69
Posted 03/02/2022 at 23:12:01
Nicely done, gentlemen. I was about to get a bit reactive to that and I'm glad you came in with some gentler phrasing.
Mike Gaynes
70
Posted 03/02/2022 at 23:20:01
Tom Harvey #64, Sean Kelly #52 and others, I guaran-fucking-tee you that Dom is way more unhappy about the situation than you are.
You don't beat million-to-one odds to become a top professional -- and put in maybe 20,000 hours training along the way -- so you can sit out games and collect a big check.
Players wanna play.
Jesus, we got some serious sourballs on here.
Don Alexander
71
Posted 03/02/2022 at 23:27:55
Mike, I fully agree with you regarding Calvert-Lewin's integrity (clothes aside, mind you!) but I have to say that our club has for years visibly been the best destination for players and their agents who want to grasp the max for themselves for the least effort.
David Pearl
72
Posted 03/02/2022 at 23:29:40
Aah, now you see, perhaps if Rondon plays, we can for once give him the clean slate he deserves. If a 24-year-old in his prime can struggle after injury for fitness, then maybe a guy in his 30s who was thrown under the bus can too.
A forward line of Richy, Gray and Gordon has to have the right service... any service. Interesting game on Saturday and I'm looking forward to it, whoever plays.
Mike Gaynes
73
Posted 03/02/2022 at 23:30:03
Conor #65, when did you judge Mykolenko in the summer?
And you're waving him off after two debut games under the most warped, bizarre circumstances possible? Way off target IMO.
The kid has played Champions League against Bayern and Barcelona. He's played 21 times for his country, starting at age 19. There has got to be quality there, and it won't show up from the bench.

Jamie Crowley
74
Posted 03/02/2022 at 23:38:08
Mike -
To be fair (love that English term), Mykolenko looked pretty shit.
With what I would define as a perfectly abysmal start to Premier League life, I'd very slowly introduce him into the lineup.
He really, really looked poor in my opinion.
Yes, there's quality somewhere there. But man, I'd ween him into this moving forward.
Dale Self
75
Posted 03/02/2022 at 23:38:23
He also put in a decent shift against Portugal. He'll make it here.
Ed Prytherch
76
Posted 03/02/2022 at 23:43:39
I expect Godfrey to start at left-back on Saturday for the reason stated in previous posts.
We won't be resting anyone for the game on Tuesday, or developing young players. We will field the team that Frank thinks has the best chance of beating Brentford.
Kieran Byrne
77
Posted 03/02/2022 at 23:43:46
Calvert-Lewin has been a real good player for us. I'm looking for him to get in the last touch on a whack of goals in the last half of the season.
He should (on paper at least) be getting much better service and I think that we will have more of the ball in attacking positions.
As for the cup game, I'd love for Lampard to give our new fullbacks a start with any of Mina, Holgate, Branthwaite, Godfrey as the 2 centre-backs – just keep that useless Keane off the pitch and we will be alright.
John Raftery
78
Posted 03/02/2022 at 23:47:04
Jay (37),
I was not surprised Tom was left out of the revised list of 25. I was surprised the club ruled him out for only a couple of months.
Severe hamstring tears usually require 3 months recovery, as we saw with Allan last season. One requiring surgery will inevitably take longer. Tom will do very well to be ready for the start of next season.
Tom Harvey
79
Posted 03/02/2022 at 00:14:52
Mike Gaynes @ 70
This kid is not talented enough at what he's supposed to do for a living to be distracted by what he shouldn't be doing for a living (anything else).
Maradona could snort cocaína all night long, bang women, do adverts and still make opposition defences wet themselves when he got the ball.
He's a decent poacher and a bit of a target man, but ain't no Salah, Kane or Aguero and never will be. He needs at all times to do what he's done upto now to make the most of what he has (his athletiscism) and that's be focused on his game 100%.
Put simply, your "You don't beat million-to-one odds to become a top professional " can be marked out the game by other million-to-one odds professionals who also made the grade, remember he's playing against them, not us!
Once again, he needs to be at the top of his game to have any impact with his basic skill set, to do this he should do what he did to get into the 1st team in the first place, total application.
The summer would be a good time to sell him, if Arsenal will pay £60m grab it and run.
It's not 'sourballs', it's good business to keep him focused.
Derek Thomas
80
Posted 04/02/2022 at 00:20:15
Calvert-Lewin out, Dobbin in. The Cup is a bonus and the further you go, the bigger the bonus, but at 16th position, points are our core business.
Thus, given the recent upheaval, time to maybe assess and evaluate, without losing points or games in hand.
We and Brentford won't be the first teams in a poor and / or falling league position to get sucked into a good cup run at the expense of vital league points.
Jim Robinson
81
Posted 04/02/2022 at 00:23:33
Fellow Blues, can we ease up on Myolenko for a while.
Given there's over 100,000 Russians, armed to the teeth and just waiting for the nod to do a bit of raping and pillaging in his home country, I think it's just possible he may have other things on his mind apart from football at the moment.
His CV would suggest he's a better player than we saw against Norwich so perhaps we should leave it to Frank to figure out where his head's at and whether he's ready to concentrate for 90 minutes or not.
Mark Andersson
82
Posted 04/02/2022 at 00:26:54
Love the banter about our handbag-wearing striker...
Jamie Crowley
83
Posted 04/02/2022 at 00:29:18
Jim, I didn't even consider that. 😬
Ya, a Russian Army sat outside Mom and Dad's house, waiting for the signal to move in and wreak havoc might put your mind in another place.
Tom Harvey
84
Posted 04/02/2022 at 00:32:11
Jamie Crowley @ 83
Yep, you have to feel for him, I hope the club are making allowances for him.
I certainly am.
Kieran Byrne
85
Posted 04/02/2022 at 01:23:15
Mark @82,
Fashion choice of Calvert-Lewin aside, lol (not that there's anything wrong with that) but if a stupid bid of £70-80 mill came in, it'd be good business to sell as long as a replacement is lined up.
After watching Canada's latest 3 World Cup qualifying games, the player to target is Johnathan David who plays for Lille. The kid has 20 goals in 26 games for Canada, and scored 2 absolutely great goals this last week, 1 against Honduras, which was a beauty, and last night vs El Salvador, another great goal in the 94th minute.
I think he played almost every minute of the 3 games and against The United States, he set up the first goal in a 2-0 win. He's comfortable on the ball, has a bag full of tricks, great stamina, speed and is a winner.
Bill Gienapp
86
Posted 04/02/2022 at 01:23:40
Man, given how people on here shouted until they were blue in the face about not replacing Lukaku, I'm surprised to see the eagerness to cash in on Calvert-Lewin.
No, he's not a complete striker but, in case you haven't noticed, those guys are kinda rare... and they're not exactly beating down the door to come here.
In all likelihood, we'd just be using that money, at best, to buy a comparable replacement at Dom's level... or taking a chance on someone young and unproven, like we did with Moise Kean. Sometimes that works out, and sometimes it doesn't.
Also, I agree with Mike – taking shots at Dom for being a "sicknote" or implying that he's dogging it (seriously?) is some definite sourballs.
Mike Gaynes
87
Posted 04/02/2022 at 01:29:33
Jamie #74, we differ. He didn't look poor or abysmal to me.
Tom #79, I wasn't commenting on whether to sell him or not. I was commenting on your view that because he has outside interests and makes a big paycheck, he's lazy or uncommitted or distracted or not focused enough. What do YOU think he should be doing when he's not training? Playing FIFA on the couch like a teenager? Nah, not buying it.
However, kudos to Jim Robinson and both of you for recognizing the impact of Ukraine's situation on Mykolenko. The good news is that his hometown of Cherkasy is a long way from the front lines, but he still must not be sleeping nights.
Brian Wilkinson
88
Posted 04/02/2022 at 01:33:00
Jim @81, what a wonderful and thoughtful post. I, like others, would not have even given it a second thought.
Cannot be easy for the guy, so far away from his family and with what's going on back in his hometown.
For that alone, I think we need to give Mykolenko some time to bed in, and a bit of understanding, just what might be going through his head.
Laurie Hartley
89
Posted 04/02/2022 at 03:03:50
Very difficult team selection poser for our new manager. With Calvert-Lewin out, under normal circumstances, our front three would be:
Gray Richarlison and Gordon.
However we have a striker who has just scored a hat-trick – 3 top class goals – representing his country. None of them were tap-ins – he had to play his part in each one of them:
First: he got in front of two markers at the near post to glance in a very good header.
Second: he took a couple of touches on the edge of the box to get his shot away – a daisy cutter just inside the post
Third: he moved into space in the box to receive a pass which he absolutely lashed into the top corner from about 12 yards out.
The goalie had no chance with any of them.
The big mistake Benitez made against Norwich was playing Calvert-Lewin and Rondon together – wrong mix altogether.
In a cup tie, I think he is well worth the punt to start up top in a 4-4-1-1:
Pickford
Coleman, Mina, Branthwaite, Godfrey
Gordon, Allan, Gomes, Gray
Richarlison,
Rondon.
If it doesn't work out, sub him with Townsend and Gray and Richarlison can become the front two.
Mark Andersson
90
Posted 04/02/2022 at 04:20:12
Kieran@ 85... this kid wonder striker JohnathanDavid will have to be on his gaurd if Calvert-Lewin knows he has a bag full of tricks...
Robert Tressell
91
Posted 04/02/2022 at 04:27:01
Kieran # 85. David (like Bailey and Berge) is a player who looked destined for very good things when very gettable in Belgium. Really good player.
However, my hope is that Calvert-Lewin stays and has competition from another Canadian striker next season – Cyle Larin.
He's a free transfer in summer and seems to have developed very well in Turkey since the MLS – and has a more robust physique, like Calvert-Lewin. MLS followers will probably be better judges of him though, so interested in thoughts.
As for Mykolenko, he's only just turned up from a very different culture and country. It took players like Henry, Vidic, Evra and others a good season to settle in. Harder still, as others have very sensibly said, if the Russians look set to invade your homeland.
If a player fails to settle or perform, I personally think that reflects very badly on the club. It's up to Everton to look after the players they invest in.
Jay Harris
92
Posted 04/02/2022 at 04:29:40
I have this image of Frank liking his goals from midfield and playing with a false 9 so it may not be the end of the world against Brentford. On recent form, I would say Doucouré is more of a loss.
On the subject of Mykolenko give the lad time to adjust to the Premier League and get to know his teammates.
A lot of our sloppy play at the back recently is because they were playing like strangers. Let's hope the new coaching staff get to grips with them quickly.
Mike Gaynes
93
Posted 04/02/2022 at 05:48:59
Robert #91, we were actually interested in Larin way back in 2017 after he bailed on MLS -- I think he simply walked away from Orlando after scoring buckets of goals, and went to Besiktas. One report had us interested in him again last spring.
I had never actually seen him play until the current World Cup qualifiers. He has scored 16 in 17 for Canada. The first dozen were against the Caribbean minnows, but his last four goals have been against the USA and Mexico. He -- not Alphonso Davies or Jonathan David -- is the biggest reason Canada will go to the WC for just the second time in history.
Kieran isn't wrong about David, but he'd cost way, way more than we could afford, and he's a mainstay at Lille, where he is contracted through 2025. I believe he scored the goal that won the Ligue 1 title last season.
Bob Parrington
94
Posted 04/02/2022 at 06:29:45
Firstly, good pick-up by those who commented regarding Mykolenko and the Russian troops massing on the Ukrainian border. There is a need to be realistic and compassionate as to the effect this might be having on the round lad.
Secondly, it is a pity that the "cup-tied" rule prevents Frank from playing (at least in part) 3 of the new players prior to the Newcastle game. Otherwise, this would have provided a good opportunity to try out some new combinations of players.
Bobby Mallon
95
Posted 03/02/2022 at 07:06:52
I think you are all getting carried away with this "Patterson should start" malarkey. Jonjoe Kenny has not put a foot wrong at right-back and he definitely should start against Brentford. Yes ,we haven't won but that's not down to Kenny – the whole team has been crap. My team would be:
Pickford
Kenny
Mina
Branthwaite
Mykolenko
Gordon
Allan
Onyango
Townsend
Dobbin
Richarlison
I would not risk Gray; he for me is our best player by far this season and will be essential for our league run-in.
Terry Hughes
96
Posted 04/02/2022 at 07:44:46
Anyone but Coleman, Holgate, Keane, Iwobi, Kenny, Gomes and Rondon.
Jerome Shields
97
Posted 04/02/2022 at 08:41:38
Hope they are not as nervous as I am.
As for Mykolenko, how would any one of us enjoy making our debut in a dysfunctional team, with a dead-in-the-water manager, compared with your predecessor who is playing for the opposition, in one of the most hostile enviroments in the Premier League, with ongoing protests against the Chairman and Board, not speakng the language?
Ernie Baywood
98
Posted 04/02/2022 at 08:43:18
The second Calvert-Lewin was injured, I suggested we wouldn't see the best of him for the season.
Anyone who has had a bad quad injury would understand. It's a shocker. It takes a long, long time to even get your confidence back because you get so used to it going again every time you feel okay.
Gary Jones
99
Posted 04/02/2022 at 08:45:58
Conor @65:
1) Kevin Sheedy and James Rodriguez were "left-footed" too. Thinking of converting them to left wing back just because they were left-footed is as daft as your ongoing suggestion we do it with Townsend.
2) I have not once 'maligned' Godfrey; I have simply stated he's a right footed centre-back and should only ever fill in at left-back when we have absolutley no other option. He cannot beat a man and cross from there, and it limits us offensively. Since 'offensive play' seems so important to you, you are looking extremely hypocritical not being able to see this very simple fact.
3) "I have written no-one off" and "Mykolenko doesn't look ready cos I've seen two whole games and going to pretend he was shit in the Euro's" in the same sentence. :D
4) I assume your postscript is some kind of crack at the TV show, Smith and Jones? Or is it simply some kind of distraction from having your pants pulled down over the daft suggestion of playing a right-winger at left-wingback?

Jerome Shields
100
Posted 04/02/2022 at 09:00:32
As for Calvin Lewin, he is injured and must be devastated that he has not been able to push on after his progress last season, having been tipped by Ancelotti that, with focus, he could become a world class striker.
As for his attire, it'10s a bit rich that many of us of the New Wave generation of the eighties should not find it all great fun. After all, we went to the Camden Palace in London or wished we had have been able to.
By the way, it has been reported that Tosun, too good for Hull, is looking for Everton to buy out the remainer of his contract for £1 million. Only a rich man would ask such a thing , rich on Everton's stupidity.
Danny O'Neill
101
Posted 04/02/2022 at 09:13:13
Kevin Sheedy. He had a magic wand of a left foot that would have put Harry Potter into the also rans and sat on the bench. Personally, I think he would have been the perfect modern number 10 even though we played him wide. That patience and pass against Bayern Munich. That looped pass to Adrian Heath against Norwich.
I would have left my wife and divorced Grahame Sharp to marry Kevin Sheedy.
Sorry, I'm getting over-excited. Why isn't he at Finch Farm?
1983 going into 1984 staring relegation in the face and discontent throughout the support base.
Of course we're going to win the FA Cup and finish 7th. Come on Frankie's blue boys.
Eoin Cullen
102
Posted 04/02/2022 at 09:22:44
Frank Lampard has the reputation of developing young players. Now would be a good opportunity to make a good statement of intent by starting with Dobbin.
Shaun Laycock
103
Posted 04/02/2022 at 09:31:33
All professional football payers want to play footie the right way – 'enjoy the ball' said Frank... so I expect our squad to step up a level as all they have been asked for previously is cattenaccio or defend and counter.
We will try to control the game with possession – all of our players will be capable of this, but might take a little while to 'remember' how to do this.
Our formation will not be so reliant on getting it down the wings, crossing for the big man, so we won't be over-reliant on Calvert-Lewin or Rondon as striker. We may go for our smaller, more technically proficient players, to play the ball into.
Well, here's hoping anyway...
Martin Reppion
104
Posted 04/02/2022 at 09:32:23
A few observations.
It is disingenuous that a player goes from being an international and our leading striker to money-grabbing poseur whilst out of the game through injuries. You don't need a fully functioning hamstring to do a photo shoot. You do need it to play professional football.
I saw Mykolenko at Hull. I was not in the Everton end but in the main stand and had a very good close-up view of him being skinned by their right-wing partnership. However, that does not make him a bad player.
His reputation is based on 3 seasons of consistent good work at club and international level. It is up to the manager to see in training if he has his head on the game and can overcome the technical issues that failed him at Hull. With Baines and Cole around, he should be able to get the right help.
For those talking of sacrificing the cup run to help our league form, I would offer a history lesson. New Year's Day 1984, we were at the wrong end of the table and had just been booed off vs Coventry. People called for Howard Kendall's head.
5 months later, we had played in 2 cup finals, winning one, and started on a run of form that led to the most successful period in the club's history. We did not achieve that be 'resting' players. We did it by playing the best available 11 every game.
Sadly I don't know what our best available 11 is at the moment. But I would suggest it involves Patterson at right-back, Richarlison at centre-forward and 3 players in midfield.
See you tomorrow.
Michael Lynch
105
Posted 04/02/2022 at 09:39:27
Frank will have come in with a fresh pair of eyes, so it will be more than interesting to see how we line up on Saturday.
As has already been said, it's a Plan B kind of game, with so many cup-tied or injured, so we might not be able to see Lampard's full plan for the future, but it should be a good indication of how he ranks some of the "maybes" in our squad, like Kenny, Mykolenko, Keane, Gbamin, Dobbin etc.
David Pearl
106
Posted 04/02/2022 at 09:49:47
Optimistic for tomorrow, we should have enough. Looking forward to us having the ball for a change. I'd put Townsend in the middle with Allan and Gomes.
Is lwobi back yet? Could be the last chance he gets to play as a No 10. Then surely he will be a 12 till next season when he goes out on loan for the couple years that run down his contract.
I used to run over to the TV if l heard our manager talking... but that stopped when Koeman came in; now, l'm back and interested again.
David Midgley
107
Posted 04/02/2022 at 10:02:34
Johnathan David moved from Ghent to Lille. They were managed by Christophe Galtier, who was at one time linked to the Everton job.
Lille became champions. He moved to Nice where he is again doing great things. However, the vital spark for Lille and Galtier was a man called Luis Campos. He was a poor manager but an absolutely fabulous spotter of talent. It was him who scouted Yves Bissouma, now playing for Brighton, that everybody raves about, and is sometimes touted for Klopp's lot.
Look Luis Campos up on foottheball.com. Google: "Where does Luis Campos live?"
At the moment, I don't think we have a head or European scout. He would be a marvellous acquisition if Everton could get him to act for us. How many gems, I wonder, does he have in his little black book?
Christopher Timmins
108
Posted 04/02/2022 at 10:08:59
I can't wait to see how the manager sets the team up and how they try and play given the players at his disposal for tomorrow's game. Given our lack of pace and power in the midfield sector, I would go with:
Pickford
Patterson
Mina
Godfrey
Mykolenko
Allan
Onyango
Gomes
Gordon
Gray
Richarlison
Alli, Van de Beek and Calvert-Lewin, if fit, to start on Tuesday.
Bring it on!

Brian Harrison
109
Posted 04/02/2022 at 10:24:26
Just a pity that Frank won't have a fully fit and eligible squad to pick from for tomorrows game. I don't think he has a lot of options in midfield so it will be Allan, Gomes and another, I think the front 3 with Calvert-Lewin being injured picks itself with Richarlison down the middle and Gordon and Gray on either side.
I think the real interest will be the make up of the back 4 as that is the one area were there all fit to play.
I wonder what El Ghazi is thinking, only a week after he signs the manager who brought him on loan gets sacked, and because he is cup-tied, Saturday was probably one of the few opportunities to try and impress the new manager. Because, with two attacking midfield players being signed and the fact that we have Richarlison, Gray, Gordon, Townsend and even Iwobi who can play wide, I can't see him getting a game.
I for the life of me have no idea why we took another wide player on loan, and I don't rate El Ghazi that highly but you can only feel sorry for him as he expected to come here and get a chance to impress.
Shaun Laycock
110
Posted 04/02/2022 at 10:31:13
Here's a complete leftfield observation: with us playing a more possession based game, with more technical players surrounding him, will Iwobi start to find his feet?
[Dons tin hat... come in, Colin Glassar...]
Raymond Fox
111
Posted 04/02/2022 at 10:34:07
Well, if you fancy getting relegated, go all out for the cups, I know where my priorities are.
Why risk more injuries to your very best players? Yes, it would be nice to win a cup, but do you really think we are capable even with our best side playing.
As for selling Dominic, okay he's not a Kane but we would struggle to get one as good as him to sign for us. They all want to play Champions League football.
Niall McIlhone
112
Posted 04/02/2022 at 10:44:17
Picking up on Jay Harris's comment (#92) we absolutely cannot allow any of those calamities at the back, and if we concede a penalty, Ivan Toney will convert it.
One can only hope that Frank and his coaches are mindful of how fragile our defence is, and can plug the very sizeable gap in front of the back 3/4.
Managing this squad could be compared to a game of "Whack-a-mole"? Solve a problem with the defence, and a problem arises in midfield-solve that and your goal scoring forwards stop scoring or get injured.
I think the signings of Alli and Van de Beek are aimed at us generating both assists and goals from midfield and, if it pays off, it would set us up nicely for a squad overhaul in the summer.
David Graves
113
Posted 04/02/2022 at 10:50:31
Tom @ 79
You have no idea how Calvert-Lewin applies himself.
What you do know is that he scored 1 in 2 last season. Whilst most people would agree that scoring goals in the Premier League is the hardest part of the game, you suggest that "if Arsenal will pay £60M, grab it and run".
Do you think that £60 million buys an upgrade on Calvert-Lewinguaranteed to score 20+ goals a season? I doubt it.
If you believe that professional footballers aren't particularly concerned or bothered about being injured, then you probably don't know many.
David Graves
114
Posted 04/02/2022 at 10:53:10
Danny, your comment about marrying Kevin Sheedy made me laugh.
My Mum used to complain that my Dad would have had a baby to Alan Ball.
Raymond Fox
115
Posted 04/02/2022 at 10:53:26
Adding to my post @111, this cup game is a head scratcher for Lampard. He certainly will not want to start with a loss, but he must have more than one eye on Tuesday.
I think, given the choice, he would much prefered to have gone straight into the league games.
Ray Mia
116
Posted 04/02/2022 at 11:00:42
Refreshing to hear the new manager's confidence and control at the press conference. Good to see he brings positive relations with the press, which has been something lacking with Everton bosses – since forever...
Lampard is a media darling, and as long as results reflect that positively, surely a good thing?
Ashley Cole... On paper, amazing... I mean Cole and Baines... That's got to be a decent coaching set up in defence? It's positive.
The game on Saturday is a chance to let youth out of the box? Give Dobbin a run?
I'm super excited to go to the game on Saturday. For the first time in a long while, I feel positive...
David Midgley
117
Posted 04/02/2022 at 11:23:20
I've read the 25-man squad several times and can't see Patterson. Is his name in invisible ink?
Andrew Bradshaw
118
Posted 04/02/2022 at 11:28:43
Patterson is under 21 so is on that list.
Dave Abrahams
119
Posted 04/02/2022 at 11:41:23
I think the centre-midfield is again the key issue here, very weak, well shite, to be perfectly honest, at the moment. I think they will have to use everybody who is fit in that position and change them a lot during the game.
With five substitutes allowed in these cup games it gives Lampard a chance to freshen that position up quite a bit of leeway.
I'm gong to see them win hopefully but, with apologies to Danny O'Neill and his dream of Wembley, I'm much more concerned with the Newcastle game next Tuesday, sorry Danny!!
Conor McCourt
120
Posted 04/02/2022 at 12:04:46
Gary @99,
When Lampard first used this 3-4-3 system he preferred Hudson-Odoi over both James and Azpilecueta in the right sided role because the idea was to dominate possession in midfield areas and he wanted the best attacking threat to play there to keep the opposition penned.
I suggested Townsend on the left for this game initially for the same reason ahead of Mykolenko and Godfrey. You disagree, fine, but the chief concern tomorrow for me is to prevent Allan and Gomes from being overrun like they have every time they have played together.
Pulling my pants down when you have probably seen the young lad play a handful of times, and has shown next to nothing going forward, do me a favour.
Kim Vivian
121
Posted 04/02/2022 at 12:07:40
Firstly, I'm really hoping Lampard can provide me with a win on my birthday tomorrow – preferably in normal time – despite the dearth of fully fit and functioning first teamers – and that I can find a decent link to watch it.
Secondly, having said that about the players, and mindful how combative cup ties can be, it may be that having our new signings cup tied is actually a blessing in disguise as we are forced then to keep them as fit as possible for the league programme which has to be the priority at this time.
If we can advance in the cup and move up the league to relative safety, we can perhaps put more emphasis on the cup, but – despite all the new found and welcome optimism – the spectre of Championshp football next season hangs like a cloud over my waking (and some sleeping) hours.
COYFB - A win by any means tomorrow will do me!
Jay Wood
[BRZ]
123
Posted 04/02/2022 at 12:18:25
Wow. Some vicious, vitriolic but baseless comments directed at Calvert-Lewin on this thread. Strange.
As for the game, I'm intrigued to see Frank Lampard's first selection and game set-up to make a direct comparison with our last (and only) outing under Duncan Ferguson.
Effectively, both have had the same time to prepare the team ahead of the game. With the cup-tied players, both have exactly the same players to choose from.
If anything, Frank has less to choose from than Duncan. Doucoure and Calvert-Lewin were fit to start against Villa, with Allan only on the bench due to returning after Covid-19. Whilst Allan is now probably fit to start, neither Doucoure nor Dom are options for Frank tomorrow.
He has big decisions to make on the selection of his entire back line. He has very few options to refresh the midfield. Good options for the make-up of his forward line.
The style and tactics will also be interesting. Much was made ahead of the Villa game of Duncan filling the team with fire and brimstone. It never materialised as it did 2 years ago when he inspired the team to the 3-1 win over Lampard's Chelsea.
Everton were poor last time out against a very ordinary Villa. None of our big players stepped up. There was virtually zero creativity. Very little down the flanks to feed the strengths of Calvert-Lewin and Richarlison in the middle. We were reduced to the Neanderthal tactic of passing the ball pack to Pickford to lump it upfield. Can Frank do better?
It's going to be a tricky first game for Lampard. The opposition. The selection. The tactics.
Dennis Stevens
124
Posted 04/02/2022 at 12:24:08
It seems to me that Townsend is more effective when used as a sub and that Gomes is less ineffective when used as a sub, although he always seems to have the capacity to be a liability. I'd be unenthused at the prospect of either in the starting line up, especially Gomes.
I do worry whether Lampard has the resources available to address the hole where a defensive midfielder in the Carsley / Gana Gueye mould would be invaluable.
Looking forward to seeing what the new Manager can get out of this squad.
Fran Mitchell
125
Posted 04/02/2022 at 12:29:07
Calvert-Lewin is someone who some fans just can't wait to stick it to. Even when scoring, he would get stick. He'd score 2 in a game but miss one chance and that would see him get written off, time and time again.
Some fans treat him as if all other strikers never miss chances, ever. As if every shot made by Kane, Salah, Lukaku goes in back of the net and that's not true, not in the slightest. Salah scores bucketloads cause he shoots bucketloads. He misses loads, but doesn't get grief.
Calvert-Lewin has been slow since his very serious injuries, and has been rushed back into a very underperforming team that isn't creating chances.
Once he's back, I hope he stays... him and Alli could make a serious partnership.
As for tomorrow's game, hope to see the full backs, also hope to see Onyango and Dobbin. Expect Mina to be rested, and Allan not to play the full 90 minutes. 4-3-3 and a glimpse into the future. 2-1 win and Goodison roaring again.
Steve Brown
126
Posted 04/02/2022 at 12:31:18
Sell Calvert-Lewin to Arsenal for £60 million!
Fortunately, Frank Lampard isn't as dim as that particular poster. He has already told the board that Dominic should stay. Didn't the same poster repeatedly say that we should stick with Benitez?
As for criticism of Calvert-Lewin for having the temerity to pull his quad, he has averaged 32 league appearances per season over the last 4 years. Therefore, his 'extramural' (?!) activities have not impacted his availability or performances.
Geoff Lambert
127
Posted 04/02/2022 at 12:31:56
Calvert-Lewin is nowhere near Kane, Salah or Lukaku, Fran... and he never will be.
Eoin Cullen
128
Posted 04/02/2022 at 12:40:36
Actually this is probably a good game for Frank to start with: a decent opposition who will come out and play. The real pressure comes on Tuesday night at Newcastle when the chips are really down.
Tony Abrahams
129
Posted 04/02/2022 at 12:47:14
I agree with Lampard's programme notes, Everton should always be competing to try and go as far as they can in the cups; otherwise, what's the point in even existing?
John McFarlane Snr
130
Posted 04/02/2022 at 12:54:59
Hi Tony [129] I agree with you, I would hope for Everton to field their strongest side whatever the opposition or competition.
Sustaining injuries is the risk that's present in every game, or training session.
John Keating
131
Posted 04/02/2022 at 12:58:26
Difficult first game for him with Calvert-Lewin injured – cannot think of selling him! And, our two midfield acquisitions ineligible
The midweek league game is, in my opinion, far more important than Brentford.
3-5-2 for me with pace to get numbers in the box when attacking:
Pickford
Godfrey Mina Branthwaite
Patterson Allan Onyango Townsend Gray
Gordon Richarlison
Jay Wood
[BRZ]
132
Posted 04/02/2022 at 12:58:50
Frank's programme notes Tony mentions:
Neil Lawson
133
Posted 04/02/2022 at 13:02:31
Happy Birthday for tomorrow, Kim. Me too.
Killerton Parkrun. Cooked breakfast (a rare treat), a win of any sort v Brentford. Catch the rugby. Nice meal and a few drinks with friends (at my age, 67, no clubbing!)
And I would give up 4 of them for the 5th – the win.
It will be an intriguing team selection given the limited options. I think we may see a surprise or two focused on youth.

Mal van Schaick
134
Posted 04/02/2022 at 13:12:26
Looking forward to see what Frank can bring to the party.
If he gets his team defending well and playing with pace and spirit, he won't go far wrong. He needs to be his own man regarding his man-management, selection and tactics, and start with a convincing win. Good luck.
Kim Vivian
135
Posted 04/02/2022 at 13:12:31
Neil – best wishes for tomorrow. Exactly 1 year younger than me!
No run for me but a bit of animal husbandry first thing whatever the weather, rest of the morning chilling, beer at lunchtime footy in the afternoon and Chinese New Year with a Chinese in the evening. Hopefully a triple celebration if the footy turns out well!

Barry Hesketh
136
Posted 04/02/2022 at 13:19:47
The FA Cup represents a chance, albeit an outside chance of putting a trophy in the cabinet. Even if the club isn't able to do that, continuing as far as possible in the competition is important for the manager and the team. The negative impact of a quick exit, will see the usual suspects pile on to both the new boss and the players.
Tomorrow's game is a chance for Goodison Park to show its true colours and try and get the team through the game and into the next round. It isn't an easy task but it is possible to progress.
As for the Dominic Calvert-Lewin debate, he might not be 'world class' as some expect him to be – lord knows why – but this Everton team has missed his presence more than many would have expected.
Anyway, I hope the crowd is at its enthusiastic best tomorrow and that we make it into the hat for the next round. I do agree that, at this juncture, Premier League points are very important, but a good cup run could help the team to gain confidence and then go and get those points we require. I see little advantage in going out of the FA Cup at this early stage.

Tony Abrahams
137
Posted 04/02/2022 at 13:23:23
Danny, David, it was funny in our house the other night when Frank Lampard came on the telly. "Shut-up a minute I said, let's listen to Everton's new manager" and my 8-year-old daughter turned, looked at the telly, started laughing and said "O, he's hot, isn't he, if he's our new manager I want to marry him."
My oldest son was born the year after we last won a trophy, at least 25% of our match day crowd, have never seen us win a trophy...
Come on, Frank, if you thought the crowd was special when Everton beat Chelsea, wait until you win us something, please mate!
John Raftery
138
Posted 04/02/2022 at 13:23:26
These are two evenly matched teams but Brentford are the worst team to play against us this season.
In the November match, our players were embarrassed by the amount of possession they had and how little they were able to achieve with it.
If, and it is a big if, our team tighten up at the back and Gray and Richarlison step up a gear, we really should be able to win this one.
Pete Jeffries
139
Posted 04/02/2022 at 13:25:21
Against the Bees, the two full-back positions will be crucial. Which is why I favour Godfrey – his best position for me. Yes, he gallops down the wing but, even better, he also gets stuck in early; wingers and wingbacks don't like that.
In comparison Mykolenko still looked a bit of a liability to me, something we can't afford in a knock-out cup match.
I dunno about Patterson – only Frank does, we hope!
For me too, Gordon, Gray and Townsend must start. For once, we need early attacks and goals to subdue Brentford and calm the nerves.
Danny Baily
140
Posted 04/02/2022 at 13:30:55
Time will tell, but performances so far and comments from the camp give me the impression that Mykolenko isn't anywhere near being good enough for this level. Hopefully his wages are reasonable and we can move him on quickly in the worst case scenario.
Tony Everan
141
Posted 04/02/2022 at 13:31:15
Tomorrow will give us a glimpse into Frank Lampard's mindset on the players available. It's as big a guessing game as ever as to the line up. 3-5-2:
Pickford
Godfrey Mina Branthwaite
Paterson Townsend Allan Gomes Mykolenko
Richarlison Gordon or Gray
Out of our five centre-backs these are the best three.
I was impressed with Paterson getting forward last week for the U23s, plenty of energy, covers ground well, closes down and puts in some first-class crosses. Going to be a great player for us. I want to see him start.
Mykolenko may well show more if chosen; he will have settled down a bit and also has a reputation for attacking the left flank.
Pick any two from Richarlison, Gordon and Gray. Impossible to decide, but I'd go for Richarlison and Gordon.
Andrew Bentley
142
Posted 04/02/2022 at 13:35:48
For me, tomorrow's match is all about getting some much needed confidence flowing into this team and the club as a whole!
Clearly we want a win, but for me it's also the style of the win and the way we play. Let's see if we can turn in a performance that helps to get some momentum for the games ahead.
Kim Vivian
143
Posted 04/02/2022 at 13:47:30
Neil – I meant to add... we could make up a pretty good 5-a-side team built around players who share our birthday:-
Ronaldo, Tevez, Neymar, Ghoerge Hagi, Adnan Junazaj, Manny Fernandes (remember him?) – no space for me sadly! Maybe in goal.
Happy birthday (tomorrow) to the lot of them.
Bill Gall
144
Posted 04/02/2022 at 13:58:34
It will be interesting to see what team he will put out as without the 2 midfield players plus injuries he has practically the same squad as Benitez had, and will have to go on videos and the coaches who were with him for advice.
Regardless of the outcome I hope he shows what he is made of and how he is going to manage with his formation.
I don't understand some of the comments on Calvert-Lewin. This is the first time he has had a serious injury, and suddenly he becomes injury prone. I just don't like all these pundits talking about him going to Arsenal as if it is a done deal.
Be looking for a site to watch the game tomorrow as, living in Canada, every sports channel we have are all showing the Olympics.
Annika Herbert
145
Posted 04/02/2022 at 14:05:29
Tom @ 79, if Calvert-Lewin is as limited as you say, then why would any club be willing to pay £60 million for him?
Personally, I rate him and think he has been missed. I struggle to think of anyone we could get to replace him at a cheaper price.
Andrew Bentley
146
Posted 04/02/2022 at 14:08:59
I would like to see this side tomorrow:
Pickford
Coleman, Mina, Branthwaite, Godfrey
Allan, Gomes
Gordon, Richarlison, Gray
Dobbin
Give a couple of the youngsters a bit of a go.
Colin Malone
147
Posted 04/02/2022 at 14:10:33
Me thinks, we will see a better Andre Gomes under Frank Lampard. Terrific passer of the ball. Defensive midfielder? Never has been and never will be.
Let's hope, as soon as he receives the ball, he doesn't have to look up as he will know what part of the pitch where the forward runners are.
Remember Sheedy? As soon as Sheedy received the ball, he knew Inchy [Adrian Heath] was on his way down the left and the rest is history.
Sam Hoare
148
Posted 04/02/2022 at 14:19:32
Any idea who the most dribbled past players in the entire Premier League are?
At number 2 is Allan at 3 times per 90. And tofielp of the charts is Andre Gomes at a breathtaking 4.6 times per match. Take a bow son.
I know these are isolated stats and don't tell the whole story, but they tell enough of it for me to feel worried at the idea of those two playing double pivot.
We still lack a reliable defensive central midfielder, which may cost us, especially if Lampard wants us to play a more attacking brand of football.
Brian Harrison
149
Posted 04/02/2022 at 14:22:03
Jay @132,
Thanks for posting Frank Lampard's comments from the match day programme, I don't know how you can do that, but I am of an age were modern technology has long since passed me bye. When I read the notes I was thinking it must be 50-odd years since I bought a home match programme.
I like Frank Lampard and he sets the tone perfectly, and as I said in another thread I think his backroom staff is as good as we have ever had. We have often had great coaches like Colin Harvey and Eggleston before him but this entire backroom staff is full of quality and experience.
I, like everybody, am excited to see how Frank sets his team up, but just lets remember we have only won 1 of our last 14 Premier League games and as luck would have it we play another Premier League team tomorrow.
I was really worried if we stayed with Benitez there was a good chance we could go down, but I don't feel under the same pressure with Lampard and his coaches in charge.
Let's be honest –all season people have moaned about our midfield and what's the first thing Lampard does within 48 hours of signing? He brings in 2 attacking midfield players, sadly neither can play tomorrow. So, even looking from outside, he has identified the problem in midfield and has done something about it.
Andrew Ellams
150
Posted 04/02/2022 at 14:24:25
I'm concerned about tomorrow due to the players who aren't available, including Calvert-Lewin and Doucoure.
I hope the crowd don't turn on the new man if things don't go right; it will make the next 3 vital games all the more difficult.
John Raftery
151
Posted 04/02/2022 at 14:35:11
Writing off Mykolenko after two appearances seems premature. It often takes time for players to settle into new surroundings, especially when they are parachuted into a struggling team.
Alex Young, Howard Kendall, Graeme Sharp, Trevor Steven, Dave Watson, Leighton Baines and Phil Jagielka are just some of the players who made tentative starts but went on to be club stalwarts.

Tony Abrahams
152
Posted 04/02/2022 at 14:37:23
Put two against three in the biggest area of the pitch, and it's going to be no surprise, that they are going to be the easiest players, in the whole league, to go around, especially when they play with a central defender, who continually plays on the back foot, because he's more concerned about protecting his weaknesses, rather than playing to his strengths.
Reading about my adopted international team, the good old USA, and how they've just pulled off a brilliantly professional maneuver, to help them qualify for the next World Cup.
All's fair in love and war, so I have no sympathy for those poor Hondurans, who ended up on an intravenous drip, because they were suffering from hyperthermia, due to the freezing cold weather, because it's not as if playing in Qatar is going to be easy for a lot of European nations, next season!!
Martin Mason
153
Posted 04/02/2022 at 15:25:00
And yet, unless Frank Lamp has developed magic skills, it's difficult seeing them being any better than they were against Villa unless he starts blooding in youngsters.
Mike Gaynes
154
Posted 04/02/2022 at 15:25:11
Tony #152,
Thanks as always for the USA support, but I'm afraid the "clever" decision to play in the Minnesota Freezer just came off looking really dim. The US didn't need the help of the weather to beat a hapless Honduras side.
Watching the lonely US keeper do sprints trying to keep warm -- Honduras never got a shot on goal -- was comical, and players slipping on the glassy surface wasn't a good look either.
Christian Pulisic was visibly furious about the conditions after the game, and he grew up in Pennsylvania and Michigan, so he's used to playing in the cold. This was nuts.
Neil Lawson
155
Posted 04/02/2022 at 15:36:03
Thanks Kim. Importantly, do Ronaldo and Tevez know that they share their birthdays with us? You play in goal and I will guard the corner flag.
Let's hope we both have a completely happy day. COYB.
Tony Abrahams
156
Posted 04/02/2022 at 15:47:44
It was a geographical decision, Mike!
Olalekan Taofik
157
Posted 04/02/2022 at 16:03:41
The FA Cup win against Brentford could be a turnaround to our miserable season.
What I don't understand is that performance in the League has been the same style after Moyes left, is either we start well and nosedived by December/January period or we start woefully and then improve towards the end of the season. What could be the problem?
I have been supporting the team since immediately after 2002 World Cup, when Joseph Yobo joined the team. I really don't know what the problem is. We have fired coaches more than any other club Premier League club (I think so).
Let the team use this weekend game to hear us and see smiles on our faces.
Good Day, fellow Evertonians.
Brian Hennessy
158
Posted 04/02/2022 at 16:08:14
Mike #155 & Tony #152
Prince always said "the cold in Minnesota keeps the bad people out"
Not sure what the poor Hondurans did to deserve playing in a fridge at –19C!
Jay Evans
159
Posted 04/02/2022 at 16:15:40
First press conference I've watched all season – quite refreshing I thought.
First press conference I've enjoyed in about 2 years if I'm being honest.
No dodging questions or shifty answers or raised eyebrow(s) or any other bollocks, just a very honest assessment of where we are and where we need to be.
I was determined not to get carried away with this appointment, such has been the shit show of the last 5 or 6 years, but I'm really excited about the rest of the season now.
Still lots of work to do I know but I'm genuinely looking forward to going to the game tomorrow and that hasn't been the case for the last few months.
In Frank we trust. Onward Evertonians. Full support. 💙
Geoff Lambert
160
Posted 04/02/2022 at 16:37:42
Glass half-empty feeling here – it's the same bunch of misfits that's been stinking the gaff out for years. I think it's going to take a bit more than a week under Frank to get any change out of this shower.
Hopefully the changes made to the coaching staff will start to show before it's too late. COYB.
Steavey Buckley
161
Posted 04/02/2022 at 16:48:05
Coleman should join the backroom staff, not the first team. Everton have at least 3 other players who play right-back. It is time to give Coleman a well-earned rest.
Unfortunately, Everton won't be able to play any of their newly acquired acquisitions from Premier League clubs. Disappointing for Everton fans and the manager.
Dale Self
162
Posted 04/02/2022 at 16:48:06
Not to continue with the Calvert-Lewin slagging but if this was the second-heaviest Premier League club spending in the January transfer market, why the hell would we sell for £60M?
Brian Harrison
163
Posted 04/02/2022 at 16:52:35
I see Paul Merson is suggesting that Arsenal should break the bank and sign Calvert-Lewin, who he believes would be a perfect fit for Arsenal. We all remember him saying Richarlison was overpriced when we signed him, I reckon we would recoup anything in excess of £65 million or more for him now.
Thankfully we have a manager who will make all the right calls and the offer would have to be spectacular for Frank to even consider it, which I don't think he will. The age of both Calvert-Lewin and Richarlison means they have both many years in front of them and hopefully that will be in an Everton shirt.
Bill Watson
164
Posted 04/02/2022 at 17:05:02
I'm not one of Calvert-Lewin's biggest fans but his poor performances in his two games back come as no great surprise.
He's been out since August, for fuck's sake, so give the guy a bit of slack.
Ed Prytherch
165
Posted 04/02/2022 at 17:21:48
Mike and Tony.
I watched the USA game with my missus who is a yank and who loves to win!
I was impressed by Antonee Robinson. He is so alert. It is as if he moves for the ball before it has been played and he is never late into a tackle. We let go of some talent when we sold him.
Jeff Armstrong
166
Posted 04/02/2022 at 17:26:07
Apologies if already mentioned above, but just read a study that says without VAR, i.e couple a of seasons ago, we would be on 25 points and 11th tonight.
The most hard done to team in the premier league, we are correct, the referees hate us.
Would be great if it was drilled into even further, to prove that Jon Moss has cost us at least half of those points.
Bill Rodgers
167
Posted 04/02/2022 at 17:28:34
Let's hope that Lampard gets the bench right from game one and Ferguson is doing the laundry. The sight of that puzzled, useless frown must be banished for good.
Tony Abrahams
168
Posted 04/02/2022 at 17:38:48
I honestly thought that, since Benitez came to Everton, it had got a lot worse, Jeff, and I'm often moaning to everyone around me that we get treated like the away team at Goodison Park most games. But maybe this is another thing that is hopefully going to change now we have got Frank Lampard? I bloody hope so anyway!
Mike G often goes on about Robinson, Ed, and although I didn't think he was ready when he went to Wigan, it was obvious that he was quick, strong, and going to be a powerful physical player. It maybe another case of a club with no stability, often losing good young players because of the constant managerial merry-go-round?
Jeff Armstrong
169
Posted 04/02/2022 at 17:57:24
Bill 167, spellcheck is a right pain in the arse.🧐🤡
Paul Armstrong
170
Posted 04/02/2022 at 18:05:58
Olalekan#157 Greetings. I am sorry you started to support the Blues after the good times had been and gone!
Eddie Dunn
171
Posted 04/02/2022 at 18:08:33
I am very hopefull that the same guys who have done so poorly can change completely under the new "happy" modern regime and show us all that they can play football.
If Frank and Co get a tune out of them, it will reflect badly on Benitez. Obviously it will also reflect badly on some of the players who should be professional enough to perform regardless.
I was astounded when Duncan sent them out with a midfield two; surely, surely Frank will play a three?
Martin Mason
172
Posted 04/02/2022 at 18:08:50
Bill@164,
He has 2 poor games coming back from a bad injury? Absolutely disgraceful. Fire the guy.
Paul Armstrong
173
Posted 04/02/2022 at 18:10:26
Andrew #150,
If the crowd turn on a new boss after one game, I hope they get what they deserve.
Colin Glassar
174
Posted 04/02/2022 at 18:28:08
I think it's going to take a few weeks for the Lampard Revolution to get going so I'm going to predict a 1-2 loss tomorrow and a scrappy 1-1 draw against Newcastle.
Once he gets his best team out, I think we'll coast to safety. Patience will be key with our new manager and players.
Paul Armstrong
175
Posted 04/02/2022 at 18:37:41
Colin #174,
If we can restrict the mighty Brentford to 1 - 2 at Goodison Park then job done!
Joe McMahon
176
Posted 04/02/2022 at 18:46:15
Colin, I'll give you a kiss if we manage a scrappy draw on Tuesday!
I think we may have to wait until Saturday next week for the Frank revolution to kick in.
Danny O'Neill
177
Posted 04/02/2022 at 18:56:29
Tony @137, my son was born around the same time. Technically he's seen Everton win a trophy but he was 5 months old and sat on my knee (until I nearly threw / dropped him) in the old Dunlops Social Club in Speke with my best mate Dave (RiP) and youngest brother Jamie. So he doesn't remember it.
He's away serving at the moment. Here's to him coming home safe and we can make that trip to Wembley in May. Failing that, Goodison will do nicely.
Dale Self
178
Posted 04/02/2022 at 18:59:27
We've all been impressed with Frank's direct and undaunted responses to our problems. He knows ultimately he must get the faith of the squad as it is to even begin to think of what lies ahead.
I suspect he will find a story or example to fix the players' minds on the tasks needed to find a result on Saturday and Tuesday. Squeak it vs. Brentford and start slow then dominate the Shitpies. We may even see some lineups that flat-out go for it as we don't have the players in the middle.
John Hood
179
Posted 04/02/2022 at 19:08:12
Brentford fan here. I think the last time the Bees played at Goodison was 1954. It would be interesting if anyone on here was there or can remember the match.
I think it will be a very open game... in a way neither team would be too bothered by losing as staying in the Premier League is obviously more important.
I have no idea how strong the side Thomas Frank puts out will be. I suspect a few rested for Man City and Crystal Palace coming up.
After a great start, the lack of squad depth has hampered our efforts and losing David Raya in goal was a massive loss. With by far the smallest budget in the Premier League, we are just glad to be outside the Bottom 3.
Anyway, look forward to a lively occasion in front of a raucous crowd... all the best for the rest of the season.
Steve Shave
180
Posted 04/02/2022 at 19:08:17
Evening all – here's to a positive weekend for the Blues. I for one am glad to see the end of a busy week.
Big game this, a winnable one but unavailable players mean that we won't get a real sense of how Frank wants to set up and with whom. I would go for:
Pickford
Patterson Mina Godfrey Mykolenko
Allan Onyango Gomes
Gray Richarlison Gordon
Michael Kenrick
181
Posted 04/02/2022 at 19:10:03
Interesting to note that Dobbin, Onyango, Patterson and Branthwaite are all absent from the U23 line-up that has just kicked off in Southport this evening. Could be an encouraging sign that Frank will at least have a few of them on the bench at Goodison Park tomorrow!
Mike Gaynes
182
Posted 04/02/2022 at 19:26:06
Ed #165, amen.
Antonee has pretty much locked up the left-back spot for the World Cup and he's statistically the best attacking full-back in the Championship.
When I think of how we punted him off for £2million, and much better we'd look with him as our left-back now, it just makes me sick.
Colin Glassar
183
Posted 04/02/2022 at 19:29:33
Good luck on staying up, John H. Is it true your boss won't be in attendance? That could be problematic for yous.
My team tomorrow would be (4-3-3):
Pickford
Patterson
Mina
Godfrey
Mykolenko
Gordon
Allan
Onyango
Richarlison
Gray
Townsend
Probable line up (4-4-2):
Pickford
Coleman
Keane
Mina
Godfrey
Allan
Gomes
Townsend
Gray
Richarlison
Rondon

Danny O'Neill
184
Posted 04/02/2022 at 19:46:09
I think we'll see more of that with Lampard, Michael.
Welcome to the best football forum there is, John Hood. Once it's touched you, there's no going back.
I respectfully wish you a miserable trip back to Euston and west London tomorrow! I've had enough of them this season.
Kieran Kinsella
185
Posted 04/02/2022 at 19:48:42
John Hood,
I am pretty sure my late Uncle went as he was a Brentford fan and went on about going to Goodison twice (since I was an Everton fan) – once during the 1966 World Cup and another occasion as a Brentford fan versus Everton. I imagine it may have been the 1954 game as we haven't crossed paths much since.
I did inherit his signed brochure (Pele and Co signed it) after the World Cup game at Goodison. Sadly I didn't get one from the Brentford visit. I don't think he was starstruck enough for that one. But there are a couple of veteran fans on here who may have been at the game you mention.
Sean Kelly
186
Posted 04/02/2022 at 19:58:08
Mike G @70,
I appreciate the lesson on what it takes to be a top player but I don't think you are speaking from experience. My impression is that Calvert-Lewin appears to be more focused on his image than his football.
As for your "sourballs" comment, you don't know me from Adam so wind your neck in, lad. There's no need to get personal. Having read your welcomed contributions here over the last number of years, I expected a bit more from you.
Dave Abrahams
187
Posted 04/02/2022 at 20:10:26
John (179),
ToffeeWeb had a bit of a return to the past a few weeks ago when that Everton 6 Brentford 1 game was mentioned a few times because it was one of the games when Everton scored 20 goals in three league matches. I was at the that game but remember mostly the score rather than much about the actual game, 1954 was the year Everton gained promotion.
Was Brentford in the first division the year football started after the end of the Second World War?
Dennis Stevens
188
Posted 04/02/2022 at 20:10:35
I know we've played Brentford a few times over the years, mainly between the mid '30s & mid '50s, but was a bit surprised to see that this is our first meeting in the FA Cup.
Mike Gaynes
189
Posted 04/02/2022 at 20:17:49
Sean #186,
I did thousands of interviews with professional athletes during my first career as what you'd call a sports "journo" on US TV. So when I talk about what makes them tick, I am speaking from a certain degree of knowledge.
And I never met a single one of them, no matter how attention-hungry, who was "more focused on his image than his" athletic endeavors. Not one.
Andy Crooks
190
Posted 04/02/2022 at 20:22:39
Geoff,@ 127,
What is the point of that post?
Gordon is not George Best and never will be. Take that!
Sean Kelly
191
Posted 04/02/2022 at 20:34:36
It's an opinion, Mike. You are no more knowledgeable about Calvert-Lewin than I am.
Dale Self
192
Posted 04/02/2022 at 20:38:20
Reputations matter for the tiebreakers, Sean.
Tony Hill
195
Posted 04/02/2022 at 20:47:10
John Hood @179,
Your team and manager have been great for the Premier League. It will be lovely to see your people tomorrow.
Dale Self
196
Posted 04/02/2022 at 20:52:58
Really Sean? Is your statement about Calvert-Lewin really worth defending like that? He just called you out in disagreement. It isn't anything worth the tension, it seemed like you just want to insult Calvert-Lewin after a couple of bad showings coming back from injury.
The sensitivity to being called sourballs is somewhat out of line with the rhetoric. Insulting our main striker after what we've all been through with the club is bound to get a response from one of the more optimistic followers. But then again your initial statement seemed to invite that.
Tom Bowers
197
Posted 04/02/2022 at 20:58:34
Whilst it is only the FA Cup, it would be nice to have a confidence booster ahead of the more important league games coming up.
Maybe not the preferred starting eleven but a chance to impress the new gaffer in any event. The quicker Frank can assess who is part of his future plans, the better.
Most of us agree we have some dross in the squad and they have had ample opportunity before now to show something, so the clock may be ticking for those players.
Nicholas Ryan
198
Posted 04/02/2022 at 21:01:56
Oh No! DCL arrested by the Fashion Police, for crimes against good taste!
Sean Kelly
199
Posted 04/02/2022 at 21:08:12
Dale,
I'm not on here to "insult Calvert-Lewin" but what I will say is that he is a limited striker not in the class of Salah or Aguero or even a Shearer. He's not consistent enough but my opinion is that, if he worked at his craft, he could be a top striker.
This is an opinions site. My view is that we are all Evertonians but no one view being more important than the other.

Dale Self
200
Posted 04/02/2022 at 21:13:30
I don't think anyone would have reached for a pejorative if they had read that, Sean. Someone calling you 'sourballs' after you post like you did is not unusual or offensive, but it could obviously be avoided. On the other hand, some like the action and that's why it plays out like it does.
No-one is out to get anybody. Just play through when you hit someone's nerves and you don't wish to take it back. We all get that and we all get caught out from time to time.
By the way, you wouldn't sell him for £60M would you?
Kieran Kinsella
201
Posted 04/02/2022 at 21:32:40
Tom,
"Whilst it is only the FA Cup" Only? While our chances may be slight, it's our one possible route to success this season, as well as Europe. It's also the trophy that brought us our last piece of happiness some 27 years ago.
I realize the relegation battle is more important financially but, with 18 games left, we should have enough in the tank to put in a performance tomorrow and eek out the six wins we need in the league.
And if putting an effort in the cup tomorrow is the difference between staying up and being relegated, then I think that ship will probably sail anyway.
Geoff Lambert
202
Posted 04/02/2022 at 21:40:13
Andy #190
Dry January over is it??
Never said he was!!!
Sean Kelly
203
Posted 04/02/2022 at 21:44:23
Just for the record, Dale, my opinions on Calvert-Lewin are based on what I've seen.
As for being caught out... What the hell are you on about, lad? I have expressed an opinion. Okay, you might not share it but it's mine and I'm not in a club of one. Read through the comments above and you will see others of similar views.
"By the way, you wouldn't sell him for £60M would you?"
Yes, I would. If someone comes up with that amount of money or more for an inconsistent centre-forward, then absolutely – all day long.
Now that's my opinion... oh shit, sorry – I've been "caught out" again. Three hail Marys and an Our Father for me.

Stan Schofield
204
Posted 04/02/2022 at 21:45:25
Sean @186:
I can't see any evidence that Calvert-Lewin is more focused on his image than on his football. He just happens to be a subject of some fashion attention because of his physicality, plus his profile rose when he played for England last season. Arguably, it's about time we had some 'fashionable attention' in the media, can't do the profile of Everton any harm.
On his injuries, until this season, he has been pretty robust and free from injuries and niggles. But I'm not surprised that he's eventually succumbed to the pressures of playing constantly. Because of our lack of strength-in-depth in the squad, and the reluctance of previous managers to play the youngsters, Calvert-Lewin has arguably been over-played and through it over-stressed physically. The Premier League is tough and pacy, Calvert-Lewin has been brilliant in many aspects of his play, such as pressing and hold-up, and he's had a lot of close attention from markers, making eventual injury almost inevitable.
For me, it's tiresome seeing some posters on ToffeeWeb having a go at Calvert-Lewin at the first opportunity. On balance, he's a top striker with fantastic commitment, and it's a bit laughable to see some Evertonians eager to be rid of him.
Will they never learn? Some folks don't know what they've got 'til it's gone.
Dale Self
205
Posted 04/02/2022 at 21:51:29
Not dramatic at all, Sean. We get it, I guess. By the way, the "caught out" reference was simply about saying something outside someone's comfort zone and then getting their response – nothing insulting there, just using a shortcut phrase.
Sean Kelly
206
Posted 04/02/2022 at 21:57:33
Opinions, opinions, opinions. They unite you and divide you.
Stan, that last sentence is one that could be cast over many phases of our recent history. Some for the better and some not.
Sean Kelly
207
Posted 04/02/2022 at 22:07:30
I'm off to the scratcher, lads. You can catch me out later. I'm off to dream about a nasty arse striker for less than £60 million.
Tony Hill
208
Posted 04/02/2022 at 22:18:10
I think we are going to win the FA Cup this year. It is written.
I also think there is something important about Lampard as our manager: he is a spiritual fit, as is his team. By which I (and I believe many) mean that he just appears right and destined to work.
This isn't, for God's sake, a religious point. It is just so. I feel in my bones that the curse is lifted and, therefore, it is. Sports Science, if you don't mind.
Watch out, Satanklopp, your Kingdom must come down.
Michael Kenrick
209
Posted 04/02/2022 at 22:26:24
Mr Gaynes @182,
Far be it from me to question your adoration of Antonee Robinson, but you appeared to make a snide condemnation of Everton "punting him off" for a paltry £2M to Wigan.
If he's really as good as you say he is, and you were a US TV sports journalist, after all, could you perhaps explain why he was then sold by Wigan just a year later, for the same princely sum of £2M, to lowly Fulham?
Or could it be an infamous case of "Championship at best"? Just saying.
Tony Hill
210
Posted 04/02/2022 at 22:26:45
Nothing the Tao can do about our midfield, mind. Let's not think about it too hard and then it will be okay.
Andy Crooks
211
Posted 04/02/2022 at 22:27:47
Geoff, that wasn't' very nice! Fair enough, though, made me smile.
Mike Gaynes
212
Posted 04/02/2022 at 22:36:50
Opinions indeed, Sean. My opinion is that your opinion about
Calvert-Lewin's work ethic is a wrong as it can be. Dom has become a successful Prem striker -- and by any standards except Kane and Salah, 39 goals in 86 games over the past three seasons is successful -- only by dint of some incredibly hard work.
Of course he's a "limited" striker. For all his physical gifts -- pace, strength and 90-minute stamina -- he is by nature a singularly untalented striker in comparison to the others you mentioned (three of the greatest in the world BTW). Dom has no shooting ability, lacks quick feet and creativity, and doesn't have a natural goal poacher's instinct.
Yet he became a quality goalscorer -- and, yes, a goal every 174 minutes is quality -- by working hard to develop anticipation, to move first for the incoming ball rather than waiting for it, and by educating his feet and head to score with the first touch because he could not create space for himself. And all you have to do is watch him to see his relentless effort to get into the right positions, both up the pitch and in front of goal.
If you can see his remarkable improvement since 2019, observe all that drive on the pitch, and still say he hasn't worked at his craft... well, you go right ahead.
Mike Gaynes
213
Posted 04/02/2022 at 22:46:30
Michael #209, Wigan was in administration and desperate. Robinson was a salable asset. Fulham was in the Prem at the time they bought him, so they obviously didn't consider him "Championship at best", and neither did AC Milan, which would have signed him earlier but for that lingering, miserable ankle injury.
I wasn't merely snide when we sold him off without a single runout in the first team. I threw a rather undignified tantrum about it right here on TW. Nailed my colors to the wall and proclaimed it a huge mistake. Still feel that way.
Make no mistake, Antonee still has a ways to go -- he still makes bad decisions and relies too much on his recovery speed when he gets caught out of position -- but I'd bet you we'll see him in the Prem a year from now, after Qatar.
Pete Cross
214
Posted 04/02/2022 at 22:51:56
My daughter was born, give or take, within a few minutes our semi-final win in 1984.
Tomorrow, she gets married; I hope it maybe a good omen.
First home game I will miss for ages.
Dale Self
215
Posted 04/02/2022 at 22:56:48
Congratulations Pete. Nice thought.
Michael Kenrick
216
Posted 04/02/2022 at 23:02:45
Oh yea, I'd forgotten AC Milan were going to take him for €10M.
At least Transfermarkt think his value is on the rise: €1.5M when we sold him; €3.5M when he went to Fulham, and €9.0M now, so he is apparently getting better. Thanks for explaining the strange transfer fee.
Geoff Lambert
217
Posted 04/02/2022 at 23:03:36
Andy #211,
Let's hope we are all smiling tomorrow. COYB.
Mike Gaynes
218
Posted 04/02/2022 at 23:18:12
Michael #216, as a Yank fan I'm glad Antonee failed that physical in Milan. He wouldn't have played much there, and 50+ games at Fulham have really developed him.
Did you know he's the first true left-back in USMNT history? We've always played out-of-position center-backs and midfielders there (Eddie Lewis, Damarcus Beasley, Jeff Agoos).
But I still daydream about him romping up the left touchline at Goodison. Ah, well.
Andy Finigan
219
Posted 04/02/2022 at 23:29:51
I am so excited about everything tomorrow and how re garding of our result how this competion was perhaps the best one in football not to long ago.
Can anyone tell me why the FA have failed to max the sponsorship so to increase winnings to £100 million to the winners? I know you will laugh, but why?
It is scanderlous what our week Football Association has lowered itself to. It's a blubbering shit-show of an organisation but there may be hope because our club is an example but I am hoping we set a new trend... ah?
Kevin Prytherch
220
Posted 04/02/2022 at 00:12:16
On the Calvert-Lewin debate. Is there a striker in the world that has his aerial ability, his pace and his strength combined?
The guy is a monster of a striker who also puts a shift in and sounds like he genuinely loves the club.
Yes he's not a natural finisher, but £60M? I'd want well over £100M for him and I'd still be gutted.
Jason Li
221
Posted 04/02/2022 at 00:12:31
Calvert-Lewin for £60M? – take the money only if we have replacement players on a getable list.
However, take away Harry Kane's penalties, and I bet Calvert-Lewin is not far behind in the last couple of seasons.
While he's still here, with goals from Gray, Richarlison, and Alli ... that's a tasty line-up when it happens.
Better than West Ham and Tottenham? There's a chance if it all clicks.
Andy Finigan
222
Posted 05/02/2022 at 00:14:46
Sorry to sound so negative towards the end because I sincerely hope things at our great club are on the up.
Steavey Buckley
223
Posted 05/02/2022 at 00:33:01
I am prepared for Everton to forgo progress in the FA Cup to retain Premier League status and play a weakened team tomorrow to have the more important Everton players fresh for the next game against Newcastle, who don't have a match this week-end.

Mike Gaynes
224
Posted 05/02/2022 at 00:37:23
Kev #220:
Is there a striker in the world that has his aerial ability, his pace and his strength combined?
Yep. Fella who played for us a couple of years ago was Dom's superior in all three. Having a bumpy ride at Chelsea these days but still pretty great.
And that blond kid at Dortmund tops 'em both. Just 21, goal-a-game in the Bundesliga, one of the fastest strikers ever recorded.
Kieran Kinsella
225
Posted 05/02/2022 at 00:38:20
Pete Cross,
Congrat,s mate. Hope Everton add an extra boost to your family's happy occasion.
Fran Mitchell
226
Posted 05/02/2022 at 00:38:33
In the Calvert-Lewin debate. People love to criticise our strikers. Like Lukaku, ever so easy to criticise, despite being our only 20+ goal a season striker in 2 generations. But faults were there, and thus justified his being vilified and the statements of 'sell him and replace'. We duely sell, and the £80M we get gets us what? A list of players we now can't even give away.
We spend £25M on Tosun, £20M on Walcott and they stink. We spend £45M on Richarlison, and we all love him, but hardly the same goal threat.
By absolute fluke, Walsh and Koeman amongst their millions of waste, spent £1½M on a young striker who years later scores 20+ goals in a season.
And our fans want rid 'if anyone bids £XM'.
Replacing goalscorers is not an easy business. Not in the slightest. So, for a club at our current level, to see fans so willing to sell our only proven goalscorer... it beggars belief.
Kieran Kinsella
227
Posted 05/02/2022 at 01:16:55
Fran,
You raise a good point but I think the issue is the expectation people maximize their potential. You get someone shite like Niasse or Stracqualursi and people accept a modest return based on their talents. You get Lukaku talking about being the worlds best and people get annoyed when he seems disinterested.
For an analogy, in school I always did the absolute minimum I could in order to do better than my friends. My teachers would say "Don't compare yourself with them cause you can do better." But while it's easy to say "You could do more Lukaku, Calvert-Lewin etc", if you get rid of them performing at 70 percent as a point of principle, who do you replace them with?
I like Chris Wood, a good old-fashioned forward who gives his all. But at 31 with modest goal stats, £60 million for Calvert-Lewin seems like daylight robbery.
Moral of the story? Appreciate the outcome instead of resenting the player for not doing his perceived best.
Kevin Prytherch
228
Posted 05/02/2022 at 01:17:02
The point is, Mike, you've named two of the best strikers on the planet, and I'd argue that none of them are as good in the air as Calvert-Lewin.
Both are undoubtedly better finishers, but we have a player who we can only name the very best in the world as being better than him, and some people want to let him go for £60M!!
Mike Gaynes
229
Posted 05/02/2022 at 01:43:10
No argument there, Kev. The idea of selling him for that is just Looney Tunes in my book.
The one area where Dom has become among the best headers in the world IMO is in the middle of the pitch. He seems to win every aerial duel on clearances, more often than not finding a teammate with the flick or knockdown. Given our inability to control the ball in midfield, I think we've missed that part of his game as much as his goals. Maybe more.
Jamie Crowley
230
Posted 05/02/2022 at 03:33:21
The beginning of a new dawn.
There's always sunshine after the storm.
UTFT
Mike Gaynes
231
Posted 05/02/2022 at 03:51:17
Hope so. My buddy the Brentford fan goaded me into the biggest bet I have ever placed on a game.
Mark Andersson
232
Posted 05/02/2022 at 04:07:25
Good luck today, Blues fans all over the world. Get behind the new manager and the team.
We need good vibes, not cheap jibes...
Kieran Kinsella
233
Posted 05/02/2022 at 05:08:48
Kenn Crawford
234
Posted 05/02/2022 at 05:41:29
Well, guys, this Blue has to get up at 1:45 am to watch the game here in Oz.
So COYB!
Michael McFarlane
235
Posted 05/02/2022 at 06:52:16
Feeling very positive about Frank in the driving seat. I can see him leading from the front, building relationships to get the best out of the players and getting them working as a team. His communication has been open, honest and human.
I know it's all PR shots but, non the less, it's great to see some smiles for once. When that last (insert expletive) manager was in charge, did anyone ever smile? It makes a difference and long may it continue.
Looking forward to seeing Frank's team selection. I see no reason why he won't pick his best available team, starting as he means to go on, ie, with a win! COYB!!!
Danny (post 101)... what wouldn't I give to see good times like that semi-final win against Bayern. I was a nipper at the time in the Top Balcony with my old man. I still get goosebumps thinking about it 37 years later. I hope my son gets the same Everton experience we enjoyed in the '80s.
Laurie Hartley
236
Posted 05/02/2022 at 06:53:41
I am going to go out on a limb and say Richarlison is the best header of a football in our squad. Sometime shortly after 3:00 pm Saturday he will prove me right.
Up the Blues!!!
Mark Rankin
237
Posted 05/02/2022 at 07:18:24
With Calvert-Lewin, everyone has a price and just speculating on what that might be doesn't mean you want shut – just being realistic.
For me £60 million is a fair price for Calvert-Lewin, he may become world-class but as yet he hasn't hit that level consistently.
Richarlison on the other hand, who I feel is the big threat to leave in the summer, is consistently world class and his value will reflect that.
Mark Ryan
238
Posted 05/02/2022 at 07:23:54
Calvert-Lewin will never be world class. He's a good striker but not a Lineker, not a Shearer, not an Ian Wright, dare I say Rush. He's just never going to get near that level of class. I'd sell.
A really decent human being but sadly not a class striker, IMHO.
Steve Shave
239
Posted 05/02/2022 at 08:10:03
Pete, all the best for your daughter's wedding!
So excited for this afternoon. I have been really impressed with Frank so far, what he's had to say. He's been honest but upbeat and that is one serious coaching team he has got on board.
I am pleased about that as I have felt we have been light in that dept for quite a few years, I suspect a cheaper contract for the manager has enabled us to do that and give him the tools to be the best he can be. Now to translate that new-found optimism around the place onto the pitch. I think it will be a tough game today and I am not expecting miracles. I hope we squeeze through.
As for above comments slating Calvert-Lewin, I just don't get it. We paid £1.5M for him, nurtured him and have seen him grow into a top player. Barbed comments about him not being 'world class' are missing the point really, we can't sign world class players, we can buy high potential ones though and nurture them and boy have we done that with Calvert-Lewin.
He is one of the fastest strikers in the Premier League and one of the best headers of the ball, his hold-up play is excellent (pre-injury, give him time) and the only thing that still needs work is his finishing but under Carlo that was excellent too.
Now, given our financial situation, I will understand and respect if the club sell both Richarlison and Calvert-Lewin over the next two years. If we got £130M+ for the two and brought two high potential and safe signings in to replace them, then that is good business and makes sense. For these reasons I had absolutely no problem at all with the Digne business we did.
Back to the match today, dreaming of a win over breakfast and sending positive vibes over to Frank and the boys.
Dave Williams
240
Posted 05/02/2022 at 08:15:38
People used to slag off Lukaku until he left – since when the same guys lament that we have never replaced him. The same will happen with Calvert-Lewin. He will mature into a top class centre-forward by the time he is 26 and will be worth far more than he is now.
After 4 months out, he must be given time to get match sharp and he's not being helped by playing in such a poor team.
Chris Corn
242
Posted 05/02/2022 at 08:30:12
Dave 240.
Have to agree. He is our marquee player. I welcome the fact he has a high profile outside of football. It raises the club's profile in a positive way (which god knows we need).
Alan Johnson
243
Posted 05/02/2022 at 08:34:20
Here We Go...
Steve Shave
244
Posted 05/02/2022 at 08:42:41
Dave and Chris – agree. It's so frustrating, we have so many 'fans' who just can't do anything but get onto the players' backs. We really are our own worst enemy at times.
There are so many clubs where the fans would just be so happy that a player like Calvert-Lewin has returned from injury and would be supporting him all the way to a full return to fitness. Not at Everton though, "get rid", "not good enough", "fancy Dan", etc etc etc – it does my head in.
Tony Abrahams
245
Posted 05/02/2022 at 08:47:49
Thanks for that "only" Kieran, at the start of post201, mate.
The FA Cup, is one of two cups that we can win, and people say, "It's only the FA Cup"?
Sorry Tom, I think I've said it before on this thread, but to win the cup would be absolutely brilliant, especially for all the kids and even young men now, who have followed Everton Football club, week-in & week-out, absolutely everywhere for years, and never even seen us lift one trophy.
It's got that bad, I'd take going down to win the FA Cup and, although it's a contradiction, it's because I have always believed that Everton existed to win (until Mr Good Times, came along) and this 27 years lark, is absolutely fucking horrible.
Only the FA Cup? I'd give nearly anything to see Everton dancing round Wembley with that cup.
Trevor Peers
246
Posted 05/02/2022 at 08:48:23
Calvert-Lewin, by all accounts, is agitating for a summer move, so why should we show him any loyalty.
Personally I think he is very limited in his ability's as a striker. Most of his goals have been tap-ins around the 6-yard area and the odd header, very few goals are from 18-20 yards out or more. If we can get a huge fee for him and try to find a better replacement that would be good business for the club.
Also I don't think he does himself any favours with his outrageous dress sense. What is that all about? The club should never have allowed him to make himself look so stupid, he's made himself an easy target for opposition fans to wind-up.
Eddie Dunn
247
Posted 05/02/2022 at 08:52:29
The citicism of Calvert-Lewin is unwarranted. It is frustrating that he has had these injuries and he may well have returned too early.
Benitez admitted he hadn't wanted to give him so many minutes in his return match but circumstances took over.
He will take a while to find match fitness but he is a quality striker and irreplaceable for £60M.
On the question of the best header of the ball, I think Richarlison is even better.
A close game today but I fancy us to edge it.
Tony Everan
248
Posted 05/02/2022 at 08:53:13
We want to be a Top 6 football team. Calvert-Lewin is a part of the solution – not the problem.
Frank Lampard has to be given backing to create a team to achieve it. I think the forward line now is very strong, Top 6 standard. The two players brought in to give us goals from midfield also gives us a top six standard attacking midfield.
So we need to be addressing the weak links at Centre back and central midfield. Leave the rest of the team alone.
Events may play out in that Richarlison goes to PSG when Mbappe leaves, Mina may well be sold as he has one year left on his contract.
Strengthening from these 'sort of' enforced departures is what we need to be planning for. I want a Declan Rice, Kalvin Philips midfielder, I want a Rudiger of a centre-back. These now are the blueprints for players that will take us up a level.
Amidst the euphoria these are the departments that have been overlooked in the transfer window. We are vulnerable at central midfield, and central defence. It is still going to be a struggle for us to control games that are physical battles.
On a positive note, Frank Lampard will have us more on the front foot with the players at his disposal. At last, we will be taking the game to our opponents rather than being the willing supplicant, then having to panic and claw our way back into a game. We will be set up to score two or three goals, not as a KITAP1.
I think the quality we have will be enough to give us the necessary wins to see us safe this season before more team building in the summer that will turn us into Top 6 contenders. Frank Lampard and the very professional coaching team he has assembled will see to that.
Steve Brown
249
Posted 05/02/2022 at 08:54:54
"Calvert-Lewin by all accounts is agitating for a summer move." Name your source, Trevor?
As for his dress sense, he can go to the pub wearing an emu costume for all I care if he is going to score on the next match.
Dave Williams
250
Posted 05/02/2022 at 09:07:09
Anyone around for a pre-match beer? My coach is running on time!!
Derek Knox
251
Posted 05/02/2022 at 09:09:05
Steve @ 249,
"He can go to the pub wearing an emu costume" but Rod Hull won't be behind him! 🤔🤦‍♂️
Seriously, I don't think today's game is a given, they will want to win as much as we do. However, I believe the events of the last few days, and the reported elevation of spirits, with Frank and his new staff, will swing it in our favour.
COYB 💙
George McKane
252
Posted 05/02/2022 at 09:15:50
Morning, Dave Williams @250.
I will be in The Dark House (The Barlow Arms, Barlow Lane – a 3-minute walk to the ground) from around 12:10 or 12:15 – it would be nice to meet you.
Jonathan Tasker
253
Posted 05/02/2022 at 09:20:12
Not sure why people think today's match is a given.
Brentford beat Everton recently.
Jerome Shields
254
Posted 05/02/2022 at 09:24:20
Michael #183,
Interesting absent U23 players. I actually fancy Lampard putting his faith in youth rather than on underperforming error-prone players. It will begin on the training ground with assessement of fitness and attitude. Everton's performance against Chelsea will not have gone unnoticed by Frank.
Stu Darlington
255
Posted 05/02/2022 at 09:27:01
James Hughes
256
Posted 05/02/2022 at 09:29:21
Gosh... Calvert-Lewin looks really ordinary here, we'd be lucky to get a tin of beans for him.
https://www.youtube.com/watch?v=0ojKkYYti5M
God knows what some people want from a player...
Danny O'Neill
257
Posted 05/02/2022 at 09:36:53
Two things I'm not sure of here.
Firstly, why is Calvert-Lewin suddenly in the sights of the Lynch mob as the latest whipping boy? He's been injured and has also suffered a dip in form. But with the atmosphere around the club and form in general, which player hasn't? All players suffer drops in form; especially strikers.
He's developed into a good in-the-box striker. His form will come back. He's no all-round striker in the sense that Harry Kane is, but he's a good striker.
Second, to echo the sentiment. Just the FA Cup? We want to, should want to and need to win a trophy. This competition provided the platform for Howard Kendall's success. It arguably saved Alex Ferguson's Manchester United bacon and gave him the platform on which to build.
Just the FA Cup? Give me it every day rather than the modern Sky influenced belt-fed line that generally comes from dour British managers who play it down because finishing 12th in the Premier League is more important to their CV.
The first trophy I saw Everton lift (in person as well) was the FA Cup. I know there is a suspicious generation out there who grew up with Moyes's playing down of expectation and have never seen us lift a trophy. Don't underestimate the power that success and winning can have.
Feeling positive today. We're up for the league and up for the cup. Everton on the up and up.
Raymond Fox
258
Posted 05/02/2022 at 09:38:01
Selling our best players is a big reason why we never win anything.
I think today's game will be used by Lampard to have a look at some of the fringe players.
On the other hand, he won't want to lose his first game; it makes for difficult decisions.
Colin Glassar
259
Posted 05/02/2022 at 09:39:59
I've been told that Moshiri has been so impressed by Frank's training sessions he will offer Lampard, and all his staff, 10-year contracts before today's game – Duncan will get a lifetime contract and a place on the board.
Danny O'Neill
260
Posted 05/02/2022 at 09:46:38
Agree and disagree Raymond.
You should always want to keep your best players.
But if you do sell, get the best deal and reinvest. Dare I say, our red cousins have done very well in that sense to steadily progress despite selling their best assets on more than one occasion. They just didn't get seen off… and bought wisely with the subsequent incoming funds.
Tony Abrahams
261
Posted 05/02/2022 at 09:50:44
I'm back at Wembley, Danny, Sharp has just put one in off the inside of the post, Andy Gray, has just scored our second goal. I can still remember some fella screaming he'd fuck his wife off for Neville Southall, and finally 9 years after attending my first Everton game, which just happened to be an FA Cup game, I'd finally seen Everton lift the cup!
Winning is what football is all about, watching grown men going absolutely berserk, kids going even madder, and Evertonians singing "We Shall Not Be Moved" whilst the team parade the trophy around the stadium. That's what I long to see again but, because it's been so long, some people seem to have forgotten how beautiful it really is.
Mick Conalty
262
Posted 05/02/2022 at 09:58:29
Colin #259,
Bloody Hell, Colin, I shudder to think what Kenwright will get, maybe Moshiri will make him the Earl of Merseyside.
Danny O'Neill
263
Posted 05/02/2022 at 10:02:11
And watching my dad trying to get over the fence onto the pitch, Tony, wondering how the hell I'm going to get home if he succeeds.
I can still see him and point him out on the footage.
Me (a teenager), ecstatic. My dad, a grown man and father of 4, delirious and behaving like a teenager.
Let's do this, Everton.
Mick Conalty
264
Posted 05/02/2022 at 10:11:30
Danny #260,
You refer to our Red Cousins' steady progress in the transfer market and their steady progress in general. You have forgotten one important ingredient: They are fucking Jammy Bastards!!!
Jay Wood
[BRZ]
265
Posted 05/02/2022 at 10:13:59
Michael and Mike.
On the question of Antonee Robinson's transfer fee, as this link explains there was a clause in his Wigan contract that ensured he would be sold at a knocked down price if they were relegated, as happened.
As the story also recalls, Everton had the option to resign Antonee which Brands attempted to do, but the player – not surprisingly – wasn't interested.
Brian Hennessy
266
Posted 05/02/2022 at 10:30:02
Just noticed today's game is live on Premier Sports 2 – at the same time as the Ireland vs Wales Six Nations game.
Would love to see a confidence-boosting win but priority must go to Tuesday's match. I'd like to see a mix of youth and experience so would start with:
Kelly
Patterson
Mina
Branthwaite
Cole
Gordon
Lampard
Onyango
Baines
Dobbin
Ferguson

George McKane
267
Posted 05/02/2022 at 10:37:02
It's 9.20am NBT (New Brighton Time) - - day is still opening it's door for the day - - front window shows me The City and The River - - mainly grey - - streaks of Blue - - but beginning to show stretches of Naples Yellow - - Turneresque - - the Landmarks of the City - - upright - - silhouetted against the canvas of the morning sky - - still - - and so far silent - - like the opening sequences of The Yellow Submarine Animated Movie - - marvellous - - turning to the right - - I can see Moel Famau - - grey against the stretching sky - - An Impressionist Masterpiece - - I am sure Vincent himself walked to the top - - jumping back to my writing space stopping to look out of the side window - - down to The River: little piece of verse from a poem of mine from 1990 (my goodness 32 years ago but the words came to me easily this morning) - -
"It must be hard for the young
To get excited and soft eyed,as we,
Over you
You who had seen and heard
Everything
Carried all those Empresses
Taken millions to Brave New Worlds
And brought back our fathers
Flags, monkeys, parrots
Niagra Falls on the side of lampshades
Chinese dragons on shiny jackets
And stories and songs to be
Told and sung in pubs"
Into my room - - desk, postcards, pens, paper, notepads, Littlewoods Clock, Goodsion Snow Shaker, photos, music - - Marvin Gaye right now - - Ain't That Peculiar - - Hey hey - - dancing with Mary Walsh at The Mardi or The Babalou or maybe Reeces Monday Night - - Soul Night - - shot silk green suit - - made to measure by Mr. Harrison Kirkdale Road - - silk hankie in top pocket - - Ben Sherman - - dovetail vent in the back - - parallels - - ox blood Comos on - - my oh my - - turning around I can see the Dome at New Brighton - - it's raining now - - but nothing can dampen my spirits today - - go on through anything you got at me and I will just bounce it off me and move forward:
"Zippin' up my boots
Goin' back to my roots yeah
To the place of my birth
Back down to earth.
I've been standing in the rain
Drenched and soaked with pain
Tired of short time benefits
And being exposed to the elements.
I'm homeward bound
Got my head turned around.
Ain't talkin' 'bout no roots in the land
Talkin' 'bout the roots in the man.
I feel my spirit gettin' old
It's time to recharge my soul"
The greyness and the rain cannot stop me - - what is not to be happy about - - it's Saturday - - FA Cup game - -3.00pm KO - - Yahoooo - - 11.30 - - pick up Dave Own - - Dark House around 12.00ish - - I try my best to surround myself with "posso waves" - - negativity is seriously contagious - - but so is Positivity - - know which one I want - - the sheer joy of meeting friends - - driving along Scottie - -memories from a beautiful childhood - - my goodness Dave and Tony - - how lucky were we - - "What larks hey Pip old chap" - - just sitting here writing - - Jackie Wilson in the background - - oh Man:
"Now once, I was down-hearted
Disappointment, was my closest friend
But then you, came and it soon departed
And you know he never
Showed his face again
I'm so glad, I've finally found you
Yes that one, in a million girls
And I whip, my loving arms around you, honey
I can stand up, and face the world"
Scotty - - in my heart forever - - gives me strength - - St. Ollies - - Great Mersey Street - - Evelyn's Chippie - - Pigs Feet and Tripe on trays in thew window - - The Doll's Hospital - - Mary Walsh walking down Lambeth Road to meet me - - long hair blowing - - paisley mini dress - - cool beyond cool - - a great dancer - - me - - with my cool suit and Comos - - silk hankie flopping around - - ready to move - - out most nights - - dancing - - me walking along Smith Street - - Otis Blue under my arm - - did I ever think things would change and planners would destroy our world - - or try to - - they failed - - our spirit is indestructible - - did I ever consider I would drink in TDH - - never - - and through it all - - Everton - - walking along Wessie Road - - the excitement of it all - - let anyone try and destroy that - - they cannot - - it is in us - - it is in our spirit - - our soul - - it was in our Mams - - and their Mams - - it was in the goodness of the people - - our families - - neighbours called Aunty or Uncle - - respect given and respect for all cemented into our psyche - - written on our soul and our hearts - -"Oh Lucky Man" - - helping your Mam with the shopping along Greaty Saturday morning before the game - - excitement bubbling - - never let that go - - "posso waves all the way" - - how lucky we were - - and are - - there is nothing to beat love and friendship - - the new world has not hardened me:
"When they see me walkin' down the street (hey, hey, hey)
None of the fellas want to speak (hey, hey, hey)
On their faces they wear a silly smirk 'cause they know I'm the king of the cool jerk, whoo
Ha, ha, ha
Look at them guys lookin' at me like I'm a fool (cool jerk, uh-huh)
But, aww, deep down inside they know I'm cool (cool jerk, uh-huh)
I said, now, I said now, the moment of truth has finally come (cool jerk, uh-huh)
When I'ma to show you some, some of that cool jerk (cool jerk, uh-huh)
Now, give me a little bit of drums, by himself, there
Now, give me a little bit of bass, with those 88's
Aww, you're cookin' baby!
Hmm, you're smokin'!
Hmm-hmm-hmm!
Now everybody, I wanna hear you all"
So here I am - -still in my dressing gown and its getting on towards 10.30 - - have to go and get ready - - I still tingle with the thoughts of going to the game and going along those Streets of Memory :
"And I wanna rock your gypsy soul
Just like way back in the days of old
And together we will float
Into the mystic"

I did several Media Interviews this week - - regarding Lampard's Appointment - - and I repeat as always - - I am an Evertonian - - it's time - - I said - - to leave all those negative waves behind and move forward with "Cosmic Blue Waves" - - really - - We All Love Everton - - let's show it:
"Yellow lorry slow, nowhere to go
But oh, that magic feeling, nowhere to go
Oh, that magic feeling
Nowhere to go, nowhere to go
One sweet dream
Pick up the bags and get in the limousine
Soon we'll be away from here
Step on the gas and wipe that tear away
One sweet dream came true today
Came true today
Came true today (yes, it did)
One, two, three, four, five, six, seven
All good children go to Heaven"
So - - here we go - - Up The Blues - - Cosmic Blue Waves Sent Up Into The Coll Blue astral - -Just Look Up and Catch Them - - They Are For You - -If You Don't Want Them - - Fine - - just leave them for others - -r remember it takes a bit of breath (especially at my age) to blow up a lovely Blue Balloon - - but - - it just takes one prick to burst it - - gonna blow a note for you all on my Harmonica - - there you go - -just going downstairs for a shower and pick up Dave and going to meet friends - - a last bit of Mr.Lennon:
"Half of what I say is meaningless
But I say it just to reach you, Julia
Julia, Julia
Oceanchild calls me
So I sing the song of love
Julia
Julia, seashell eyes
Windy smile calls me
So I sing the song of love
Julia
Her hair of floating sky is shimmering
Glimmering in the Sun
Julia, Julia
Morning moon touch me
So I sing the song of love
Julia
When I cannot sing my heart
I can only speak my mind
Julia
Julia, sleeping sand, silent cloud
Touch me
So I sing a song of love
Julia
Hmm hmm hmm
Calls me
So I sing the song of love for
Julia, Julia, Julia"
With a firm handshake - - GWAMCK.

Mike Connolly
268
Posted 05/02/2022 at 10:40:19
Brian, you might just be onto a winner there.
Raymond Fox
269
Posted 05/02/2022 at 10:47:34
Fair enough, Danny @260, sometimes players set their mind on leaving and its usually foolish to stop them.
We haven't been able to spot bargains in the market such as Salah, I think that's been our biggest weakness.
The much-maligned Martinez managed to do that with Lukaku plus one or two younger players who were developed while he was manager.
Brian Harrison
270
Posted 05/02/2022 at 11:00:31
I don't know if Christian Ericksen will be in the Brentford squad today but, if he is, I am sure all Evertonians will be pleased to see him back involved again after his near death experience. I think the pictures of him being treated on the pitch were one of the most harrowing things I have ever seen at a football match.
David Pearl
271
Posted 05/02/2022 at 11:04:11
My dad's feet have swollen up so l have a spare ticket 07368456214 if anyone wants it. It's free, of course.
Gerry Quinn
272
Posted 05/02/2022 at 11:08:04
The former Chelsea boss has imposed a set of rules to keep the free-falling Toffees disciplined.
His no-nonsense approach has impressed players at Finch Farm, with the attitude Lampard requires likely to prevent them from being dragged into a relegation battle.
On Lampard's first day on the job, one player arrived to a post-lunch meeting seconds late after stopping to tie his laces, and was told to have £1,000 in cash on the bosses table the day after.
However, despite turning up with the money, he was relieved when Lampard refused to take it from him – citing the player with a 'warning'.
Neil Copeland
273
Posted 05/02/2022 at 11:18:54
Brian #270,
I think he is a few weeks away from fitness so unlikely but agree with your sentiments. Will be a great moment for all supporters and football in general when he takes to the field again.
George #267, great words as always, enjoy the game. UTFT
Derek Knox
274
Posted 05/02/2022 at 11:22:41
Danny @263, in Wetherspoon's, Lime Street, got here early, messaging not working for some reason. Sorry Ed's!
COYB
Danny Baily
275
Posted 05/02/2022 at 11:25:51
Raymond @269,
I don't think squad building is one of Bobby's better attributes. He took Wigan down because they didn't have enough cover in defence and signed some awful squad players in his time at Everton.
With Lukaku, we got lucky with the appointment of Mourinho at Chelsea. It helped that he missed that penalty in the Super Cup!
Stephen Vincent
276
Posted 05/02/2022 at 11:40:05
He didn't help us when he missed the one in the semi-final, plus 2 one-on-ones. Never forgave him for that.
Terry Downes
277
Posted 05/02/2022 at 11:42:46
Danny,
I think the squad players you talk about were bought because of lack of funds Lukaku and Deulofeu would never have came here without Martinez and, as said before, he wanted Van Dijk when he was still at Celtic before he got the push – if he had signed, who knows what would have happened?
Dave Abrahams
278
Posted 05/02/2022 at 11:49:44
Today's team, I've just been told, is:

Pickford, Coleman, Mina, Godfrey, Patterson, Allan, Gomes, Mykolenko, Gray, Richarlison and Gordon.

I don't know the subs.
Robert Tressell
279
Posted 05/02/2022 at 11:54:04
Sounds like a 3-4-3 formation, Tony. Which is fine as a formation – except Allan and Gomes are just not a good partnership in the middle of of it. That said, our options are very limited so short of playing Holgate in midfield I'm not sure what we can expect.
Lots of attacking threat and pace down the flanks at least.
Dave Abrahams
280
Posted 05/02/2022 at 11:58:53
Robert (279),
If that team turns out to be the wrong selection, blame it on Tony!!
If it turns out to be correct, it was me who sent it in!!
Mike Corcoran
281
Posted 05/02/2022 at 12:03:28
George McKane,
It's now 12 Bells NBT, I'm looking down towards Vale Park at the river, and you just brought a smile to my face.
Fran Mitchell
282
Posted 05/02/2022 at 12:12:40
A funny old criticism of Calvert-Lewin is the 'most of his goals are tap-ins and headers'.
This gives the assumption that they are 'easy' goals, and good strikers get all their goals from 20+ yards out.
Massive misconception. Most of Ronaldo's goals are from in the box; most of Harland's are from in the box. Occasionally, they score a screamer, but their massive stats are made by 'tap-ins and headers'.
The reason: are they thinking, "Well, I'm limited and thus will try to score easy goals"? No. Stats. You are more likely to score in the box, so in training, as much time is given to anticipation, running behind the man, beating the offside trap etc.
Calvert-Lewin has excellent anticipation. Without him, we've seen numerous Gray and Townsend balls across the box only for it to bypass the oncoming attacker. Calvert-Lewin, when fully fit, has excellent pace and anticipation and reaches those balls. So, while it may be a 'tap-in', it's a tap-in that only the best strikers consistently score, because most don't get there in time.
Look at our peers:
Leeds have Bamford (2 in 6).
Palace have Édouard (6 in 19).
Villa have Watkins (5 in 15).
Leicester have Iheanacho (2 in 14).
Brentford have Toney (6 in 21).
Brighton have Maupay (7 in 20).
Wolves have Jimenez (4 in 19).
West Ham have Antonio (8 in 22).
Would you replace Calvert-Lewin with any of them? They would all cost upwards of £40 million.
January saw West Ham bid £50 million for an unproven striker from Benfica, and it got rejected. Strikers like Haller have scored consistently in Germany and Holland (including Champions League), but absolutely flopped in the Premier League despite costing £40+ million. Timo Werner looked a guaranteed goalscorer, cost upwards of £50 million and can't hit a barn door.
Scoring goals in the Premier League is not an easy thing. If you have a goalscorer, you do your best to keep him.
The "sell and buy a cheaper and better version" theory doesn't work. Buy cheaper, have them in the squad and hope they develop and then sell, that can work. But selling before having a replacement? Madness.
Liverpool have bought Jota, and now Diaz in preparation for the likes of Mane and Firmino leaving. But they sign the replacements in anticipation, so if they don't work out (like with Minamino), they aren't weakened... Scoring goals.
Gerry Ring
283
Posted 05/02/2022 at 12:12:56
Tony @141.
Regarding Patterson, he's going to need time & coaching. Having watched Rangers on Wednesday getting slaughtered by Celtic, one has to ask how he wasn't good enough for them in a significantly weaker league!
Probably a great prospect but will need to be introduced gradually. Great prospect but needs to be "minded".
Brian Wilkinson
284
Posted 05/02/2022 at 12:18:57
Derek @274, I'm travelling in by car with my two brothers, my daughter and three mates, so will not be able to join you today before and after game.
I will be down for the Leeds game next Saturday by train, so hopefully will be able to have a catch-up either before or after the game with our regulars.
Hope Danny has not brought half of Brentford into Weatherspoons with him :-)
Up the Toffees.
Mike Dolan
285
Posted 05/02/2022 at 12:24:22
It's disappointing that Calvert-Lewin has picked up a knock and will not be available for today's game. It's a bit rough to demean him when the club is probably just using an abundance of caution after his long absence through serious injury.
Calvert-Lewin is one of our most reliable players, he has always run his heart out for the club, and the idea that he is hiding out under a sicknote is just pathetic.
He had a serious issue this season and is still not match-fit. Why shouldn't the club be ultra-cautious in handling him? He's only our most important player and we so need him fit for the last 18 games.
Brian Wilkinson
286
Posted 05/02/2022 at 12:27:43
Mike, I have a feeling Calvert-Lewin will make a quick recovery, for the midweek trip to Newcastle, could just be taking no chances, with a must not lose game against Newcastle.
Bill Rodgers
287
Posted 05/02/2022 at 12:32:44
We will know if Frank has a chance before they kick a ball. If he has cleared that bench of deadwood, there is hope.
Tony Everan
288
Posted 05/02/2022 at 12:57:17
Brian 286,
The way Frank described the injury in his press conference, I was thinking that too. Playing today and Tuesday is probably a bit too much at this stage of his recovery.
I hope that we're reading it right anyway, because he will give us a great boost if he's fit and ready to go against Newcastle.
Trevor Peers
289
Posted 05/02/2022 at 13:01:19
Usual hysteria about Calvert-Lewin, if the lad really does fancy a move, he'll be off like a shot in the summer, making mugs of us all, make no mistake.
Tony Abrahams
290
Posted 05/02/2022 at 13:24:28
If that's the team Dave, we are gonna be fucked, because I can't remember the last time Everton won, when I knew the team before the game.
We all love Everton, so simple but so true George, and if that's the team, it looks like Coleman will be playing in midfield, unless he plays next to Mina, and Godfrey is sitting behind Allen & Gomes, although Robert might also be correct, we will soon see?

Jeff Armstrong
291
Posted 05/02/2022 at 13:32:14
Surely Townsend before Coleman or Patterson in right midfield.
Mick Davies
292
Posted 05/02/2022 at 13:34:20
I haven't been able to read every post here, but feel I have to disagree with at least one: on the subject of Eriksen.
Why should fans cheer him? He's putting his life in danger by selfishly returning to competitive sport, and should be considering his family, especially his two children.
He's 30 next week, older than Fabrice Muamba was when he suffered a similar problem, but quit playing football immediately. I can't believe the Premier League sanctioned this regrettable decision, and Brentford chose to put this man's life in peril.
Also, consider this: football is a contact sport, and tough tackling is an essential part of the game, but considering Eriksen is being kept alive by a piece of implanted hardware, what player is going to fly into a (legal) thunderous challenge on him?
This gives the opposition a disadvantage, and if a player does, and something critical occurs, how will that player cope in the future?
No, I think this is one of the most ridiculous moves ever made in the money-grabbing Premer League's history, and all parties concerned need to give their heads a good shake.
Dale Self
293
Posted 05/02/2022 at 13:59:53
Without blaming Frank we should realize what each of our managers have had to do. When three separate staffs rely on the same approach it is obviously a squad constraint. Let's give him a chance to set it up as he sees it and get behind it with clenched teeth and muttered expletives.
Joe McMahon
294
Posted 05/02/2022 at 14:00:00
Anthony and Dave, I'd like to think that Duncan he briefed Lampard about the players, capabilities and fact Gomes can only manage the last 30 minutes.
Fran Mitchell
295
Posted 05/02/2022 at 14:02:48
Holgate in midfield or is that a back 5? Or is it 3-4-3 (which can easily turn into 5-4-1).
No Dobbin or Onyango on the bench, which is a shame.
Tony Twist
296
Posted 05/02/2022 at 14:03:46
Best of luck today Blues. Good match for the manager to fashion a team formation that works with less pressure than a league match.
C'mon, fun time Frankie!
---
Add Your Comments
In order to post a comment, you need to be logged in as a registered user of the site.
Or Sign up as a ToffeeWeb Member — it's free, takes just a few minutes and will allow you to post your comments on articles and Talking Points submissions across the site.