Lampard lauds players for giving him 'everything I wanted'
Saturday, 13 February, 2022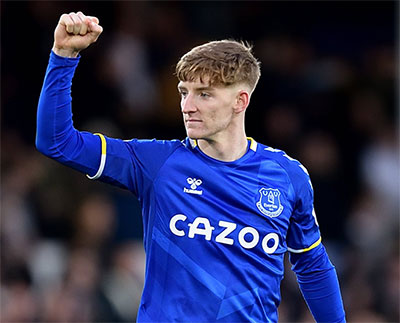 Anthony Gordon was excellent once again and was rewarded with being credited with the third goal in a pulsating 3-0 win over Leeds
Frank Lampard singled out some of Everton's star performers for praise today after the Blues' blistering performance against Leeds yielded a first Premier League in more than two months.
Anthony Gordon capped another stellar performance by being awarded the third goal in a pulsating 3-0 win at Goodison Park while Alex Iwobi put on perhaps best display to date since joining from Arsenal and on-loan Donny van de Beek was imperious on his full debut.
"I liked his attributes before I came here but you never know until you work with someone," Lampard said of Gordon who has emerged in recent weeks as the most exciting young English talent in the League. "But from day one, he's been engaging, wants to listen and wants to learn.
"When you're an Everton lad, the fans see that in him and it's a huge start, but I think he can go a long way in the game. His job now is to keep his head down and I've no worries about that. My job, and the staff's job, is to eke the most out of him we can get."
Article continues below video content
Iwobi, meanwhile, hadn't started a match since mid-December (although he missed a handful of games due to his participation at the Africa Cup of Nations, was a somewhat surprising inclusion given Demarai Gray's absence through injury but he was excellent throughout and almost laid on a goal for Dominic Calvert-Lewin with a lovely pass around Leeds' back line in the first half.
"One of the beauties of coming in like this is it's a restart for everybody," Lampard explained. "What Alex has done is trained at a great level. He demanded a place in the team with his performance. He had to do a lot of work off the ball and he did everything."
Van de Beek, a deadline-day acquisition from Manchester United, has himself been particularly impressive in his two outings so far and he excelled alongside Allan in central midfield while also playing a significant role in the opening goal.
"I think you can do different roles and that's why I moved so quickly to get him," the manager said of the Dutchman. "He played in a double No.6 today and has the talent to link and get us through the lines. He's a goal threat too so that was one of the big pulls of bringing him in."
Of team performance as a whole, Lampard was again effusive in his praise as his team shrugged off the disappointment against Newcastle on Tuesday by reverting to the kind of slick attacking that tore Brentford apart in the FA Cup last Saturday.
"From minute one, right through the game, they were non-stop and showed great quality," he said. "I won't get overexcited but I can enjoy seeing my team play like that because it's everything I wanted."
"We didn't allow them anything today. terms of our effort, work rate, nature of the team, I'm really happy. I've been here two weeks and it's only a start.
"Defending is a team effort. It starts from the front and that was what was so enjoyable today. It's good for the team to feel the confidence of a clean sheet.
"I've had a lot of support since I came to this club. It's humbling for me to have the fans supporting me so well. The fans love this club with a passion. When you're here you understand it's their life and how much it means to them."
---
Reader Comments (21)
Note: the following content is not moderated or vetted by the site owners at the time of submission. Comments are the responsibility of the poster. Disclaimer
Jack Convery
1
Posted 13/02/2022 at 04:38:40
We we we - one little word but so powerful when used by our manager.
Rob Hooton
2
Posted 13/02/2022 at 07:59:01
All of my mates down here in London (that support various clubs) rate Gordon highly and they all mention him when discussing all things footy – he is grabbing attention and deservedly so, he has come on leaps and bounds this season and looks a Premier League player.
Good words from Frank for the whole team, excellent stuff.
Bill Gienapp
3
Posted 13/02/2022 at 08:12:35
Koeman was aloof. Allardyce was smug. Silva was inscrutable. Carlo was cool. Benitez was dour.
It really is refreshing to have a manager who makes the effort to forge an emotional connection with the fans.
Si Pulford
4
Posted 13/02/2022 at 08:34:41
Special mention has to go to that patched-up back line. I don't think any of the back four are most people's first choice. Coleman had had a torrid few weeks, Keane and Holgate probably wouldn't start if Mina and Godfrey were fit, and no-one would ever put Jonjoe Kenny at left-back. But to a man, they stepped up.
I like what Frank says about him coming in being 'a restart for everybody' because players low on confidence can play their way back in. Can a fit Mykolenko expect to walk back in next week? Can Gomes? Does Iwobi keep his place? When Doucouré is fit, how do we line up?
Seven first-team players out and he treated it like an opportunity, not an excuse. I like that. It won't be plain sailing from here but at least there's something to work with, something to build on.
Momentum in football is a wonderful thing. Any kind of result at Southampton and we can start to breathe a little easier and look at the goal difference and games in hand rather than praying the likes of Watford drop points.
UTFT
Chris Mason
5
Posted 13/02/2022 at 08:35:27
One big difference for me is that he doesn't refer to the Club as a "project" – a hateful word used by nearly all of our recent managers, reducing the club to sound like some cases up corporate plaything.
Oh, hang on…
Lee Courtliff
6
Posted 13/02/2022 at 09:54:39
I've been thinking this morning about Jonjoe Kenny playing left-back and it reminded me of a story Mark Ward told about Howard Kendall.
In the opening week of the Premier League Era, we played Man Utd away in a midweek match and Kendall played 2 right-footers on the left side. The reasoning was that Kendall knew how dangerous Andrei Kanchelskis was when he cut inside so he wanted his defenders on their strong side when confronting him in-field.
I wonder if that was part of the reasoning for Frank putting Kenny there yesterday, as we all know how deadly Raphina can be when he comes inside?
I understand the injuries are the main reason but he could easily have put Townsend, a left-footer, on that side of the pitch.
Just wondering...
Lee Courtliff
7
Posted 13/02/2022 at 10:01:34
Forgot to mention... we won that game 3-0 too.
Jim Bennings
8
Posted 13/02/2022 at 10:46:00
My only regret looking back is that we never got Frank Lampard last summer.
I don't completely blame Benitez for the mess but it was doomed from day one wasn't it?
Lampard is in keeping with how the modern game should be played high intensity, tempo, gusto and hunger.
Frank also speaks clearly, communicates clearly, openly and honestly and you feel he knows what the club is all about and the fans, he's a footballing man from a footballing family.
The Newcastle game was poor on Tuesday but probably not helped by our gameplan bing torn up after 20 minutes with injuries to key men.
The important thing was to bounce back yesterday with bags of character and that's what we did, that's the measure of a team in harmony and togetherness.
Danny Baily
9
Posted 13/02/2022 at 11:06:39
Jim, good point about having to rip up the game plan after the early injuries against Newcastle. We were on top up to that point. Just goes to show that we'll need a bit of luck in addition to making the right moves going forward.
Jerome Shields
10
Posted 13/02/2022 at 12:40:12
Selecting Kenny at left-back seemed to be seamless. Seamus was that far forward, you would have thought Kenny was right-back behind him.
Lampard has a very fluid attitude to teamwork, some players seem to pop up all over the field, and are covered to do so. Allan and Van de Beek complimented each other in midfield. Each player is individually coached in their role. This was particularly the case with Keane and Holgate. Just simple no-risk defending.
It all works and the players have bought into it. As Frank says, it is a restart, but you need to be able to be remotivated and have players buy into what you are doing. Frank and his team clearly have the ability to do that. It is an ongoing process of all-round learning and proving. Taking what it gets them.
He is a different type of manager than before and it suits Everton.
Jim Bennings
15
Posted 13/02/2022 at 13:43:11
I think it's worth putting out about Jonjoe Kenny.
Have never had any issues at all with that lad defensively, even when Sam Allardyce first arrived, Kenny was sound defence wise.
Matthew Johnson
16
Posted 13/02/2022 at 13:46:41
You know it's been a good game when people say Iwobi played well.
Andrew Merrick
17
Posted 13/02/2022 at 14:51:10
Bill 3 gets it right, we've now got a manager that connects, with the fans and the players, what a difference.
Everyone raised their game against Leeds, and maybe it will be hard to keep that going, but some players were transformed from lacklustre to lung buster, not all stars but everyone shone...
Andrew James
18
Posted 13/02/2022 at 16:36:26
I seem to recall Kenny playing at left-back under Allardyce once or twice when we had that defensive injury crisis.
I know Martina also got played over there as well and for longer during that period but have I dreamt that Kenny also played left-back?
Jay Wood
[BRZ]
19
Posted 13/02/2022 at 17:09:09
Andrew, statistically under Allardyce the meanest back four for a good run of games due to injury was four much-maligned players:
RB Kenny; CBs Holgate and Williams, LB Martina.
Given that Kenny and Holgate were teenagers at the time, and the other two in the twilight of their careers, it was an impressive achievement, whatever you think of Allardyce.
Neil Bowman
20
Posted 13/02/2022 at 19:52:34
During the week, many pundits have been taking about a lack of leadership in the Newcastle game. We've seen this time and time again over the last few years: we concede a goal, the heads drop and no-one is rallying the troops on the pitch. The Leon Osman article for the BBC highlighted this quite clearly.
Many fans have naturally focused on Coleman's apparent lack of leadership given he's the captain and others have come in for criticism too but the way Coleman played yesterday with a fire in his belly suggests he perhaps read articles and took them to heart.
Of the highlights I've seen, Van de Beek seems to have been rallying the players during the game and people have suggested Holgate was too. This is great to see. We need more talkers, more people willing to push players on during the game.
The way Frank Lampard has been talking, suggests this "fight for each other and drag each other over the line" type approach comes from him. Winners don't accept mediocrity.
It's early days but Everton might have just rediscovered their fighting spirit at last.
Andrew James
21
Posted 13/02/2022 at 22:39:48
Jay - I remember that group against (I think) WBA at home in Jan 2018.
But I went to a few games home and away following that and seem to recall JK getting switched into that position because Martina got injured.
I can never give Allardyce credit after sitting in the home end at Watford on a freezing night in February to suffer a cowardly 1-0 defeat. Awful stuff.
Tony Graham
22
Posted 14/02/2022 at 19:46:30
It's all been said, Saturday was a great performance and lifted all the club and supporters, but it cannot be a one-off again.

One swallow don't make a summer... we need the will to win and passion to be there in every game.

Dale Self
23
Posted 14/02/2022 at 21:27:15
Good point Bill 3, I think this reflects Frank's good fit with the club in terms of his career trajectory and what we were needing inside the locker room. I was afraid to go back into the market as shell shocked as this squad seemed to be but Frank does seem to be a solid move early on and all signs are that it is durable.
Tony Abrahams
24
Posted 14/02/2022 at 21:36:38
"Defending is a team effort it starts from the front" and his team definitely did this right, because once the game started, I wasn't worried about our back four for the first time all season.
That last paragraph is so true it could have been written by any of us lunatics on ToffeeWeb.

Paul Cherrington
25
Posted 15/02/2022 at 14:16:11
One small thing I like about Lampard from what I saw on Saturday is that he always seemed to have a smile on his face and a positive comment for players coming off subbed. Almost like he was having a bit of banter with them for a laugh as they walked past him.
Good man-management, that… and helps him bond with the players better. Makes them want to play for him too.
---
Add Your Comments
In order to post a comment, you need to be logged in as a registered user of the site.
Or Sign up as a ToffeeWeb Member — it's free, takes just a few minutes and will allow you to post your comments on articles and Talking Points submissions across the site.