Lampard thrilled with clean sheet versus Leeds
Wednesday, 16 February, 2022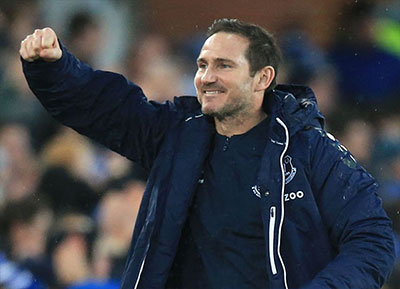 Frank Lampard has spoken of how Everton's first clean sheet in 13 matches was the result of an excellent all-round performance and stressed that that has to be a building block as he looks to push the Blues up the table now that he has his first Premier League win under his belt.
The boss saw his new charges atone for a disappointing display at Newcastle to beat handily Leeds United at Goodison Park last Saturday without allowing the visitors a single effort on target during the 90 minutes.
Two long-range efforts from Rodrigo that struck the crossbar were as close as Marcelo Bielsa's men came to breaching Jordan Pickford's goal while at the other end, a superb Illan Meslier save to deny Salomon Rondon was all that stood between Lampard overseeing back-to-back four-goal hauls at Goodison.
"[C]lean sheets or conceding can sometimes be looked on as something for defenders and the goalkeeper but it is a team thing," Lampard explained. "Can we keep our opponents far away from our goal and win the ball high up the pitch? Yes, we certainly did that.
Article continues below video content
"There will always be moments when you have to defend your box and the lads dealt really well with anything that came in there.
"It is a template we need to take forward. If you are keeping clean sheets, you have a great chance in games, especially with what we have going forwards."
Lampard's team selection on Saturday raised eyebrows as supporters queried the inclusion of Alex Iwobi and wondered before kick-off whether Jonjoe Kenny or Seamus Coleman would be asked to fill in at left-back in the absence of Vitalii Mykolenko.
In the end it was Kenny who played out of position and ended up having one of his best games so far for his boyhood club while Iwobi was rewarded for his stellar efforts in training and repaid the new manager's faith in him with an excellent all-round performance.
The Nigerian completed the full 90 minutes on his first start since mid-December in place of the injured Demarai Gray while Kenny played a full part in a defence that kept a clean sheet for the first time since the goalless draw with Tottenham in early November.
"I love Jonjoe's attitude in training every day," Lampard said. "He loves Everton and always wants to train and do better. Any session and any drill you do, he wants to give everything.
"And he is a quality player, [good with] both feet and technically very good for a defender. He will give you everything. Positionally he was great, in terms of holding his position, then jumping out and making tackles at the right time.
"Jonjoe is perfect for any game but especially when we needed discipline and effort and toughness, and he showed those things. I was really pleased with him.
"It was hard to pick a man of the match out of those 11 players but, for me, it was Alex. The reason was the work ethic he showed, his fitness throughout the game, the way he picked up the positions we wanted off the ball and kept wanting to receive the ball and drive and play.
"He played because he trained so well and that is something I stand behind strongly as a coach.
"Sometimes you pick a team and people outside don't understand why you pick a player. I understand that, too. But when someone trains as well as he has [he deserves to play].
"All I want is for Alex to have belief and feel the talent he has. I am not sure I expected that 90 minutes of work-rate. He hadn't played for me and, wow, I thought he was outstanding!"
---
Reader Comments (21)
Note: the following content is not moderated or vetted by the site owners at the time of submission. Comments are the responsibility of the poster. Disclaimer
Dennis Stevens
1
Posted 16/02/2022 at 19:03:17
Iwobi in? Lampard out!!
Larry O'Hara
2
Posted 16/02/2022 at 19:18:12
Iwobi pleasantly surprised me: shows why Lampard is a manager and I'm not….
Danny O'Neill
3
Posted 17/02/2022 at 01:21:05
Hearing the manager talk of two players that many of us have always seen a player in, but also doubted is intriguing.
Jonjoe. I'm just made up for the lad. His attitude is really starting to come through. He will give us flexibility as well as commitment. I'm not going to contradict myself, I was unsure a few years back, but some are later starters. The smile on his face speaks volumes for how much he is enjoying football and Everton, even when on the sidelines warming up and celebrating with the team when we score even though he's not on the pitch. I'll make no apologies in repeating myself, he led the team over to the supporters at Stamford Bridge at the end.
And the much maligned Iwobi. Maybe the manager says it all; if we can get him to show belief, the talent can come through.
All of these players and the new ones are on a clean slate now.
Mark Andersson
4
Posted 17/02/2022 at 04:11:38
Iowbi good on ya lad lets hope its not a one off.. fans get behind every player every game If Frankie can keep the momentum up then he will proove to be a better manager than the last??? how many
Dave Evans
5
Posted 17/02/2022 at 06:44:52
Pleased for Iwobi. Has the character to train hard and improve on the skills he already has.
As we all know, to achieve anything in any situation, confidence is key.
Keep it going Alex, we are all rooting for yer.
Alan J Thompson
6
Posted 17/02/2022 at 07:08:01
I'd be interested in seeing if Kenny improves as Gordon has after a run of games but then the same could be said for Patterson and Mykolenko.
Tony Everan
7
Posted 17/02/2022 at 07:45:58
Iwobi's performance is hard evidence that Frank Lampard and his class coaching team are making a difference. Players are engaged and enjoying training again and that feeds desire and motivation to do well. Advice is being absorbed and executed on the pitch, it's a great sign.
It would be extremely naive for any Evertonian to get carried away just yet. How many times have we taken one step forward then two steps back the following week. Leeds was a few baby steps in the right direction.
Even so, everything about the club feels totally different since Frank Lampard has arrived with his excellent coaching team. The appointment just feels right and Paul Clement supporting Frank is an absolute master-stroke.
The far bigger challenge of consistency of performance now awaits. Both for the players and the manager.
Have a read of this brief but interesting article about Ancelotti /Clement/ Lampard when they were at Chelsea. It gives a glimpse of the psychology at play within the set up with regards to player responsibility and accountability . Getting them invested in the whole approach to a game , and motivated to execute the ideas and plan of action.
https://www.liverpoolecho.co.uk/sport/football/football-news/paul-clement-reveals-carlo-ancelotti-22928636
Eddie Dunn
8
Posted 17/02/2022 at 07:54:13
A meritocracy -just what we all need.
Derek Thomas
9
Posted 17/02/2022 at 08:04:33
Dale @ 5; If only to get some sort of return on our outlay?.
But hey, it's clean sheet time, lets see how they all go under the new guy...and for that matter, lets see how the new guy goes.
If he starts getting a tune out of some of our very expensive under performers we'll all be happy
Tony Abrahams
10
Posted 17/02/2022 at 08:28:34
I think another thing with Iwobi is that suddenly a few Londoners have come into the club, and this might have had a positive effect on him.
The best thing in football is when the man in charge of the team has confidence in you though. Although it's very early days, it definitely makes a massive difference to any player with ability who has been struggling. Hopefully it's going to be a combination of having a manager who trusts him, and a few cockneys who understand him, meaning Iwobi is hopefully going to flourish.
Brian Murray
11
Posted 17/02/2022 at 09:01:00
Tony,
It will be amazing if Lampard can do what all these managers failed before him in that getting these serial losers to go up and at least stay at the level they have now set. Including Iwobi. I suppose we will know a lot more after tomorrow.
We can't underestimate the coaches we now have to work on this group. Very un-Everton but exiting as much as the boss himself.
As for Van de Beek, if he stays... great; if not, I'm sure a Plan B or Plan C will kick in. That's what top professional clubs do. No more reactionary biscuit-tin mentality.
As for FFP, there's at least four big-wedge earners going so that may help our plans.
Danny O'Neill
12
Posted 17/02/2022 at 09:15:14
I thought I'd posted this so apologies if I'm repeating myself here or elsewhere.
Great pictures on Twitter of Ashley Cole giving Jonjoe Kenny one-on-one training and coaching.
Brian Harrison
13
Posted 17/02/2022 at 09:47:10
I still am puzzled how Chelsea allowed 2 of their coaches just to leave and join Lampard, especially Ashley Cole as many good judges believe he is an excellent coach.
Also how brilliant for Everton that he will be carrying on his work with England's youngsters, I am sure he will be reporting to Frank who might be of interest to Everton.
Also, with working with Cole they will probably be happy to come here and carry on working under Ashley Cole.
Lampard knows the value of clean sheets to a team and, although he has made us more proactive going forward, under him and his coaches they will be making sure that when we lose the ball all our players are in the right positions to stop counter-attacks and to win the ball back early.
As he says the further upfield we can win possession back then it's a shorter distance to our opponent's goal so that should allow us to create more chances.
Obviously Iwobi impressed in training but he has done this under previous managers only to fail when it came to matchday. Undoubtedly that was his best performance for a very long time, he now has to follow that up against Southampton.
I think that's the first time in a long time that Iwobi started and finished the game, normally he has been the first one subbed and on some of his performances he can't complain.
I also thought it was a clever move to bring Calvert-Lewin off and replace him Rondon someone else who has felt the wrath of the crowd. Had he put the chance away what a finish to a great ball that would have been.
So despite injuries to key players Frank and his staff have come in and pressed the reset button on every player at the club, and you can see the difference. Jonjoe Kenny looked as if he would be on his way out, but he put in a fantastic performance and will be hoping to keep his place against Southampton.
Confidence is so important at a club at any level and Frank and his coaches have given every player a shot in the arm and now those that have already played under him believe they can be first team regulars.
As well as the crowd being fantastic against Brentford and Leeds, you could see each player grow in confidence. Let's hope we cantake that new-found confidence into the Southampton game and pick up all 3 points.
Laurie Hartley
14
Posted 17/02/2022 at 10:33:31
Brian # 13 -
"Rondon someone else who has felt the wrath of the crowd. Had he put the chance away what a finish to a great ball that would have been".
He has form on that type of finish - 1min 50sec in to the video:-
Gerry Killen
15
Posted 17/02/2022 at 11:30:28
An open letter to Frank Lampard,
Welcome to the Everton family, Frank. Here's hoping you enjoy a long and successful time here on Merseyside.
If you find time, have a look at the story of Brian Clough on YouTube; you are very similar to him – a wonderful player and now you are in the process of beginning a career as a manager.
You have a good team behind you, stick to a plan of how you want us to play, and always have a Plan B in case of injuries when a reshuffle is needed. Communicate your intentions clearly to players and fans, be brave.
This is a Golden opportunity for you to make your mark not only in the Premier League but worldwide. Ride out the stormy weather that may come your way... be honest and you will be adored here on Merseyside.
Good Luck!
Brian Williams
16
Posted 17/02/2022 at 12:09:15
Brian#13.
I still am puzzled how Chelsea allowed 2 of their coaches just to leave and join Lampard, especially Ashley Cole as many good judges believe he is an excellent coach.
Brian. If you follow the opinion of some TWers it'll be simply because nobody else was in for them. ;-)
Len Hawkins
17
Posted 17/02/2022 at 12:14:21
I was one who would have given Iwobi a lift to Kirkdale Station so as to start his journey back to the smoke. Well, like others if he keeps up the improvement I will have egg on my face, so long as it is not raw scrambled will be preferable, and he may prove us all wrong.
I alluded to Frank Lampard being well liked in football circles and obviously this helps the players heeding his message and carrying it out on the pitch.
I am quietly confident that our old trait of giving crap teams an easy win will be put to the sword and Southampton take over the mantle as no one would give us a chance against Saints so why not dent their pride.
Brian Harrison
18
Posted 17/02/2022 at 12:29:31
I see someone on Twitter quoting Frank after the Leeds game where he said,"When you are here, you understand it's their life".
Now I know some cynics will say he is just telling them what they want to hear. I know Barrett-Baxendale was quoted after the Brentford game saying Frank came into the boardroom and said he knew what Alan Ball meant when he said "Once Everton touches you".
I genuinely think he has been overwhelmed by the fans reaction to him his coaches and the team. Only time will tell if he is the right person to lead us back to where we want to be, but everything I have read or heard from him tells me he is the right person to help reclaim former glories.
I know we have seen more false dawns than any weatherman, and would make even the most enthusiastic Everton wary, but this just feels right to me.
Christopher Timmins
19
Posted 17/02/2022 at 13:18:04
Saturday will be a good indicator as to the level of improvement brought about by the manger in his first three weeks in charge. We have had some bad memories down on the South Coast in recent years but I am looking forward to seeing a further improvement in performance levels as the players learn to play the Lampard way. Southampton are in good nick at the moment and are a hard working side, therefore, we will learn a lot from this fixture.
Going forward, let the conversation be about the Lampard way. It will take time for the manager to perfect his preferred style and it may even take one or two windows for him to bring in the players he needs to achieve his goals. As for having a plan B, well it can only be a tinkering with his preferred way of playing.
You don't see Pep running with a Plan B, even in his first season at City he stuck to his principals and at the end of the season he identified what was needed recruitment wise to better implement his style of play. He had the confidence of the City Board and the patience of the fan base and he has paid them back in spades.
Patience is a virtue.
Brian Murray
20
Posted 17/02/2022 at 13:19:06
Brian. Great words from Frank and I'm sure him and his set-up can back it up. Already Ashley Cole doing one on one training with the full-backs. Not buts in this post let's enjoy it and hope he's the man that is the king on the banks of the royal blue Mersey when the new stadium at Bramley-Moore Dock opens.
Laurie Hartley
21
Posted 17/02/2022 at 21:44:33
Brian # 16 - I saw what you did there😉
---
Add Your Comments
In order to post a comment, you need to be logged in as a registered user of the site.
Or Sign up as a ToffeeWeb Member — it's free, takes just a few minutes and will allow you to post your comments on articles and Talking Points submissions across the site.