Everton confident that Mina won't need an operation
Friday, 18 February, 2022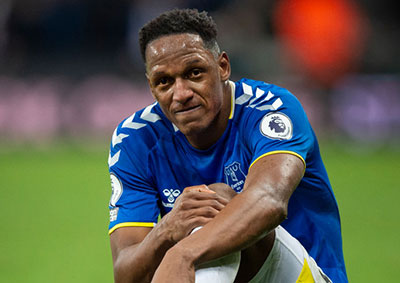 Yerry Mina remains some weeks away from returning to action for Everton but it does not appear as though he will need to undergo surgery to correct his latest injury.
The Colombian has been dogged by injury throughout much of his time with the Blues and had only started seven Premier League matches before his appearance at St James's Park the Tuesday before last which lasted just 35 minutes.
Mina was forced to come off in that match with another thigh problem and there were concerns that he might need an operation but Frank Lampard told the print media following his pre-match press conference ahead of this weekend's trip to Southampton that that does not look likely at this stage.
"No he didn't [need surgery], and we hope that remains the same," the manager said of what is apparently a high grade thigh tendon injury.
Article continues below video content
"So we're working on the injury now. Yerry's here working with our medical team to try and make some early strides in making sure he recovers.
"I know he's had some repetitive kind of injuries, different injuries, but he's had his issues. I think it's really important we focus on this one to get it right.
"It won't be surgery, it'll be a lot of work behind-the-scenes and obviously it's quite a long injury so Yerry will need some time mentally to have a breather at times.
"We'll do our best to make sure he comes back hopefully preventing further injuries off the back of it."
No definitive timeline has been put on the former Barcelona defender's return but while Lampard indicated that Ben Godfrey might be two to three weeks away, he said that Mina will need a while longer.
---
Reader Comments (18)
Note: the following content is not moderated or vetted by the site owners at the time of submission. Comments are the responsibility of the poster. Disclaimer
Bill Watson
1
Posted 18/02/2022 at 02:32:23
I know the likes of Delph and Mina can't help getting injured but no other business would tolerate two expensive capital investments which cost around £10m a year to maintain but spent most of their time in the repair workshop!

Ajay Gopal
2
Posted 18/02/2022 at 02:59:45
Bill, there are only 2 options when you have expensive and important machines which need frequent repairs: you either cut your losses and scrap those machines or try and keep repairing them and run them till they break down again.
Hopefully, you have other machines (maybe not with the same 'on paper' specifications as these 'premium' machines), that get the job done and keep the factory running.
John Zapa
3
Posted 18/02/2022 at 03:32:24
I feel the pre-match warm-up routine needs to be changed. The frequency of early game muscle injuries is not a coincidence.
Paul Kernot
4
Posted 18/02/2022 at 03:40:58
I saw a T Shirt recently that read 'made in the 60's. Some original parts still in working order'. Describes a lot of us on here I'm guessing.
Trouble is, you can only replace so many working parts before your
ROI is seriously adversely affected.
Lester Yip
5
Posted 18/02/2022 at 05:09:34
Ajay, we've scrapped one of the most premium machines we've ever owned – James! Unfortunately none of them are in the premium category. I put it as impulse buying which is regretted almost straight after.
Derek Knox
6
Posted 18/02/2022 at 05:10:33
I've got a better idea to keep them out of the Treatment Room, insist on an enema, and the rubber-gloved hand up the cooey, each daily visit. I think you would find the recovery rate was phenomenal. (sorry Bobby BS)
Call me a sceptic or a cynic, but it always seems the ones on megabucks who are constant 'sick notes'! 🤔
Si Pulford
7
Posted 18/02/2022 at 07:51:37
Best defender we've got by a long chalk. Shame he's always injured. The idea these lads aren't bothered or like being injured is lunacy. Mina is loosing the best years of his career. I imagine he's gutted. I know I am, the whole back line played better when he's fit.
Steve Shave
8
Posted 18/02/2022 at 08:29:58
I love Yerry but it is time to cash in when the window opens again. We should be able to command north of £20M, perhaps £25M. He is a commanding presence, clearly loved by his teammates and is very useful in the opposition box.
If he played every game, I would be looking to pin him down on a long term contract but he doesn't. We look so much more solid when he is in the side.
Mick Conalty
9
Posted 18/02/2022 at 10:19:43
Was it Bill Shankly who said "If a player is not fit to play, I don't want to talk about him"?
If you are not fit, you are surplus to requirements.
Tony Abrahams
10
Posted 18/02/2022 at 10:44:19
I don't get in the ground early enough to watch the team warm up, so I wouldn't know if it's been different since Lampard arrived, but I've read that the players are training with a lot more intensity, which is definitely going to be something the players need to get used to.
The more they sprint, I'm sure it's more likely they are suddenly going to start having muscle problems, until the players properly adapt anyway.
Alan McGuffog
11
Posted 18/02/2022 at 10:46:03
You're correct Mick...wisdom has it that Shankly would more or less send a player to Coventry if he presented as sick or injured. Unfortunately it meant players such as Tommy Smith became invalids, almost, in their latter years, due to the overuse of pain-killing injections.
I think, and just an opinion, that teams such as that lot have fewer injuries as they are a winning team. Basic psychology but surely you'll push yourself more if your mates are out there beating all in front of them.
If you're getting pasted each week and the crowd is on your back, then you're more likely to seek out the comforts of the treatment room.
Kristian Boyce
12
Posted 18/02/2022 at 14:54:11
Alan, unfortunately we were doing the same thing, even relatively recently with Michael Ball. That guy was a walking chemist when he played for us with the huge amounts of painkillers pumped into him so he could play. It amazes me to this day that we were able to patch him up enough to shaft Rangers the money to buy him (even if they shafted us on that remaining amount).
We've never really had a big/good enough squad that we've been able to rotate players to limit overload. This also goes hand in hand with the questions that gets raised about the medical team. Player's physical management has always been an issue compared to other teams. Look at Spurs and Ledley King. He probably extended his career by 3 years by them creating a personalized program for him. I guess by his final year there he'd only was able to train once a week with the full squad, but was still a vital cog in the wheel.
David Currie
13
Posted 18/02/2022 at 16:33:33
Steve 8, No club will spend £20 Million on Mina.
Lester 5, James a premium machine??
Robert Tressell
14
Posted 18/02/2022 at 16:52:31
I expect we could get £15M in summer for Yerry, given his contract expires in June 2023.
Steve Shave
15
Posted 18/02/2022 at 17:02:57
David 13 I'll wager £10 they do :) I think Newcastle should be our first port of call.
David Currie
16
Posted 18/02/2022 at 17:11:25
Steve 15, Would be more than happy to pay you and hope you are right, I just don't see it.
Steve Shave
17
Posted 18/02/2022 at 17:45:41
David he is a quality player and I think a wealthy club who can afford strength in depth can live with the regular absences.
Matthew Williams
18
Posted 22/02/2022 at 10:04:07
A poor buy all round, constantly coming off injured, but always seems fit enough to play for his country?
We should be keeping a beady eye on the lad Kilman at Wolves, a player who keeps on improving and is a left-footer too. He would be an ideal centre-back and give us some much-needed balance in the heart of our back four.
---
Add Your Comments
In order to post a comment, you need to be logged in as a registered user of the site.
Or Sign up as a ToffeeWeb Member — it's free, takes just a few minutes and will allow you to post your comments on articles and Talking Points submissions across the site.