West Ham United vs Everton
Friday, 1 April, 2022
Match Preview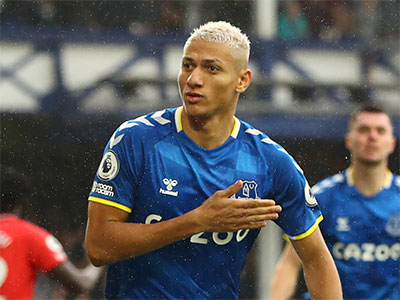 Richarlison scored a brace for Brazil that will hopefully provide a fillip for him as he seeks only his second Premier League goal of 2022 so far
Everton resume their quest for Premier League survival on Sunday with the second of three successive away games, this time against former manager David Moyes and West Ham at the London Stadium.
The Blues' last fixture was an ill-fated FA Cup Quarter-Final tie at Selhurst Park and though some of his players have been away on international duty, Frank Lampard will surely have been grateful for a two-week respite to try and settle his squad down ahead of 11 crucial matches until the end of the season.
As a matter of urgent priority, the manager needs to get to grips with the psychological block that is afflicting his charges when things go against them on their travels.
Since taking charge at the end of January of a team that had only won one away game all season, Lampard has overseen successive defeats to Newcastle, Southampton, Tottenham, Crystal Palace, with just a single goal scored in those games as opposed to 14 conceded.
Article continues below video content
It's a situation that must change if Everton are to avoid the drop come mid-May, starting with aiming to grab a draw against the high-flying Hammers. Since losing 3-2 to Leeds in late January, Moyes's men are unbeaten in five home games in all competitions but in the same period they've failed to register a win away from the London Stadium.
That modest slip from the form that had them sitting in the top four at times this season could provide opportunity for Everton who have fleetingly demonstrated the talent that exists in their ranks and shown glimmers of the more positive football that Lampard is trying to introduce. However, it is remaining solid at the back and retaining the courage to press forward in the face of adversity that has hampered the Toffees so visibly since they ground out that 1-1 draw at Chelsea in December.
That poor away form translates into odds from Sports Betting Dime of 4/5 for a West Ham win, an Everton victory is at 18/5 and it's 14/5 for a draw.
Everton could boosted up front but remain short-handed in the key areas of central midfield. Fabian Delph returned to first-team training after weeks spent on the sidelines with troublesome soft-tissue injury but Lampard has indicated that he is, perhaps, a week away from being ready. That's unfortunate given that Allan will be serving the second match of his three-game suspension following his red card against Newcastle and it doesn't leave the manager many options for a three-man midfield apart from André Gomes.
Up front, though, Dominic Calvert-Lewin, the scorer of the winning goal in this fixture last season, has been working on a tailor-made programme aimed at sharpening his fitness as he tries to rediscover his form following a long injury lay-off his own. The England international hasn't scored since netting the second goal in that solitary away win at Brighton back in August but the hope is that the additional two weeks over the international break can help bring him closer to peak condition.
"The break has been positive for Dominic," Lampard said of the forward. "I haven't had the benefit of having him for many league games - just three starts for us - and he was playing short of fitness. Not short, short, but a striker wants and needs to be 100 percent.
"We've worked well, really closely with him over the past couple of weeks. Without putting unnecessary pressure on him, because it's tough to be a striker with expectation, he's in a really good place."
Meanwhile, Richarlison, who has himself managed just one League goal in 2022 so far, bagged a brace in World Cup qualifying for Brazil, hopefully a welcome fillip for him that he can bring back to England where Everton will need him to be at his very best.
As a first step in stabilising what has been some wildly erratic form over the past few weeks, Everton need to shore up their back line, concentrate on being hard to beat and try at least to grind out a draw in this game.
The confidence that could be gleaned by either a clean sheet or a point away from home could provide a firm psychological platform to take into Wednesday's "six-pointer" at Burnley.
Kick-off: 2 pm BST, Sunday 3 April 2022
Referee: Michael Oliver
VAR: Andy Madley
Last Time: West Ham United 0 - 1 Everton
Predicted Line-up: Pickford, Coleman, Keane, Holgate, Godfrey, Gomes, Doucouré, Van de Beek, Gordon, Richarlison, Calvert-Lewin
---
Reader Comments (187)
Note: the following content is not moderated or vetted by the site owners at the time of submission. Comments are the responsibility of the poster. Disclaimer
Andy Wilkinson
1
Posted 01/04/2022 at 15:15:36
Oh dear. If Palace can spank us 4-0, how are we going to keep West Ham from battering us? Our midfield looks frighteningly thin. Don't envy Frank trying to conjure up a half-decent squad for Sunday, but who knows?
COYB!
Jim Wilson
2
Posted 01/04/2022 at 15:20:14
It is crucial for Lampard to put a makeshift ball winner in the midfield for the next 2 games while Allan is suspended. Someone with the legs who can harrie and chase and put a few tackles in. Kenny could do this job.
Back 4 in a 4-5-1 formation order of the day.
Jim Wilson
3
Posted 01/04/2022 at 15:25:58
Remember the golden rules of Robert Tressell:
- don't do zonal at set-pieces
- don't do 3 or 5 at the back
- don't do 2 in centre mid
- don't play open away
- don't keep changing formation
- 4-5-1 all the way!
Nick White
4
Posted 01/04/2022 at 15:35:30
Agree about needing a battler in the midfield, Jim, not sure who though!
Holgate did well there for a few games years ago but really isn't very good; Godfrey perhaps but really not sure about him there either and him holding the position without bombing forward. Kenny will get stuck in but not sure about him there either!
We really are down to the bare bones. Back 4 a must though!
Jim Wilson
5
Posted 01/04/2022 at 15:46:42
Agree Nick, it has to be a back 4.
If someone like Kenny was used as a defensive midfielder, he should be told to keep it simple. Just someone to close players down and block any shots and that would be a lot more than we have now!
Kieran Kinsella
6
Posted 01/04/2022 at 15:47:21
Call me fairweather or a turncoact but I don't think I am mentally ready to watch another game so soon when the names Holgate, Keane and Gomes are on the team sheet. Not saying the other players are good, but those three names in Lyndon's line-up caused the blood to rush from my head.
Joe McMahon
7
Posted 01/04/2022 at 15:48:46
It's not Frank's fault at all, but for the millions of Moshiri money spent randomly on mainly (worse than average) crass players, the midfield and defence choice is absolutely pathetic.
I want to be wrong but it's hard to see beyond another pitiful performance and ultimate defeat. We really are on the ropes. Happy Friday everyone!
Jon Harding
8
Posted 01/04/2022 at 15:54:40
Agree with you there KK @ 6 especially Gomes. His performance at Palace exemplified all his faults. Kicking Gallagher in the face from behind was a worse foul than Allan's red card the game before.
Anyway, send the kids away to London for this one and save the big guns from the first-team squad (ha!) for the six-pointer vs Burnley
Christopher Timmins
9
Posted 01/04/2022 at 16:14:28
Let's hope that we can look back at the end of the season and say that the true turning point was the two week break due to the International break.
I don't think West Ham are the kind of team that will give us a hammering, indeed I suspect that this is a game where not more than one goal will separate the teams.
The manager has just go to change things, take a put, therefore, I am going with:
Pickford
Coleman or Kenny
Brantwaite
Godfrey
Mykolenko
Van de Beek
Doucouré
Patterson
Gordon
Calvert-Lewin
Gray
In a 3-5-2 formation.
I just can't have Keane, Holgate or Gomes in the team, I just can't!
Chelsea, Brighton, Liverpool and City play Brentford, Norwich, Watford and Burnley respectively at the weekend so hopefully those games will go along form lines. Leeds might pick up something at home to Southampton, a win and they are almost safe.
Brian Harrison
10
Posted 01/04/2022 at 16:15:03
The midfield selection could be key for Sunday's game. I can't see Frank trusting Gomes but, without Allan, we don't have many options to sit in front of the back 4.
I think we need to win this game and for us to do that I would have Doucoure and Van de Beek sitting in midfield in front of a back 4, and have Gray on the left Gordon on the right Calvert-Lewin up front and Richarlison playing off him. But we will need both wingers and Richarlison to drop a dip deeper when we are out of possession.
I really can't see any other option that Frank has, seeing he has made a thing of working with Calvert-Lewin during the break, he will definitely start and Richarlison and Gordon are nailed-on for me.
The only other option is to start a defensive midfielder in-between Doucouré and Van de Beek and start with Gray on the bench. Then, if he needs to change things in the 2nd half, he can bring on Gray and Alli, having Alli play just off the main striker.
With Watford away to our neighbours and Burnley at home to Man City, a win could put real daylight between ourselves and Watford and Burnley. We really have to get something from the West Ham game, we just can't keep losing every time we go away.
Christy Ring
11
Posted 01/04/2022 at 16:16:57
I thought Delph would be back, but nothing's changed… he's still not ready.
What I cannot understand, Lampard says we are short in midfield, no ball winner with Allan out, and Davies out for the season. Why was Gbamin (our only other defensive midfielder) allowed to go on loan?
Why didn't he play with the U23s to get match fit? He's played the last 4/5 games with Moscow, and even scored, and they have won every game since he played.
It might be a weaker league, but he would be a hell of a lot better than Gomes and Doucoure, who definitely can't play in a two-man midfield, and can't defend, and certainly can't tackle, especially up against Rice and Soucek. His only choice is to put Holgate in midfield, or we will be completely overrun.
Danny O'Neill
12
Posted 01/04/2022 at 16:22:50
We can get something from this one.
I've had a couple of great away days this season (Brighton and Chelsea). Some shockers (QPR, Brentford, Wolves, Norwich, Newcastle and Tottenham).
I really don't care who is playing. Just give me something to travel home with a smile on my face, Everton!
James Hughes
13
Posted 01/04/2022 at 16:33:27
Things are very dire when we are hoping Fabian (I am a piss-taking twat) Delph is fit, bothered or able to play.
Frank just needs to get the tactics right as the win is there for the taking. Dour Davie has never been gung-ho in his approach so I doubt we will get a kicking and Frank should adapt our approach.
Fingers crossed UTFT
Andrew Bentley
14
Posted 01/04/2022 at 16:49:35
Just a thought but why not play Van de Beek, Doucouré and Alli in a midfield 3?
Alli can play off Calvert-Lewin. Put Richarlison on the left where he is best cutting in and then Gordon on the right. Gray can come off the bench if needed.
Kenny can go left-back, Keane and Godfrey as centre-backs and Coleman at right-back.
Dale Self
15
Posted 01/04/2022 at 17:13:29
If Gray is good to go then play him through the middle to get the ball out of our half. If possible don't bring in Delph or Gomes until the second half, as late as possible. I'll trust that Frank and Clement have used this break time to cobble together some type of tactical approach to keep West Ham's possession impotent in the first half. If it takes eleven men behind the ball I can get behind that. Not going down! UTFT!!!!!
Christopher Timmins
16
Posted 01/04/2022 at 17:23:02
Danny, a short trip for you this weekend, the last two days out in London produced a 5 - 0, and a 4 - 0 scoreline. It will be a lot tighter on Sunday, I will be very disappointed if the past two weeks have not brought an improvement and I like you think we can get something from the game.
West Ham are a counter attacking team, we can't afford to give Bowen or Antonio space to run in unless we play with more pace at the back, that means no Coleman and no Keane.
Jay Harris
17
Posted 01/04/2022 at 17:28:11
Lyndon, I have to say I don't like your team at all.
I wouldnt start Gomes in any first choice team and Coleman will get roasted by Antonio and IMO Kenny would do better against Bowen than Godfrey.
As Allan is missing I would fill the gap with Patterson in front of Coleman to mark Antonio out of the game and provide forward runs. I think Branthwaite deserves a chance alongside Godfrey which will give us more pace at the back.
Gray can create and score something out of nothing so would be a starter for me alongside Richarlison and Gordon with Calvert-Lewin on as a sub as Gordon tries.
Nick White
18
Posted 01/04/2022 at 17:29:30
West Ham play Lyon in Europe on Thursday so is there a chance Moyes will be cautious and rest a few of their better players for then (will be their biggest game in a generation)? No doubt clutching at straws!
Sean Roe
19
Posted 01/04/2022 at 17:30:15
Begovic
Patterson Keane Branthwaite Godfrey
Holgate
Gordon Doucouré Van de Beek Richarlison
Calvert-Lewin
4-1-4-1 and pray to god for a point.
Ian Bennett
20
Posted 01/04/2022 at 17:35:25
So many problems with this team.
It is full of passengers. I really worry that players like Alli, Van de Beek, Iwobi and Calvert-Lewin just don't work hard enough, whilst Gomes just gets run past.
Add in a knackered Coleman, a bad Holgate and Keane, plus a Ukrainian kid that doesn't look ready for the Premier League (which compounds a team that has no left foot balance).
I just can't see how you can combine any of the deck to give a hand that will win.
Pickford
Mykolenko
Keane
Godfrey
Patterson
Somebody has to screen - Holgate?
Doucoure
Van de Beek or Iwobi
Gordon
Calvert-Lewin
Richarlison
Bill Gall
21
Posted 01/04/2022 at 17:39:46
I may be alone on this but I believe this game is winnable. We have the players that can do it, it may need going down to 10 men, but they proved it against Newcastle.
The major problem I think with Everton is upfront where we have no-one scoring on a regular basis. The defense and midfield can hold out, but they have to get the wing-backs and forwards making space to give them an outlet.
Other teams seem able to defend in their area and find the space to move the ball quickly, whereas Everton take too long to get from defense to attack, and hopefully Calvert-Lewin can get back into form as he must see he has dropped behind in the World Cup squad.
These away game results have to change, and West Ham is the place to start. 1-2.
Jim Wilson
22
Posted 01/04/2022 at 18:02:57
Jay Harris - it's a good shout playing Patterson in front of Coleman (or the other way round).
I just can't see Lampard realising the strength it gives us by doing it.
Frank Sheppard
23
Posted 01/04/2022 at 18:06:45
Team selection will be fascinating, same old, same old who keep letting us down at the back, or some of the new signings? Dreading this, expecting a hammering, hoping for a miracle.
Joe McMahon
24
Posted 01/04/2022 at 18:13:56
Can anyone update me what academy defenders we have that potentially could make the first team?
We have not got a cat in hell's chance starting the same 4 every game. Keane, Holgate and unfortunately Coleman are not Premier League standard.
Michael Keane and Mason Holgate would be ideal for Barnsley next season when they are relegated this season.
Ian Pilkington
25
Posted 01/04/2022 at 18:40:03
Sean Roe@19
Why on earth would anyone pick Begovic to play instead of Pickford?
John Raftery
26
Posted 01/04/2022 at 18:47:51
Patterson has been away for most of the last two weeks. Without the opportunity to train with the first team, I would be surprised to see him in the starting eleven on Sunday.
Lyndon's penultimate paragraph sums up exactly what is required in this fixture.
Mike Gaynes
27
Posted 01/04/2022 at 18:50:30
Ian #25, same reason as someone would want to play Holgate as a misfit midfielder.
Incomprehensible.
Raymond Fox
28
Posted 01/04/2022 at 19:00:50
A win would be priceless, but how can you fancy us to get it?
We are going to have to have lots of luck to have a chance, you never know, though, we might get some breaks because we are due plenty.
I'm sorry to say I can only see a loss, but I would love to be proved wrong.
Kieran Kinsella
29
Posted 01/04/2022 at 19:05:22
Mike @27,
To quote Michael Caine in Batman, "And in their desperation, they turned to a man they didn't fully understand."
Mike Gaynes
30
Posted 01/04/2022 at 19:10:08
Kieran, I thought that was a quote from our announcement of hiring Fat Sam.
Dale Self
31
Posted 01/04/2022 at 19:12:08
Joe 24, Reece Welch!
Tony Everan
32
Posted 01/04/2022 at 19:18:29
It's more trepidations than excitement these days waiting for the game.
All the lads whoever get chosen in whatever formation have to get stuck in, a full unrelenting shift is needed. Tell the players to enjoy the commitment and have satisfaction that they left it all out there in the pitch. This is no time for 90% mentally or physically at any moment during the match.
451, but the midfield selection is freaking me out as I don't see any as defensive midfielders and our defense needs at the very least least one. Even in this crisis midfield situation I still can't pick Gomes.

Pickford
Coleman Keane Branthwaite Godfrey
Gordon Iwobi Van de Beek Doucoure Richarlison
Calvert-Lewin
Sean Roe
33
Posted 01/04/2022 at 19:19:49
Ian @ 25, because in my opinion he commands the area a lot better than Pickford.
Mike @ 27, it's a forum, people are allowed to have differing opinions. In future I would prefer you to address me rather than snide little comments.
Ian Bennett
34
Posted 01/04/2022 at 19:23:41
Mike Gaynes 27 - I guess that was pointed at me.
Well it's because Gomes has proved he's shit away from home at least 60 times already. And Alli and Van der beek aren't the answer to hold either.
We've lost countless games with two in midfield, as we've been simply over run. Against Rice, we need at least 3 central midfielders to congest and slow it down- and Allan, Davies, Delph are out.
Holgate is at least mobile, could hold his position, and can pass. Yes it didn't work earlier in the season. But it did when Ferguson played him before.
For me it needs must. We need to stay in the game, and stop shipping goals.
Danny O'Neill
35
Posted 01/04/2022 at 19:28:04
Joe, if both fit, I'd start with Mina and Branthwaite. But I suspect it will be Keane and Holgate.
My only disappointment is that I have to wait until Sunday to travel to Stratford.
I can't wait. Bring the points home blue boys.
Colin Malone
36
Posted 01/04/2022 at 19:30:02
Doucoure has been one of our worst performers, why? Chasing the ball like a school kid in the playground. He gets away with it, when Allan is sitting in front of the defence.
In the next two games, Doucoure sit – and I mean sit – deep, with Gomes and Van de Beek or rather Onyango and Price ahead of him, with Richarlison and Gordon on the flanks.
Terry Farrell
37
Posted 01/04/2022 at 19:32:35
Agree that Gomes cannot play in this game. He doesn't stay goal-side of his man, he doesn't graft, he doesn't win his tackles, he gives bad free-kicks away in dangerous areas… but, other than that, he is class.
Mike Gwyer
38
Posted 01/04/2022 at 19:55:09
Danny O'Neill.
"We can get something from this one."
Love it. Fucking love it.
Your enthusiasm for this great team is immense and I doff my cap. I was at GP for the our great escapes in the 90's but as Frank says, you need to have players who have bollocks.
Please enlighten me Danny? How are we going to get anything or even something from the London Stadium when we have the worst away record in the EPL. I'm looking at the likes of Gomes and Holgate and I just know that they will freeze, fuckup and just do what they normally do.
Come on Danny, spill the beans? Has Frank spotted some kid in the U23's who will put his foot in or just do what he's told to do and play passing football.
Mike Gaynes
39
Posted 01/04/2022 at 20:00:40
Nah, Ian, actually I aim it at anybody who thinks we should start Holgate in a critical position that he has played maybe two or three times in his life. The man is perhaps the worst passing field player I have ever seen at Everton, an absolute wreck under any pressure at all. We've had goalkeepers who were better. He'd win the ball and then give it away, right in the middle of the pitch. Disaster.
I say play him at his position and go with VDB and Alli with Duke in the middle, or shift Gordon in there for his work rate. At least he'd know what to do with the ball when he won it.
Ian Bennett
40
Posted 01/04/2022 at 20:19:52
I am not adverse to putting Gordon in the middle. He's the only player with any credit in the bank, and prepared to have a go.
Doucoure for me is better playing further forward. He looks better when covering grass ahead of him, and God forbid is a player capable of running past the centre forward.
That for me is the dilemma. We don't have anyone to play in front of the back 4. Alli has proved to be a waste of space, whilst I don't think van der beek is going to step up and dig us out of the shit.
Calvert Lewin is tarting about upfront, and with a passenger in central midfield means we are playing with 9 vs 11 or 12. With a shit central defence that loves to bend over away from home (Mina is still out, and it looks like Patterson/Branthwaite are still down the pecking order despite the rest looking like pub players).
I am going 4-0 West Ham. Can't see it getting better away from home. We need 11 fighters, and we've got none.
Howard Sykes
41
Posted 01/04/2022 at 20:26:57
With the predicted line-up, we have already lost this one. Playing Coleman, Keane and Holgate in the defence is asking for trouble. I really hope Frank has some better ideas than that. If he doesn't, then we will lose 4-0.
Kieran Kinsella
42
Posted 01/04/2022 at 20:31:25
Ian,
I wouldn't play Gomes either. Even if we just start with 10 men, at least we'd know we are a man down.
Bernie Quinn
43
Posted 01/04/2022 at 20:44:28
Never mind team selection - One look at the referee for the game to know we are doomed!
Derek Knox
44
Posted 01/04/2022 at 20:46:02
Kieran, totally agree, he must be one of the highest paid donkeys on the planet.
Anthony Flack
45
Posted 01/04/2022 at 21:13:37
I dread seeing the names of 3 full backs in the team – so never Kenny and Coleman.
It's nearly as bad as 3 centre halves…
I'd start Kenny and Mykolenko, Godfrey, Keane.
Then Gordon and Gray out wide.
Doucouré and Van de Beek in the middle.
Alli and Richarlison up top.
Calvert-Lewin off the bench at 4 - 0.
Eddie Dunn
46
Posted 01/04/2022 at 21:14:45
Kieran & Derek, I find it really perplexing. Gomes has underperformed so consistently.
I presume that he has no ambition.
Phillip Warrington
47
Posted 01/04/2022 at 21:23:00
It may be time to play Patterson in his natural position, Scottish international who can't get a game… unbelievable. Can someone explain why we bought him?
Jerome Shields
48
Posted 01/04/2022 at 21:47:15
Very much dependent on :which Everton turns. how much Frank has learn't from away performances, and how much he has been able to change over the International break.A big ask at Everton.
Ian Riley
49
Posted 01/04/2022 at 21:47:22
Had a lovely weekend last week. Realised why? We didn't play!
We must play on the counter attack! Gray up front! Use his pace, run their back four! Have a real positive feeling about Sunday! The international break will be a turning point! Frank needed this break to organise and drill the defence!
All will be OK everyone!! Stay positive and safe journey to London and home!!
Alan McGuffog
50
Posted 01/04/2022 at 21:49:19
Playing people in their correct positions 🤔🤔🤔. Hmmm..Radical...but you know, it might just work
Gary Jones
51
Posted 01/04/2022 at 21:59:11
Pickford
Holgate Keane Branthwaite Godfrey
Gordon VDB Delph Iwobi Richie
DCL
Mike Gaynes
52
Posted 01/04/2022 at 22:05:20
Eddie #46, Gomes has underperformed for most of his career. We're certainly not the only fools where he's concerned. It took Barcelona 78 games to realize that those brilliant skills of his translated into absolutely nothing on the pitch, and Barca were the best club in the world at the time. The occasional flashes of wonder suckered them as much as us.
By every account I've ever read, he's the nicest guy in the world. Lacks confidence, lacks assertiveness, lacks footballing vision.
Denis Richardson
53
Posted 01/04/2022 at 22:11:12
Time for real footy to be played again.
I'd written this game off but hope springs eternal. West Ham are a counter attacking team so if we go there and play open they'll tear us a new one. Whatever team is put out, it needs to sit tight for at least the first half half hour and be patient. They can park the bus for all I care. Need a result, performance is irrelevant.
We'll get a chance or two at some point and with any luck nick one. However we cannot afford to concede early otherwise heads will drop as usual and it'll be game over before anyone gets a sweat on.
Richy, Gordon and DCL (if he can pull is head out of his arse) have got the quality to score. Just need the defense and midfield to work their nuts off and dig in.
Hoping we can get something, even a point would be great given Watford and Burnley should lose this weekend.
Finger crossed…
Michael Lynch
54
Posted 01/04/2022 at 22:17:19
I think we all know the team will include two right backs but not Patterson. The alternative would be Godfrey at left back but he looks uncomfortable there.
Mostly the team picks itself because we have so few alternatives.
Pickford
Coleman Godfrey Keane/Holgate Kenny
Gordon Doucoure VdB Iwobi/Gray
DCL Richarlison
Neil Copeland
55
Posted 01/04/2022 at 22:26:45
Until we all grow a pair and show some fight and resistance we stand no chance. So, come on blues, show them who we are and put these also rand in their place! UTFT
Jay Harris
56
Posted 01/04/2022 at 22:28:18
I'm actually looking forward to this game as a chance to get some much needed points on the board.
Let's hope the team that's picked see it the same way.
Tony Twist
57
Posted 01/04/2022 at 22:28:27
The usual suspects missing. Delph unavailable when we are in such dire need for a defensive midfielder is just so typical of his time at everton.
Formation 4-3-3
Pickford,
Patterson, Godfrey, Branthwaite, Myloenko,
Doucoure, Van de Beek, Iwobi,
Gordon, DCL, Richarlison.
Not the side Lampard will pick which will no doubt have Coleman, Kenny and Keane in the side.
I will be surprised if we last a quarter of an hour without conceding. These players need very little excuse to fold.

Andrew Keatley
58
Posted 01/04/2022 at 22:28:56
One day, when we have two decent defensive midfielders who can sit deep and free our full-backs, then Patterson and Mykolenko might prove to be good signings. I do not expect to see either get much game time this season, and probably next to none away from home - unless Lampard tries 3 at the back again - which he might well do when Mina is fit.
Maybe it's a result of not having a game for 2 weeks and my hope respawning after the Palace defeat, but I actually think we might get a result against West Ham.
Nick Page
59
Posted 01/04/2022 at 22:34:41
4-4-2: 4-0 West Ham at a canter.
Paul Hewitt
60
Posted 01/04/2022 at 22:35:23
It's an away game against a top 6 side. We don't stand a chance.
Peter Hopkins
61
Posted 01/04/2022 at 22:52:45
No-one on here think it's time to give Dele Alli a start?
Play a 4-4-1-1 formation with Alli supporting and dropping back to help out, as a 4-5-1, the same old tripe, hasn't worked, so maybe time for a change?
Tom Bowers
62
Posted 01/04/2022 at 22:55:18
Well we all know what to expect after a season of awful performances and two thrashings on our last two visits to the capital where they did so well last season.
Defending against set pieces etc. has been comical and with the Hammers having some real threats in the air can we really expect our nervous defenders to keep them out for ninety minutes.
This is a game where Richarlison should be rested after his long travel to Brazil giving DCL and/or Tosun or maybe Rondon a start just to help with those aerial threats.
Okay, we know that won't happen but we are unable to call on Townsend and I don't see any other guys who will provide crosses to whoever is up front for Everton.
There is always that snowball chance in hell of getting a good result but without anything to stop them in midfield even that chance will be remote.
So it goes that we fear the worst yet again and expect some kind of miracle but miracles happen although we will need top performances from the defence.
Bill Fairfield
63
Posted 01/04/2022 at 23:06:05
Can't see us getting anything here. I hope I'am proved wrong. It really is looking hopeless now.
Peter Carpenter
64
Posted 01/04/2022 at 23:22:44
Bill, hopeless? We're still not in the bottom 3 and have 11 games to go! Positive thinking, please.

Mark Andersson
65
Posted 02/04/2022 at 00:42:30
So now Moyes has the gun... we have lost our knife and go there with a white flag..
Bungalo Bill call his ginger mate
Hey der Davey any chance you can put out a weakened team to help ya old mate..
Moyes:; sure Bill but all of my players are drilled to work hard... once they cross the ehite line its out of my control
Bill: well tell your attackers to not try so hard you need them for the European game..
Moyes: will do Bill but your defense is shite not like when I was there..
Bill: oh they were good times Davey the fans miss you... gotta go I'm getting all teary..
Laurie Hartley
66
Posted 01/04/2022 at 01:18:43
I watched Frank's pre match press conference - he looks a bit lost to me. My concern is he is not willing to play ugly in the circumstances we find ourself in.
I don't think this is a game for Seamus to start in - Moyes will target him if he does. I would however play two "full back" full backs of which we have two internationals - Patterson and Mykolenko. If they are good enough they are old enough.
Ben Godfrey is more John Hurst than Brian Labone - I would play him as the defensive midfielder.
If fit I would play Branthwaite before Holgate as Keane's partner - he did well away at Chelsea.
Perhaps my most unpopular choice would be to play Rondon up front. He is fit now and will know what is required for this game - and as I keep going on about he has scored FIVE very good goals in his last two starts.
Last but not least I would play Begovic in goal.
So it's 4 1 4 1 for me:-
Begovic
Patterson, Keane, Branthwaite, Mykolenko
Godfrey
Gordon, Doucoure, Van de Beek, Richarlison
Rondon.
I am an old codger but I will never forget Harry Catterick playing Mile Trebilcock instead of Fred Pickering in the 1966 Cup Final - which we won largely due to Trebilcocks two goals. Catterick was pragmatic - no favourites with him.
We are getting down to the wire now - we need a result like a drowning man needs air.
Up the Blues
Henrik Lyngsie
67
Posted 02/04/2022 at 05:58:13
For me the key for our survival is a fit DCL. When fit he is real class and it gives the manager so many options with Richarlison. Not that they play particularly well together but Richarlison is better either from the left or just behind DCL.
With the poor defence we have got we will go long very often and DCL is rather good under those circumstances.
I will go al in and triple captain him at my PL team and cross fingers that he is really fit
Danny O'Neill
68
Posted 02/04/2022 at 06:10:16
No enlightenment from me Mike Gwyer and no beans to spill. Unlike some, I don't have insider knowledge.
It's a game of football that I will be fortunate enough to attend. It's stating the obvious, but it's 11 v 11 so we can get something from this game and any game. A point tomorrow and 3 next Sunday. There's my bold prediction.
Reading some of the sentiment on here, it reminds me of the pre-match comments before we played Leeds. Written off and on a hiding to nothing because apparently Leeds were too dynamic and energetic. Well, I suggest Leeds are going to "challenge" us for that relegation spot. Along with Brentford.
I just can't comprehend approaching any game of football with a defeatist attitude. I guess it goes back to having had the expectation beaten out of us. It saddens me to see and hear Evertonians in this frame of mind.
Well, I won't be travelling tomorrow with that mentality. More importantly, I hope the players don't. I know the Evertonians won't.
Tony Abrahams
69
Posted 02/04/2022 at 06:11:58
I think any player who can go inside, making Mykolenko, defend on his right foot, would have a field day, and then I think this is one of Bowen's strengths?
It's hard to pick eleven men, that will push up, close gaps, and fight for each other, but if we can get close enough to each other, and close those gaps, then we have enough talented players to go and score a couple of goals ourselves.
On any given day, DCL, Richarlison, Gray, Gordon and Deli Ali, all have the potential to be match winners, and if a team is struggling at one end, then the ball has got to go into our centre forward and stick, which is why I think DCL has got to become our most important player over the next twelve games, hopefully.
Danny O'Neill
70
Posted 02/04/2022 at 06:21:04
The equal importance of that Tony is that we get players closer to DCL quicker and don't leave him isolated. Like a good military operation, you can only hold the ground for so long unless you get reinforcements. Arnhem and a Bridge too Far.
Very dramatic for a Saturday morning, but the lad can only hold it up for so long. Get that defence and midfield up the pitch!!!!
Robert Tressell
71
Posted 02/04/2022 at 07:58:31
Laurie, it's 4141 / 451 for me too - probably with a centre half making up the numbers in midfield.
We need make this a really awful, clogged up game and try to pinch a goal.
On that sort of note, there's a very good Tifo football analysis which explains Sam Allardyce's 7 principles.
In very short summary:
- the defence would play very deep (which suits them).
- he would go long to Rondon at the earliest opportunity with two of Gray, Richarlison and Gordon picking up 2nd balls.
- Branthwaite might well play holding midfield (like Kirchoff at Sunderland) and would be accommodated because of his threat at set pieces. He's also good at long diagonals.
- Gordon would play somewhere because he seems to be our best set piece taker
That, or something like it, is the way to play away games. Maybe home games too.
Ralph Basnett
72
Posted 02/04/2022 at 08:02:47
As well as being shoite at the moment one of the things none of our players seem to be able to cover for each other, if a player attacks such as a defender we don't drop in, same with MF.
As others have already stated, we have a gapping MF and so would try Gordon in their, he is prepared to put a tackle in, tracks back and can still break forward.
Has to be 451 for me and play for a draw but try to pinch it, crossed fingers and enjoy the ride!!!!!
Danny O'Neill
73
Posted 02/04/2022 at 08:22:39
I'd agree with the 4-1-4-1 or 4-5-1 set up. With the players we have, it makes the most sense.
It partly dismays me that it takes us back to the Moyes days, but needs must. Set up not to lose.
Not sure about Gordon in midfield. I can see him developing into a number 10, but not sure about central midfield.
Brian Murray
74
Posted 02/04/2022 at 08:29:39
Danny post 70. First sign of fire we run back to our fox hole and are more not to fight em on the beaches more like offer sun loungers. The ability they have is probably on a level with the bottom six but as I say this lack of fight maybe the difference. No amount of tinkering with formations will change that. Tired old record I know but I'd rather not have the nagging doubt why didn't we at least try the two new lads plus branthwaite and if and when onyango ready plus Dobbin. Franks not on his own all managers just won't gamble with youth until really backed into a corner. Look at the suicidal call for rondon by Benitez when Dobbin I'm sure could of snatched some points for us.
Anthony Hawkins
75
Posted 02/04/2022 at 08:41:39
@Danny it's difficult not to have a defeatist attitude when we're at the wrong end of the table with no sense of how we can win as there's no idea where our next goal is going to come from.
I get the players are lacking self belief but they're in a perpetual sense of prophetic disappointment - mostly of their own making.
At this point in the season they simply need to stop conceding, stop losing and hope to nick a goal - whatever that looks like. The closing run of games is going to be tough, with few opportunities to properly have a go at winning. Lady Luck needs to be on our side even when the Ref isn't!
I think we'll stay up, either because of another win or purely on goal difference. Other teams below us have similar problems of not knowing where the next goal or win is coming from so it's a race to see who can lose by the least.
Some may call that view negative. It's realistic and hopeful, certainly not optimistic.
Robert Tressell
76
Posted 02/04/2022 at 08:52:55
The saddest, most Everton thing of all is that none of us have picked Dele Alli.
Mal van Schaick
77
Posted 02/04/2022 at 09:04:19
In the time that Lampard has had to work with the squad during the break, I hope that he has drilled the defence on set pieces and not getting drawn out of position.
Midfield and defence are key to any result in this game. Stay organised, stick together and nick a goal on the break for a 1-0 win. That will do us.
Anthony Hawkins
78
Posted 02/04/2022 at 09:17:13
The signing of Dele Alli is an indictment of the all that has been wrong within the club for years. He's not what we would call an Everton player, although he's what we've more recently recognised as the type of please the club targets - and that's where I think things have fallen down. Few players on the rise or at the top of their game have been targeted. Yes they cost money but we're targeting players who, on their day, can make a difference. We need consistent players who will perform.
Andrew Bentley
79
Posted 02/04/2022 at 09:25:56
@Robert 76……hmm not true. See my earlier post in the thread. I'm advocating a 4-3-3 that can be a 4-5-1 when we haven't got the ball. One of the 3 is Alli, with Doucoure and DVdB.
Frank however seems wedded to his 3-4-3 formation though so in that one Alli doesn't get in or ends up playing wide left/right.
A lot of chat about pragmatism on this thread. I'd suggest that with that mindset you look at the players you've got and the situation we are in and adjust the formation to suit, not try and fit players into a formation that nots working so far.
Also, why on earth are we all being so defeatist. It's just one game of football, anything can happen. UTFT!!
Sean Roe
80
Posted 02/04/2022 at 09:28:20
Danny @ 73,
Hopefully we can change the personnel over the summer and start to play on the front foot. We just need to get over the finishing line by hook or by crook.
Peter Neilson
81
Posted 02/04/2022 at 09:29:18
From the little we've seen of him, Alli simply isn't fit enough to play. Confirmed earlier this week in an article.
At the moment a gamble that isn't working out. Whether that changes is down to him.
James Marshall
82
Posted 02/04/2022 at 09:42:57
The only thing in our favour this weekend is Watford and Burnley should lose (should!). Other than that I can't see anything other than another defeat away from home for us.
A point would be a huge one, and a brilliant result all things considered. We need to stop losing games otherwise we're fucked.
If we do stay up, it won't be because we've been good, it'll be because the other teams around us have been shit too.
That's how dire this is in my view.
Phil Bickerstaff
83
Posted 02/04/2022 at 09:49:37
Laurie at 66,
Spot on selection. Have young Onyango on the bench.
Do not play Alli, Gomes or Iwobi.

Paul Birmingham
84
Posted 02/04/2022 at 10:13:48
For me pick the players whom are 100% physically and mentality fit, and with a heart and spirit, who will play for the Everton shirt.
So in my view this would by default, mean omitting Gomes, and Ali.
Id play Branthwaite if he's fit in place of Keane, as I reckon Moyses will be planning to expose his vulnerability on the turn, and general lack of awareness defending thebox.
But it's a tough call as Brainthwaite May be lacking match fitness, it's a tough call to get a reliable back four, but Id be looking to give Paterson a start at some point in the match, as his offensive play looks like a real source of threat.
If Everton can get a point, and even win tomorrow, it will be a great achievement, all considered.
No doubt Lampard will be braced for the West Ham, ribbing.
Everton to win this game 1-2.
Michael Kenrick
85
Posted 02/04/2022 at 10:14:04
Those mentioning Onyango.
He's recently had a hernia operation and is not likely to have fully recovered yet. He wasn't among the five U23 players spotted on training videos.
Issac Price might be more likely.
Jerome Shields
86
Posted 02/04/2022 at 10:21:54
I seen a leaked line out with Keane and Holgate shifting positions. I hope that is right.I would play Rondon to stop West Ham pushing their defensive line up to compact midfield.
West Ham always sought to exploit Keane and Colmans weakness.Untracked runners has been another problem.Everton will have to be prepared to fight in midfield throughout the match.No death and glory tactics for 22 minutes please.
.
I am a bit apprehensive of a 2.00 pm kick off spoiling my Sunday afternoon, after the last time.
Brian Harrison
87
Posted 02/04/2022 at 10:25:06
We have to get something from this game, our away form is apart from Norwich the worst in the division, and we need to turn that around before we play Burnley and Watford away. Today the fixtures for many of our rivals is tough Watford away to Liverpool, Burnley at home to City and Brentford play Chelsea, so this weekend could be massive for us. Leeds at home to Southampton might get something from that game, but as they say football is a funny old game and a win or draw for Burnley, Watford or Brentford will give them a big lift.
I know Frank has questioned if some of our players have the bollocks to play in games as they are doing at Finch Farm, well tomorrow is the day these players stand up and prove they can. When I look at our squad compared to all the clubs around us there is no comparison just based on talent, and tomorrow its time for that talent to come to the fore.
Jerome Shields
88
Posted 02/04/2022 at 10:33:04
Brian#87
Bit ironic considering the away form was the best in years for Everton.
Marc Hints
89
Posted 02/04/2022 at 10:36:12
Its not rocket science - use one of the younger kids to sit in front of the back four, not to do anything spectacular but break up play, be able to run the full 90 mins. Just protect the back four. Let VDB, Richarlison etc..worry about whats happening up top. I watched Lewis Warrington recently and honestly miles ahead of Gomes, Alan. I know people will say its Tranmere but he was all over the pitch and with quality too.
Michael Kenrick
90
Posted 02/04/2022 at 10:37:14
Peter @81.
I really don't like that website. It should be retitled: Anti-Goodison News
Steve Shave
91
Posted 02/04/2022 at 10:39:24
Pickford
Coleman Keane Brainthwaite Godfrey
Gordon DVDB. Doucoure Gomes Richarlison
DCL
I know he won't play that team but it's what I would do, I can't stand Holgate as a player this season, Brainthwaite has never let us down when called upon. 451 with a very hardworking Richarlison and Gordon getting up the pitch when they can.
Kevin Molloy
92
Posted 02/04/2022 at 10:56:40
I think there is definitely tension between Lampard and DCL over his output. Not even goals, just running about. I suspect DCL has the thought that many things may happen between now and the end of the season, but the one thing that will not be allowed to happen is him aggravating that quad injury. So he is playing thoroughly within himself. Which is very disappointing for us, cos his current efforts mean Rondon is the better option. Some drop off. Not that it matters a great deal either way, we've been absolutely smacked out of the park by two quite ordinary sides in Spurs and Palace, if we manage to get anything here against a team chasing fourth, I shall be very pleasantly surprised.
The frustrating thing is this should not be mission impossible. We have the players to grind out horrible away results. But the manager is setting us up each time to go toe to toe. If he does it again for these next two games I'd sack him and [deep breath] bring in Allardyce. We need hard nosed cynical football now, not empty headed charges into nowhere.
Colin Malone
93
Posted 02/04/2022 at 10:58:27
Without Allan. We ain't got a leader on the pitch, ie if your slacking, Bally, Reid, Neville would let you know about it. Who have we got? Seamus? No.
Even Vinny Jones, Robbie Savage, not great players but if you dropped off in your play, they'd let you fucking know about it.
Without Allan, who have we got?
Peter Neilson
94
Posted 02/04/2022 at 10:58:28
Michael, sorry, won't happen again!
Must admit don't really look at it I was just wondering if my personal view of Alli looking unfit was confirmed anywhere. Maybe he'll be ready for walking football by May.
Danny O'Neill
95
Posted 02/04/2022 at 11:24:16
Anthony @75, no to defeatism. I have to go into every match with optimism.
Brian, the irony is the one time we got forced to do that through necessity rather than manager choice, was at Chelsea. I think we finished that night with about 5 under 20s on the pitch. And Branthwaite lifted the roof off the shed end as he scored in front of us.
More of the same tomorrow Everton. In all my years following, I've never been to West Ham, new or old. In fact my only East End football experience was a
cold midweek night at Dagenham with some friends stood amongst the Hereford supporters!!
Terry Farrell
96
Posted 02/04/2022 at 11:30:00
Gents, we need players tomorrow and going forward who are quick fit and mobile. Rondon fits none of those so please stop mentioning his name – it fills me with dread!
Assuming Dom is fit, that's a big improvement on recent line-ups. The danger is who we play in central midfield in Allan's absence. I appreciate he's not quick but he is pivotal in this side. Onyango would be my choice.
My other concern is set-pieces which West Ham are good at. The first goal conceded against Palace was yet another one where a man on the post would have prevented it easily. Coyb.
Dave Williams
97
Posted 02/04/2022 at 12:34:22
As others have said we need to defend and attack set pieces and I would play a few who have not been part of the crap we saw v Palace.
Begovic in goal for me as he claims crosses and is a calming presence.
Patterson Keane Branthwaite Godfrey
Gordon van Ali Doucoure Richi
DCL
I'd start Ali to give him a proper chance and only if Onyango is not fit. Gordon and Patterson would give them problems working together. Keane is only there to give Branthwaite experienced help. I'd try what Kendall did against Bolton in 97-8 with Duncan and give the armband to DCL to see if that can inspire him.
It's rolling the dice and no way will Frank do it but at the very least he must play Patterson as his energy and pace will give us something we lack.
Fingers crossed!!!
Robert Tressell
98
Posted 02/04/2022 at 12:34:54
Fair enough, Andrew, I didn't spot that. Seems like we're all generally hoping for a 4-1-4-1 / 4-5-1 / 4-3-3 variant. I don't think we should be defeatist though, like you say. If we play a deep, compact defensive game there's every chance we come away with a win.
I've certainly watched enough of Everton huffing a puffing to no effect against that sort of opposition under Moyes.
Danny O'Neill
99
Posted 02/04/2022 at 12:45:25
Terry, the counter is that a fit Rondon can actually hold the ball up, whereas Calvert-Lewin's ability to do so has been questioned.
Regardless of who is up front, and Calvert-Lewin is obviously first choice, the important thing is to get the midfield closer to them and support them.
Richard Lyons
100
Posted 02/04/2022 at 13:37:00
Pickford
Coleman Patterson Mina (in a wheelchair if necessary) Keane Holgate Branthwaite Godfrey Kenny
Allan (disguised as Gomes)
Calvert-Lewin
That should ensure a 0-0 result.
Ashley Roberts
101
Posted 02/04/2022 at 13:56:38
I am sorry but Gomes cannot start this game. He is a 30-minute player at most and so could be brought on as a substitute.
Replacing Allan in the team is the big problem for tomorrow. We just don't have a fit natural replacement.
At a stretch, you could try Jonjoe Kenny in that role. You know he would give you 110% as he plays for the badge more than most in the squad. Problem is I am not sure he has that ability.
We also need to score goals and, while I love Gordon for his effort and skill, he is not a goal scorer and so it might be worth putting Dele Alli behind Calvert-Lewin and Richarlison. We know Dele is good for a goal if not much else.
I have given up trying to determine a starting 11 when all fit and understand the dilemma Frank has. Again, should we be playing Patterson instead of Coleman and should Branthwaite be given a chance?
Frank needs to figure this out and soon. However, Gomes should be nowhere near the starting 11. If he is picked, I have to say we can kiss this game goodbye!!!
Rob Hooton
102
Posted 02/04/2022 at 14:01:05
We have been a bit of a bogey team for West Ham and I am clinging to this thinking we will finally get our first league away win in over 7 bloody months!
I won't try and guess the starting line up and imagine most of us will pick holes in whatever side Lampard picks due to the performances all season, but as long as they give it everything they've got then we always have a chance.
I'll be driving back down south from my mums in Manchester while the game is on so can't watch it, the kids are going to have to put up with it on the radio and I'll try to keep my cool.
Fingers crossed our amazing away support finally get to cheer us on to the first of two away wins in a week, I was too pissed at the Chelsea match to remember much about the game but was at Brentford and QPR and definitely don't want a repeat performance.
(I fell asleep on the train after Chelsea and woke up in Ascot which was a pain. I'll probably have quite a few drinks when I get home if we win today and will pop down to the pub either way.)
COYB!
Bill Gall
103
Posted 02/04/2022 at 14:22:35
As I never get the same team that the manager picks I will try to show what I don't think he will pick. I am going for a 3-4-3:
Pickford
Godfrey, Keane, Branthwaite
Patterson, Doucoure, Van de Beek, Mykolenko,
Gordon, Calvert-Lewin, Richarlison.
Have Gray as backup for Richarlison and Iwobi as backup for Gordon.
Score: 1-2.
Steve Brown
104
Posted 02/04/2022 at 14:26:24
Set up like Ancelotti did away from home - it worked. If we can nick a win tomorrow, we are 6 points clear with 2 games in hand.
Allen Rodgers
105
Posted 02/04/2022 at 14:43:55
Watford defeated by the RS, just need City to batter Burnley and a point tomorrow would be quite a good weekend.
Jeff Spiers
106
Posted 02/04/2022 at 15:31:55
Jack@106. Good post.
Mike Hayes
107
Posted 02/04/2022 at 15:44:13
Is that line up for walking (to disaster) football match - Gomez and Coleman snooze fest - probs me wrong if that's the chosen team 🤷
Christine Foster
108
Posted 02/04/2022 at 15:53:05
Anyone other than the front two should get fined £5k every time they cross over the half-way line. Similarly, anyone who gives away a corner gets fined the same.
Anyone who stops a cross coming in gets a bonus of £5k, Anyone winning a header in our penalty area gets £10k. Anyone seen jogging is fined £25k. Anyone giving away a free-kick within 30-m radius of goal also fined £10k.
Stop the crosses.
Stop the corners.
Stop them playing.
Workrate is king.
No free-kicks around the box.
That should do it.
Christine Foster
109
Posted 02/04/2022 at 15:58:23
Jack Convery, wouldn't it be just Everton if we drew or beat them and in doing so ensured Man City win the league by one point? Such things we can only savour as the sweet taste of justice...
Derek Knox
110
Posted 02/04/2022 at 15:58:42
Jack @ 106, spot on mate, what a despicable prick he is, and the supporters, not all, (fans, if you could call them that) aren't far behind him !
Christine Foster
111
Posted 02/04/2022 at 16:00:11
Middle of the night and I wake up worrying about this bloody team..even worse the clocks have just gone back...
Alan McGuffog
112
Posted 02/04/2022 at 16:01:43
A real team. Real? As in real hair and real teeth? Hmmm...
Christine Foster
113
Posted 02/04/2022 at 16:05:21
A real team... nice one. I would read that quote out to the team before they step on the pitch tomorrow and before every game this season. Prick.
Terry Farrell
114
Posted 02/04/2022 at 16:40:27
Danny, I get where you are coming from but Rondon can't do that against Premier League defenders. Frank must be seeing that, day-in & day out, or he would give him a go.
Phillip White
115
Posted 02/04/2022 at 16:57:08
4321 Inside forwards with the full backs pushing on!
GK Begovic
B4...Patterson Keane Godfrey. Myko
M3 . DVB Doucs Ali .
IF . Richy Gray .
ST . DCL
I want to see Richy and Gray as inside forwards not as wide wingers. You could play Brainthwaite at CB and push Godfrey to LB also, but I want attacking fullbacks for this game so that's what I'm going with. Gordon can come off the bench, yeah he's done well this season, but he's still very raw as a player and for me that's our most effective front 3 and we seen that at the start of the season!
You watch though, Lampard will fall into the same Everton manager mouse trap (like they all do) and he'll play all the usual suspects, eg Pickford, Coleman, Holgate, Kenny, Gomes. I'll put money on it.
Captain Richarlison.
Paul Hewitt
116
Posted 02/04/2022 at 17:04:37
Neil@116. That's the reason they are so successful, they only think of themselves, win at any cost. But little old Everton are simply far to nice
Mike Hayes
117
Posted 02/04/2022 at 17:09:29
Christine Foster I'd be worried too our clocks went forward or was that your worry - let's hope we can do a Brentford 🤓
Denis Hignett
118
Posted 02/04/2022 at 17:26:39
The next two games will tell us a lot about our manager.
Play four at the back, three in midfield and we can get a draw at West Ham and a win at Burnley and things will look a whole lot better. Defend like we did against City!
Iwobi must be better than Gomes. At least he can run around for 90 minutes.
Dave Williams
119
Posted 02/04/2022 at 17:43:26
This evening in the team hotel Frank should make them all watch Chelsea v Brentford with focus on Erickson. To come back like he has from where he was is inspirational and shows what a man can do with determination, application, attitude and sheer guts.
Let's hope our lot can show some of that tomorrow- we have a great chance to put some distance between us and the bottom three and close the gap on Leeds too, but we all know how that script usually goes don't we!!??
Prove us all wrong boys- please!!
Denis Richardson
120
Posted 02/04/2022 at 17:43:58
Well that's Brentford safe. I think Leeds and Newcastle are too. If you've got to 30 points with half a dozen games left then that should be enough.
So its between the bottom 4 for the drop...
Raymond Fox
121
Posted 02/04/2022 at 17:51:44
We need 10pts to stay up, 35pts should be enough.
Problem is who can you fancy us to beat at the moment.
Having said that theres always suprising results at the back end of the season. Lets hope they are pleasent suprises.
I think we will just do enough to hang in there.
Bill Gall
122
Posted 02/04/2022 at 18:25:10
Christine #106
Your line of stop the crosses, reminds me that Gordon West got the nickname Dracula because he didn't like high crosses.
Barry Jones
123
Posted 02/04/2022 at 19:00:41
From what I have seen of Mykolenko, he looks like a poor acquisition and I wouldn't trust him in any line-up.
Going forward lately, we look totally bereft of ideas. A lot of huff and puff but we are not creating any chances.
For this reason, I would throw in Dele Alli. He can't be any worse than what I have witnessed and a magic moment or two could make the difference.
Danny Baily
124
Posted 02/04/2022 at 19:05:32
Barry 123,
I don't think you need to worry. Godfrey and Kenny are ahead of Mykolenko in the pecking order.
Paul Hewitt
125
Posted 02/04/2022 at 19:18:03
I'd like to see how some on here would do in their jobs if their family were thousands of miles away, getting bombed.
Anthony A Hughes
126
Posted 02/04/2022 at 19:29:01
Mykolenko is as good as he is or not, if we"ve over-paid and poorly scouted him, then that's Everton"s fault. Wouldn't be the first time.
Matthew Williams
127
Posted 02/04/2022 at 19:41:55
Sadly, I can only see a very comfortable Hammers win in this game... Bowen must be thinking to himself "Hat-trick Time"! For me, it's all about the away game at Burnley... lose that ,then we are deep in the shit!
3-0 to the Hammers... sigh.
Peter Mills
128
Posted 02/04/2022 at 20:09:38
Two games for me today. This afternoon Marine 0-0 Widnes, "disappointing" as Walter might have said. Looks like the Mariners will have to seek promotion via the play-offs.
The big one was this morning, grandson Charlie playing against a team who tonked them 10-0 earlier in the season. Talk about having the bollocks to play - our goalie got whacked in the face twice in the pre-match warm up, our little defender who plays in specs won every tackle, another young lad got wiped out but played on, they ran themselves into the ground and won 2-0.
It was how proper footballers perform. We need to see a big dose of that at West Ham.
Tony Abrahams
129
Posted 02/04/2022 at 20:22:50
"They ran themselves into the ground" made me smile, Peter, mate! I'm always telling the little 8-year-olds to work hard, because I believe the harder they work, the more they enjoy it.
Also, it's very infectious, which is what I'm sure the smiles were like at the end of your grandson's game today.
Rob Halligan
130
Posted 02/04/2022 at 20:56:29
Matthew #127.
If Bowen is going to be thinking hat-trick time, then he will only be doing it from the stands, as he's still not available for tomorrow. 2-1 for the Blues!!
COYB FTRS.
Neil Copeland
131
Posted 02/04/2022 at 21:00:03
Christine #108, imposing those fines would have our debt sorted by the end of the season!
Ed Prytherch
132
Posted 02/04/2022 at 21:07:26
Gomes has his limitations but he can play forward passes. Doucouré can't and neither can our centre-backs.
I would like to see Gomes in the deep roll for the next couple of games. Maybe Delph will be a better choice if he ever plays for us again.
Kevin Murray
133
Posted 02/04/2022 at 21:09:41
Is Onyango fit does anyone know?
Peter Mills
134
Posted 02/04/2022 at 21:18:48
Tony #129, not sure about smiles, I think the cold wind must have got into my eyes and made them water!
Dave Abrahams
135
Posted 02/04/2022 at 21:29:40
Kevin (133),
I'm not sure if Onyango is fit. What I'm sure about is the lad is not ready to play in Everton's first team at the moment – especially in a team that has no leaders or confidence. His time may come in the future, not at the present time.
Kevin Murray
136
Posted 02/04/2022 at 21:34:40
I hear you, Dave, but surely he can't be worse than any of the others? Without Allan, Delph or Davies, we have no bite nor aggression. I really worry if we play two in midfield tomorrow. Any two of Van de Beek, Doucouré and Gomes is too weak. Three in there is a necessity I think?
Ian Riley
137
Posted 02/04/2022 at 21:56:09
The performance is more important in terms of desire to fight for the cause. Yes, we may lose but it's down to the manner how we lose will tell us more about the players under this management team.
After tomorrow, we have 10 games left. Another heavy defeat and Frank's message is not getting across. It may need a further plan to survive.
Lewis Barclay
138
Posted 02/04/2022 at 22:13:20
I'd like to see Lampard try this against West Ham:
Pickford,
Patterson, Keane, Godfrey, Mykolenko,
Gordon, Doucouré, Van de Beek, Gray
Richarlison
Calvert-Lewin

Andrew Merrick
139
Posted 02/04/2022 at 22:21:24
Laurie 66, I remember that game so vividly, I was 10 and feeling wretched at half-time losing 2-0, my grandad said, "It's not done yet," and I watched the second half in wonder... never forget that!
Jonathan Tasker
140
Posted 02/04/2022 at 22:27:29
The bottom three this season are so bad that even around 28 or 29 points could be enough to stay up. Even if Everton lose tomorrow, it will still perhaps only require another one or two wins to survive.
Henrik Lyngsie
141
Posted 02/04/2022 at 22:45:54
Jonathan, I am not so sure.
I think that either Burnley or Watford are hitting the form and will get a lot of points. We really have to start winning with Brentford, Newcastle and maybe Leeds getting points.
I would not like to rely on Burnley and Watford losing.
Alan King
142
Posted 02/04/2022 at 23:32:07
Lewis @138,
Only change for me would be Mykolenko for Branthwaite.
Pickford,
Patterson, Keane, Branthwaite, Godfrey,
Gordon, Doucouré, Van de Beek, Gray
Richarlison
Calvert-Lewin
Good for a point I think – at least.
Chris Locke
143
Posted 02/04/2022 at 23:46:26
Frank talked about players having the bollocks to play. Question is: Does he have the bollocks to bin the serial offenders?
It's all well and good calling them out but enough is enough. Ditch the passengers and play those up for a fight. Even if it means blooding younger or less-experienced options.
If I see the same old shitty back four tomorrow and we get humped, then I will seriously question if Lampard has an actual clue.

Paul Hewitt
144
Posted 03/04/2022 at 00:18:21
The Premier League just need to relegate the bottom 8 teams at least. They are all terrible teams and offer nothing to the league.
Phil Lewis
145
Posted 03/04/2022 at 01:46:42
Dave #119,
I agree entirely about Eriksen. Clearly a class act who has lost none of his ability. He ran the show for Brentford today. For me, he was by far the best player on the pitch. Instinctively finding his teammates with a whole range of passes and opening up Chelsea at will.
Why didn't we make an attempt to sign him? At least we know that he possesses a heart... something most of our imposter so-called superstars most certainly do not!
Jamie Crowley
146
Posted 03/04/2022 at 03:51:33
We need a little more of this:
Mike Gaynes
147
Posted 03/04/2022 at 04:03:06
"From what I have seen of Mykolenko, he looks like a poor acquisition and I wouldn't trust him in any line-up."
Thank goodness we have geniuses here to comprehensively dismiss a player after 400 minutes on the pitch... in a brand-new, higher league... under the worst possible emotional circumstances.
After 400 minutes Coleman, Baines, Jagielka, Calvert-Lewin, Gordon, and Fellaini all looked pretty crappy as well.
And so, if I recall correctly, did our newest Board member.
[Eye roll]
Jamie Crowley
148
Posted 03/04/2022 at 04:23:58
Ahhhh... I won't be quite as brazen as my left-coast patriot in arms. Whom I'd take a bullet for, in case you were curious just how fucking deep the patriotism goes.
I was very, very critical of Mykolenko in his first couple of games. And there was a lot, on the surface, to be critical of. In fact, a LOT of crap play by Mykolenko.
But.
As Mike gently bitch-slapped me previously, and he was 100% spot on, some patience for the Ukrainian boy!
He's been much, much better since his first introductions. And he's shown glimpses of quality in my opinion to be sure.
And -
His fucking country is being over-run by a communist tyrant and destroyed. Bombs dropped on civilians, Russian artillery carpeting his cities, all the while his Dad is staying at home to fight for freedom.
Walk not a mile, but maybe a fucking inch in that boy's shoes, and then maybe feel free to criticize his play – kicking a fucking ball around a field of green. Like that shit really matters while tanks roll down your country and a despot tries to destroy everything you love.
So basically all that shit up there. Just cut the kid a break.
Derek Knox
149
Posted 03/04/2022 at 05:49:46
Yo, Jamie C, and Mike G, you both seem in fine spirit pre-match, I share your optimism for Myko, coming good. It can't be easy for him, even at the best of times, but when you have a nut-case ordering the destruction of your country, surely it is even harder to focus on the job in hand.
Though how do you settle in, and acclimatise yourself to the cut and thrust of Premiership Football when your mind is on other things (presumably)? Can't realistically see a win today, or even one point, against 'old ginger's boys'; he certainly has assembled a decent side there.
With the obvious connection too, he will want to rub salt into an already gaping wound, to the effect of "look what you could have had"? Plus the incentive of a possible fourth position up for grabs, there will be no sentiment or sympathy from him, or his Hammers. Maybe we can blow a bubble or two though!
COYB 💙💙
Sam Hoare
150
Posted 03/04/2022 at 06:47:39
The huge number of different lineups and formations suggested in this thread is indicative of how unsettled we are as a team and how few players have made themselves indispensable.
Personally I think it's time to abandon all hope of good football and try to keep it tight with some pace and height in the team in order to grab a goal on the counter or at a set piece. See if we can out-Moyes Moyes.
Pickford
Holgate Keane Branthwaite Godfrey
Richarlison Doucoure Van de Beek Iwobi Gordon
Calvert-Lewin
You could play Gray for Gordon but the former has not looked sharp the last few games. The central midfield obviously lacks a ball winner but all 3 are usually hard workers with at least a touch of athleticism unlike the other option in Gomes. If Delph were fit I'd put him in the centre over Iwobi. What a tragic state of affairs that I'm wishing we had Delph available.
Hard to see a positive result today but the beauty (agony?!) of football is that you never know. COYB!!
Jonathan Tasker
151
Posted 03/04/2022 at 06:55:14
Separately. As and when Calvert-Lewin and Richarlison leave this summer, Everton should consider Ivan Toney. Very good season. Constant trouble to Chelsea defence yesterday.
Gerry Killen
152
Posted 03/04/2022 at 06:56:59
I don't care what happens to clubs around us simply because we have no control over what they do – or don't do.
Our job is to focus completely on the job in hand, block out any negative thoughts, concentrate completely on our game.
Believe and trust in your team-mates skill and ability to win the game. Every game is a tough one and it's having the courage to play your heart out till the final whistle. 0-2, COYB
Bernie Quinn
153
Posted 03/04/2022 at 07:47:43
To all of you – I'm proud of you and to all our travelling fans. I am so lucky to be an Evertonian and, like Danny O'Neill, I'm not bothered what the team selection is as long as they do their best and hopefully bring back at least 1 point.
I will try and doze for an hour or so before following the game at 1 am for me. Doubt whether I'll sleep though as I am so worried. My thoughts are with you… COYB
Andy Crooks
154
Posted 03/04/2022 at 08:23:57
Spot on, Sam, hope that is the team. Danny O'Neill, Rob Halligan, John Rafferty and every travelling Blue, stay safe and cheer on a victory. To every other Blue at home, try not to be as wound up as me, we'll be fine!
To Jay Wood, hope all is okay and that your absence is nothing more than Everton related angst! Could do with some reassuring words from you, though!
George McKane
155
Posted 03/04/2022 at 08:24:58
Spent yesterday at The Sumerian Tablets in The British Museum and then onto Vincent Van Gogh Immersion Projections... then today on to the game.
Just sending Blue Cosmic Grooves to all fellow Blues.
John Catto
157
Posted 03/04/2022 at 08:28:51
Whatever we have done before is not working. Especially away from home. We are way too open and need to be more compact.
I would play 4-4-1-1 formation with Richarlison and Gordon on the wings. At least they work hard and, sorry Brazil, but Richarlison is no Number 9.
I would play Dele Alli behind Calvert-Lewin as it can't get any worse. Game time might help Alli get his groove back. The others have had a go and don't score.
Gomes, Keane, Holgate and Coleman should not be in the team. Play the new full-backs with Godfrey and Branthwaite.
Danny O'Neill
158
Posted 03/04/2022 at 08:40:14
Heading into central London now, Andy.
The sun is shining, the sky is blue. I can feel those grooves, George.
Let's do this, Everton.
Steve Little
159
Posted 03/04/2022 at 08:42:17
Many of the earlier posters talked about the need to find a ball-winning central midfielder in Allan's absence. I completely agree.
I have often thought that the skill set of such a midfielder is similar to that of a full-back. I recall Ian Snodin making a career as a right-back after being signed as a central midfielder. Before him, there was Alan Harper and even Barry Horne played right-back occasionally. In more recent times, Gareth Barry and Fabian Delph have played both roles (though not necessarily at Everton).
Given the surplus of full-backs we now have (Mykolenko, Patterson, Kenny), surely we should be looking at their potential to fill in as defensive midfield? The law of averages says that surely one of them must be able to contribute something?????
Any thoughts, anyone?
Dave Abrahams
160
Posted 03/04/2022 at 08:47:59
Peter (134), yes those days when the wind got into your eyes and made them water, along with that I hope Charlie and his mates continue to make to make your eyes water with pride, had quite a few days like that myself in the past, be nice if we had eyes like that this afternoon.
Andy (154), nice thought about Jay in Brazil, been doing the same myself, give us a word when you are ready Jay, best wishes to you and the family.
Come on you Blues give us something to lift us up today, go onI dare you!!
John Catto
161
Posted 03/04/2022 at 08:51:31
Steve Little, out of the 3 only Kenny could possibly do it. The others are too lightweight.
Danny Baily
162
Posted 03/04/2022 at 08:58:45
I can see a surprise 3 points here, with Calvert-Lewin getting the only goal on the counter.
I'd like to see Iwobi start with Gordon replacing him late on.
Tony Everan
163
Posted 03/04/2022 at 09:15:35
Sam, Andy,
I am also hoping that is the team, and the out Moyes, Moyes sentiment is the only way for this match and for the rest of the season, especially at Burnley on Wednesday.
I selected the same team but Coleman instead of Holgate at right-back. Holgate offers a bit more physicality but I think that Seamus will be giving his all, and some more for the cause. He won't want to be the captain associated with a relegation after 70 years of top-flight football.
Also, I'd have Gordon on the right, Richarlison on the left.
Denis Richardson
164
Posted 03/04/2022 at 09:17:52
Lot of people seem to be worried about Bowen - he's supposedly not recovered from a broken foot and will miss the game.
Denis Richardson
165
Posted 03/04/2022 at 09:48:45
Need to focus on our own games but. remaining fixtures:
Watford:
Leeds H, Brentford H, City A, Burnley H, Palace A, Leicester H, Chelsea A.
You'd fancy them to get something from their next 2 games and home to Burnley.
Burnley:
Everton H, Norwich A, West Ham A, Southampton H, Wolves H, Watford A, Villa H, Spurs H, Newcastle H.
Everton and Watford games obviously huge but can also imagine they'll be playing teams on the beach at home end of the season so not great for us.
Us
West Ham A, Burnley A, United H, Leicester H, Them A, Chelsea H, Leicester A, Brentford H, Arsenal A.
First impression is there are still loads of games left but we have by far the worst run in! Biggest game is always the next but we really cannot afford to lose on Weds! We could also really do with something from todays game.
Don't care about the team selection or tactics today, all 11 on the pitch need to put in a proper shift to get anything out of the game. West Ham won't make top 4 but they'll be gunning top 6 so will expect to win today.
Robert Tressell
166
Posted 03/04/2022 at 10:03:33
Sam # 150. Looks about right to me, too.
You could move Holgate (or even Branthwaite) into midfield to accommodate Coleman at right-back. But, when those are your options, it really highlights the limitations of the squad.
The main thing is that Lampard learns from his own mistakes in the away games so far. He shouldn't be so vain as to think he can suddenly get this team playing football when two experienced coaches like Ancelotti and Benitez could not. The former in particular showed us how to get points away. Don't reinvent the wheel.
If he does that, we should have every confidence in a point at least.
Geoff Lambert
167
Posted 03/04/2022 at 10:30:08
We need some drastic changes today; otherwise, it's same old, same old. Plan B or C if Frank even has one. If we roll out the same old losers mentality then I fear a tonking on the cards.
Come on, Frank, make some changes that stop the rot that has set in to our team.
COYB.
Jerome Shields
168
Posted 03/04/2022 at 10:30:40
It is reported Lampard is going to play a young midfielder. Would suggest three in midfield.
Gerry Quinn
169
Posted 03/04/2022 at 10:30:55
Do you think that the Moyes dressing room talk will sound something like this? "This will be like taking a gun to a knife-fight!"
Steavey Buckley
170
Posted 03/04/2022 at 10:37:34
3 at the back again and Coleman as right-wingback or something similar with the other 4 also in midfield also don't know what they are doing, it will 1:0 to West Ham after 30 minutes.
In the second half, it's hiding behind the sofa time for those who can't bear to see what's going to happen next.
Geoff Lambert
171
Posted 03/04/2022 at 10:42:50
Gerry! More like taking a knife to a Birthday cake.
Stu Darlington
172
Posted 03/04/2022 at 10:43:05
I suspect we'll end up with the typical unimaginative team selection that has stood us in good stead in recent games!
No way would either Keane or Gomes get near my starting line-up, and I have great misgivings about Holgate strolling about the defence with no sense of desire or urgency to get back and help out.
I would be inclined to start Patterson to see if his pace and enthusiasm can bring something different to our game with Coleman as fallback if it doesn't work.
The midfield as usual is the problem, so surely we must go with at least 3 in midfield.
All depends on Lampard's mindset, of course, and I know his hands are somewhat tied with injuries, suspensions etc, but I haven't seen much evidence of flexibility yet.
,
Dave Williams
173
Posted 03/04/2022 at 10:56:09
Jamie #148, cracking post!!
Give this lad a chance and have some understanding of how it must be living in his world.
Mike Corcoran
174
Posted 03/04/2022 at 11:03:27
Any decent VPN free links for the match please?
Brian Harrison
175
Posted 03/04/2022 at 11:11:55
I think Frank would have been thinking "Who can I trust?" before making today's selection, and I am sure the answer is "Very few". Despite having the England keeper at the back and the Brazilian forward up front, it's what's in between that's the worry.
I guess he will just have to trust the team he picks is good enough. He has been let down on so many occasions but surely this group at some stage must pick up a result on the road.
Also, this is a chance to put back-to-back league wins together – something I don't think we have done all season. I think the key today is keeping Declan Rice quiet as he runs the show for West Ham.
I hope Calvert-Lewin recovers last season's form and Richarlison carries on from his Brazil performances. On our day, we have more than enough to win and, after both Watford and Burnley losing, it couldn't come at a better time.
Dave Abrahams
176
Posted 03/04/2022 at 11:19:13
Dave (173),
I go along with that and Jamie's link @(146), taken in the Lower Gwladys Street. End obviously, but I can guarantee those scenes happened all over Goodison Park that night.
Made up with Jamie's optimism and a couple more on this thread. Those who are going to the game today will let the team know they are there for them.
Come on, whoever turns out for the Blues – give those supporters something to replicate those scenes from the Newcastle game and let them go home happy.
John Raftery
177
Posted 03/04/2022 at 11:20:31
Andy (154) Thanks. I have a feeling we might get something positive from today's game. We just might catch the Hammers on an off day.
Derek Thomas
178
Posted 03/04/2022 at 11:42:03
West Ham are a decent side... Moyes seems to have what passes for his mojo back, so that makes them 'a decent Moyes side', who
may
oft-times fold under pressure.
They're odds on favourite, they also need to win. How does that resonate with your view of Moyes and his previous teams??
This could be a race to the bottom of the bottle... all we have to do is make sure there's some left in ours. That means picking the least number of worst bottlers and those picked actually turning up for a change.
It's West Ham, for fuck's sake, a 'kin yo-yo team who got lucky with a free ground.
Oh and a bit of luck wouldn't go amiss, just for a change.
John Chambers
179
Posted 03/04/2022 at 11:55:43
Start of a big week today. Happy if we can get a point today then do Burnley on Wednesday and at least a point against ManUre next Saturday
Lynn Maher
180
Posted 03/04/2022 at 12:01:50
Thank you George@155 for those Blue cosmic grooves.
I was given a gift on Friday, of a sitting Buddha known as Calling the Earth to witness.
As my usual feelings of excitement versus trepidation, before a match took over, I decided to read up on the Buddha. It's the definition of the moment of enlightenment, when the Buddha finally overcomes fears and temptation.
Could this be the sign we Blues have been waiting for? Are the team finally going to take to the pitch today and dazzle us with basic footballing skills? Or will the temptation to revert to self, be just too tempting.
All these and many more questions to be answered later!

Gary Jones
181
Posted 03/04/2022 at 12:12:41
Gerry, whilst it's tongue in cheek, it's a good point about the "knife to a gun fight". Many of us are demanding defensive formations, me included. Maybe time to take our guns to his knife fight….not going to get my wish, but I'm changing my team with to:
Pickford
Patterson Godfrey Branthwaite Mykolenko
Gordon VDB Doucoure Dele Richie
DCL
4-5-1 in defence 4-1-5 in attack, with fullbacks throwing in crosses to Richie, DCL and Dele in the box….with VDB joining late to add the gun threat too. Coyb!

Todd Watkins
182
Posted 03/04/2022 at 12:15:21
I agree with Tony Twists side. No Coleman ect. Same old names not needed. New blood needed, some young guys who will run all day. And give Alli a chance poor bastard. There's a footballer in there somewhere.
Rob Hooton
183
Posted 03/04/2022 at 12:18:37
I had a (Golden) vision in my sleep:
Dom is going to rediscover his form that got him selected for England, score a hat trick today and a sackload before the season ends.
Gordon will finally get the assists his play deserves and add a goal himself.
Richy will have a good game and score a beauty.
Everton will beat West Ham 5-2 in a crazy, entertaining game.
Nurse!!
Kim Vivian
184
Posted 03/04/2022 at 12:19:39
Dennis (165) -
We have 11 games to play almost a third of he season, so a couple missing from that list. Of the other teams in the mix...
- Watford have 8 games to play and currently 3 points below us
- Burnley have 10 to play, and 4 points behind us
- Leeds, have 7 to play and 5 points ahead
- Newcastle have 9 to play and 6 points ahead
- Brentford have 7 to play and 7 points ahead
Without looking at all the specific fixtures I am encouraged to think we will get safe with those games in hand although I fully appreciate games in hand do not mean quite so much at this end of the table.
Starting today we can begin turning things around and I have a sneaky suspicion we are going to return home with at least one point from the London Stadium (or whatever they call it these days).

Matt Byrne
185
Posted 03/04/2022 at 12:44:39
Good luck and thank you to all of you amazing fans who are at the game today. You represent our club with loyalty and pride. Lets hope these overpaid good for nothings don't let you down again. COYB!
Denis Richardson
186
Posted 03/04/2022 at 12:47:07
Kim, indeed there are loads of games to play, only I don't fancy us winning many of ours…we also won't be playing too many 'beach' teams towards the tail end of the season.
I'd take a point today and a point on Weds if offered now. Burnley are near the bottom but they haven't actually lost that many games this season, just drawn loads. United are crap at the moment so a packed GP may get us 3 points next weekend to take us further away from trouble. The teams mental strength is non existent so I'd prefer not to leave it to the Brentford game to be safe!
Tony Everan
187
Posted 03/04/2022 at 13:03:00
Two weeks ago, after the Palace debacle, Frank was all about who is brave and committed enough. We are about to find out which eleven have the biggest bollocks in the squad.
Raymond Fox
188
Posted 03/04/2022 at 13:10:38
I'm expecting a loss, anything will be a bonus.
I don't see Frank picking Patterson, Branthwaite or Mykolenko.
Have Godfrey at left back.
But who knows he might say sod it and throw caution to the winds and play all the young lads!
---
Add Your Comments
In order to post a comment, you need to be logged in as a registered user of the site.
Or Sign up as a ToffeeWeb Member — it's free, takes just a few minutes and will allow you to post your comments on articles and Talking Points submissions across the site.