Everton appoint academy Coach Educator, Kevin Nicholson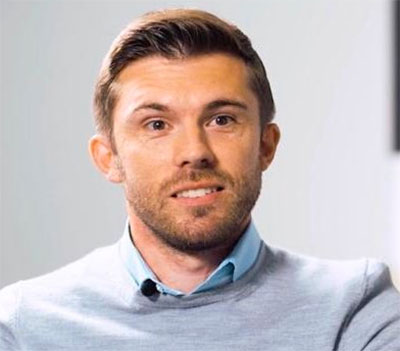 Everton are in the process of appointing Kevin Nicholson as Coach Educator with the academy. He is due to take up his post on 19th April.
Nicholson is a highly qualified and experienced UEFA Pro Licence Holder, a football coach and consultant focusing on player, coach and club development.
The life-long Evertonian was the youngest-ever Englishman to hold the UEFA Pro Licence when he qualified aged 29, in between a journey that has seen him coach across the country at various levels, test himself at first-team management, and also help spearhead change at clubs in Brazil, USA, Denmark, Spain, Hungary and Germany among others. He joins Everton from the Professional Game Academy Audit Company (PGAAC).
His main responsibility will be leading coaching development for the academy and also aligning and developing the philosophy for the club.
Article continues below video content
According to a post by Nicholson on social media, the role will involve "taking on responsibility for leading the Coach Development programme. A key aspect will be working closely with the coaches to ensure that the club's identity and coaching philosophy is aligned and embedded across all age groups within the Academy.
The aims will include helping to create support programmes that can enable the club's Academy coaches and young players to fulfil their potential."
Kevin says on his LinkedIn page that he is greatly looking forward to helping to continue the great tradition that the club has of developing young players and shaping a successful future for Everton Football Club.
---
Reader Comments (45)
Note: the following content is not moderated or vetted by the site owners at the time of submission. Comments are the responsibility of the poster. Disclaimer
Dave Abrahams
1
Posted 11/04/2022 at 21:54:53
Does this mean he is taking over from David Unsworth who I think is in charge of the Acadamy?
Michael Kenrick
2
Posted 11/04/2022 at 21:55:10
I imagine this is a new position that Kevin Thellwell, the new Director of Football, has instigated.
Interesting to know Danny's thoughts on whether this signals a significant uptick in how he perceives the Academy coaching to be conducted at Finch Farm going forward?
Dave, I can't see any sign that this is a move to displace David Unsworth. It seems like a new position as far as I can tell.
Jerome Shields
3
Posted 11/04/2022 at 22:17:09
It seems to me Nicholson is going to set up a coach development program for existing coaches. It is a bit like sending existing staff on an in-house course to upgrade their skills, awareness, and receive a certificate. As Michael says, it is probably a DoF initiative.
Robert Tressell
4
Posted 11/04/2022 at 22:36:17
Any measures designed to improve the academy are good news to me. Proof of the pudding is in the eating of course but I want to see ambition and innovation. Let's see what materialises.
Allen Rodgers
5
Posted 11/04/2022 at 22:39:48
Sounds like another talky-talky job to me. Reminds me of W1A.
Shane Corcoran
6
Posted 11/04/2022 at 23:16:11
Sounds like a good move in theory and his CV reads well. But yeah, no talk is cheaper than talk at Everton. Let's see.
Paul Kossoff
7
Posted 11/04/2022 at 00:02:12
Kevin says on his LinkedIn page that he is greatly looking forward to helping to continue the great tradition that the club has of developing young players and shaping a successful future for Everton Football Club?
Why have we had to spend over £500 million on players, who have put us in an embarrassing position. Where are the academy stars? I don't see many. The sooner Kenwright and his cronies move on the better.
Mike Gaynes
8
Posted 11/04/2022 at 00:05:26
Michael #2,
I'm quite sure you are correct. Thelwell established a similar post at NYCFC to align all the club's youth coaches into its preferred system. They also extended coaching support into the youth academies around the city in the form of a mentorship program for coach development.
Michael Williams
9
Posted 12/04/2022 at 00:10:57
This reads to me as a way to help stamp a consistent style of play throughout all levels of the academy by focusing on how the coaches are instructing their teams as well as help the coaches improve.
I would not be surprised if he is also assessing the coaches for the DOF.
Paul Kernot
10
Posted 12/04/2022 at 00:22:06
As always with us, the success of this or any other similar initiative will be utterly dependent on continuity of the head coach, ie, we stay up and Lampard is around to actually get consistent results using young players from development squads when we get inevitable injuries and overloaded schedules.
Add yet another manager who is allowed to bring in his style and players to suit and this initiative isn't worth a tin of fish.
Si Cooper
11
Posted 12/04/2022 at 01:53:37
My prior understanding would be that this was one of the key direct responsibilities of the DoF, and something I always thought Brands was supposedly implementing.
Has Kevin Thelwell managed to delegate a large chunk of his role? Is Kev Nicholson going to be a full-time EFC employee or some sort of consultant (on inflated fees)? Jobs for the 'Kevs'???
Good news: there will be no repeat of the club paying out half a billion on a dubious bunch of players in future because a sizeable chunk of that money will be going on dubious middle-management roles.
Or is this recognition that Brands actually had too much on his plate?
I hope the new Kevs are both super successful. If Mr Nicholson gets results at EFC, I will be reading anything he's published because trying to get a consistency of approach across shifts and diffuse teams is a frequent failing in the companies I've worked for (despite several of them loving consultants).
Jay Harris
12
Posted 12/04/2022 at 02:23:48
I think it too early to judge or to prejudge.
Let's see what initiatives are introduced and put in place and how receptive Billy's boys are to change.
I do have a slight concern that neither Kevin has played high-level pro football but let's hope brains win through.
Danny O'Neill
13
Posted 12/04/2022 at 05:02:33
I like the sound of this. It is a new position rather than replacing Unsworth, who, despite the title Academy Director, is much more comfortable as Head Coach of the U23s and in the dugout. For now, I think he stays and that's what he likes doing.
Forgetting he is a lifelong Evertonian, I like that he has gone into coaching very early in life. Dare I say, what the successful German coaches tend to do (Rangnick, Tuchel, Nagelsmann - all in their 20s when they started out). He is qualified, but most impressive is that he has spread his wings to gain experience in many different leagues and countries, so will not be blinkered. Despite his age, he is not learning. He has learned and educated himself - it's not just about the certification.
What I am hopeful for most are 2 things that I continuously bang on about:
1. Work with the first team head coach and DoF to implement a system throughout the club. All teams from academy to first team play and are coached the same way to make transition up and down smoother. I see that as his job as "coach educator". Coach the coaches as much as the players. Put a stamp on the way the club (not just the first team) will play football.
2. Establish better links with local football. Sponsor teams, send coaches out into the community but in a meaningful football way, not charitable. Get Everton into the community, but in a footballing sense to tap into the talent I know is out there. Leave the kids in their natural environment until they are ready, but be part of it and help them develop.
I know it's too early to judge, but this feels right for those of us who want re-structuring from the bottom up. It feels different and right now, different is what we need, not more of the same. Dare I say, albeit a little late, the sign of the club finally establishing roots with a long term view in mind?
Derek Knox
14
Posted 12/04/2022 at 05:11:28
Paul Kossof @ 7, excellent point there, considering the amount of hopefuls that have actually filtered through is shocking really.
Yet the past 5 years, as you rightly have said, they have spent an absolute fortune, and how many can we say realistically, are or were valuable additions?
Alan J Thompson
15
Posted 12/04/2022 at 05:24:28
If the DoF is to oversee all aspects of the club (Academy, scouting, transfer and contract negotiations) and any new ideas, with the possible exception of the preparation and tactics of the first team/squad, then he will need to delegate responsibilities. It would also make a lot of sense to promote Coaching Courses for "community" clubs which may itself prove a valuable scouting system.
They don't necessarily need to actually head any department but are just DoF staff but not a footballing equivalent of "Time & Motion" people.
Danny O'Neill
16
Posted 12/04/2022 at 06:00:16
This role will be focussed on the academy and mentoring the coaches within, Alan. Hopefully, he will have a say in appointments too.
With regards to the DoF, we have one and this individual needs to work hand-in-glove with him. They both need to be empowered and free from interference from the obvious every time they get excited and go shopping.
Without looking, I can't recall the name of our DoF despite my advocating the role. Probably the best one in the game is 35 miles down the M62 and if we are to believe the rumours, will be available in the summer. Shame we didn't wait in my opinion as he wouldn't need to move house and has form in building clubs from the bottom up.
I like this appointment though. I offer no explanation or reason, it just feels good.
Alan J Thompson
17
Posted 12/04/2022 at 06:34:51
Danny (#16);
Probably just the first of maybe several of Kevin Thelwell's appointments. It does seem, as in most businesses, that new brooms work in different ways, but with the same overall objective, and like to bring in their own people which also helps to establish a hierarchy so that incumbents reshape their own noses.
Sam Hoare
18
Posted 12/04/2022 at 07:08:02
Seems a sensible appointment though it's difficult to align a club philosophy and identity when the first team doesn't really have one yet.
Inconsistency of style and manager for the first team has been a real detriment over the last 5 years and was one of Brands failures (if it was within his power, as it should have been).
Martin Reppion
19
Posted 12/04/2022 at 07:53:42
The theory of all teams from the junior set-up through to the first team play a similar style is admirable in principle.
But for those whose short-term memory isn't working, we saw what happens when players are asked to play a style to which they are not suited with Tippy-Tappy Martinez.
A coach's or manager's job is to get the best out of the talent he has. If our players are super fit and pacey, a high pressing game suits. If they are slower but skilful, a tight passing game may be better. It may be that a particular age group hasn't got the correct physicality to play the same way as the first team.
What can be done at lower levels within the club is harmonise the coaching so that we identify talent and nurture it. We can also mould the squads to emulate the senior teams. But this won't happen overnight.

David Pearl
20
Posted 12/04/2022 at 07:59:09
Agreed, Sam, but maybe they have learnt lessons here and our current manager will be allowed to develop. These are the kind of changes we all wanted to happen.
Danny O'Neill
21
Posted 12/04/2022 at 08:03:05
You use the phrase, Martin, 'short-term'. Yes, in the short-term get the best out of what we have.
But longer-term, implement a system.
Look no further than across the park. I take no interest, but guarantee that all teams are coached the same and play a very similar system.
That took 3 or 4 years to realise the benefit. Not 3 or 4 months.
Maybe (just maybe) after years of irrational non-strategy, we are laying foundations. You don't build the roof first.
Mick Roberts
22
Posted 12/04/2022 at 08:19:07
Coach the youth squad as much as you want – look at Dobbin, a proven goalscorer, yet he cannot even get on the bench while Calvert-Lewin, who is hopelessly out of form, keeps getting game time.
No wonder we constantly lose our younger talent to other clubs.
Danny O'Neill
23
Posted 12/04/2022 at 08:42:17
From the glimpses I've seen of Lewis Dobbin, I don't see a proven goalscorer although I'll leave that to those who have watched him more.
It's always a massive step up from U23s to first team. I trust the management team will manage his progression just as they have with Calvert-Lewin and now Anthony Gordon.
Just because a player succeeds in one position at youth level doesn't always translate to senior. It's why you end up with centre-backs who end up being forwards and vice-versa.
Personally, with Dobbin, I suspect initially we will use him as a wide attacking player in a front 3. But I also feel he could develop into a Number 10.
Robert Tressell
24
Posted 12/04/2022 at 08:55:38
To me, Dobbin is the sort of player who could play up front for Man City, switching between wing / forward / Number 10. Bit like Sterling or Jesus.
He is probably not going to lead the line like a traditional centre-forward.
In a more traditional set-up, he'd play wide of a more orthodox striker.
Right now, I don't think our style is sophisticated enough to get anything out of him – other than as an impact substitute.
Joe McMahon
25
Posted 12/04/2022 at 08:56:24
If it helps the Academy I'm for it. We all remember Liverpools Academy team beating Evertons 1st team, fresh ideas and new approach welcome.
Does make me wonder if Unsworth really has a job for life though.
Richard Nelson
26
Posted 12/04/2022 at 08:57:30
The cynic in me says just pack your teams with athletic Africans & Portuguese... young kids today are hooked on Video games & "Just Eat"..!
Danny O'Neill
27
Posted 12/04/2022 at 09:17:09
Or similar to Foden, Robert?
George Cumiskey
28
Posted 12/04/2022 at 09:19:51
Only Gordon has come through the ranks into the first team in recent seasons. That says a lot about the youth academy.
Michael Kenrick
29
Posted 12/04/2022 at 09:20:18
It would be nice to see Frank Lampard make more use of the youngsters from the U23s but it's hard to make the case that Lewis Dobbin is a stellar talent who is banging in goals left, right and centre.
Mick @22 may be remembering a crazy sequence of pre-season games last summer when Dobbin scored 10 goals, including 3 hat-tricks, and it seemed he was staking a claim to be included in the first-team. But he has not sustained that form for the U23s, with 7 goals in 21 starts... not bad stats but not enough to force Frank's hand, methinks.
He's been named as a first-team sub 9 times and got on the field in 5 of those games for the grand total of around 40 minutes, the most substantial being 28 minutes in the 1-1 draw at Chelsea. But since becoming our manager, Frank has only played him once and that was 4 minutes against Boreham Wood in the FA Cup.
Dave Abrahams
30
Posted 12/04/2022 at 09:30:48
I'm a lot more interested in which present coaches at the Academy are getting moved out while hoping this new fella has some new ideas to implement and improve the structure of the education of all the young players coming through the Academy.
Not interested in how many badges and certificates these coaches have, more important is have they got a football brain, too many coaches past and present at Finch Farm haven't been up to the job but they do know the right people or to be honest the right person who still controls a lot of how the club operates.
Christine Foster
31
Posted 12/04/2022 at 09:57:05
Dave, it's not what you know, it's who you know.. very true at EFC. But someone, somehow, has to break the cycle and fashion the footballing philosophy for the club from ground up with the natural evolution being seamless from one level to the next. I hope or assume this is the purpose.
Brian Murray
32
Posted 12/04/2022 at 09:58:48
Dobbin could well have saved Benitez job if he wasn't daft or stubborn and kept picking Rondon. There's a player there; I have a feeling he will make it.
Danny O'Neill
33
Posted 12/04/2022 at 10:07:04
I don't believe there will be bad feeling towards Unsworth, Kevin. Frustration at the club for going down and maintaining that route, but that's not at Unsworth. He should have taken that Oxford job a few years ago, in my opinion.
It seems obvious he's been managed out without having anywhere to go. I hope he finds a decent gig and proves himself.
Again, in my opinion, he was never taking the Everton Academy to where I believe it can be. Like certain elements of our board, he comes from an era of under-achievement by the standards we expect. Quote Sir John Moores about our standards and expectations.
Let's all move on. Good luck to a very loyal Evertonian.
This won't sit comfortably with some, but I would wager Duncan could be next.
Brian Harrison
34
Posted 12/04/2022 at 10:19:36
So yet another appointment to the already growing list of coaches, who don't actually coach the players. So along with our DOF and Duncan Ferguson we have another layer of confusion to throw into the mix.
I read all this nonsense about a club having a certain identity, well let me simplify it there are only 2 identities – a winning one and a losing one.
The key to a winning identity is go and find the right players with the right identity, and sometimes you don't have to spend a fortune to achieve that, as Leicester have proved in winning both the Premier League and the FA Cup in recent seasons.
While it irks me to say it, you only have to look at our neighbours to see how to recruit the right type of players. They got Robertson for peanuts from relegated Hull, also got Matip on a free. Not to mention Jota, a decent player with Wolves but certainly nowhere near the player he is now, added to that financially Salah and Mane were both in Everton's price range when they were bought.
Even if we stay up, there is a long road ahead. I hope Moshiri stops listening to agents and lets his manager in conjunction with his coaches identify who to buy. But make sure the players are of the right mentality and not coming here for a well-paid easy life with little or no expectations of ever winning anything.
Bobby Mallon
35
Posted 12/04/2022 at 10:19:46
Danny 34, I think you'er right about Duncan.
Bobby Mallon
36
Posted 12/04/2022 at 10:22:56
Brian Harrison, and to you well said. Fuck the Kia fella right off. He is only interested in moving dodgy money around in transfers.
Tony Abrahams
37
Posted 12/04/2022 at 10:43:09
I think Calvert-Lewin is Unsworth's biggest success up to date, and with him still being under 50 years of age, he should have the necessary experience now.
Playing Devils Advocate, this might be signaling that the club is about to change hands again, although as usual, this might just be wishful thinking on my part…
Jerome Shields
38
Posted 12/04/2022 at 11:02:56
Unsworth gone. The inbetween lines of this appointment beginning to be filled in.
Brian Murray
39
Posted 12/04/2022 at 11:42:46
Whatever his real remit is, I hope this new fella can spot a phoney from miles off. At least a few twitching in their seats.
Justin Doone
40
Posted 12/04/2022 at 11:58:30
It sounds like a sensible and long overdue appointment.
We are not aware of the actual responsibilities of roles between DoF, Academy Director, Academy coach educator and others roles but if this allows us to get a 'best in class' Academy that sounds good to me.
Hopefully we start producing and developing players good enough for the first team on a regular basis or that can be sold for a substantial value.
The role could involve improving the players and coaches physical and mental strengths.
It could, given his overseas roles to date, be a prelude to a global academy approach. Talent spotting and strengthening links with other clubs.
It could just be another HR role that ticks a box.
The next 3 to 5 years will hopefully show us some positive results that have come from this appointment.
Niall McIlhone
41
Posted 12/04/2022 at 12:59:51
So Unsy is moving on: He should be thanked for his long service to Everton, and who knows whether he wasn't held back from getting his young charges to progress to the first team due to the conveyer belt of managers we've had, with the inevitable air of mistrust of the "unproven"?
This new academy appointment heralds a new era. I feel that we will hear more from the DoF, Mr Thelwell soon after the end of this season as - in the final run-in - there can be no distraction from the crucial challenges facing Frank and the first-team coaches in keeping us up.
Without doubt, Everton FC are a club in transition: we can only hope for further changes at board level in the close season, as it is clear that this is well overdue. The problem is that the board (such as they are) are effectively "marking their own homework" by overseeing the proposed restructure…. Mr Moshiri needs to take a "gloves off" approach?
Either a serious shake-up at senior level, or sell up.
Brian Murray
42
Posted 12/04/2022 at 13:06:27
Got a feeling there will be a lot of new and innovative changes at the club and the most crucial and important one won't happen until forced. Over to you, bean-counter owner.
Chris Williams
44
Posted 12/04/2022 at 13:14:42
It looks like the Strategic Review is working!
I hope there's going to be one on the Boardroom too! And not just additions.
Ken Kneale
45
Posted 12/04/2022 at 13:31:54
Chris,
Many of us hope it is soon – it is certainly overdue.
Pat Kelly
46
Posted 12/04/2022 at 15:59:00
We must have more coaches than National Express between this guy, his boss the other Kevin, Lampard and his crew and, of course, the ever present Ferguson. If we go down they might all clear off along with Moshiri who's paying for it all.
---
Add Your Comments
In order to post a comment, you need to be logged in as a registered user of the site.
Or Sign up as a ToffeeWeb Member — it's free, takes just a few minutes and will allow you to post your comments on articles and Talking Points submissions across the site.