Watford vs Everton
Wednesday, 11 May, 2022
Match Preview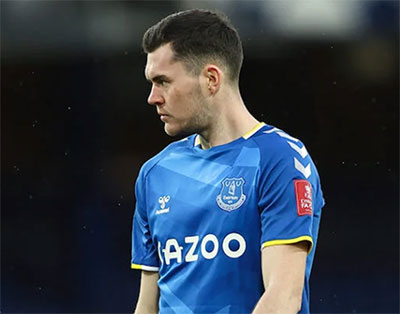 Michael Keane is set to start with Yerry Mina back out of the running with a calf injury
Everton are back on the road for a midweek fixture against Watford that offers them a big opportunity to bolster their chances of remaining in the Premier League beyond this season.
The Toffees' huge win at Leicester on Sunday lifted them back out of the bottom three and finally ended a seven-month wait for a victory away from Goodison Park, meaning they can travel to the already-relegated Hornets with the psychological monkey off their collective back.
Watford's defeat at Crystal Palace at the weekend sealed their fate, sending them back down to the Championship and manager Roy Hodgson looks set to be forced to name a vastly under-strength side due to a raft of unavailable first-teamers.
Former Everton striker Josh King, who, almost inconceivably, scored a hat-trick in the reverse fixture on Merseyside back in October is ruled out along with another former Blue, Tom Cleverley, along with Ismailia Sarr, Emmanuel Dennis, Imran Louza, Juraj Kucka, Kiko Femenia and Nicolas N'Koulou.
Article continues below video content
Cucho Hernandez was already sidelined with a hamstring issue and Hassane Kamara is now suspended following his dismissal at Selhurst Park but Joao Pedro has an outside chance of being fit to play.
It's the kind of scenario that could pose a banana skin for Everton but Frank Lampard used his pre-match press conference to stress that his players must remain focused on completing the job over the four remaining games.
"The support that we've had since I've been here is incredible. It's ramped up in the last few weeks and we needed that. I think the fans have shown their support, passion and willingness to take part," the manager said.
"The mood has lifted, but the important thing is to remain balanced as there is still work to do.
"The only message for us, as much as we enjoyed the weekend, is that it's very dangerous to relax on that. As much as we can talk about the fans, the only message for us as players and staff is to finish the job. There's no way we can relax."
Once again, Lampard will be unable to call on Yerry Mina who picked up a calf injury at the King Power Stadium that could keep out of all bar the game at Arsenal on the final day, while the earliest Ben Godfrey could return is this weekend against Brentford.
That will surely mean a Michael Keane-Mason Holgate central defensive partnership, perhaps alongside Seamus Coleman if the manager elects to persist with his five-man back line with Alex Iwobi and Vitalli Mykolenko as wing-backs.
Whether deployed as a left- or wing-back, Mykolenko looks set to feature after the complaint that forced him off against Leicester proved to merely be a case of cramp.
Elsewhere in the side, Allan could come in for Fabian Delph if Lampard decides to manage the veteran's minutes. Donny van de Beek is ruled out again with a persisting groin problem but could be back for the home game against Crystal Palace in eight days' time.
Dominic Calvert-Lewin has also been withheld from action given the stop-start nature of his return from injury and he might have to be content with a place on the substitutes' bench once again.
While one of Everton's rivals in the relegation dogfight, Leeds United, face a potentially difficult assignment against erratic Chelsea, the Blues must focus on their own game and look to secure all three points to maintain their points advantage down at the bottom of the Premier League.
Kick-off: 7:45pm, Wednesday 11 May 2022
Referee: Mike Dean
VAR: Michael Oliver
Last Time: Watford 2 - 3 Everton
Predicted Line-up: Pickford, Coleman, Holgate, Keane, Mykolenko, Allan, Doucouré, Iwobi, Gordon, Gray, Richarlison
---
Reader Comments (116)
Note: the following content is not moderated or vetted by the site owners at the time of submission. Comments are the responsibility of the poster. Disclaimer
Bernie Quinn
1
Posted 11/05/2022 at 02:59:57
Danny!! Pat me on the head, I'm so nervous! At least the wonderful Travelling Supporters are there in support. It's a breakfast KO over here (6.45 am) so Christine's screams will be muted by traffic noise...
Paul Kernot
2
Posted 11/05/2022 at 03:54:43
Win this one and we can really start to believe. Note I didn't say relax. As Frank said, concentrate on finishing the job. We win & Leeds lose to Chelsea & it really does change the odds significantly.
Kieran Kinsella
3
Posted 11/05/2022 at 04:25:32
My only child comes home from Uni tomorrow after what feels like an eternity so I'll admit I forgot about the game. But to misquote John McFarlane there are more important things in life … starting with Everton. Just kidding. If we win then with two home games left we are all but safe but with the pressure off, Watford may just cause us a few problems. I've never liked Watford to be honest. As a kid growing up in Hertfordshire I remember a huge number of my Spurs supporting classmates suddenly switching allegiance to Watford in April 1984 before whingeing about Steve Sherwood being fouled, then switching allegiance back to Spurs, then Liverpool, then "Engerland" then losing interest in football before resurfacing as Chelsea fans years later. Rather like Eddie Howe the Everton AND Watford fan. I like Elton John's music, I thought Graham Taylor was a decent bloke, I also like Roy Hodgson, but after conning us out of millions for Silva, and because their stadium has that weird rippled roof, also because I was once duped into buying a Watford subbuteo team that was wrongly labeled as Brazil, I hope we stuff 'em and that the home fans turn on Ben Foster.
Kieran Kinsella
4
Posted 11/05/2022 at 04:26:36
Paul
Didn't Frankie also so Relax?
Kieran Kinsella
5
Posted 11/05/2022 at 04:28:22
"Say" not so. Edit function not working. I'm sure I've a T-shirt somewhere to substantiate that quote
Paul Kernot
6
Posted 11/05/2022 at 04:38:32
Don't do it, when you wanna come (17th)!
Jay Harris
7
Posted 11/05/2022 at 04:43:28
Spot on Kieran. Holly Johnson and the boys at their finest.
Hope you are feeling better now and aided further by another 3 points in this one though I do confess to some nerves over tomorrow which I didnt feel in the previous games maybe because we were expected to lose them and win this one.
Lets hope the supporters can carry us to another 3 points and relative safety.
COYB

Derek Moore
8
Posted 11/05/2022 at 04:50:31
With the Z cars connection, as well as the 84 cup final, it's always Two Tribes going to war when we play the Hornets.
Vicarage Road turns one hundred this year - it's no Pleasuredome! But three points and we can all allow ourselves to Rage Hard and feel The Power of Love. A little more anyway.
When we complete this escape it'll be remarkable - almost a case of minor Holly intervention. COYB!
Derek Knox
9
Posted 11/05/2022 at 05:01:38
No way should we treat this game as a walk in the park, despite rumours of certain players not being available and Ben Fosters' alleged dig at Everton fans. How many times have we seen a Club who are already relegated, play like World Beaters when the pressure is off ?
I think if we can stay focussed and repeat the attitude and commitment shown of late we should have too much. Let's not forget too we haven't proved that we have put the away day hoodoo to bed yet !
Jonathan Oppenheimer
10
Posted 11/05/2022 at 05:05:15
Sending more positive vibes out into the world tonight to help carry us to another victory. It's hard to imagine our fans topping their performance from Sunday, but I have no doubt they'll give it a go. And we'll need them with the quick turnaround and our creaky squad. UTFT!
Laurie Hartley
11
Posted 11/05/2022 at 06:05:58
Lyndon - I like your team and I like Allan but I wouldn't be resting Delph for this one if he is fit and up for it.
We have to go all out to win this game because if we do it will really put the pressure on Burnley and Leeds and it will have Southhampton looking over their shoulder also.
Mike Gaynes
12
Posted 11/05/2022 at 06:28:03
I don't know why... but I get the feeling that Dele Alli is gonna play a big part in this victory.
And Allan definitely in for Delph. Bring Delph back fresh for the weekend.
Darryl Ritchie
13
Posted 11/05/2022 at 06:51:41
We are pretty healthy in the midfield at the moment. Be happy with any of them. Might even see Alli or Gomez.
Back line suspect and we definitely need a striker or two in the summer window.
Can't expect Jordan to be Man of the Match every time out. He's playing the I've ever seen him play in a Everton shirt, but we shouldn't plan on it every game.
I think we'll win it 3-1.
Gary Jones
14
Posted 11/05/2022 at 07:14:13
Other than Delph vs Allan maybe, the personnel pretty much pick themselves at the moment. The question is more around formation.
Maybe stick with the 5 at back, but give the full backs more license to get forward? Or switch back to a 4 and go with a more traditional 451/4231? For me I hope we go with the latter, come out the blocks like a monster, get 2-0 up and then switch it up to lock it up and counter.
UTFT. COYBs!!
Lee Courtliff
15
Posted 11/05/2022 at 07:15:17
I'm nervous about this. We're expected to win. They are already relegated and decimated with injuries.
Everton, that.
John Keating
16
Posted 11/05/2022 at 07:20:05
This is a must win. No slacking, no managing players, total focus.
We've got results against the better teams playing a defensive game; tonight will be different – let's just hope we can cope!
Danny O'Neill
17
Posted 11/05/2022 at 07:20:53
No nerves. Momentum, passion, desire, commitment.
Let's do this Everton.
I am looking to get to Watford around 5pm. See you there all.
Spirit of the Blues. Everybody's singing the Blues.
Dale Rose
18
Posted 11/05/2022 at 07:36:04
Going to be a very hard game this one. There is no love lost between us and them. They would love an upset.
Tony Everan
19
Posted 11/05/2022 at 07:47:05
Watford will be doing us no favours tonight, and they will get a great buzz out of putting us back in the mire. There's no question that we have to bring the determination that got us three points against Chelsea and Leicester. Anything less won't be good enough.
I'm confident if we play to the same game plan of keeping it ultra tight (and no keystone Kops moments) we will get a good few chances to win this game.
COYBLUES!
Watford 0 Everton 1
Kim Vivian
20
Posted 11/05/2022 at 08:12:05
BIG game this.
Psychologically huge boost or damaging to us, Leeds, Burnley depending on the result. We need that win. Keep that passion going.
Don't fuck it up Everton.
Bill Gienapp
21
Posted 11/05/2022 at 08:12:33
On paper this is the mother of all banana skins. But I'd like to think, given the stakes, a bit of momentum on our side, a growing sense of purpose and self-belief, and of course the fans going all out, we'll take care of business.
Alan McGuffog
22
Posted 11/05/2022 at 09:06:50
Well we've had one or two good results but let's not gloss over the fact that this bunch has left us in the brown stuff with some of the most abject performances that any of us will have seen from men in blue.
Tonight is payback time. This is a game that we have to win and there is no earthly reason why we shouldn't.
None of this side has a clue who Mick Lyons but if one or two had shown his spirit and guts we wouldn't be floundering.
Get your fingers out and fight for every ball. Shove "their" Z-Cars where the sun don't shine. C'mon on!
Johan Elmgren
23
Posted 11/05/2022 at 09:09:45
I wouldn't play Delph and Gray in this game. Both are to prone to injuries and along with Mina, neither of the three can handle the pressure of 2 games in a week physically. It would also be interesting to see what Alli could do, and I think this is a suitable game to let him start.
If Frankie's opting for a 3-4-3 I'd go with:
------------------Pickford----------------------
-------Holgate-Keane-Branthwaite------
Coleman-Allan-Doucoure-Mykolenko
--------Gordon---------------Alli---------------
------------------Richarlison--------------------
If he's opting for four in the back, I'd go for:
------------------Pickford----------------------
Coleman-Keane-Holgate-Mykolenko
---------------------Allan------------------------
----------Doucoure-----Iwobi---------------
Gordon------------------------------------Alli
------------------Richarlison------------------
It's also a little depending on wheter DCL is fit enough to start. If so I'd put him in up top, and put Richy out on the left wing, omitting Alli...
C'mon lads, three points tonight will take us a long way towards security, just keep the focus and grit, and we will prevail!
Ernie Baywood
24
Posted 11/05/2022 at 09:10:13
A few games ago this fixture looked like a '6 pointer'...
Amazing how quickly things can change and a reminder that it's not time to relax just yet.
John Hall
25
Posted 11/05/2022 at 09:20:02
We need revenge for what they did to us - not sympathy that they're going down. We need to be positive and aggressive or we'll be playing them next season in the Championship!! UTFT!
Eddie Dunn
26
Posted 11/05/2022 at 09:45:38
My worry is that Frank will start believing the hype and play Gomes. Allan & Gomes has less legs than Oscar Prestorius and a defeat would pile the pressure on us against a resurgent Brentford and Arsenal. Perhaps it is time for Tom Davies?
Tony Waring
27
Posted 11/05/2022 at 09:48:02
How can we get it on TV?
Ajay Gopal
28
Posted 11/05/2022 at 09:54:44
Watford have 7 or 8 of their key players missing, they have lost 11 home games in a row, they are already relegated – so why do I have this strange feeling of dread?
Prove me wrong, you Blues. Give the fans something to smile about after the wringer you have put us through these past few weeks.
I will take a result any which way it comes, but would be nice if the team plays good football for a change, go up a couple of goals early and allow the fans to relax a bit.
As usual with Everton, the 1st goal is going to be important. The much-maligned defence have bailed out the team from the relegation places – Pickford's heroics, goals by Mykolenko and Holgate, and generally battling performances from Mina, Coleman, Keane, Holgate, Mykolenko, etc.
It is now time for the forwards to start showing their class. I appreciate the hard work being put in by Gray, Richarlison, Gordon, Iwobi, but they need to put a few in the back of the net to ease the pressure on the defence. COYB!
Jonathan Tasker
29
Posted 11/05/2022 at 09:56:11
Anyone else go to that ridiculous 4-4 game at Vicarage Road?
Christopher Timmins
30
Posted 11/05/2022 at 09:59:45
We have momentum coming into this game, we need to keep the foot down take all 3 points. I suppose there is merit in selecting Allan over Delph given the latter's history of injuries, other than that the team picks itself at the moment.
Let's hope that Danny and his canine companions are in top form as they head out for their morning walk tomorrow.
Brian Harrison
31
Posted 11/05/2022 at 10:02:13
Things are still extremely tight and although most think its between us and Burnley and Leeds, but Southampton have only 2 games left Liverpool (H) and Leicester (A) they have 40 points but a -20 goal difference. Leeds are home against Chelsea then Brighton (H) and end with Brentford (A) their goal difference is -35 the worst of all in the relegation fight. Burnley have Spurs (A)
Villa (A) and Newcastle (H) with a goal difference of -17. Our goal difference is -19.
I still don't know how this will end certainly if you are Burnley or Leeds fans you would think with us playing Watford tonight and then 2 home games, you probably think Everton will get out of it. I just wish I could be so sure, we have just won back to back league games for I think the first time this season. We now are expecting us to make that 3 wins in succession tonight and then a 4th consecutive win against Palace on Sunday, thats a really big ask considering our form all year, but like everybody thats what I am hoping for.
Hugh Jenkins
32
Posted 11/05/2022 at 10:10:36
Tony (29)
Tom, the forgotten man at Everton. I doubt if we will see him in action again this season.
Praying for a win tonight.
COYB
Anthony Murphy
33
Posted 11/05/2022 at 10:17:24
If you look at the results of those already relegated over the last few years in the Premier League, the majority are in favour of the other team – a few exceptions (including us unfortunately) but overall teams that have been relegated tend to lose.
They of course have no pressure and have personal pride, but this should not be a match for a team who have so much more to lose and new found momentum. I'm confident we will turn over a weakened, poor side tonight, although I think Brentford on Sunday will be much tougher.
Sam Hoare
34
Posted 11/05/2022 at 10:19:24
A win tonight would be wonderful but a draw would not be the end of the world.
The last few wins have come in matches where we have ceded posession and been able to counter teams effectively. This will likely be a different match, especially as we are no longer the underdogs.
Matches like these are exactly where we have failed this seaso so it will be interesting to see how Lampard sets us up and whether we have in fact progressed over the last month or so.
A few players were looking pretty gassed on Sunday so as much i'd like to maintain a winning team I suspect we might see a bit of rotation. Or maybe Frank will think if his trusted XI can get us over the line tonight then we are almost safe and he can rotate a bit at home against Brentford? Curious to see.
Dave Abrahams
35
Posted 11/05/2022 at 10:27:19
I think the extra Everton fans in the ground tonight could be up to 7,000 going by reports. They will be a massive plus for us.
I wouldn't rest any player tonight but go for that win with a few more goals to increase the goal difference, it could be needed.
Delph, for me must start – he has a steadying influence on the team and a calming effect on the players around him. Need to be wary of Watford's starting line-up, the club is stating that a lot of their players are subject to late fitness checks, different to Hodgson saying they won't be available.
Get those 3 points in the bag and worry about games ahead when they come.
John Hall
36
Posted 11/05/2022 at 10:29:07
John Hall @ 27
This is also John Hall @ probably (38)
Same name?? Breck Road as a kid was my start to life being an Evertonian!!
Agree with your post entirely.
COYB
Kim Vivian
37
Posted 11/05/2022 at 10:43:32
John Hall - 39. Don't know your age but Breck Road – Did you know a lad called Tony Carvill lived on the Breck? A mad Evertonian, he would be about 65 or 66 now, I reckon.
I used to work with him at Alexandra Towing, had a good few laffs and often wondered what happened to him. He joined the Army back in the 70s and I moved down south in 79-80 so no contact since then.
Michael Murphy
38
Posted 11/05/2022 at 11:16:47
I really believe with the fantastic support shown over the years by Evertonians everywhere, Everton will do what they need to do when their backs are to the wall. We will stay up but I would rather not have many more of these situations, particularly at my age.
Mark Ryan
39
Posted 11/05/2022 at 11:16:47
Couldn't get a ticket for love nor money so hoping I can get a stream later on. Such a banana skin. Win this and we'll stay up.
Cannot switch off. The team, the fans, we all need to be on it tonight. Win tonight, the feeling in the team after 2 away wins will be IMMENSE, UTFT's.
C'mon, you Blue Boys, step up to that plate!
Derek Thomas
40
Posted 11/05/2022 at 11:42:09
Watford are at home, they'll come out all fired up, so play it like we have been doing – carefully. Then, once they've run out of steam, usually around 25 mins, we step it up.
Based on that it'll be, we take early lead, then hang on to snatch a draw from the jaws of victory.
Work it to the snake wavers, Blues.
Colin Oldfield
41
Posted 11/05/2022 at 11:43:15
Longshot, but does anyone have a spare away end ticket for a Watford-based Blue, please?
Daniel A Johnson
42
Posted 11/05/2022 at 11:48:46
Win this and were safe. Who would have thought that 3-4 weeks ago. UTFT
David Bromwell
43
Posted 11/05/2022 at 11:50:33
Tonight we simply need a premier league performance from all the players. we are a better team than Watford especially one that has been relegated and decimated by injuries. I appreciate that there are no easy games but we should be winning this one, so let's start on the front foot, get a couple of goals and control the game.
Sounds easy I know, but why not ?
Danny O'Neill
44
Posted 11/05/2022 at 11:53:20
My brother sent me a link that Watford are now sold out when there were tickets a-plenty only a few days ago.
There could be as many as 5 or 6,000 Evertonians in all corners of the ground tonight.
Tom Bowers
45
Posted 11/05/2022 at 12:09:37
Discipline is the key, especially defensively. Show them who's boss early and we can grab all three points.
No game is a shoe-in and remember what they did to us at Goodison. Time for revenge.

Bernard Dooley
46
Posted 11/05/2022 at 12:23:31
Jonathan Tasker @ 29.
I remember that 4-4 match in Feb 1984 very well and the one there the following season which we won 5-4 in September '84 on our way to winning the league for the first time since the Alan Ball days. What a long wait those intervening years seemed back then!
In between those two epic Vicarage Road games we of course beat Watford in the FA Cup final. Sharp scoring in all three matches.
In the 4-4 game we were down 3-1 and 4-2 but goals from Sharp and Heath salvaged a point.
In the 5-4 win, we were up 3-1, 4-2, and 5-3 if I remember correctly but found them hard to shake off. Some guy called John Barnes scored in both league games.
Happy train rides from Watford to Swindon where I was living at the time.
Si Cooper
47
Posted 11/05/2022 at 12:32:10
My work commitments have changed in the last 24 hours and I had thought about going tonight. I was a bit wary of buying a ticket in the home sections as I hadn't realised there may be plenty of blues doing just that.
If they have all gone I'm in the same situation as Colin at 41.
Not quite Watford based but close enough I can make it there pretty quickly, so if there is the odd ticket that people can't make use of please post about it here.
Si Cooper
48
Posted 11/05/2022 at 12:56:05
Not seeing too much absolute need to change anything from Sunday, but I do think some rotation shouldn't be a problem.
Is Branthwaite injured? I'd have thought this could be the right sort of game for his development.
I'm a bit surprised Delph has become 'first name on the teamsheet' for so many. Yes, he has done his bit with the 'legs' elsewhere in the team affording him the opportunity to sit central with time to execute his Cruyff turns, but I still worry that his lack of pace could get exposed quite easily. It's still pretty much even between him and Allan for me, although Allan is only slightly quicker and the more temperamental of the two. I think both will have to play a big part in sharing the load in the remaining fixtures.
As long as they are fit and full of energy I'd stick with Demarai, Richy and Anthony as the primary attacking options.
Brian Murray
49
Posted 11/05/2022 at 13:04:46
There's a school of thought that the sky premier league would rather we wasn't part of their greedy party. Same with the refs. let's face it we have never been part or embraced the modern era as a club and couldn't grasp the opportunity of all the riches we was giving along with everyone else. ( We all know why ) However sky don't realise how much of a loss we would be as a fan base if nothing else. There's not one club who would get scenes like what's happening now even tonight our fans all around the ground. Unbelievable support as I say second to none.
Dave Abrahams
50
Posted 11/05/2022 at 13:08:42
To any Everton fan interested in that blessed piece of coal is on it's way down to Watford courtesy of my next door neighbours, Teresa and Kevin, they never miss a game home and away, Kevin in his wheelchair a massive Blue, say hello to them if you recognise them!!
Shane Corcoran
51
Posted 11/05/2022 at 13:09:10
A school of thought Brian? I'm like a dog with a bone on this stuff, I know but Sky and/or the EPL want rid of Everton specifically from the league?
What's the gist of this theory?

Paul Smith
52
Posted 11/05/2022 at 13:12:55
Brian, that is one paranoid theory mate.
Danny O'Neill
53
Posted 11/05/2022 at 13:17:30
I might not get to see or meet your neighbours Dave, but I hope their trip is as blessed as mine. If I do see them, the drinks will be on me!
Shane, we've never been trendy or popular with the British sporting media. It could be our own marketing fault but it's always been the case.
Even in 84-85, the media bandwagon was behind Tottenham to beat us to the title.
Partly our own fault. Cosy Everton and the last 30 years has allowed the board to play that tune.
Anyway, tonight is about the team and I'm off to Watford in a couple of hours. That's the focus.
Bill Fairfield
54
Posted 11/05/2022 at 13:39:45
To all the blues fans travelling to Watford have a great trip. Be even louder tonight than Sunday. If that's at all possible! COYB.
Brent Stephens
55
Posted 11/05/2022 at 13:40:52
Danny #44 "There could be as many as 5 or 6,000 Evertonians in all corners of the ground tonight."
Jeez, imagine what the atmosphere will be like. All crooning (crooning?!) when Z cars starts. You'll know our crooners from the accent! Can't wait!!! If Leicester was special, god knows what tonight will be like.
Currently at Wolverhampton, Danny.
Pete Williams
56
Posted 11/05/2022 at 13:47:28
How many times have we been last on MOTD, faced biased commentary and been ridiculed in the press. We are not fashionable. However, I don't think there is a conspiracy. We've just made ourselves an easy target by being rubbish so often.
Recent form has been amazing though and I put that down to the players finally getting what it means to supporters. That will hopefully be the case again at Watford. The players will need to be in no doubt that the job needs finishing. If they are in cruise mode and Watford get an early goal it could all go pear shaped.
Team wise I think as little change as possible is best, so Delph should play. That will keep the momentum going. Plus if we get 3 points and Leeds lose then we'll really be in the driving seat. Not looking forward to the torture by commentary though.
Stephen Vincent
57
Posted 11/05/2022 at 13:56:08
Danny, I'll be in the Odd Fellows from about 5.00. They used to do a really nice BBQ in the garden.
Shane Corcoran
58
Posted 11/05/2022 at 14:02:08
Danny, surely that applies to 3/4 of the league.
The paranoia of some of us is off the chart.
Andrew Clare
59
Posted 11/05/2022 at 14:06:02
Very nervous about tonight. I wish I could be there the atmosphere will be terrific with thousands of Evertonians in attendance.
If we win this one we will be practically safe.
COYB's.
Brian Murray
60
Posted 11/05/2022 at 14:16:13
if i'm paranoid about my sky premier theory well true or not let's stay around another 74 years and be the noisy neighbours. coyb.
Jay Harris
63
Posted 11/05/2022 at 14:26:40
I just hope the players are not as nevous as we are because thats been the problem all season.
They need to go all out with confidence and bury this Watford side who recently have fallen apart after 70 minutes.
If we can get this one over the line we can be pretty sure of safety.
COYB
Frank Crewe
64
Posted 11/05/2022 at 14:29:35
@Pete 56. Not looking forward to the radio commentary either. Especially now that they have replaced Ronnie Goodlass with that windbag Barry Horne. That guy just loves the sound of his own droning voice.
Paul Hewitt
65
Posted 11/05/2022 at 14:35:14
We're playing Watford there relegated lost last 11 home games and half there squad is missing. So why am I so nervous?.
Bill Gall
66
Posted 11/05/2022 at 14:46:00
Well we have got rid of our away hoodoo, so looking forward to a win tonight ; Leeds Loss and Burnley not playing will put us 4 pts ahead.
The manager and players, with a loud message from the supporters of what it is expected from wearing an Everton shirt with the legendary Badge on it, seem to have finally got the message.
Lets get back home with an advantage and show why Goodison is starting to come back as a fortress.
John McFarlane Snr
67
Posted 11/05/2022 at 14:46:10
Hi Paul, [65] I would hazard a guess and say, that like myself, you are aware of the fact that "Anything can happen in a game of football" and "We hope for the best, and fear the worst."
Mike Gaynes
68
Posted 11/05/2022 at 14:50:03
The only thing that concerns me about this game is that after the emotional intensity of the last two, there might be a natural tendency to come out flat and get sucker-punched early. I wouldn't be surprised at all to see the team a bit less psyched up at kickoff. If so, they'll just have to play through it and not make any stupid mistakes.
Colin Oldfield
69
Posted 11/05/2022 at 14:53:16
Stephen 57. Is that the odd fellows in Apsley?
Duncan McDine
70
Posted 11/05/2022 at 14:58:45
Danny, I checked at 8am and it was sold out (gutted). The home stands will be half blue for sure, so expect a bit of trouble, despite Vicarage Rd not being a hostile ground to visit. COYB
Matthew Williams
71
Posted 11/05/2022 at 15:24:13
Any chance of doing a hat-trick of wins?...were still in the mire,so no let up please Blues, Watford are still owed this season,a great chance of revenge tonight so just go for it Blue Boys!
With our current momentum,our superb away support and walking out to Z Cars...I believe we'll win again tonight,the only negative for me is still our useless boardroom.
The game is on Talksport later on too,in case any Blue can't watch the game tonight... COYB.
Leighton Cooper
72
Posted 11/05/2022 at 15:26:18
Colin 69, it will be Odd Fellows on Fearnley St, about 5 min walk from the ground. There is also a massive Whetherspoons on the high st, about 20 mins walk, I believe loads have congregated in there already.
It is P*ssing it down in Watford at the moment, so not sure how many will be in that beer garden!!
Trevor Powell
73
Posted 11/05/2022 at 15:31:12
I think we have even more reason to stuff Watford tonight. Their holier-than-thou stance over Marco Silve a few years ago was enough to take in the media in several years ago.
BBC have reported that they have poached the manager of Forest Green Rovers in a far less honourable manner.
"The proper way to do things is for the club to approach us. Then they carry on and have their conversation. Watford advised Rob not to tell us, specifically. That doubles down on the deceit. Deceit is part of a culture that comes from the top."
Glad to see them dropping out of the PL and being shown up for their hypocrisy!
Jamie Crowley
74
Posted 11/05/2022 at 15:36:26
I've seen a helluva lot of teams play shit on short rest. And our recently crowned "preferred line up" could easily have tired legs.
We need to reach deep today. A win is simply massive and I think a win will almost guarantee our safety. Almost! But man the odds will be heavily in our favor if we can grab 3 points and Leeds lose to Chelsea.
Reach deep. Away fans - lift those tired legs!!!!
Mike Gaynes
75
Posted 11/05/2022 at 15:44:45
Some of our traveling fans may have tired lungs!
Kieran Kinsella
76
Posted 11/05/2022 at 15:54:31
John McFarlane is correct that anything can happen but for the first time in months I'm not feeling anxious. I think we will win and even if we don't we are still in a strong position to survive. That said, Leeds could make it interesting if they beat out of form Chelsea.
Phil Smith
77
Posted 11/05/2022 at 15:57:46
2 wins needed from the next 3 games to be absolutely safe, as I'm certain Burnley or Leeds aren't winning their last 3 games. COYB!
Will Mabon
78
Posted 11/05/2022 at 15:59:46
Tony @ 27;
Go on the TW Live Forum in the minutes approaching kick-off time and work with the information you see there.
Paul Smith
79
Posted 11/05/2022 at 16:07:06
Brian @60 I totally agree mate. Going down is unthinkable.
Gary Carter
80
Posted 11/05/2022 at 16:12:47
This is where Lampard gets a test, are we slowly progressing under his coaching and tactics or were the wins adrenaline based from fan fervour. It will also be a different type of game than the Chelsea and Leicester ones where we were not expected to have much of the ball or win. Or will it ? We are away, in London and we are still down near Watford so why should we expect to go there and have loads of the ball irrespective of the fact they are relegated and supposedly Barry able to field a team.
I think we will win, I'm going 1-3, I think we need to win as I reckon Leeds are going to beat Chelsea tonight
John Skelly
81
Posted 11/05/2022 at 16:18:12
Are we not the inform team going into this match so it should be a walk in the park surely?
Barry Cowling
83
Posted 11/05/2022 at 16:25:03
I think this game is massive to us because we are starting to see some confidence in the players; if we lose, that confidence will take a battering. A draw is not tragic... terrible, yes, but not tragic, so we really need a win, I think and hope, so.
I'll be a nervous wreck watching it, just like just about all our games. I need a decent night's sleep for a change.
Team-wise, Frank will have to use all his subs, I reckon; I wouldn't be surprised if Coleman doesn't start. Gordon looked shattered and if Mykolenko had cramp, he will have to be watched. It could be a gamble playing him, and Richarlison won't be able to put his full shift in.
Dele may have to play a bigger part; he has looked good in the small cameos he has done – we may need him if they park the bus. But a different game, this one... I don't reckon he will change much at the start.
Iain Latchford
84
Posted 11/05/2022 at 16:30:35
I'm quite confident for this game. Hodgson's reign at Watford has been a bit of disaster. Not sure the players are with him, and now the fans certainly aren't after he laughed and chatted with the Palace players after they'd just sent Watford down. Most of their key players are out, so we really need to capitalise. I feel if we went 2-0 up they'd collapse.
With all that in mind I'm going for 1-0 to Watford, with Dan Gosling scoring the winner.
Raymond Fox
85
Posted 11/05/2022 at 16:32:36
We have form for losing these games have we not.
Play well against the better sides and lose to such as Watford et al.
They have nothing to lose and can throw caution to the winds, the pressure is on us.
I'm very nervous I can tell you, the Leeds v Chelsea will be a humdinger as well, lets just hope luck is on our side.
Dave Williams
86
Posted 11/05/2022 at 16:33:07
Unbelievable! I was "looking forward" to following the game in whatever format I could... then the wife informs me that she has booked two tickets to see the new Downton Abbey film at the local cinema, starting at 7:30!!!!
After a struggle, she has agreed to me following the game on my phone so I will be dependent on the Live Forum to keep abreast of how things are going.
I can't quite believe it!
Eddie Dunn
87
Posted 11/05/2022 at 16:36:06
Now we will see if Frank has really got through to our lads. Can this crew nail a third win on the spin, or will they suddenly fold as we have seen many times before?
Win and Frank really could be the real deal, but mess up, and we will be back in the mire with the other two.
We have got far more points than I expected, but I hope these players can save us all from more worry by getting a point or three. I certainly fear Brentford's attack and nobody wants to go to Arsenal with them needing a win to get into 4th.
Pete Williams
88
Posted 11/05/2022 at 16:36:42
John 81 - Nothing is a walk in the park for us. Heavy legs and complacency against a Watford second string with nothing to lose could do us in. Any player feeling tired will need to be hooked because giving 100% is essential. Tactics will also play a part as Watford could park the bus and then do us for pace on the counter. Nails are going to be well chewed tonight!
Mal van Schaick
89
Posted 11/05/2022 at 16:42:17
It might be dangerous to write Watford off as an easy win. They may have been relegated but some players may have a point to prove playing for contracts.
However, I am putting my faith in our recent good form and better management to play with the same impetus as we did in the Chelsea and Leicester games.
Christy Ring
90
Posted 11/05/2022 at 16:42:52
Still nervous about tonight's game, even with Watford missing 9/10 first teamers, delighted Sarr and Dennis are out. After beating Chelsea and Leicester, confidence should be high, and with our magnificent support, up to 7,000 supposed to going, it'll be like a home game, here's hoping 😇
John McFarlane Snr
91
Posted 11/05/2022 at 16:43:54
Hi John [81] football through the years has been littered with "Walks in the Park", Manchester City were one of the most recent to experience a "Walk in the Park" that went wrong, when they lost to Wigan Athletic in the 2013 FA Cup final. I have always taken more enjoyment from any such walk when it's been completed, rather than the expected pleasure that may await me.
Mike Gaynes
92
Posted 11/05/2022 at 16:46:00
Dave #86, that's grounds for divorce in my book.
The new Top Gun movie, maybe. But Downton Abbey? Unforgiveable.
Jason Hewly
93
Posted 11/05/2022 at 16:47:10
They haven't won at home since Jesus played for Jerusalem Rovers and they're missing more first teamers than there are people in Watford. So, they'll probably win 3-2.
I hope we batter them. Arsehole town, arsehole fans, arsehole club.
UTFT.
Pete Williams
94
Posted 11/05/2022 at 16:48:05
Breaking! Watford appoint new manager. Players will now want to impress the new guy. Watford fans will also probably be happier. Need to get at them from the off and kill any optimism.
Mike Gaynes
95
Posted 11/05/2022 at 16:48:59
"since Jesus played for Jerusalem Rovers"
That one made me laugh out loud.
Dale Self
96
Posted 11/05/2022 at 16:49:47
I think it is okay to be confident but set up as though we are happy with the away point. Don't pursue the ball in a way that opens up gaps behind and be patient for the turnovers that will be inevitable. Start slow and work to control the tempo and give Iwobi some space to run. 5-4-1 and stay in mode, don't open it up.
Alan J Thompson
97
Posted 11/05/2022 at 16:53:48
As far as possible it must be the same team playing the same tactics. Three points here and Leeds losing will make us all but safe.
No rest for the magnificent!
Jamie Crowley
98
Posted 11/05/2022 at 16:58:00
Dave Williams -
Dude. There's GOT to be some sort of man law that can apply here.
Downton Abbey with the Mrs. during a game?
Find a penis trump card and play it!!! Put your foot down - tell her "Ain't goin'!!"
😜
Jamie Crowley
99
Posted 11/05/2022 at 17:01:12
Hey honey, I know you've got your wine-drinking exchange an ornament Christmas party with the ladies, but I bought tickets to the Monster Truck rally at 7 pm.
Imagine if you pulled THAT trick Dave.
You gotta put your foot down man!
Eddie Dunn
100
Posted 11/05/2022 at 17:12:32
Dave @86, you can't seriously go and watch Downton instead of a dodgy stream! You must have done some bad shit to not be able to wriggle out of that one!
Ray Roche
101
Posted 11/05/2022 at 17:21:19
Pete@94
He doesn't take over until next season. Depends if Woy wants him involved already.
Brian Murray
102
Posted 11/05/2022 at 17:22:14
eddie or failing that say you have an appointment with a chiropractor. ( lack of backbone) or hide your marigolds and say your on your own
Christopher Nicholls
103
Posted 11/05/2022 at 17:26:48
Looking forward to this. Frank is doing a great job, the team is playing well and the fans are incredible.
Some rotation will be sensible to keep the energy levels up. 2-0 by HT and then game manage the second half.

Duncan McDine
104
Posted 11/05/2022 at 17:29:31
Even if she bought tickets to the premier of 'Back to the Future part 4' which was billed to piss all over the previous 3, and she'd hired a fucking Delorean to take you there, you'd have to turn her down and listen to Snods on Everton Radio whilst attempting to get some Arabic channel to stream the game on a 6 minute delay, fully aware that your laptop is being infected by shitloads of spyware. Get a grip!
Soren Moyer
105
Posted 11/05/2022 at 17:29:56
Watford's last 11 home games have all ended in defeats! Are we able to inflict them the 12th!? To be continued
Joe Corgan
106
Posted 11/05/2022 at 17:33:37
Although we'd lost a couple of games in the run-up, the 5-2 defeat back in October feels, more than any other, like the result that set the tone for the season.
Our current predicament aside, that alone should spur the boys to get one over on Watford tonight. Win this and it's highly likely we'll stay up.
With Watford's dire form, most of their squad injured and us having only lost one of the last five, the signs are good. Which is why I'm predicting a 1-0 defeat.
Dave Williams
107
Posted 11/05/2022 at 17:33:38
Problem is chaps that I have a pass for the Brentford game which means setting the alarm for 7am, Jane having to get up to keep the dogs company and I won't be back home til around 1am Monday! If I make a stand for Watford then things could get tasty and I can't afford another divorce!
The live forum on my phone will have to do!
Nick White
108
Posted 11/05/2022 at 17:41:35
Joe, I think the same. We never recovered from that 5-2 game. It's taken a long time, but finally some signs of recovery and hoping it continues with a win tonight!
Mike Keating
109
Posted 11/05/2022 at 17:51:35
Leicester game was on the Discovery Channel
Alec Gaston
110
Posted 11/05/2022 at 17:53:08
Anyone have any suggestions for streams for the match tonight?
Soren Moyer
111
Posted 11/05/2022 at 18:03:13
@Alec. This site has all the games at all times with great quality.
http://mygoaltv.org/football-19?tournament_id=1426
Eddie Dunn
112
Posted 11/05/2022 at 18:21:37
Dave- I see the wisdom of playing the "long" game!
Colin Metcalfe
113
Posted 11/05/2022 at 18:32:48
I was hoping to watch the game tonight; however, it is my wedding anniversary today and so my wife says to me this afternoon "If it's still raining we can stay in and have a cosy dinner" along with me streaming the game – happy days!
And guess what? The fucking sun has just come out so she has already jumped in the shower and is asking me what restaurant we should go to... bugger!
Mike Gaynes
114
Posted 11/05/2022 at 18:37:17
I'm rapidly reaching the conclusion that true Blues should either marry a woman who doesn't like to go out (like mine) or just stay single.
Tom Bowers
115
Posted 11/05/2022 at 18:37:30
Yep, that home reverse to Watford was a sign of what was to come although nobody thought that Watford then would now be relegated. It was a bad result especially being at home but something was problematic at the club and it festered until these last few games.
Mina out again and quite a few others have had an up and down injury ridden season.
We, for some reason have a few players that we don't really want to play-- Alli, El Ghazi, Rondon, the anaemic Van Der Beek, the eternally injured Tosun.
Alli is a real enigma to say the least as he cost good money.
Only Frank knows what Alli's future holds.
Thank God there is only four games left so let's hope this awful season ends with a bit of aplomb.
Alec Gaston
116
Posted 11/05/2022 at 18:40:37
@Soren - thanks for that - COYB
Jamie Crowley
117
Posted 11/05/2022 at 18:45:21
Colin Metcalf -
Please, for the good of the much maligned white metro male, please stop this surge of estrogen besetting the TW community!!!! I beg you!
Jamie Crowley
118
Posted 11/05/2022 at 18:48:40
HETRO!!! Jesus above can't win no matter what
Denis Richardson
119
Posted 11/05/2022 at 18:57:19
With Leeds playing Chelsea tonight and Burnley away to Spurs next, this is a massive opportunity to put some daylight between us.
If we can bring home the 3 points (still a big if as it's still away and with relegation now certain the Watford players may start playing) then we'll be 4 points ahead with a game in hand, meaning beat Brentford at home the Arsenal result doesn't matter.
Nothing guaranteed as Leeds have two much easier games after tonight so we really could do with a win to get some much needed breathing space.
---
Add Your Comments
In order to post a comment, you need to be logged in as a registered user of the site.
Or Sign up as a ToffeeWeb Member — it's free, takes just a few minutes and will allow you to post your comments on articles and Talking Points submissions across the site.