Tarkowski close to making Everton switch
Wednesday, 8 June, 2022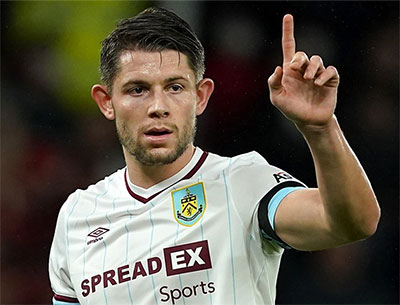 Updated Everton will not make official their first signing of the summer transfer window until the end of the month amid reports that James Tarkowski has now completed a free transfer from Burnley.
The 29-year-old defender is out of contract at Turf Moor this close season and was expected to leave the Clarets whether they were relegated or not in 2021-22.
Said to have interested Newcastle United and Aston Villa, Tarkowski now looks set to remain in the northwest with Everton having agreed personal terms with the Blues according to sources like Fabrizio Romano.
Tarkowski has also posted a Phil Jagielka jersey signed by the former Blues defender and dedicated to James himself, a nod surely to his pending signature with Everton.
Article continues below video content
Beginning his professional career at Oldham Athletic, the Manchester-born centre-half spent two seasons at Brentford before joining Burnley in 2016.
He spent five years as a mainstay at the heart of the Lancashire club's defence and will bring a raft of Premier League experience to the Blues' back line which could lose Yerry Mina this summer.
The Colombian is being linked with a move to the Continent, with some outlets suggesting that he has officially been put up for sale for €15m.
Updated Various sources were reporting a week later (15 June) that the transfer had been completed, with Tarkowski signing his new Everton contract and having pictures taken, etc.
But official confirmation of the arrangements is being held back because of concern at Everton that Tarkowski is still technically a Burnley player until his contract ends on 30 June. This unusual reticence is said to be due to sensitivity over the financial issues raised by Burnley and Leeds Utd about Everton's accounting procedures and the huge portion of their losses that have been written off to Covid.
The thought that Everton have, under these circumstances, gone ahead and agreed a rumoured £120k-per-week deal (plus an undisclosed signing-on fee) for a Burnley player may be seen as rubbing salt into the wounds.
---
Reader Comments (123)
Note: the following content is not moderated or vetted by the site owners at the time of submission. Comments are the responsibility of the poster. Disclaimer
Paul Birmingham
1
Posted 08/06/2022 at 22:53:17
Let's see what happens with this free transfer and also, when the window, opens for trading next month, who will be leaving from the current Everton defence.
Mina's fitness over 4 years must be a serious concern but I'd like him to stay if he was gonna play at least 32 league games per season, allowing for injuries and suspensions. This seems unlikely.
Frank and his team have a huge job this summer to put their mark on the Everton squad.
Paul Kernot
2
Posted 08/06/2022 at 23:27:48
A reflection of where we're at sadly. Is this the kind of thing you're apologising for, Mr Moshiri?
Tony Everan
3
Posted 09/06/2022 at 00:10:10
There is a rebuilding job to be done this summer and, with our FFP situation, money has to be spent very wisely. This signing comes into that category and will allow us to use more money to strengthen the midfield and attack.
The likes of Gallagher and Broja won't come cheap – I think these are the type of players Frank will be looking to land when funds become available from sales.
Bill Gienapp
4
Posted 09/06/2022 at 00:49:25
Agreed Tony (3). This is very much a "walk before you can run" type signing. It's not particularly sexy, and it won't take us to the Champion's League, but it will provide consistency and dependability, which are qualities we're very much in need of.
Neil Cremin
5
Posted 09/06/2022 at 06:10:24
This is a good signing.
He is competitive, has a bit of nastiness, and is a leader – exactly what we need in defence. I think we bought the wrong centre-back from Burnley when we bought Keane.
Everton need to build a team of tough competitive players and this is a great start. Next, we need a creative midfielder.
Those who are moaning about buying a player from a relegated club should remember that Pickford was signed from relegated Sunderland.
Gary Jones
6
Posted 09/06/2022 at 07:15:38
100% need clever trading like this this year. Another year of a virtual zero net spend, and we could be going into the stadium with FFP chains off and ripe for significant new investment. Hopefully that's part of the new 'strategic' plan.
Whilst I think Tarkowski is a downgrade on Mina, he's absolutely not a downgrade though when he's available for 2-3 times the number of games per year (touch wood!). His leadership alongside Keane, Holgate or Branthwaite could be critical, and allow Coleman to hand over to Patterson more as well.
If Richarlison really is off, we have Gordon as a ready-made replacement on the left, so re-investing in players like Gallagher and Sangare or Paulinho could really sort midfield too. With Simms and Dobbin coming in to replace some of the goals.
That'd put us just needing strength in depth, which would lead to a much more chilled approach to loans like Broja or Gilmore or Loftus-Cheek.
Darryl Ritchie
7
Posted 09/06/2022 at 07:16:38
The best player on a mediocre Burnley side. Too good for them… time will tell if he is good enough for the Blues.
If Mina goes, he will be needed!
Neil Cremin
8
Posted 09/06/2022 at 07:46:30
Darryl,
By that logic, you seem to be implying that Everton were not mediocre.
Considering defence statistics, the mediocre Burnley conceded 53 goals whereas the non-mediocre Everton conceded 66 goals.
We need to get real with our expectations and Tarkowski is certainly an improvement.
Steve Shave
9
Posted 09/06/2022 at 08:08:29
I've said it on another thread but will repeat myself here and say although it is an underwhelming signing (I said that about Gray and Townsend and they both proved me wrong), it's likely to be good business.
That said, I do not think we have space for him and Keane in a team (unless we are planning on becoming the low block specialists of the league) so I would like to see Keane and Mina (sob) shifted and a young, high potential centre-back with pace to come in, someone like Cameron-Vickers.
I see there are more rumours of Richarlison going, I think it's time unless he is going to sign a new contract. Chelsea are being mentioned in the press, if they have genuine interest I can see us plundering them for players in return, hopefully using Gallagher as a loan makeweight. The players we should be looking at are Broja, Gallagher, Gilmour and possibly the young centre-back who was on loan at Huddersfield last season.
Broja need only come in if we are looking to shift Calvert-Lewin as well, though in my eyes we would be crazy to let both Calvert-Lewin and Richarlison go this summer. Broja would be an able replacement though. Interesting times, I want to see some young, unpolished gems from abroad (i.e. MLS and South America) to come in as squad fillers too.
Another option we should be considering is Grillitsch on a free from Hoffenheim. Austrian international who can play central defensive midfielder and also across the back. He would not only potentially fill in at the back if needed (saving us millions in signing a back-up centre-back) but play that No 6 we need. He is gritty, determined and an excellent passer of the ball. He was superb last season in the Bundesliga.
Mark Ryan
10
Posted 09/06/2022 at 08:13:01
A good solid performer. Would be a good addition to improve our team.
Sam Hoare
11
Posted 09/06/2022 at 08:31:40
Steve @9,
I believe Grillitsch is close to signing a contract with Fiorentina sadly. Would have been a useful and sensible move for us.
After Tarkowski, who I think will be a solid player for us, I don't imagine we'll do any more business till July.
The biggest need is a really good central defensive midfielder who can hit the ground running. And a replacement for Richarlison or Calvert-Lewin if either or both should leave.
I'd be surprised to see Gallagher come. Chances are that Chelsea wanna keep him and if they do sell it probably won't be for less than £30M, not sure we'll spend that much on any one player this summer. A loan (with purchase option) for Billy Gilmour is probably more likely though he hardly convinced at Norwich.

Frank Sheppard
12
Posted 09/06/2022 at 08:40:28
Looks like a good sensible acquisition to me.
Alan J Thompson
13
Posted 09/06/2022 at 08:57:18
With the five central defenders that we have, then this raises the question of how many will be leaving as the rumours of how much he has been offered and now a medical seem to back up each other.
First training session with Richarlison might be interesting.
Mick O'Malley
14
Posted 09/06/2022 at 09:02:09
Good solid experienced centre half who has only missed about half-a-dozen games since he has been at Burnley, he has represented England.
I reckon he'll be a really good centre-half for us, he has been the mainstay in a usually solid Burnley defence. Good signing on a free
Tommy Carter
15
Posted 09/06/2022 at 09:16:10
If he is joining, that gives us Him, Mina, Keane, Holgate, Godfrey, Branthwaite – who are all players whose preferred position is centre-back. Therefore, it is obvious at least one of those will be leaving.
It wouldn't surprise me if we bought another centre-back, sold two, and put Branthwaite out on loan.
I cannot see Frank playing Keane and Tarkowski as a centre-back pairing in a back four. It seems possible that he is preparing for a 3 at the back system maybe, with Godfrey in alongside Tarkowski and possibly one other.
Which then makes the full-back positions more fluid as they obviously become wing-backs. I'm not sure he'd play Mykolenko as a left-sided defender so you'd assume that he will adopt the left-wingback role. This is an interesting one for me as I see Mykolenko as more of an orthodox full-back who is foremost a defender who is decent at getting forward but is no way a creative wingback.
This then also makes the job of replacing Seamus Coleman more flexible, as it may put less defensive burden upon an emerging Patterson who has strong attacking instincts but lacks experience and some physicality. It also gives Frank the option to sign or try other right-sided players who can play this role.
It will be interesting to see what he does. Especially given that you'd assume Tarkowski will now be the first defender on the team sheet – and he has been played almost exclusively as part of a centre-back pairing in a back 4.
Eddie Dunn
16
Posted 09/06/2022 at 09:28:58
Not sad to see Mina go as he has been a let-down with his injuries and his keenness to give everything to his national side to the detriment of Everton. Tarkowski is better than any of our other centre-backs and will hopefully give us more leadership.
I notice Lacazette has rejoined Lyon, so we could see the departure of Calvert-Lewin. Once he has gone, we will have money to go for Gallagher or Gilmour. The former for me, but there will be some stiff competition.

Christopher Timmins
17
Posted 09/06/2022 at 09:54:03
Eddie #16,
I have to agree with you on the Mina scenario, his body is just not up to it and Tarkowski is better than what we have.
If both Mina and Keane are sold and we take one of our new midfield recruits on loan, will it not be possible to finance the purchase of the other without having to sell Calvert-Lewin?
If we do end up with a player on loan, let's hope we have the option to buy at the end of the loan period.
John Chambers
18
Posted 09/06/2022 at 10:00:26
Given the financial constraints we have this seems a good deal to me. If we view him as a Mina replacement we will, hopefully, get somebody who can play 30 times a season not 10, we will get an inflow of say £15m and the wage bill reduced by a couple of million.
With a bit of luck we might also see him clattering, sorry I mean tackling, Salah, Diaz, Jota and all just like he did Richy 😉😉
Pat Kelly
19
Posted 09/06/2022 at 10:01:50
Anyone who pays £15m for Mina, plus a significant salary, needs their head examined. We'll do well to shift him for anything remotely close to that. His only reliable attribute is that he can be found in the treatment room.
Anthony Dove
20
Posted 09/06/2022 at 11:18:38
He will be 30 in November so the reported 4-year deal is a worry. Shades of Ashley Williams?
Dave Abrahams
21
Posted 09/06/2022 at 11:41:01
Anthony (20), yes that four deal at possibly £6M a year looks like a worry until you look at Mina's deal at around the same wages and £28M transfer fee so the worry is eased for me especially when you look at both players time on the field over the last few seasons.
John Raftery
22
Posted 09/06/2022 at 12:21:39
Without doubt we need to strengthen our defence with a commanding centre back comfortable defending higher up the pitch, available for the majority of matches and on a salary compatible with our financial position. Is Tarkowski that player?
Reportedly he wanted £100k per week. Given our straitened circumstances that seems very high for a defender with two international caps in 2018 and none since. He has been deployed in a Burnley team accustomed to playing with a deep defensive set-up with strong penalty box defending. That would be fine if Lampard was planning to follow suit but his media comments suggest he isn't. Will Tarkowski be able to adjust?
On a positive note, the player's appearance record is very good. In each of the last 4 years, he has made at least 35 Premier League appearances per season.
Sometimes the least-heralded signings turn out to be the best. I hope that proves to be the case with Tarkowski.
Lee Courtliff
23
Posted 09/06/2022 at 12:27:51
I find it hard to believe someone will pay us millions for Keane when they could have Tarkowski on a free. They're basically the same player.
On top of that, I also struggle to see a club giving us a decent fee for Mina, given his injuries. Knowing our luck, we'll be stuck with both Keane and Mina and Yerry will suddenly become injury free for the entire season. This means we'll be paying Tarkowski £100k per week to sit on the bench!
Still, he is a decent defender and gives us a better chance of improving our awful defending at set-pieces.
Matthew Williams
24
Posted 09/06/2022 at 12:37:06
A very shrewd signing for me, he will add some much-needed grit at the heart of our defence and seems always to be fit to play... and we need a new Captain as well!
More like the above please...
Denis Richardson
26
Posted 09/06/2022 at 12:40:58
Good solid signing if he comes. Tough centre-back with plenty of experience. Not going to set the world alight but, as noted, we're in a rebuilding phase and just need to set up a stable team.
I hope Mina is sold, he's just not reliable enough. Any money for him would be a bonus and Tarkowksi (I hope anyways) will be on lower wages than Minas £120k/week if he comes.
If the above happens, it's sensible business and also good to see we may be doing some early business.
I'd also look to sell Keane to raise funds for other areas.
Jim Jennings
27
Posted 09/06/2022 at 12:55:16
Good business to clear out Mina (if true) because, as influential as he is when he plays, he's simply injured too often. That has been offset by giving a massive signing-on fee and wages to Ashley Williams Mk II.
Lester Yip
28
Posted 09/06/2022 at 12:56:52
Mina will be sold as it is the last year of his contract. The question is: At what price?
There would be takers for sure. He's quality. Not too old. Someone would take a gamble (like us when we purchased Delph for £10M).
What about Lewis Gibson? Doesn't seem like he's got much game time when loaned out. So he will be sold?
To give Branthwaite more game time, either Holgate or Keane should be sold as well if there are takers.
Tar, Godfrey, Branthwaite, Holgate or Keane as centre-back.
Frank Crewe
29
Posted 09/06/2022 at 13:48:43
When Leicester won the PL they had Robert Huth who was 31 and Wes Morgan who didn't play his first PL game until he was 30 as their first choice CB's. Neither of them were particularly pacey but they were determined, aggresive, powerful and experienced. Tarkowski is in his prime at 29. He has plenty of PL experience. He has the qualities we need to put some leadership and organisation into the centre of our defence. Plus he appears to be a lot more resilient and less prone to injury than Mina. Finally as he is a free transfer. It's a no brainer.
Obviously this means one or maybe two of our current CB's will have to be moved on. Mina is on the transfer list and I suspect at least one other, possibly Holgate will be allowed to leave.
Justin Doone
30
Posted 09/06/2022 at 14:34:44
Tarkowski can't believe his luck. A mega pay increase as a result of underperforming for Burnley.
We are targeting the same 'ok' but very limited squad players instead of looking for upgrades to our poor injury prone defenders.
I'll take 17th position next season right now.
Fran Mitchell
31
Posted 09/06/2022 at 14:45:41
A good solid signing.
Branthwaite clearly needs a year on loan in the Championship. Mina is on his way. None of Keane, Godfrey, or Holgate have been reliable and I reckon at least one will leave.
Tarkowski is a solid defender. We were woeful, absolutely woeful on set-pieces last season. This should improve us there.
He will bring with him leadership also.
We don't need Hollywood signings.
This is a 'Moyes' type signing that made us the 6th best team in the league 10 years ago.
I expect another defender will arrive on top of this, and that is a good thing. Sell Keane and Mina, bring in Tarkowski and another.
Our target is 10th, maybe 8th, not 6t/4th. And this guy is free. He fits the bill.
Tommy Carter
32
Posted 09/06/2022 at 15:02:55
@31 Fran
I'd say it is more of a Walter Smith type signing than a Moyesie.
Moyes purposely did not sign older players for the most part.
Tarkowski is the same age that Alan Stubbs was signing for Everton in 2001 on a free transfer.
And although I don't like to compare players generally, and the club over varying generations - the one thing I can draw from this is that Stubbsy managed to play about 4/5 years before he was finished.
Raymond Fox
33
Posted 09/06/2022 at 15:28:27
He comes free which is a plus, I suppose it depends how much he is getting a week.
I cant say I know much of his ability but he seemed to get good press when at Burnley.
Overall put me down as a for, he is experienced and should be a good addition to the squad.
Now we could do with a class creative midfielder.
Our Icelander is still out on bail allegedly, its almost 12 months since he was arrested, its a long time to be left in limbo.
Anthony Dove
34
Posted 09/06/2022 at 15:46:05
Raymond@33.It's a disgrace that no charges have yet been made. Innocent till proved guilty but the Club and
most supporters reached their verdict on day one.

Robert Tressell
35
Posted 09/06/2022 at 15:52:18
Whatever the position our Icelander is out of contract this month so he's not really our Icelander any more.
Neil Cremin
36
Posted 09/06/2022 at 15:57:32
Justin
By what measure did he underperform at Burnley
Who do you think we should target, VVD or bring John Stones back.
We need to realise that we are no longer able to attract top players either because we are not playing European football, don't have the money or the jury is still out on where we will be next season.
At the moment we need aggressive players and start building a team hard to beat. Tarkowsky fits that bill. if Frank is successful, we can go to the next level and seek better players.
We do not want a repeat of last season
Paul Hewitt
37
Posted 09/06/2022 at 16:29:48
Lee @23. I can't agree that they are the same type of player. Tarkowski is a solid stick-your-head-in, not-frightened-to-get-hurt defender. Keane is scared of his own shadow.
Mike Gaynes
38
Posted 09/06/2022 at 16:35:22
Paul #37, that's pure crapola.
Keane played much of a season on a foot so badly infected he risked losing it, and he never said a word publicly about it despite taking loud abuse for his lack of pace.
And when he fractured his skull, he missed only four games, and the first thing he did on his return was stick his head in for a heavily contested ball. And he never bailed on a single header.
Criticizing his football is legitimate. Criticizing his courage is bullshit.
Sam Hoare
39
Posted 09/06/2022 at 16:59:19
Mike, I agree. Keane is not lacking in bravery. Though he does sometimes lack in confidence. He hesitates at times unsure whether to come or go. He's a very decent defender, especially in a deep line but I'm not sure how much he backs himself.
Tarkowsky feels more sure of himself in general. And I think we need that. For a team with eyes on mid table and needing some more consistency in defense (whilst on a tight budget) he seems a very sensible first signing to me, though I'd always prefer someone with a bit more pace (oh for a young Joseph Yobo).
Paul Hewitt
40
Posted 09/06/2022 at 17:00:35
Mike I've never seen a more frightened footballer in my life on the pitch. He easily gets out muscled and rarely gets stuck in. But that's only my opinion.
Danny O'Neill
41
Posted 09/06/2022 at 17:16:41
We only went and started the Michael Keane conversation. If Jay (BRZ) was still active he'd be giving me a good ignoring to and skimmed passed this straight away!
It's not his commitment or his courage. It's his lack of anticipation and reading of the game. His regular ability to switch off and watch the ball go over his head. Only he doesn't have the powers of recovery that other defenders can rely on when that happens.
He's too nice and not a leader. But that doesn't mean he lacks courage. And he is a decent defender too when he is confident and concentrating.
Scares the shit out of me though. But so do quite a few of our players.
Mike Hayes
42
Posted 09/06/2022 at 17:42:53
Goodison News via Google reporting it's a 4 year deal for a 29 year old proving that nothing has changed at Everton, sign them old on long contracts, pay a fortune in wages with no resale value - can't wait for next years apology if next season goes tits up. Fingers crossed it's a decent signing and we get a few more in and the deadwood out ASAP!
Mike Gaynes
43
Posted 09/06/2022 at 17:51:41
Sam, that's a perfectly legit criticism, but as Danny says, lack of anticipation does not equal lack of courage. The guy wins more than 60% of his 1-on-1 challenges, both in the air and on the ground. He never backs off.
Tarkowski will bring the desperately needed leadership that Keane cannot provide, and a better reading of the game. But anyone who thinks he is faster than Keane or can play higher up the pitch is going to be disappointed.
Rob Halligan
44
Posted 09/06/2022 at 18:36:05
Mike,
For the season just gone, Michael Keane ranked 7th for the number of interceptions. He managed 62 interceptions throughout the season.
James Tarkowski only ranked 17th, with 49 interceptions. Maybe Keane is a better reader of the game than Tarkowski after all?
Robert Leigh
45
Posted 09/06/2022 at 19:01:38
Consistency is key. Oh for the days of a continuous back five we all knew would play 28-30 games together:
Howard, Coleman, Jagielka, Distin, Baines.
Could that now be:
Pickford, Coleman, Tarkowski, Godfrey, Mykolenko
We'll see – but certainly heartening to think that might be the case.
As for getting a central defensive midfielder who can play immediately, one might say we have one coming back in Gbamin who played hundreds of minutes for CSKA Moscow. I know, but maybe worth pressuring him preseason to see if it'll save us £40M…
Rob Halligan
46
Posted 09/06/2022 at 19:20:08
Robert # 45.
Will Coleman still have the legs for another Premier League season?
Hopefully he does as he has been an outstanding servant, but it may be time for Nathan Patterson to stake his claim to a place in the starting eleven.
Jason Hewly
47
Posted 09/06/2022 at 19:24:53
We need reinforcements throughout the spine. On a free, it's worth a go. My only concerns would be his wages and that his head isn't very aerodynamic.
Robert Tressell
48
Posted 09/06/2022 at 19:38:20
A few years ago we'd have paid £25M for this profile of player. Free is good. As we saw with Townsend and Gray, cheap un-glamorous players can make a very valuable contribution.
Howeger, whether he's really any better than Keane or Holgate remains to be seen. Hopefully he is. He is certainly more violent and I say that as something in his favour. I'm not sure if that violence or aggression is what people are seeing as leadership – or whether they think he's an organiser. We certainly lack an organiser.
Otherwise, not entirely sure what style we'll play or who his partner will be. Hopefully it is a back 4 – but I wouldn't be surprised if he's paired with Holgate ahead of Branthwaite and Godfrey and Keane.
Jack Convery
49
Posted 09/06/2022 at 19:44:13
I reckon he'll be the middle of a 3. Holgate, Tarkowski and Godfrey.
Danny O'Neill
50
Posted 09/06/2022 at 19:57:11
It seems the manager prefers a back 3, so needs to find the right formula because we can't do it with what we have now.
The only thing that concerns me is we need 3 in the midfield. So 3-5-2 could work with rhe right players, but I get the impression that Lampard tends to lean towards 3-4-3, which leaves us open. I don't like that formation at all.
I'm making a pledge to myself and the dogs this summer. I'm just going to let what will be will be and wait for August.
Tommy Carter
51
Posted 09/06/2022 at 20:11:59
@41 Dan
What happened to Jay (BRZ)?
@48 Robert. You are slightly correct in that we'd be prepared to overspend on such a player a couple of years ago. Only Tarkowski is wanted by a couple of clubs
Nobody in their right mind was prepared to spend £45M on Sigurdsson. We battled with no other club to get him. Just like there wasn't a queue of clubs who were waiting to spend £20M+ on Michael Keane.
This insane outfit we're going as high as £60M and beyond for Wilf Zaha – thankfully Palace never accepted our highest offer. Good player and certainly better than most of what we had but the money was crazy and guess what - nobody else remotely in the running willing to spend anywhere near that kind of money for him.
Ben King
52
Posted 09/06/2022 at 20:18:43
Robert #45
Distin was crap. Bottled the big moments (witness the back pass in the semi final v Liverpool that Suarez put away when we were comfortable. Or when he brought down the attacker in the European game in the area earning a penalty AND a red card….he could have brought him down out of the area OR Let the guy score but the red and pen cost us the tie)
Distin was a complete urban myth
Lescott was x10 better: a goal scoring threat and could play in the middle or the left. But the way he exited Goodison has caused fans much amnesia. Lescott put a prime Ferando Torres in his pocket ahead of our cup win v Liverpool when Dan Gosling scored.
Tommy Carter
53
Posted 09/06/2022 at 20:34:21
Ben @52,
I couldn't agree more. Distin couldn't lace the boots of Lescott. Comfortably the better player and probably one of the best centre-backs to have played for the club.
Distin had exceptional physical attributes that very often got him out of the trouble he'd cause himself through poor positioning or reading of the game and often a poor touch.
The crowd around me used to love his last-ditch sliding powerhouse tackles near the corner flags. Everyone except for me as I sat there thinking that the opposition now have a corner from a phase of play he should've snuffed out before it even became a problem.
Robert Tressell
54
Posted 09/06/2022 at 20:37:22
Jack @ 49. You might well be right but I do hope not.
The players operate best in 4-3-3 / 4-2-3-1. Tarkowski is not, alas, Rudiger and will not change that.

Danny O'Neill
55
Posted 09/06/2022 at 20:39:24
Lescott was a very good defender, Ben. Obviously for many Evertonians tainted by the manner in which the move away worked out but you can't deny the ability. I often wonder though, did he switch off after the move and getting the medal so didn't realise his true potential? He seemed laid back and I'm a stickler for dress code. I never liked his.
I wouldn't go as far to say Distin was crap; that would reinvoke a debate between me and my brother.
Back to Lescott. Forget that semi-final moment. You've just reminded of more injustice when Spit the Carragher wrestled Lescott to the ground and it got waved away.
I'm trying to stay calm this summer. I've promised Everton won't dominate my life.
I've been promising that for nearly 30 years of marriage.
Denis Richardson
56
Posted 09/06/2022 at 20:45:20
Ben 52 - bit harsh on old Sylvain.
Every player makes mistakes at times and defenders and GKs obviously pay the price more. For me Distin a really good signing and most of the time put in a sold performance. He had pace, was left footed and formed a decent partnership in the middle.]
Had to refresh my memory on the Sporting red card but can see he was voted players player of the season that year so can't have done a bad job!
Little harsh to summarise his 5 or 6 years with us in those two mistakes. Also, wasn't the Liverpool mistake after a crap pass from Rodwell?
Robert Tressell
58
Posted 09/06/2022 at 21:41:30
Tommy @ 51, a few clubs are in for Tarkowski precisely because he is free.
There would be no interest in him at £25M. Including from us.
Paul Birmingham
59
Posted 09/06/2022 at 22:02:00
Ben, whilst I respect your opinion, in my view Buzz, wasn't crap.
What's your basis, as crap implies crap, from the start to the end of his Everton career.
Every player who's played football for EFC, has had a crap game.
I agree his mistake in the semi in 2012, but that team he was part of pre 2009, 2012, was the best team of Moyes era.
There's been far worse players and 8n context of crap CBS for Everton in recent times, Glenn Keeley, and Per Kroldrup, were well and truly crap, CBs, for Everton.
Sam Hoare
61
Posted 09/06/2022 at 22:41:50
Robert @48,
It's interesting reading Burnley fans on Tarkowski. The vast majority seem to think he is/was a notable upgrade on Keane. Let's hope they're right.
Mike Gaynes
62
Posted 09/06/2022 at 22:50:35
Rob #44,
Keane does read and anticipate passes very well -- you've seen him step up and make those interceptions.
But he isn't even close to Tarkowski on anticipating and marking runs by opposing players, reacting to them and winning the ball. Not just the eyeball test but the stats show it.
Tark wins 69% of his tackle attempts, Keane 54%.
This season, Tarkowski won a whopping 50% more one-on-one duels overall than Keane, both on the ground (241 to 156) and in the air (153 to 97), despite playing only three more games than Keane.
Tarkowski won 70% of those duels this season. Keane won 62%.
Tarkowski is simply, clearly the better player.
Robert Tressell
63
Posted 09/06/2022 at 22:50:53
Sam, that's encouraging. I'll be interested in his passing and organising skills when I see him in blue. But it'll be a pleasure watching him chop Salah in half as he did with Richarlison.
Robert Leigh
64
Posted 10/06/2022 at 09:22:00
Blimey – didn't mean to start a Distin debate! For what it's worth, I thought he was a good addition, but not quite up to Lescott's standard...
More relevant is we signed Distin when he was in his early 30s, and he went on to play several hundred games for us so was very good value.
Dave Abrahams
65
Posted 10/06/2022 at 10:10:30
Robert (69),
I liked Distin, he made a few mistakes, including the one at Wembley versus Liverpool, same as most players make mistakes. But overall, I preferred him to Lescott who was a good centre-back and scored plenty of goals for the Blues.
Those goals increased his popularity with fans but didn't make him a better centre-back than Distin, in my opinion.
Phil Lewis
66
Posted 10/06/2022 at 11:41:29
I confess that I haven't seen much of Tarkowski, but financially he is a realistic signing. Of what I have seen, he seems to have one attribute that we clearly lack, which is an ability to clear threats in the air from set-pieces. For that reason alone, I would sign him.
Mina is injury-prone and the subject of transfer speculation. Branthwaite is still very much learning his trade. The other three central defenders at our disposal, are at best erratic. So, taking all of these points into consideration, Tarkowski should prove good for us.
Just as important to our defensive set-up is a midfield player capable of providing cover for the back line. Gbamin returns to us a wholly unknown quantity, perhaps this is a role he could fill?
Otherwise, there is nobody who has shown any sort of consistency in that position. Allan, Delph, Gomes, Davies, and Doucouré, have all lacked for one reason or another.
It looks as if Richarlison is set to leave. I sincerely hope Calvert-Lewin dosen't follow suit. At his best, with the correct service, Calvert-Lewin is an excellent striker.
I'm certain to cause mayhem here by saying that Gordon is not the person to provide that service, for the simple reason that he is not alert enough to be on the same wavelength as Calvert-Lewin. I do believe though that Gray is. An injury-free spell could see their double act flourish.
Lampard has much work ahead in pre-season. It is a daunting task to fall on his relatively young managerial shoulders. I hope he is up to the task and that he is given at least three seasons to prove his worth.
Anthony Murphy
67
Posted 10/06/2022 at 12:39:55
If, as expected, we sign Tarkowski and sell Mina, as expected, I think we still need another centre-back – especially if Lampard wants to play with 3 centre-backs at some point.
Sam Hoare
68
Posted 10/06/2022 at 13:10:02
Wolves close to signing Palhinha for £18M apparently. Probably the best DMC in Portugal last year. Talented player. Think he's decent value at that price and could do well for us. Think Andre Gomes but way, way better defensively.
We need a high quality DMC and I'd say he is one. Thought he'd be more expensive than that.
Peter Morgan
69
Posted 10/06/2022 at 16:19:45
If I'm not mistaken, Keane and Tarkowski played together at Burnley when we purchased the former. There is a good player in Keane but my how he has lacked confidence this past year or two.
Is Lampard seeing an opportunity to reunite a good defensive unit of yore to get more out of Keane. Perhaps Tarkowski could be the making of him? Just a thought and a hope!
Mike Gaynes
70
Posted 10/06/2022 at 16:38:56
Peter #76, not really. Tarkowski and Keane only started four games together, Burnley's final four games in the 2016-17 season. Tark was a seldom-used reserve behind Keane and Ben Mee that season. Mee was injured against ManU in April '17, a week after we destroyed them at Goodison, and Tark came on at halftime and finished out the last few games in Mee's place..
After Keane moved to us that summer, Tark and Mee became the starters, and have remained so to this day.
Mike Gaynes
71
Posted 11/06/2022 at 03:42:58
Another rumored Everton target is off the table. Carter-Vickers has signed with Celtic.
Danny O'Neill
72
Posted 11/06/2022 at 09:43:20
Tarkowski issuing a personal farewell to Burnley and Internet pictures already appearing of him in an Everton shirt...
Pat Kelly
73
Posted 16/06/2022 at 15:39:39
Will we see any signings before the takeover exploratory talks conclude?
Jack Convery
74
Posted 16/06/2022 at 17:46:59
I see the RS have agreed a fee of £4.5M for Aberdeen's young left back, whilst we paid £16M!!! on young Patterson. Kenwright again having his pants pulled down. No wonder we are screwed financially.
Justin Doone
75
Posted 16/06/2022 at 18:06:38
I hope, wish and dream that we will be a far better team next season but we will need far better midfield players coming in.
As far Tarkowski, I've nothing against him but he's no better than what we have apart from a better injury record.
And it's not my money, but to think he's now the highest paid player is another's idiotic move that will upset our already unsettled cart.
So far, it's a case of more of the same, overly expensive, mediocre player recruitment on a very expensive and long contract for a soon-to-be 30-year-old.
We clearly don't learn our lessons.
Ian Bennett
76
Posted 16/06/2022 at 18:36:29
Looks like West Ham are in for a centre half out of the French league, so I think that rules out Keane going there.
Michael Burke
77
Posted 16/06/2022 at 19:10:41
Jack, bit of a difference. We needed a replacement right back. They need a back up for Arnold. The lad just won't play many games.
Patterson is also an established(-ish) international. I'm excited by the potential of Patterson too.
Will Mabon
78
Posted 16/06/2022 at 19:16:36
So far, it's a case of more of the same, overly expensive, mediocre player recruitment on a very expensive and long contract for a soon-to-be 30-year-old.
Justin, it's been a while since our last overt player purchase screw-up, so why not?
Seriously though, whilst we've yet to see confirmation of the salary, these sign-on bonus and big-wage deals in lieu of transfer fees are not good. Nor the long contracts, as you say. A possible destabilizing effect within the squad and a tendency to trend wages even higher.
It's not so many years ago, I remember Harry Kane wanting £110/120k per week and going at it with Levy. Now, £100k per week-plus is becoming quite common. Nuts.
Robert Tressell
79
Posted 16/06/2022 at 19:28:22
We needed a new centre-back, now we've got one. He's not exactly Koulibaly but he's free and experienced. Not convinced he's materially better than Keane or Holgate but hope to be proved wrong.
We can now hopefully move on to rebuilding our awful midfield.

Will Mabon
80
Posted 16/06/2022 at 19:47:04
Robert, realistically, probably the best replacement for Mina effectively, in terms of being present and available without the injury woes. Not the same standard though, but we don't have huge choice.
Michael Williams
81
Posted 16/06/2022 at 21:00:05
Excited not at all. No one would have said this was an upgrade a year ago and it certainly is not now. We have added another big, slow CB who is not very good on the ball.
I also hope it's not true Tarkowski is due to make £120,000 a week. That would tie him with Ruben Dias of Man City and just pennies behind Kurt Zouma, in whose company he does not deserve to be in. I guess he gets more salary because he's on a free but he is now tied for 10th in wages in the Premier League for a centre-back. For reference Keane is at £65,000.
This strikes me as a lazy signing: "Hey look, Tarkowski's available. He's out of contract and he's a big boy who can clog up the middle. Let's pay him more than anyone else would and get this done. "Sounds good to me. Now let's get some lunch. I love lunch."
Brian Murray
82
Posted 16/06/2022 at 21:20:54
Michael. Regarding lazy signings or employees, it still runs right through the club and I hope at least for the third time of asking, this DoF would think and act outside the box. Maybe the planet is smaller than you think and gems don't exist anymore. Seems that way.
Will Mabon
83
Posted 16/06/2022 at 21:32:40
Michael,
This is the destabilizing effect I mentioned. Keane £65k/wk, Tarkowski £120/wk (if true). What does this mean – Tarkowski is more than 1.8 times the player Keane is? It's approaching double the money Keane is on. Is someone underpaid, or is someone overpaid?
There comes a point when you're all on a few mil a year that it becomes more about principle, whatever the transfer mechanics that led to the salary.
Brian,
I thought similar. One day we might see the tangible, measurable effect of an imaginative DoF, whether at our club or elsewhere.
John Pickles
84
Posted 16/06/2022 at 21:35:04
I saw the picture at the top and thought we'd signed Lee Evans.
Will Mabon
85
Posted 16/06/2022 at 21:35:38
John :)
Fran Mitchell
86
Posted 16/06/2022 at 21:37:44
Happy with this signing. Solid, decent and ready to go. His contract isn't 'long'. He's 29, as a central defender he's decent til at least 33/34. He's good enough for 8th which is our goal. And this coming season I'd say 12th wouldn't be a disappointment.
Our defence last season was absolutely woeful. Beyond belief woeful.
Getting at least one part of this sorted early doors is positive. A player available and willing and proven. He will improve us on set-pieces (17 goals conceded or so last season) and this is key
We can't afford to not improve this area. So that he was readily available and we pounced, good work.
I expect 1 more defender to be signed once Keane and/or Mina are sold
Ian Bennett
87
Posted 16/06/2022 at 21:42:31
Give him a chance.
I think we lost 10 games by one goal last season. So an alpha centre half can turn that around significantly in my view. It is the most important position on the pitch, and with an injured Mina we needed one.
Leading a Keane, Godfrey, Holgate, Branthwaite or put in with a Mina doesn't make us look so charitable.
Will Mabon
88
Posted 16/06/2022 at 21:45:06
Fran, it's not certian either of those will be sold. Having Tarkowski in this circumstance is not totally a bad thing - it is expensive though.
Tony Abrahams
89
Posted 16/06/2022 at 21:45:15
It's really despicable the amount of money that footballers earn nowadays. If Tarkowski earns £120 thousand a week, then his agent has obviously negotiated his client an absolutely fantastic signing-on fee?
There's no such thing as a free transfer anymore, and this is definitely why footballers benefit from running down their contracts. This is something I think Yerry Mina, and possibly even Richarlison, might also be looking to do, if Everton don't get rid of them this summer?
Peter Neilson
90
Posted 16/06/2022 at 21:53:50
When still at Chelsea, Frank was trying to sign Tarkowski. West Ham also had a £31M offer turned down. I'm pretty hopeful that he's more a Distin than a Williams type signing.
Jim Lloyd
91
Posted 16/06/2022 at 21:54:04
I think it's Mina, and possibly Keane who will be going.
Martin Mason
92
Posted 16/06/2022 at 22:06:27
Michael@81
I don't share your strange ultra negative view. I'd like to think that the club has done it's homework and see the exact role that Tarkowski will fill and how he'll interact with other players. This is the important thing not his absolute skill level.
Dale Self
93
Posted 16/06/2022 at 22:06:29
Will 83, it's what Tony 89 alludes to...Tark's weekly take is adjusted to capture his transfer value even though the transfer fee is zero. Bernard also had some "adjusted" weekly wage due to being out of contract when we signed him I believe.
Will Mabon
94
Posted 16/06/2022 at 22:07:17
Jim, it's an area we need to augment, so I hope we don't end up short. This is an expensive signing but may produce a workable central defence if no-one goes. If only Mina had healthy tendon where he seems to have glass...
Jim Lloyd
95
Posted 16/06/2022 at 22:17:48
Agreed Will. But I just look at Keane and think of all the mistakes he's made that have cost us games. Too right about Mina. Such a shame and maybe Keane can learn not to try to play the ball out but just get rid. Mind you, I think our management team will decide whether he can do the job or not, so I'm content to support them in what they do.
Will Mabon
96
Posted 16/06/2022 at 22:27:03
Dale, yes - it's "Market forces" as far as goes the business reality.
However, to have an (past?) England international on little over a half of the salary, it's perhaps not conducive to the best team spirit. Bernard was one of our highest earners but no way one of the highest contributors. It's become a scattergun approach, and I wonder how this plays out in the dressing room.
Will Mabon
97
Posted 16/06/2022 at 22:34:59
Jim. it's ironic, but Mina seemed to bring out the best in Keane, a settling influence.
Will Mabon
98
Posted 16/06/2022 at 22:35:03
Jim. it's ironic, but Mina seemed to bring out the best in Keane, a settling influence.
Dale Self
99
Posted 16/06/2022 at 22:44:06
Yes I agree with that Will and it is up to the club to communicate that the adjusted wages do not reflect a preference for one or a discounting of the other. These contracts are subject to cohort and market effects that do warp the true club valuation of the player. I guess I'm hoping most of those making good money are smart enough or have an agent's explanation to keep them from misinterpreting the relative compensation differences.
Good point on Mina and Keane by the way. true. I think those better performances had Keane on the left and Mina right whereas Keane usually played right when paired with Holgate.
Jim Lloyd
100
Posted 16/06/2022 at 22:47:44
It's just a shame Will, that Mina seems to have a permanent weakness that will breakdown for long periods. I 'm sure the club will have taken/will take, expert advice on the injury and take it from there. I think that Keane isn't a captain or a leader and you're right about Mina bringing out the best in him.
It might all come down to finances as to whether we can bring anyone else in other than the lad form Burnley.
I think the wages issue is just what we have to pay to get what is the best available to us. We desperately need a professional Centre Half and we would have to pay him what he was after. Lot's of if's here but if we sell Keane and Mina, then we might have the money to get another centre half in.

Justin Doone
101
Posted 17/06/2022 at 14:53:56
Clubs need to know their best players and top earners and everyone else should acknowledge that in a club's wage structure.
I understand free transfers getting a premium because of zero transfer fee, no issue with the principle. But they still should fit in the pay structure.
More importantly, wages need restructuring to reflect success. I thought this was the case and maybe it is but it's not often mentioned.
Example: Michael Keane is on £65k then an upgrade / free transfer premium may get £80k.
Plus £10k per clean sheet for defenders. £10k for team win. £1M bonus for winning a cup. £5M for winning the league. £2M for top 4. £1M for Top 6.
A realistic 10 wins and 10 clean sheets are avg £17k per week.
Not far off £100k with potential for more but reflects the teams performance, success and potential earnings.
Is our terrible financial position because we overpay basic salaries and easy bonuses?
Marc Hints
102
Posted 17/06/2022 at 20:47:52
James Tarkowski came 1st or 2nd in all stats last season, that's duels, tackles, clearances, headers won in the Premier League.
We should be very happy with this signing.
Brian Wilkinson
103
Posted 18/06/2022 at 16:56:01
Not sure if it just me, but he has an uncanny look of the Comedian Lee Evans.
Michael Williams
104
Posted 19/06/2022 at 00:49:37
This is the typical thinking of a lazy-thinking club: "James Tarkowski came 1st or 2nd in all stats last season, that's duels, tackles, clearances, headers won in the Premier League."
Let's ask ourselves why this could be. Is he talented? Well, he must be if he plays in the Premier League right? It could also be that Burnley is 19th in possession and all they did was sit back in two banks of four. Tarkowski was high in some of these stats because he had the most chances to get them.
Also, he was not near one or two in all those stats.
Don Alexander
105
Posted 19/06/2022 at 01:06:11
One of Lee Evans's best sketches was of him scuttering around a room with a very full fish-tank on his back.
With our defence, let's just hope Tarkowski has such talent... at pace of course.
Marc Hints
106
Posted 19/06/2022 at 07:48:46
Michael #104
What absolute nonsense of a post.
"Burnley is 19th in possession and all they did was sit back in two banks of four, Tarkowski was high in some of these stats because he had the most chances to get them."
That's the point! He still had to win those duels, tackles, headers, clearances etc. And won a lot of them!
Sam Hoare
107
Posted 19/06/2022 at 08:41:23
Michael,
Burnley's defensive approach may account in part for the number of duels, tackles etc won but less so for how well he does in the % of duels etc that he wins.
You'll also be pleased to know that his stats were arguably even more impressive at Brentford who played a very different style.
He's a real battler and, although I'd prefer us to buy defenders capable of playing a high line, I think he'll prove a fan favourite for his determination, leadership and narkiness!
Michael Williams
108
Posted 19/06/2022 at 17:10:30
For all those who think Tarkowski's absolute stat numbers are all you need to know. Burnley was 19th in possession and 3rd in allowing the most shots against. Of course a CB who plays a lot of games for that team is going to have tremendous amount of opportunities to block a shot, clear a header and make a tackle.
Tackles - Tarkowski ranks 32nd amongst all defenders in the EPL in percentage of tackles won against the dribble. That is not a recipe for playing a high line as someone else wrote. Yes he has a lot of tackles but the total number does not tell the whole story.
Aerial Duels - Amongst all defenders, Tarkowski ranks 21st in percentage of aerial duels won. Ben Mee is actually 15th. Yes Tarkowski lead the league aerial duels won but he had many. many more chances than everyone else.
Passing Completion % Amongst all defenders - 97th. Yes 96 defenders have a higher passing percentage than Tarkowski. Numbers 1-3 are LaPorte and Dias from Man City and Thiago Silva with Chelsea. Makes sense yes?
I'll let these stand here and editorialize below.
Ian Bennett
109
Posted 19/06/2022 at 17:21:27
The passing is irrelevant to a certain extent. If Tarkowski bangs it forward with his pass and it gets lost, nil possession.
Everton fanny about at the back, and them give it Pickford to punt long. The centre halves get a 100% passing %, but the team has done the same thing (perhaps just taking more risk of coughing it up).
He's not a Beckenbauer obviously, but he will he help reduce the amount of goals we concede and be available for most games. If so, he's an upgrade relative to what we had before hand.
I like Mina, but 14 games played last season is a joke. Top players cope with 60 games, yet our £100k wages and £27m transfer fee gets lest than a quarter of that.
Mike Gaynes
110
Posted 19/06/2022 at 17:23:59
Michael #108, good info... what's the source of your stats?
I would point out that Tarkowski won 69% of his tackle attempts and 70% of his overall duels last season, both up near the top of the league, and -- more to the point -- both way better than Michael Keane.
But I think it's obvious to everyone that his signing indicates Frank has no intention of playing a high line this season. Tarkowski lacks both the speed and the passing to make that work.
Steavey Buckley
111
Posted 19/06/2022 at 17:27:41
The jury is out on both Holgate and Godfrey being ready made centre halves, but they can both fill the full backs positions without a problem. But Tarkowski and Keane could make a good pairing as center halves, and Branthwaite will get better as he gets older and plays more games. As for Yerry Mine, what a great pity he keeps getting injured. He may have to leave and find somewhere else to apply is footballing talents.
Henrik Lyngsie
112
Posted 19/06/2022 at 18:13:52
Ian 109. Quite ironically my kids have given Michael Keane the nickname Beckenbauer a while ago. He certainly is no Beckenbauer either.
Tony Abrahams
113
Posted 19/06/2022 at 19:46:04
I'm not sure even the great German, could have scored the goal that Keane did, against Crystal Palace, though Henrik?
I wish Michael Keane could simplify his game, because when he plays on the front foot and attacks the ball, he's not to bad, but when he overthinks, and worries about what's in behind him, he alienates his best qualities, and often puts himself, and others in no man's land.
Football is dead easy watching from the stands, I know, but sometimes it's torture, especially watching players who very rarely go and play to their strengths.
Maybe Godfrey will really improve, playing with someone who takes command, and just goes and attacks the ball, especially because it'll help him utilize his pace, which is definitely one of his "obvious strengths?"
Lampard's biggest job, is trying to turn an ordinary squad, with a few good players, into a decent team, where the players work hard and hopefully compensate for each other.
Sam Hoare
114
Posted 19/06/2022 at 20:37:23
Michael@108, where are those stats from? They differ a fair bit from what I've seen.
Will Mabon
115
Posted 19/06/2022 at 21:13:25
Michael,
I too wonder where that info is from, and where Keane sits in the passing completion. During a period under Ancelotti, Keane held the highest number of passes in our team (perhaps understandable with all the short stuff around/across the back) but was second in percentage completion behind Rodriguez.
Ian Bennett
116
Posted 19/06/2022 at 21:28:06
No point having a centre half who can pass it "quite well", and then who shits the bed like Keane has done routinely over the last 4 years. He's cost how many managers to date?
Keane is 29, an England International with plenty of experience. He should be leading this defence. But I've not seen a player so flaky as him, and visiby drain in confidence from errors.
If you're a striker do you fear playing Michael Keane, or do you think yum, yum I am going to destroy this guy? Clue most say yum, yum...
Get rid to someone daft enough to want an English train crash.
Will Mabon
117
Posted 19/06/2022 at 21:46:02
Ian, I mostly agree.
Stats' are hugely-detailed and never-ending now (look into some of Opta's stuff) but still don't tell the whole story. I doubt they ever could. Interpretation.
Ironically there was a brief period where Keane did play with some confidence in terms of forward passing/attacking play. Remember that Beckenbauer-esque forward pass?
It's in there but there's not enough of it, it rarely comes out and it doesn't last.
Paul Kossoff
118
Posted 20/06/2022 at 00:46:13
£120 grand a week, and a signing-on fee, for a near 30-year-old (in November) who just helped his team get relegated. Very little skill, as most centre-halves, and no sell-on fee, what a surprise.
You telling me that the scouts at Everton couldn't get a better centre-back than him?
Brian Murray
119
Posted 20/06/2022 at 01:15:48
This harry winks rumour won't go away. Do our scouts just go by tabloids or do they actually scout. Let's hope this new coaching set up is better than this.
Phillip Warrington
120
Posted 20/06/2022 at 01:57:10
We just never learn.
We are now going to pay over-the-top wages for a player who is coming to the end of his career… £120k per week, for fuck's sake! If we can't find a defender under 24, that says a lot about our recruitment team. They need sacking.
I thought Frank was going to be a revolution… he is starting like all previous managers – grab whoever is on a free and pay them over-the-top wages. So much for the revolution – it's just going to be more of the same.
Gary Jones
121
Posted 20/06/2022 at 06:31:36
Paul # 118. Quick couple of questions:
1) How many goals did Burnley concede vs us?
2) What's his stats like?
3) How much of our zero capex spend should we have assigned to buying an alternative that was guaranteed to improve the back line?
4) Assuming you're okay with 3 being in place of bolstering a non-existent midfield?

Tony Everan
122
Posted 20/06/2022 at 07:41:46
Brian, The Harry Winks continuing rumours concern me too. 107 Premier League games in the last five years, 1 goal and two assists. Can anyone give a reason that this is a player we should be signing for our midfield?
Is he that much of an upgrade on Tom Davies or even Andre Gomes? Who'd be motivated enough to pay £15-20M for either of them and additionally give them a long lucrative contract ? He has had five or six years to become part of Tottenham's midfield and has never established himself.
Possibly Frank sees potential in him, and has confidence he can improve himself and make us play better. If so, I hope he's right, as we need a dynamic midfield and can't afford to carry any more ineffective journeymen.
Danny O'Neill
123
Posted 20/06/2022 at 07:54:17
I think our scouts definitely read the Daily Mirror to compile their database Brian! Probably as they are sat in the Bookies in-between popping to Wetherspoon's for a cheeky pint.
Hopefully our new DoF will change the structure and culture. I keep saying, I don't know why, but I have a gut feeling about him.
On the centre back, I can understand the feeling of being underwhelmed. My son tells me he's a Dyche defender, so not the type of defender I hoped for as it means we are likely to continue to sit deep. That both scares and frustrates me.
But he is welcomed to Everton by me. Hopefully he can solidify our leaky back line. Especially from set pieces. Sometimes you have to apply the plaster and stop the bleeding before you fix the wound properly.
I'm not concerned about age. 30 is a good age for a centre back and will bring experience and a wise head to what is otherwise a young and inexperienced back line.
Michael Keane is a similar age, but unfortunately, he's no leader and needs to be led. He plays like a young centre back, not someone approaching 30 himself.
I'd have preferred Koulibaly but let's be realistic as to where we are.
Welcome to Everton.
Jerome Shields
125
Posted 22/06/2022 at 21:46:31
£120, 000 per week. Mina has to go to make way. A centre-back who turns up would be a welcome addition, but £120, 000 per week sounds desperately steep.
Michael Williams
126
Posted 27/06/2022 at 20:47:01
Will and Sam:
Stats are from FBREF.com
From FBREF.COM click "Premier League."
Put Mouse on the "Squad and Player Stats" dropdown and click "Defensive Actions." Scroll down to "Player Defensive Actions."
There are also stats for many more actions.
Will Mabon
127
Posted 27/06/2022 at 21:55:08
Michael, thanks.
Not a bad site, very detailed though takes a little navigating. Comparison function is good. As said in the past, the interpretation is what it's all about, how it translates onto the pitch, what matters most in the circumstance, in a particular team, opposition and so on. Not easy...
---
Add Your Comments
In order to post a comment, you need to be logged in as a registered user of the site.
Or Sign up as a ToffeeWeb Member — it's free, takes just a few minutes and will allow you to post your comments on articles and Talking Points submissions across the site.