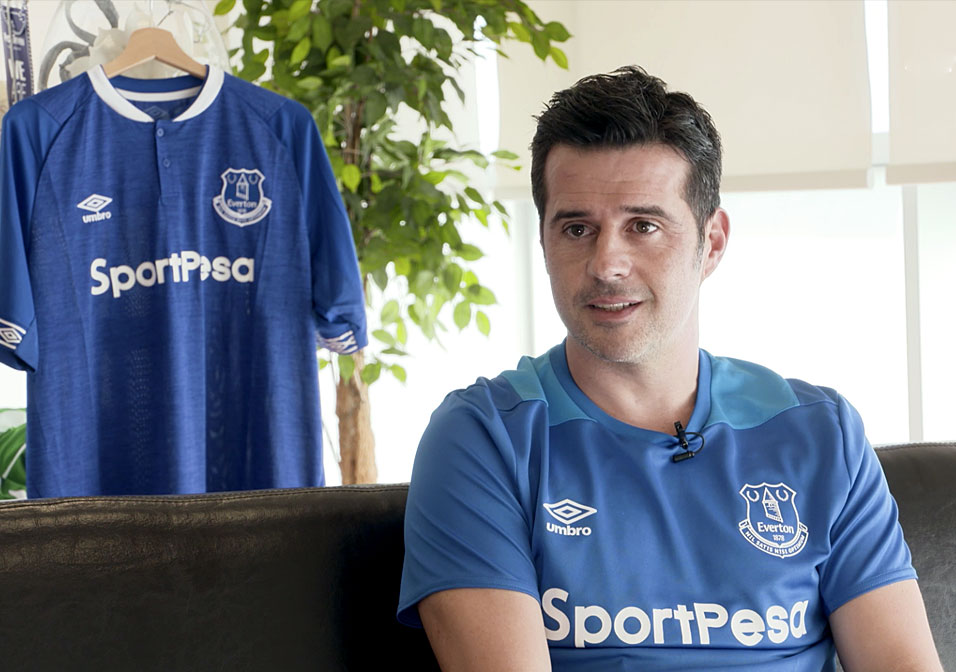 When Everton's board and then major shareholder Farhads Moshiri took the inevitable decision to sack Ronald Koeman in October 2017, less than two years into an ambitious and expensive project aimed at vaulting the Blues back into top-four contention, they turned their attentions to an ambitious, young manager who had made an impressive start to his fledgeling Premier League coaching career.
Having been brought to England by Hull City in January that year with the Humberside club seemingly doomed to relegation, Marco Silva came close to pulling off a miraculous escape with the Tigers and looked to be performing another similar feat of transformation at Watford in the early weeks of the 2017-18 campaign while Everton's form fell off a cliff, costing Koeman his job.
The Hornets had ascended as high as fourth place and were sixth when the Dutchman was dismissed from his post at Goodison Park but, having appointed eight managers in the space of nine years, the Hertfordshire club were determined not to let this one go, rebuffing increasing offers of compensation for Silva and forcing Moshiri to eventually turn to Sam Allardyce on an 18-month contract.
It's likely, given the ambitious scale of the Iranian-born billionaire's project at Everton, that he only envisaged Allardyce staying in his post for the remainder of the season and, once the formerly disgraced England boss had steered the Blues to an eighth-place finish, he was duly let go in mid-May 2018. Silva was installed as the new permanent boss on 31st May, signing a three-year contract, seven months after that first initial attempt to lure him away from Watford.
"I'm really proud to be the new Everton manager," Silva told evertontv at the time. "I'm excited and I'm really happy to take this big challenge for us as a club and for me as a manager.
"We have a lot of work to do in this next month and it is important to prepare everything in the right way. But there will be even more important work to do from the start of pre-season into the first Premier League match of next season.
"I know what our fans expect - they expect results but not only results. I want our fans to be proud when they see our team on the pitch. I want them to feel that we are committed, that we are working hard and enjoying our football because that is important as well.
"We want to build a great connection between the squad and the fans, and I'm sure that with our attitude and demands of commitment then our style of play will see that, I believe.
The acquisition of the Portuguese was the latest in a succession of changes at boardroom and team-management level following a hugely disappointing 2017-18 season, including the significant appointment of Marcel Brands as the club's new Director of Football in place of Steve Walsh.
Silva brought with him a reputation for improving every team he had managed and experience of managing in the Premier League from those two short stints at Hull and Watford after attracting attention for his exploits as a young coach on the Continent.
Between the time he hung up his playing boots in 2011 to take up the managerial reins at Estoril Praia and his departure from Olympiakos in 2016, Silva had emerged as one of the fastest-rising young managers in the European game.
Originally hired in a director of football role by Estorlil, he quickly shifted to the position of manager with the small Portuguese club who were10th in that country's second tier at the time. With a run of just three defeats in the remaining 24 matches of the campaign, Estoril won the division as champions under Silva and gained promotion to the Primera Liga.
The following season, Silva steered Estoril to fifth place and qualification for the Europa League for the first time in their history and eventually left the club in 2014 having gone one better with a fourth-place finish and attracted the attention of domestic giants Sporting. Incidentally, Estoril were relegated back to the second division this season.
He would spend just one season at Estádio José Alvalade where he guided the Lions to third place before being dismissed just days after landing the Taca de Portugal, their first piece of silverware in seven years, apparently because he refused to wear an official club suit in an earlier round of the competition.
He was snapped up by Olympiakos that summer to replace his compatriot Vítor Pereira where, again, he would only spend a year but not without notching some more impressive achievements. He led the Greek club to the title by a league record 30 point margin winning 28 of their 30 league games which included a 17-match winning streak, another record.
Silva was the surprise choice to whom Hull turned in January 2017 when they needed a miracle to escape relegation from the Premier League. The Tigers were rock bottom with just 13 points from 20 games when he arrived, far away from safety. They ended the season with 34 points, eventually falling short of what would have been an incredible escape from relegation while also reaching the League Cup semi-final, but the young Portuguese had done enough to convince Watford to make him their latest manager that May after he had stepped down at the KCOM Stadium.
With a quarter of the 2017-18 campaign complete in October, Watford were sixth in the table and looking capable of finishing in the top seven and, perhaps, claiming the final European berth that Burnley eventually did.
However, Everton's overt approach for Silva following Koeman's sacking has been blamed by the Hornets' hierarchy for the collapse in Watford's form in the ensuing following weeks. Just one win in 11 matches was enough for the Hertfordshire club to dismiss him after 24 league games and lodge a formal complaint with the Premier League accusing the Blues of "tapping" their former manager up.
The legal wranglings between the two clubs would run well into Silva's first season in charge at Goodison Park before being resolved in a compensation settlement while the Portuguese and his staff set about the task of stabilising the team and improving on the previous season under Koeman and Allardyce.
The initial signs were very promsing. After dropping points from winning positions in frustrating fashion in their early fixtures, the Blues appeared to have found their rhythm, with new signing Richarlison making a flying start to life at his new club, loan acquisition Andre Gomes finally avaialble after recovering from a pre-season hamstring innjury, and Gylfi Sigurdsson now starting to justify the huge investment Everton had made in him the year before the club were putting together a run of good results heading into December.
A stoppage-time calamity in the Merseyside derby at Anfield in which goalkeeper Jordan Pickford gifted Divock Origi an undeserved winner proved to be a key moment that would derail Everton's season for the next three months. The Blues' form collapsed with Silva's men picking up just three wins from the next 13 Premier League games while also exiting the FA Cup in humiliating fashion at Millwall.
It wasn't until after the league campaign reached it's nadir with three successive defeats and then a 17-day break without a game in the middle of February that Silva was able to get the season back on an even keel and begin sowing the seeds of optimism for the following season.
Everton would finish the season with a run of two losses in the final 11 games, beat Chelsea, Arsenal and Manchester United handily at Goodison Park and keep clean sheets in eight of those matches. The club would again finish eighth but what might have appeared from the outside to be a lack of tangible progress belied huge strides forward taken that had the potential to provide a solid platform for Silva's second season in charge.