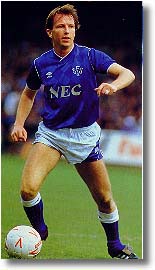 £300,000 was a considerable transfer fee for a 19-year-old footballer in 1983. Nevertheless, the 19-year-old in question was a player of considerable talent and potential – Trevor Steven, a quiet north-easterner who had been impressing Howard Kendall for two years at Burnley before the Everton boss finally took the plunge and signed him.

The attributes Kendall liked in the young winger were the kind of pace and ball control that could leave defenders floundering and a powerful shot. Unfortunately Steven seemed overawed at first by Division One and his form dipped in the early part of his first season with Everton. Not surprisingly, he was dropped for a spell during the winter months, but returned to the side a different player.

As Everton revived in the spring of 1984, Steven, along with fellow winter absentee Peter Reid, made a telling contribution to the triumphant FA Cup campaign. His was the cross which Andy Gray buried to make the score 2-0 in the Final, and finish off a spirited Watford challenge.

The following season, with Steven now obviously settled into the side, the midfield four of him, Reid, Paul Bracewell and Kevin Sheedy set about supplying Andy Gray and Graeme Sharp with copious ammunition as Everton blazed their way to the League Championship and European Cup-Winners' Cup. It was a double which so nearly became a treble, but a tired Everton side was denied a uniquely successful season by Norman Whiteside's extra-time FA Cup winner for Manchester United.

Steven preferred the right wing, but was effective down either flank and indeed capable enough to deputise as a striker, as he did in the first leg of the Cup-Winners' Cup semi-final v. Bayern Munich in Germany. Most of his games were played in front of his near-namesake Gary Stevens, with whom he had an almost telepathic understanding down the Everton right, the pair almost interchangeable at right-back and right midfield. So much so, in fact, that in 1989, Steven joined Stevens at Glasgow Rangers where his ambitions of European football could be fulfilled. He took that ambition a stage further soon after that by joining another England colleague, Chris Waddle, at Marseille.