Jose Baxter
37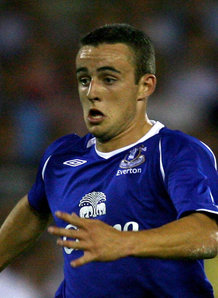 Squad numbers
37, 59
Position
Midfielder
Joined on
1 January 2008
Joined from
Youth Academy
Transfer fee
No fee
Debut
(Sub)
v Blackburn (H)
16 August 2008
Debut
(Full)
v West Brom (A)
23 August 2008
Contract duration
2 + 2 years
Contract expired
June 2012
Finalé
v Man City (H)
31 Jan 2012
Left Everton

16 July 2012

Destination
Free Agent
Transfer Fee

No Fee

Rejoined on
1 July 2017
Rejoined from
Free Agent
Transfer fee
No fee
Contract duration
1 year
Contract expired
June 2018
Left Everton

30 May 2018

Destination
Oldham Athletic
Transfer Fee

No Fee

Born
Liverpool
Date of birth
7 February 1992
Height
5 ft 10 in (1.78 m)
Honours
England Juniors
As teenage prospects went, Jose Baxter was as promising as any Everton's Academy had produced over the preceding decade.
As a 15-year-old, Baxter finished top scorer in the Milk Cup and was regarded at the time by then Everton Youth Academy director Ray Hall as a much better player than Rooney was at the same age. He broke youth goalscoring records at International youth level and those of Rooney, Rush and Owen at club youth level.
He also secured himself sponsorship from Nike, had represented Everton Under-8s at the age of 14, England Under-17s at the age of 14 and was hyped as the best prospect in the North West and even England at the time, courted by Manchester Utd and Chelsea.
Certainly one to watch out for, he started the 2007-08 season well for Everton Under-18s, scoring 4 goals in 3 matches.
After impressing at youth level, in reserves, and in pre-season the following season, Baxter was a surprise substitute in the season-opener against Blackburn, and was given his full debut a week later at West Brom. However, an injury ruled him out until into the New Year, when he started to reappear in Reserves line-ups and made the subs' bench for a handful of Premier League games as well as an unused sub in the 2009 FA Cup Final.
Though the boyhood Liverpool fan started to feature more in the bench for Everton after that, opportunities were at a premium, despite increasing injury problems in David Moyes's struggling team.
And off the pitch, and young Jose got himself into some serious trouble, getting arrested on drugs charges that did not, fortunately, result in any serious conviction.
Despite this, his services were retained and he eventually got another chance in Athens on a wet night in December. He also started the final Europa League group game against BATE Borisov but was not too impressive. After that, opportunities were few and far between as the walking wounded returned to the fray and things turned around for Everton with the New Year of 2010. Jose went back to the Reserves and Academy teams, only getting one more senior chance, 5 mins at the end of the home game against Fulham near the end of the season.
Surely 2010-11 would be Baxter's breakthrough season... but no, it wasn't to be. Surprisingly, he was not one to be loaned out, although a torn hamstring kept him out of action for a few weeks near the end of the season. He had a good stint in the Reserves and must have thought he had done enough to earn his chance to impress David Moyes, getting to sit on the subs bench 17 times... but he only got called upon once, a pointless and useless late replacement for Phil Neville in the last 2 minutes of the embarrassing FA Cup defeat to Reading that saw any chance of a trophy disappear.
He was loaned out to Tranmere Rovers for much of the 2011-12 season where he scored three times in 14 appearances, before returning to the Everton bench and getting 12 mins or so against Man City in the spring of 2012 and apparently doing enough to earn a new 2-year contract which he was expected to sign... but he didn't and was released to become a free agent in July 2012, with rumours that Crystal Palace were interested in signing him.
He would eventually join Oldham Athletic for a season, scoring 15 goals before moving to Sheffield United for three years
Problems with drugs would come to haunt him, however; he failed a drug test in 2015 (ecstasy) and was given a 5-month ban (3 suspended) before testing positive for cocaine in February 2016; he was banned for a year, missing the entire 2016-17 season, his career in tatters.
A return home
But Everton would step up, allowing Baxter to work with Everton in the Community while he was banned and, in January 2017, announcing they would give him a 12-month contract with the U23s, with David Unsworth convinced the Blues could help to get the lad's football career back on track, despite the repeated drug problems:
"As soon as he comes through the gates ... he will be treated just like an U23 player and we work very, very hard.
"It's important to say it will not be a first-team contract [financially]. He will be given the same opportunities as everyone else. If that means he moves on to a Championship club or a League One club later on, that will be down to Jose.
"We want to help because that is the sort of club we are. He is one of our own, but I have said to Jose, in no uncertain terms, that his is your last chance."
An injury setback prevented him from playing any part in pre-season games but he would come on as a second-half sub in Everton U23s' second Premier League 2 game of the new season.
David Unsworth commented on his progress in February 2018:
"When he came to us, he broke down three times with muscle injuries which is not normal but it was understandable considering the length of time he'd been out.
"We've had to tread really carefully with him and he's now at the stage where he's coming on for half-an-hour in games or affecting games so we'll look to give him more minutes under his belt and his performances will determine if he goes anywhere else in the summer.
"He's on the right track, there's still a couple of months to go in the season.
"I've had a lot of phone calls about him asking the question about what happens in the summer but that is up to Jose and we've tried to help him, we have helped him and he's been a pleasure to work with."
Baxter appeared in a handful of U23 games through the 2017-18 season, and took the opportunity to rejoin Oldham at the end of May 2018.
Seemingly having used the chance to take stock with Everton's support, Baxter returned to rebuild his career with Oldham. He signed a one-year deal with the Latics, with the option to extend it by another season if all goes well for him at Boundary Park.
Everton Career
Season
Squad
Number
League
Apps (sub)
League
Goals
Cup
Apps (sub)
Cup
Goals
Total
Apps (sub)
Total
Goals
2008-09

37

1 (2)

0

0 (1)

0

1 (3)

0

2009-10

37

0 (2)

0

1 (4)

0

1 (6)

0

2010-11

37

0 (0)

0

0 (1)

0

0 (1)

0

2011-12

37

0 (1)

0

0 (1)

0

0 (2)

0

2017-18

59

0 (0)

0

0 (0)

0

0 (0)

0

Totals

1 (5)

0

1 (7)

0

2 (12)

0
Loan Spells
Period
Club
Appearances (sub)
Goals
Sep-Oct 2011
Tranmere Rovers
14 (0) & 1 (0)
3 & 0
Academy Record
Season
Team
Appearances (sub)
Goals
2005-06
U-18s
0 (0)
0
2006-07
U-18s
4 (5)
2
2007-08
U-18s, Yth Cup & Res
21 (2), 1 (0) & 0 (1)
6, 0 & 0
2008-09
U-18s & Res
3 (0) & 11 (1)
0 & 0
2009-10
U-18s & Res
10 (0) & 15 (0)
7 & 2
2010-11
U-18s & Res
1 (0) & 14 (0)
1 & 5
2011-12
Res
14 (0)
6
2017-18
U-23s
4 (3) & 2 (3)
0 & 0