EVERTON PAST PLAYER PROFILES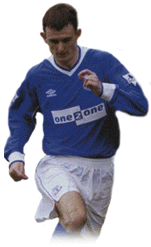 <
Squad No.
11
Joined
1 Sep 2003
Transfer Fee
On Loan from Arsenal
Signed by
David Moyes
2nd Debut
(Sub)
v Newcastle Utd (h)
13 Sep 2003
2nd Debut
(Full)
v Southampton (h)
19 Oct 2003
Loan;
Expired
One Season;
1 June 2004
Last
Final�
v Wolves (a)
1 May 2004
Left
Everton
to rejoin Arsenal
17 May 2004
Born
Liverpool
Date of birth
25 January 1981
Height
5' - 10" (178 cm)
Nicknames
Franny, Jug-Ears
Honours
England (1 cap)
STRENGTHS
Maturity? Apparently not...
An Evertonian
A nose for goals
WEAKNESSES
Those glass ankles
.. and that bad attitude

The prodigal son returned... And hopefully to a vastly different Everton FC. When Francis Jeffers left Everton in 2001 under a cloud of bad feeling, the root cause was Walter Smith and Archie Knox. Two years later and those men were now gone, a new regime in place that would hopefully inspire Frannie to reach the pinnacle he was surely capable of — and a pinnacle he had had first-hand experience of at Arsenal.

It was interesting to see the kind of reception meted out to Jeffers when he pulled on the Royal Blue shirt again. Some Evertonians spat bile when the lad had the temerity to actually score against the Toffees 18 months earlier while playing for Arsenal, and — sin of sins — daring to celebrate his goal in front of the travelling Blues.

We were assured, of course, that all his injury problems were a thing of the past (cough!)... Oh dear God, we prayed that this was not going to be a reworking of the Ferguson saga...

Well, the script was tampered with. After his return to Everton, albeit on loan, Franny had a hell of a time getting any decent run of form together, and as for scoring goals Everton so desperately needed... forget it. He scored his first goal back to save a dying FA Cup tie against Fulham, in February 2004 — that's how bad and ineffective his return had been. Speculation was rife that he would be returning to Arsenal in the summer...

Then he got injured again — this time it was his back — and missed a golden opportunity to step in when both Ferguson and Rooney were suspended against Newcastle. He did at least make the subs bench for the next game, with Ferguson and Rooney still suspended, but David Moyes finally made the sensible decision to start McFadden up front, and what a difference his running made.

Every Evertonian loved it... except Franny Jeffers, who supposedly had words with Manager Moyes after the game about why he wasn't in the starting line-up, apparently resulting in some kind of dramatic bust-up that saw the two at loggerheads. After being told to "prepare yousrself" for the game, Franny went 'ballistic'with Moyes for being left on the bench, yelling,"You can stick your shirt up your arse. I don't want to play for you ever again."
Jeffers was reportedly given a chance to rescind what he had said but apparently was firm that he would not play for Moyes again, leaving Everton with no option but to send him packing, even though the rules of a season-long loan mean his registration remained with Everton until 1 June 2004... and we no doubt had to keep paying him his wedge!

Jeffers soon saw the error of his ways and apologized to Moyes. He got another brief chance to impress on the field... and failed yet again. It was no surprise when David Moyes elected to reject the generous option of converting his loan deal into a permanent one.

A sad end to a true blue Evertonian's association with the Club. Given his earlier spats with Smith and then Wegner, it would appear the problem lies with Franny and a bad attitude, although the spin will obviously be spun on his side to show he was treated unfairly.

In truth, he was given plenty of opportunities to shine, and failed most of them. It took him six months and 15 games to finally score, in the FA Cup ties against Fulham — something he never managed in the Premiership.

It's a pity that it didn't work out. No doubt Jeffers will feel that Moyes did not treat him fairly and never gave him a decent chance, but the record seems to suggest otherwise...

Jeffers was not wanted at Arsenal and moved to Charlton for £2.6M soon after his return to bright lights of London. At Charlton, his career hardly reached the heights, with just four starts (more as a sub) and only two league goals for his troubles.
In 2005 he went out on loan to Rangers for four months... and played barely a handfull of games. Charlton allowed him to go to Blackburn on a free transfer in 2006 and that included another loan to Ipswich in 2007 before he ended up at Sheffield Wednesday. He played there for three seasons before being released in May 2010.
He subsequnetly ended up at Motherwell in the Scottish Premier League.

See also Jeffers's previous ToffeeWeb Factfile

and

Why didn't Francis Jeffers fulfil his Undoubted Potential?
Full Everton Career

Season

Squad
Number

League
Apps (sub)

League
Goals

Cup
Apps (sub)

Cup
Goals

Total
Apps (sub)

Total
Goals

1997-98

34

0 (1)

0

0 (0)

0

0 (1)

0

1998-99

34

11 (4)

6

2 (0)

1

13 (4)

7

1999-2k

16 (5)

6

4 (3)

0

20 (8)

6

2000-01

14

10 (2)

6

2 (0)

1

12 (2)

7

2003-04

11*

5 (12)

0

1 (3)

2

6 (15)

2

Totals

42 (24)

18

9 (6)

4

51 (30)

22

* On loan from Arsenal for Season 2003-04
Previous Career

Seasons

Club

Apps

Goals

1995-2001

Everton

37(12) & 8(3)

18 & 2

2001-2003

Arsenal

4(18) & 9(8)

4 & 4