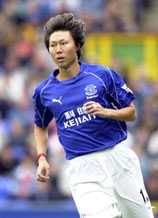 Squad No.
12
Joined
August 2002
Transfer Fee
£1.2M?
Signed by
David Moyes
Debut
v Spurs (h)
17 August 2002
Contract; Expired
Four years;
June 2006
Finalé
v Arsenal (H)
7 January 2004
Left
Everton
Released
8 May 2006
Later joined
Sheffield United
Born

Liaoning

, China
Date of birth

18 May 1977

Height

183 cm

Nicknames
Kung Fu
Honours
80 Caps for China
STRENGTHS
Plenty of pace, two footed, technically good and gets stuck in physically.
Nice touch
Passing can be excellent
WEAKNESSES
Fails to impose himself
Gets caught out of position
Fails to get in the box enough
Has a poor shot
Doesn't score enough goals
Passing can be erratic

Despite his discipline problems, Li Tie was one of China national team coach Bora Milutinovic's most favoured players. The defensive midfielder broke into the team in 1998 and was impressive in China's qualification to their first ever World Cup finals. The C-League's Most Valuable Player (MVP) for 2001 was linked to a number of top European clubs and the 2002 World Cup gave him a chance to shine.

His initial loan deal with Everton was tied in with the Kejian shirt sponsorship, yet Everton would get only £700k in hard cash and the rest of the £300k used on paying the loan fee (£210k) and salary for the player. Liaoning had stalled on the deal, insisting on the loan fee to be £250k. Everton also wanted Li to report to the club before 18 July 2002. Liaoning finally gave in to Everton on the loan fee but in return managed to keep Li Tie for their last 2 fixtures.

Everton got a very good deal compared to Man City, who also tapped into the China market but paid much more for signing Sun Jihai. Spurs are also moving along the direction by looking at Qi Bo.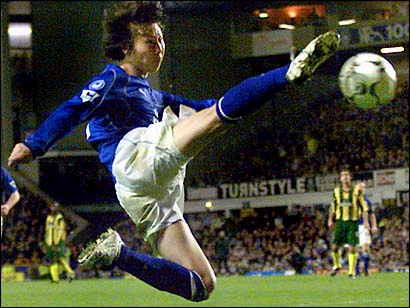 Li Li Tie (pronounced Lee T'ja) is expeted to be a quality player with the potential to succeed in the Premier League. Compared to what Everton had in the midfield position he was way better than Gemmill, Carsley and Pembridge. His playing style was very much like Tobias Linderoth, in that he liked to patrol the midfield area and play an anchor role.

They were not entirely similar though, as Tie had a little bit more speed, a larger work area, and was more involved in attacking play. Linderoth, on the other hand, was a better defender, ball-winner, and at starting attacks when having won the ball. Tie could also be a bit naive defensively, especially inside and around the penalty box. What they both had in common was strong positional and tactical play.

His first season at Everton (2002-03) must go down as a success — and quite a surprise to the cynical element who expected him to be merely a commercial make-weight — but David Moyes felt he ran out of steam (just as the team itself lost focus and energy) in the tough run-in that proved to be Everton's undoing. Realistically, he might never be quite good enough to hold a place down in a top-six midfield – and that is where Everton had to aim.

A permanent deal was finally agreed in August 2003 after months of negotiation, with Moyes playing hardball in a game of chicken as to who needed whom more. Everton finally won out with a three-year deal that maybe involves as little as £600k going to the Chinese club, with a real estate company in Guangdong possibly involved. There were rumours that the deal was completely financed by outside parties, which would represent an even bigger coup for David Moyes.

But the new season started badly for Li Tie, sent off after just 12 mins from coming on as a sub at Arsenal and picking up two yellow cards for two silly challenges. Then he hurt his foot and missed a few more games.... then he went back to China to train with the national squad... and fractured his shin in training! Out for the rest of the dismal 2003-04 season.

And it proved to be a very long recovery period for Li Tie. He did not return to full training until October 2004. He got fit enough to play at International level for his native China on numerous occasions but he never played for Everton again.
In March of 2006, it was decided he needed another operation, which put paid to any chances of a return for the 2005-06 season, and his contract expired, leaving him as another Everton crock who was, remarkably, quite able to play for China! So much for all the hype about the Southeast Asian market... [Does the club still maintain its Chinese website???]
Wishing to remain in the Premiership, Li Tie finally secured a contract with newcomers Sheffield United, and could well be seen a few more times at Goodison Park..
Last Updated by Michael Kenrick, July 2006