View from the Blue
Columnist: Lyndon Lloyd
Opportunity knocked
3 August, 2005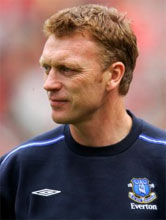 David Moyes: is support waning for the manager after a frustrating summer?
There is a fair degree of frustration among Evertonians at the moment, feelings that are manifesting themselves in a number of loose nuts on the wheels of the In-Moyes-We-Trust bandwagon. While the so-called "doom mongers" — i.e. anyone who dares raise a critical voice and question why, after entering the close season with such high optimism, the grand plan seems to have gone so awry — are now accused of knee-jerk reactions, the truth is that what is being expressed now are thoughts and emotions that have been building slowly over the course of a disappointing summer and, with a succession of transfer disappointments, were simmering under the surface just waiting for a catalyst.
That catalyst was the 5-0 defeat at the hands of Fenerbahce on Saturday. True, it was only a friendly and valuable if only as a rather frightening preview of what lies ahead in the Champions League, but, coming on the back of a massively underwhelming pre-season, fans could be forgiven for feeling fearful of not only embarrassment in Europe but also a long, hard struggle in the Premiership this coming season.
Do we really have any right to feel so frustrated? After all, we're constantly reminded of the fact that we started last season as favourites for relegation, our qualilfication for the Champions League was miraculous and that we have no right to expect much more than a top-ten finish in 2005/6. Another top-half finish would be progress after years of battling at the wrong end of the table.
The great dilemma is that Everton fans are caught between two conflicting schools of thought. The first holds that you don't turn perennial bottom feeders into a top-four side overnight and by trying to do so you risk repeating the disastrous mistakes made by Ipswich Town and Leeds United (the former's Premiership form suffered as a result of their involvement in the Uefa Cup because their squad wasn't deep enough; the latter spent too much chasing the Champions League dream and were sunk by enormous salaries to the point where they nearly disappeared as a club altogether).
The second suggests that in the current footballing climate, you have to take opportunities to take the great leap forward when they arrive; no hesitation. Chelsea proved pre-Abramovich that with the right investment, you could take a club from mid-table obscurity (as they were before 1996/7) to top-six regulars and cup challengers within a season. Everton, armed this summer with a £30m war chest for transfer fees and wages and with European football and the Manager of the Year as attractions, had the opportunity to transform themselves into a real force in the English game on the back of last season's unbelievable achievement. Rather than be viewed as a fluke, our fourth-placed finish should have been regarded as a once-in-lifetime shot at pulling ourselves back into the big time.
Of course, that is not to say that David Moyes and the Everton Board didn't initially go after that opportunity with sufficient purpose and ambition. The money has obviously been made available and the manager clearly had his transfer targets this summer. Had he secured the services of Parker, Sissoko and Moretti, and had Mikael Forssell been deemed fit enough to meet the club's new standards, he would have the makings of a very good side capable of holding its own in Europe and good enough to make a genuine attempt at repeating last season's lofty finish.
The reality, though, is that having failed to land all the players he earmarked before the close season the manager appears out of ideas and bereft of alternatives. While Moyes's transfer strategy for the close season had the look of a genuine stab at making some headway in the Champions League, his side is, unfortunately, now geared more towards trying to replicate the miracle of last season than entering both the league and European campaigns as a genuine force.
That viewpoint may not be received well in some quarters but I don't see any point in sugar-coating it. The painful fact of the matter is that Everton do not appear ready for the Champions League; far from it. It's a situation encapsulated by this week's reports that we are "sweating" — to use the media's term — on the fitness of Lee Carsley for a Champions League qualifier. Without wanting to denigrate Carsley's contribution to last season's wonderful achievement in any way, the reality is that a team hoping to be challenging the big boys on two fronts should not be relying on a player of Carsley's calibre as a first-choice option in central midfield — which he would be if Moyes opts for 4-5-1. Irish international or not, I imagine that Lee himself would be the first to admit that he is no Makalele or Vieira.
Elsewhere in the team we have no reliable or viable back up for a 39 year-old goalkeeper. Players whom many of us hoped we had seen the back of at left back remain our only choice in that position. Instead of solving the ongoing lack of a driving force in midfield, we have just two good-quality players in the form of Tim Cahill and Mikel Arteta but with Li Tie and Leon Osman — reasonable squad players but, again, not Continental class — as cover. On the left, we will be relying on Kevin Kilbane to destroy the best of Europe's full-backs. Up front, we have a player with enormous heart but too few goals in the form of Marcus Bent, a player who can't translate his success at international level to any kind of consistency in the Premiership in James McFadden, a 33 year-old who can't play 90 minutes with any regularity in Duncan Ferguson, and a £6m misfit whose attempts to prove his worth have been utterly undermined by the five-man midfield system.
Any sort of injury crisis in what remains a ridiculously small squad and you can toss any talk of progress in this season's Champions League, repeat qualification next season, and most likely any kind of European contention out the window. Last season, we were fortunate that none of Newcastle, Aston Villa, Tottenham, Middlesbrough or Liverpool could translate their vastly superior resources into a decent Premiership campaign. We can surely count on the pieces falling into place for at least one of those teams — and don't forget Charlton and Bolton — this coming campaign which, given the clear superiority of the top three, leaves Everton on the fringes looking in, another Champions League adventure surely beyond our reach.
Don't get me wrong. With a backbone of Martyn, Kroldrup, Yobo, Arteta, Cahill, Davies and Beattie, Moyes has the foundation for a very good side but we shouldn't delude ourselves by dismissing the fact that this summer has been a massive opportunity to transform the team missed. The reasons for this would appear to be varied.
With all the talk of "Dithering Davie", the Board have largely escaped criticism this summer simply because the money has been made available for team building. Of course, it shouldn't be forgotten that Everton are now in the healthiest financial position they have been in for almost a decade simply because of Moyes and the achievements of his team last season. It's certainly not down to the endeavours of the custodians of our club, not because of the Fortress Sports Fund (isn't it amazing how that scandalous deception can just be swept under the rug of Champions League excitement?) or any of Paul Gregg's supposed investors, but because of increased revenue earned on the pitch by the heroes of last season.
Since Bill Kenwright and his consortium took over five-and-a-half years ago, next to nothing has come into the club by way of outside investment and that means that the club is still not able to consistently match the investment and financial resources of some of our closer rivals (e.g. Newcastle, Tottenham and Middlesbrough) who can afford to pay big transfer fees and inflated salaries. That lack of ready cash has left Everton found wanting when agents have worked the market by leaking impending deals and playing clubs off each other — the Mohamed Sissoko situation is a classic example where the Goodison hierarchy were accused of dithering but, in actual fact, may have been victims of the player's agent's games.
Ironically, it's Moyes who is being cagey when it comes to spending the fruits of his labour. It is common knowledge that the Board had sanctioned a pay package in the region of £45,000 for Scott Parker and rumour has it that the player had accepted the terms and was all set to sign until his agent demanded an extra £1m for himself for closing the deal. Moyes refused and Parker ended up at Newcastle.
It's an attitude that, we are led to believe, extended to quite a few proposed deals this summer and word has spread that Moyes plays hardball when it comes to making over-inflated surplus payments to agents. That means that Everton is not their first port of call when hawking their clients around Europe's top leagues. So, we're caught in the quandry of admiring Moyes for taking a stand against one of the most malignant cancers in the game while rueing the club's inability to sufficiently strengthen the squad in time for it's biggest cup tie in two decades, one that could be worth millions more should the Blues overcome Villarreal over two legs.
The same situation applies to the issue of players' wages. While Kenwright, in his desire to not be seen as the bad guy this summer — and also, as a Blue, wanting to see the club capitalise on a rare Champions League opportunity — has apparently been willing to relax the salary ceiling while it is Moyes who has set his own limits in this regard and refused to compromise. It was successful in persuading Mikel Arteta to lower his wage demands below the £30,000-a-week mark, but may have been a turn off to other potential signings.
There's a paradox here between agreeing with Moyes's pragmatic fiscal policy — it was right, for example, to end all interest in Emre when it became clear he wanted a jaw-dropping £65,000 a week — because there is no regular flow of inward investment and the frustration we have had to endure as transfer target after transfer target has passed us by because we are either not willing or not able to compete on a level financial playing field with the teams around us.
There are other factors at play here beyond economics, however, and they fall squarely on the shoulders of David Moyes and his managerial team. The first is the manager's hard-nosed position on discipline and the attitude of potential players which has fostered a preference for British players who are closer to the traditions of the domestic game. On the plus side, it is that stance that is heavily rumoured to have driven away Craig Bellamy, but it also presents two problems; namely that transfer fees for domestic-based players are vastly over-inflated and that it poses a significant obstacle to recruiting the kind of player that Everton are clearly missing in some key areas — the Continental-class flair player.
The second factor is, having missed out on his top transfer targets, Moyes has been left with few alternatives because of what we can only assume is Everton's poor scouting network. Blaming this summer's unusual market merely masks the fact that Moyes's knowledge of international players is not as broad as it needs to be, and he has admitted as such. The demands of Everton's pre-season have no doubt left him little time to expand those horizons and goes a long way to explaining why we're desparately trying to work a deal for Milan Baros, one of the few strikers left going in the Premiership that Moyes feels would improve the squad, less than 48 hours before the deadline for registrations ahead of the next Champions League qualifying round. Yet more transfer disappointment looming for the long-suffering Everton fan...
The net result of all of this is that, despite all the excitement, the hype and the promises that the club would be ready to capitalise on a historic opportunity, Everton will — barring any late scramble in the transfer market — be going into the two-legged tie with Villarreal with just three new additions to an already worryingly thin squad. Some fans have labelled it a joke that we should be contemplating a Champions League match against the third-best team in Spain without having added another recognisable goalscorer and a top-class midfield playmaker to compliment Mikel Arteta. (And that is not to mention again the embarrassing situation at left-back, the lack of creativity in left midfield and the fact that every time Nigel Martyn dives for a ball, Evertonians will have their hearts in the mouths hoping he doesn't get injured.) It's hard to argue with that sentiment.
The stone cold reality is that opportunity came knocking at Goodison Park this summer and we haven't answered the door. Some may point to misfortune, unscrupulous agents and the vile gazumping tactics of those no-marks at St James Park as the reasons for our transfer failings this close season, but inaction, hesitation and too narrow a focus have compounded the club's financial constraints and left Everton some way short of the position the long-suffering fans had hoped we would be in on the eve of our Champions League bow.
And who knows, maybe David Moyes's faith in the players that have got him this far is justified. Maybe they'll beat Villarreal and surprise all of Europe by qualifying for the group stage of the Champions League and continue this campaign of surmounting all the odds. But if they don't, if they are humbled by the Spaniards and tossed into the gruelling and less rewarding Uefa Cup, surely we have the right to question whether Everton as a whole did enough to grasp the fantastic opportunity laid before them to gatecrash the G-14 party and mark our return to the upper echelons of European foootball.
Lyndon Lloyd

©2005 ToffeeWeb