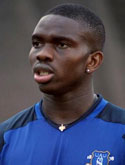 Joseph Yobo: will be sorely missed
A 4-1-4-1 formation (at home!) demonstrated Everton's dearth of attacking options, with Beattie leading the charge all by himself, Ferguson on the bench, and Bent off to join Darren at Charlton. But it was effective to keep Arsenal in their own half for the first 10 mins.
Arsenal's first attack so nearly bought a goal, Fabregas's cross exposing the Everton defence, Ljungberg's shot pushed onto the post by Martyn and Weir scrambled the ball away.
But a gorgeous ball over the square Arsenal defence from Cahill saw the opposite scoreline after just 13 mins as James Beattie did brilliantly to retain control with head and feet under pressure as he ran in on Lehman between two Arsenal defenders and slotted it nicely inside the post. Delirium!
Martyn was forced to save well with his foot from Fabregas as Arsenal tried to respond. A horrible high challenge by Lauren on Arteta merited only a warning from the referee. Everton were very buoyant and lively, and the crowd were responding well with plenty of vocal support.
But on 25 mins a dreadful, dreadful miss from Beattie, who did brilliantly to anticipate a poor backpass from Fabregas, his first-time poke well wide, when a composed striker would have knocked it down, got around the keeper, and scored. A woeful miss!
On 30 mins, more injury misery for Everton as Ferrari overstretched badly, ripping his groin or hamstring. An early return for Alan Stubbs, then, coming on to a warm reception from the Goodison crowd just a day after rejoining from Sunderland.
Everton were doing well, playing some adventurous if largely inelegant stuff and taking the challenge well to Arsenal, who were clearly unsettled, with Hibbert glommed on effectively to Reyes. Pires did get a look just before the break but his shot bobbled wide of Martyn's goal.
Beattie got the ball in the net but was ruled out for offside, which riled the striker to the point where he then dived in stupidly on Pires whose dramatic collapse caused the forward to be shown the yellow card. But Everton went in at half-time justifiably proud of their 1-0 lead.
Arsenal started the second half with a strong spell of attacking football, dominating possession, with Everton penned back in their own half. But few if any clear-cut chances were created as the new/old Everton defence stood firm.
Valente was booked for a strange defensive move that saw him diving in on Pires. On 65 mins a Cahill header off Arteta corner flew very close to the angle and he should really have done better given the space he took advantage of at the near post. Gilberto was booked on 70 mins for lunging in on Arteta, who was not having the best of games when it came to executing free-kicks.
Beattie was at times hanging too far back when Everton were attacking. On the whole, it was not particularly pretty, but Everton were holding the potential of Arsenal's glittering stars effectively and with brimming self-confidence. Beattie got a half-chance but Arsenal defenders where in quickly to block his effort.
Everton were forced into mass defence to protect their vital one-goal lead as the minutes ticked away. Arsenal looked desperate and scrappy, unable to play their normal game under a strong and determined presence in every department from a resilient Everton side, the five-man midfield having smothered Arsenal's normal creative prowess.
Good work by Beattie near the end as he tried to set up Cahill. At the other end, a Gilberto shot was untypically wide. Then something happened off the ball between Cahill and Fabregas, the Arsenal player being shown the red card for raising his arms at Cahill, who was booked. Unfortunately, it was his fifth yellow card, and he will miss the Chelsea 4th Round cup tie next week. Hibbert was also booked for dissent after the melee.
Reyes was then booked right at the end for a stupid challenge on Kilbane, adding to an excellent atmosphere as Arsenal could do nothing in the end but express their frustration at their own inability to overcome David Moyes's masterplan. A great, great win for Everton in their continued Premiership recovery — the fourth win in a row! It's been many a long year (okay, well, 3½) since Everton last managed that!
Michael Kenrick
---
The last time Everton beat Arsenal... well, we all know the circumstances behind our last victory over the Gunners. With one fine swing of his boot, Wayne Rooney turned the match on its head and exploded into the national consciousness. How far we have fallen then that despite last season's heroics, we have been reduced to scouring the bargain bins of Europe in a bid to add find viable partner for James Beattie. The £20m we received for the greatest home-grown talent in generations? Gone.
The departure of Marcus Bent, while necessary for both financial reasons and for the good of the squad, has left the Blues with just three recognised strikers, one when you consider that Duncan Ferguson is barely fit and James McFadden is regarded more as a midfielder by his manager and doesn't score goals often enough.
Not ideal when you are facing Arsenal, a team who have scored 13 goals against us in the last three meetings and hammered Middlesbrough 7-0 in their last Premiership outing.
Apart from the drubbing at the hands of Liverpool, Everton have done well against the best sides in the division this season and we can only hope they can pull off another resilient defensive stand to deny one of the best attacking sides around.
It will unquestionably be harder without Joseph Yobo, who left for African Nations Cup duty on Monday. The Nigerian has been a commanding force at the back this season and David Weir is, unfortunately, several shades poorer. But the Scot's experience will be important and he is expected to start alongside Matteo Ferrari despite receiving six stitches in a Nuno Valente-inflicted wound to the bridge of his nose during the cup replay with Millwall.
At the time of writing, it looks as though Alan Stubbs has swallowed his pride in order to keep playing in the Premiership and return to his boyhood club. Moyes will surely resist the temptation to reunite him with Weir straight away, though, particularly as Stubbs has only played 11 games for the worst team in the division this season.
In midfield, Simon Davies is a doubt after turning his ankle in the warm-up on Wednesday, so Moyes will likely leave things as they are there, with the wild card of which player gets to float between the middle and up front with Beattie. Tim Cahill started the Millwall game with that brief but Leon Osman, who matched Mikel Arteta for enterprise midweek, finished the match in the more advanced role.
As ever, Everton's biggest problem will be putting the ball into the back of the net. The team seems to be creating more chances these days and will hopefully take on board how effective a tactic getting balls in from the byline was on Wednesday. The reliance on plugging away with aerial balls and set-pieces probably won't cut it against a defence like Arsenal's.
Lyndon Lloyd
---
Shades of 2004-05. A clear gameplan and a determined, cohesive team performance helped to hustle Arsenal out of their stride and an impressively taken goal by James Beattie earned Everton their first win over the Gunners since the Wayne Rooney special 2½ years ago. Arséne Wenger had his head in his hands on more than one occasion as his charges had the passing game that had helped demolish Middlesbrough 7-0 at Highbury last weekend shut down by David Moyes's harry and chase strategy.
Indeed, Arsenal's frustrations at not being able to dictate the pattern of this game boiled over in the final minute when Cesc Fabregas grabbed Tim Cahill by the throat following the Australian's challenge on the ineffective Thierry Henry and earned a straight red card for his trouble.
Not surprisingly, Moyes named an unchanged line-up from that which started against Millwall in midweek. David Weir returned despite having to have six stitches sewn into the bridge of his nose to close an ugly wound inflicted by the wayward boot of Nuno Valente in the cup replay. His replacement that night, Per Krøldrup, had departed in the interim, ending one of the most mystifying and embarrassing transfers in the club's history, so Alan Stubbs, signed the day before after being released by Sunderland, took his place on the substitute's bench.
The pattern for this match was established early on. Everton, unbeaten in 2006 and bidding for a fourth successive league victory, were energetic, purposeful and unwilling to give their superior opponents an inch. In the first minute, Beattie forced a foul for obstruction off Senderos with a determined drive toward goal from the byline before being put through by a good ball from midfield, but his lack of acceleration allowed Arsenal's young debutant, Gilbert, to get back and close him out.
Three minutes later came a turning point in the game and a miraculous escape for the Blues. Gilbert got behind Valente and while his cross found Freddie Ljungberg arriving eight yards out, his shot was beaten onto the post by Martyn. Tony Hibbert threw his head at the rebound, David Weir's sliced clearance didn't make it out of the area and Fabregas fired the half-volley just wide.
A minute later, Everton were ahead. Tim Cahill lobbed a semi-hopeful ball over the top of the visitors' defence which Beattie met with a well-timed run and, after holding off two defenders with some neat close control, he slipped the ball past the on-rushing Jens Lehmann to make it 1-0. It was the kind of goal we see so rarely from Everton these days, the kind that we saw all the time when Kevin Campbell and Francis Jeffers were leading the line at Goodison.
Arsenal responded by visibly upping their own tempo and after a few slick passes, Fabregas easily evaded Weir on the left edge of the box but was denied when Martyn's out-stretched leg diverted his well-hit shot out for a corner.
Meanwhile, referee Alan Wiley was earning the unbridled ire of the home fans with a succession of poor decisions, 90% of which benefited Arsenal. A case in point was when the curiously subdued Mikel Arteta was pole-axed by a high foot by Lauren that ended with the Frenchman's studs in the Spaniard's thigh, the official merely gave him a talking to.
In the 25th minute it really should have been 2-0. A dreadful backpass by Fabregas landed straight at the feet of Beattie in an ocean of space but, rather than calmly take one touch to the right and rolling it past the 'keeper, he snatched at the chance with a half-hearted stab and it went well wide.
Everton's injury woes intensified five minutes later when Matteo Ferrari slipped awkwardly and was forced to retire from the game with an injury. It gave Stubbs an early chance to resume his partnership with Weir in the heart of the Blues' defence — for much of the rest of the game, it looked as though he'd never left.
It was to the home side's credit that Arsenal barely created a meaningful chance for the final hour of the match. Jose Atonio Reyes had a couple of long-range efforts that went harmlessly wide or were comfortably gathered by Martyn; likewise for Robert Pires and Henry.
At the other end, Beattie had the ball in the net on the stroke of half-time when he picked up a slide-rule pass and beat the offside trap, but the linesman, incorrectly, flagged him offside. The striker was denied a chance at close range with 25 minutes to go when Sol Campbell slid to clear a cross by the delightfully poised Leon Osman, with Cahill heading the resulting corner just wide. And Beattie had another goalbound effort deflected behind later on as the Blues continued to threaten.
All the while, the yellow card count escalated as Valente was booked for a foul on Reyes even though the linesman, standing three feet away, saw nothing wrong w th the Portuguese defender's challenge. Gilberto Silva's frustrations got the better of him as he scythed Cahill down, with the latter also picking up a yellow card for his role in the inury-time altercation with Fabregas. Hibbert found his way into the book as well for dissent as a crowd of players jostled to keep Cahill and Fabregas apart, and Reyes completed a busy afternoon for Wiley's pencil when he too was booked for tugging back Kevin Kilbane.
As usual, this was not the prettiest of displays by Everton but, given the squad's limitations, it was a perfectly executed gameplan that earns three vital points and prolongs what is going to prove a vital sequence of victories in the final reckoning. The concern is, of course, that the management's urgency in bringing in striking reinforcements will be further reduced when every place we can jump between now and May will mean precious funds for the coffers.
Pleasingly, Beattie compensated for his poor first touch and was not made to regret not making more of Fabregas' 25th-minute gift by taking his goal with enormous composure. Osman, his occasional strike partner, continued his rich vein of form with another enterprising performance that again exhibited his composure, balance, nimble feet and eye for the telling final ball. Under-rated for so long, it's nice to see Ossie finally fulfilling his promise.
The thought with which a display like this leaves you: imagine what Everton could be like with a pacey, reliable striker, another winger with genuine flair, and another centre back as commanding as Yobo? The club's current financial woes mean that we may never find out.
Player Ratings:
Martyn 7 — Did all that was asked of him, which wasn't much, and made two key saves
Hibbert 8 — You could argue that he gave Reyes a little too much room in the first half or pick on the woeful delivery from the one cross he was asked to make, but his tackling was faultless throughout
Weir 7 — A little shaky on occasion but made some vital interceptions in and around the area
Ferrari 7 — Another composed performance at the back until he was forced off with an injury after half a hour
Valente 7 — Still not entirely reliable and retains a frustrating phobia of the final third of the field, but he is improving all the time
Neville 7 —A little less conspicuous than usual but his contribution to disrupting Arsenal going forward was important
Arteta 7 —A strangely subdued performance by the Spaniard, probably due to being stuck out on the wing but still showed a number of fine moments
Cahill 7 — Busy and tenacious in the tackle. Probably unlucky to get booked late on.
Kilbane 6 — One of — if not the — least technically gifted player in the Everton ranks but his effort couldn't be faulted today
Osman 8 — Not much more to say. He overcomes his lack of physical stature with great footwork and movement
Beattie 8 — Perhaps the for the first time, he looked like he could play the lone striker role. Ran all day, took his goal well, but will be kicking himself for not burying his second clear chance

Stubbs 7 — Didn't put a foot wrong from where I was sitting
Ferguson — Wasn't really on long enough to make any impact
Lyndon Lloyd
---
Unlike the Premiership opener at home to Man Utd this season, we were well prepared for this one and set off in plenty of time. We met a mate who's an Arsenal fan – complete with Cockney mullet and fold away scarf - outside the box office and realised there was practically no clue so thought we'd get some Wigan tickets, only to be smugly told by one of the stewards "Wigan sold out mate". Gutted. At this we just went The Spellow for a few cheeky beers, with everyone predicting an Arsenal win.
As we expected when the teams ran out, it looked as though Everton were playing the 4-5-1 with no suprises by Moyes. As it turned out, Osman was deployed up top as a striker with Beattie for most of the game.
Everton battled hard and were up for it. Arsenal didn't battle and weren't. It wasn't even the Bolton – if it moves, kick it – tactic either. Everton were more tactful and tried to play football. They did so well. We allowed Arsenal no time whatsoever on the ball as Everton raised the tempo early doors.
We got are noses in front on around 15 minutes just after Arsenal really should have scored. A great piece of play found their stand in right back taking on Valente. He put in a low cross which Ljungberg latched onto and diverted goalwards. I thought he'd scored and would have done if not for a brilliant save by Martyn. It was then half cleared but only to Fabregas who was arriving like a steam train. He smashed it goalwards but fortuitously clipped the outside of the post and wide it went. Watching the replay on the big screen highlighted just how close Arsenal came, with Martyn's save pushing the ball onto the post and Hibbert making an excellent saving header inside his six yard box.
Moments later Everton were ahead. The ball came to Cahill in midfield. He dinked a lovely ball over the top of the Arsenal defence towards Beattie. Senderos hesitated, Beattie nabbed the ball. He still had so much to do, and somehow turned a 20/80 situation into a fantastic goal. He steamed through, held of Senderos, averted a late challenge from Campbell and poked the ball delicately past Lehmann. A brilliant goal.
For all his brilliance with that goal, there is simply no excuse or explanation for his miss a bit later in the half. Excellent harrying from Osman in particular forced Fabregas into a back pass. It was woefully short and Beattie was in. Lehmann was committed. All he had to do was take one touch round the keeper and slot it home. Instead he tried to be coy. He tried to clip it in with his left foot but the ball ended woefully wide. It was a miss so bad it had to be seen to be believed. Ste's crazy theory is that Beattie actually did us a massive favour here, as Everton may have sat back too much then and allowed Arsenal back into the game. I disagree however as in the second half in particular we could have done with the cushion of a second goal. Nevertheless, we didn't have one.
At the other end just one chance for Fabregas which was well beaten away by Martyn. The half drew to a close with the ref beginning to lose the plot and Beattie slotting another one in, only for it to be ruled out – wrongly apparently – for offside. He then got pettily booked for going for the ball. Somehow earlier the ref decided that Lauren blatantly leaving the boot in on Osman wasn't worthy of a booking however. Great stuff from the blue boys. Other points of interest in the half were a long range Cahill effort which was well high and wide, a Beattie thunderbolt which was blocked, Stubbs making his second debut in place for the crocked Ferrari and an Arteta free kick which was just a bit too high. Off the ball – the match announcer said "Due to safety reasons, no alcohol will be served at half time". As you can imagine, nobody was slightly annoyed by this.
Arsenal began the second half brightly without really creating, as Everton set out to contain the Gunners. Everton did so well and didn't let them have second on the ball, as some fella behind me clearly observed with his persistant screams of "not one ball". Everton were doing well. Arsenal's final ball was always lacking, personified in one moment with Henry's look at Reyes when he put a pathetic cross straight into Martyn's midrift. Cahill had two good chances to put the game beyond doubt. One a header from a corner which went narrowly over, and the other a great chance when he was set up by Beattie. Dunc came on to hustle them up for Arteta, with Beattie shoved out wide. Unfortunately he scuffed his shot and it was quite comfortable for Lehmann. In a stoppage in play Beattie showed some remarkably good water bottle close control on his chest. Arsenall looked continuosly dangerous on the counter attck but Everton's work rate in getting bodies back saved are bacon a few times. Not least Osman who at one point chased a long way back and got rid of the ball. Great stuff Everton.
The only chance I can really think of for Arsenal all game was a Silva effort which whistled comfortably wide. Prior to this Cahill had gone for a tackle on Henry, he went past him so he tried to bring him down. When the ball went out of play Fabregas and Henry both went over to have a go at Cahill. Cahill went towards Fabragas he basically pushed him quite forcefully in the face. Cahill fell back a bit but to his credit stayed up. The ref had no option but to send Fabregas off. He also booked Cahill who now misses the Chelsea game with suspension. Arsenal lost it completely really, and once again away from home threw it all away.
The whistle went. Were now at the heady heights of 11th, and you never know. Keep this up and we might finish up at the business end after all.
Well done, Everton.
Player Ratings
Martyn: Seriously unthreatened for nearly all the game, but was there when he was needed in the first half. 8
Valente: Good solid work by the Portuguese who is now looking a decent player. 8
Ferrari: Was looking good till he got injured midway through the first half. 7
Weir: Don't really remember him doing anything all game. Had a quiet game, but I guess that means he didn't have much to do. 6
Hibbert: Fantastic. I don't even remember one collective groan from the whole crowd for an aimless pass. He bailed us out many times today with last ditch interceptions and clearances. 9
Kilbane: Had the beating of Arsenal's stand in right back Gilbert all game and took it to him early doors. Tired after that but di well. 8
Cahill: Excellent stuff from our feisty little Ausie. Set up the goal and covered a lot of ground all game. Now showing the sort of form which served us so well last season. Will be missed against Chelsea. 8
Neville: Broke things up with some neat tackling and tidy defending. 8
Arteta: One of his quieter days. 6
Beattie: Led the line well and scored the crucial goal. I guess we can forgive him for that inexplicable miss. 8
Osman: My man of the match. Was simply outstanding today. Is now undroppable at present. 10.
Subs:
Stubbs (for Ferrari): Almost as if he's never been away. Good on the ball, a good defender but woefully slow. 7
Ferguson (for Arteta): Did what Dunc does best – ruffle some feathers. I met my Gunner mate after the game who could only really say "Ferguson is just a thug". Ouch! 7
Paul Traill
* Unfortunately, we cannot control other sites' content policies and therefore cannot guarantee that links to external reports will remain active.